Well guys, this is it, the very last hours of 2012. In fact, some of you will already be reading this in the new year. Very soon the site will return to our usual schedule of awesome feature cars and event coverage, but before we dive into 2013 I wanted to take one last look back at my first year as a Speedhunter. For the final installment, I'd like to focus on some of my favorite places of 2012.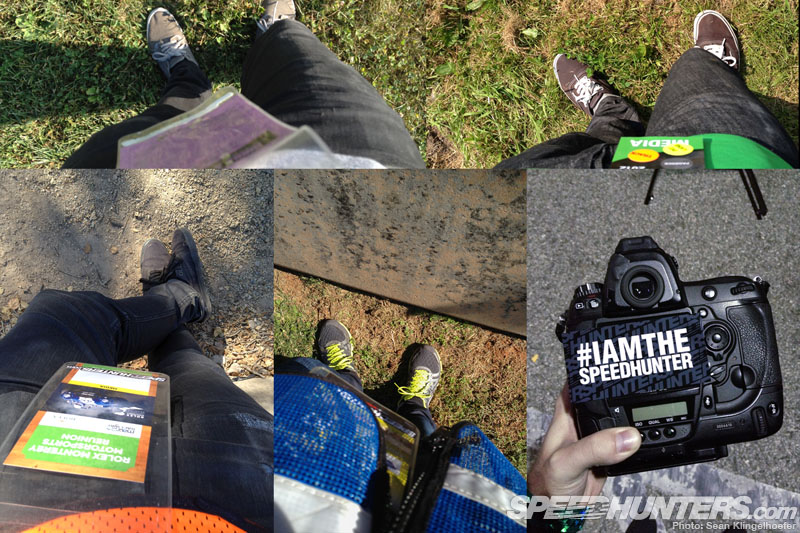 As I already mentioned in my earlier posts, this last year has been chalk full of adventures and shared experiences, the likes of which I couldn't have imagined in my wildest dreams (hence the need for three separate posts just to cover some of them). This year has been one hell of a roller coaster, one marked with wonderful highs and painful lows, but amongst the wildness of the ebb and flow there was one thing I could rely on; the chance to share some if it with all of  you.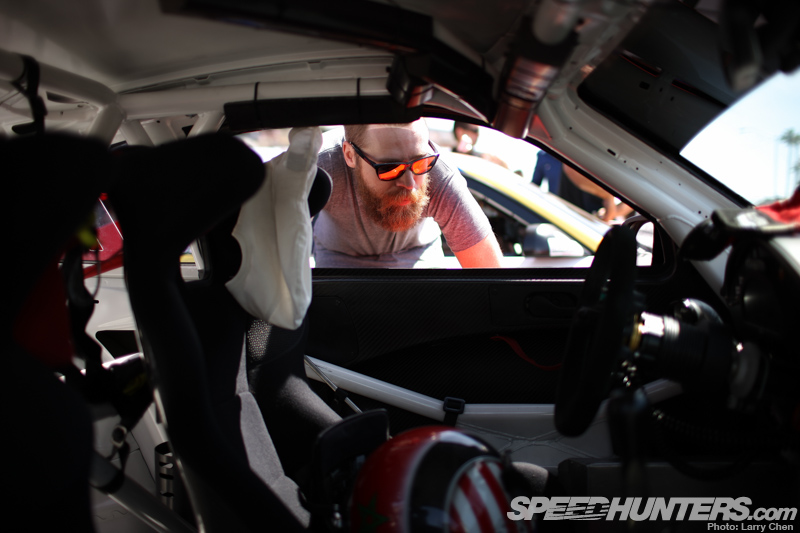 I've decided it most appropriate to again review some the year's experiences in the order in which I encountered them, starting with my first week on the job in the streets of Long Beach. Perhaps not surprisingly, my first favorite "place" was actually the interior of a car, a 911 GT3 Cup Car to be precise. Fortunately I was able to do more than just stare at it…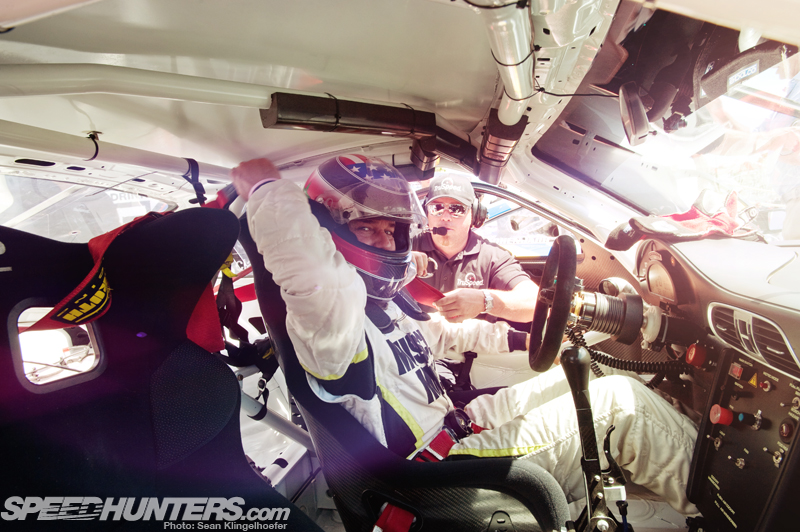 In fact the guys from Truspeed offered me a ride-along with hot shoe Tomy Drissi, an experience I won't soon forget. I could tell already that if this was how my life at Speedhunters was to start, I was going to enjoy this place very much indeed. The only problem with being around such machinery on a regular basis is that I have to control my urges to hop in and drive them… perhaps that's something to be remedied in 2013.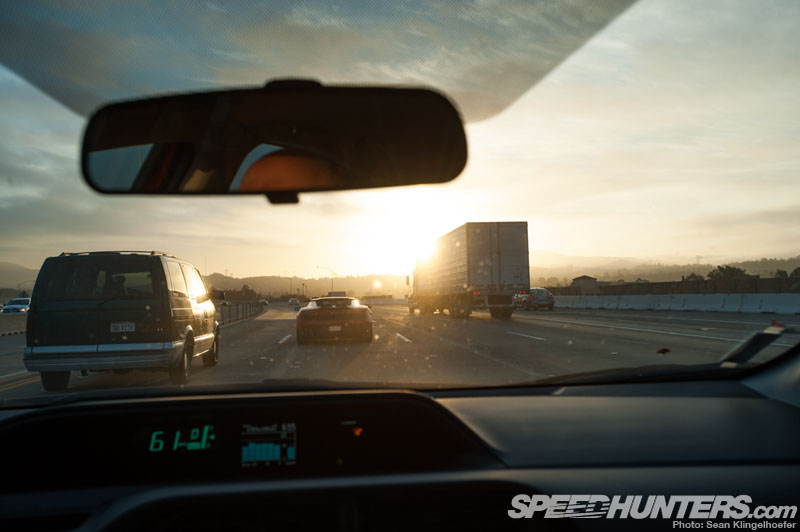 Moving right along, I was able to spend a day with fellow Speedhunters Mike Garrett and Rod Chong as we piloted a very limited edition Lamborghini along the freeways of Southern California. As easy as it can be to become bored of your normal surroundings, sometimes all it takes is an eager out-of-towner to show you the beauty that you've learned to overlook.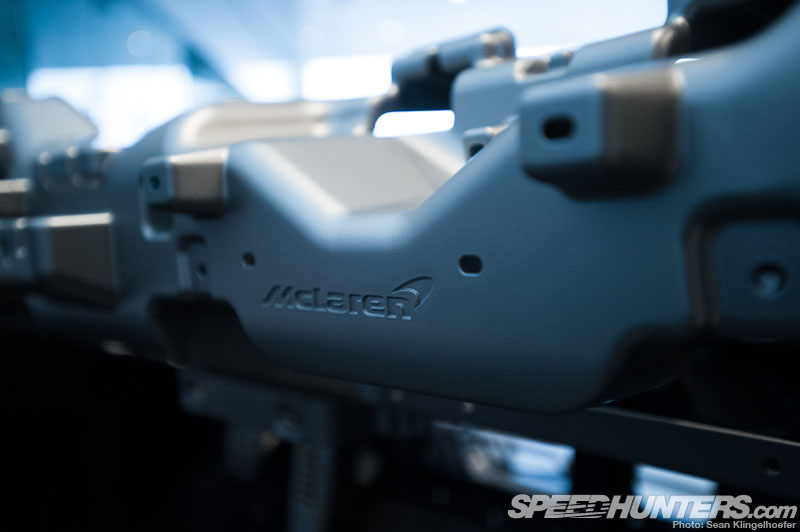 Now I'm typically not particularly fond of car dealership showrooms, but when you walk into McLaren of Newport Beach, you're in for a treat. Obviously the MP4-12C isn't your ordinary car, so it only makes sense that the place that sells them to you should also be exquisite. But getting to see a bare chassis of the super car right before your very eyes was something I thought reserved for factory tours.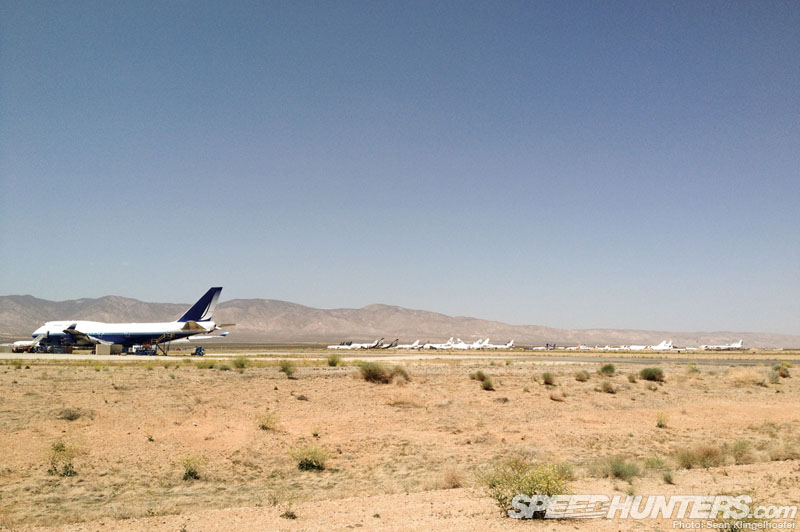 When I was a child I was very interested in airplanes, as I suppose is probably common with most petrolheads, so you could imagine my excitement when I arrived at the Mojave Air and Space Port and saw all the jumbo jets lined up and mothballed. We were told that the planes were strictly off-limits for photos, but I figured an iPhone shot wouldn't hurt anybody.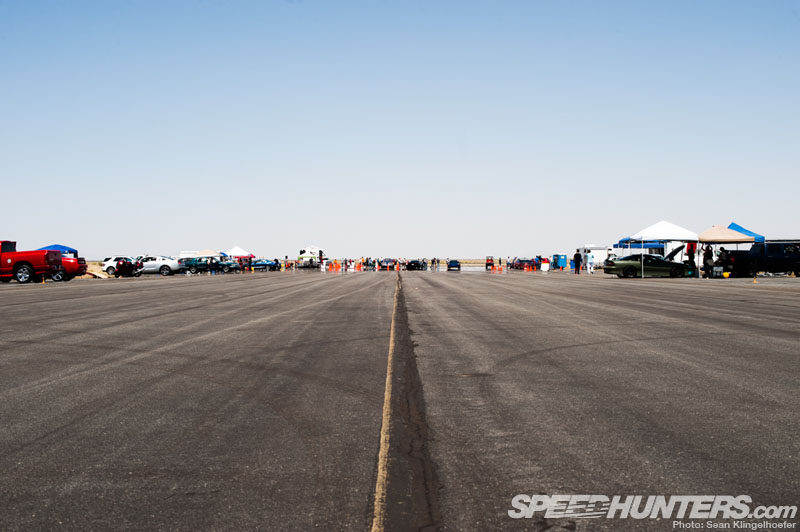 The event itself wasn't particularly interesting to spectate, due to the vast distance between yourself and the action, but the location was a marvel. For anyone that has never been on a runway before, I highly recommend experiencing it at least once, you'd be shocked at the scale of everything. They also happen to make excellent shooting locations for cars if you can manage to get onto one.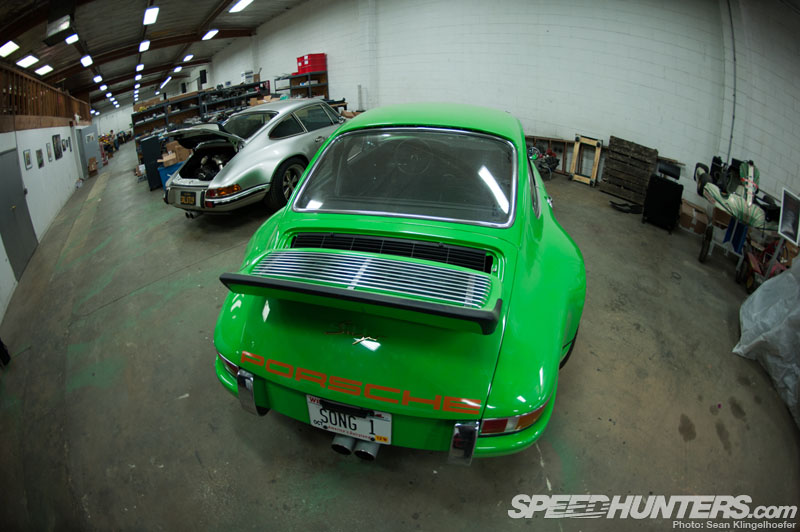 As Paddy discussed at some length recently, for the car-obssessed, there are few places on earth we'd rather be than the proverbial shed. To me the value of a workshop isn't decided by its size or the value of the tools sitting in its boxes, but rather the overall vibe of the place which is made up of the people, cars and parts that reside in it.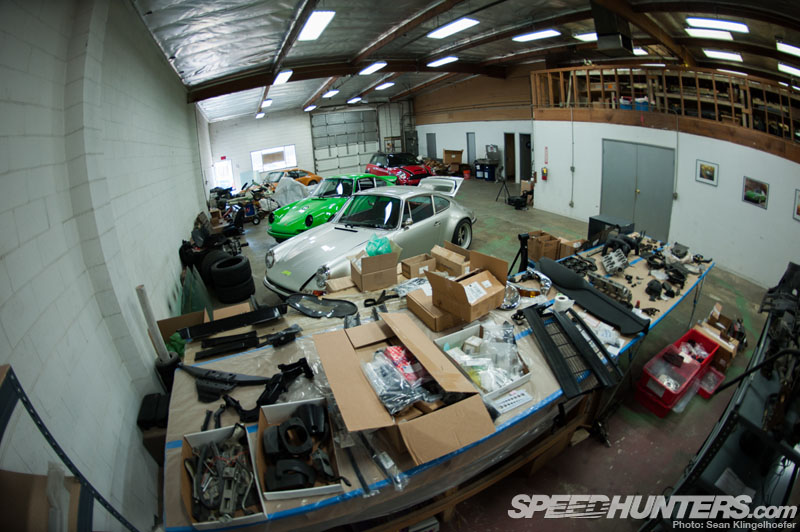 I've been quite fortunate over the years to be privy to some of the most mind blowing and famous tuning shops across America, Germany and Japan, but it's safe to say there aren't many like Singer Vehicle Design. There's an overwhelming sense of "doing it for the love" that comes from all the employees, yet there is also an unparalleled dedication to "doing it right and not cutting corners," a rare combination indeed.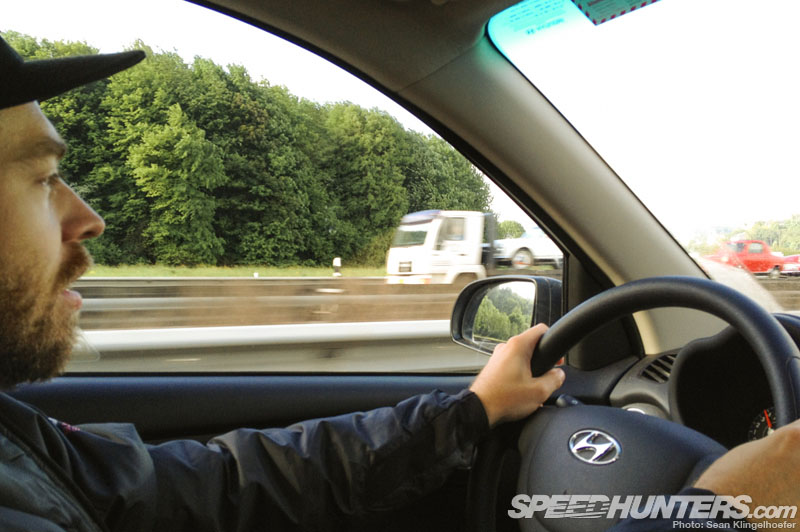 Speaking of Germany, it wasn't long after my visit to Singer that I found myself jet lagged, sleep-deprivied and piloting a Hyundai i10 rental car across the autobahn. At times I thought I surely wouldn't make it through the two-and-a-half-hour drive from Frankfurt AM Main alive, but miraculously, I made it.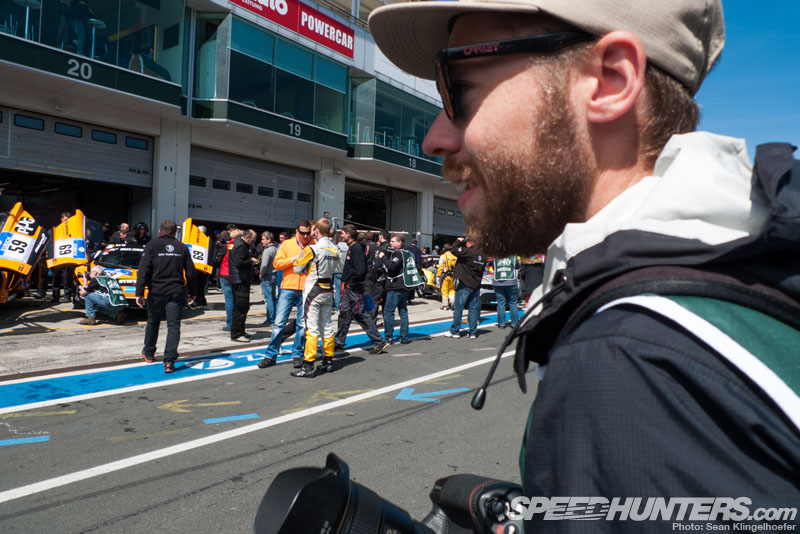 The destination? None other than the world famous Nürburgring of course. If you couldn't guess from the look on my face, I like the Nürburgring… a lot. In fact I think it might be my favorite place of them all. A bold statement I know, but hear me out.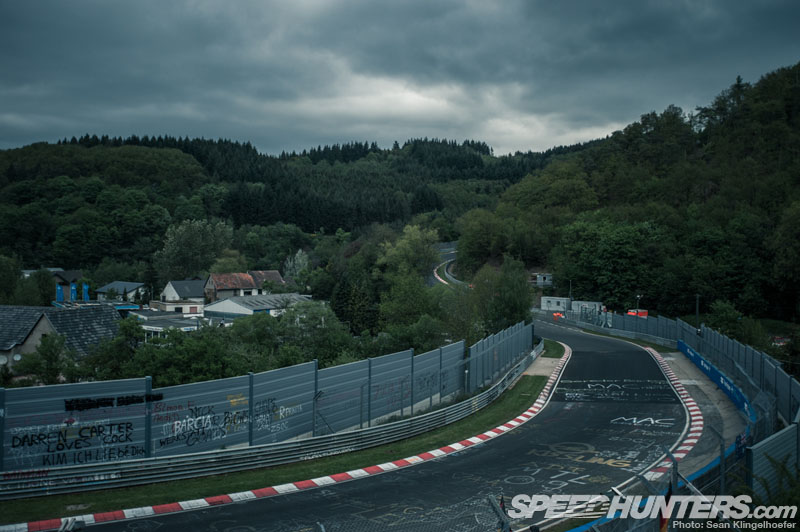 Ever since I first visited the Nordschleife back in 2010, it has been gently calling my name all year round. I can't explain exactly what it is about this place that has a hold on me, but I know that every moment I'm not there is a bad day by comparison. There's something about the Eifel region and it's mysterious weather patterns that make an already impressive circuit even better.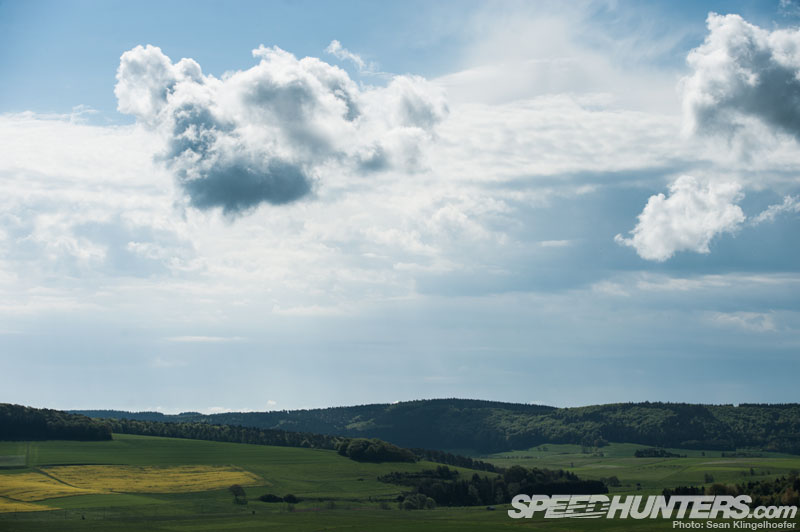 Paddy and I have spent large amounts of time pondering the track and its surrounding areas. One thing that has always blown me away is the fact that the circuit was ever built at all, considering the dense forrest and severity of undulating terrain it runs through. When you add in the fact that it was constructed in the '20s in a matter of one year you have the automotive equivalent of the great pyramids.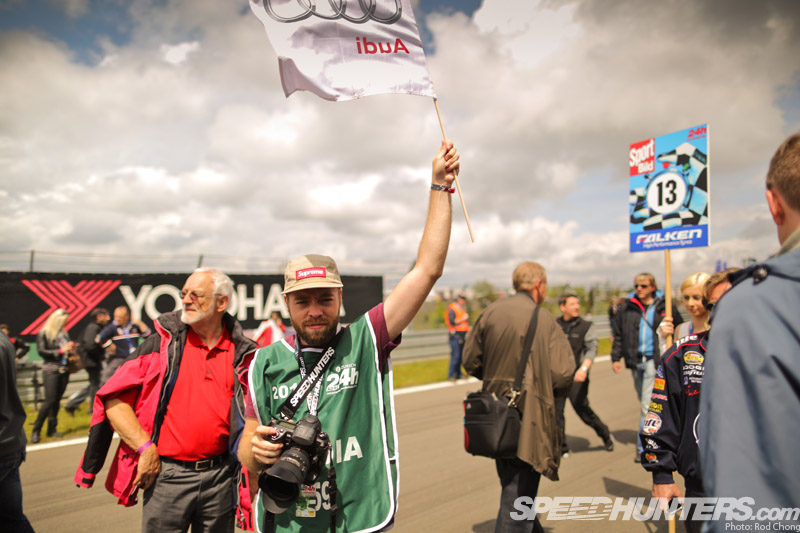 Quite simply, this is the greatest racing circuit on earth, period. If you consider yourself a fan of any sort of motorsport or performance driving you owe it to yourself to visit there once, it will be a life changing experience. I guarantee it.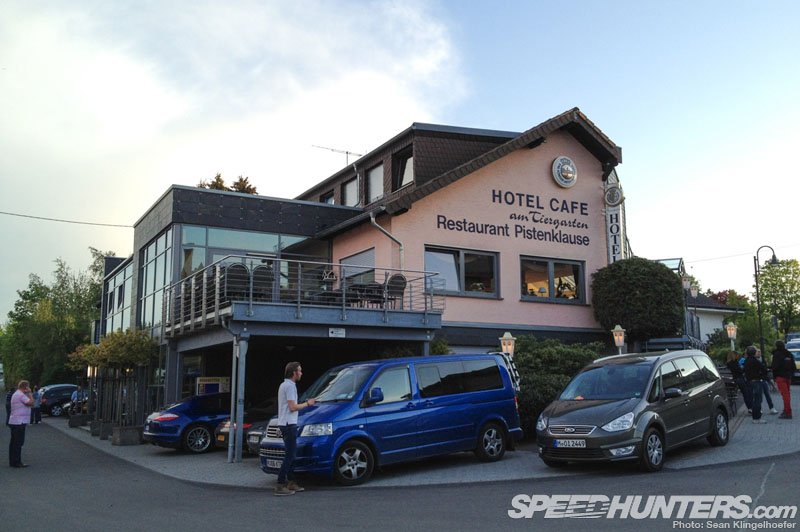 Of course no visit to the Nürburgring would be complete without a stop at Pistenklause. This is where the racers eat, and any ringworm can tell you why. I can still taste the margherita pizza, quattro formaggi pasta and fresh Weissbier now… mmmmm. Is it May yet? I can't wait to return to the ring.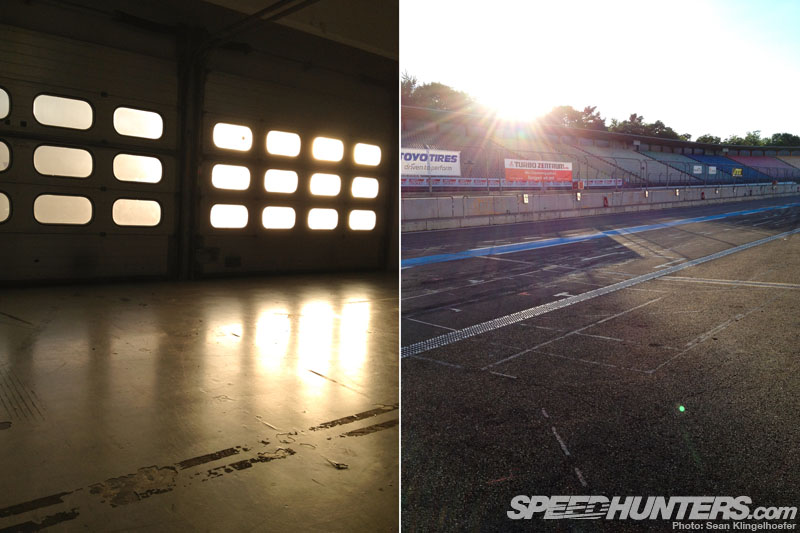 Shortly after the N24 I visited another of Germany's famous circuits which is the alternate grand prix circuit in the country, Hockenheim Ring. Having played the course for years on simulators I was very eager to check it out. Thanks to the Sport Auto Tuner GP, I finally had the opportunity to do so.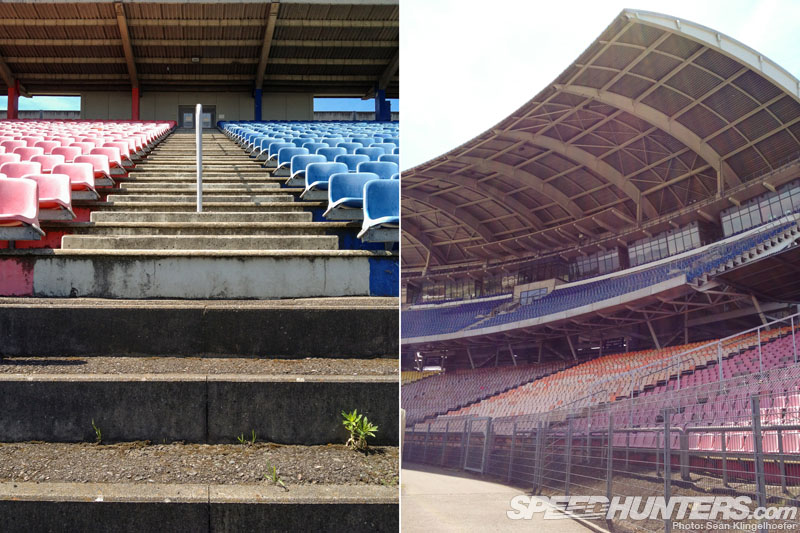 Since the event is considerably smaller scale than Formula One, you also have significantly less attendance compared to that of a GP weekend, thus the grandstands were all locked. Seeing the massive stadium seating completely empty was a little haunting, but a very interesting experience nevertheless. This is the side of Hockenheim you don't see on TV or in video games.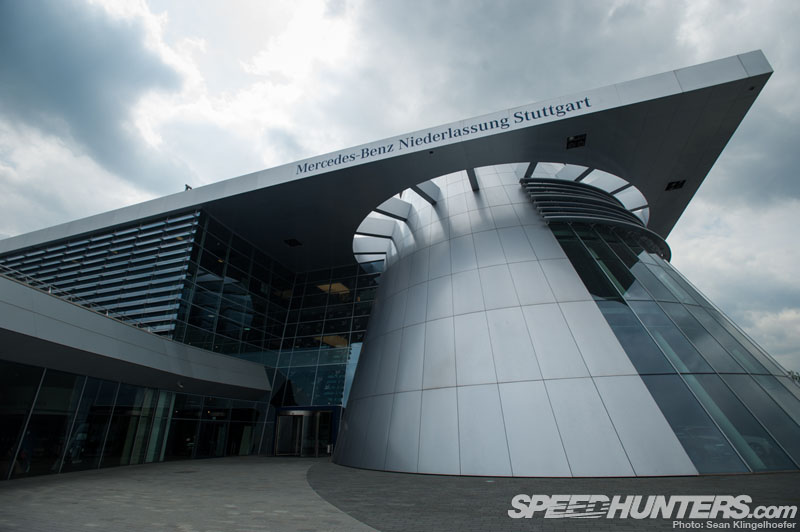 My extended stay in Germany would cover just over three weeks, which might seem like a lot of time, but you'd be surprised how much there is to do for a Speedhunter in a country that is so car-obssesed. I knew that there were several museums I wanted to visit while in Germany, the first of which belonged to Mercedes-Benz. I ended up spending an entire day walking its six-stories but I still felt as though I had barely scratched the surface.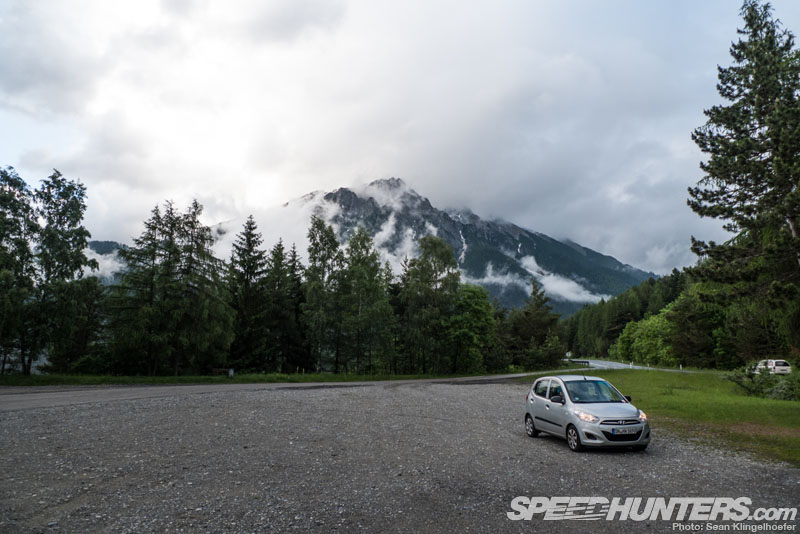 After spending some time in Stuttgart, I headed to the southeast to visit Bavaria and see some of Munich. As great as the birthplace of BMW was, it was the mountain range to the city's south that I was the most impressed by. I had but a wheezing excuse for a car to drive, but even still the passes and views in the Alps were probably one of the most profound memories I made in 2012. I'll definitely have to return next year with some proper German metal.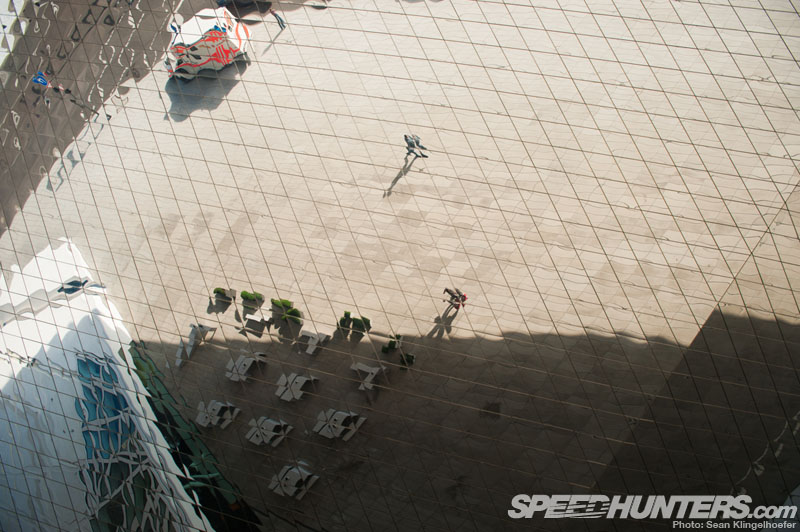 Before returning to the states, there was one more stop I wanted to make. Although it wasn't on my official list of Speedhunters business, I felt obligated as a petrolhead to swing by the Porsche Museum. It certainly isn't the largest collection of cars I've seen, but what it lacks in volume it more than makes up for in quality.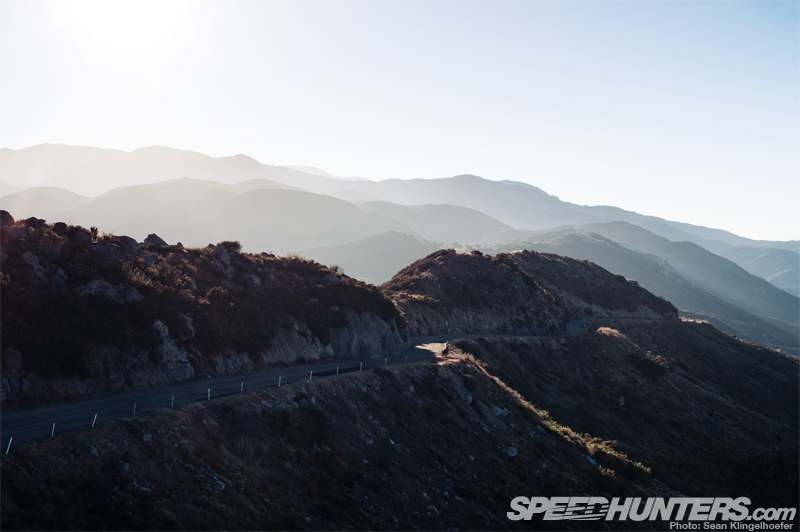 Traveling is definitely one of my favorite aspects of my job, but as much as I do enjoy a trip abroad, it's always nice to come home again – particularly when coming home means a trip to the canyons. I also find that spending long stretches of time away from home helps you to better appreciate all the things you normally take for granted.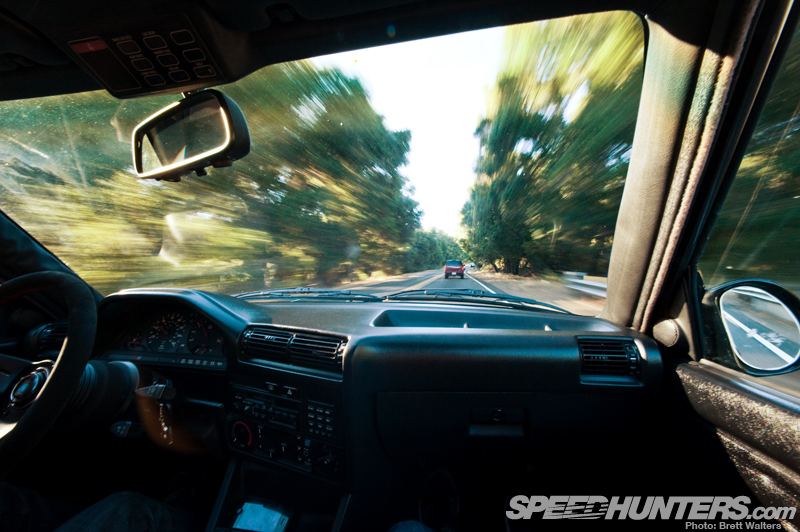 Needless to say, when I was offered the keys to an immaculate E30 M3 I knew just the place to take it for the day. There's nothing like a quick jaunt through the hills on a desolate strip of tarmac to remind you how fun motoring can be. It also reminded me that, while I spent most of my waking life trying to leave it, there are far worse places to be than Southern California.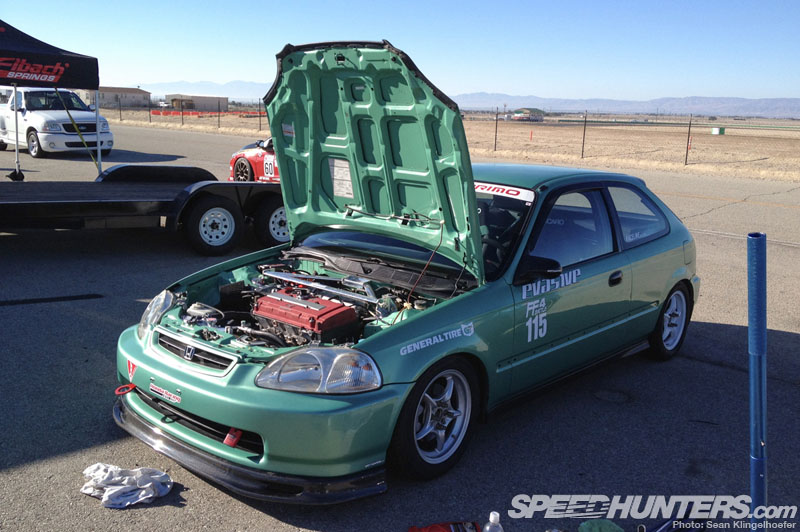 Speaking of some of my favorite places to drive in SoCal, the summer marked a return to my favorite local road course, Streets of Willow. This would be the first time of the year I got to take my own car out the track, and also the first time I would hit any circuit with my new engine swap. The event was none other than Super Street Magazine's FF-Battle, an annual event I helped to create and organize while I was working there.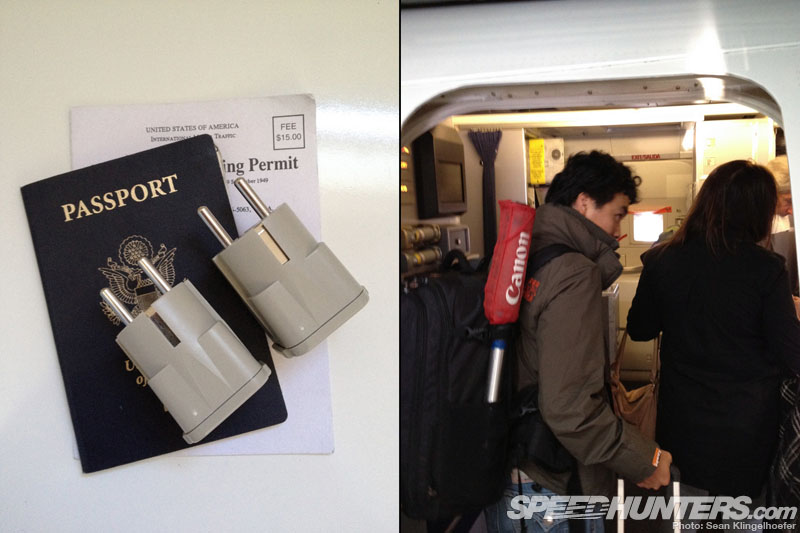 Before long it was once again time to pack my things and stuff myself back into one my least-favorite-places-turned-favorite-places-because-it-means-a-new-adventure; an airplane. For Speedhunters like Larry Chen and myself, the modern jumbo jet has become our home away from home.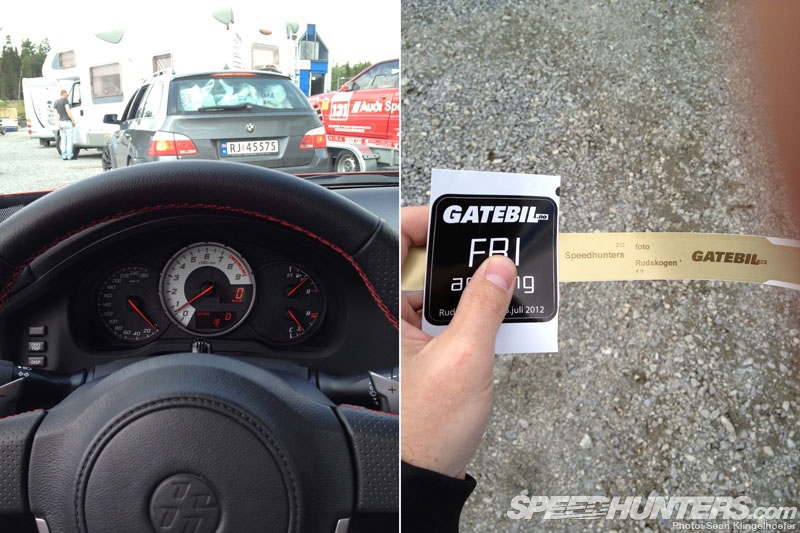 Some eighteen or so hours later we would find ourselves on the other side of the Atlantic in Norway, our destination was the legendary scandinavian car festival Gatebil Rudskogen. This was to be a day of firsts: my first time in Norway, my first time driving a GT86 and of course, my first taste of Gatebil.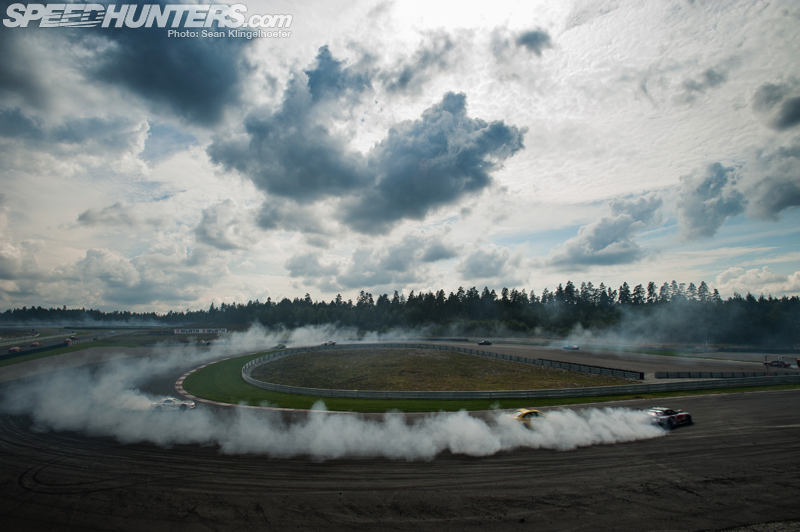 In a relatively short amount of time, Gatebil has gone from the Scandinavian underground to a worldwide buzz word. There are so many things I witnessed in Norway that defy logic and words that I cannot even begin to describe what it means to attend Gatebil, all I can say is you must see it with your own eyes. I'm eagerly awaiting my return!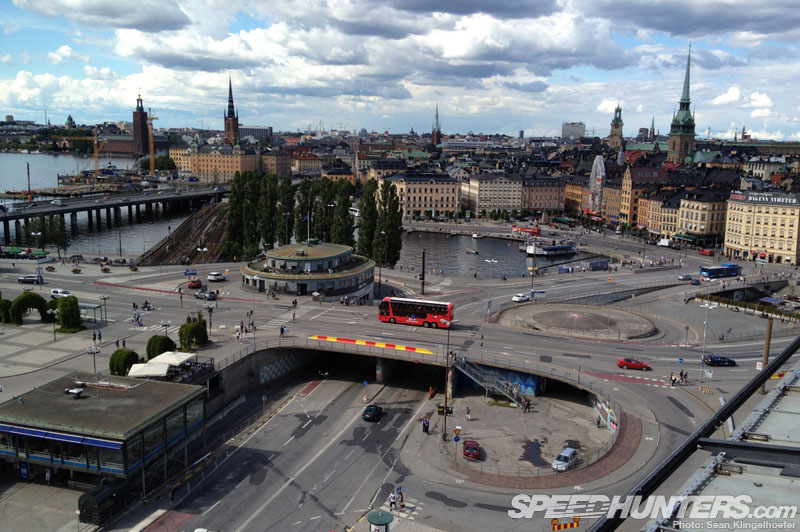 Immediately after Gatebil I was supposed to do some Speedhunting in the Swedish countryside, but due to some unforeseen circumstances it wasn't to be. Instead I found myself spending a week in the hometown of the Speedhunters headquarters; Stockholm. In the end I think it was all for the best, because I discovered I quite like this city and I'm excited to return to a snow-covered Stockholm in a few days time.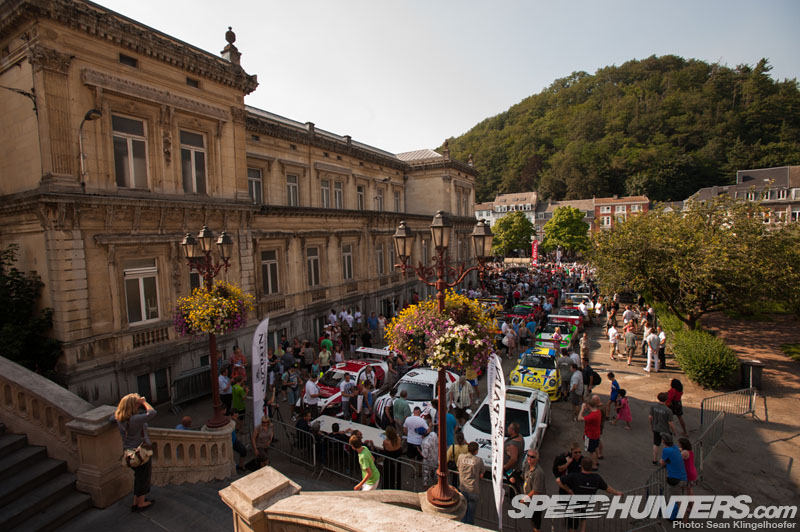 Before heading back to LA there was one final stop on my Eurotrip calendar, a town in the Belgian countryside called Spa, famous for the racing circuit that bears the same name. Visiting the famous twenty-four hour race at Spa-Francorchamps had long been on my bucket list and I have to admit that it felt really good to finally check that one off.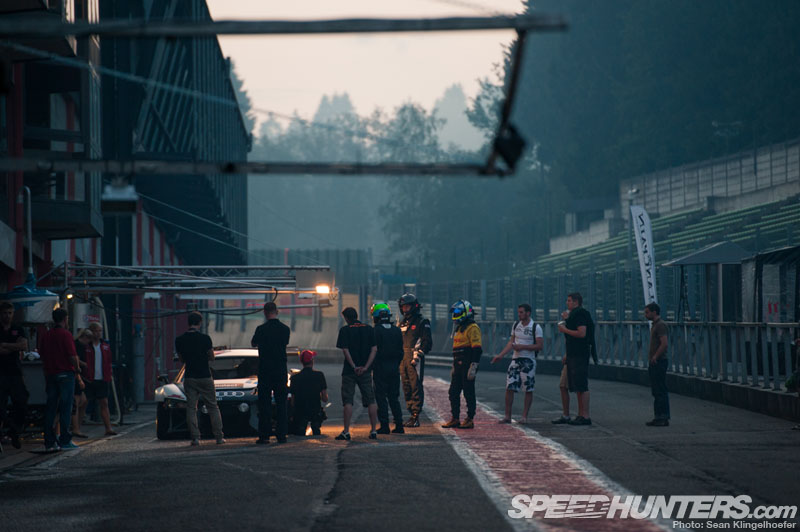 There's an atmosphere about Spa that is all its own. Much the same way the Nürburgring has an unmistakable presence, I found this circuit too had a very unique and strong feeling to it. For fear of sounding like a lunatic, I won't get too far into it, but I can say this; the part of the earth on which Eau Rouge has been carved out is magical indeed.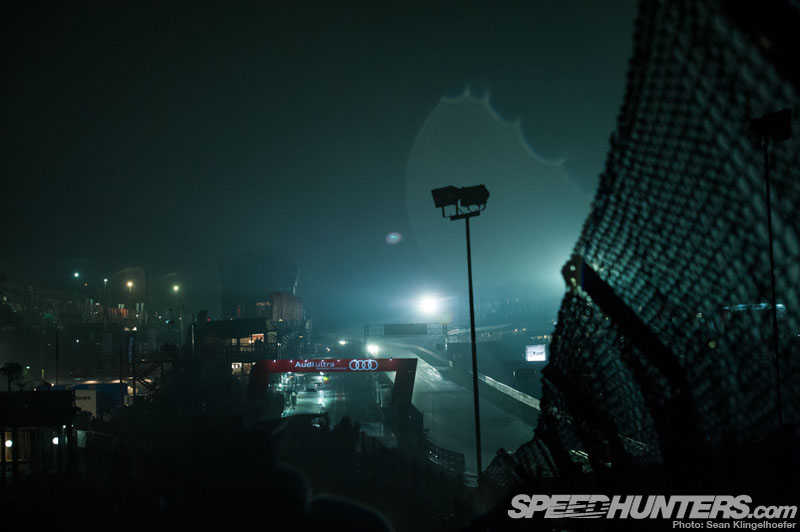 A very strange thing happened to me at Spa in the night hours as I navigated a completely dark trackside alone in the rain. I certainly didn't leave the paddock area with the intent of doing any "soul searching," but I'd be lying if I said I didn't learn something about myself that night. Without getting too sappy I'll just say this, it reminded me a lot of a certain scene from Forrest Gump.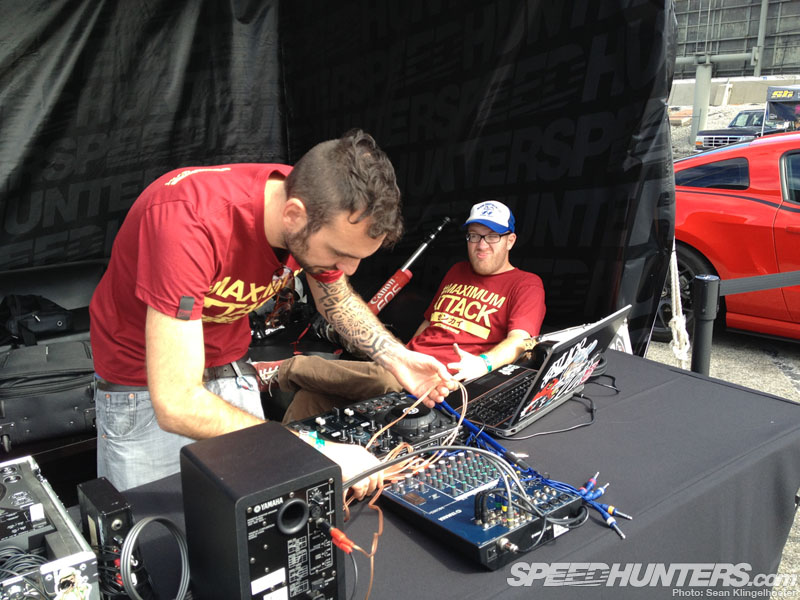 In what seemed like a blink of an eye, I was back stateside preparing for the final installment on the 2012 Formula D calendar. While I'm not as fond of Irwindale as Larry is, all the effort that went into making a kick ass Speedhunters booth really made this place feel like home. It also marked the largest gathering of Speedhunters on American soil this year, and any time spent with these guys is sure to be stellar.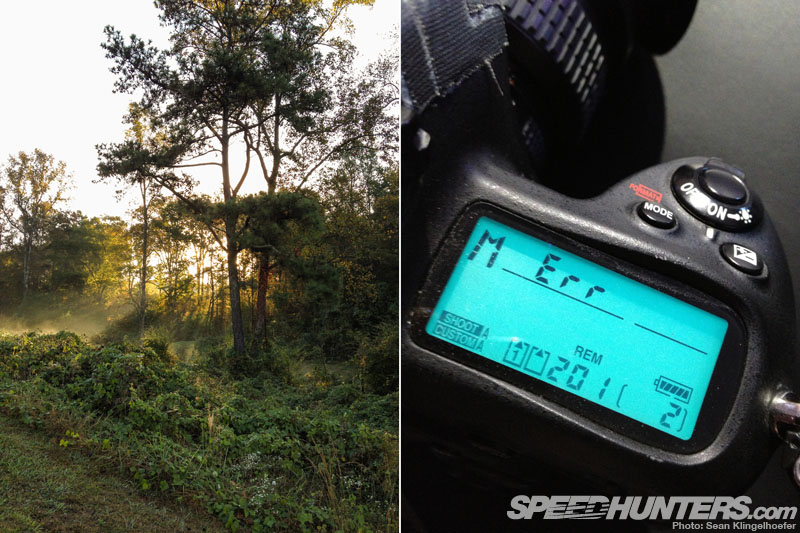 As the foreign Speedhunters caught their flights home, I stepped onto a plane leaving mine for one of my favorite road courses in America. I find Road Atlanta to be one of the most beautiful and interesting circuits in the world. The incredible scenery and beautiful light makes for some stunning images, which makes Petit Le Mans one of my favorite events to cover, even if I destroy my shutter in the process.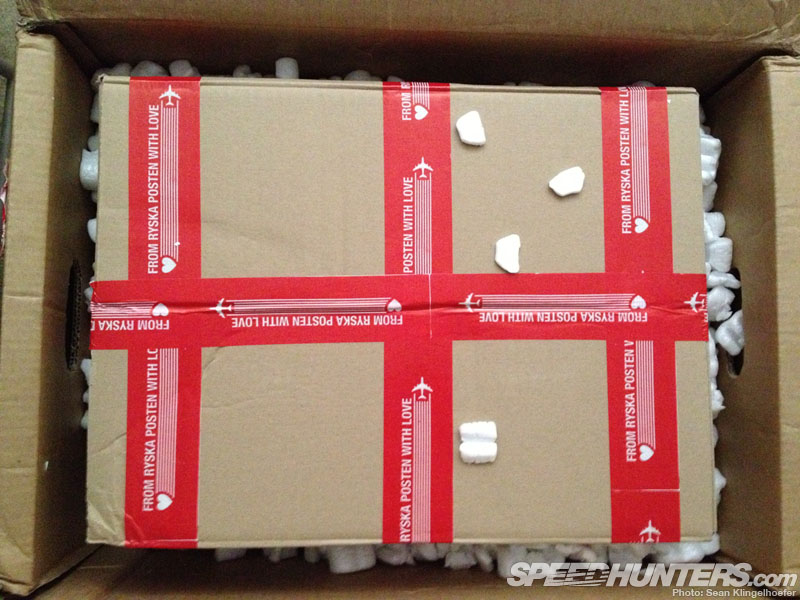 "When it rains, it pours" or so the saying goes, and this applies to everyone – even Speedhunters. While most of the world is starting to wind down come November, much of our work is just getting started. As soon as I returned home from Georgia, I was met with a special delivery from Stockholm; two cases of Speedhunters Volume One which would be carted to SEMA.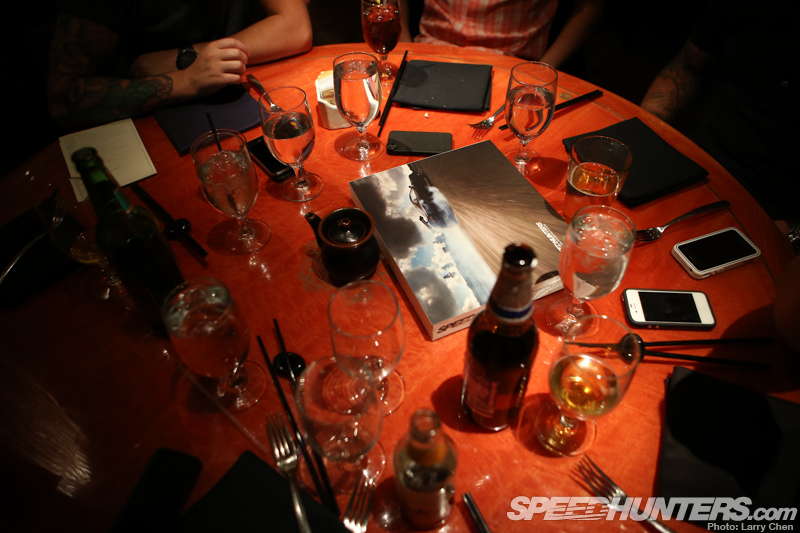 The books weren't to be sold of course, but rather given to our many friends in the industry. It's our way of saying thank you for believing in Speedhunters. I'm definitely not a Vegas type of person, but anything is bearable if you surround yourself with the right people.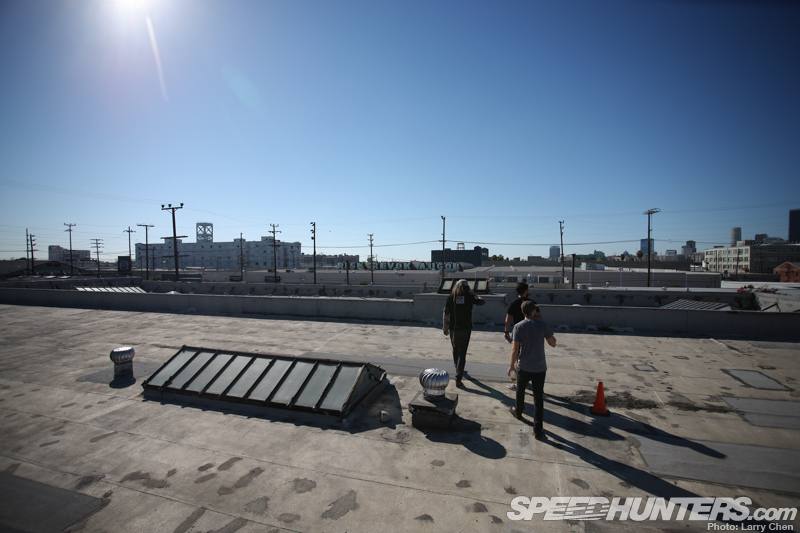 One such person I had the good fortune of meeting at SEMA was Ben Chandler, a man I think you'll start seeing a bit more of around here come next year. Although I didn't get much time to become acquainted, after a lunch meeting and some late night drinks, he found it in his heart to invite me along to spend an afternoon with a very unique Porsche enthusiast.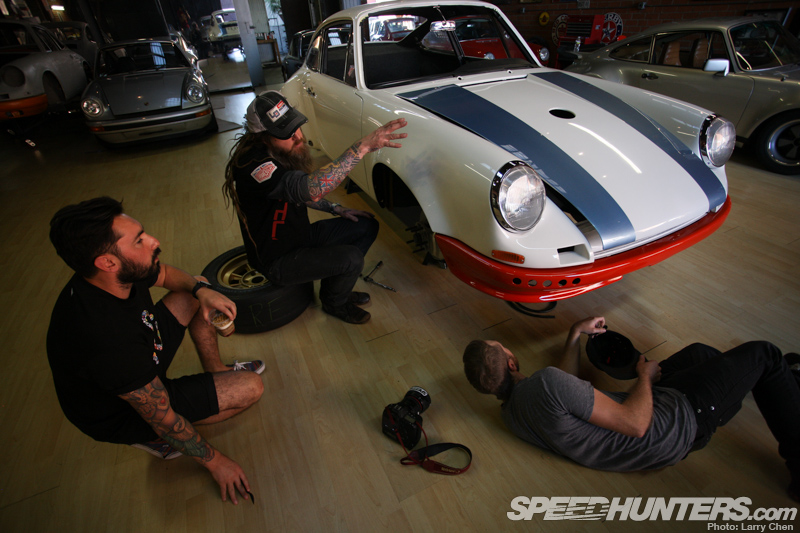 Of course I'm speaking of the now-Internet-legend-status Magnus Walker. Although his shop is in the same city in which I reside and it was on my to-do list, I hadn't yet been able to make the time to get out there and shoot it. Fortunately for me, Ben had already arranged a meeting and provided the much-needed-kick-in-the-ass to get me out there to see these amazing cars.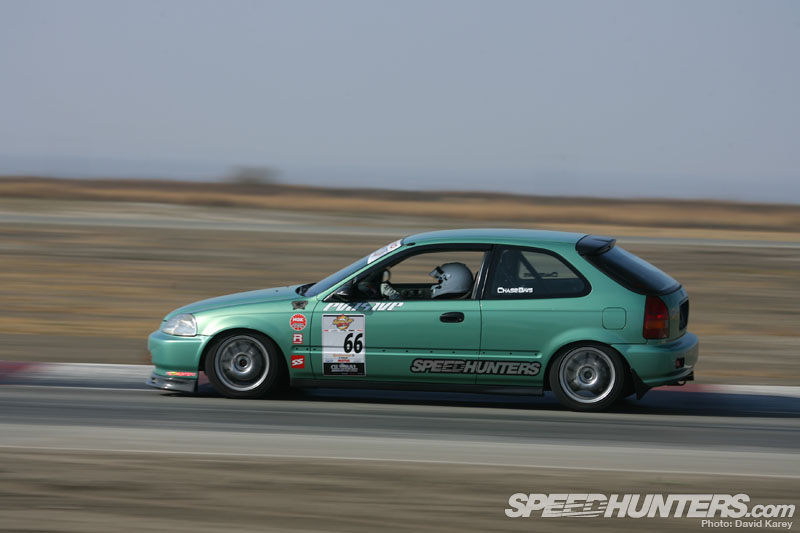 Immediately after my Porsche day dreaming session I found my way back to the track, this time at the famous Buttonwillow Raceway for America's take on time attack racing – Super Lap Battle. While it seemed like a blink of an eye since the last time I had strapped in, in reality half a year had passed and 2012 was nearly over. I guess it just goes to show that time really does fly when you're having fun.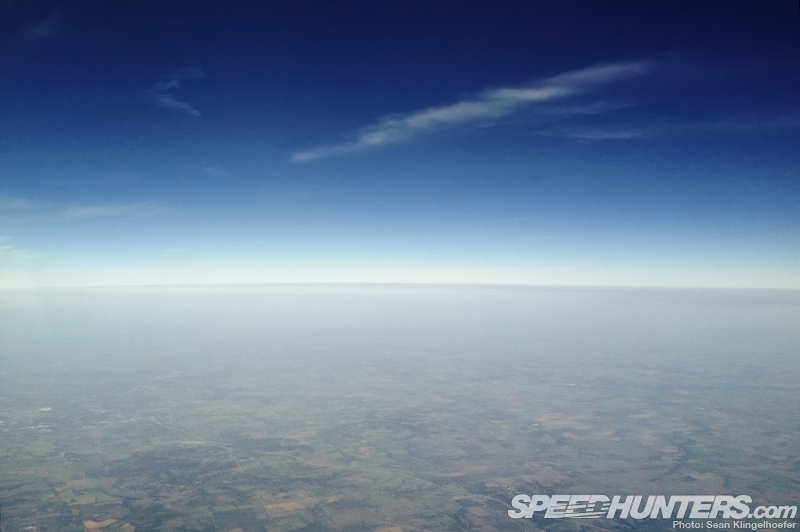 Looking back now it's hard not to wonder where 2012 went, because it all seems like a dream. I look forward to next year with an open mind and I hope to roam further away from my comfort zone into new and uncharted territories. I know it won't be long, just a few days in fact, before I'm back up in the air moving onto the next and for that I would like to once again thank all of you readers for making Speedhunters your home. Without all of you, this simply wouldn't be possible.
Here's to a killer 2013; nothing ventured, nothing gained.
More stories by Sean Klingelhoefer on Speedhunters
-Sean