They say the first step to recovery is admitting you have a problem. Like many of you, I have an obsession with the automobile that delves way past fanatical. My addiction came unwarranted and I had no defense mechanism to ward it off, all of a sudden one day I started looking at cars in a slightly different way and I haven't been able to stop thinking about them, driving them, modifying them, destroying them and rebuilding them ever since.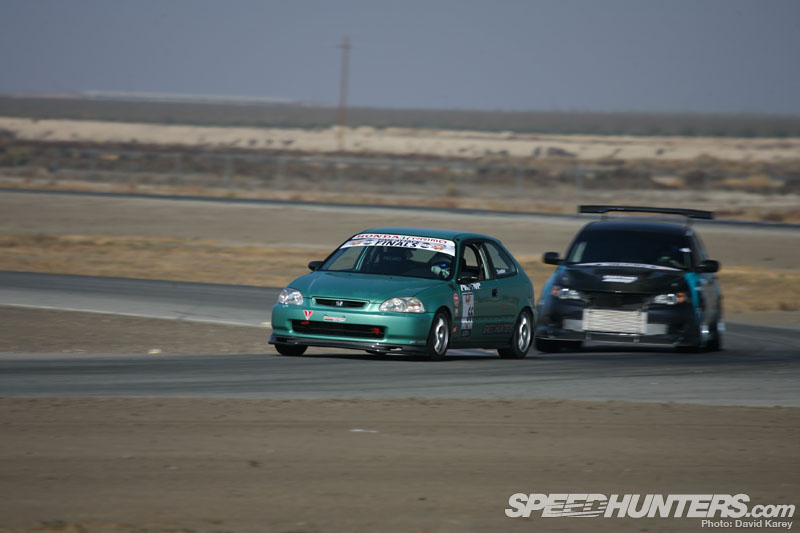 I didn't choose this hobby much in the same way I didn't choose my career, it simply chose me. If you take several seemingly unassociated interests – cars, cameras and tools – you get most of my DNA, coincidentally the molecular makeup of a Speedhunter. I had full intentions of using this post to talk about a typical day at the track while simultaneously introducing my car to the audience… but as all petrolheads know, when there are cars involved, murphy's law will always prevail.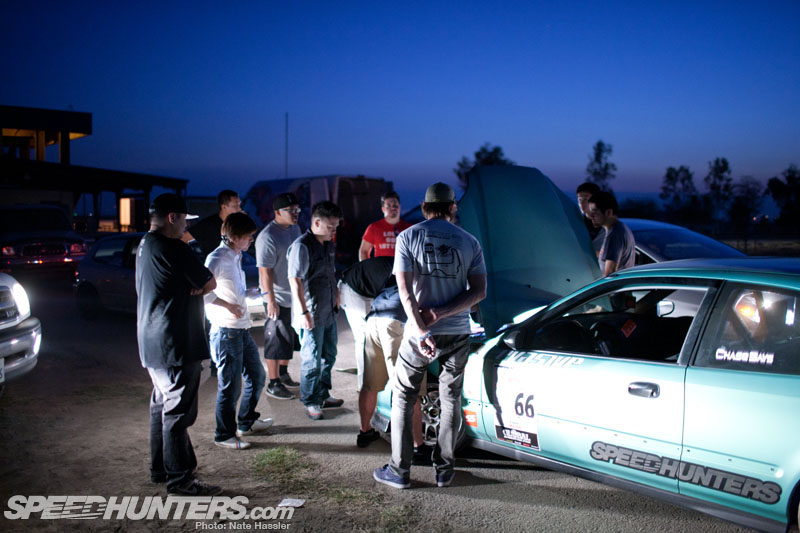 So rather than an edited recap of my experiences at Super Lap Battle earlier this month, this will be an unfiltered day in the life. A day with joyful highs and not-so-awesome lows, but during the course of which I was reminded of the real reason we are addicted to cars; community. So sit back, relax and enjoy the ride, because at the end of the day that's what it's all about!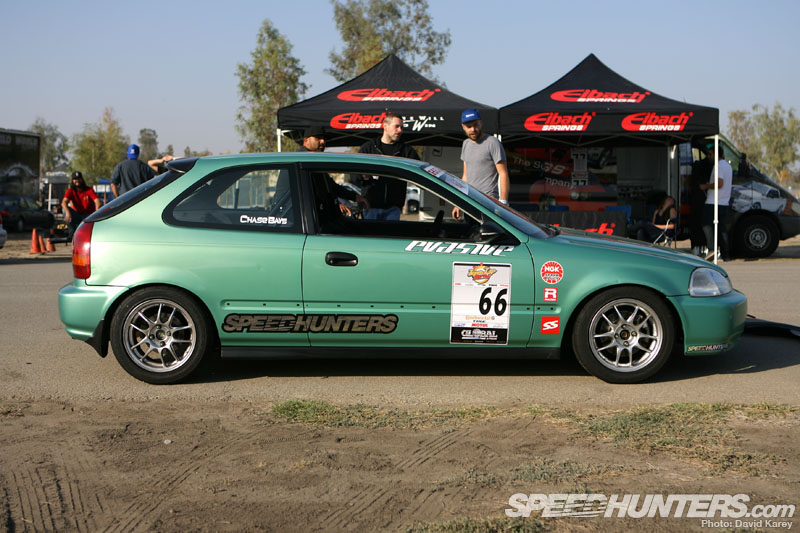 To any of you unfamiliar with my car, let me get you up to speed with the Midori hatchback I call Leroy. I originally purchased the car in 2005 after another of my Civics was stolen and stripped. I was gutted at the time but knew that there's no better way to heal than to start a new project, so on I went. Fast forward a few years and I had moved from my home in Phoenix out to Los Angeles where I joined the staff at Super Street Magazine and continued to build the car.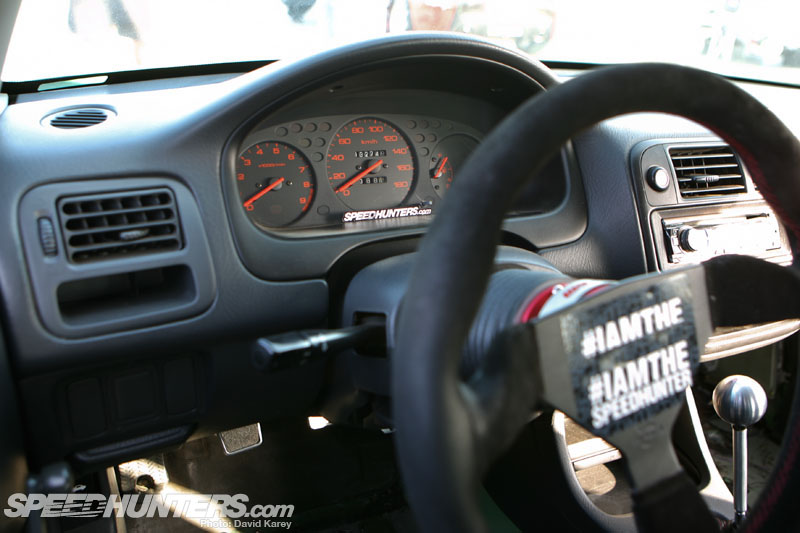 Over the years my priorities changed, as I'm sure most of you can relate to (or will one day) and the build has taken a lot longer to get where it is today than I had planned. Rearranging finances and paying ridiculous rent in LA left me with very little cash to dump into Leroy. Therefore it goes without saying when I finally got around to swapping the engine back in January, I was stoked!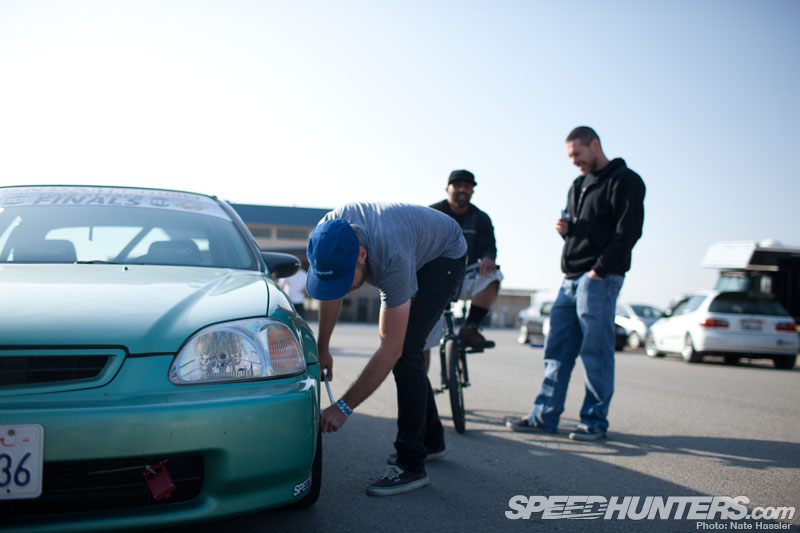 Now I know a stock B18C Type-R is nothing crazy by today's standards, but compared to the pathetic 200k D16Y7 it replaced, it might as well be a 2JZ! All kidding aside, I had developed the car in tandem with my driving skill and as this would be my first time out at Buttonwillow with a B-series, I was quite eager to see how it felt!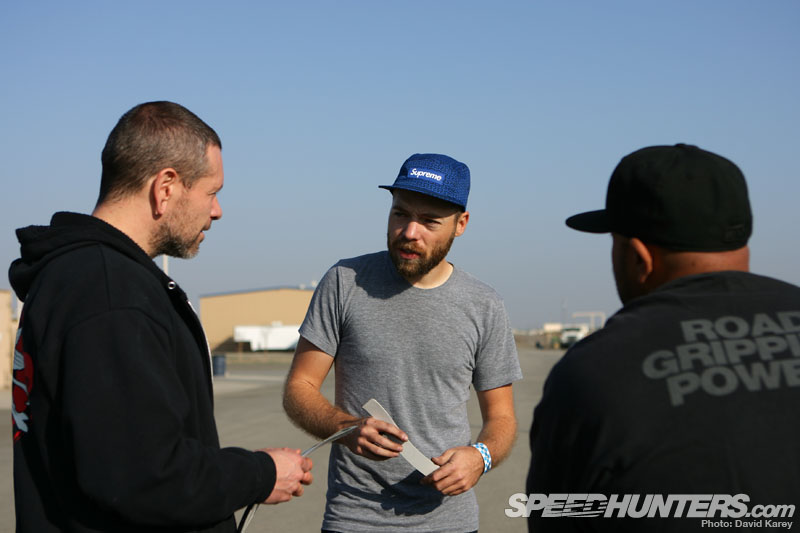 As I touched on earlier, one of the best things about the track is getting to spend a day outdoors with other enthusiasts. Regardless of whether they're old friends or new acquaintances, everyone in the paddock just seems to "get it" – those of you that track your cars will surely know what I mean, and for the rest of you, you're missing out! Here I'm giving some stickers to two web celebrities – Alex "JDMized" himself, and "Big Mike" of Prelude fame.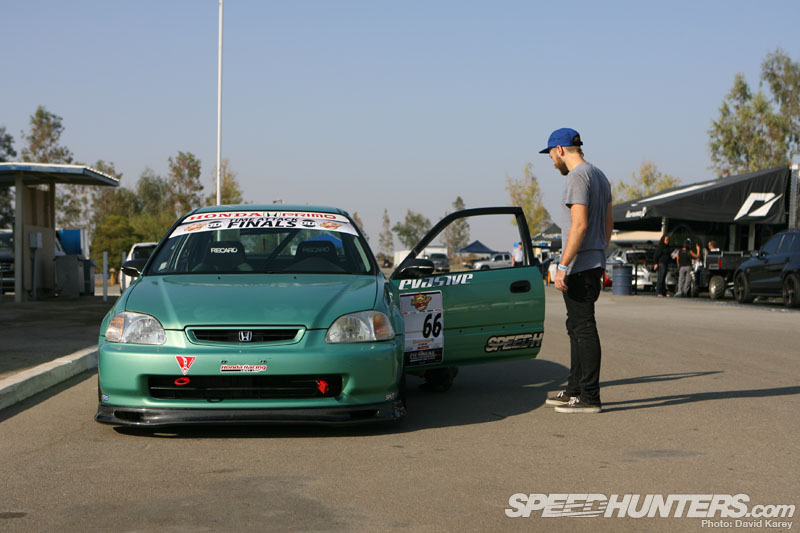 But there's never quite enough time to chat since there is always something going on at the track. I can't remember a single day I've spent driving that didn't absolutely fly by. Here you see the most important part of the day, the dreaded tech inspection – it's all down hill after this! Fortunately this wasn't my first rodeo and while the engine may have been a virgin to the circuit, the car certainly was not.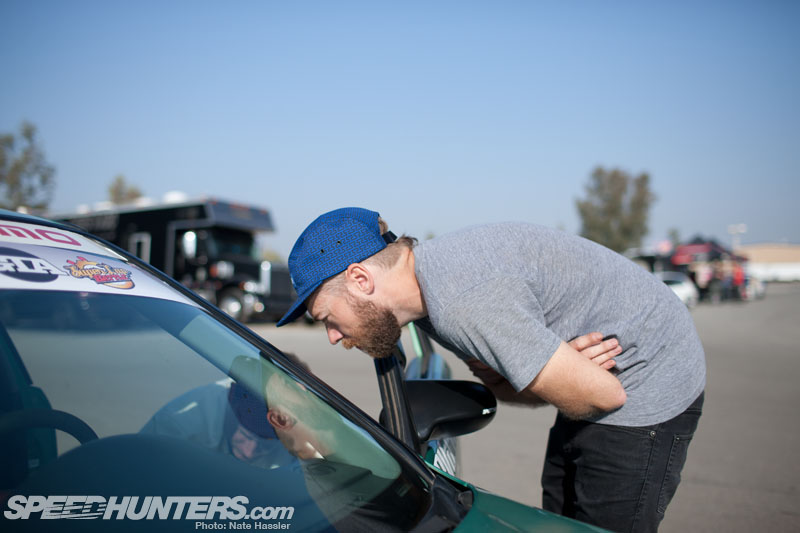 Even still it's always somewhat  nerve racking when the inspector takes a little longer than you expect. At Super Lap I had the treat of having Jeremy Croiset, a NASA Honda Challenge driver, perform the inspection on my car. Aside from a slight concern with my D-ring routing on my anti-submarine belt, I was good to go. Quite literally two minutes after this photo was taken my group was called to pre-grid… time to boogie!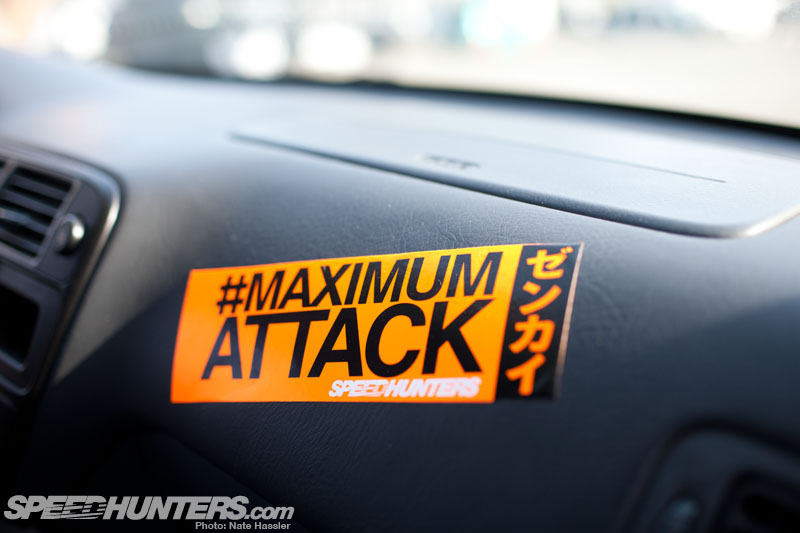 As I got strapped in I made sure to take note of my #maximumattack decal just to remind myself what time it was! Not wanting to miss my session I made haste and rolled over to the grid.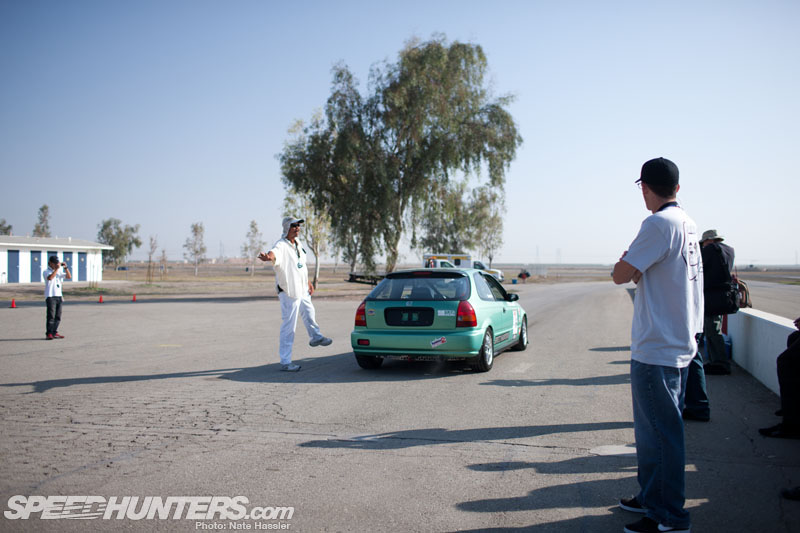 This is my favorite part of any track day because this is when all the jitters are released. I can't speak for everyone, but I can get quite anxious ahead of a track day, running scenarios over and over in my head. But when push comes to shove and I'm strapped in with the car running all the anxiety is gone, replaced by determination and focus.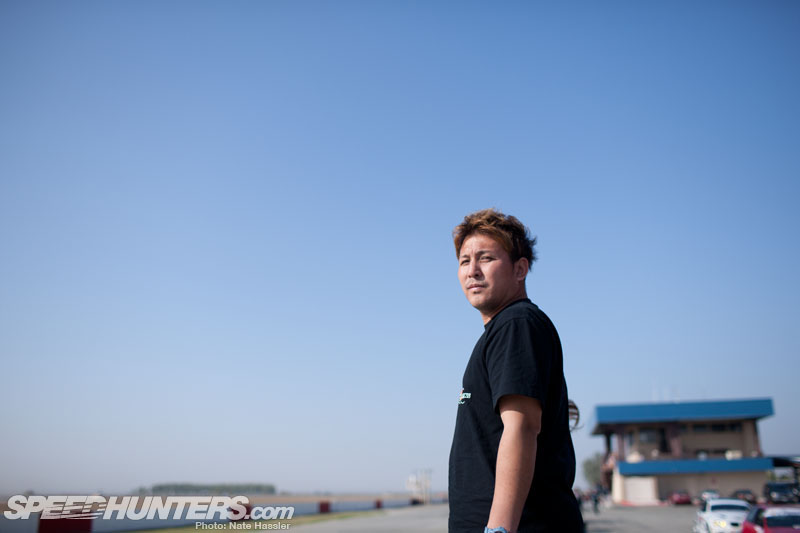 One of the cool things about SLB is that it's completely open to spectators and you never know who to expect. This year Kazuhiro Furukawa made it all the way out from Osaka to attend the event. I have to admit it was quite an honor to have the man behind Car Craft Boon aka Osaka JDM giving me props on my car and driving style. Unfortunately I had promised a ride-along which never came, but I fully intend to make good on my offer one day! Sumi massen Kazu-san!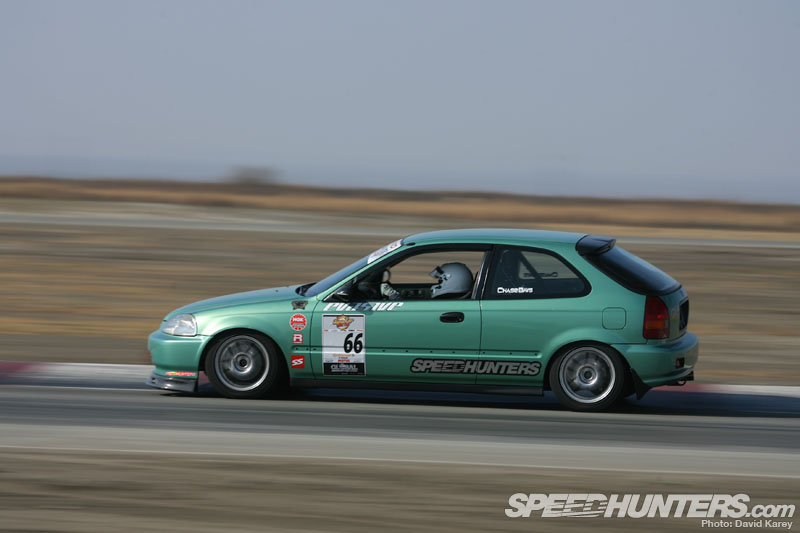 Out on track Leroy was an entirely new car, and Buttonwillow was suddenly an entirely new track. While the layout of the course remained the tried and true clockwise #13 configuration, all sorts of interesting nuances had surfaced that weren't present at my previous speeds. On paper, and even in photos, Buttonwillow is a fairly boring circuit, but anyone that's driven it can tell you it's the imperfections that make it difficult.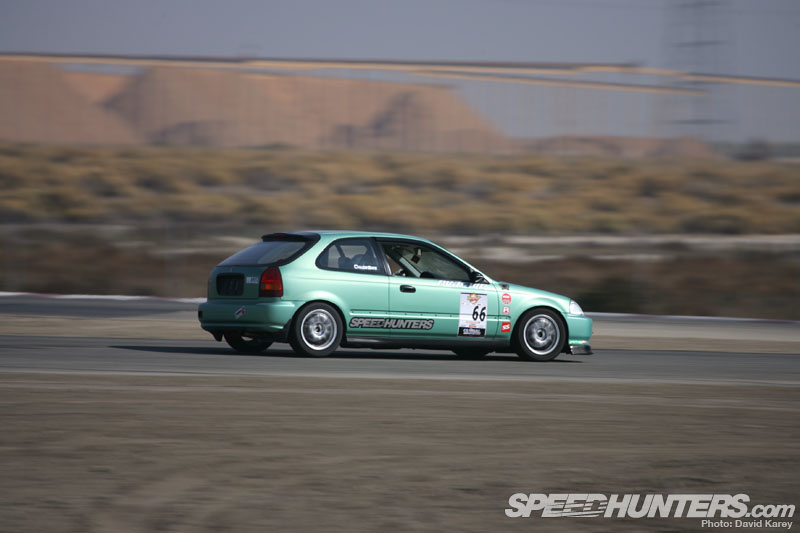 In the first session I took things easy and used the morning practice as an investigation exercise. Not surprisingly I shaved over ten seconds off my previous best with the old single cam and clocked a 2:10 and change right off the bat. In terms of time attack that's nothing to write home about, but I wasn't there to "compete", I was there to enjoy my car and I was quite pleased.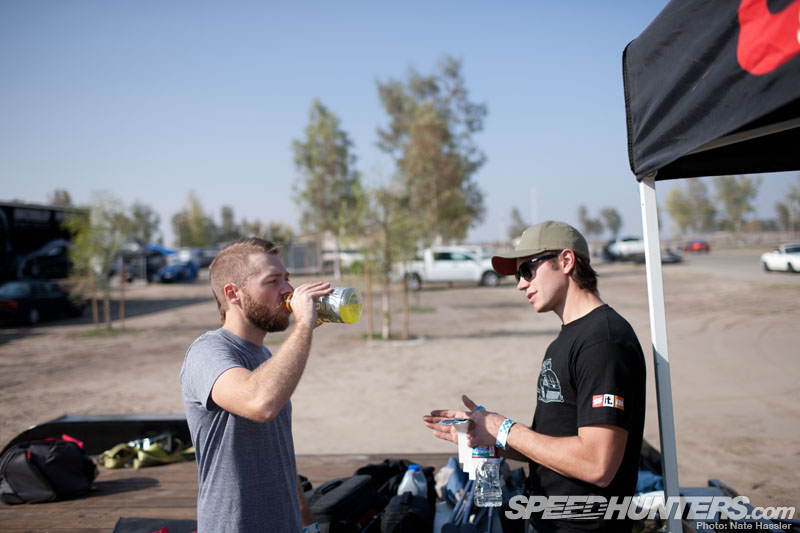 Here I'm discussing the session with my friend Peter Tarach, better known as the Editor in Chief of Modified Mag. He was telling me about some issues he was having with the new big brake kit he had just installed on his Evo VIII and I was explaining that my car felt great, I just needed to sack up and drive it. Prior to the event I told myself if I could do a sub-2:10 on the car's maiden voyage I'd be happy, but I figured I could do better than that.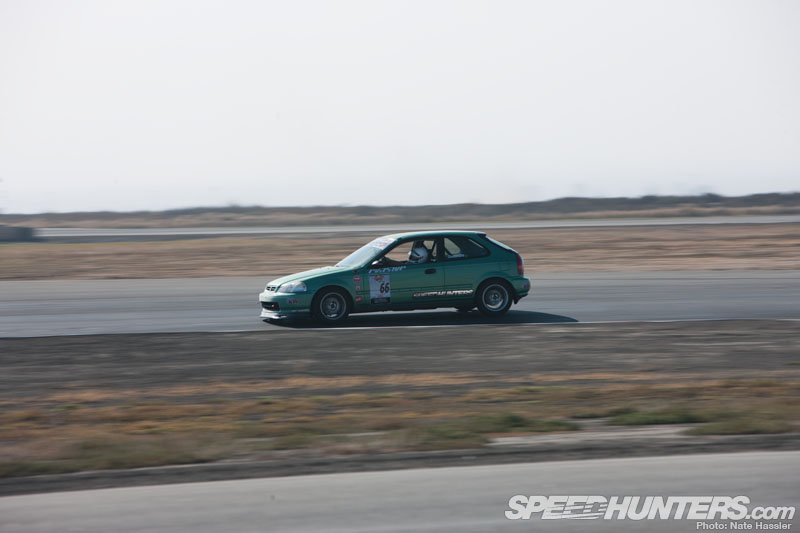 In the second session I started getting a little more brave, trying to find out just how deep the braking zones were and how early I could smash the throttle on the way out. The result of the second session was a 2:09.639, but it wasn't without at least one four-off excursion along the way. It was a step in the right direction, but not the reward I had expected for my perceived effort. There was more left in the car, I was sure of it.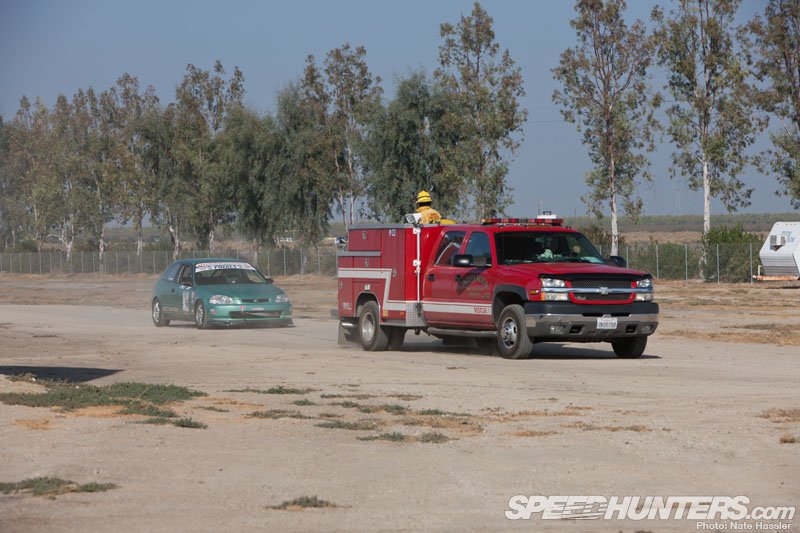 I went out in the third session hell bent on dipping into the 2:08 range even if it meant accidentally removing some body panels, but Leroy had other ideas. As I came out of the second turn of my second hot lap the car made a very familiar sound, one of a cylinder with no spark. I decided I'd go ahead and limp the car back to the hot pits, kill it and have a look around. Not surprisingly, Leroy didn't seem to like that idea either and instead died completely in the second to last turn.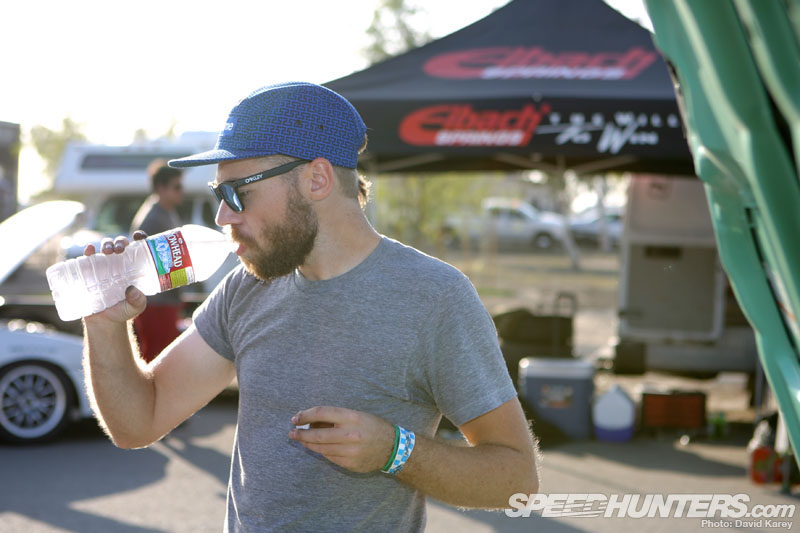 When I popped the hood I noticed that one of the spark plug cables had managed to remove itself from the distributor. I thought, "eureka, I've solved it" only to jump into the car to find it still didn't want to start. I went back over and decided I'd check for spark, and when I pulled the number one wire I discovered that it had decided to come apart. Now things were going to get interesting, time to hydrate!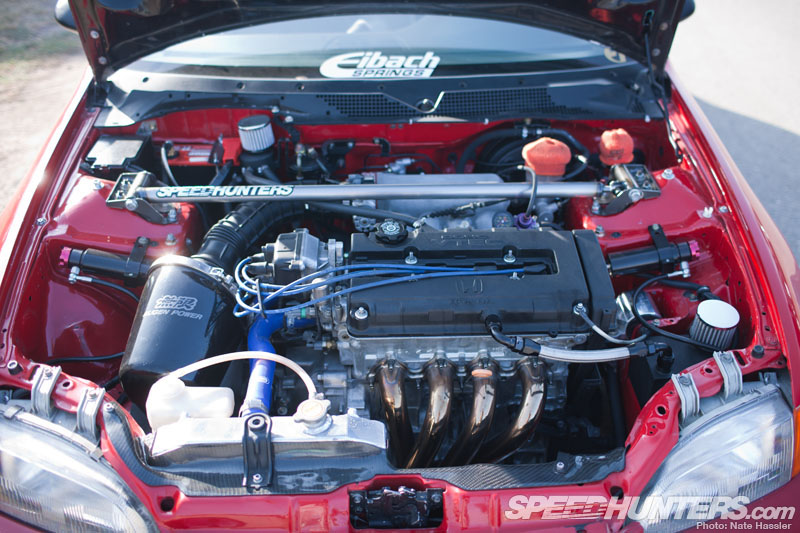 The nice thing about tracking a Honda, other than the insanely low cost of operation, is that there are bound to be a half dozen or more at virtually any open weekend in the states. This means you can be lax with your spares if you're not afraid to pull a favor. Here we see my buddy Jared's car which would be the troubleshooting donor. Thanks again Jared!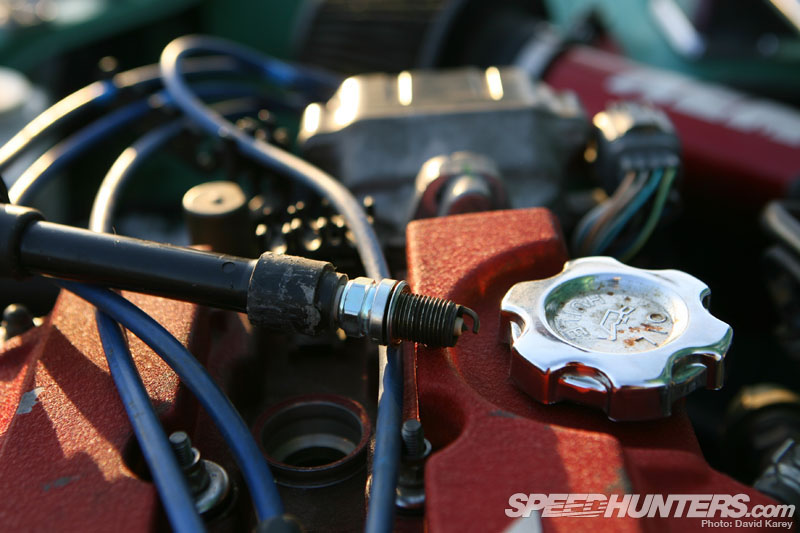 So I quickly stole the wires off Jared's car and slapped them on Leroy to check for spark… nothing. Classic Honda ignition I thought to myself. I've owned five of these cars over the years and just about every one of them eventually stops running due to something inside the distributor.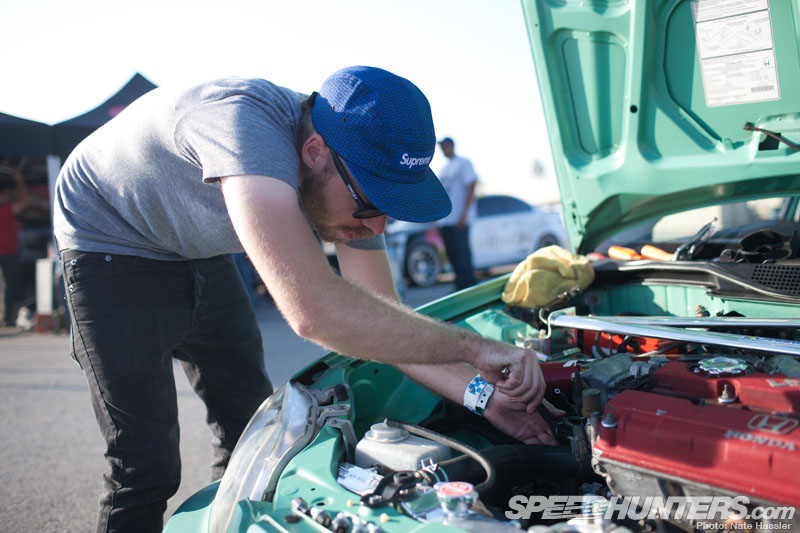 Now that we had narrowed it down to spark, it was time to pull my distributor and borrow another one. As lucky as I was to have three people offer up theirs, none of them were directly compatible with mine (wiring plugs) so I did the next best thing and borrowed some guts.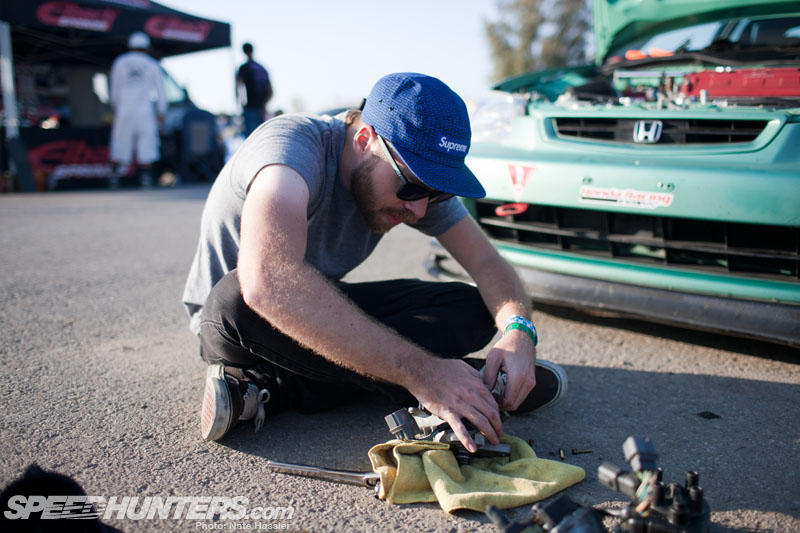 The two main components inside the distributor which power the ignition are the coil, which supplies "the juice", and the ignitor which tells it when to do so. There are two other very important (and difficult to swap) sensors in the distributor as well, but based on personal experience, when a car doesn't have spark either the coil or ignitor are the culprit the majority of the time.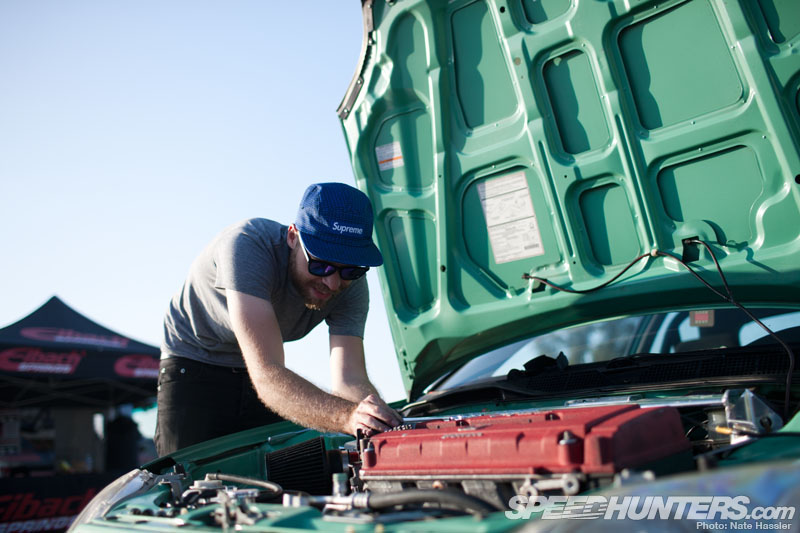 With my new found bits inside my trusty distributor I was feeling pretty good as I buttoned the car back up. If things went well I'd still have one more session left to go for it!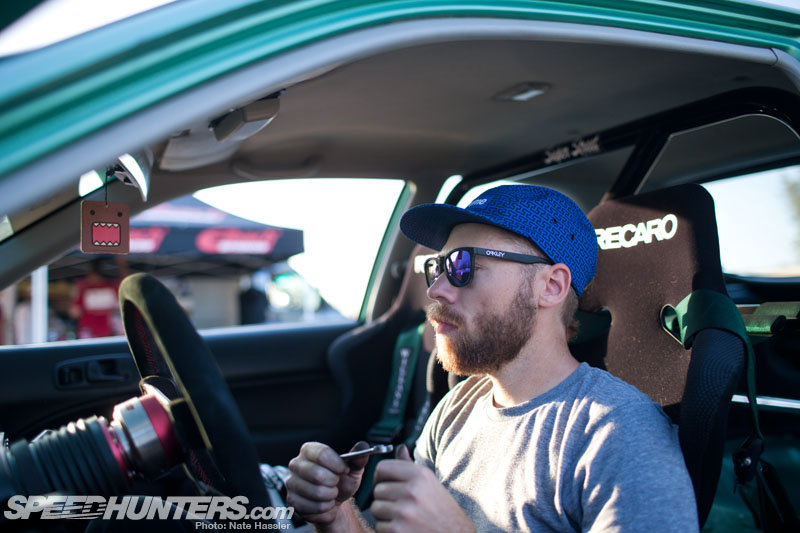 But as you can tell from the look on my face, things went badly.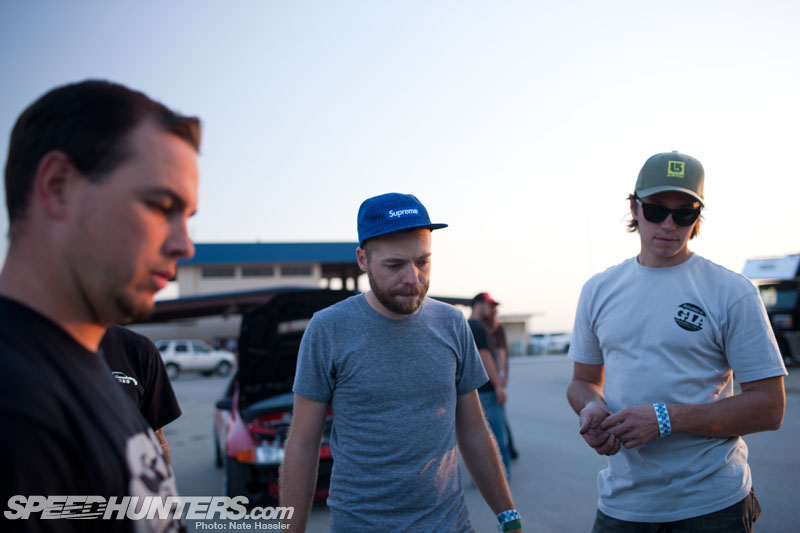 With the sun quickly approaching the horizon, a brain trust had assembled. As you can see, there was an overwhelming sense of "WTF" in the air.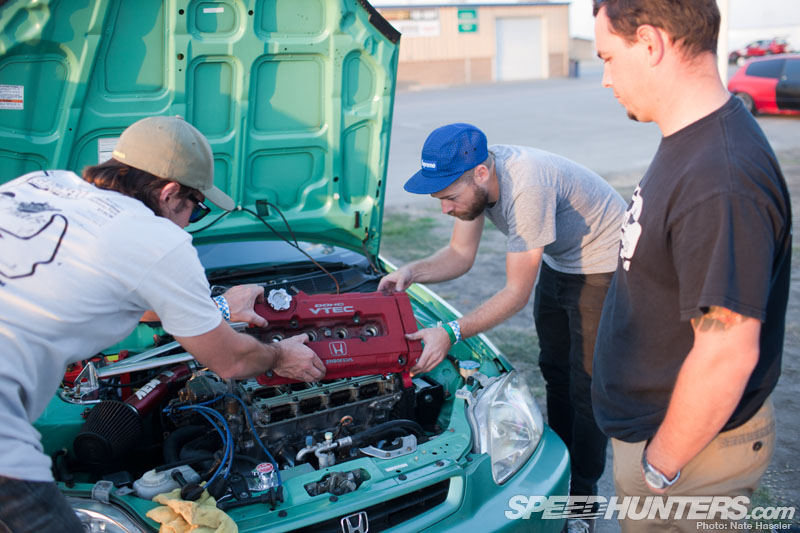 During one of the desperate cranks the car managed to sputter out a backfire, leading some to think I may have bent some valves. While I found it unlikely considering I hadn't over-revved the recently overhauled engine, it's always better to play it safe than sorry. After we removed the valve cover I checked timing… dead on.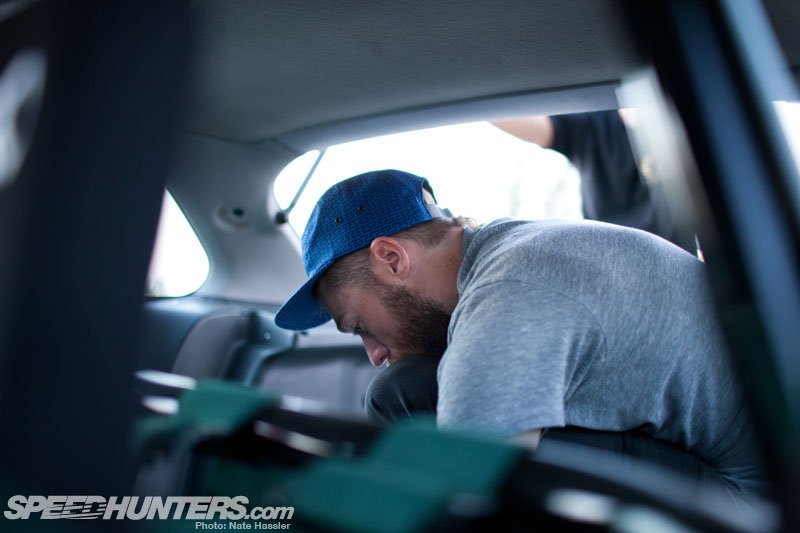 We had decided to check for spark again, just for the hell of it, to discover that it had miraculously appeared. Armed with little test equipment, we next checked for fuel in the most crude way we could. At this point Loi Song from Sportcar Motion had also chimed in and we were convinced that the fuel supply was insufficient.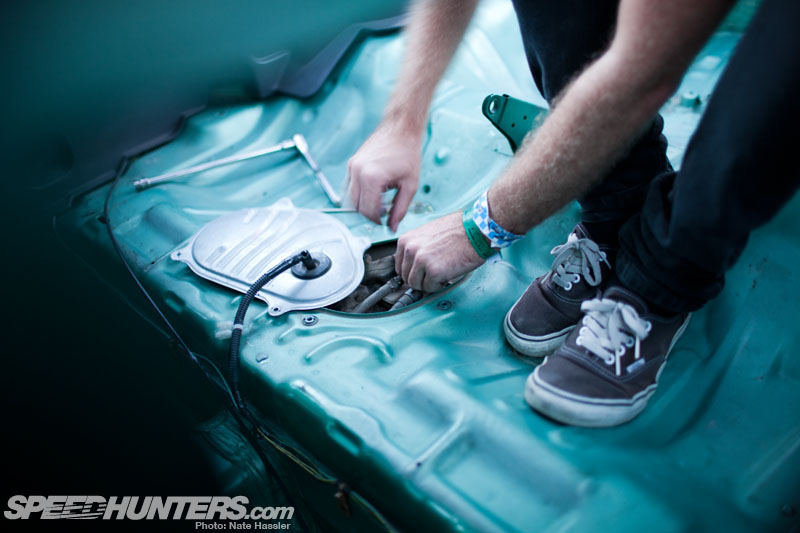 With the sun now threatening to go away entirely, I made the judgement call to pull the fuel pump while we could still see it. At this point my only concern was getting the car ready to drive home again!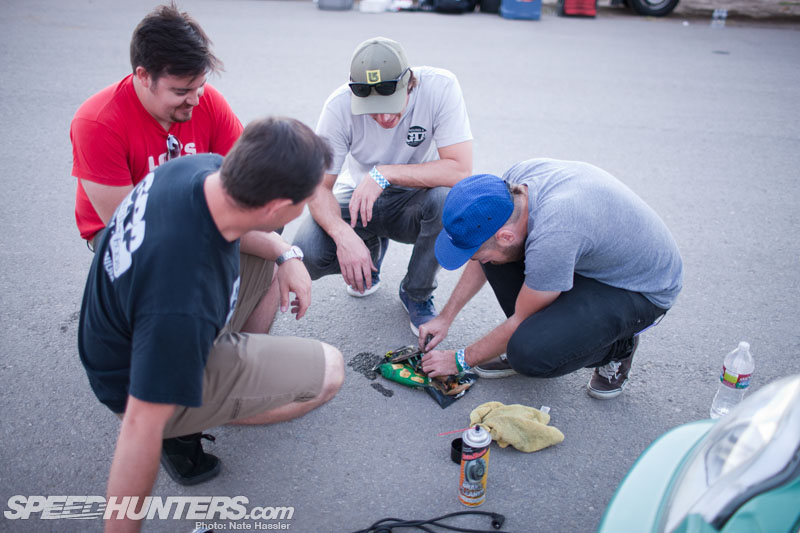 Once I had the pump assembly out of the car I began to strip it to components while Jared was simultaneously removing the functioning Walbro from his. My concentration was soon interrupted by another familiar sound in the paddock, laughter.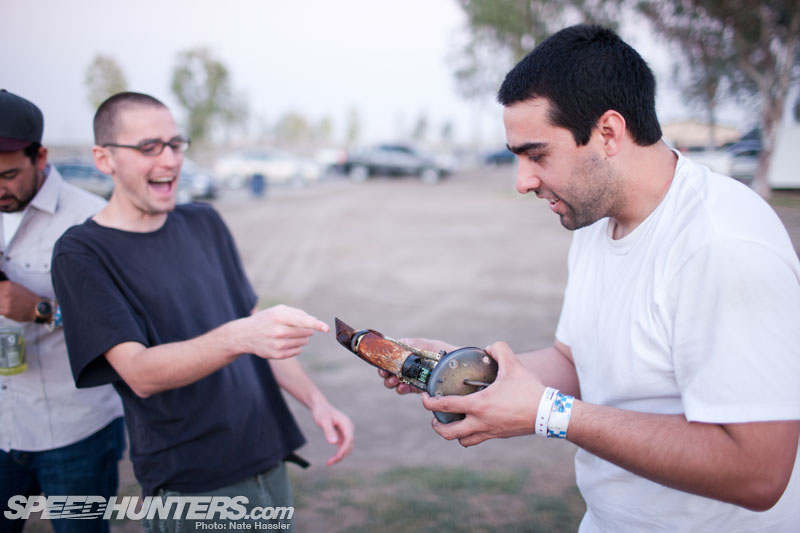 In a very bizarre turn of events, the pump Jared removed from his car actually appeared to be worse off than mine! Regardless, his car started up and ran and mine did not, so I was going to use the rusty old thing!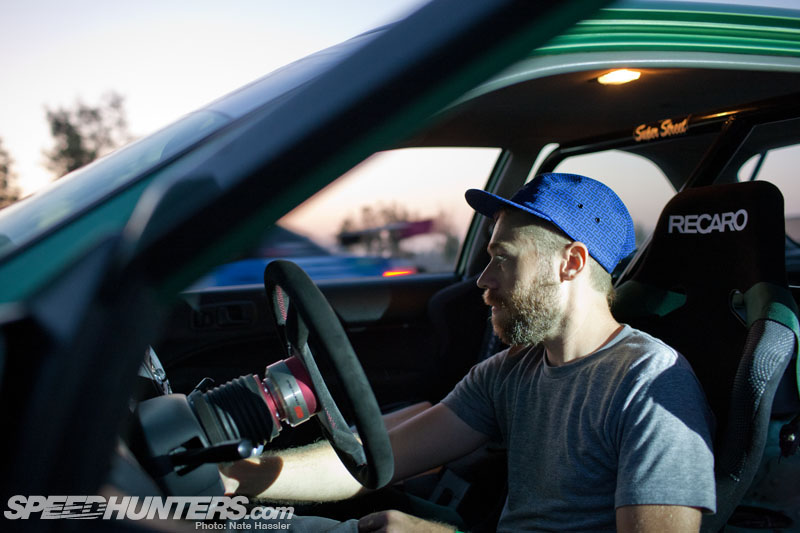 Taking no chances, I also ran over to the fuel station with a jerry can and added two gallons to the tank just in case. With the new pump in place and priming with a distinguished whizz, the sun was all but gone completely. With my fingers crossed I cranked again with hope…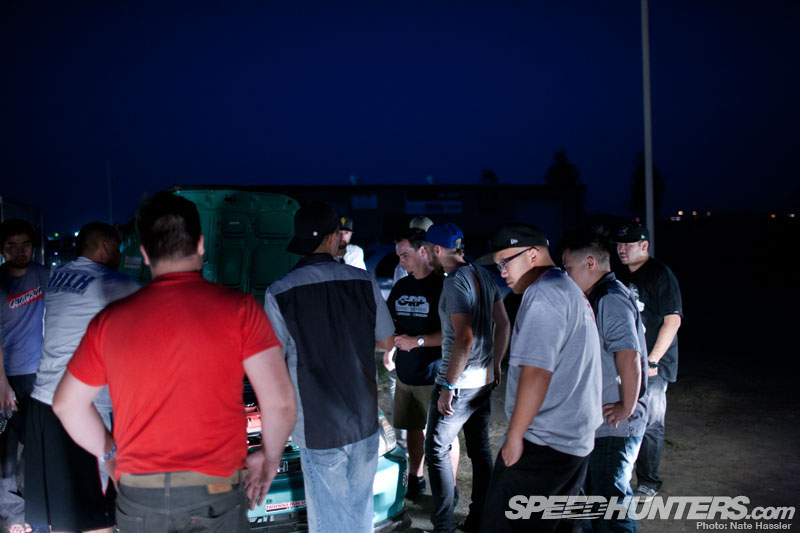 Depressingly, hope is not one of the few requirements for an engine to run. By now I was completely stumped, the car "seemed" to have fuel and spark, so the only thing left to verify was compression. I quickly ran through the paddock frantically asking everyone in sight if they had a compression tester I could borrow to no avail.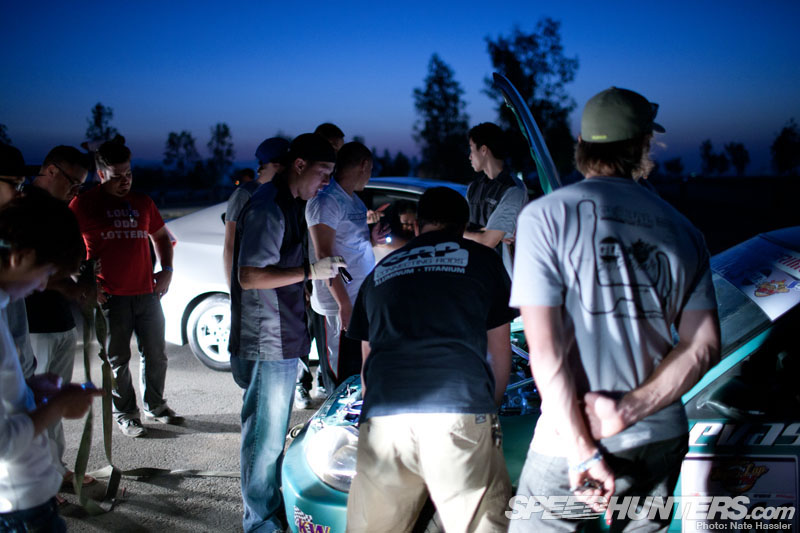 As bummed out as I was by the car not starting, I couldn't help but stand back and smile at the number of friends that had stepped in to lend a hand. Virtually everyone who remained at the track was offering their help, a humbling experience indeed. Sadly I never did get the car running that day and Leroy had to be towed back to LA, luckily I had managed to bum a ride back, as well as a tow, from some friends.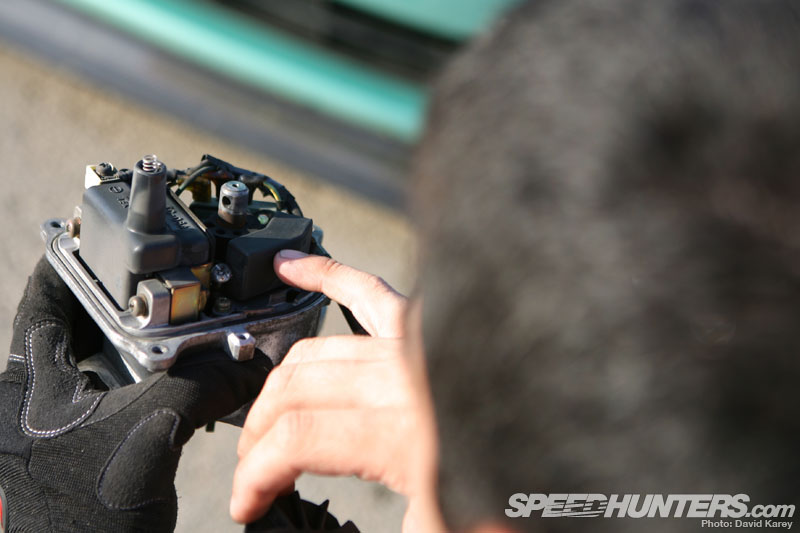 When I finally got the car back to my friend's shop I was able to test the compression and it was nearly perfect across the board. I decided to grab another distributor laying around and threw it on the car, just for the hell of it, at which time it fired right up. In the end it turned out to be the TDC sensor, the one which I had pointed to at the track the day before while swapping internals.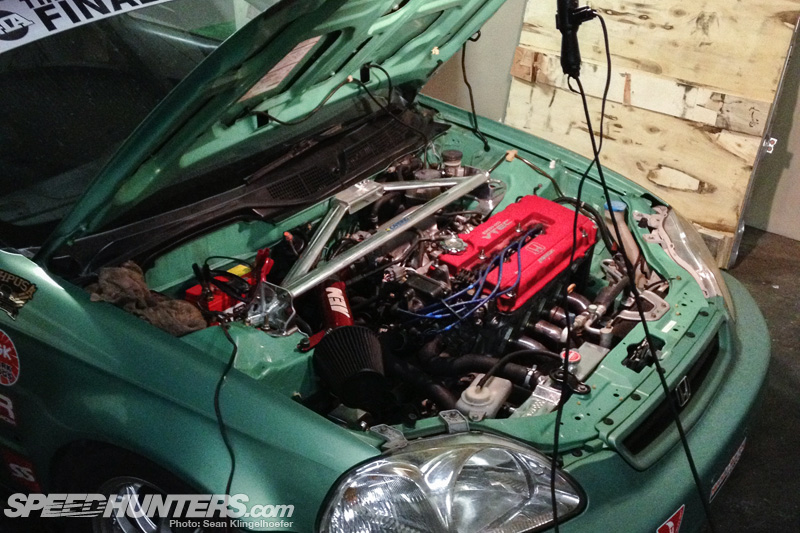 In the end nothing went boom (always a plus) and I discovered, yet again, to always bring spares to the circuit. But I'd argue the real lesson I learned is that no matter how well prepared you are, nothing beats having a well-stocked pool of friends. As much as I've bonded with cars during my life, it's the friendships I've earned that really shaped my life.  To those of you who have helped me over the years, and many more whom I've yet to meet I'd like to say thanks for making the world a better place.
My name is Sean, and I'm a petrolhead.
More stories by Sean Klingelhoefer on Speedhunters
More time attack stories on Speedhunters
-Sean