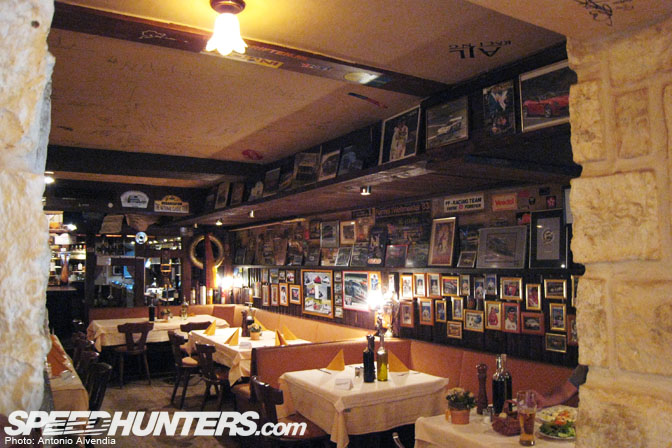 On our recent trips to the legendary Nurburgring, I was most fascinated by the culture surrounding the Nordschleife – the raw purity of the car culture there is cool! There are so many car enthusiasts out there DRIVING their cars and having fun. After all, isn't that the whole point of owning a car? Exactly. Since we we had plans to stay at Nurburgring overnight, my fellow Speedhunters Rod Chong and veteran motorsports sharpshooter Sir John Brooks thought we should go to Pistenklause for dinner.
Since it was my first time to Germany, I had never even heard of Pistenklause. Since I hadn't even heard about it, I'm guessing a lot of our readers haven't heard of it either. So let me break it down for you – Pistenklause is a famous restaurant, which sits within the Nordschleife, in the quaint town of Nurburg, Germany. It's connected to Am Tiergarten, which is a well known hotel in the Nurburgring area, owned by the Schmitz family of Nurburg.
In case you haven't heard, Sabine Schmitz is a bit of a Nurburgring celebrity – she was the first woman to win a major 24 hour endurance race – the 24H of Nurburgring. I was told that she and her sisters grew up in the basement of the Am Tiergarten Hotel, in what is now the Pistenklause restaurant. I think it's a pretty crazy place for young girls to grow up; I suppose that's what started her career in motorsports. Sabine is now a driver of the famous Ring Taxi – you can pay to take hot laps with Sabine at the Nurburgring. I definitely wanted to do it, but as always, our schedule was booked super tight and we weren't able to find Sabine and get a ride around the Nordschleife with her. Maybe next time.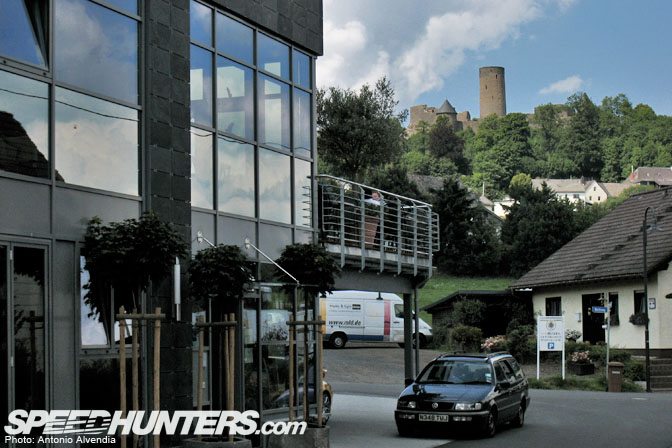 Well anyway, back to the hotel and restaurant – this is the outside of the Hotel Am Tiergarten, and you can see Nurburgring Castle in the background. Rod and I hiked up all the way up the rough medieval steps to the castle, just to find it locked up. Not much there, I suppose. I guess you could say that Nurburgring Castle was breathtaking, because I sure as hell was out of breath by the time I got to the top. Sigh.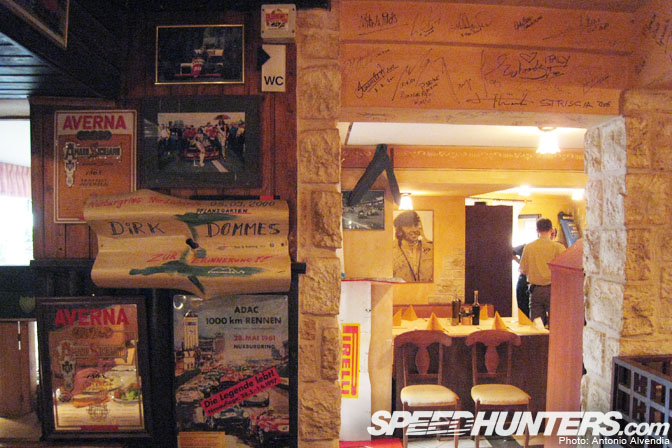 Inside Pistenklause, I was pleased to find a ton of vintage racing memorabilia hanging all over the walls… race event posters, framed photos, car parts, and even pieces of Nurburgring's guardrail adorned the walls, which are full of signatures from racing drivers who have dined there. Look at the poster in the back – it's Jackie Stewart, the famous F1 driver. Cool!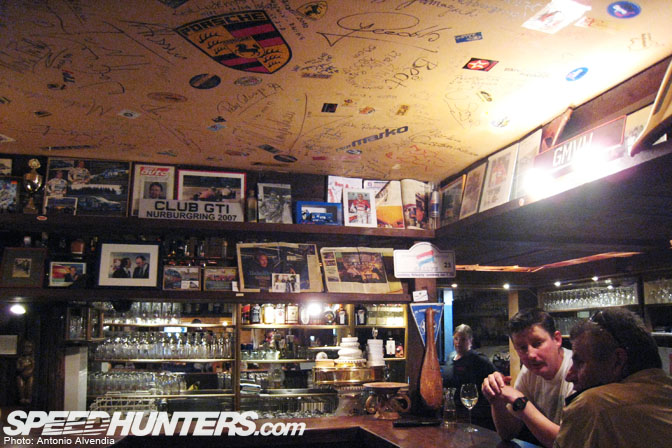 Of course, Germany wouldn't be Germany with a bunch of beers on tap! Just look at all the signatures on the ceiling!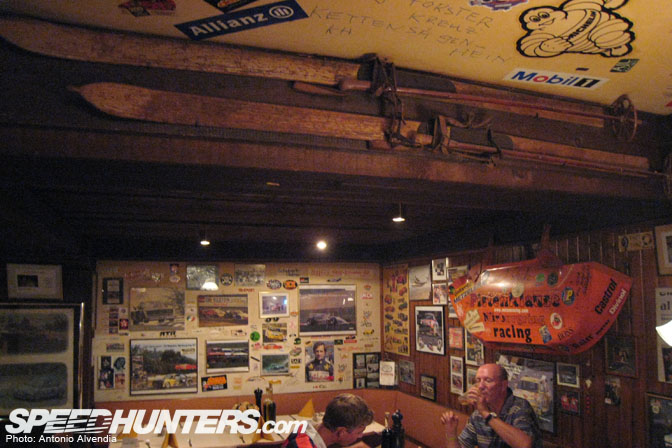 And all the stickers all over the walls! Damn, makes me wish I brought some of my black and gold Cipher Garage stickers… but most of the Nurburgring crowd rocks BMWs, Mercedes, Audis and Porsches, so I don't think most of them would even know what an AE86 was anyway.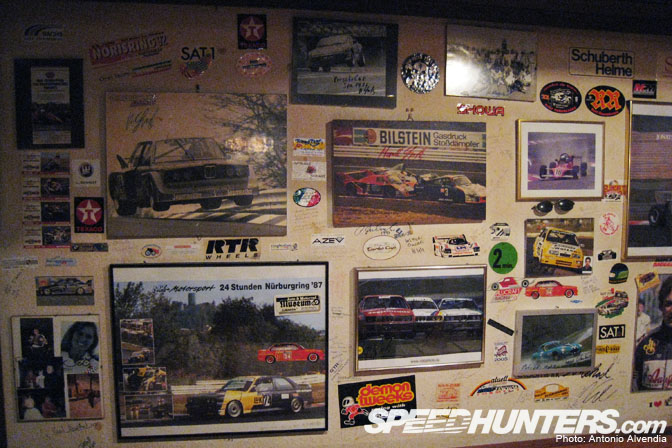 I think the poster of the BMW 320i in the air is sooo cool!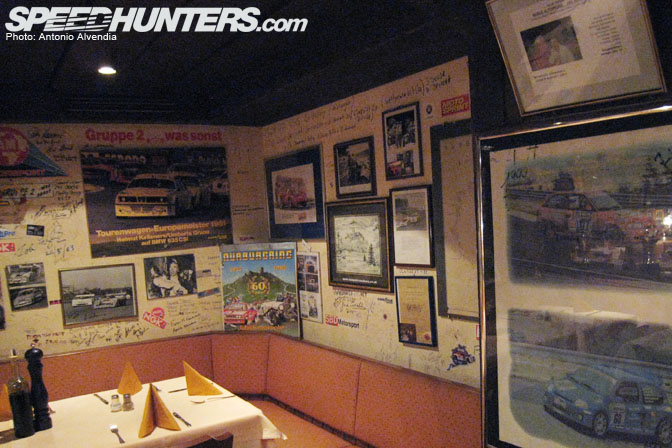 Like I said, BMW stuff everywhere.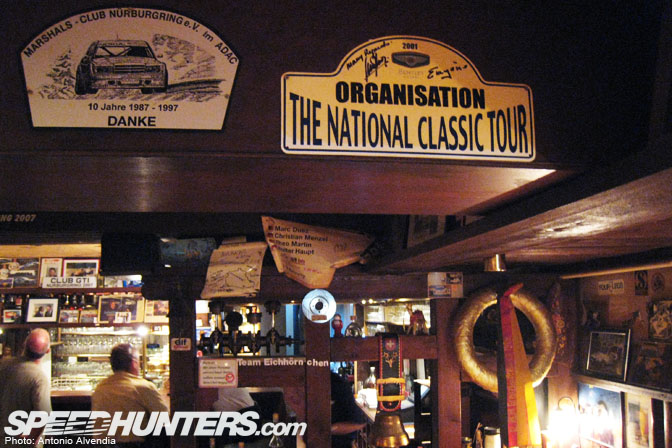 Oh, and there's a Benz for you.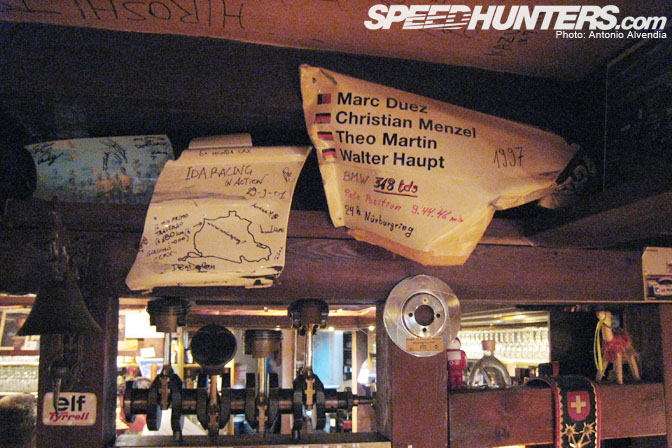 I think it's cool that someone actually drew out the outline of the ring course on that piece of bumper or whatever it is!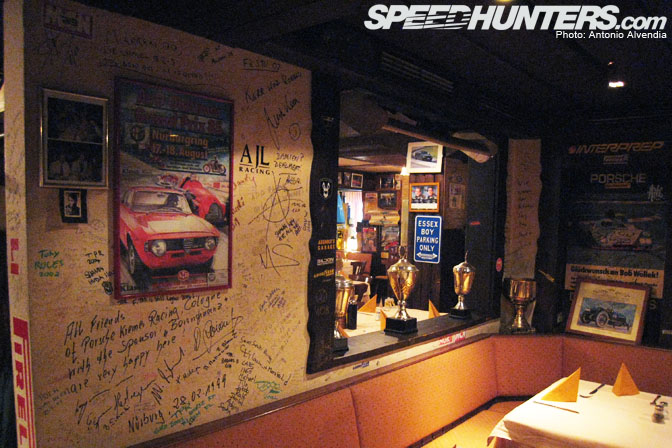 Alfa, Porsche, and a lot more signatures.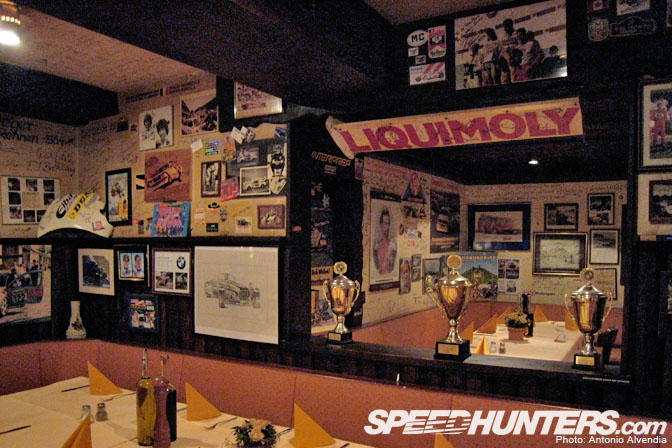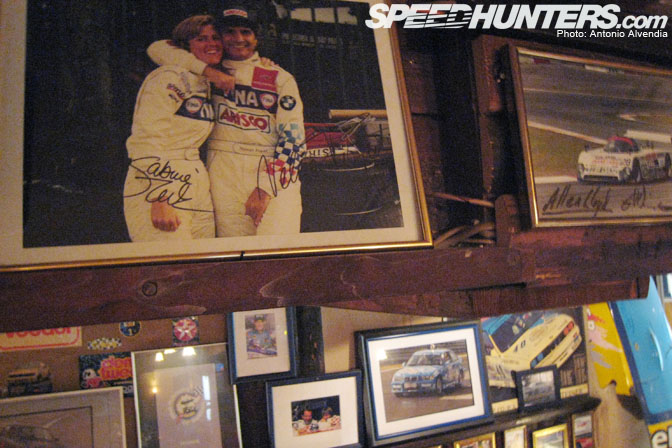 Here's a photo of Sabine Schmitz, the Queen of the Nurburgring.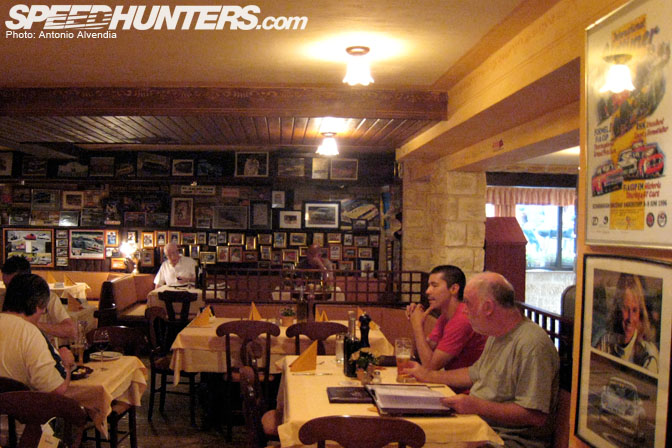 There's Rod and Sir Brooks at the table, waiting for me to stop taking photos so we could order our food already.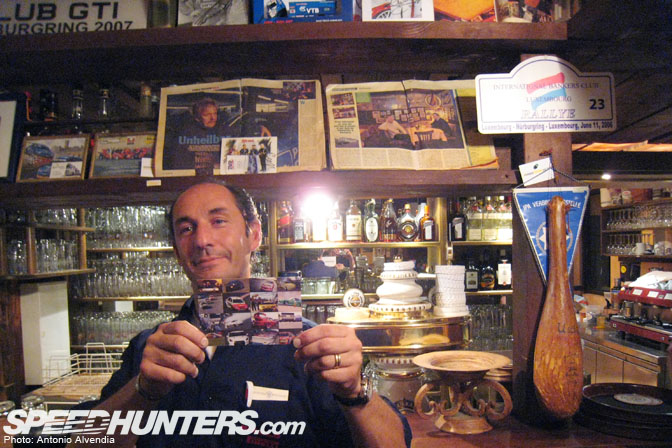 I'm not sure if it's still there, but Rod gave the bartender at Pistenklause a Speedhunters flyer… too bad we don't have Speedhunters stickers yet. As of right now, the only Speedhunters stickers in existence are probably the ones that Calvin Wan cut out for his Formula D competition car.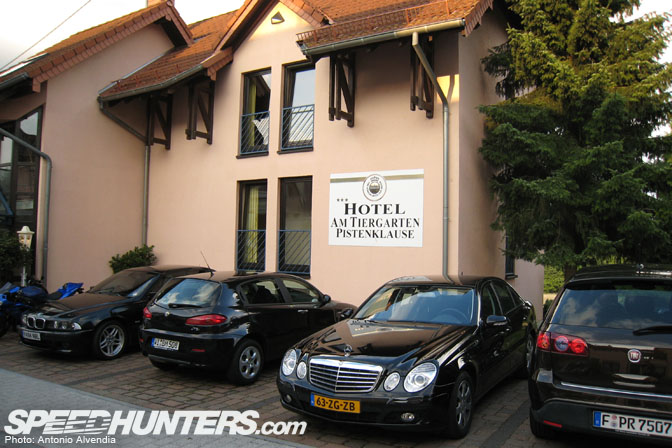 Here's the outside of the hotel! I definitely recommend that you check this place out if you ever plan to visit the Nurburgring!
-Antonio Alvendia