Ireland is a strange country for automotive culture. It's not exactly the most ideal country in the world to be a petrol head – high motor taxes, poor road network and extortionate insurance premiums all combined with a government determined to rid the roads of performance cars. Even to class yourself as an automotive enthusiast is frowned upon by the majority of society here. The general public want their appliances to transport them from A to B, more often than not neglecting everything along the way of their soulless commute.
But beneath the surface, a sub-culture exists. One that most here know nothing of. They hide in plain sight, often daily driving something that appears innocent enough to most, but attracts respect from those that can appreciate. They never go out to attract attention or to seek glory amongst their peers. They do what they do for one thing only – to put a smile on their own faces.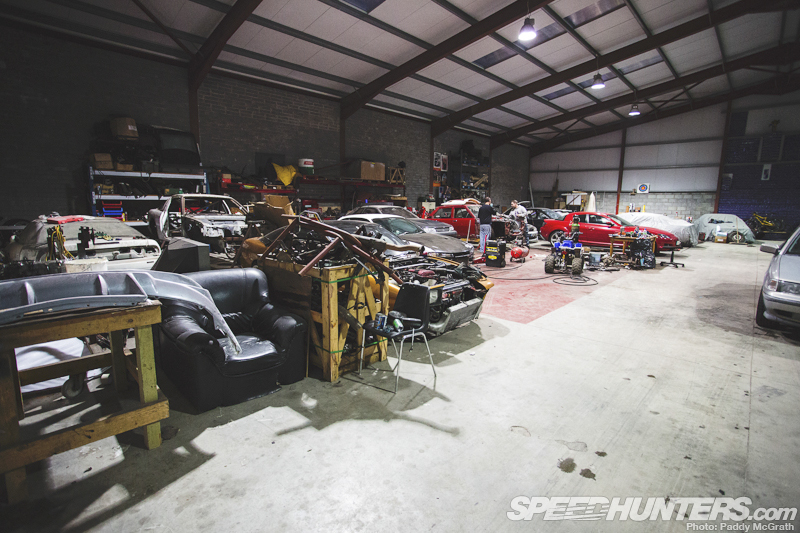 Around ten minutes from where I live is a small and mostly abandoned industrial area. An area which was bursting full of potential during the 'Celtic Tiger' era, and has now been left to rot and decay.  I had heard people previously mention a place, a sanctuary even, simply called 'the shed'. A place where some like minded folk passed the hours away after their own nine-to-fives. I never really thought it warranted much investigation until a friend told me that guaranteed never seen anything like this anywhere in the world before. Strong words indeed. Turns out however, that he was right.
What might be known as 'the shed' is actually an industrial unit, some 15,000 square feet in size with electricity, water and everything you'd need to make it your own. The unit is leased by a group of friends who split the monthly rent evenly amongst each other. What they have created though is something that any one of us could lose hours inside.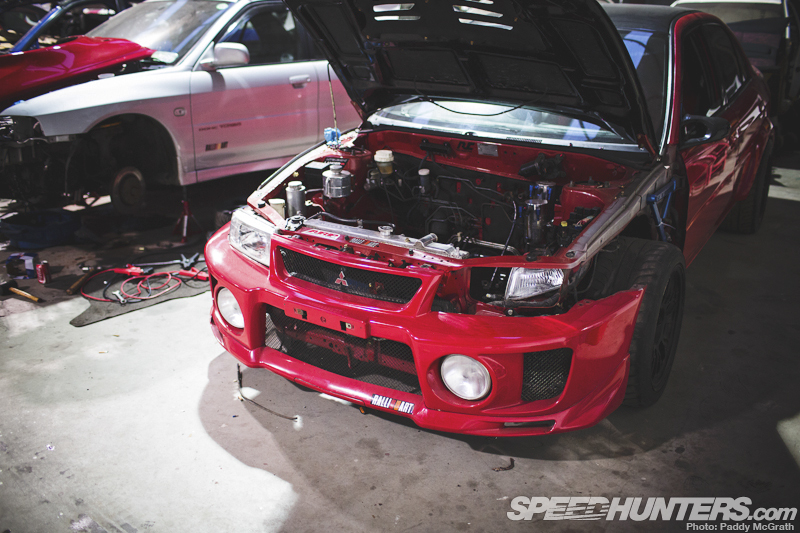 From the moment you walk in the door, you're immediately greeted by the sight of a dozen Lancer Evolutions in various state of build. This particular car is closing in on its completion.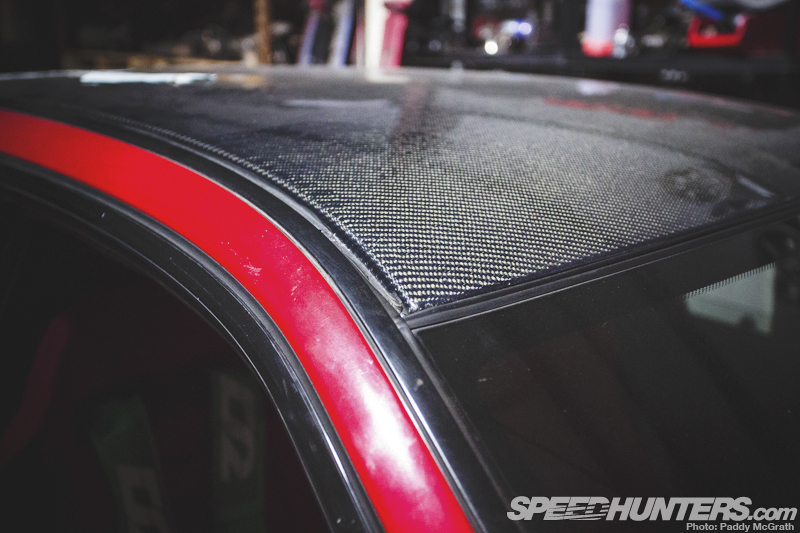 The genuine Varis carbon fibre roof is a rare sight here.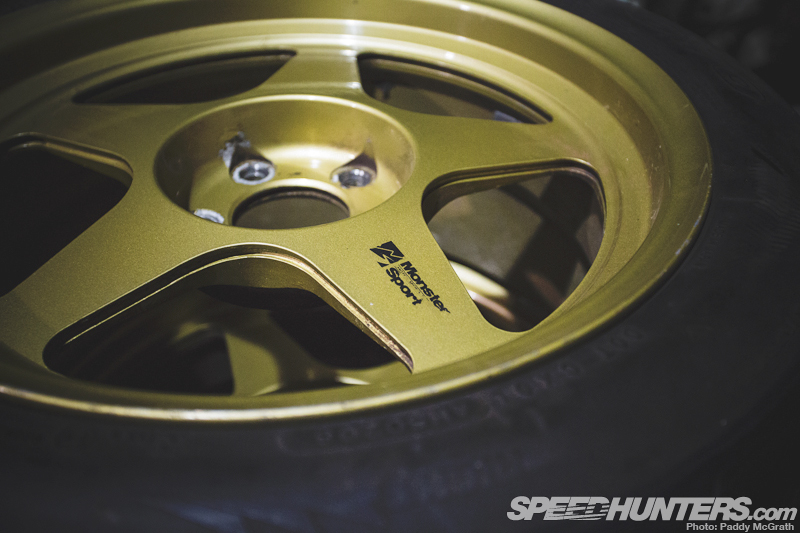 As are the Monster Sport wheels hiding behind it.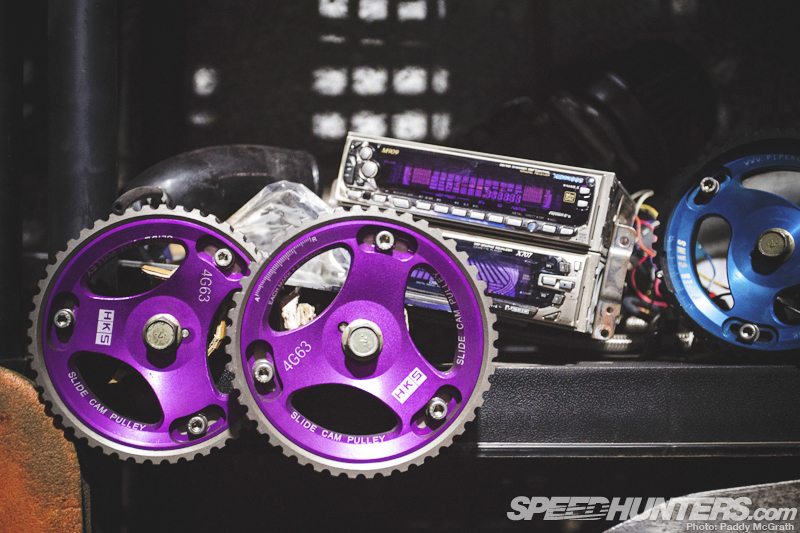 Shelves are stacked with parts removed from some of the cars, waiting to find a new home.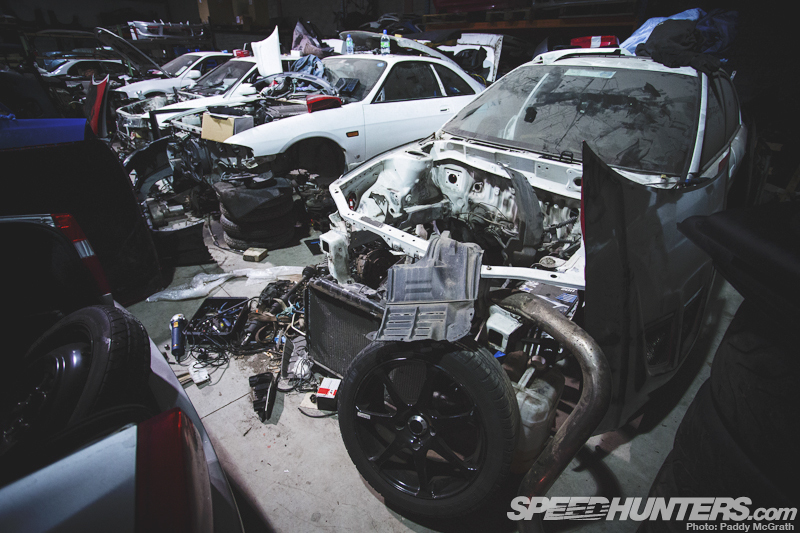 This particular area of the shed is used to break cars so that others may continue to live. Still though, I can't even begin to imagine the amount of potential right here.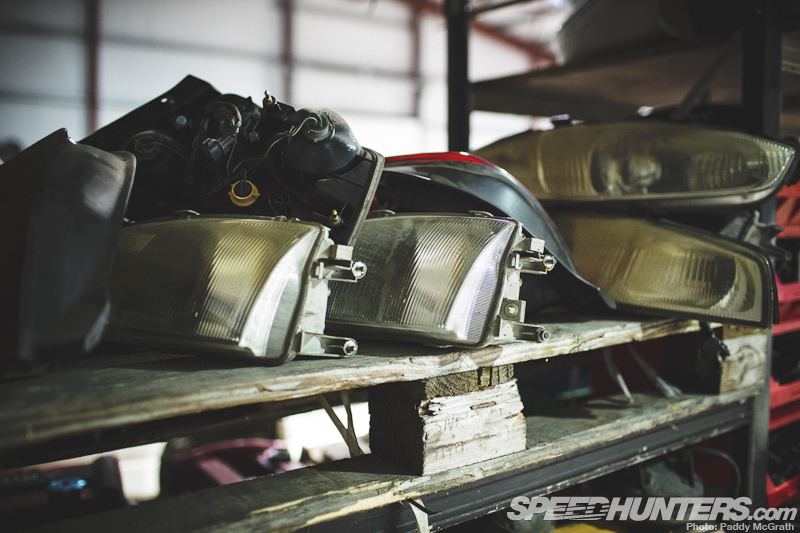 Parts are rather neatly organised on racking systems, but no need for computerised barcoding systems, only the owner of this bay knows where everything can be found.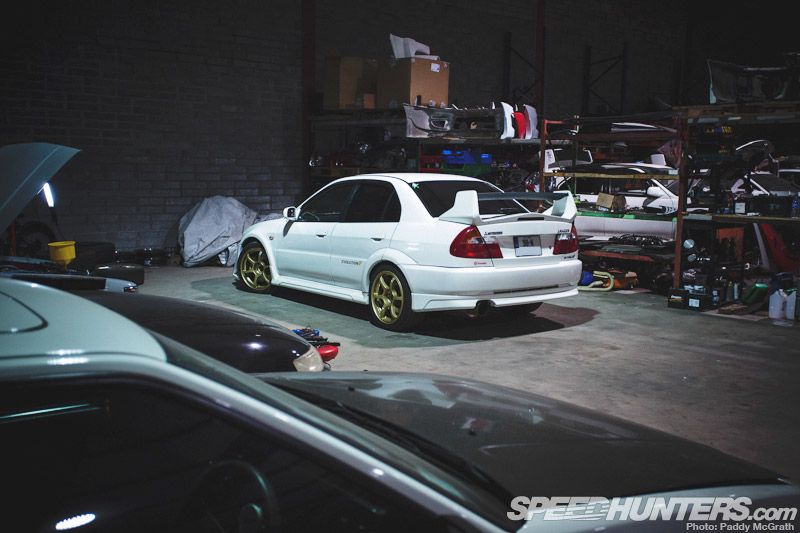 There are of course some complete and living cars here too.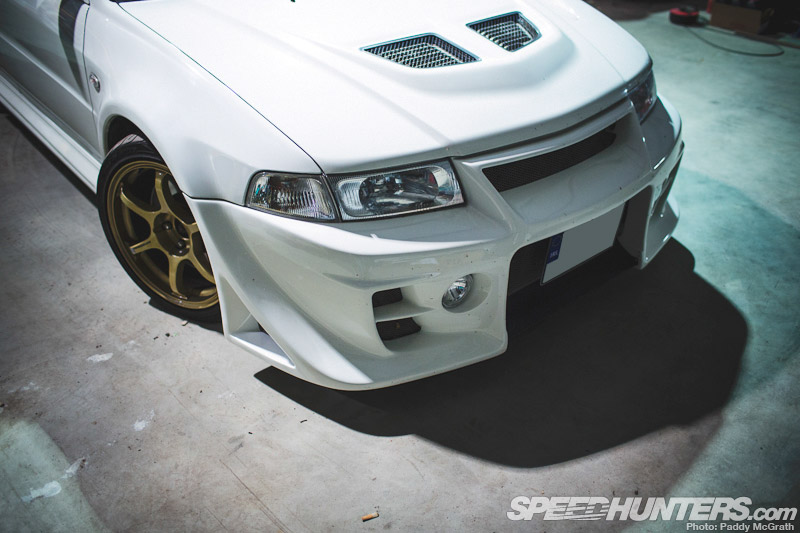 This Lancer Evolution V – my personal favourite of the Evos – was just sitting to one side. It's DAMD front bumper and Advan wheels complimenting the factory aggression.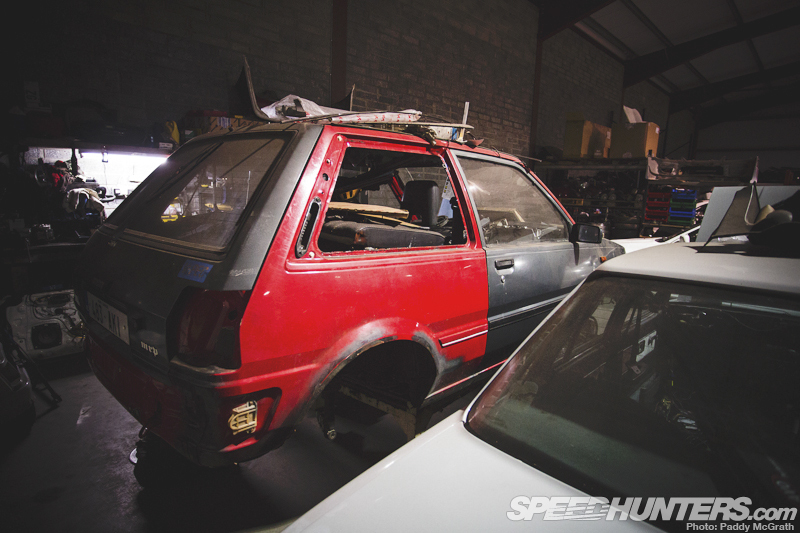 In the next corner, sits a heap of projects being built by one of the other tenants.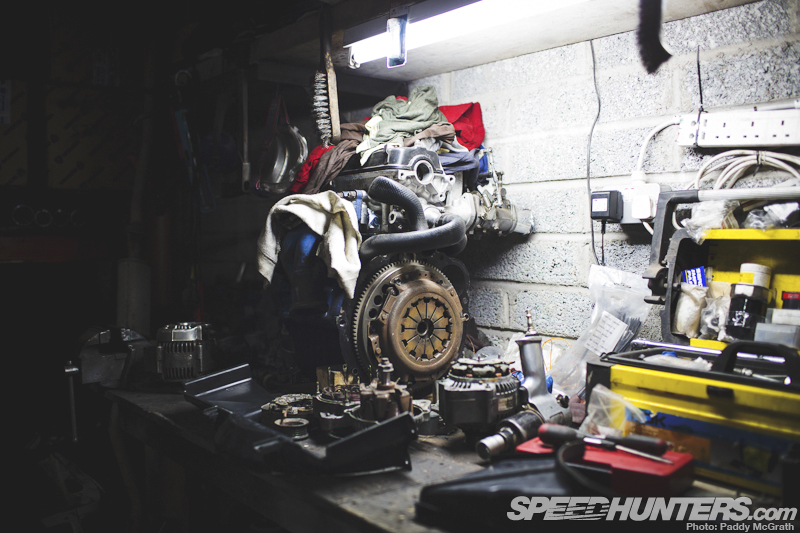 I love a good work bench shot.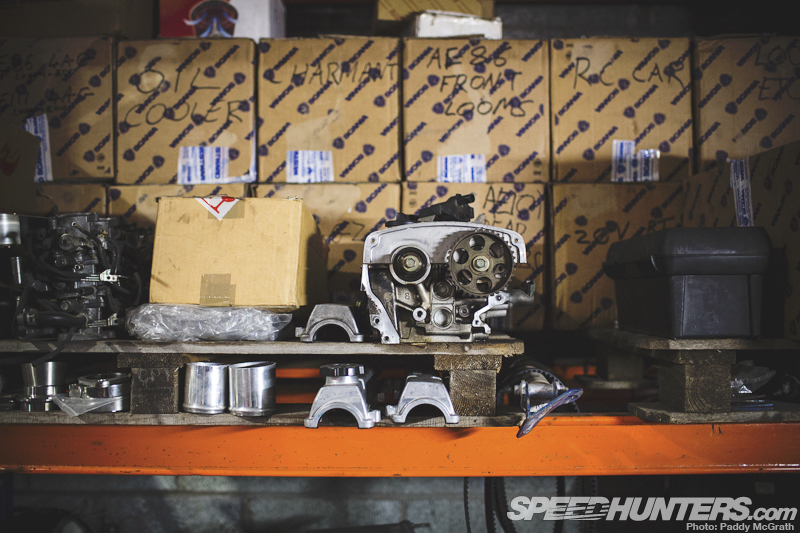 The boxes behind the head should give you an inclination of where this tenant's loyalties lie.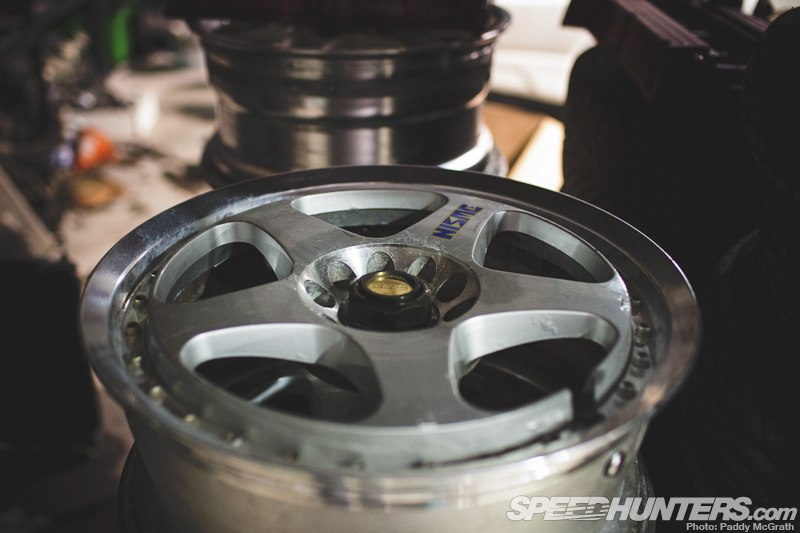 A complete set of Nismo GT1 wheels lurking beneath a shelving unit. You could spend hours in here sifting through each area.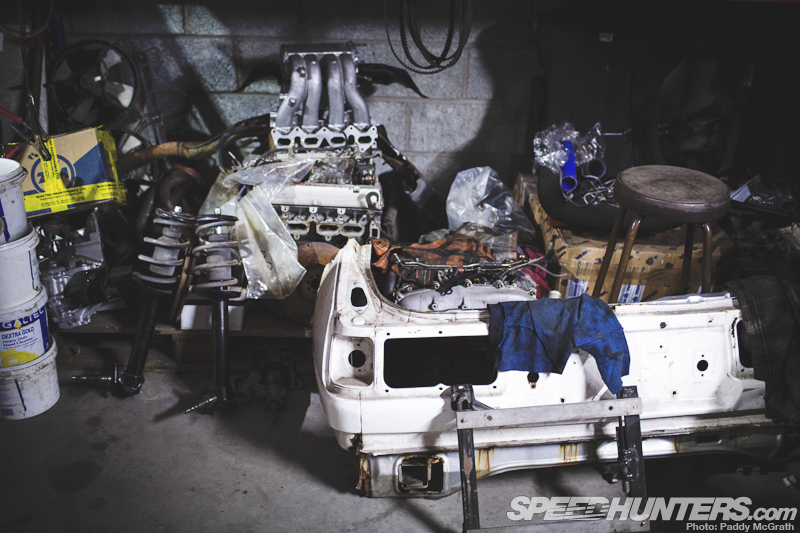 When there's only certain parts you need from a shell, what better way to save space than by just cutting out the bits you need.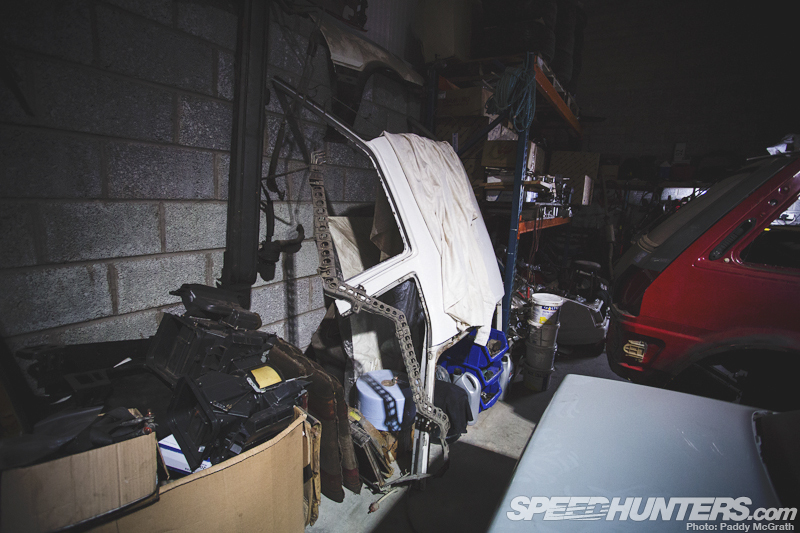 You'd have to recognise that roofline anywhere.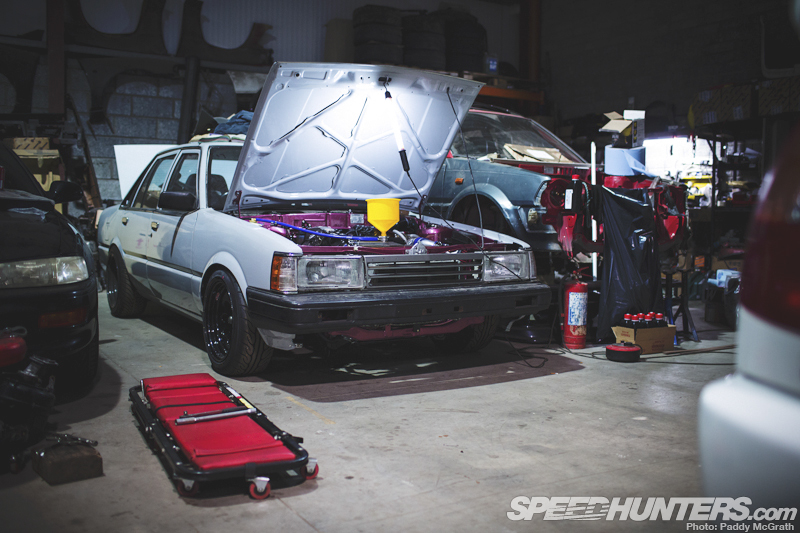 Coming closer to completion was the tenant's Daihatsu Charmant. Painted primer grey on the outside, it's not so dull underneath …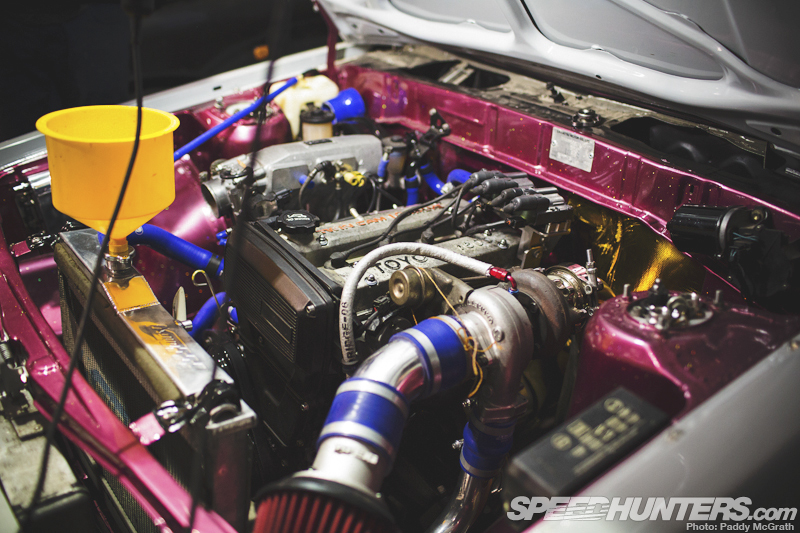 … featuring a turbocharged 4A-GZE in a sparkly pink and tucked engine bay.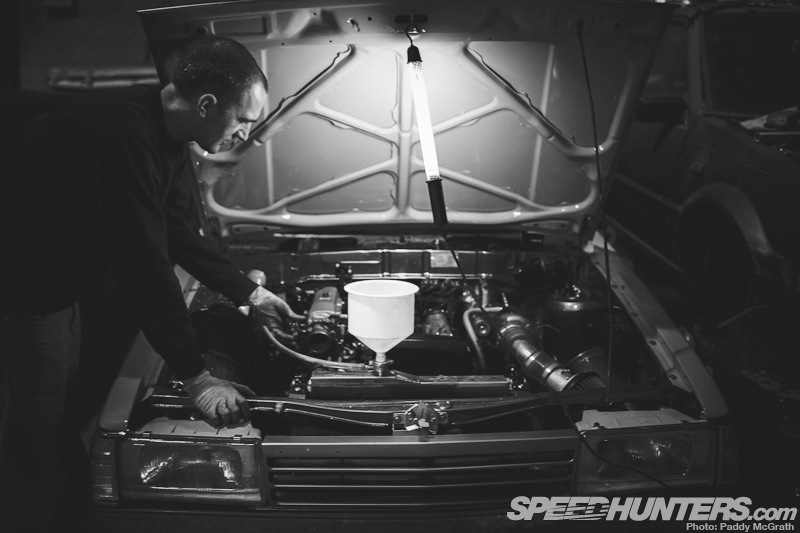 We were actually present just in time to hear the car start for the first time. Without a full exhaust system, it was ignorant and loud. Just how we like them.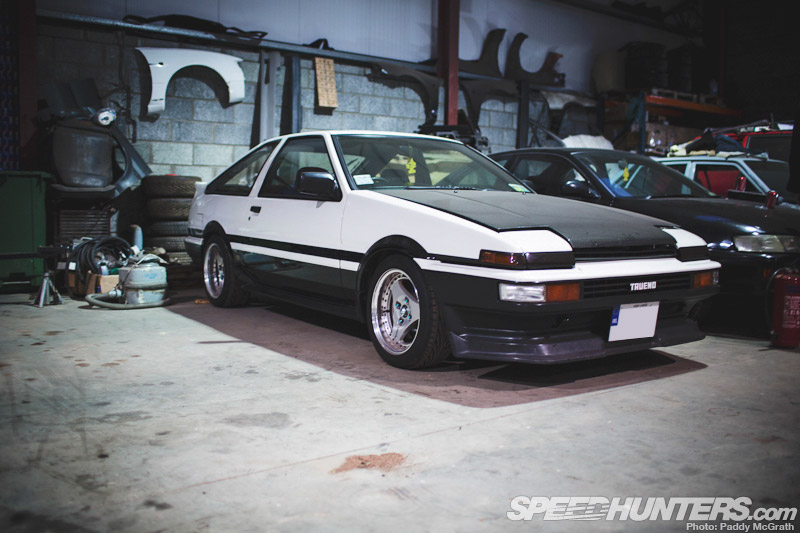 This would be his other car, a mint original Japanese Trueno.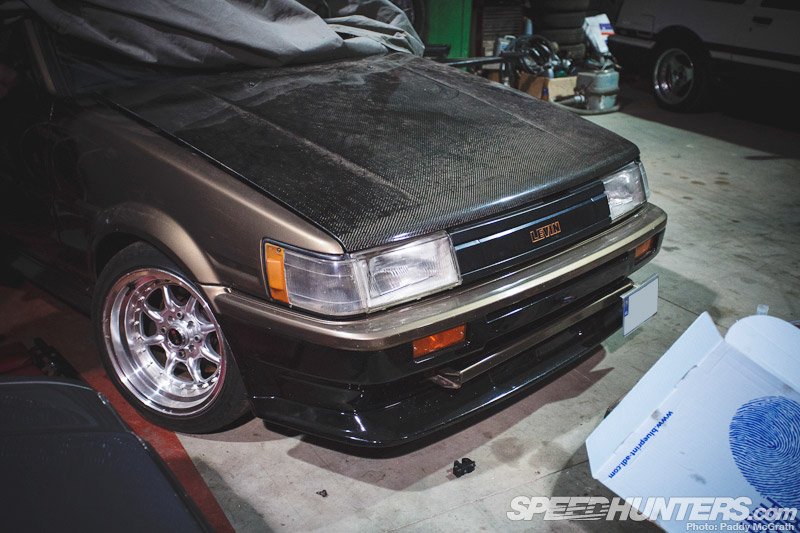 It's kept in good company too with his friend's awesome Levin.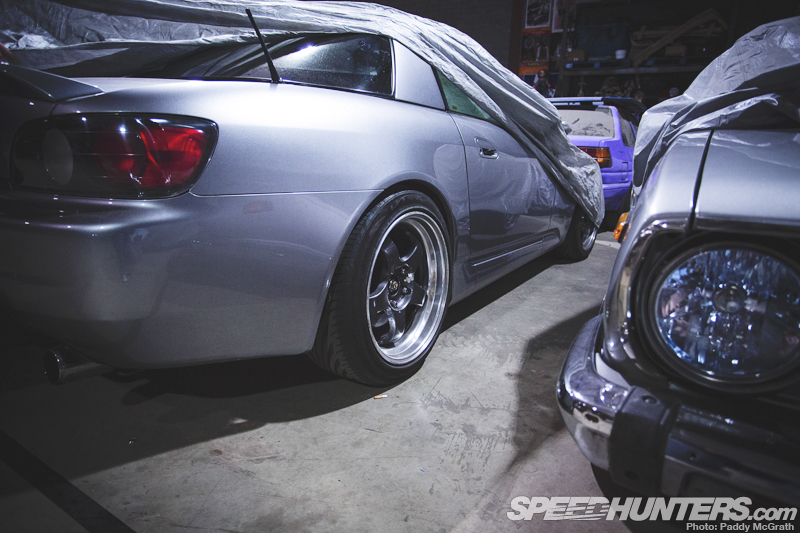 Next to the Levin lies a pair of covered beauties – first this Meister wearing S2000 …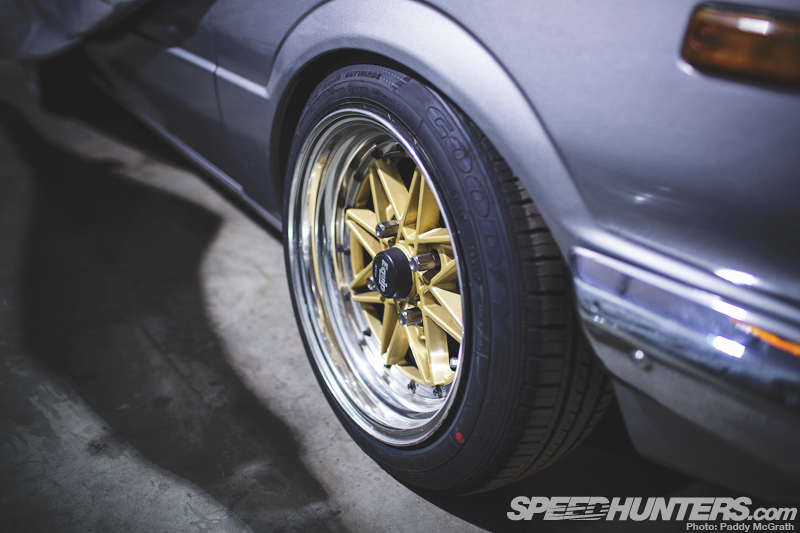 … and next to it a real treat. Sat on a set of Work Equips …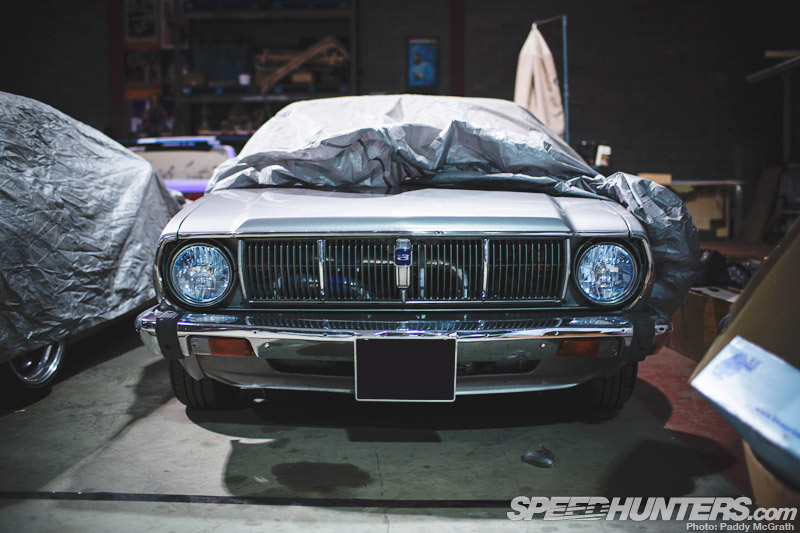 … was this 30 Corolla Coupe. The eagle eyed amongst you will no doubt notice the hard piping behind the front grill, which is present because somewhere behind that grill lies a supercharger.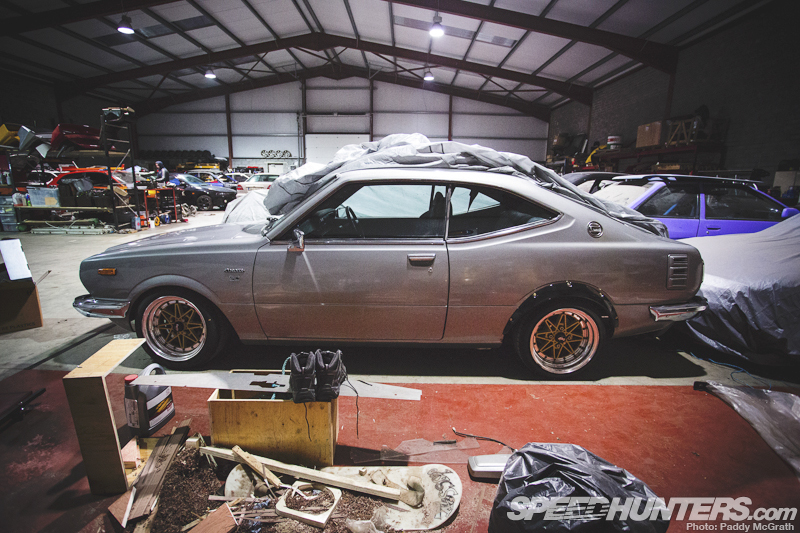 It all comes together to create an awesome package, the likes of which 99% of people in Ireland could never appreciate.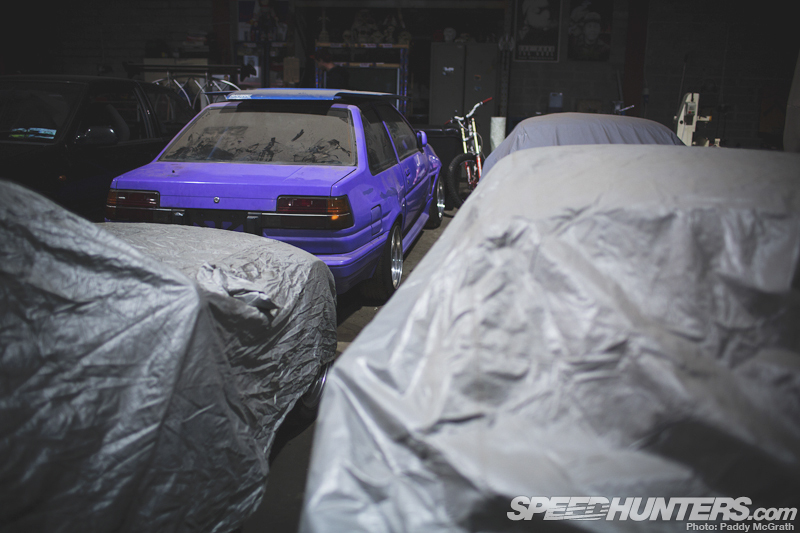 Even more impressive is this J-Blood demo car parked in the corner.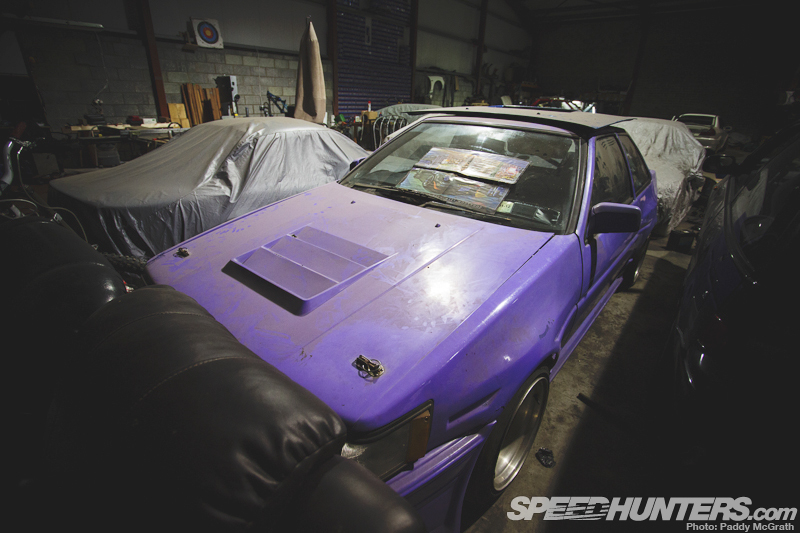 I wonder does Dino have any shots of this from its previous life in Japan?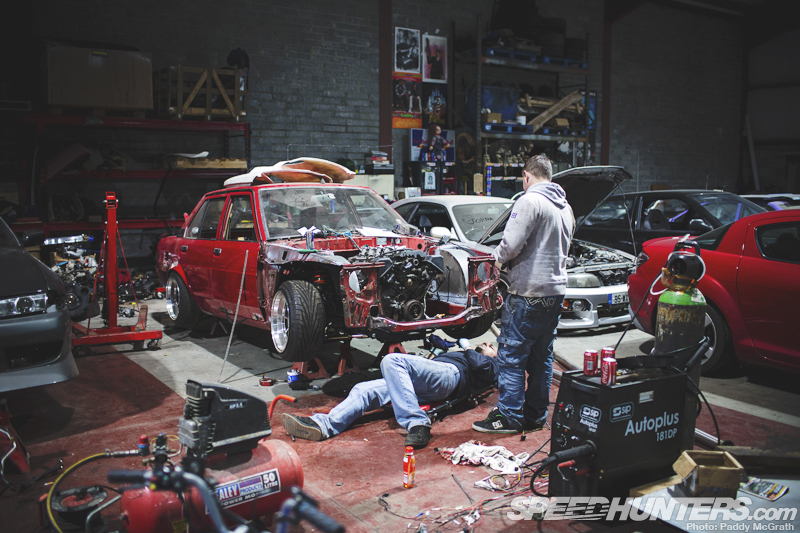 Moving around and work continues on another of the shed's many projects. This time it's a Hayashi Street wearing KE70 Corolla which is currently getting fitted with a 1UZ-FE …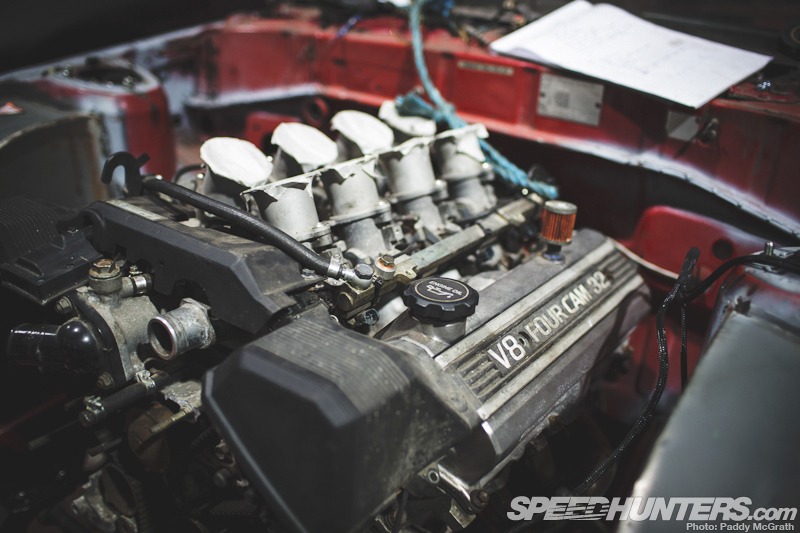 … which is of course Toyota's own V8.  The owner told me how he often comes here straight from work each day just to keep working on his cars, often not getting home until the early hours of the morning before getting up at the crack of dawn the next day, only to repeat the same process over and over again.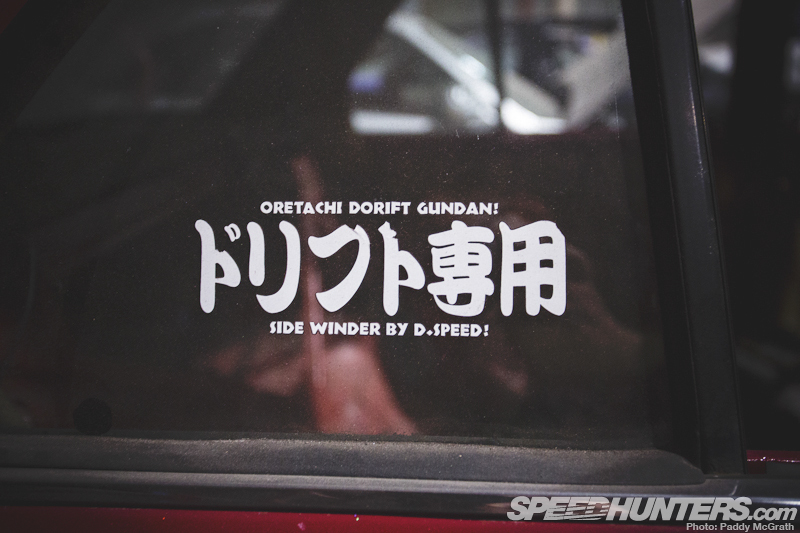 All these little small details just make me smile.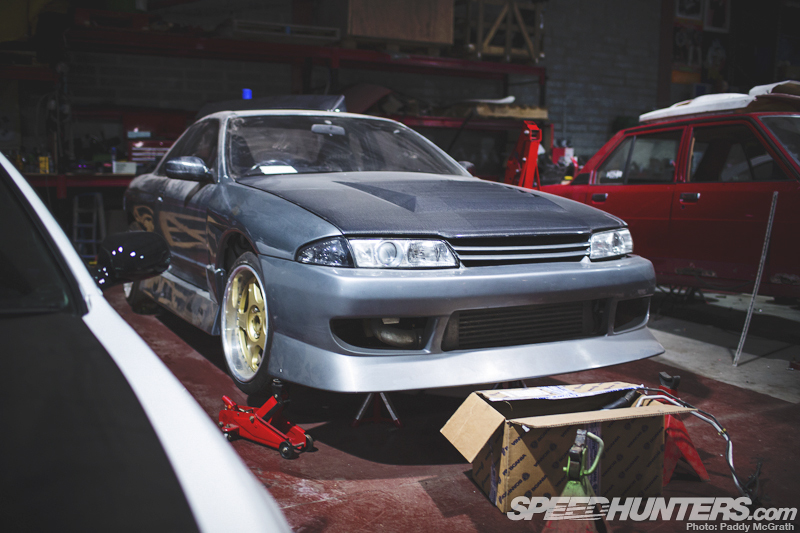 This is / was the KE70 owner's daily driver which is currently awaiting a new engine.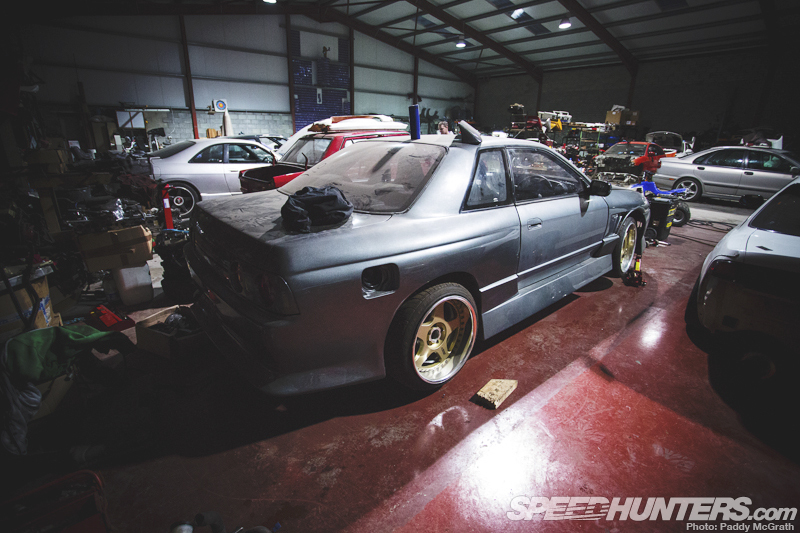 It used to be all gold and would make me so happy seeing it on a near daily basis as he works near where I live. I'm loving the colour change though.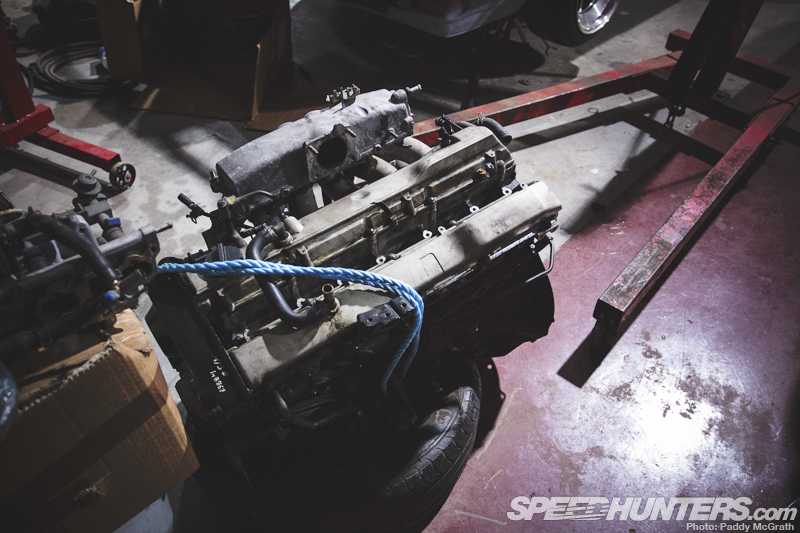 Although he was fairly adamant of keeping the RB20 at its heart, when this RB25 came up for small money, it just made sense.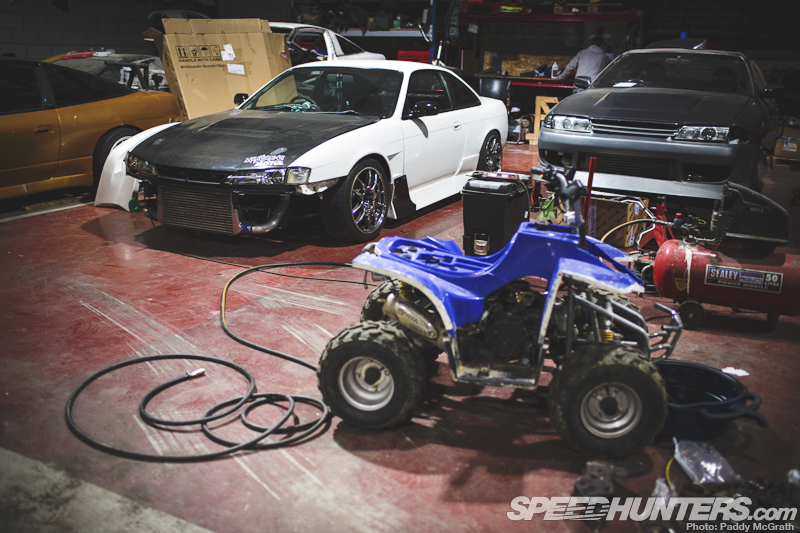 Beside the R32 lies this tidy S14A – what was once a road car, is now a dedicated drift car.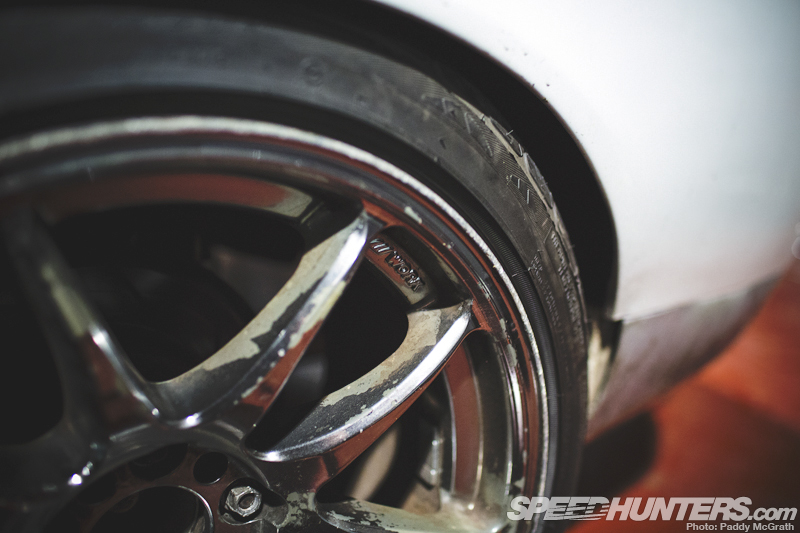 Wearing only the finest of shoes of course.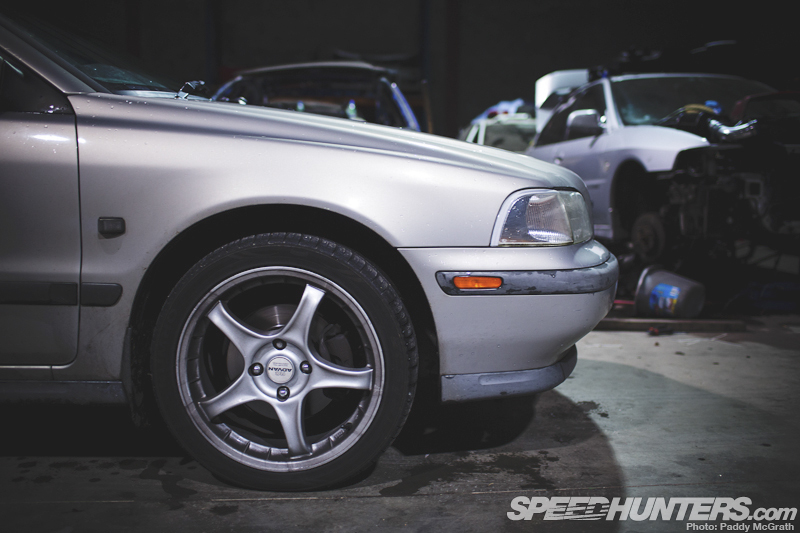 Even the winter run-arounds are treated to fancy rims.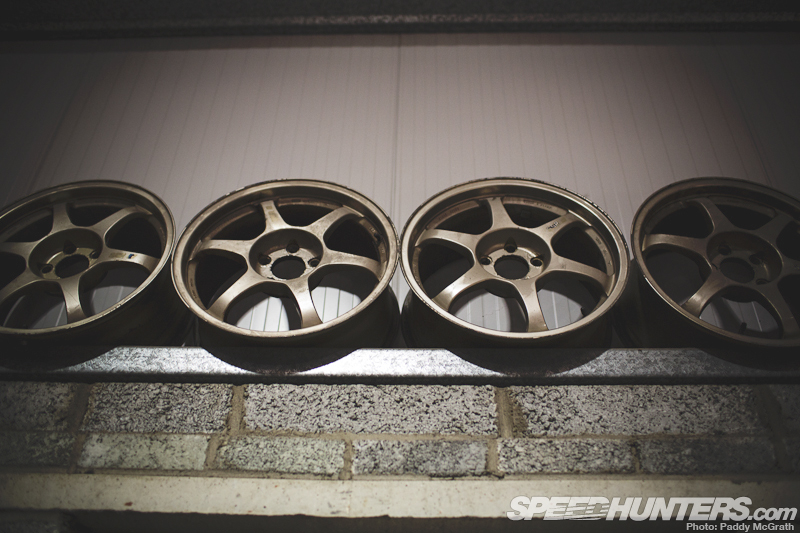 In fact, I've never seen so many awesome wheels in one place before. These SSRs were hiding above the door …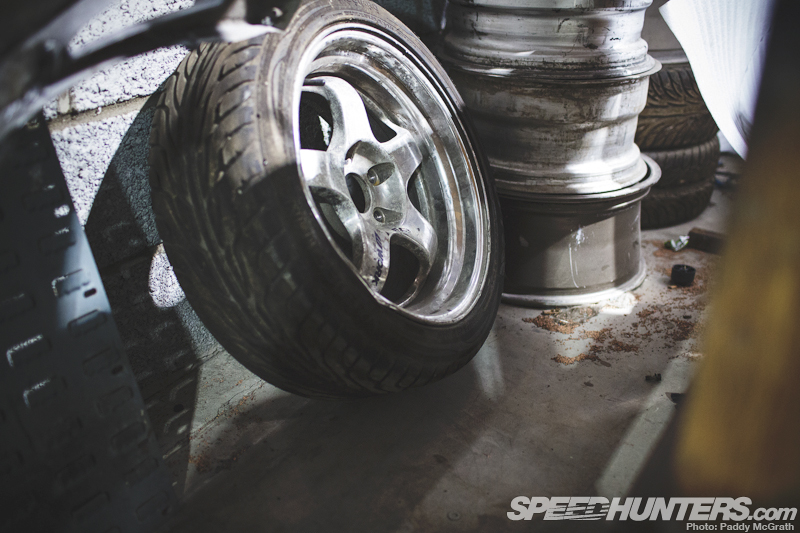 … whilst these Meisters were tucked away in another corner.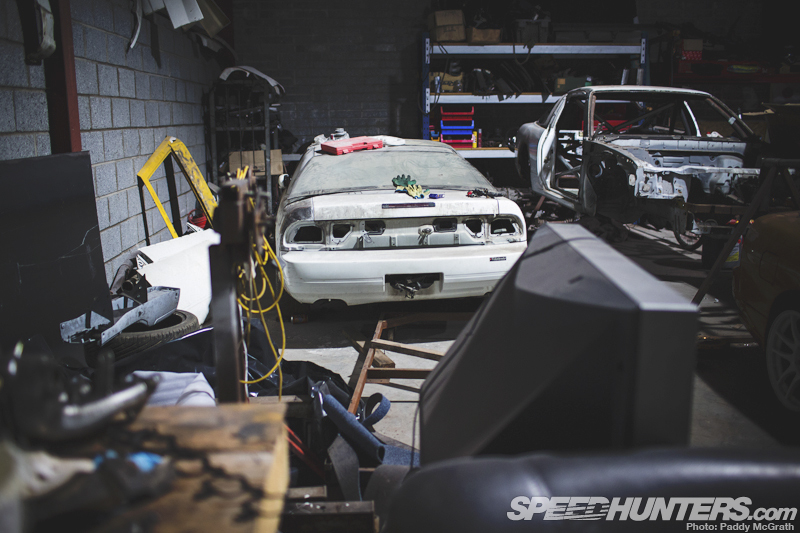 I guess where one half of the shed is Toyota and one quarter Mitsubishi, this is the remaining 25% – the Nissan corner. Their owner has recently emigrated to Australia so it might well be some time before these see some love again.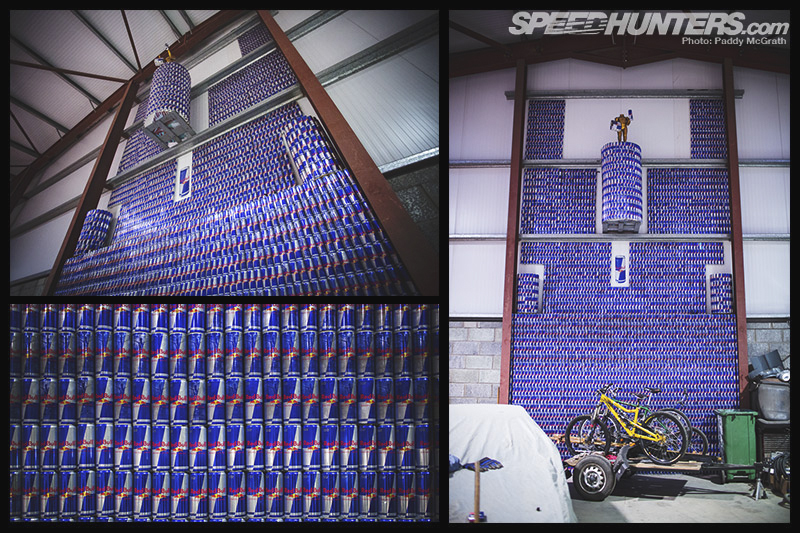 All those late nights require serious amounts of caffeine. This must be a record of some sort, it's over two stories high!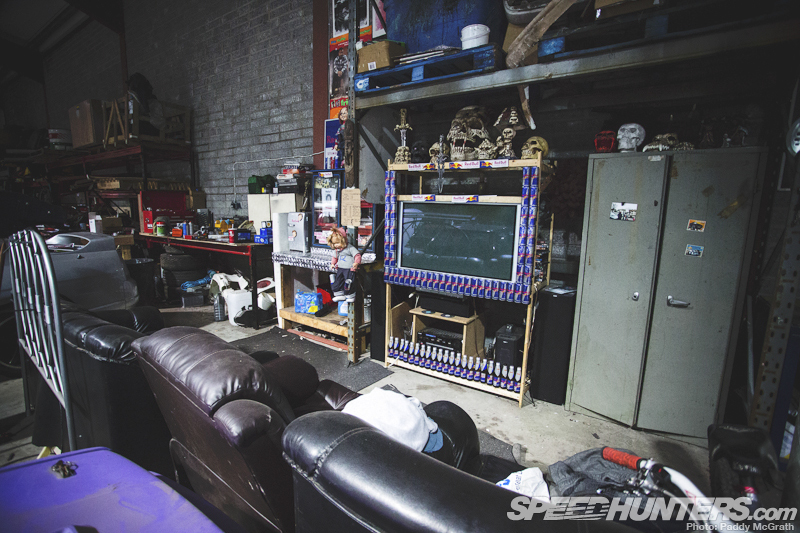 As hard as all these guys work, they also have the rest area sorted like nothing else.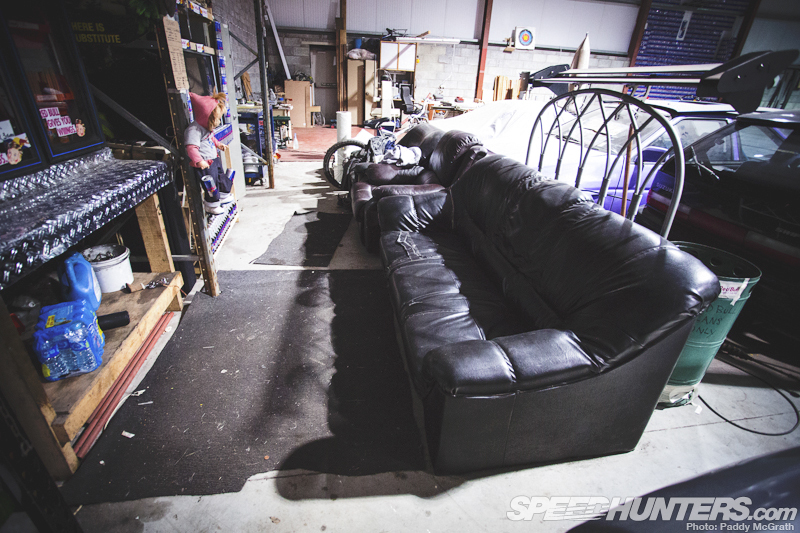 When was the last time you seen a couch with a GT wing?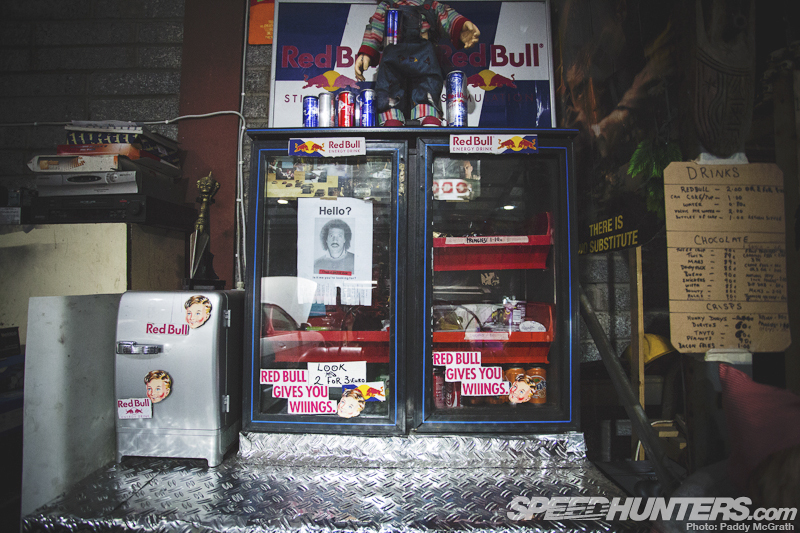 Once a month one of the guys bulk buys a stock of drinks – you'll never guess which kind – chocolate, crisps and puts them on sale in the shed's shop. The whole system is operated on trust, you pay for what you take.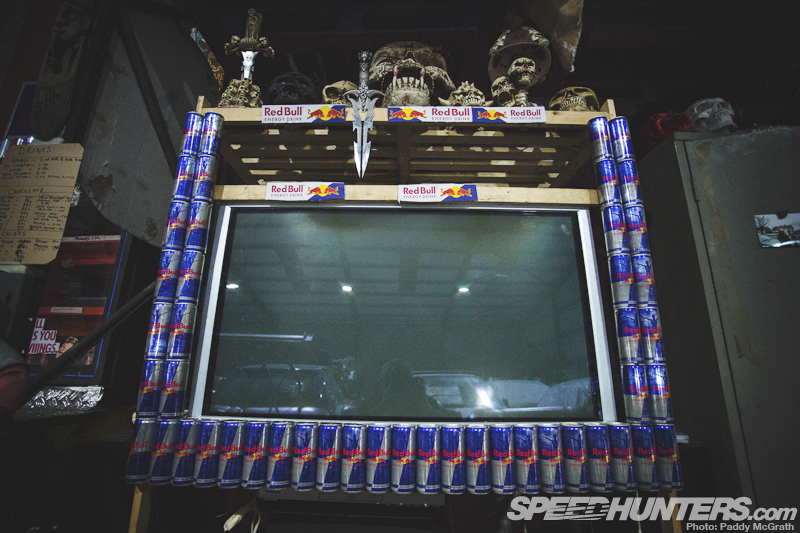 Sometimes, a night on the couch watching old drifting DVDs is preferred to lying under a car. Can't argue with that.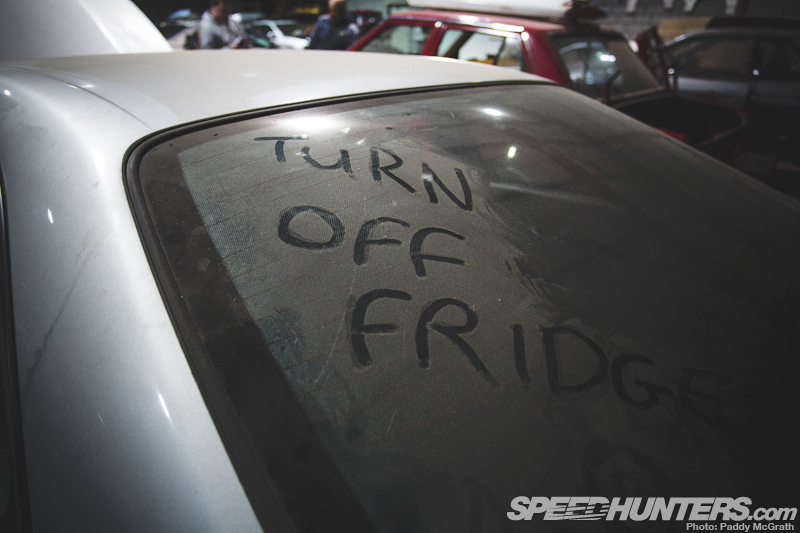 When leaving at night, don't forget to turn off the fridge.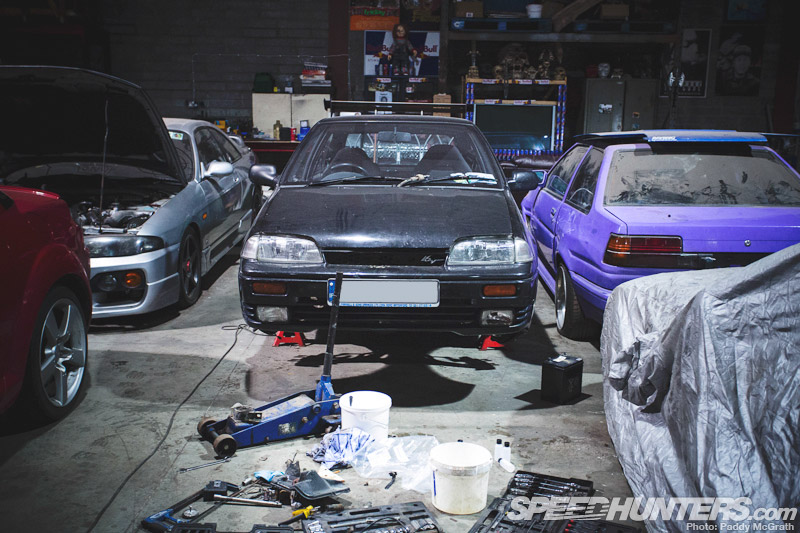 Another project in the making a Suzuki Swift soon to be transplanted with a Honda B18 heart.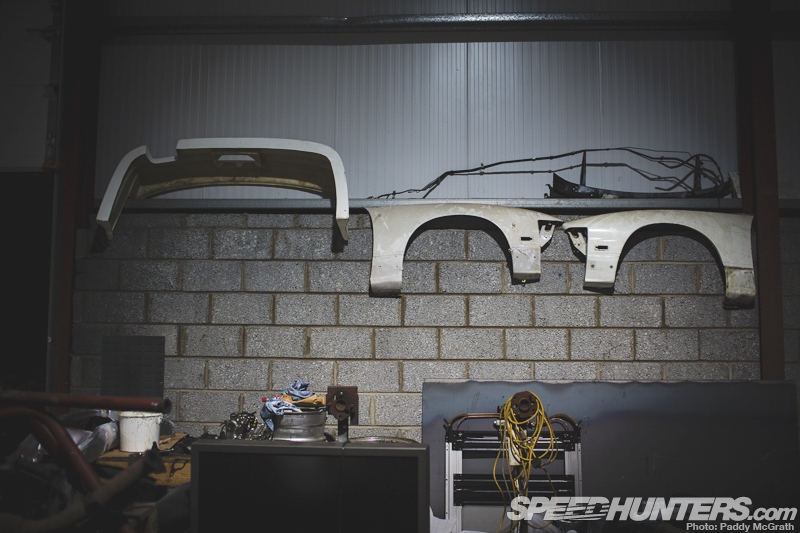 All I have left to say about the shed is this. Gentlemen, you're doing it right.
So Speedhunters, have you got something hidden behind closed doors? Let me know at the e-mail address below.
–
Paddy McGrath
paddy@dev.speedhunters.com