Obsession can be both a blessing and a curse, but it's often a beautiful thing. When it comes to cars, there is a huge gamut between the machine-assembly-line-mass-produced-transportation-appliances and uniquely-hand-assembled-masterpieces. Petrol heads are quick to spot the details, the way every panel fits, the tactile quality of fine interior materials or the exhaust note of a perfectly tuned engine. As a car junkie I will admit that it "takes one to know one" and I can assure you, the folks at Singer Vehicle Design are obsessed.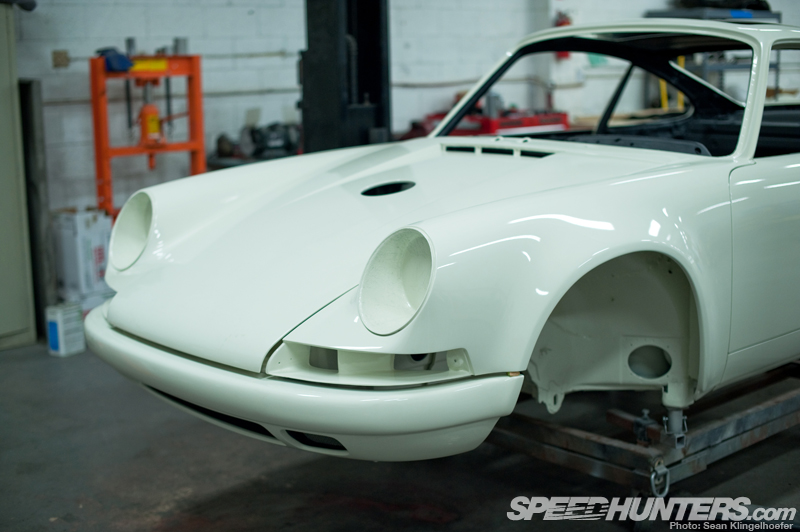 Hopefully you're already familiar with the incredibly beautiful product they create, but now I want to take some time to show you exactly how much work goes into each of these amazing machines. Although Singer Vehicle Design isn't a manufacturer, I fear that referring to them as a mere car builder or even restorer would be a slap in the face, and I think you'll soon see why.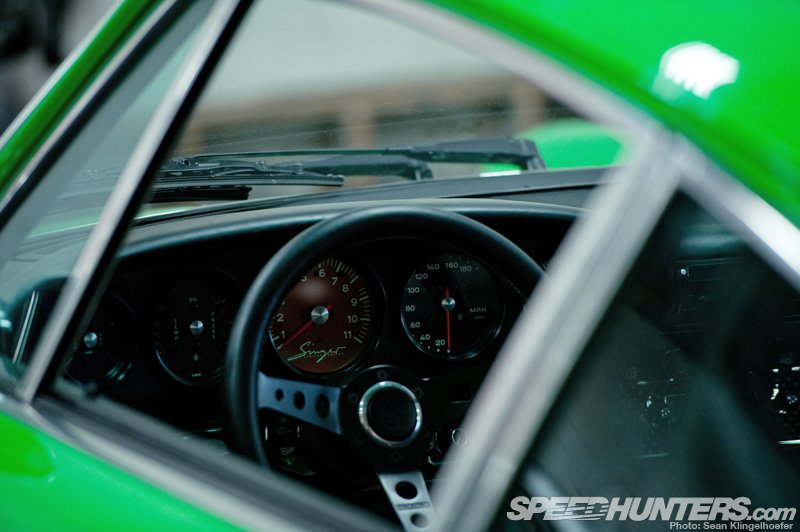 The company is the brainchild of Rob Dickinson, a singer and song writer who was the front man for the band Catherine Wheel. As is quite common for musicians, Rob had an affinity for fast cars, among other things. But he really had a soft spot for Porsche 911s, particularly long-hood first generation models. Like any true petrol head Dickinson couldn't leave well enough alone and began tinkering with his own nine-elevens.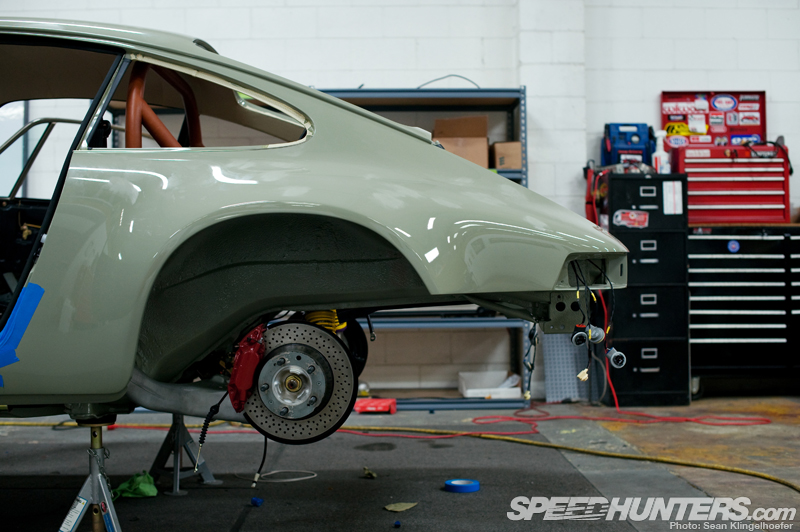 As it turns out he would do quite a bit more than mere tinkering and built an incredible 1969 911 hot rod which allowed him entry into the super elite R Gruppe car club. With a closed-membership design, this hardcore group of Porsche enthusiasts only allow the baddest early 911s around entry. To the rest of the Porsche community the R Gruppe is typically seen as a band of renegades, wild and reckless, a real car enthusiast's car enthusiast if you will.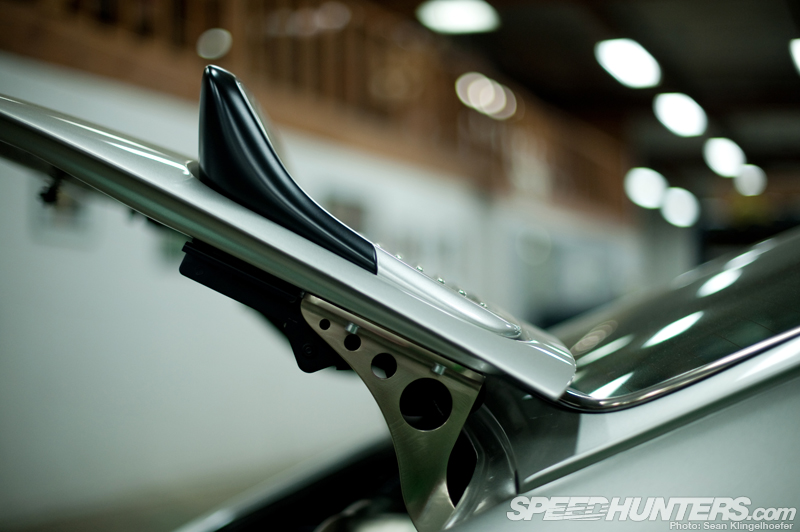 After his band broke up Rob ended up relocating from New York to Los Angeles, taking his 911R with him. It struck him as a bit strange that nearly every time he would go out in Hollywood someone would beg and plea to buy the car off him. Obviously anyone who has poured their blood, sweat and tears into a car knows how difficult it is to part with your baby. Not willing to sell his personal car, Rob realized there was a market to build cars like his and that's when Singer Vehicle Design (SVD) was born.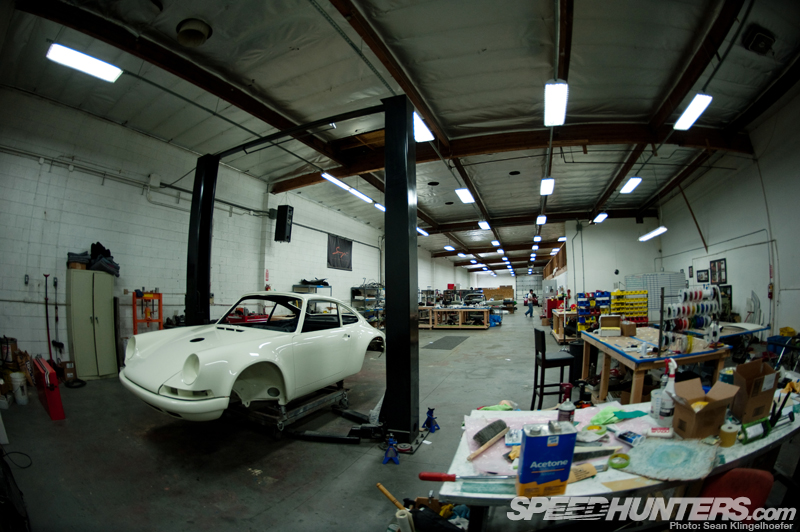 I've been vaguely aware of SVD's existence for a few years now, but my interest in their cars really shot up early last year. I knew as soon as I became a Speedhunter that one story I really wanted to bring to the audience was how these cars are made. After talking with some friends I knew that these were more than just modest restorations, but I had no idea just how involved they actually were.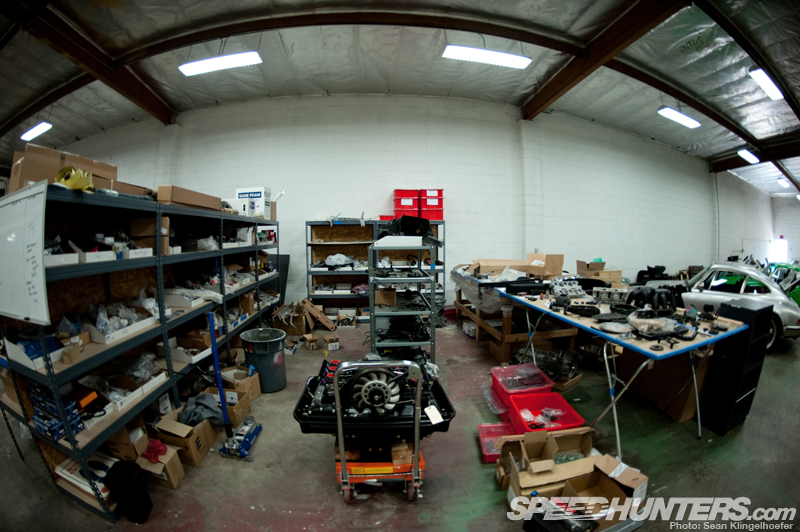 After sending out a few text messages and emails I was introduced to Marlon Goldberg who is the Director of Operations at Singer Vehicle Design. Normally when I set up an appointment to shoot a tour like this it takes months of planning to coordinate but to my surprise the guys at Singer were very down to earth and literally said "sure, come on by!" Not one to be rude, the next day I drove out to their shop to check it out.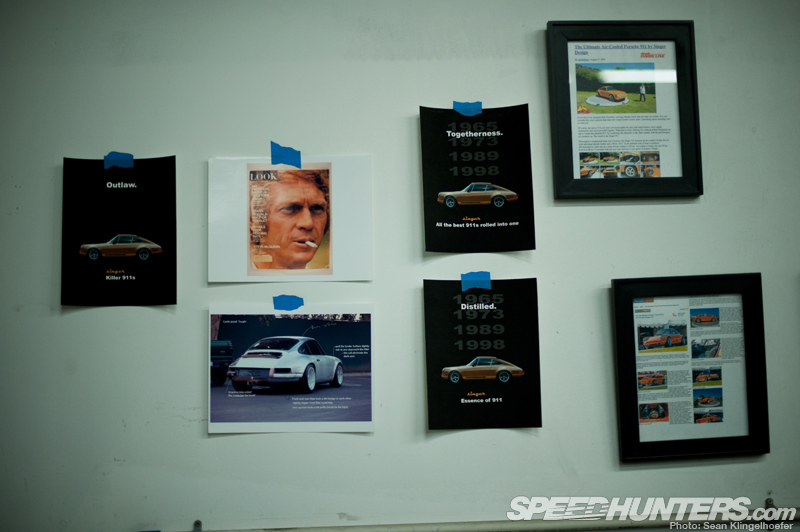 Once inside I immediately felt at home, not only because of the shop environment but also all the kindness of the employees. It was very clear right from the beginning that this establishment was created out of necessity to fulfill a passion, rather than a get-rich-quick business venture. Within minutes of talking with Marlon and Rob I knew it was going to be a good day, we clicked right away.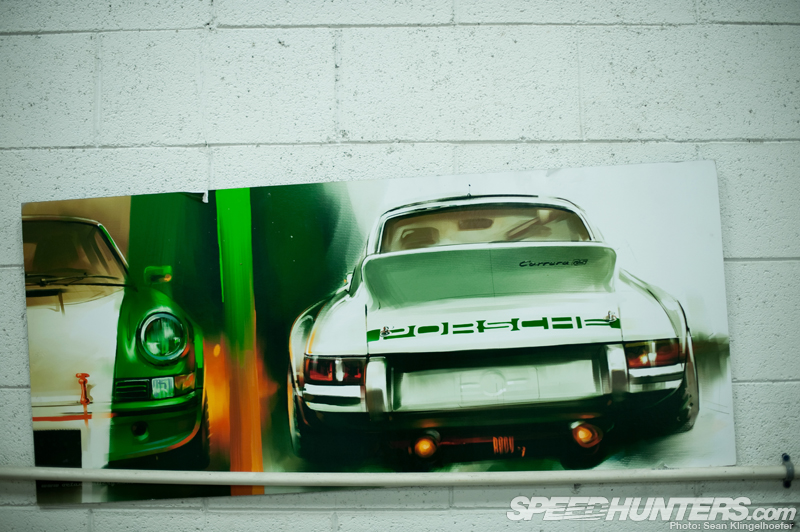 The shop exudes raw 911 from every nook and cranny, virtually everywhere you look there is something that screams "badass German hot rod". I found it peculiar that many of the clippings and artwork were hastily applied to the walls seemingly acting more as a muse than a decoration. As an artist myself, this proved to be a very interesting, and unfamiliar, approach to car building.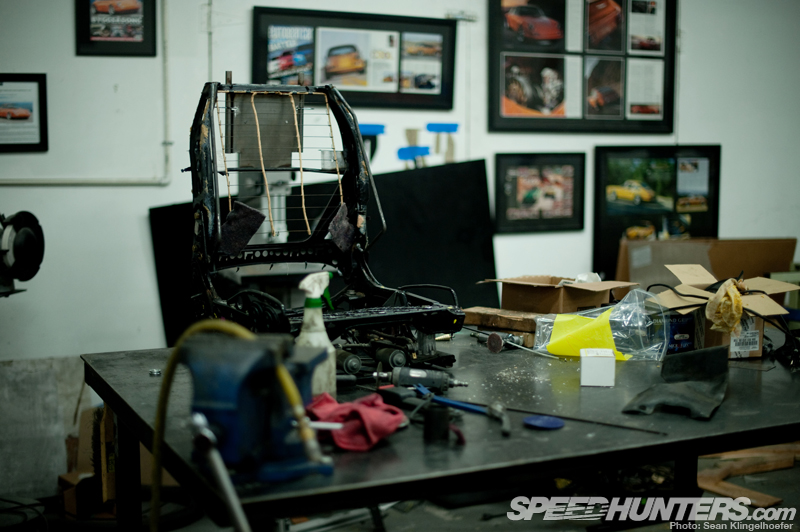 After seeing the way the cars are assembled the end product seemed to make a lot more sense, they are truly building works of art. The goal is to build a custom 911 at an even higher standard than the Porsche factory upholds, a difficult task to say the least. In order to realize these goals a lot of hard work goes into each restoration that SVD performs.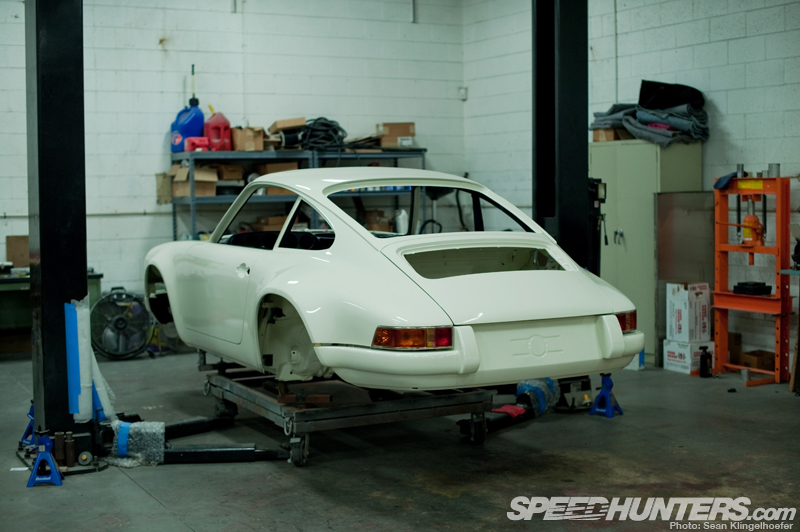 It all starts with a donor car which a customer can either bring to Singer or, if necessary, SVD can source a donor for them. From there the car is completely dismantled, and I don't mean fly-by-night-show-car "dismantled", these cars are stripped to bare body by certified mechanics and then de-skinned at the body shop.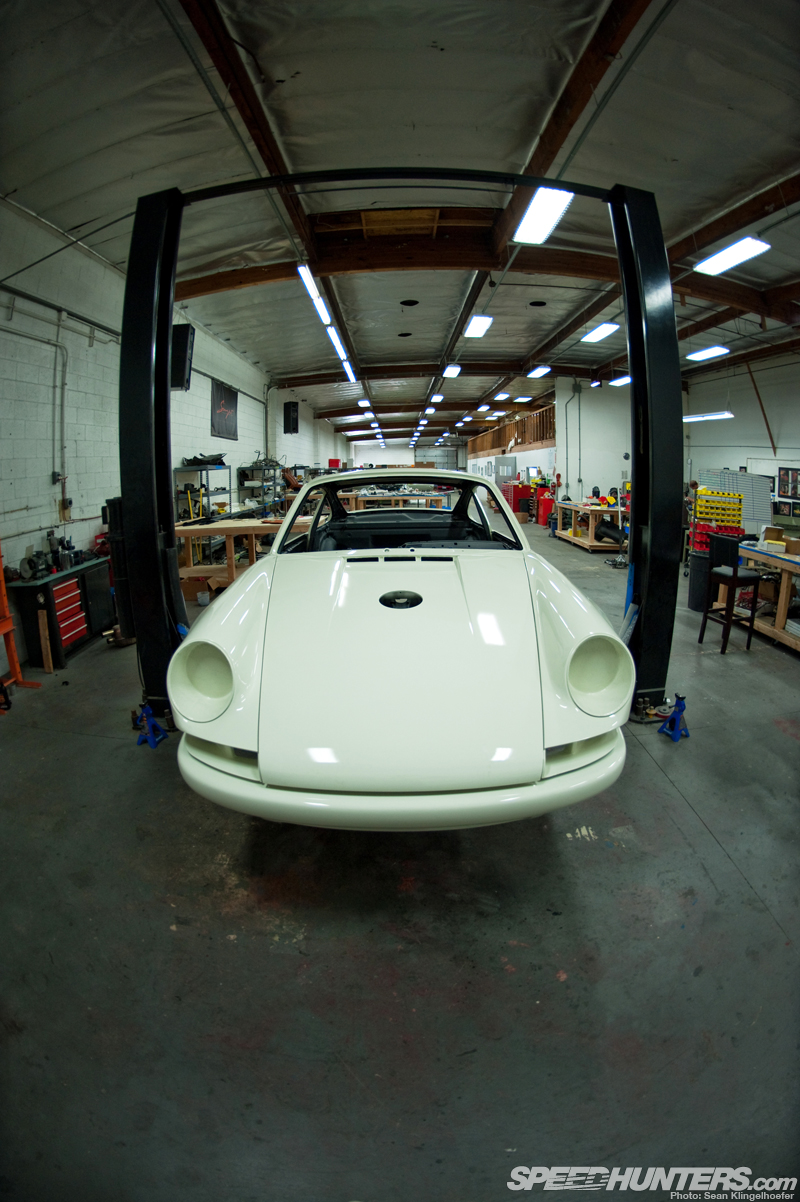 This is how the chassis are returned to SVD after they've had their custom ARIA carbon fiber body attached, adjusted and painted. Even in this very early state in the assembly process the car is a thing of beauty. The bodywork isn't quick or cheap, but Rome, as they say, wasn't built in a day.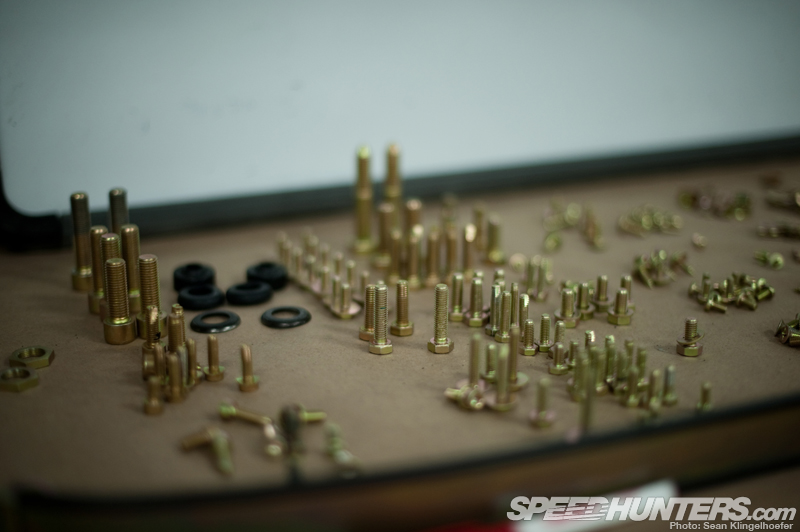 Although the cars do spend a bit of time out of the shop for paint and body work, that doesn't mean that things stop at SVD. When the cars are stripped each and every last bolt is inspected. Any bolt with even the slightest imperfection, a weird thread or a marred head for example, is tossed aside. The remaining bolts which pass QA are then stripped and cad-plated to as-new condition. Once they arrive the hardware is then organized and inspected again for defects.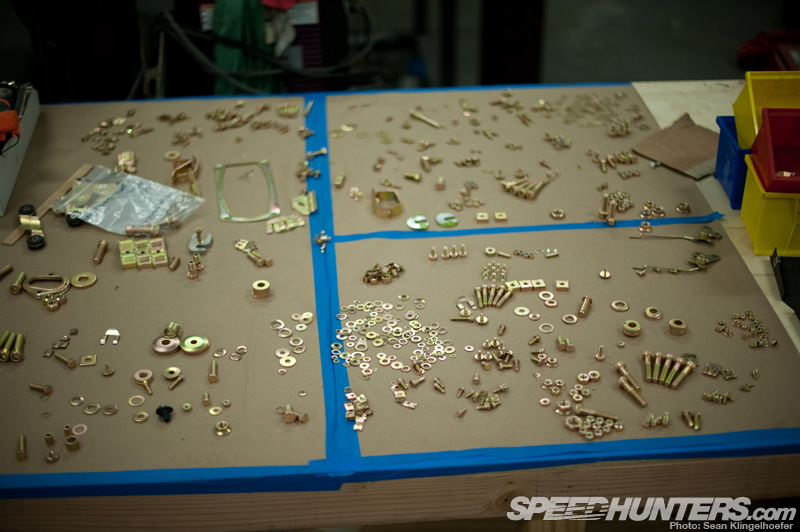 There is no piece that misses this grueling check, even the washers. Every last component is either refurbished or replaced with a new factory piece from Porsche. At this point I was already beginning to see the obsession (or passion depending on how you view it) shining through.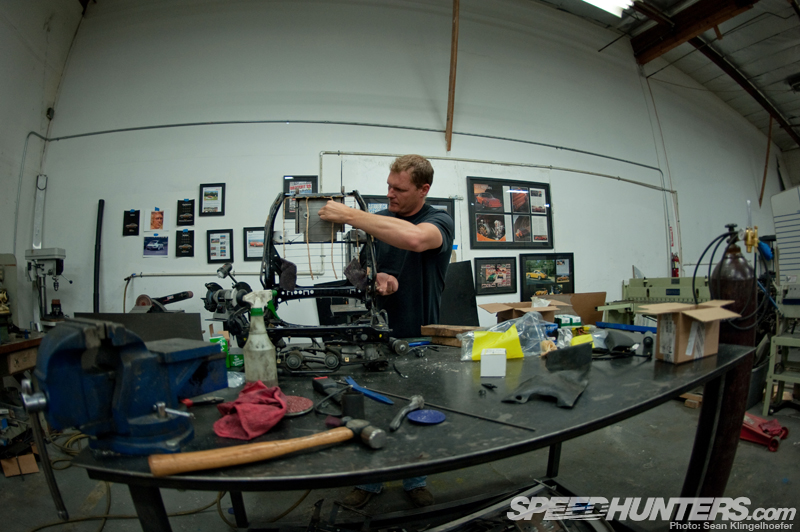 But it isn't just the hardware that gets refreshed. Here we see John Bowman, the lead Technician at Singer, stripping down the factory seats. I'm told that the pair of front seats alone take an entire day to deconstruct and reassemble with all new padding, hardware and VSD's trademark covers.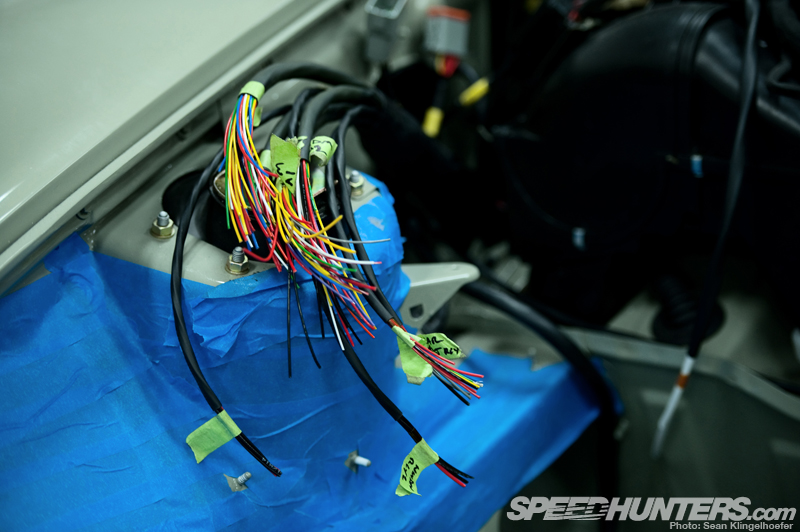 When you go about converting body shape and engine configurations wiring becomes an extremely important part of the finished product. Taking no risks in this department SVD has partnered with racing harness specialists Apex Speed Technologies to create one of a kind all-new wiring specifically for Singer.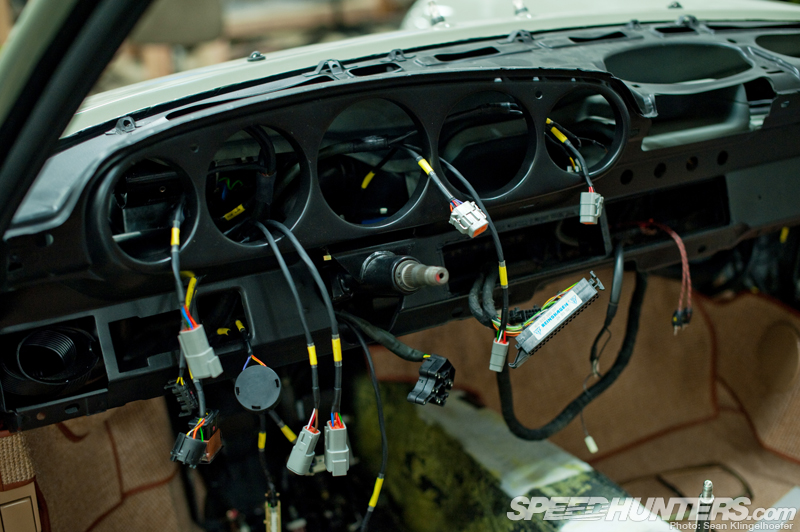 Literally every inch of wire running through the new Singer restorations is brand new and have new OEM connectors fitted to insure factory fitment. Partnering with Apex has allowed integration of additional features per customer requests and each car now runs a fuse-less multiplex. Bringing a '60s design up to the twenty-first century is a wiring nightmare but the SVD cars are much higher tech than their exterior appears leads on.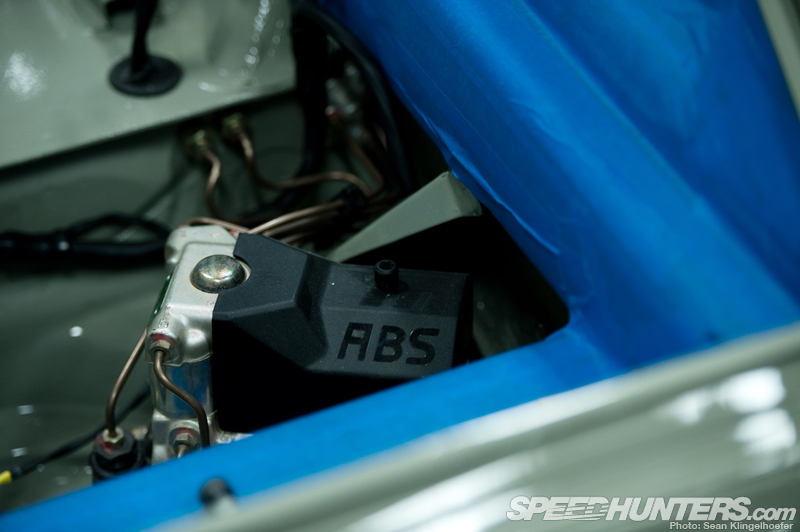 Of course safety is also a huge priority for Singer and anything that is critical to safety is replaced with brand new factory items sourced from Porsche of Roslyn in New York. From major components like this ABS pump to the smallest critical bits like nuts, bolts and washers, everything is replaced. Essentially every last piece of hardware anywhere in the steering, suspension and brakes are replaced with brand new items.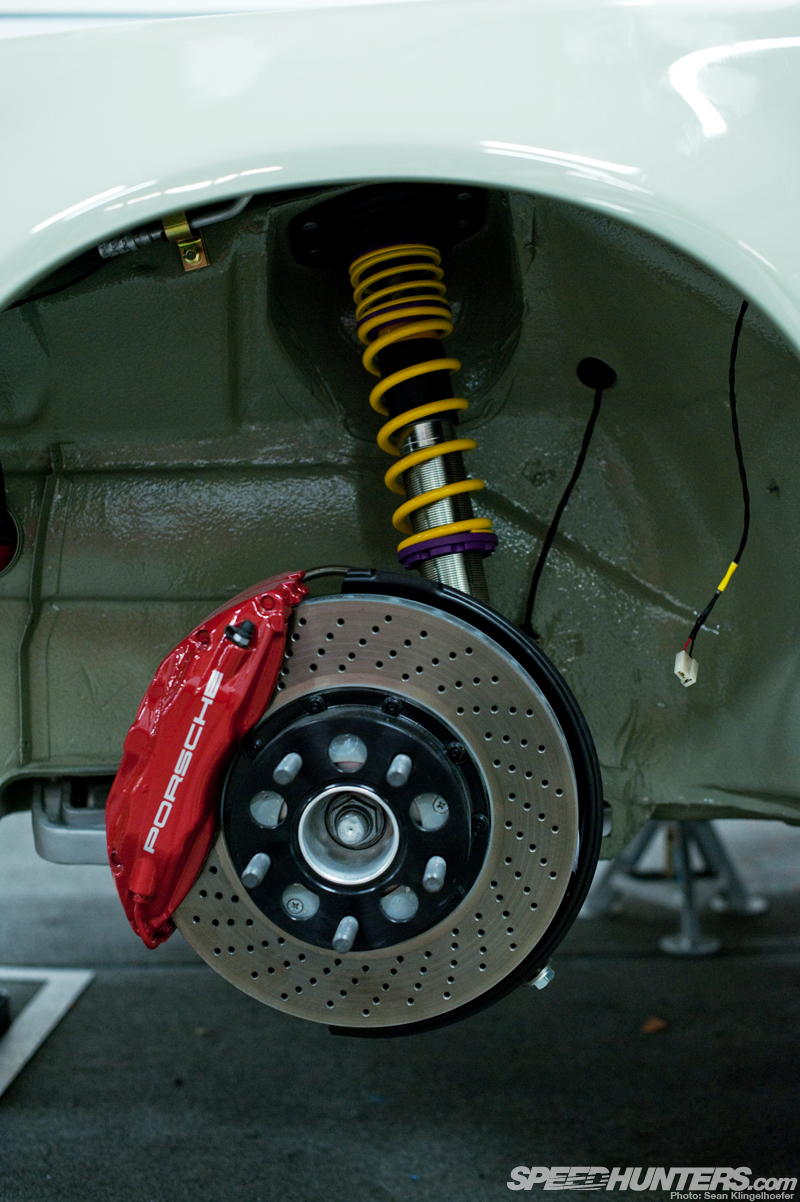 Speaking of brakes and suspension, it's quite obvious when riding in one of these cars that the footwork has been upgraded. On this particular car a set of KW Variant 3 coilovers were installed which allow height, compression and rebound adjustability and offer a great mix of comfort and performance. The clappers and rotors have been up-sized using units from a 993 Turbo which are more than adequate for the lightweight body.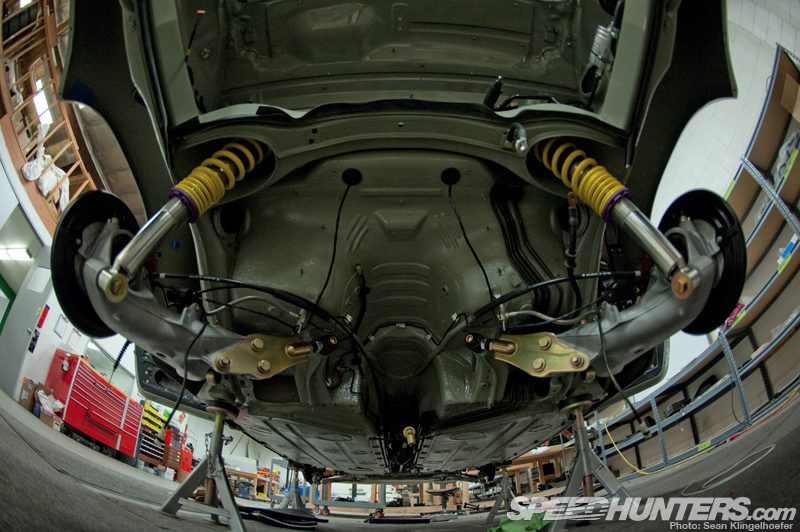 Here we can get a better look of just how methodical these guys are. Every last grommet, washer and bushing has been replaced. New brake lines, shift linkage and suspension arms have also been installed. What you're looking at is quite literally a brand new 911.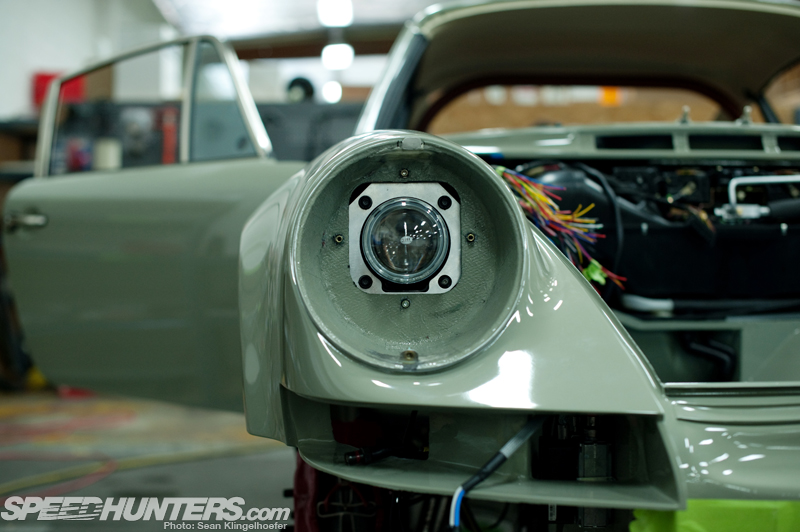 Once the cars come back from the body shop the carbon fiber fenders are then cut and drilled to accept the compact Hella projector housings. The void surrounding the projector will be taken up by a shiny silver reflector. When completed the car looks better than new and has an excellent modern bright beam pattern to boot.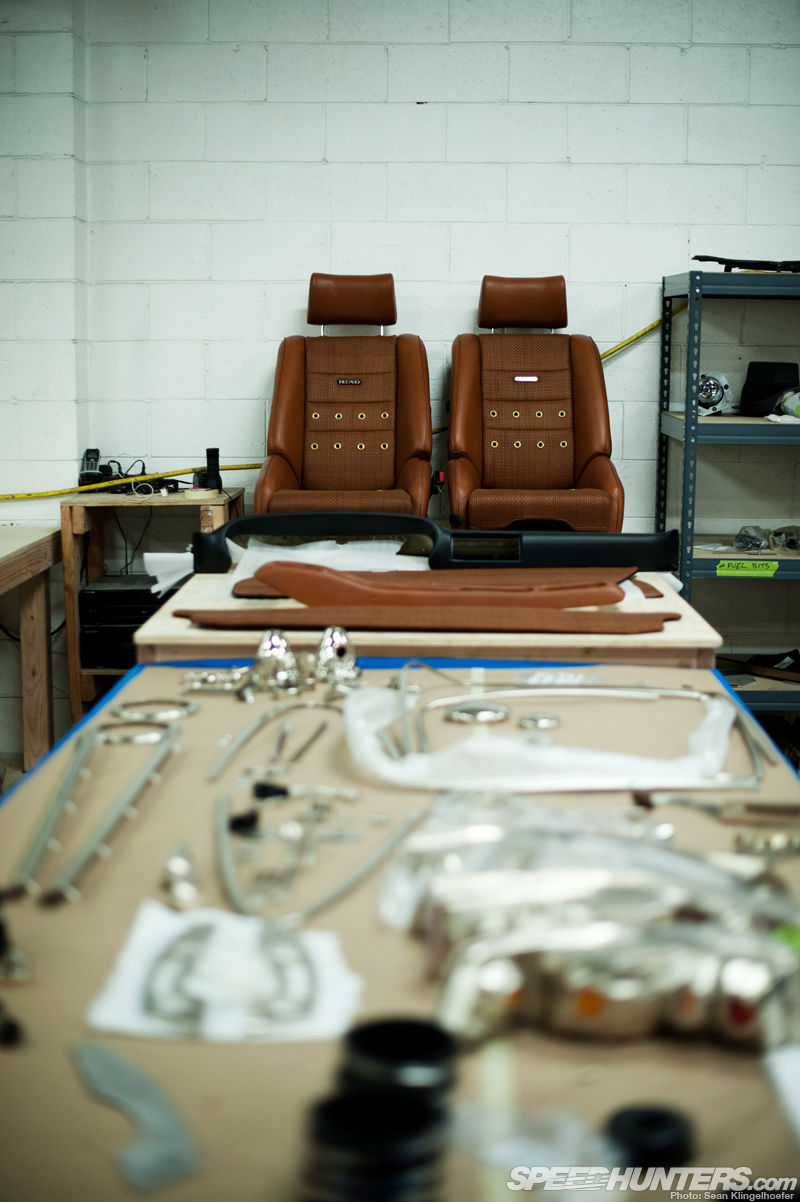 While the electrical bits are being sorted out the rest rest of the interior and trim pieces are laid out and prepared for installation.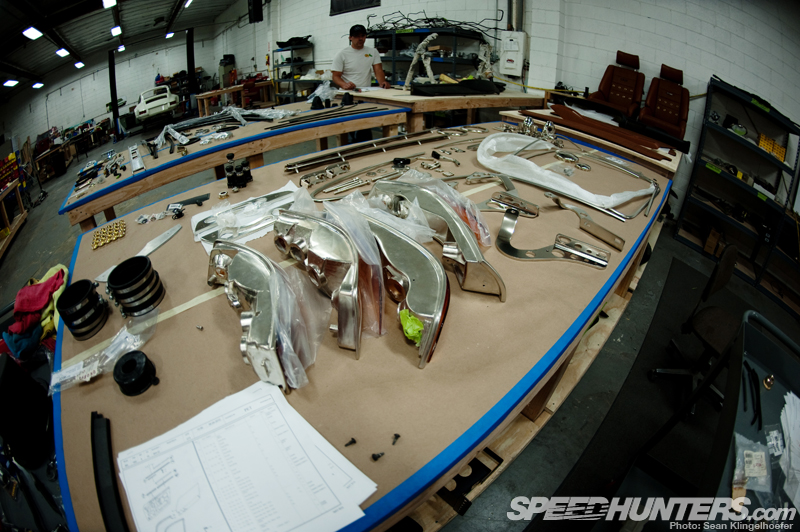 It's always amazing to see how much more space a car occupies when it's in pieces. Seen here is a fraction of the parts used to assemble just one SVD restoration. Every last bolt, clamp and molding bolted to the car is triple checked before being installed.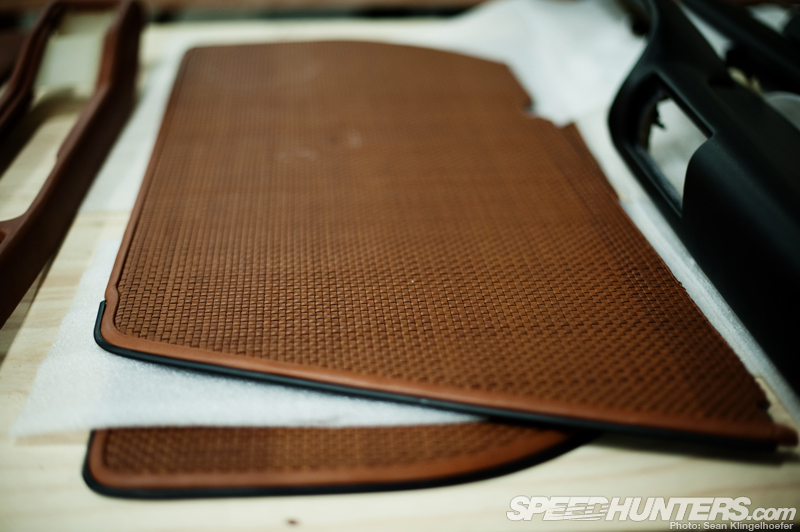 There's something to be said for fine leather work, and I often can appreciate a nice wallet or bag, but seeing this kind of obsessive compulsive detail applied to a door card defies words. Using the finest Italian leather from Spinneybeck, the interior panels are one of the most impressive pieces of the puzzle.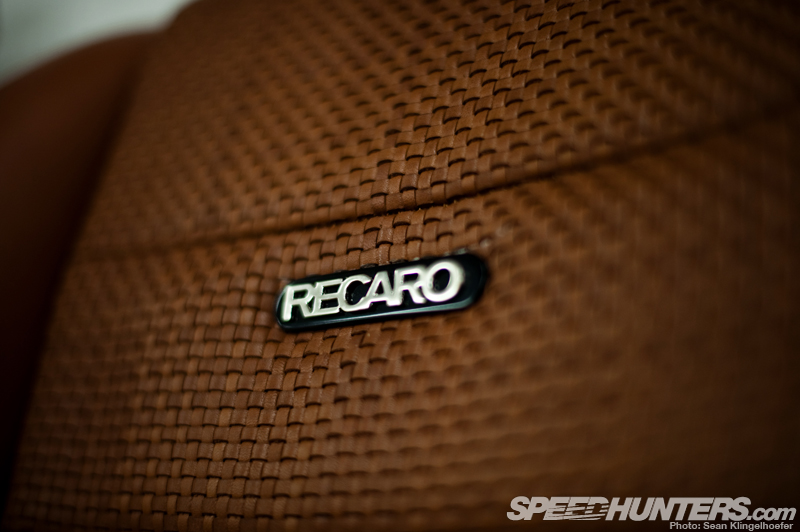 It really transforms the Recaro seats from something mundane to something quite extraordinary. The shape of the original remains, but it's ever so slightly tweaked to offer a little more holding capability. Sitting in one of these is an amazing experience, the sight, smell and feel is bliss.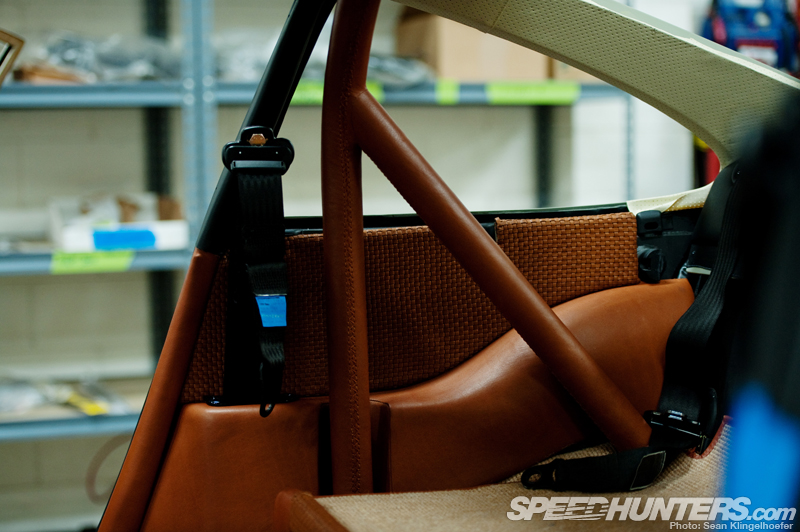 But at Singer they don't just attack the obvious, they redo everything. And I really mean everything, even the minor voids between panels and the finishing caps. The pillars are covered in luxurious perforated leather and even the roll bar has been expertly wrapped. Attention to detail gone berserk.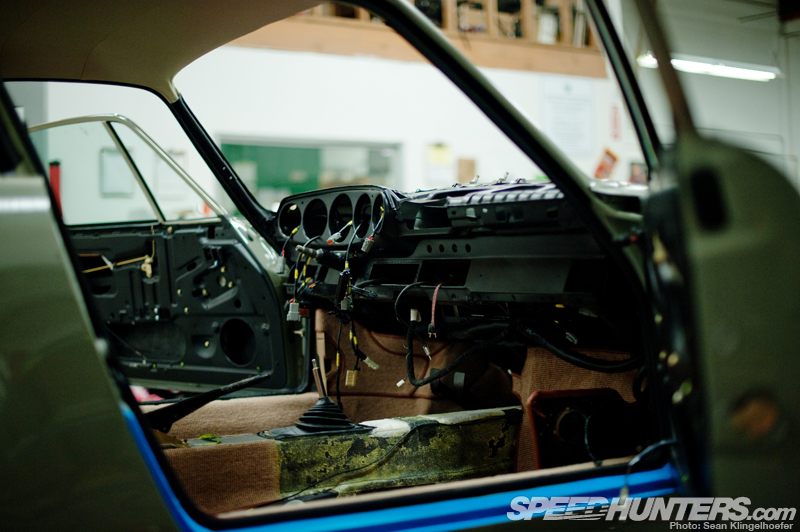 The carpet is of course laid by hand like the rest of the car. Where each section comes to an end the carpet is trimmed and lined with leather piping adding yet another layer of refinement to a usually boring part of the car.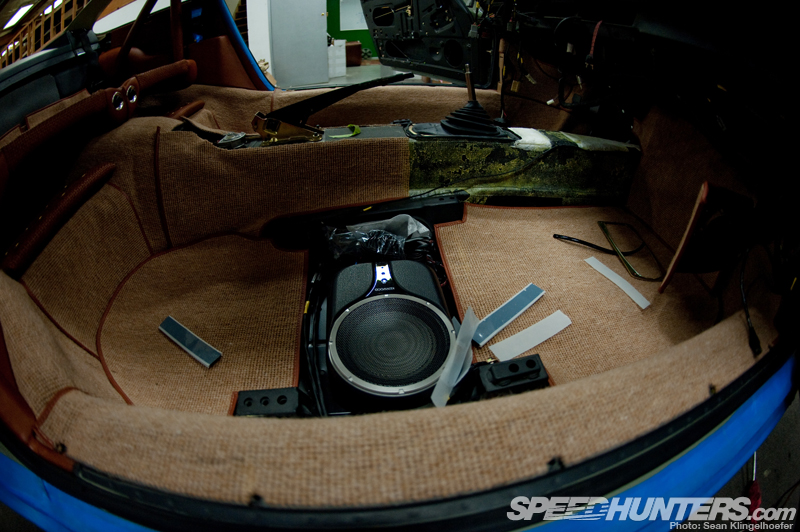 I can't stress enough how each and every part of the car is completely customizable, allowing the customer an endless array of options. This fellow has decided he needs some base when he's out cruising so the team has done a stealth install putting a Kenwood powered sub under the passenger seat.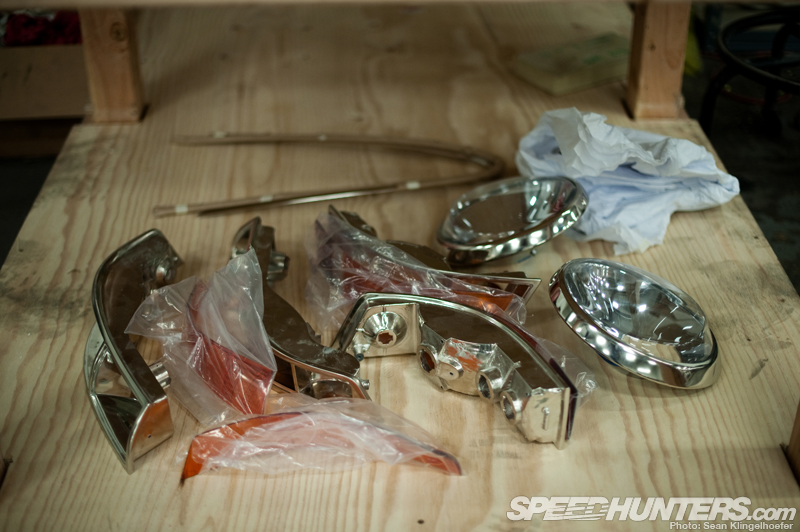 Here are some of the light housings waiting to go on. Each piece is prototyped by Singer and the molds are created one-off to fit their bespoke bodywork. Once they arrive they are visually inspected and hand assembled.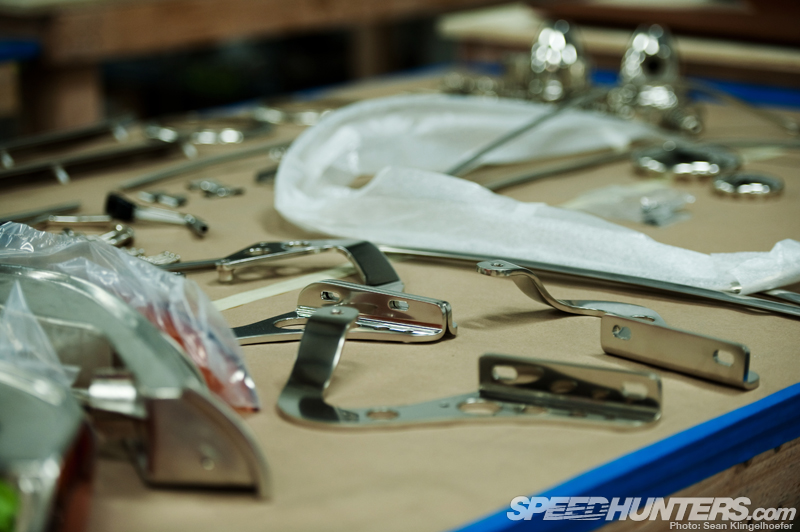 One of the details I really admire on the SVD cars is the various hinges and brackets which are all built custom for the company. The quality of construction on these pieces is stellar yet they are so seldom seen, much less appreciated. Whether or not anyone ever sees them is of no concern to any car guy, because we know they're there, and that's all that matters.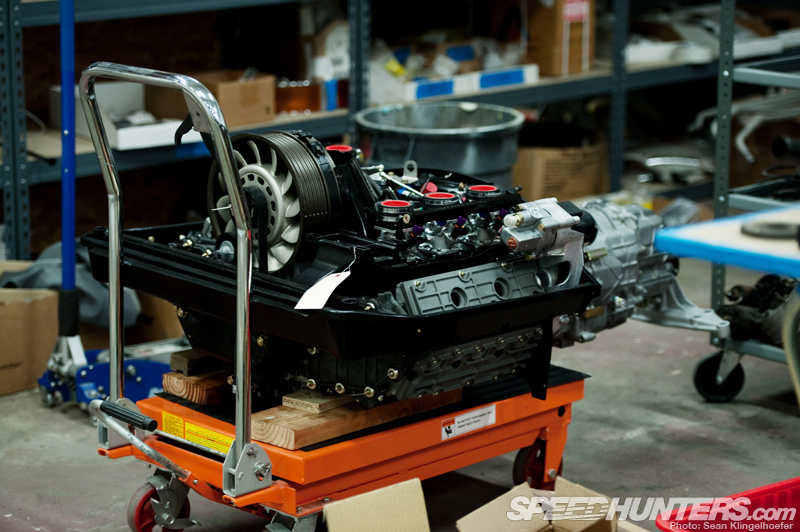 Another thing that matters is the engine, and no Porsche 911 would be complete without its defining boxer. For buyers I would imagine this is probably the most difficult section of the car to spec out, as there are so many options available. While they can build the engine to any spec a customer requests, I'm told that Singer prefer to assemble 3.8L engines that offer a good mixture of performance and reliability.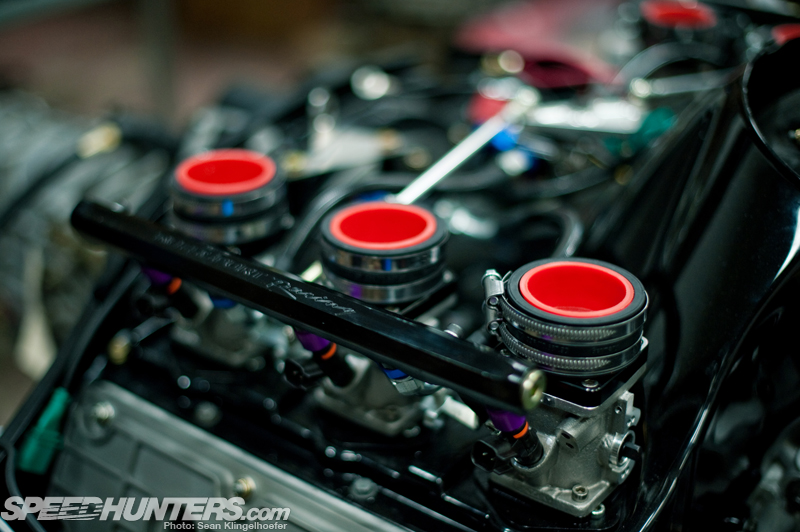 Here you can see the Jenvey individual throttle bodies patiently awaiting the day when they will suck air with a vengeance.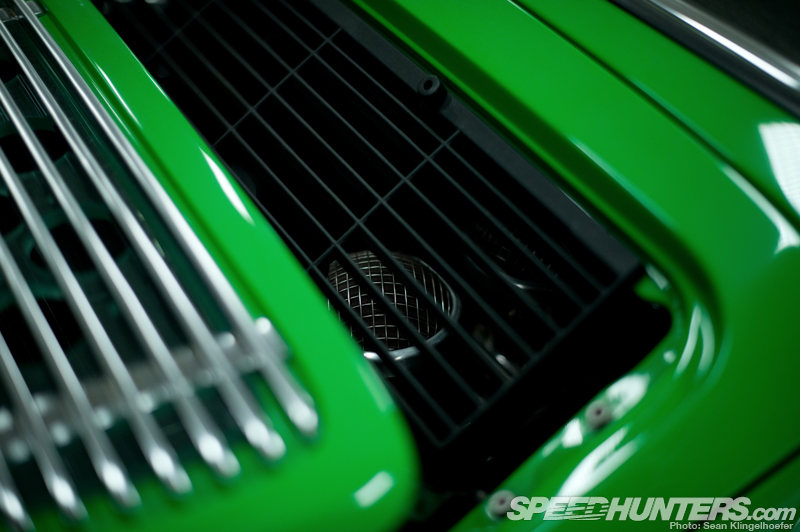 Even deciding what to do with the throttles is a chore. Quite often a nice intake plenum offers more power and better driveability, but leaving the stacks open looks great, offers light-switch like throttle response and, as we all know, sounds amazing.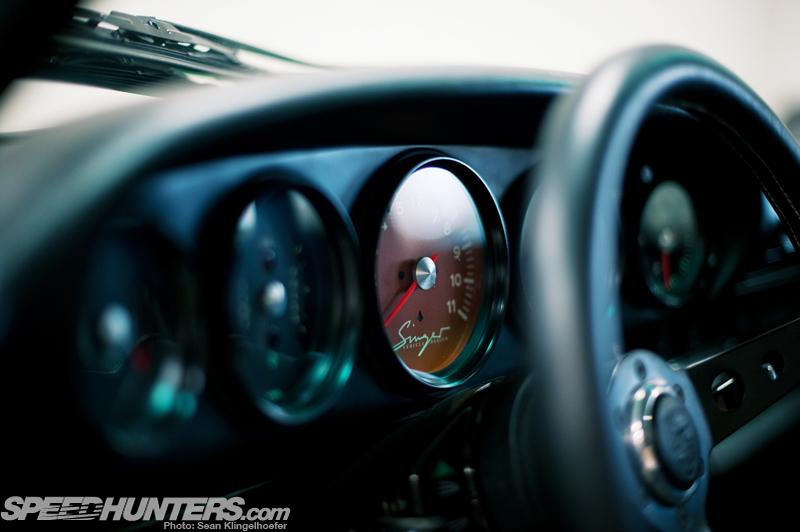 After spending a day around these cars my own passion for Porsche 911s has only grown fonder still, and now I'm relinquished to silly day dreams of one day owning a nine-eleven. Unfortunately building a car that even approaches the level of these is not only well outside of my budget, but also outside of my mechanical skill set. Who knows maybe one day if I can scrounge up some cash I might be able to convince these guys to do a Speedhunters 911… a boy can dream.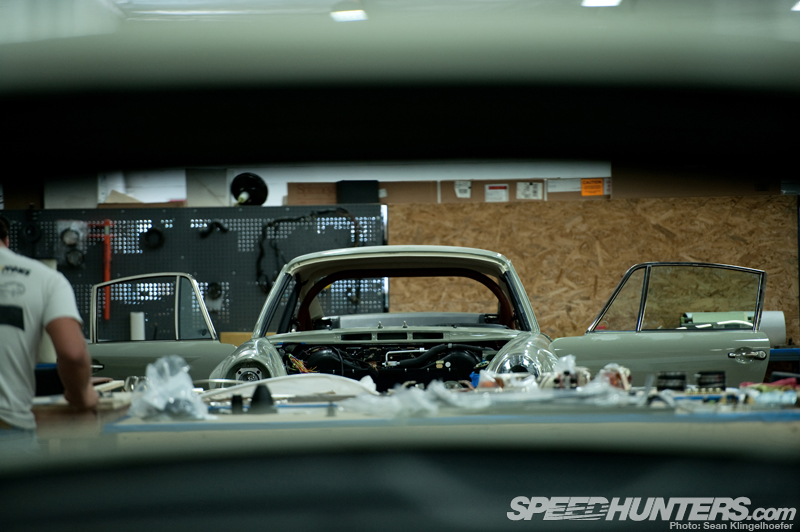 Until then I know that every car that comes through these doors will be in good hands, likely each passing chassis better than the next. These guys aren't out to make a buck, they're attempting to build a perfect Porsche. With every completed project a new lesson will be learned and the ongoing hunger to create the ultimate 911 growing ever larger. So is the nature of obsession. So is the nature of Singer Vehicle Design.
More stories by Sean Klingelhoefer on Speedhunters
More car builder stories on Speedhunters
– Sean