There are few cars with a cult following as great as Chevrolet's Camaro. Its reputation even transcends car enthusiasts and is recognized the world over not only as a machine, but as a symbol of America. It's become a pop culture icon as well and it's made countless appearances in television, movies and even had entire songs written about it.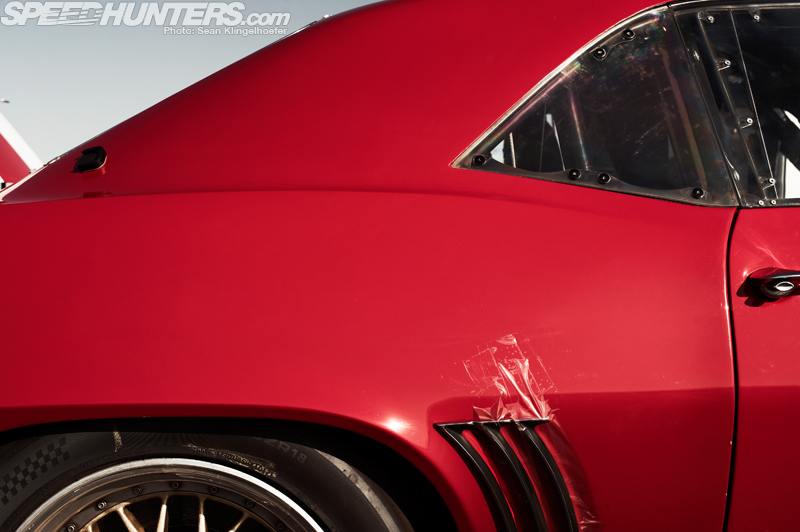 Unlike most of pop culture however, the Camaro's reputation is completely founded. I'm not too keen on many American cars, but even I can't resist a first generation Camaro and it's one of the few cars from the US that I have penciled into my personal build bucket list. I mean look at that body shape, it's truly spectacular. The way the C-pillar rolls into the rear fender flare is to die for.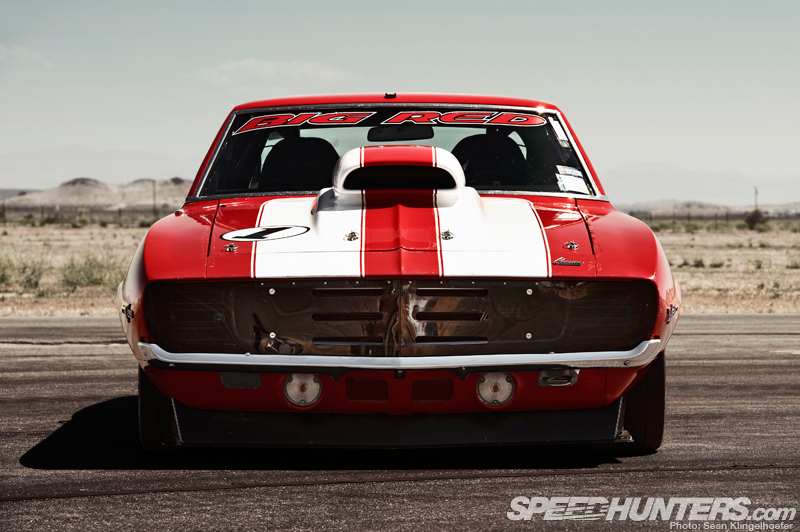 There's just something so menacing about the demeanor of the F-Body that I can't put my finger on. Although it's perhaps more similar than it is different from an early Mustang, to me there's just something a little more sinister about the Chevy. When you add a ground shaking exhaust and a high-rise intake or cowl into the mix it's enough to give small children nightmares.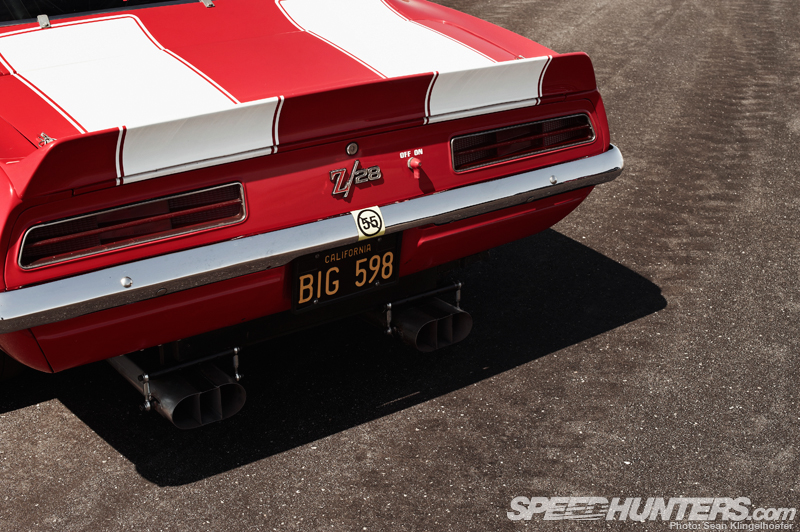 What I particularly like about Big Red is its signature Pro-Touring styling, a sub-genere of hot rodding this car inadvertently started long before the phrase was ever used. With super wide aggressively sized wheels filled up with larger brakes and a no-nonsense exterior matched to a purpose built frame what's not to like?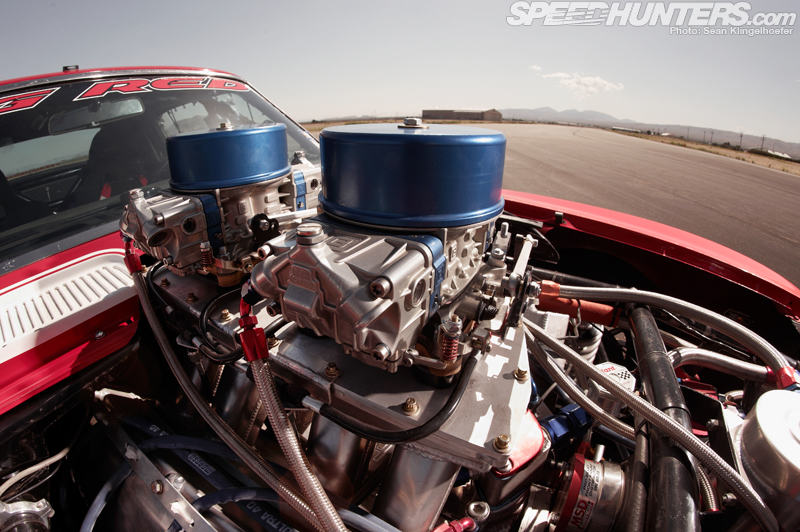 Of course an insane 13.5:1 598 (9.8L!) Chevy big block with a pair of Brasswell carbs the size of cantaloupes doesn't hurt either. At least it doesn't hurt until it starts up and proceeds to rattle the fillings out of your teeth. While it might seem a bit overkill, it's all part of the equation in the pursuit to build a car that does one thing very, very well…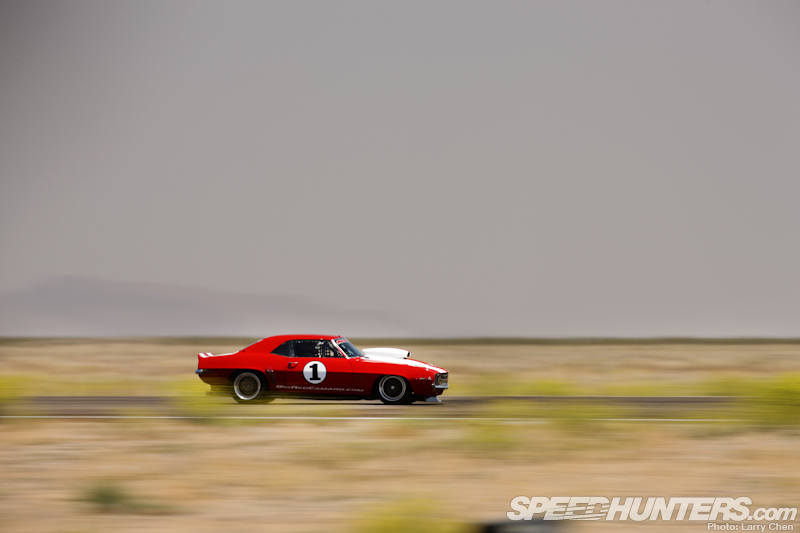 …go like a bat out of hell. While the evolution of the car has turned Big Red into something still quite radical by today's standards, it was a complete rethink of how Camaros, and hot rods in general, were built when it was originally constructed in 1989. Although this car is known the world over as Big Red, it is technically Big Red II.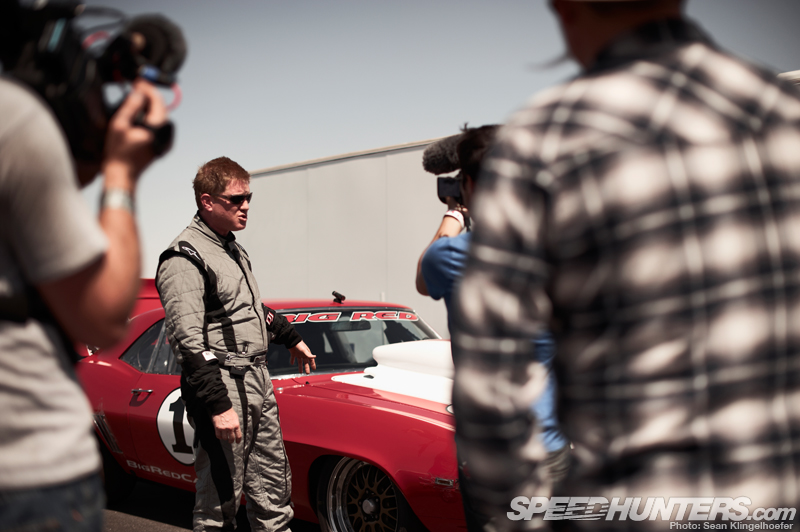 In 1987 RJ Gottlieb, the owner and driver of Big Red, constructed the original car to compete at high speed events with the goal being to out pace any production car at the time, including high end exotics. In its debut outing at La Carrera road race in Mexico the car experienced a steering hardware failure which resulted in a high speed crash and the car was written off.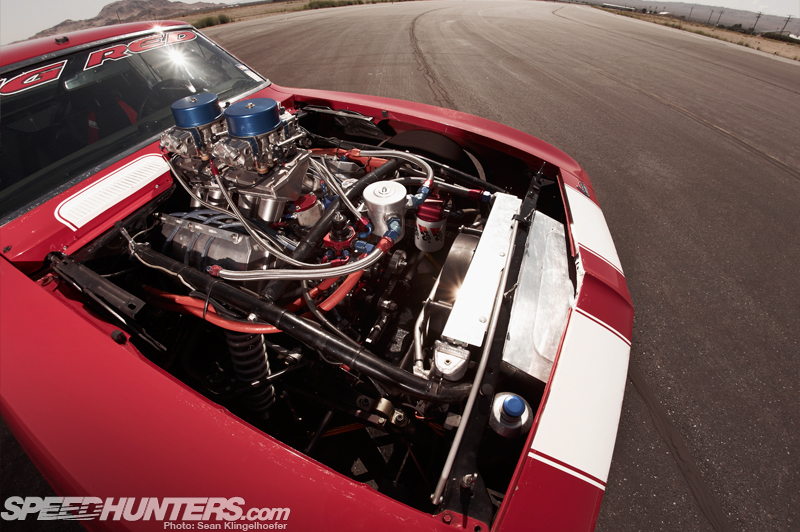 Taking what they learned from the original Big Red, RJ and his father Dan got in touch with chassis builder Bill Osborne of Inland Chassis and began the blueprints of what would become the baddest Camaro in the world. The goal remained the same, but more radical measures would be taken to ensure the car could maintain speeds in excess of 200mph (320kph) safely.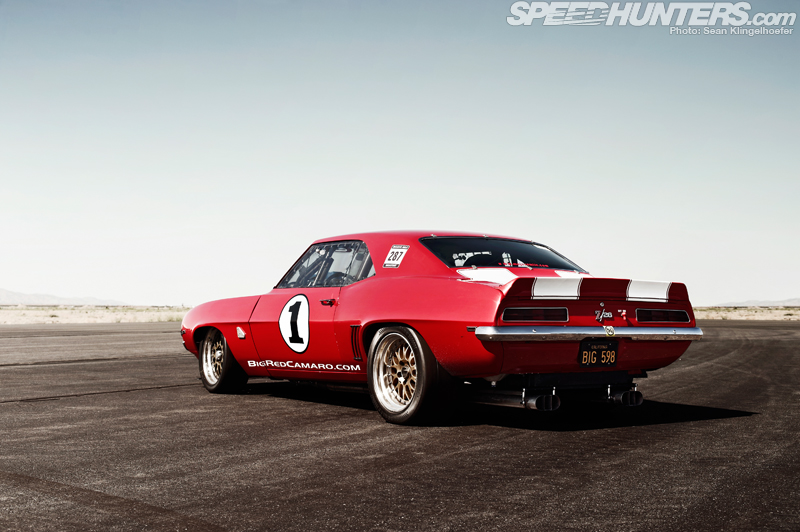 As the concept evolved many innovative approaches were brought to the table, but there were two things dear to RJ's heart that had to be kept pure. The body absolutely had to maintain the factory outline and wide fenders wouldn't be acceptable (in fact RJ even hates the cowl hood required for the standing mile engine). The second was that the engine was to remain naturally aspirated, all power would be gained through displacement not forced induction.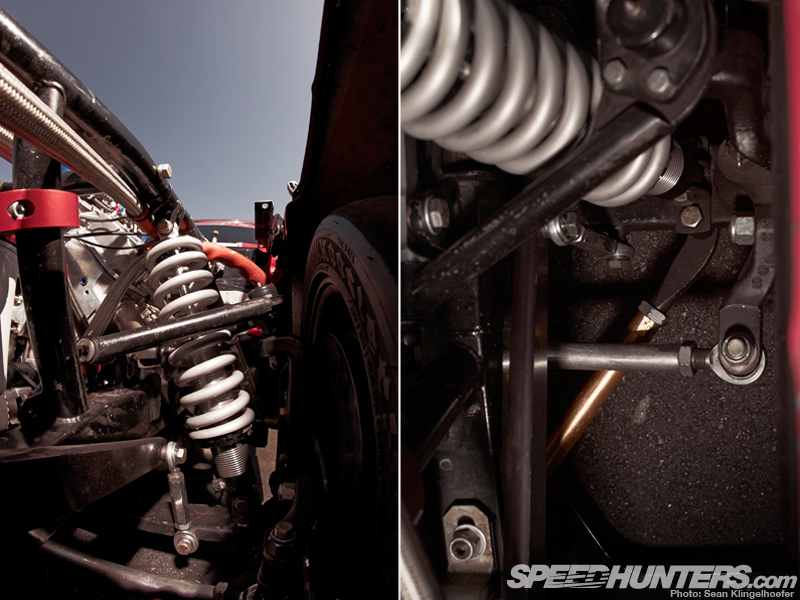 In the end Bill concluded that the only way to truly hit all the goals RJ had in mind was to build a car from the ground up. This time around the car would be completely redesigned using a stock car tube chassis with repositioned suspension geometry and an engine position now thoroughly recessed into the firewall. Once the chassis was sorted a stock Camaro body would then be placed on top to complete the car.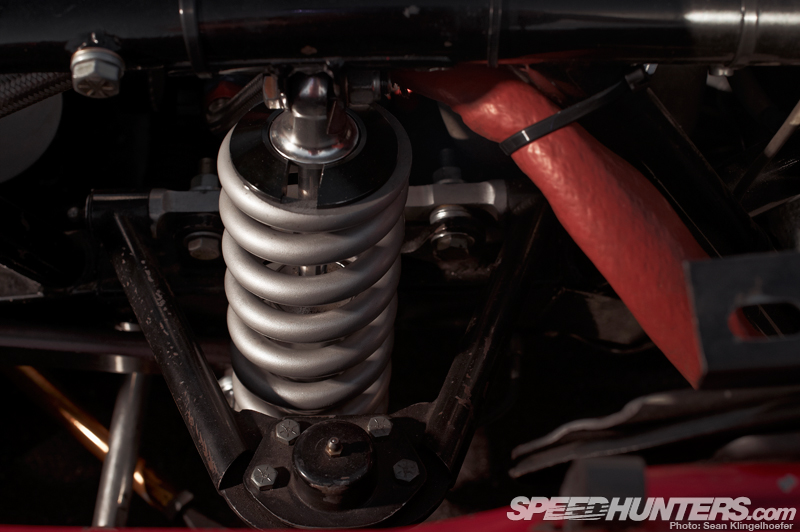 This concept, although now accepted by anyone building a competition hot rod, was revolutionary at the time. The stock looking Camaro now had massive discs on all four corners and sophisticated double-wishbone front suspension. Back in 1989 this type of running gear was exotic car territory.
Of course another lesson learned from the aftermath of the first Big Red was that anything can and will happen when racing. The first step was to create a car capable of sustaining high speeds, the second step was building one that, if crashed, gave the driver the best possibility of walking away. The cage work performed by Inland Chassis is truly a work of art performed by a master fabricator.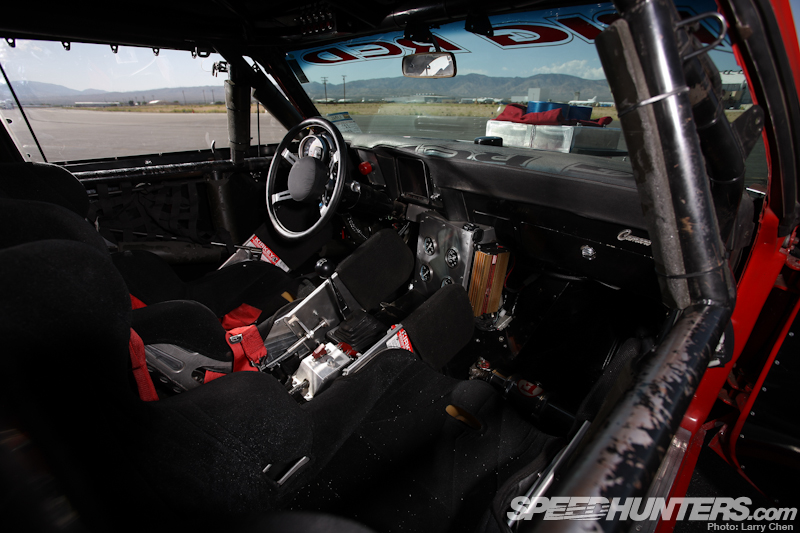 The rest of the cockpit is all business and kept as minimal as possible. A pair of Kirkey racing seats are the choice amongst competitive hot rodders. Like the rest of the car they might be a little crude, but they get the job done. Every last piece of kit serves a purpose and is set up properly, even the metal window frames that support the lexan windows are secured to the cage with a latch when the doors are shut.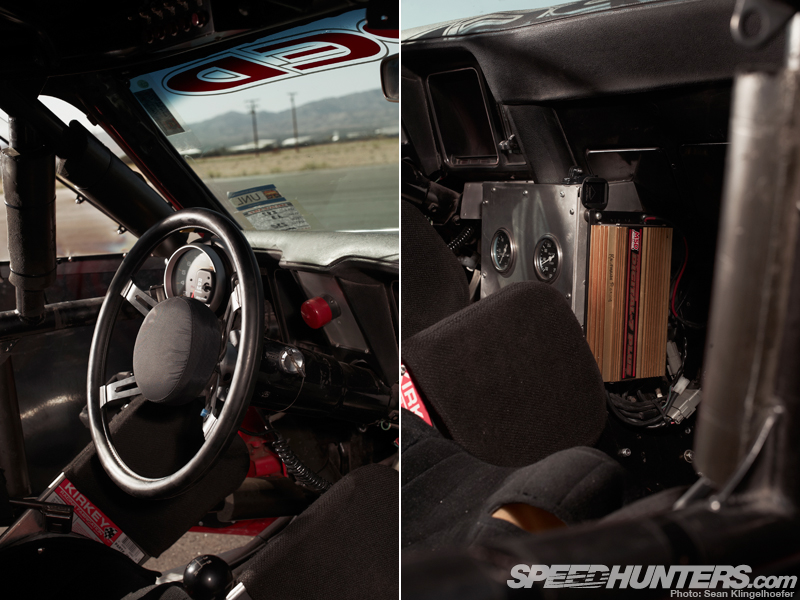 The steering aparatus is a bit lack luster, but when you're going nearly 220mph that's the last of your concerns. The gauges are arranged in a very straight-forward manner on a metal panel on which the MSD ignition box also resides. Perhaps the only factory bit that remains inside the cabin is the standard dashboard which adds a nice touch of completion.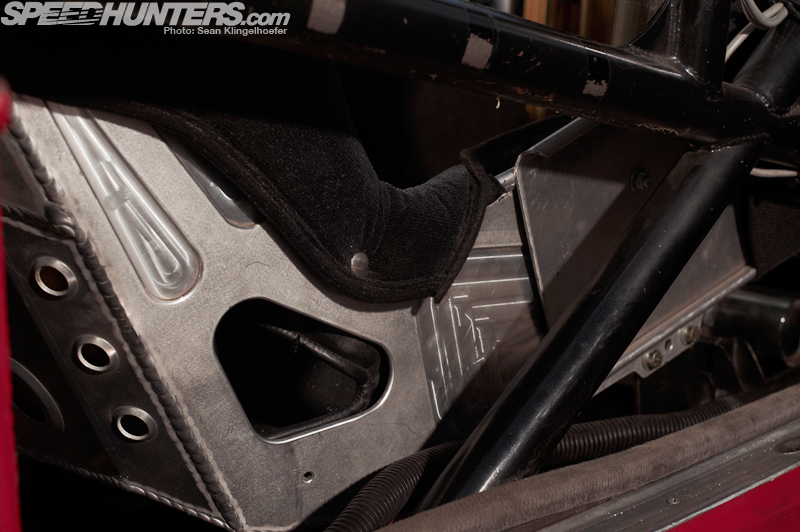 It's a stark contrast to many of the raw materials peeking out around the rest of the interior. Then again with machining and welds like that, who'd want to cover them up?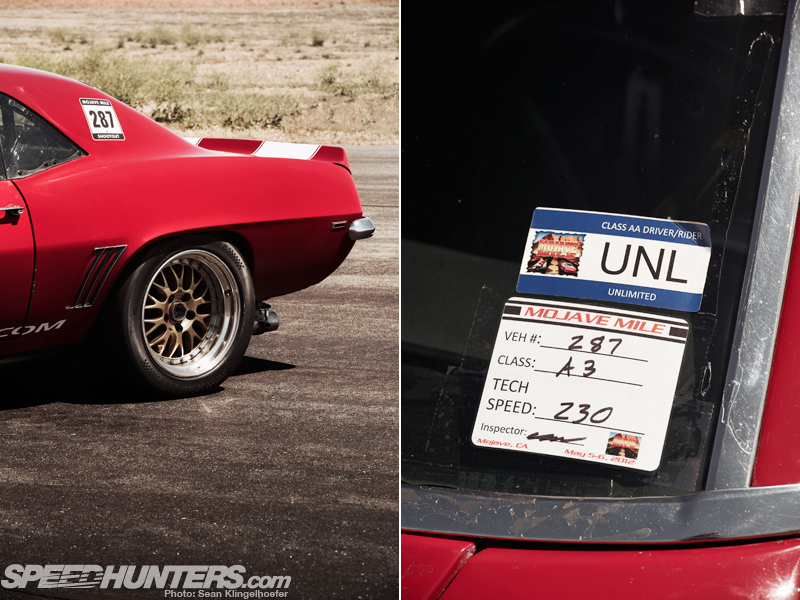 Over the years RJ has earned quite the reputation by piloting Big Red at some of the most prestigious high speed events in the US including the Silver State Classic, an event which his father and IndyCar driver Roger Ward organized. Last weekend I encountered Big Red in one of its natural habitats, the Mojave Mile, where it came to do what it does best – break records.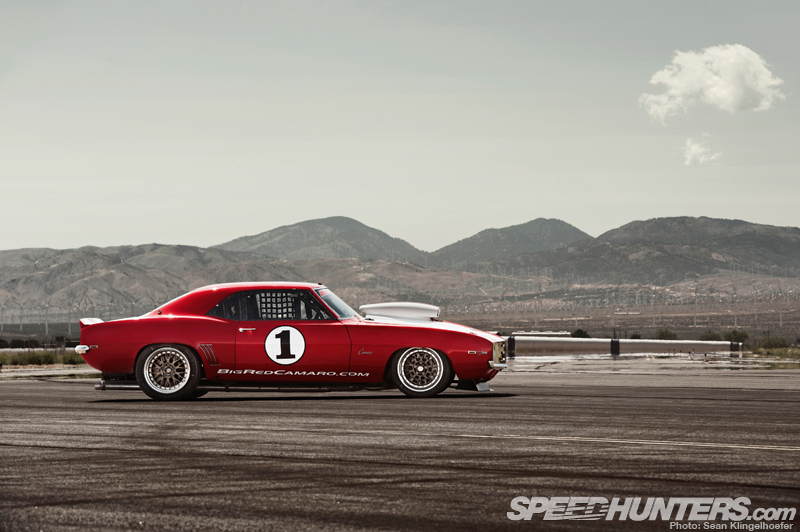 This was the first event of the year for Big Red, and also the first event ever for the car's newest monster engine setup. It would also be the first time the car would run with a Liberty transmission, a recent substitute for the more familiar Jerico. On paper the car looked great, but as any racer knows, a maiden voyage never goes exactly according to plan.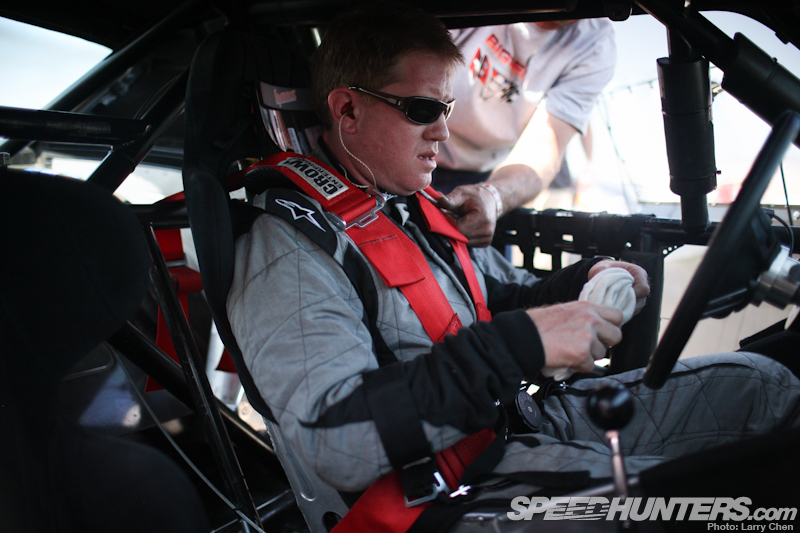 RJ's obviously no stranger to driving fast and taking chances, but new hardware will often have a teething phase. If you read the Mojave Mile article Larry posted, then you'll already know that this would be the fate of Big Red last weekend. Although a new personal record of 218.3 mph was attained, a clutch issue kept the team from hitting a higher speed everyone knew the car was capable of.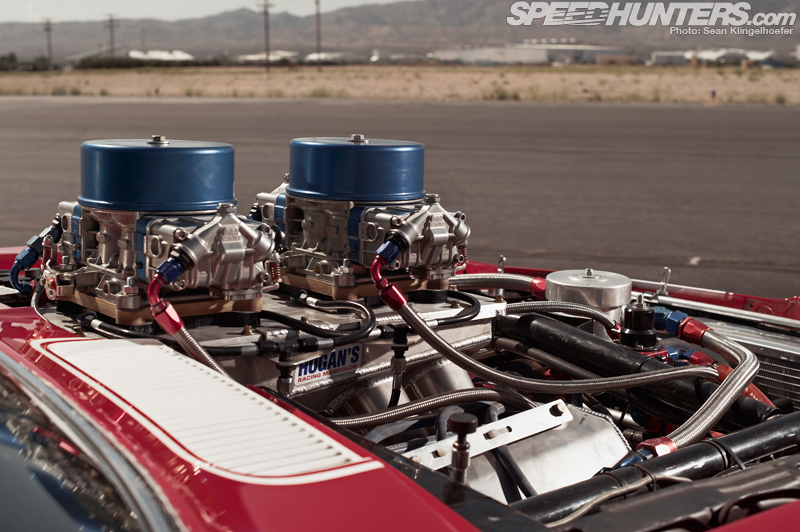 The engine is a sight to behold, capable of dropping jaws even when it isn't running. It's an intricate balance of contradictions, low tech designs with high tech materials, old fashioned concepts with new age execution. It's fantastic.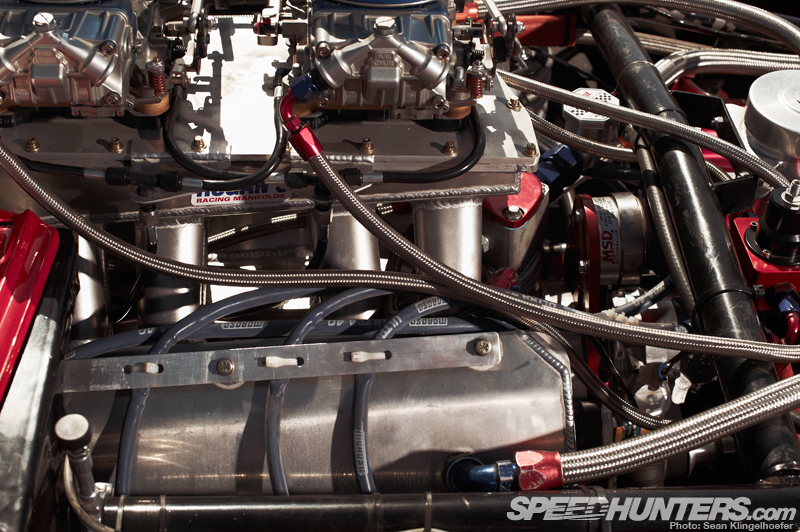 Since everything is proportional, it's really hard to determine the scale of the components in a photograph. For instance the runners on the Hogan high rise intake manifold are about the same diameter as my forearm, and the Moroso spark plug wires more closely resemble a skinny garden hose than an ignition cable. It's a tribute to the American adage of "bigger and better" in every sense of the phrase.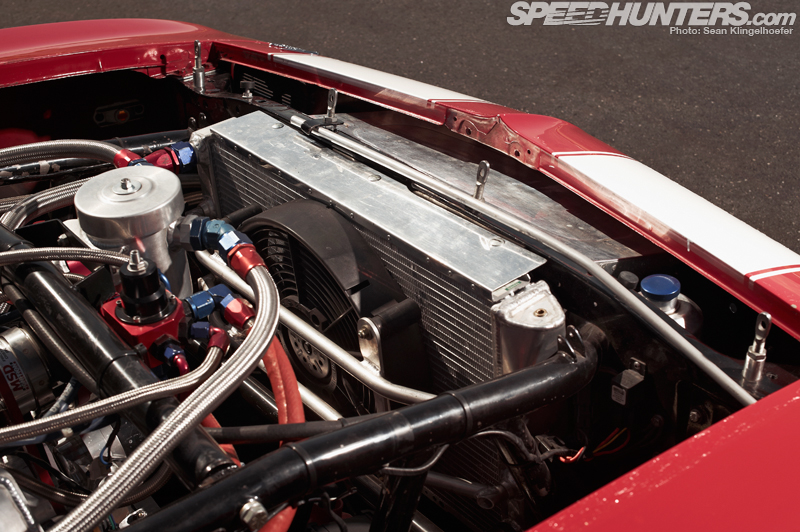 Strewn across the engine compartment is a complex assortment of AN lines and fittings in virtually every size available, delivering vital fluids to various engine cavities. The cooling system is rather straight forward and the radiator capacity is not what you might expect for an engine this size, then again it does spend nearly all of it's time above 100mph in a fairly straight line.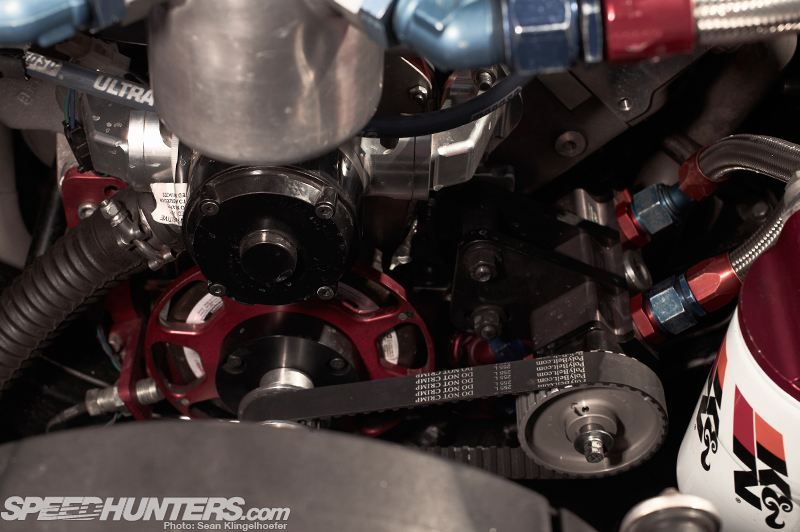 As you can see an electric water pump has been installed to free up some power from the engine and while it probably wouldn't be the best choice for a street driven car, for quick top speed blasts it's more than sufficient. Oiling is taken care of via an S.C.P. pump and Dan Olson dry sump which ensures consistent pressure while alleviating a slight amount of drag associated with a traditional pan. At this level every last drop counts.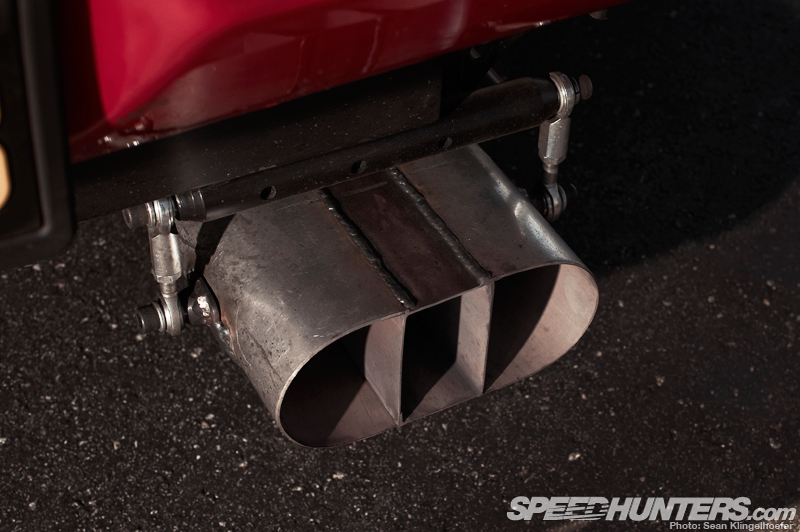 Even the exhaust setup is unique and custom fabricated. Constructed from flat oval tubing it is then cut and sectioned into three separate runners to add some structural stability to the exhaust and also maintain a consistent velocity of hot gasses. With one pipe per bank they are hung on a semi-solid mount using adjustable end links with heim joints. Overkill? Perhaps. Then again, does your car do 218mph?
Although most of us will never know what it's like to drive a car at such high speeds, you can now live vicariously through Big Red. Over the last few seasons the team has been putting together a documentary, aptly titled Driving Fast & Taking Chances, that chronicles what it's like to pilot such a machine.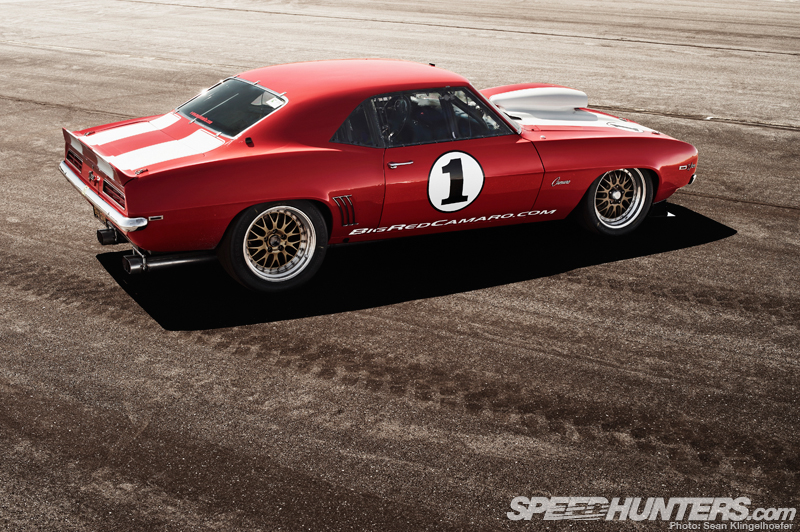 While I may never know what it's like to be at the helm of this Camaro I can tell you what it's like to be in its presence – awe inspiring. There's just something so undeniably cool about an old school Camaro. Like Chuck Taylors, James Dean or Lucky Strikes… it's just so cool.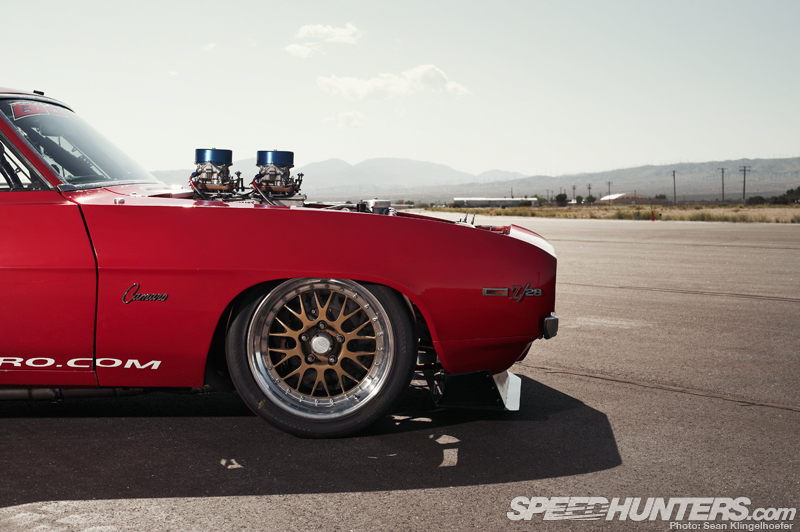 When you take a car so legendary and tweak it to the extreme words cannot begin to describe the awesome it exudes. I mean seriously, a tube chassis '69 Z/28 on super wide 3-piece BBS cranking out over 1000hp. How could you not fall in love? Of course I'm not the only one that feels this way as the booming Pro-Touring community demonstrates. What originally started as a personal mission to hunt down exotics has spawned one of the most extreme genres of muscle car tuning.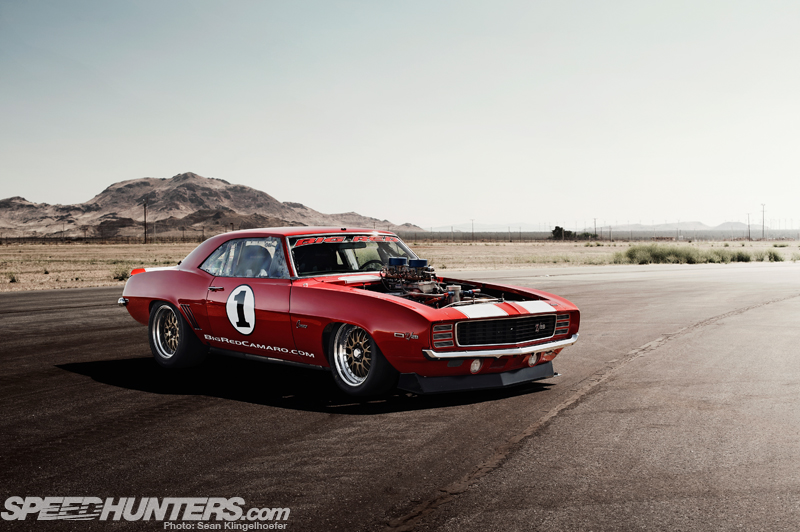 Big Red inspired Larry Callahan to coin the phrase Pro-Touring and has since created a message board dedicated solely to the style. What began as a humble Q&A site has grown to a community of over 30,000 members. As I type this I just received a notification that they've launched their eighteenth podcast. If I could time travel back to 1989 I don't know what RJ would have a harder time believing – that his car started a revolution, or grasping  the concept of an iPod.
1969 CHEVROLET "BIG RED" CAMARO
ENGINE
598ci (9.8L) Chevy big block; Brodix block; Big Duke 11 cylinder heads; Carillo connecting rods; billet crankshaft; 13.5:1 pistons; Comp Cams roller cam; Hogan sheetmetal dual quad intake; Brasswell 850fm carburetors; MSD crank trigger and Digital-7 Plus ignition box;  Dan Olson dry sump pan; S.C.P. oil pump; REF custom header w/ 2.25″ primaries and merge collectors; Spintech ovalized exhaust tubing; Fuel Safe fuel cell; Aeromotive fuel pumps; VP Q-16 fuel
PERFORMANCE
1107hp @ 7000RPM; 887lb-ft @ 5500RPM
DRIVE LINE
McLeod 10 1/2″ twin-disc clutch w/ aluminum flywheel and hydraulic throw-out bearing; Lakewood Scatter shield;  Liberty Road Race style  4-speed gear box; Long shifter; Ford 9″ floater rear axle w/ 31-spline spool; Custom 2:64 ring & pinion
SUSPENSION / CHASSIS
Custom stock car tube chassis by Inland Chassis; QA-1 2-way adjustable coilover shocks; 800lb springs (front), 275lb springs (rear); Speedway engineering 1.25″ tubular sway bar (front); Stiletto rack & pinion; S.C.P. spindles; aluminum hubs; 3-link rear suspension with adjustable panhard bar
BRAKES
14″ rotors w/ Baer 6-piston calipers (front); 14″ rotors w/ Baer 4-piston calipers (rear)
WHEELS / TIRES
18X8″/18X12″ BBS Racing wheels (f/r); P245/40ZR18 (front) P315/40ZR18 (rear) Hoosier R6 D.O.T. slicks
CABIN
Kirkey racing seats; harnesses; Autometer tach; Stewart-Warner gauges
BODY
Stock 1969 Camaro body; stock style rear spoiler; stock style front spoiler w/ 2″ splitter; 2″ cowl hood w/ snorkel; front grill deflector; 200mph tape
More Land Speed stories on Speedhunters
More stories by Sean Klingelhoefer on Speedhunters
-Sean