Travel does something for the human psyche that is quite difficult to explain. It allows a cleansing of the subconscious and leaves you with a pleasant sense of well being. Visiting countries with culture and geography significantly different from your own allows you brain to grow in an uncomplicated way, much like it did when you were a child. Rod likes to call this phenomenon "wonderment" and I can think of no better word to describe it.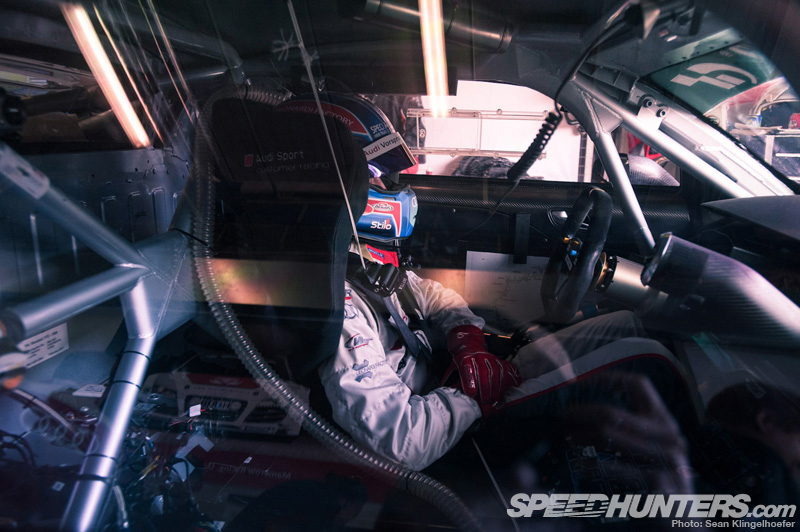 The greatest part is that this rejuvenation lasts well after the travels have ended. With the acceptance of new foreign cultures and terrain you begin to reexamine your own surroundings, allowing you to quickly point out different pieces of your home which you previously overlooked or took for granted. Travel is something that I used to view as expensive and extravagant, but over the last couple of years I now view it as a basic necessity for survival that is worth every penny.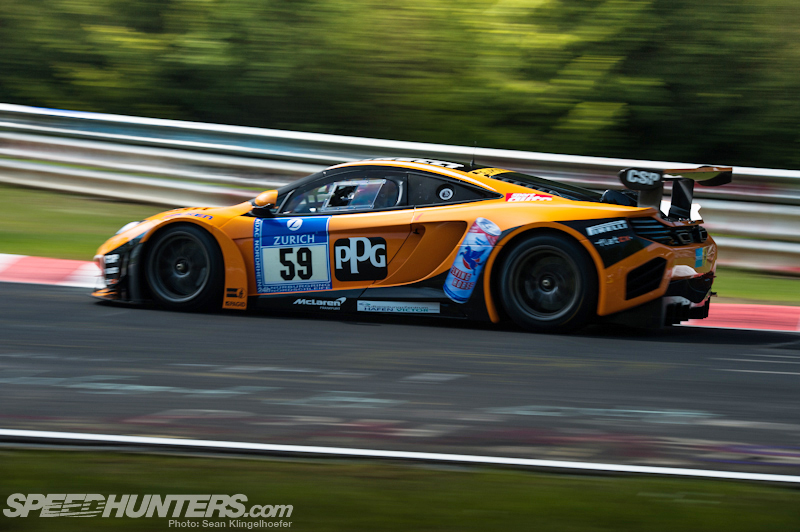 One of the perks of being a Speedhunter is the opportunity to circle the globe in pursuit of amazing cars and it's something I am extremely grateful for. As many of you loyal Speedhunters readers have likely noticed I've been spending a bit of time in Germany, and now that I've returned to sunny smoggy LA I feel it's only appropriate to reflect on my travels. I hope along the way it will inspire some of you to take some Speedhunting adventures of your own.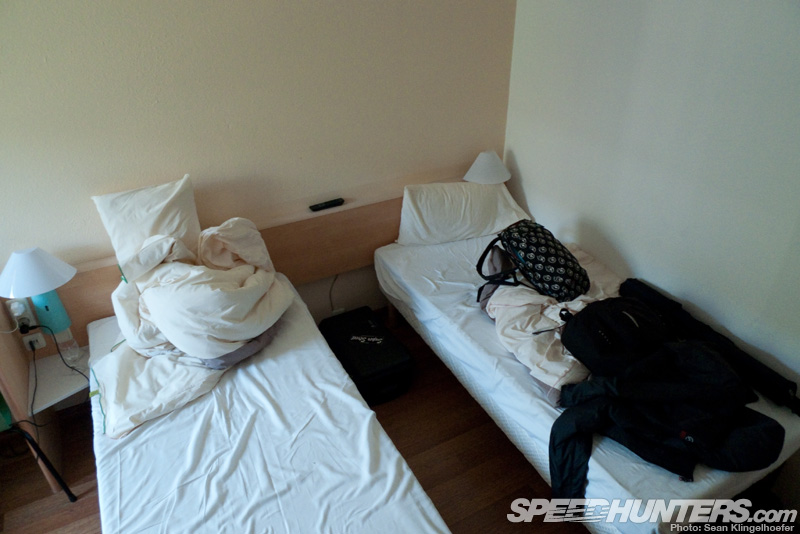 After getting off the plane, renting the cheapest car I could find and driving two hours from the airport this was the first place I saw. Yes, my home away from home while covering the Nürburgring 24 hours. I can imagine this is perhaps a bit less luxurious than you may have had in mind, but such is the real life of a Speedhunter. We don't do it for the money or the fame, but for the love of the game.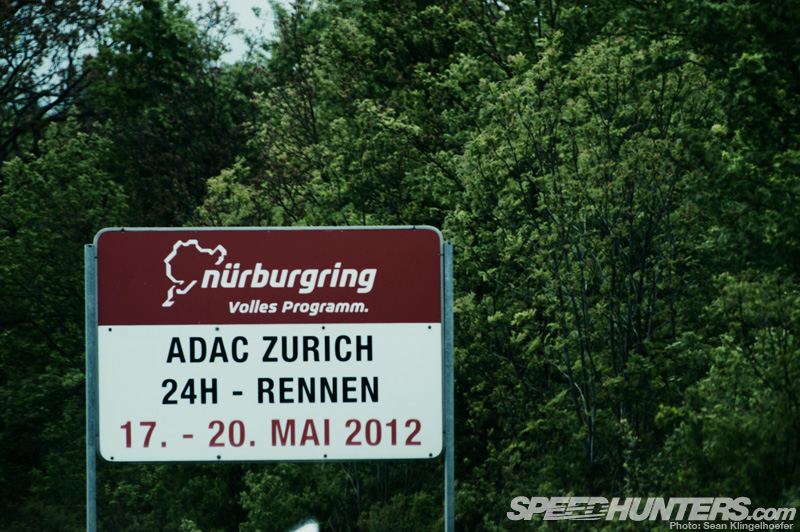 The one event I look forward to more than the rest occupying my busy calendar is the 24 hours of Nürburging, and I know I'm not alone in this feeling. There's just something about this track that sucks you in, whether you're a driver, a journalist or just a casual fan – once you visit the ring you will return. It's like a giant green siren constantly singing you towards its seventy-three turns, its song one I could no longer resist.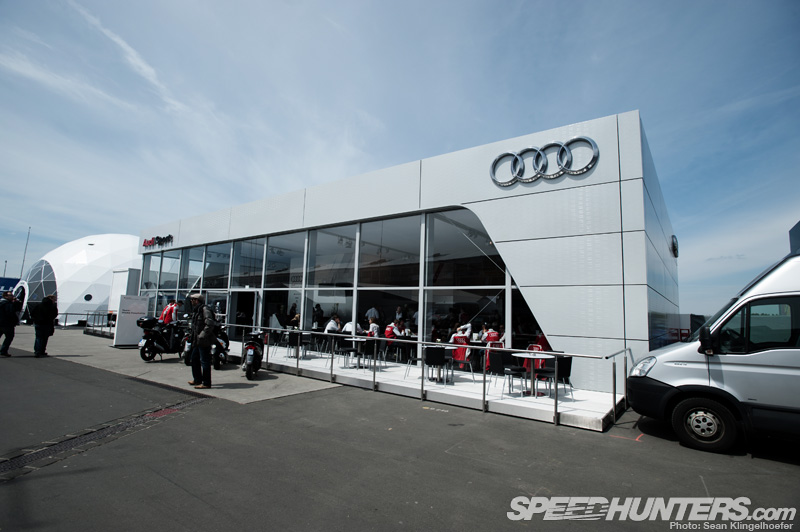 When not out shooting or up in the media center I could usually be found in the Audi VIP lounge. Here I could recharge and get food and drink round the clock. I like to think of it as my home-away-from-my-home-away-from-home.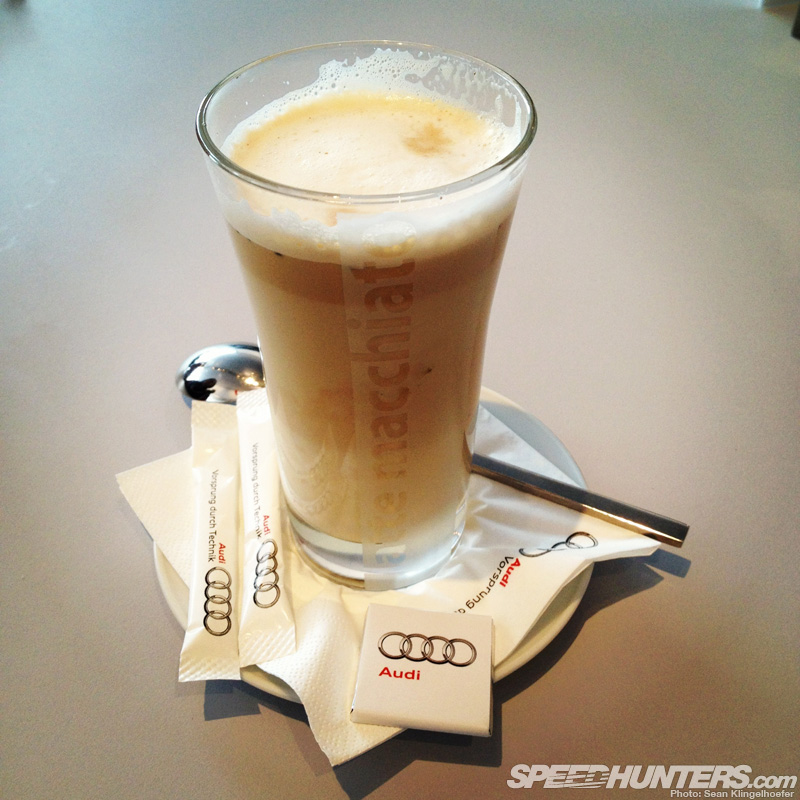 They offered many drinks to try to replenish what the Nordschleife had depleted. I found myself settling into a strange rhythm of Red Bull, followed by Weissbier and followed up with some espresso or a latte. It's a strange cocktail I know, but I was fighting the most severe case of jet lag, which I'm usually not terribly susceptible to, during the race.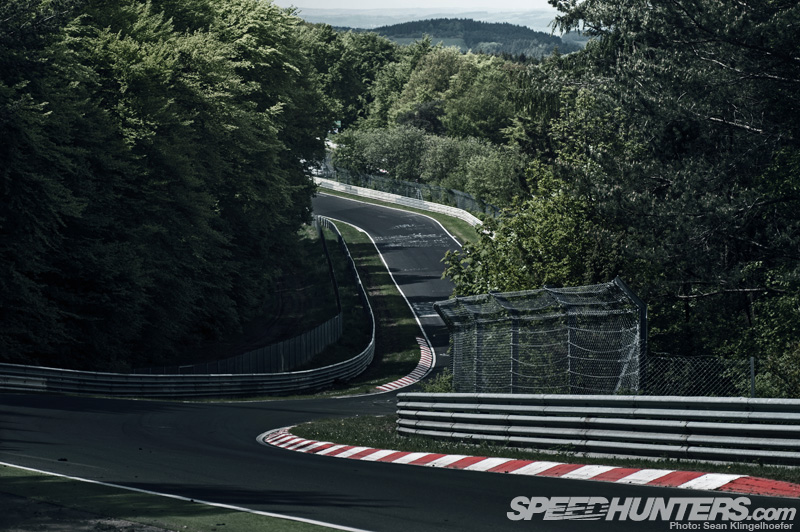 As nice as it was inside the VIP lounge it was out in the woods where I feel most at home. I don't know how to describe my relationship with the track so I won't try and rather let my on-going personal photo project say what I cannot. One thing is for sure, I've never been so captivated by a place like I have by the Nordschleife.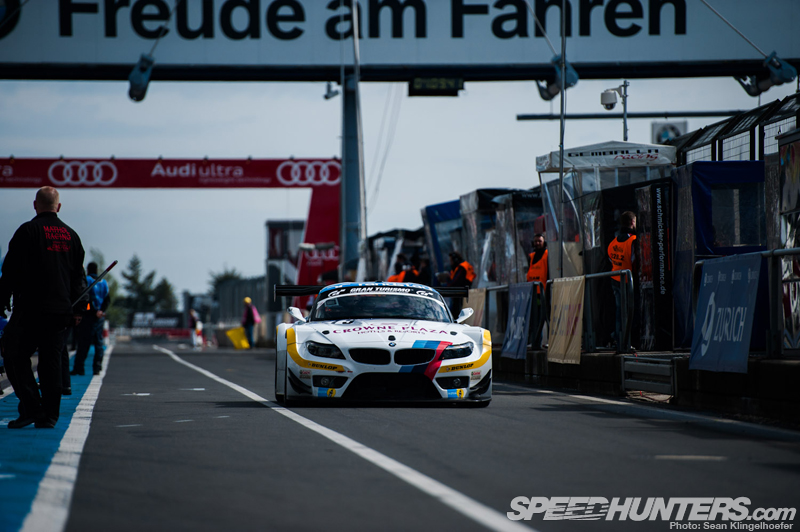 If I had to pick a favorite spot within the confines of the Grand Prix circuit it would undoubtedly be the pit lane. When you have nearly two-hundred cars sharing twenty-something pit boxes during a 24-hour race you can be certain that there will be always be something going on down here. I think the pit lane is at is best during the middle of the night.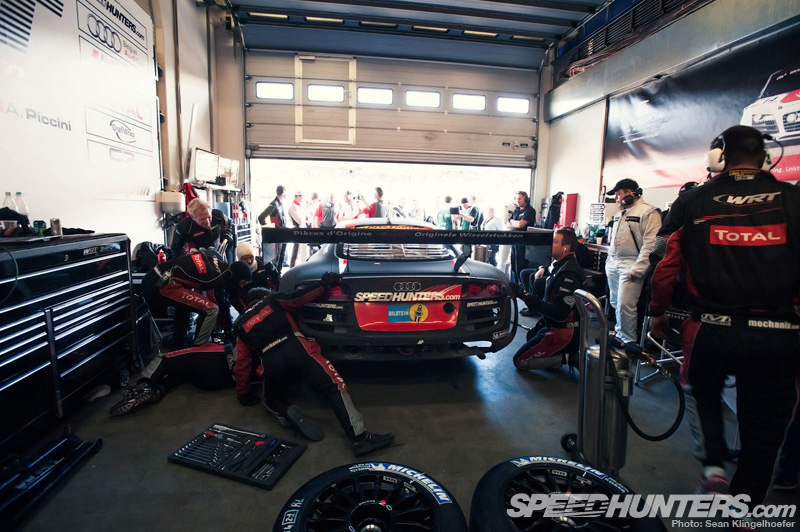 Of course this year we had huge hopes for the Speedhunters WRT Audi R8, particularly after seeing its pace in qualifying.  Unfortunately, as most of you probably read, the gods of racing weren't very kind to the team and the car suffered a major setback during the night killing any chance of a decent result. Regardless the crew put in a valiant effort and I'm looking forward to seeing what they can do at Spa next month.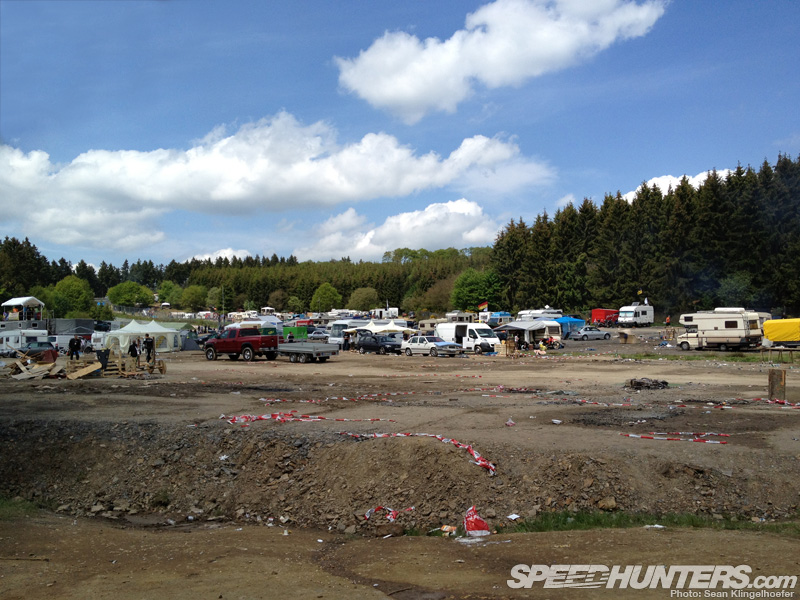 It's always a little sad when the race is over and you're left with a slight feeling of emptiness. It's sort of like the day after Christmas when you're a child and all that's left is some tattered wrapping paper and a few pieces of gross candy you never liked in the first place. Come to think of it, Brünchen post-race nearly fits that description to a t.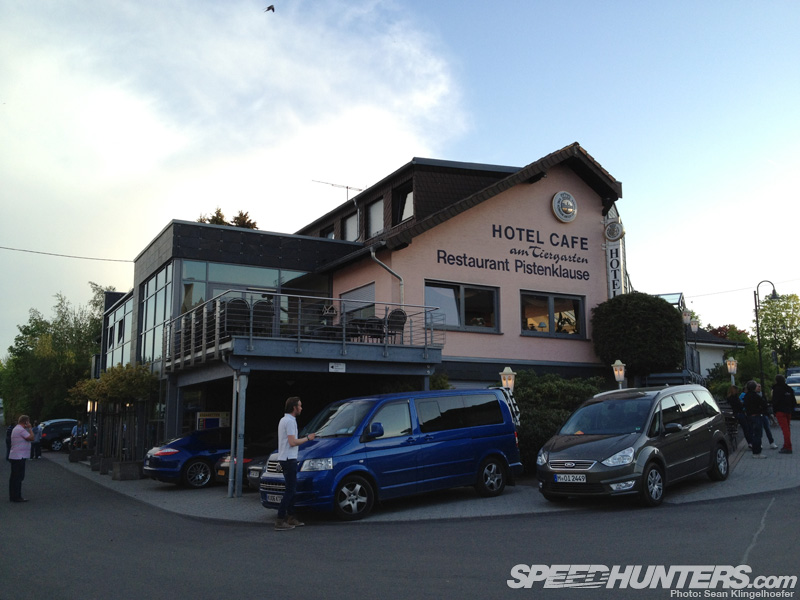 But before heading out of town there was one last knot to tie off, and that's eating at the famed Pistenklause. Owned by Sabine Schmitz' family, this restaurant is almost as legendary as the circuit it's adjacent to and has probably seen as many racing drivers to boot. If you make the trek to the ring you should consider eating here a must-do.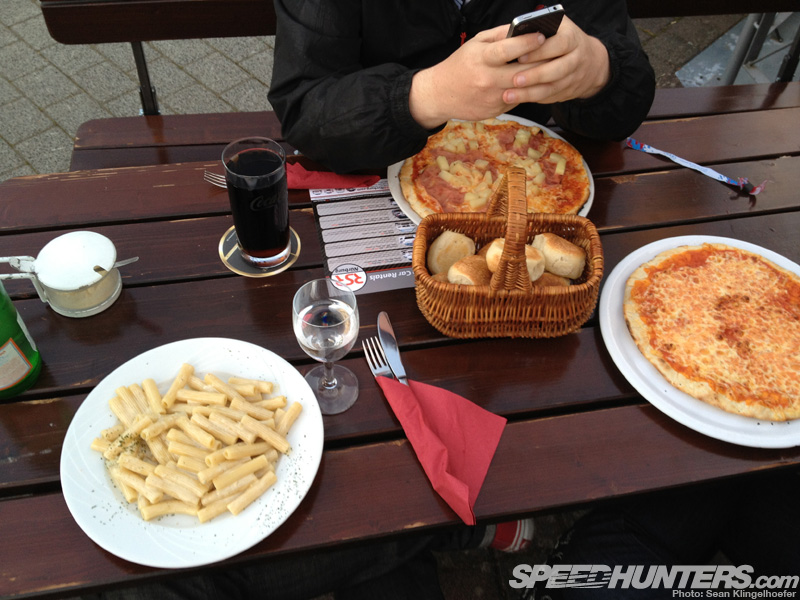 Unfortunately immediately following the race the place was quite packed so we had to eat outside, which isn't a problem, but the interior is endlessly cool. There are driver signatures, racing memorability and decals from all over the world spanning several decades. But if that isn't enough, the food is killer too!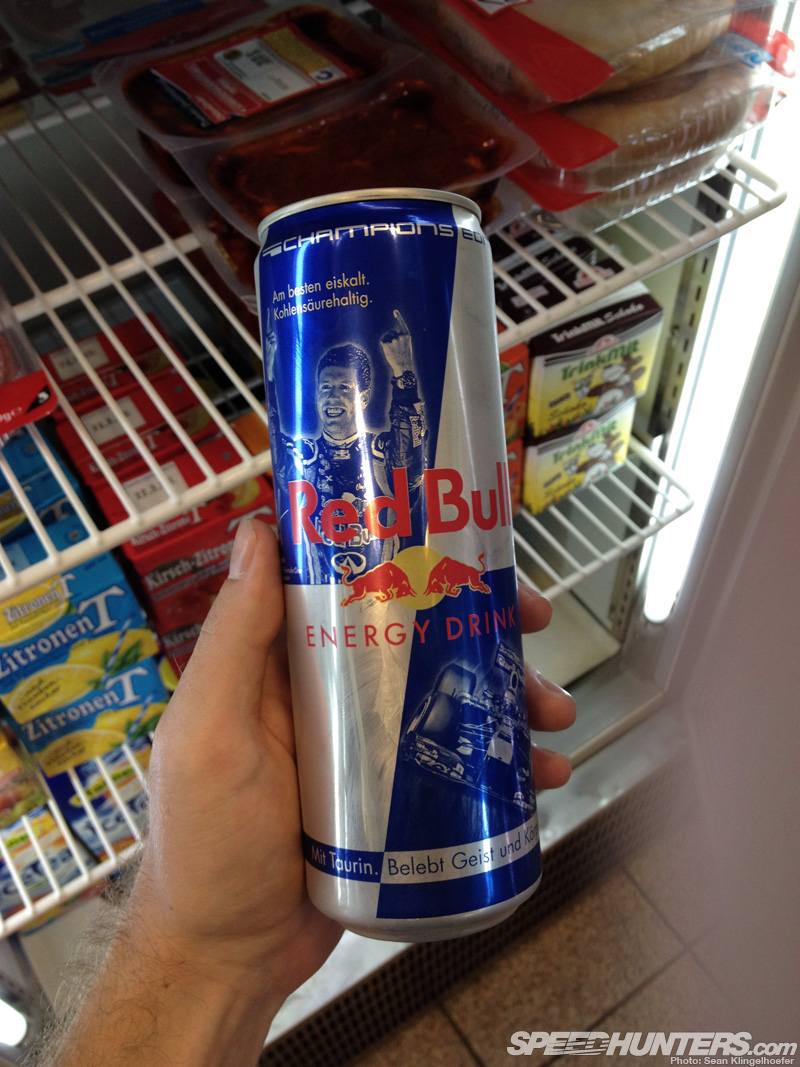 Still fighting jet lag I began getting familiar with larger sized variants of that energy drink from Austria. If one needs proof of Germany's obsession with the automobile and motorsport they need look no further than a can of Red Bull. Emblazoned upon the product is RBR and Germany's own golden son, and current world champion, Sebastian Vettel. How cool.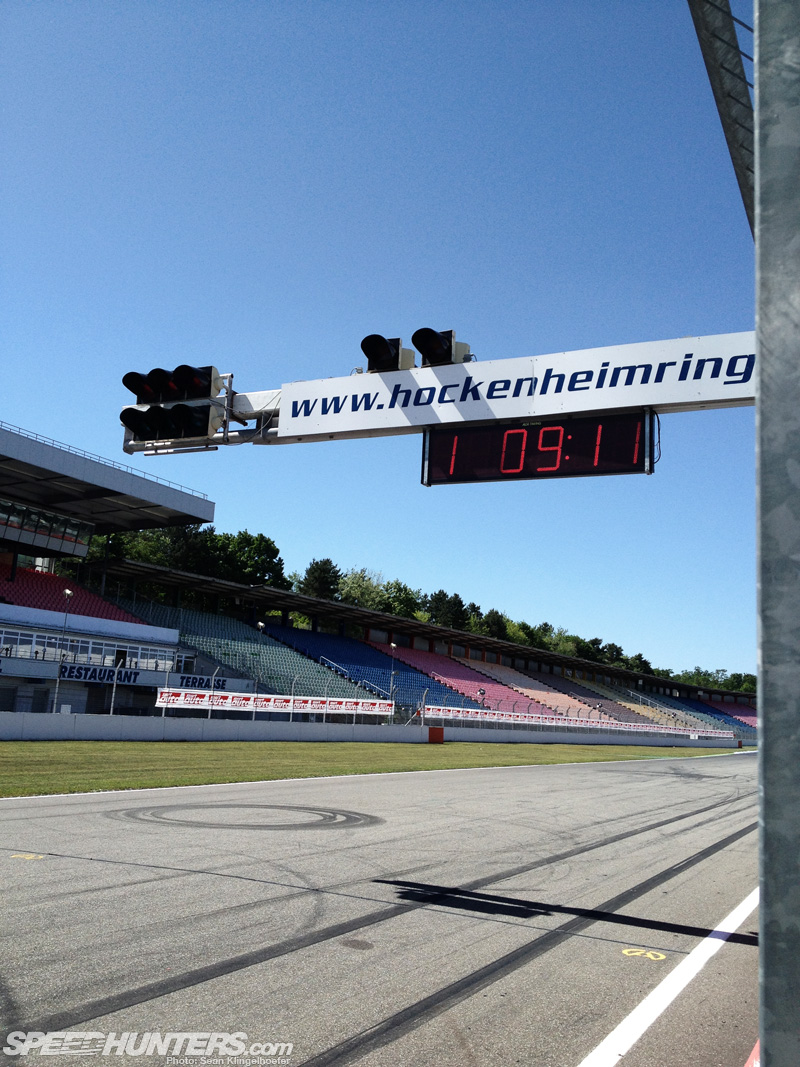 After almost a week of acclimation, which still wasn't enough, I left the Internet deprived village in which I was staying and headed for Germany's other Grand Prix course – Hockenheimring.  Although I had driven past several times on the A6, this would be the first opportunity for me to actually explore the circuit.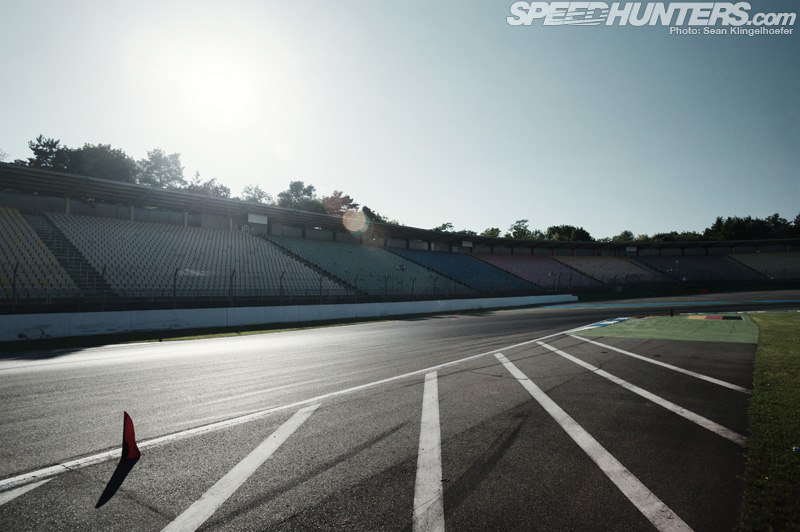 On this particular weekend the track was hosting Sport Auto's Tuner GP, a German-style time attack / drift expo tuning event. I was briefly familiar with the event as I had heard stories of years past from friends, but to be honest I had no idea what to expect. Needless to say I was pretty blown away with what I found.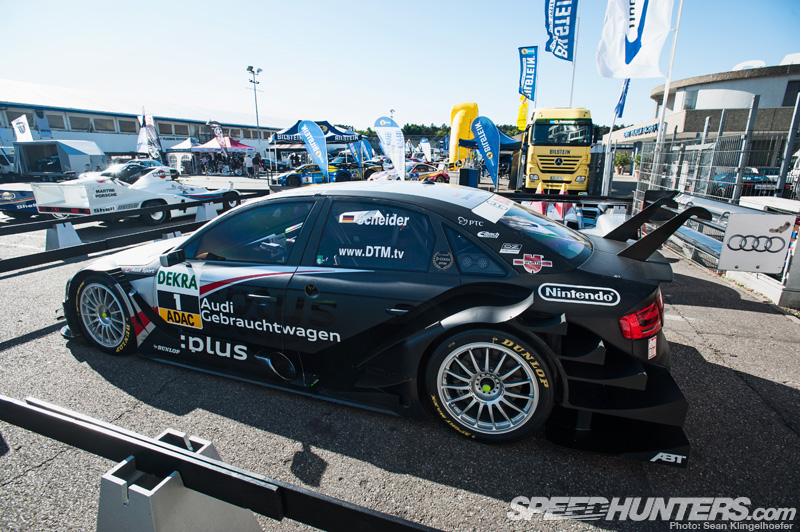 The first thing I saw upon entering the private test day was an impressive row of race cars on display. Sport Auto did an excellent job mixing in some vintage Le Mans prototypes with former and current N24 competitors, but my favorite was the 2010 Audi A4 DTM car. I've seen lots of DTM races and photos online, but this was the first time I've been up close to a car this modern… it was unbelievable. Note to self: must go to DTM race soon.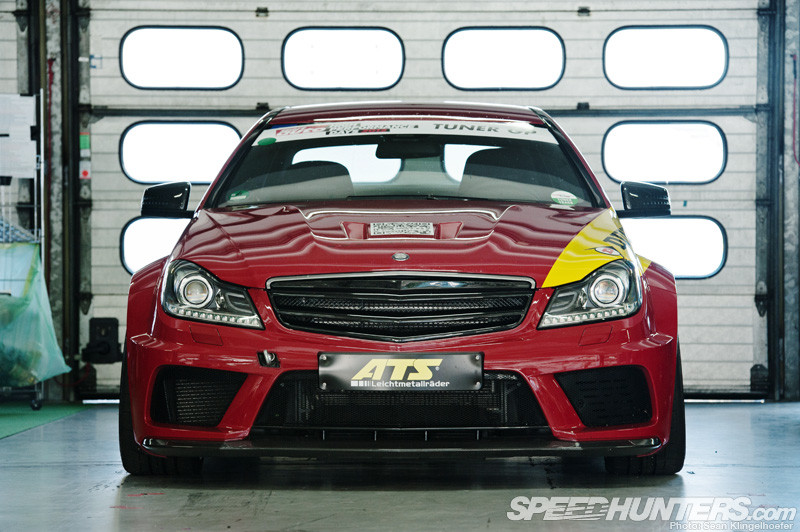 I spent the rest of the day investigating the cars in the pit boxes that would be competing the following day. I have to admit I've taken a liking to Mercedes' recent AMG Black Series products and seeing these cars muscled around a track is something I won't soon forget.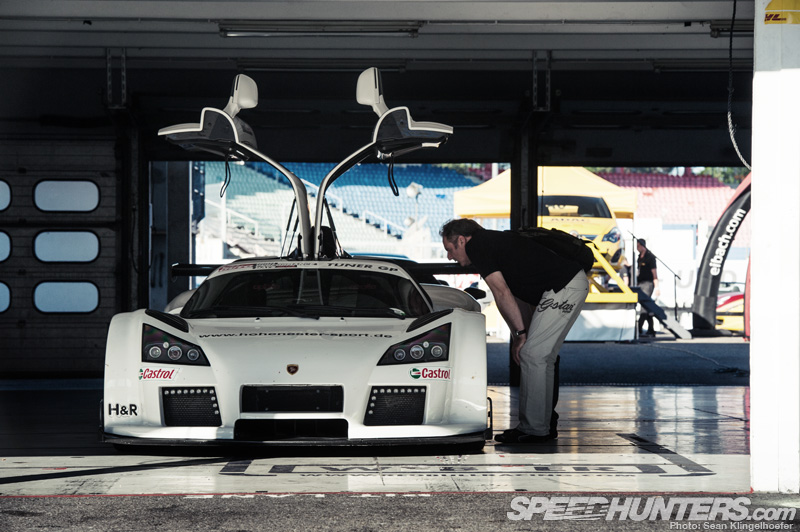 Of course it wouldn't be Tuner GP without some crazy super cars in attendance. Another in-person-first for me was this Gumpert Apollo, a car which, as you can see, blows minds at will. I dare you to walk past those gull wing doors without pausing for a moment of contemplation. Go on, I double dare ya'.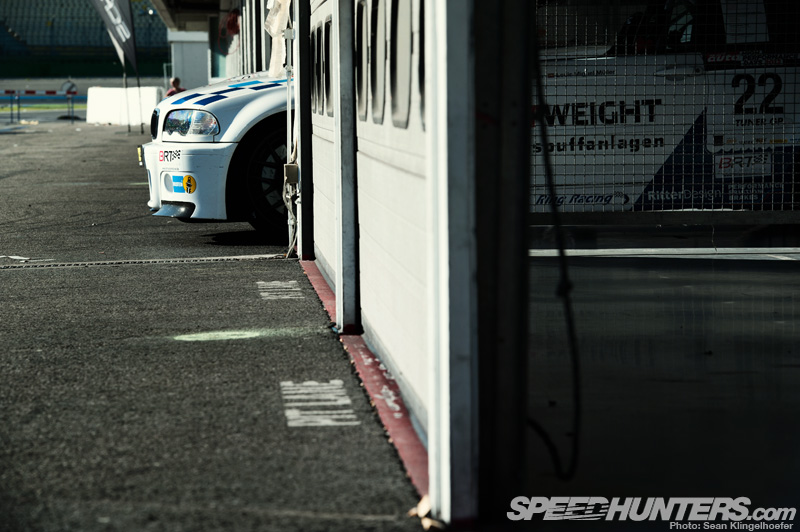 You simply wouldn't be in Germany if there weren't any of BMW's clever racing appliances on hand. Coated in alpine weiss and adorned with lightweight flags, has the venerable E46 M3 ever looked better? I think not.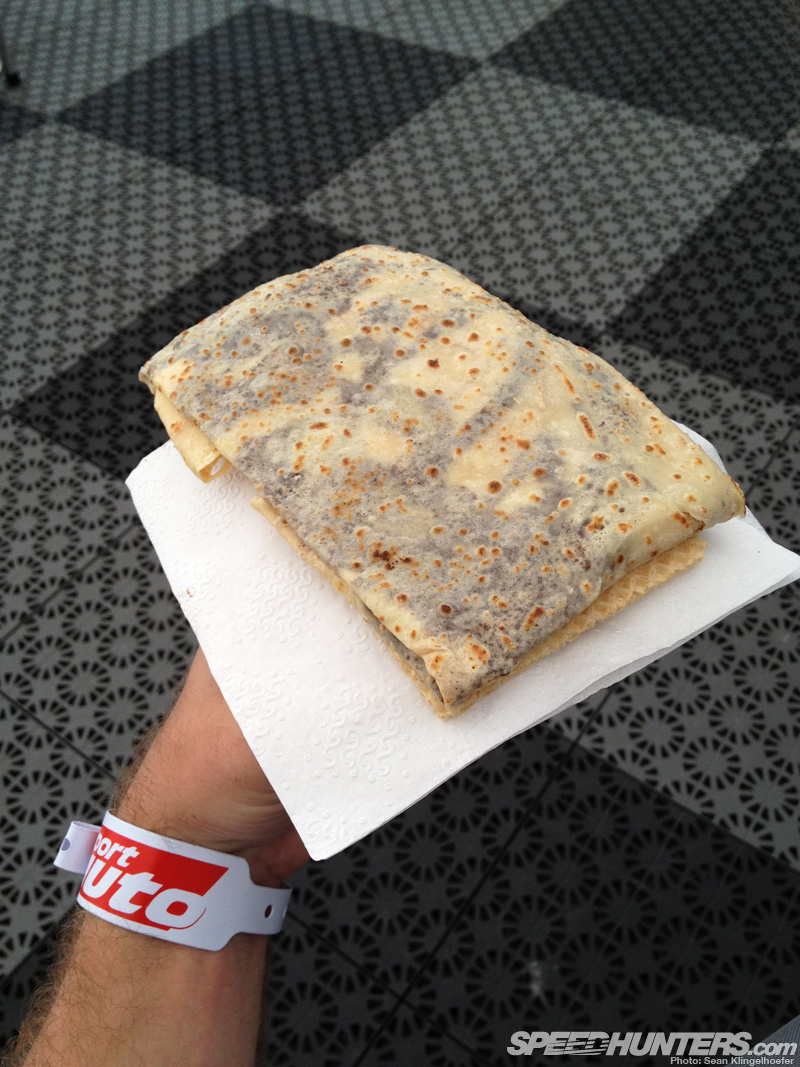 To start off the day of competition I knew there was only one thing that could get my head right for the event. In an attempt to finally kick my jet lag to the curb once and for all I went with the breakfast of champions, a Nutella crepe of course.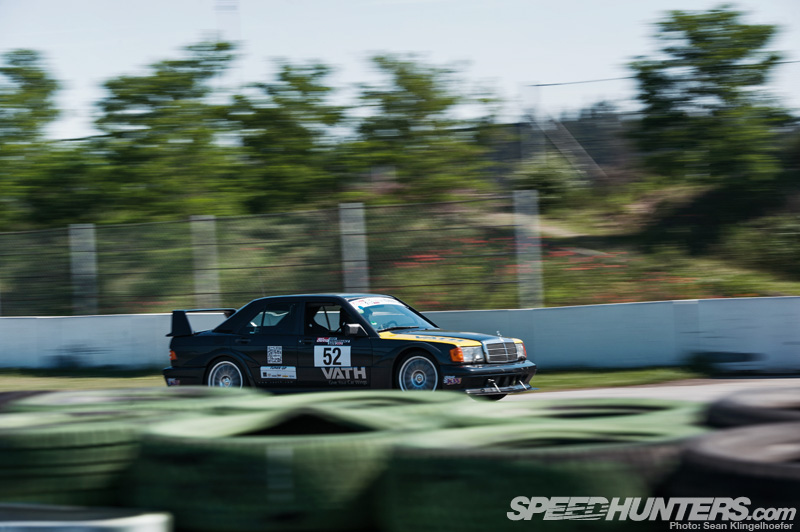 Out on track my automotive lust kicked into high gear. What was undoubtedly the best sounding car on track was also likely the slowest, a Mercedes 190E Evo II. While it might not have been going round the fastest I'll be damned if it didn't look stunningly gorgeous while doing it.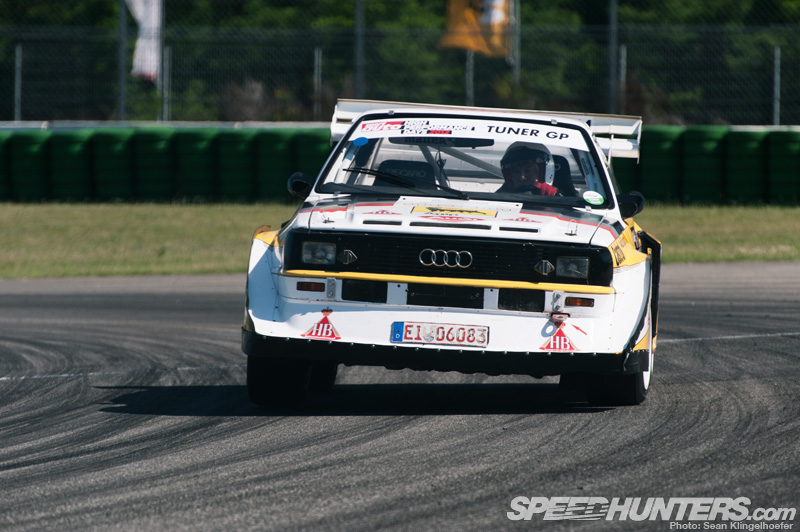 Another I've-only-driven-it-in-video-games-but-my-god-do-I-want-one car – the Audi Quattro S1. Operated by Audi specialists MTM this was one of the cars competing in the vintage "young timers" category.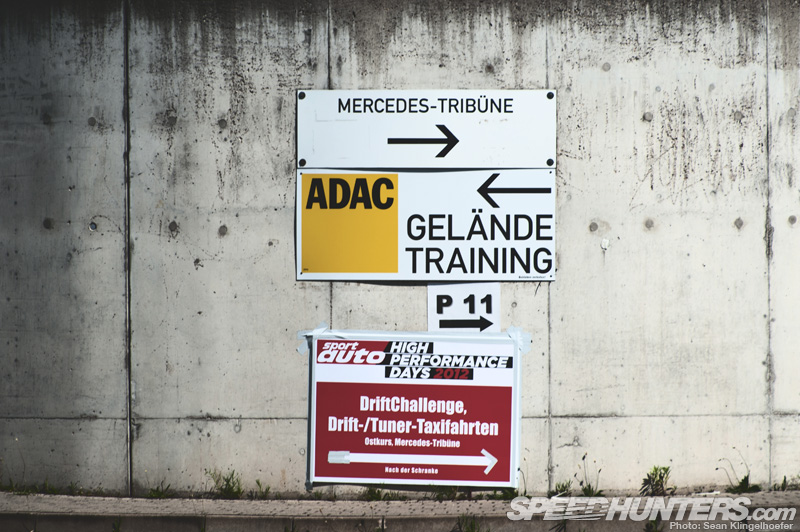 As the action on the main track came to a short lunch break I decided I would follow this peculiar sign and investigate…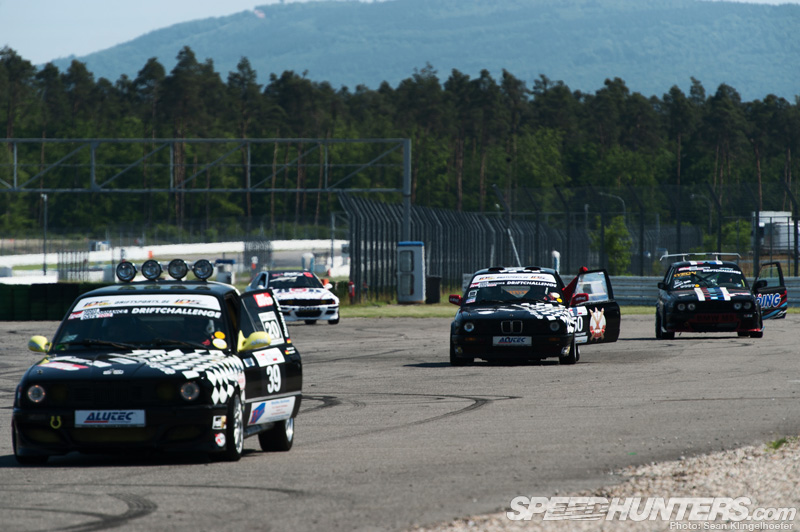 When I finally peaked the rise and got a view of the track this is what I saw. A seemingly endless train of, mostly BMW 3-series, drift cars. My friend Chris Marion who does support for Formula D drivers on KW shocks described the scene better than I ever could have. "Professional drifting in Europe" he said "is like a massive missile car party, only it's with their real competition cars!"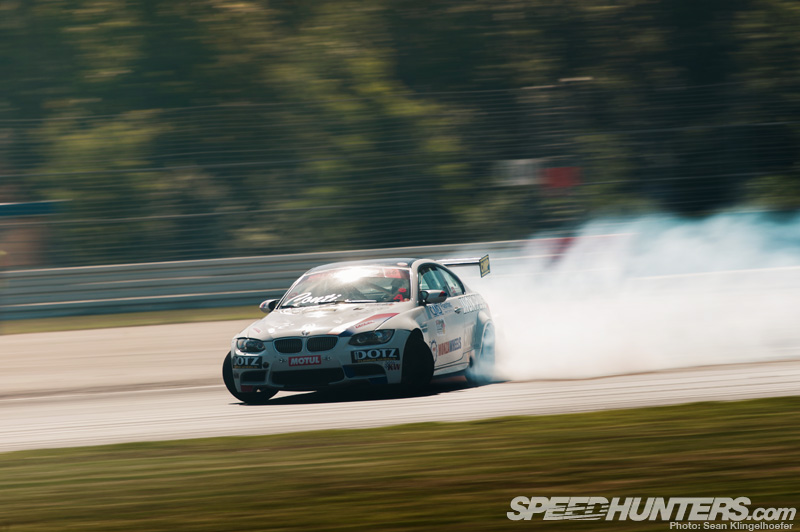 And what interesting competition cars they were. While this may look like an ordinary run of the mill E92, it's anything but.  Rather then settle for normality, Italian drifting champion Francesco Conti is rumored to be sliding around in a factory customer racing spec GT4 car!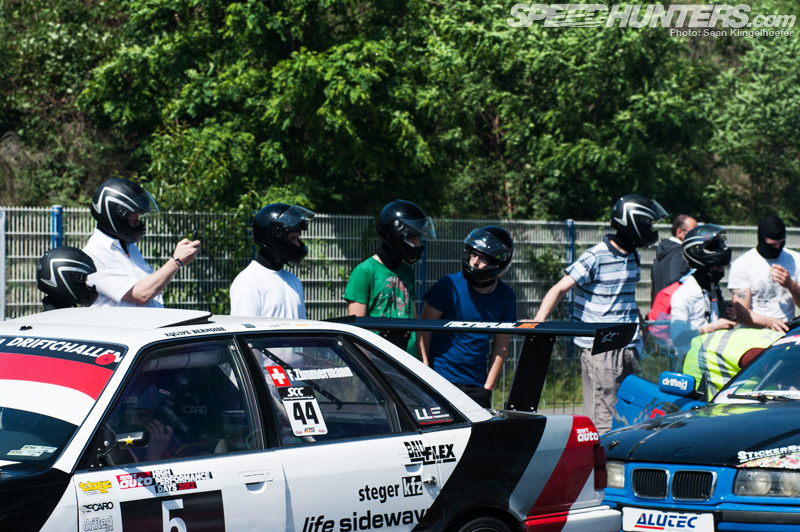 Coming from America, the land of suing over anything, it was the drift-taxifahrten that surprised me the most. It seemed that anyone with a few euro could hop in line, borrow a helmet and ride shotgun in any of the cars there! In Formula D this is a luxury typically reserved for VIPs and media exclusively, so seeing such a unique experience offered to the fans was great.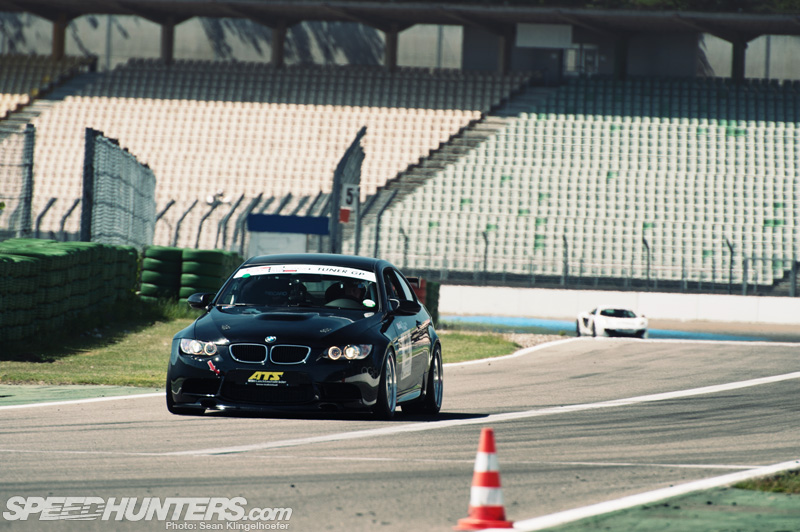 When the action resumed I hustled back to the track to catch more of the GP. It's hard to imagine a better pair of cars than a black M3 and a white MP4-12C sharing the same circuit.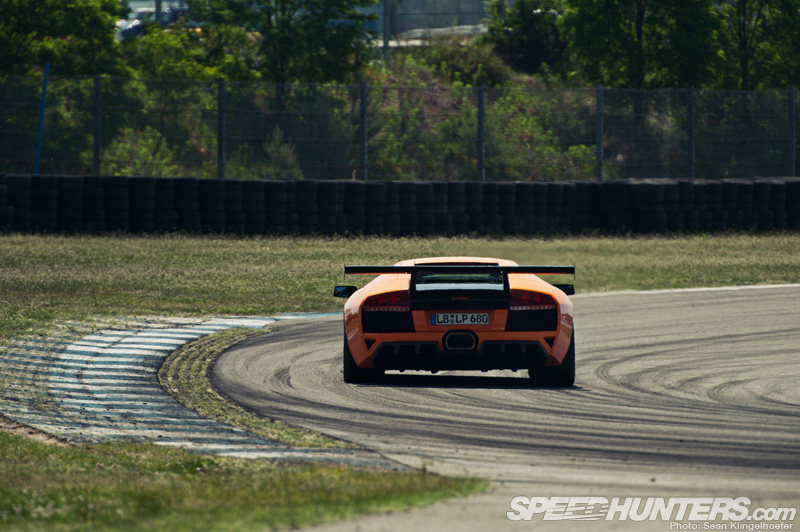 Well I guess a Murcielago can't hurt.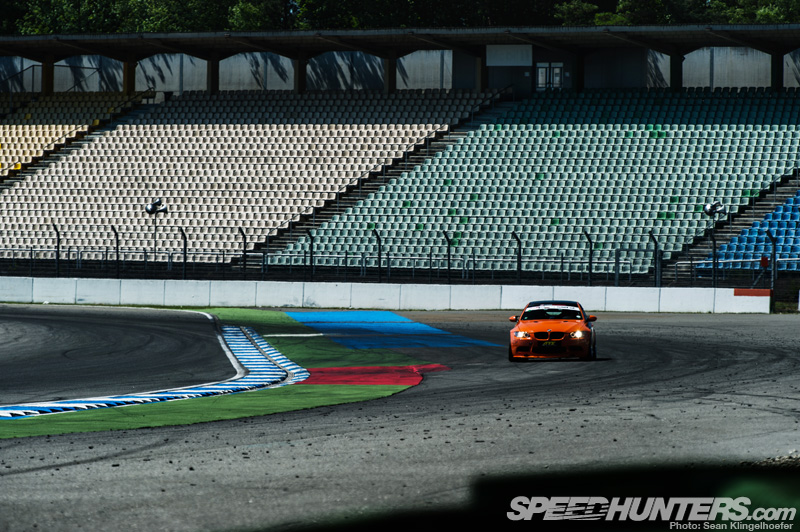 In American time attack it's not uncommon to put two wheels off in a corner, something that gives US drivers a small edge at Buttonwillow over the track-limit respecting Japanese. In Germany they take going four-off to a whole new level!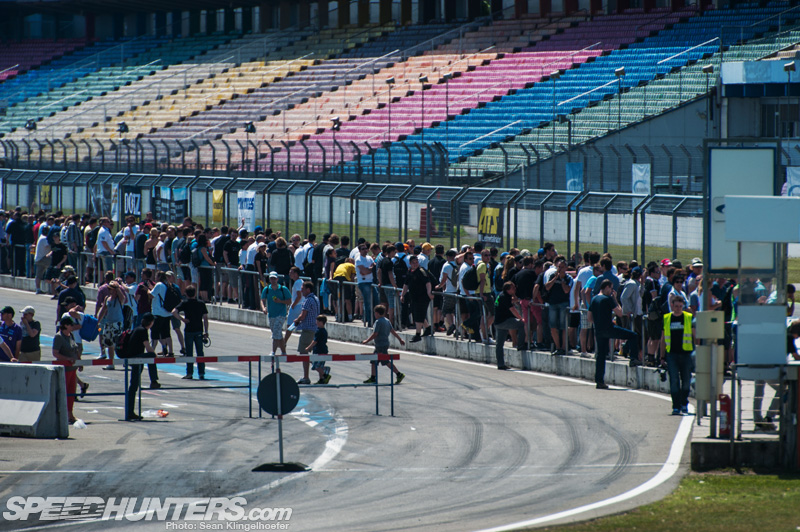 For an American this is another impossibly incomprehensible scene. Fan's usually aren't even allow around the back side of the pit boxes when the track is hot in the US, yet here spectators can go straight across the pit lane and congregate by the hundreds at the pit wall. It was incredible. It was how motorsport should be enjoyed.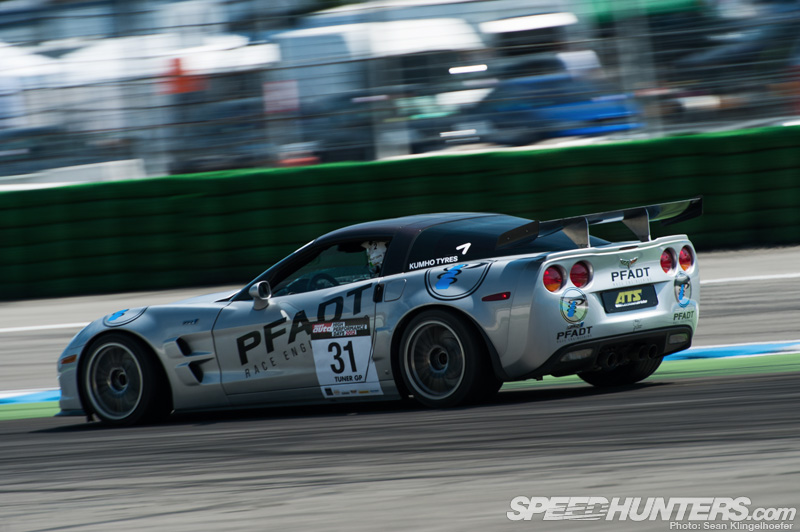 It wasn't long before I realized that the C6 Corvette is a very popular car in Germany and there were lots of prime examples battling in the GP. I must have counted at least a dozen, most of which were heavily modified ZR1s.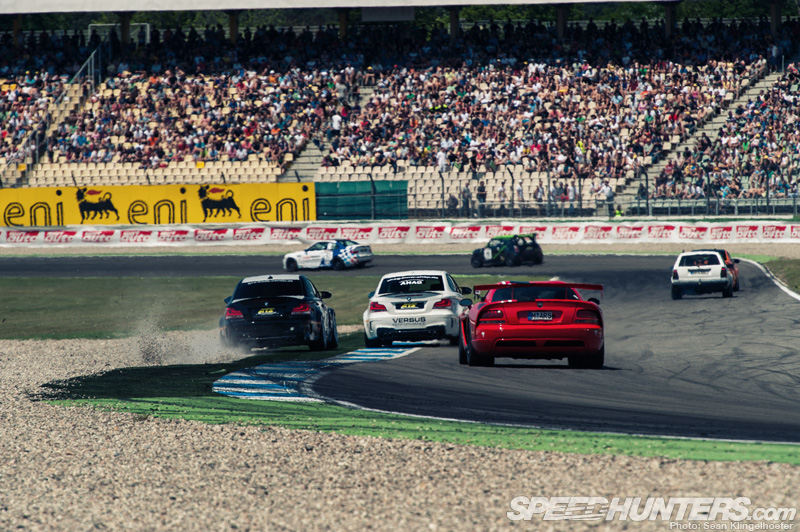 At the end of the day I was in for a serious treat. Thinking that this was solely a time attack style event I was in for a big surprise when the final session of the day came around, an all out wheel to wheel battle! The fans went absolutely nuts! Can you imagine if they did this at Rev Speed or WTAC!? It seemed as though participation in this final session was optional as many of the cars weren't out there, but it was insane to see nonetheless.
Needless to say I left this event with a new perspective on time attack and I think the rest of the world can learn something from what the Germans are doing, particularly in terms of fan interaction. Unfortunately that's all I have time for today, I hope you'll join me again tomorrow for the second leg of my trip.
More stories by Sean Klingelhoefer on Speedhunters
More Speedhunting stories on Speedhunters
-Sean