Welcome to the second part of my blog from the Nürburgring 24 Hours. In this part I'll talk through the race weekend itself, starting on the Saturday morning before the Nürburgring 24 Hours. There's a long time to wait until the 4pm start time, but there's still plenty to do before the race.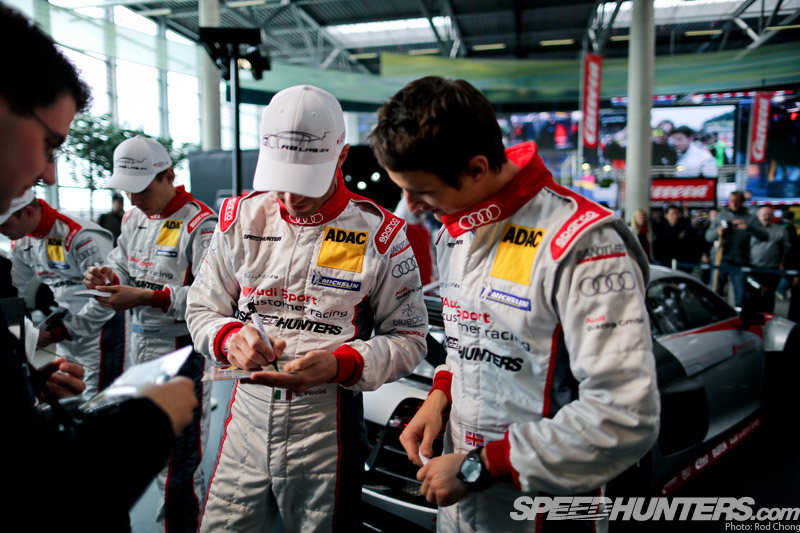 Audi held an autograph session with all their teams and Oliver Jarvis, Andrea Piccini, Allan Simonsen and myself were there to represent Speedhunters WRT. The Ring Boulevard is an impressive area for the fans where they can purchase merchandise, and we were kept busy signing flags and cards for fans. I had a great time with my team mates: one thing that's really impressive in Germany is that there are a lot of autograph collectors. They arrive with thousands of pictures, and present ones with individual drivers in to sign. They have a great passion for motorsport in general and the Nürburgring 24 hours in particular.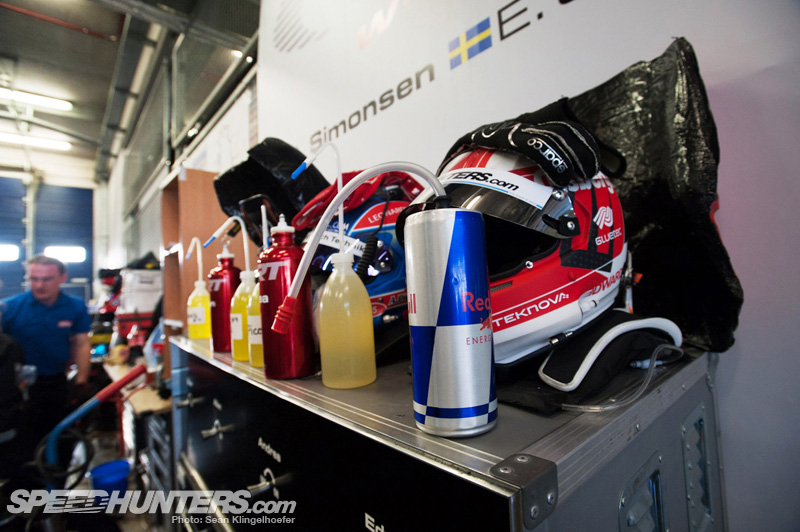 Back in the pits the team were busy preparing things for the race. The yellow drinks bottles are just for us to have in-between the sessions. I use my Red Bull bottle of course. It gives you more energy! The red bottles are to put into the car. There's a quick-release system, so it makes them easy to change. The drink system is powered by an electric pump that brings the water up to the helmet pipe. Open mouth, press button and drink. 'On' and 'Off' on this unit is to control the helmet dryer system. It's nice to have everything dry for the next stint.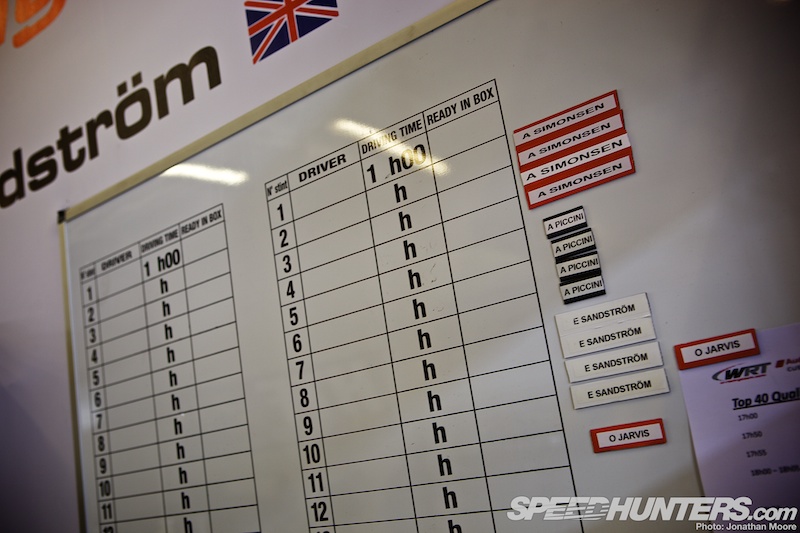 We had planned the first four stints in advance. For the rest we stayed prepared to be responsive as needed. With four drivers you nearly have one too many – as long as all are fit to drive then you can actually get quite a lot of rest between stints. I prefer two cars with seven drivers, where you can swap between cars, but when you only have one car it's a bit of a risk to go with just three.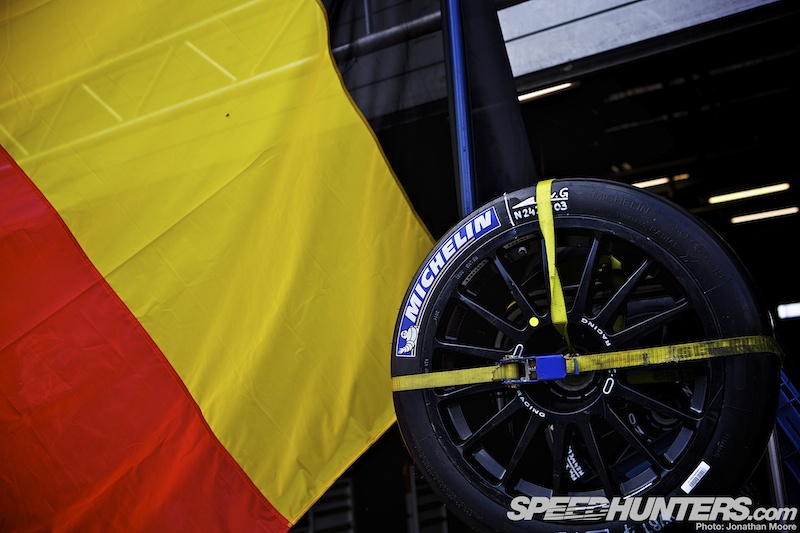 We had a lot of different Michelin tyres to work with. I tried two different compounds and must say that they both worked. Anyway it's just about having the right tyre for the right temperature. But for me the most important thing is to follow with the tyre pressures when the air and track temp change. It can be quite tricky to get right all the time.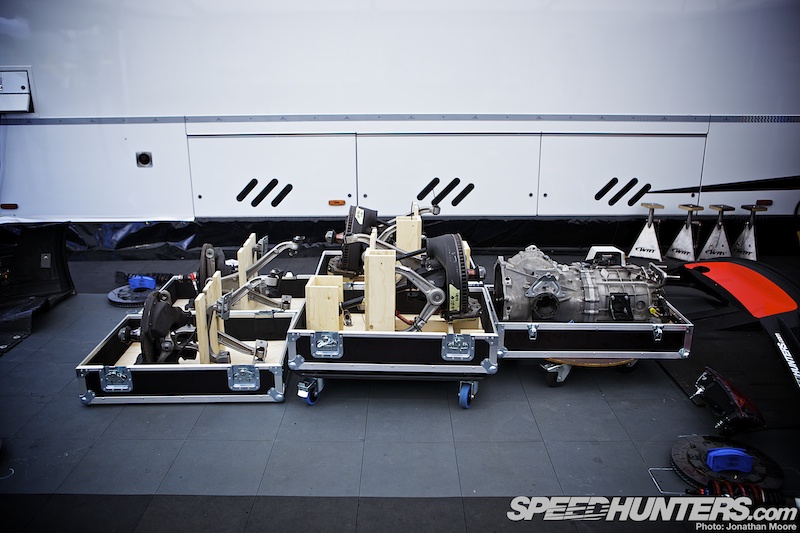 In case something happened we were prepared, but if any of this was needed during the race it would mean that you're probably out of luck as a podium contender. But I like WRT, they are well prepared and really well organised.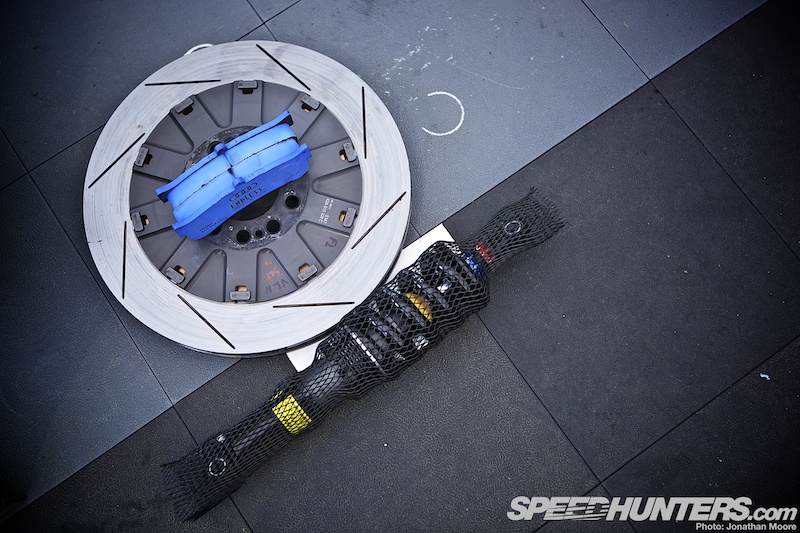 Brake pads are an essential part of the game. They need to last and stay in good shape. I met the guy from Endless during the weekend, which is actually a Swedish company. Very good stuff then! Actually the team can change the pads so fast that they can do it as the car is being refuelled – especially because of the pumps we have to use at the Nürburgring.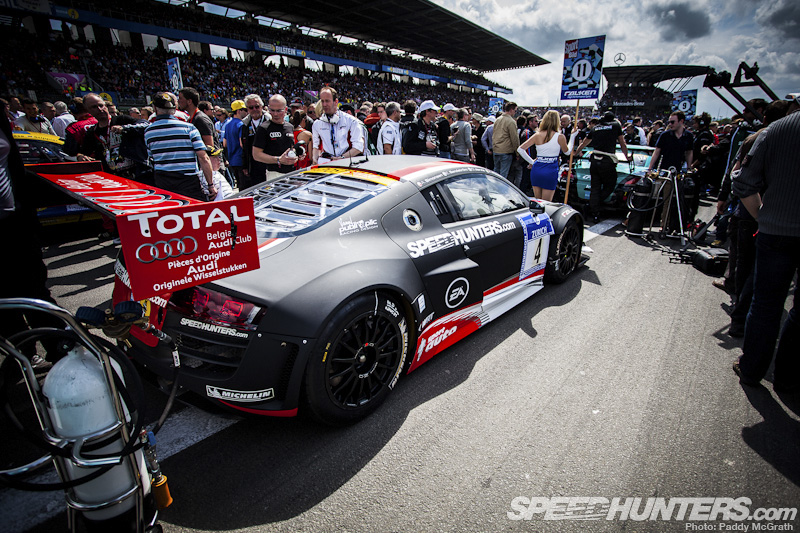 The grid procedure is much longer than for most other races: the grid opens at 1.30pm, two and a half hours before the start. All the cars have to be out of the pit-lane by 2.10pm.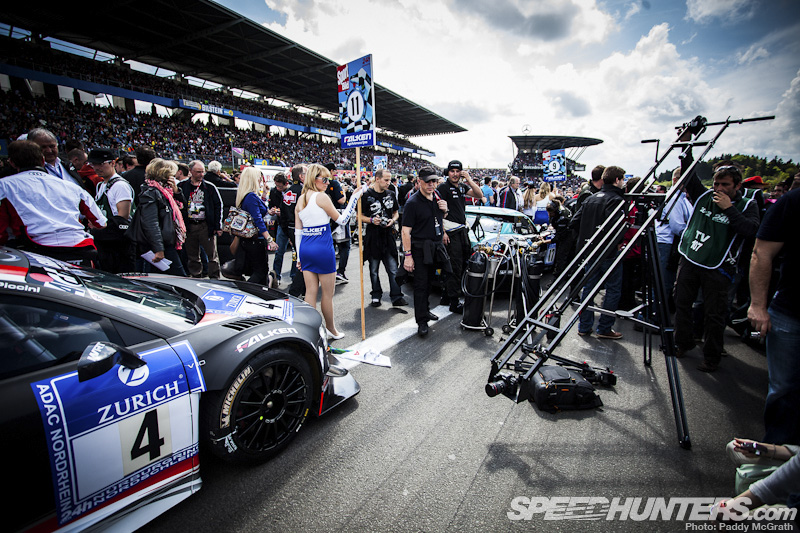 When you arrive on the grid you realise just how big this race is. The arena is absolutely full and the fans are cheering everywhere.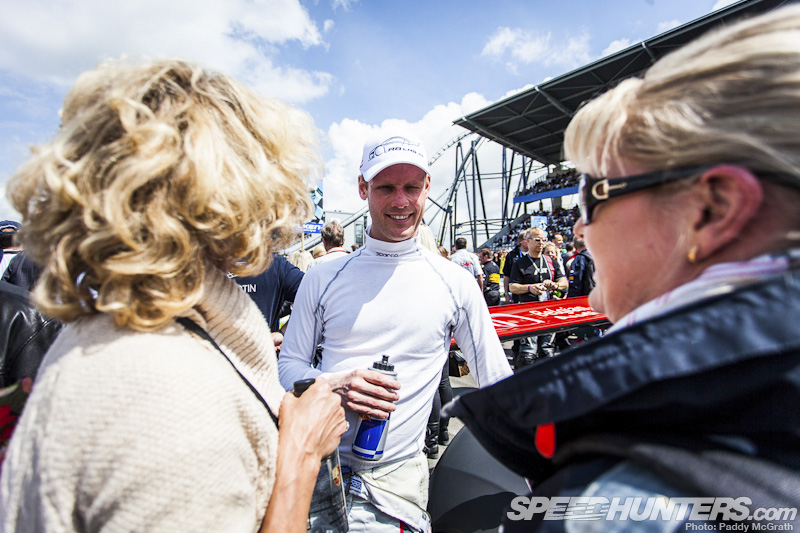 I was there one hour before the start. It was quite warm in the sun, but I felt really okay despite the heat.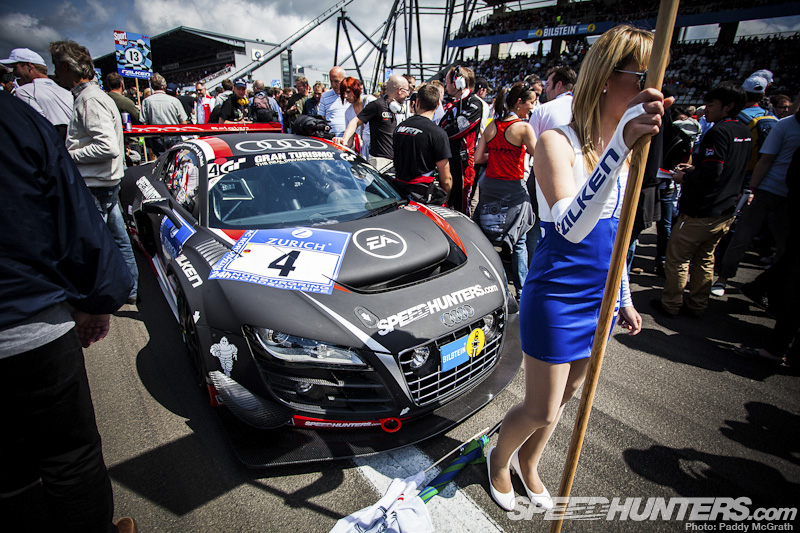 Actually I felt relaxed, but very precise in my focus of what I wanted to achieve during the first stint. My target was to bring the car up from 11th to be with the leaders if possible.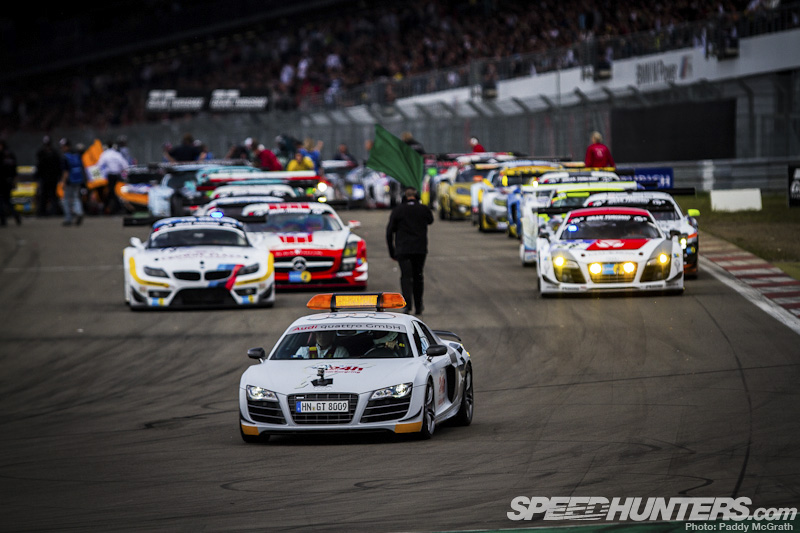 3.40pm, and it was time to leave the grid. It was a long, long formation lap. But it gives you even more satisfaction when you see the whole length of the 25km track packed with fans. People are jumping over the barriers to get an even closer look on the formation lap. I did my first start in 2010; this time I stayed really focused to save fuel and keep heat in the tyres. I have a display with pressures on the dash, so I could see if I did good enough.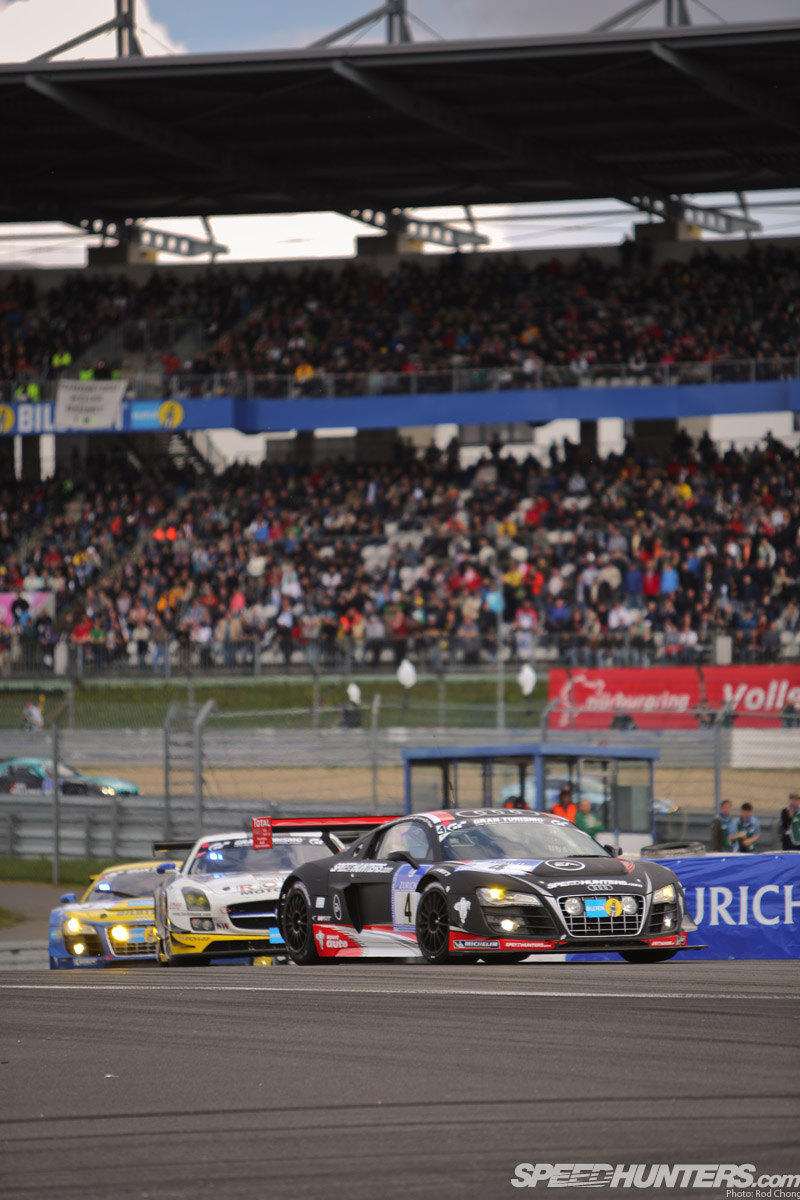 The start was pretty well behaved. It was a bit spread out so I had no problems.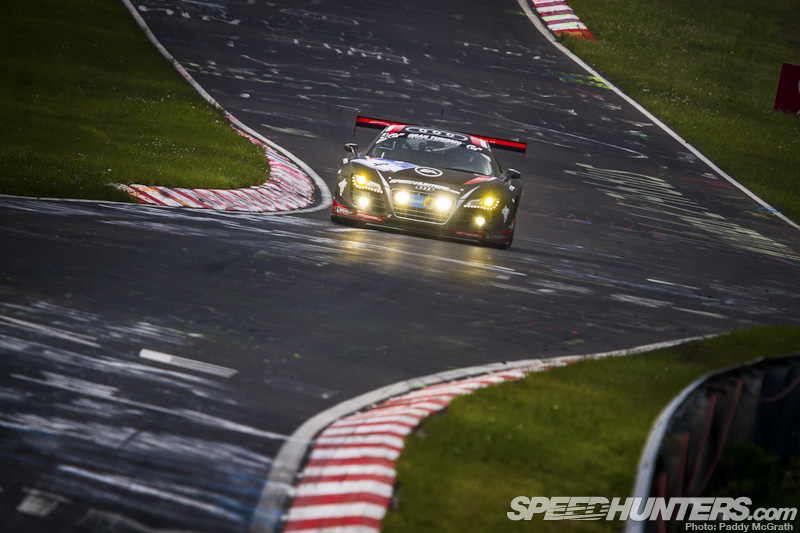 I enjoyed my first stint a lot. My car was brilliant, though maybe I lost a little bit towards the end due to rising tyre pressures.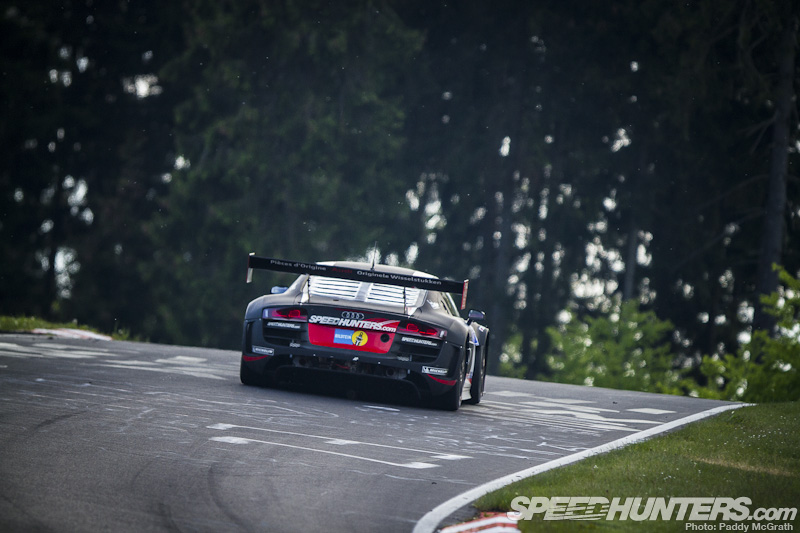 The stint included everything. First I managed some good overtaking moves: I passed Pedro Lamy in the Vita4One BMW Z4 after a couple of laps. This was important because he was slowing me down a lot. Then I managed to pass Pierre Kaffer in the Heico Hankook SLS when he went wide on some dirt after Brünnchen.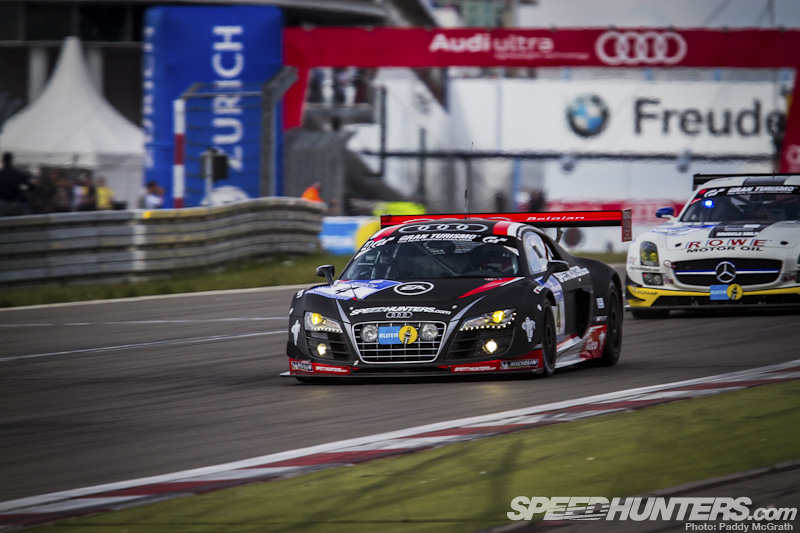 After this I passed the Rowe SLS and could follow Frank Stippler in the Phoenix Audi R8 LMS Ultra. At this point I was with the train of leaders, so my target was achieved.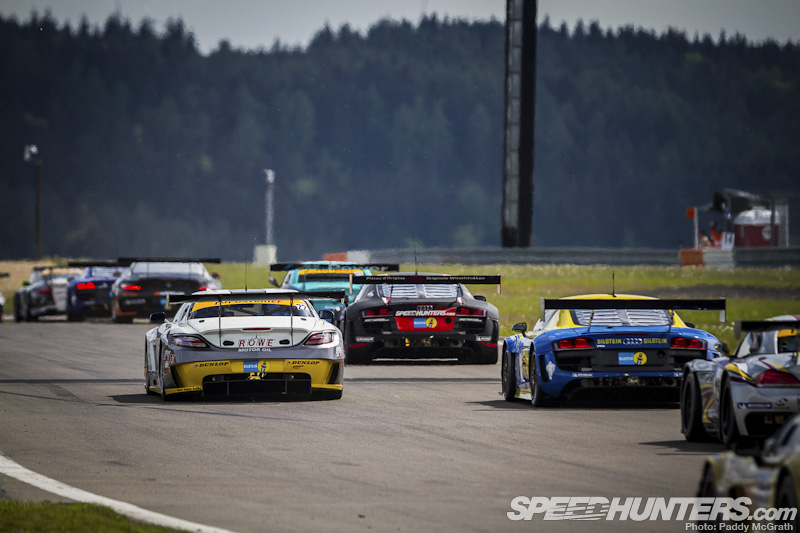 On the third lap we started to hit the traffic – it was really tricky. Everyone pushes quite a lot and it's quite a risky business for a while. But the worst moment for me was when Jeroen Bleekemolen's #15 Black Falcon SLS had a puncture on the Döttinger Höhe at 270 km/h and started to spin across the track. At the speed we were going I could only wait and see what would happen, but luckily he didn't hit me. What a moment…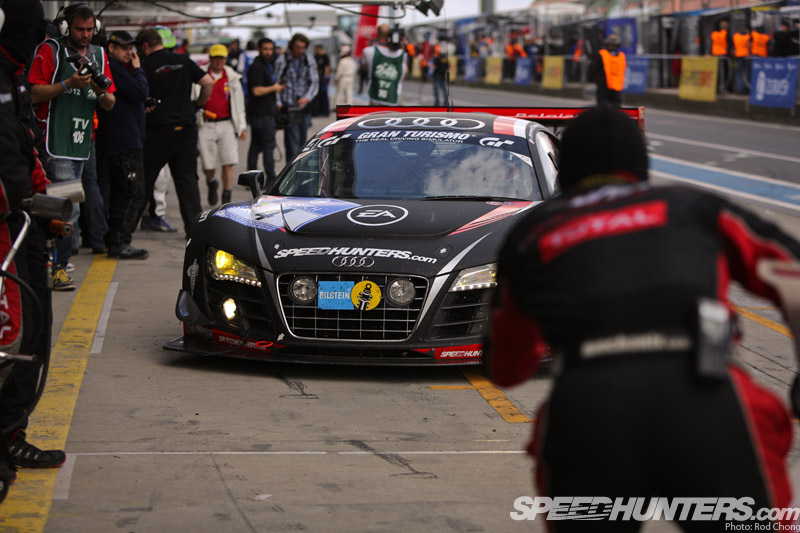 In for the first stop. Everyone was prepared, but we suffered a small issue with the refuelling and lost a bit of valuable time. Apart from that everything was running smoothly. We short-stopped after only another seven laps, so we were running a bit out of cycle. It can be a bit too much if everyone pits at the same time at the Nürburgring.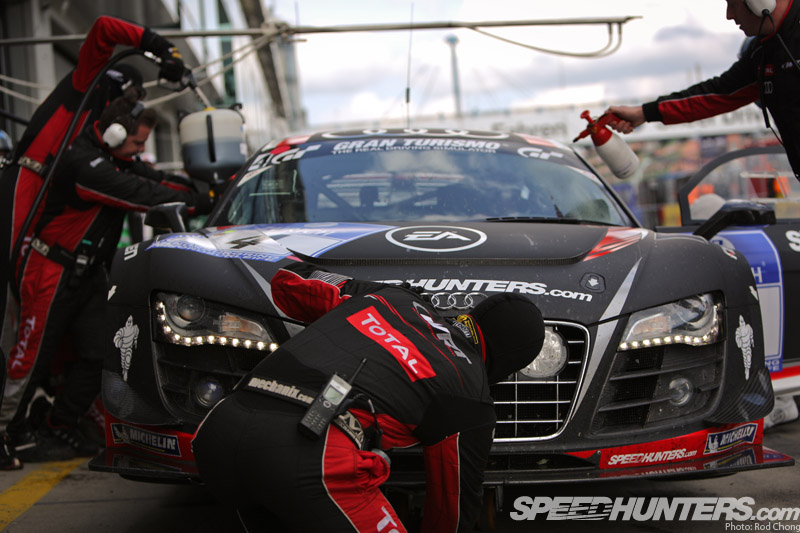 Andrea was next in. He did a good job and we continued to follow the leaders.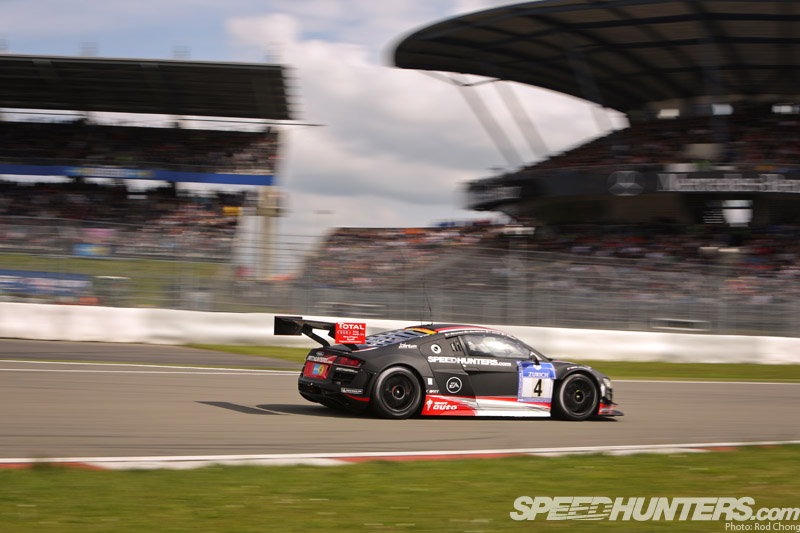 During the late afternoon there were lots of accidents and yellow zones around the track. But everything was really fine and when Olivier changed over to Allan we were actually in front of both the Bilstein Phoenix R8 and the #20 Schubert BMW Z4. We were in the hunt, but four and a half hours out of 24 isn't that much…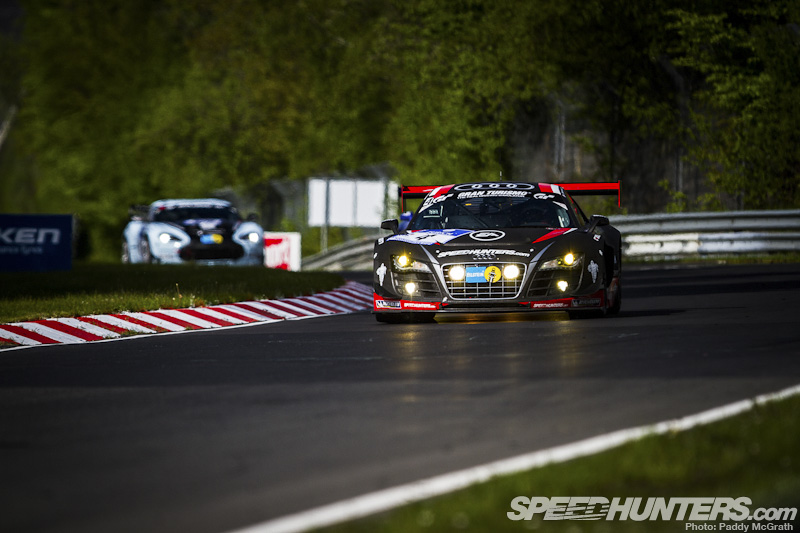 Allan suffered a bit from the yellows during his stint. At Flugplatz there was a lot of work going on after the horrible accident between the Klaus Ludwig McLaren MP4-12C and a slower car. So, I pulled a double stint after him and it worked out really well. I took one minute out of the leading car during my two and a half hours at the wheel.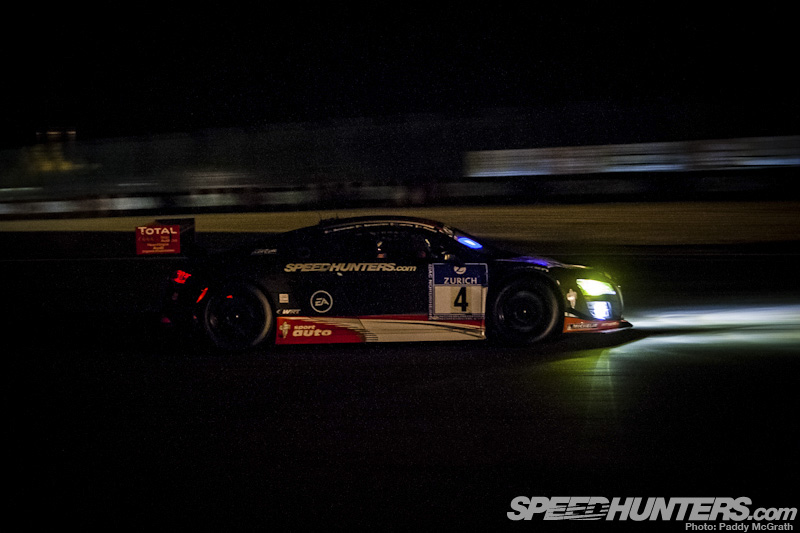 I think it's easier with the traffic in the dark: other cars see you coming and you can watch their lights to understand what they're doing. I prefer driving in the night.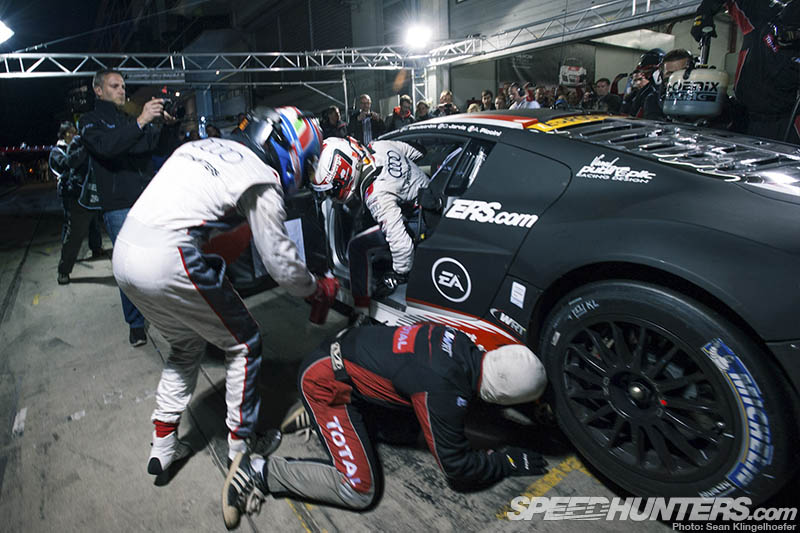 Maybe this was the best double stint so far for me at the Nürburgring. I just had some troubles with the Hankook Mercedes that caught me on the straight after a yellow zone. I took a while to repass him again and unfortunately he wasn't that fast, but that's what it's all about racing the other cars. The fabulous lights on our R8 where really helping me to achieve good pace in the darkness.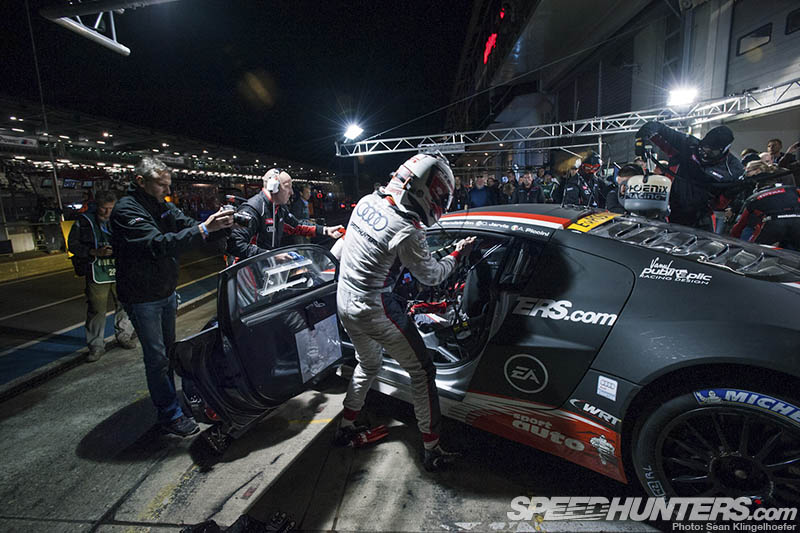 With all the adrenaline, pit-stops become an automatic procedure. The ventilation is so much better in the Audi, so I didn't feel that exhausted either.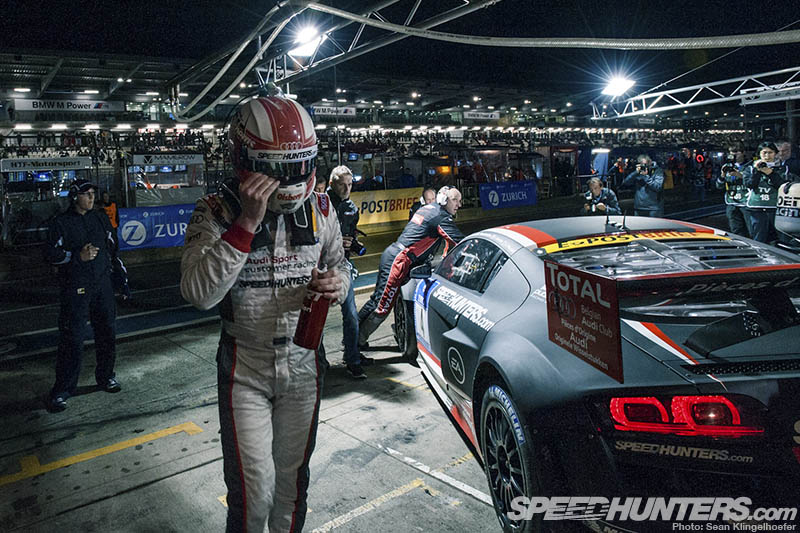 In the past I was just dreaming about more water when getting out of the car…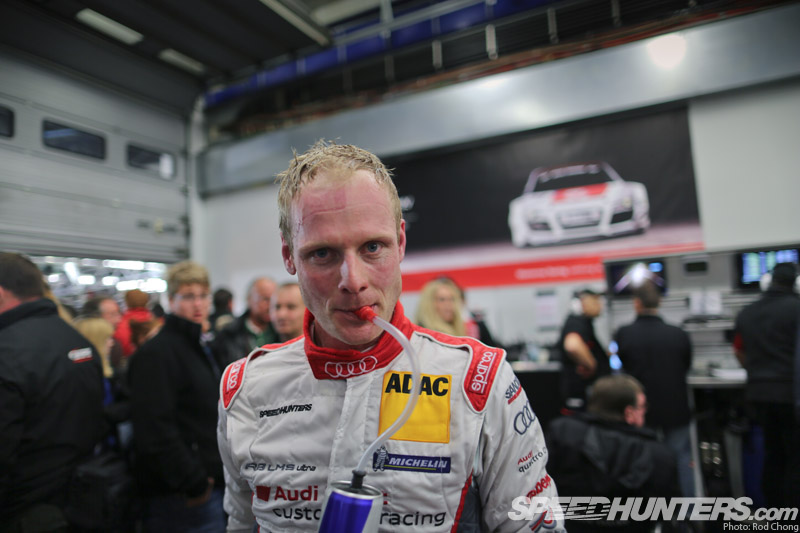 Of course putting that level of effort in takes some energy out, but new energy is going in… I felt really good after the stint: I just have to be stronger in the muscles around the hips or change my seating position slightly.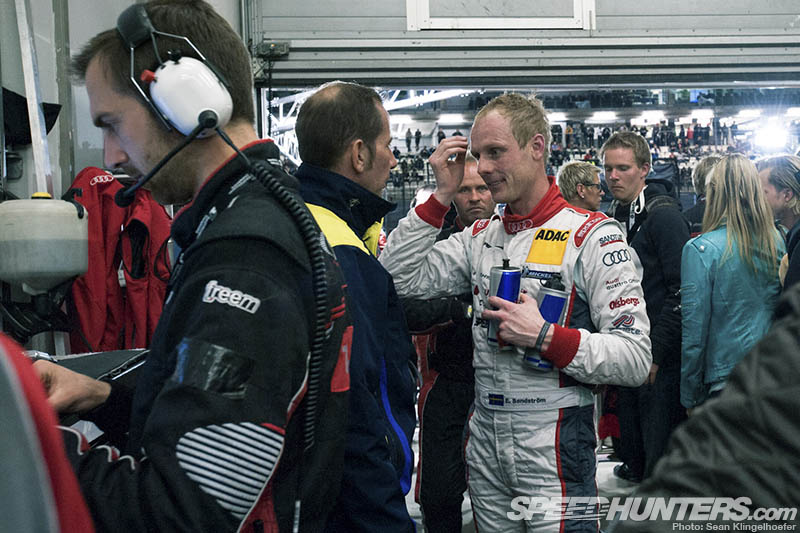 To do a double stint in the darkness around the Nordschleife is quite something. The temperatures are lower, but still it's very intense and takes a lot of concentration. Here the Michelin guy is waiting for me after I'd got out of the car – I'd have a chat with him that gave me some good understanding of problems I suffered later on.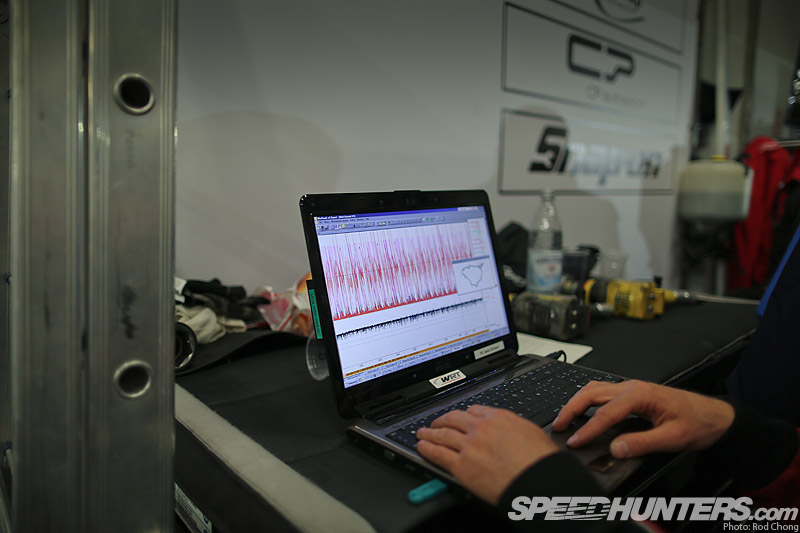 Mathieu was our data guy and he gave us all the info about gearshifts and so on. To get everything to last for 24 hours you need to be careful with the gears, which can be tricky as there are lots of small jumps around the track and the shift lights change fast because of spinning wheels.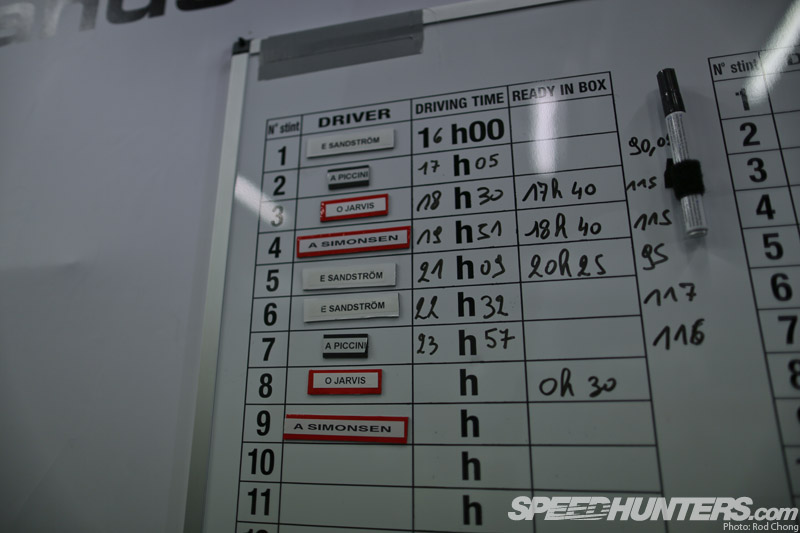 During the race my double-stint was a change from our original plan. I think Andrea later was changed to have one as well, and Olivier too.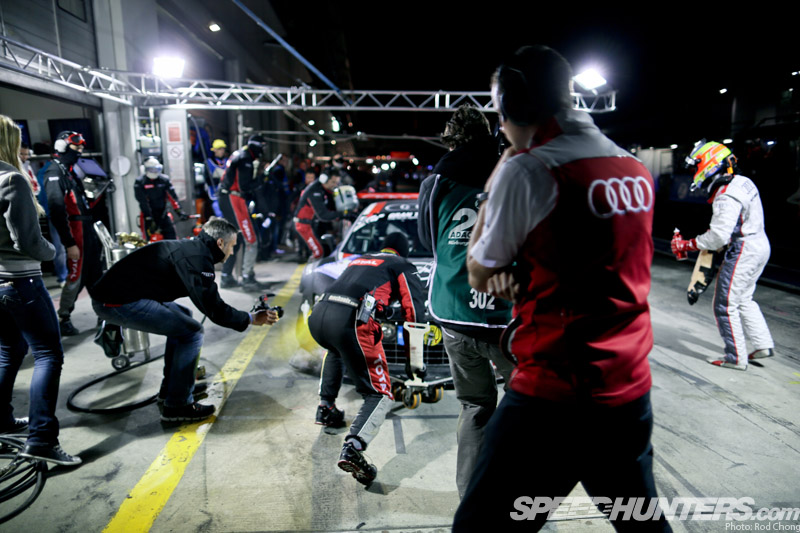 Here Olivier is ready to jump in.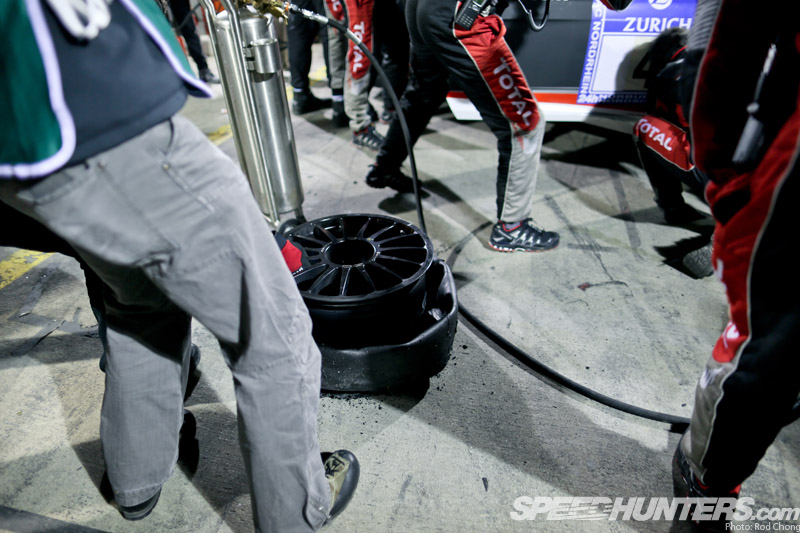 This is the moment when the race was over for us, unfortunately. A small miscommunication with an Aston Martin ended up in contact and our right-front hit the other car. The impact broke the steering rack and we had to change it, which cost us 45 minutes in the pits.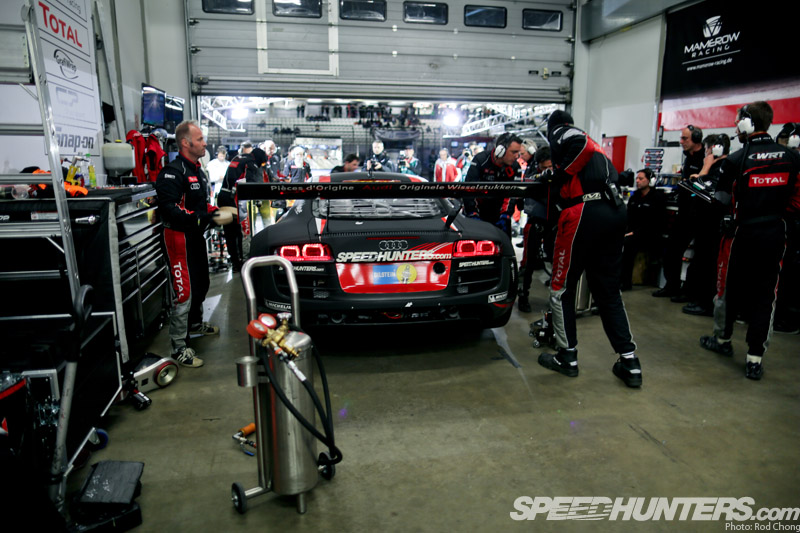 You can fix nearly everything, but you can never turn the clock back.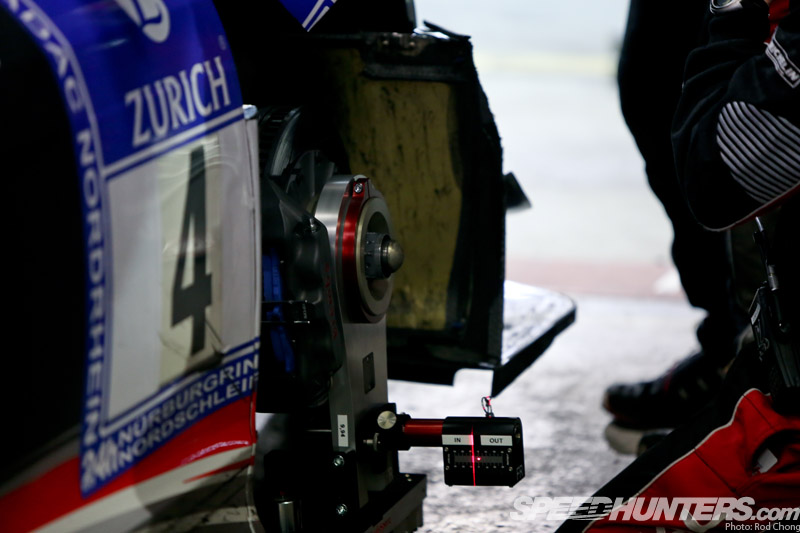 There are a lot of risks out there and as I said the mountain can bite back… The adrenaline ebbs away when this sort of things happens, but we still had a mission to complete: to get the car to the chequered flag. It's even worse when you feel the car and team is so good.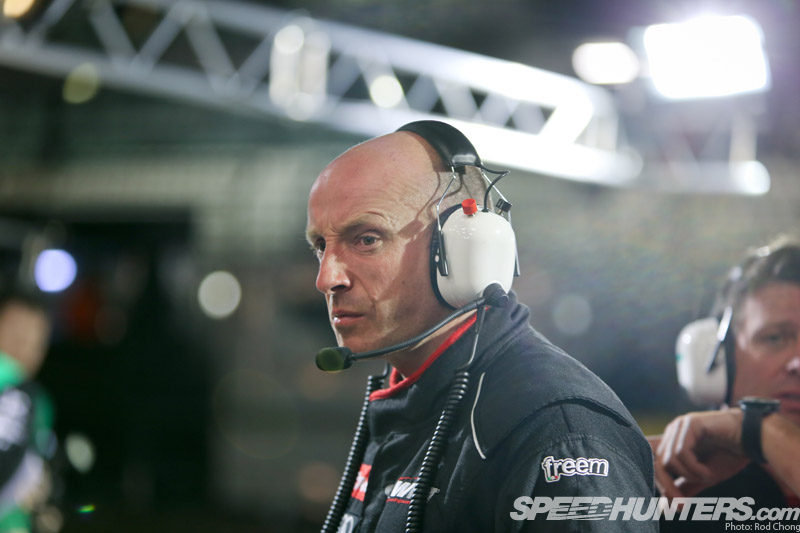 Life is life…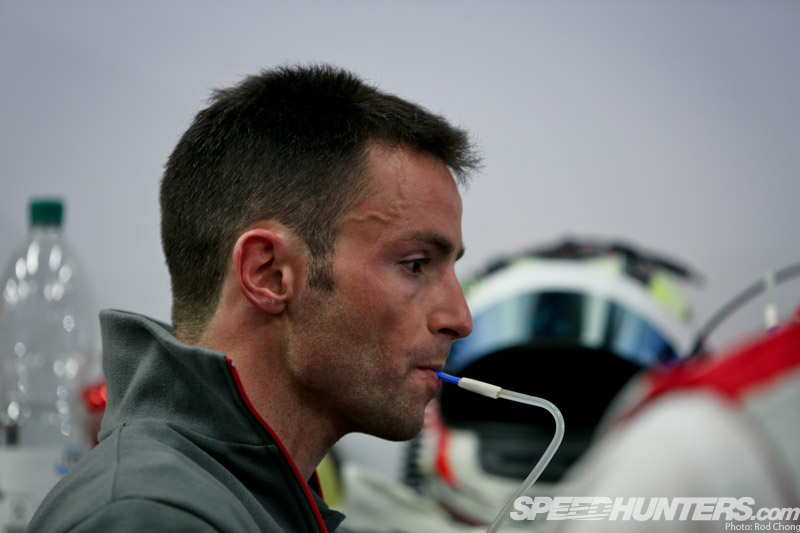 Andrea had done a fantastic job. He was unfortunate having this accident and it's hard. It could have been me or anyone of us, so I would never blame a team-mate for this. It's a very tight balance out there. And imagine how many cars you pass during your stints. It's crazy.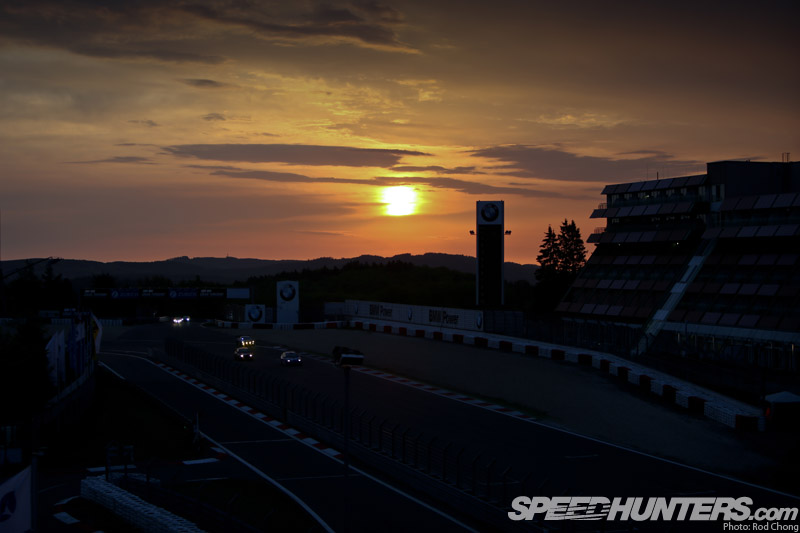 Dawn came. We kept on going. I tried the soft compound in the morning, but suffered a bit from rising pressures and the grip wasn't really there. Maybe I tried too hard…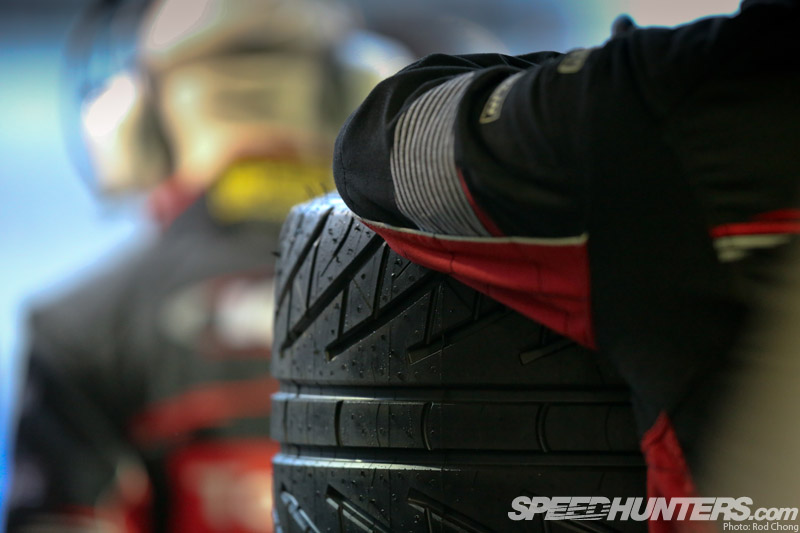 Everyone had been quite worried if the rain would come and go during the race. It can be quite difficult to choose the right tyres. Eventually it only rained in the early morning: Olivier was driving in the wet and kept up a very good pace. So I don't think it would have been a problem for us even if it had rained before. Still, the BMW and Mercedes looked strong in those conditions.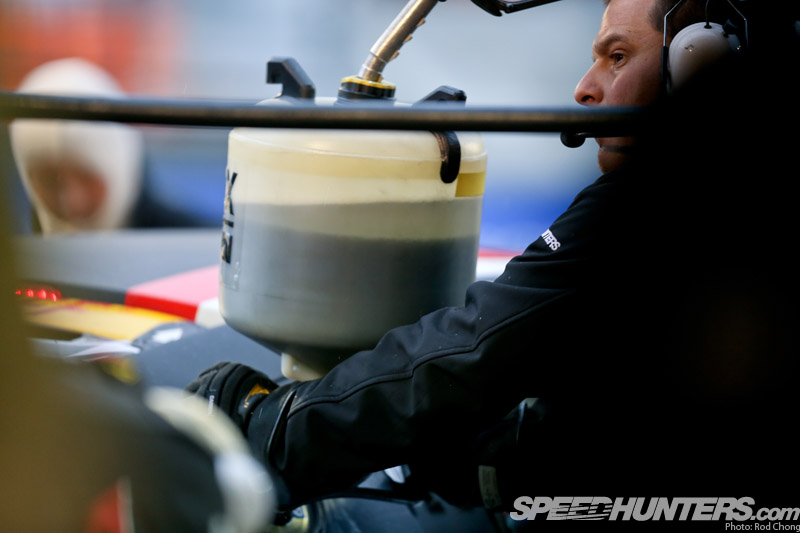 The car was just fine during the mid-morning – we just had a small problem with the steering that still wasn't straight. But apart from that our Audi was as good as before the crash.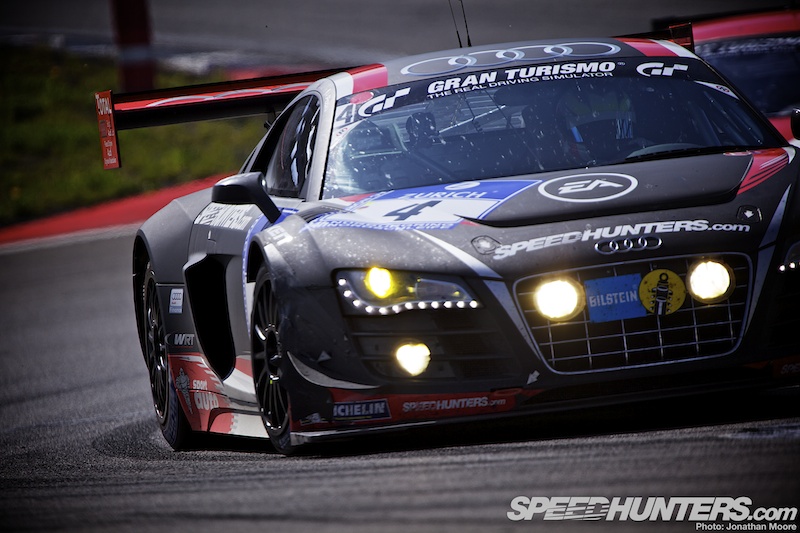 Allan put in some impressive laps when the track seemed a bit more clear and the yellow flags were turned off for a while.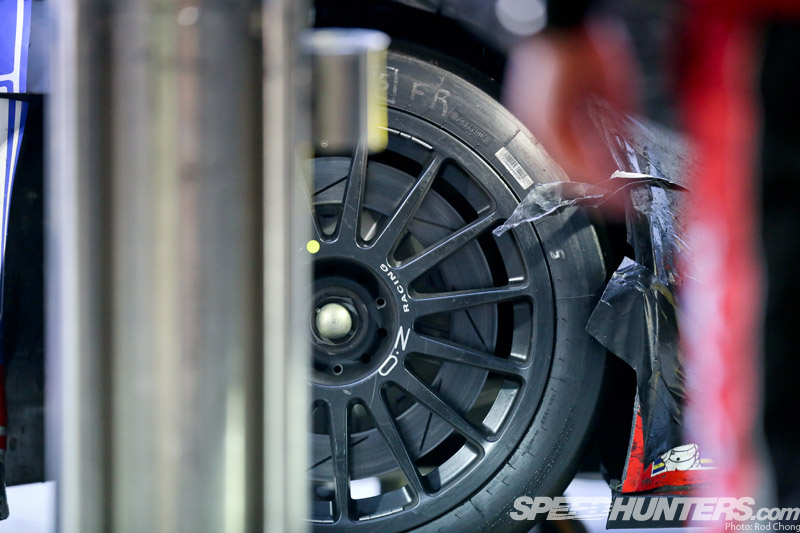 So, we kept rolling, still showing the damage caused during the first accident.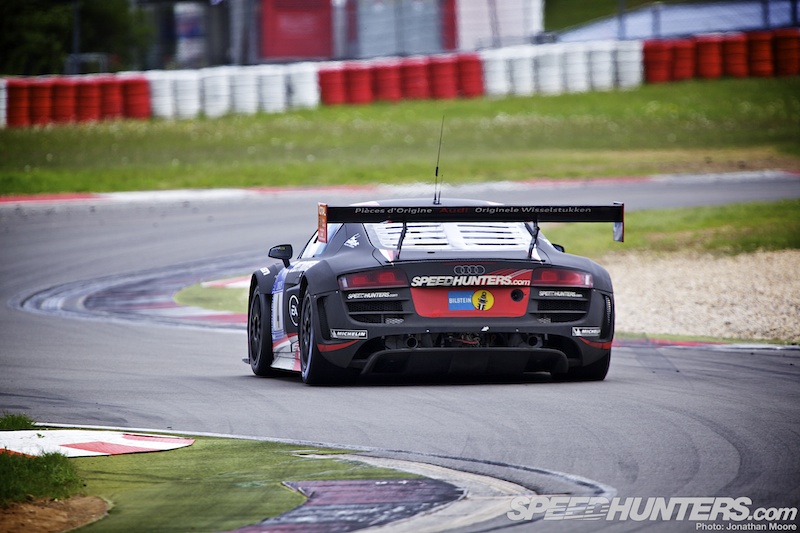 This is through the chicane on the Grand Prix track just before turning off onto the Nordschleife. A bit of opportunity to cut…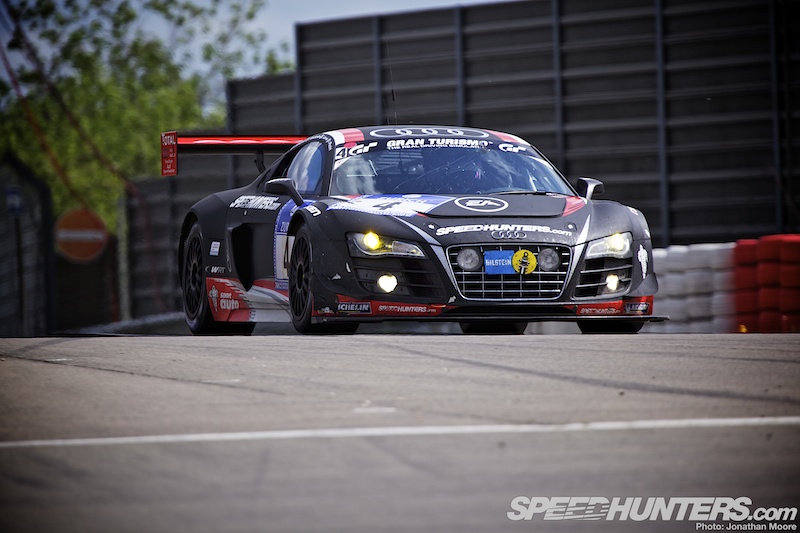 Around midday I did my last stint. I could still keep up the pace, but was later told to slow down. We wanted to secure a finish and we also had in mind that the second round of the Blancpain series was just around the corner. There was nothing to fight for, but it's hard to slow down when you're in a car that has the pace.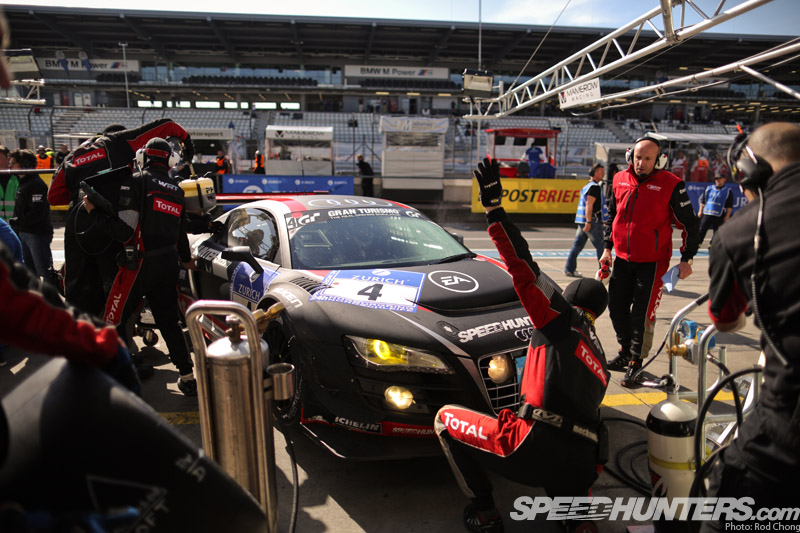 I must say thanks to the whole team and Audi for a great experience during this race. I'm already thinking of my return next year.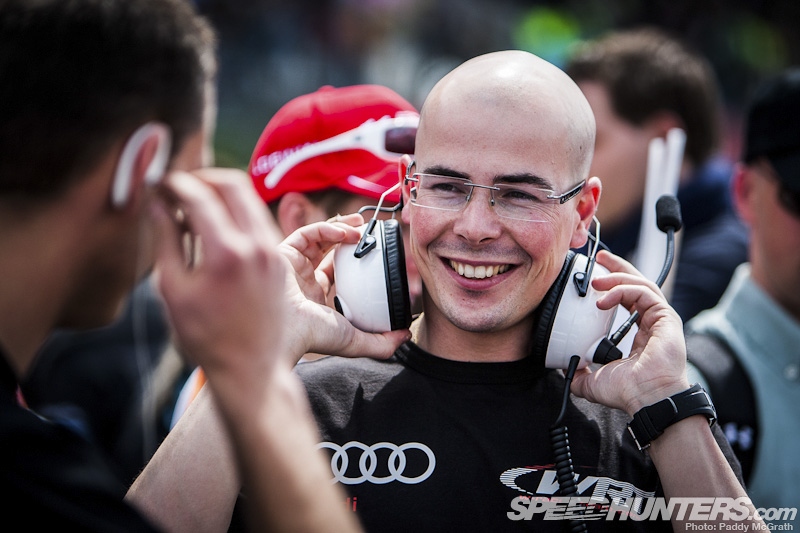 Frederic, our team coordinator, kept the team's motivation up throughout the race.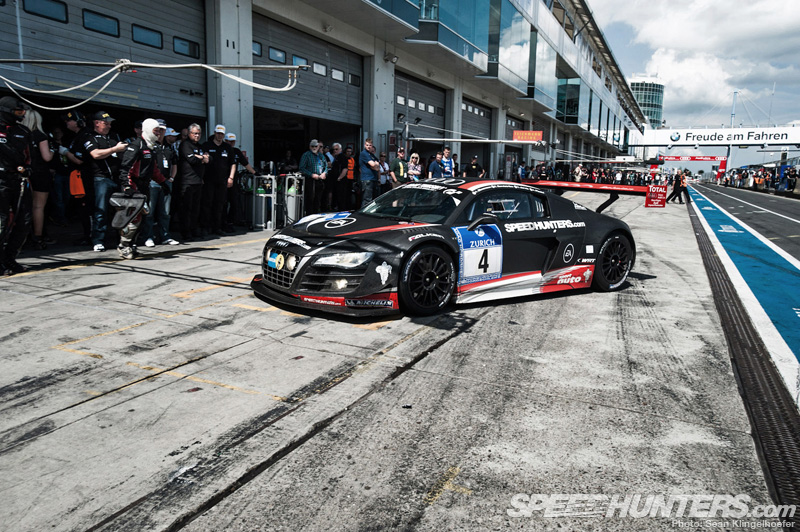 Andrea drove the final lap. We had a bearing problem near the end, so we stopped for a while and only did the last lap to take the finish. In general I'm happy with my performance. I think I've developed and learned a lot from the last two seasons and I really get on well with the Audi R8 LMS Ultra. The team's reputation speaks for itself: they won Spa 24 Hours last year and I now I know why.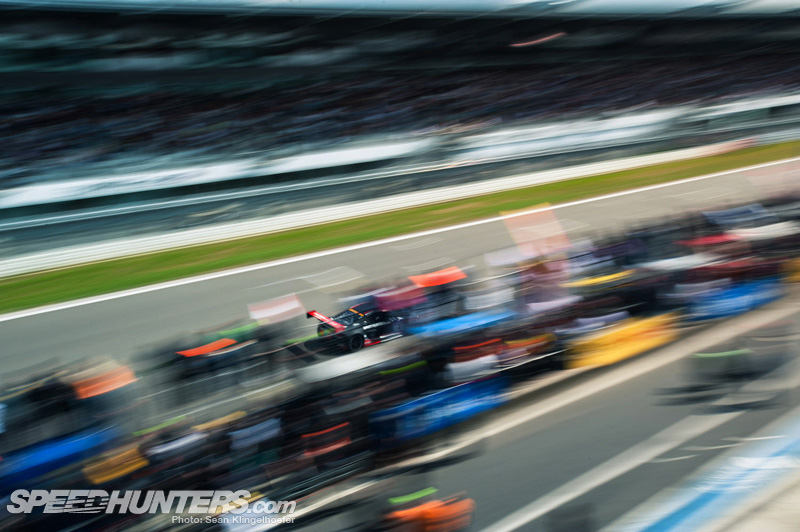 For me it's back to training to be in shape for the next race in the Blancpain Endurance Series. I'll try to recharge the batteries better this year to be able to perform on a high level each time. I'm living my dream I've got to say!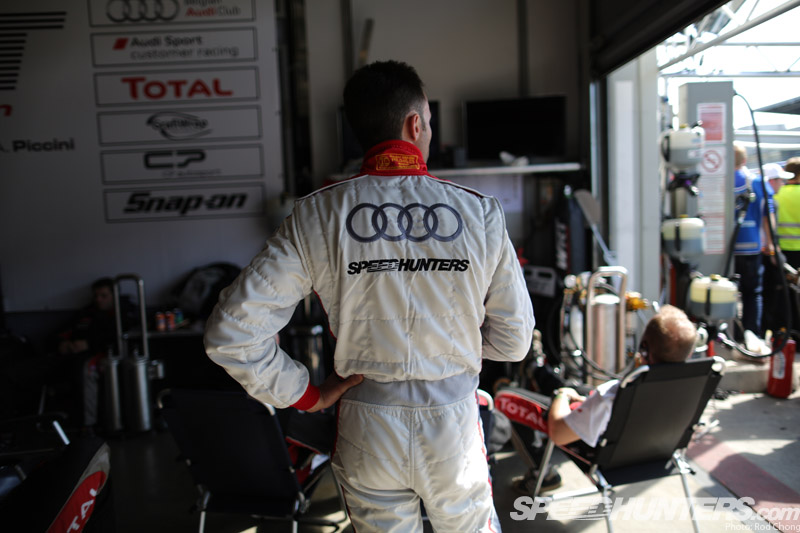 The good thing is that Andrea will join me and Laurens Vanthoor at Silverstone next weekend as Marco Bonanomi has to drive at the Le Mans Test Day with Audi in the R18 LMP1 car, so we've a chance to strike back together.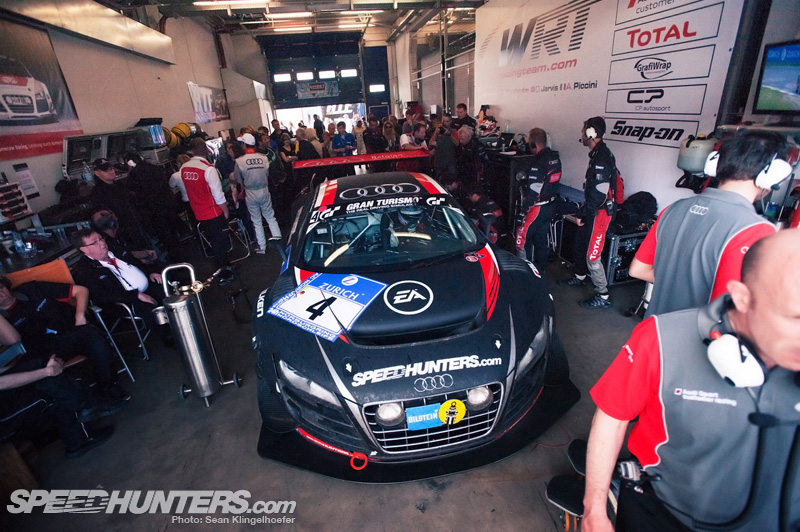 It is something special to be part of the Audi family – I must give a big congrats to all the people that have created this extraordinary car. I had some time together with them in the lead up to this race and must say that they a very good bunch of people. And as usual, people make the difference. Werner Frowein, who was in charge of Quattro GmbH, is working his last year for Audi and had one wish: to win this race. I'm happy Phoenix could manage to give him this. Thanks for all of you that supported us! I want to win this race – so I'll be back!
Edward Sandström