The key to being truly great at something in this life requires dedication, hard work and, most of all, repetition. As the saying goes, practice often makes perfect but as one gets ever nearer to perfection boredom is often a bi-product. In the case of a Speedhunter, we're dedicated to keeping you up to date with the ever-changing automotive landscape and we strive to bring  you the best content around.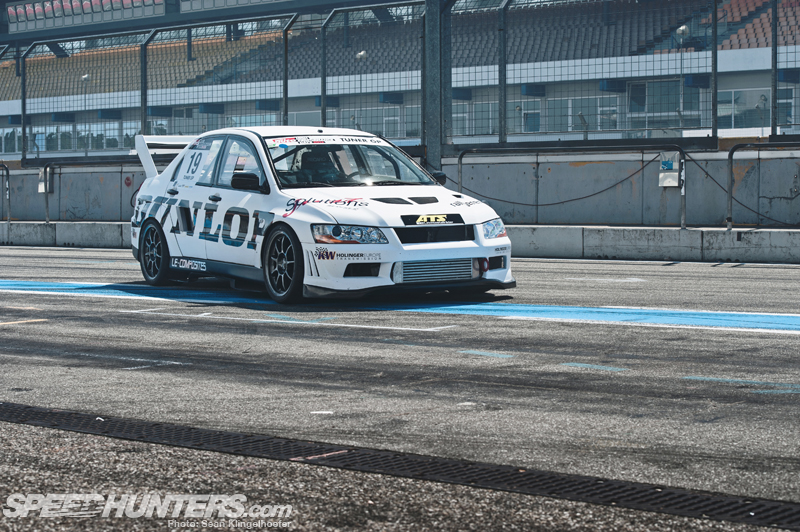 But I have to admit the problem with this lifestyle is that it can, and usually will, lead to a case of unintentional know-it-all syndrome. I've been extremely lucky to have some how figured out a way to turn my life's greatest passions into a source of income and along the way I've seen some pretty crazy shit. As with any sort of vice, after a while you're bound to build up a tolerance.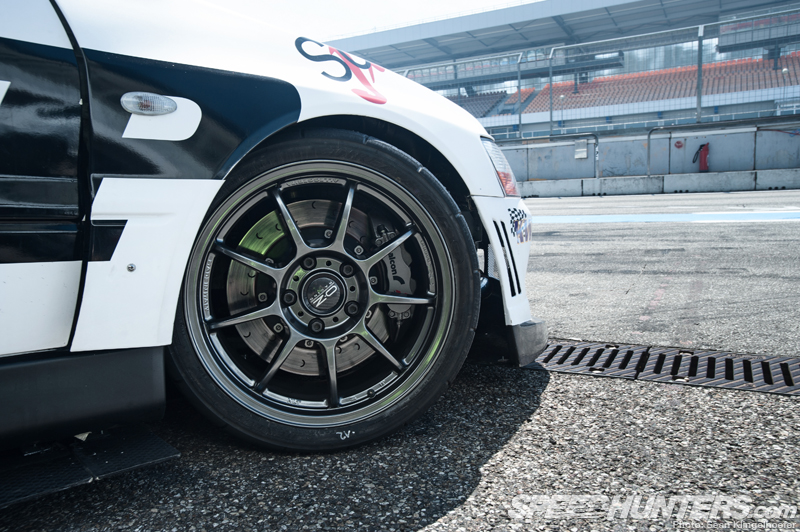 During the course of my journey I've come in contact with some pretty good junk, including the world's fastest time attack cars – Japan's Cyber, and America's Sierra Sierra, Evos. Working for several years as the Associate Editor of Super Street Magazine, the book that literally brought Time Attack to the US via Super Lap Battle, I've helped to organize and document many record setting events. After a while these cars become second nature and items I once thought were incredible begin to look like standard fare.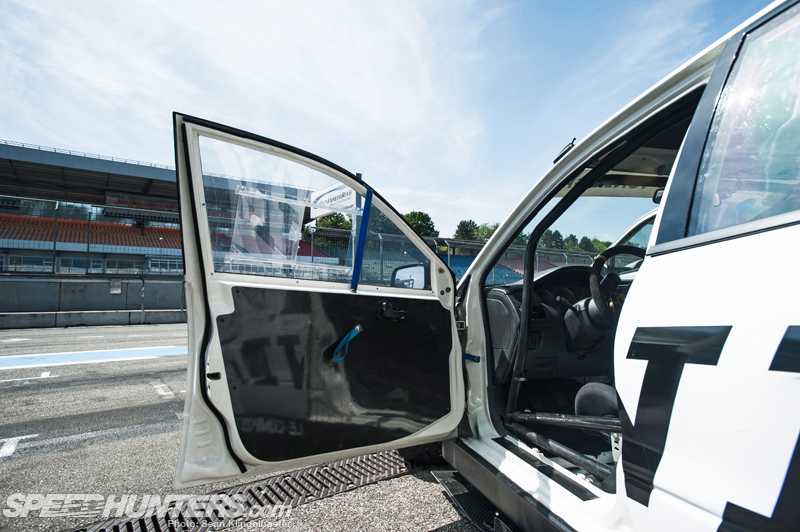 It used to blow my mind the lengths teams would go to for small weight savings here and there. While there are some obvious things you can do to reduce the weight of any car, the current crop of time attack cars are scarcely cars at all. I can't remember the first time I ever opened a featherweight fiberglass door with polycarbonate window but now this once bizarre sensation is a normal part of my routine.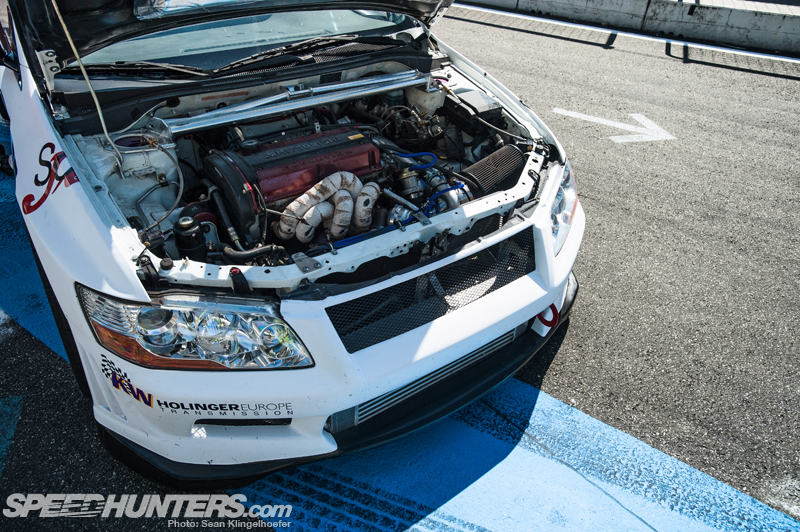 The first step to recovery is admitting you have a problem.  When you start thinking to yourself, oh this car "only" has 700hp, you've got a problem. I couldn't even begin to guess at the amount of photographs I've taken of exotic turbochargers over the years but I'd be willing to bet I've forgotten more cryptic housing names than most people have learned. But then again if you spent as much time around these cars, which many of you have, you would too.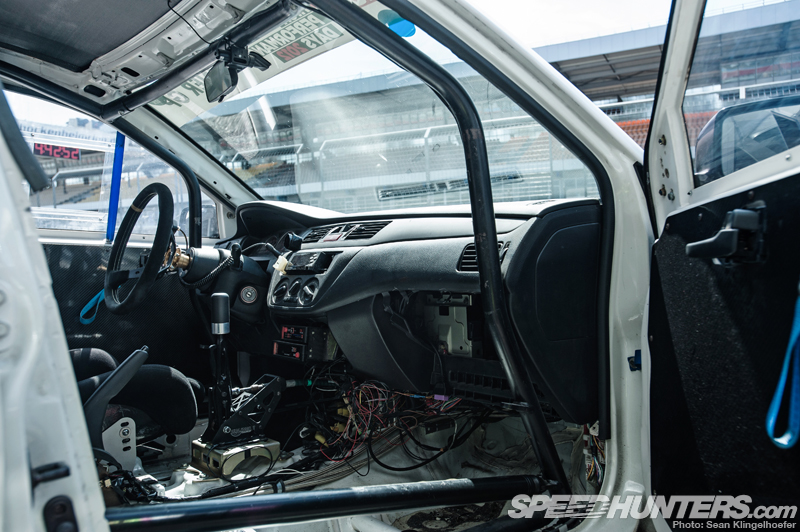 Missing panels, exposed wiring and a rollcage – the hallmark of a time attacker and quite often the object of my photographic nightmares. There are times when you can find yourself a bit jaded and in some cases you'll spend months or even years looking for a fix – for the next big thing and I think this time, in Germany of all places, I just may have found it.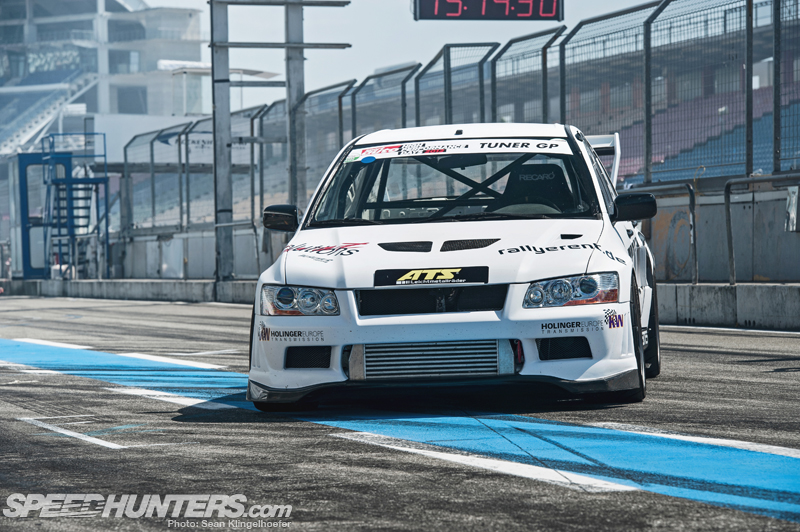 Just when I thought I had seen it all I came face to face with a white Evo that completely changed how I thought about time attack and even tuning cars in general. The last time I saw a step this large in the advancement of the sport was when HKS built the CT230R and it blew away everything in its path. When I stumbled upon Thomas Ehrentraut's Evo VII at the Sport Auto Tuner GP I knew I was looking at a game changer.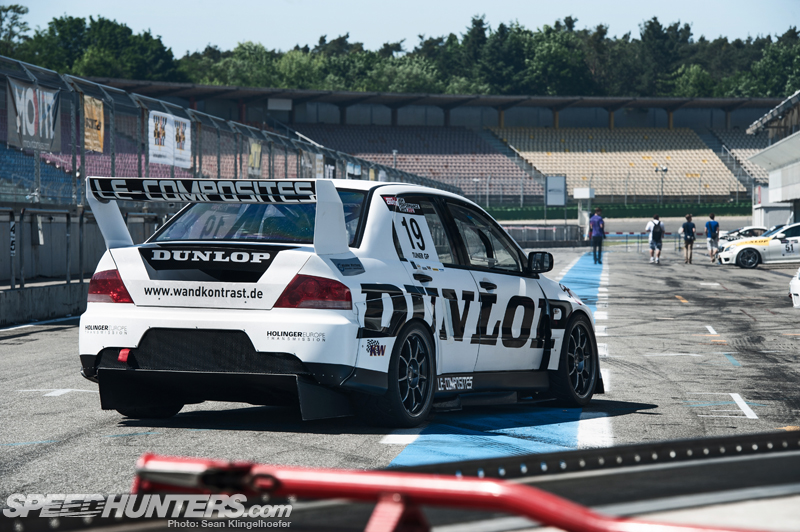 It's cars like this that keep me motivated to keep searching because revolutionary builds are always on the horizon, and more and more they seem to be coming from the places you'd least expect. At first glance the car looks like nothing out of the ordinary, in fact I can't remember going to a local track day in the last three years where I didn't see at least a handful of white Evos that looked uncannily similar.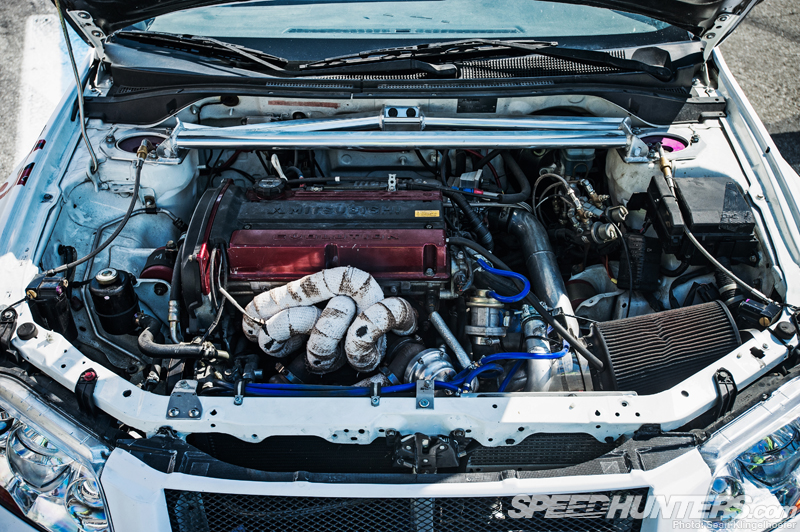 Under the hood things look pretty familiar as well. The engine bay has that stereotypical worn, but not worn-out look to it. It's the time attack all function, no form sheik we've all come to love. Sure it has a nice twisty turbo manifold, a giant snail and a pair of rather large waste gates, but what competition Evo doesn't these days?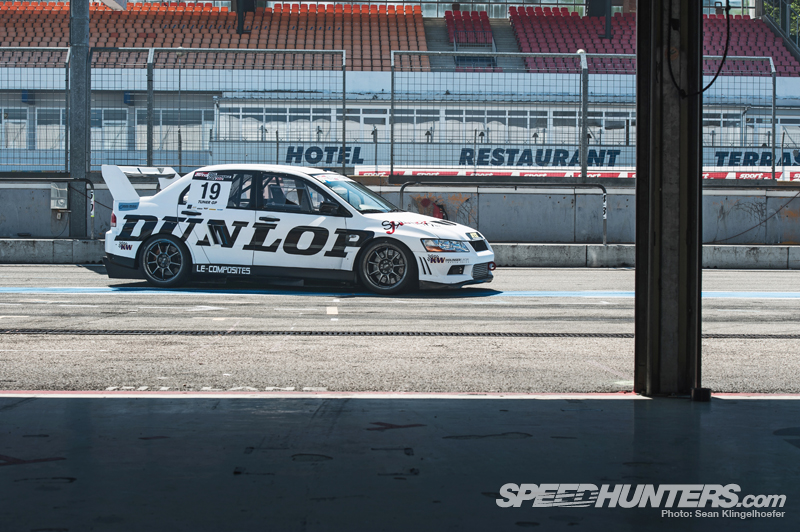 In fact it's so simple one might walk right past without even bothering to take a second look, much like I did initially. Aside from the decals and the tall rear spoiler there really isn't much about its appearance that hints to the beast within. I mean it doesn't even have "a proper front splitter" as the peanut gallery experts would say.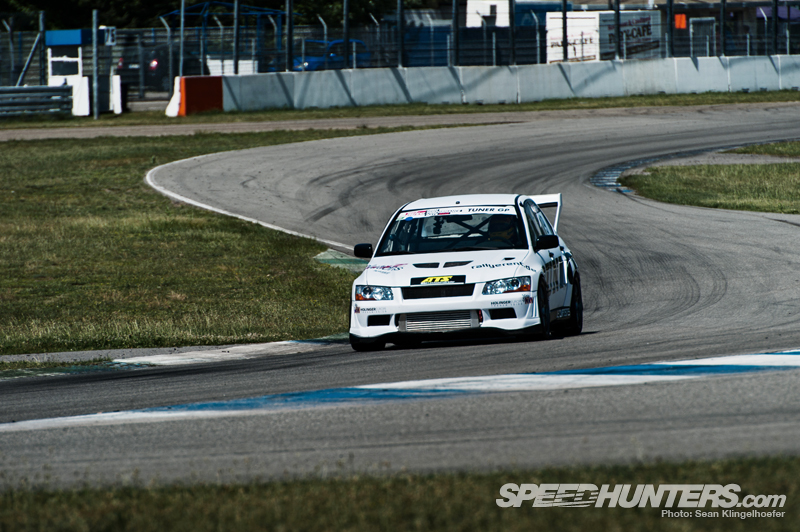 It wasn't until I saw this thing on track that I realized there was more here than meets the eye. The way the car dealt with high speed corners was phenomenal. It was only then that I started to remember the story my friend Michael Grassl had told me about a special Evo that might, or might not, be at the Hockenheimring this very weekend. I knew the moment I saw it take its first turn I was staring into the very face of the alleged car.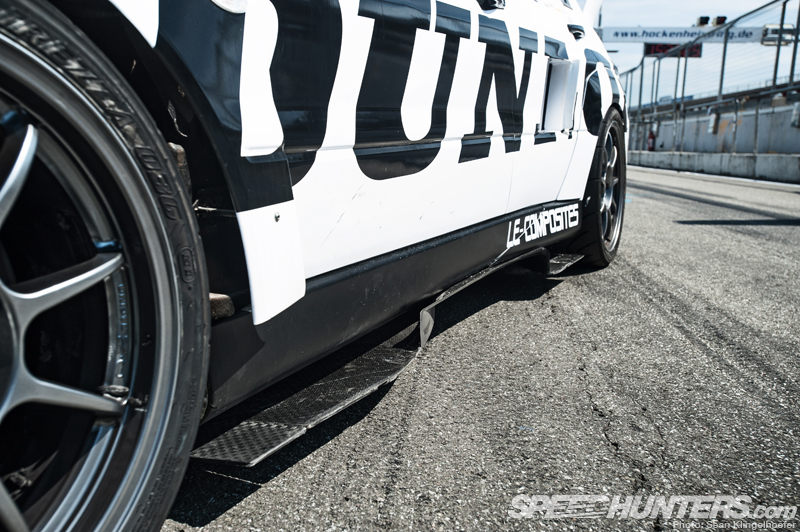 Upon closer inspection the keen eye does start to pick up on a few interesting tidbits. For starters there is a very strange looking dry carbon panel running parallel to the ground just below the side skirt. Clearly this isn't a typical flat-sided tall skirt we are accustomed to seeing… adding more mystery there are intake ducts coming through the rear doors… hmm.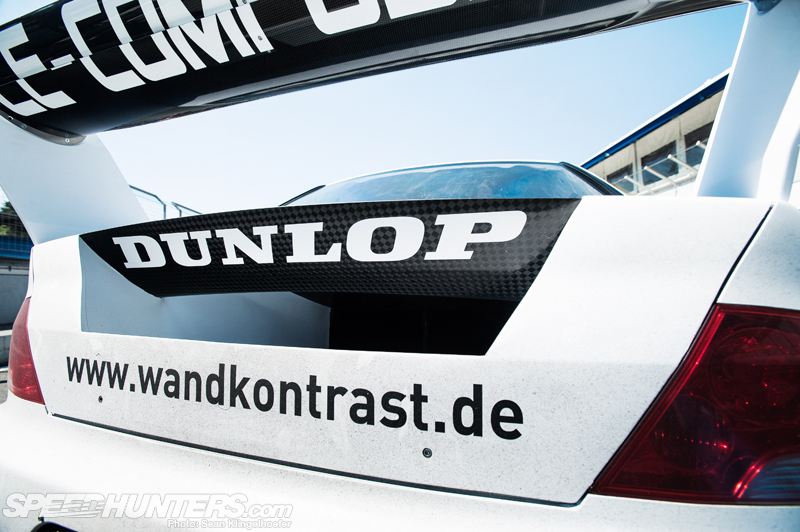 Moving around to the rear of the car you can now see a rather large hole where the trunk-lid should be. From a distance this detail is nearly indistinguishable, but up close it's impossible to miss. At this point I'd wager a guess that you are either scratching your head in confusion or grinning at the ingenuity.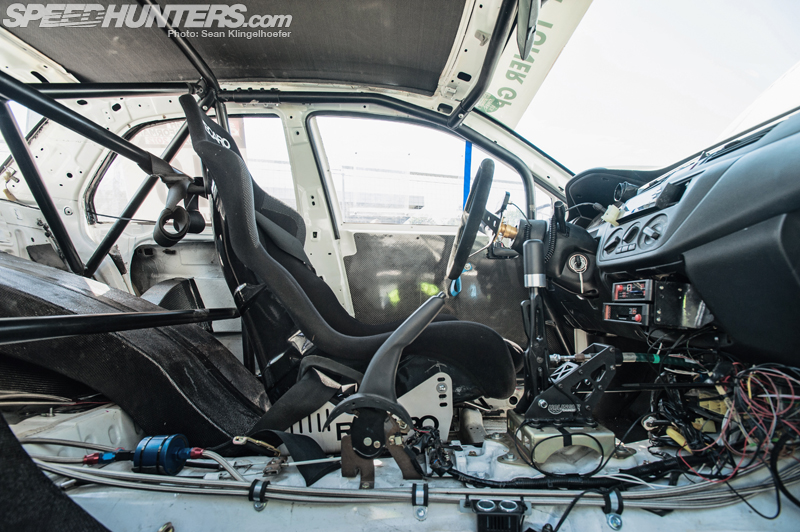 Regardless, one look into the cabin and it all starts to make sense. While the front half of the car looks pretty much the same as any of a half-dozen time attack Evos I've shot before, the rear is refreshingly different. The void where the rear seats used to be is now occupied by a complex system of carbon ducting.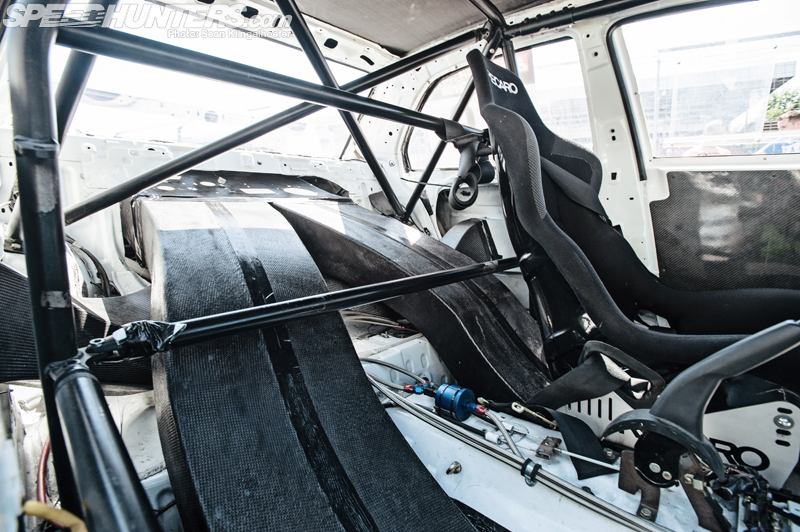 What you are looking at is the world's first, as far as I'm aware, time attack sucker car. Using a brilliantly simple yet professionally executed maze of custom formed carbon fiber, Thomas Ehrentraut has turned his Evo into a downforce car. The idea is straightforward enough, using a specially formed under tray air is forced via the ducting up into the cabin where it provides aero load to the chassis before being directed out the back…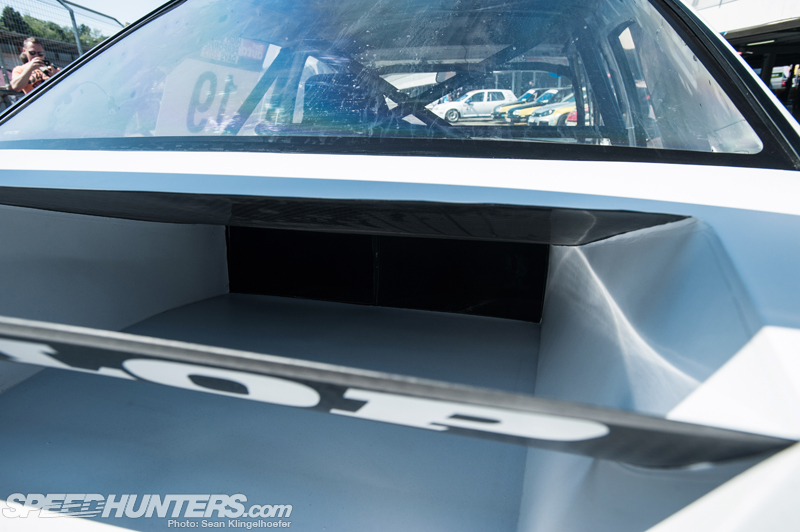 Where it is evacuated through a large opening and out into the open, but not before passing one final diffuser embedded in the trunk lid. Totally and completely crazy right? While you go about collecting your wits let me first explain that this isn't just some guy with access to a saw and some carbon fiber. By day Thomas designs scale gliders and has an advanced understanding of aerodynamics and computer software, not to mention the resourced and equipment to build virtually anything he wants from carbon.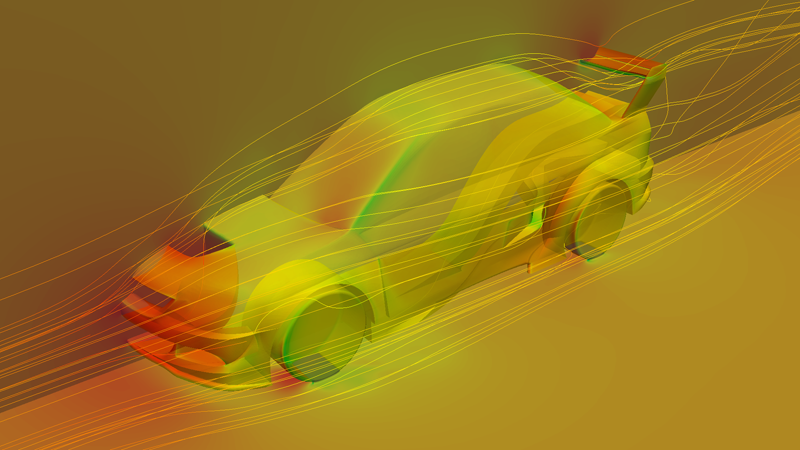 The idea of building such a car for time attack first came about two years ago. After doing some brainstorming and rendering a few original concepts he determined he would need something powerful that had a lot of mechanical grip and plenty of open space in the back for the large diffusers.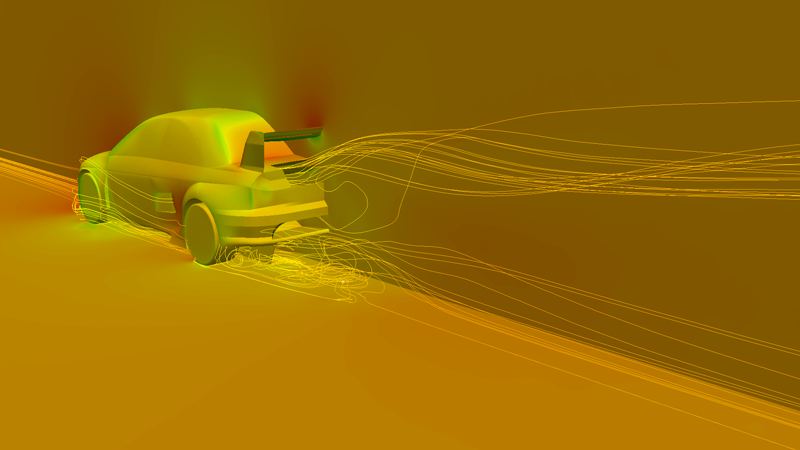 It was clear that the Evo would be the most suitable car to build upon and Thomas purchased this one, already built into a track day car, last winter. The computer simulations started in January and two months later he found a solution that was aerodynamically sound and realistically executable. Ironically Thomas assures me that designing this system was child's play compared to the gliders he's used to and the project was knocked out in his free time.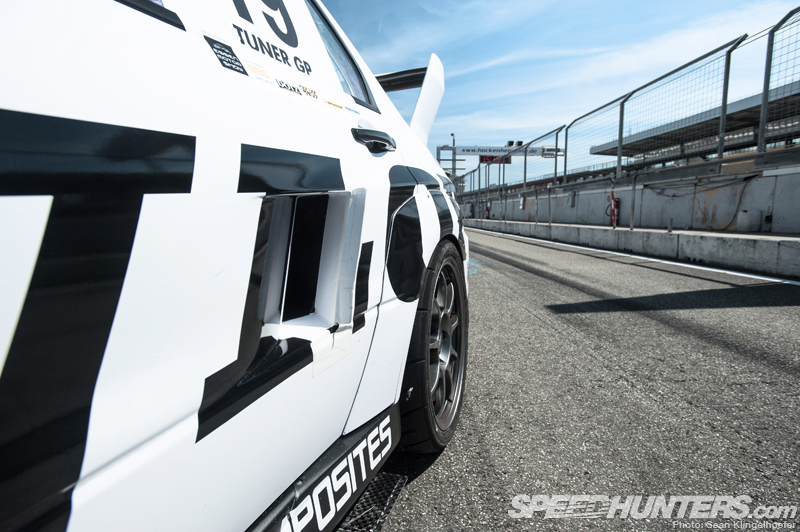 Thomas would spend the following three months leading up to the Tuner GP building all of the carbon components himself and fitting them to the car. Here we see a vent in the rear door for another set of ducts that go inside the cabin…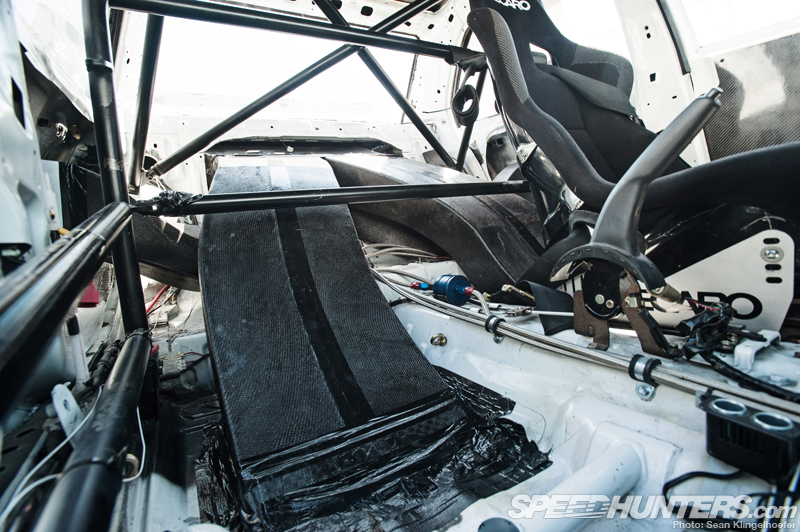 where they delicately snake underneath the main double-deck diffuser ducting…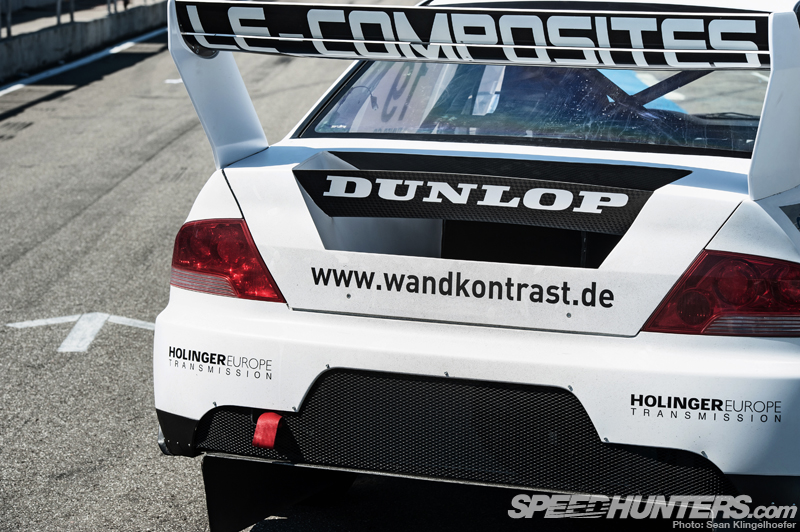 And eventually terminate in the middle of the rear bumper to bring cool air to a custom made and custom mounted H&S speed equipment aluminum radiator which lurks just inboard of the mesh screen.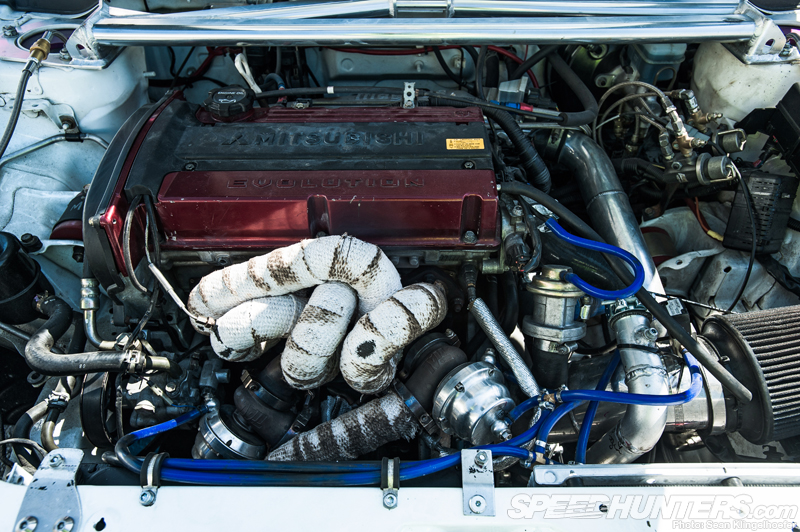 The rest of the car, as I mentioned before, isn't exactly revolutionary, but it's certainly up to the task. Here we get a killer view of the pair of 44mm TiAL waste gates dangling off a Full Race twin scroll manifold.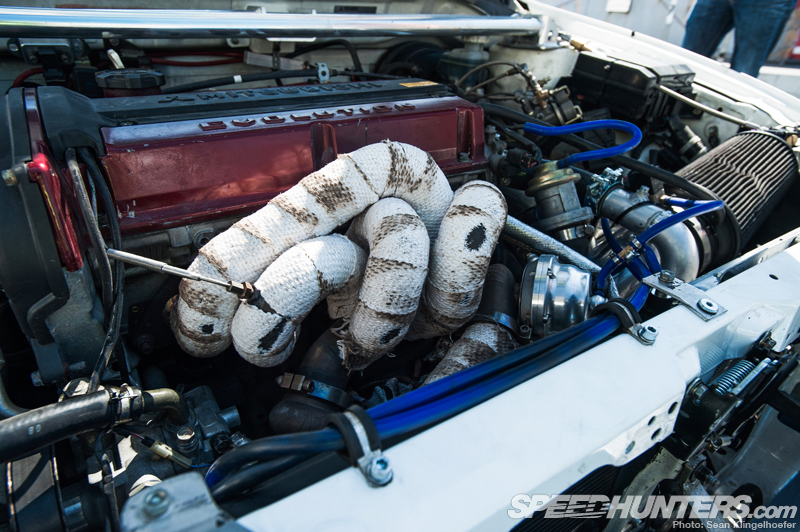 The reflashed stock ECU is just as simple and effective as the engine it's controlling and is capable of putting down nearly 750hp if necessary.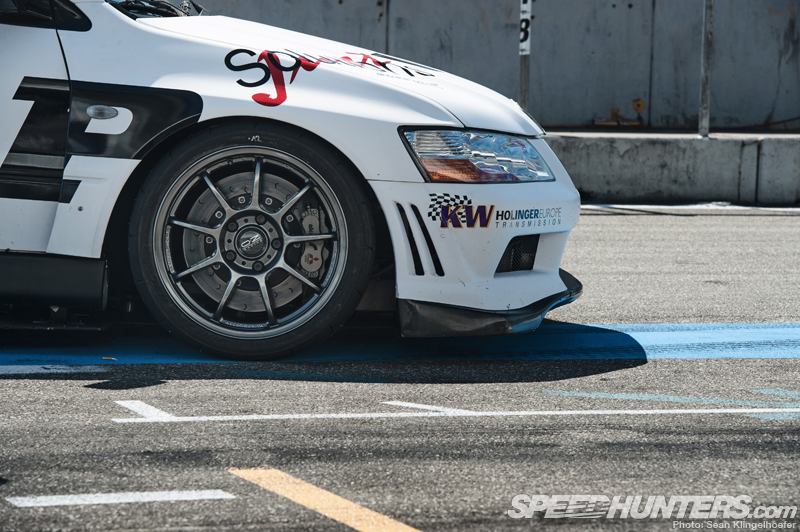 While the engine might be capable of putting out that kind of power it's likely way more than the Direzza 03G H1 semi slick tires can handle all at once. But with the excellent driveline in the Evo, combined with the additional levels of downforce, the car has been described by its driver Daniel Keilwitz as having an incredible amount of grip.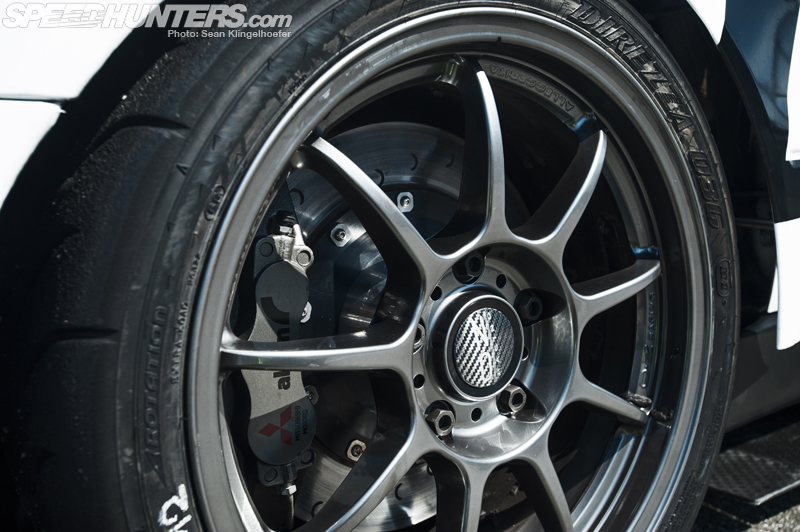 Slowing the car down is another delightfully simple setup consisting of off the shelf pieces. The car is utilizing a six-piston Alcon caliper up front an a four-piston GREX in the rear, both loaded with Pagid RS29 race pads clamping down on two-piece floating rotors.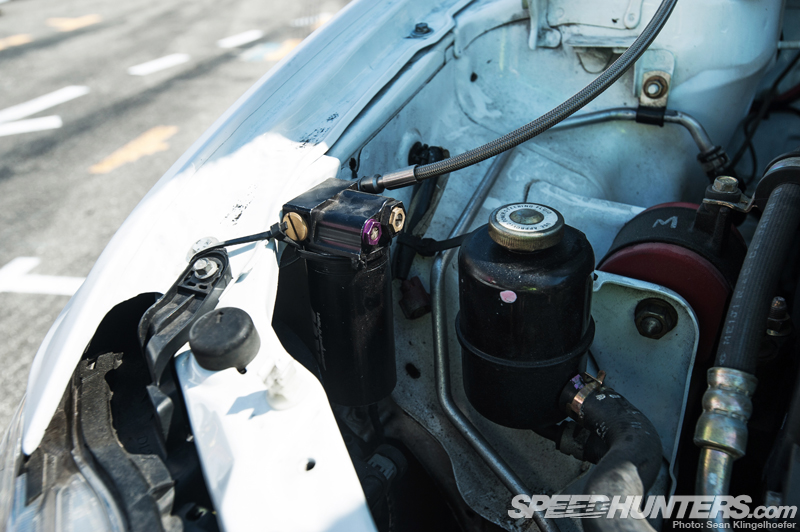 Perhaps the most interesting part of the car to me, given the complexity of the aero, was how simple the suspension setup is. Aside from a set of KW 3-way race coilovers, much like those you'd see on a Formula D car, the suspension is mostly standard save for a few control arms, bushings and sway bars. There's no relocated pickup points or custom geometry wizardry here. At least not yet.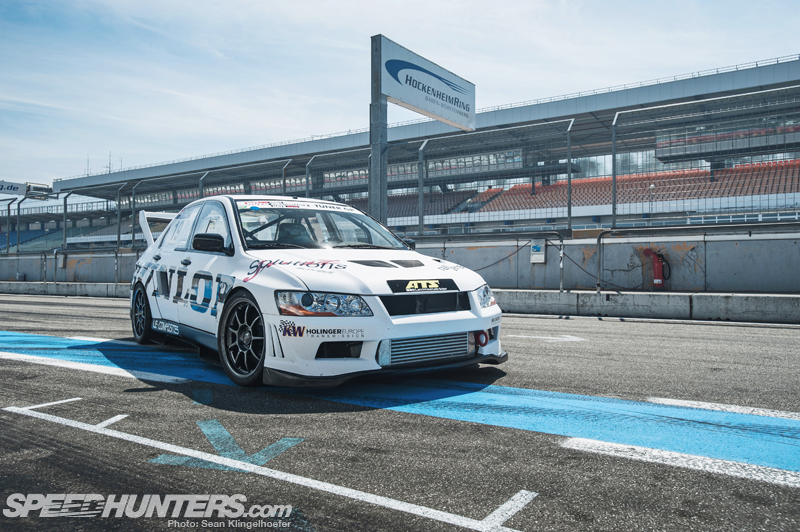 As a very tired Thomas explained to me at the end of the day, the car was literally completed only three hours before the first practice session started. The car was loaded onto the trailer and rushed to the track where the driver was already waiting. The test day would be spent putting the car through its paces just trying to make sure everything, including the new rear-mounted cooling system, was working properly.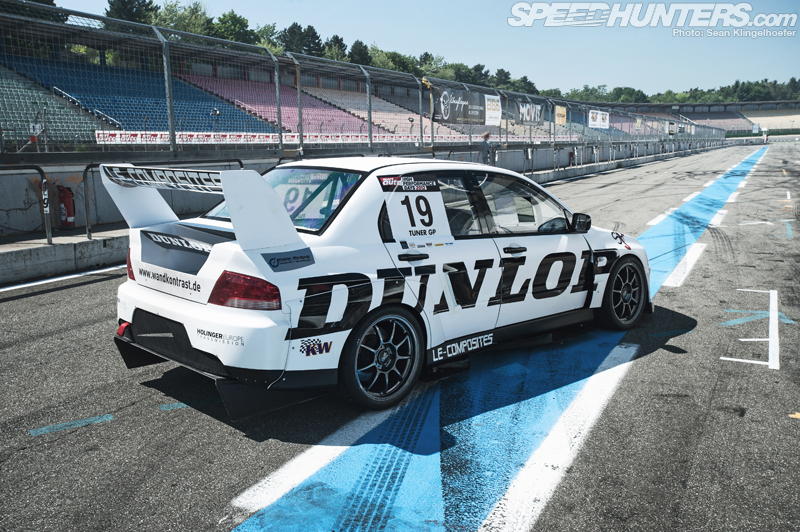 Fortunately everything seemed to go according to plan and the team was able to shake down the car and begin making adjustments to aim for a better time. By the end of the weekend Daniel managed to record a time of 1:06.819, two seconds faster than the car's previous best before the aero work and good enough to claim the record for the fastest lap ever recorded by a closed-wheeled car on DOT tires.
Of course this is only the beginning as there is much left to complete and develop on the car. In fact I think I caught Thomas off guard when I asked to shoot the car because in his eyes it's still very far from finished, but I couldn't pass up an opportunity to share this car with you all. With dreams of one day taking the car to Australia for the WTAC I have a feeling this won't be the last we hear of the white Evo from Germany.
"LE-Composites" Evo 7 RS
ENGINE
2.2l turbocharged 4G63 with engine modifications by Borger Motoren, blueprinted by Just Solutions;  Ross/ND knife edged stroker crank, sport i-beam connecting rods; Cosworth 85.5mm pistons; AMS oil pan, oil scraper; AGW removed with new oil pump; oil sensors relocated to oil filter block; Kelford camshafts, valve springs; H&S speed equipment custom rear-mounted radiator; S300SX turbocharger; Full Race twin scroll T4 fan-type manifold;  Tial V44 wastegate (with AVCR control) (x2); Keeper 3″ downpipe with wastegate return; 3″ Burns stainless steel exhaust; Buschur Racing race intercooler with short route piping, double pumper in-tank ( 2x Walbro 255L GSS342 ); Magnus cast F1 intake manifold; S90 70mm throttle body; 4″ suction piping; 1000cc injectors
ENGINE MANAGEMENT / ELECTRONICS
OEM Evo VIII ECU mapped by Just Solutions; speed d​ensity modification, NLTS modification; AVCR boost control; Holinger gearstick with interfacing by Just Solutions with ECU ignition cut (Flat Shift), Hollinger gear indicator; Race Technologies data recording dash
DRIVELINE
Twin-disc sinter clutch; Holinger MF-E9 6-speed sequential gear gearbox with integreated oil pump/pressure driven lubrication; Vmax 265@8300RPM ( selectable gear ratio ); gearbox oil cooler; OEM LSDs, ACD, axles and drive shaft
SUSPENSION / CHASSIS
Haigo bolt-in 6-point rollcage; KW Competition Race 3-way coilvers with remote reservoirs and pillow-ball upper mounts; Whiteline anti-roll bars (front/rear), roll center adjusters; Powerflex bushes at critical positions; Hardrace adjustable rear control arms; aluminum 3-point front strut bar; Buschur Racing rear diff lightweight mustache bar; AMS centre member and front axles
BRAKES
6-piston Alcon calipers with 365mm rotors (front); 4-piston GREX calipers (rear); Pagid RS29 pads (front/rear); AP 2-piece 320mm rotors with mechanical handbrake (rear); Girling booster series brake control valve (x2) for the rear axle (no ABS)
WHEELS / TIRES
10X18 OZ Racing Alleggerita HLT wheels; 285/30R18 Dunlop Direzza 03G H1 tires
CABIN
Recaro Profi SPG FIA racing seat; dished steering wheel with quick lock; 6-point harness
BODY
Evo7 RS lightweight; GRP doors with carbon door cards (front); polycarbonate windows (door and rear window) bellinged-out aluminum front fenders; Voltex wide rear overfenders; LE-Composites custom-made carbon composite rear wing with dual element airfoil (4kg), carbon composite underbody with double-deck diffuser (17kg), carbon composite air tunnels fitted to the diffuser (5,5kg), carbon composite trunk lid with double diffusor exit (2,5kg), carbon composite rear doors with water cooler intakes (9kg), carbon composite bonnet (2,4 kg) and carbon composite front skirt (1,5kg);
PERFORMANCE
700awhp; 1250 kg wet
TEAM
Owner: LE-Composites, Thomas Ehrentraut
Driver: Daniel Keilwitz
Engine tuner : Just Solutions
More stories by Sean Klingelhoefer on Speedhunters
More time attack car features on Speedhunters
-Sean