There is no other car manufacturer quite like Mercedes-Benz. With a storied history unlike any other, beginning from quite literally the very birth of the automobile, they are in a league of their own. Regardless of your personal prejudices towards certain auto makers, the longer you are involved with in the car scene, the more you realize you owe to Mercedes.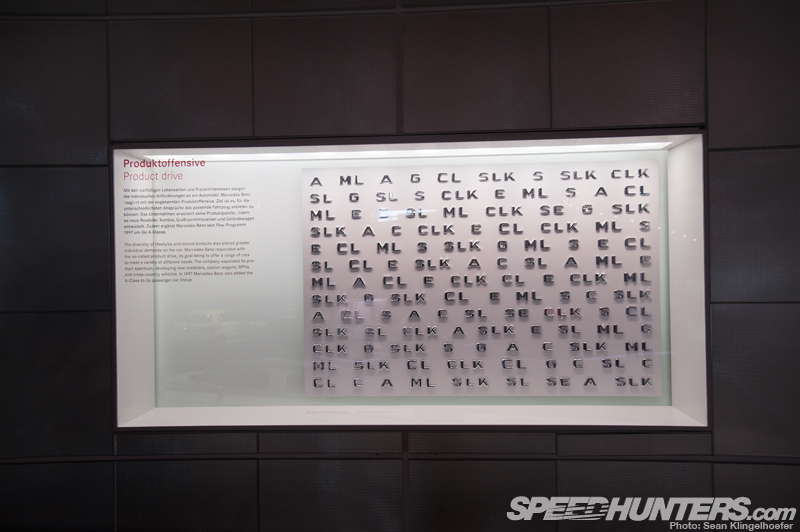 If it hasn't yet, at some point it will eventually hit you; there is, essentially, Mercedes-Benz, and then there is every other company that has ever made a car. That said I knew while I was in Germany that I needed to set aside a day to journey to Stuttgart and attempt to absorb as much MB as my brain could handle. The following is only some of what I can remember.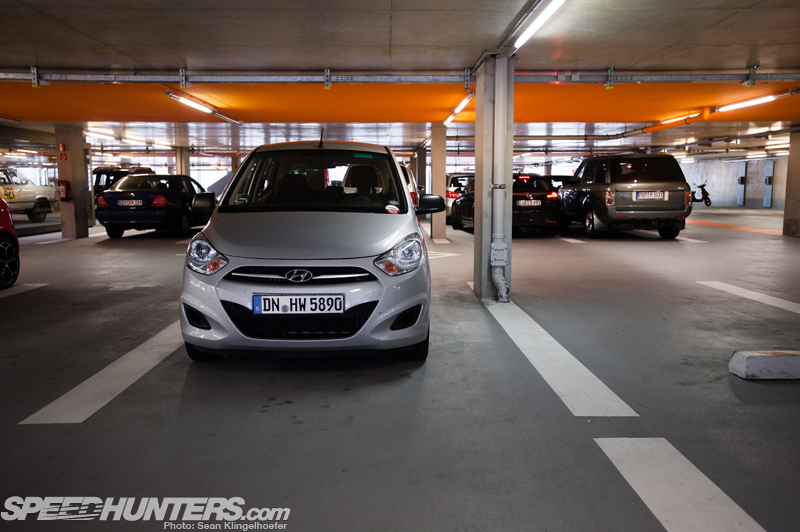 While the museum is easily accessed by train, as petrol head it just didn't seem right traveling through the most car obsessed country in Europe to its most devout vehicular city to visit the shrine of the automotive industry in anything but a car.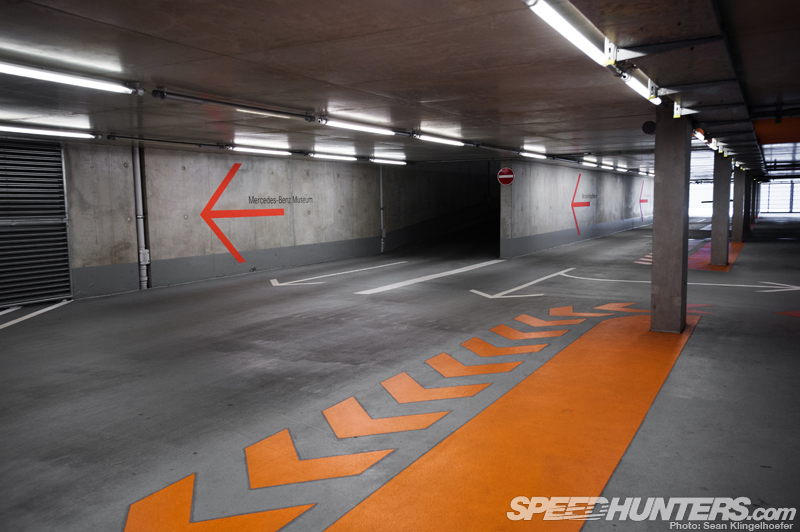 Clearly this concept made sense to the people that planned the museum as well considering the ample amount of parking space available in their high concept garage.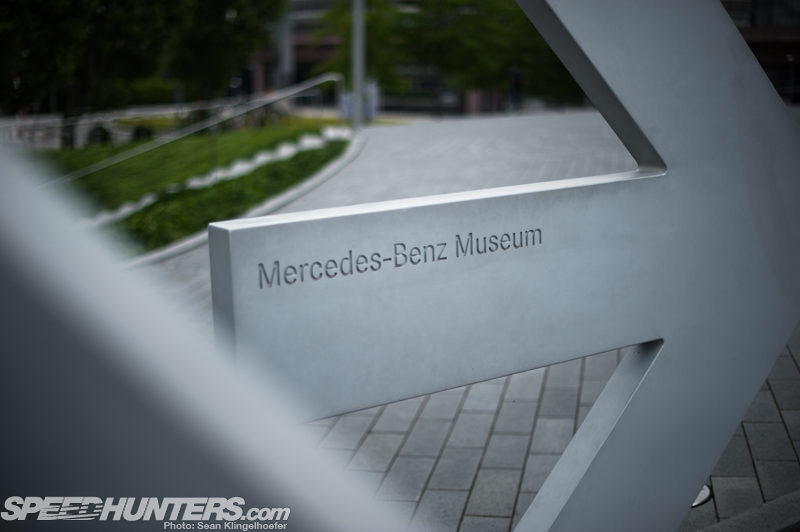 Eventually I got my fix of artsy parking structure photos and emerged from the underground garage. Before exploring the interior I wanted to walk around the outside of the building to grab a couple of tourist photos.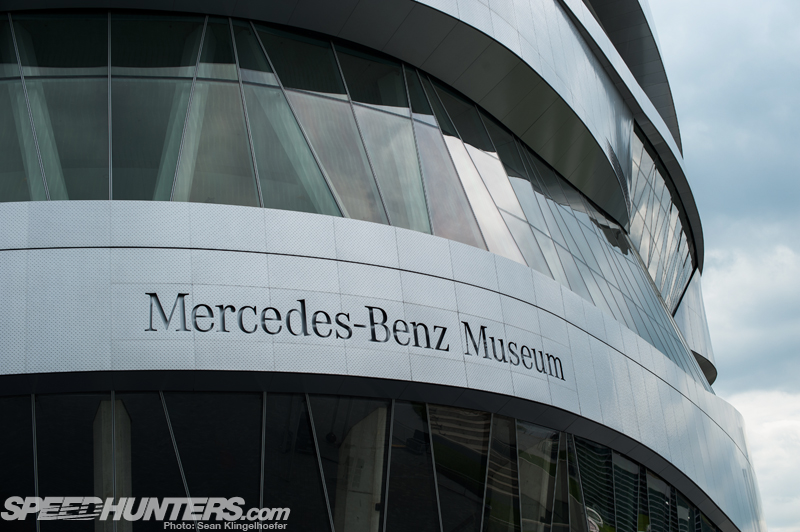 Even though I had seen it briefly on the drive in, the building was shocking – truly a sight to behold. This conglomerate of glass and steel is a very fitting structure to represent the brand, it's both sensible and beautiful, much like Mercedes' products.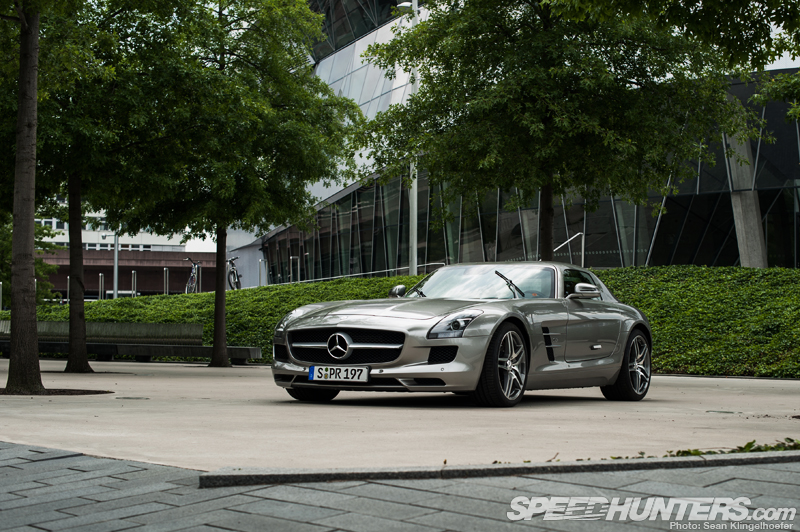 Speaking of Mercedes' products, I spotted this gorgeous example from their current range – the SLS AMG. I am dying to drive one of these, so if there's anyone out there from Mercedes reading this I've got two words for you… dream drive.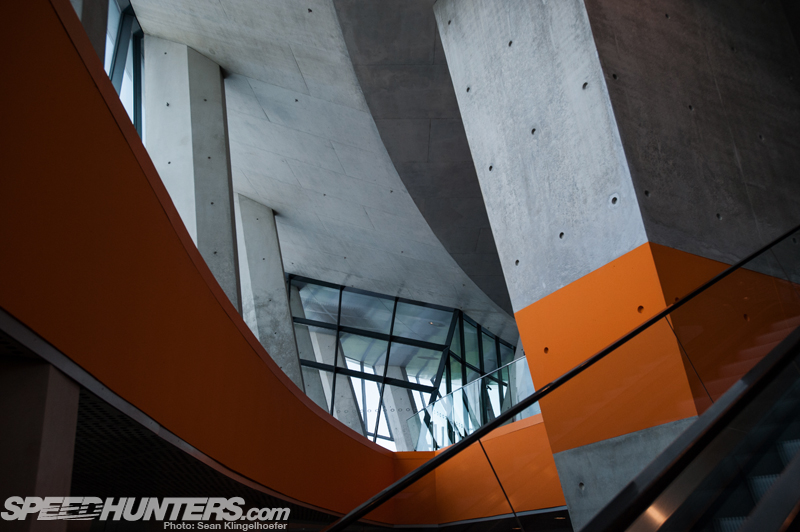 The inside of the building is incomprehensibly intricate with glass, steel and concrete constantly intertwining. I could have easily spent the entire day shooting and come back without a single photograph of a car.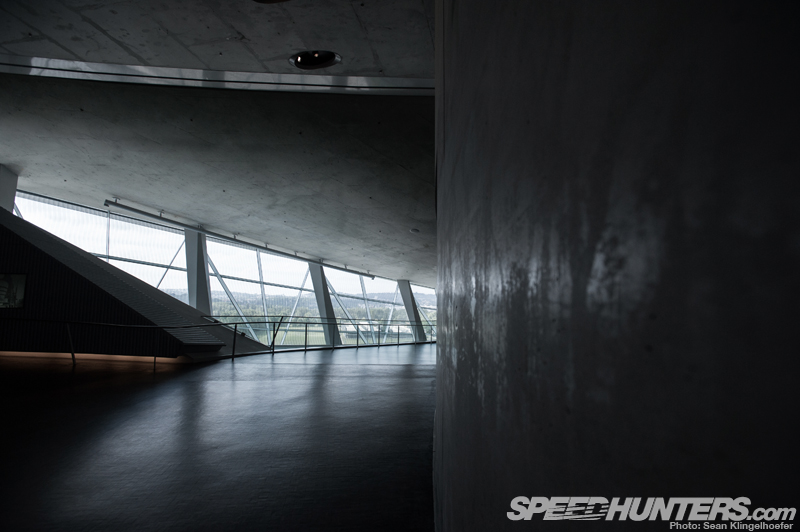 I later found out that there is not a single place within the museum where the ground is perfectly level, it's constantly off kilter. This must have been an architectural nightmare, but it makes for a very unique viewing experience.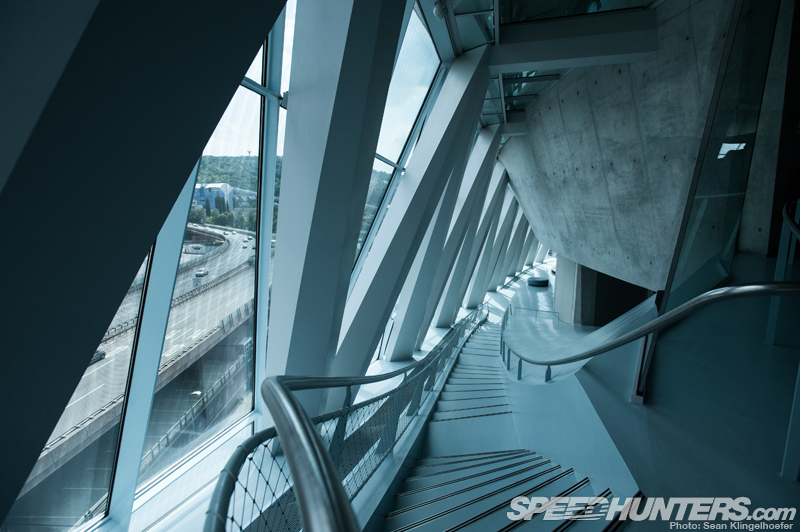 Designed by the Dutch firm UNStudio, the interior is actually inspired by the human DNA strand and as such is setup in a double helix arrangement. In addition to being ultra slick looking, this layout maximizes space which is important to a museum that houses over 160 vehicles.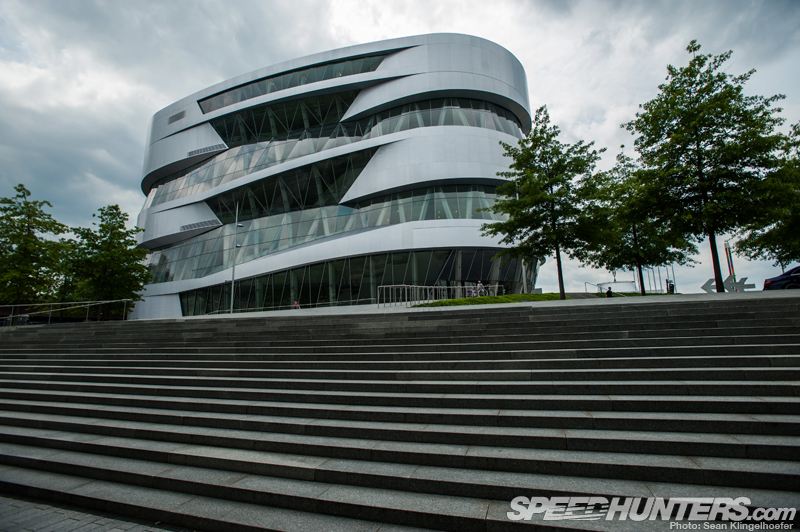 While there's no denying the brainpower required to build such a place, I am quite fond of the local's nickname for the structure, "the big mac." In retrospect it does seem to resemble a hamburger and a DNA strand in equal parts.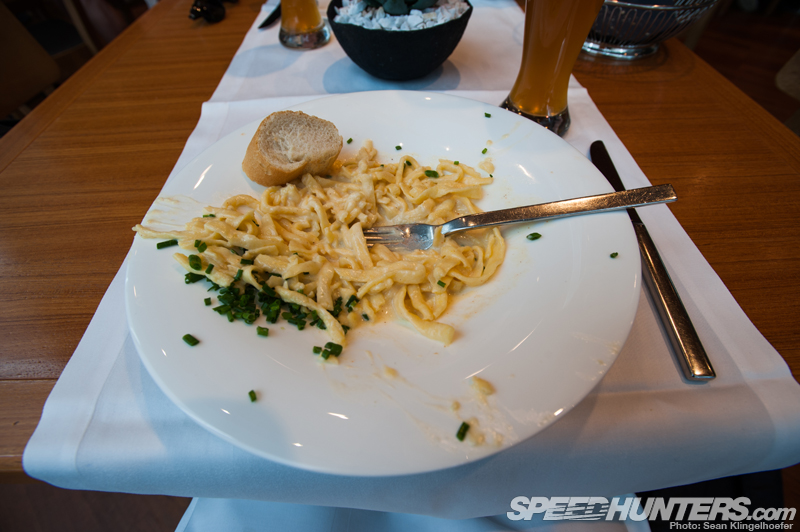 But I digress, this isn't architecturehunters after all. Before heading into the museum I needed to replenish my energy, there's nothing worse than having your mind blown on an empty stomach. After a traditional German dish of Käsespätzle and a Weissbier, I was ready to go.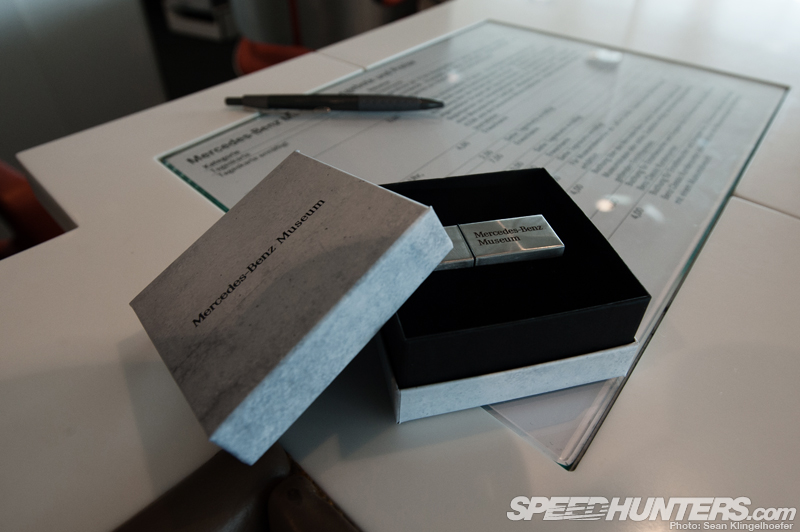 I was given a USB stick, the constant companion of all automotive journalists, while checking in at the ticket counter. Unlike many I own, this jump drive was constructed of high quality materials. What else would you expect from Mercedes?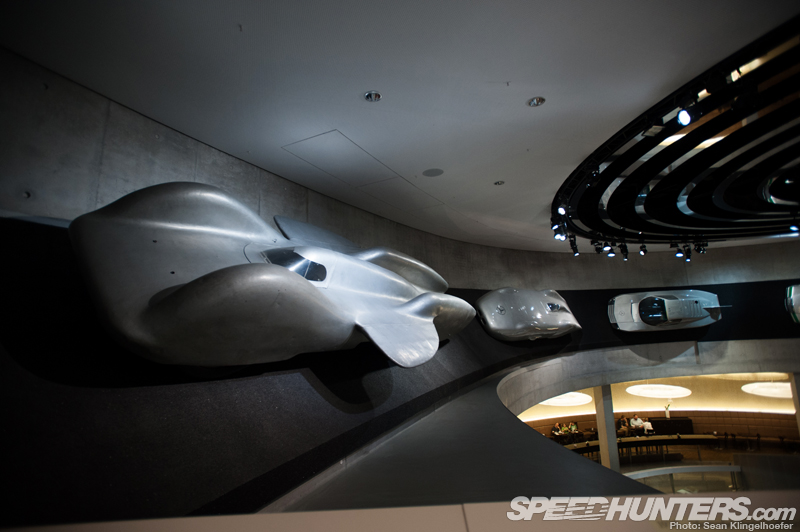 Before setting foot into the museum exhibits I spotted the T80, a landspeed car designed by none other than Ferdinand Porsche himself in the late 1930s. Powered by a 44.5L 3000hp V12 fighter plane engine, this car, was projected to have a top speed of 750kmh (465mph). If this is what they offer up for free, I knew this was going to be a good day.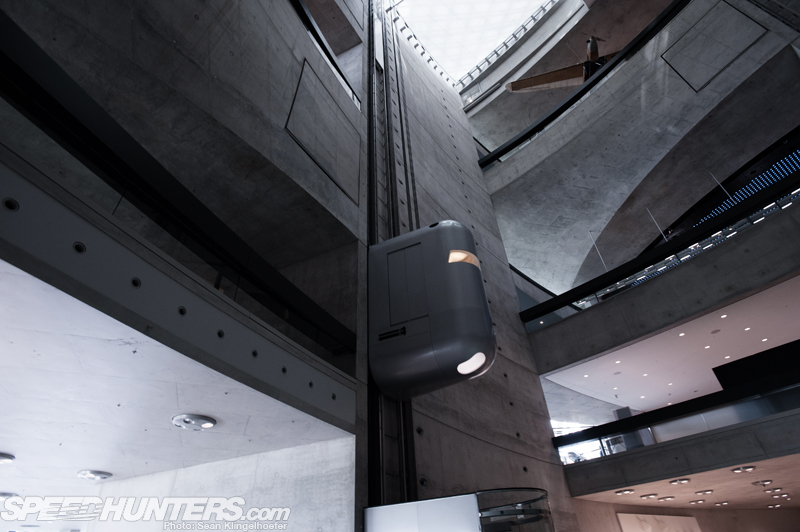 In order to enter the museum you have to pass through a turn style and then enter an elevator, straight out of an H.G. Wells novel, which takes you to the top of the building where your journey will begin.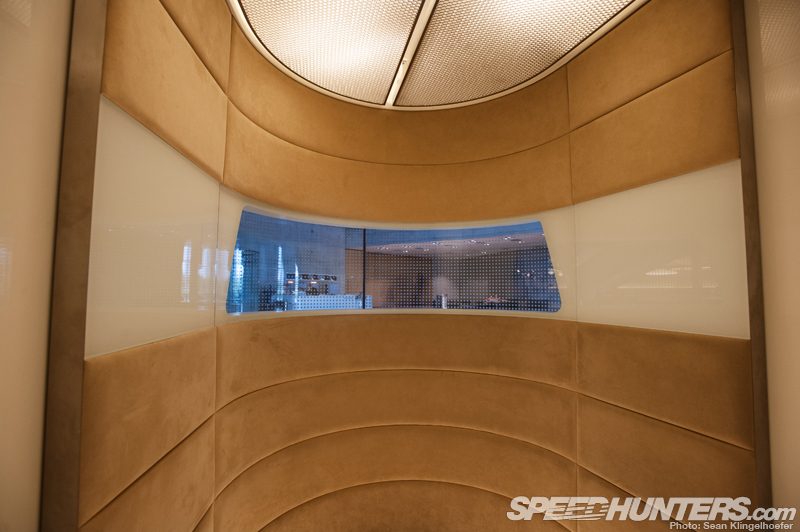 The inside of the elevator matched the exterior aesthetic, unsurprisingly. The suede plush walling was an excellent touch.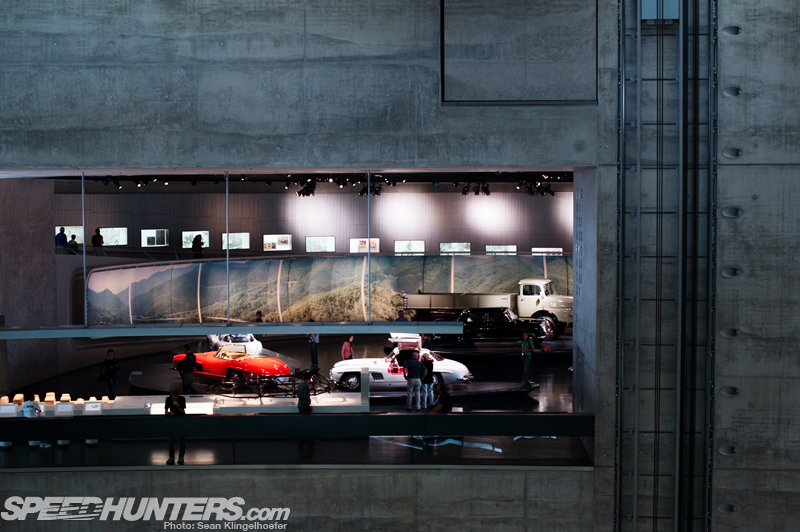 The view on the way up wasn't too bad either. As the lift approached the highest floor the car was flooded with the sound of horse hoofs clip-clopping…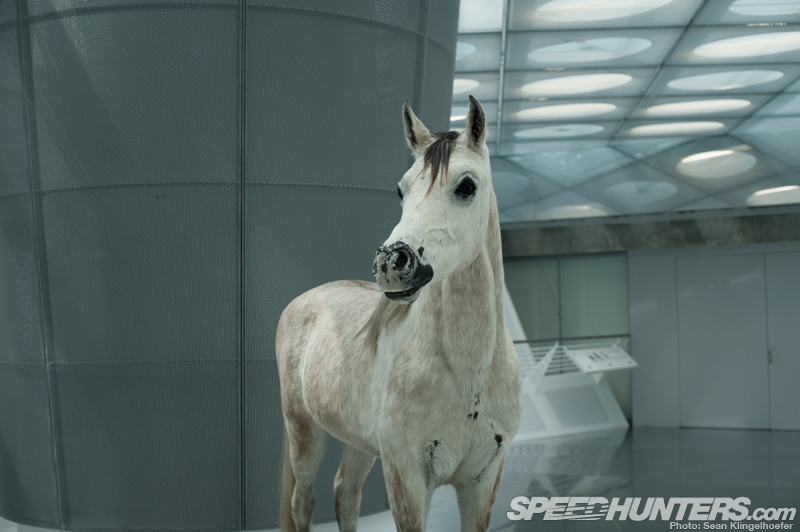 To my surprise the first car I encountered in the museum wasn't a car at all, but rather a one horsepower… horse. This being a reference to coach building before the advent of the combustion engine.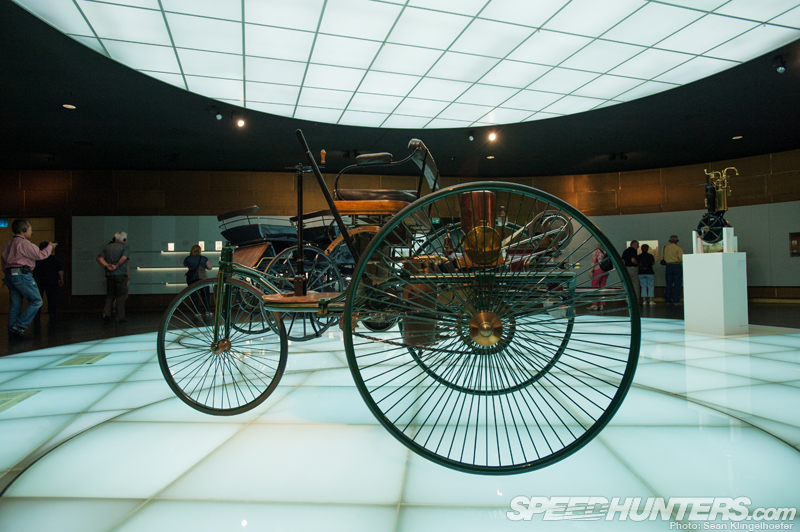 It should come as no surprise that when combustion engines came around Mercedes was eager to adapt this technology to their carriages. Karl Benz is credited as the inventor of the modern automobile and became known the world over after constructing the Patent-Motorwagen in 1885.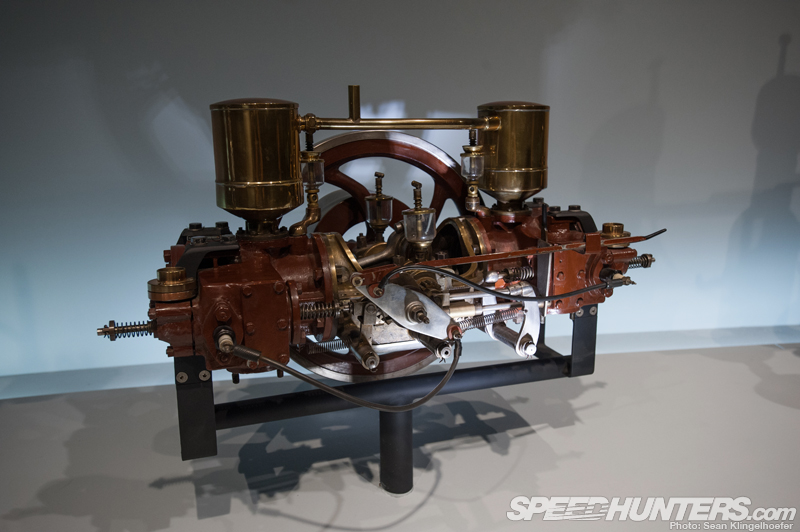 Since that day Mercedes-Benz has continued to pioneer new technologies and advance motoring in ways other companies simply cannot. Contrary to popular forum expert belief, Subaru nor Porsche invented the boxer engine. No, in fact the flat engine was patented by Benz in 1896.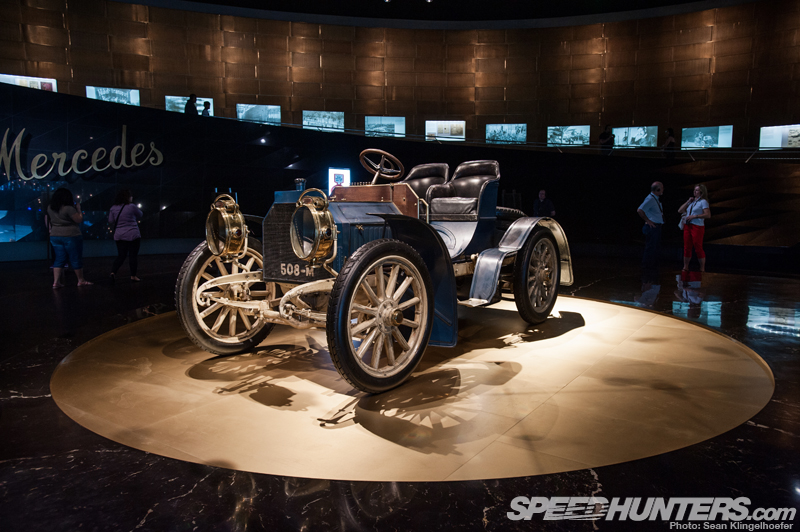 At the turn of the century Daimler Motoren Gesellschaft began producing cars under the Mercedes brand name. The Mercedes Simplex seen above was designed by Wilhelm Maybach, and this example is rumored to be the oldest remaining Mercedes vehicle in existence.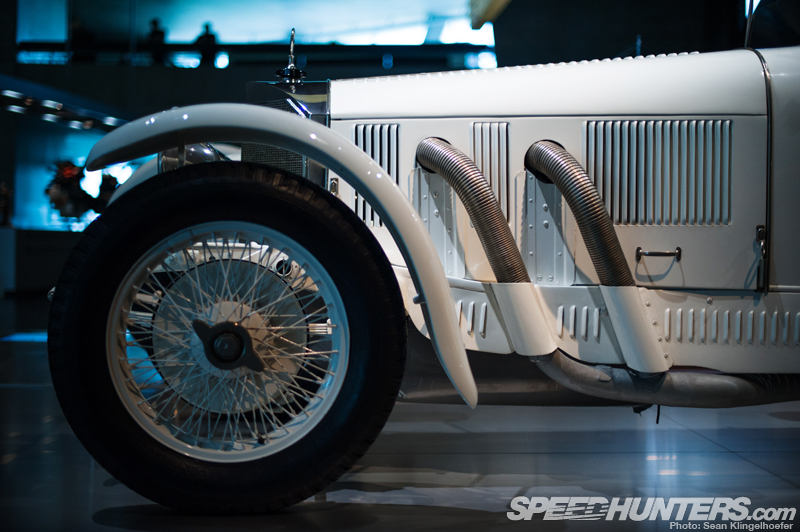 Some of earlier models are comical, quite literally cartoonish. Seeing the ornate details and long noses shod with exposed exhaust runners conjured images of Looney Tunes in my mind.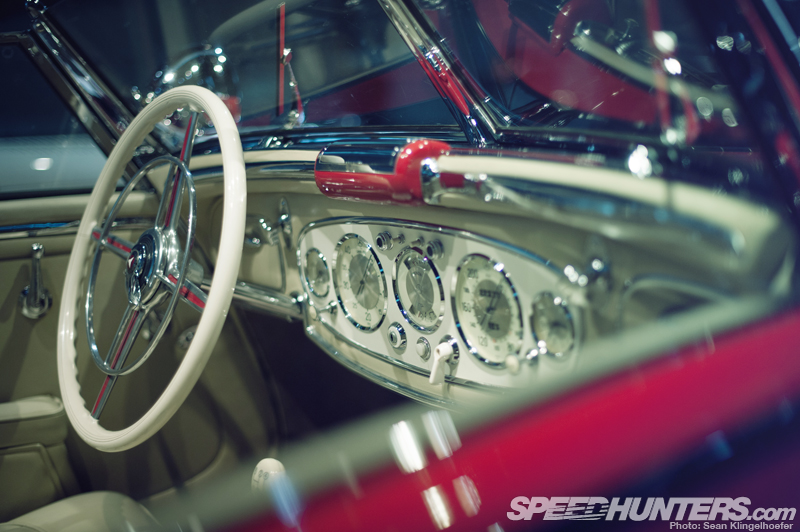 Perhaps even more astonishing were the interiors. The faces on the dials were simply impeccable, and, if I'm honest, even better than the majority of today's vehicles. The instruments looked more like fine time pieces than indicator dials.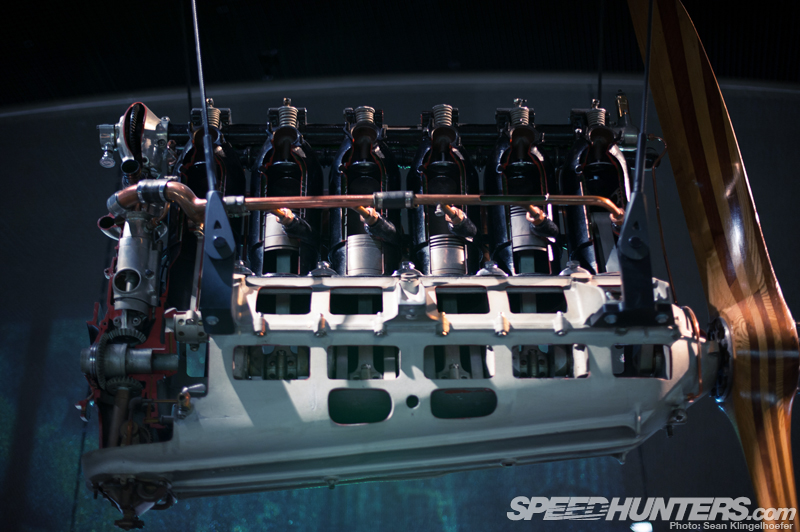 Of course Mercedes wasn't content with only doing one thing very well, they wanted to explore all kinds of mechanical inventions. For a period Mercedes was making some of the world's most powerful airplane engines, up until the end of the second World War when they were ordered to cease production by the Allied forces, for obvious reasons.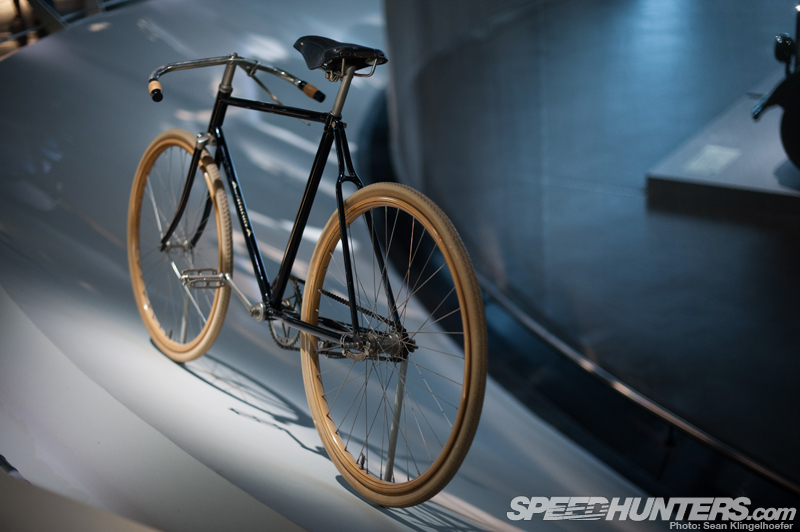 The end of the war created a very difficult economic climate for Germany and to help offset the loss of their aero department Mercedes decided to begin production of bicycles. Here we see a fixed gear MB bicycle, complete with a fully engraved groupo – even the track ends!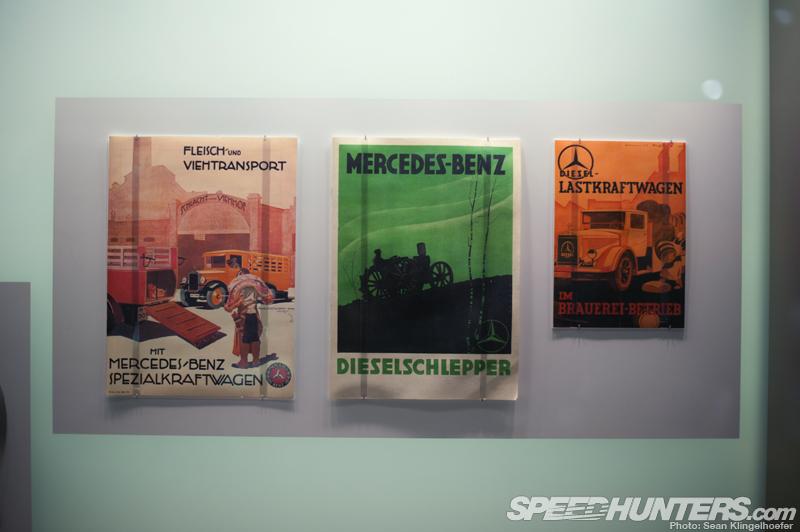 As I spiraled ever downward my initial curiosity with posters and brochures became a full blown obsession.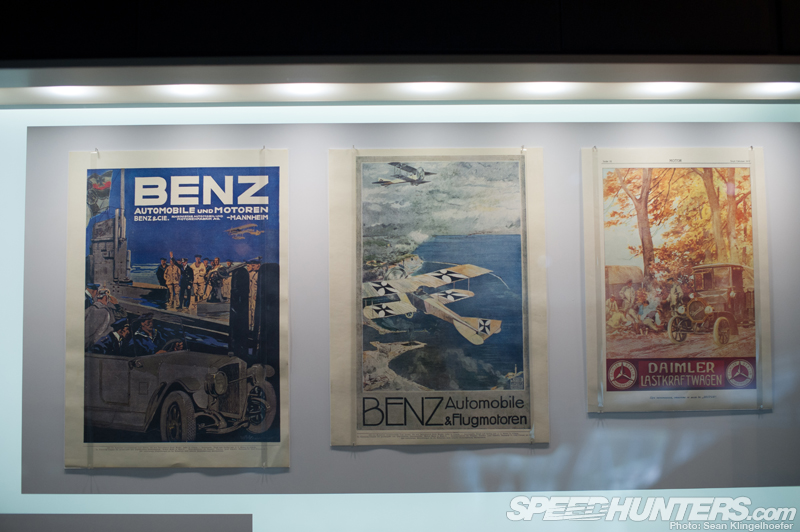 There were dozens of them throughout the walkways. I mean seriously, how cool are these!?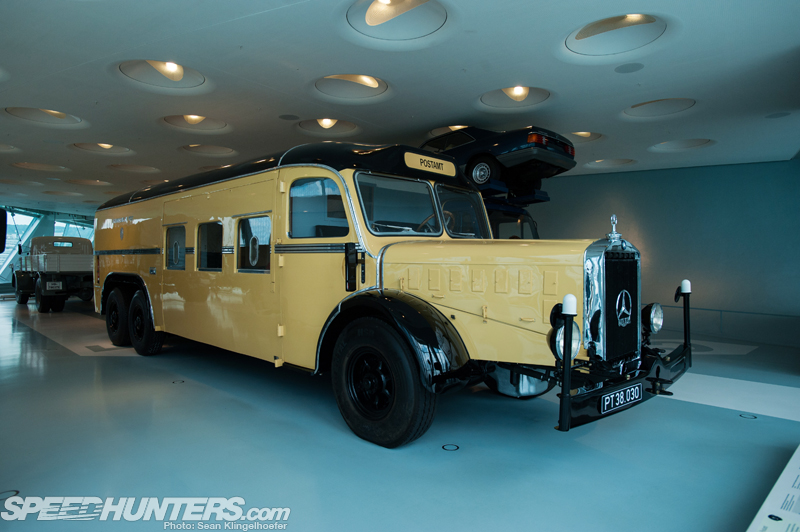 The museum is split into two main categories, one called the "Legends" areas which contain the majority of the displays and another series of side exhibitions called "Collections" which were mostly filled with oddballs like this Austrian postal truck.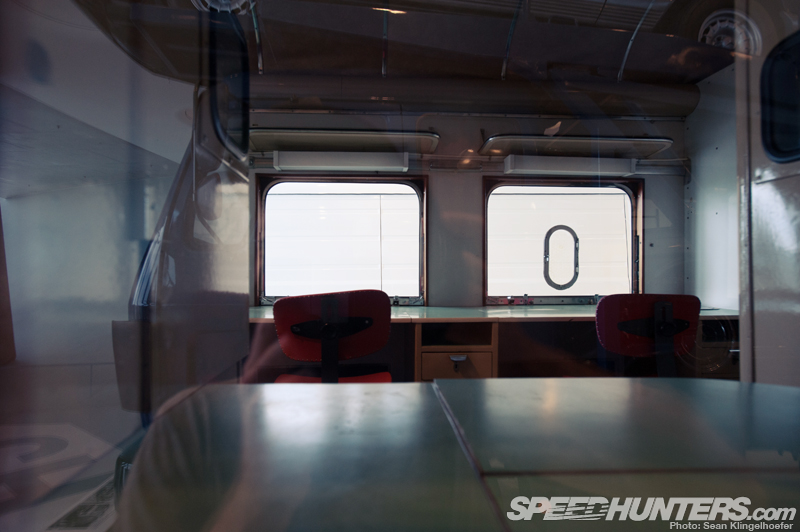 Inside this massive rig was a series of desks and windows which lead me to believe this was not just a mail delivery truck but a mobile post office.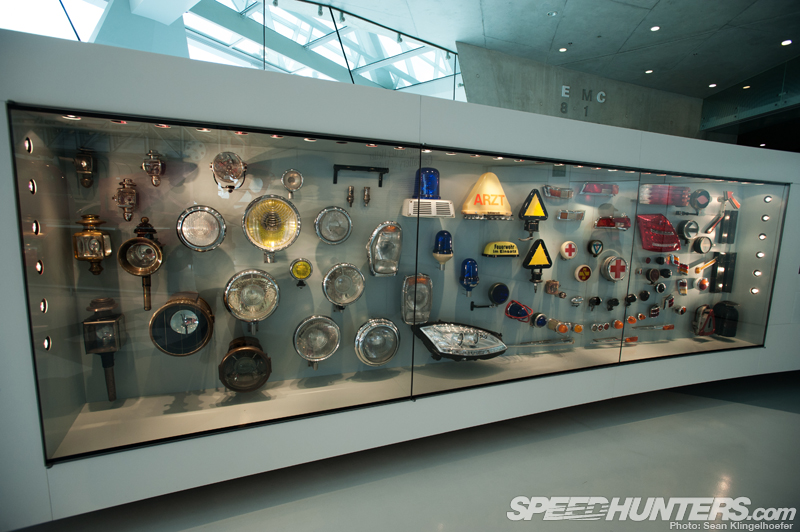 Also in the collections sections were cases featuring all sorts of motoring-related trinkets from atlases and luggage to different forms of lighting over the decades.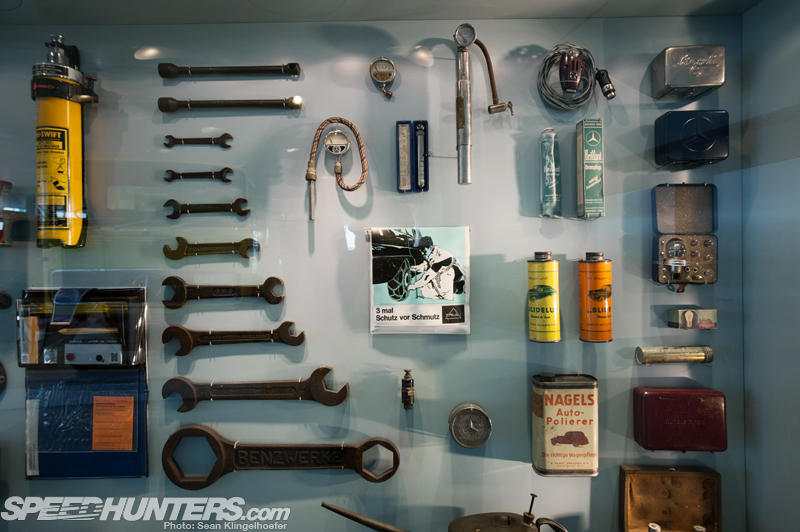 Here we see some basic maintenance equipment including a Benzwerks wrench set!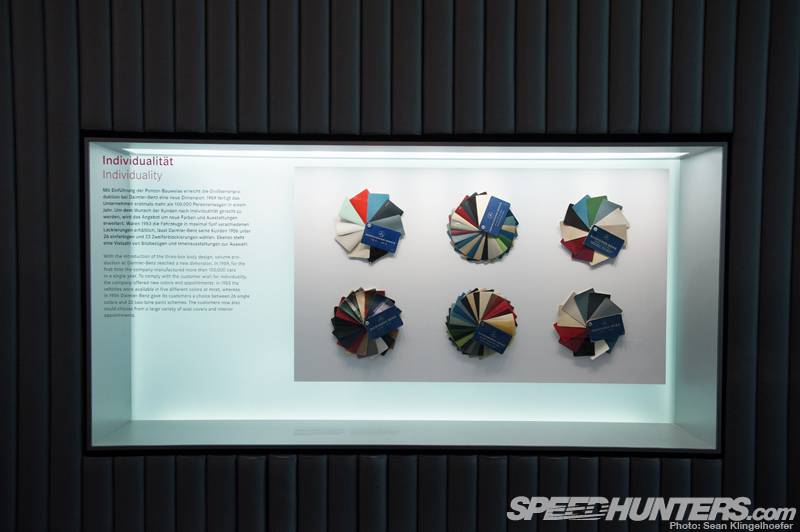 Although not all of Mercedes' inventions were as revolutionary as the invention of the car, they all play a small role in making motoring better today. One of the more understated ideas was the introduction of customization when buying a car. By 1956 you could order your Mercedes-Benz in 26 different colors, not counting an additional 23 two-tone schemes.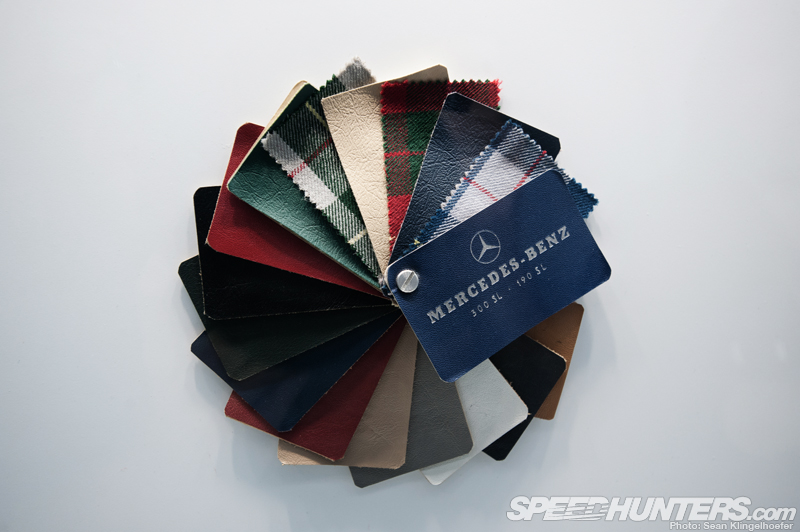 But the customization wasn't limited to the exterior. Today kids in the Dub scene spend thousands reupholstering their interiors in colorful plaids… Mercedes offered this kind of style straight from the factory as far back as the '50s.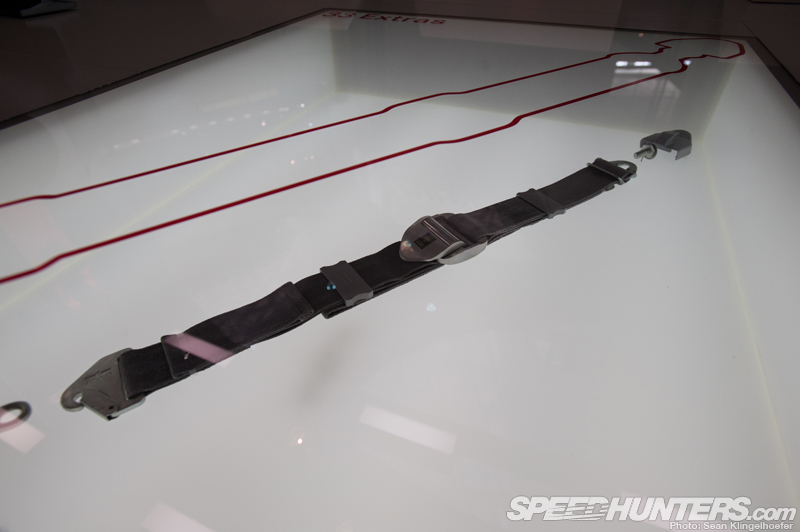 The advancement of safety has always been a priority as well. Virtually any safety feature you can think of was, if not invented by, first introduced in mass numbers by MB.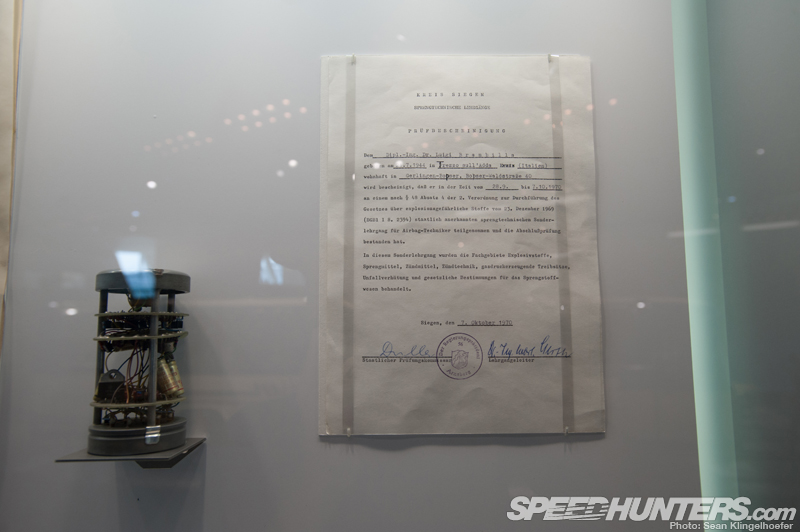 Here we see a patent request dated October 7, 1970 for a very peculiar device…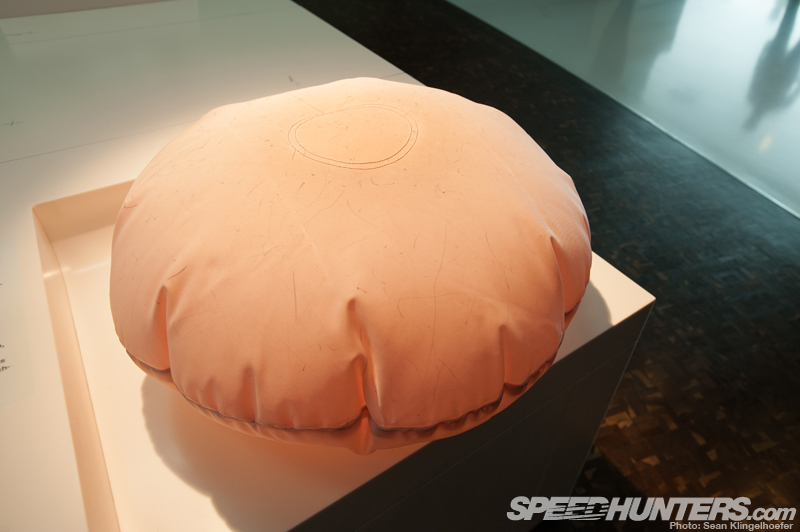 Which we now know as the airbag. The list of innovations is astounding and I've discovered as a general rule of thumb that if you can think of a component, safety or otherwise, Mercedes likely brought it to market.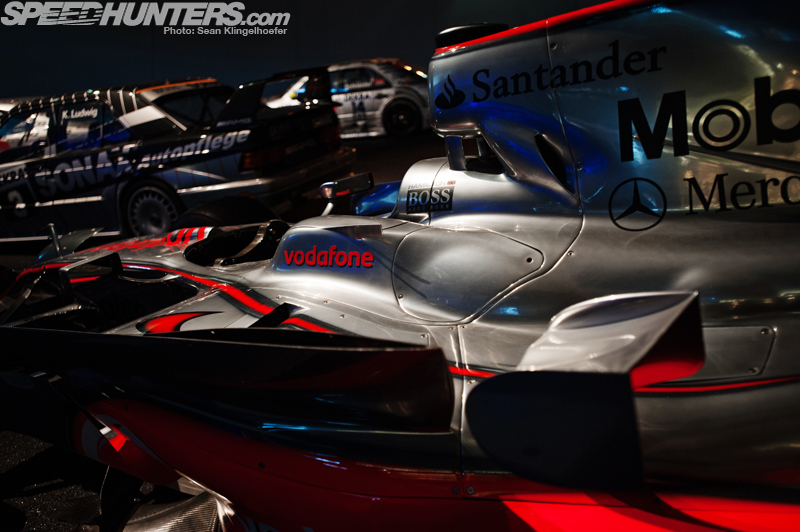 As proud as they may be of all those accomplishments they seem to hold one thing particularly close to their hearts, something that we Speedhunters can relate to – motorsport.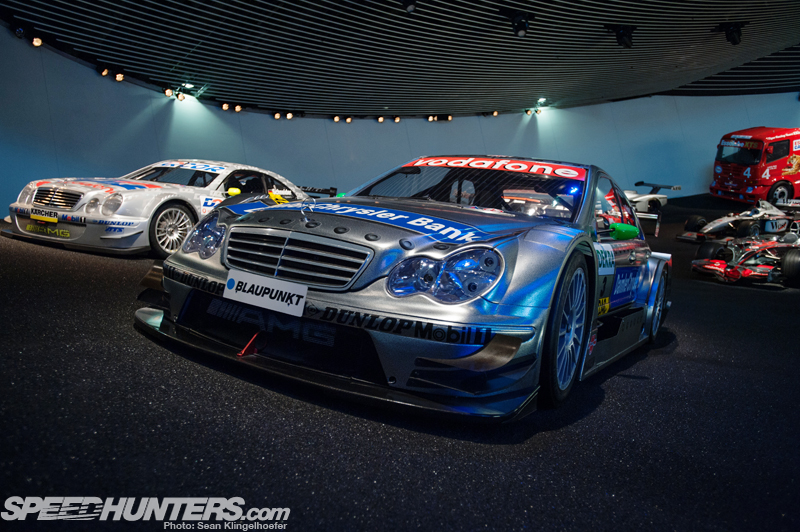 The final floor of the museum, by far and away the largest in the building, is dedicated solely to the history of Mercedes-Benz in motorsport. Unfortunately the display places the cars quite literally on a pedestal, so I couldn't get as close as I would have liked to, but beggars can't be choosers.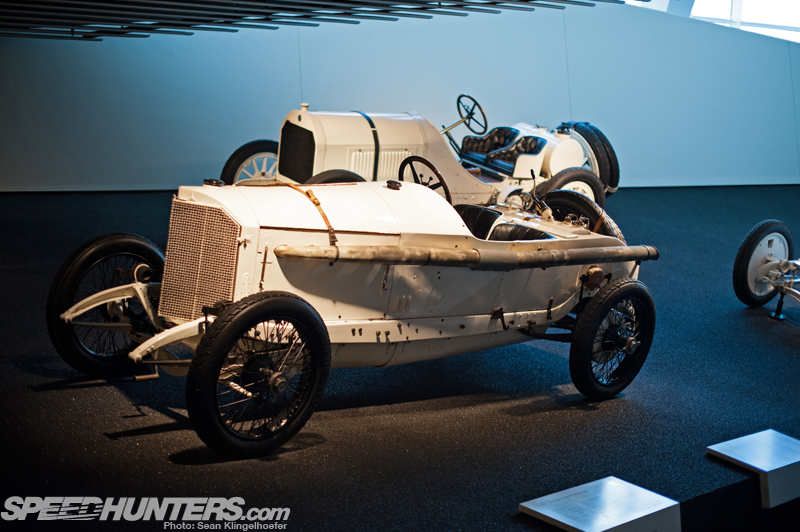 It seems that nearly as long as the company has been building cars they have been tweaking them into wilder competition versions.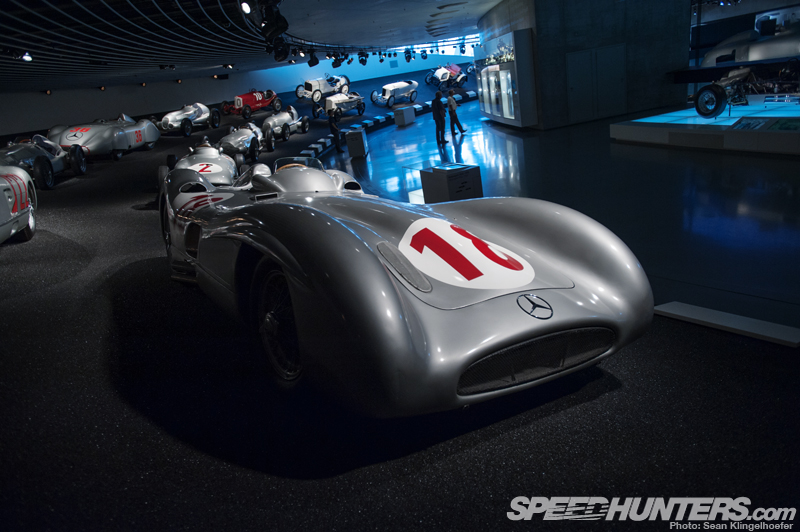 It was pretty incredible seeing this timeline laid out in front of me in a literal sense.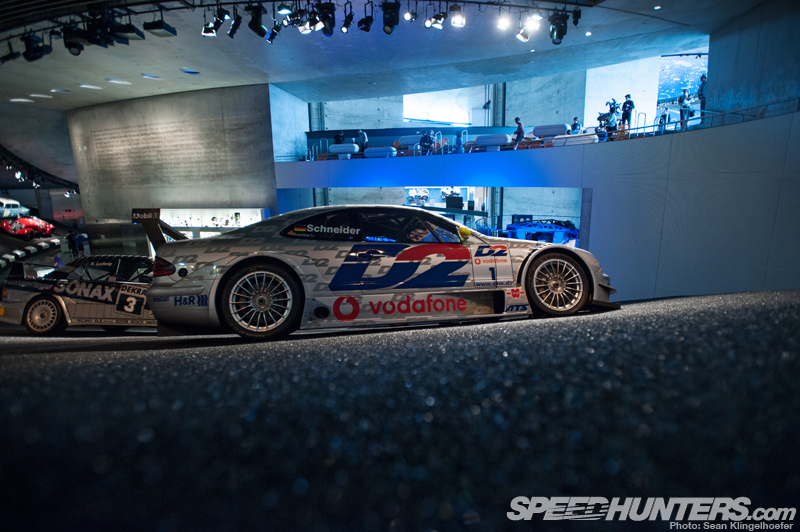 At the sharper end of the pack were some fairly recently retired DTM machinery. I cannot count how many times I've piloted the CLK DTM in video games but it was another experience entirely meeting the beast face to face.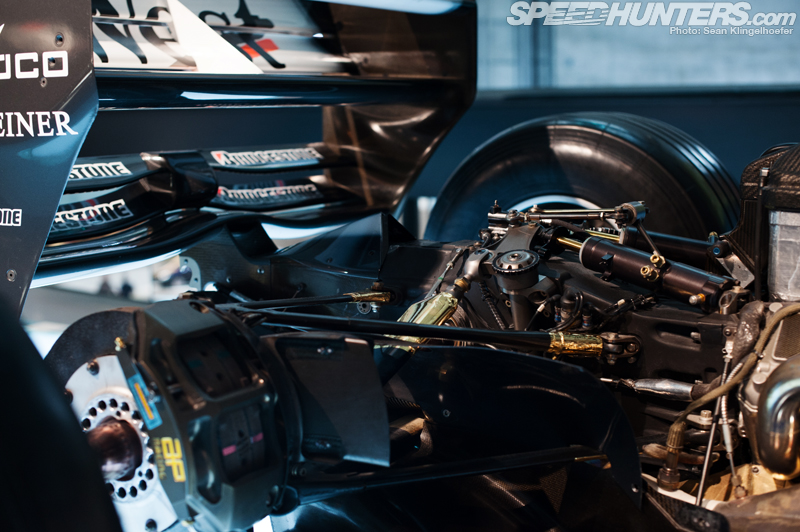 If there's something to be learned from the advancement of technology and motorsport it's that we are still only at the beginning. It seems like just yesterday when Mika Hakkinen was battling Michael Schumacher in this very F1 chassis, but by today's standards it looks like an antique.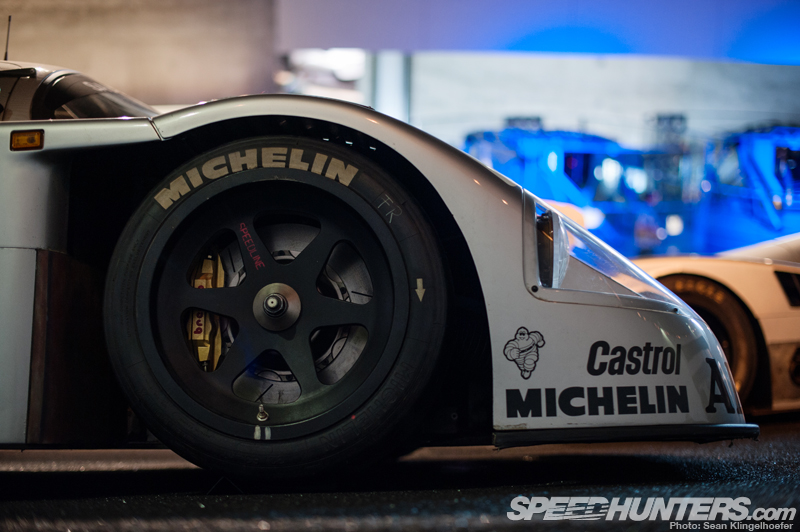 On the flip side, sometimes antiques become timeless. The C9 is a car that brings a smile to my face even on the worst of days.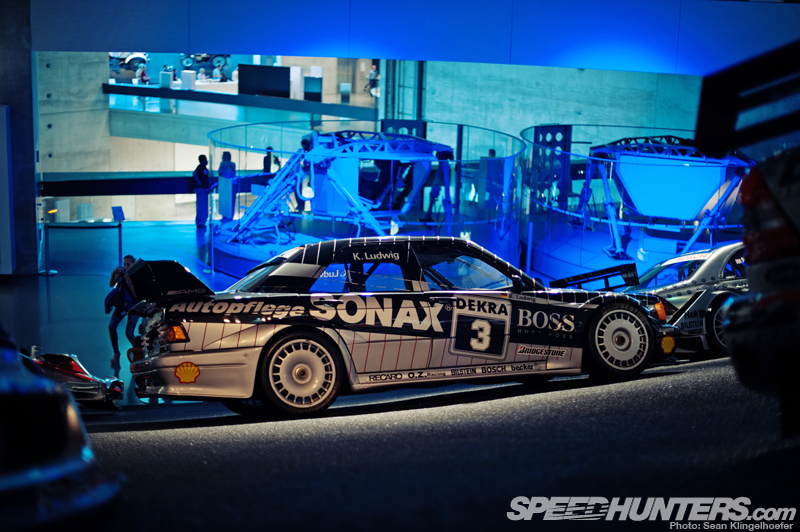 As is the 190E. There's just something about this absurd box-shaped racing device that tugs at my heart strings. The silhouette, the flares, the livery, the bottle cap wheels… it's so '80s. I can't get enough of it.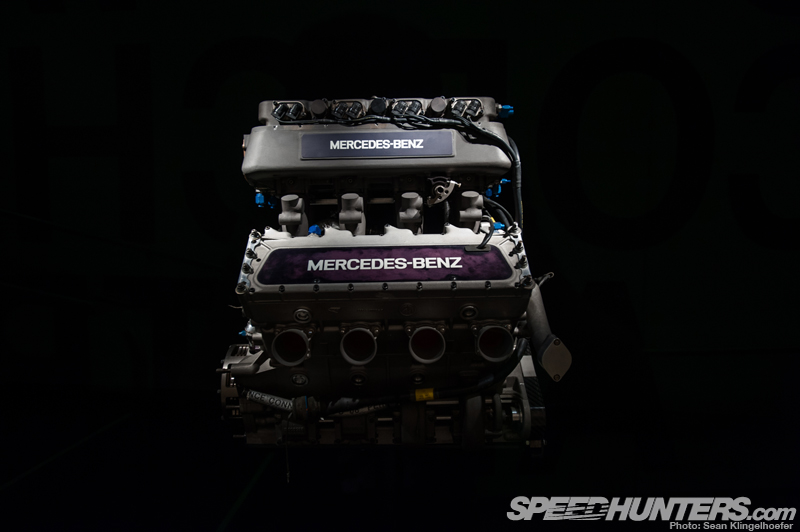 Around the perimeter of the race cars is a series of glass enclosures containing racing engines. I cannot think of another company that is equally as famous for constructing cars as it is supplying engines for others.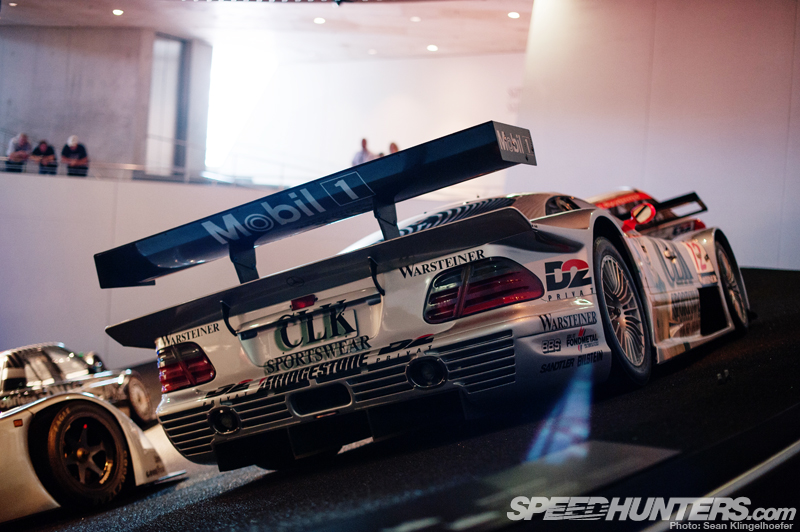 I ended up making several passes, changing lenses each time. I hope that one day I might be so fortunate as to be able to spend some time with one of these priceless chassis in a studio or race track setting.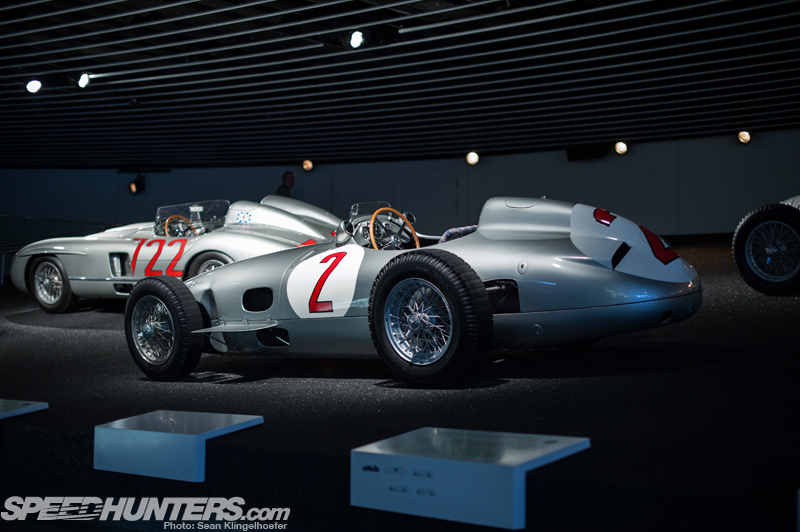 Don't get me wrong, just being in the presence of these cars is worth the price of admission and all things considered, the layout is pretty photogenic. But the thought of a private shooting session is the stuff our dreams are made of.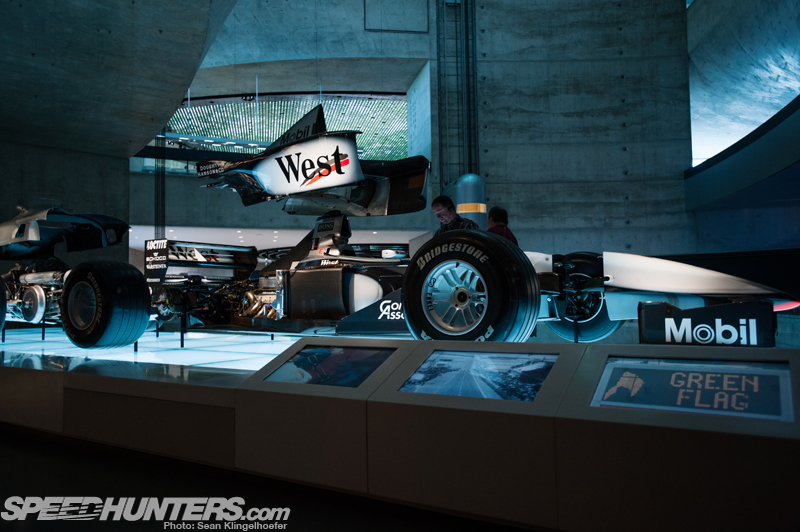 Towards the end of my visit I began to reflect a bit about my experience, and that's when the layout of the museum really began to make sense. There are two timelines unfolding simultaneously but they are interwoven by a constant theme – progress.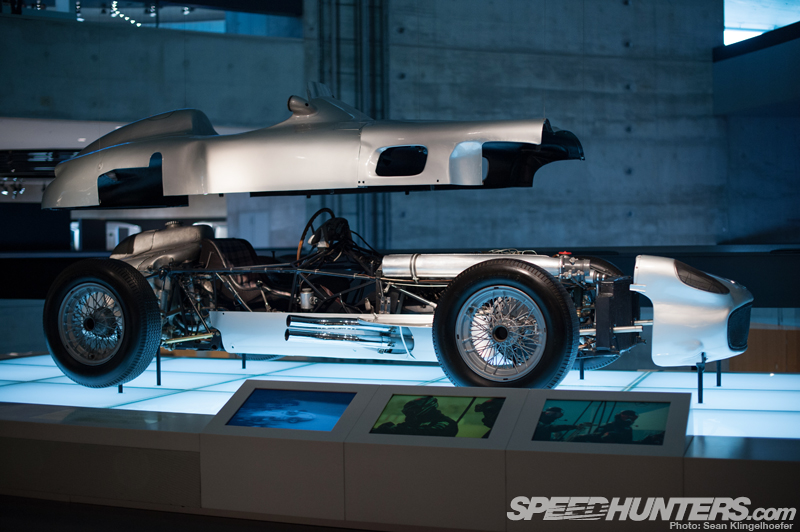 There is an opportunity here unlike anywhere else to examine and compare the entire history of a brand from humble beginnings to current production. In some cases the past and present are literally presented to you side by side. It's rather ingenious really. As a kid you never ponder the amount of work that goes into making a museum relevant, let alone interesting.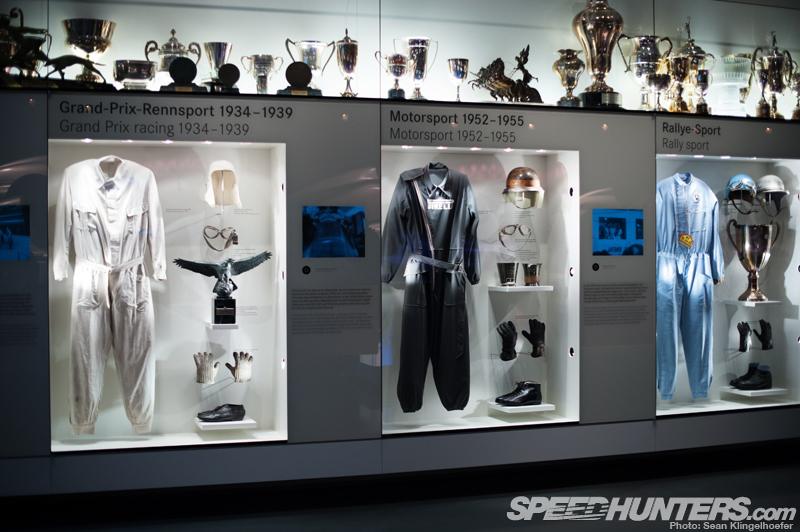 I find it all too often that car museums miss the mark in one way or another, but not Mercedes. I suppose I shouldn't be surprised though given the effort the brand puts into everything they do, why wouldn't they have a superb setting in which to share their esteemed history. If you're ever in Stuttgart I highly recommend spending the 8 euro to get in, you can't afford not to.
More stories by Sean Klingelhoefer on Speedhunters
More museum stories on Speedhunters
-Sean