When I was a kid, I went to a school I really liked. We played a game called 'Kiss Chase' with the girls at break time. It's a pretty self-explanatory past-time that we liked. And when us boys weren't playing Kiss Chase, we were playing British Bulldogs. School was great.
But then someone decided that I should take some exams that would enable me to go to a different school. It would be a 'better' school, or at least that's what they said.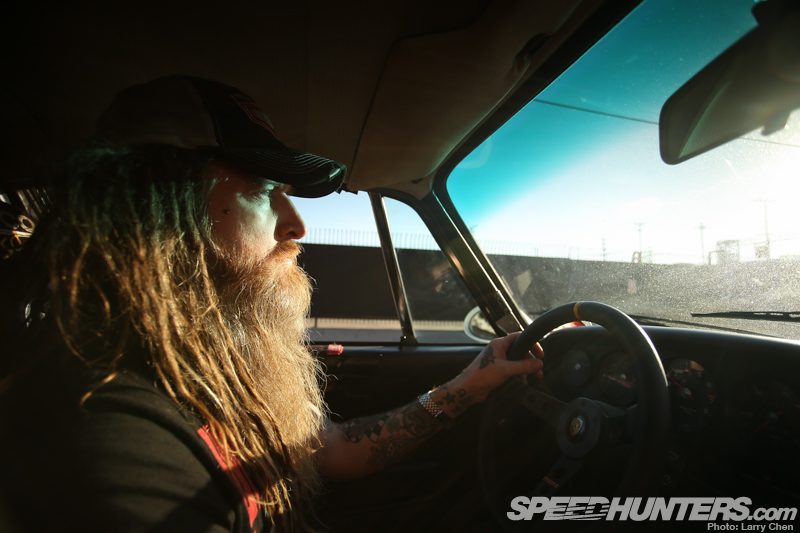 After a quick negotiation with my parents, (that involved a Nintendo Gameboy bundle pack including the obligatory tile-matching puzzle Tetris, and the then game of my dreams, F-1 Race) I was siting an entrance exam that would change my life forever. I passed. The result? No more kiss chase, no more British Bulldogs and, for a super-high-score-extra-bonus, school on Saturdays.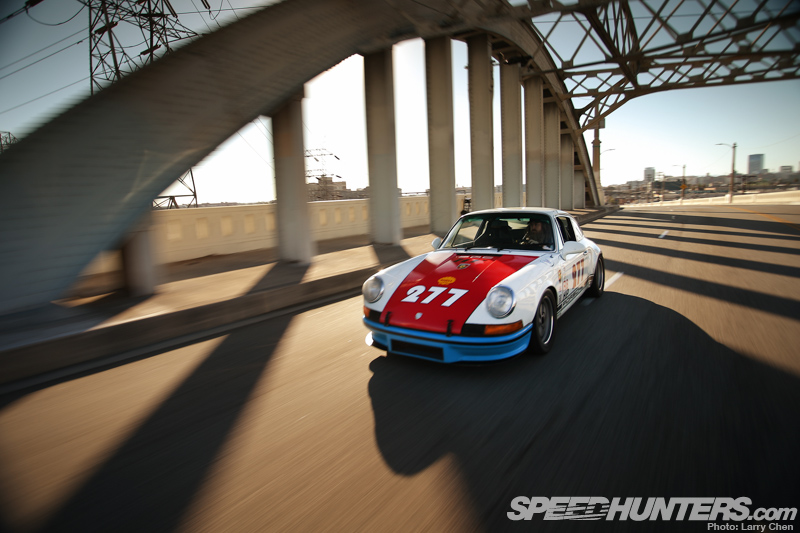 The year was 1992. I was 11-years old. Magnus Walker, the dude you see here in Larry Chen's photographs driving his awesome 1971 Porsche 911T over the 6th Street Bridge in Los Angeles, was not 11. He was a little further along in the path we call life and at that time was working tirelessly with his future wife, Karen, to develop their clothing brand in LA.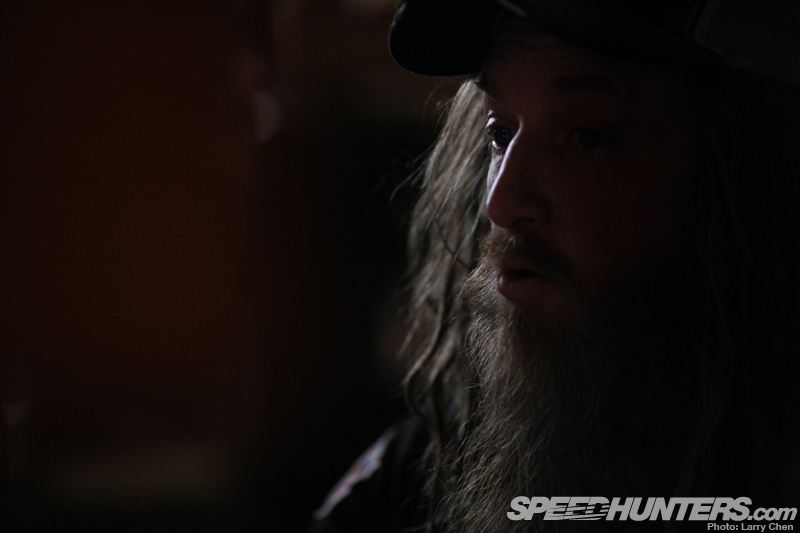 Fast-forward a little over 20 years and as I'm admiring one of the many insane hot rods at the SEMA Show in Las Vegas, Magnus comes and stands right next to me to check out the same car, so I say "hello".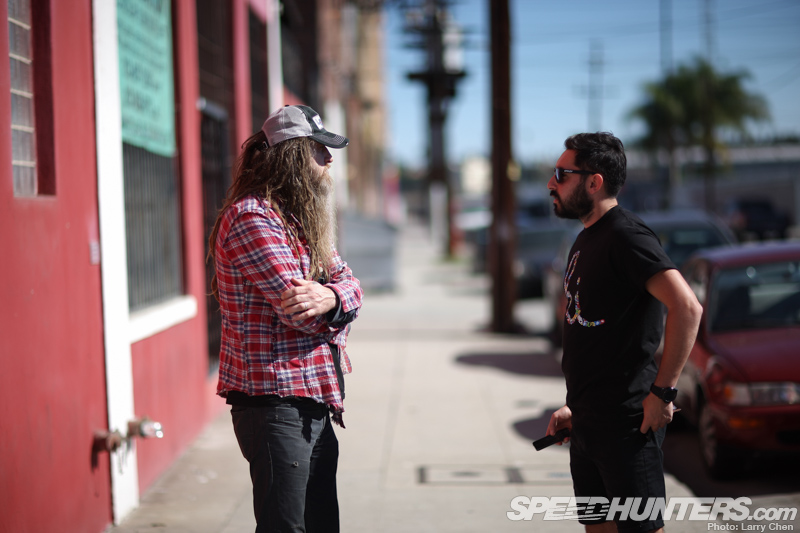 Had we met before? No. How did I know it was Magnus? Well, it's fair to say that Mr. Walker is not exactly inconspicuous.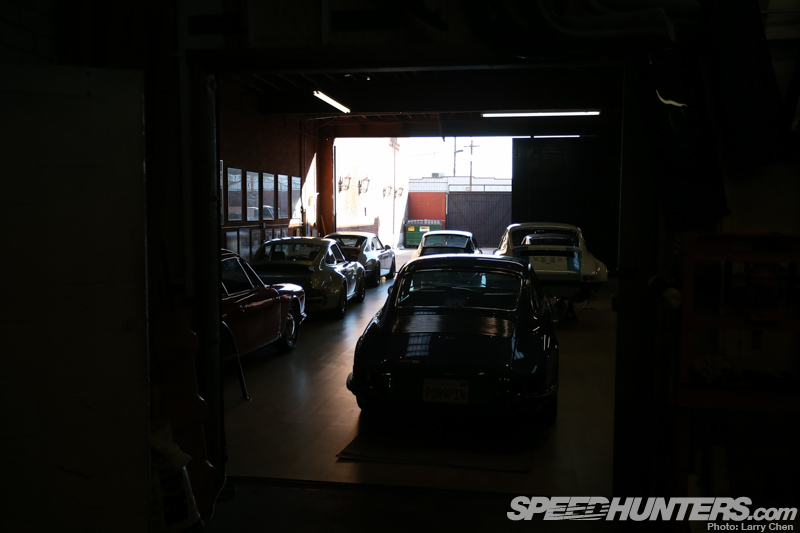 I'd watched Urban Outlaw, a half-hour-long film directed and produced by Tamir Moscovici that explores Magnus's passion for the Porsche brand, just a few weeks before SEMA. So I was reasonably familiar with the story behind the collection and also the man himself.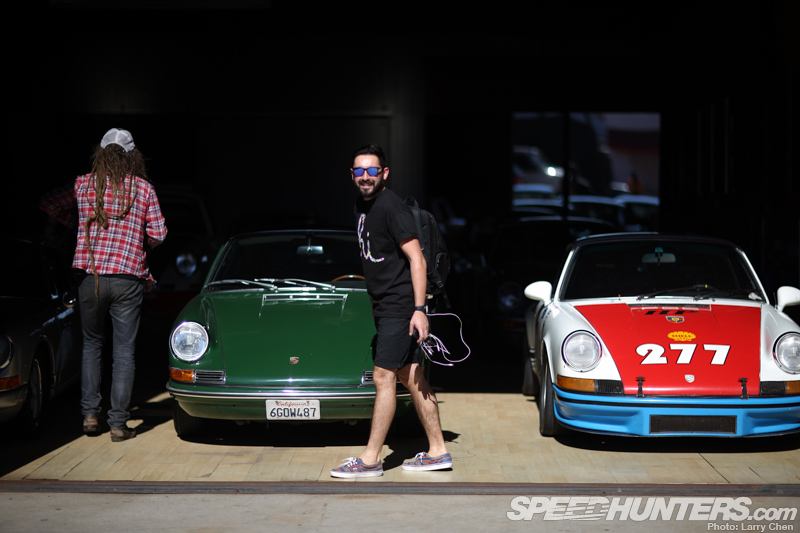 The film features some incredible shots and it left me feeling quite inspired as well as being pretty intrigued by this guy. Originally from Sheffield in England and now living in LA, Magnus had what would appear to be one of the coolest collections of early Porsche 911s in the world.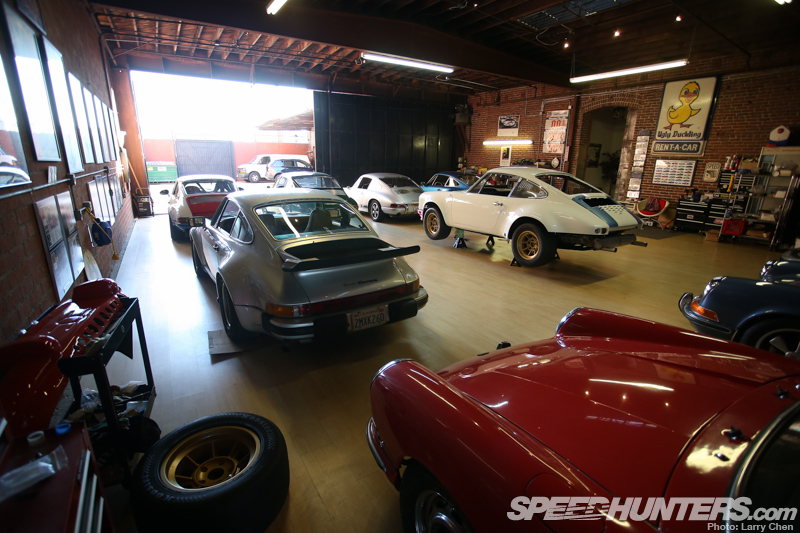 I'd not seen these cars with my own eyes, though. I had only seen this beautiful collection through the medium of the internet.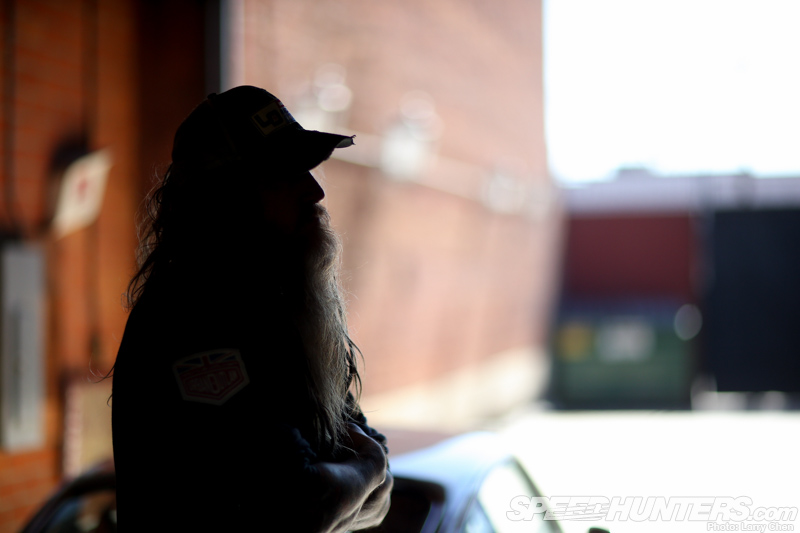 So, after a chance meeting and a 15-minute, sit-down chat with Magnus, I thought it would be pretty cool to swing past the 'Urban Outlaw's' workshop and share the set up on Speedhunters.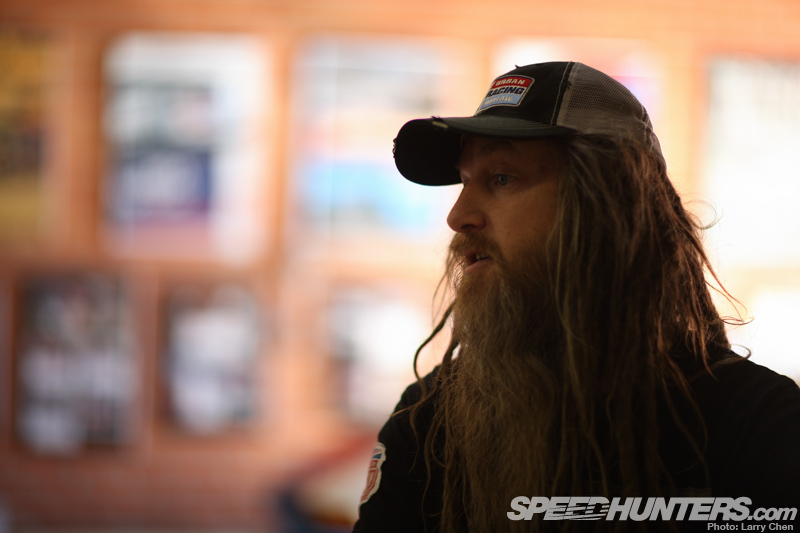 The wonderful thing about Magnus, despite what you may think, is that he's not really out there bragging about his collection and the cars that he builds. When you consider that this Porsche mischief of his spans over three decades, the guy is relatively off the radar, so to speak. Sure, I've seen some stories on his cars in Total 911 magazine, but until this film came out I really didn't know the true extent of his collection.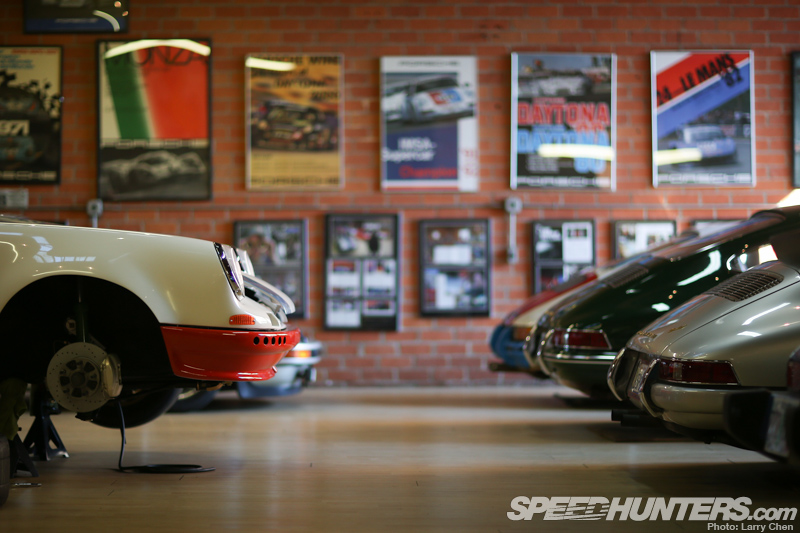 It was the third day of the SEMA Show, a Thursday, and I was meant to be flying home that very afternoon, but due to a change of plan I was now flying out of LA on Sunday.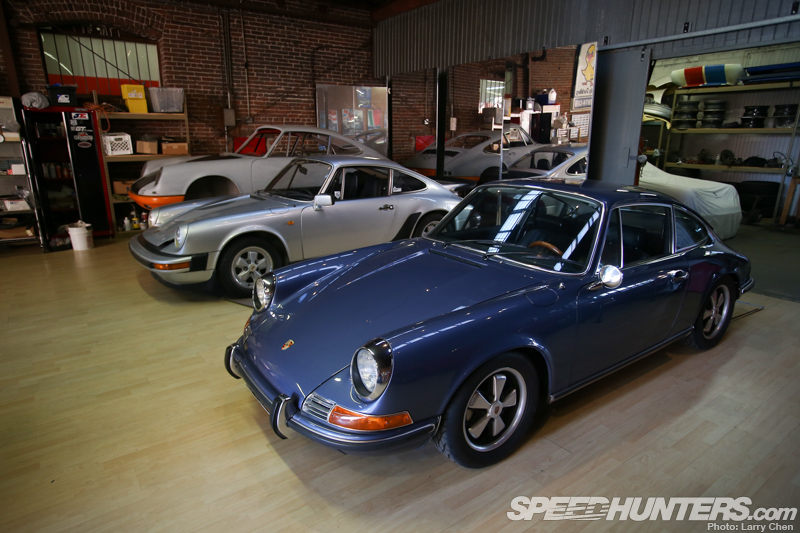 "Do you think it would be possible to come and shoot your collection, and maybe go for a drive in one of your cars this weekend?" I asked.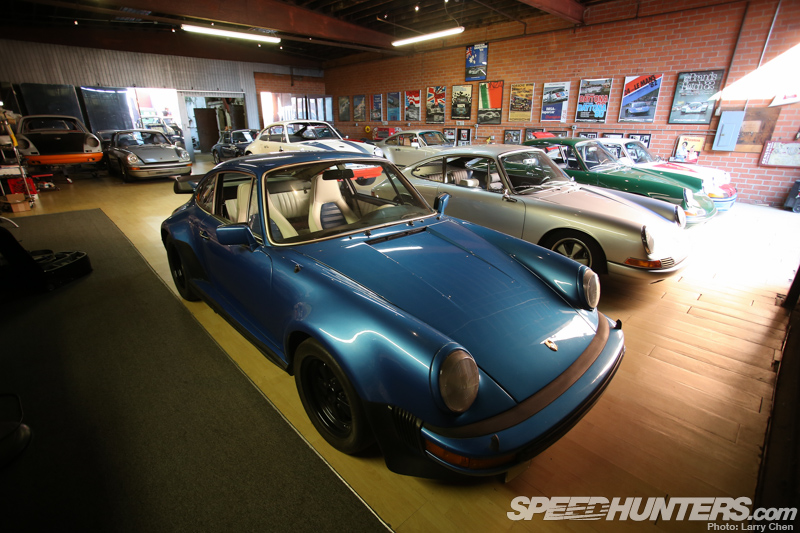 Magnus explained that he was going to be busy over the forthcoming weekend and it might not be possible. He didn't say why, but it later transpired that his Saturday was to be taken up by a certain talk show host who was doing a piece on Magnus for his website, Jay Leno's Garage.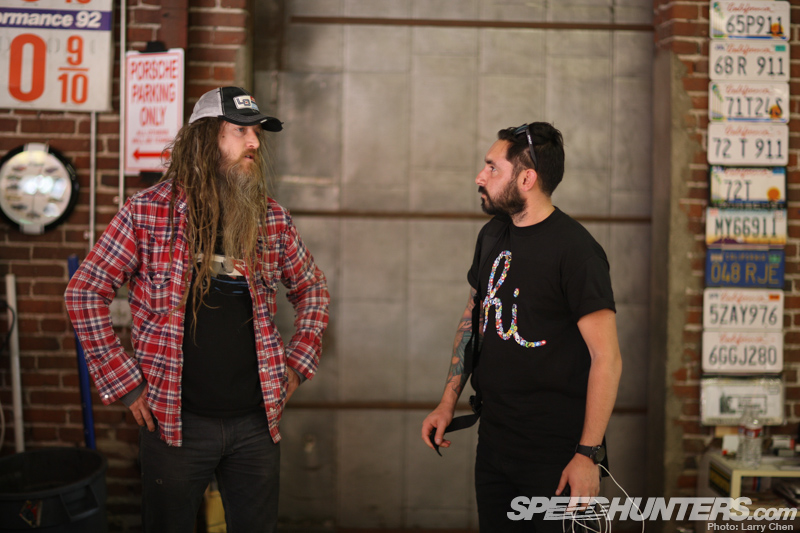 After explaining that my time in LA would be limited, Magnus kindly agreed to give us a couple of hours on Sunday before I flew back to London.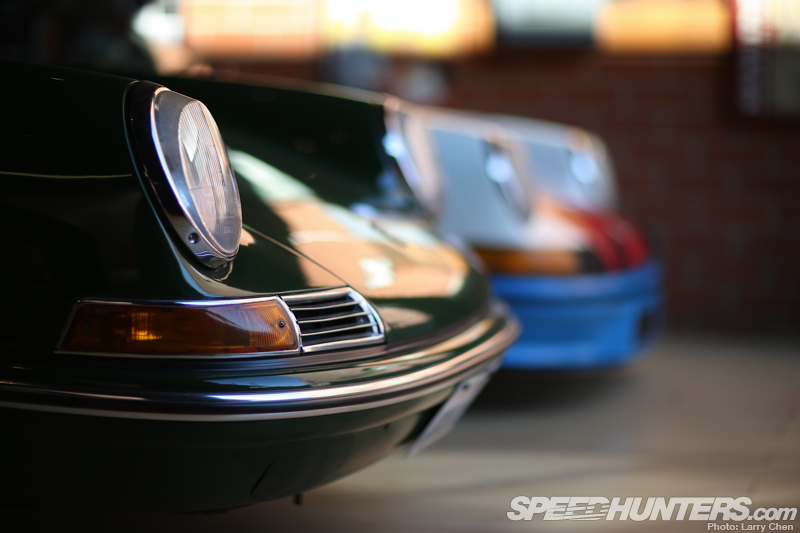 When I say 'us', I was using that term very loosely since although I had a camera with me, I am in no way a photographer.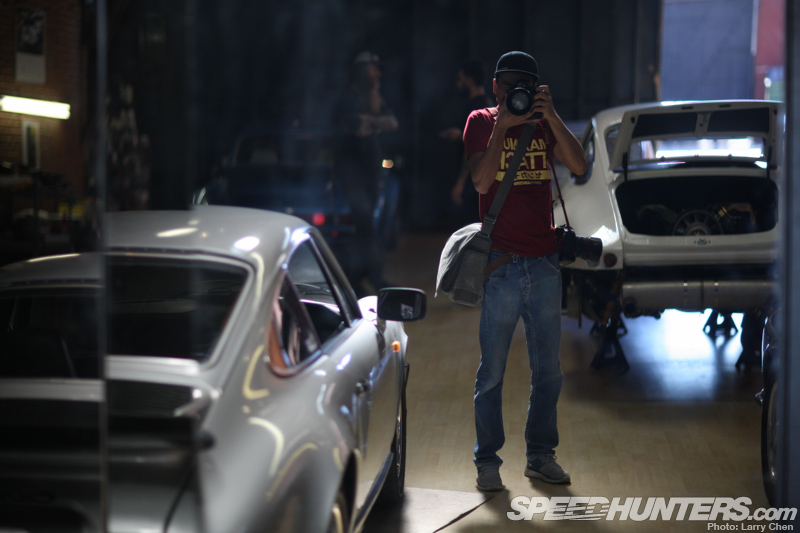 After a couple of text messages to Rod Chong and a phone call to Larry Chen, things were tightened up, I could say 'us' for sure and Magnus agreed to meet myself and Larry over at his place in LA on the Sunday before I headed to LAX for my flight home. "I'll see you guys at noon," said Magnus.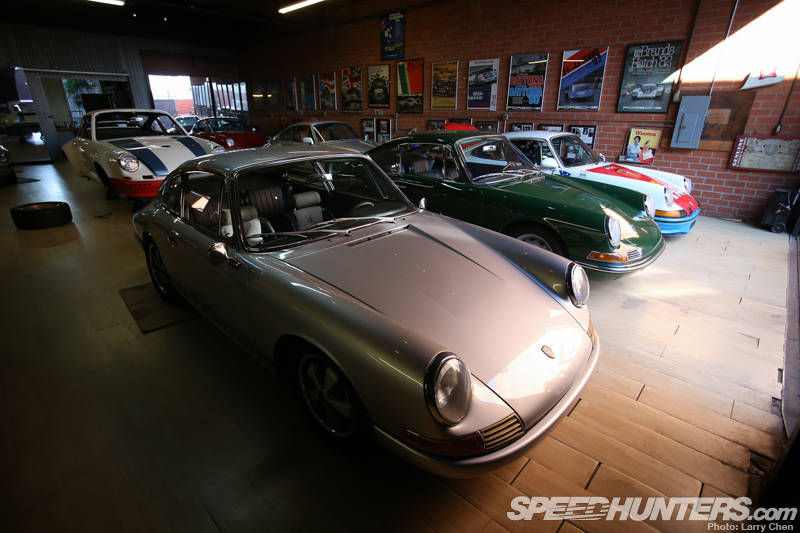 In my mind, meeting 'at noon' kind of conjured up images of gunfights in the Wild West, but there would be none of that. The only showdown would be of the car variety…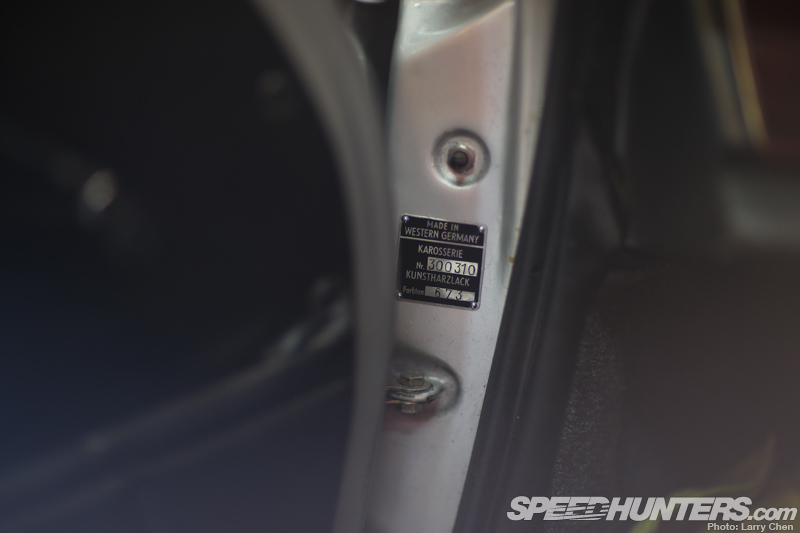 …And what a showdown it was to be. These Porsche 911s, from 1964 model year through to 1972 that Magnus has collected, restored, raced and enjoyed fought for our attention. But how exactly did Magnus Walker end up with this amazing array of cars that are steeped in history?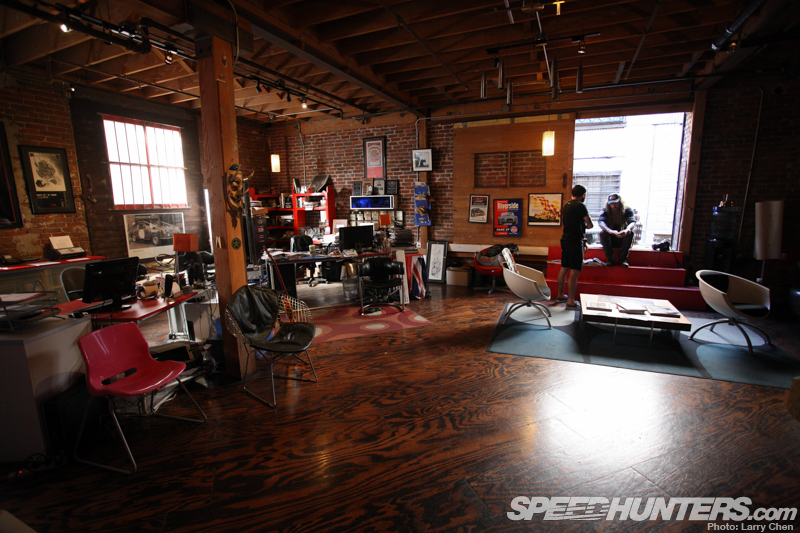 The way I see it, Speedhunting is not about jumping on the bandwagon and sharing stories that have already been shared. In fact, I would say the opposite is the case.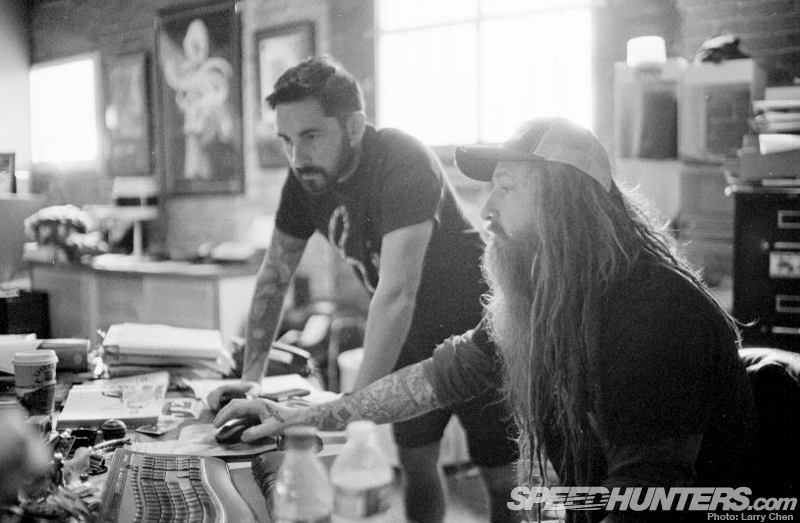 My love for this site stems from a combination of things. Engaging photography teamed up with good storytelling and a stream of unique content makes this my go-to place for a fix of global car culture.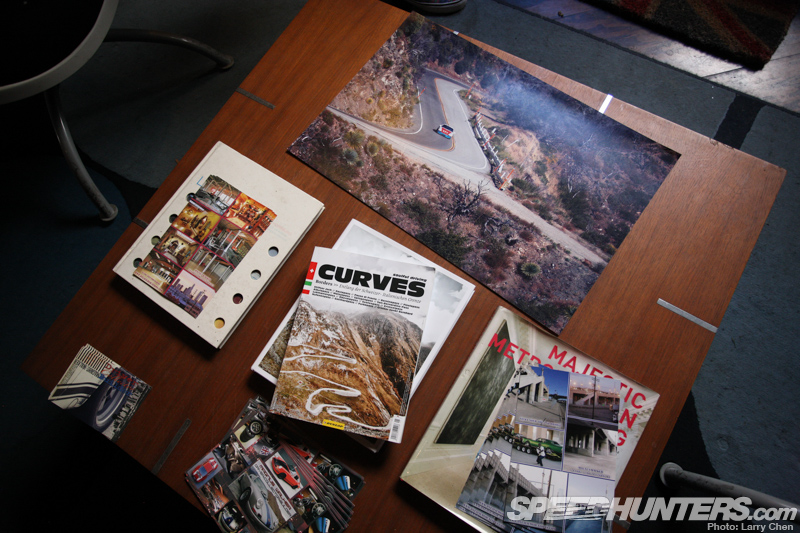 So obviously when covering Magnus, I didn't want to go over the ground that has already been explored in the Urban Outlaw film or the piece that Jay Leno put out on his YouTube channel.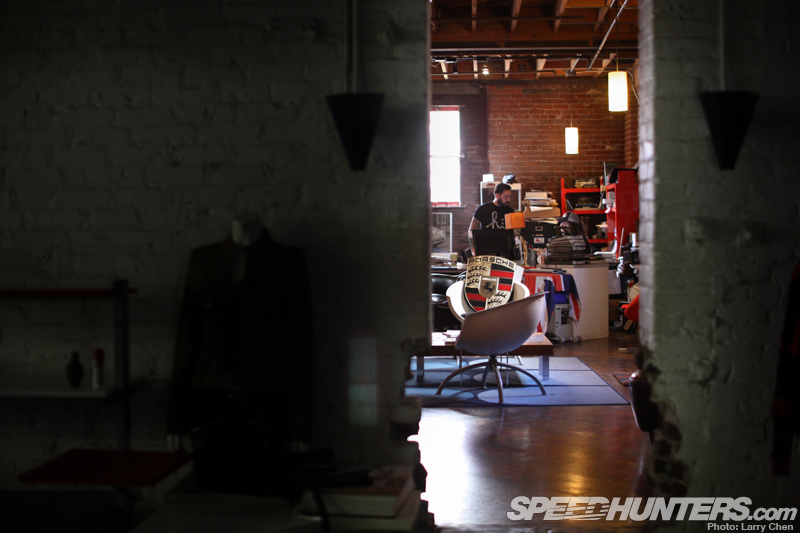 I guess the real question is this: How does a kid from Sheffield in England go to the United States at the back end of the 1980s with two parts of nothing, and find himself stood around these stunning cars, in his and his wife Karen's 26,000sq-ft warehouse in LA's arts district?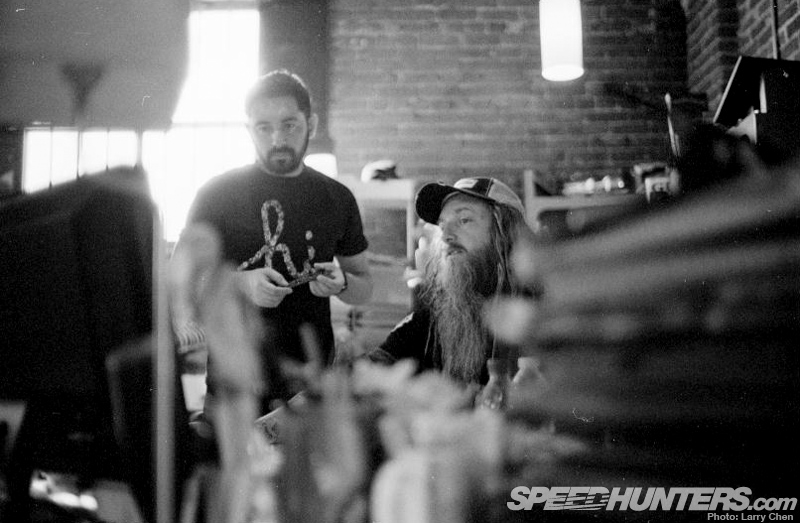 Did Magnus win the lottery? Does he dress a bit differently just to get attention? And does he really know his Porsche 911s, or is this all just a façade?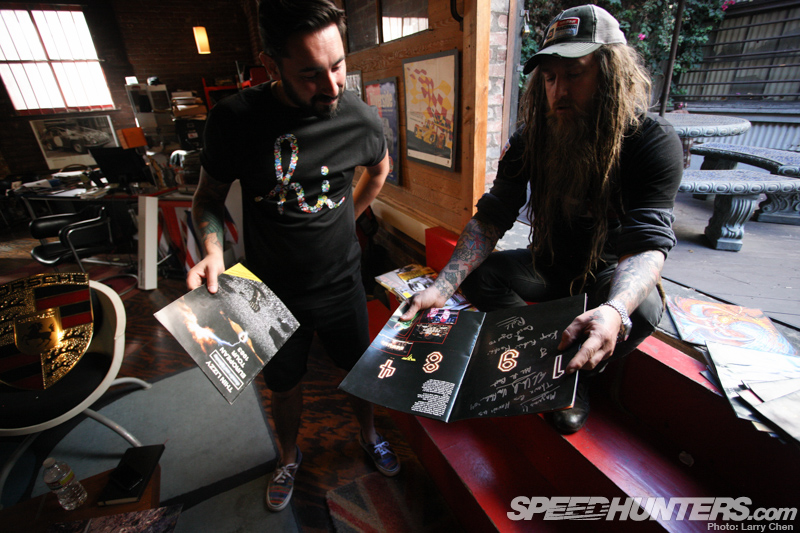 Let me tell you now – Magnus is the real deal. He obsessively collects everything that he is passionate about.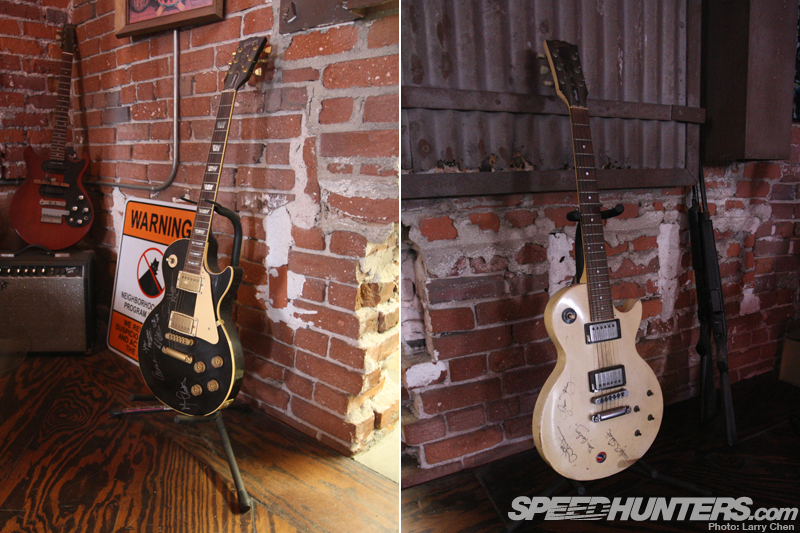 From music programs to guitars signed by the likes of Van Halen and The Eagles through to the Porsche 911s that are of course the reason for this article; Magnus is all about taking every opportunity whilst it is there and living life to the full.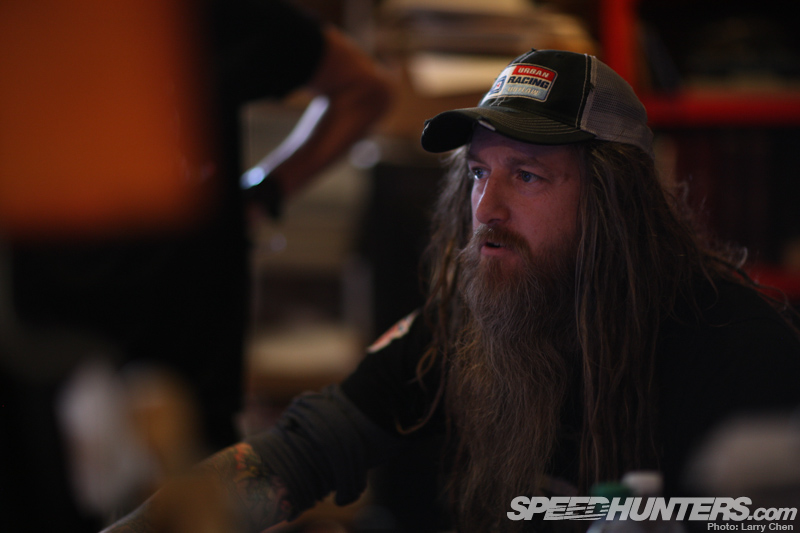 In 1989, after a trip to the States with Camp America, the cultural exchange program that offers students the chance to have summer jobs over in the USA, Magnus left the UK and headed once again to the states finding himself in Southern California.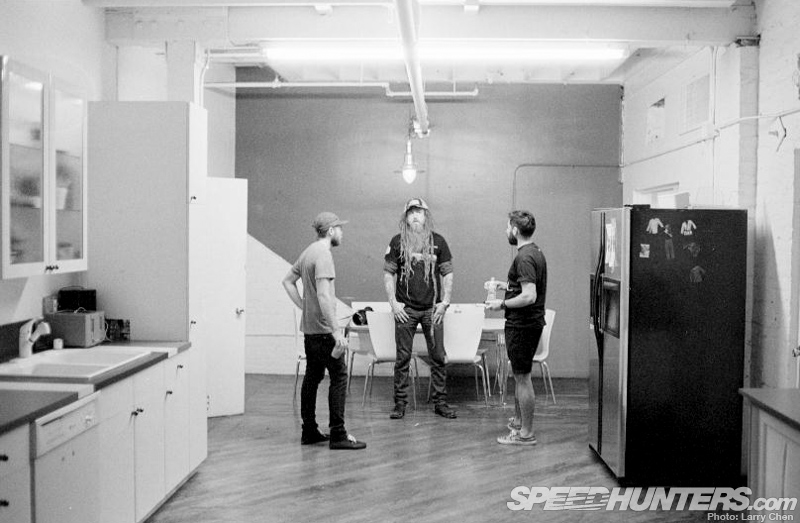 "I was renting a spot on the boardwalk in Venice for ten dollars a day," Magnus explains to Sean Klingelhoefer and myself. (LA-based Sean had just joined us at the garage to check out the incredible collection of cars, too)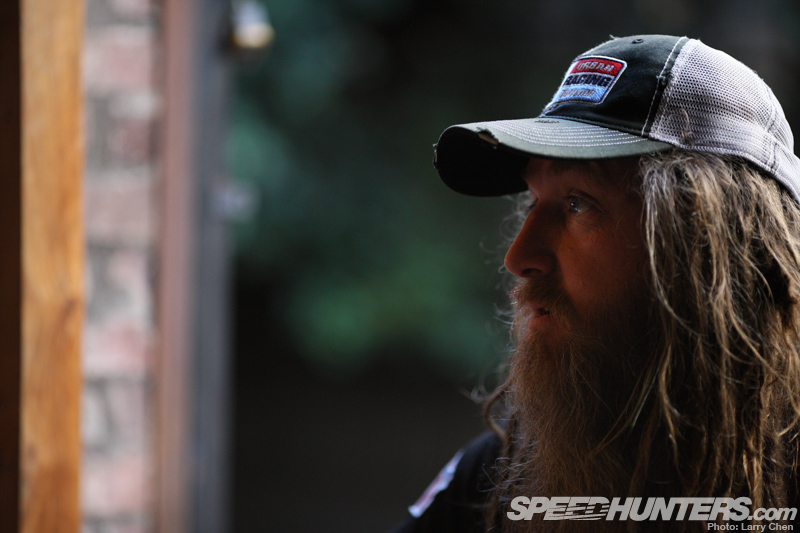 "At that time I was buying Levi's and patching them up, adding my own touches and selling them to make money. It was like heaven to me since Venice was full of creative types and there were plenty of rock n roll gigs going on in LA," says Magnus.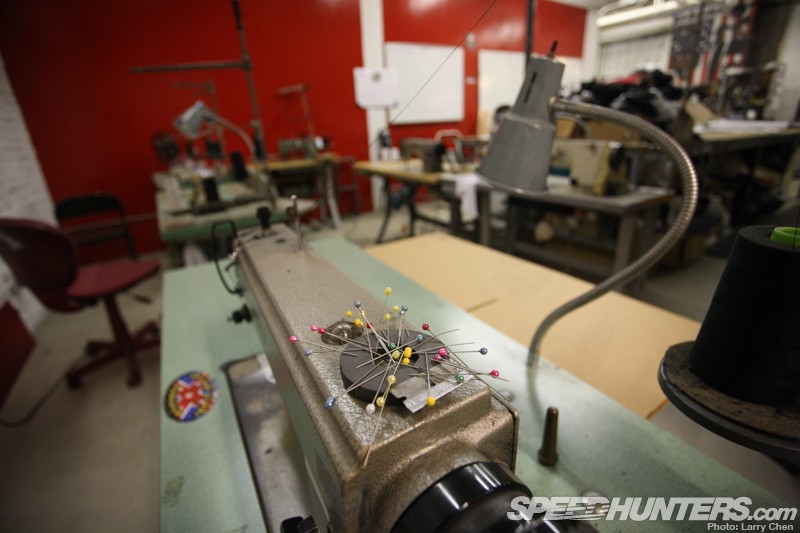 Magnus and Karen's clothing company flourished and soon they were renting two properties (and paying two people's mortgages) in LA's downtown arts district (previously known as the warehouse district) manufacturing and retailing their clothing line.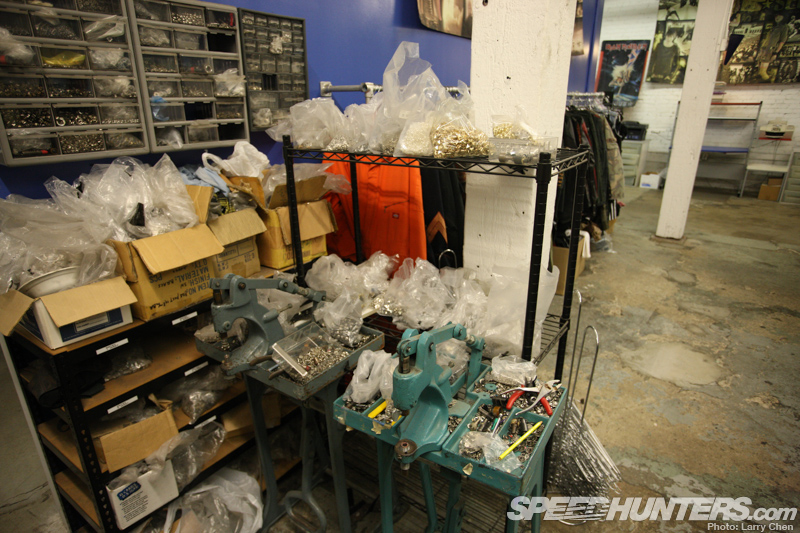 "Then this warehouse was offered to us and despite it being very dilapidated, Karen had a vision, so we went for it," Magnus explains to us.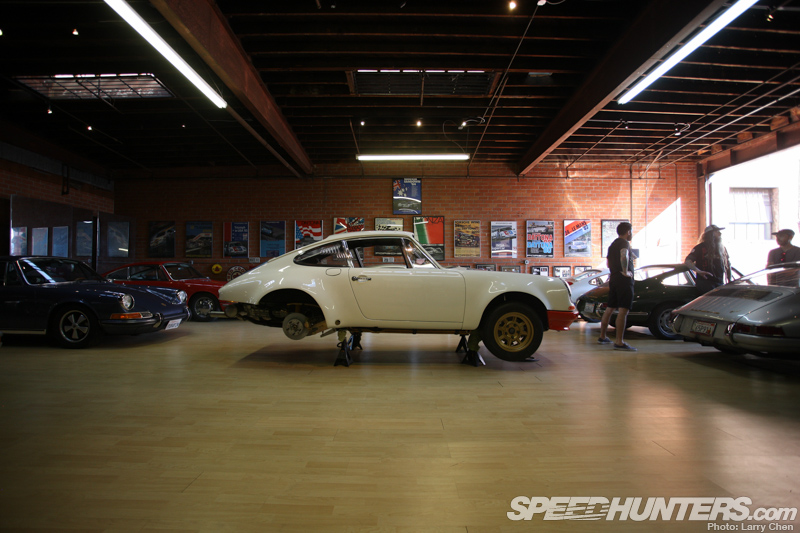 Twelve months hard work ensued, which saw Magnus and Karen have a stunning warehouse with a garage area that many of us would cut a limb off to own.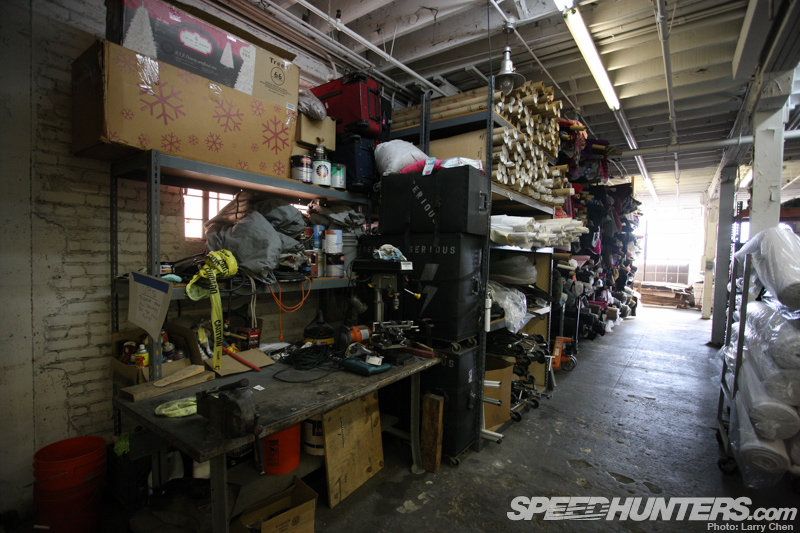 It was the perfect live/work setup and was, of course, their own space, too.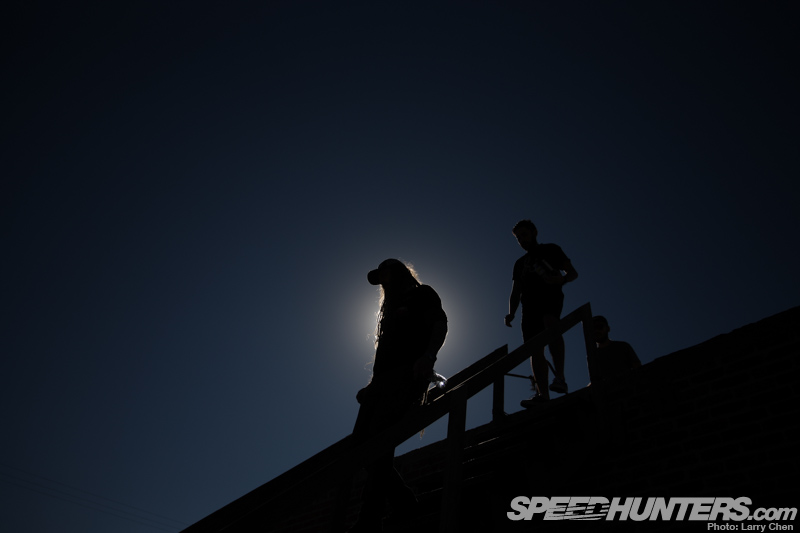 It all sounds peachy, right? Yes, but as with everything, there's often a compromise.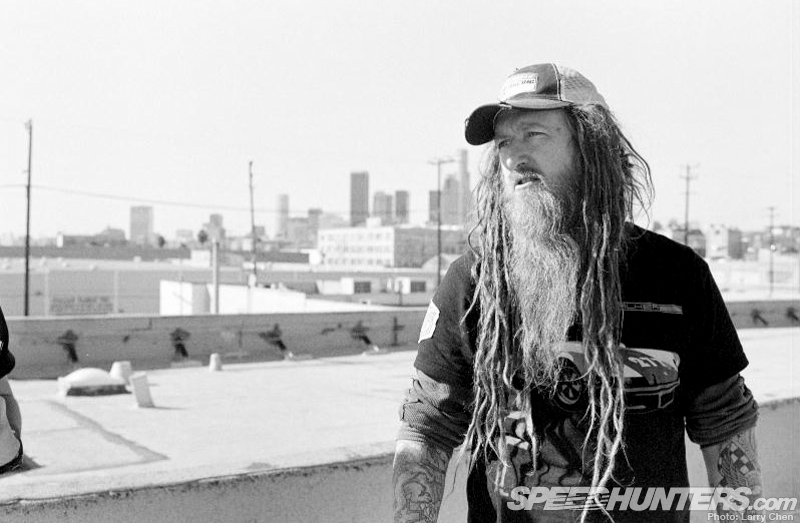 "You see the thing was, back then, you definitely wouldn't choose to live around here – the only people hanging around were down and outs. Our friends thought we were crazy!" explains Magnus. "Now look at it – stroll around the corner and people are buying cups of $4 coffee and there's kids out playing. The streets have changed from an area that was run down and industrial into a trendy arty spot that's now full of loft conversions and condos."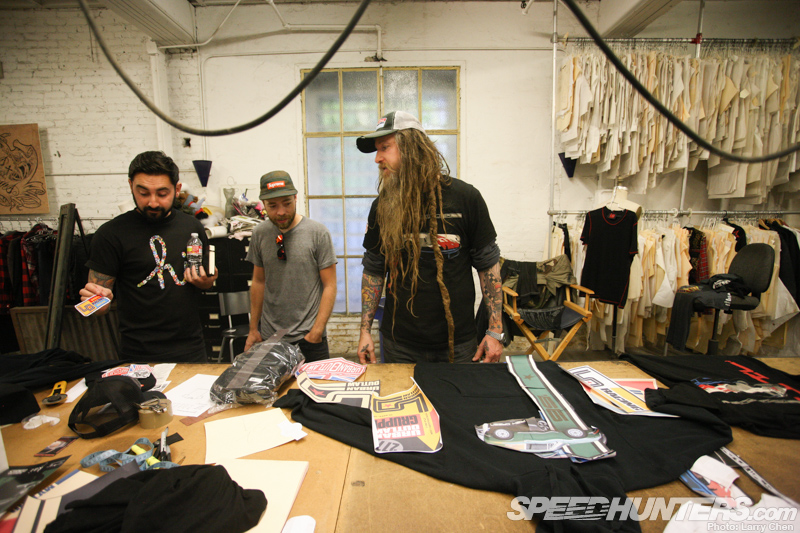 OK, so Magnus and Karen had this cool two-story building and a clothing business at the beginning of the 1990s.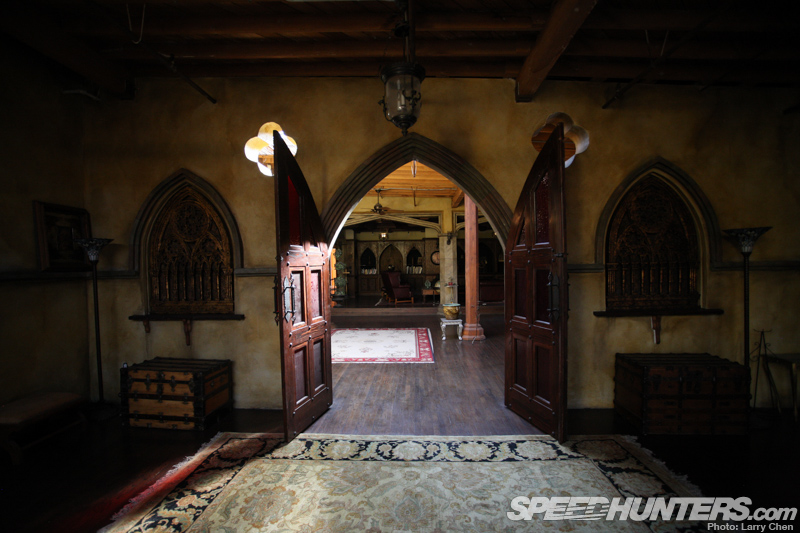 But things started to get interesting halfway through that decade when a contact wanted to use their space to shoot a music video. Being nice accommodating sort of people, the couple said "sure, why not…"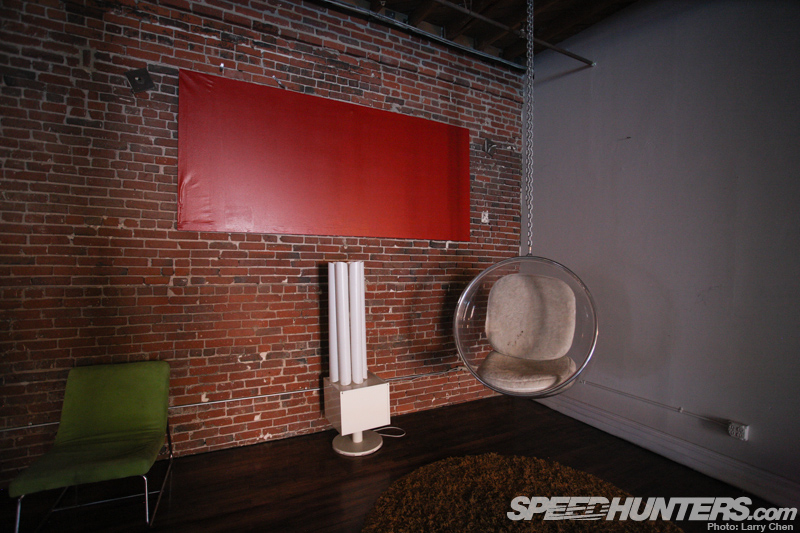 "The shoot was supposed to take 12 hours," recalls Magnus. "We started at 6:00am and expected to be done in time for dinner."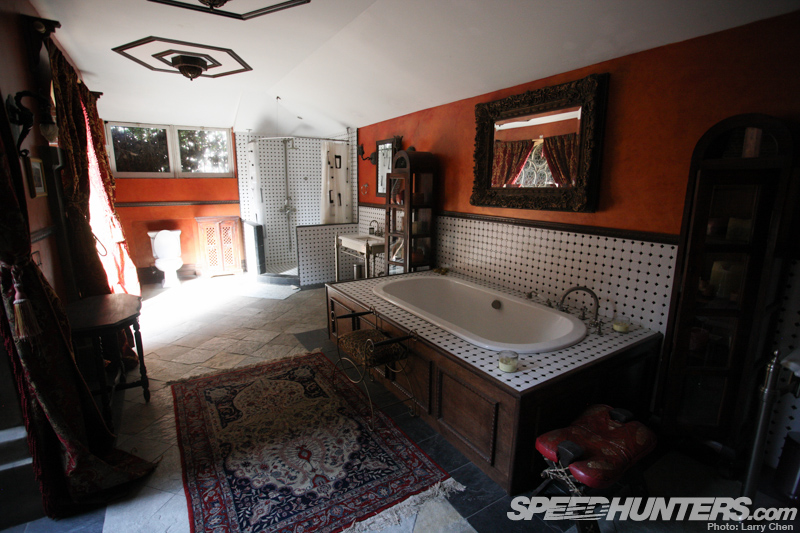 One thing lead to another and before Magnus and Karen knew it the production manager was shooting a phone commercial in their kitchen and some other kind of shoot was going on in the bathroom. "It's fair to say they liked the location," Magnus explains.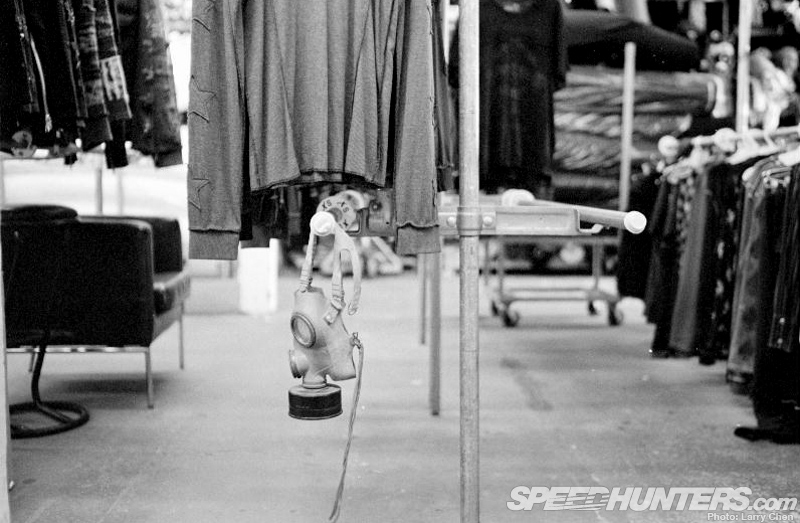 Twenty-two hours later they managed to get the three film crews out of their house and headed for bed. "I remember laying next to Karen and we both agreed that we would never do that again."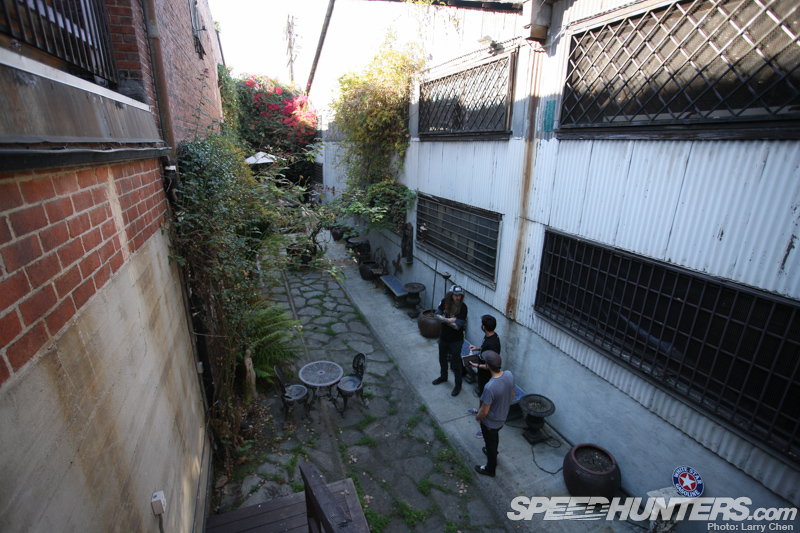 But then the couple got paid for staying up for nearly a day straight and letting multiple film crews have the run of their amazing warehouse and a new film location business was born.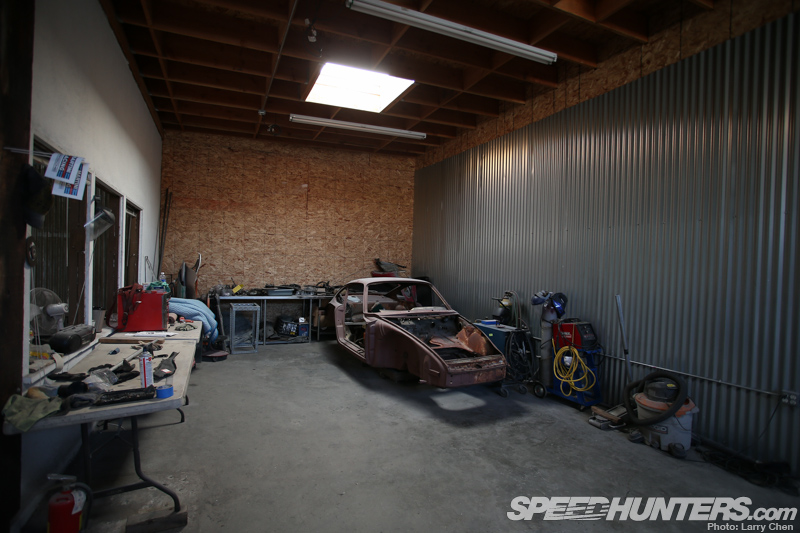 "This business allows me to pursue my Porsche passion," Magnus says gratefully.
So it's all about having the coolest collection then, right?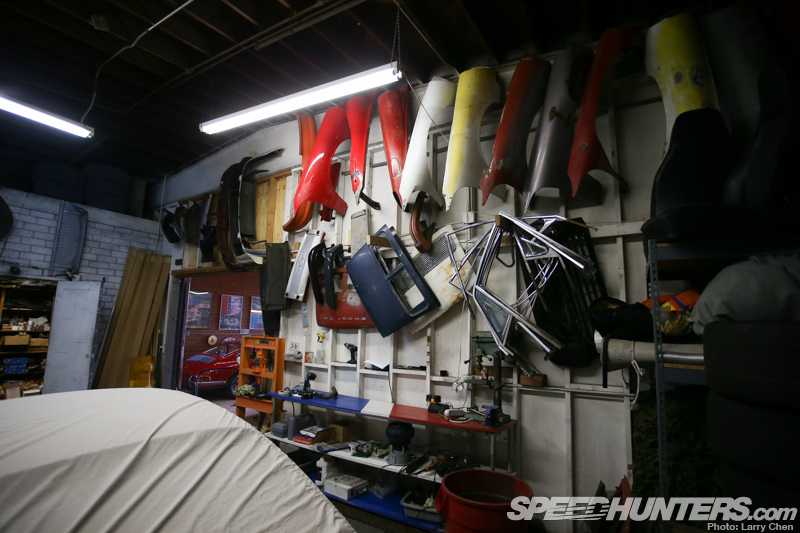 "No, to me it's not just the cars. It's everything, the journey from beginning to end – you go online, whether it's Craigslist or whatever and it's the thrill of the chase – hunting down the car. I used to travel quite a lot – get on a plane and go to places all over the States to look at a car," says Magnus.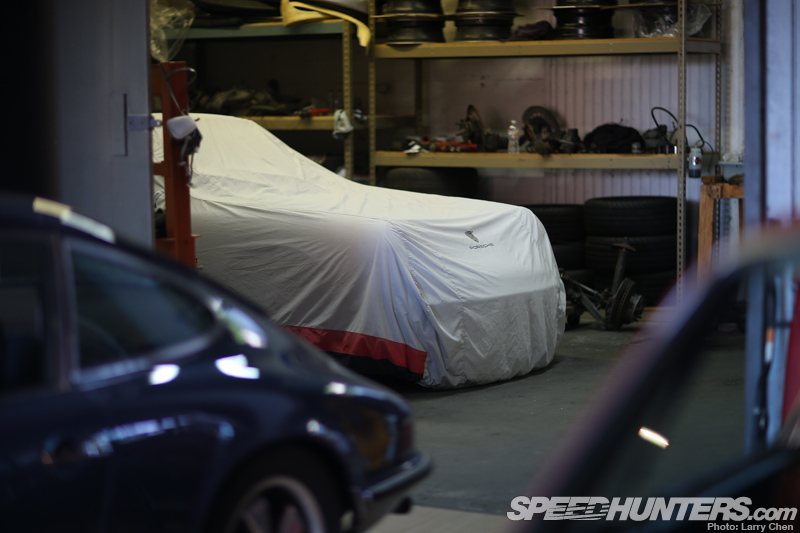 Sometimes Magnus might find the right project vehicle, acquire it and get it back to his setup in SoCal where it will stay until the build begins.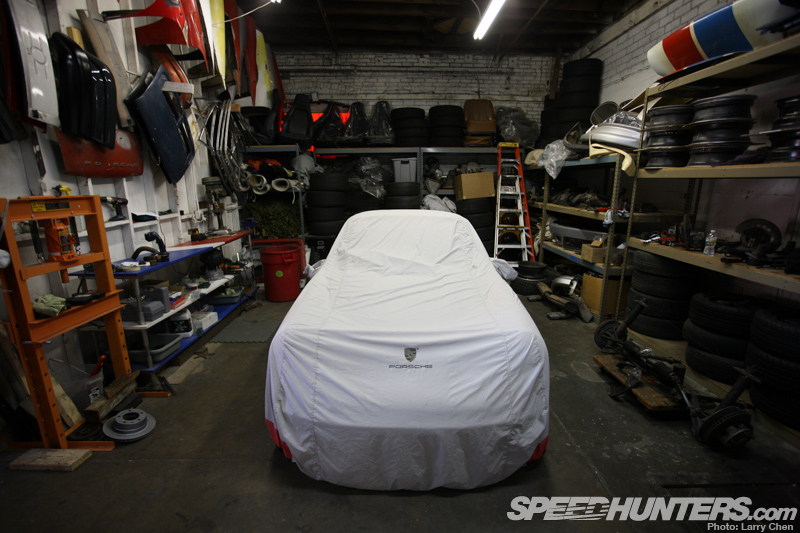 "This car, I've owned it over three years – doesn't run and needs restoring. That car may sit there another year before I decide, 'okay, I've got time and energy to restore that'."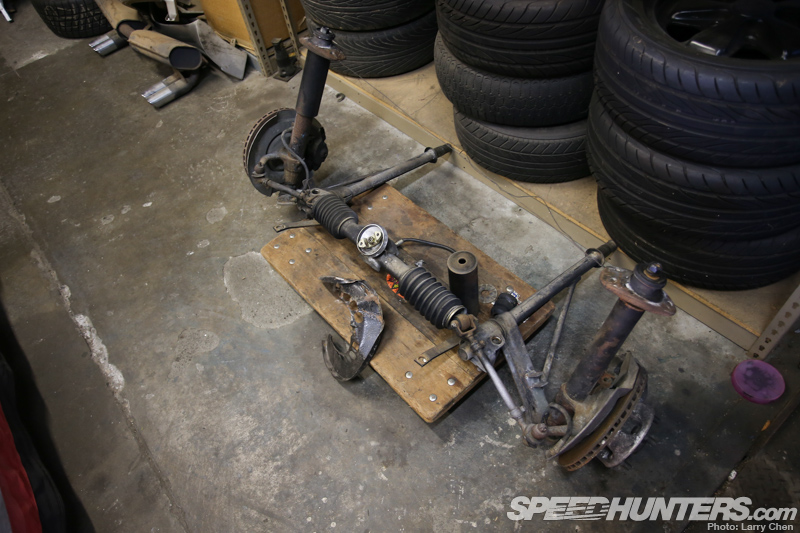 "So once I start tearing it down – the car's disassembled here. Most of these cars I'm working on are from the '60s, so they've all got rust."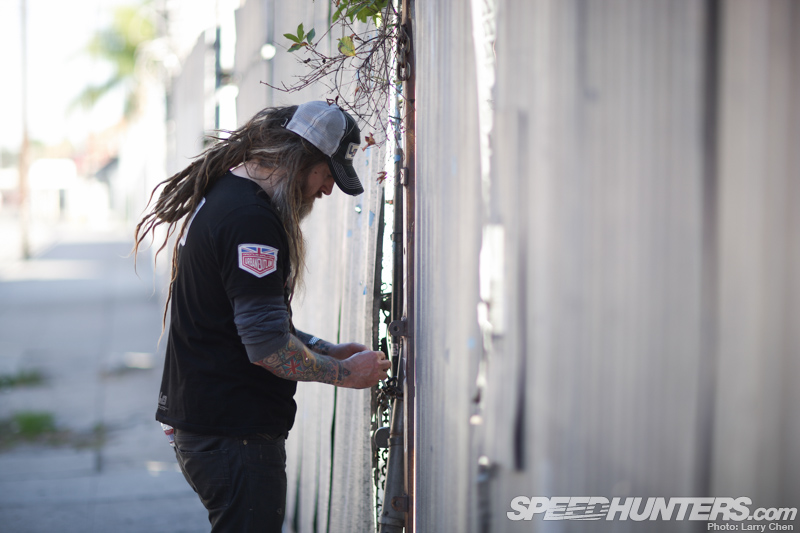 "I've got a little place across the road that I call the chop shop…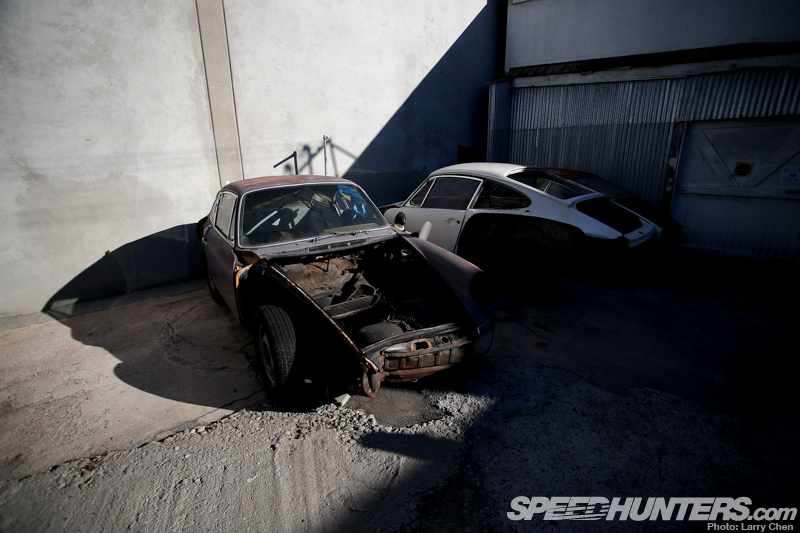 …so we take them over there, do all of the rust work, and use parts off the donor cars, then they go out to paint."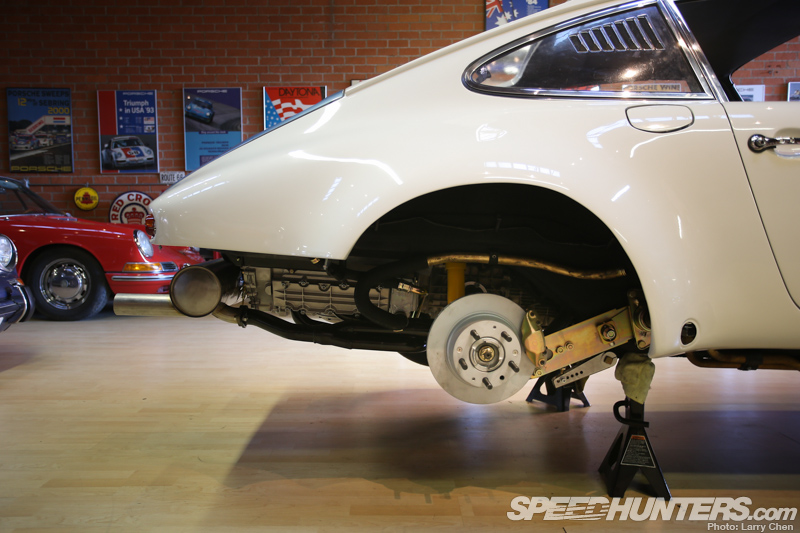 "They'll come back and they go on jack stands like that car behind you. Then we spend however long it may be, two, three, four months putting it back together."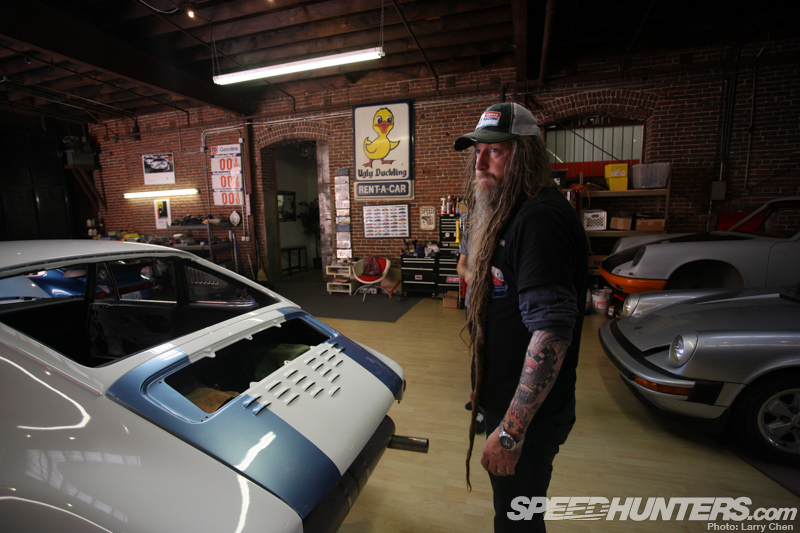 "So you're saying it's all about the chase?" asks Larry. "Well, the chase is part of it," Magnus says, smiling. "So what about when you're done building your cars, do you enjoy them for a while?" Larry probes.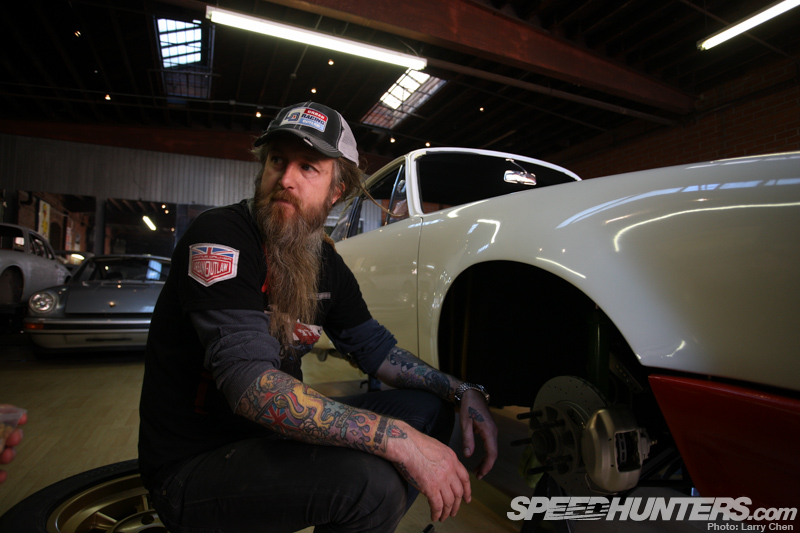 "That's a good question and sure, I always enjoy them. Like I said, I enjoy the journey from the beginning to the end and the adventure in between. It's everything," Magnus tells us.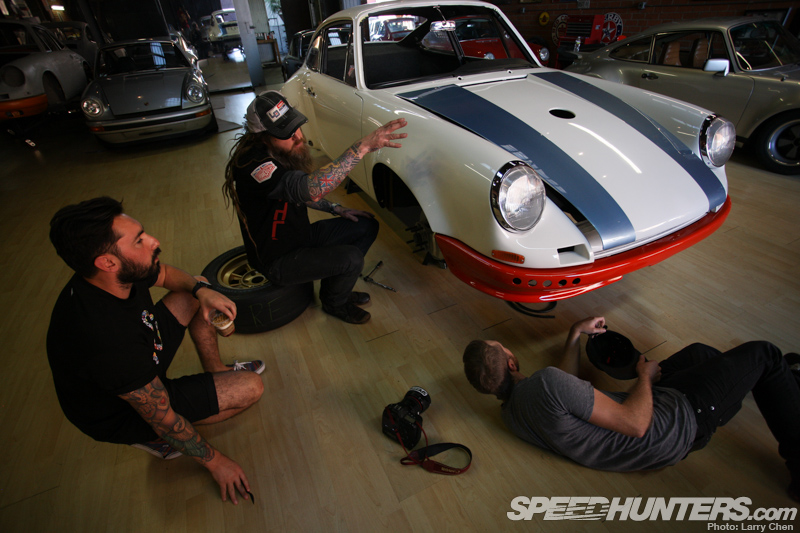 "But this car, everything is new. It's a 40-year-old car, but you look underneath it and everything's been plated, powder-coated, it's new… it's a new 40-year-old car!"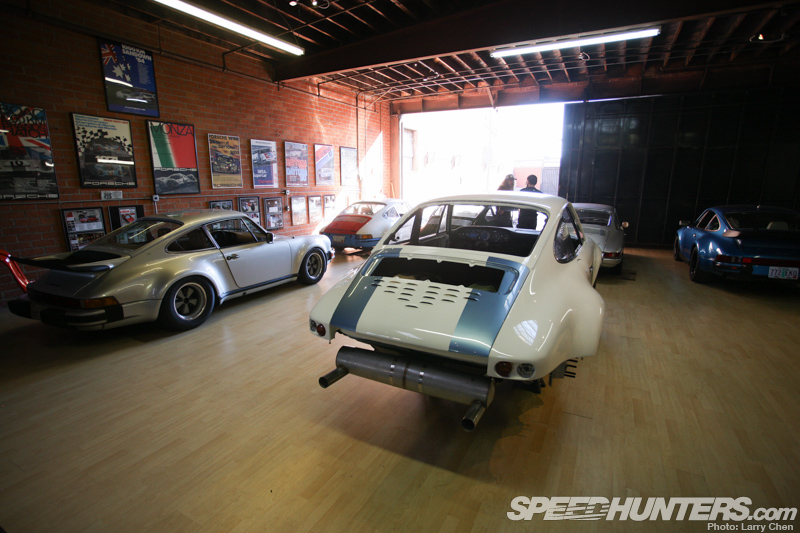 "It's got all my hot rod touches, but in my mind, it's almost like when that car is done, it's going to be too nice for me."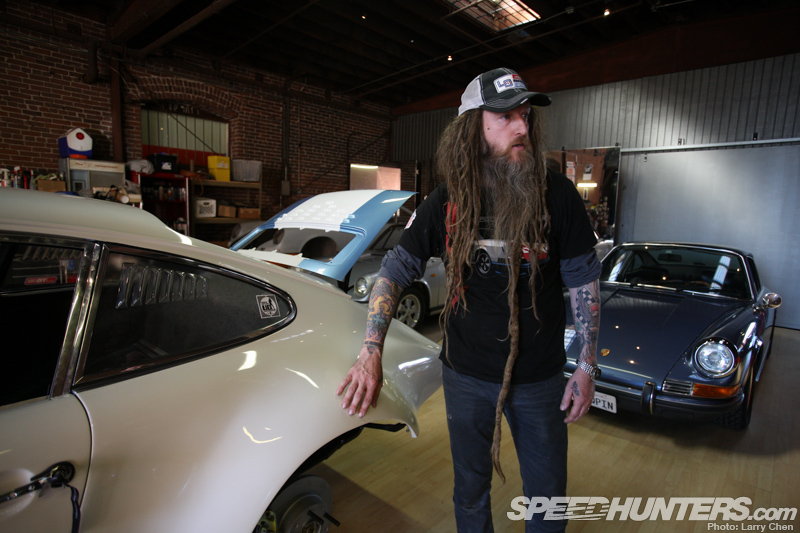 "So that car looks great, but you're not gonna drive it quite the same way that you drive a car like this," says Magnus pointing over to his 1971 911T.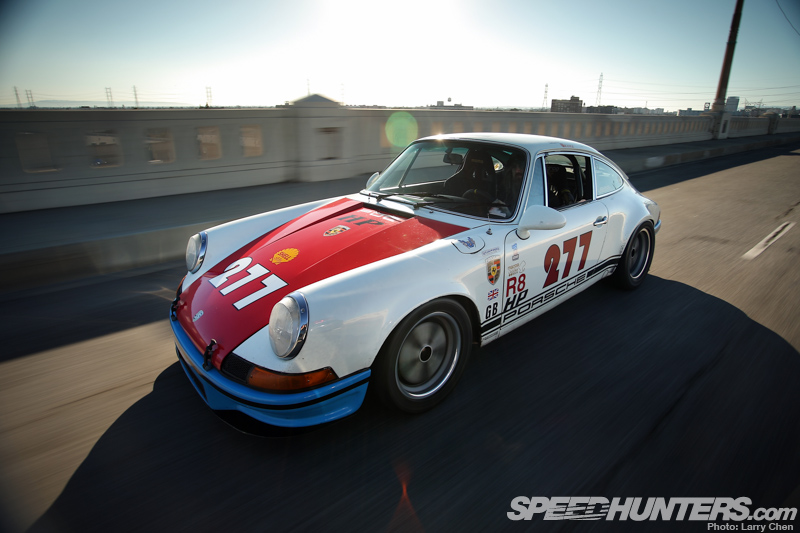 "This is the car I took to the Jay Leno thing yesterday. But ironically this doesn't have a lot of my signature modifications I've developed this over the past 12 or 13 years."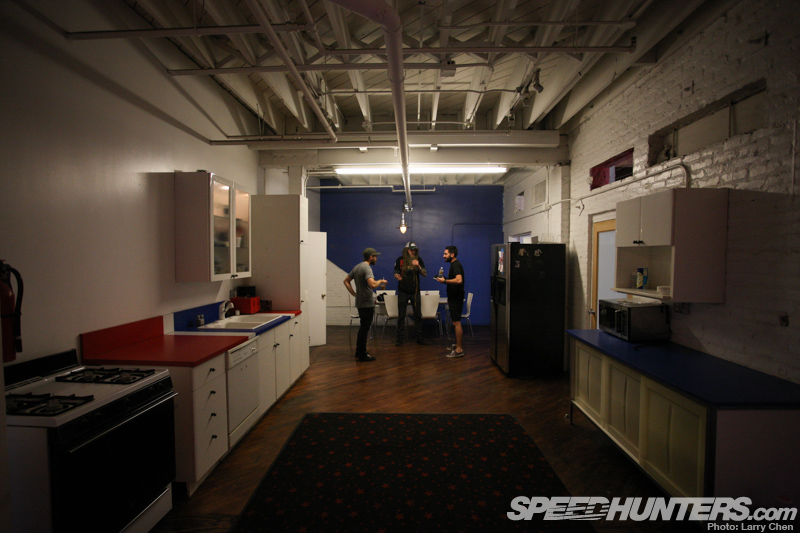 "I joined the Porsche Owners Club and I was one of those guys who enjoyed aggressively driving on the street."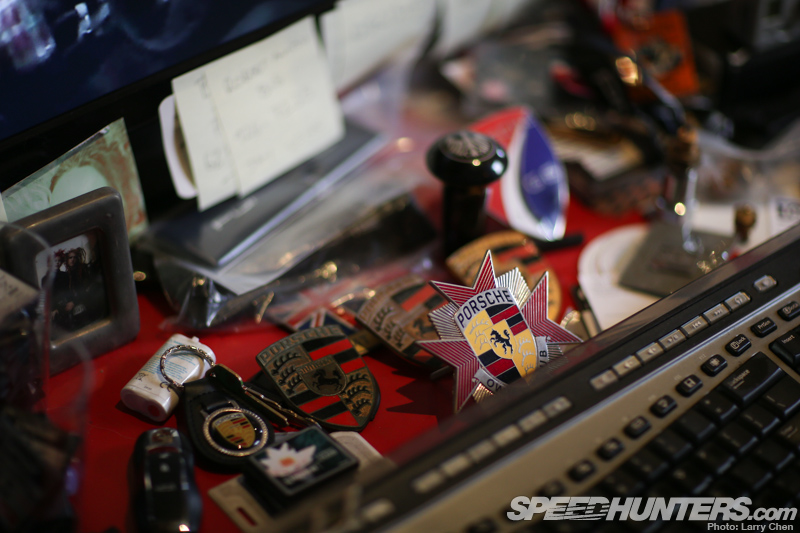 "So you know, you get a few speeding tickets and then I decided it would be best to head to the track," Magnus tells us.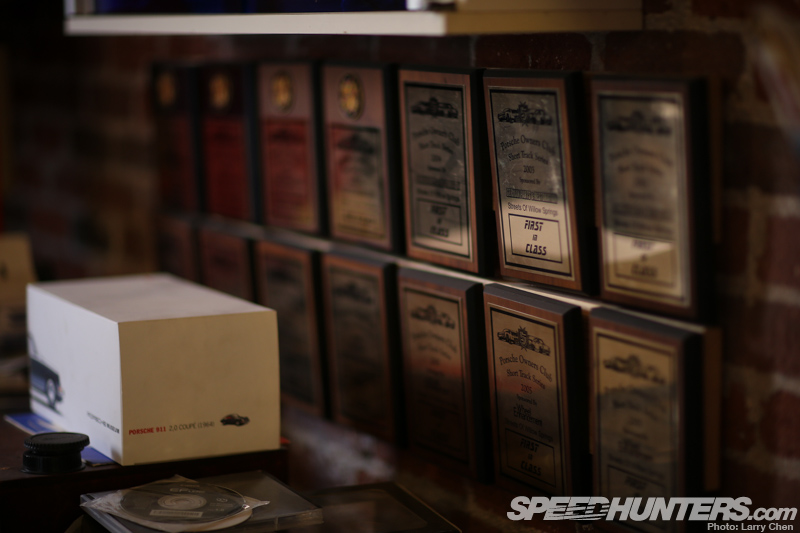 "It was safer [at the track] and also kind cheaper! Once you get involved with track driving, you start developing the car – stiffer suspension, better brake setup, stickier rubber and this was the beginning of me making this '71T a more aggressive track car," Magnus explains.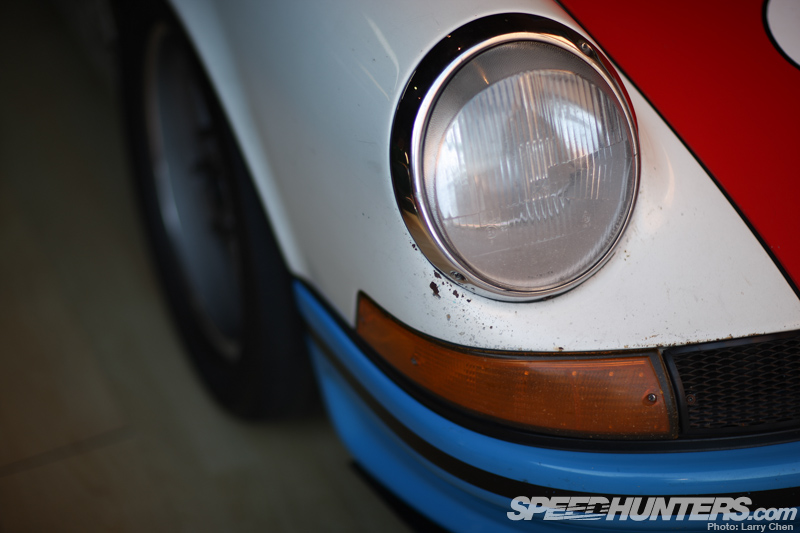 "I didn't get to a point, by choice, where I had a car that I couldn't drive to the track. So this is a street-able track car."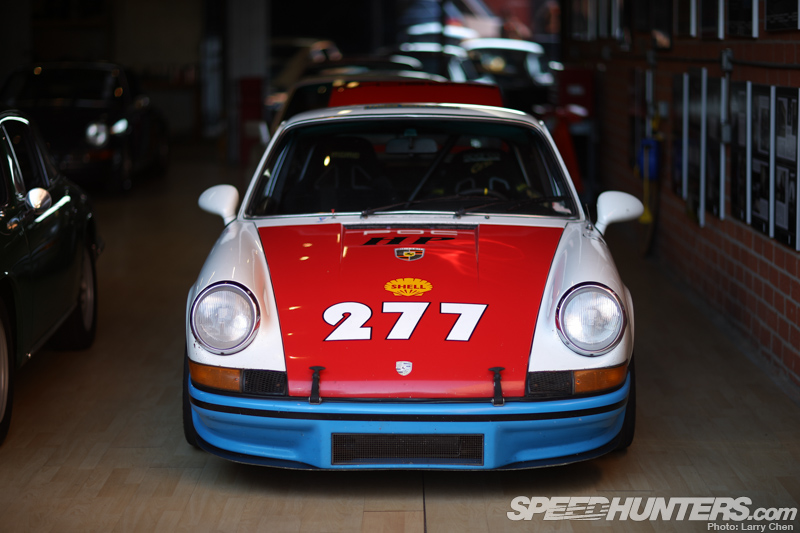 "Look at the windshield, that's like a perfect example, you can see it's all pitted-up. Y'know this car I've driven to Laguna Seca and back twice. Both times I raced it and drove it home."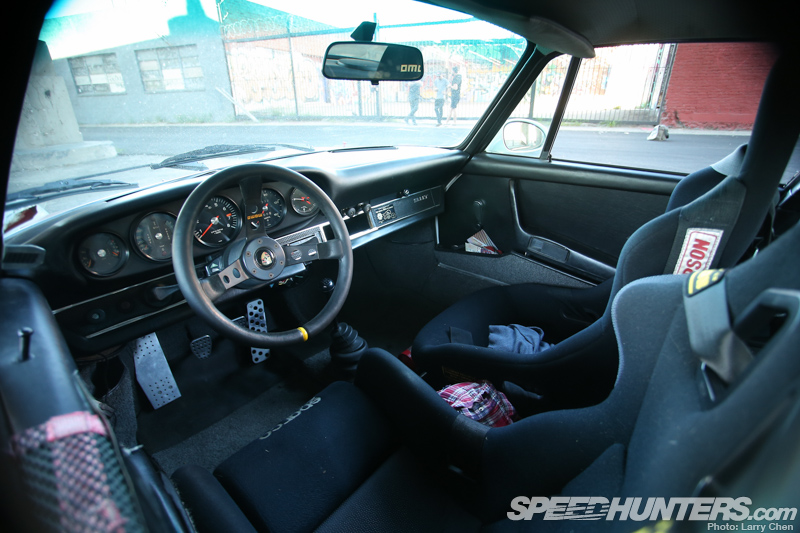 "So this car to me is my second skin," Magnus says with a bit of love in his voice.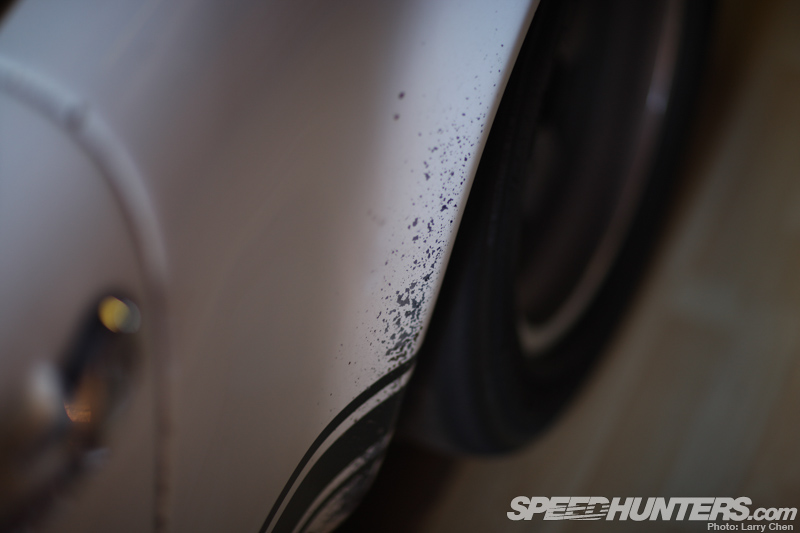 "This is a car that I don't worry about. But the car over there we were just talking about, the one I'm working on at the moment is… well; it's almost too nice to be abused."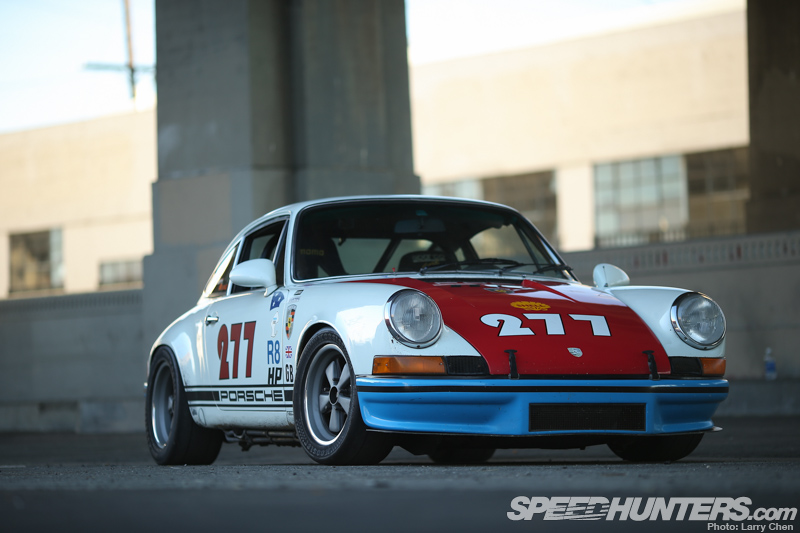 We're two and a half hours into our shoot and already 30 minutes past the amount of time I said we would need.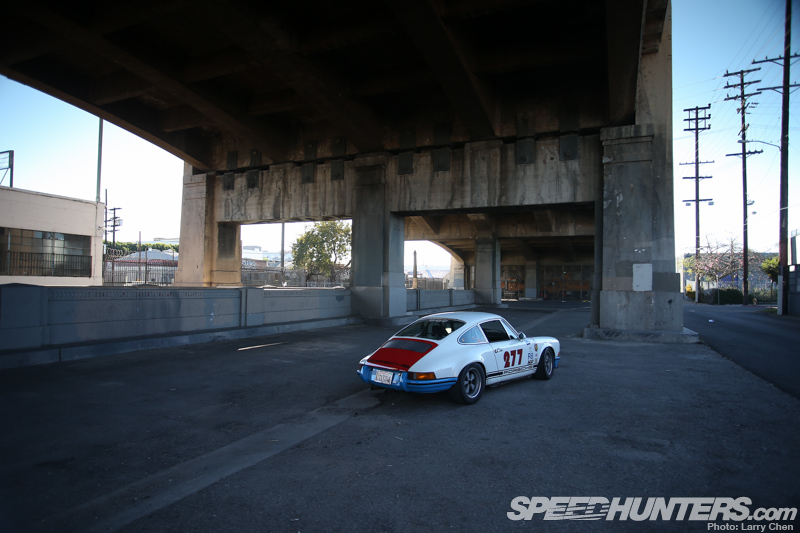 But I don't feel like we're outstaying our welcome. Quite the opposite, in fact. It's time to take Magnus' '71T 911 out for some shots and a blast across the 6th Street Bridge.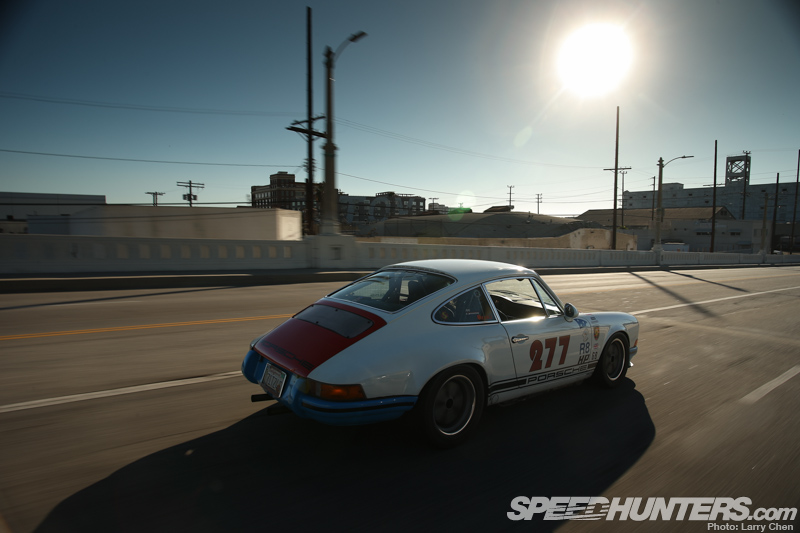 I go first and leave Larry and Sean at the garage. I've gotta say, in over a decade writing for car magazines, this was probably one of the most memorable blasts of my life.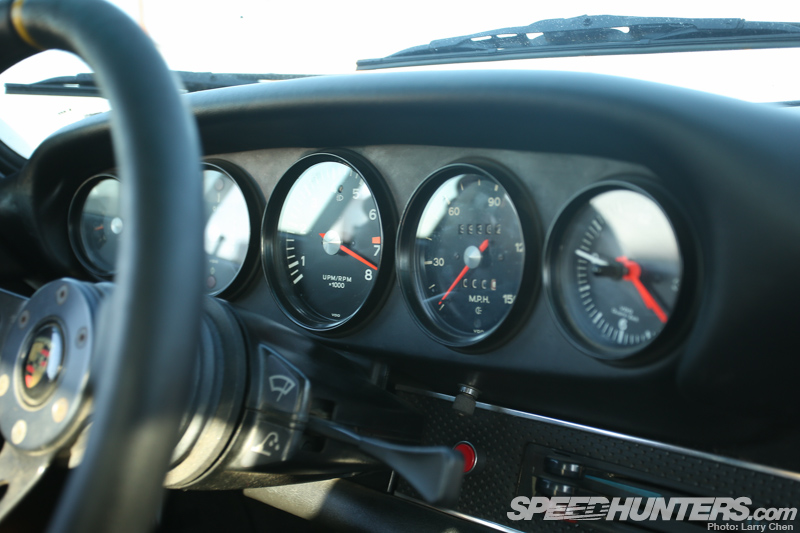 Heading towards the Los Angeles skyline with that 2.4S, twin-plug, 6-cylinder boxer motor redlining in 3rd gear was nothing short of crazy. I can't tell you what speed we were doing for one reason and one reason only: the speedometer in that car doesn't work.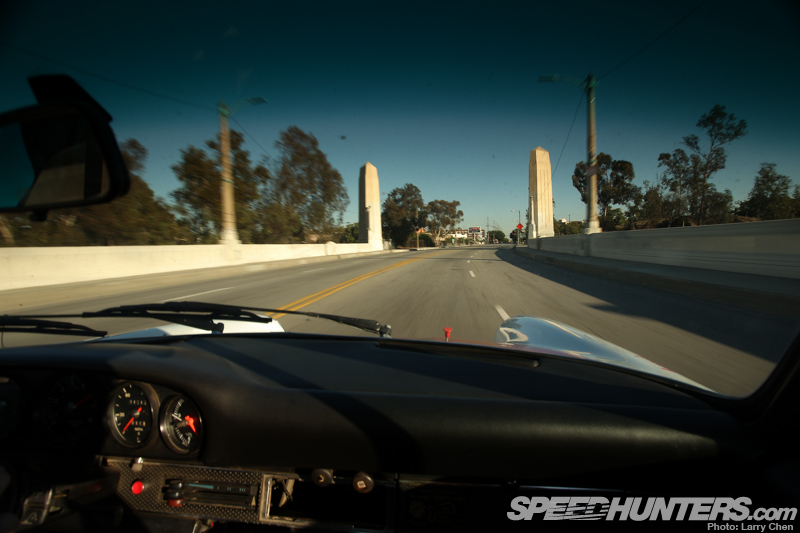 It's Larry's turn to ride shotgun and he returns with a mad grin on his face.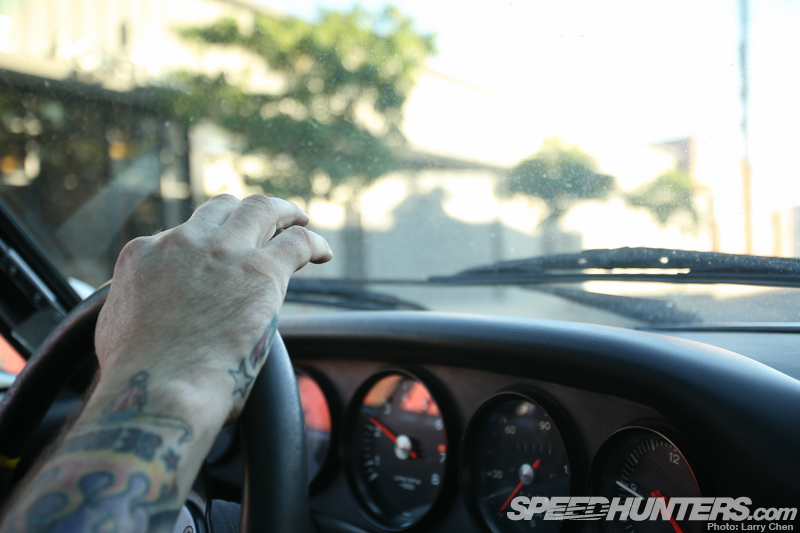 And here's the thing. In 1992, Magnus Walker and I were in two very different places. I was foolishly trading a Gameboy for some exam that I didn't want to do, whilst Magnus was in LA after taking a chance and heading on a gut instinct to the States. Our lives may have been very different, but we were brought together by a shared passion.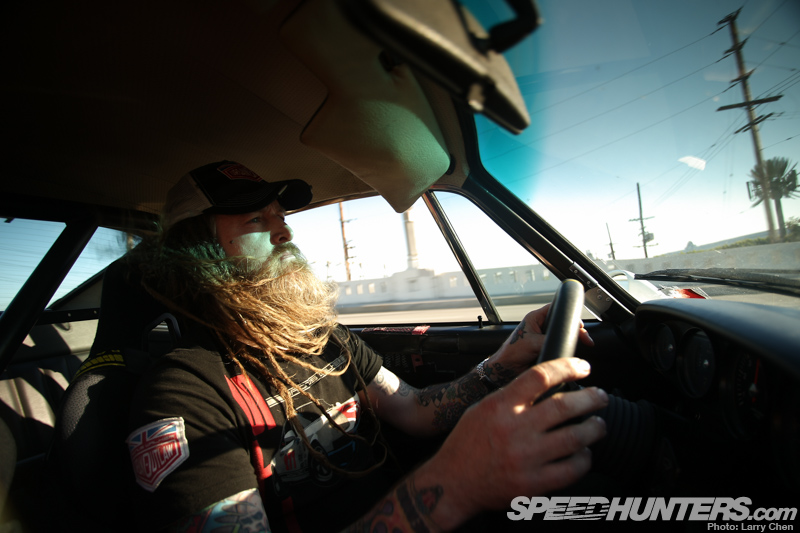 "I think if you're a true car enthusiast, it doesn't matter whether you're a Porsche guy, a hot rod guy, a blinged-out Dub guy or whatever… For the most part there is some common thread – there is a little bit of shared ground throughout that," Magnus says.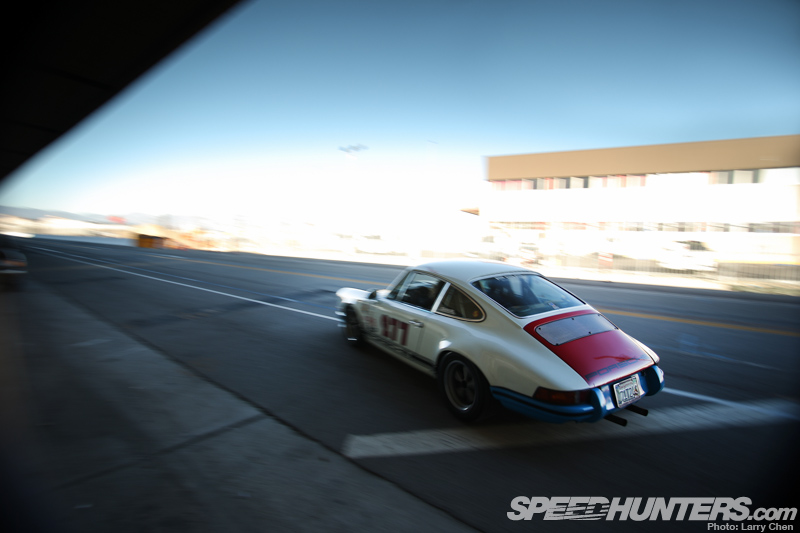 True car enthusiasts will go out of their way to help you. They'll get out of bed and loan you a spanner in the middle of the night. They'll come on long trips with you, which entail near pointless journeys to drop cars off for an engine swap or to collect 'rare' parts. In Magnus's case he gave up his time (and his wife's time) at short notice to accommodate us on a sunny Sunday in LA.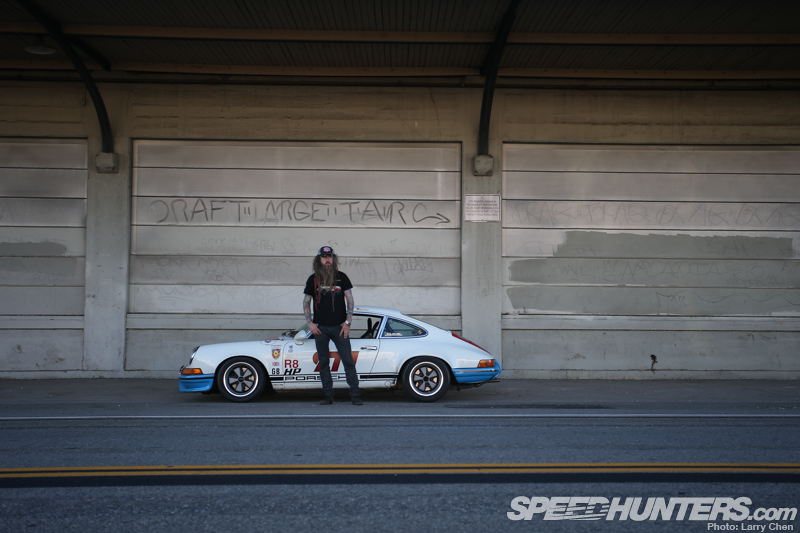 Some would say Magnus Walker is lucky. But if you ask me, I'd say that being nice to people goes a long way in life and that Magnus has built his own luck…
 Ben Chandler
Photos by Larry Chen
To read more about Magnus, check out www.magnuswalker911.com
---
---
---
---