I am not a "morning person." In fact, I'm about as far from it as one can get. I can count on my hands how many things in this world I view worthwhile enough to get up before 10AM for, let alone 4:45AM. The opportunity to drive and photograph a limited edition track day Lamborghini is one of them.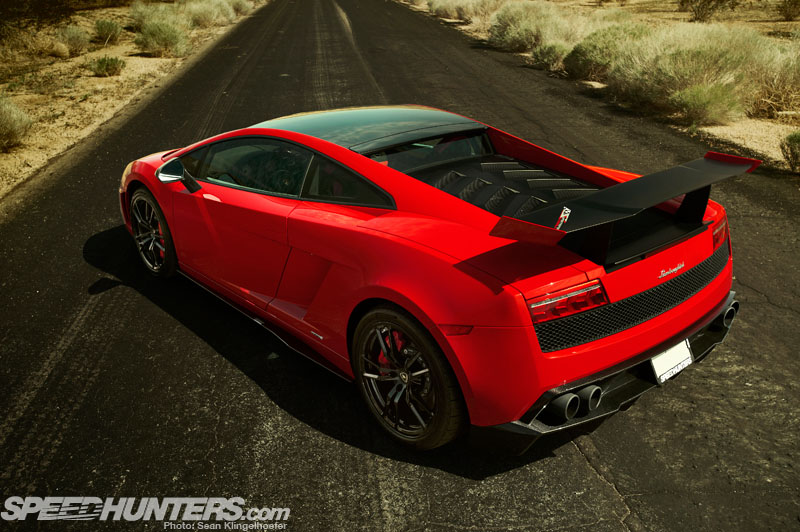 There's just something about Lamborghinis that peak the interest of people, car lovers and average Joes alike. Ask any adolescent boy what his favorite car is and it's likely to have a raging bull on the hood. For me it was the Countach, but I'm sure virtually everyone reading this can remember "your Lamborghini".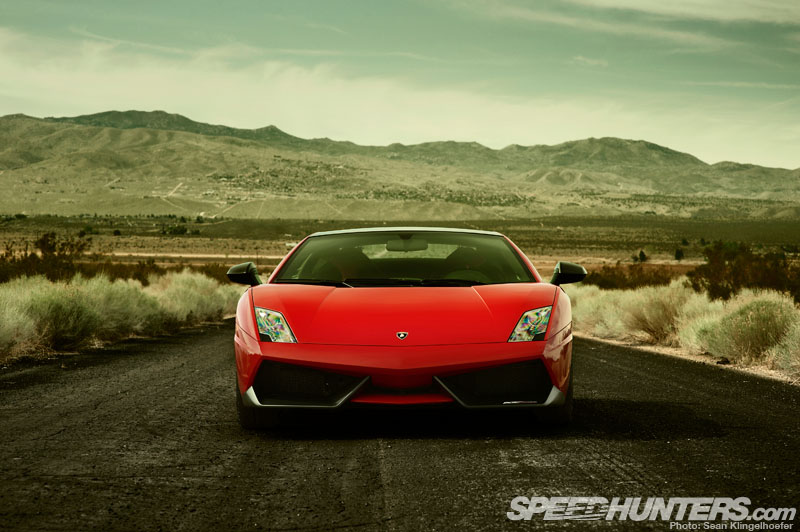 So when Rod informed me that I'd be cruising around in a Lambo for the first of a new series of articles called Dream Drives, I was ecstatic. During the course of my career as an automotive journalist I've been lucky enough to have driven all sorts of cars, from exotics to econo-boxes, but one brand that has always eluded me was Lamborghini – until now.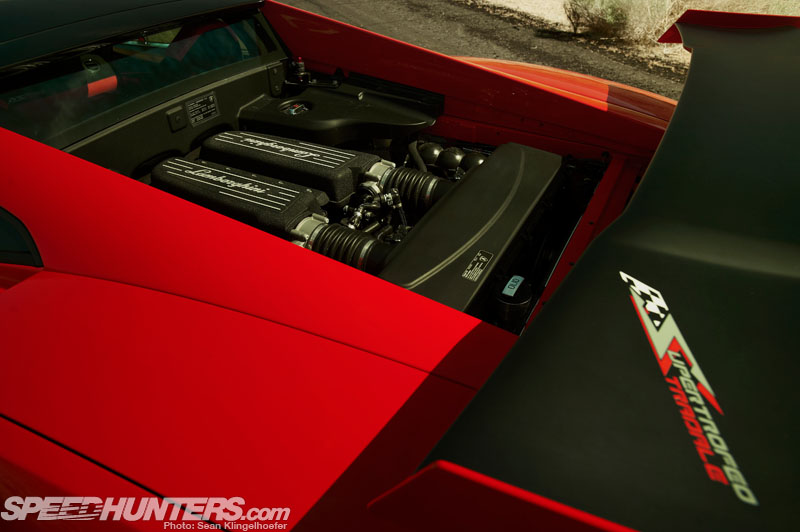 What I didn't realize at the time was that I wouldn't be driving just some old run of the mill Lamborghini, but a stripped-down-bare-bones-racer-for-the-street version, the Gallardo LP 570-4 Super Trofeo Stradale. The nomenclature is impressive in its own right, with the cars name, and many of its components, taken directly from its one-make racing brother.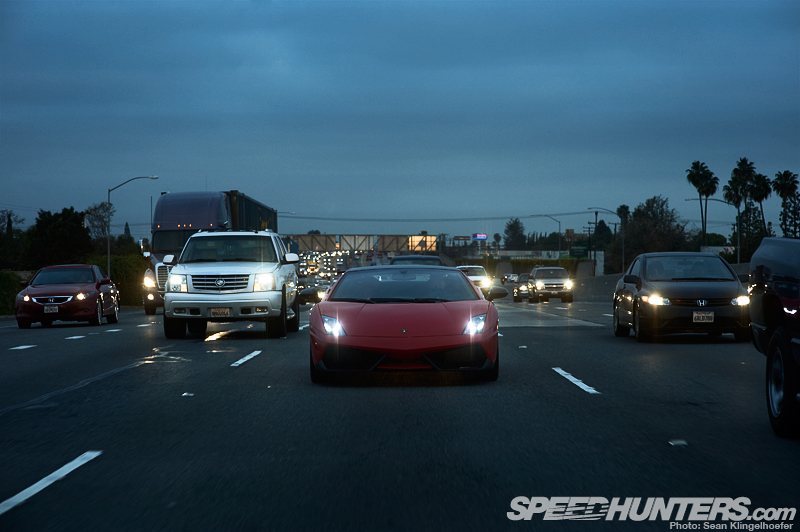 In Europe there is a Gallardo one-make series called the Lamborghini Blancpain Super Trofeo championship and the series' claim to fame is that it is "the world's fastest singe-make series." As one would guess many components from the standard Gallardo are scrapped and replaced with higher-grade competition pieces for racing homologation.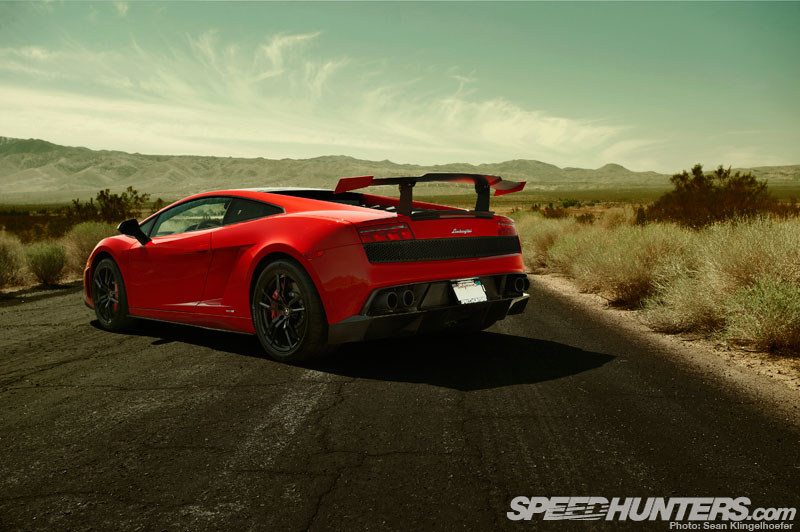 Super Trofeo Stradale quite literally means Super Trofeo (Super Trophy) road-going (for the road), so it should come as no surprise what the VW group are aiming to do with the limited model. The first thing on my mind, and probably yours, was what, if anything, transfers over from the track version to one of the 150 examples of this car?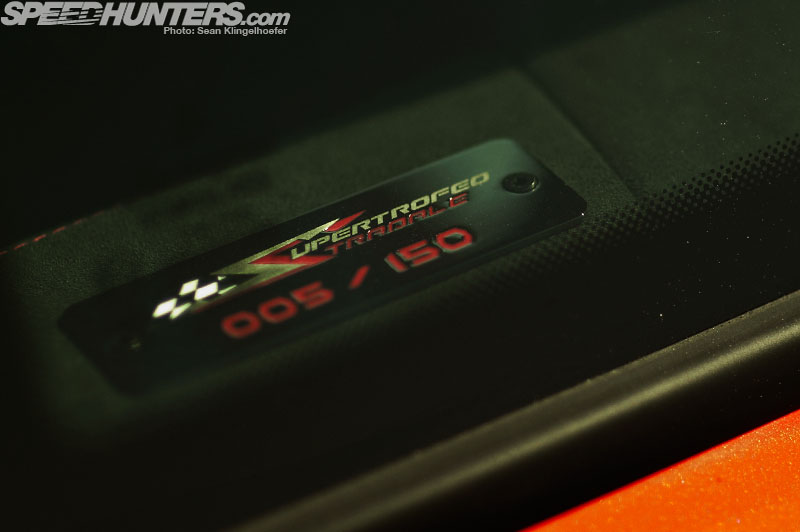 As it turns out quite a bit – for starters, the V10 power plant is completely unchanged from the racecar so all of the 570 horsepower is present.  The six-speed robotized e-gear transmission is, if not identical, very similar to the unit found in the one-make cars. The combination is good for a 0-100kmh (62mph) in only 3.4 seconds.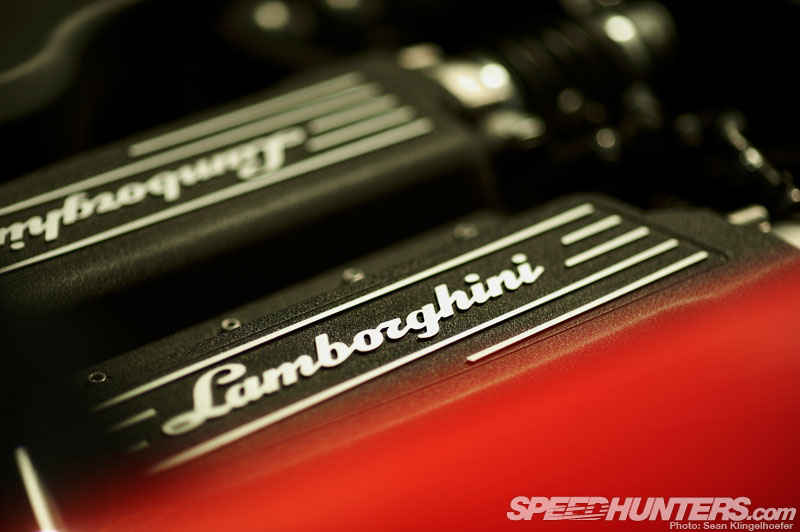 But as fascinating as all that is, the first thing any enthusiast will notice is the enormous matte black rear spoiler. Lamborghini say that the Super Trofeo rear spoiler provides three times the down force of the standard Gallardo item. The downside to this is that the top speed has now been reduced to 198.8mph, shucks.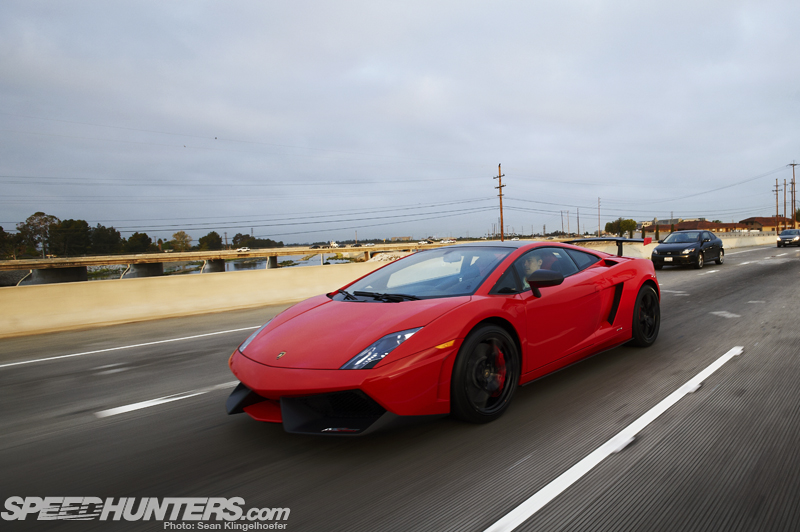 Another interesting tidbit that's found its way onto the road-going version is the uniquely vented engine cover, also covered in matte black. The piece replaces the standard glass cover with a lightweight carbon item that could easily double as Batman's chest plate. It's secured to the chassis via two locking areocatch style quick release latches.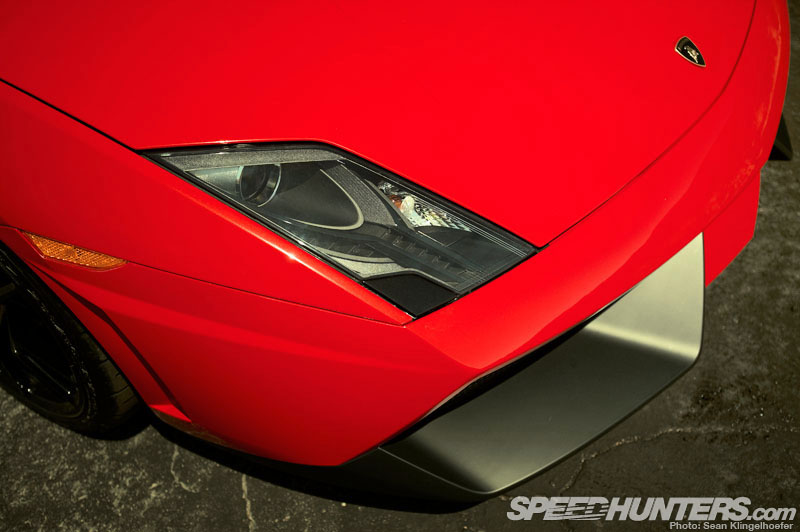 Elsewhere on the exterior the use of contrast black continues with items like the gloss black wheels and the roof can be covered in the same coat as an option. Much of the body is made up of carbon fiber, which aids the 150lbs (70kg) weight reduction compared to the LP 560-4. Some of these weight saving pieces like the mirrors, side skirts and rear diffuser have been left unpainted and finished with a high gloss clear coat.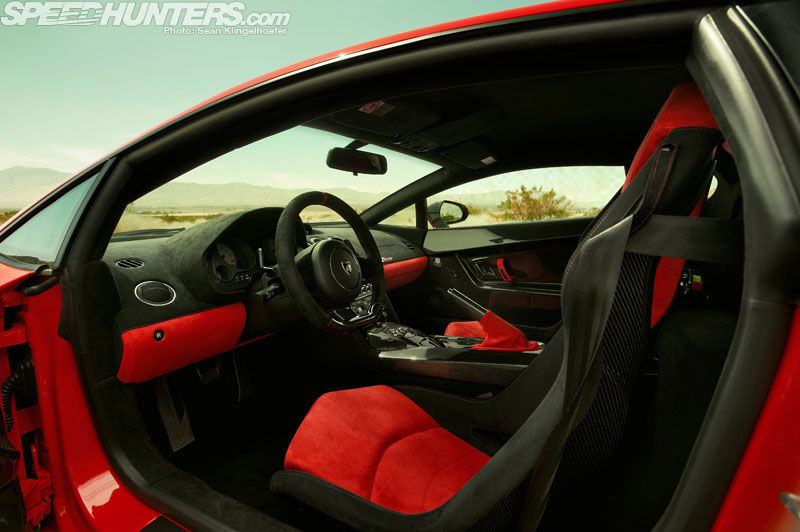 As you may have noticed the model we tested is red, which is actually rare for a Lamborghini. The color, dubbed Rosso Mars, is exclusive to the Super Trofeo and gives a nod to Italian motorsport heritage. Although Lambo doesn't have the same racing past as some Italian makes, they decided to honor the traditional color for all Italian racecars by offering this special version in its national racing livery.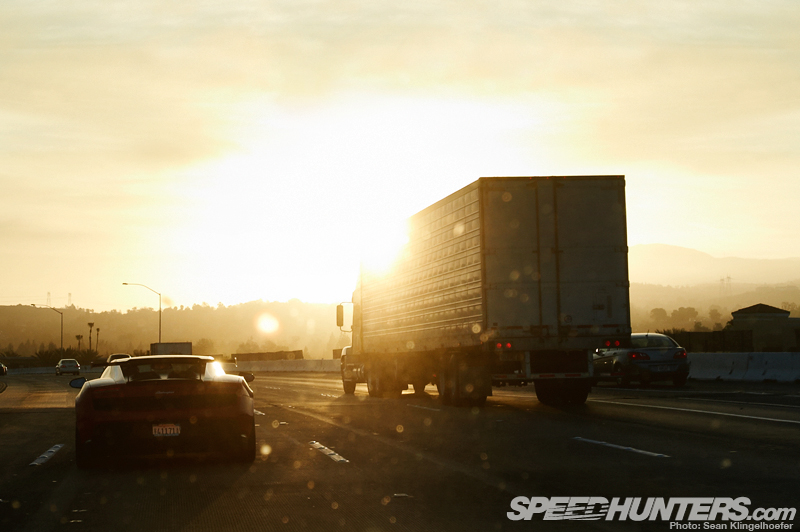 Inside the cabin things aren't straight-from-the-racetrack like they are elsewhere on the car, but the interior is certainly race inspired. Covered in carbon fiber and wrapped in suede the interior is compact, lightweight and incredible to the touch. In fact the tactile experience from the driver's seat is worth the asking price alone.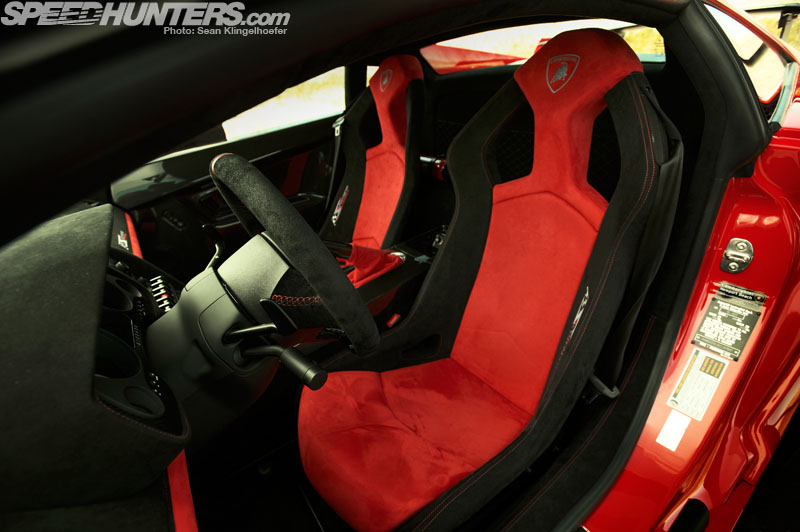 By now you must be wondering what it's like to drive a supercar that costs just shy of US  $300,000, and quite honestly, so am I. Now don't get me wrong, even being in the presence of this car brings a smile to all that encounter it, and I'm no different. However testing a car with a performance index of this caliber on public roadways is a bit like determining the effectiveness of a rocket launcher by shooting it at someone in the face from point-blank range.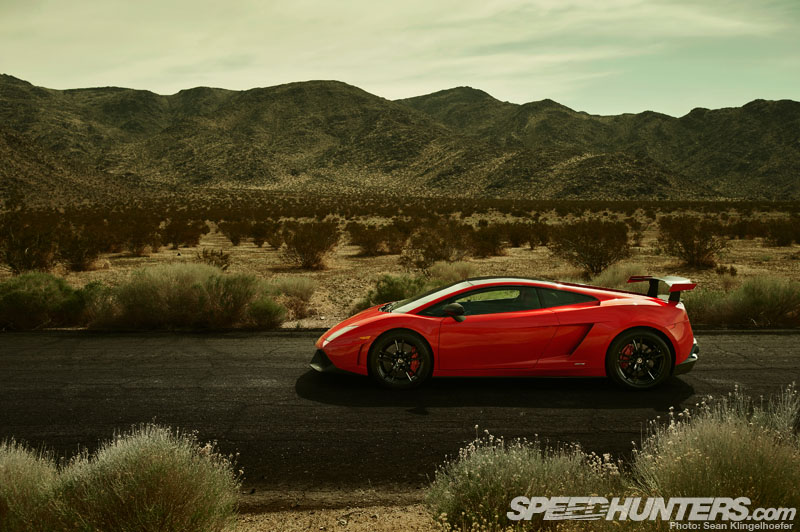 When you have a car that goes from zero-to-jail in less than five seconds there isn't a lot you can do, unless you're willing to pay the price. So rather than trying to squeeze every last ounce out of this amazing machine Rod and I decided to enjoy its company for a day by taking it for a long drive. Mike Garrett just so happened to be en-route to Viva Las Vegas so we tagged along Interstate 15 towards Apple Valley California.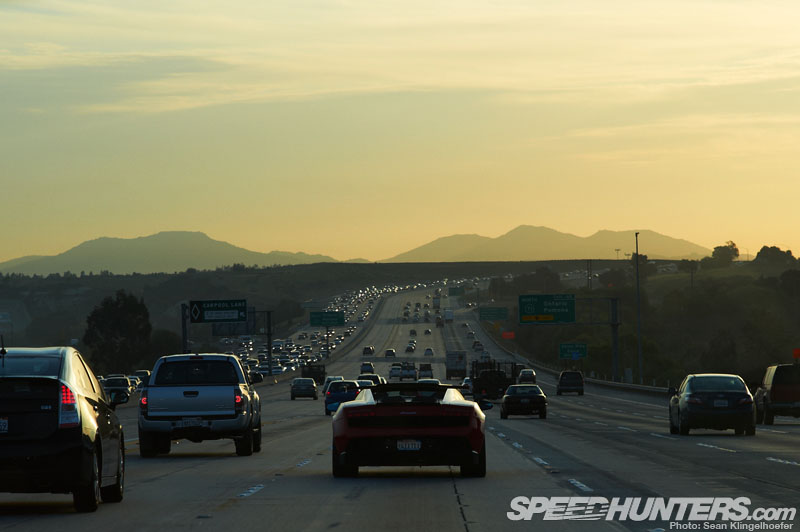 The I-15 is a famous corridor traveled by Los Angelinos looking for a quick weekend getaway to Sin City. It's been immortalized by movies like Fear and Loathing in Las Vegas, but you really don't get a good sense for the variety of terrain shown in films. The plan was to meet in Long Beach and cruise out past the mountains of Angeles National Forrest and eventually arrive in the open desert valley.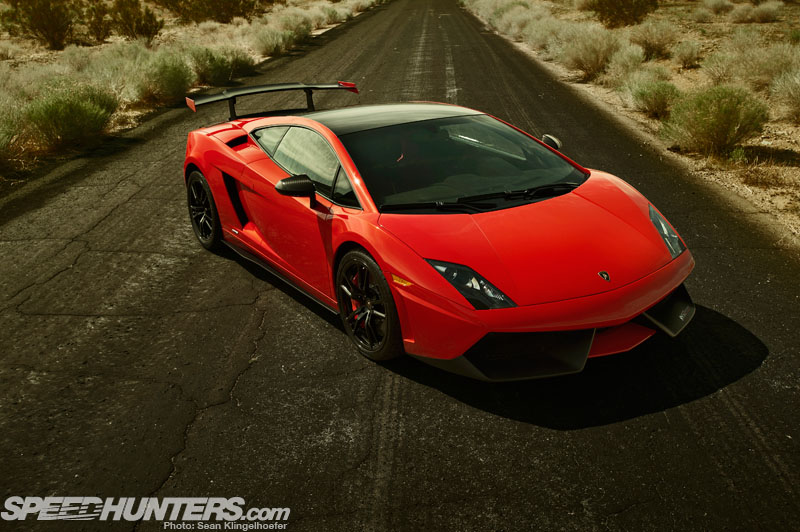 Southern California's wide variety of locations in relatively short distances is part of its allure to me as a photographer and also why the film industry is here. In an hours time you can be at the beach then travel to one of the world's largest urban cities, then make it out to some snow capped mountains and eventually arrive in a desert – which is exactly what we did.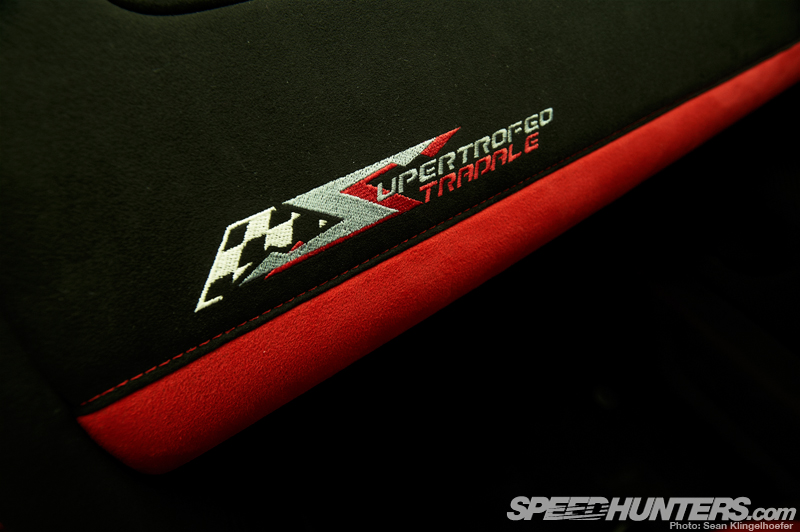 Delirious and half asleep from the previous day's Speedhunting, I met the guys in Long Beach while it was still dark. It was all I could do to keep awake, until I heard those ten cylinders come to life. As we pulled away from the Hyatt the exhaust note resonated off all the buildings as the car thundered down Pine avenue. Pure bliss.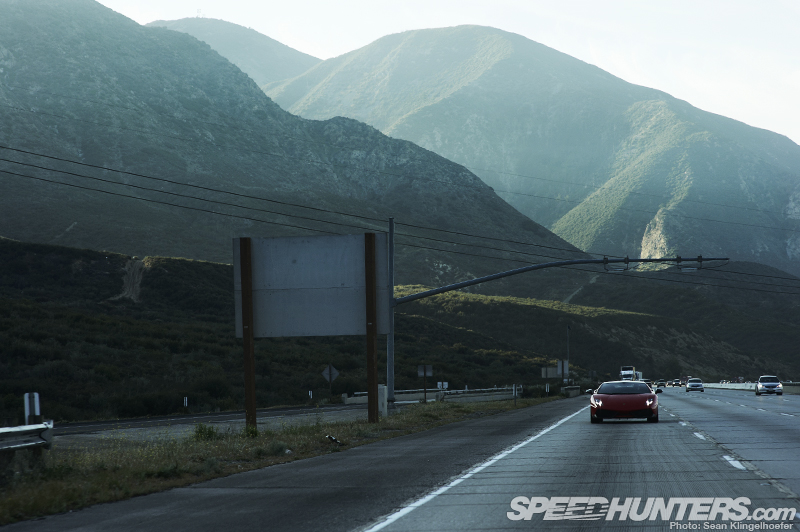 We continue to meander along the I-705 until we reach the CA-91, just two bumpy concrete paths in Los Angeles' seemingly endless maze of freeway infrastructure. As the sun comes up the Rosso Mars paint begins coming to life as well, and it seems as if the entire freeway takes notice. It's now about six in the morning and the traffic continues trickling onto the roadways.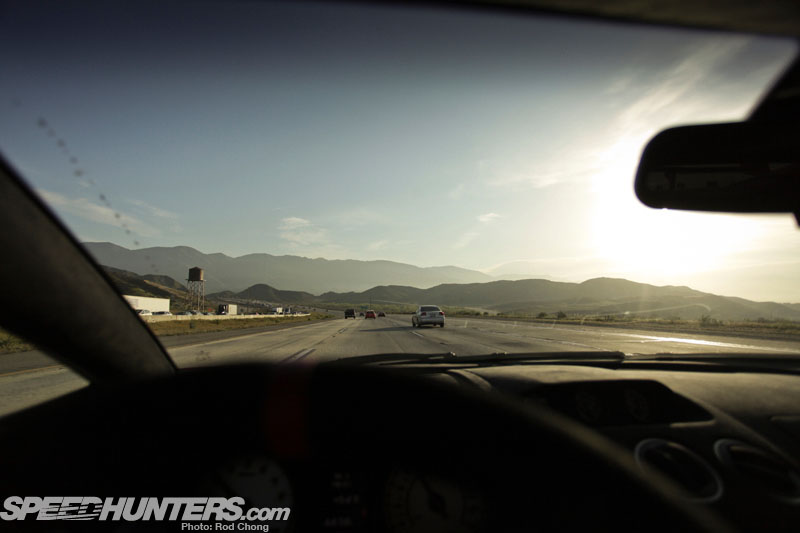 We manage to make it to the I-15 just before the rush hour boom hits. It's incredible how much different California looks in the morning – it's almost eerie. As we approach the foothills the sun begins burning off the dew on the ground creating a mesmerizing yellow haze as far as the eye can see. Soon we find ourselves pulling over near the Cajon Pass for some breakfast, then it's time to hop behind the wheel.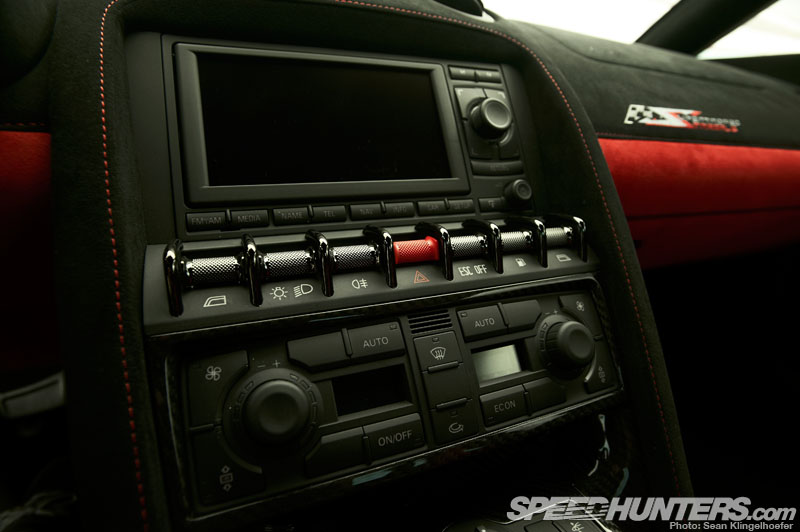 The first thing I noticed about the Super Trofeo is how easy it is to operate, relatively speaking of course. Sure there are a few buttons here and there, but by comparison to other cars in its segment it's a veritable my-first-supercar, and I love that. You can hop in armed with nothing more than common sense and basic reasoning skills and drive the thing.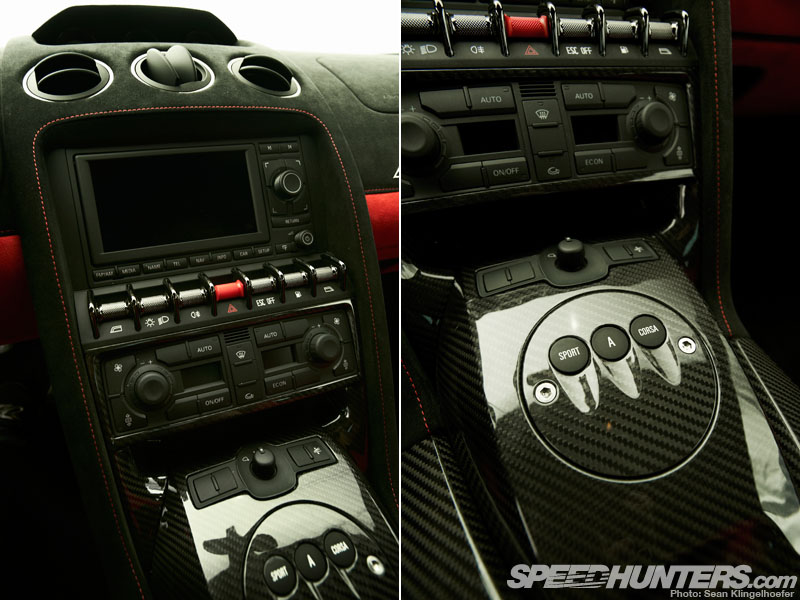 Perched in the middle of the center console are three buttons, really the only three you need to know. From left to right they read "sport", "A" and "corsa." When you first start the car up it will be running under normal operating conditions, hit "sport" and things start to liven up a bit as the exhaust gets louder and the shifting more aggressive. "corsa" continues this theme further still while "A" replaces the cup holder.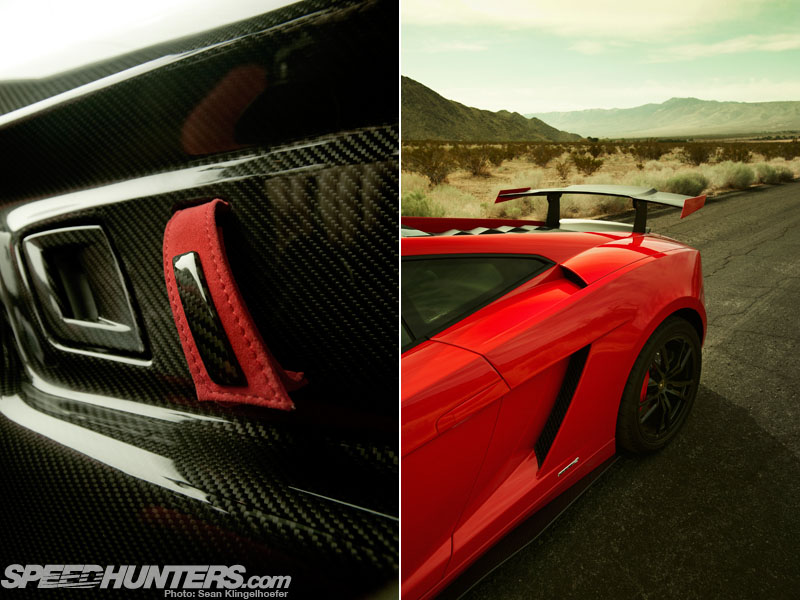 What I mean by that of course is that the middle button allows you to select automatic mode so you can have one hand free – something you'll need if you want that morning latte because the Super Trofeo is sans drink holders. It doesn't have much by way of storage for anything really; in fact I had to limit my gear for the shoot to one camera, two lenses and a fold-up reflector. Aside from that minor setback the interior is rather well equipped with dual-zone climate controls and a fantastic navigation system as found in many Audis.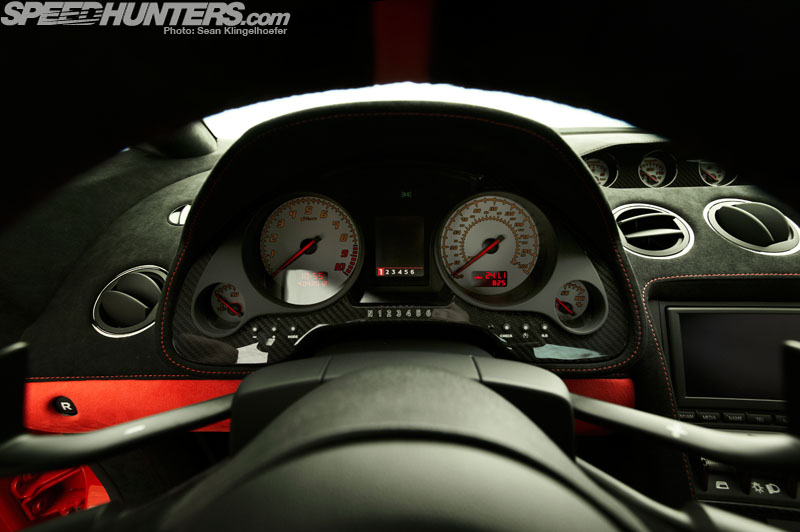 Once the car starts rolling all you are concerned with is the texture of the suede steering wheel and the chassis input through the carbon bucket seat. Although both items are quite good, for a skinny guy who's spent much of his life occupying a Recaro SPG, I found the bolsters a bit too loose and unsupportive. I'm probably the first person in history to complain about a seat not being uncomfortable enough, but there it is, my only gripe.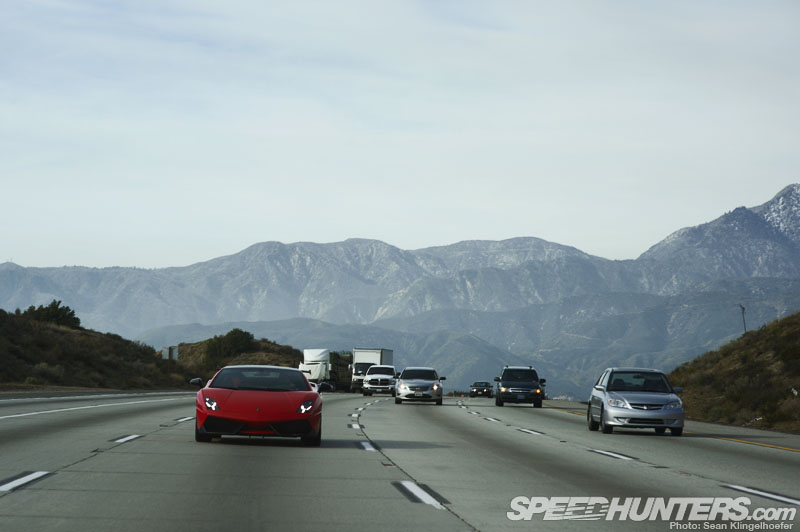 The ride comfort given the roll stiffness is incredible, and almost defies belief. Even on the most annoying freeways SoCal has to offer the LP570-4 is extremely well composed. In fact at one point after lunch I started getting a bit drowsy, but that may have had more to do with the two hours of sleep I had the night before. Regardless this track day special is surprisingly civilized, easily more comfortable than several of my former daily drivers.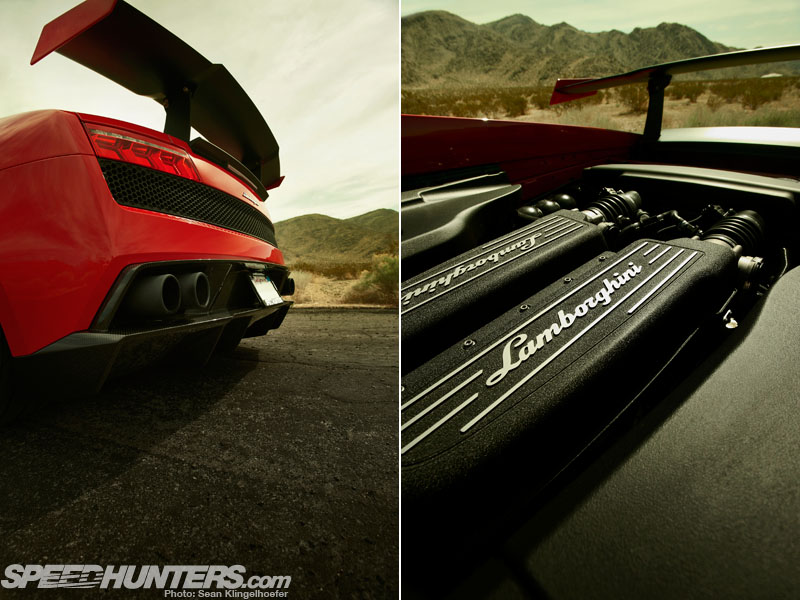 But we all know this car is destined for greater things than the boring commute, something a quick blip of the throttle reminds you. Although I wasn't able to go all out, this car is completely insane for those five short semi-legal seconds of flogging. When the exhaust opens up and the V10 wails it brings a smile to the faces of everyone within earshot, in this case several miles. Before you know it the speedometer has swept way past where you had intended and the carbon ceramic brakes are called into action.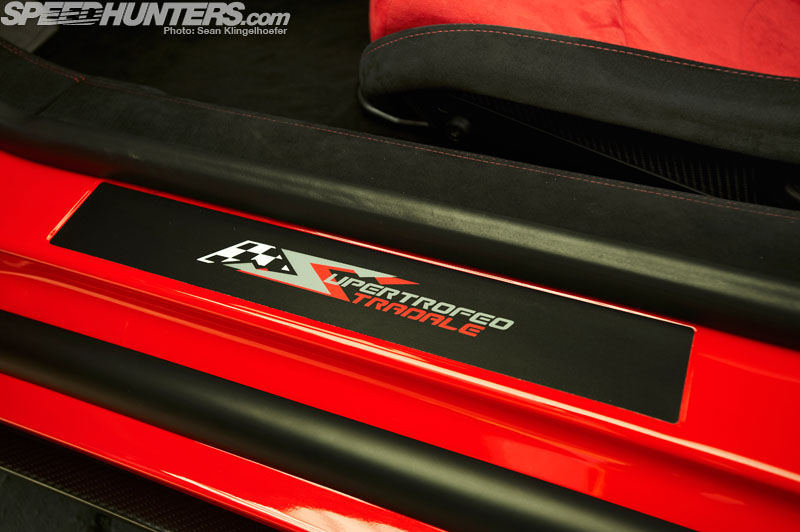 Arguably more impressive than the acceleration numbers is how the car goes about getting there. It's a technological marvel, no doubt, but the sensation of speed is virtually non-existent. In fact if it weren't for the exhaust note the occupants wouldn't have the slightest idea of what's going on because the car is absolutely rock solid at any speed we dared to go and I'd suspect that's the case all the way to its 198mph top speed.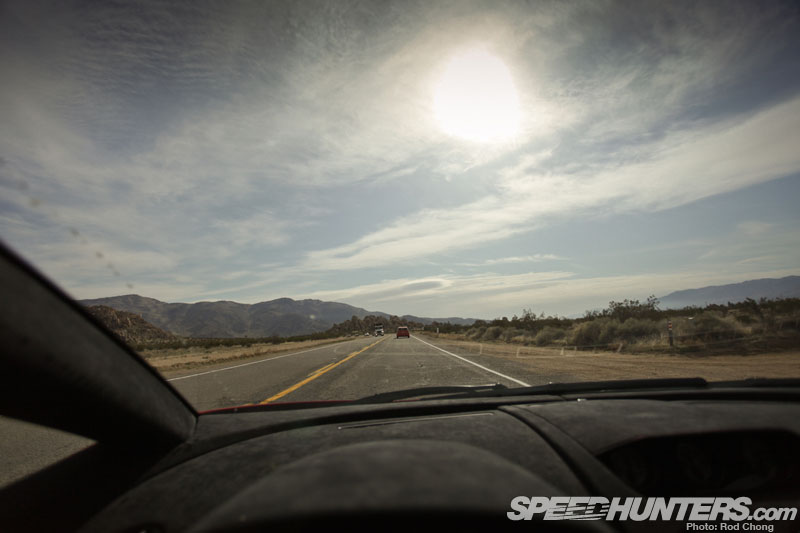 Numbers and performance aside, this car is still a thing of awe. Anywhere we drove it, parked it or filled it up with gas there was a sea of onlookers. After the first two hours the sight of iPhones aimed your way becomes a fact of life. I cannot imagine another object that brings joy and excitement to everyone that comes in contact with it the way that the Super Trofeo does, which is likely the selling point for many.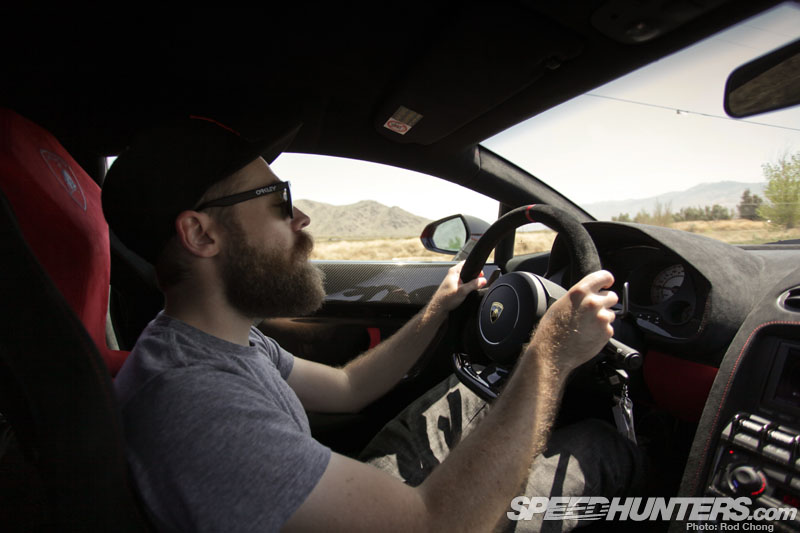 Perhaps the reason it has taken me so long to drive a Lamborghini is because deep down inside I never considered myself a "Lambo guy." I could never understand the purpose of owning one, but after driving the Super Trofeo I can see the allure. It's a car that's capable of amazing performance feats, yet enjoying it doesn't require it do so. Even sitting still it makes the boy inside of me come out. It's unlike any other car I've ever driven – It's a Lamborghini.
LAMBORGHINI GALLARDO LP 570-4 SUPER TROFEO STRADALE
CHASSIS AND BODY
Frame: Structural aluminum space frame, based on aluminum extruded parts welded to cast aluminum joint elements
Body: Aluminum with thermoplastic "hang-on" parts and diffuse use of Carbon Fiber
Suspension: Double-wishbone front and rear suspension system, anti-roll bar, anti-dive and anti-squat
Electronic Aids: Full ESP system with ABS, ASR and ABD
Brakes: Power vacuum, aluminum alloy calipers: 8 cylinder front calipers and 4 cylinder rear calipers; Ø 14.37 x 1.34 front – Ø 14 x 1.26 rear carbon floating rotors
Wheels and Tires: Aluminum alloy: 8.5″ x Ø 19″ – 11″ x Ø 19″ wheels; Pirelli P ZERO CORSA 235/35 ZR 19 – 295/30 ZR 19 tires
ENGINE
Type: 10 cylinders V 90°, DOHC 4 valves, common-pin crankshaft
Displacement: 5204 cc (317,6 cu in)
Bore and Stroke: Ø 84.5 mm x 92.8 mm (Ø 3,33 in x 3,65 in)
Compression Ratio: 12,5:1
Cooling System: Double water radiators plue oil-to-water cooler, engine and gearbox radiator
Lubrication System: Dry sump
Engine Management System: Bosch MED 9
DRIVETRAIN
Type: Permanent 4-wheel drive with viscous traction system
Gearbox: 6-speed and reverse; Standard robotized sequential e-gear system with actuation by paddles on the steering column
Clutch: Double plate, Ø 215 mm (Ø 8,46 in)
PERFORMANCE
Maximum power: 419 kW (570 hp) at 8000 rpm
Maximum torque: 540 Nm at 6500 rpm (398,3 lb-ft at 6500 rpm)
Top speed: 320 Km/h (198.8 mph)
Acceleration (0–100 km/h [0–62 mph]): 3.4 sec.
Acceleration (0–200 km/h [0–124 mph]): 10.4 sec
DIMENSIONS
Wheelbase: 2560 mm (100,8 in)
Overall Length: 4386 mm (172,7 in)
Overall Width (excluding mirrors): 1900 mm (74,8 in)
Overall Height: 1165 mm (45,9 in)
Track (front – rear): 1632 mm – 1597 mm (64,3 in – 62,9 in)
Dry weight: 1340 kg (2954 lb)
Weight distribution (front – rear): 43% – rear 57%
More Lamborghini stories on Speedhunters
More stories by Sean Klingelhoefer on Speedhunters
-Sean