Ever since I started driving I've wondered what it would be like to go flat-out on an airport runway. No traffic to concern you, no authorities to worry about… The Mojave Mile event gives speed-freaks on the West Coast a taste of ultimate speed nirvana. Sean Klingelhoefer and I headed out to the Mojave desert this past weekend to see what all the fuss was about. Boy were we in for a surprise.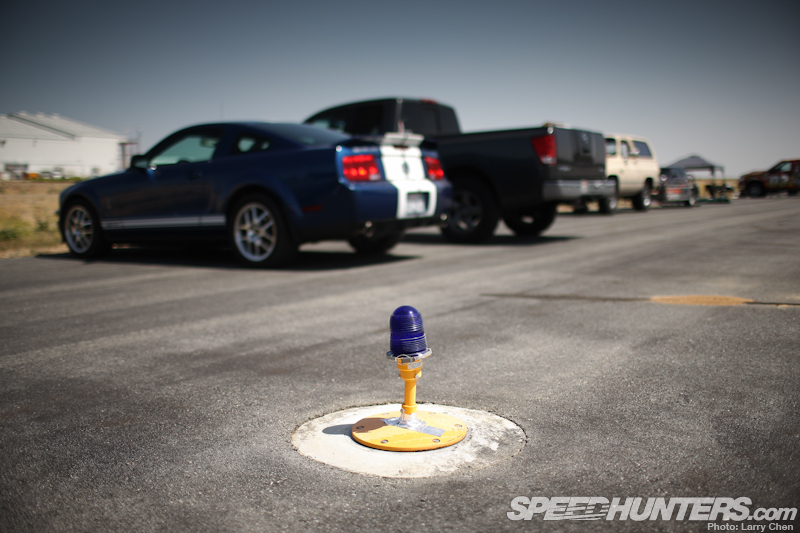 The fact that it is held at an active airport makes it just that much cooler. Everyone had to keep a watchful eye on these little blue lights as they cost $500 to replace. Ouch!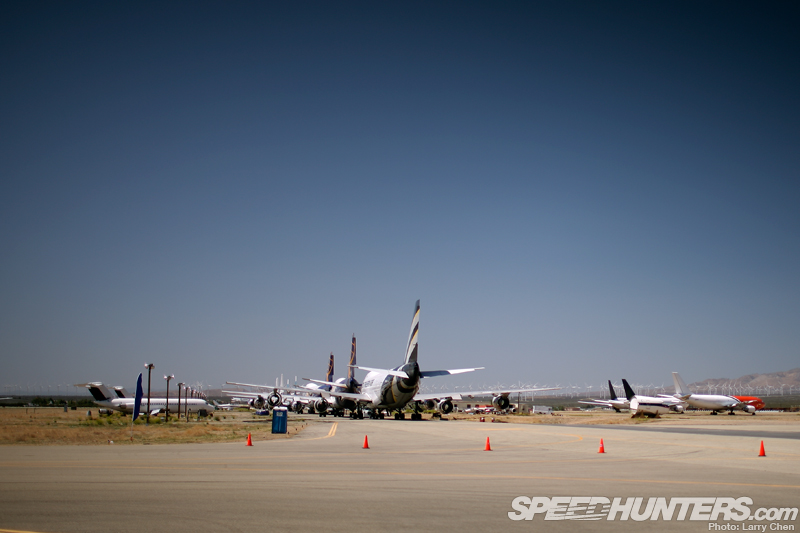 This event is held at the Mojave Air And Space Port. It is a place where spaceships and planes are born and it is also where they come to die.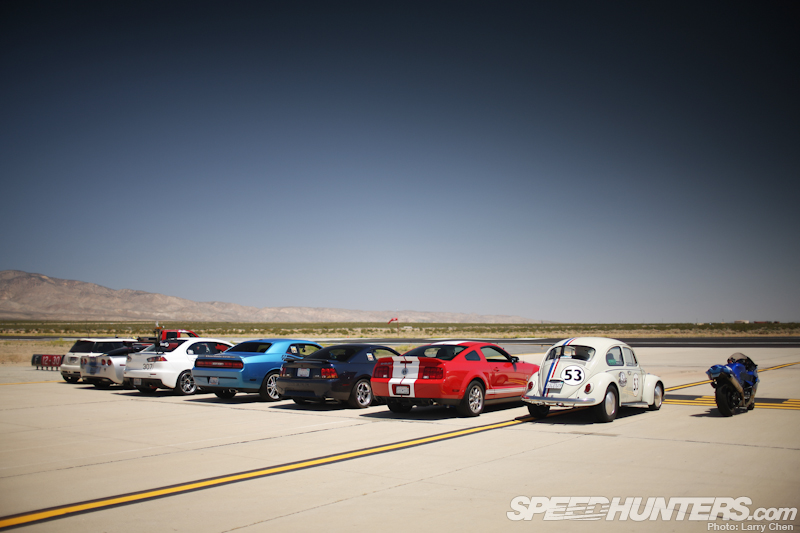 This is a typical staging grid at one of these events. None of these cars will join the 200mph club, but you can bet they will put in a good effort.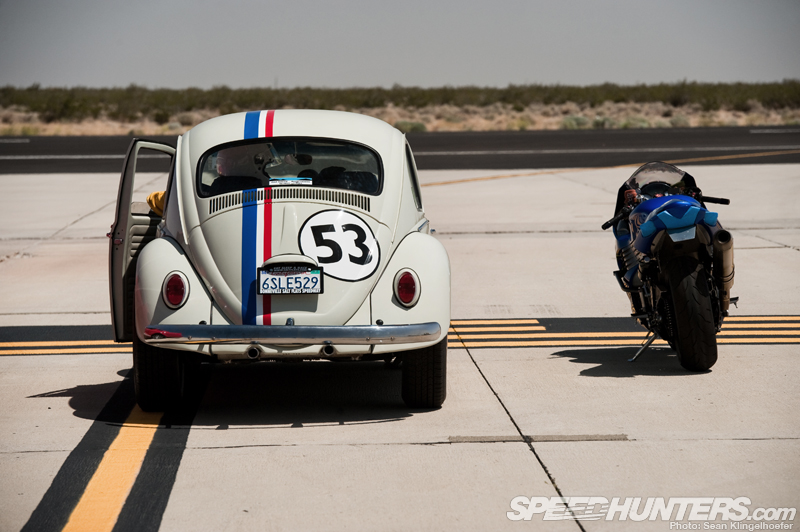 One of the things I love about this event is the contrast between the vehicles. For example, on the left you have something out of a Disney movie and on the right you have a purpose-built crotch rocket.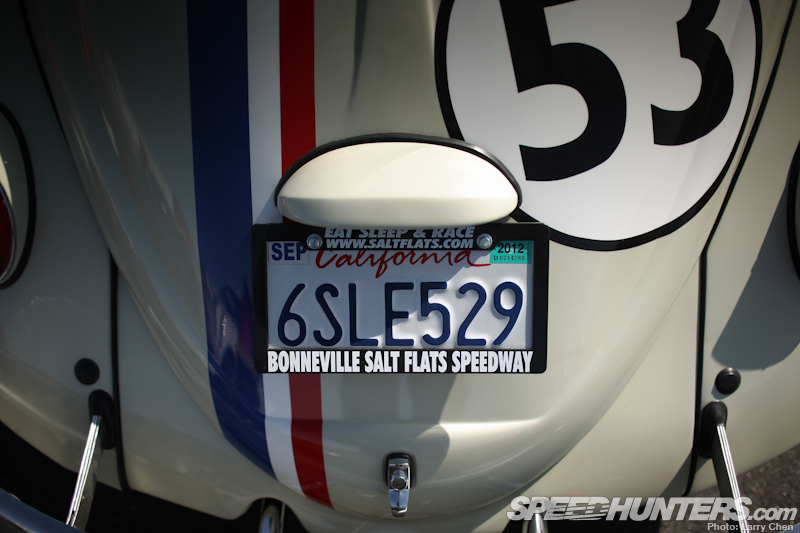 This is not just any 'Love Bug'. This one has a taste for salt.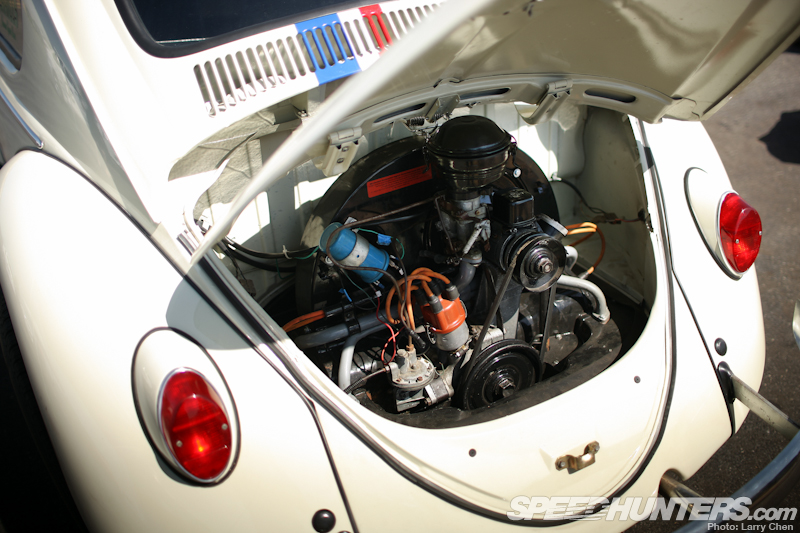 This is actually the fastest stock VW Beetle in the world. It is putting out an earth-shattering 36 horsepower.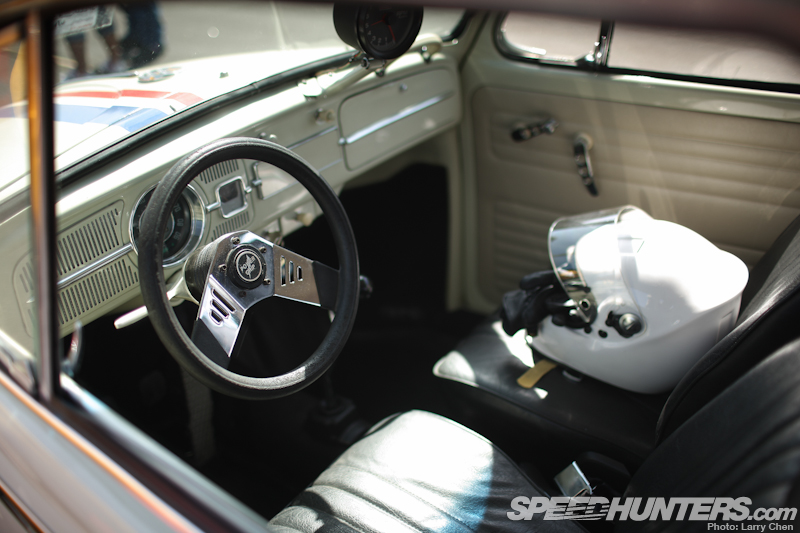 It managed to reach a speed-limit breaking 78 miles per hour in the standing mile.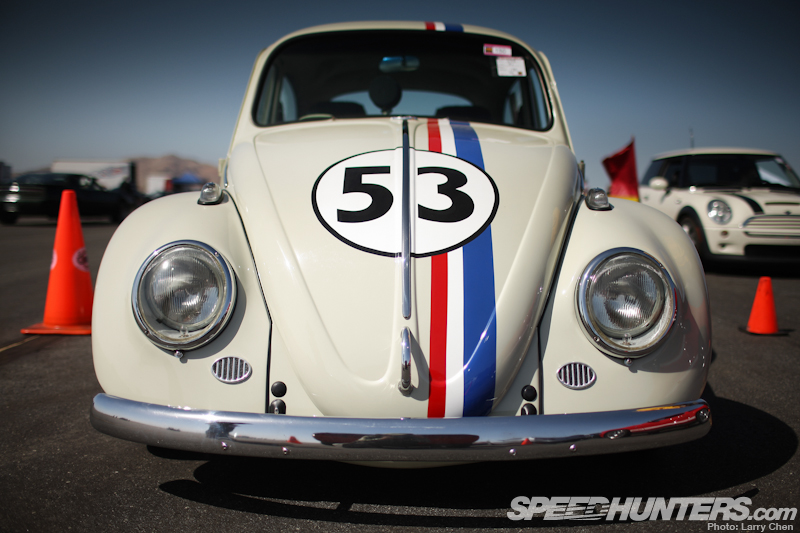 Sean was half-joking about building one of these to compete in the standing mile. I think Team Speedhunters would have a fighting chance.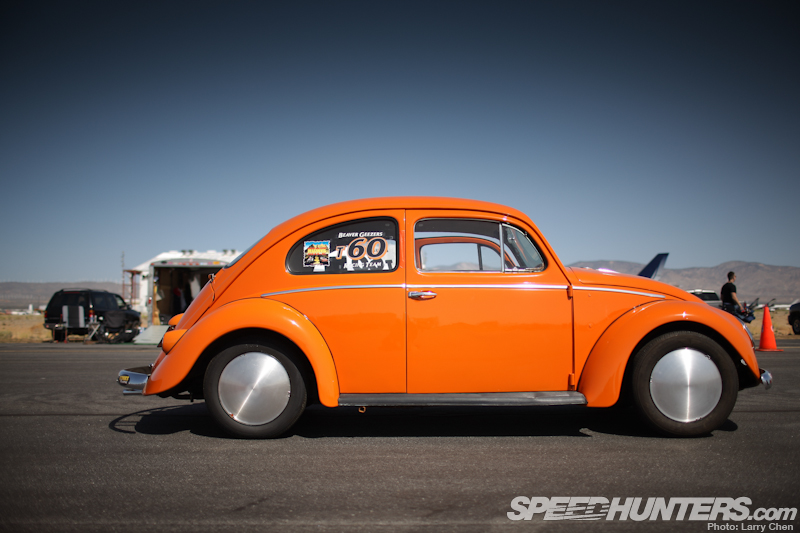 The direction of the wind can be the deciding factor in this class of racing even more so than the high-horsepower guys. As long as Team Speedhunters gets to go during a 50mph tail-wind I think we could be right up there.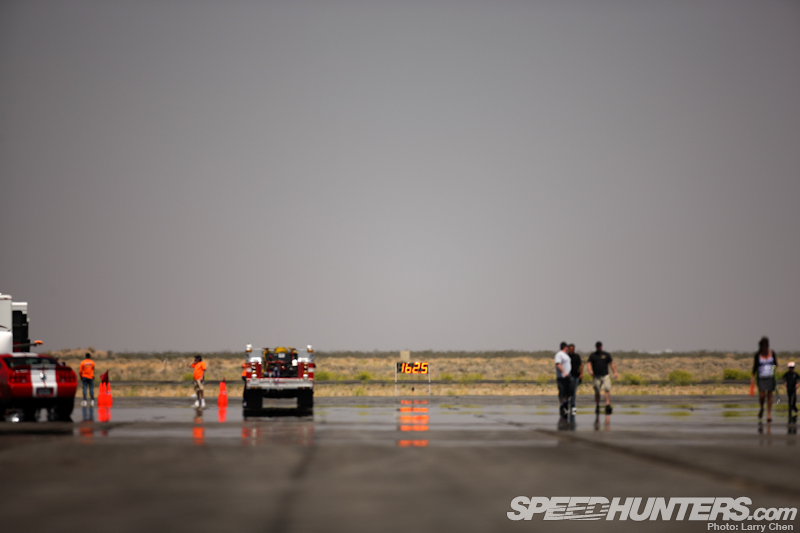 Just like at a drag-strip there is a sign displaying the speed of the cars as they make passes. I'd like to also see a sign showing times – I think it would be interesting to see the time it takes to do a standing mile.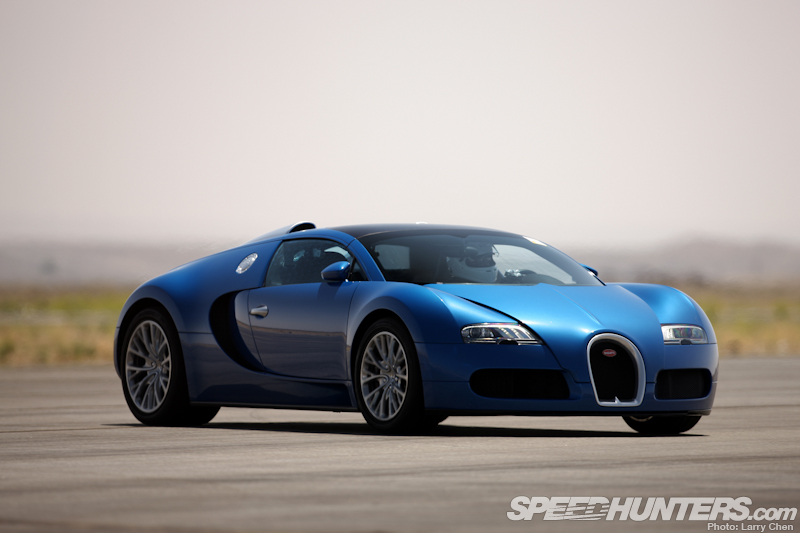 It seems like most people either love the Bugatti Veyron or they hate it. There is no in-between.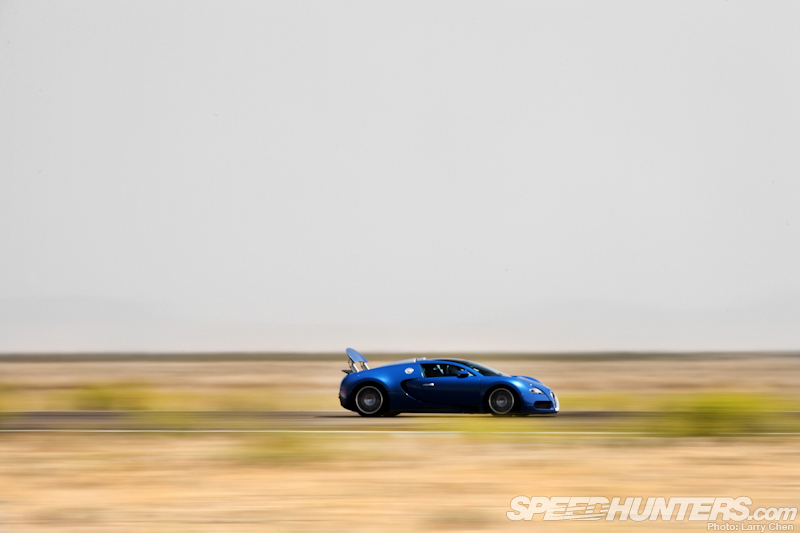 I've only seen them on the street so I was actually very excited to see one run flat-out.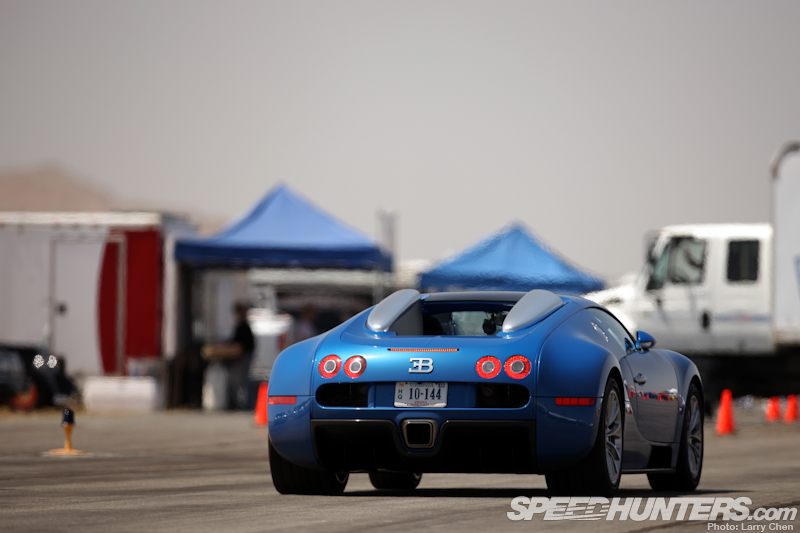 My only complaint was how quiet it was. It looked great at speed and it was very stable during braking. It was hard to tell if it was going 201mph because we were standing a quarter of a mile away, but you knew it was going fast from how much visible heat was coming off of the motor.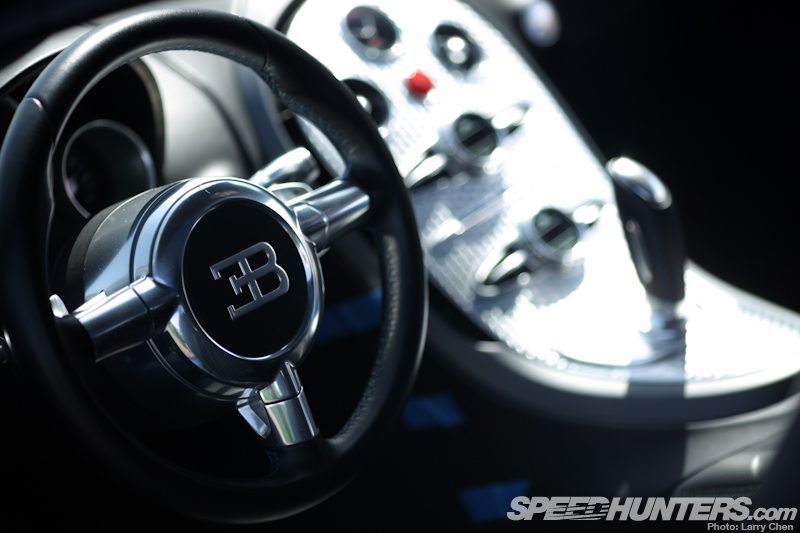 How could you not like this Bugatti? I would never own one but it would be an honor to drive it.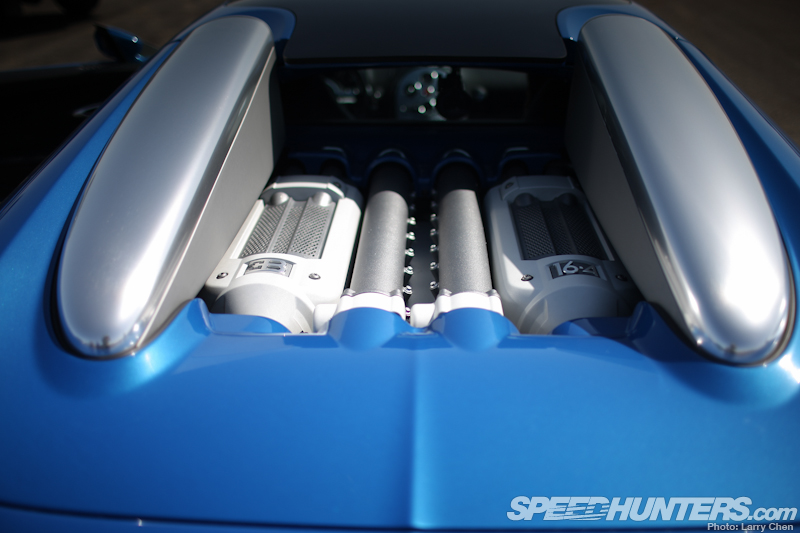 This thing is such an engineering marvel. There were two Bugatti engineers on hand to make sure it ran like a top. It made pass after pass without a singe hitch.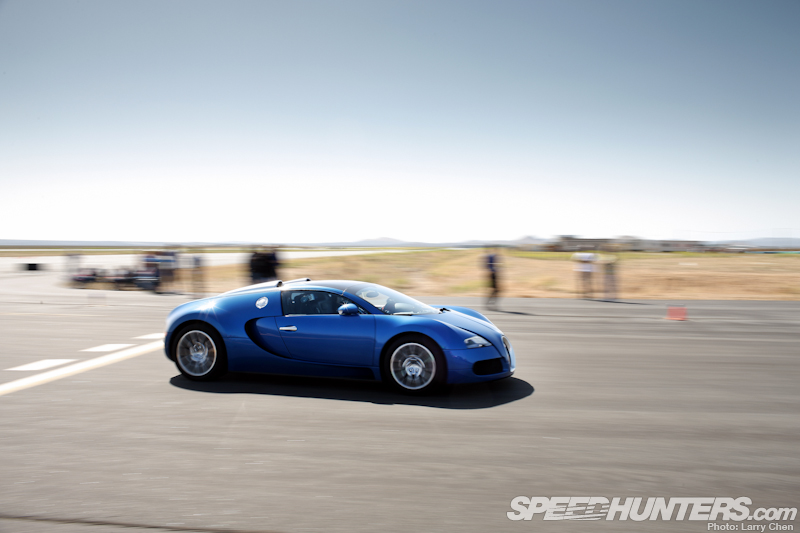 I just hope that every once in a while all Bugatti owners use their spaceship-like supercars for what they were built to do.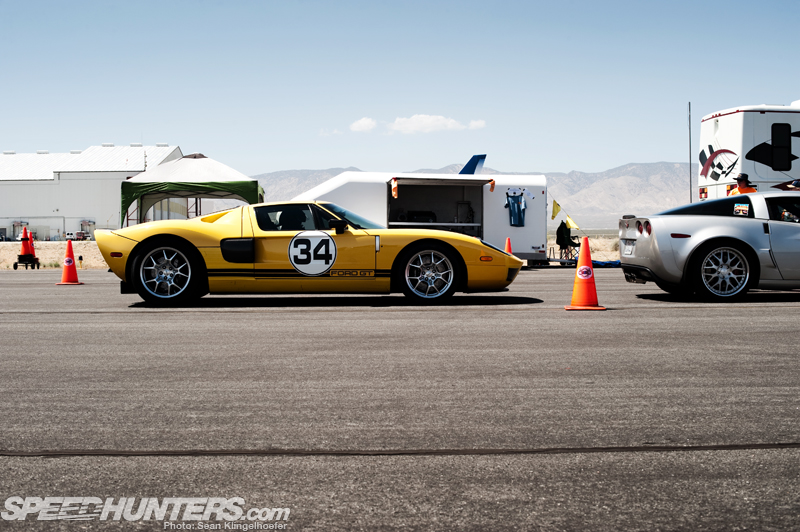 When you think of standing miles the Ford GT always comes into mind. The current fastest car record at the Mojave Mile is held by a Ford GT with a 226.4 mph pass.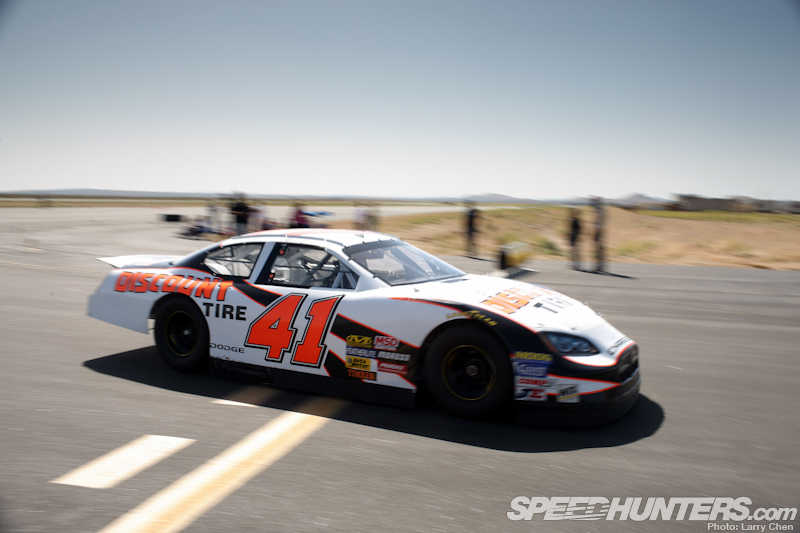 I was expecting a great variety of cars, but I did not expect to see retired NASCARs.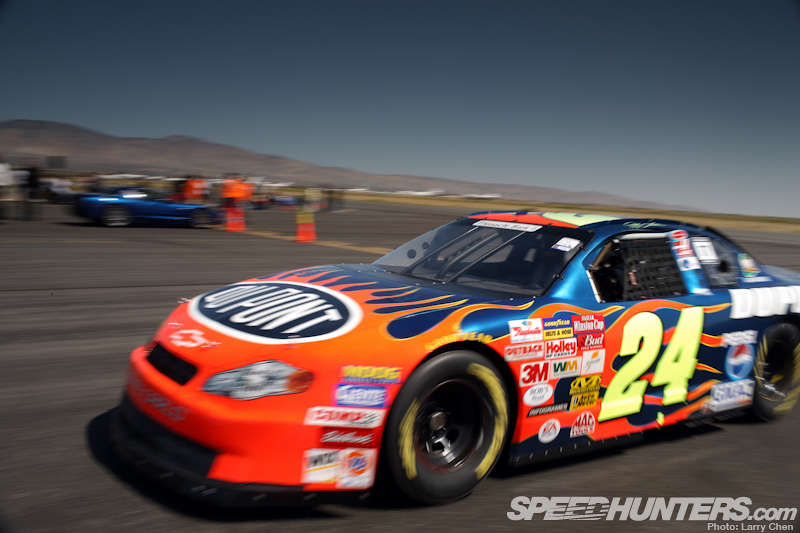 This one is Jeff Gordon's actual car, built by Hendrick Motorsport, that he drove at Infineon Raceway back in 2003.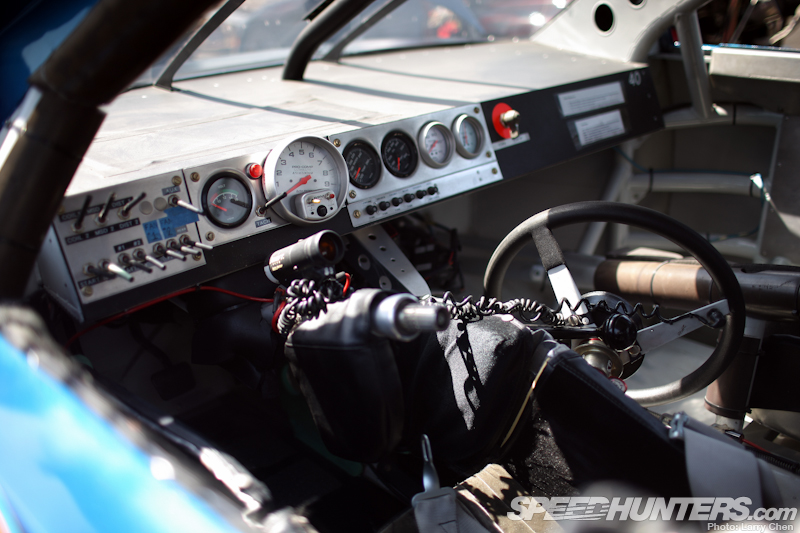 I had no idea that there were so many buttons and switches inside these stock cars.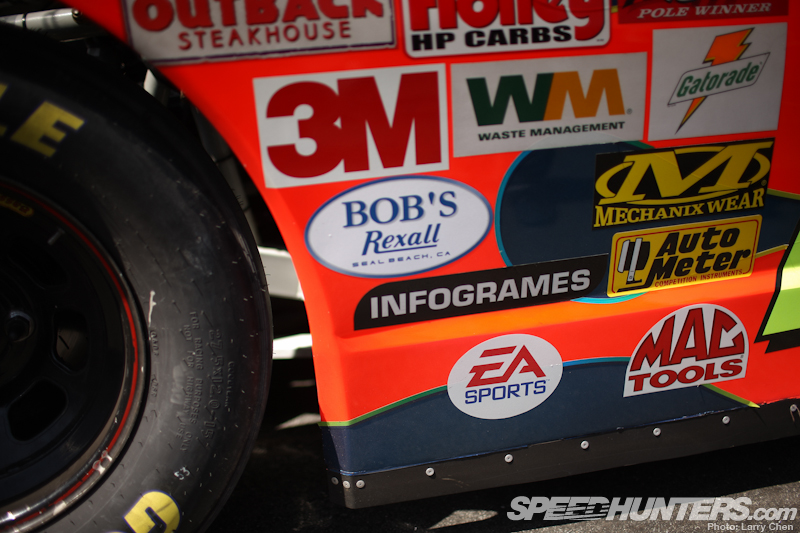 The owner even kept all the original sponsor decals. EA Sports: it's on the car.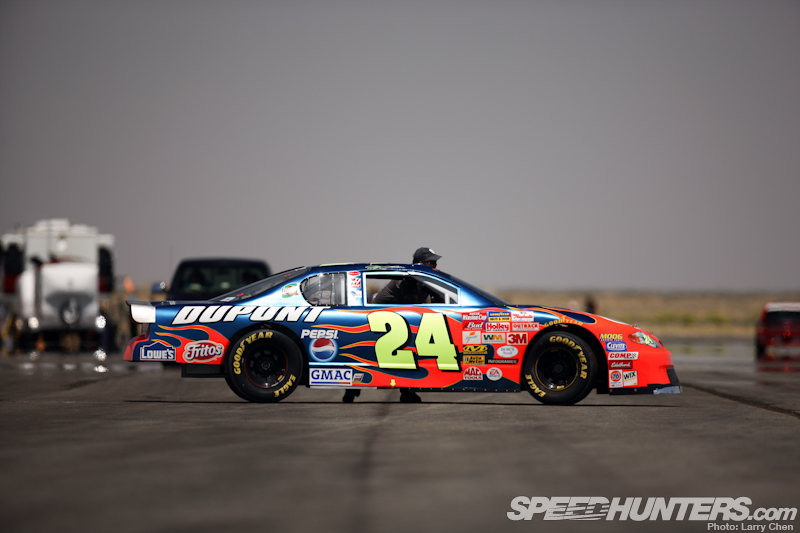 Out of all the cars that were running, these were definitely the loudest.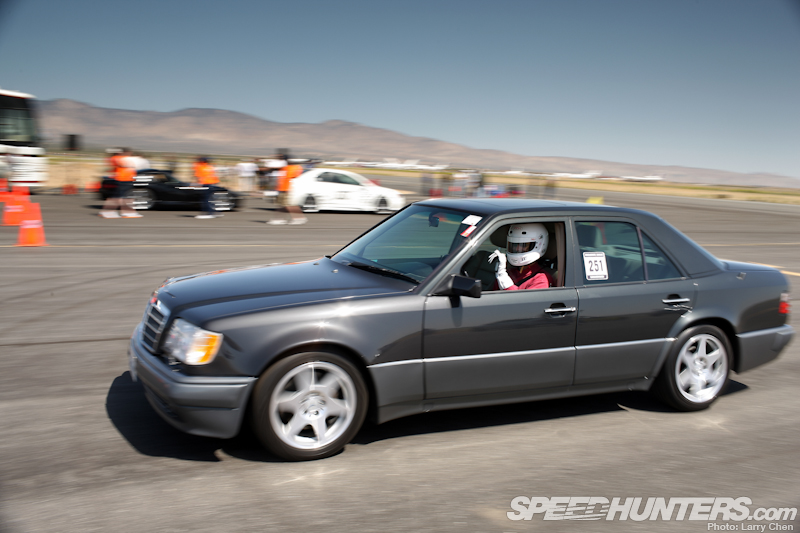 Mercedes were the quietest of the cars on the Mile, and they were probably the most comfortable to boot.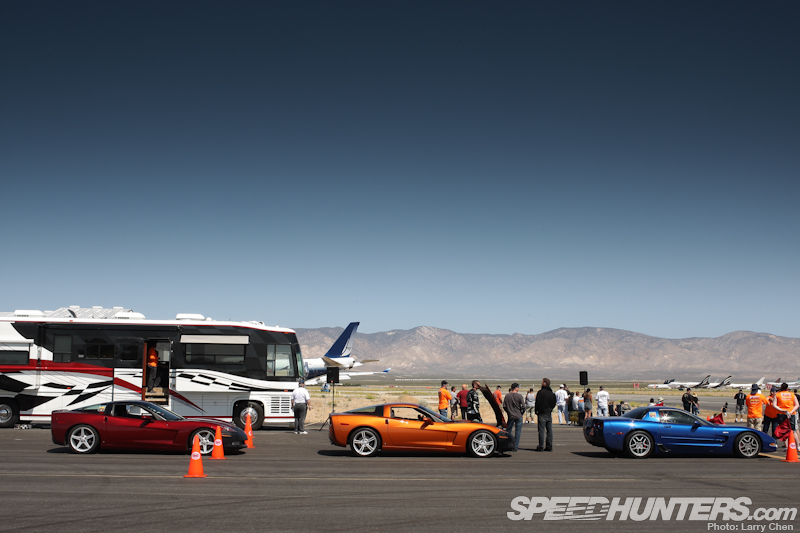 Believe it or not, this was actually a pretty common sight. There were times when the grid was completely packed with Corvettes and nothing else.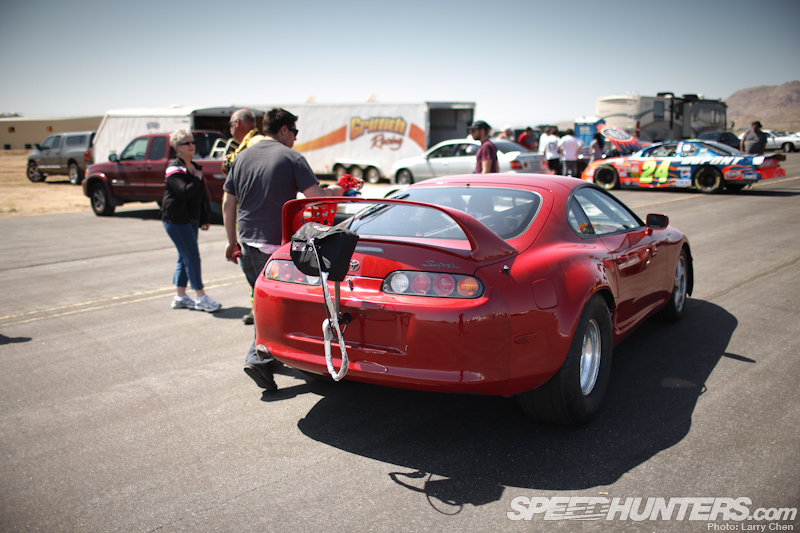 This Supra usually sees drag-strip duty, but the owner still made the trek out to join in on the standing mile fun.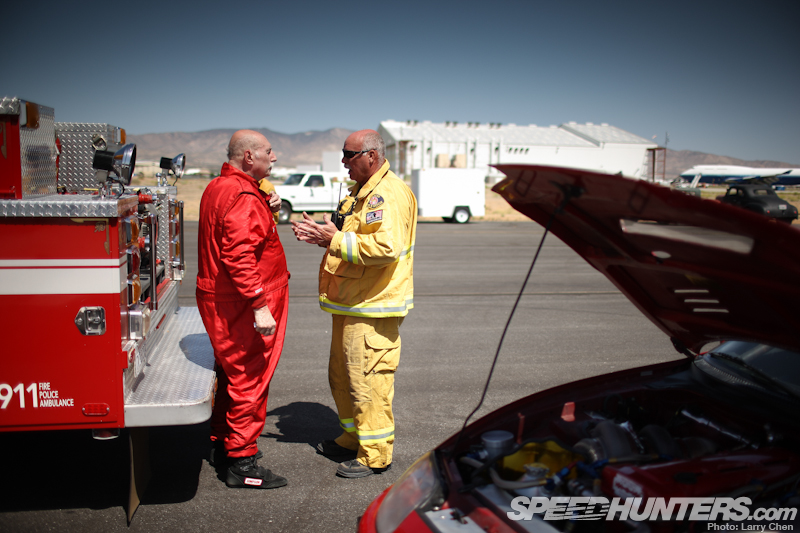 He had a bit of a scare when his heart briefly gave in, so he only made one pass.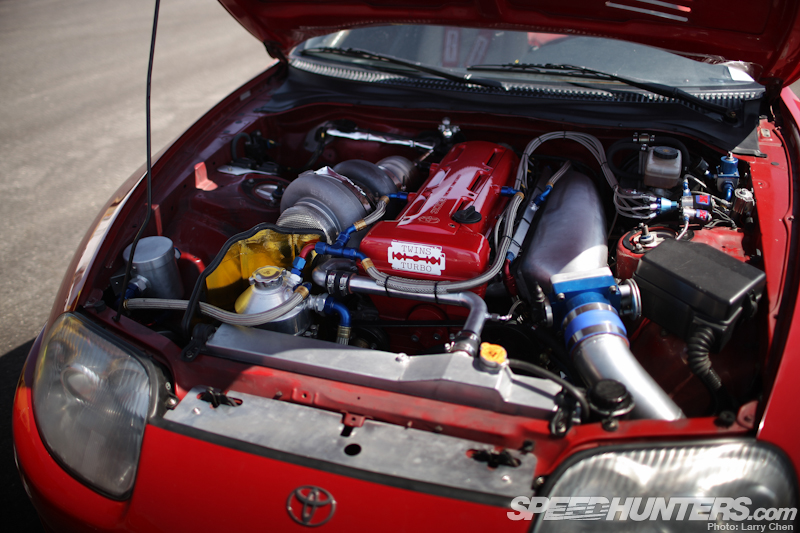 When the cars go in for tech inspection they are given a speed that they are limited to. This Supra was limited to 160mph, though I am sure it is capable of going faster than that.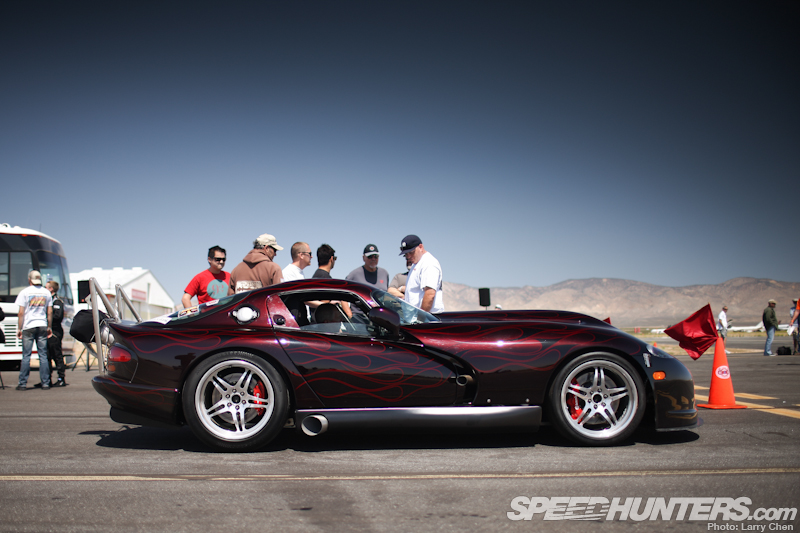 The most interesting battle was between the 1997 Twins Turbo Motorsports Dodge Viper…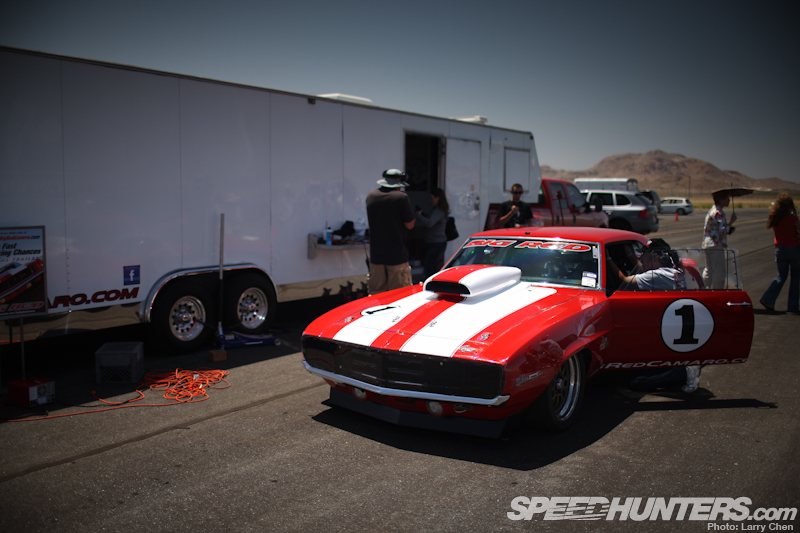 …and the Big Red Camaro. Both cars were easily capable of going faster than 200mph, and both were going for the Mojave Mile fastest car record.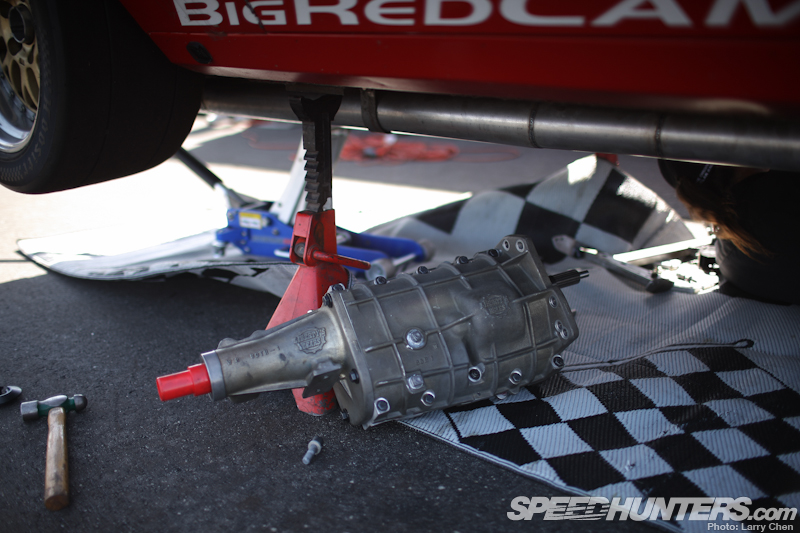 Of course it's much easier said than done. The BRC put in some very impressive runs over the weekend.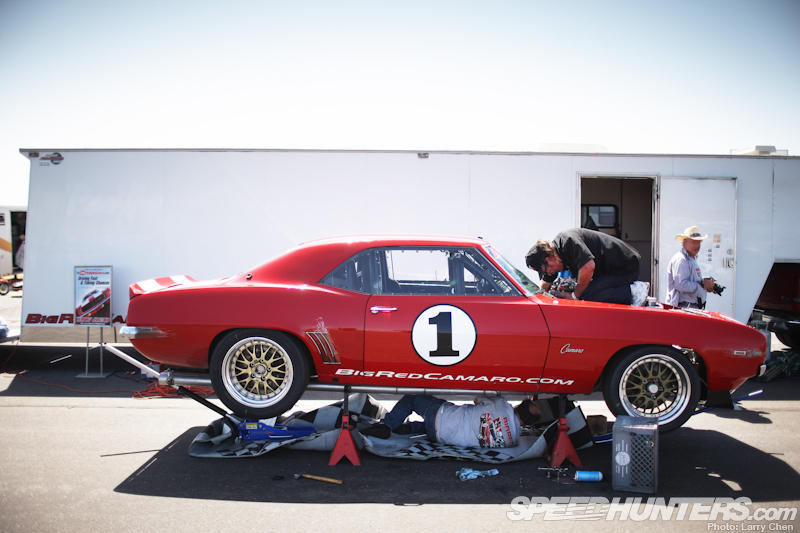 Here we see the crew dealing with a clutch issue which forced them to miss some much needed early-morning running.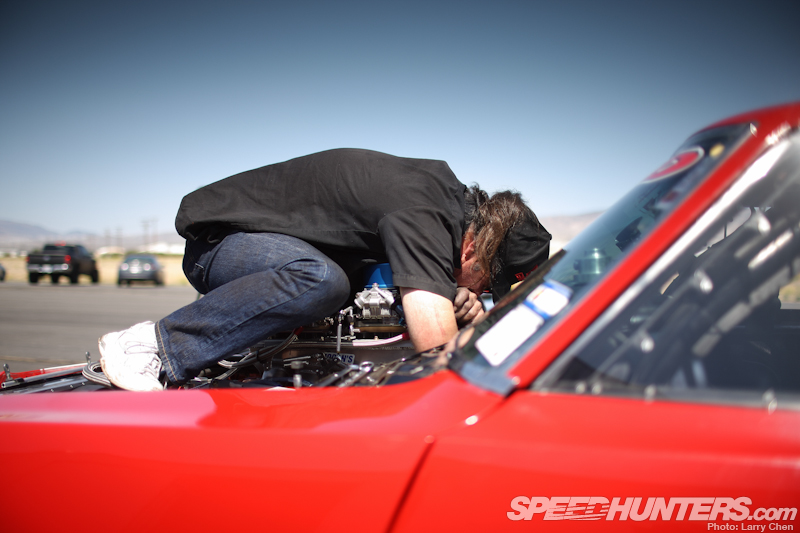 Well, that's one way to show love for your car.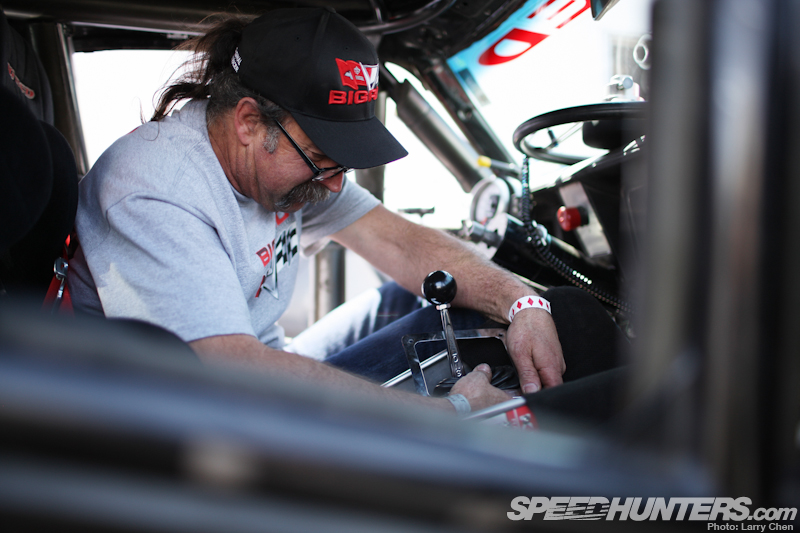 As the crew buttoned it up to make another pass, I checked out their pit area in more detail.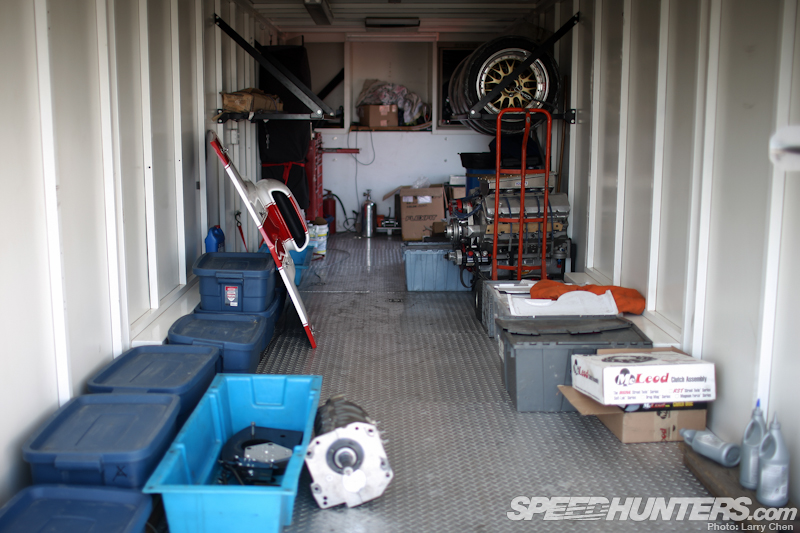 It seemed like they brought a spare everything. It's a good thing they didn't have to bring out that spare motor.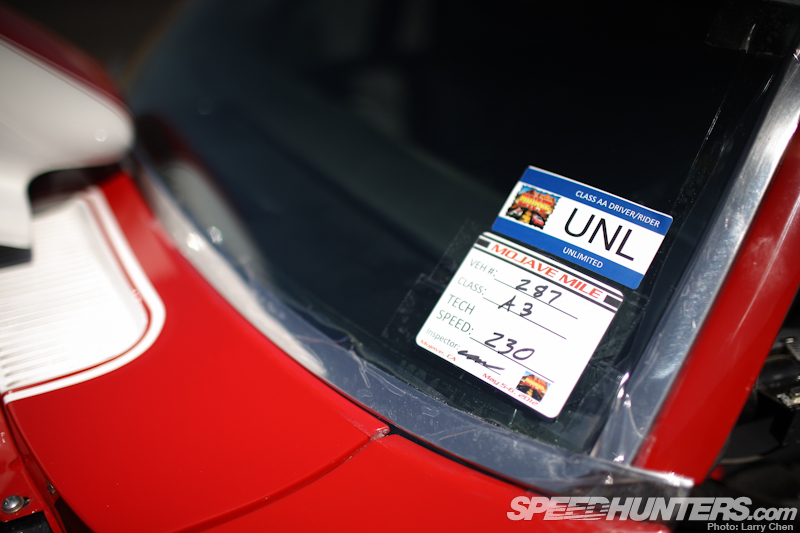 This 1969 Z/28 was teched at 230mph, so they can't go one mile an hour over for safety reasons.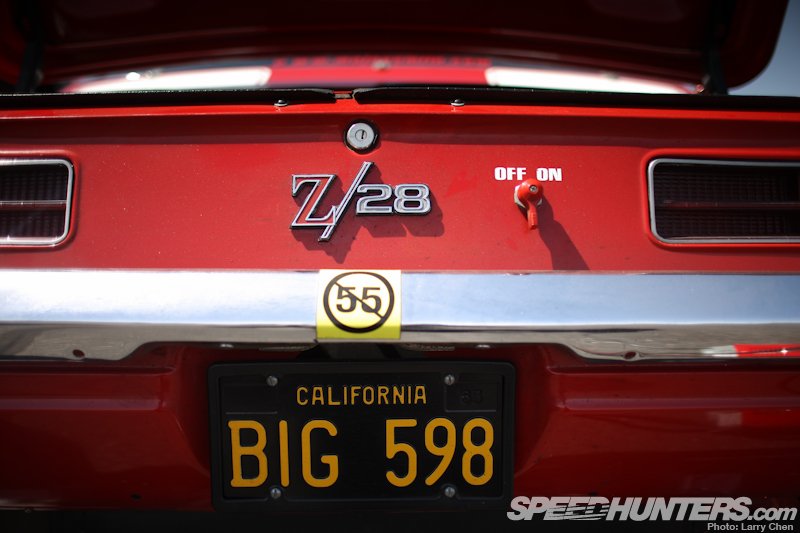 Just two weeks earlier someone at a private Ford GT event on the same runway passed away after going 201.5 mph. He had a heart attack and did not stop the car after the finish line. He went off course and the car flipped 30 feet into the air.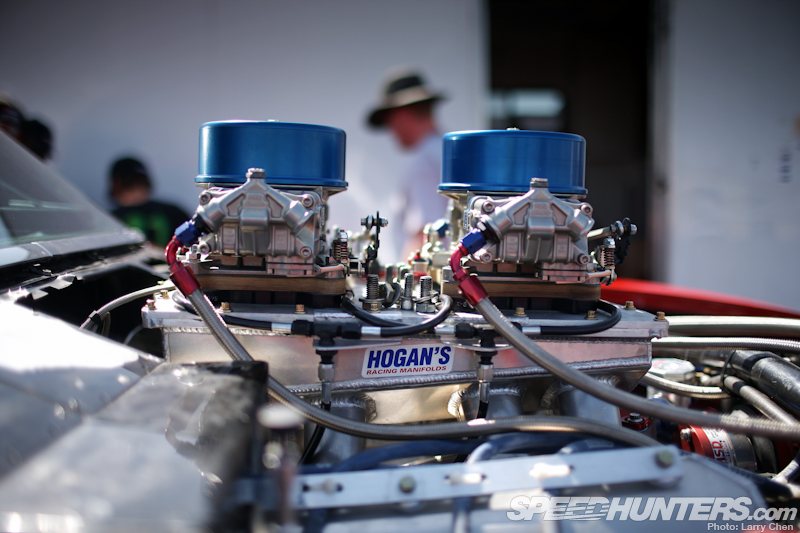 While I can't comment too much on the engine setup, it was impressive to say the least. Sean will be doing an in-depth car feature soon with all the meaty details.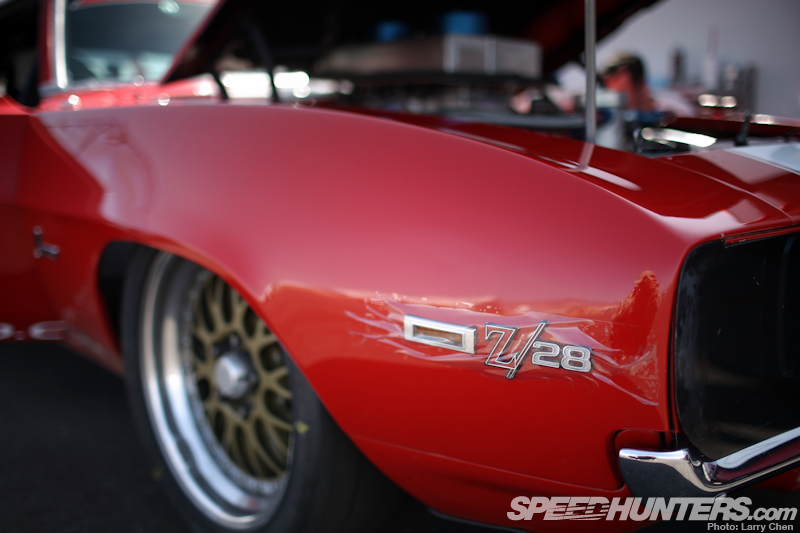 Nobody said going fast was easy. Big Red's secret? 200mph tape, and lots of it.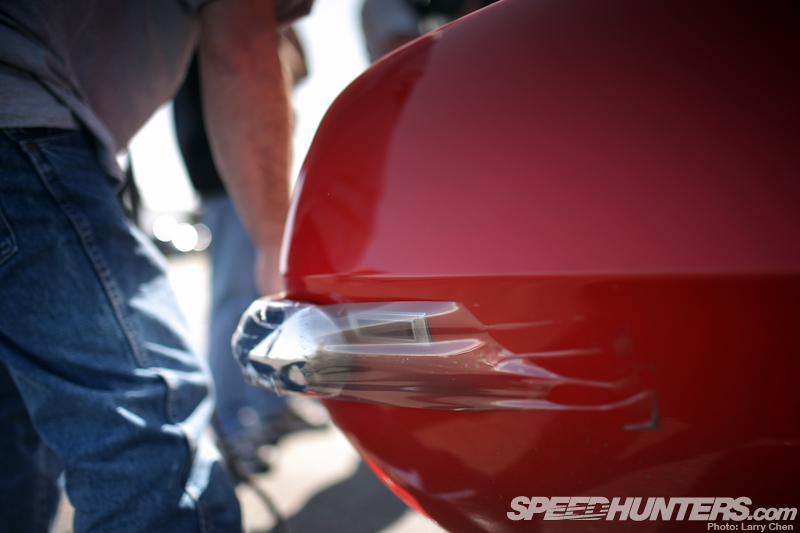 Although I'm not sure how much this actually helps given the crude aerodynamic design of the car, it certainly can't hurt.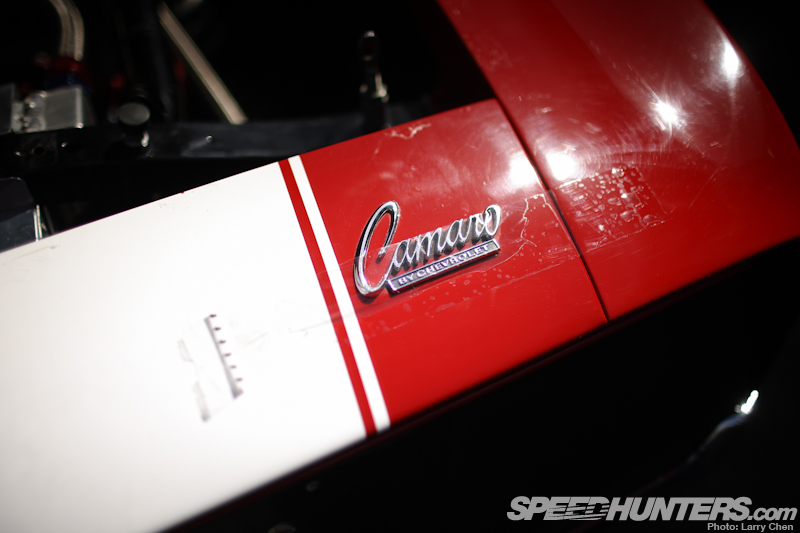 And just in case you didn't know, that's a Camaro, by Chevrolet.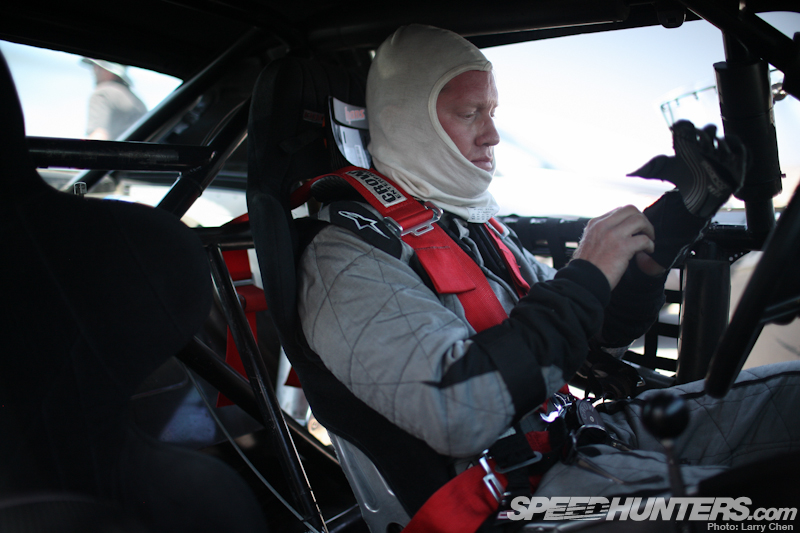 This is RJ Gottlieb, the owner and driver of Big Red, getting suited-up for the task at hand.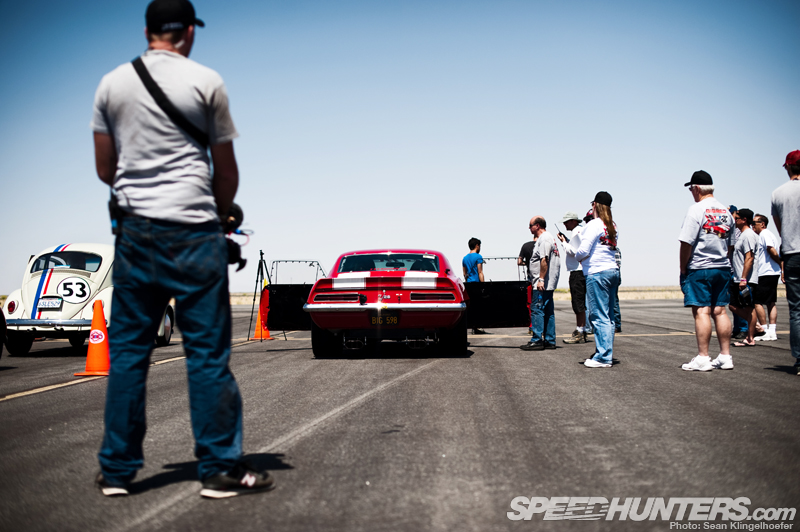 Big Red was running a new engine and transmission set-up for this event and the team was looking to not only better their personal record but reclaim the overall title of fastest car as well.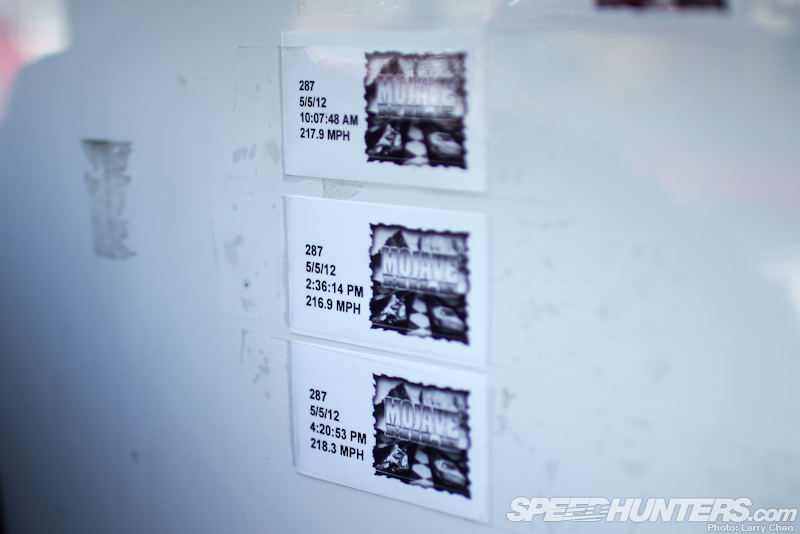 The car was able to record a speed of 218.3mph on a shakedown run the day before the main event, but the team wasn't happy yet.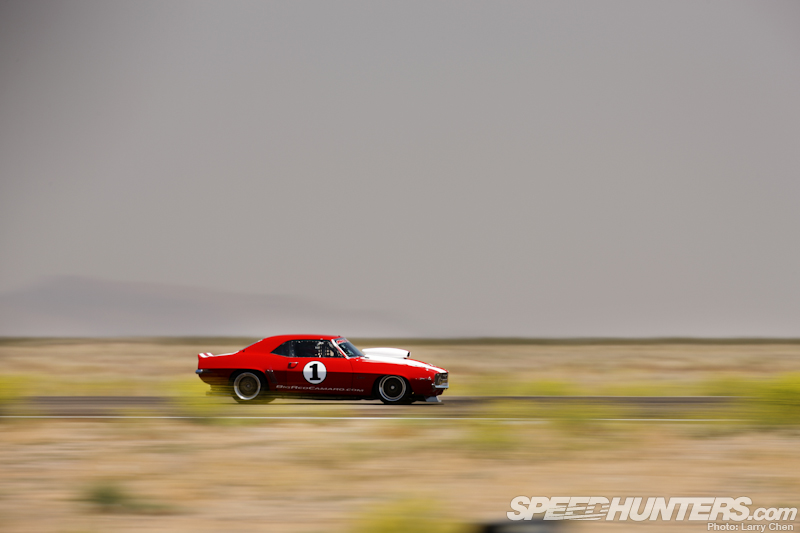 They were shooting for 227.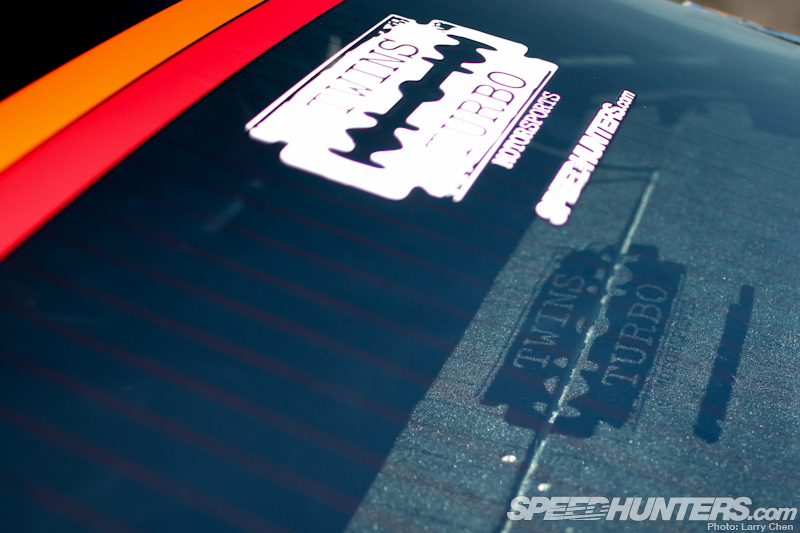 But they weren't the only ones looking to break the record. The boys from Twins Turbo came out to lend a hand to one of their customers, the owner of one of the most insane Vipers on the planet.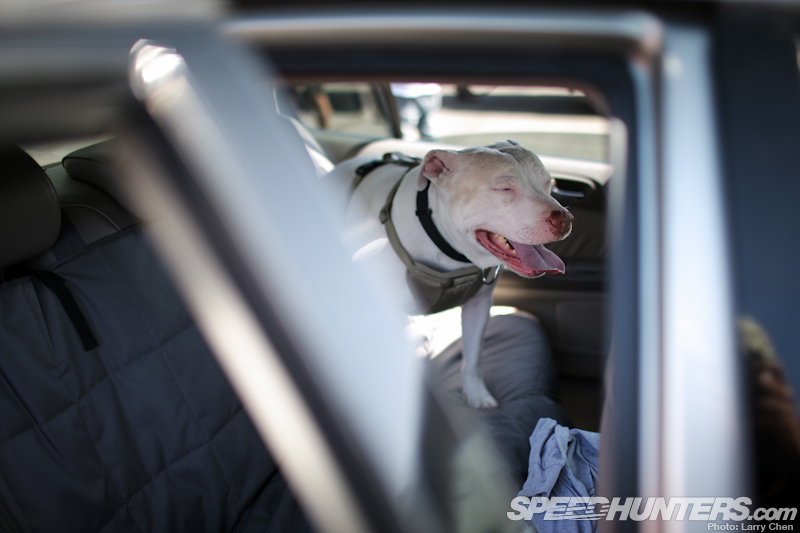 The Twins also brought out one of my favorite dogs. He seemed to be enjoying the heat.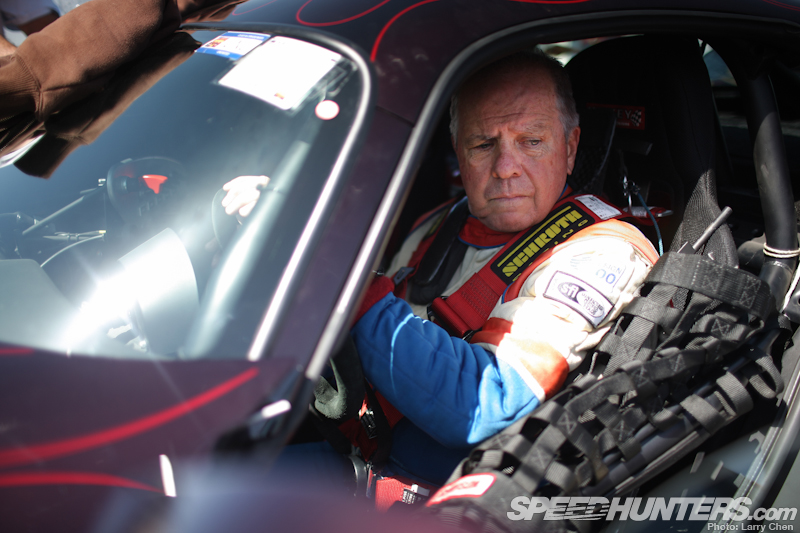 It's really hard to escape the heat in the middle of the desert. Although Bob Griffith, the driver and owner of the Viper, is used to it.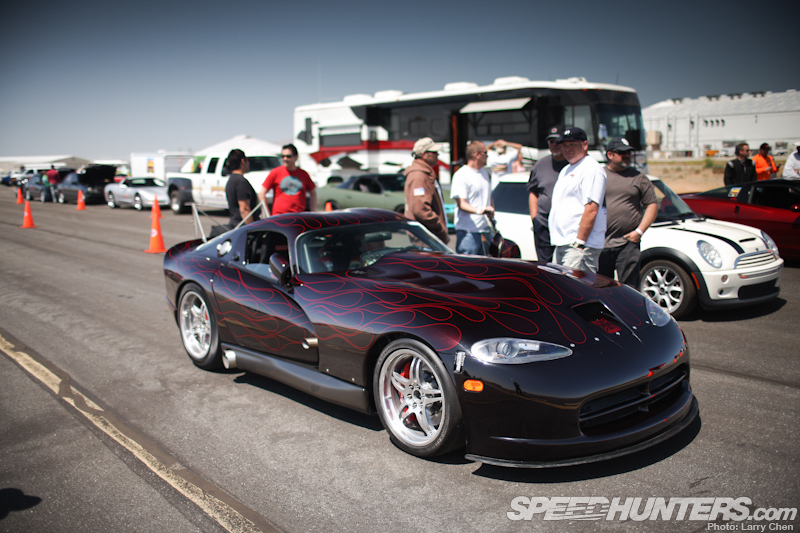 He has gone over  250mph on the Bonneville salt flats, so 230mph should be a piece of cake for him.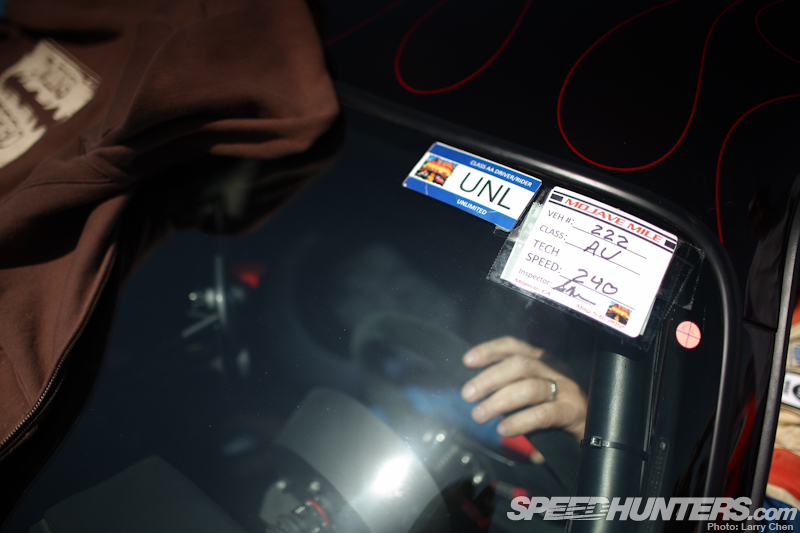 As you can see the car was teched for 240mph, and given the firepower on board that seemed a realistic goal.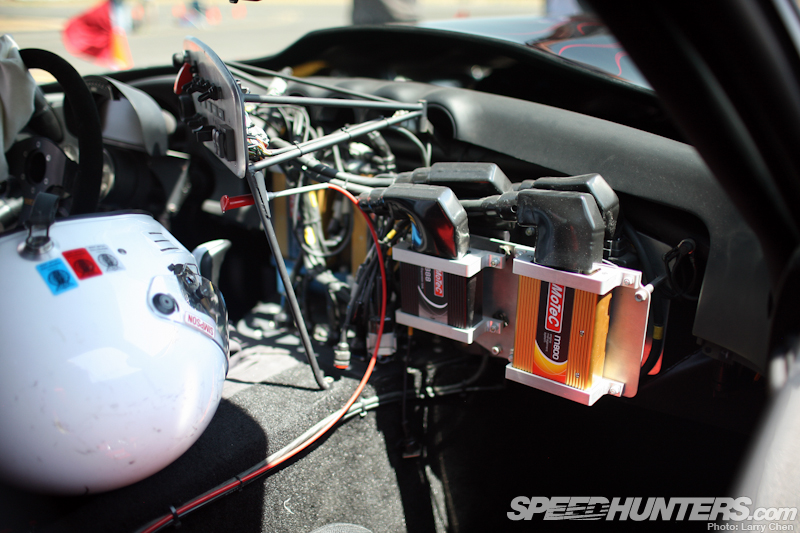 Here we see enough MoTeC boxes to launch a space mission.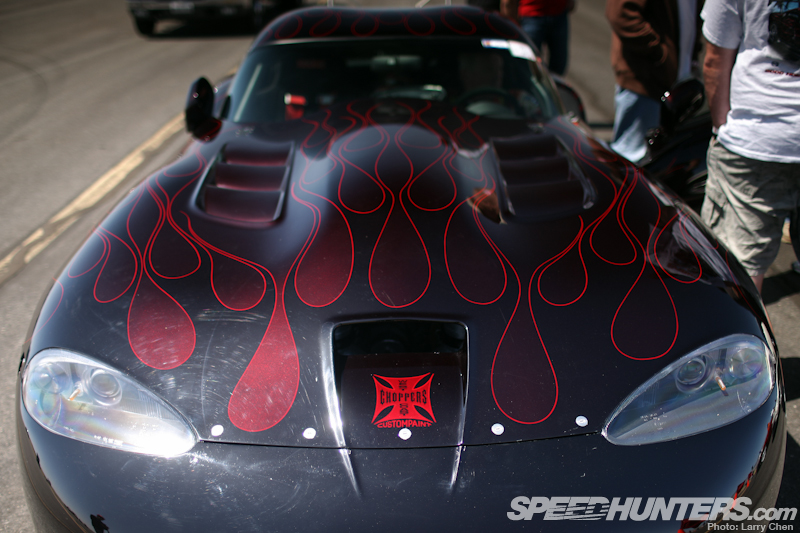 But going fast is only half the battle at the Mojave Mile: you have to look the part too.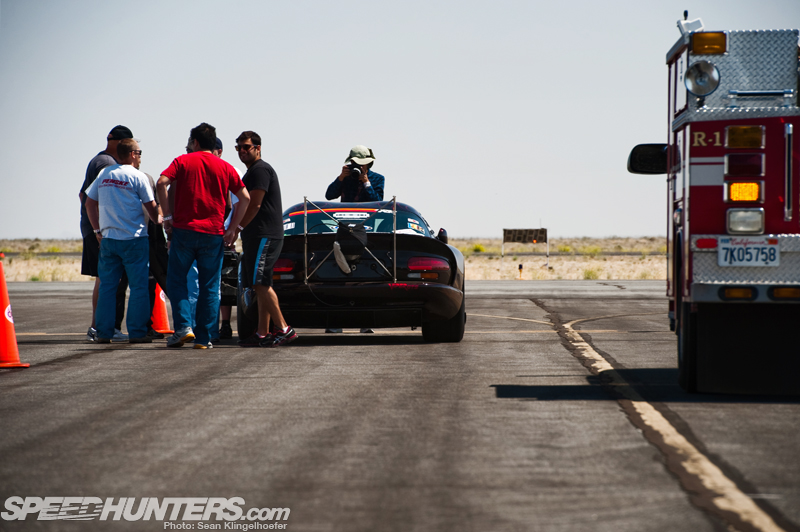 Everyone was in position and it was time to head out to the starting grid.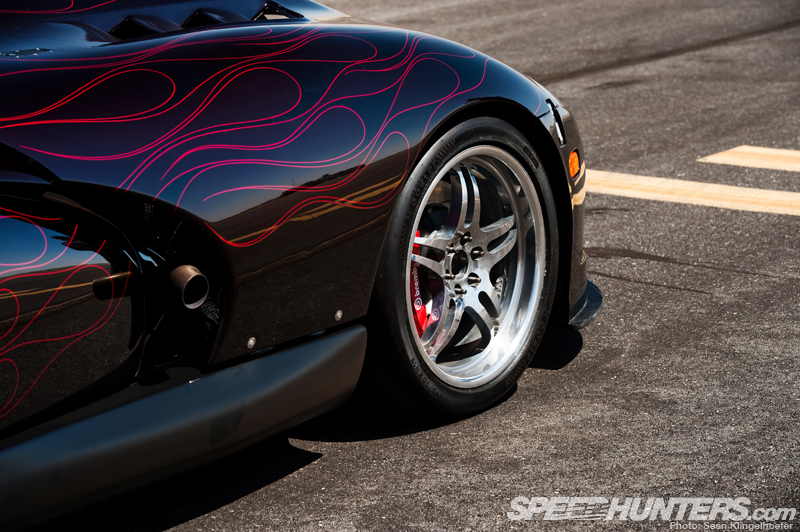 This thing would need as much stopping power as possible, even though there is a mile-long shutdown lane.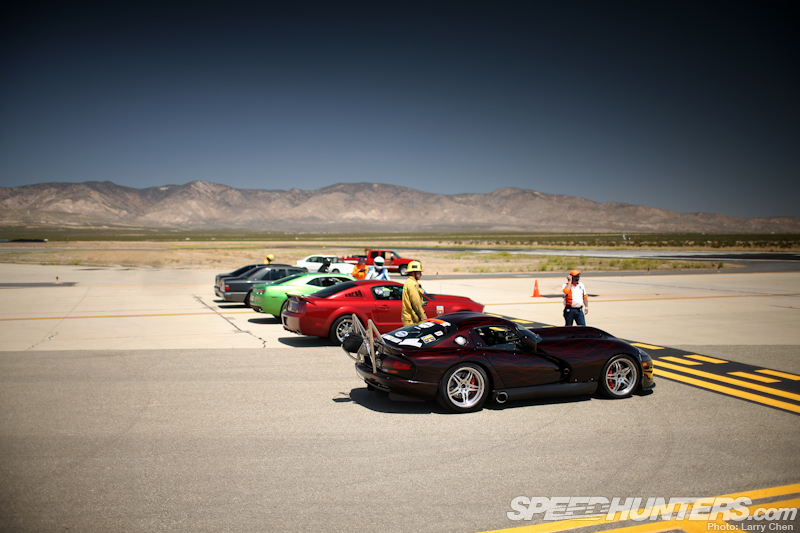 We hopped in the back of a support truck and followed the Viper out to the hot grid. This could potentially have been the record-breaking run, so we did not want to miss a single thing.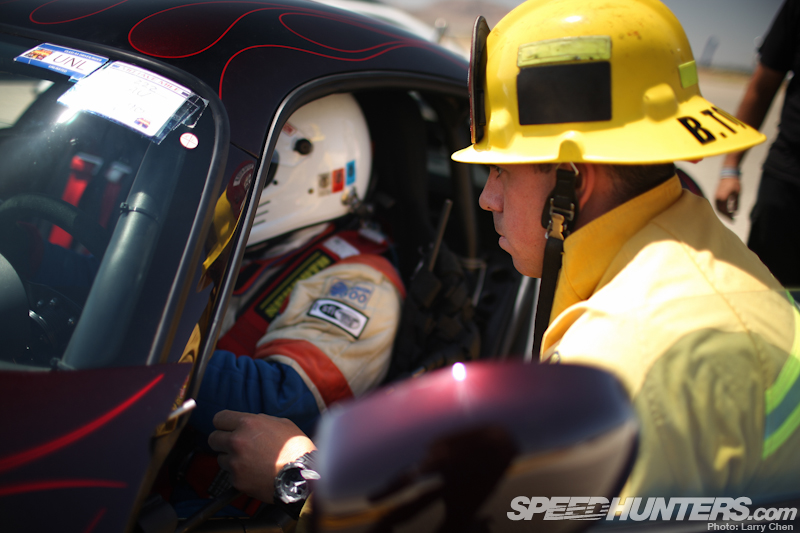 There were firemen standing by to check on all the seatbelts and safety equipment before they went off. They always make sure they fasten everything extra tight.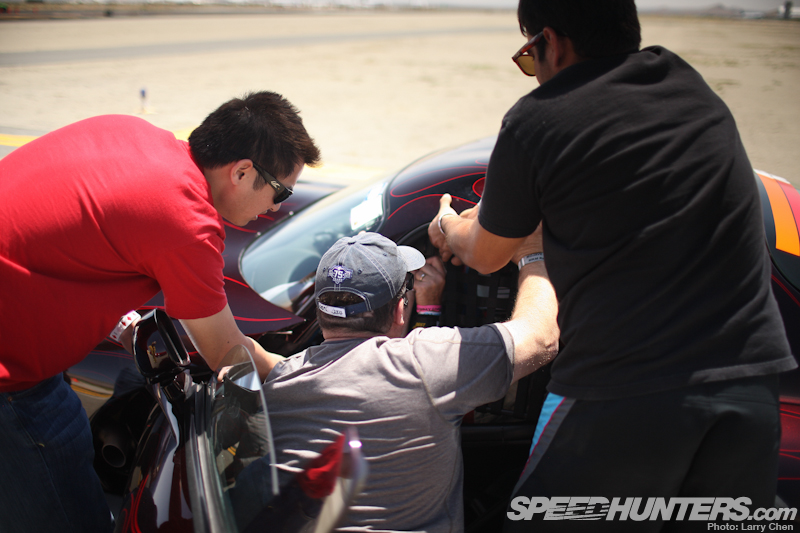 The team seemed to have a bit of a struggle with the safety net – apparently one of the bars that retains the net was bent slightly off kilter.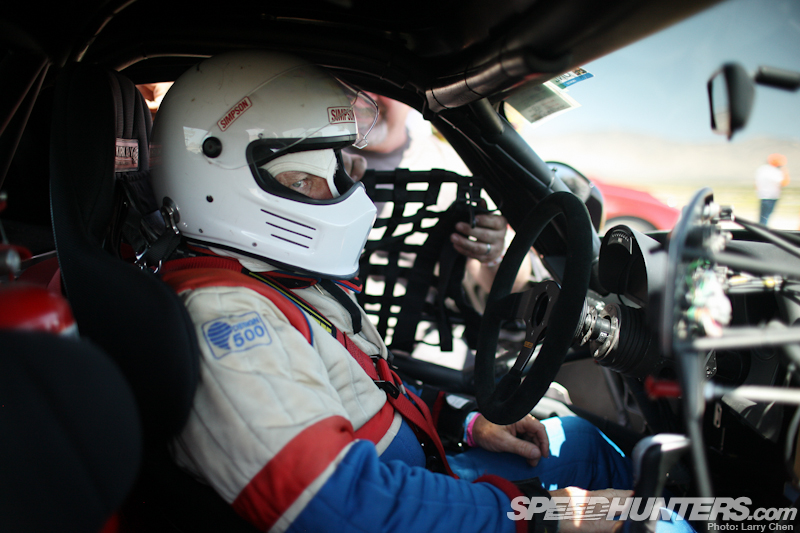 Eventually they were able to get it sorted out, but not before a track delay from air traffic control.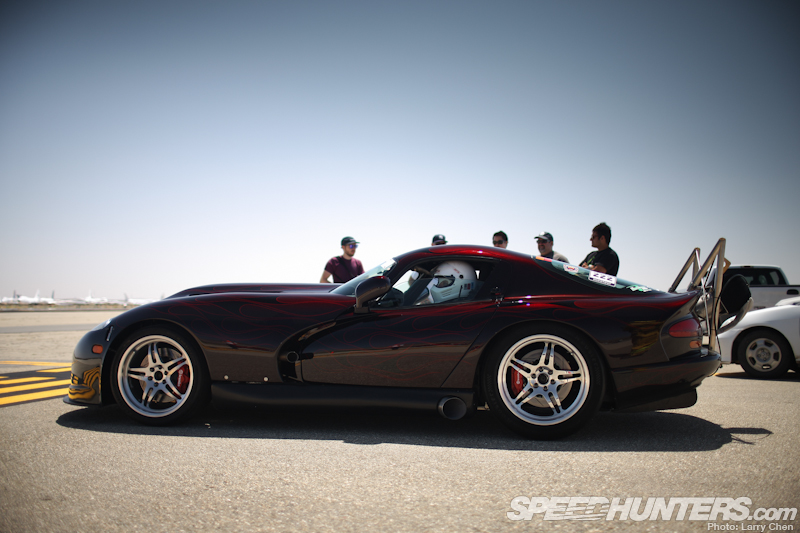 Everyone had to wait in the blistering heat for the unknown cause of our intermission.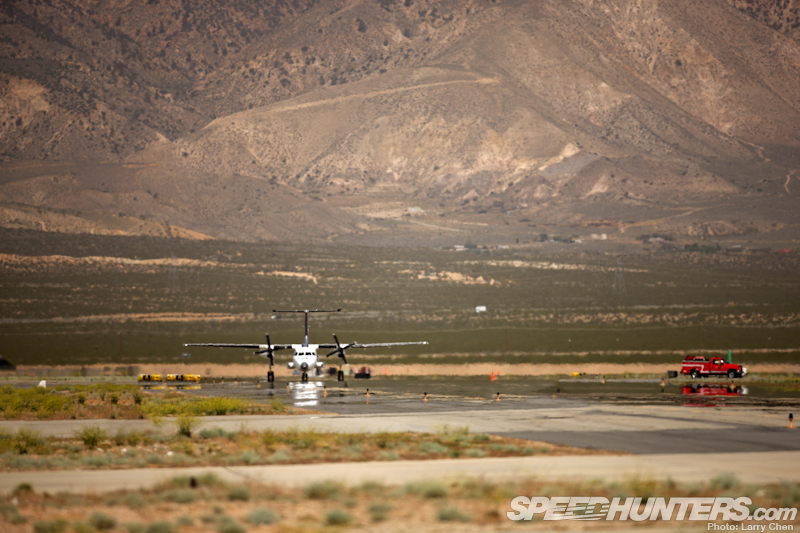 Then it appeared – this was an airport after all.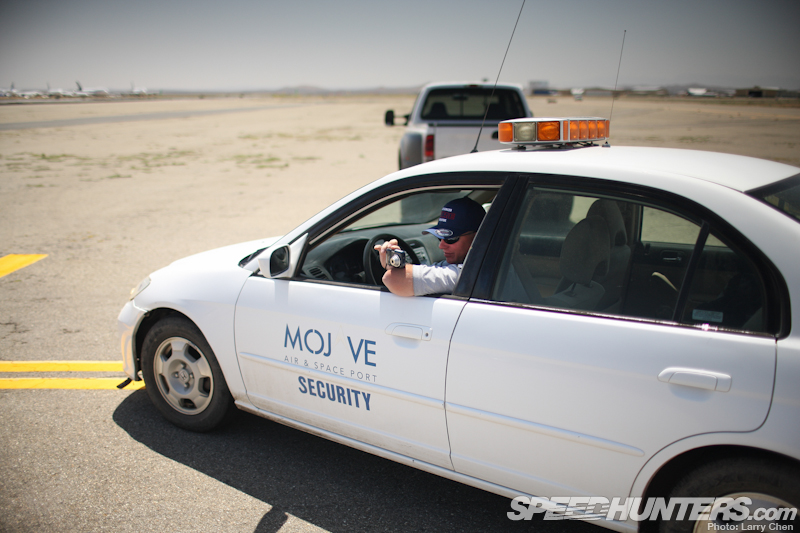 Even the security guards couldn't take their eyes off the West Coast Choppers flame paint-job.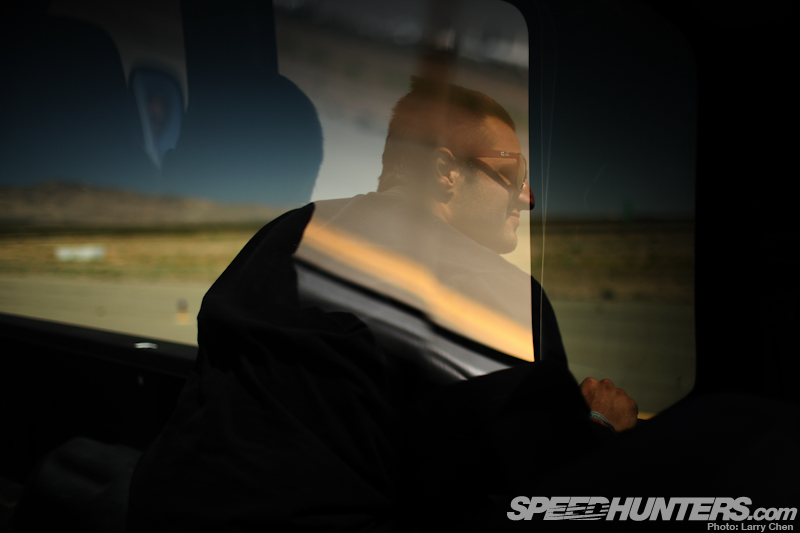 Carlos from Twins Turbo could not help but hang out of the back of the support truck as the black beauty rolled by at a casual 200mph-plus pace.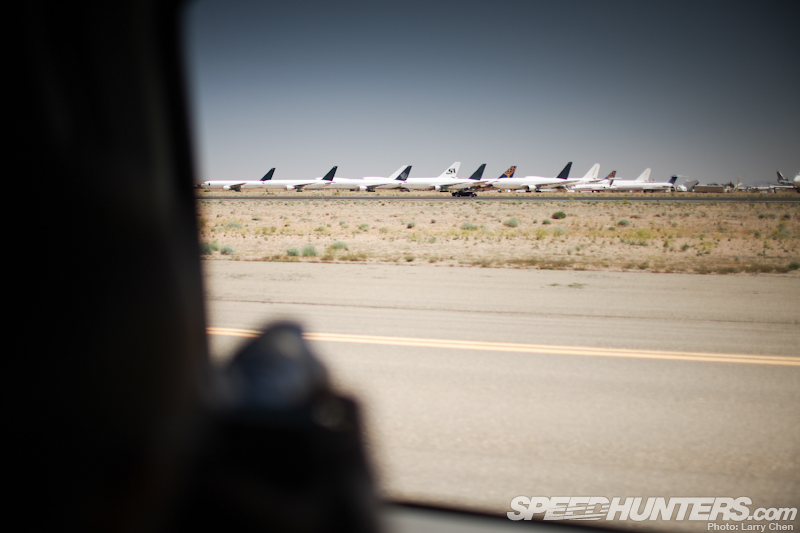 Sean was sitting on that side of the window so I just let him shoot a few with his long lens.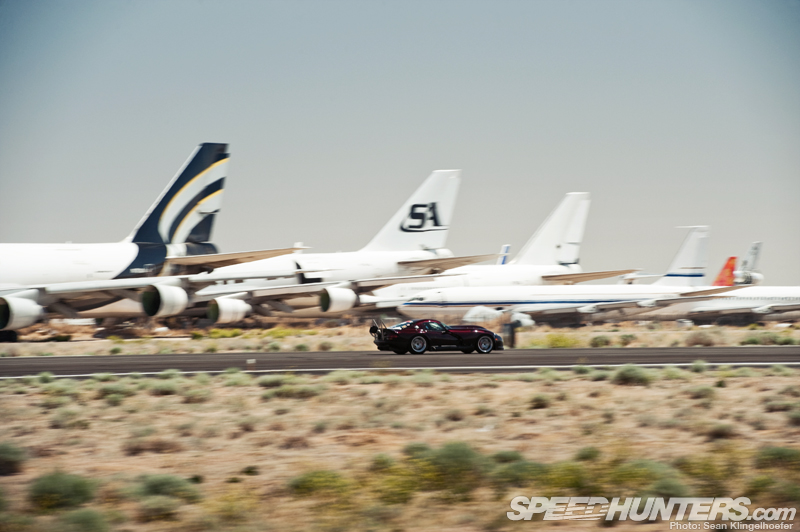 And the resulting shot?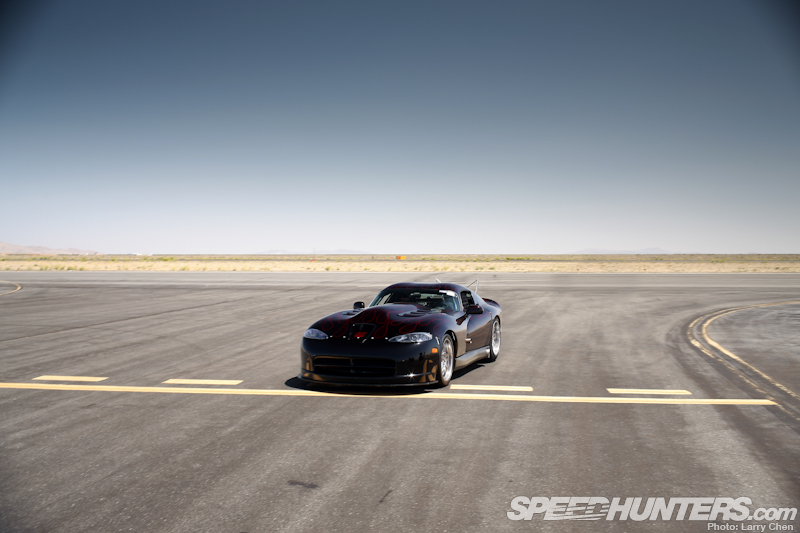 Although Bob botched a shift from third to fourth the car still managed a speed of 218.3mph – exactly the same as the time set by the Big Red Camaro which was leading the event.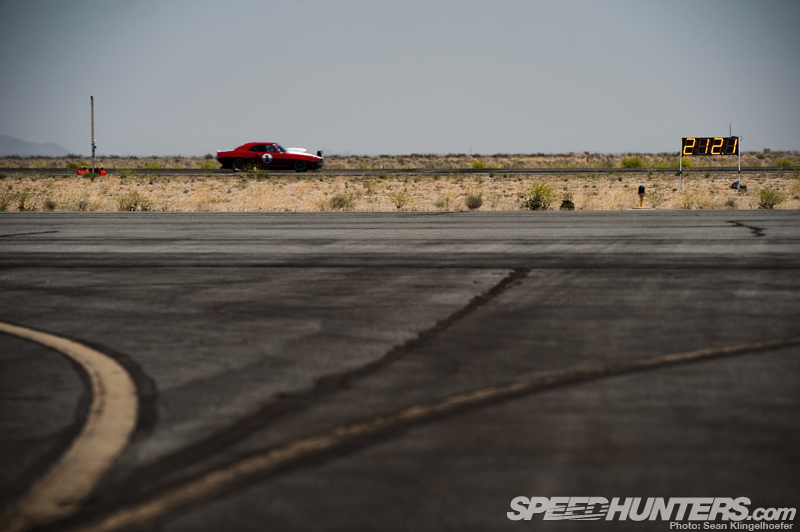 And as hard as the boys tried, the air quality in the afternoon was just too bad to pull a better time and the match would end in a tie.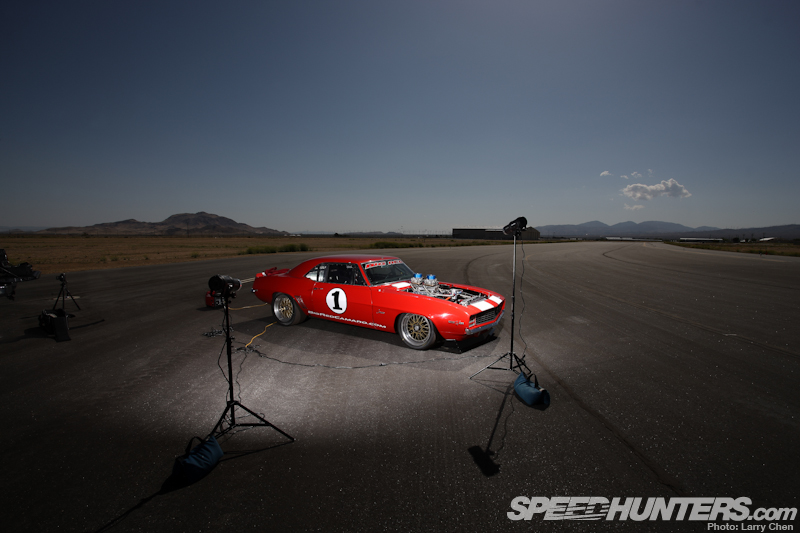 We then spent the next two hours getting up close and personal with the Camaro for a special feature coming your way soon.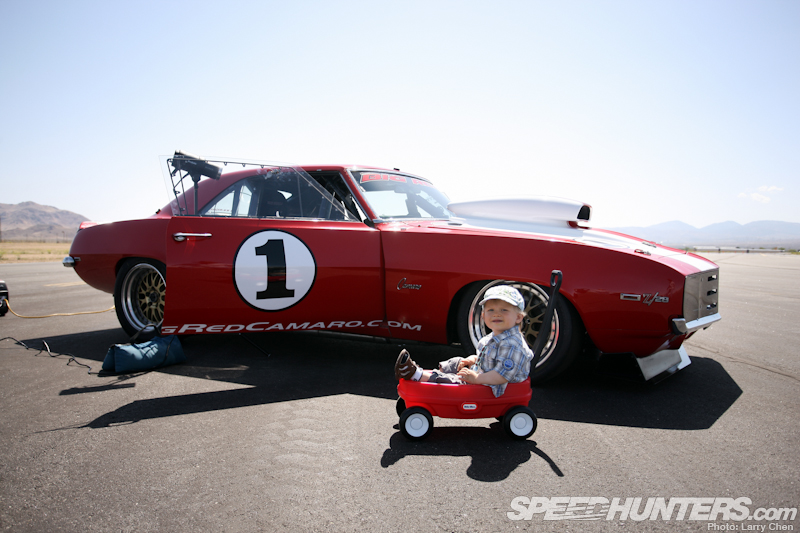 What a great event this was. There was close racing action and more than 30 cars competing under the intense heat. The conditions were not the most favorable for a top speed run, but it seemed like everyone didn't really mind because they all had fun anyways. These events will not go on forever, so you Speedhunters out there need to make it a point to check them out at least once in your life. And who knows, maybe you will find yourself behind the wheel of one of these things one day.
Larry Chen
More Mojave Mile Stories on Speedhunters