SEMA Crunch
This being my 11th year covering the SEMA Show, and as hectic as it gets in terms of being a Speedhunter, I wanted to do something different with my coverage this time around.
For me, it all started the Saturday before the week of the event…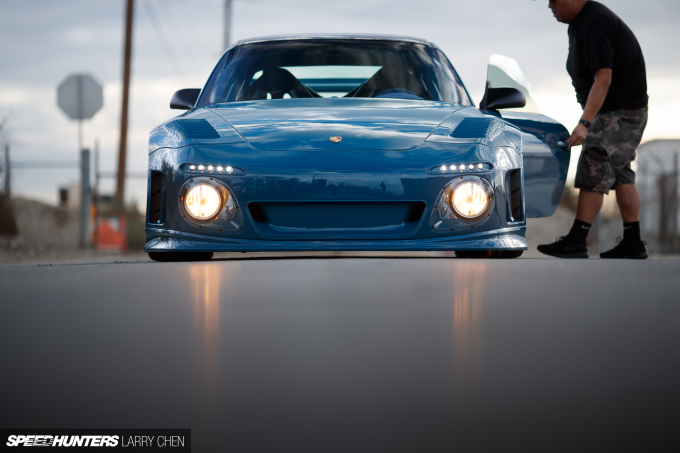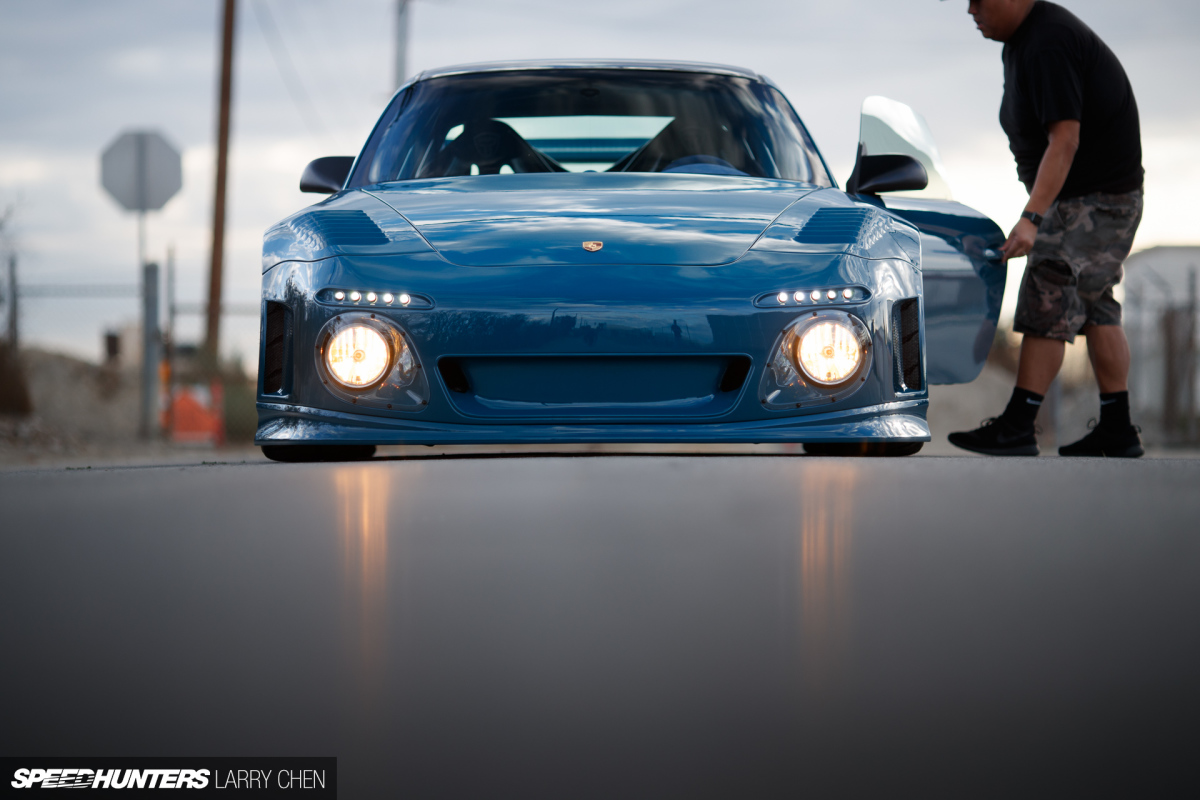 At this point there are really only two full days (not including travel time) before the cars have to be rolled into the Las Vegas Convention Center. I was staring at iDL Design's 997 'Slant Nose' for our sunrise shoot, and was shocked.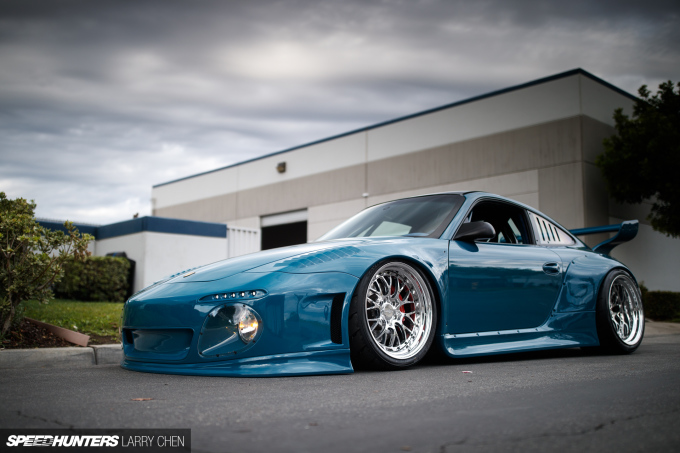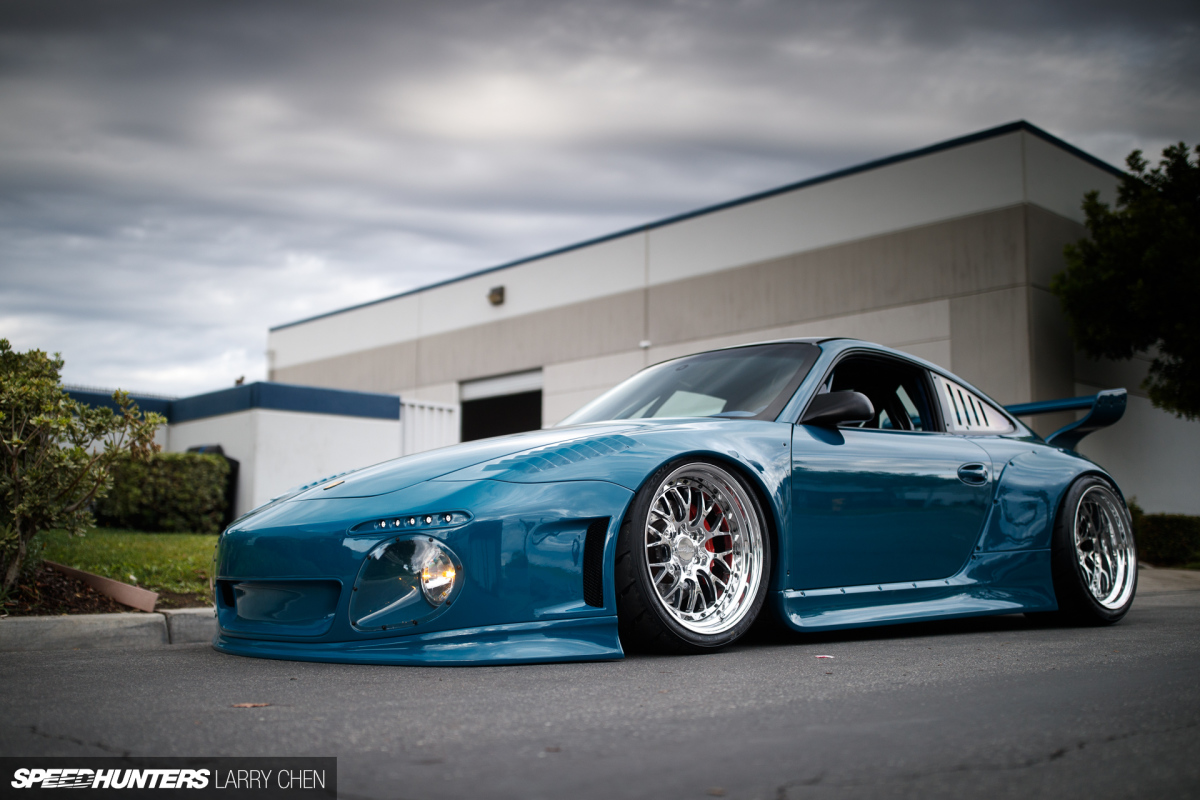 Not only at how gorgeous the car looked, but for the fact that it was far from being feature car ready when I saw it the night before, which was really just a few hours previous.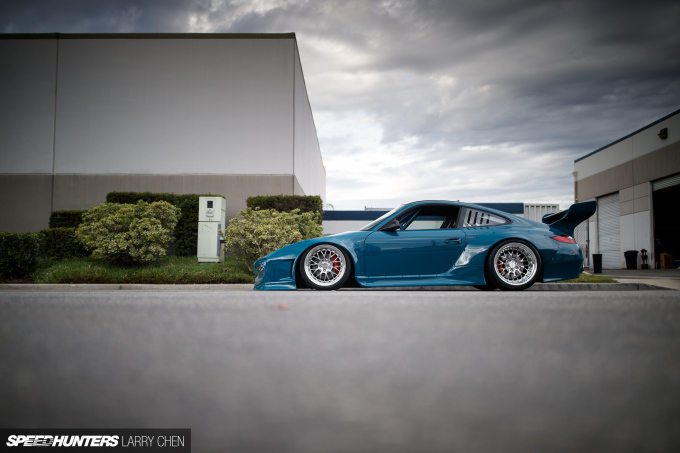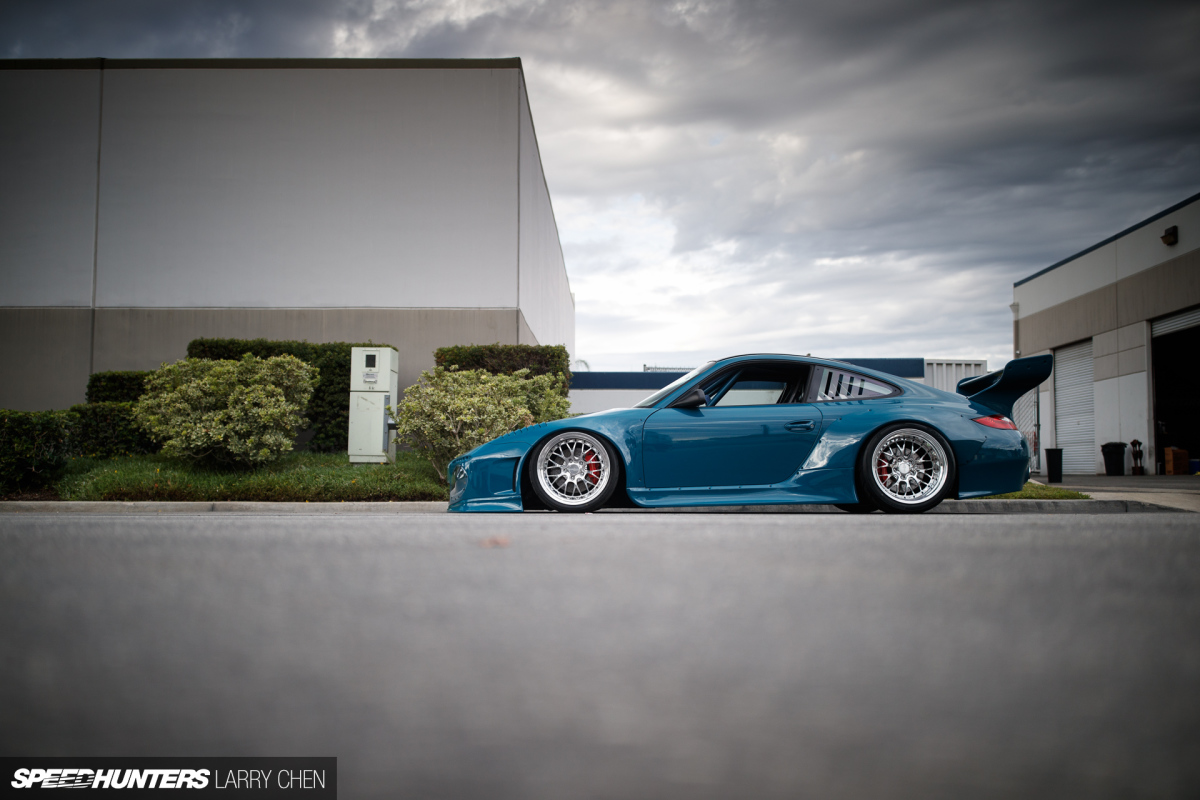 The seats were not in and most of the interior was still missing, the tires were barely mounted on the brand new Rotiform wheels, and the boys at iDL were still shining up a few of the body panels.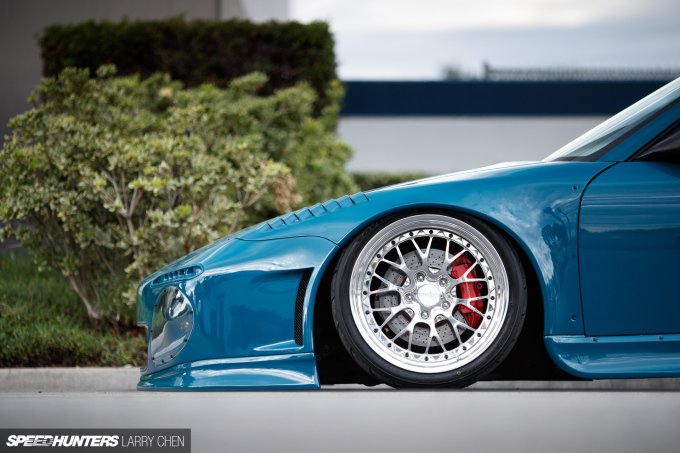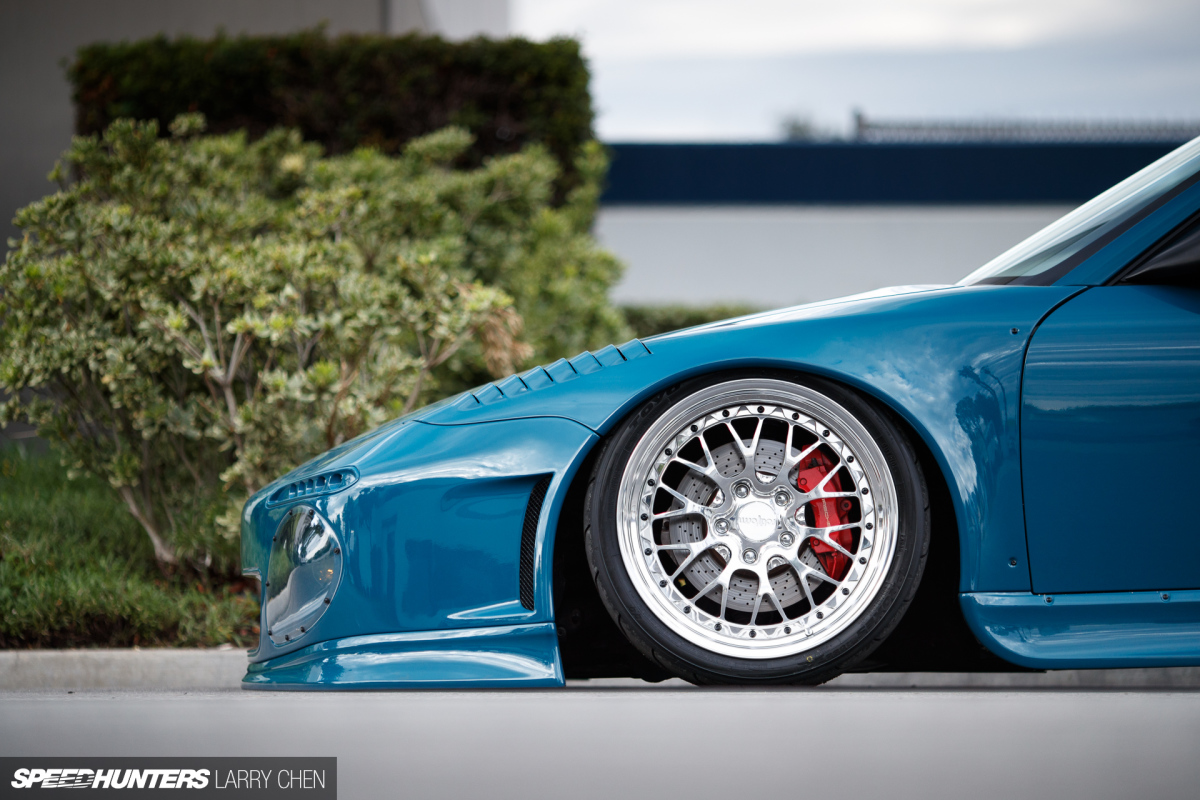 But they got it all together, and it was awesome to see the 997 take the maiden voyage out onto the streets under its own power. And thank goodness too, because right after the shoot I jumped in my car and made the 120-mile drive south to San Diego.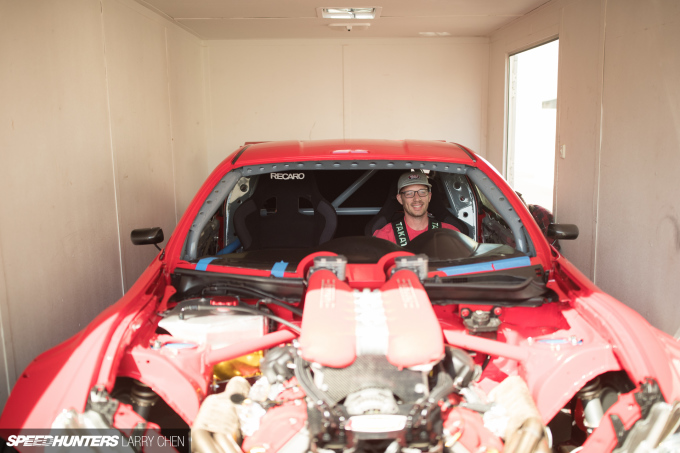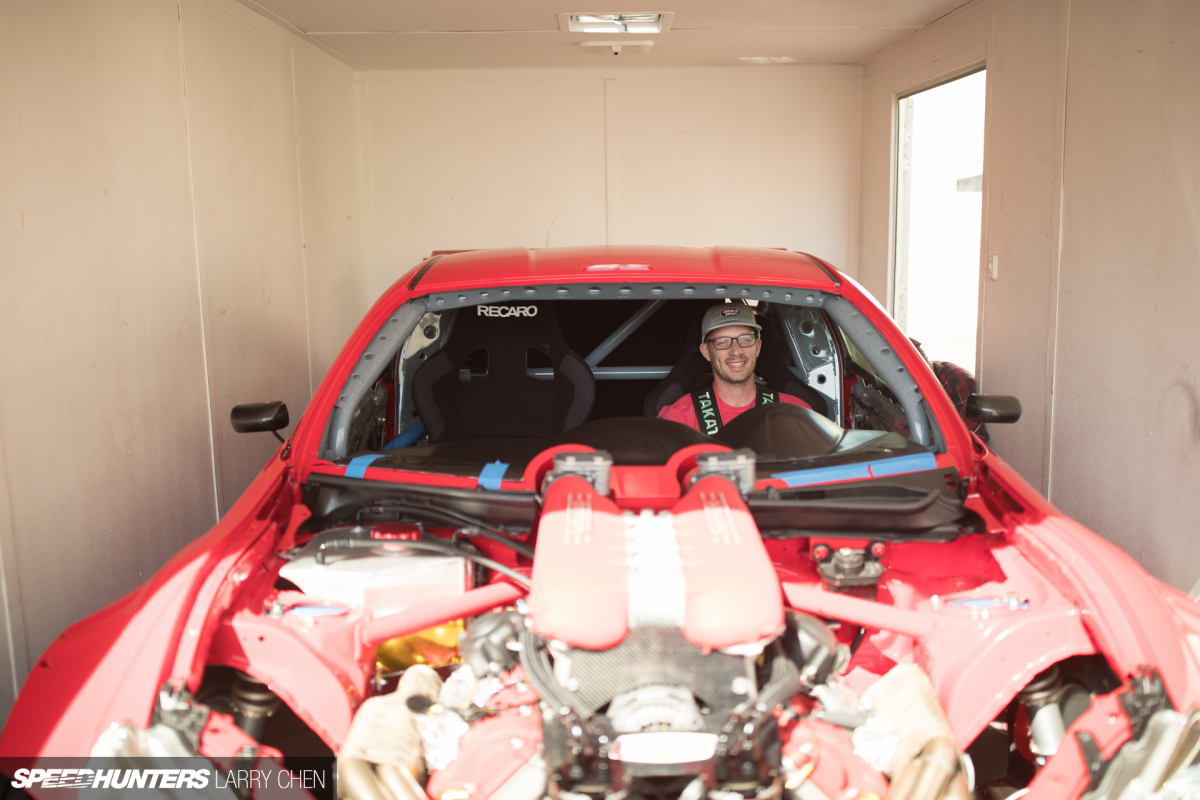 There I was greeted by Ryan Tuerck who was smiling from ear to ear. The GT4586 Toyota/Ferrari mash-up was about to get remotely dyno tuned.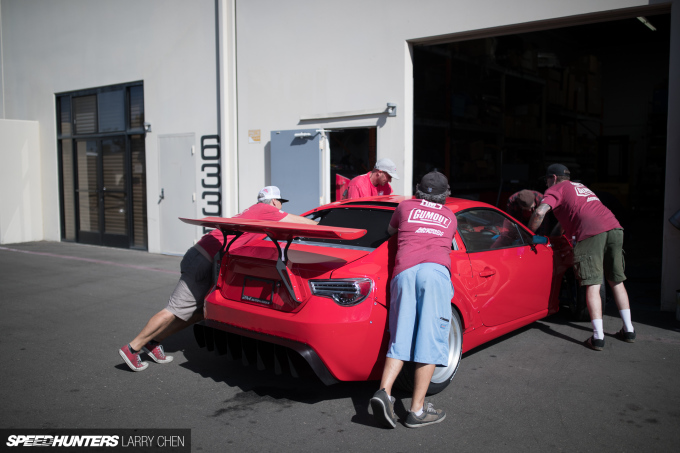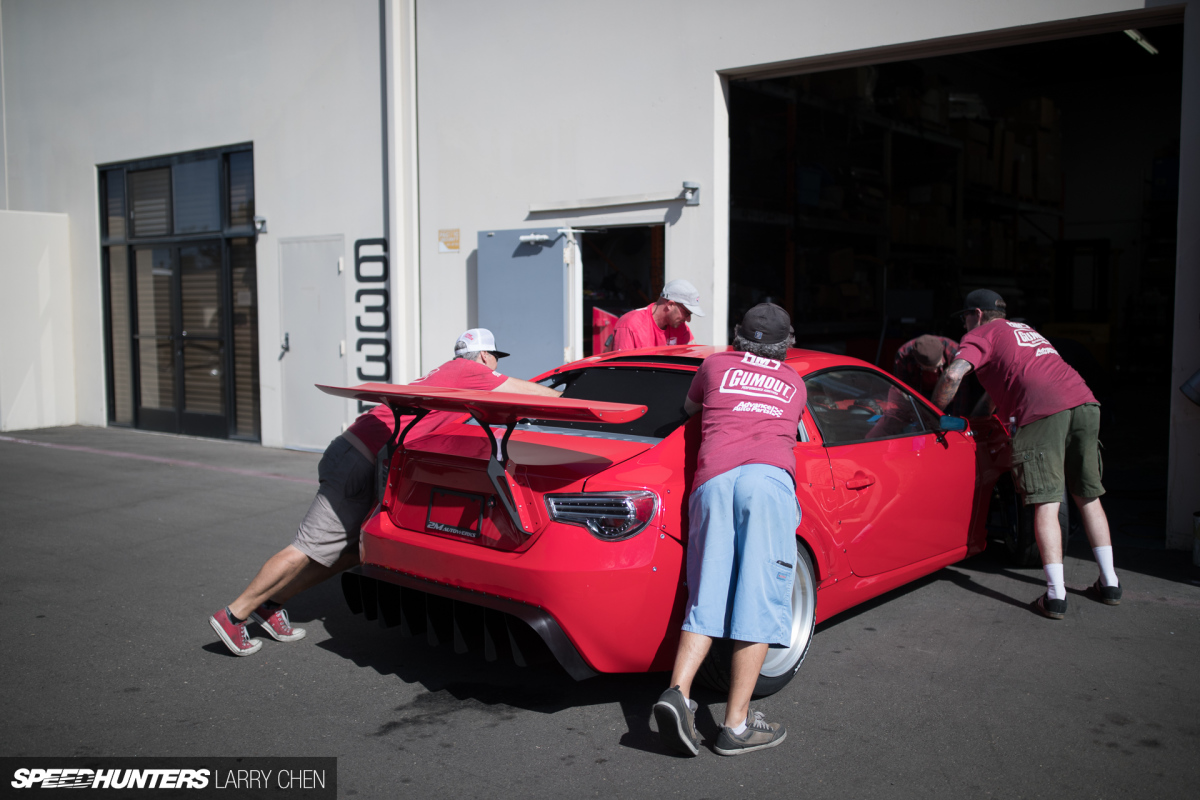 This was the first time the car had seen sunlight since being painted red, and there was so much still left to do in the very short time before SEMA.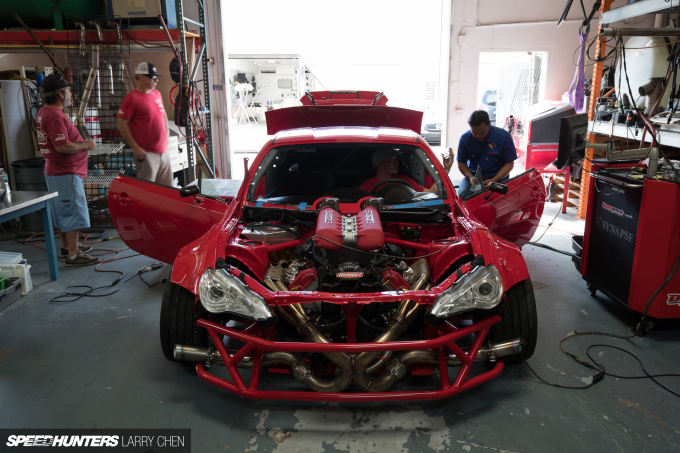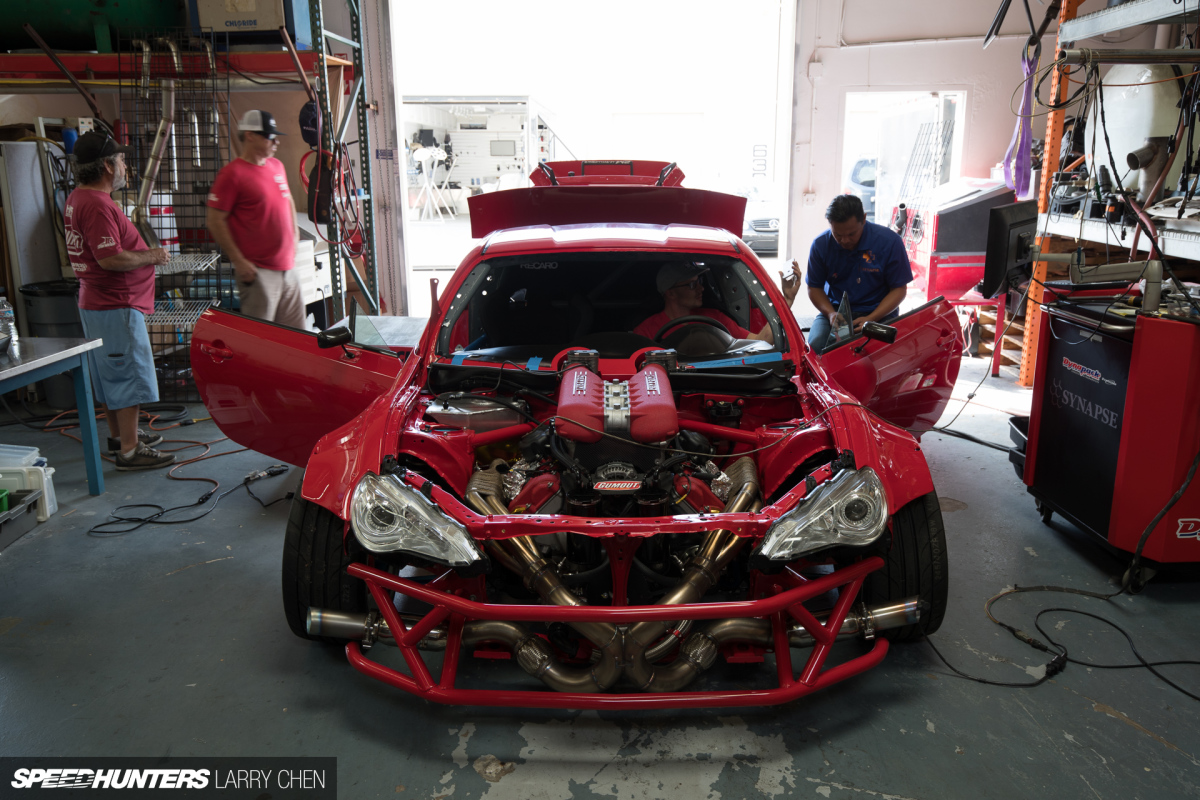 Among other things, parts of the interior were not fitted and the roof scoop still needed to be attached. I watched the boys do a few dyno pulls as they tried to figure out a transmission issue.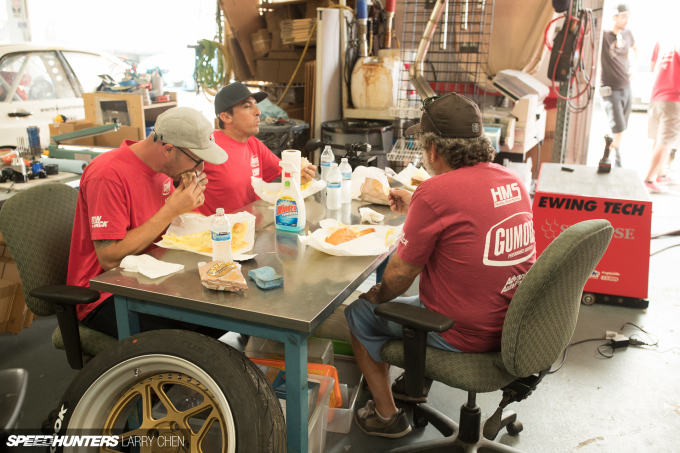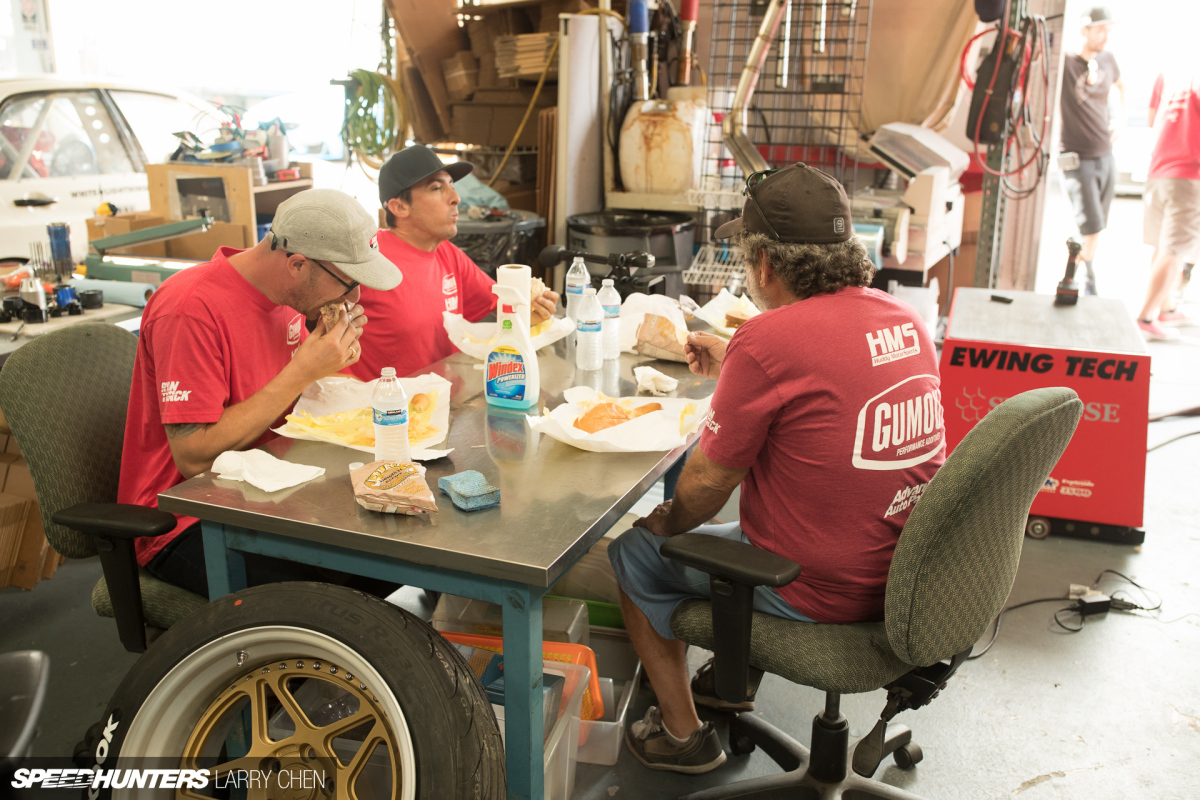 They barely had enough time to sleep let alone eat a proper meal, so they ate while the car was being tuned. I couldn't stay very long because I had to get back to Los Angeles for my next shoot.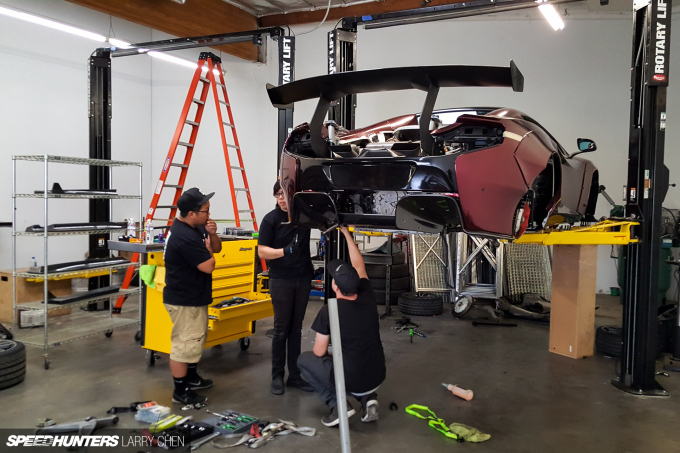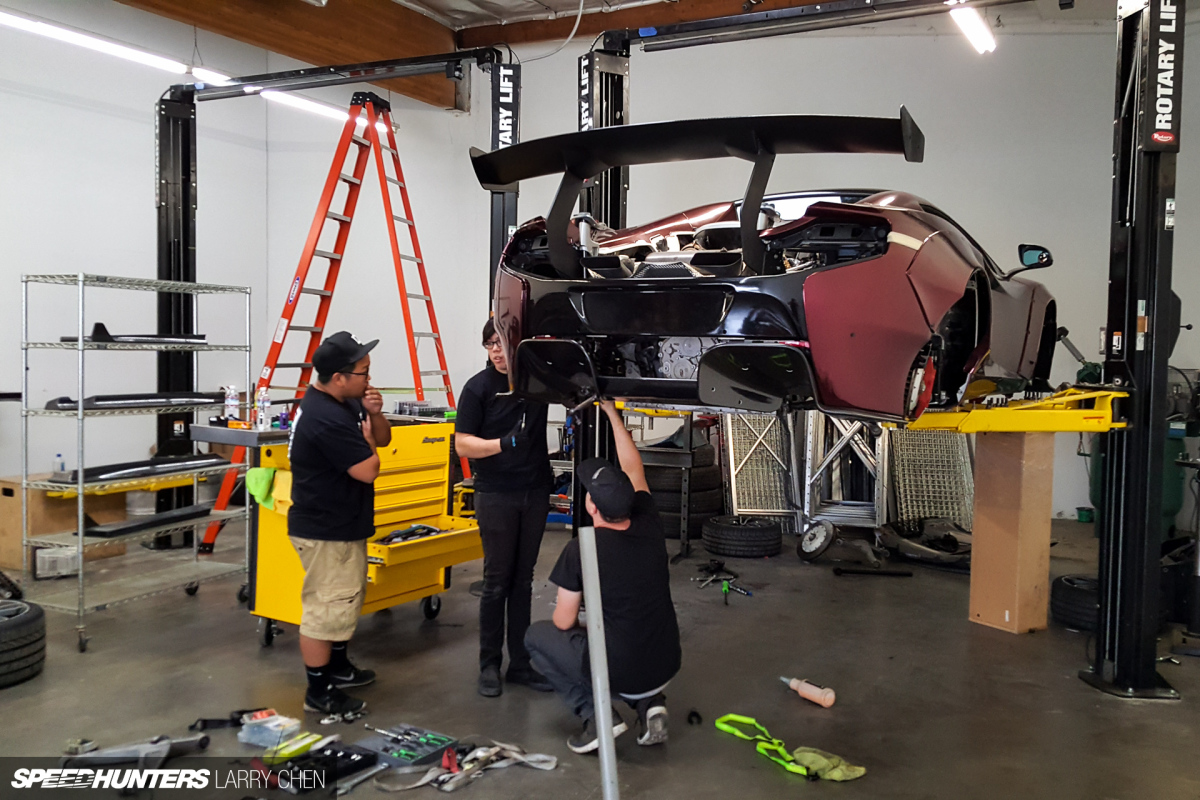 After negotiating the 120 mile's worth of traffic heading back up to LA, I laid eyes upon the Diety Motorsports x iDL Design Liberty Walk McLaren MP4-12C for the first time. There was still a bit of work left to do and not a lot of light left in the day.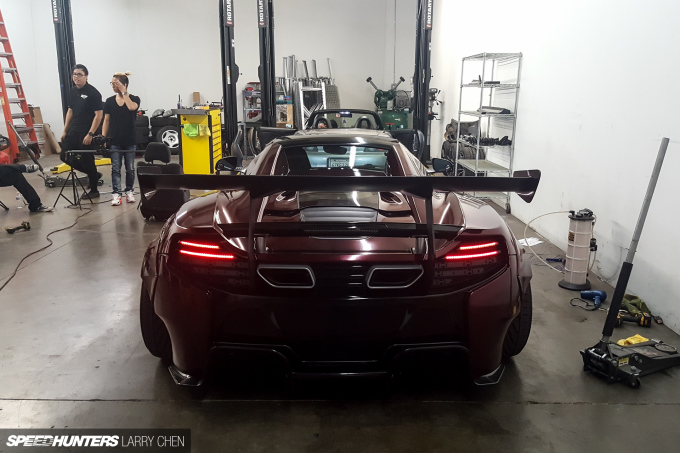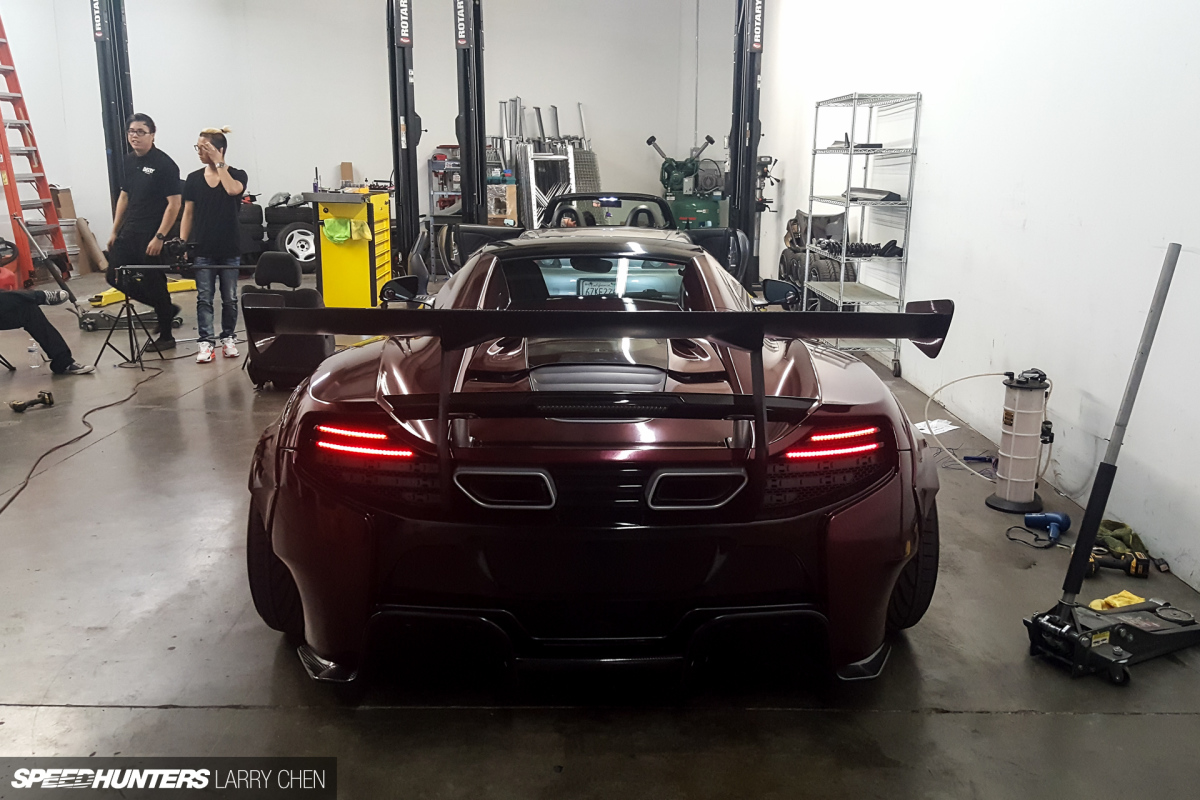 After a few final things were buttoned up for the shoot, the McLaren was driven out of the garage.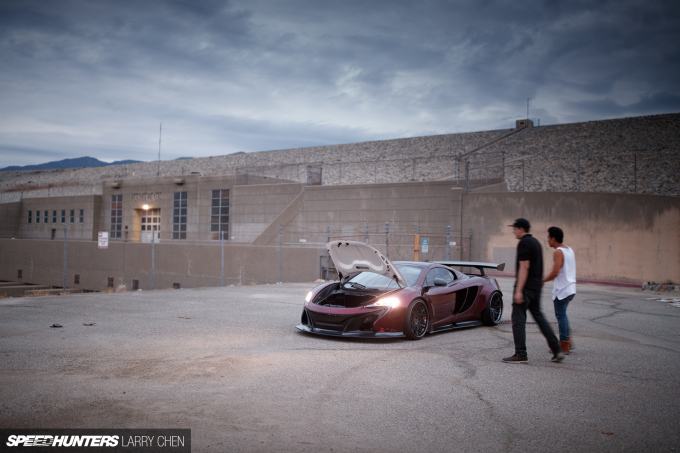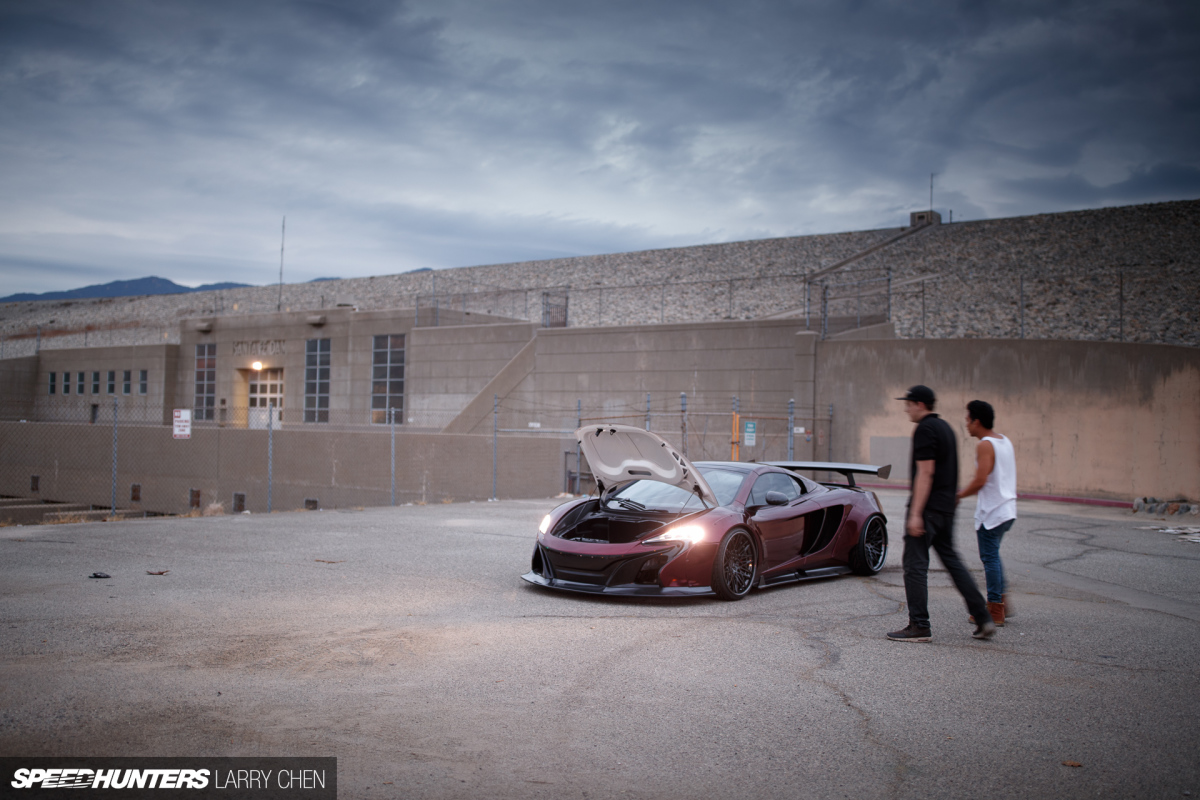 By this time it was 5:50pm and the sun was setting at 6:05pm. I did the entire shoot in 20 minutes.
Monday Before The Show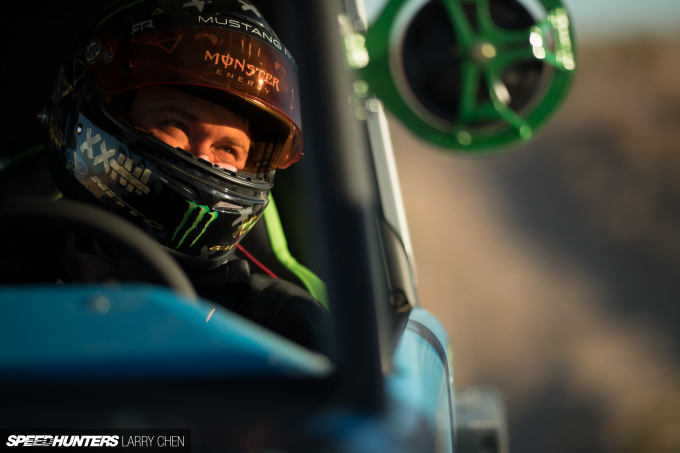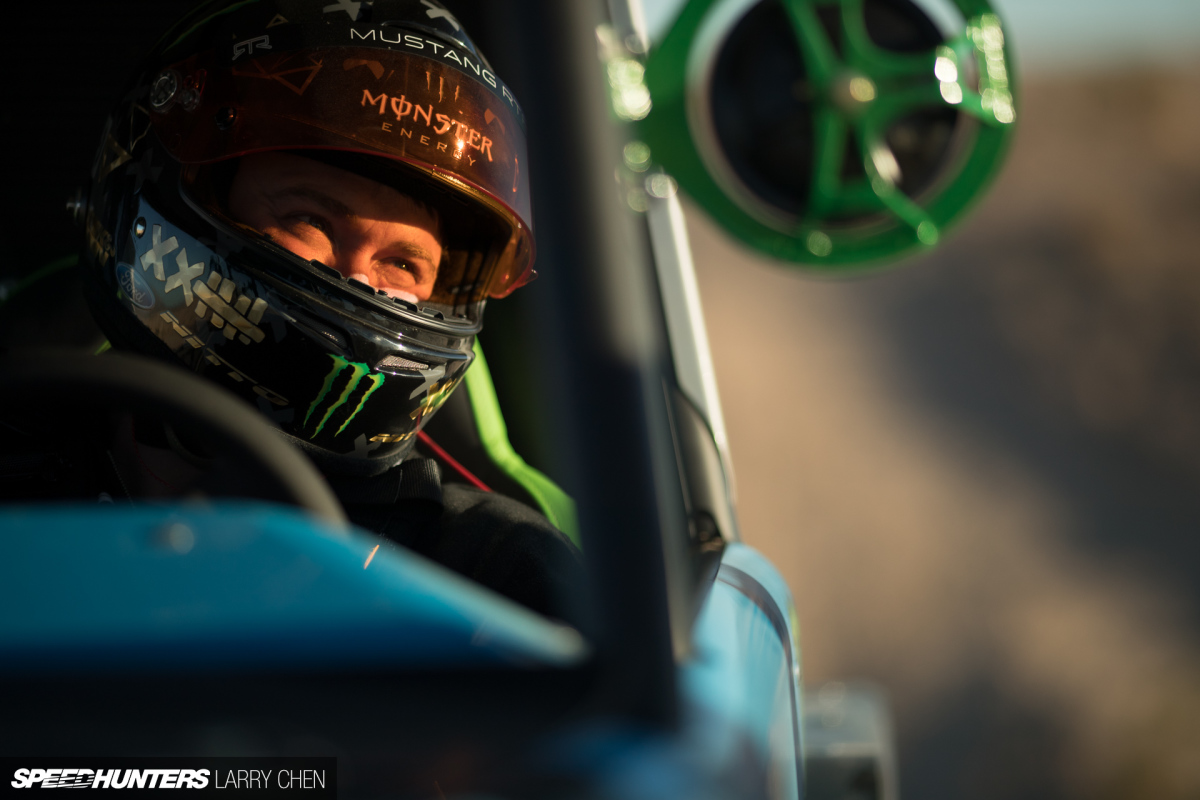 Sunday was a travel day for me, but bright and early on Monday morning I met up with Vaughn Gittin Jr. to shoot his Ultra 4 Bronco, also known as Brocky.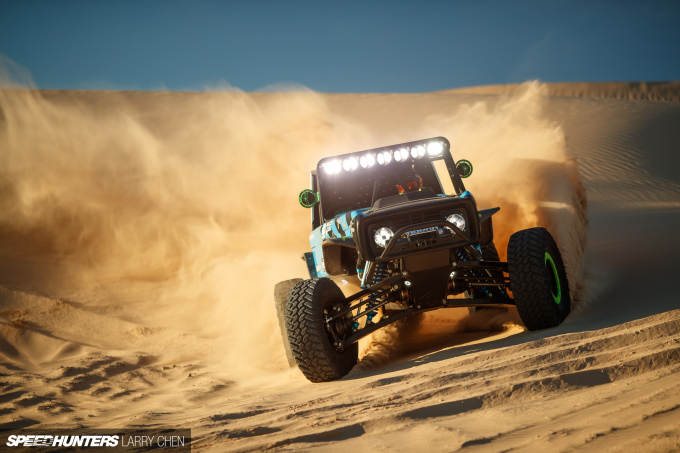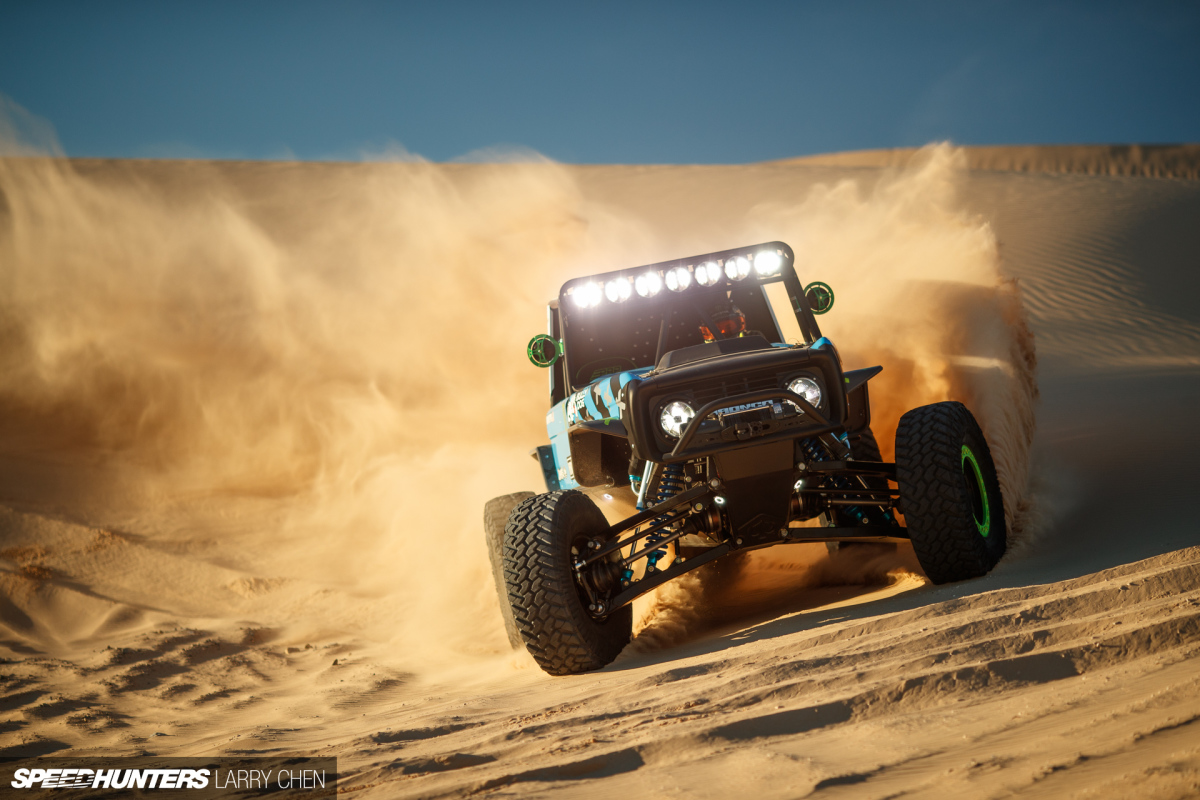 I figured the morning light would be perfect to shoot in at the Nellis Sand Dunes just outside of Las Vegas.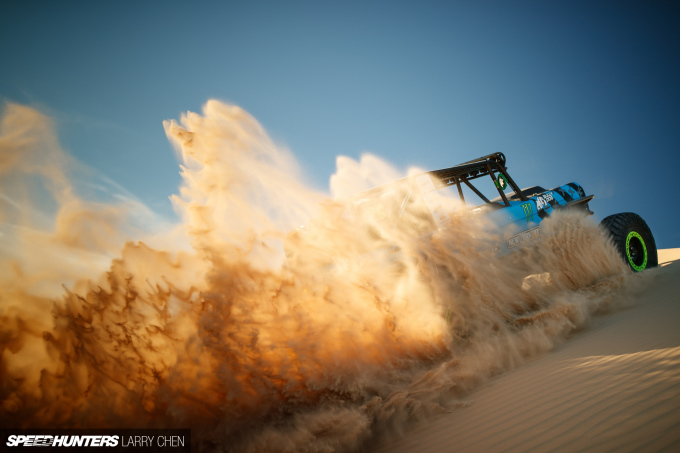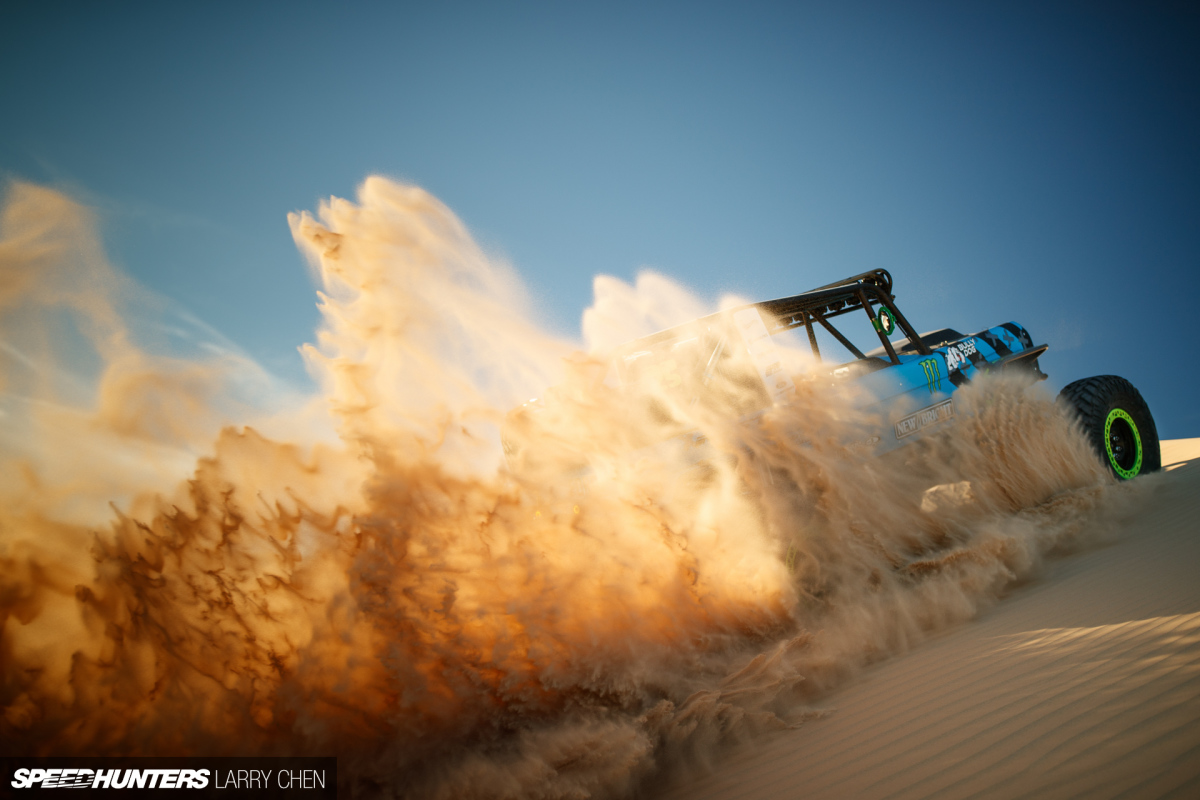 Lucky for me, Vaughn likes to push hard right off the bat, and that's exactly what he did on the truck's maiden drive. Are you guys seeing a trend here? Pretty much every vehicle I shot before SEMA was moving under its own power for the first time when I showed up. That is the definition of the 'SEMA crunch'.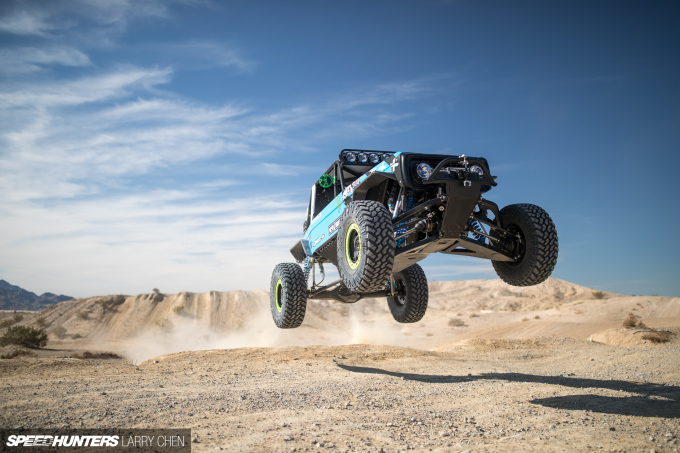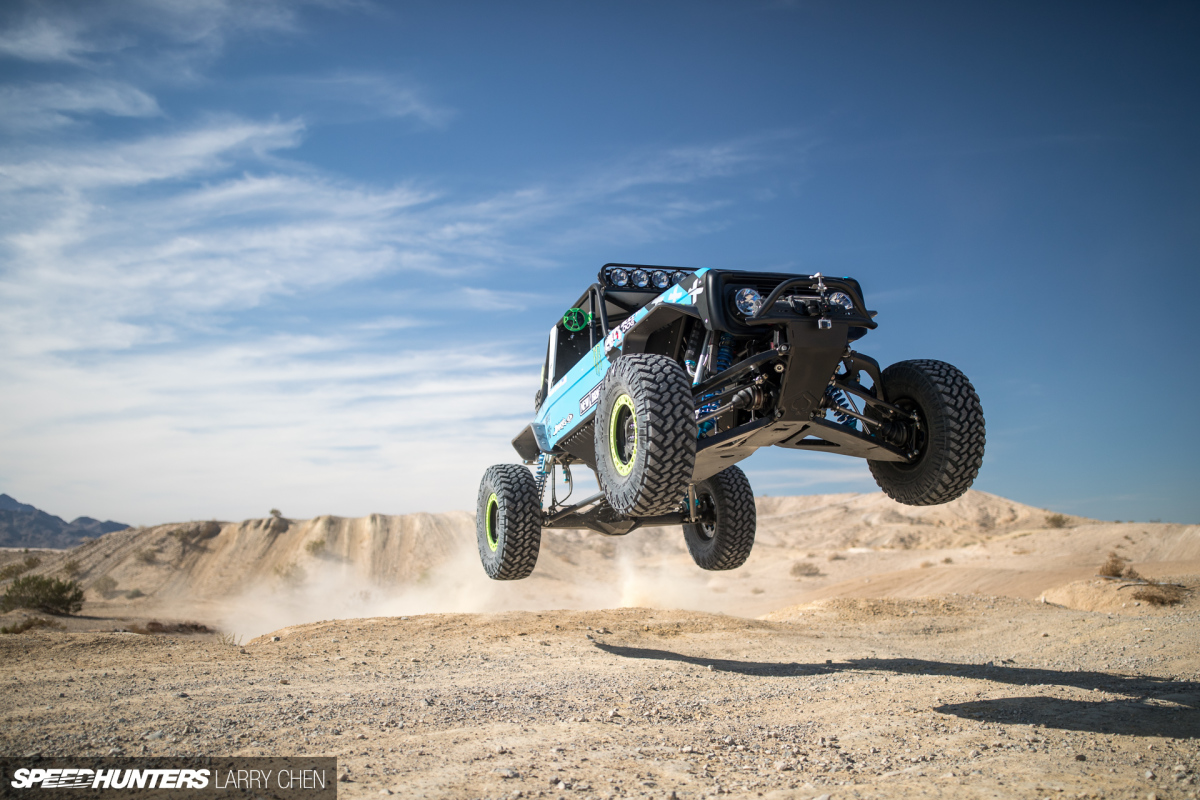 Before its rebuild, Brocky was only used to pull in and out of trailers – now it clears entire roads. I have to say, this was quite a successful sunrise shoot.
Next up, I had to head into town to get the final shots of the GT4586 before it was parked up on the show floor.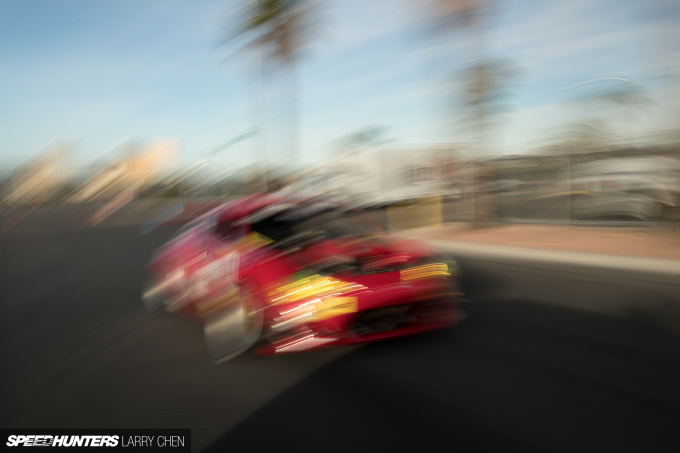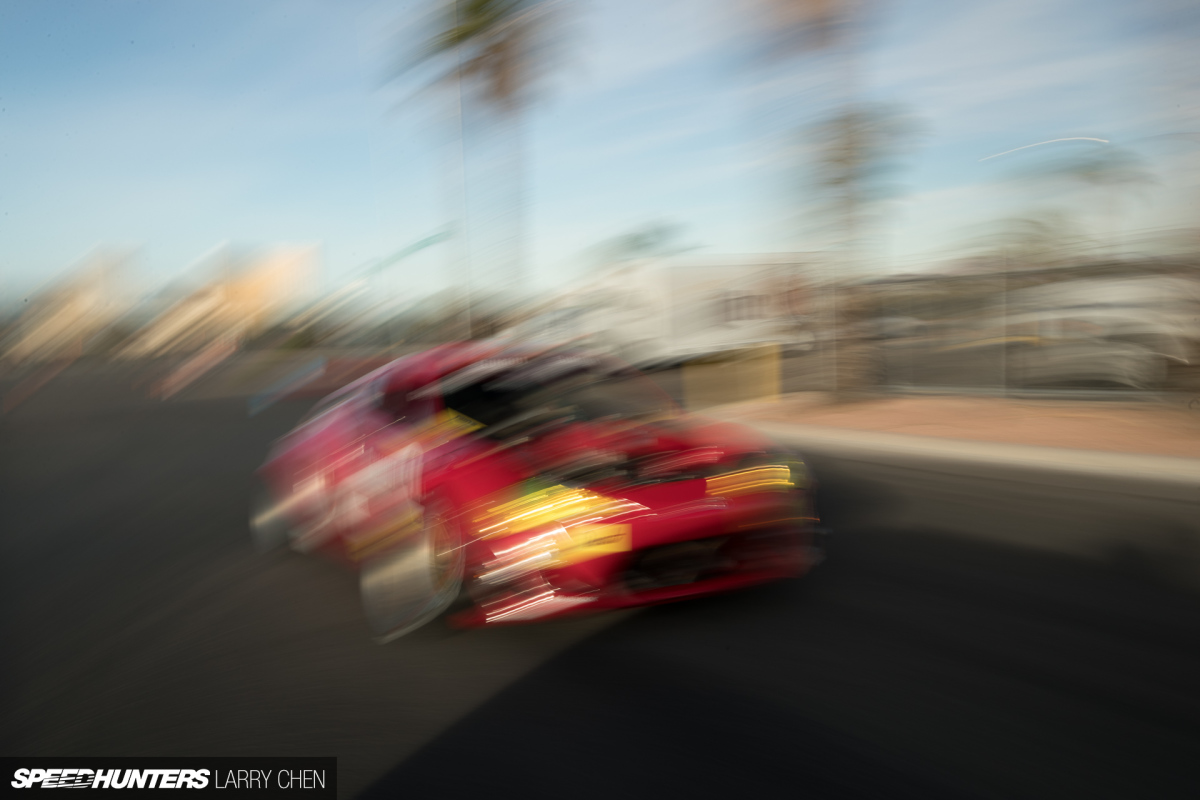 Due to many factors – including the entire car having to get new decals the day of load-in, among other SEMA challenges – I was given a whole five minutes to shoot what was arguably one of the most important builds of the entire show. I jumped out of my truck and started firing. This was my very first frame.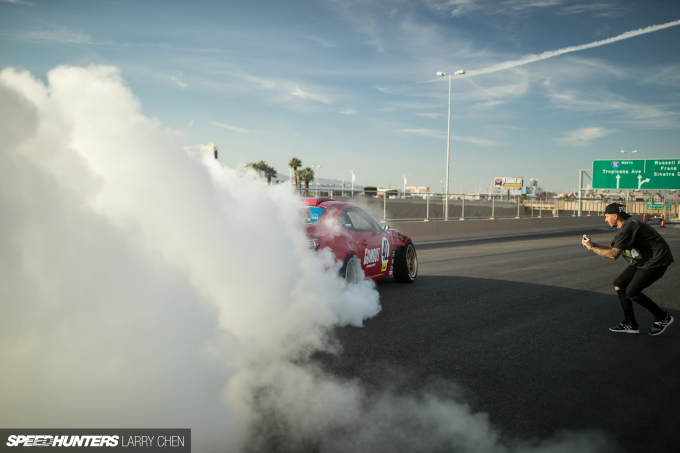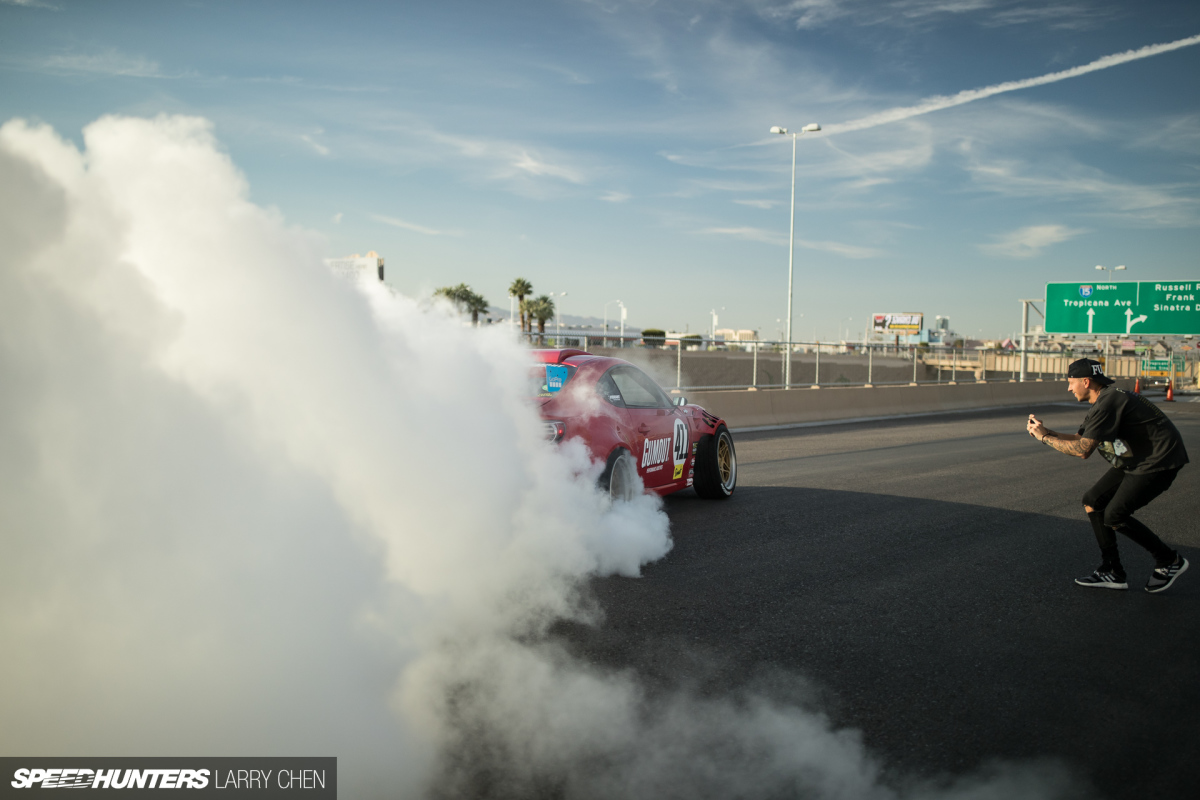 Even though I had been given 300 seconds to shoot the car, Ryan and the boys had only a few minutes to show up to the Las Vegas Convention Center before the cut-off. So I took only four minutes of the five and gave the guys one extra minute, in which time Ryan dropped the clutch and ripped the meanest 2nd gear burnout I've ever seen. 5:00pm was the very latest they could arrive, and they made it to the gates at 4:59pm.
I want to thank the Donut Media guys for helping me set up this shoot, because without them we would not have had the exclusive on Speedhunters.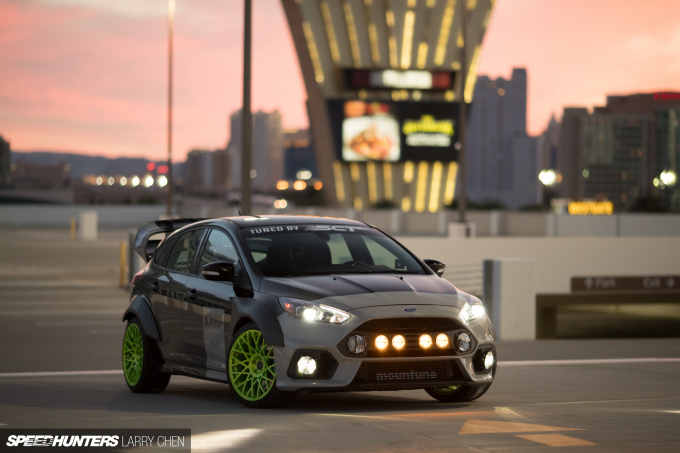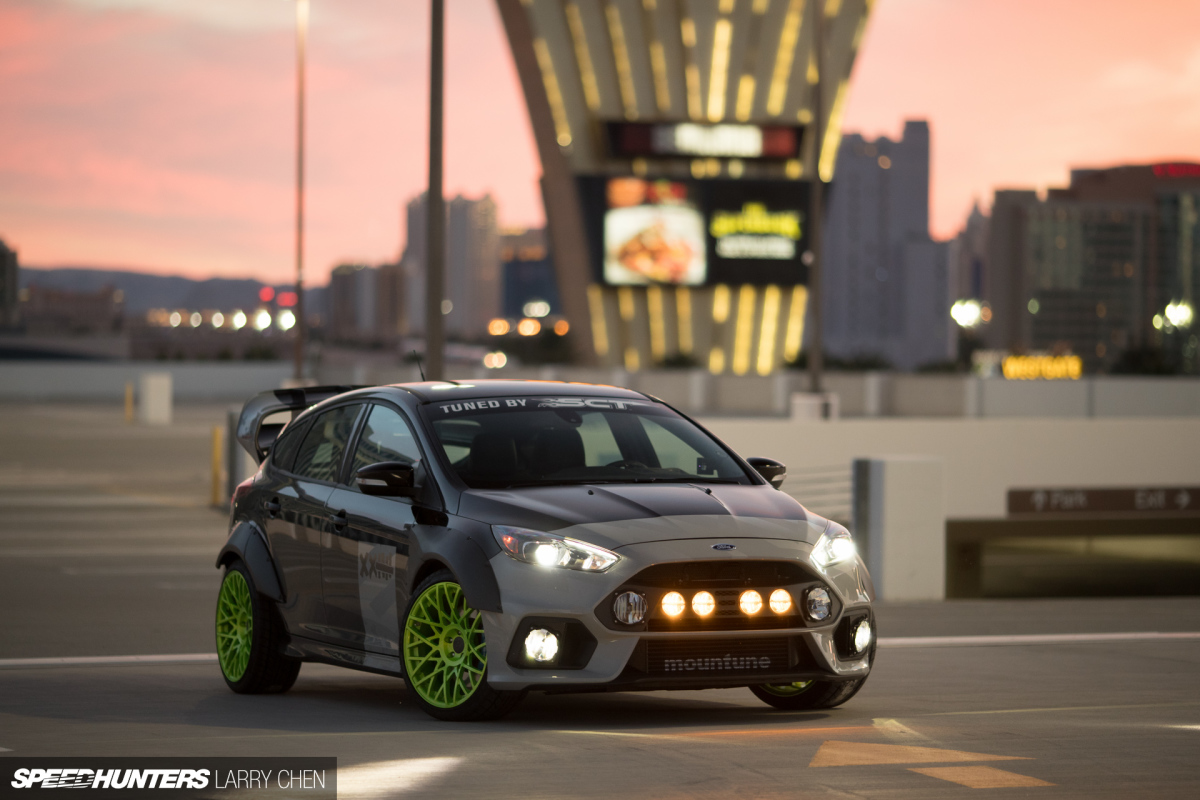 I called it a day then, right? Wrong. I packed up my bags and headed to one of the many hotel parking garages to shoot Vaughn Gittin Jr.'s Ford Focus RS.
The SEMA Show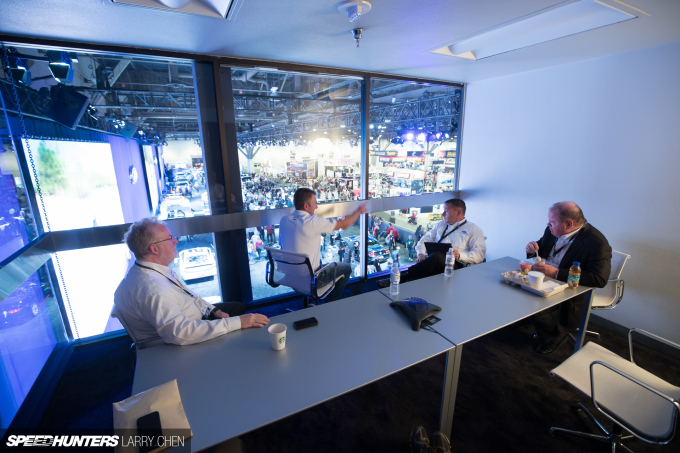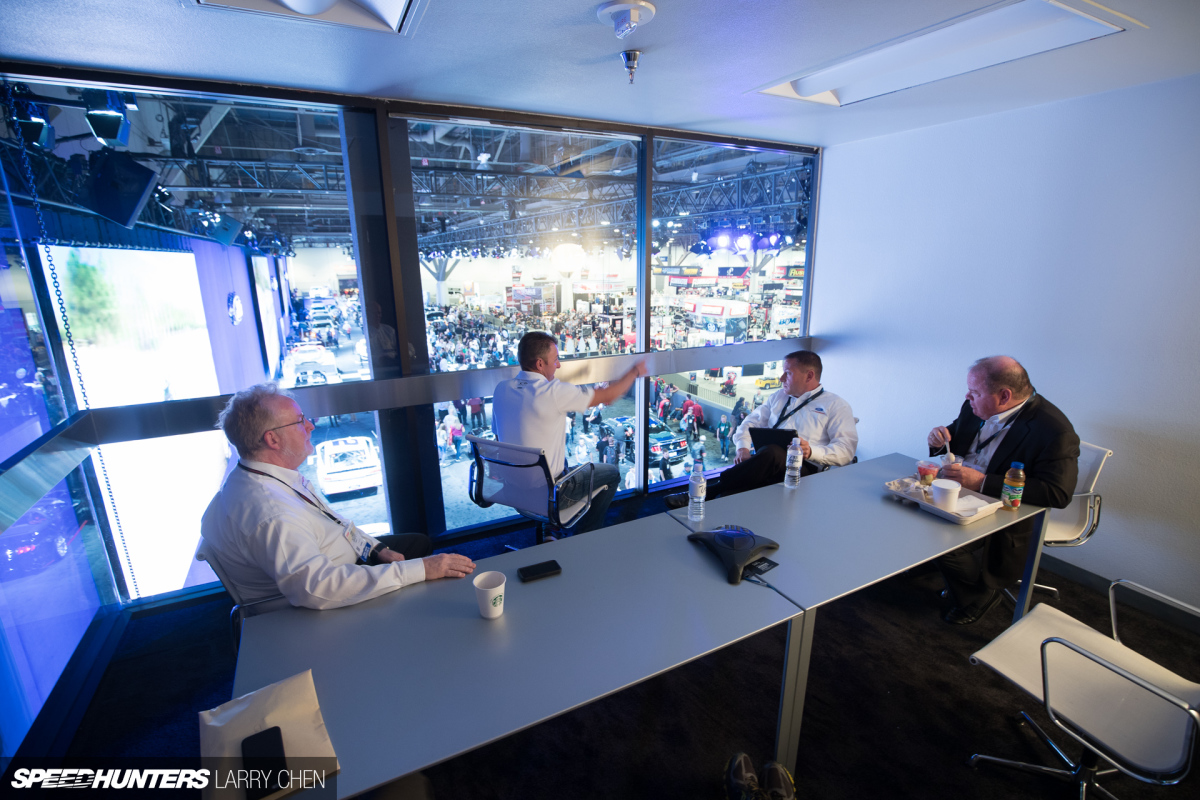 The first day of the SEMA Show was just as hectic for me, and it started off in a meeting room with Chip Ganassi, Joey Hand and Dave Pericak, who is the head of Ford Performance.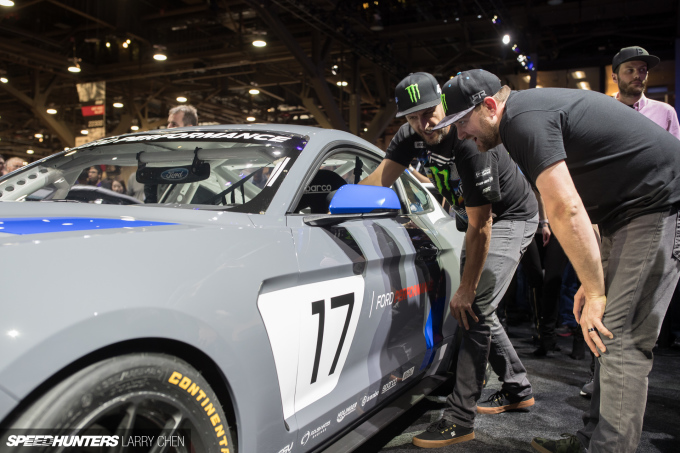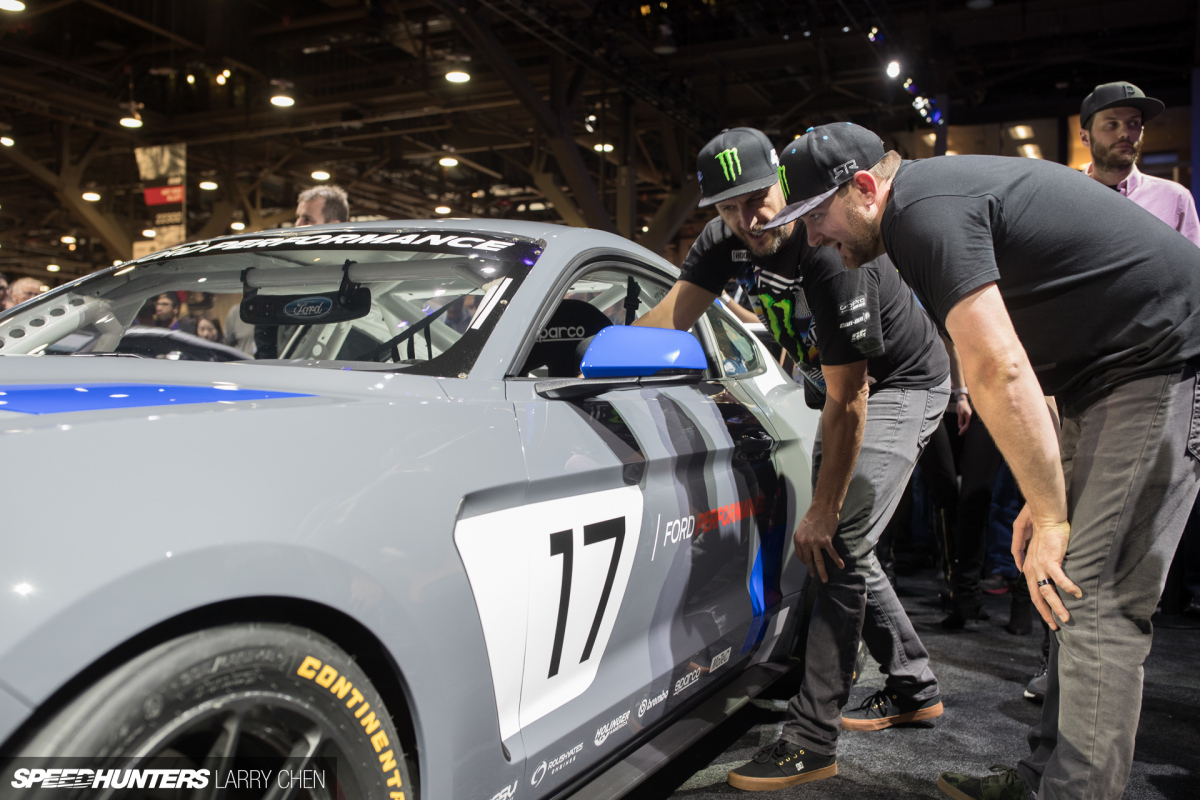 I then shot Ford's SEMA press conference where these two funny looking guys showed up.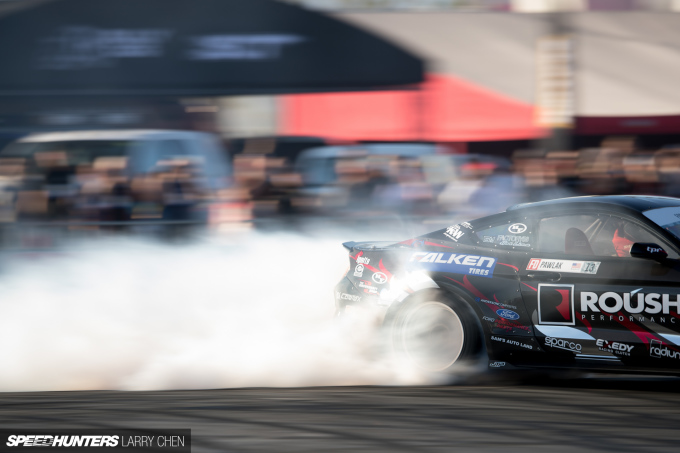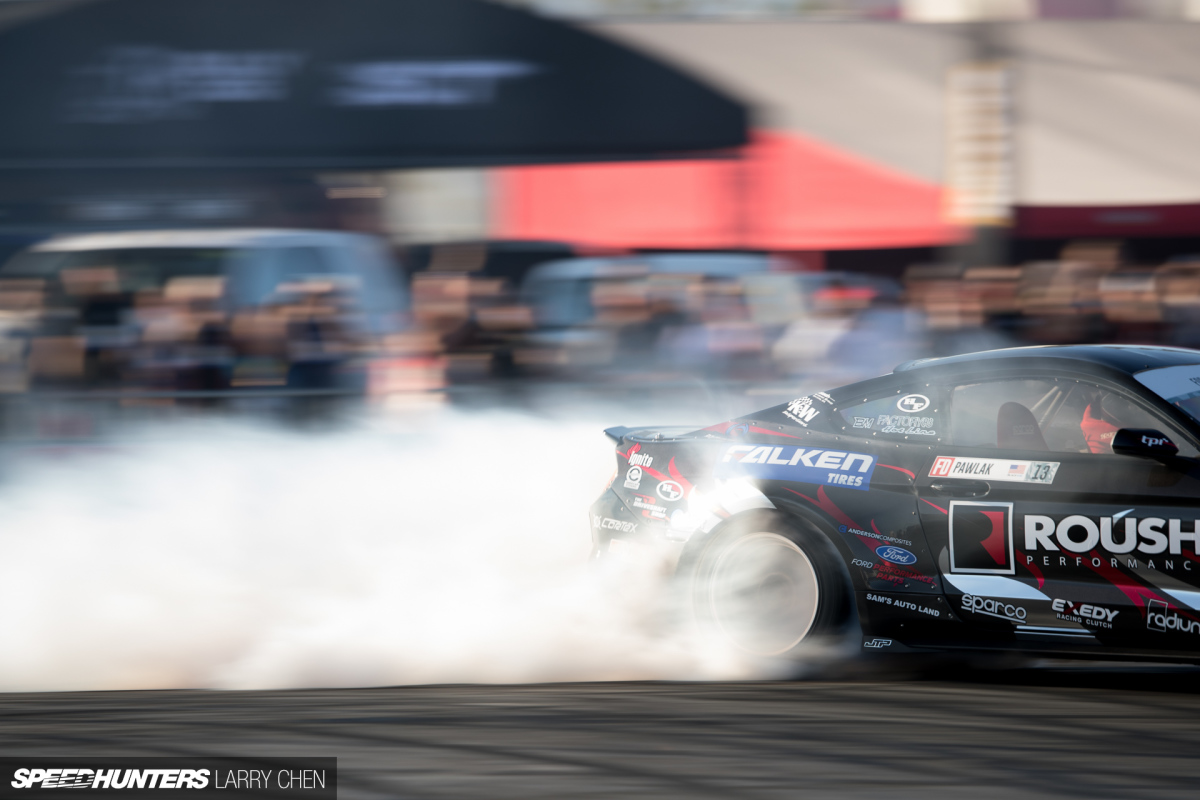 After the initial morning rush, it was time to relax a bit and shoot a few things at 'Ford Out Front', a live-action event where drivers like Justin Pawlak got to rip tires to shreds all day long, right outside the Las Vegas Convention Center.
Not only did Roush bring Justin out to drive his actual Formula Drift car in the demo, it also brought along a pretty hooked-up Ford Raptor as well.
Of course, Justin was not the only Ford driver shredding tires, Vaughn was also having a blast.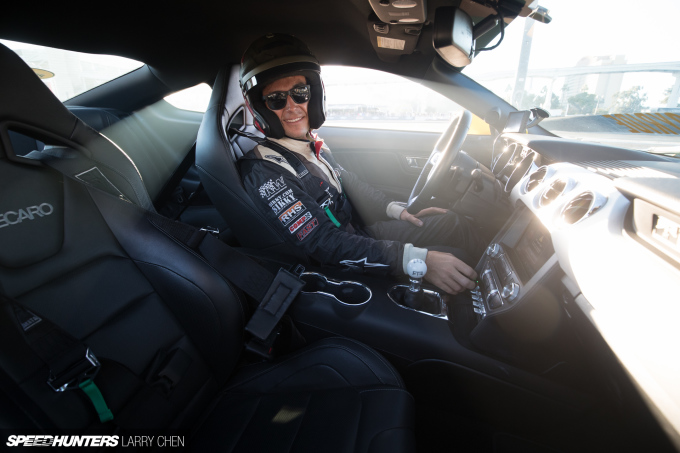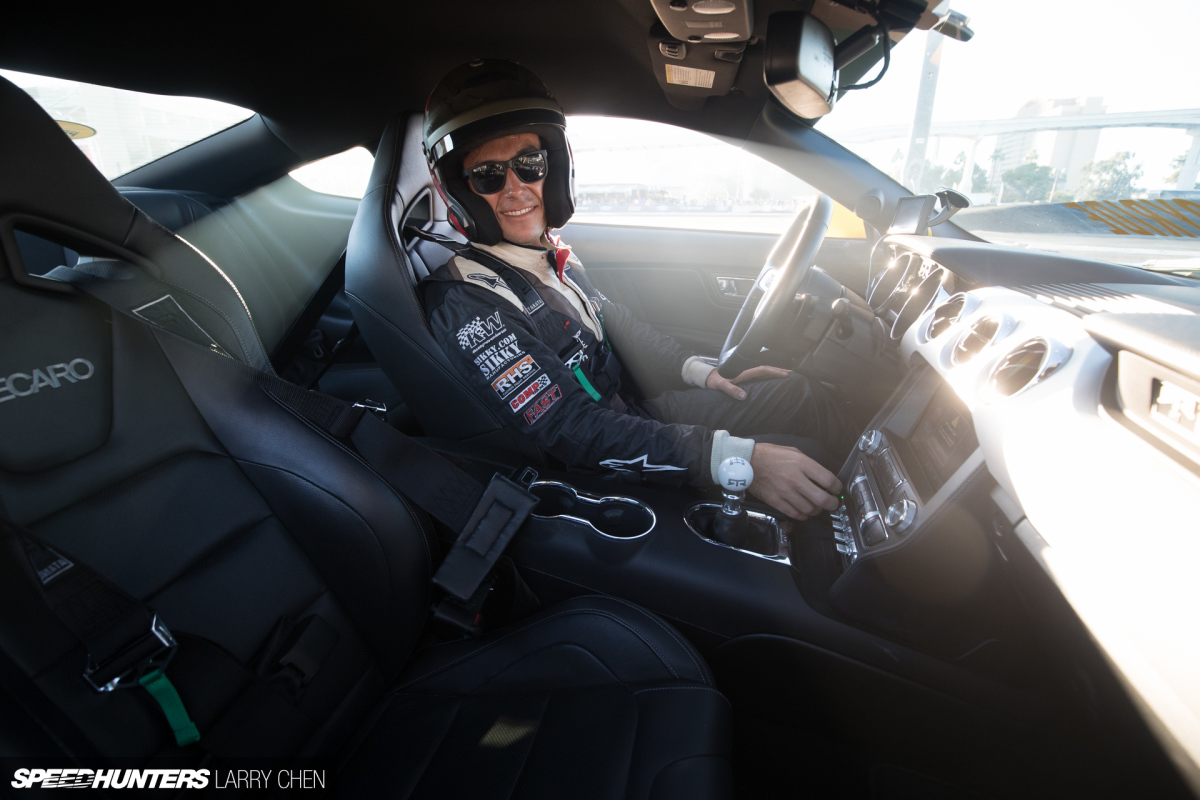 Matt Powers even got behind the wheel for a few of the drift sessions.
All of the action was happening outside, but throughout the event I also had the chance to step inside and shoot other important activities.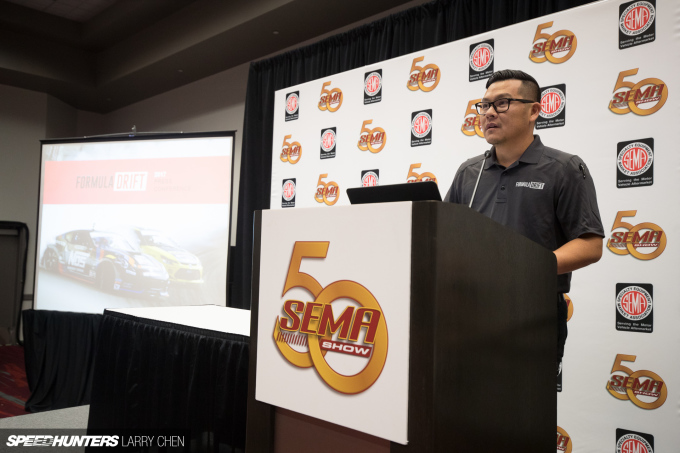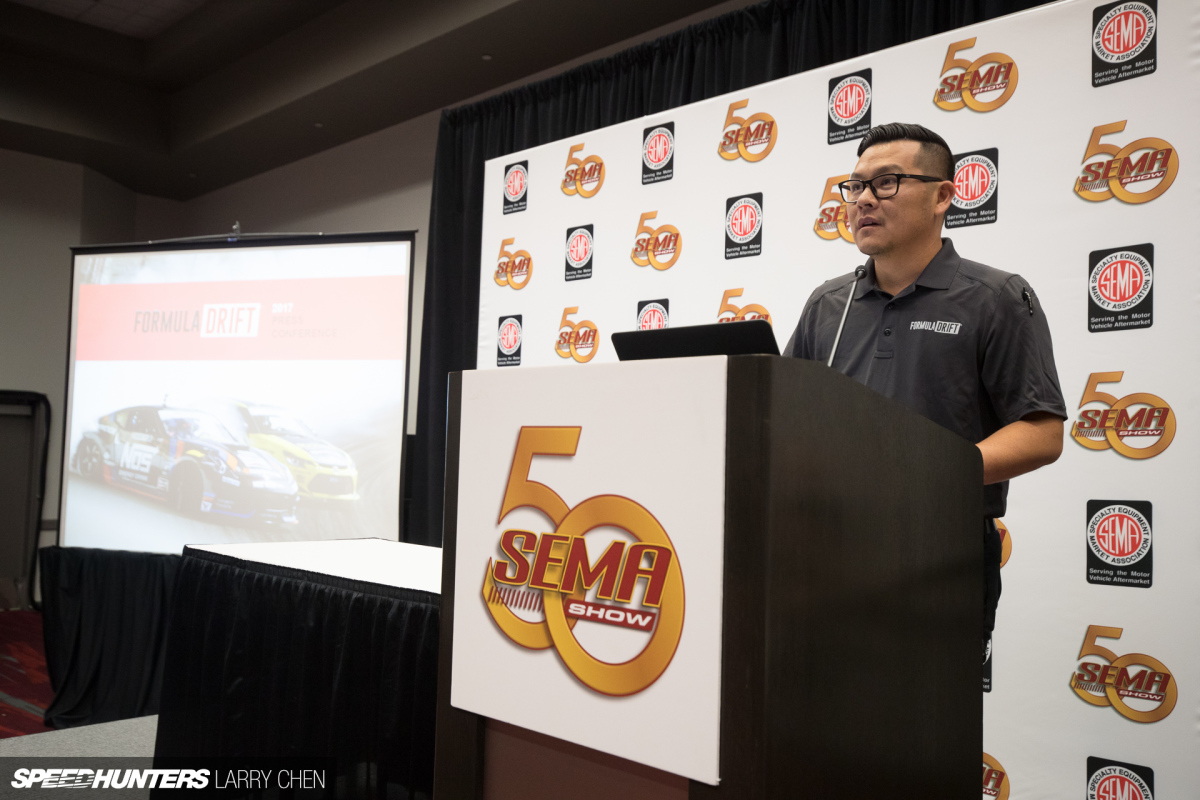 This coming year marks the 14th running of the Formula Drift Pro Championship series and as usual a press conference was held at the show.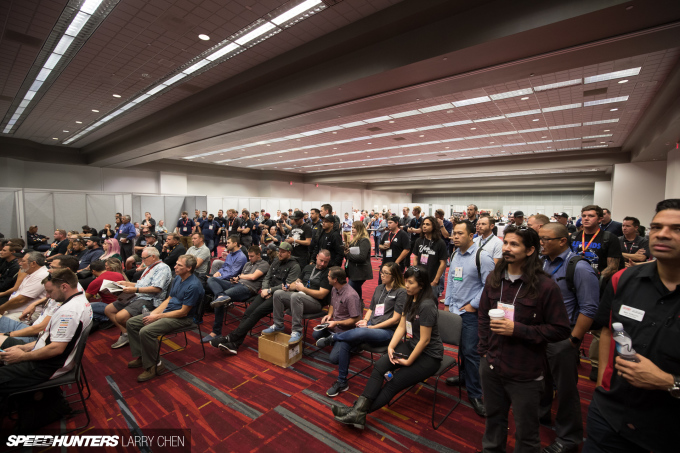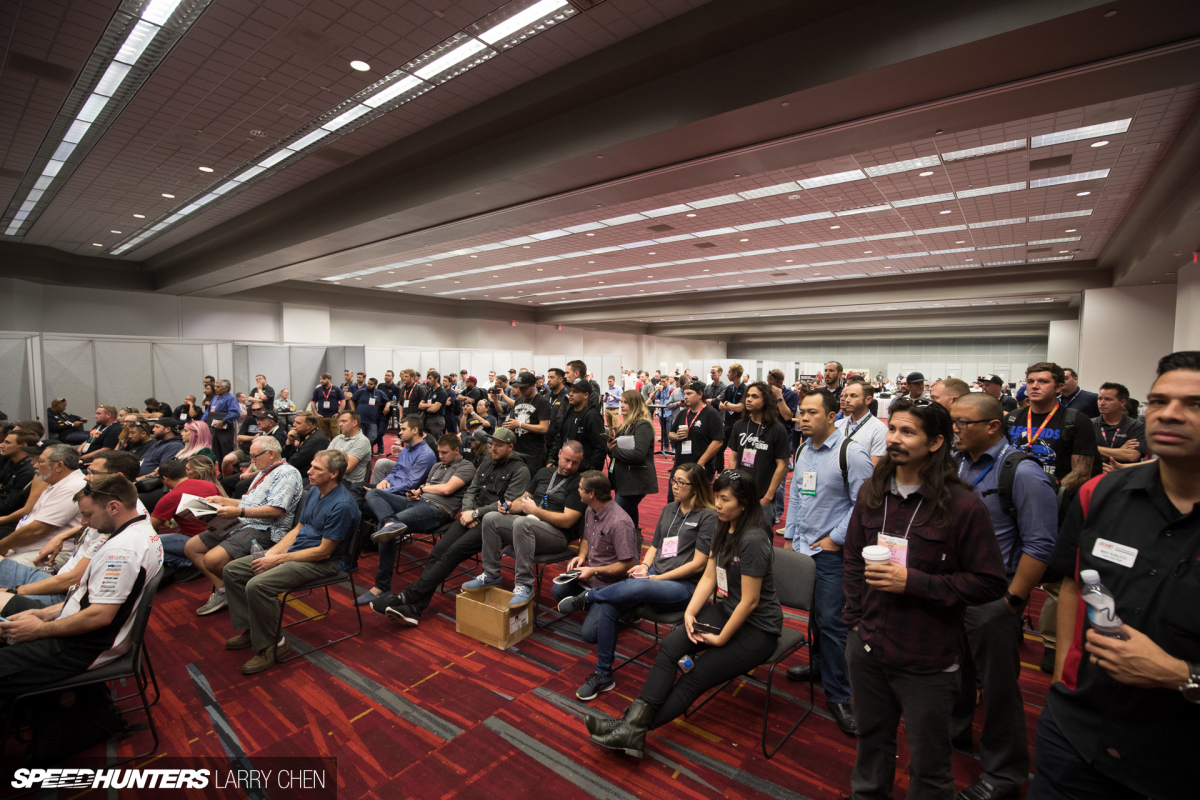 Some big news was announced, including a new series title sponsor in Black Magic car care products.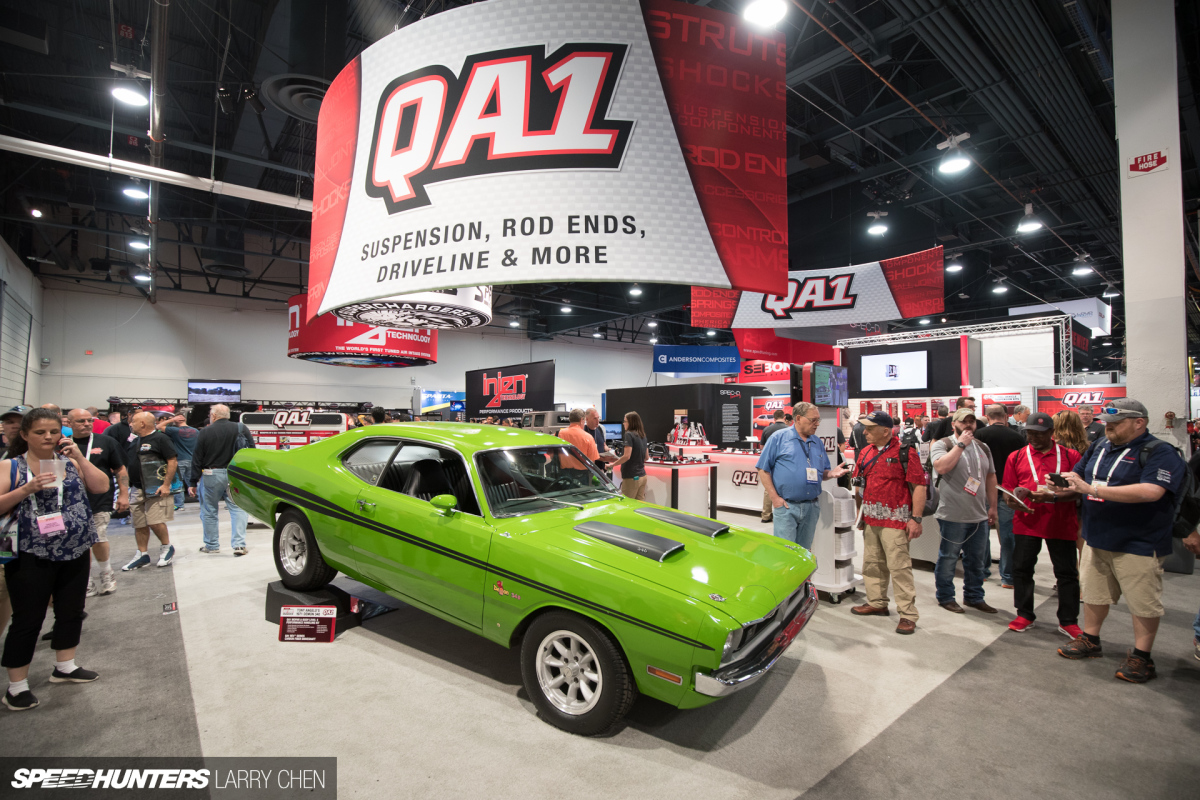 After all my commitments, I had about an hour left to walk the show floor, check out some things and say hello to a few friends. Here's Tony Angelo's Dodge Demon that I shot earlier in the year.
Check out this awesome Tamiya 1/10th scale radio-controlled car that's modeled on Dan Burkett's awesome Formula Drift Toyota Supra. My friends at HPS Performance were giving a few of these away at their booth. I am sad I did not win one.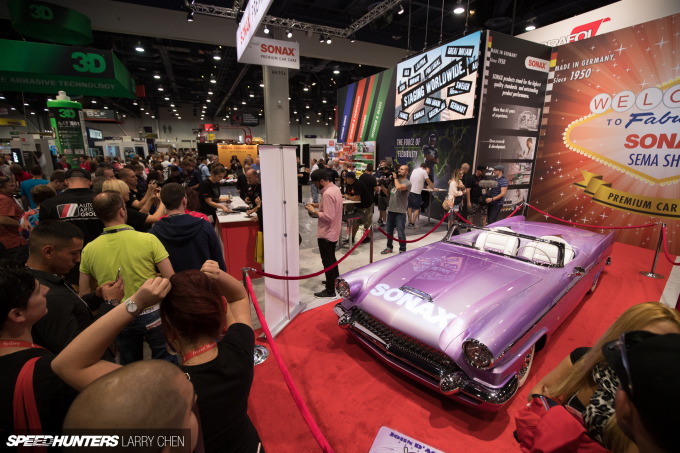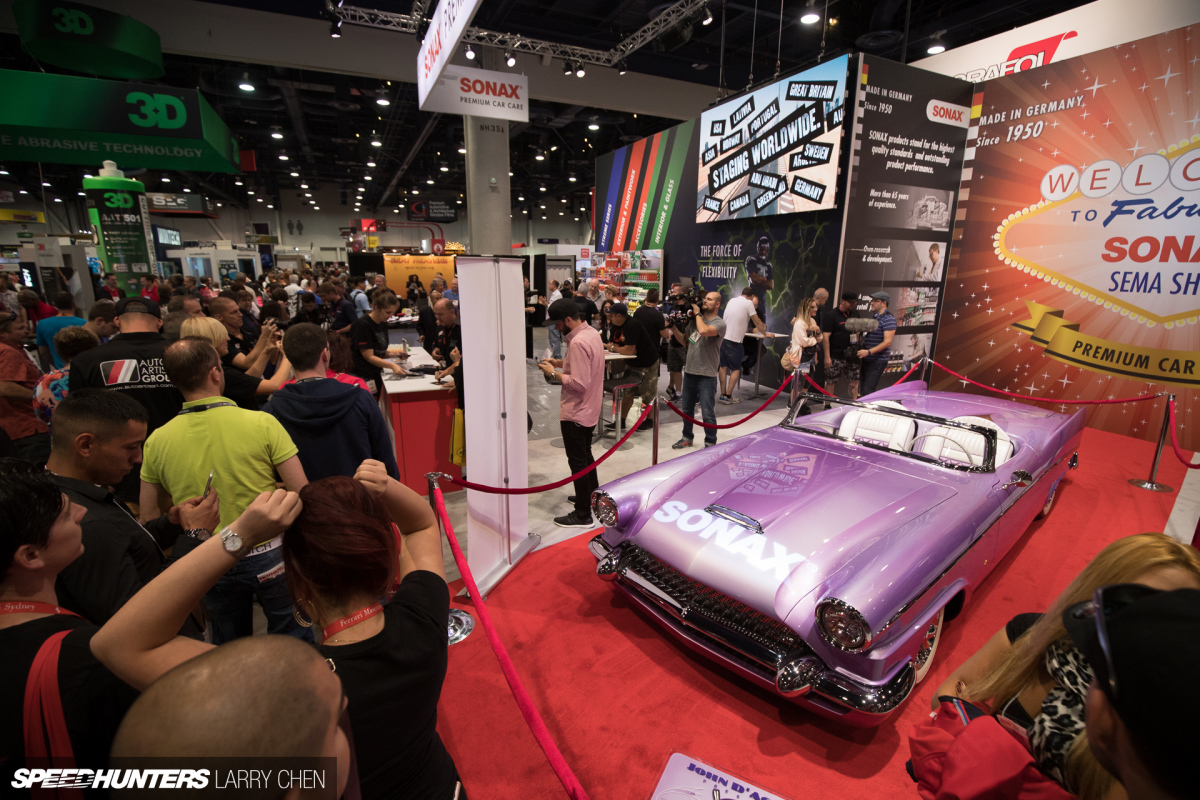 When I heard that John D'Agostino was revealing his newest creation at SEMA, I was excited. His last build that I featured on Speedhunters still rates as one of my favorite kustoms ever, so I'm really looking forward to shooting this stunning '58 Packard built as a tribute to the late Hollywood actress Rita Hayworth.
The 'Head Hoonigan In Charge' was doing a signing session at the KW/ST Suspensions booth as I was passing by, and he graciously autographed my forehead. Thanks Ken.
One car that I had really hoped to shoot before the show was Chris Forsberg's 280Z. I did get a few shots of it during the build, but since Chris is driving in the Baja 1000, I won't be able to see this thing on the road till after that.
Crusin' The Strip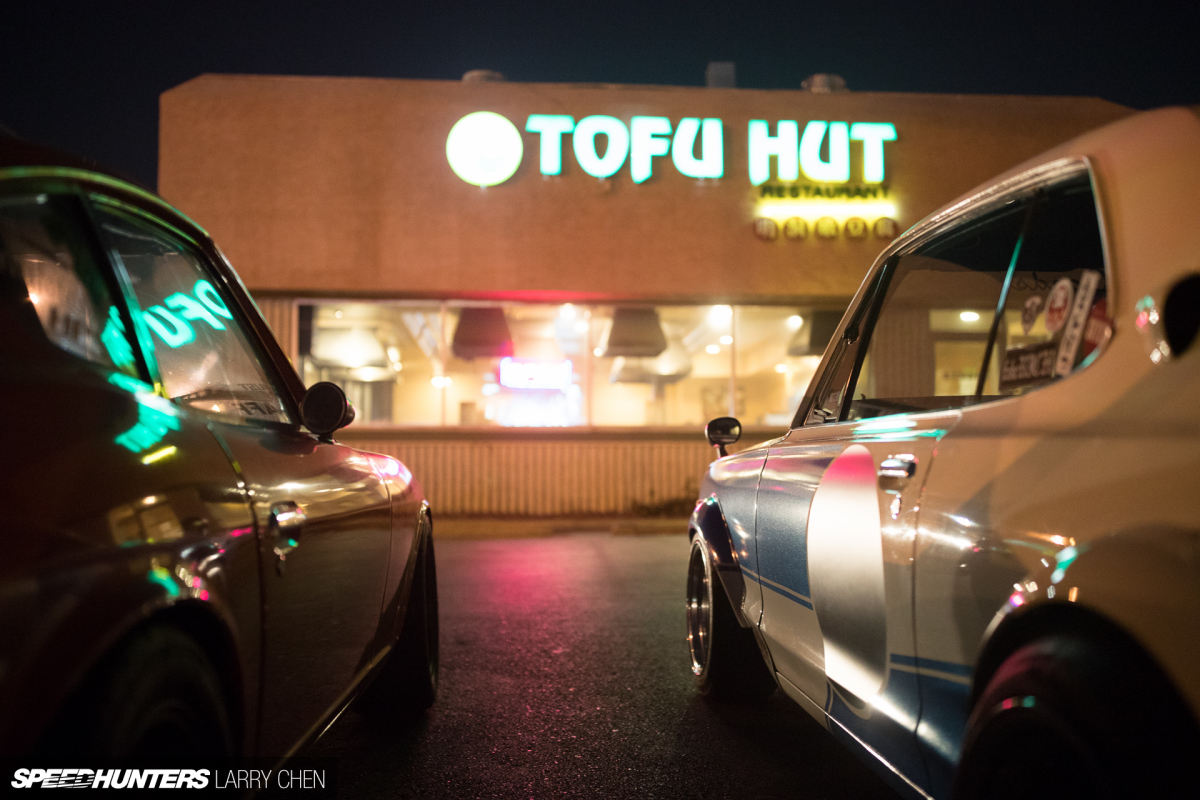 SEMA is like a class reunion for me; I see so many familiar faces in Las Vegas each and every year. This time I decided to bring Ole Orange Bang along so I could go cruising with some of my buddies after the show, and without a doubt this ended up being the highlight of the week.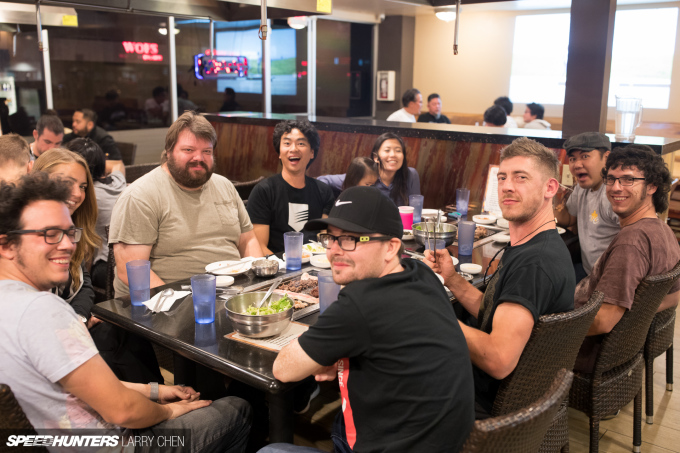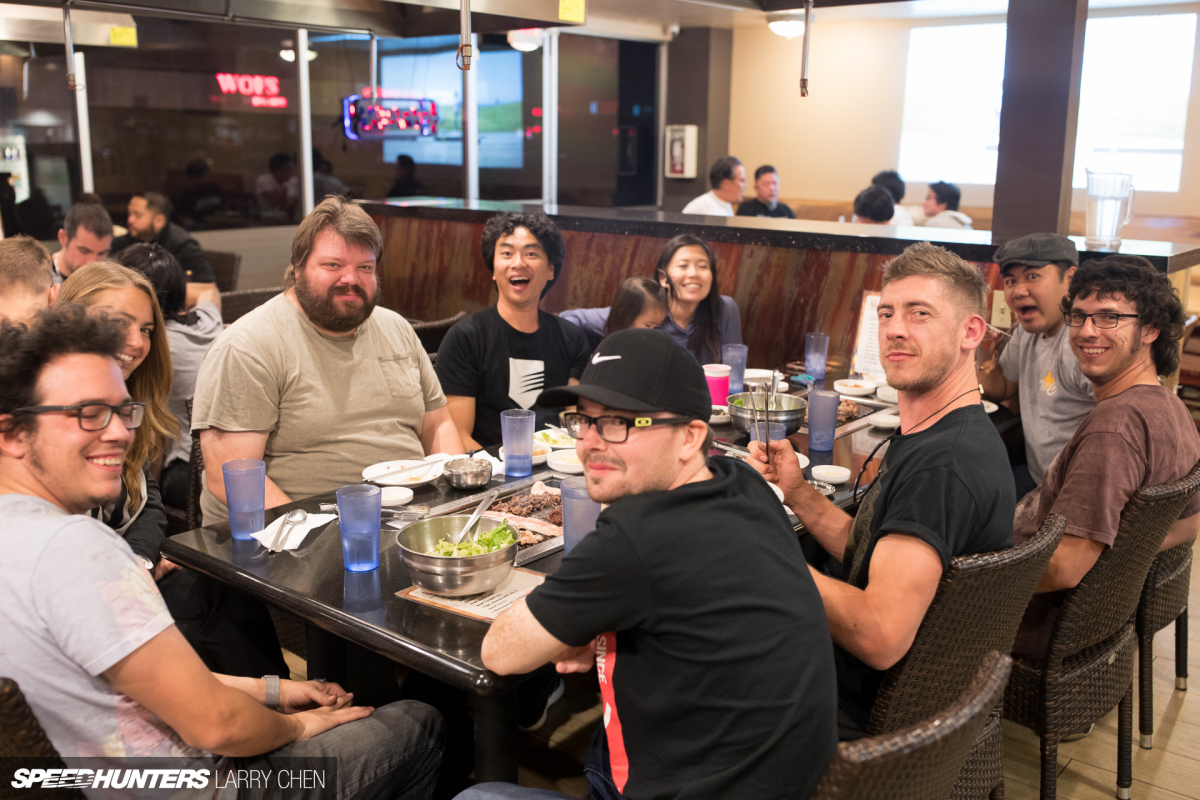 Korean BBQ before a bit of cruising down the strip is my kind of fun. Sitting closest to the camera is my buddy Bryn Alban from Need for Speed in Gothenburg, and to the right of him is Aaron Beck of Beck Kustoms and F132 fame.
If you guys think you have seen many of these cars before on Speedhunters, you are right. I've made friends with many of their builders and owners; it's just a part of being a Speedhunter and enjoying car culture.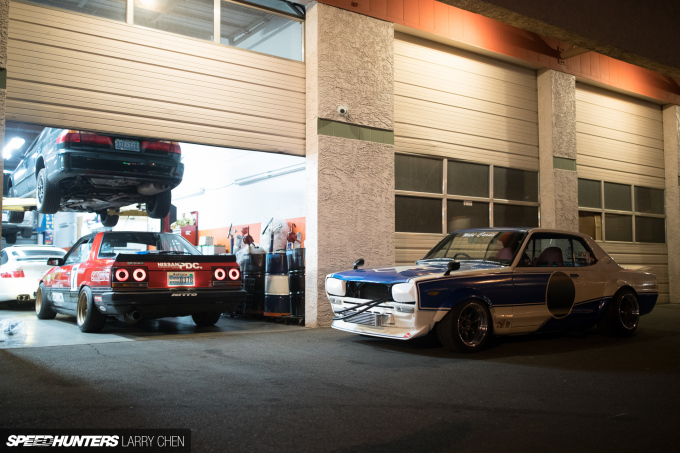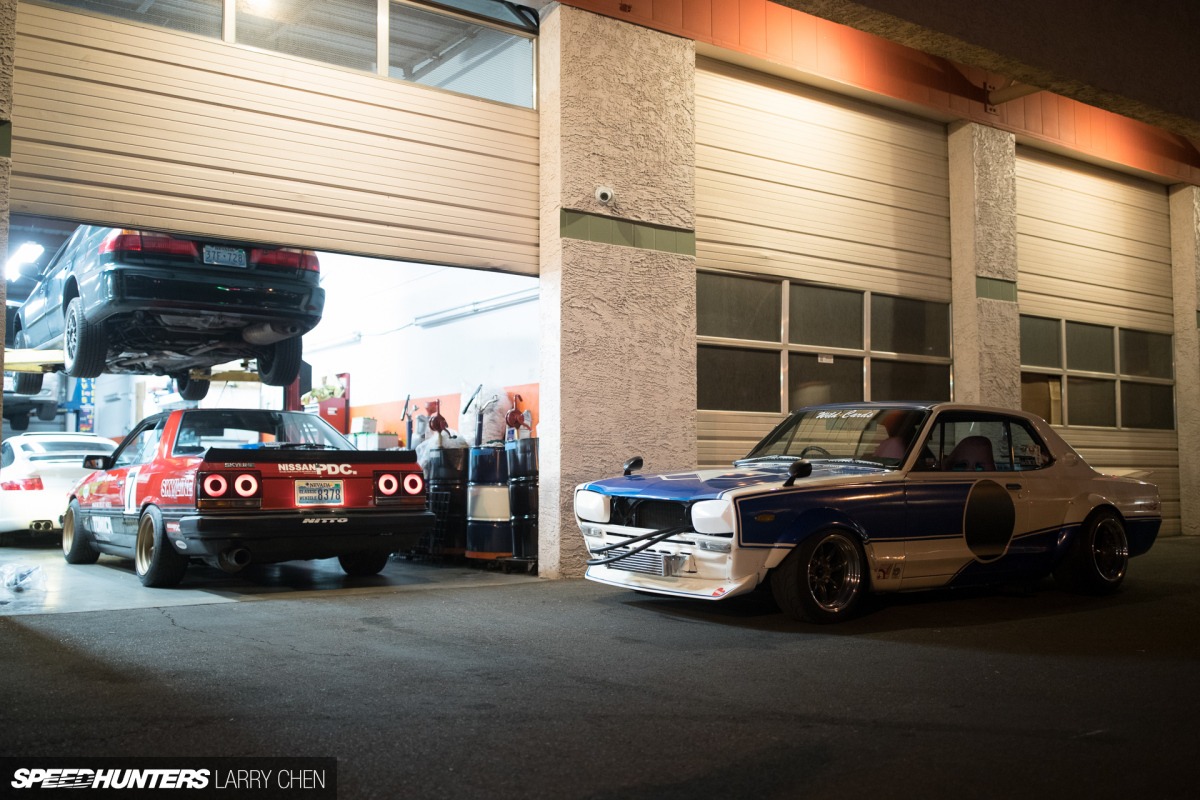 The people behind the cars are in a way much more important than the cars themselves.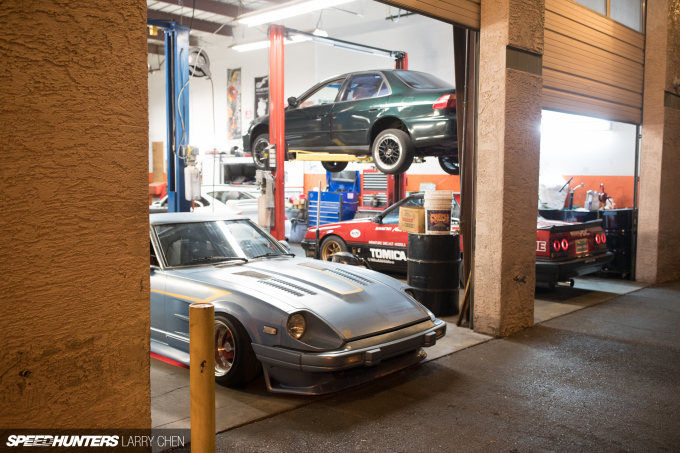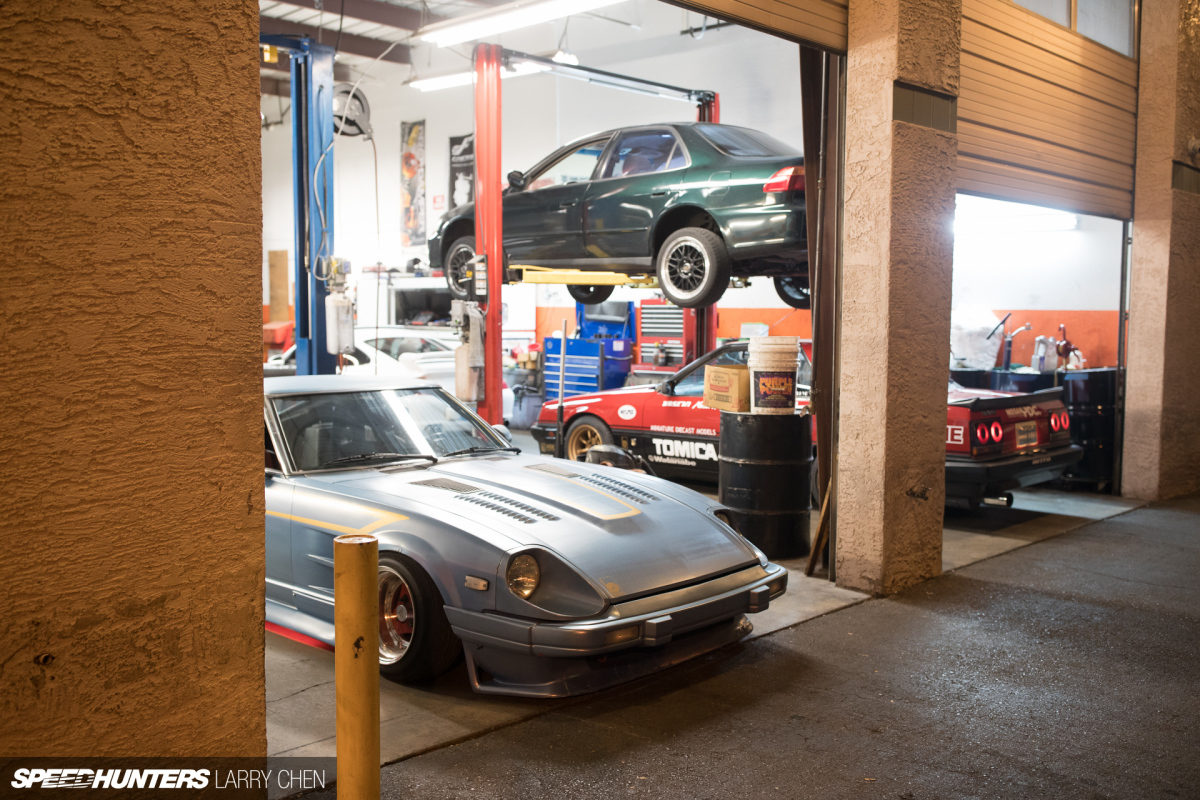 This S130 was featured by Bryn Musselwhite a few years back.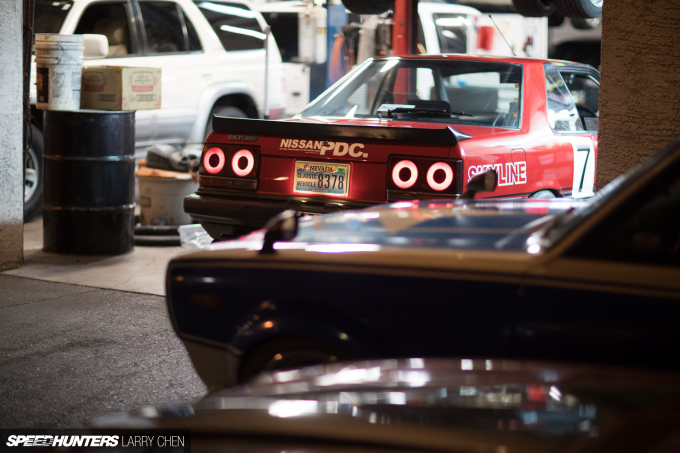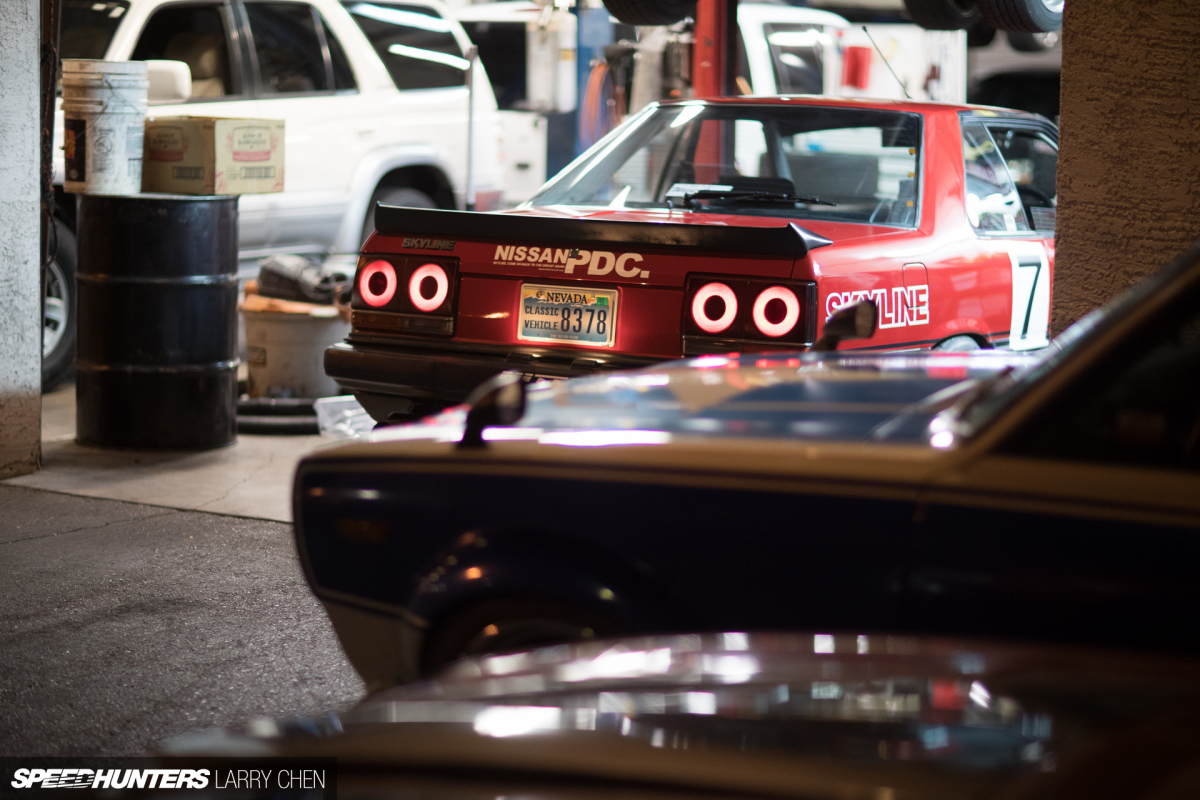 And I featured this R30 Skyline at SEMA a couple years ago. Since then, the owner, Jay Kho, has updated a few bits and pieces.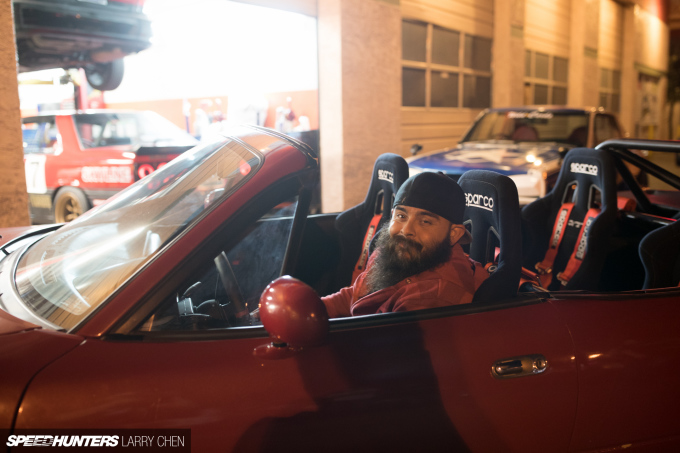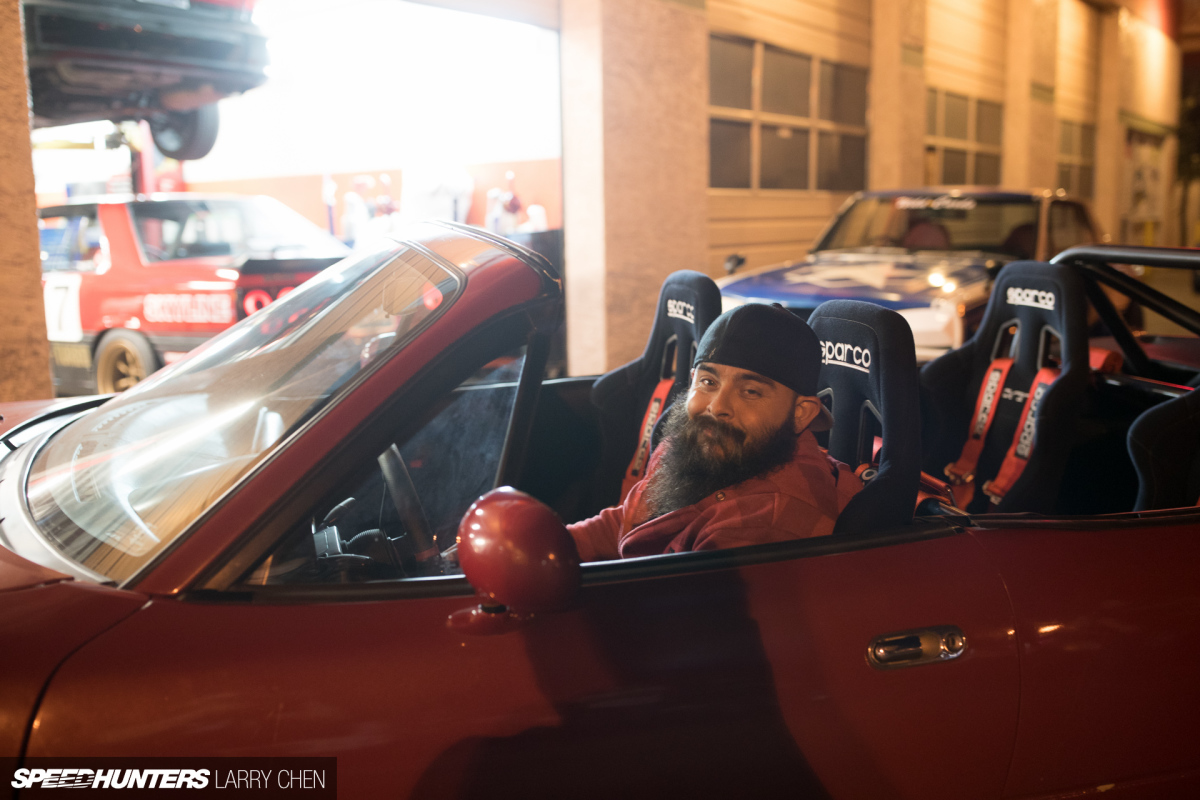 After hanging out for a while it was time to go for a cruise, but not before the life of the party showed up. My good friend Danny George brought out his Miata limousine. Yes, you read right.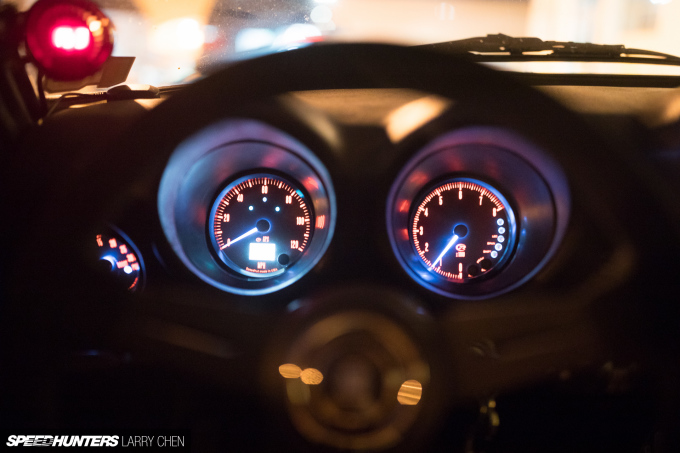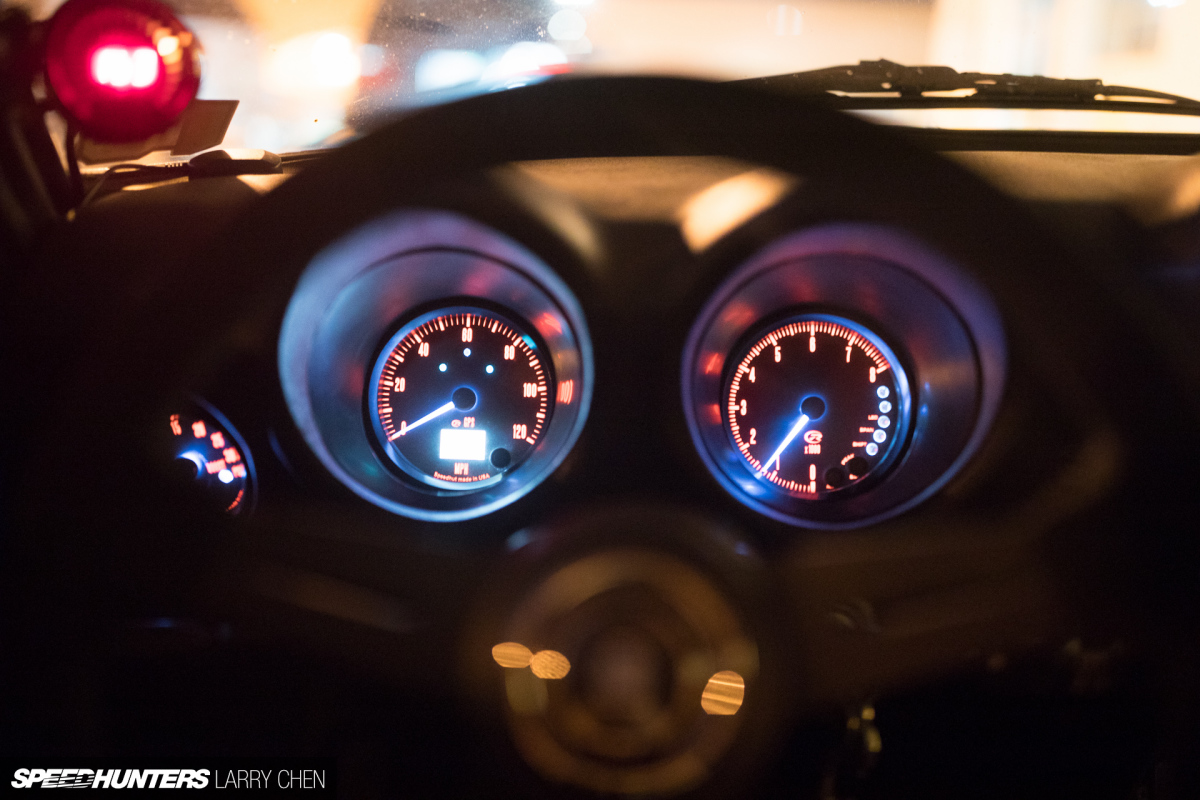 I rarely get to drive my own car anymore, so it was a real treat to be able to convoy with a bunch of other classic Japanese cars, and of course the Miata limo.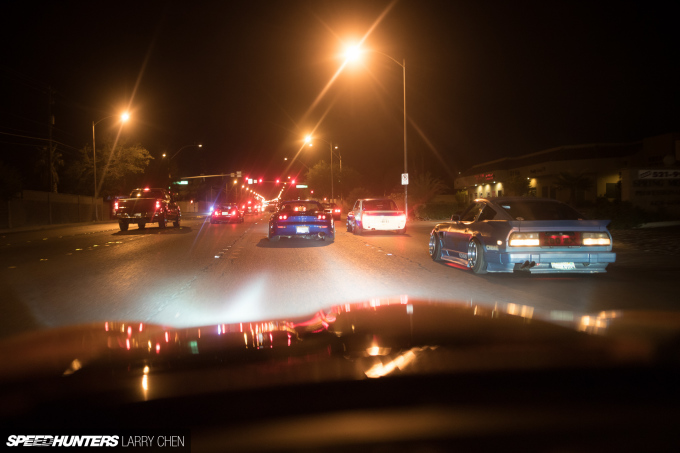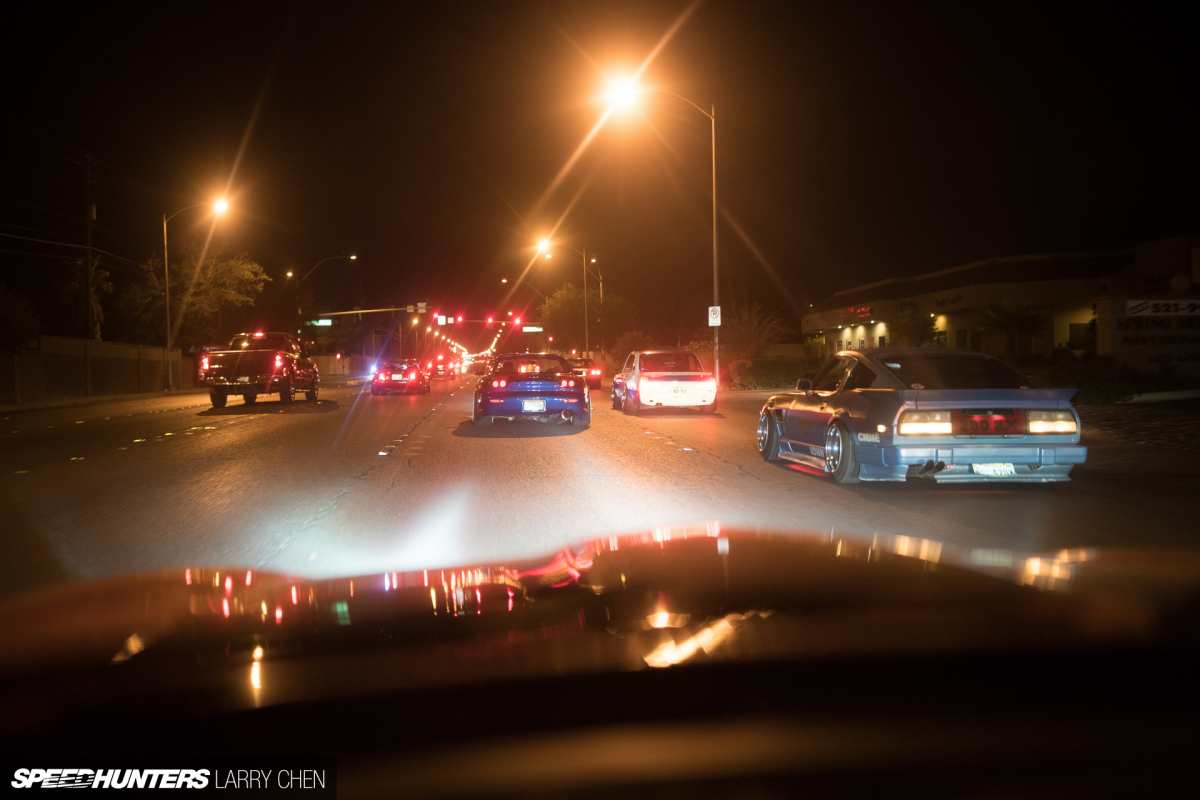 This was definitely something you don't often see on the streets of Las Vegas.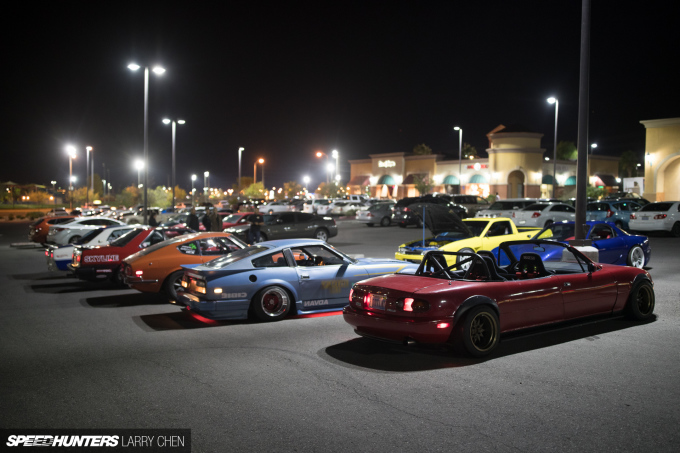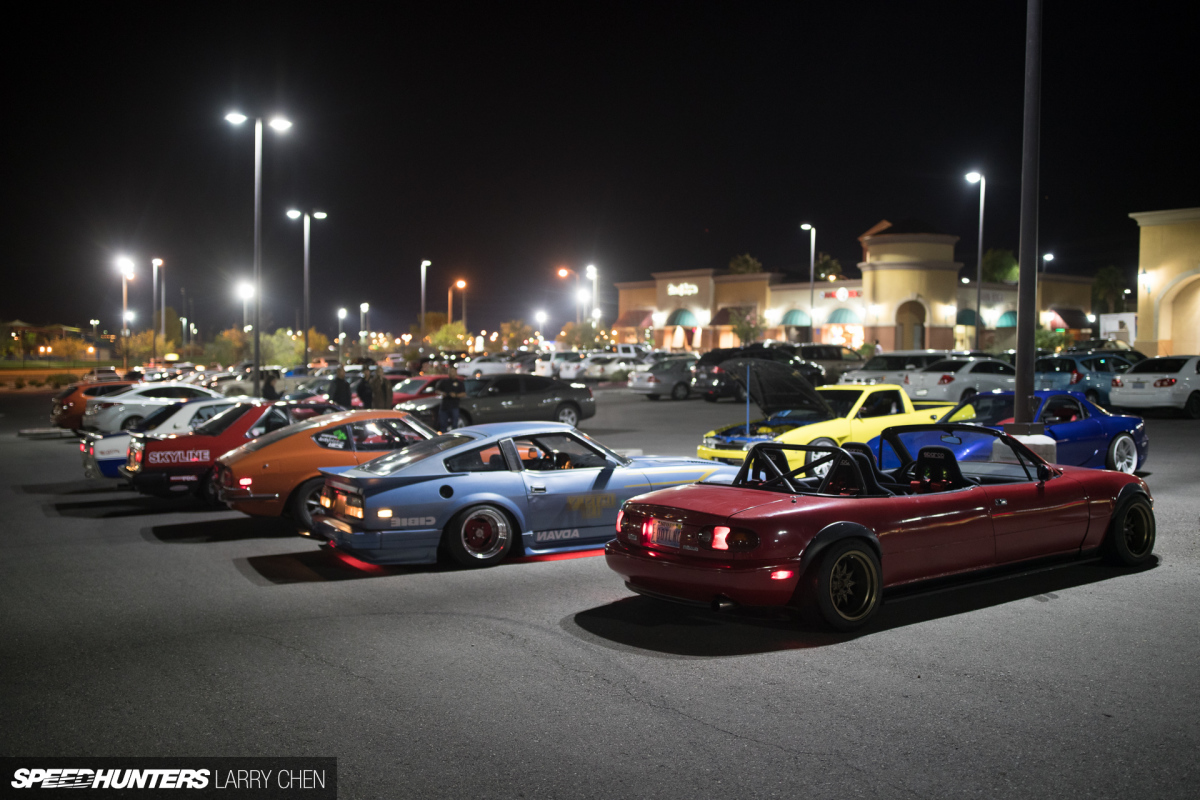 So what's the deal with the Miata limo, anyways? Long story short, someone created it for an unknown reason, but passed away shortly afterwards. The builder's son put it on Craigslist in Las Vegas and Danny George went to check it out.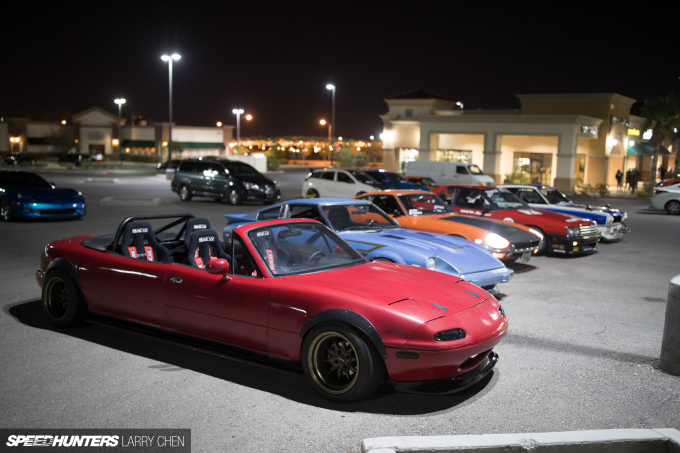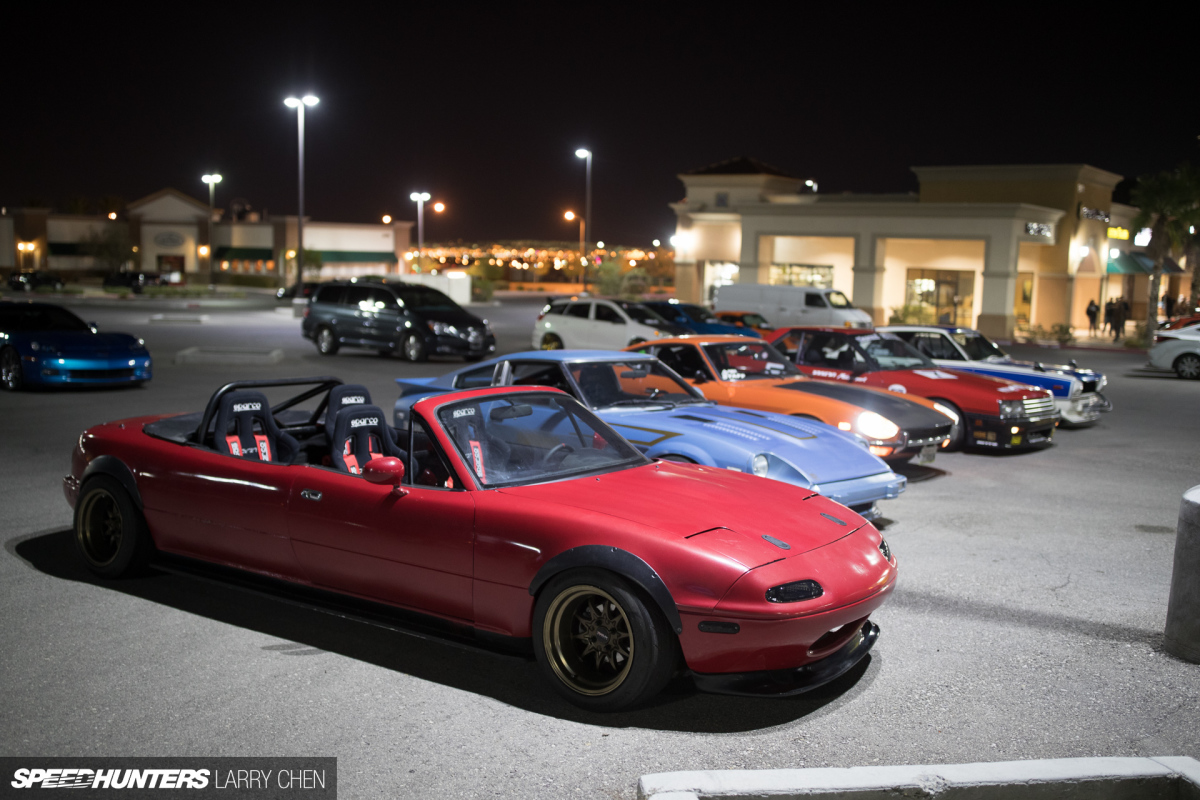 Danny being a big Miata guy, and the first person brave enough to campaign one in Formula Drift, told the seller that he would probably be the only one in the world who could buy it, love it and make something amazing out of it. At the time, $6000 was the asking price, but Danny was not about to pay that much for such a weird car so he passed on it. But a few months later the seller phoned Danny back and offered it to him for $1500, so a deal was done.
A couple mods here and there, Sparco seats, over-fenders, custom side skirts, an LSD and a turbo swap later, we have one of the silliest, but arguably coolest Miatas around. With the Flyin' Miata turbo kit boosting at about 16psi, it's putting down 250whp, which is not bad for a 1.6-liter four-cylinder motor.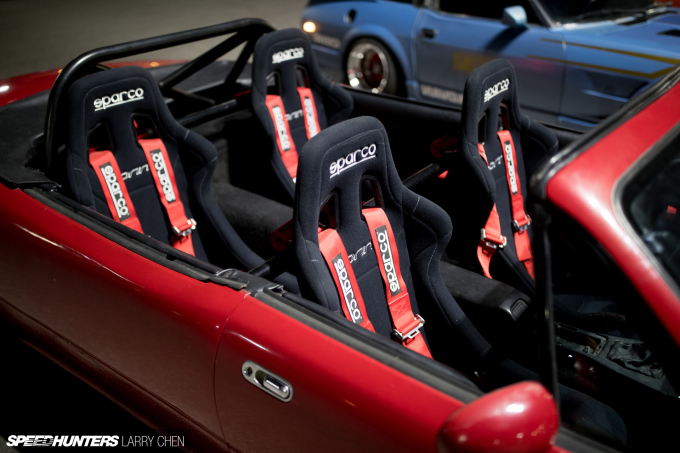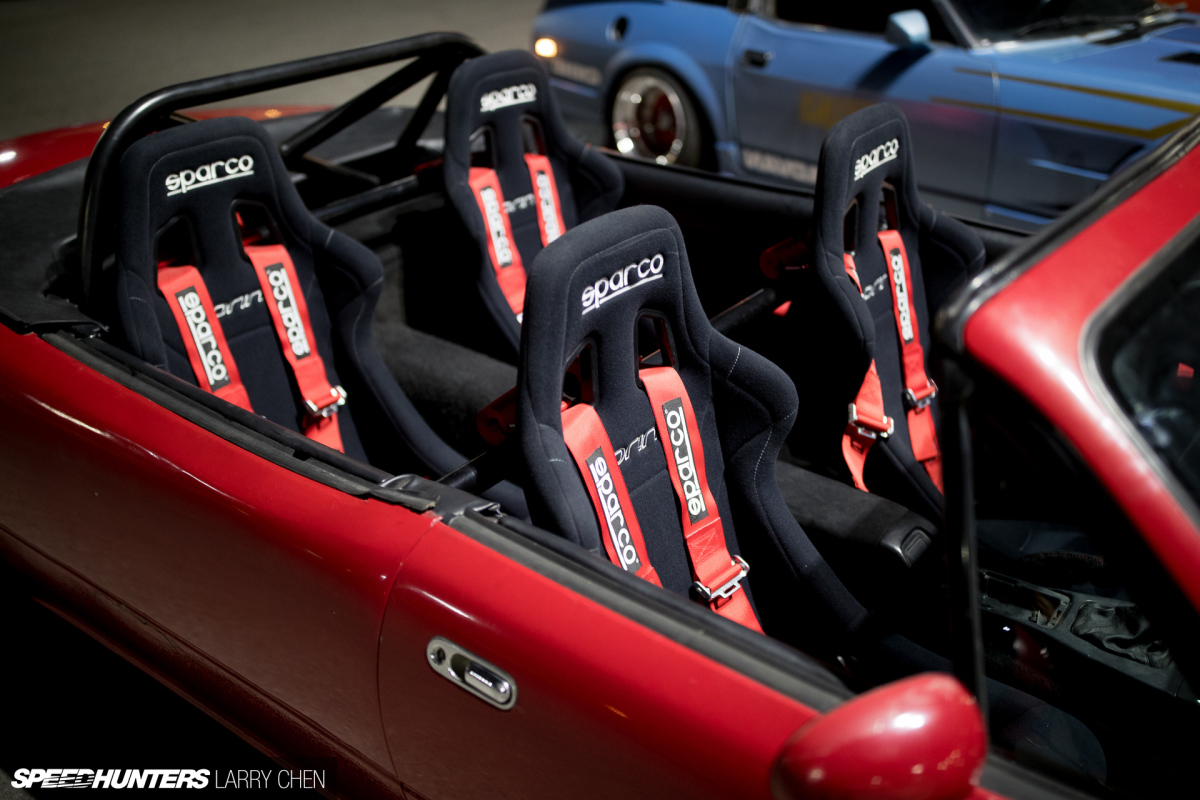 Given that it has four seats, I wanted to see what it was like to actually ride in this thing.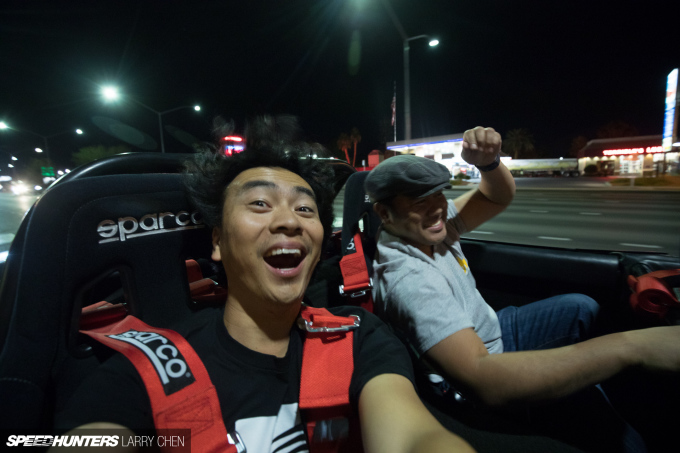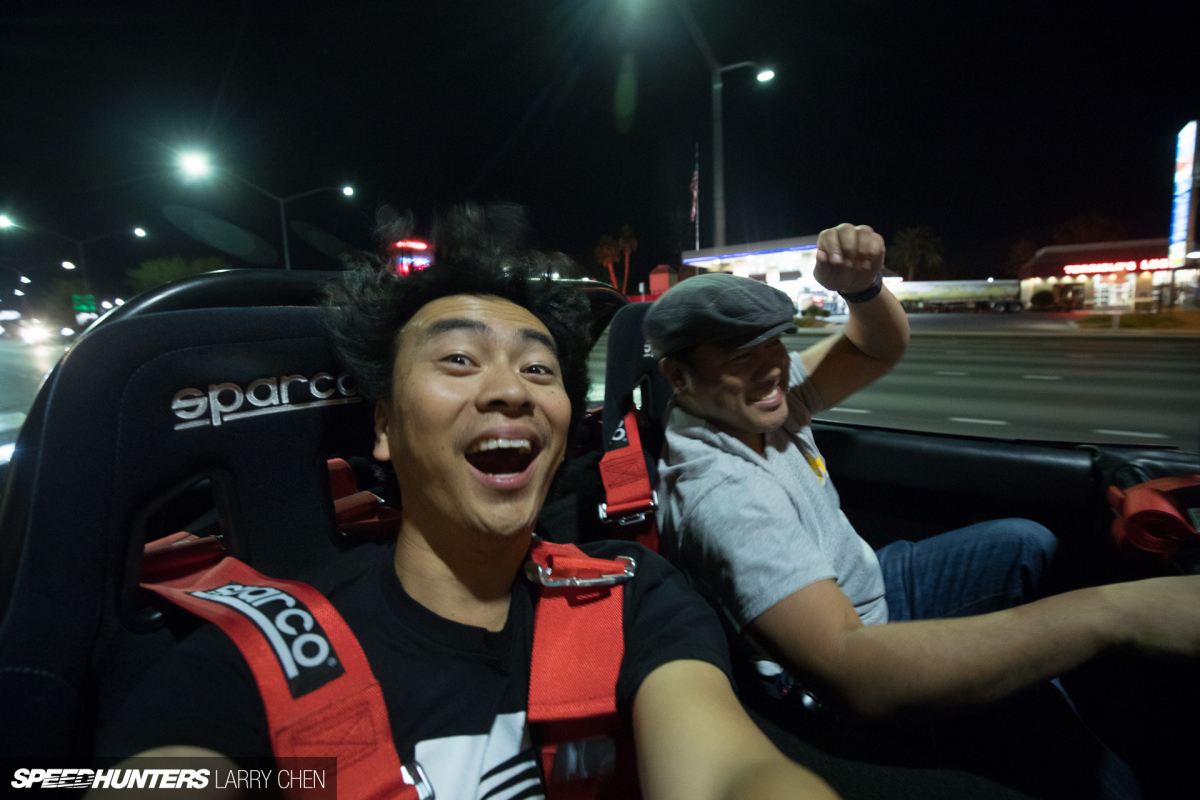 I've ridden in some interesting cars over the years, but I have to say this one is up there in terms of weirdness and fun.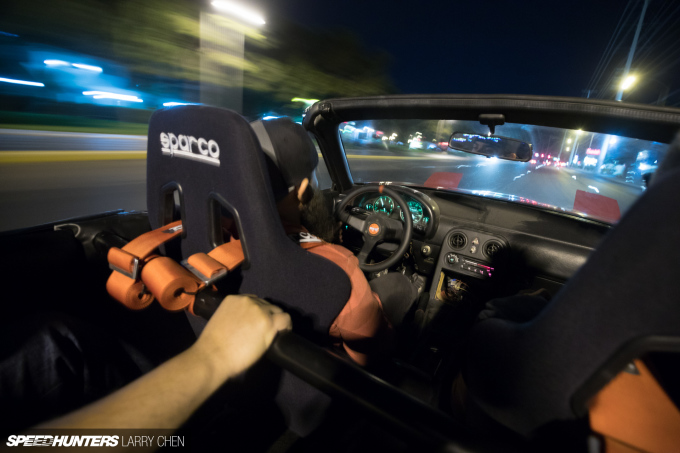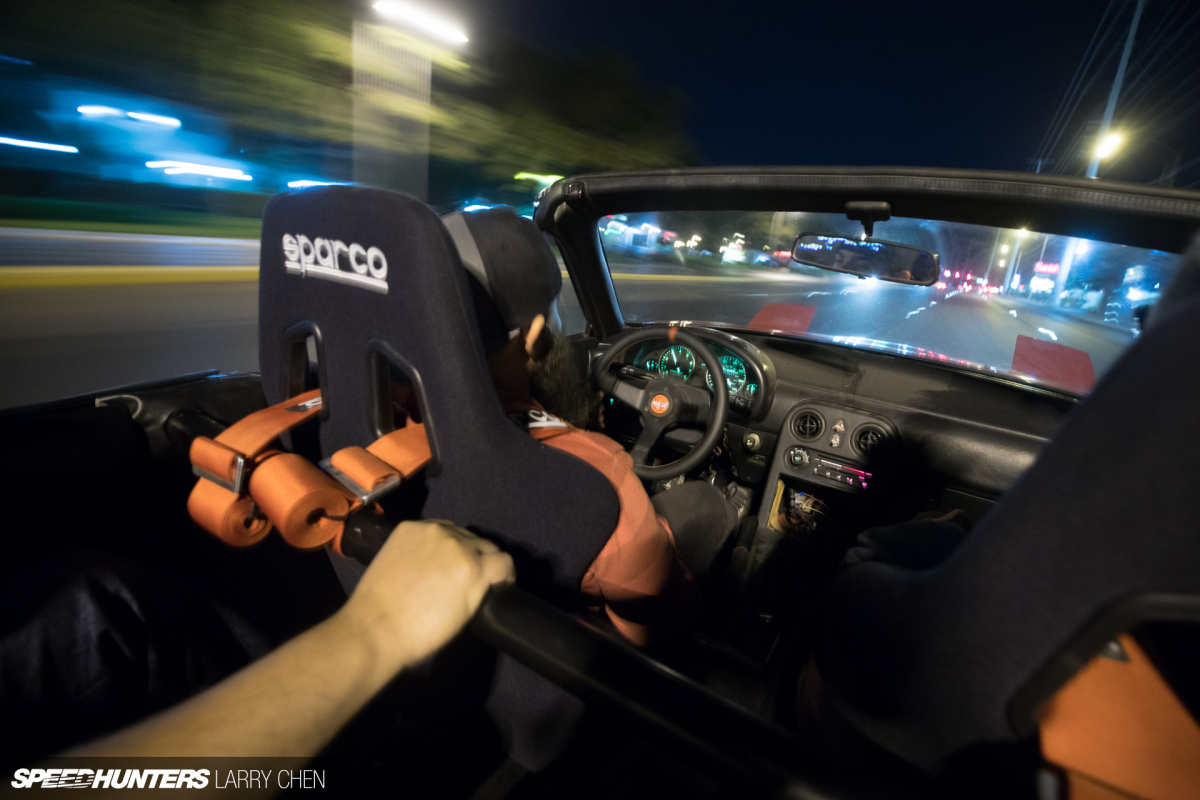 It's really fast for what it is too, and it slides pretty nicely coming out of corners, as Danny demonstrated for us ripping around Las Vegas.
Another car that's had a bit of an update since I shot it is this Hakosuka Skyline. It looks pretty nice with a new livery treatment, don't you think?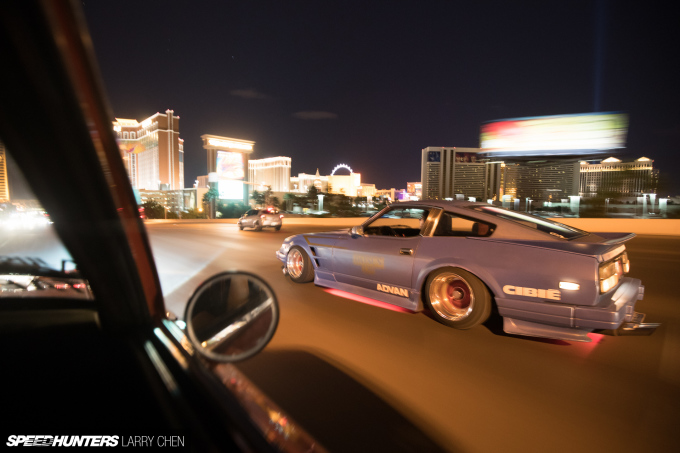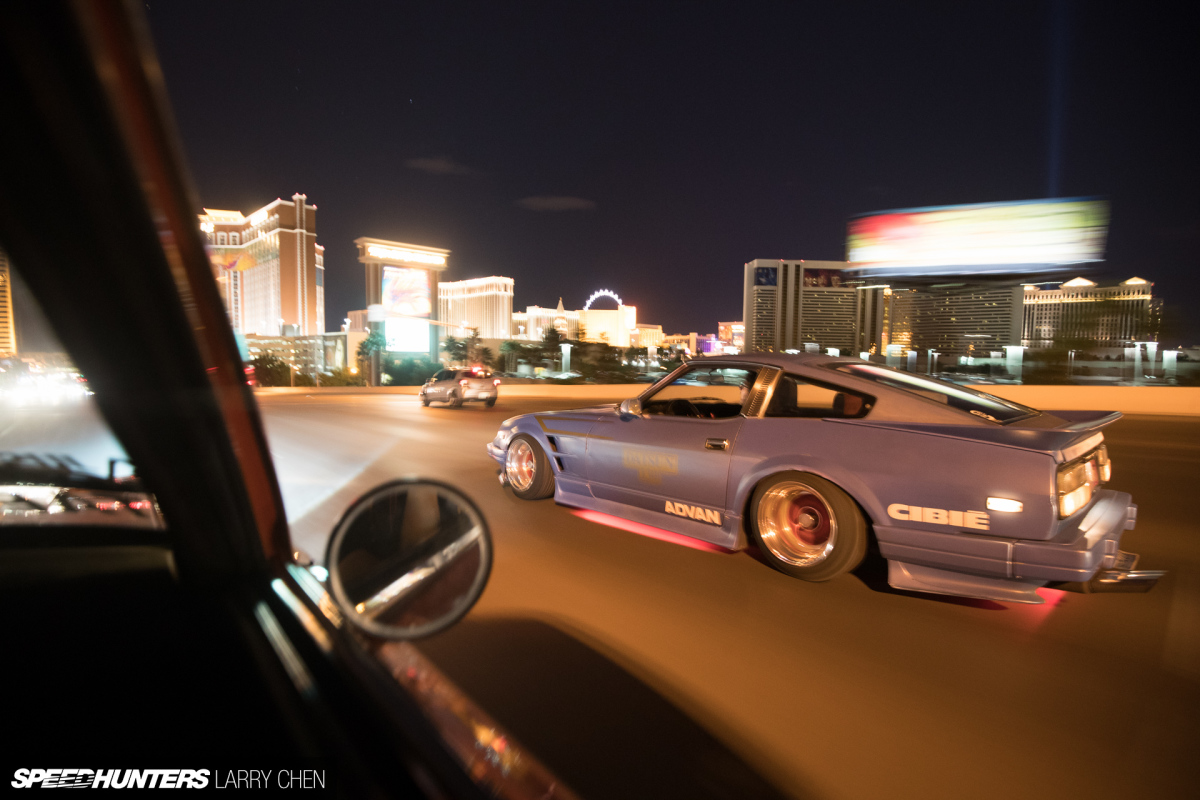 The parking lot meet was all good fun, but it was time to cruise the strip. We were in Las Vegas after all!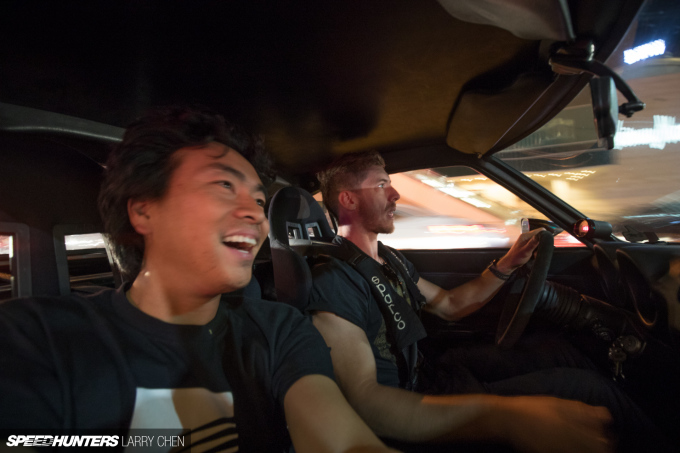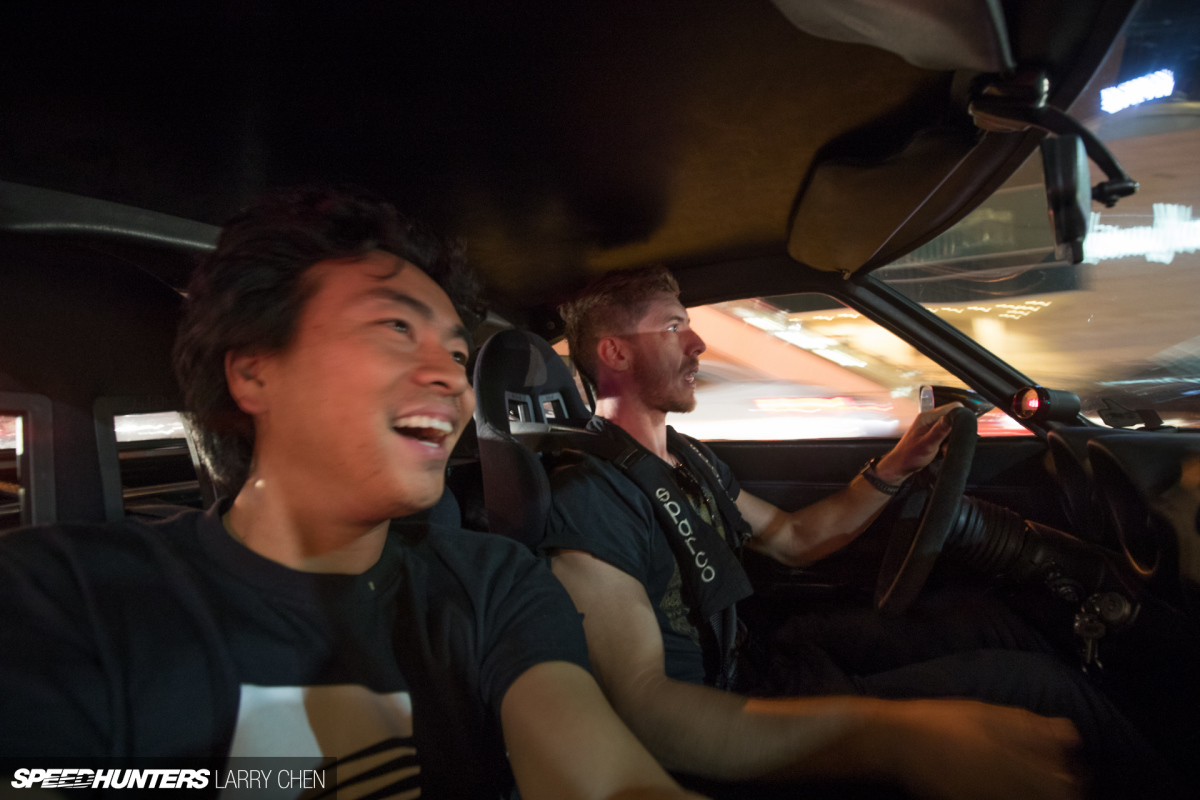 As Ole Orange Bang was on camera car duties, Aaron Beck took the wheel so I could hang out the window and take pics.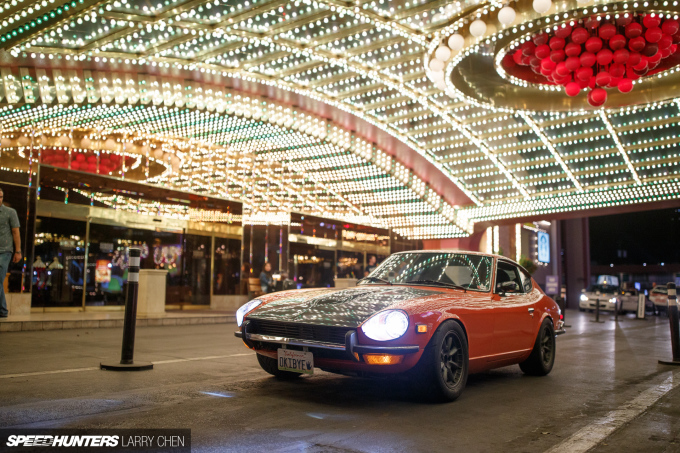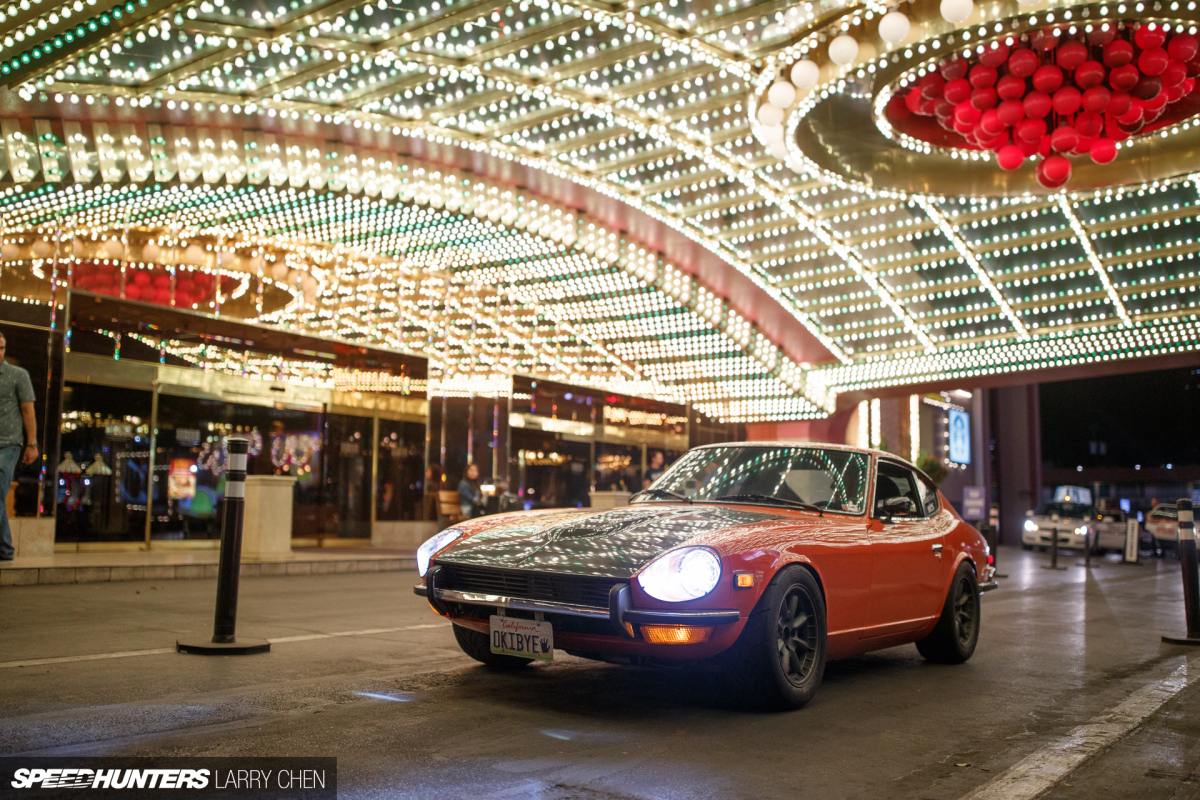 One of our first stops was under the classic Circus Circus lights. There is nothing that says 'Vegas' more than a million light bulbs.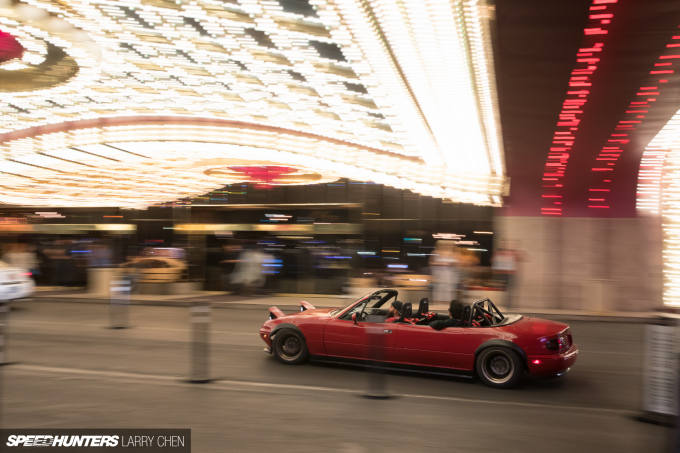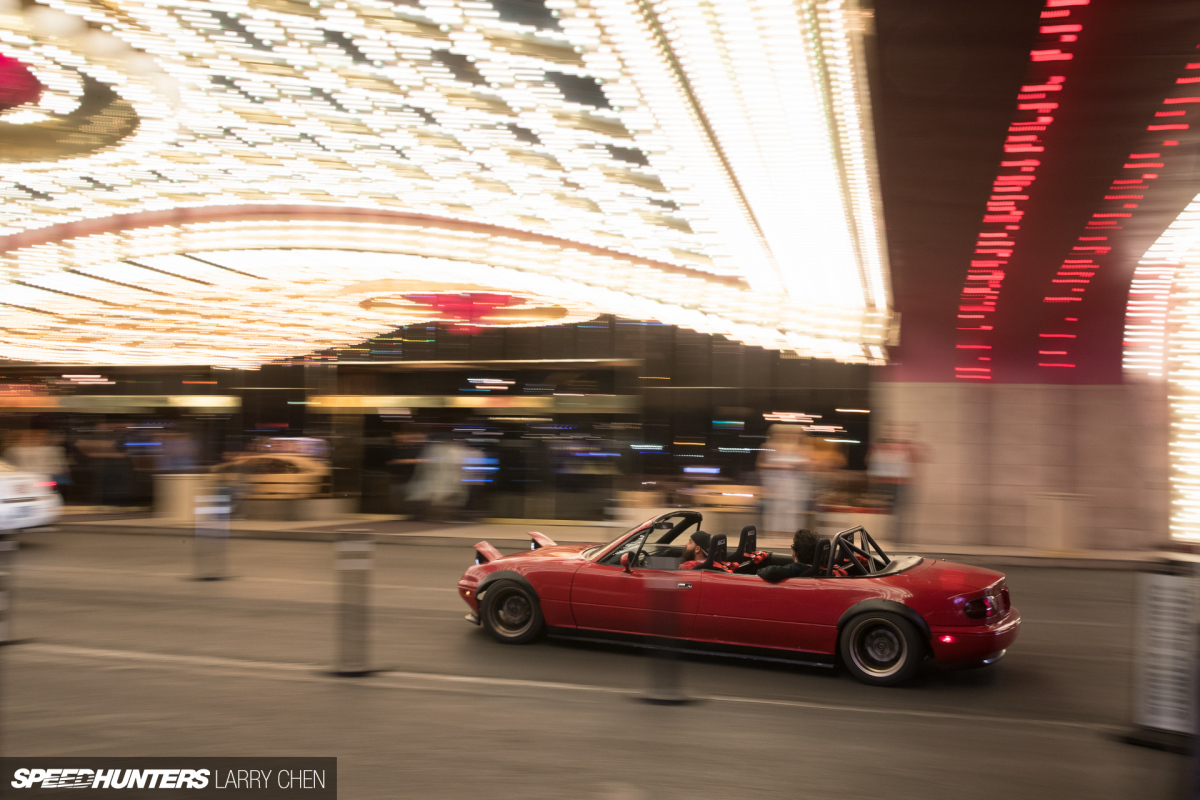 In true limo fashion, Danny soon pulled up under the marquee with a passenger riding VIP-style in the back.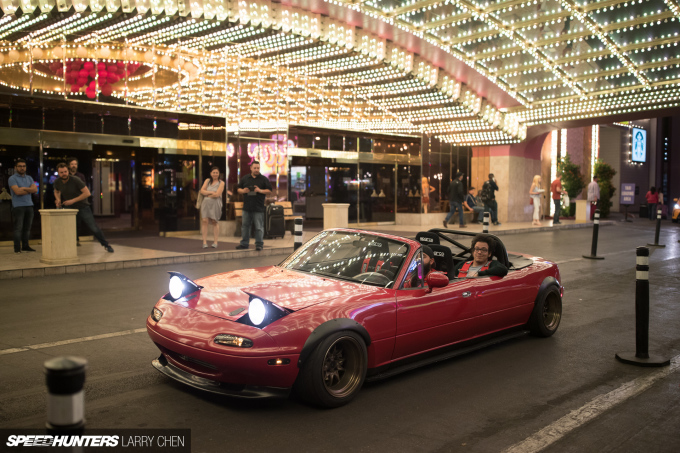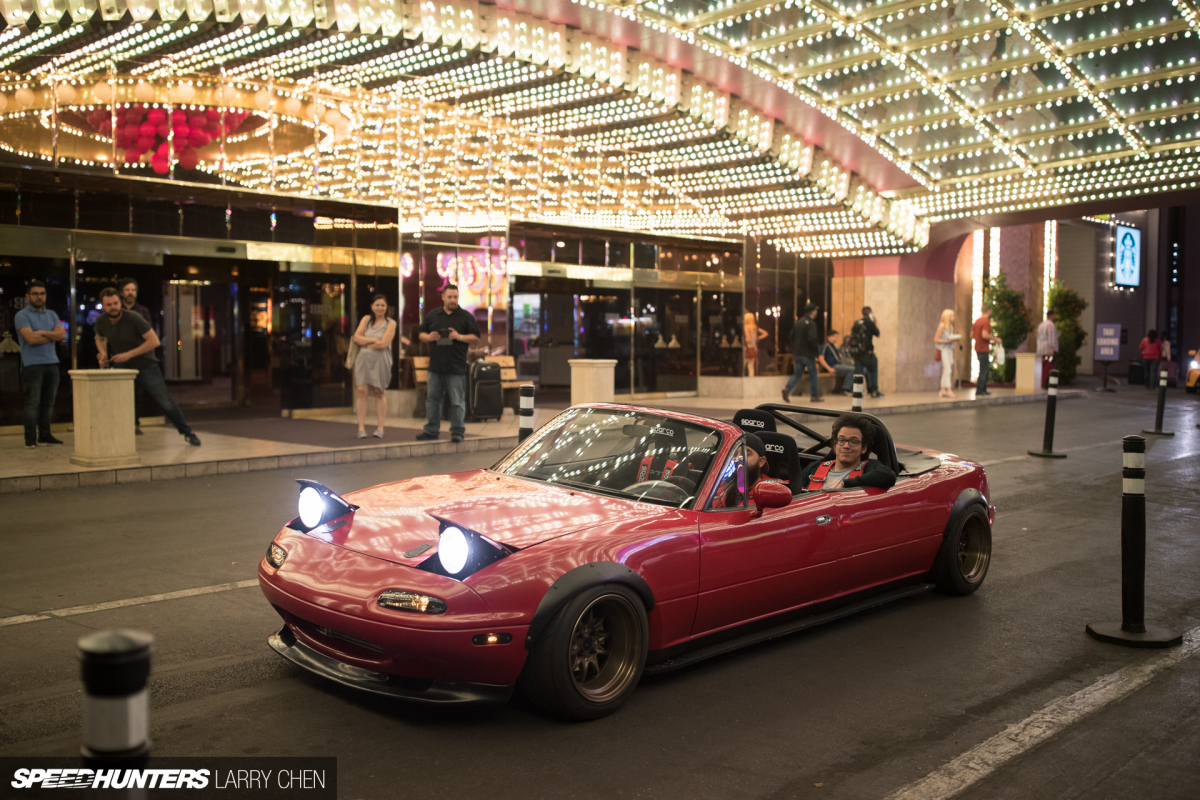 Not so long ago, SEMA was about getting black-out drunk and waking up at sunrise to shoot the show hungover beyond repair, but I am so glad I've grown out of that phase.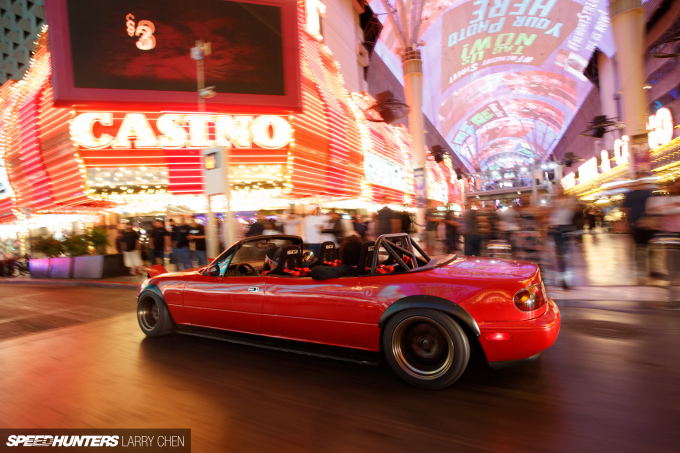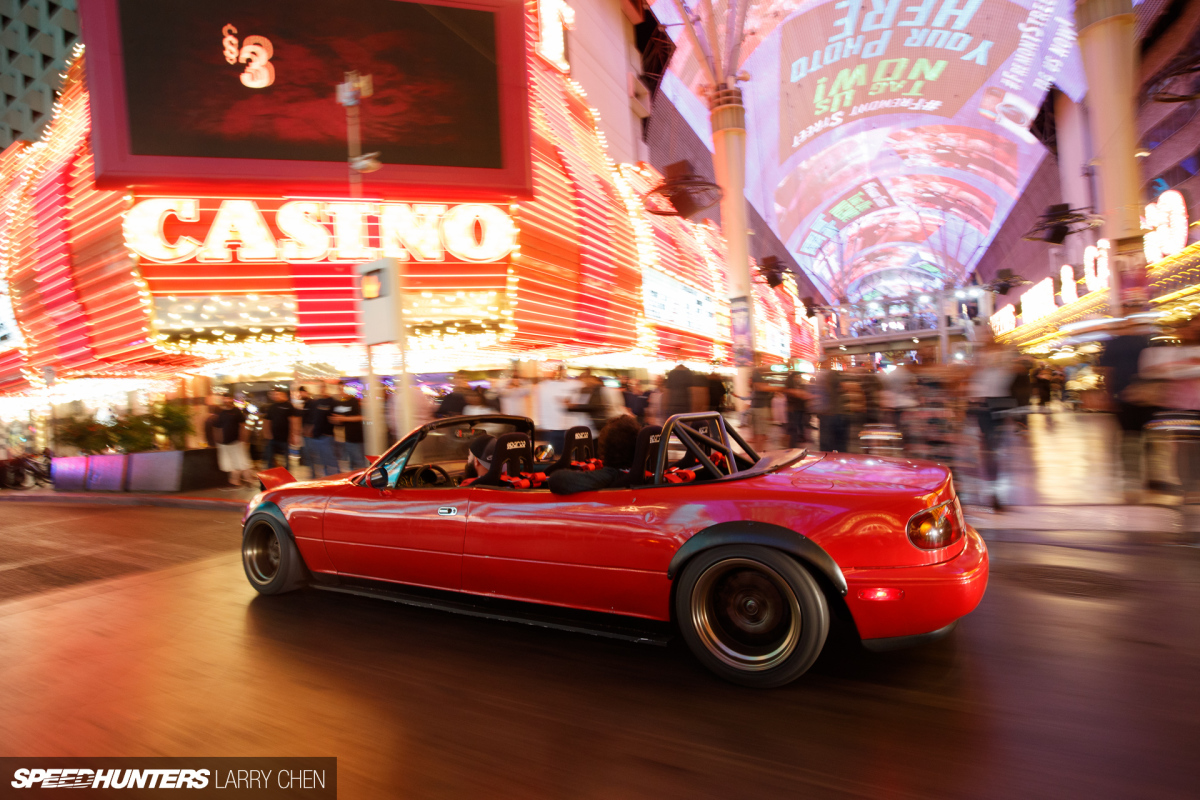 Now it's more about having fun, and if that means cruising around Las Vegas in a Miata limousine, then so be it. I won't judge, and you shouldn't either.
Larry Chen
Instagram: larry_chen_foto
larry@speedhunters.com
Cutting Room Floor