Meet Johnny D
I feel like I know John D'Agostino's name by osmosis. He's been in the custom car scene as long as I can remember and I've seen his name in print more times than I can count. But just in case you aren't familiar, let me put it this way: he's been building custom rides non-stop since the '60s and has no intention of letting up. So last year at SEMA when I walked up and saw his name tag I immediately knew who the guy standing in front of me was.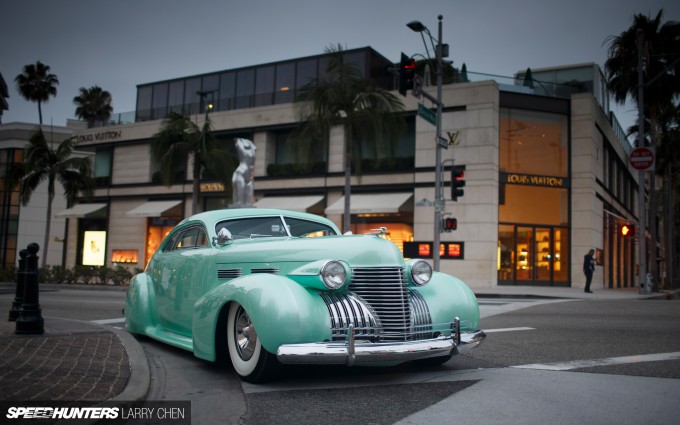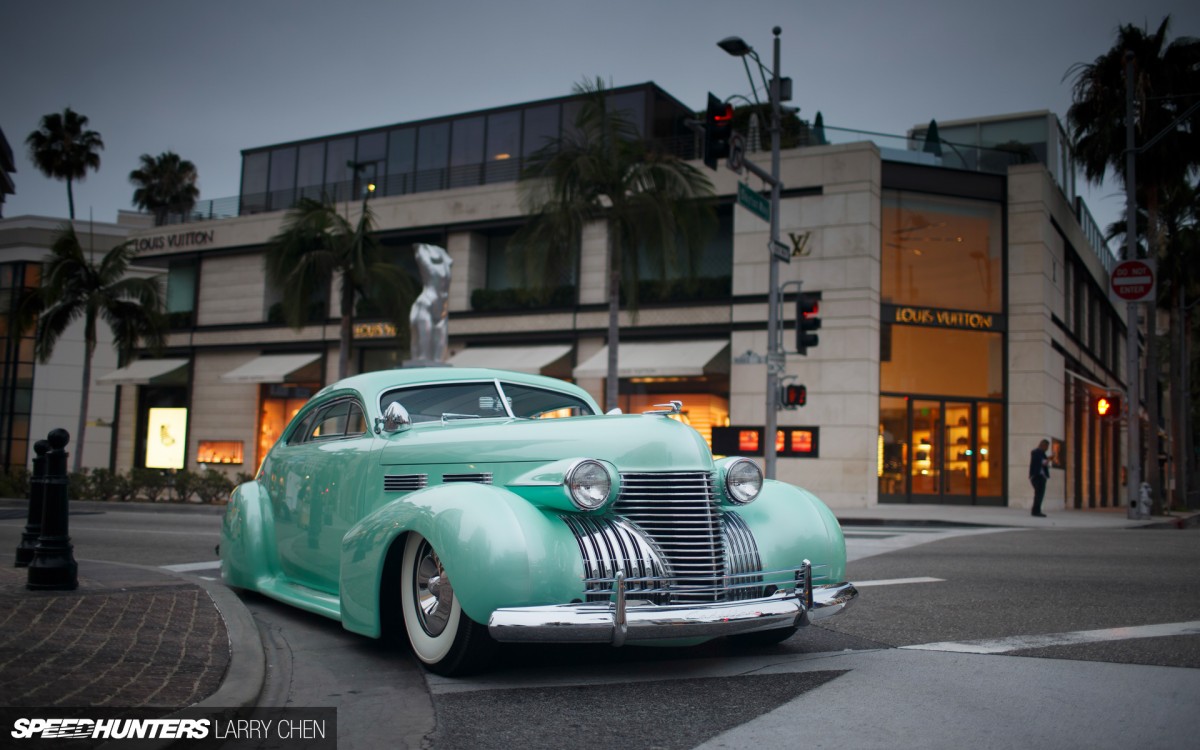 Fortunately my own kustom was nearby, and after a quick 'nice to meet ya' I insisted that he come check it out. Not to brag or show off though; I truly wanted the feedback of a legend. As so often happens in the car world we were instant friends, simply by virtue of our vehicular interests.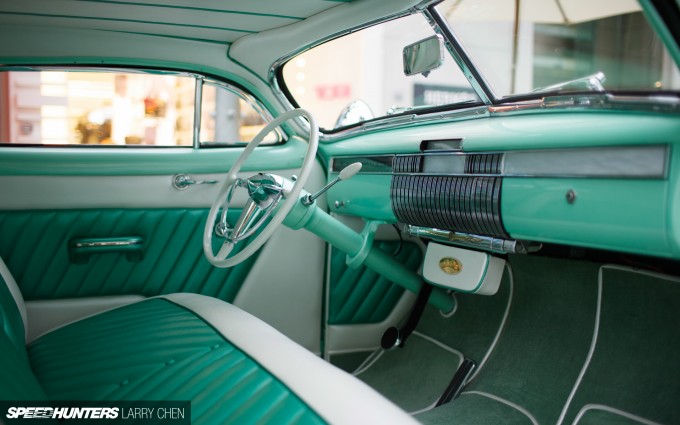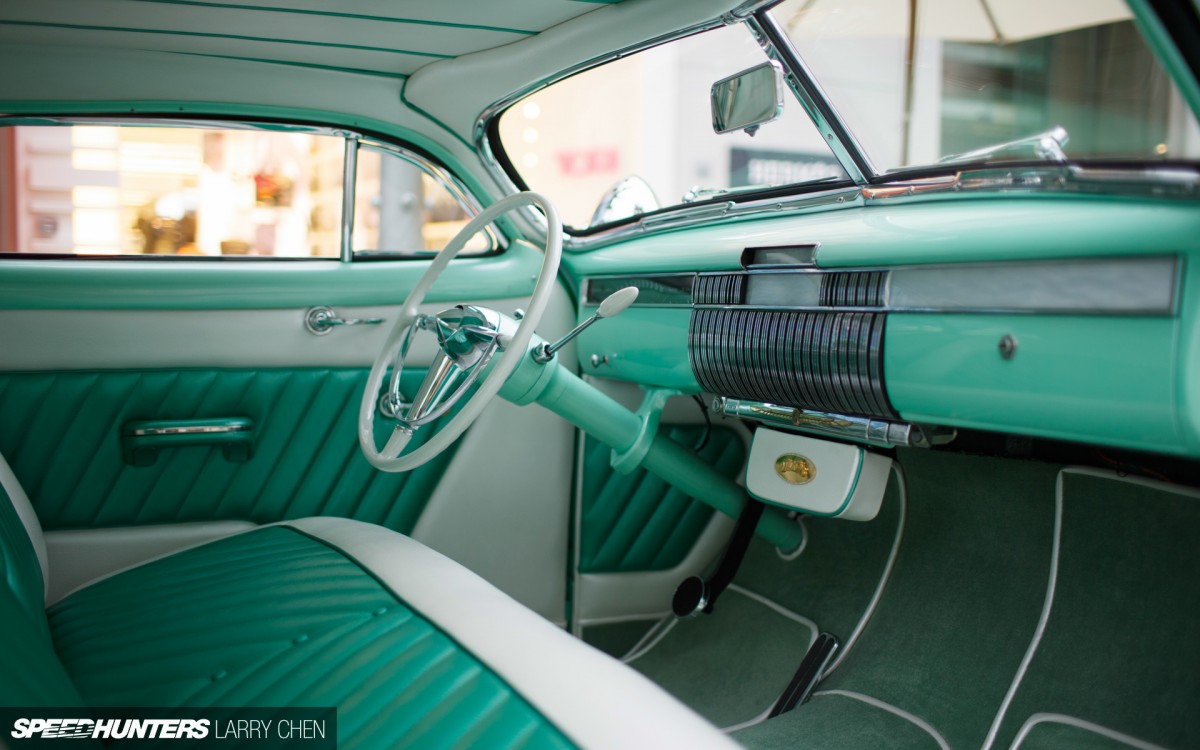 It's hard to believe that was only one short year ago. Since then, John and I have crossed paths another half dozen times, no doubt thanks to this Speedhunting gig. A few months ago we were both showing our cars at the Long Beach Motorama and I got the chance to finally hear about his latest creation in his own words: a 1940 Series 62 Cadillac.
A rare foundation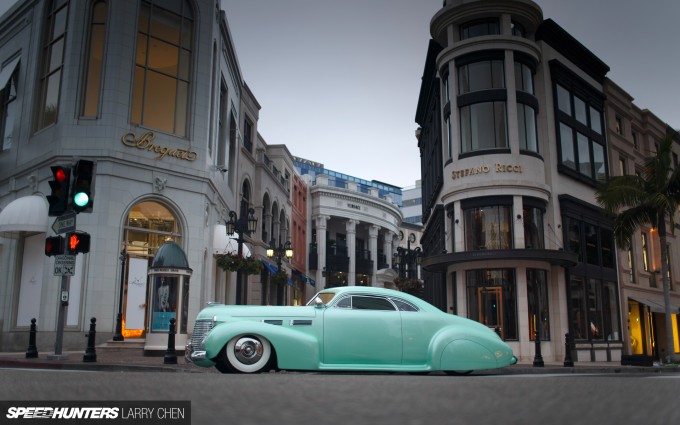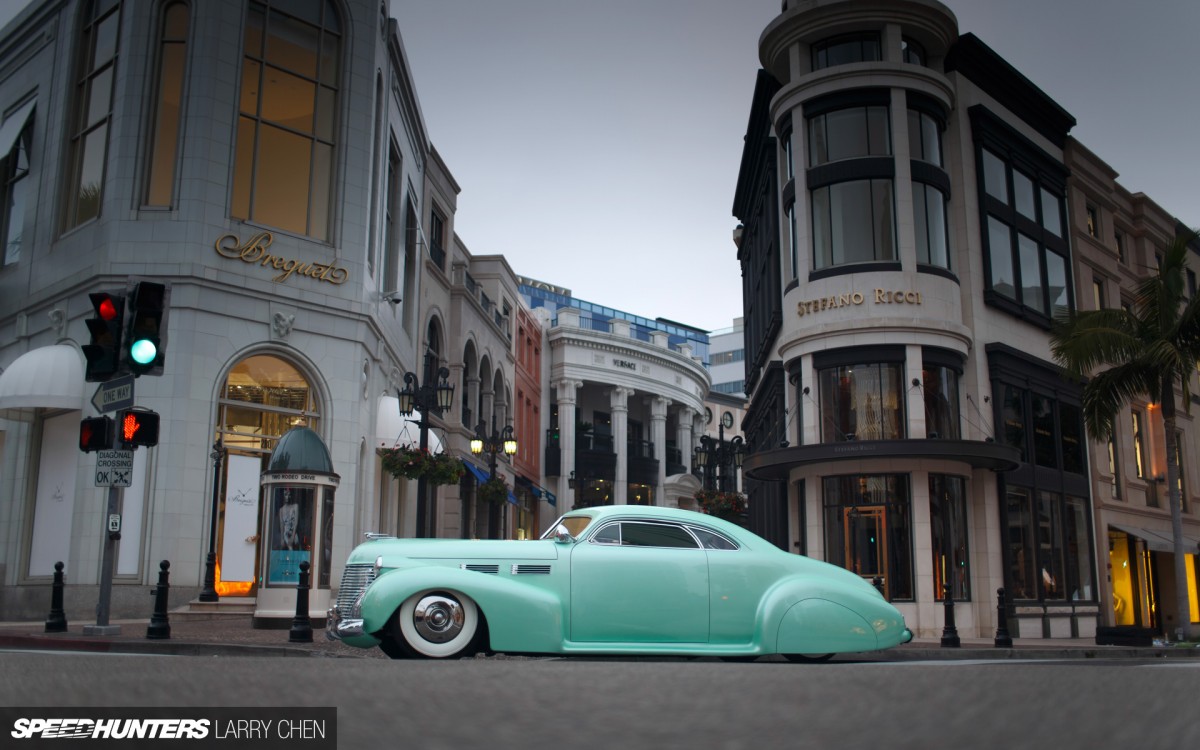 This isn't John's third or fourth kustom: it's actually well past number 100, if you can comprehend that. These days John has his fabricator friend Oz Welch do most of the heavy lifting, but he's there every step of the way making sure that what comes out of the shop is a true D'Agostino kustom. John's real passion is in the design of the car, and having owned and built so many kustoms it's safe to say he's got that part dialed.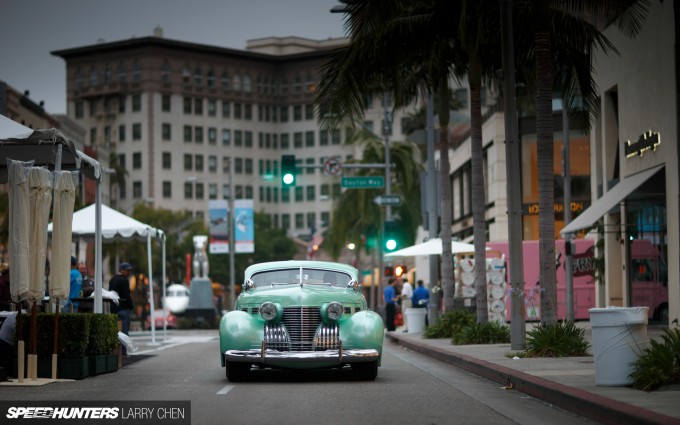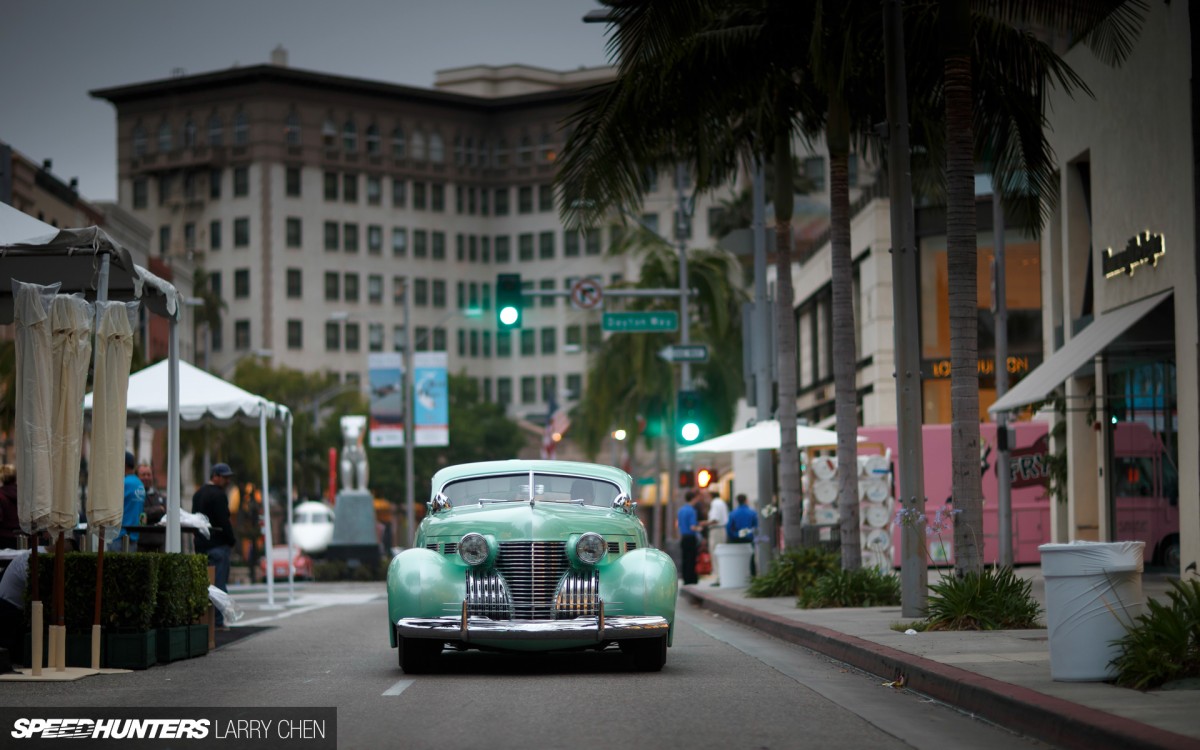 So how did John D'Agostino and his buddy Oz build a Caddy that looks so sinister on one hand…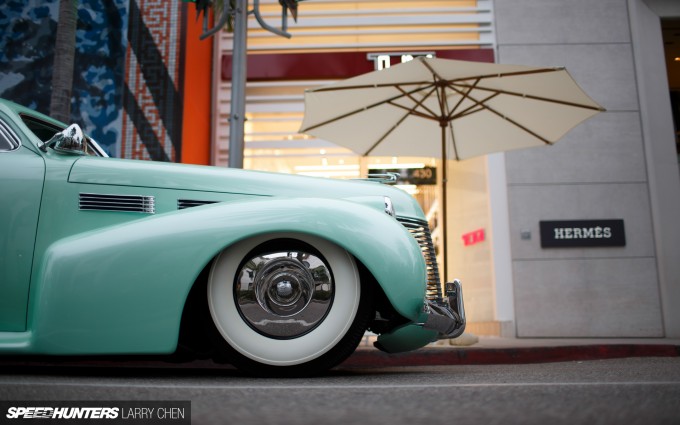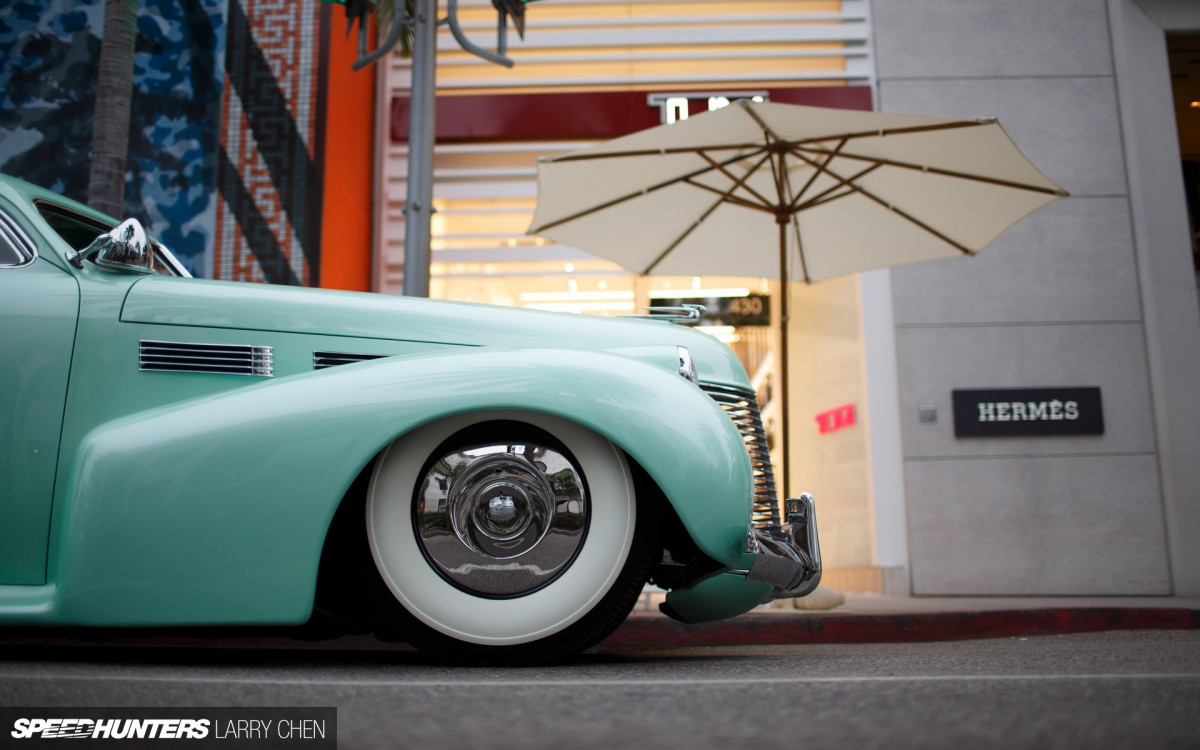 …yet so elegant on the other?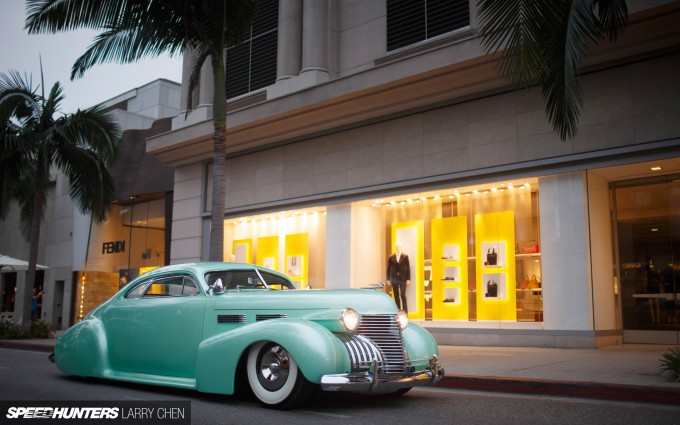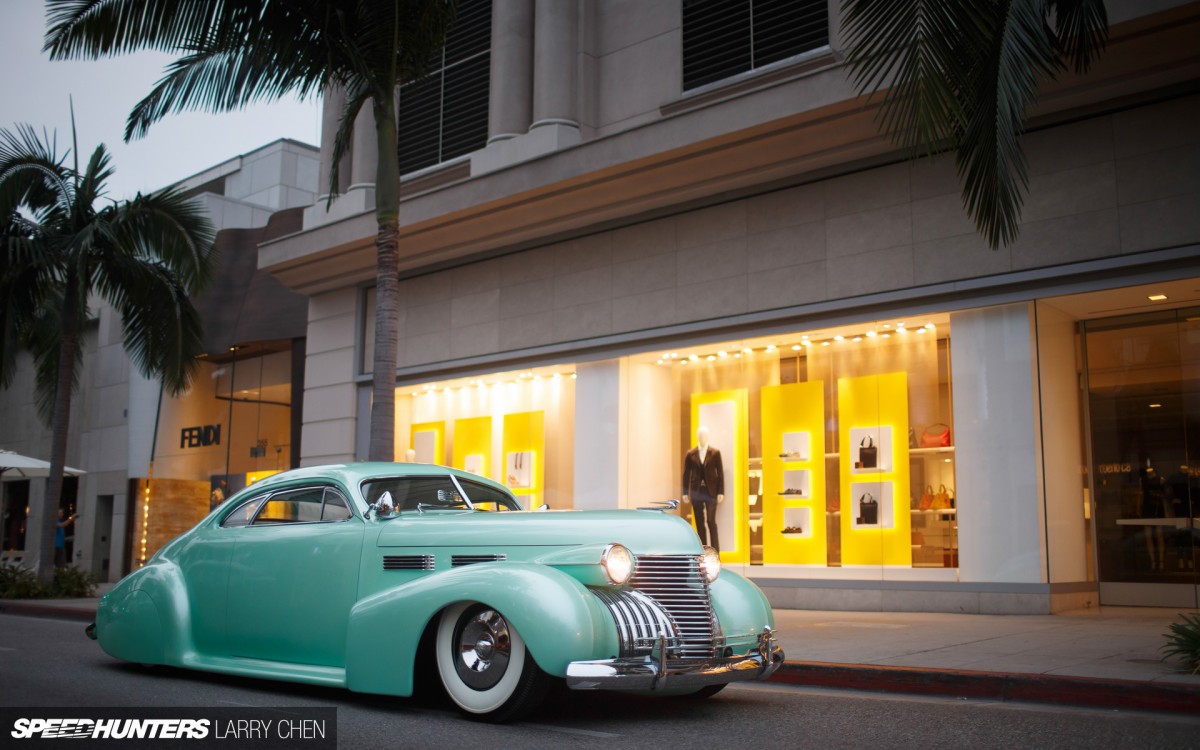 It's noteworthy that John chose to start with a Series 62 Cadillac coupe, since these cars are far from common. In fact, according to John, there are only eight of them currently registered in the United States! While most builders are chopping Shoebox Fords and Chevys, these guys are sourcing unique iron to use as their starting point. I guess when you've built so many cars you have to get creative to find a new one to build.
That chop!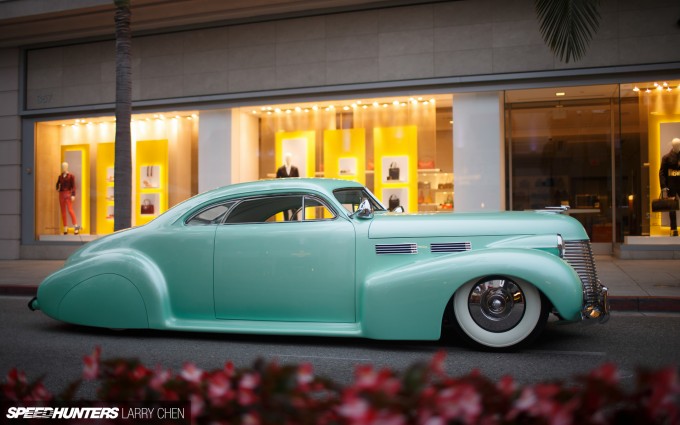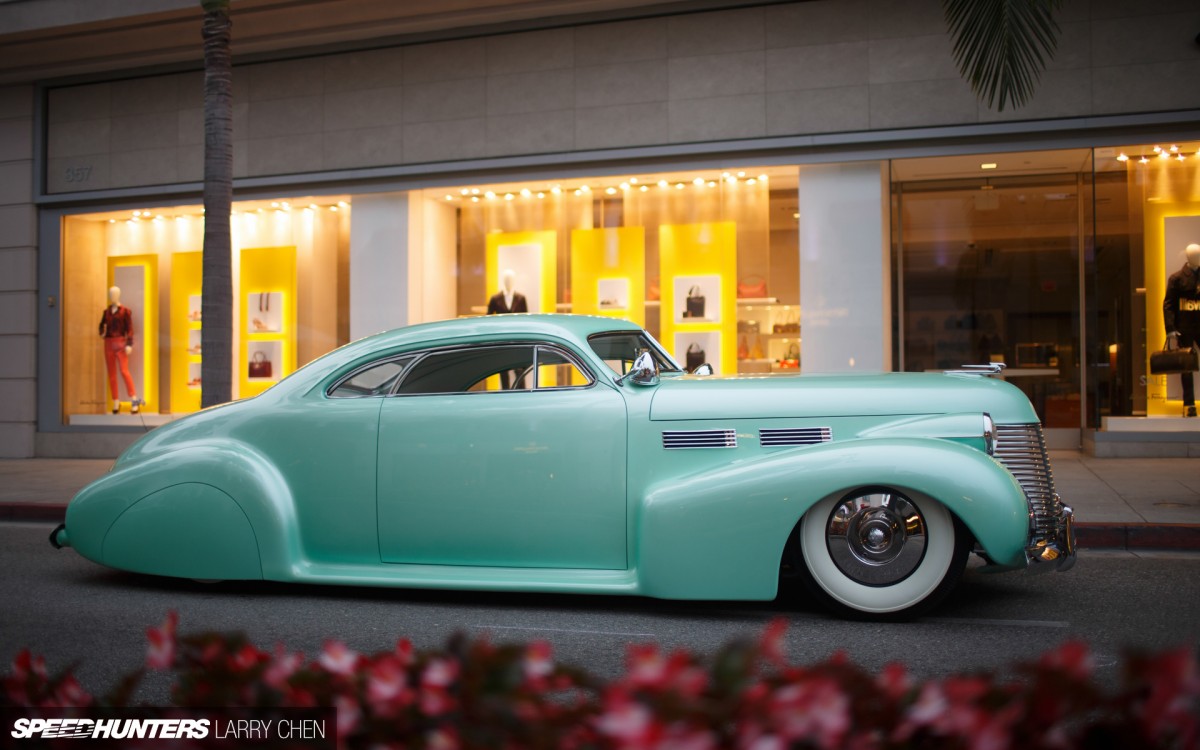 The roof-line is arguably the most crucial component of a kustom, so let's start with a look at the top. Anyone can tell it's chopped, sure, but there are a lot of details here that Johnny was particular about. It's a sloped chop, five inches in front and six and a half in back, with a form reminiscent of the Matranga Merc. The entire roof skin was sectioned and thinned before new drip rails were made from 3/16-inch steel rod. Taking things one step further, the rear windows are removable so the car can take on the look of a pillarless hardtop with the front windows rolled down.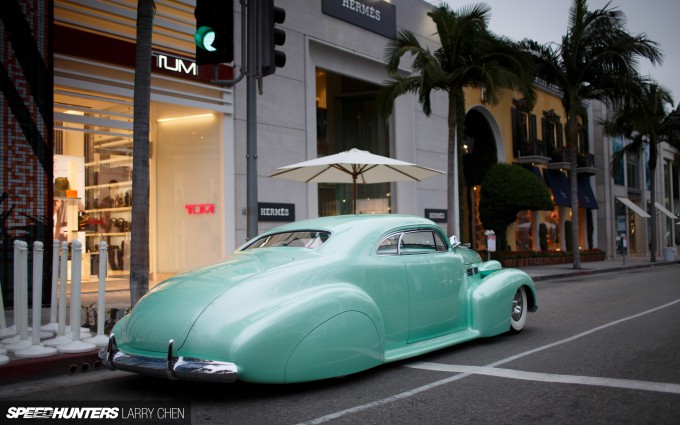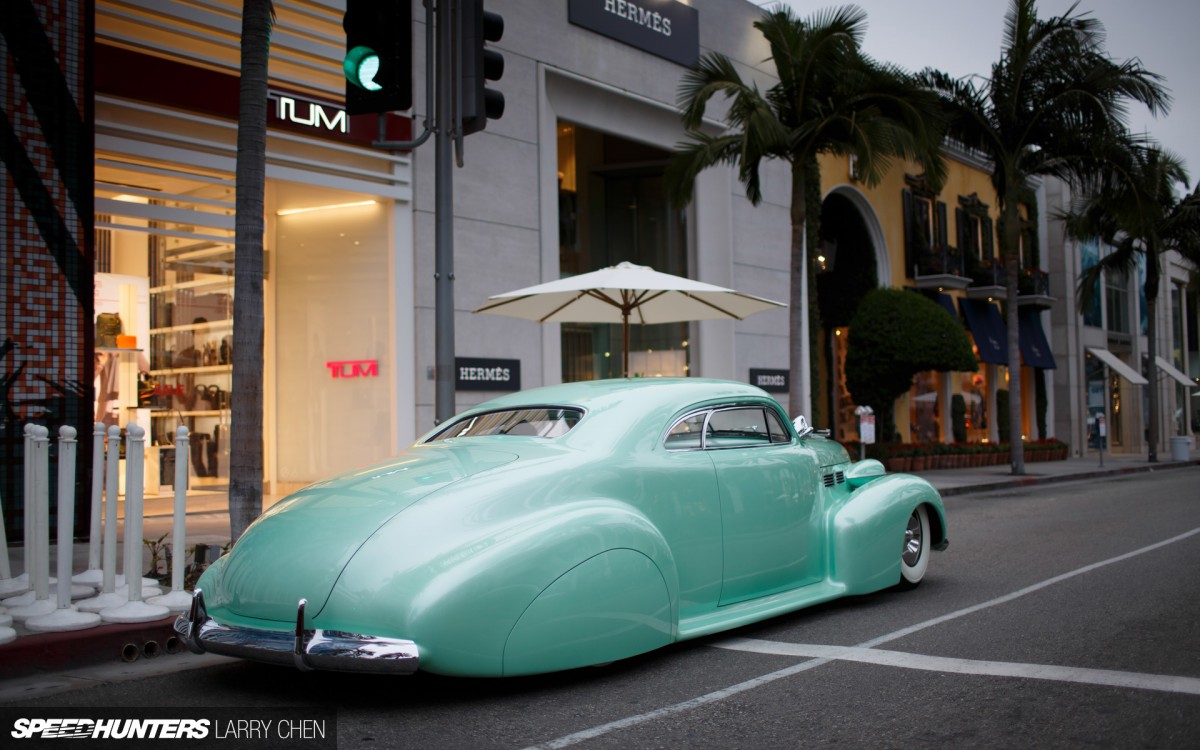 Personally I love that they kept the dip behind the back window, because it retains the original three-box form. While Oz was reshaping the fender skirts and crafting custom running boards he went ahead and molded every panel together, making the body one complete unit. Gaps only exist where things open and close, like the hood, doors and trunk. This is a bold move should the car ever be damaged, but the smoothness is simply beyond words.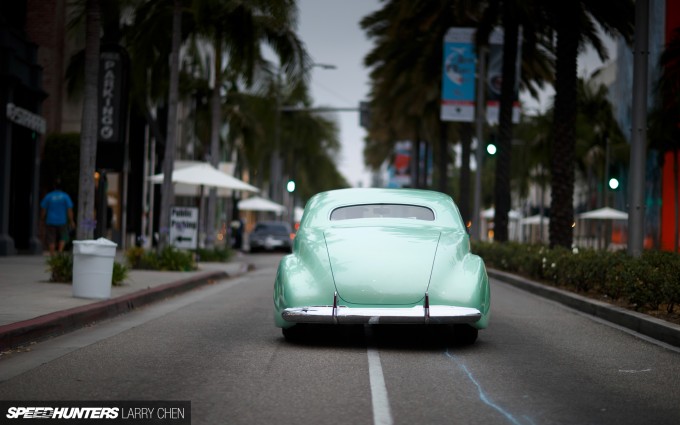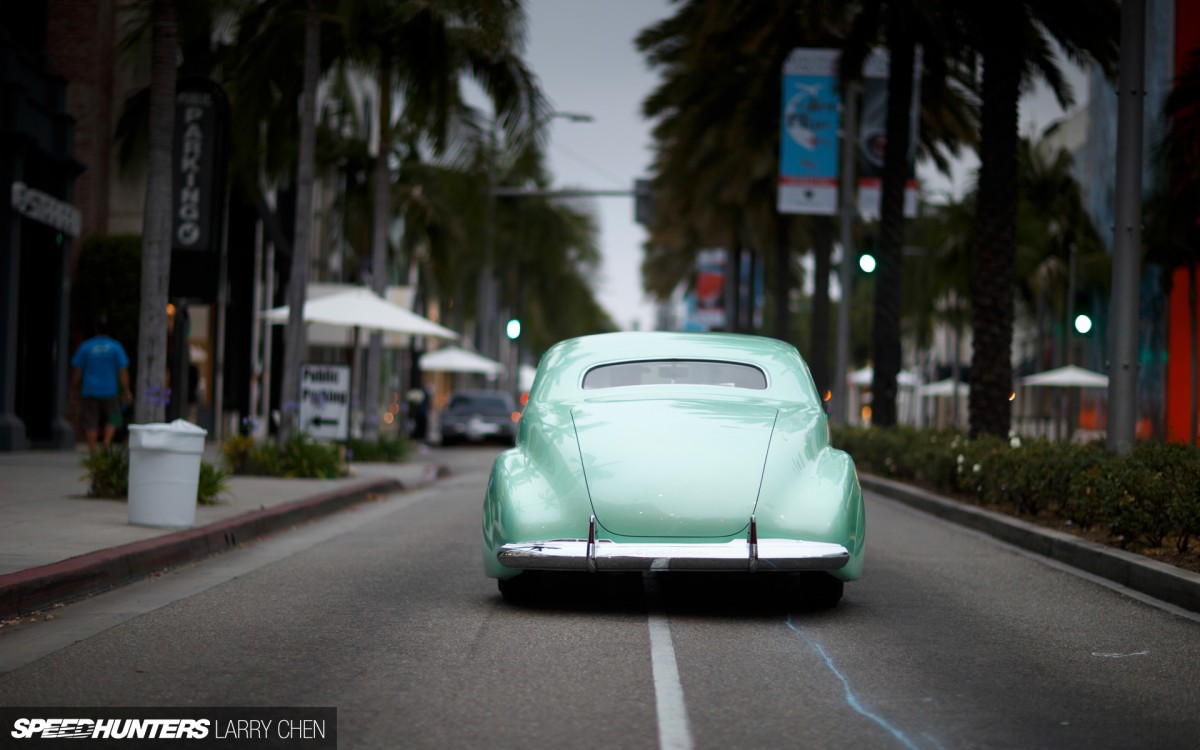 While they were moving metal Oz pushed and pulled some things to amplify the lines of the Cad, like widening the rear fenders two inches per side.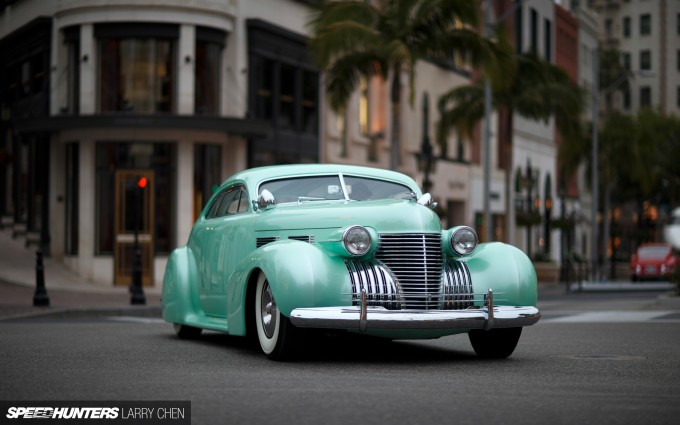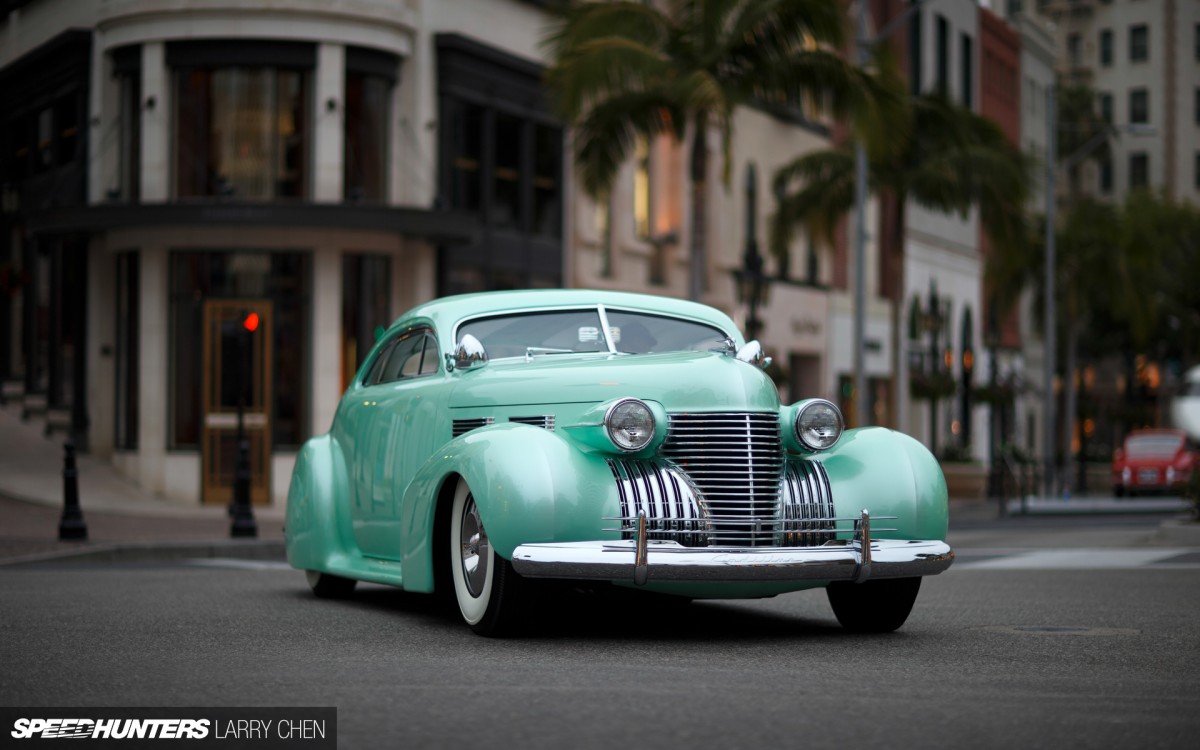 The front fenders were also pushed out an inch, and while the nose of the car might seem stock, things start getting especially tasty when you take a closer look.
The details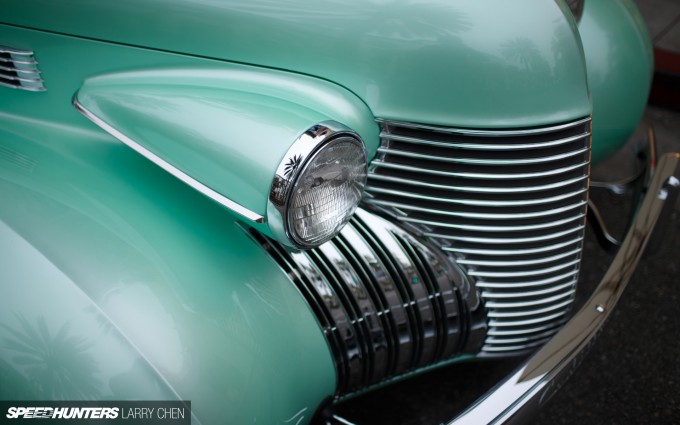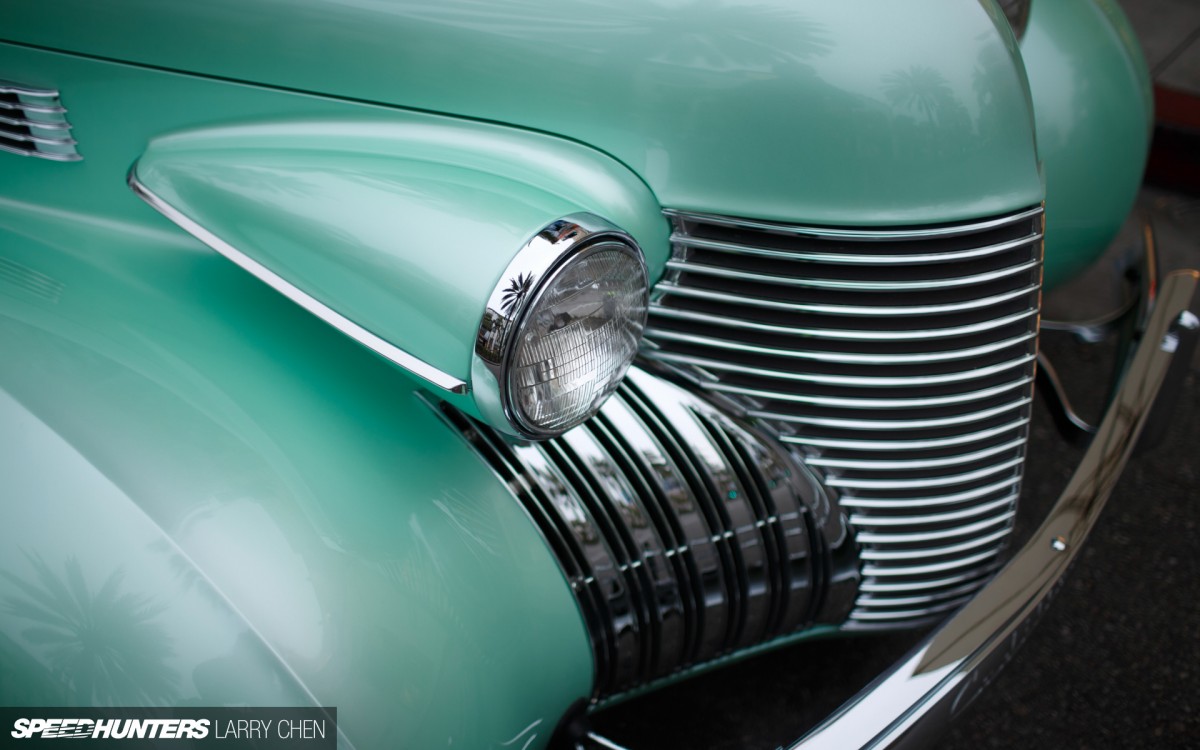 The Series 62 had a unique grille and hood, but John and Oz still felt there was room for refinement. First they dropped the headlights by 3/4-inch, then Oz added a lip detail to the front edge of the hood. This required bumping the grille forward to make it line up again, something that sounds simple as I sit here typing, but surely took some work to make everything match back up. I thought maybe the headlight housings had been stretched too, but it turns out Cadillac had already given them that beautiful teardrop treatment from the factory.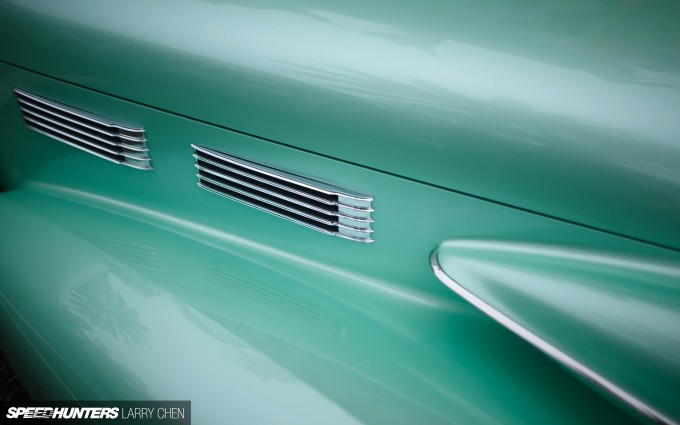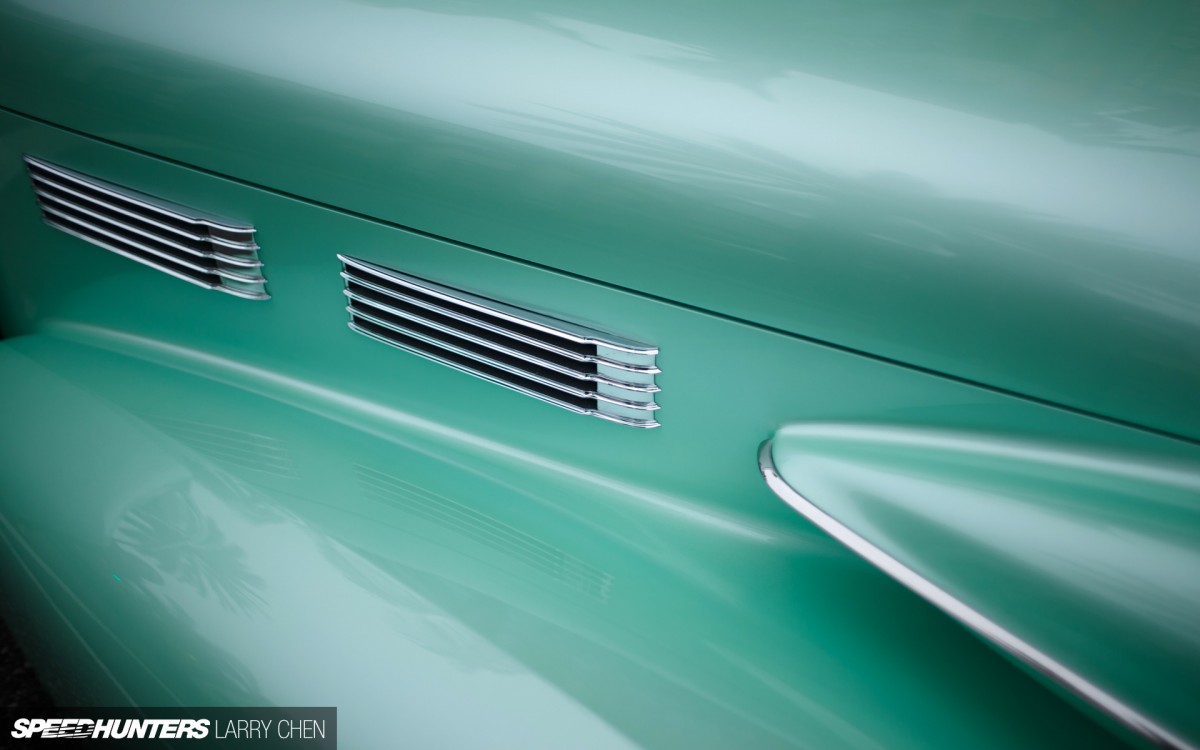 Check out the precision of the hood gap, which is not at all easy on a car of this vintage. The hood-sides were obviously molded to the fenders and headlights, but with all this custom work the factory vents were still retained. In fact, they weren't even moved from the stock location at all. I always like it when customizers know to leave well enough alone – it's like a tip of the cap to the original designers.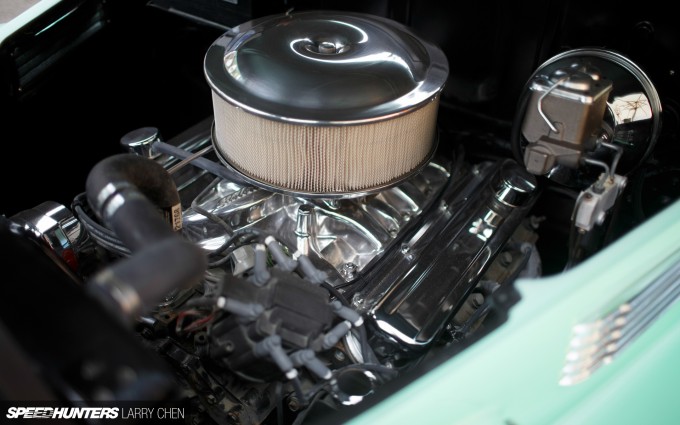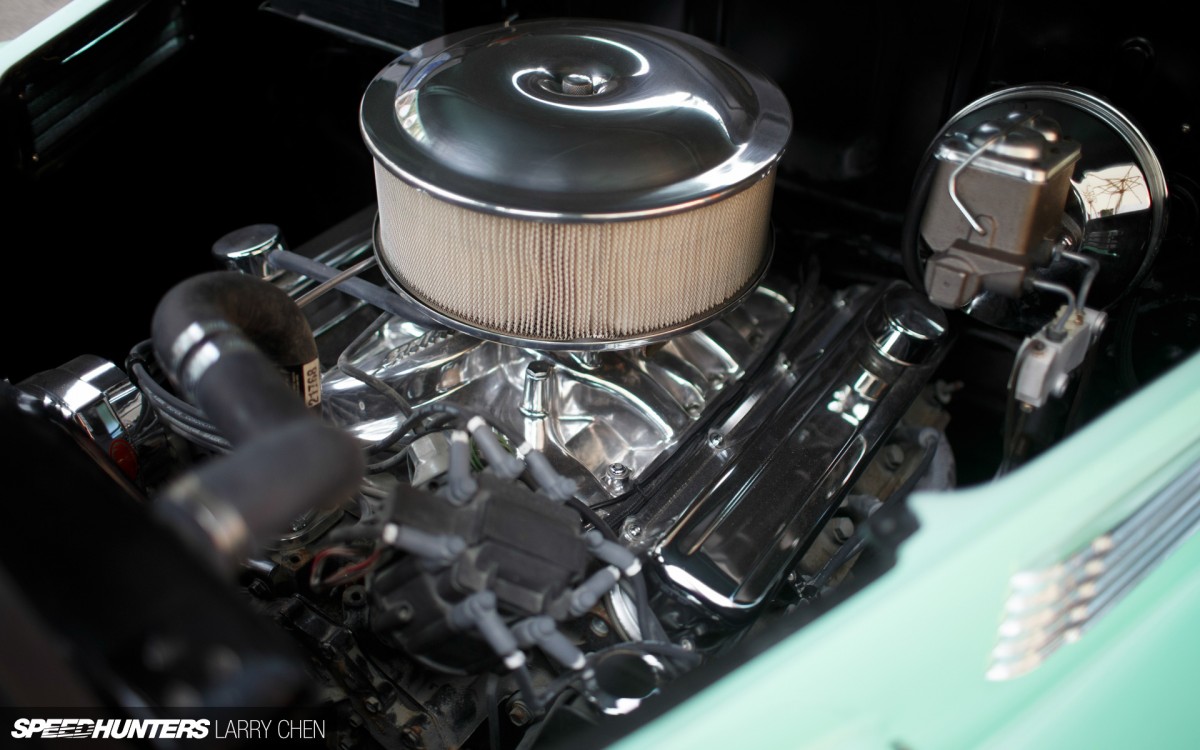 Under the hood is a 500 cubic inch Cadillac mill that was balanced and blueprinted at Taylor's Automotive in Modesto, CA. That's a helluva lot of engine for a kustom, and it's even nice and presentable. But that's not really what this car is about.
Take a look inside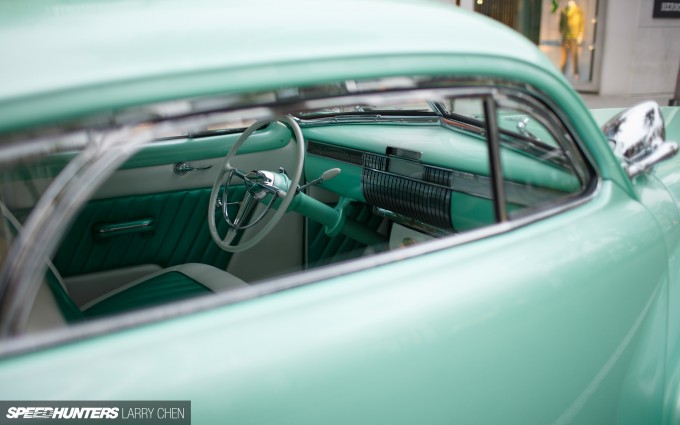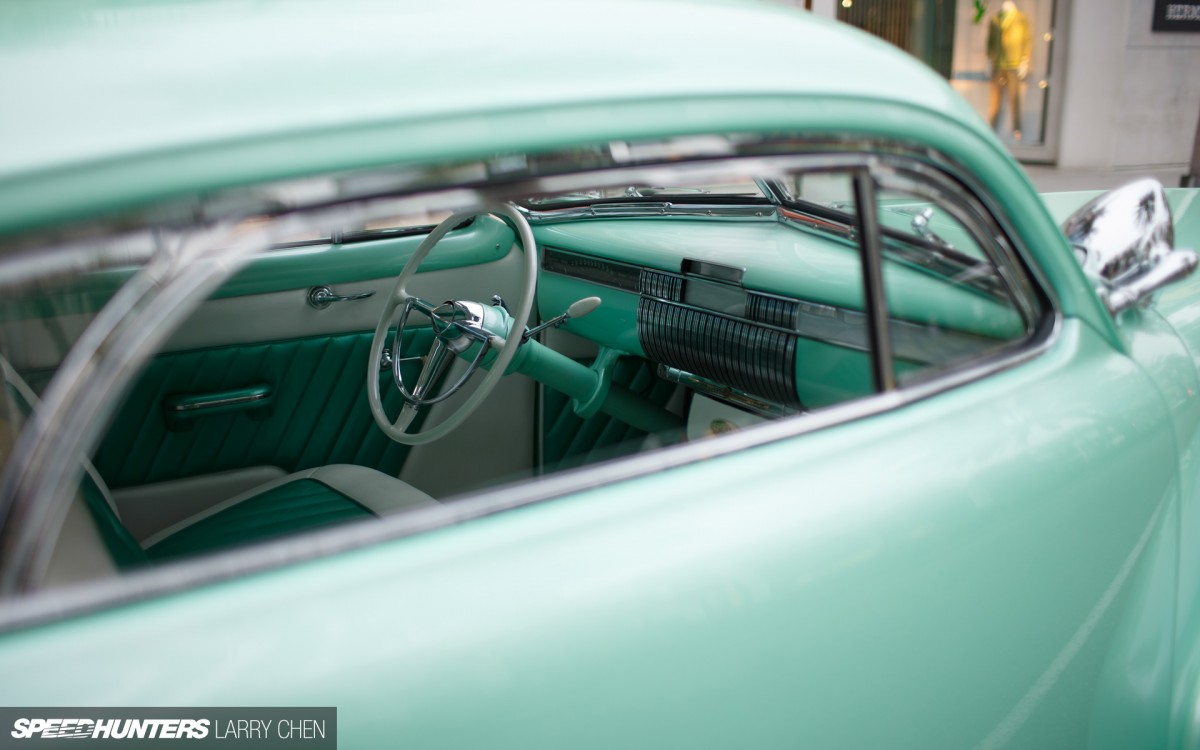 Peeking through the sleek window opening we can see that the interior has as much work done as the exterior.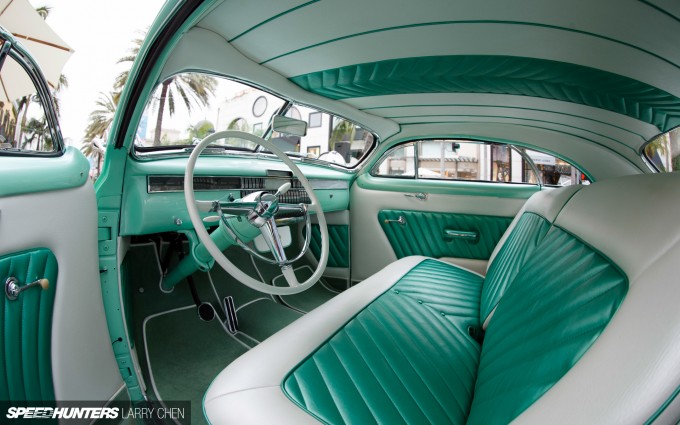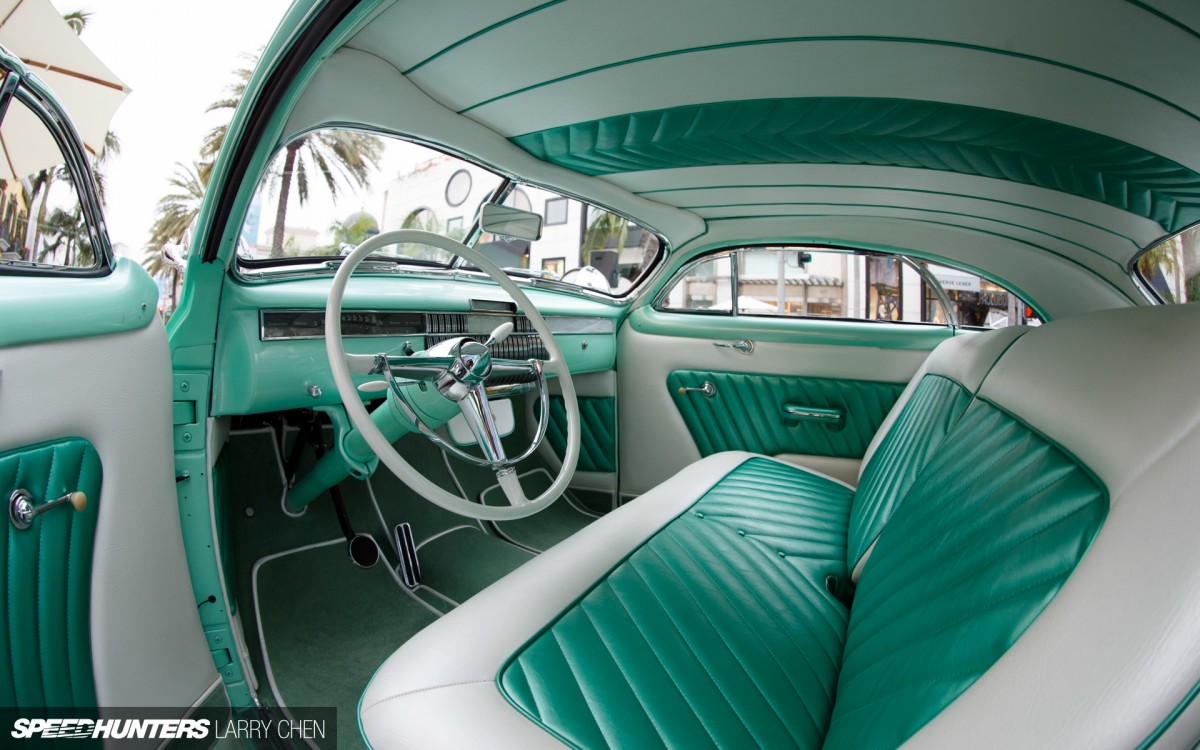 The Mint Pearl paint flows inside to tie things together, with white and mint vinyl covering most of the surfaces.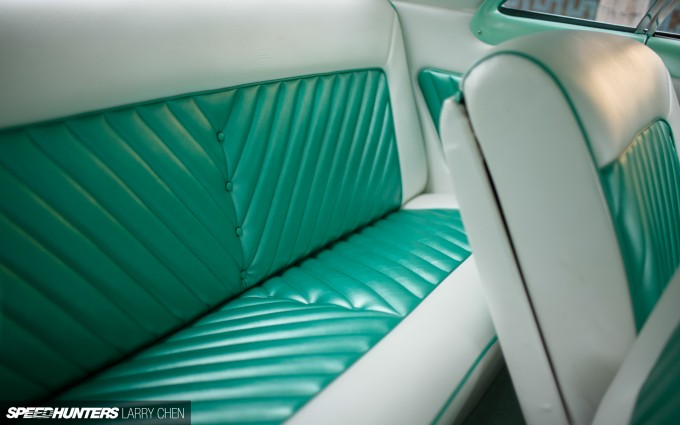 One thing I found interesting was that John went with a wider-than-usual one and a half inch pleat, then laid them out diagonally for a more sophisticated look.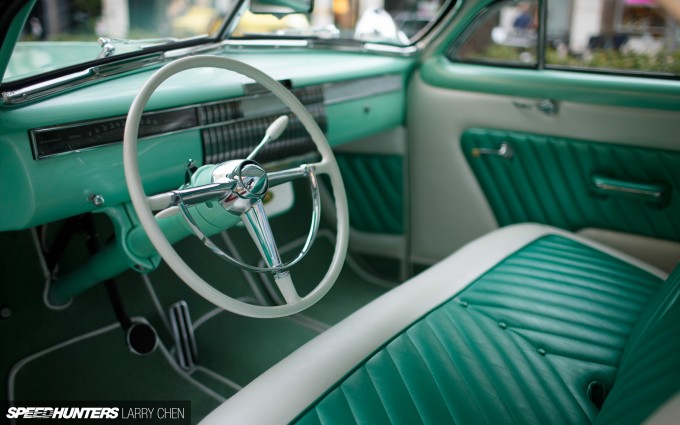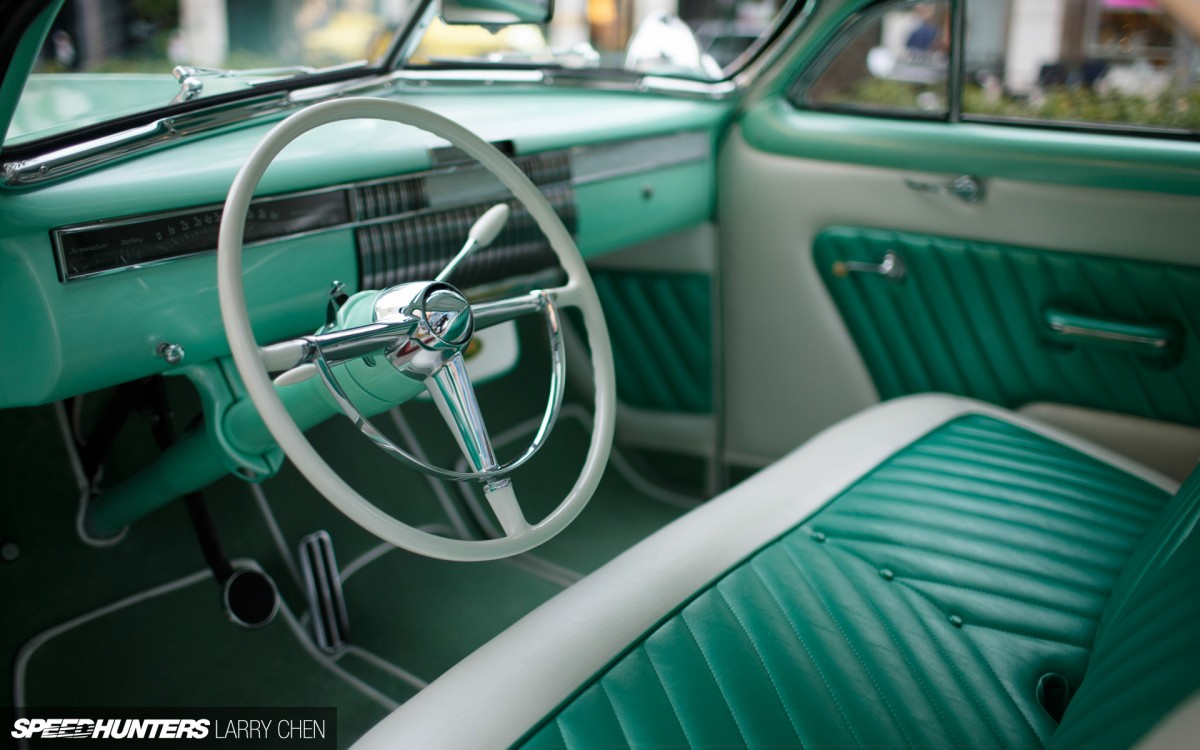 John used a '47 Cadillac steering wheel and column to update the interior a bit. The steering wheel is actually a rare NOS item, which was then recast in 'Mother of Pearl' plastic.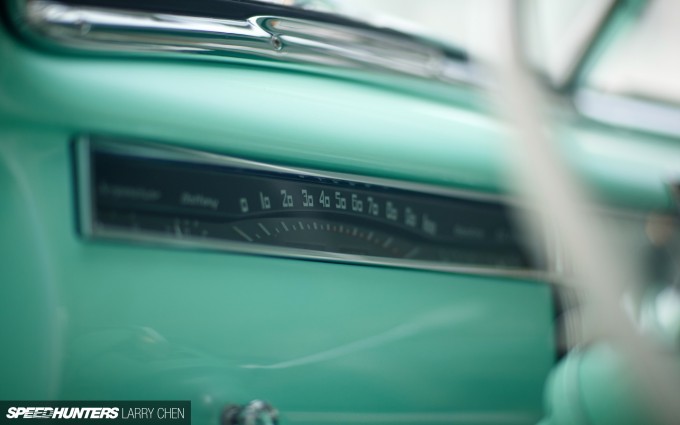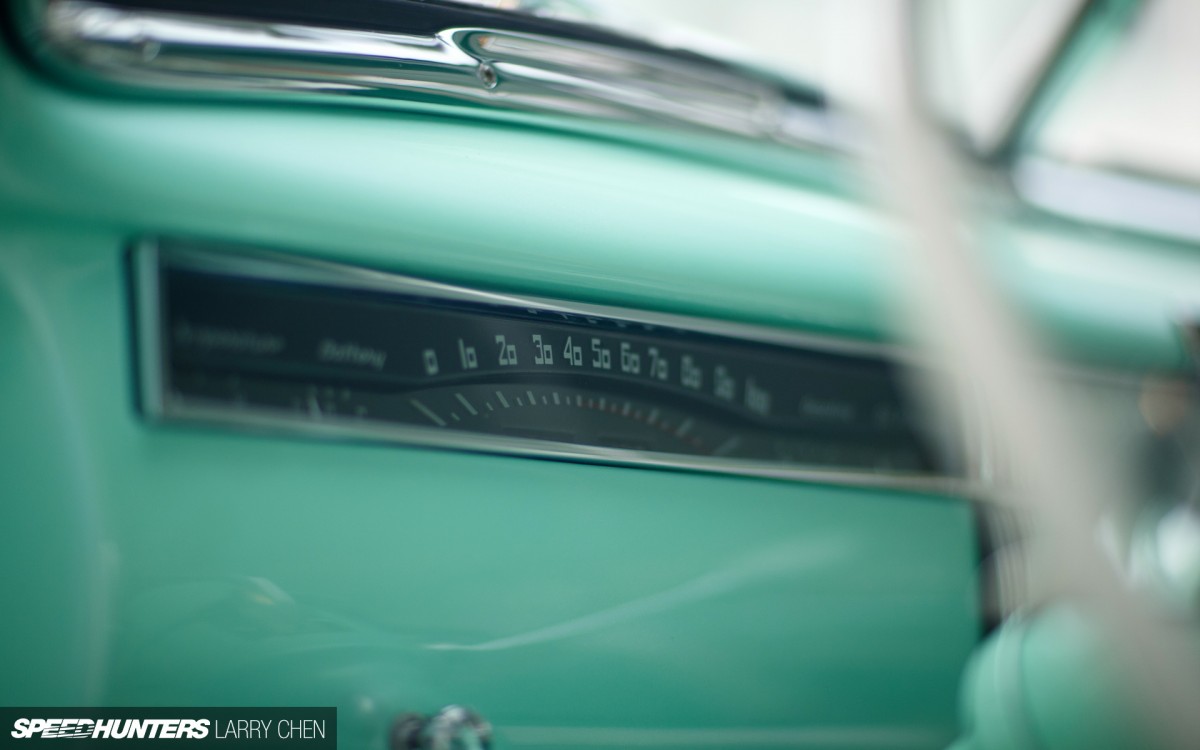 The gauge cluster is stock '40 Cad, but has been updated to work with a modern 12 volt system.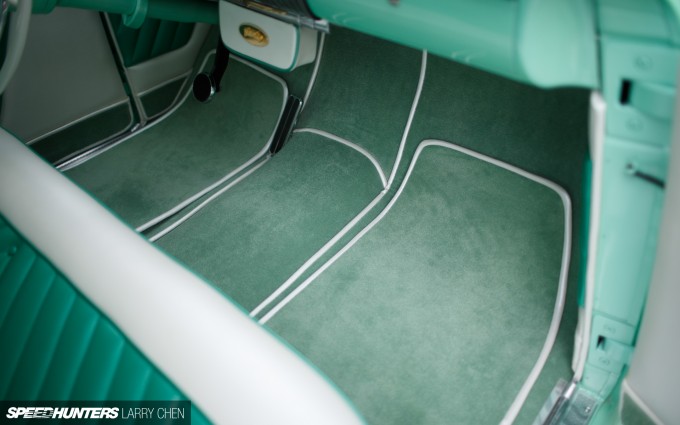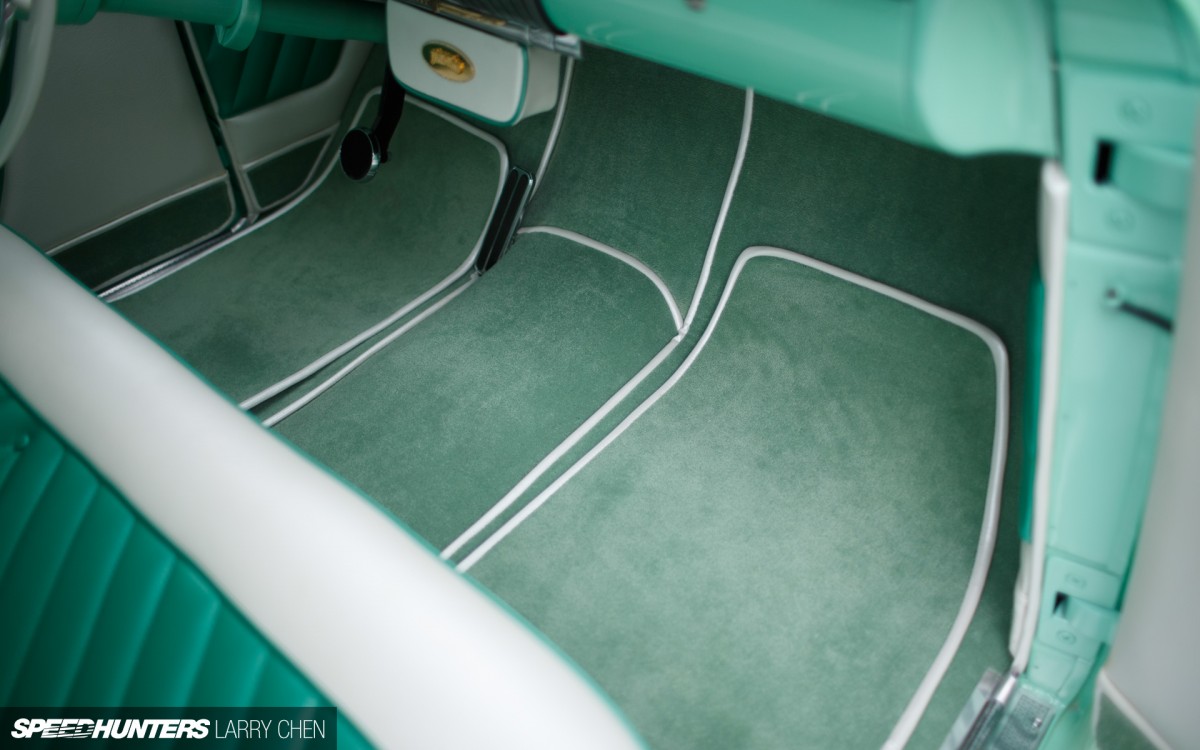 When you're this deep in the kustom game you even wind up making your own carpets. This set was made of English Wilton wool that was custom dyed to match the rest of the car. I think this is where Klingelhoefer would say "Mental!"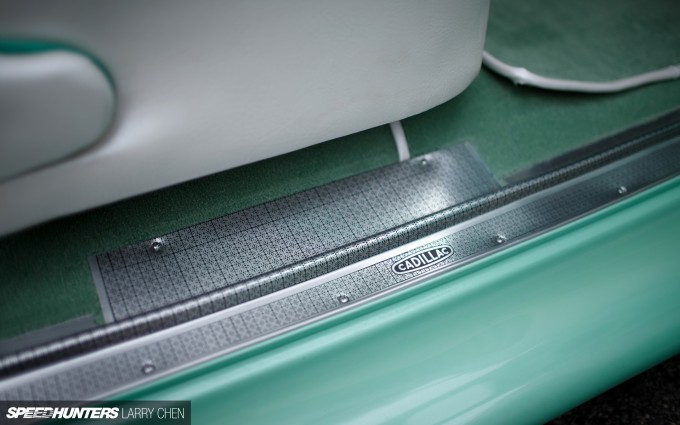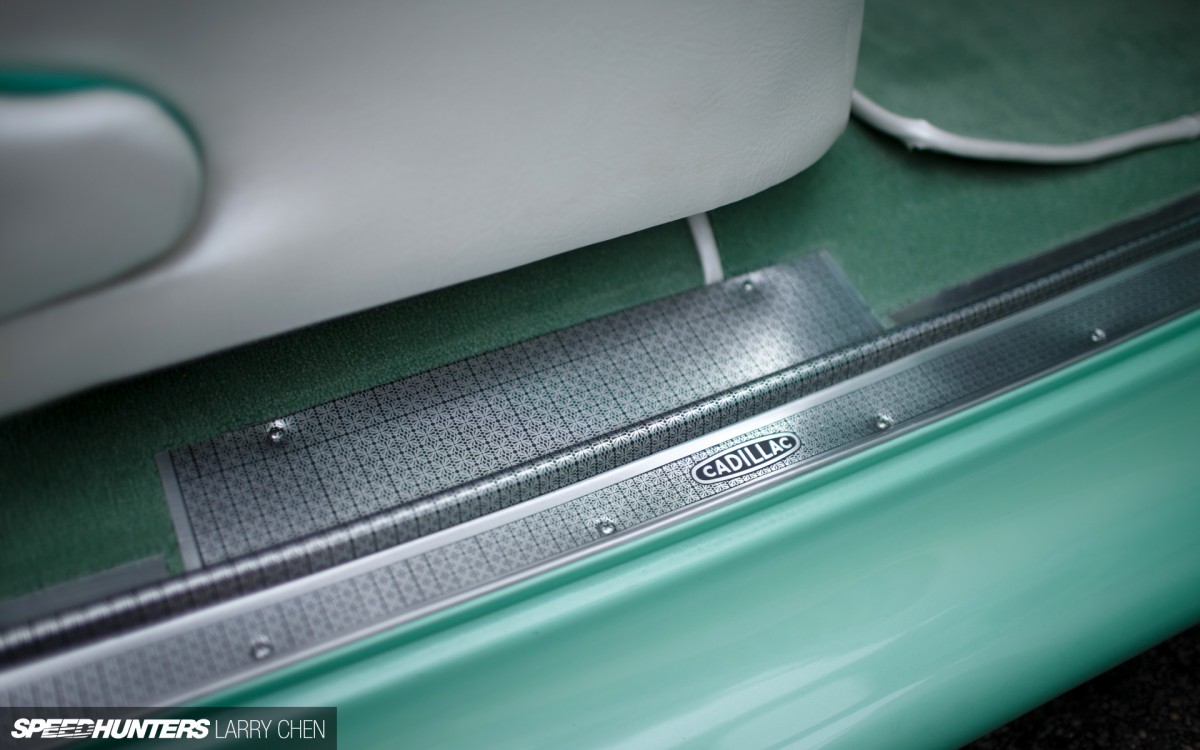 Even the door sills are given attention on a build of this level, so John sought out a NOS set.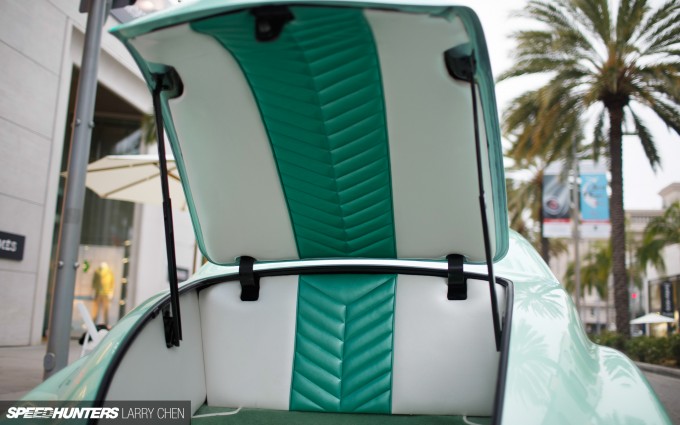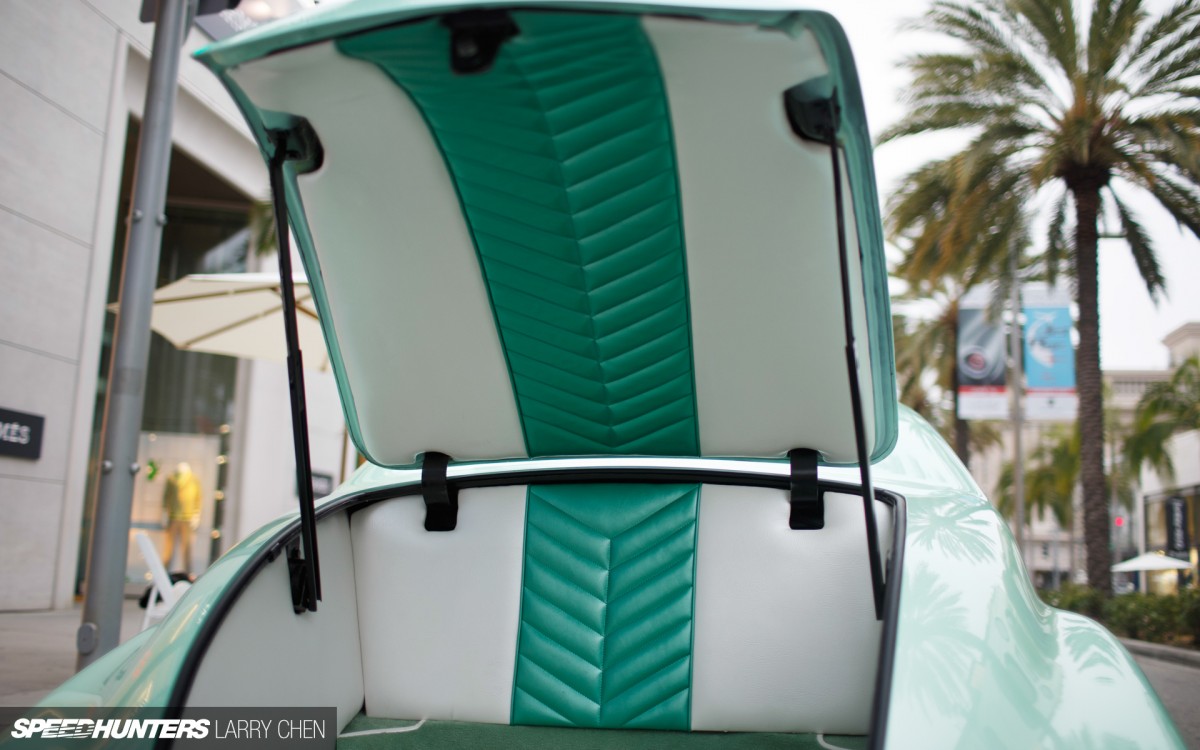 Of course the upholstery extends into the trunk too. Notice the inside-mounted hinges and props so nothing is visible from the exterior.
Even more details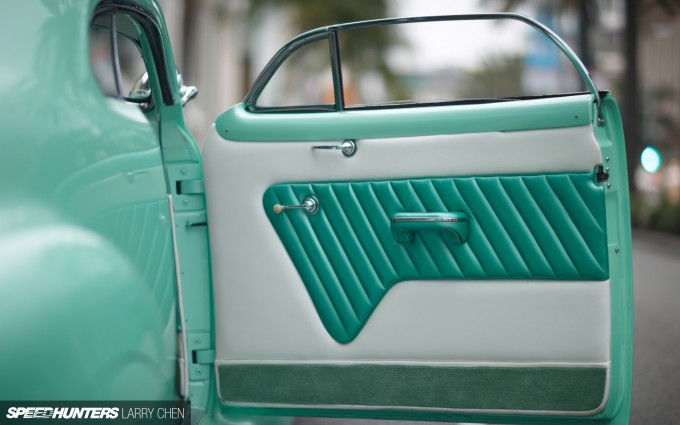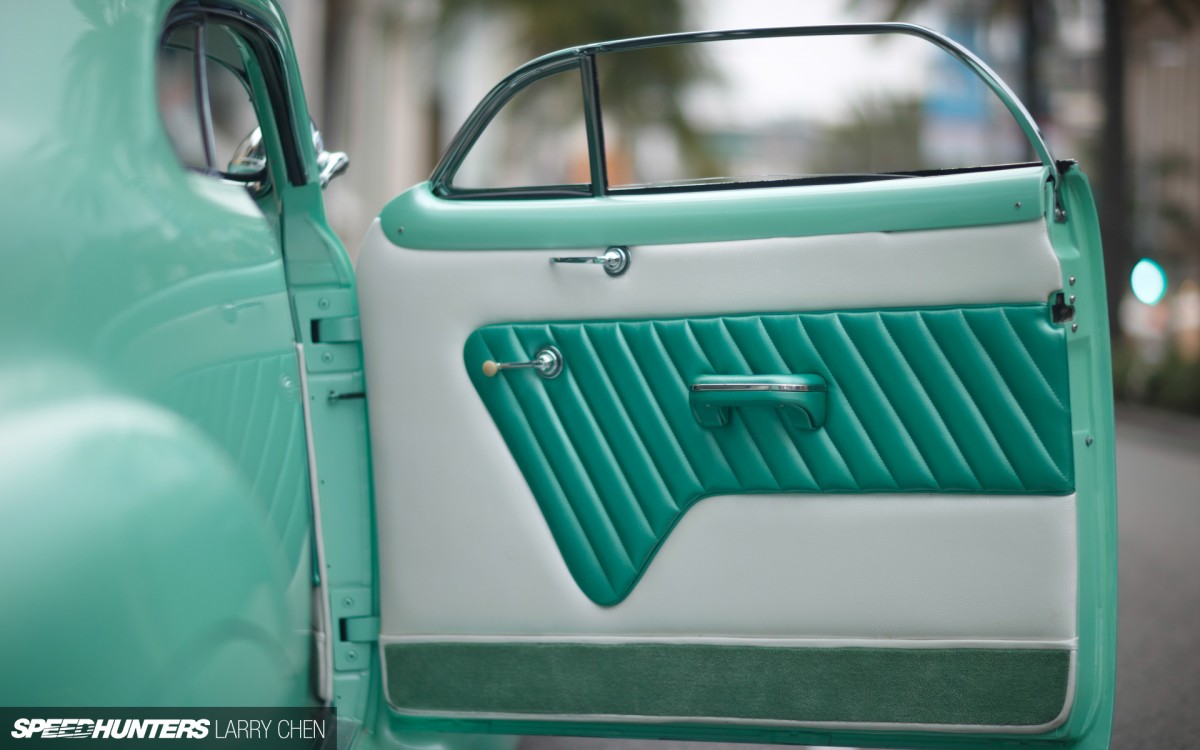 You can see so much just looking at one open door. The window shape is beautiful on its own, the craftsmanship shown in the door jamb is top notch, and you can see how the paint, chrome, vinyl and carpet all tie together.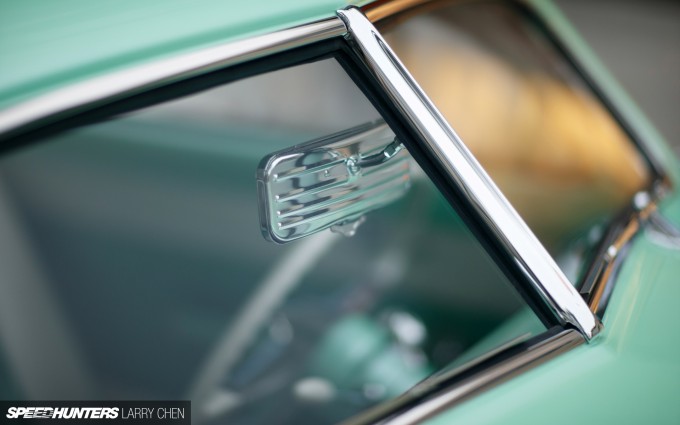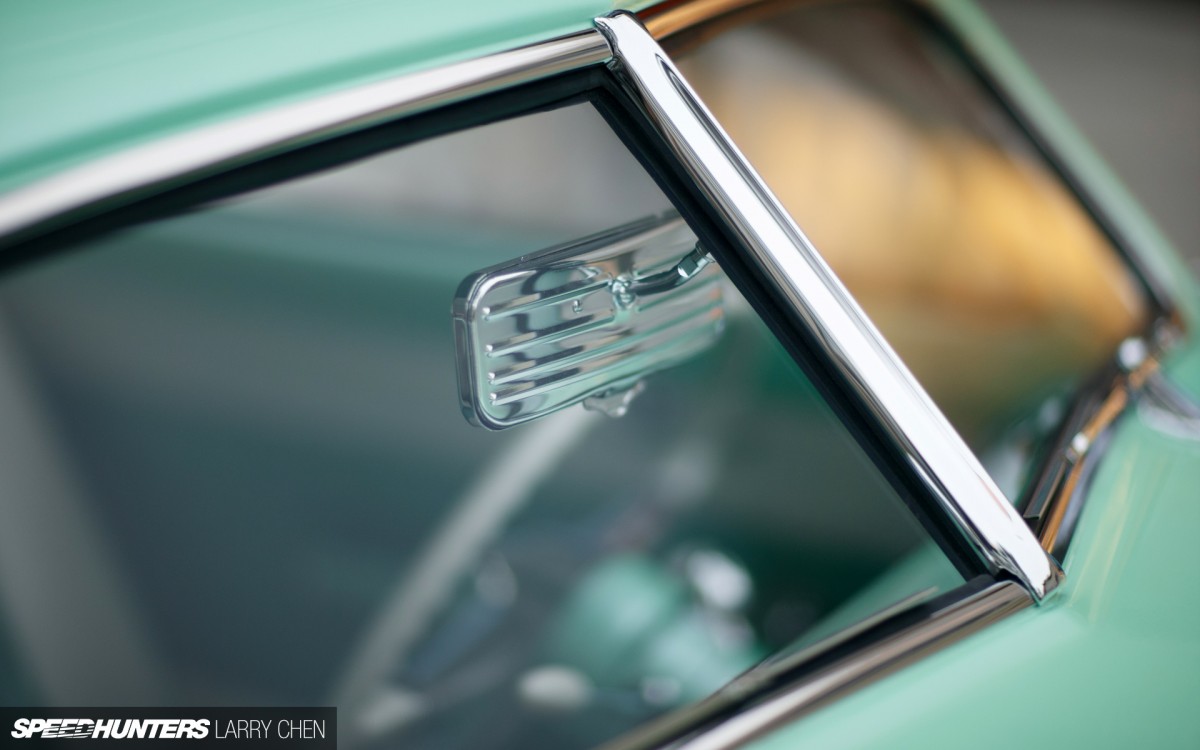 The chrome trim around the windshield fits perfectly, probably better than stock.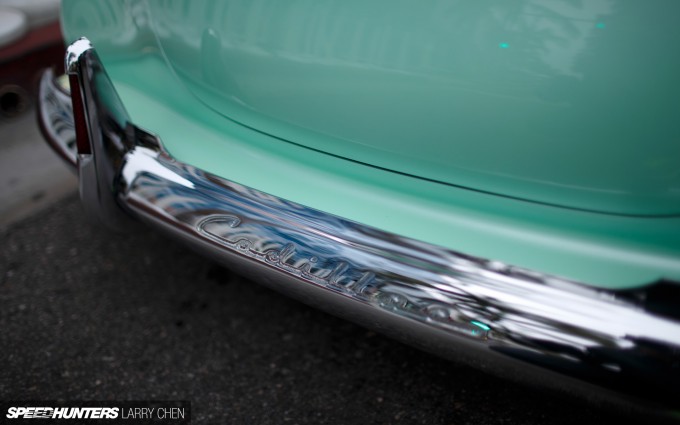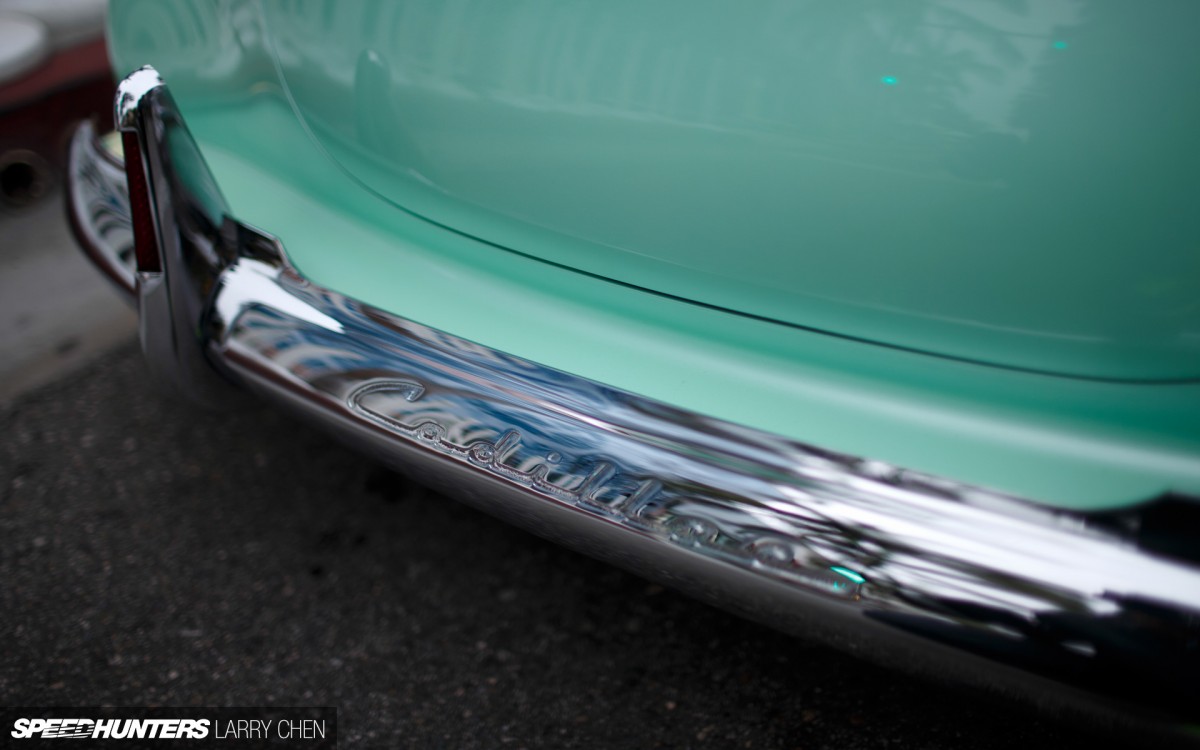 The bumpers were sectioned three inches to get them tighter to the body, and the Cadillac script and bumperettes were retained. Lucite lenses were vacuum-formed and cut into the bumperettes as tail lights.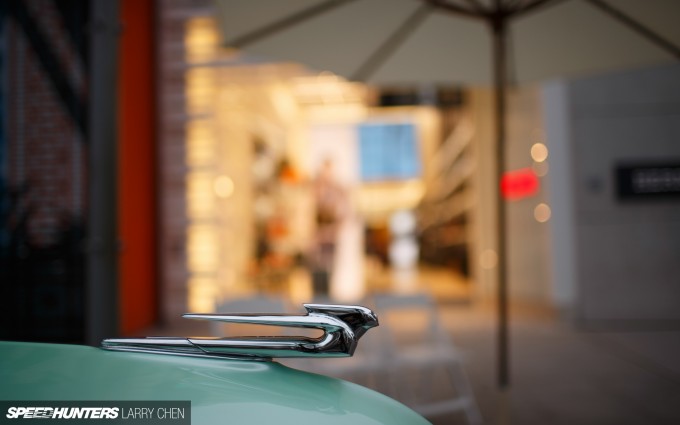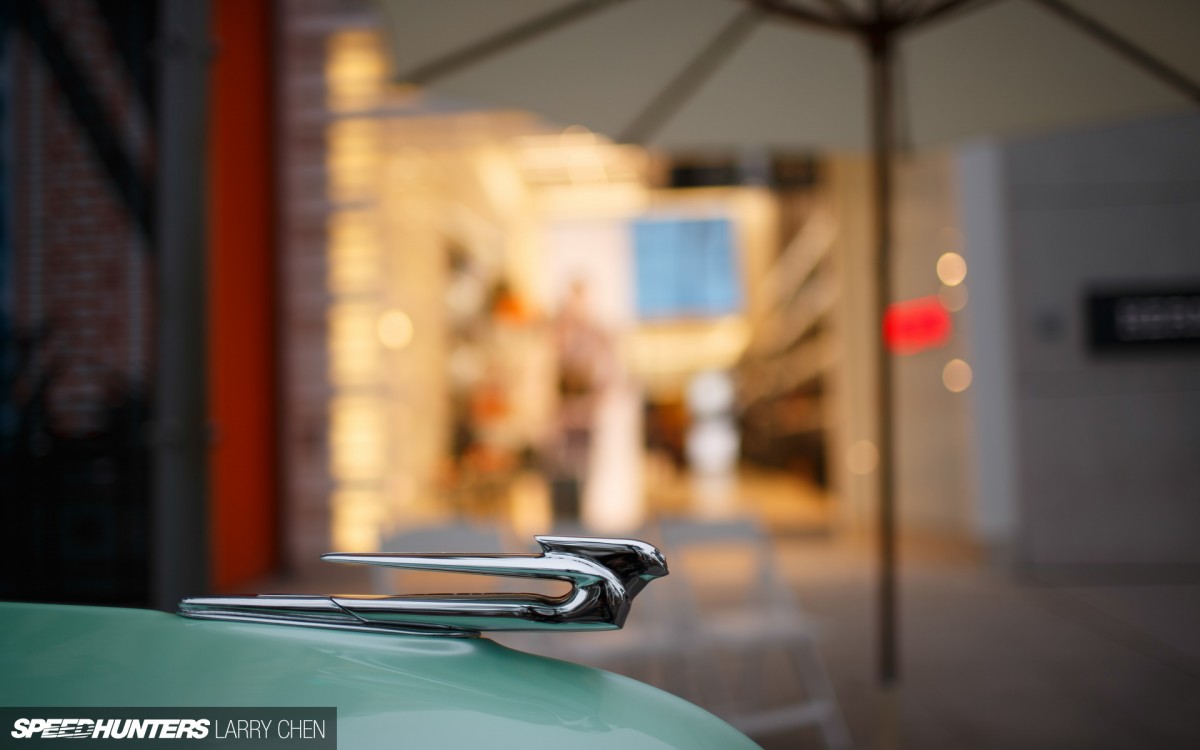 The stock hood ornament was also retained…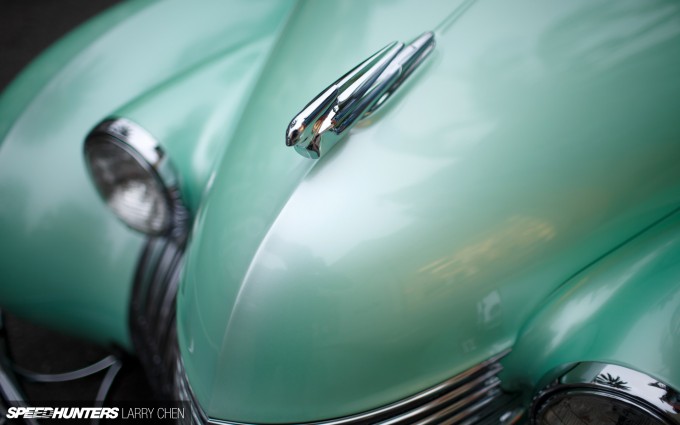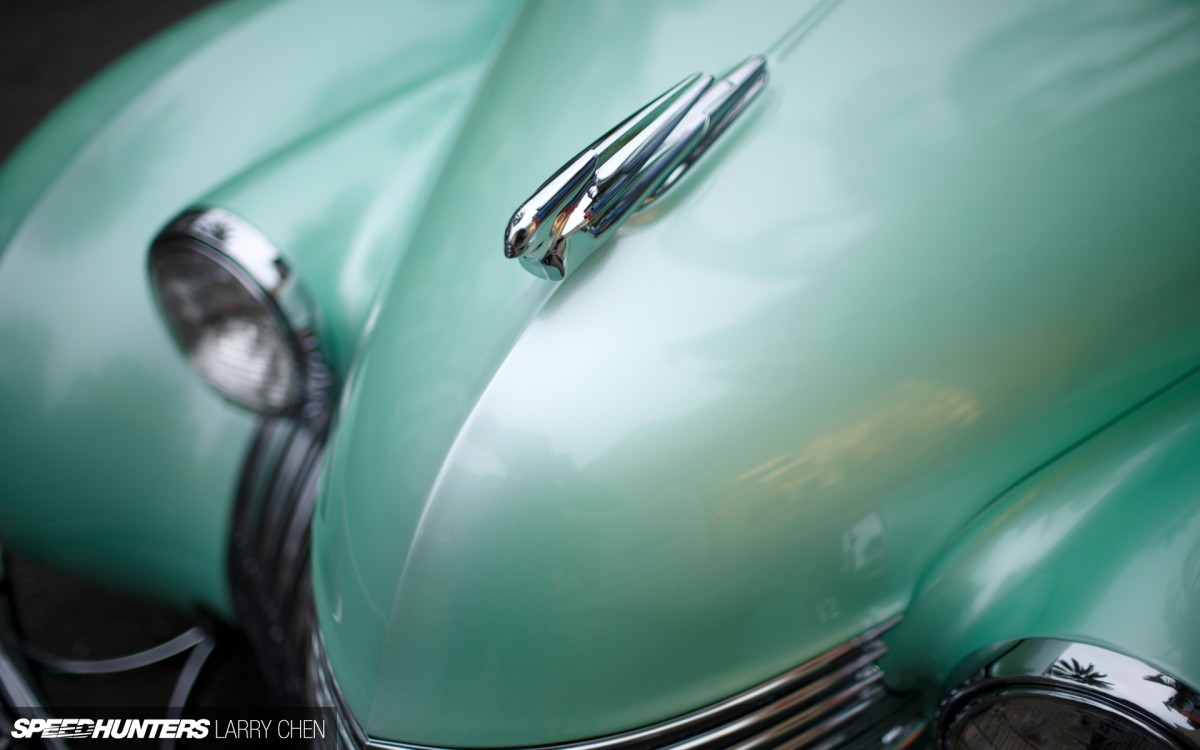 …and a peak was added that runs right through it. This is one of those tricks that's difficult to pin down as stock or custom.
Riding on air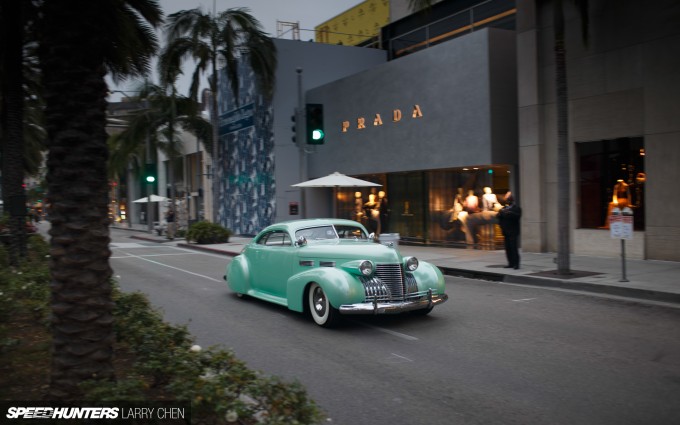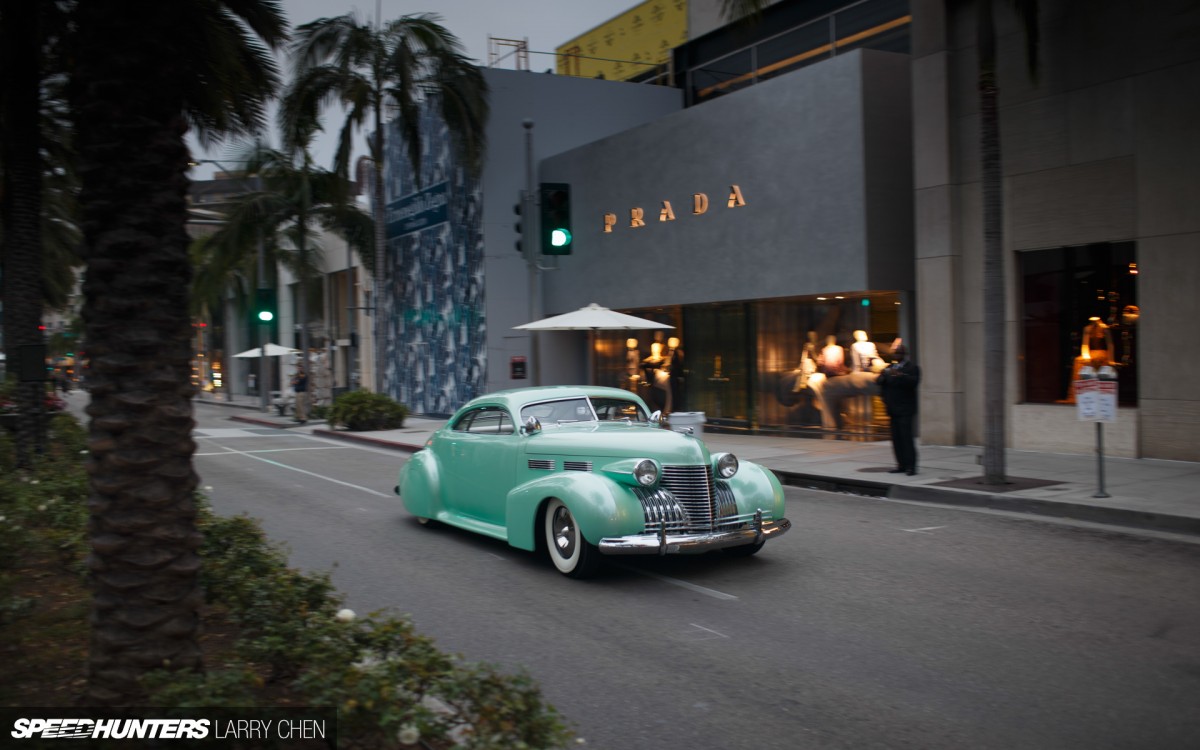 Along with all the sheetmetal and paint work, Oz also did the chassis modifications. He installed air-ride to allow the frame to sit one inch off the pavement, then lift up to a comfortable ride height.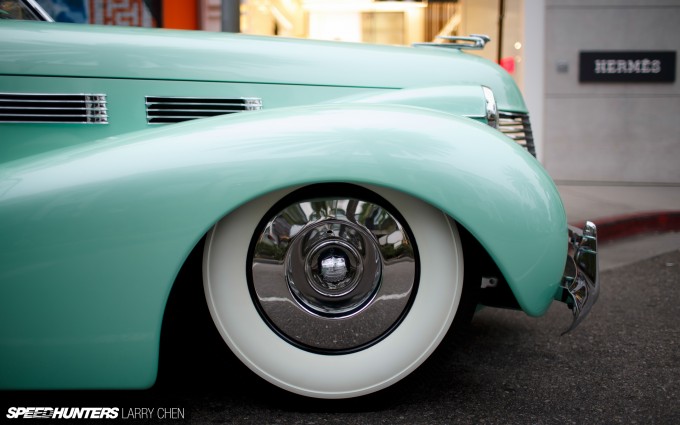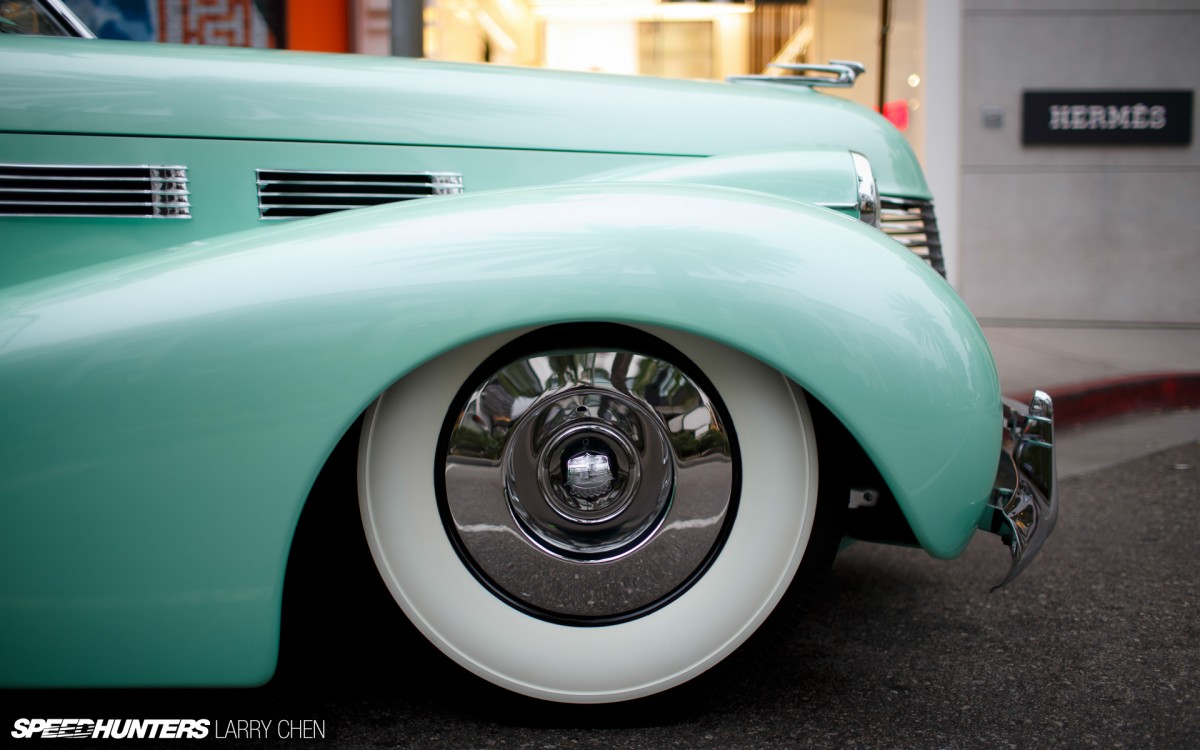 As you can see, it looks best fully laid out. Those are chromed '53 Cadillac hubcaps, a departure from the wire wheels D'Agostino kustoms usually wear.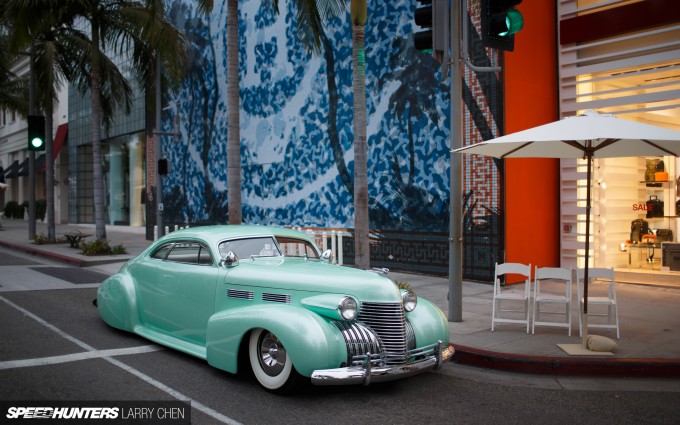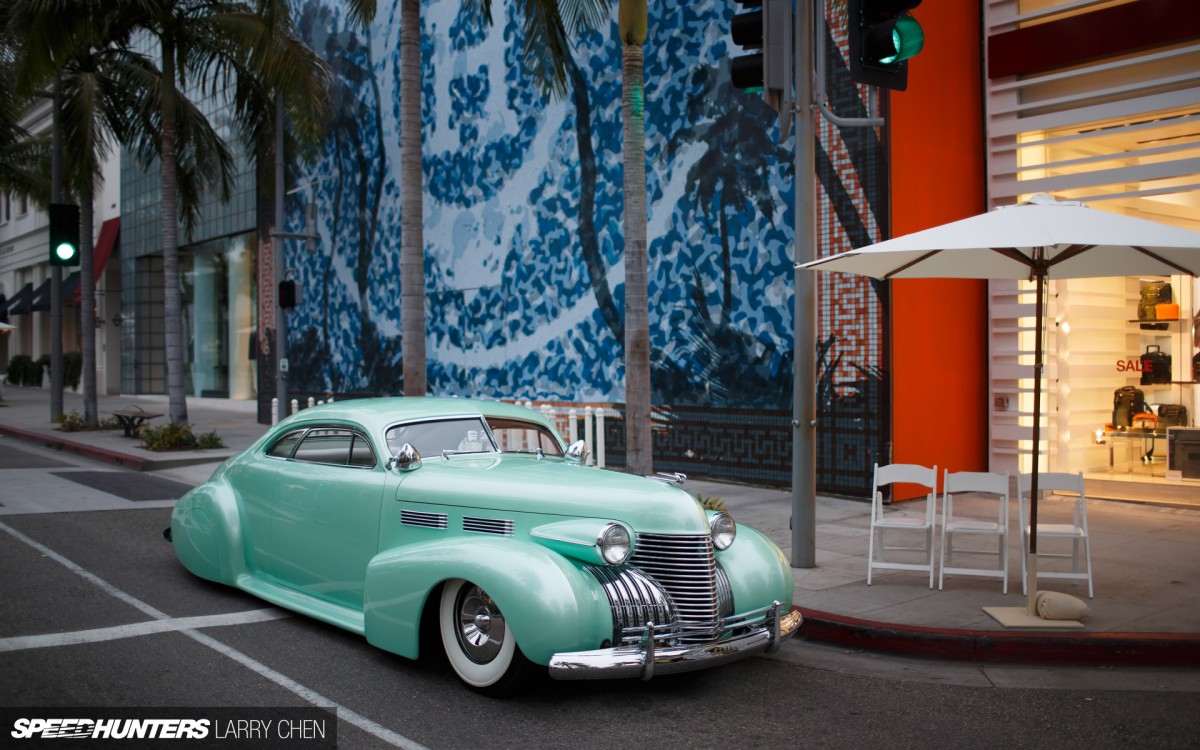 I think the thing that strikes me the most about D'Agostino's latest kustom is how right it looks. After all, that's the sign of a great customizer: the ability to make a car look better than it did from the factory.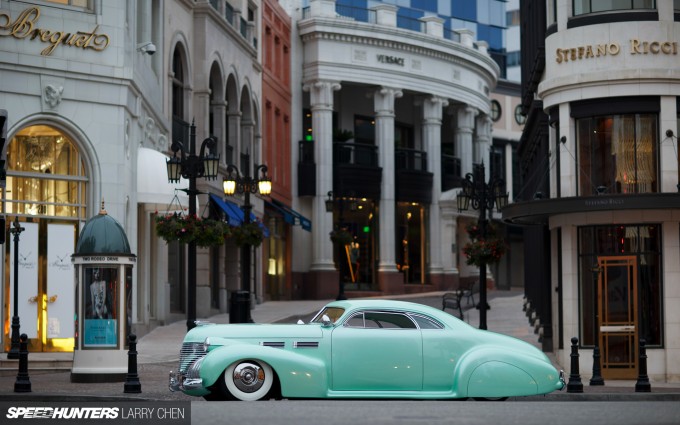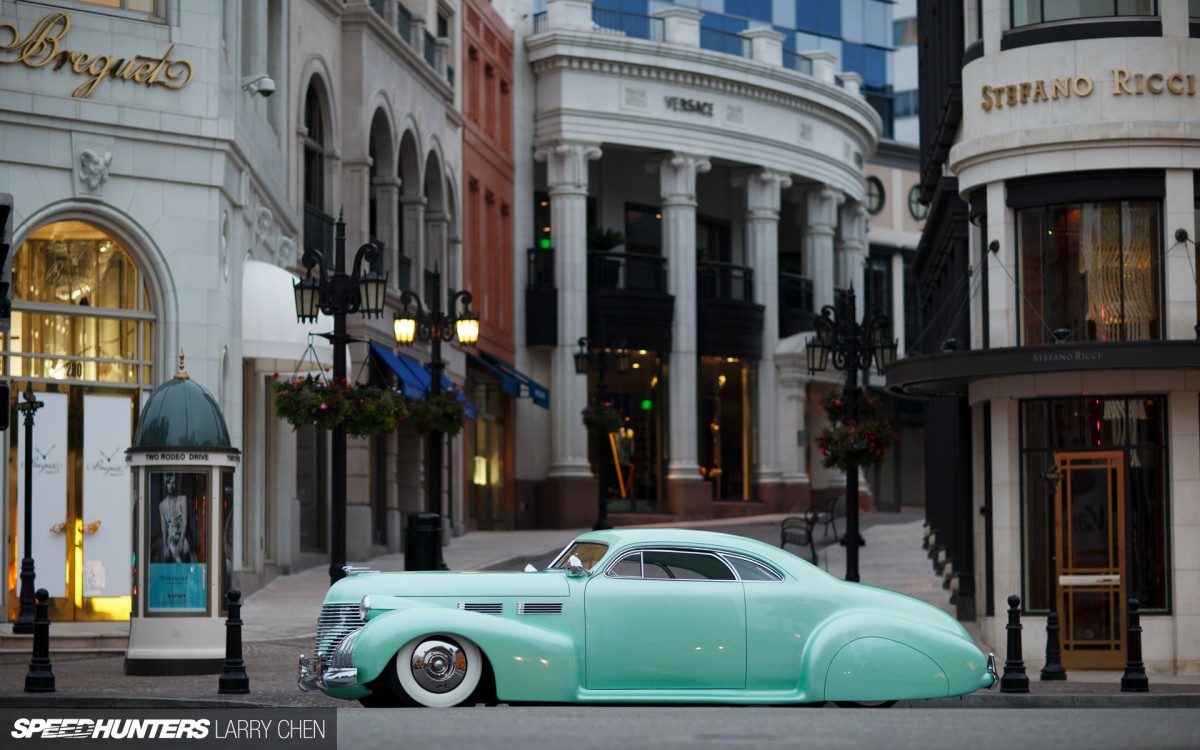 Equally impressive is John and Oz's ability to keep coming up with new things to build, and raise the bar each time too. Several people have already remarked that this is the best D'Agostino kustom yet, and with over a hundred D'Agostino kustoms that have already been built, that's saying something.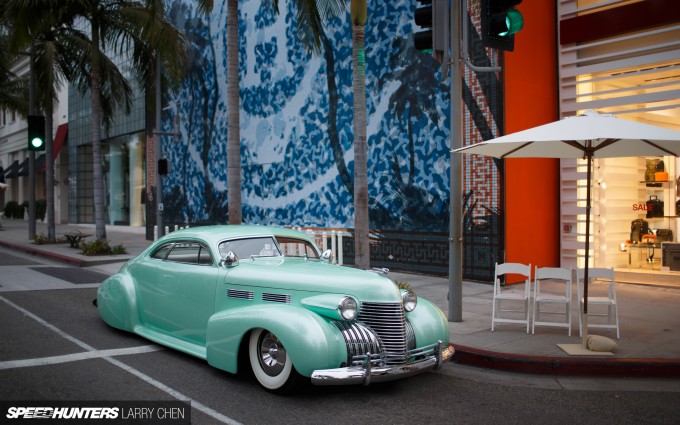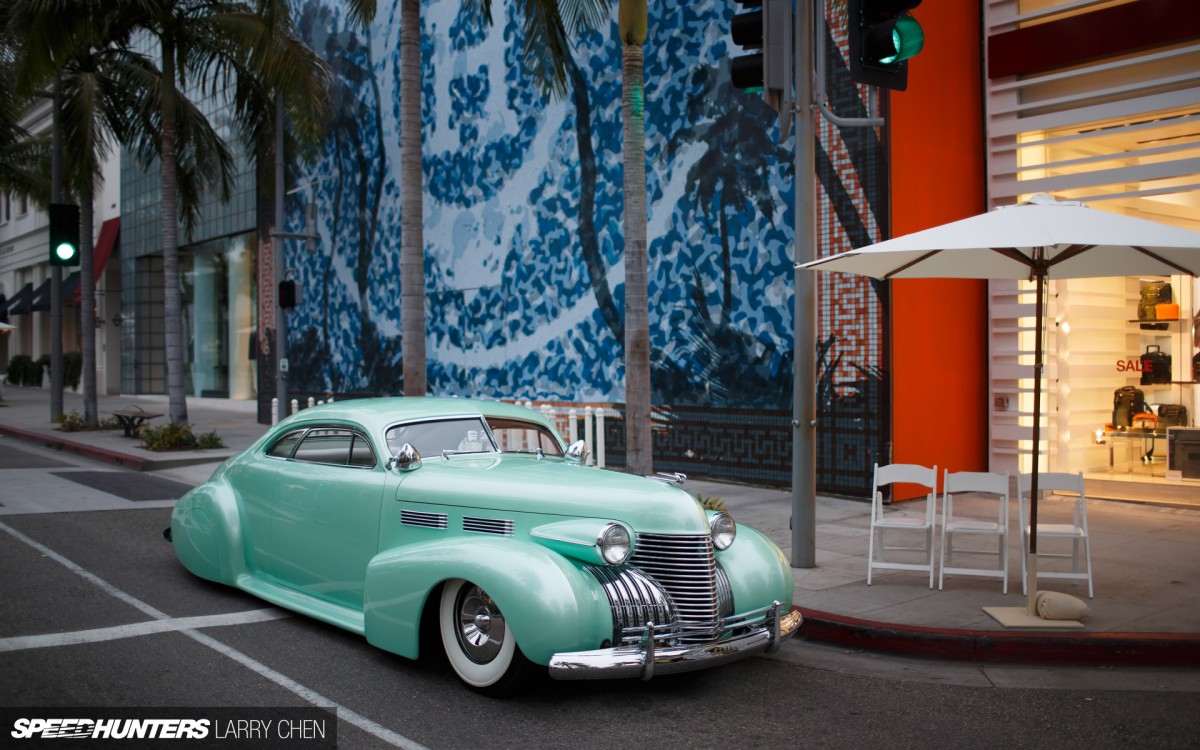 Not only has Sophia swept every show she's attended in her debut year, but right after Larry finished this shoot the car was taken to the Petersen Automotive Museum to be put on display. John tells me he's working on a '41 Caddy next that will be be the perfect contrast to the '40. I have a hard time picturing that, but I'm sure it will blow everyone away once again!