I did not think it was possible, but the Formula Drift finals just keep getting better and better. This was my favorite drift event this year by far.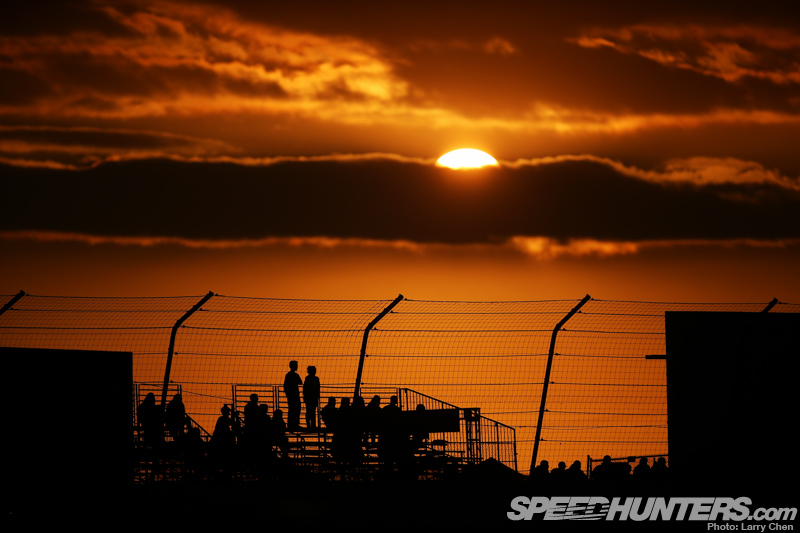 Race tracks like Spa Francorchamps and the Nürburgring have such rich history and they are very visually appealing, but Irwindale has its moments where I just stop whatever I am doing and just stare at its beauty.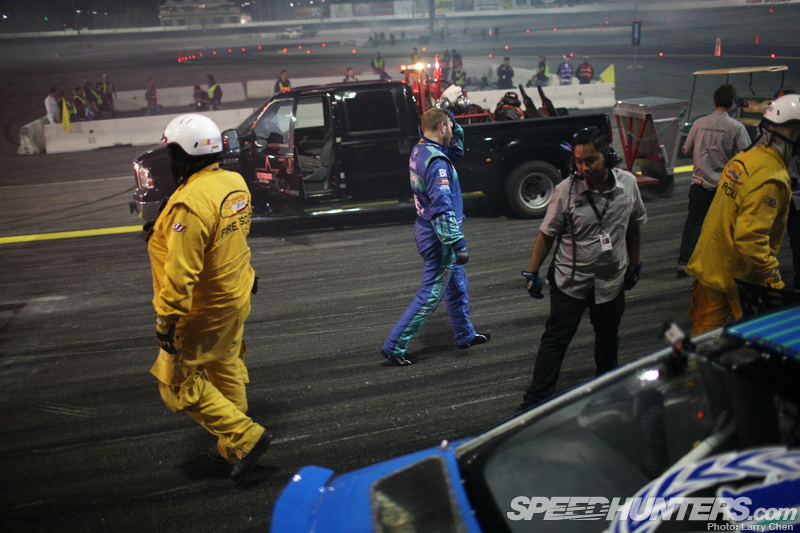 Because it is the final event you can always count on the drivers pushing it hard and sometimes going past their limit. Dreams come true as often as they are shattered.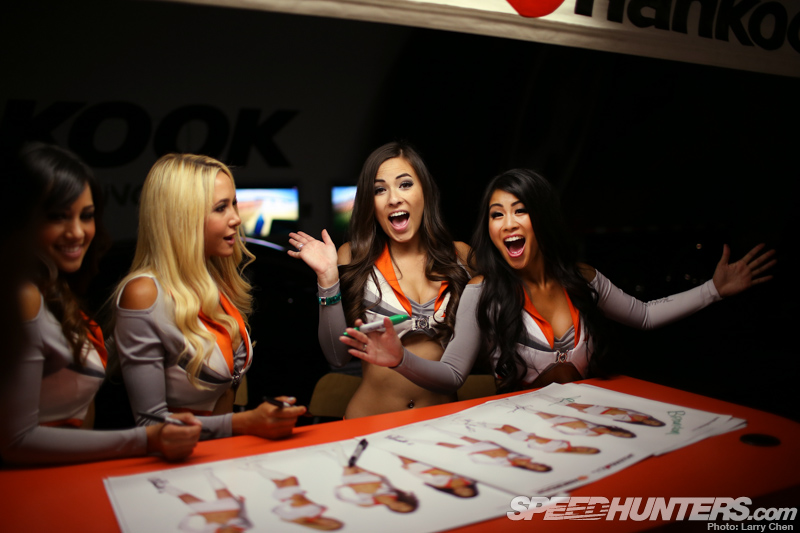 I know for a fact that the rest of the circus agrees with me. It's just non-stop awesome from beginning to end.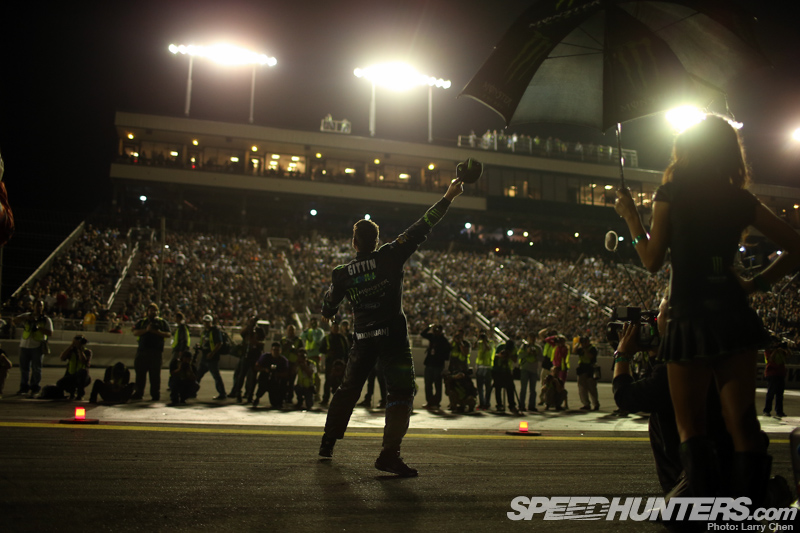 This is the round that people from all over the world travel to just to get a taste of the spectacle that is Formula Drift.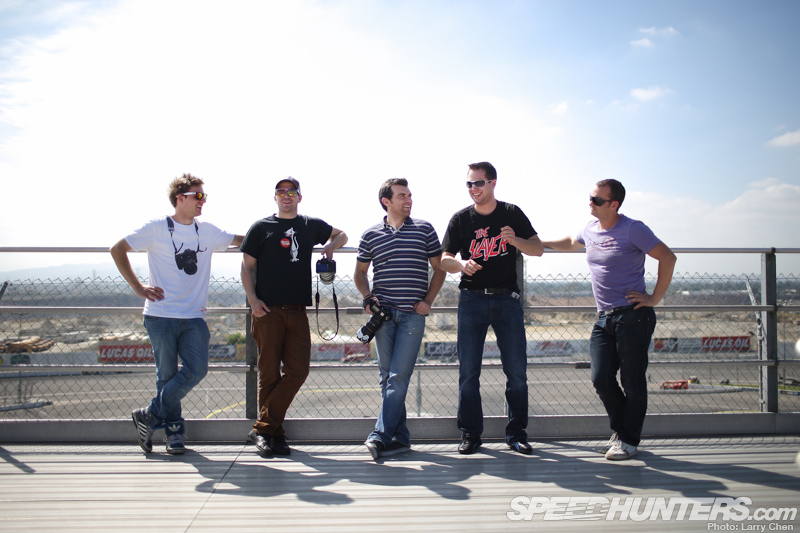 I've made a few friends in Norway having traveled there a few times for Gatebil, so they all came over and stayed at my place. I feel I owed it to the drifting community since I live so close. There were a record 12 people sleeping at my place, including all sorts of different media outlets.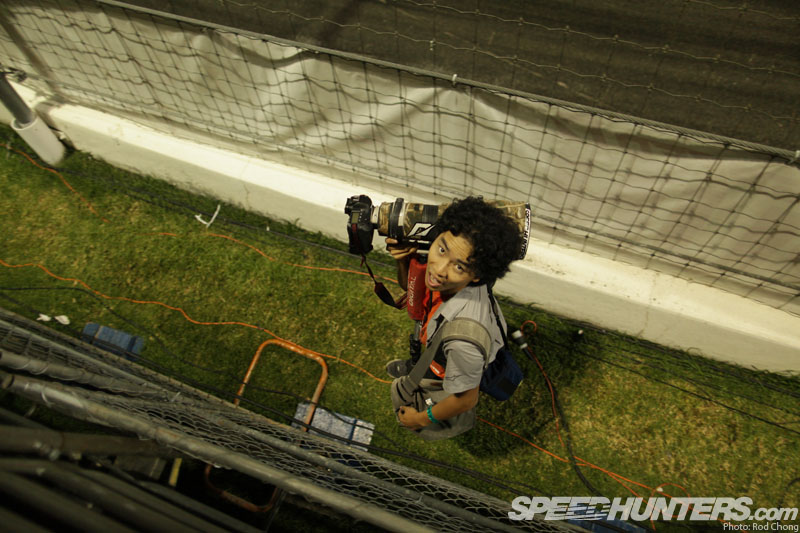 That was me looking exhausted after a week of 17-hour days. I could barely walk after the trophy ceremony was over. Although, that did not stop me from taking a few more photos!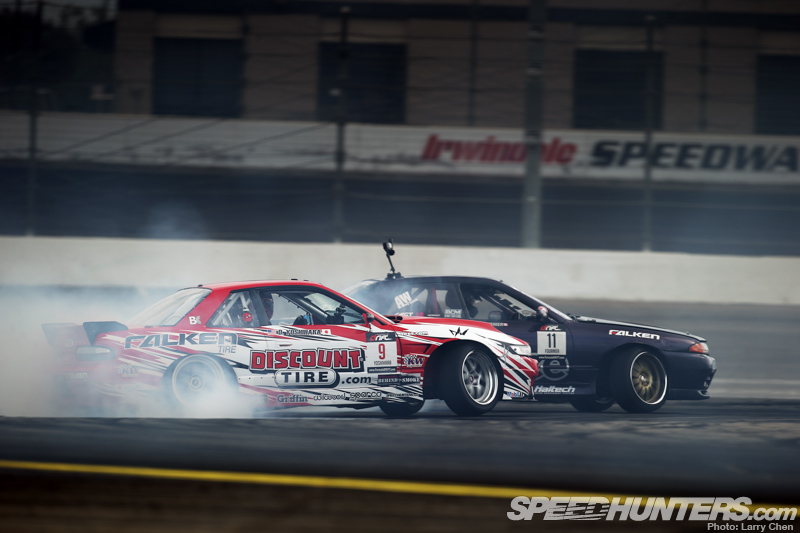 The weekend started off with Thursday practice. This was the perfect time for drivers of all levels and rankings to drive against each other.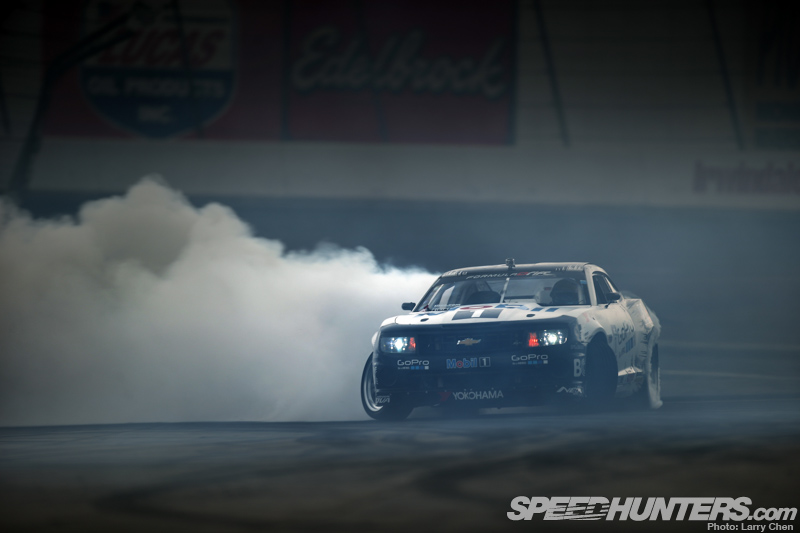 Practice went mostly without a hitch until the clouds moved in.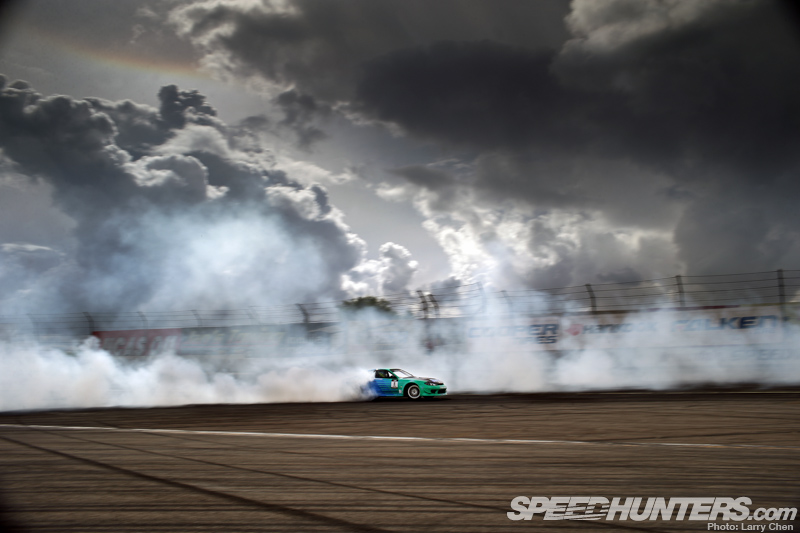 Luckily it did not start raining till practice was nearly over.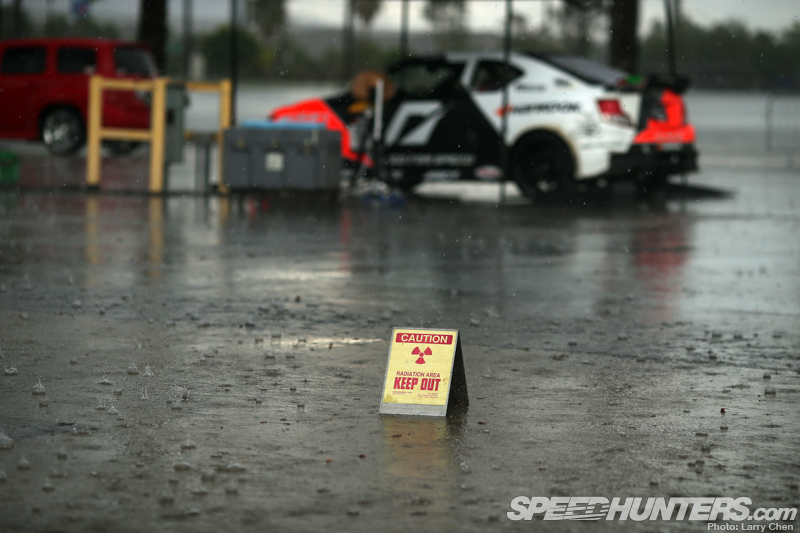 After practice, the top seven cars had X-rays taken of their frame-rails to make sure they were not modified. Check out the article on the Formula Drift website.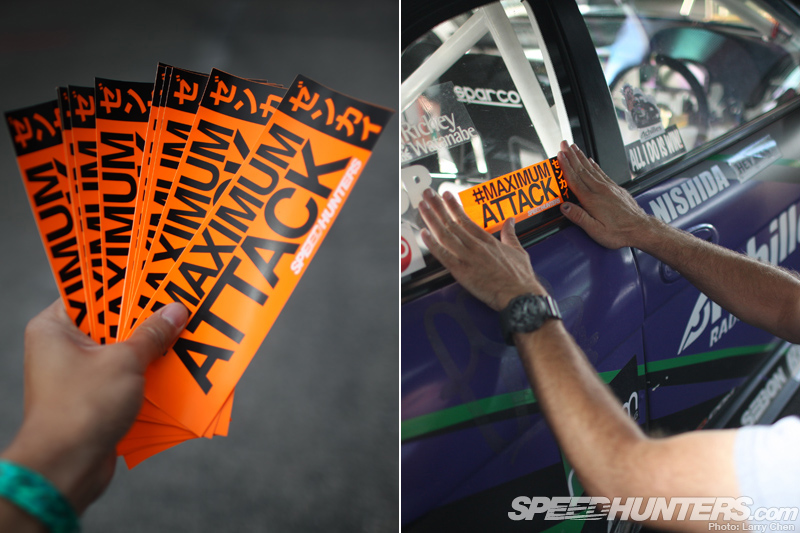 On qualifying day I got some neat bumper stickers. I figured I would try to get them on as many cars as possible and it was appropriate for Irwindale, because if you are not at maximum attack you are going home.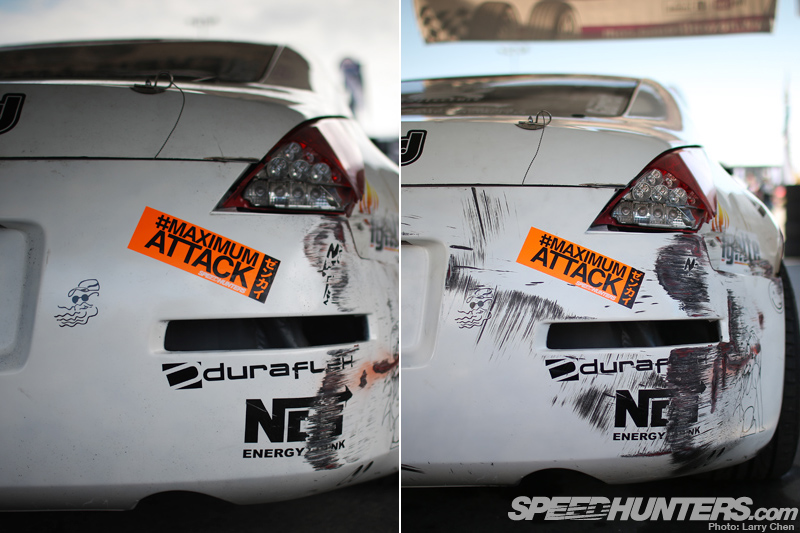 I seemed to have gotten lucky with placement of some of these bumper stickers.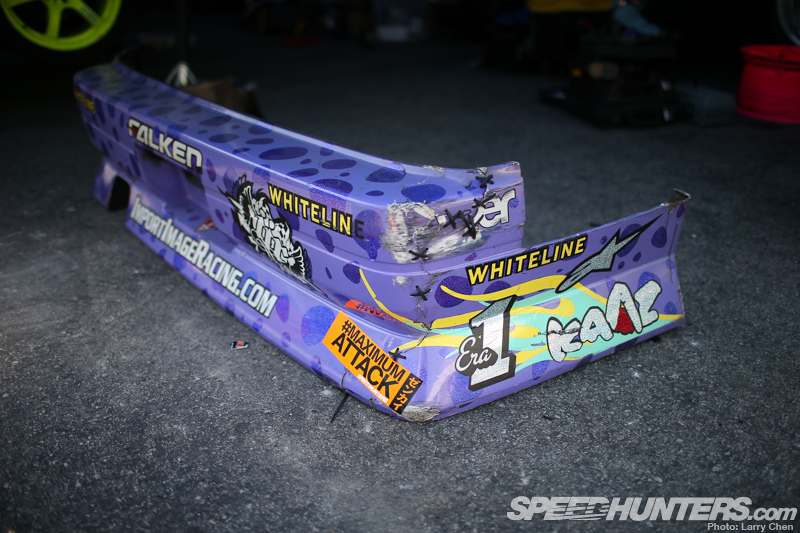 Walker Wilkerson's bumper has seen better days. Though for a whole season of abuse it still looks pretty good, right?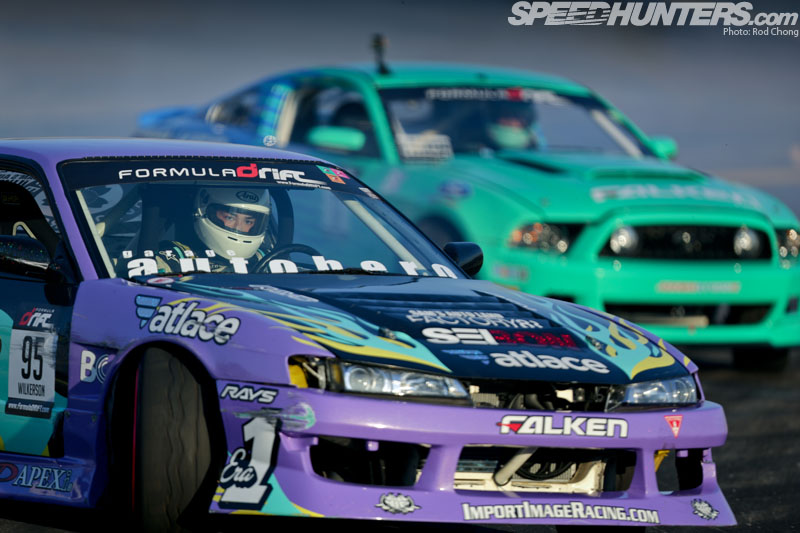 This was his first year driving with a V8 under the hood. He had a couple of tough breaks as everyone was sure he would get his first podium at Round Two in Atlanta this year, but it will happen soon enough.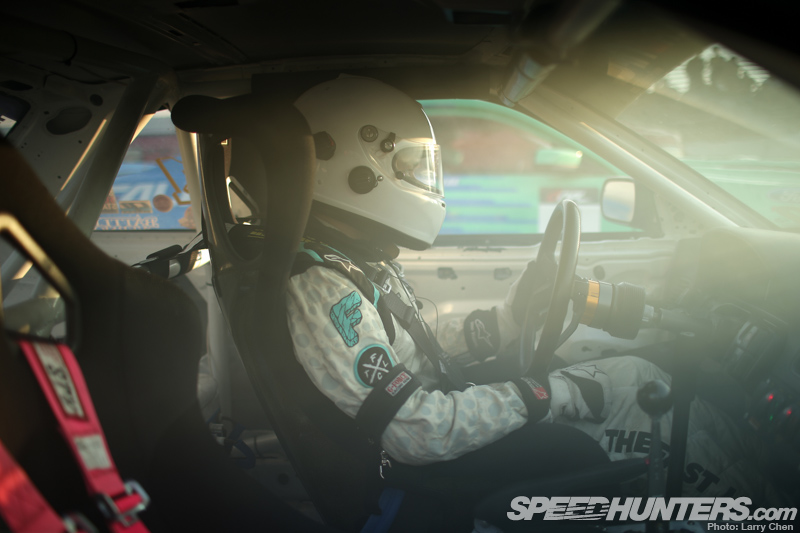 He is still young and this is only his second year in competition, so he can only go up from here.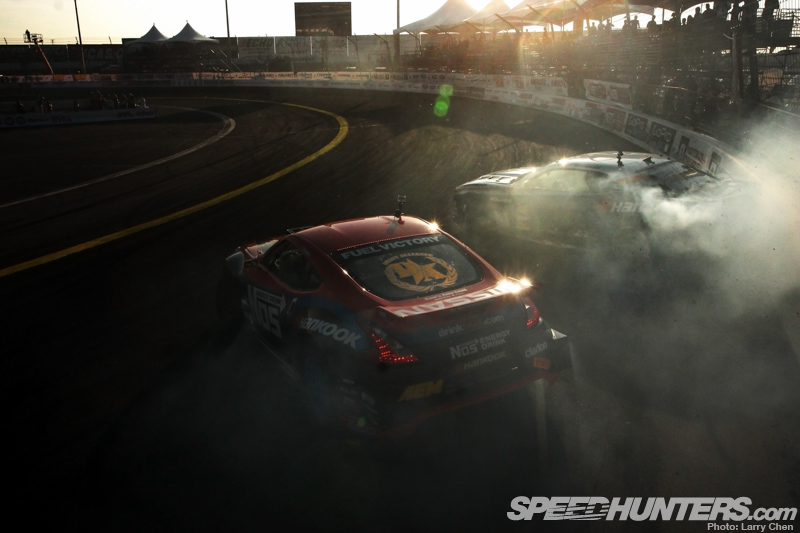 Having shot this venue more than any other, I decided to try to get some unique angles that no one has ever seen before.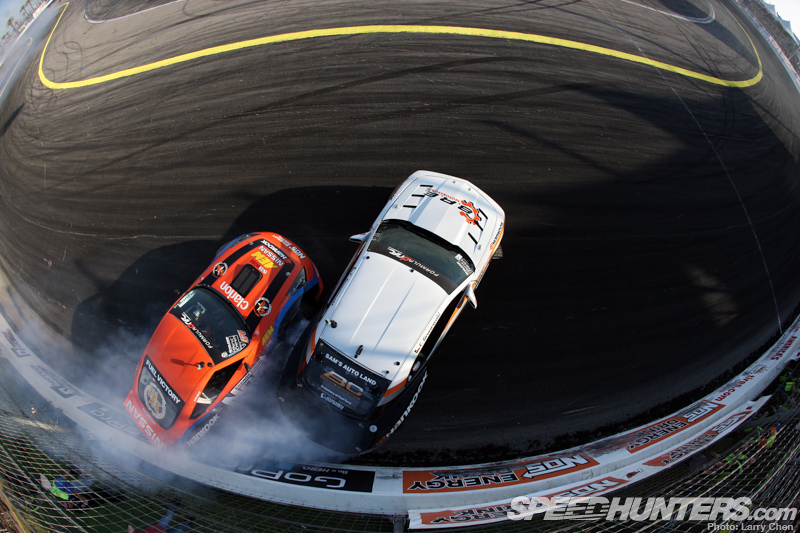 Having been playing with remote cameras for about six years now I decided to risk it all. It's pretty crazy, because when Chris Forsberg brushed the wall the entire fence actually shook and my camera moved a little bit. It's a good thing I used dental floss to secure my rig.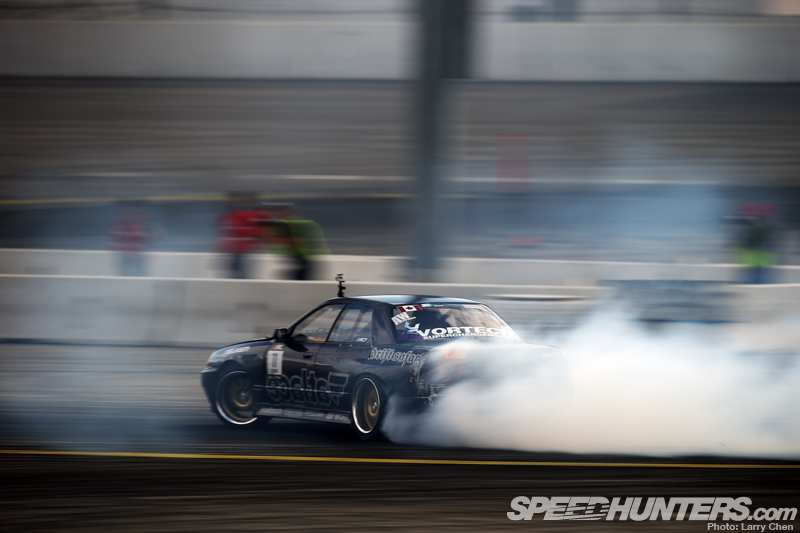 For years we have seen smoke pouring out from under the wheel-wells at all angles.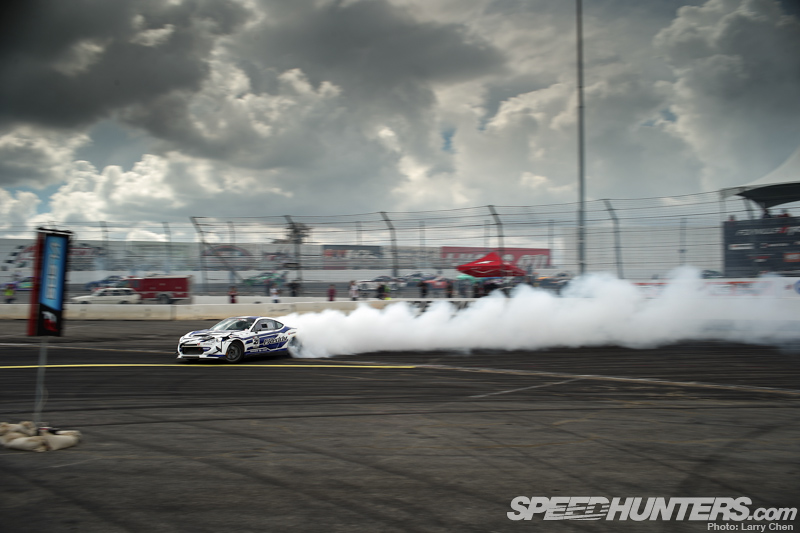 We have seen photos from further away showing the trail of smoke.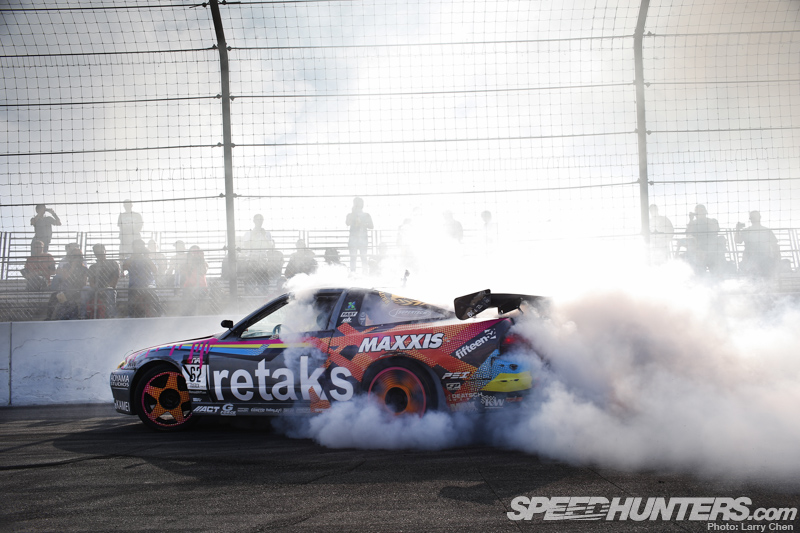 We have seen burnout shots on the starting grid.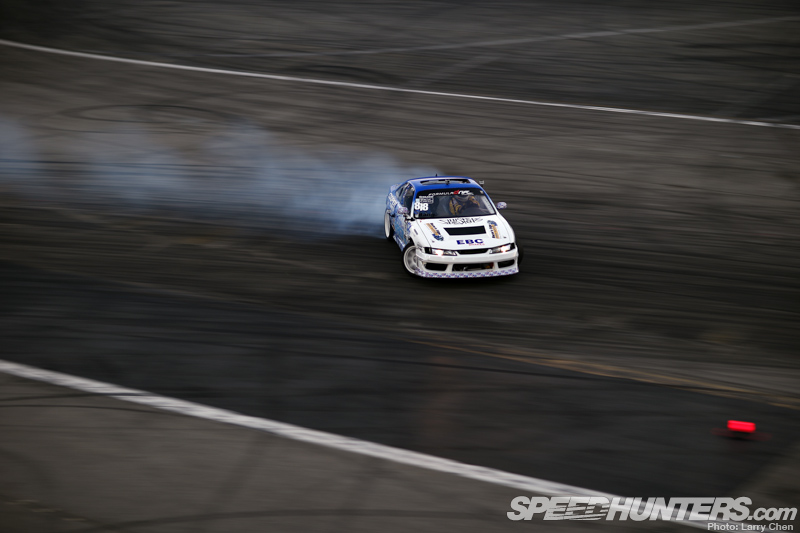 As well as from higher angles like this photo shot from the Irwindale flag tower.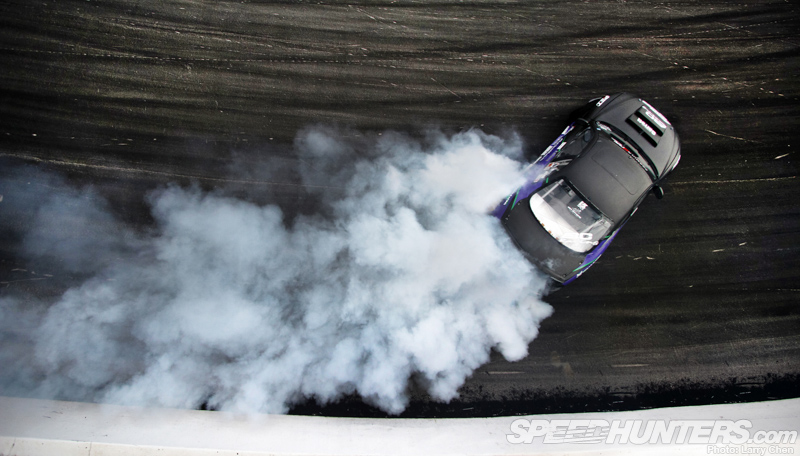 But what really interested me was how the smoke patterns looked like from a bird's eye view looking directly down on the cars. I don't even know how to explain it. It's like a solid object: they kind of look like mounds of snow.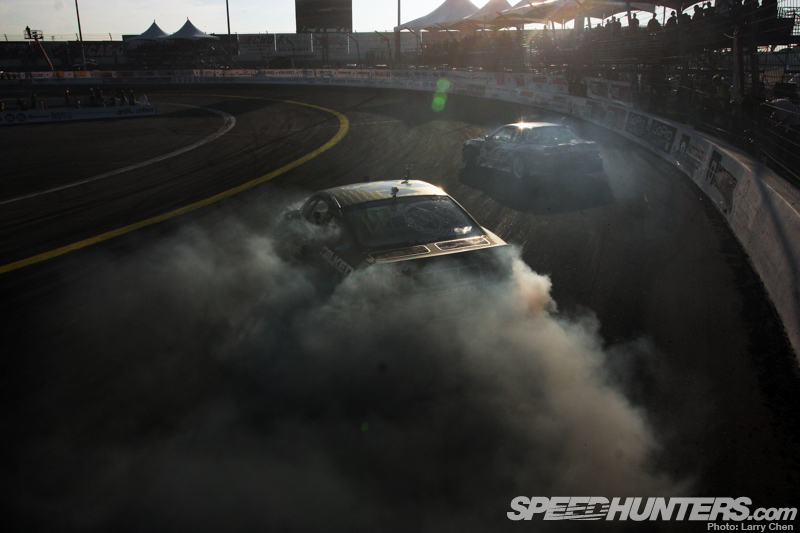 Of course different cars make different amounts of smoke, so not every car gave off the same kind of effect.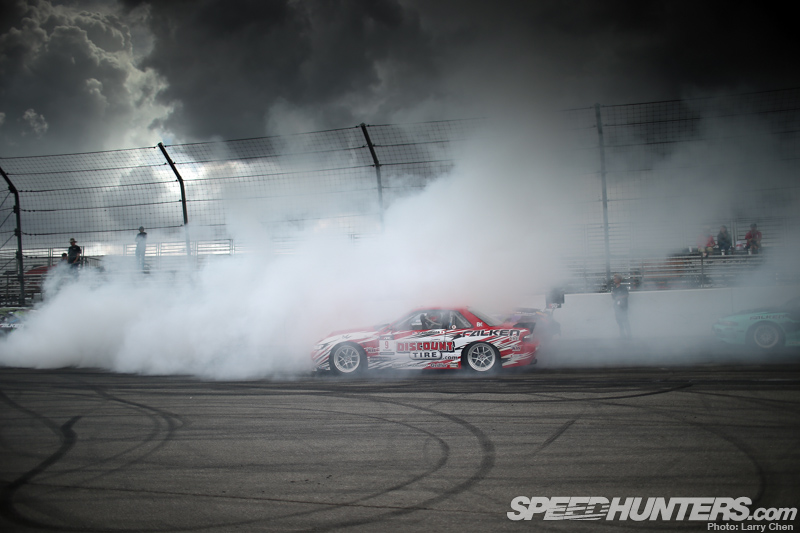 So much tire smoke, so little time….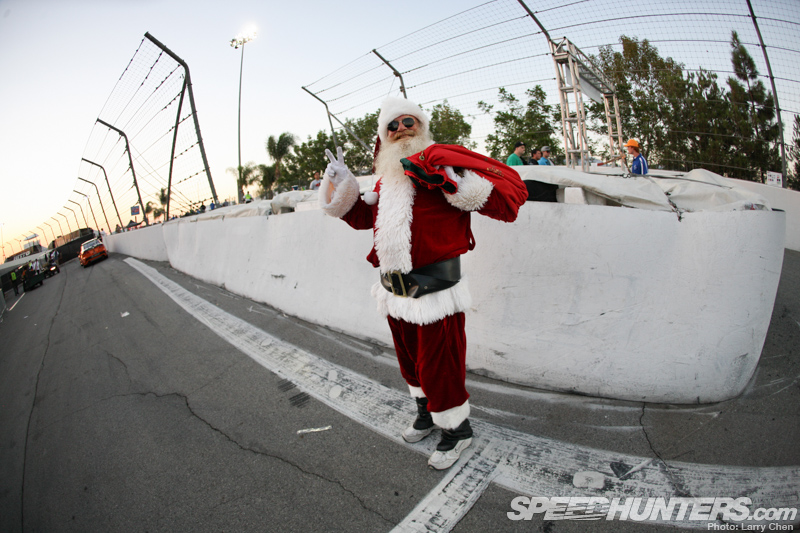 This year I really tried to focus my coverage on the people in the circus series. I've been making fun of Bil Baldwin on Speedhunters about being Santa Claus, but he actually showed up in a full Santa outfit to Irwindale.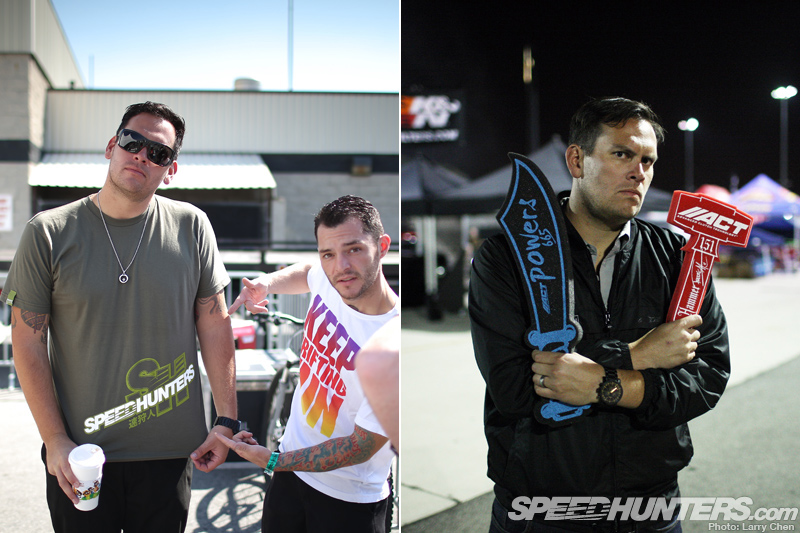 I also had the chance to get to know Jarod Deanda, the Formula Drift announcer, a bit more. He is the man who has seen every single competition run in Formula Drift since day one. He is the walking encyclopedia of drift.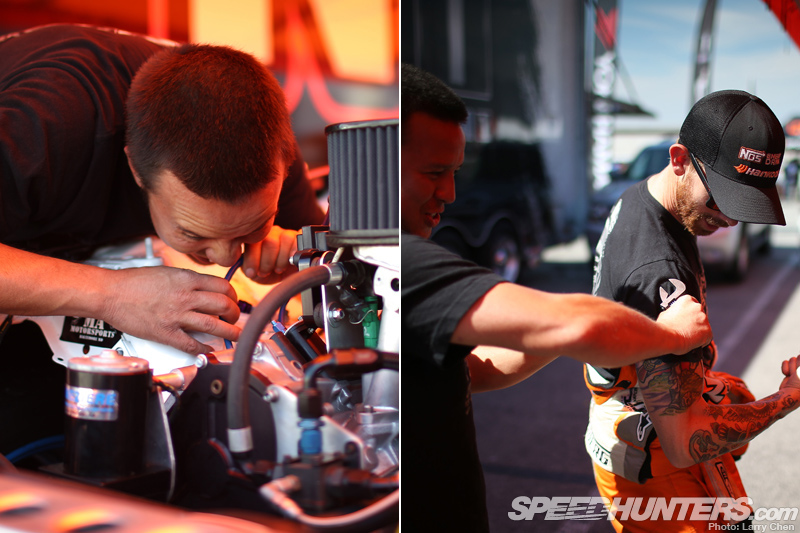 The mechanics of the series rarely get any limelight, so I took some time out of my day at Round 4 in New Jersey to stop by MA Motorsports. What a cool shop.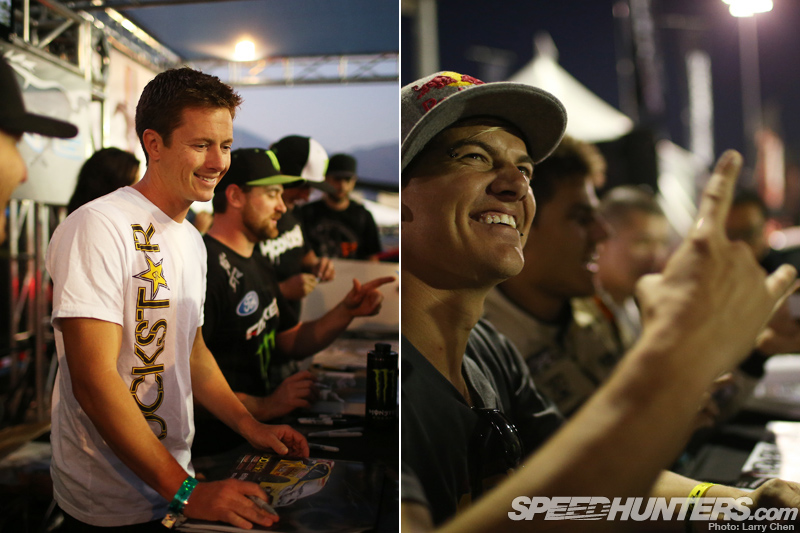 I also was lucky enough to catch up with one of the best drivers to grace the Formula Drift paddock, as well as an old friend.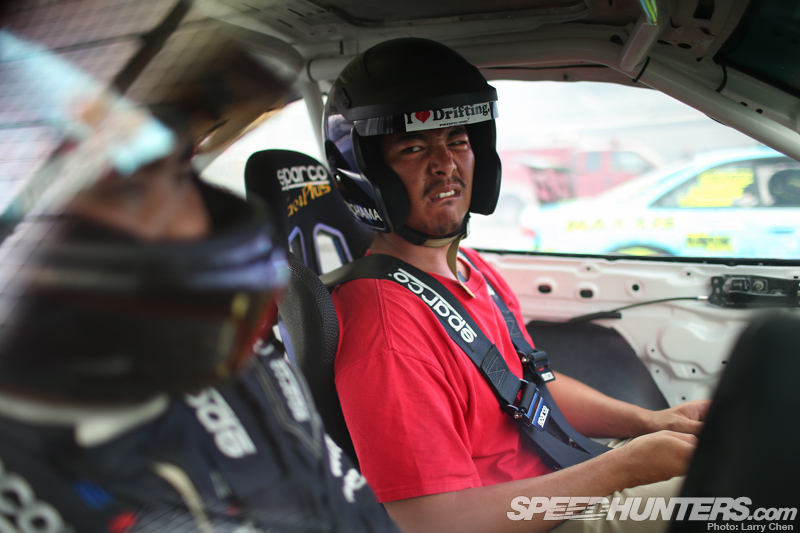 I love to interview new people and one of the most interesting interviews I had this year was with the Formula Drift judges. They provided some insight on one of the hardest and most criticized jobs in professional drifting.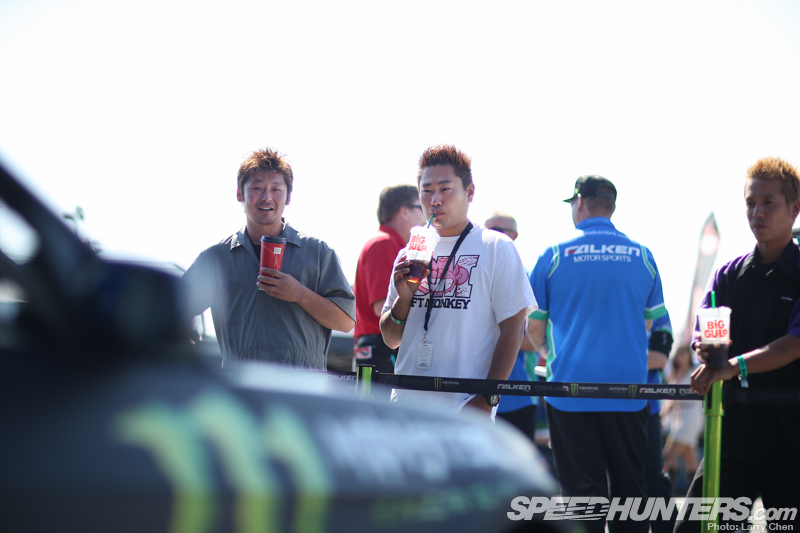 Many people criticized Formula Drift for labeling Daigo Saito as an FD Rookie. Whether you agree with them or not, you have to give it to him for doing so well the first year out.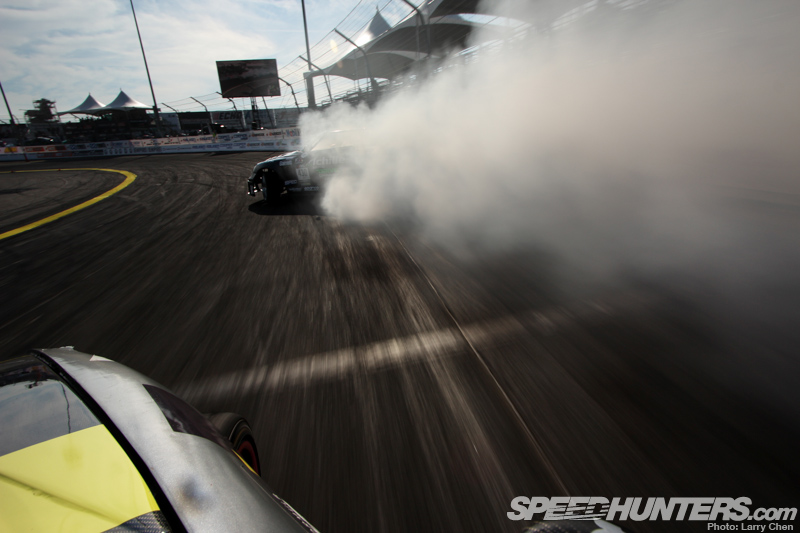 Especially because most of the tracks were brand new to him. The odds were stacked, but he overcame them with great tandem battles. He made very few points all year in qualifying.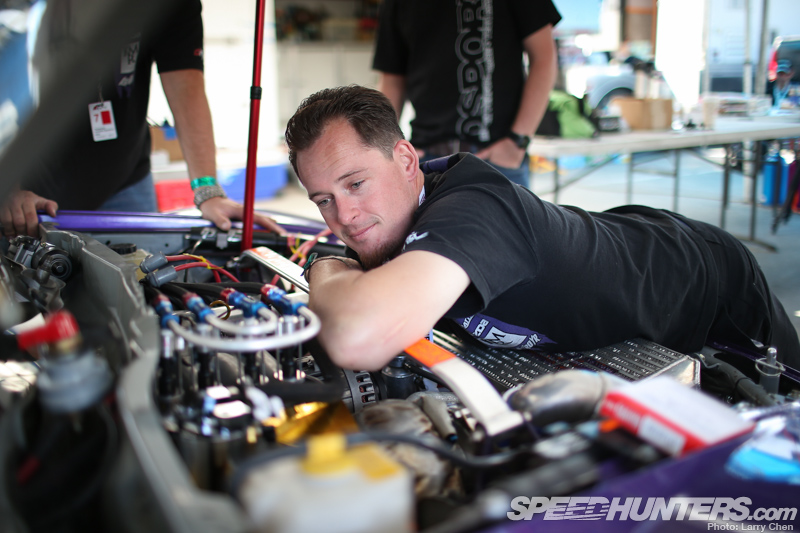 Nobody loves rotaries more than Kyle Mohan. He even gives it some love, and hugs his motor right before qualifying.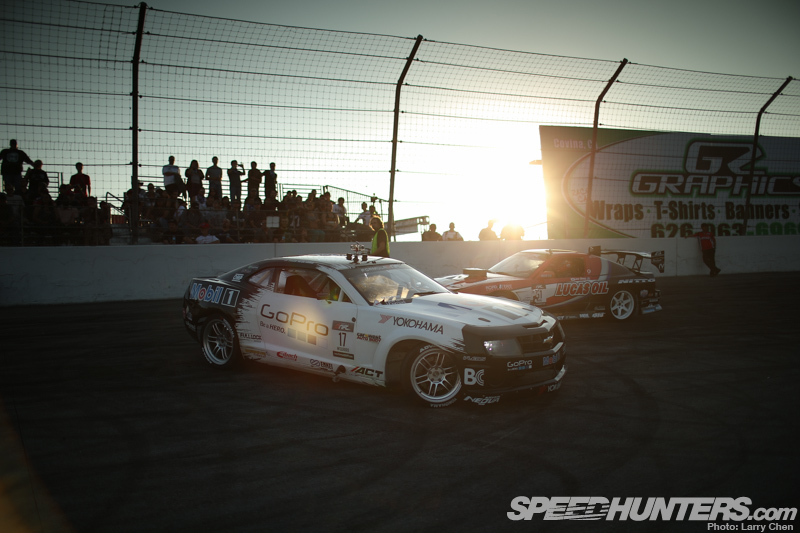 Tyler McQuarrie won this event last year so he was definitely a favorite to finish on top.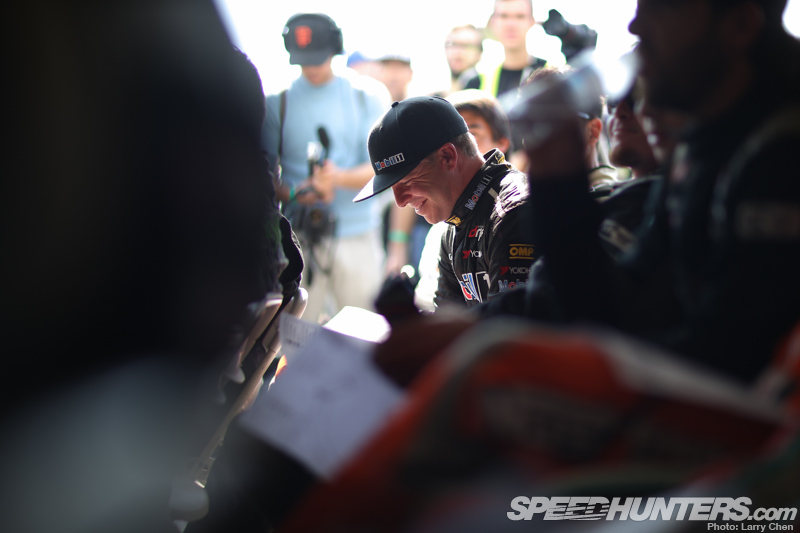 For all the troubles he had last year with his team and jumping in a new car for this season, he was still in very high spirits. I look forward to seeing what the seasoned racecar driver has in store for us next.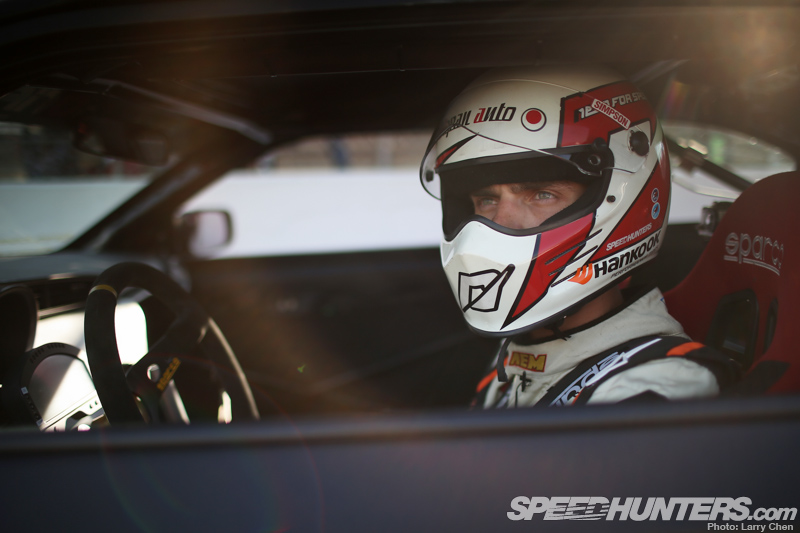 This was Fredric's second year competing the whole season and it was the first year he had a shot at the championship.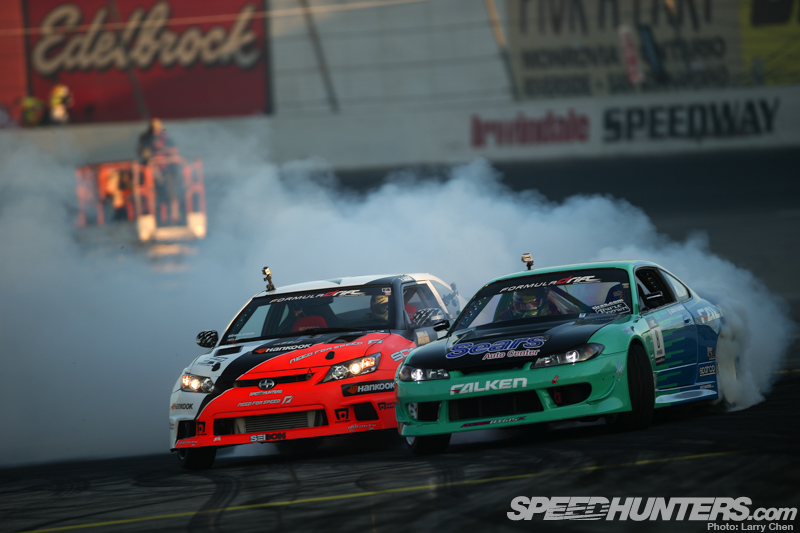 It seems that he is just now getting used to the Scion tC. He has not earned a win just yet, but I have a feeling it will come very soon.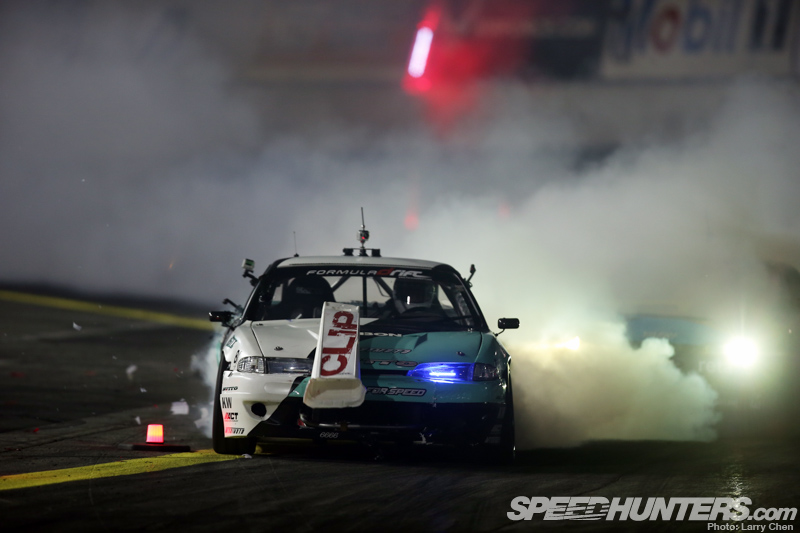 Fredric's teammate and good friend, Matt Powers, seemed to struggle a bit this year compared to his sixth-place finish last year. However, he only moved down four places.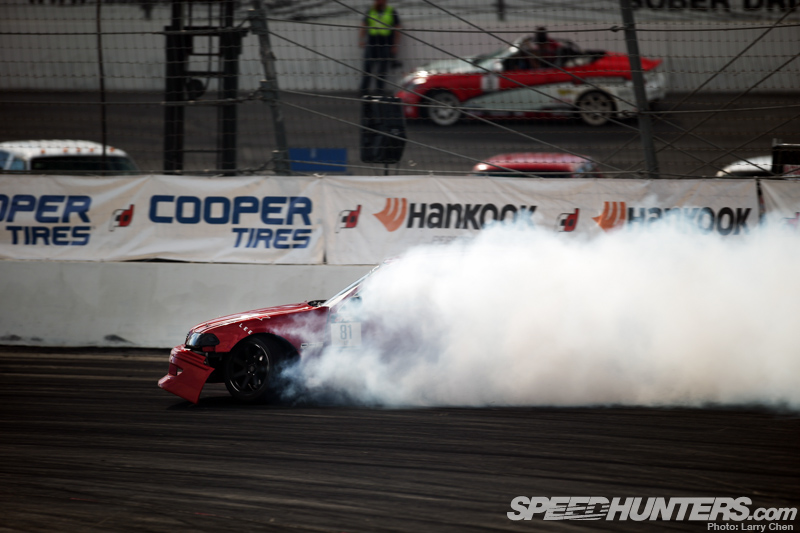 One driver to look out for is the young Canadian, Alex Lee. He has so much heart and you don't really hear much fuss from this guy.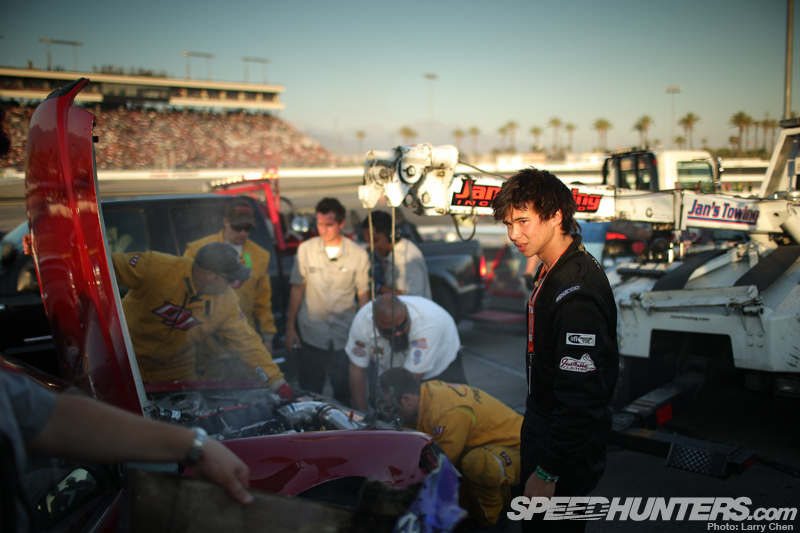 He just shows up and drives his heart out, and sometimes he ends up in the wall. He is living the privateer dream as he has already made it into the Top 16.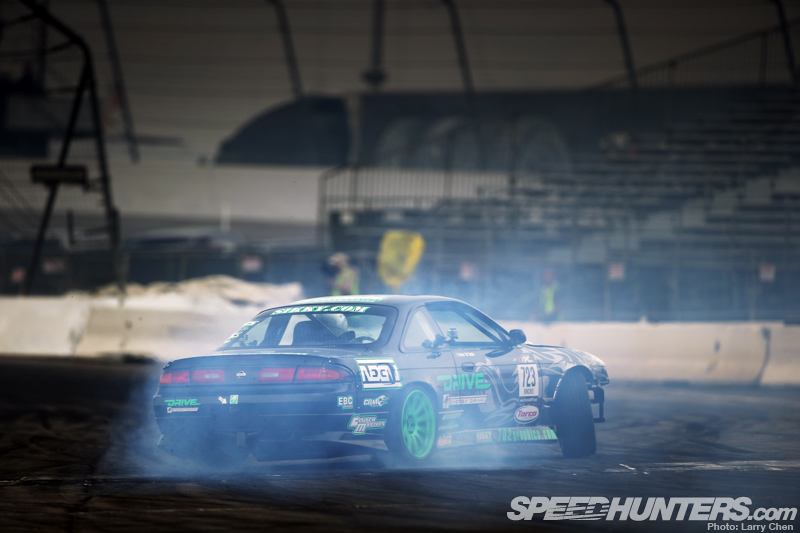 Odi Bakchis is one of the most dedicated drivers on the grid. He built an entirely new car after his incident with the wall last round in Las Vegas. He finished in the Top 16 in his second professional season.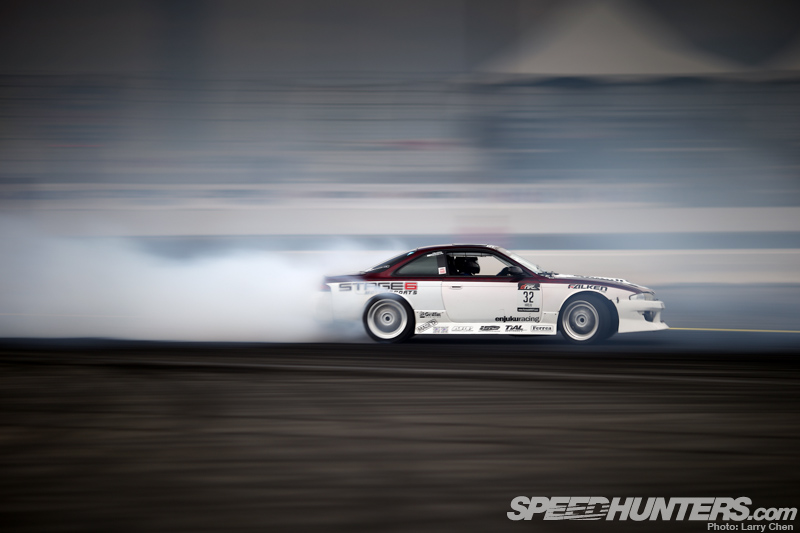 I really have to hand it to these guys, who eat instant noodles and count their pennies to make it to each round. Zoltan Hadju is one of those dedicated rookies who has yet to make it into the Top 32.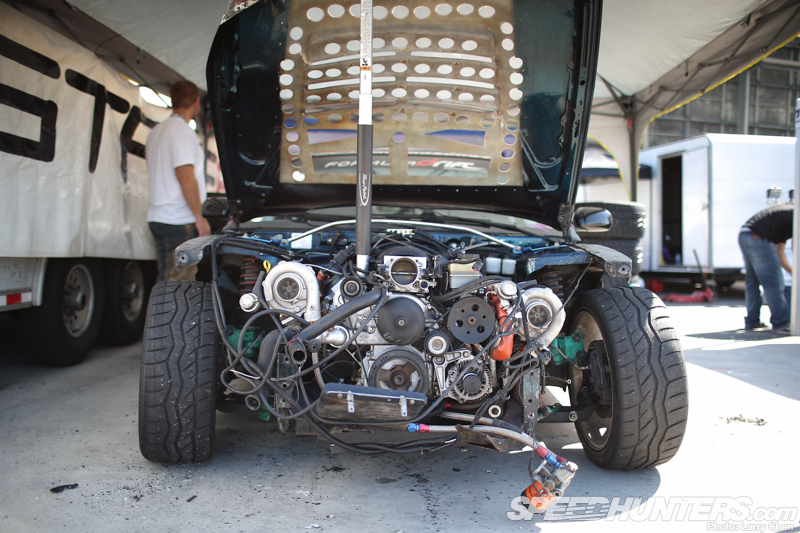 It's absolutely nuts to watch him in practice, because he just has no off-switch. He never holds back. He drives every single run like it is his qualifying run. He seems to love every moment of it.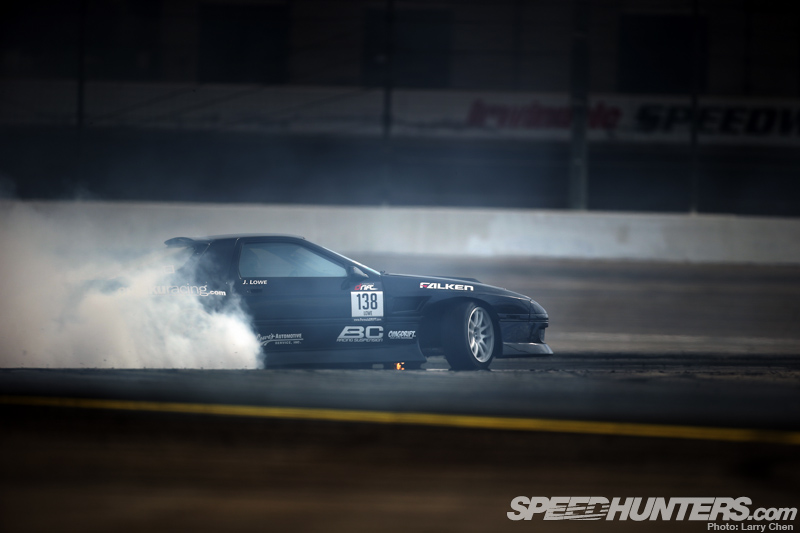 I think Jeremy Lowe has one of the cleanest looking cars on the grid. I swear it is like he has a new paint job every round. It's also cool that he is running a rotary in a Mazda. Who's ever heard of that?!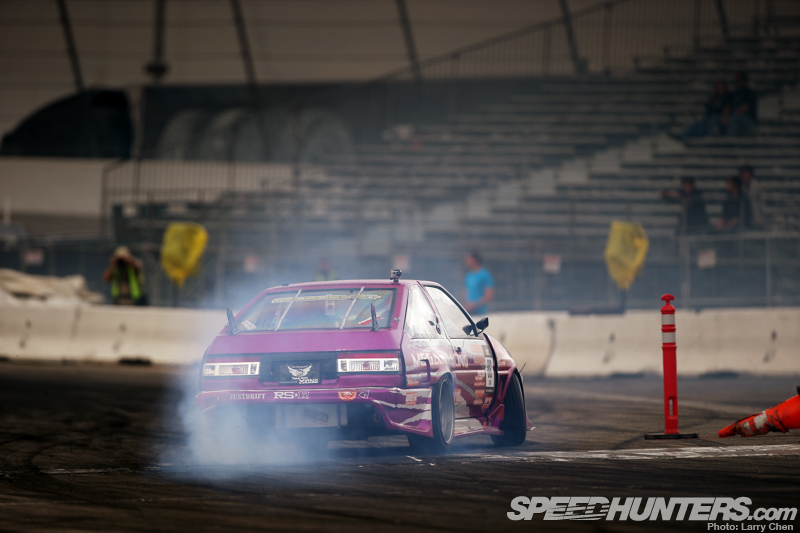 Taka Aono is far from a rookie, but he also struggled quite a bit this year. I don't know any team with more bad luck with mechanical issues.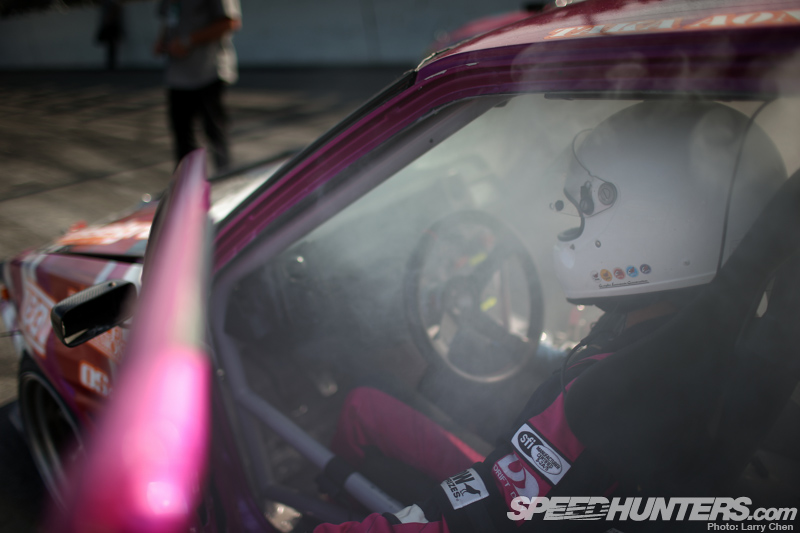 It really does show his dedication, as they blew up their turbo motor a few days before Irwindale. They had to lease a motor from World Racing just to make it to the final round. Hopefully they will have better luck next year.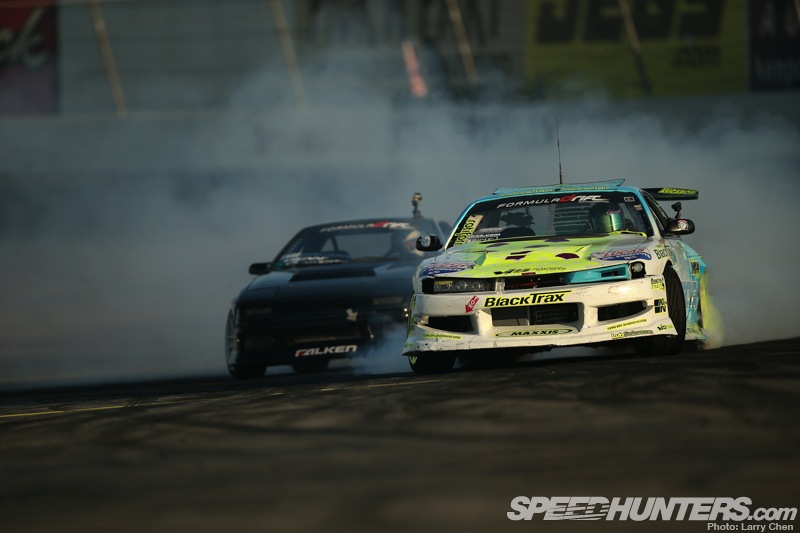 I think Matt Field surprised everyone, including me. I've always known him to be a very hard charger, especially when I saw him battle Samuel Hubinette last year.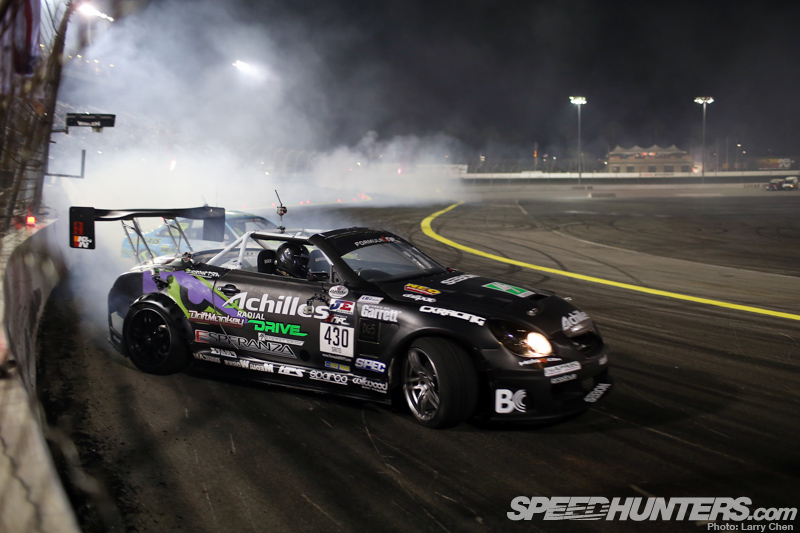 Everyone's jaw dropped when he went One More Time with Daigo Saito. He could have very well knocked him out and changed the course of the championship.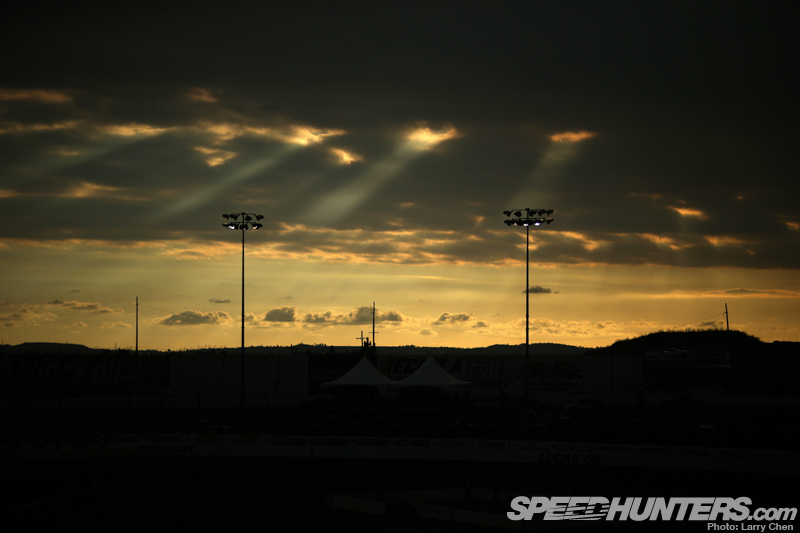 Irwindale always comes to life as soon as the sun goes down.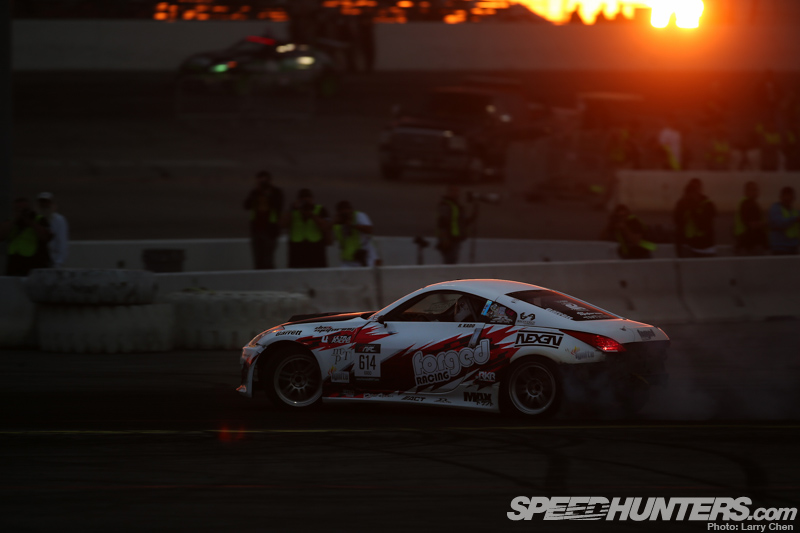 The track temps get lower and things get a little more sketchy.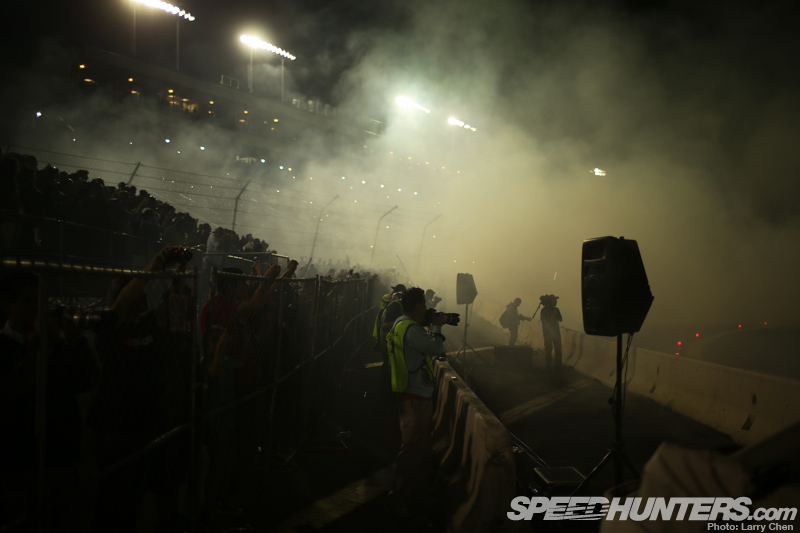 The stands get so packed that the drivers can actually hear the roar of the crowd while they are driving.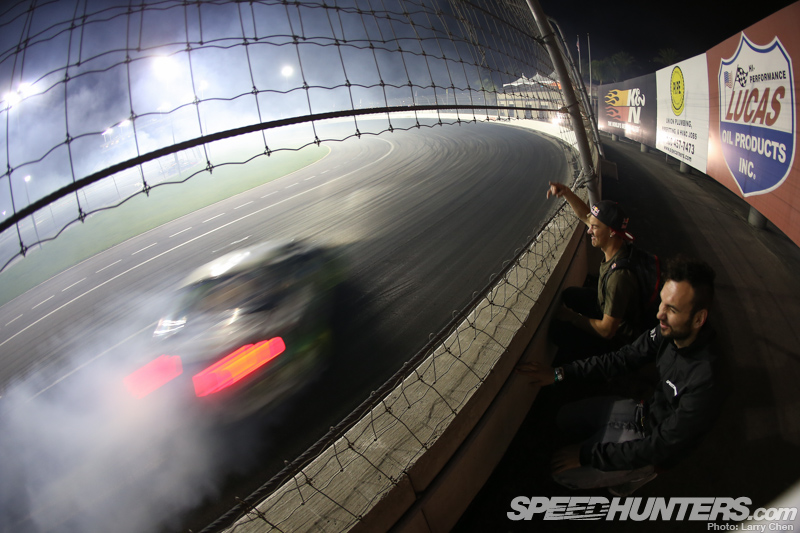 MadMike and our Digital Producer, Rob Bullough, decided it would be a good job to stand next to the initiation without ear plugs in.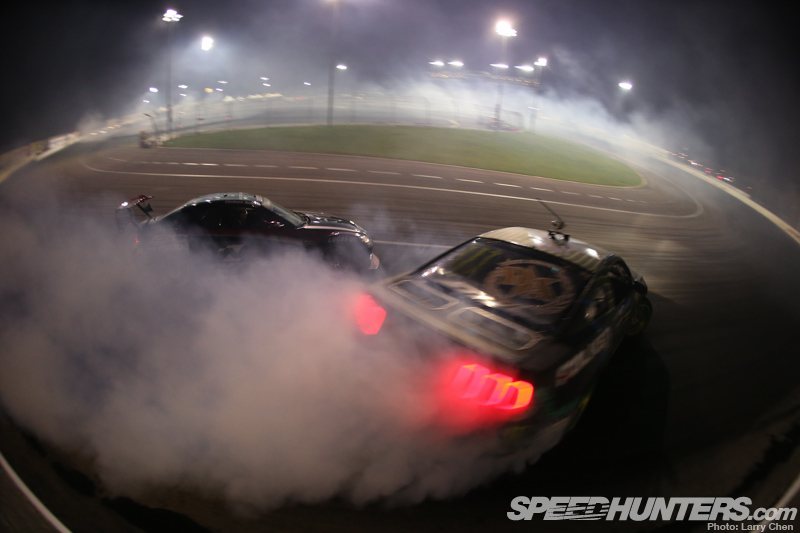 I guess all those years of driving rotaries has hardened Mike's ear drums.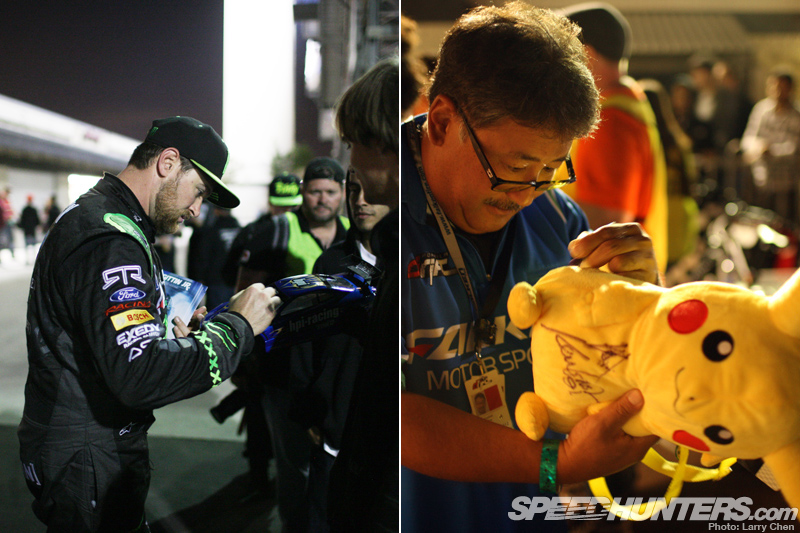 It's interesting what length some fans will go to when they see their favorite driver or paddock personality.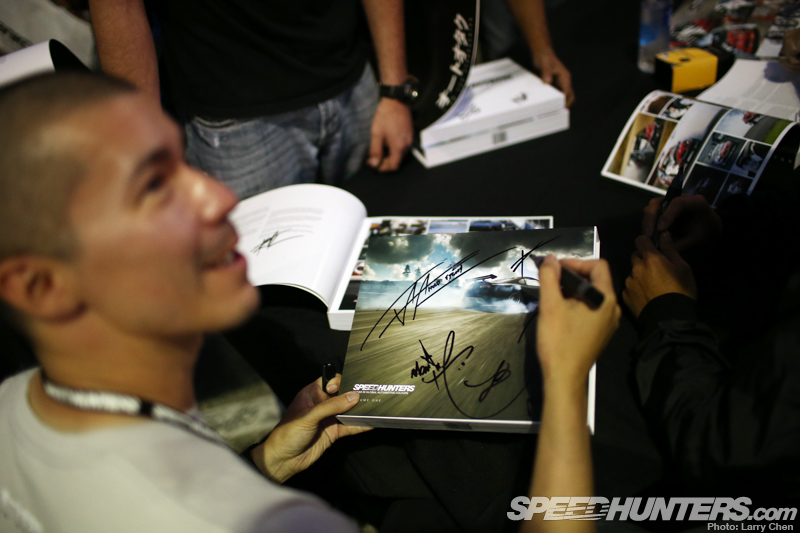 Which brings us to the Speedhunters book signing.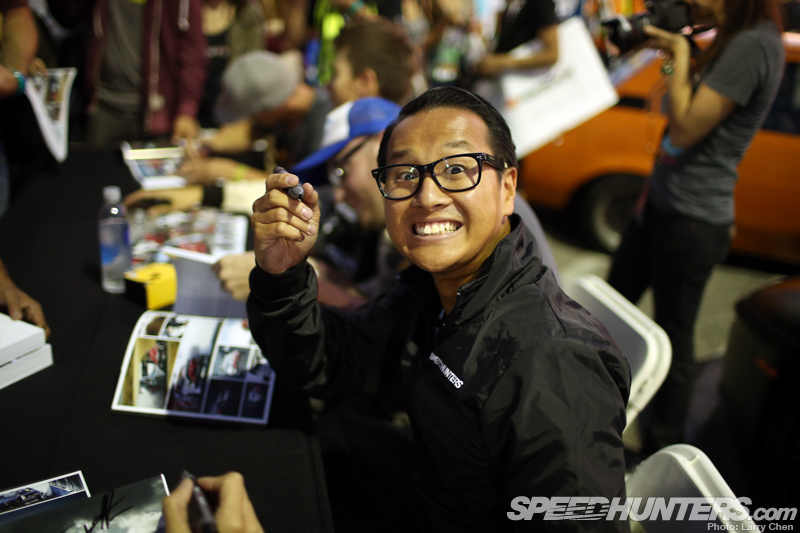 During halftime people brought their Speedhunters books to our booth to get them signed by the drivers and photographers.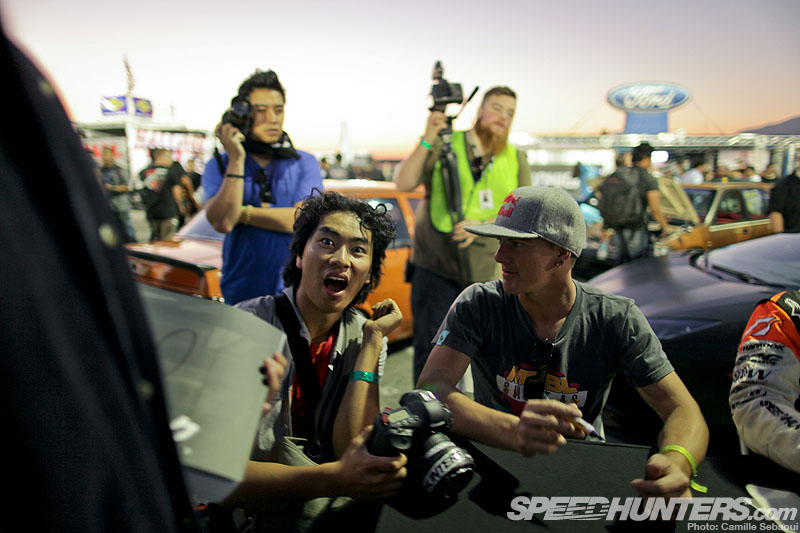 And wouldn't you know it, people actually wanted me to sign their book too. So weird!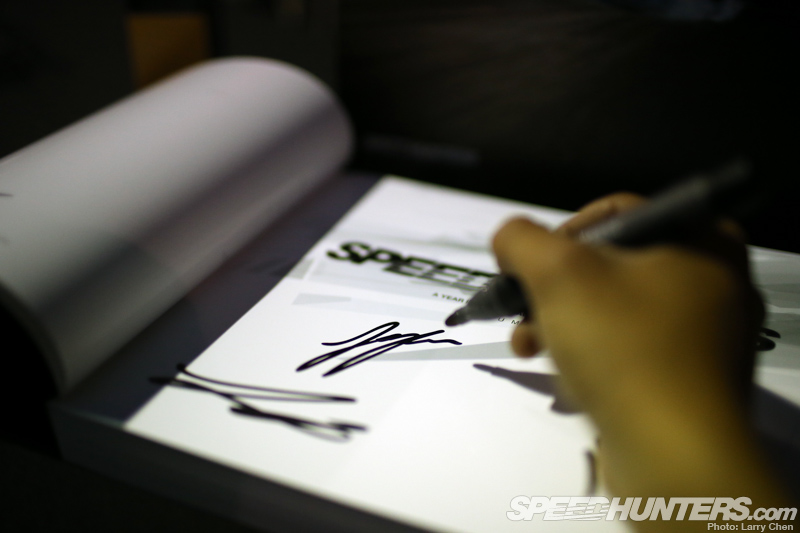 I signed every book very carefully as I did not want to smudge someones precious limited-edition collectors' item. They would have killed me.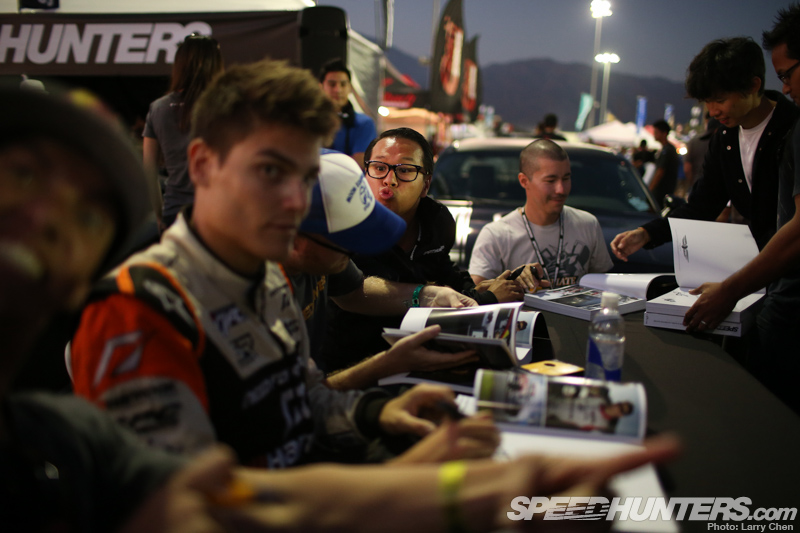 Linhbergh did not sign the books, instead he put on lipstick and kissed the inside cover.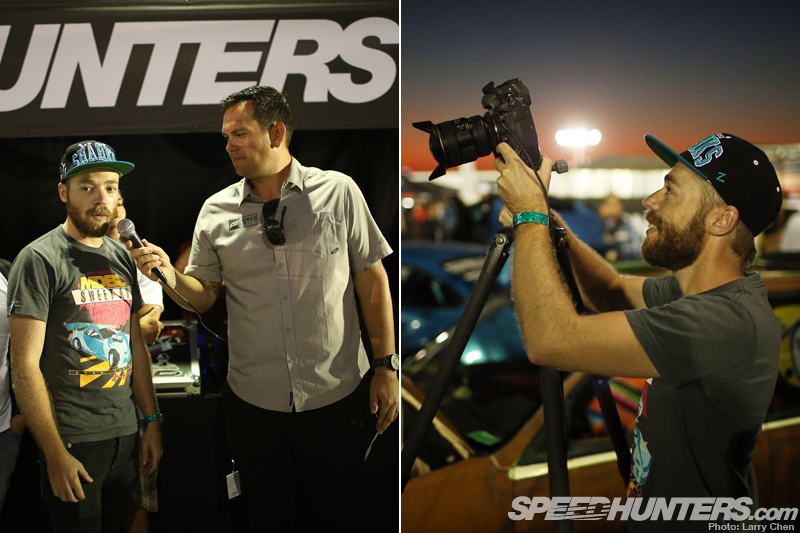 Then the cameras were turned on us, as our very own Sean Klingelhoefer was shooting a feature during halftime.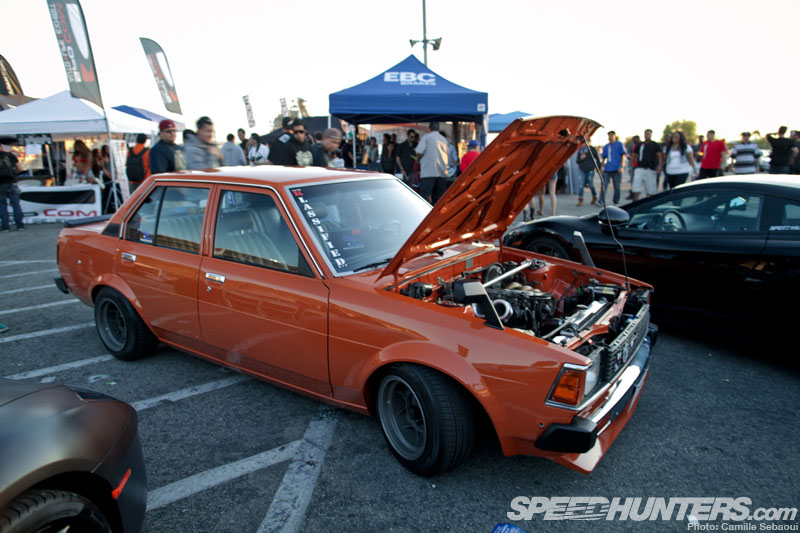 He shot this old school Toyota Corolla in the middle of all the chaos. I was so happy that was not part of my assignment.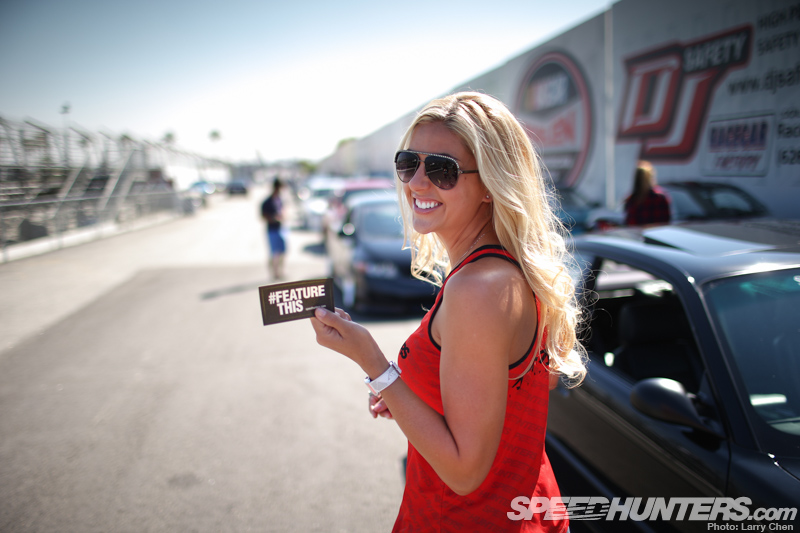 They handed out many #Feature This decals, but only one car was worthy of being featured live.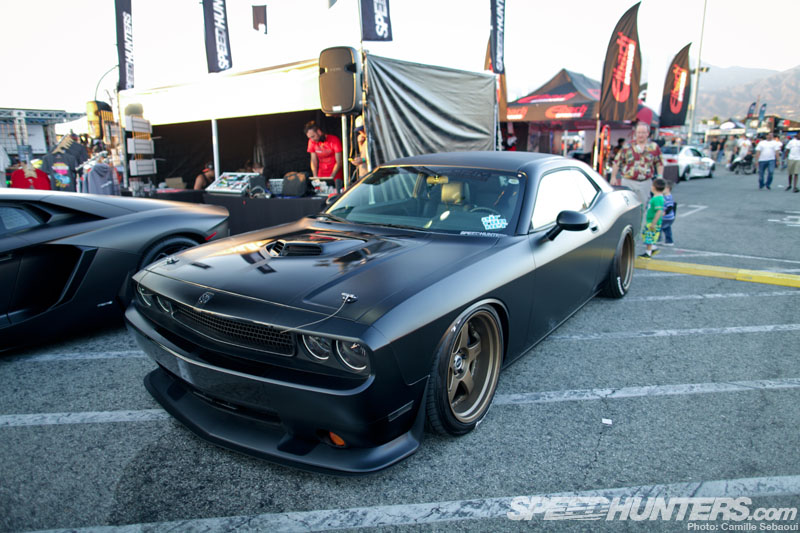 Also around the Speedhunters booth were a few cars that we have featured over the year, including Jon Sibal's Dodge Challenger.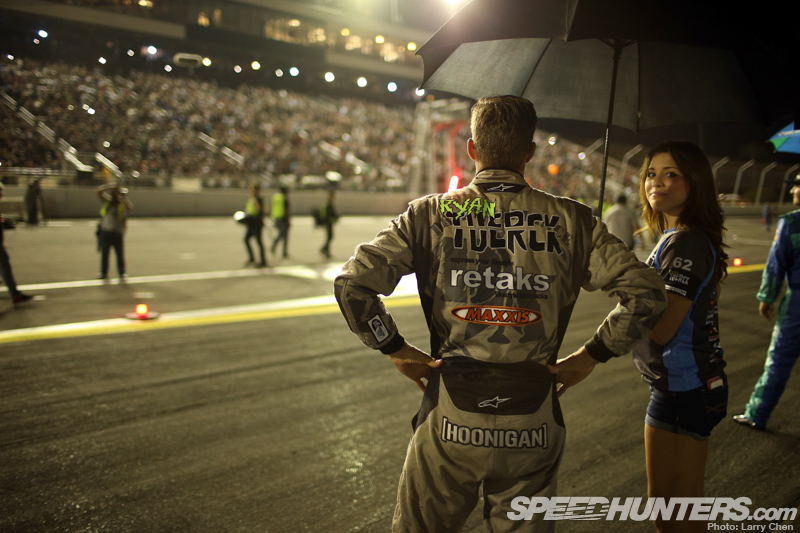 There is so much up in the air for next year: I can stay up for hours just thinking of which teams are having driver changes and who is getting a new car or who is changing tire brands.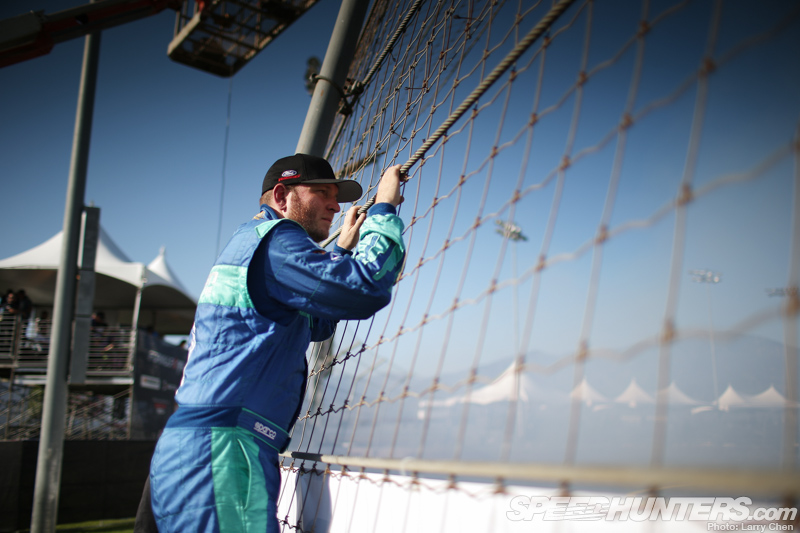 One thing is for certain: Justin Pawlak let this championship slip through his fingers just like last year. I know he will be charging hard in April yet again to seal the deal once and for all.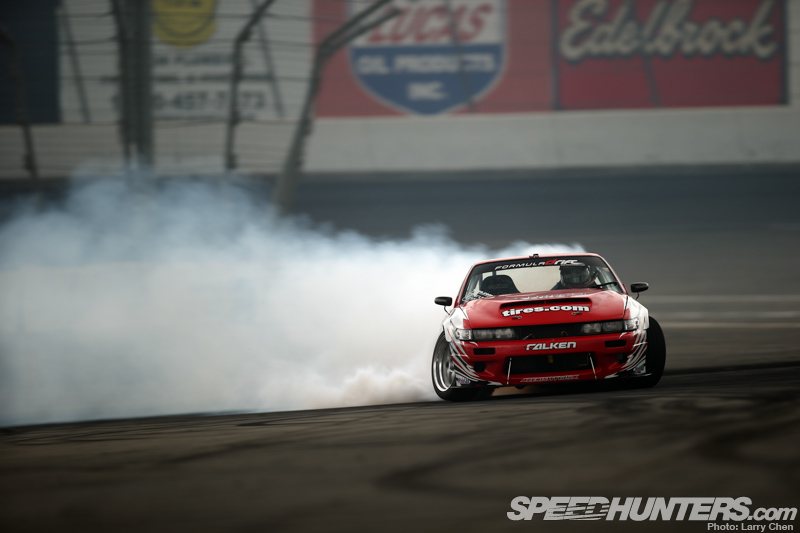 After having so many mechanical issues this year it was going to be very hard for Daijiro Yoshihara to keep his title. It just takes so much to win a championship and it was just not his year.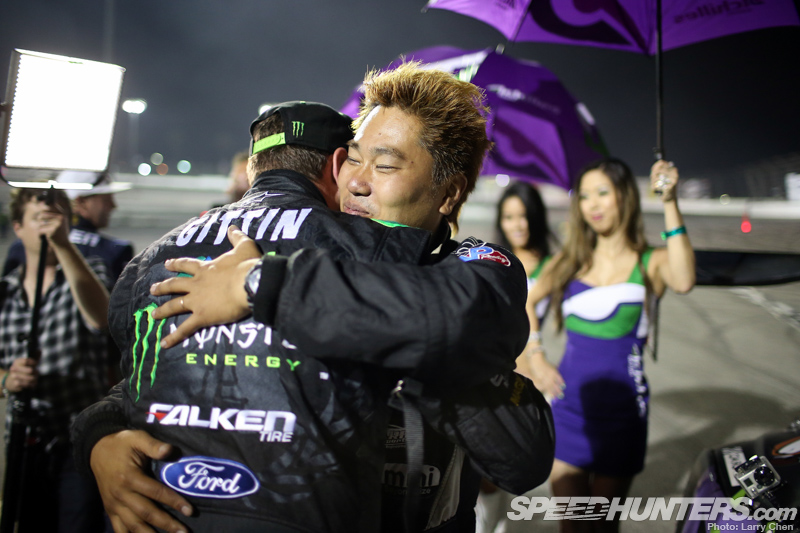 After seven rounds of hard-fought battles, the championship came down to a single battle. Only 19.5 points separated the two champions.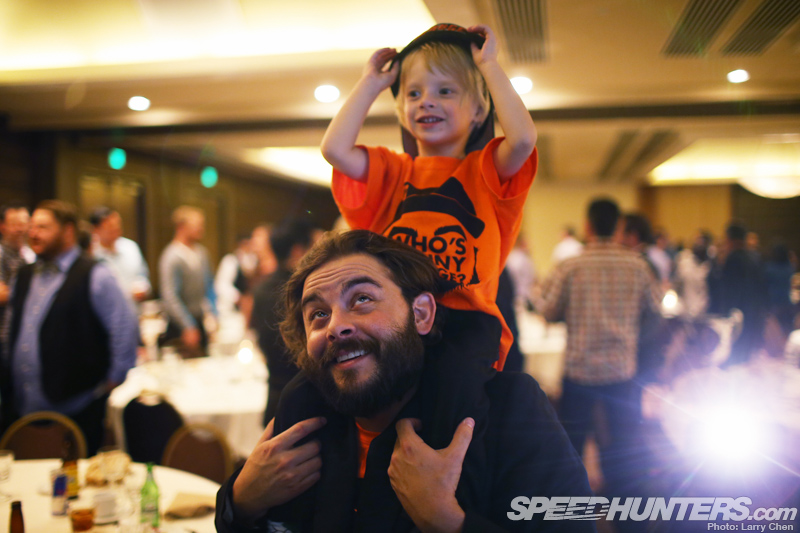 Formula Drift held the annual awards banquet the very next day. Rookie driver Danny George just wanted to win one award. It was the Spirit Of Drifting, and it represents someone who embodies the true spirit of the drifting community.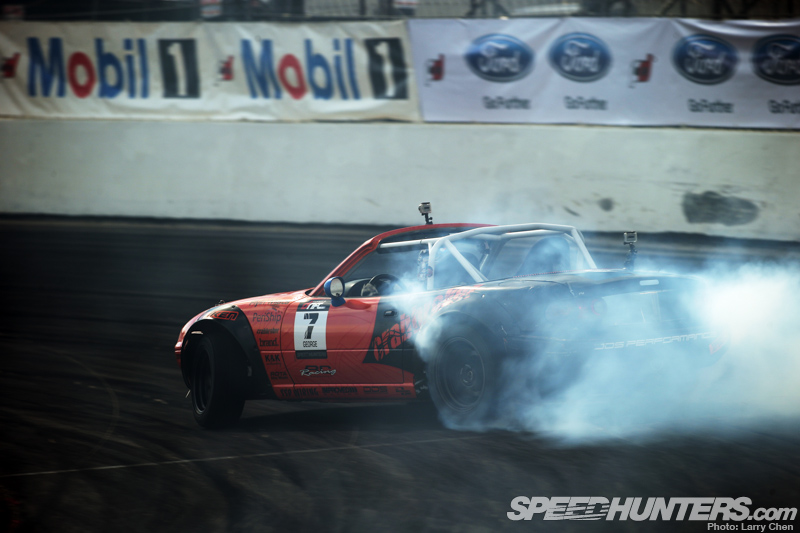 I cannot think of anyone else who deserved that award more than the Crabbroker himself. For Danny, drifting is a family affair. His whole family supports him fully and he loves it more than anything else in the world. He is just a small guy in a small car with a huge heart.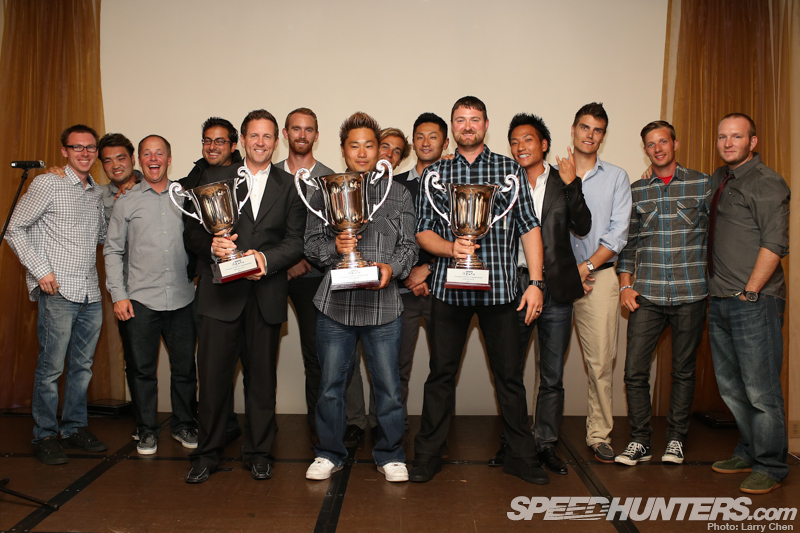 And that is a wrap for the 2012 Formula Drift Season. Congratulations once again to Daigo Saito, Vaughn Gittin Jr and Rhys Millen for an outstanding year.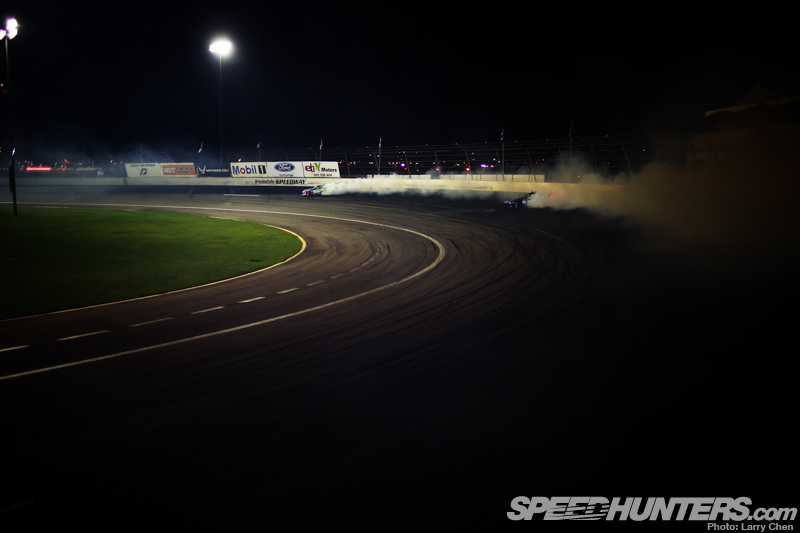 My legs are still aching from running around so much, but I already miss the crazy banked oval that is Irwindale.
Larry
larry@dev.speedhunters.com
More stories from Larry Chen on Speedhunters
More stories from Formula Drift on Speedhunters
---
---
---
---
---
---
---
---