I'm often asked what I like most about being a Speedhunter. There are many answers to that question, but naturally it's the constant exposure to cars that comes to mind first. My colleagues and I spend most of our waking moments (and many of our sleeping ones) thinking about cars. We never stop thinking about photographing them, driving them, building them, or writing about them. On top of that, what I like most is that we aren't locked into one particular genre or style of car.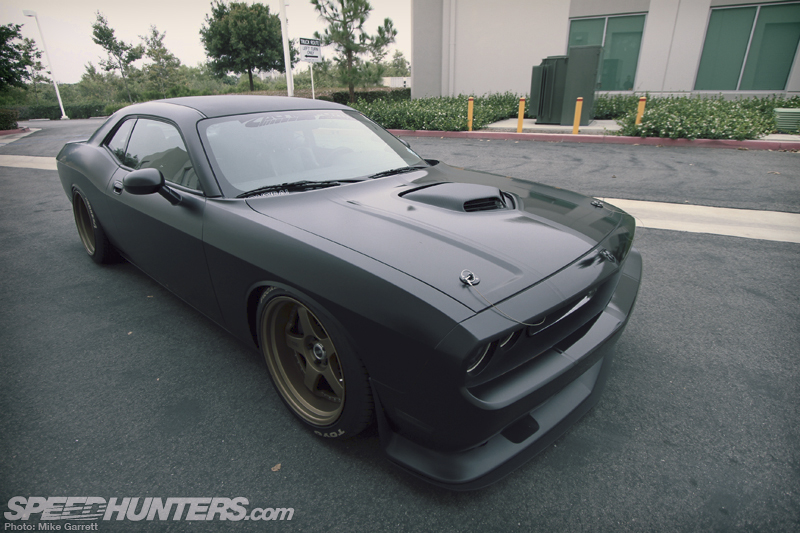 Unlike those who work for more specialized enthusiast publications, we are able to bounce around between these different automotive subcultures as often as we change our shirts. We are given the unique freedom to feature just about anything we think is cool – regardless of its purpose and regardless of what continent or era it comes from. To put it simply, our love for the automobile has no restrictions.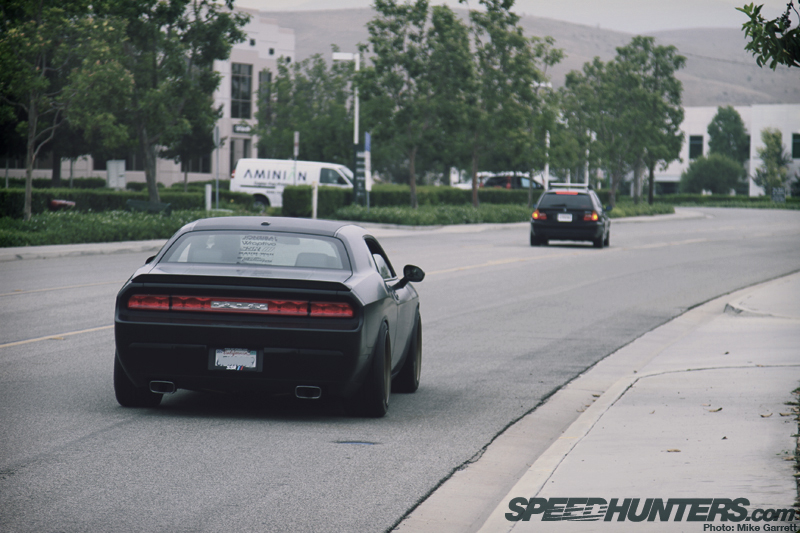 Besides providing a daily dosage of cool automotive content from around the world, I hope that Speedhunters has helped people develop an appreciation for automotive styles they may have previously been unfamiliar with. Even better is if these people could take inspiration from this content and work it into their own cars.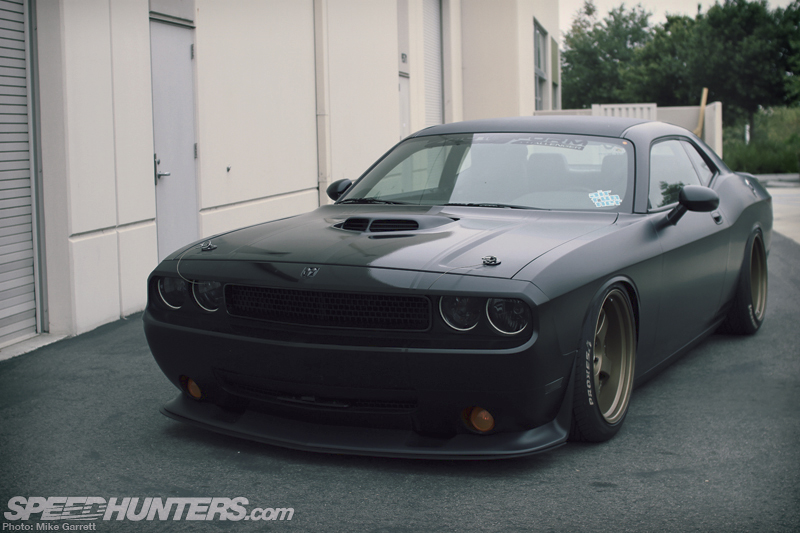 So then it's really no surprise that cars which blur these genres together are some of the most interesting to explore and few serve as a better example of this than Jon Sibal's 2009 Dodge Challenger R/T.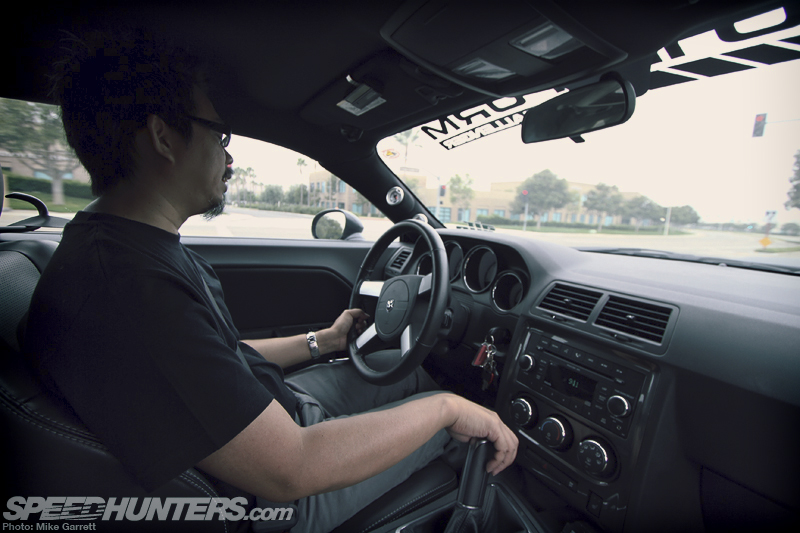 I have a feeling most of you are already familiar with Jon Sibal. You've probably read his blog or seen his automotive renderings spread across the internet. He is a car freak through and through, and was part of the West Coast tuning community when I was still a middle school student. I first came into contact with Jon back in early 2008 when he would read my blog posts from Japan, including those about a certain group of wide body Porsches at Tsukuba Circuit. We have been mutual fans of each other's work ever since.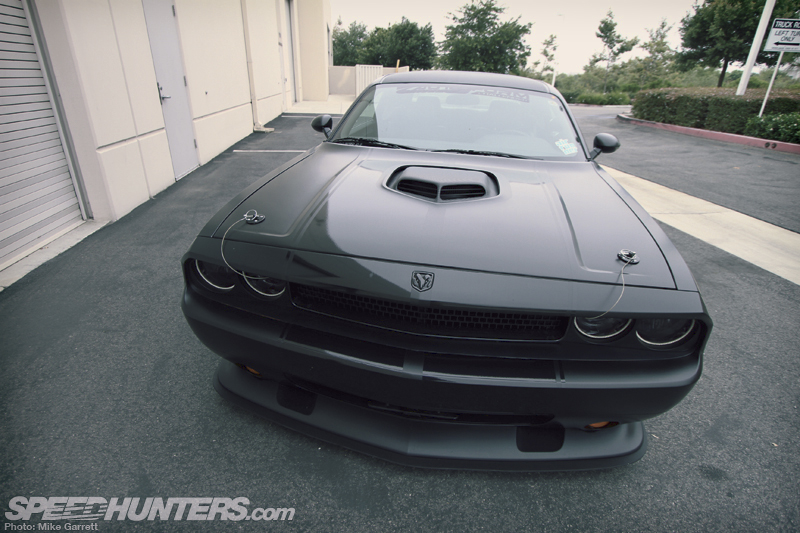 Coincidentally, 2008 is also the year that the story of Jon's Challenger begins. It's not, however, the typical "guy buys car, guy modifies car" story. In the summer of 2008 the reborn Dodge Challenger had just hit the market and MSN Autos and Dodge had teamed up for the "Dream, Design, Drive" competition. People were given the chance to create an exterior design for the new Challenger, and if their design was chosen they would win themselves a brand new Challenger R/T – with their custom design applied to it of course.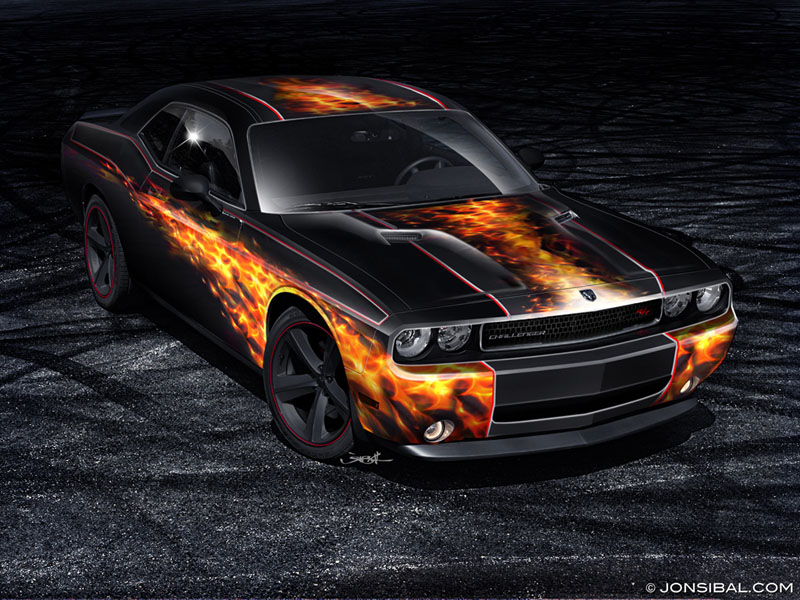 Being a freelance artist and graphic designer by trade, Jon decided to try his hand in the competition. The design he came up with was a bold one, with photorealistic flames covering the car's black body. I think you know where this is going, but  in Ocobter, 2008 Jon was notified that his design was chosen as the winner of the competition – one of 330,000 entries submitted.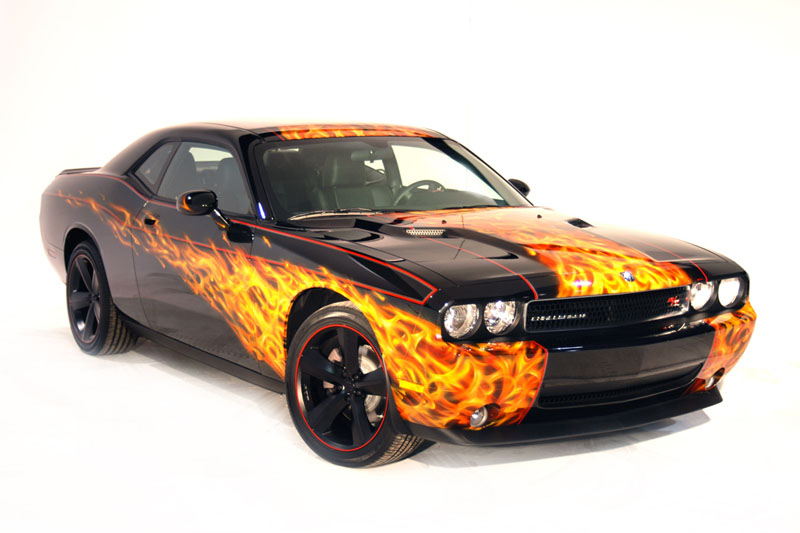 Just a few days before Christmas in 2008, Jon took delivery of the Challenger R/T – equipped with the Trak Pak, custom-painted 20″ SRT8 wheels, a six speed manual transmission, and its "True Fire" paintjob.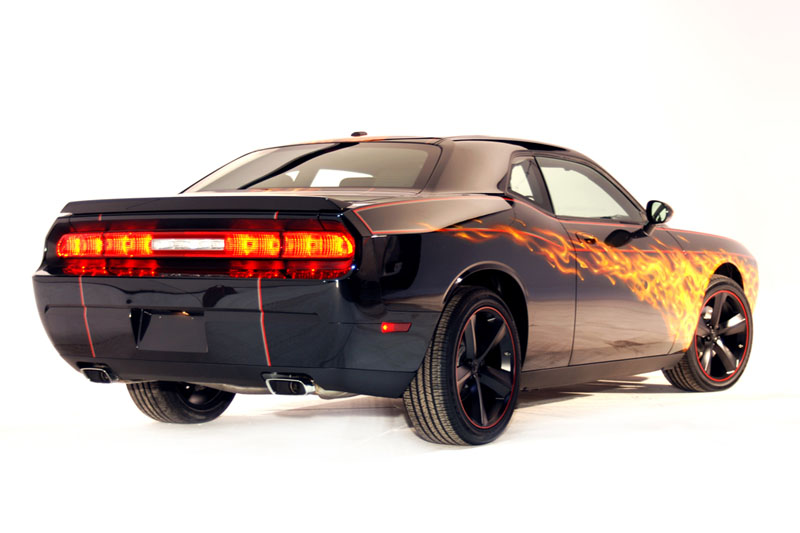 At this point, Jon's automotive experience was limited mainly to modifying European cars like his worked E36 BMW. The Challenger was his first American car, but it didn't take long for him to start with the modifications. By January of '09 he had already dropped the car down on a set of H&R coilovers and installed a Zoomers exhaust system to give the Hemi a proper Muscle Car rumble.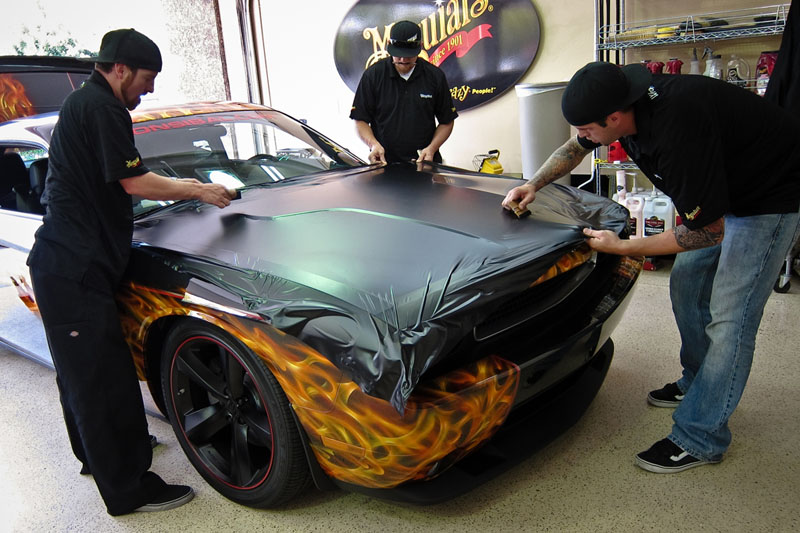 Needless to say, when Jon took the flamed Challenger out for drives around Orange County the attention he got was immense. While he enjoyed chatting with people about the car and the constant stares, he decided he wanted to tone down the car's exterior a bit. In the summer of 2010, with the help of Meguiar's and their Wraptivo line of vinyl wraps, he had the car completely redone in a matte black finish.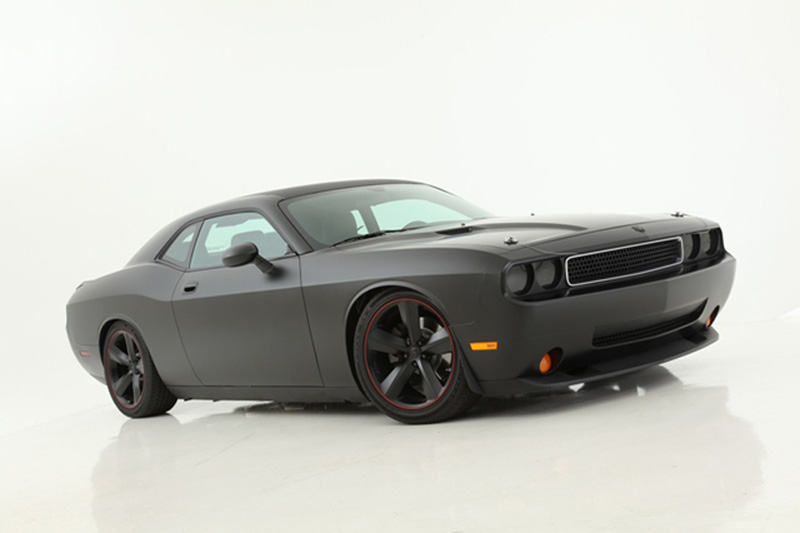 The results were dramatic. The Challenger had gone from something bright and flashy to something sinister and understated. He could now take the car to the grocery store without making people drop their milk and fruit all over the parking lot. The Challenger also appeared at the SEMA Show in 2010 modeling its new look.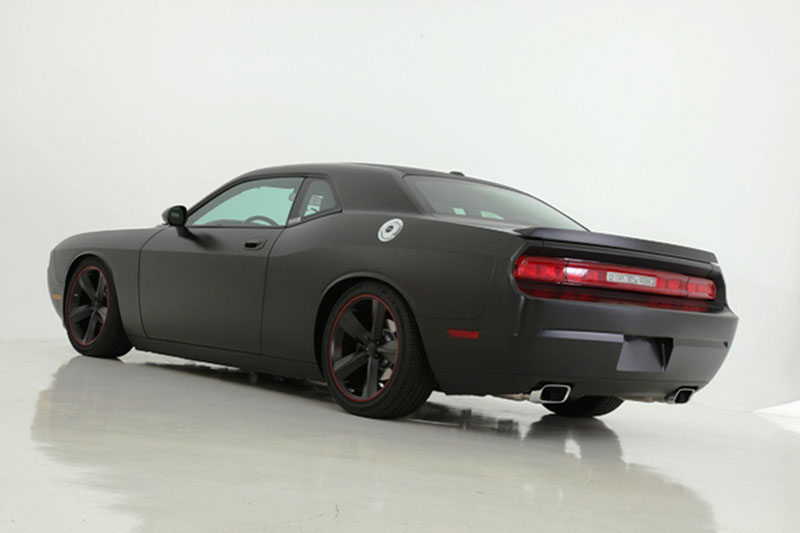 The wrap was actually just the beginning of a much bigger transformation for the car though. All through this, Jon's mind kept going back to those RWB Porsches from Japan and he imagined what the Challenger would like if was done in a similar theme.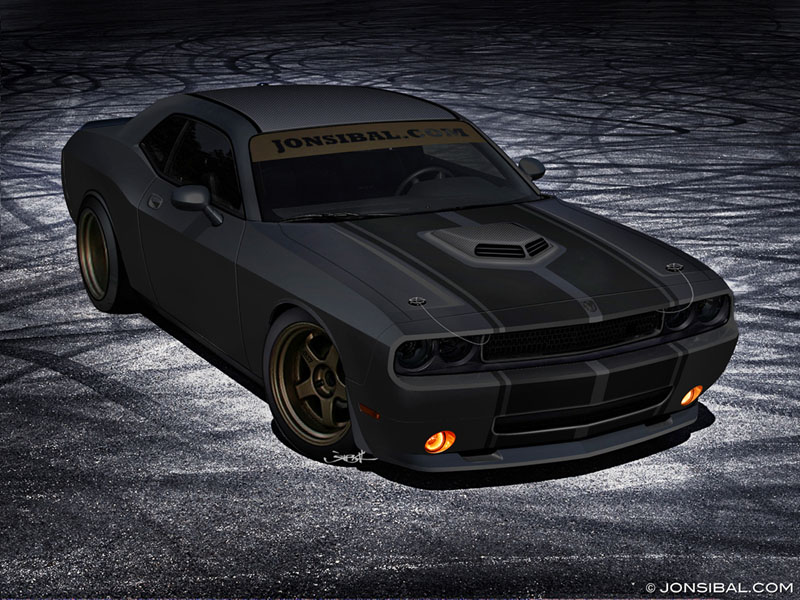 Around this time, Jon has the chance to meet up with RWB's international director Toshi Ichiraku while he was visiting the states. Jon brought up the idea of doing an Rauh Welt-inspired Challenger and Toshi was very excited about the prospect. With Toshi's blessing, everything was set in motion.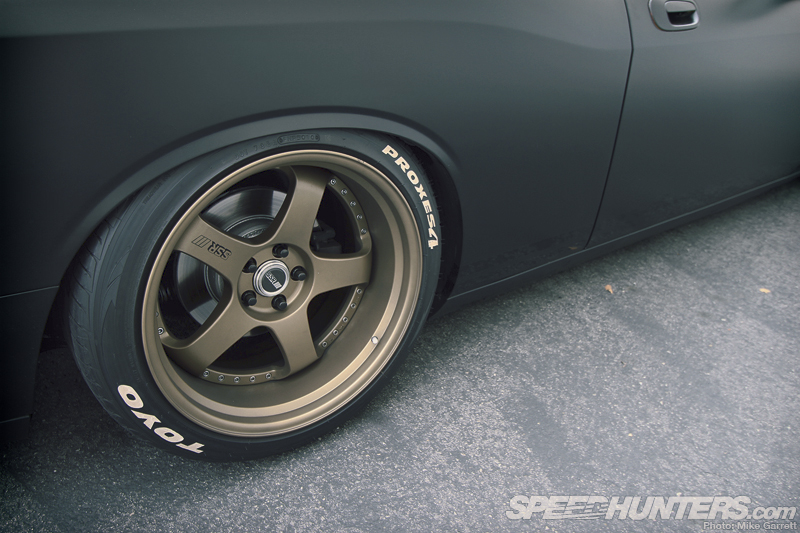 As you might expect, Jon was the first Dodge Challenger owner to order a set of SSR Wheels. The crew at SSR USA might have been slightly confused when Jon spec'd out his set of Professor SP1s, but he had a clear image in his head.  Once the wheels arrived from Japan they went to the powdercoater. The original idea was to have the wheels done in a matching matte black, but Jon later decided to go with the vintage gold you see here.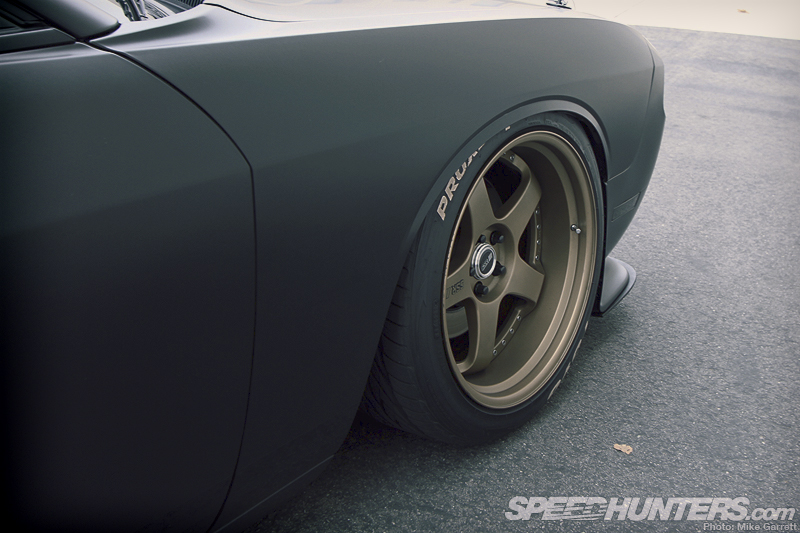 The wheels ended up fitting perfectly for the look Jon was going for and I imagine he was quite relieved considering this move into uncharted wheel fitment territory. After some subtle modifications to the fenders it was time to move on to the suspension.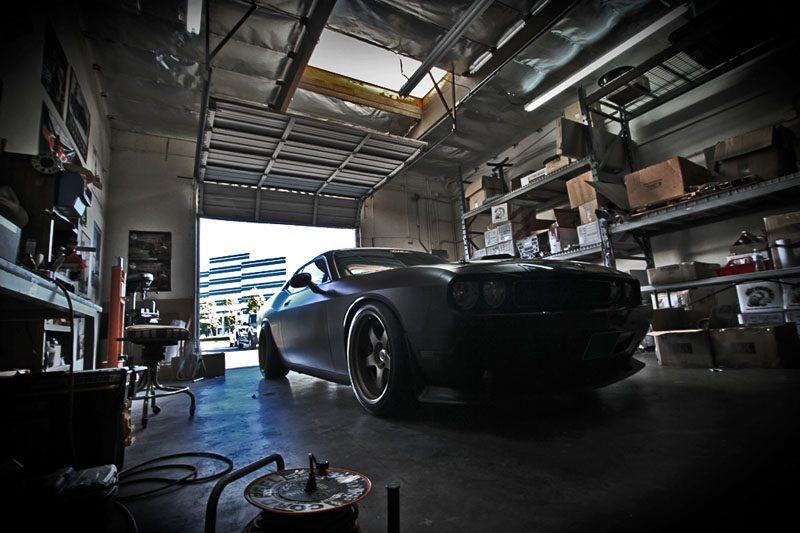 Given the aggressive wheel and tire combination, it was crucial that the car sit just right. Jon soon found himself at Air Runner USA where another Japanese product was being fitted to his American Muscle Car.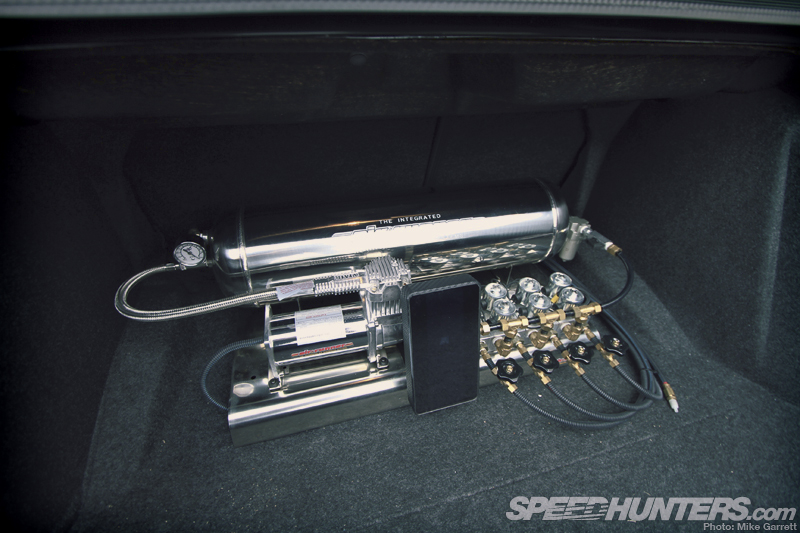 The trunk of a Challenger might not be the first place you expect to see an Air Runner kit, but it has worked flawlessly on the big Dodge. Jon even has the ability to adjust the ride height using his iPhone. Oh the joys of technology…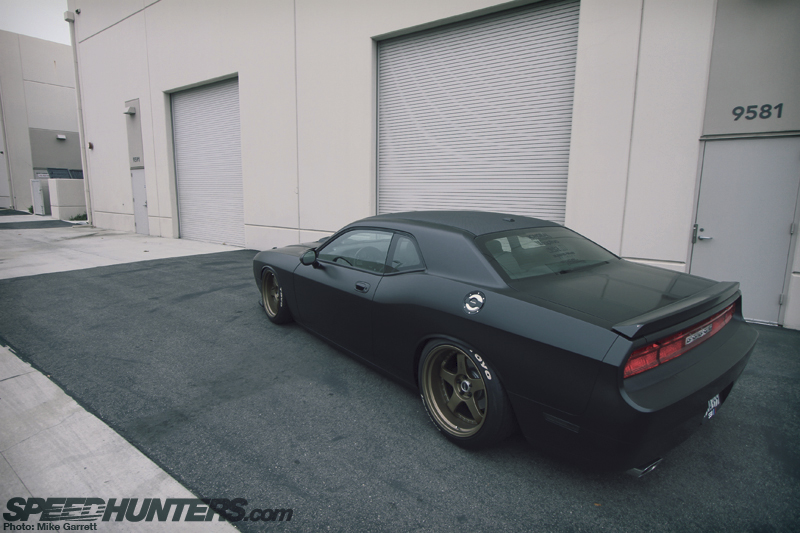 While the RWB influence on the car is clear, Jon also took inspiration from other areas – particularly the SCCA Trans Am race cars from the early 1970s.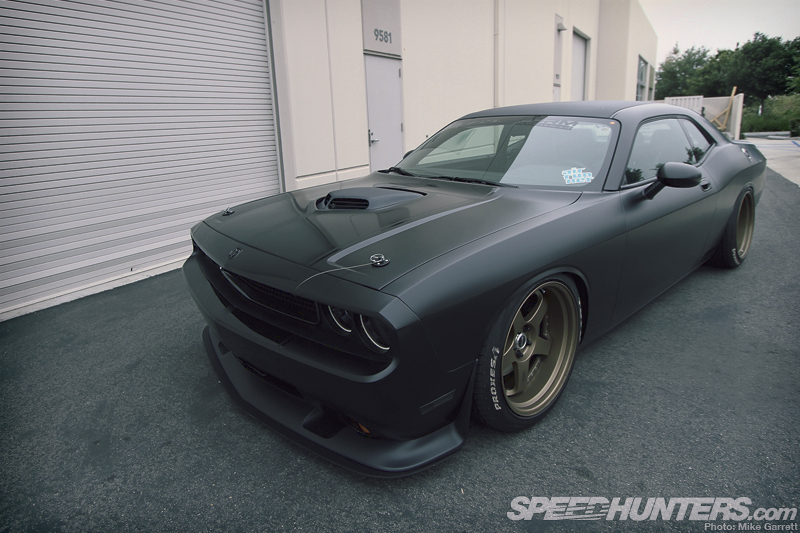 The hood pins and custom front lip spoiler bring to mind images of Sam Posey's famous Challenger T/A racer, and in the greater scope of the car they make for a perfect blend of both vintage and modern styles.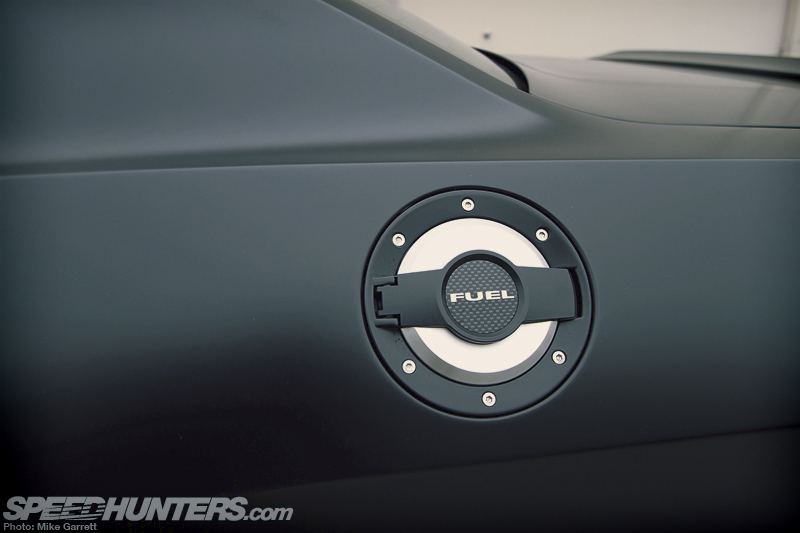 Other retro Muscle Car elements found on the Challenger include an aluminum gas cap from Drake….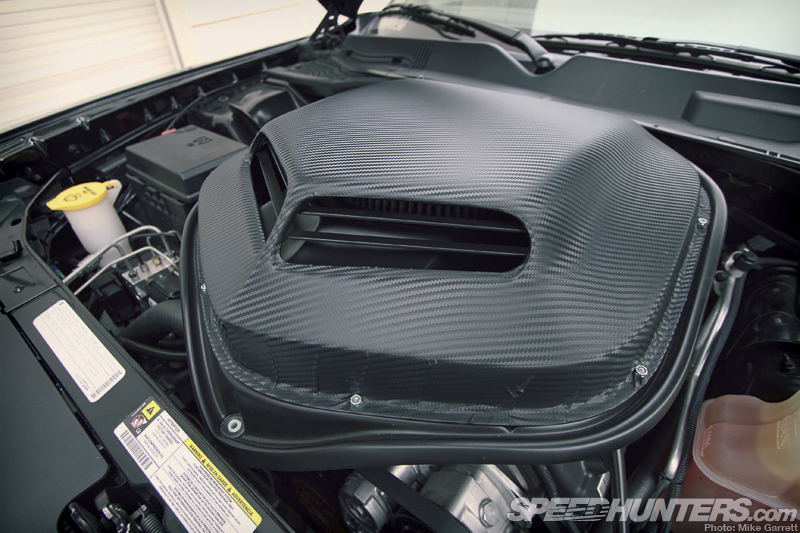 …and this fully functional carbon-wrapped Shaker hood scoop and induction system from Autoform. Anyone who is familiar with the original E-body Mopars will recognize the importance of the Shaker.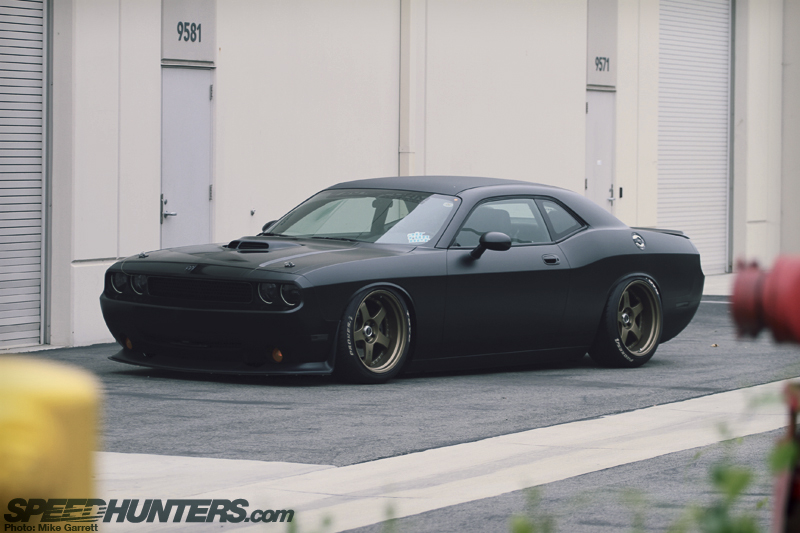 I'm not sure if I've ever seen a single car which blends so many vastly different styles into one package so completely and cohesively. In the grand scheme of things, there's nothing particularity extreme done to the car. Instead, it's a carefully selected combination of bolt-on modifications that give the Challenger its personality.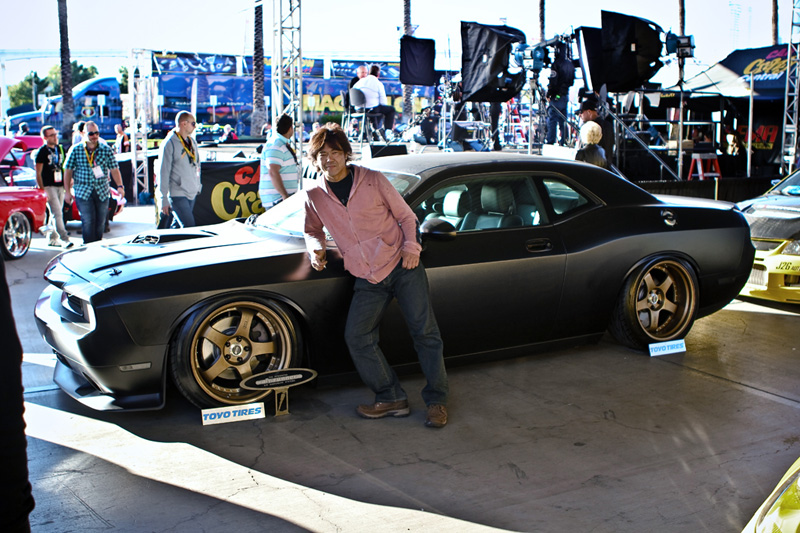 When the refreshed car made its official debut at last year's SEMA Show it received a personal seal of approval from Nakai-san himself. It seems Jon has nailed the RWB-take on a modern American Muscle Car.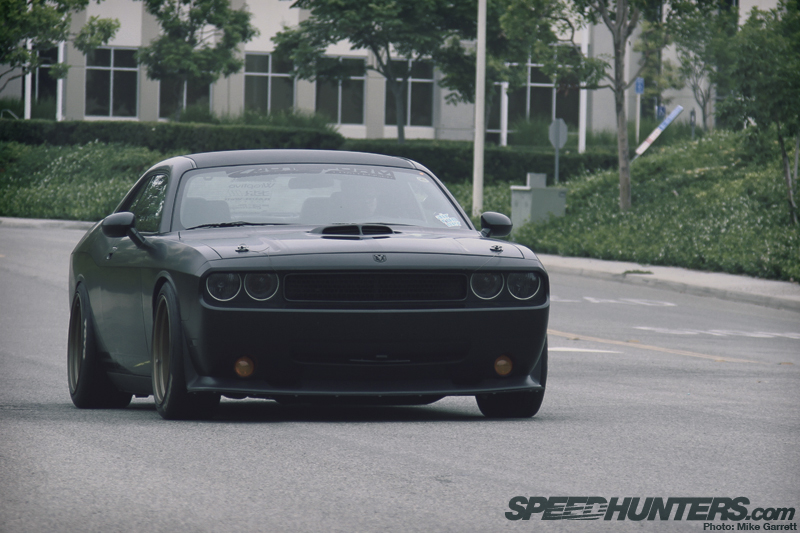 Perhaps more importantly, his experience with the Challenger has opened him up to a whole new section of the automotive world. Soon after he took delivery of the car, Jon co-founded the SoCal Challengers Club and he's become very active in the community since then. He still has a deep love for European and Japanese tuning cars, but the Challenger has only served to broaden his automotive horizons and helped him meet some great people along the way.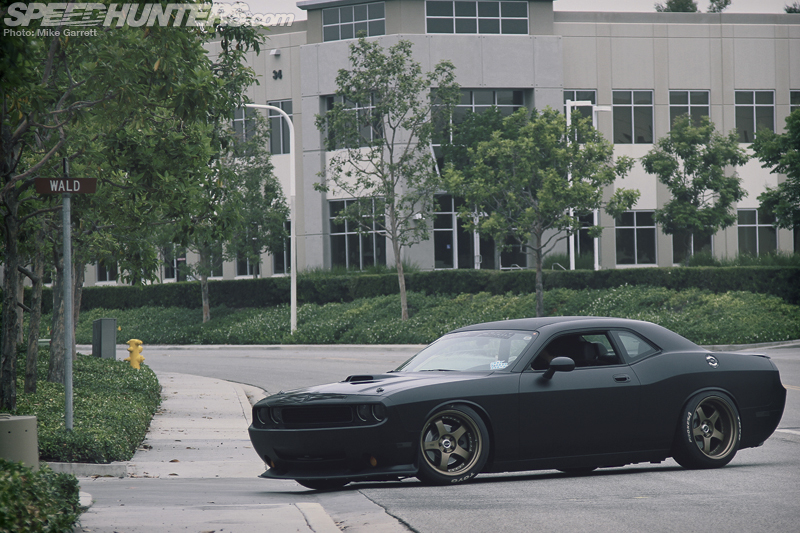 The greatest result of a genre-bending car like this is the way it changes people's opinions. To traditional Muscle Car fans, there's no doubt that Jon's Challenger has opened up their minds to new forms of modifications and styles that they would have never considered before.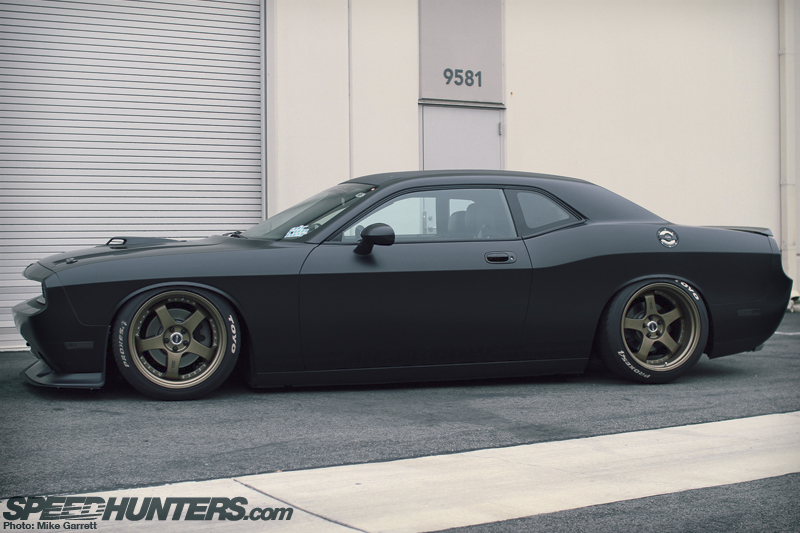 On the other hand, when it comes to fans of RWB cars or other tuner machines from Japan, Jon's Challenger has shined a new light on a platform that they may not have appreciated beforehand.
The power of a car to change people's views is rare, and in the end there's really no higher praise that can be used towards a single automobile.
Hats off to you, Jon.
-Mike
SPECS
2009 Dodge Challenger R/T
27J Popular Equipment Package
5.7 HEMI V8
6 Speed
Trak Pak with Hill Assist
Heated Leather seats
Upgraded Audio (Sound Group 1) 6 Boston Acoustics Speakers, 276W Amp
Wheels and Tires
– 20″ SSR SP1 3-pc Wheels Powder Coated in Vintage Gold  20×10.5 Front , 20×11.5 Rear
– Toyo Proxes4 245/40/20 Front, 275/35/20 Rear Tires
Suspension
–  Air Runner System with iPhone Ride Height Controls
Exhaust and Intake
– Autoform Max Air Scoop Hood Intake System
– Zoomers Car Back Exhaust
Body
– Autoform Shaker Hood Intake System
– Wraptivo 3M Matte Black Wrap
– Wraptivo 3M DINOC wrap (Roof and Shaker Intake)
– Daley Visual Gloss Black Racing Stripes
– Mopar 10 Black Chrome Grill
– Drake Sequential Taillights
– Drake Aluminum Gas Lid
– AAC Dual Color Headlight Rings
– Custom Lip Spoiler
– 2012 SRT8 Front Lip Conversion
– Smoked Front and Rear Parking Lights
---
---
---