Based in Maryland, Mid Atlantic Motorsports have been around since 1999. They mostly specialize in drift fabrication, but they also work on everything from Volvos with 2JZ motors to bad-ass BMW 2002s with SR20 swaps.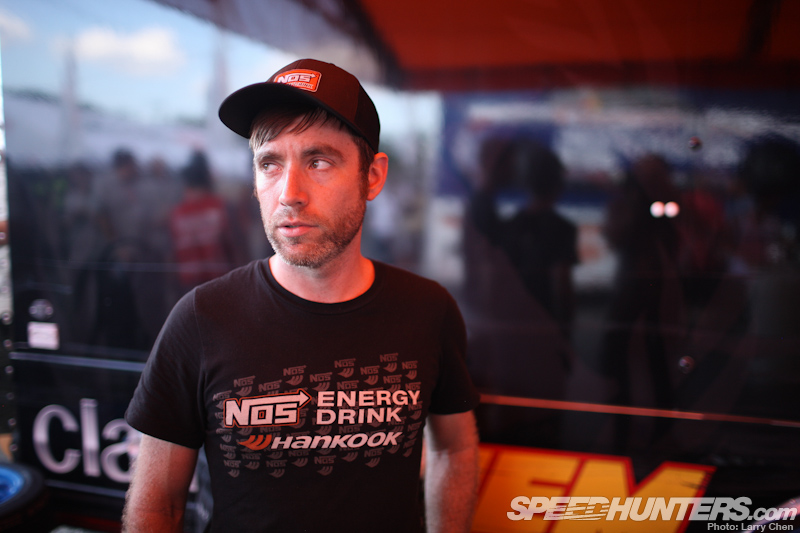 MA Motorsports consist of Founder Brian Wilkerson…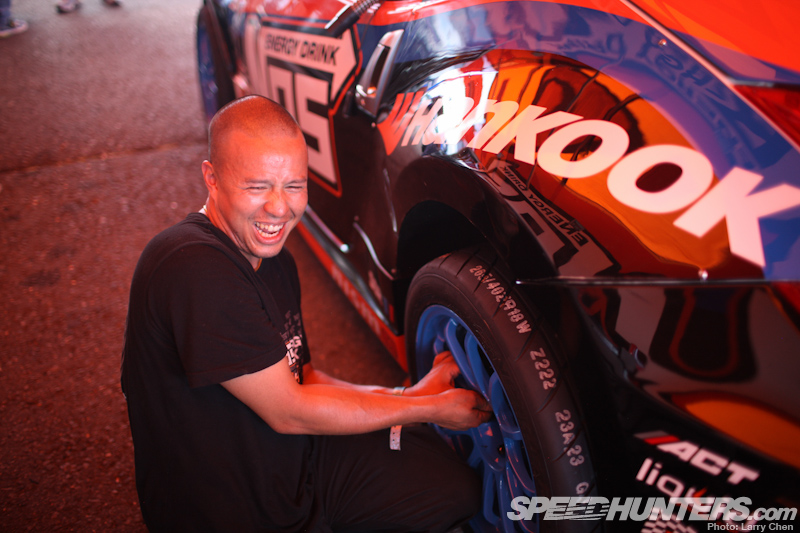 …and tuner Ray Shake. Right now they are in the business of…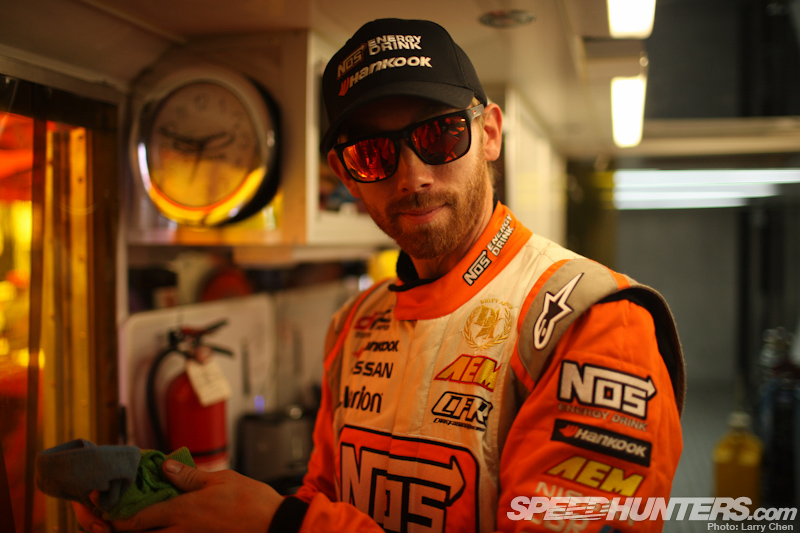 …getting this guy, Chris Forsberg, onto the Formula Drift podium.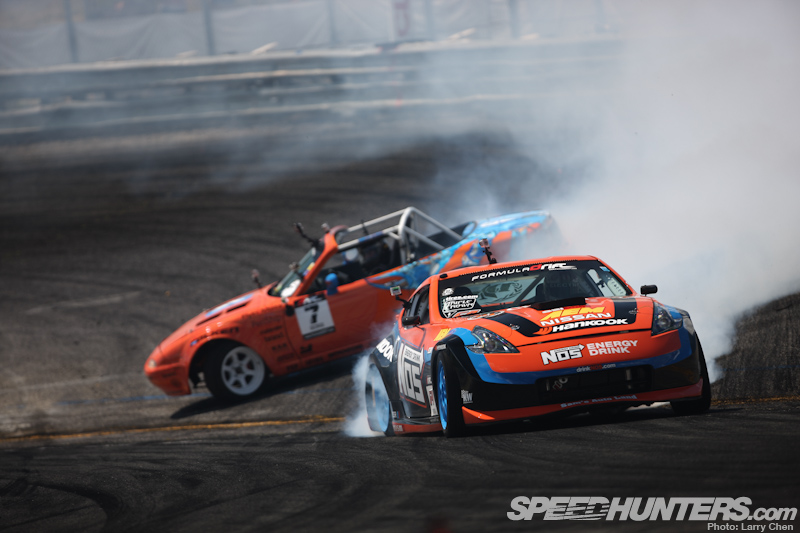 So far this season they've hit the podium a few times. I am sure there will be many more as they get used to running a full-time professional drift team.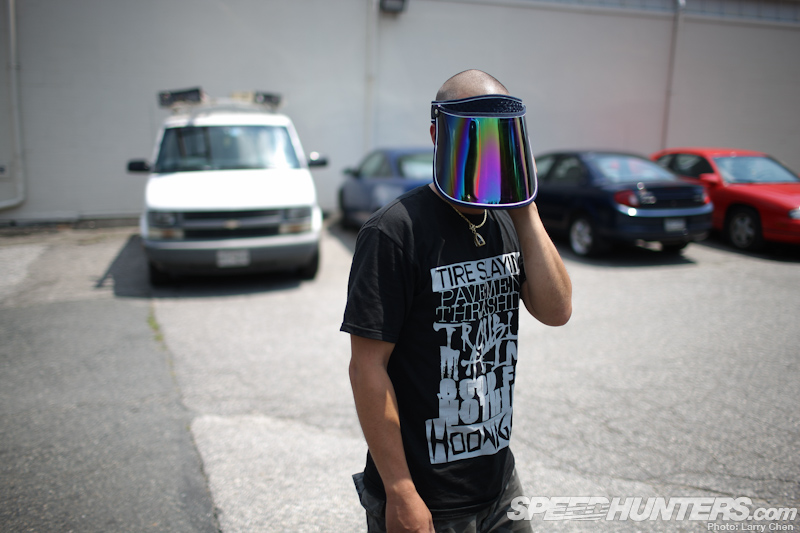 As I arrived I found Ray talking on the phone wearing an asian visor welding mask.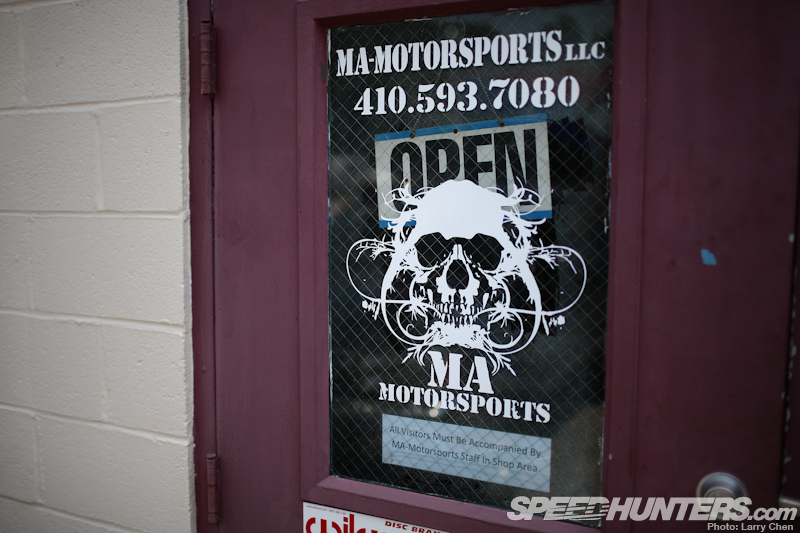 MA Motorsports originally started as a Honda retail shop selling body kits, intakes and exhausts – pretty typical of the late 90s.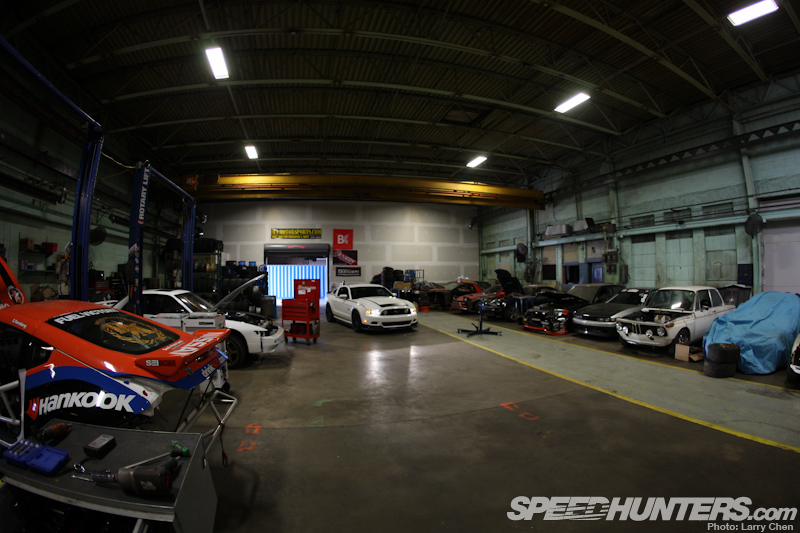 Brian was partners with his brother, who wanted out of the business in 2001. That is when he met Ray and the rest is pretty much history.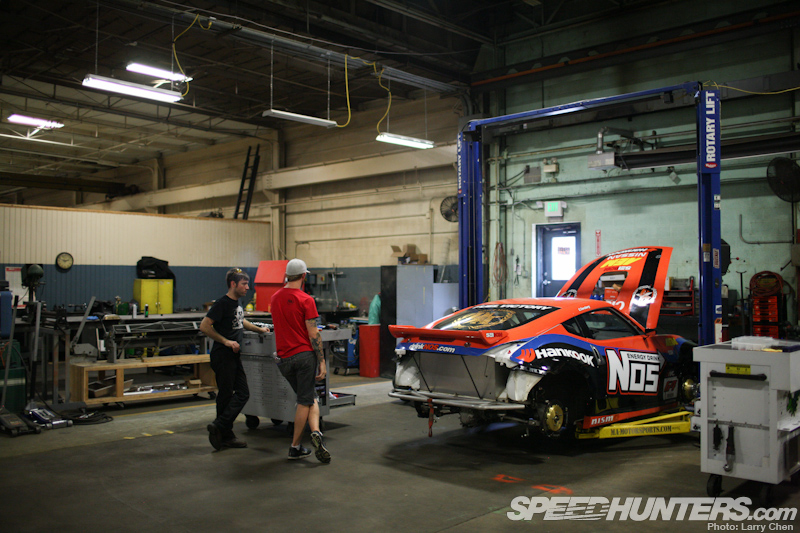 in 2003 he met Vaughn Gittin Jr and that is when the ball really started rolling. MA Motorsports sponsored Vaughn, and till this day they still do work for him but of course their main concentration is with Vaughn's Drift Alliance brother, Chris Forsberg.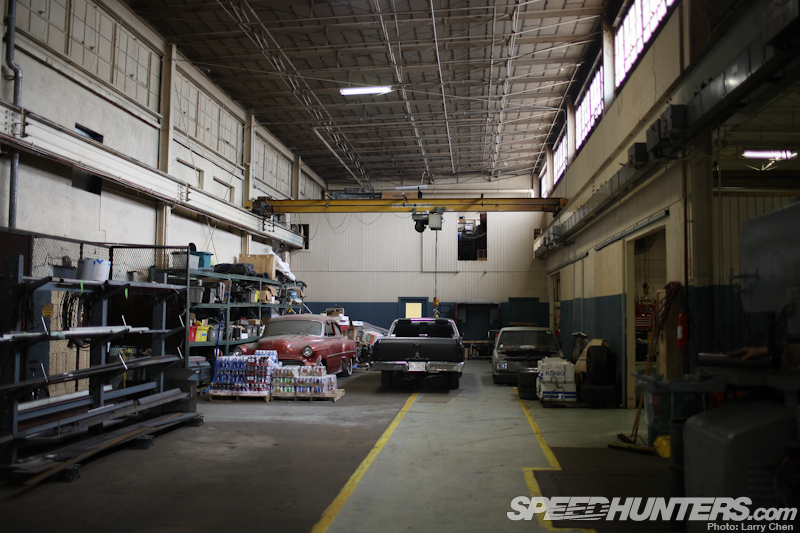 The building itself was very interesting as well – apparently it was originally built in the 1800s. It is absolutely huge, with giant cranes all over the place. They only have a tiny section of this building, which used to have its own locomotive station!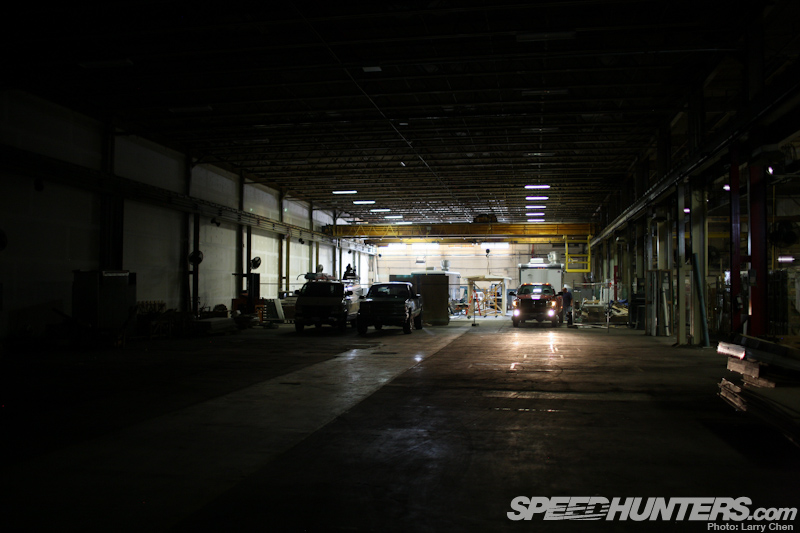 Being the avid urban explorer I had to check out the rest of the building. I have to say it definitely was big enough for a train to run through this place.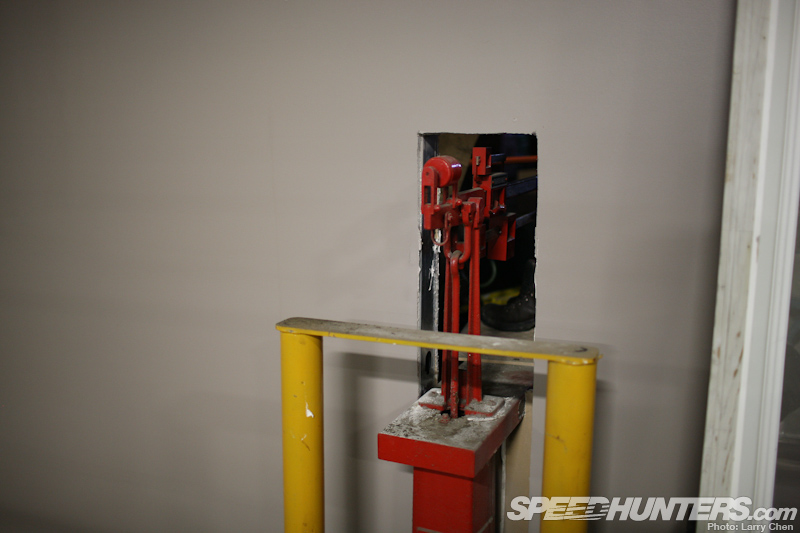 Over the years this place has been used to make heavy machinery as well as cardboard boxes! I thought this was interesting. That is a mechanical scale, and instead of moving it whoever built this wall just decided to install the dry wall around it.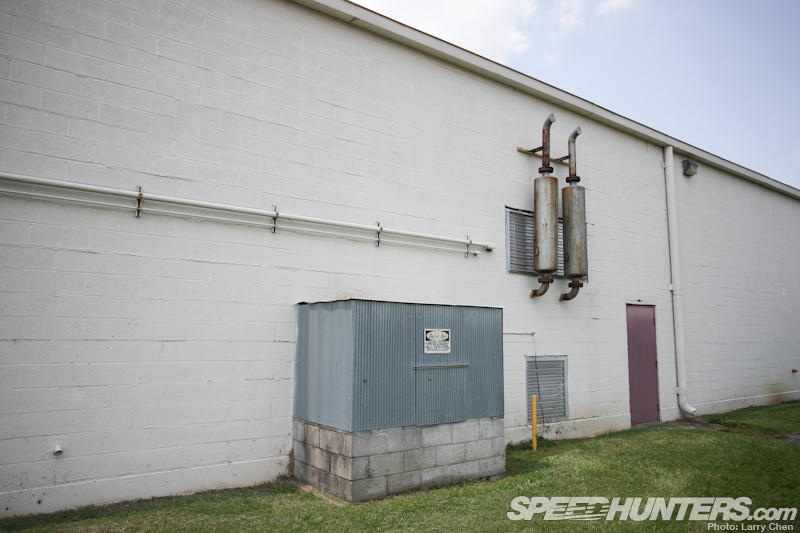 On the outside of the building it looked pretty normal. That exhaust was probably for powering a massive air compressor that supplied the whole building.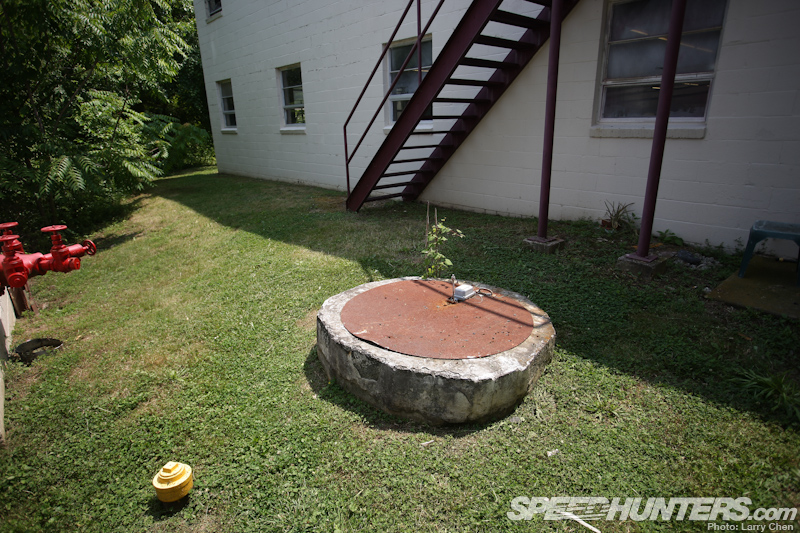 Around the back were more interesting features. This looked like a sewer hatch of some sort. But it was part of a crazy network of plumbing.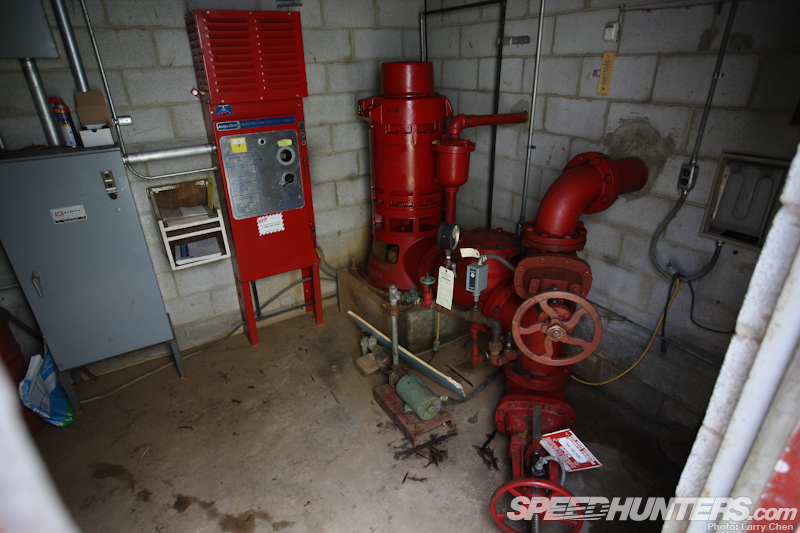 Next to that was a small building that housed the fire suppression system. The building burned to the ground in 1917, so when they rebuilt it they wanted to make sure it would not happen again.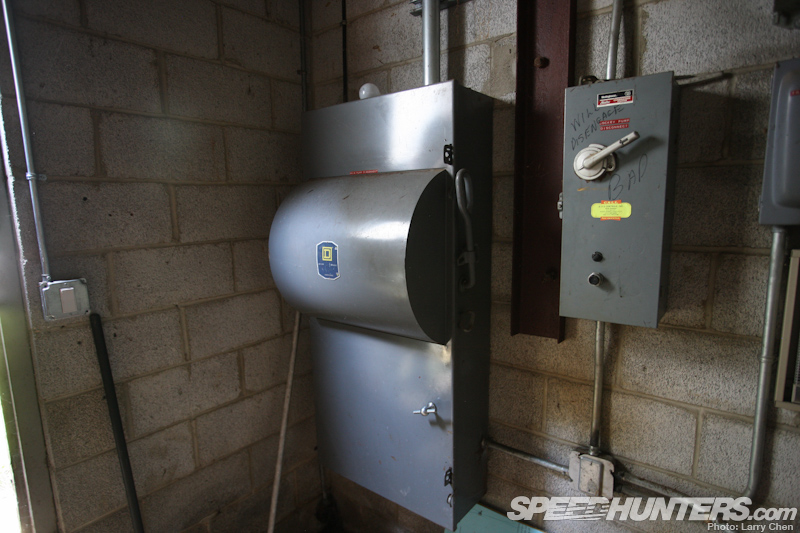 In the same room was a huge power switch with very clear instructions.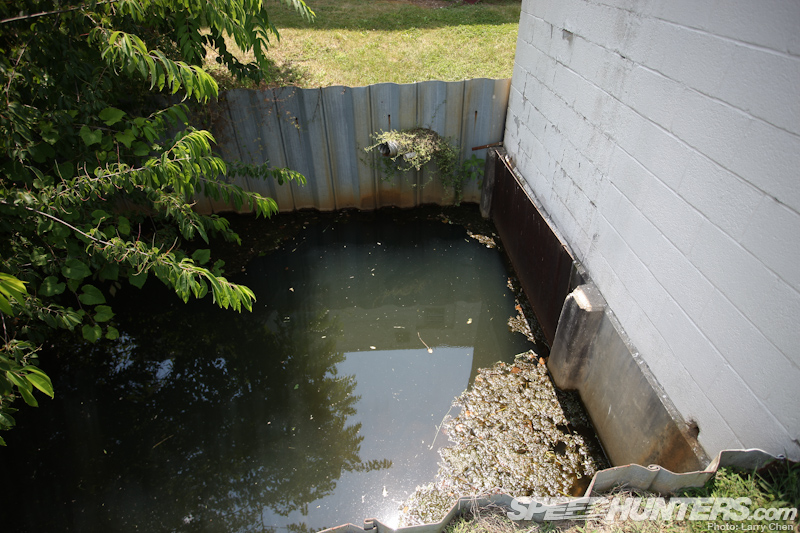 Under that building was an opening to this huge pond.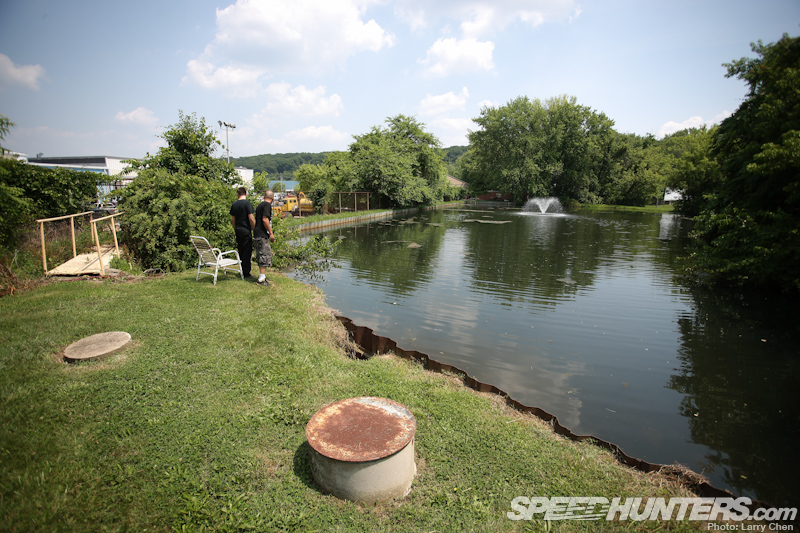 This is where all the water is stored in case there is a fire. The system just pulls water from this pond and sprays it all over the building.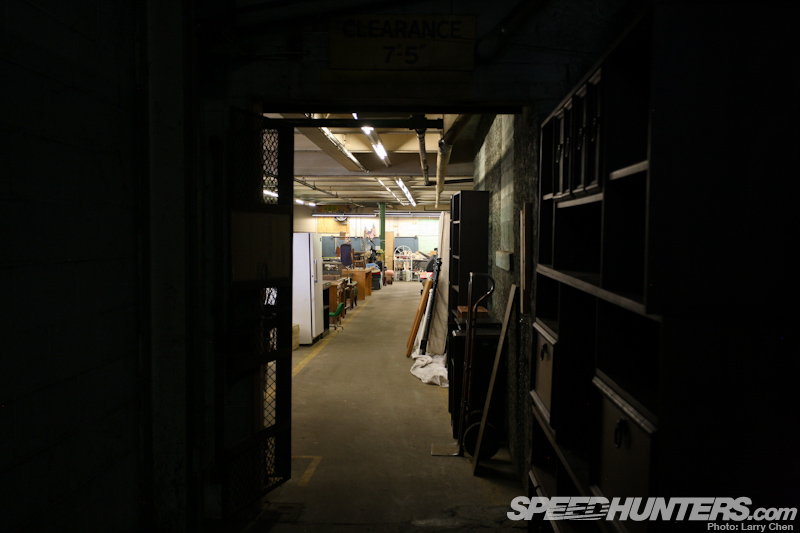 Back inside the guys showed me this spot where people hold auctions for old furniture.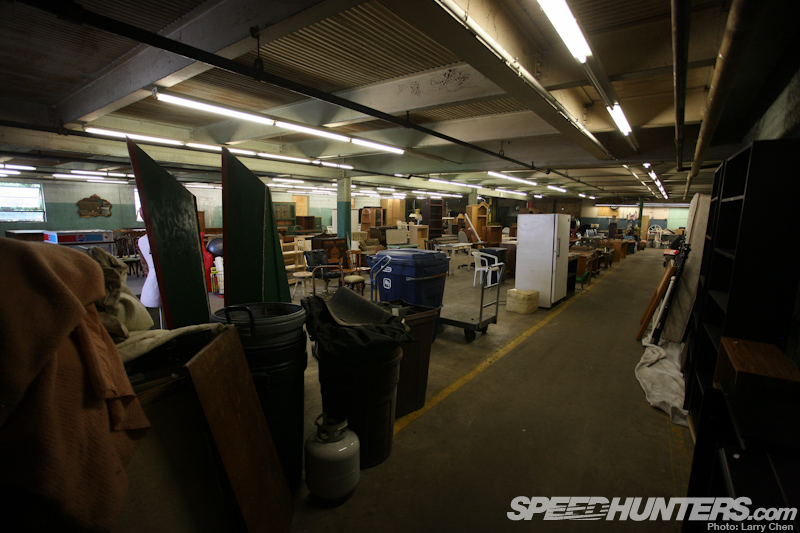 They often come here to purchase whatever they need for their shop.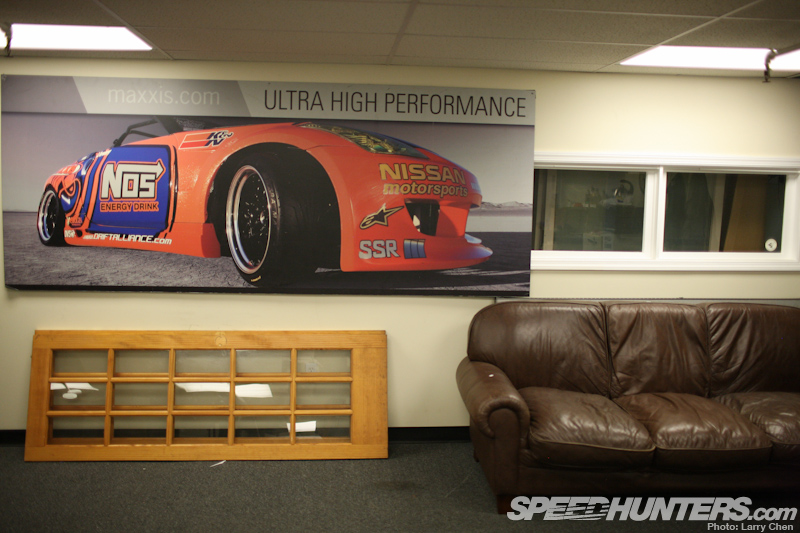 …including this couch that was in their waiting room.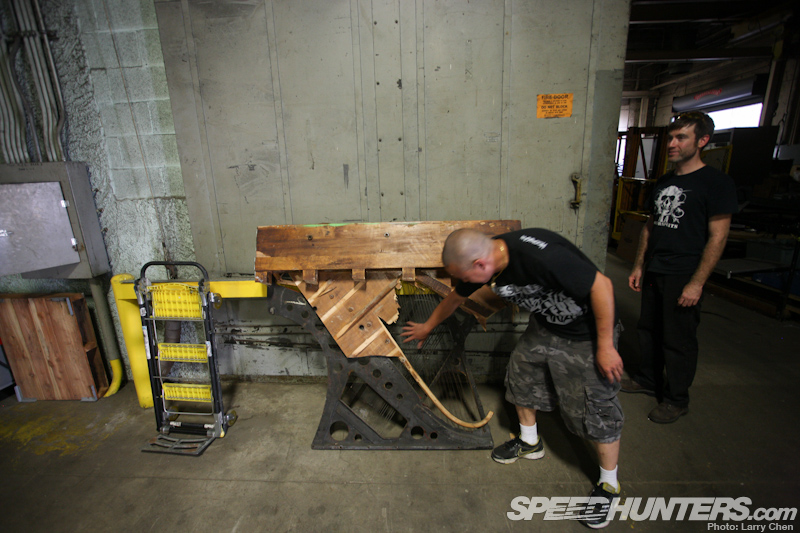 This piano probably fell and broke apart and did not make the auction. It still made some cool sounds though.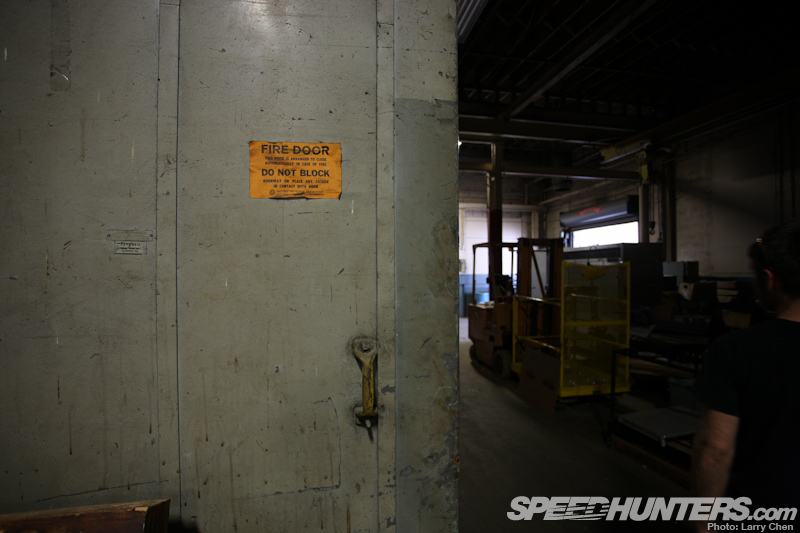 This was a part of the network of fire doors that were supposed to prevent another fire like the one in 1917.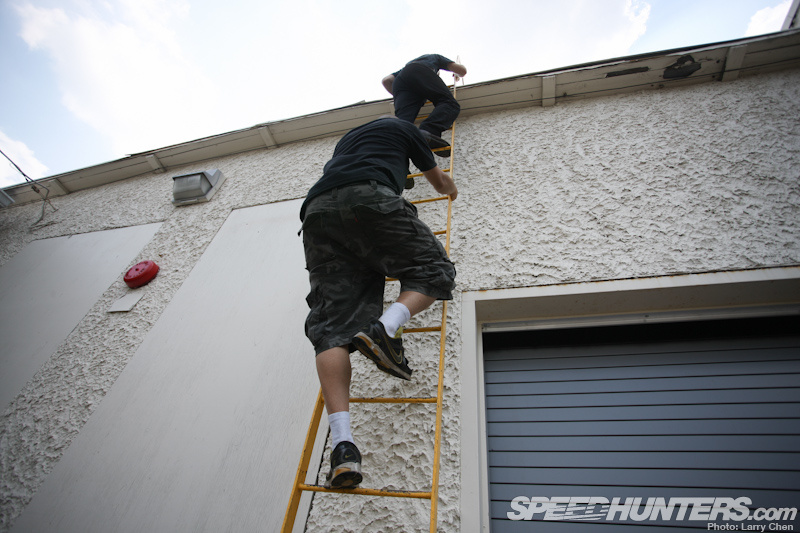 And onto the roof we went!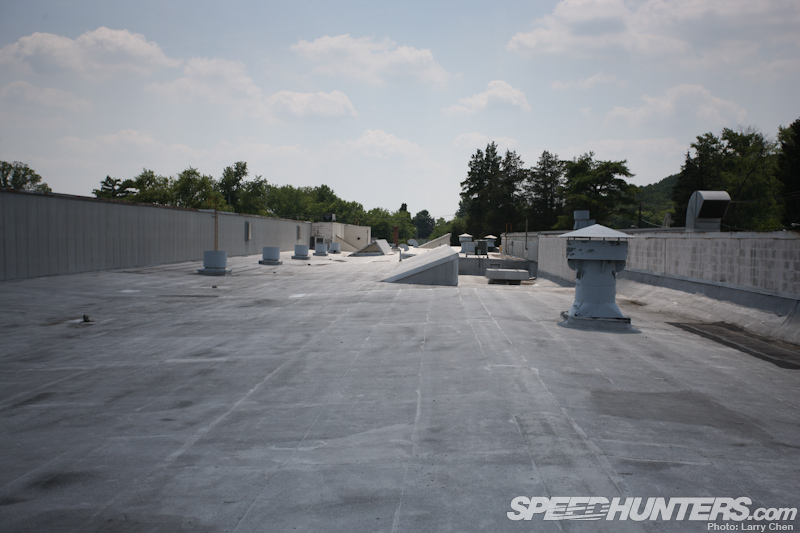 The roof looked like a skate park. It was massive.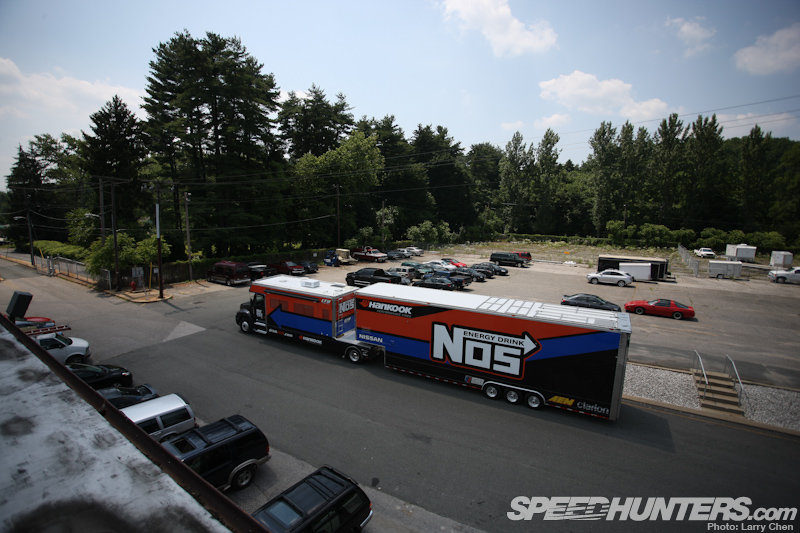 From the top we could see Chris' trailer.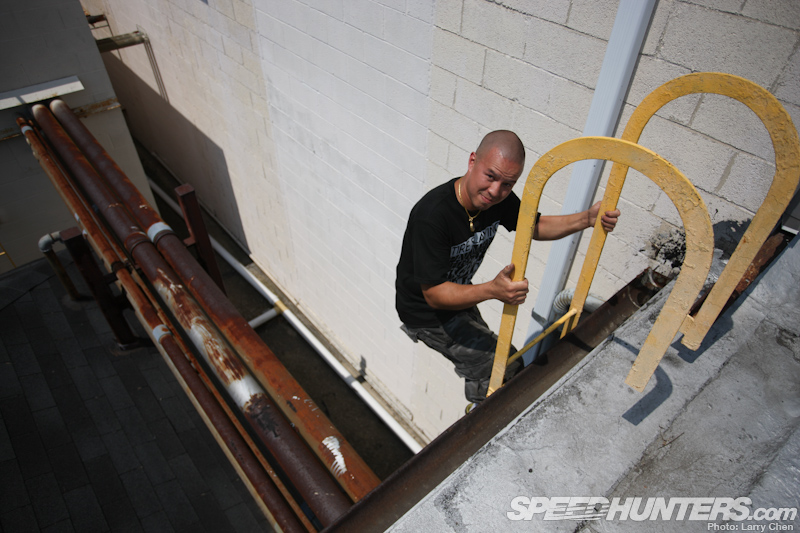 And down we went for some more urban exploring.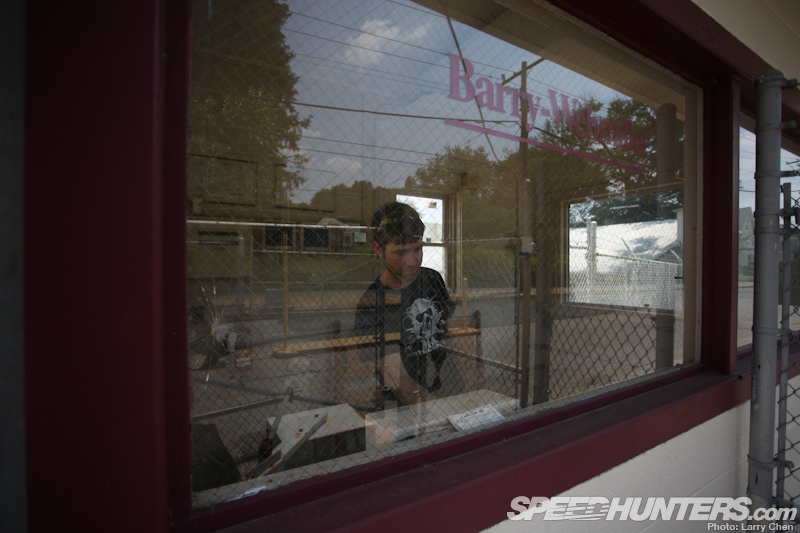 In the front of the building was a guard shack. From inside you can open and close the main gate.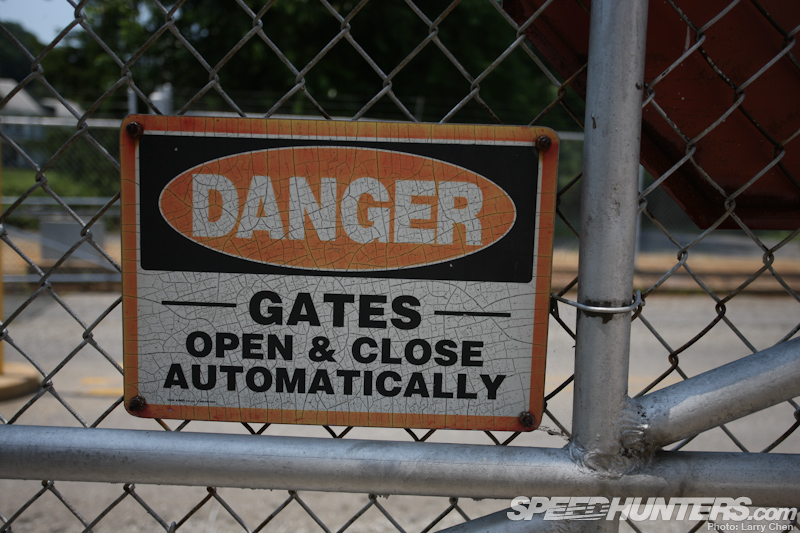 This gate automatically shuts for the night around 8pm.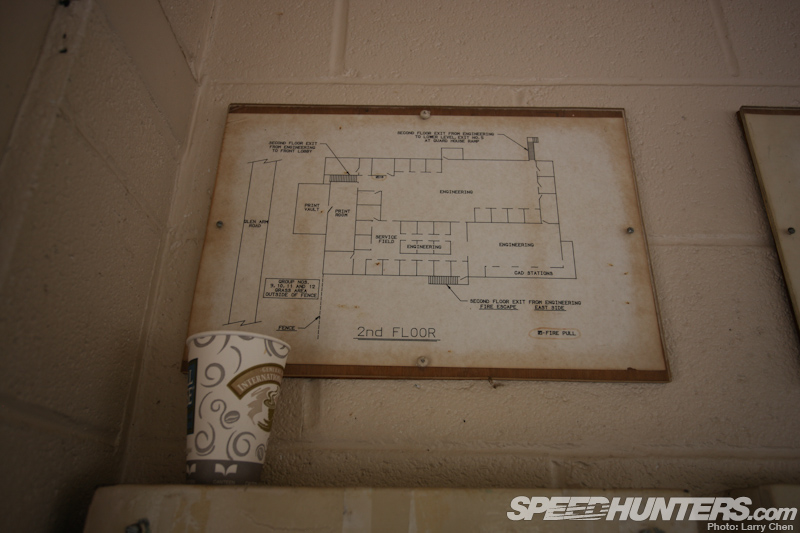 Inside the shack were some cool floor plans probably from when they rebuilt the place.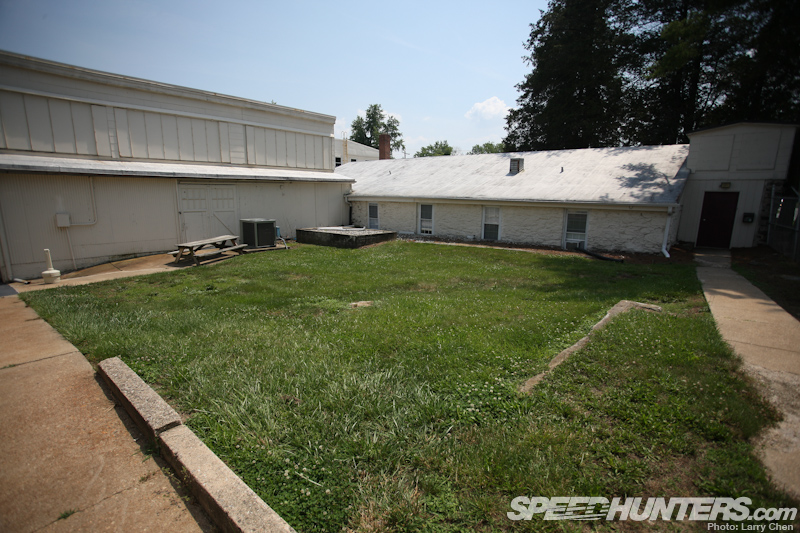 We were done with our outside exploration so decided to head inside to see what else we could find.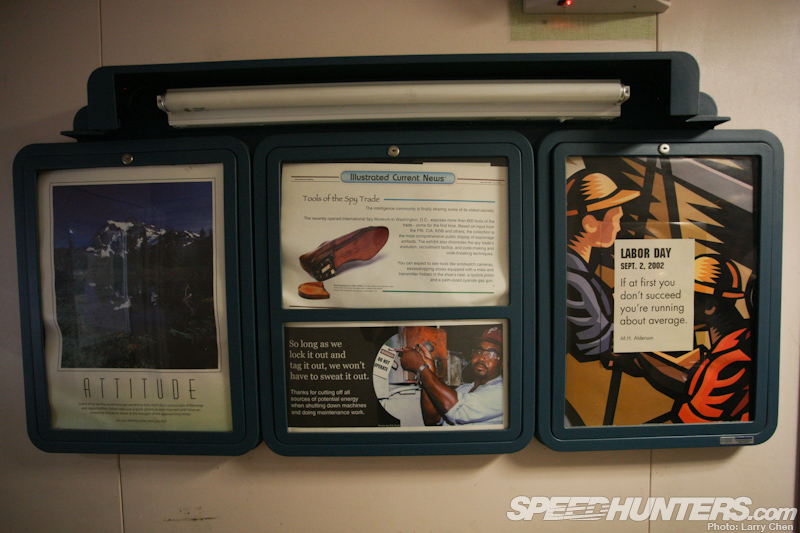 These have not been updated for over 10 years. What were you doing on 2nd September 2002?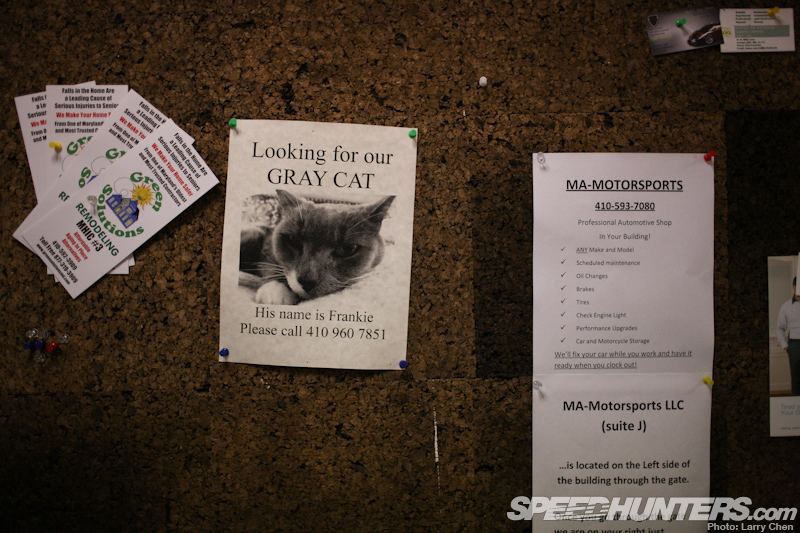 Brian and Ray took advantage of this community bulletin board and posted up a little ad.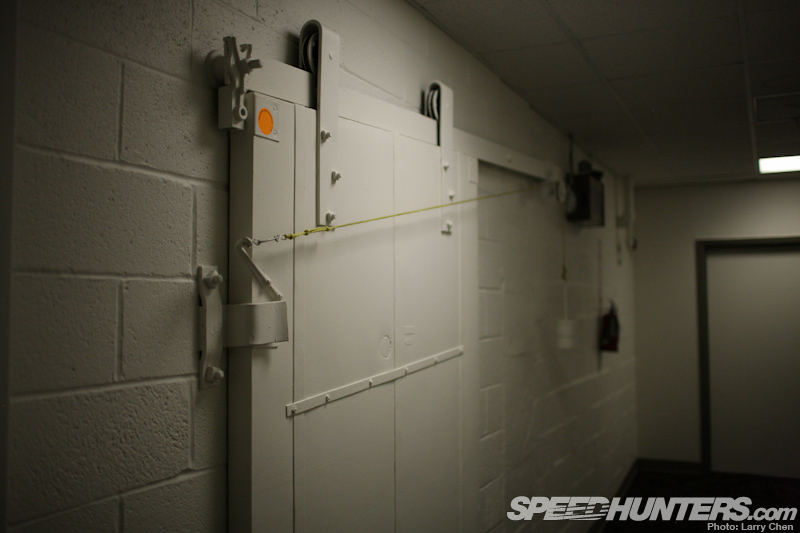 Even inside the smaller rooms there were many fire doors with counter-weights so they could be opened with ease.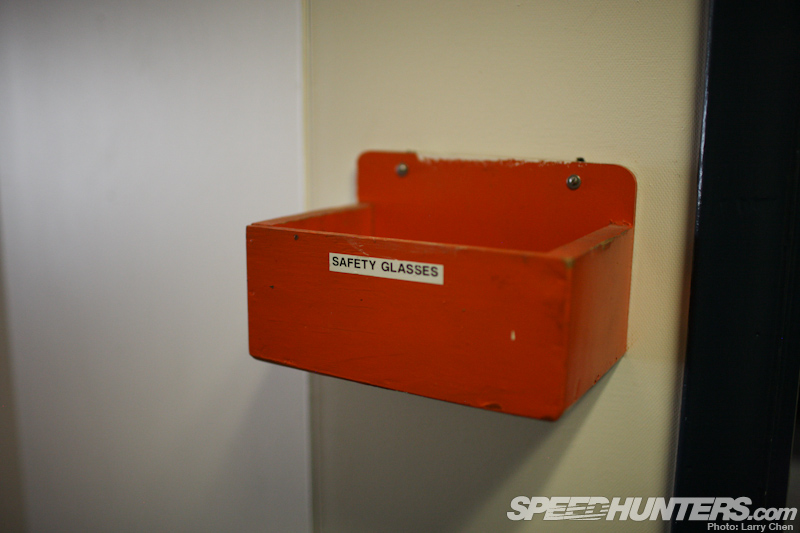 I decided to head back to the shop and check out what was going on.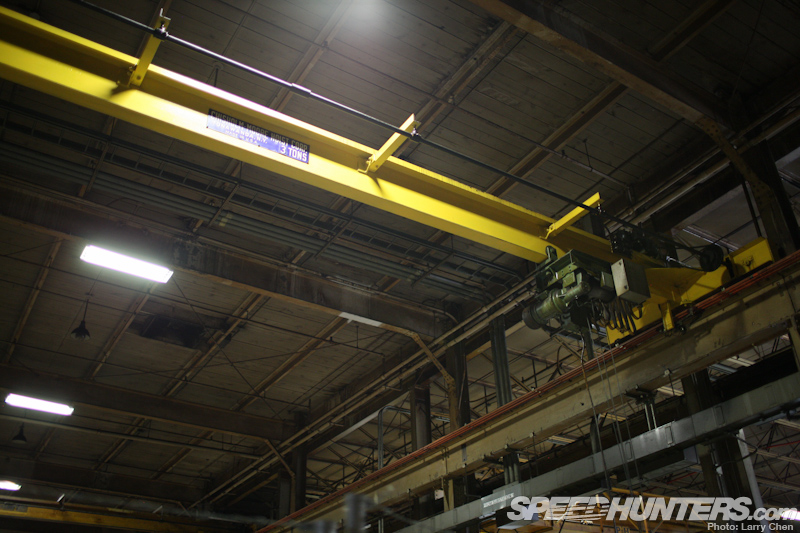 The cranes were amazing. When the guys first moved into this place they didn't think they would find a use for all these cranes.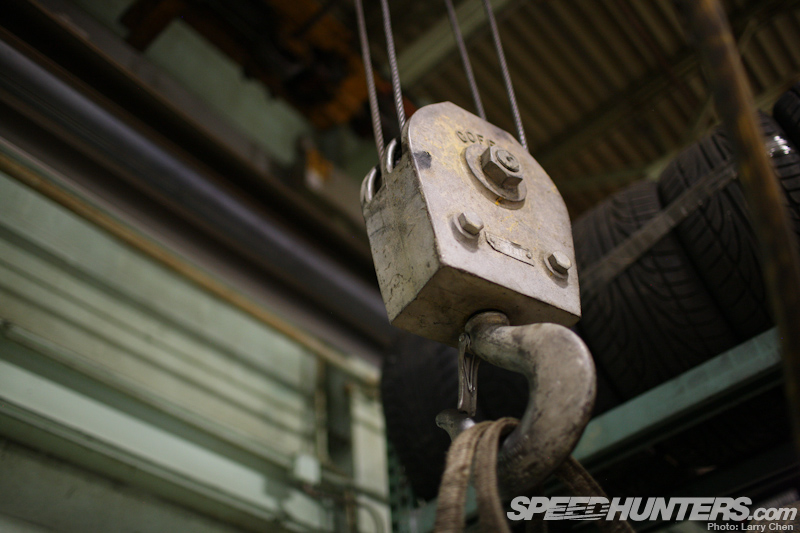 Now they use them all the time to move heavy machinery as well as engines and transmissions.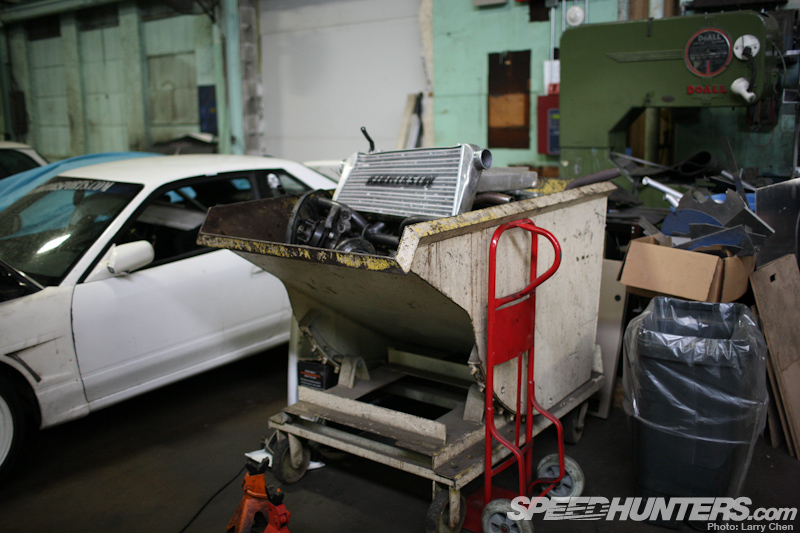 They even found this thing laying around. What a handy thing to have for all your scrap parts.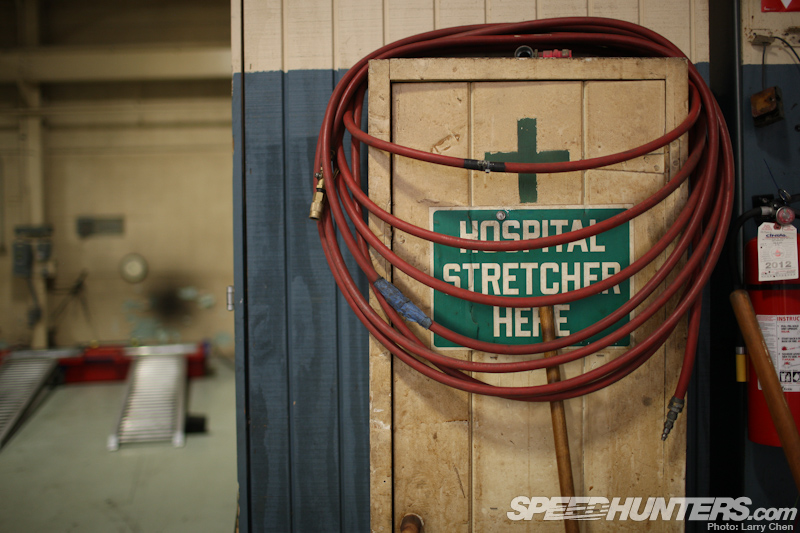 I swear I've only seen stuff like this in the cartoons.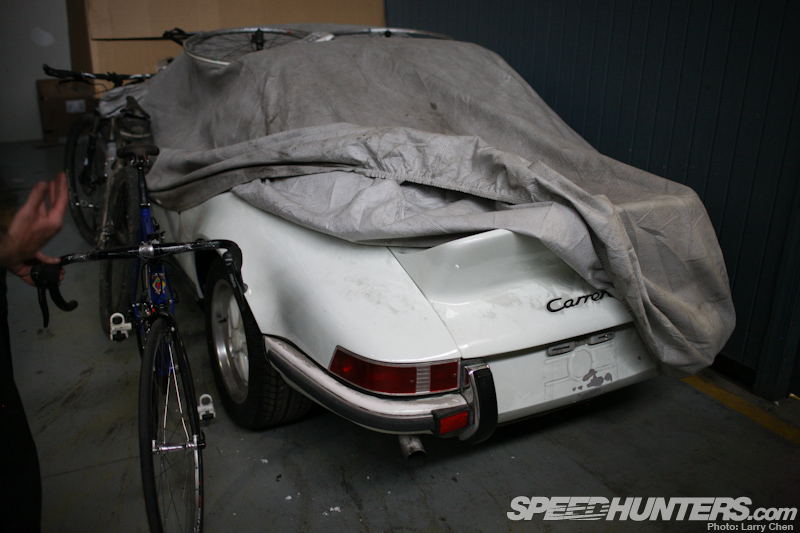 In the back of the shop was an old Porsche Carrera bike rack. It belongs to his dad and he plans on restoring it soon.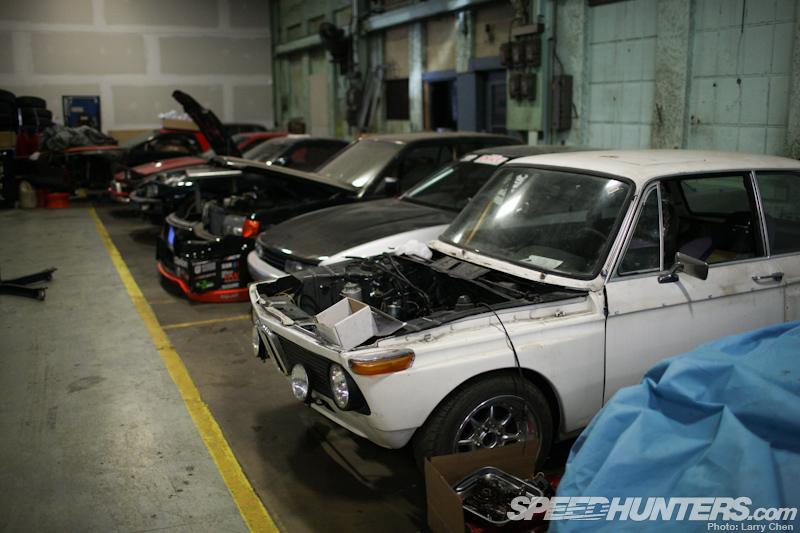 That was the BMW I mentioned earlier.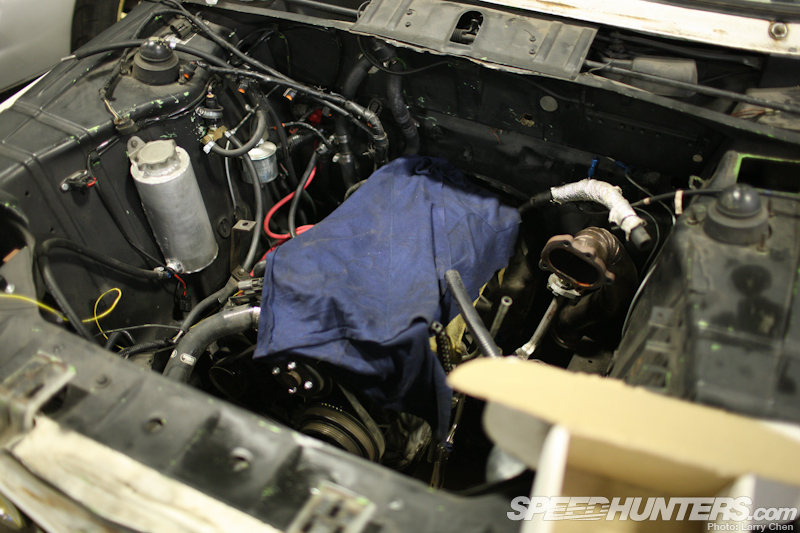 It was powered by an SR20DET, but currently it was going for an overhaul.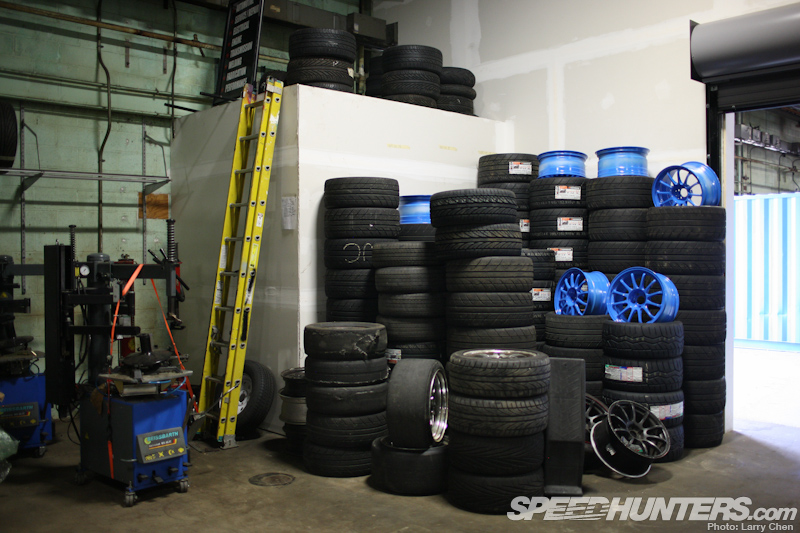 No drift shop is complete without a bunch of used tires and wheels. They have their own mount and balance machine too.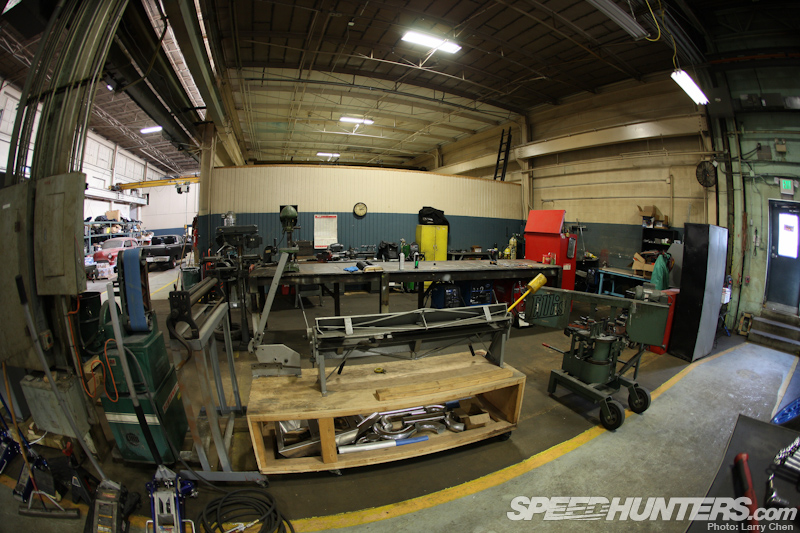 This is where all the magic happens.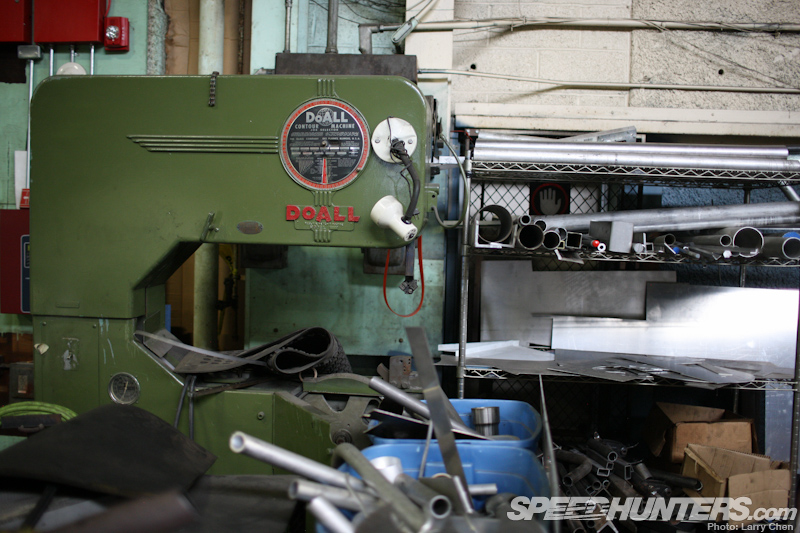 They do as much fabrication as they can in-house.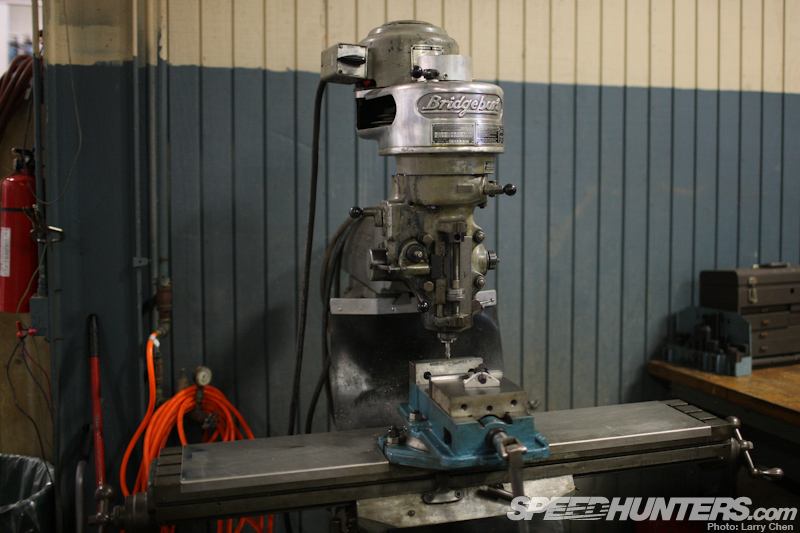 This was when the cranes came in handy. Whenever they needed to move one of these machines they just used a three-ton crane.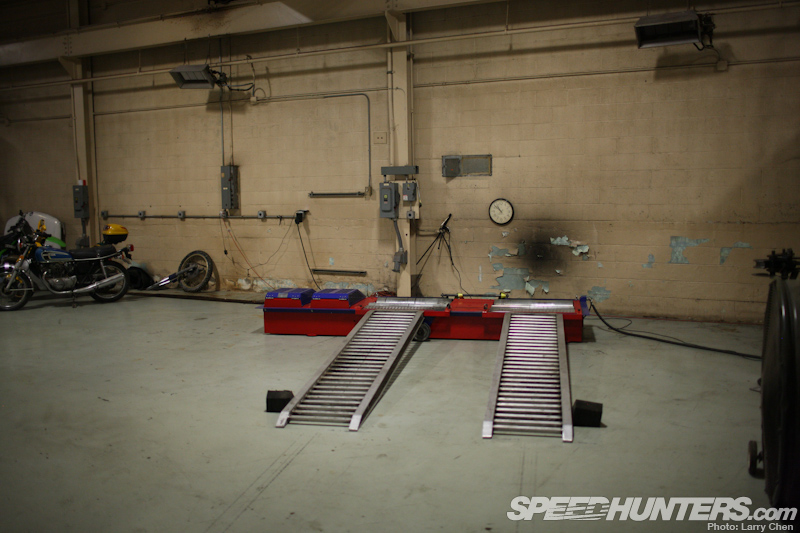 In the back was their dyno area. I am sure their neighbors love it when they do test and tune days.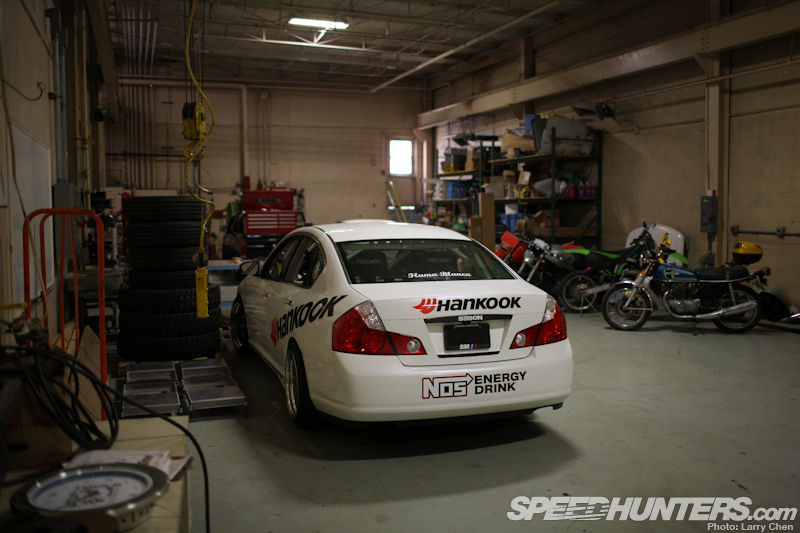 Also in the same room was Chris' M56 drift car.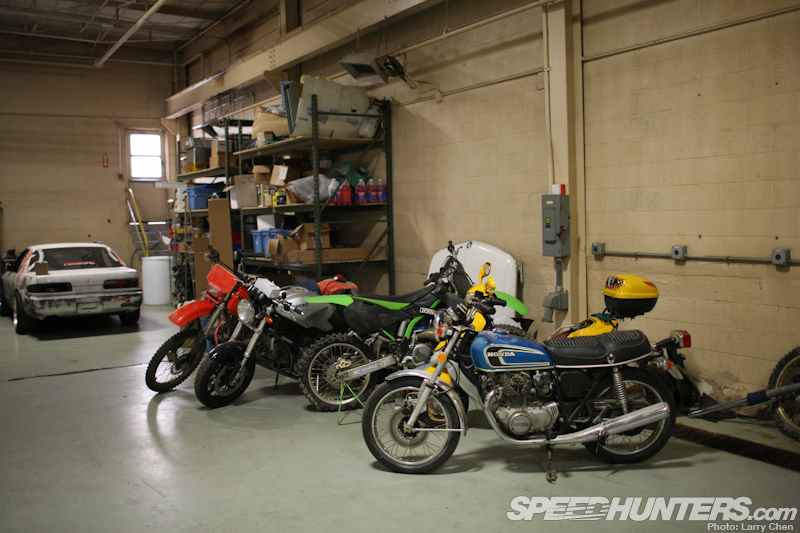 As well as an assortment of toys for when they have time to spare.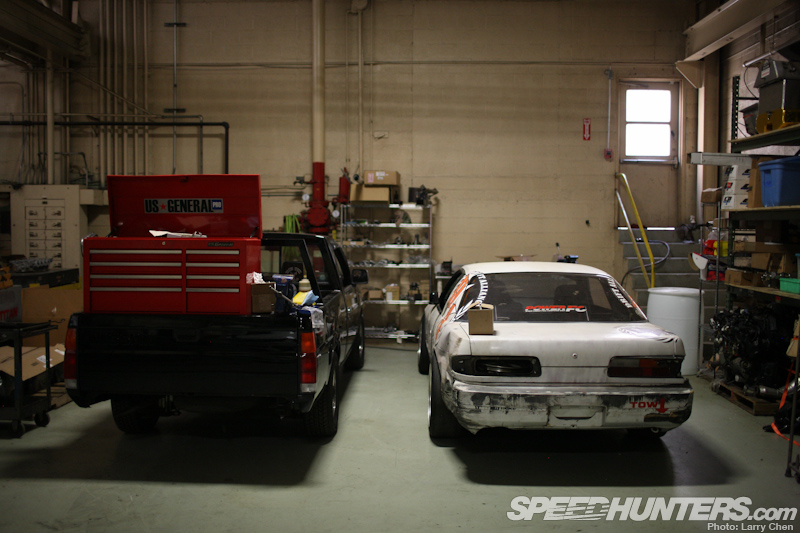 In the very back was their Nissan pickup pit vehicle and Chris' missile car that started the whole missile car fad in North America.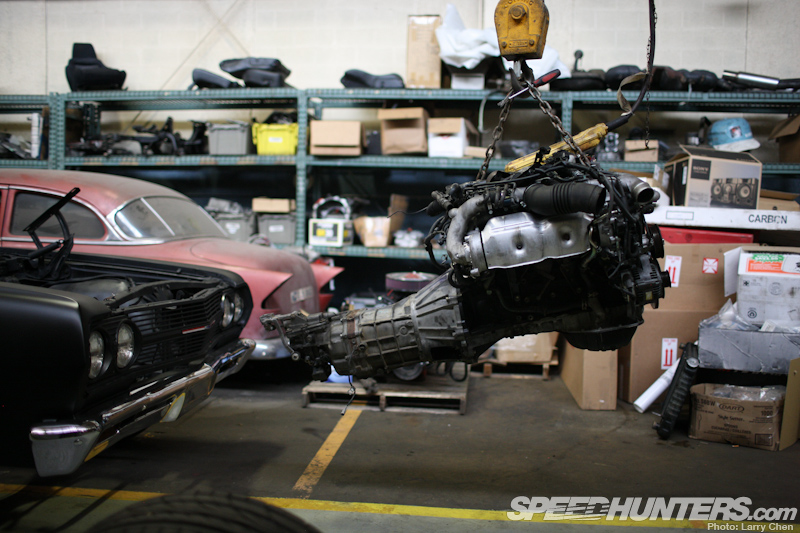 Remember what I was saying about the cranes? You can see they are putting them to good use every day.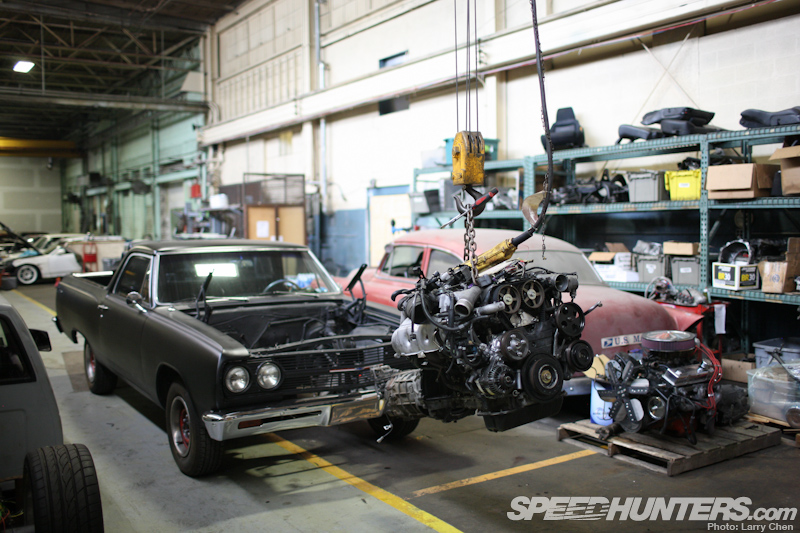 They are planning on dropping this 2JZ into the El Camino.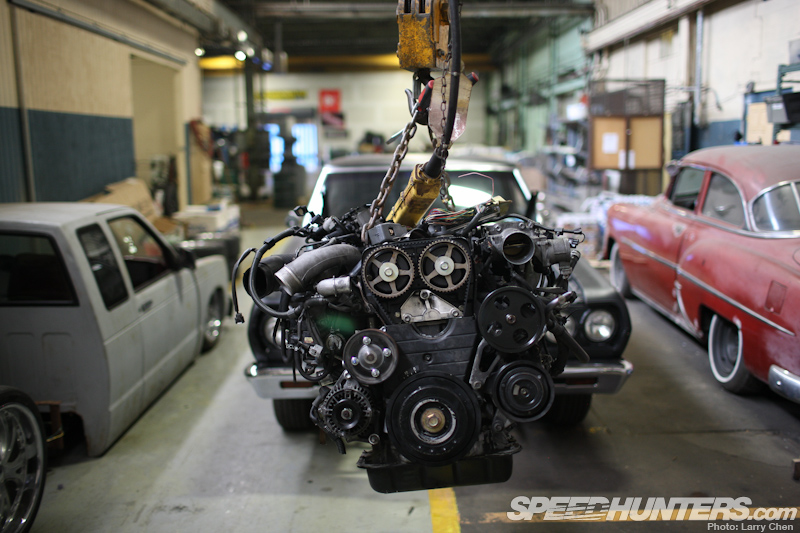 It seems like it is the motor of choice for dropping a Japanese heart into an American body.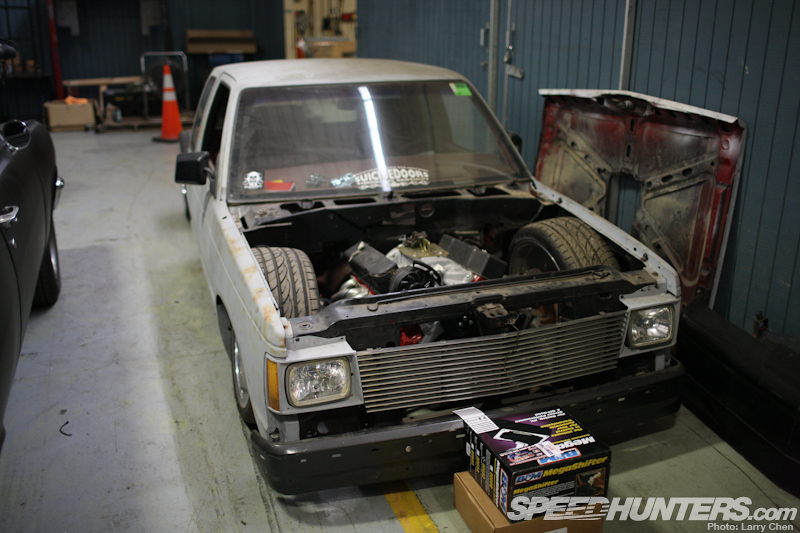 This lowrider truck belongs to their friend Colt, who also manages the day-to-day operations when things get super busy.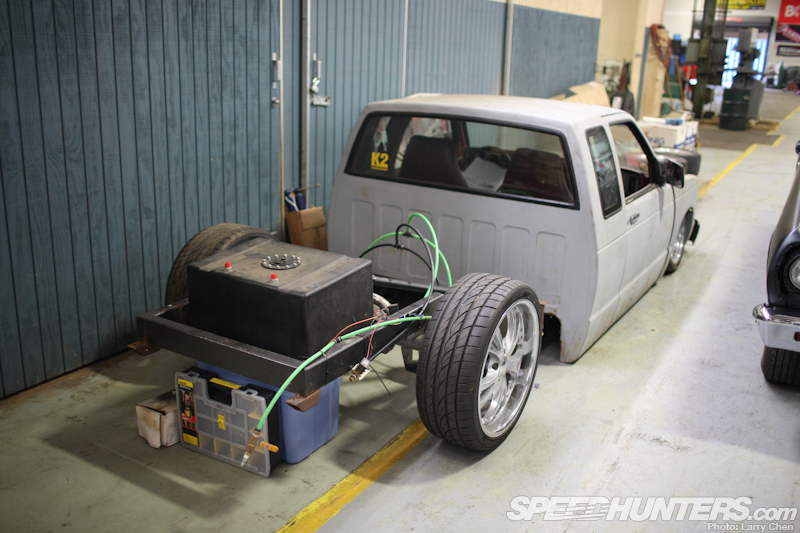 He loves metal fabrication and when he has time he works on his personal projects, like this truck.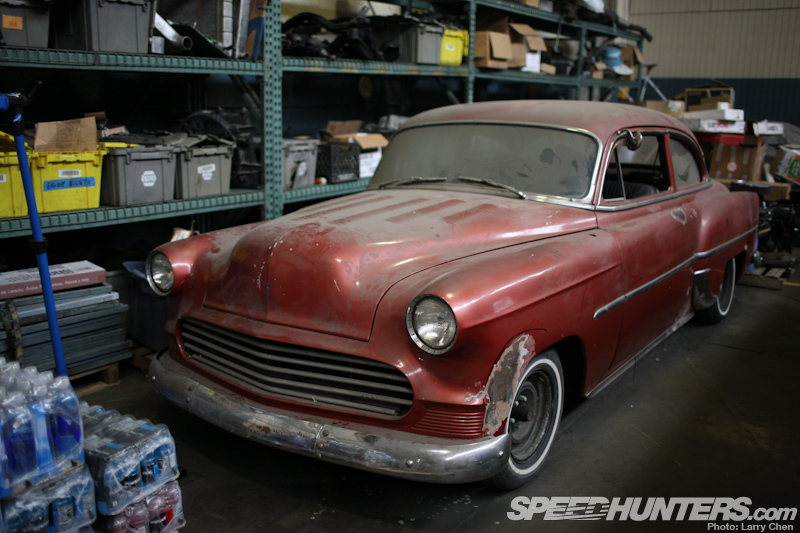 This '53 Chevy belongs to Ray. He has had it since he was in high school. He plans on restoring it to its former glory one day.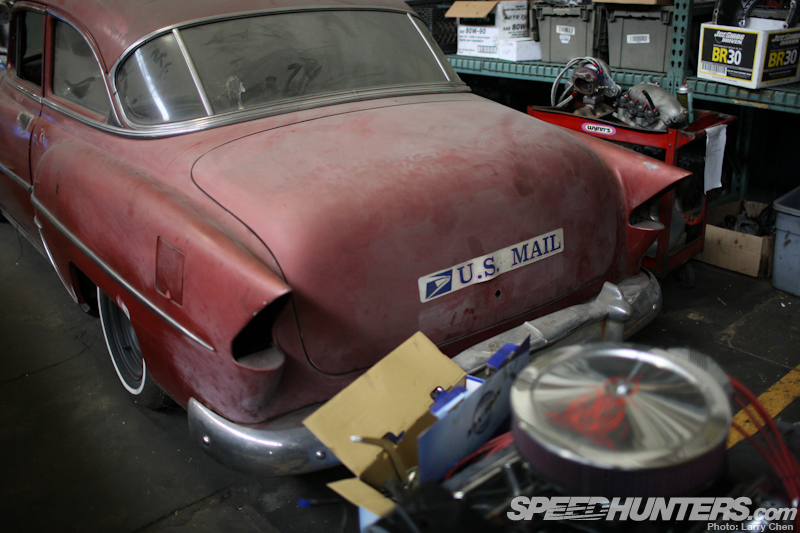 I am guessing he will drop a 2JZ in it.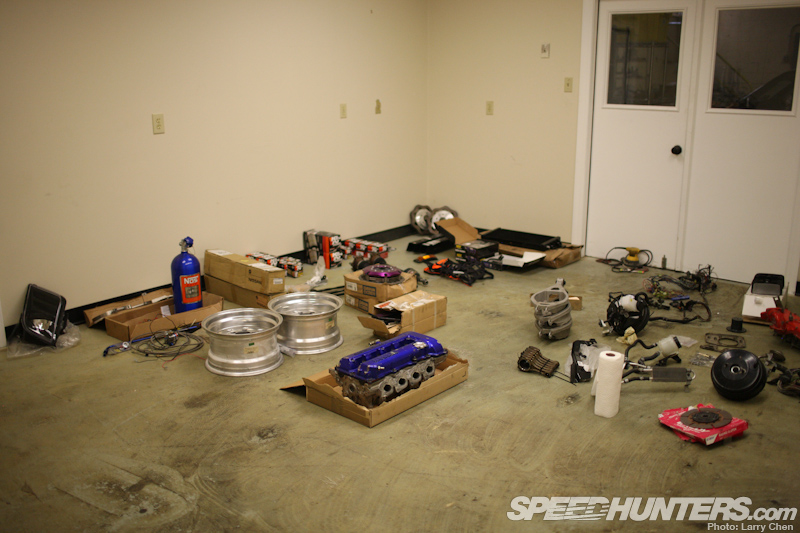 The guys have quite a few spare rooms. This one was the eBay room, but they are planning on turning it into a clean room where they can build engines.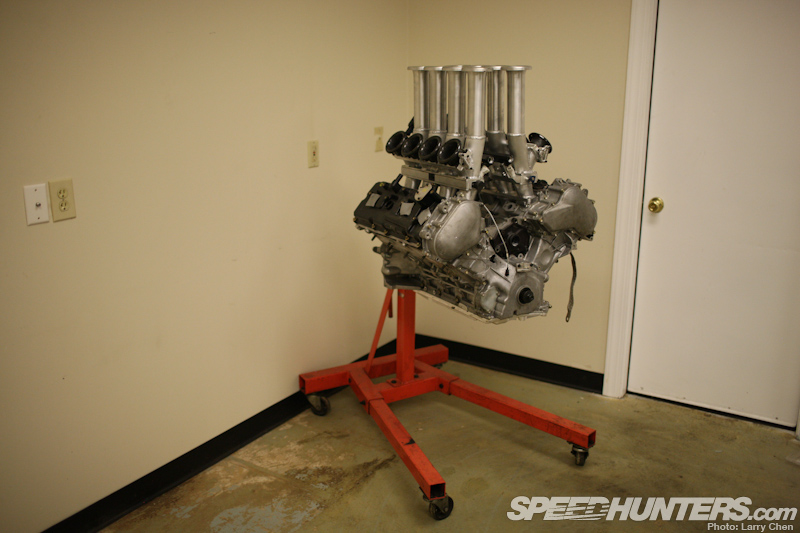 Also inside was their latest project.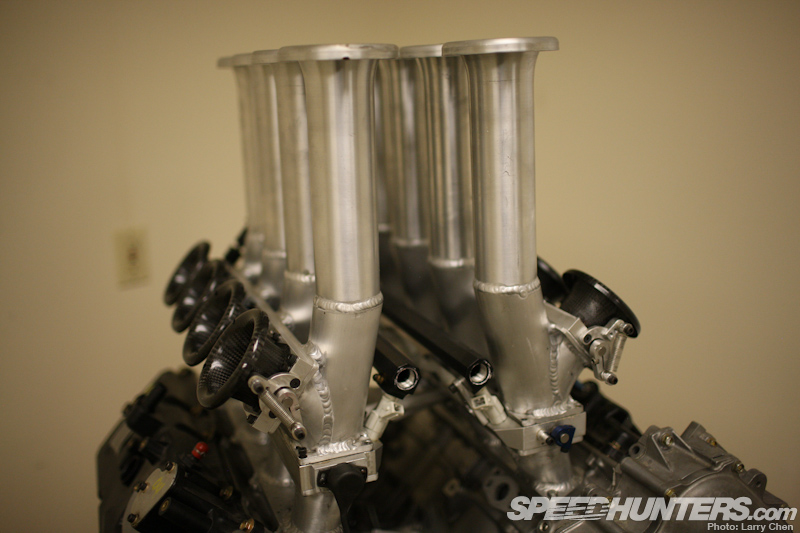 This was actually developed for off-road racing by Nissan Motorsports. However, this kind of setup is illegal in the off-road racing series they were planning on using it for, so they just gave it to Chris to use for his drift program.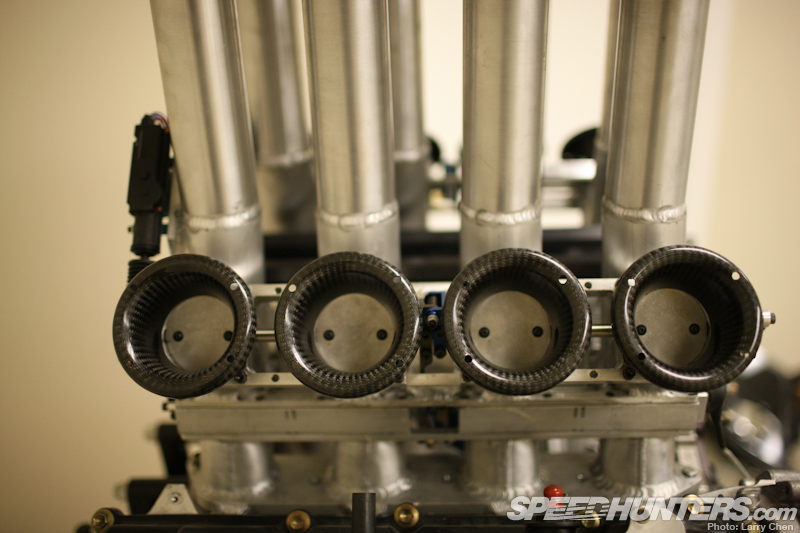 It is pretty neat considering there are two throttle bodies for each runner, one for low-end and once the motor reaches higher RPMs it switches over to the other throttle bodies.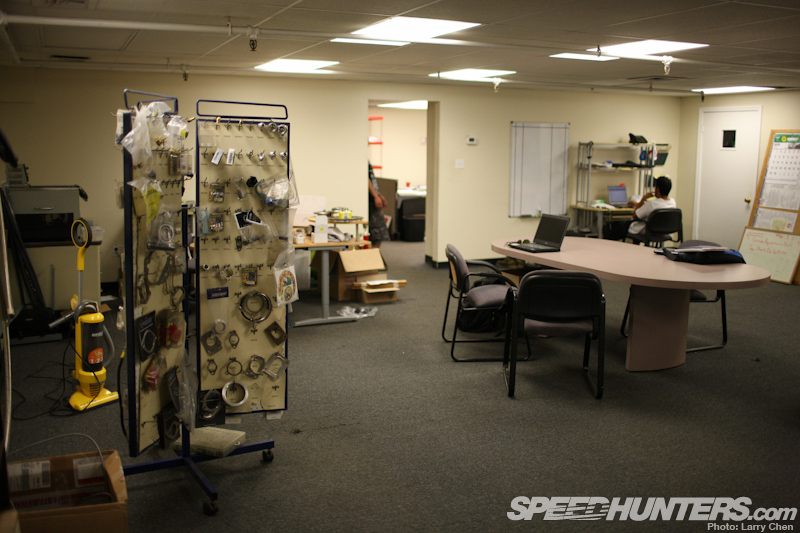 They also have a full-size office to play around with.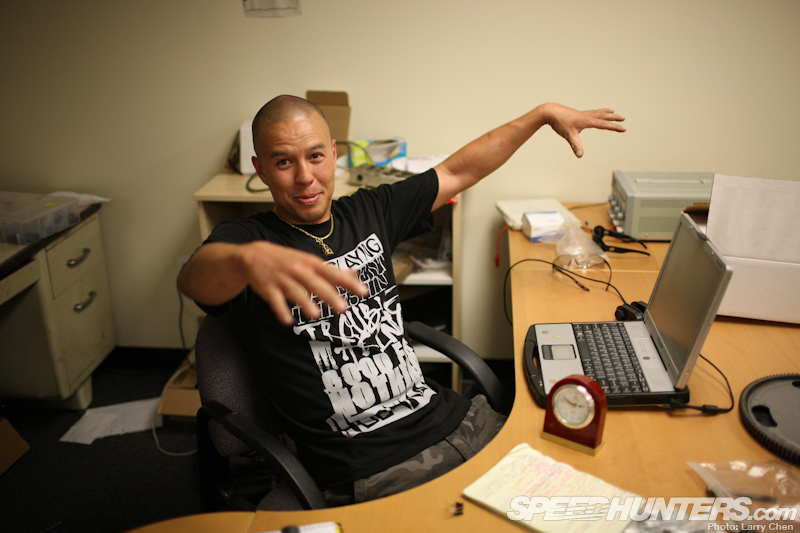 Ray was showing me his desk as well as his favorite clock.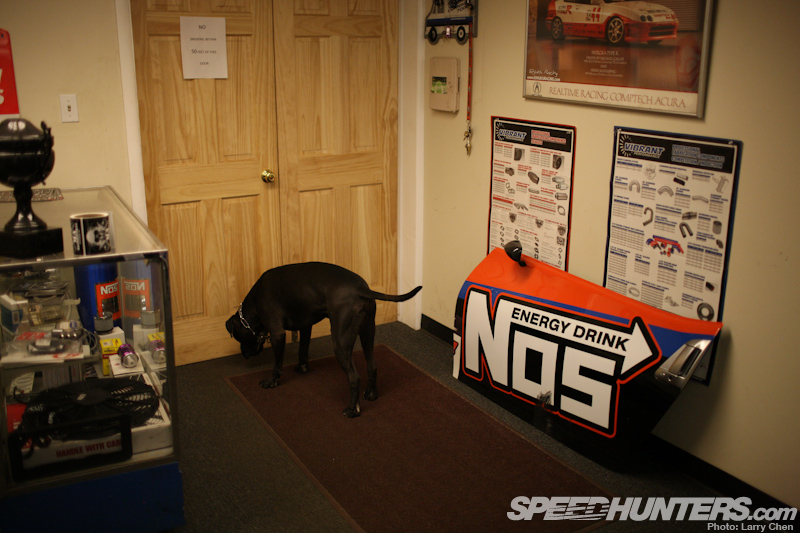 Scattered around the place were mementos from over the years.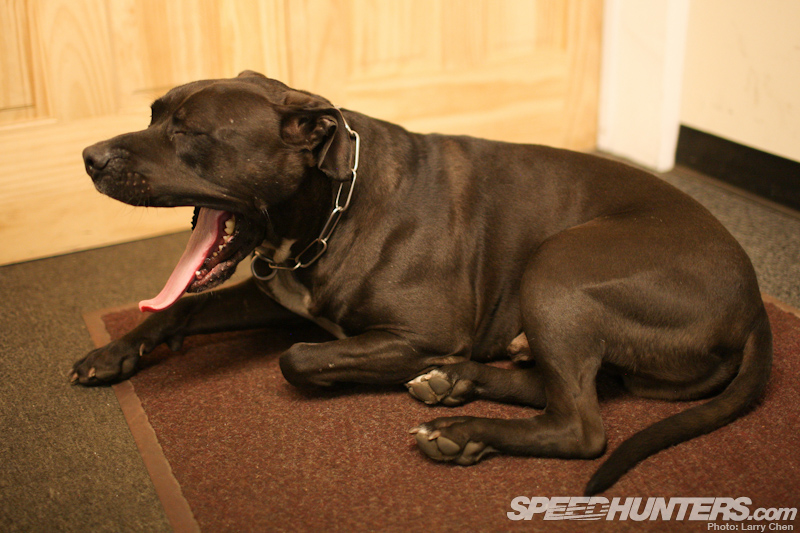 No shop is compete without a friendly pitbull to keep everyone company.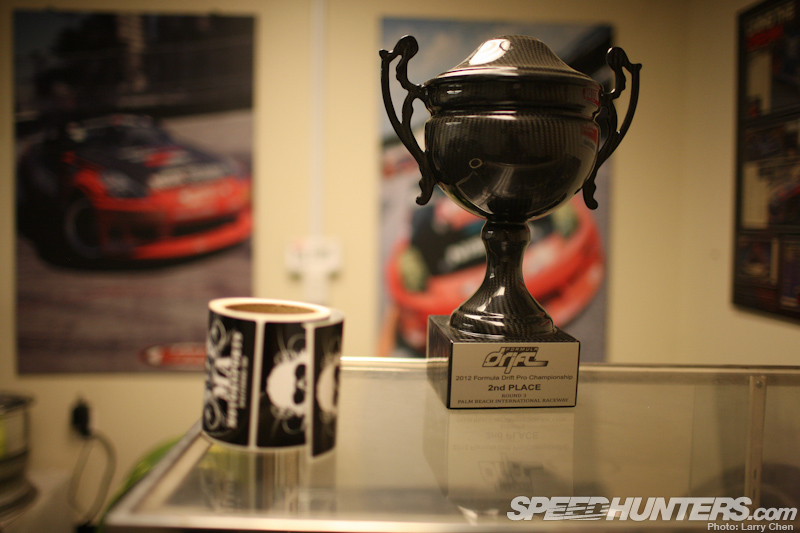 When I shot this they had only snagged one trophy, but later that week they earned their second trophy.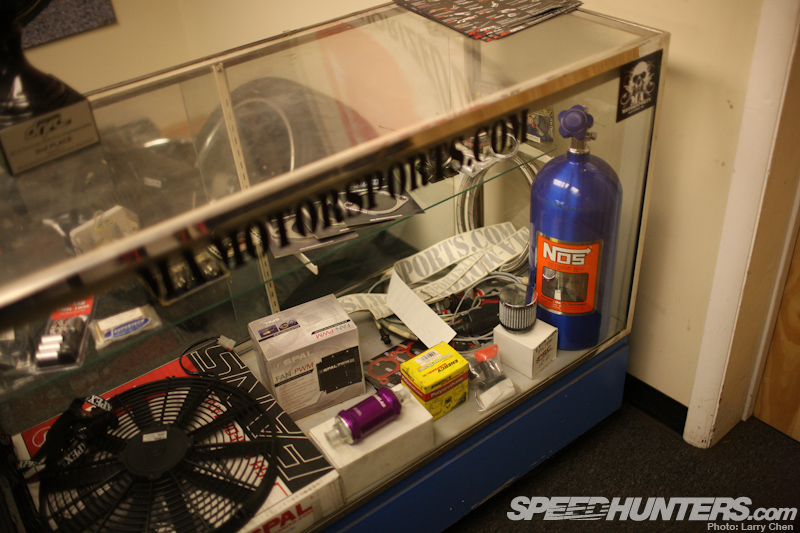 They did used to sell Honda parts in the '90s, remember?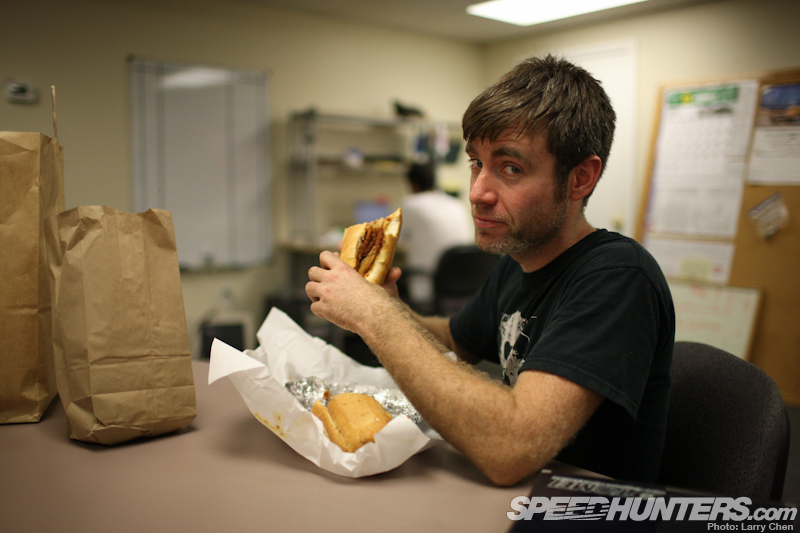 The boys were about to eat lunch and I had to leave for New York in Vaughn's Mustang RTR, so I decided to leave the guys alone.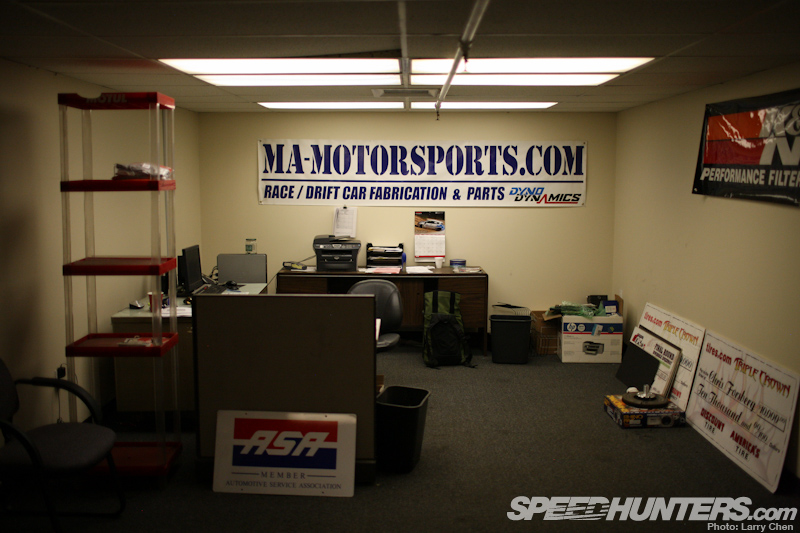 This was unlike any other shop I've visited. I just love the history of the building and they had some interesting things going on as well. Hopefully I will get to come back as more of their 2JZ projects get finished.
Larry Chen
Larry@Speedhunters.com
More stories from Larry Chen on Speedhunters