Although the Speedhunters Gatebil 2012 drift and media team have now scattered to the corners of the globe, we are all still basking in the afterglow of the experience of a lifetime. The event was simply that great. And while we'd all love to hold on to the immediacy of these memories, it's soon going to be time to move on to our next projects. But before this happens, I thought to round up Darren, MadMike and Fredric for one last look at their own Gatebil stories.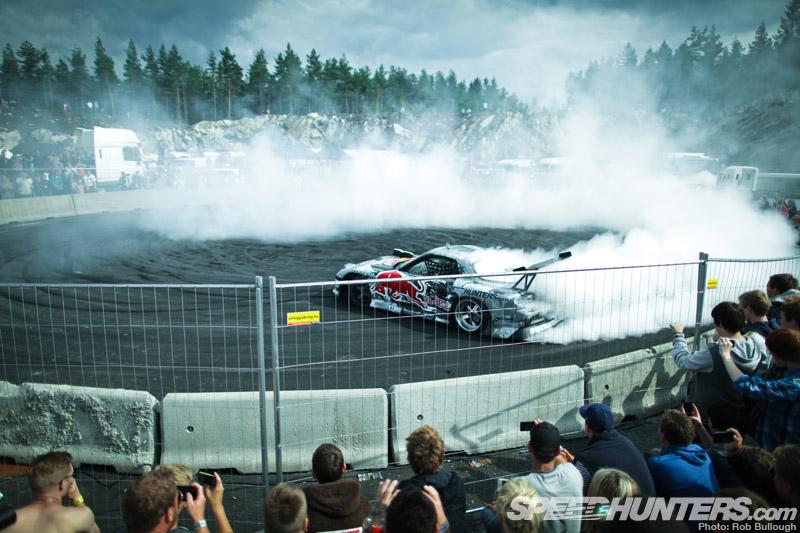 Rod: Well that was rather intense! How are you feeling after the mayhem of Gatebil 2012? Was the journey worth it?
MadMike: Ha, yep! That sure was one hell of a weekend, right from the get-go. The sleepless nights before leaving New Zealand with trying to get the BADBUL RX8 completed as that also needed to be loaded into a container while I was away. Then after a 30-hour journey to Oslo and jumping straight into the mix right away to help Freddy complete the 86-X.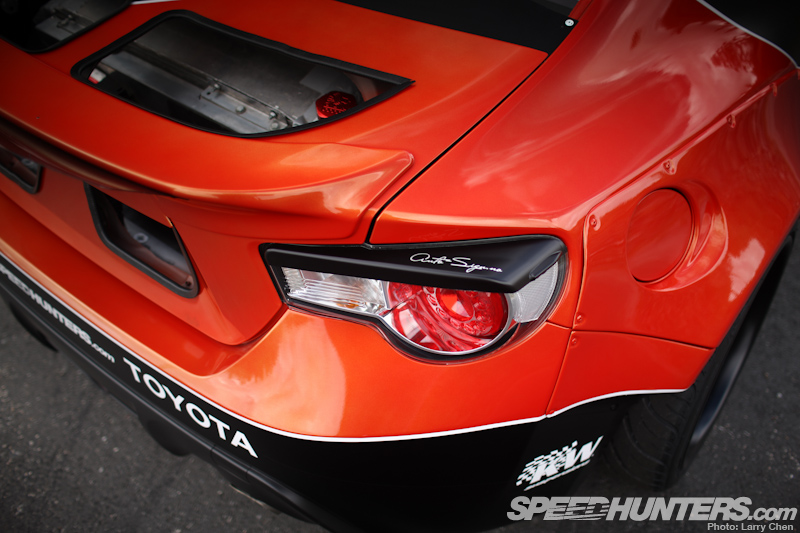 MadMike: I was fortunate enough while at Auto Signs to assist with applying graphics to the 86-X and now, sitting at the Oslo airport about to embark my flight as I type this, I'm still in total hype after what I would say is by far the craziest and most fun event I have been too!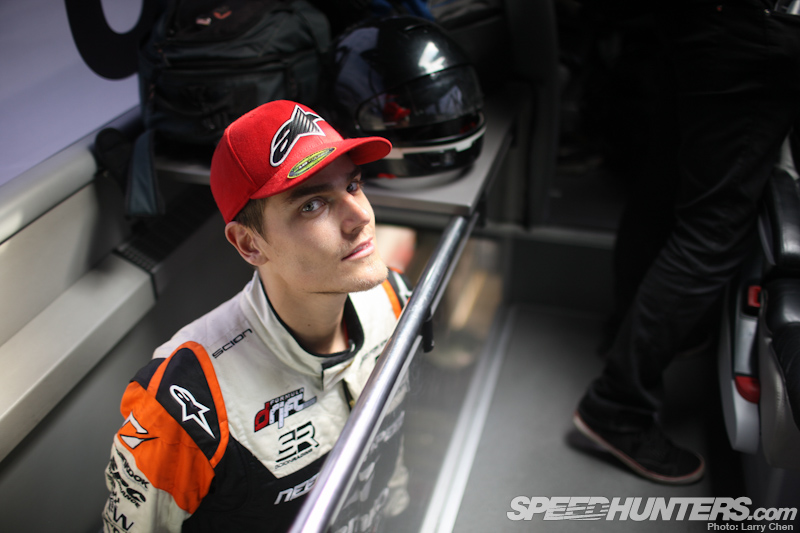 Fredric: The journey for this year's Gatebil July might have stolen a couple of years from my total life expectancy, but seeing this circus come together was an experience of a lifetime. This was one for the books!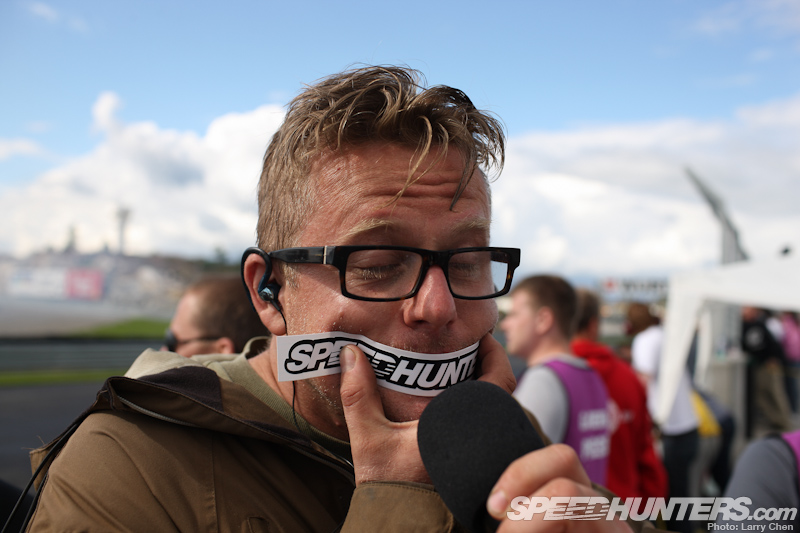 Darren: Intense is right! It was so much fun I cant wait to go back. I miss it already! It's a pretty epic journey with a van and trailer but it's definitely something everyone should do. The people are so nice and everyone is just there to enjoy the cars and have a good time. When can we go back, Rod?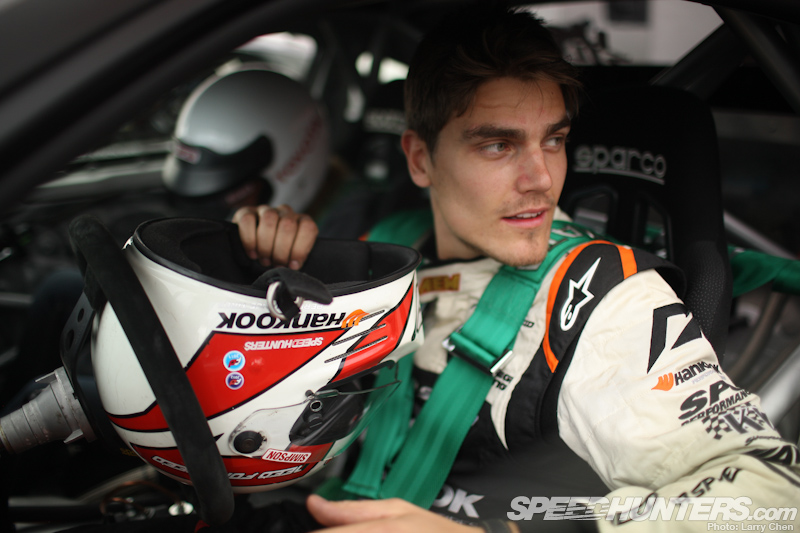 Rod: Most people who come to Gatebil are there to party and have a great time, but it seems like each of you had your fair share of adversity to deal with. Can you talk us through these challenges?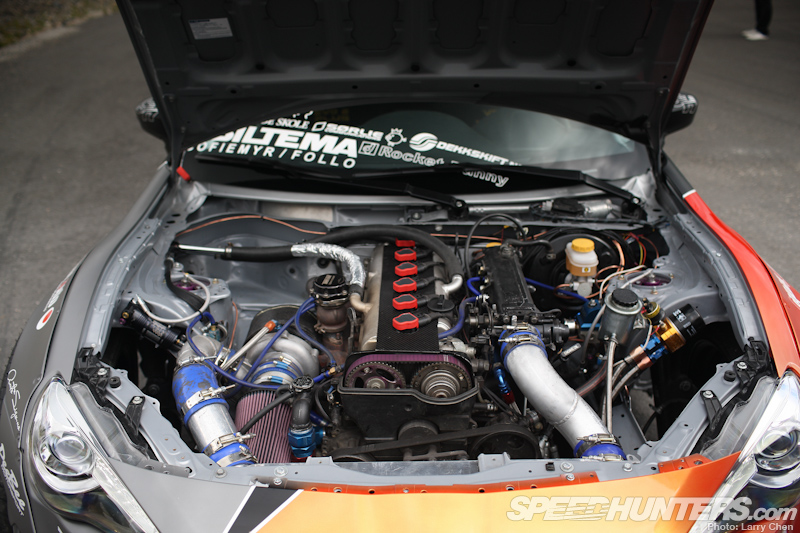 Fredric: Mike and Darren had their share of issues getting their cars to comply with the noise regulations. We, however, are running 'diesel cams' in comparison, so zero problems there. Instead, we were wrenching on the car all weekend, ironing out minor and major issues that are inevitable when you bring a new build to the track for the first time.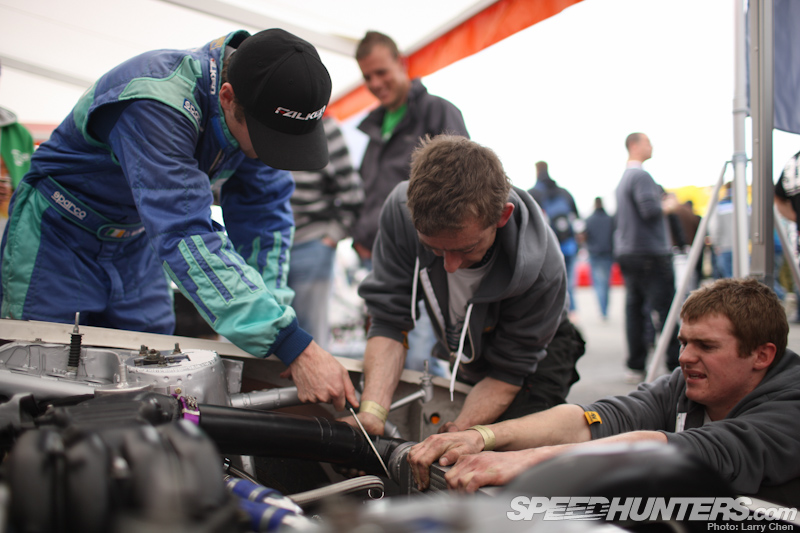 Darren: Yeah, we took the decision to rebuild and upgrade the car and we knew it was going to be tight but we made it. We loaded the car on the trailer with no brakes and a misfire so we had some work to do once we arrived. Our misfire would baffle us for the weekend and make things pretty stressful for a crew lacking sleep.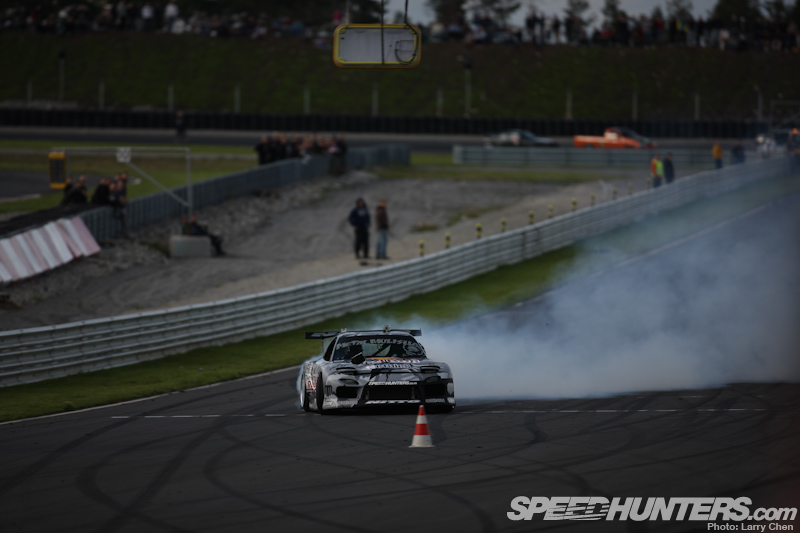 MadMike: Well, the first priority over the partying was to have my car on track. I wanted to be fresh and ready to attack so I could put on the most explosive show possible with my fellow Speedhunters team-mates Freddy and D-Mac. We all had issues that needed ironing out, so we were all up to the early hours of the mornings sorting the problems and helping each other out. The atmosphere in the SH booth made the event, seeing that we all have as much passion building our crazy contraptions just as much as beating them on track.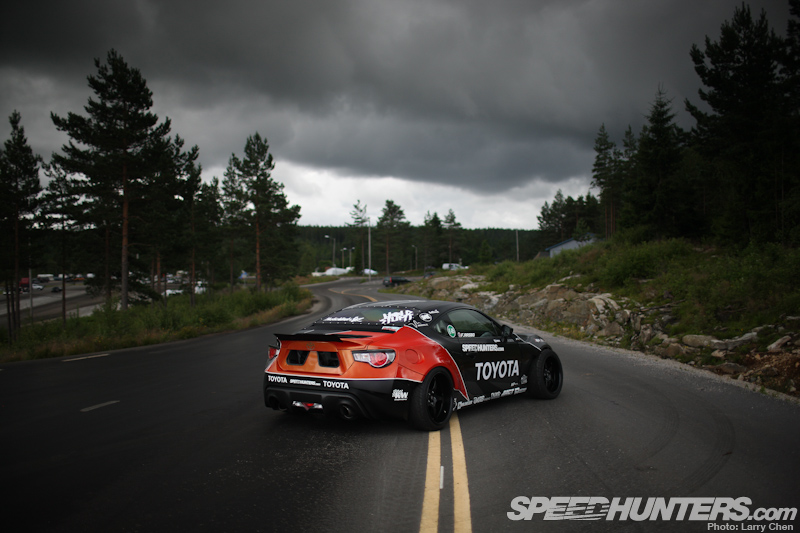 Rod: Were you feeling stressed out, or did the amazing Gatebil atmosphere keep you inspired and upbeat throughout?
Fredric:  This whole project of building the 86-X in 37 days has been extremely tight time-wise, and as we arrived at the track for the event we just kept our steam up. It seemed like a lot of people were sincerely doubting we would even show up with the car at all, and with good reason, but when shit hits the fan it's my job to keep the project moving. I'm a true believer and the kind of guy that will go to the grave still thinking it will work out. I had – and still have – very strong faith in my people. They pulled through like champions and I am very proud of what our board of friends and sponsors put together in such short time.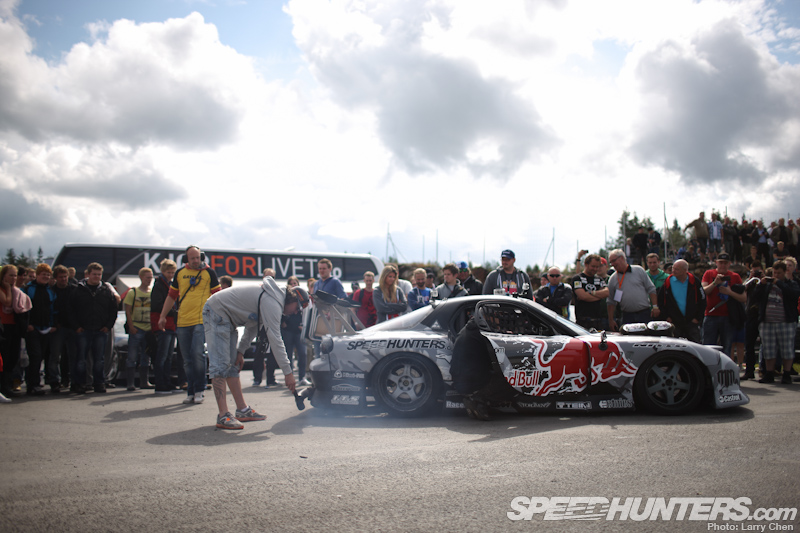 MadMike: I was truly inspired over the entire weekend. However I sure was stressing with the track officials hounding me with their decibel reader and being black-flagged a lot. I think one of my happiest moments over the entire weekend was on my final chance on the Saturday to test our noise level and to fly past the start straight with Marius from Metal Mulisha giving me a double thumbs-up. Huge respect to Marius, as he must have spent more time in meetings with track officials over the course of the weekend than socialising with friends!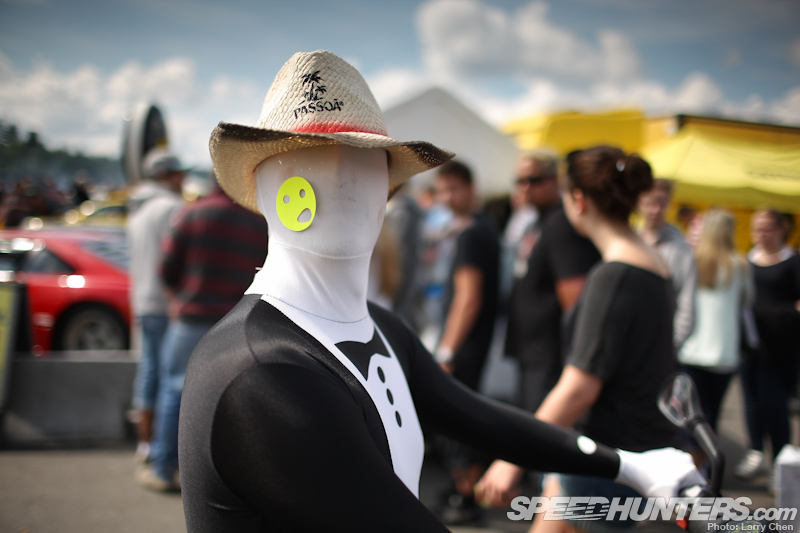 Fredric: The Gatebil atmosphere is always intense. The way I see it, the party scene is a celebration of all the hard work everyone has put in to get to the event. The best part about wrenching into the night (and morning) is all your buddies dropping by to help out as they're coming back from the party camp. It always turns into quite a bit of banter and some good laughs were had this weekend as we were wrapping up our work early in the morning!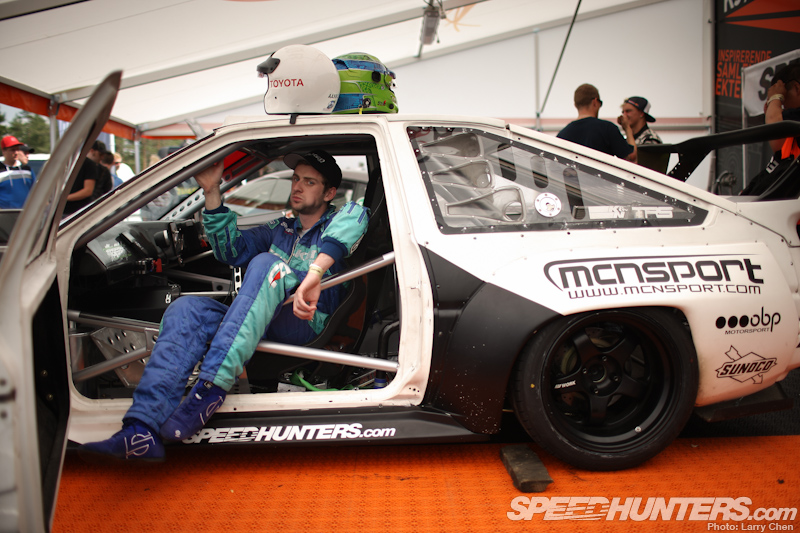 Darren: I got to a point where I was pretty stressed on the Saturday. After thinking we had the misfire sorted on our last run Friday evening it re-emerged on Saturday. So many people wanted a ride along and I really wanted to show them what the car could do. We couldn't drift properly with Mike And Freddy and with the rest of the Gatebil competitors, so I was getting frustrated – but new car means new car problems…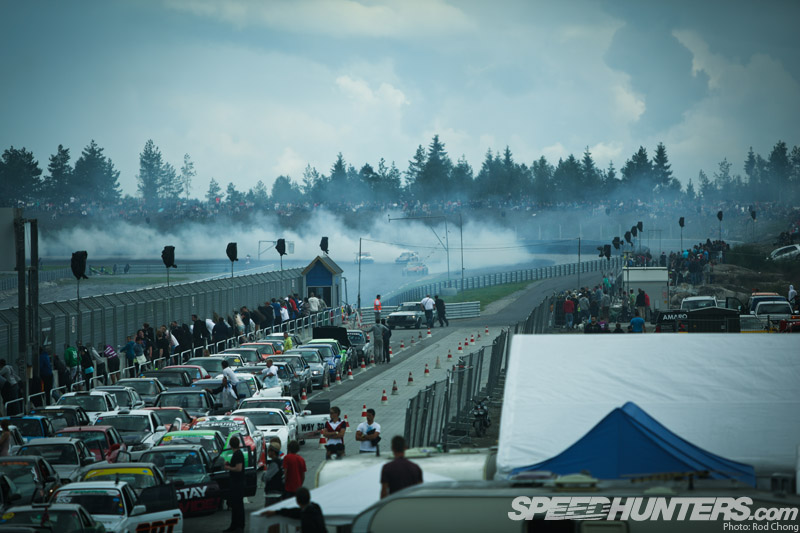 Rod: For Mike and Darren: What were your perceptions of Gatebil before you arrived? And Fredric, how were you feeling around having these two guys as your partners-in-crime at Rudskogen?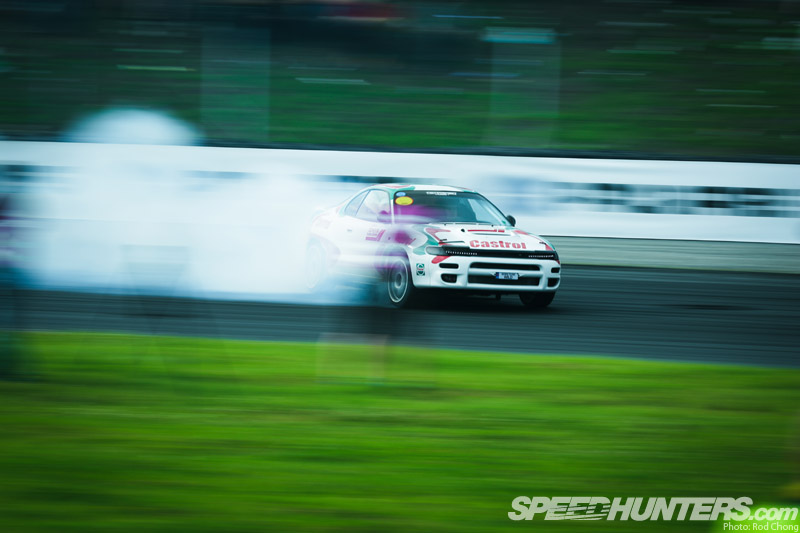 MadMike: Well my preconception of Gatebil was based on what I had seen on Speedhunters from the previous years, which would lead to watching endless hours on YouTube of the insane 4WD drifting, the epic car builds, the track itself and the crazy atmosphere. I was so pumped after the phone call from you saying you were going to bring me to Gatebil 2012!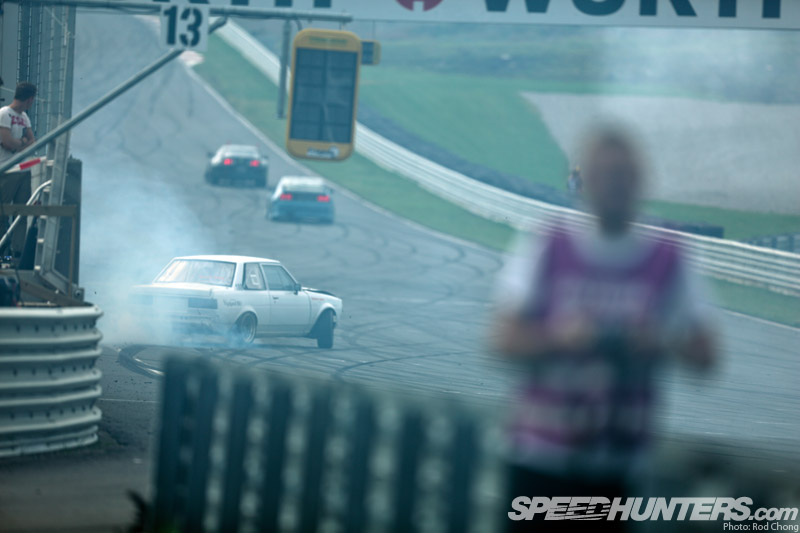 Darren: I guess I was expecting it to be pretty mental and it lived up to all expectations there, but I wasn't expecting it to be so big. There were fields and fields full of cars, campers and parties and the music stage was something I wasn't expecting. The journey from our pit to the stage took a good 10 minutes and was always entertaining: you would come across some cool car with a crazy engine swap every few feet. And also watching people who are so drunk they can't even stand should be an Olympic sport. So funny!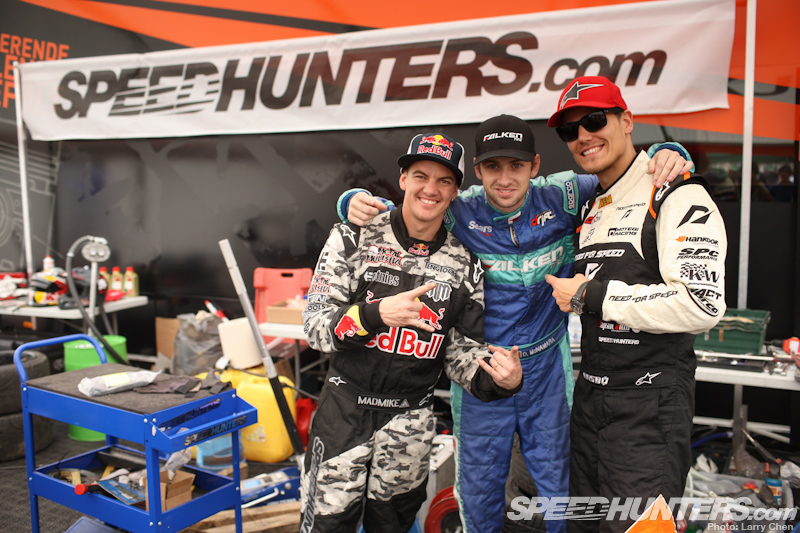 Fredric: I've become good friends with Darren, Mike and their crews over the years, and having them on our home turf was simply awesome! They are great additions to the scene and they're always good fun. I saw someone comment and nickname us the Three Musketeers, but sometimes I think we're more like the Three Stooges.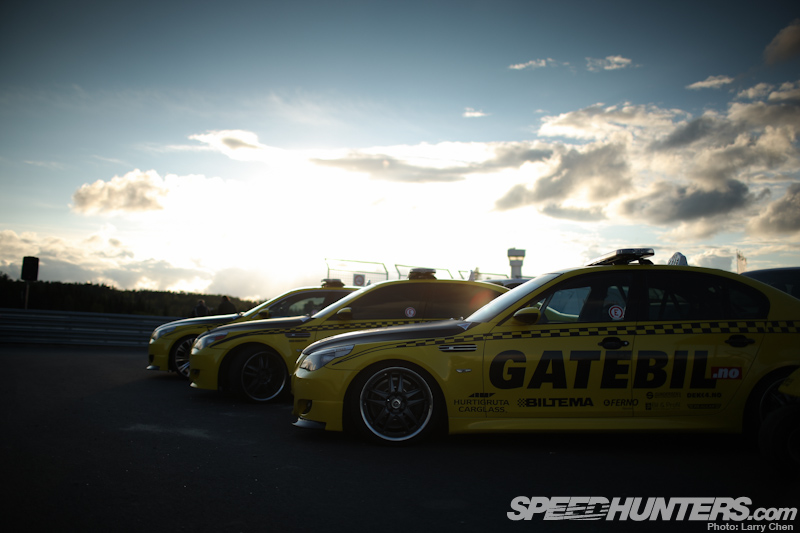 Rod: Tell us what was going through your mind as you arrived at the event. What were your first impressions of Gatebil 2012?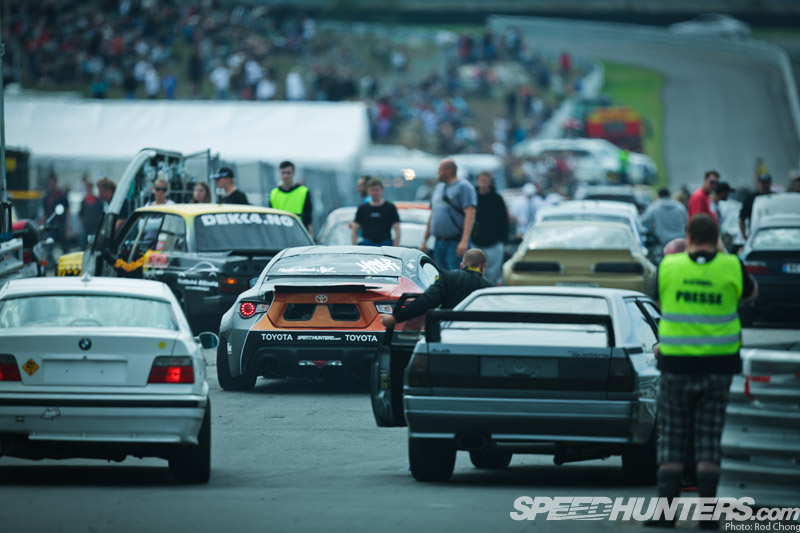 Fredric: To me, rolling in at Gatebil Rudskogen marks the real start of the summer. It's great to see all the familiar faces, and some of which I only see once a year. Sometimes I explain Gatebil as 'Woodstock meets car festival', and on the peace, love and anything-goes scale I don't think it's far off.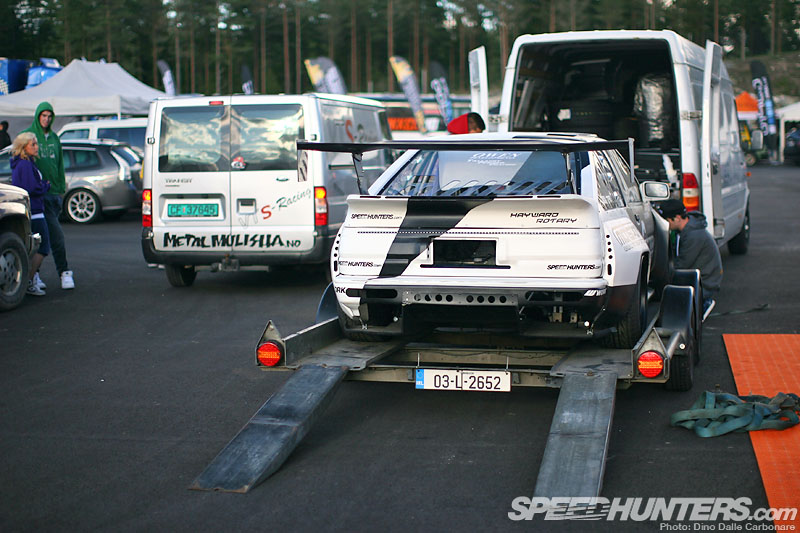 Darren: Firstly we were just happy to get out of the van. That's the longest road trip I've ever been on and it was so far I think I'll fly in next time and let the boys tow the car. The sheer scale of the place was really impressive, as was the setup of all the teams. Everyone seemed to have a really nice bus or truck for towing and the best of everything. The passion for cars in Scandinavia is so strong it's no wonder they produce so many top drivers.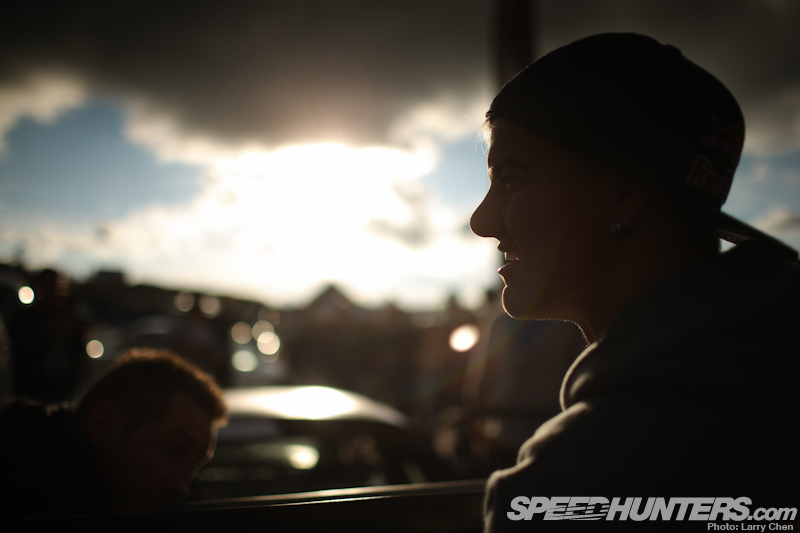 MadMike: Ha! Marius was probably getting sick of me pointing and yelling as the cars just got wilder and wilder as we rolled through the pits. I was also cracking up at the slammed-out Mercedes, Audis, BMWs and so on rolling in towing caravans. Though as my mind came back around to why I was there and the fact we could not find my container anywhere, I started stressing a tad!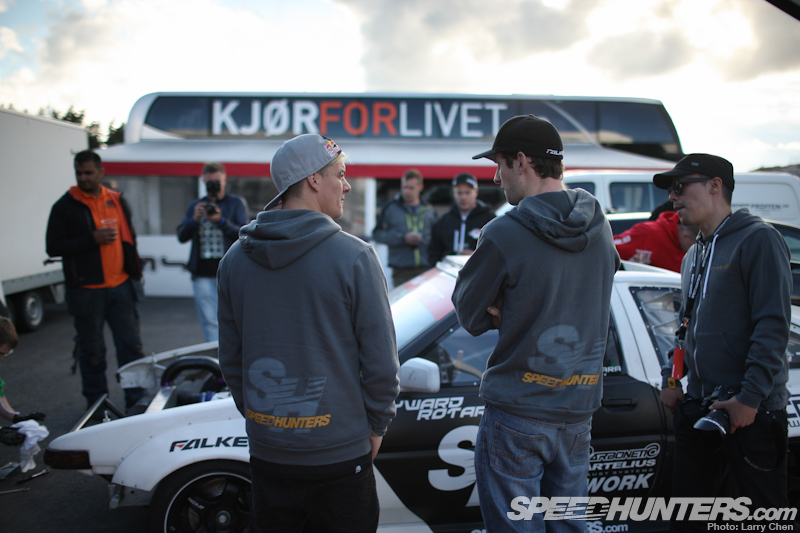 Rod: How did things settle in for you on Friday and Saturday?
MadMike: What days were those?! From my arrival I totally lost track on what day we were in. Each day just flowed into the next with all the work we were putting into the cars. I remember thinking it was like 7pm and we should grab a bite for dinner to find it was 1am and it still wasn't dark! Norwegian summers equal long days of light!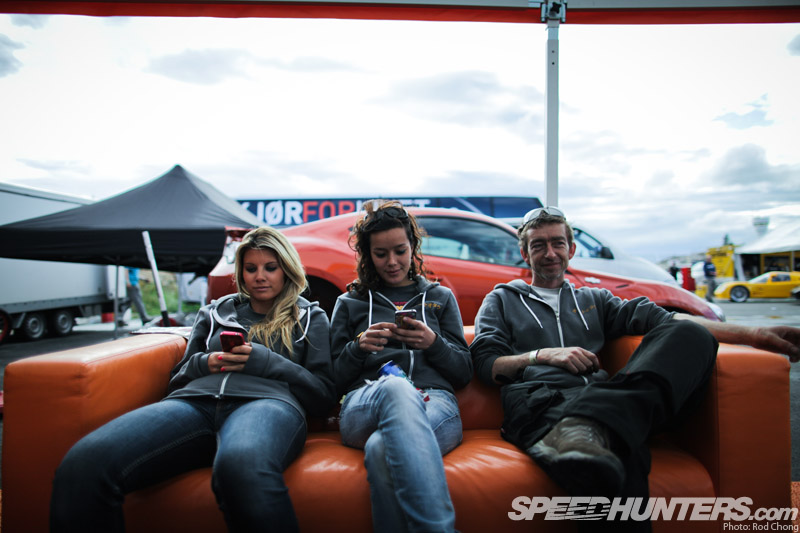 Fredric: I had been working with Jan Tore from the Drive for Life project on designing our combined Speedhunters and Toyota pit set-up in advance, before his crew set it all up. They did an absolutely top job accommodating our 200 guests, crew and cars, which in the end earned us the Booth Of The Show award! Being part of a pit set-up of this scale at Gatebil is new to me as we always just pitted in the dirt somewhere and didn't really care much about it. Now, however, I see that a more proper pit setup makes everything more enjoyable and liveable for my crew and friends. I put them through so much stress and long hours and I think a little bit of comfort is the least I can give them.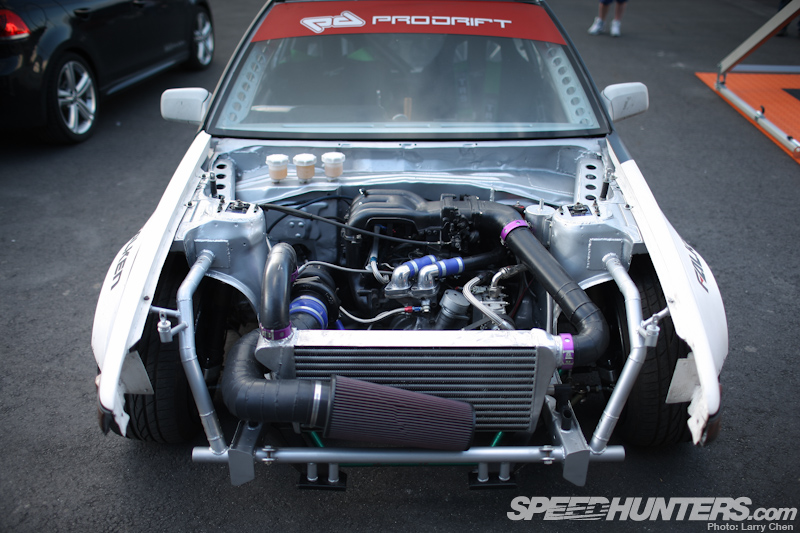 Darren: As I touched on we had a misfire so that was occupying my mind a lot, but it's great to have a good team of guys who take the pressure off the driver. We were having a fuel delivery problem from our redesigned fuel tank, but it took us a while to diagnose as we had to check everything on the car. So it was frustrating from a driving point of view not to have all the horsepower available on track.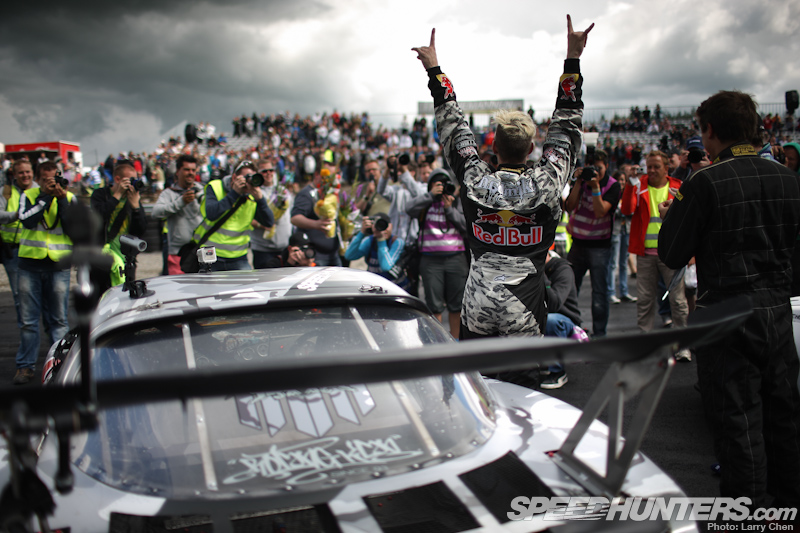 Rod: Let's discuss the drifting now. We had a great result in the drift competition, although it must have been a little heart-wrenching for you, Fredric, to have your car break. Talk us through how the competition went.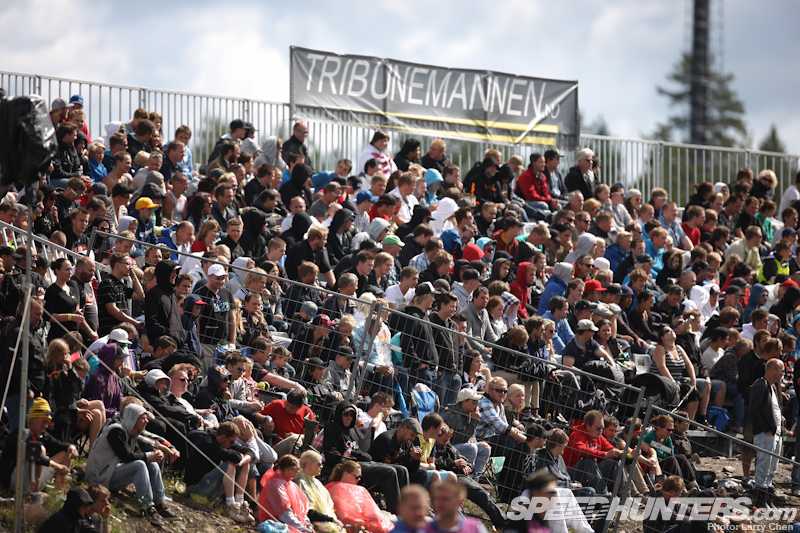 Fredric: I am really stoked for Mike and Darren to do so well, and I think it's proof that they really belong over here! With regards to me breaking the axle just as we rolled up for the Breisladd competition, I believe that was some sort of cosmic reaction to us pushing too far. It just wasn't meant to be. We won last year, and with Mike taking the title this year it's a double for Speedhunters – and that's not heart-wrenching at all. The Breisladd was always a very informal, fun competition and getting to watch this year's comp with new and old friends reminded me of how much fun it really is.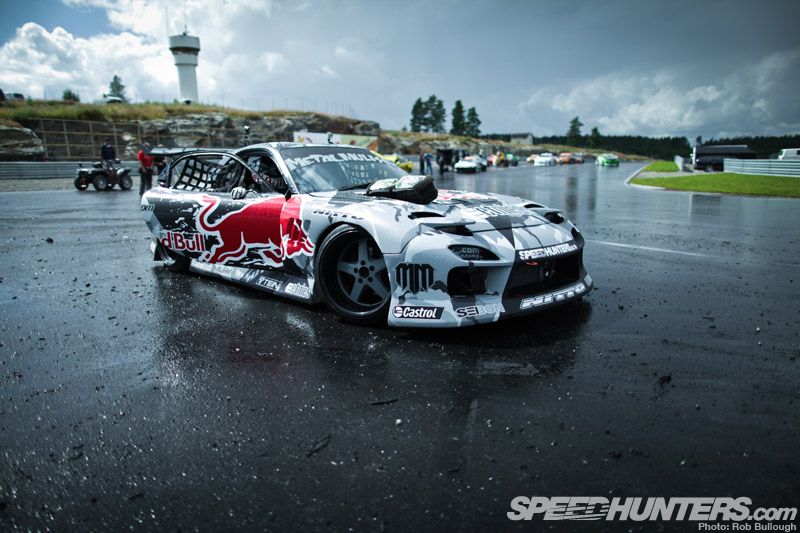 MadMike: We knew that the weakest link in the 86-X would be the diff because of running the stock item with Freddy's monster 2JZ; we had been talking about it on the previous nights. I know what it's like trying to build cars in super-tight time frames and I think Freddy, his crew and partners did an amazing job on the 86-X in less than 40 days. I was right behind Freddy when the diff destructed on the parade lap heading over for the opening ceremony, and felt super gutted for him after all their efforts.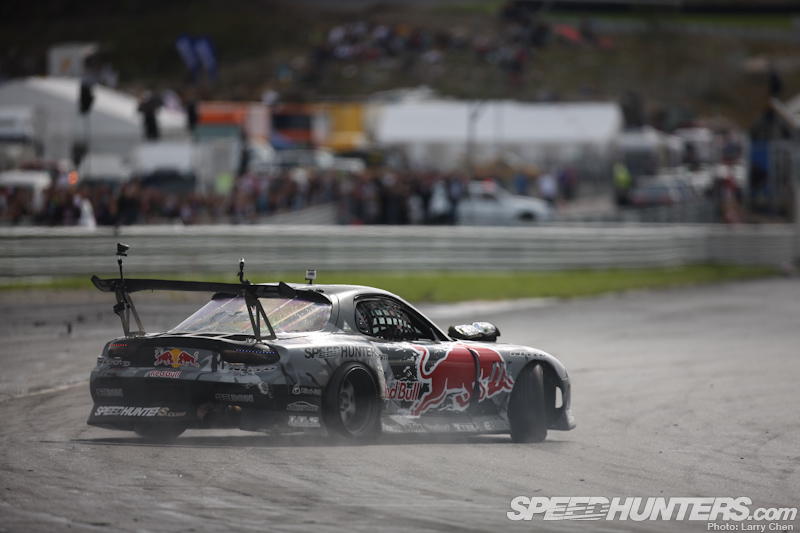 MadMike: The comp was a different format to what most drifters are use to, as it was open to all vehicles. There were over 90 vehicles entered: Europe's pro-drift drivers; insane 1,000hp Audi 4WDs on NOS; Kazama's pro-drive D1GP championship-winning S15; a NASCAR-powered and RWD-converted VW Golf; Volvo turbo; nitrous full-carbon-bodied Saab wagon… My favourite was by far the '84 Mercedes supercharged, turbocharged, nitrous-injected diesel station wagon from Black Smoke Racing. This is just to name a few! Because of the variety of 4WD and RWD it would make it very hard to tandem, so we would each run a single-pass run judged on speed, angle, line and style – crowd response was also a bonus point. I just edged out my  Speedhunters team-mate, D-Mac, for the win. It was a real hard task as the clouds closed in and drenched the track – and we'd had no testing in the wet.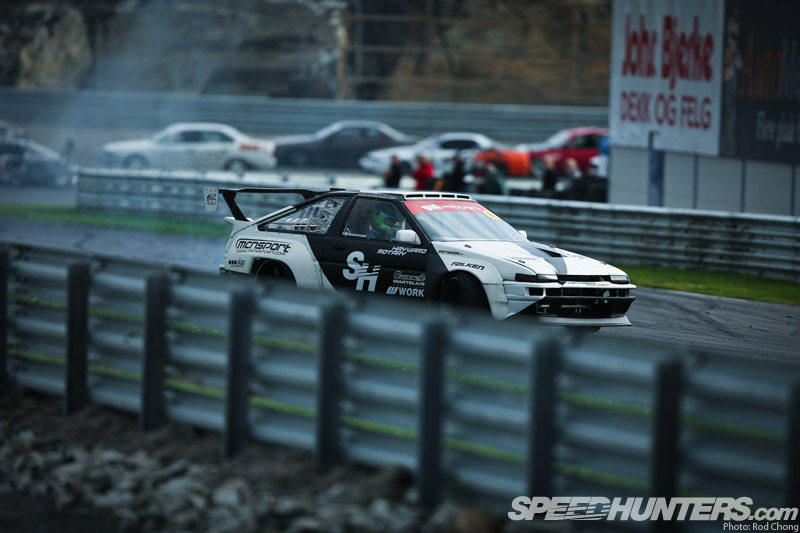 Darren: The competition went great for us. Going into the competition, my team came up with a pretty ingenious way to solve our misfire and I'm pretty sure it worked.  I can't be 100 percent sure, as the heavens opened and no horsepower was needed any more to drift the track. Then I didn't get the opportunity to drive any more sessions after the drift comp as both me and Mike were banned because rotaries are too loud and awesome!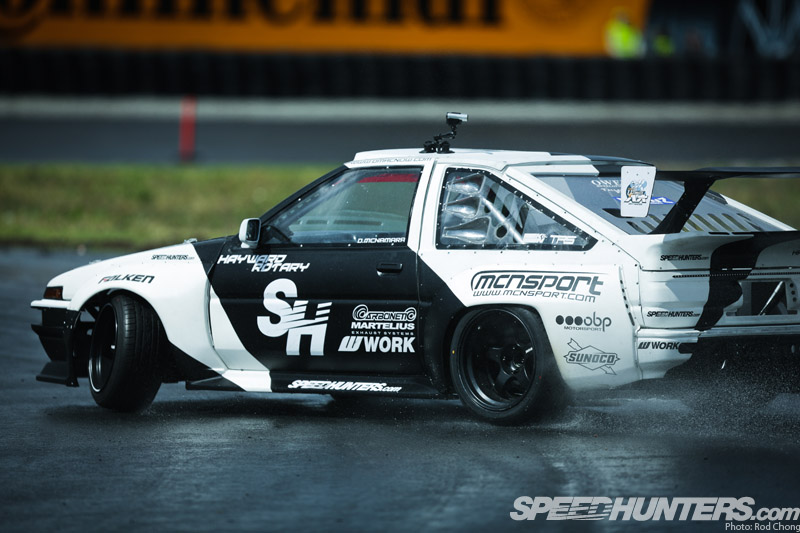 Darren: I left the line on my first run and it was pouring with rain. We have no wipers on the Dmac86 and I couldn't see where I was going – so it was no surprise to me when they read out the list of drivers that would proceed to the next round and I wasn't one of them. Then five minutes later I was told to saddle up – I was through after all. Luckily I had a chance to adjust tyre pressures and shock settings, and I had a crew member at the start line with a wiper that we borrowed from a support van so we could clear the windscreen before we left.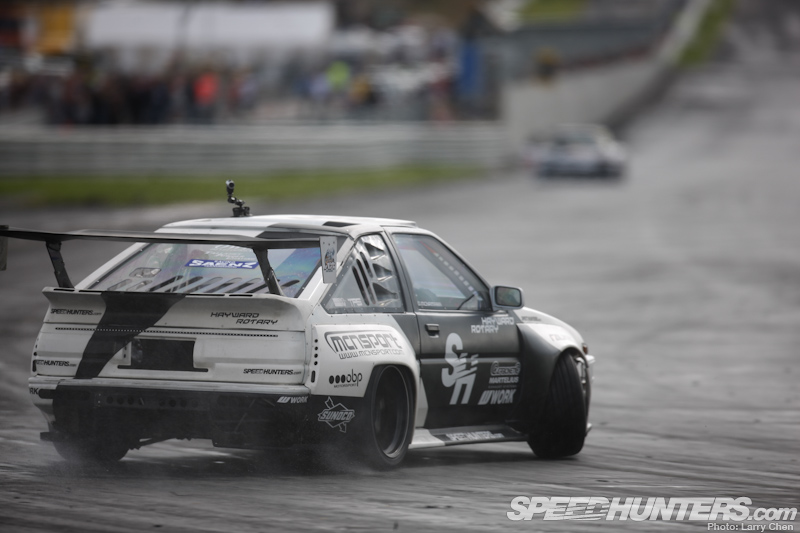 Darren: We got through to the top three and on my last run I was trying to just graze the outside clip, but a semi-wet track made it difficult and I ended up knocking it over – which probably gave the win to Mike. But to finish second after chasing a misfire all weekend was a great result for us, and a one-two for Speedhunters was the most important thing.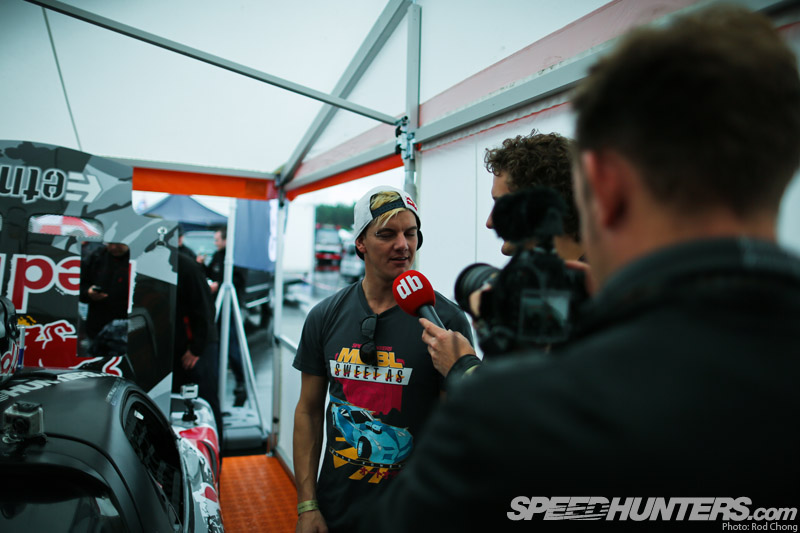 Rod: The Speedhunters seemed to take be front and centre at Gatebil. There sure was a lot of attention and love coming at us!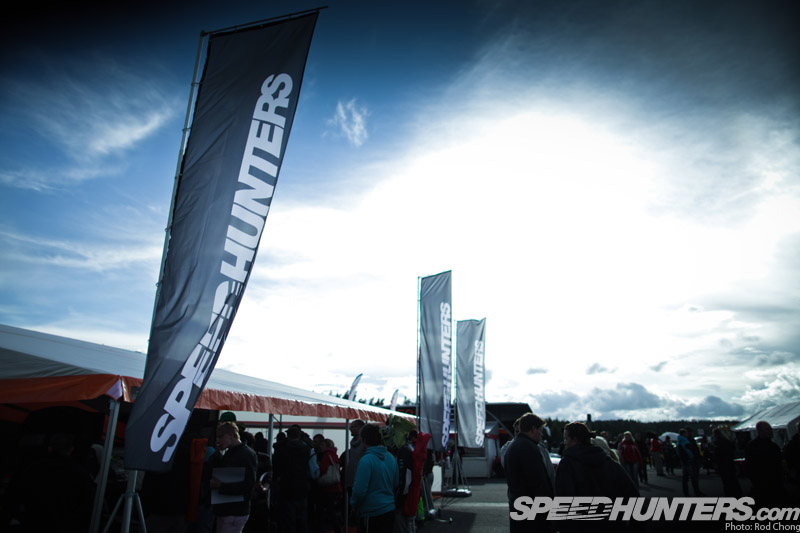 Fredric: We had a ton of people around our booth all the time – and I mean that as in 24/7 – and it's such an overwhelming feeling to have our pits literally flood with people wanting to say hi. To everyone I didn't have time to talk to this time around, please come on by next time and I hope to have some more time then!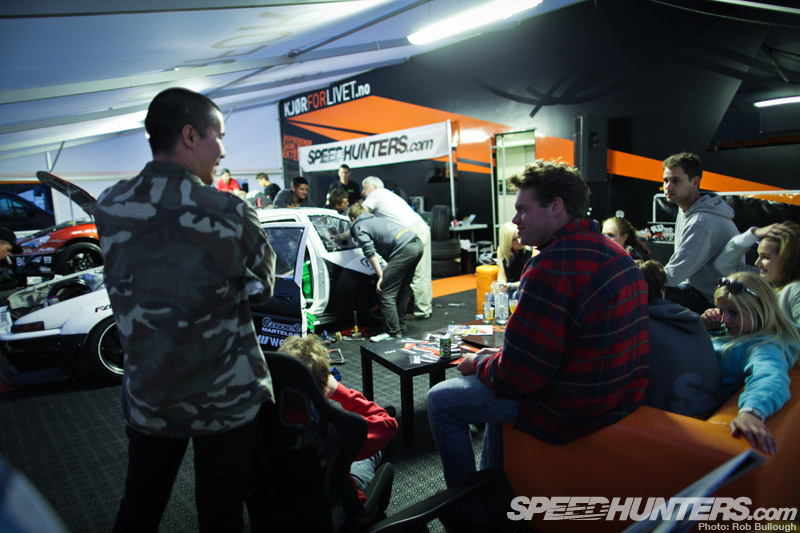 Darren: Yeah, that's for sure: the pit area was always mobbed and it was kind of difficult to work on the car sometimes. I have to say the Madbull steals the show everwhere it goes and Mike is a real showman. I'm much more serious and probably have the racecar of the group. I noticed a large amount of the competitors and teams coming for a look at the Dmac86 and checking out the various details of our build. I wish I knew what they were saying but there was a lot of hand gestures and deep convo going on. Freddy's car looks really great: the Rocket Bunny kit makes the car so much cooler and he is such a local hero. It's great to see how everyone in Norway supports him so much.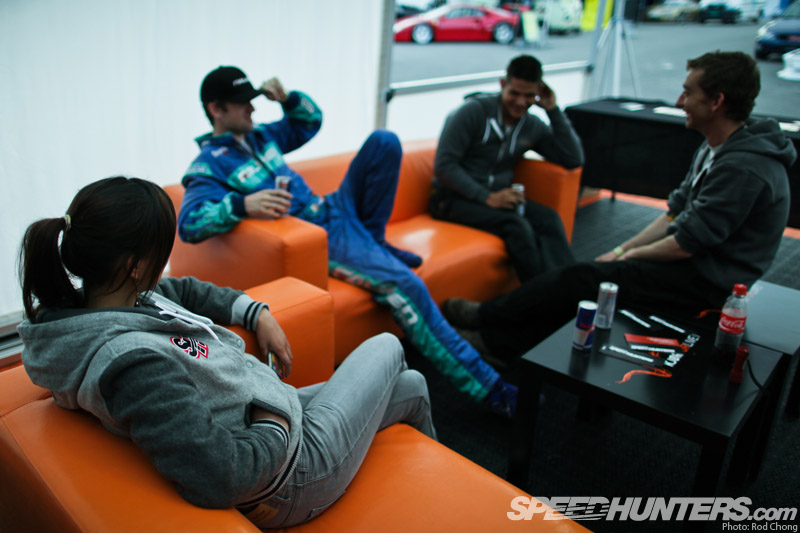 MadMike: I think because we have all hung out in FD and are friends we had a really good fun vibe in our booth which helped to attract the crowds. There was constant hype around us day and night.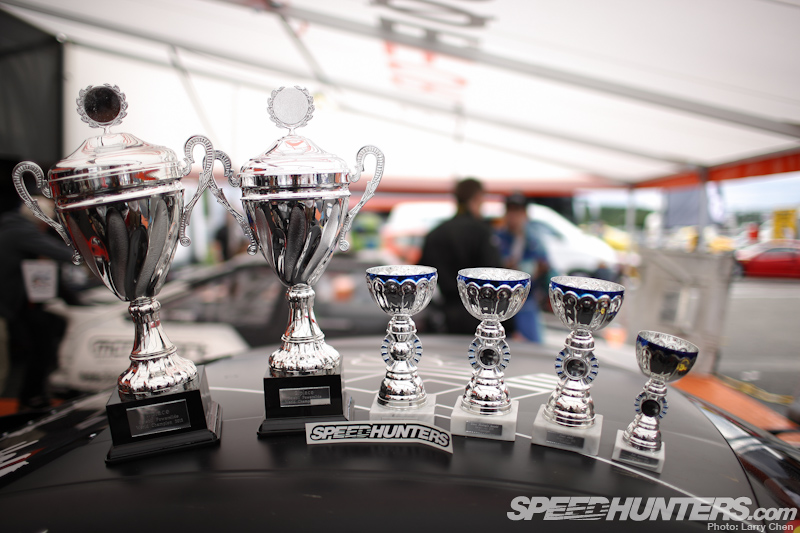 MadMike: We won a lot of awards with our stand, drivers and our three wild whips. People could roam around our pit, sit in the cars and socialize with us and any of our crew, it was an amazing environment.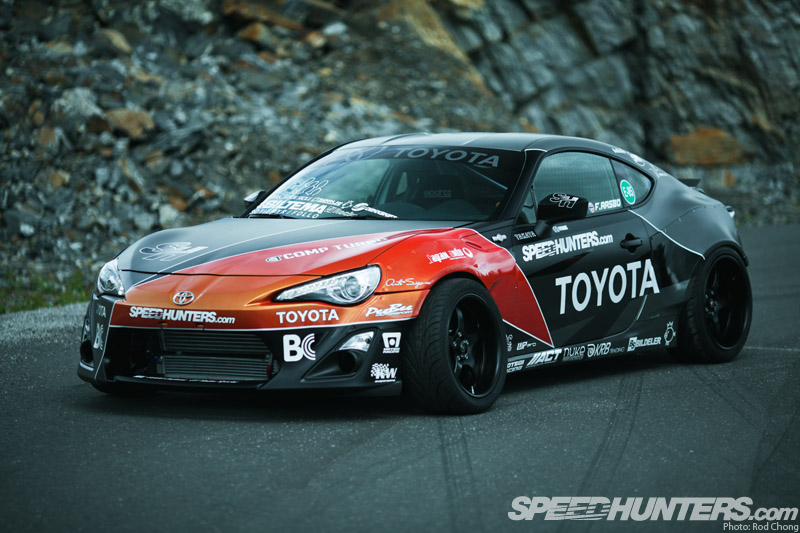 Rod: How did you think people reacted to your car?
Fredric: A lot of people were complimenting how the 86-X came out close to the render, which was one of our goals with the build. Some people said it was the sickest car they had ever seen, which is a pretty cool statement! Now, however, it's time to start dialing it in, and I can't wait to get started on this next week.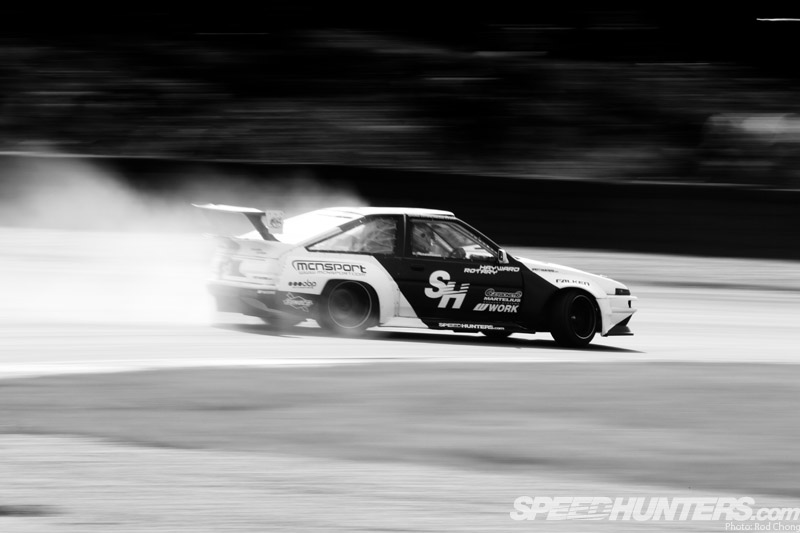 Darren: I'm pretty sure they liked it. The AE86 is pretty rare in Norway and there were only two or three , so it was definitely something different for everybody. The other competitors seemed very interested in the modifications we have made. I just cant wait to go back and show everyone what the car can really do.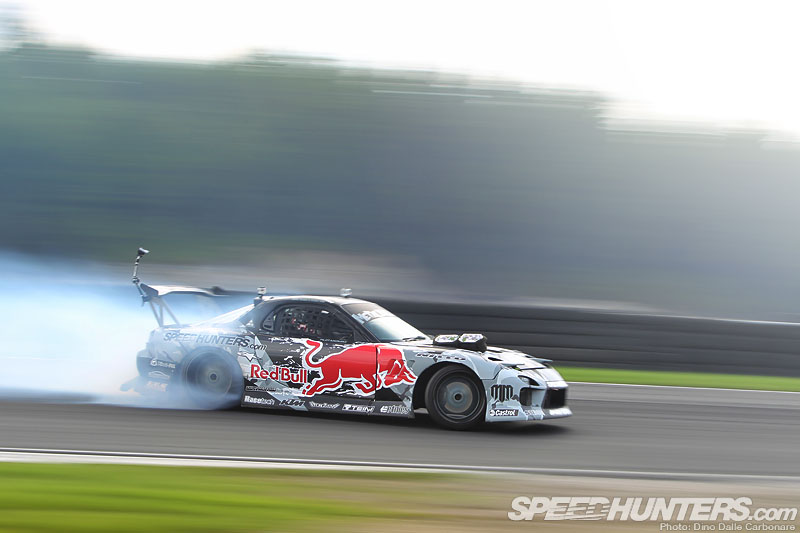 MadMike: Well 95 percent of the people at Gatebil would have only ever heard the sound of our screaming four-rotor on DVDs or YouTube or seen pictures of it on the web and in magazines. I was blown away with the amount of fans and supporters I have in Europe. So many said they had flown in just to see and hear the MADBUL and they all could not believe the sound, stance, livery and package the MADBUL has. With all the crazy builds at Gatebil for me to also win Car Of The Show made me absolutely ecstatic!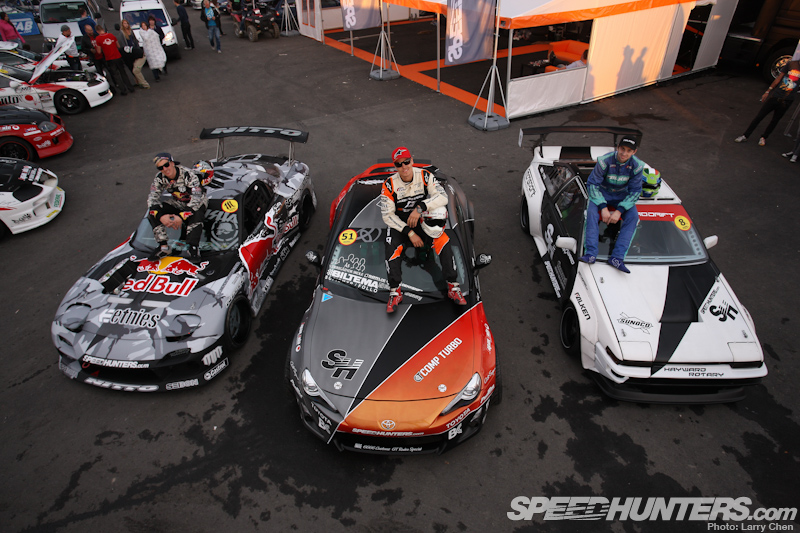 Rod: So what did you think of each other's cars?  How did it feel to put these three cars together as a team?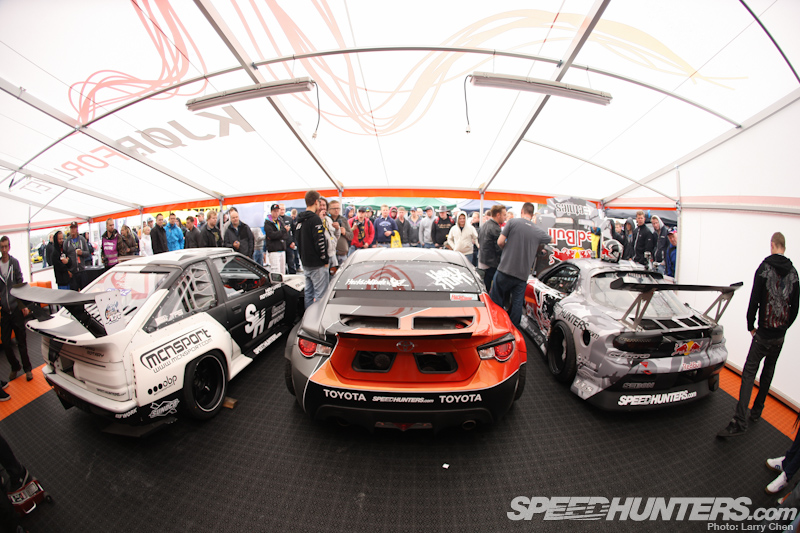 MadMike: These cars look so damn good together. I had been keeping up to date with how D-Mac was getting on with his build and I knew it wasn't an easy feat that both guys made it to the event. I'm not sure if this is a drift thing or just a racecar thing in general: you will always be pushing out the deadlines and going without sleep the last few nights prior to an event! It helps that we have not only the best photographers on our team but their ideas and concepts to create that perfect shot!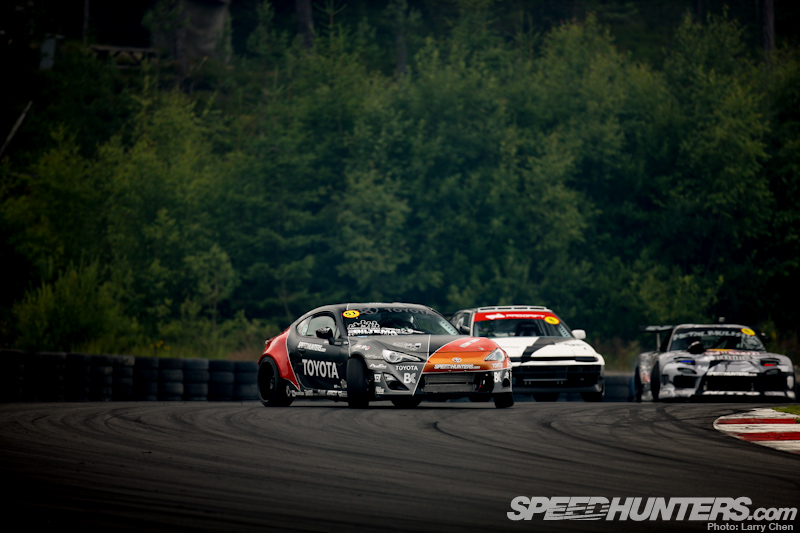 Fredric: This is the first time I've seen the MadBul live, but after being so knit up with Mike and the Speedhunters team over a few years I felt like I knew the car well already! We spent some time with the McNamara family last year and the Dmac86 is an amazing, super-fast creation as well. The three cars have quite the presence when put next to each other, and I know this is your brainchild and vision coming together, Rod. Good job on making it happen!!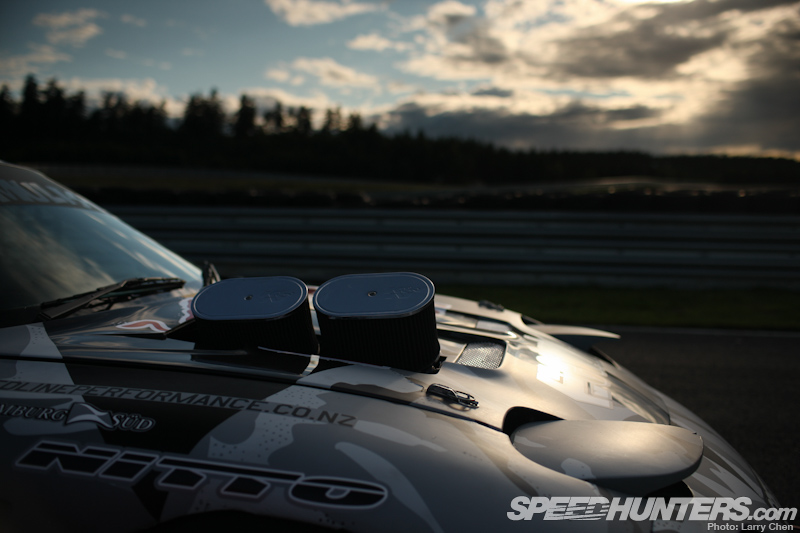 Darren: Well the Madbull is a car I've seen before, but you never get tired of the four-rotor sound and Mike is also a master with the vinyl so there is always something new to look at. I love the fighter-plane warning decals scattered around the body. I really hope he can bring it to Ireland some day.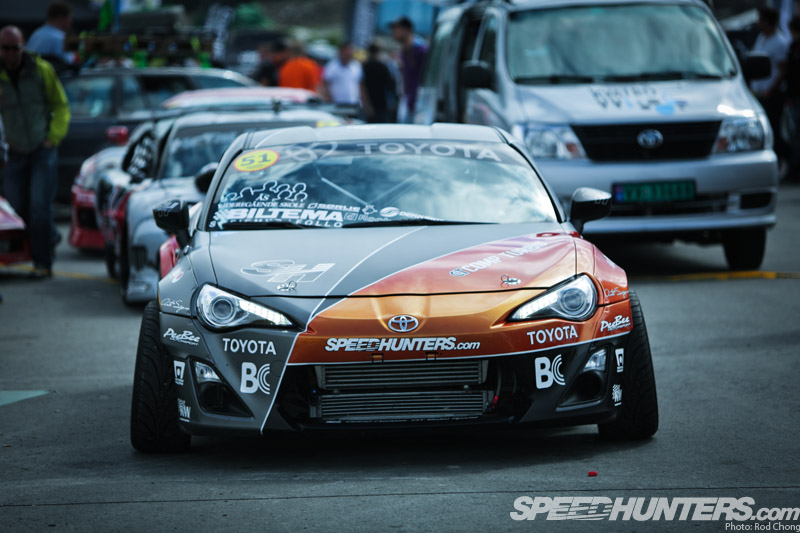 Darren: I'm not as in love with the new 86 road car as I was hoping to be, but the Rocket Bunny kit on Freddys 86-X gives the car so much presence. I could really see myself driving one every day now with a nice set of Work Meisters. They did a great job with the paintwork and vinyl too, and I think it's time to redesign the Dmac86 to keep up with my team mates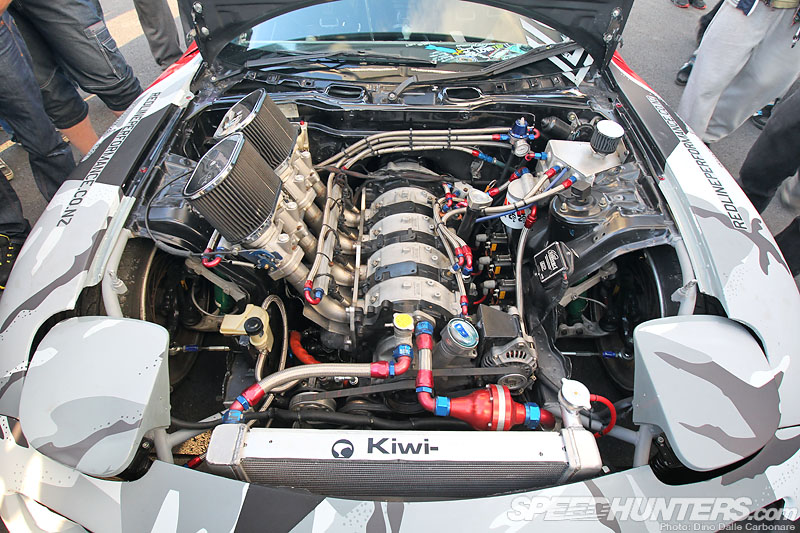 Rod: What changes would you make to your car for next year's Gatebil?
MadMike: Well obviously noise! Maybe we could build a four-rotor turbo for Gatebil – we would then fit in with the all the other 1,000hp-plus cars and meet the strict noise restrictions. Now my mind is churning out all kinds of ideas… After riding shotgun in one of the berserk 4WD drift Audis I would definitely approve of building one of them for our team!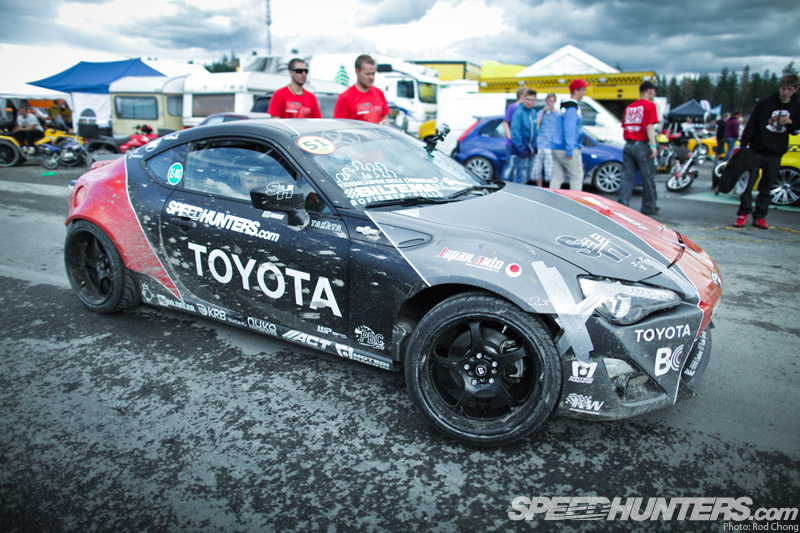 Fredric: My main goal is to have the car working well with a good spare parts bin so we don't have to always work around the clock over the weekend. I want to get back to enjoying more of what Gatebil really is, which means barbecuing out of the back of a car and talking smack with new and old friends. Before hitting the track like there's no tomorrow.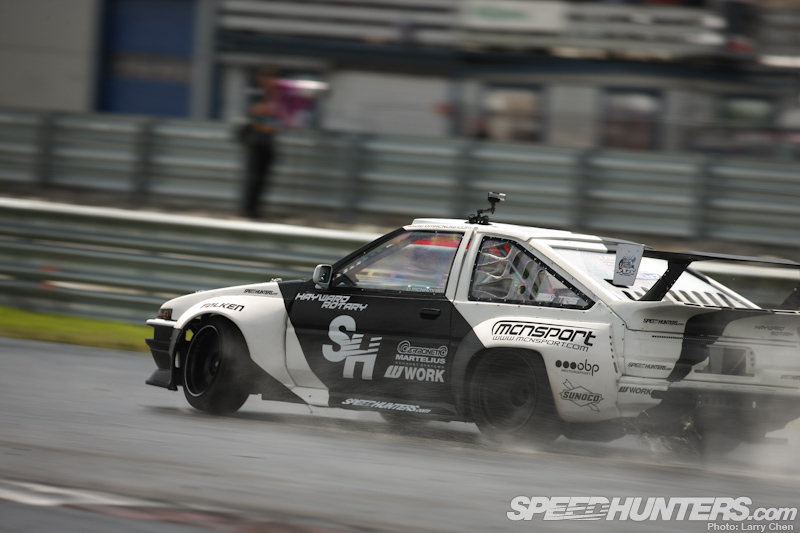 Darren: More power! It's weird when you have almost 500bhp and you are one of the lower-powered cars in the paddock. It just goes to show how crazy Gatebil is. The Evolution 3 of the Dmac86 will be the final evolution and will definitely mean more rotors. I guess we need to make a quieter exhaust too…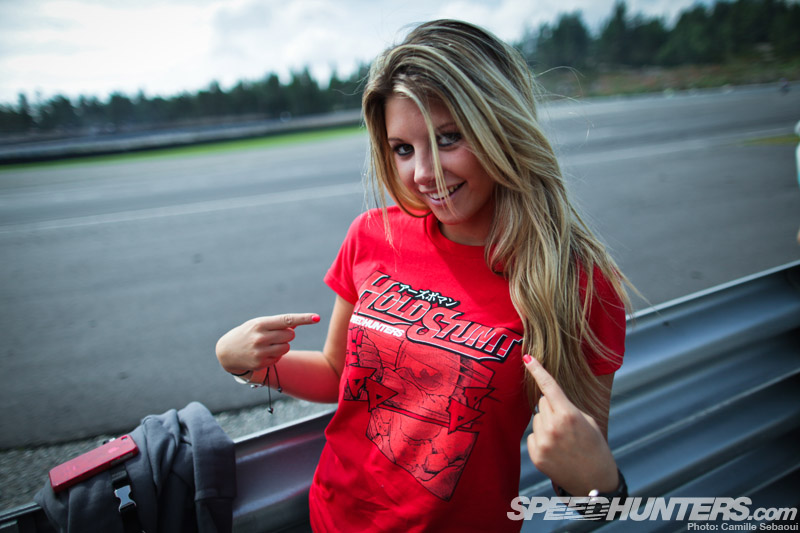 Rod: We made a point to create each of you some new prototype Speedhunters stickers and custom T-shirts. What do you think of the designs?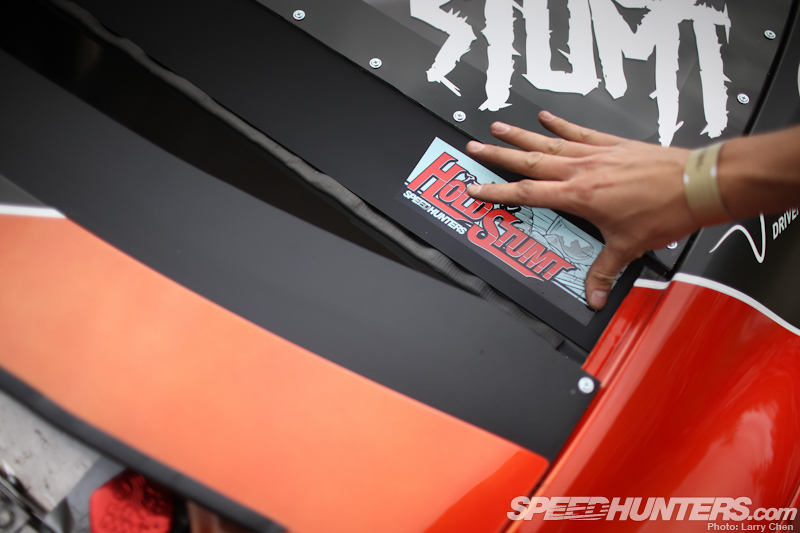 Fredric: I love them! They really personify each of the drivers and their cars. Larry once said I drive with a ton of passion, and if that's true I think the kamikaze motif on my sticker works out really well.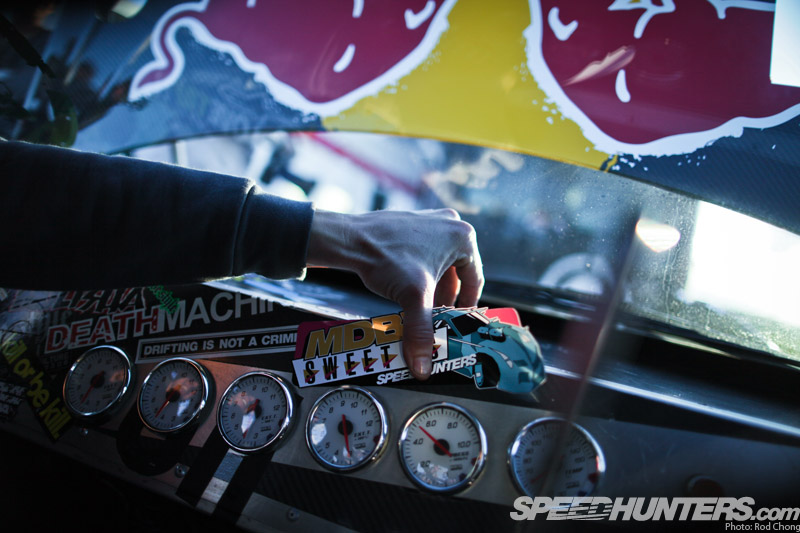 MadMike: They are awesome I love the designs the Speedhunters crew came up with for each of us, mine being based a retro arcade game. The sticker-bomb culture is huge and every sticker from my cluster brings back memories. I always was a sticker fanatic when I was a kid, hence why my other profession is sign-writing. And anyway, everyone knows that stickers make ya go faster!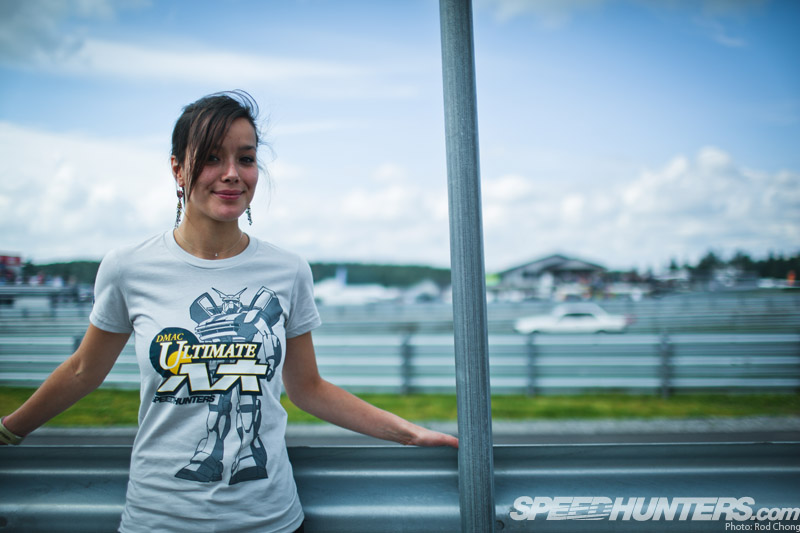 Darren: I'm loving the Japanese-style ultimate robot theme for our car. It's so cool to be able to bring to life something that has existed in your head for so long and its great to have such amazing partners come on board to make it a reality.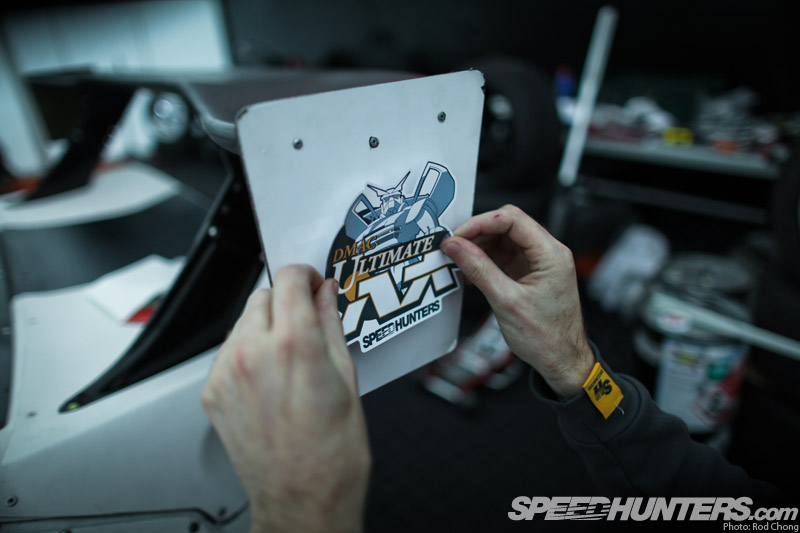 Darren: The cars become the stars of the show, and when they get immortalised with T-shirts and stickers it's a proud moment for me and the team.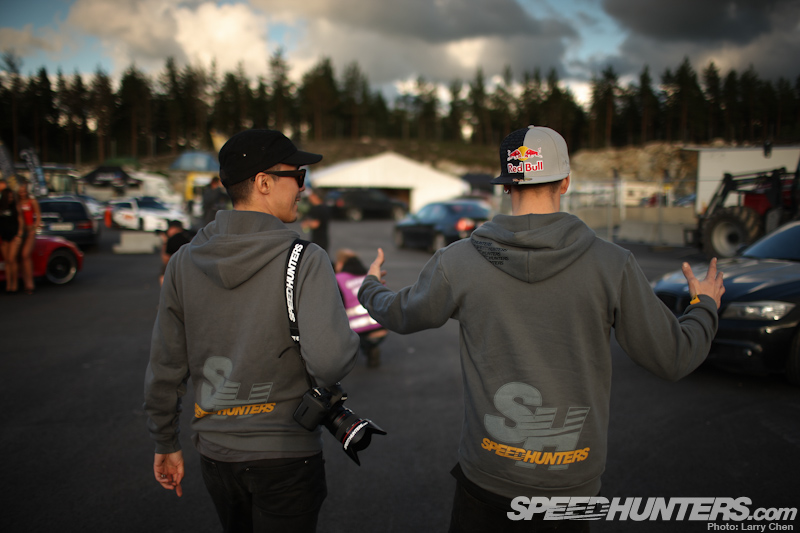 Rod: I'm pretty happy although I'm thinking to change the new Speedhunters hoodie and T-shirt somewhat though. Might need to change the colour and graphics to make it punch a bit more. What to you think?
Fredric: I really like the quality of the gear. A little bit of constant change is always good, though, so perhaps turn up the contrast a bit. Plus, I think we need some hats!
MadMike: I do like the colour of the hoodie. I will admit I wouldn't wear the hoodie with my design of T as they are the same colour. Maybe my T could be pink or purple…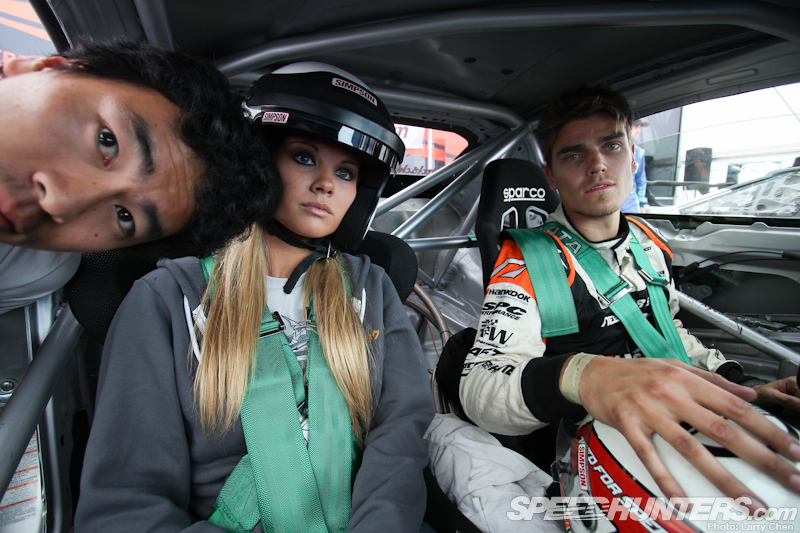 Rod: Can you also talk about all the different Speedhunters photo experiments and shoots. There were times that we decided to conduct fashion shoots inside your cars, while you were driving.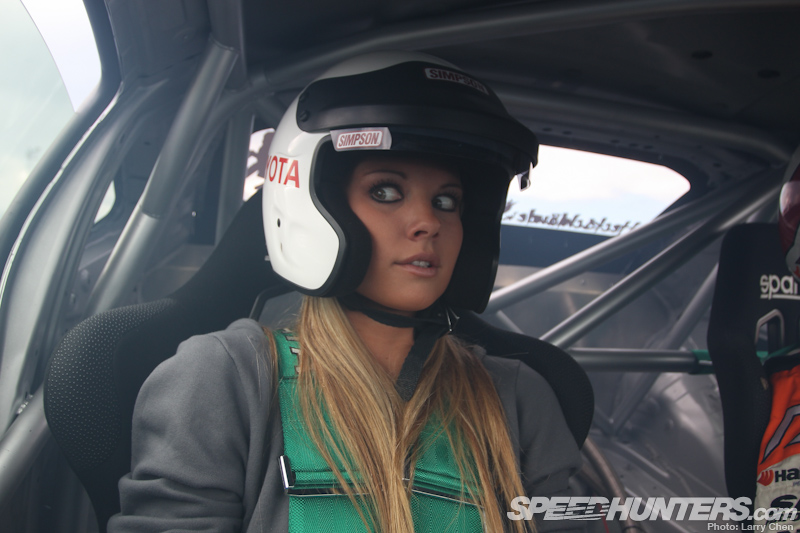 Fredric: As a Speedhunter, one thing you learn to live with is the abundance of photo equipment everywhere. It's a crazy mix of lenses, various mount contraptions and actuations – there's always a click to be heard. Larry told me he typically ends up with about 20,000 snaps from one weekend, so you can only imagine the digital tonnage these guys produce. It must take quite a bit to create the world's best car culture photo stories!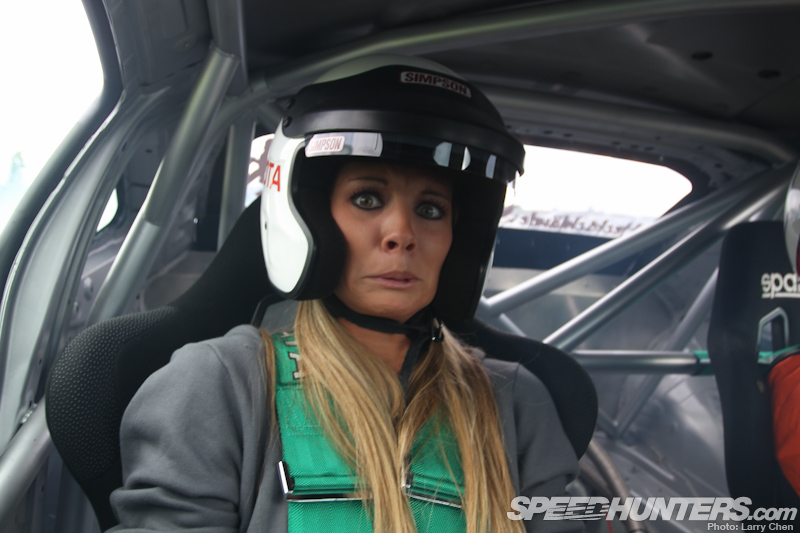 MadMike: That's what makes Speedhunters what it is. I dig the ideas for the different shoots and I'm always keen to try 'em out. The interior shots with the flash created some of the best in-car shots I have seen.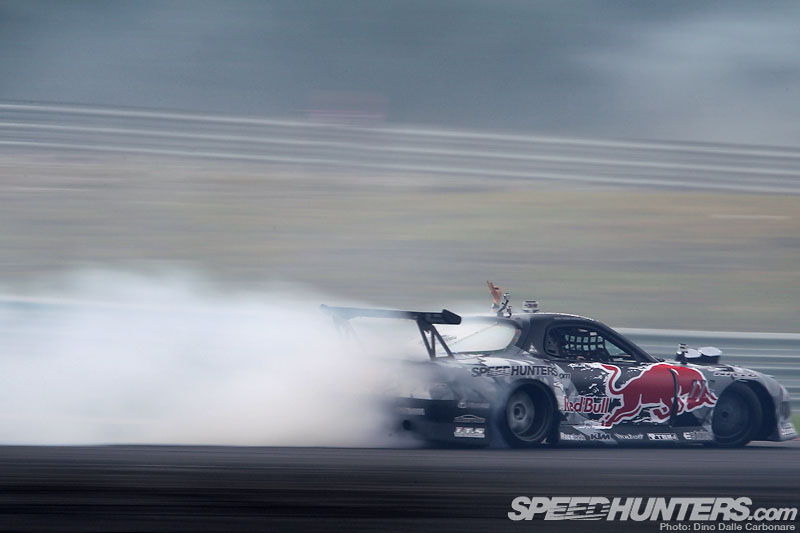 Darren: It never ceases to amaze me just how many pictures you guys take and how many you don't use. The shutters are always going all day. I love the way you pursue new types of shots and the perfect image: it's like the pursuit of the perfect racecar for me. It's like we are doing a movie or TV commercial sometimes.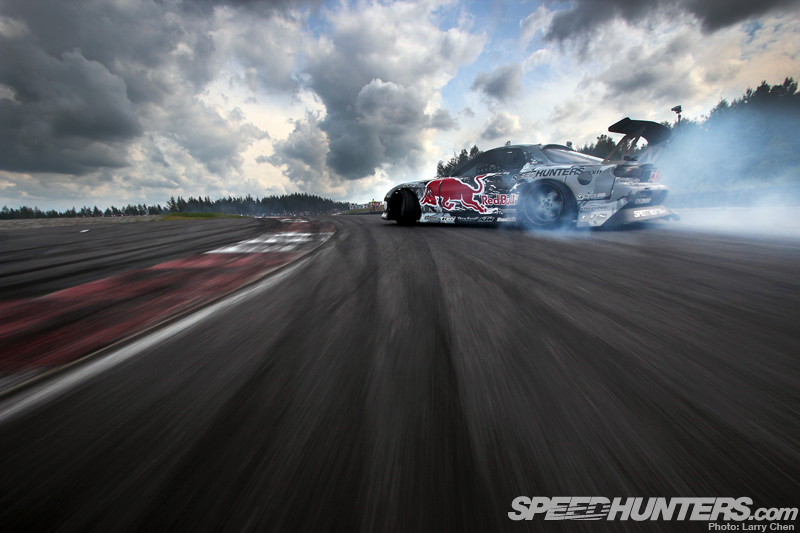 Rod: We also had you chasing camera-cars or acting as camera-cars yourself sometimes.
Fredric: Did you? I didn't even notice! Out of all the things you Speedhunters do, what amazes me the most is how you get such candid shots.
MadMike: This created the most epic shot I have seen and the bonus is, it's my car in the shot! One thing is capturing the shot at exactly the right time, as with drifting the timing is critical with line, angle, steering lock, smoke and the background. Then on the other hand there is the much more technical side to it: the lens, settings, shutter speeds and lighting. In the end you see a picture that is so good it creates emotion and awe. After working with Speedhunters for over three years now you can see the different styles each of you prefer.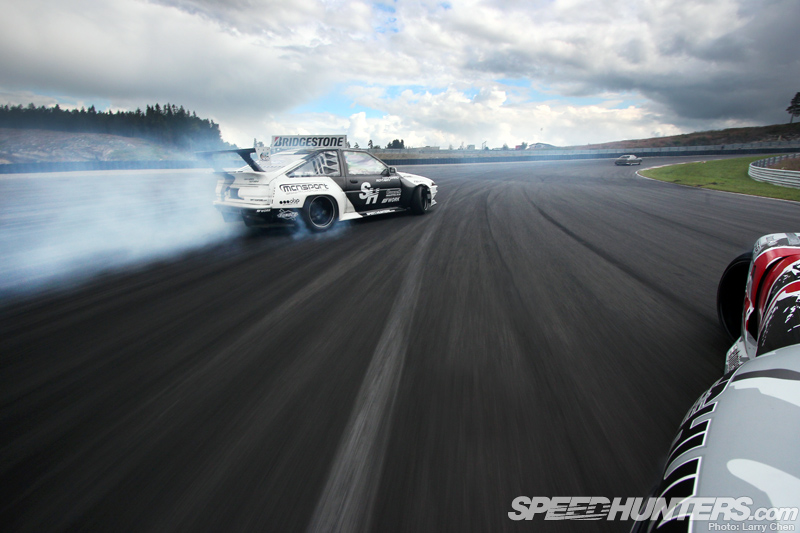 Darren: This was frustrating for me as the car was misfiring and I felt like I could provide some amazing tandem shots, but I'm sure we will get them next time as we iron out the small problems.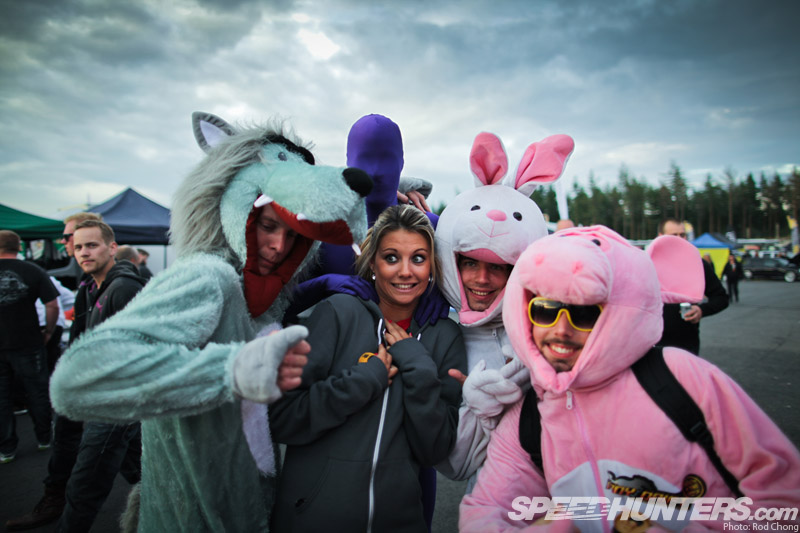 Rod: What was the craziest thing you saw at the event? The weirdest?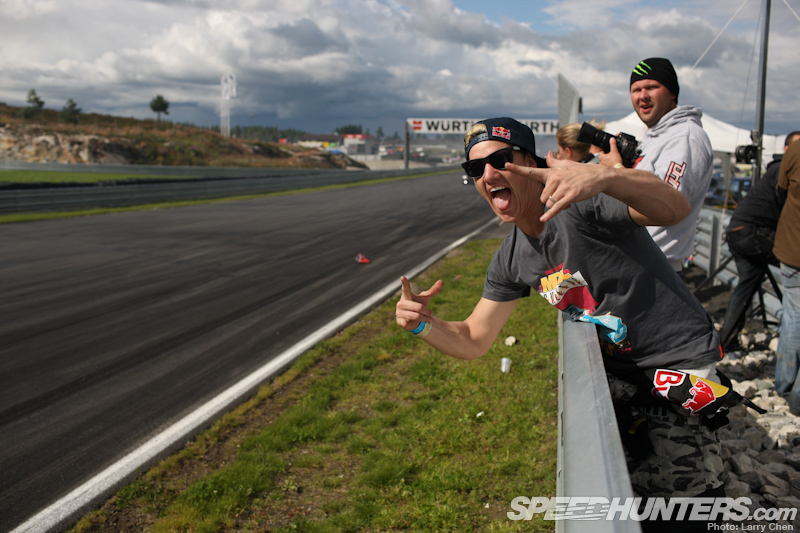 MadMike: I can't allocate the craziest award to one thing as the entire event was truly mind blowing with craziness. Was it the well-over 200kph manjis to reverse-entries down the front straight, one of the epic car builds, the people, the stunts, the rotary sound effects from a beer can or the dude that went to hospital after a failure to launch a fire-cracker out of his butt backfired?!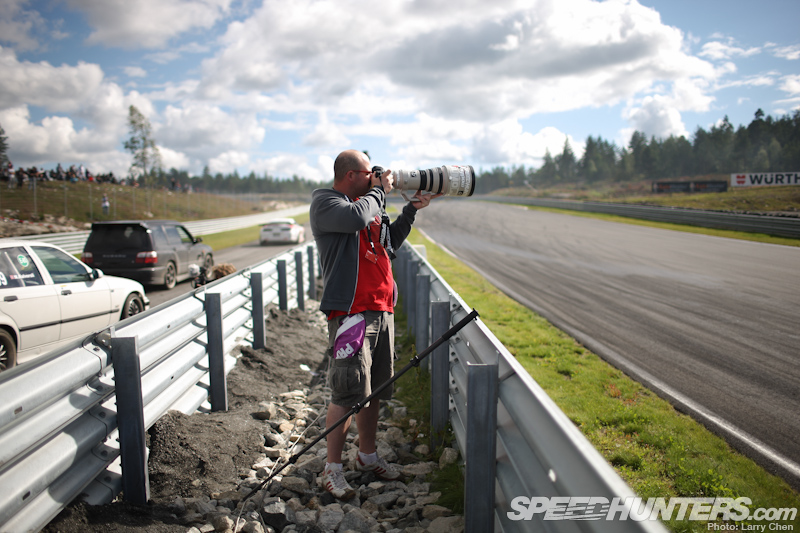 Fredric: Despite being slammed with work on the car, there was a couple of times where I got to step back and just witness what was going down – and it was a crazy sight. Here we were, hosting an international star roster of car personalities deep inside the cast-away Norwegian woods. Seeing my American crew chief Stephan Papadakis getting the full Gatebil experience, the Italian-Japanese Dino Dalle Carbonare blend in with my closest buddies from back home, and witnessing the Toyota Norway representatives getting the urge for old, rubber-burning beater cars really made me smile. What a weekend!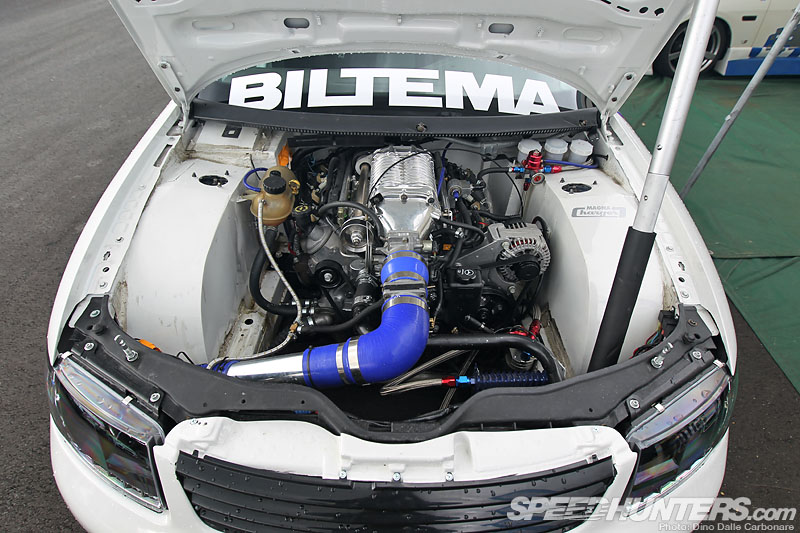 Darren: There was so many really. I remember seeing a stock-looking Evo 3 on track, then walking beside it in the pits and seeing that it had an LS under the bonnet and was rear-wheel drive. And the supercharged LS-powered RWD Passat?!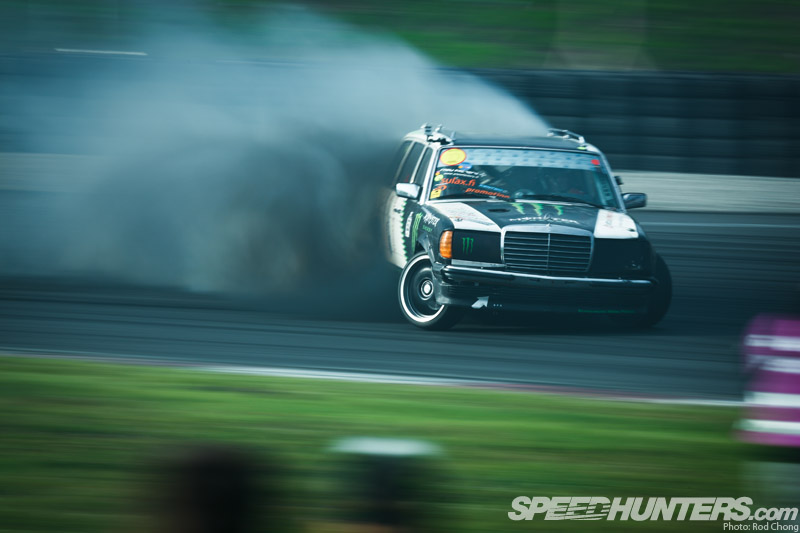 Darren: But I would be surprised if everyone doesn't say the Black Smoke Racing Merc. It's like they let a load of mentally-unstable people build a car – or is it maybe a load of geniuses? I had the privilege of riding shotgun for a few laps and I have to say it was one of the scariest things I've ever done. It was so weird to power out of a corner and have the car fill with black smoke instead of white. I have to say the Black Smoke guys were so cool and it was really great to hang out with them in the pits.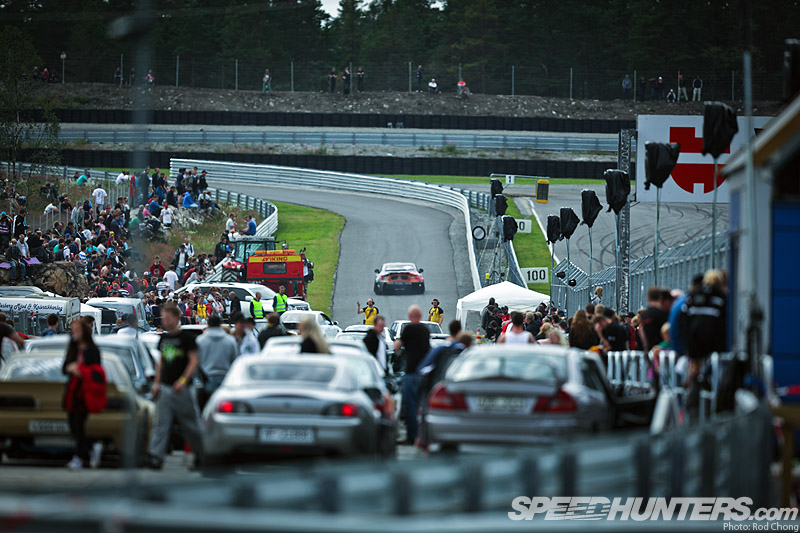 Rod: Favourite moment of the weekend?
Fredric: My favorite moment was when I rolled out onto the track for the 86-X's maiden voyage. Despite no brakes and no power due to fuel starvation, it still felt like a pretty frickin' amazing creation!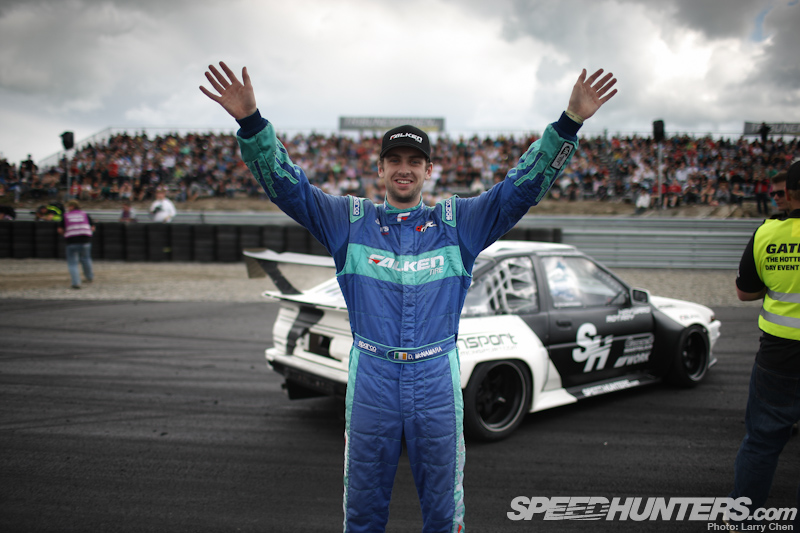 Darren: There were so many, but I guess it has to be the result we gave the team. Second place didn't seem achievable until the last minute and sometime the unexpected is the most gratifying.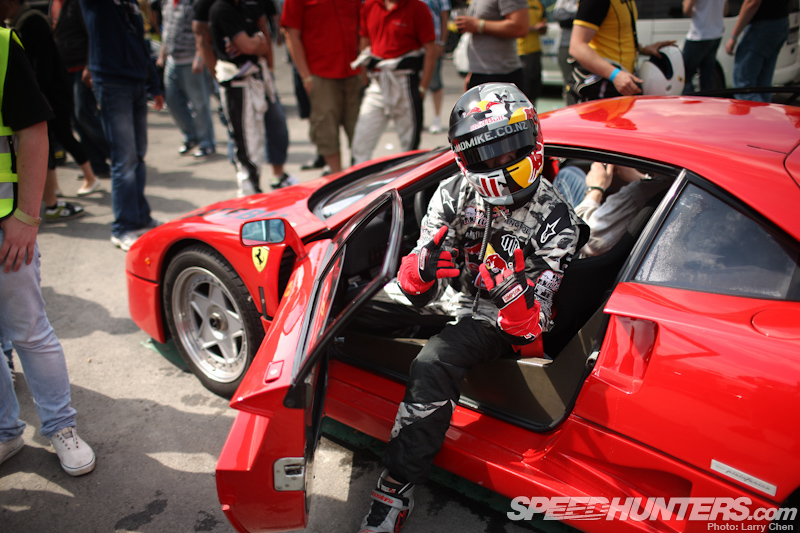 MadMike: To come out on top and finish number one and be crowned the World Powerslide Champion was of course an epic moment. This was the best track I have drifted on in terms of all the elevation changes, variations of corners and apexes to the speed, but I would say just hanging out with such an awesome team for five days doing what we love – building cars, thrashing them, putting on a show and socialising with the public – made every minute a favourite. All the rides I got with the other drivers in their Audis and Time Attack cars and I lost count of the drifters… A real special moment for sure was getting to drift an original F40 Ferrari around the Rudskogen circuit.
Rod: Finally, any other crazy builds catch your eye?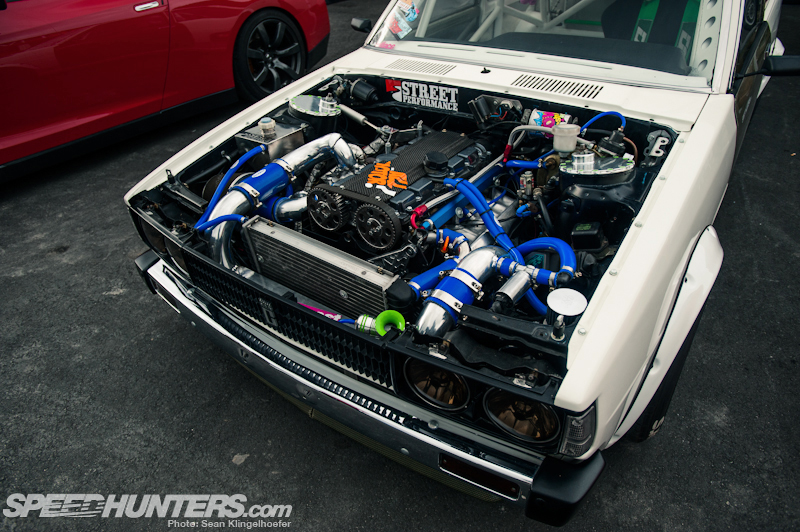 MadMike: Oh damn Rod, how could you make me have to pick a favourite?! The Toyota DX Corolla with the five-cylinder turbo Volvo engine was perfection in my terms! The build quality was to the highest level, the stance, engine conversion, wheel choice, offset, sticker placement and sound of the boosted five-cylinder growling through the side-pipe were just a few of the things that made this the perfect package. There was one certain little car that was rather sweet: a 13B turbo-powered RWD Mini The Quattro Mini was also freakin' insane.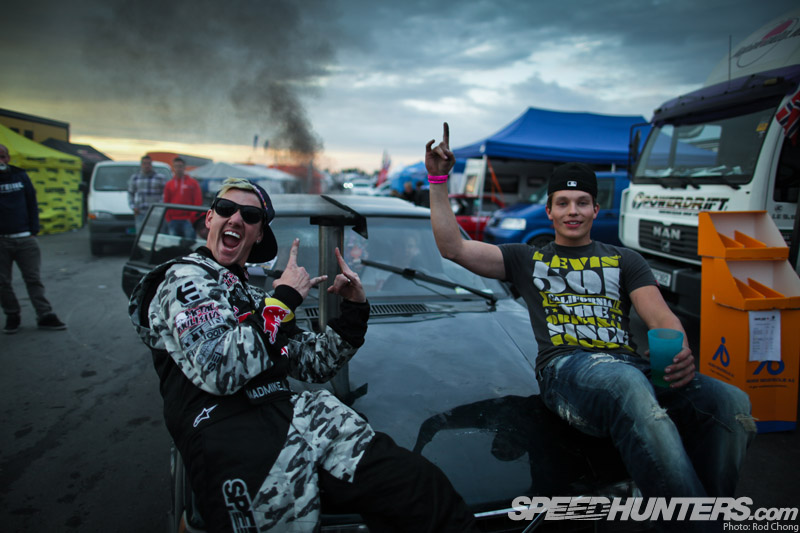 MadMike: How can I forget the boosted turbo-diesel Volvo sedan with the five-inch stack pipe out of the hood doing burnouts all night around the pit? It was so awesome to see so many dream builds in reality.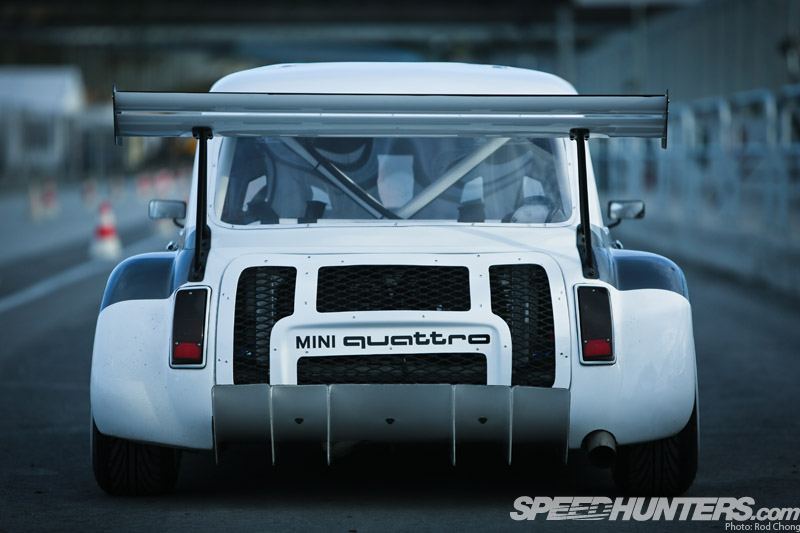 Darren: God there was so many… Mini Quattro, Rotary Mini, KRB Quattro, all the other Quattros, 1400hp BMW E34. I could go on and on. It really is a gear head's dream. I hope our coverage convinces more and more people to come and keep this great event growing.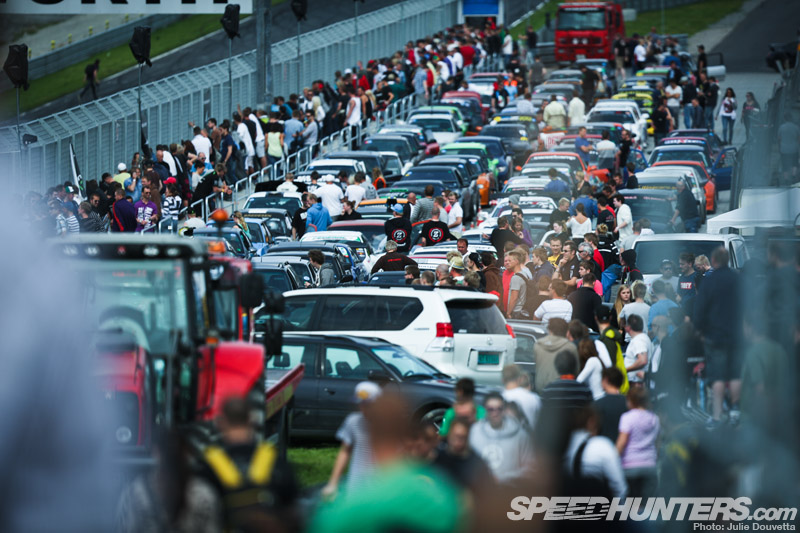 Fredric: I didn't get to watch much, but I do know the Gatebil style well by now and there are always some absolutely insane cars coming out every year. One thing that really stands out to me, though, is how rapidly the drift scene grows. There is so much talent these days!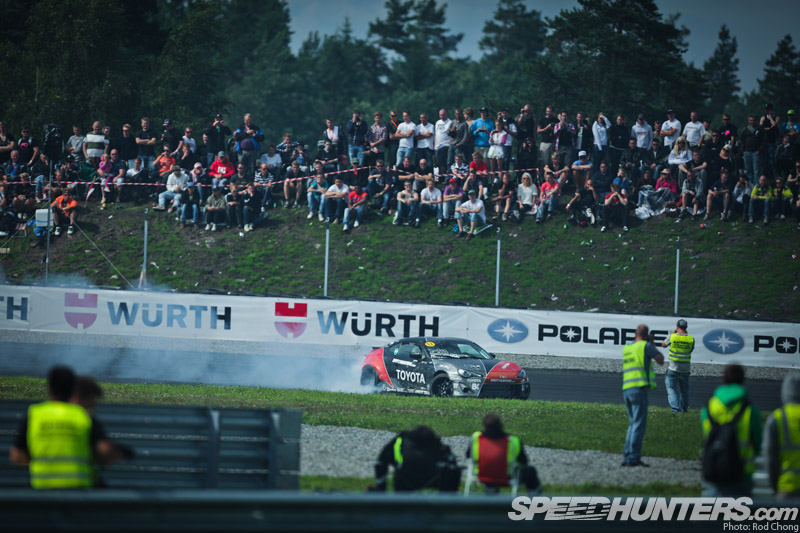 Rod: Well I hope you enjoyed Gatebil 2012. I need to thank Fredric for all his hard work hosting us. Cheers, Fredric!
Fredric: Thanks guys, but I think the real heroes are the ones that helped with everything from running the booth to transporting our cars. Thanks for all of your invaluable help, and for an amazing Gatebil July 2012!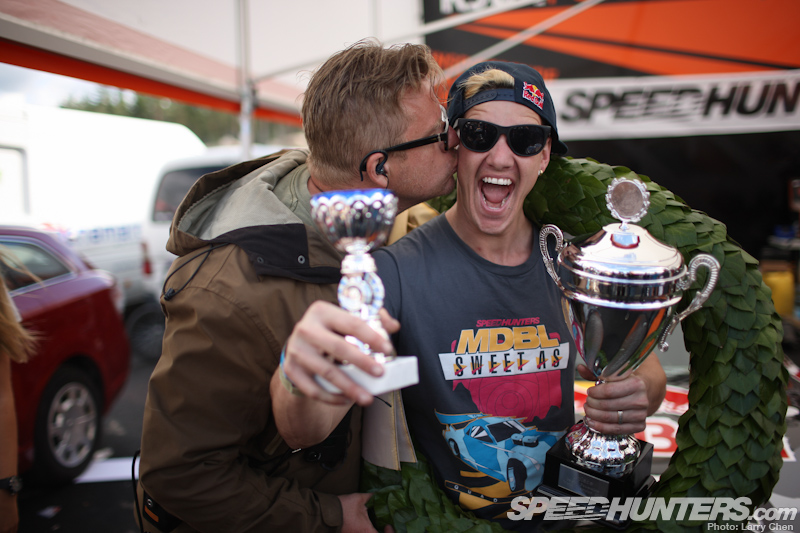 MadMike: Did I ever! I had a blast and hope to be back to see what madness there is next year! I need to thank you Rod for all your support and making these dreams come true for me. Also Freddy and Wenche for the hospitality and making my first visit to Europe such an enjoyable and fun time. They let us crash at their house and showed us around – this is a common drift thing when you're travelling, and I hope to return the favour for them and Darren should he ever get down.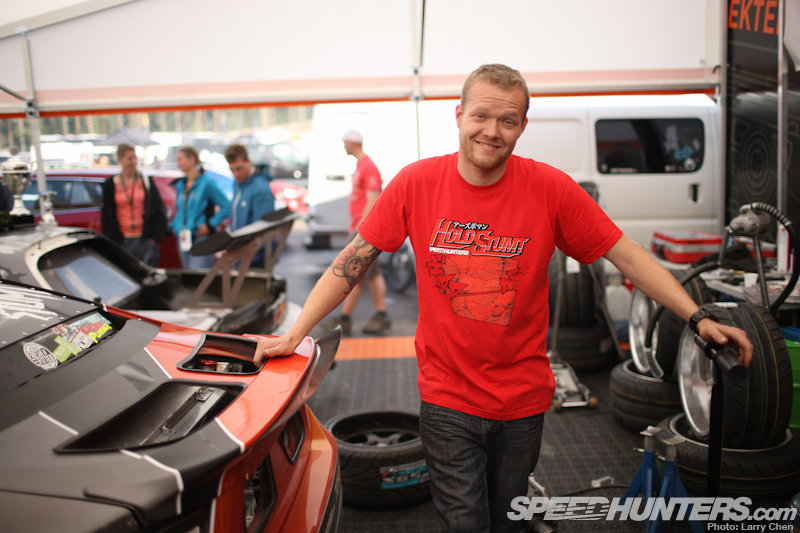 MadMike: Of course all of the Speedhunters crew for their time and passion, Marius of Metal Mulisha for the van and helping me out every minute of the entire weekend, all of Freddy's crew for their help, Nitto for all NT05 tyres for me to put on the smoke show, Benny for his work, Red Bull Norway and of course my fiancé Toni for organising everything back home make this trip happen!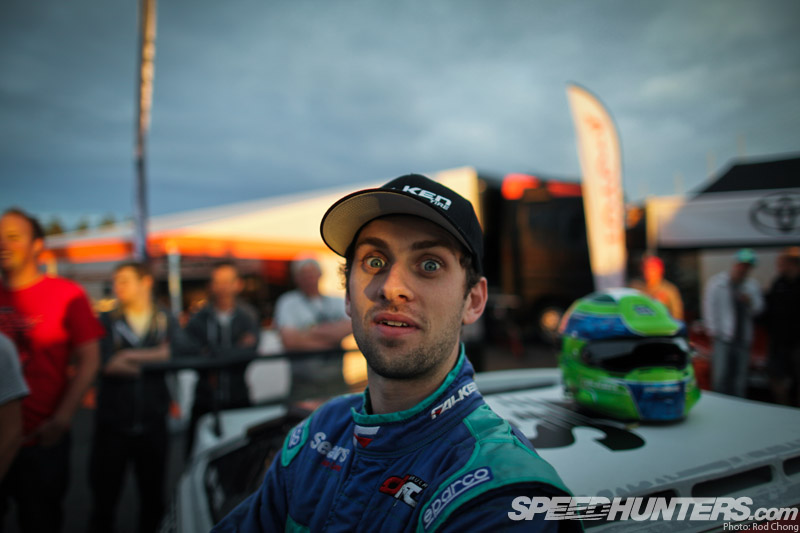 Darren: Thanks to Rod and all the Speedhunters crew. The people hosting us were amazing and it wouldn't be possible with my crew and sponsors.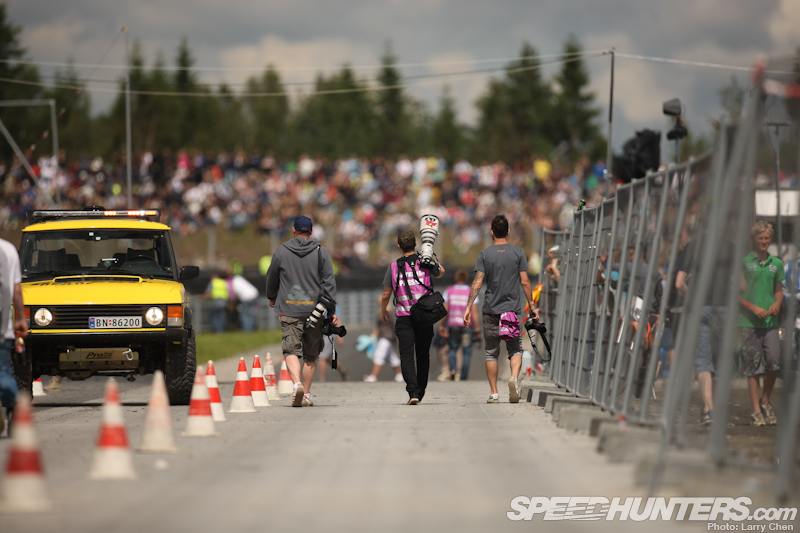 Rod: Ok thanks guys for your time! I can't wait to do this again with you!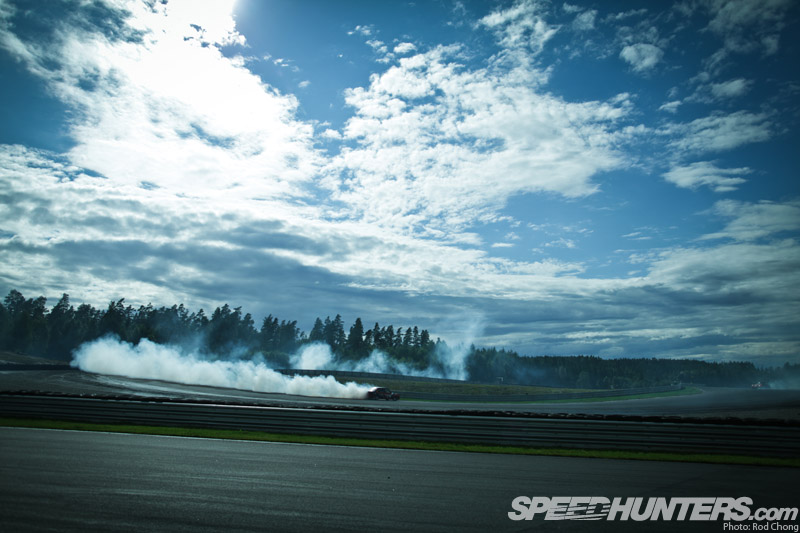 :Rod Chong, MadMike Whiddett, Darren McNamara and Fredric Aasbo