It all started a few months ago, on what I had assumed would be a typical skype conversation with our fearless leader, Rod Chong.  "I have big plans for Irwindale this year" he told me, "and I have an idea for you… but I might be crazy." I smiled and paused in anticipation to hear what he would say next… "I want you to shoot a feature, at Irwindale… during halftime."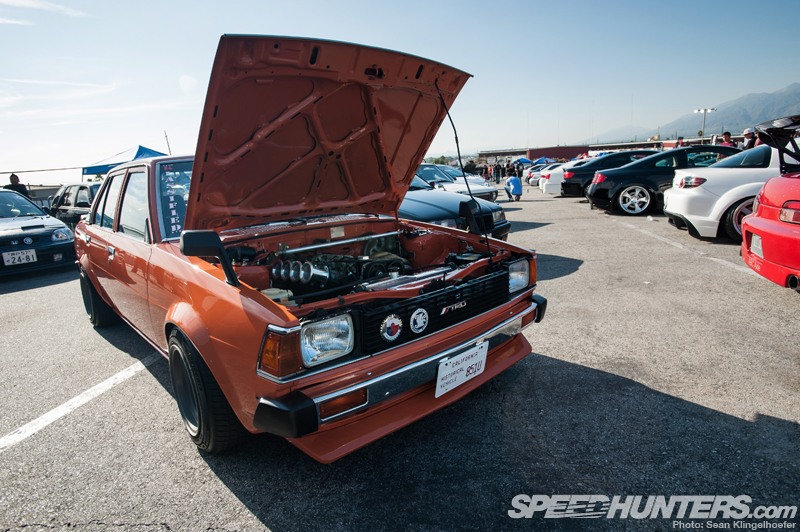 Although I haven't known Rod nearly as long as some of the other Speedhunters, I knew him well enough to know he was probably right – but this time he really outdid himself.  Most of you have already seen how the weekend unfolded and I'm sure you'd be able to imagine how busy we've been preparing for it. But at the time when I first heard the big scheme that lay ahead of us I wasn't entirely sure how things were going to pan out.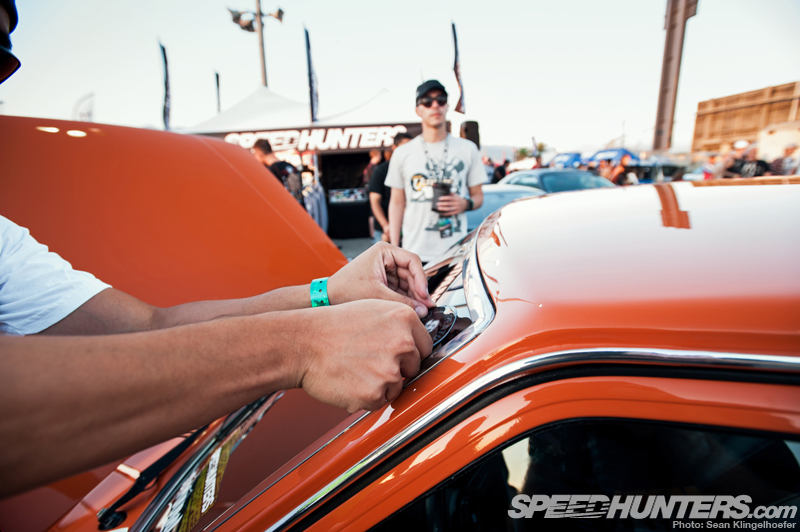 After looking over the production schedule for the weekend there was a massive amount for us to accomplish, including lining up a series of exclusive vehicles to include in our booth, setup merchandise for sale for the first time in the States, organize an autograph session for the release of our new book and, of course, stage a live photoshoot smack dab in the middle of it. "Only if you're comfortable with it!" Rod said. No pressure.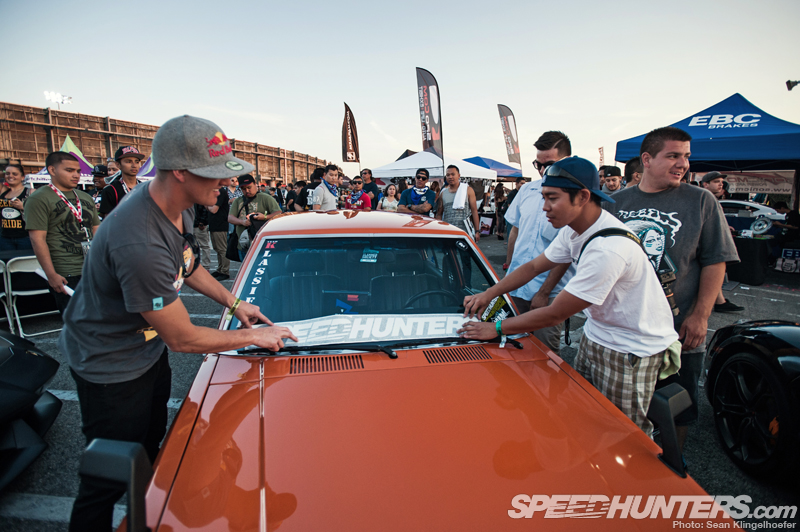 Fortunately my insane Speedhunting schedule didn't leave much idle time for me to sit around and worry about these sorts of things, so before I knew it October rolled around and I was standing in the middle of the Irwindale paddock scouting "the car." I spoke a bit about how difficult this task was in my post on Tuesday, but in the end there could only be one. One car to rule them all…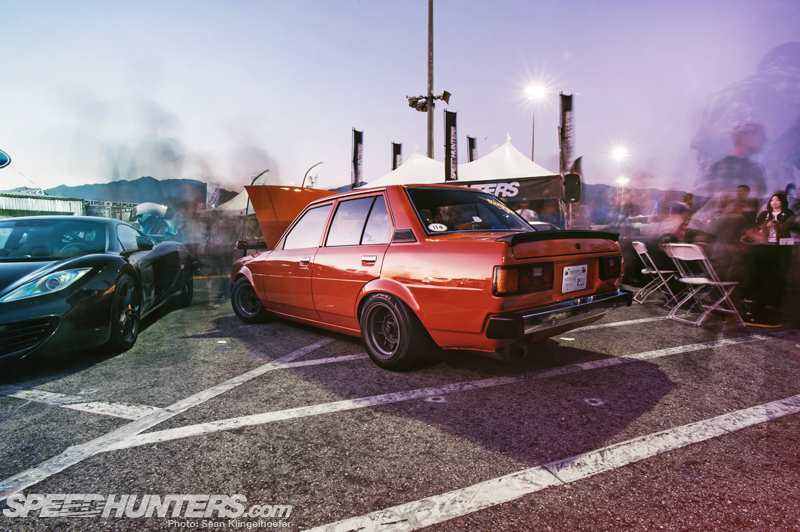 Everything seems like a blur looking back, and I remember that before I even had time to eat something it was already time to pull the Corolla out of the car show and move it to our booth before the hordes of people filled the paddock, making that task impossible. Just as the car came to a rest it seemed we were already under attack from excited drift fans. It just got very real.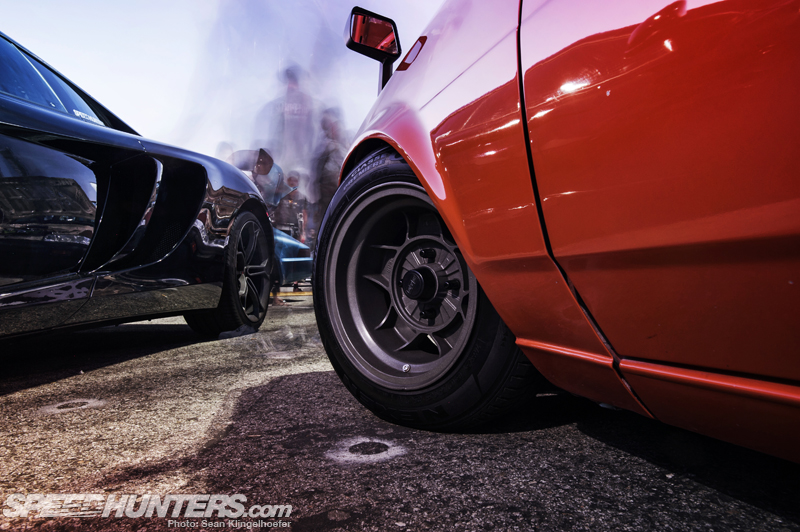 Before I had time to set up my camera more people started rolling in. Wasting no time Mad Mike jumped in to give another hand in the decal-applying department. Unfortunately the car's owner Ben Fernandez couldn't stick around for the shoot, but his friend Cedu (seen here applying the sticker with Mike) did an excellent job as his stand-in.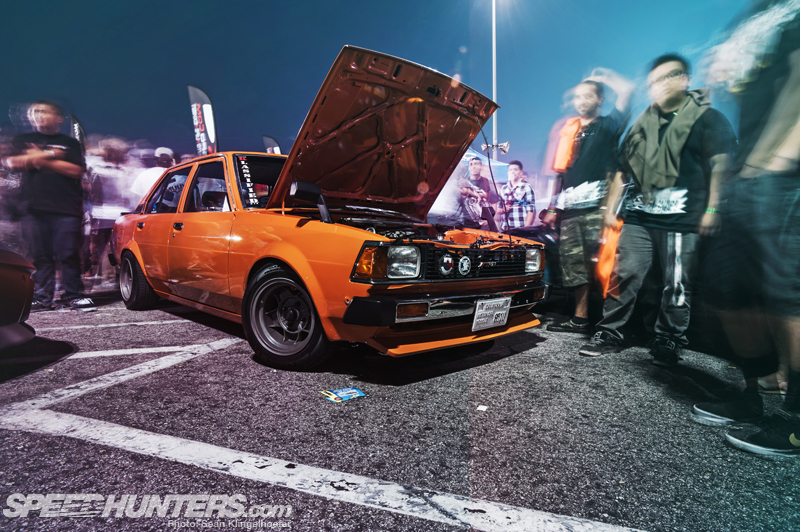 What I didn't know ahead of time was that Jarod DeAnda, the voice of Formula Drift, had not only announced our festivities over the loudspeaker before the halftime break, but he would also be joining our booth to MC the Speedhunters shin dig. Needless to say he brought a couple interested spectators with him.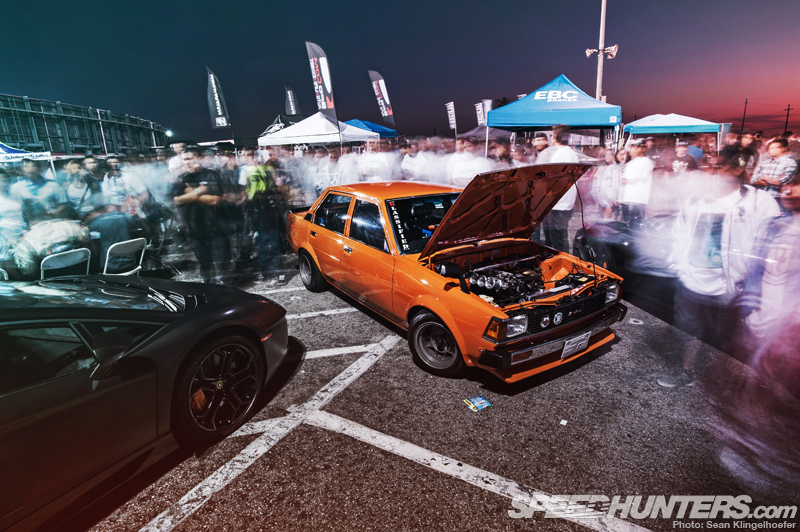 The original game plan before the event involved roping off a section for me to work inside of in order to give me some room to shoot, however I decided to wing it and try something a little different when the time came. I really liked the vibe we had going at the booth and felt like roping off the car wasn't the right thing to do, even borderline offensive.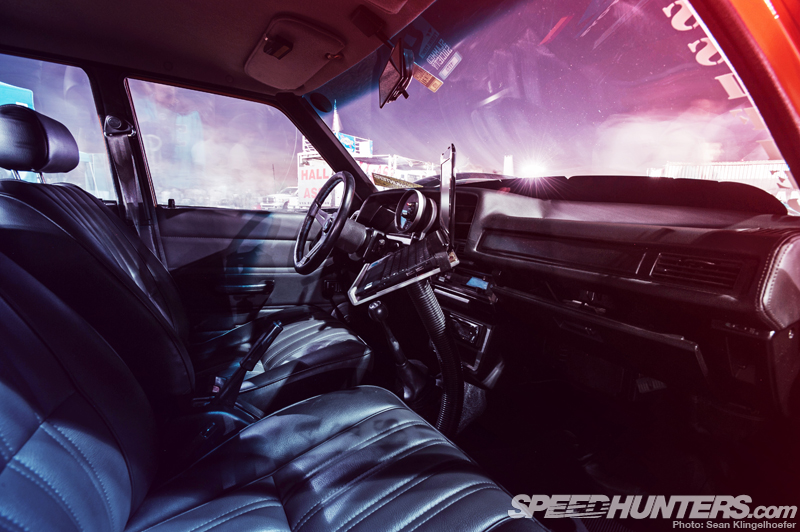 Instead I thought why not continue to let people get up close and personal with the cars. It's this interaction that makes the event special, nobody wants to stand back at a distance and admire the cars from afar. This lead to a slightly different strategy in terms of art direction and my focus shifted from shooting the car to documenting the madness as it unfolded.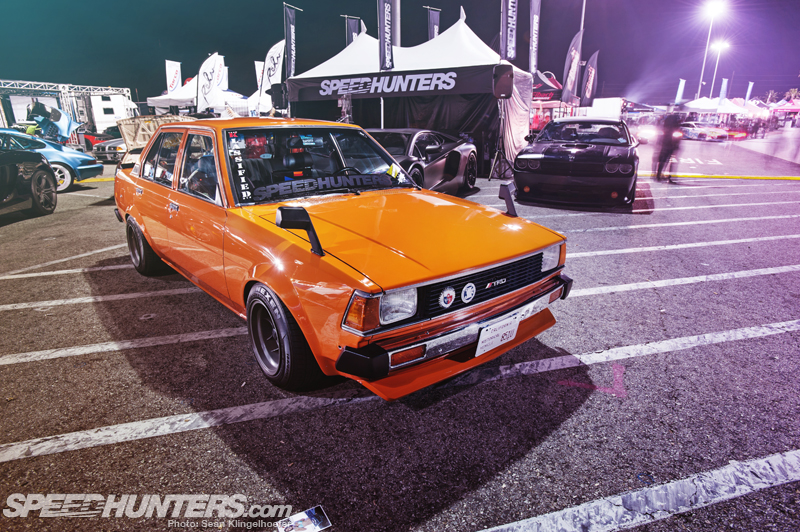 By nightfall, which came rapidly from the time I began the shoot, the booth was completely packed. Since I was so busy shooting I didn't really have a chance to get a good look around, but the line for signatures alone was at least one hundred people long. Around the perimeter of our booth it was standing room only as far as my 5'8" eyes could see. Nuts.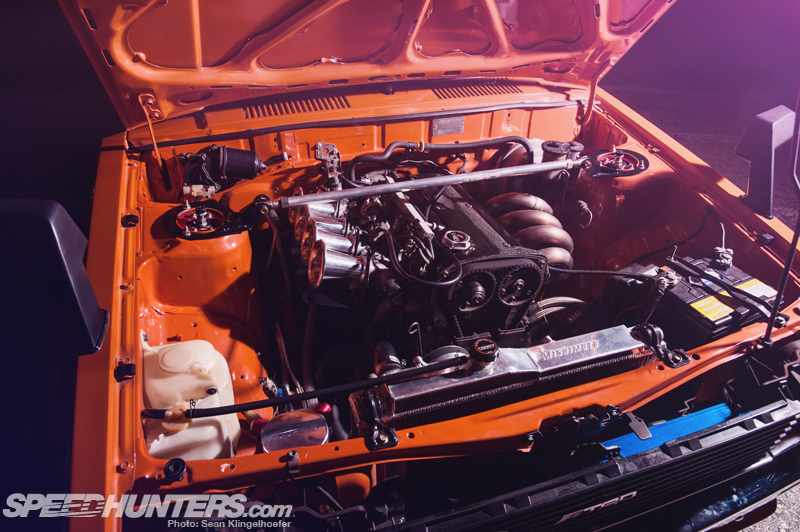 When halftime ended the drifting would of course resume and took with the hundreds of onlookers from our booth.  Nearly as fast as they had appeared, thousands of people rushed back to take their seats in time for the final series of battles in the 2012 season, leaving me with an empty paddock to complete the shoot. It was a stark contrast to the scene I encountered only moments prior.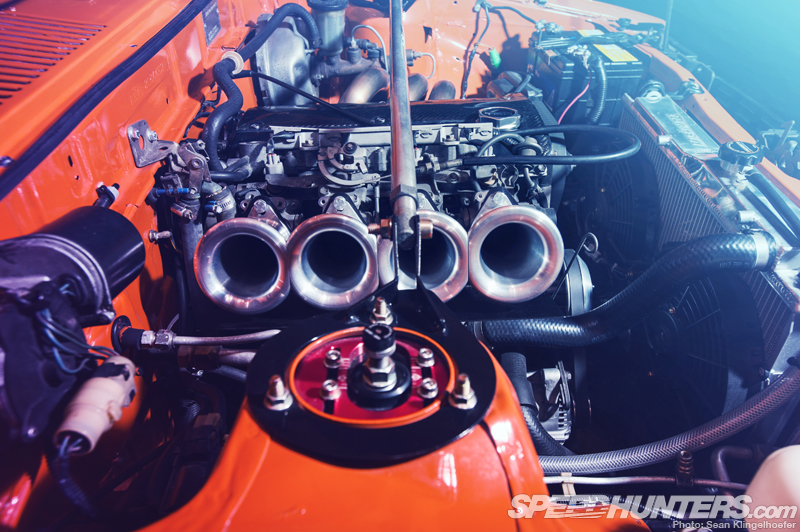 With my new found peace and quiet I set up a strobe and took a few minutes to settle back into normality and give the car a better look.  I couldn't help but notice that although the 20v 4AG engine obviously didn't come in this chassis from the factory, it scarcely looked out of place in the bay.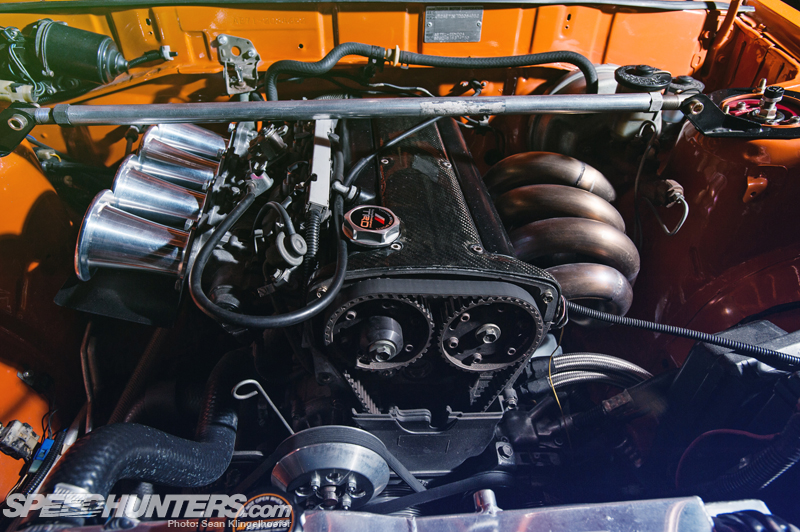 There's something about a row of open velocity stacks that no petrol head can resist, we're only mortal after all. I would imagine that combined with the long tube header and nimble chassis this Corolla is probably quite responsive to the loud pedal.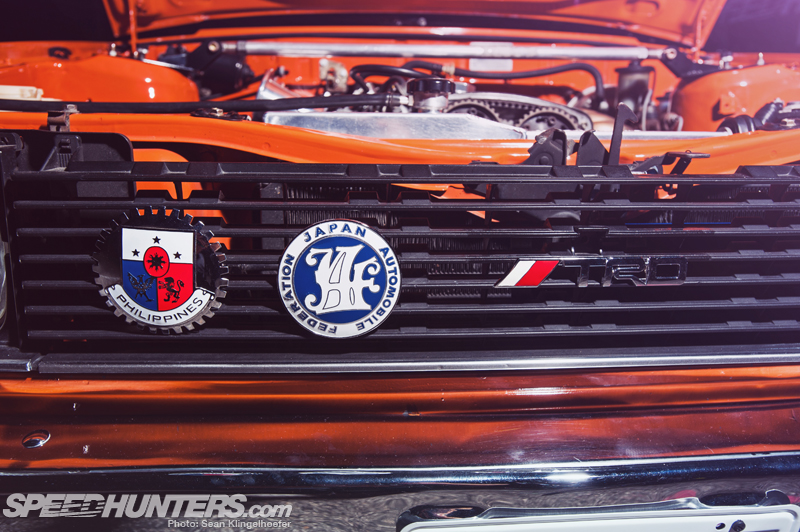 I'll presume most of you are probably familiar with the JAF and TRD emblems, but the Philippines one may seem out of place. In SoCal there is a very large community of Pilipino Toyota enthusiasts, and although there is some speculation as to why there are so many of them, there is no question that they are responsible for building some of the best Toyota's around – particularly Corollas.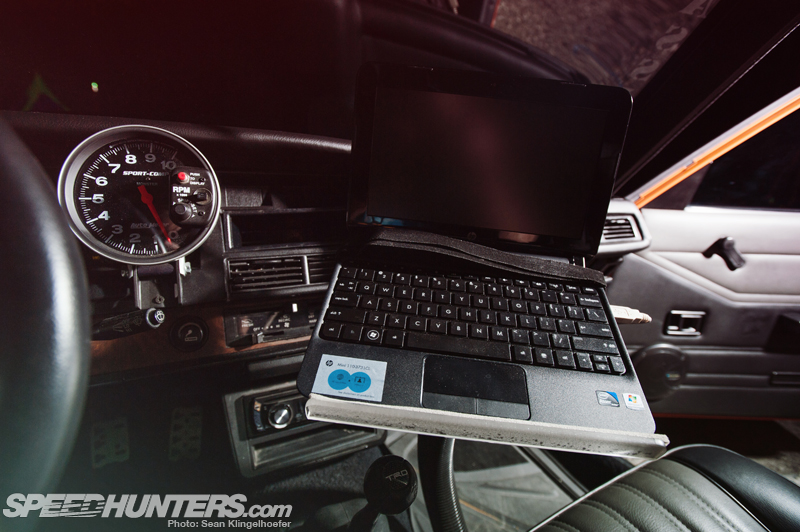 It's not every day that you see a laptop stand inside a car and I admit I giggled to myself when I saw it. Not a little girly giggle though, a really masculine manly one. I didn't get a chance to ask the owner what the deal was with this, but I would imagine it probably has something to do with '80s Japanese styling. It was cool to see regardless.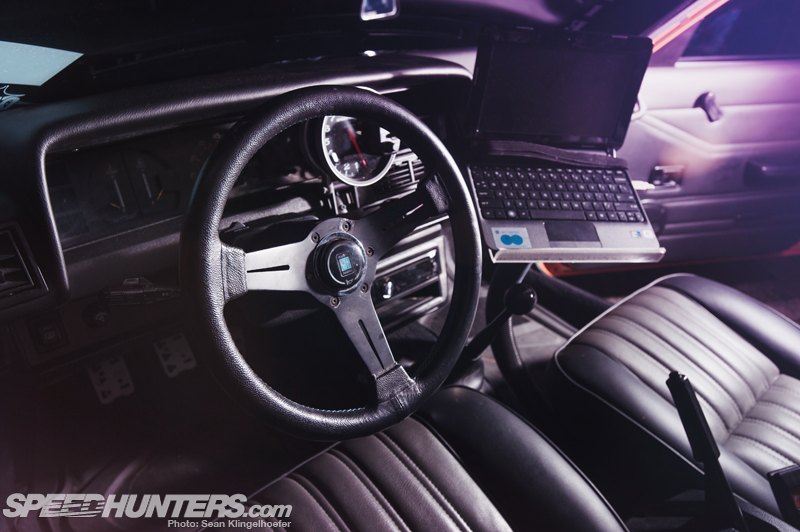 The rest of the interior was pretty plain, a Nardi wheel and Monster tach are accompanied by a few other knick-knacks but not much else has been done. However, the overall cleanliness of the car and the subdued styling speak for itself, which, I think, was why I liked it so much. In a show full of cars that were screaming for attention it was the car that spoke softly and carried a big stick that I noticed in the end.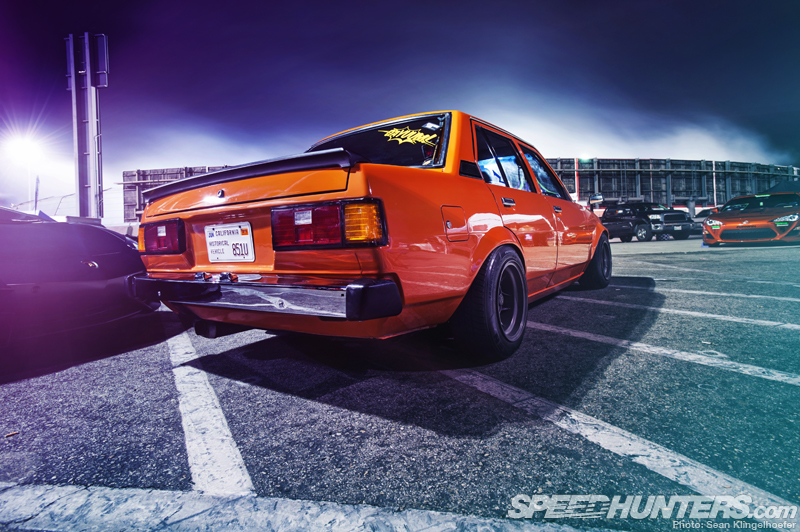 By this time I was feeling a little lonely in the paddock and had just realized that I hadn't seen a single drift run all day. The sounds of engines tearing around the circuit were beckoning me and the smoke looming a few hundred feet away was more than I could take. Making sure I had all the shots I needed, I thanked Cedu for all of his help, quickly packed my gear and made haste to get trackside. The weekend may have been non-stop-crazy, but I wouldn't have had it any other way.
1983 Toyota Corolla AE71
ENGINE
Blacktop 20v 4AGE; Toda 272 cams, adjustable cam gears; TRD head studs; Racetoys velocity stacks, high rise header and exhaust; T3 race pulleys; Mishimoto radiator; GReddy oil catch tank; Subaru oil cooler;
ENGINE MANAGEMENT / ELECTRONICS
AEM EMS; Autometer Monster tach
DRIVELINE
T50 transmission; ACT stage 3 clutch; Toda Flywheel; GTS rear end
SUSPENSION / CHASSIS
Megan Racing coilovers
BRAKES
GTS disc brake conversion
WHEELS / TIRES
13×8" ATS Classic wheels; 185/60R13
CABIN
New black interior; HP notebook w/ engine management
BODY
Custom 918 orange paint by PJ Bonafacio; JDM chrome bumpers, fender mirrors; flared fenders; custom front lip; GTS coupe rear Foha spoiler
More stories from Sean Klingelhoefer on Speedhunters
-Sean