I'd wager that last Saturday the largest gathering of car enthusiasts in North America, possible the world, converged at Irwindale Speedway. For those twenty four hours the course was not only the home of the final round of Formula D, but also had a paddock full of vendors, a parking lot bursting with street sweepers and a packed-to-capacity car show. On top of all the commotion, Irwindale was also the birthing ground for the North American debut of our #FeatureThis program.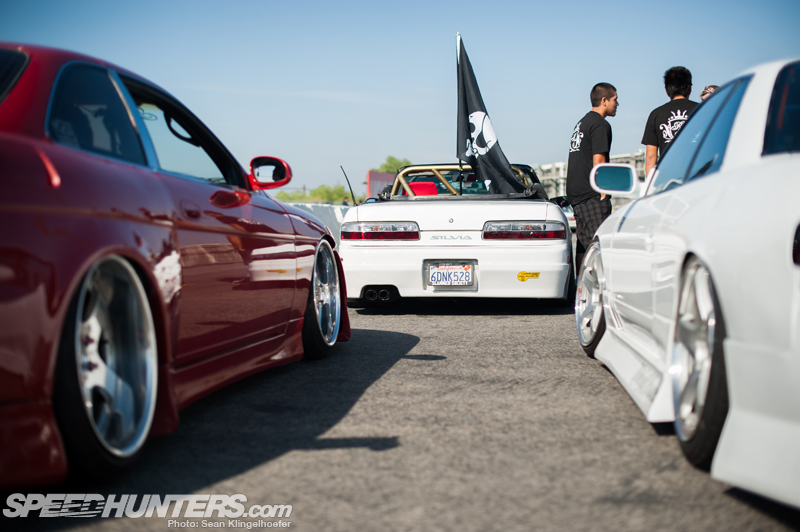 For those of you that missed the announcement, we set out to make some Speedhunting history by selecting one vehicle from the Slammed Society Showcase and shooting it for a feature… live in the paddock, in front of hundreds of onlookers during the halftime break of Formula D. I knew going into the weekend that I had my work cut out for me, but what I had imagined was only the tip of the iceberg.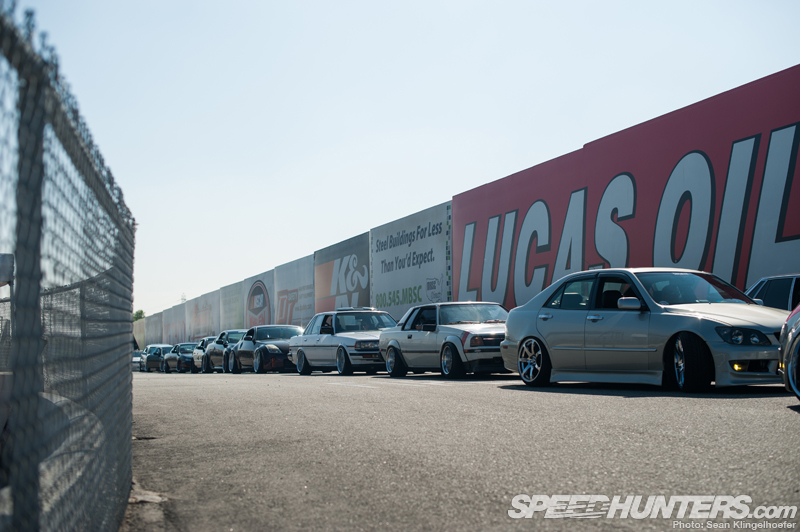 Although the shoot itself brought a huge set of challenges along with it, they were challenges that I could anticipate and plan for accordingly. What I hadn't put much thought into was how difficult it would be to select one vehicle from a field of 130. Not only is it a very time consuming process, but there are a number of other factors that go into selecting the "right" vehicle. I've been offered to judge several car shows before but I've always declined, and Saturday reminded me exactly why.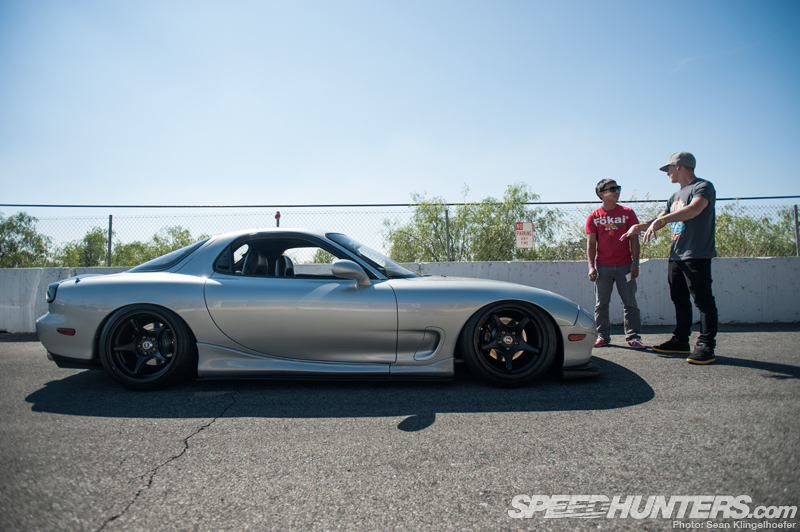 Fortunately I didn't have to make the rounds alone as Mad Mike was more than happy to spend the day walking around shooting the breeze with myself and the car owners. While he might be a drifting superstar, when you meet Mike in person he has none of the stereotypical mannerisms that usually accompany someone with a resume as incredible as his.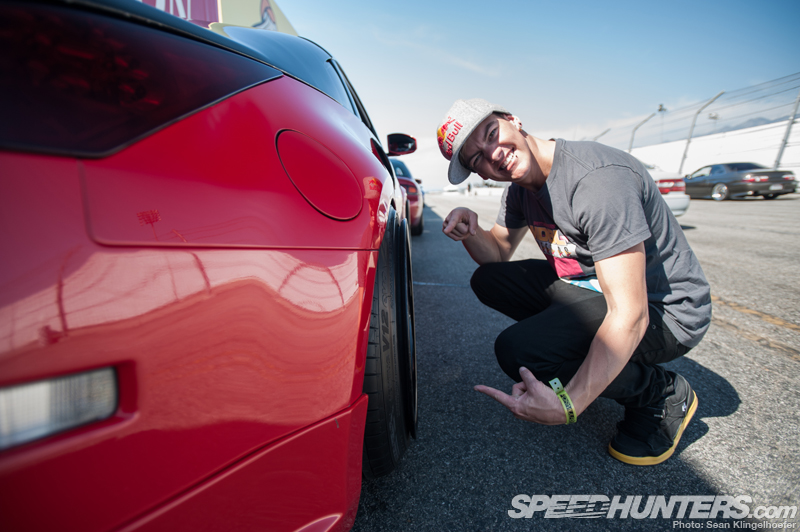 Before coming on board at Speedhunters I had only shared a few words with Mike, but after spending two weekends with him at Gatebil and Irwindale, I can assure you he's about as down to earth as they come – and a total car nut at that. So with a Kiwi drifter and a pocket full of stickers we set off to get a better a look at what SoCal had to offer. As you can tell Mad Mike was quite excited by some of the cars.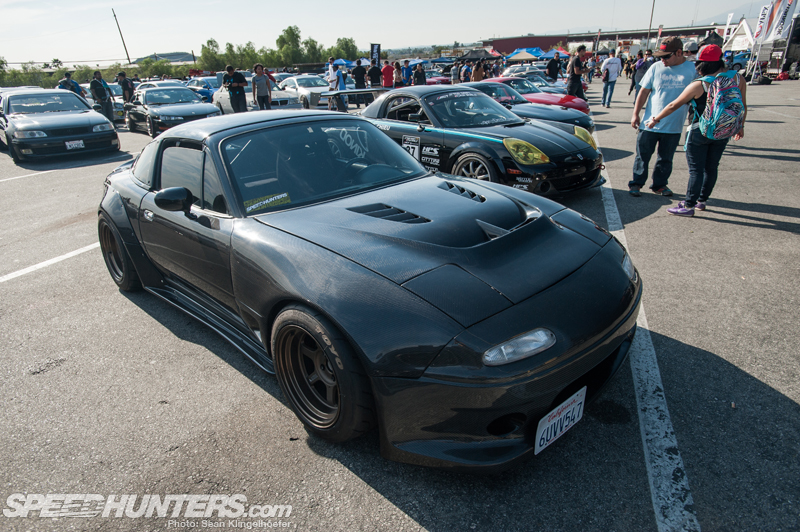 Unfortunately at the end of the day there could only be one car selected for a feature, but there were a few I thought were worthy of a better look. As Mike Garrett mentioned in his post, there seems to be an alarming trend in the number of Miatas showing up at shows. There were actually a handful of roadsters I thought were quite cool at the Slammed Society Showcase, like this carbon-clad NA.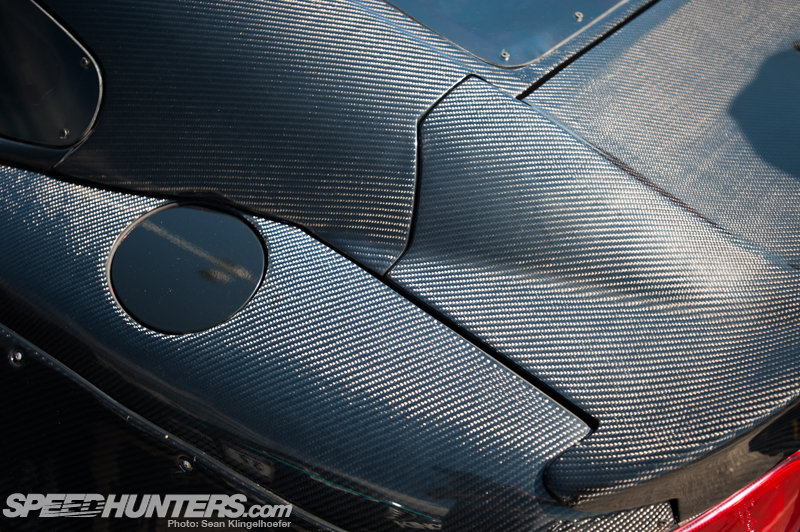 I think it goes without saying that the bodywork was quite impressive as nearly every inch of the car, aside from the rear bumper, was covered in the stuff.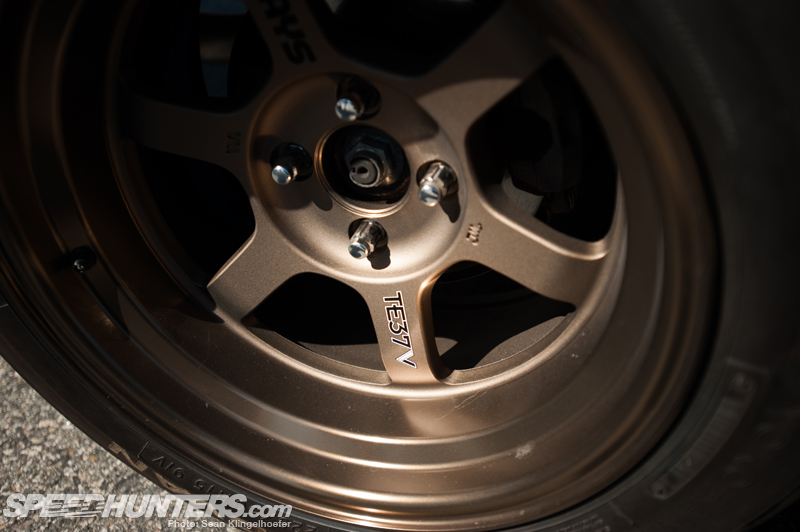 It was also wearing a set of TE37Vs which looked surprisingly at home on the car. I'll certainly be keeping an eye on this MX-5 as I'm sure it's going to be pretty awesome in coming months, but at the moment the owner hasn't had time to do anything to the engine bay or interior of the car.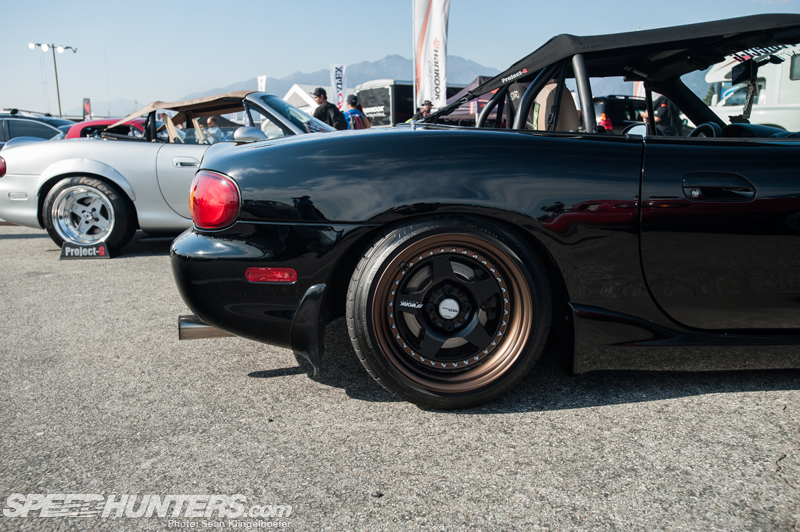 Meanwhile there were cars done up in an über clean street car style like this black Miata from Project G. I couldn't stop from coming back and getting a second look at how sick the Work CR01s looked on this car.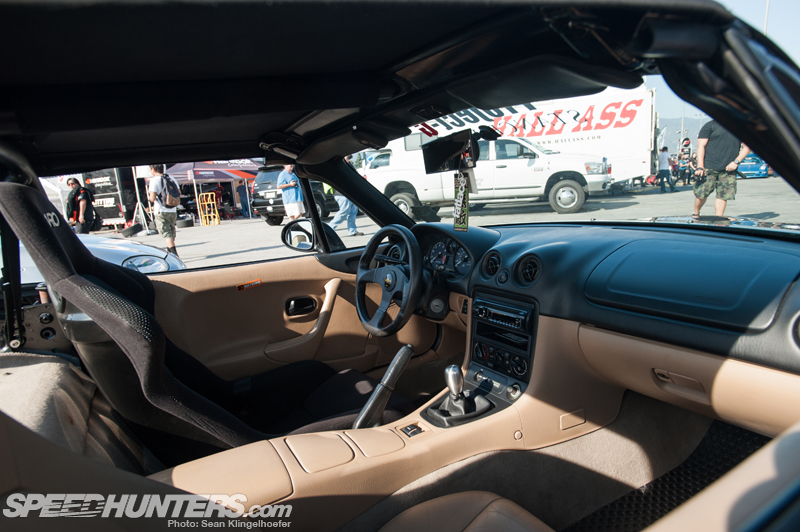 The interior matches the black-and-tan theme of the exterior and while there isn't a lot going on inside, what's been done is in very good taste. Can't go wrong with a Recaro SPG or a Personal Grinta – I should know, I have them in one of my cars!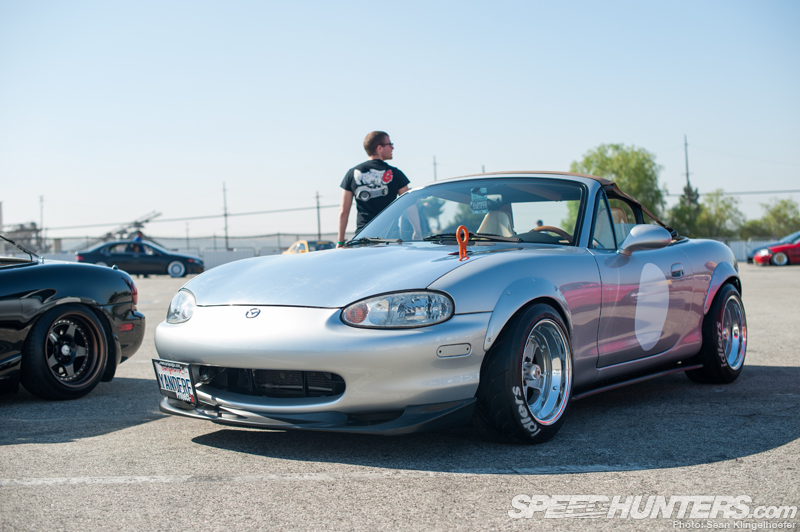 But if I had to pick an MX-5 that really set my heart on fire, I'd once again have to agree with Mr. Garrett and go with this badass NB. I'm not sure if the exterior of the car is "completed" or not yet, but I'm definitely digging the direction it's going in. The fender flares, door number "spot" and the raw metal hood complete with exposed tow hook all scream "track day special".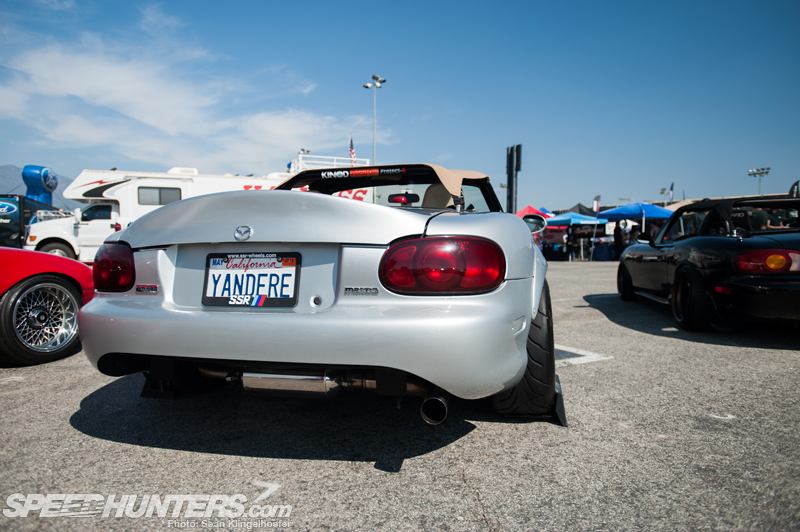 The view from the back communicates the same message, "please flog me, hard." I thought that the cut rear bumper was a nice touch, and the fact that it further exposes a delicious looking exhaust system doesn't hurt either. By this point I really thought I had found my feature car, until I found out that the engine on this car was also stock… what a shame.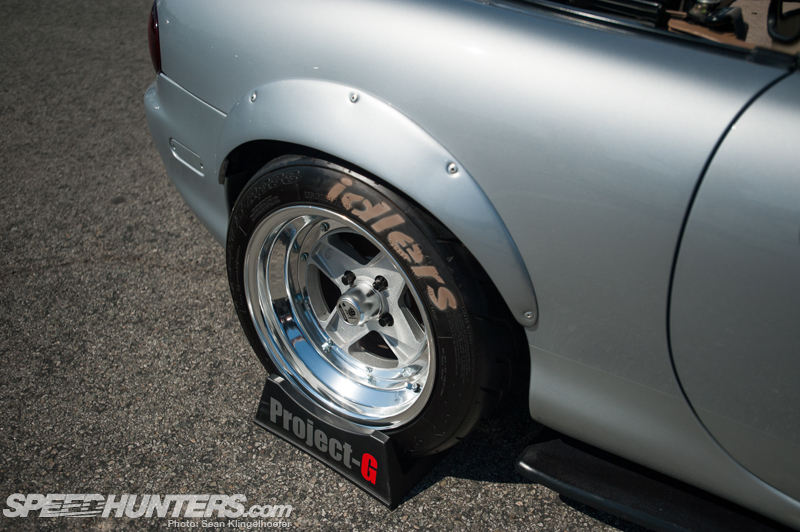 Even still it's quite a cool car. I'd never think to put SSR MKIIs on a Miata, but now that I've seen it I have to admit they look wicked. I just hope that one day the Idlers club stenciled R888s will be heard screaming for dear life through the apex of a corner.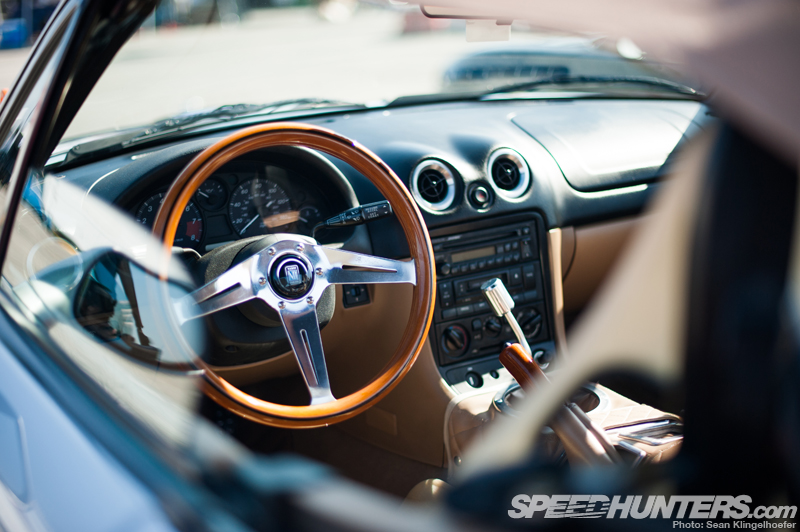 The interior of the car is shockingly classy and almost reminds me more of an expensive Italian speedboat than a Japanese compact car.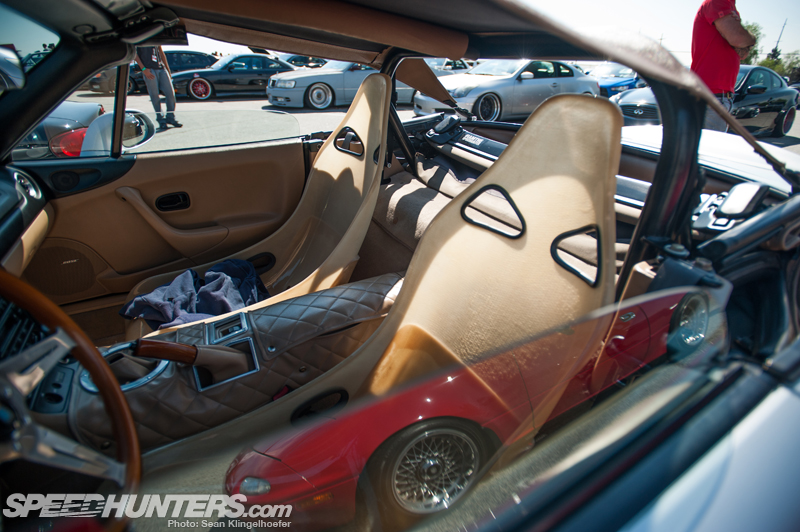 I'm not sure who makes these fiberglass seats, perhaps they're something more easily recognizable that have been de-skinned, but I quite like them. It reminds of the kind of seats you'd find in '60s era race cars, back when the men were men and padding was considered added weight for sissies. The diamond stitched center console cover was also pretty rad.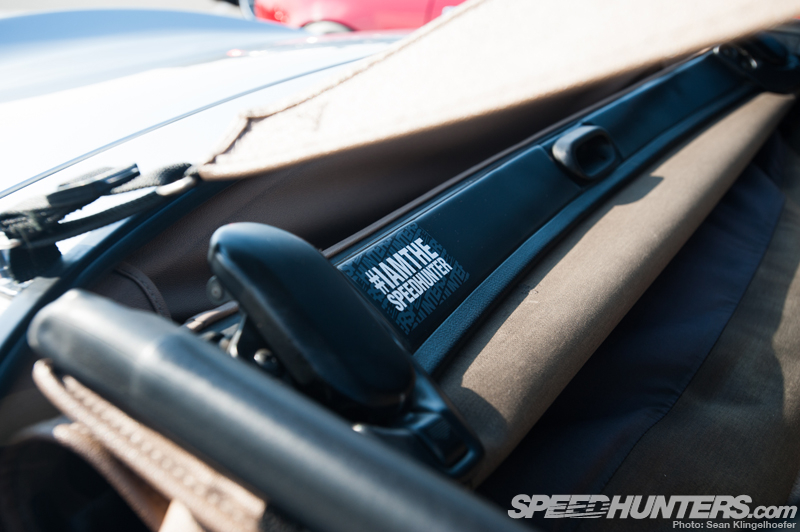 But the best part of the cabin, hands down, was this limited edition #IAmTheSpeedhunter sticker. Nicely done!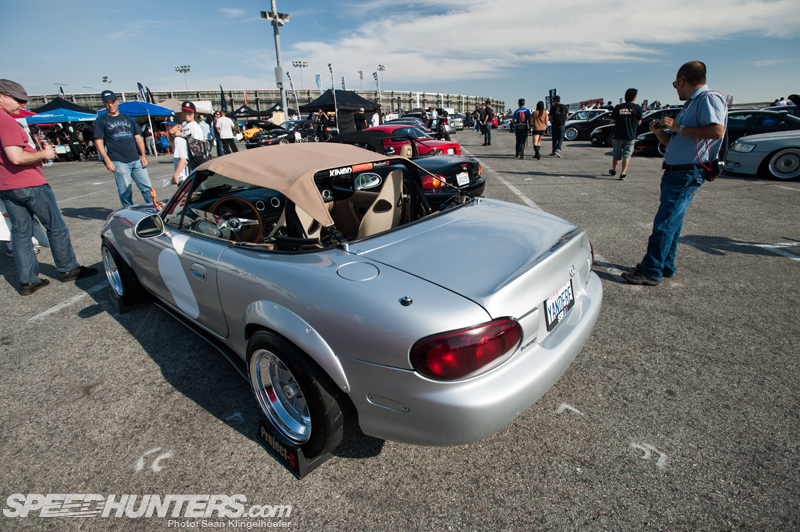 Here's one last shoot for good measure that better shows the top. Seeing this many killer Miatas reminded me I need to brush up a little on this segment of our community because I realized I don't know nearly enough about these cars.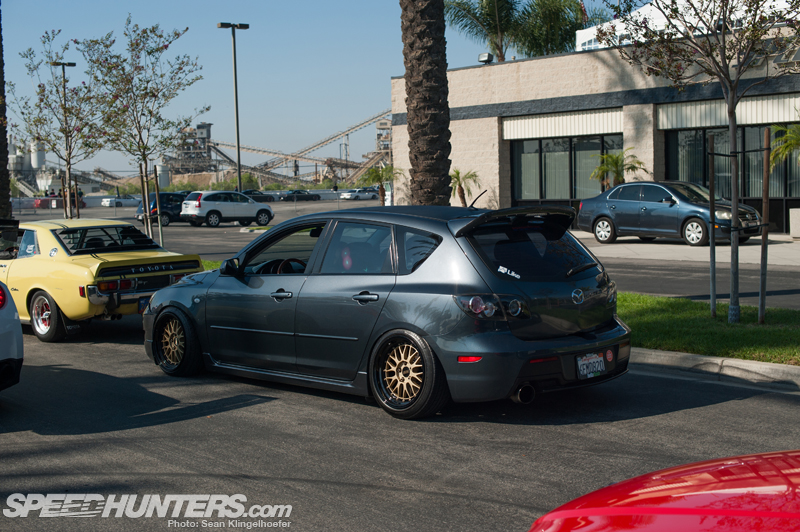 While we're on the subject of Mazdas, here's another one that caught my eye. Two months back in my Infamous post I had an epiphany that the Mazda3 seems to be quickly becoming on of the more popular cars in the "stance" genre. There was certainly no shortage of them at Irwindale either and while this wasn't the most extreme example, I really liked the subtlety.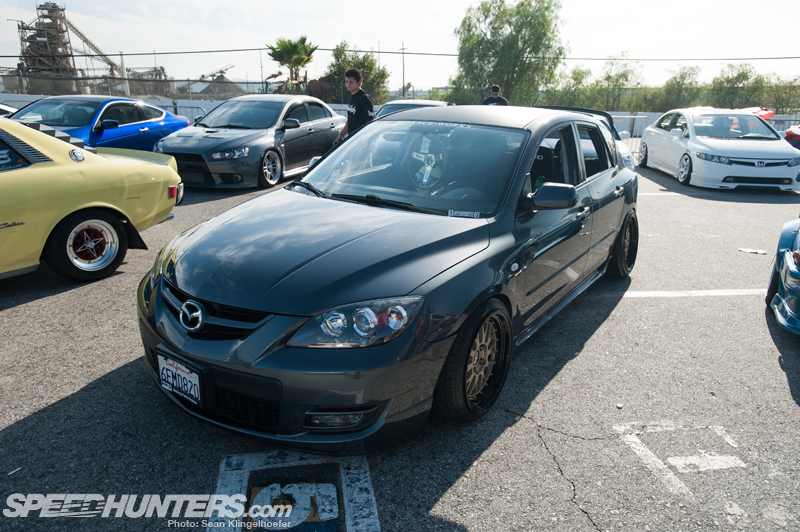 It isn't super-duper-dumped or crazy-stretched-mega-offset or holy-crap-demon-cambered, but it looks pretty damn good with a reasonable lowering and some slick BBS LMs. I find the factory gunmetal paint to match in a very classy manner with the bronze and black wheels.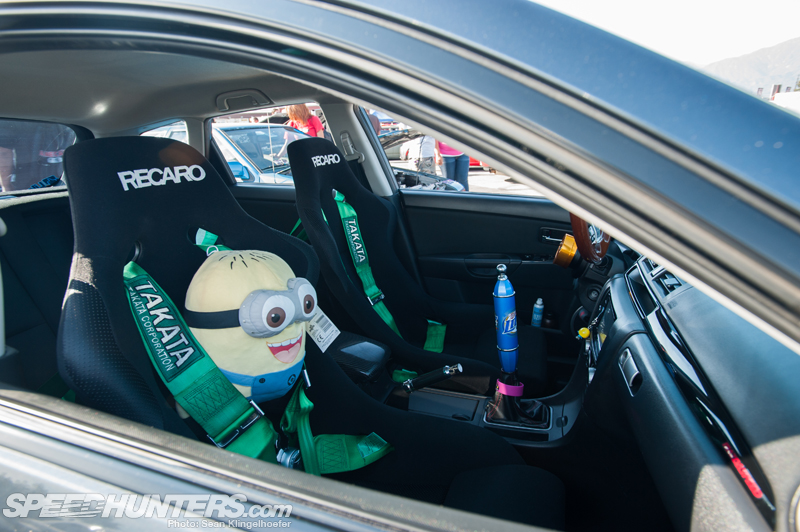 Inside the owner has applied the same quality-over-quanity approach by only installing a few bits, but making sure they count. A pair of Recaro Pole Position seats with Takata harnesses make a great foundation which is supported by an aftermarket wheel and an ironic beer tap shiftknob.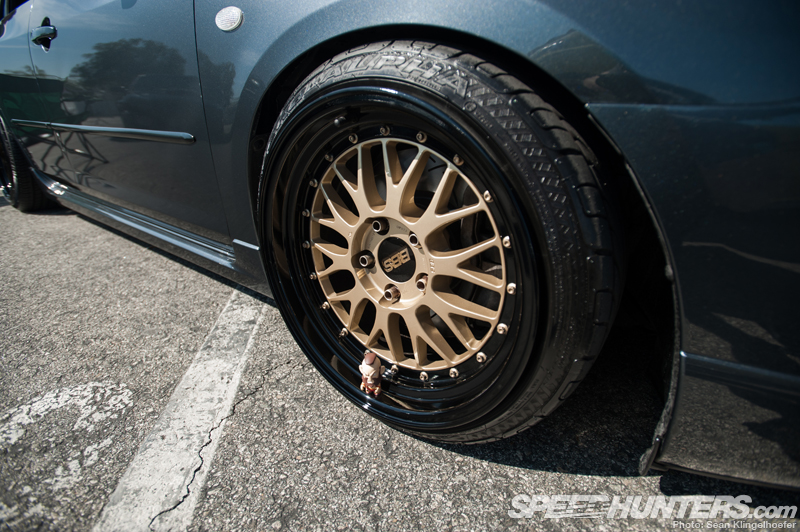 One more look at the LMs… sure they might be "played" but you'd be lying to yourself if you said you wouldn't rock them on your car.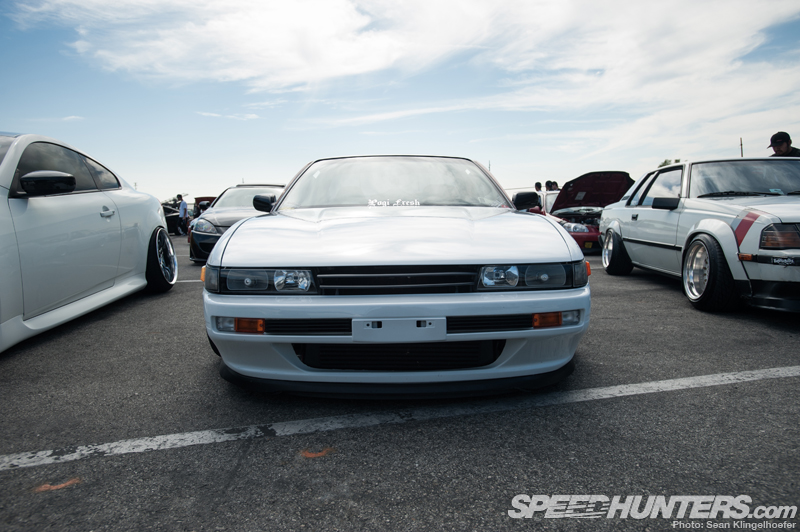 Next up we have a car that I literally spotted at INFMS, but I knew it was worth further investigation this time around. I'm a sucker for white cars and the body lines of an S13 Silvia in mint condition covered in a fresh coat of white paint proved more than I could resist.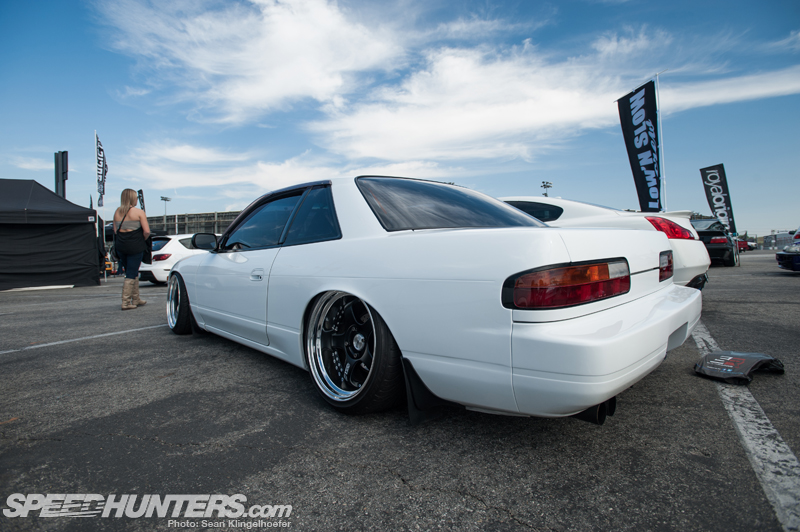 This is another car that is pretty straight forward in terms of the modifications, yet some how manages to have something you can't quite put your finger on that makes it special. I like how the owner has made the car lower and more aggressive looking without manipulating any of the factory body lines… it's almost like a modern day Pro Touring style build on a Japanese icon.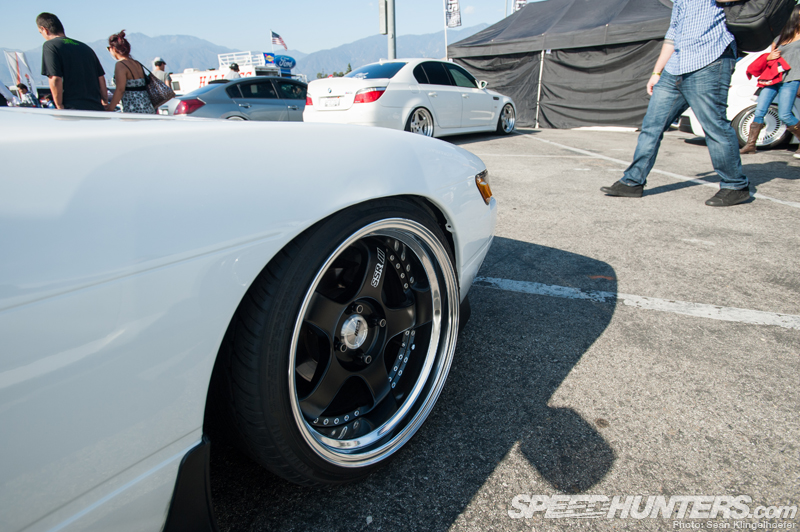 The SSR Professor SP1s are wide and aggressive, but not overly so and have a sensible tire size mounted to them. After speaking with the owner he said one thing that really bugs him about cars is when the tire rubs the fender, so it was one of his top priorities when building this S13 to be able to have it low, keep the stock body and not have any rubbing issues.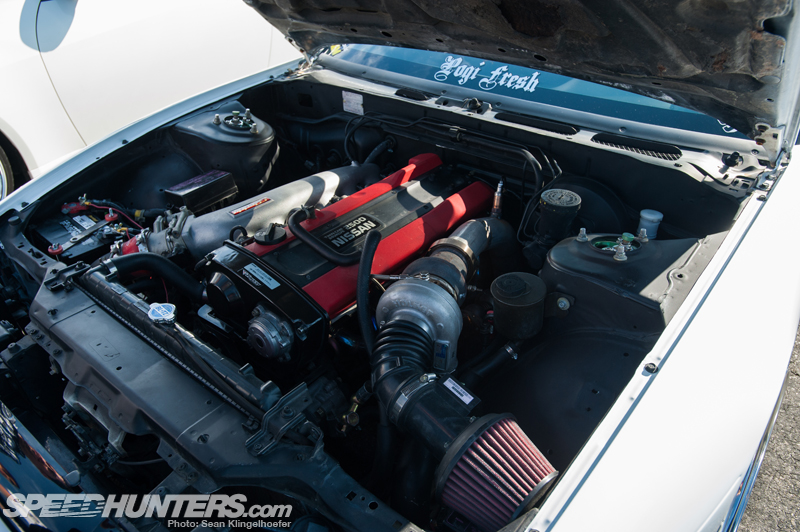 Inside the bay is a respectable RB25 swap which was performed at home by the owner. Adding a little extra oomph are items like the GReddy manifold and an upgraded turbo. While it might not be a Gatebil style 800hp build, I'm sure that it's more than enough to get him in trouble.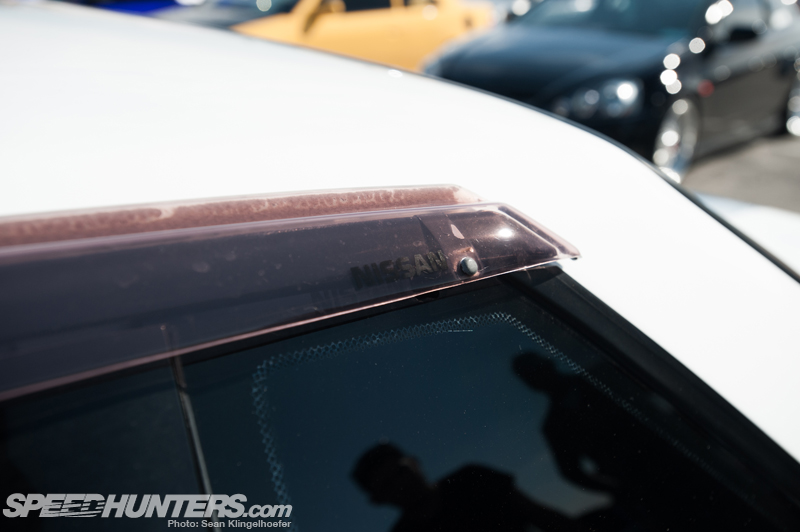 I think this car can serve as a nice reminder that sometimes all it takes are a few necessities to make a car stand out – the factory window visors were one such added touch.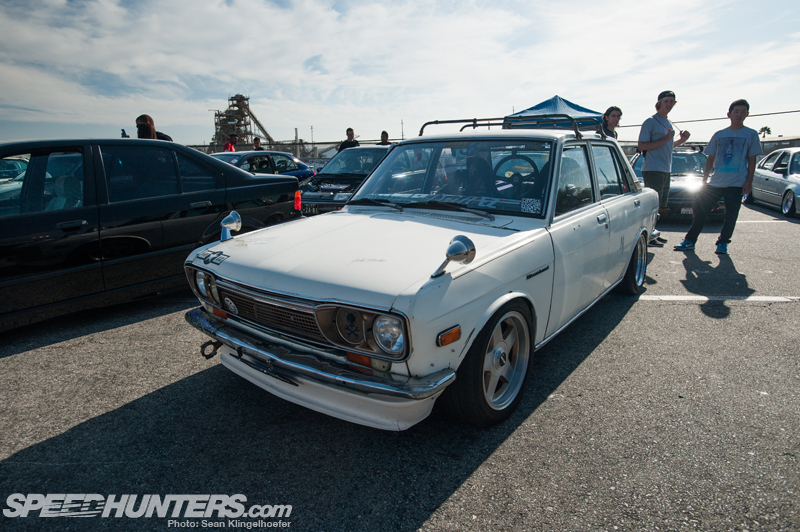 As we near the end of the post I'd like to switch to some old school cool, this time in the form of the ever-popular Datsun 510. Over the years I've seen dimes in all sorts of conditions and styles and while this one wasn't the craziest I've ever seen, it was a nice change of pace at a show consisting mostly of late-model metal.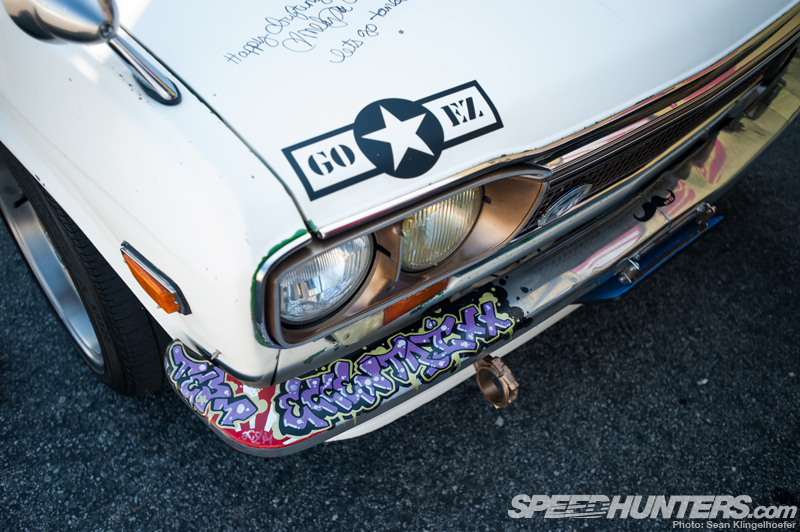 The car had my attention early in the morning when I found during roll in and decided to to take the opportunity to talk with the owner while he was around. As it turns out the owner's father runs a shop in the OC called GO-EZ customs. They specialize in extreme lowering modifications and air ride and have built quite the name for themselves in the mini-truck world.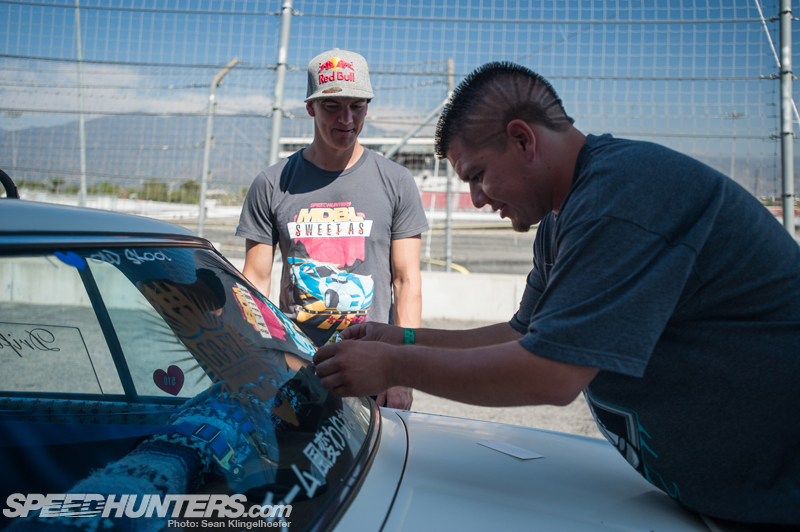 However, some of you probably recall seeing the logo on some of Japan's famous Liberty Walk Lamborghinis. Needless to say after chatting with the owner for a bit and checking out his car I'm going to have to stop by their shop in the future to see some of the madness they have cooking.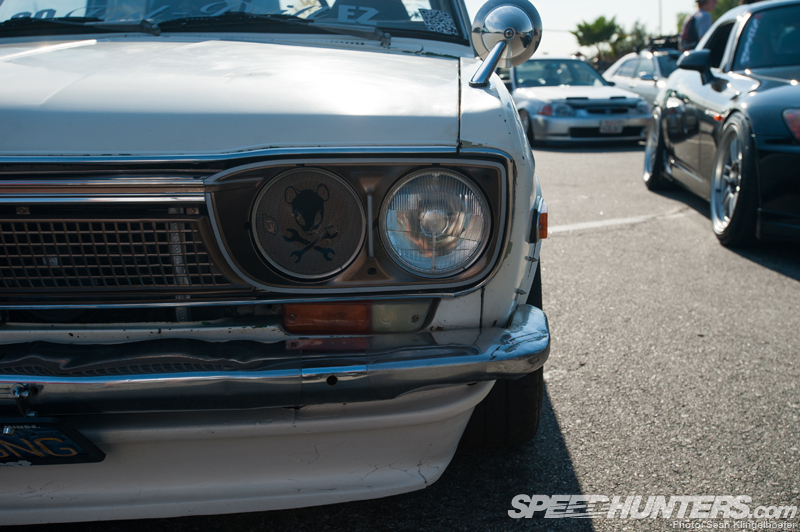 This particular five-ten I found interesting because of all the minor customizations which could be found all over the car. It's an interesting mix of old character and owner-concocted alterations. Take for example the custom build mesh cover for the headlight-turned-intake port with a Ratsun logo on it. Very cool.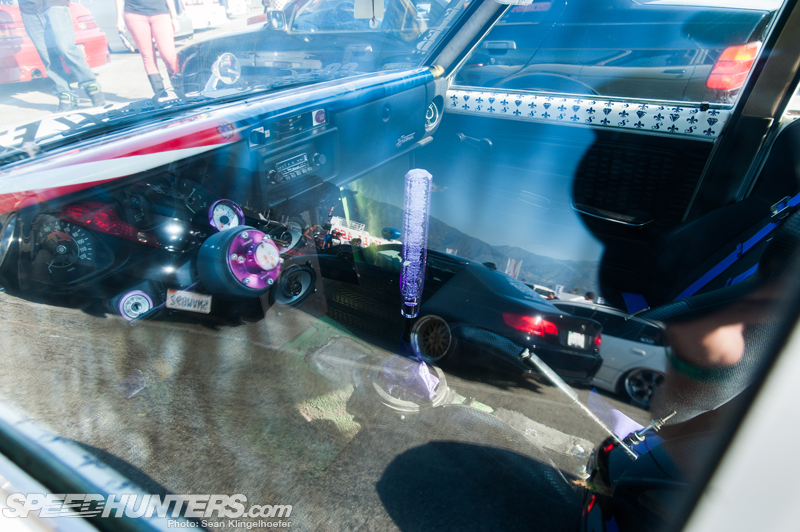 The interior was full of this kind of stuff but unfortunately I didn't manage to walk away with a shot that really showcases everything. Note the top of the dashboard which has been custom airbrushed with a mural of a rising sun and koi fish.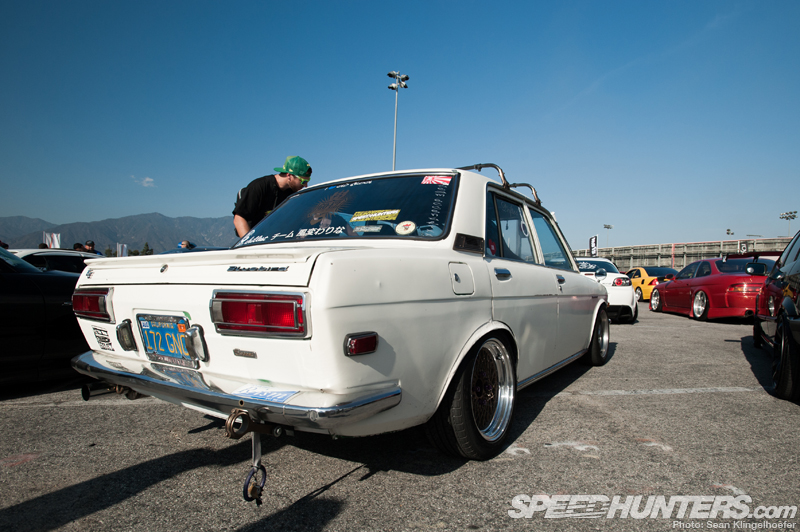 The exterior appears to be original and banged up pretty nicely. Under the hood the owner has installed a single cam KA which, yet again, I somehow forgot to capture with the camera. Better luck next time I suppose.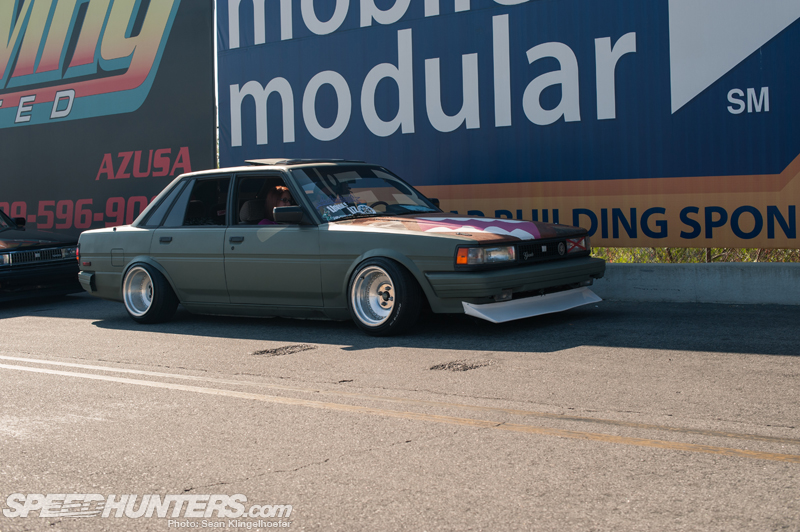 Yet as awesome as all of those other cars were, the runner up – if there were such a thing – for the #FeatureThis festivities would have to be this Cressida. I spotted it early in the morning and immediately made a mental dog-ear for future further investigation.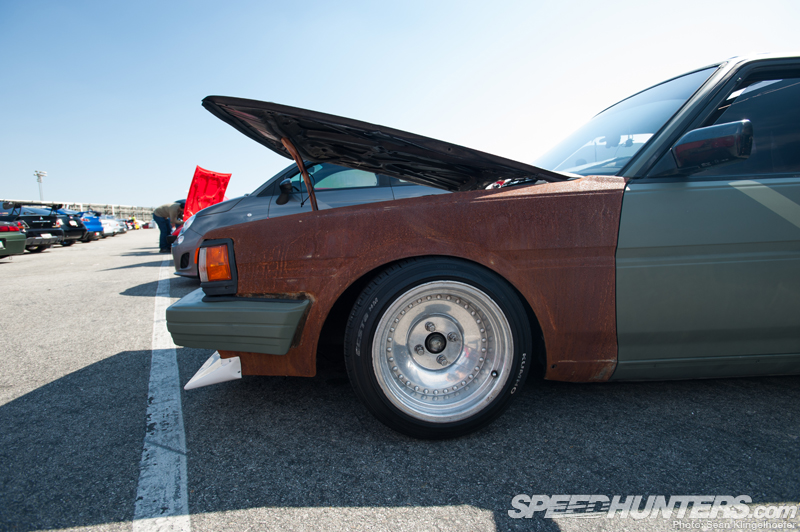 Throughout the day I approached people with Mike and we talked about cars and Speedhunters and were met with numerous reactions. Some people had no idea who Mad Mike was while others seemed star struck. Some could recite posts on Speedhunters from years ago while others had never even heard of us. But there are certain cars that you can tell, even from a distance, are sure fire Speedhunters readers and I knew from the moment I first laid eyes on this car that it was right up our alley.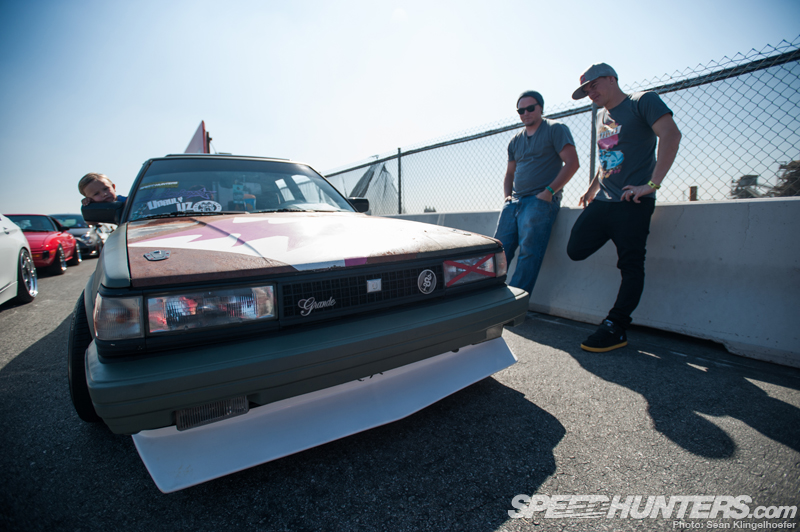 As it turned out my prediction was right. After my initial pass through the field I came back with Mike to have a chat with the owner while the car was still rolling in. I wasn't quite sure what to expect in terms of modifications to the car, but as I would soon find out there was a pleasant surprise waiting under the hood.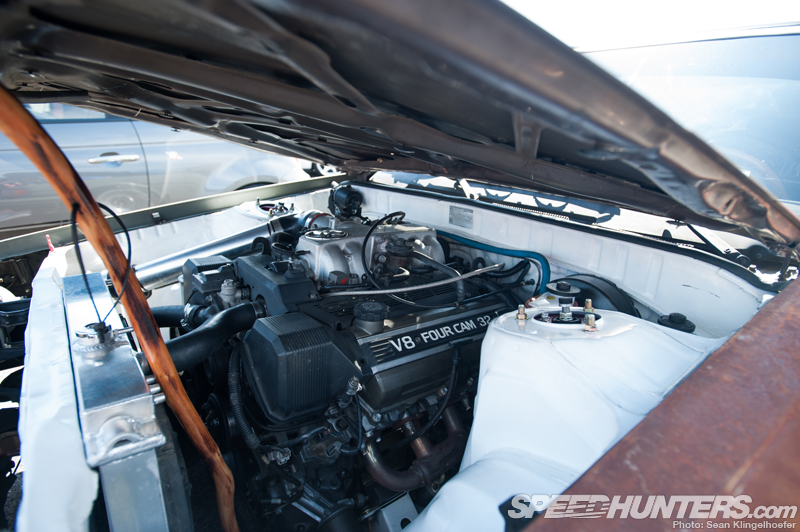 Stuffed between the shock towers is a Toyota 1UZ V8, a swap which has been gaining in popularity as conversion parts become easier to find. In order to get this bad boy functioning a special adapter plate is needed to mate the Supra W58 transmission to its bellhousing. A custom one-piece driveshaft was the last bit of kit required to send all that power to the wheels.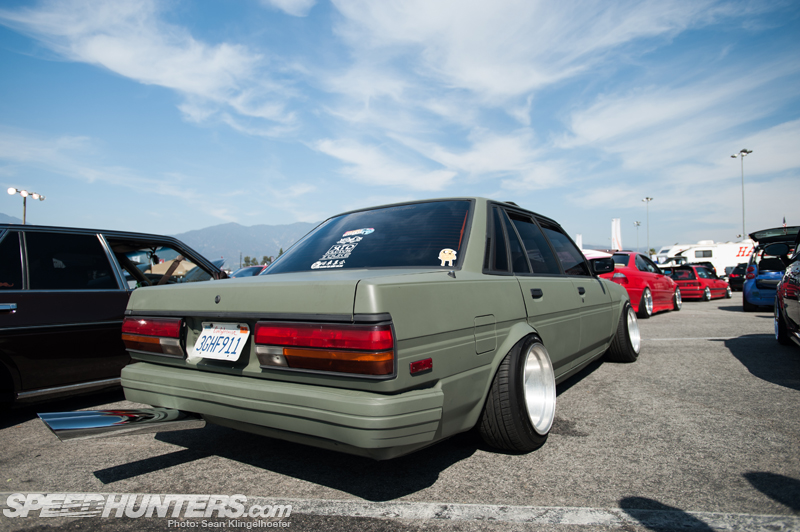 The body doesn't have any major modifications aside from some fender work and a quick paint job, but with style lines like these it doesn't take much. A massive shotgun style exhaust and a some crazy dished wheels go quite a long way in adding some aggressiveness to an otherwise civilized looking car.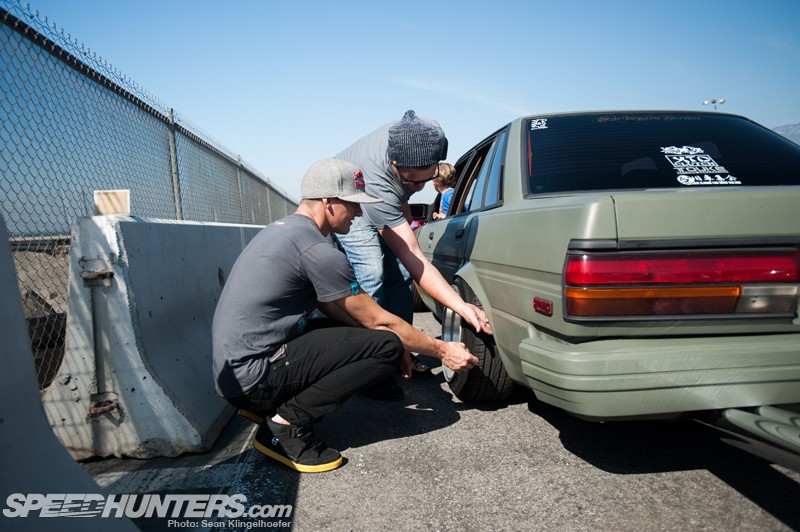 Here we see the owner discussing some of what's been done to Mad Mike. Apparently the entire inside portion of the fender wells have been removed which in turn fills the trunk with thick smoke under drift conditions.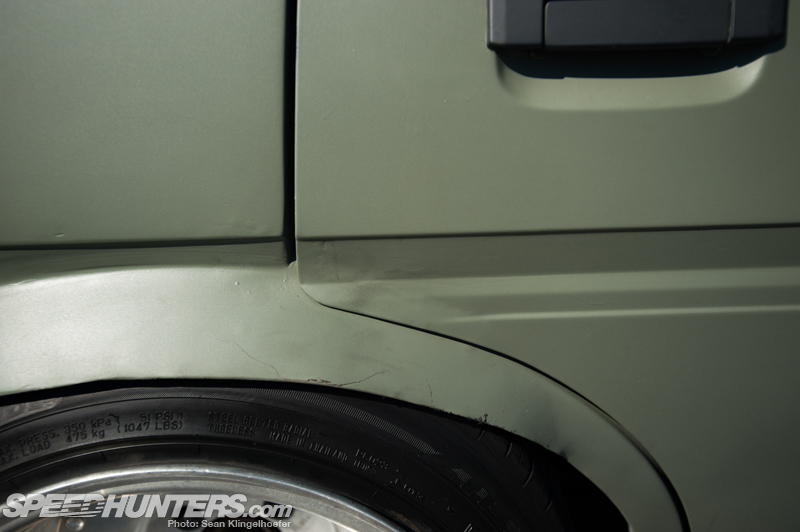 The initial fender rolling was completed with the help of the owner's mother and the tried-and-true baseball bat method. Unfortunately as many of us have found out the hard way, this technique doesn't always yield the prettiest of results. I couldn't help but grin when I realized that the edges of the rear doors have been bent so as to allow them to close properly.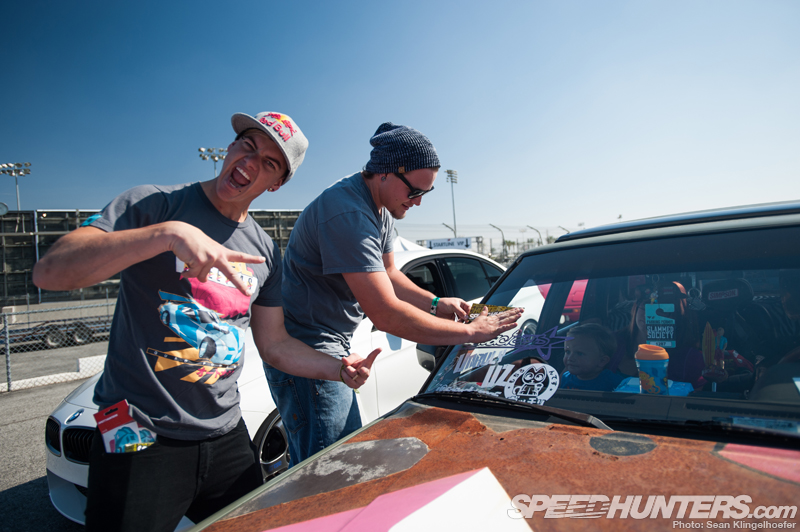 In addition to talking shop with the car owners we handed out a gang of stickers to cars we thought were extra cool. It's hard to tell who's more excited about the sticker, the owner or Mad Mike!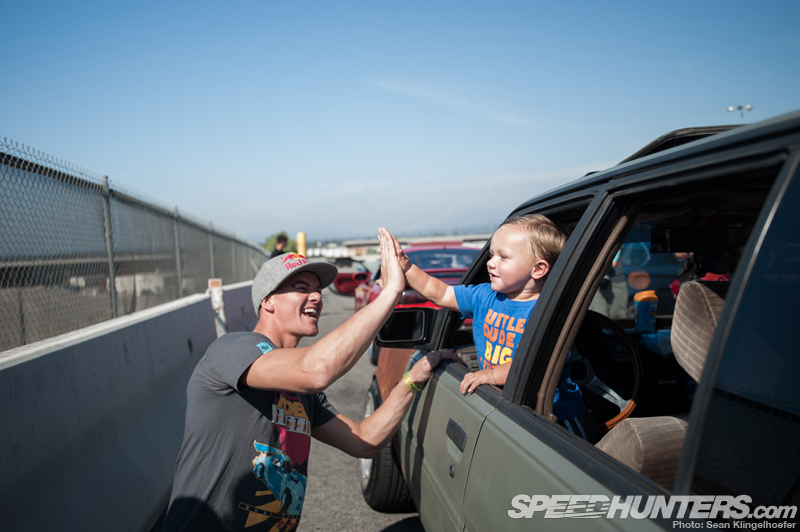 I continued to check out cars while Mike stayed around a little longer talking with the owner and forming a bond with his son. When I came back a half an hour or so later he was still there smiling and high-fiving the little guy.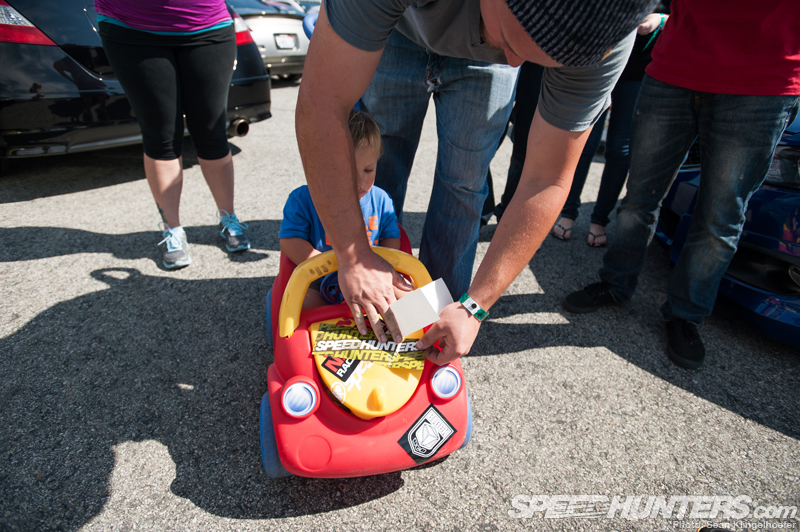 I made several rounds through the car show over the course of the day and I continued to come back to the Cressida for another look and to think things over for my shoot. Before making my final decision Mike came with me one last time to talk to the owner again and give out some extra stickers, like this one for his son's car…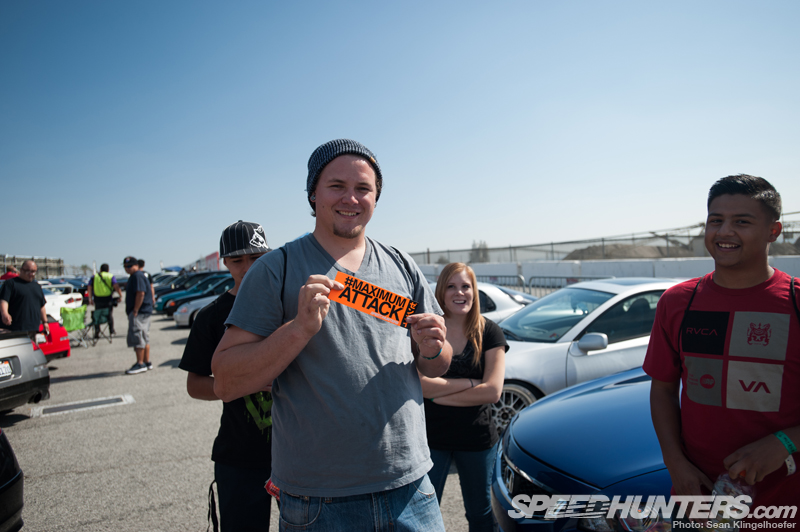 And this ultra-limited edition #MaximumAttack decal for the Cressida. Mike was given only one of these neon orange stickers to give out to the car that he felt was the most remarkable. Needless to say I think the owner was stoked and honored.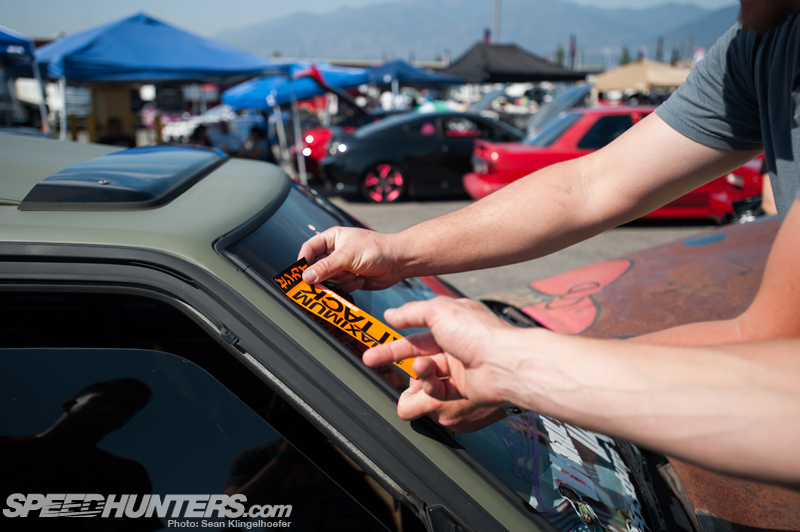 After a few minutes of heavy contemplation the owner finally decided on the placement of the decal with the help of Mad Mike. Apparently in New Zealand they have bright pink and green "defect" stickers which the police apply to vehicles they deem less-than-road-worthy. Mike said that the color and size of the sticker instantly reminded him of the ones they have back home, so in a tribute to NZ the sticker was installed in vertical orientation.
Looking back there were a number of great cars that were feature worthy, but I feel confident in my final choice. So what did I pick? You'll have to wait until Thursday to find out…
More stories from Sean Klingelhoefer on Speedhunters
-Sean