The AE86 along with the S-Chassis will always be associated with the drifting. However, as Formula Drift approaches it's tenth year of competition, there is only one AE86 left running the full season.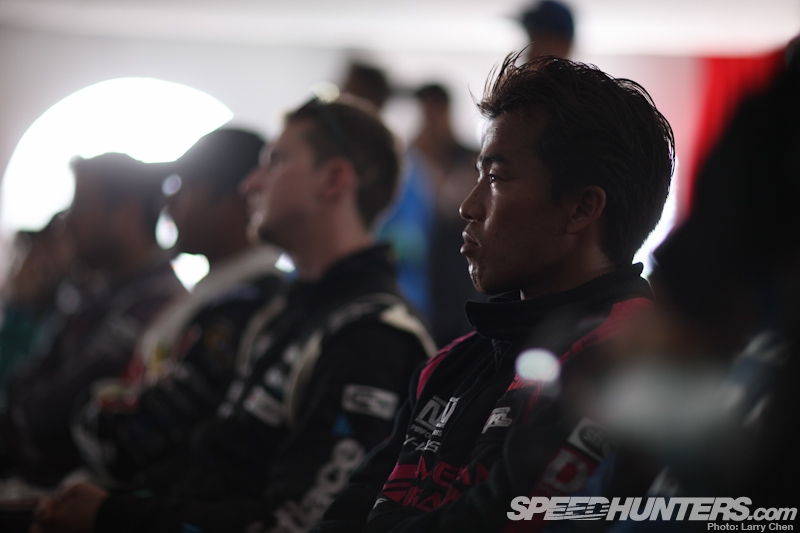 This sole remaining Corolla is campaigned by Taka Aono and his wife Yoshie, with help from the Megan Racing team. I sat down with him in the pouring rain at Formula Drift Seattle practice day to understand why he is the last of the Formula D Toyota Corollas.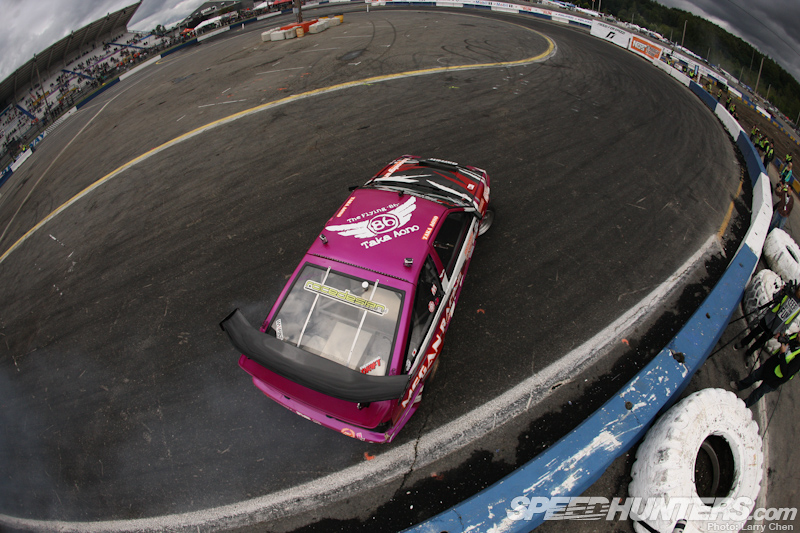 Larry: Thanks for sitting down with me. I just have one main question. Why are you still sticking with the AE86 when most of the other drivers have moved on to different cars?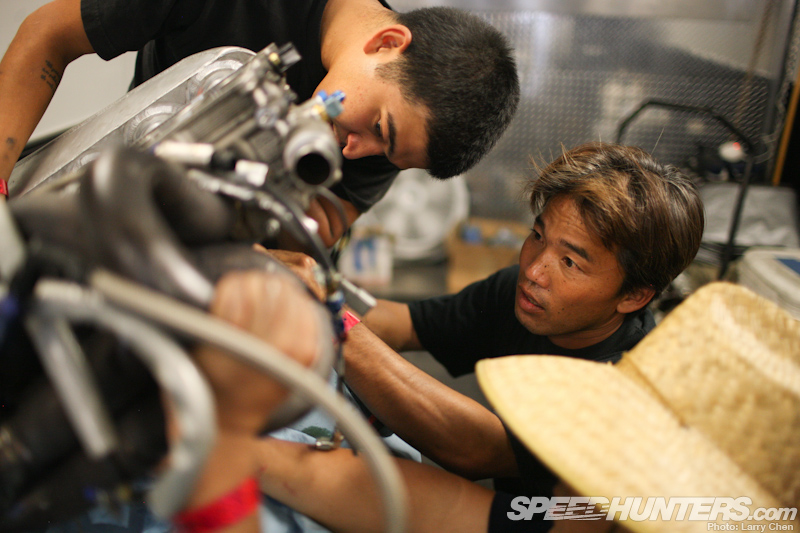 Taka:(Thinks for a moment) I have so much experience with the Corolla and I don't have to think too much about fixing it and working on it and that is critical because we have such a small program.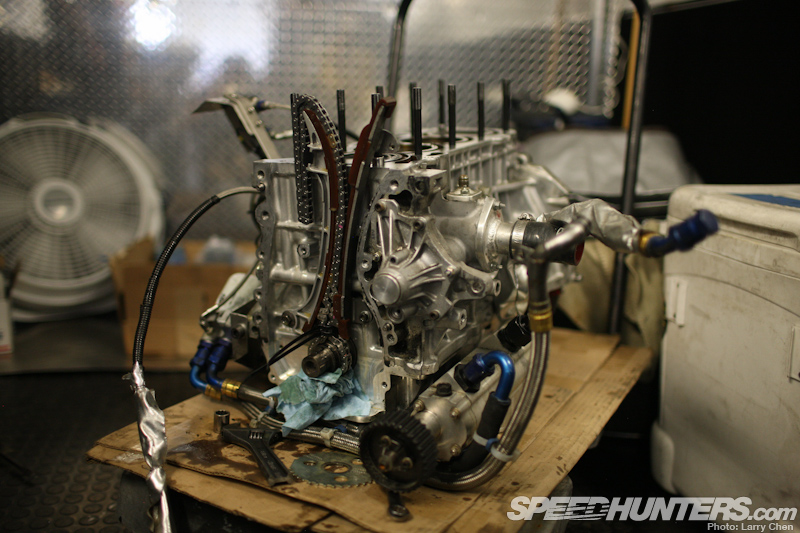 Its like, Oh we broke this? No problem… We can get spare parts very easily. Or maybe it's just because i'm lazy (laughs)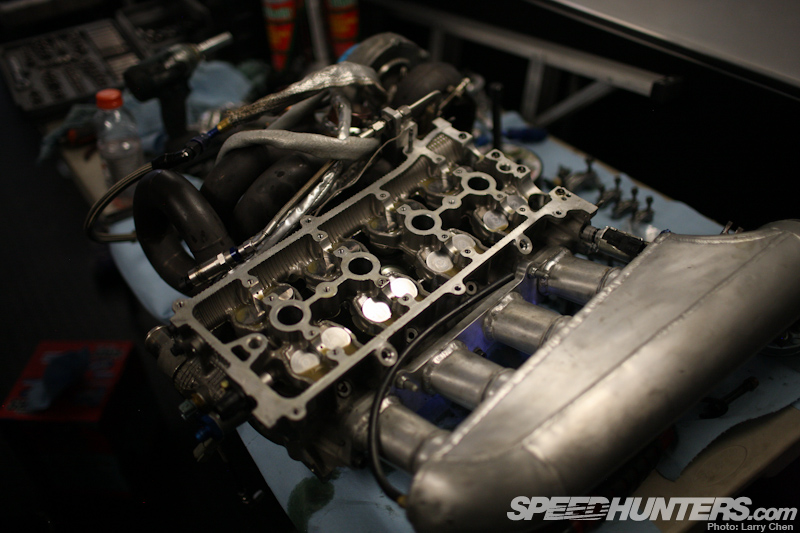 Larry: So what about developing the car further to be more competitive?
Taka: During the Season we don't get much time to develop the new car and because our operation is very small and we don't have lots of money. So most of the time we end up developing the current car in the off season. Of course, that won't change unless we have a bigger sponsor.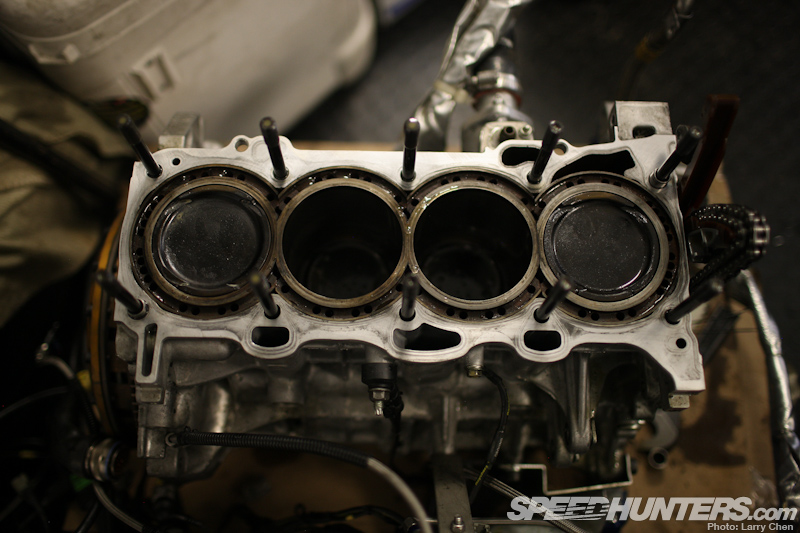 I still think there are many things we can do to improve the car. I know it's easier to get sponsors with a new car, but I get so much support from fans who love the Corolla. Those are the people who are keeping me going. And I realized I've got so many years with this car, I have grown attached to it.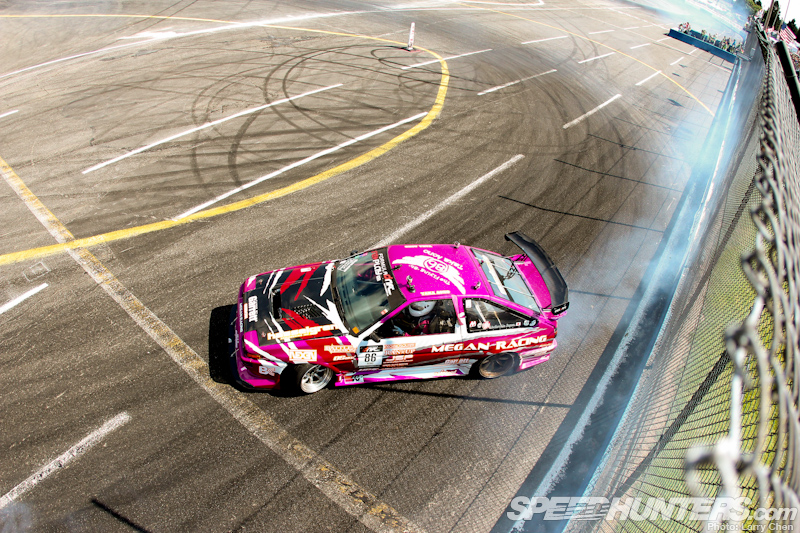 Also it's so fun to drive, I have the opportunity to drive other cars, for me drifting itself is….. a lot of people talk about commitment, especially at Evergreen Speedway, you go 4th gear and clutch kick into it. Those kinds of things excite me. So if I am going to drift at all it has to be exciting.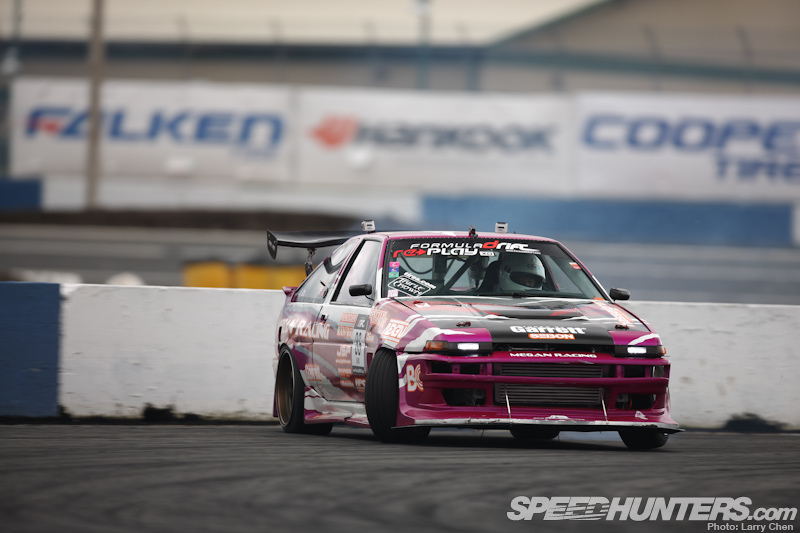 When I jump in any long wheelbase car like the S-chassis for example, for sure it is much easier to drive. It's also boring.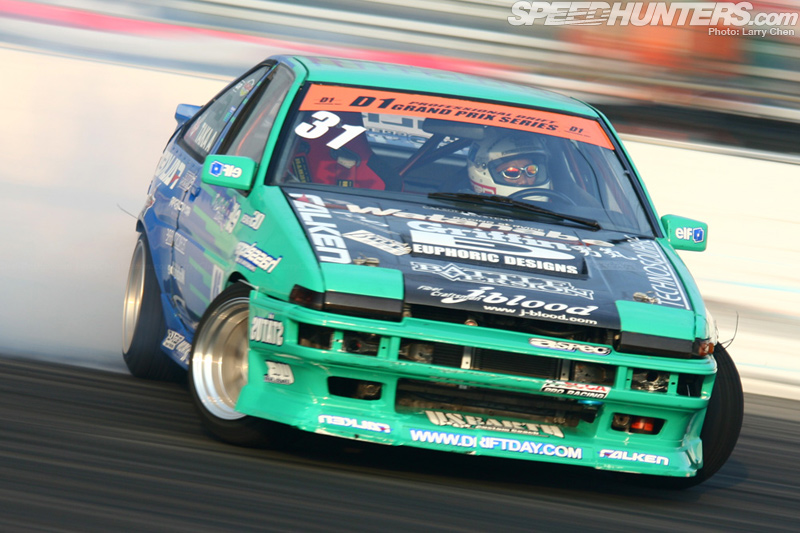 Larry: So that is why you drive your Corolla balls to the walls and you drive ten tenths all the time? Never lift, right?
Taka: Yeah, back then yes it was always full throttle.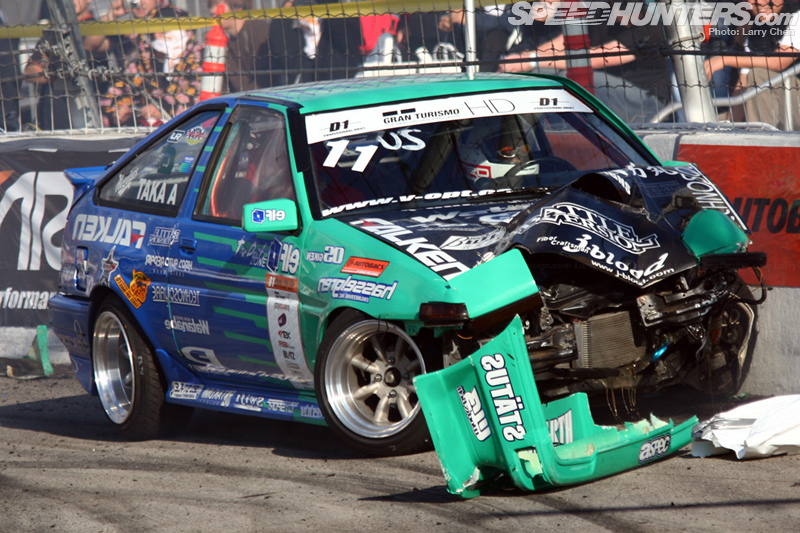 Nowadays we have too much power, and I have to lift to avoid hitting the rev limiter. But for sure, I always wanna go as fast as possible.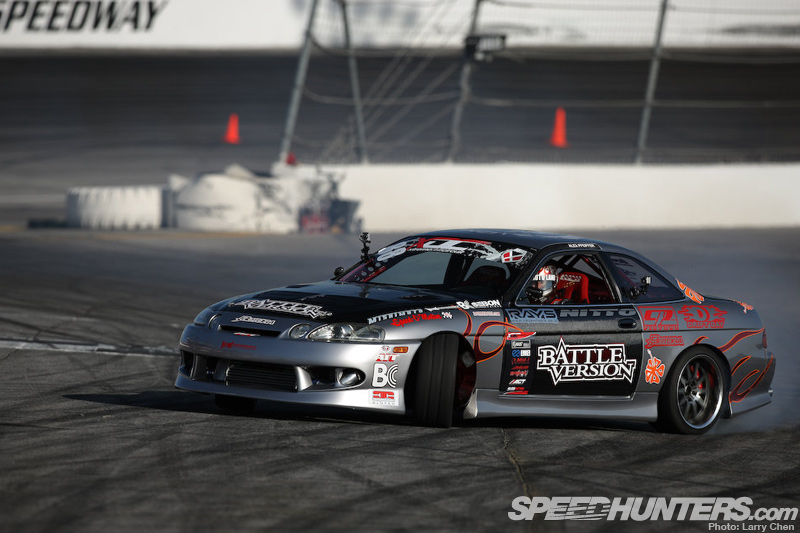 Alex Pfeiffer and I have been friends for a long time and we always talk about competition. Even at grip events, if you are not scared you are not going fast enough. If you are comfortable in the car, you are not fast enough.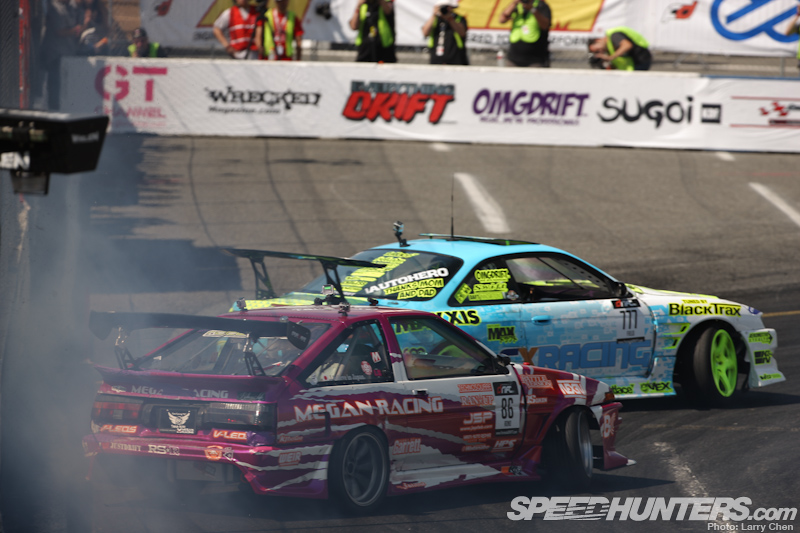 So the drivers that are competing in Formula Drift now….. How do I put this…..four or five years ago is when the drivers started to change. They all were pushing it before and now you have to drive 80 percent to win. One mistake and you get knocked out.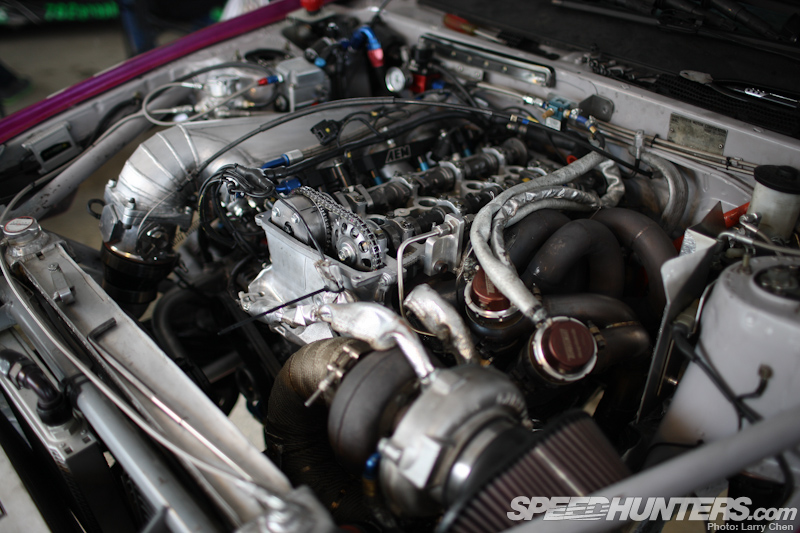 I have to consider driving like that now especially with more power, I have to adjust my mentally. I have a bad mentally ingrained in me that the Corolla is slow and that with close to 600 hp to the wheels my Corolla is not that slow, especially considering it is one of the lightest cars on the grid.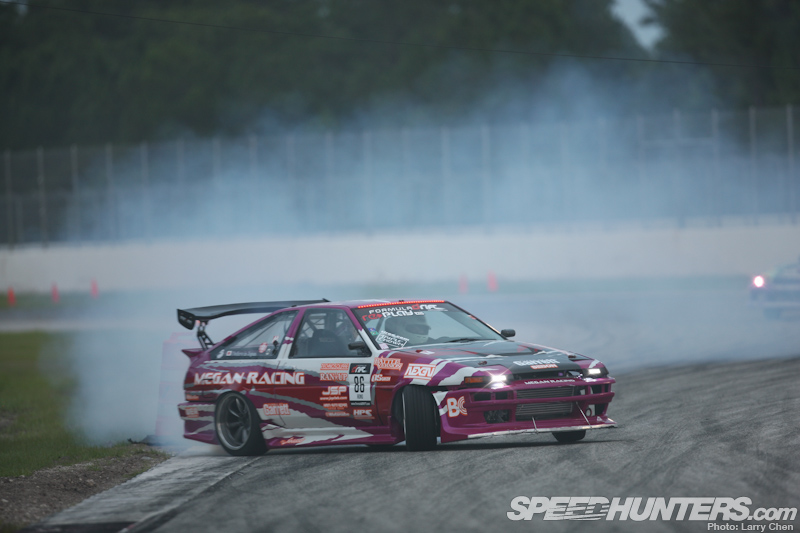 In Florida I was overshooting the course. I know everyone can dive into the outer wall on the Palm Beach course. I know everyone is capable of a 63 to 65 mph entry, but they were all driving at around 57mph to keep their runs consistent.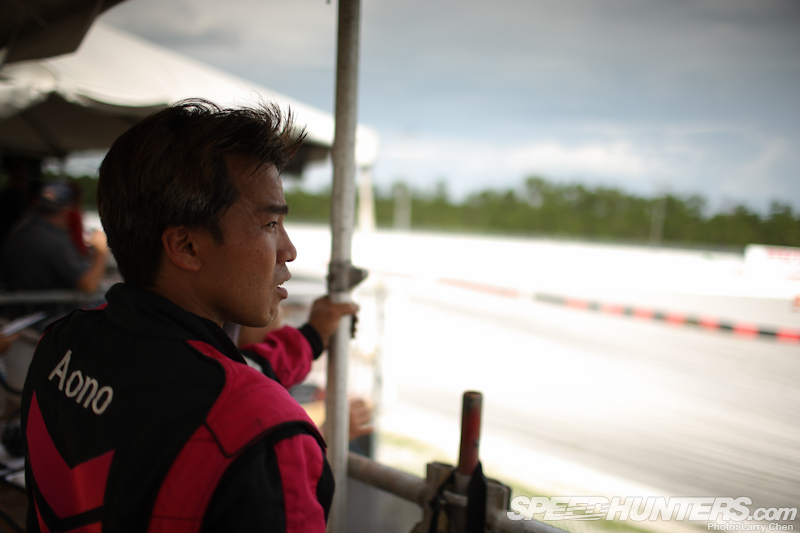 I know to win you have to tune down your driving. But, for me……I was watching people drive like that and it made me sad. I was thinking "wow, we have come to this level in Formula Drift where we all have to tone down our driving in order to do well"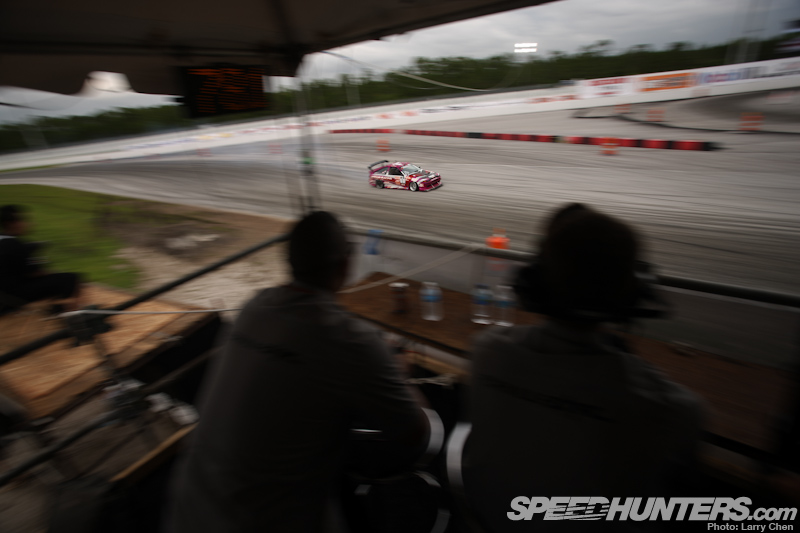 You know that whole keep drifting fun movement? Well I understand that winning is fun but driving aggressively is just as fun.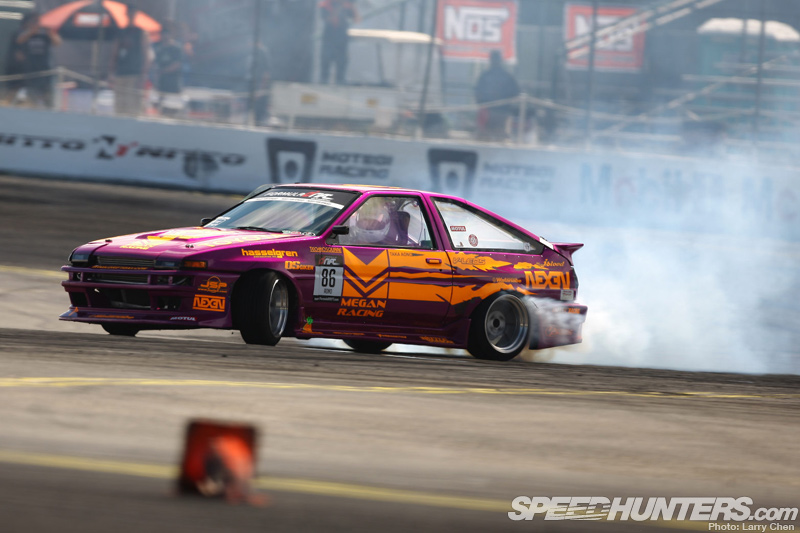 Larry: Back to what you were saying about developing the car. The AE86 has been around so long! Don't you think all the parts that can be made for the car have already been made? You really think there is still room to develop that car?
Taka: Yes, it's because drifting is a relatively new motorsport, if we can even call it a motorsport. A few years ago removing the sway bar was a widely accepted method to make the cars easier to drive. But now people are putting them back because they are developing new setups that require a sway bar.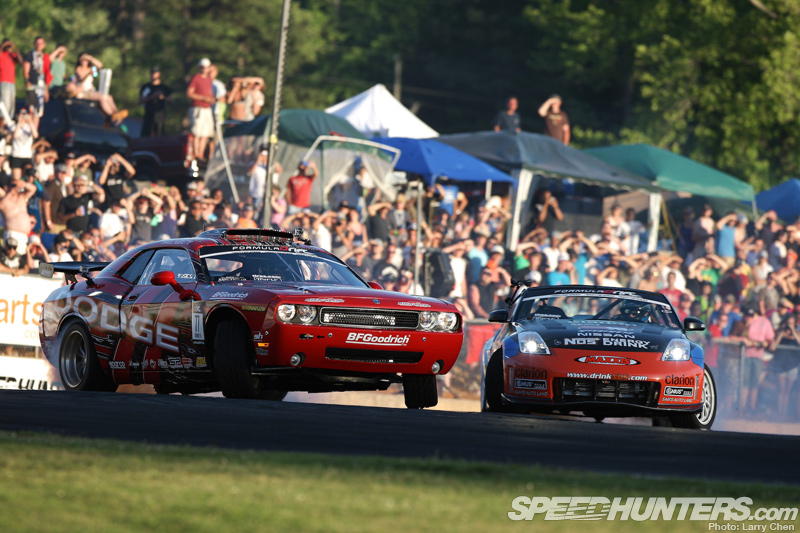 And who would have thought a car sitting like this (shows me his hand at a slant) front up and rear down would do well in drifting at all, but now it is widely accepted.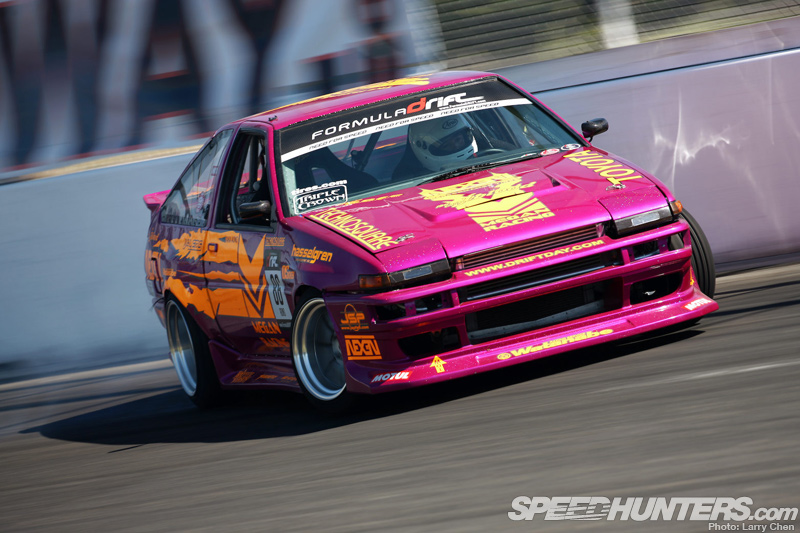 And there are a whole bunch of new parts being developed for the S13 and S14 chassis and those cars are old too. I see new knuckles coming out. The major limitation to the AE86 chassis is the Formula Drift regulations. But then again they are there to even the playing field.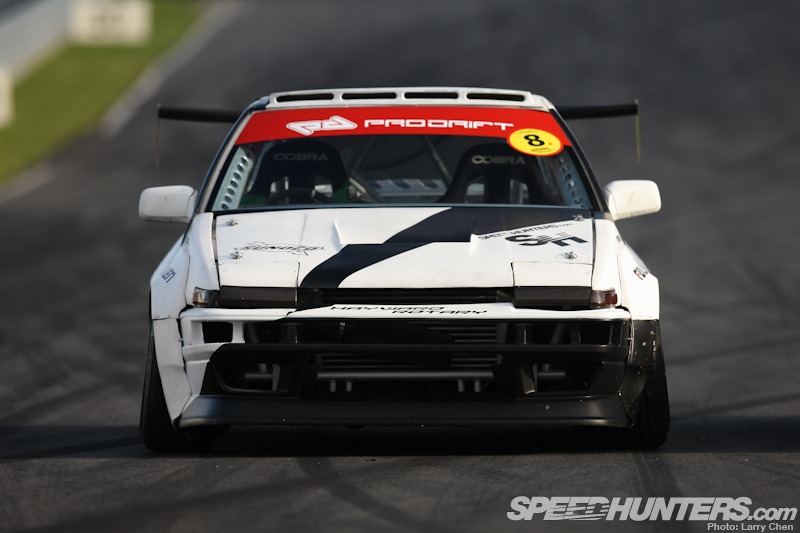 I mean, look at Dmac's AE86 in Europe. That car is fast…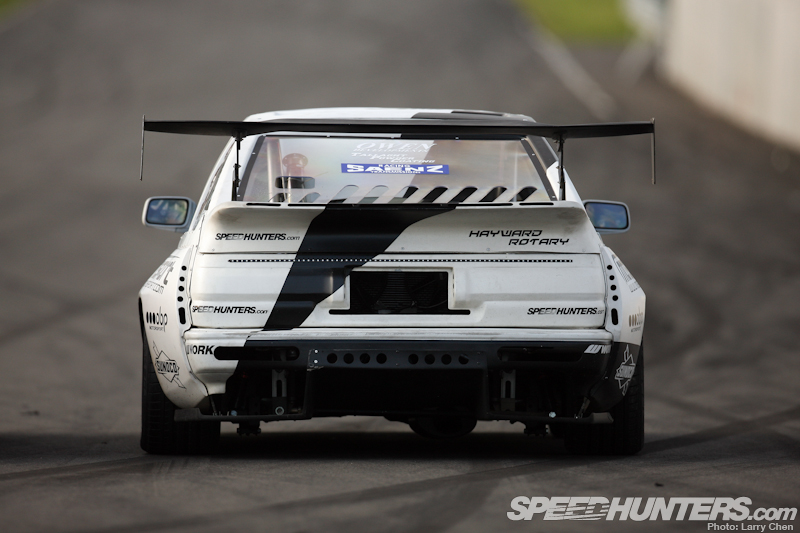 Larry: I know it is amazing. When I was following it in the Gatebil chase car we could not keep up at all.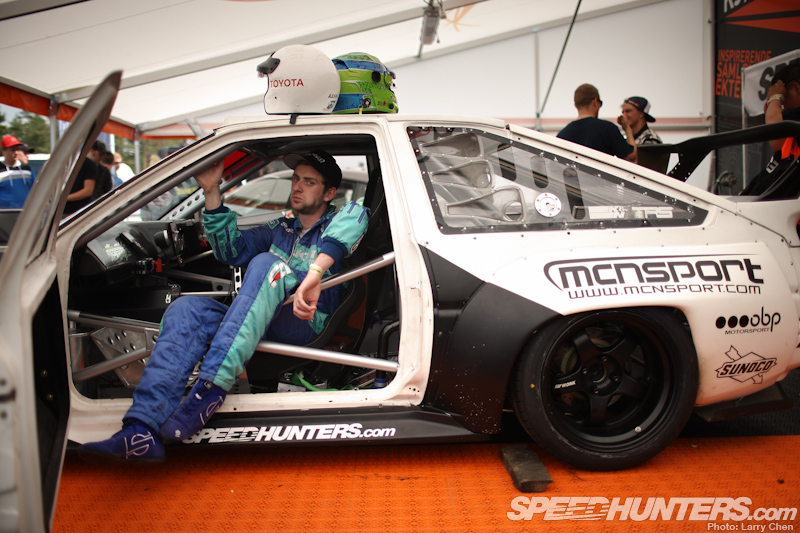 Taka: He can do whatever he wants to the rear suspension and he can gain more grip.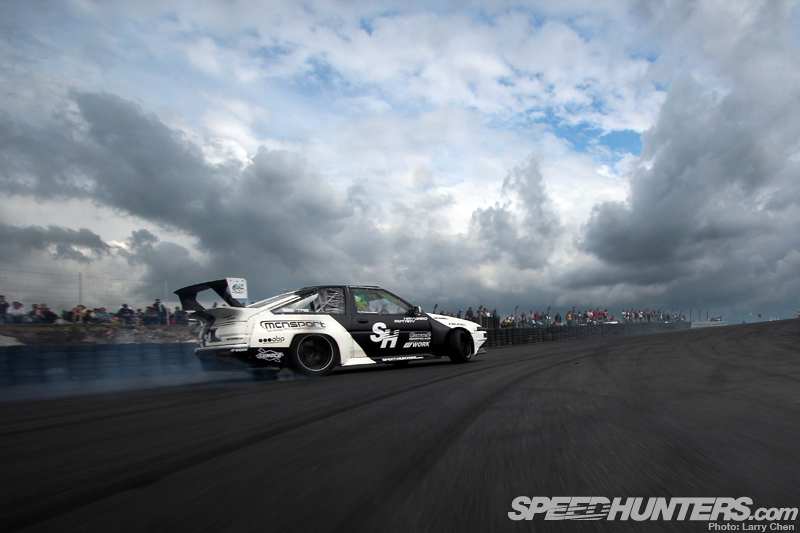 Larry: Dmac said he is going to try to fit 295 size tires in the rear.
Taka: You have to! If there was no tire to weight rule in Formula Drift I would go a lot wider too.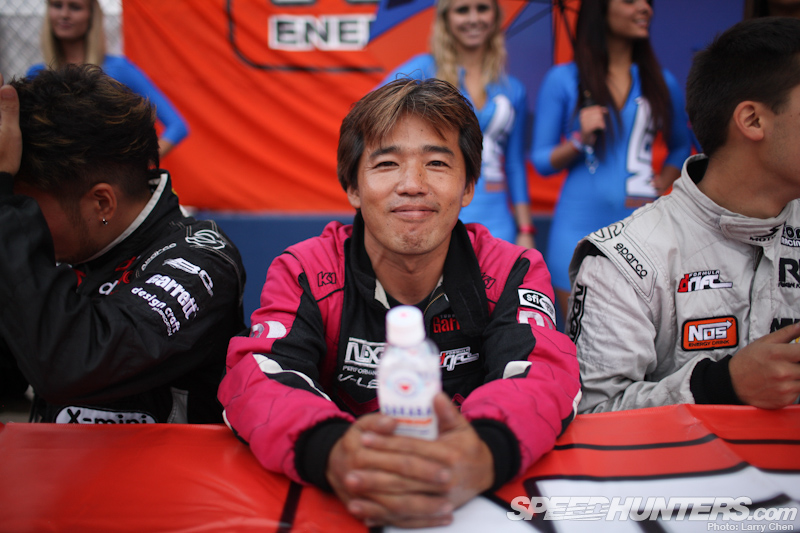 Larry: You've never missed a Formula Drift event have you?
Taka: I was close to missing an event this year in Atlanta. I started practice and we dropped a valve so we could not run the main day but I was still there.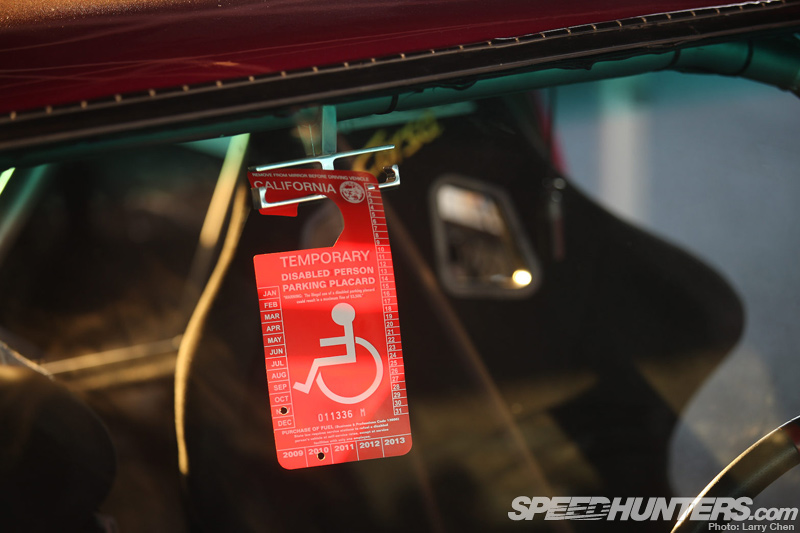 Larry: So you've never technically missed one?
Taka: Not yet.
Larry: Where did this dedication come from? Is it just because you love the sport of drifting? You nearly missed one event last year due to your broken leg from hitting the wall at this very track (Evergreen Speedway).
Taka: One reason is because I love the sport, I've been with FD since the beginning and I've seen it change. The drivers are evolving every single event. I don't want to miss any of it.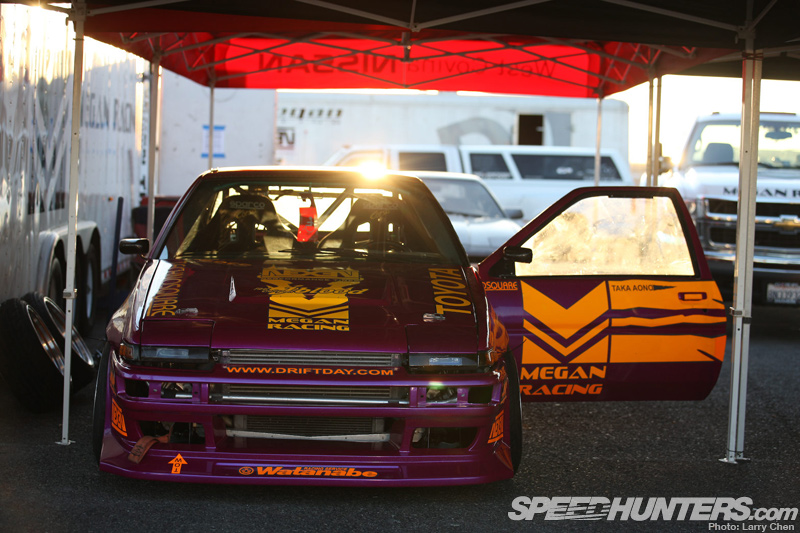 But the biggest reason is the travelling, and the out of state events. I've met so many people all over the place and I've met so many fans. They all want to see a Corolla run in Formula Drift. Those people send me emails telling me how much they can't wait to see me run and I don't want to disappoint them.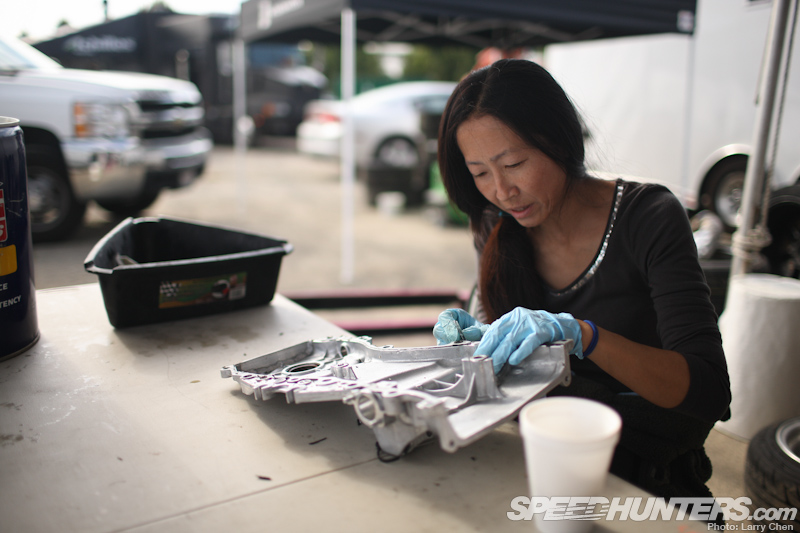 Larry: Do you think you want to compete in any other kind of racing? I know you and Yoshie are SCCA Solo2 National Champions.
Taka: Yeah, we were doing auto-cross very seriously before.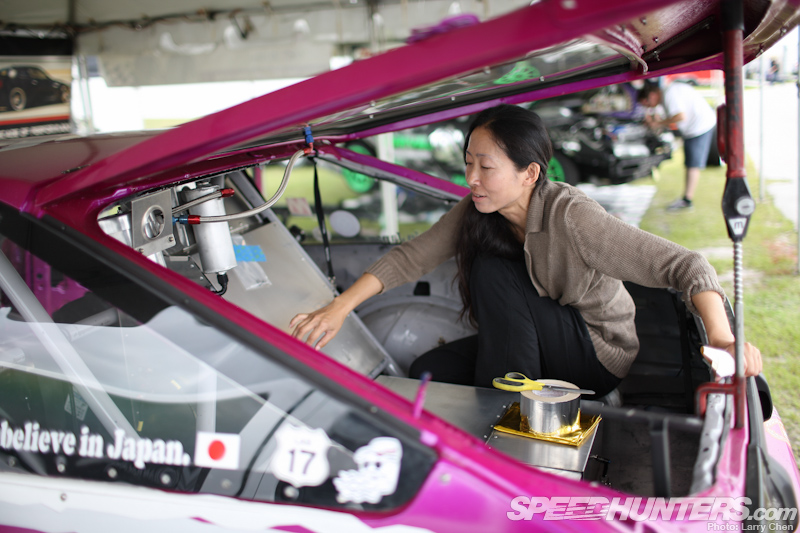 Larry: I am so jealous of your national and regional championships, I tried competing, but I never really had the time to get into it.
Taka: Yeah, that National championship took me eight years to earn. But Yoshie did it only in two years and she has two of them. We were actually going to do SCCA club racing after that and go road racing.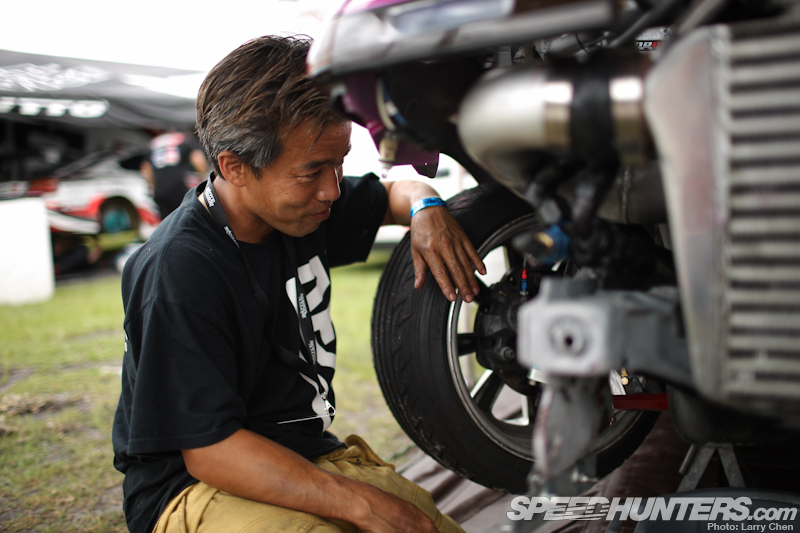 Around that time my friend Moto was running the Ikatan drift competitions that were held in parking lots and he asked me to setup the course and develop drivers. I never liked drifting and it felt slow to me. I was more of a speed freak.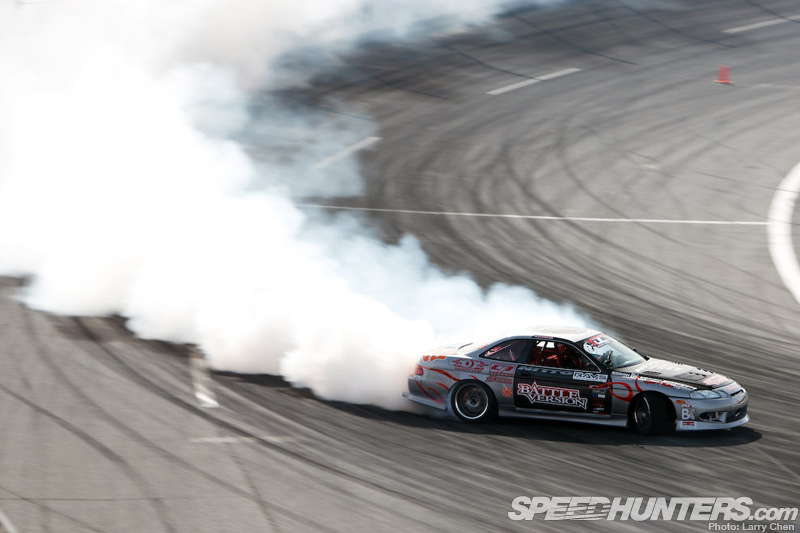 Then at the same time Alex Pfeiffer was a great grip driver but he drifted his car and I watched him. It looked so much fun so it got me a little bit interested.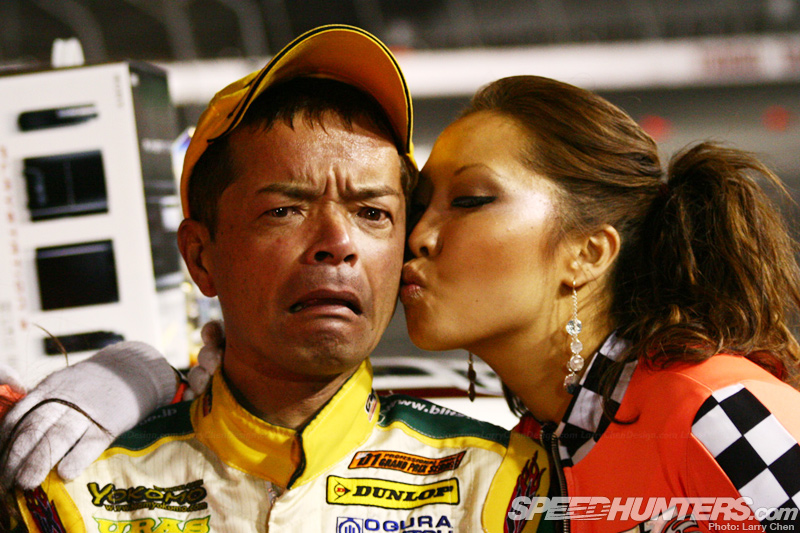 Then one time there was an event in the Irwindale Speedway parking lot and they didn't have enough drivers. So they asked me to drive. I and drove and made top 8, but that day I saw Ken Nomura drive the Signal S15, and I was like holy…. It was totally different than what I've seen before. I mean he aimed towards the wall and flicked it and grazed the wall and looked back in his rear-view mirror to see where he had hit.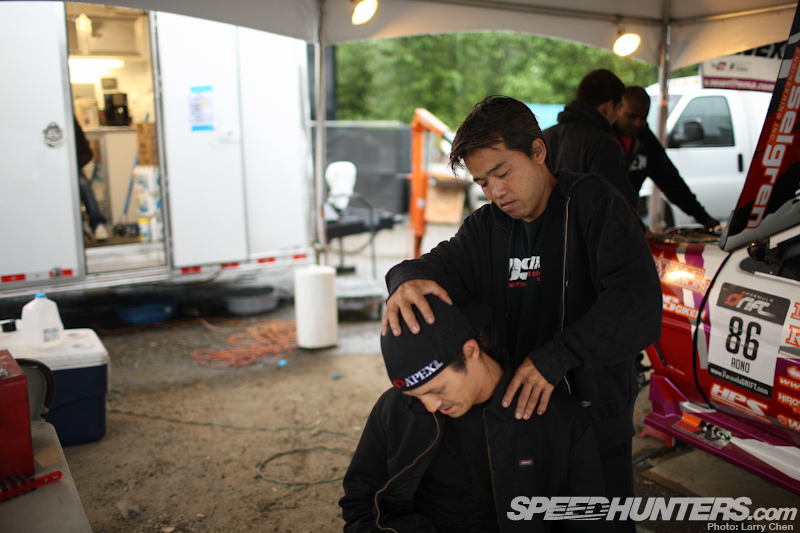 (When Taka is not driving he is a full time chiropractor. Just moments before this interview someone came by with a neck problem. He had little movement, but after a few minutes with Taka his neck was able to move once again.)
I was like DAYYYYYYM. After that I was heavily involved on the organizational side of the drifting world on the west coast. A big turning point was Falken show off, where I met Vaughn Gittin and many other Formula Drift drivers.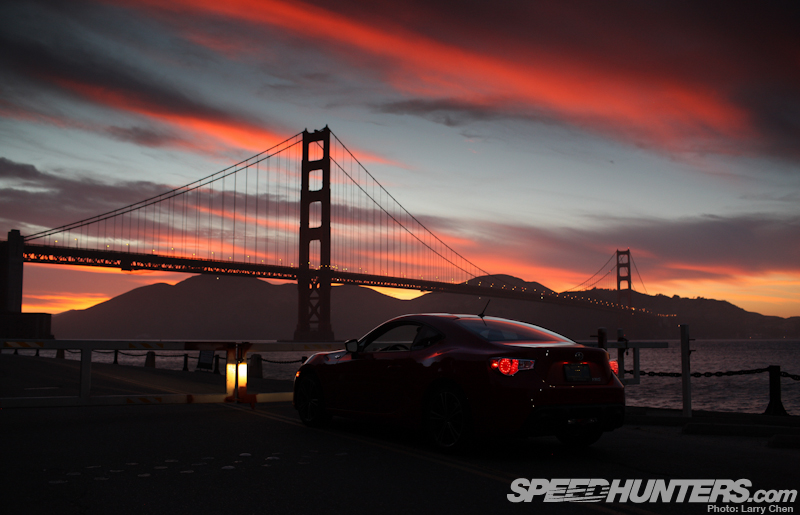 Larry: So do you think you would drive the new 86 given the chance?
Taka: Ahhh….if I had a chance, yes. But most likely not. I am old, so I'm going to stick with the old Chassis. I've already driven one, and I was really impressed. I had a chance to talk to Mr. Tada, the chief engineer for the FR-S, and I was asking so many technical questions like what was the caster etc… He just told me they spent quite a bit of time to make the car fun to drive, especially the steering feel, because it has electric power steering. They made sure it had good feedback and it was not too light.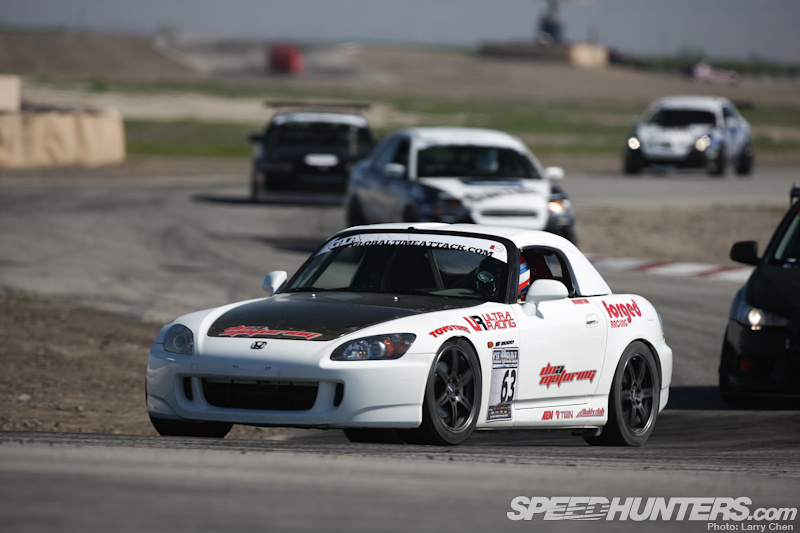 When I drove the new 86, it felt like an AE86, because with the 17 inch wheels it did not feel like it had much power (chuckles). But as for the steering feel, it was top notch. There is only one drive by wire car that I like and that is the Honda S2000.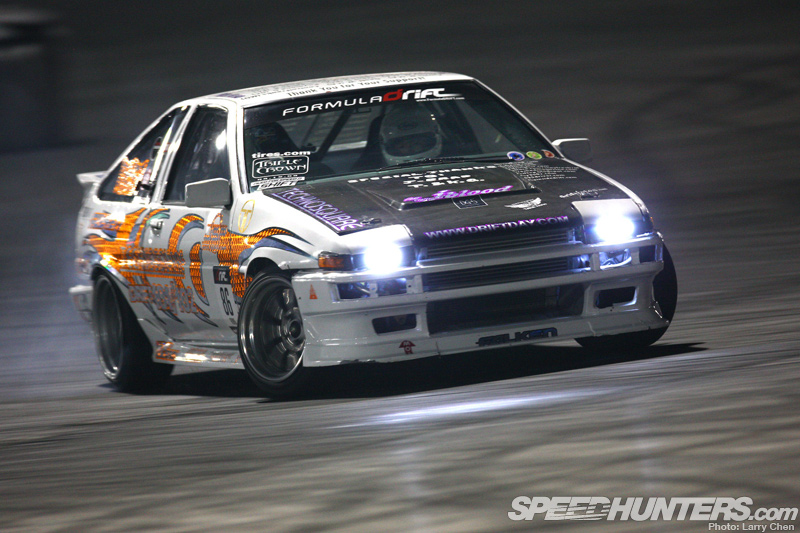 Larry: So now for the hard question. Do you think you have a chance to win a Formula Drift event with your current competition car?
Taka: I think we have the right combination. At least I think it's getting there…..I think that car still has a chance.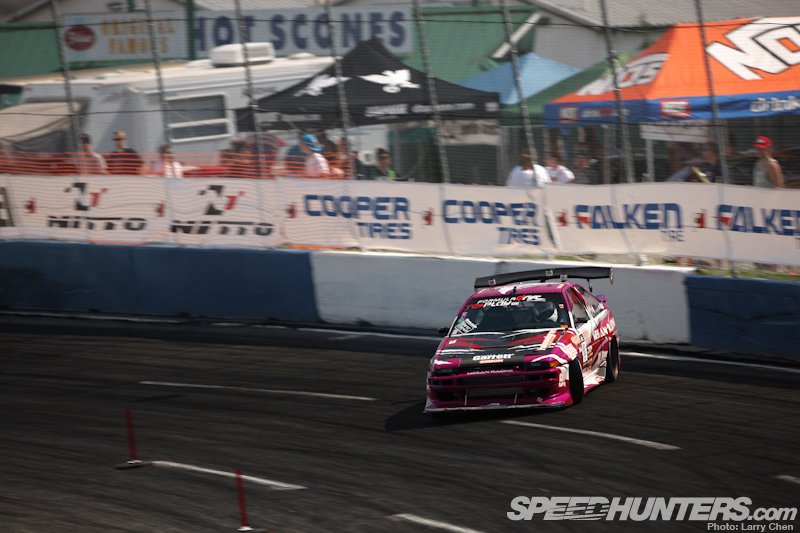 We didn't expect that much speed out of that car. Because we have plenty of power but the tires are so skinny. That is all we have been thinking about, tire size this tire size that. When, we try out different sizes it helps a lot, and the fact that it is so light is no joke.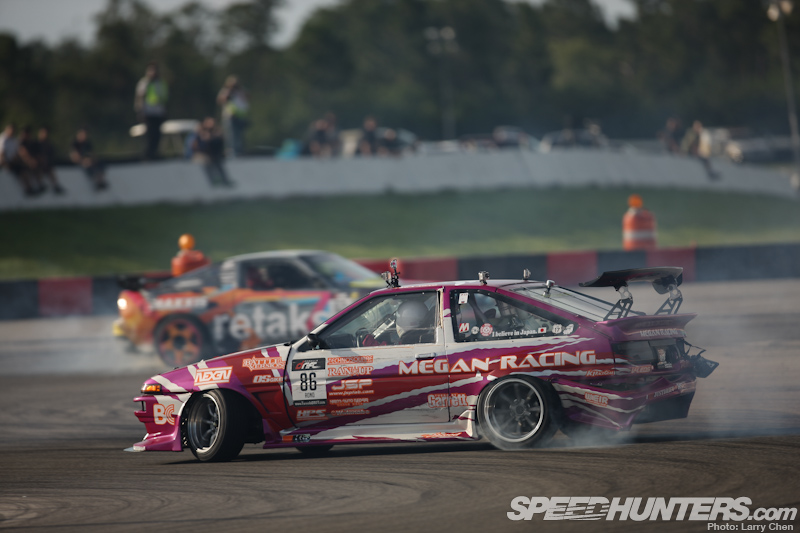 We have not had a chance to develop the suspension on that car. All the events this year we have been fixing the car. Mostly minor issues and then major issues like the one we had yesterday. (blown head gasket)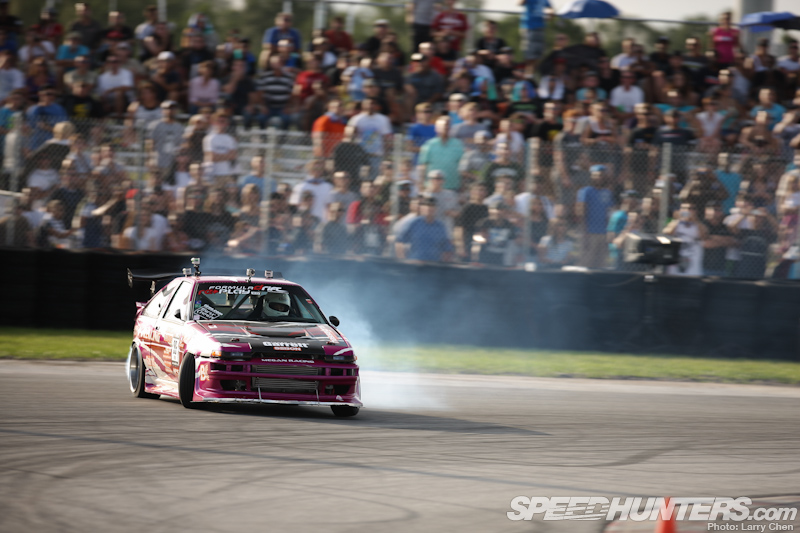 So when we get decent seat time and when we start working on the suspension I think I will surprise people.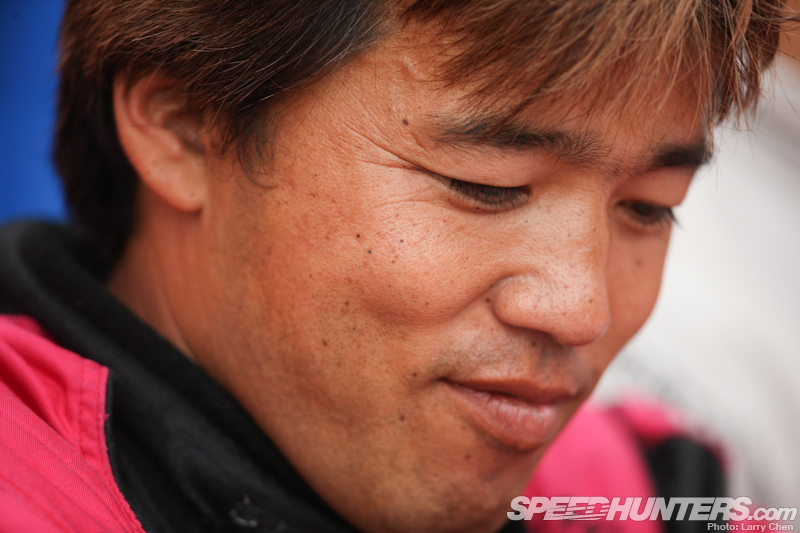 Taka: You know, I should say… the car is there, but I need to drive better…. I gotta catch up with the power. I need to be the big man, or I gotta get bigger balls or whatever…
Larry: Thanks Taka
Taka: No Problem.
More retrospective stories on Speedhunters
More stories from Larry Chen on Speedhunters
Taka and Larry
larry@dev.speedhunters.com