Go east!
As Mike, Keith, Rod, Elizabeth, Larry… in fact, most of the team were in Long Beach for the opening round of the 2014 Formula Drift season and the inaugural Offset Kings car show this past weekend, I was headed in the opposite direction, but actually going to check out something quite similar.
Speedhunters' old friend Kevin Raekelboom had put together a show called Selected and asked if we wanted to come and check it out. As LA was very well taken care of and I like a good road trip, I was more than happy to duck under the English Channel and hit up the mainland for some proper Euro car action.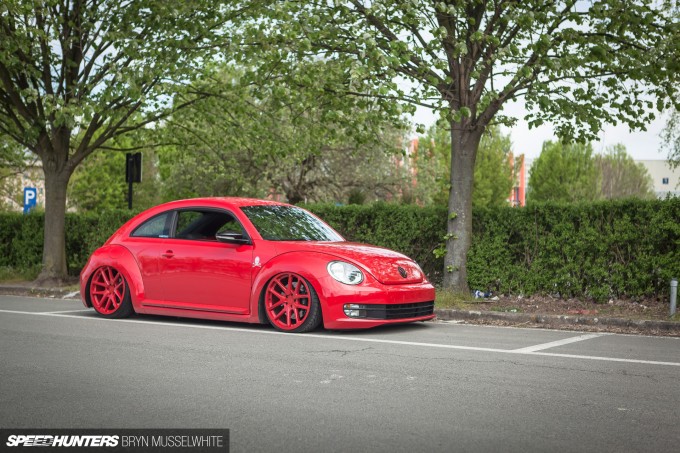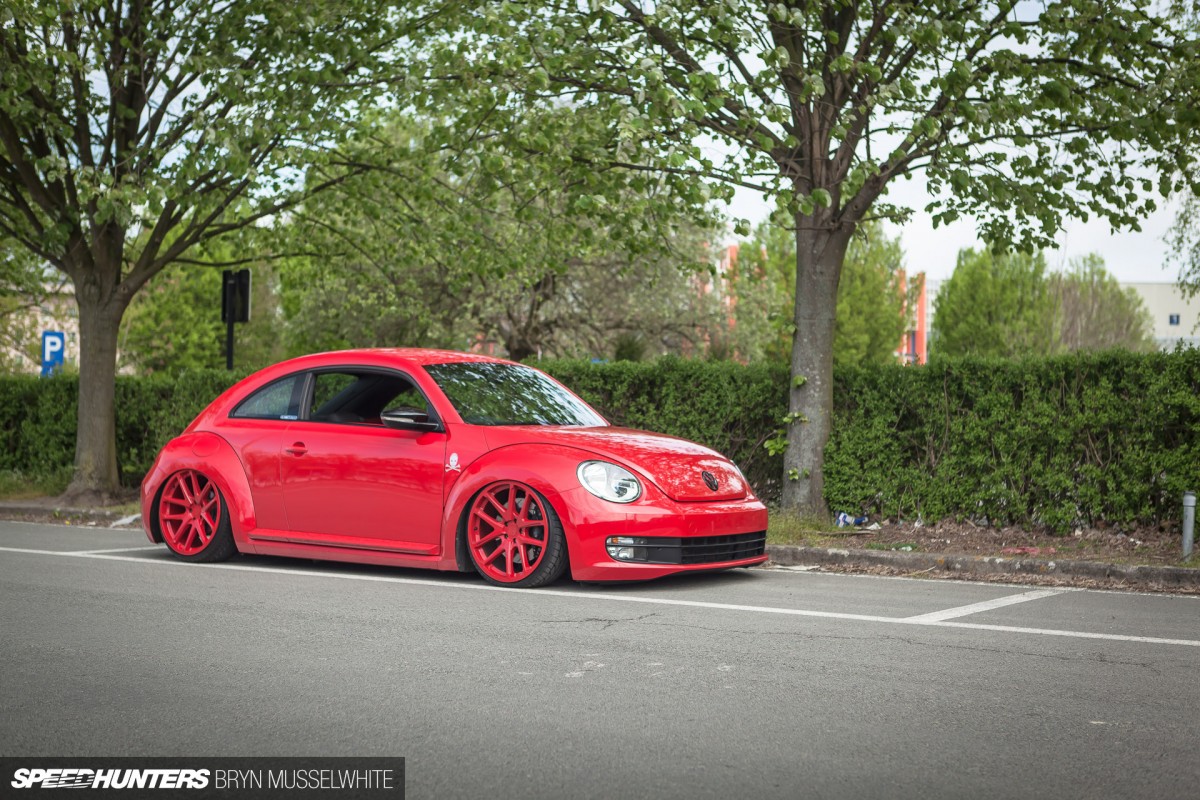 After accepting the invitation to travel to Belgium for the event, it dawned upon me – my ten-year-old, daily driven Range Rover wasn't really the sort of thing you take to a show. My Volvo project car was a much more fitting solution, but because of winter and my apparent ignorance, that was still off the road and therefore not an option either. Thankfully, our own Ben Chandler solved the issue by offering me the use of his Beetle. After all, he had little use for it during the weekend as he was going to be in LA too! Obviously, my Range Rover is great on road trips, but as an automotive photojournalist it can be really frustrating spending your days surrounded by killer feature cars, then hopping into a mundane mode of transport when it's time to head home. Not so this time, because Ben's VW has been fitted with some colour-coded 20-inch Rotiform SNA wheels and an Air Lift Performance suspension set up. I was going to ride in style and get to exhibit the car too.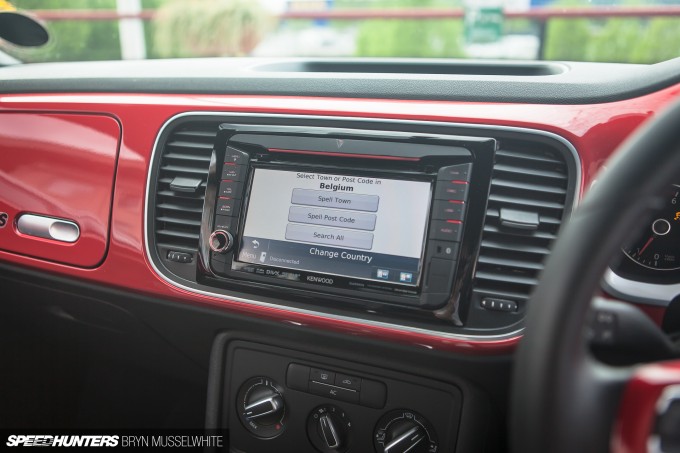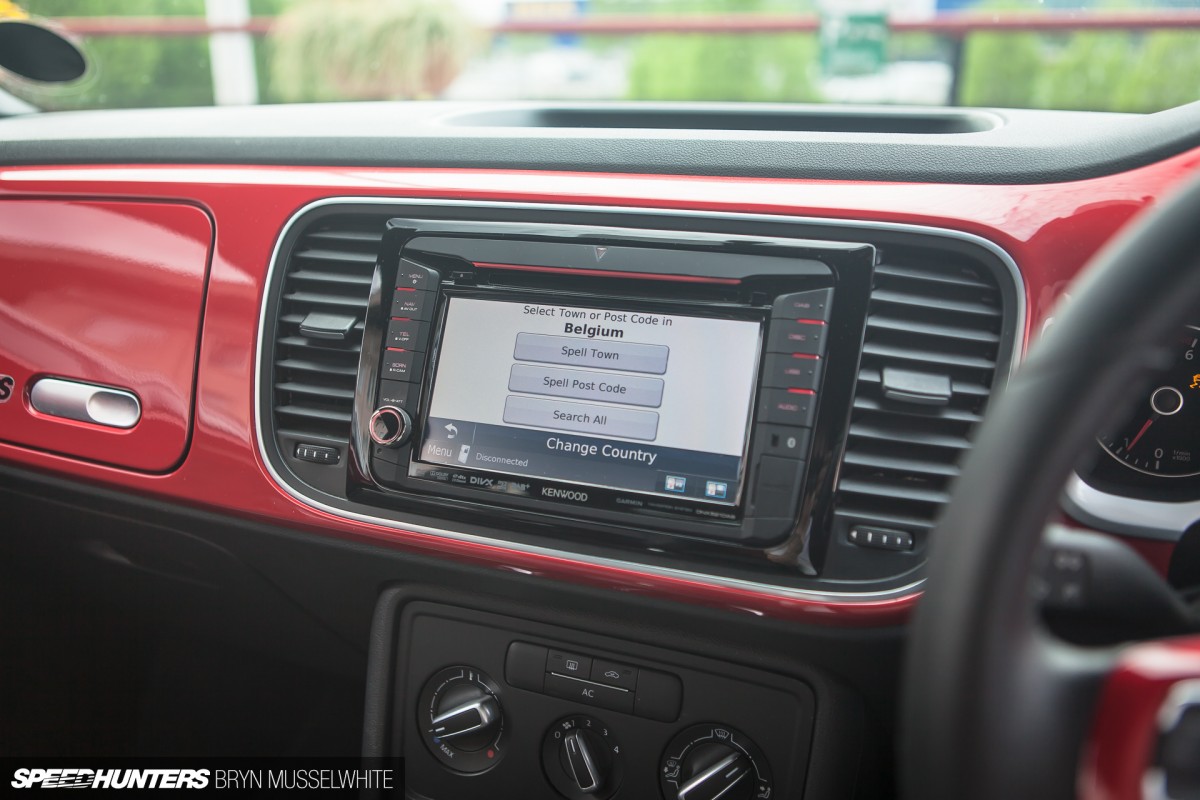 The other canny trick the Beetle has is a rather lovely Kenwood head unit complete with digital radio and Garmin-based sat nav. Not so long ago, having a GPS system stuck to your windscreen was like displaying a trophy. But plugging in my destination got me thinking that it was nice to not have the clutter of a little box in the corner of the front window. It was totally in keeping with the VW's simple, retro-styled fascia. As this was only the second time I'd driven on Air Lift I was reminded again of just how compliant it is at such a low ride height – especially given the state of Belgium's roads. I'm a sucker for airing the bags out at any given opportunity too – or in this case, raising the ride up a 100mm when it came time to load on to the channel tunnel. Good looks and practicality – I like it.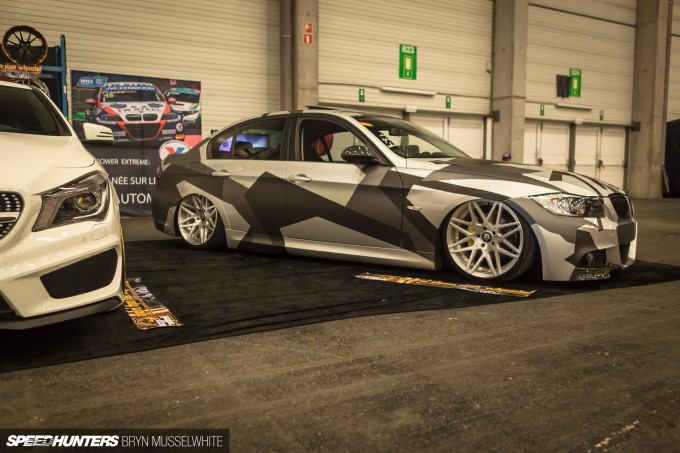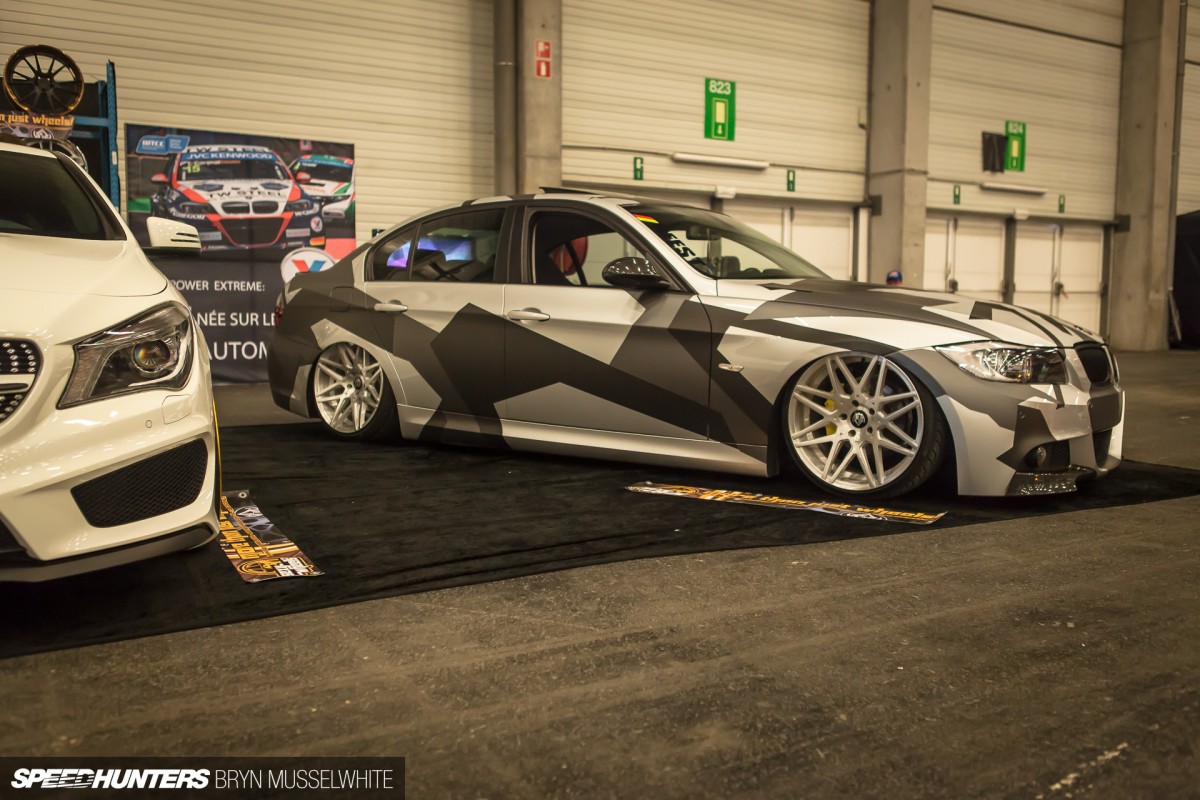 Belgium's roads might explain why when the show got in to full swing on Sunday morning that so many cars appeared to be riding on air. Not only are the roads pretty bad over here, but the car modification laws are quite strict too. But given that this is the home of Euro, the event provided a great opportunity to see what the scene is all about.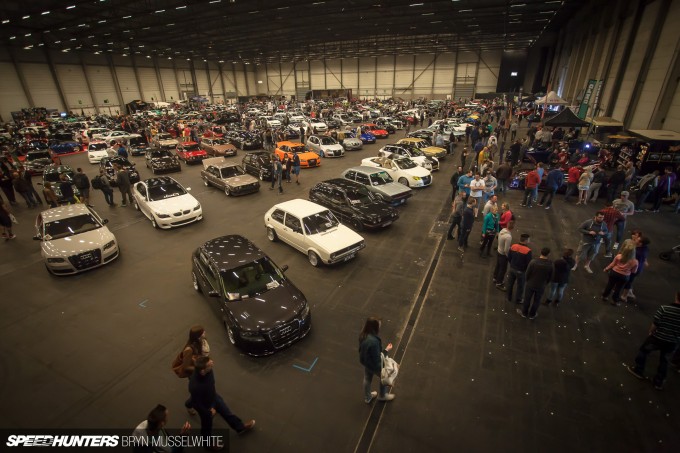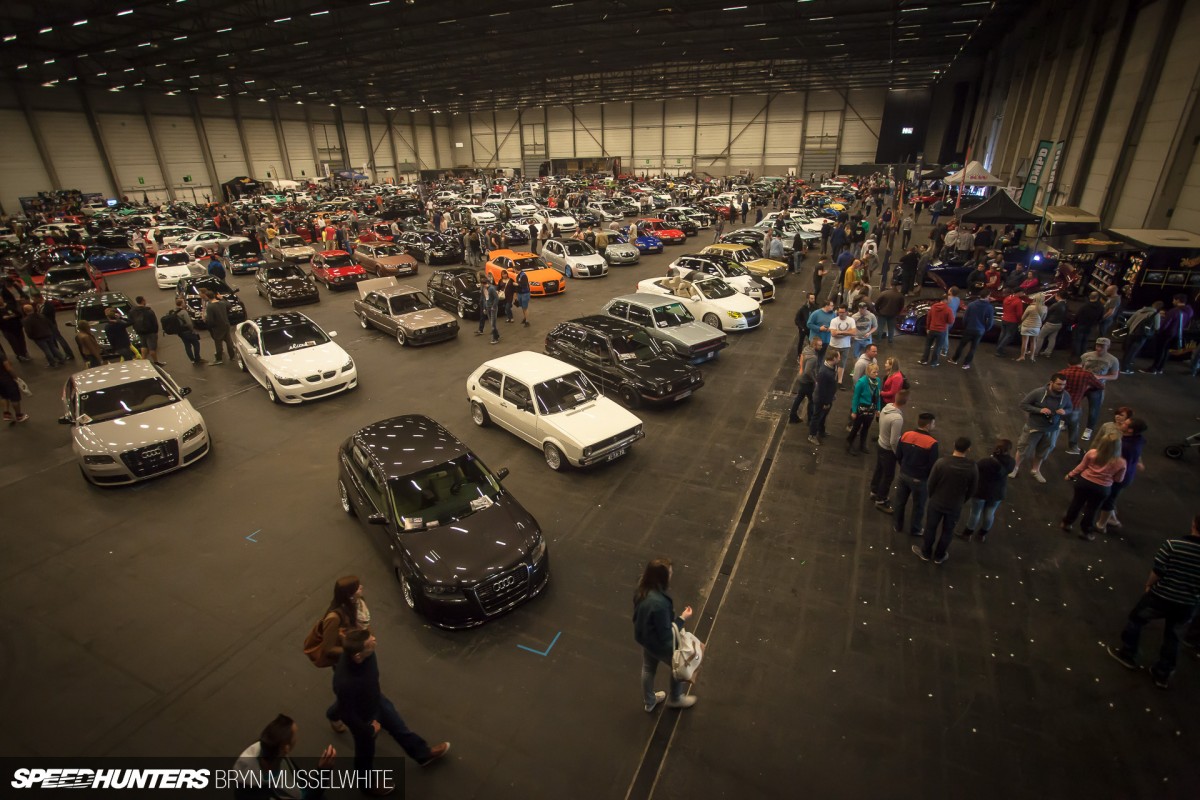 So why the name Selected? It's quite simply really; all 300 cars on show at the Ghent Expo Centre were exactly that – hand selected by Kevve. Just how he managed to do it I'm not sure, because with 1250 applicants I couldn't have even begun to pick. It must have been really hard to resist squeezing in another couple of rows of cars in the large hall, but I'm glad he didn't as it meant everybody had a decent amount of space around them. And although it was busy, you never felt crowded like you do at some shows. The other thing to note is that every car that was selected entered for free, with a complimentary ticket for both driver and one passenger. Given the overheads a show like this comes with, it was a nice touch.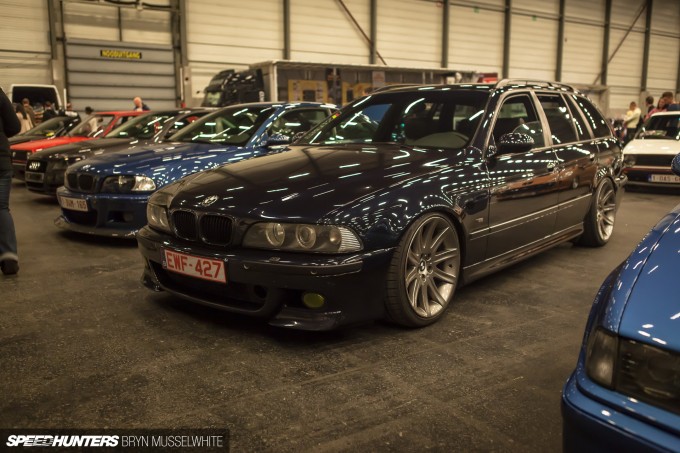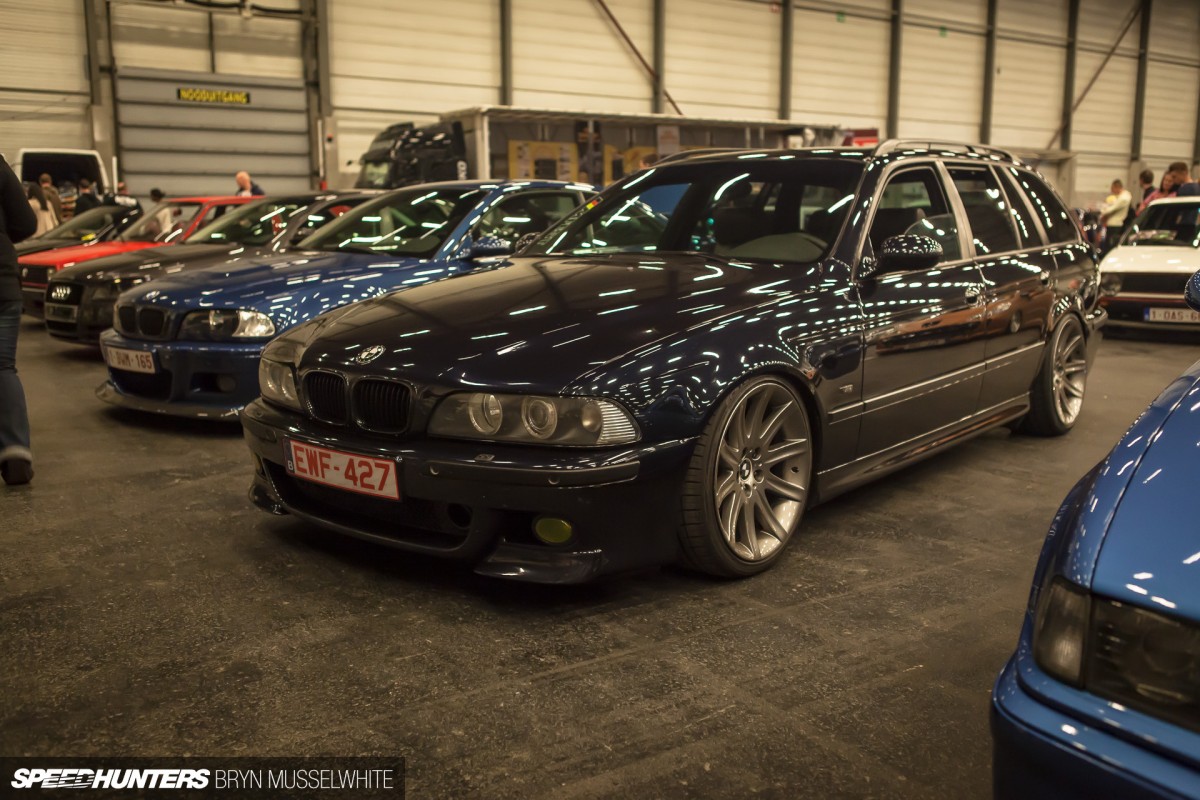 The variety was great, with pretty much everything well covered. This E39 wagon caught my eye in a line up of BMWs. I'm a well-known long roof fan, but the price of these wagons is really accessible in Europe now and with some 7 Series wheels and a drop it's a winning combo.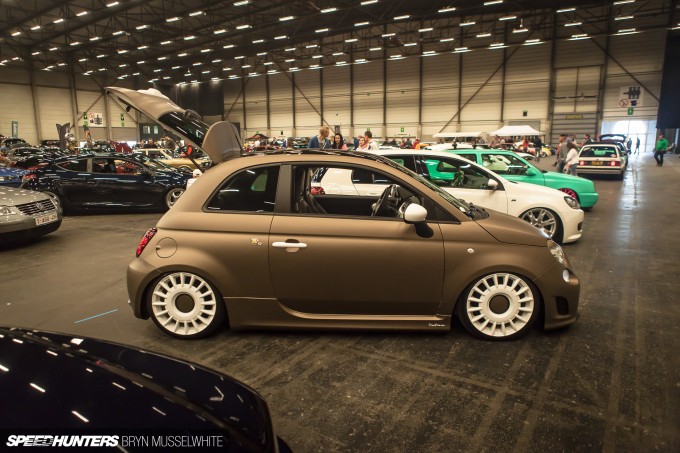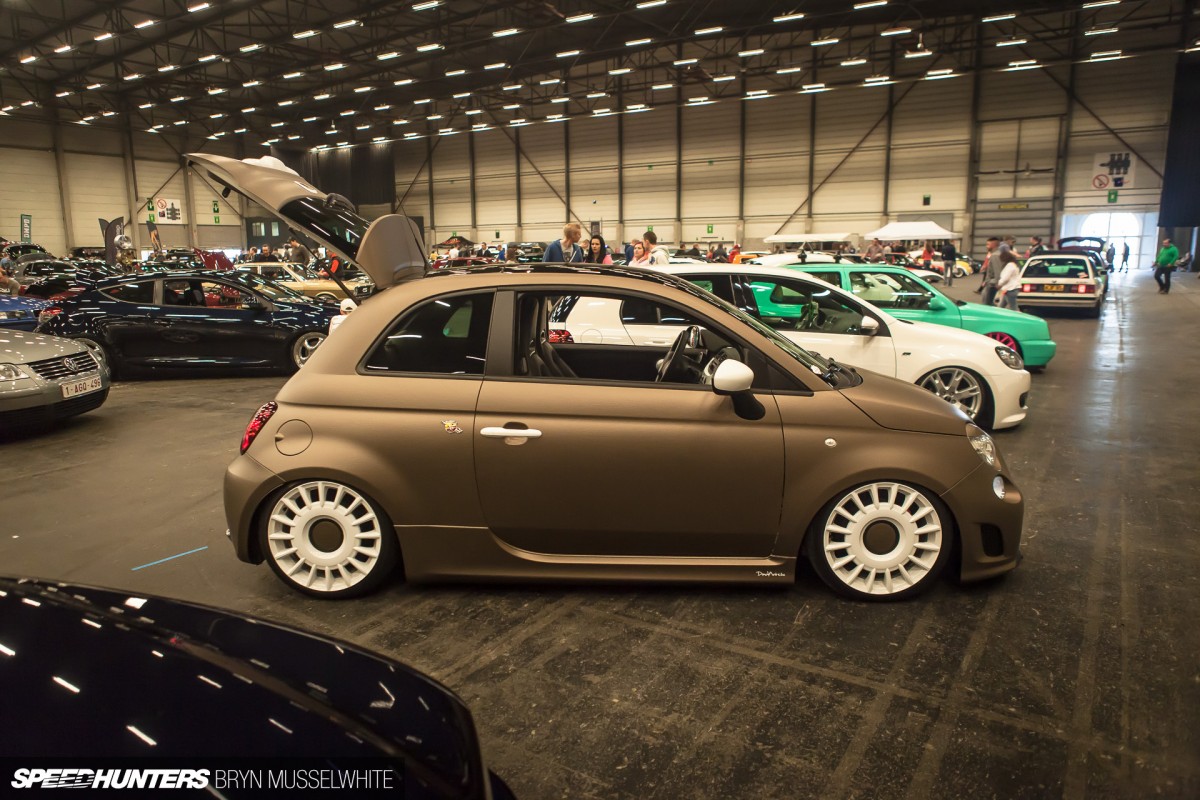 A shape I'm seeing more of is the Fiat 500. As these little cars start to become more readily available on the secondhand market, the modifiers are moving in. Europe has to deal with some pretty high fuel prices, and with cities being hundreds of years old it also means that roads and streets are often small and cramped. So as a practical, thrash-it-about car with some cool looks, this does it for me. It also amuses me that while I was looking at this, Mike was looking at something similar in Long Beach!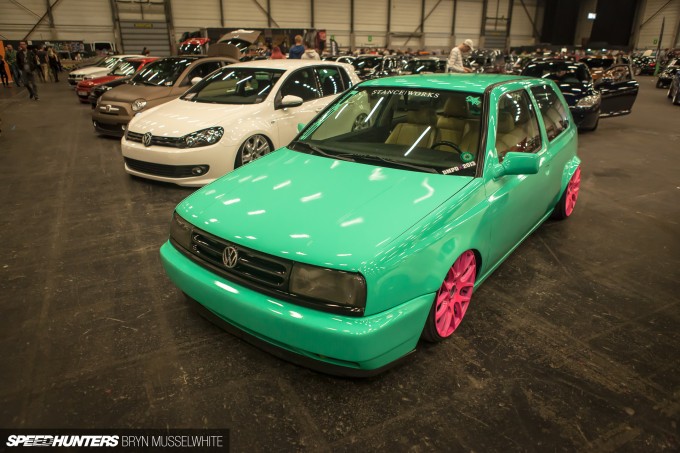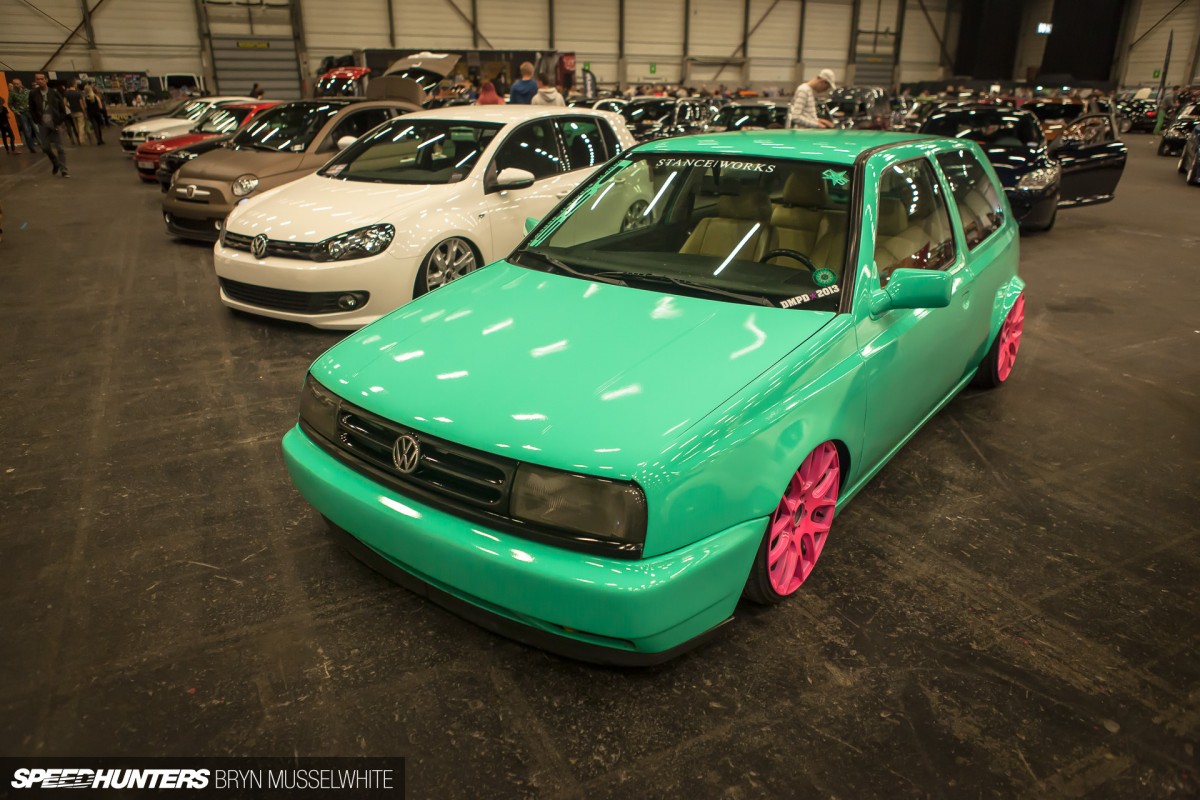 Another thing that we're seeing all over the place is a firm return to '90s. I don't care what your mate says about this look being '80s era, it's definitely '90s and I should know because I was there – Fido Dido livery and all. It makes me smile now that these bright, solid colours are making a return. All those blacks and silvers can get a bit boring, right?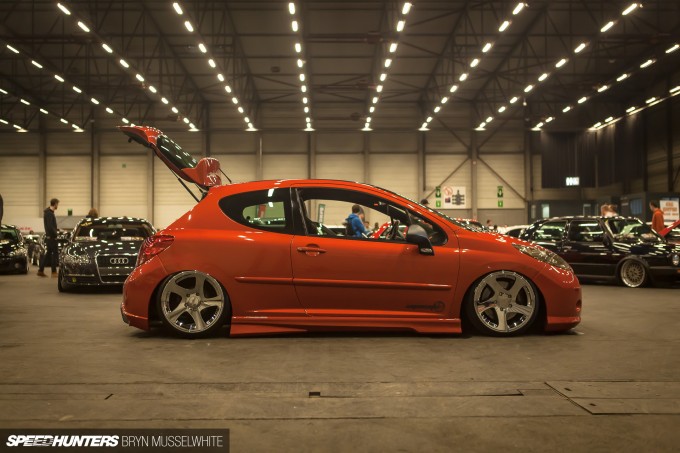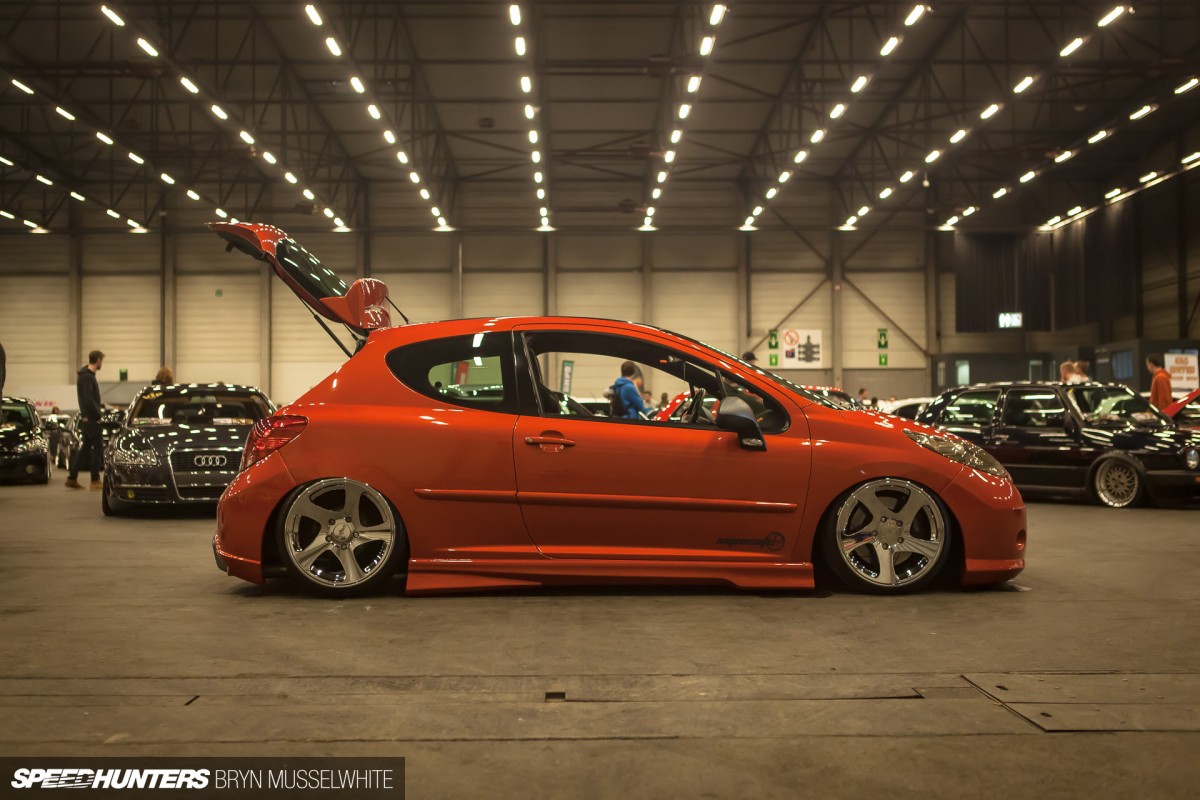 This being Europe, you're going to see some models that never made it as far afield as the US. I often hear people in the States asking why our cars are so small, but until you've been to Europe it's hard to understand why they need to be. Jay Golinsky, the owner of this Peugeot 207, drove it across from the UK first thing on the Sunday morning just in time to make the 10.00am entry cut-off time. The show was only 90 miles or so from the French port of Calais where you can either get on a train which goes through a tunnel underneath the British Channel, or a ferry back to England. Around ten cars made the trip across.
Random, but good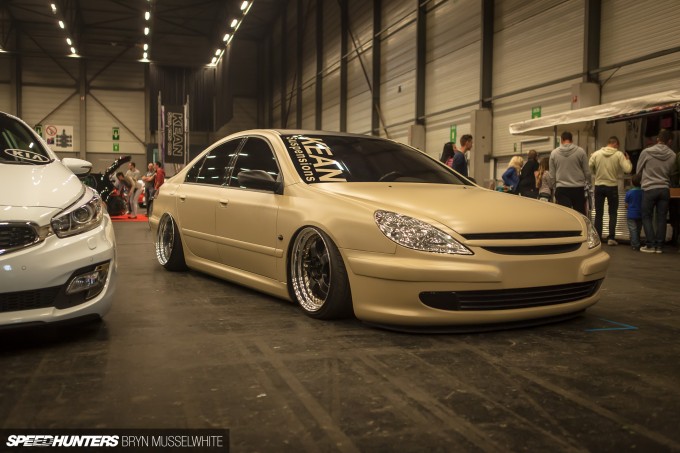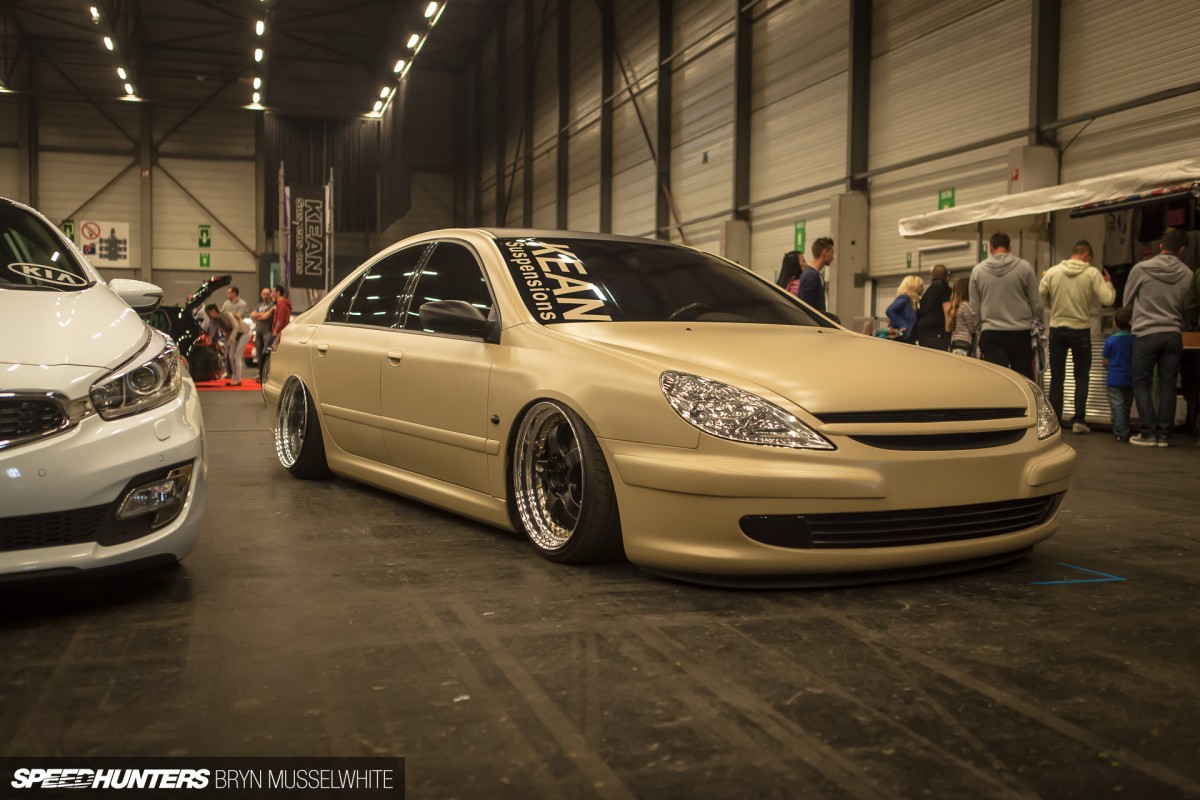 Another Peugeot that got me all excited was this 607 saloon. With a V6 engine and front-wheel drive, this sort of thing is what you'd normally find French upper management wafting around in, not the basis of a matte beige show car on air suspension. Sometimes a slightly oddball choice with some well observed modifications can work very well.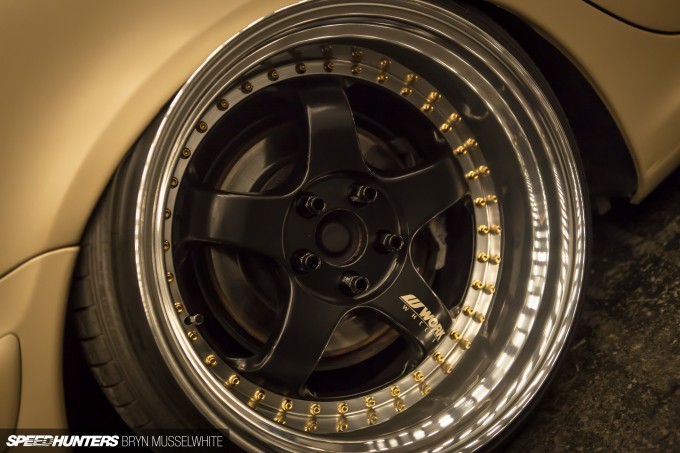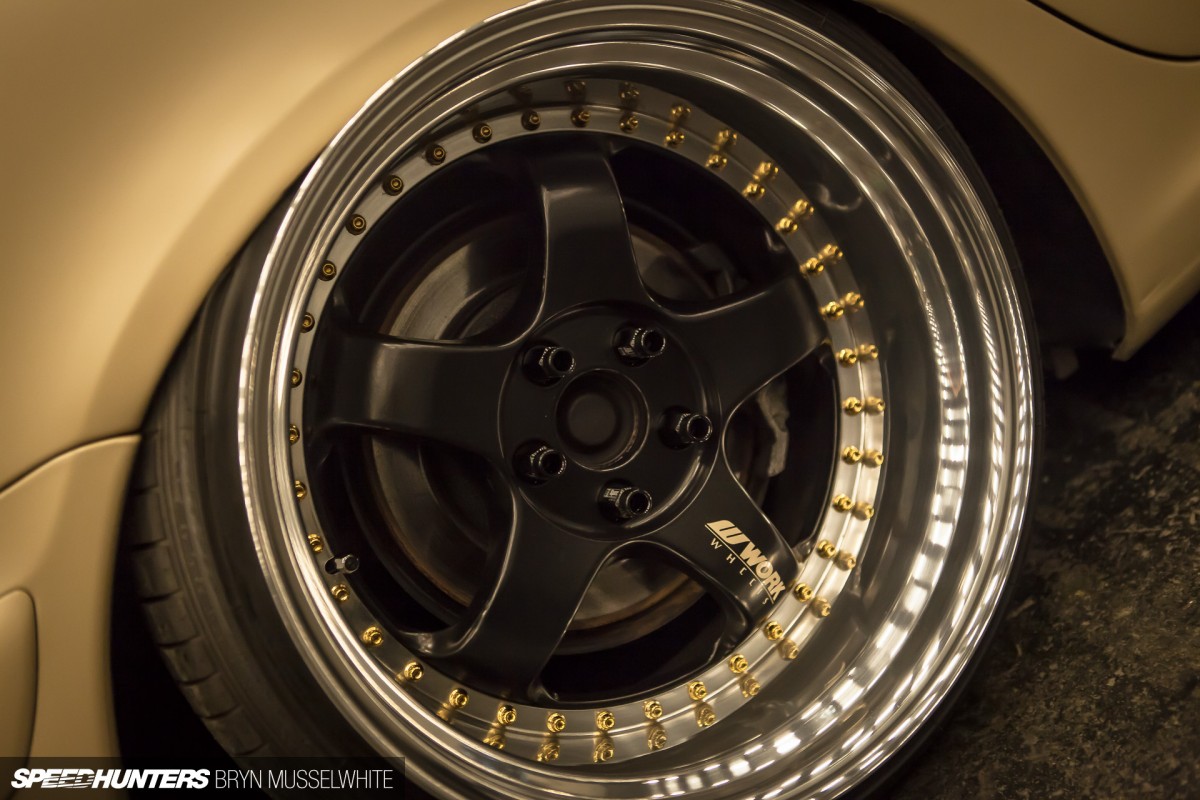 It was the Works that really made it for me though. One thing I've noticed is that the European community really embrace real wheel culture.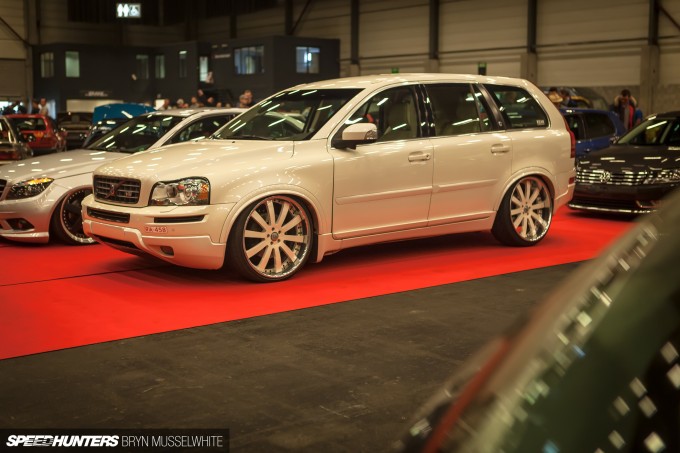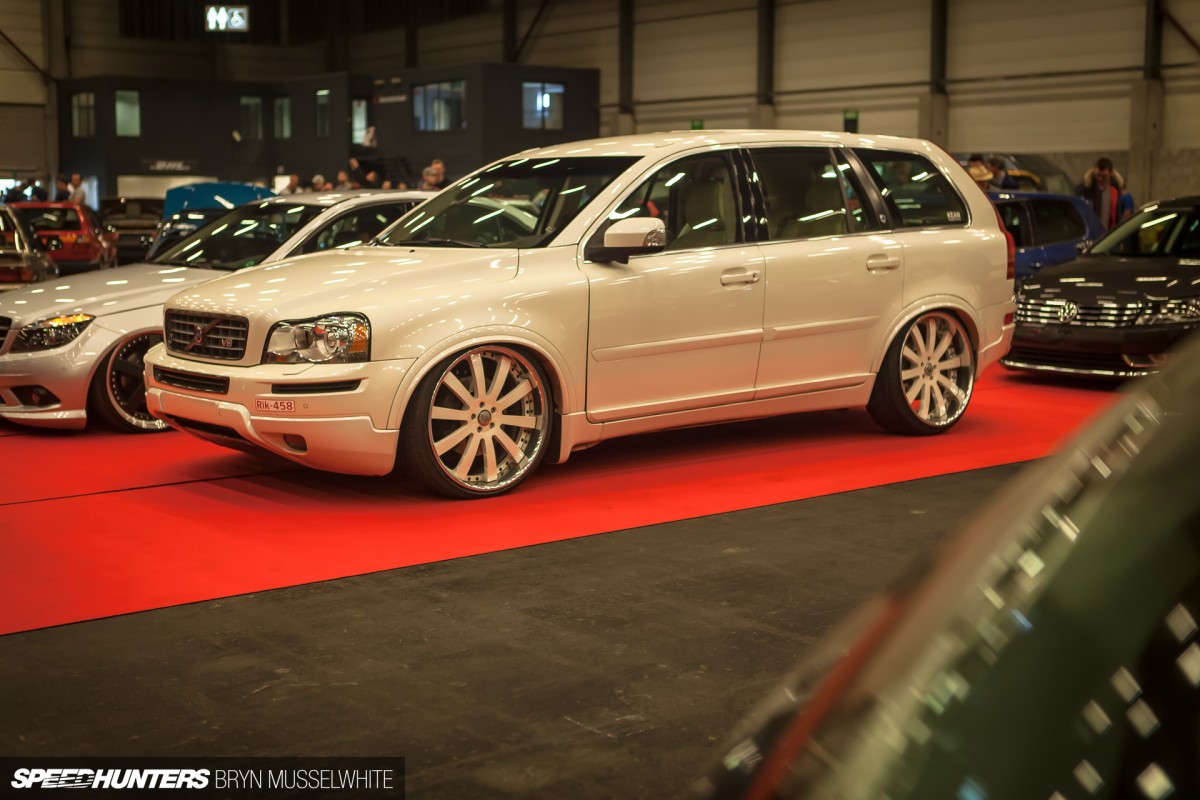 A short walk away I was greeted by something else equally obscure – this time a V8-powered Volvo XC90, again riding on air. Is it just me or would this thing be right at home on the streets of LA? The rear wheels had a good few degrees of natural negative camber too.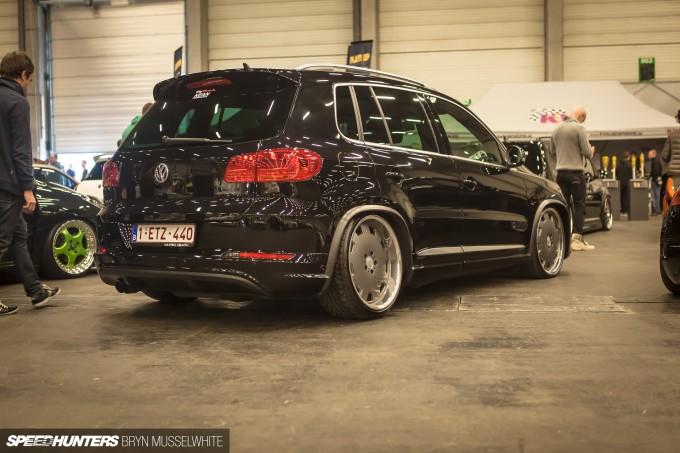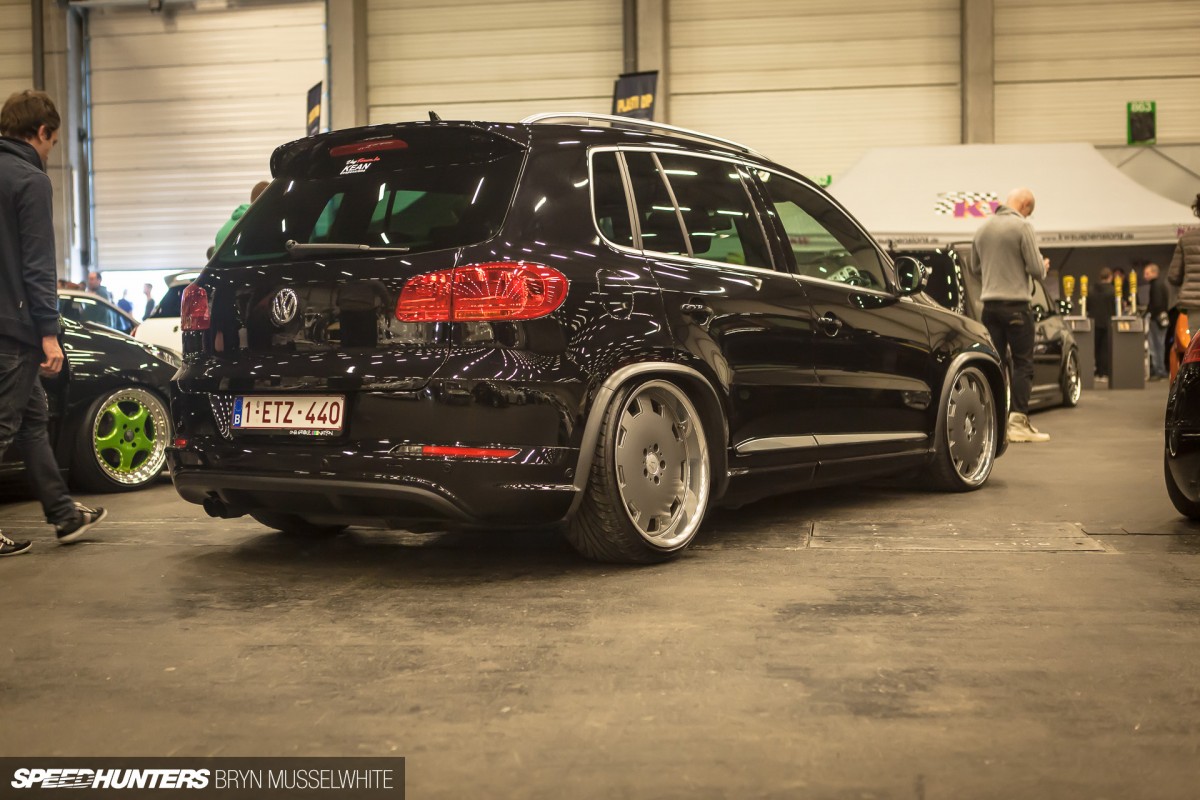 VAG products have always leant themselves to being lowered, and with the amount of models available any type of wheel style can find a home. This could well be the first Volkswagen Tiguan I've seen modified, but I really like it, so again I hope we see more of these. From its proportions to the glazing and roofline, it kind of reminds me of a Subaru Forester from this angle.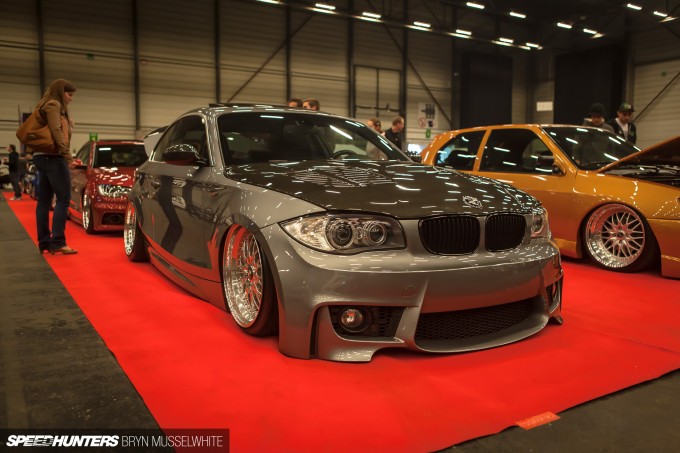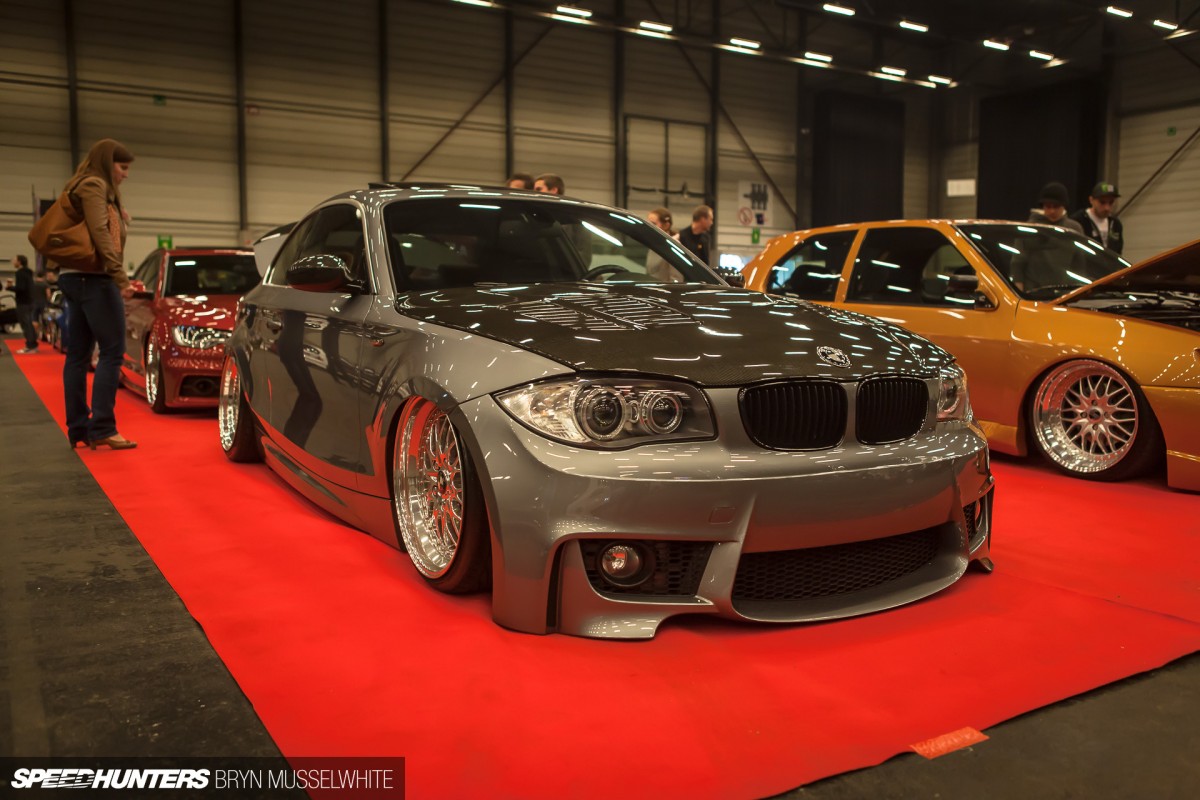 Yup, when I said everything was on air I really wasn't lying. All the cars on the red carpet had been brought along by new company Kean Suspensions – this 1 Series featuring a good mix of track, road and show modifications.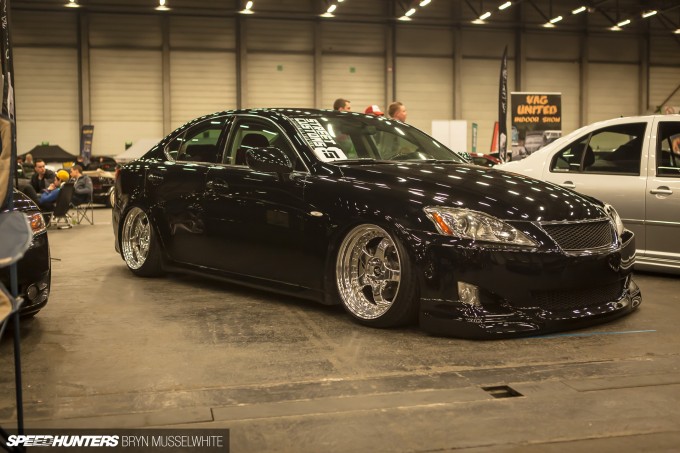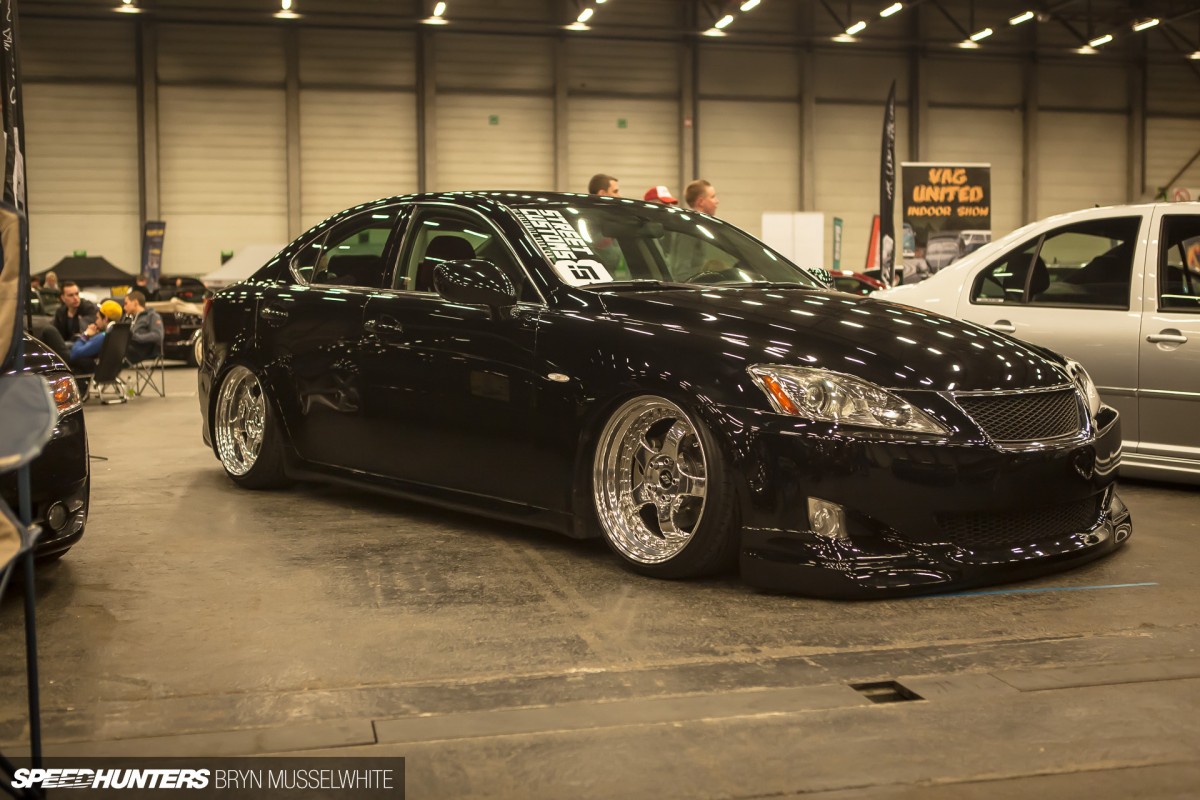 This Lexus had me going at first because somebody mentioned it was a static drop, which would have been a bold move.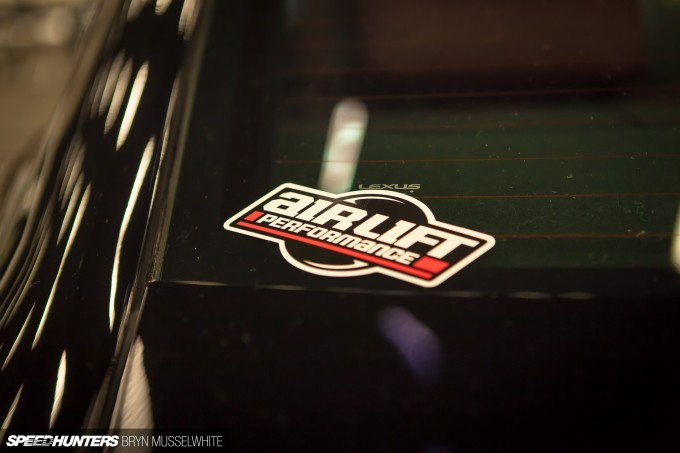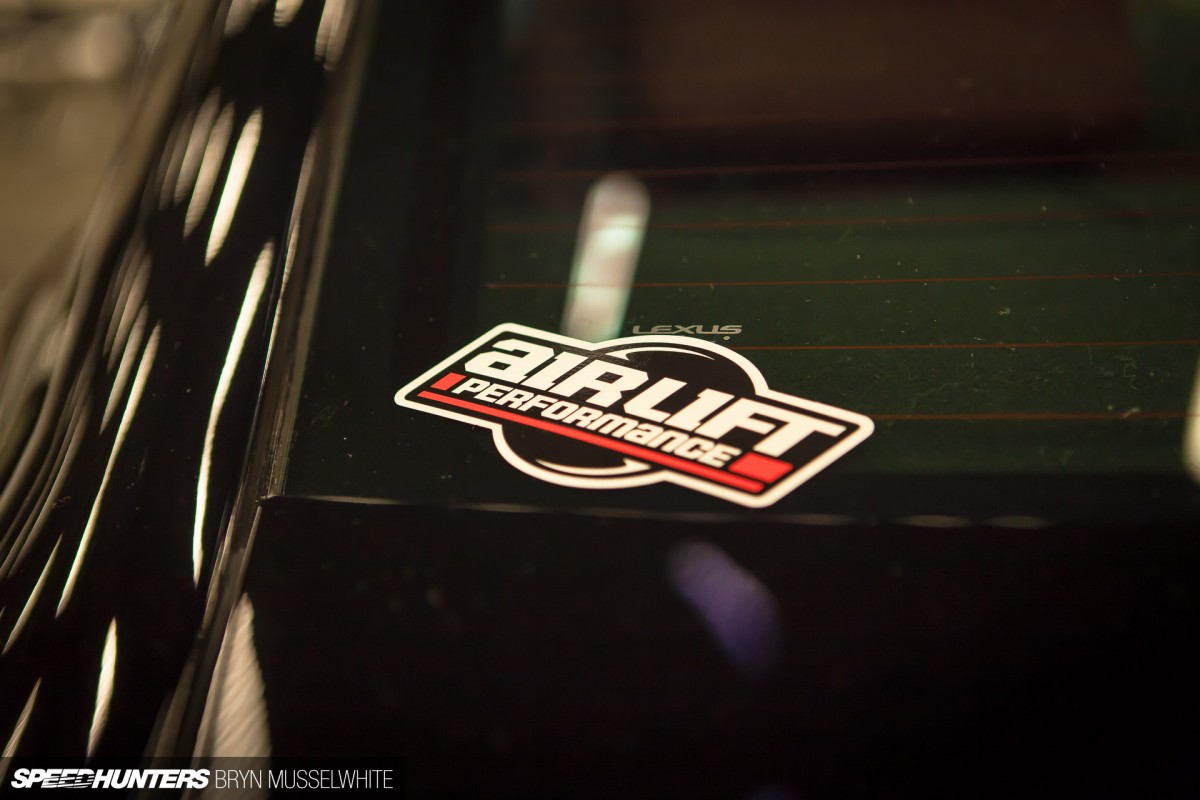 That was until I walked around the back and saw this sticker on the rear window. Static? Perhaps not… I'm well aware that there's still a certain amount of controversy when it comes to air and modified cars. There seems to be two strong camps and you're either in or you're out. I'm pretty sure that if the non-believers were to experience a good air ride system first-hand, a lot of them might change their thinking.
Wheels, everywhere!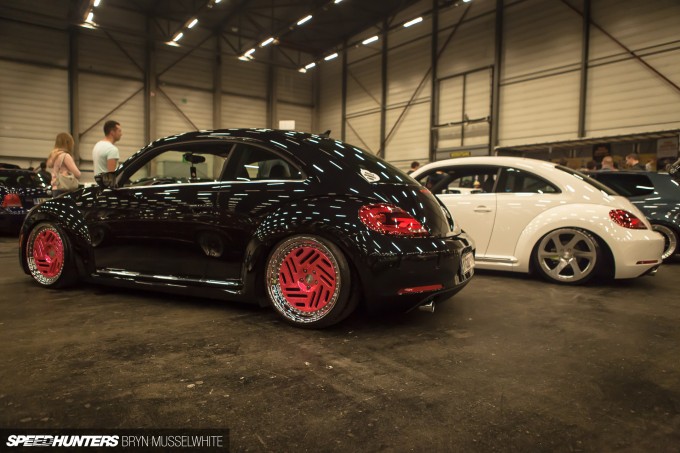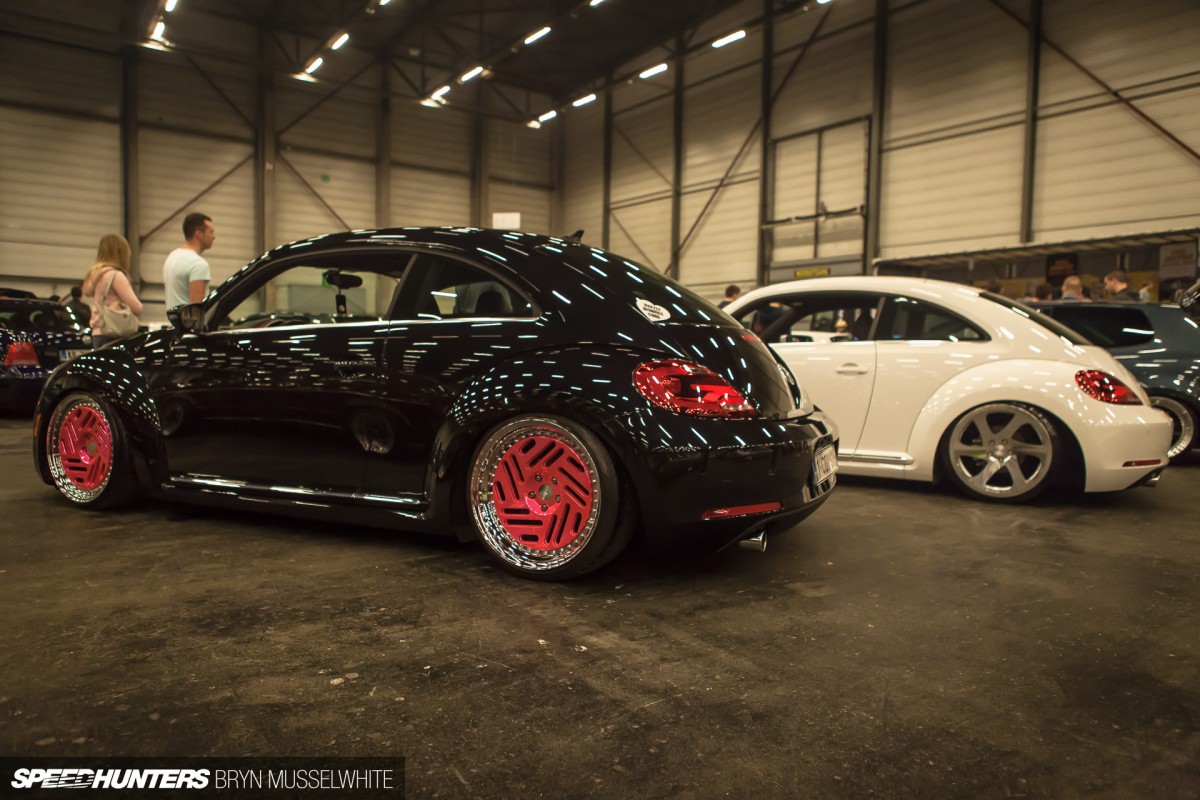 A big part of the Euro scene are based around wheels and fitment, and Selected really did provide when it came to the round things that we all fuss and debate over. This pair of newer-shape Beetles were owned by a couple of ladies who took a shine to Ben's car. Although the treatment is very similar with the black car wearing Rotiform IDKs, I can still see a very different result in the finished look. I can't decide which one I like the best. Probably the black one, sorry Ben.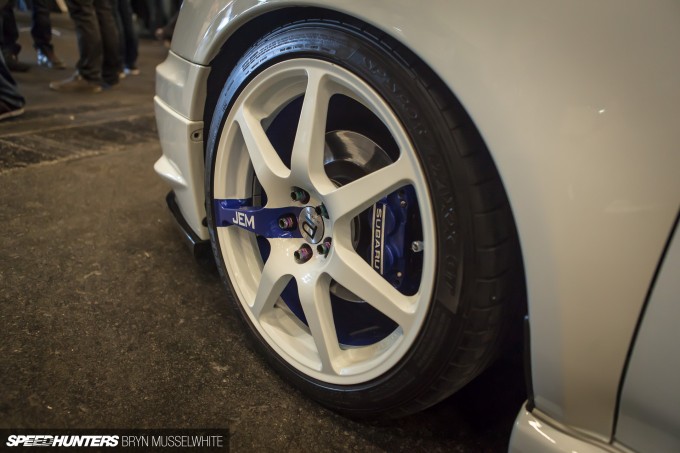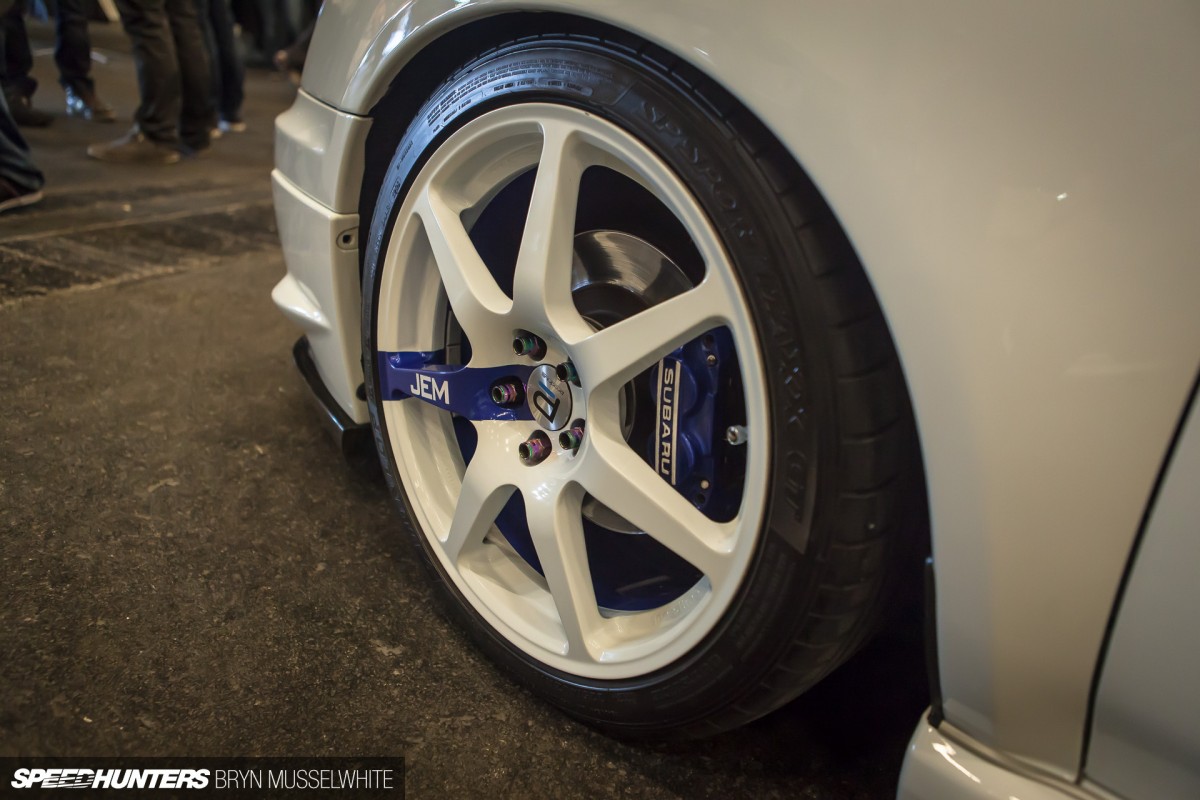 I always try and find new ways of detailing things and seek inspiration from the way other people do it. So I'm really digging the way these genuine Prodrive wheels have had some colour added. Neat.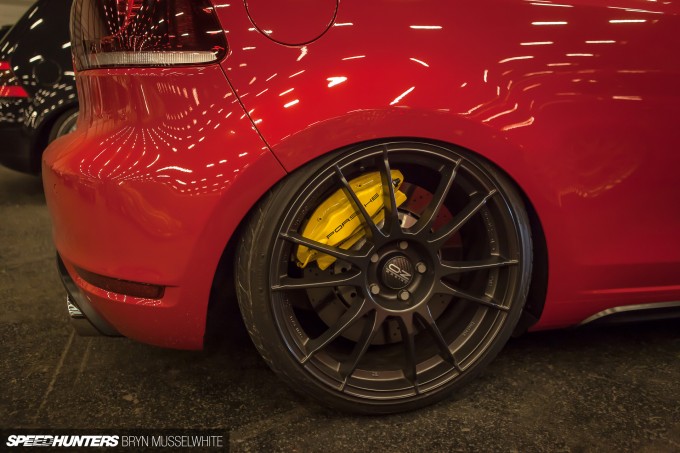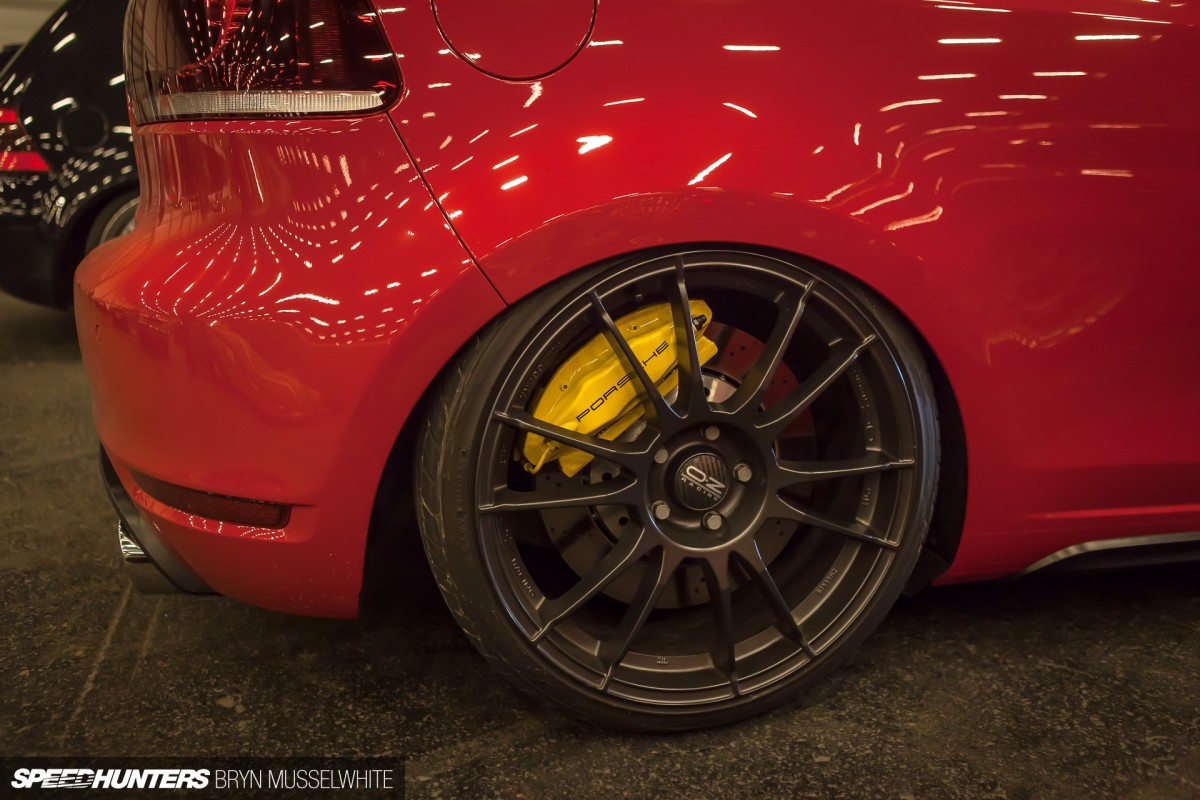 OZ wheels are steeped in F1 heritage, so if you're packing serious Porsche brakes all round like this Golf 6 was, they also mean everybody can admire your hardware when parked.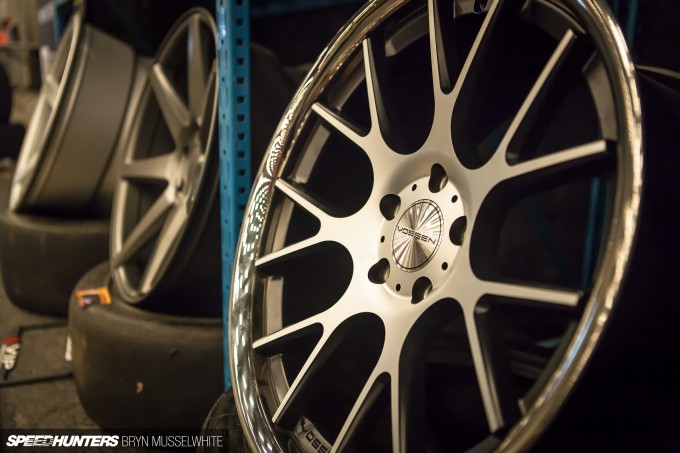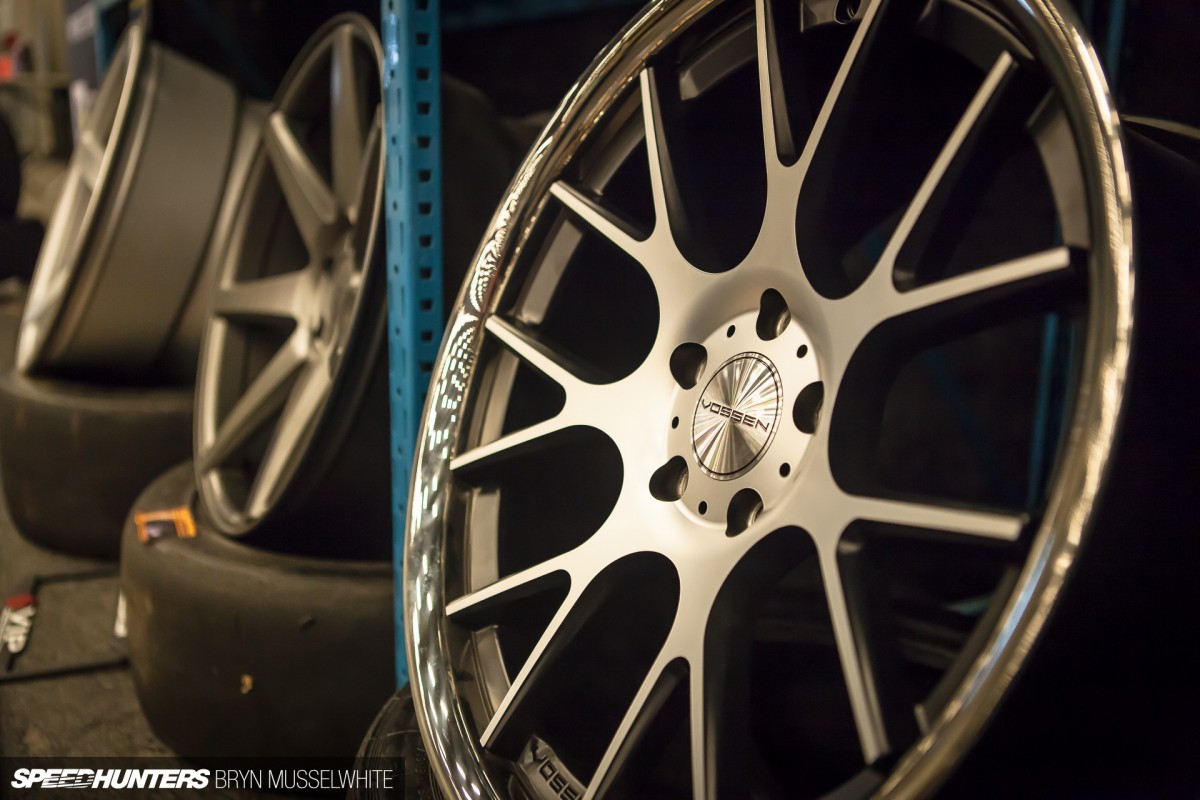 There were a few select trade stands around the edge of the hall and it was pretty cool to come across a line up of Vossen wheels. Why? Because they're something different for this market place to go for. As you might know, we've partnered up with the Vossen team and it's been intriguing to see the brand pop-up on my radar over the last few months. My favourites are the VVSCV2, which are technical enough in their design that I wouldn't be bored when it came time to clean them. Yes I am that lazy, or as I prefer – practical.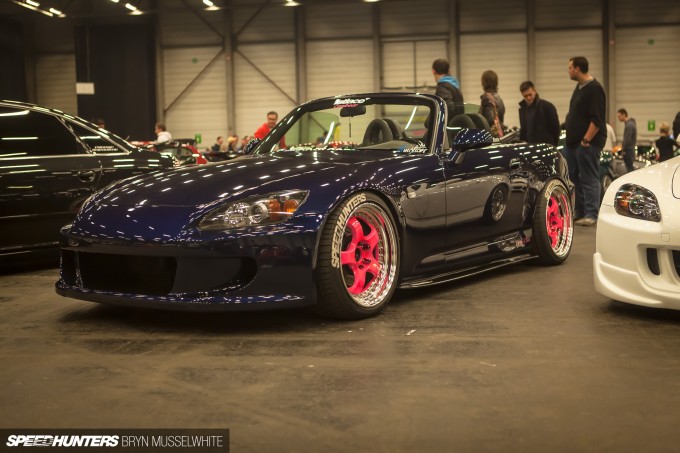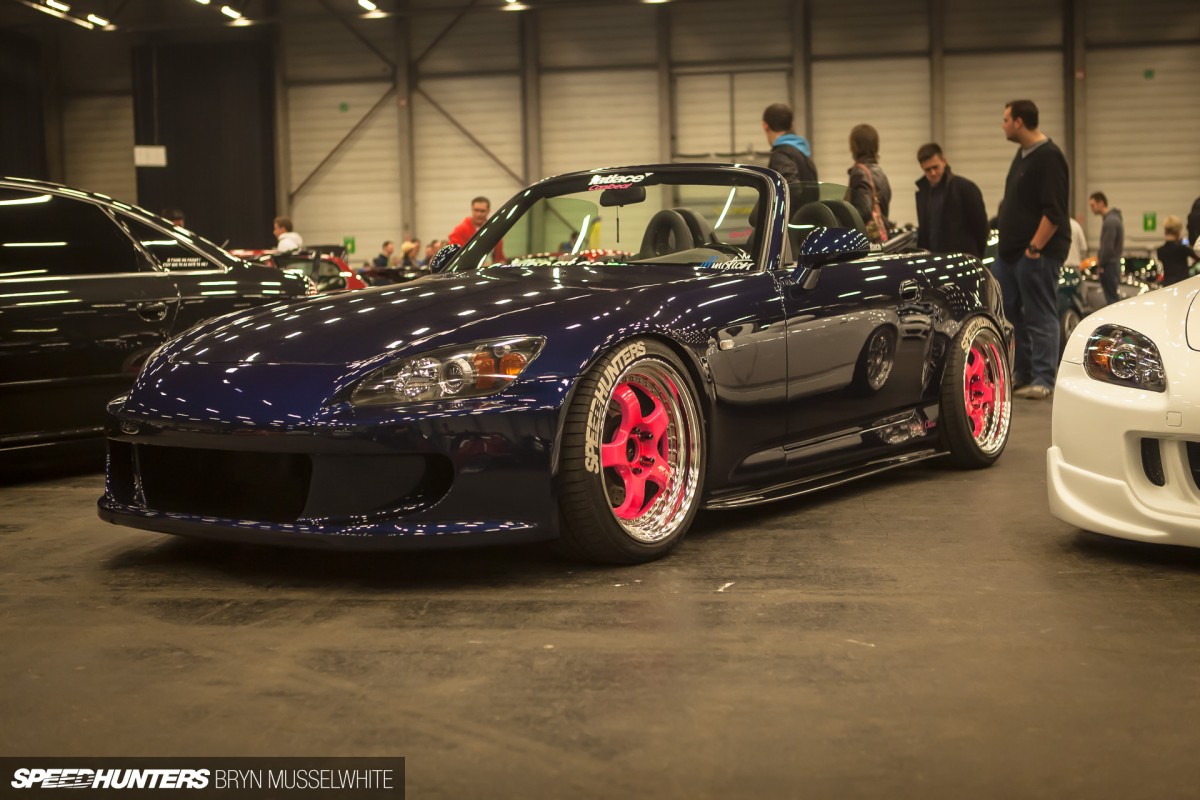 If you follow our Instagram feed  you might have seen the video I posted when this Honda S2000 rolled in.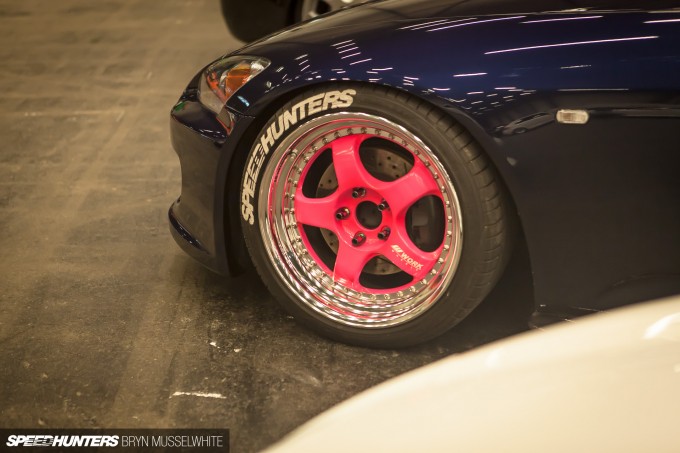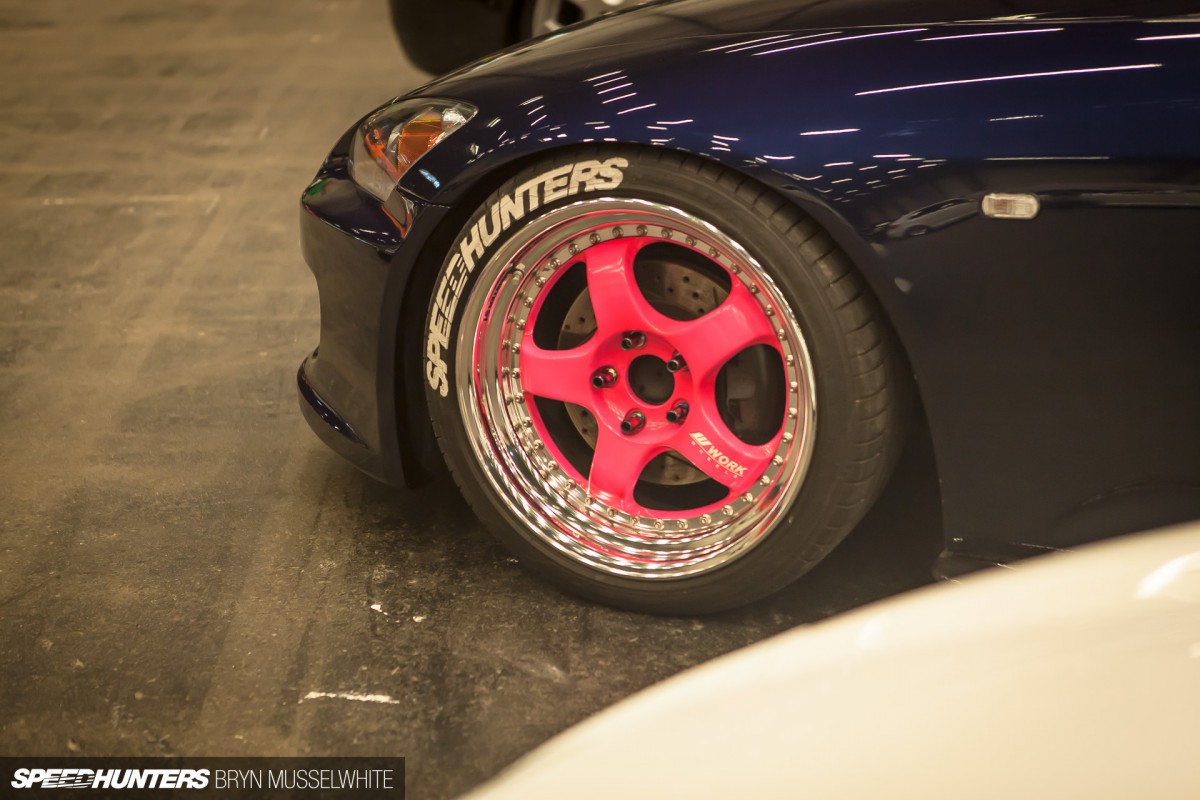 The owner goes by the name KoniParis on Instagram and Vimeo, and he had driven 180 miles from Paris to get to the show. Seeing this tire bomb made me crack a very wide grin. It might sound cheesy, but it still catches me out when somebody has become part of the Speedhunters tribe and you meet them in your travels. Bon de vous recontrer!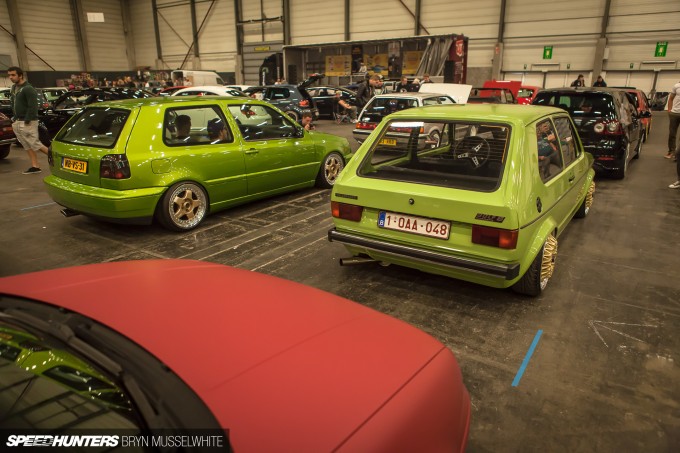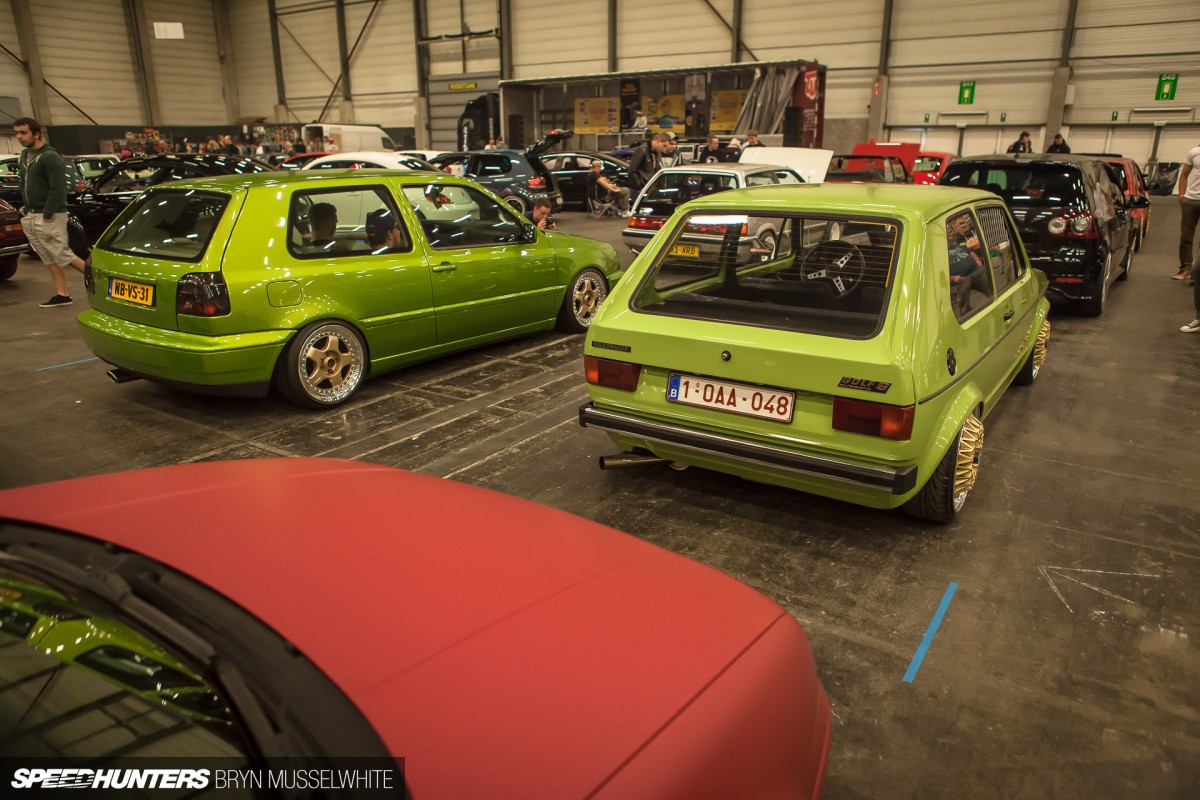 For a real slice of Euro pie, here's a great example. The Mk1 wears super-rare and iconic zero lip BBS wheels, while the newer Mk3 shows a different way of doing things. Both as valid as each other, but completely different in feel.
The finishing touches and parking lot surprises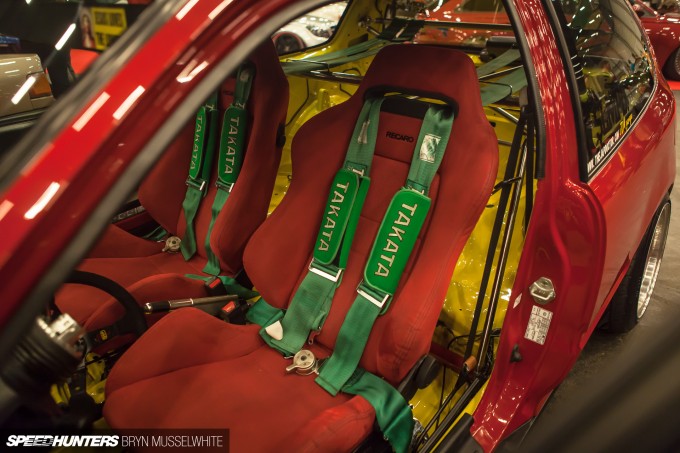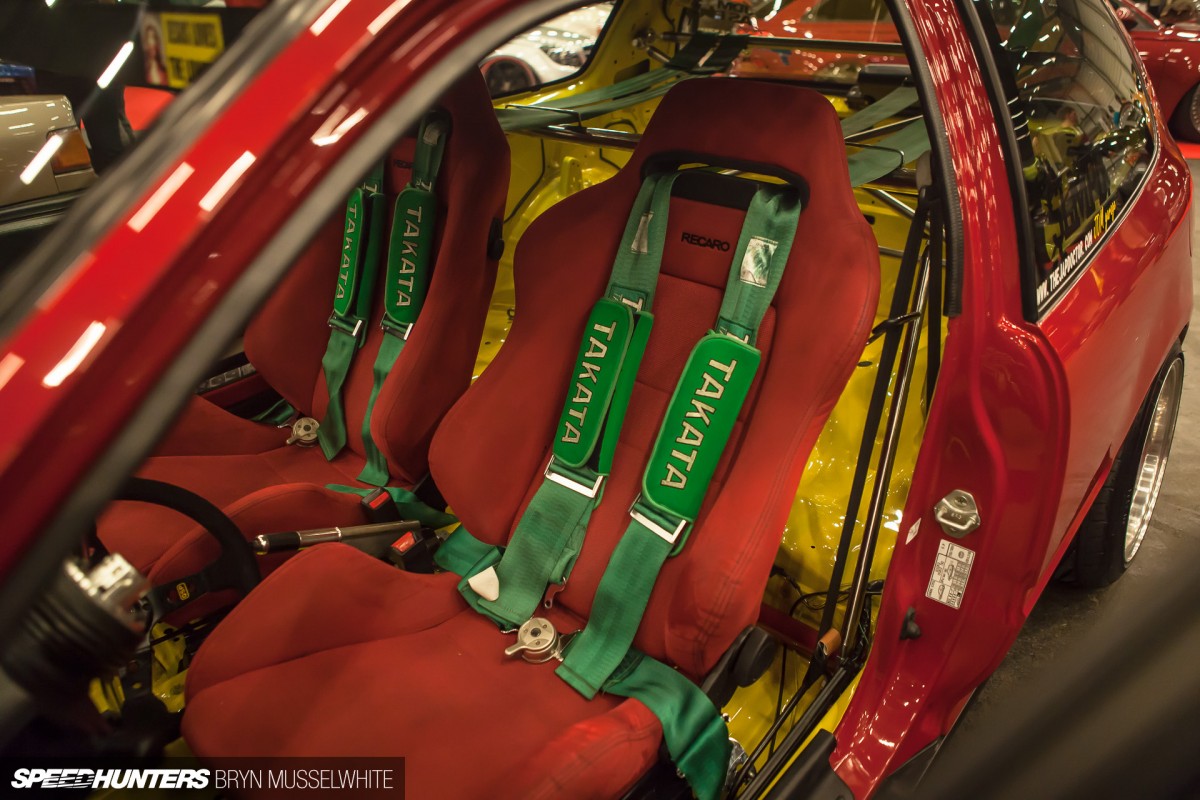 Of course, there's much more to the Euro scene than VW, BMW and their friends. This Civic had some lovely touches that gave it a real street racer vibe.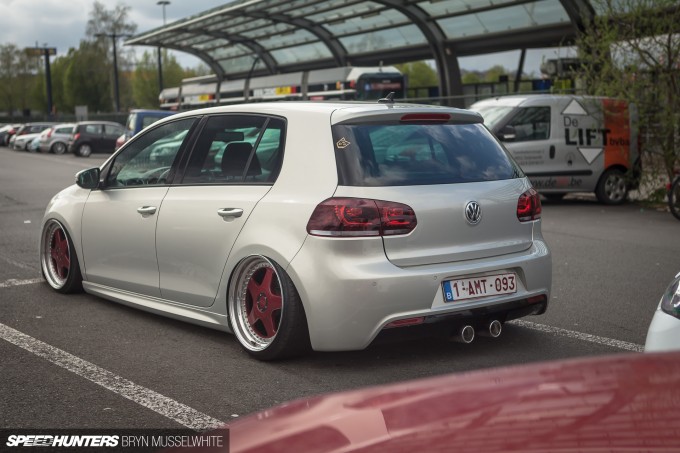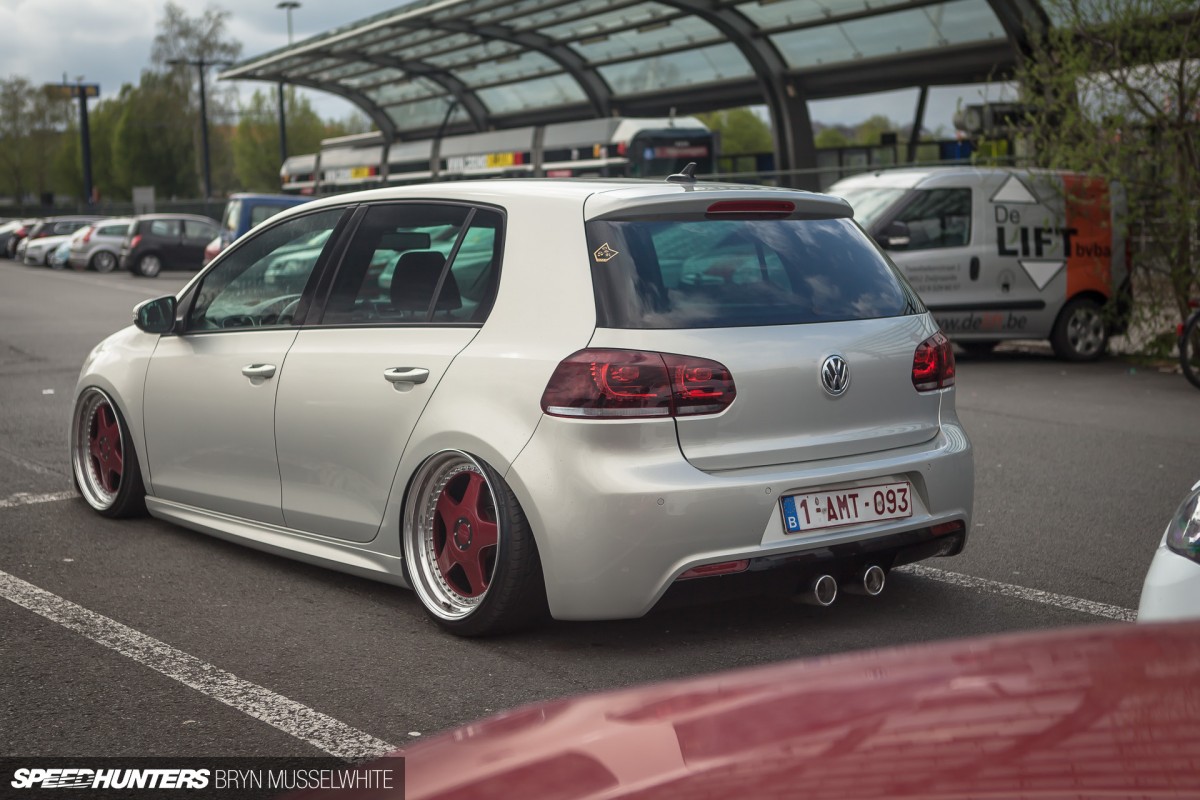 As I said earlier, Kevve had to personally select all the cars on show, which meant that not everybody made it inside. It was at this point I thought to myself 'What would Mike do?' Head for the parking lot of course! Even though it was pretty late on in the day, I wasn't disappointed in some of the cars I came across, like this Mk6 Golf.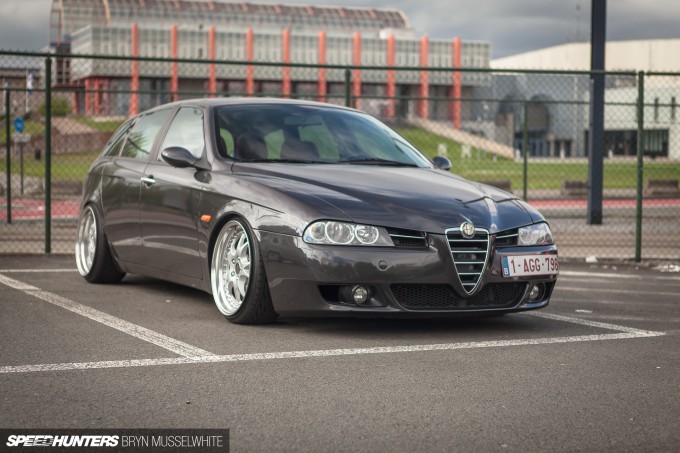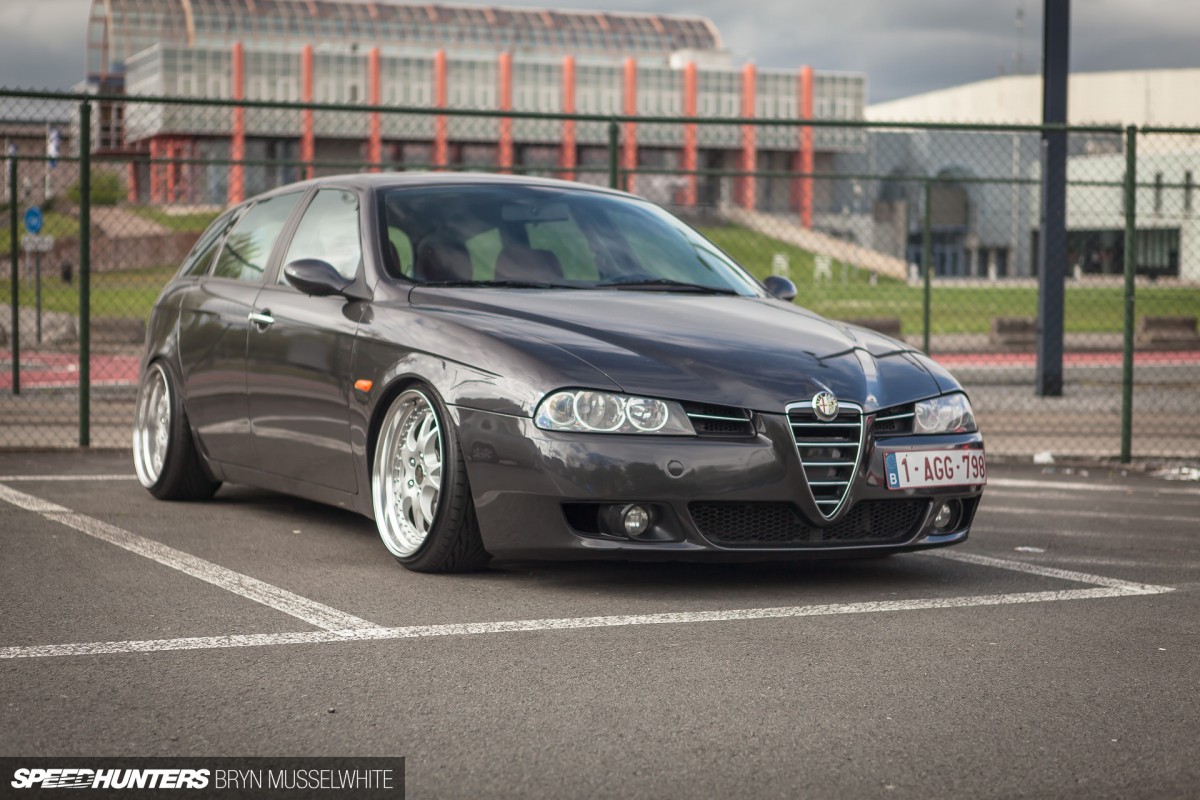 I was ultimately rewarded by this Alfa Sportwagon though. I sold my second 156 last year and although it was lowered on some larger diameter GTV rims, it was in no way as good looking as this facelift model.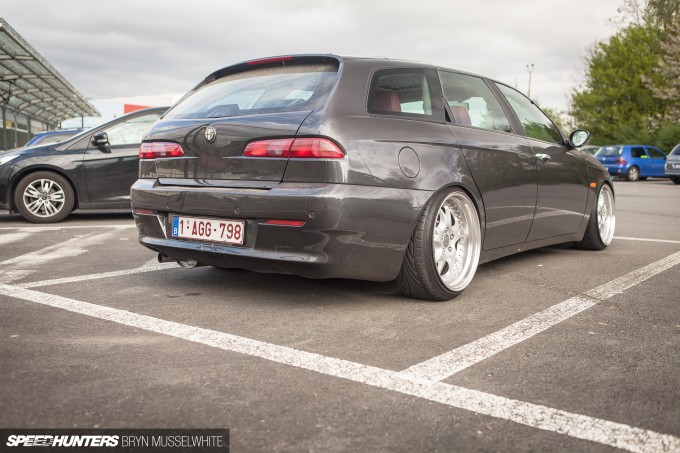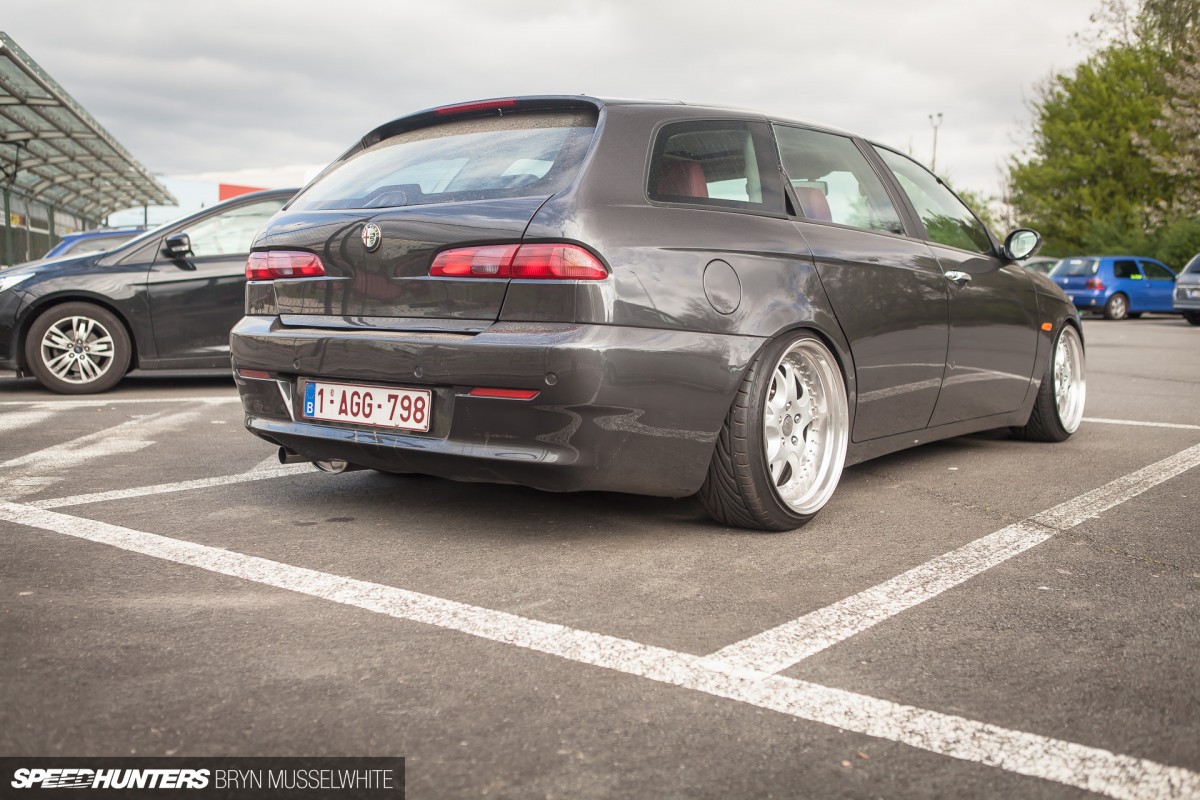 I'm also including this here because I need to show our own Jonathan Moore how good his daily driver could look too. I cannot stress how much of a fan I am of this wagon. I got some weird looks from people who obviously thought I didn't know there was a car show going on a stones throw away, but they were the ones missing out on all the goodies parked up outside.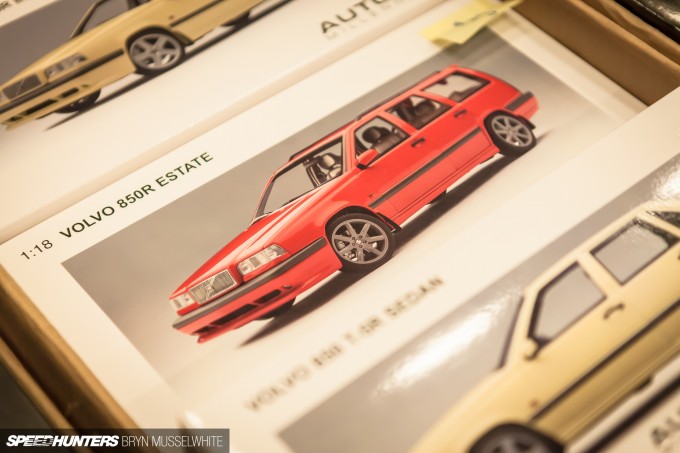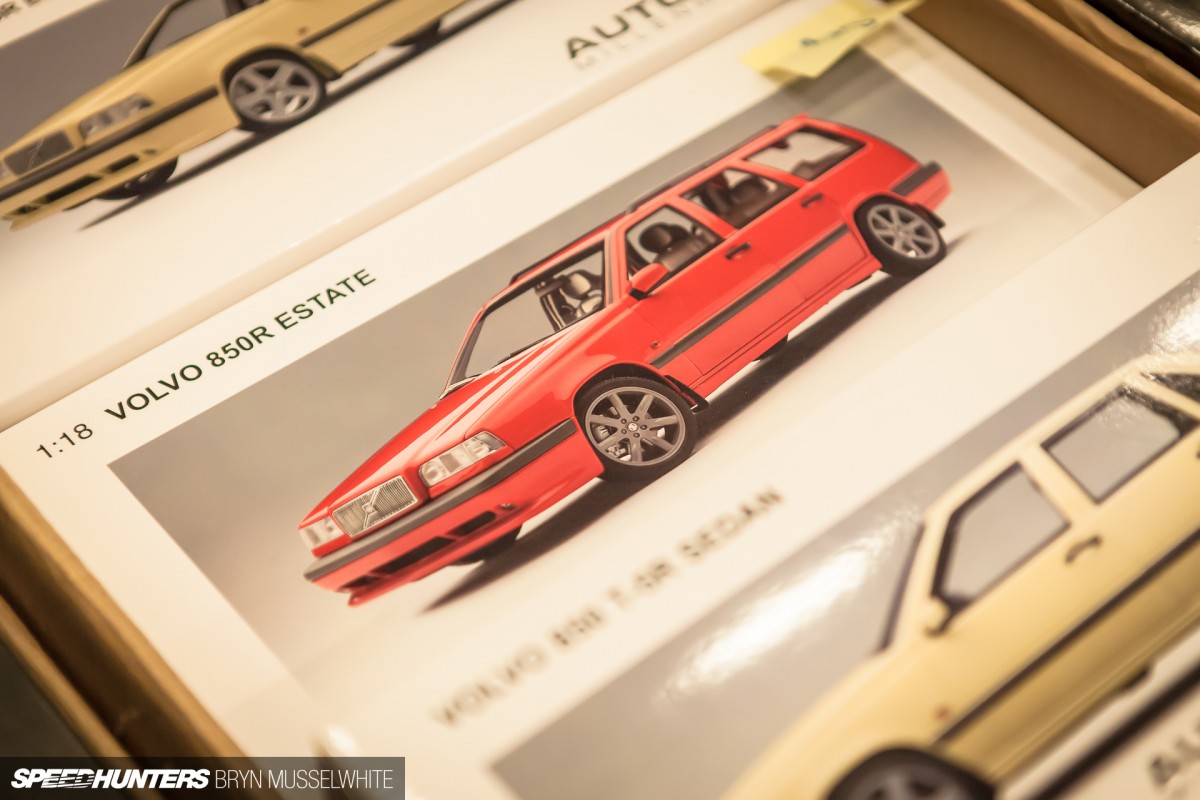 Back inside there was just enough time to finish up my long roof fetish fix and check out the extensive selection of cool scale models on sale. I managed to resist… just. Although now I look at this picture, I wonder why I did!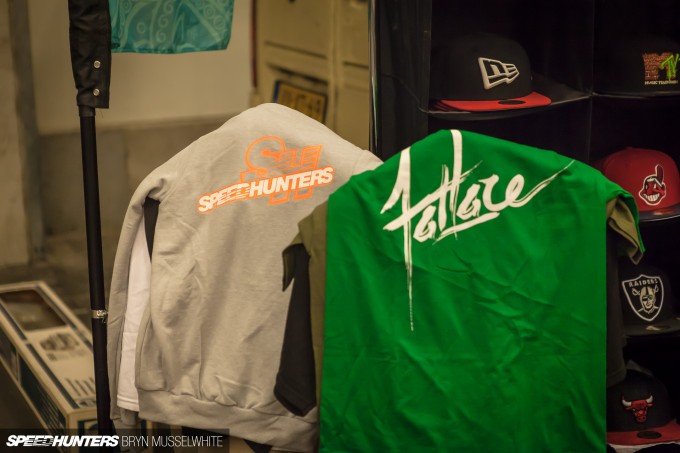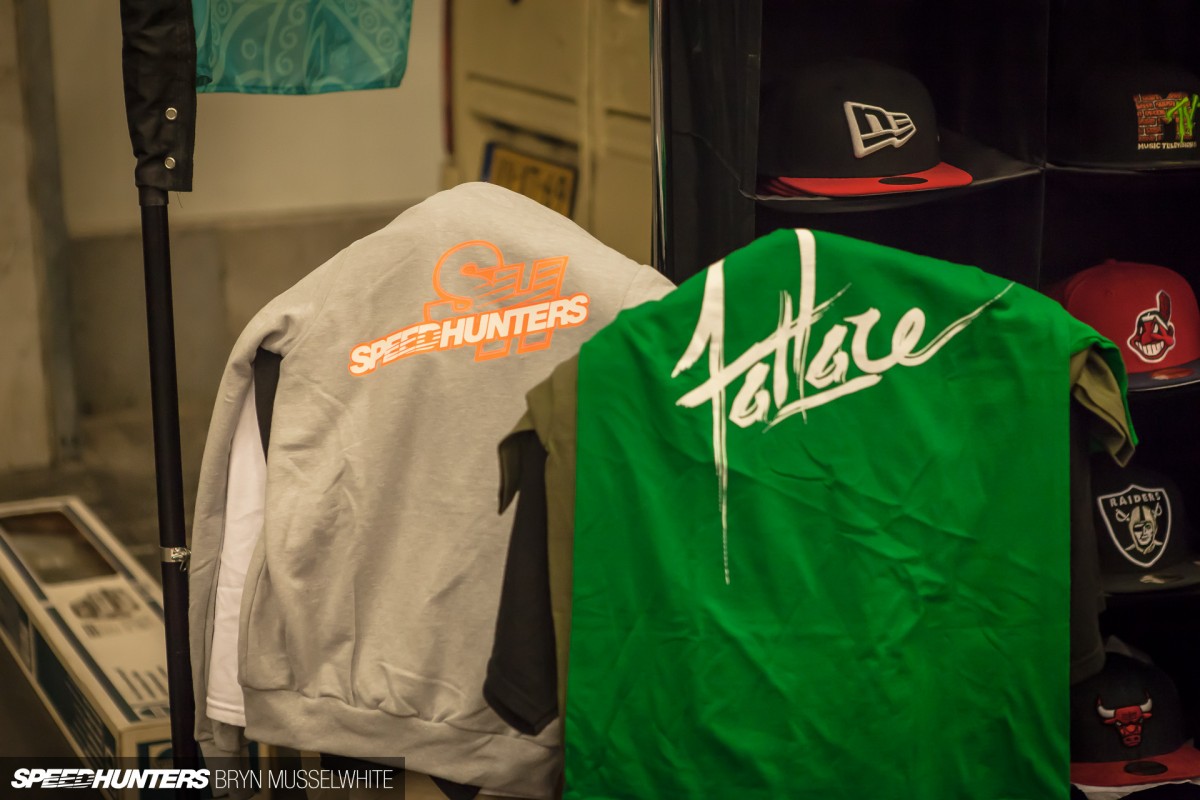 On my final scan of the stalls I also said goodbye to our friends from Dump'd, who'd brought along their merchandise stand. Again, I wore a smile on my face knowing that my fellow Speedhunters had also spent the weekend working with Fatlace in Long Beach. It's a small but perfectly formed world.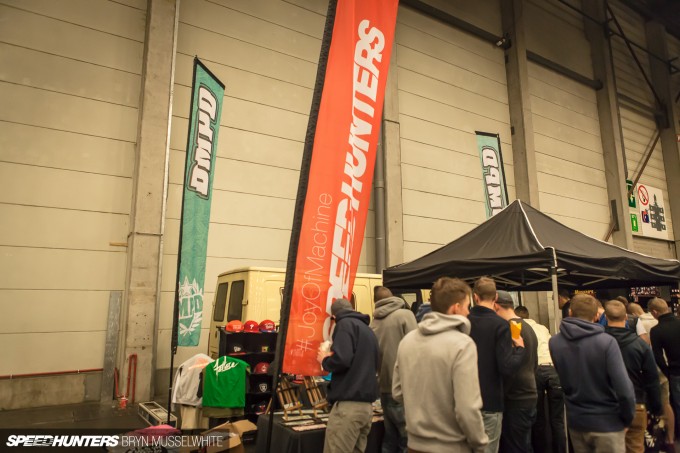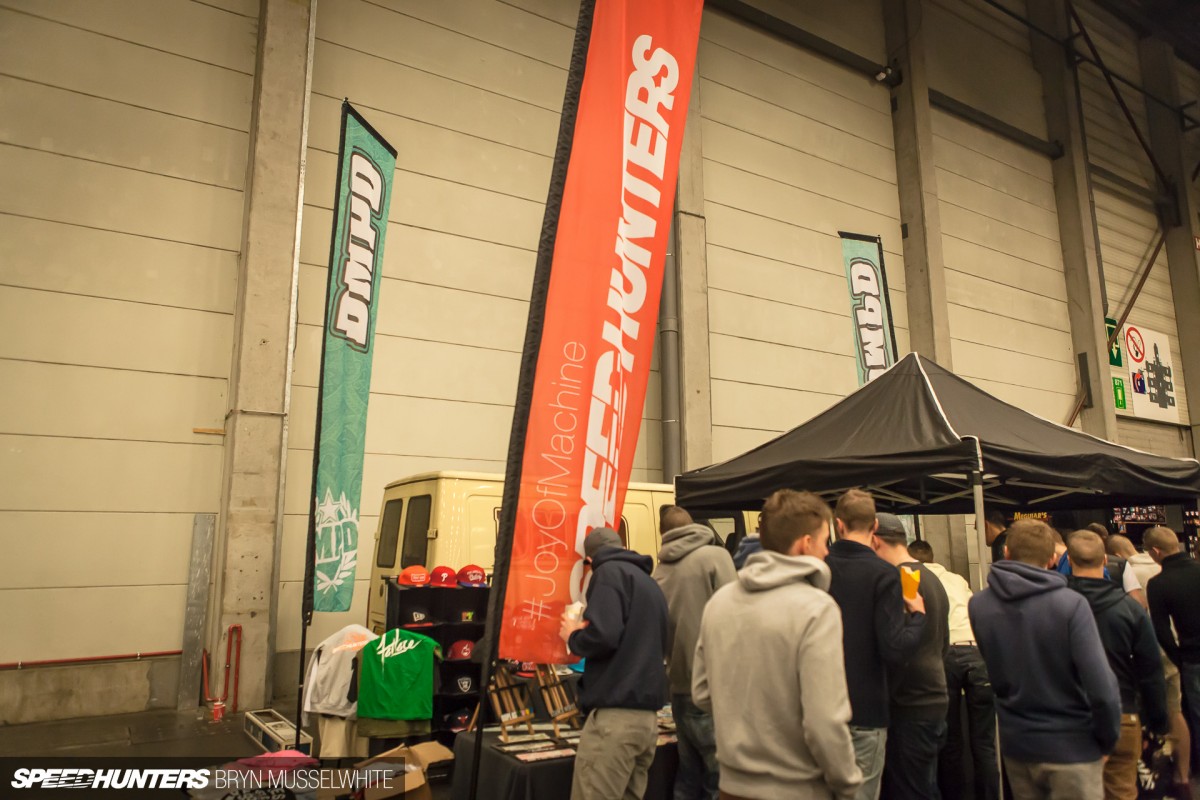 With one last wave of the flags and five o' clock fast approaching, the day had almost come to an end.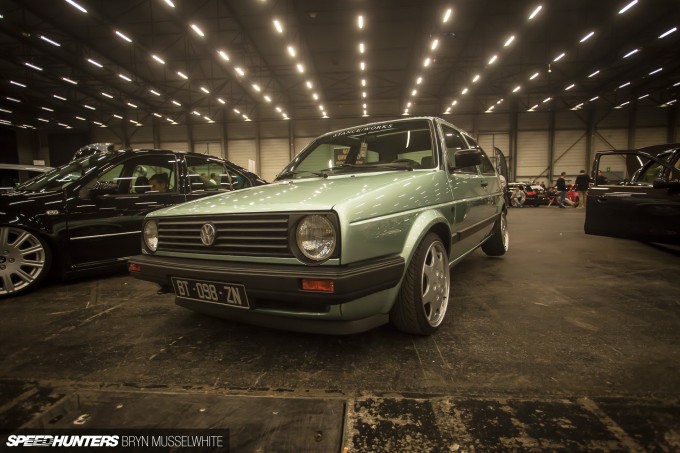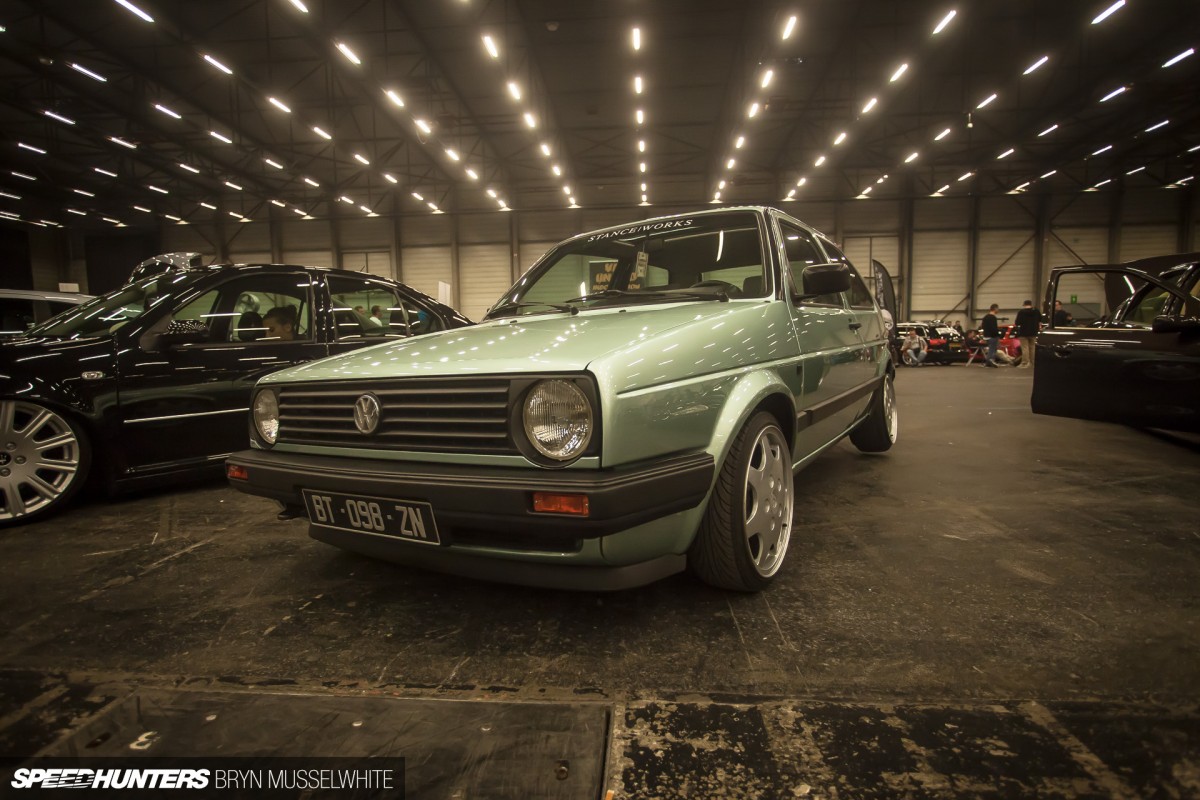 There was still time to check out few last minute surprises though. This simple looking Mk2 Golf was a perfect exercise in restraint – Design 90 Porsche rims, and clean and straight standard bodywork. But there was a party trick out back for those who hung around…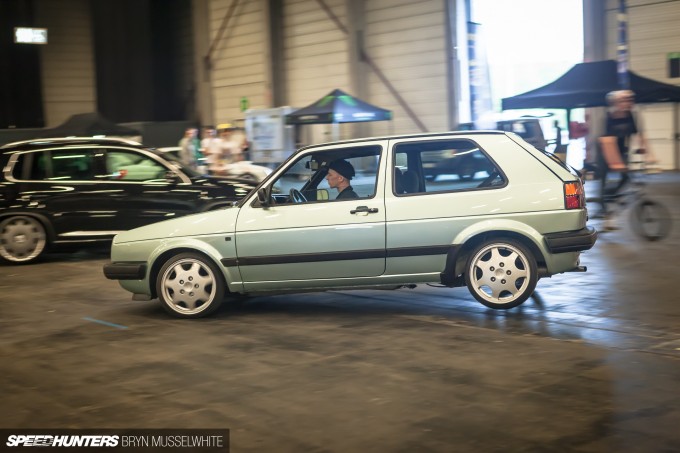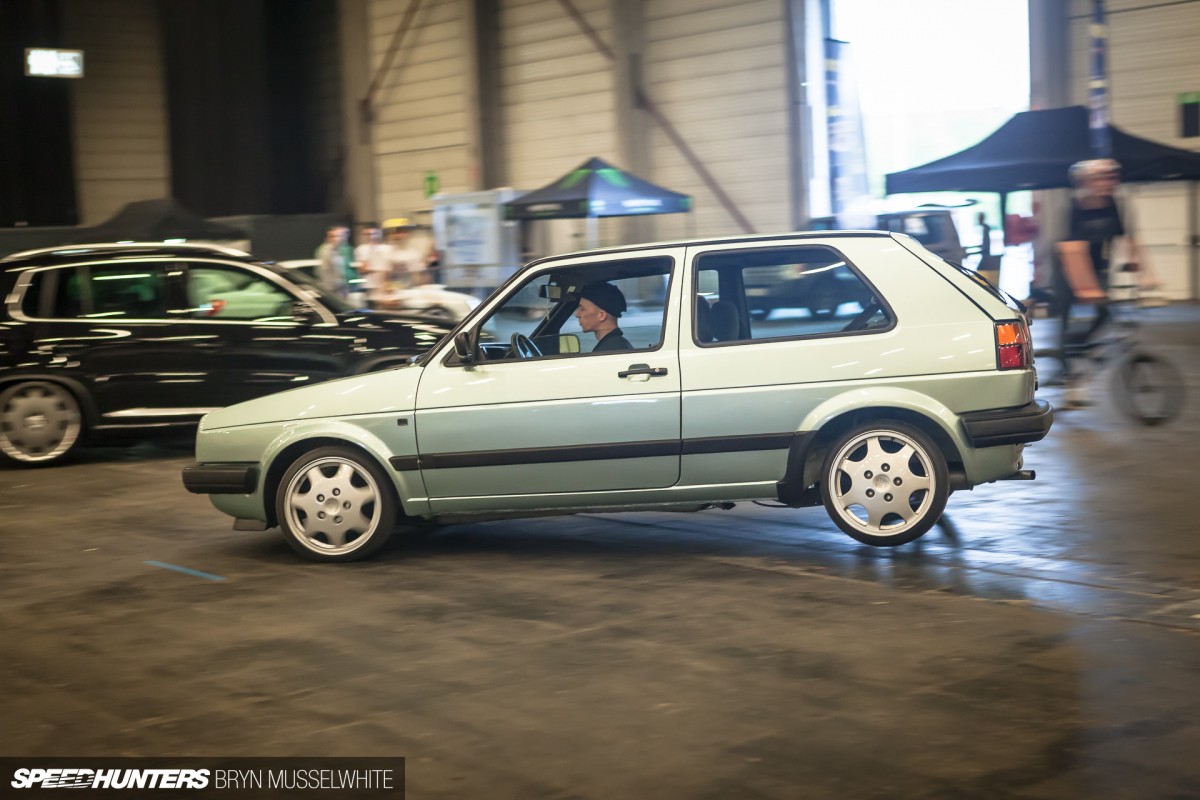 That is, rolling out on three wheels! I was in no rush to head off though, as there were a couple of photoshoots to take care of in the early evening light.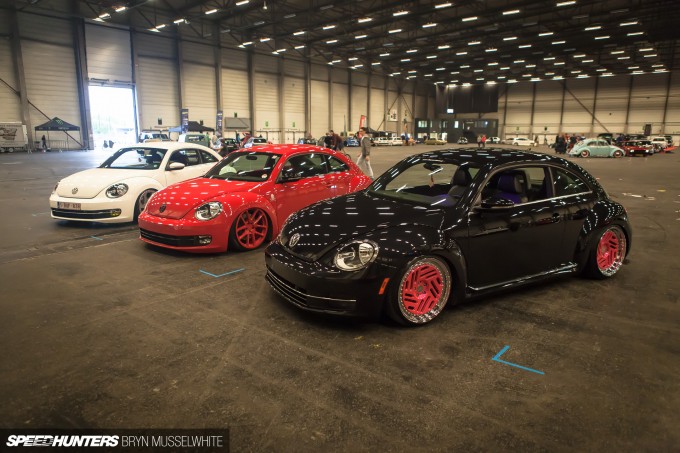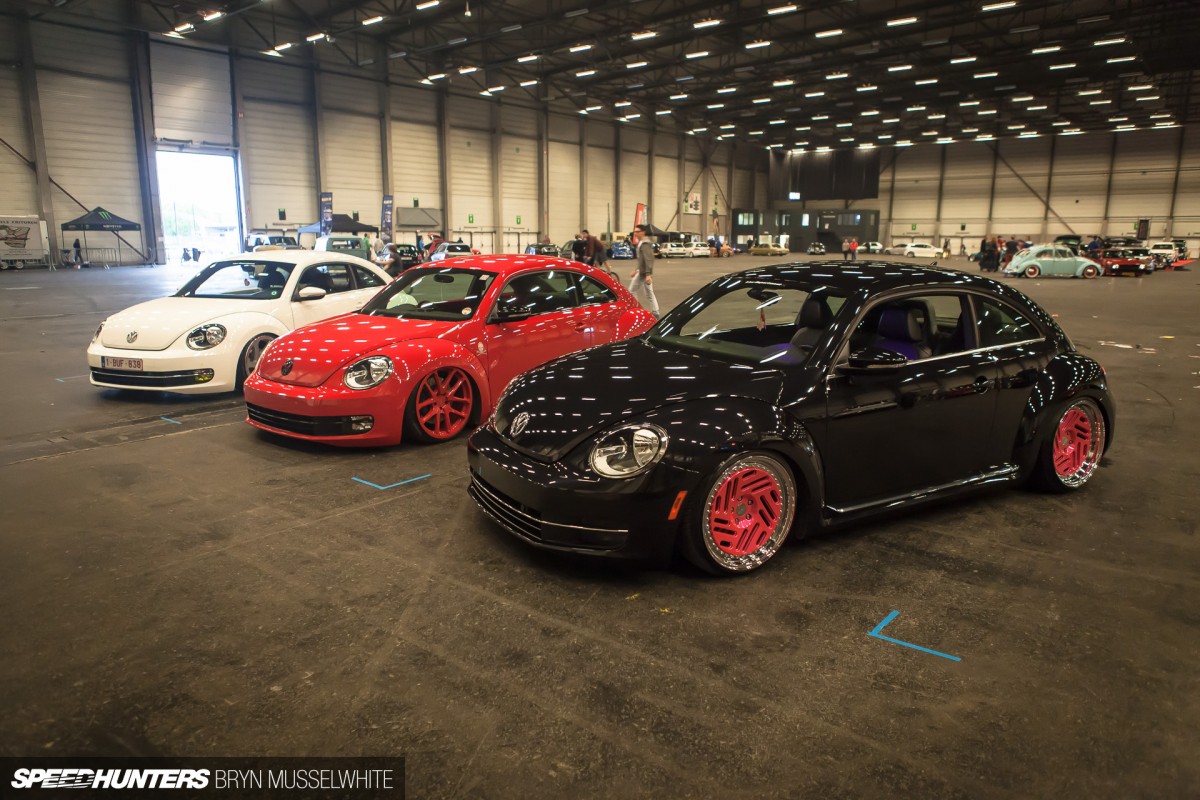 You might have noticed this post has been severely lacking in retro material. That's for good reason, because I'm going to bring you a round up of those next and you won't want to miss it.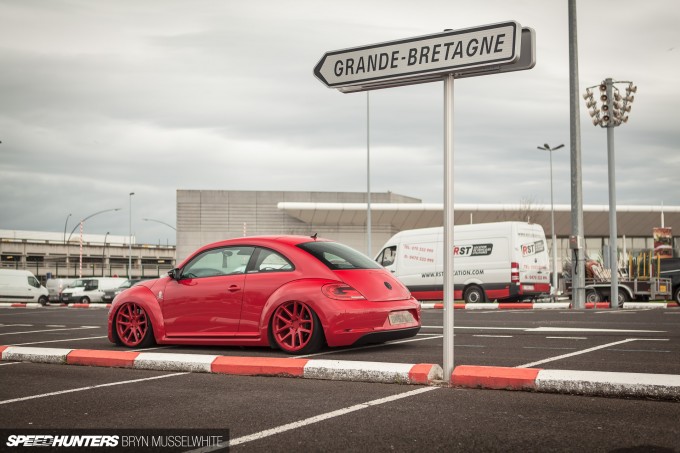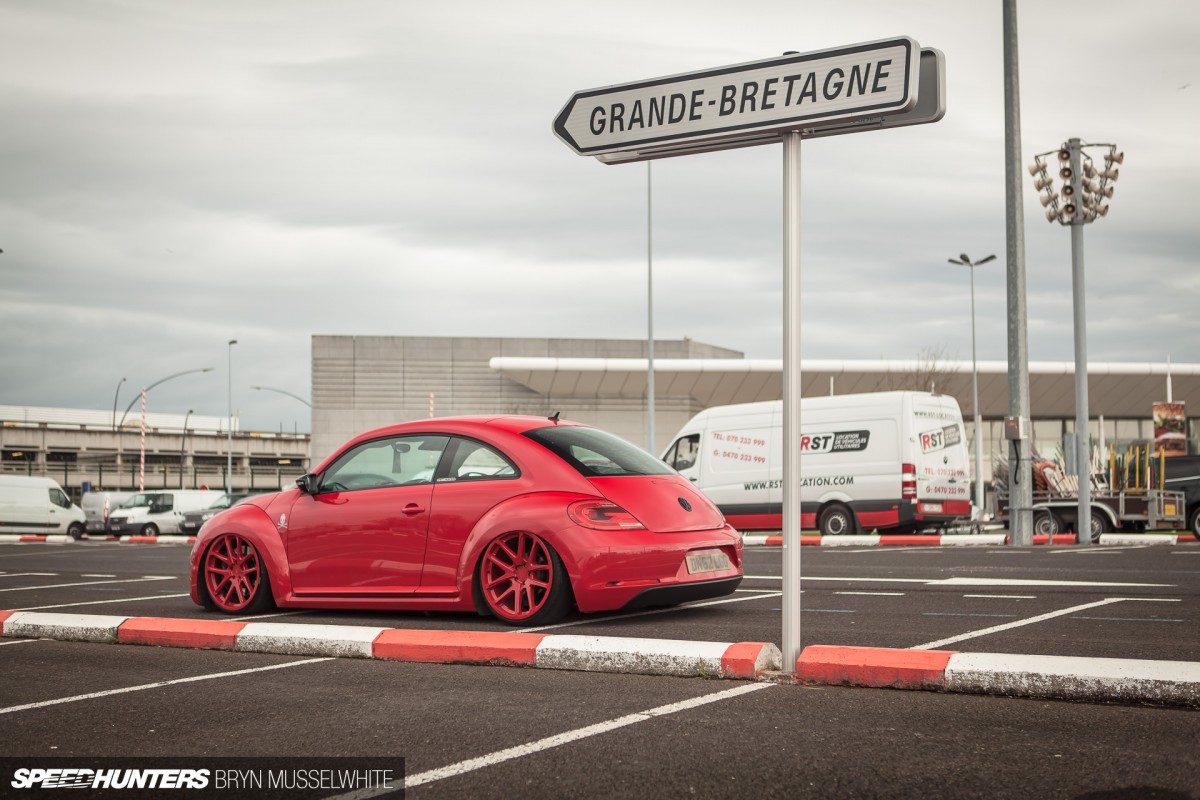 So what was it like taking a gun to a gun fight? Great. The Beetle performed faultlessly and regardless of how much of big of a kid I looked, I don't think I'll ever get tired of airing a system out, walking away, and looking back over my shoulder. I also justified it to myself as quite possibly being the best anti-theft deterrent going. You can't drive it like this and I doubt very much whether you'd get a lift under there either. So it's win-win. Add in a weekend checking out a scene in a dry, spacious hall and some great cars and you know what? I'm kinda glad I selected Belgium over Long Beach…
Bryn Musselwhite
Instagram: speedhunters_Bryn
bryn@speedhunters.com