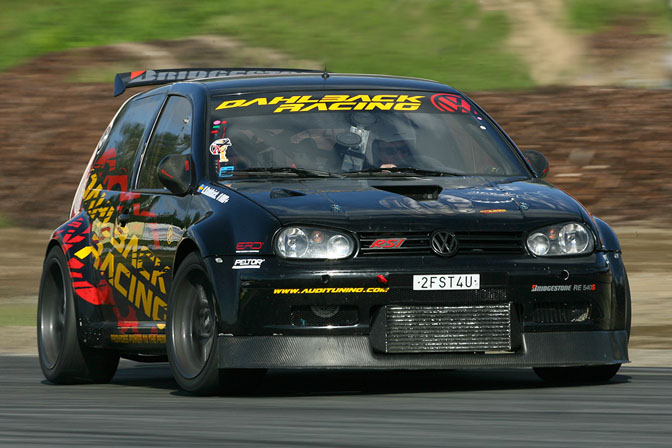 Not too long ago Golf came out with a prototype called the Golf GTI W12, it featured a twelve cylinder six liter engine with 650bhp capable of 325km/h. But long before that, a Swedish tuner called Dahlback made something even more spectacular. Their basis was a Golf Mk4 which they completely stripped so they could start with a blank canvas.
The car started life in 1998 and has progressed ever since. Let's start at the most obvious, the exterior. Dahlback went to VW motorsport for a complete widebody kit. The kit was needed because Dahlback wanted to use bigger rims and tyres. The frontbumper has been modified to house a bigger front mount intercooler.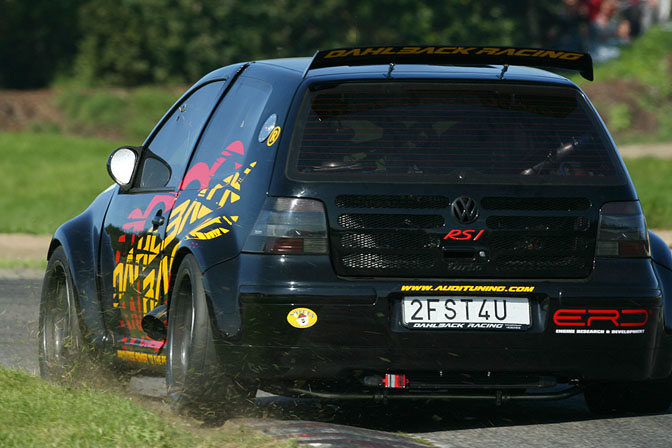 The rear is pretty much standard except for the vented trunk. Behind those vents you can find a radiator and water coolers. The new engine didn't leave any room in the front so they had to move to the back.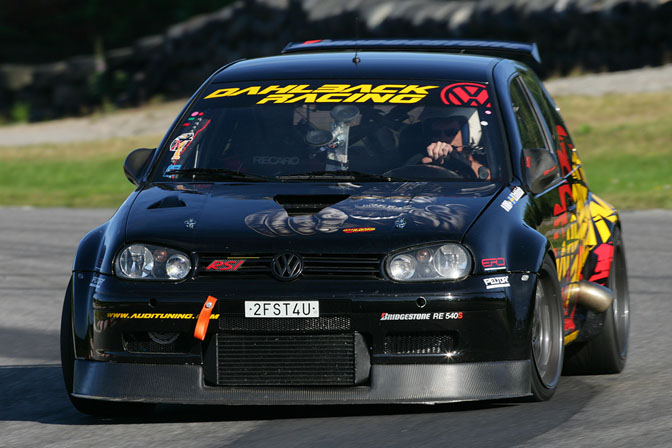 The car is capable of spitting enormous flames through its side exist exhaust on downshifts. Just search for some footage on youtube I'm sure you guys will be able to find something. The exhaust is made from a 4,5″ stainless steel pipe that runs directly from the turbo and exists on the side.
The underside of the frontbumper has been made from dry carbon to keep the weight down. I have seen this car run on one occasion and it totally shredded the lower half when it went over the curb stones.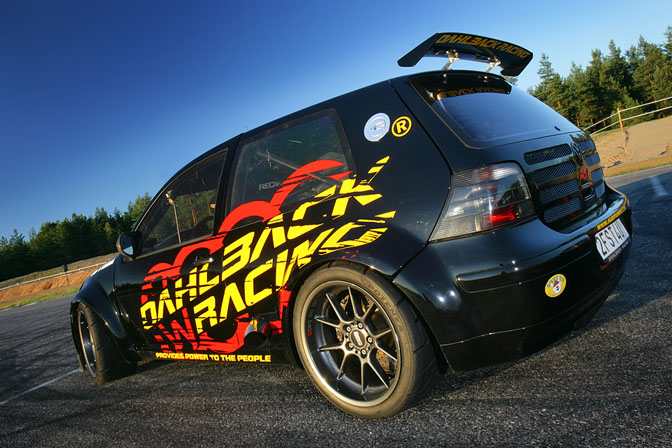 Power is extremely important when building a race car, but the stopping power is just as important. Dahlback didn't cut corners and fitted Alcon brakes with 375mm rotors in the front and 355mm rotors in the rear. The wheels say BBS but I can't find which type they are, I do know that they come in size 10 x 19″. Dahlback is also able to squeeze 12 x 20″ under the car's arches but they only use those wheels for car shows.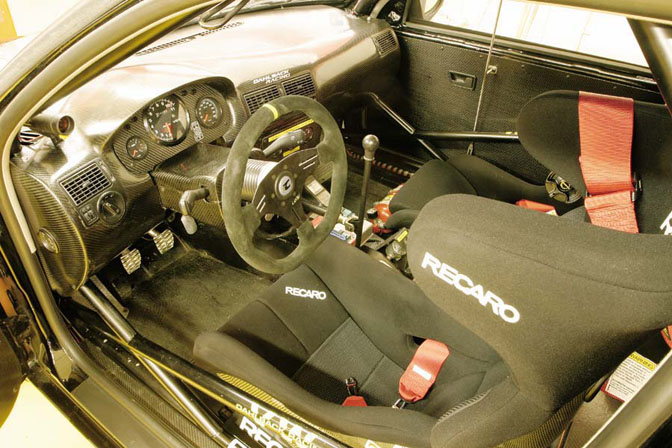 The interior is all business with lots of carbon and a extensive rollcage. The rollcage extends to the entire car even into the engine compartment. The race seats are made by Recaro for that much needed support when driving. While seated the driver can check all the vitals on a pair of Stack meters right in front of him.
The shifter connects to an 'old' Audi IMSA transmission with a custom final drive for better top speed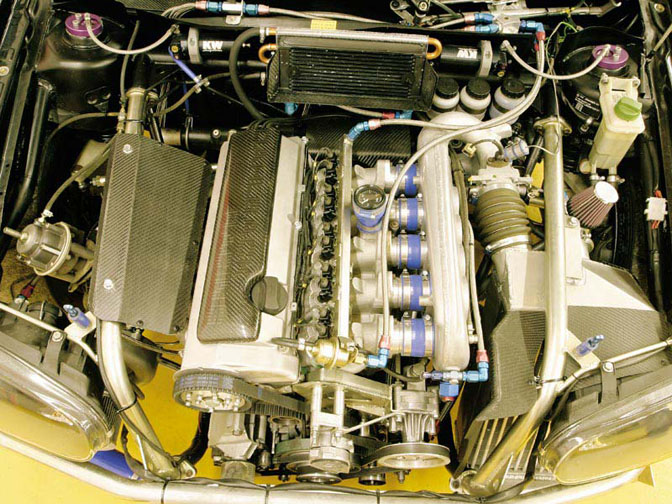 The engine itself, Dahlback went shopping at Audi and found a 2.1 liter 5 cylinder turbo engine. The engine is capable of producing more than a 1000bhp depending on the setup. It has some nice trick parts like a twin intercooler setup. There's one that is mounted in a traditional way but there's also on that is placed alongside the engine from top to bottom. You can see it on the right.
Another nice feature is the dry sump oil system with an oil filter that they got out of a Volvo truck. Dahlback also managed to make an Audi all wheel drive system compatible with the car. They achieved this by modifying a RS2 audi subframe in the rear and custom made subframe in the front. The entire chassis consists of titanium and magnesium components for extra strength.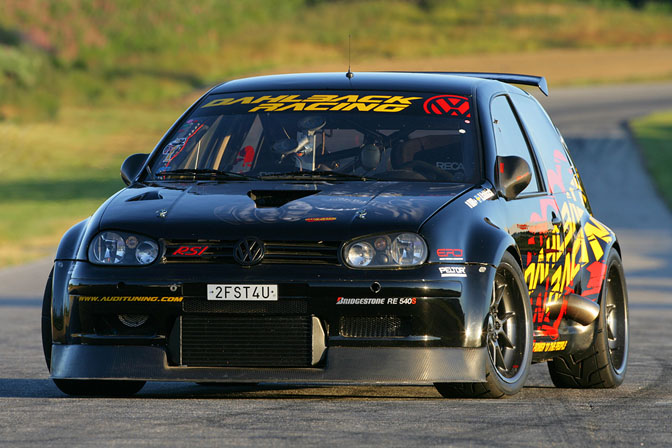 There you have it, an amazing Golf that has been on the cover of many magazines in Europe and elsewhere. This car has been on the fore front of custom engineering and Dahlback has done it in a spectacular fashion. I haven't seen a Golf this extreme ever since.
-Jeroen Willemsen