It's a dangerous combination. You have a successful performance tuning business focused on VWs but you also love racing. Going racing can be a great way to promote the business, but it can also be a quick way to turn a large pile of money into a very small one. There's a devil on your shoulder, so if you're going to go into competition, you need to do it properly. But does it seem sensible to aim at the manufacturer muscle of the BTCC, one of the most ferociously fought touring car series on the planet?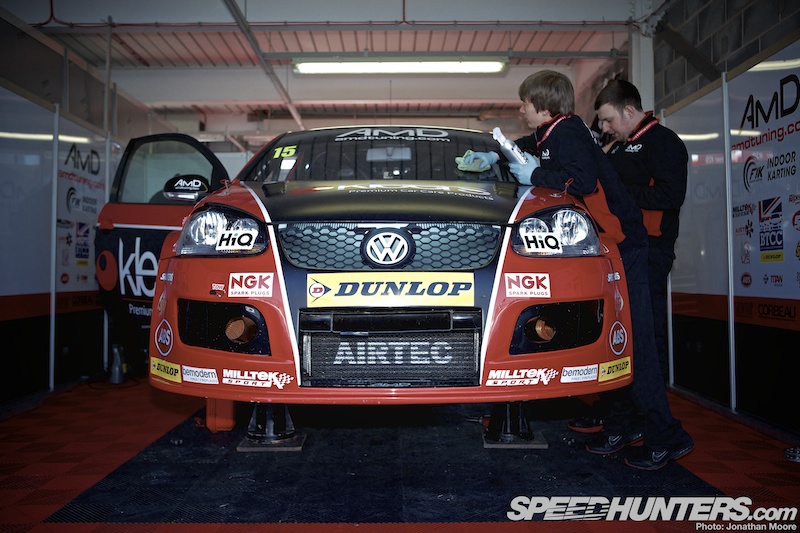 Maybe not, but Shaun Hollamby's AmD team decided to do exactly that, and to use a car at the heart of their business to do it: a VW Golf. Tuner privateers in the true spirit of what touring cars should be about, they've been snapping at the heels of the big boys since 2010, but this year even have the chance of going for their own class trophy. So how do you set up and run a touring car team?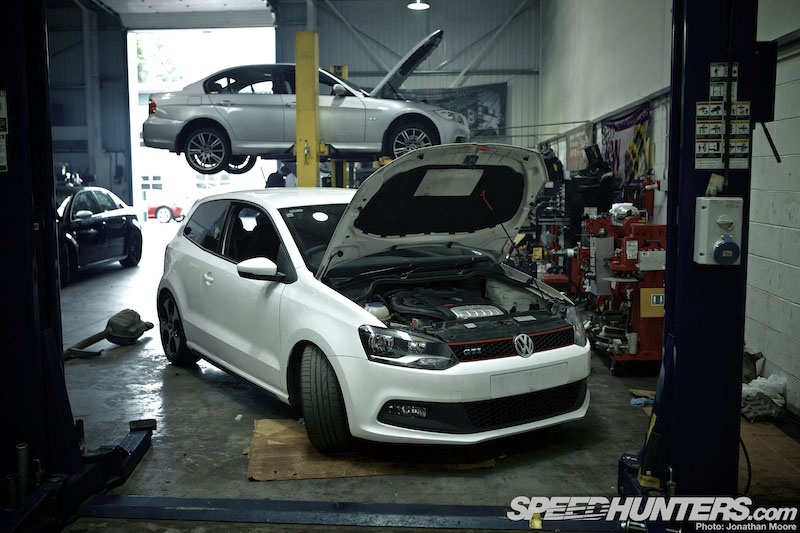 AmD have been operating in the UK VAG tuning market for well over two decades. Specialising in VWs in general and Golfs in particular, their expertise stretches across both the road and racing environments; the team campaigned Golfs in club championships during the 1990s, building up their knowledge of engines, suspension and mapping.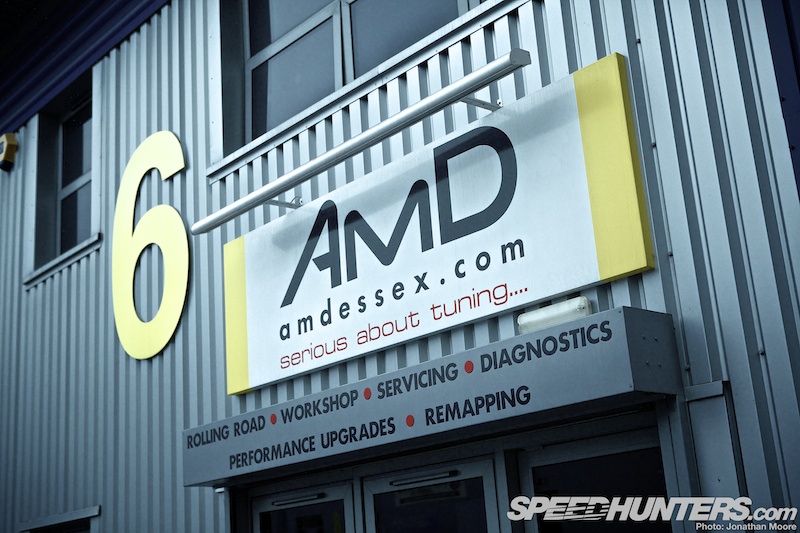 But when Shaun took over the company in 2007 he had his sights set even higher: he wanted to move from the club level to a national championship, but in a way that was sustainable and supported the core tuning business.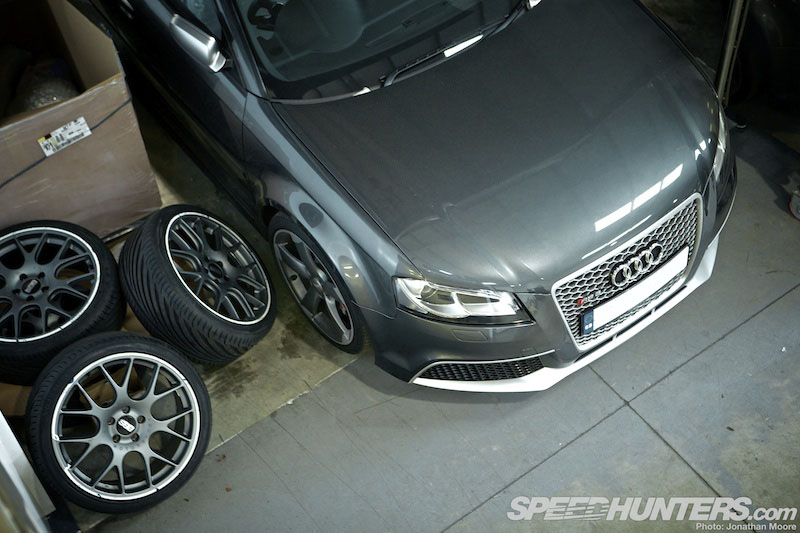 Performance tuning is now about half of the team's business, with servicing European cars taking up the remainder of AmD's time.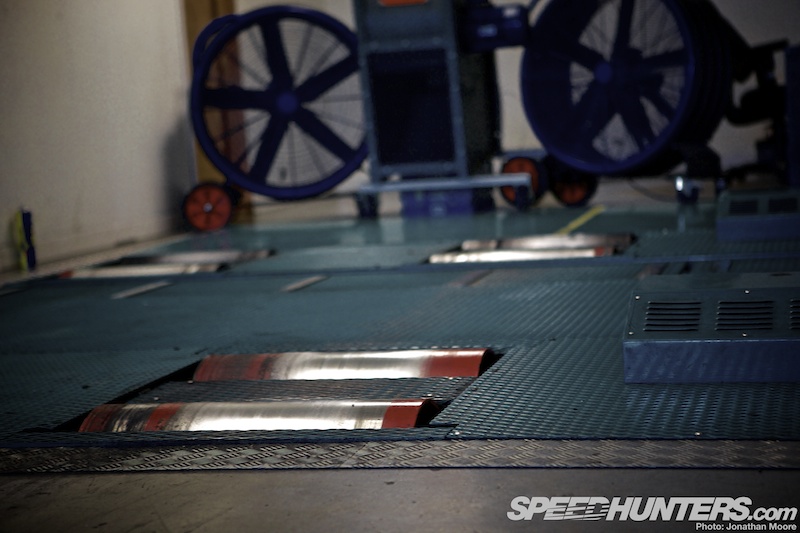 But it's that more interesting former task where they can unleash the knowledge they've built up. A rolling road bay houses the tech kit that allows them to remap ECUs…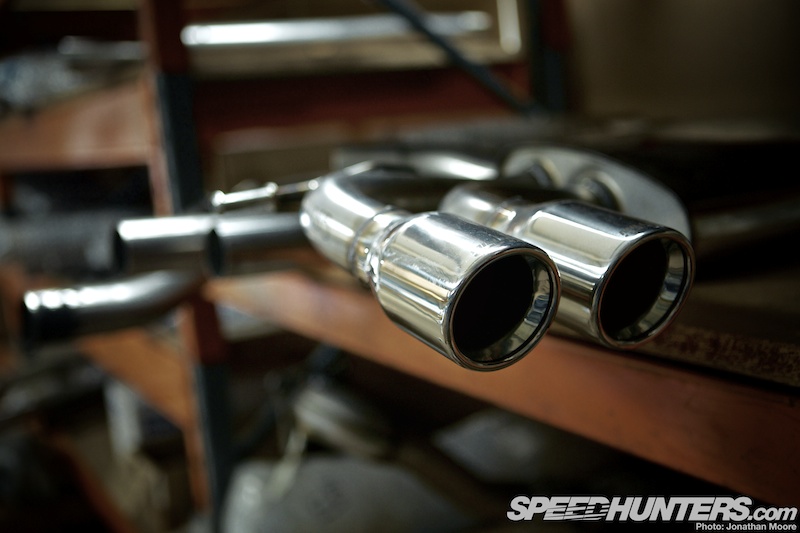 … and then a separate facility in the workshop is used for creating custom exhaust systems…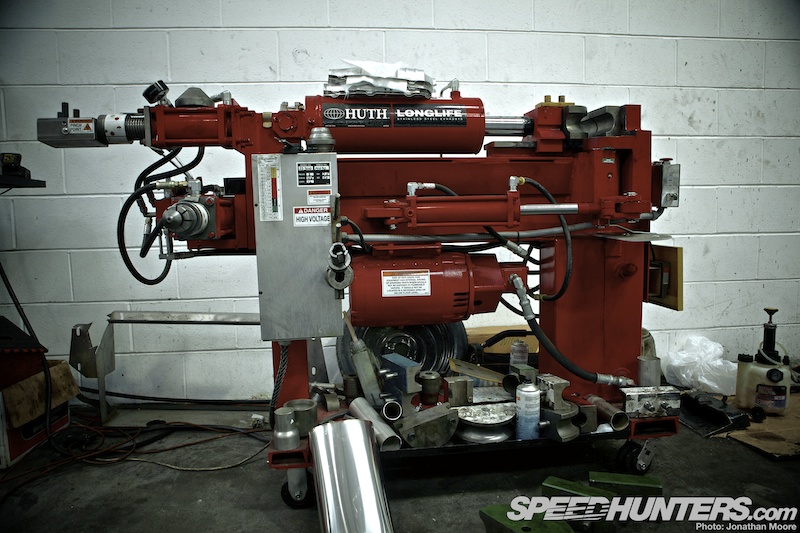 … which also involves some seriously industrial machinery.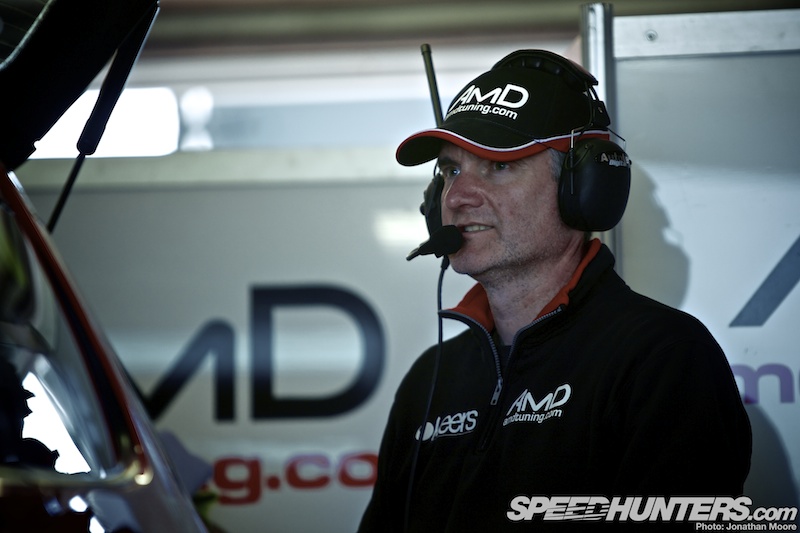 Shaun himself had raced from early in his career: he'd raced karts and single seaters when he was young before pulling back to focus on his business. In his own words, "I had a bit of break when I realised I wouldn't get to F1 and sulked for 10 years, but then I came back and did some saloon cars, the VW Cup and the Dunlop Sport Maxx series."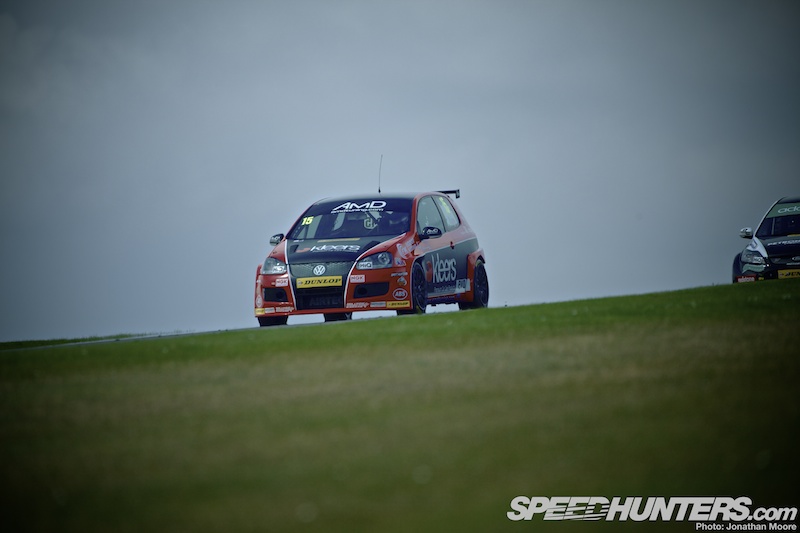 The odd race car coming through the door just scratched AmD's racing itch more, so back in 2010 the team sourced their weapon of choice for a full-blown entry into the BTCC – and from a very unlikely place. Shaun had been trawling that most dangerous of places, internet racecar sales sites, when he came across the Golf, which was based in Estonia. He'd considered the more usual routes: either an off-the-shelf S2000 BMW or SEAT, but knew the VW would make much more sense in respect of AmD's history.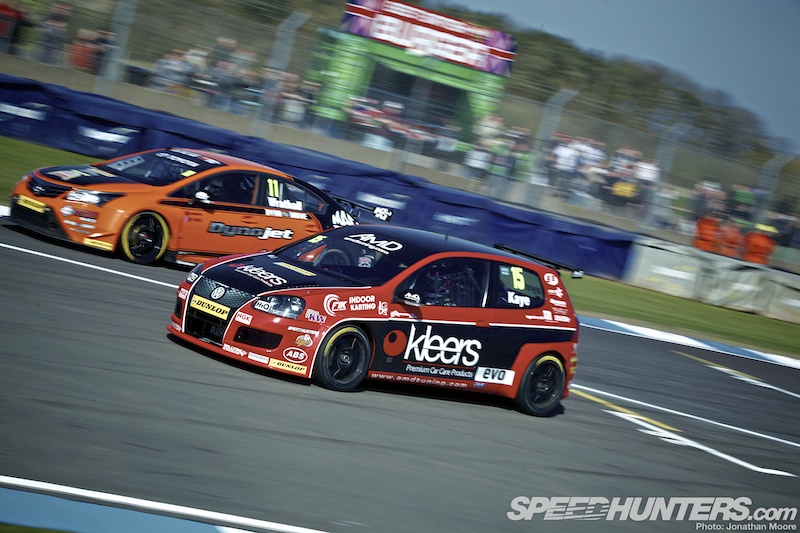 The most persuasive thing about the Golf was the fact that it already had an FIA S2000 passport, which meant that it wouldn't take much to get it accepted by TOCA, the organisers of the BTCC. There was no VW presence in the BTCC at that time, so AmD would become the first serious VW ambassadors for a couple of decades: GTIs competed successfully in the series' B class throughout the late '80s.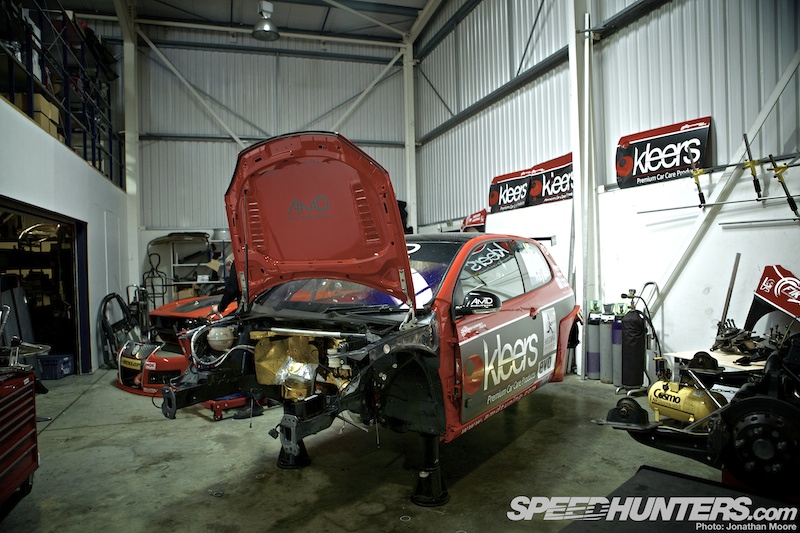 So Shaun set off across the Channel, meeting the original owners halfway on a snowy garage forecourt somewhere deep in Europe – a pretty typical place to buy a secondhand car, I'd say! The car looked like it had in the pictures, which was almost a surprise bearing in mind most people's experience of buying a car, and came with a full spares package.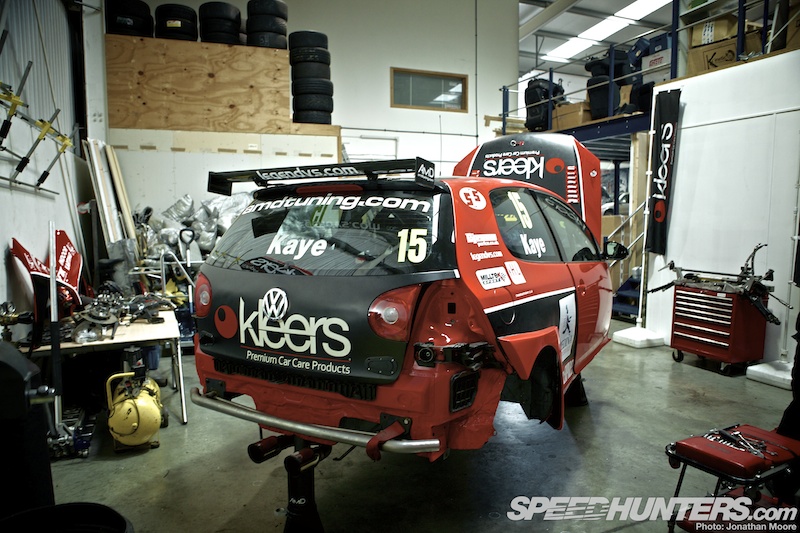 But realistically the original shell would only ever be a starting point: the tracks in Eastern Europe are typically short, twisty and bumpy, so the build would need a lot of work to get it to work on British circuits, let alone have a chance of being competitive in the BTCC.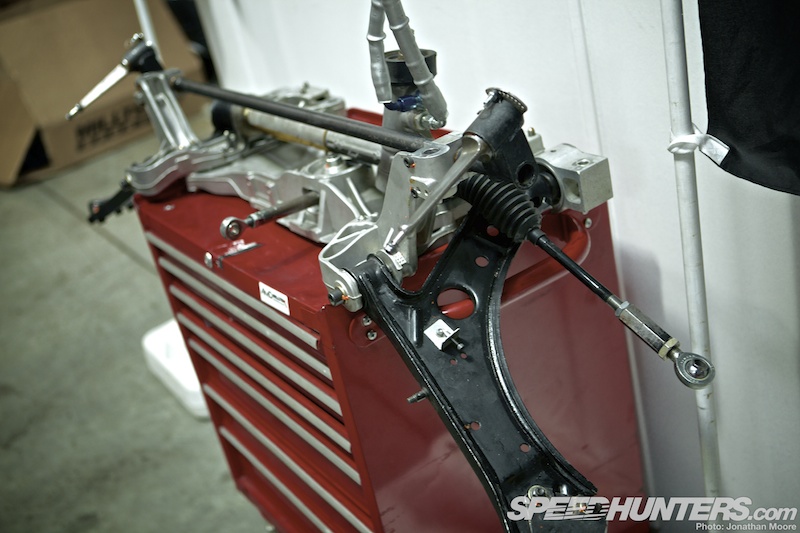 Shaun reckons that most of the car is now different: barely three-quarters of even the shell is original, with new suspension, cage and subframes all added by AmD, and a new loom now runs through the car.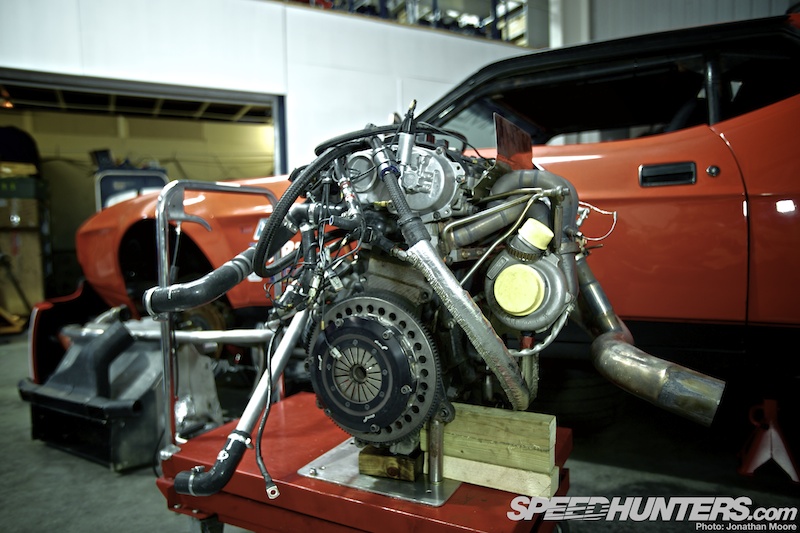 The driveshafts have been upgraded for 2013 after being identified as a weak point, but the biggest change was to the Lehmann-built, TOCA-spec, two-litre turbo engine.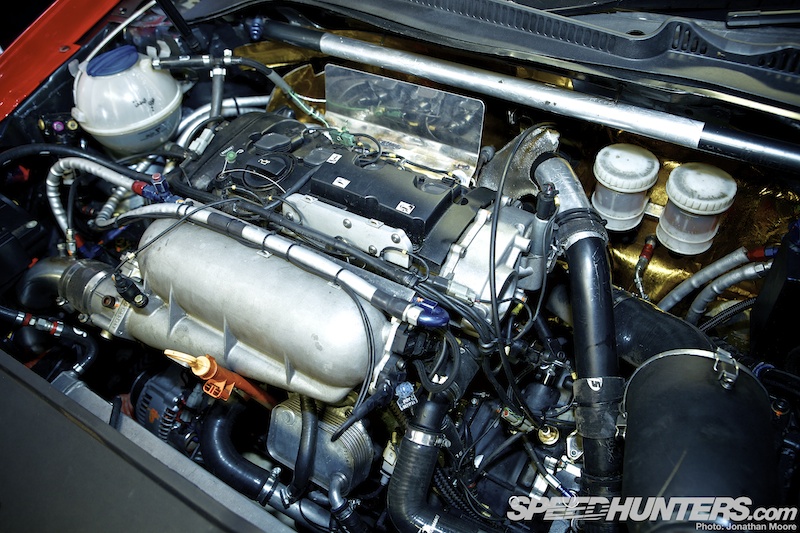 It's one of the more basic engines on the grid, but it's generally strong and reliable, and the heat issues the team suffered with previously have been solved through working on cooling.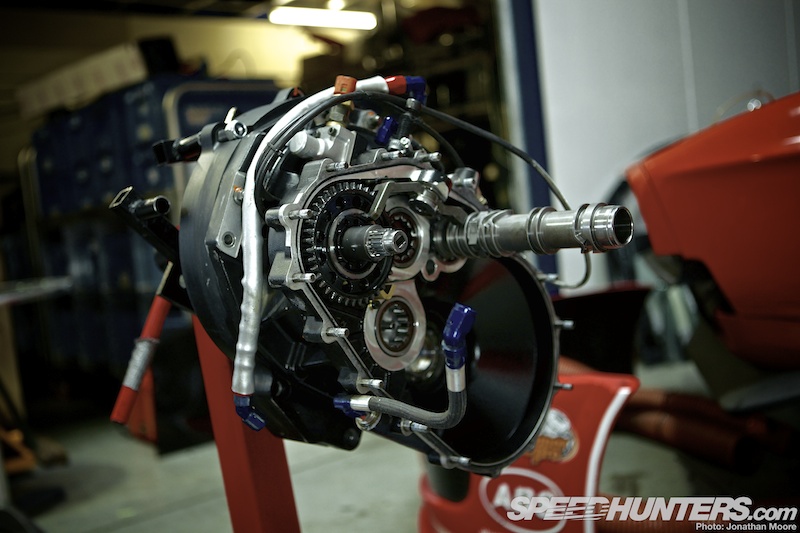 The gearbox is one of the few original mechanical components still on the car. Up until this season it had been pretty bullet-proof, with just a new crown wheel and pinion. It's stripped after every race, with a full rebuild every half season.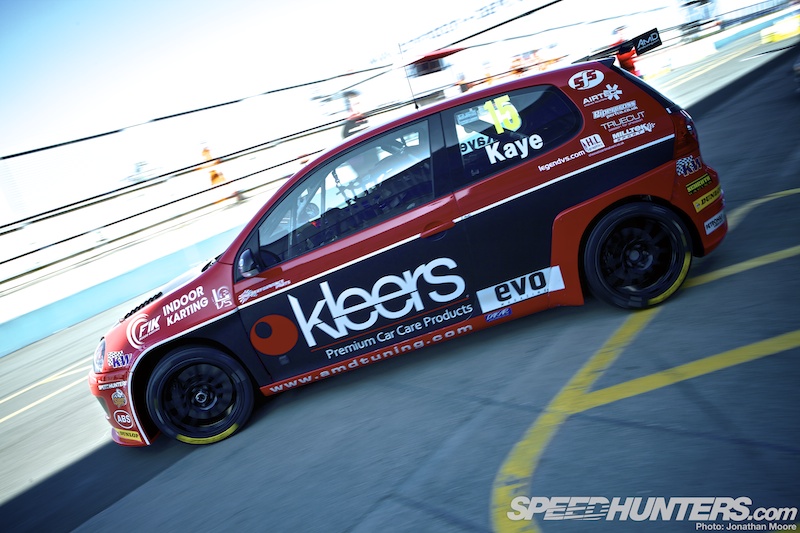 The exterior has also gone through plenty of modifications over the last four years, although the overall plan has been to retain a resemblance to a MkV GTI. The original panels were all standard Golf parts with bits hacked off here and there, but now all the bodywork is bespoke, with modifications made right from the start.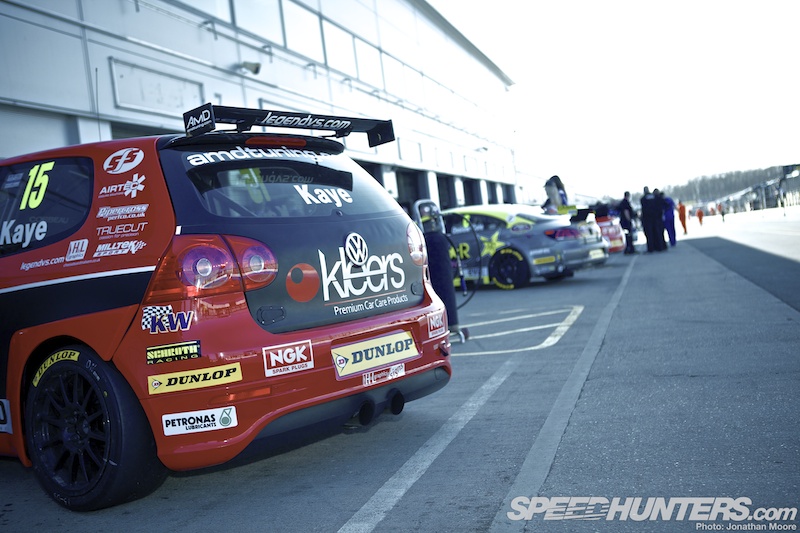 Although the GTI theme is the priority, R32 elements do sneak in there because of that model's importance to AmD: the rear bumper is from a standard R32, and the dual exhausts are modelled on the same car. The rear wing is a spec S2000 part.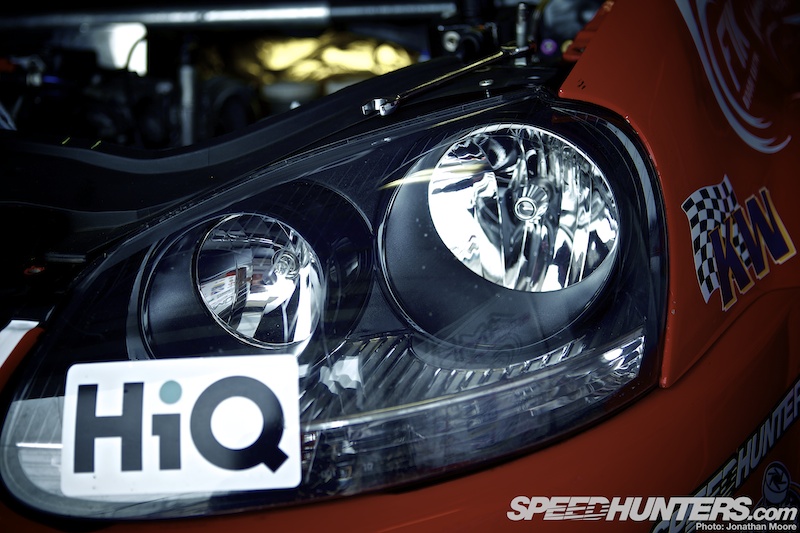 Other virtually-standard Golf parts include the headlight clusters.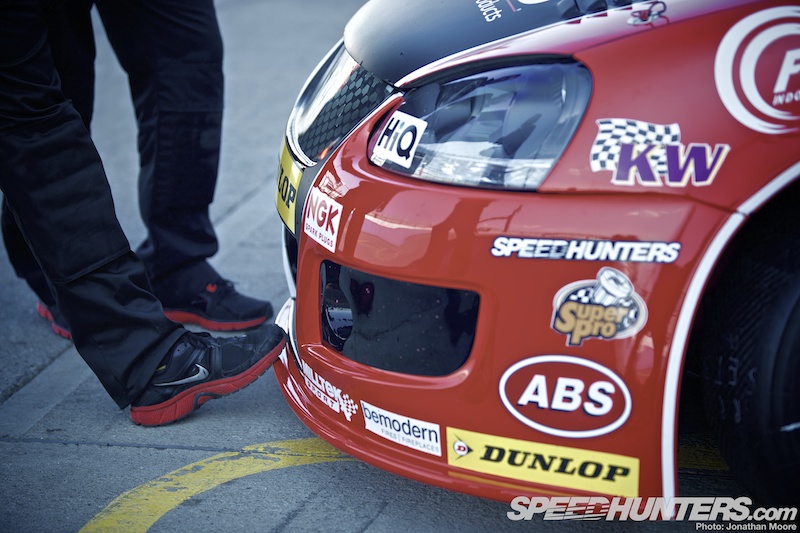 AmD have gone through several iterations of nose, changing details to improve cooling and aero, and it's been the same with the hood.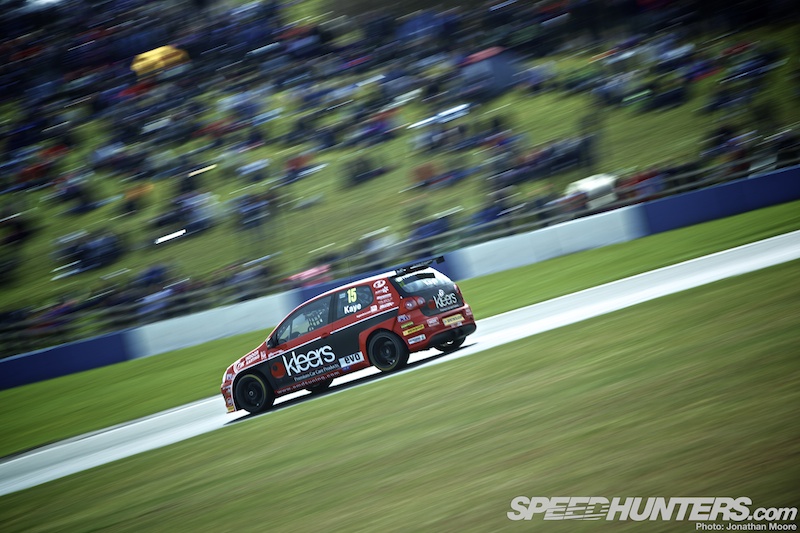 Shaun raced the Golf himself in the first year, before initially sharing and then handing over full-time to an incoming driver. But every step has helped the team develop and improve.
Shaun: "It was a bit like a rally car when we bought it. It was also normally aspirated, which was a massive weakness – we were slow in a straight line. But the main thing for us was learning how to run a touring car. The first meeting I came to was a mind blowing exercise, driving with a sequential and slicks, with an engineer on the radio and data in the garage. And managing tyres: previously I'd just driven, changed tyre pressures, done a little bit of this and that. It was a big step to touring cars, and we've made lots of mistakes on the way, but four years later we're still here."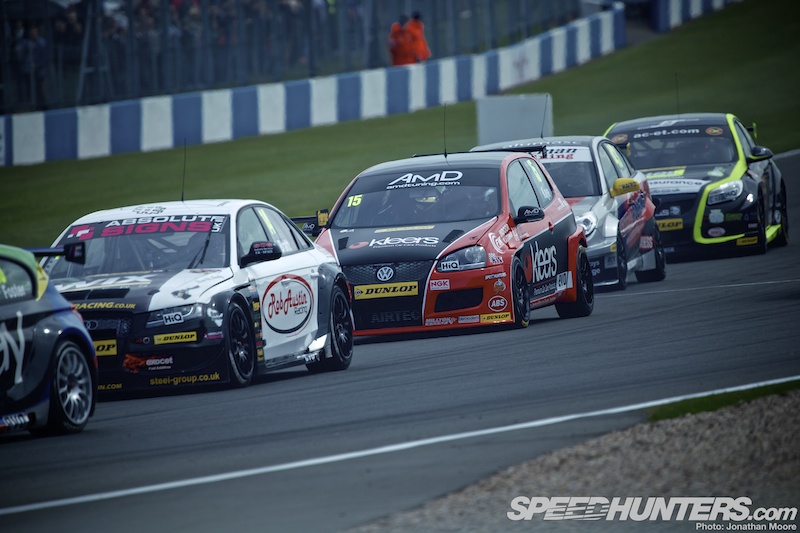 Cars built to the FIA S2000 regs were still winning races through last year whilst the BTCC's own Next Generation Touring Car rules were developed, but for 2013 the older S2000s have been held at their spec whilst the NGTC cars continued to evolve. This might mean that they're no longer in the hunt for overall victories, but with a good number of chassis still being run by privateers, the S2000 runners have been given something to fight for with their own class and a prestigiously-named cup. The Jack Sears Trophy is named after the legendary driver who won the inaugural British Saloon Car Championship in 1958, and will be awarded to the driver with the most number of wins across the year. That's AmD's focus for 2013 – and they've been getting in amongst the mid-field NGTC runners in the process.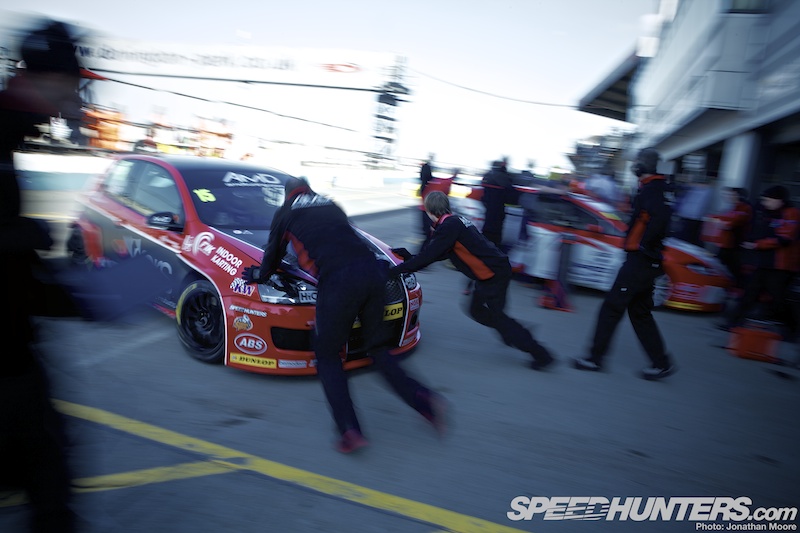 The S2000 Golf gave Shaun's team the foot in the door to enter the BTCC, and it really shows how the BTCC embraces both factories and privateers – and aims to allow them to compete on as equal a footing as possible.
Shaun: "It's great for a team like us to be on the same grid with the likes of big teams like Triple 8, RML and Motorbase, and the Jack Sears Trophy is fantastic: it provides a proper ladder. Rather than coming 15th, you're coming 15th but 1st in S2000 – you need that buzz to keep you going."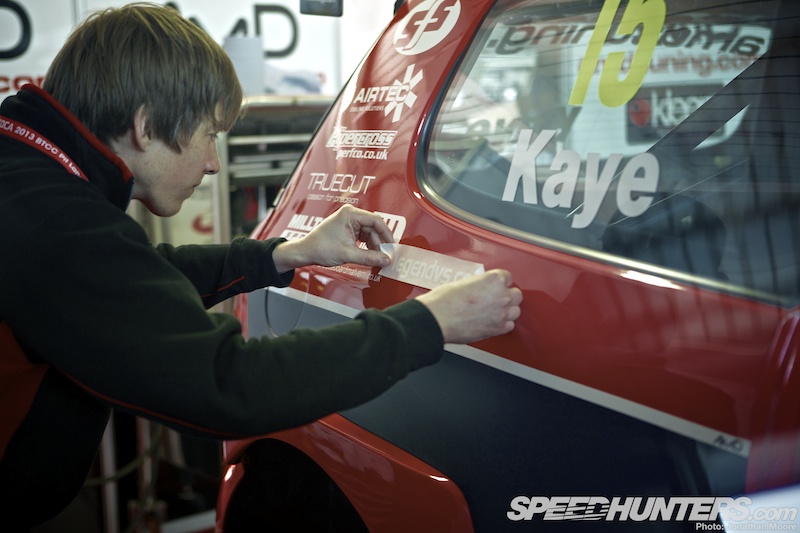 Racing in the BTCC demands a different level of presentation, which actually increased the appeal for Shaun. Being in the same pit lane as the big-budget manufacturers and not looking out of place brings a great deal of kudos, plus increases pride within the team itself.
Shaun: "At this level you're up with the big boys so you need to look like you deserve to be there. Presentation is important – we're not McLaren, but we do try. It doesn't cost a huge amount of money to make things tidy, and a lot of it is about planning: if you haven't got a spare part with the right stickers and the right colours you can end up using a scrappy old part, then you end up not changing it, then the same happens with another panel. And from a driver's point of view, if he's getting in a car with bits of tape hanging off it everywhere it's not going to give him the confidence that everything else is alright. It's got to look right."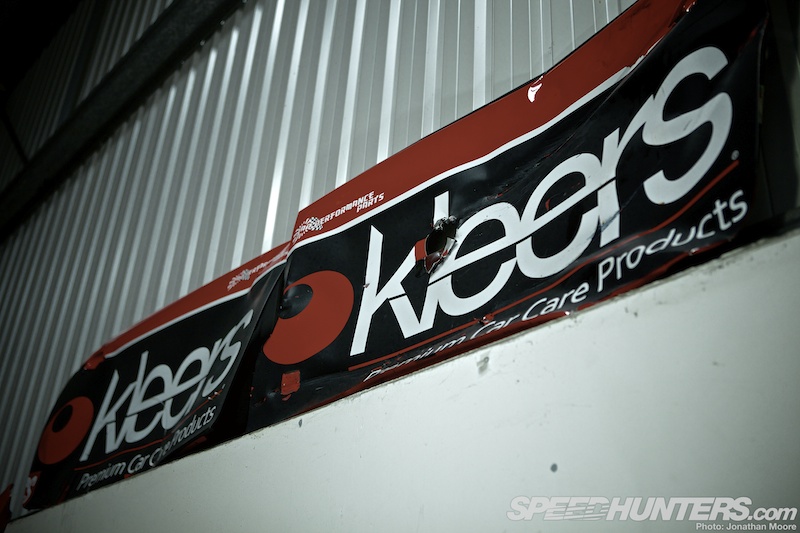 The challenge is that the racing itself is a quick way to rip a tidy car to pieces… The wall in the area bay has a series of doors fixed to it, showing various assaults on AmD's Golf from this year alone. This can-opener tear was from the Donington start-line accident we covered last month…
Shaun: "If F1 is like professional boxing then touring cars is more like cage fighting! You've got to expect a few whacks here and there, so it's important to have spare uprights, wings, and so on. It sounds easy, but it's always the thing you haven't brought that you end up needing. It all comes with experience – and budget."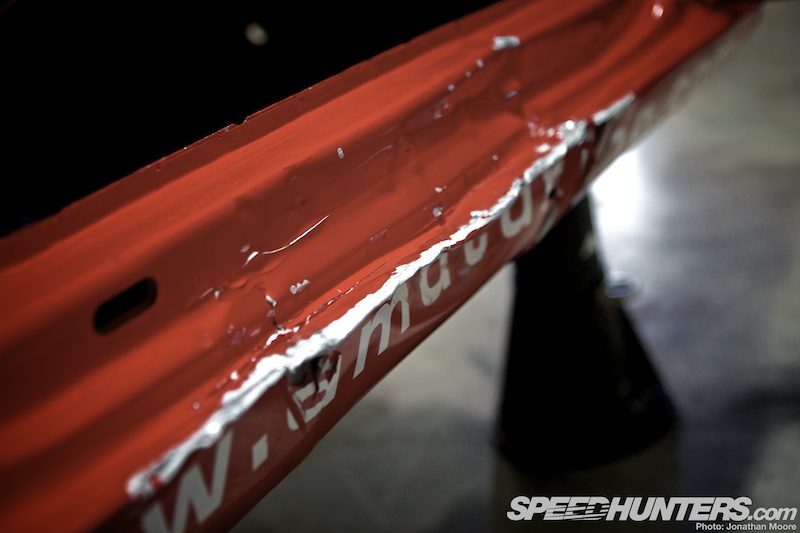 You almost have to expect to come back from a meeting with some kind of damage – and just be thankful if you manage to come out unscathed. This sill damage was from a hit at the following round, Thruxton, and from the same Focus that collided with them at Donington!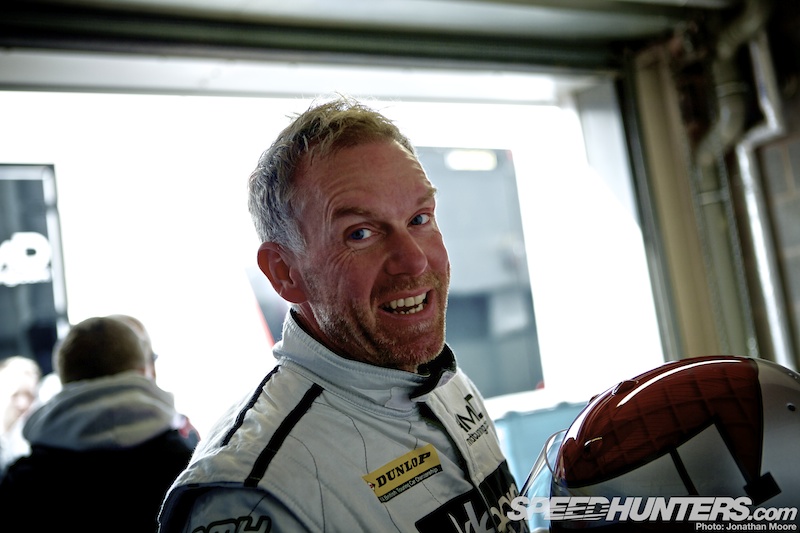 This year, veteran racer James Kaye has joined the AmD squad: his first experience in the BTCC was coincidentally in a Golf Mk II back in 1988, so for him this is coming full circle.
James: "I've driven in every decade of the modern era of the BTCC. My last drive was in 2010 in a Honda Integra that I ran with my own team, WRC Developments. Before that I drove a Civic EP3 for Synchro, and I drove Accords for the Honda works team from the mid '90s. In the early '90s I was racing Carinas for the Toyota factory team, plus I was also driving for Team Trust in Japan with the AE86 and AE92: we did rounds in the Japanese, Australia and NZ touring car championships. That was hard work!"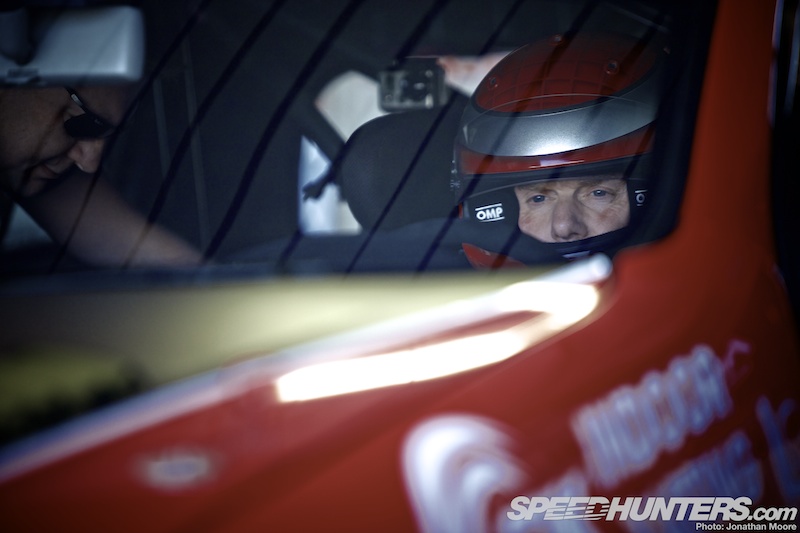 For the team it makes a massive difference to work with such an experienced driver: he can find the sweet spot of the Golf that much quicker, and helps focus the team only on the development areas that will really bring benefit to the car. Four years of racing also mean they've got good baseline set-ups to work from.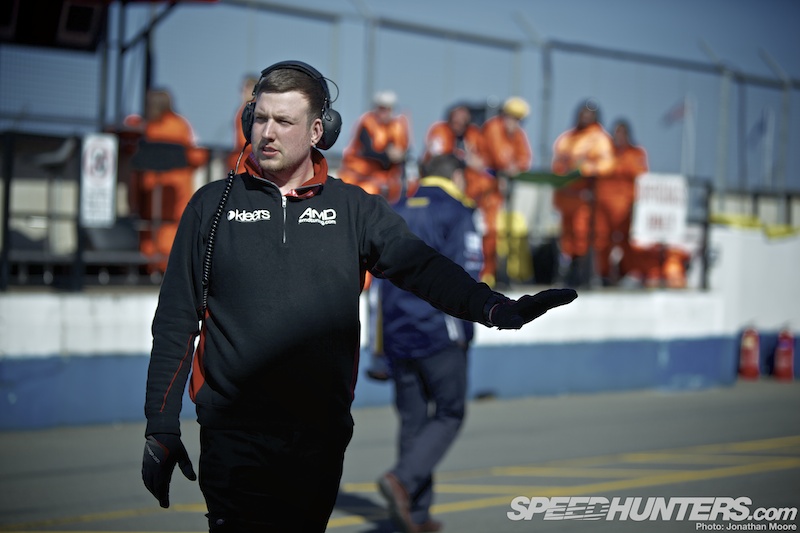 A racing car is only ever as good as the team behind it, and Shaun has built up a solid combination of full-time employees of AmD and weekend warriors to run the Golf at the races.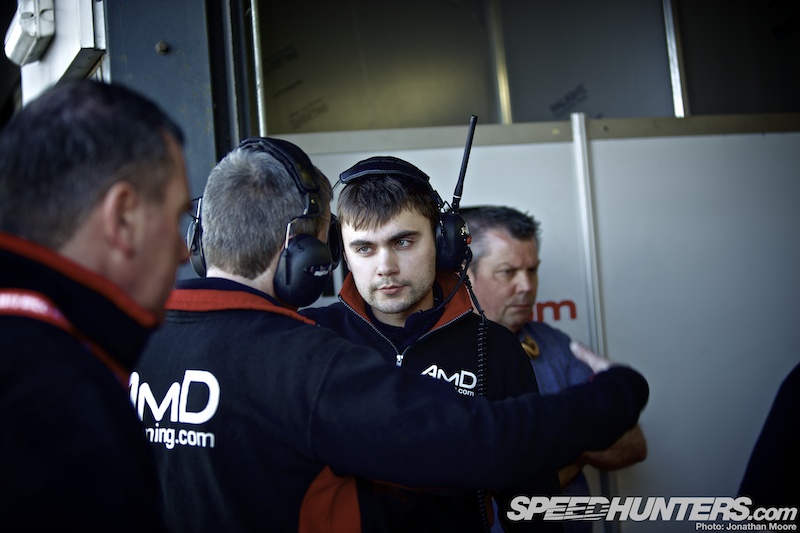 Shaun: "You've got to have good people. It's about enthusiasm and the drive to compete. 95 percent of motorsport is frustration and 5 percent is exhilaration! It's a lot of hard work. You only see the nice bits when you come to a race circuit, but actually that's just the tip of the iceberg: the hard work has been done in the run up to the weekend. You end up getting a group of people that you're happy with, and you want to treat them right so they want to come back again and again. It's a pressured environment, so you don't need drama queens."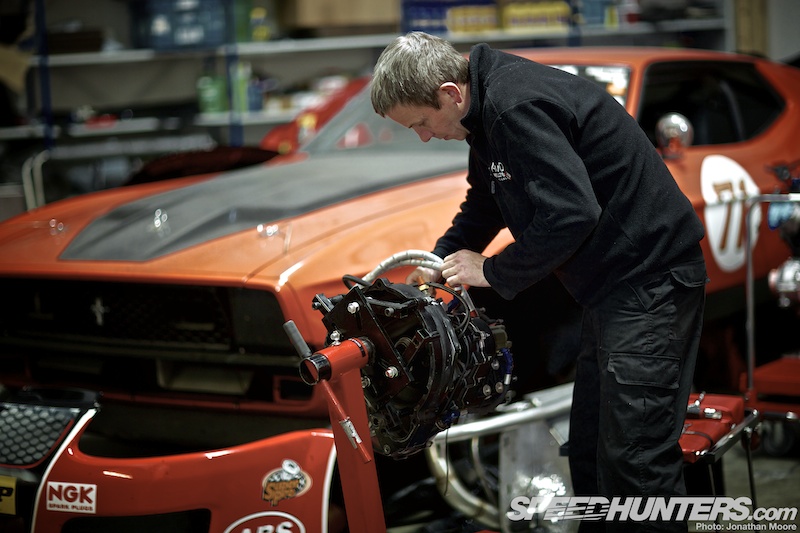 That pressure is rarely off AmD's race team manager, Rob Tickner. He's the one full-time employee of AmD's BTCC effort, and the work starts and (rarely) ends back at the workshop. As soon as the Golf is back from a race, he's hard at work stripping the car and its components down, in a race of his own to get the car back in one piece for the next round. Which is difficult enough, let alone when another car has taken a decent chunk out of it…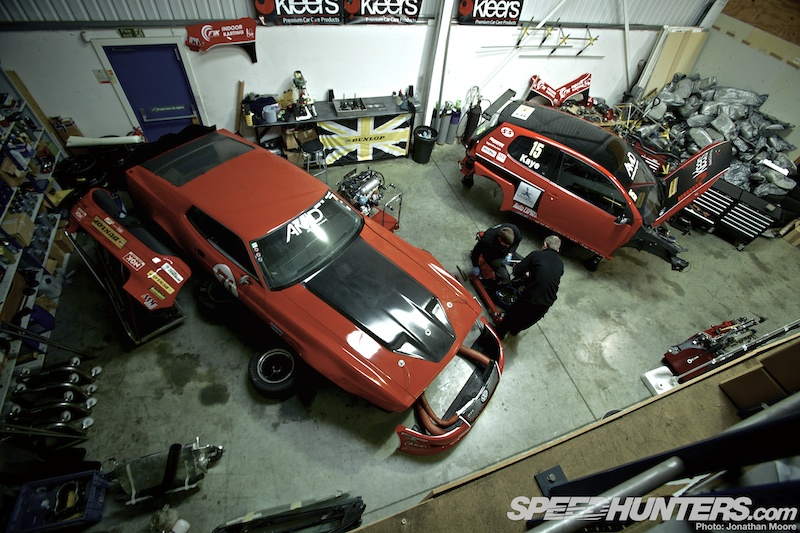 There was also one rather large red elephant in the room that really didn't seem in line with the VW focus of AmD!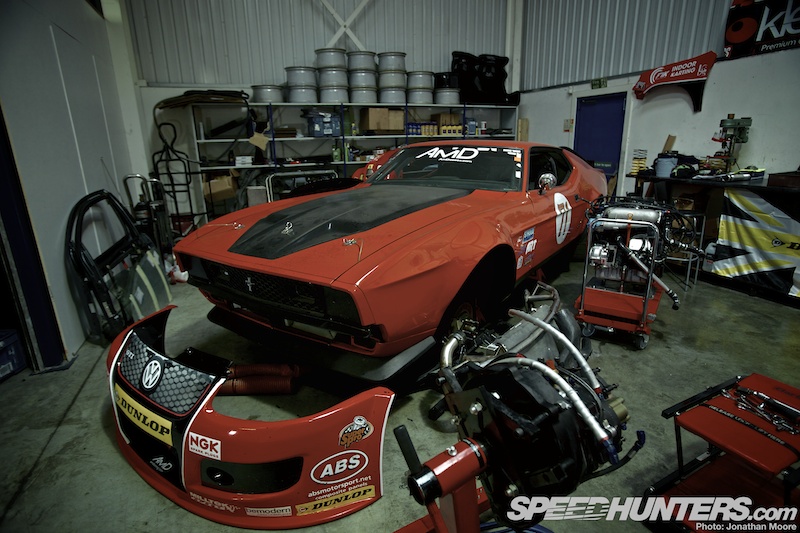 Shaun bought the '71 Fastback Mustang in the same kind of way as the Golf – a moment of internet weakness! It's an easy thing to happen. He's raced it just once so far, and said that the car is surprisingly nimble but unsurprisingly fast in a straight line. I liked the way they seemed to be trying to fit a Golf nose onto it. Perhaps trying to bluff it onto the BTCC grid?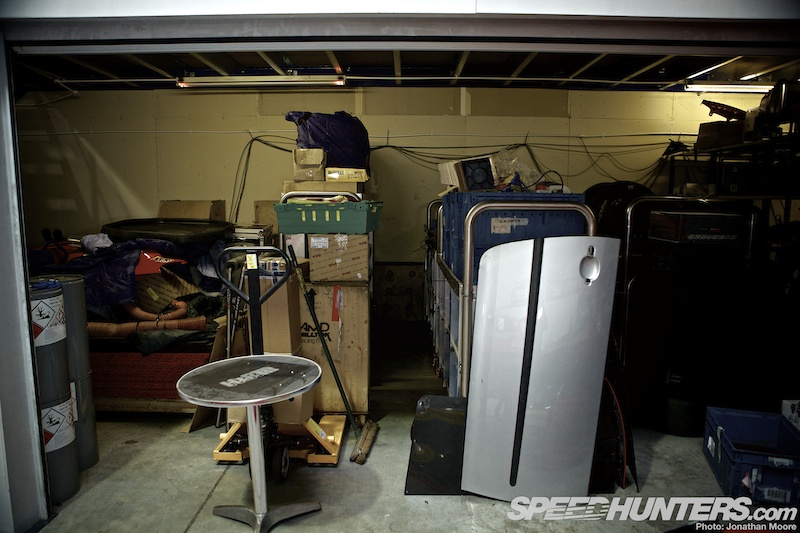 On top of keeping the Golf in top running condition, there's also the logistics question; a huge amount of kit is needed to support the team at the track. Over the winter Rob has built up a little nest for the BTCC equipment; all of this and more is loaded onto the race truck and shipped out…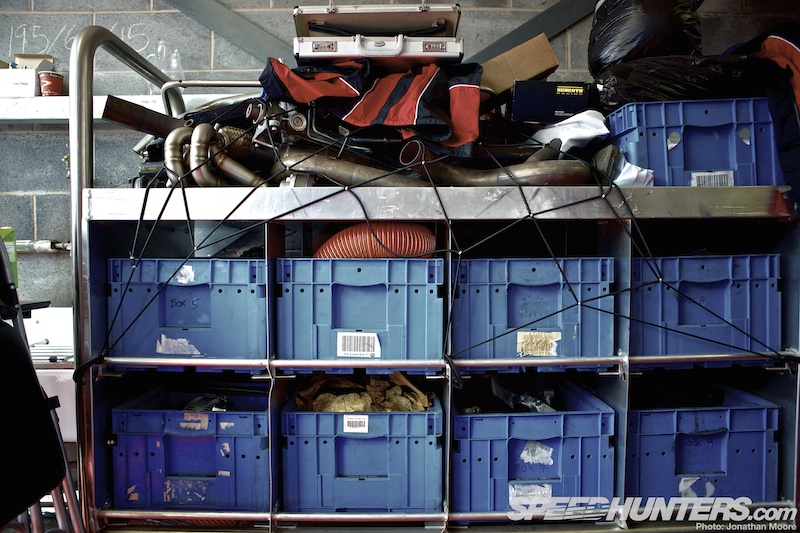 … and then fitted into a garage at the other end.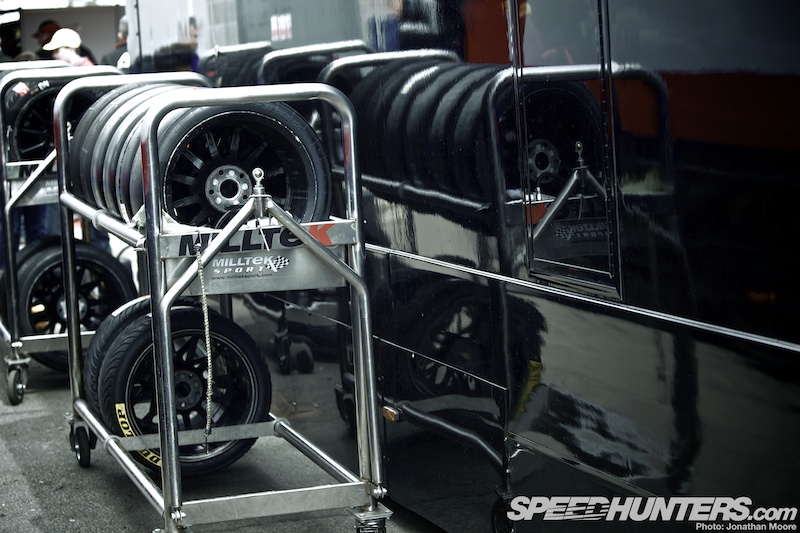 And then there's the rubber. One of the biggest challenges for the team is managing tyres: and that's for both the cost of them and the way to use them across a race weekend. The team are allocated 16 tyres per race, which cost around £1000 a set. With that potential cost impact, it's critical to get the best use out of them.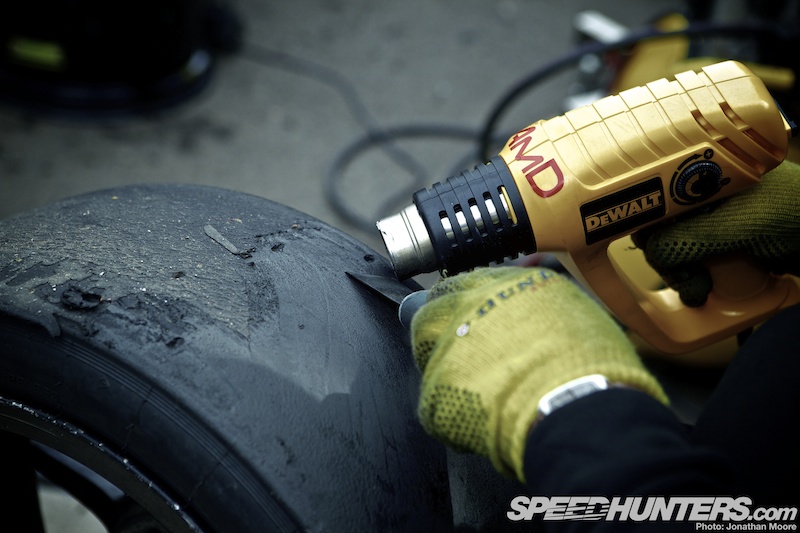 For the Golf, new rubber will only bring a short and small increase in lap time, and with them usually stuck into the mid-grid rumble it's not necessarily a worthwhile trade-off. One interesting thing that I saw at the Donington round was the cross-changing tyres after a warm-up: the unloaded rear will inevitably not get as much heat in as the fronts, so the team will diagonally swap rubber front to rear to get the hot tyres on the back to balance the car out for high speed runs. It's a typical tactic for FWD racers.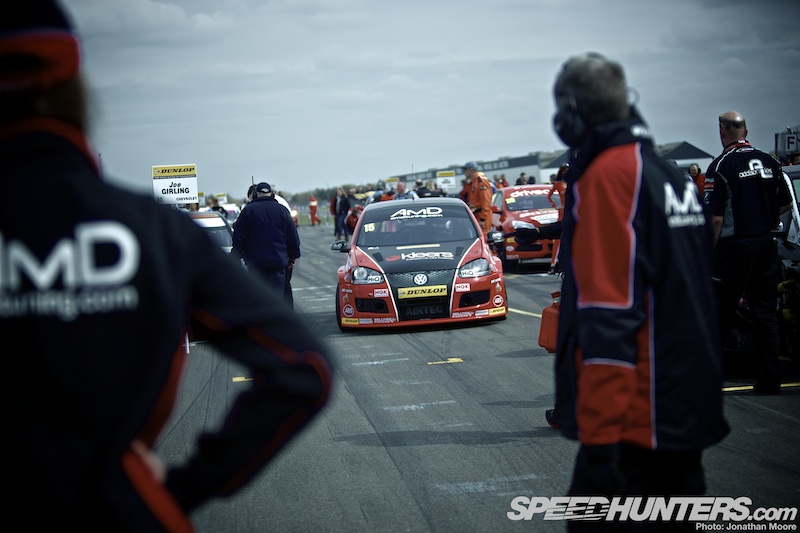 This might be a small privateer team, but they're putting on a fine demonstration of what it takes to be a top notch BTCC team both on the track and off.
Shaun: "At the end of last season I was in two minds whether to continue in the BTCC. The strength of the people within our team made me decide to continue as I felt I would be wasting their potential by not competing. This weekend they reminded me what a great team of guys I am lucky to be working with."
Maybe another BTCC class victory for VW could be on its way in 2013?
Jonathan Moore
Instagram: speedhunters_jonathan
jonathan@speedhunters.com
More BTCC stories on Speedhunters