As human beings, we're constantly learning, questioning and gaining new knowledge of the things that we're passionate about. For me, and no doubt you as well if you're reading these words, that means every day I'm excited to learn more about car culture. Just over a week ago, Paddy and myself flew to Sweden's capital, Stockholm, to go Speedhunting. To be honest I didn't know what to expect… and I'm still trying to take it all in. Rod had set up a feature with the beautifully aggressive Volkswagen Caddy that you see here, but the rest of the three day adventure was yet to be confirmed. In fact, Rod might well have mentioned what else was on the agenda, but as soon as I saw a photo of this 1JZ-powered VW on my phone, I lost track of everything else that was happening.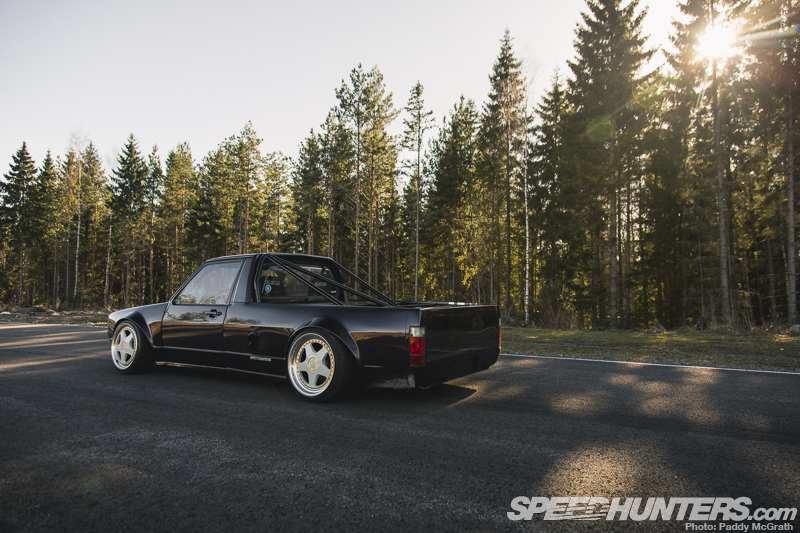 Was I excited? Damn straight. Seeing a car build like this and not knowing anything about how it came about is pretty exciting from a storytelling point of view. I had so many questions: was it a no-limit, chequebook-out type of build? A big money demo car? Who owned this absolute weapon and what were their plans for it? But allow me to explain the answers to those questions in just a moment whilst I take a brief trip back in time.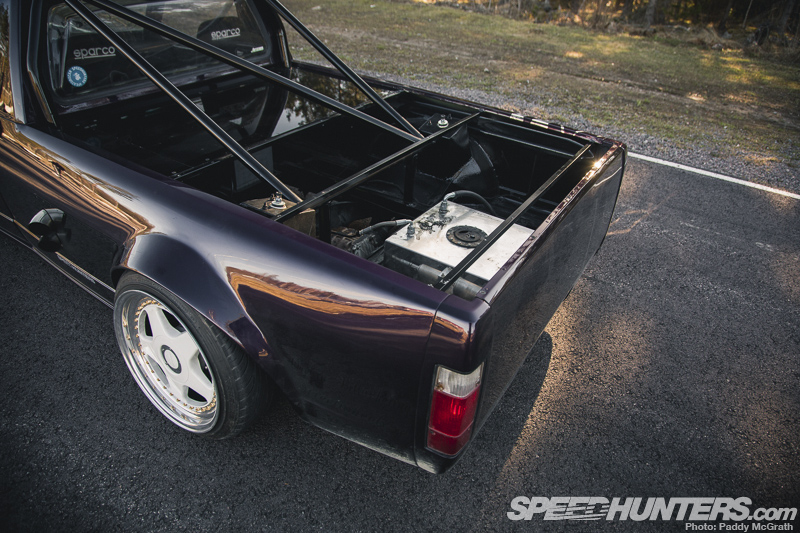 Y'see, there's something very special about this Caddy. It reminds me of the mental cars that used to find their way onto magazine covers here in the UK back at the turn of the millenium. In the late '90s and early '00s two car builders stick firmly in my mind for pushing the boundaries of what was possible. Ian Birch of Dubsport fame was one of these guys; he put together many rear-engine conversions and a handful of twin-engine powered cars (all of the VW variety) that graced the covers of many automotive magazines. Another name you might remember, if you were into the turbocharged Ford scene, is Squint of MJS Performance and his positively bananas rear-engined Ford Escort and even more insane twin-engined RS Turbo pick-up truck. These builds were the ultimate pinnacle of insanity, albeit of a good kind.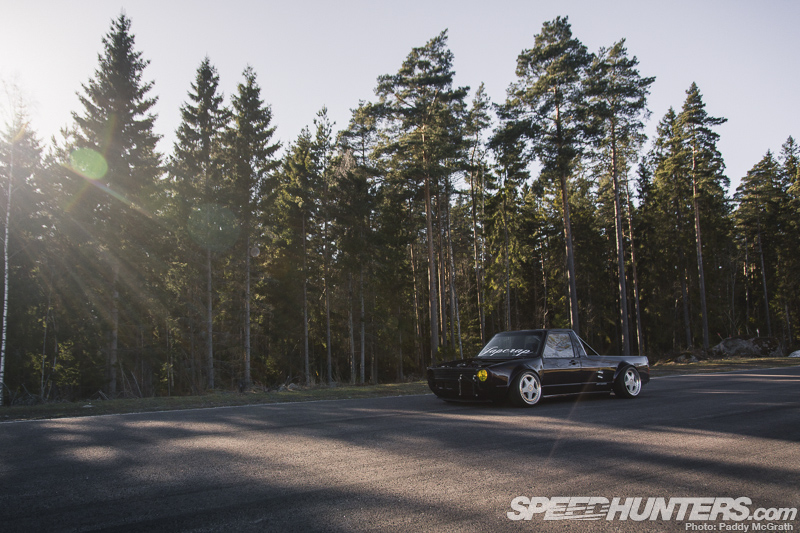 But then much of this awesome shoehorning of big power motors into places they didn't really belong seemed to kind of stop in the UK. Sure, it still happened. But in the VW community there was a shift toward factory-look motors with big power or very clean engine swaps that looked awesome, but didn't really gain any sort of high score bonus for mentalism.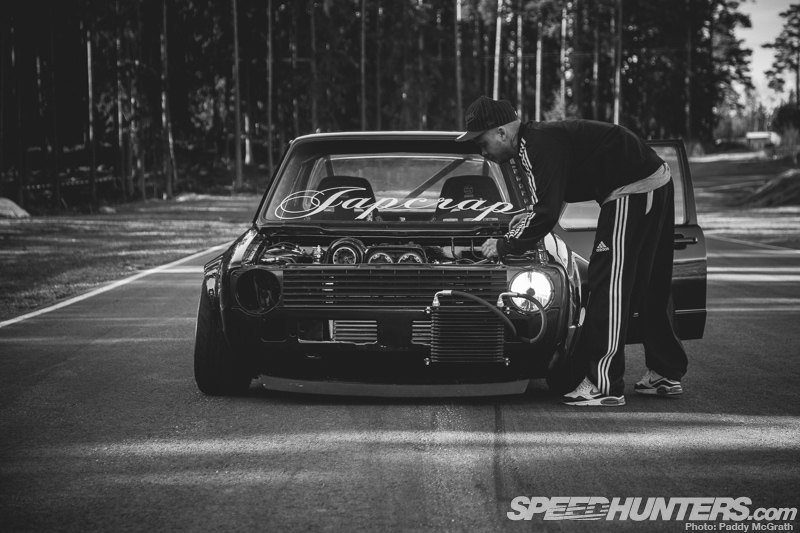 And that's why I think this 1JZ-powered Volkswagen Caddy truck, which has been lovingly built by its inspirational owner, Viktor Martensson, is so very special. Not only does it bring together a crazy engine swap and elements of different car cultures but he and his friends at the Japcrap Bombsquad are all about having fun with their bonkers automotive creations. Viktor and his friends embody everything I love about the automotive scene. This guy started out as a humble metal worker in Stockholm, and with the help of the Japcrap Bombsquad, has put together a vehicle that he is able to have stacks of fun with.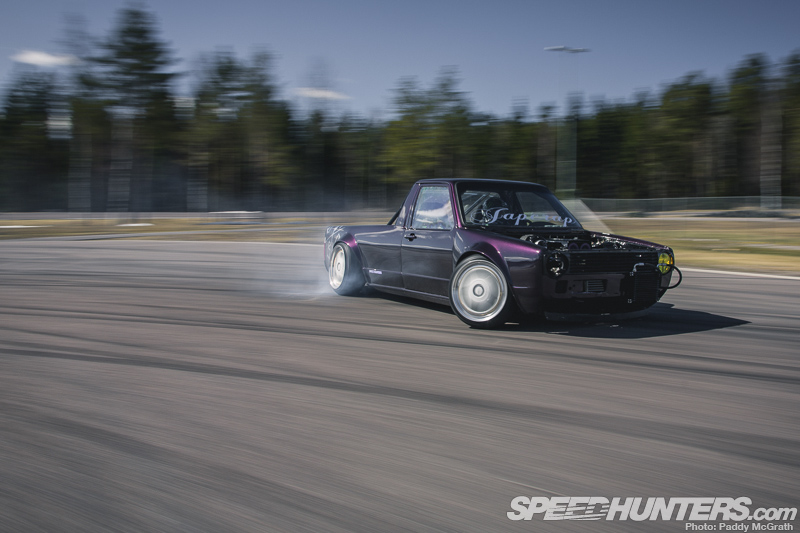 I'm fascinated by the pure insanity of the build. Simply down to the fact that it breaks all of the rules. This Caddy is a perfect Euro/JDM mash-up and Viktor has also managed to combine many elements of various scenes to create a car that everyone seems to be talking about. It's all-encompassing. This vehicle represents the Euro, drift, JDM and stance movement all in one hit. It's a German car that's been created by a clever Swedish guy using Japanese power. With this in mind it could be some sort of United Nations car culture project!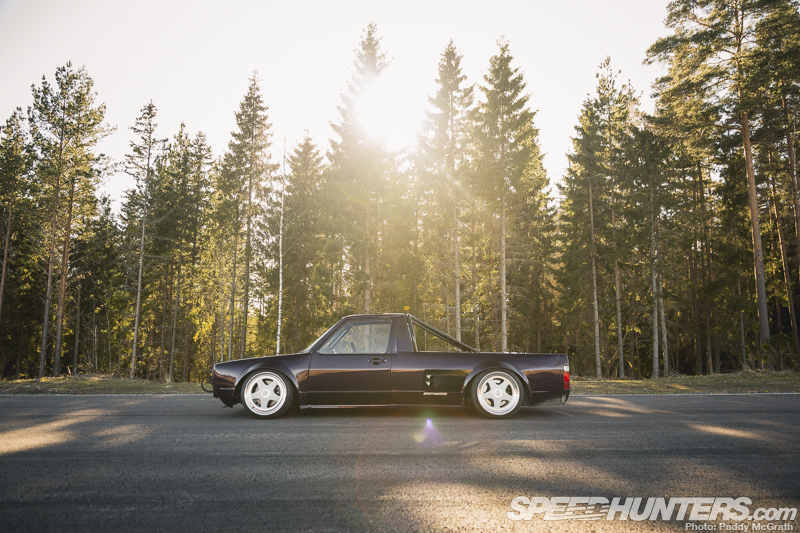 From the outside it may look like just a pretty bonkers Volkswagen Caddy with a side-exit exhaust. But actually, there's a whole other complete car involved in the build, as well a load of fabrication work. Rather than just fit the engine from a Soarer, Viktor completely re-engineered the whole body. The front end is pretty much all Soarer with the Caddy panels cleverly disguising the happenings from this dead-side shot. The rear sub-frame is all Soarer too. Rod put it better than I could on the shoot when he said, "There's a ghost of a Soarer living inside that Caddy."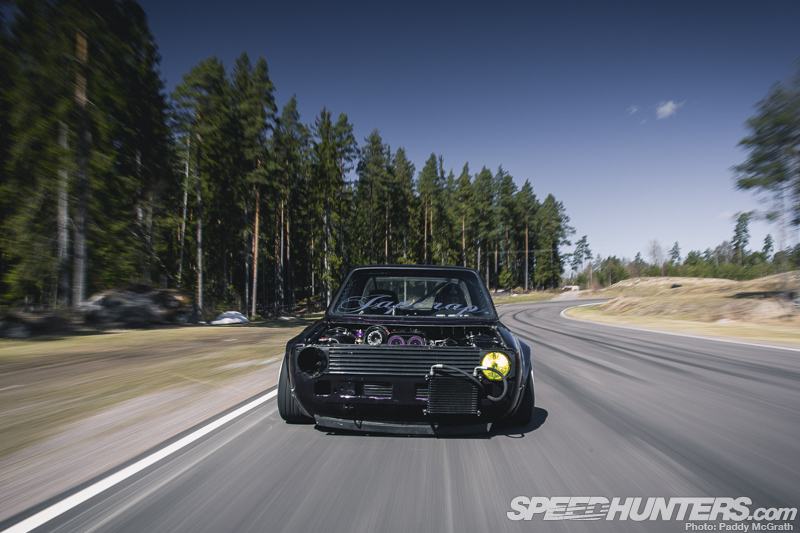 Maybe that ghost is why the front of the Caddy almost has a personality; a kind of mad, one-eyed face that shouts, "I'm gonna physically harm you if you don't get out of my way!" And Viktor's not afraid to push his latest creation as these awesome photos taken by Paddy at the incredible Gröndal Eskilstuna Motorsport Arena show.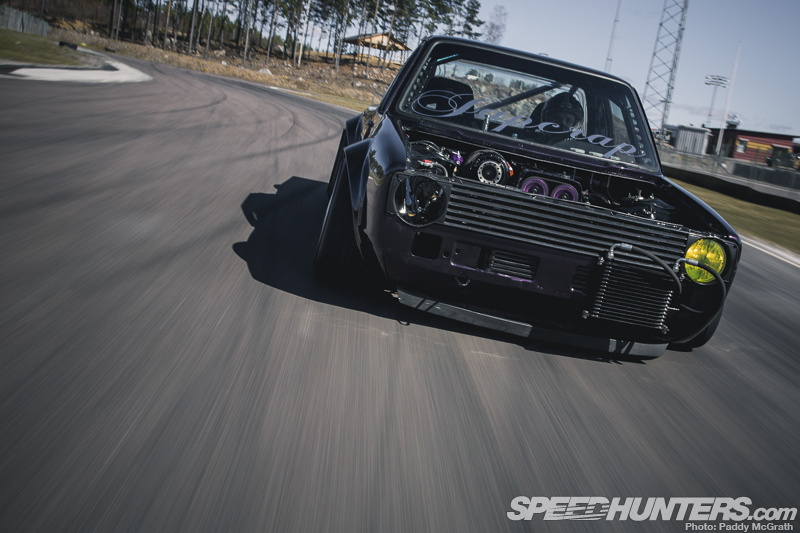 In fact, I found it pretty hard to believe that this was only the second outing for the car and the first time it had been used to its full potential in its current guise. Viktor has recently made some changes to make the Caddy more track compliant. The external wastegate used to sing its battle cry via a wild screamer pipe that looked similar to the handbrake and gear shifters used inside the car. This screamer pipe exited straight up out of the engine bay and looked crazy, but also sounded pretty violent, too. Violent in a good way, that is… unless, of course, you're a racetrack scrutineer with a dB meter. With noise reduction being the name of the game, Viktor has re-engineered his Caddy's turbo's wastegate system. Despite this though, the motor still sounds very tough indeed.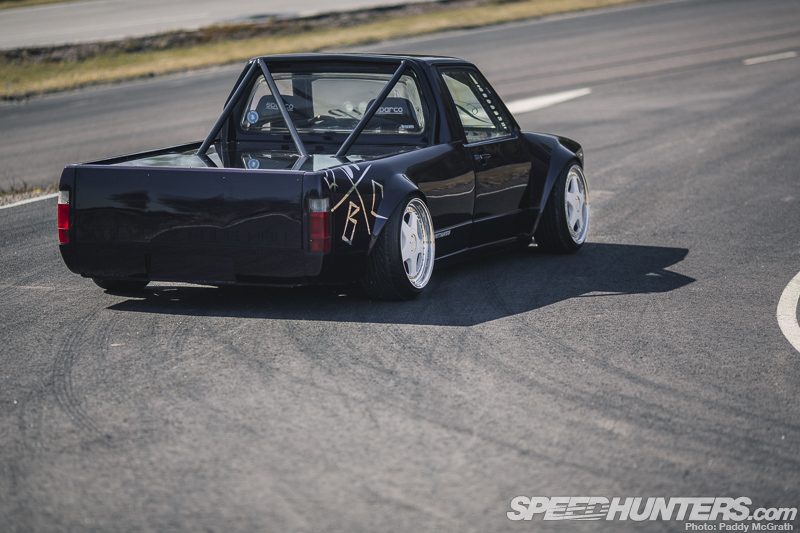 It's a deliciously smooth straight-six sound that the 1JZ turbo lump serves up. A sound that is completely unexpected. It's not something you associate with a VW and certainly not a little Caddy truck. The smooth engine note is complemented by the equally slick rolling stock which this vehicle sits on. The OZ Racing Futura is one of my all-time favourite wheels and Viktor is running some super-wide 17×10-inch items out back…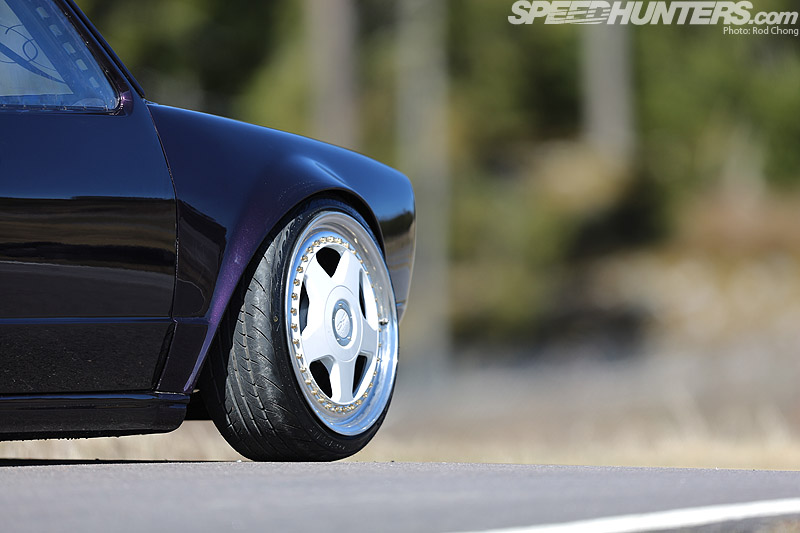 … with a pair of 17×8.5-inch versions up front. At the moment the vehicle is still being developed, so this set-up could change but the stance of the vehicle is pretty much right on the money if you're a fan of aggressive wheel fitment. Personally, I love the look. The timeless design might make me slightly biased, but I can think of no better wheel set-up; the Futuras add a classic blend of style to this nutty build.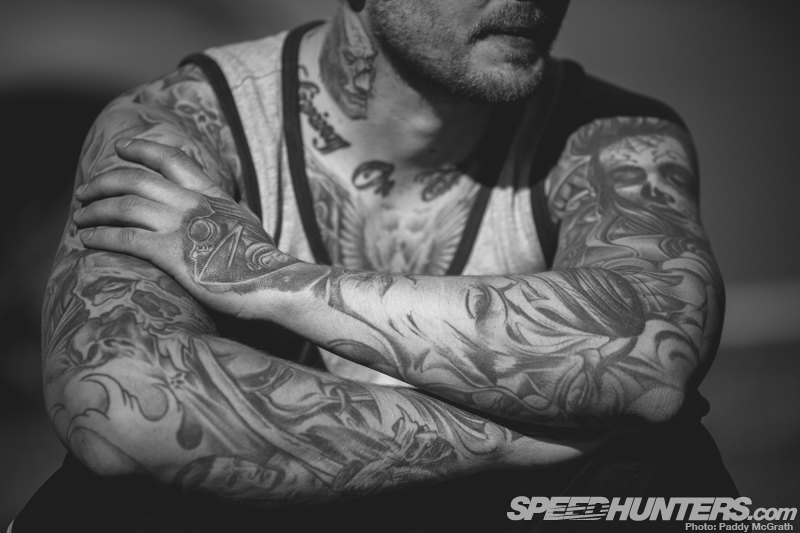 And speaking of the build here's the man responsible. Viktor's first car was an E30 BMW, so rear-wheel drive vehicles are his roots. His fabrication skills were learned first before he became accomplished in vehicle bodywork. In fact it would seem that this guy is very much into trying his hand at everything.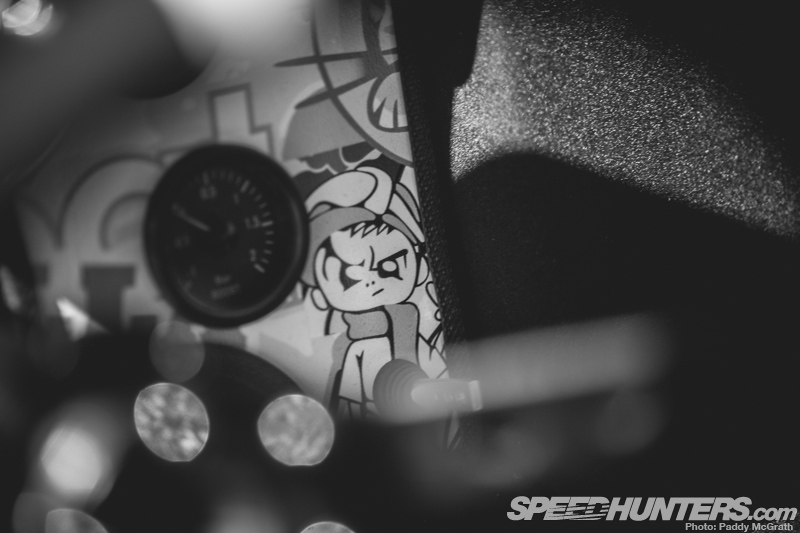 The dash installation, wiring and cool little touches inside the Caddy are all Viktor's own handiwork and an expression of his personality. I for one really like it when people inject some of their personality into a build rather than simply installing 'must have' parts in an effort to tick boxes.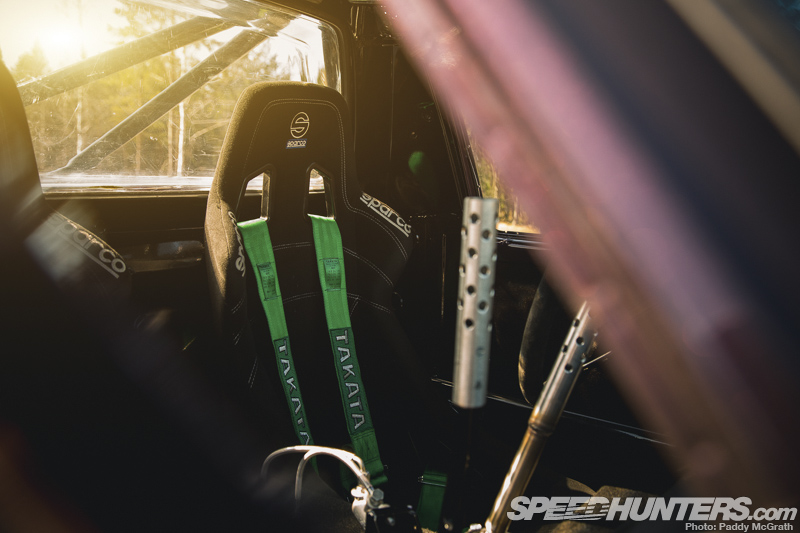 This car has been built for the driver. Everything is exactly where it should be. Sit in the hot seat and you can easily access the well positioned gear shifter and the hydro-handbrake (or e-brake for people in America). Despite the Caddy having the looks of a stance car, this is very much a driving machine.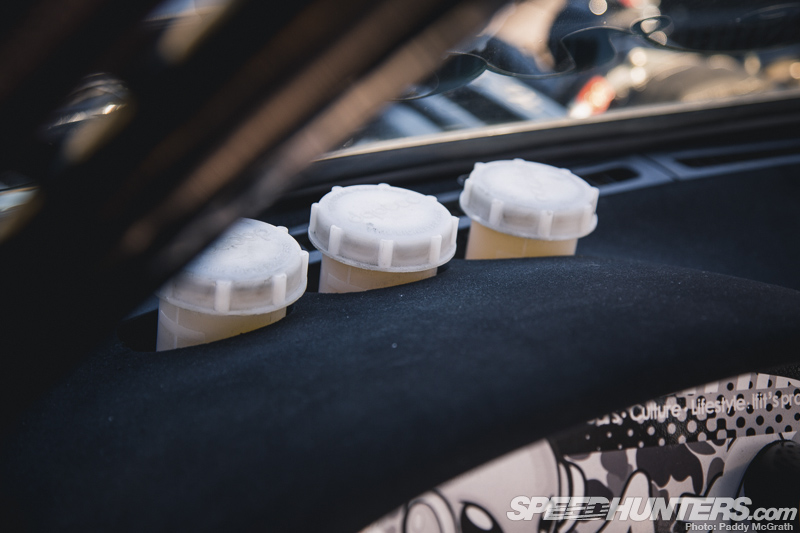 The top of the S13 dash pod more than hints at the seriousness of the pedal box conversion that Viktor carried out.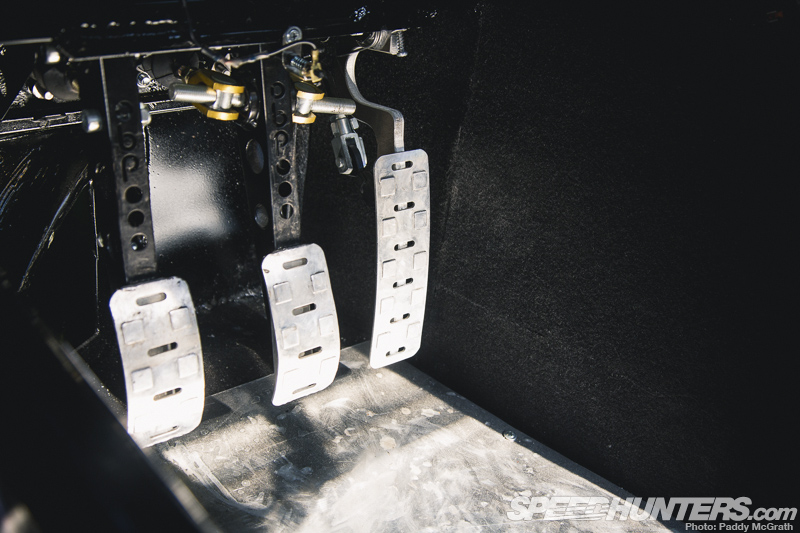 OBP, or Optimum Balance Products as they're also known, have been used to ensure that the Caddy is even further focused towards the driver. Viktor used to be into Moto X racing, and despite it only being his second time driving the Caddy, out on track it was very apparent that he's a natural drifter.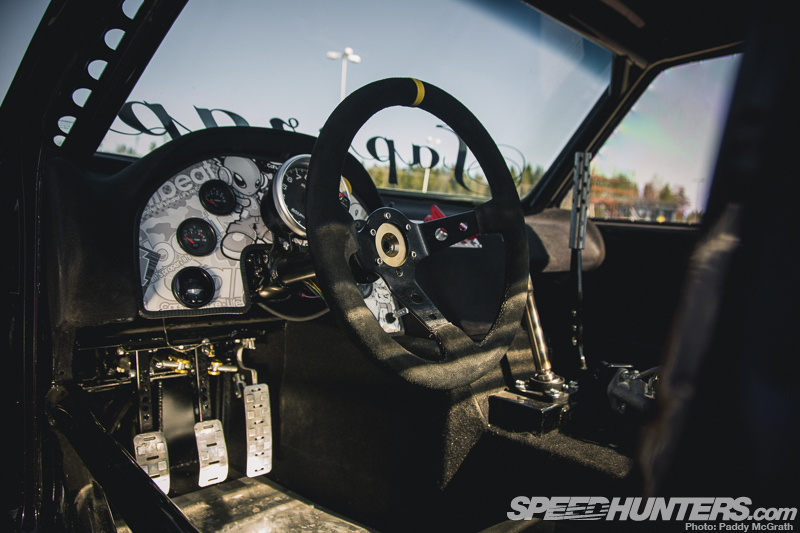 A further view of the interior shows that this is very much a function over form affair. It's something that I really admire: I like cars that have a clear theme throughout. Just look at this photo. The interior's just so raw! It's totally in keeping with the rest of the build and hits home how angry this car is. In fact, it's beyond angry. It's super mad!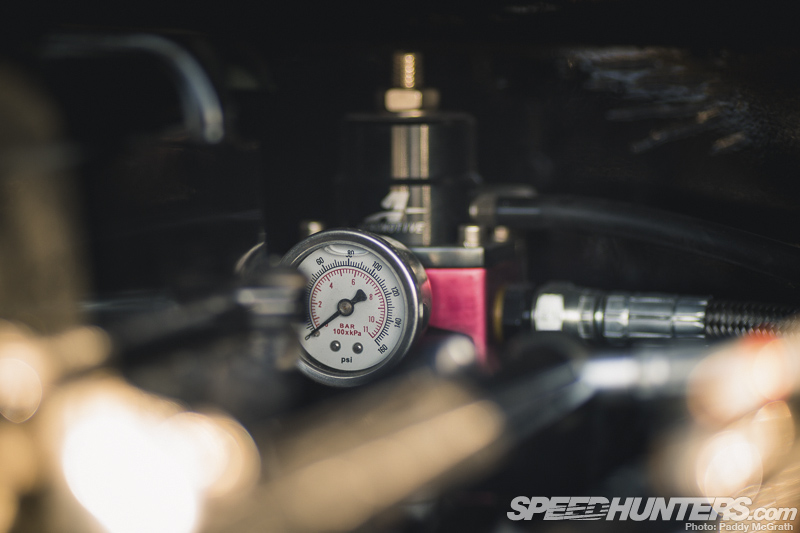 But this is just the beginning. Viktor and his crew have got more plans for the Caddy and its heart, the 1JZ motor. Just a few days before the shoot the car was dyno tested at 310 wheel horsepower. That was at 0.6 bar of boost, so there's still a lot more to come from the engine.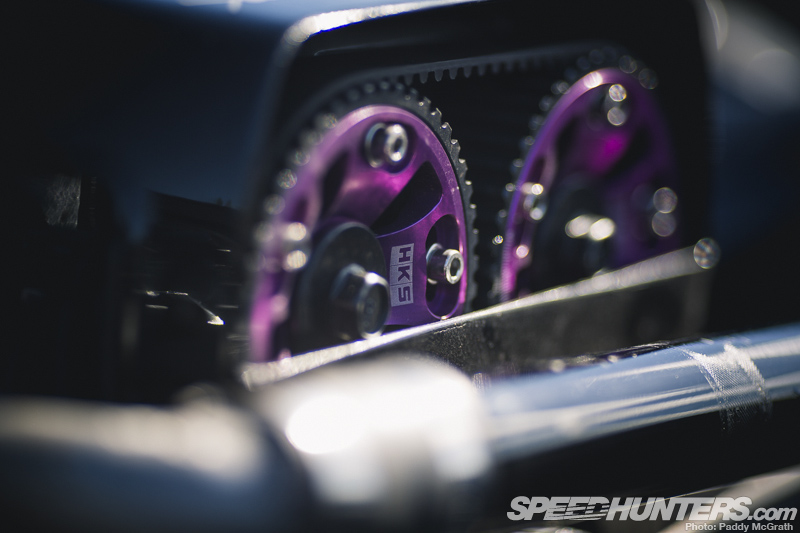 So then… about that 1JZ motor. As you can imagine the swap was not at all easy. Viktor actually had the Caddy sat around in his workshop for four or five years, but didn't ever start the project. Then a turbocharged '91 Soarer packing the all-important 1JZ motor came into his possession and 12 months of hard work commenced.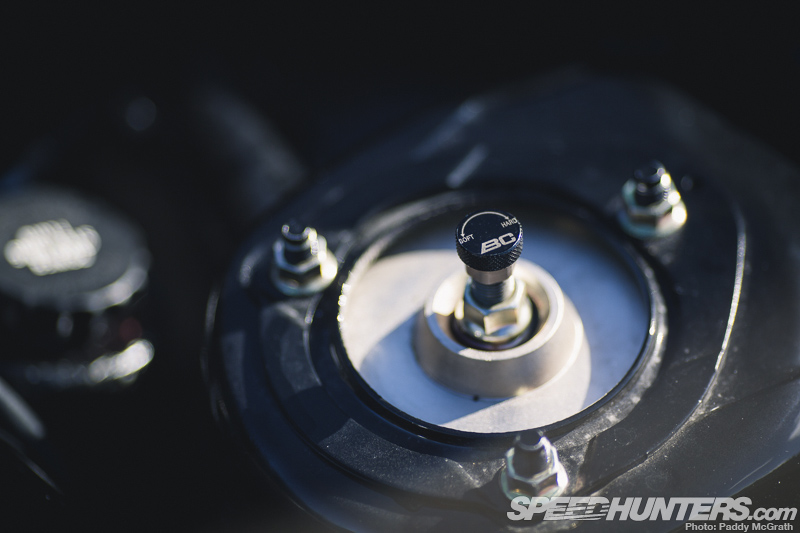 The front end of the Soarer has been expertly grafted onto the Volkswagen Caddy. Soarer suspension parts have been used throughout and that includes the 5×114.3 hubs allowing for more interesting wheel fitment than the usual 4×100 Caddy offerings.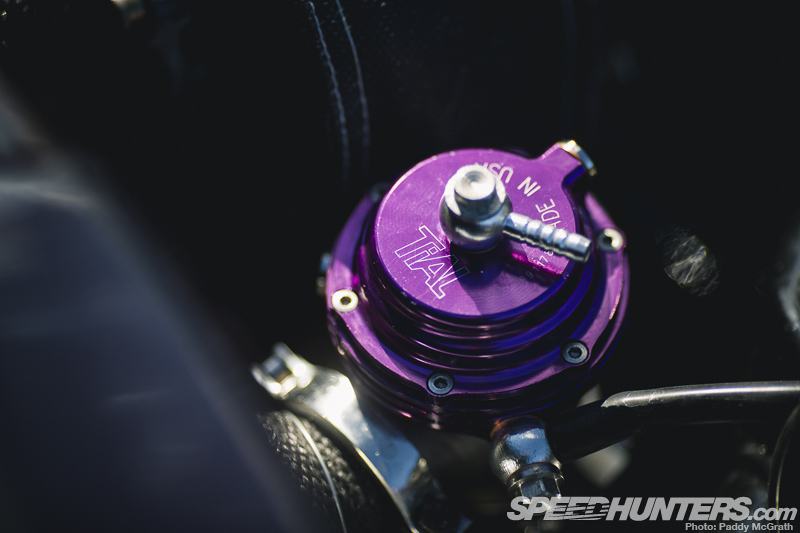 Parts-wise, Viktor has opted to use a mixture of basically anything he can get his hands on. Some parts have been specifically sourced for the build, like this Tial wastegate, whilst other parts have been gained from other builds or sourced at a bargain price. I'm really into this hunter-gatherer ethos and the result is a machine that commands respect. It's clear that this truck has been built by someone who's resourceful as well as inventive.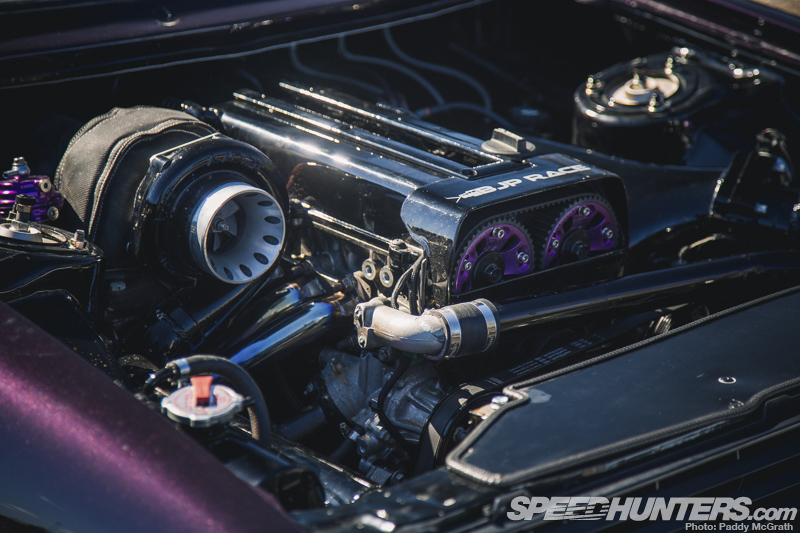 One thing's for sure: this car has a massive character about it. You can't not like its quirky demeanour. Even the engine bay screams coolness with its purple and black combo working so well alongside everything else in the build.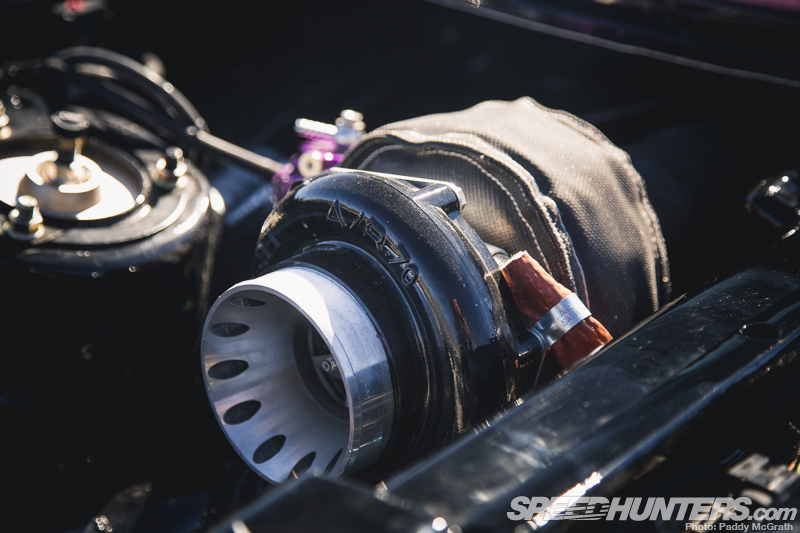 Forcing air into the motor is this GT35 turbo; the sound is absolutely incredible. The fuel consumption is pretty insane too… with the turbocharger allowing the 1JZ motor to eat 10 gallons of fuel in less than 120 miles when being used to its full potential!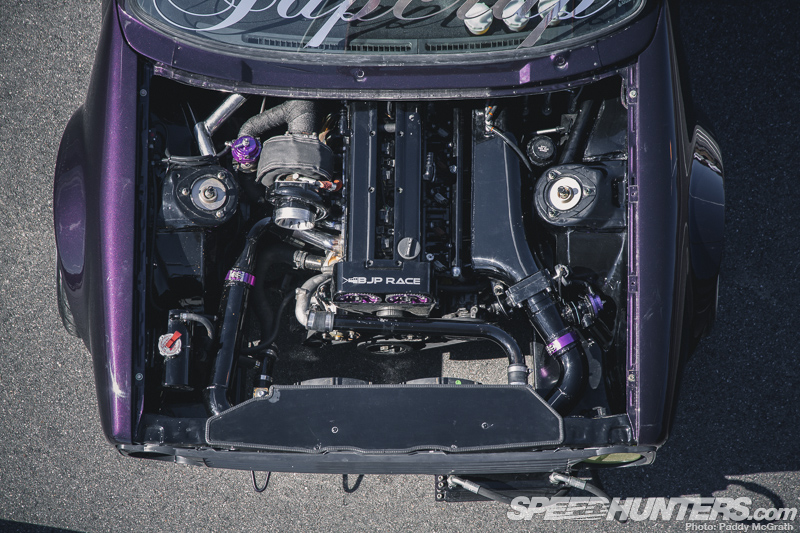 A birds-eye view of the motor install shows how far back the lump sits. The install is tight up to the bulkhead and clearly this is nice for weight distribution. A testament to Viktor's fabrication work is how well this car drifts. I went for a ride in the passenger seat and it was a pretty cool experience… if this is how it feels now, I'd definitely like another ride along when the car has been developed further.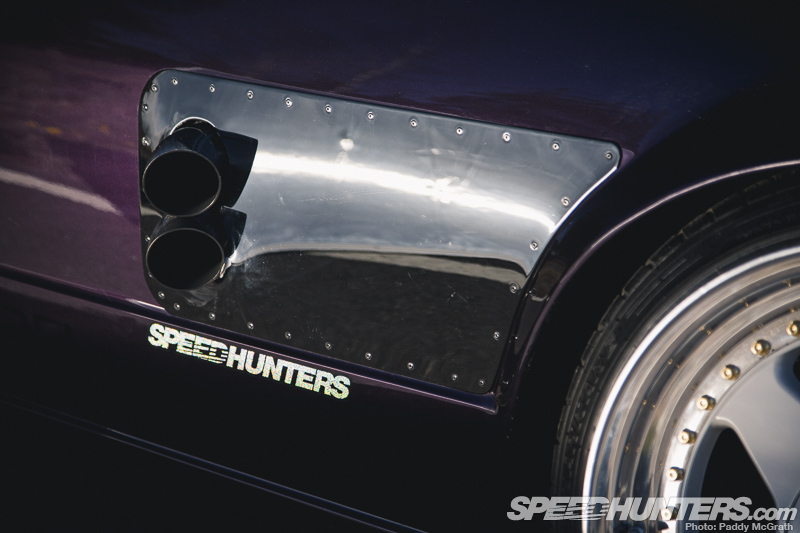 The side-exit further highlights the pure craziness of this build. You'll no doubt hear this car coming before you see it courtesy of the twin two-inch exhausts.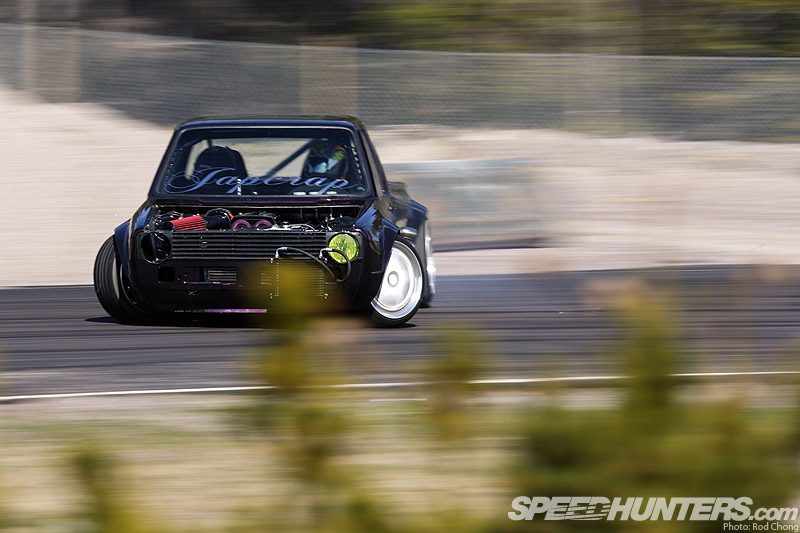 And I really do hope that you get to see this car in the metal. I hope you get to hear that 1JZ motor sweetly and smoothly howling around a track because believe me – it's a real treat for the eyes and the ears. It's lovely to see a VW built with no element of predictability. This is out-of-the-box thinking and execution at its very best.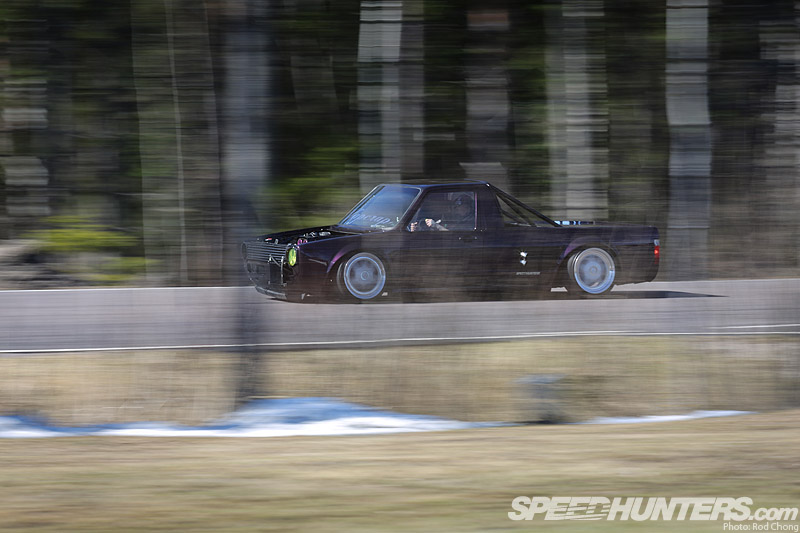 Viktor has taken the element of craziness that was around maybe 12-15 years ago in the Volkswagen scene, and of course other scenes too, and he has applied it to his amazing Caddy build. Furthermore, the dialled-in stance ensures that this car has a very modern twist to the theme and that makes it super cool in my opinion.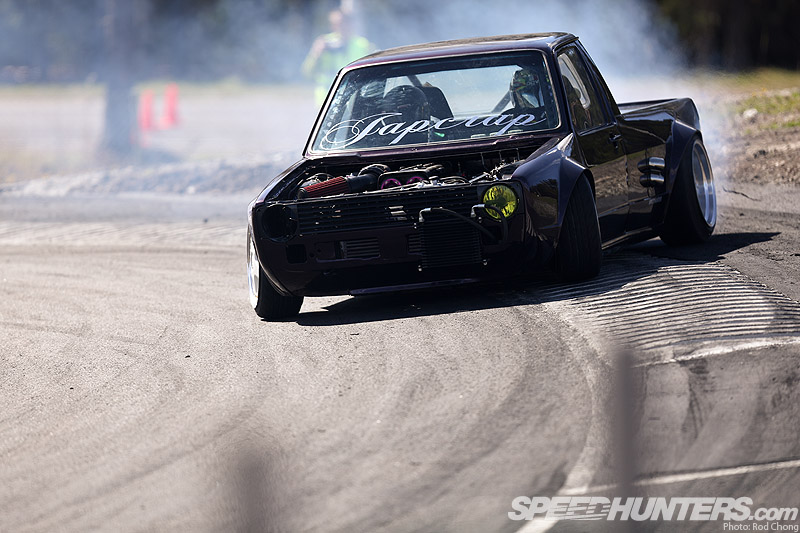 On the day of the shoot Viktor's Caddy put a massive smile on the face of everyone who saw it and you can't help but admire his ingenious approach to the build. This isn't a big money build. Quite the opposite – it's very much a blood and sweat type of affair. Viktor and the Japcrap Bombsquad are bringing together the best of many different car cultures and are also having loads of fun in the cars that they build together. And that is, without a doubt, something everyone into car culture should celebrate.
Words by Ben Chandler
Twitter: @Ben_SceneMedia
Instagram: @ben_scenemedia
Photos by Paddy McGrath
Twitter: @PaddyMcGrathSH
Instagram: speedhunters_paddy
paddy@dev.speedhunters.com
Additional photos by Rod Chong
Viktor Martensson's 1JZ-powered VW Caddy
ENGINE
Toyota 1JZ motor, GT3582r turbo, Tial 38mm wastegate, 3″ downpipe, aftermarket plenum with 80mm throttle body, BMW F10 radiator with two 12″ electric fans, 19 row oilcooler, GReddy blow off valve
DRIVELINE
BMW ZF gearbox, ACT paddle clutch, home made driveshafts
SUSPENSION/BRAKES
BC Racing BR coilovers, stock Toyota Soarer brakes
WHEELS/TYRES
OZ Racing Futura 17×8.5 (front), 17×10 (rear), Federal SS595 195/40/17 (front) and Nankang NS-II 215/40/17 (rear)
EXTERIOR
Full respray in Japcrap purple, home made wide fender, side exit exhaust, complete custom rear bay with 10 gallon fuel cell
INTERIOR
Flocked modified Nissan S13 dashboard, home made eight-point roll cage, hydraulic handbrake, Sparco Sprint seats