All Golfs are not created equal
Over the past few months we've brought you numerous feature stories from the Scandinavian region, and for very good reason. Modified and motorsport builds in this small corner of the world defy so much convention that no car can really be taken at face value.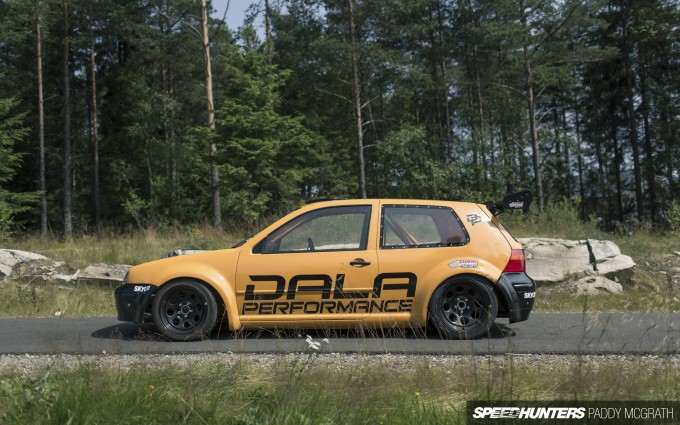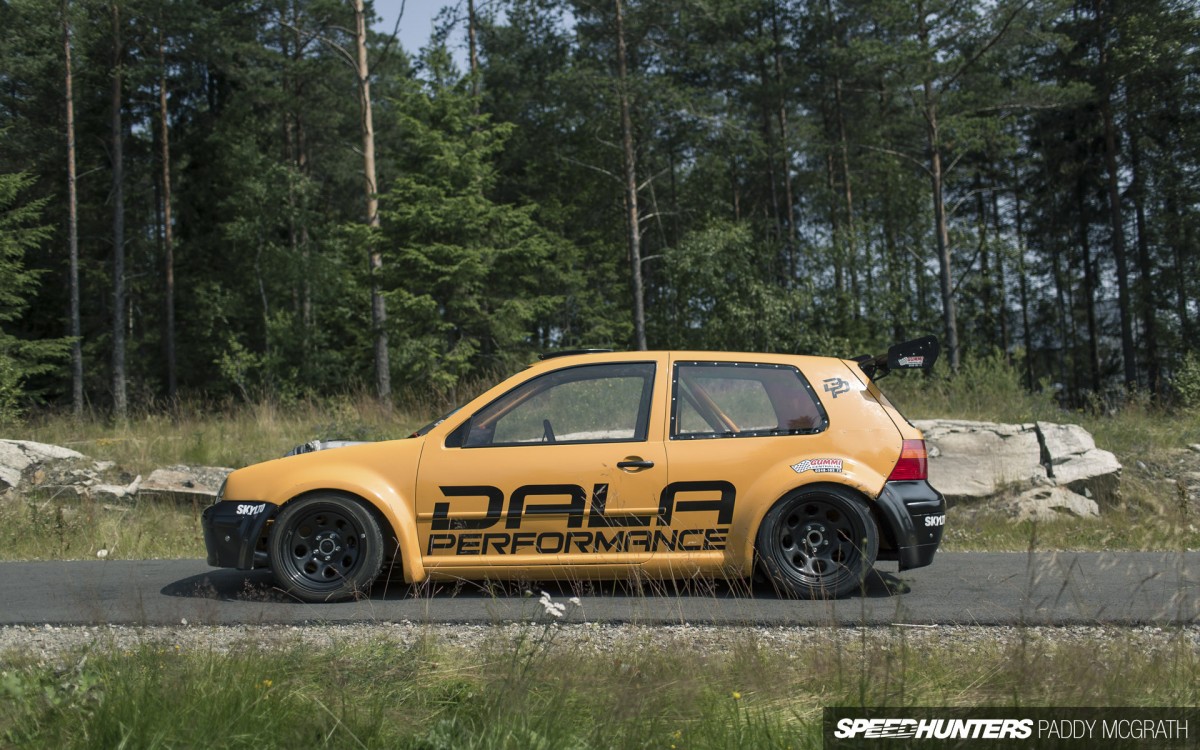 If there was ever a machine that drove that point home more, it's Björn Forsman Roos' Dala Performance Volkswagen Golf R32. Purists, you have been warned…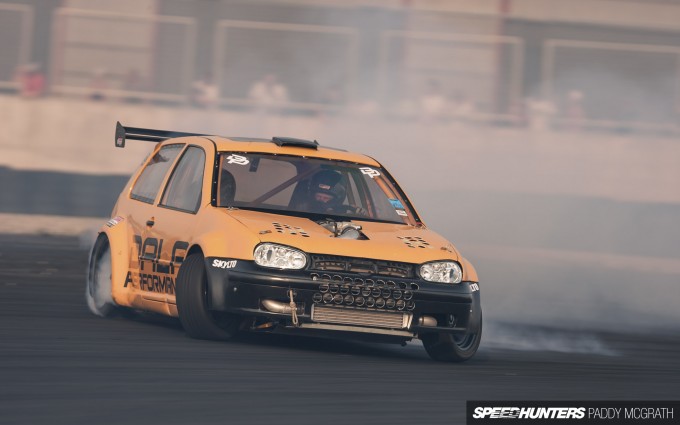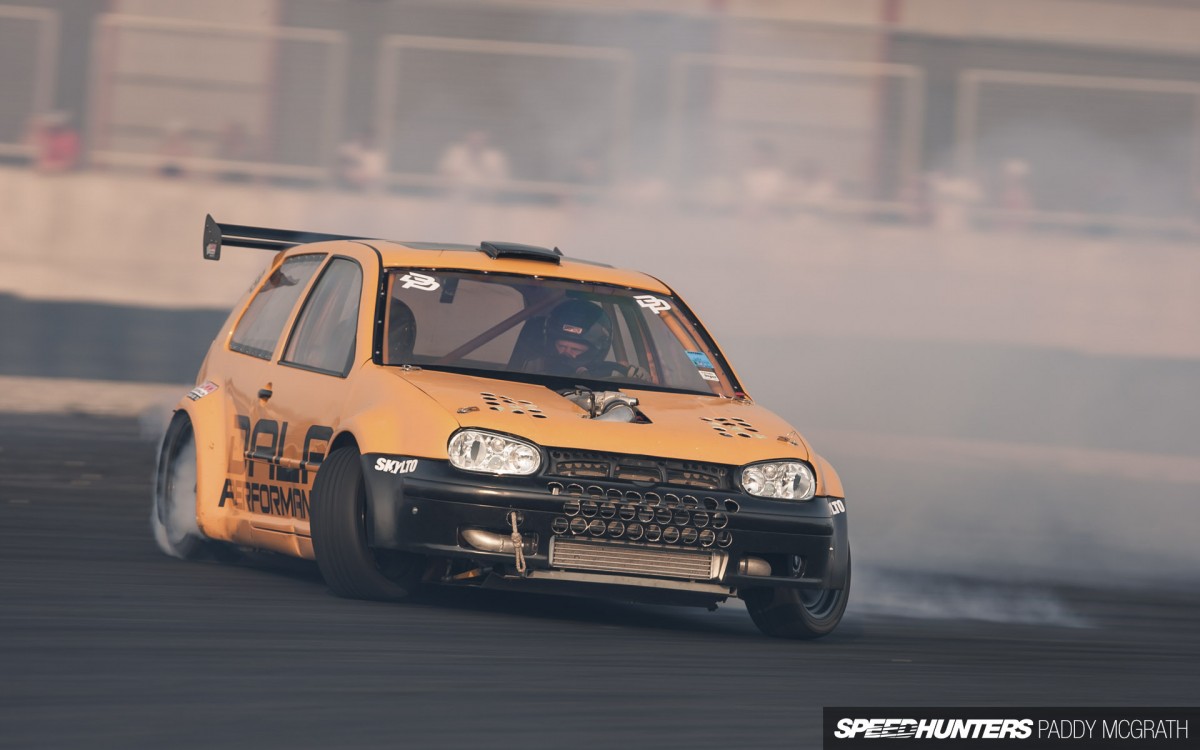 The yellow and black VW should need no introduction to Swedish readers, or Gatebil regulars. Originally built (and completed in 2011) by Peter Steinwandt of PSW Engineering and driver Daniel Björk, over the past couple of years the mutant drift Golf has decimated tyres and competition, culminating in a convincing win of 2012's NEZ (North European Zone ) Drift Championship. Its secret? A rear-wheel drive conversion and a hard-tuned Chevy LS1 engine swap.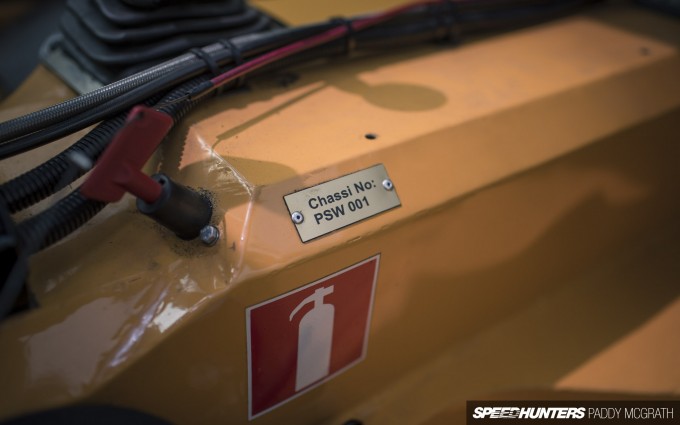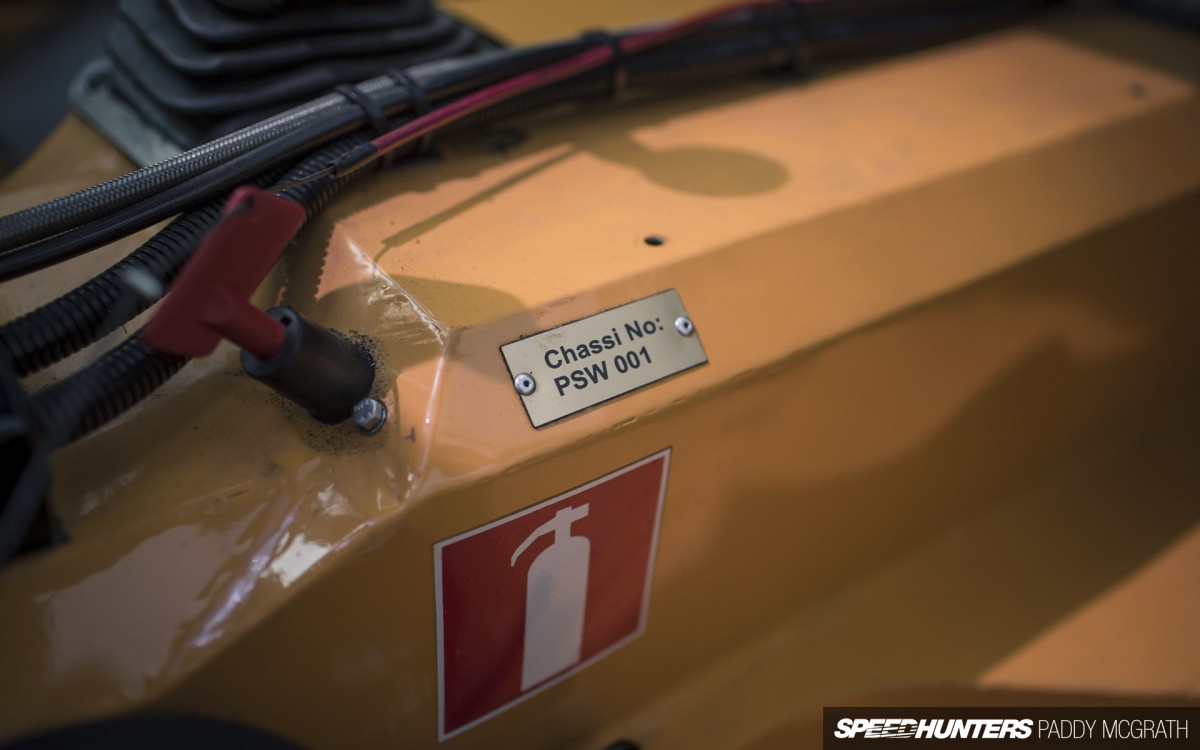 When PSW began building a new car for Daniel's 2013 drift endeavors the Golf was put up for sale, quickly finding a new home at Dala Performance. Björn hadn't just liked what he saw the first time he witnessed it turning a wheel in anger, but more so, the potential to develop it even further.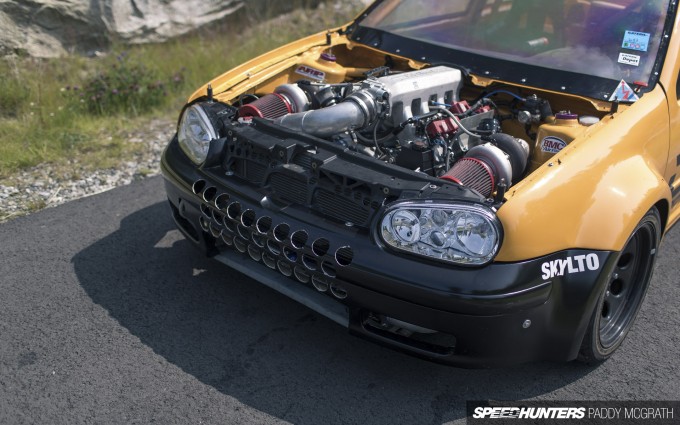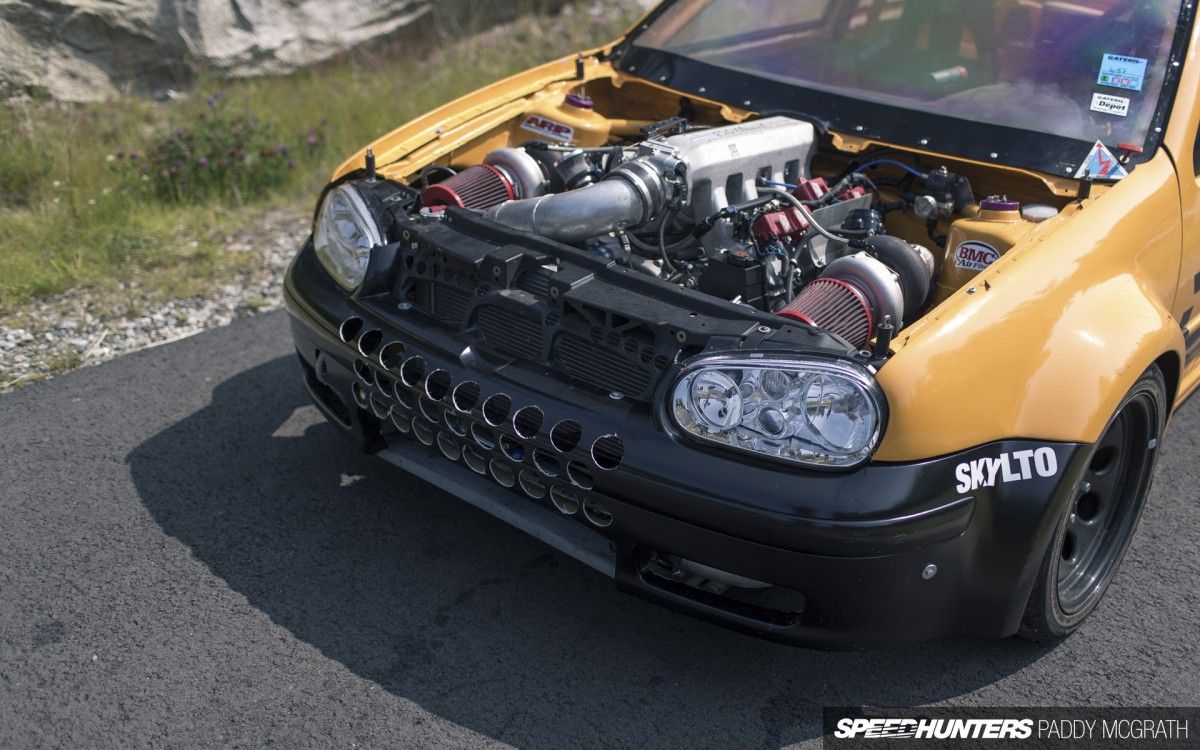 With 450hp and a relentless wall of torque ready to be unleashed with the slightest right-foot provocation, the Golf was certainly not short on grunt but as so many Gatebil builds have shown us, sensible car-building logic seems to rarely prevail in this region. As Björn so simply put it to me, "The effect without the turbo was enough, but it's always more fun with more."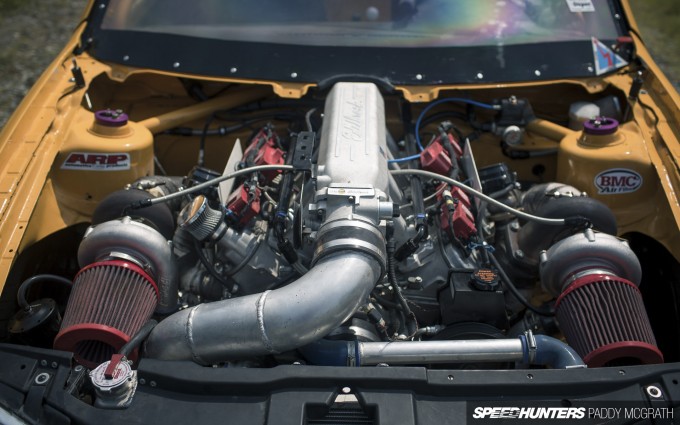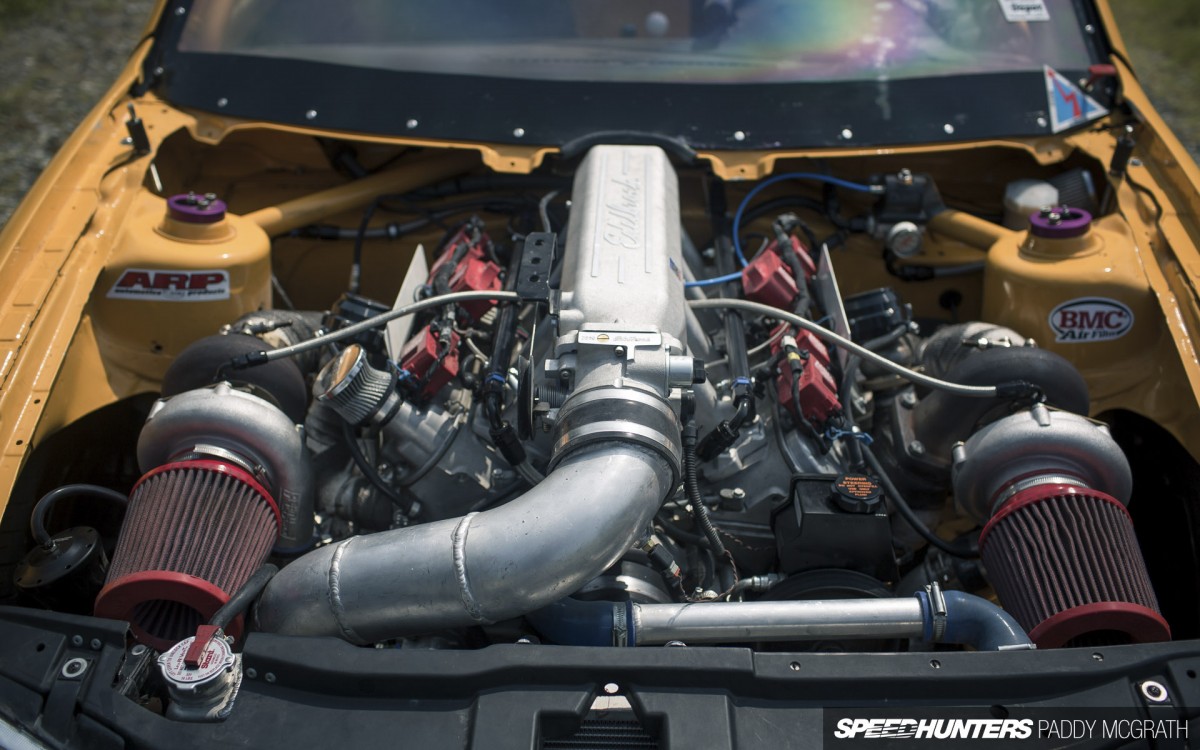 The dry-sumped LS1 base remains in the same way it was when Peter campaigned the car last season. It's a serious package too, featuring Wiseco forged pistons, Lunati forged rods and a forged stroker crankshaft that pushes cubic capacity out from 345ci to 383ci, or 5.7L to 6.2L for the metrically inclined.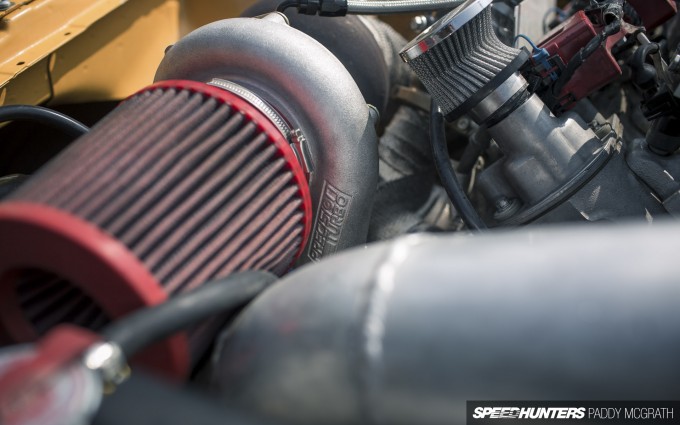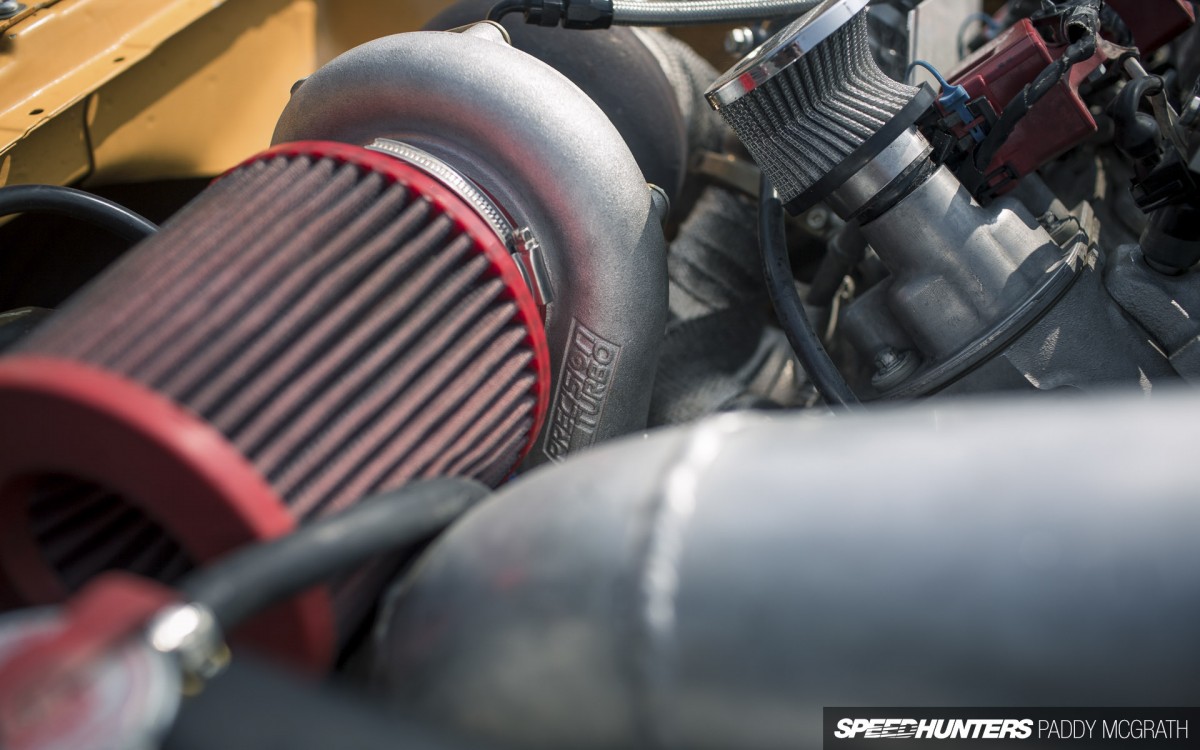 It is however, not one, but two rather large Precision turbochargers that have really awoken the monster within. If the twins that flank the banks of the Chevy V8 don't do it for you, I'm sure the numbers they've helped to generate absolutely will.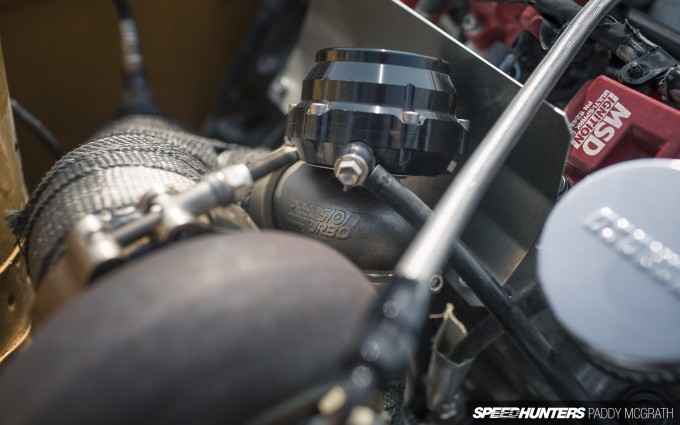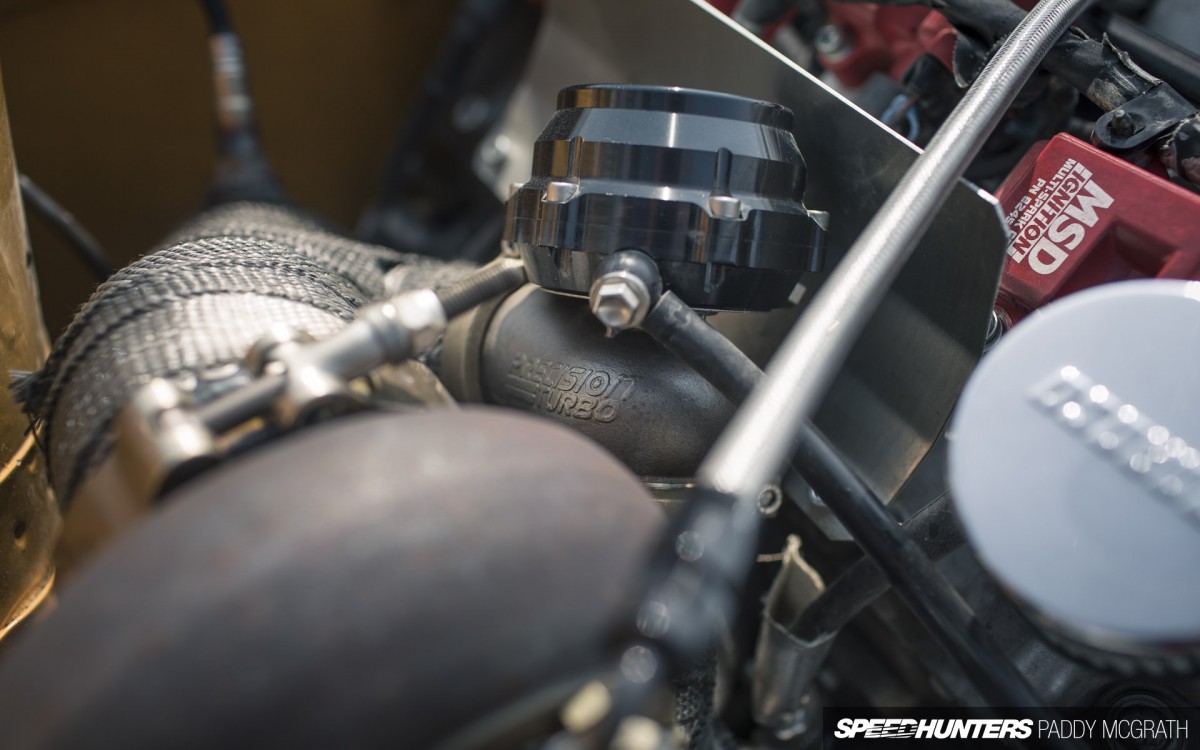 That's because when maximum boost is dialed up through the Precision 46mm wastegates, a mind-numbing 1056hp and 1400Nm is achieved.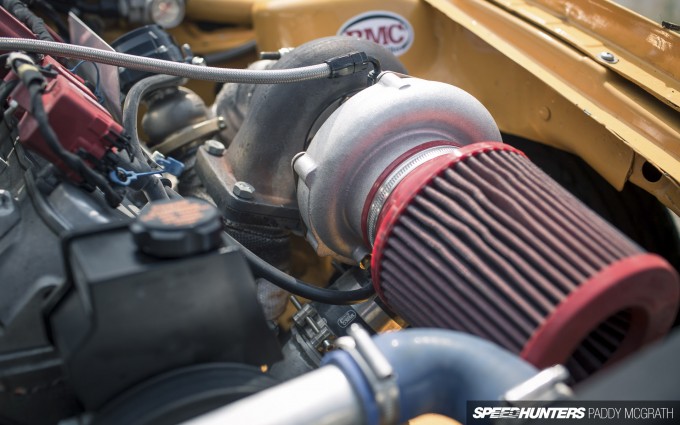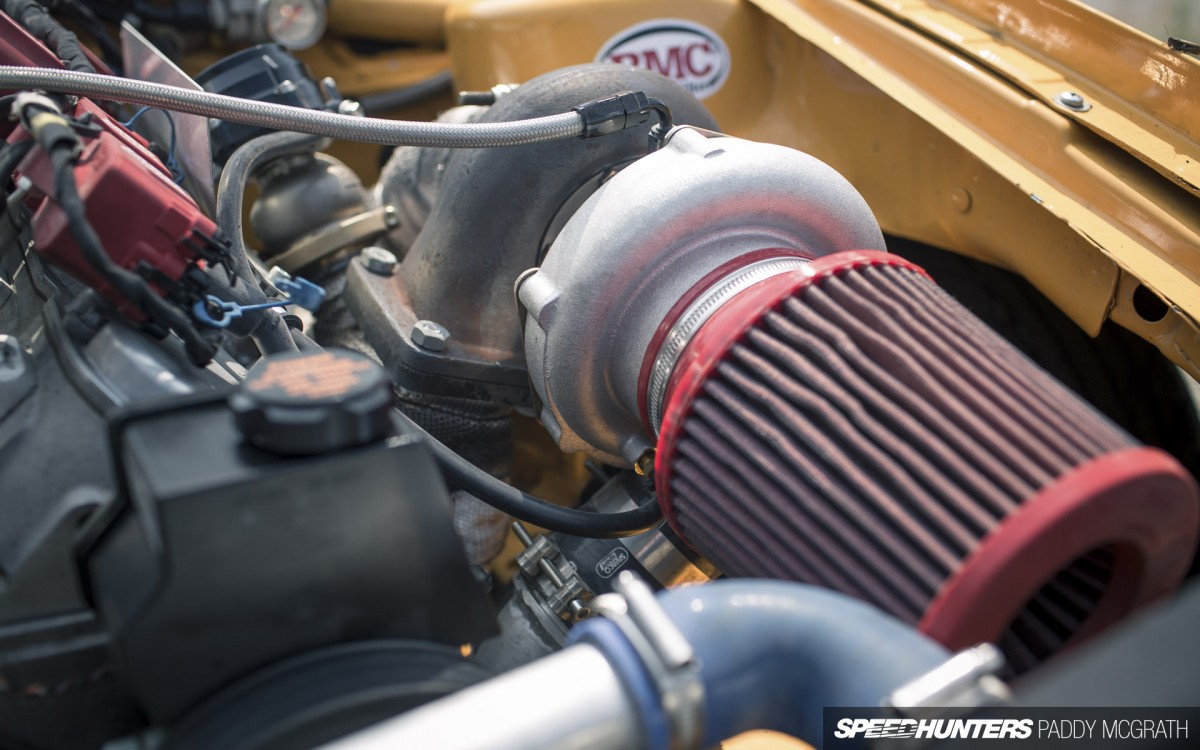 Four digit figures are one thing, but when you consider the Golf's compact dimensions and 1100kg weight, it becomes very clear just how crazy this little car is. But you'd expect that with a power-to-weight ratio of almost 1:1.
Fuelling the fire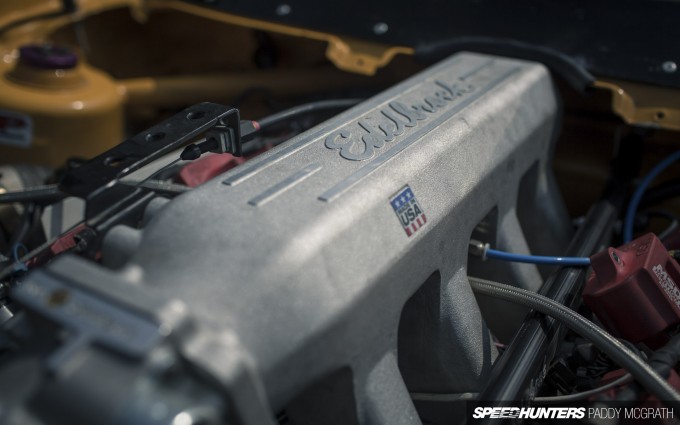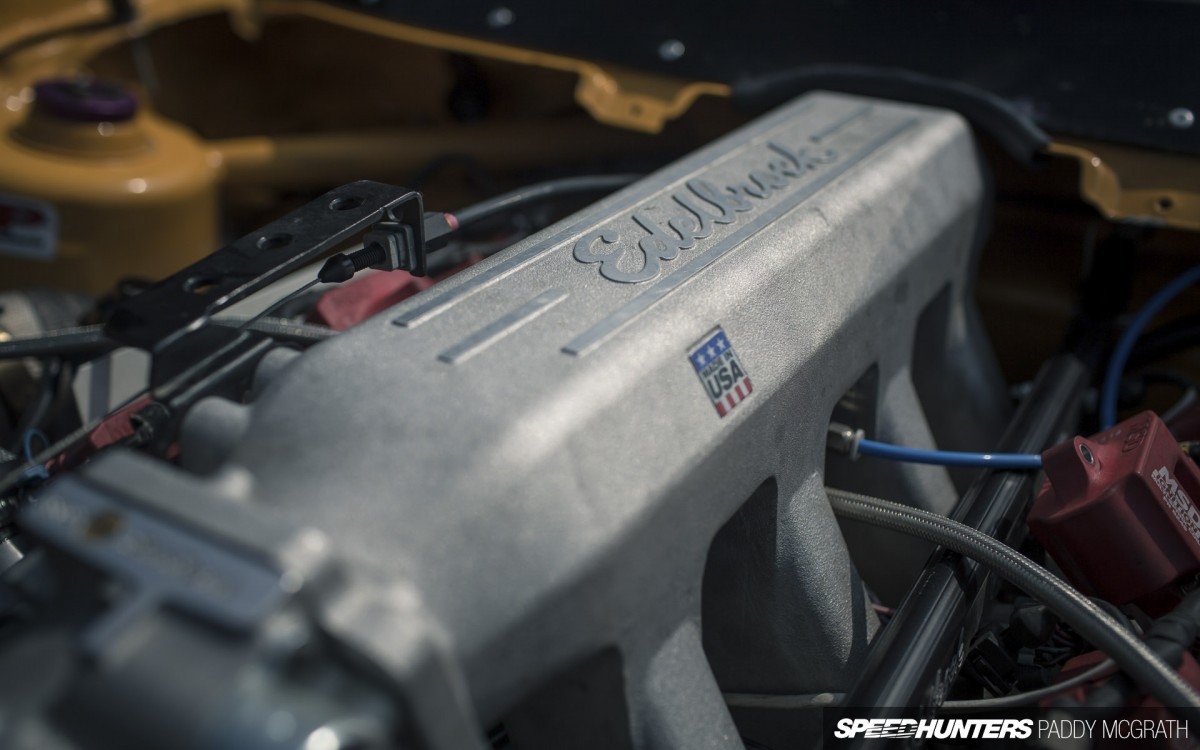 To capitalise on the forced induction generated by the turbos, a high-flow Edelbrock Pro-Flo XT EFI intake manifold featuring a large plenum chamber and tapered runners sits squarely above the engine alongside MSD coils and twin Edelbrock fuel rails.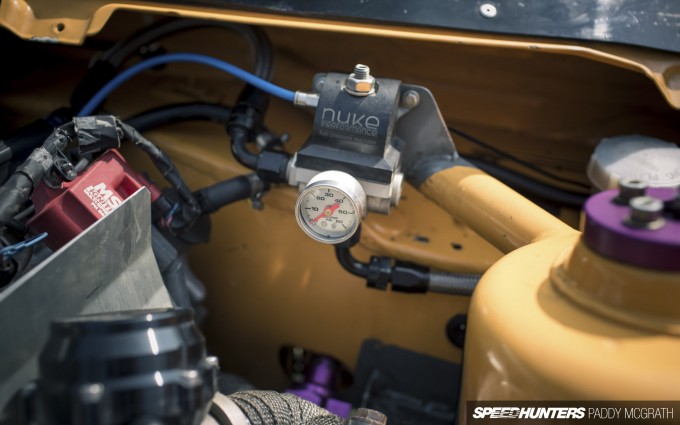 The latter is one part of a sizeable fuel system that feeds the engine via large braided stainless fuel lines, a Nuke Performance adjustable regulator and eight Delphi 893cc injectors.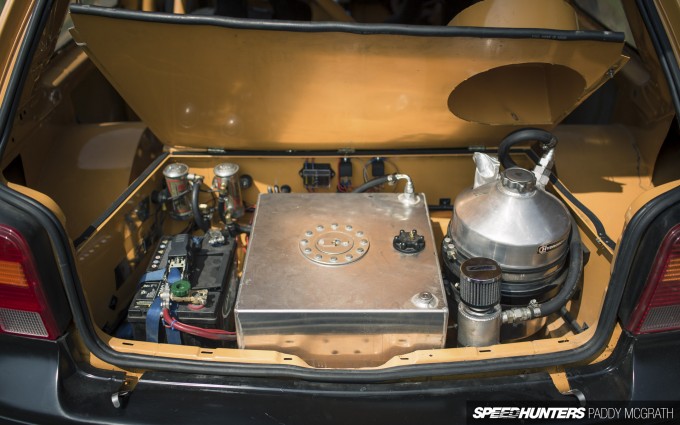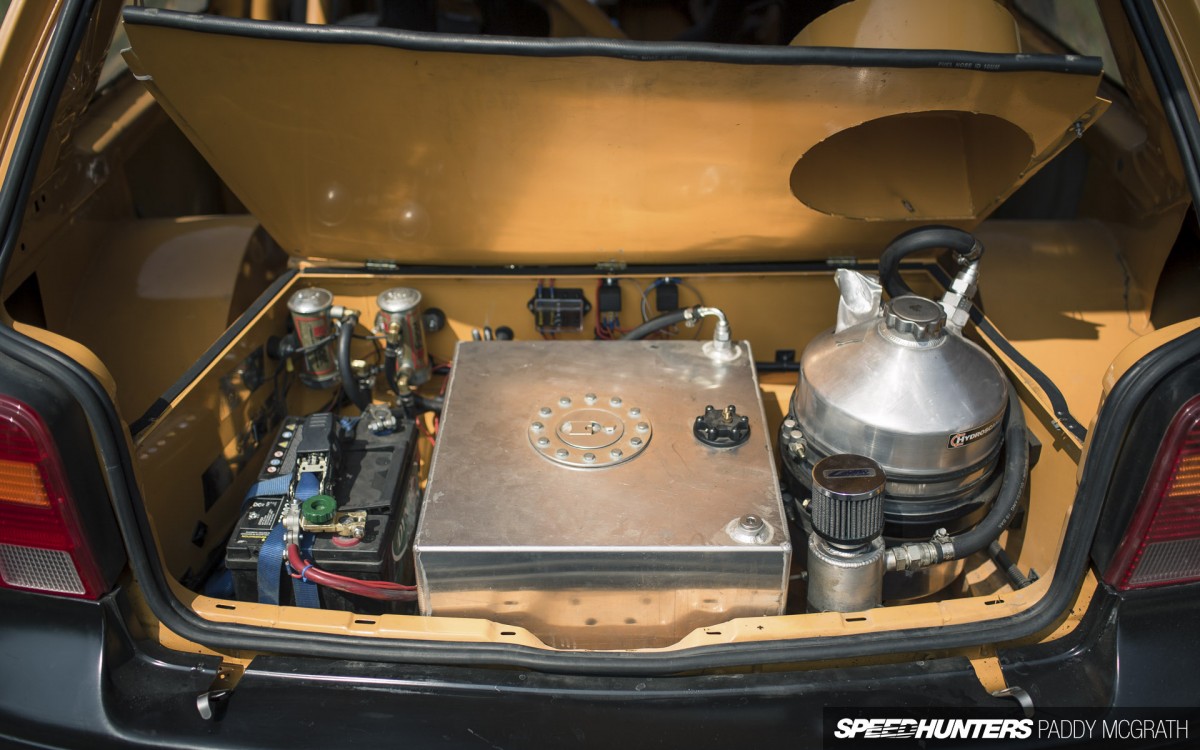 The set-up continues into a custom cavity in the rear of the car, which along with a custom alloy fuel cell, features a Barry Grant 400-series fuel pump that supplies three DeatschWerks DW301 pumps fitted inside the catch can. According to Björn there's still plenty of untapped potential in the twin turbo LS1. If, or perhaps when, he eventually decides to find out how much, a few upgrades around the fuel system will be required before the car can go back on the Dala Performance dyno.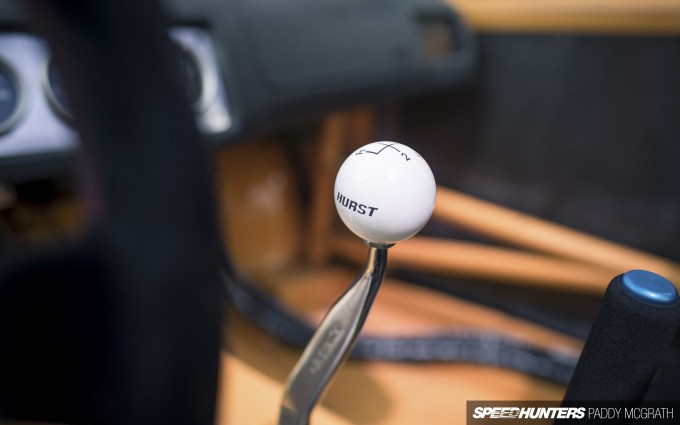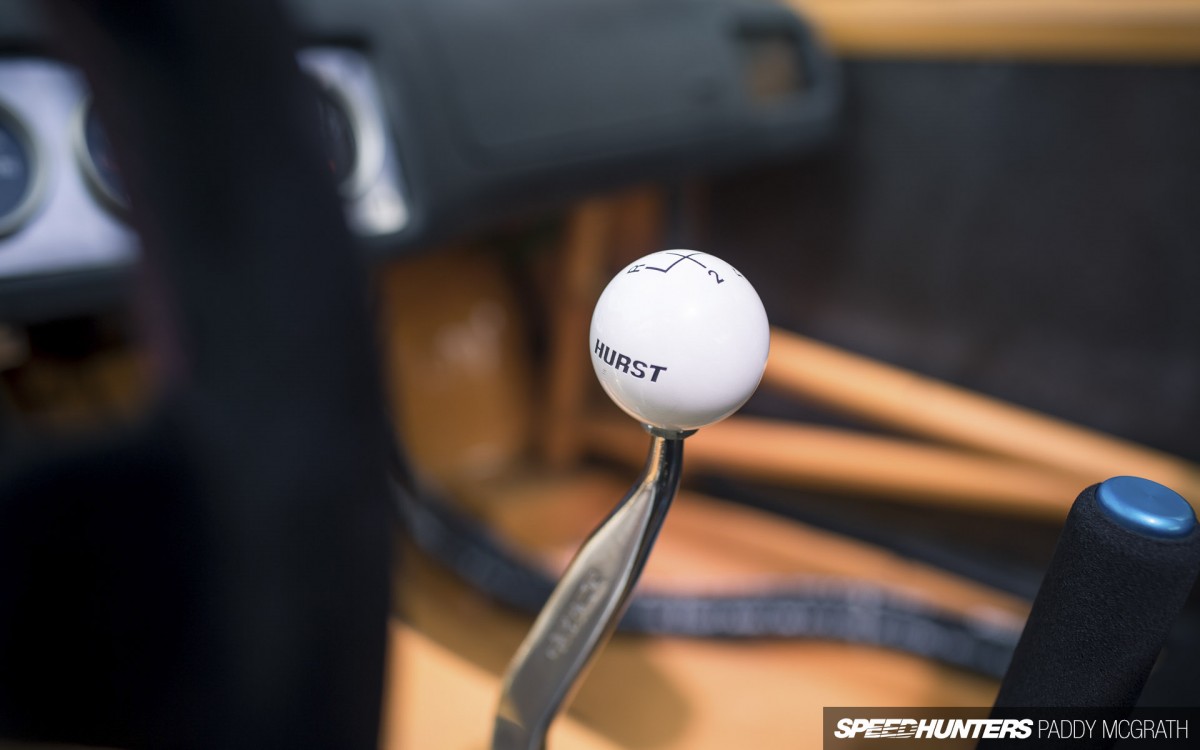 Although the driveline was built tough the first time around using quality gear like a Jerico WC4 four-speed dog box, it didn't take long for weaknesses to begin showing when faced with more than double the original output of the tuned Chevy motor.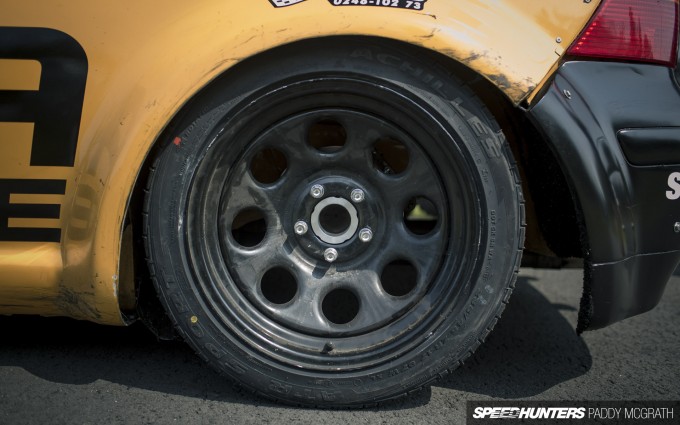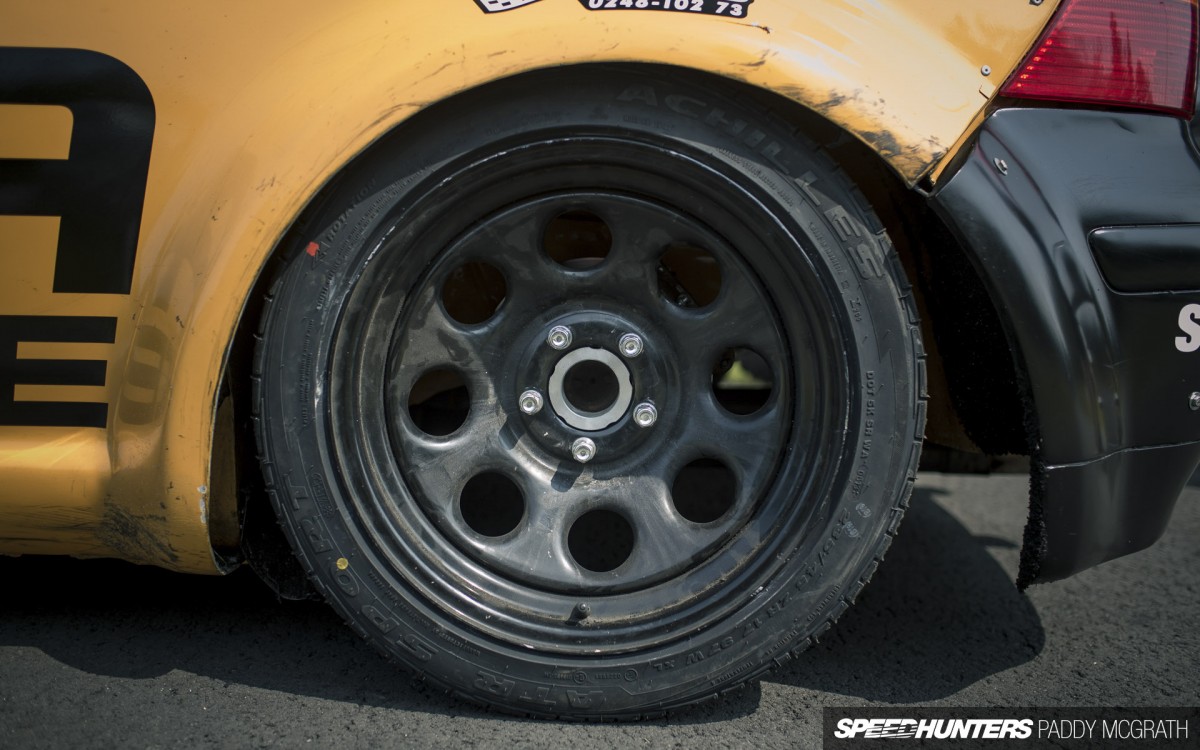 According to Bjorn, the Volvo rear end that was previously fitted "did not handle the effect". Read into that what you will. In its place, and thus far proving reliable under all the stresses, is a Chevy 10-bolt unit courtesy of a Camaro Cup race car.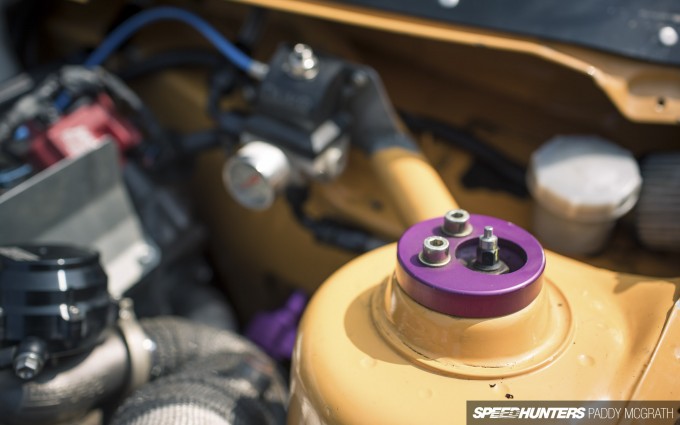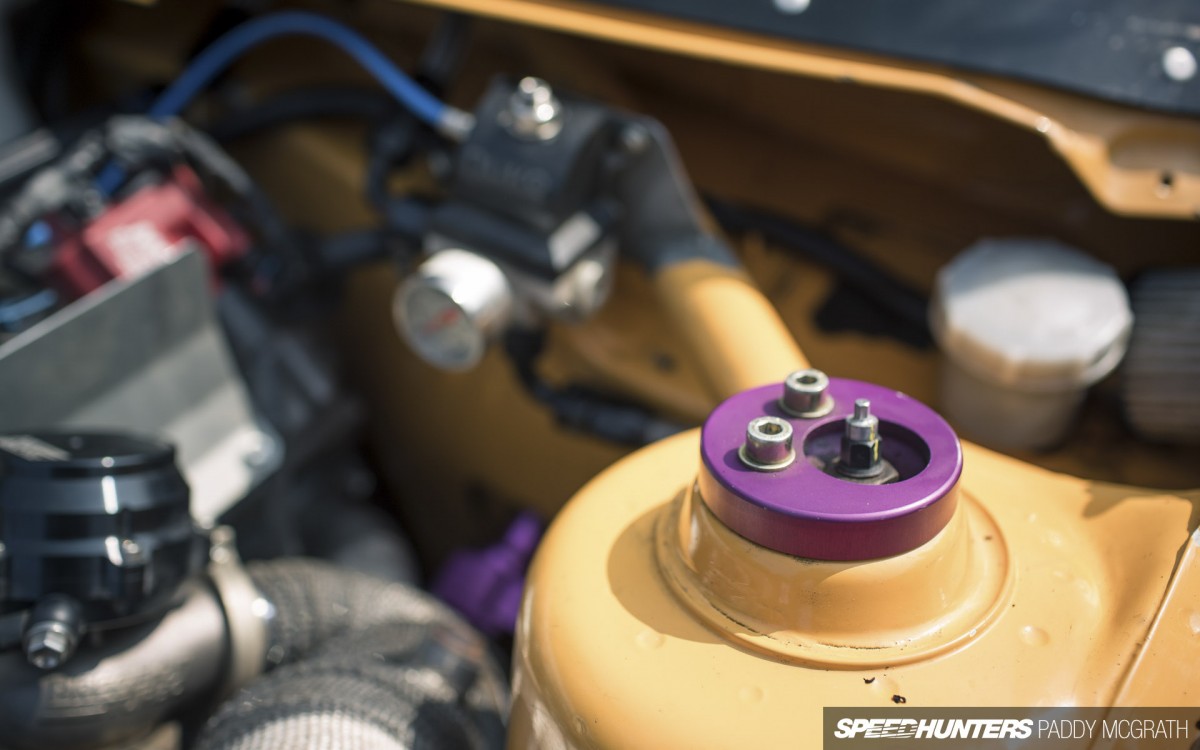 Except for some minor alterations that needed to be made when the new rear end was amalgamated into the custom four-link arrangement, the suspension tune remains largely the way it was when PSW built the car. Quite simply, there was no reason for Björn to start messing with it given the Golf's previous winning ways.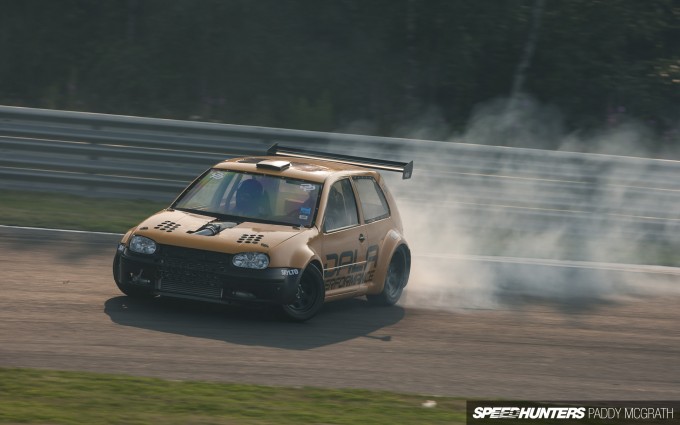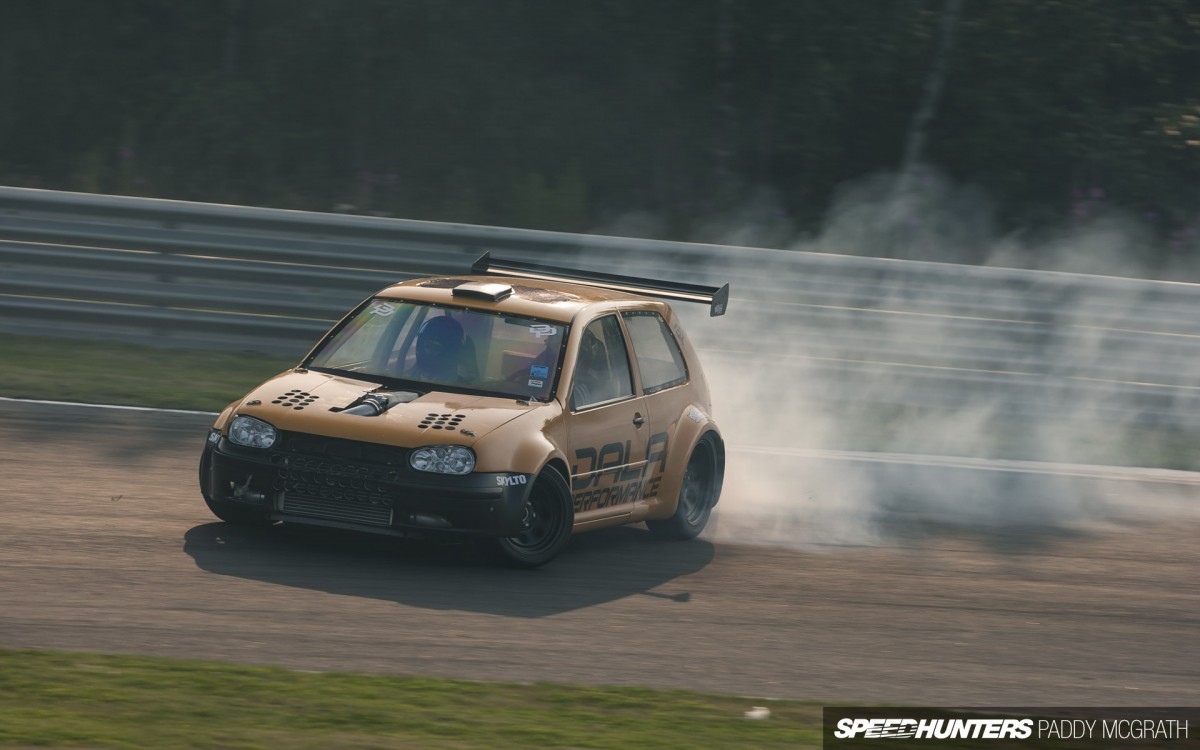 Designed around a rallycross-style set-up, Sachs dampers are used in the custom-built front coilovers with Öhlins gear in the rear. Björn, of course, was more than happy to demonstrate the Golf's counter-steer capabilities for us.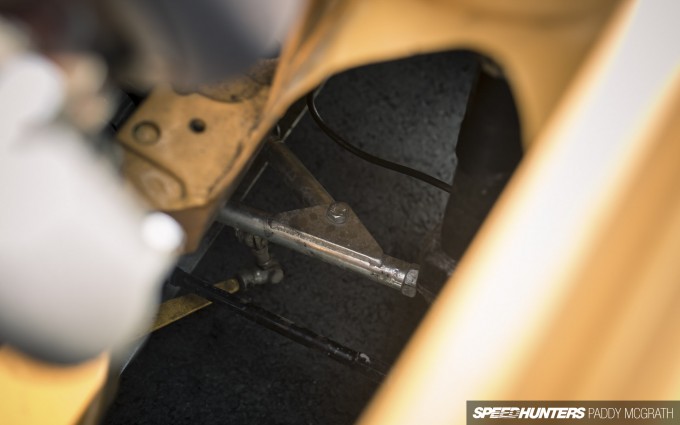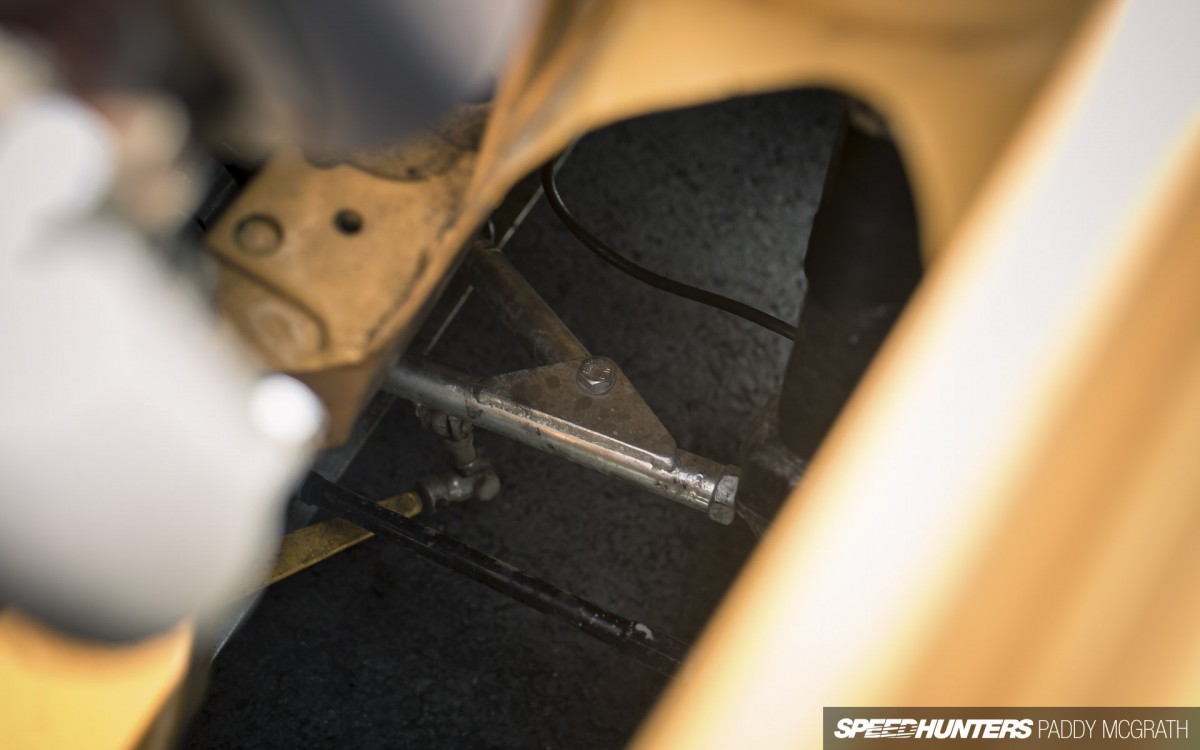 As you'd expect for a transverse-V6 to longitudinal-V8 and four-wheel drive to rear-wheel drive conversion, there's a lot of engineering in this car that you just don't see. Björn tells me that the wheelbase still remains the same as it did when the Golf rolled off VW's production line, but the same definitely can't be said for the track which necessitated the fitting of wide Volkswagen Motorsport fenders front and rear.
The office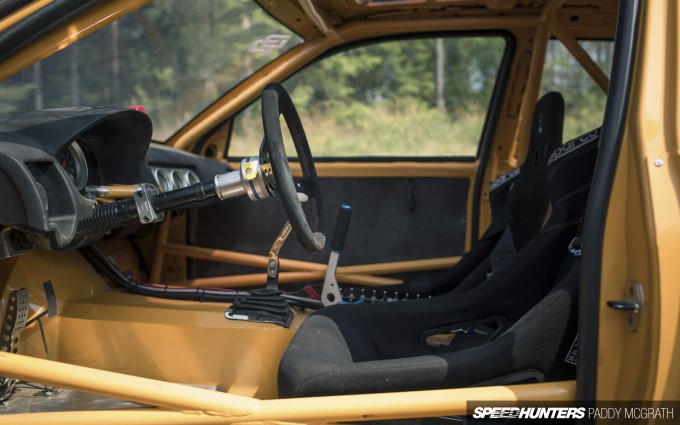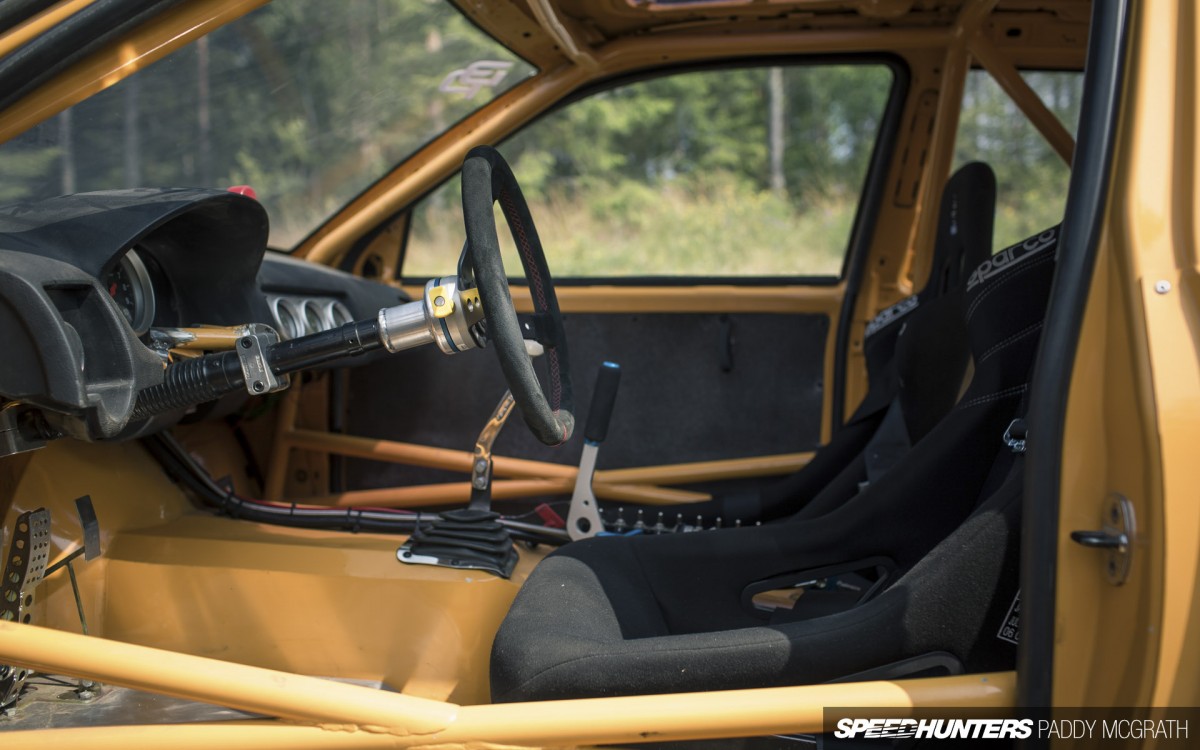 The office is a clean and functional space. Because of the major changes made to the floorpan and firewall, the seats and controls are set deeper into the cabin. There's nothing wrong with that low-slung seat driving position either.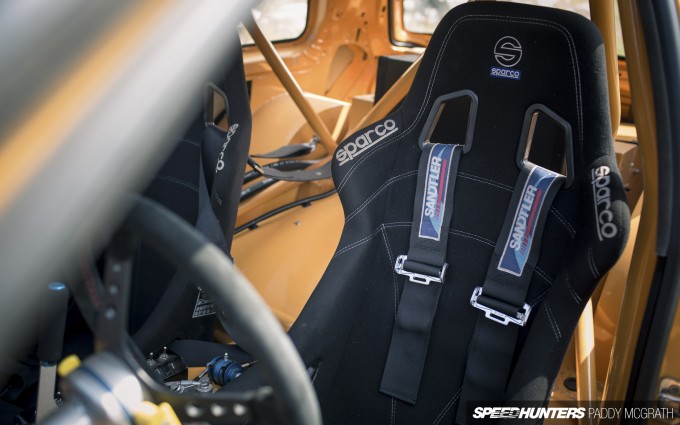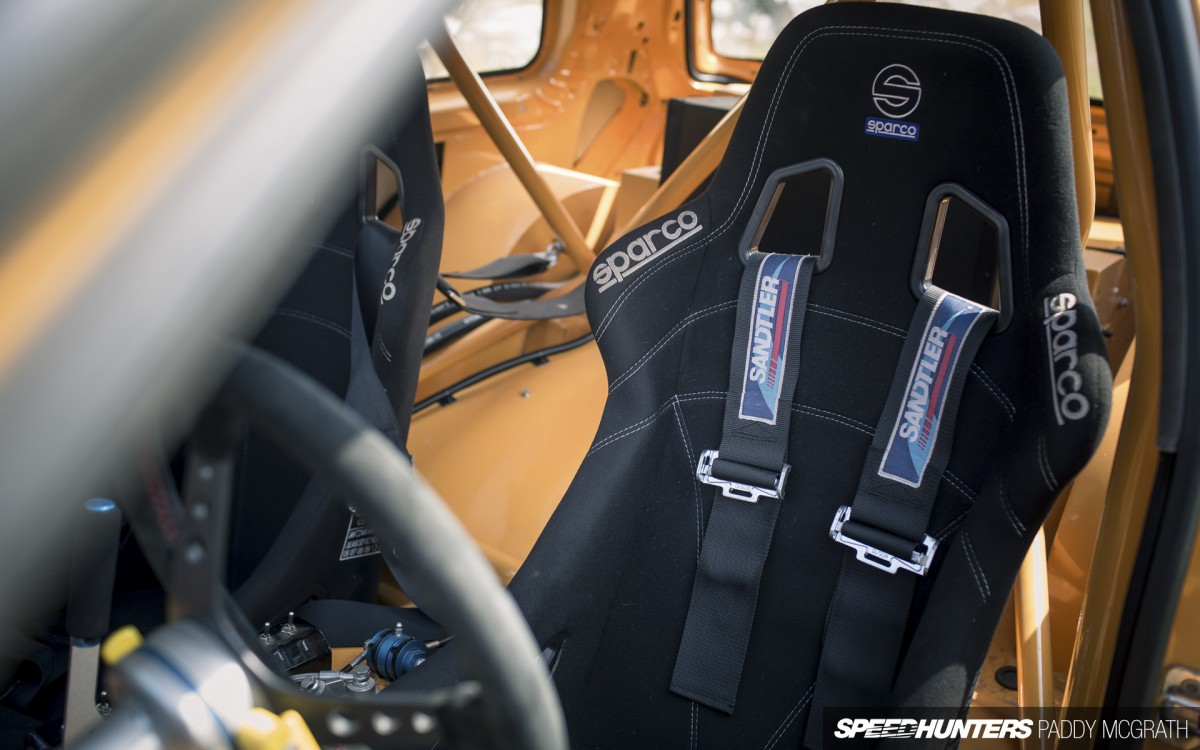 Featuring Sparco Sprint V race buckets and Sandtler harnesses it's a quality fit-out too. From this angle, you'll see some of the work that PSW put into the chassis; specifically the new floor section and rear wheel tubs.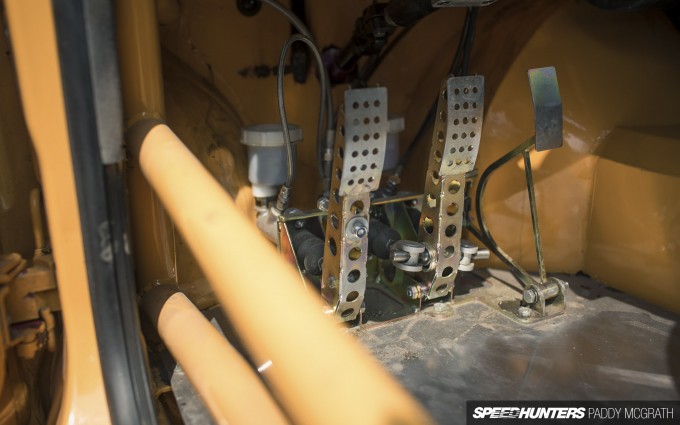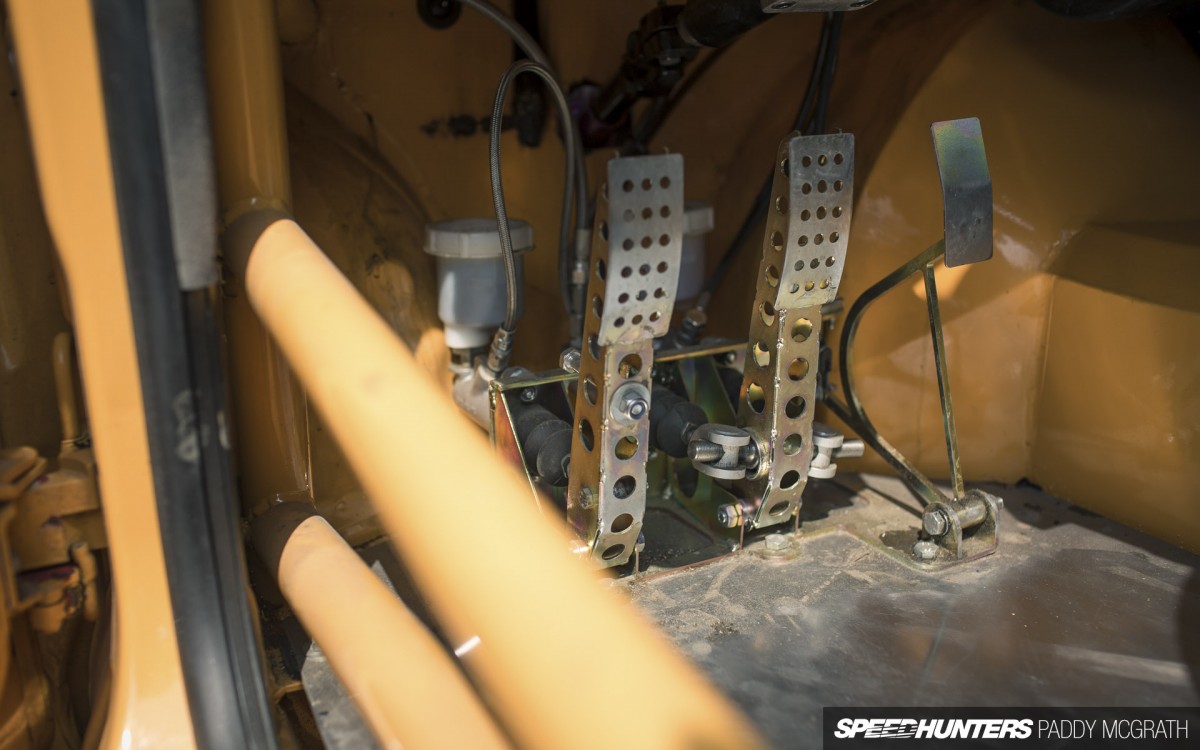 That pedal on the right is all that stands between Björn and more than 1050hp. Caution should be exercised, but I'm not sure that memo ever got through.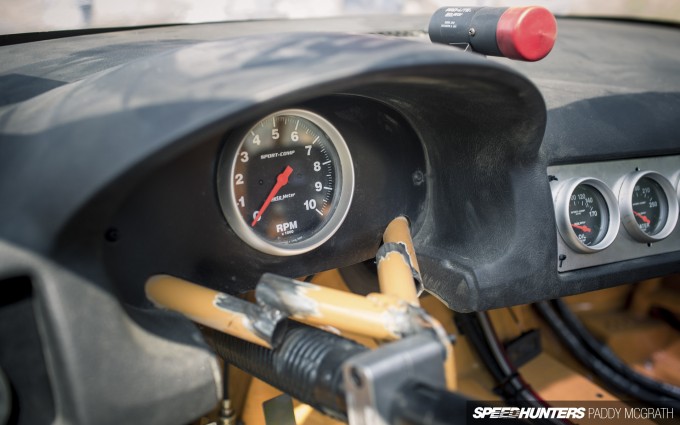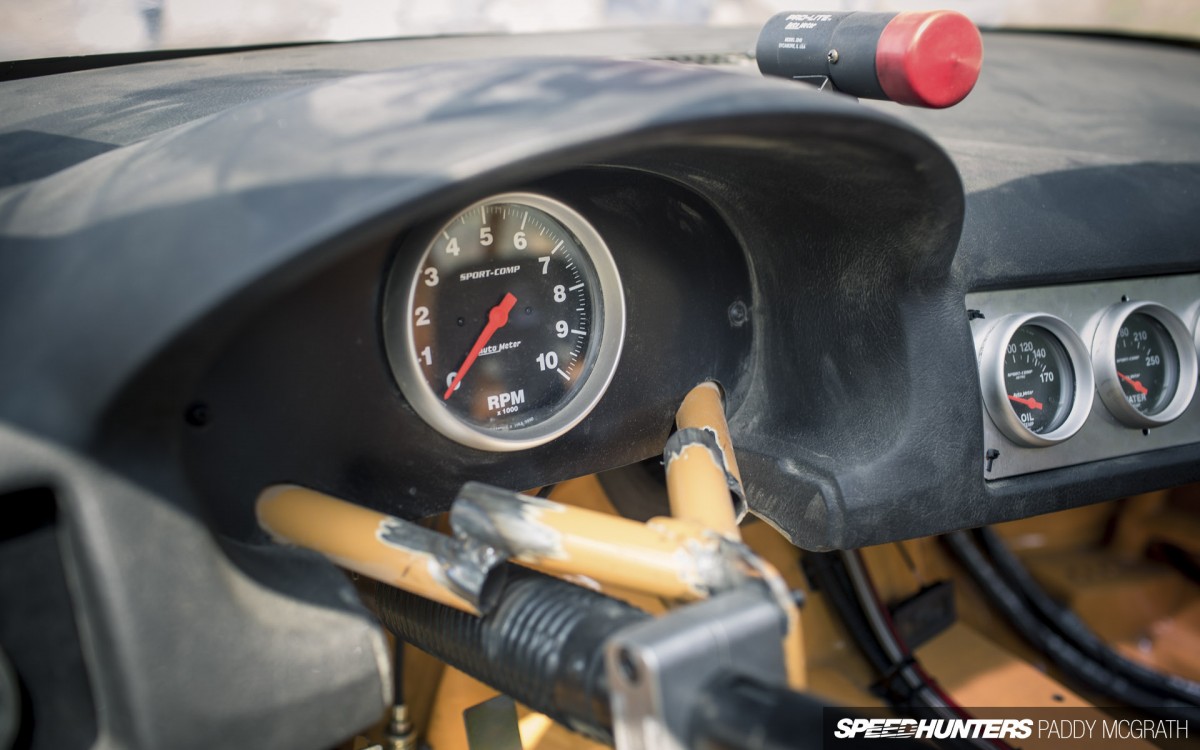 A speedometer is not required, but a 10,000rpm Sport-Comp tachometer and Shift-Lite absolutely is. I'm sure the other gauges from Auto Meter and the STRI 3.0kg/cm boost meter come in handy too during those rare moments the Golf isn't being driven from the side windows.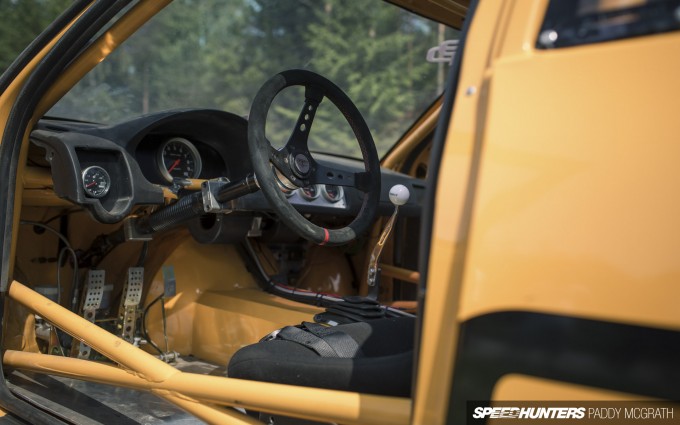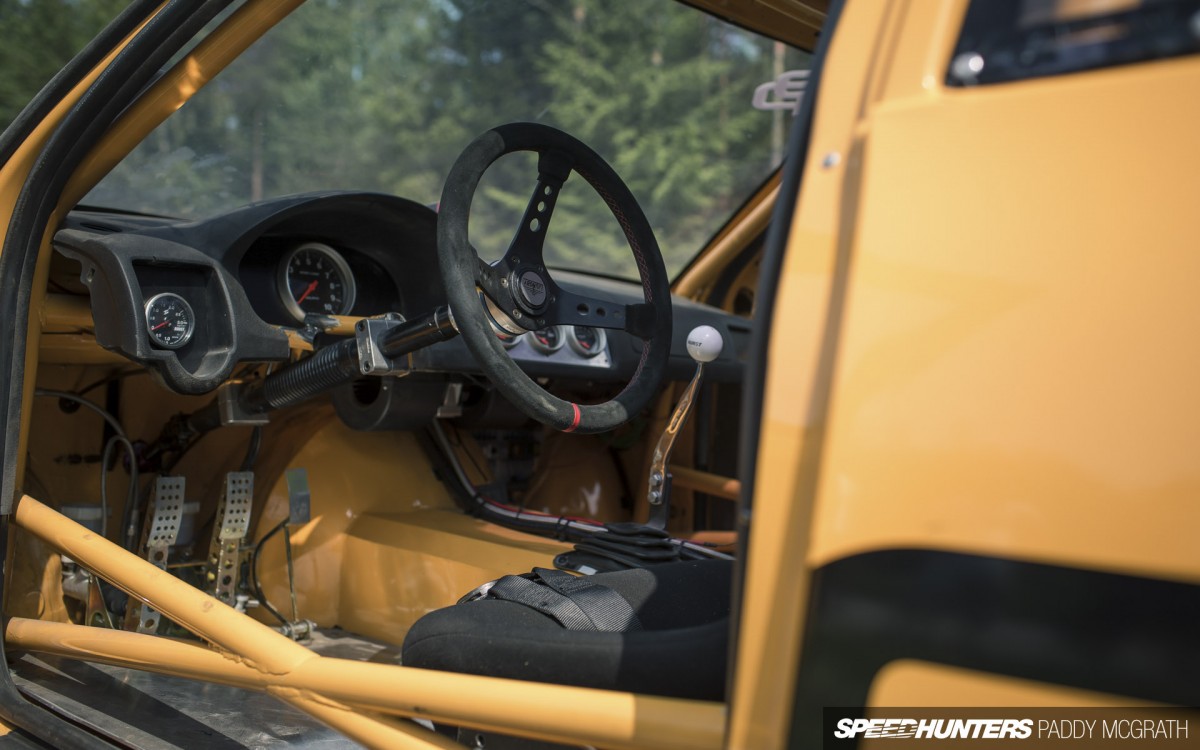 Even though Björn has only had his hands on the car for a short period, that's all the time he has needed to turn one of Europe's craziest drift builds into something certifiably insane.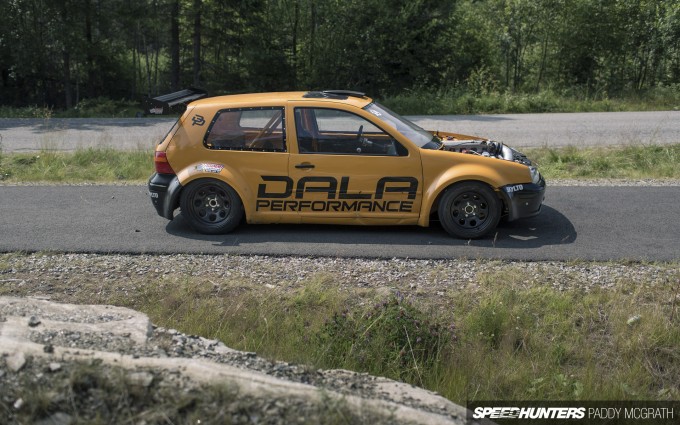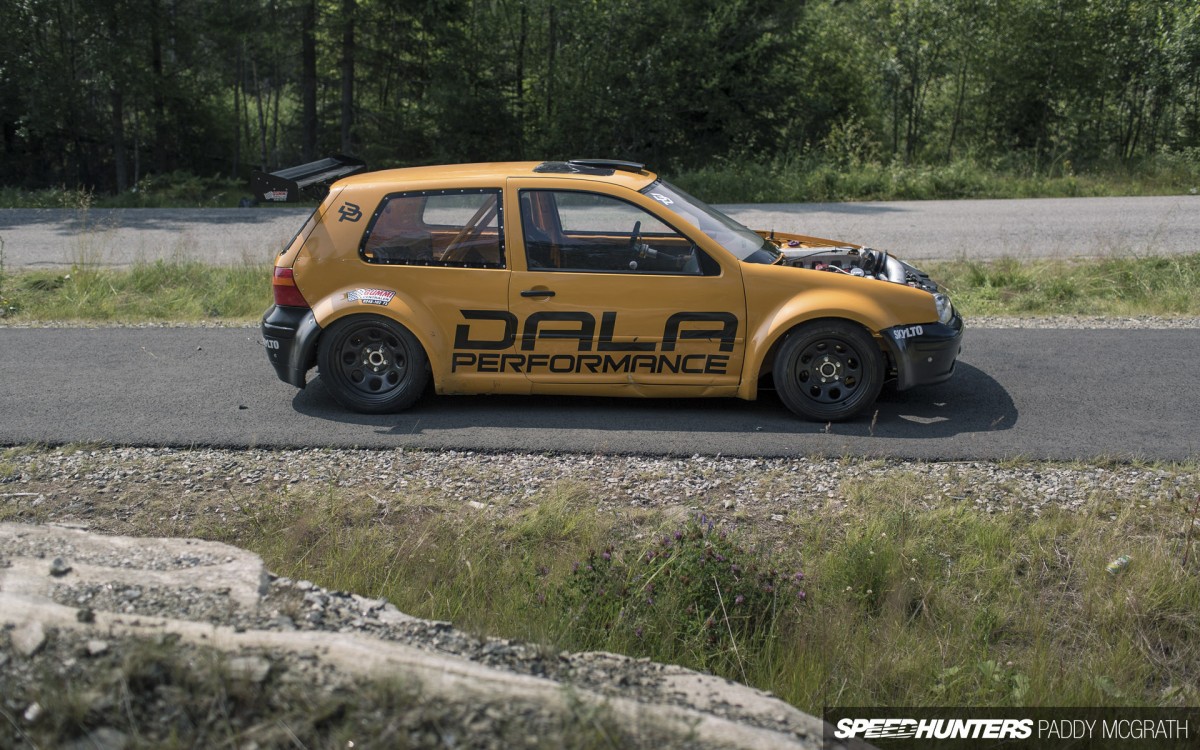 However, he's quick to point out that it wouldn't be half the car it is today if Peter Steinwandt and Daniel Björk hadn't engineered it to such a high standard in the first place. Apparently it's very easy to drive, but I'm going to have to take Björn's word on that one.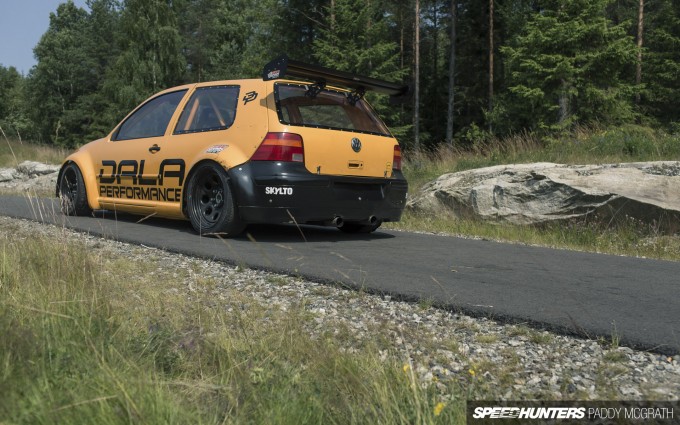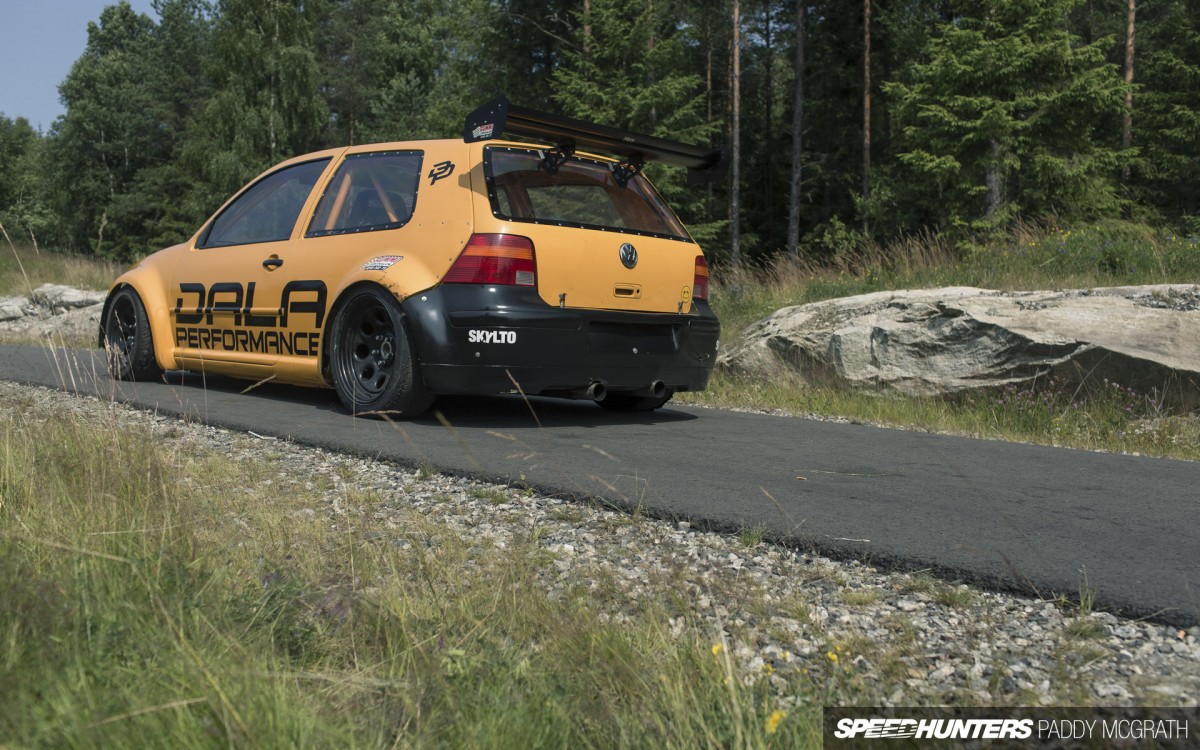 During the long cold winter months ahead, Björn will be keeping himself busy improving oil cooling to keep engine temperatures in check, and negotiating sponsorship packages for the 2014 season. Where the Golf goes from there is anyone's guess, but given what there is to work with, we're looking forward to finding out.