Don't worry, I will not be launching into any chat about that terrible runaway train movie* with Denzel Washington and that dude out of My Name Is Earl. No, this is an Unstoppable story of a different kind. This is a much more interesting one that features a Volkswagen Golf GTi and a guy named Ryan Stewart.
Before I begin this car story I should re-introduce myself. My name's Ben Chandler and I have been writing about cars for some time now. My first post was around six months ago when Rod Chong suggested that, being as I liked Volkswagens so much, I should write a report on the annual Edition 38 gathering..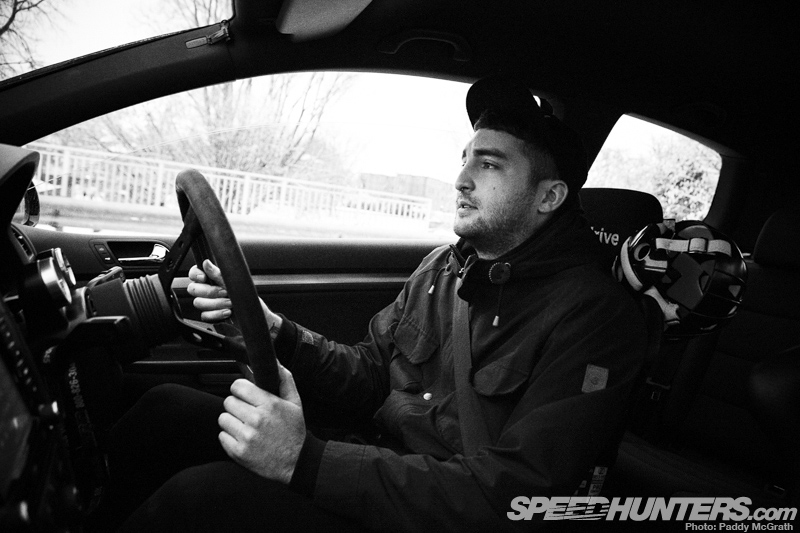 It was at this very show, albeit around six years ago, that I met Ryan Stewart. At the time Ryan was building a very crazy Mk2 GTD-powered Golf and had a huge build thread running on the E38 forum with hundreds of thousands of views. The year was 2006. This, for most of world's working population, was pre-Facebook and social media was in its infancy. Car forums were still where everyone headed for their daily dose of automotive engagement. If you frequent an online car forum, then the people and their cars become kind of familiar, right?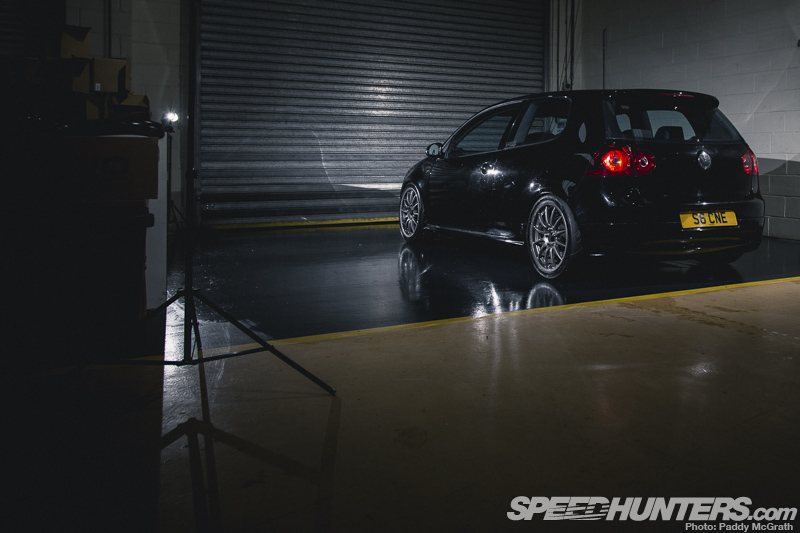 But lets be honest, when you do actually come face-to-face with this person that you recognize through the medium of the car that they have built, it's nothing short of awkward. There's no easy way to say it: you basically met this person on the Internet.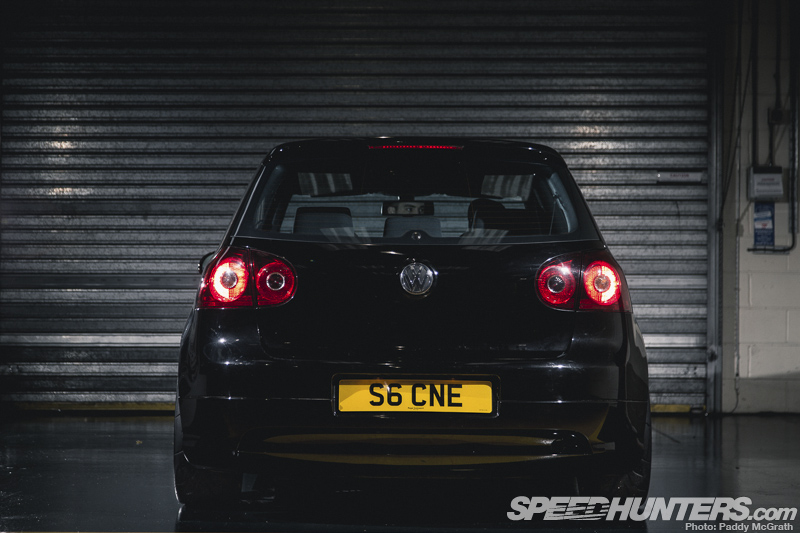 So this pretty much happened to Ryan and me back in '06 at 'Edition'. I was working for Fast Car Magazine at the time and he had just driven many miles deep into Wales to collect some 'rare' interior parts for this Mk2 Golf.  It was rolling on some really cool ATS Classic wheels in a sought after 15×9-inch size and the fitment was spot on. Despite the shoe string budget used to build the car it had a massive amount of impact. And that car, the 'Stanton' Mk2 set the tone for a whole host of other cars built entirely by Ryan himself.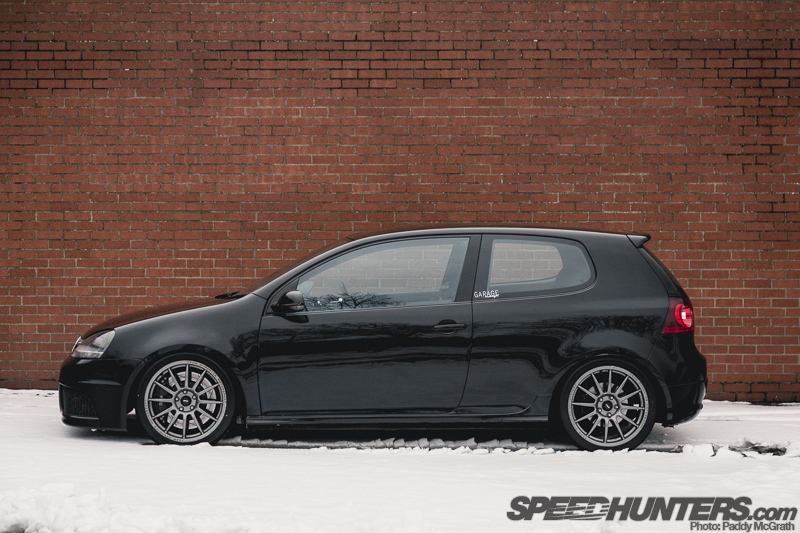 Weirdly enough, the Mk5 you see is the most stock looking by a country mile and without a doubt the least controversial. With the exception of a rather subtle E39 M5, every car Ryan has ever built has divided opinion. Take his 'Zombie' Mk4 R32 turbo for example: this car got an incredibly varied response when Paddy posted a shot on the Speedhunters' Facebook page.
Whether the 550bhp matt black Mk4 is your cup of cocoa or not, Ryan's latest creation is sure to appeal to the masses.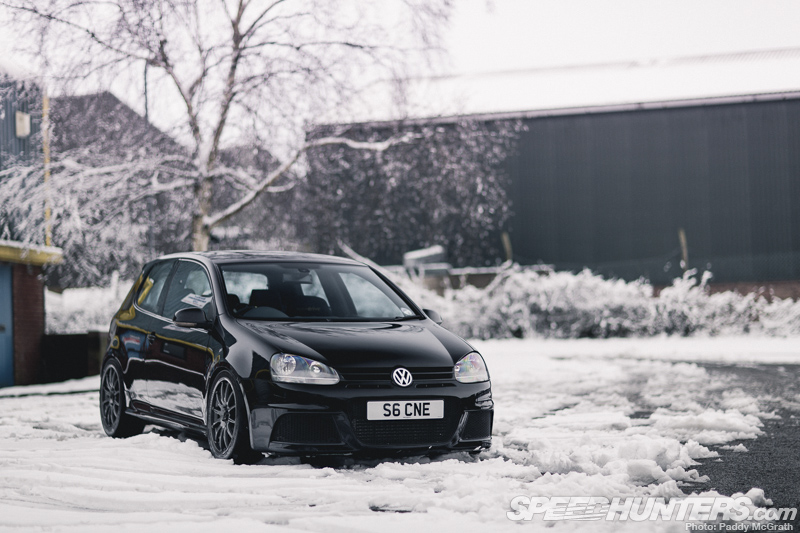 "The car itself is an early 2005 model: as low spec as you can get," Ryan explains. "It had no heated seats, no xenon headlights, no sunroof, no cruise control, no nothing. It's the lightest GTi you can get without hacking bits out."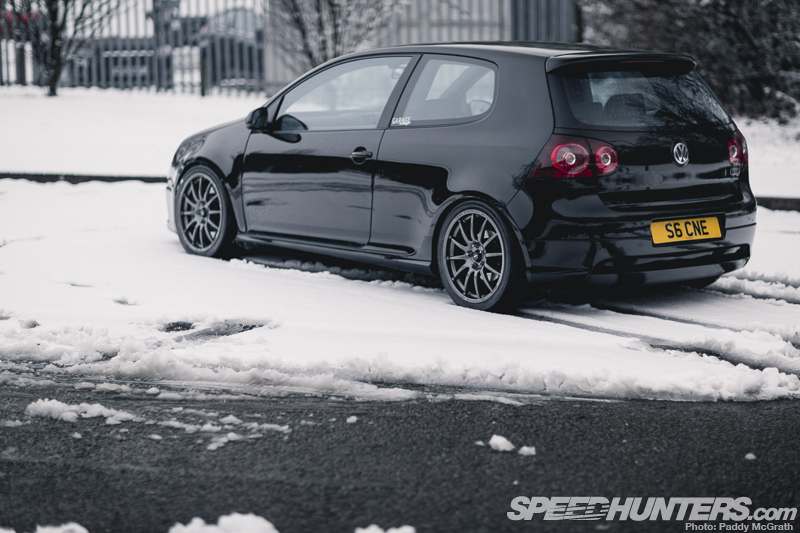 As you might be able to tell, for Ryan, everything is about going faster. "Cars are built for driving – as soon as you can't drive a car properly, in my mind it's no longer a car," He says.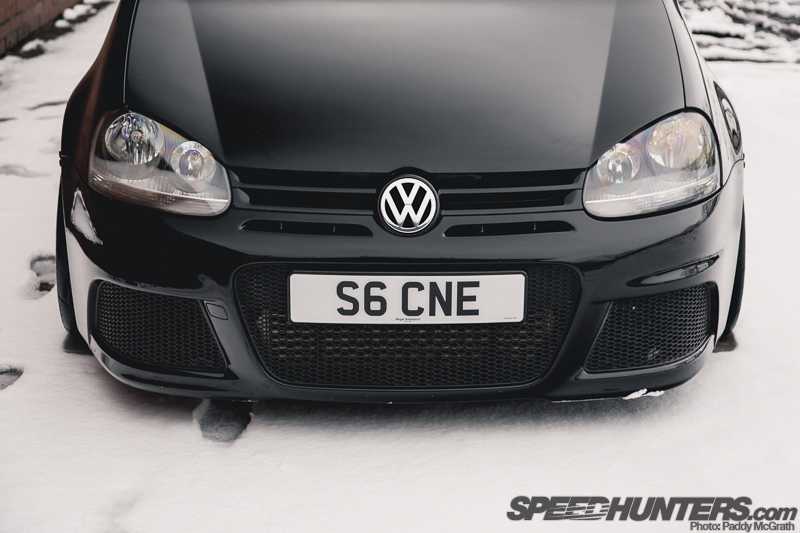 Even his 1.6-litre GTD Mk2 had a turbo conversion and was tuned to 165bhp. Back in 2006 Ryan split his time between Coventry, where he studied Motorsport Engineering, and Southampton where he was employed by Regal Autosport. During his time down south he would work his full time job at Regal and in between car builds would manage to find time to work on his own cars. Several magazine features and a few cover spots ensued and the ever evolving Mk4 put Ryan's engineering skills on the map. Despite this hectic life of tuning cars, studying engineering and a general lack of funds teamed-up with living in a student house with on-street parking, Ryan refused to be held back.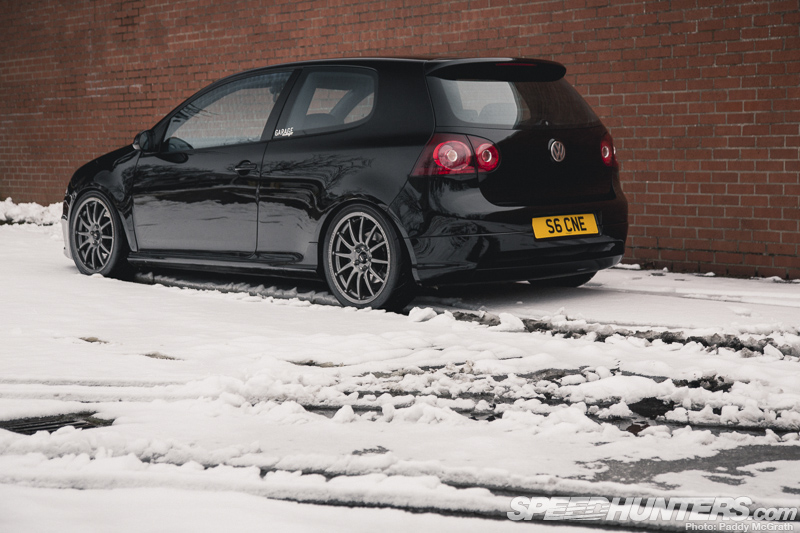 "The roadside is just a garage without a roof!" – he laughs. His humor is short-lived when I remind him and Paddy about the time he nearly got admitted to hospital with hypothermia after doing a subframe swap on his beloved Mk4 Golf in the snow. "Oh yeah, that was a horrible idea… very regrettable. Let's not talk about that ever again!"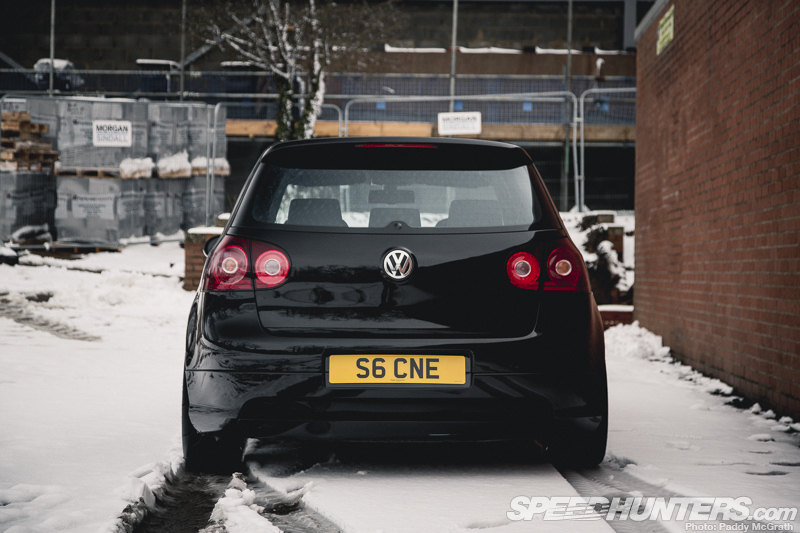 This Mk5 has been a relatively stress-free affair, though. Granted there has been quite a bit of time spent developing the car and certainly a lot of hours on the dyno getting the mapping spot-on, but for Ryan that's no problem.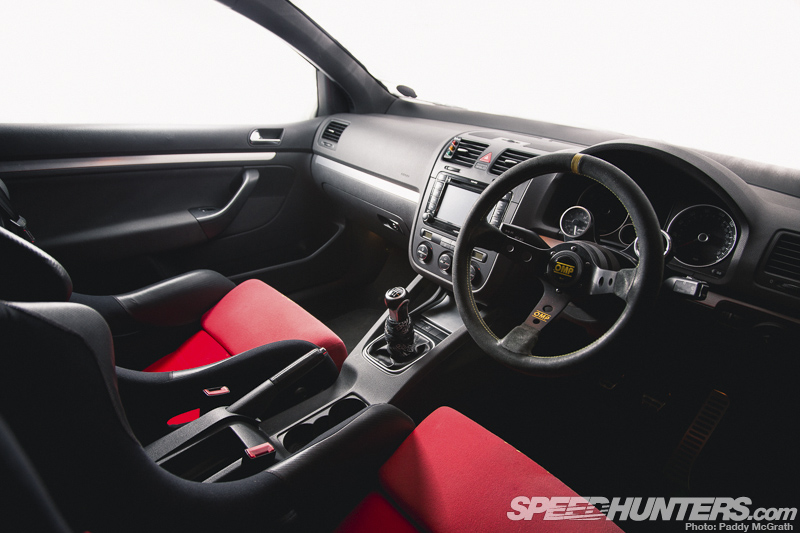 "Back in 2010 I was spending a lot of time in Germany gaining experience mapping cars and I used my Zombie Mk4 as a development car to hone these skills. Without doubt my engineering degree helped me to understand the process and it was really cool to map my Mk4 to just over 500bhp in Germany and then get it to a solid 550bhp with further development back here in the UK."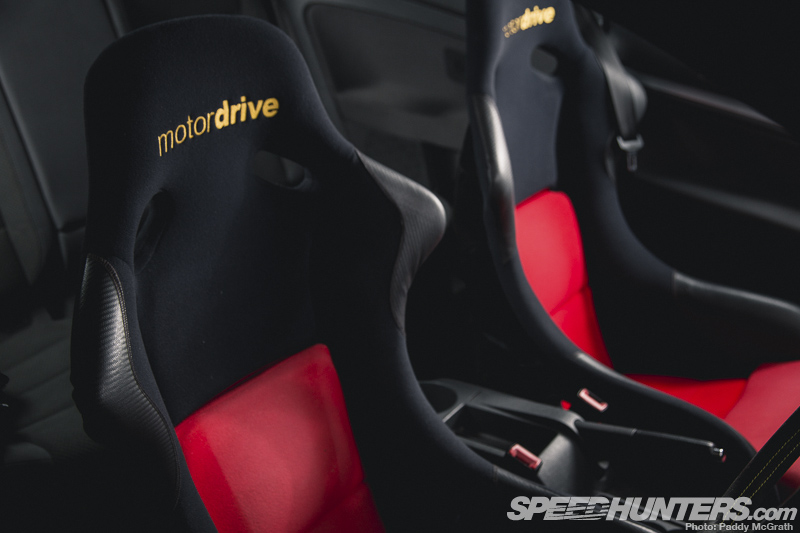 Mapping has now become Ryan's business and after working with Revo Technik for the past year, Mr Stewart is now Revo's North London dealer. Obviously having strong knowledge of mapping cars on the dyno and out on the street makes it simple to understand the process of 'flashing' tuned maps onto cars.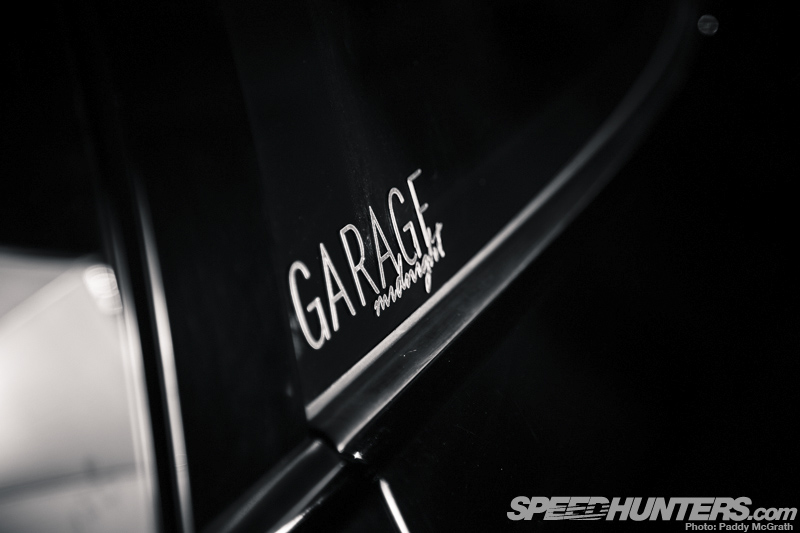 Ryan's freshly formed company, 'Garage Midnight' specialises in software tuning and full-on turbo conversions such as the GT30 kit he has developed for his Mk5.
"I won't sell this car for a long time. The end goal is to take it way above 500bhp and go 4WD to allow the power to be transferred efficiently,"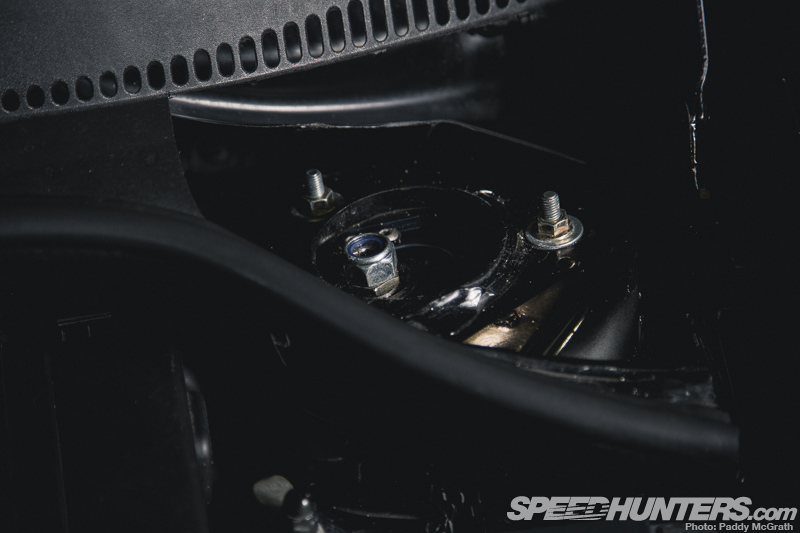 As I've already mentioned, this car is a very different project. "The Mk5 has been built with usability in mind, and with an emphasis on power and handling," Ryan explains. "The chassis features some very trick AST coilover units which comprise of 45mm damper shafts and spherical joint front camber top mounts."
Throughout 2011 and 2012, Ryan worked for a race team preparing BTCC cars and building a race-winning VW Golf Mk5 Cup Car. "This was a great experience and allowed me to learn all about race car suspension set-up and gave me great skills in setting up FWD cars for track and fast road."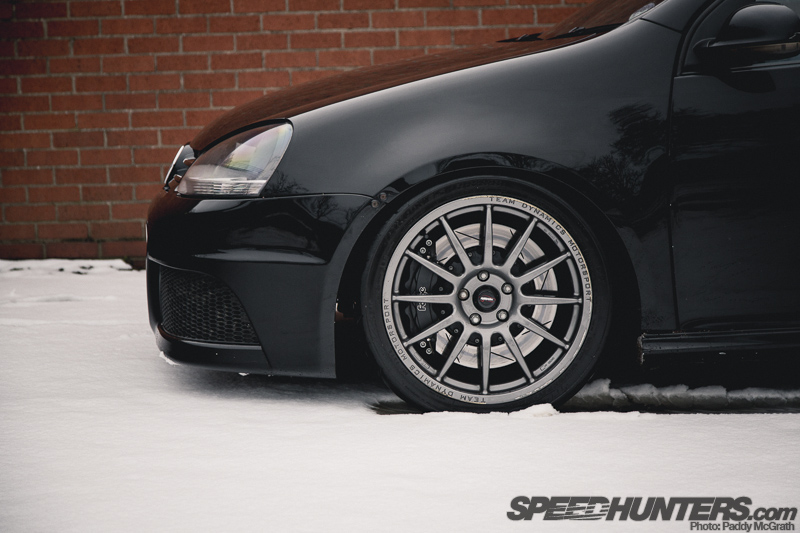 The result of this experience is a front wheel drive road car that handles incredibly well. Fortunately the braking power has also been improved in the form of 6-pot 356mm Forge Motorsport brakes with some 80mm brake ducting to aid cooling. This increased airflow to the brakes made a massive difference on a recent track day at Brands Hatch and saw Ryan leave a Porsche Carrera GT for dust on more than one occasion.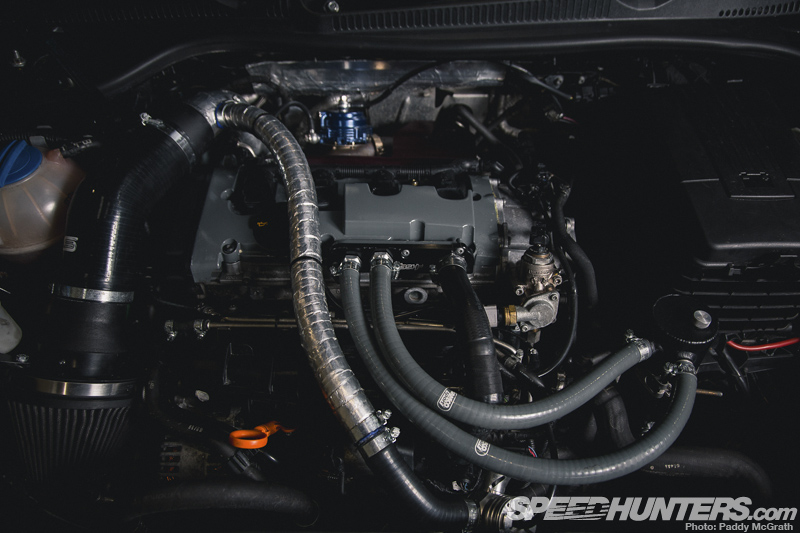 If you scroll down to the bottom of this article you'll see a serious engine spec. "The limit at the moment is the stock internals, but that's going to change in the future," Ryan tells us. At the moment there's three perfectly mapped modes dialed into the GReddy boost controller: 0.5 bar of boost sees the motor produce 280bhp. 1.1 bar kicks out 370bhp. And 1.5 bar of boost pressure delivers 450bhp.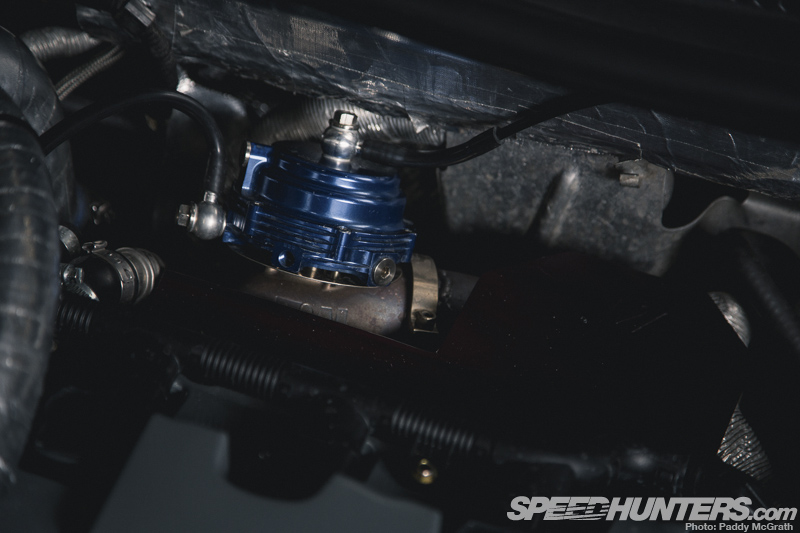 Granted, these figures are crankshaft numbers, but having been in this car I can tell you for sure: it's quick. The most interesting thing is the way the power is put down, though.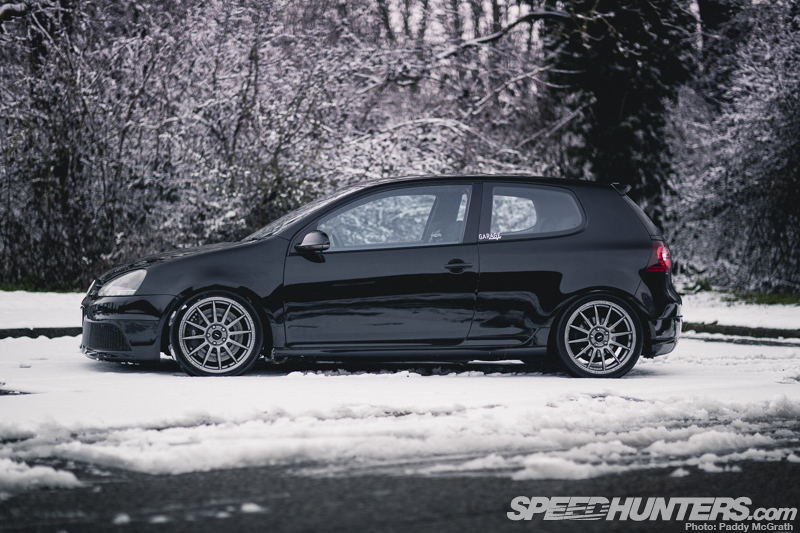 You would think that it would be a proper handful. But this is not the case. Why? You may ask. Well, the reason is this: the Wavetrac differential. This transforms the drive. The car powers through corners and doesn't want to pull the steering wheel around in your hands at all. It's a weird sensation, but definitely a good weird sensation. Bends get devoured and roundabouts (they are these things we have in England instead of traffic lights) get eaten-up and spat out.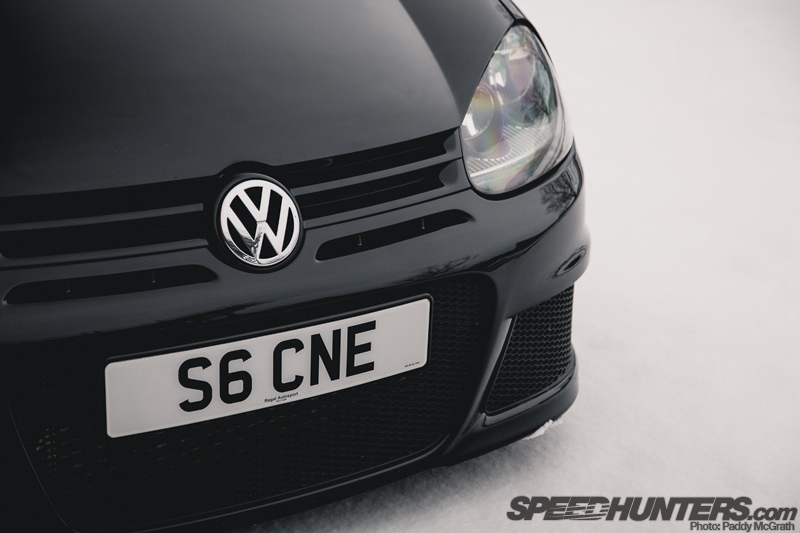 This car is an incredible driving machine. And you know what I admire most about it? The fact Ryan has built it all himself. It's been put together with his knowledge and skill gained over a lifetime of car obsessing.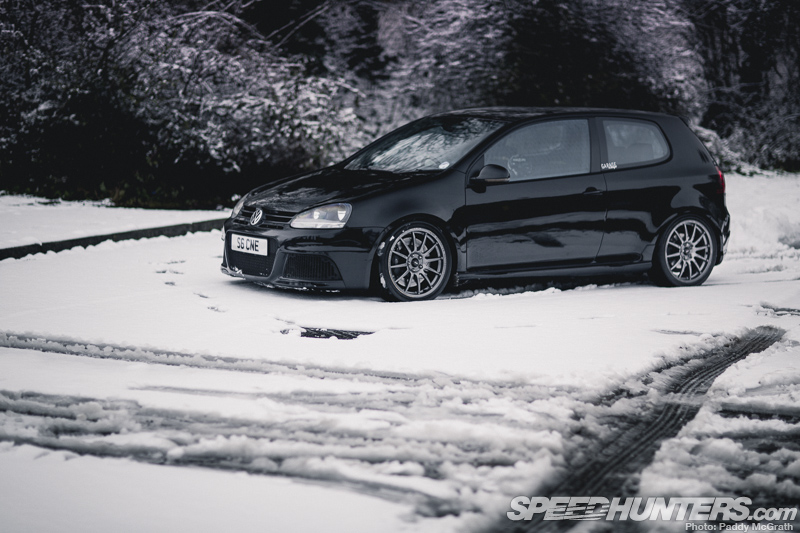 I'm not that great when it comes to actually picking up tools and tuning cars with my own bare hands. It's not what I was put on this earth to do. But I look at the work Ryan has done to this Golf and I admire his effort. For those of you that are super-capable mechanically you may never understand. You're in the dark here. But for people like me, I take great pleasure in seeing someone with skill put together a good car. I admire those who create their own cars and do so without the help of others. I always have and always will.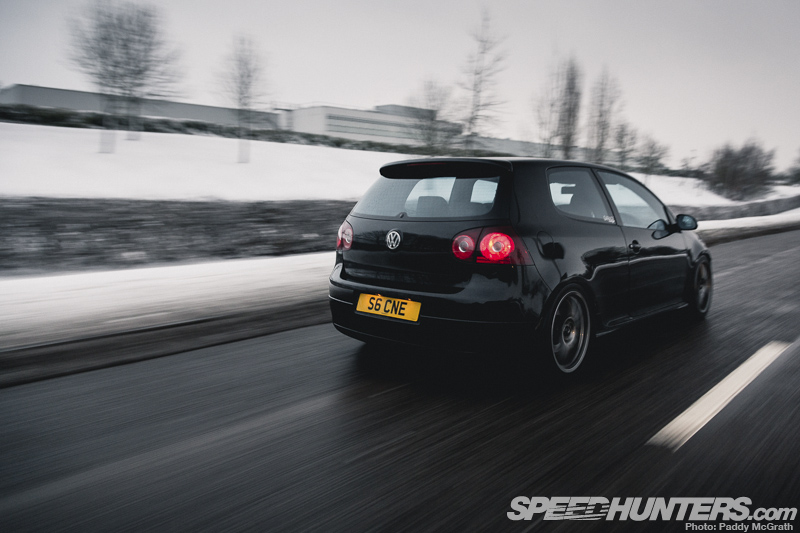 Much like the below par movie film Unstoppable, there have no doubt been moments of complete stupidity involved in this build: things that haven't worked out great. But it's Ryan's perseverance throughout his short (but very intense) car building history that has to be admired.
At just 25-years old Ryan is capable of building awesome Porsche eating cars like this and it's going to be exciting to see where the Garage Midnight journey takes him.
–
Words by Ben Chandler
Photos by Paddy McGrath
paddy@dev.speedhunters.com
Engine 
Garage Midnight GT30 conversion
ATP turbo manifold
44mm Tial wastegate
Atmospheric screamer pipe
3" straight through system with hidden under axle exit
Bespoke inlet and exhaust camshafts with larger fuel pump lobe
Autotech mechanical fuel pump
Garage Midnight uprated in tank fuel pump
BTCC spec enlarged fuel supply rail
Carbon canister delete
BSH PCV delete with catch can and re-routed, enlarged breather system
RS4 injectors
Tumble flaps removed from inlet manifold, head split runner blades removed and blanked
EVOMS V-Flow venture filter
Forge recirc valve on KO4 elbow with high flow boost return.
GReddy profec b spec II boost controller, 3 modes. 0.5 bar 280bhp. 1.1 bar 370bhp and 1.5 bar 450bhp.
Revo Stage 4 software with CC delete and heel/toe driving enabled.
BFi stage 2 billet engine mounts
Forge Motorsport Twintercooler
Interior
Motordrive lightweight shell back bucket seats, custom mounted
GTi rear seats removed and base model rear seats put in
OMP 350mm dished wheel
Podi boost gauge and integral digital lambda and oil temp gauge housed in podi collum pod
Greddy controller hidden in drivers pulldown dash pocket
Wheels/Tyres
225/40/18 Toyo R888
8×18 Team Dynamics pro race 1.2 et25 with +25mm spacers up front
Brakes
Forge Motorsport 356mm, floating rotor, 6 pot brake kit.
80mm brake cooling ducting.
Chassis
Full super pro poly bushing, entire rear arms and front wishbones &  front torque mount
AST 45mm shaft Race suspension with integral shock and spring rear upright conversion and spherical joint front camber top mounts
Scuttle panel and strut tops modified for ease of camber adjustment.
Front and rear pre-tensionable ARB drop links
Body
OEM VW 'Thunderbunny' front bumper with US side markers smoothed
Quick release front bumper tabs – comes away with 4 bolts.
Base model grille with chrome badge
Side stipes removed + smoothed
OEM GTi side skirts colour coded
OEM Votex rear bumper and diffuser
Early GTi boot spoiler.
OEM Edition 30 rear lights
Early GTi Blue tint glass
Rear wiper and washer reservoir deleted
Front washer reservoir deleted for weight and brake cooling duct space
Smoked under mirror indicators
*I can only apologise (read apologize should you speak American) if that unmanned train film thing was your bag. But lets be honest, the whole situation could have been avoided if Randy Hickey had acted a little more responsibly.