Custom Culture To Blow Your Mind
I hope you guys are ready, because after the madness of Wekfest, we've got another round of Japan's vast and varied car culture, this time thanks to the guys and gals at Mooneyes.
Seeing as Japan is now in the midst of spring, the event can be none other than the Street Car Nationals, otherwise known as a complete and utter takeover of the Odaiba neigborhood of Tokyo.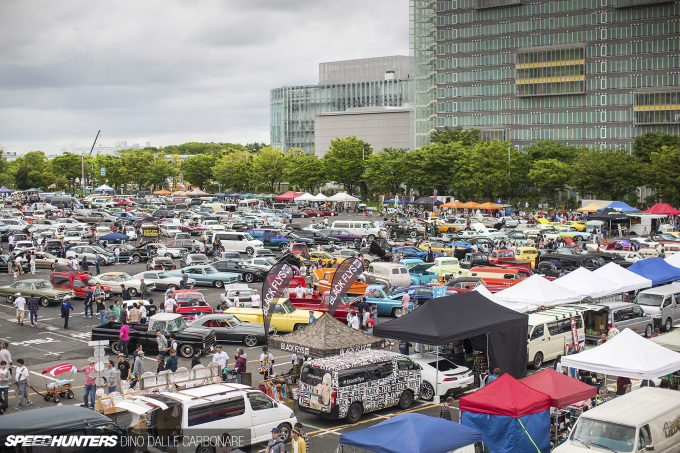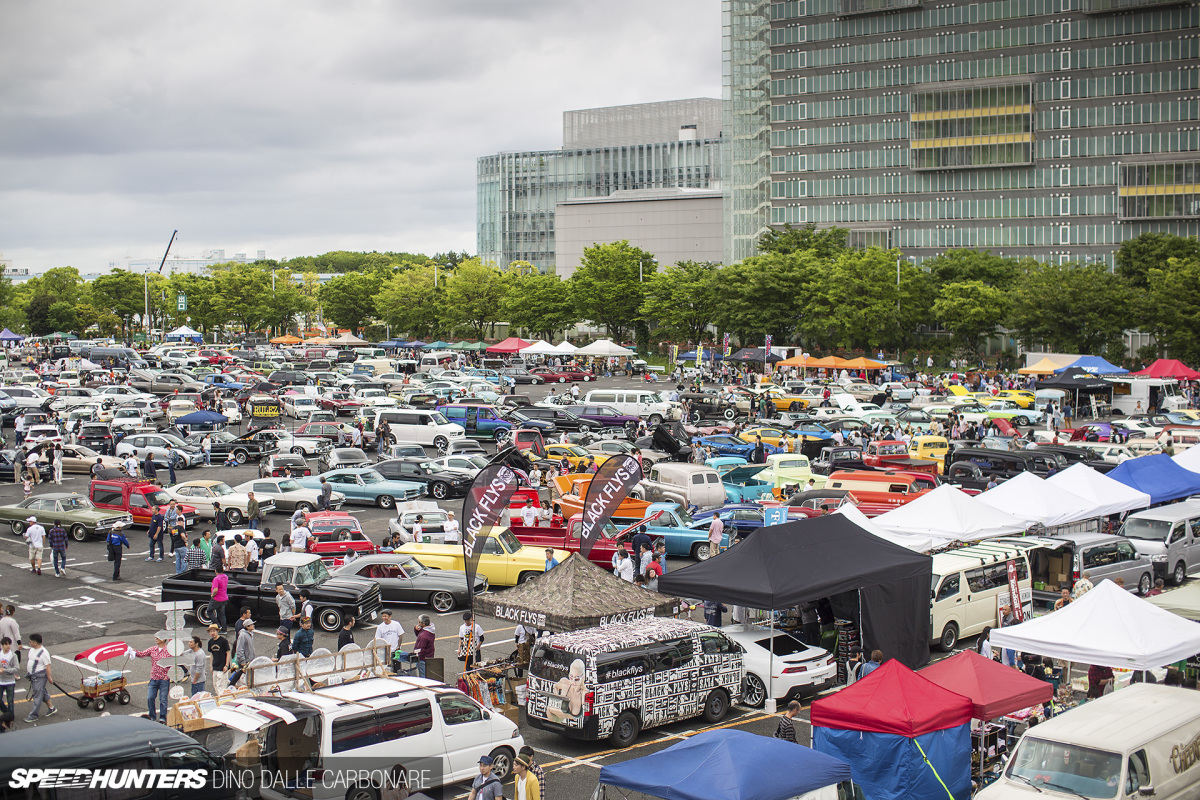 As I arrived at Fune-no-kagakukan Station, the view looking down into the venue was pretty captivating. I've been covering this event religiously for years now, and it just never seems to get old.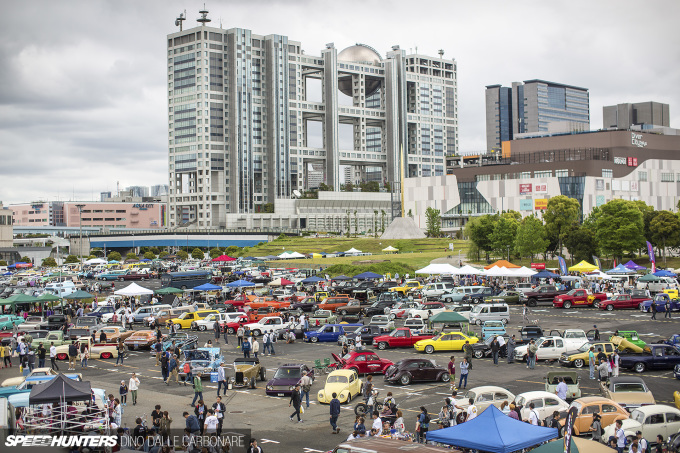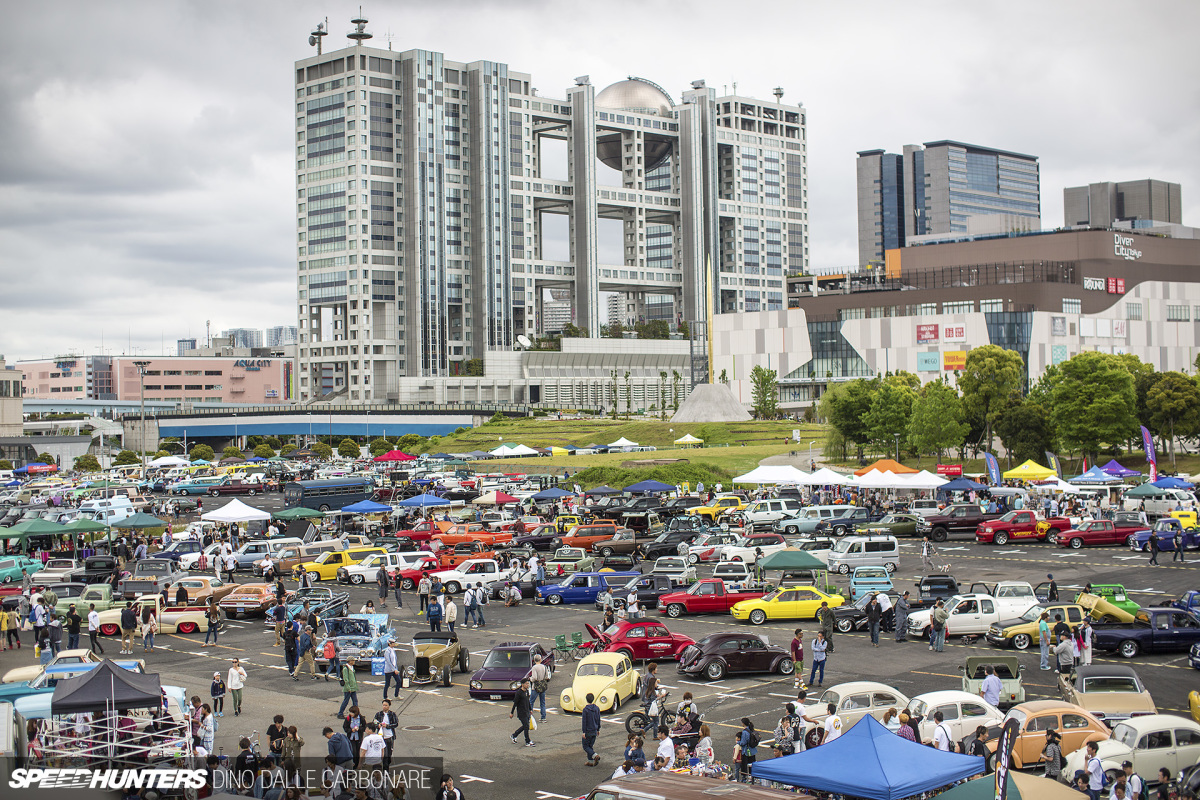 One of the great things about shooting a car event at Odaiba is the very Japanese-like backdrop, dominated by the Fuji Television building, to really set the mood.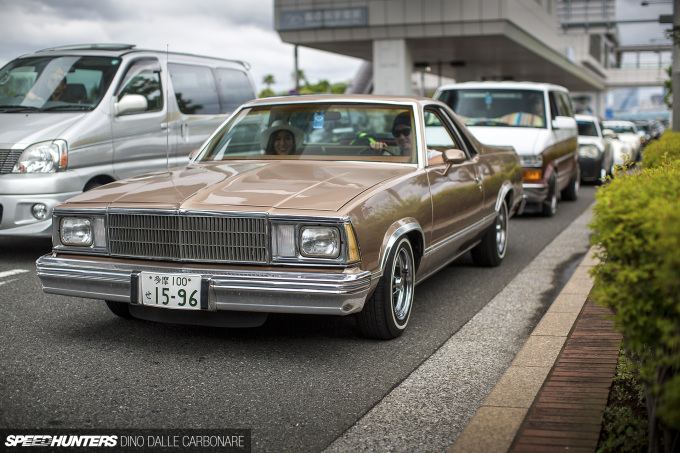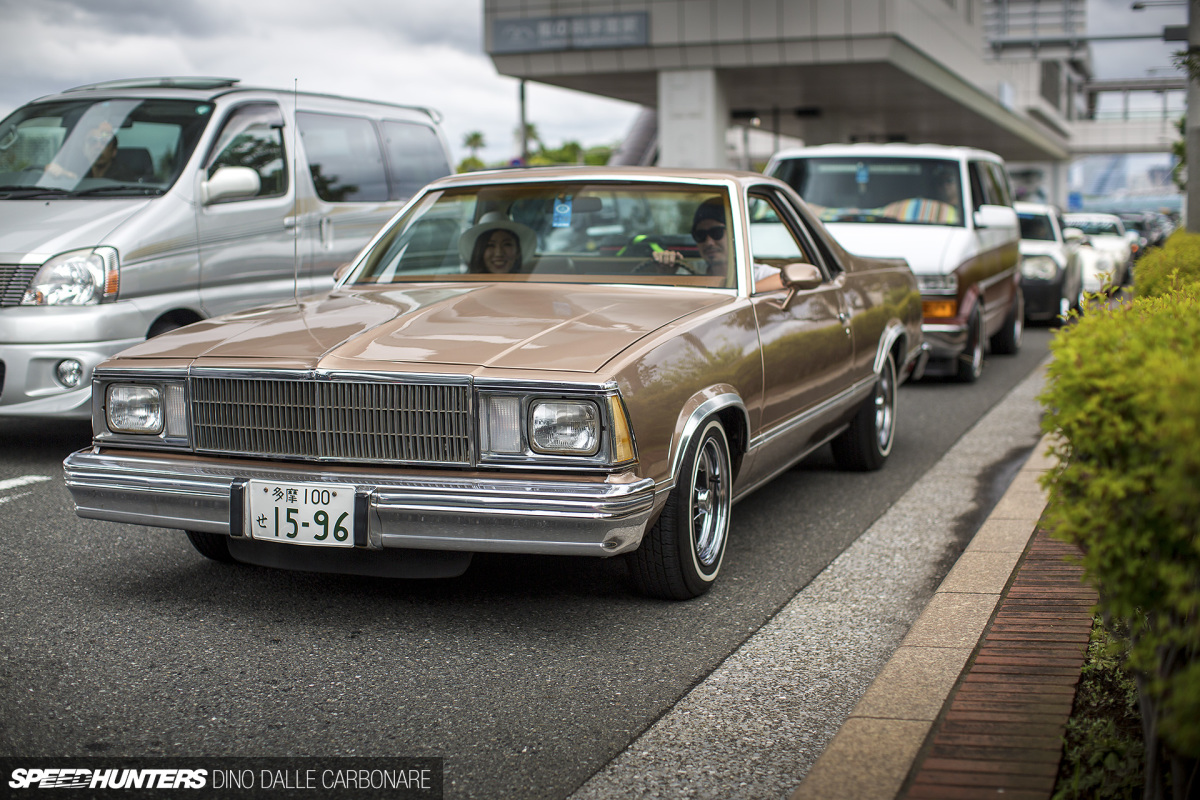 As always with a Mooneyes gathering, half the fun is hanging around on the streets outside and checking out the late arrivals line up to either make it into the show or roll into the nearby parking areas.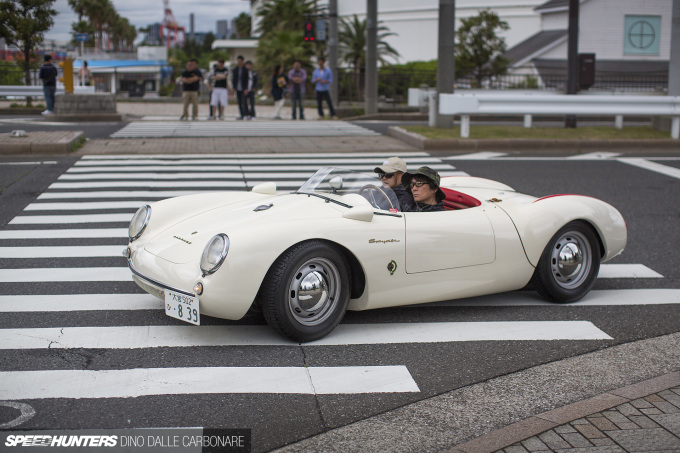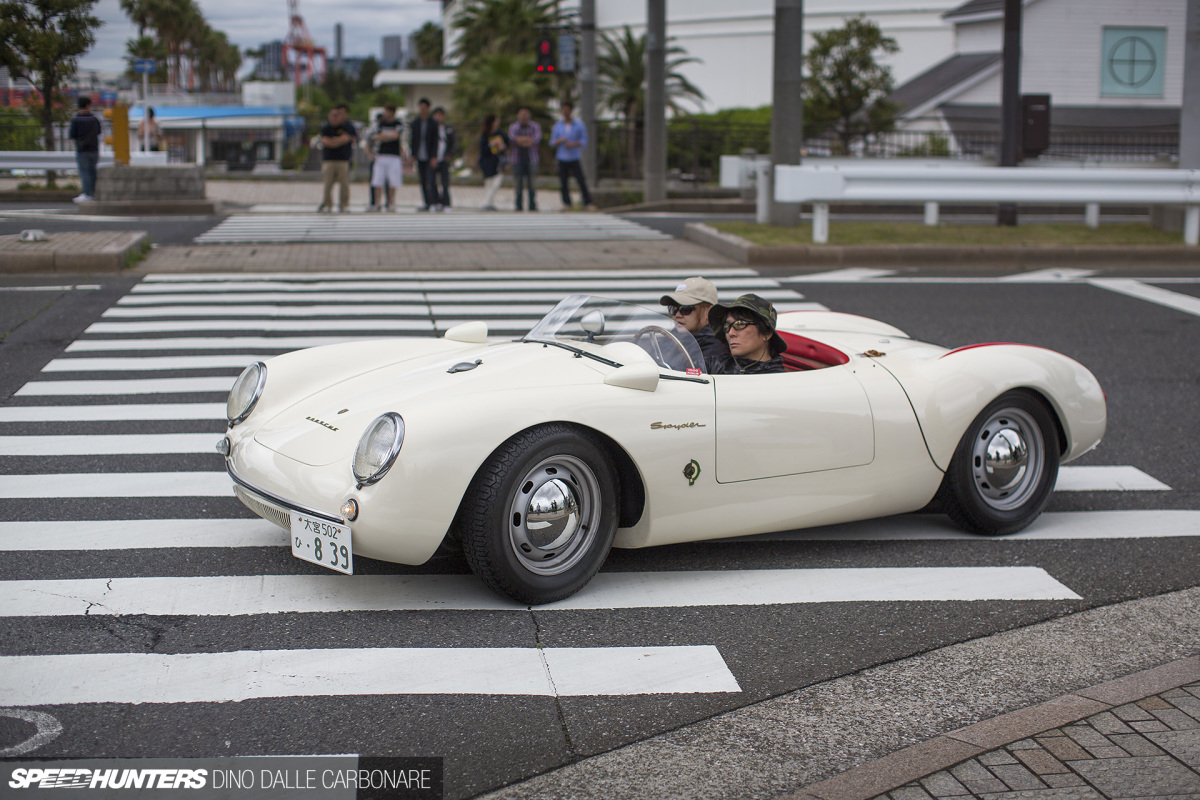 It's here that you can start getting a nice preview of the main event.
I could bang on about the variety, or just let you appreciate it from the pictures. The contrast between cars converging on the Street Car Nationals can be pretty comical at times.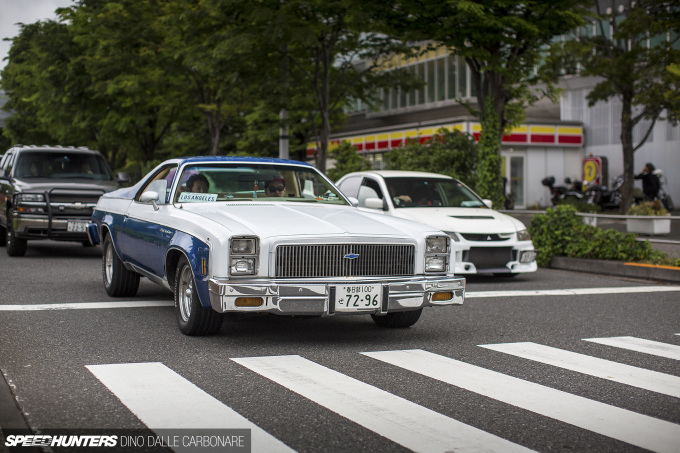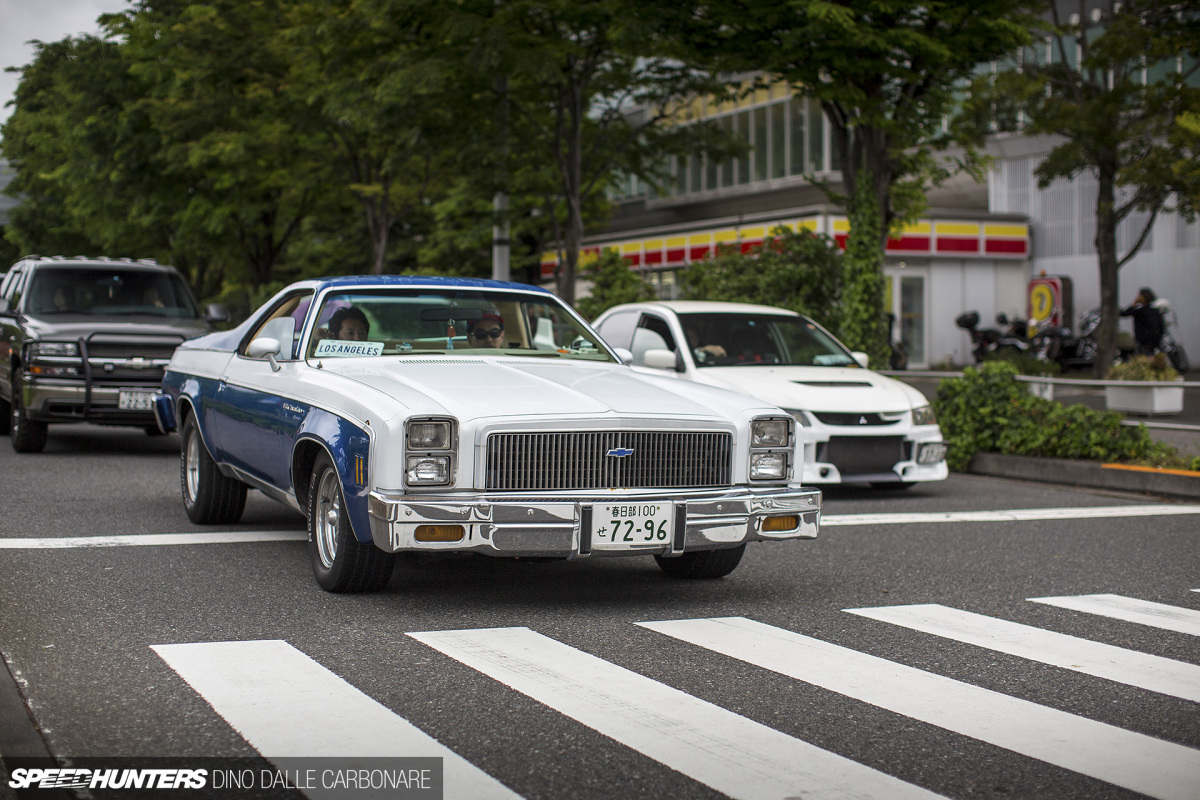 Here's an example that really made me laugh. A Chevy El Camino, home to a perfect example of how inefficient the combustion engine can be…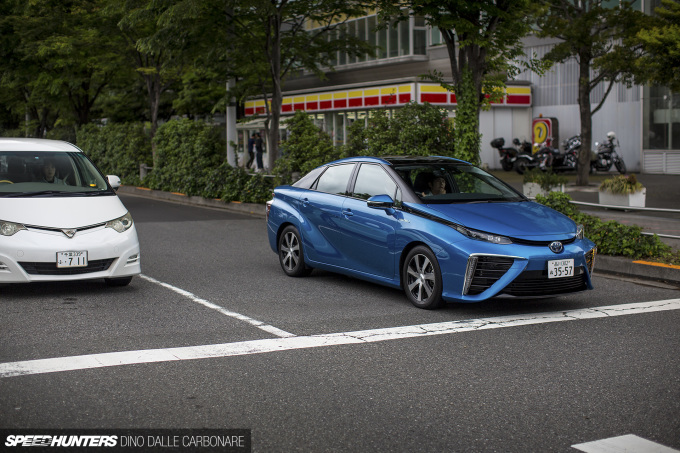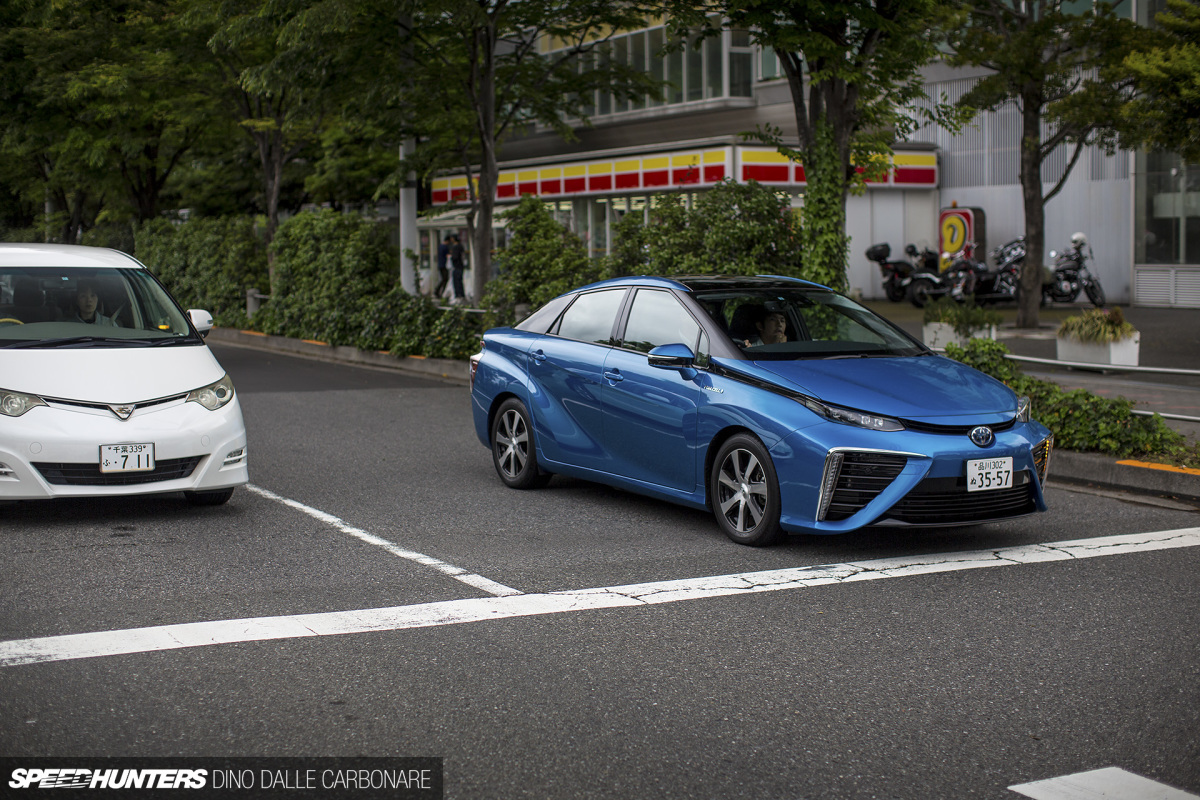 And about 30 seconds later a Toyota Mirai. This is a fuel cell production car that runs on compressed hydrogen and makes its electricity on board; the only emission is pure water. Total side-thought here, but what was the designer of Mirai – which means future in Japanese – and those that signed it off thinking? I know there were two big hydrogen tanks that had to be factored into the design, but did they really need to create something so damn ugly?!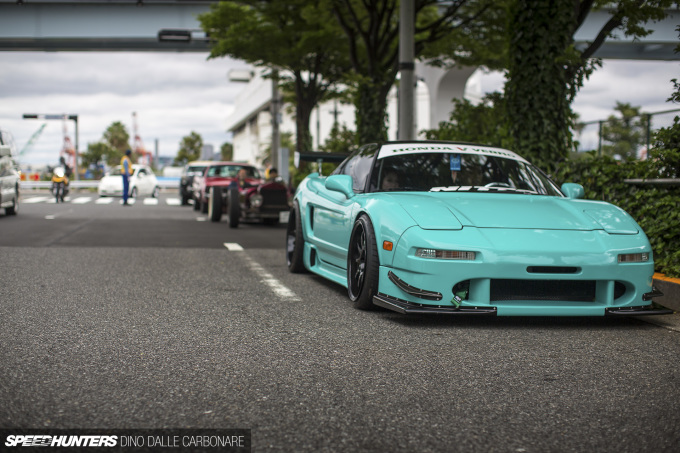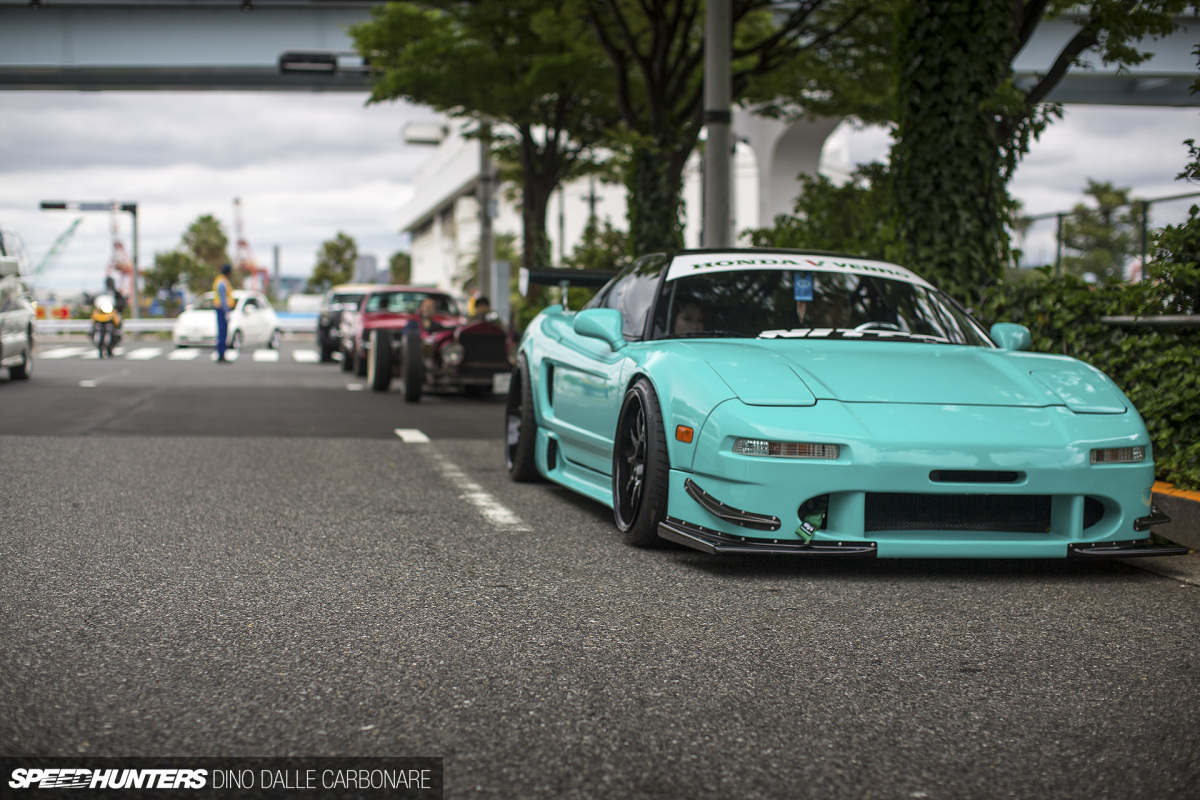 Purists may cringe, but a baby blue, slammed Honda NSX soon arrived on the other side of the street to restore balance in the universe.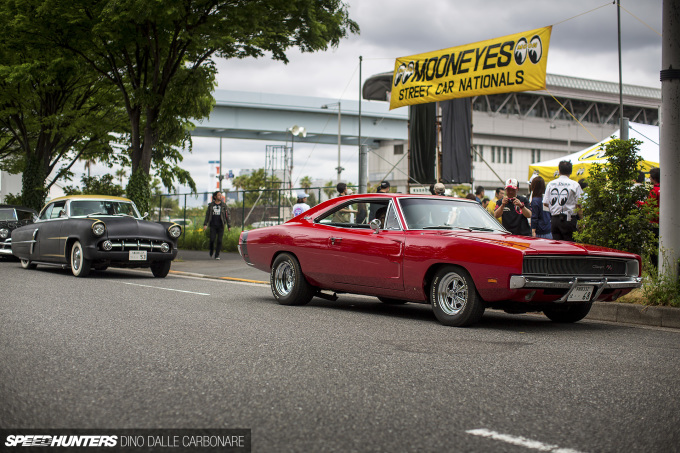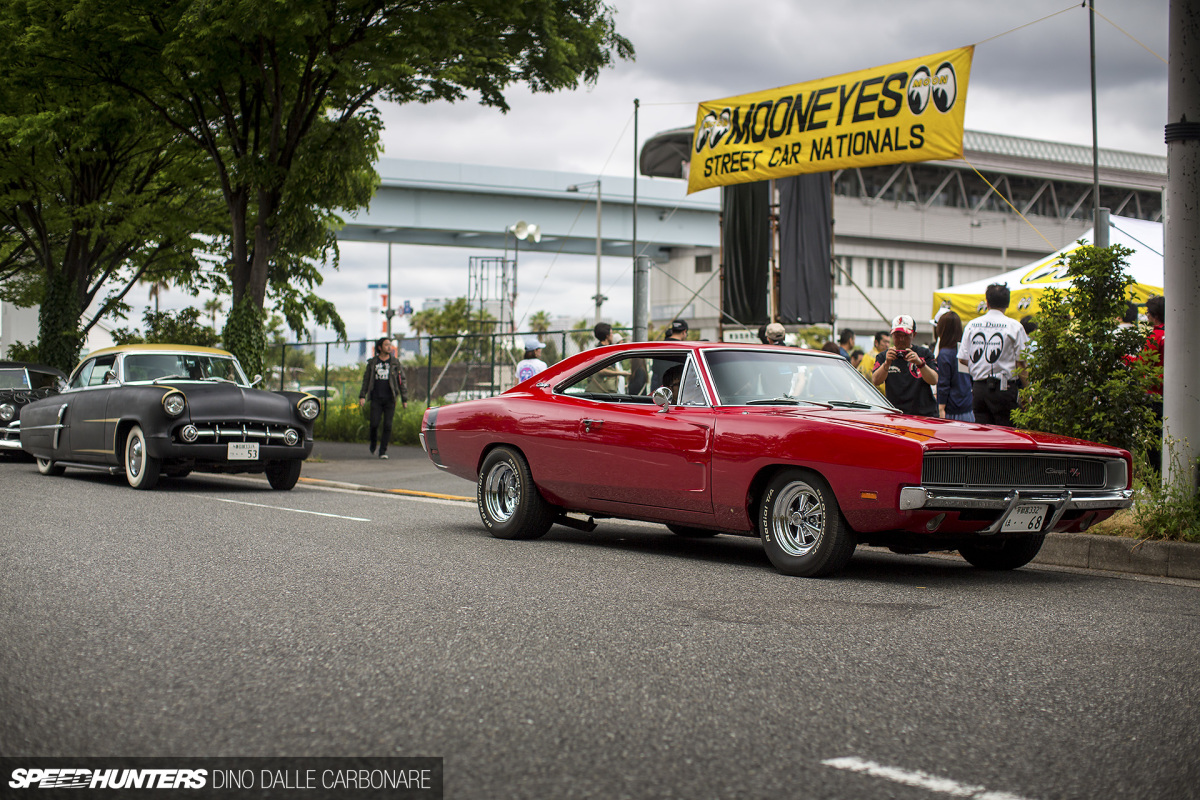 While the gates to the show open up early, it takes a long time to accommodate the hundreds of cars that are signed up to be on display.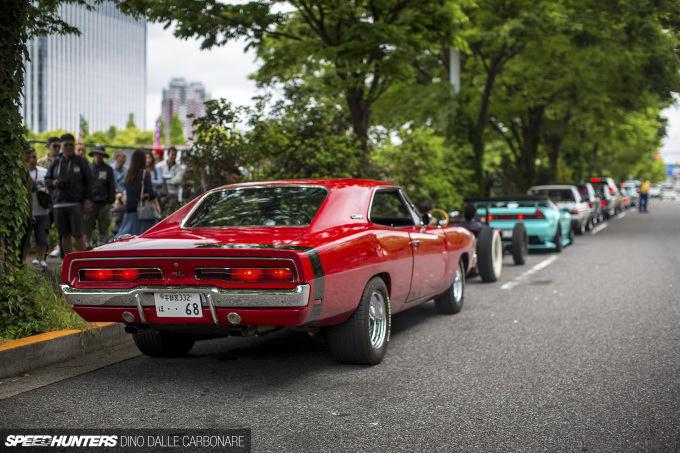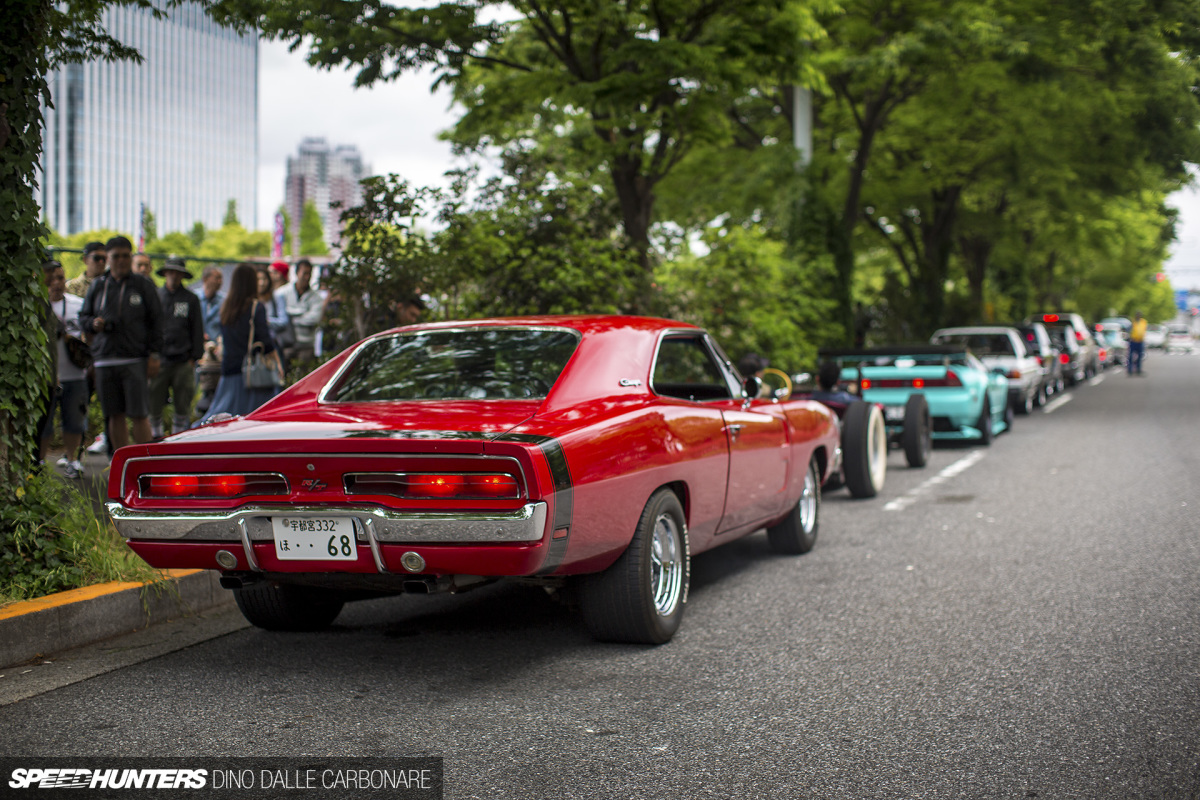 Not to worry though, the lines of cars waiting to get into the venue make for some awesome photo opportunities.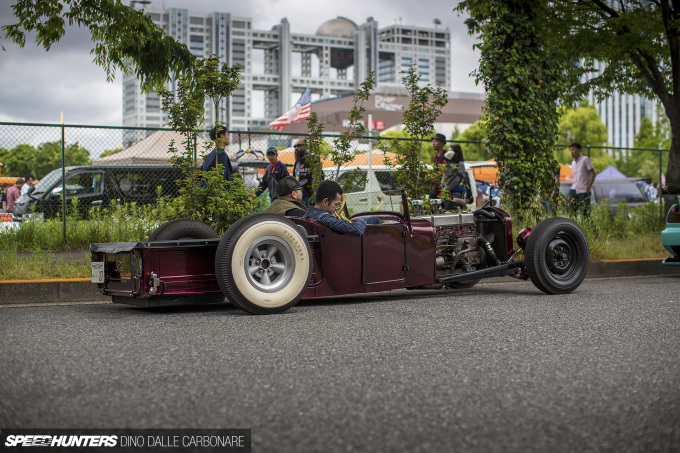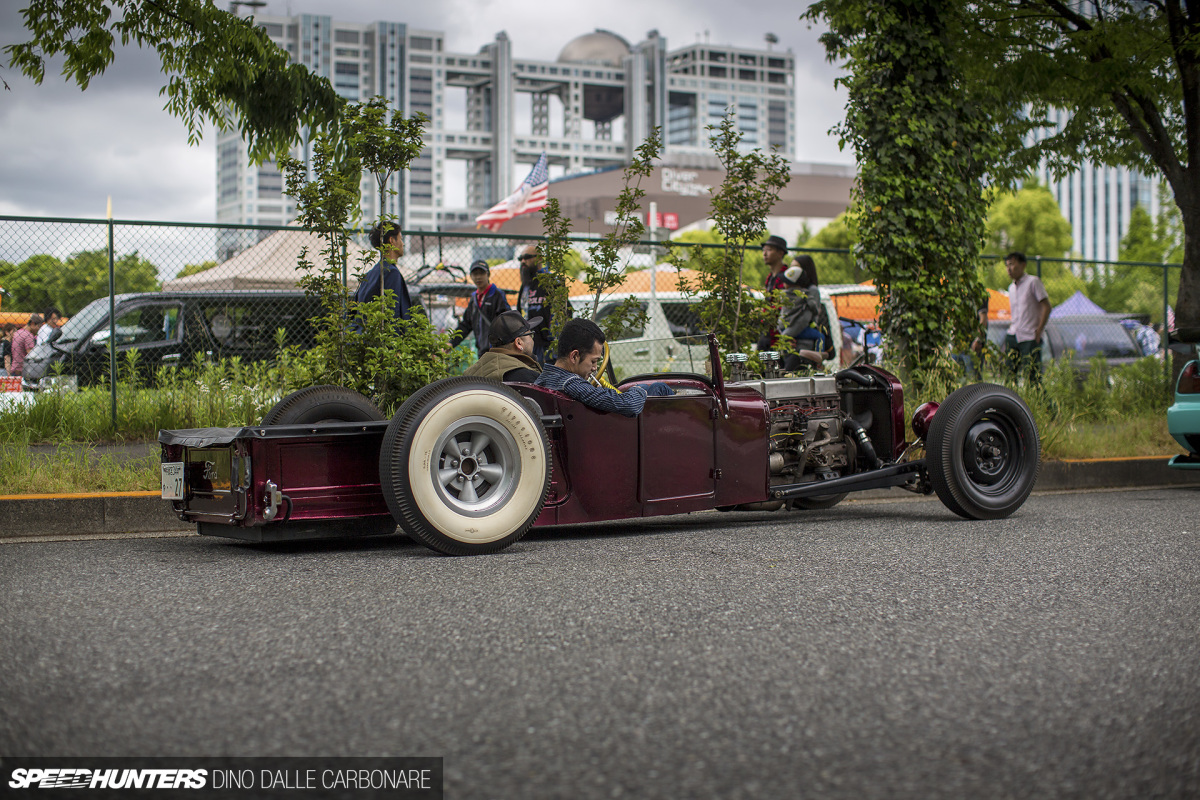 Sometimes the trees open up enough to include the Fuji Television building in the background. Here, Japanese futuristic architecture meets a chopped and slammed '27 Chevy.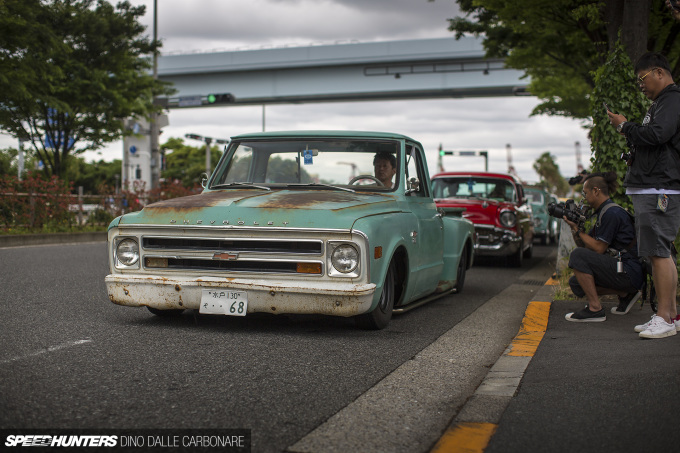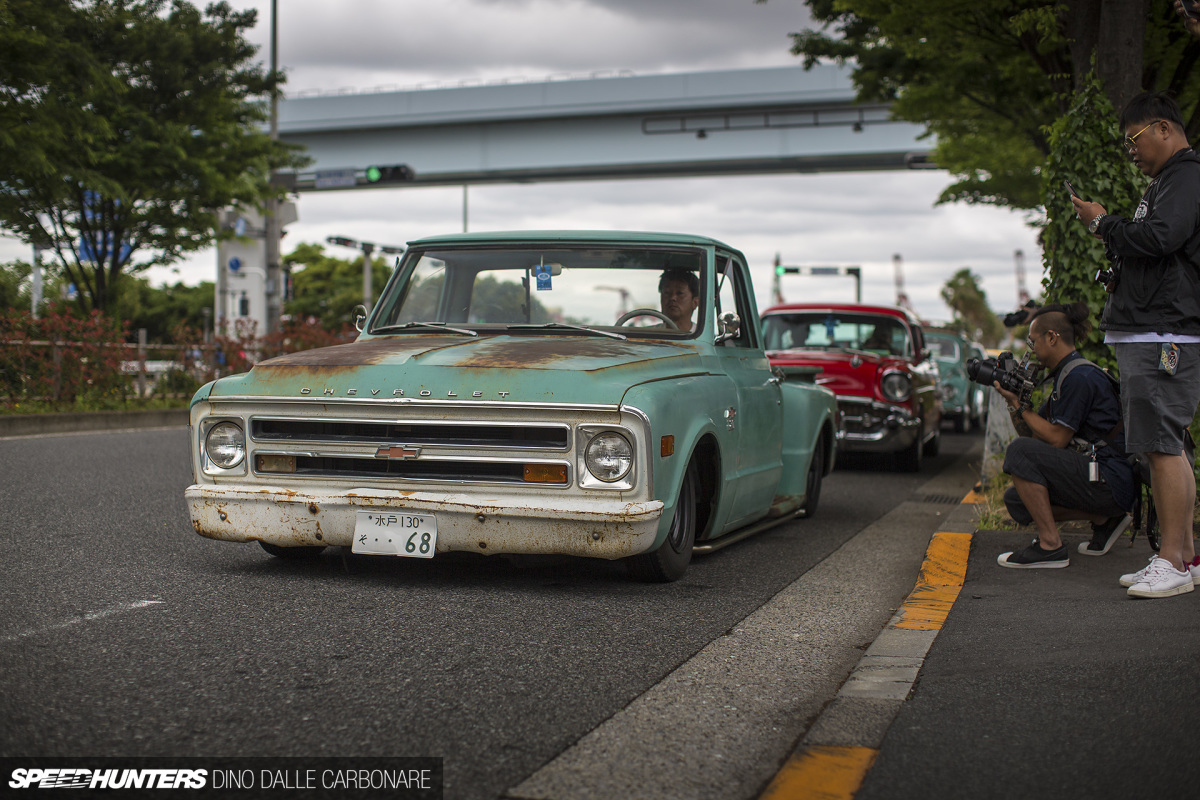 And speaking of Chevys, check out this '68 C/K10 that had been driven down from Ibaraki Prefecture.
The Japanese Lead The Way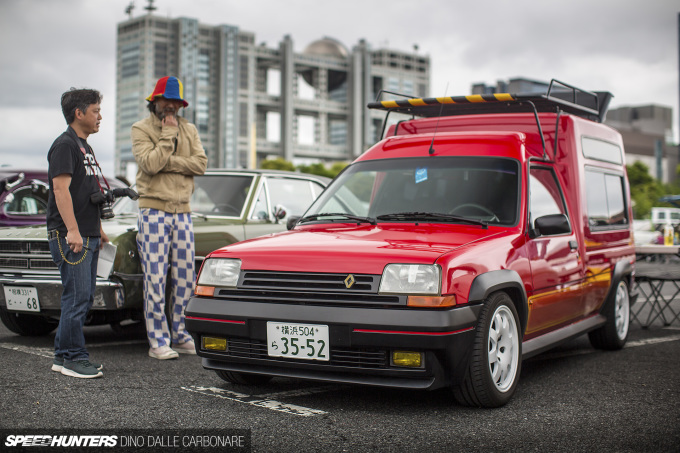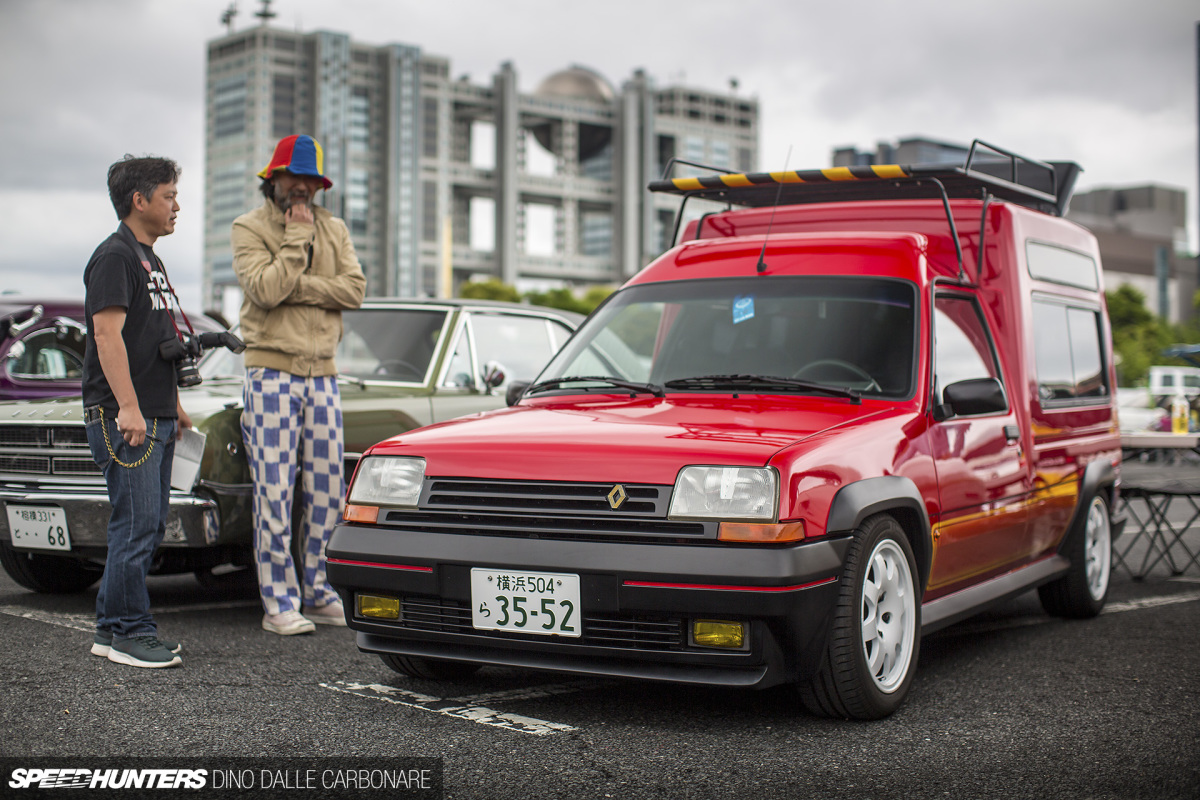 As fun as it is to indulge in the tangible energy that lingers outside the venue during roll-in, I soon found myself inside and beginning my journey up and down the rows of neatly arranged cars. One of the first that stood out was this red Renault 5-based van – the Express as it was known in Europe. Sitting on white Speedline wheels and proudly displaying Turbo-look bumpers and lip, it was getting a ton of attention. It's just another example of the curious machinery that Japanese enthusiasts are interested in and love showing off.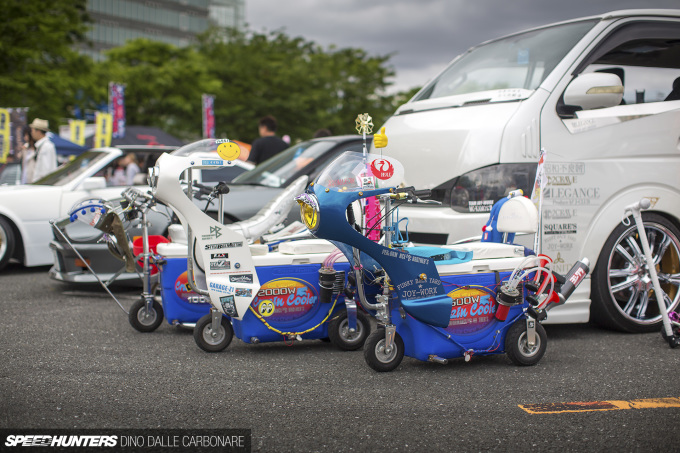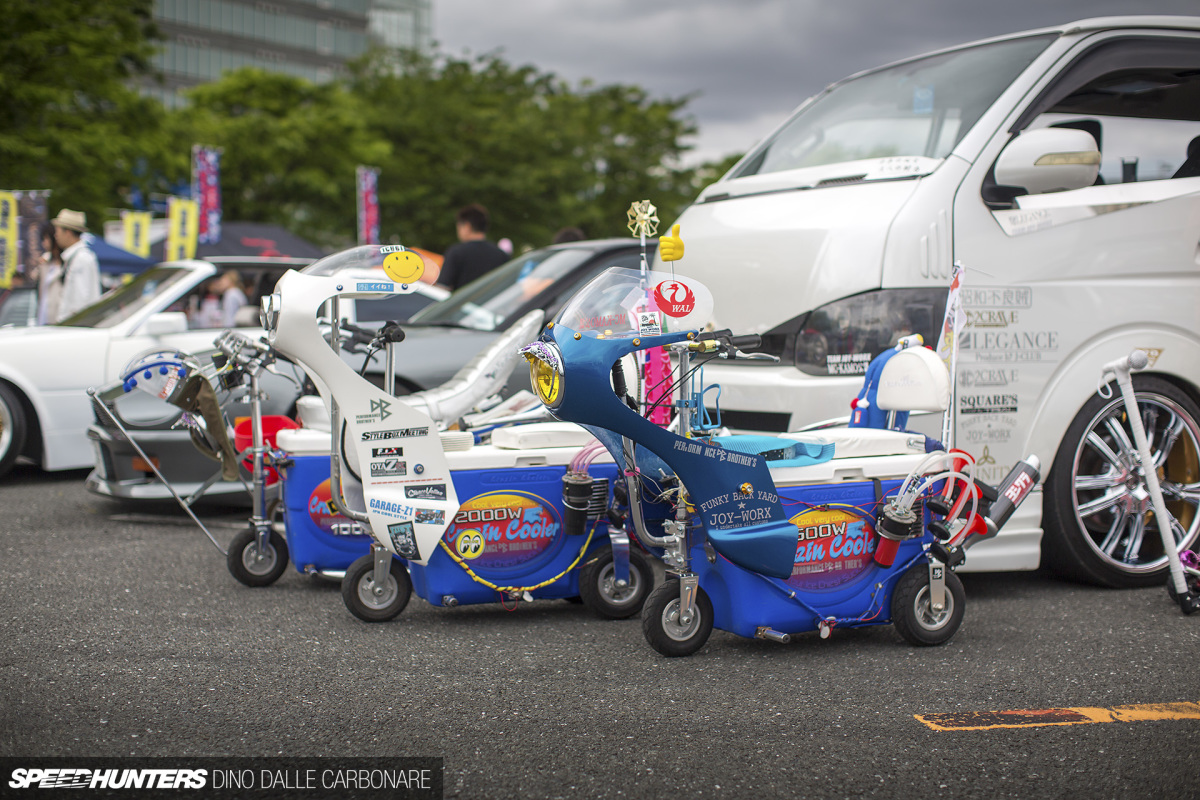 This wasn't the first time I had seen one of these bosozoku electric scooter/cooler thingies, but given the line-up I had to take in some of the details.
Check out the air horns and the short handle bars – only in Japan!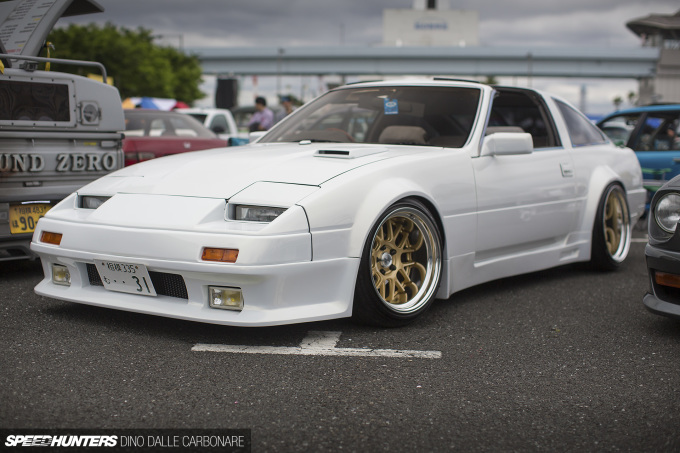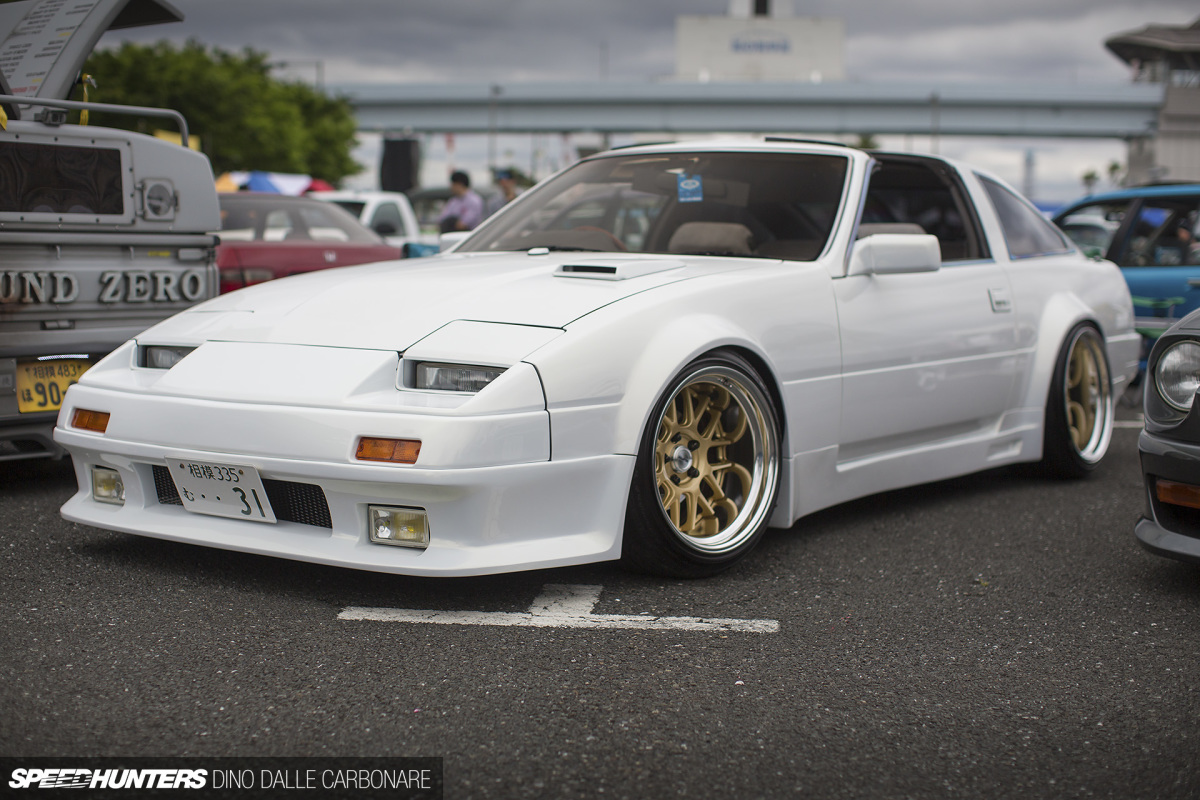 The sheer variety of cars on show at the Street Car Nationals is what makes this event so great. What began as an American custom car meet back when the Mooneyes brand first came to Japan, has grown into something so much bigger. I like to think of it as a huge celebration of many different Japanese car customizing styles, from cool neo-classic street cars like this Z31 on Work Meister M1Rs…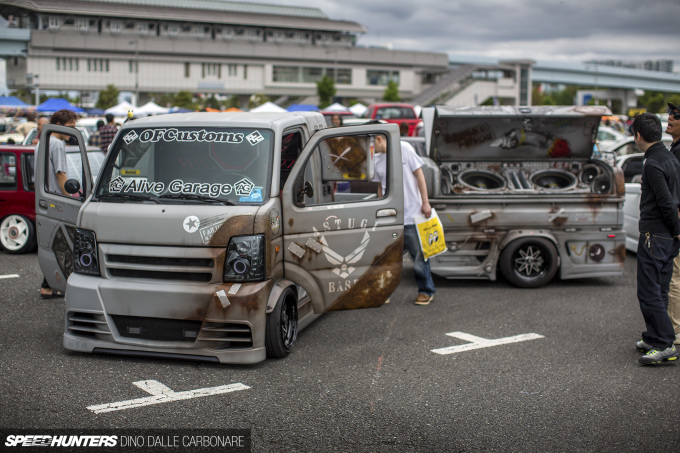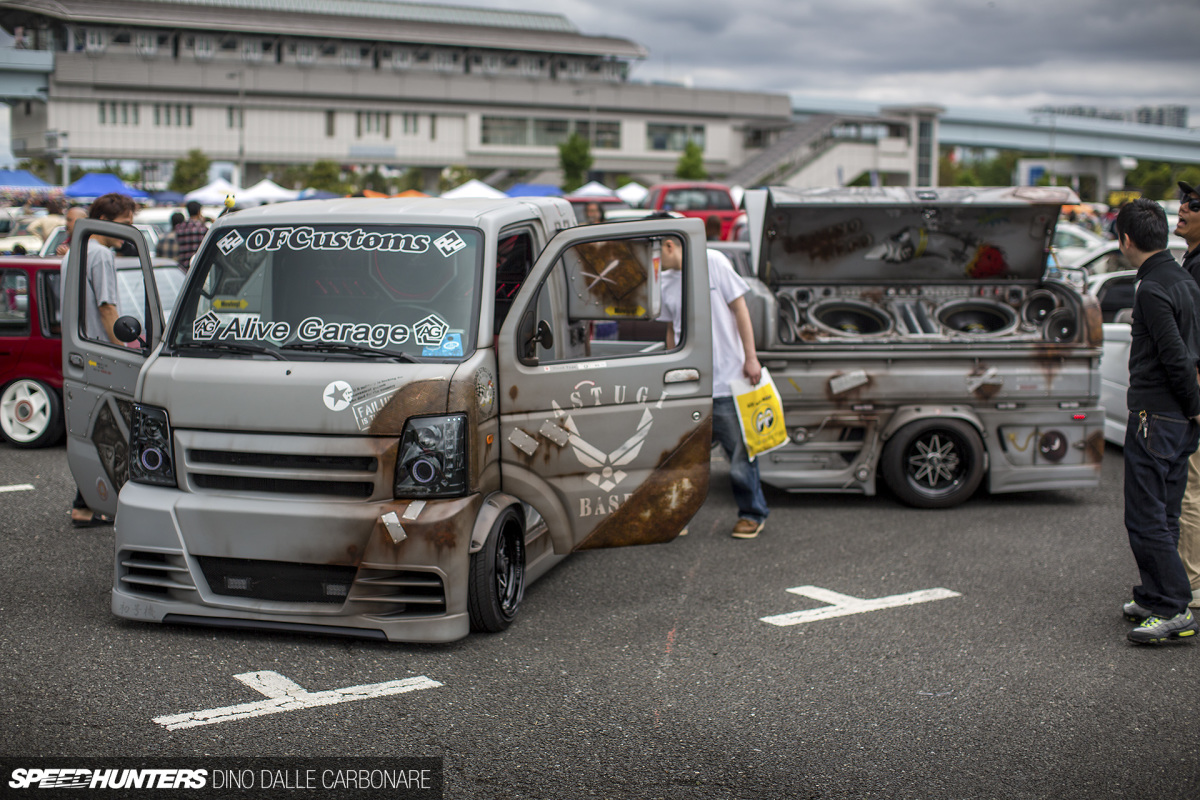 To heavily customized kei trucks pulling speaker-laden trailers. Err… what? Exactly!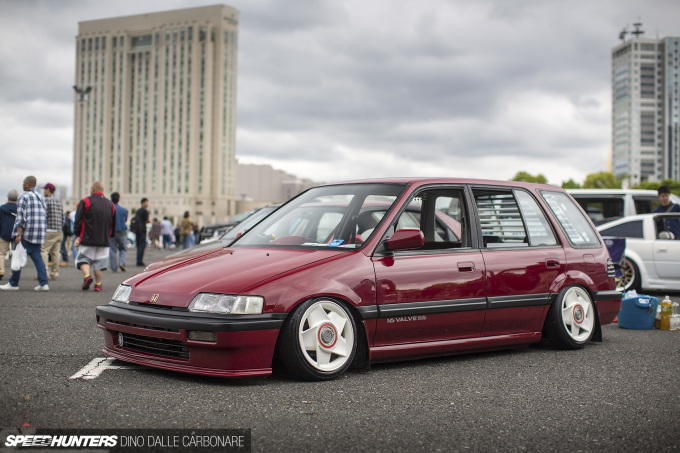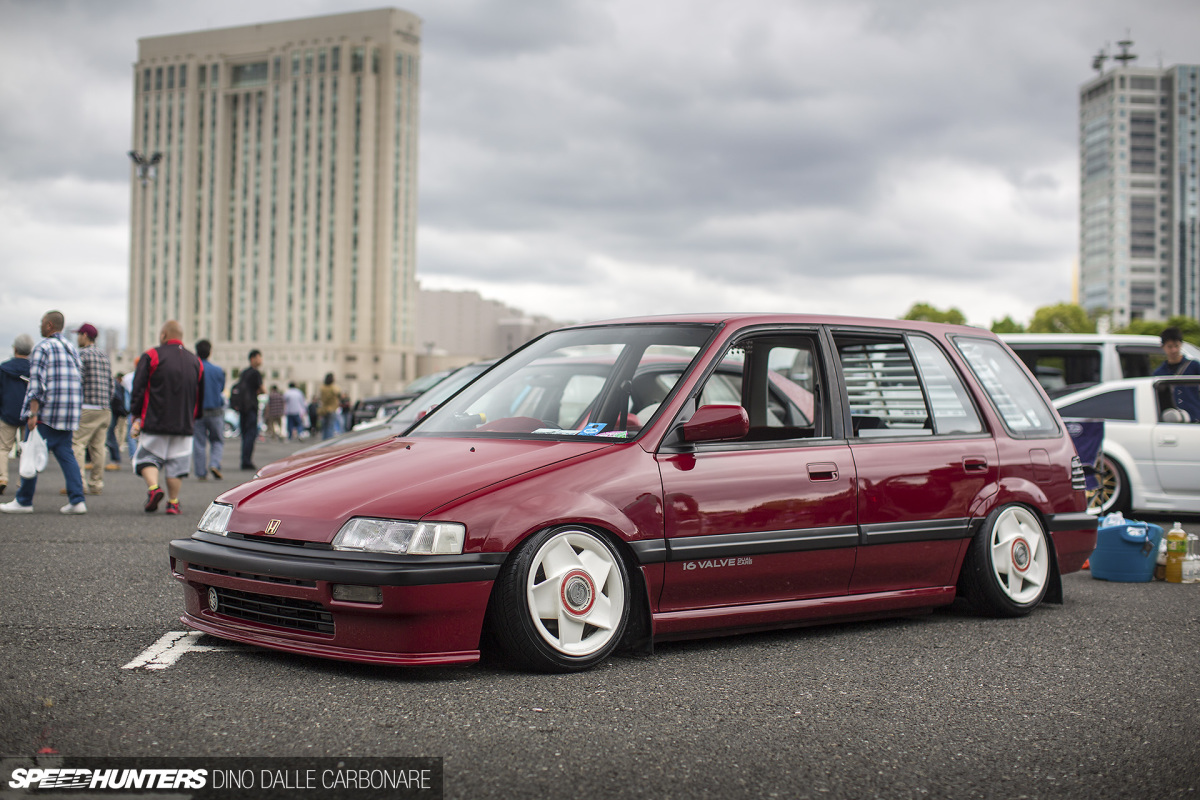 This Civic Shuttle on Wing Co. turbine wheels was a nostalgic look back in the late '80s, but it now flaunts the sort of stance that will get you kudos in this decade.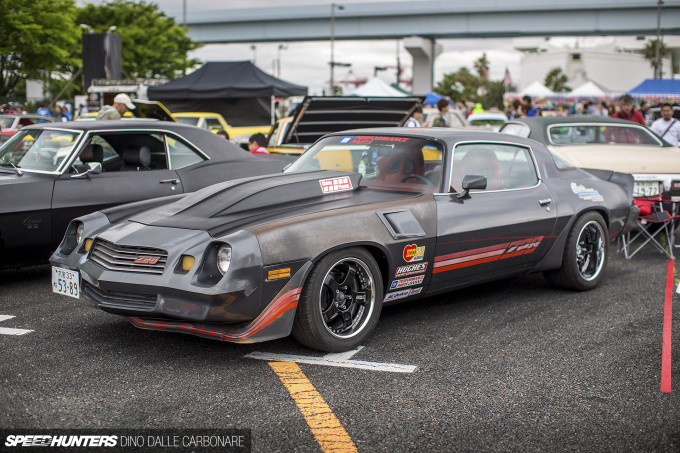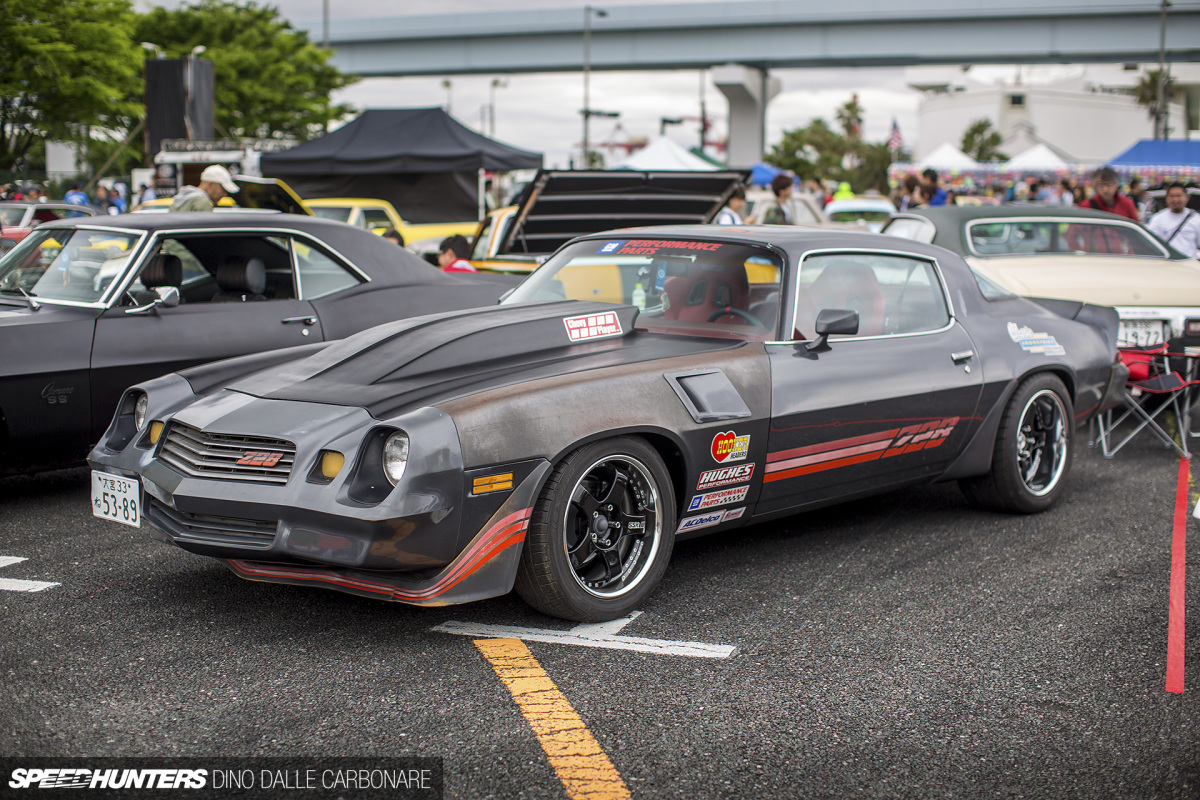 Another car from the '80s was this Z28 Camaro; it's built for racing and finished off with a set of SSR rims for a JDM touch.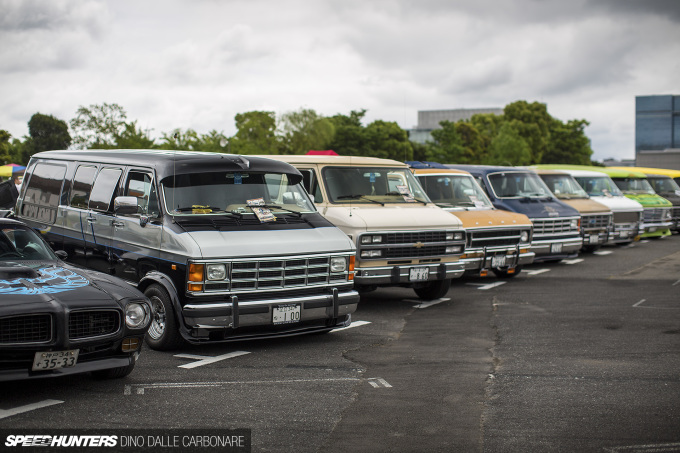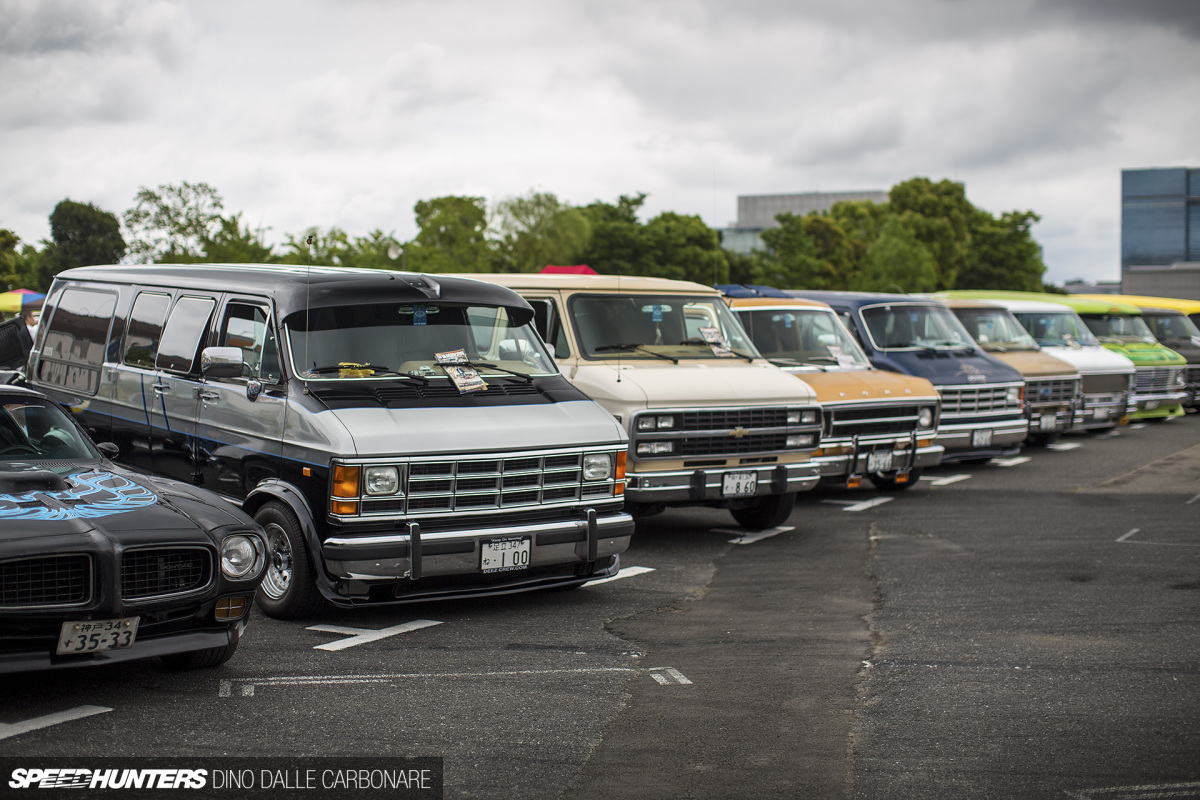 Every year at this Mooneyes event there seems to be more vans – something I'm OK with. Did you know that the popularity of American vans in the late '80s and early '90s is what prompted the Japanese auto manufacturers to rethink their van production? It was the Chevy Astro in particular that led them to realize they needed to make Japanese vans more family-friendly. The rest is history I guess.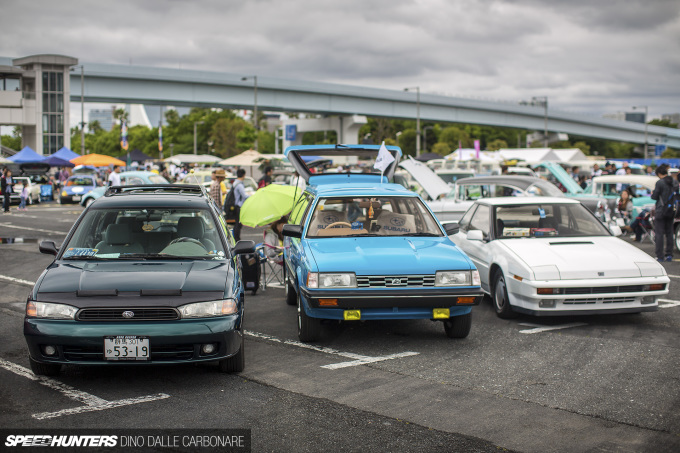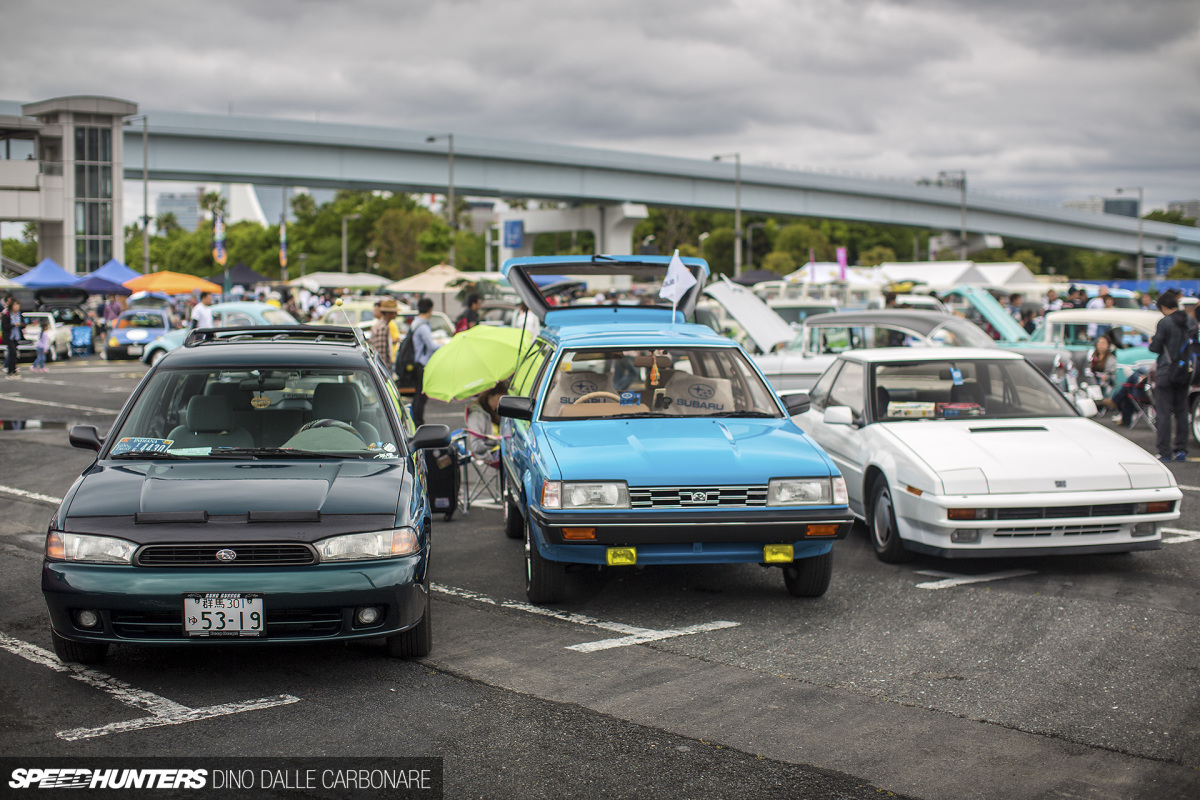 Last week, while spotlighting an SVX at Wekfest, I talked about how Subaru has lost its way, and this trio only cemented the fact for me. These two generations of Legacy Wagon and the Alcyone are great examples of how Subaru was cool and a little unique. Everything it makes now is bland.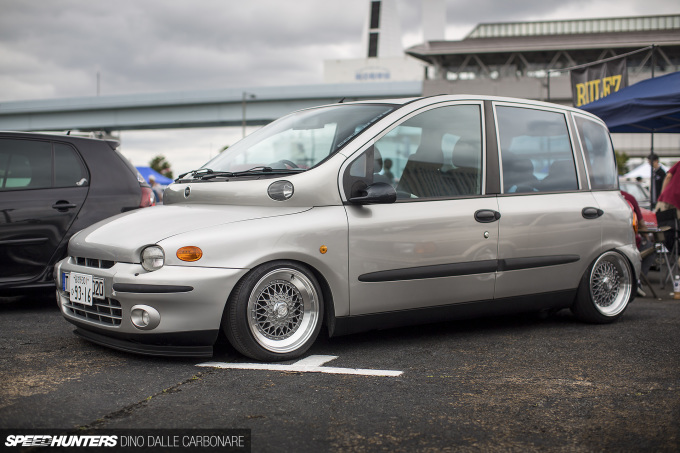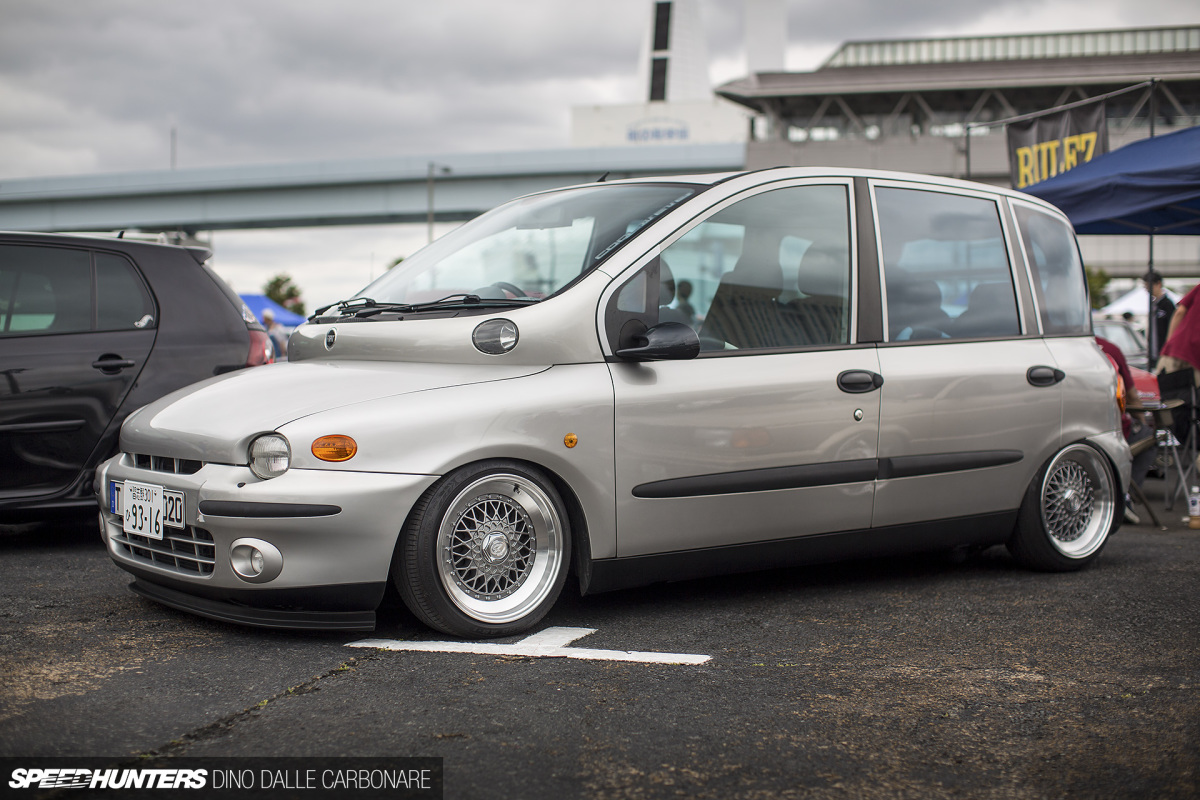 When it comes to unique though, nothing touches a Fiat Multipla – especially one dumped on small-diameter mesh wheels. Trust the Japanese to make a model that's both as hated and loved as this six-seater people carrier actually look pretty good. I particularly like the blue tint on the ridiculously tall glass. What do you guys think of this thing?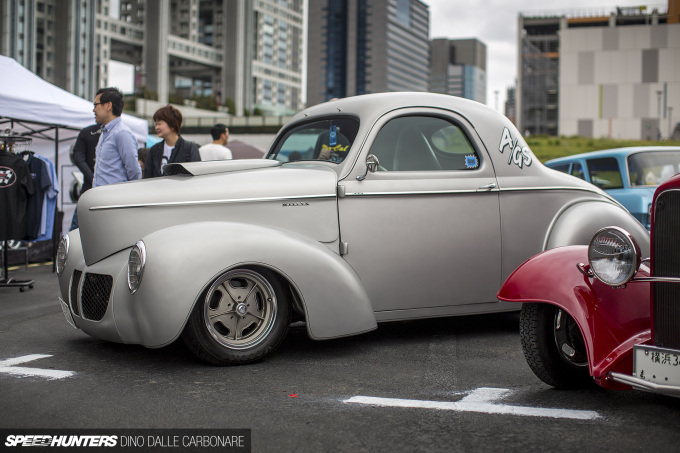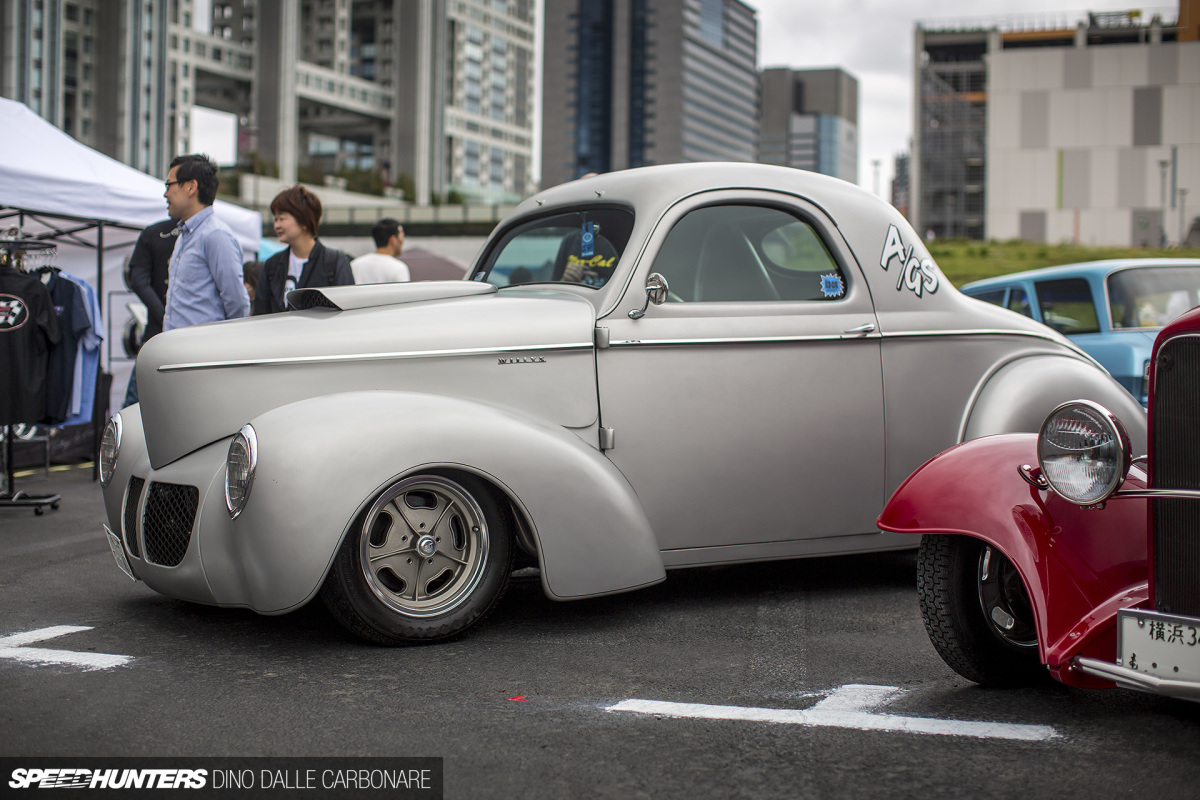 Photographing a Willys right after the Multipa weirdly had me seeing some similarities.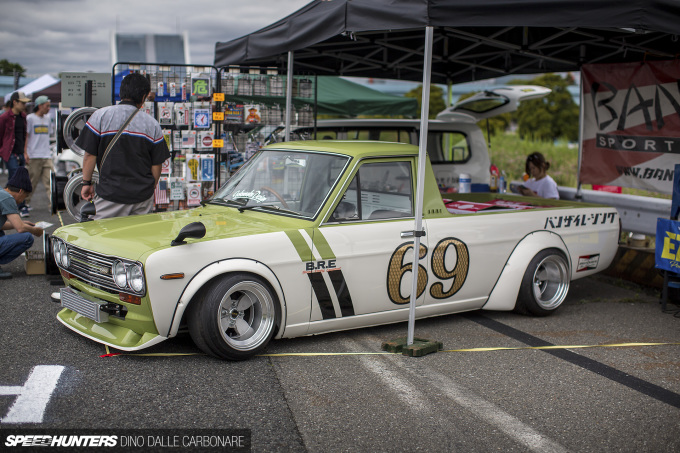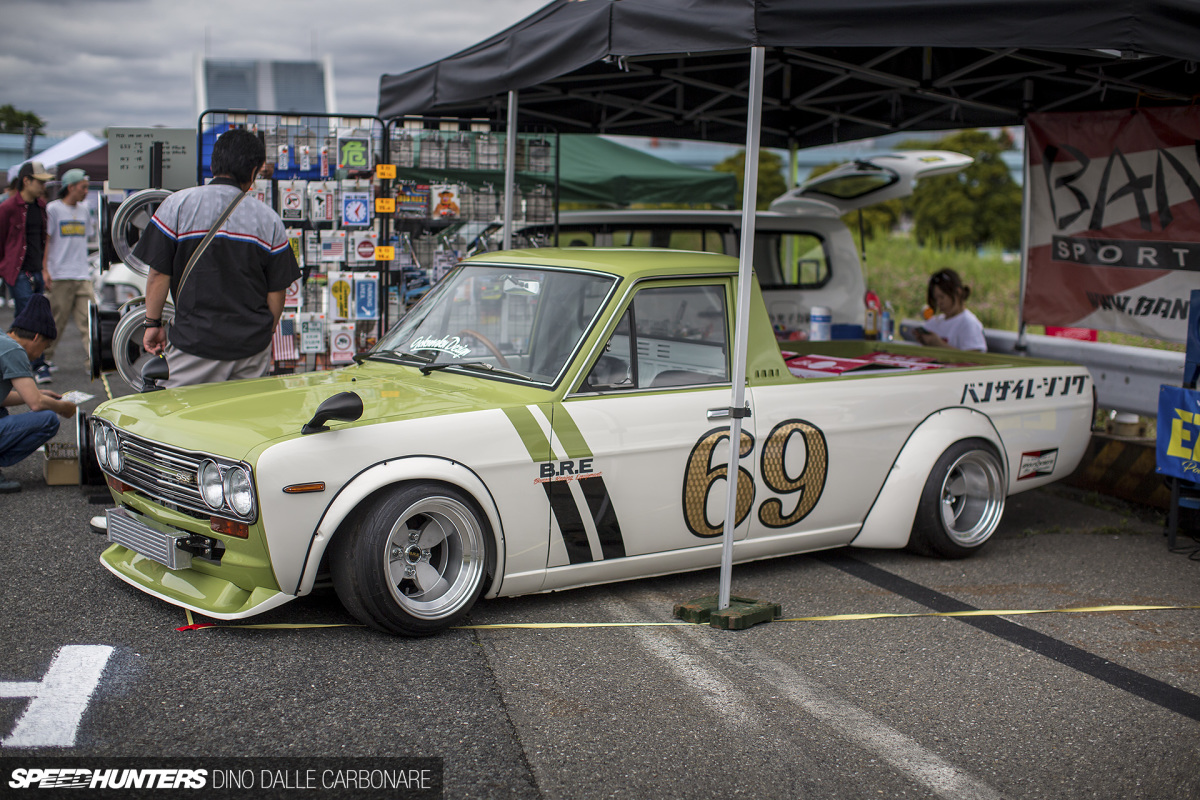 If there's one wheel design that seems to be coming back into fashion it's the four-spoke. Last year, Barramundi debuted the Sunder model and then Work dropped its new Equip 40, but how could we possibly forget the BREs, as fitted to this Datsun 510 truck.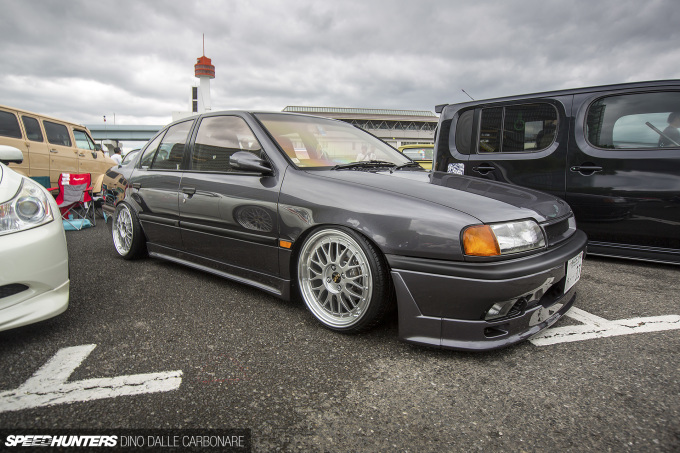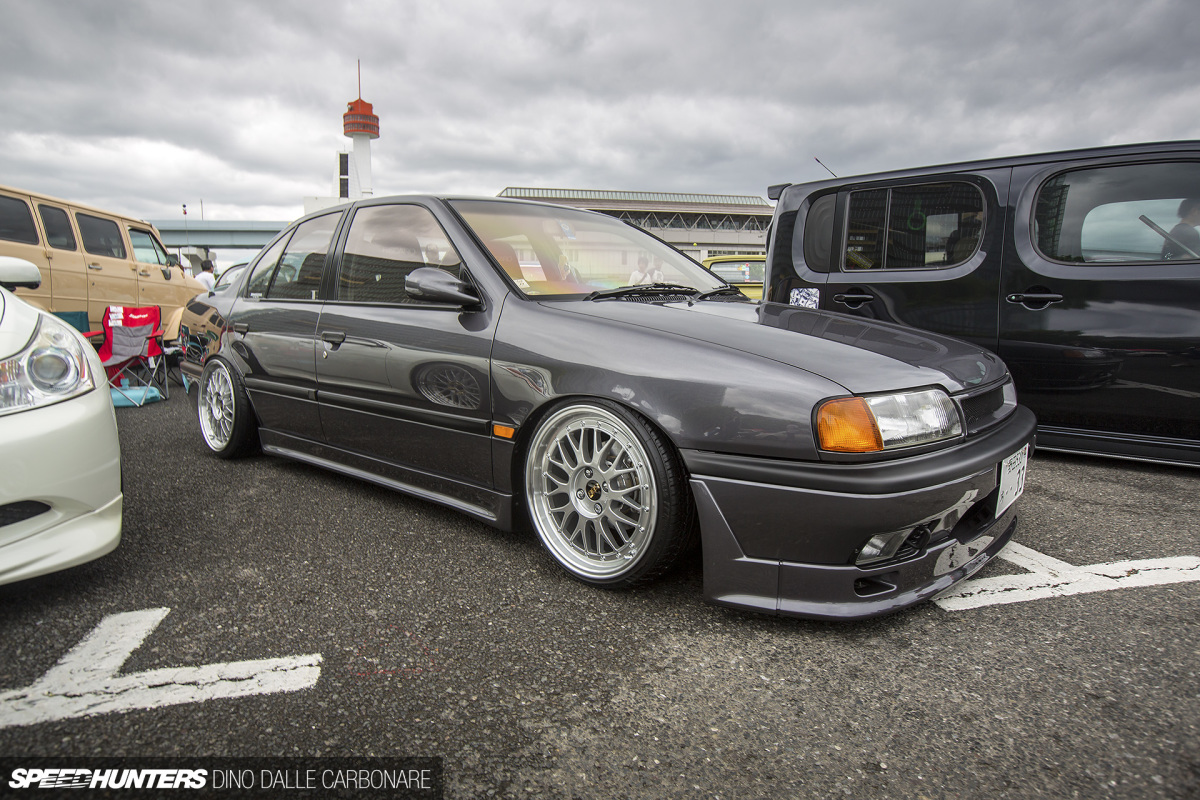 I really couldn't pass up the opportunity to give this P10 Nissan Primera on BBS LMs a bit of love. With all the weird stuff Nissan makes these days, I miss the old days when it was producing sporty, fun-to-drive sedans that also had motorsport pedigree.
Can't Forget The American Iron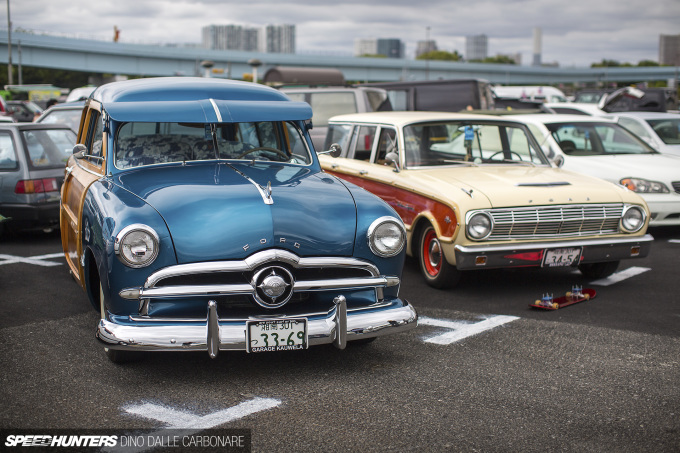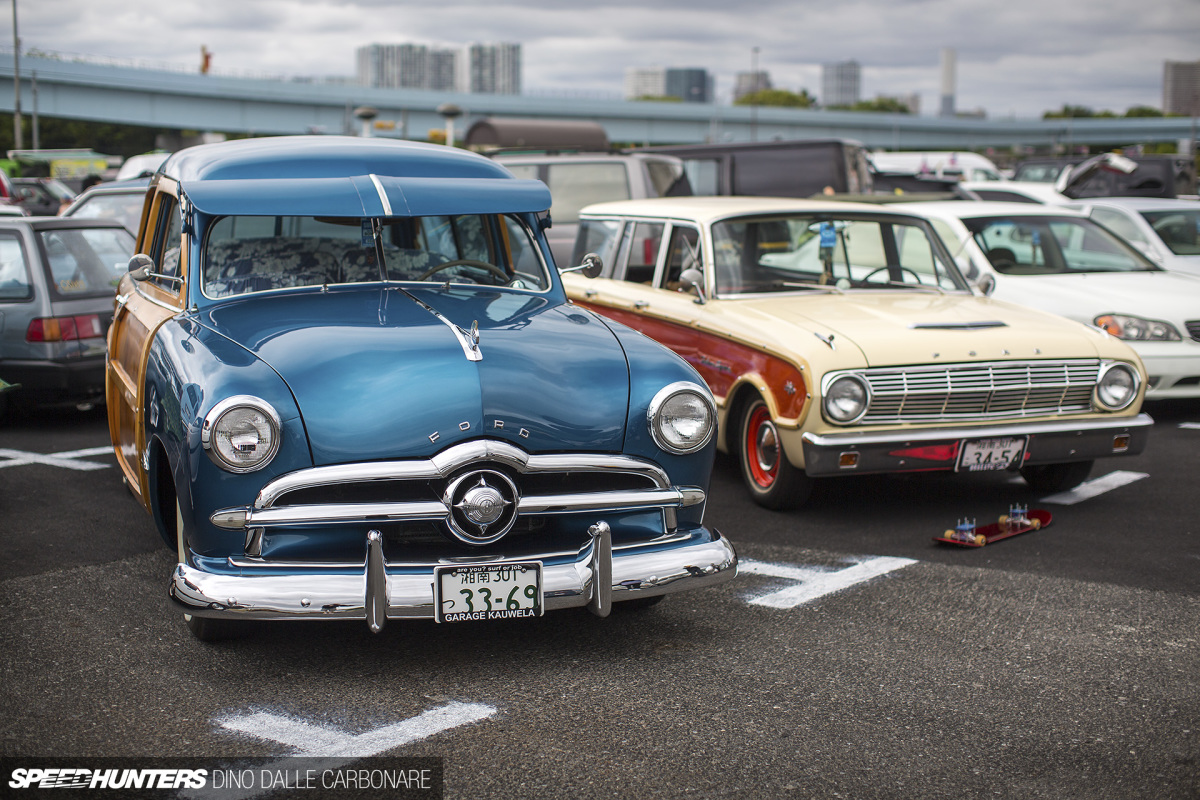 Given this was a Mooneyes show, there's no way I could overlook the American iron.
Muscle cars are always very well represented at the show, as are wild custom creations.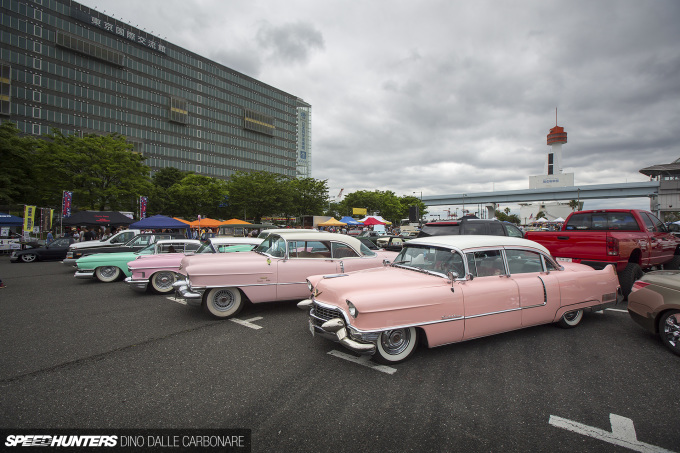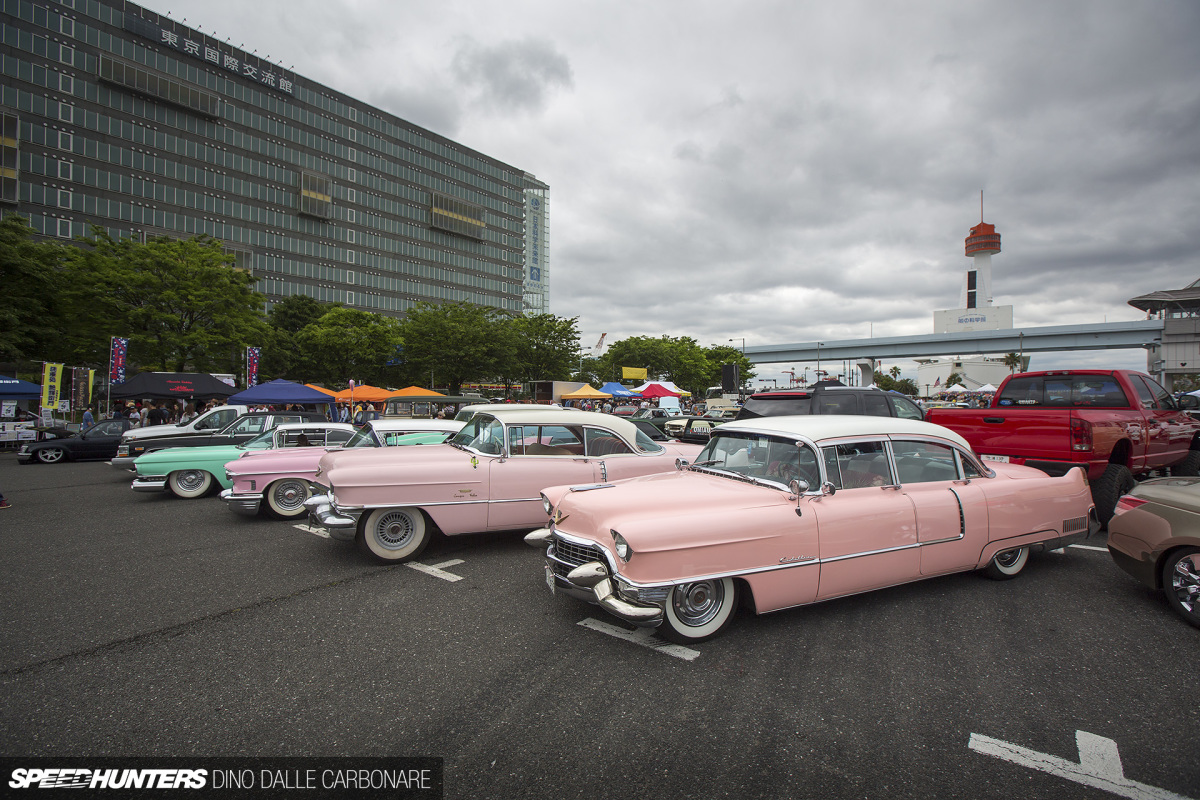 And what would a gathering like this be without a few pink Cadillacs?!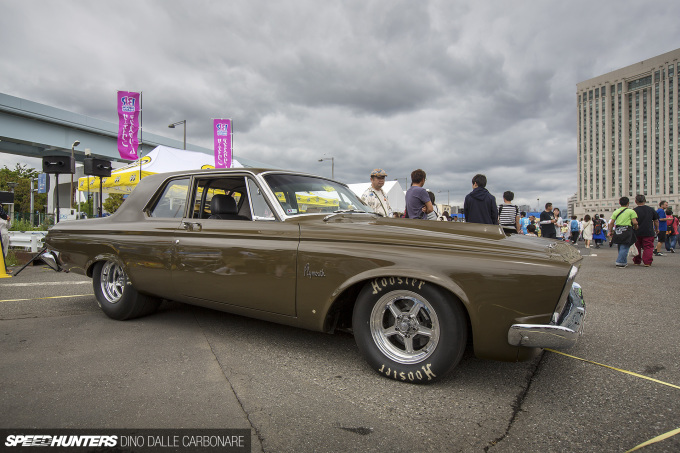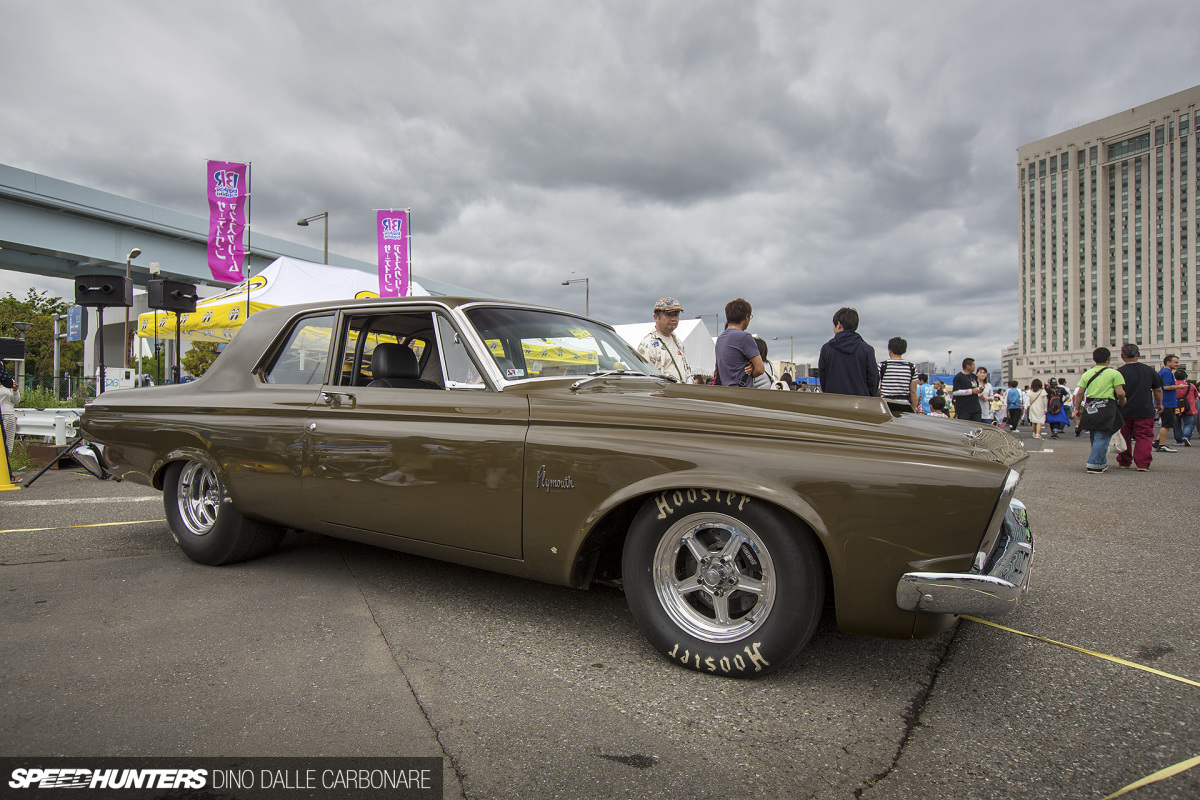 On the other side of the spectrum, and parked right in front of the Mooneyes booth, was this Plymouth Belvedere built for the quarter mile.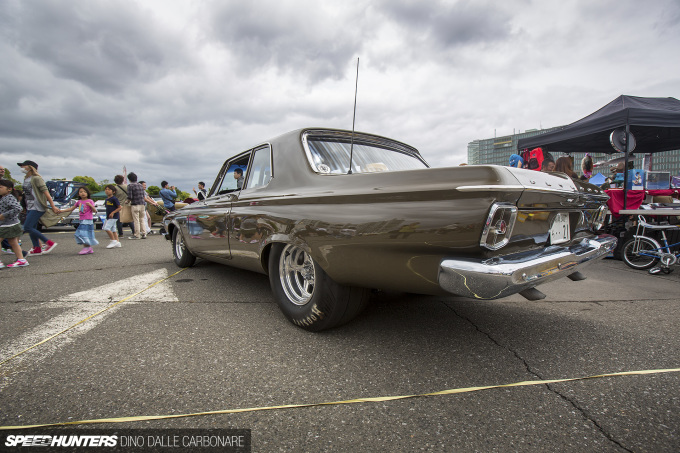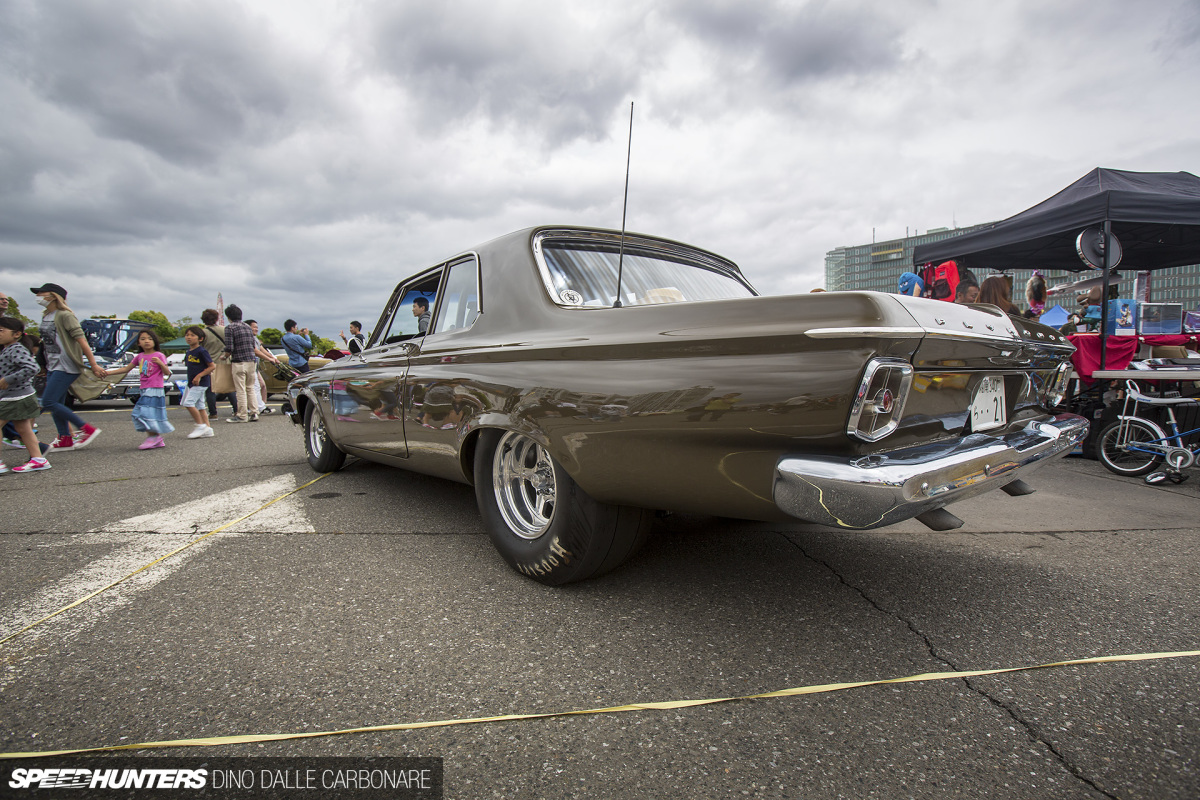 But I guess you might have already figured that out by the purposeful stance and Hoosier drag rubber. Those monster rear tires must properly hook-up off the line.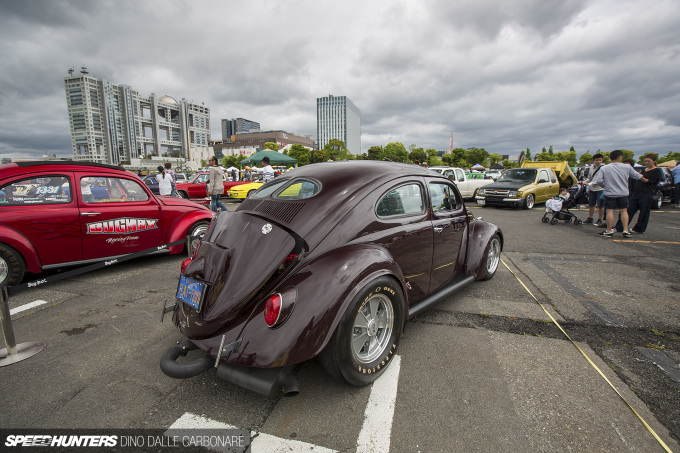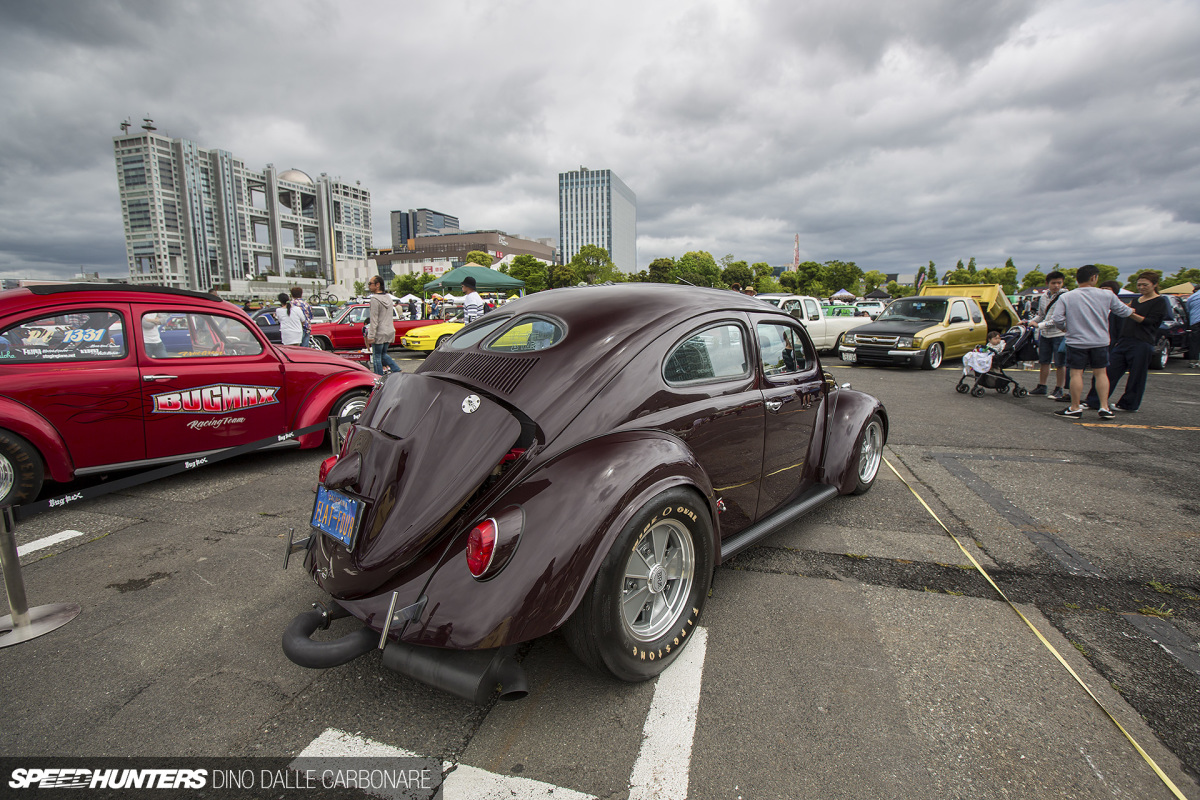 Also built for drag racing was this Bug from the guys at FLAT4, a shop I recently stopped at during my cycle ride down Meguro-Dori in Tokyo.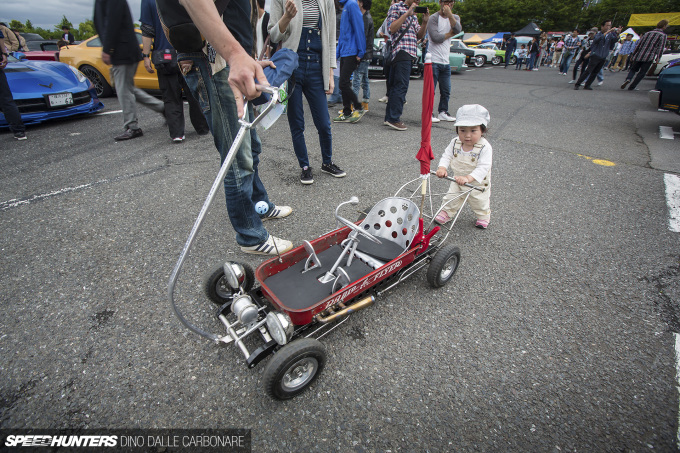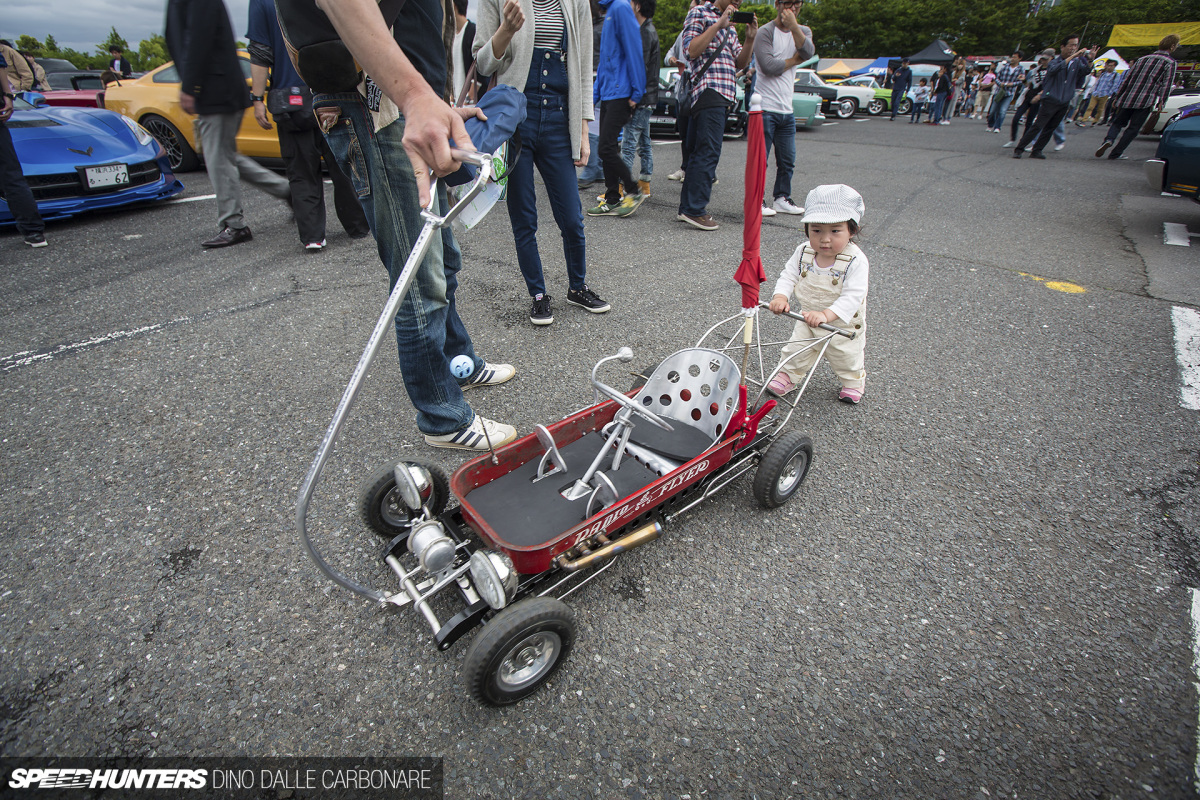 Remember the 2-stroke Mazda Porter kei truck I spotlighted at this show last year? Well, the owner of that car has been busy over the last year putting the finishing touches to a whole new project, one he built for his young daughter. It might not be self-propelled, but this slammed Radio Flyer rat rod oozes style.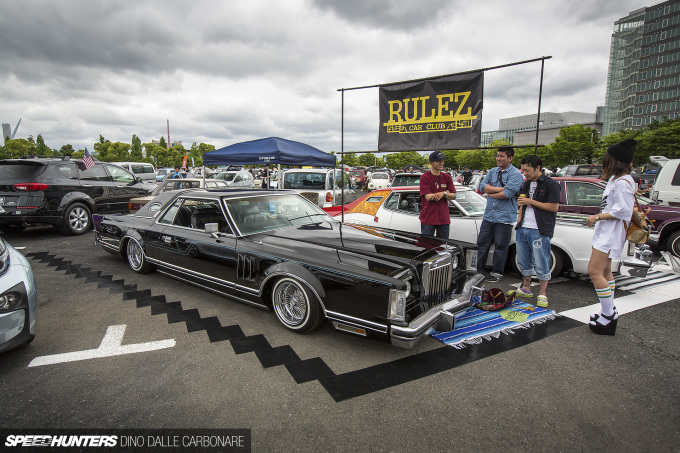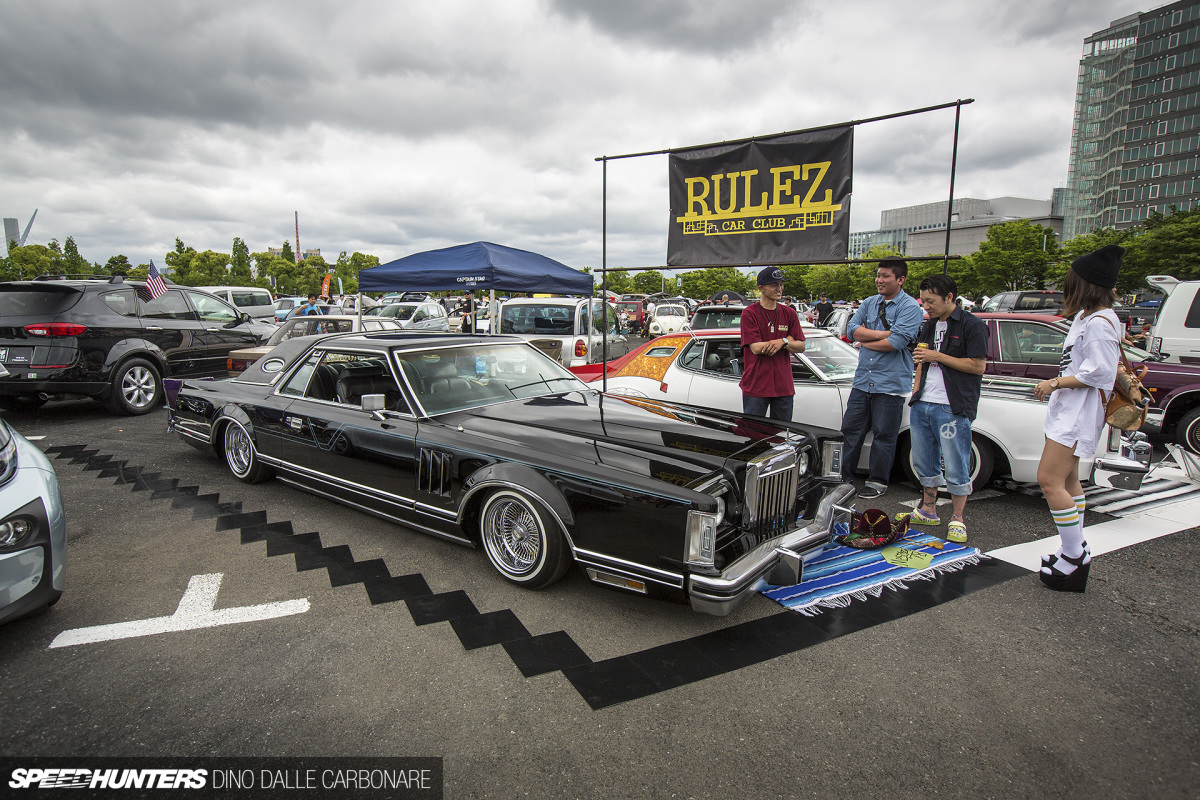 If there's one type of car that has always fascinated me it's massive American coupes from the '70s. These things are so against everything I ever learned about cars growing up; they're unnecessarily huge, impossibly heavy, and so removed from offering anything near a thrilling drive. That said, custom examples like these Lincoln Continentals are stupidly cool and must be rather fun to cruise in.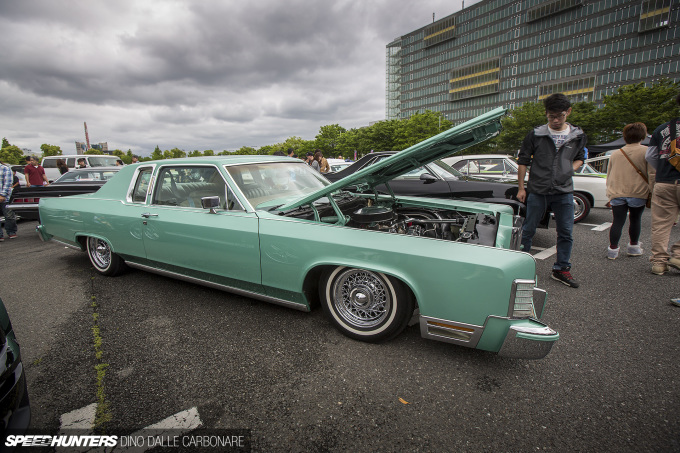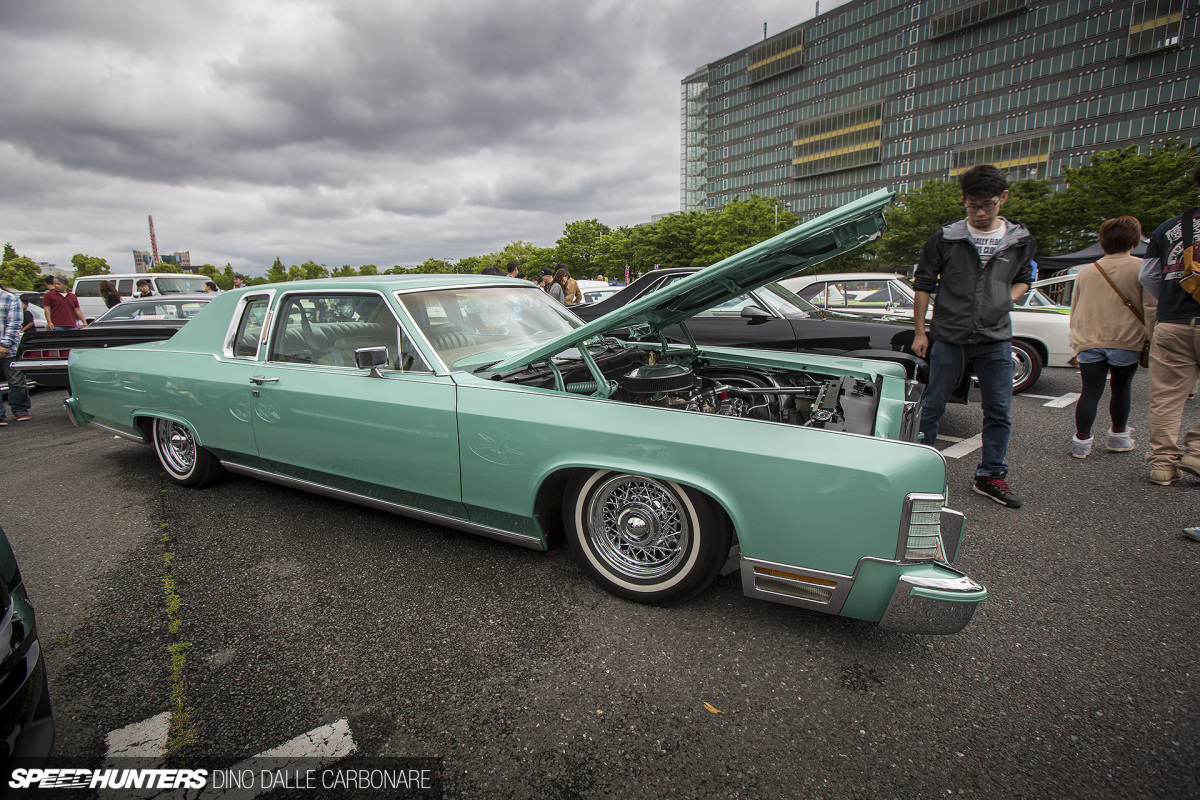 I can't get over the overhang these cars had.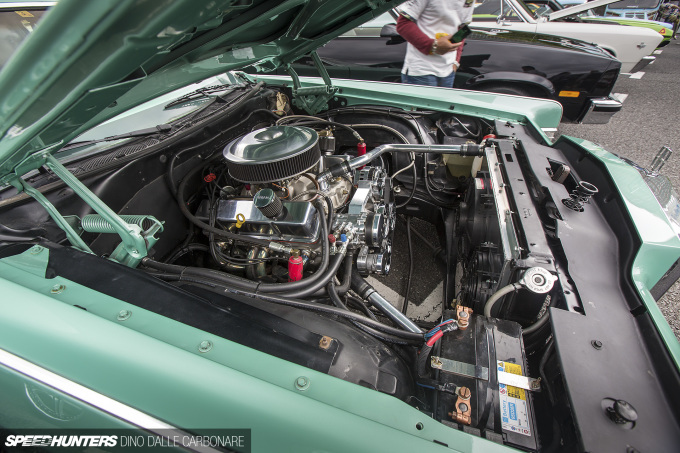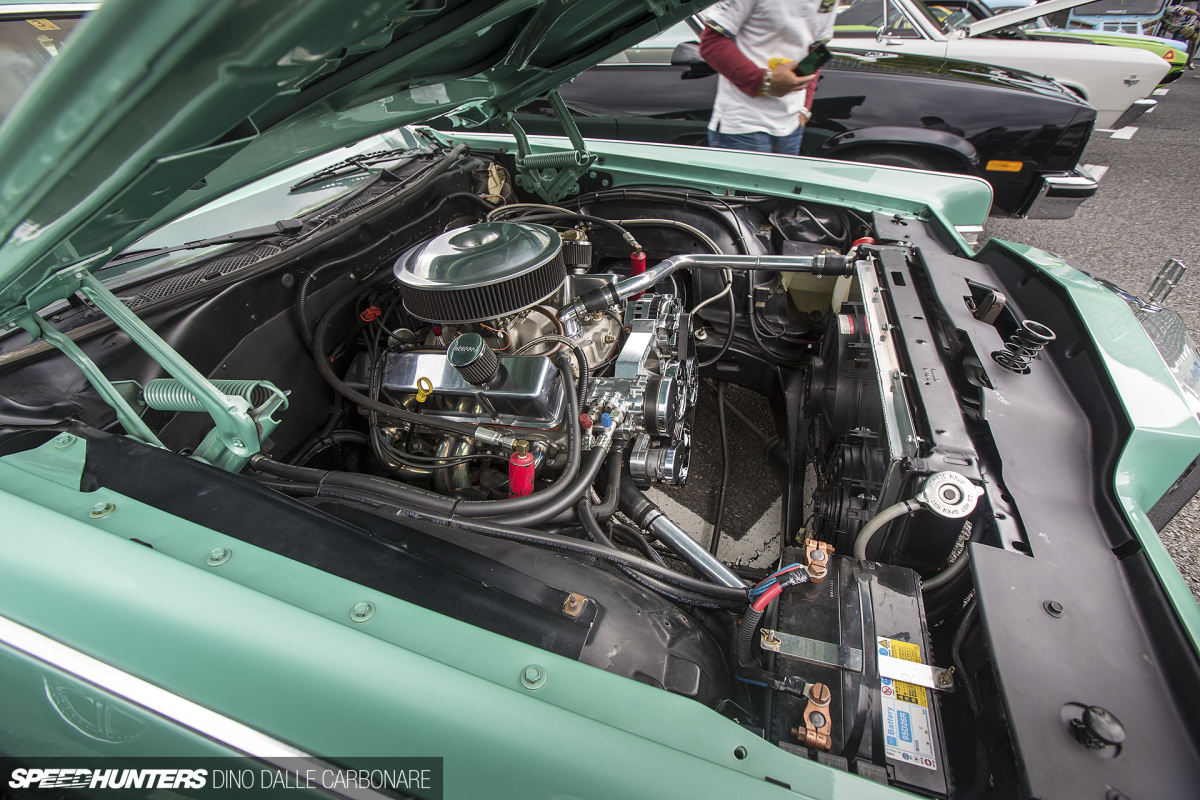 The entire V8 fit behind the front axle line, which theoretically would make it rather nice steer, but I don't think steering finesse and feedback was the forte here. Still, they're damn cool cars in their own right.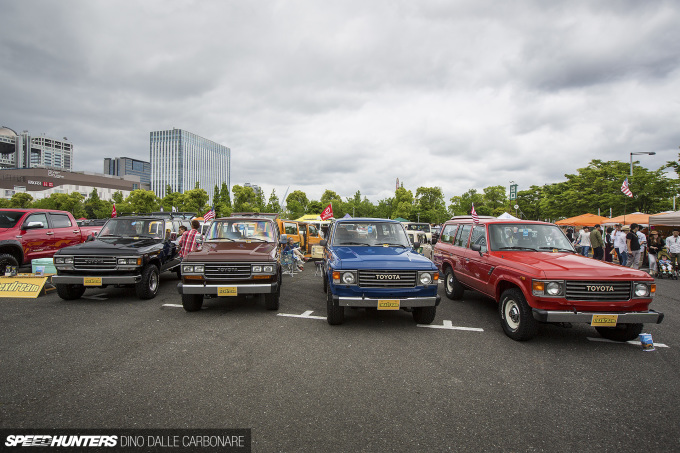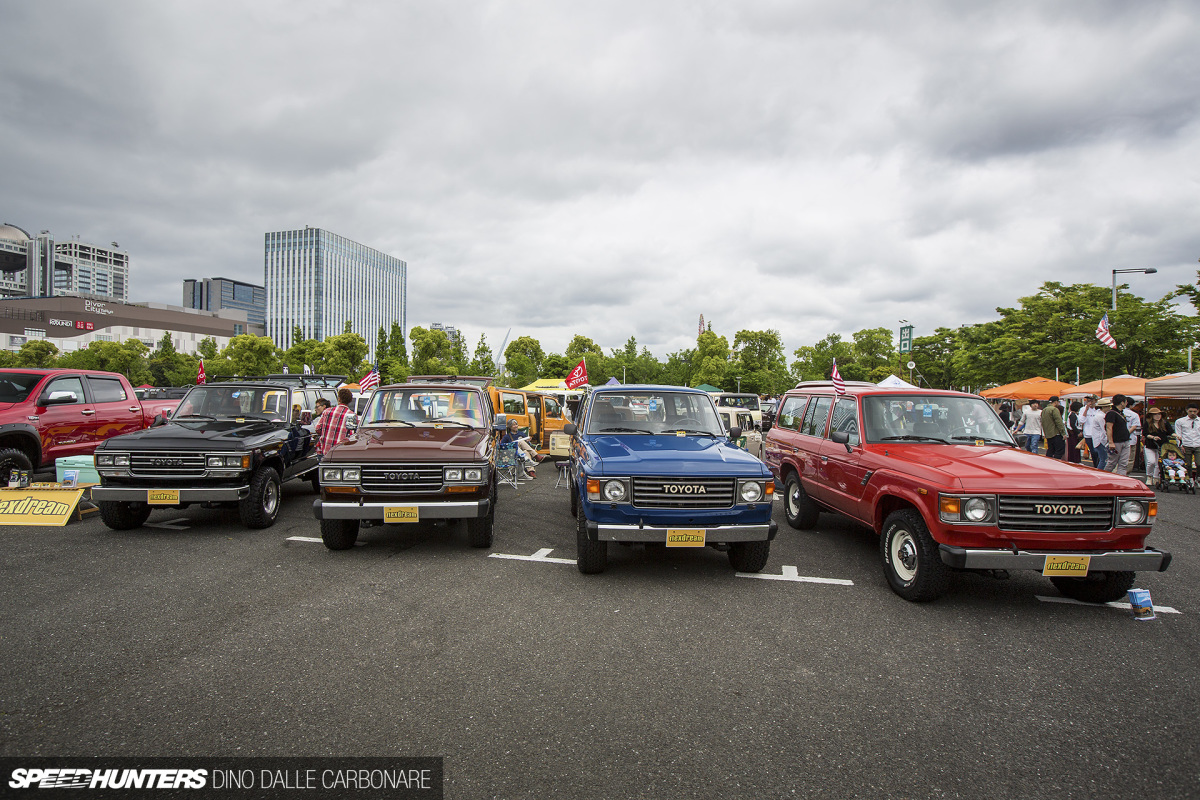 FLEX is another shop I stopped by on Meguro Street, and it was present with a few customized Land Cruisers, all of which were for sale.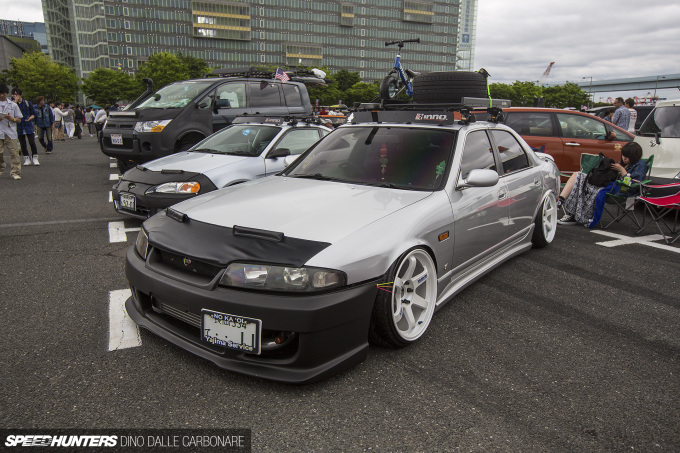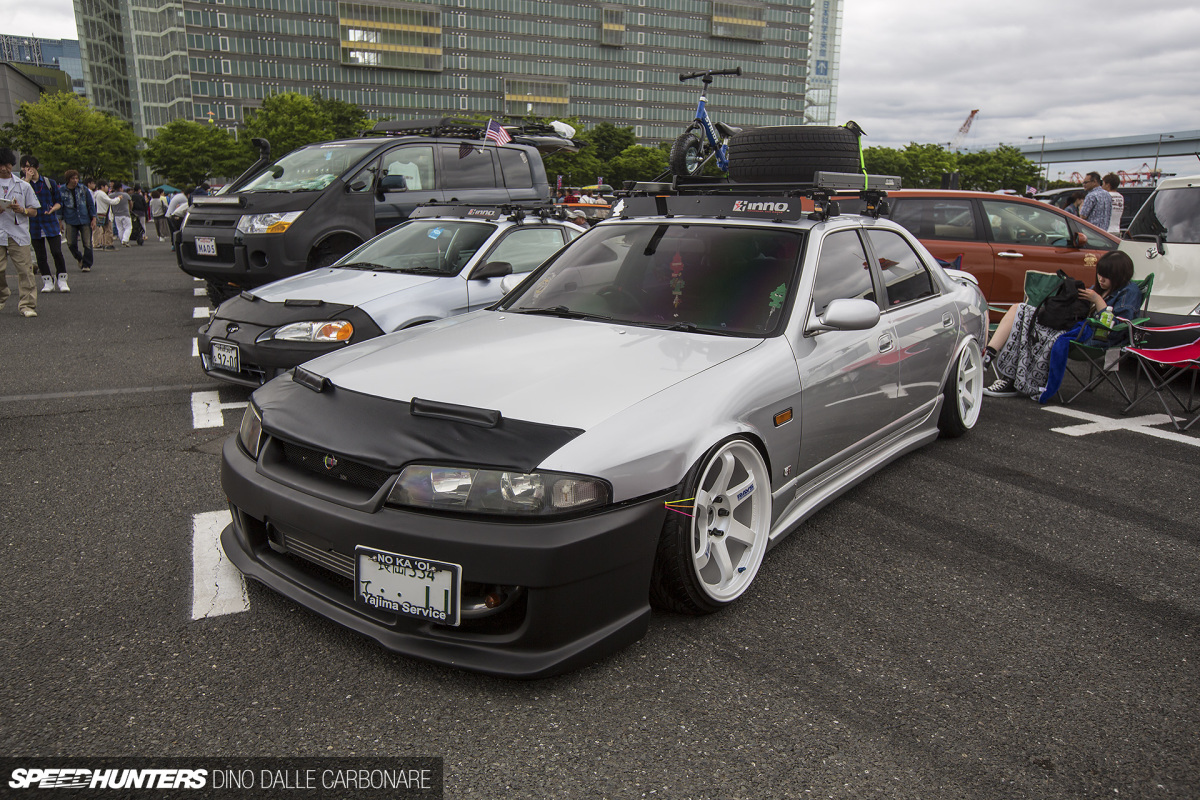 I'm not really sure what to make of an R33 sedan being used for stance duty. I've seen so many of these being abused around drift tracks, that this one almost seemed far removed from its natural habitat.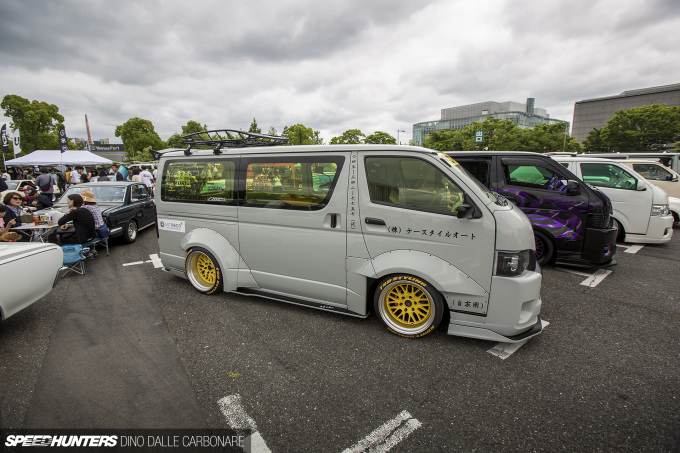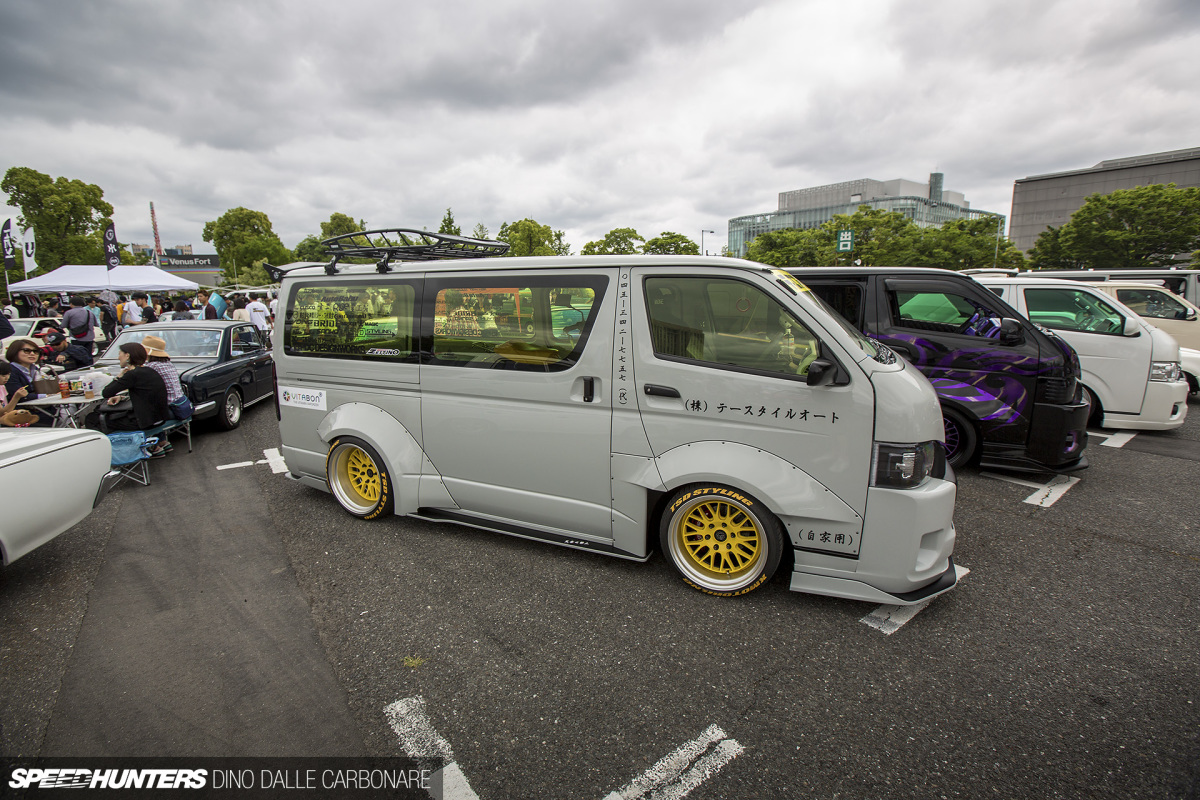 The overfender movement continues, and the next victim is the Toyota Hiace. Truth be told, I think this looks pretty damn cool. I mean, why not, right?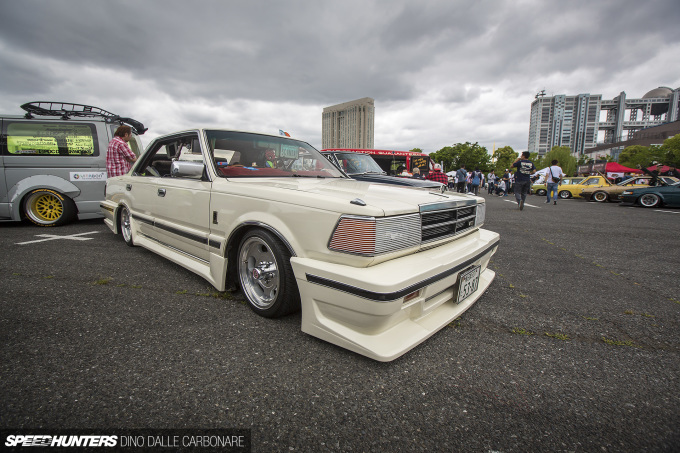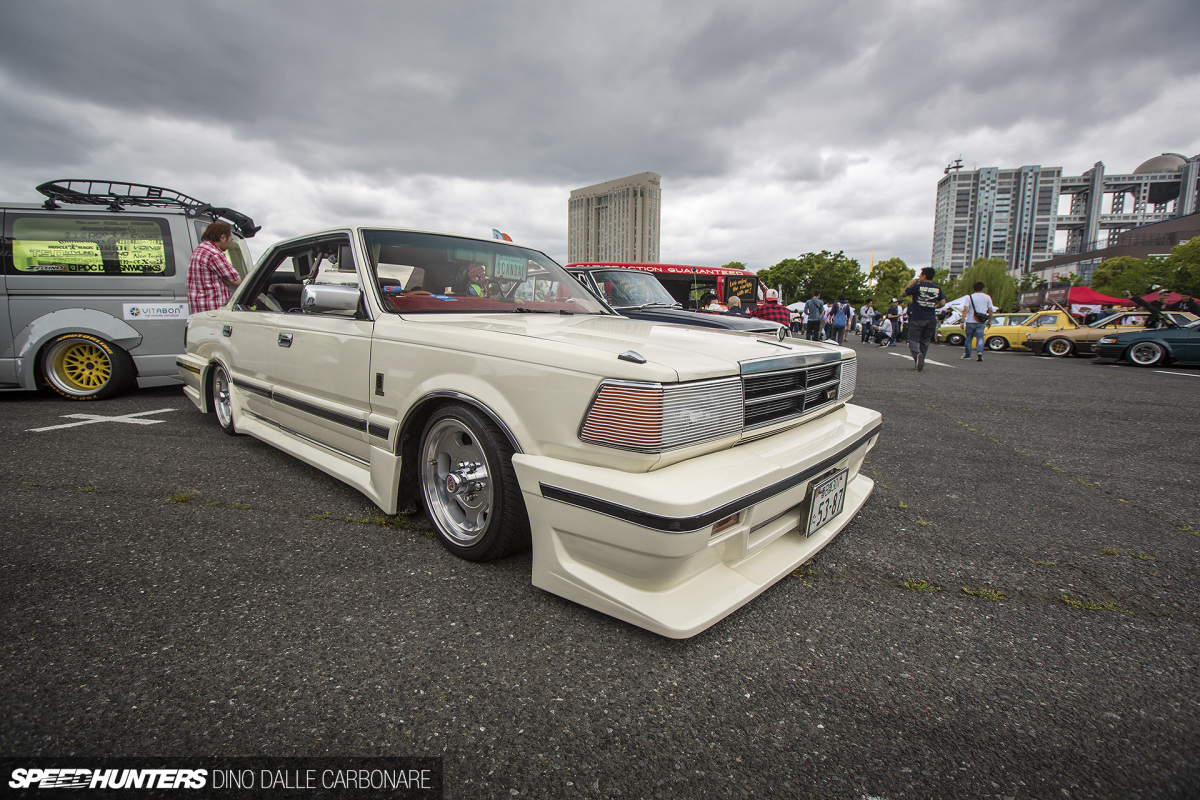 Right behind the Hiace was this Y30 Gloria V-30 Brougham VIP scraping a copious amount of plastic on the ground. I'm sure it's not to everyone's taste, but this style is an in-between of VIP and grachan.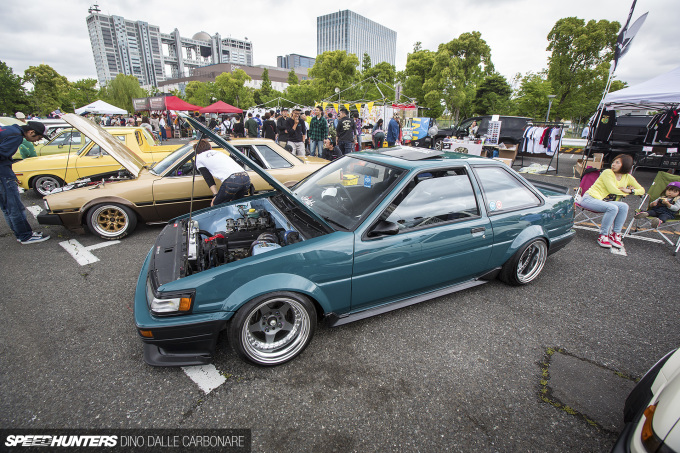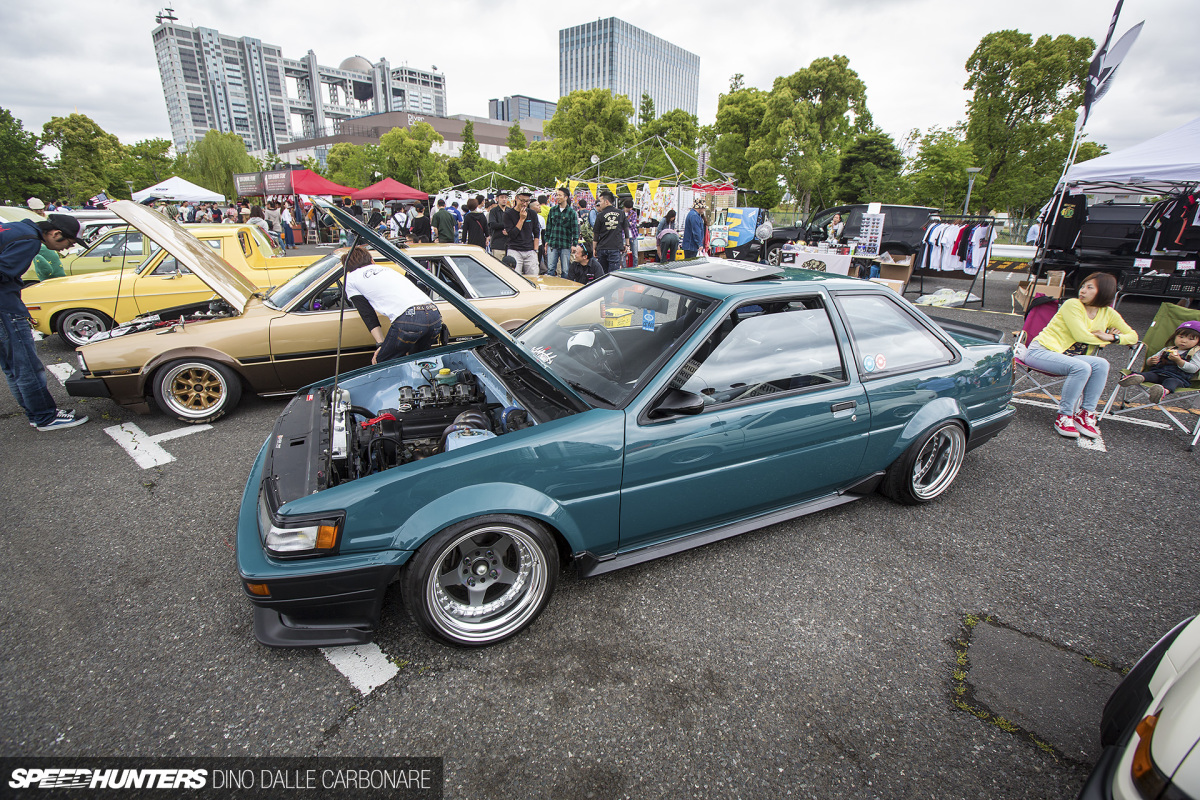 Our buddies from N-Style never miss a meeting, and after seeing Taku abusing his TE71 at Black Mark Day last month, the change of pace for this weekend must have been nice for him. His AE85 Levin remains one of my favorites.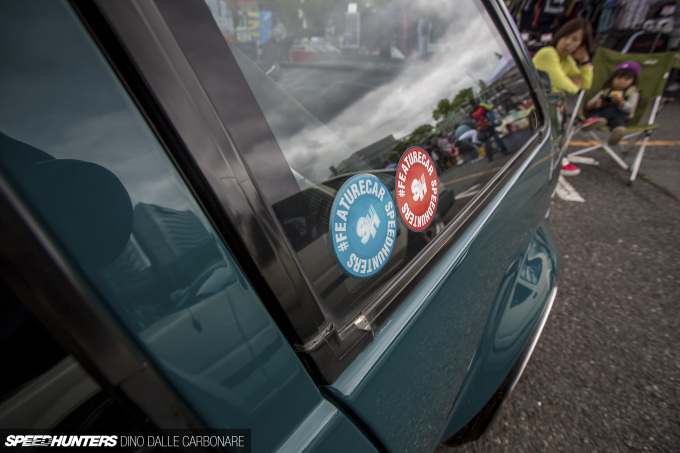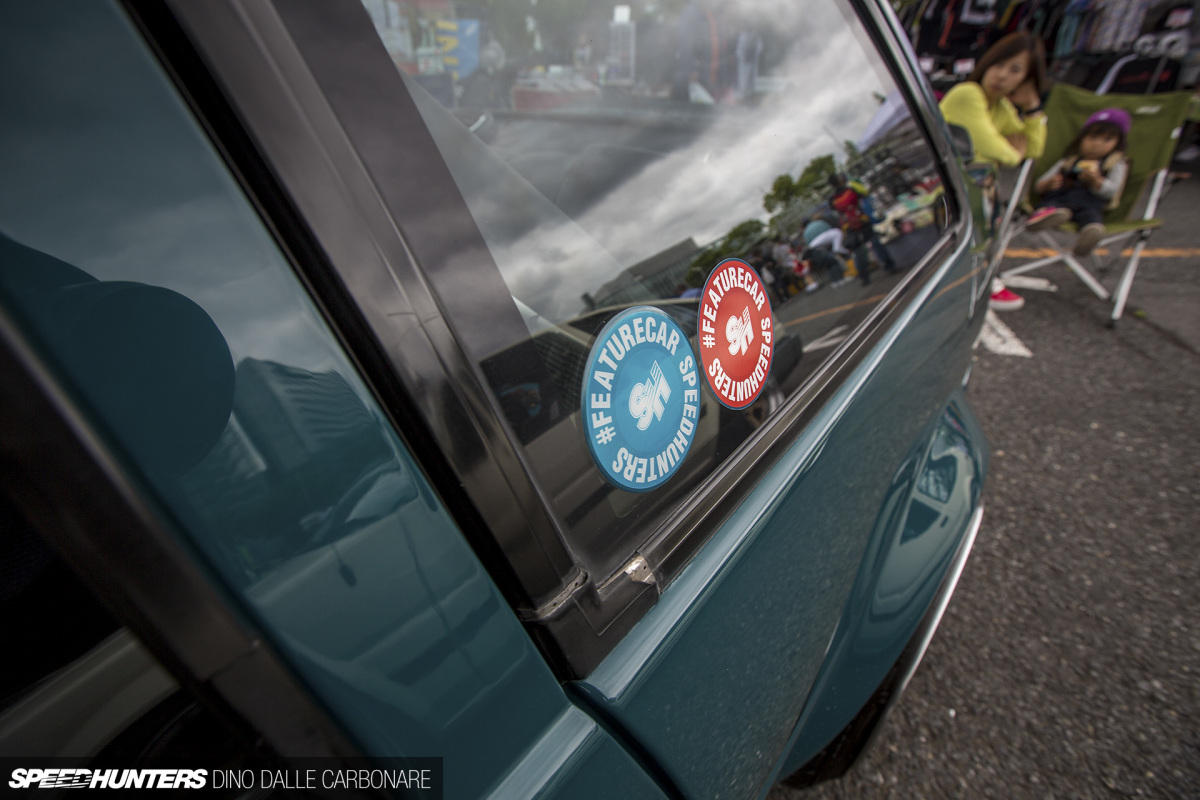 I featured this car before it went under the knife to be made all pretty.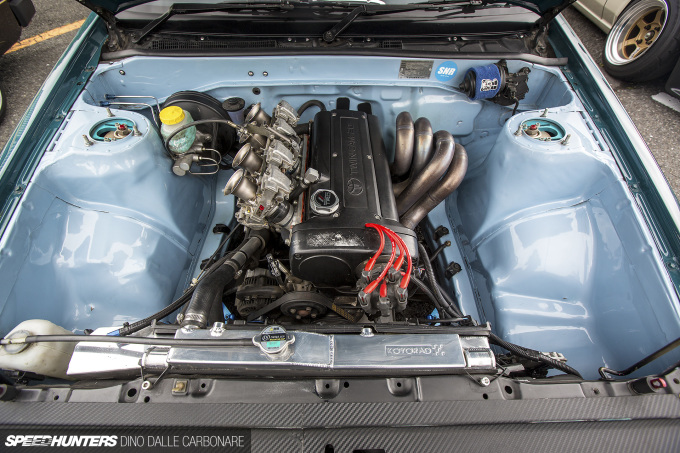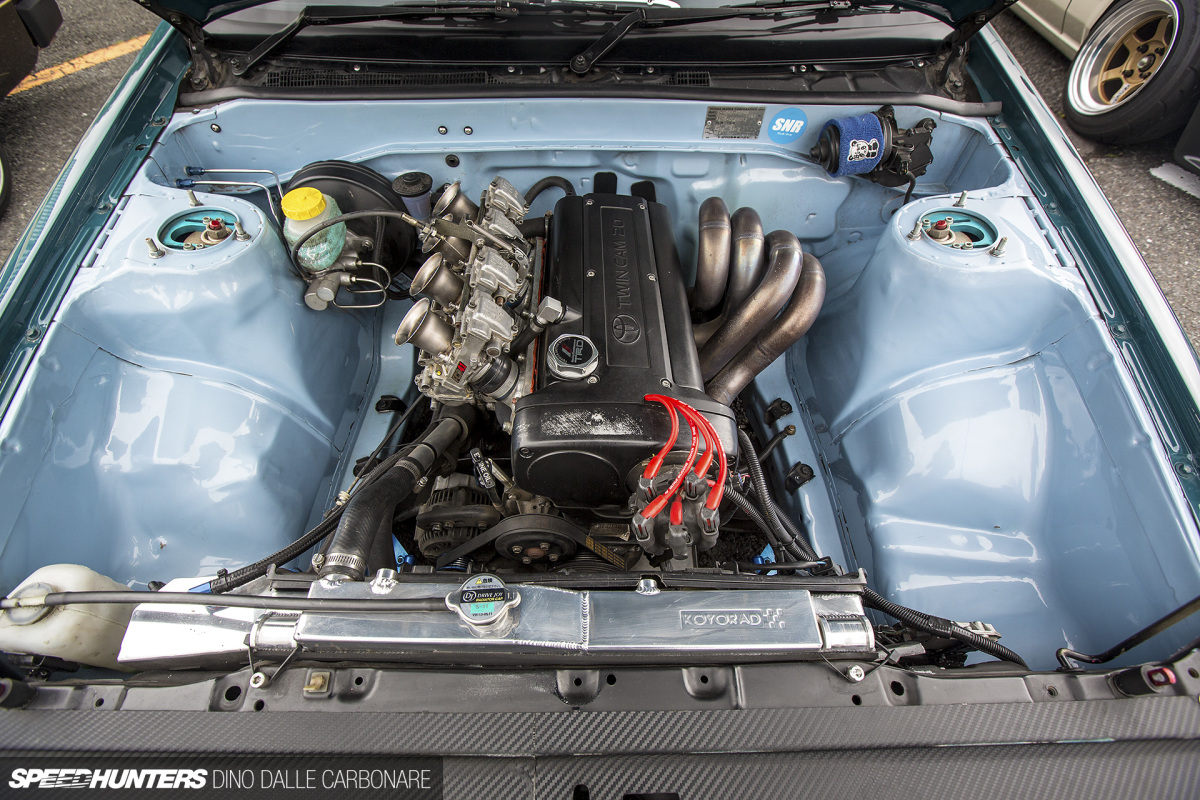 We've also seen Taku throw his drift-spec N2 AE86 around Nikko some years back, and if you recall that feature you will remember he likes his 4A-Gs to run carbs, hence why this one's on FCRs. Just look at that engine bay!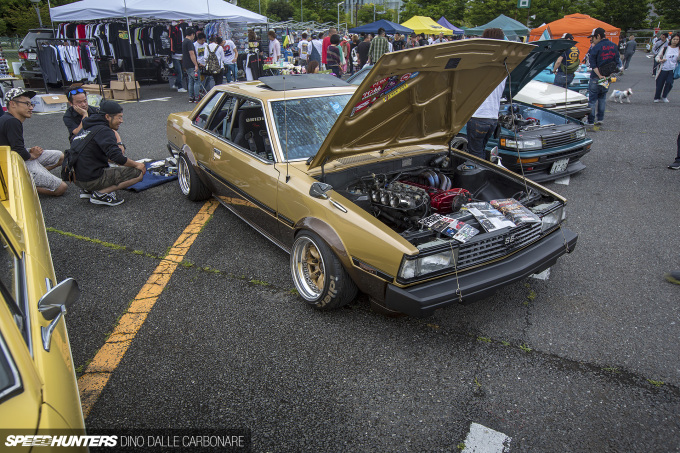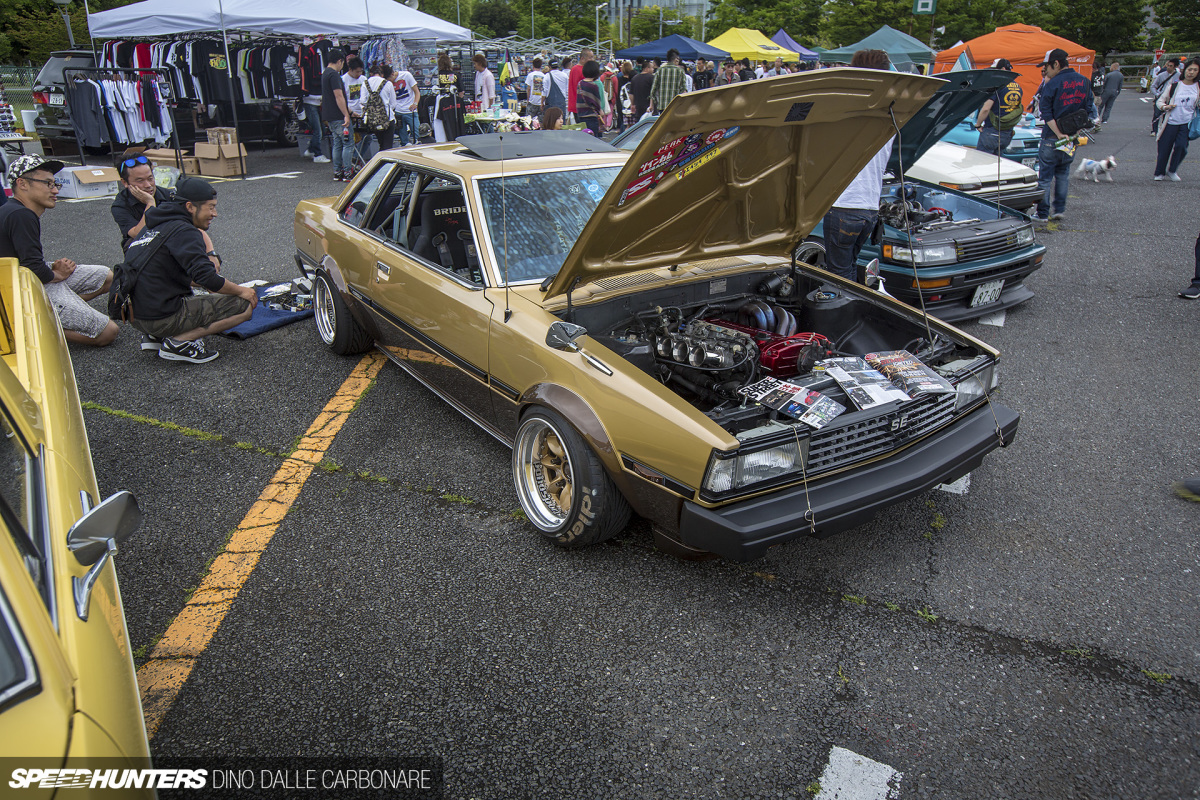 Manabu was also in Odaiba with his ever-evolving AE70.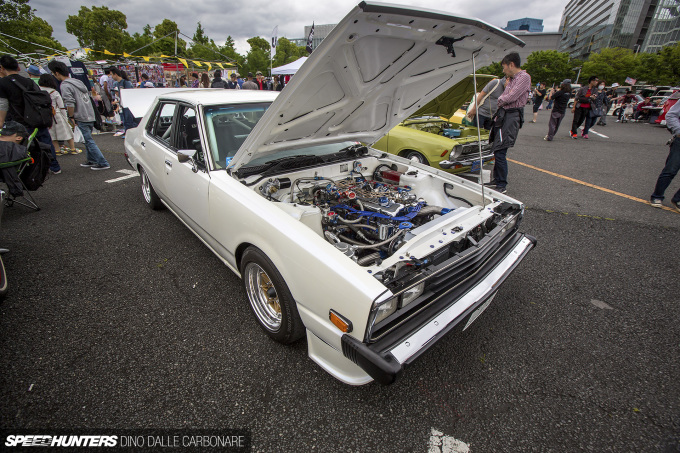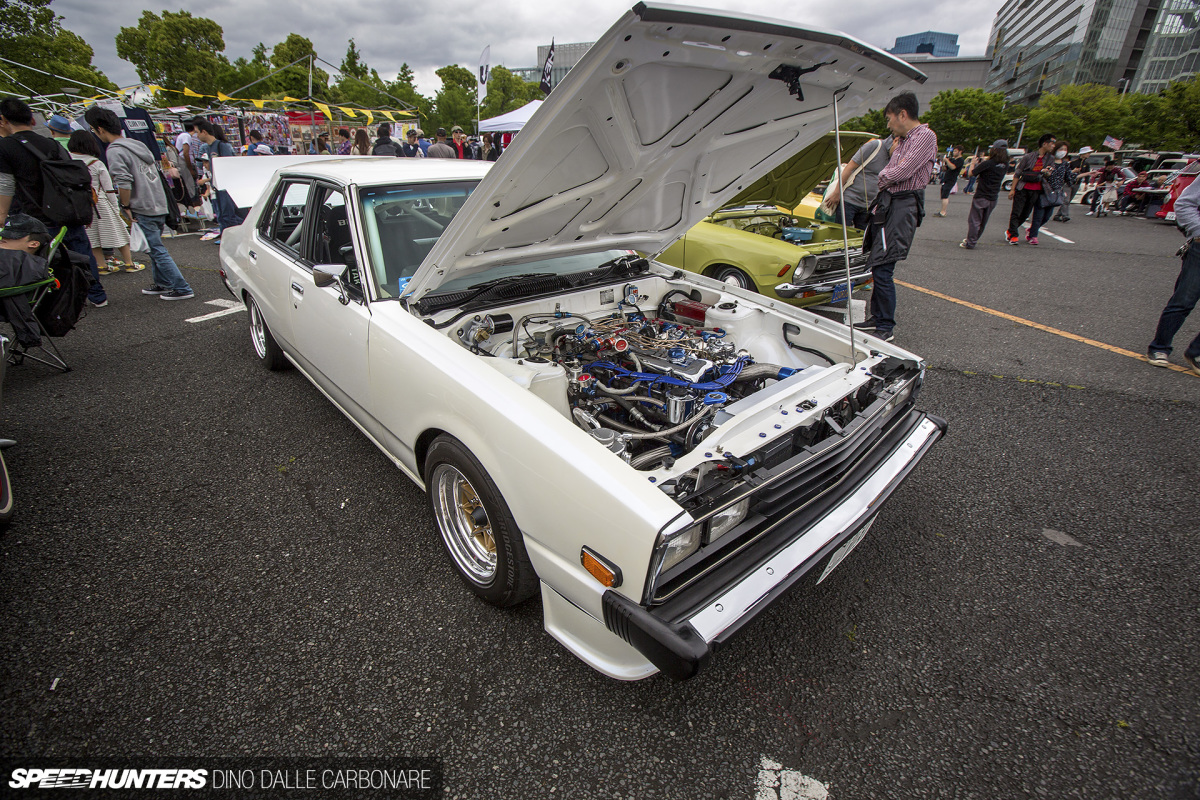 I'll end this first post from the 2017 Mooneyes Street Car Nationals with the same C211 Skyline we saw at Wekfest the other week.
As always, I've kept the coolest stuff for some standalone spotlights, which I'll start to work on right away. I think you guys will love what I've got coming up, so make sure you check back throughout the week for updates!
Dino Dalle Carbonare
Instagram: speedhunters_dino
dino@speedhunters.com