Dropping In At The Right Time
The best thing about Speedhunting in Japan is the fact that on any given weekend there are so many car culture related activities happening that you are never too far from something cool.
At the conclusion of this year's Marronnier Run in Nikko, we spotted a ton of Japanese vintage cars shooting up the mountain roads around the Lake Chuzenji area. We then pitted at Officina Ishikawa, a respected engine specialist that restores rare vintage motors and a place featured in the Retro Car Kings show I did with Discovery Japan some years back. After indulging in old Bugatti and Alfa Romeo engines for a while, it was time to get back to automotive normality – at least for me.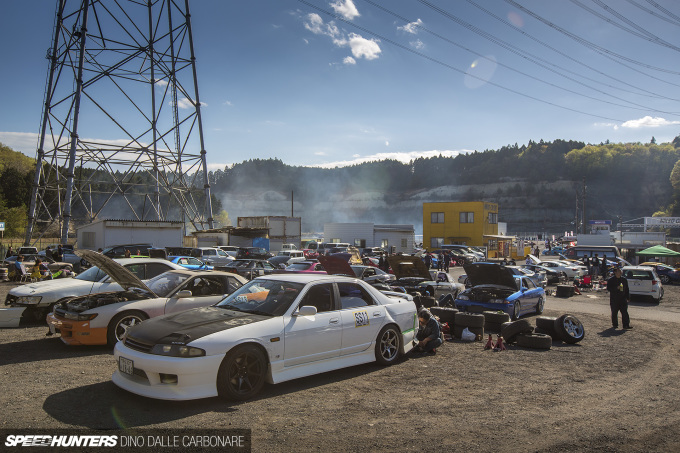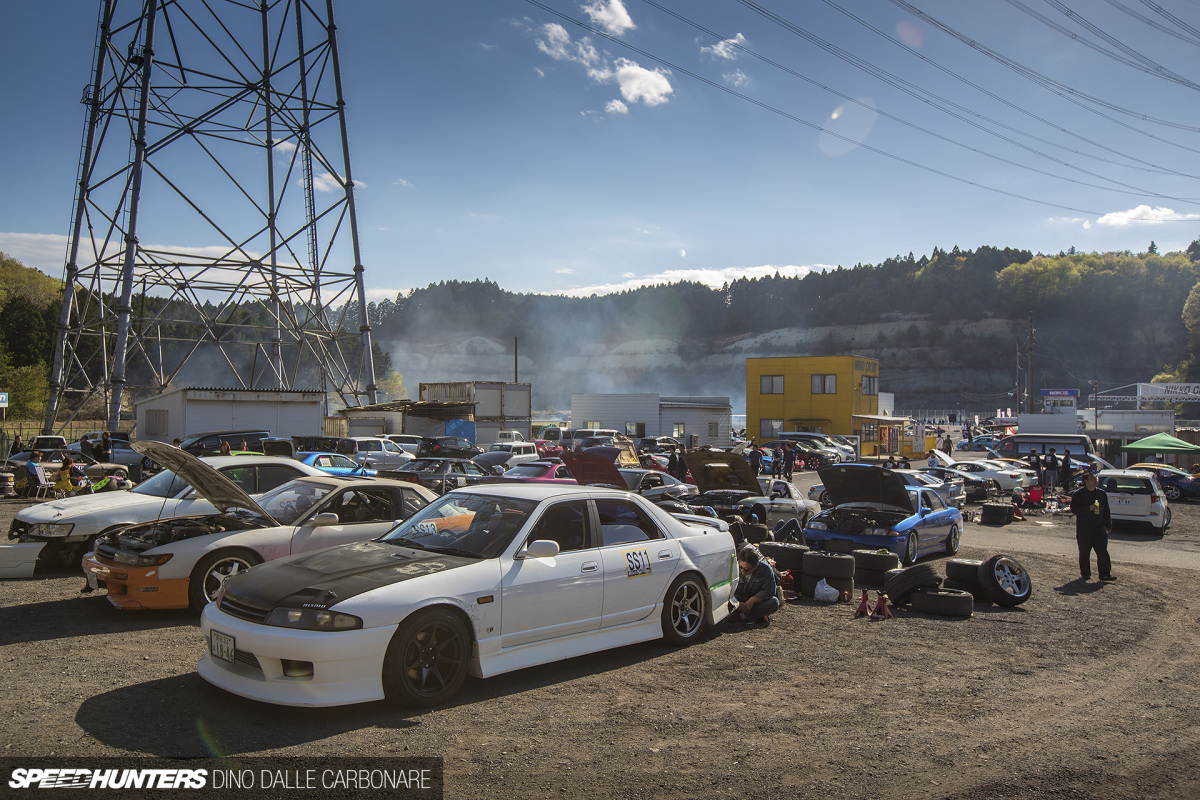 The final port of call on this car-oriented weekend was Nikko Circuit, where the guys from N-Style Customs had brought together an amazing community of grassroots drifters.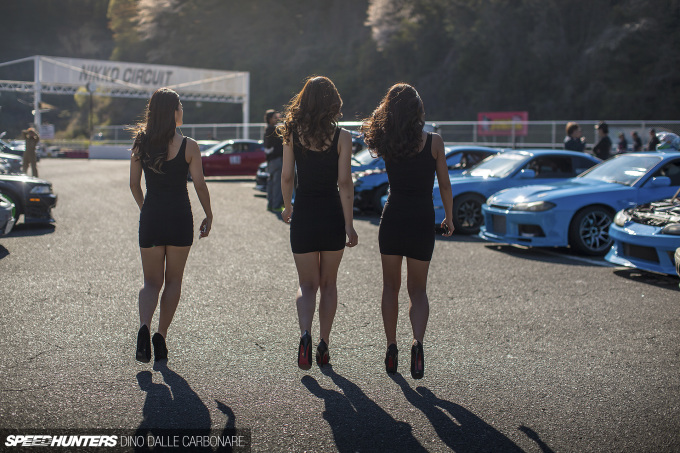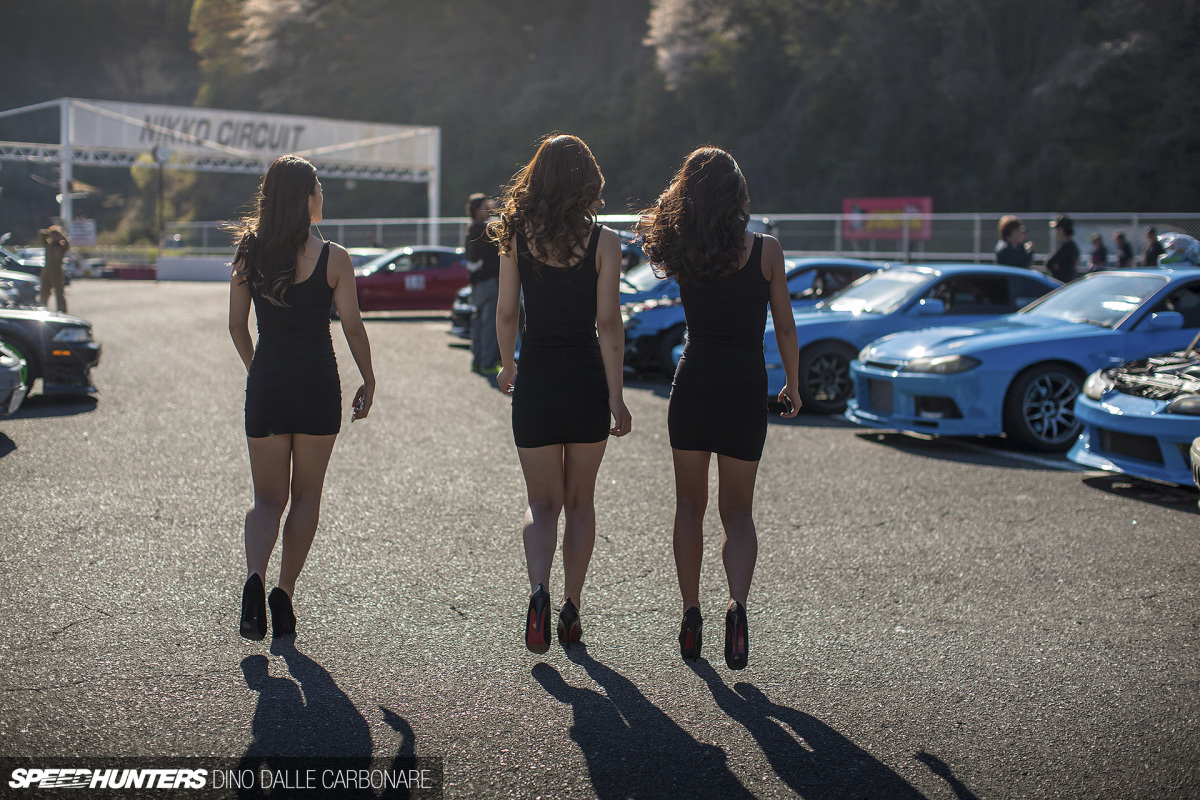 We were at the first Black Mark Day back in 2013, and given how that turned out there was no way I was going to miss the event this year.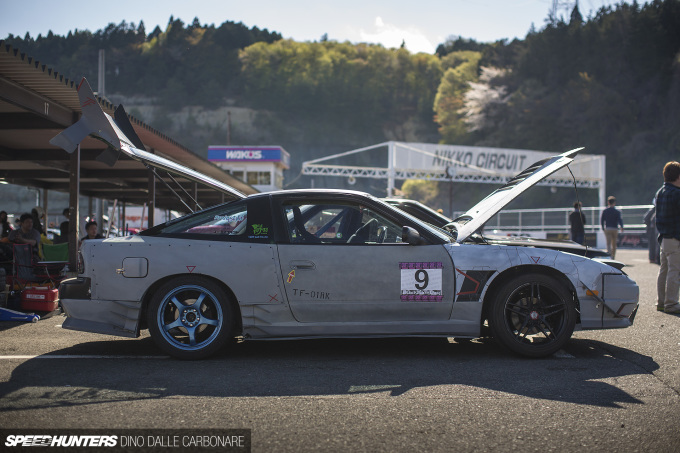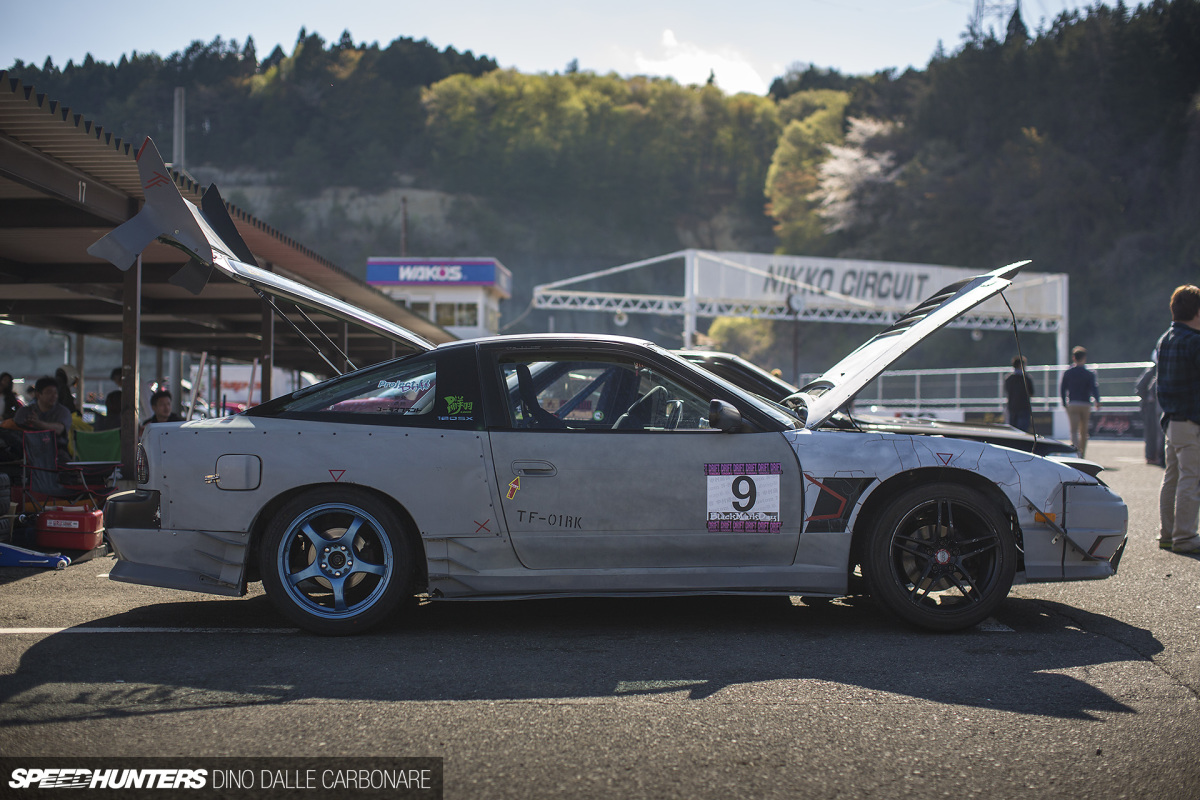 The paddock was pretty much full to the brim with each and every drift chassis you could think of.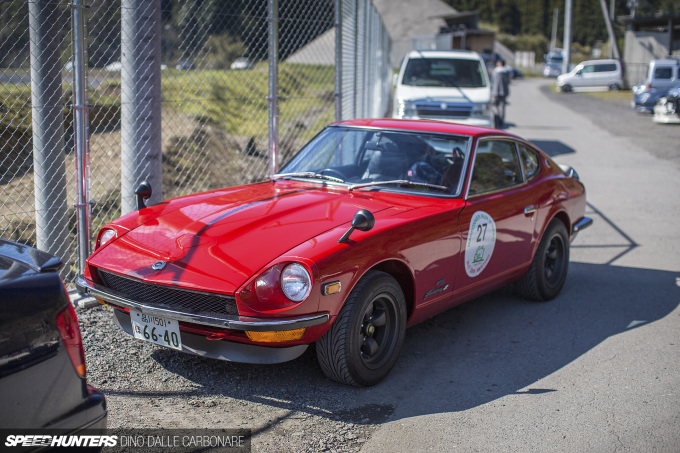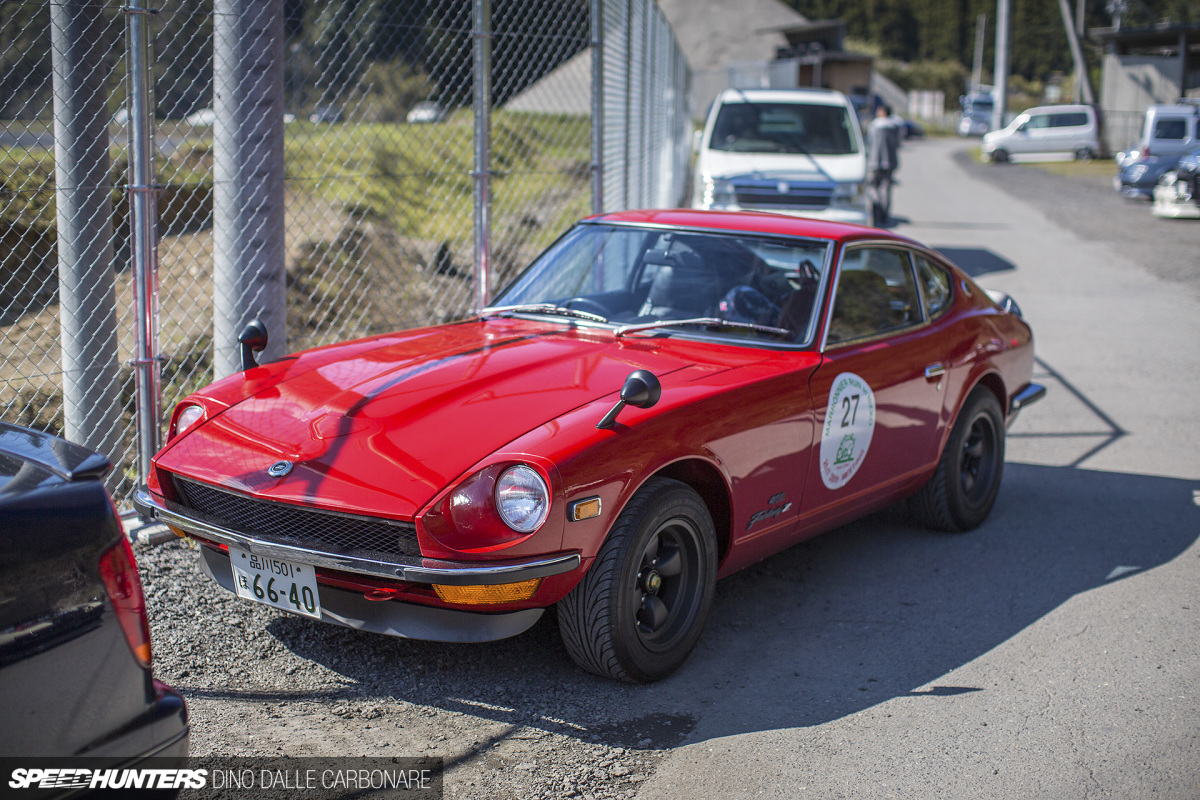 With Takamichi, the owner of the 432Z we had just driven at the Marronnier Run, not wanting to risk getting stuck in traffic on our return to Tokyo (something that on a bad day can double the two-hour drive), I had about 45 minutes to check everything out.
Challenge accepted!
I stuck my trusty 50mm lens on my camera and got stuck right in, immersing myself in a scene that I admittedly haven't spent much time documenting of late. As always, the gravel parking outside the gates of the circuit was turned into a secondary paddock, and this is where the AE86 and Corolla guys set up camp.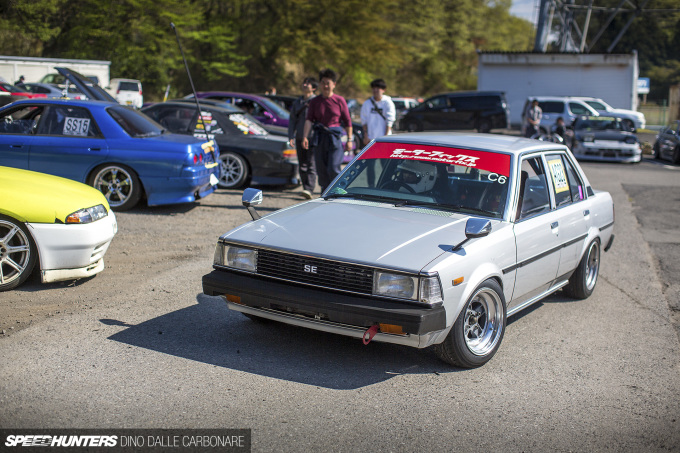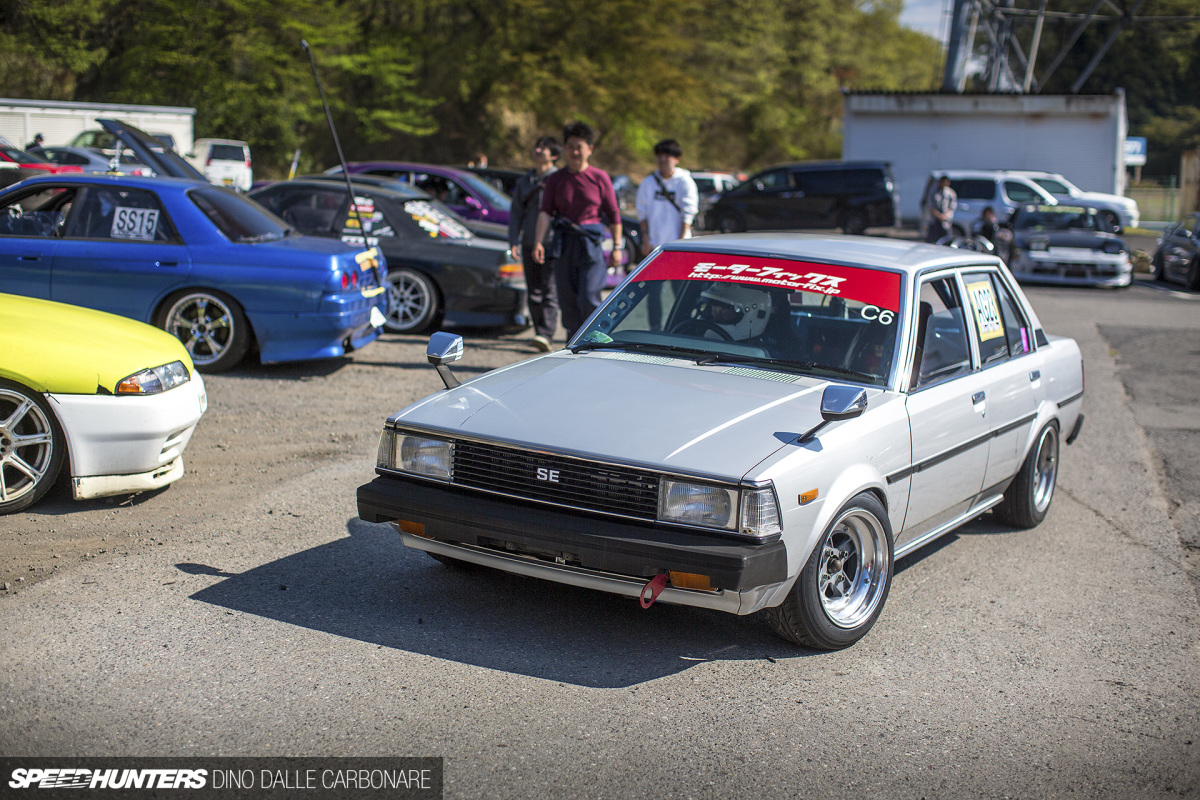 I even bumped into one of the MotorFix crew. Man, did seeing that name bring back some memories!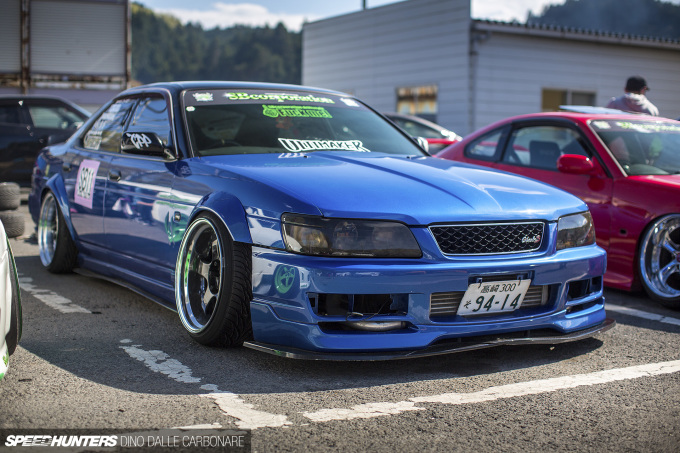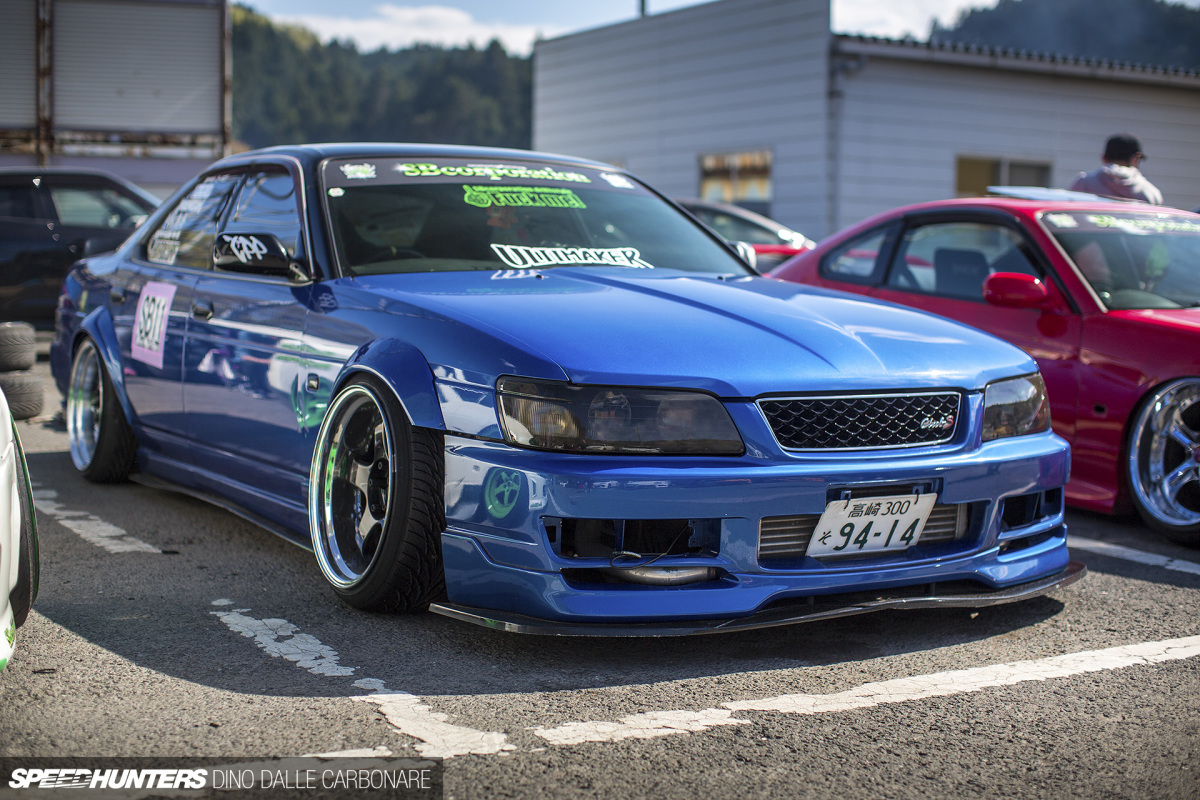 The largest presence at this event always comes from SBcorporation, and they usually have so many cars in tow that they are given their own class out on track. There were a lot of awesome cars in this group, but it didn't take me long to find my favorite, this (Bayside?) blue C35 Laurel. Just look at how this thing sits. In my mind, the Japanese continue to rule the world when it comes to making a drift car sit just right; none of that Pro-spec crap with wheels sticking our all over the place.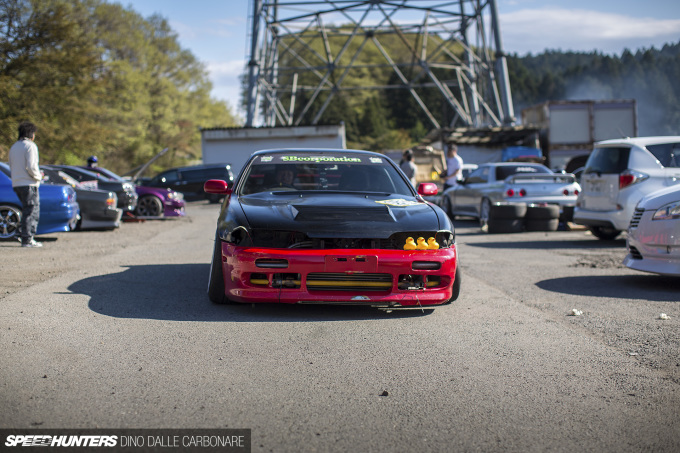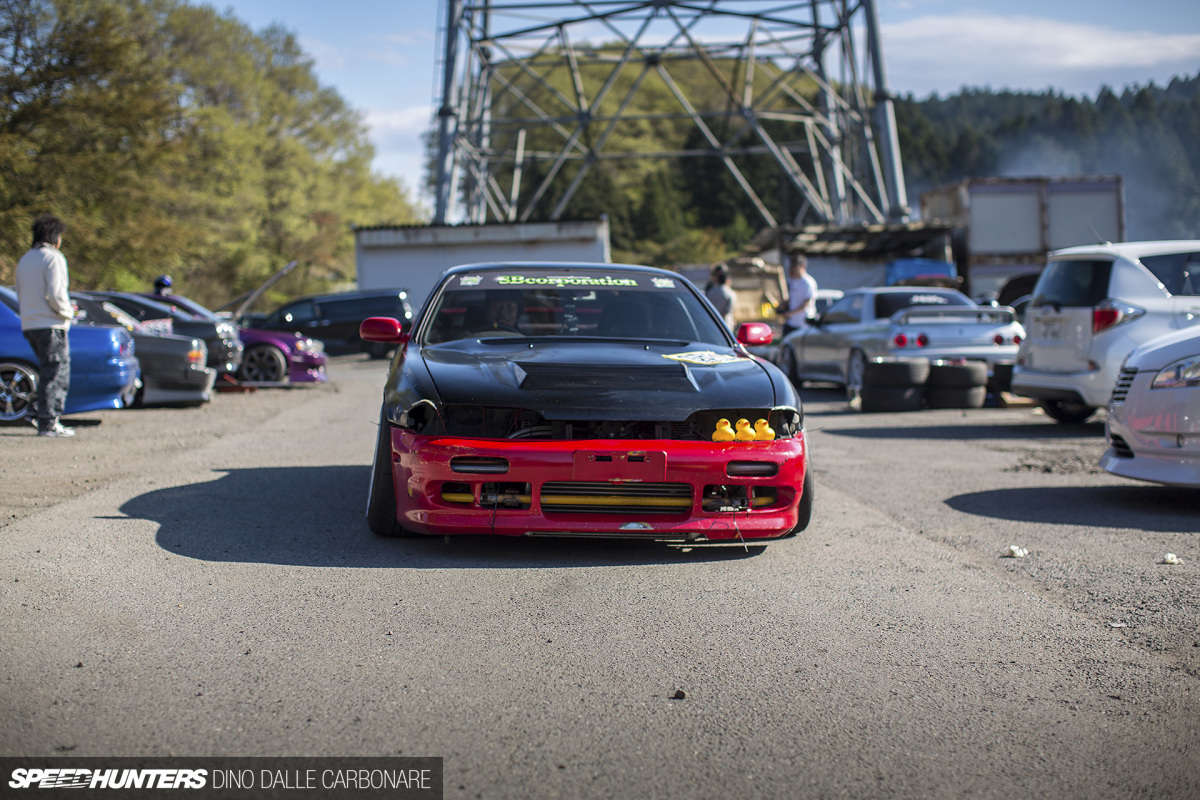 Who needs headlights when you've got a trio of rubber duckies perched on the corner of your bumper?! This S14 definitely made me laugh.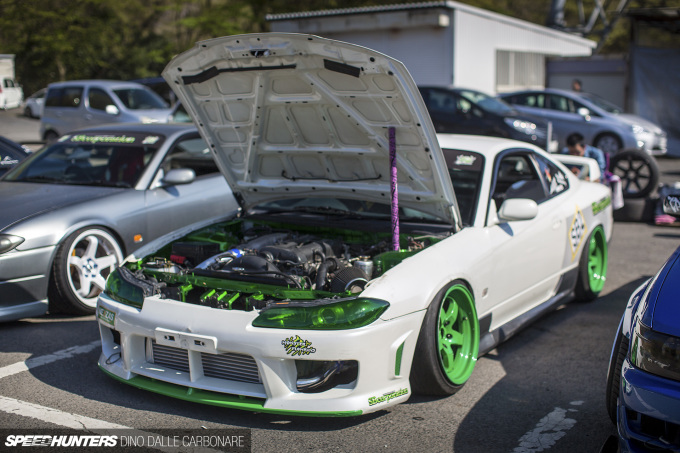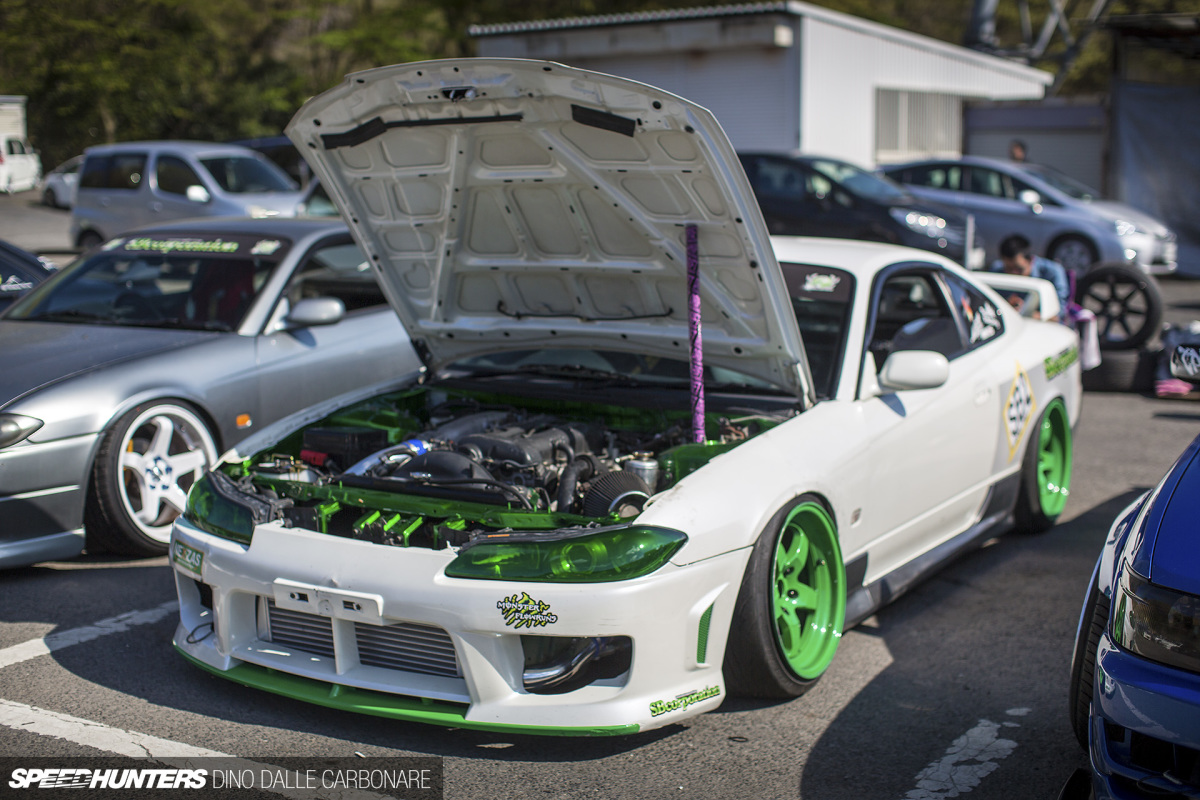 Here's color coordination done right. Exotic car owners need to check out how the Japanese drifters do it; there's no cheesiness to be seen here.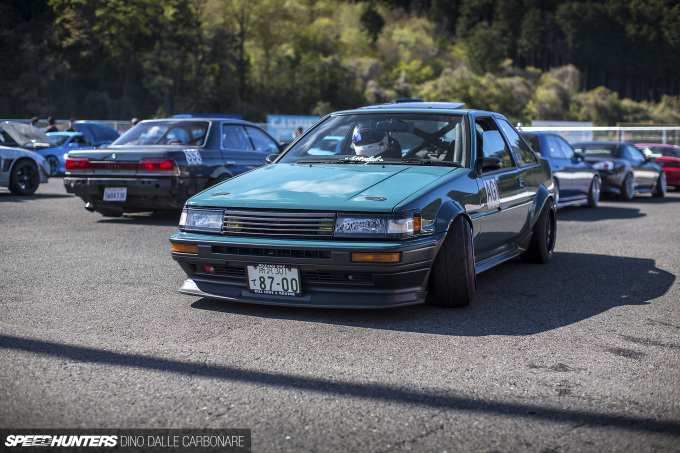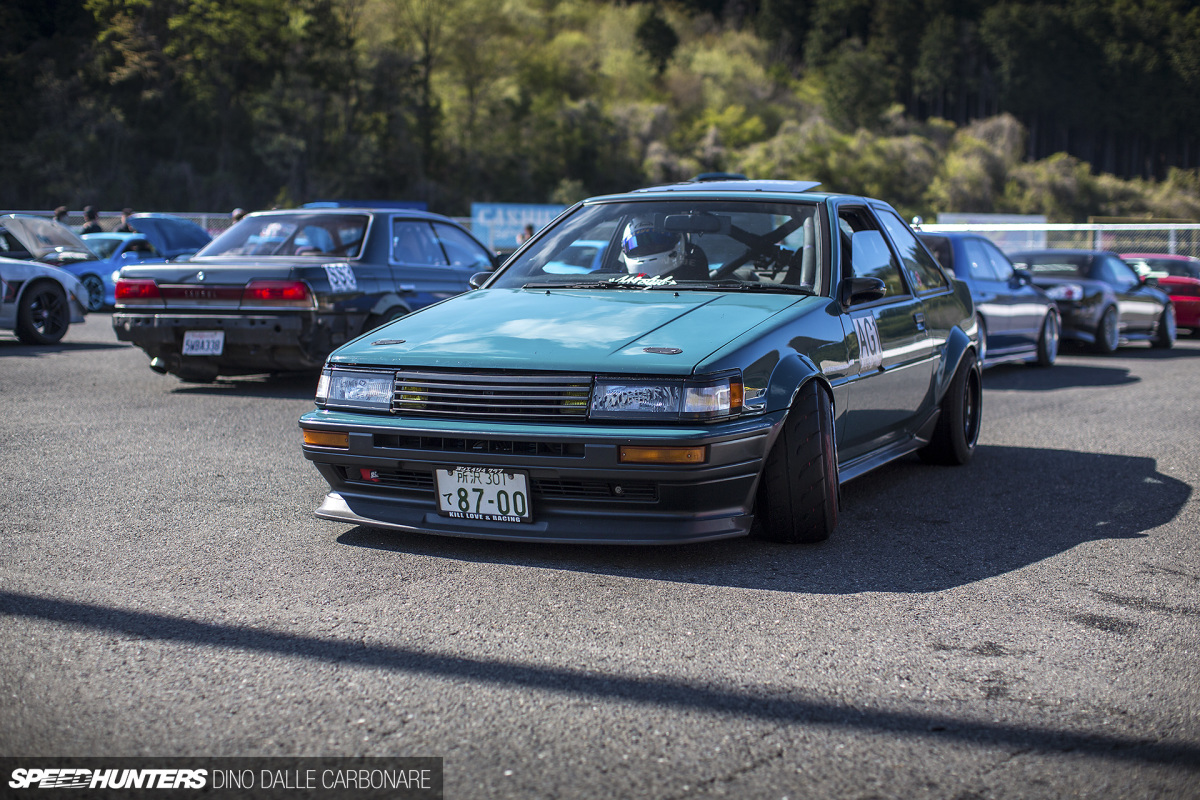 As I walked into the main pit area I came face to face with this Levin. Simple and well executed, it reminded me of Goto-san's satin green AE86 from way back.
What is it will all these memories flooding back? Maybe it's my mind telling me that I've spent way too much time away from drifting…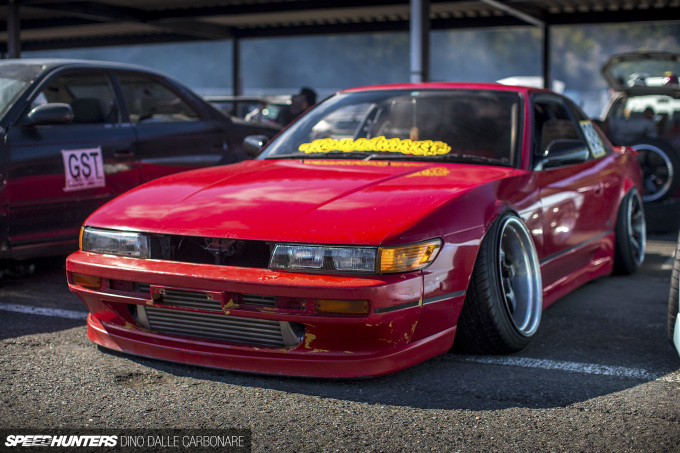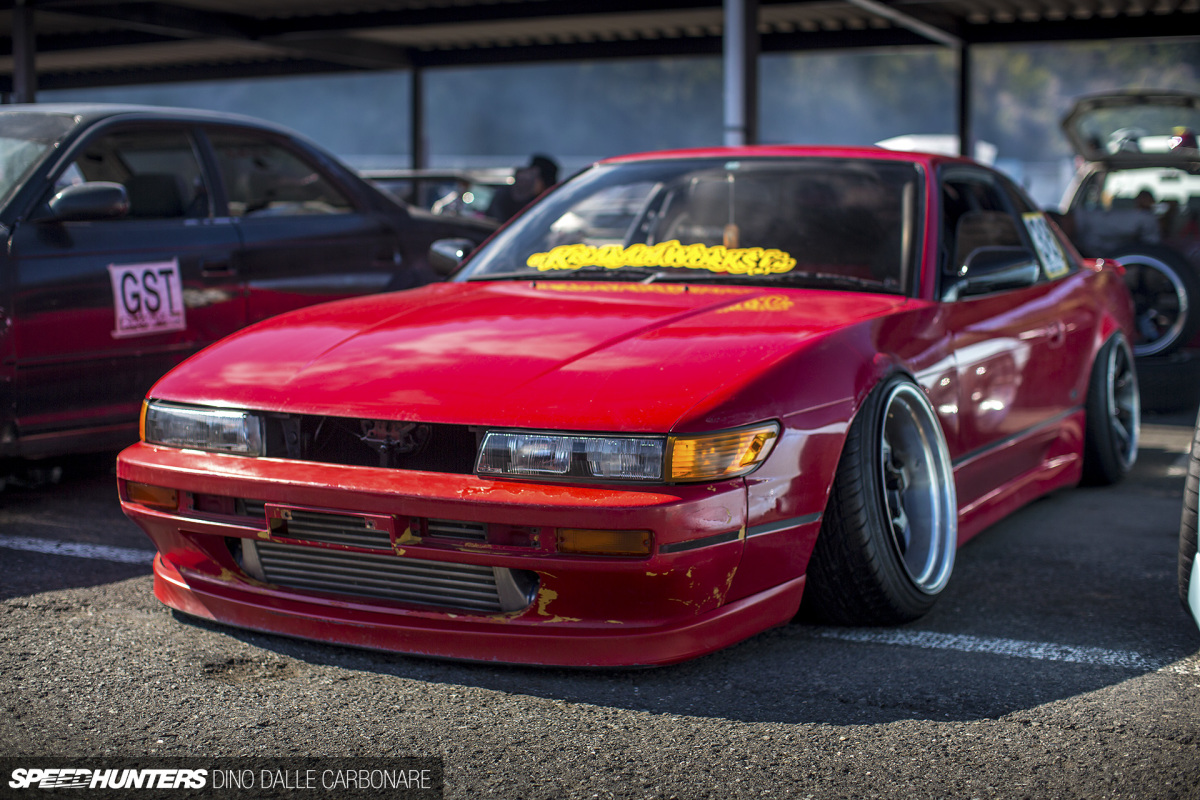 The style keeps evolving, and as this S13 shows, it's as if a more simple execution is preferred these days. I like it.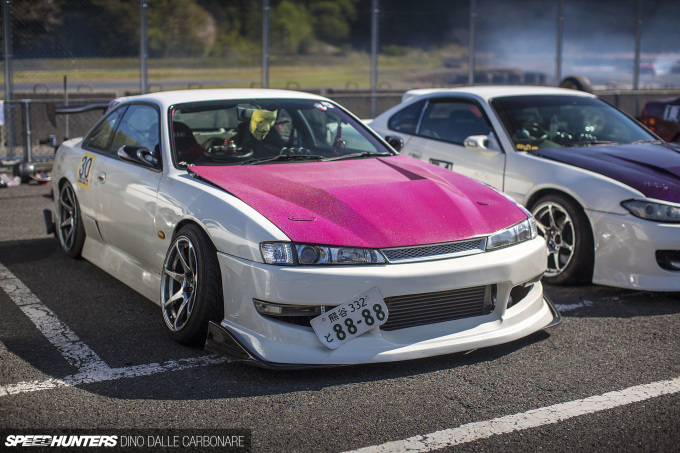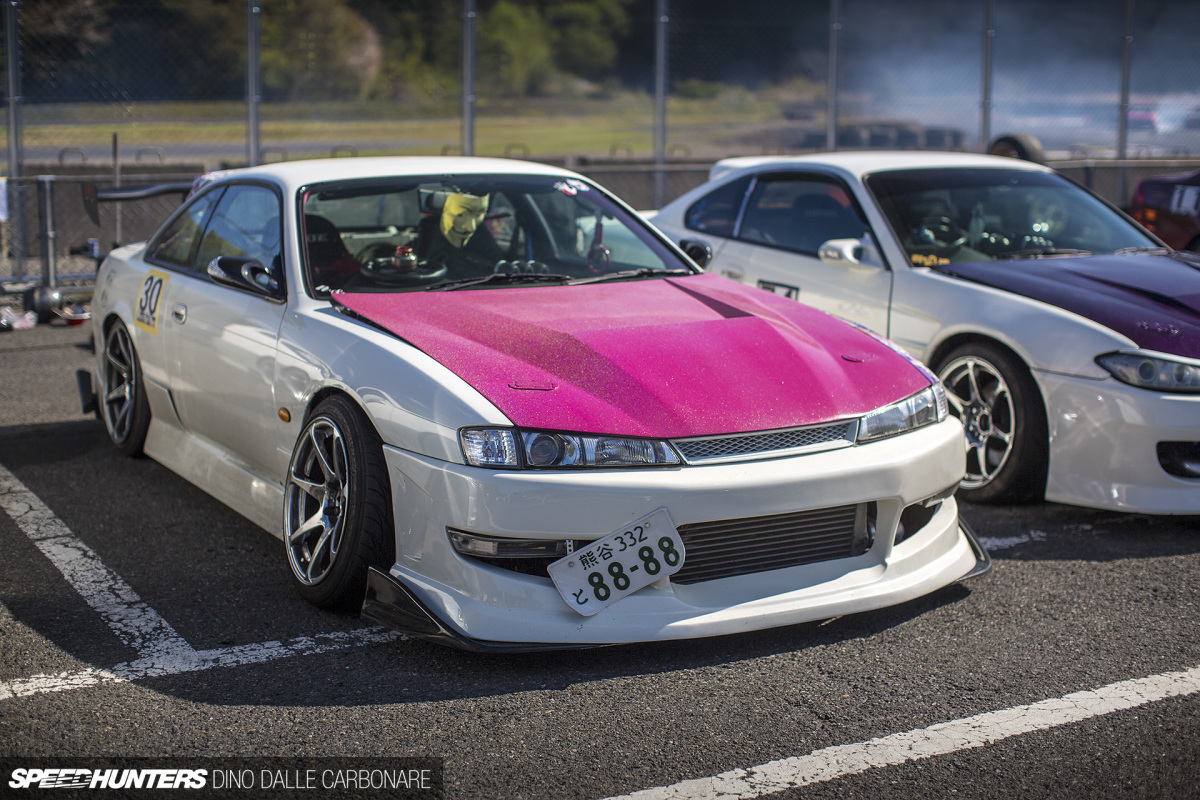 It's obvious that the main aim with drifting is to create a car that's mechanically competent at being thrown sideways, but at the same time it has to make a statement in the looks department. Some take this more seriously than others, so at an event like this it's really cool just walking around a paddock taking in the details.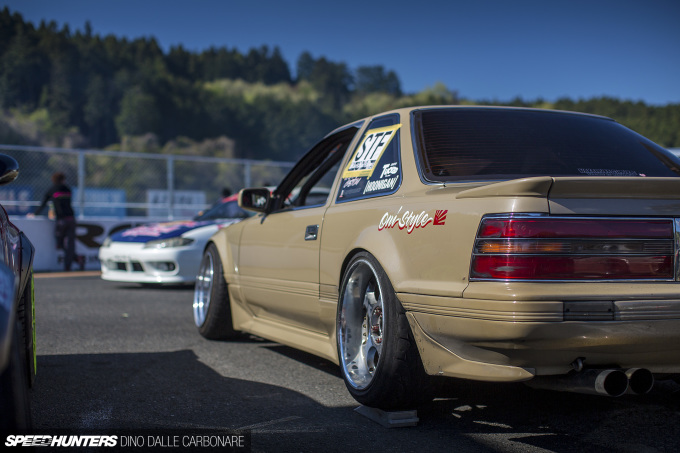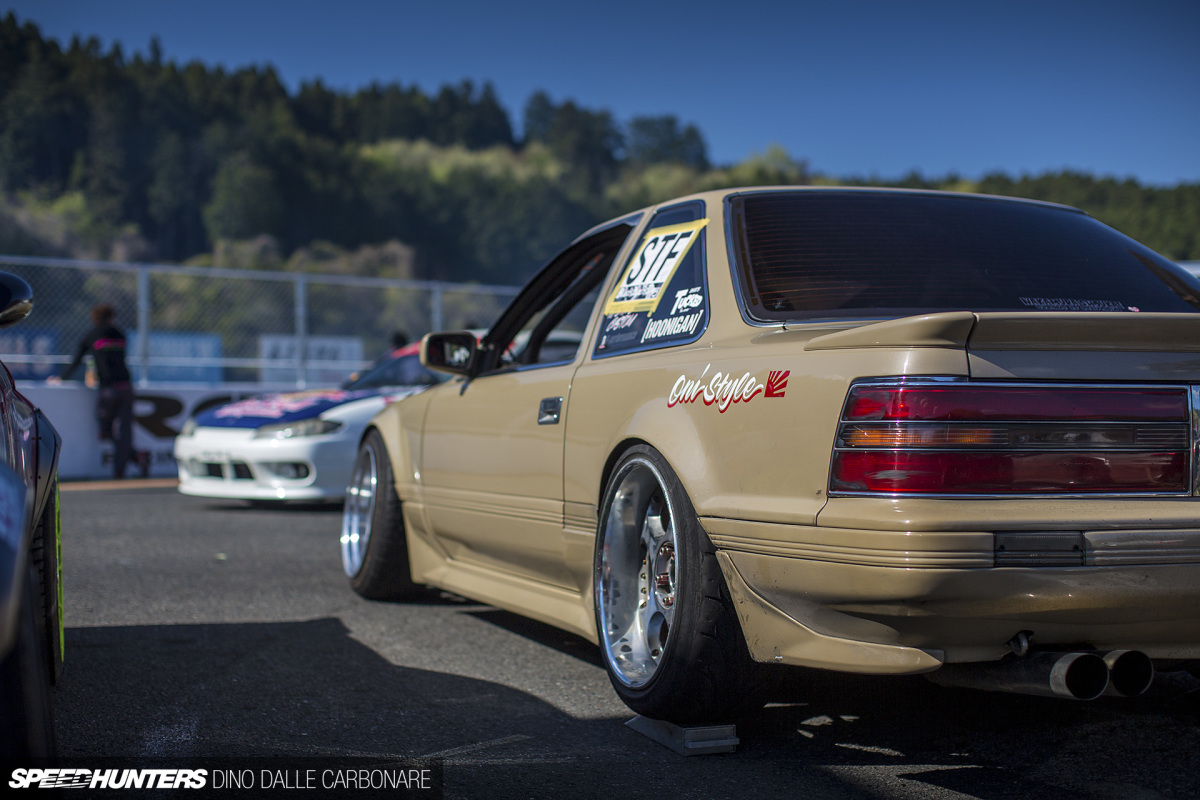 Most of the N-Style crew were busy making sure the event ran smoothly, so despite having a lot of their cars in attendance they weren't doing a whole lot of driving.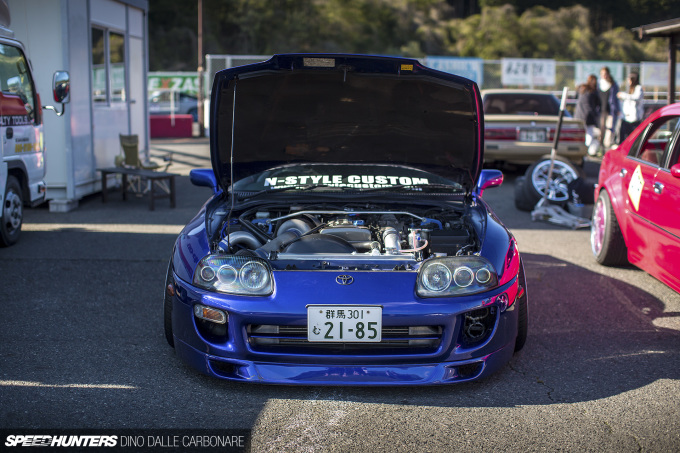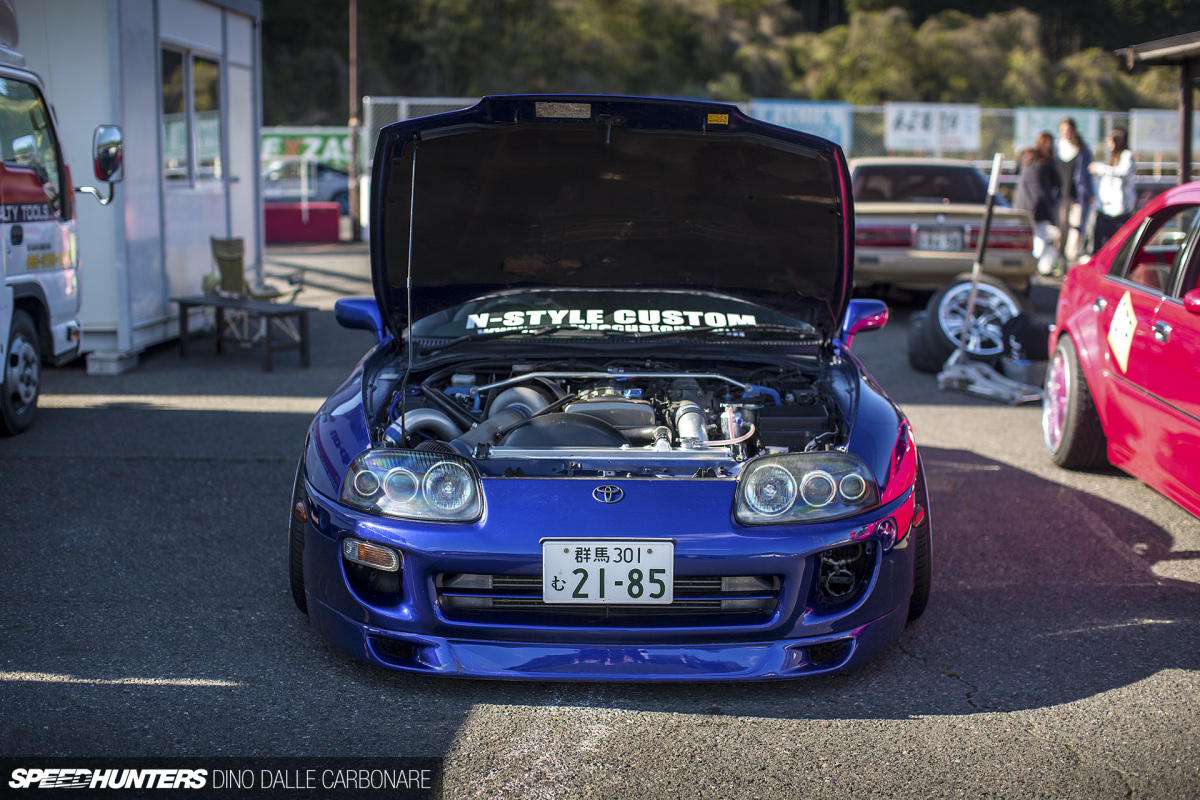 It was cool to see one of the bosses' JZA80s there too. If you want more info about it, you'll be happy to know that I've spotlighted this Supra before.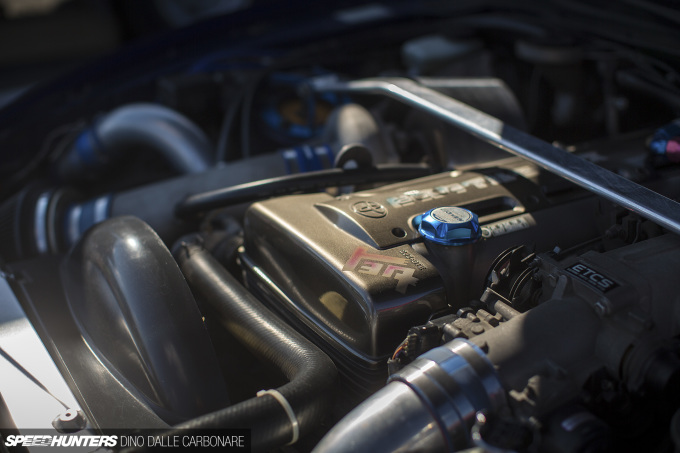 It looks like the single T67 turbo conversion is still more than enough to have some proper fun with on track. These 2JZ never die, do they?!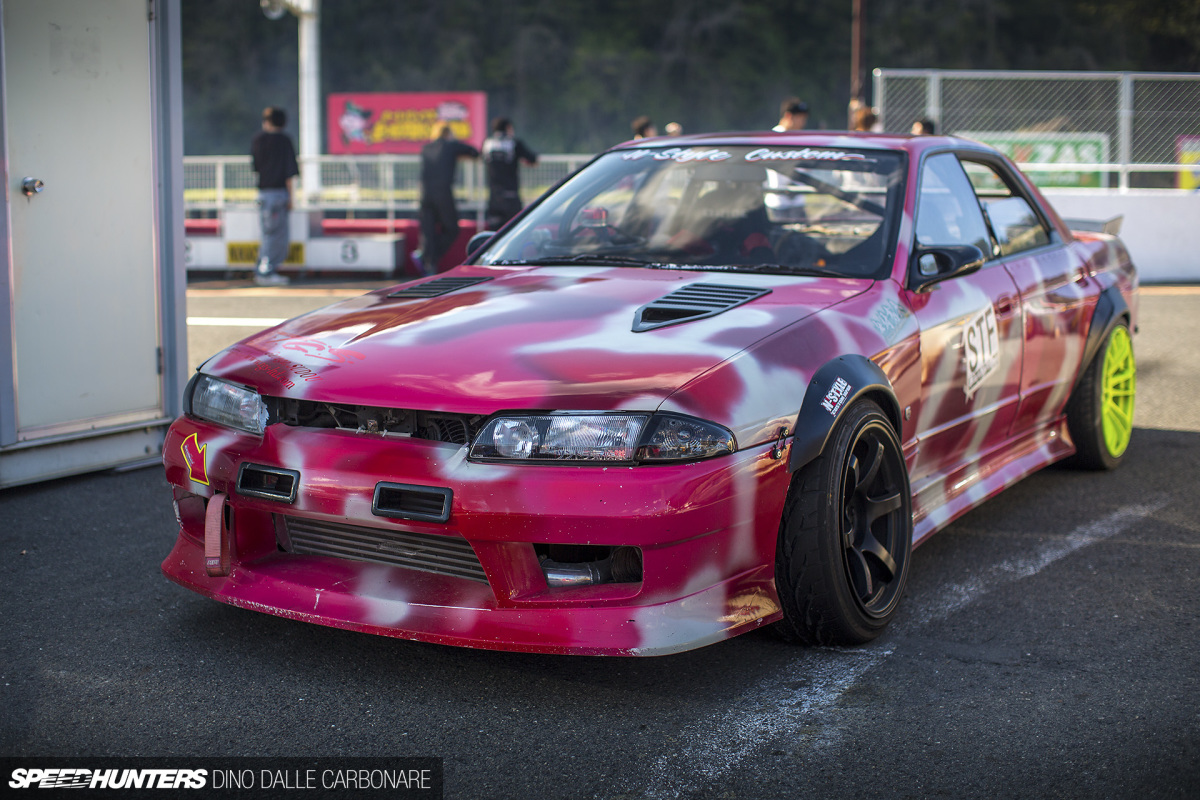 Parked behind the Supra was this wild pink camo themed R32 sedan. Unfortunately, I couldn't hang around long enough to get a look at the engine bay or find out more about it, but it certainly stood out.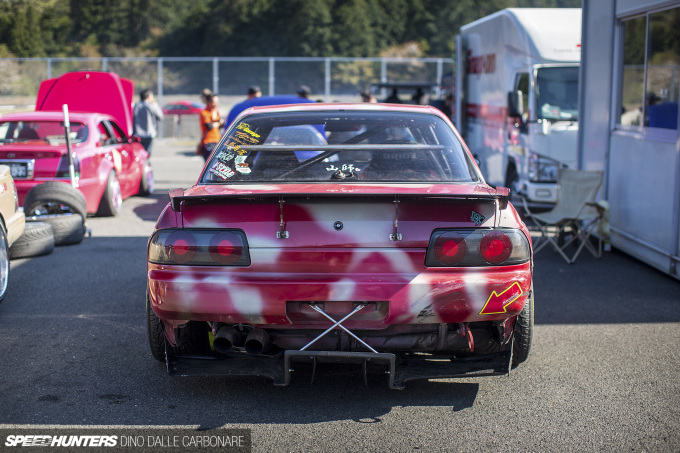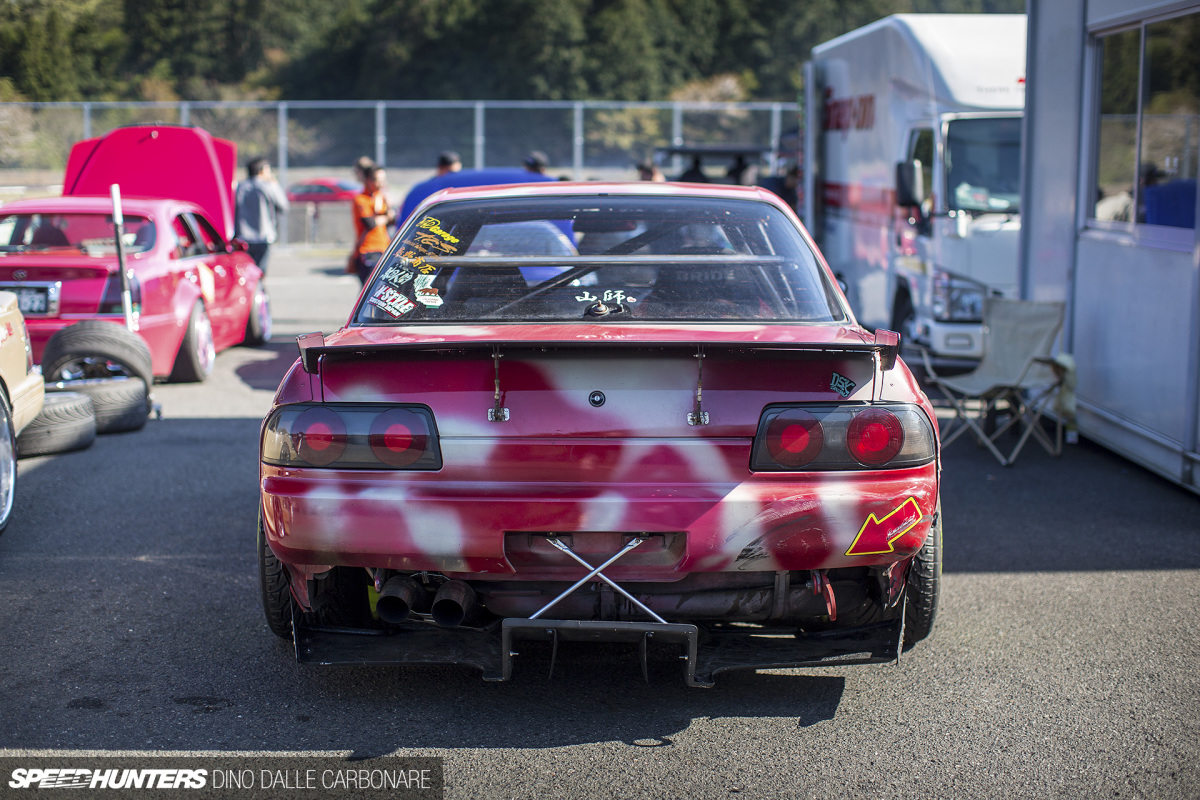 No comment on the exterior color and paint execution, but the rest seemed pretty legit. I'm developing a strange attraction to these cars, which is weird as I always thought the four-door san-ni was awkwardly proportioned. I guess the chunky fenders help.
A Class Of Its Own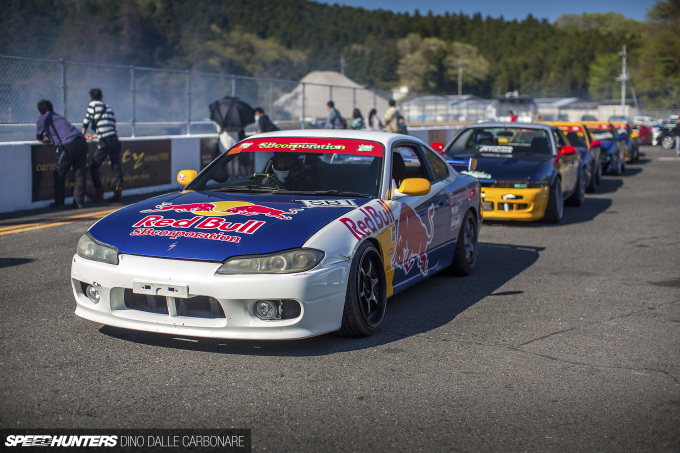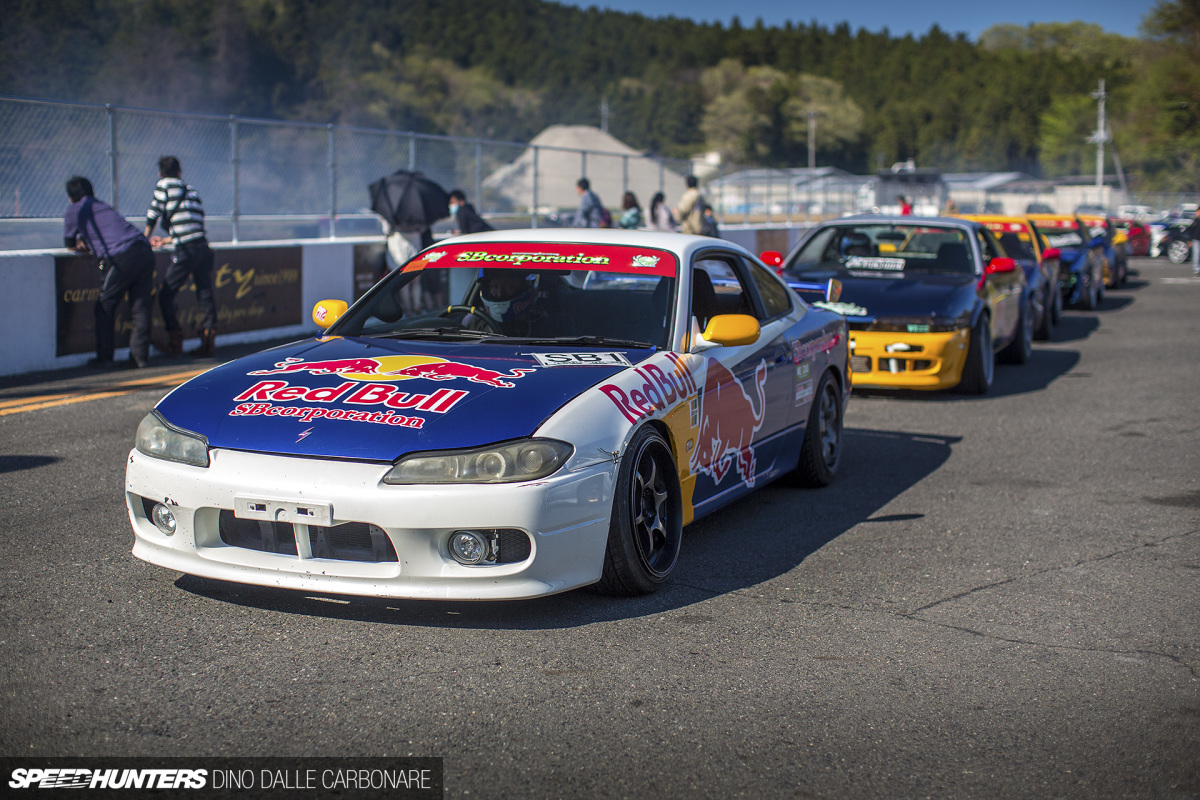 When the time came for SBcorporation's class to get onto the track, the line of cars stretched all the way out the paddock, past the gate and well into the gravel area. No guessing what their favorite energy drink is!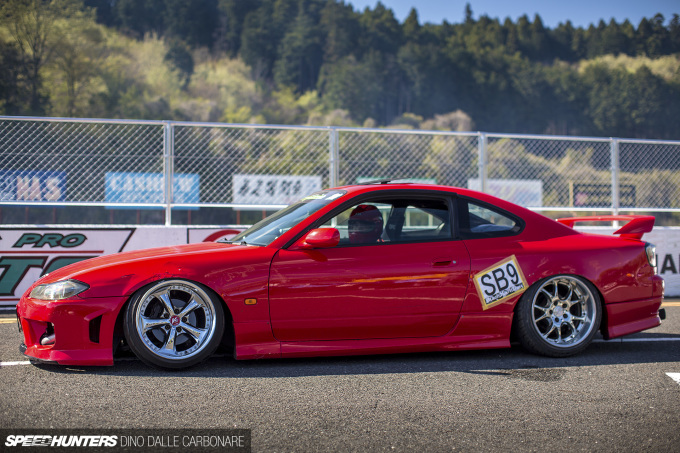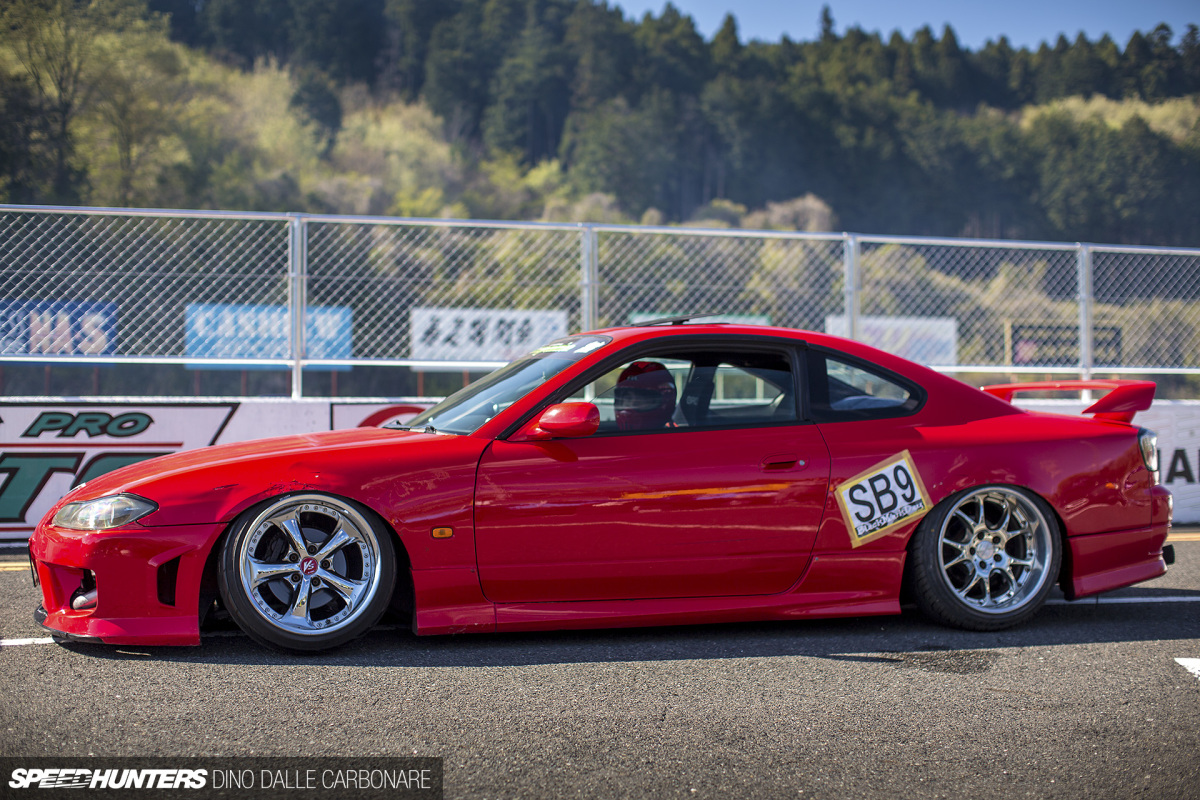 And then I saw it – this S15 is the car that put SBcorporation on the map for me. It may be sporting a little damage here and there now, but it's still got it; just look at how it sits. And it's functional – this is how the owner drifts it. Fist bumps all round to SB9.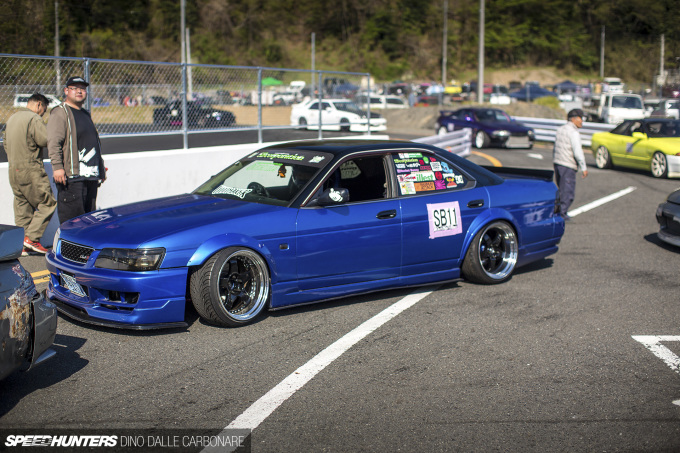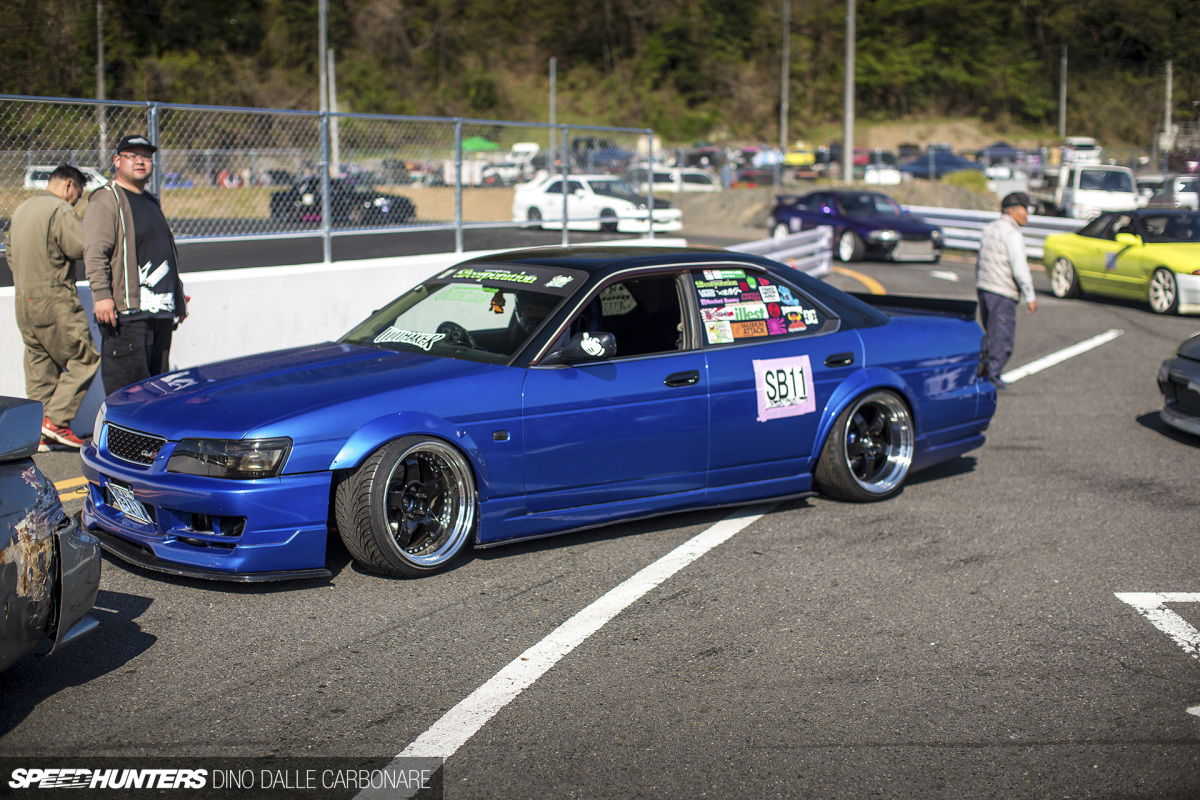 I continued down the line, past the two-tone Laurel from earlier…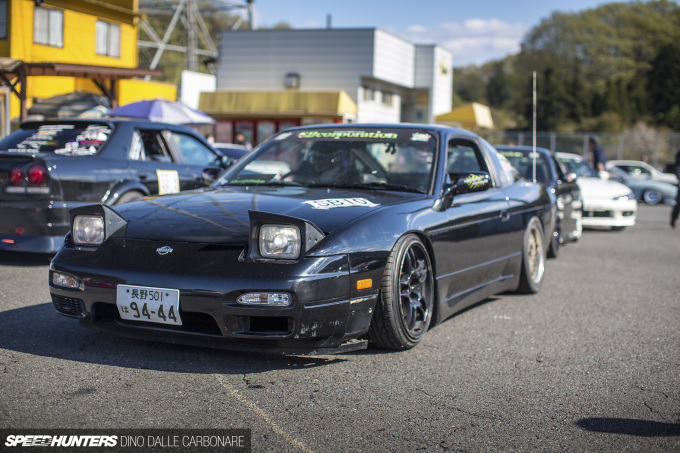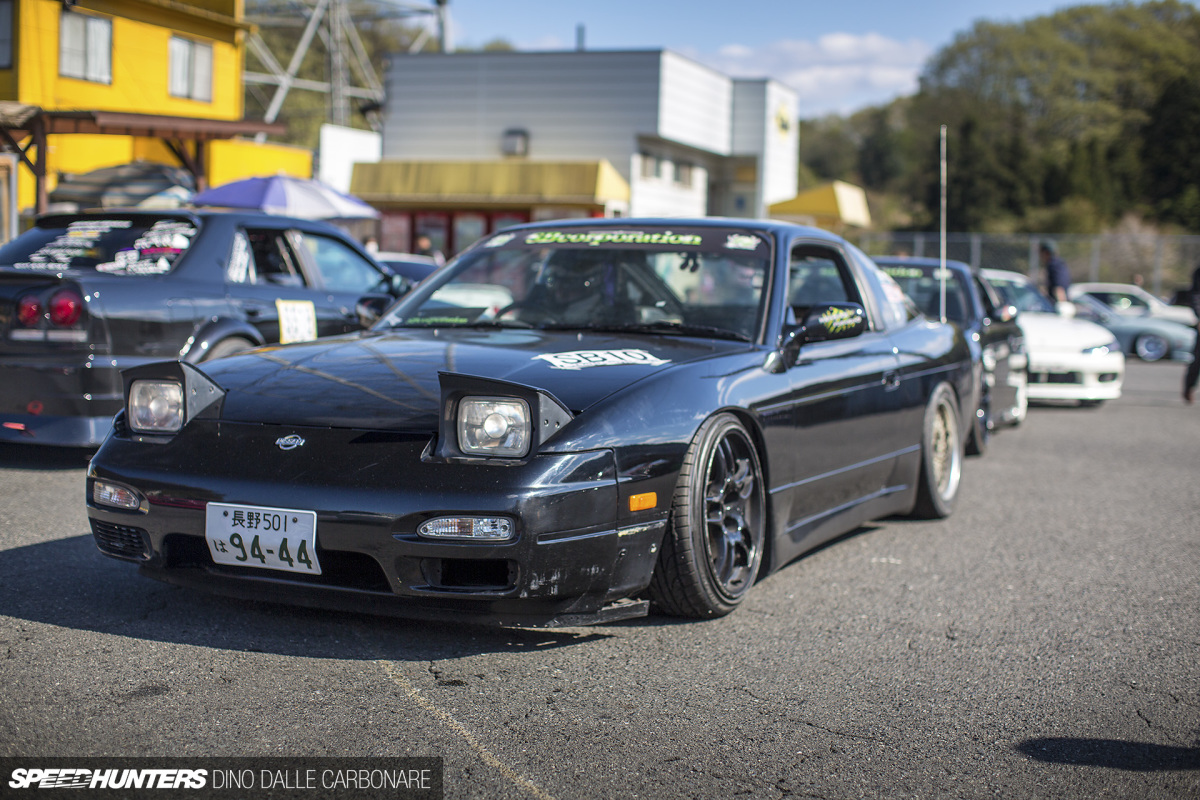 And it just kept going!
The guys from 193Power had a five-strong Silvia team – four S15s and a lonely zenki S14 parked in the middle. It's too bad I didn't get to see them head out as they are known for running some nice drift trains.
While Nagahama-san at N-Style will do anything you want to any car, his customers definitely lean more towards JZXs and sometimes Soarers. The paddock had some great examples of Chasers, Mark IIs and Coronas, and I think I even spotted a Crown Wagon somewhere.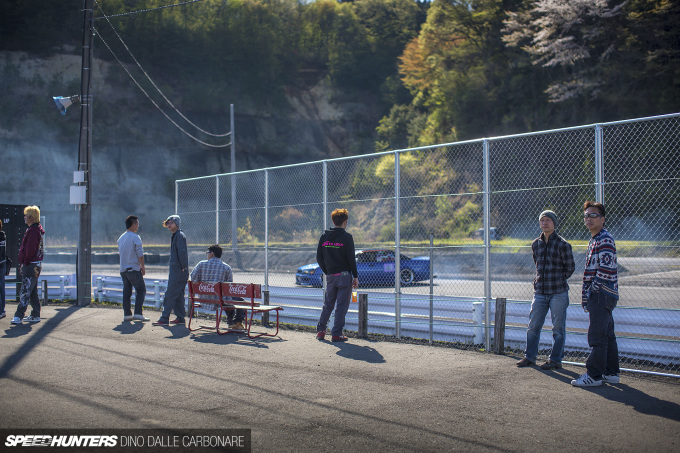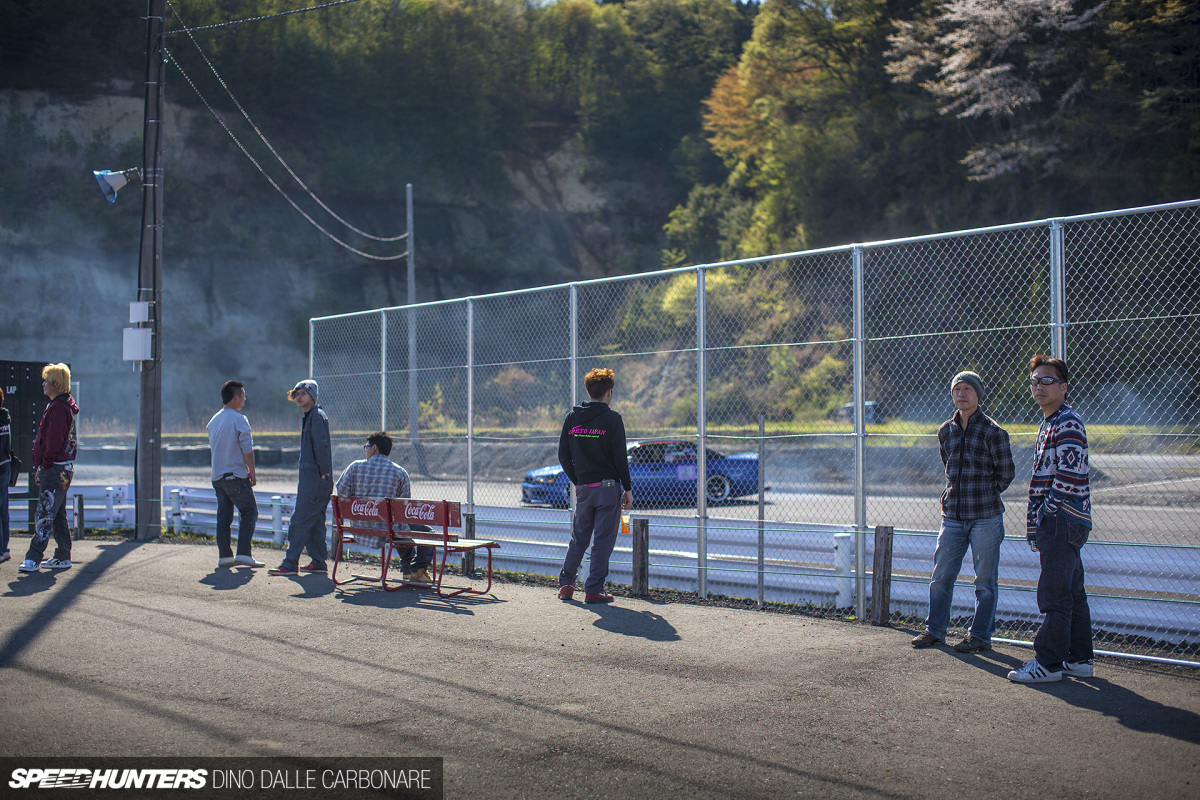 After last year's freak accident which resulted in a fatality, Nikko Circuit has had to make some changes. The main viewing area on the inside of turn one has been fenced off along most of the corner's entry and exit.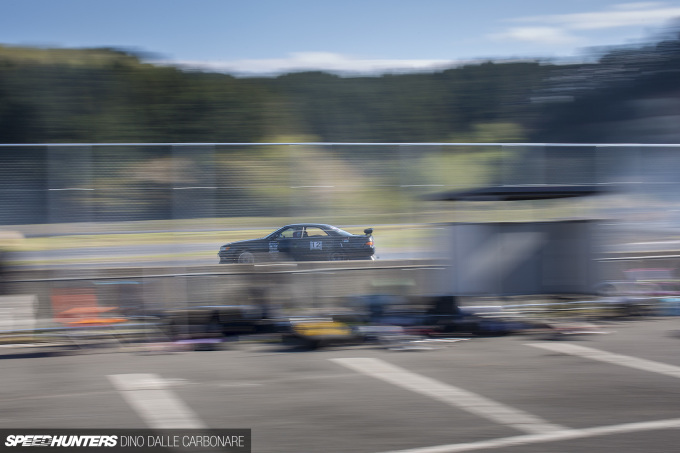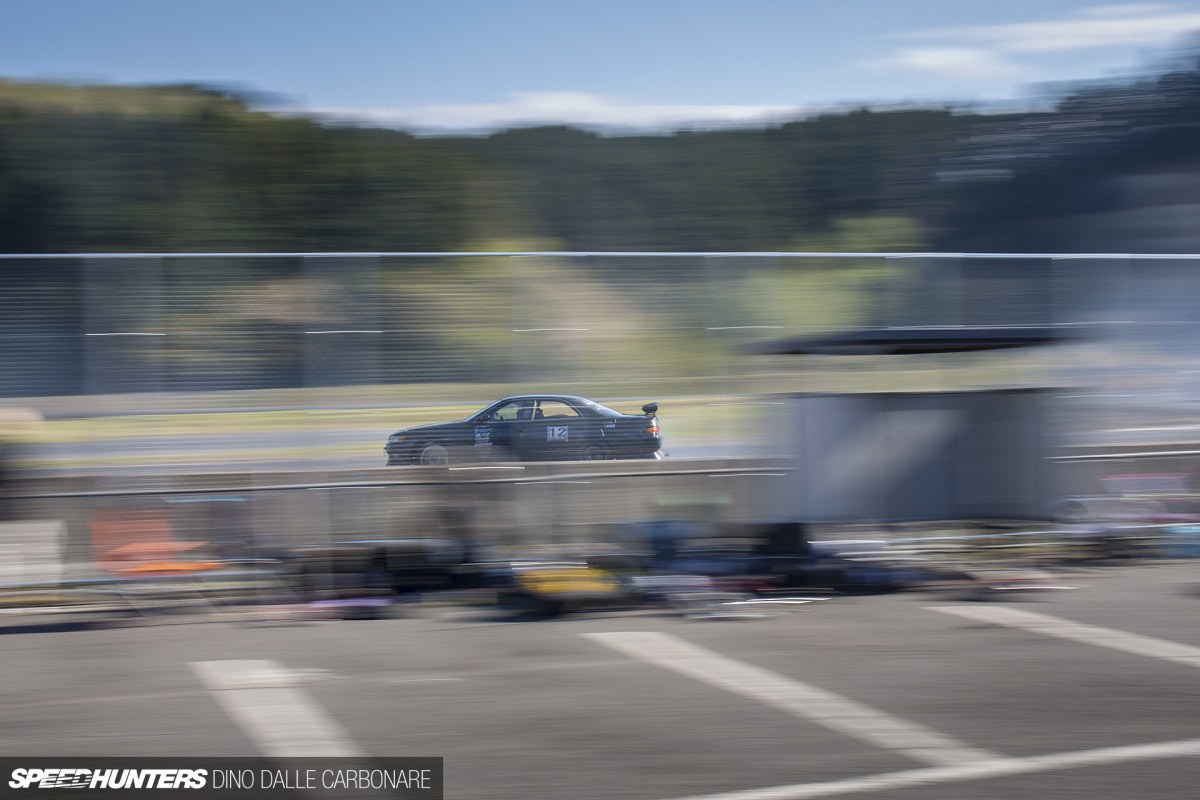 It's there to add extra protection, because at the end of the day you never know what's going to happen.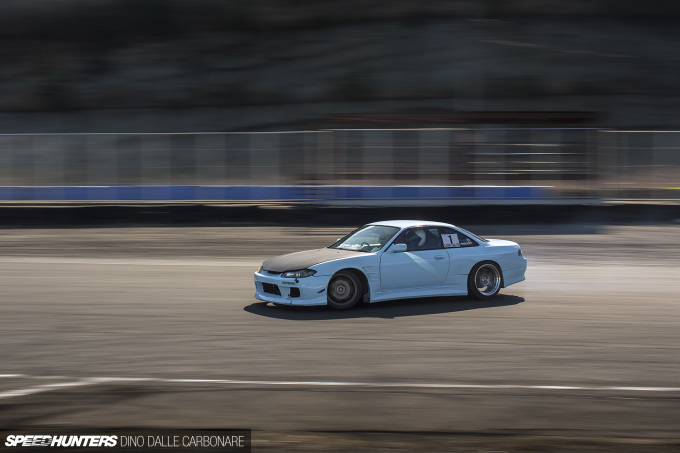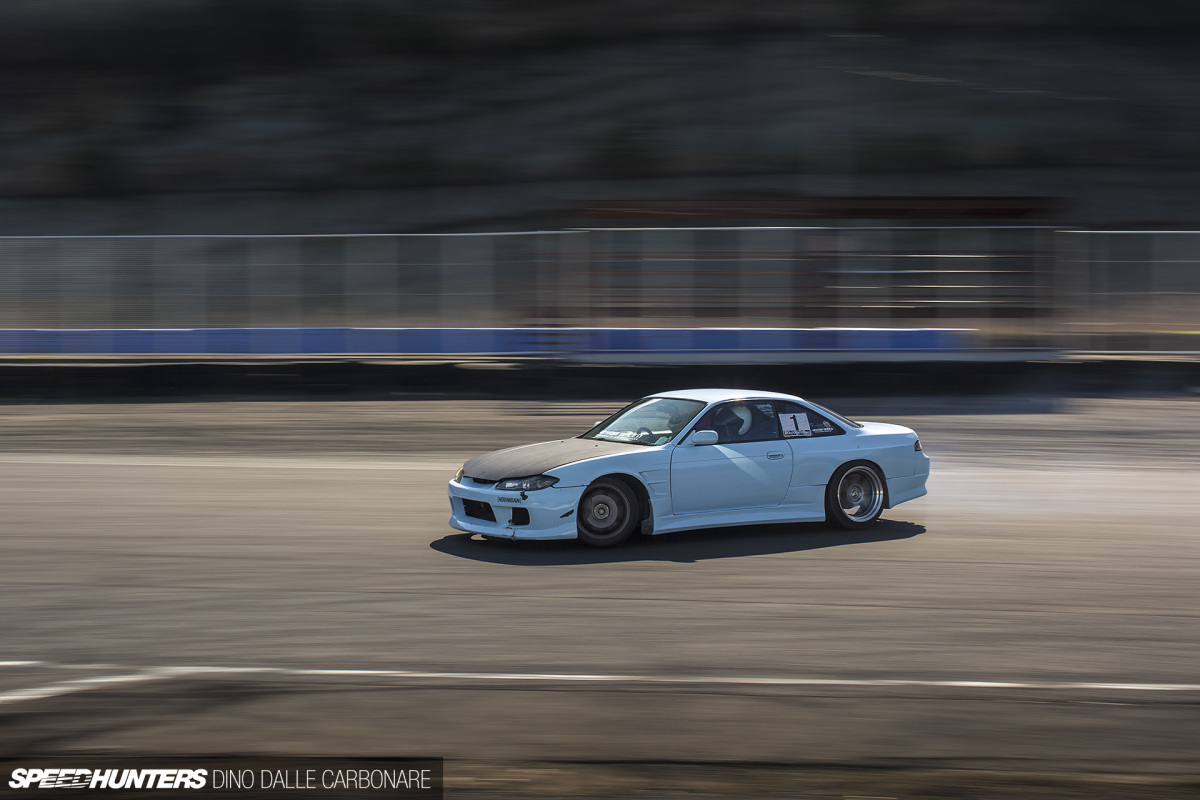 More fences are added on the inside of the track too, so the kinked back straight is protected as well. Nikko still remains a favourite of mine, but I do miss the old days when that outside dip was more pronounced and drivers could really get their front wheels in the air.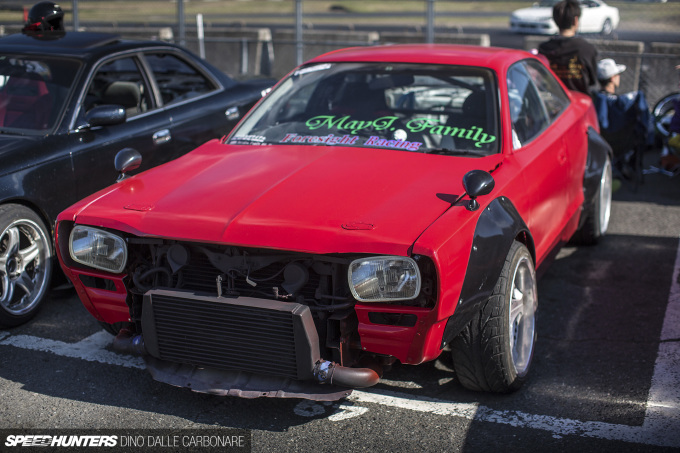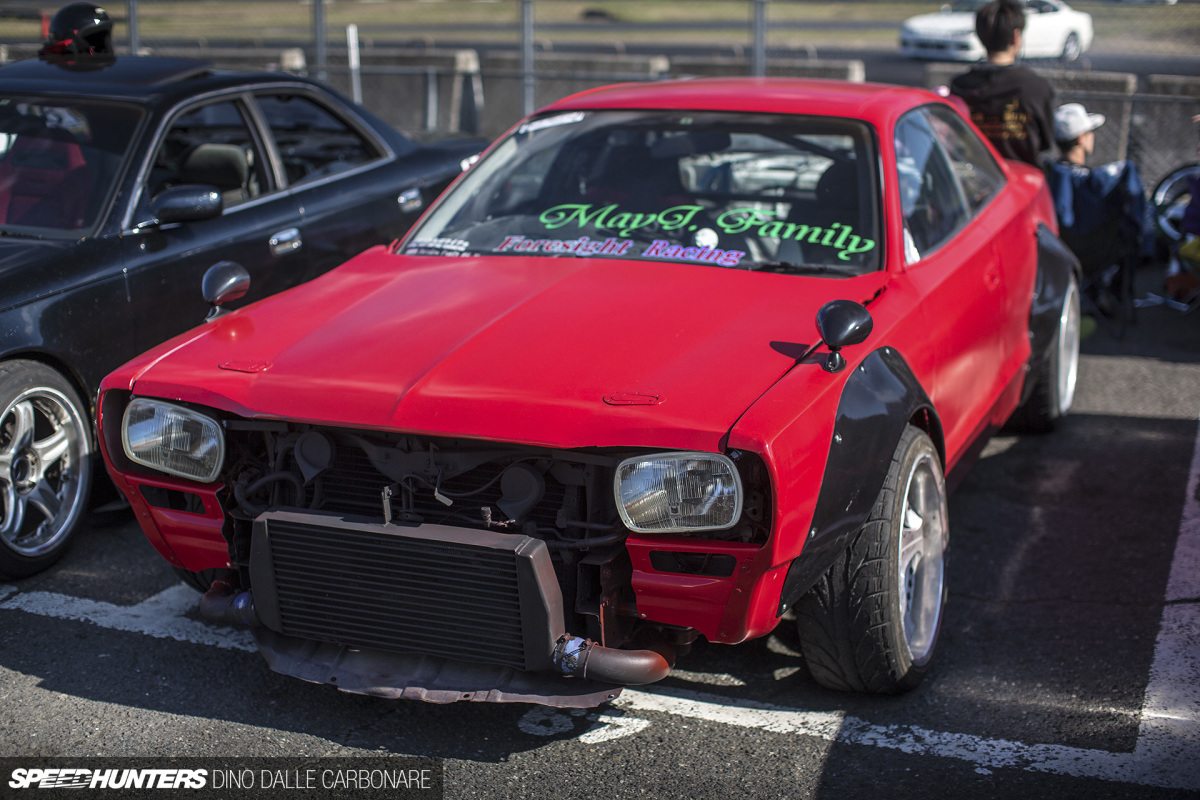 Some Hakosuka treatment for an S14? I'm not really sure what to think, but what about you guys?
More AE86 Love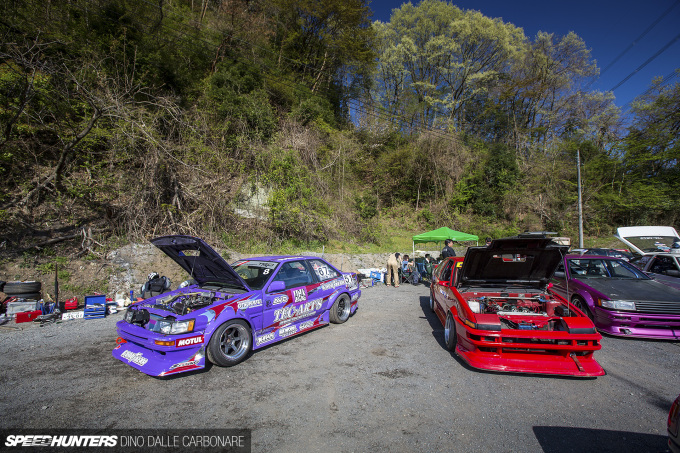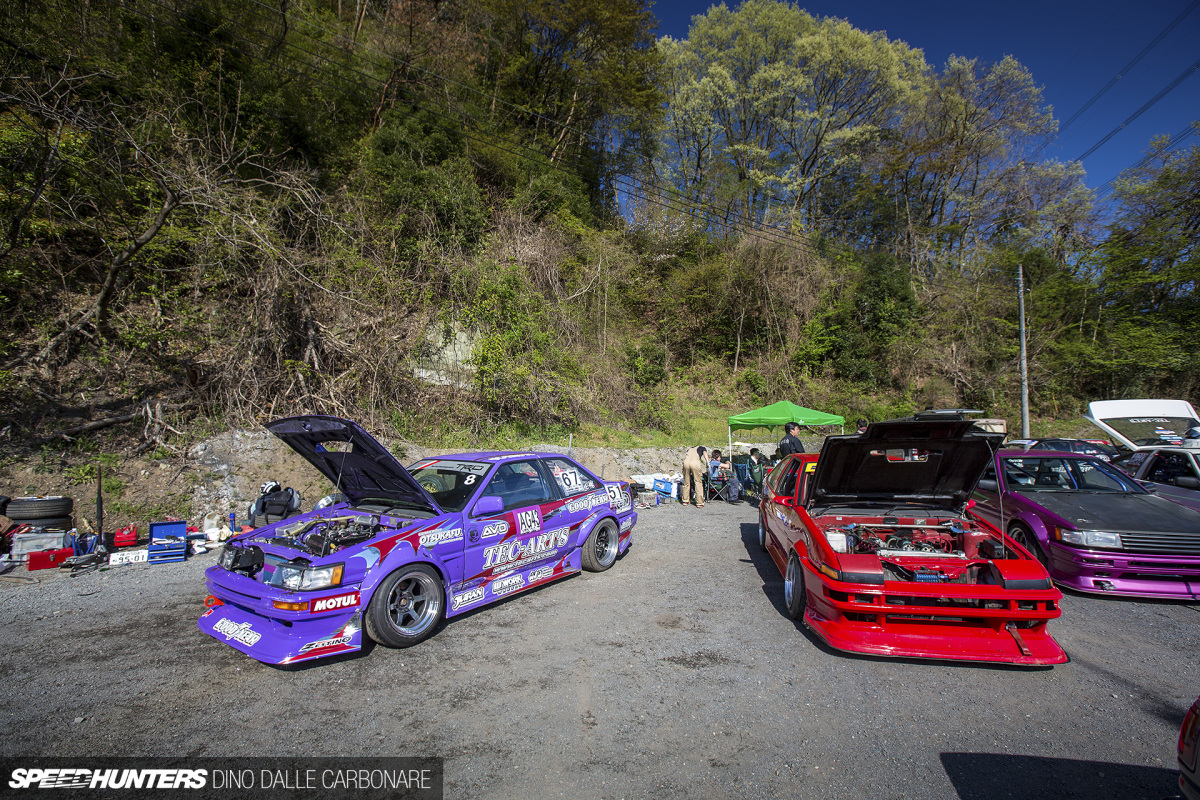 Knowing that my time at Nikko was almost up, I headed back to the gravel area to check out some more Hachirokus. And there was one car in particular that I wanted to get a closer look at – the purple coupe from Tec-Art's.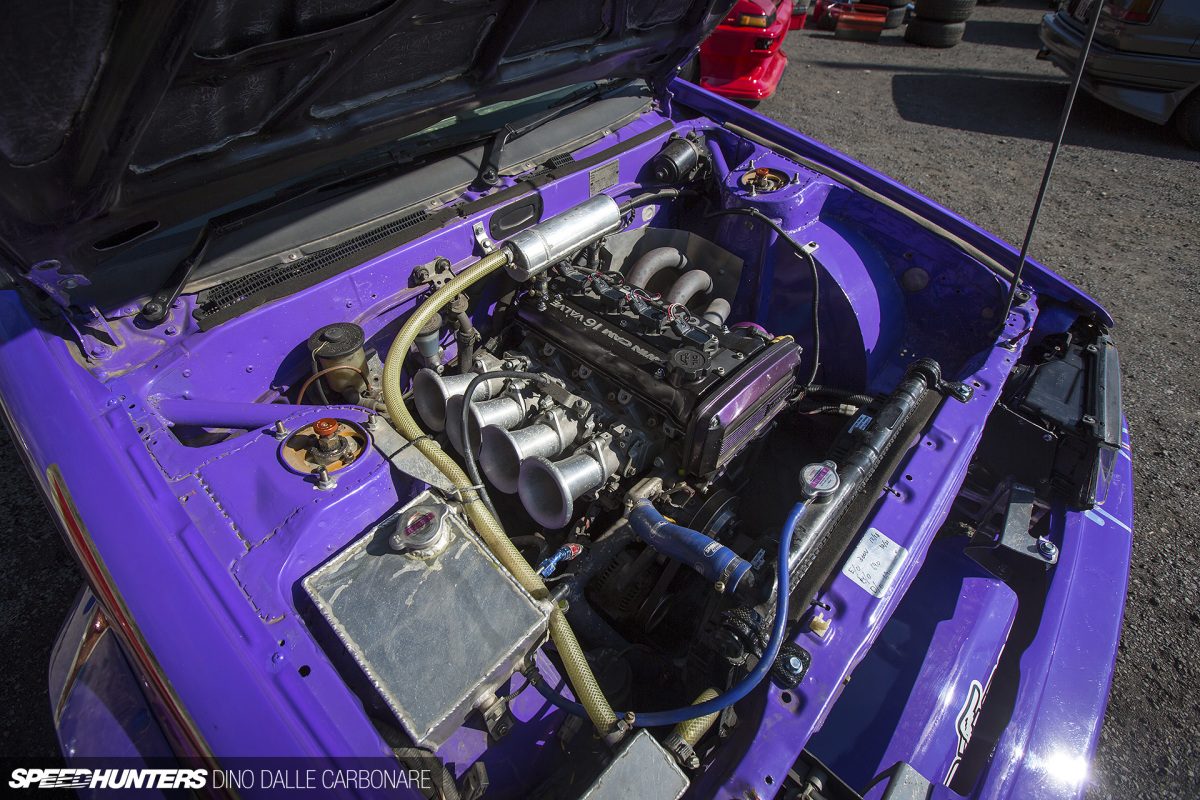 I always love having a nose around in the engine bays of Tec-Art's cars as they do really amazing work on these old Corollas.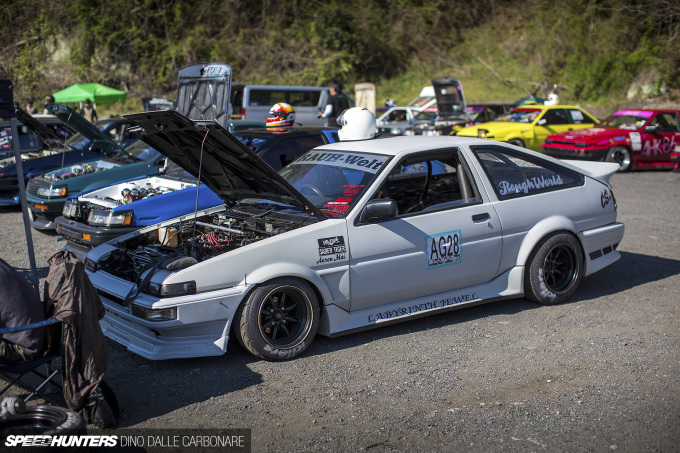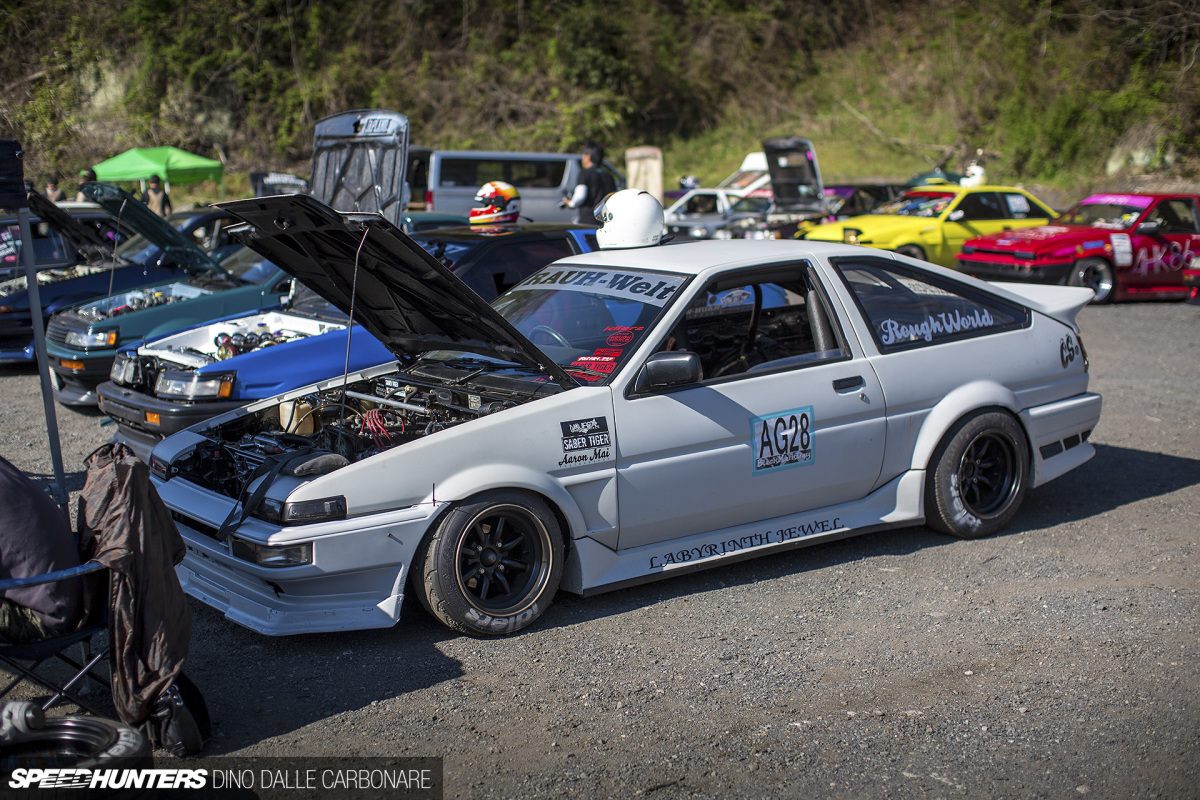 Nojima-san never misses Black Mark Day; it's a great opportunity to spend lots of time on track with fellow AE86 enthusiasts. His matte gray Trueno still looks mighty fresh.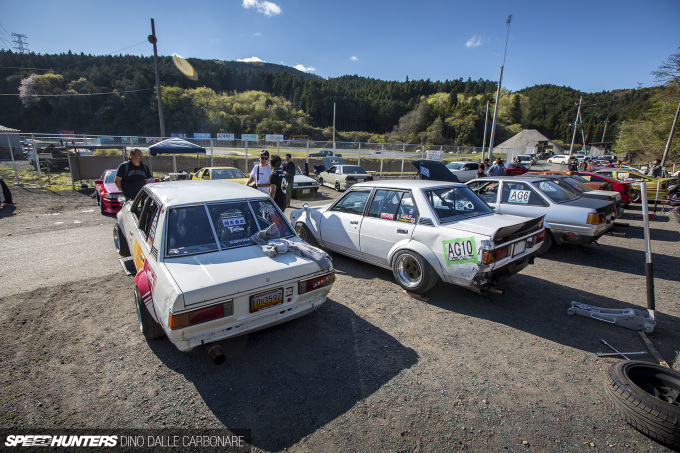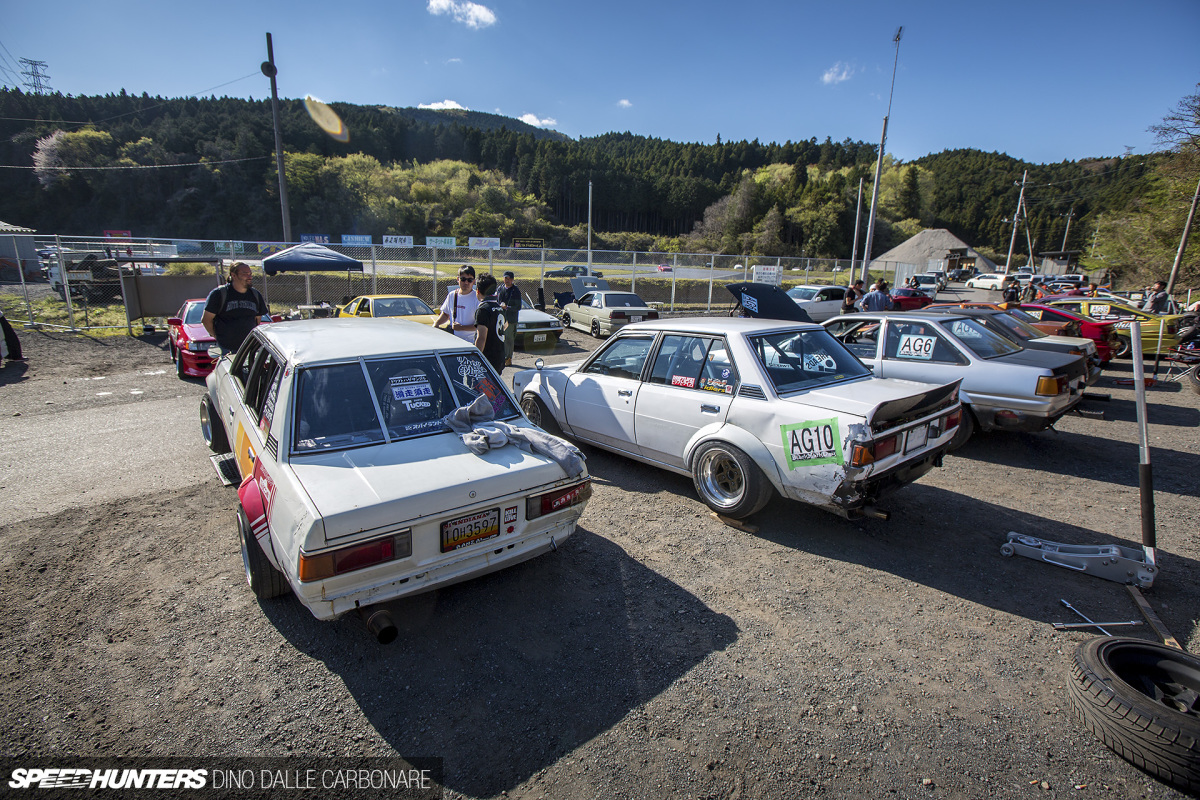 More of the N-Style guys were parked up out here too. This TE71 pairing was sitting pretty awaiting the final outing of the day.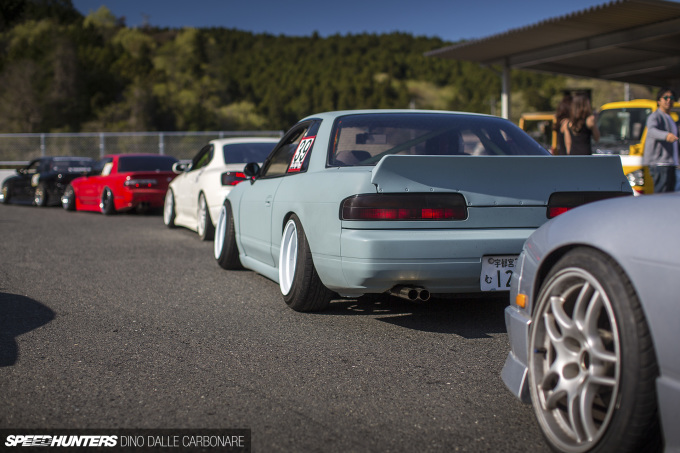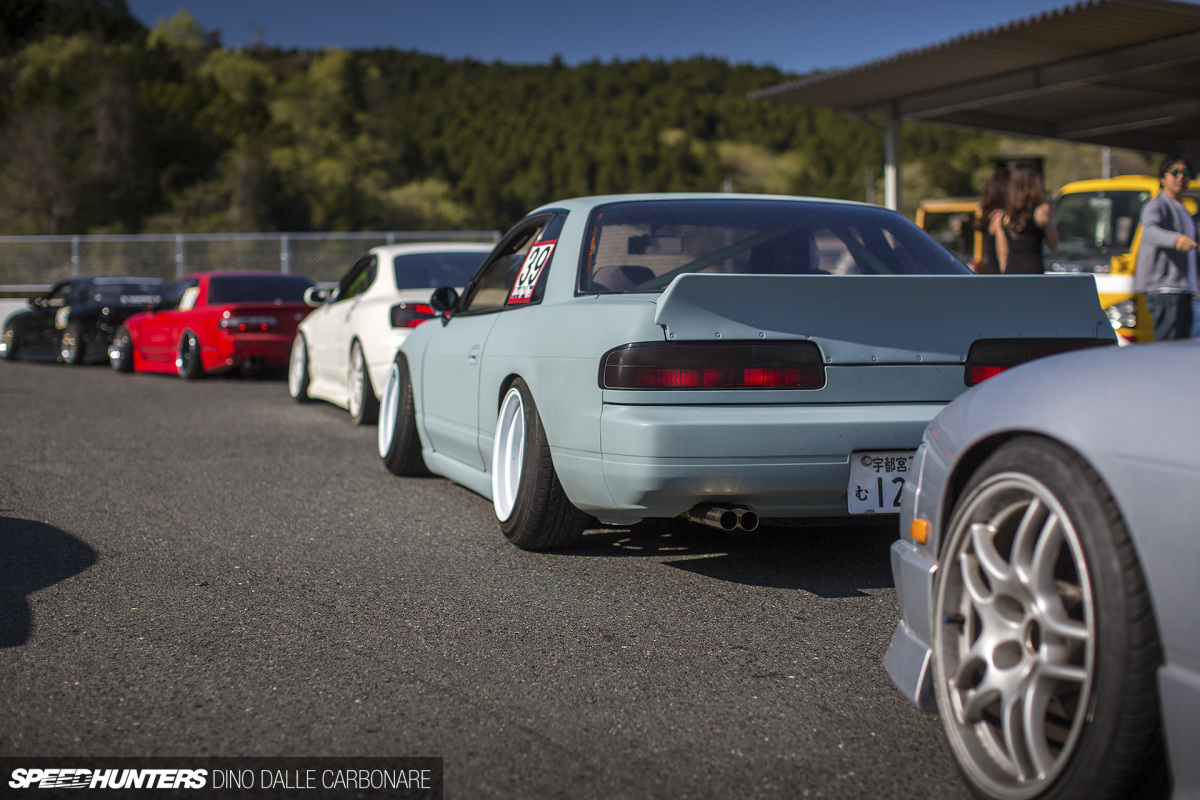 Before I even knew it, it was time to leave. In the matter of one day I'd had a taste of vintage cars, classic engines, and grassroots drifting, and I was feeling rather satisfied. We even managed to avoid the dreaded traffic on the way back down to Tokyo in the 432Z, so you could say it was the perfect ending to a perfect day.
Japan's car culture truly rocks!
Dino Dalle Carbonare
Instagram: speedhunters_dino
dino@speedhunters.com