Grassroots Rules
Nothing is more indicative of true Japanese car culture than the cars you come across at grassroots events. Be it at a night meeting at Daikoku or Umihotaru, or a weekday soukoukai at a small track like Mobara or Nikko, the cars you find at these places are symbolic of the tuning scene. And that's always been the case – much more so than the demo cars and vehicles used to promote brands and specific parts. You learn by example, what people out there are experimenting with and the looks they are creating and going for. It all combines to give an undiluted and authentic representation of Japanese style.
I've touched on this before about a year ago, and by pure coincidence the car that has brought about this train of thought is closely related to the one I'm about to show you…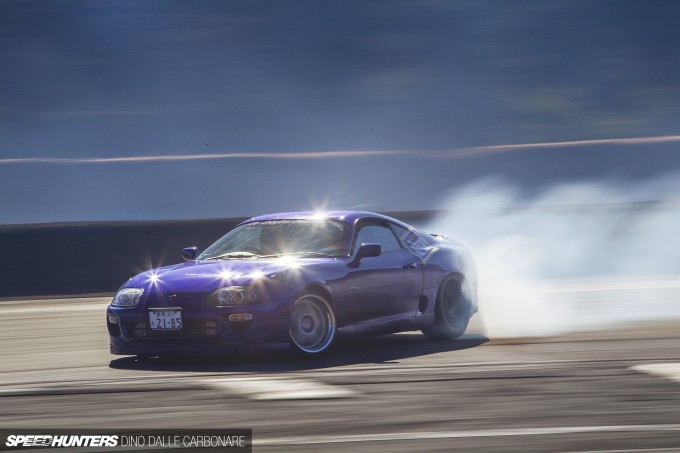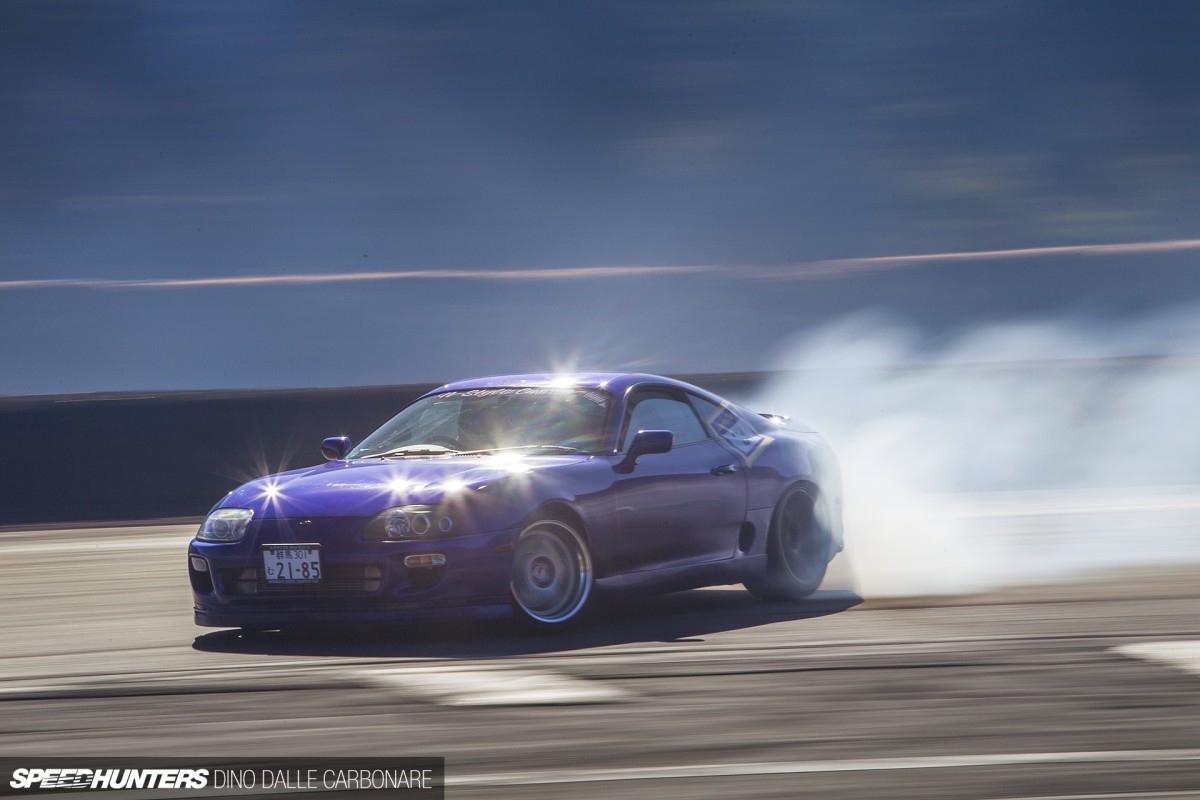 Last year I took a look at a pretty unique Z30 Soarer, owned and built by Nagahama-san of N-Style. That car has always stood out to me because it's a functional mix of style and performance. It's built to drift but also to look good doing so. So you can understand my surprise when I spotted Nagahama at Nikko last month during a drift event put on by the guys at Hardcore, standing next to a Supra.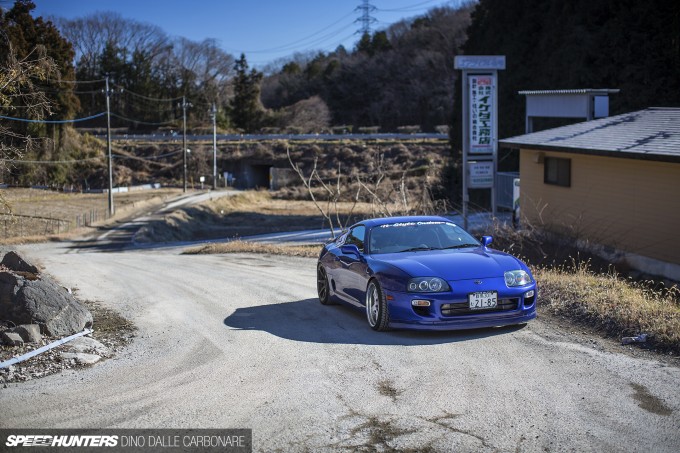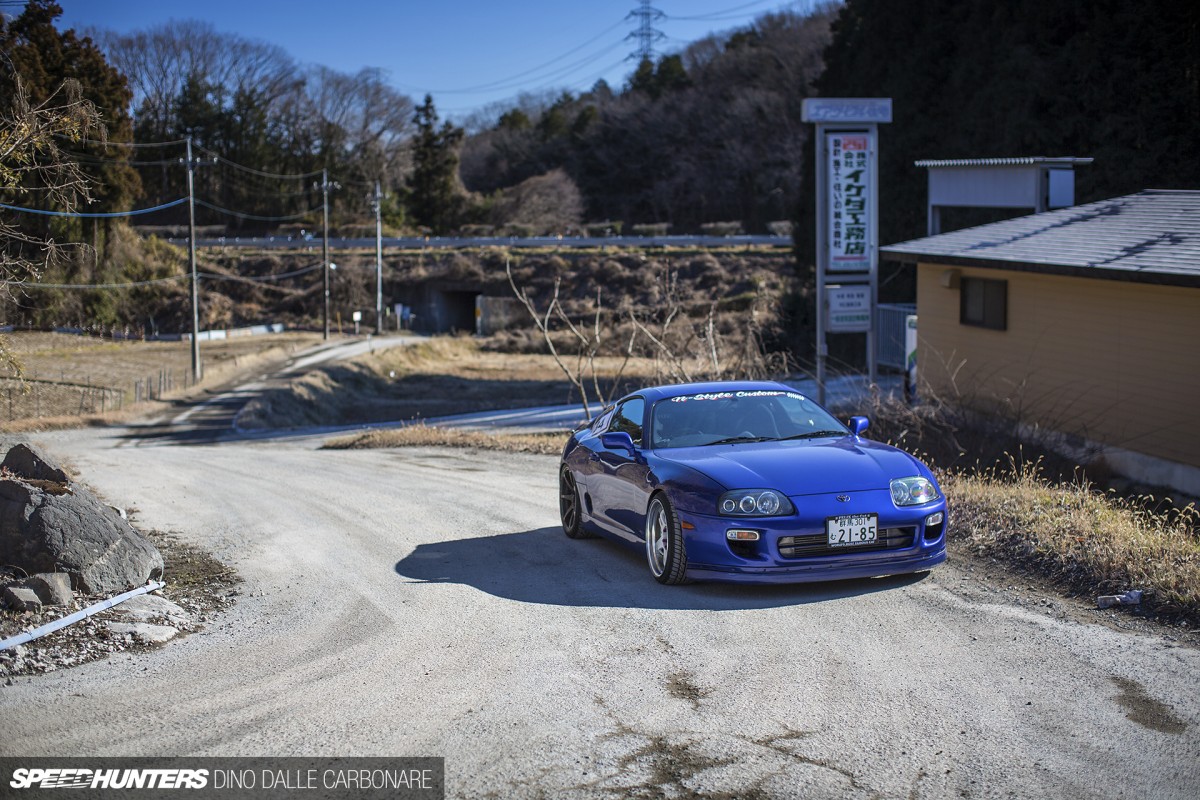 My first reaction was to go up to Nagahama-san and ask, 'what the hell, what happened to your Soarer?" His reply was a simple one, "new car, for a bit of fun", while gesturing at the glossy blue JZA80 he was leaning up against. Fair enough, I thought, people have to play around with cars and Nagahama does actually own quite a few cool ones on top of his Z30.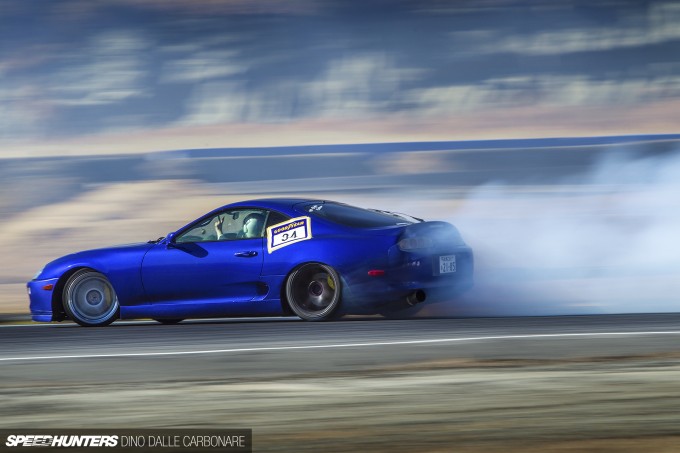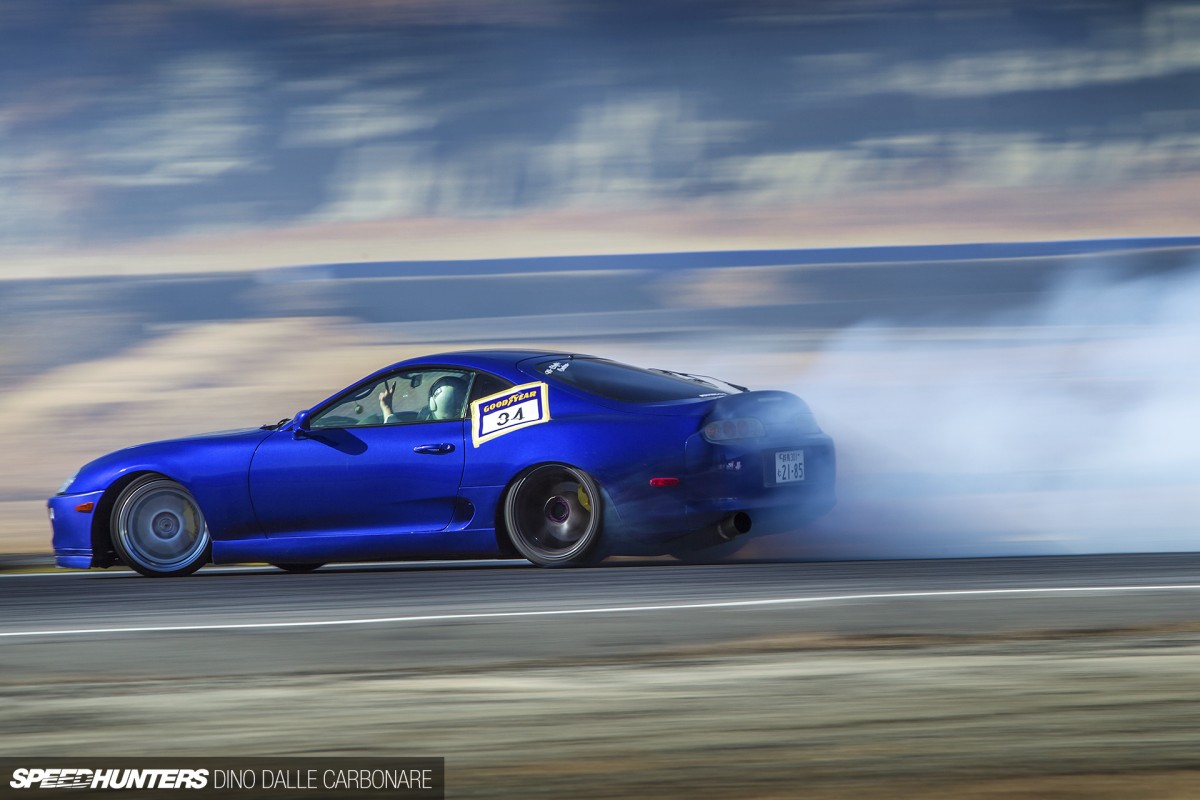 But this I felt was different. Because first up, Supras are rare in Japan. Contrary to what a lot of people may assume, you just don't see many Supra roaming the streets, and when you do see them they aren't built for drifting; more like fast street cars or overpowered highway monsters. But it wasn't until Nagahama went out for a session of fun that it really all made sense. He took a couple of easy laps to warm up the car and tyres and then let it rip. It was obvious this Supra was pushing out some serious power and seeing how much experience this guy has with big, amply-powered Toyotas, he was throwing it around with a beautiful mix of delicacy and aggression.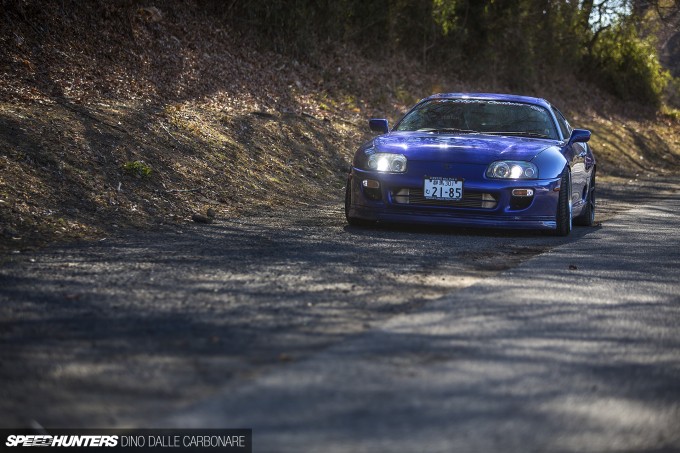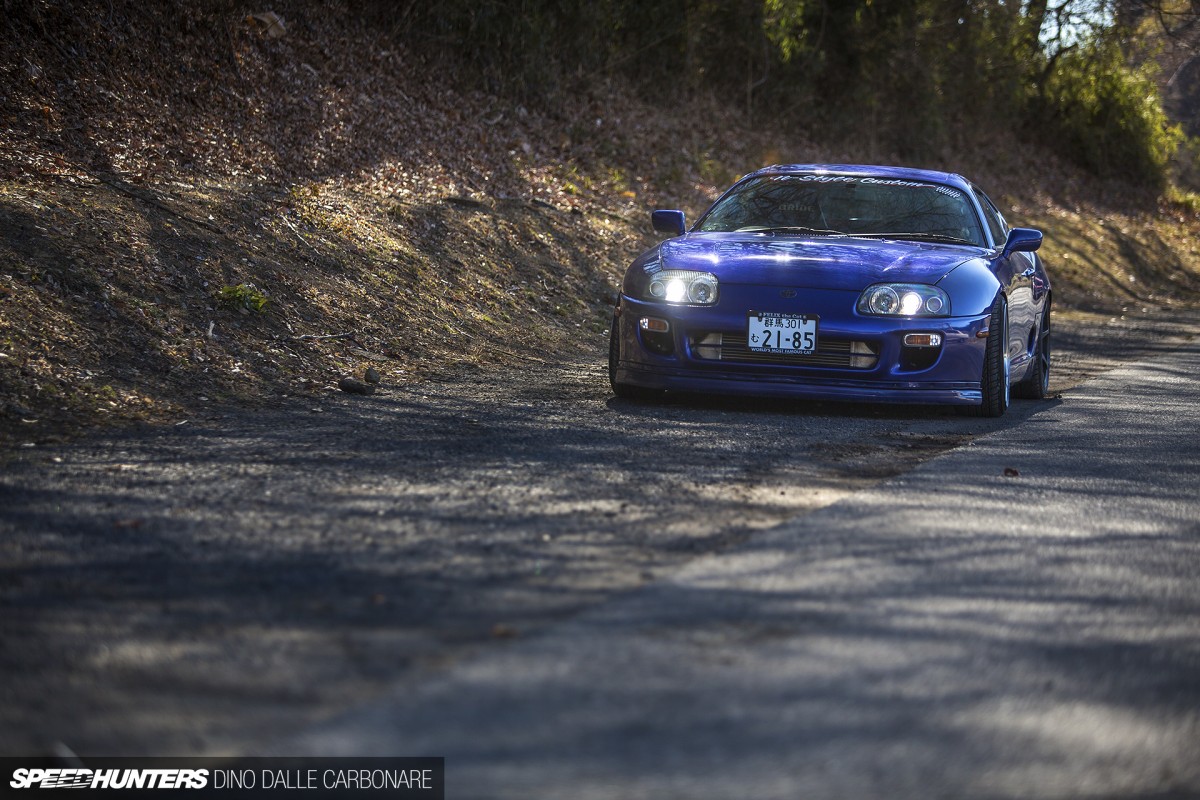 As soon as he came back in I went up to him as he removed his helmet and asked how long it would be until his next session. "One hour" he replied, to which I said 'let me shoot your car!' A big smiled followed and he said "of course, jump in, where shall we do it?"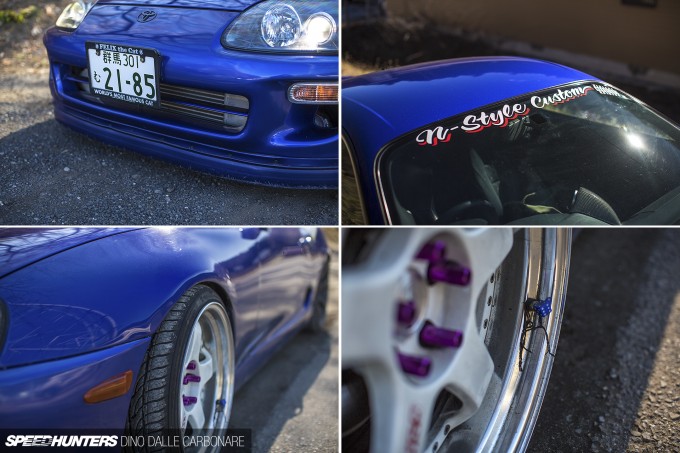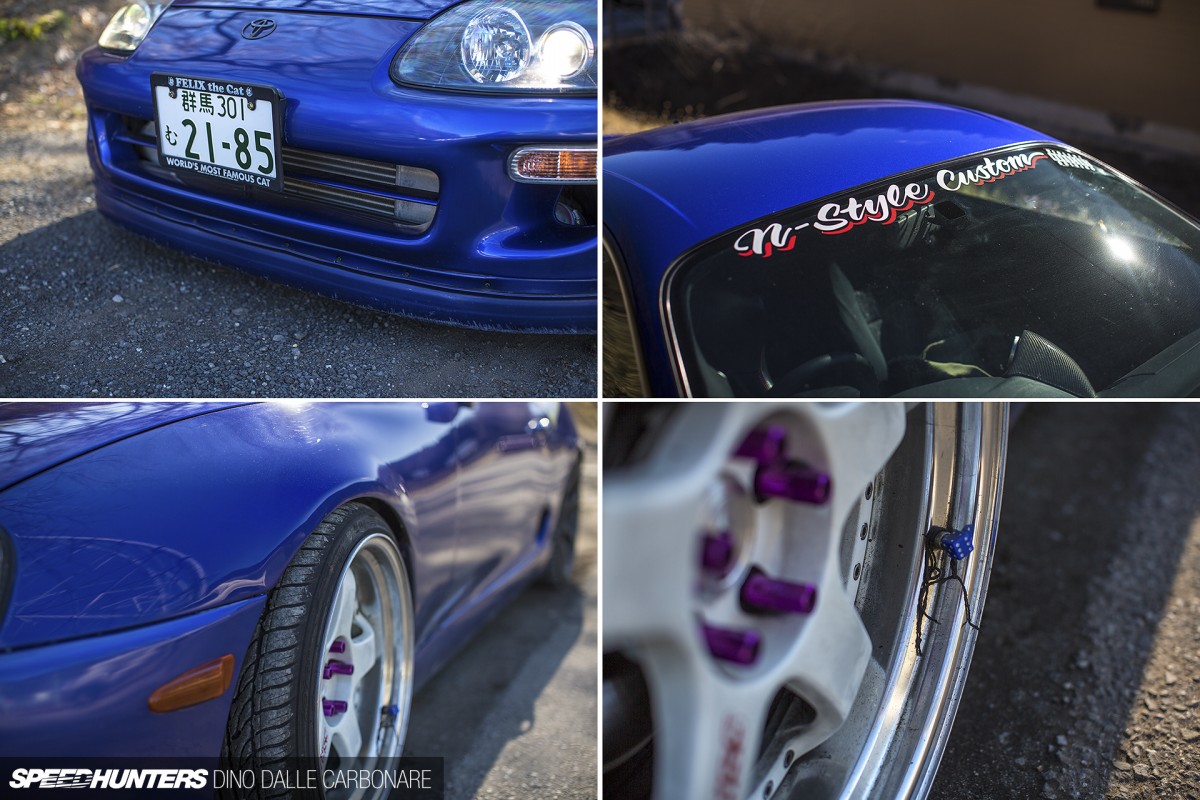 To the casual onlooker this must seem like a pretty sedate and normal looking car, and maybe the pictures don't bring this across quite the same as having the car right there in front of you. It sits mighty low on a set of Aragosta adjustable suspension, running all the right sort of suspension and knuckle upgrades that transform the geometry of the Supra to make it handle big drift angles and respond just like a drifter would want their car to feel.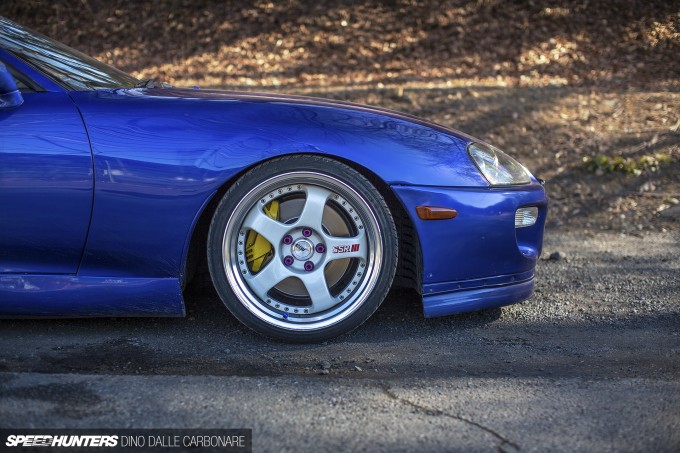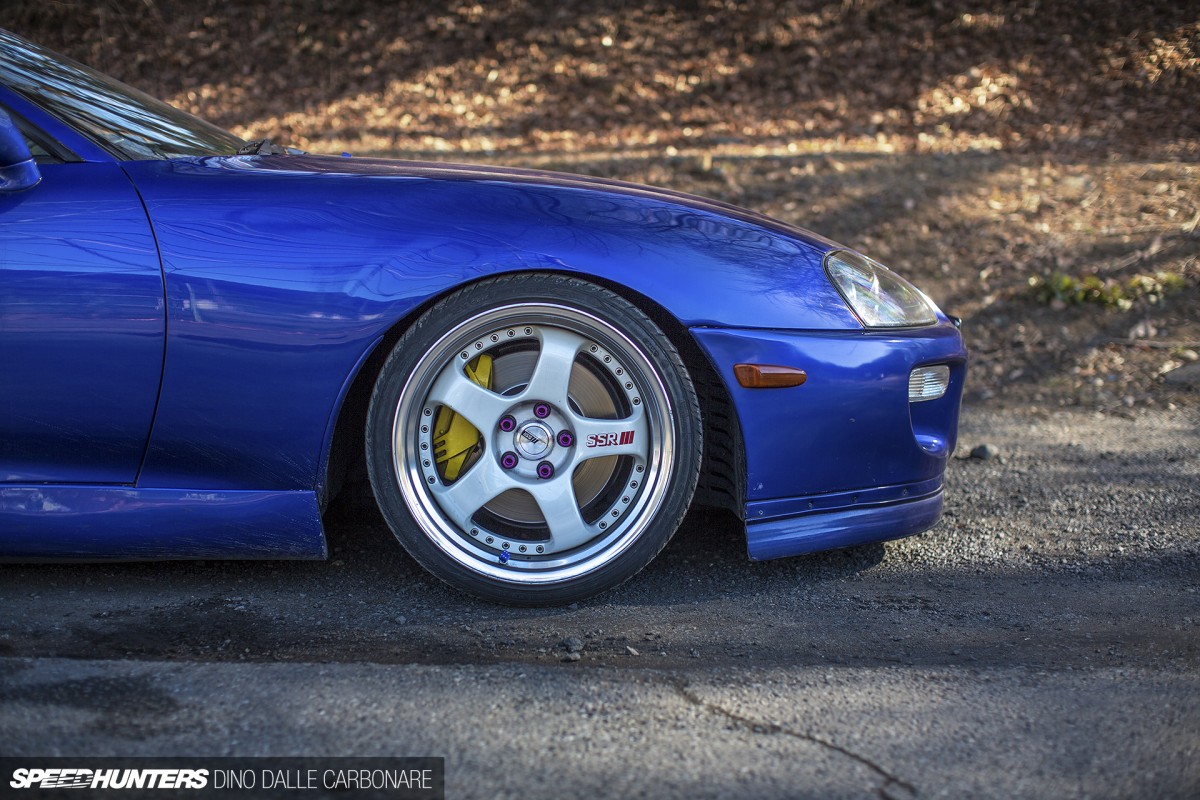 Nagahama spent some time working on a few touches that would make his Supra stand out, but not be too easy to pick up on right away. They start with the front lip spoiler he riveted onto the stock bumper, followed by a subtle 20mm widening of the front fenders. The latter is to allow the 18-inch SSR Professors he's borrowed from his Soarer to sit just right.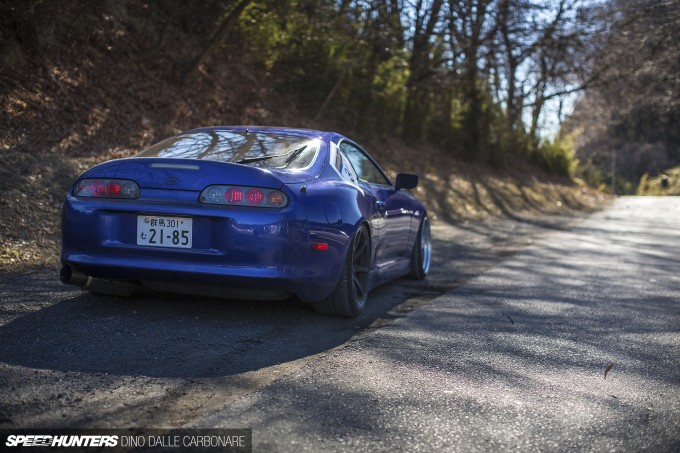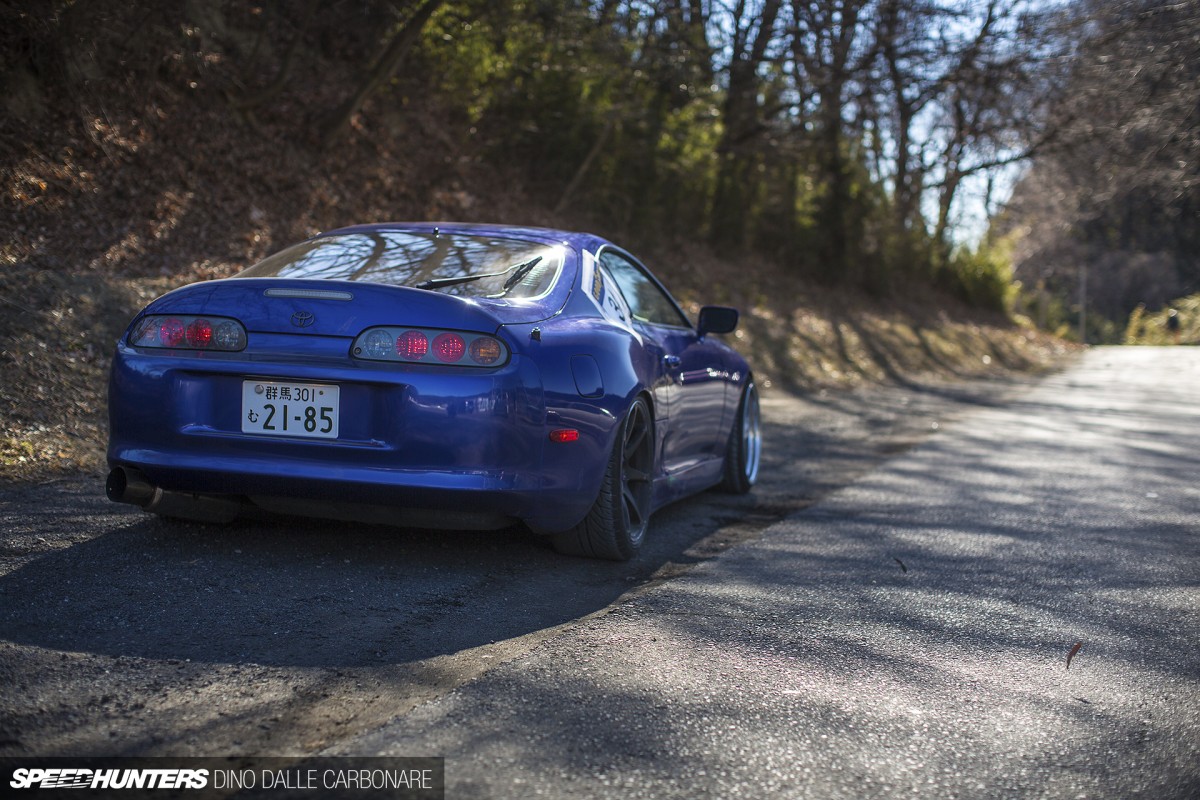 The tyres on his rear set of 'drift wheels' were still smoking when we headed out of the paddock to the shoot location, so we didn't even bother fitting the slight wider rear Professors. To me, mismatched wheels on a car just make the whole package ooze more presence. You know it's running crappy old wheels because it just got – or is about to get – thoroughly abused.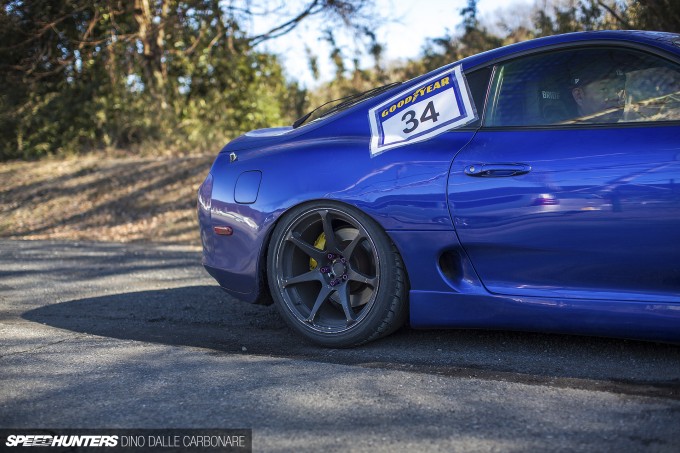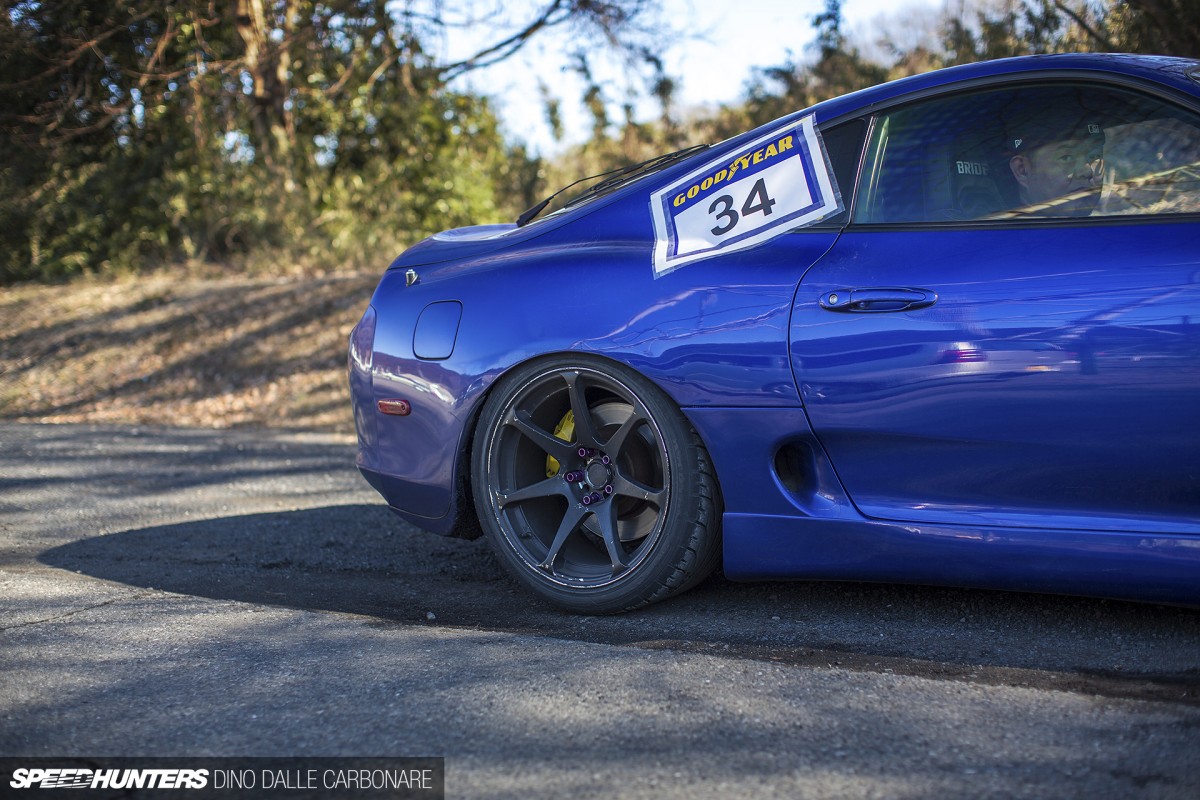 Nagahama has also added a custom set of rounded-off skirts along the profile of the car. It's a subtle touch, but as they wrap over the stock sills it almost cleans the profile up. Much fender rolling followed at the rear as there's quite a lot of squat dialed in back there, and he even welded the rear subframe to the chassis to tighten up the back end for improved mid-corner feel.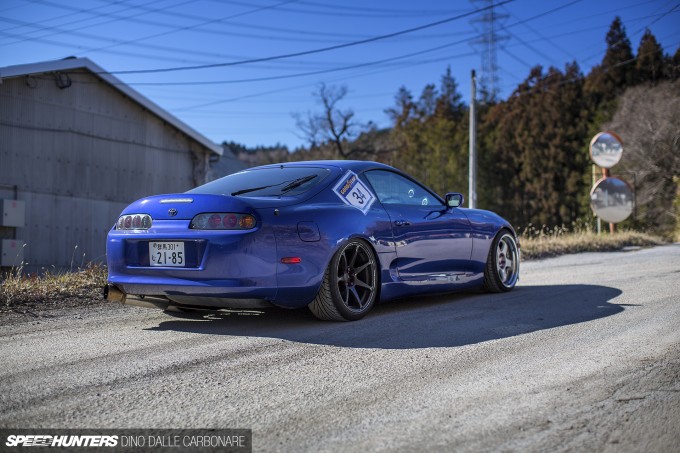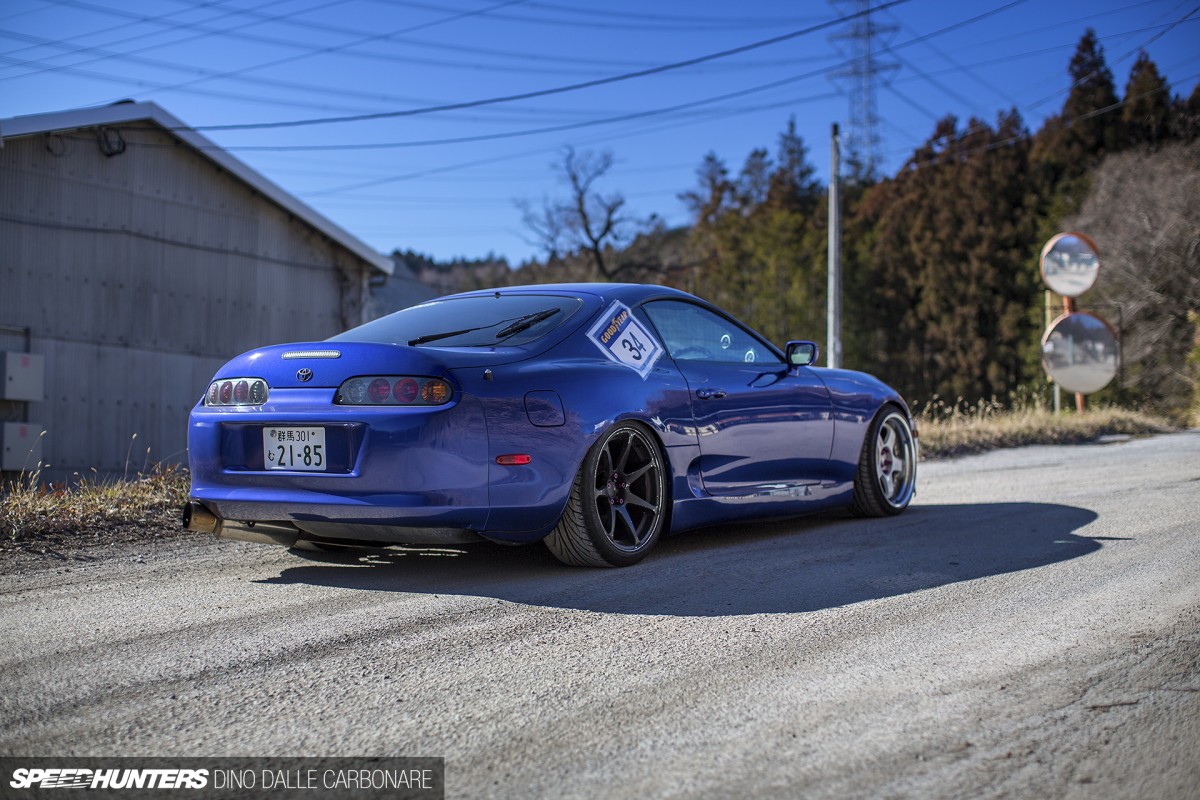 Everything else is pretty much stock, and it just looks so damn hot!
Mustn't Forget Gauges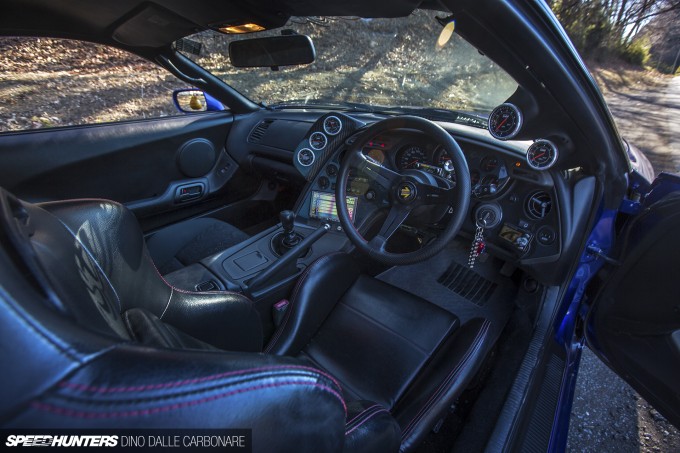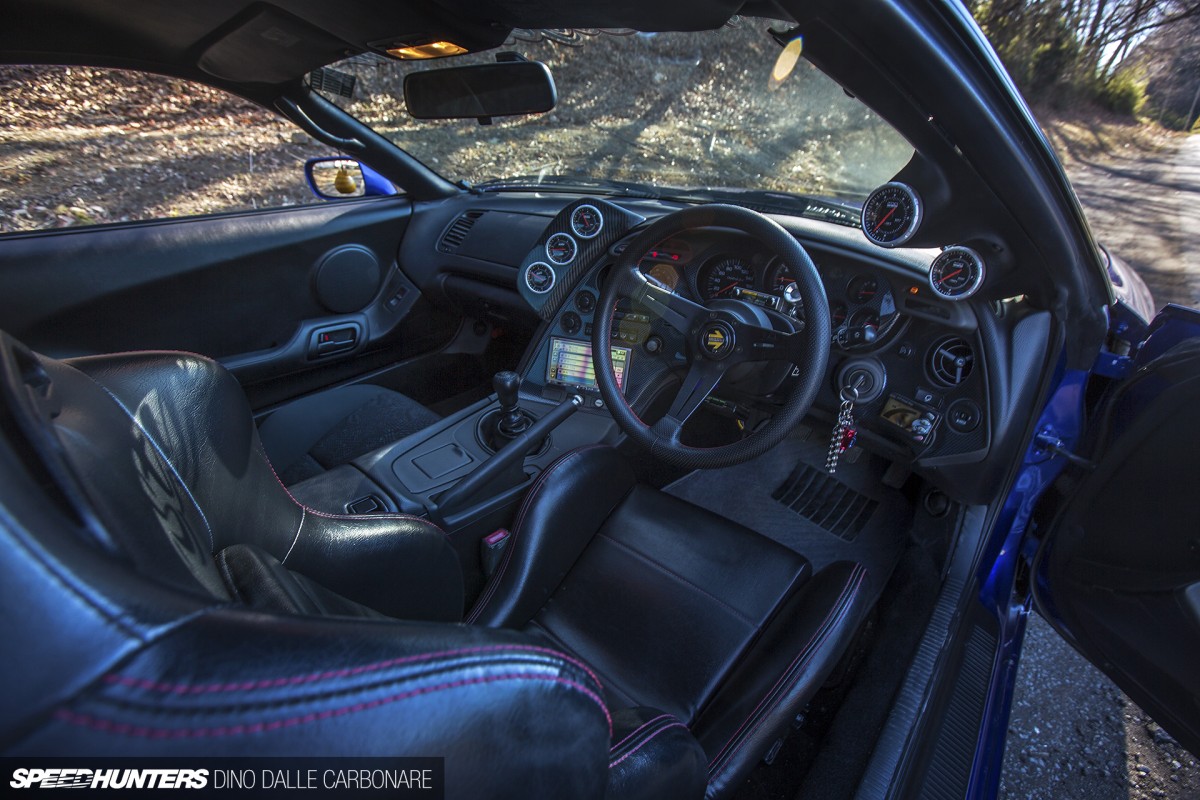 Open up the driver's side door, which has a bank-safe feel and weight to it, and you are greeted by a nice and comfy interior.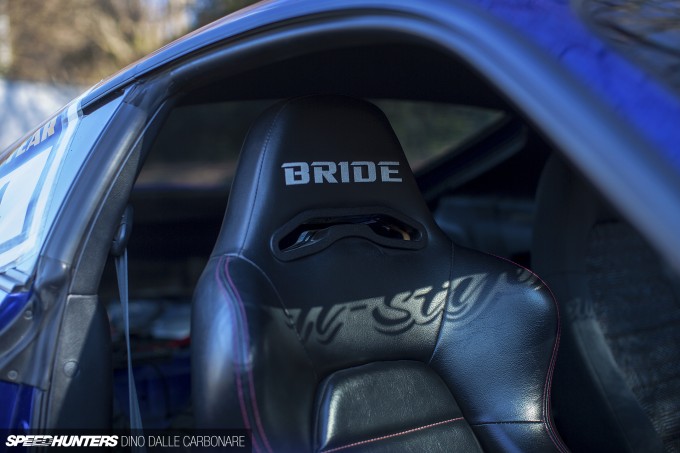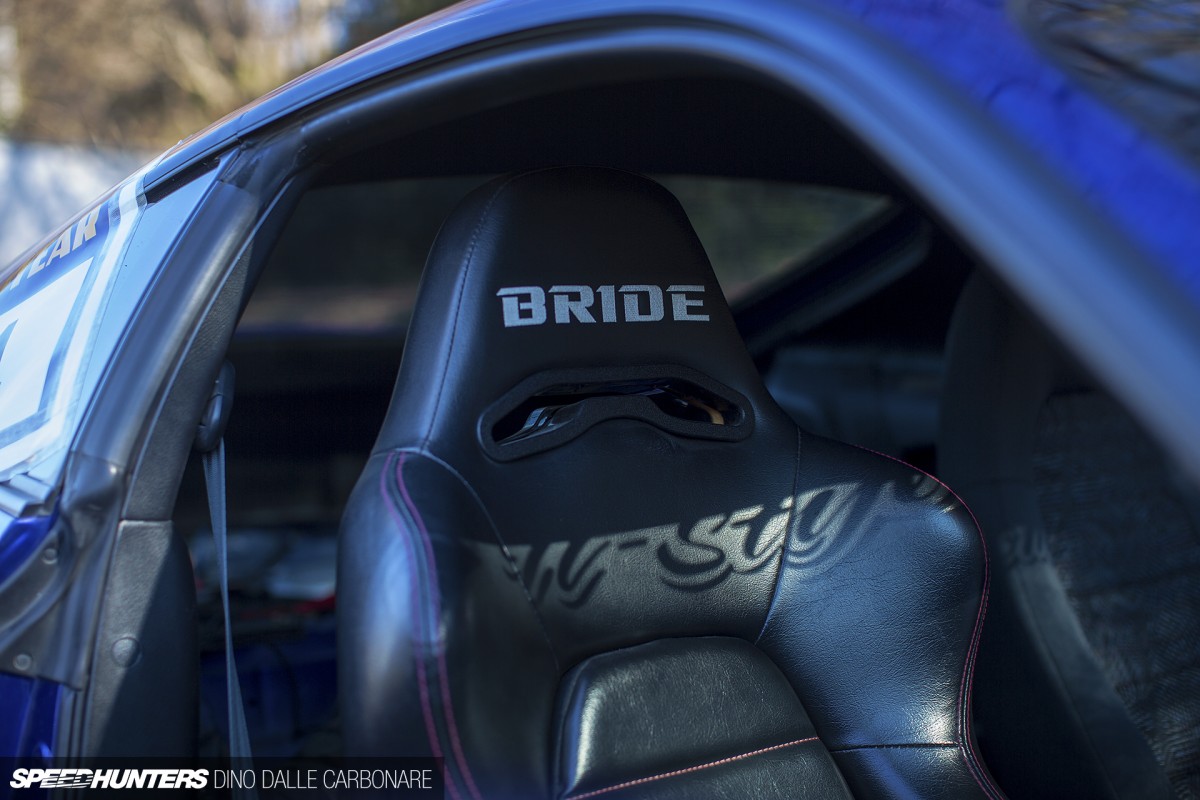 Nagahama ditched the stock driver's seat for a leather Bride reclinable item, which adds a bit more bolstering and has openings for harnesses should he decide to use them.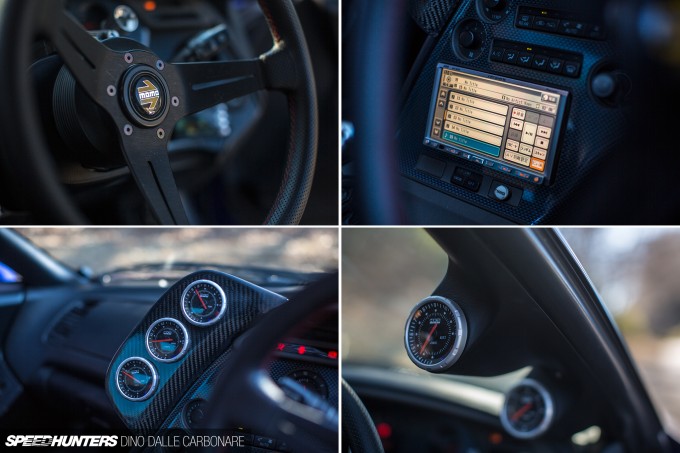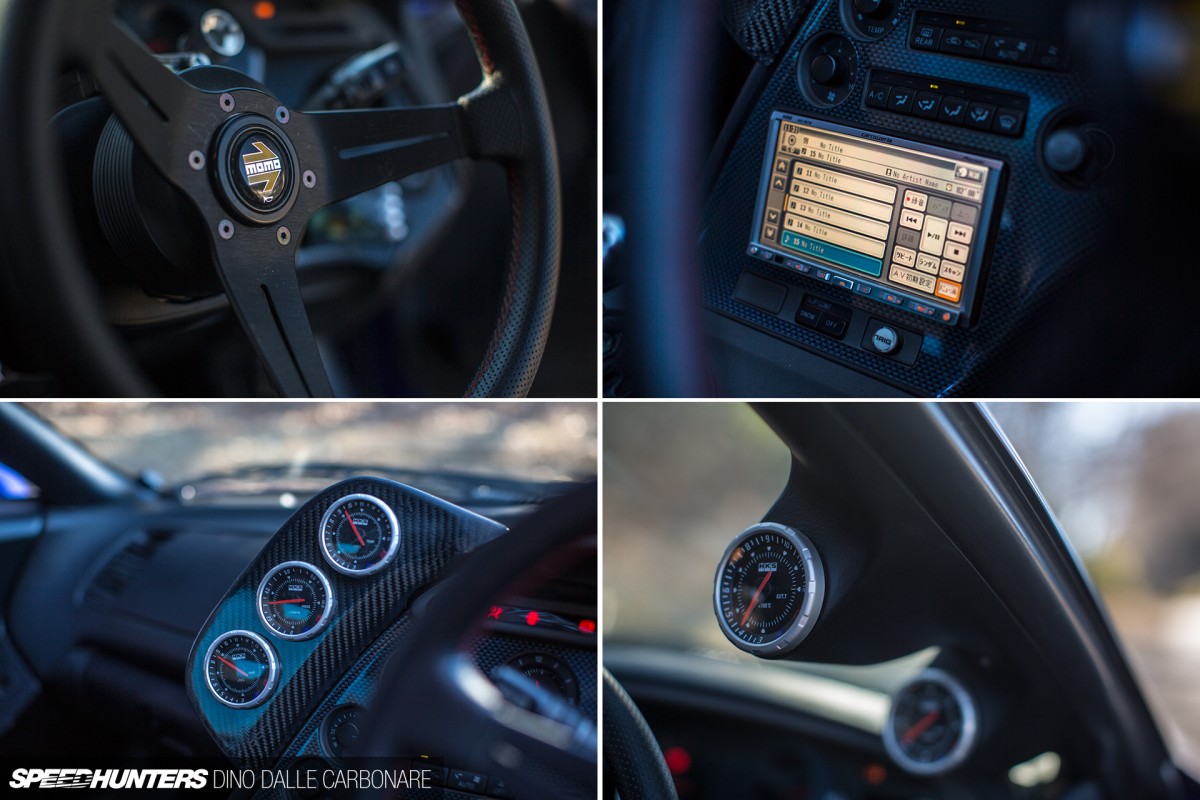 The JZA80's interior was never the car's strong point as it suffered from way too much flat black plastic and was pretty plain. But here it's been spiced up with some carbon-look trim and five HKS gauges: three housed in a carbon fiber pod on the left side of the dash and two – for measuring boost pressure and exhaust temperature – attached to the A-pillar.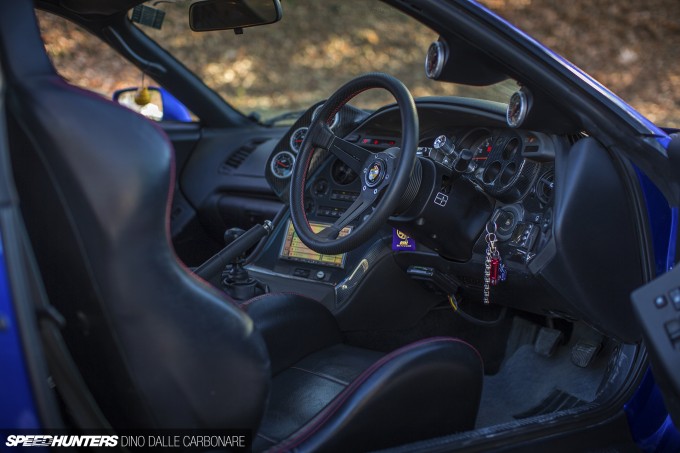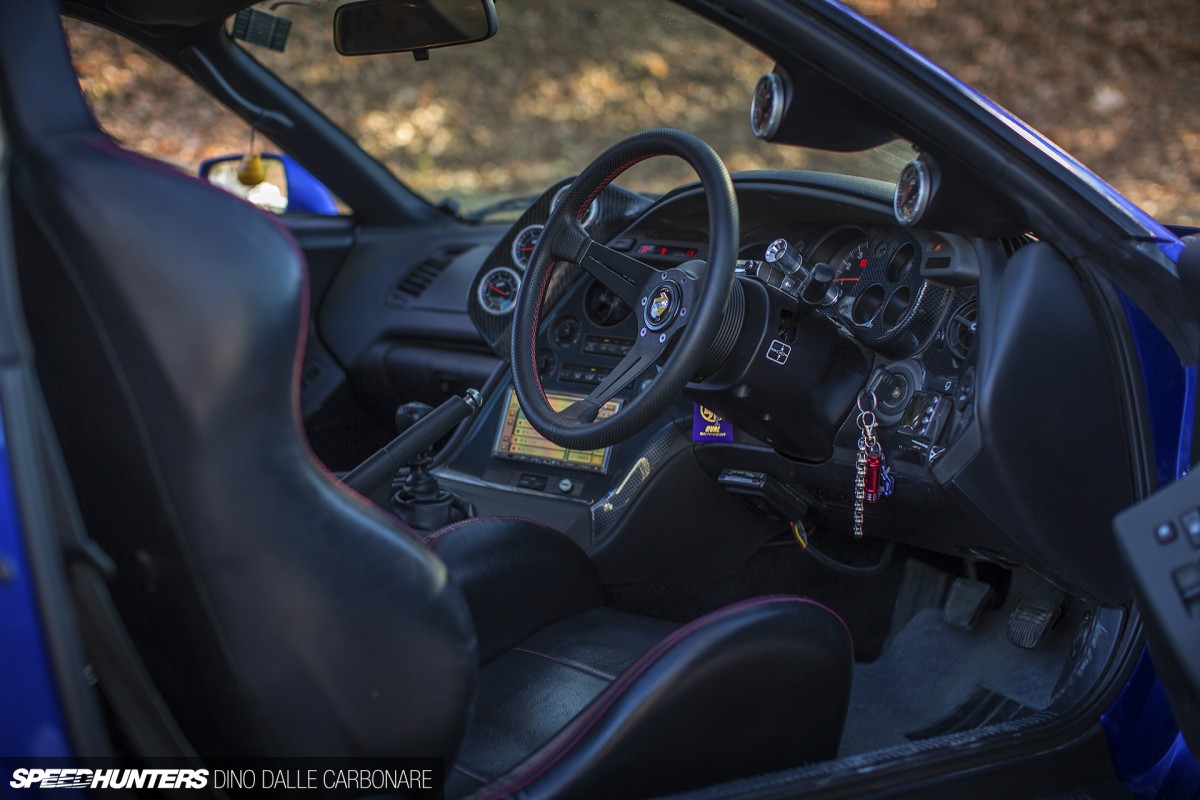 Throw in a Nardi steering wheel and the obligatory double-DIN JDM navigation system and you have a rather nice place to drive and drift from.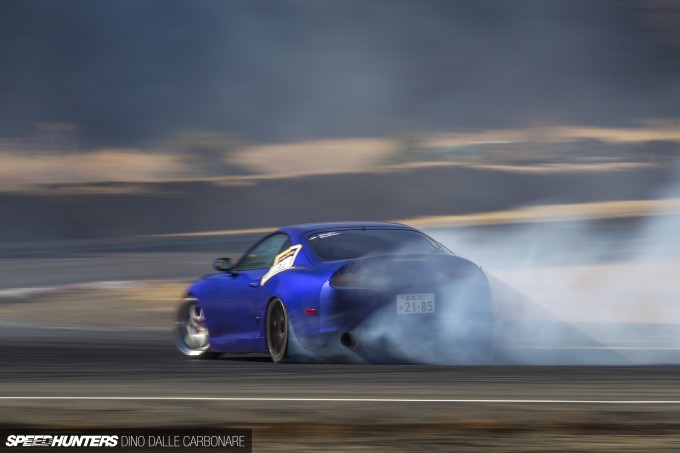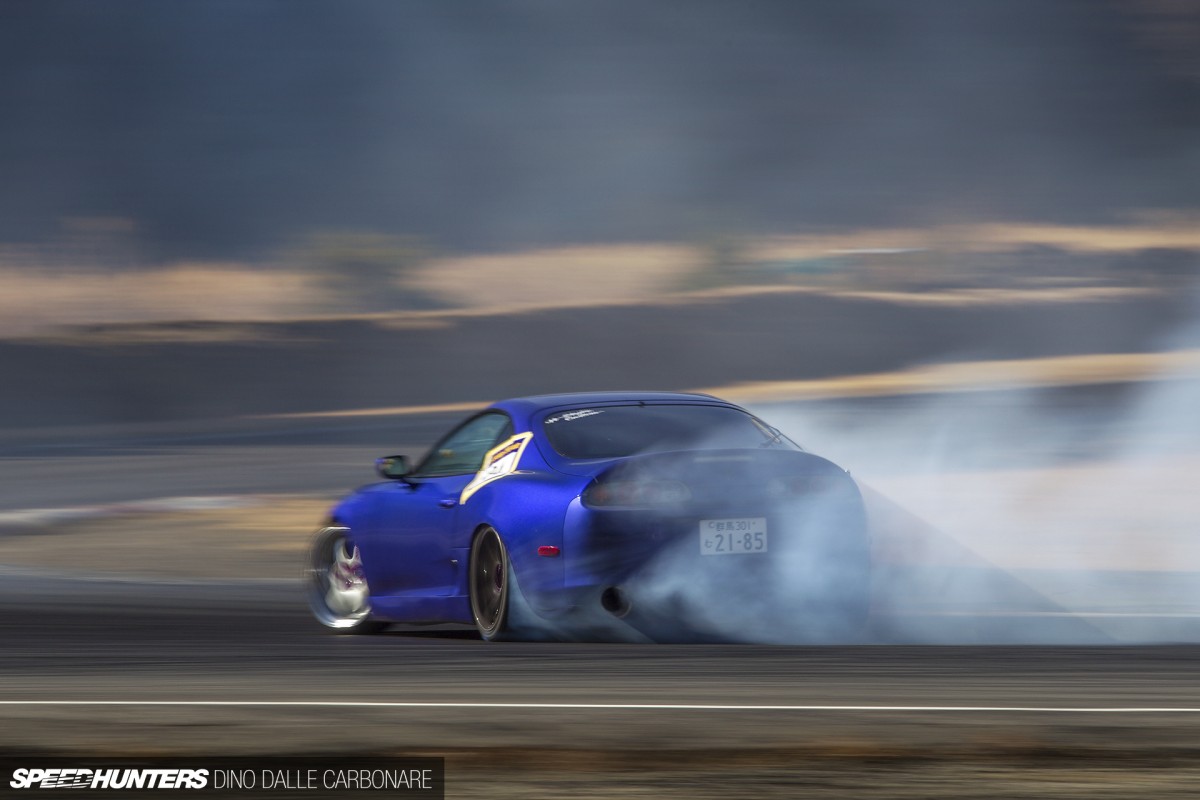 Nagahama was really having a blast on the day, and on his hotter laps was laying down serious rubber pretty much all the away around the track!
700 Horses Worth Of Raw 2JZ power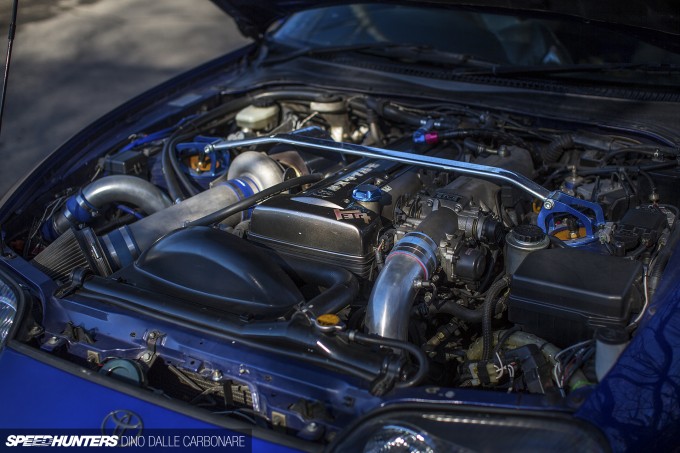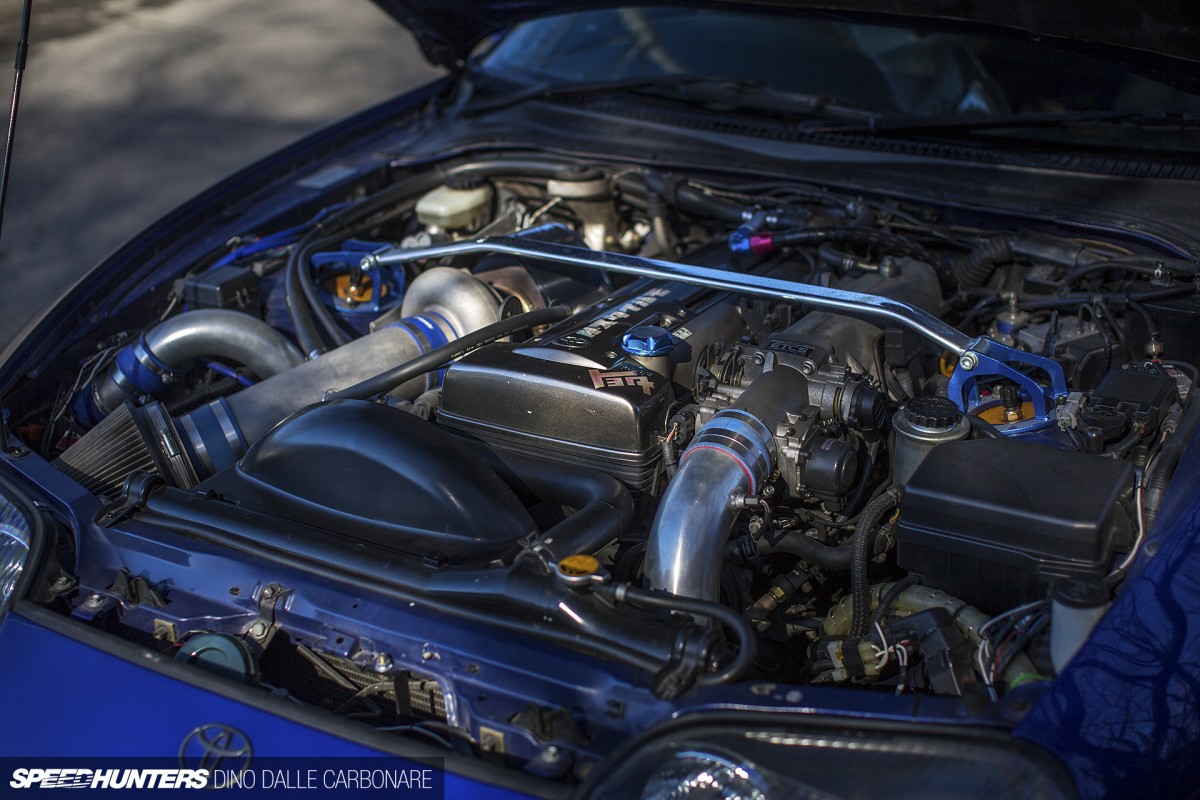 It was pretty apparent that this car was running a bit more power than the T67-boosted 1JZ that was in his Soarer; the urgency of its delivery and the scream coming from the external wastegate hinting that there are some serious ponies under the bonnet.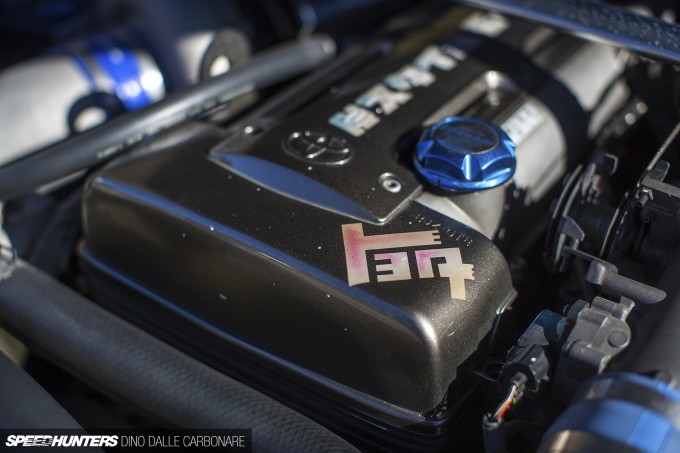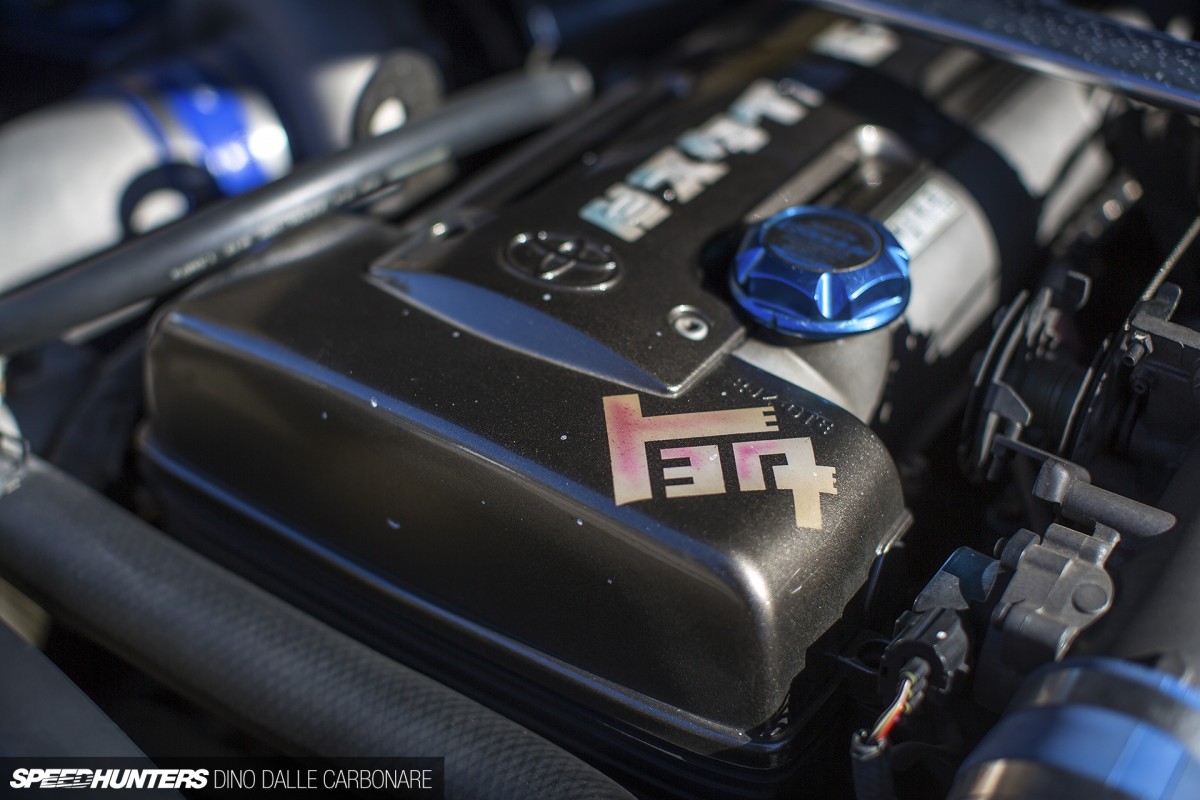 Well, of course being a Supra means that Nagahama has a bigger and even more bulletproof 2JZ to play with.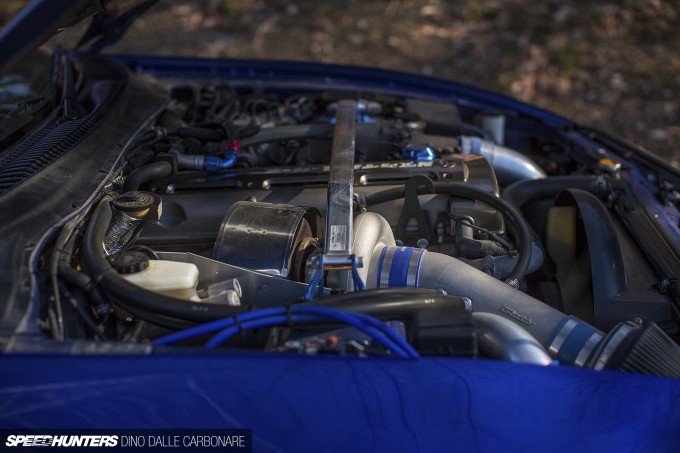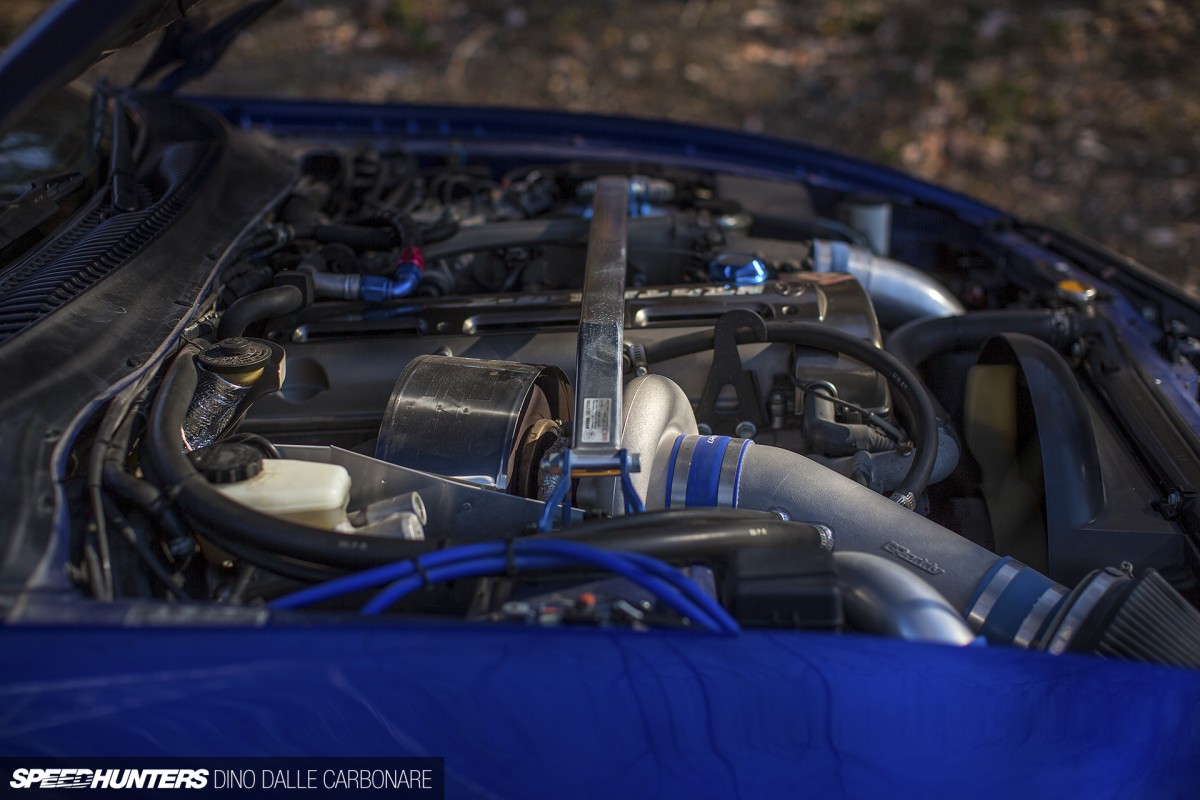 The engine has remained mostly stock – after all you don't really need to go to crazy on bottom end modifications on these motors unless you want reliable power around the four figure zone – however, it did receive a pair of HKS 272-degree camshafts on both the intake and exhaust sides and a set of HKS adjustable cam gears.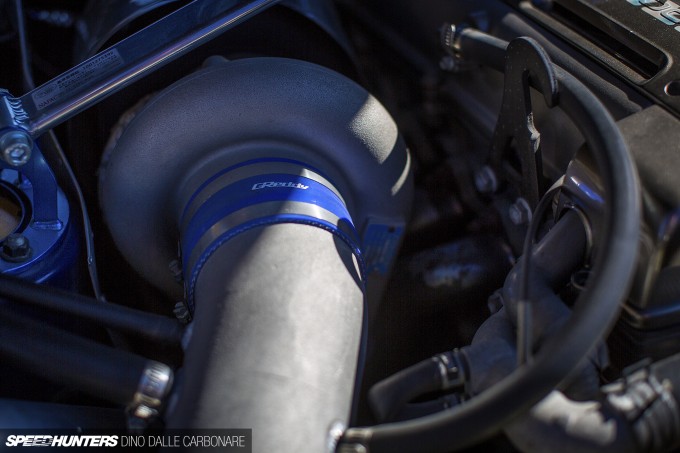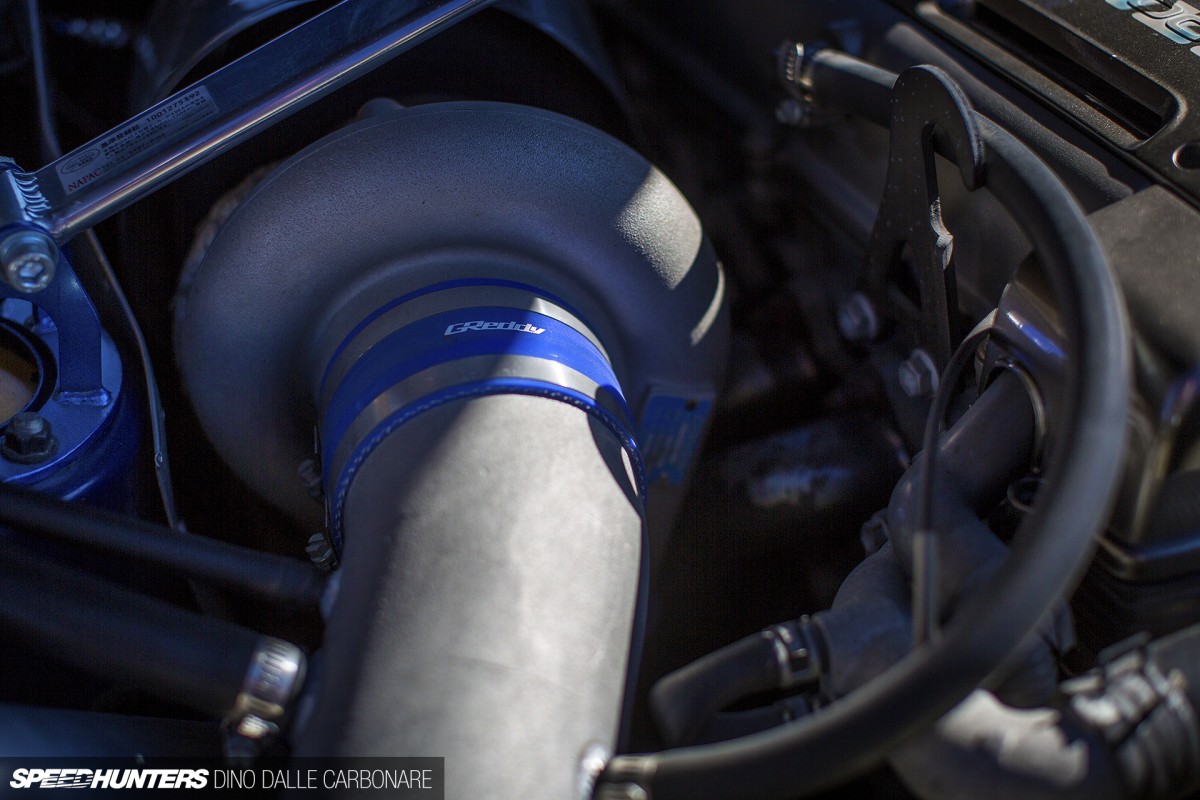 This in turn makes the most of the 2.0bar (29.4psi) boost pressure that the rather large Trust T88 turbo generates. With 3.0 liters of capacity and valve timing control through the custom mapped HKS F-CON V Pro engine management system, the engine pushes 700PS to the hubs on a Dynapack dyno –  200PS more than the Z30's package.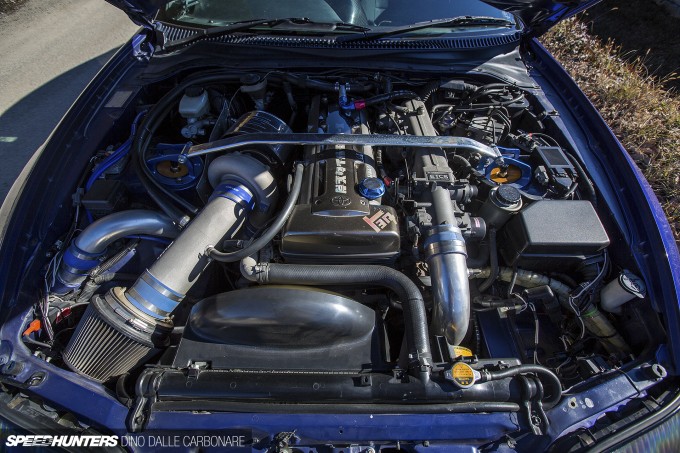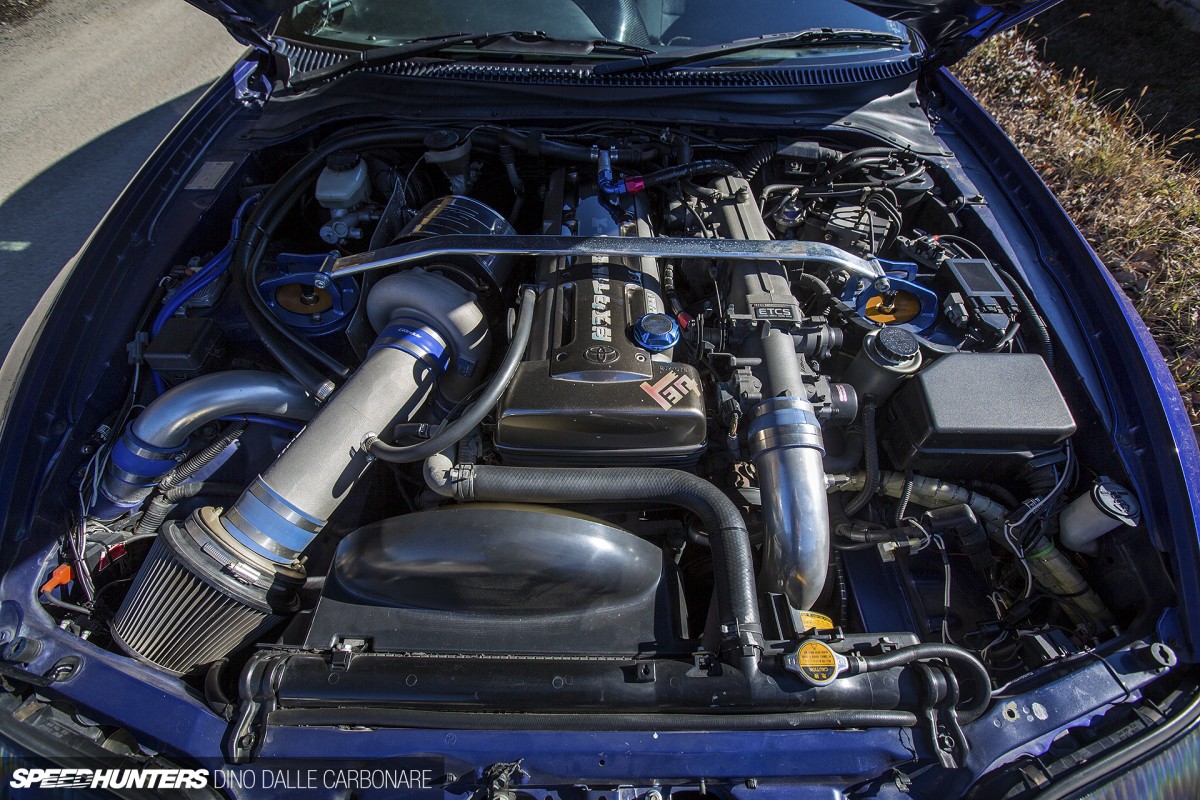 The usual simple mods to support that level of boost have also been added into the mix, starting off with a pair of GT-R in-tank fuel pumps and a set of 850cc/min injectors. A Blitz intercooler and aluminium piping was all that was required to complete this first stage of upgrades.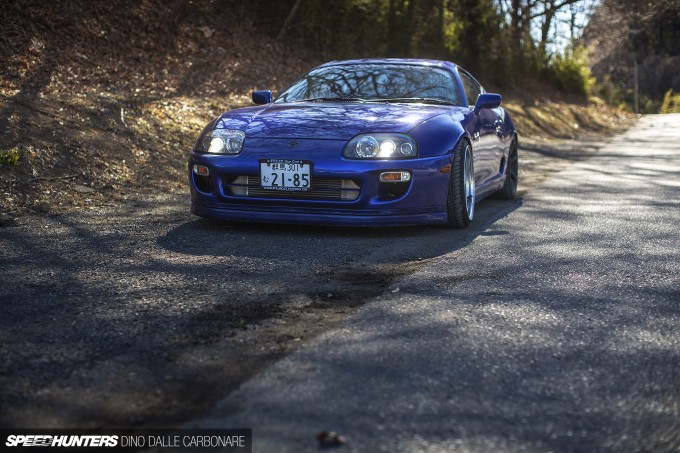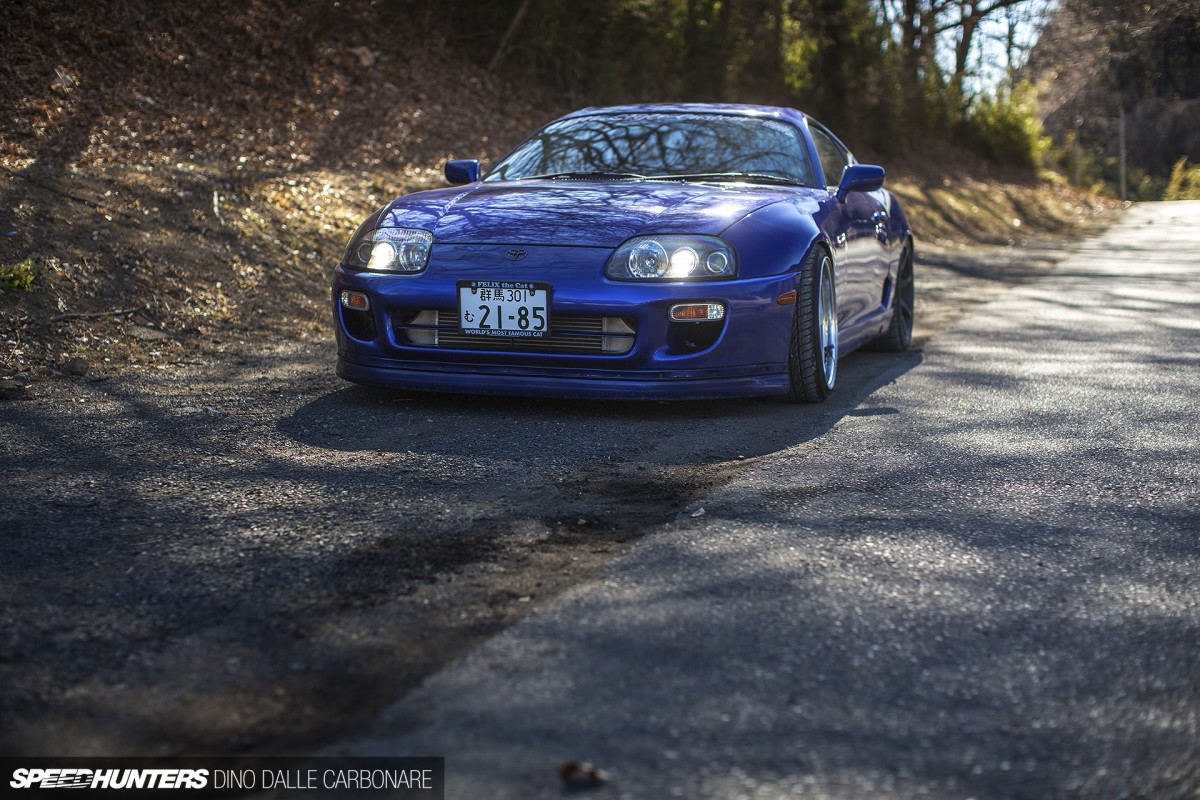 Mind you, Nagahama made sure that he wasn't taking chances when it came to the driveline. So joining the 6-speed Getrag transmission is an OS Giken triple-plate clutch that Nagahama can lean on all day with no issues. The stock differential was replaced with a TRD item which has a slightly shorter final drive, allowing far better use of all the gear ratios.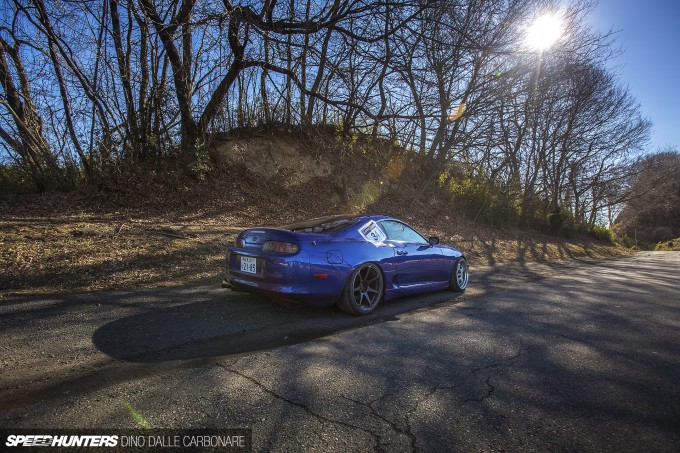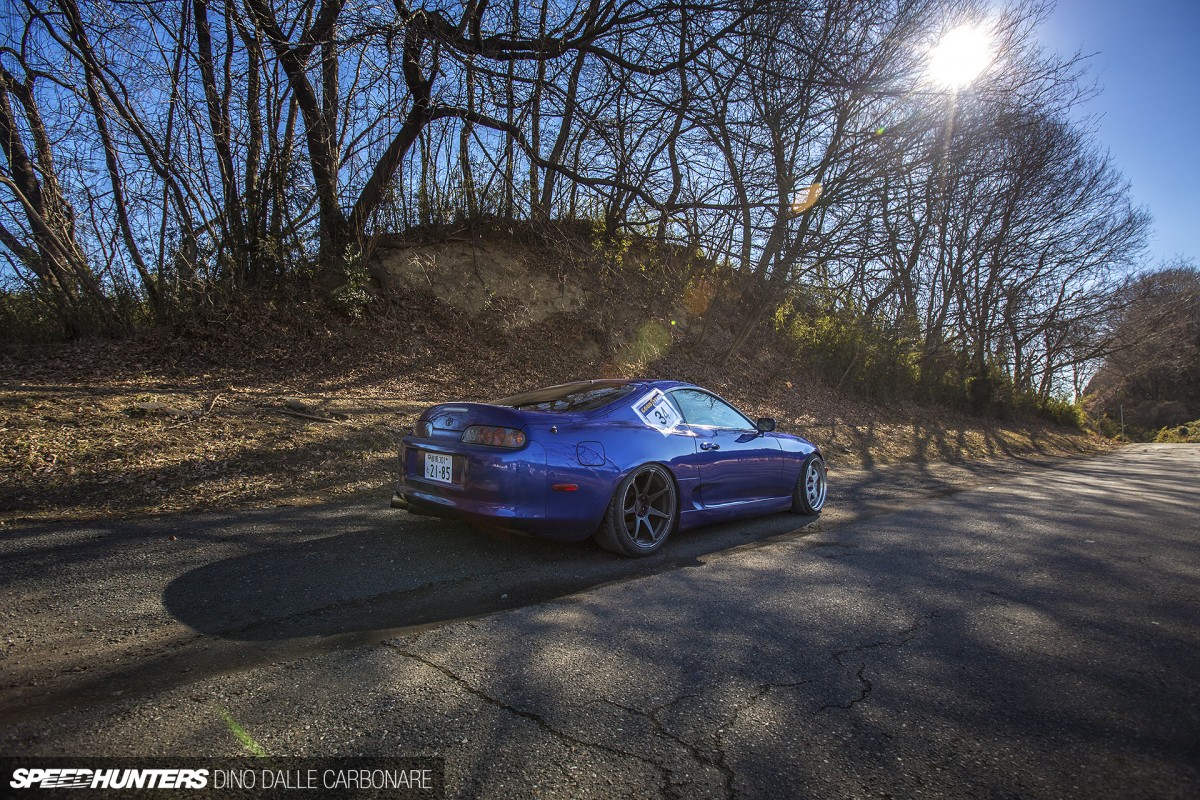 It's very cool to see Nagahama embark on a new project, and even cooler to see that he's gone full-on with the engine and performance as a first step.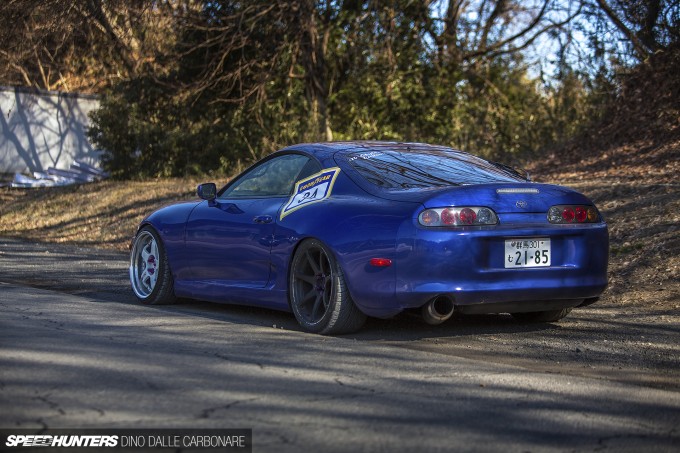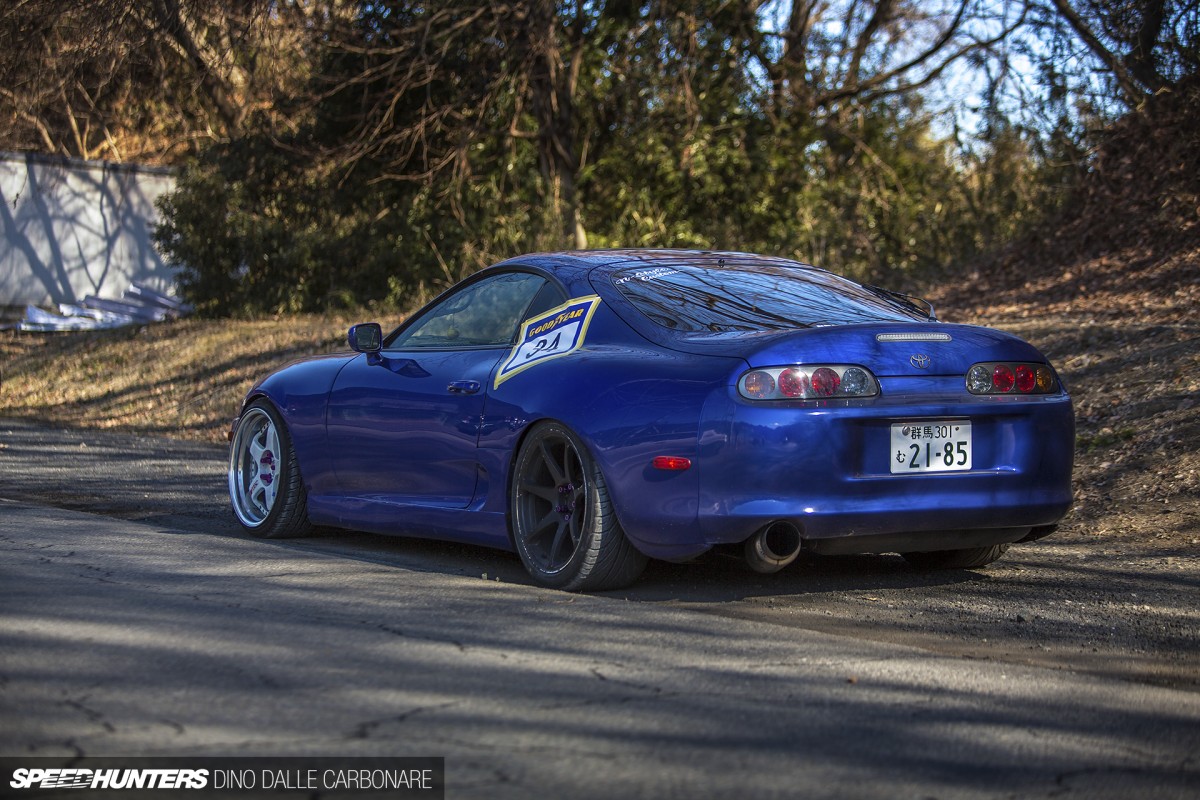 I'm sure we'll see this car evolve even more as time goes by, and I have a inkling that the Supra's bulbous rear end might end up even wider…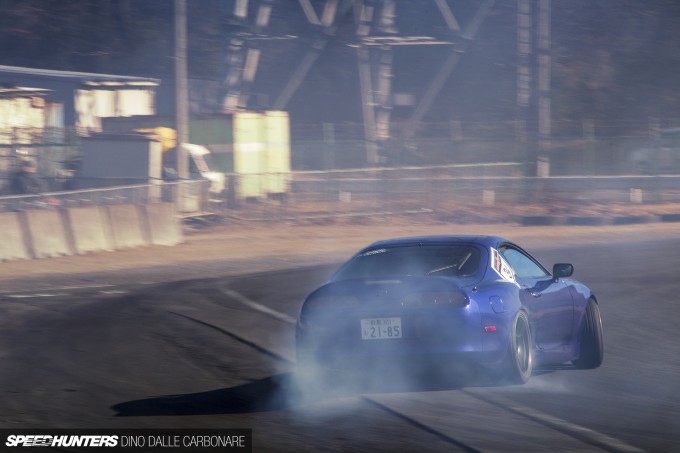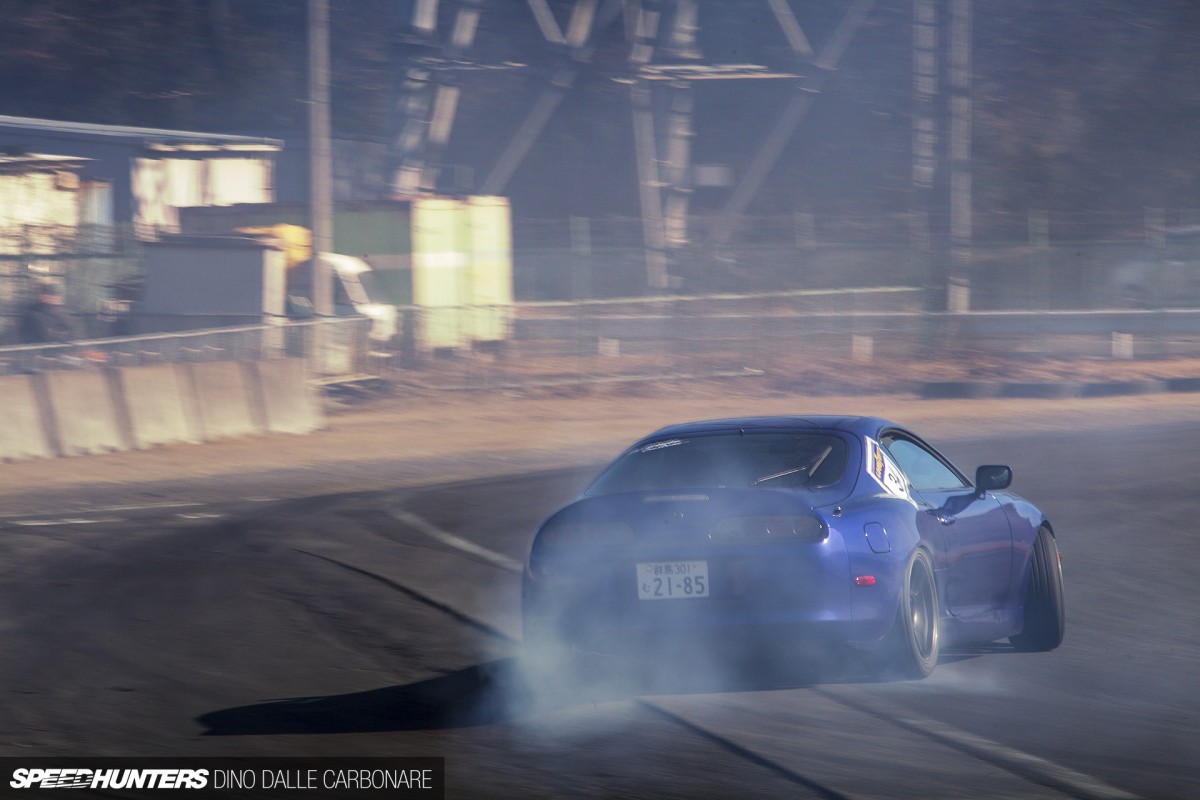 Whatever road Nagahama plans to take with his Supra it will continue to remain a car true to the grassroots spirit. N-Style may be a body shop, but they don't manufacturer and try to sell aero bits – rather, sculpt one-off creations and custom touches according to what customers require. They're in it for the style and the satisfaction of owning bespoke cars – just ones they can drift the hell out of at the track.
Dino Dalle Carbonare
Instagram: speedhunters_dino
dino@speedhunters.com
N-Style Drift-Spec JZA80 Toyota Supra
Numbers
Max Power: 700PS, Max boost: 2.0kg/cm2 (29.4psi)
Engine
Toyota 2JZ-GTE, HKS 272-degree in/ex cam, HKS adjustable cam pulleys, Trust exhaust manifold, Trust T88H-34D turbocharger, Trust Type-C external wastegate, one-off front pipe, one-off exhaust sytem, Blitz triple-core intercooler, 2x GT-R fuel pumps, 850cc/min injectors, HKS oil cooler, Koyo radiator, HKS F-CONV Pro engine management system
Driveline
Factory Getrag 6-speed gearbox, Exedy triple-plate carbon clutch, TRD limited slip differential, 3.7 final drive
Suspension/Brakes
Aragosta adjustable suspension, Eau Rouge Type-2 knuckles, rear subframe solid mounted to chassis, painted stock front calipers
Wheels / Tyres
SSR Professor 18×9-inch +-0 (front), 18×-10-inch +17 (rear), Haida Racing HD921 215/35R18 (front), 235/35R18 (rear)
Exterior
N-Style front lip spoiler, N-Style +20mm widened front fenders, N-Style side skirts, rolled rear fenders
Interior
Bride seat, Blitz SBC boost controller, HKS meters