Freshness redefined
As soon as I arrived at Nikko for the N-Style grassroots drift event over the weekend, this SBcorporation S15 was the first car I saw. It was parked all the way down towards the little tunnel that you pass through to get access to the circuit, and I knew then and there it would be my opening car for this spotlight. I posted an image of the Silvia on our Instagram feed and noticed that some commented that they like the S15, but not when it's built for stance.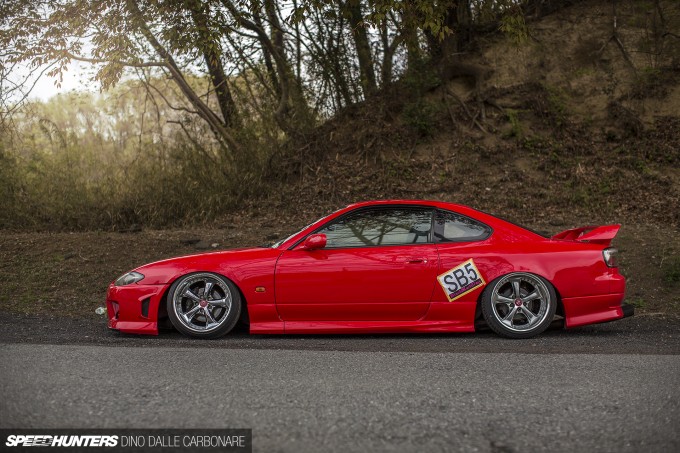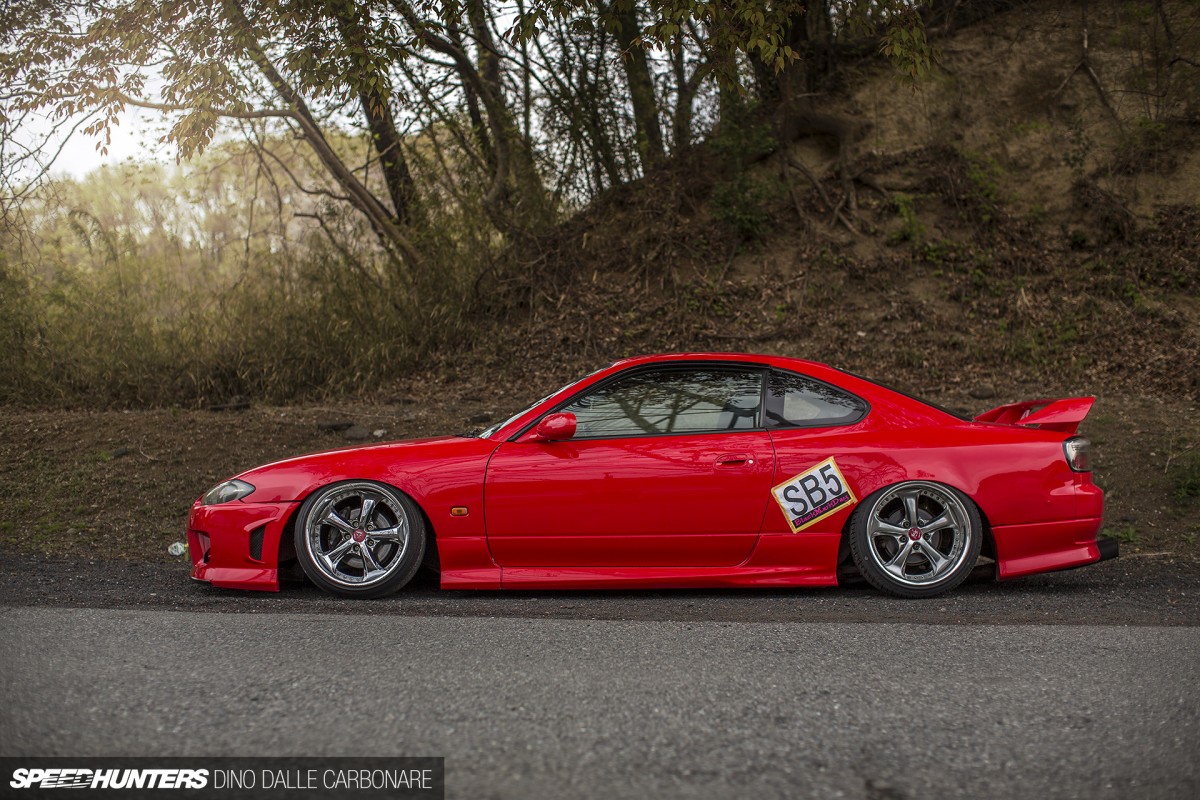 Well surprise, surprise – despite the car sitting damn low, this is a fully functional street and drift car and it's owner was out at Nikko burning through rear tyres like there was no tomorrow. I felt this car was a great example of a fresh take on achieving the wow factor. It does away with complexities like overfenders and other extreme body work add ons, and just gets the job done with some aggressive lowering and a few small details.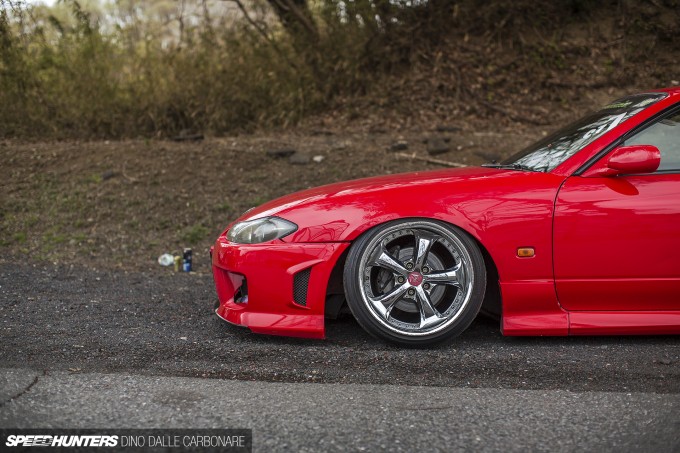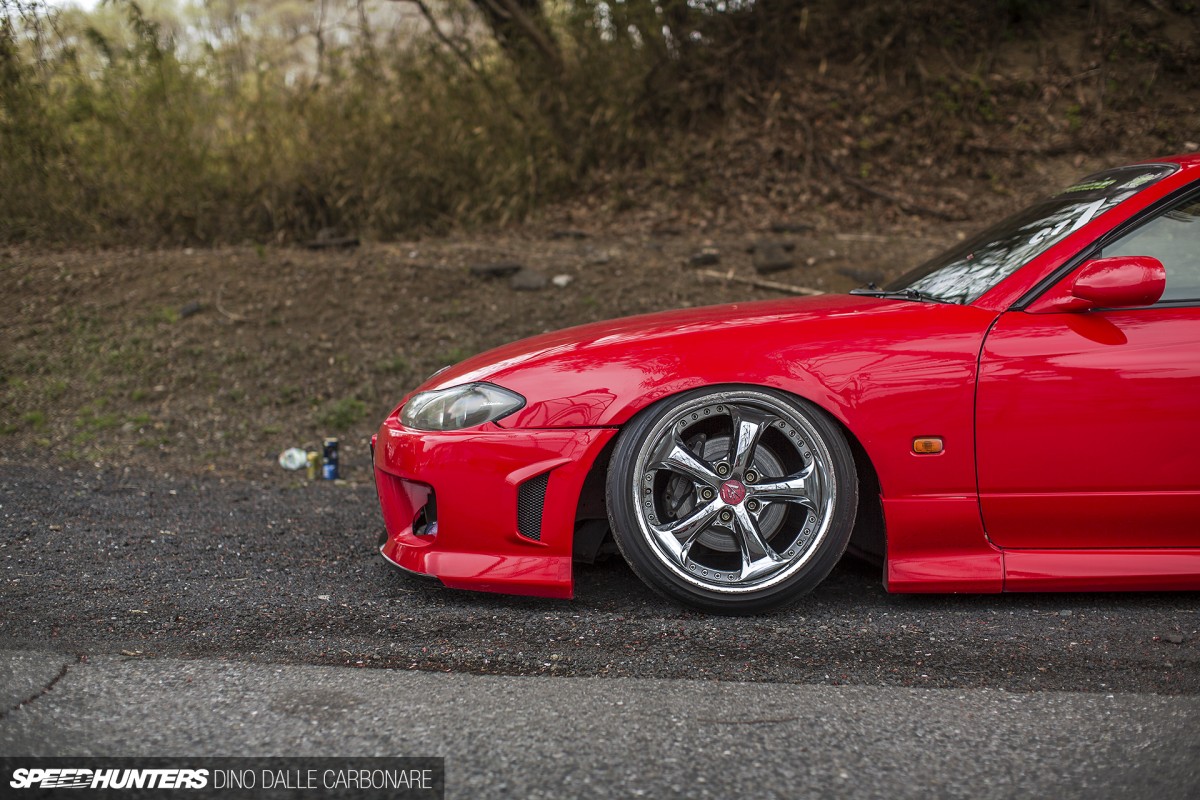 The Spec-R Aero kit does a surprisingly good job of getting the look just right, as do the carefully rolled and slightly stretched fenders. It looked like a bit of effort had been required to squeeze on the Work VS-KF wheels – a now discontinued two-piece design that was more geared towards VIP and dress up when it was first released – but the result looked worth it. And yes, it looks like that front wheel had taken quite a beating out on track!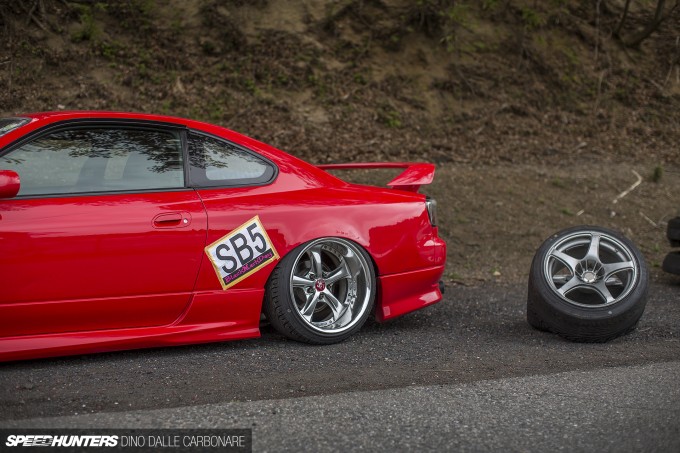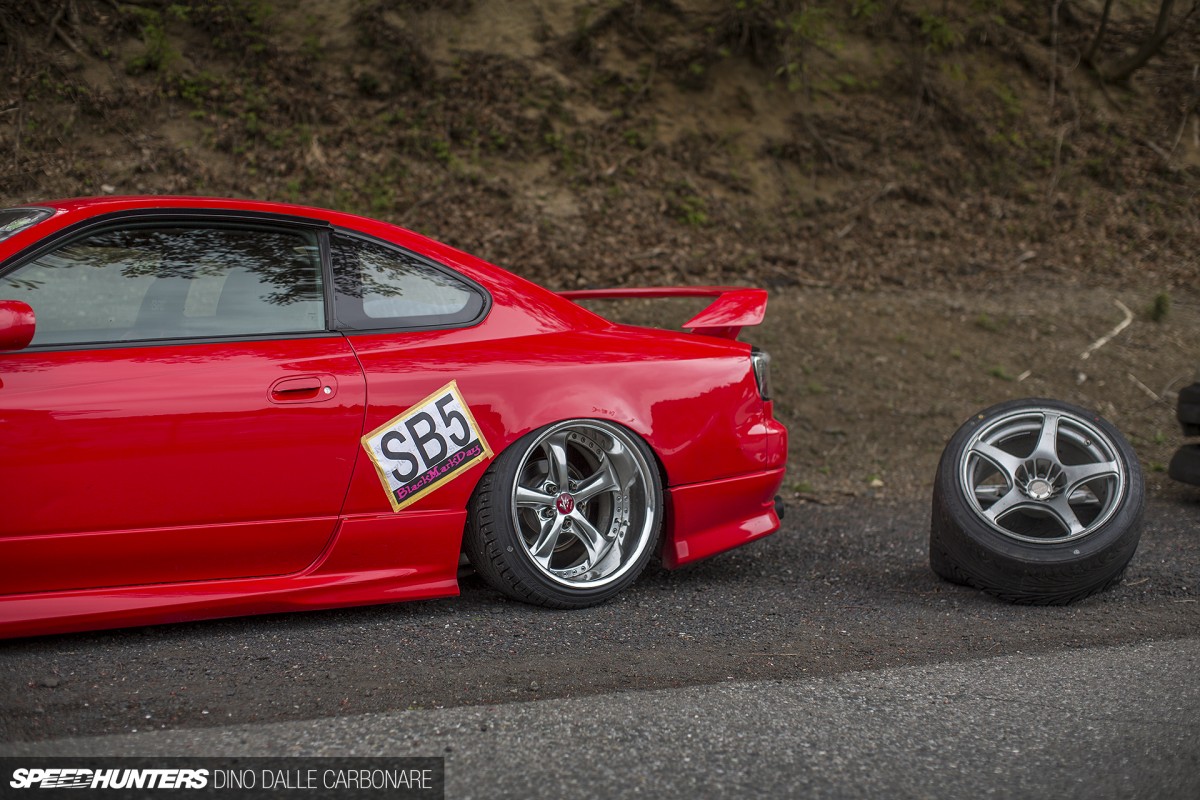 There's some serious lippage going on at the rear (yes, I've just made up a word!), and even more widening. The spare set of Enkei RP-05s were thrown on later on in the day and the tyres thoroughly burned through.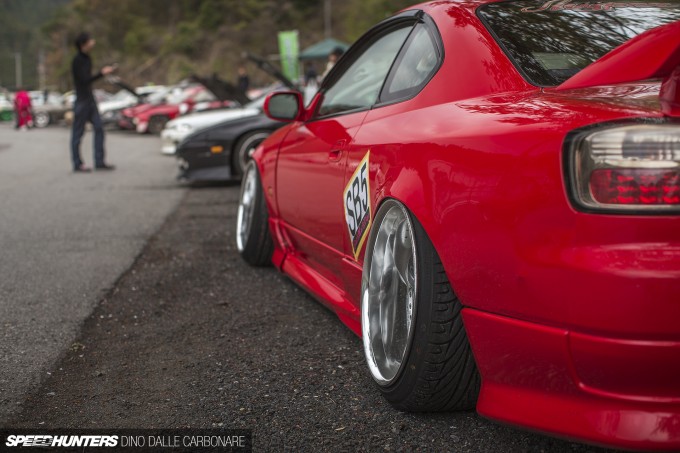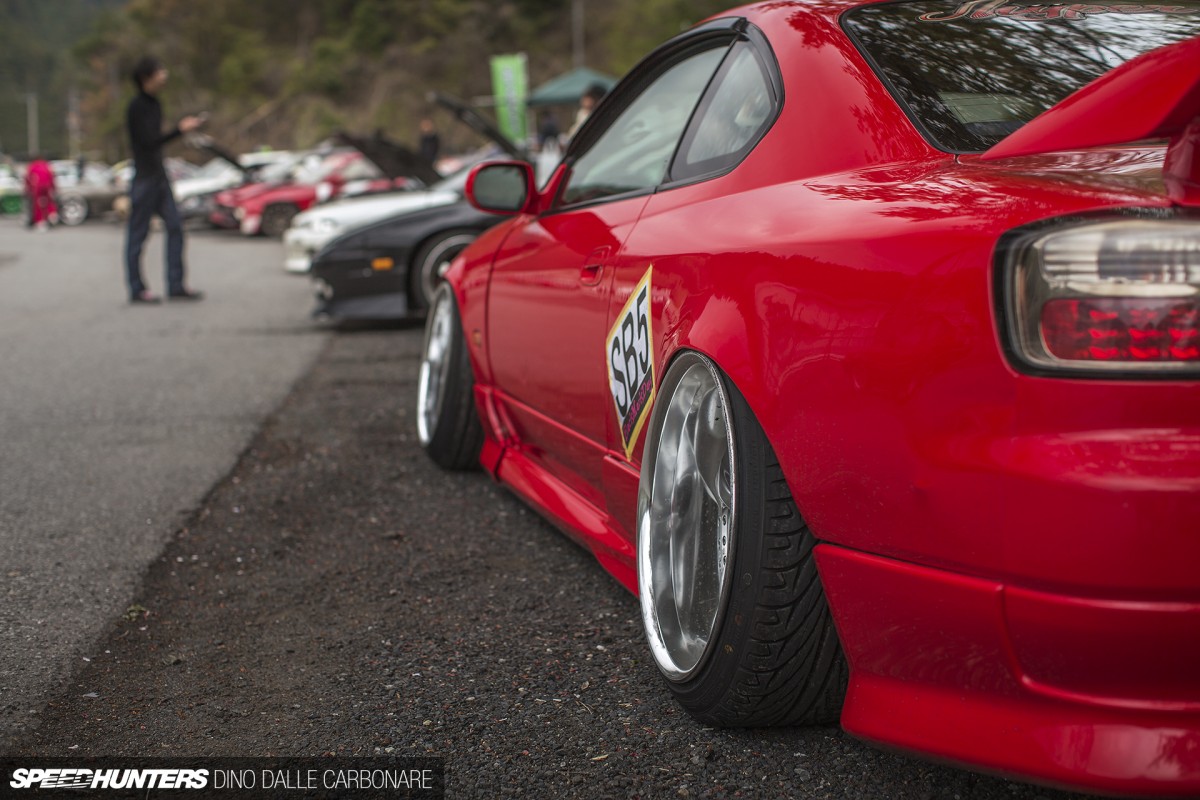 Is this a good example of stance meeting drift? Maybe, but then again, drift cars in their most purest form have always sat extremely low to the ground. None of that raked front-end that pro-level drift cars tend to run these days for obvious handling and traction benefits. I like this look best myself. What about you?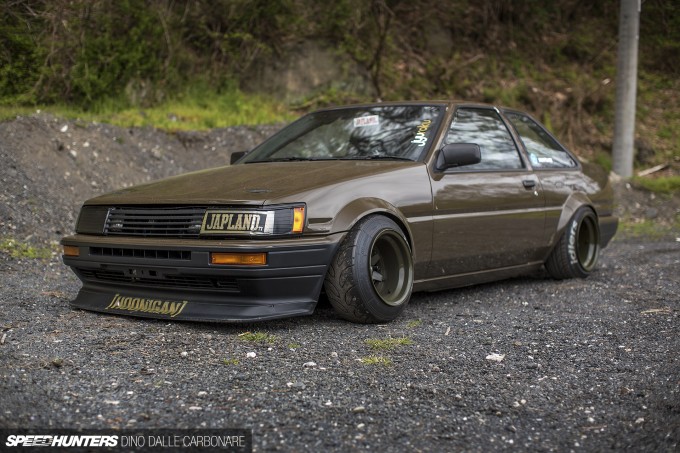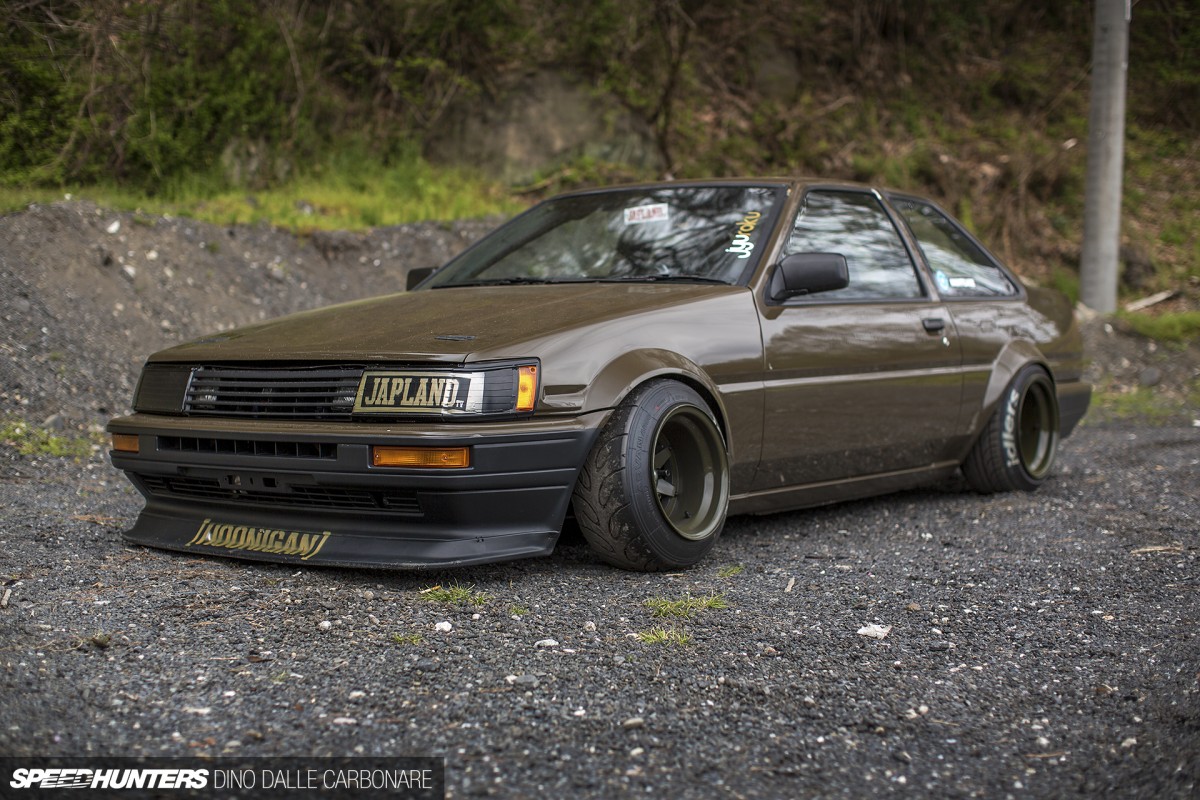 Next up is a car we've actually seen before. I featured this AE85 Levin late last year, but the reason I want to revisit Takahashi's N-Style-built machine is because it's the fastest evolving car out of the whole crew. That, and it was looking positively hot sitting in the back of the gravel paddock at Nikko on Sunday.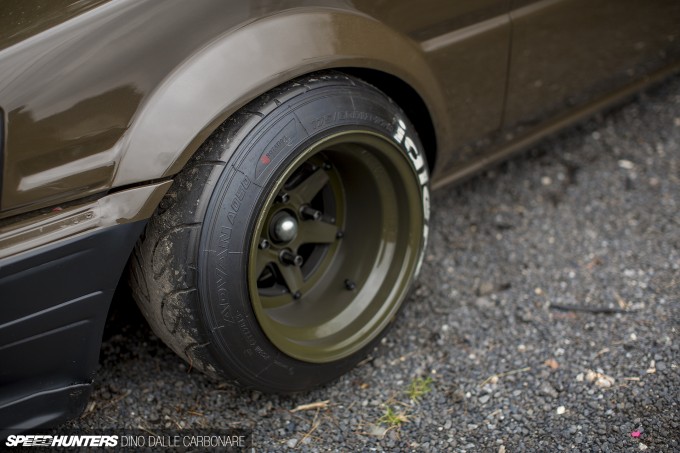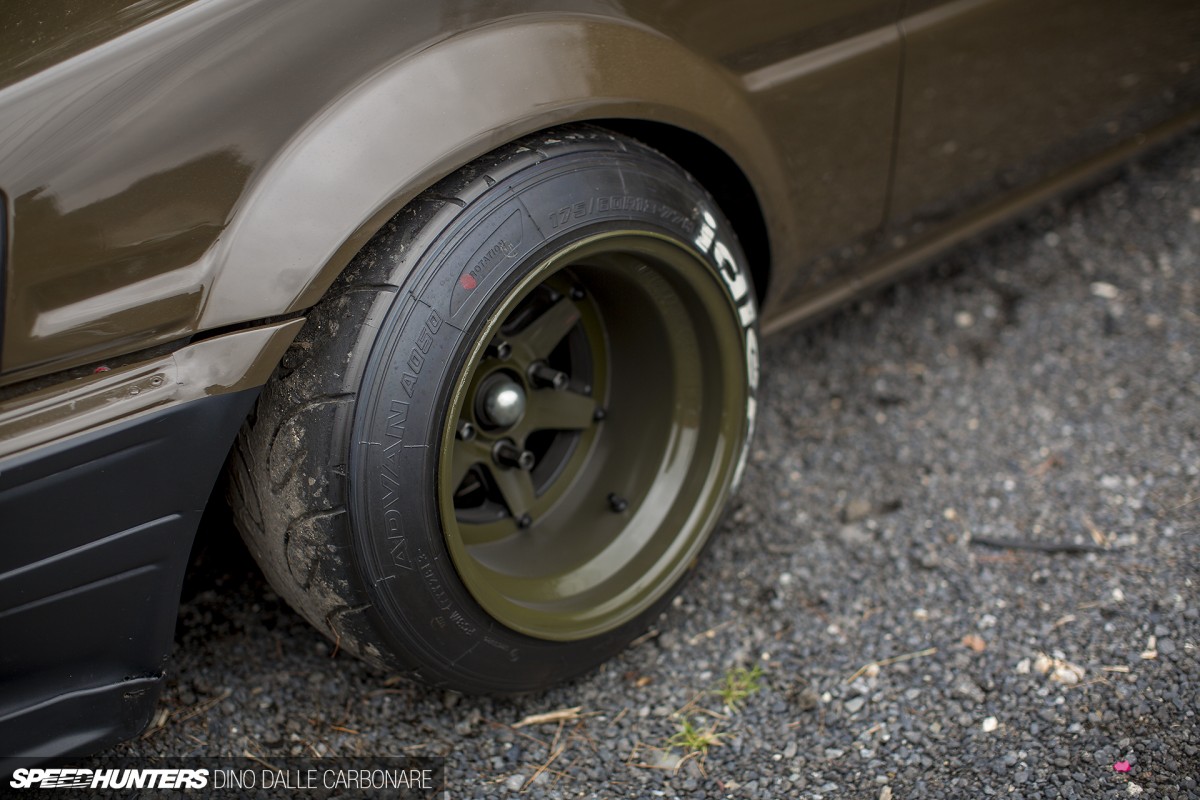 Along with some obvious additions on the graphics side of things, the biggest change to the exterior has been the new set of SSR XR-4 Longchamp wheels. While Takahashi still has the 15s at the back, he's gone for a staggered look, fitting 13s up front and painting them all in a military green hue for a unique look against the dark brown body. He then added 175/60R13 Advan A050 semi-slick tyres at the front for extra grip.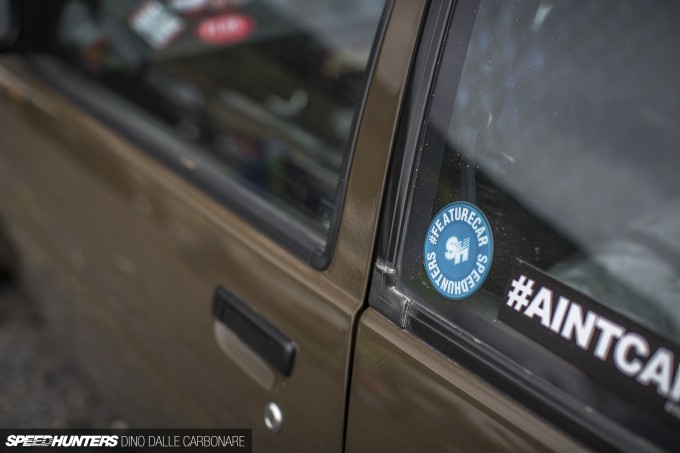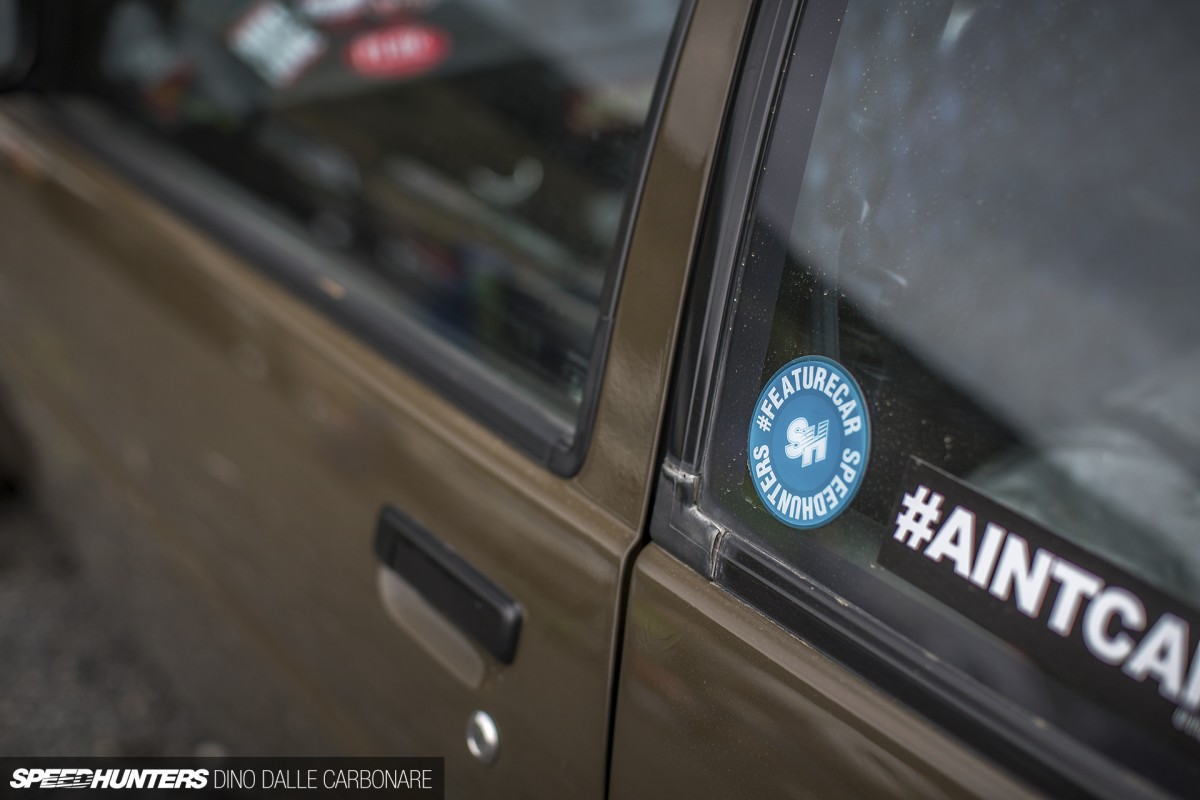 It was great to see him proudly displaying a Speedhunters #FeatureCar badge too!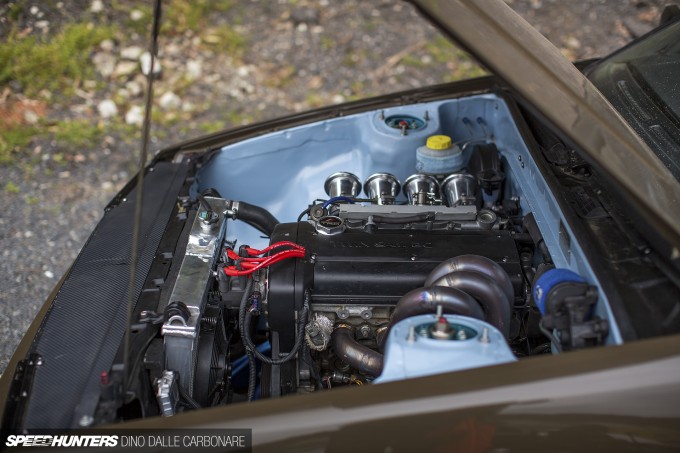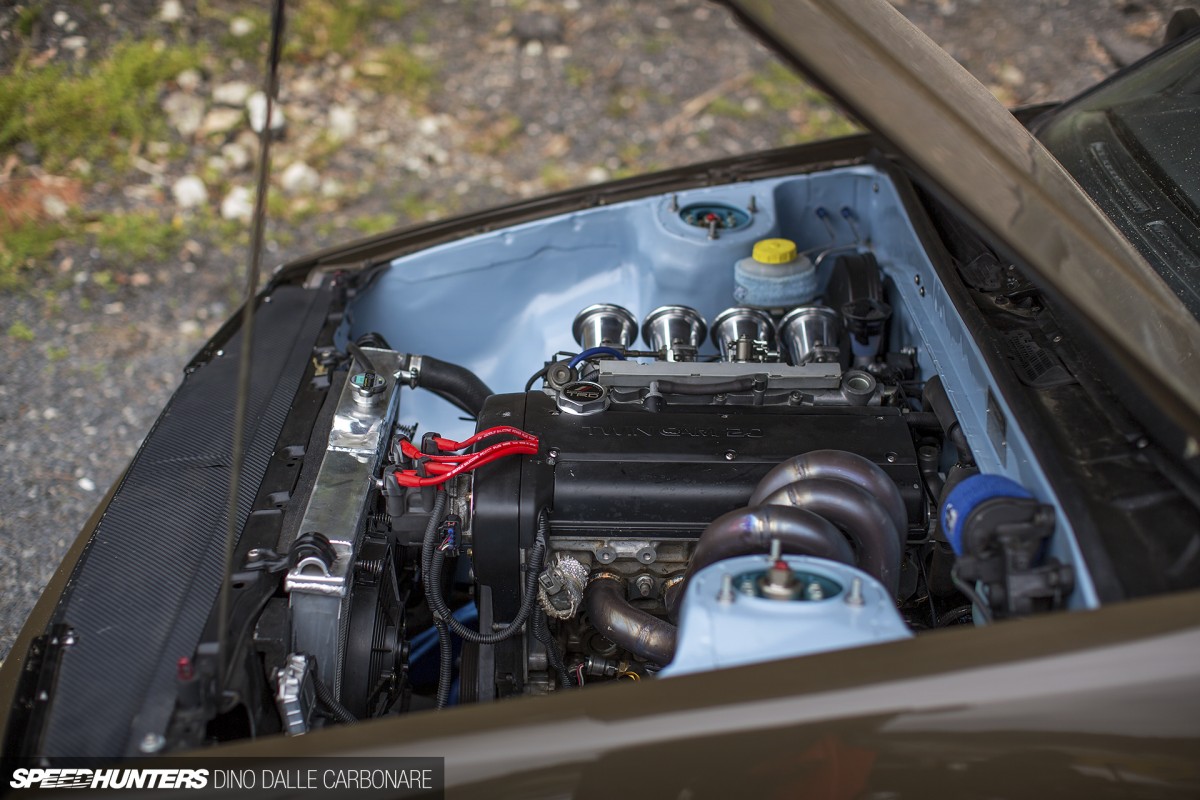 As I hinted at the end of the first feature, Takahashi has recently gone nuts under the bonnet, shaving and smoothing out the engine bay and getting rid of all the clutter for a true show car look. The 20-valve Blacktop 4A-G borrowed from an AE111-series car, really does take center stage now. Oh and yes, the exhaust manifold is another new addition too.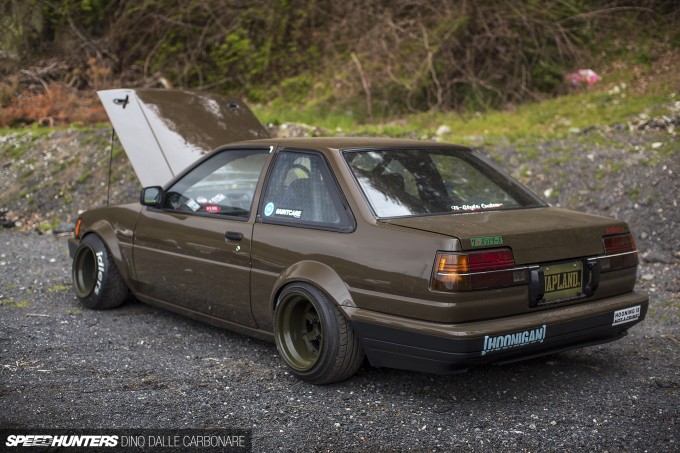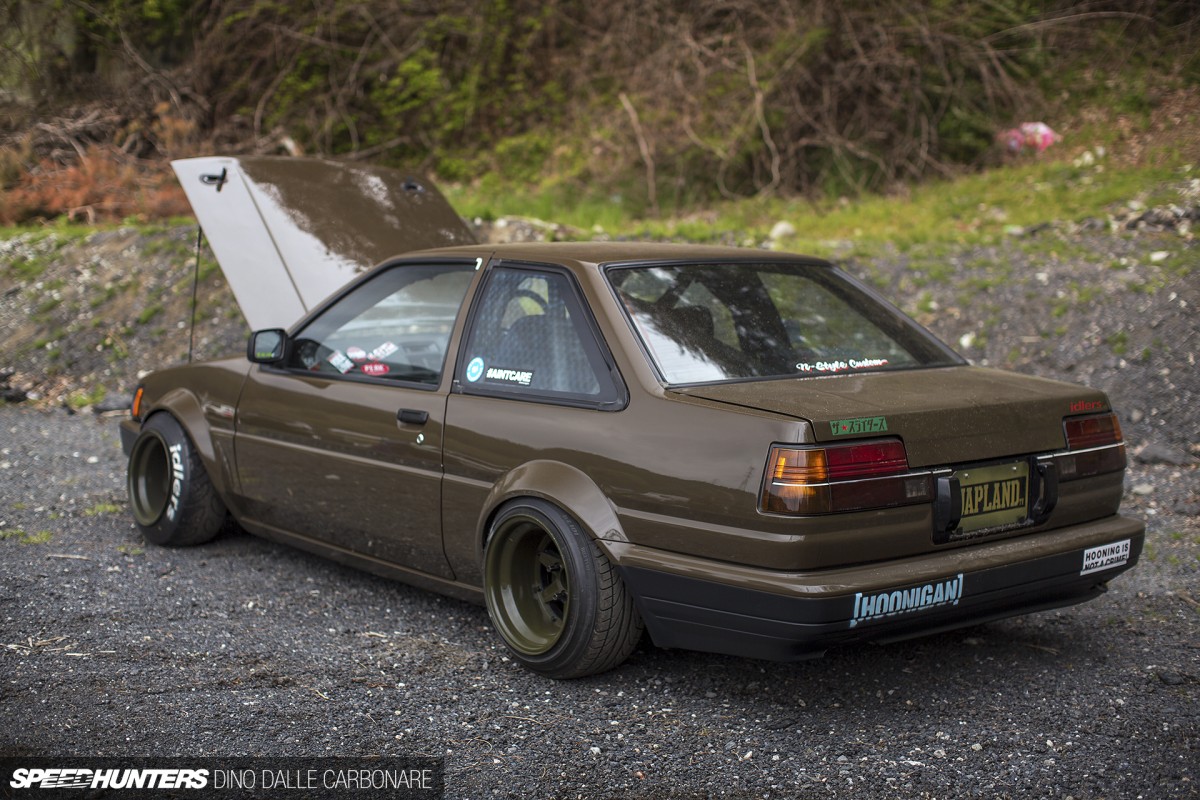 Talk about oozing style! What do you guys think?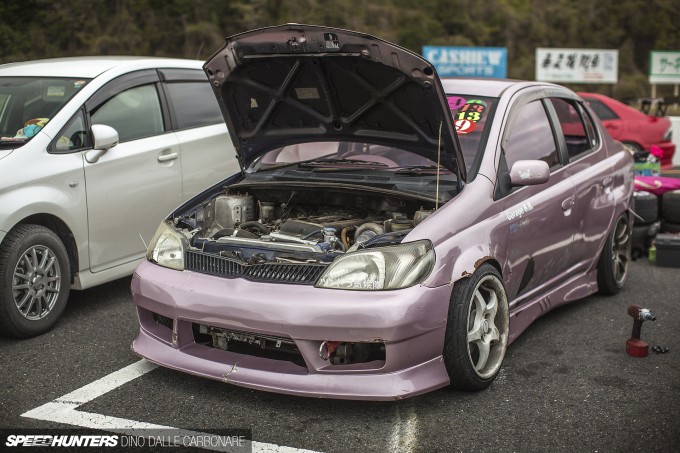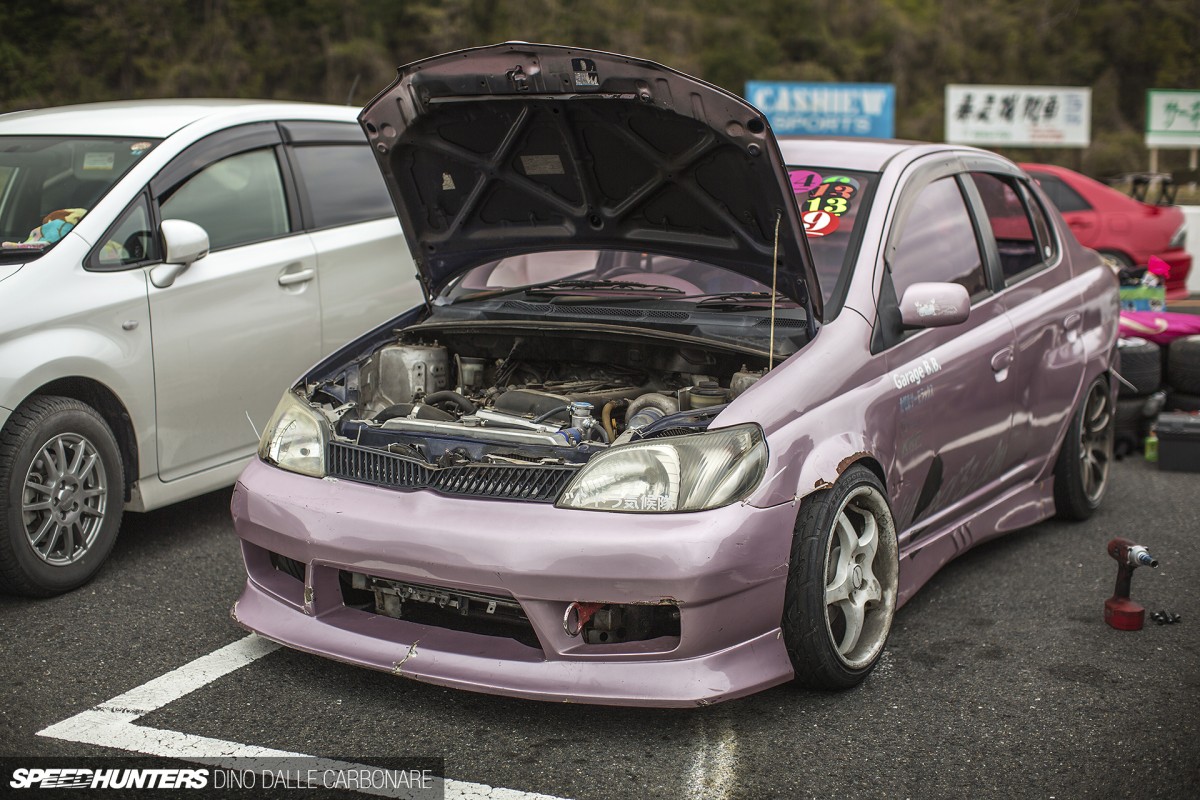 I noticed in the comment section of the first post that some of you noticed the little pink Toyota Platz in the background of one of the pictures. If you know your JDM cars, you'll know that this is the sedan version of the Vitz – and therefore like the hatchback it spawned from – normally runs a front-engine, front-wheel drive layout. Well, not in this case.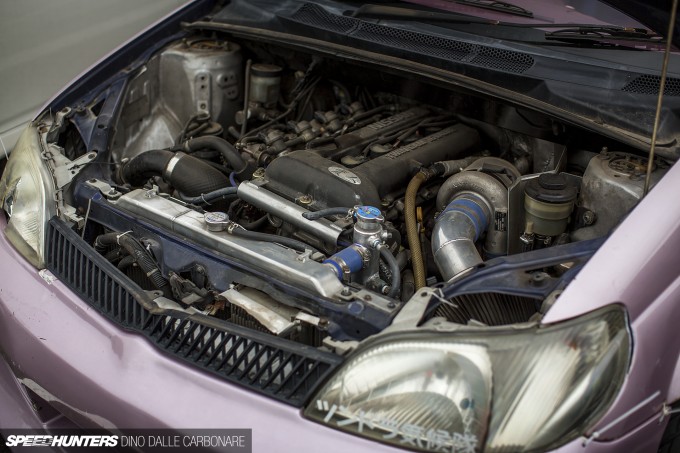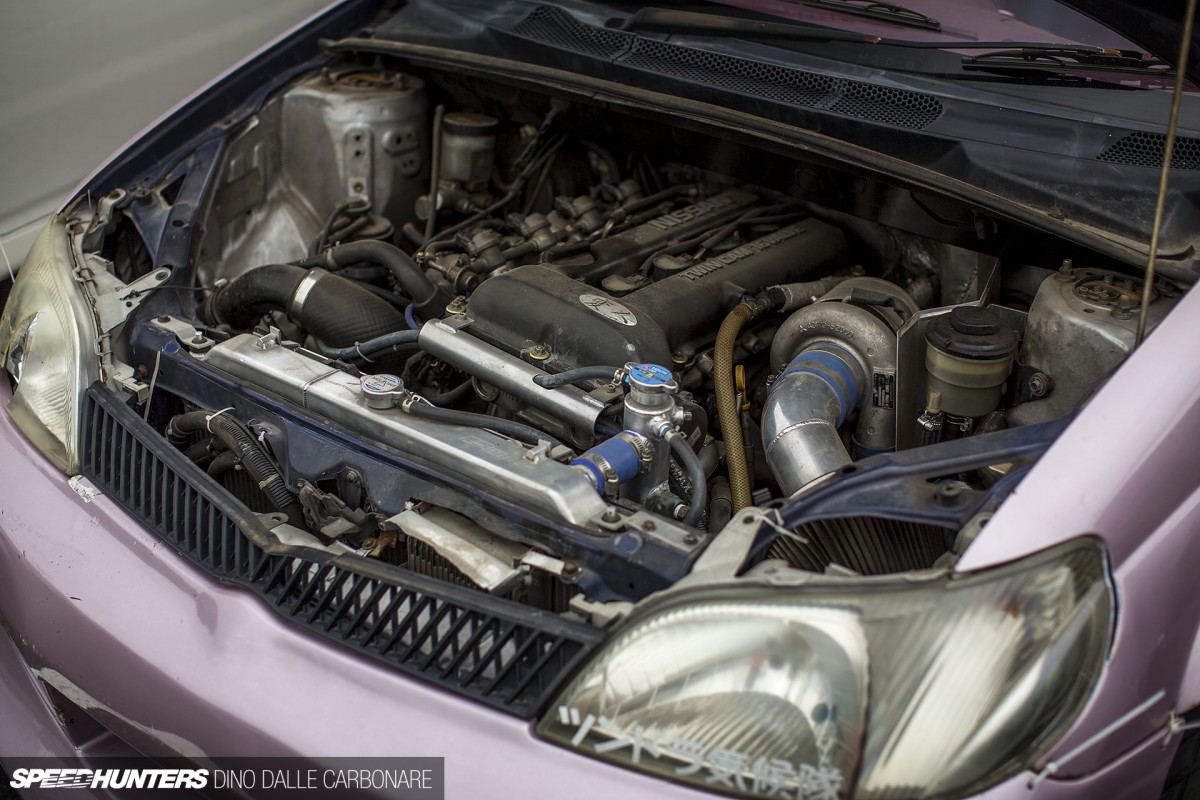 Powering the Platz is a Nissan SR20DET along with pretty much the entire RWD driveline from a Silvia. The engine is pretty stock, but that didn't stop the owner fitting a high-mount Mitsubishi turbo which I was told provides enough boost for a reliable 400hp.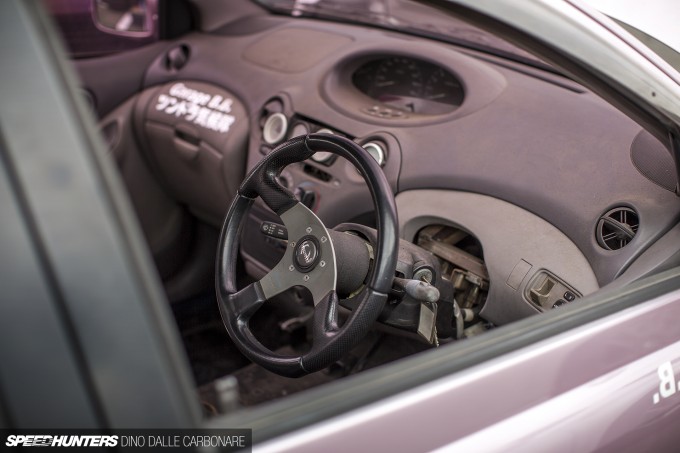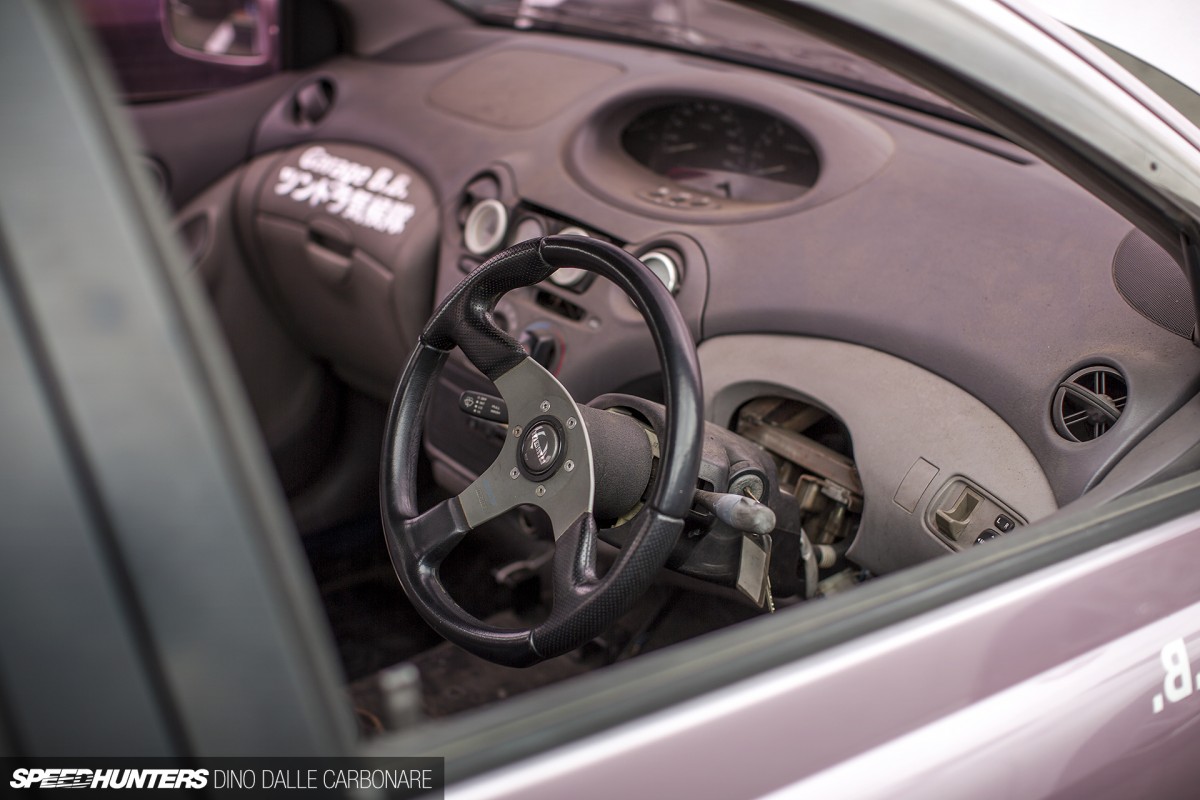 Pieced together a few years back by Garage B.B. this car has had quite the hard life. But then again, this is what it was built for. The whole approach is geared towards functionality, in the sense that everything you see is there for a reason.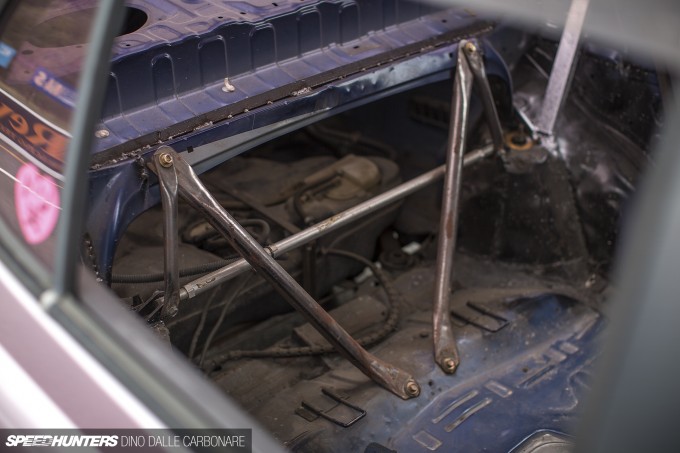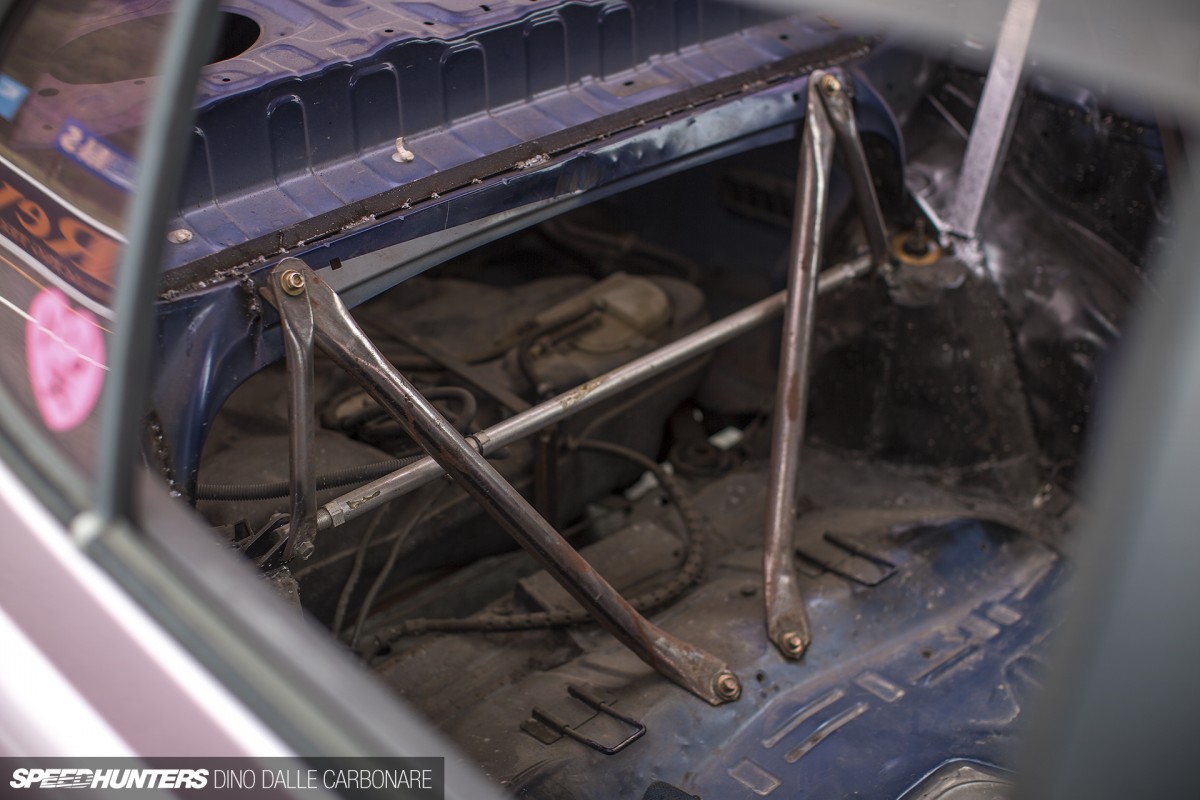 That includes much of the rear portion of the chassis. Replacing the rear torsion beam set up is now a multi-link layout that was custom fabricated to fit the narrow frame.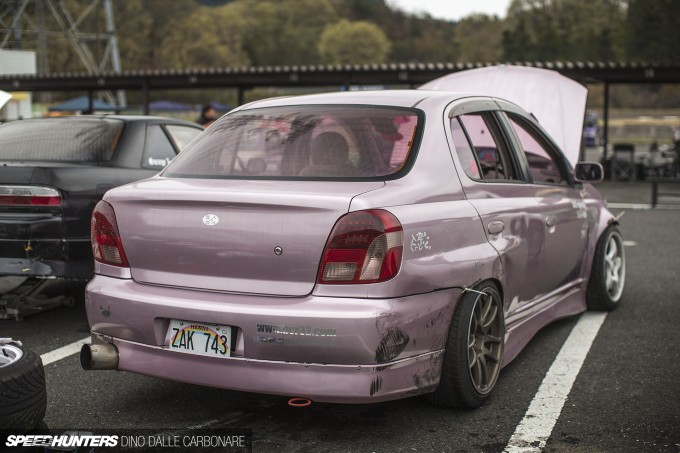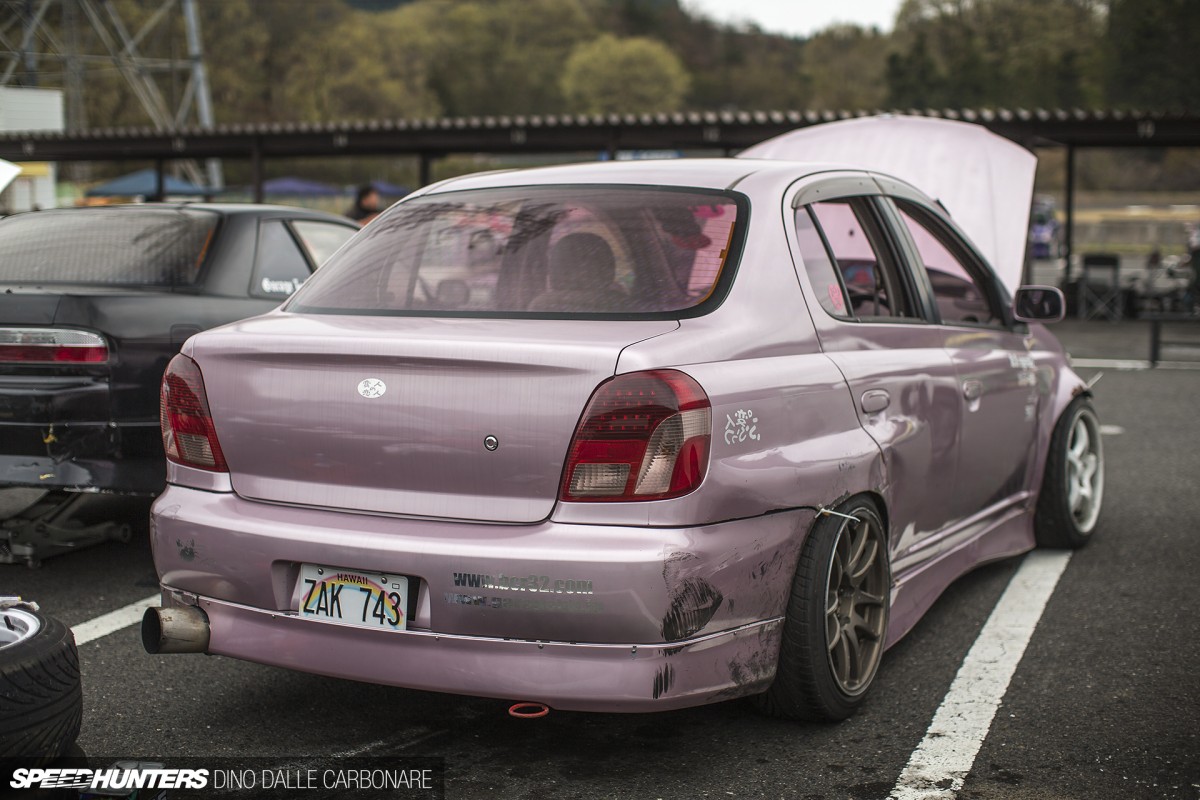 Pumped front and rear fenders finish up what is a totally unique dorisha!
Overfenders still rule supreme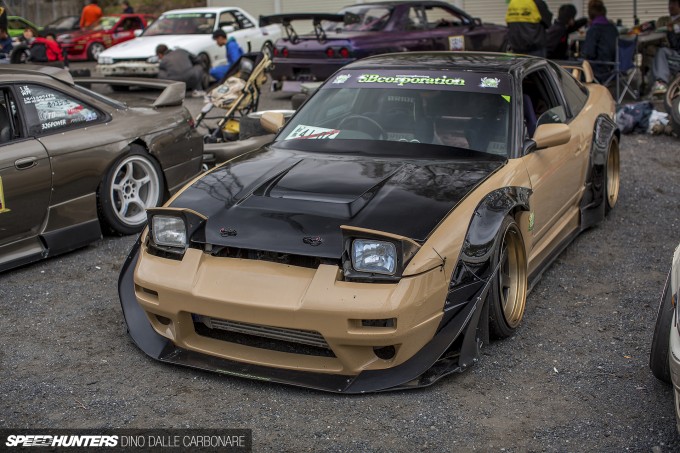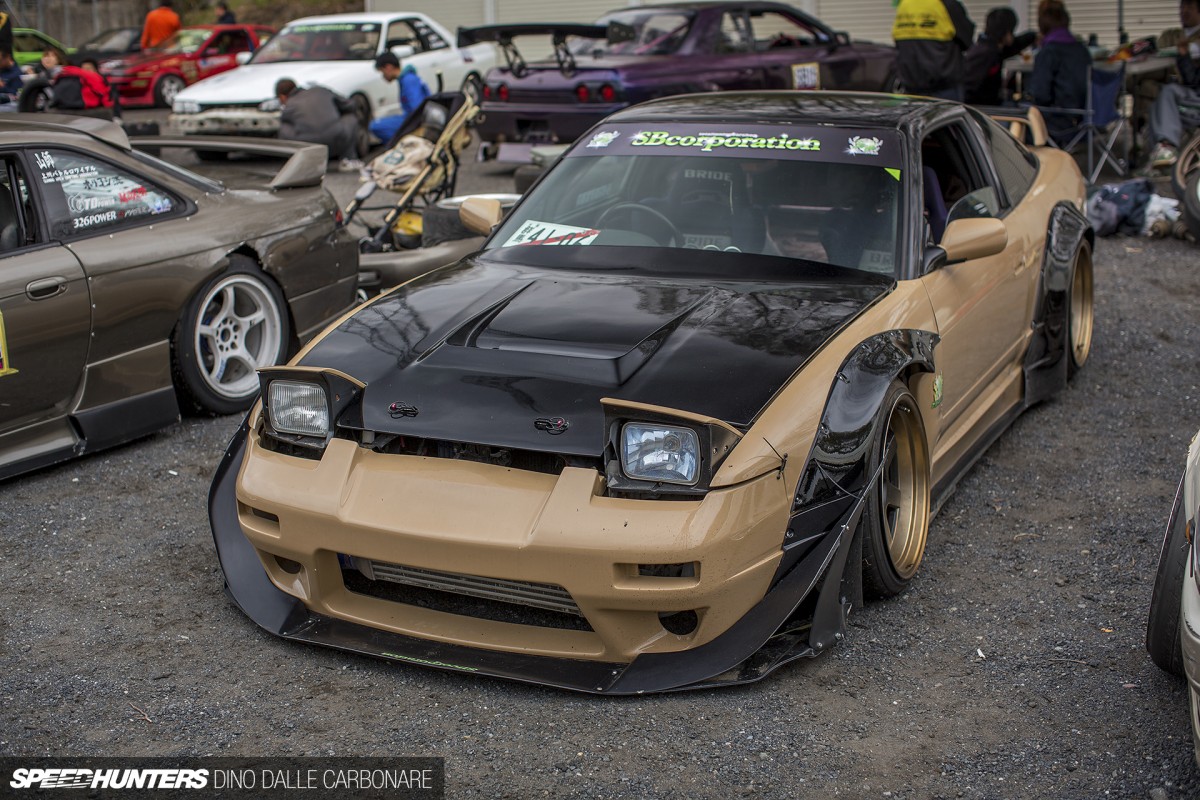 SBcorporation really impressed me with all the cool Nissans that they showed up with, and another one I couldn't pass up on spotlighting was this Rocket Bunny-kitted 180SX. Following the complete opposite route of the red S15 I opened the post with, this car had an almost Hiroshima/Bad Quality/Team Review look, but with a Kanto twist.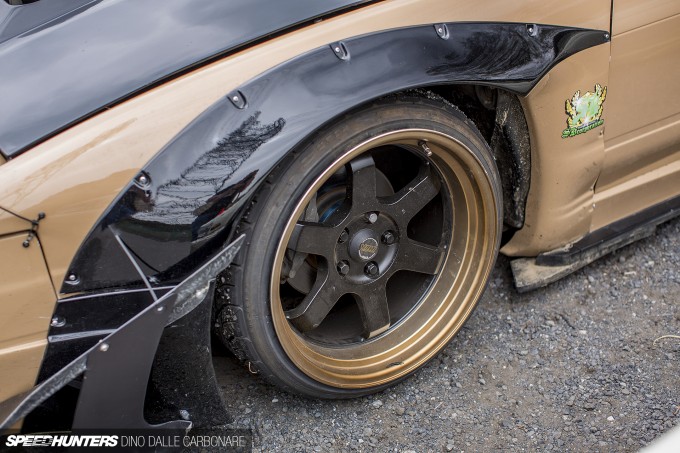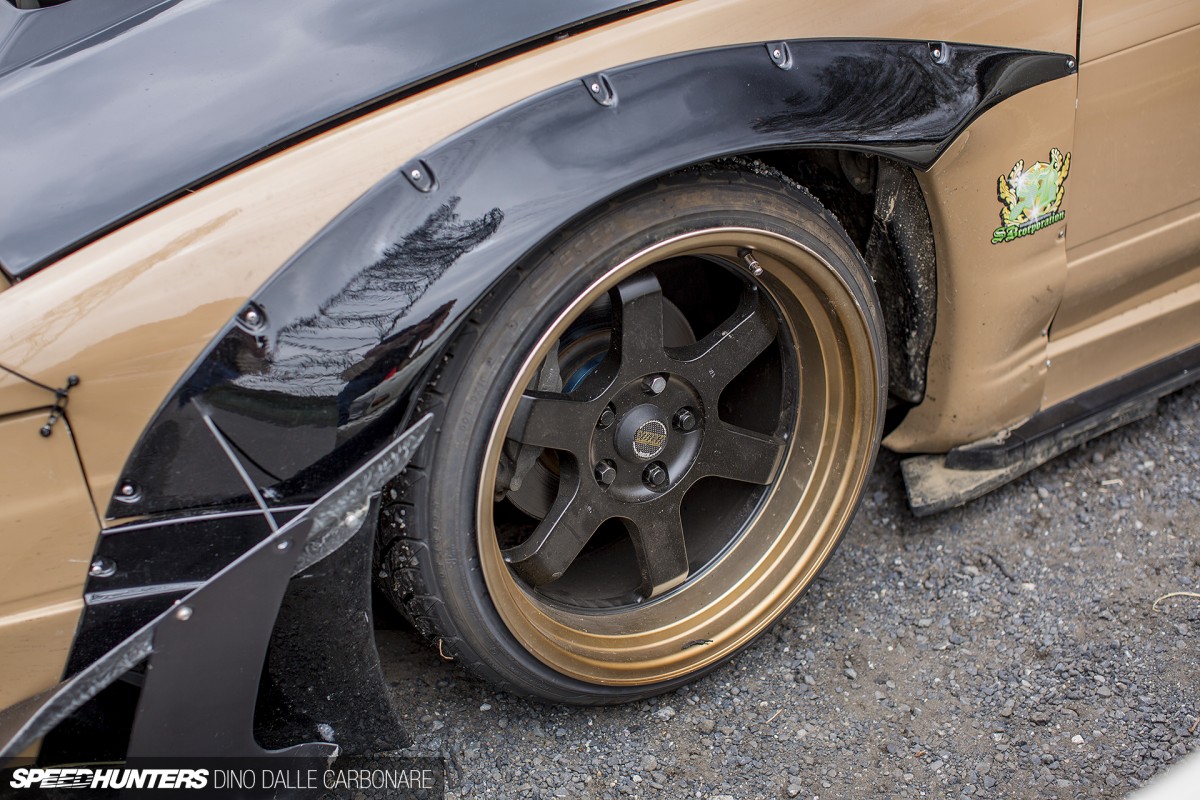 Hiding under those massive fenders were a set of RAYS Volk Racing TE37Vs custom painted with a black center. These seemed to have a pretty weak offset in comparison to the wide body work, but they were the owner's drift wheels so I assume more aggressively fitted wheels are attached for street driving.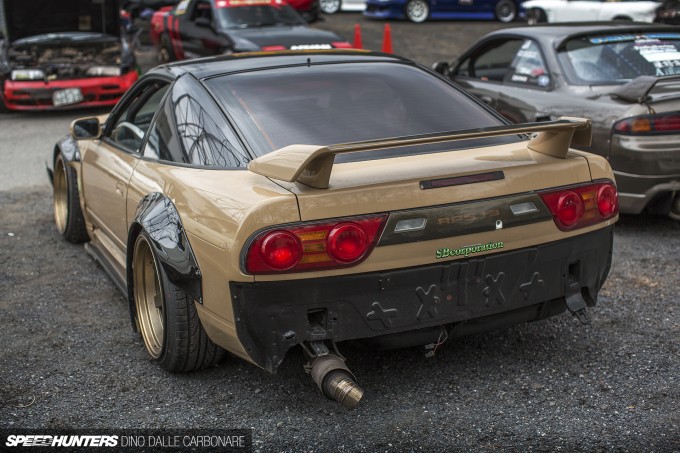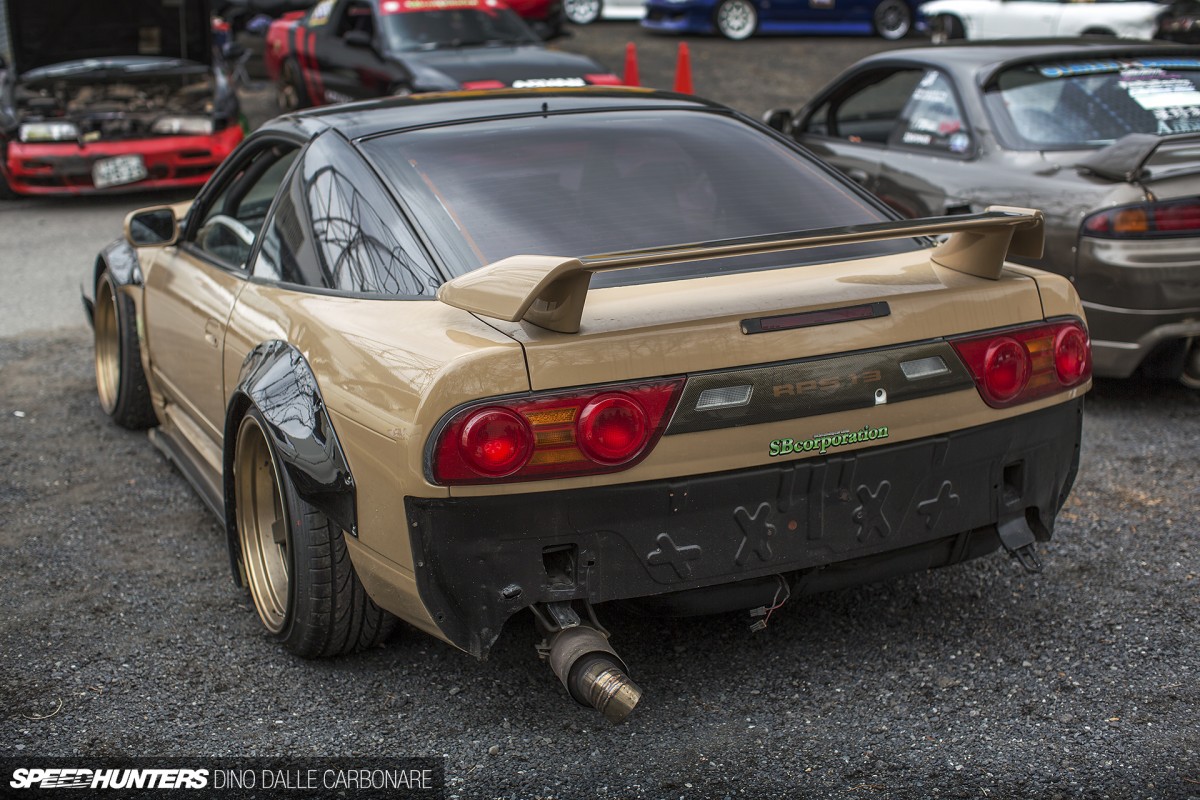 This kouki RPS13 hasn't gone for the complete Miura-look, preferring to stick to the stock rear spoiler and doing away with the diffuser section. That would probably just get ripped off at a track like Nikko anyway, where lots of corners have dips. Still, the rear bumper delete is very much present – if that makes sense?!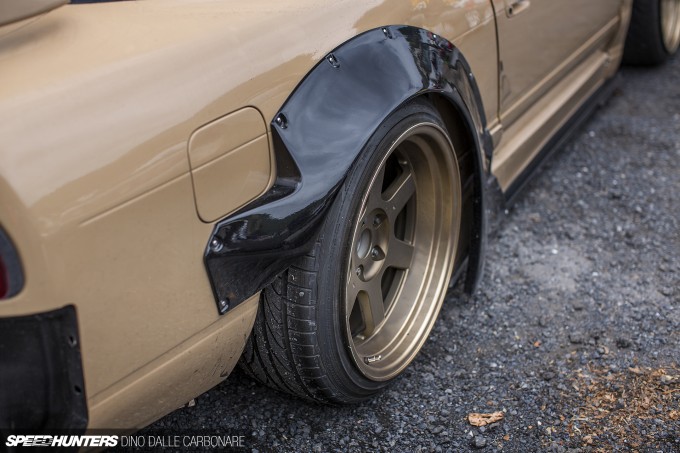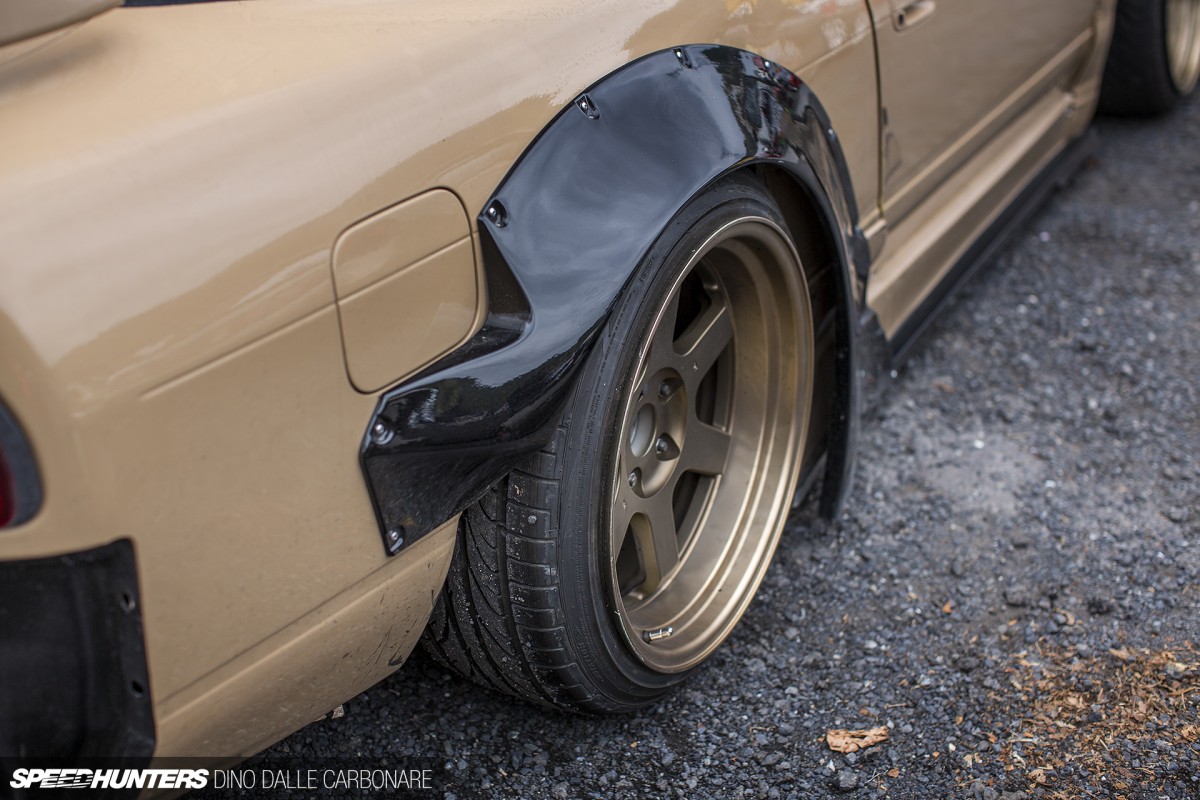 Here's a closer look at the rear overfenders, bolted directly onto the 180SX's body.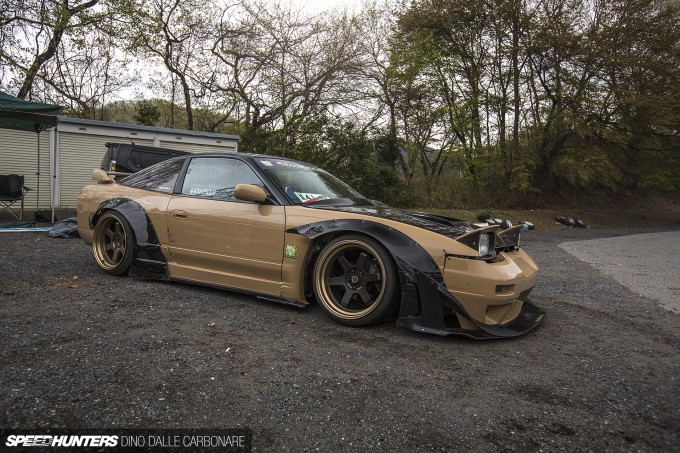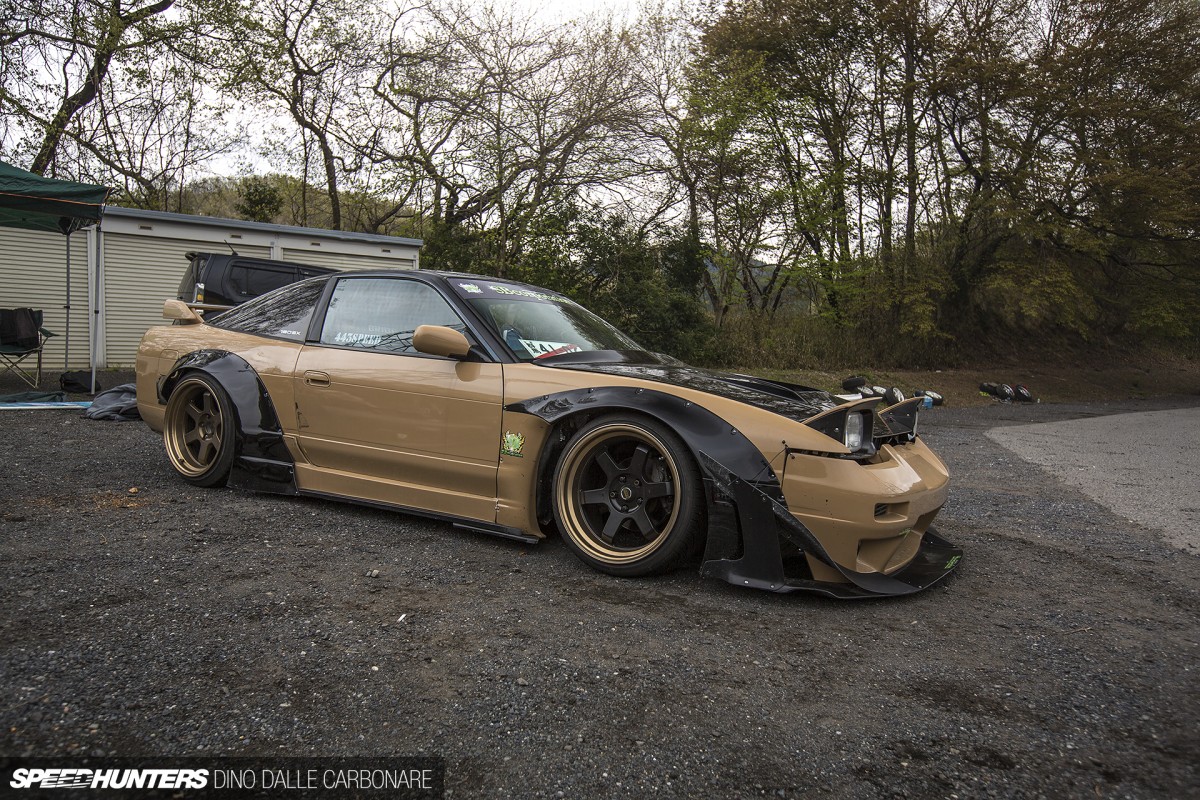 I'm not entirely sure what to make of the two-tone scheme, but there's no denying it's a fresh and different take on a look that's become very popular over the last year or so.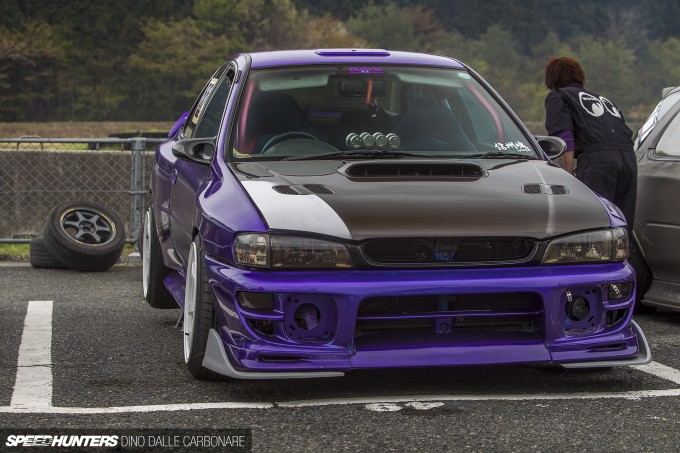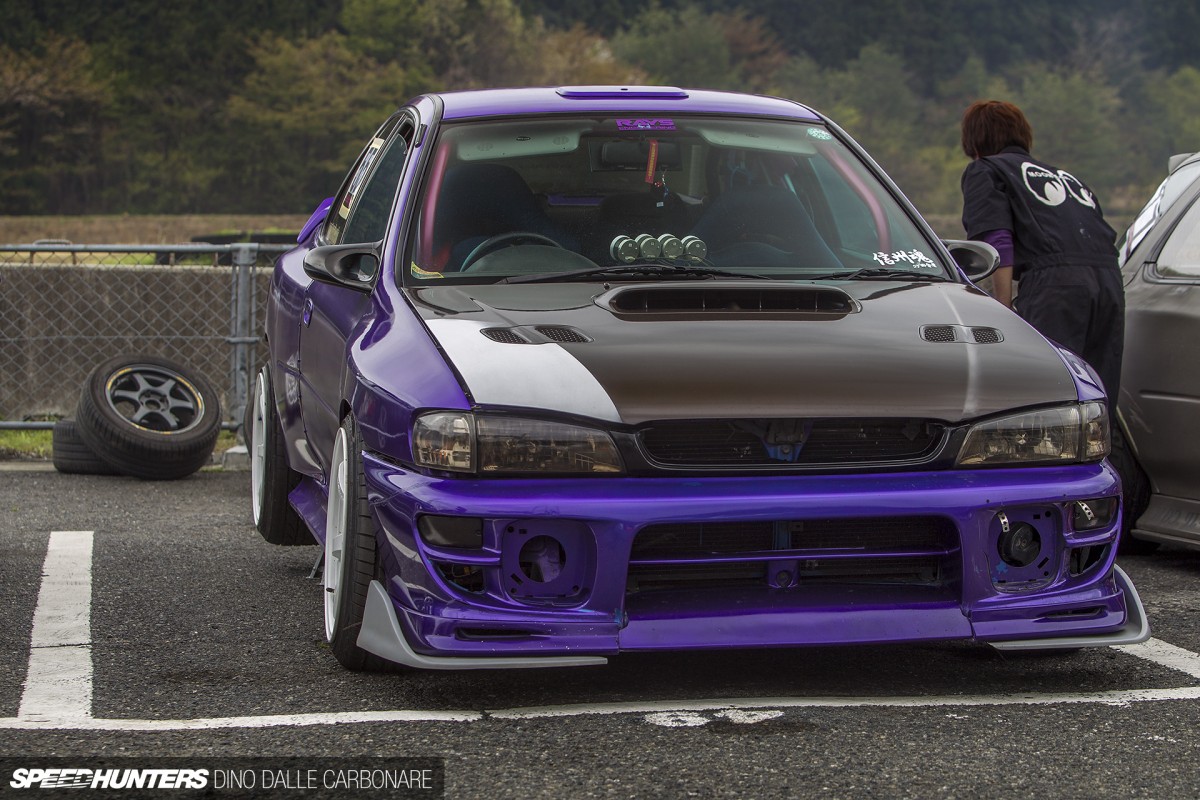 Next to the Utsunomiya-based Mature Impreza wagon and Forester, was this two-door GC WRX which looked mean. In some way it seems so wrong for a car like this to be out drifting, but by disconnecting the front drive shafts and doing the right sort of suspension set up, these Subarus can be turned into competent drifters. Kukmakubo and the Team Orange guys know something about that!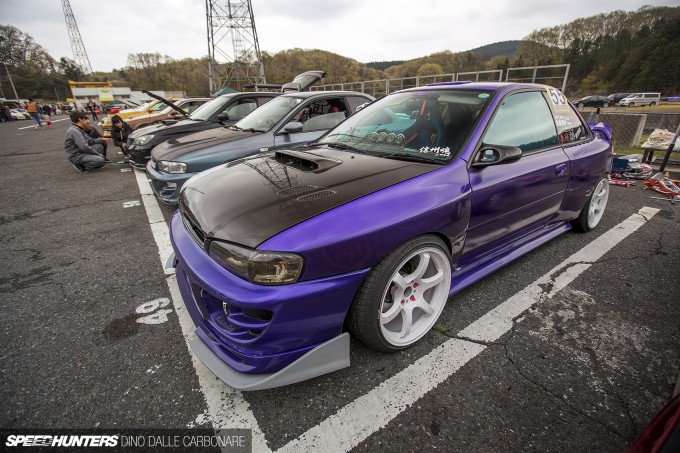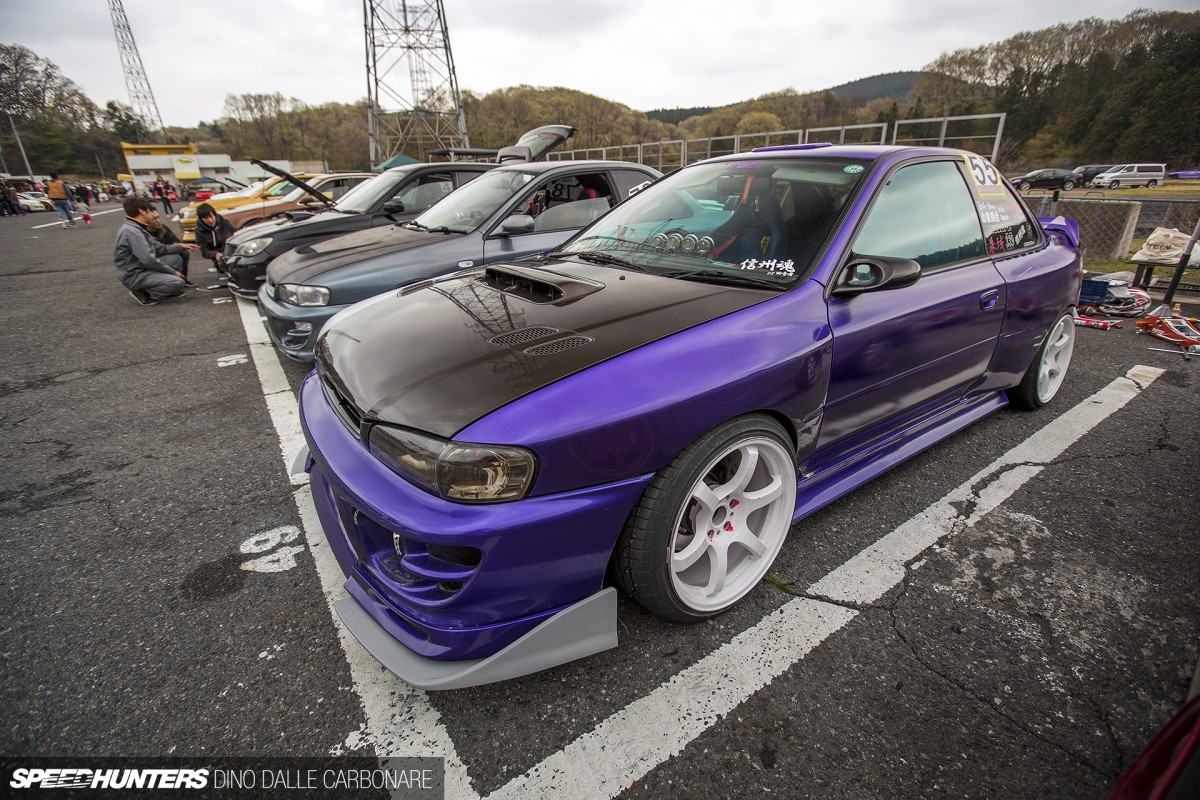 What I liked was the drift-car-meets-rally-car fusion going on – a 22B widebody-look mated to very drift-car-like choice of body color and the usual dorisha aero additions, like front under-canard spoilers and Ganador mirrors.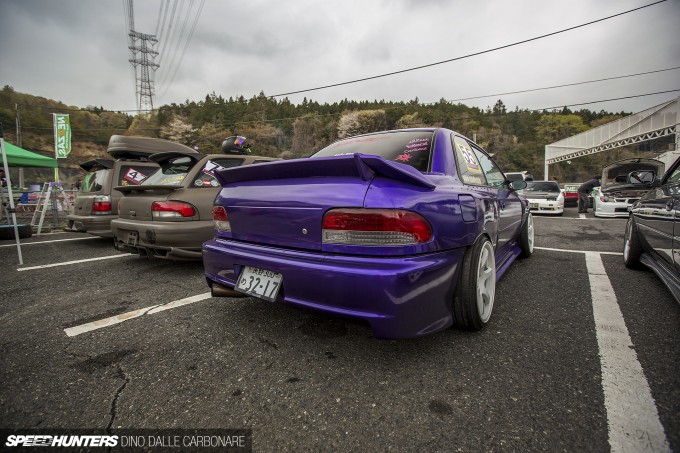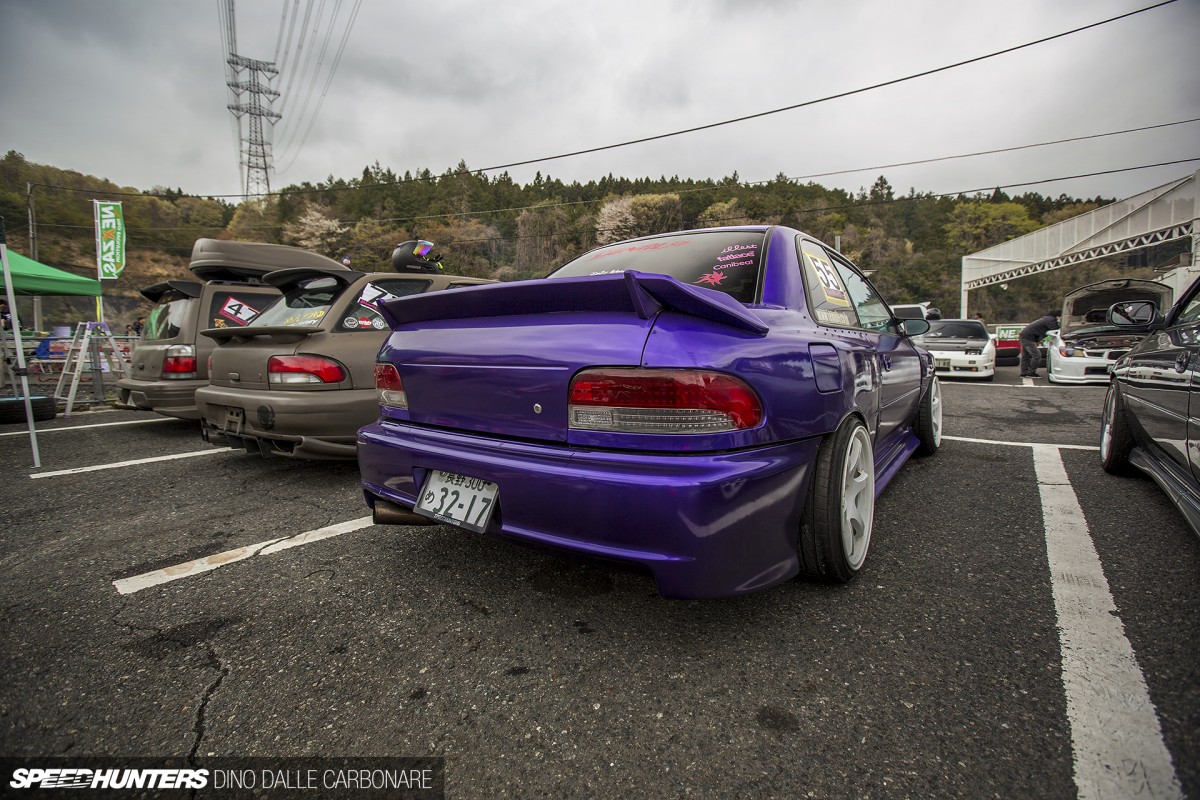 The low-mounted trunk spoiler was pretty cool and if you look at where the stock bumper meets the fenders, it's not hard to see how much the car has been widened by.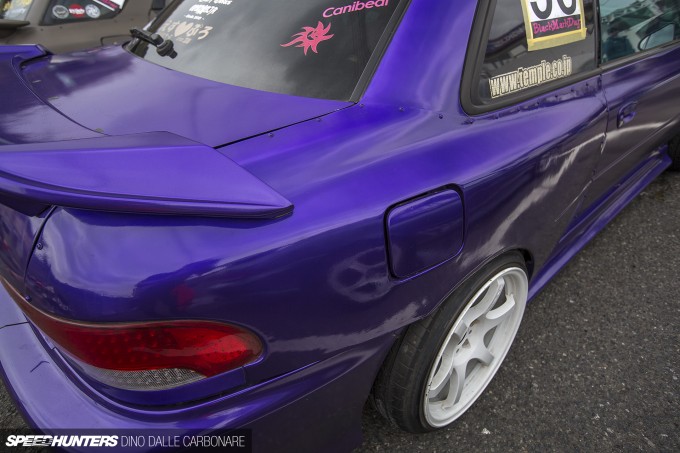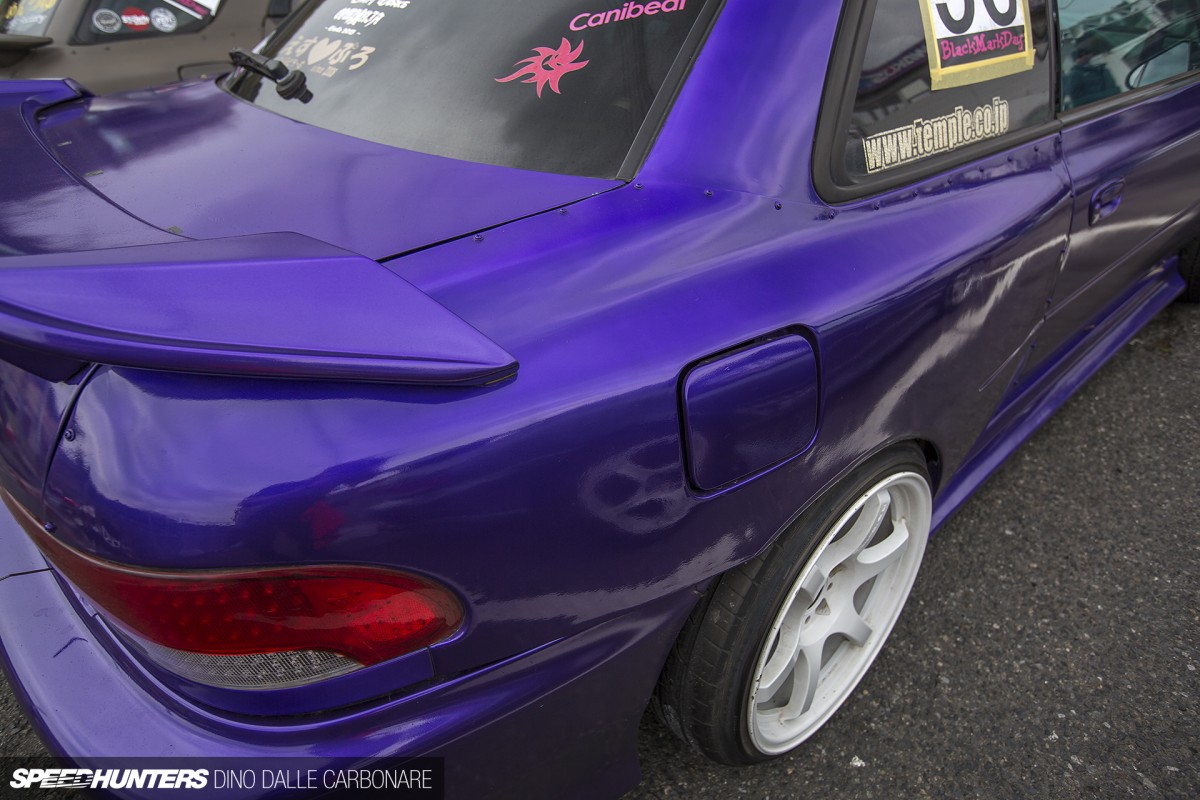 While the front fenders are one-piece FRP replacements, the old rivet-on trick was used at the rear to achieve the desired look.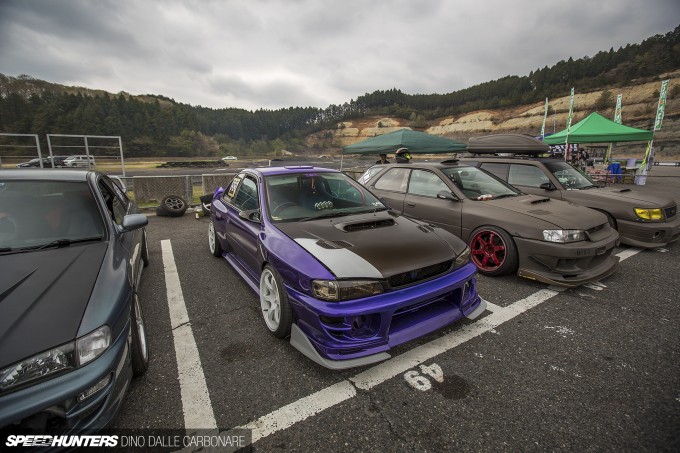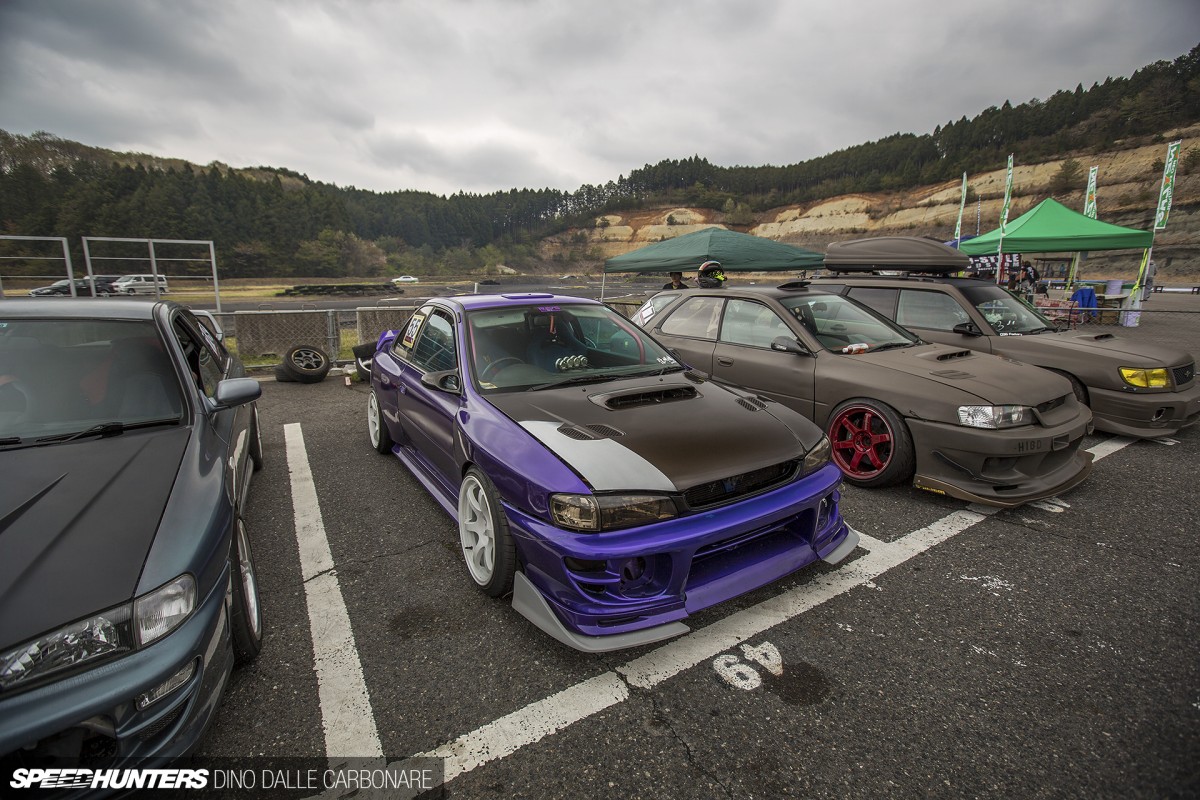 I really hope you've all enjoyed this return to grassroots. No matter if it's drift or grip, I will be doing my best to bring you further insights into these sort of events in Japan. After all, they offer the best representation of where trends and street car culture is going towards. If there is anything you'd like to see in particular, make sure you chime in below in the comment section.
Dino Dalle Carbonare
Instagram: speedhunters_dino
dino@speedhunters.com