Back at Nikko
Drifting put me off drifting. Makes no sense right? Well that's precisely what happened to me. The first exposure I ever got to the sport was probably around 20 years ago when I watched a bunch of kids drifting a tiny little touge close to the Ajigaura coast in Ibaraki where I once lived. I used to go and check it out every Friday night as a warm up to the main attraction: street drag races on a new and scarcely used stretch of road. Even after the zero yon ended for the night the drifters would still be there, and on the way back I'd usually stop and check them out for a little longer.
Over the next few years drifting grew exponentially, moving away from the mountain roads and deserted wharfs onto proper circuits. Every time I'd return to Japan during my university years it was impressive to see how the motorsport was progressing and taken a lot more seriously.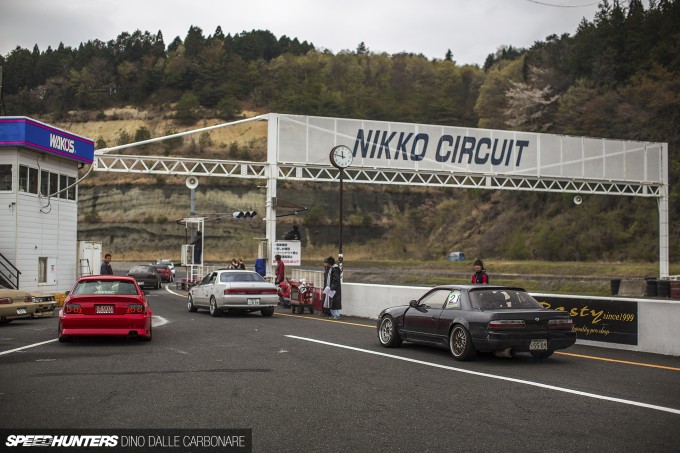 Then the D1 Grand Prix came to be, and those first few years covering the best drivers in Japan were simply amazing. I was just starting out as a photojournalist and I was hooked. Little did I know that the D1 Corporation would eventually turn it all into a stale show. Even the founding fathers – Keiichi Tsuchiya and Daijiro Inada – moved on, so that sort of tells you the way things have gone. Pro drifting in Japan continues to be made up of the top drivers in the world and some of the coolest cars, but the excitement is just not there anymore. To newcomers this probably makes no sense, but if you were there in the beginning you'll know what I'm talking about.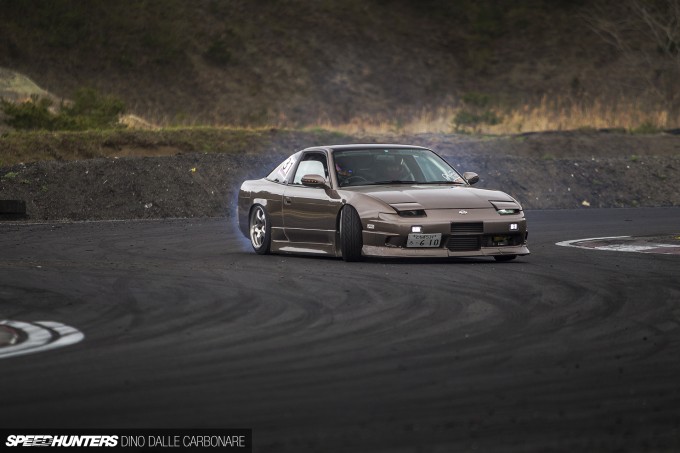 But this is a good thing – at least for me. Because it's pushed me to find my drifting fix elsewhere, well away from the mainstream. Drifting as a sport can be an exciting proposition if organized and promoted well and Formula D serves as the perfect example. But as a way of life, drifting touches on so many other levels. I was reminded of this yesterday when I headed to Nikko Circuit to meet up with the N-Style guys.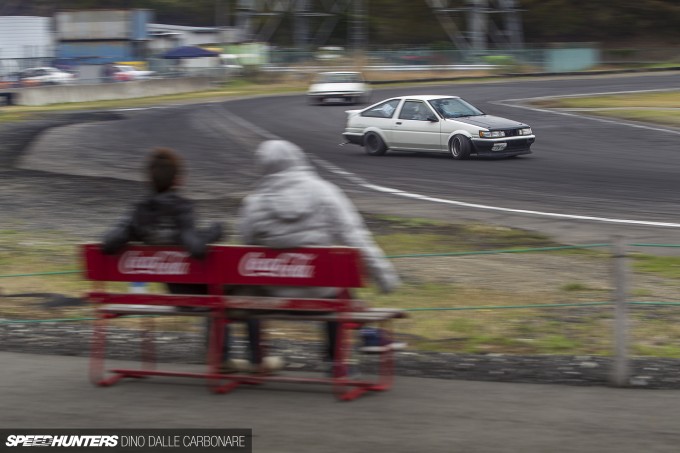 They had told me they would be organising a get-together at the Tochigi spot and were inviting a bunch of other shops to join in the weekend fun. Little did I know that I would show up to the biggest drift soukoukai I have ever seen at the little track.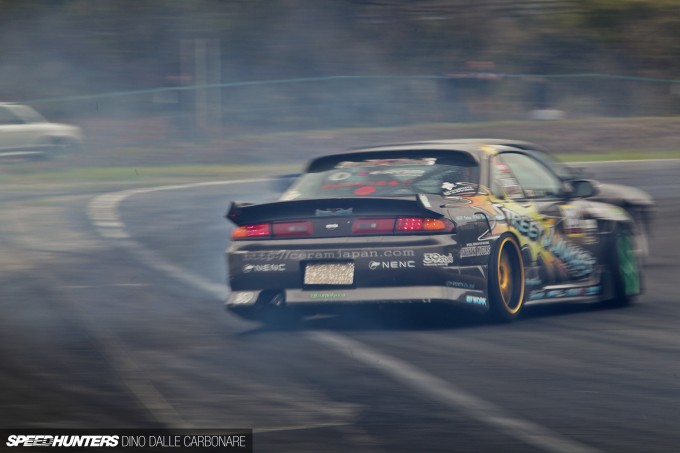 It all served to remind me – that initial passion for seeing cars being driven sideways still remains strong. I just have to dig a little deeper to find it.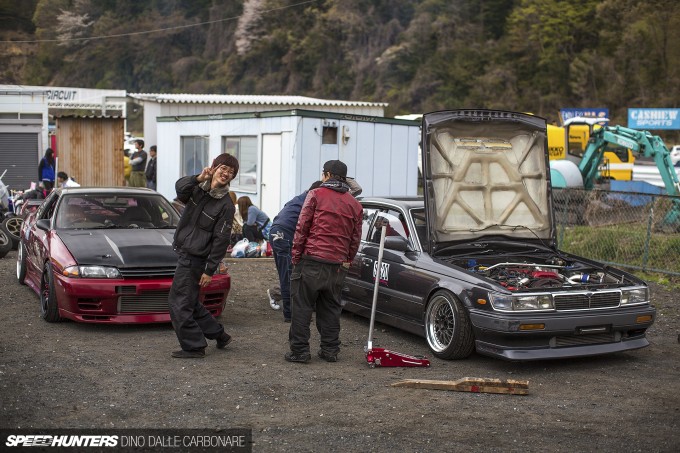 It's probably the human aspect of it all that gets it out now – the unique friendly and fun atmosphere that these sort of events are well known for.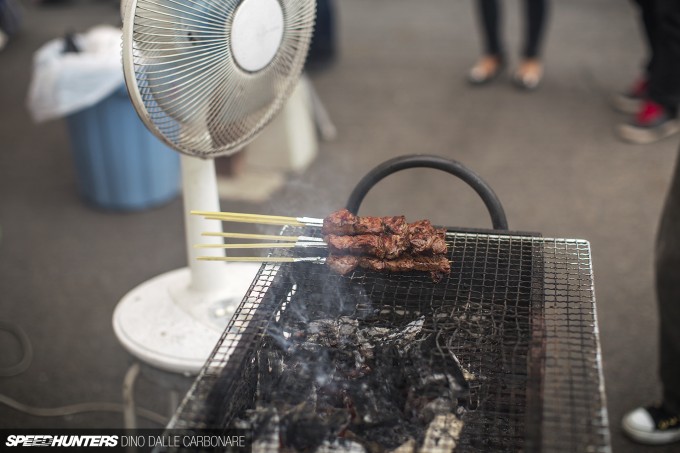 Throw some typically-Japanese food and drinks into the mix and fun is nothing short of guaranteed.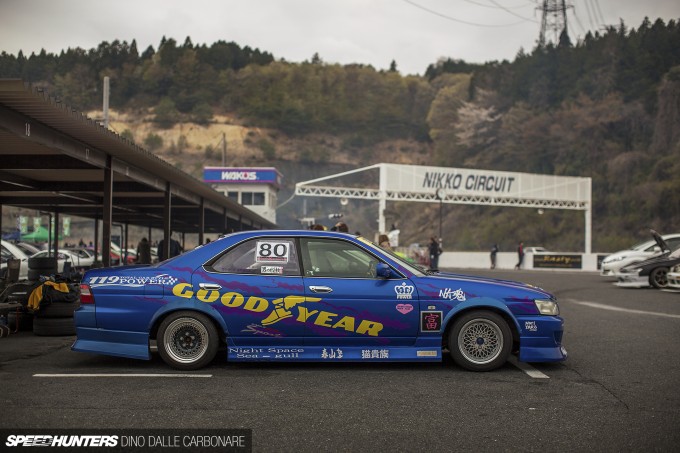 It's been a while since I'd been to Nikko, but it was cool to see that literally nothing has changed. That's usually the case at these smaller Japanese venues – they provide the essentials, but it's down to the organizers to bring the party.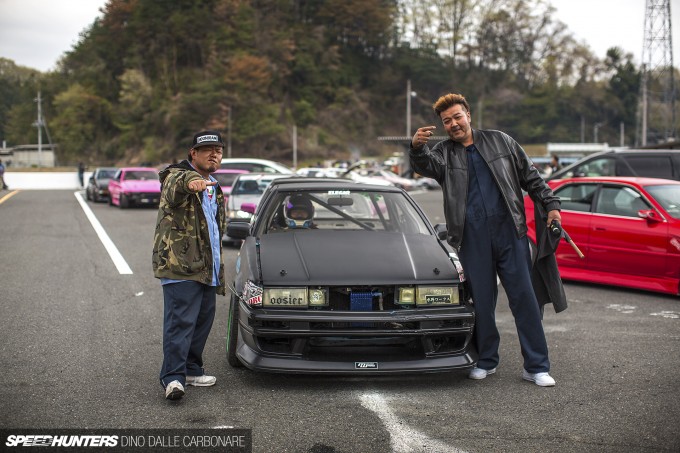 Nagahama-san of N-Style definitely took care of the latter, making it possible for a total of 180 cars to join in the fun. If you've ever been to Nikko then you'll know that's probably more cars that the circuit can take, but it all seemed to work out like a well oiled clock. I guess it helps when fun and friendliness are the things doing the oiling, though!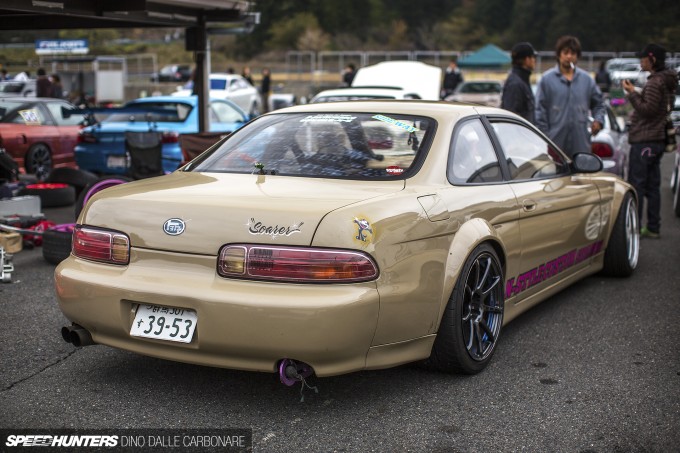 Nagahama brought out his recently featured Soarer, albeit looking a little different now with a new set of bolted-on overfenders and more aggressively fitting wheels.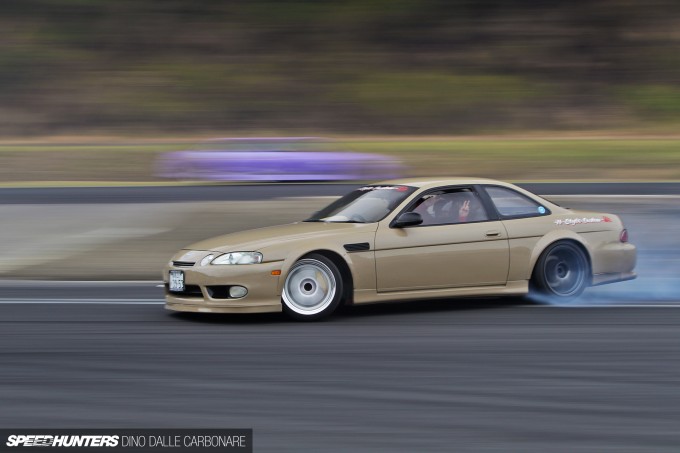 He spent most of the day on the PA commentating or judging the friendly comps that were being organized for entrants, but I did see him take out the big Z30 once. Good to see it wasn't all work for him on the day!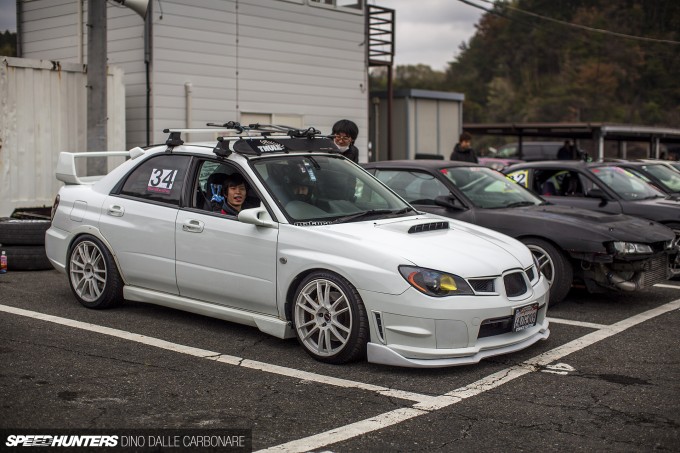 Mature were another crew out for a bit of fun. When you mention that name you know many RWD-converted Subarus will follow.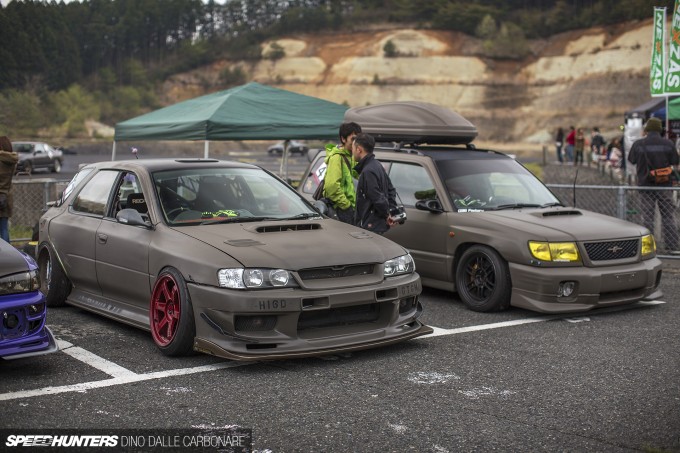 It's always weird seeing cars that we all associate with 4WD drivetrains and rally stages out smoking up their rear tyres on track. But there's no denying they look pretty damn cool doing so.
N-Style drift masters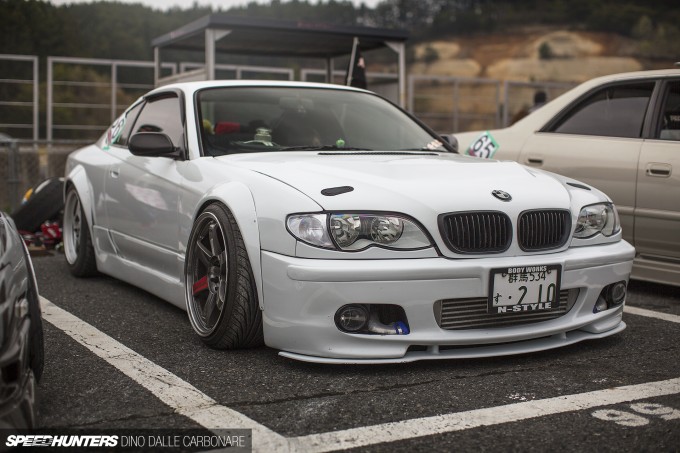 As you can imagine, most of the main paddock was full of N-Style built cars. That included a bunch of machines we've seen before, like this E46-faced S15 Silvia which always seems to be evolving in some way.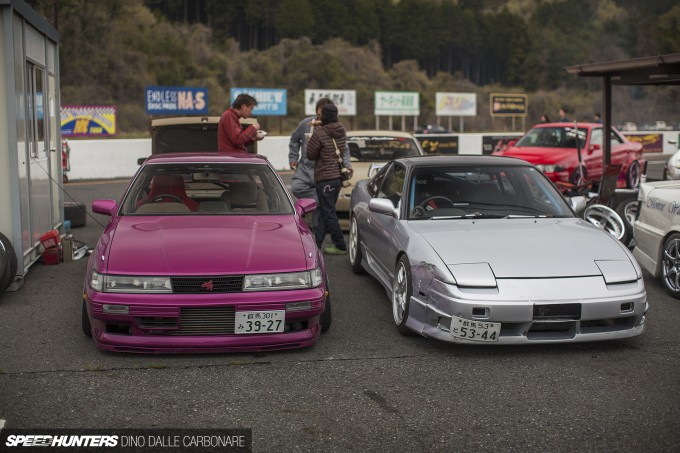 Not everyone at N-Style goes crazy though, so it was cool seeing more conservatively tuned cars out too. Because you don't have to go nuts to build up a fun drift car, right?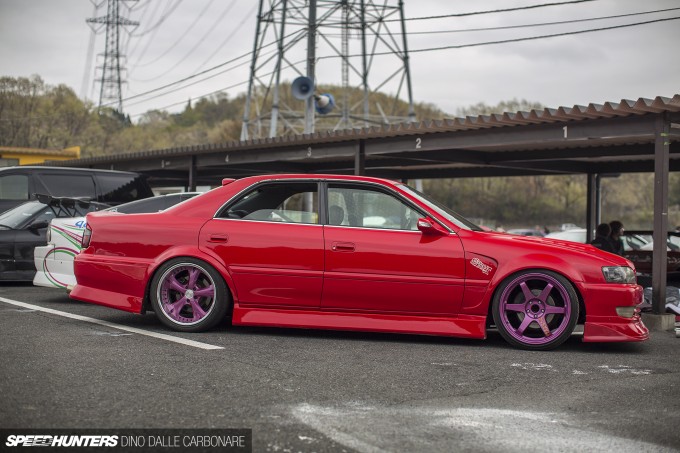 The owner of this awesome JXZ100 Chaser which we spotlighted last week hasn't found a buyer yet, so rather than park it outside the house and wait for some interest, he took it to Nikko and had a great day drifting it. The Toyota seems to look even better than when I saw it last!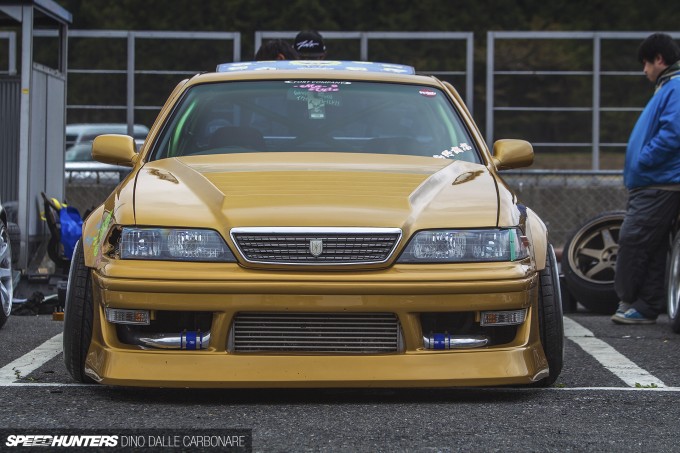 Larry has already featured this Mark II as well, but I couldn't help but take a shot every time I drove past it in the paddock. Talk about sitting just right!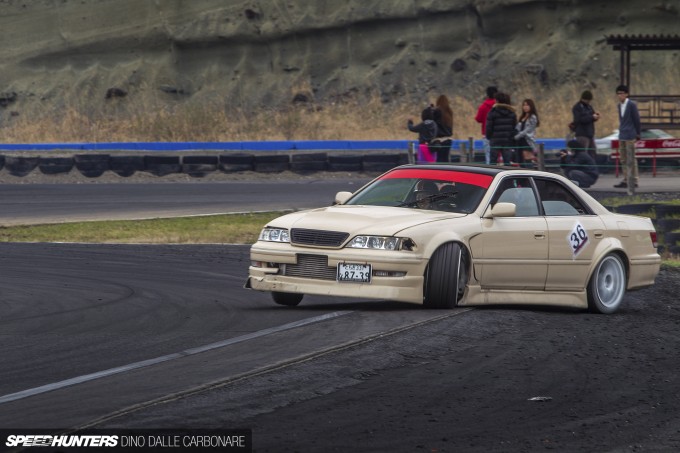 Despite it not always being competition-led, it's always cool to see how Japanese drivers take their driving seriously. They never rest on their laurels and continuously push their driving skills and experiment with new lines – both to have fun and provide entertainment for onlookers.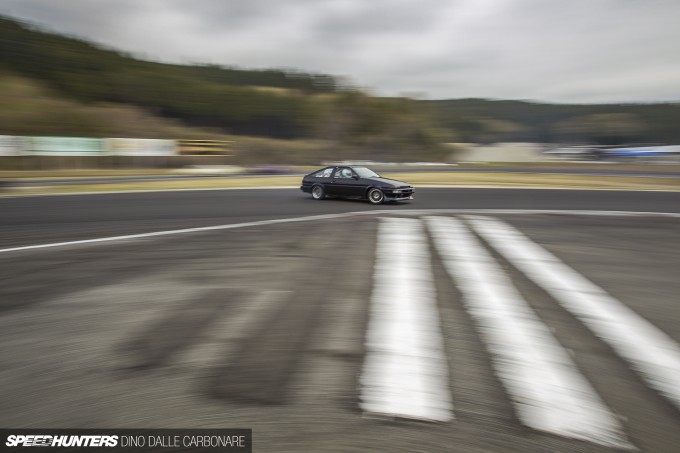 No matter where you watch from, entertainment is assured at Nikko. Interestingly enough, they reversed the track direction a few times – something I'd never seen done before. I asked Nagahama why he did that, to which he replied, "It's fun!" It's hard to argue with a statement like that!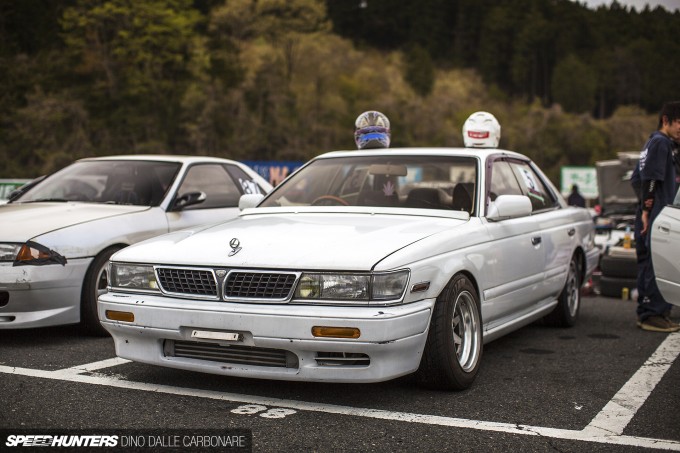 For some odd reason I've never been much of a fan of the C33 Laurel. It's one of those cars that I find myself looking at and then looking away. I have to say though, after seeing this seemingly close-to-stock-looking example sitting on SSR XR-4 Longchamps, I might have to change my thinking.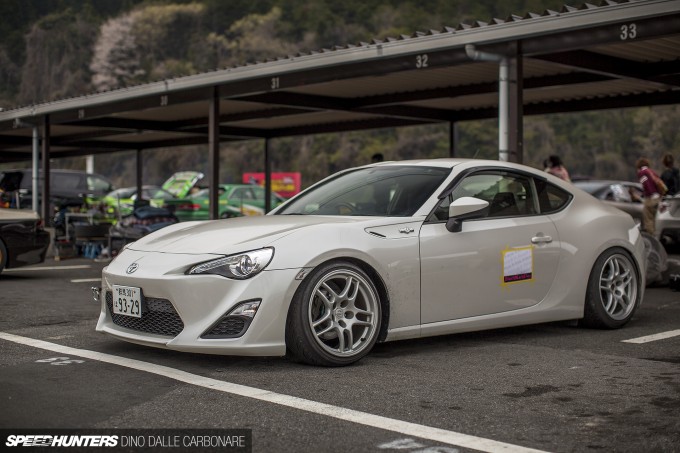 The 86/FR-S/BRZ/GT86 has attracted so much interest from the tuning industry since its unveil that it's become almost impossible to come up with a fresh look anymore. Or is it? For me this particular ZN6 slammed on a set of BCNR33 Skyline GT-R stock rims and with copious negative camber dialled in, looked as fresh as can be. It's also cool to see these newer cars taking part at grassroots drifting events.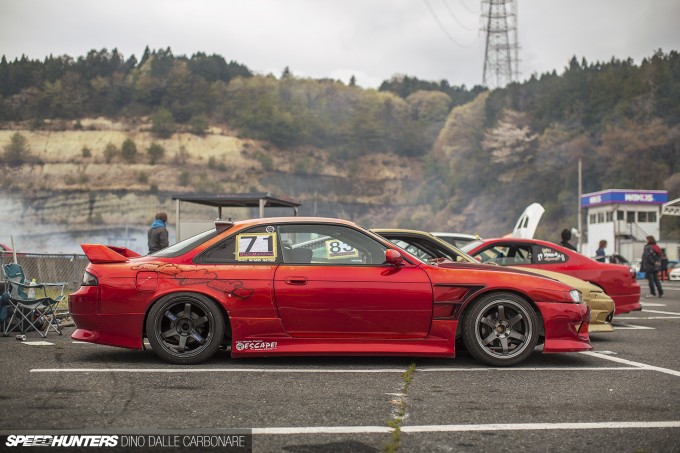 Wood Village drift club had few cars at the event, and this airbrushed S14 was the first one I came across.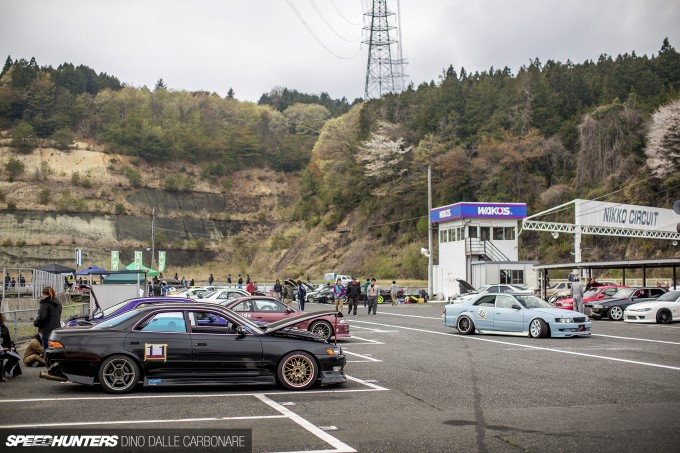 The paddock was buzzing with energy. With all those cars registered to run, there was always movement and cars coming and going; providing an almost endless parade of some of Kanto's coolest street drifters.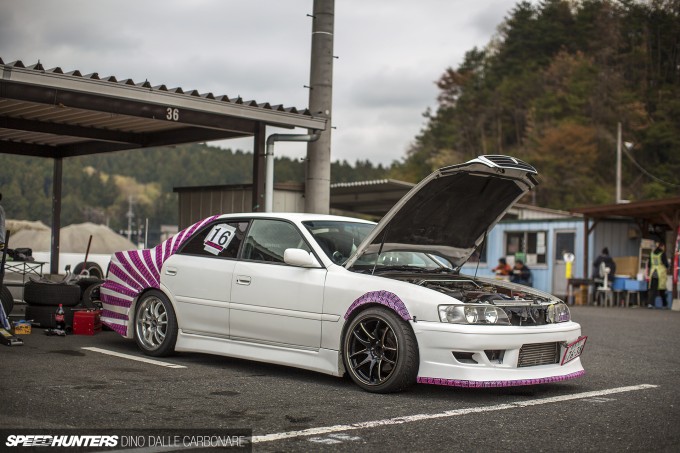 I had a little giggle when I spotted this JZX100. If every owner of a drift car in Japan used as much Drift Tengoku sticker tape as this guy has done, the magazine will have guaranteed business for years to come!
180 cars to look at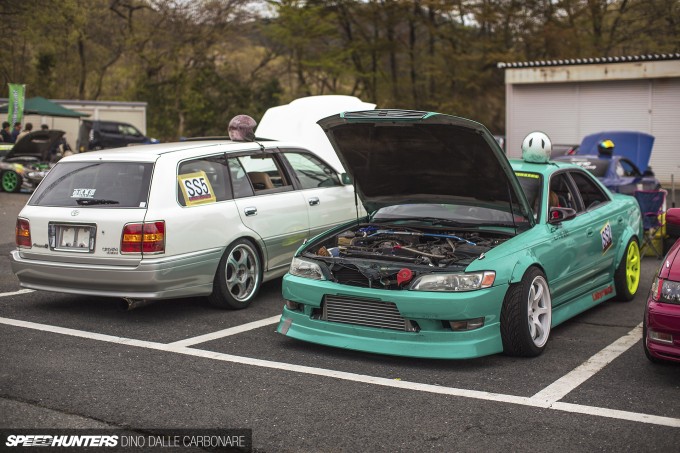 Seeing that a bunch of shops and teams were invited out to Nikko there was an interesting mix of cars. I noticed this JZX90 on my way in, and given how hot it looked just sitting there, I told myself that I needed to get some action shots of it all crossed up with plums of smoke pouring out of its wheel arches.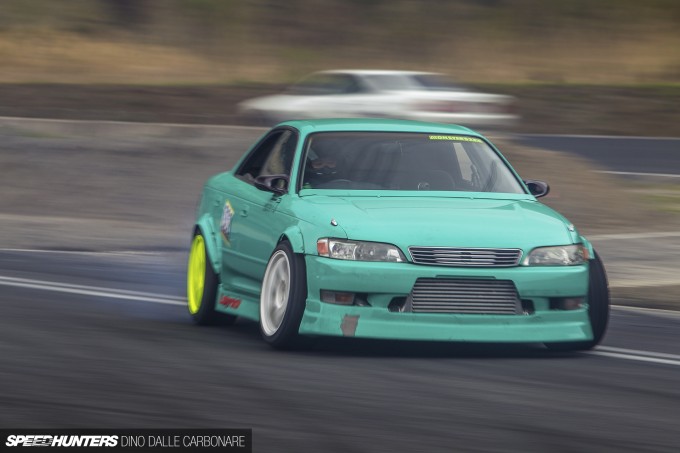 I think it's fair to say my first assumption was correct!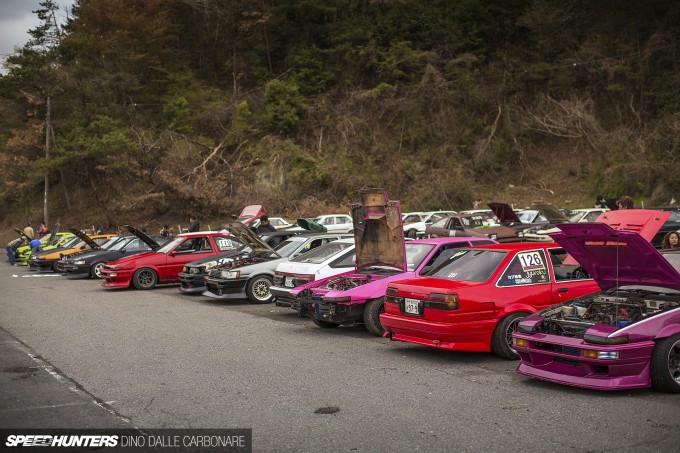 Out of the 180 cars present, 40 were 4AG-powered. So if you are into AE86s or other generations of Corollas, you may have just died and gone to heaven right there and then.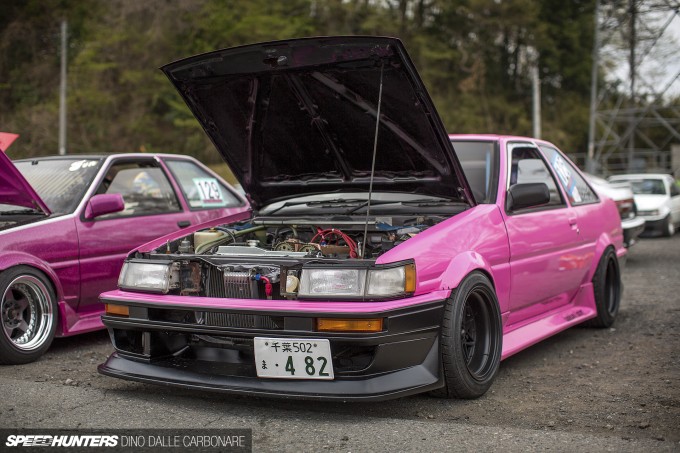 The level of awesomeness on this particular section of the gravel car park was almost indescribable. I mean, we see Hachirokus all the time, but to be confronted with so many and to the level these cars were built to – well, that was something else.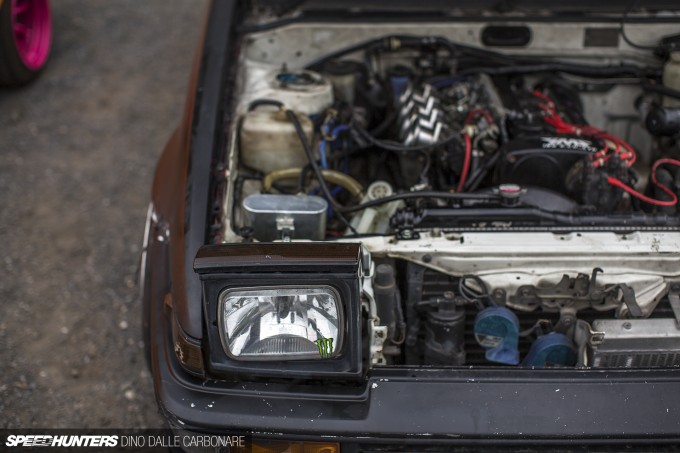 I gave up counting after a while, but it would be enough of an accurate guess to say that about than half of the cars were running 20-valve swaps.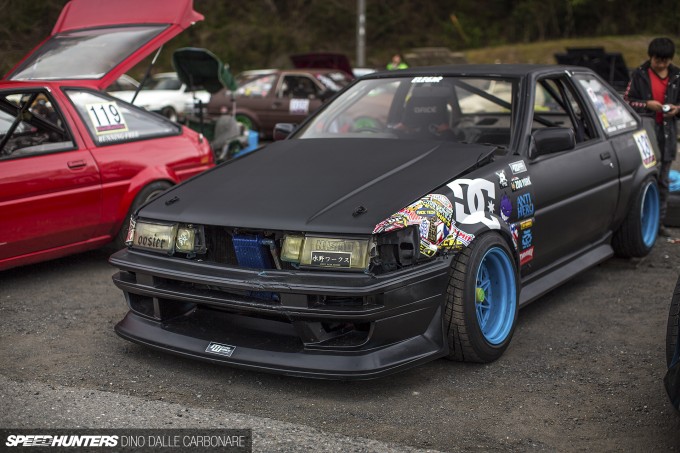 And while all the old school Toyotas were modified to drift, there were so many takes on it. Some were more fashion-oriented, some dedicated semi-pro cars, and others more sedate-looking street cars with missile styling to spice things up.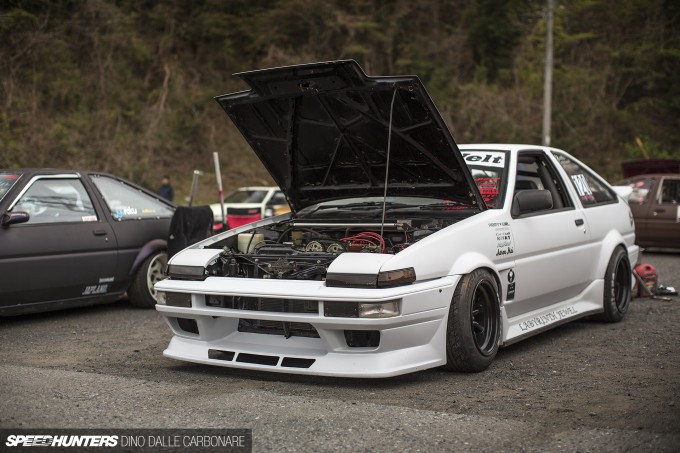 Then of course, there were straight-up surprises like the Labyrinth Jewel from RWB. This car is owned by Nojima-san of Nojireal – Nakai's painter, who on top of enjoying his grip events, can't seem to stay away from drifting either. He's built an awesome car to do it in, that's for sure.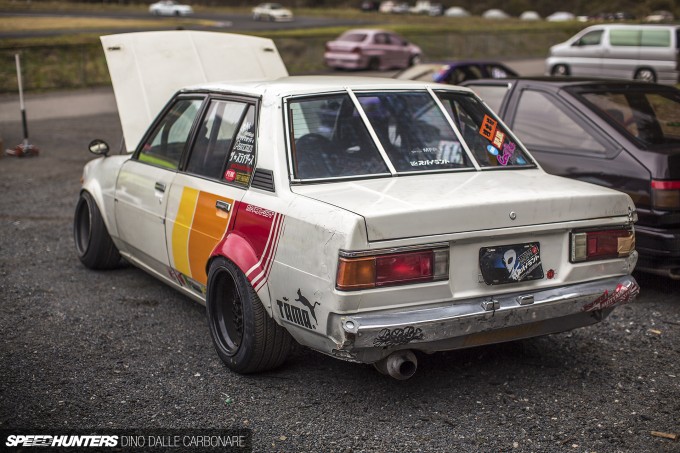 Among all the 86s I did spot a cool little drift KE70 which was getting well and truly abused out on track. Its owner, Manabu-san, even managed to tap the pit wall while the track direction was reversed.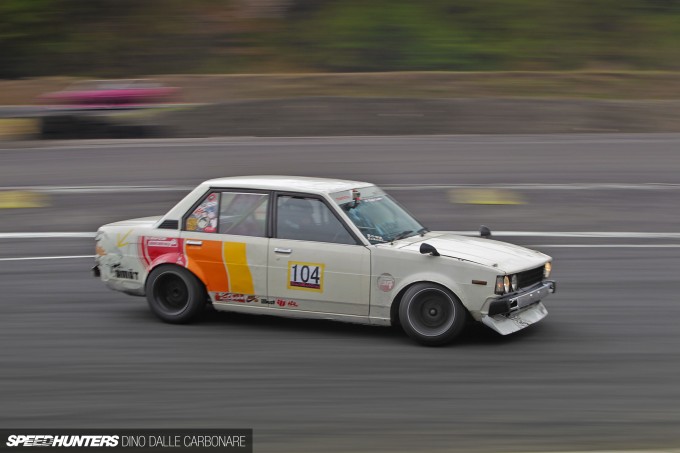 It looked like a lot of fun to throw around!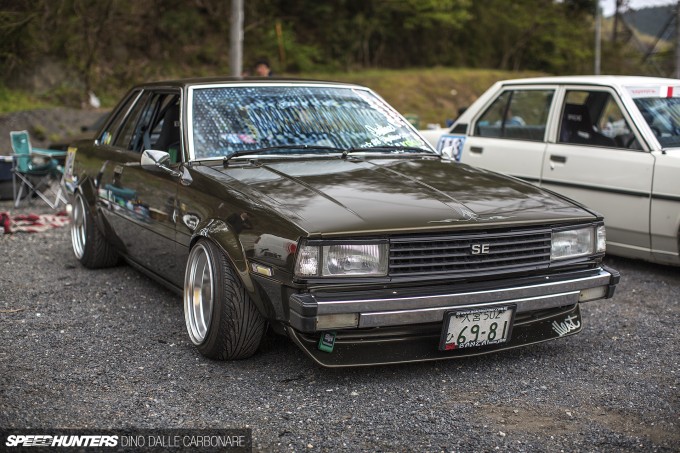 Manabu had also taken his street car to the event – a car that Larry shot while we were out at N-Style and another feature you can look forward to soon. The AE70 is quite a well known car at fitment-oriented events and oozes tons of style from those N-Style blistered fenders and custom paint job. It was cool to see the addition of an SHxTakata tow strap too!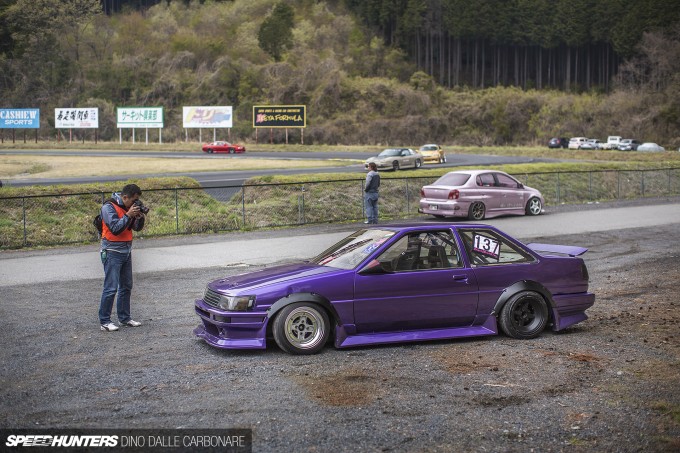 It seems I wasn't the only one taking special notice of the team Wood Village cars.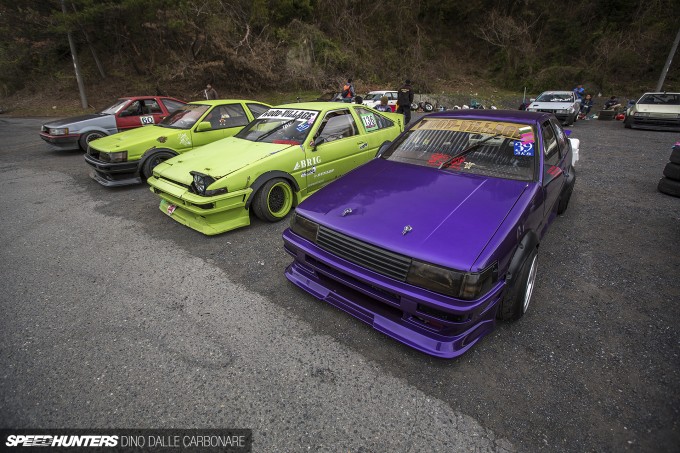 Can you say, hot!?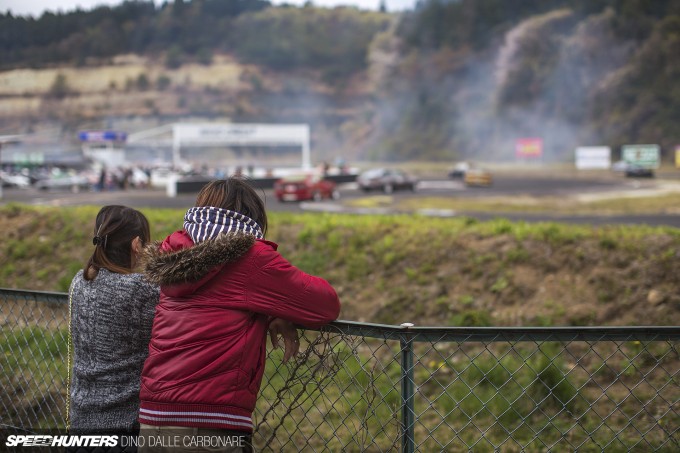 Much like this couple, I enjoyed mixing up my rather long walks through the pit area with the occasional pause to take in some of the action. Each session was run for 12 minutes and no more than 20 cars were allowed out at one time. With Nikko being very well suited to drifting, it means that the more powerful cars can literally drift non-stop all the way round. Twelve minutes of that and any car and driver combo would be more than satisfied.
SBcorporation joins the fun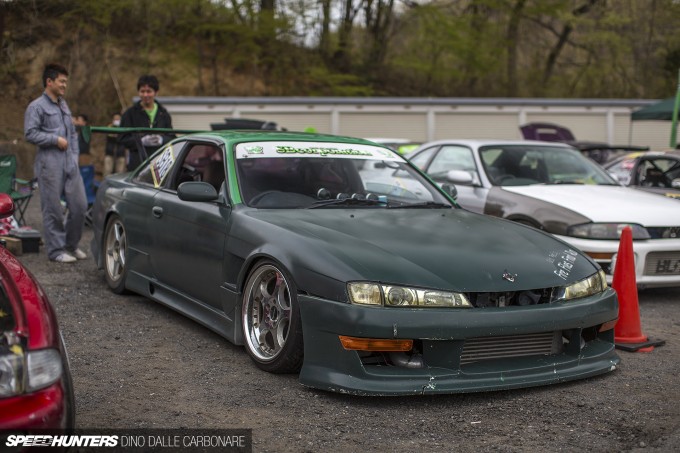 SBcorporation – another shop from Gunma – impressed me with its very original cars. Mostly made up by Nissans, there was a recognisable style to them – something this S14 represented well.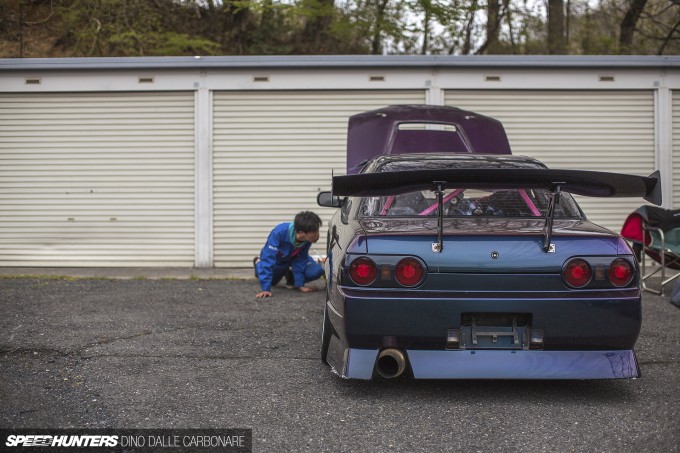 There were a few R32 and R33 Skylines in attendance too – an always-welcome sight at drift event to mix things up with all the S-chassis machines.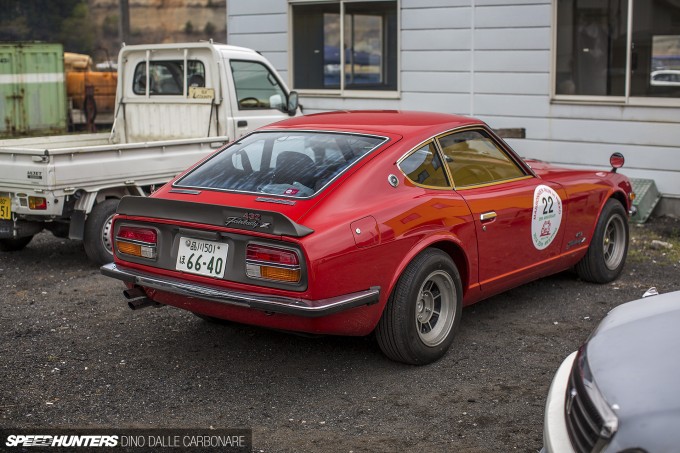 The rarest car on the entire paddock was this S30 432 Fairlady Z – and my ride for the day would you believe! You'll have to wait a few days to see what I was doing with this car, but until then maybe the round sticker on the door will serve as a clue…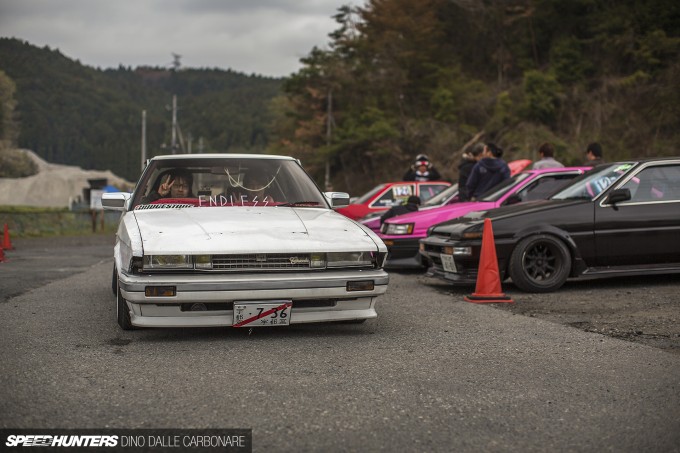 Not everyone was there to drift of course. Some of the local car guys brought out their weekend rides, which in some cases entailed organising an occasional temporary number plate to move cars that would otherwise fail the shaken test. Peace!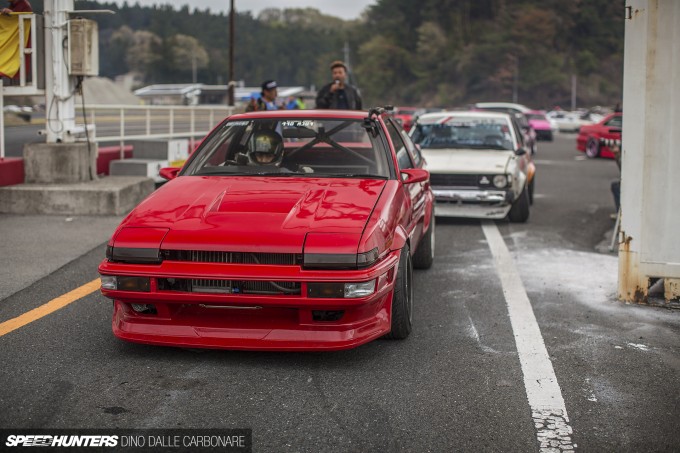 To keep cars closely matched on the performance side of things AE86s and other 4A-G-powered car were let out in a series of groups. Nothing can quite prepare your ear drums for 20 barely-silenced screaming NA Toyotas buzzing around Nikko!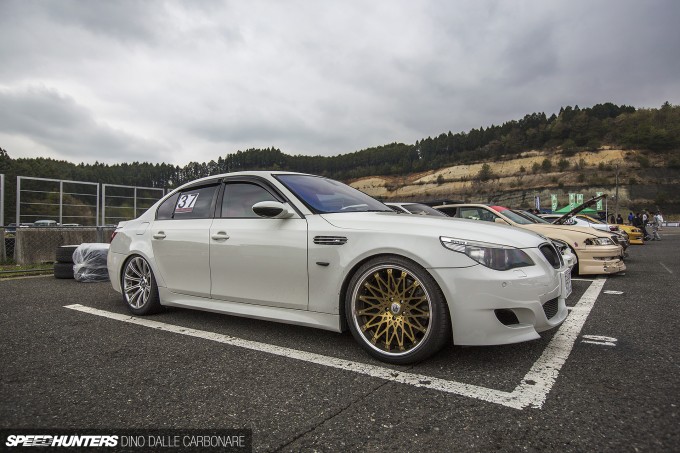 If there was a prize for the most least expected car at a Japanese grassroots drift event, it definitely would have went to this E60 M5. With 500hp we all know it has more than enough power to hang its tail out, but to make it little easier the rear Rotiforms were swapped out for the stock wheels wearing generic rubber.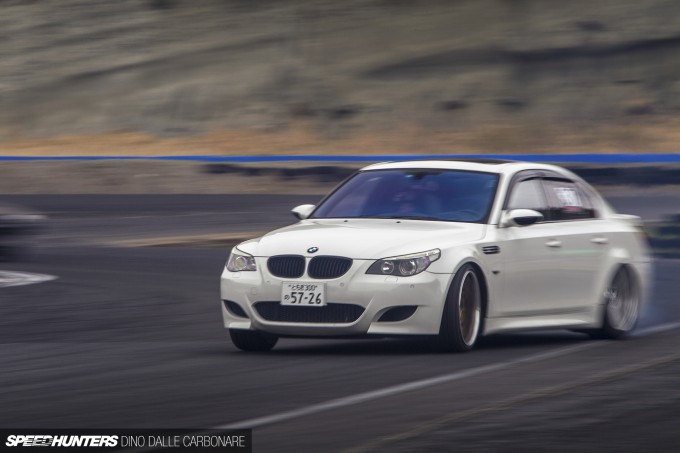 It seemed to do the job rather well, and that V10 howl was an absolute aural delight.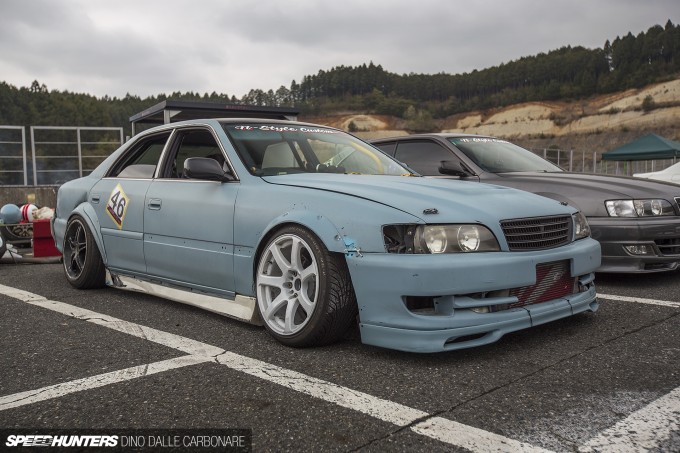 N-Style for me has always been synonymous with big JXZ Toyotas, and I was reminded of just how many flavours these cars come in. I quite liked the beaten up look this matte blue example was going for. It obviously gets used as it should.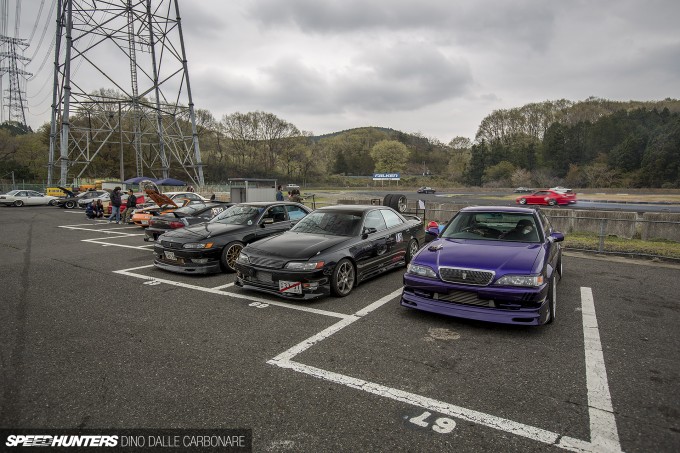 Which is your favourite? The JZX90 or the JZX100? Maybe you prefer the older 80s? Or the last ones produced on the JZX110 platform, like the Mark II and Verossa? I like them all myself …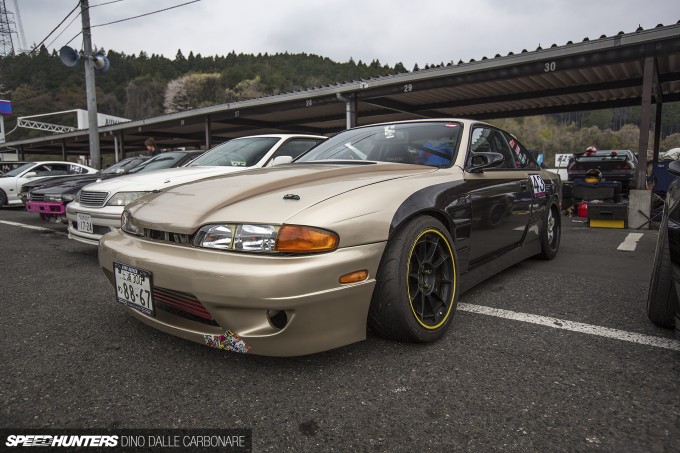 I'm not one that normally goes for two-tone paint jobs, but somehow this S14 manage to pull it off. The elongated bonnet really worked too.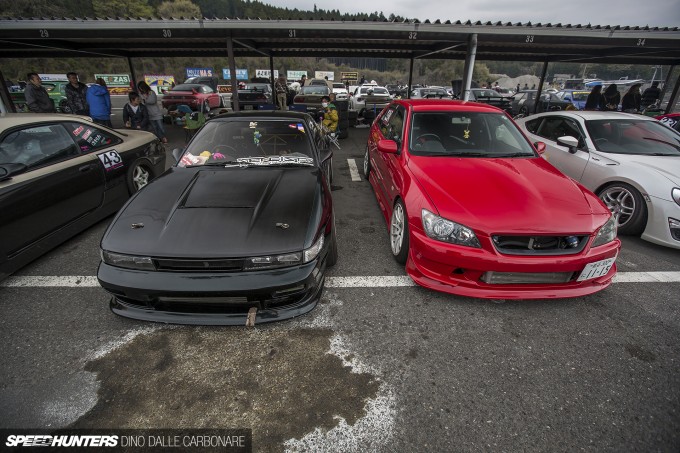 The red Altezza was another interesting find. Sure, it's not the most popular of drift cars, but we all know that these cars can be made to perform quite well. NA-power FTW!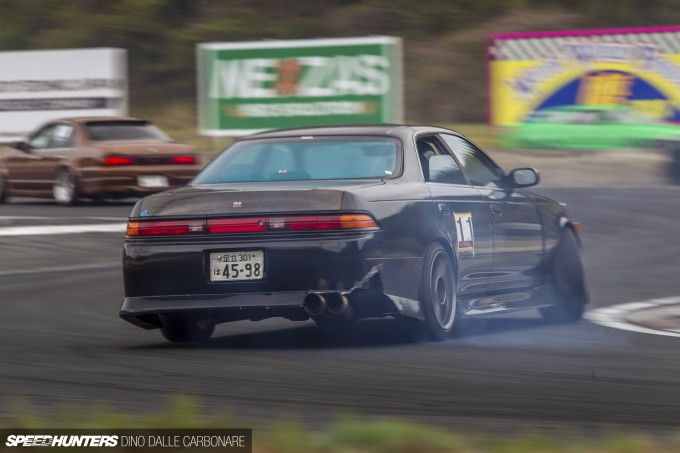 Fun, friendly action and a wide selection of cars is what has always made Japanese grassroots drifting so appealing. These few hours spent with the N-Style crew certainly reminded me why I like this sport, and also made me realise I should probably focus on this far more interesting aspect of it from now on. With no hidden agendas, there's nothing spoiling this most basic and real form of JDM car culture. Maybe drifting, is getting me back into drifting…
Dino Dalle Carbonare
Instagram: speedhunters_dino
dino@speedhunters.com