Grassroots at its best
Living by the simple rule that anything is possible, Nagahama-san of N-style has developed quite the following in his rural village in Gunma prefecture.  When Larry was in Japan earlier in the year, I planned for us to go there. I was actually waiting for Larry or some other Speedhunter to join me as Nagahama-san kept saying he would arrange ten or more cars for me to shoot when I visited.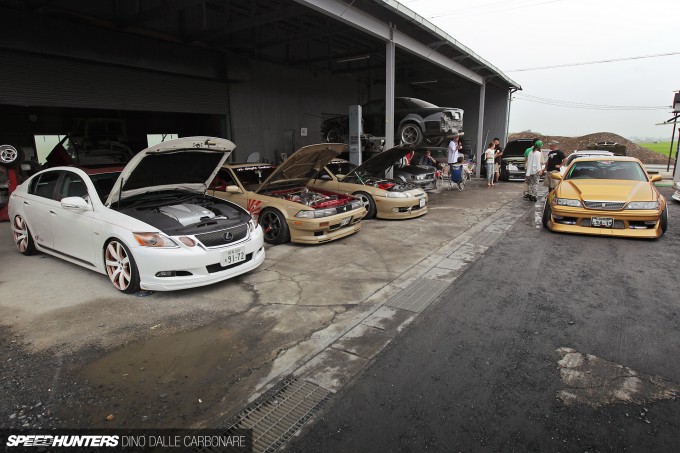 While that is beyond cool, there is only so much a lonely Speedhunter like myself can do in one day, hence me waiting for Mr. Chen…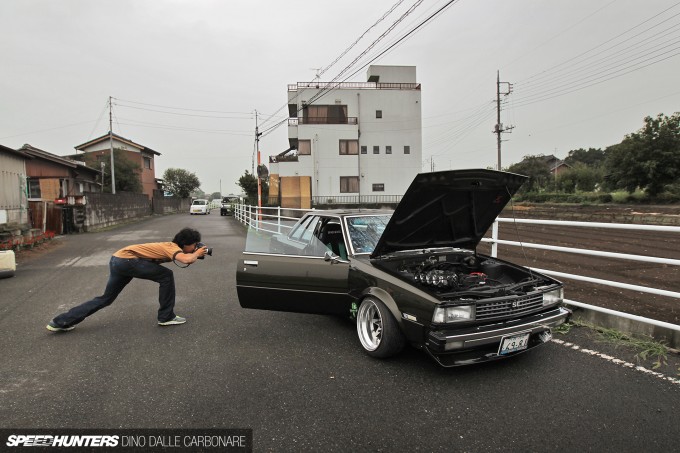 … to come over so we could tag team this shoot and come away with some awesome feature cars. One whole day and much sweating later we had bagged an unprecedented number of cars and I want to start things off by showing you the first one I shot: the 'Takahashi-spec' AE85.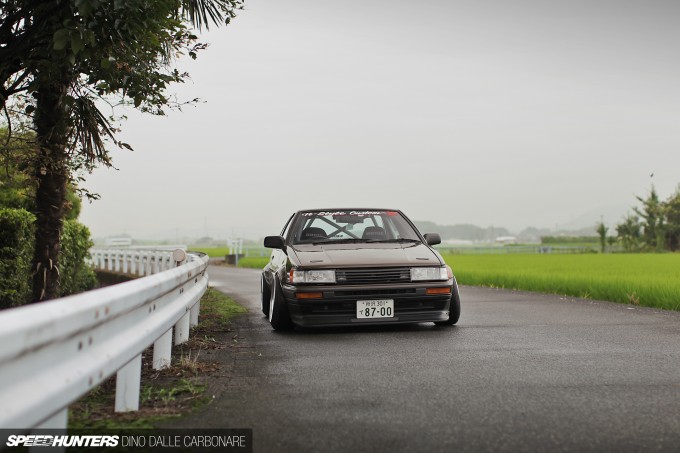 This little AE85 Levin is one of the fastest evolving hachirokus, ah wait… hachigos, I know of right now. Since shooting it, I have met Takahashi-san a bunch of times at events like Slammed Society and Stance Nation and his ride continues to change. I guess whenever he feels it's done, I can think about reshooting it but for now let's concentrate on how it looked when I saw it in Gunma that hot and humid afternoon. As you've probably guessed, there isn't much that remains from the base AE85; everything that could have been swapped over has been and what wasn't has been made custom.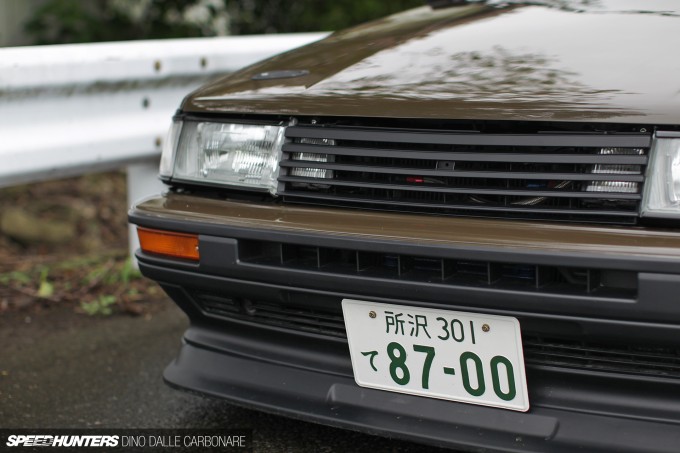 The additions start up front with a zenki front lip spoiler section. This adds some continuity and depth to the AE86 bumper, while the Levin grille has been replaced in favor of simpler plastic louvers with the set of auxiliary lights hiding behind it. Takahashi-san likes to drive this car a lot, as well as drift it so it had to check a lot of boxes if it was going to satisfy all he wanted to do with it. The looks, while simple, needed to give the car a presence…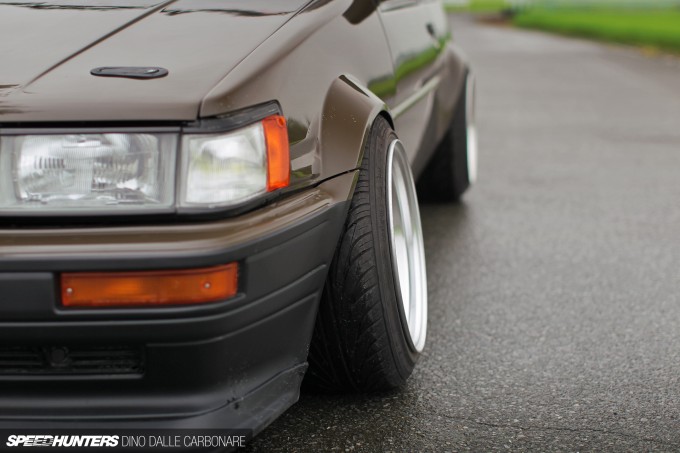 … and this is where Nagahama-san stepped in creating a set of bespoke blistered front metal fenders. You can see how the front bumper has been widened too on its extremities so it lines up with the new wheel arch dimension.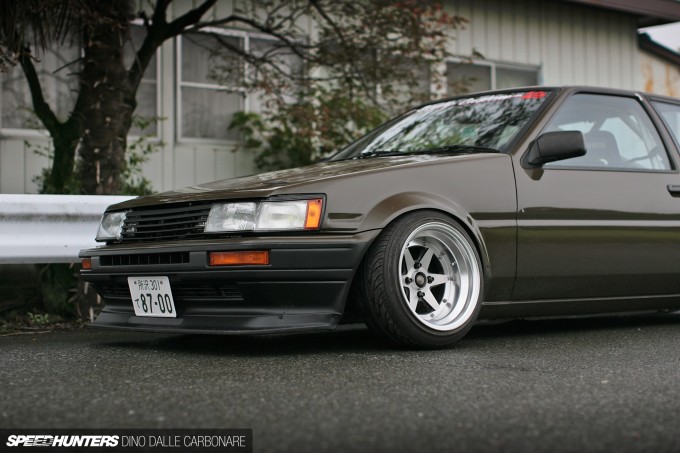 This has allowed for the perfectly matched and aggressively sized SSR Longchamps to sit just right, the extended lower arms pushing out the wheels with a lot of negative camber, and coupled with the modified knuckles to allow for an optimal drift set-up. The wheels measure 9 inches by 15 at the front and are wrapped in 195/45 section rubber. A set of specially valved Bilstein N2 race suspension takes care of damping duties up front…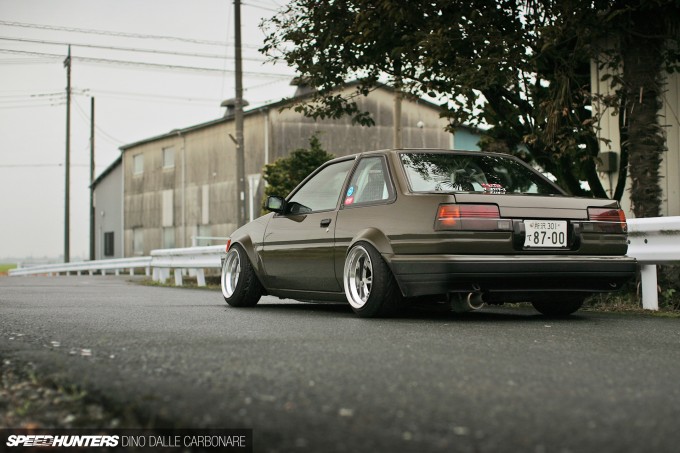 … while at the rear a set of custom built dampers and lowered springs allow for that well-balanced hachiroku stance, wheels sitting square…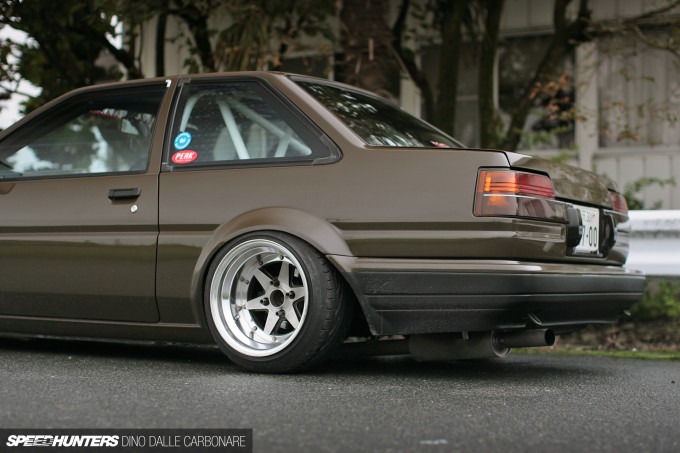 … and the wide custom flares millimeters from the stretched sidewall. The rear Longchamps measure 10 inches across and are shod with slightly wider 205/45 tires – cheap stuff as it gets shredded at the track or up on the touge pretty often!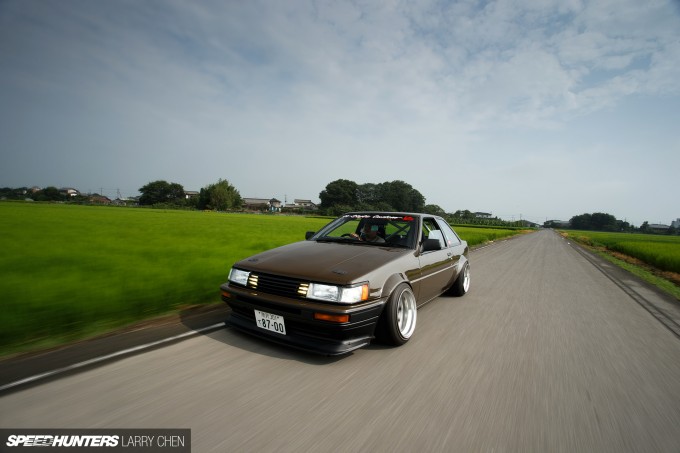 The N-style touch might be simple, but the result is undeniably effective, oozing presence no matter if it's parked up or rolling down empty Gunma-ken roads!
The N-style way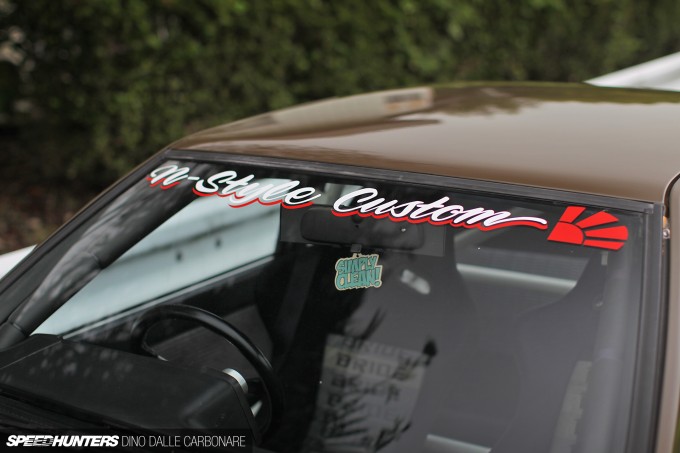 The work of course continues inside the cabin…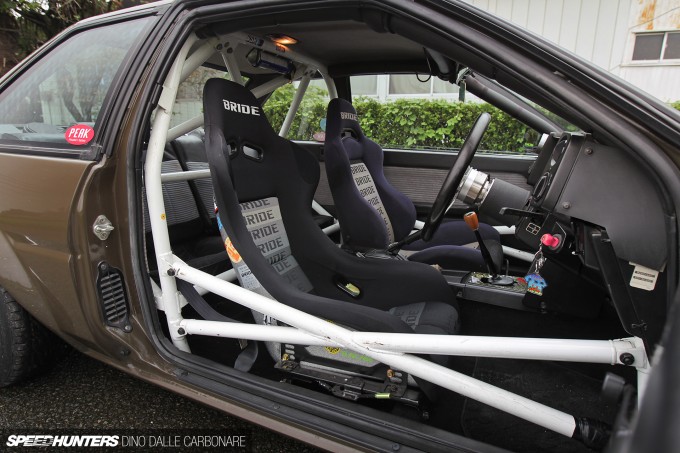 … where a bolt-in roll cage has been fitted to take care of one of the AE85s biggest drawbacks: structural rigidity. While any car from the eighties isn't going to have much torsional strength, the Okuyama cage definitely helps keep things a bit tighter and adds some extra passive safety at the same time.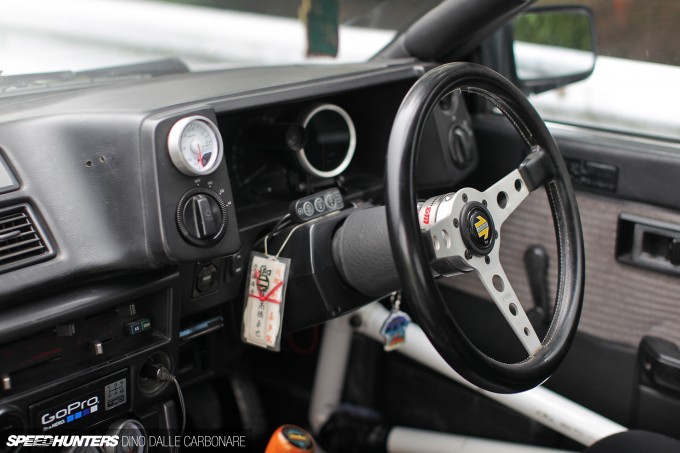 Upgrades are kept minimal with a vintage look steering wheel mounted on a Works Bell snap off boss stacked onto a second boss to get the right sort of position that Takahashi likes.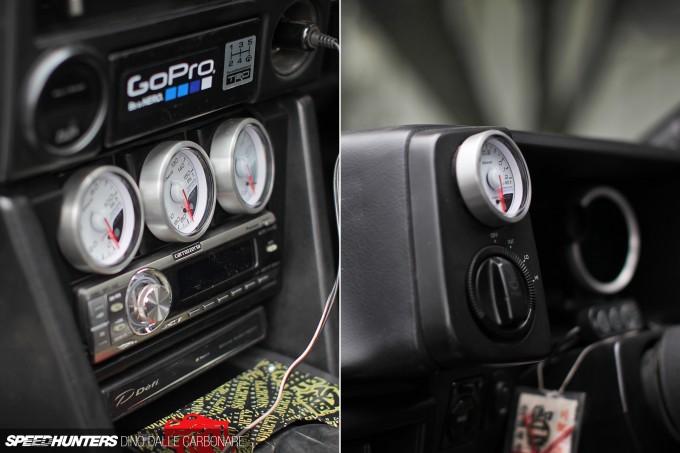 Defi gauges have been strategically placed for easy consultation; three slightly rotated ones in the center console showing oil pressure, oil temperature and water temp and a fourth showing intake manifold pressure inside the left-hand binnacle vent. These, along with the larger RPM meter are all plugged up to the Defi Control Unit that manages each instrument.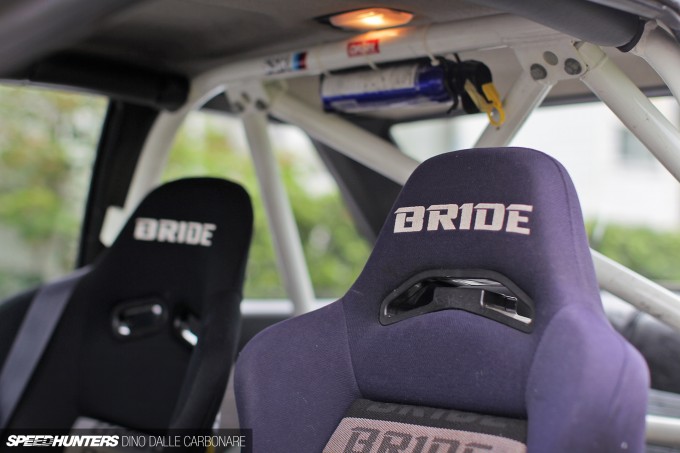 In true grassroots drift style, the driver gets the nice Bride bucket, while the passenger has to do with a slightly tatty reclinable model; unmatched in color too for that extra JDM feel!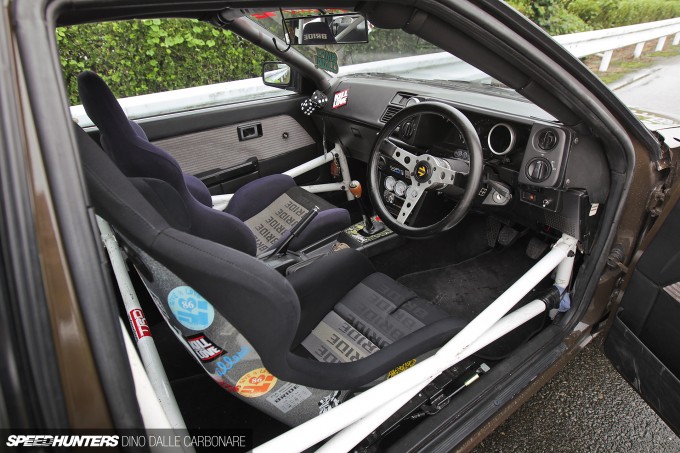 This is a nice place to be in!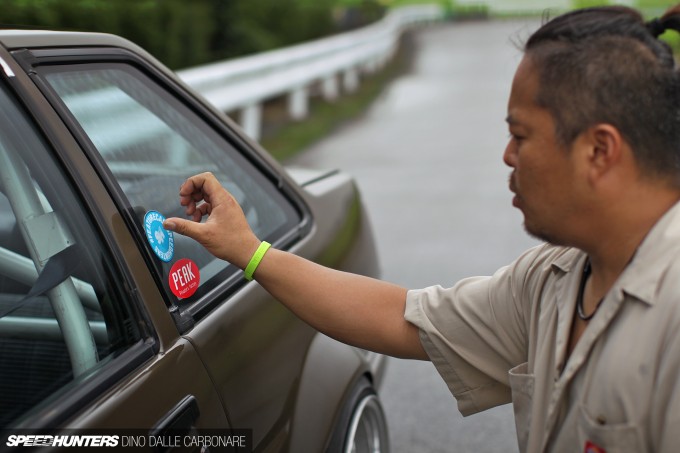 With the shoot almost wrapped up I handed Takahashi-san one of our #FEATURECAR badges which he promptly applied onto his side glass.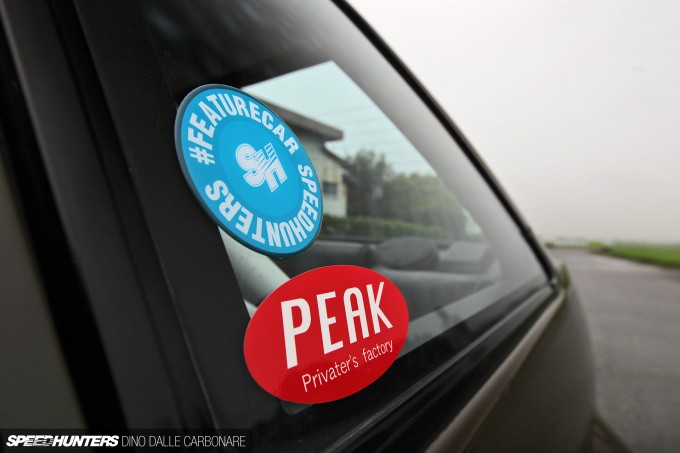 Only the cars we dedicate full features to merit such a sign of recognition!
20-valve concerto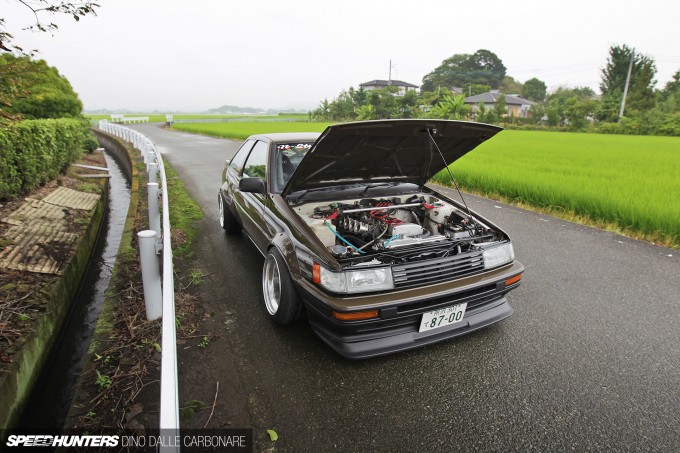 If I had to take a wild guess I'd have to assume that there was no way in hell the stock 3A-U was still under the AE85's hood…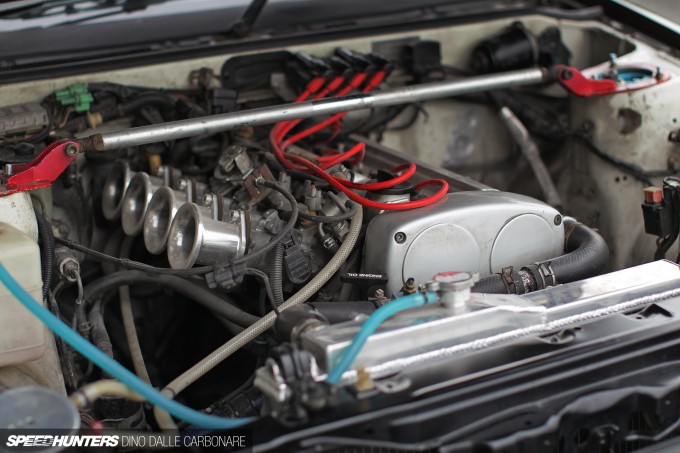 … and I was of course right. Making sure that this car delivers decent performance is a 20-valve silver top 4AG from an AE101 donor car. It's mostly in its stock configuration breathing in through a set of velocity stacks…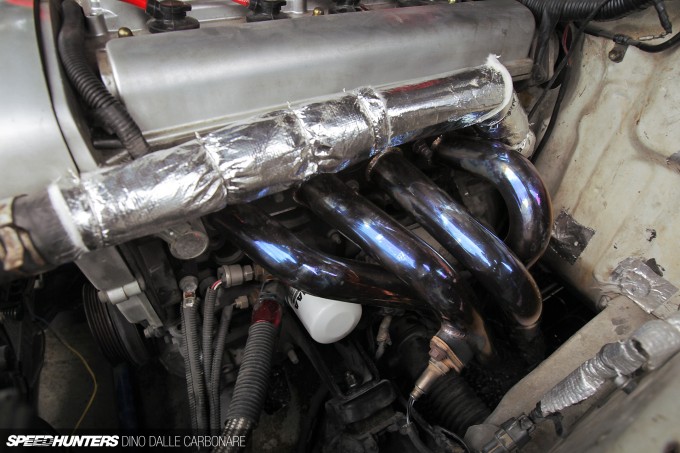 … and dumping gasses into the custom exhaust system through these stainless steel headers. A Freedom ECU has been added to make full use of these upgrades.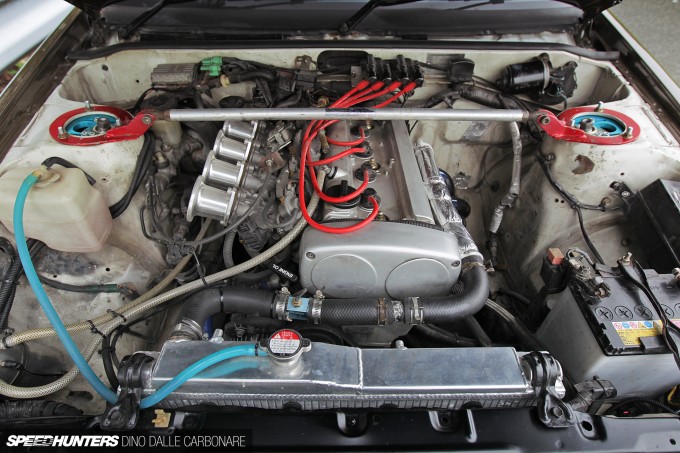 The big aluminum radiator makes sure the engine never overheats even when put through its paces at the track…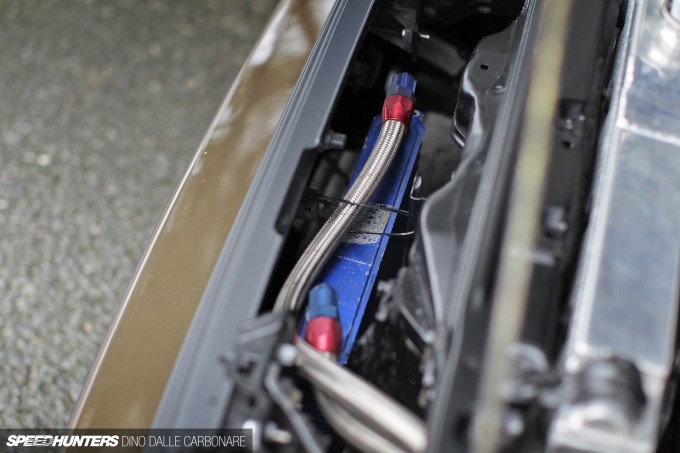 … helped along by the grille-mounted Trust oil cooler. A 10.5:1 compression ratio means the engine does throw out its fair share of blow by…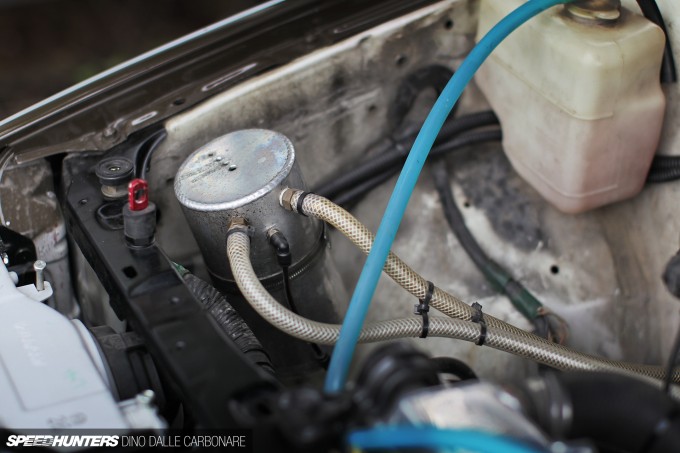 … which is collected up in a little catch slash breather can. With probably a whisker over 160hp, it keeps Takahashi-san entertained and provides that unmistakable 4AG-scream and decent midrange grunt thanks to the 20-valve head and VVt.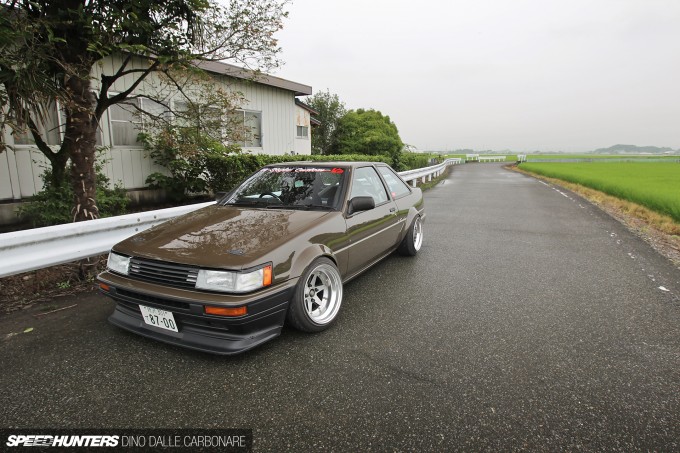 So there you have it: an impossibly JDM grassroots street drift car that manages to tick all the boxes. To finish things off, after all of the one-off body upgrades were completed, N-Style painted the car in a custom color which they have named bachan – or granny – brown. I didn't even want to ask where they came up with the idea for that!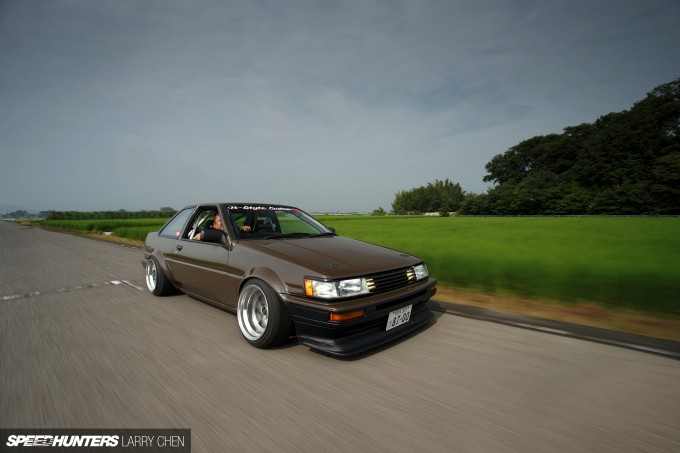 Since the shoot, the car has been treated to quite the clean up under the hood, Takahashi giving it a showcar-like shaved engine bay with a contrasting color and fitting some seriously impressive custom made takoashi (octopus legs) headers. Nagahama told me this is how he and his customers do things: they continue to modify and refine, improving and making their cars that little bit better every step of the way. It is, in their words, the N-Style way!