A Long Time Coming
I often find it hard to sum up just how much car culture Tokyo has hidden away in its immense, labyrinth-like layout . It's there, but you often need to go and find it, hunt around, take a turn down an unsuspecting road, because you never really know what you will find.
One of my fondest memories of Speedhunting in Japan's capital city is the twin post I did on Kanpachi-dori back in 2012. In that post I crossed an intersection with Meguro-dori, another main street that runs across the city.
Five years on, I thought it was about time I took a bike ride back up there to see what automotive awesomeness I could find to share with you.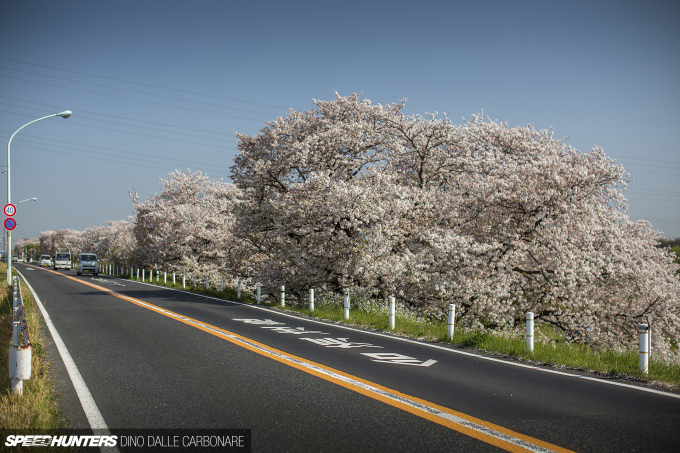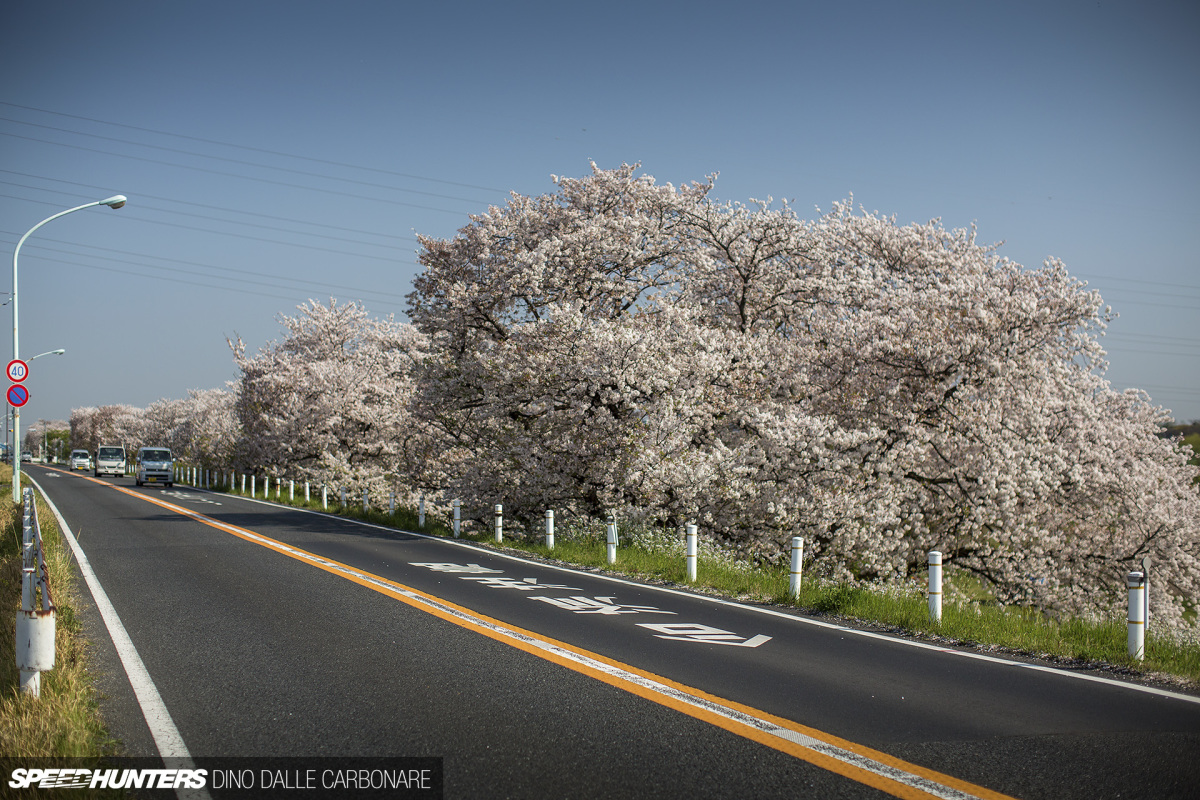 Meguro-dori (dori meaning street in case you hadn't figured it out yet) starts and ends where it T-junctions with Tamazutsumi-dori. It's right alongside the Tama River which draws a physical boundary between Tokyo City and Kanagawa Prefecture, where Kawasaki and Yokohama are located.
At the end of last week, the cherry blossoms were in full bloom and completely changing the appearance of this elevated street that runs parallel with the riverbank.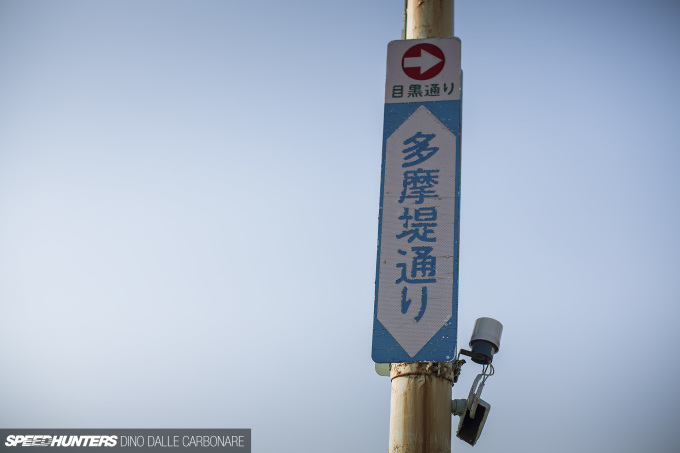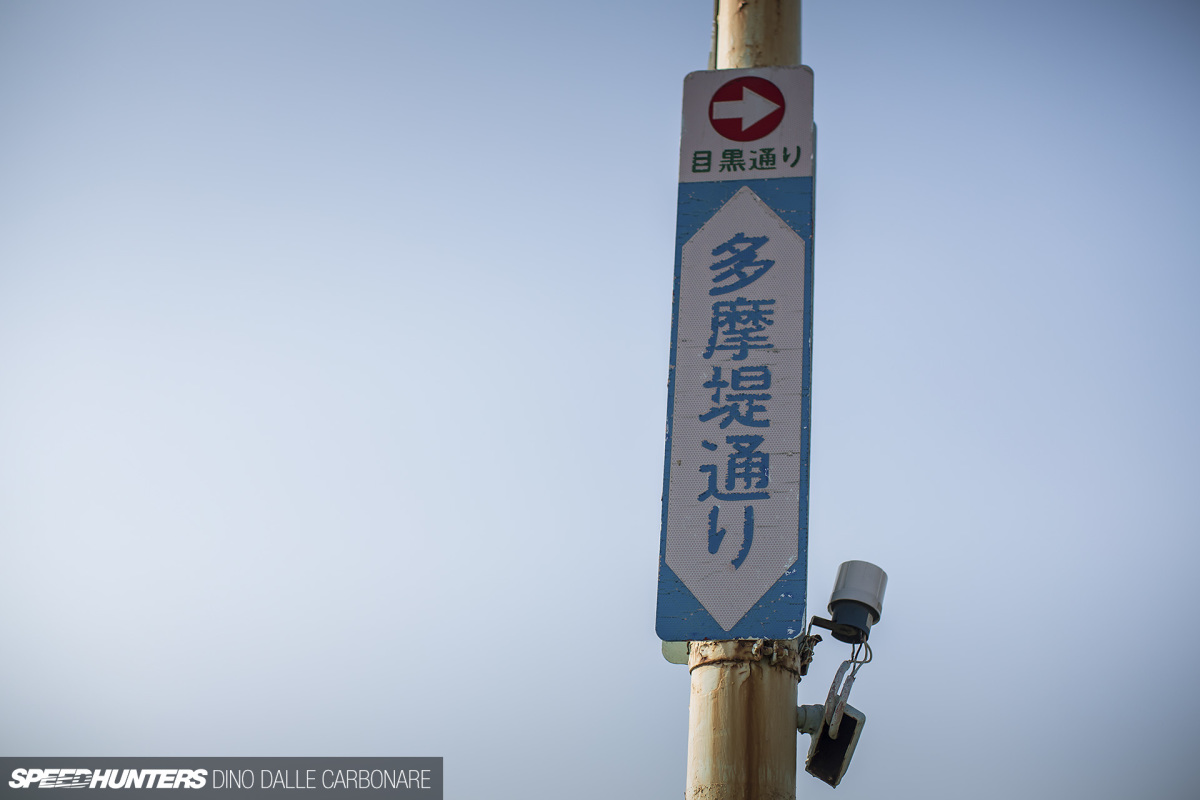 And right where Meguro-dori begins (written in green kanji, the vertical blue kanji reads Tamazutsumi-dori) is precisely where I began my afternoon Speedhunting adventure.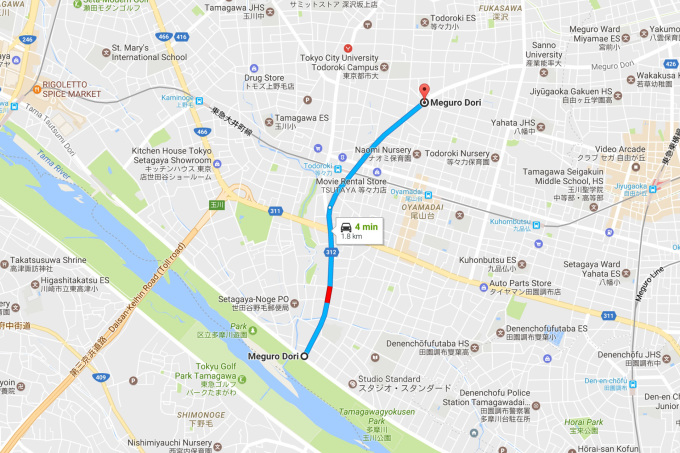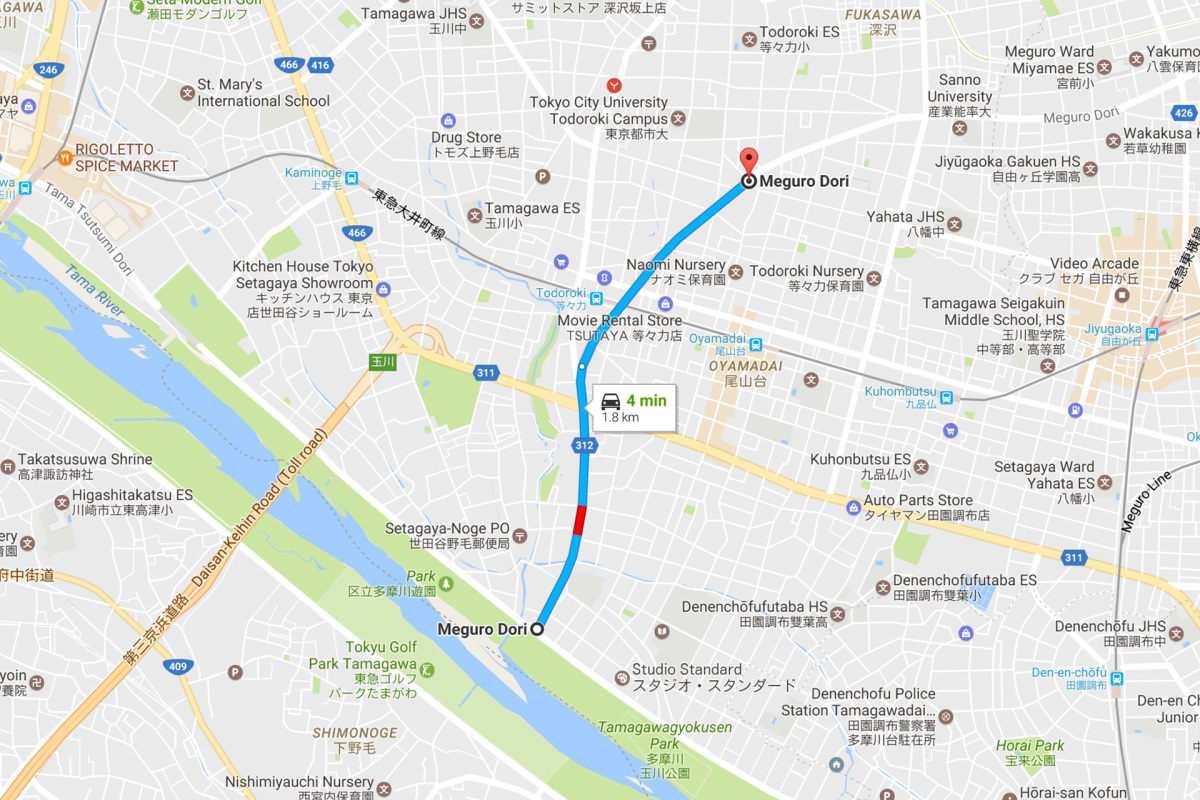 The first stretch that I will cover in this first post is just under 2km long, as shown above.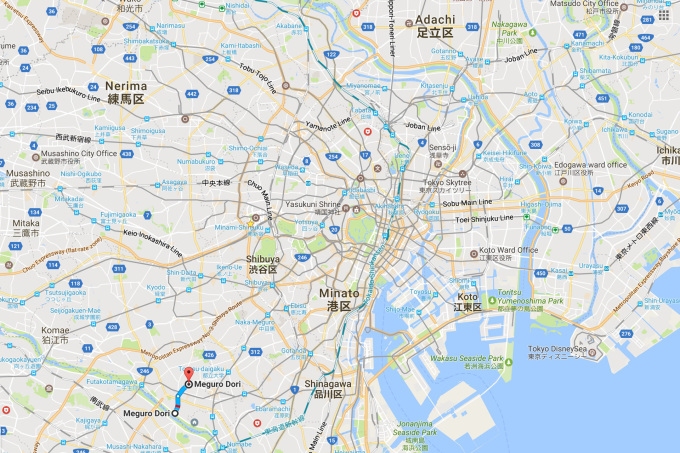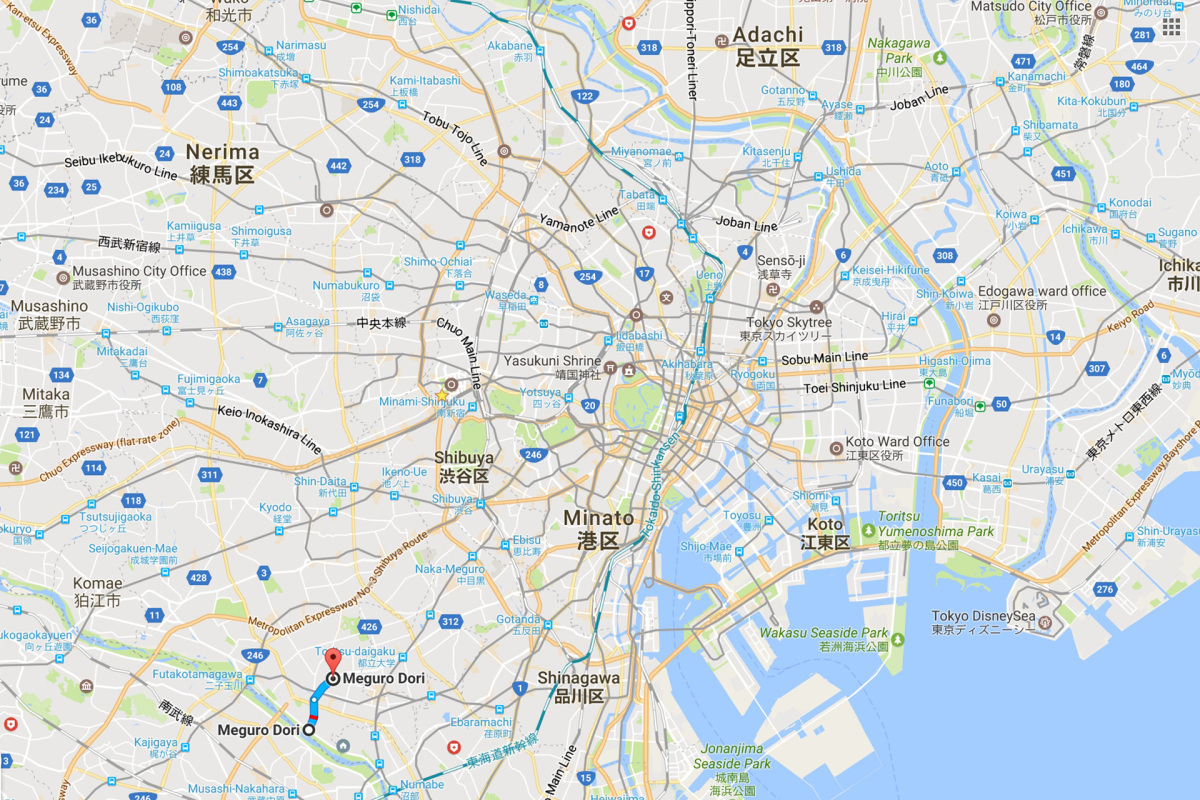 And here's where Meguro-dori is located in the greater Tokyo area.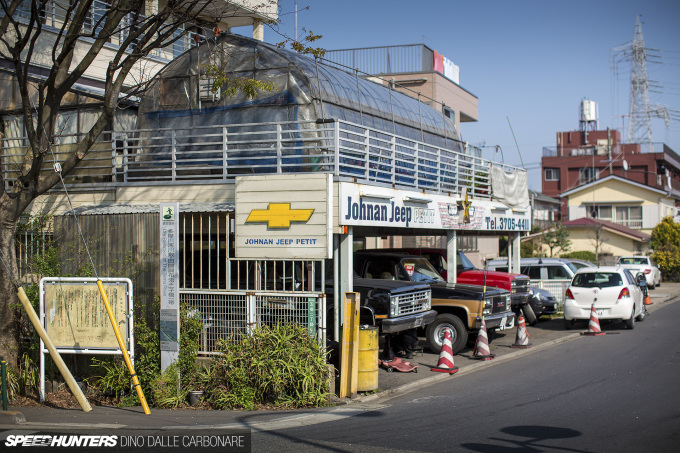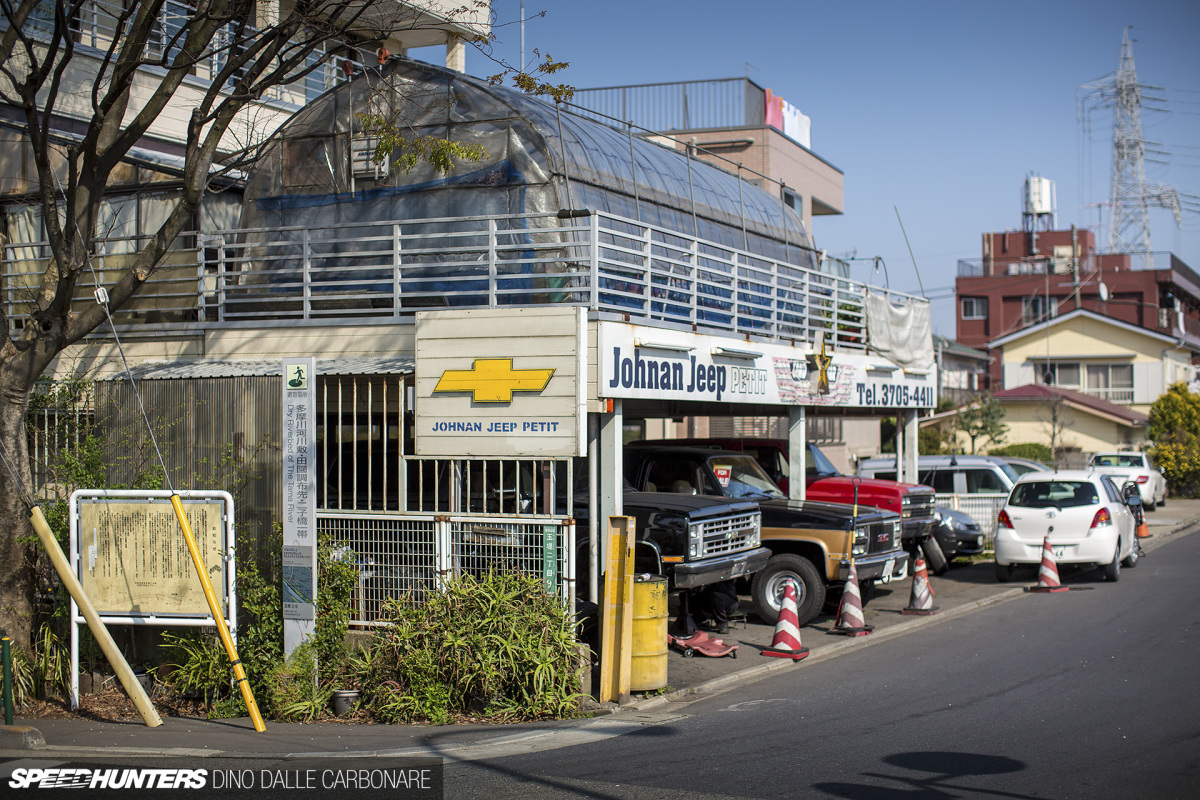 Right at the intersection is Johnan Jeep Petit, a shop that's local to me and one I drive by pretty much every day.
Johnan is the word used to describe the southern area of Tokyo, or in old language, the district south of the Imperial Palace.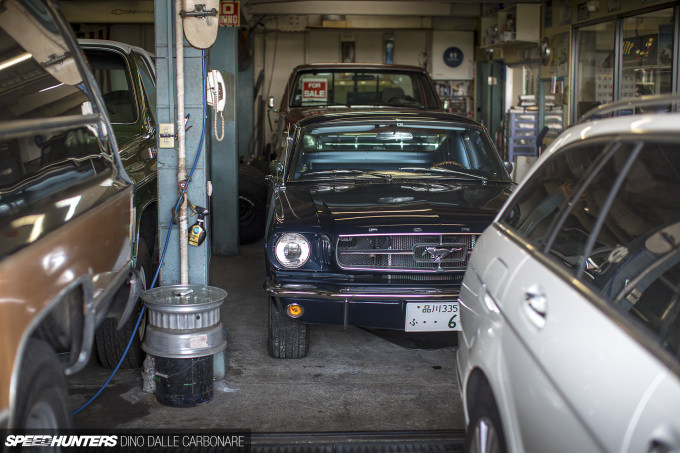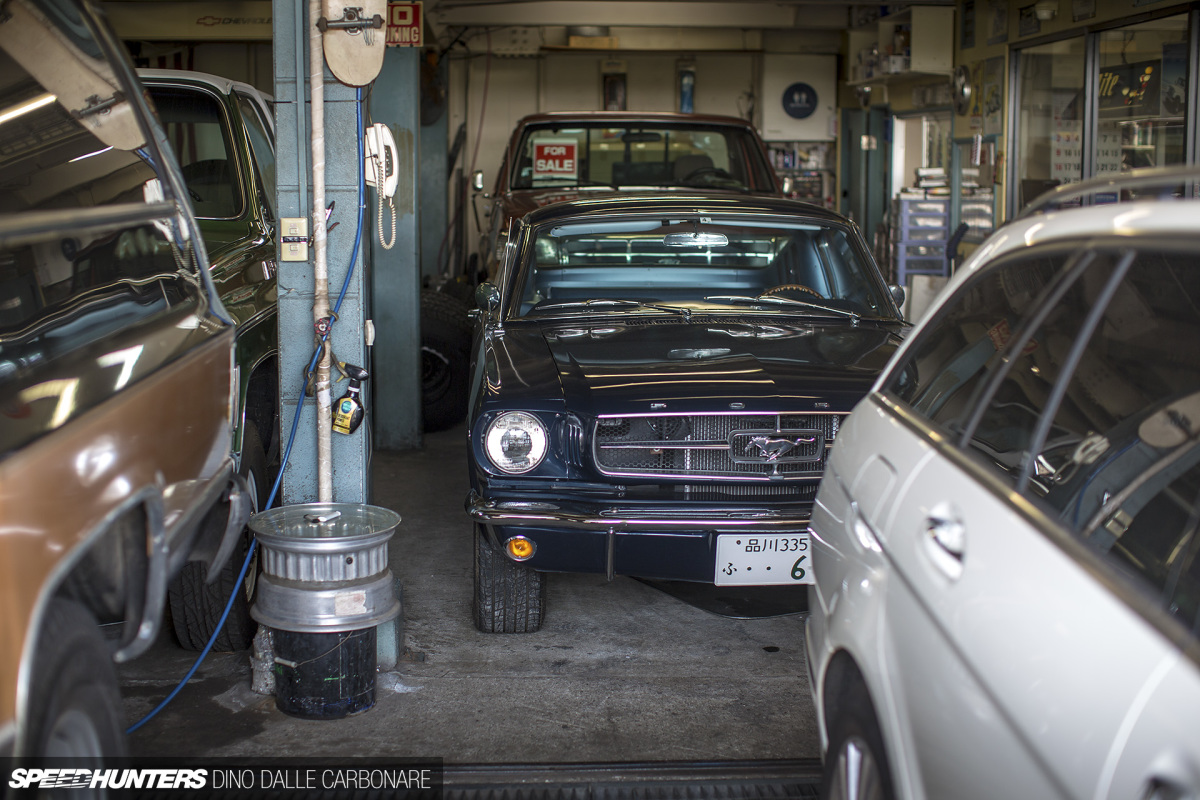 This place specializes primarily in American trucks and SUVs from the '70s and '80s, but every once in a while you'll find a muscle car tucked away, like this Mustang.
To the side of the 'Stang was a '77 Jimmy Sierra which stood out for its green color, while right behind it was a two-tone '95 F15.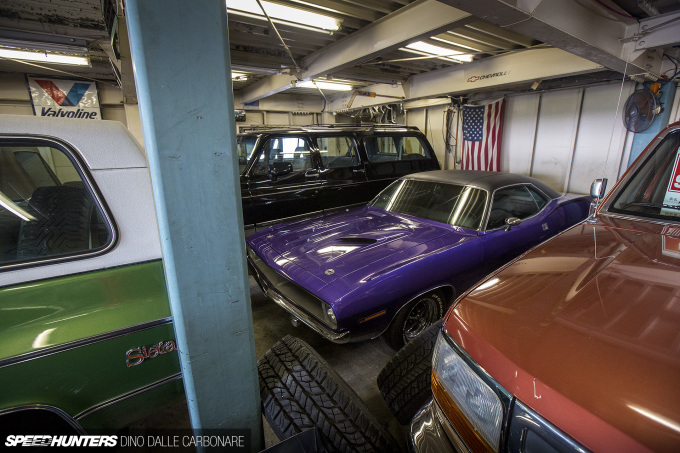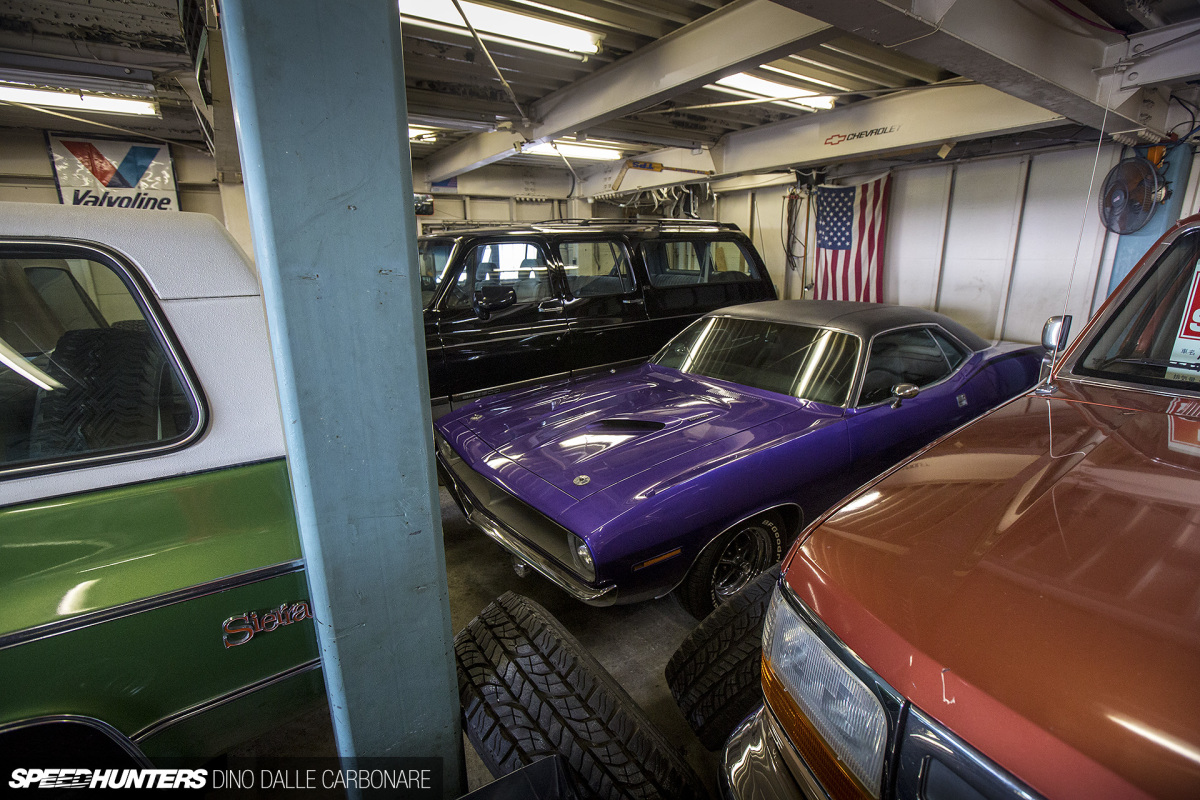 However, it was the purple Plymouth Barracuda 440 that grabbed my attention.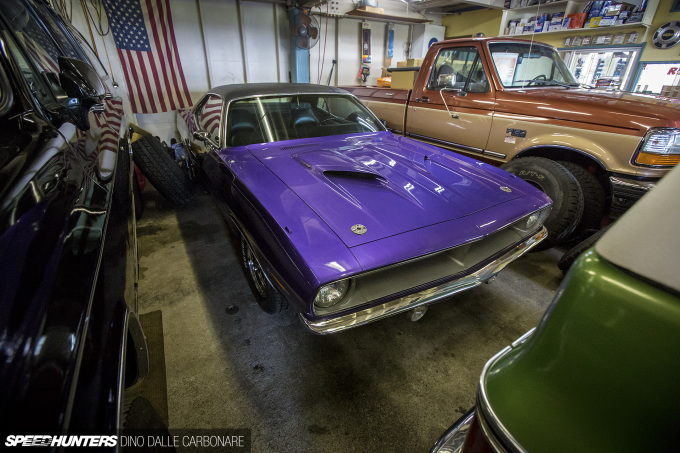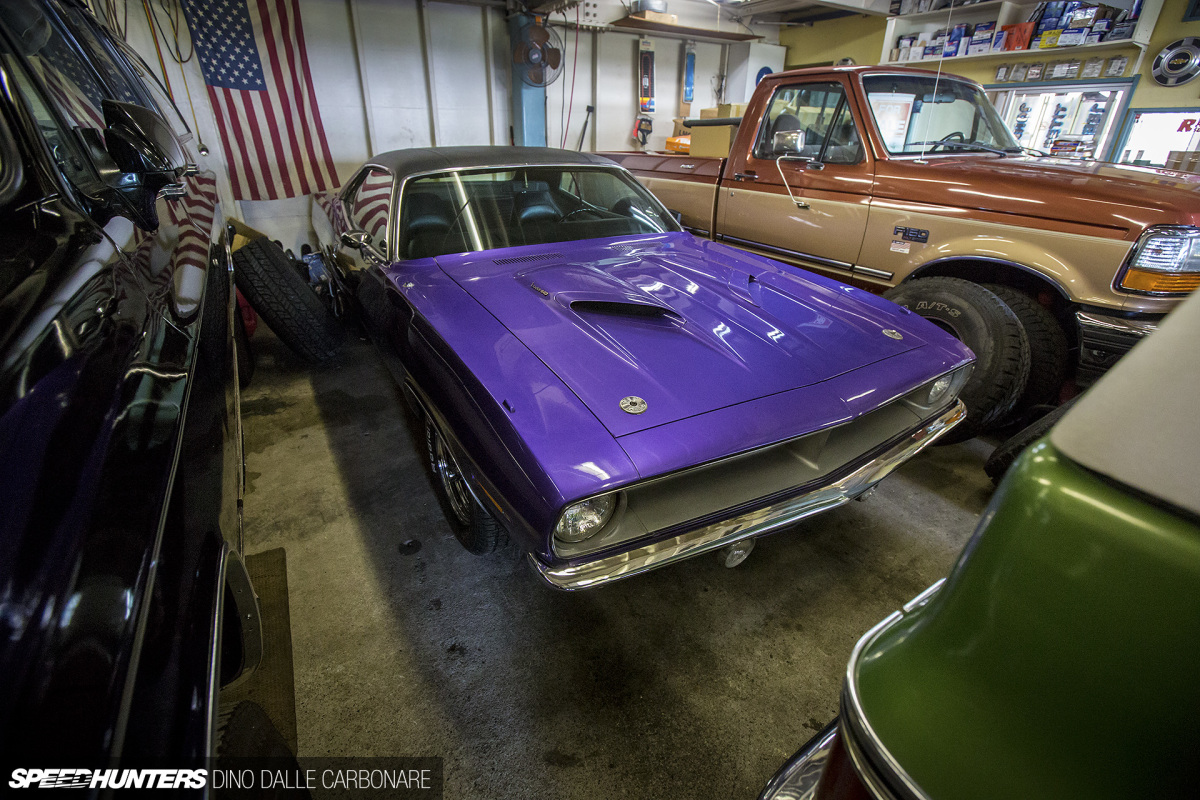 It's crazy how such a large car can seem so small when it's parked up next to an American pickup truck. This rare Plum Crazy beauty doesn't even appear to be on Johnan's website stock list, so they might be trying to sell it by word of mouth.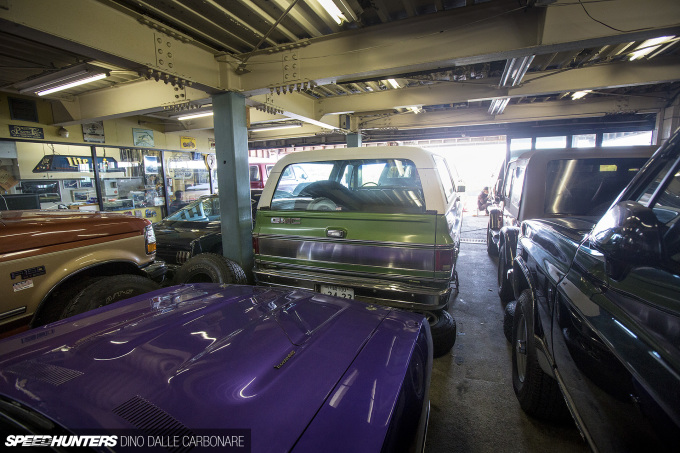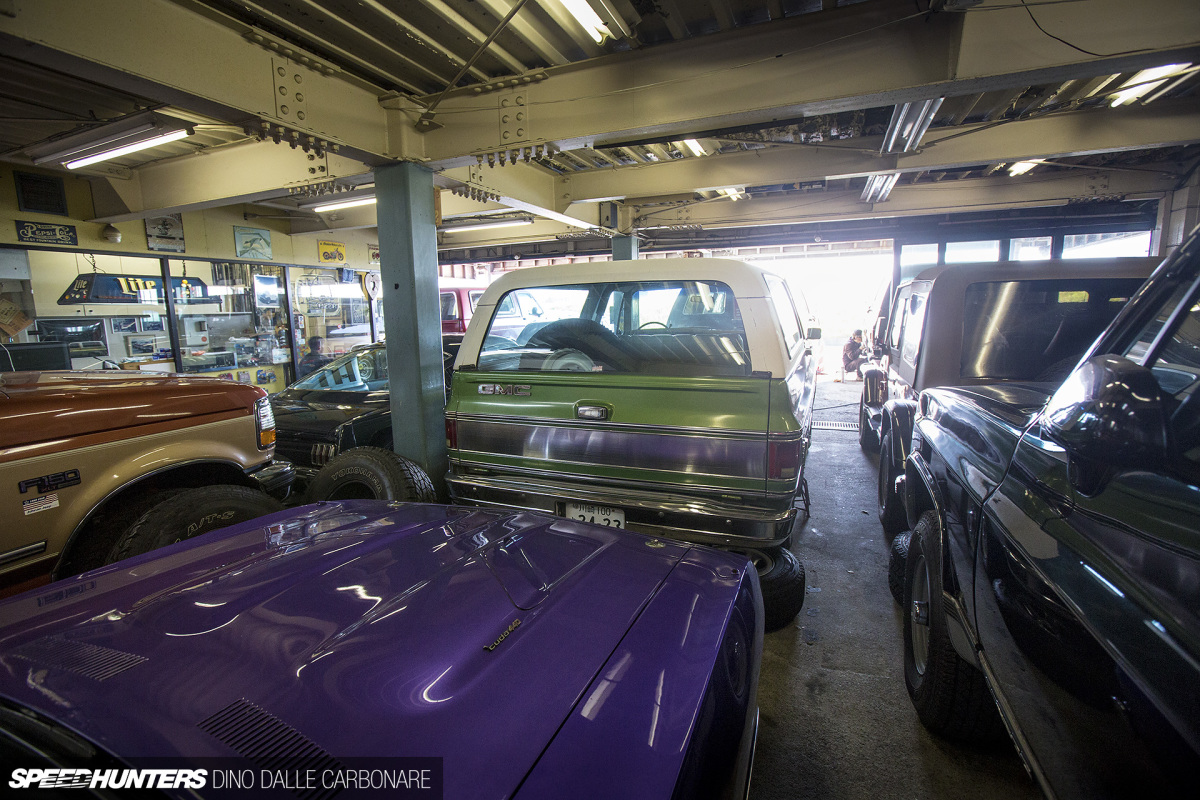 It's pretty cool seeing so much classic American metal packed inside, when from outside the shop looks pretty small.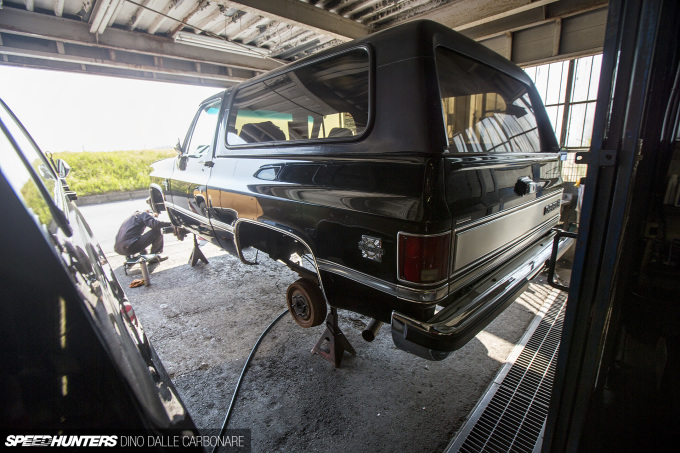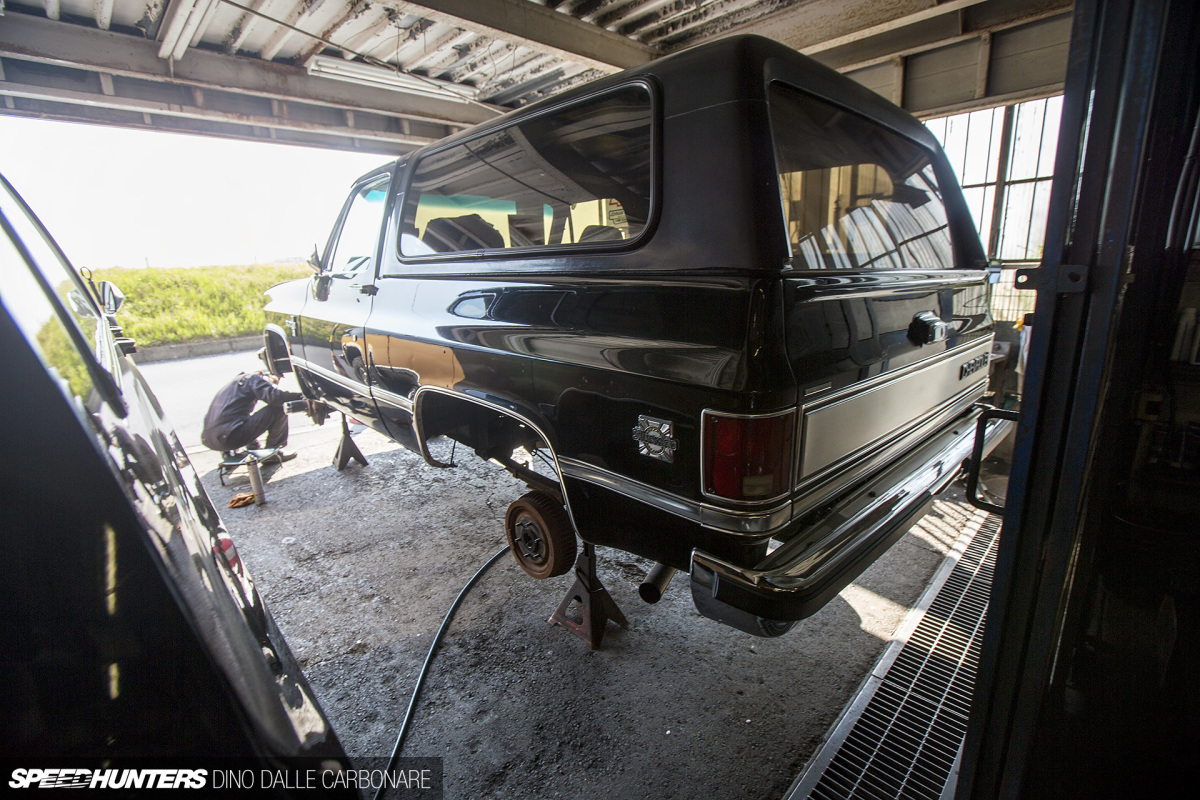 But it was time to move on, so I shimmied in between a Suburban and a Silverado and jumped back on my bike.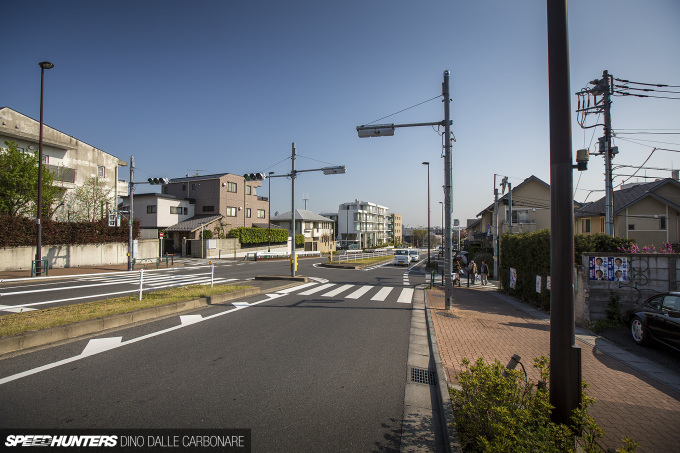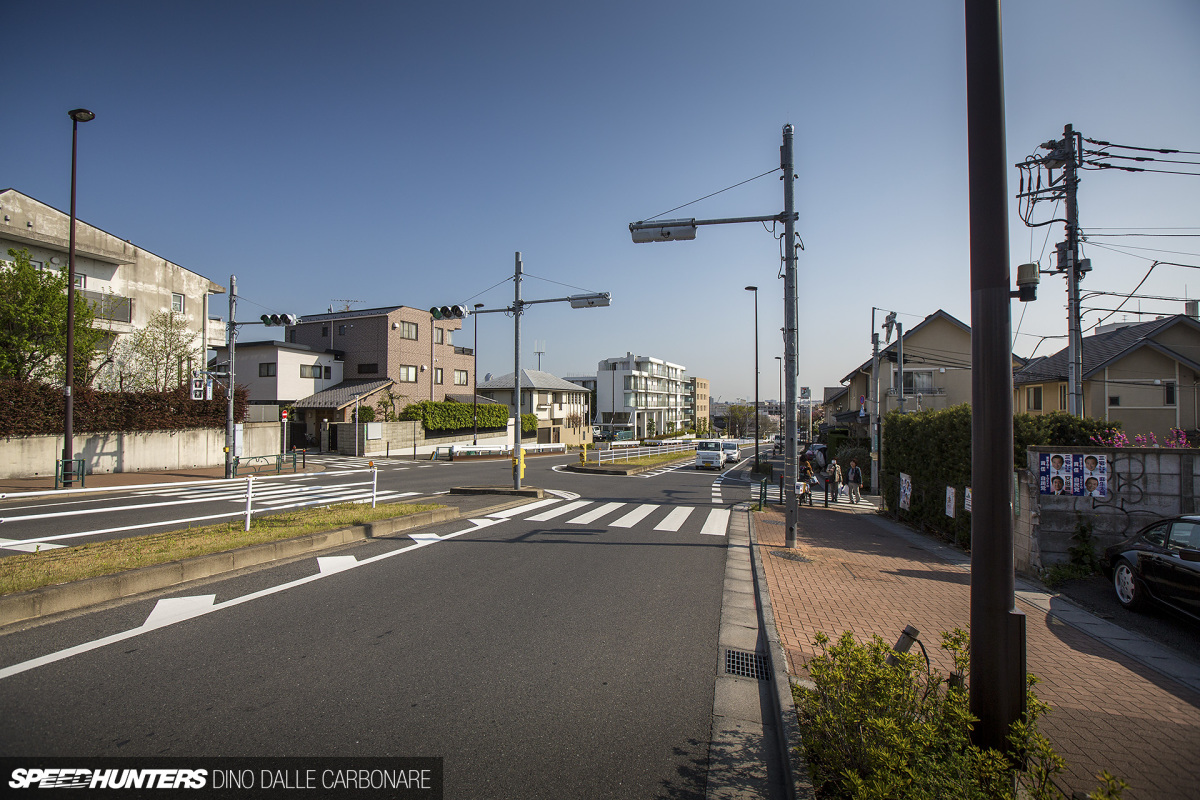 I had a little hill to tackle as Meguro-dori rises up towards the intersection with Kanpachi-dori, but before I got there I had to make another quick stop.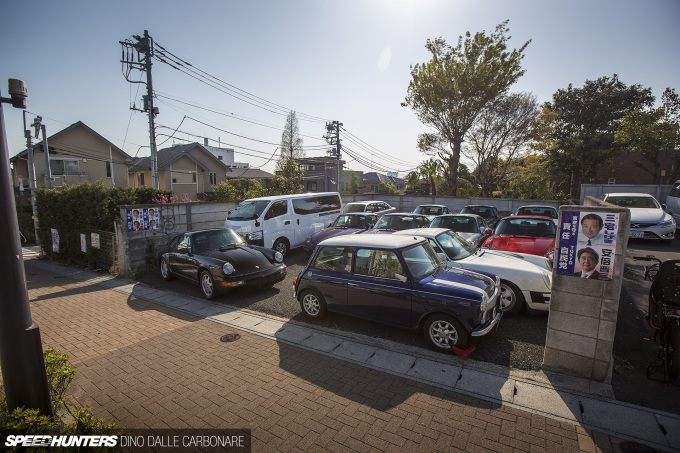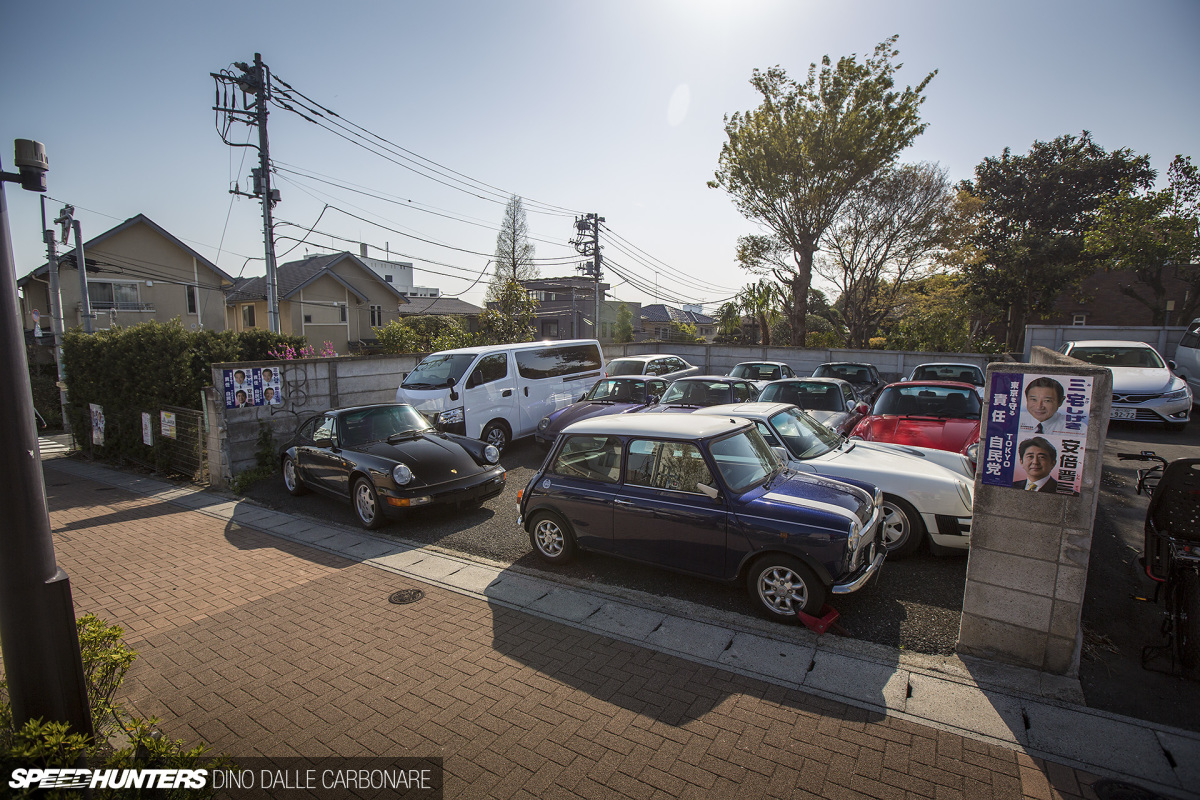 This time it wasn't a shop, but overflow storage/parking lot for a shop. In fact, if you check out that first post I did on Kanpachi-dori, you may remember that I stopped by a classic Porsche specialist called Prestige.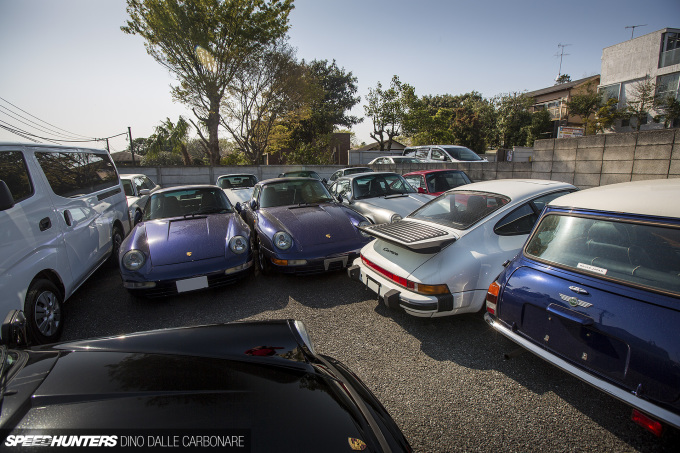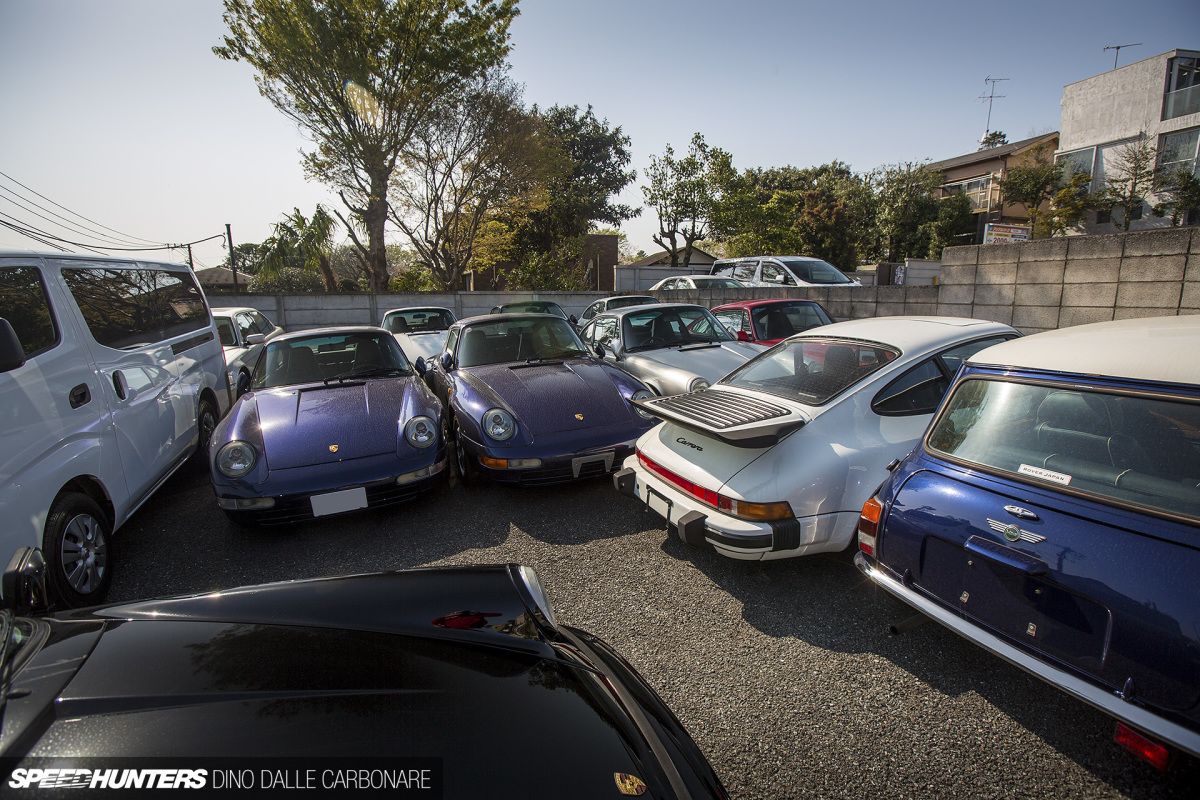 They can only fit about five or six cars in and around their shop, so the rest of the stock is kept here, in a little lot right by the road.
I often see Prestige's transporter loading and unloading cars as they swap them around and add to their stock list. On the day I stopped by it was all Porsche 911 Carrera 2s and 4s here.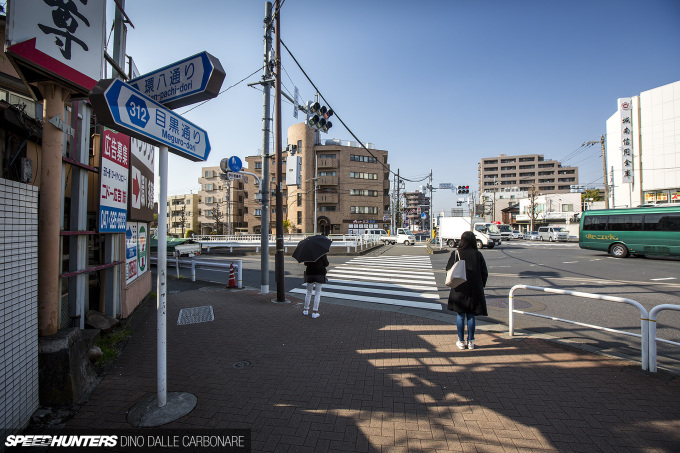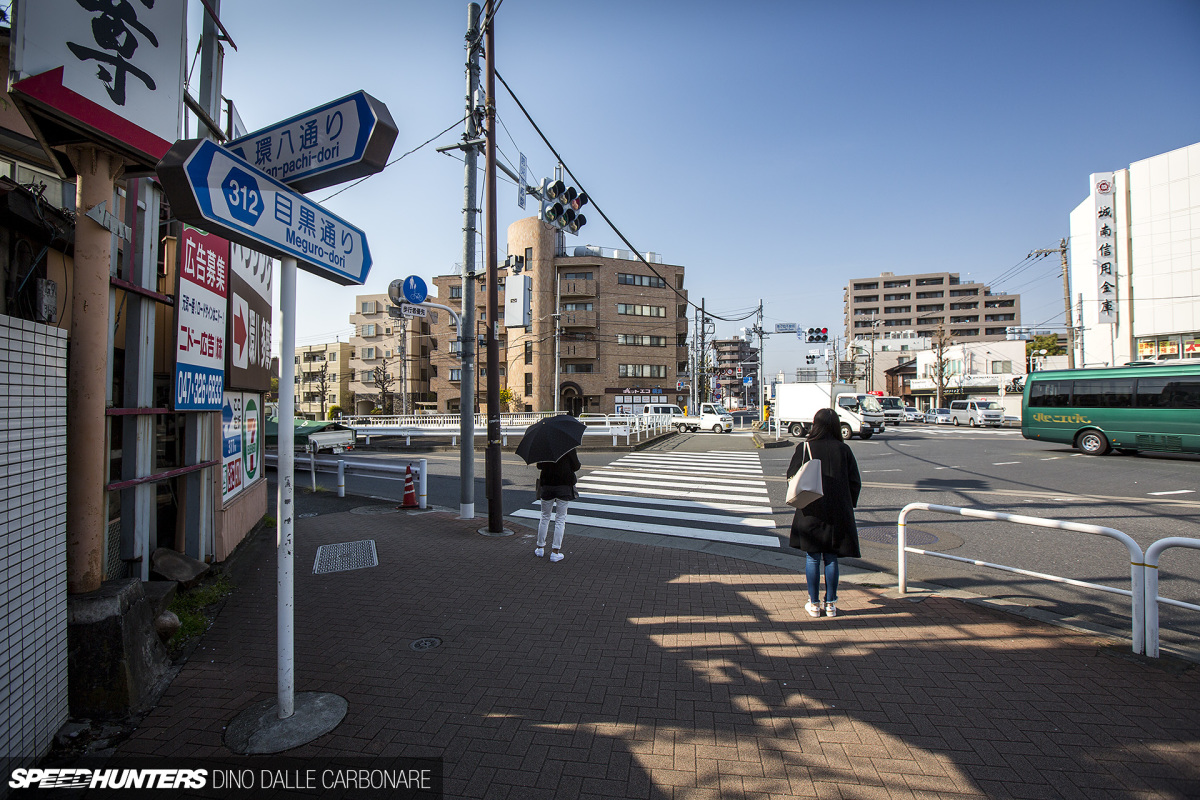 A little more pedalling and I made it to the junction.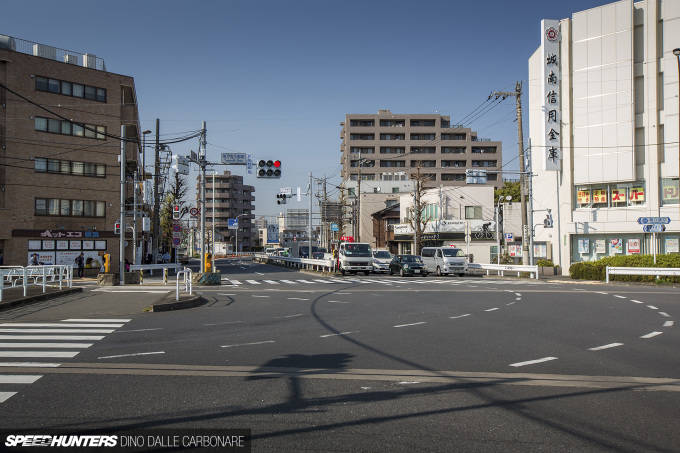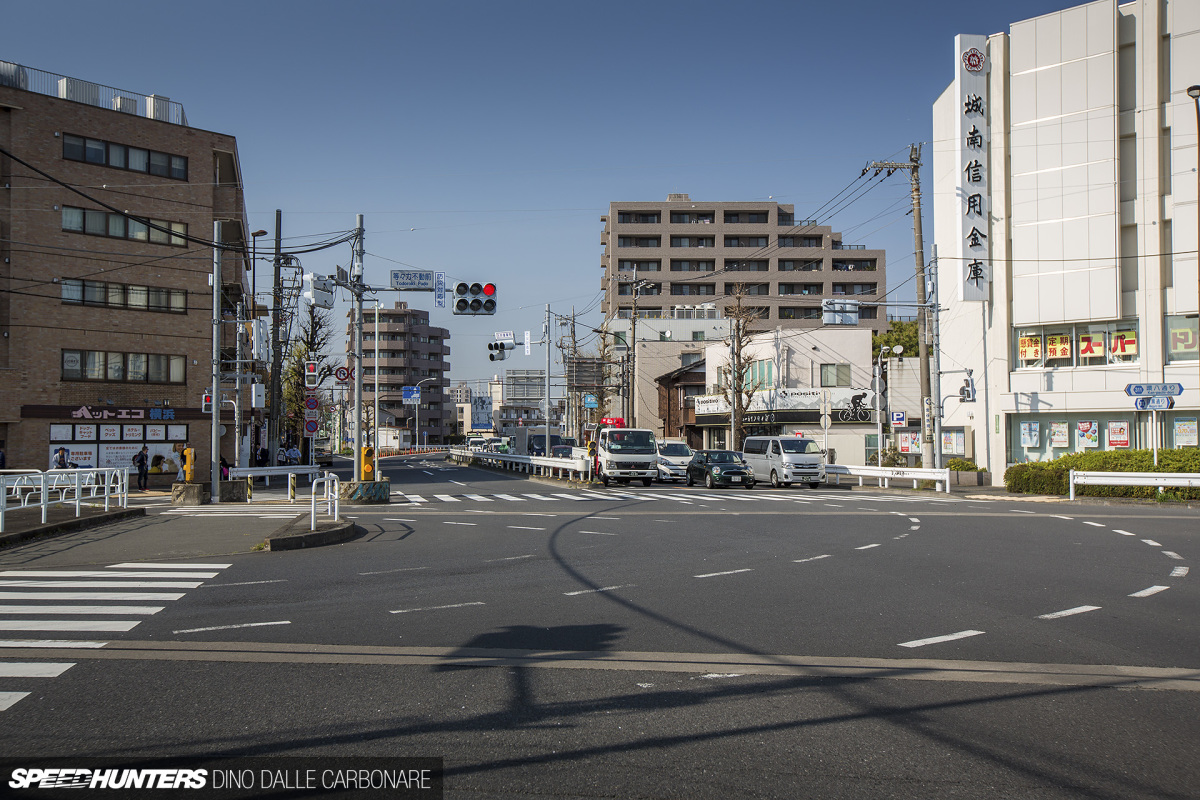 After passing the big intersection I actually had to take the road that splits to the left, because if you stay on Meguro-dori you'll end up on an overpass above a rail line. Bicycles aren't allowed, so I had to do detour slightly before getting back on the road beyond the overpass.
Land Cruiser Heaven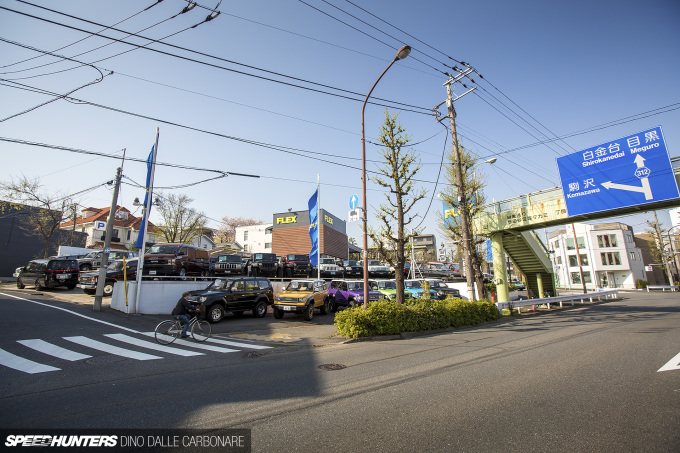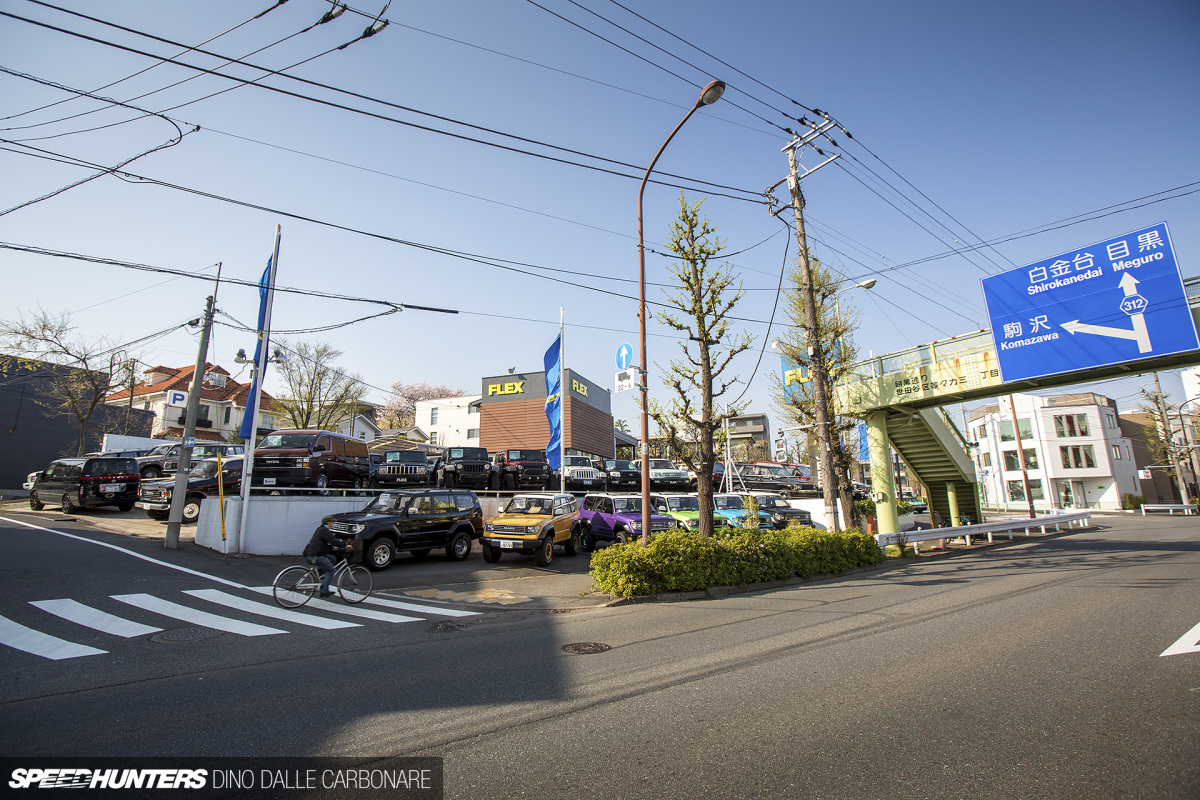 After some more uphill pedalling I arrived at my next port of call, FLEX. This is a large chain dealership that specializes in everything from off-roaders to classic Japanese cars, and there are two FLEX sites in the same general area.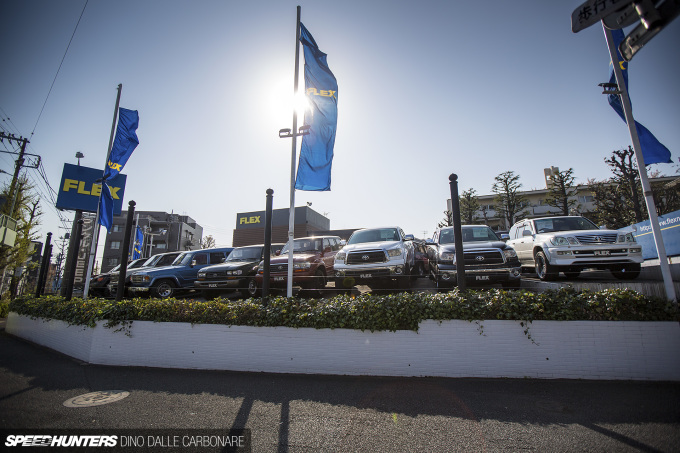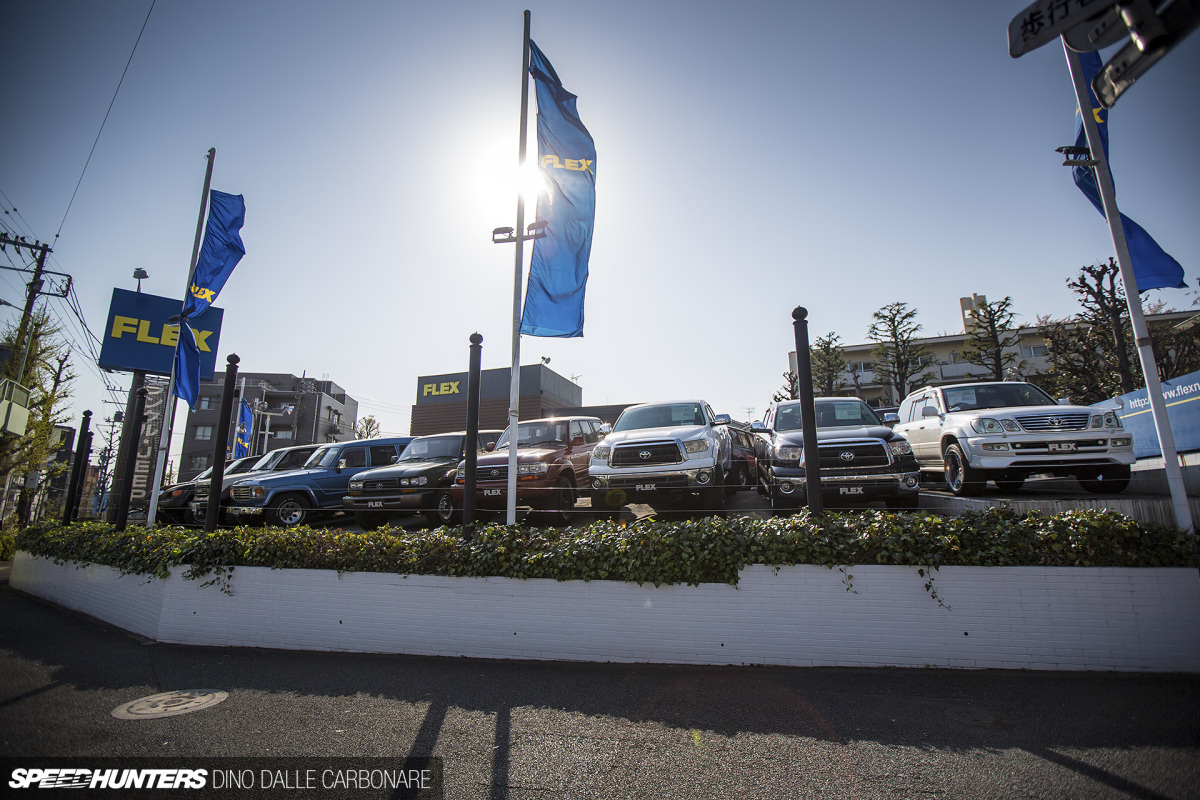 The place is massive. Land Cruisers of every generation make up a big part of the inventory, but you'll also find other cool stuff including left-hand drive Tundra pickups from the US.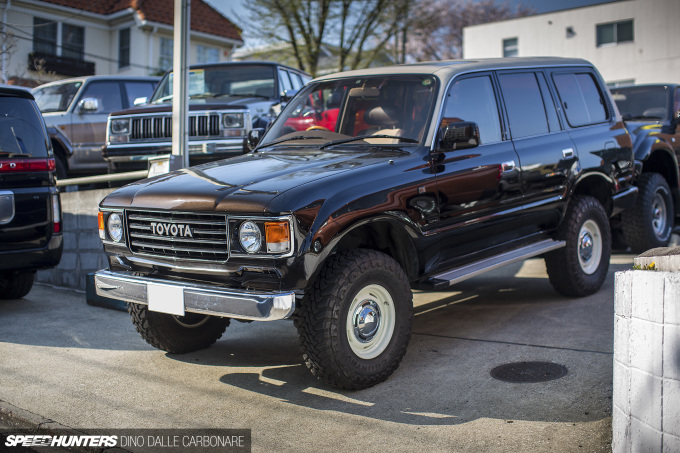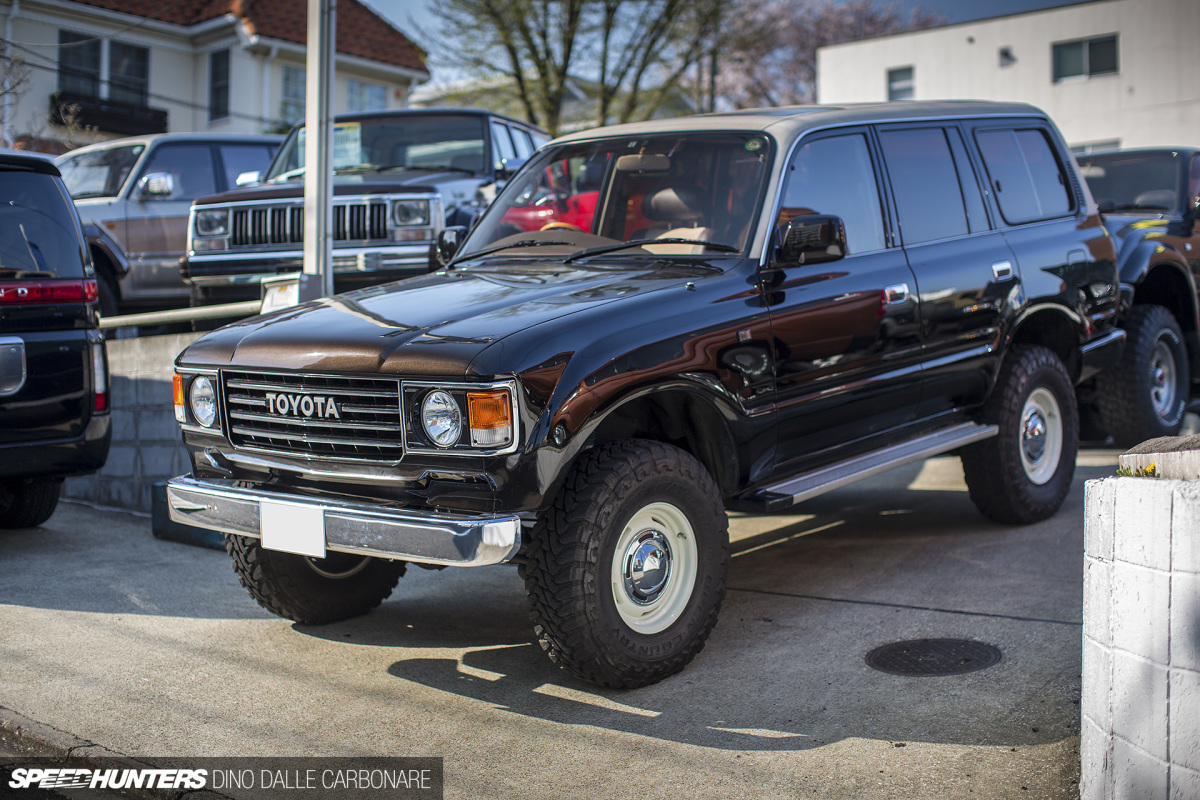 1980s Land Cruisers and Land Cruiser Prados have become all the rage in Tokyo and around Japan in recent times, and FLEX has definitely capitalized on the market. They seem to be buying up a ton of stock, and on top of selling you a stock truck, they will even do a restoration on them, taking care of all mechanicals, replacing trim with newer parts, and even stretching to full paint jobs and suspension overhauls.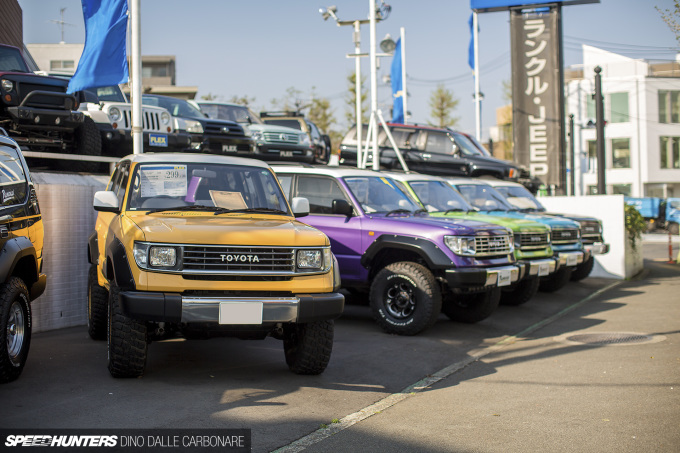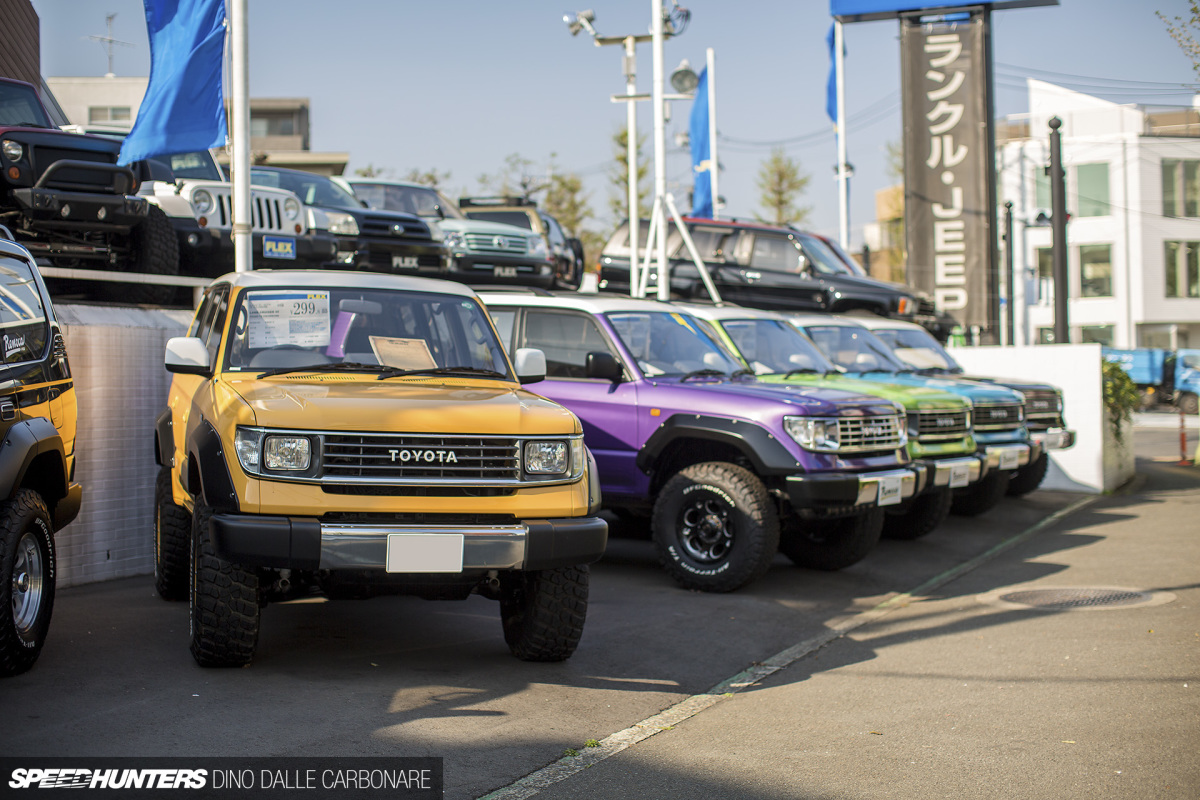 There was a variety of colorful Prados on hand, all ready to be purchased.
I went around one side of the lot and saw that they even had a small number of Jeep Wranglers for sale, along with a few repainted and restored Toyota Hiace vans.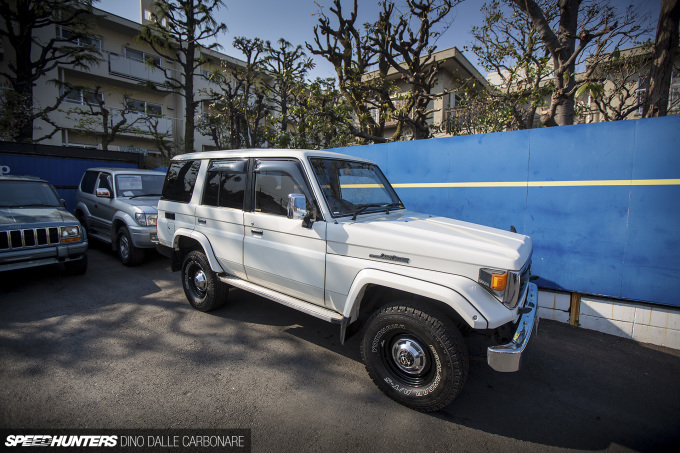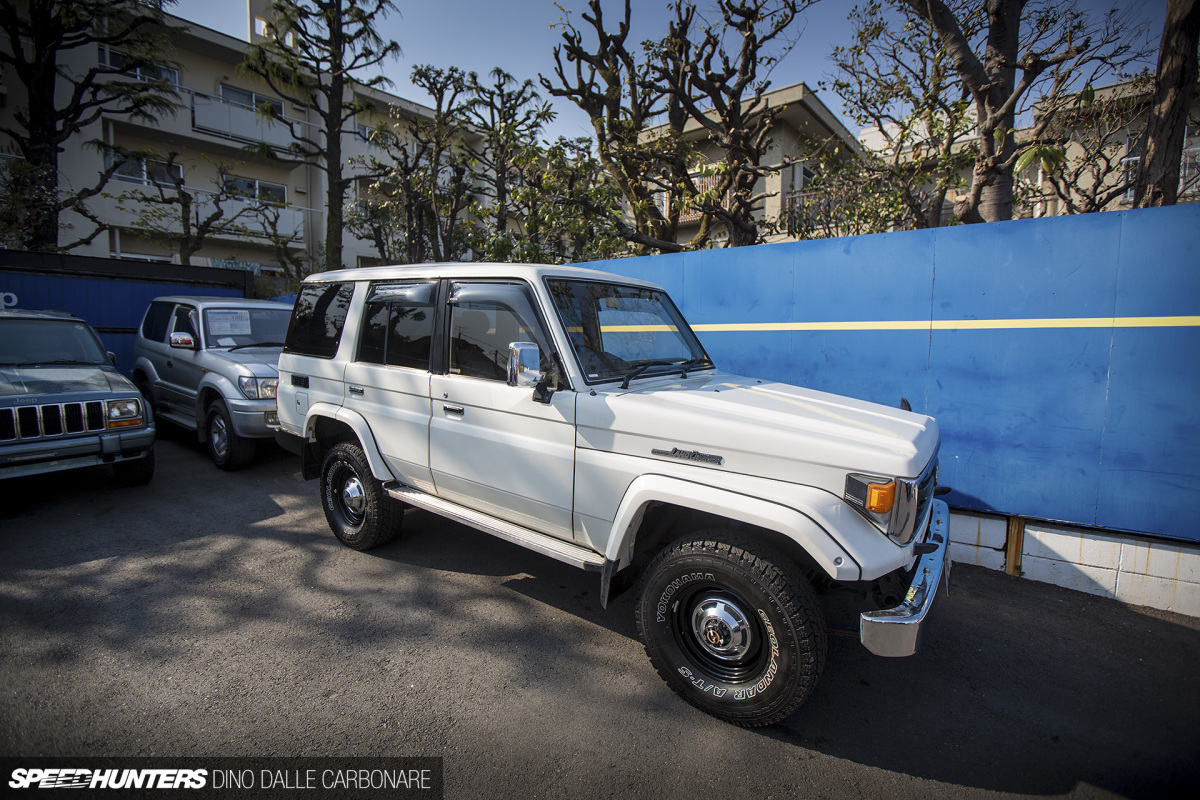 From the older stuff like this J70…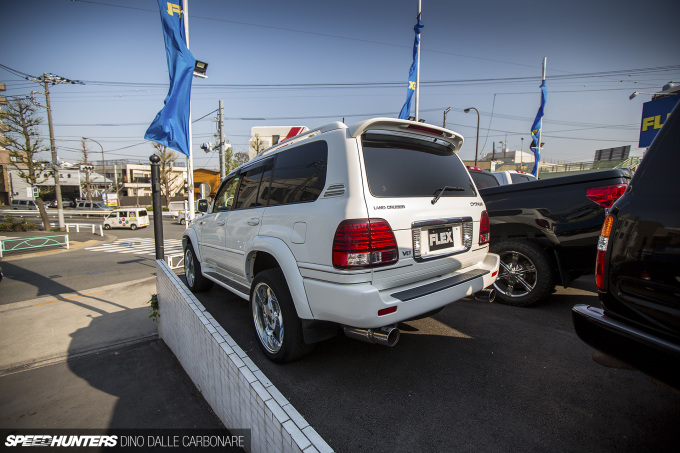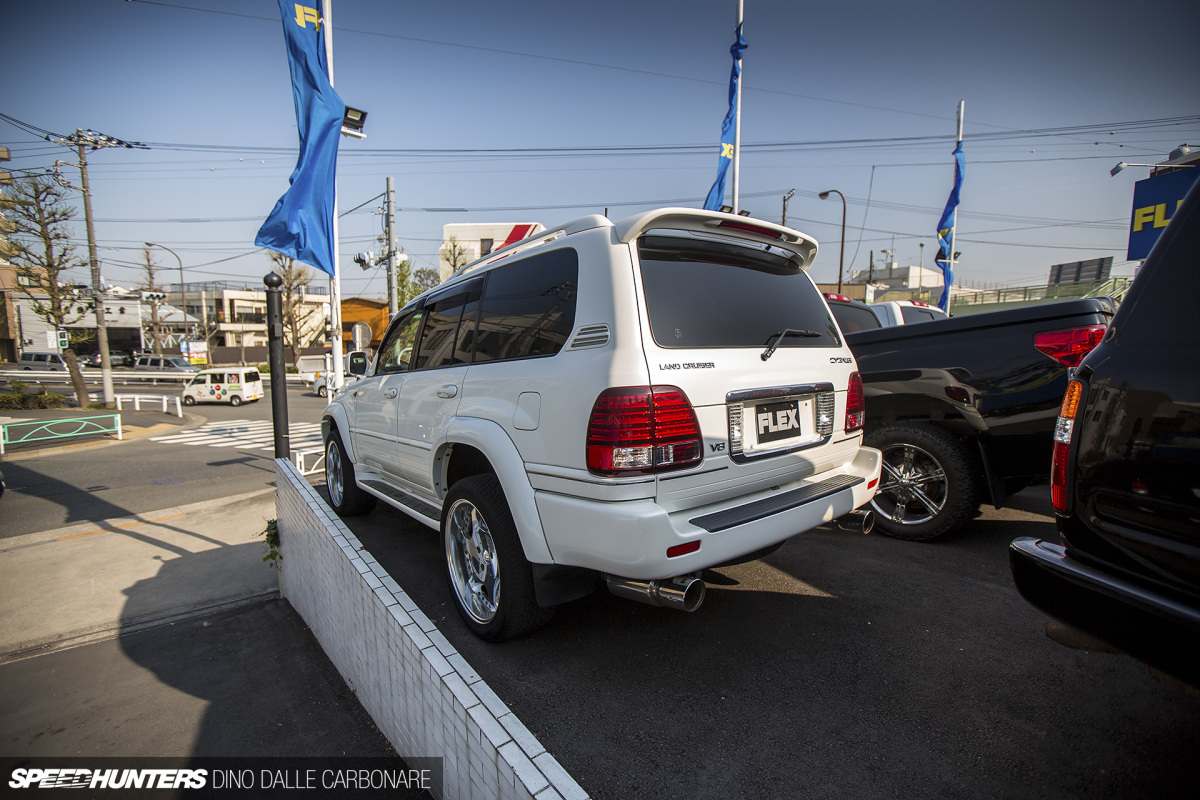 To the more modern offerings like this J100 Cygnus, there were no shortage of rigs at FLEX.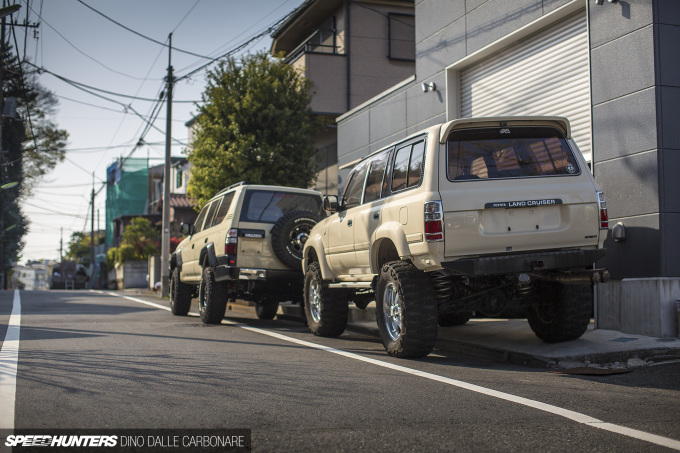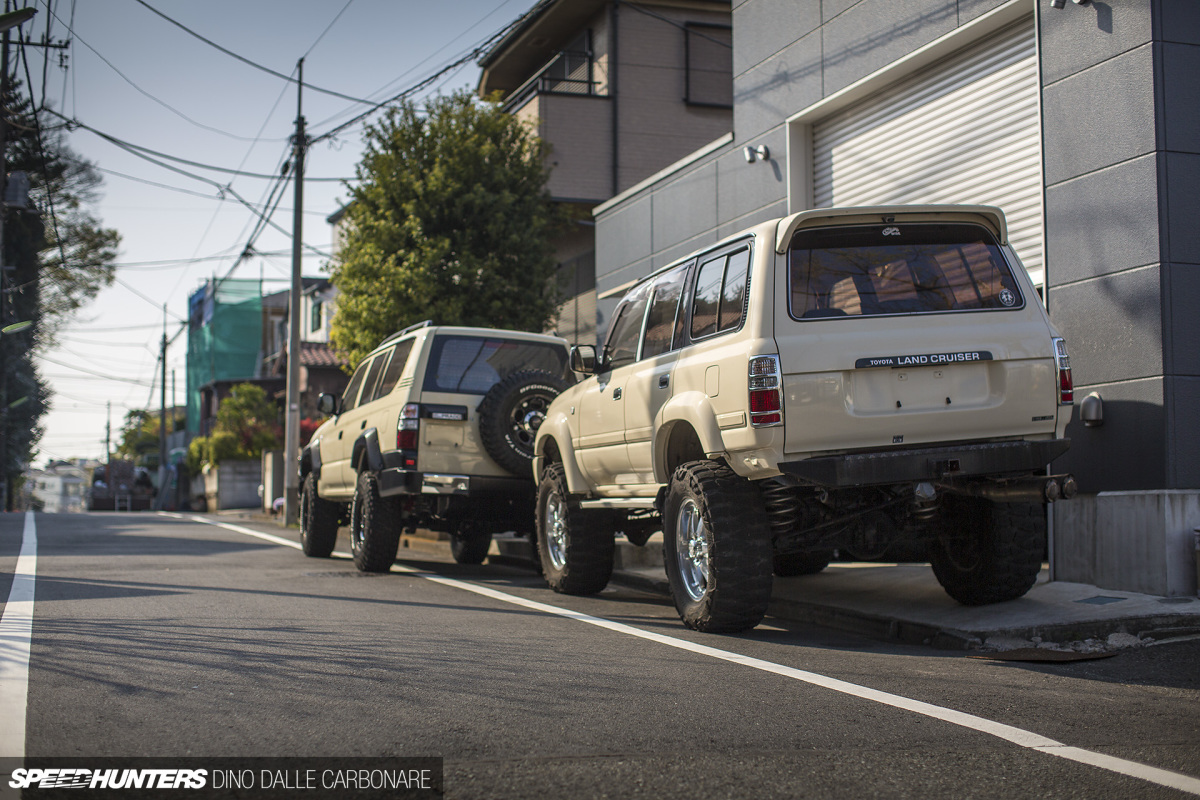 It looked like a lot of the mechanical work is done in a separate workshop further up the side street, and outside I spotted this lifted pairing.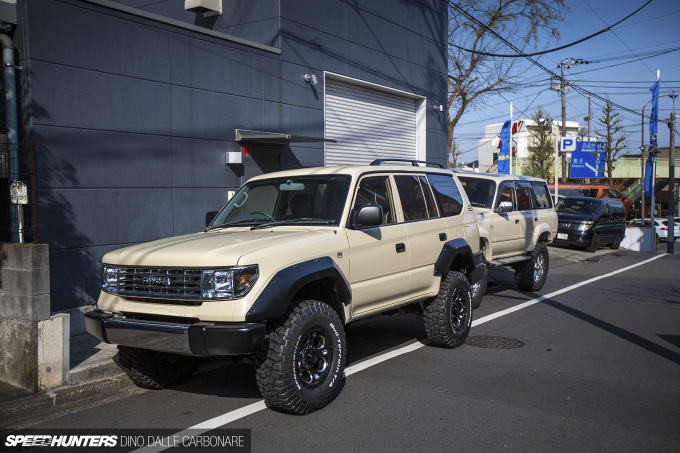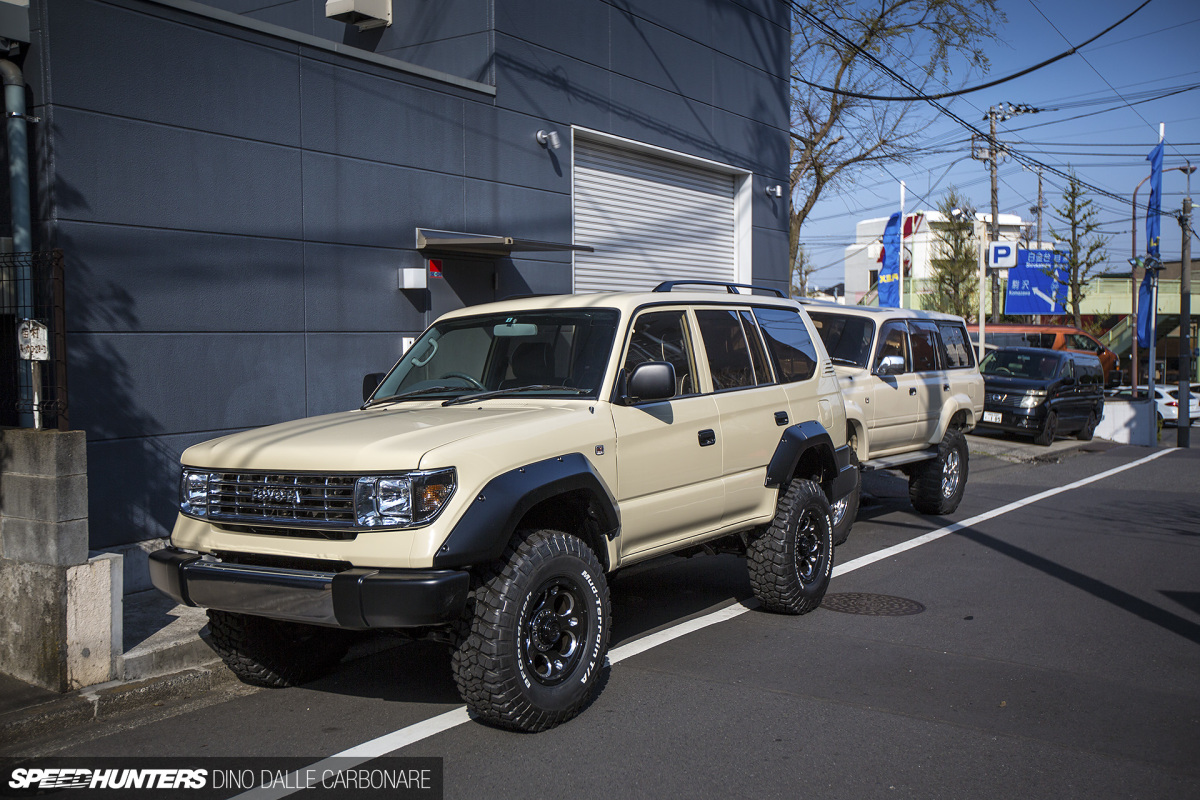 It's not the sort of thing even I expect to find in a residential Tokyo side street!
Supercar Overload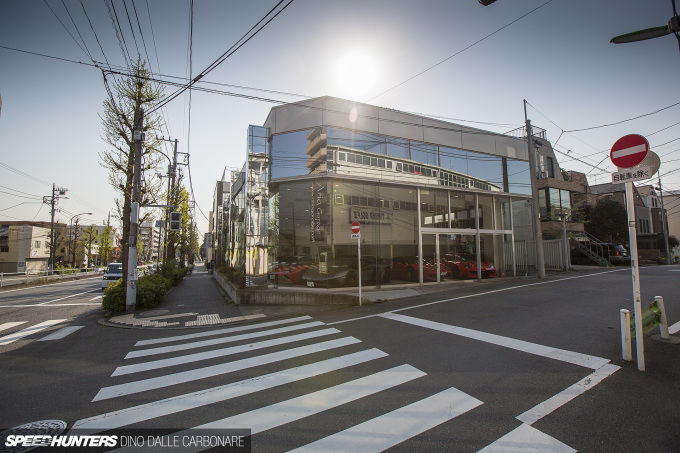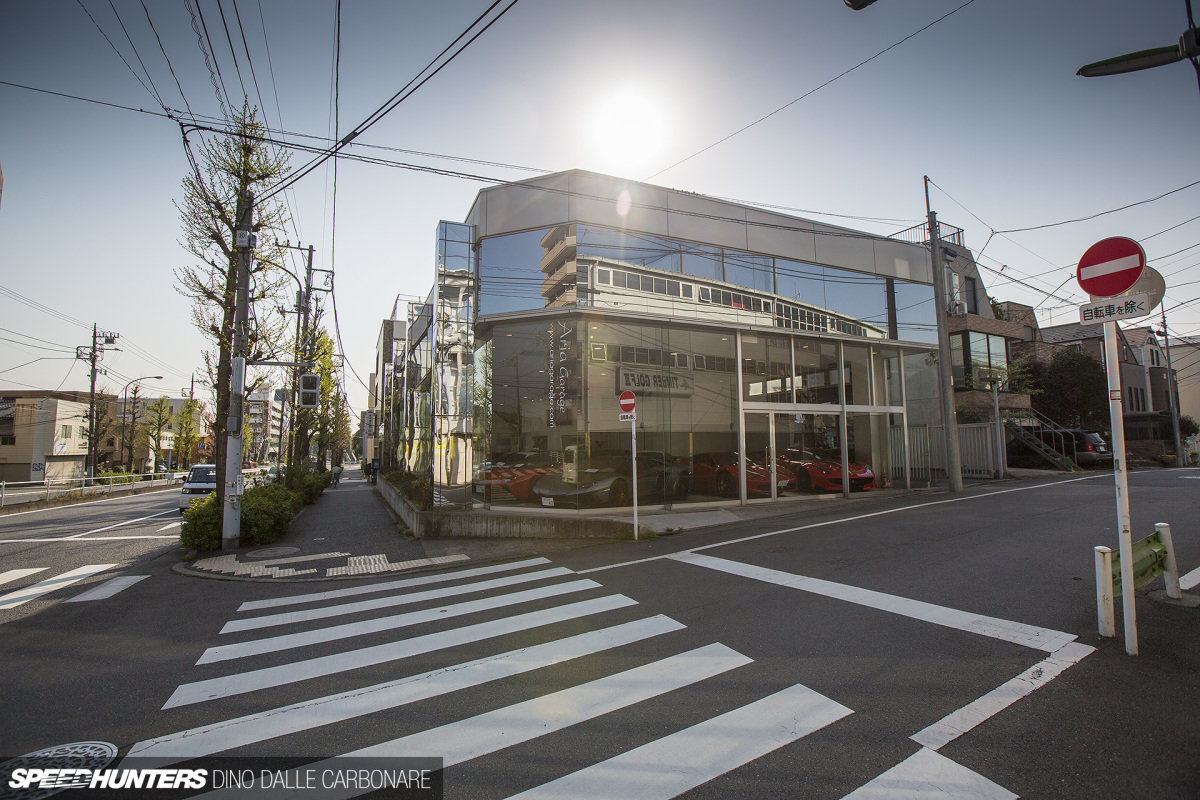 I jumped back on my bike briefly, as a few minutes up the road it was time for my daily fix of exotica courtesy of Aria Garage.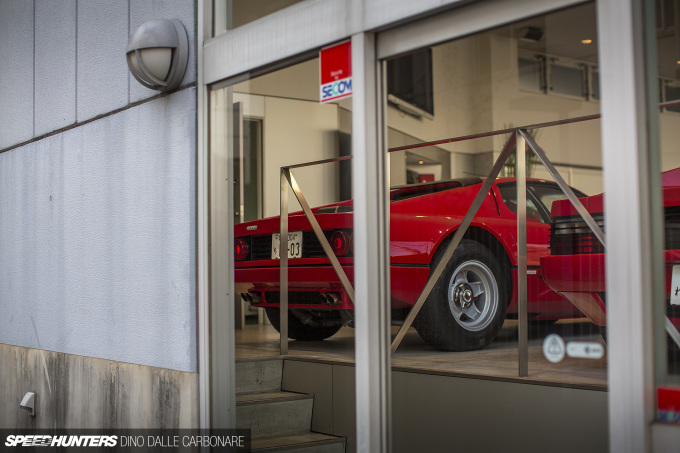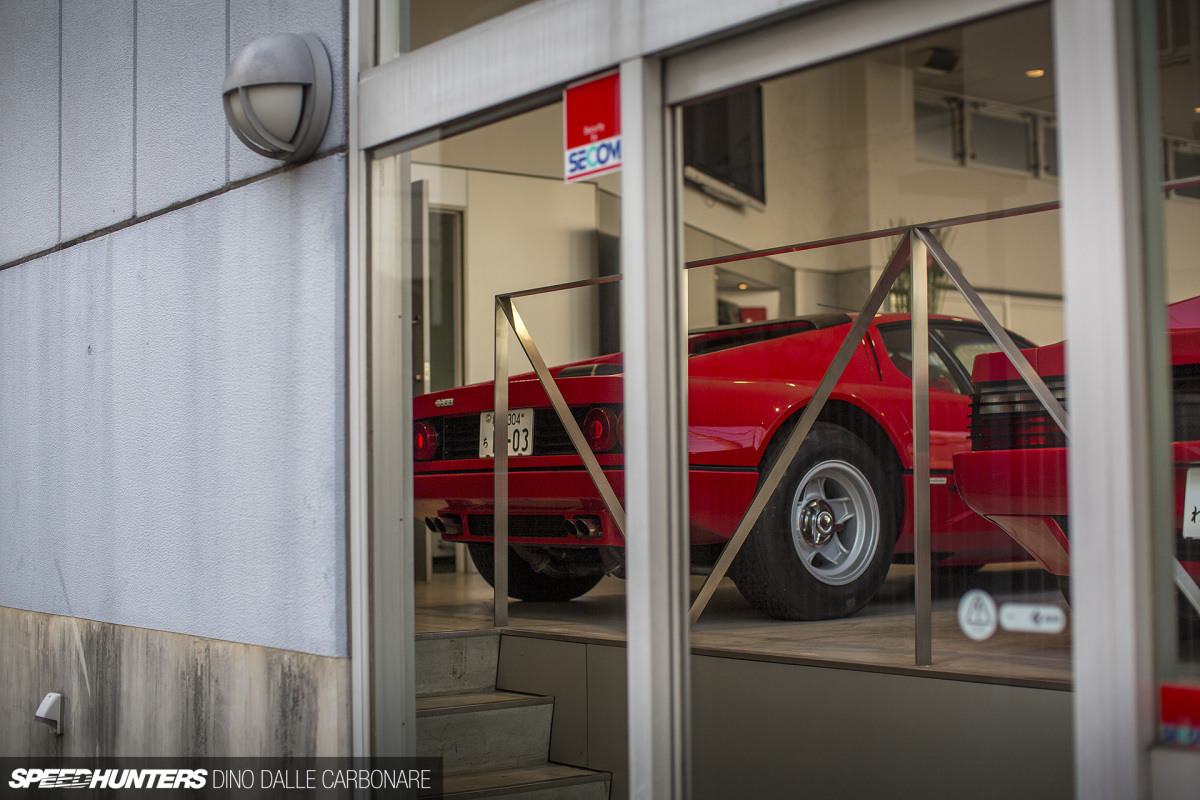 Despite being a place that I regularly drive by, it's actually located on a faster stretch of Meguro-dori, which means I usually pass by at speed and have never really had the chance to take a proper look. But this place was more epic than I could ever imagine, starting off with the Ferrari 512BB sitting in the back, somewhat hidden by the more modern assortment of supercars.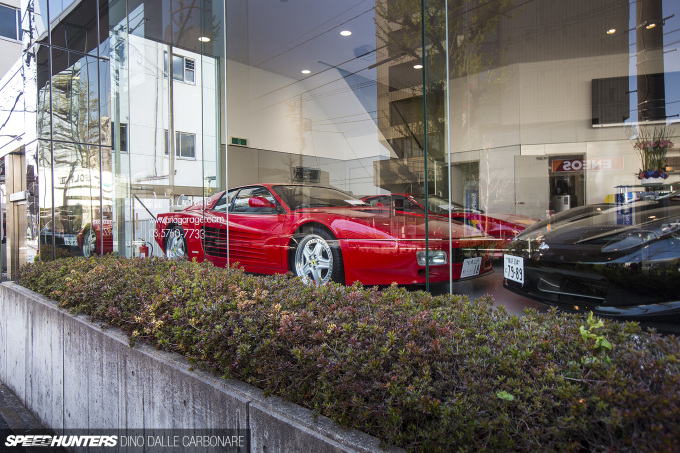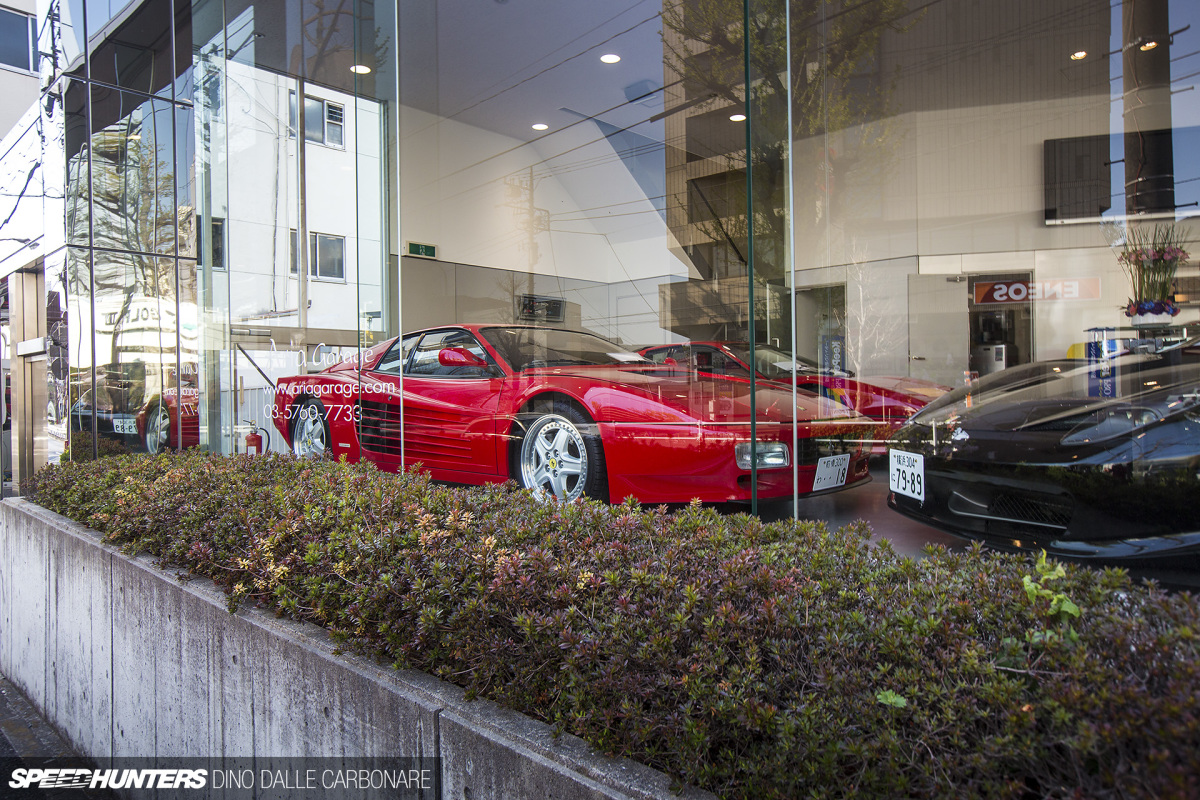 It's hard not to give a nod of approval to the 512TR. Sure, it's not the original Testarossa, but it will do!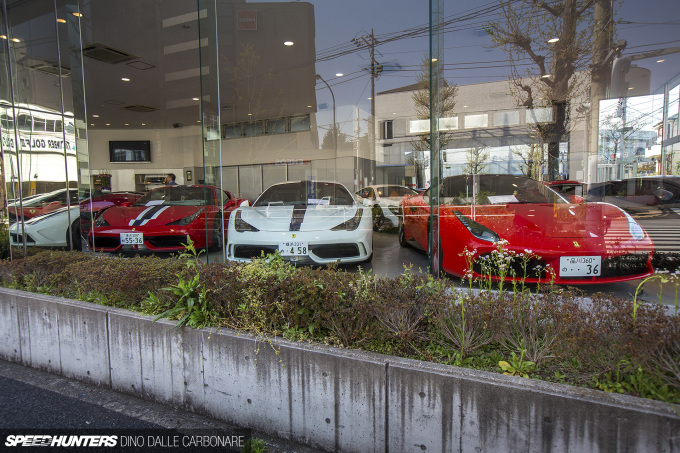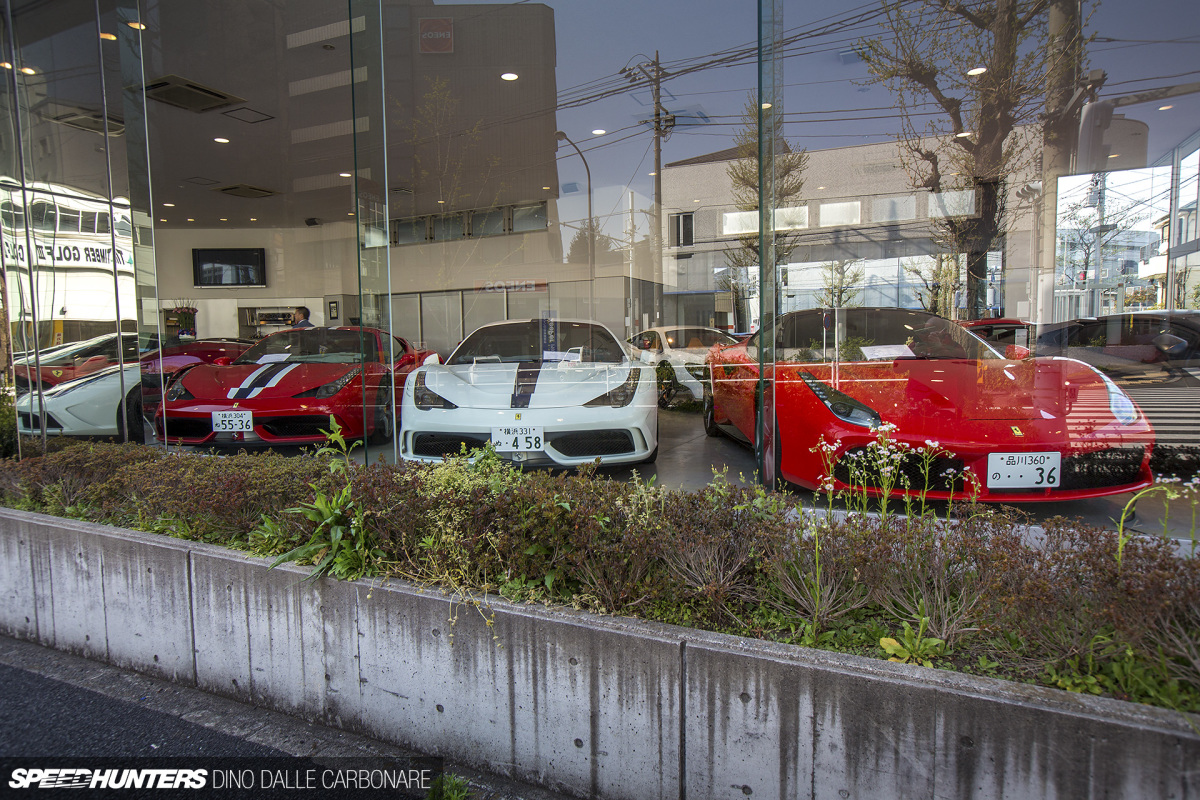 458 Speciale screamer, or new boosted 488 GTB? Now there's a dilemma I'd like to be faced with! I think I would probably go for the GTB as I'd want to see how much you could turn up the boost before breaking something. Plus, I'd be curious to find out what happens if you remove the boost limit in the first few gears.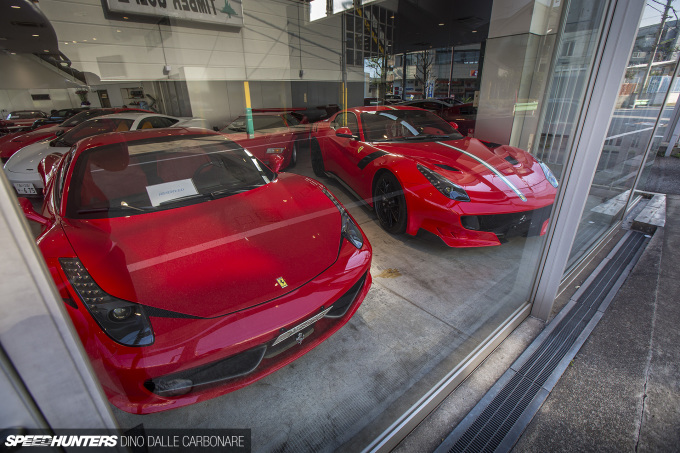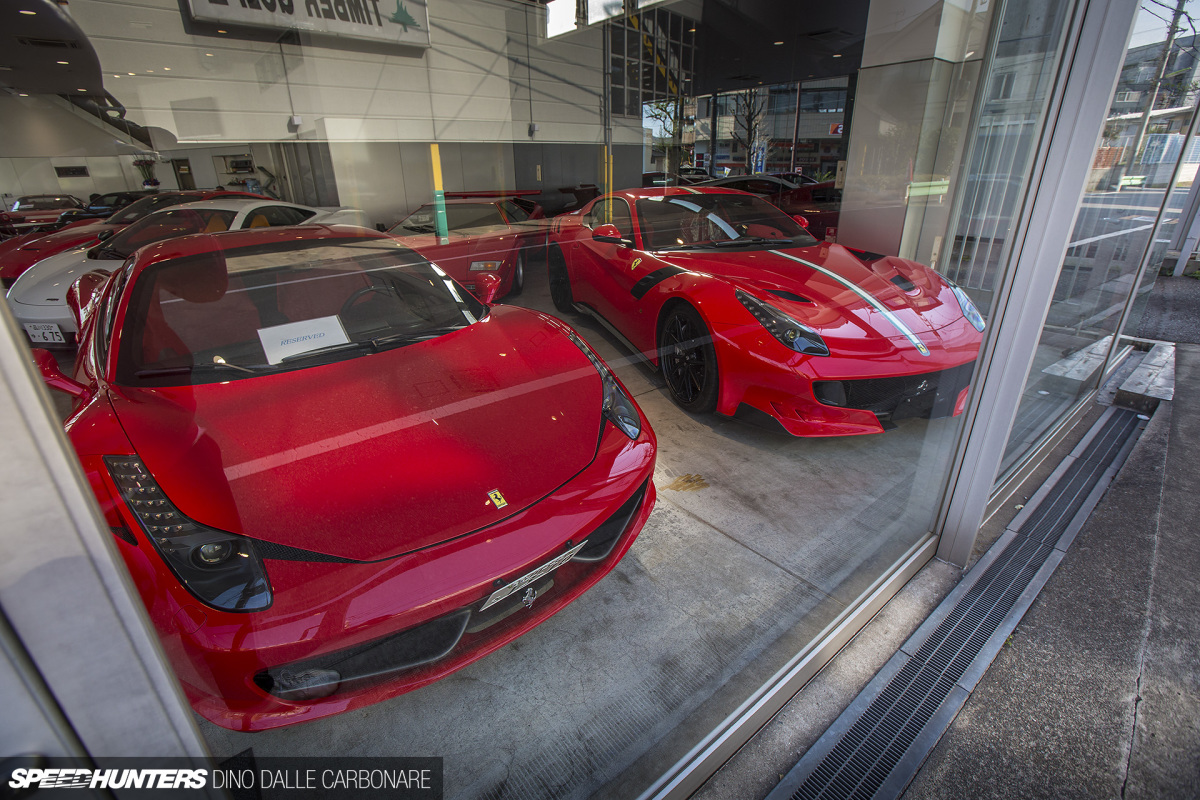 I walked around the side of the building and there it was…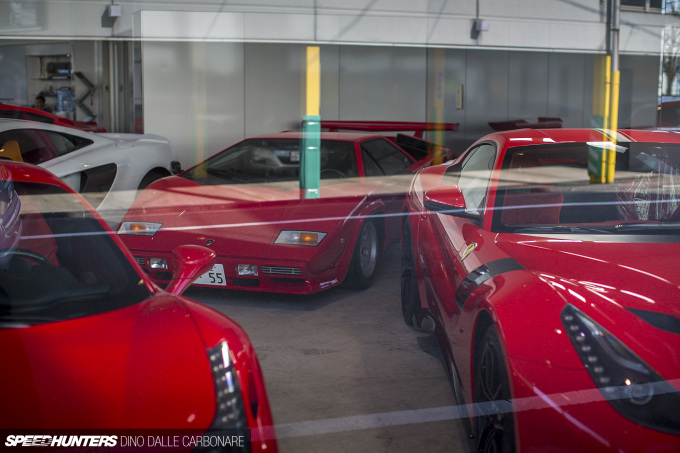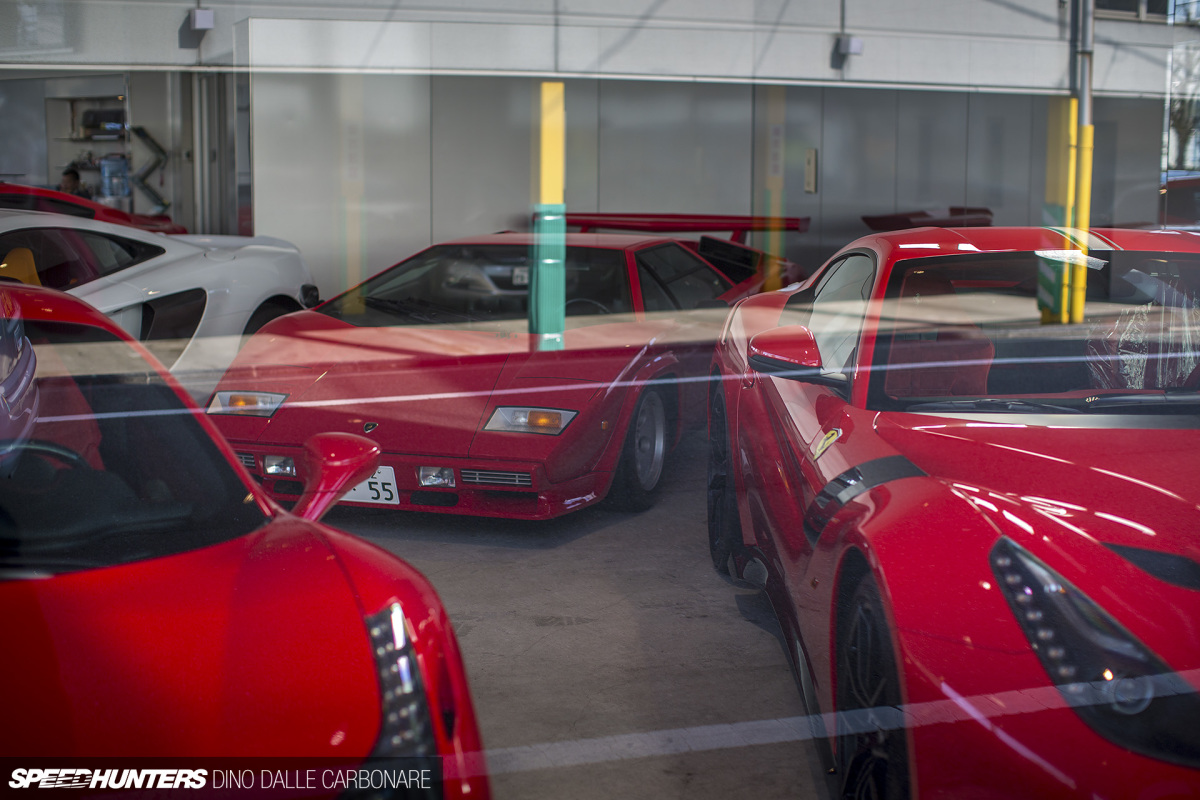 Sitting in the back, a familiar low and angular shape, the unmistakable lines of a Lamborghini Countach. After so many years, it's still a thing of absolute beauty.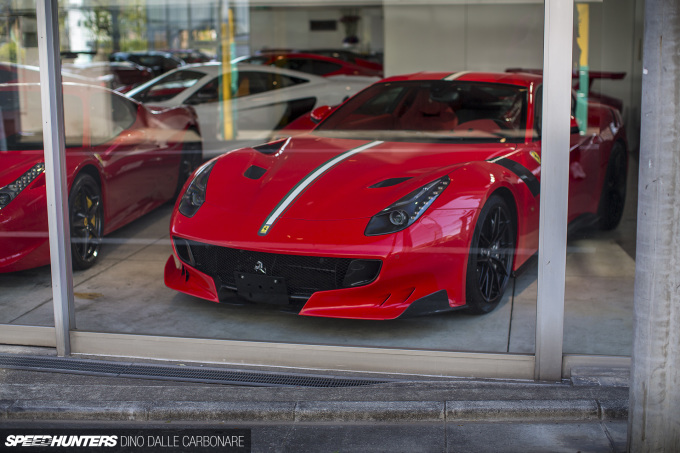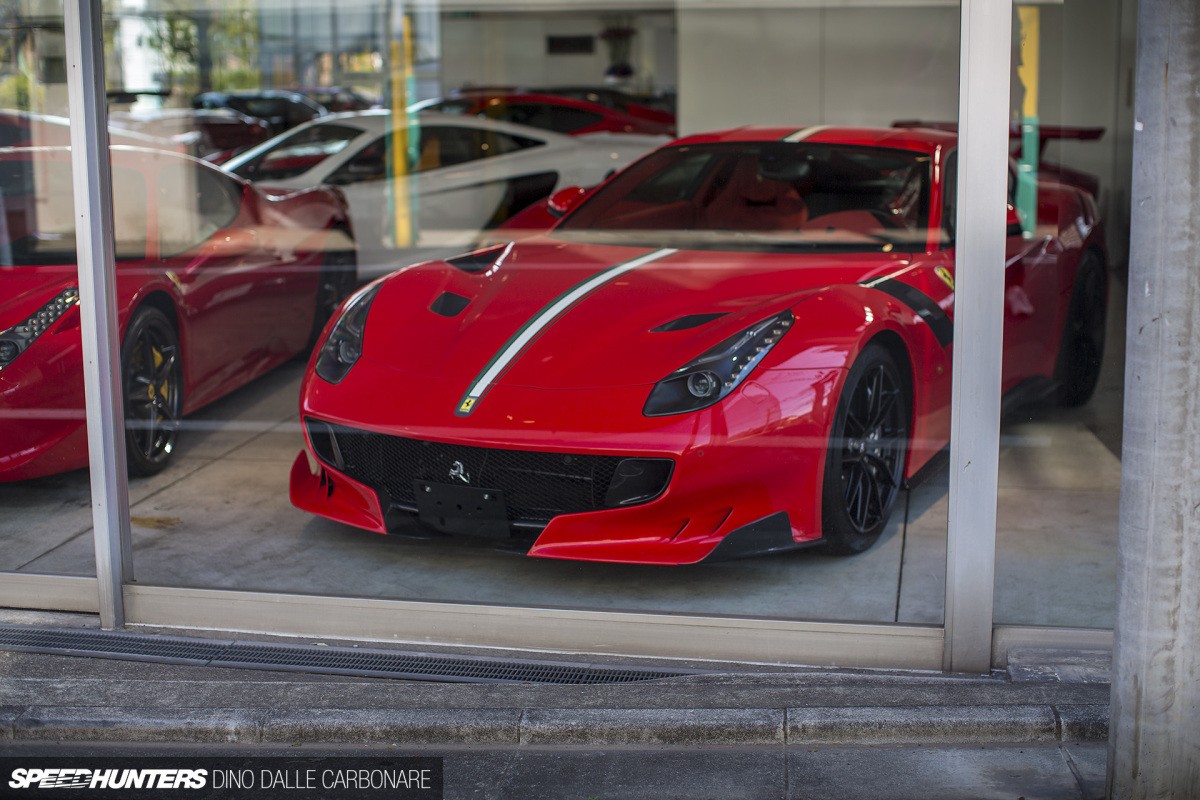 It would, however, be the F12 TDF that I would take home with me. Too much power, rear-wheel drive, and it looks like a Japanese tuner was let loose on a top-of-the-line Ferrari. What's not to like?!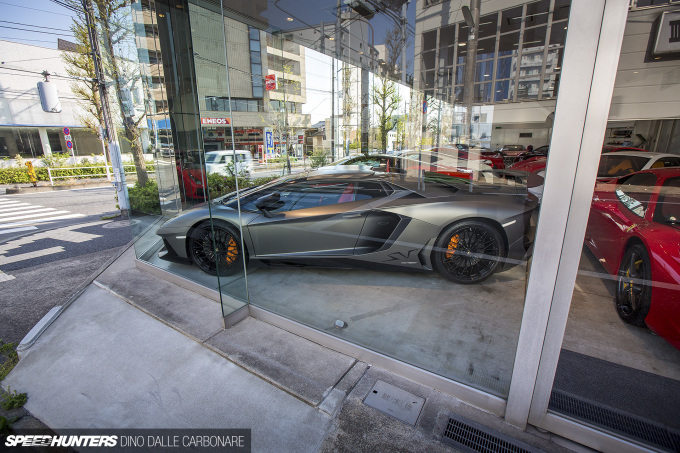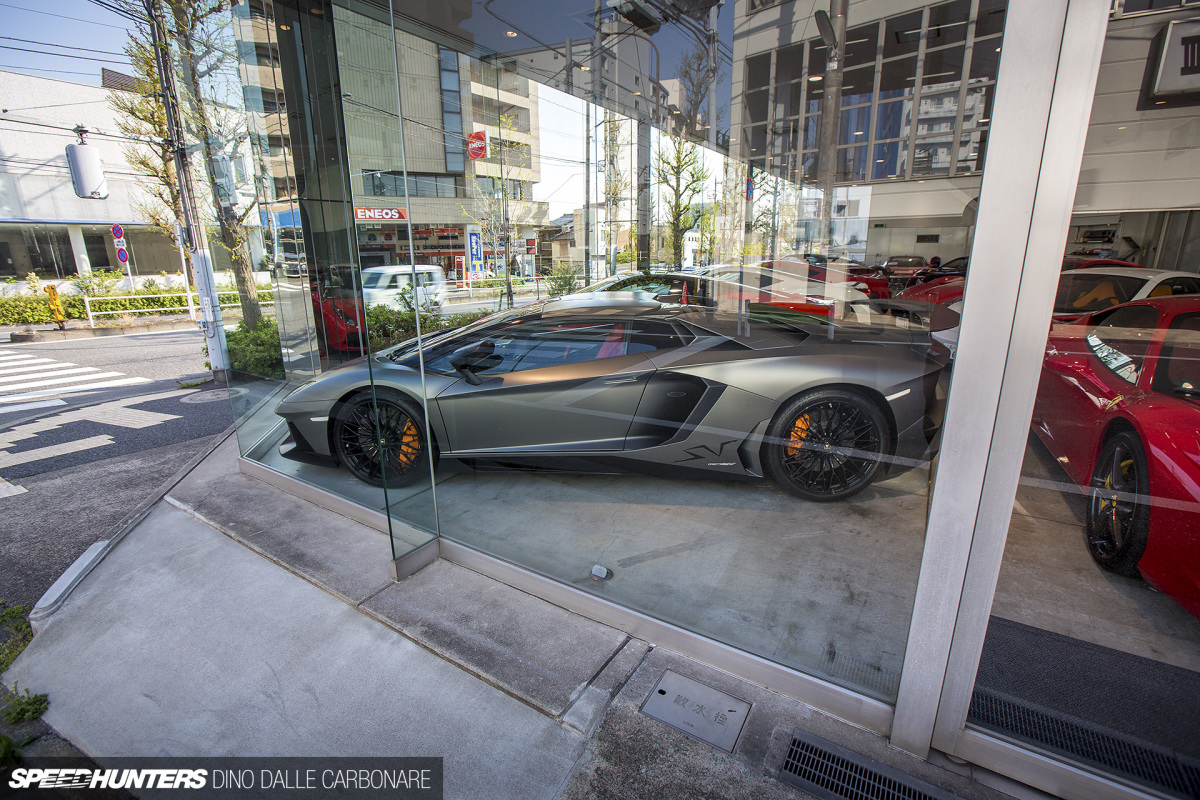 The most expensive car in the shop, selling for 67 million JPY, ($615,000 US) was this barely run-in Aventador Roadster SV. I hope someone buys this quick and abuses it like it's meant to be abused!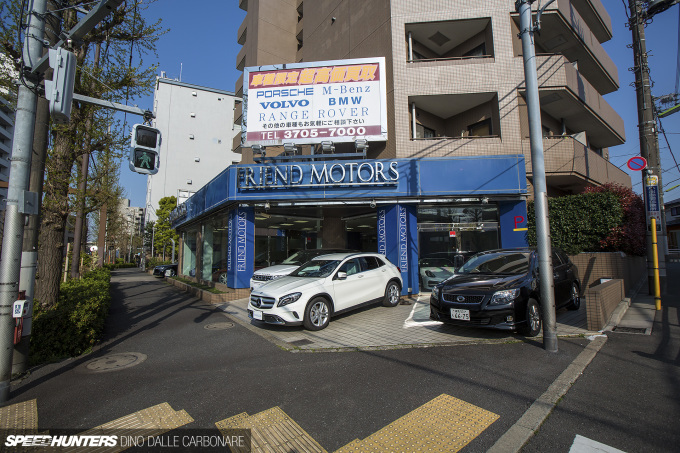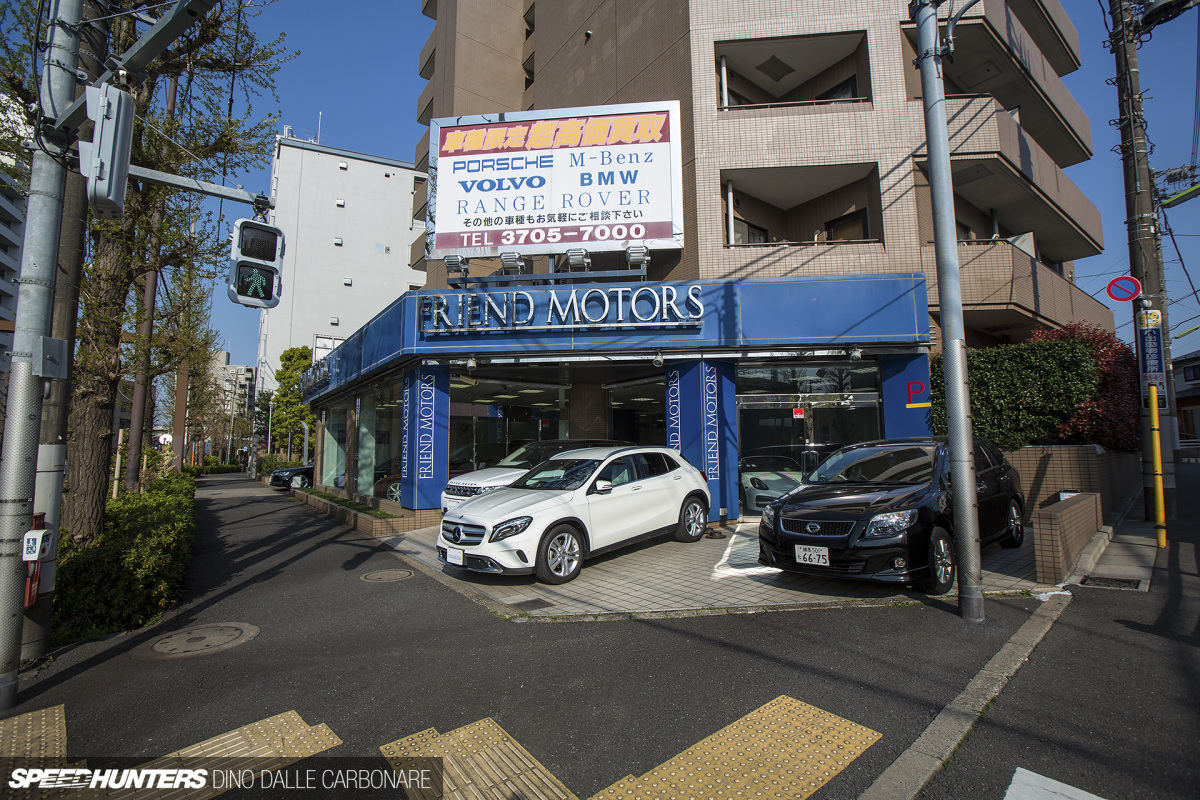 Right across the road is Friend Motors, your, err… friendly neighbourhood car dealership.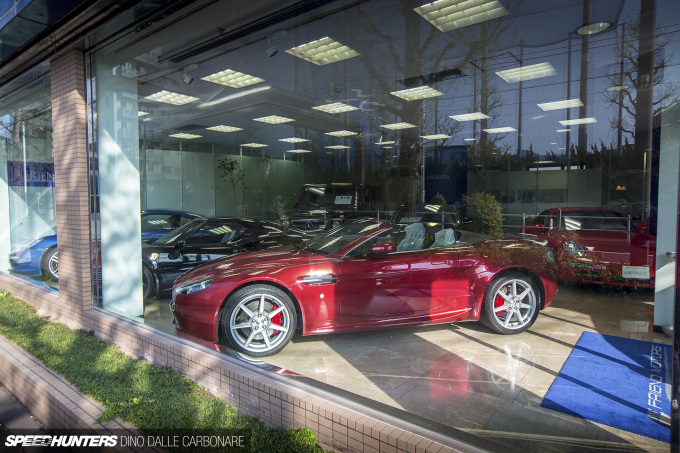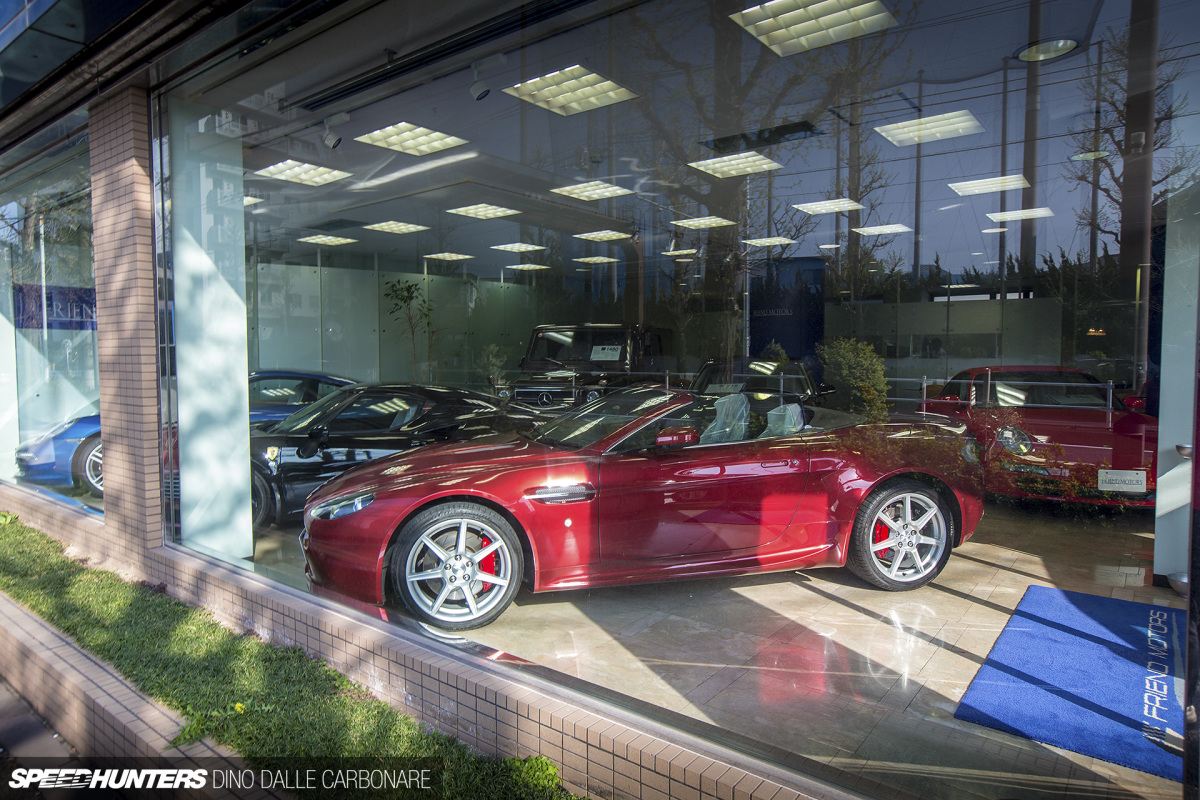 This shop usually has more conventional cars, but all imports obviously. Because they're what's cool to be seen driving around in, in the center of Tokyo.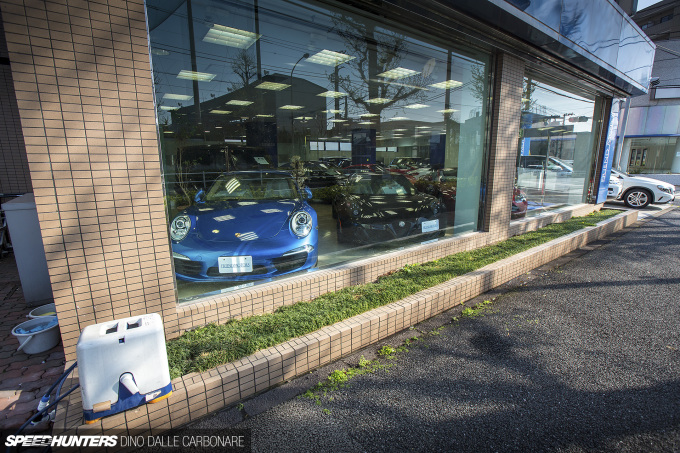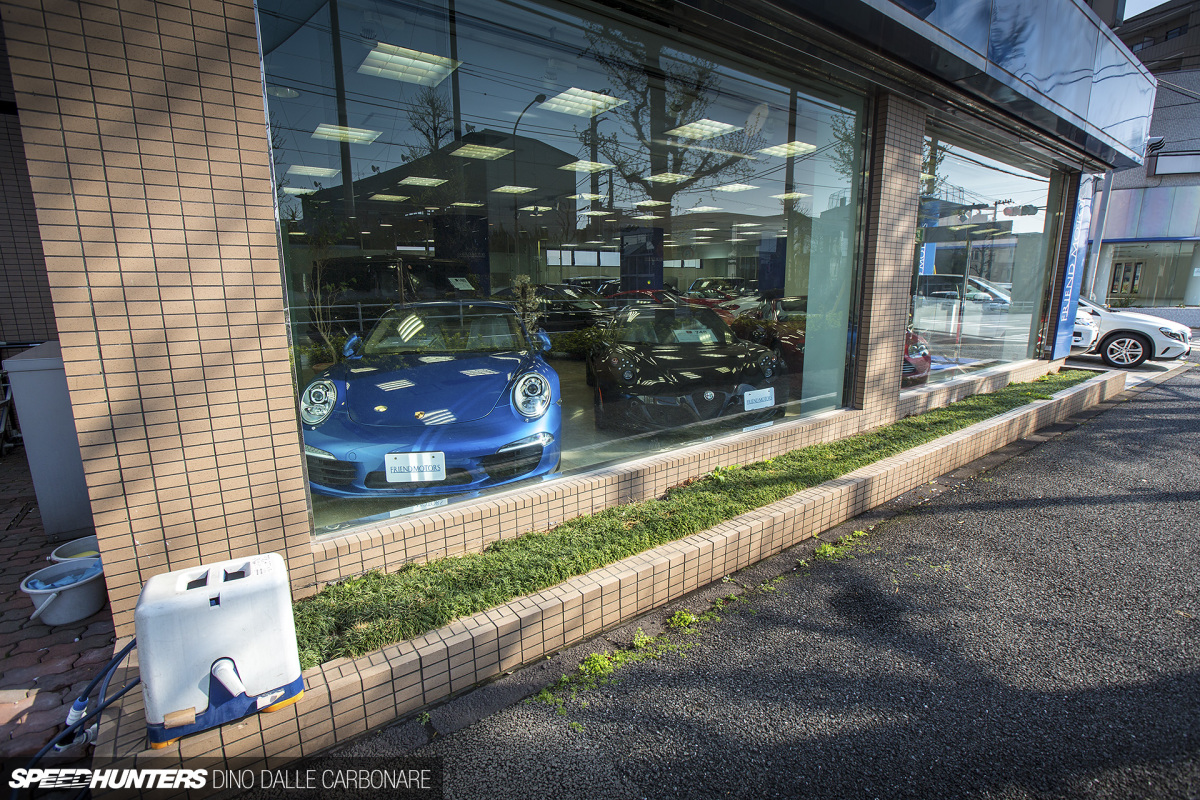 Aside from the Mercedes-AMG G63 in the back of the shop it was the cool little black Alfa Romeo 4C that was the pick of the bunch for me.
I'll end the first part of this Meguro-dori exploration right here, but stay tuned for more!
Dino Dalle Carbonare
Instagram: speedhunters_dino
dino@speedhunters.com