Welcome To Kobe 
I was recently fortunate enough to spend a crazy three months living in Japan, which – I'm not going to lie – was absolutely amazing. Although I spent most of that time in and around Tokyo, I did get the chance to get out and do a three-day road trip. One of the stops on my schedule was a nostalgic car meeting in Shiga, and the other was the city of Osaka.
I hadn't planned to do any Speedhunting in Osaka; instead I had my heart set on chilling out in the city and eating some delicious local-style okonomiyaki. But that was before I had a chat with my friend Matsutani-san, who came up with an ingenious idea: why not do all of those things in one evening?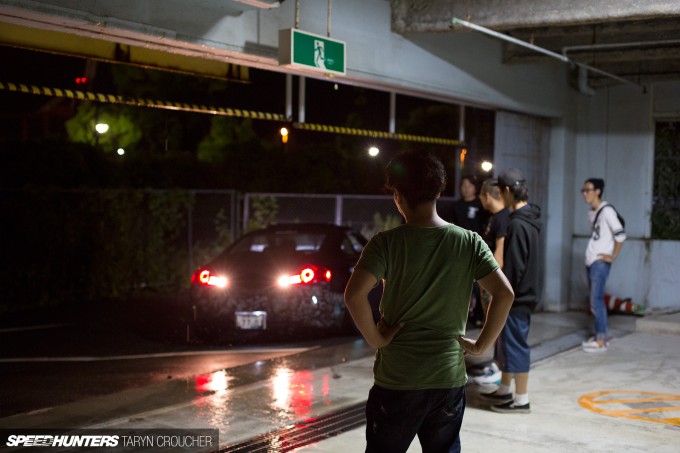 Messages were exchanged, and before long we'd come up with a plan together. That evening Matsutani-san would pick Pedey and I up from our hotel, we'd head out for dinner and then drive out to Kobe, half-hour-or-so west of Osaka, for an impromptu car meet with some local car enthusiasts. Just for the record, we did end up having one of the most delicious Japanese meals I've ever eaten, but seeing as this is Speedhunters and not Foodhunters, I'll just be reporting on the actual car-related activities that went down on the night.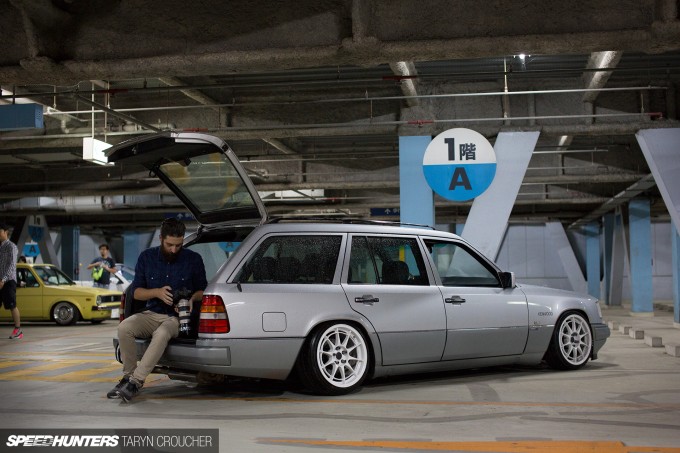 It was around 9:00pm on a Friday as we drove along the glittering Bayshore Route with its network of bridges crossing various artificial islands in Osaka Bay, until we reached an industrial area on Rokkō Island in Kobe. Eventually we pulled into the bottom level of a completely vacant parking lot, where we chose a spot and waited for the cars to arrive. This Mercedes-Benz W124 wagon is Matsutani-san's daily driver, which sits nice and low on white Enkei NT03 wheels providing a cool contrast against the silver two-tone body.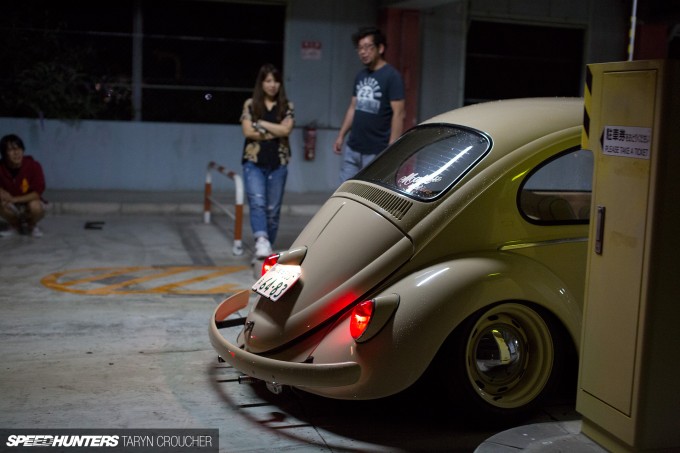 The nature of the meet-up was pretty informal, and I was really excited to be able to meet some local people and attempt to say hello and check out their cars. My Japanese skills are still at the very beginner scale of things, but from what I could understand, the mix of modified cars attending would be fairly diverse.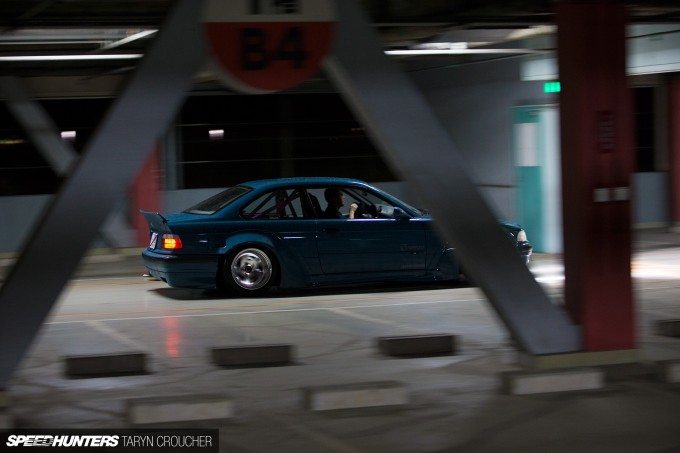 I did know, however, that Matsutani-san's taste in cars was a bit more European-orientated, so I assumed that most of his friends' tastes would be the same.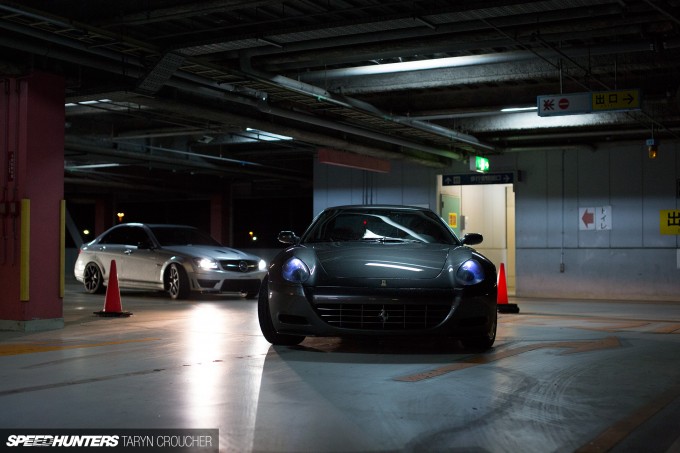 My assumptions were pretty spot on, and before long some really cool European cars started to roll in.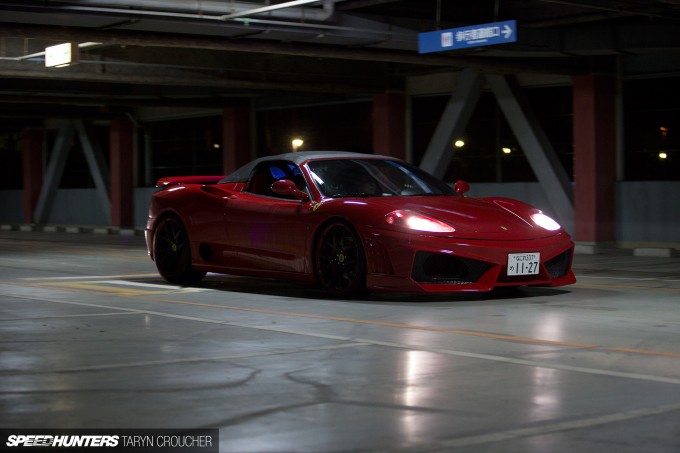 With the majority of the carpark being poorly lit, I could hear the cars coming before I could see them, although the high-pitched V8 scream from this modified Ferrari F360 Spider could be heard from a mile away. I much prefer the angular look of the Lamborghini-inspired Super Veloce Racing front bumper as opposed to the rounded factory front-end.
The sound of revving engines bounced off the concrete walls and echoed through the building and into the dark night, but then it went quiet.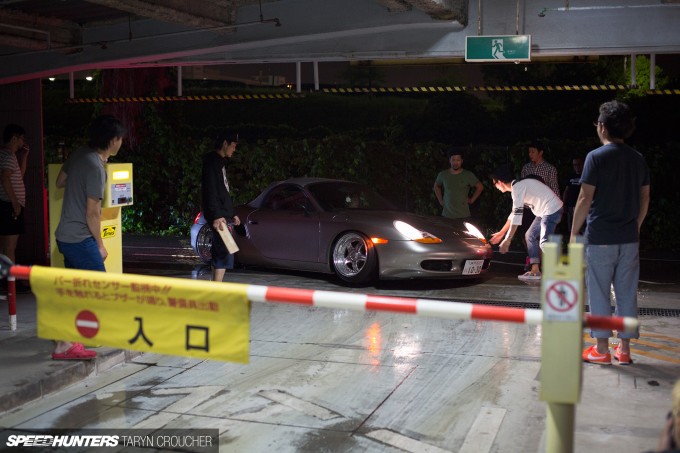 We walked down to check out what was happening and were met by this sight… There was a blockage at the entrance of the carpark as a group of crazy-low cars had turned up and were all making a scene as they each took turns to get beached on the concrete entrance. We joined along with the others in laughter as a bunch of people had to basically surround and physically lift this Porsche inside. More questionable techniques were employed over the next few minutes as we watched a Volkswagen Caddy attempt to take the slight bump at high speed and nearly crash into the barrier arm, while some owners chose to reverse their cars in.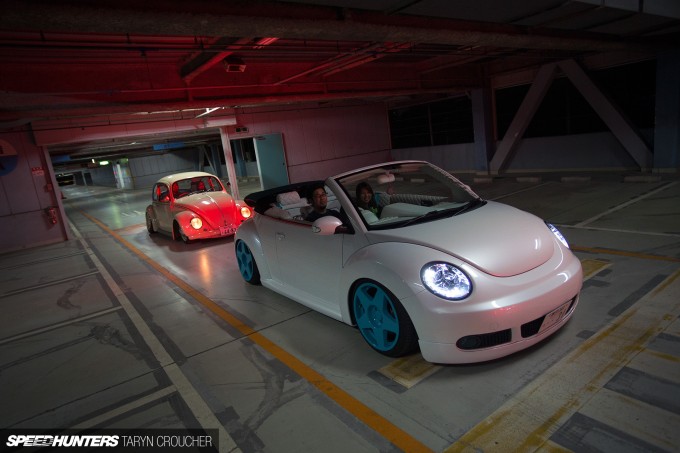 These two couples rocked up in a Beetle convoy; both cars were representing very different styles which I thought was pretty cool.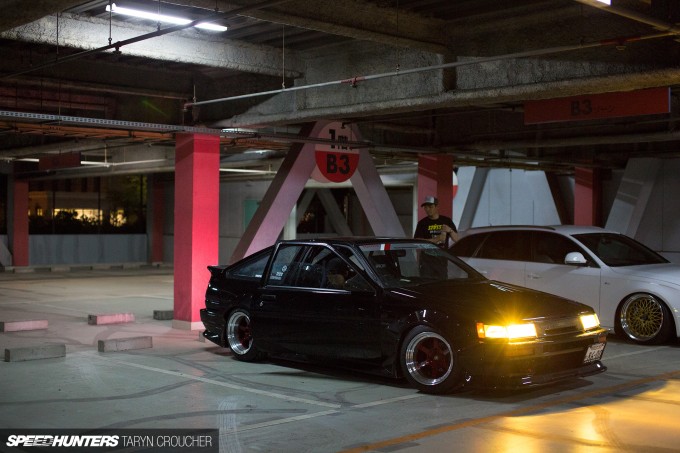 This particular evening happened to be when I first bumped into Ikeda-san, the owner of this awesome AE86, which Dino recently featured here on Speedhunters. This was a particularly difficult car to shoot with the parking lot's poor lighting, but you can see that this was before Ikeda-san applied all of the silver stickers the Toyota currently wears.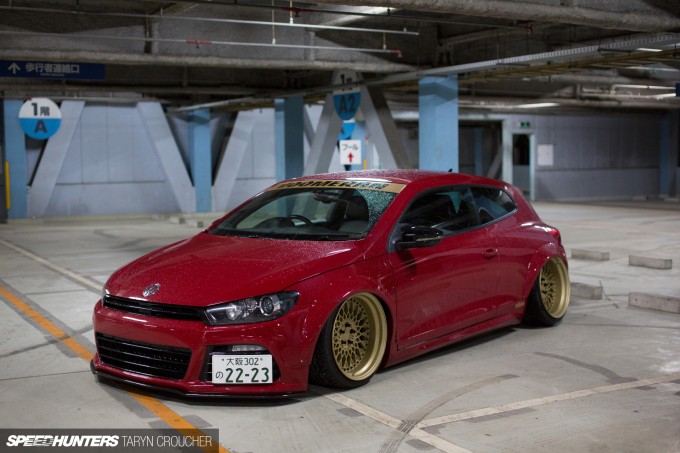 I also had the pleasure of meeting Hirooka-san from Euro Magic, who I'd already heard a lot about thanks to his very popular Voomeran Mk2 Golf build. Hirooka-san brought along this Volkswagen Scirocco which was siting on a set of deep, matte gold Rotiform LHR wheels. It also showcases some neat Voomeran-branded parts such as the front lip spoiler and fender flare kit. I can't say I'd seen a Scirocco with bolt-on flares before, but it definitely looked cool.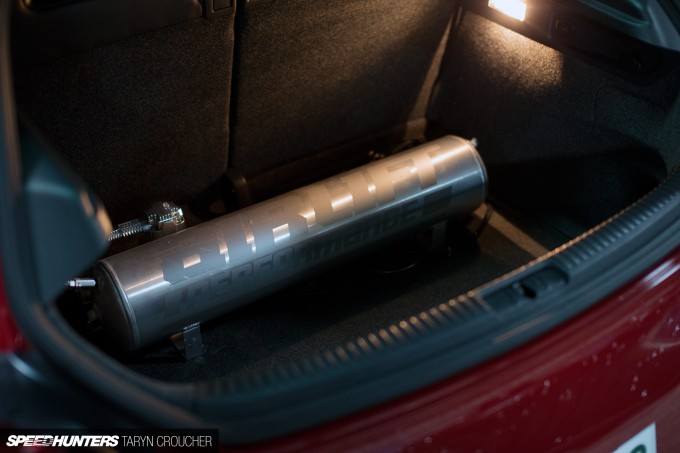 Unlike most of the other cars, the Scirocco has an air suspension system installed, so Hirooka-san didn't have to worry about earning any battle scars underneath the Volkswagen's chassis upon entry to the parking building.
Low Cars, High Standards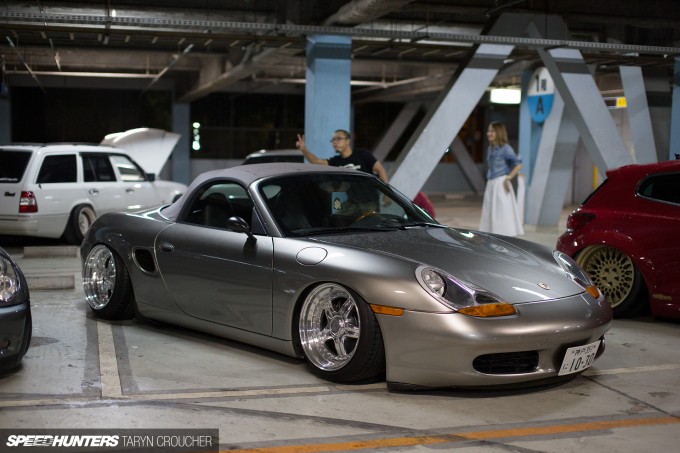 Next to the Scirocco was the Porsche 986 Boxster I'd witnessed getting beached earlier. Upon closer inspection, I could gain a serious appreciation for how damn cool this thing looked. The low, wide stance created by the aggressive wheels and drop in ride height really transformed this outdated convertible into something new and fresh. That front lip must be made of adamantium for it to still be hanging in there!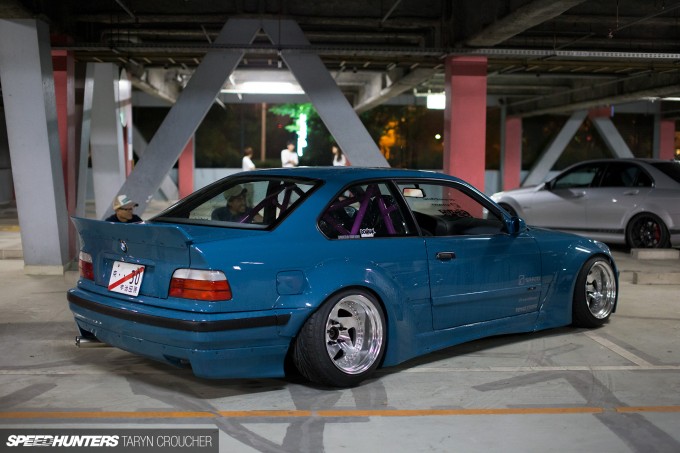 On the other side of the parking lot, I was able to get a better look at this Sarto Racing kitted E36 M3, which I'd also caught a glimpse of earlier. Unfortunately the front splitter was claimed by the parking lot entrance before I could get a shot with it still attached. I'd never seen these wheels before, but I soon learnt that they were Japanese-made Frontline ET01s.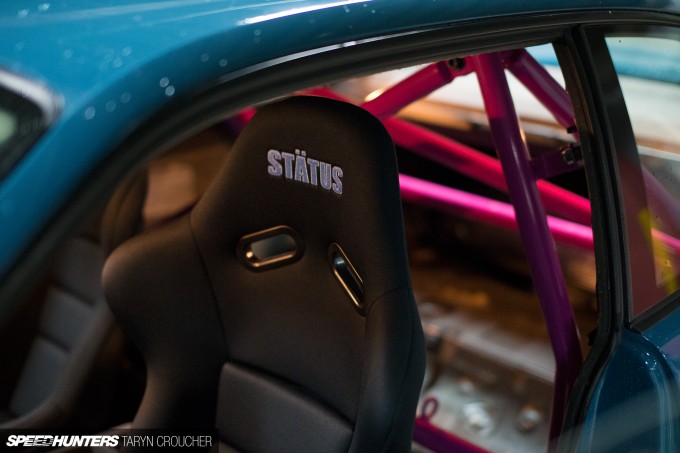 The M3's front and rear seats had been removed, with two bucket seats and a bolt-in half cage taking their place. The hot pink bars certainly made for an interesting contrast against the deep turquoise blue paint.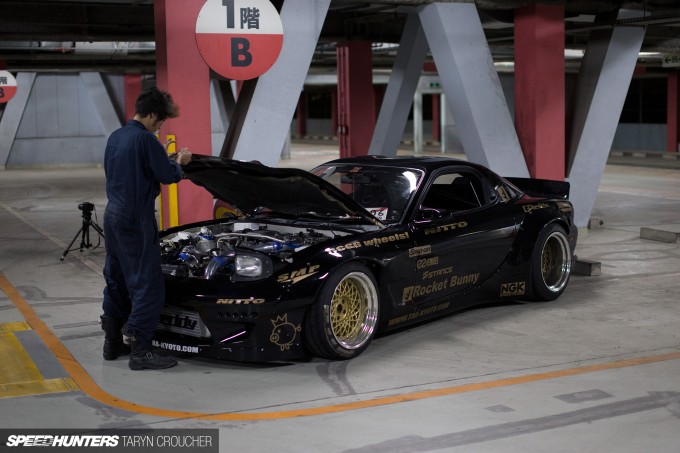 Around the corner, I spotted a very familiar face alongside an even more familiar car. Kei Miura from TRA Kyoto had brought along his well-known Rocket Bunny kitted FD3S RX-7, which looked unbelievably menacing in person and out in the wild. Seeing this car at a show is one thing, but seeing it rolling through a dark carpark at night is just on a whole new level of cool!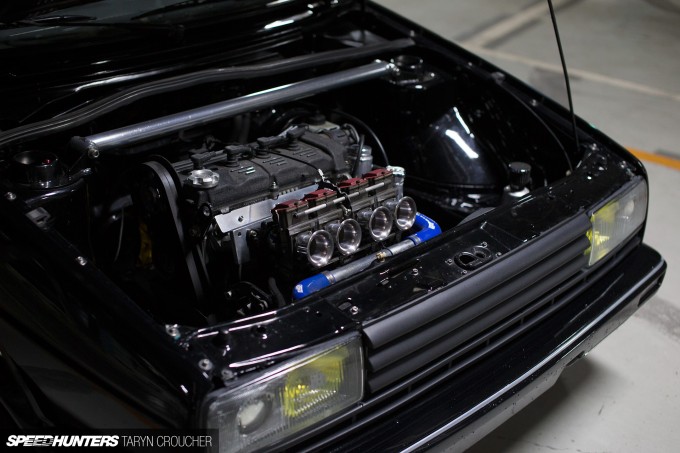 While many of the cars were mainly style-orientated (apart from having very noisy exhausts, which is a must-have with modified cars in Japan!), a peek under the hood of this extremely loud, raspy-sounding Mk2 Golf revealed a tuned engine running motorcycle carbs, which sounded fantastic. Note the headlight conversion too; these lights originally featured on the European-only Golf MK2 Rallye homologation special rally car, which was 4WD and came with big boxy guards.
I managed to capture some very average video of it, but still including sound nonetheless!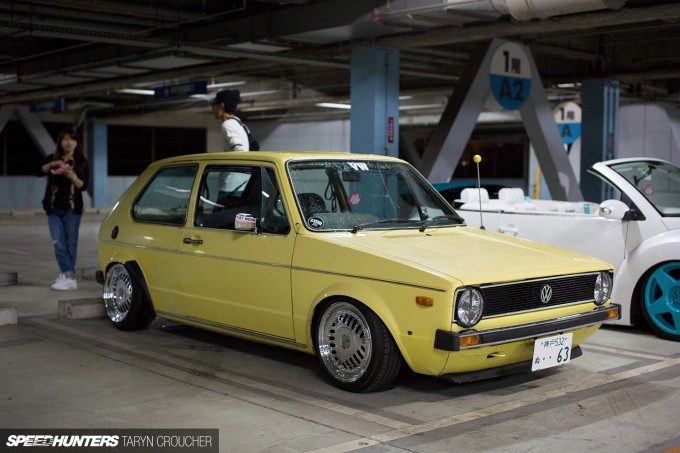 This cheery yellow MK1 Golf  looked to be well cared for, and was tricked-out with some cool Mooneyes accessories. It's definitely weird seeing young people out enjoying these sorts of cars in Japan of all places.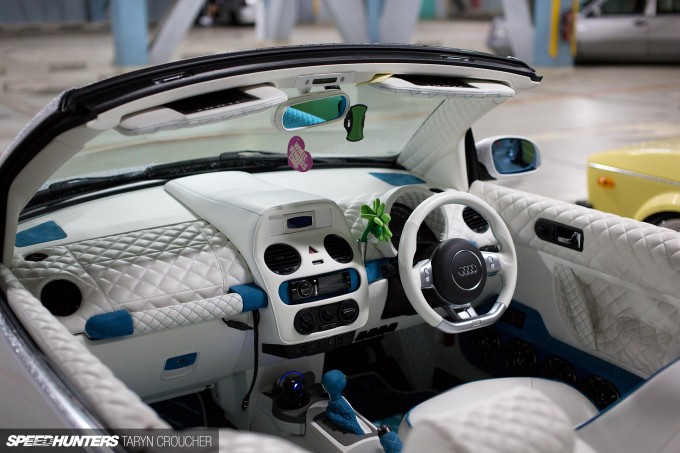 Next to the Golf was the white Beetle I'd spotted earlier, which was sporting an Audi steering wheel and a rather intense quilted leather interior. Customisation really is everything in Japanese car culture.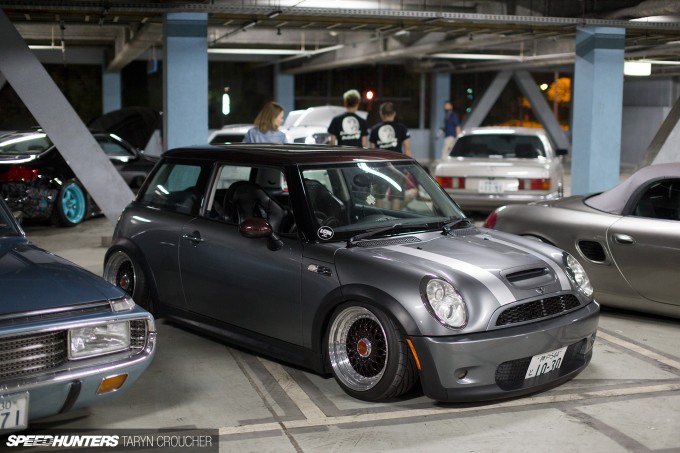 This MINI also had a gorgeous plush interior complete with leather bucket seats, and with the roof, side mirrors and wheel centres painted in an interesting deep reddish-bronze hue.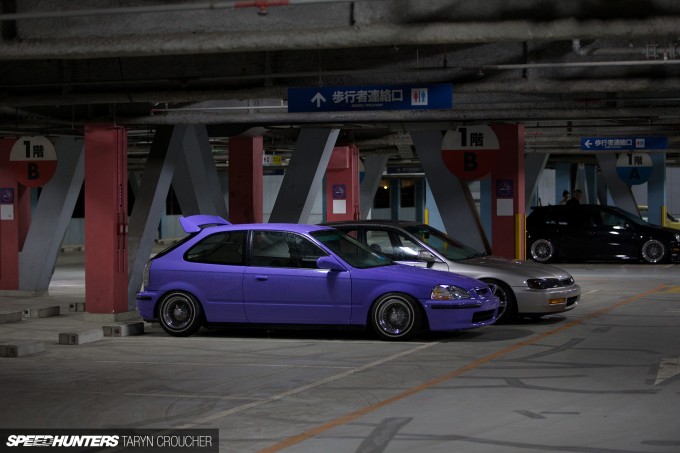 This sort of thing is exactly why I love modified car culture in Japan; everyone just does whatever they want, no matter whether it's something that other people are doing or not. This EK Honda Civic had some crazy style going on with its lowrider-spec 100-spoke wheels. The inside of the car had been fully stripped out too, with just the driver's seat remaining.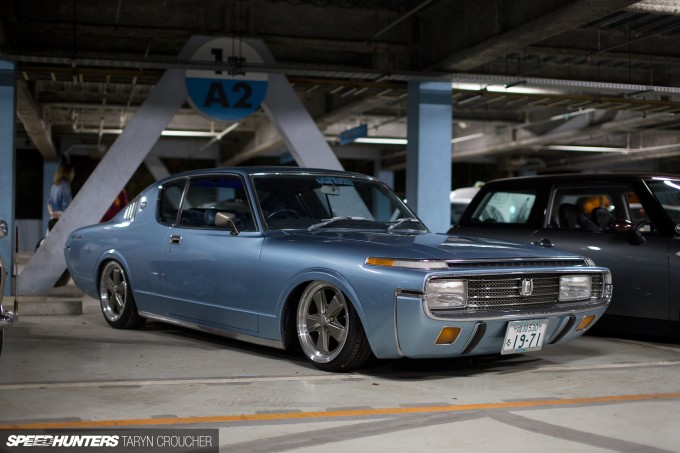 This beautiful Toyota Crown coupé was the cherry on top of what was such a great collection of different cars that showed up on the night. It was really awesome to meet people in such a low-key environment and just chill out and enjoy cars together like this. Even when you can't speak the same language as someone else, it's funny how easy it is to still communicate in 'car talk'.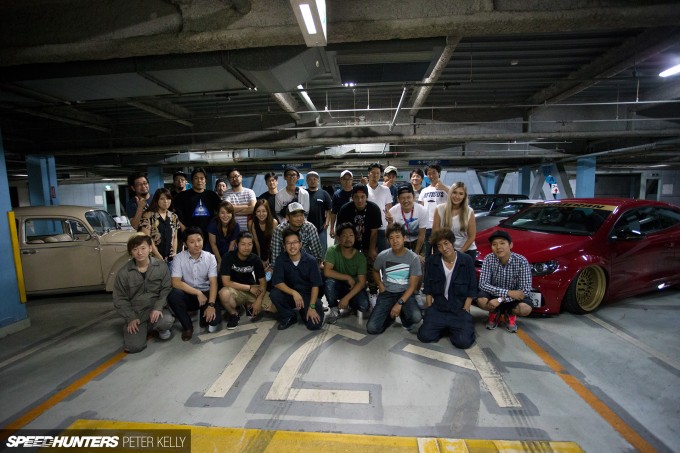 A big thank-you to Shunsuke Matsutani and friends for showing us a great time in Osaka and Kobe. Domo Arigatou Gozaimashita! 
Taryn Croucher
Instagram: taryncroucher
taryn@speedhunters.com
Cutting Room Floor