The Next Step Is Here
You may recall that I was more than a little impressed at the quality of some of the cars on show at Offset Kings Japan last month. The Unavoidable Progression post that I did as part of my coverage, also reflected something close to my heart. While I may not own an AE86, I can really relate to the Hachiroku owners that I talked about in the story.
Feeling comfortable with your choice of car is massively liberating. You don't question yourself over and over again, and you feel pride, even if the car's been sitting on your driveway for years upon years. It's a canvas to unleash your own idea of automotive perfection. You improve it along the way and dedicate the sort of time and effort that no sane human could ever comprehend being spent on a hunk of metal on wheels.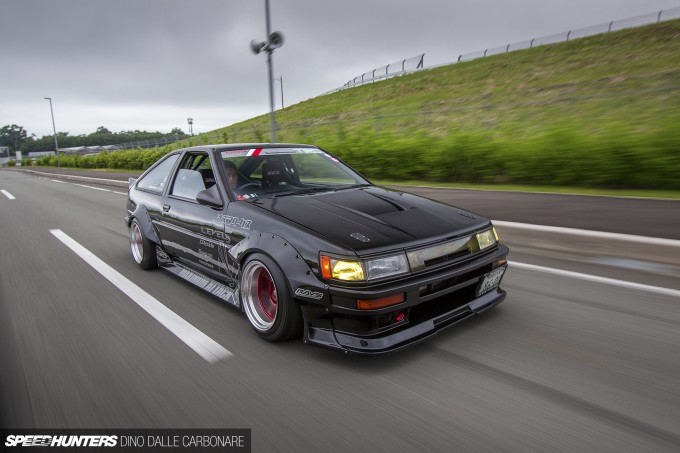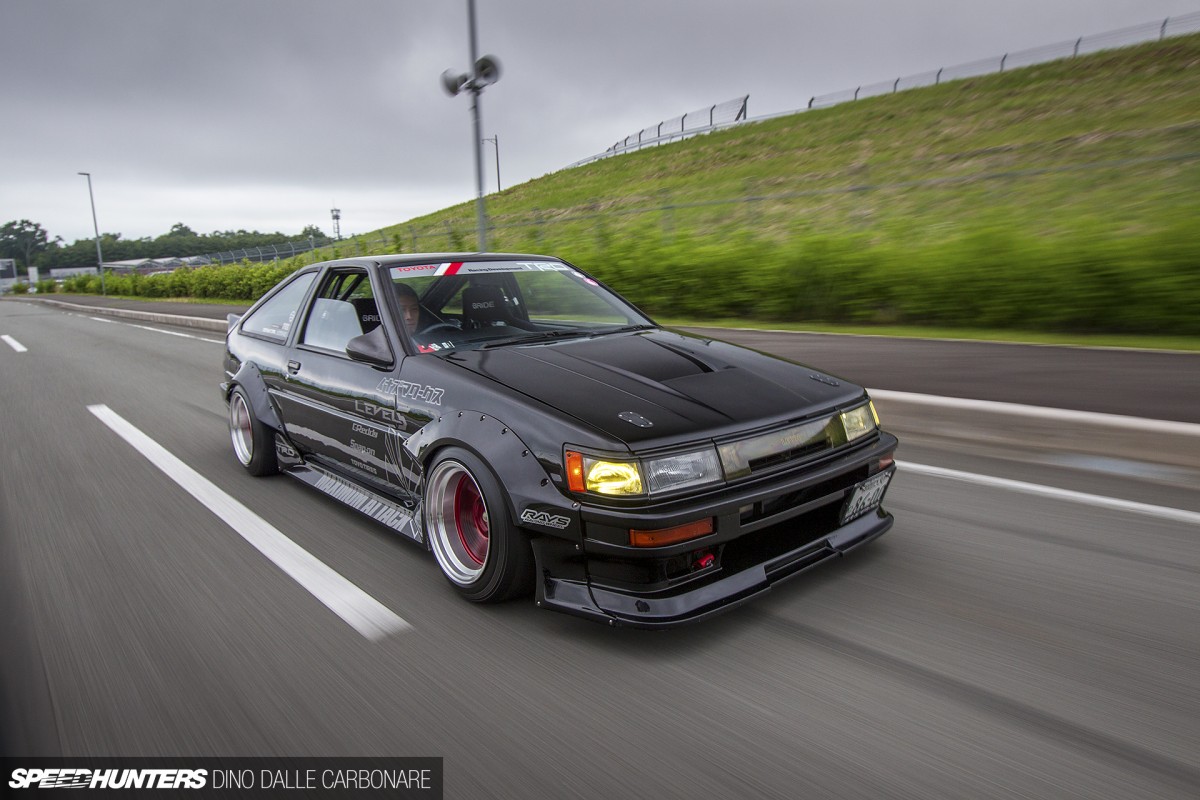 But then again, like myself, Ikeda-san who owns this 1987 AE86 Levin GT-V – our pick for Offset Kings Japan's #FeatureThis award – knows that he's going to be holding onto his ride for many moons to come. Only then does investing more time and money into modifying a car makes sense.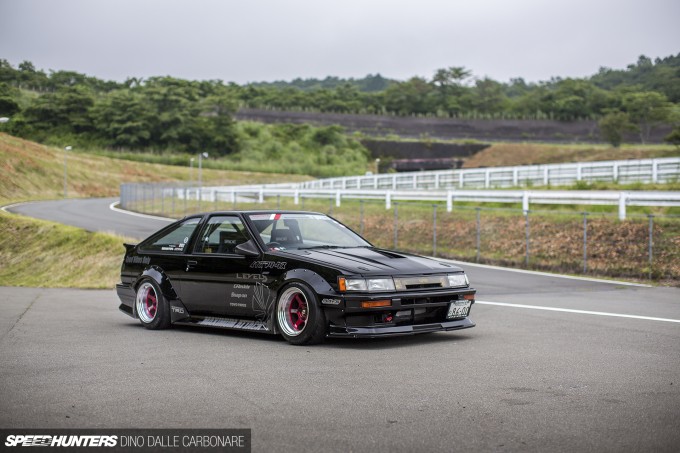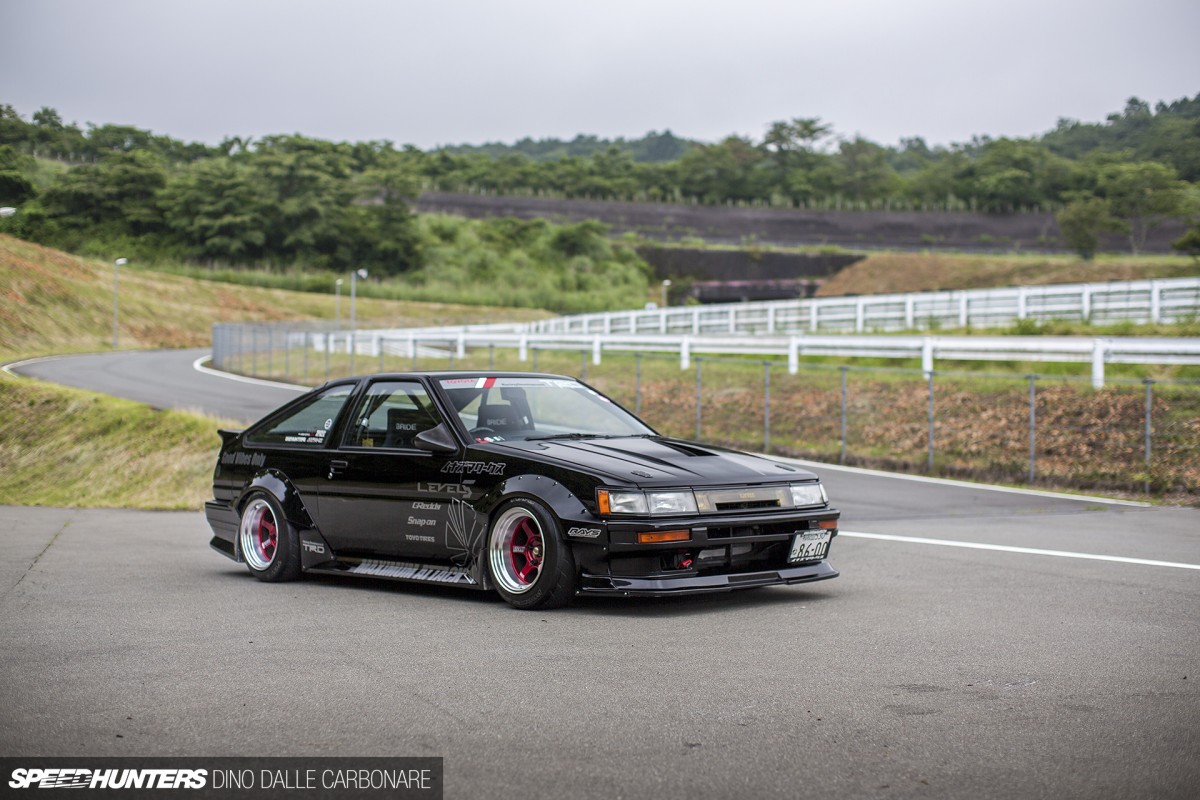 And what Ikeda-san has done with his AE86 is what led us to select it out of all the other cars that were present at the show. His dedication is what impressed us initially, as he had driven all the way up to Fuji Speedway from the lower part of Wakayama-ken.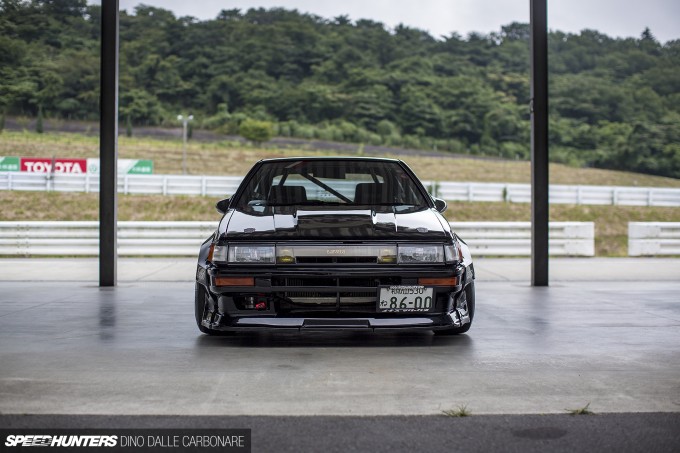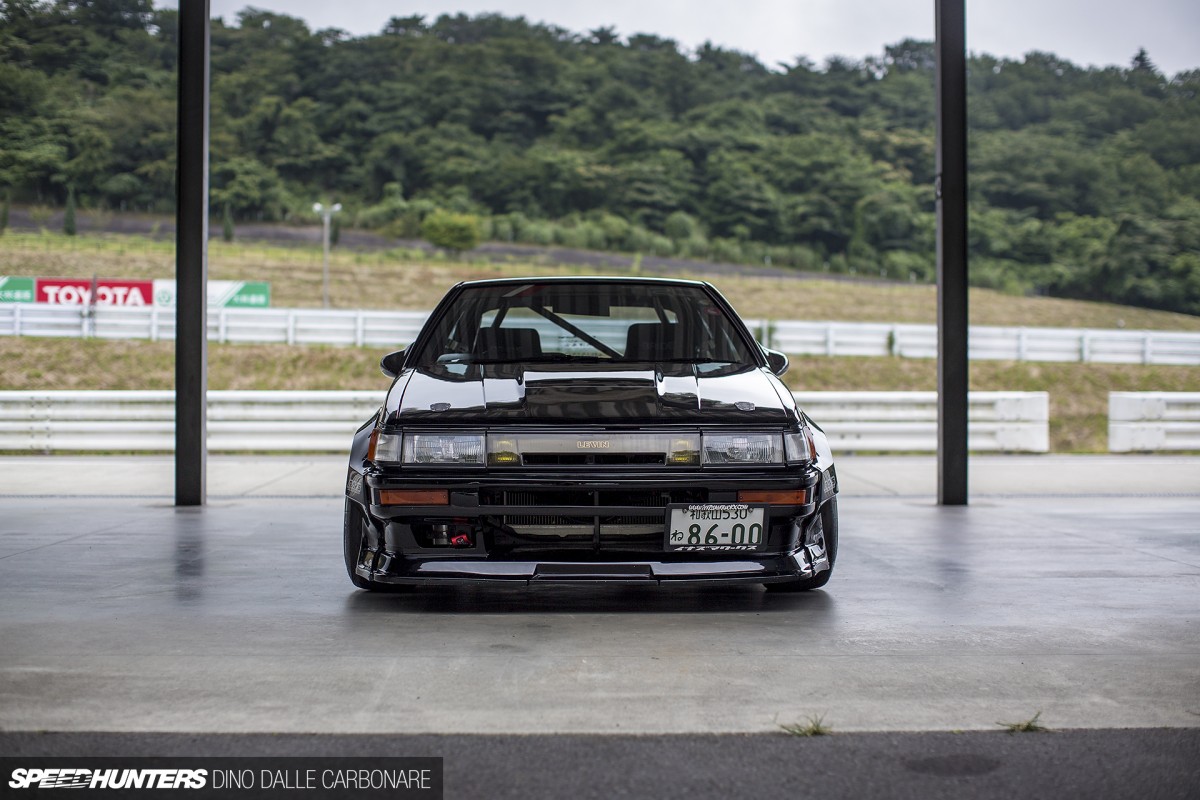 That's a serious drive – a good six to sevens hours – but Ikeda-san had to do it. He owed it to himself, and also to his friends that have helped him along the way.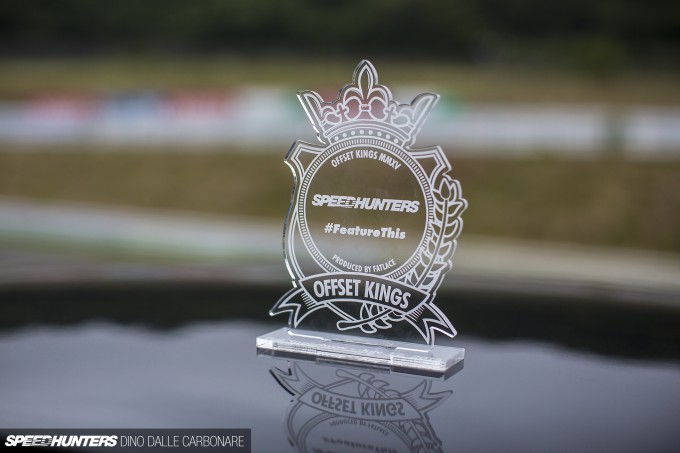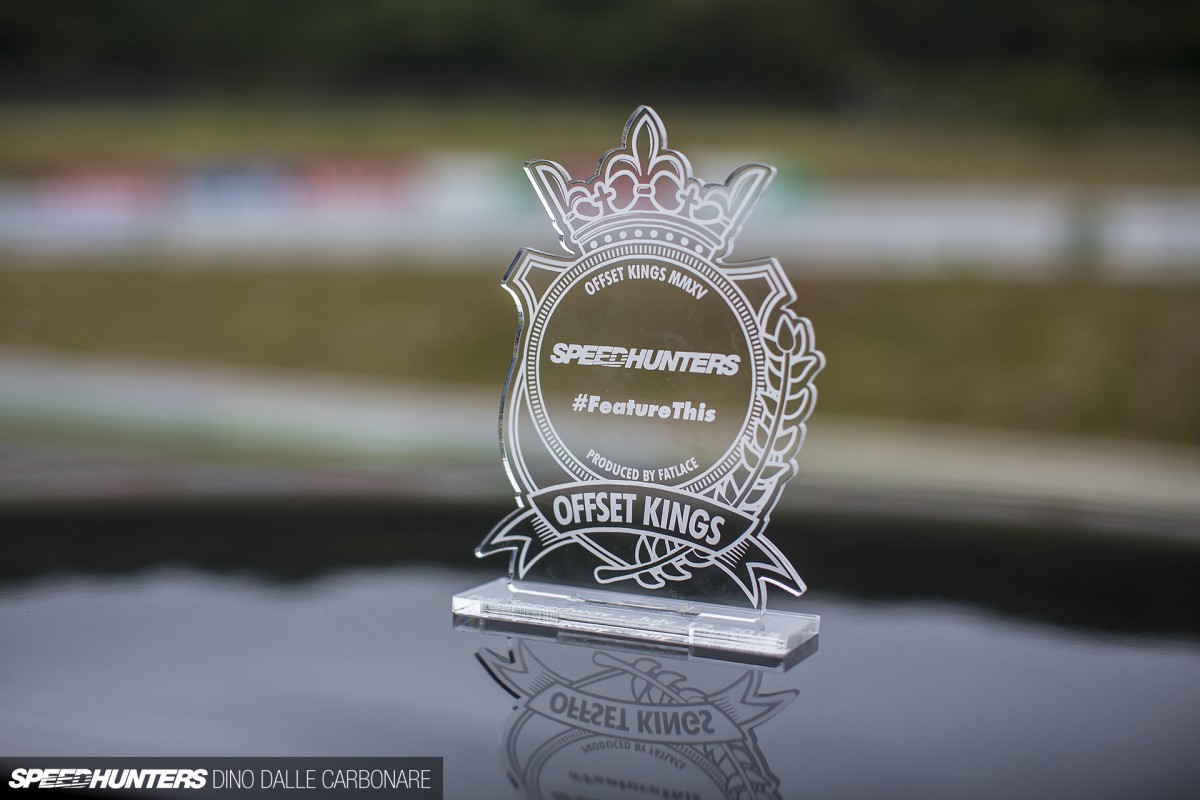 Once the show was over and Ikeda-san had humbly accepted the #FeatureThis award, we quickly got in our cars and headed to the deserted Fuji Short Course. Rather than meeting at a later date I wanted to shoot his car then and there, but at the same time I felt really guilty as I knew he had such a long drive ahead of him to get back home. But Ikeda-san just smiled, telling me that he was a huge Speedhunters fan, and that if needed he would stay till it was completely dark!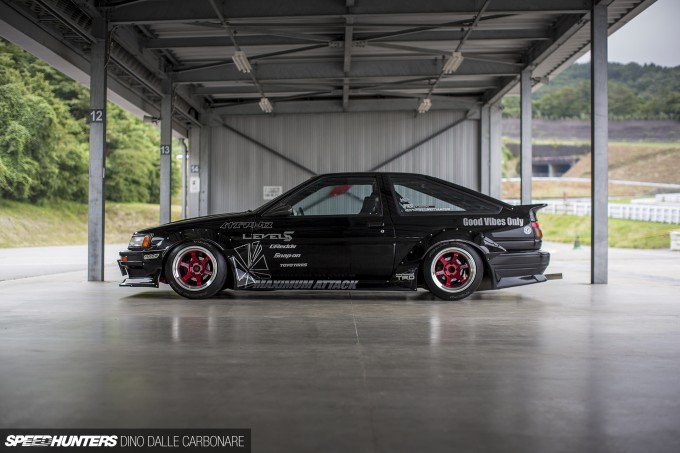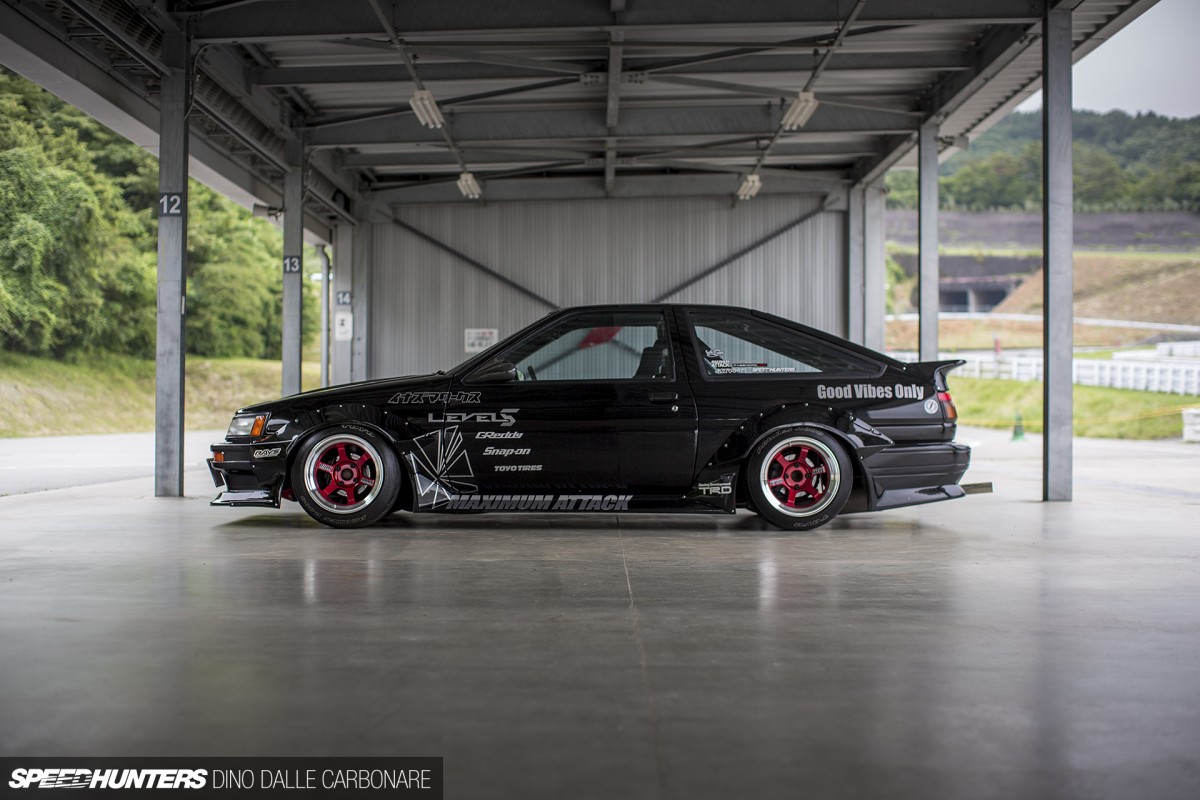 His kindness aside, I had already gathered that Ikeda-san was a fan of the site by the massive #MaximumAttack livery on the side of his car, which looked great in silver against the black paint.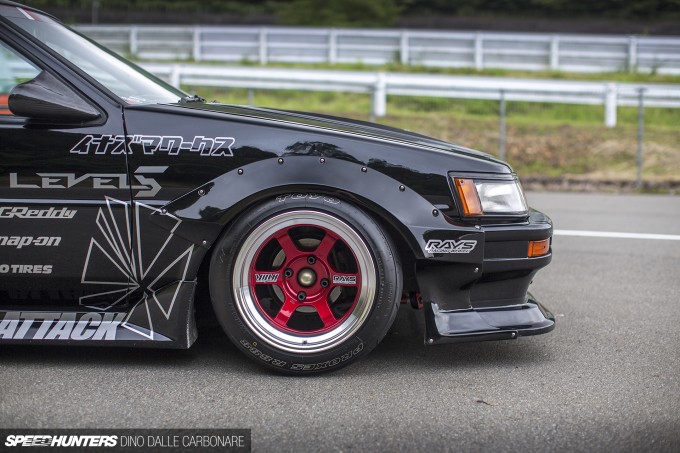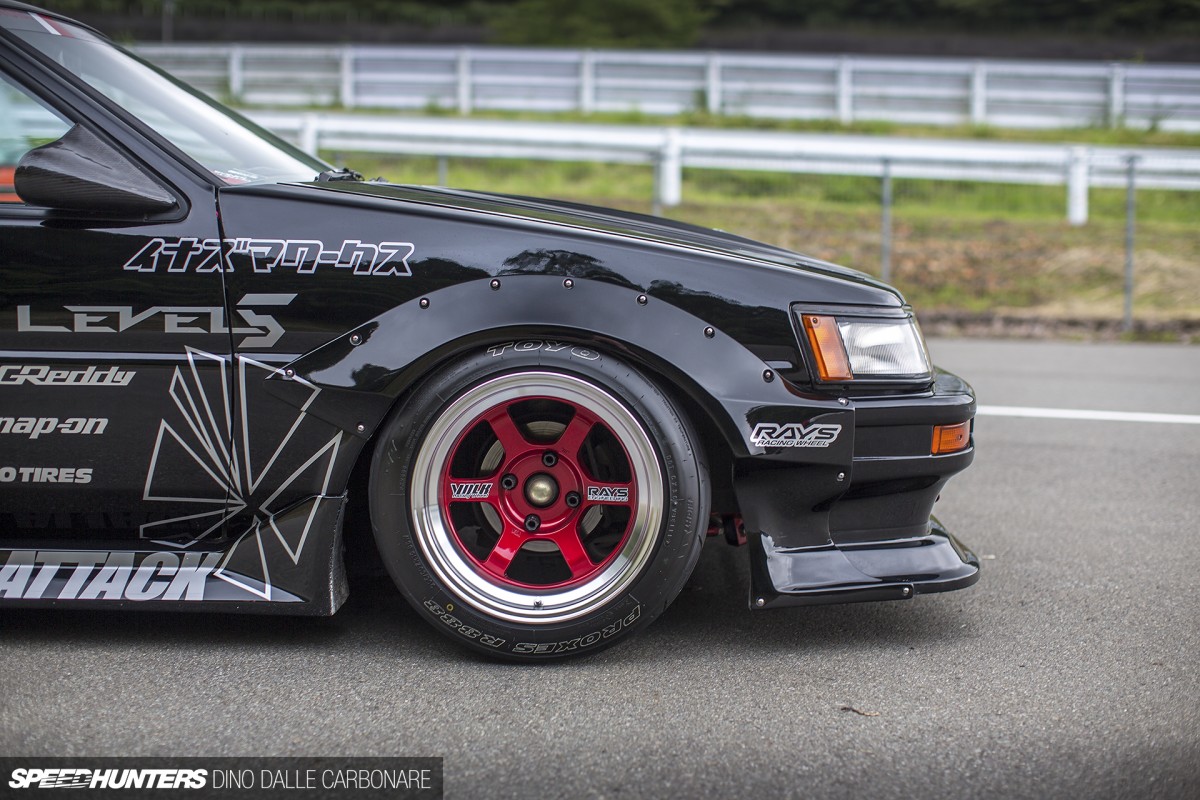 Aesthetically speaking, there are a few details that really make this Hachiroku standout from the masses of modified examples in Japan. For starters, there's the custom-painted RAYS Volk Racing TE37Vs; their candy red centers contrasting beautifully with the polished lips.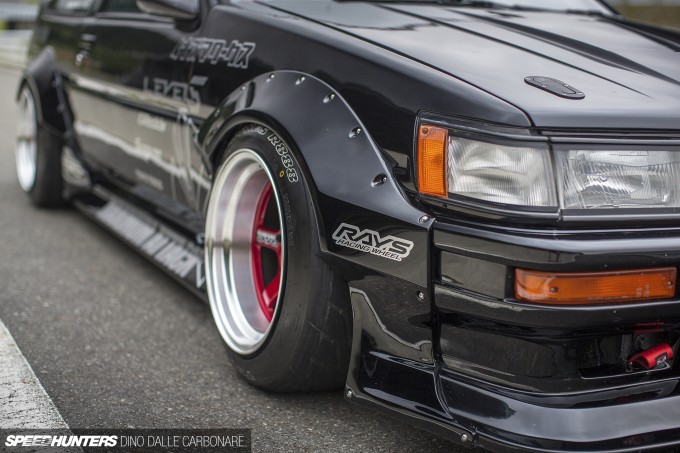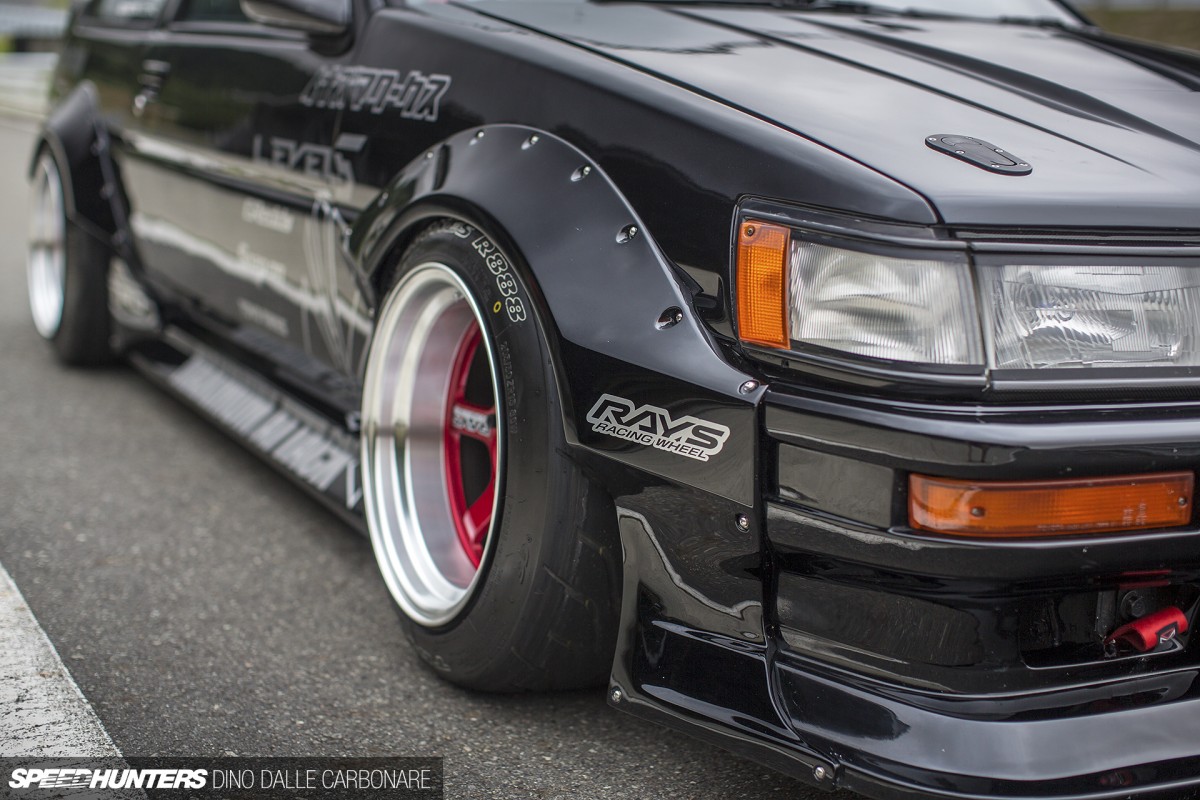 But it's probably the Impulse wide-body kit, comprising of these beautifully-shaped over-fenders, that do the most for the car's overall presence. As I found out though, Ikeda-san's Levin is far more complex and meticulously built than you'd ever imagine by just looking at it. Take the fenders for example. In an attempt to shed as much weight as possible, Ikeda-san ended up getting rid of a lot of the car's original metal. This was required at the front so the J-Blood FRP fenders could match up to the Goodline bumper. For extra impact, he then fitted the Impulse fenders, which Ikeda-san describes as modern-day interpretations of the original TRD over-fenders used on N2-spec AE86 race cars in the '80s. Underneath it all, Ikeda-san even did a little stiffening to the chassis, fitting Nagisa Auto Gacchiri support bars to the front, boxing off sections to tighten up weaker points of the chassis and doing a ton of spot-welding.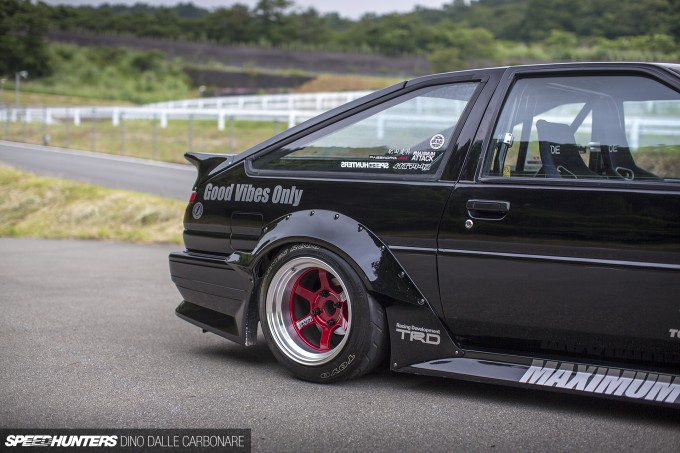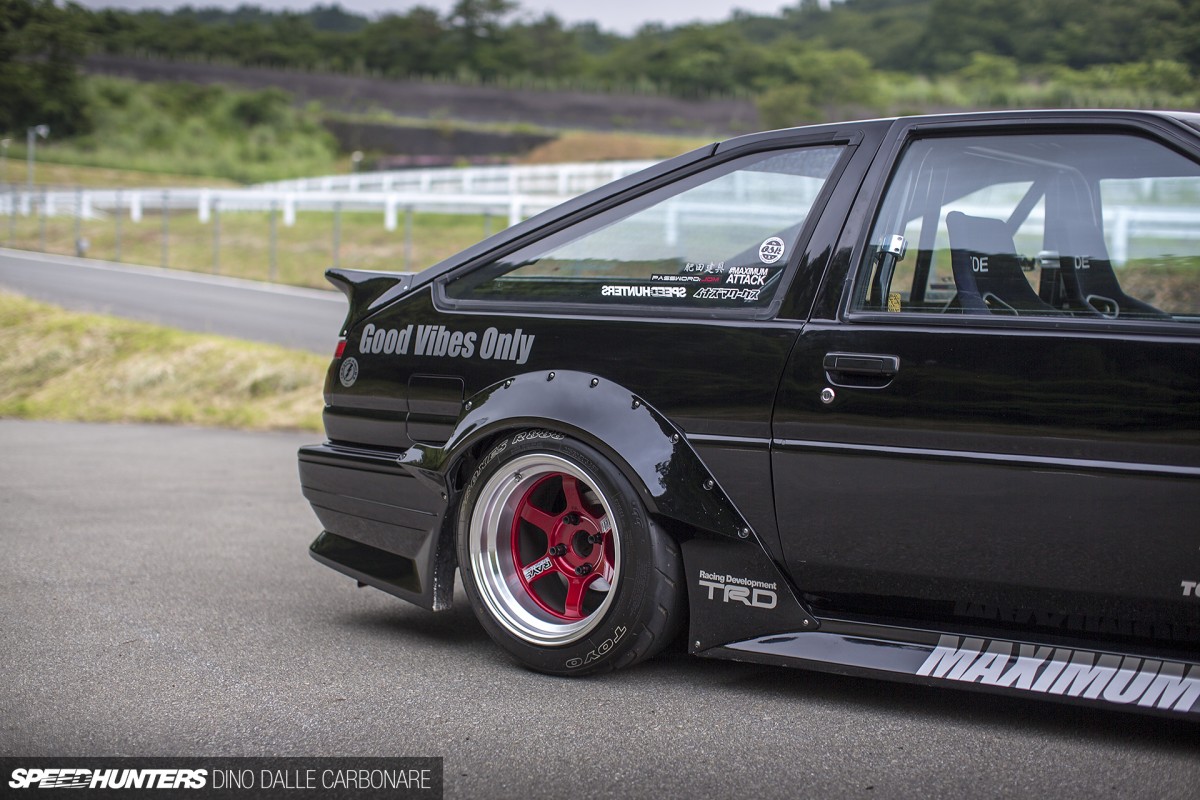 This not only adds quantifiable rigidity to a car of this vintage, but gives a more reassuring and precise feel through the steering. The aero mods continue with a set of Runfree side skirts flowing into the rear parts of the Impulse widening kit, which again are fitted with exposed screws for a rawer feel.
Picking The Right Car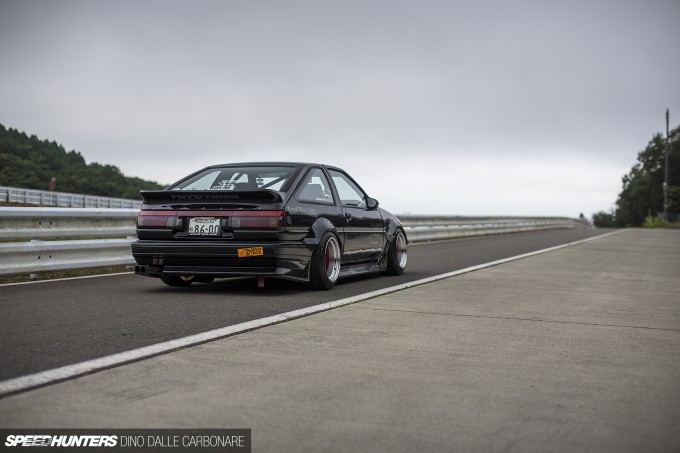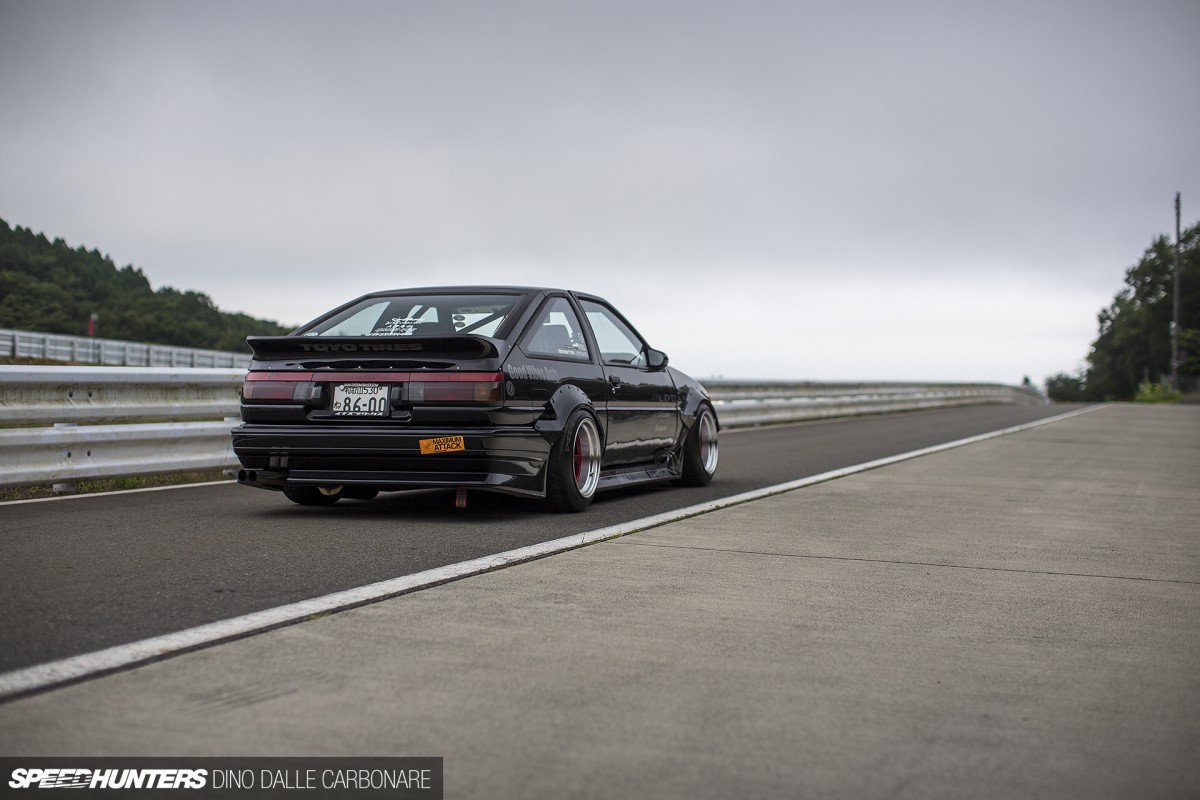 Checking out the AE86 from the rear, it's obvious that Ikeda-san hasn't overlooked this area in any way either.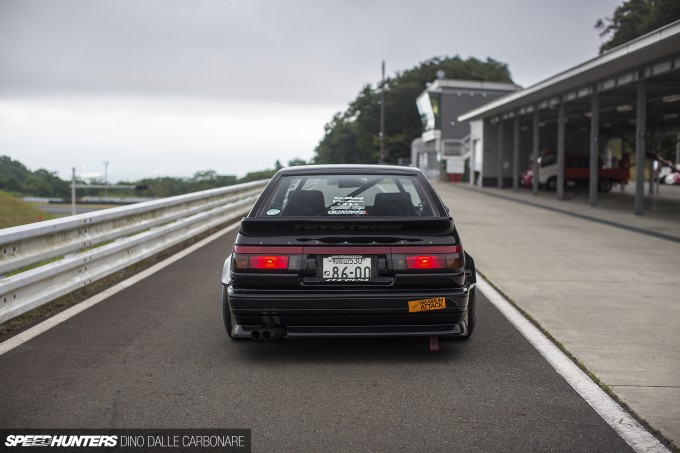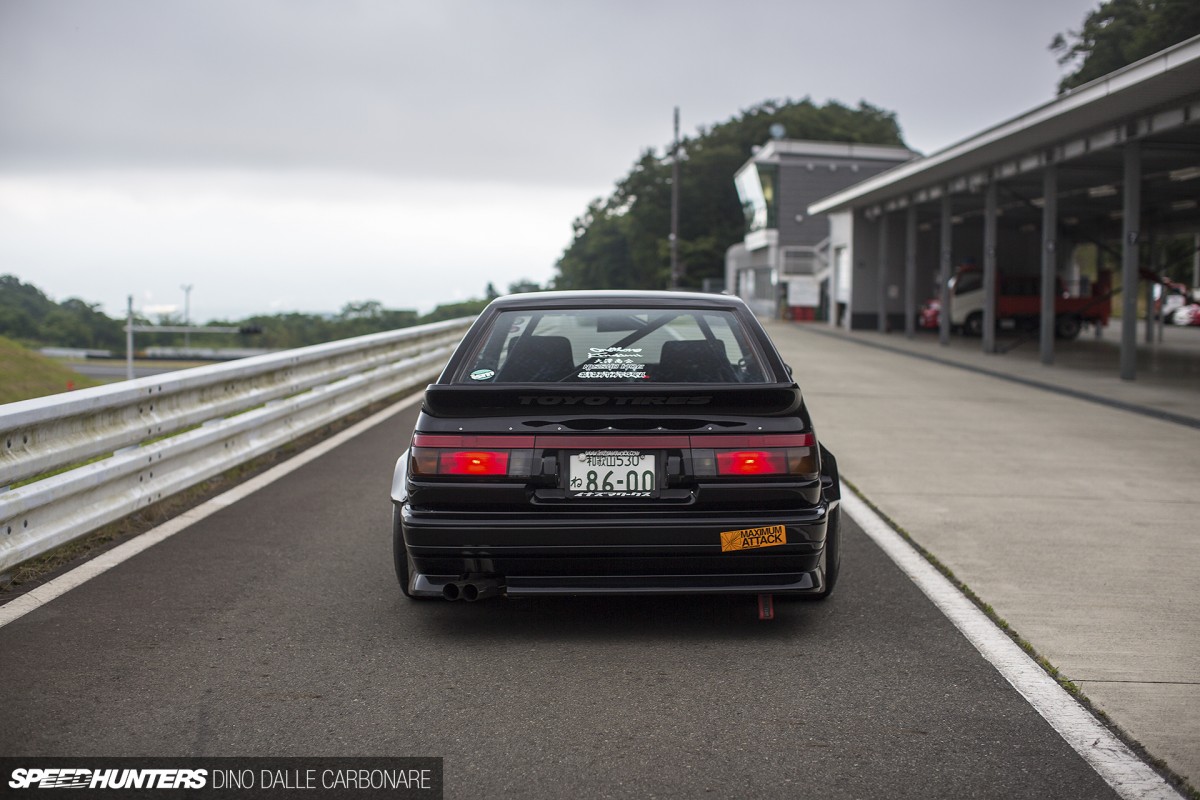 A Runfree rear bumper helps give the impression of an even lower body line, adding some seriously tough presence to it all.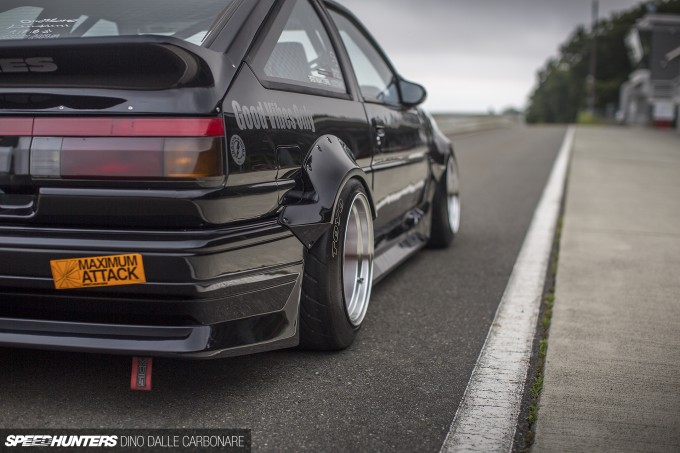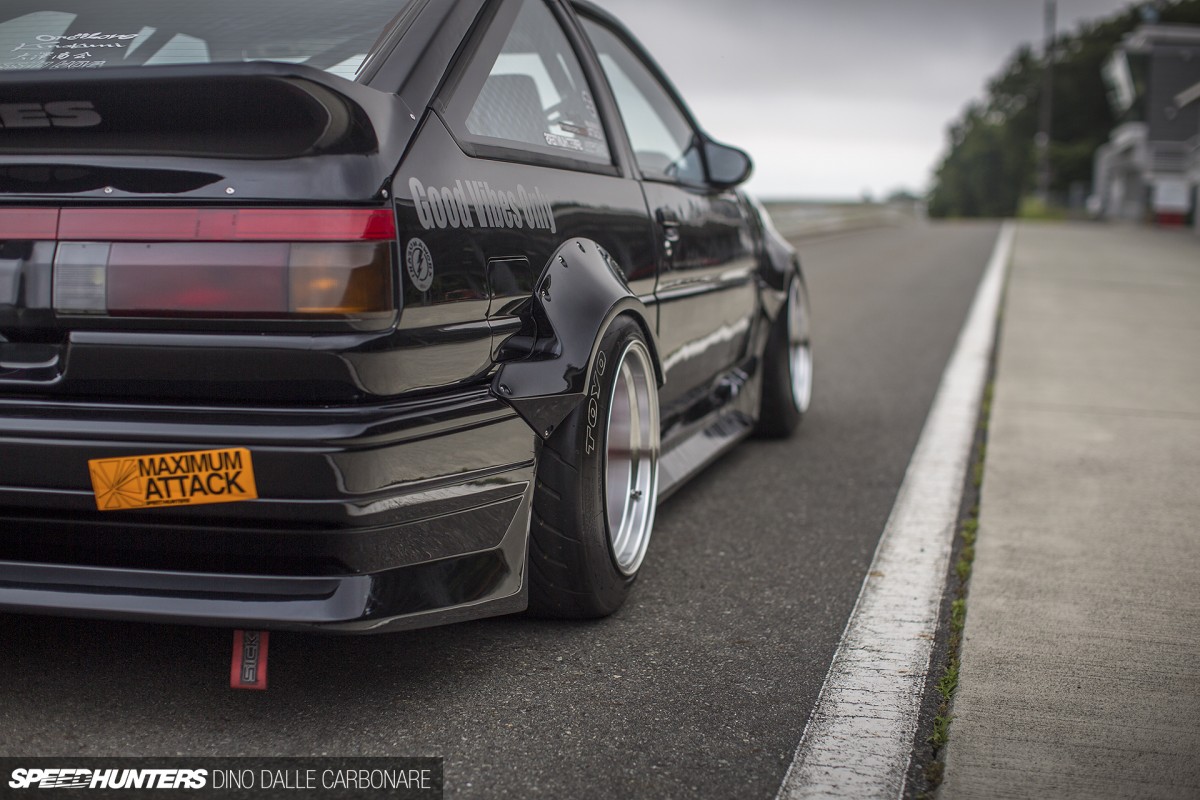 The stance? Well, it's nothing short of perfect. A lot of consideration went into selecting the wheels, and in the end Ikeda-san chose a 15×10-inch -25 fitment for the RAYS Volk Racing TE37Vs. The AE86's solid rear axle makes sure that the back wheels sit nice and square with the fender line, while Inazuma Worx adjustable coilovers take care of things up front. But it doesn't end there, because this is a car that was built to tackle all the wonderful and empty touges that Wakayama-ken peninsula has to offer. So along with the custom dampers, there's Inazuma Worx lower arms, pillow-ball jointed Cusco tension rods, and a Cusco pillow-ball lateral rod in the rear. With TRD bushes all around, the stiffened chassis and weight drop has resulted in an AE86 that's more akin to a go-kart than a street car!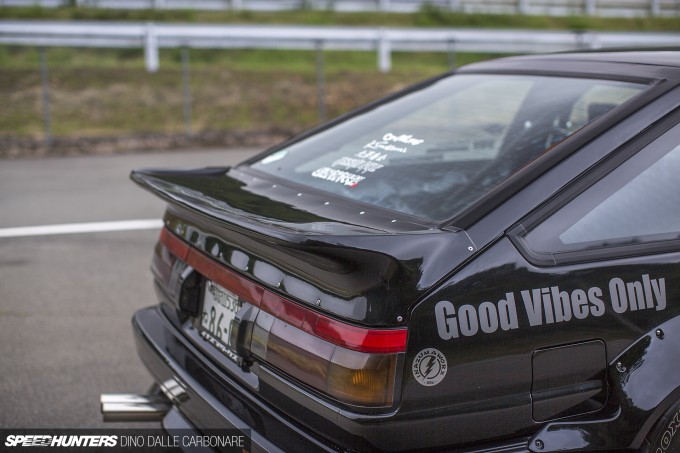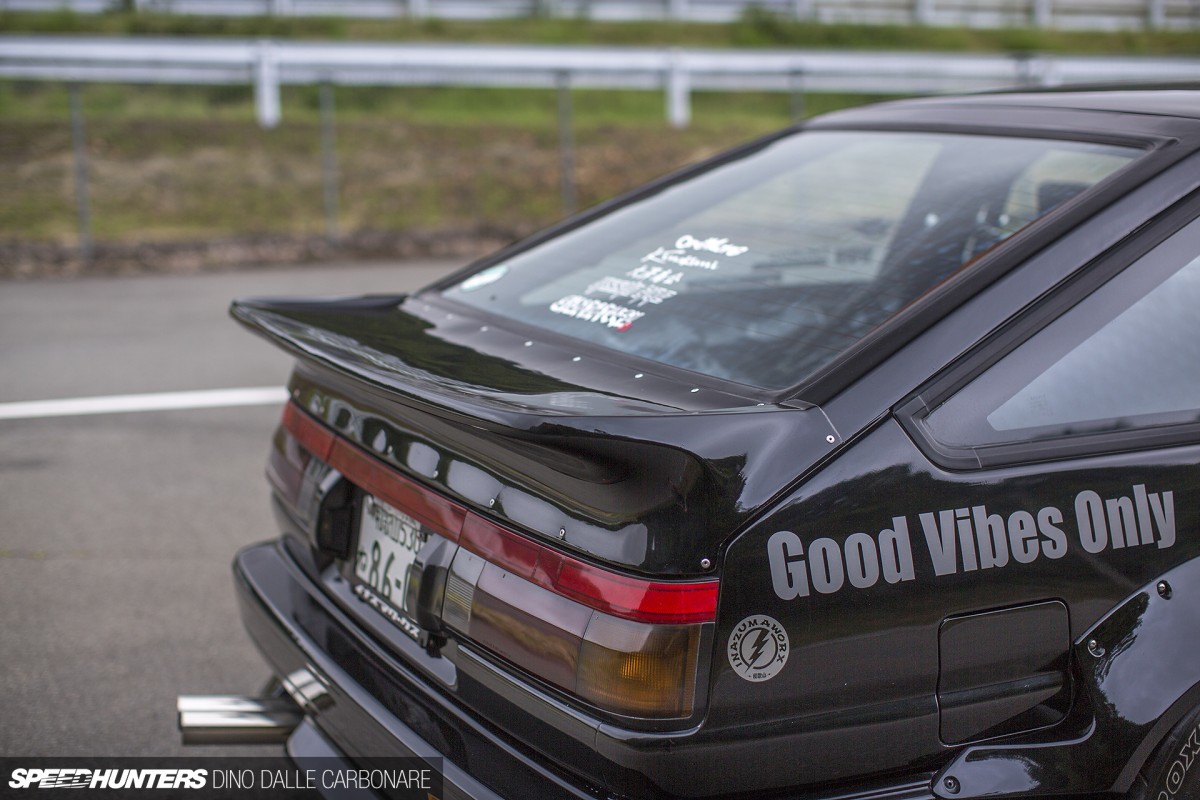 One big chunk of weight was removed from the rear thanks to the FRP gate fitted with an TRD N2 spoiler for extra effect.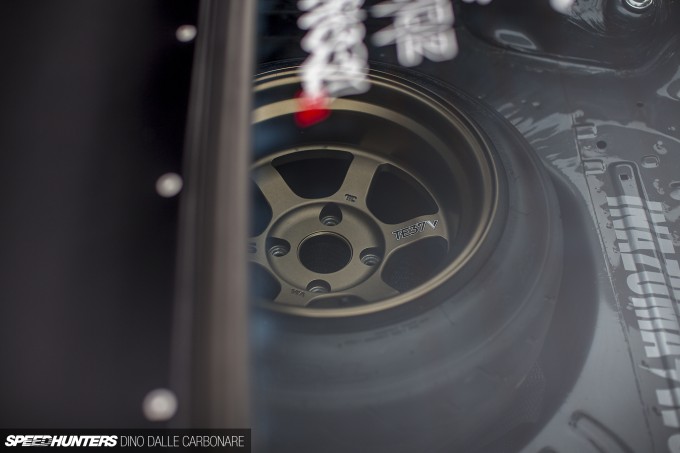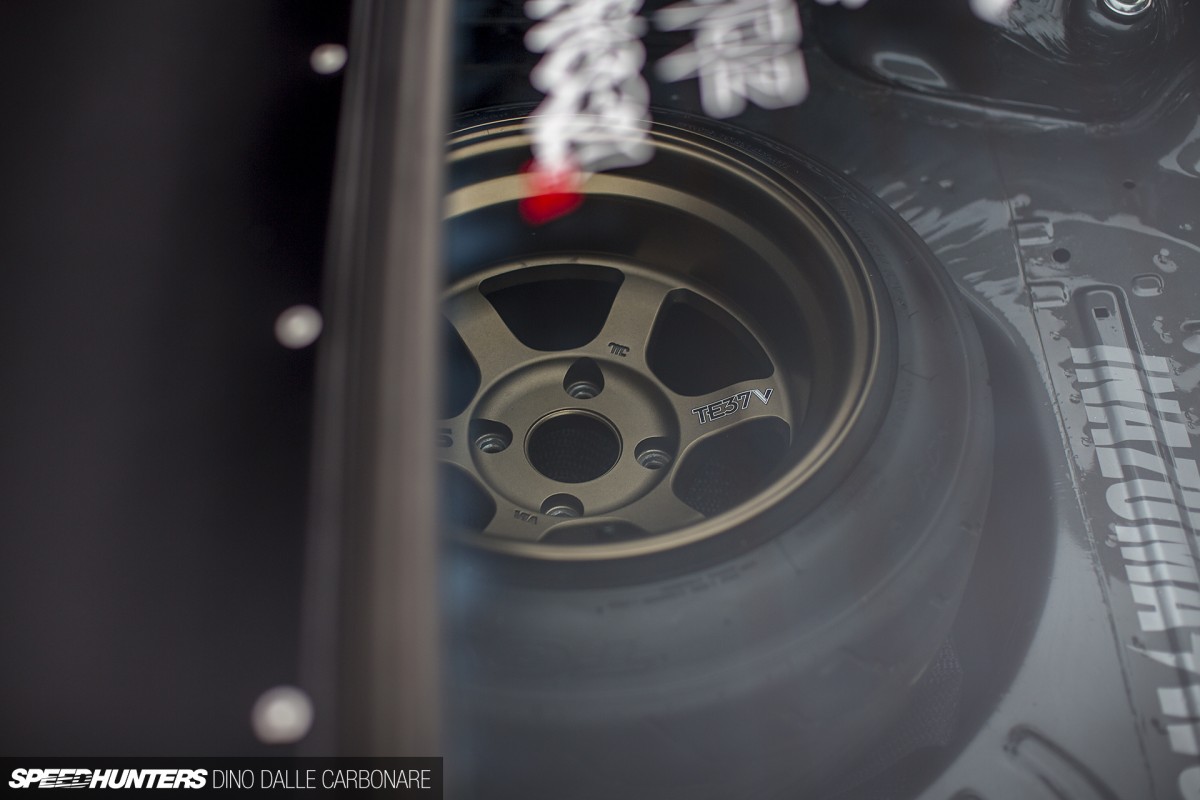 A quick glance through the rear glass reveals the painted trunk area where Ikeda carries a spare TE37V – just in case.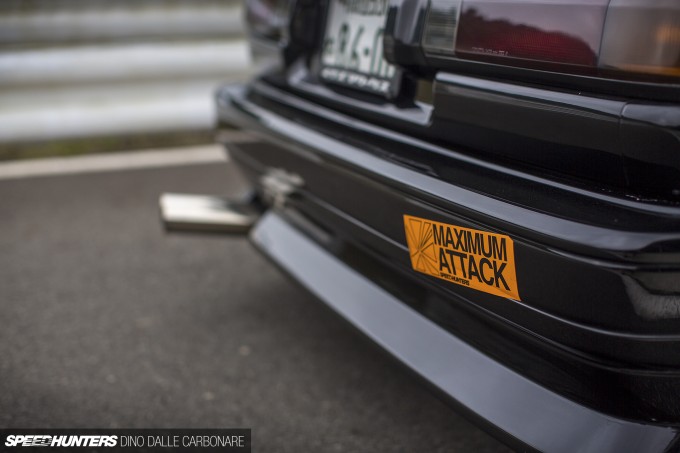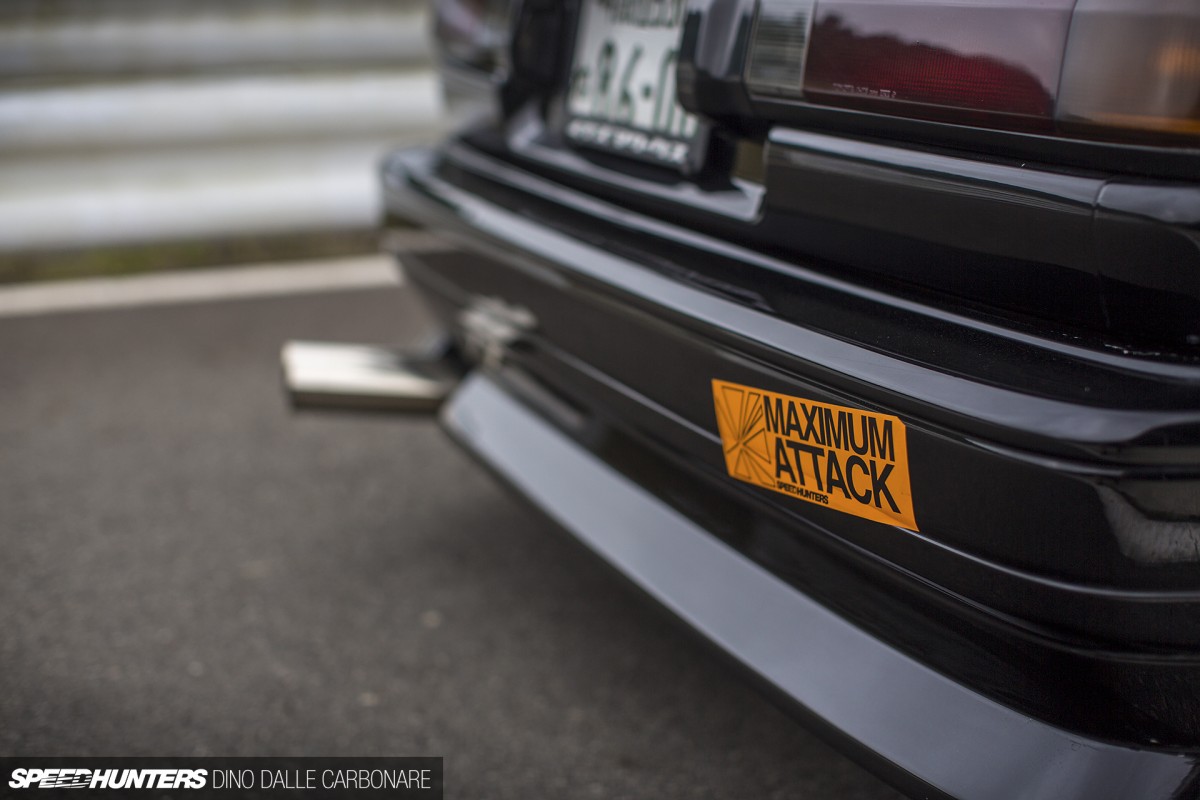 #MaximumAttack indeed!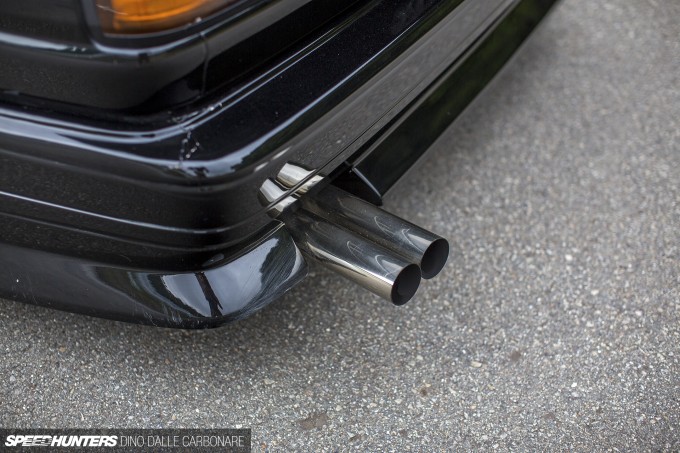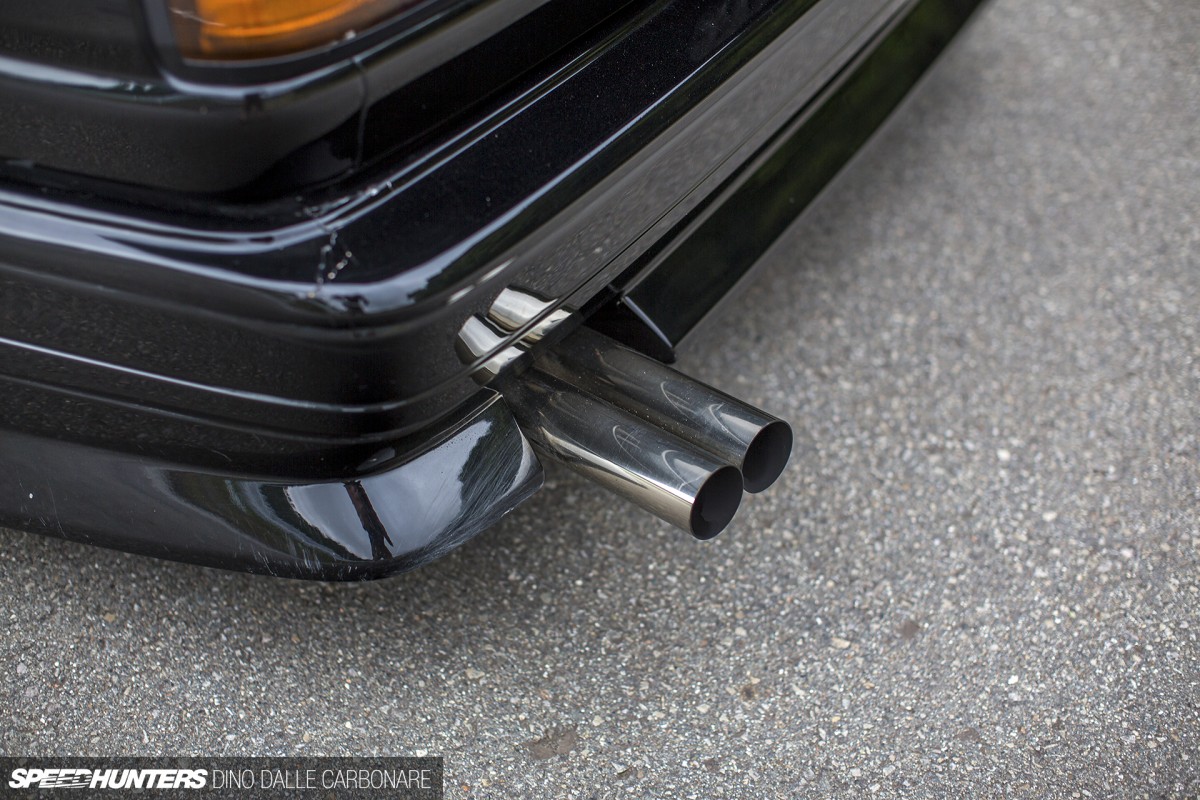 There is nothing quite so Japanese as an overly-long set of pipes sticking out from the back of your car, and Ikeda-san has this detail nailed. They're so long that I'm pretty sure they qualify as a bona fide bosozoku addition. We like!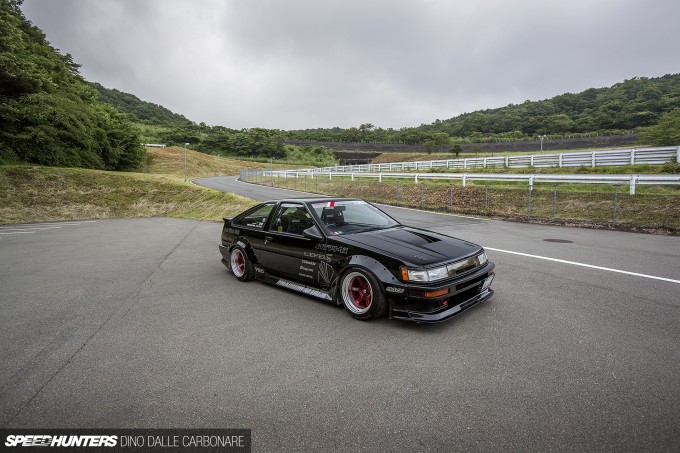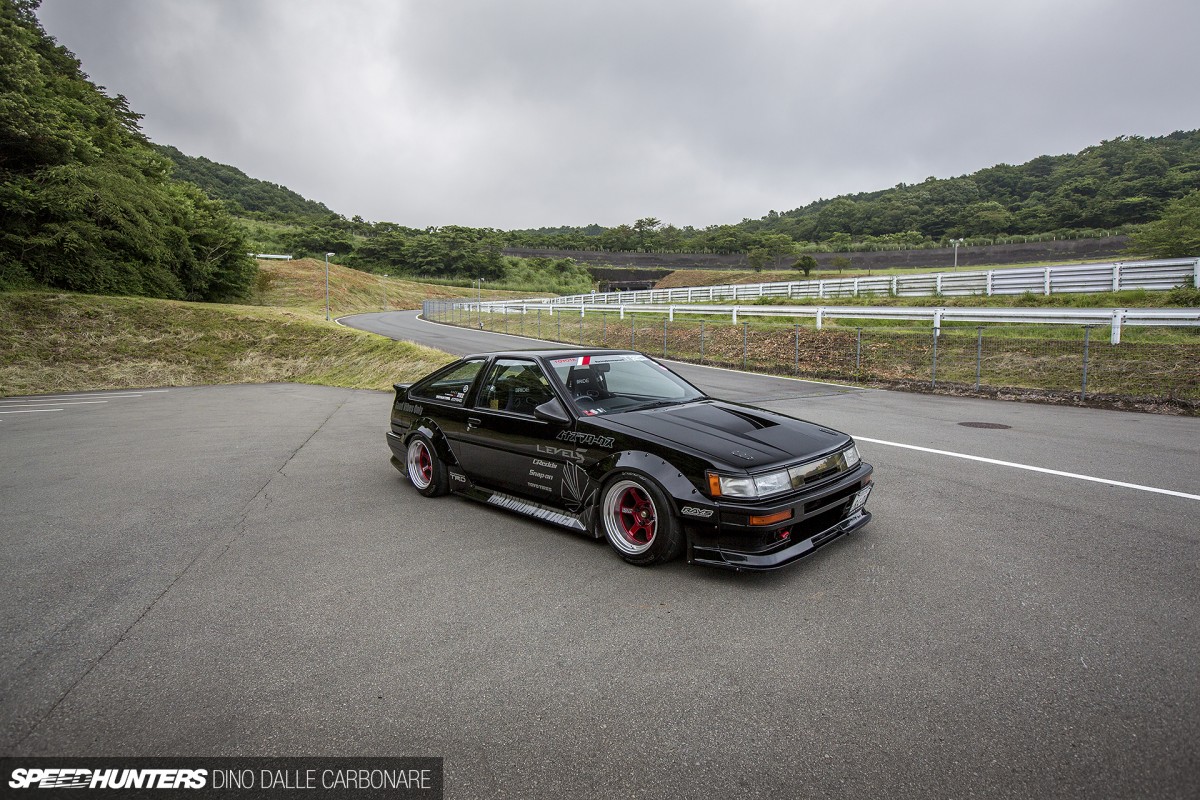 With so many interpretations of AE86s these days, a well-engineered street car like this one suddenly seems like the perfect execution of this modern day classic.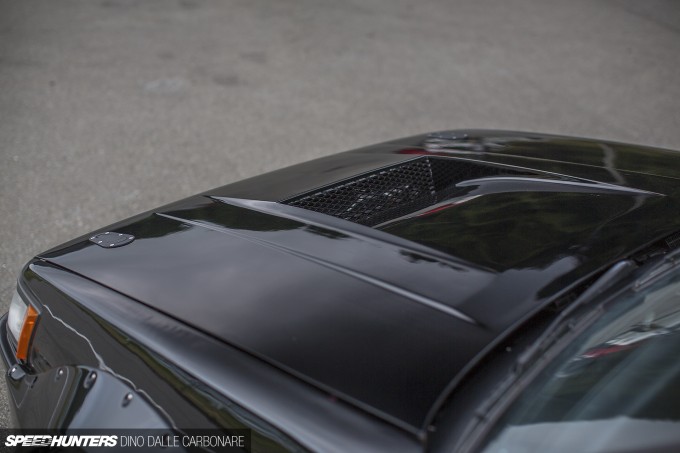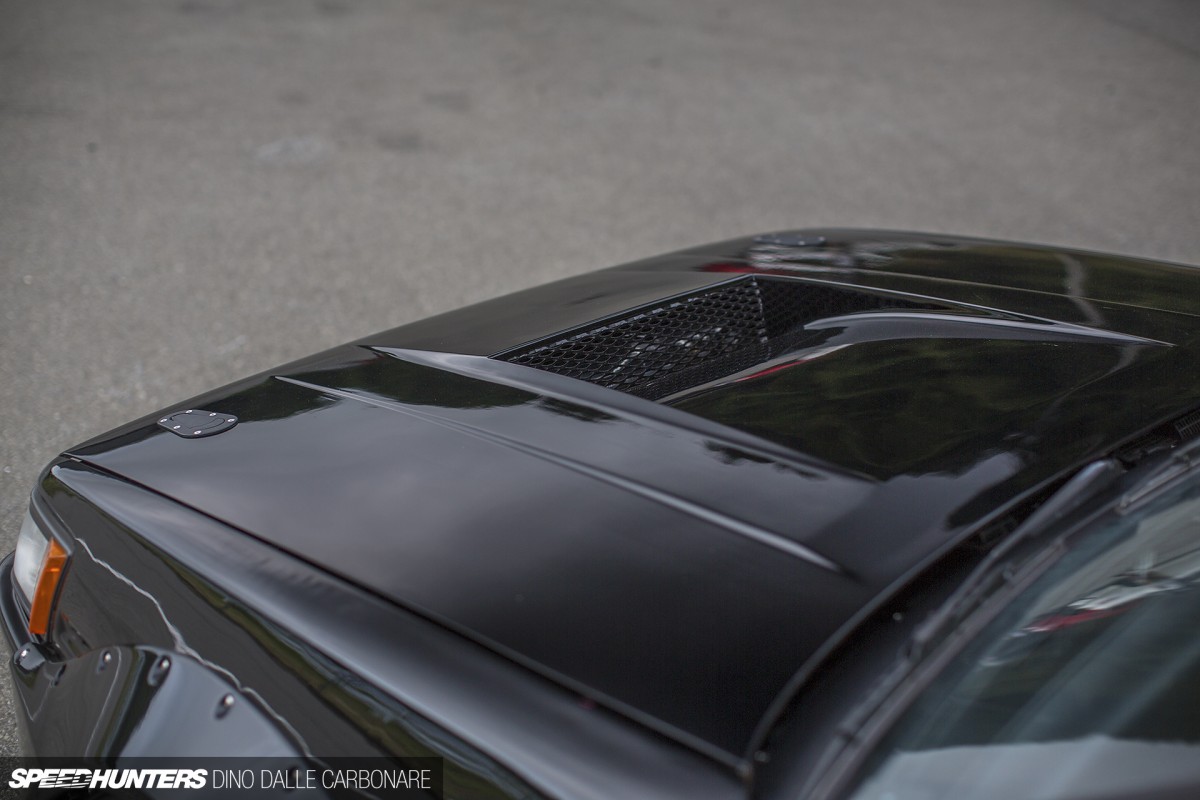 But let's not get ahead of ourselves here – we haven't even taken a look at the engine yet!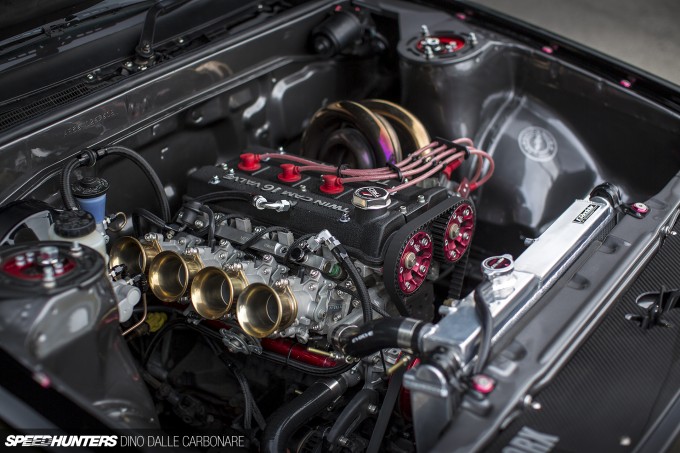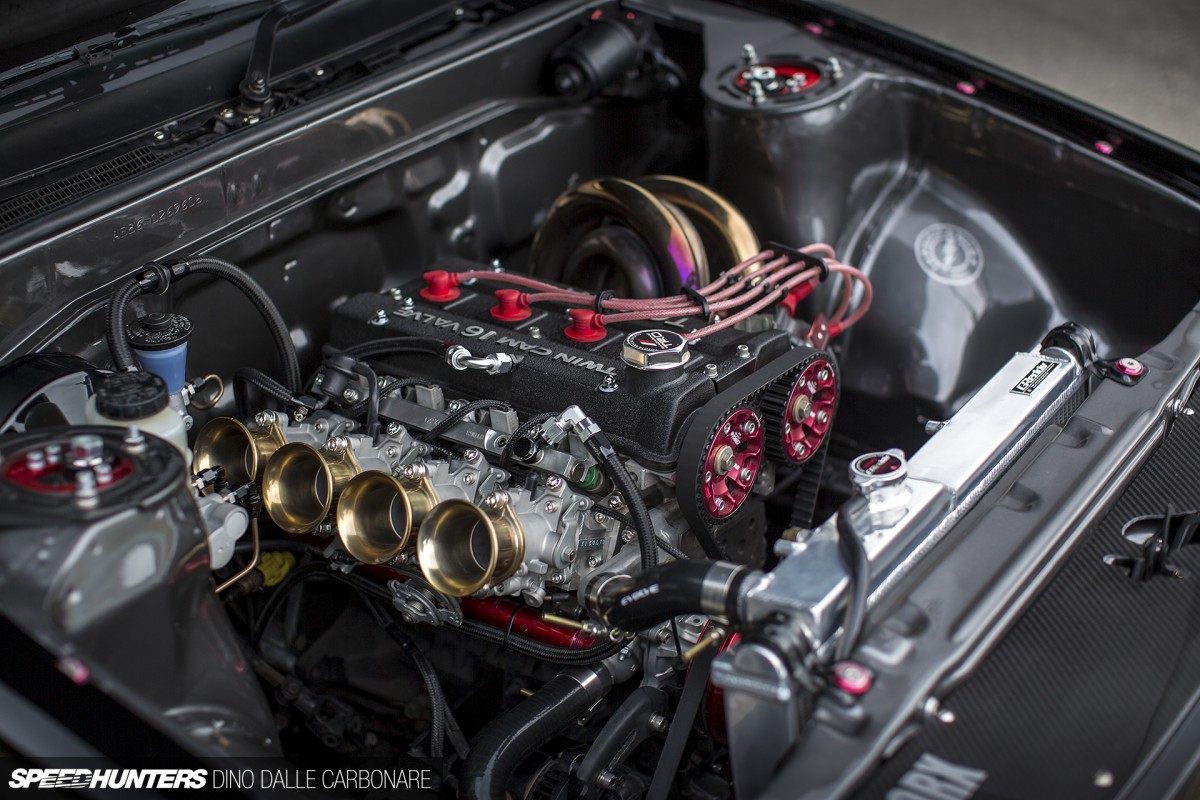 The disappointment that follows after opening the bonnet of a nice car and finding a dirty and poorly-maintained motor is the akin to the biggest anti-climax you could ever experience in the car world. It happens to me a lot in Japan, but it was certainly not the case with Ikeda-san's engine bay.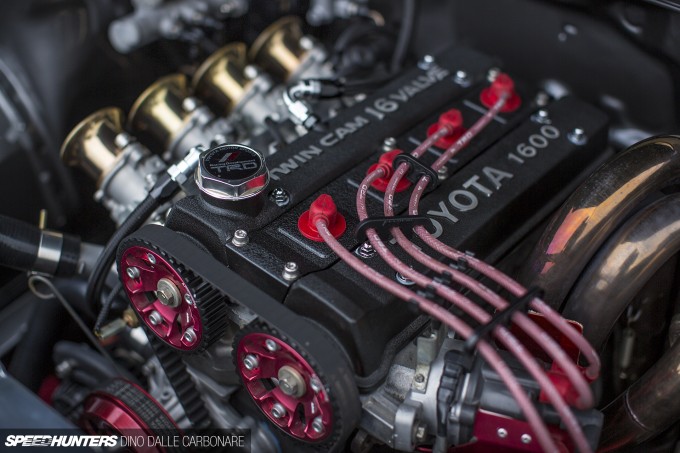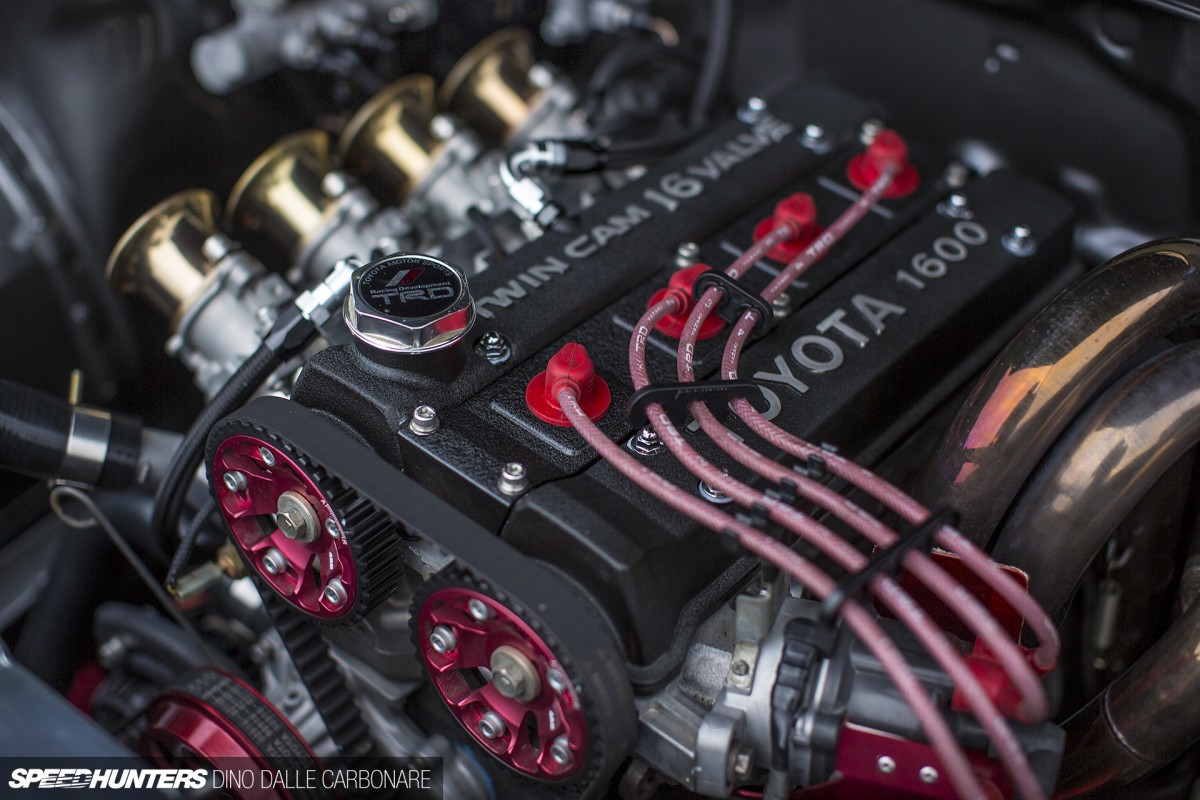 The kouki AE92 'small-port' 4A-G engine that Ikeda-san has put together for his pride and joy left me pretty much speechless. From the bottom end up, which is fully balanced and fitted with top shelf forged pistons, this little screamer boasts a rather long list of upgrades.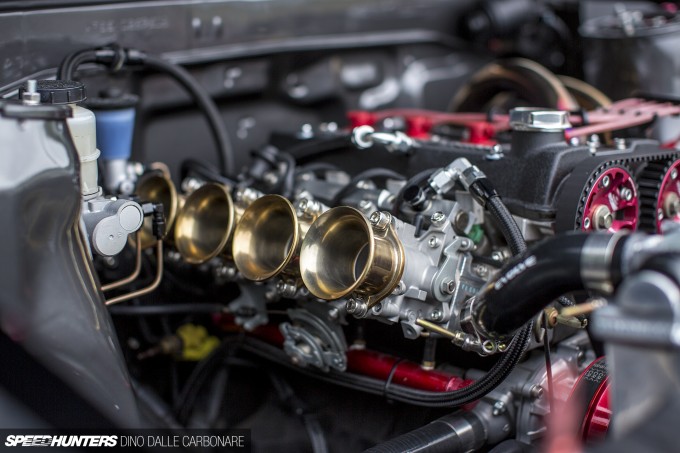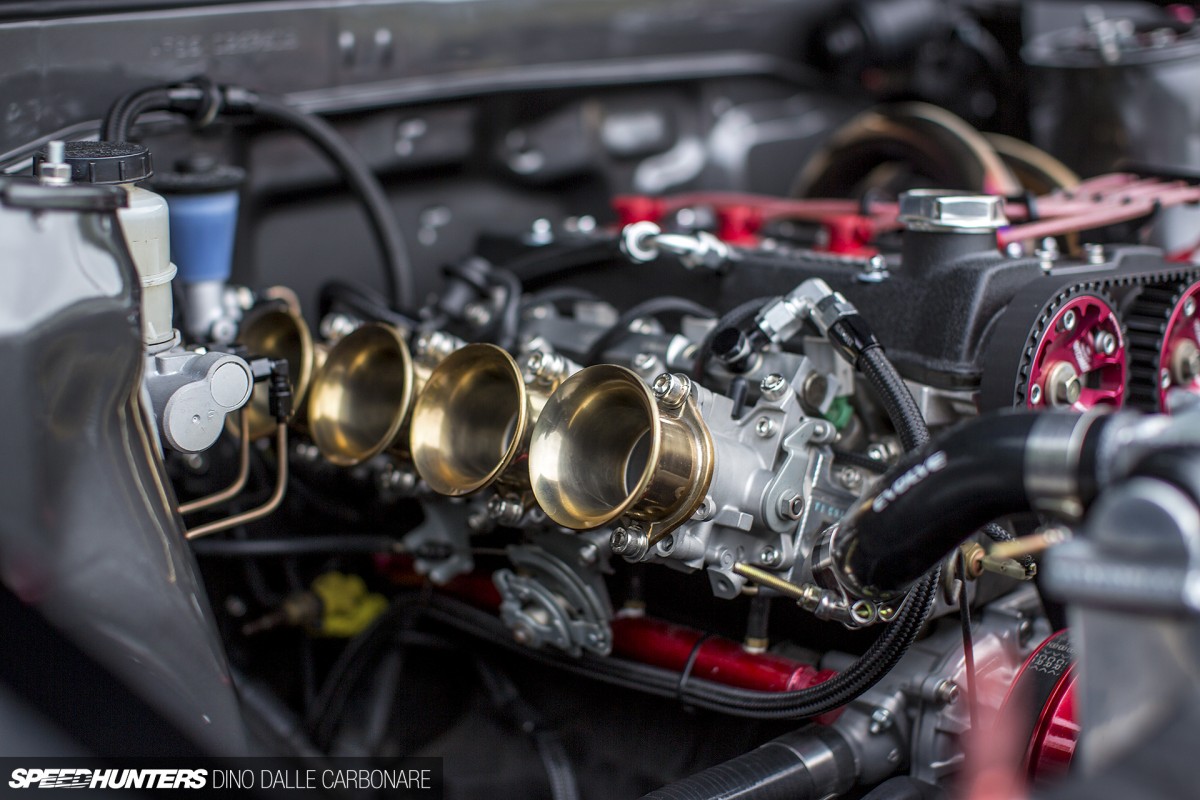 It's no secret that you have to rev these little 1.6-liter four-pot motors to within an inch of their lives to get the most out of them, but to make sure that reliability isn't an issue, Ikeda-san had the head ported and polished, and fitted with an upgraded valvetrain. There's also a pair of HKS camshafts in the mix – 304-degrees on the intake and 288-degrees on the exhaust, both with 8.35mm lift. An AE101 quad throttle body setup feeds air through a set of OER velocity stacks, and fuel is supplied via a set of EP91 Starlet GT Turbo 4E-FTE injectors. The whole ensemble is managed by a Freedom ECU, which is hands-down the most popular computer used on fuel injected Hachirokus in Japan.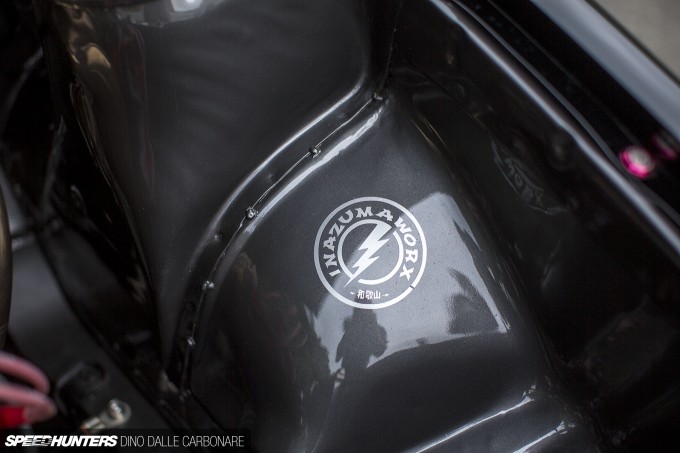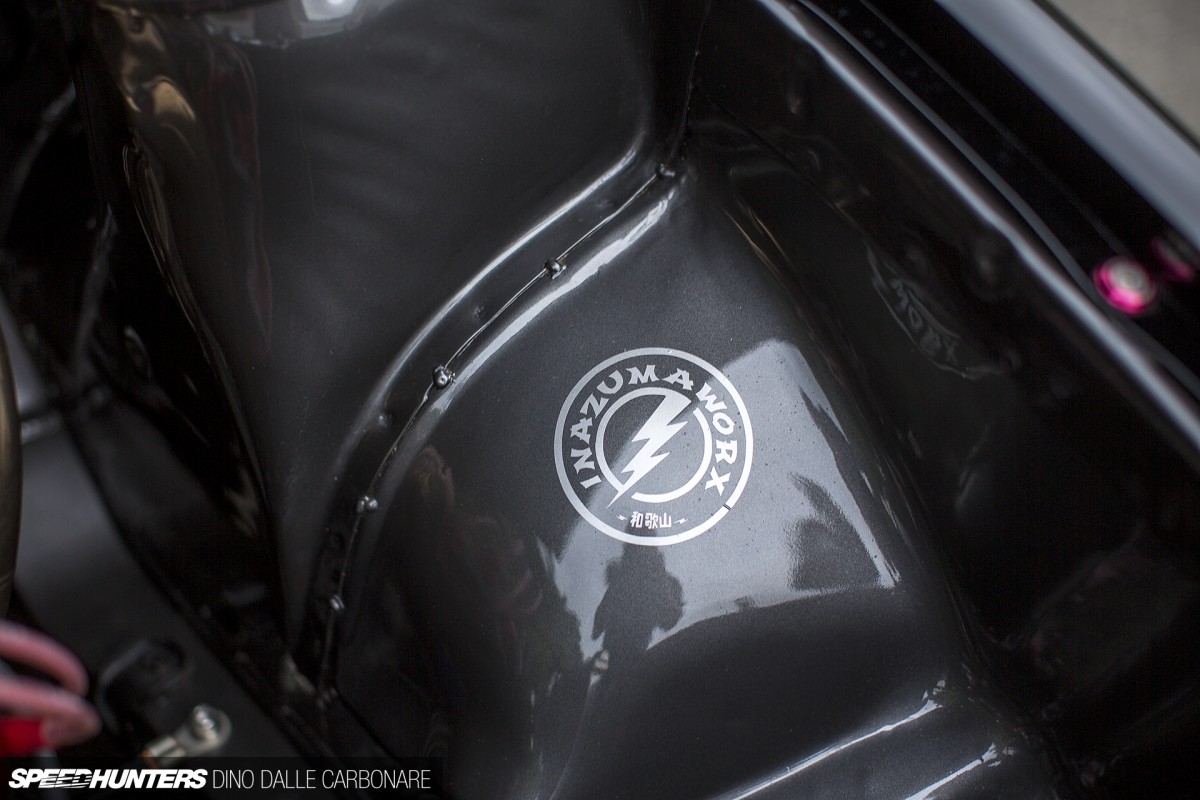 All of this mechanical perfection is set against a smooth, wire-tucked and shaved engine bay executed by Inazuma Worx, which also sprayed the same dark silver metallic paint throughout the cabin.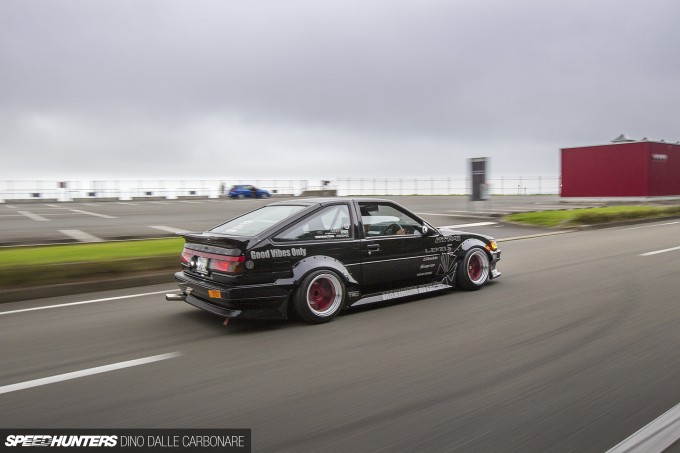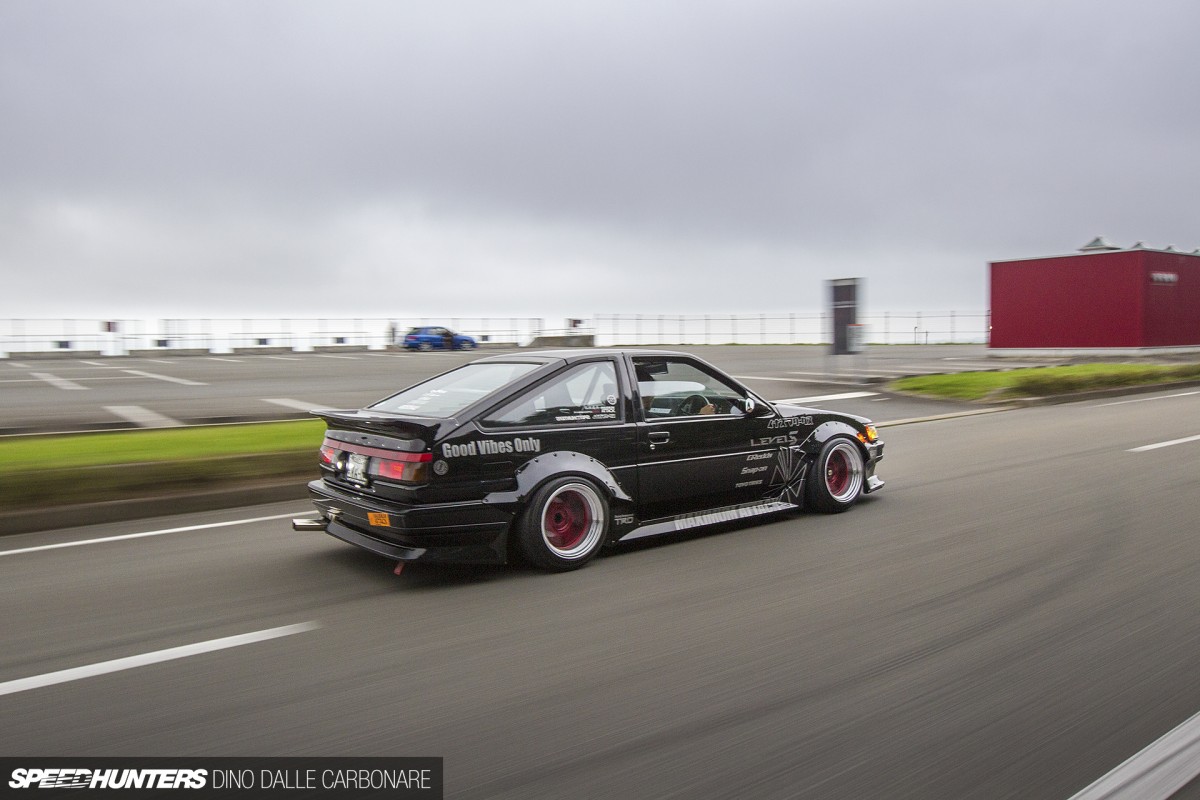 It all combines to give the car a very distinct aura; one of attention to the smallest detail. It's the perfect example of meticulous execution – something I seldom come across in Japanese-built cars. Thankfully, things are changing though!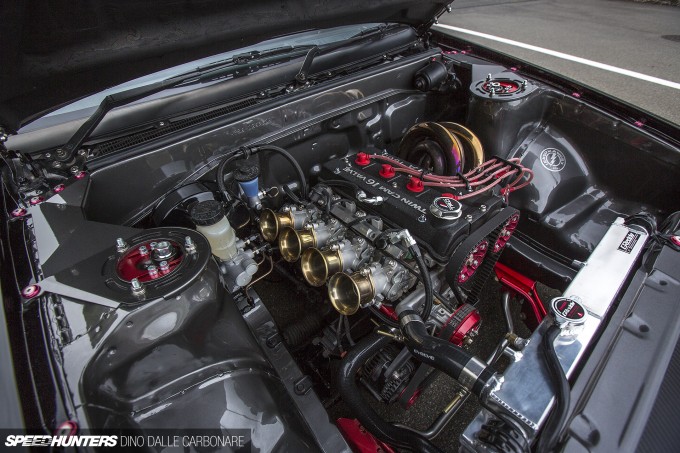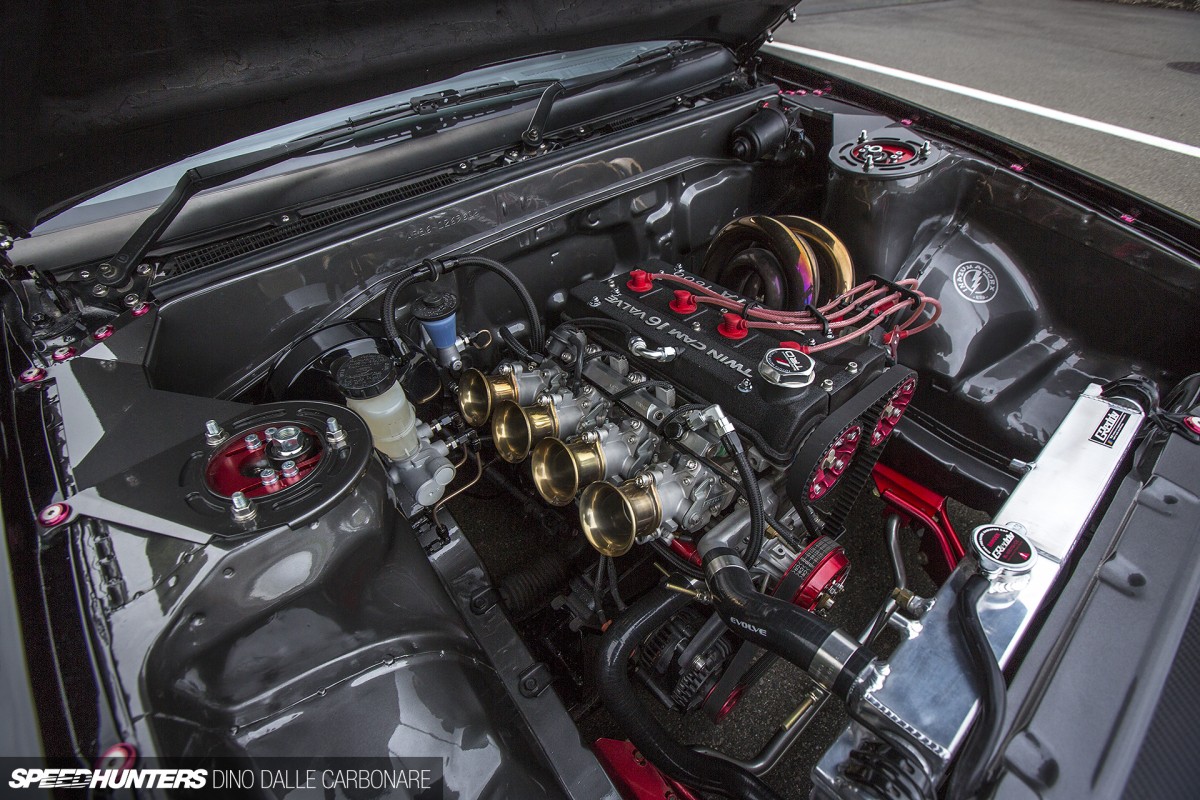 Take a wider look at the engine compartment and you spot more little touches, like the Nagisa Auto strut tower supports and the thick GReddy radiator cooled by a large electric fan.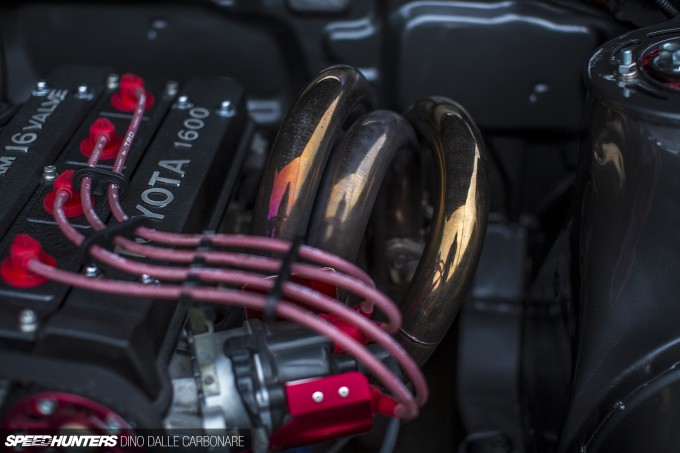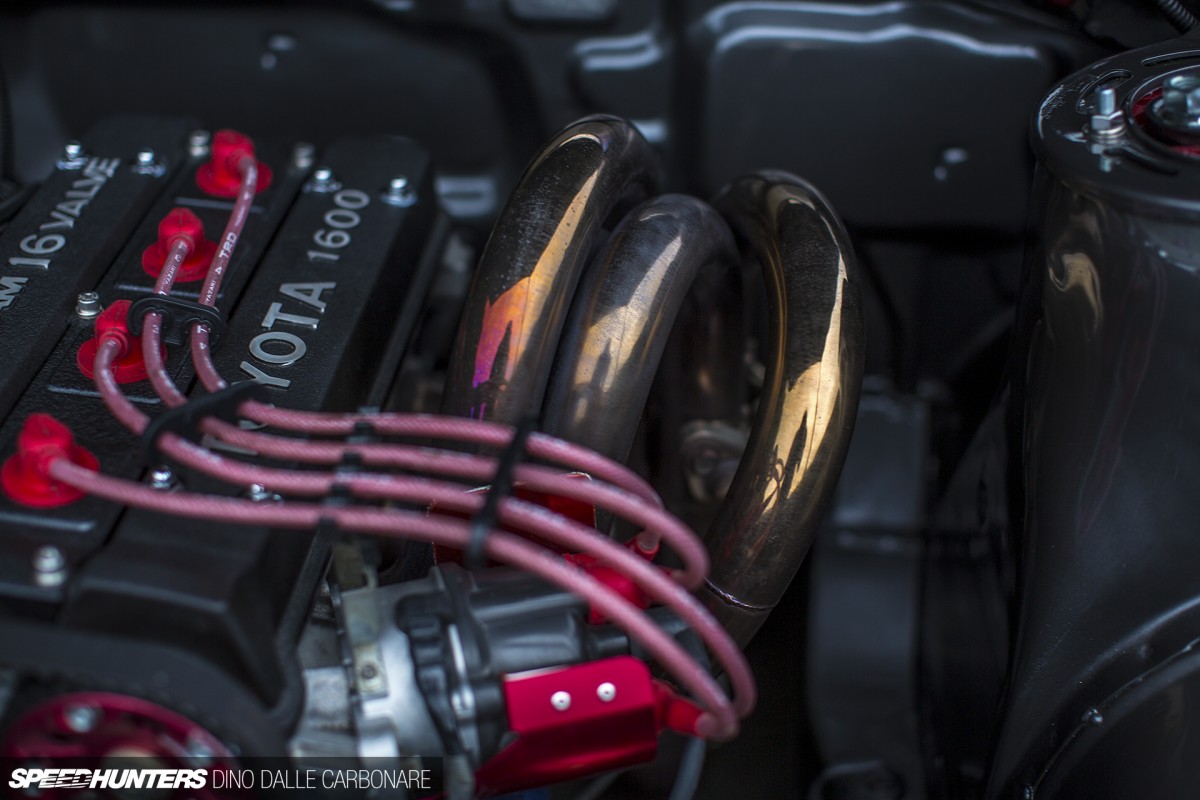 And of course the equal-length header fabricated by Okudera.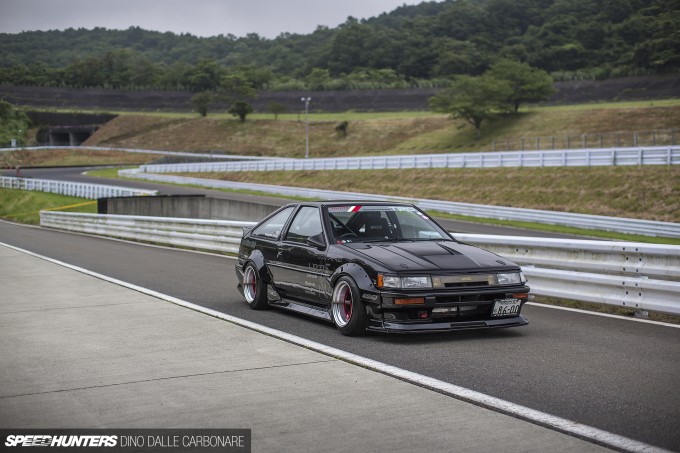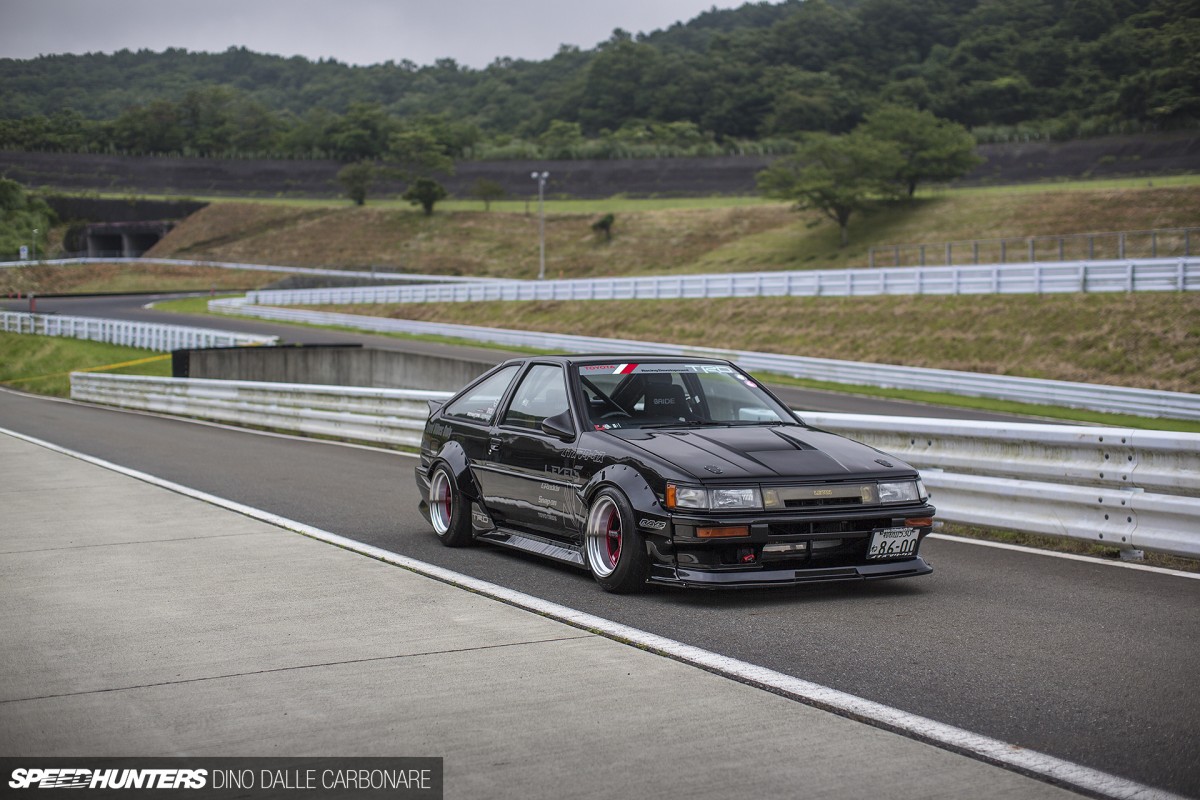 I also like how Ikeda-san retained the kouki Levin's front grille – an item that often gets binned by AE86 owners, but one that I think helps add a touch of completeness to this car.
While we were on Fuji Short Course's deserted pit lane, I couldn't pass up the opportunity to do a quick walk-around video with my GoPro. Check it out above!
Japan Continues To Evolve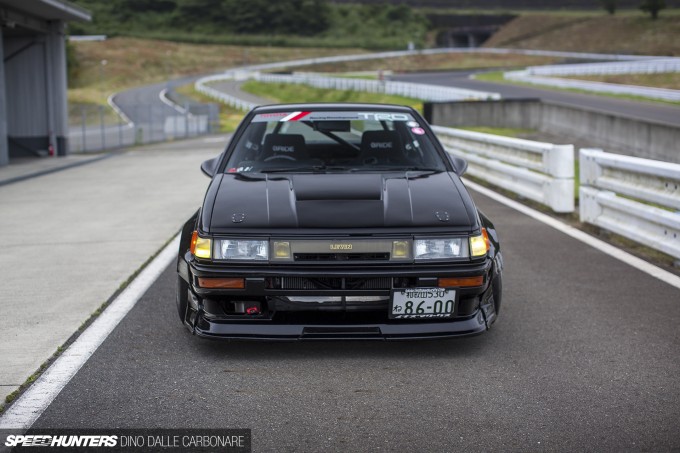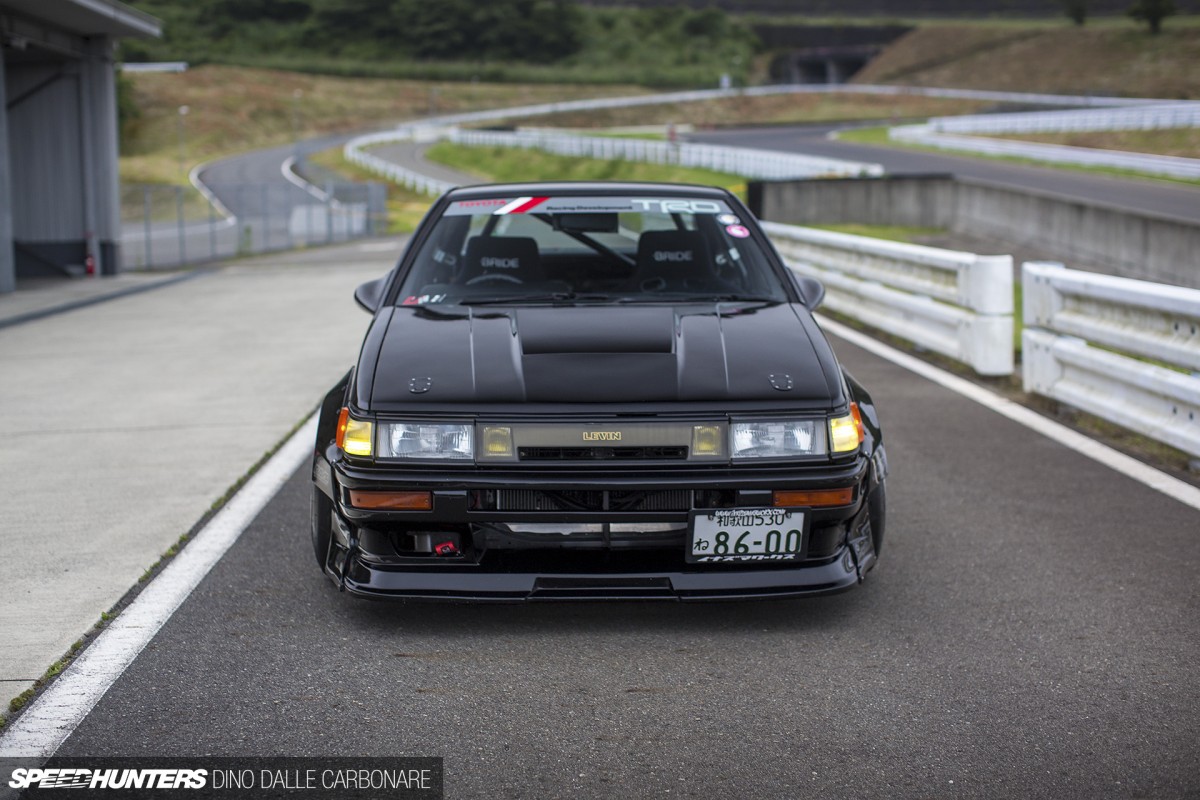 Another addition which Ikeda did differently was fitting a set of Ganador aero mirrors from an FC3S Mazda RX-7. They're still very '80s-looking and therefore integrate well, but are far more flowing than the angular stock mirrors.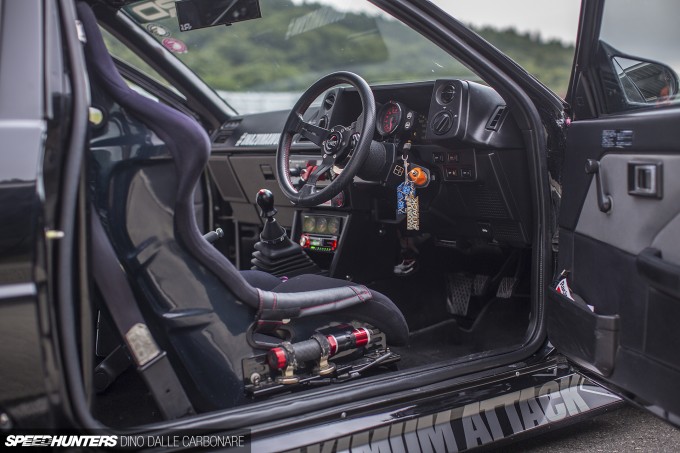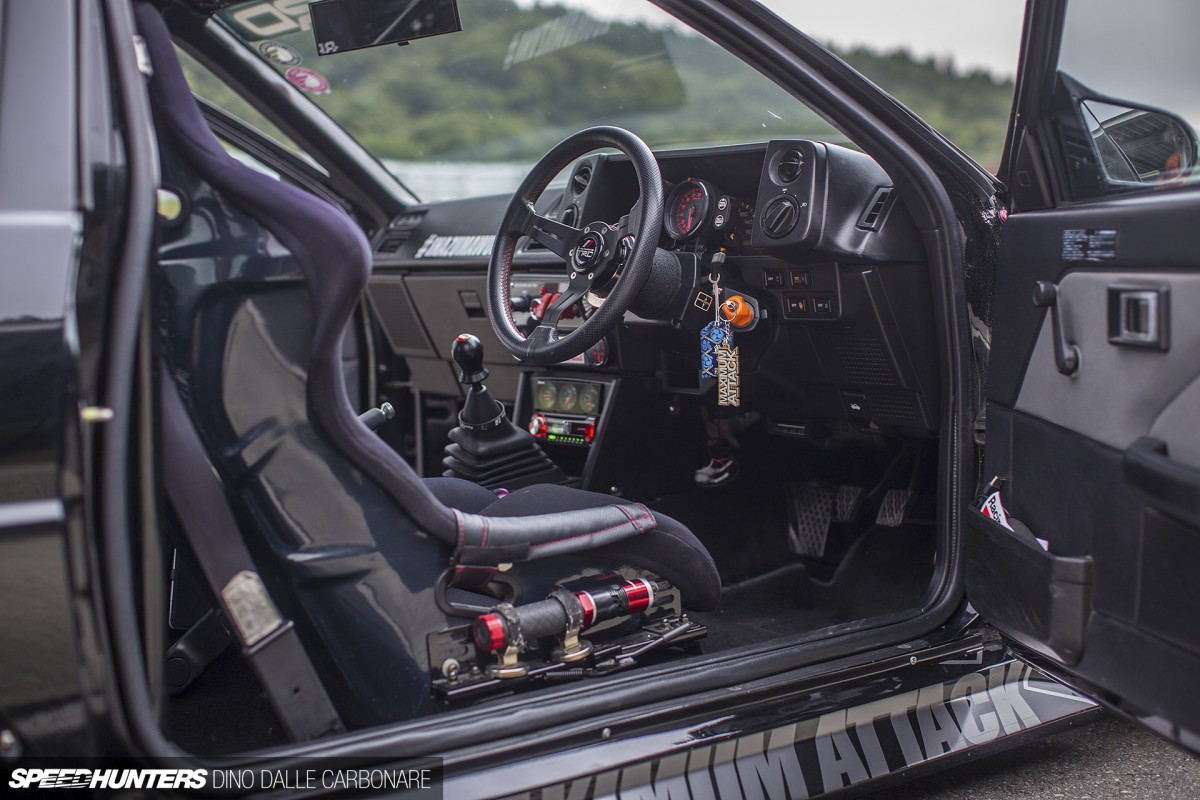 Swinging open the J-Blood FRP driver's door revealed just how light it is. I expected it to be stripped on the inside, or at least running a custom carbon door card, but it's actually fitted with the stock trim panel. Extra points right there.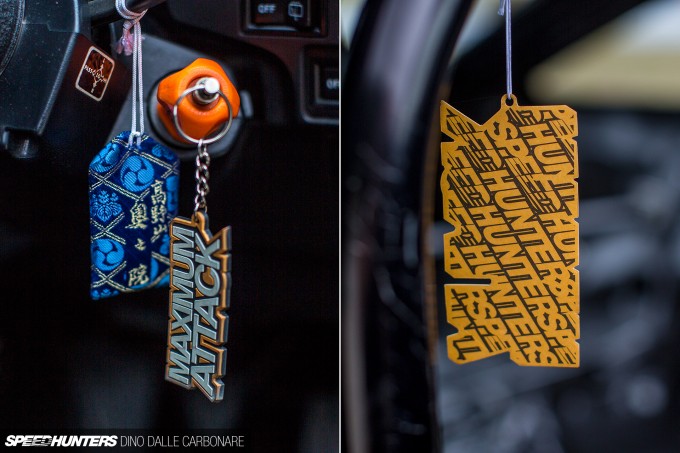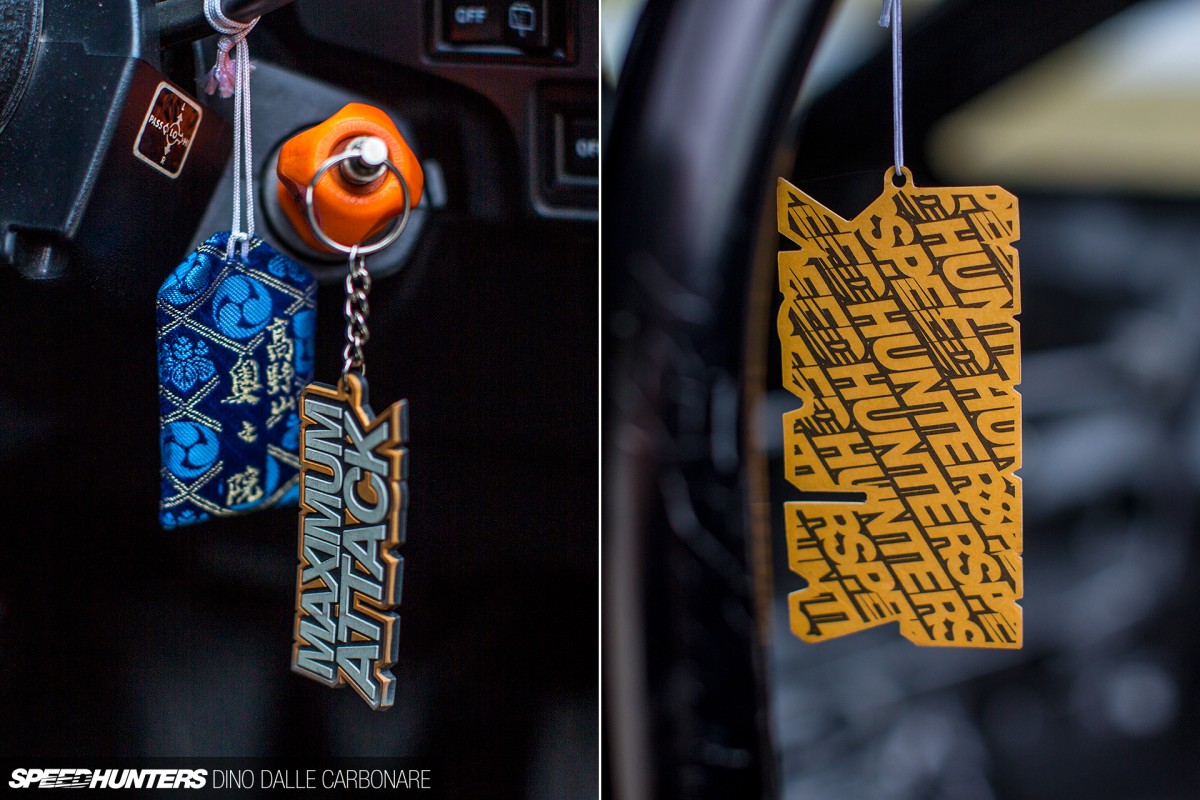 I was feeling even more love in the cabin with these must-have Speedhunters accessories. I actually forgot how nice the air freshener smells!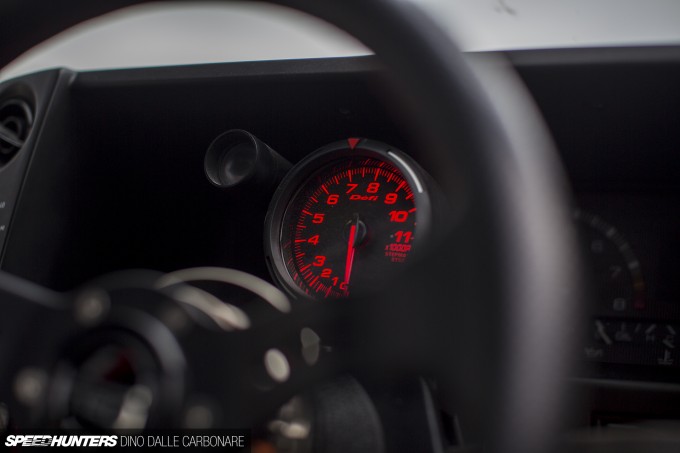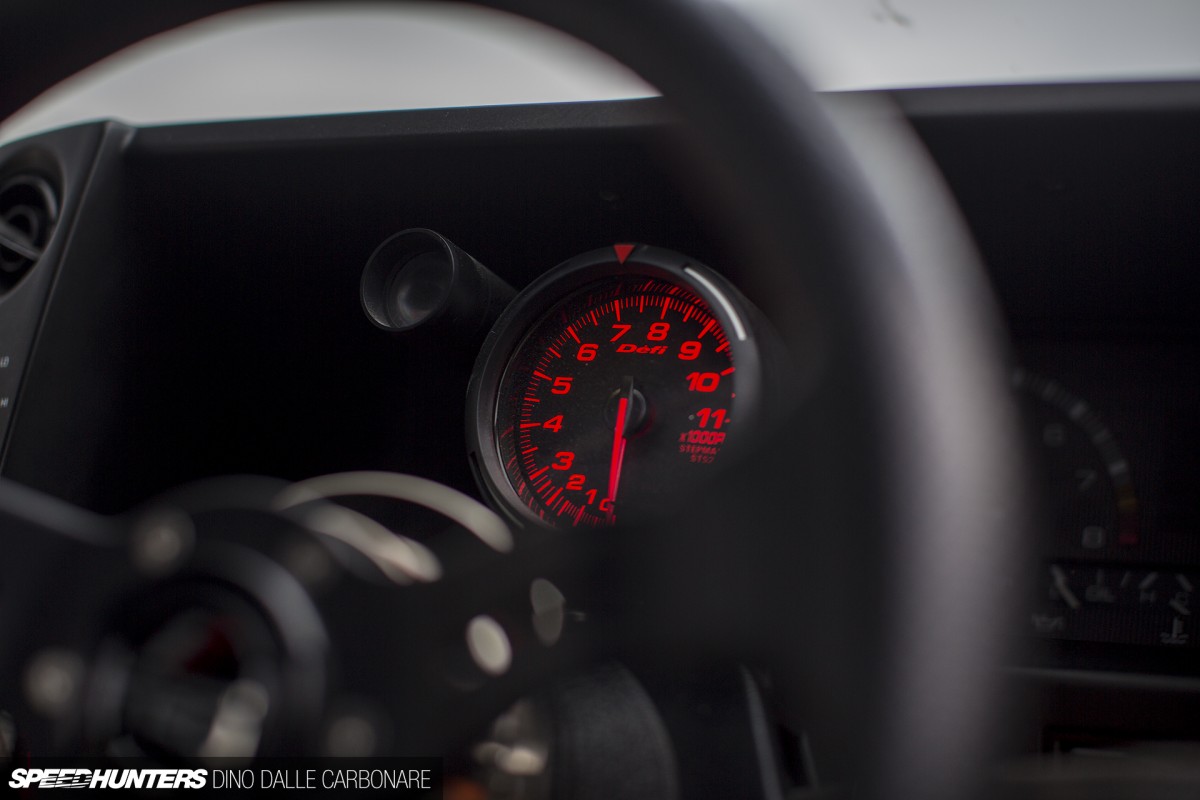 Ikeda-san has kept the stock instrumentation, as losing it would have taken away from the overall completeness of the car. Instead, he's add a few modern accessories on top, like a Defi tachometer with integrated shift light, which does a far better job of accurately relaying RPM. When you have precious cash invested in an engine build, looking after it makes total sense.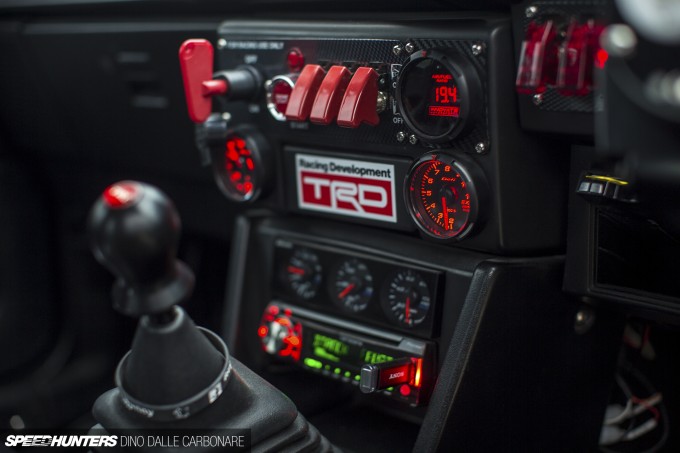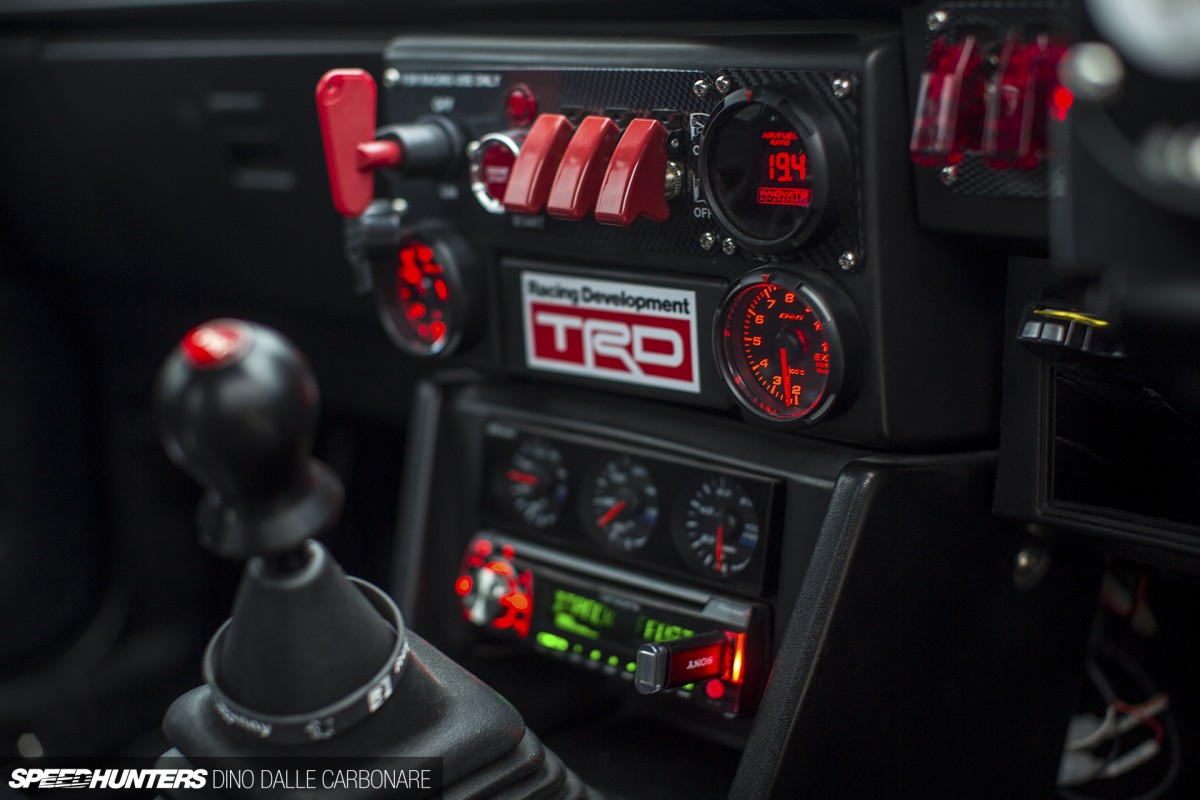 There are more Defi gauges laid out around the custom switch panel in the center console, as well as an additional trio of meters neatly housed in the 1-DIN panel above the headunit.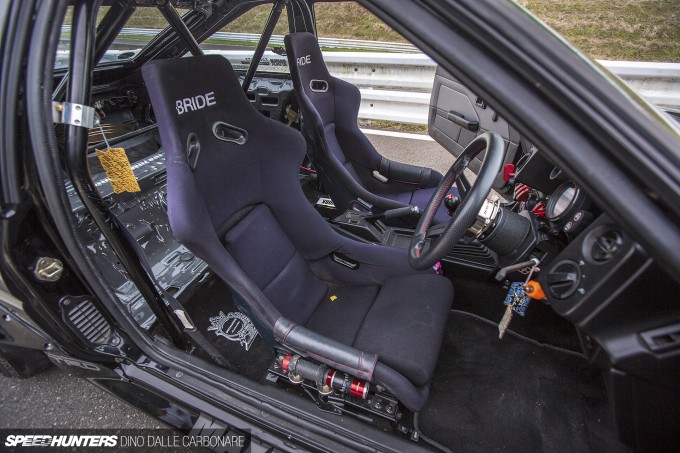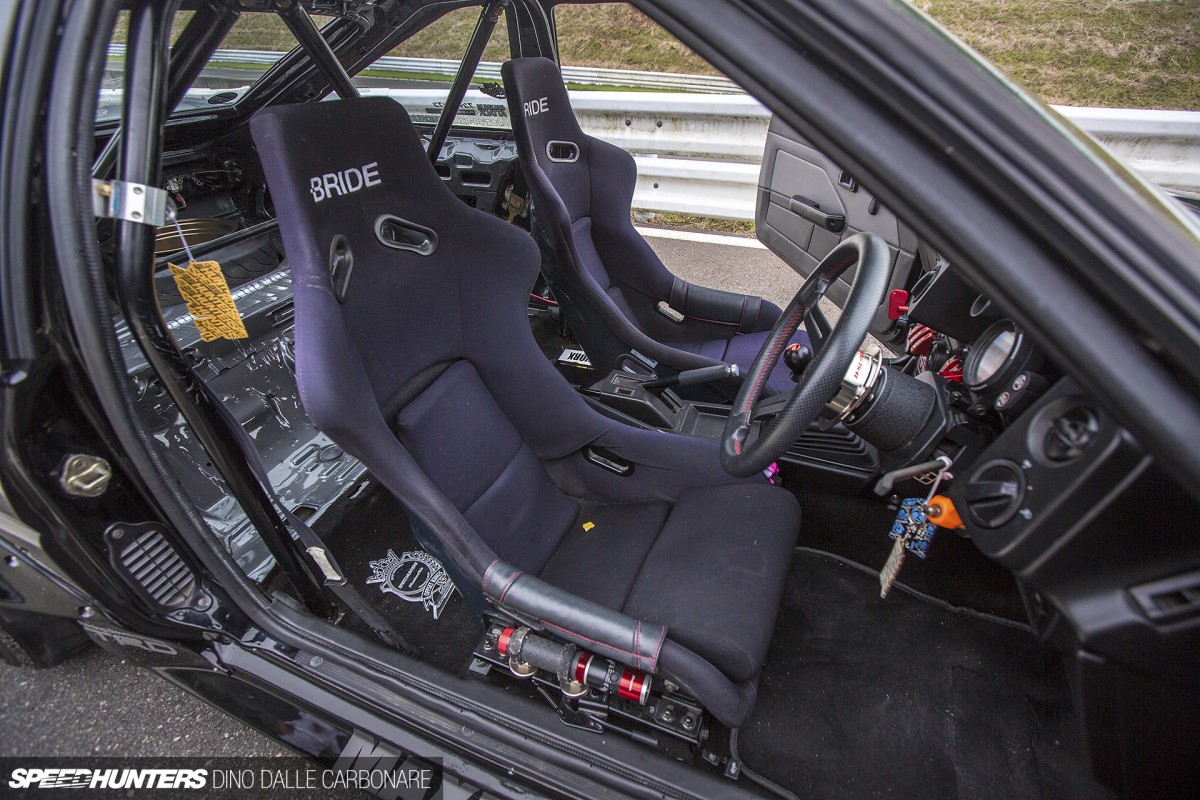 The cabin is stripped down to bare metal and is further stiffened up with a lightweight 5-point aluminium bolt-in cage. Only the front section of the interior has been re-fitted with the stock carpets to offer a bit of comfort during those longer journeys. When Ikeda-san hits the track the Bride seats get fitted with multi-point harnesses, but he prefers to remove them for road use.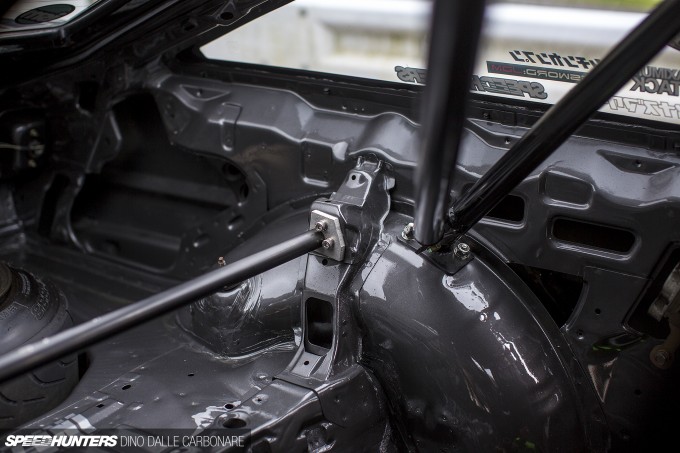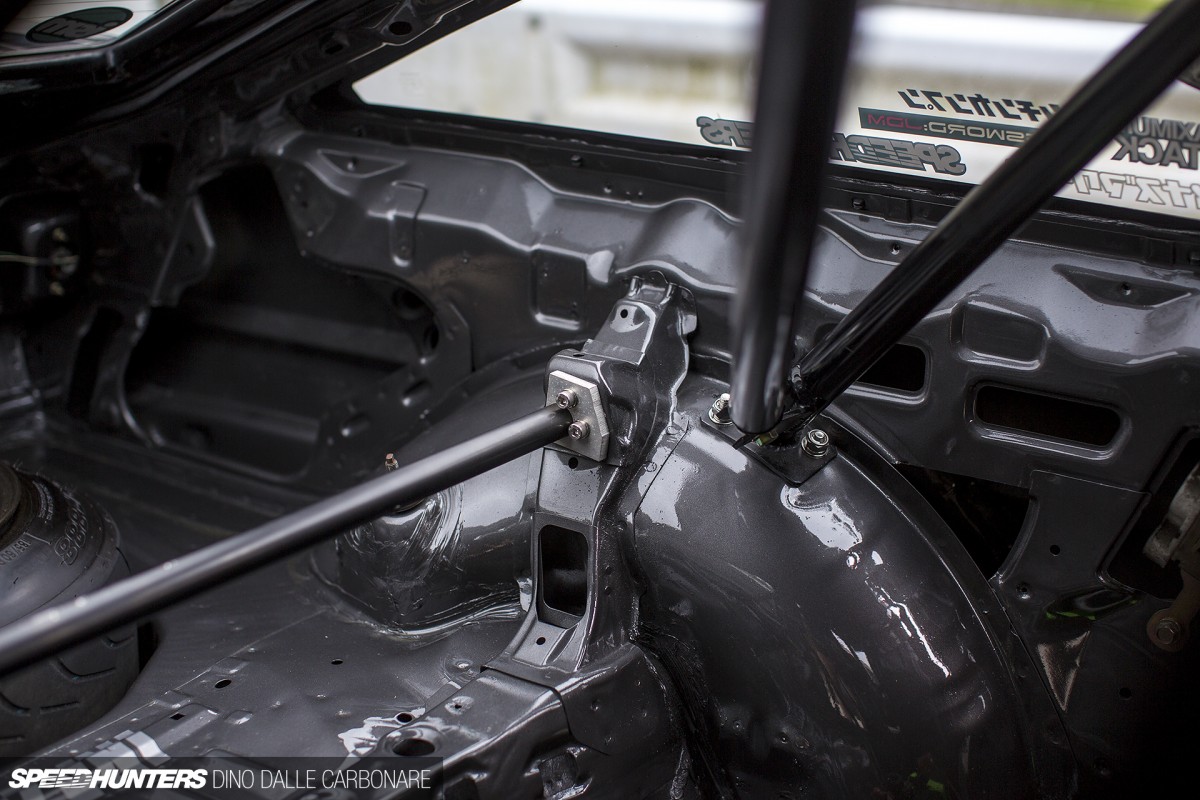 An additional bar has been added across the rear of the trunk area to add more stiffness and rigidity where it's needed the most.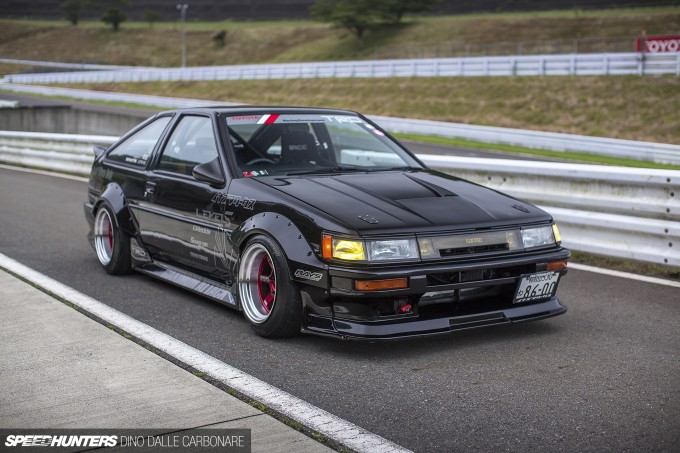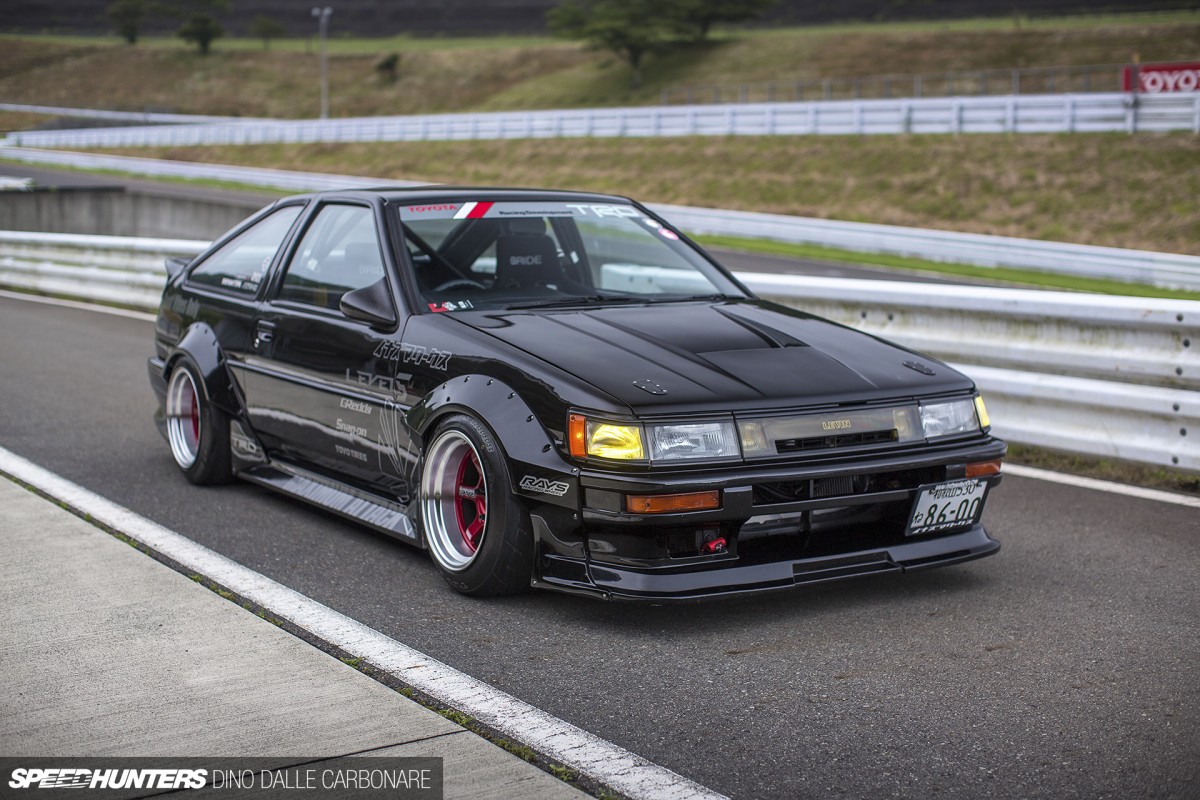 Great cars are so much more than the sum of their parts. It's when you think outside the box and take time to address the smallest of details that a car will truly begin to shine.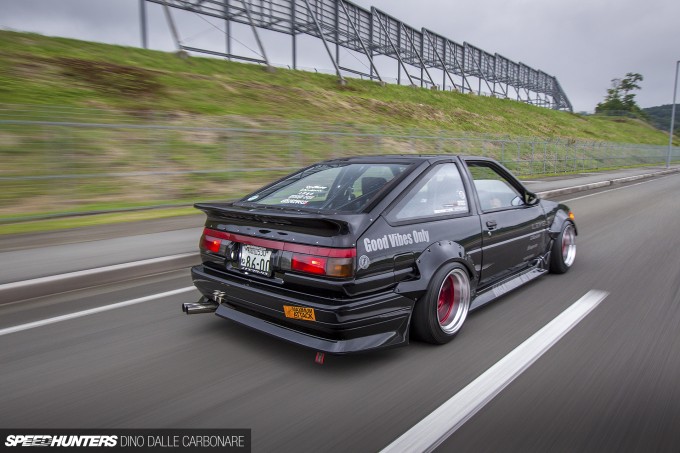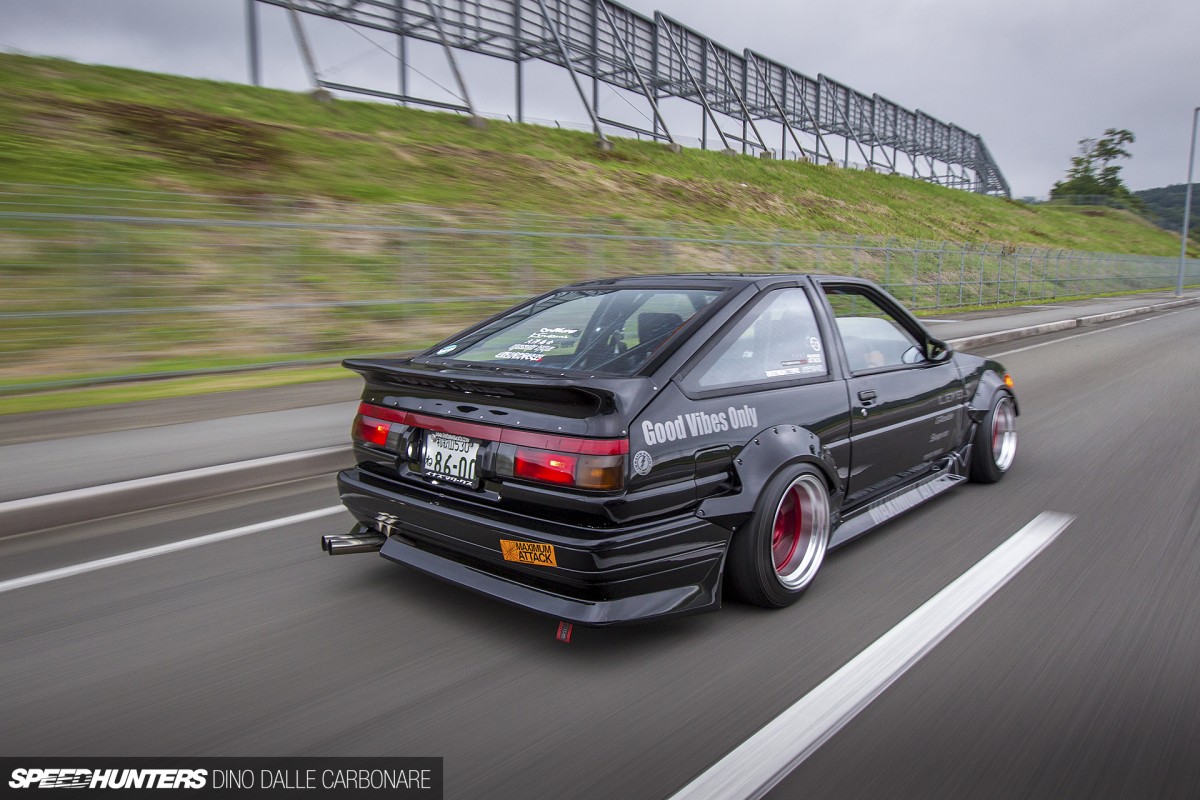 Ikeda-san's AE86 is the perfect example of how tuning is progressing in Japan. Some ill-informed or opinionated people would just dismiss a car like this as nothing more than a show-piece or a stanced ride built for the sole purpose of looking good and getting a reaction. But the deeper I scratch, and the more I talk to the people behind these works of art on wheels, all I find is some of the most dedicated enthusiasts and drivers out there. Japan is evolving, and I'm so happy to be able to see it happen in front of my eyes.
Dino Dalle Carbonare
Instagram: speedhunters_dino
dino@speedhunters.com