Dumped To The Ground
It's all a passing fad. It can't last. It's not real car culture. These are a few examples of comments that I've been hearing in a lot of places ever since the whole stance movement began taking over Japan. Granted, the Japanese have always been the global trendsetters when it comes to getting cars to sit just right, but it's the slightly more exaggerated and extreme end of the movement that I'm getting at here. And it's the fusion and adoption of USDM tricks and styles more akin to fashion trends than actual modifying and tuning that has helped shine a light on this ever-growing slice of Japanese car culture.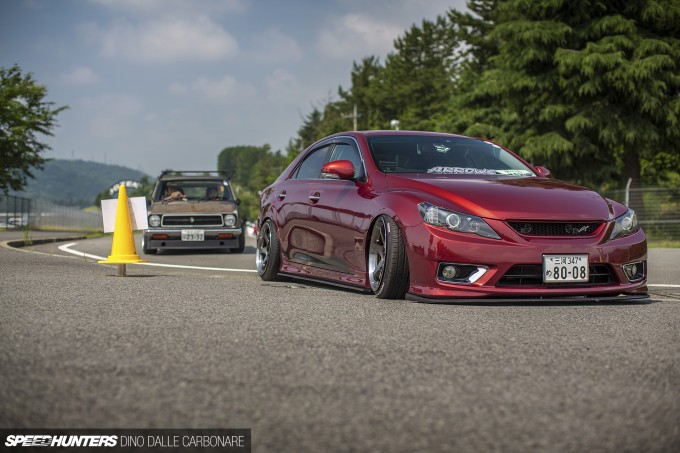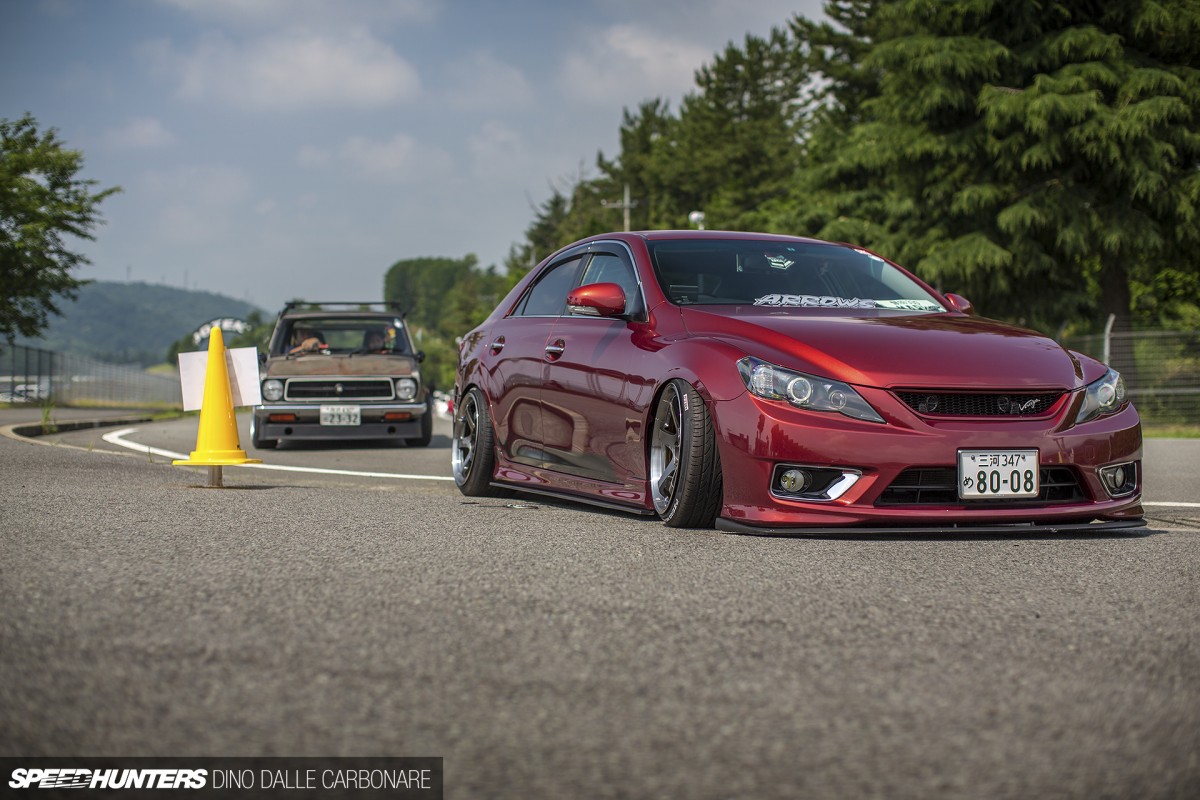 But as I walked through all the cars that had gathered for this year's Offset Kings showcase held at Fuji Speedway alongside Formula Drift over the weekend, I couldn't help but think that people generalize this styling genre way too much.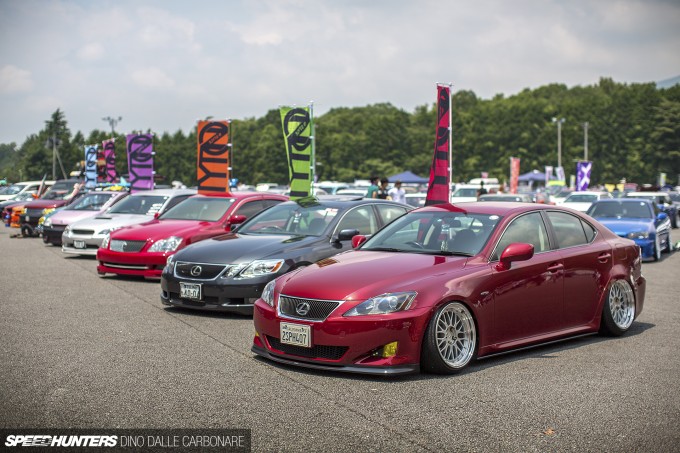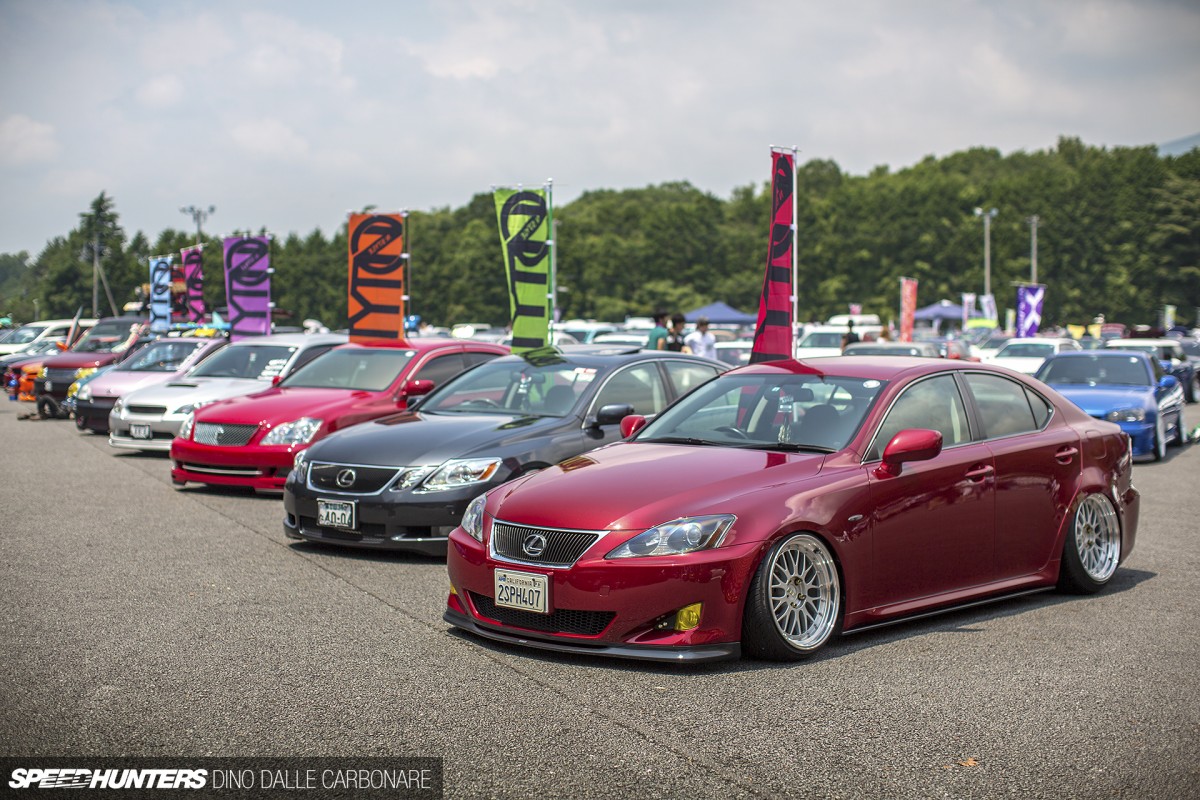 While stance and riding low is a general requisite to even be part of this group of enthusiasts, it certainly doesn't mean it's the only thing that people do to these cars. And that's even more true in Japan where variety is what really sets this sub-genre apart from others.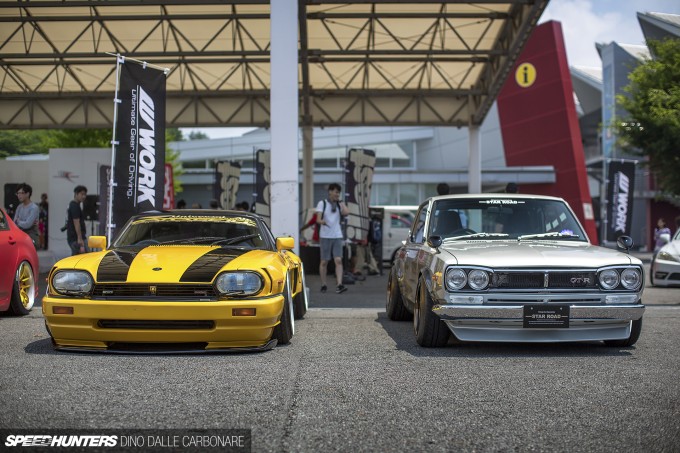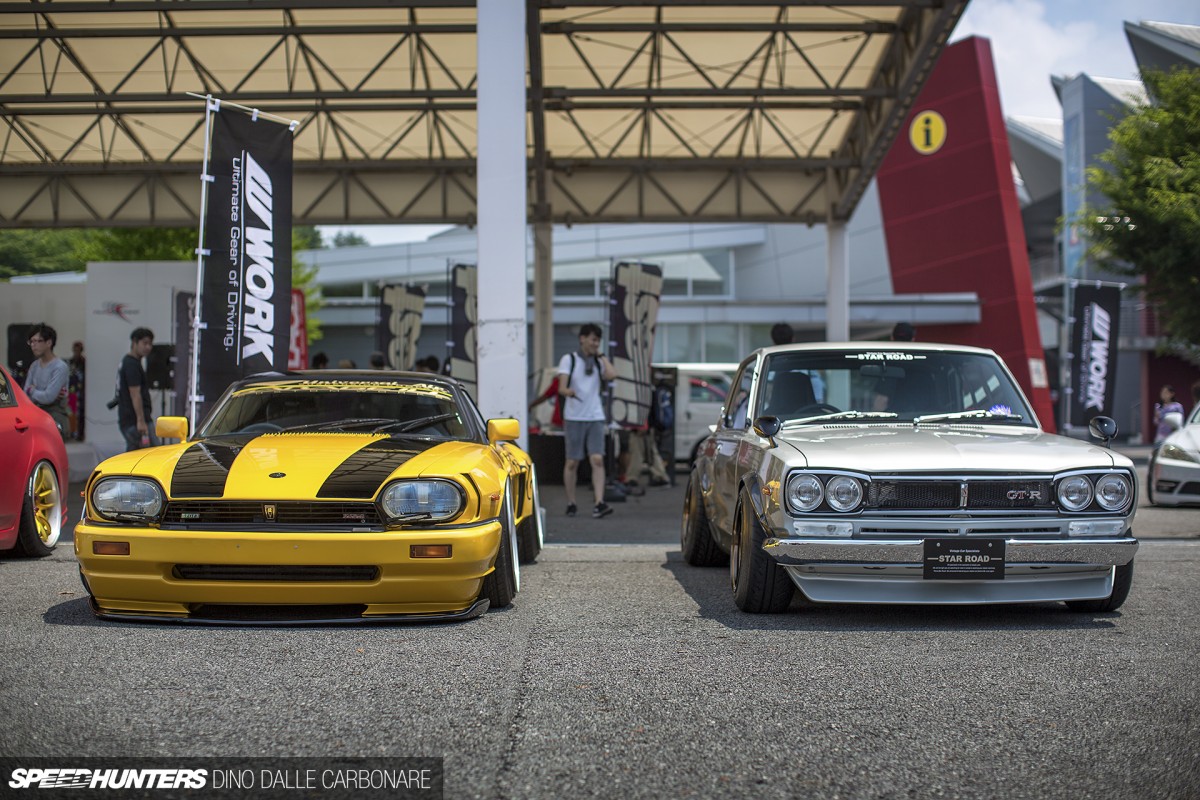 It doesn't matter what you start with – as long as it sits low, looks bad-ass and stops people in their tracks it qualifies. And to me there is something so right about all of this, because it allows anyone with any car to feel part of the group. There's no judging or dissing – if you want to be respected you do your own thing and people take notice.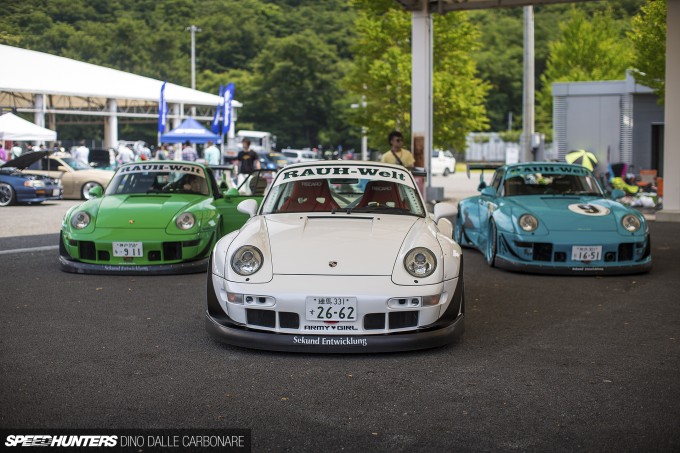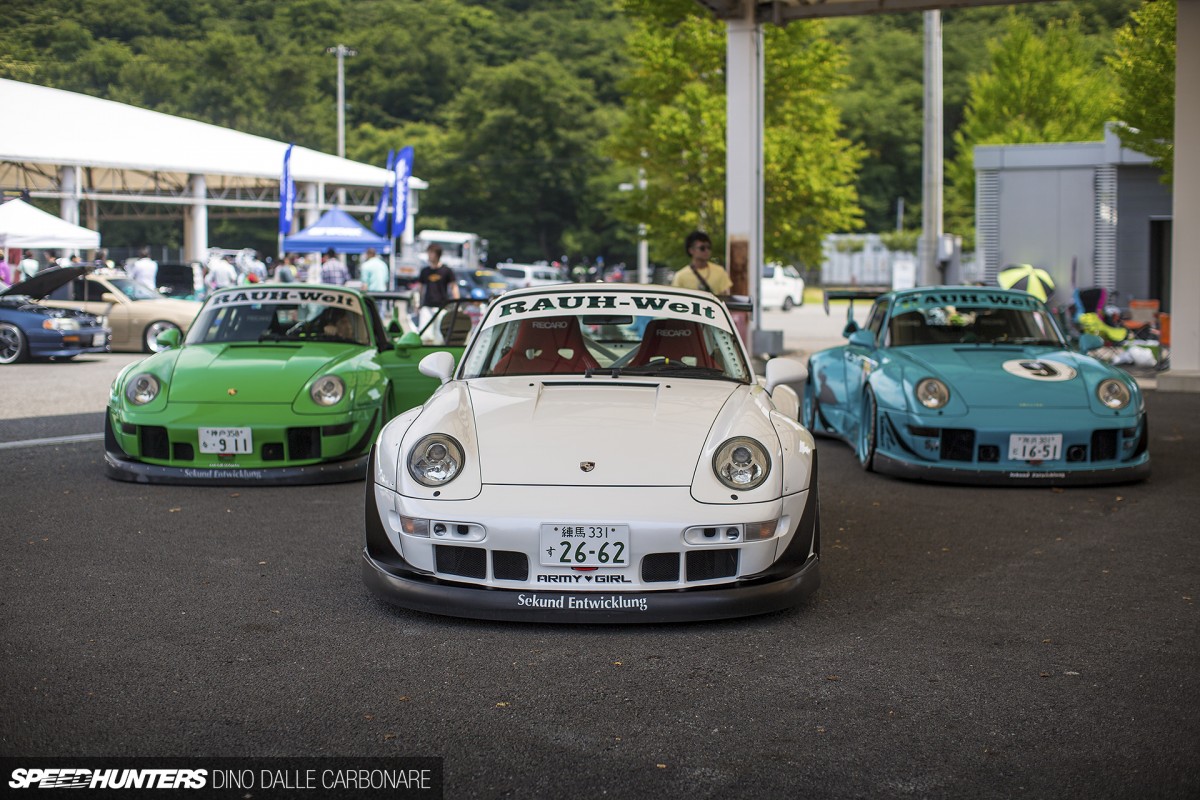 And that's the main sentiment I got at this year's event. Japanese owners are pushing the boundaries of style, tuning and innovation, and if you ask me it's only helping the entire car scene grow. This is something I will be getting into more detail with through all the car spotlights I picked up during the day, but before we get to that let's take a look at the Offset Kings Japan event in its entirety…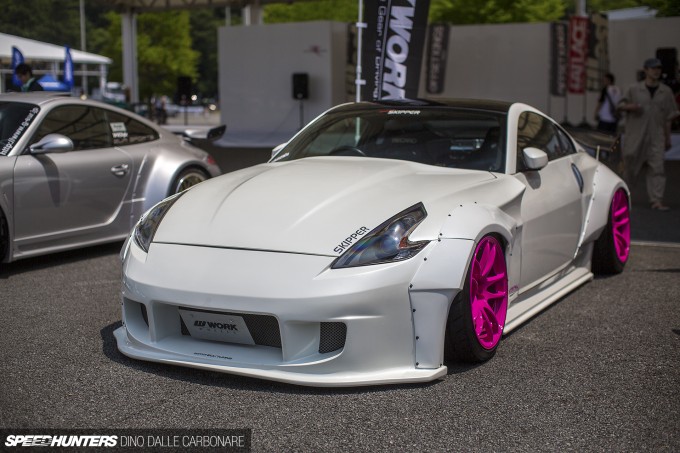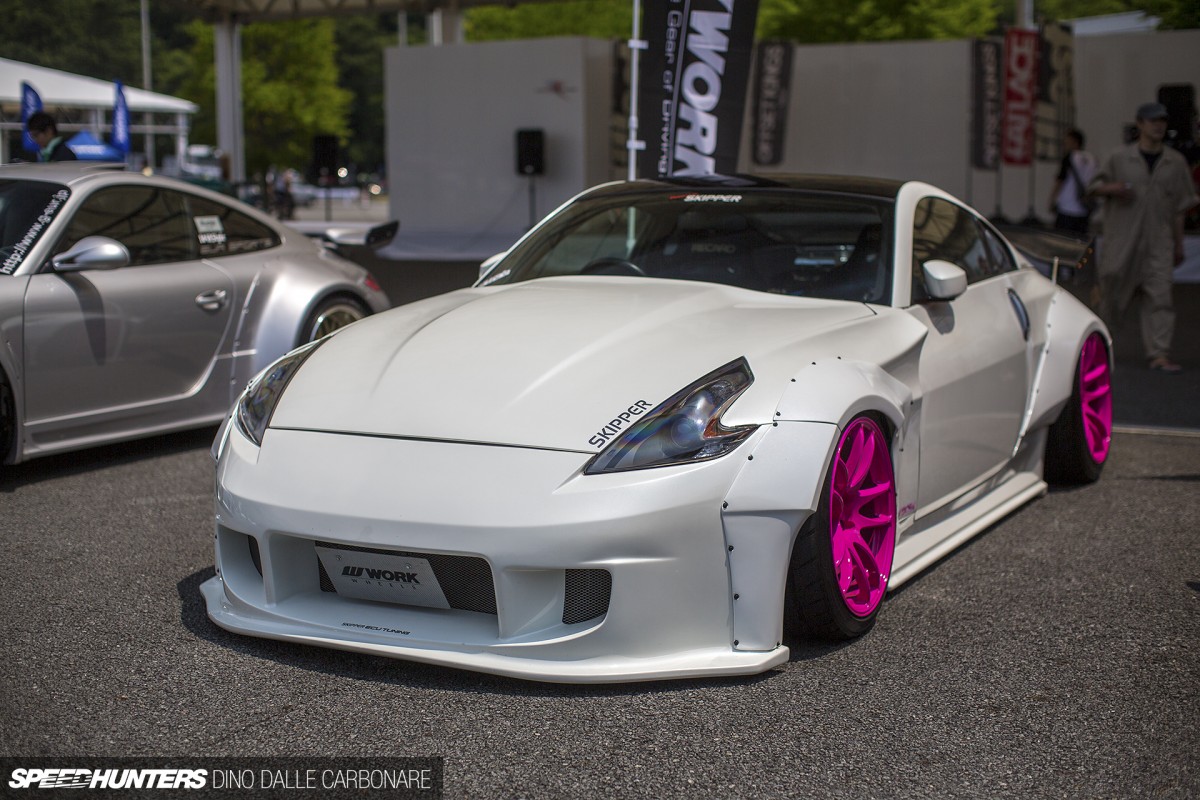 Has the whole over-fender craze ended yet I hear you ask? Not quite is the best answer I can provide… In fact, it's probably still growing as more companies jump on the bandwagon – cue the Skipper Z33. There's still no debating the fact that nothing will get your car noticed quite like widening treatment does. It might not be for everyone, but it sure is for a lot of owners out there.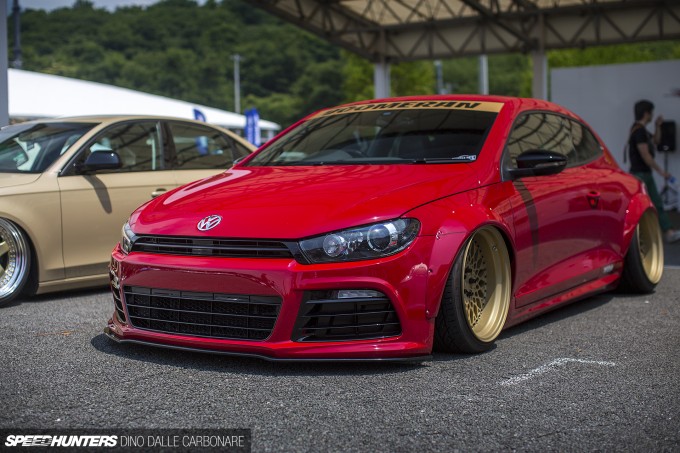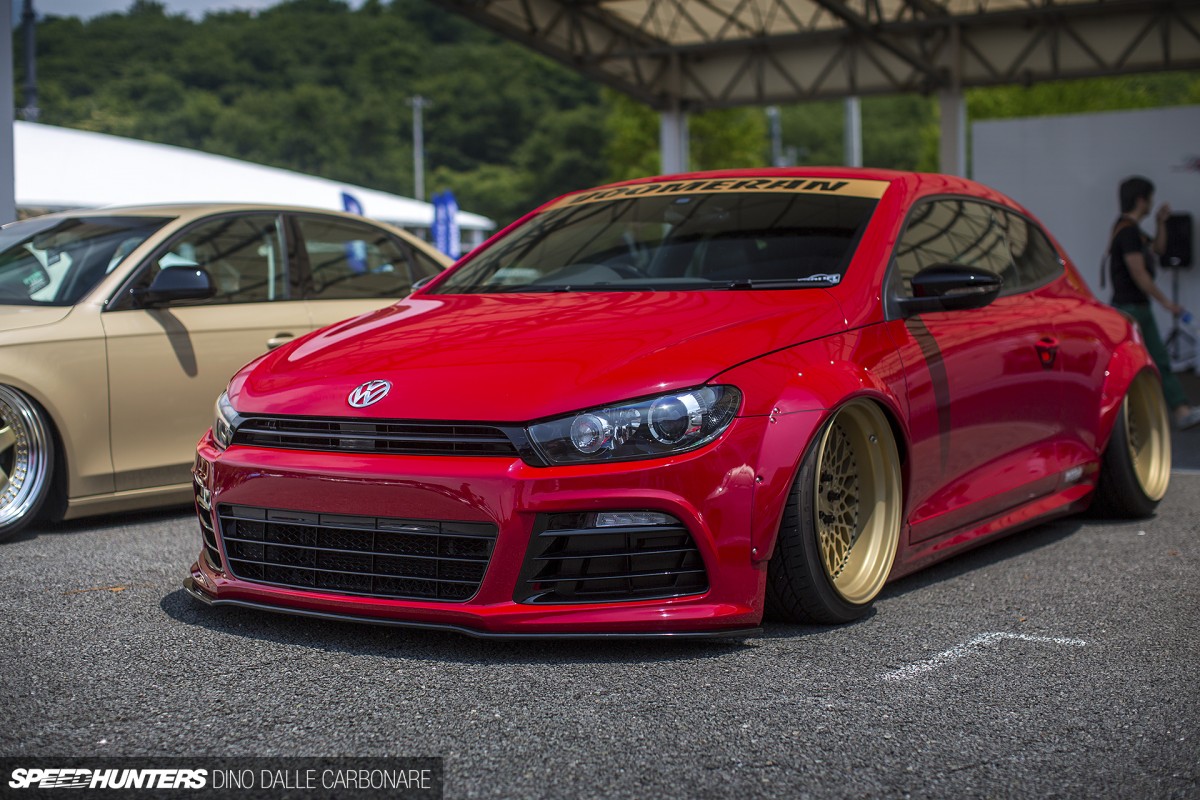 It was finally cool to see Voomeran's latest demo car that was unveiled earlier in the year at the Osaka Auto Messe. Sitting just right with deep-dish Rotiforms tucked under a set of fender flares, this is a superb follow-up to the company's Mk2 Golf that I featured last year.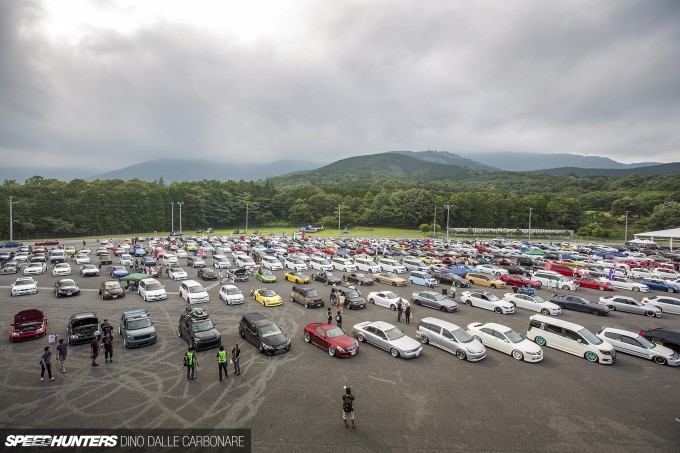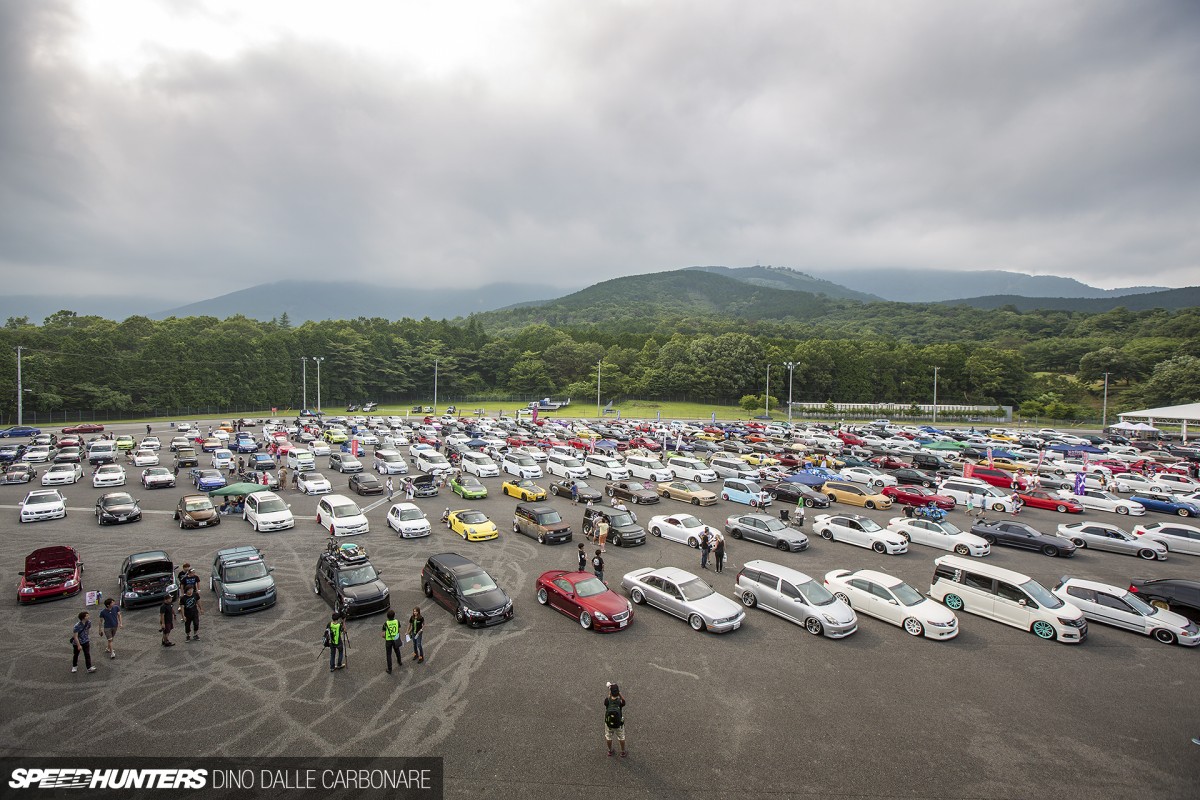 As you can see from this elevated viewpoint, there was no lack of entrants. This Fuji paddock has played host to Fatlace's stance-oriented event ever since the first Hellaflush Japan show in 2011, and it certainly hasn't lost any of its shine or coolness, thanks mostly to owners who are always evolving their cars.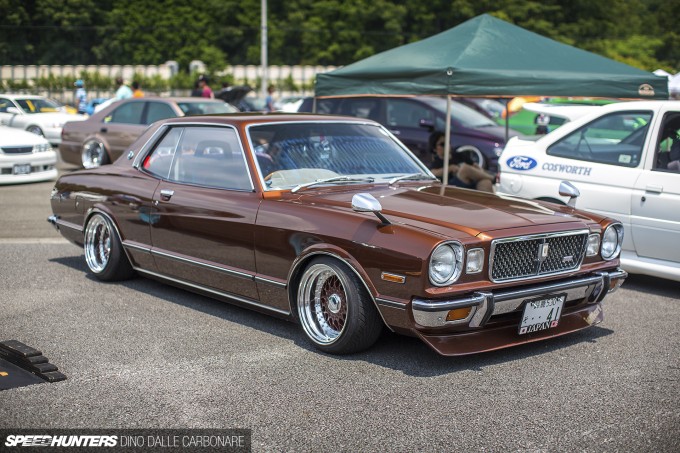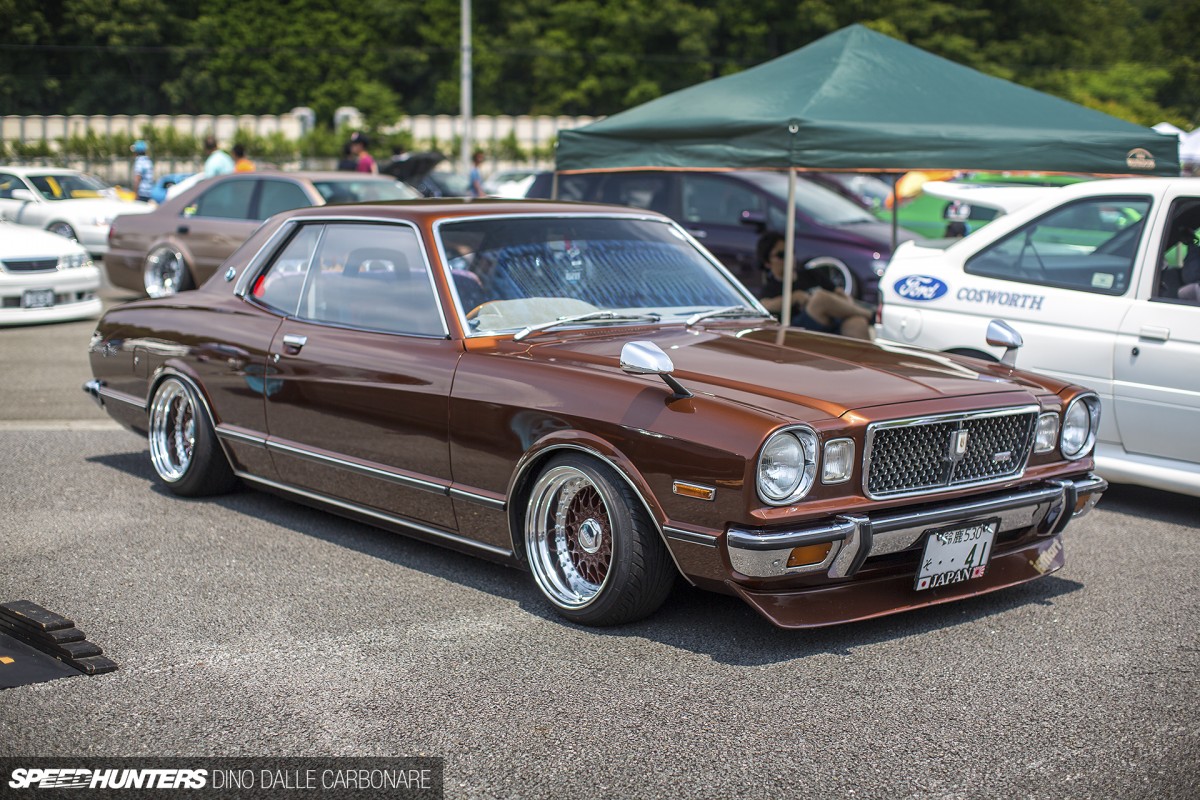 I'm all for checking out vans and VIP rides with onikyan, and the latest and wildest styles that drifters are going for with their S-chassis machines, but nothing at these events stands out more than the older cars. Japan's kyusha scene is growing faster than any other, and for the simple fact that owners are more likely to invest serious money into perfecting the way their cars look and run. Check out this Toyota Mark II for instance – simple, yet to the point with color-matched BBS centers mounted on reversed rims for that extra deep-dish look.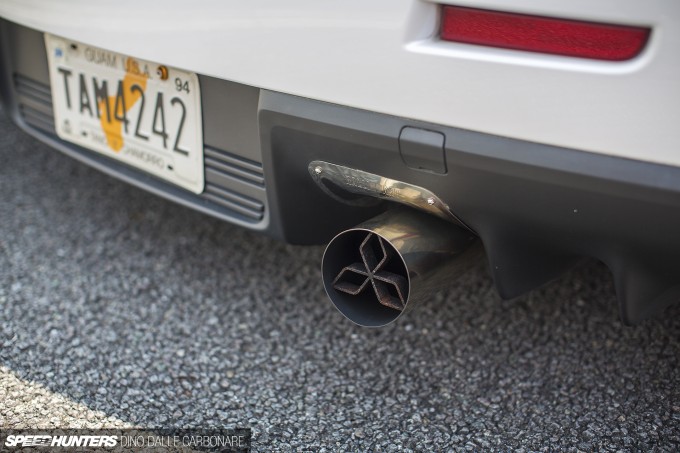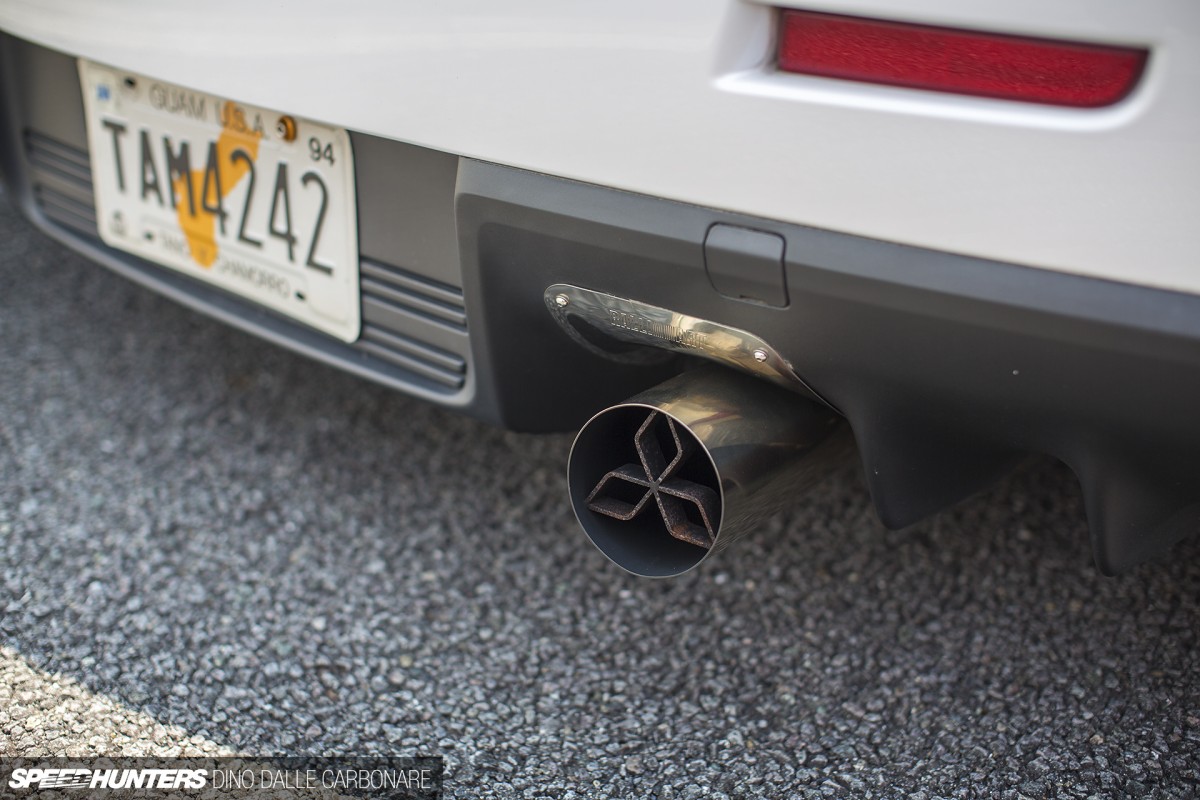 Then of course there's the need to try to outdo everyone else with cool and at times innovative thinking. The triple-diamond inside this Mitsubishi Lancer Evo X's exhaust was a rather unique styling touch I thought.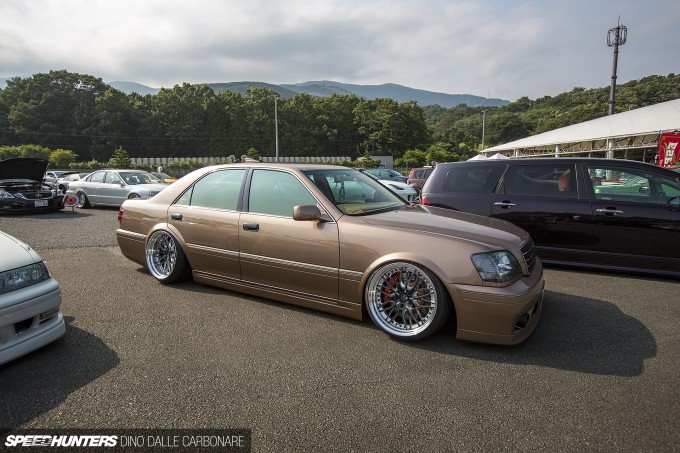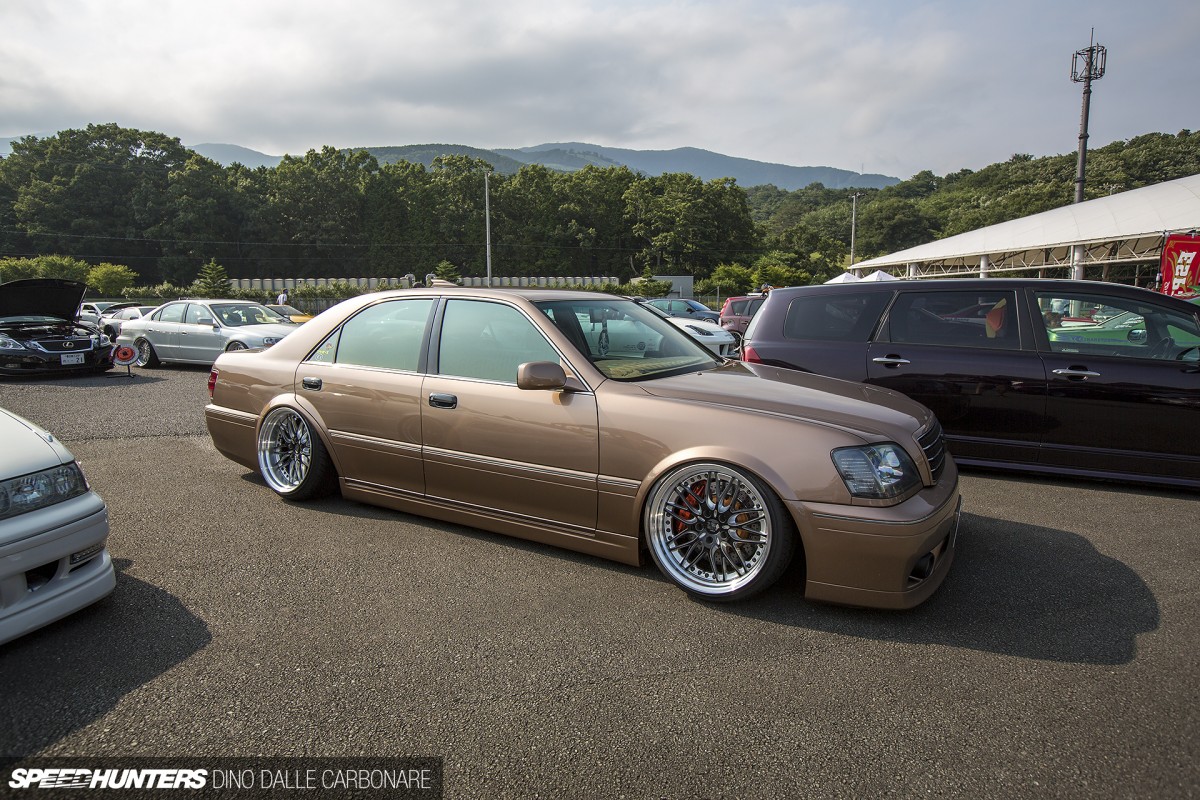 Presentation-wise, VIP never lets us down; the Japanese taking their sedan tuning to extremes when it comes to nailing the details. This Crown must have been subjected to a lot of fabrication work in order to lock down its spot-on stance. The custom fender extensions were really nicely done.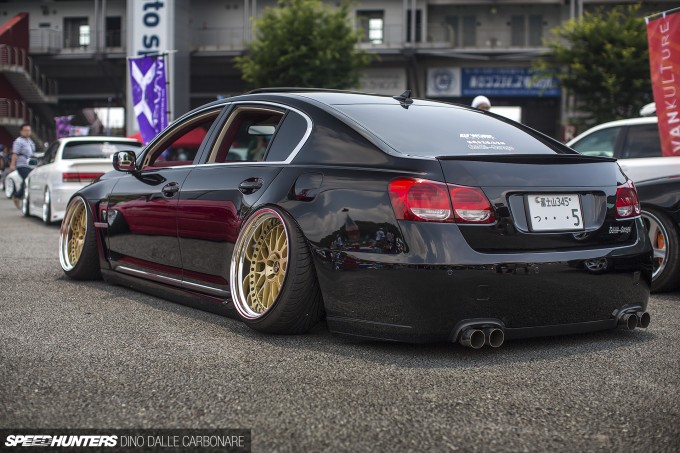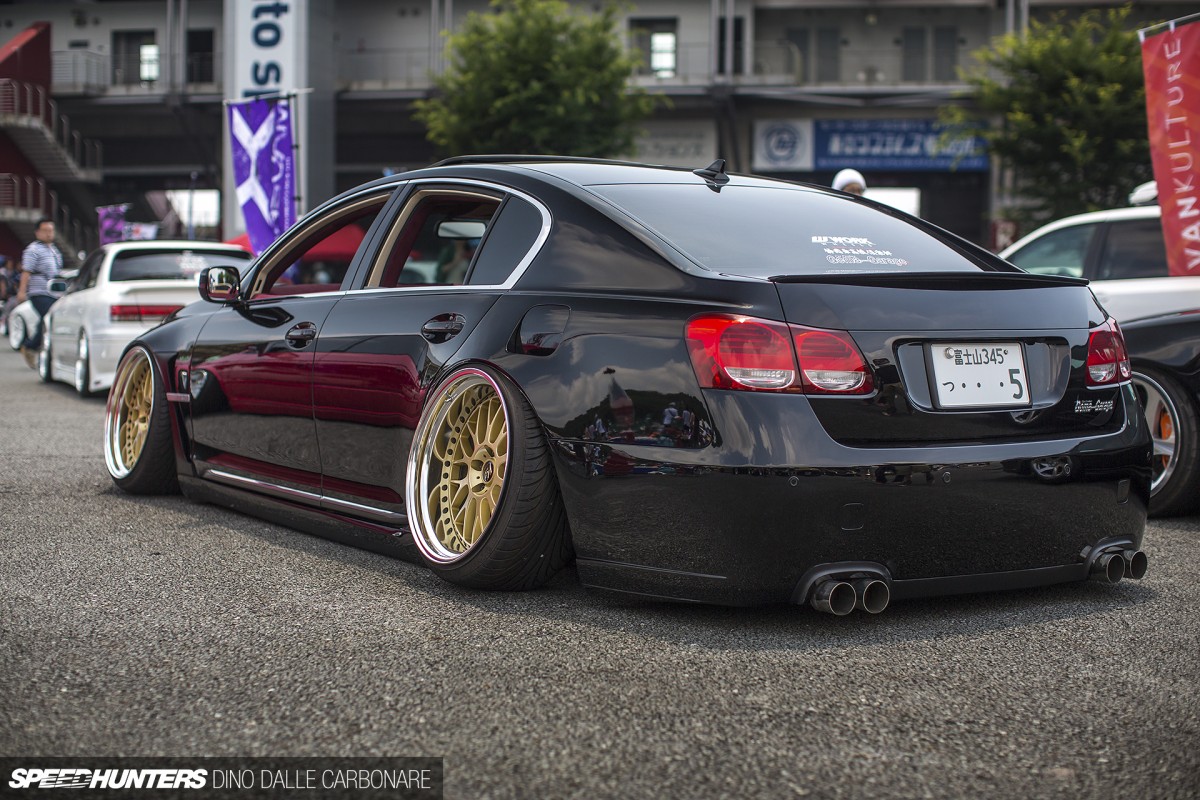 If that's too sedate for you though, there's always someone that's taking a wilder approach. You can't get more 'out there' than running this amount of negative camber on your custom Lexus GS.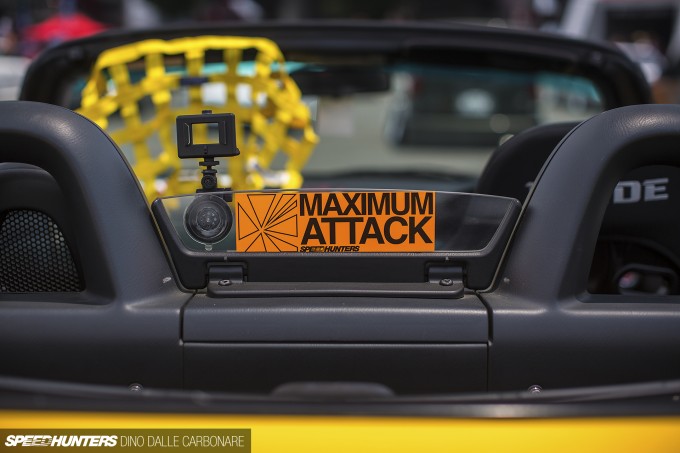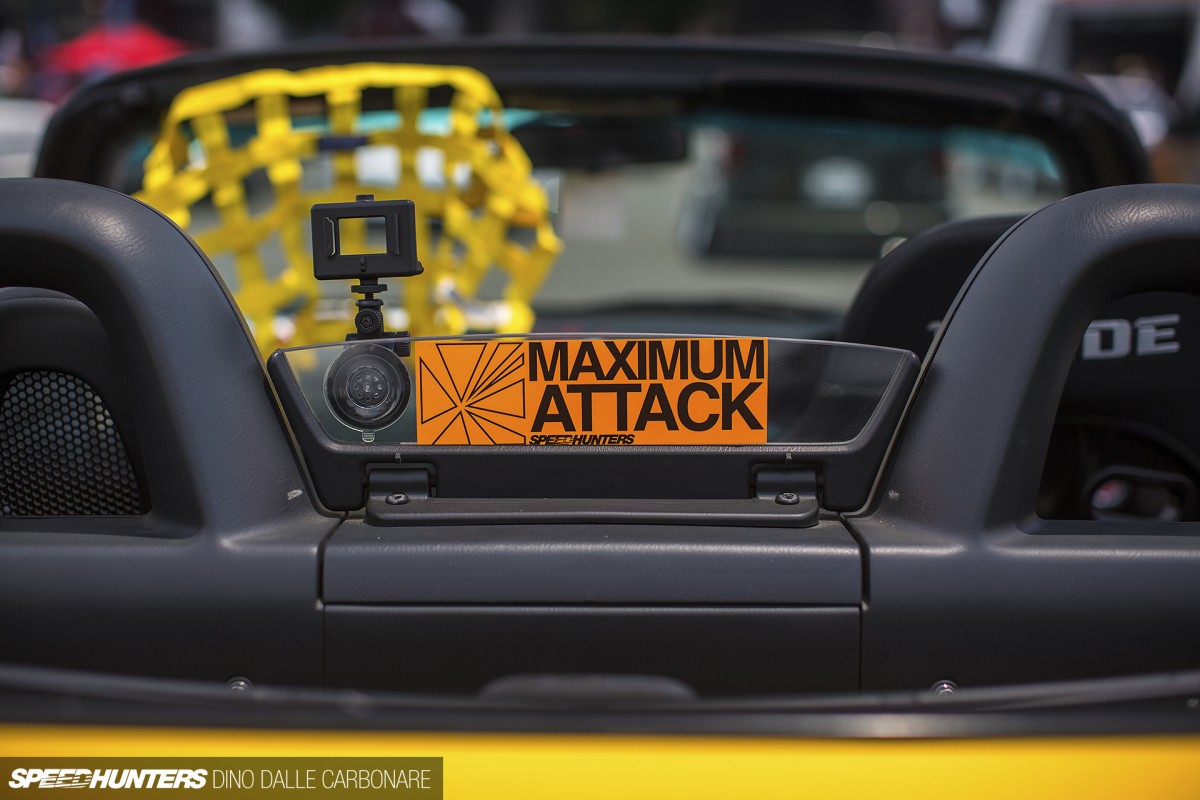 In an attempt to get people moving through the various events of the 'Motor Games' day at Fuji Speedway, this year the booths and display areas were relocated to the Formula D side of things. Still, while the Speedhunters booth was on the opposite side of the venue from the Offset Kings showcase, there were still plenty of supporters rocking our t-shirts and stickers, as well as a surprisingly large number of camera straps. Minnasan, arigatou!
Wide Is Never Wide Enough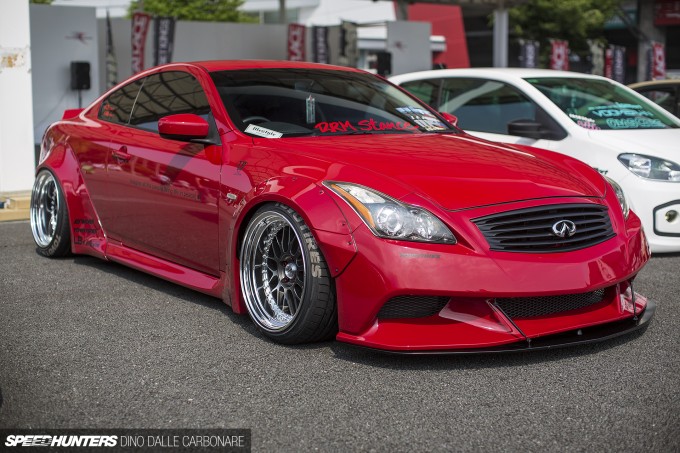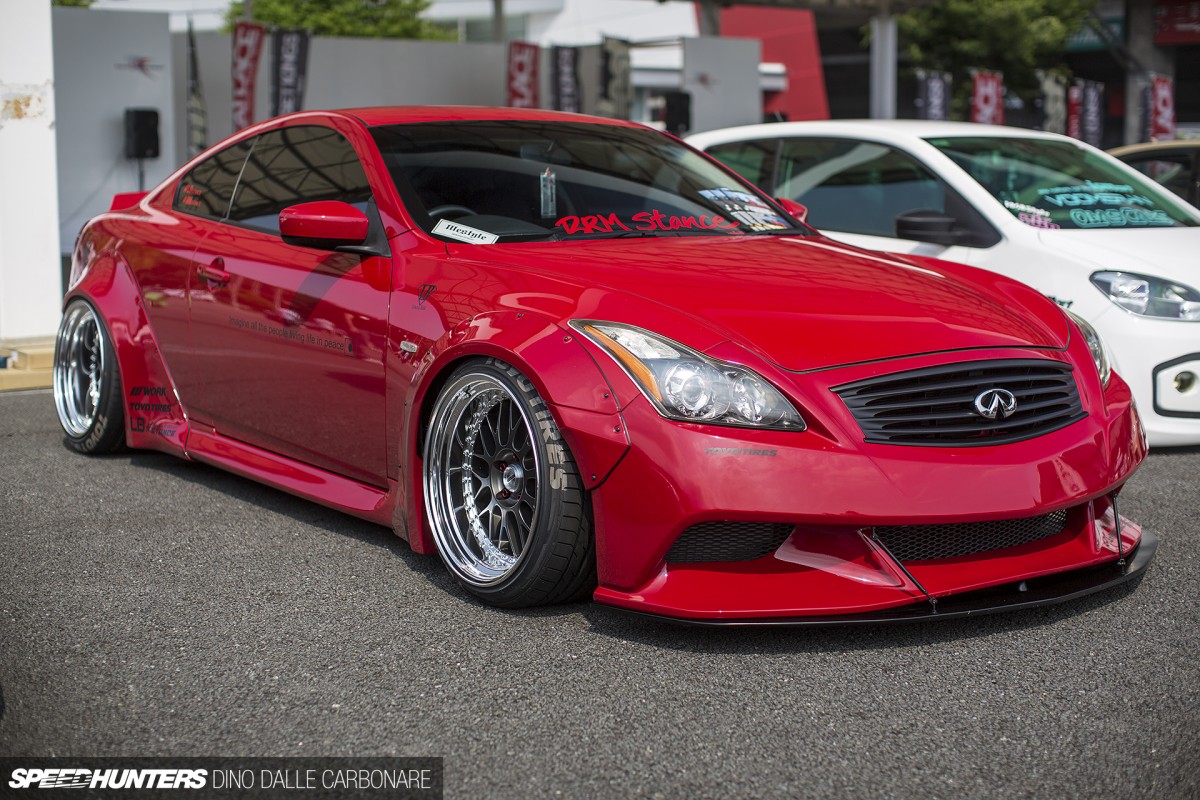 I don't think Kato-san at Liberty Walk will ever be happy until he has over-fendered every high-end supercar out there, except now he's also turned his attention to the Nissan Skyline coupe – aka Infiniti G37.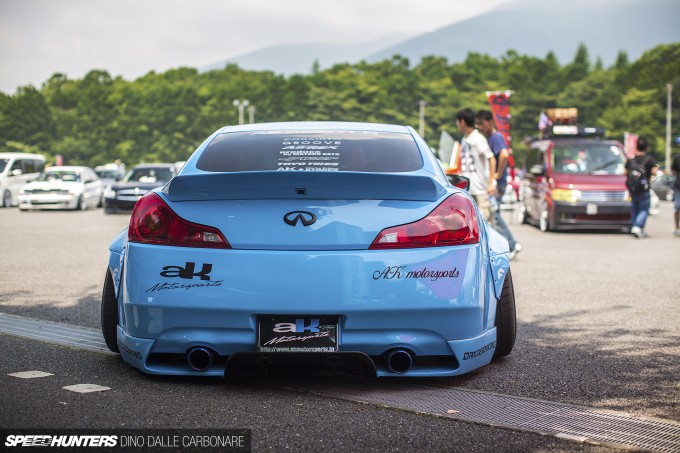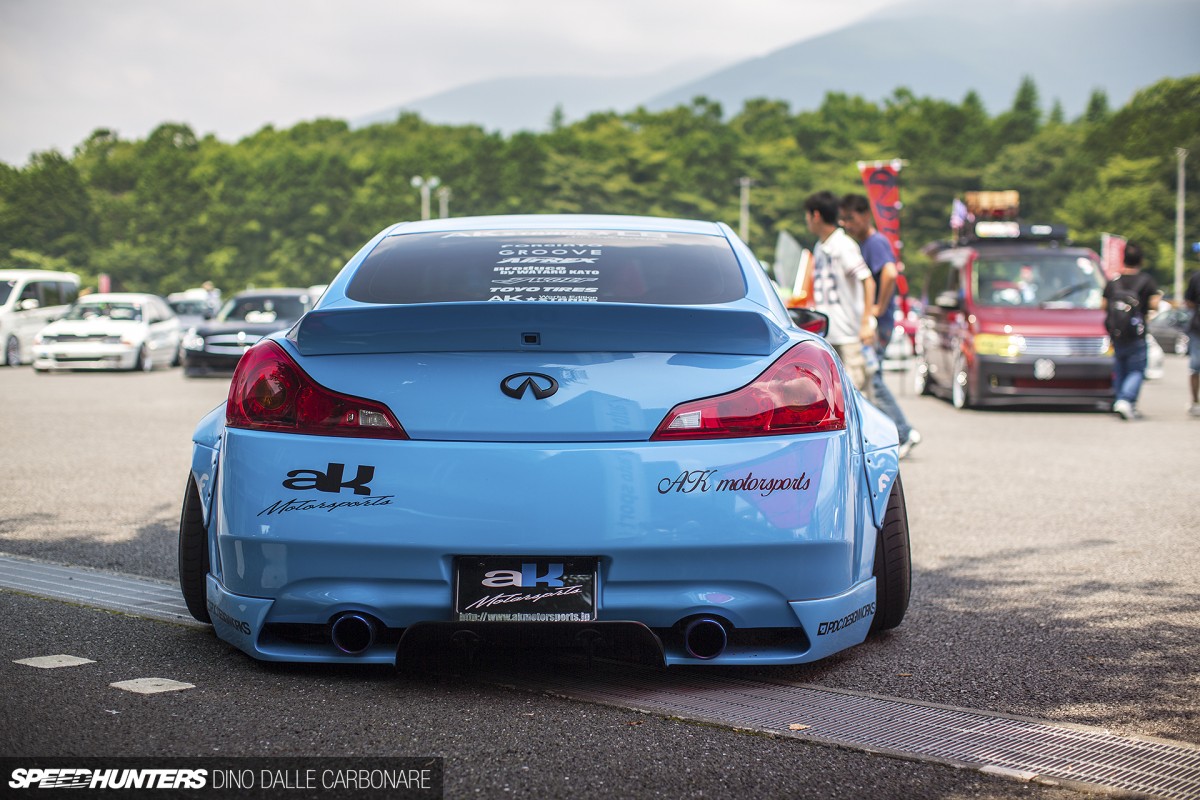 The G37 might be getting on now, but this look is pretty sexy. I never even imagined that the Nissan's dated shape could be given so much attitude with the Liberty touch, but what do you guys think? I guess this will have to do until Nissan finally gives us a successor.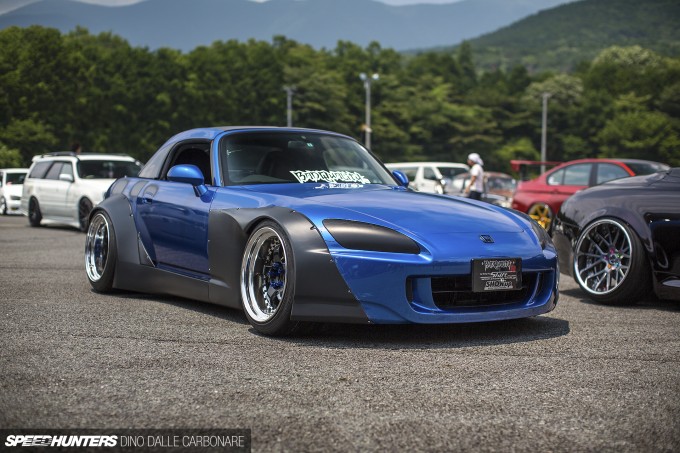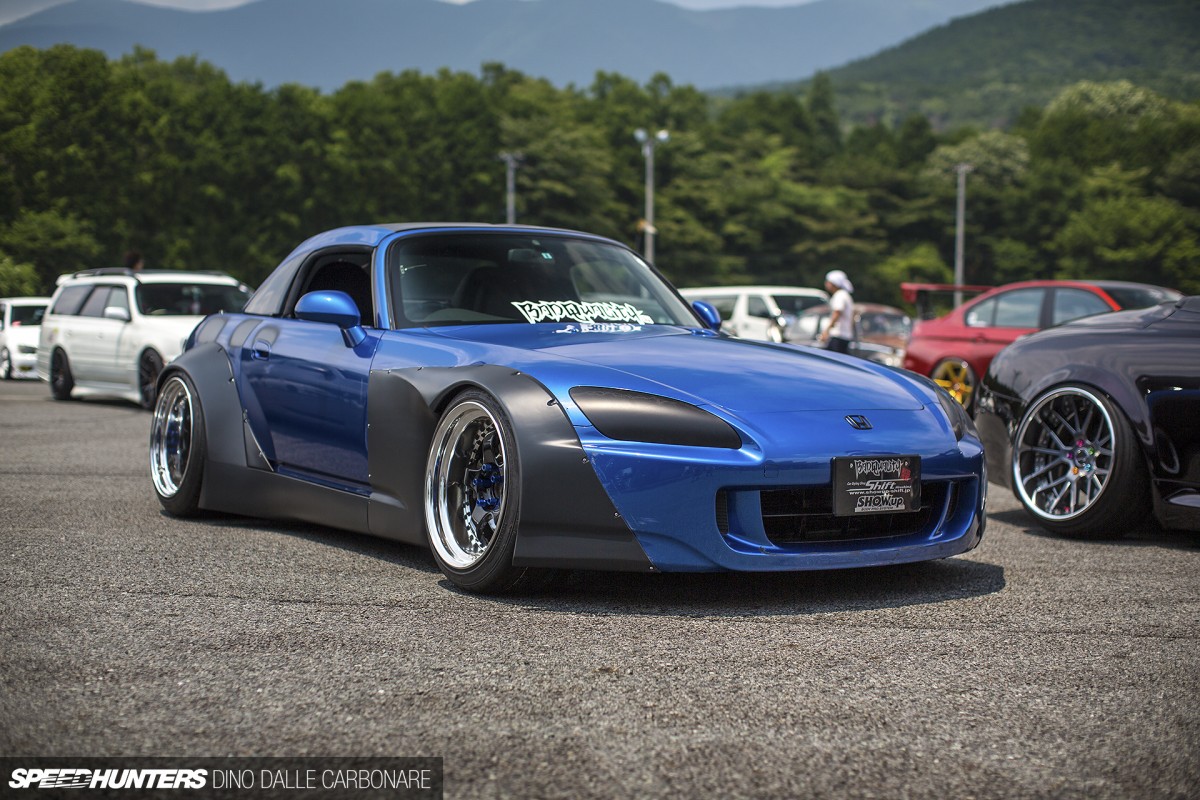 Sticking on the subject of over-fenders, check this S2000 out. The Honda build from team Bad Quality in Hiroshima is far from finished, but its owner brought it along anyway.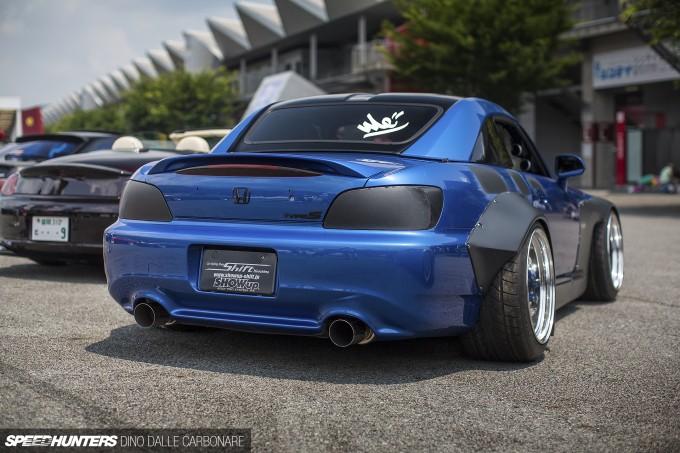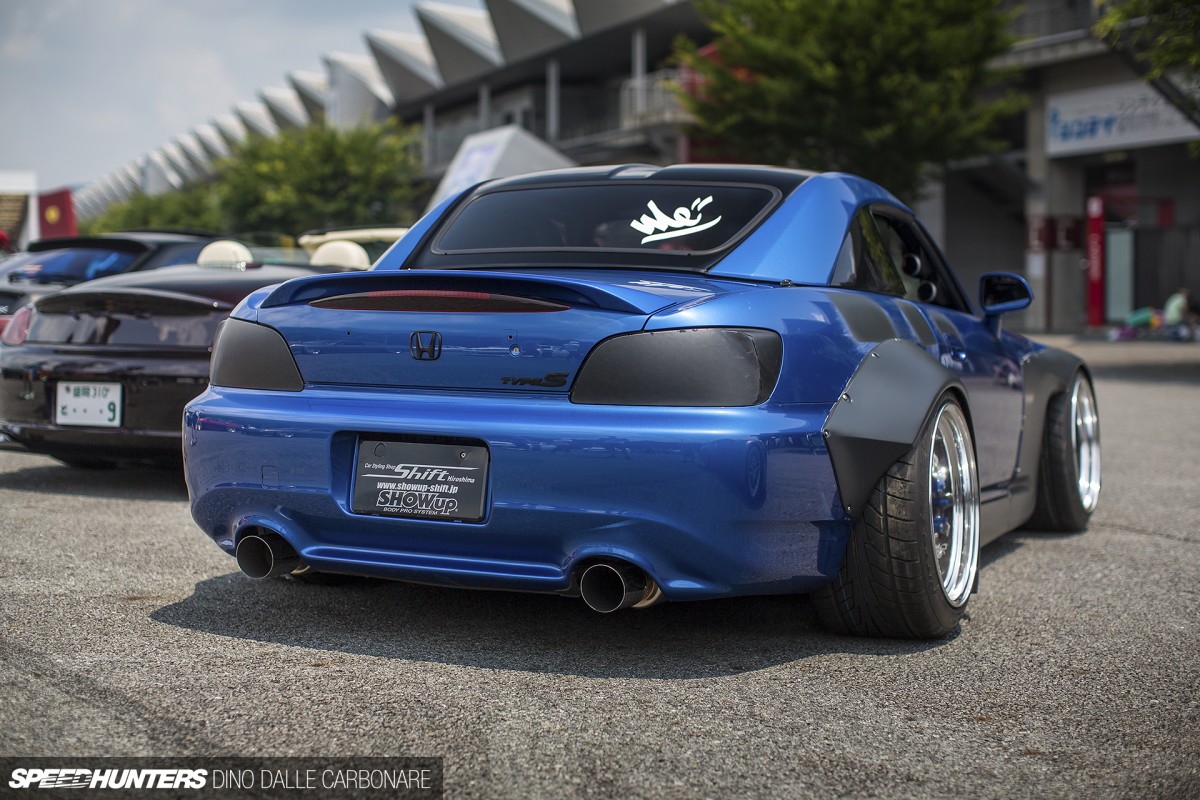 Since Miura has actually never designed anything for the S2000, the owner took a Rocket Bunny FD3S kit and adapted it to fit the Honda's exterior. The results are, well, unique to say the least. The aim is to get the car finished in time for next year's Tokyo Auto Salon.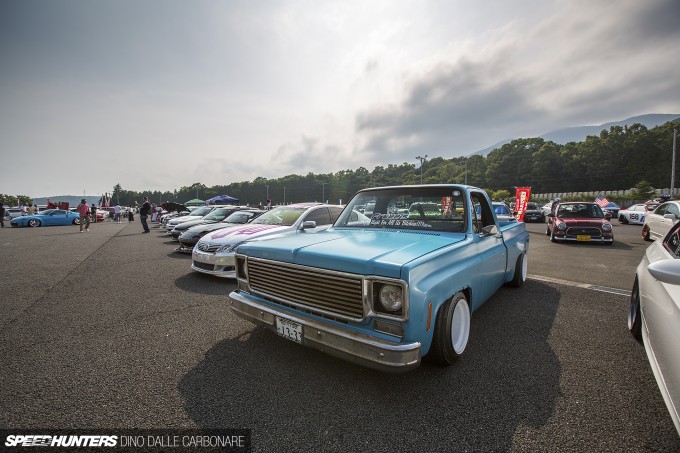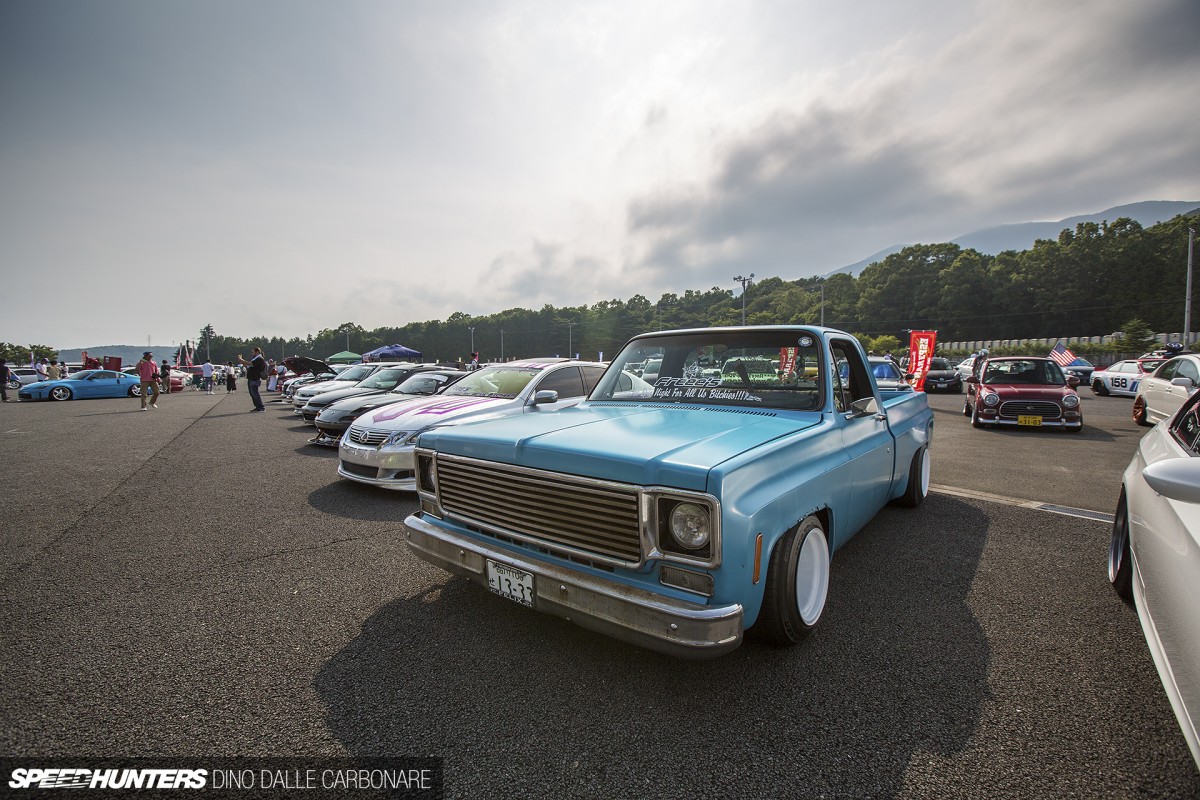 Since Japan is all about variety here's a stanced Chevy truck!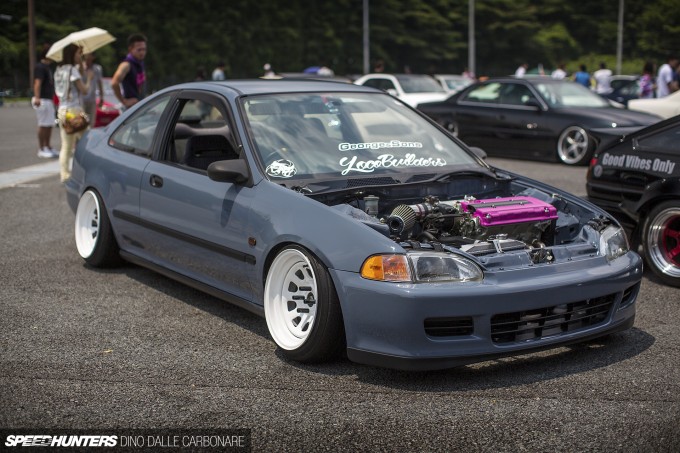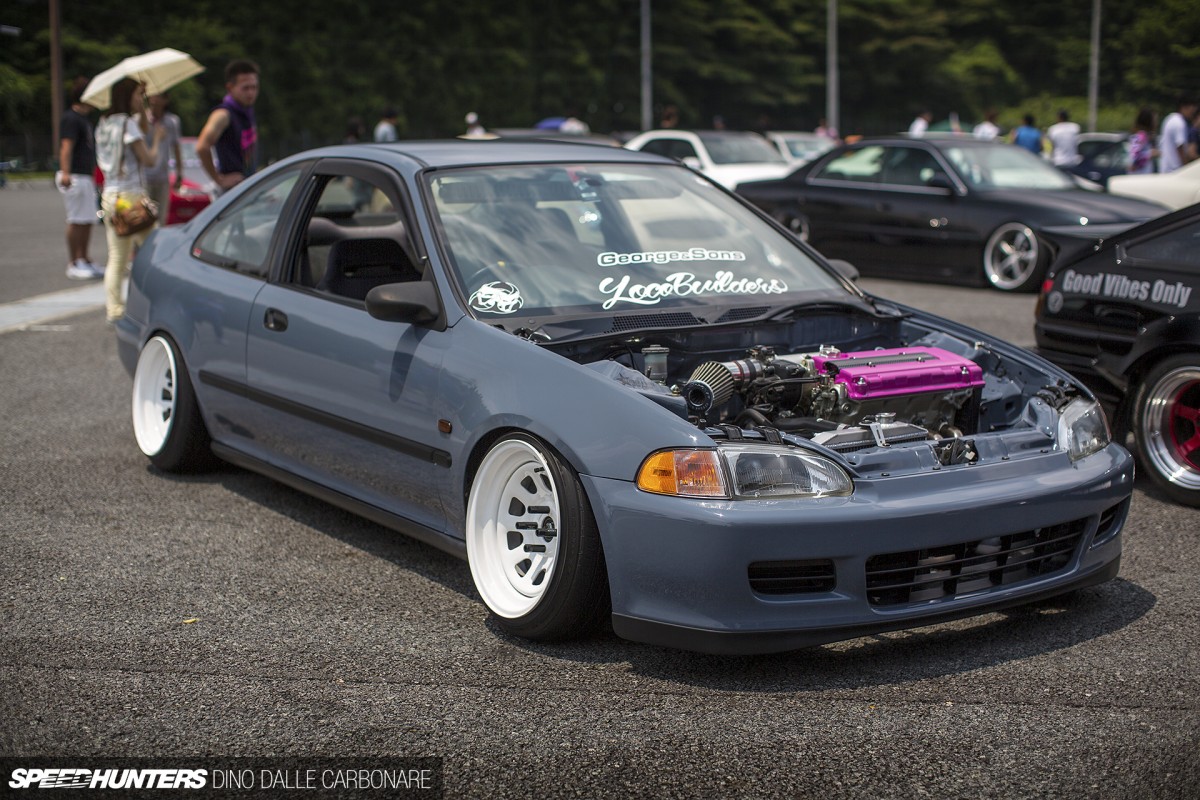 The Honda guys are always a big part of this movement, but I'd be lying if I said there wasn't a distinct lack of H-badged machinery at this year's Offset Kings event. However, what did show up was of the highest quality. And once again, by adopting a few USDM touches Japanese owners and builders are refining their execution.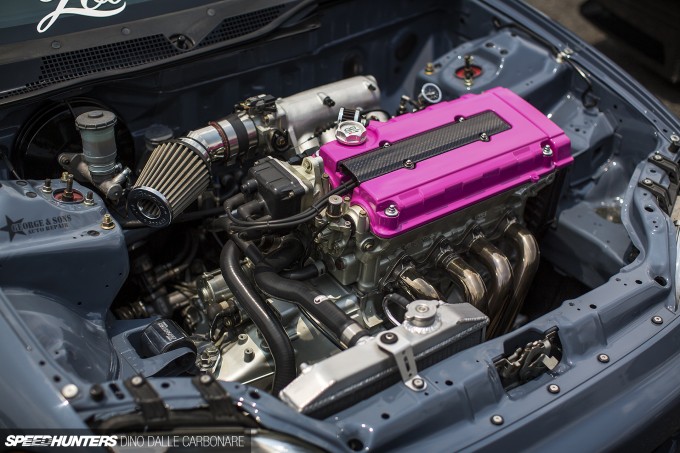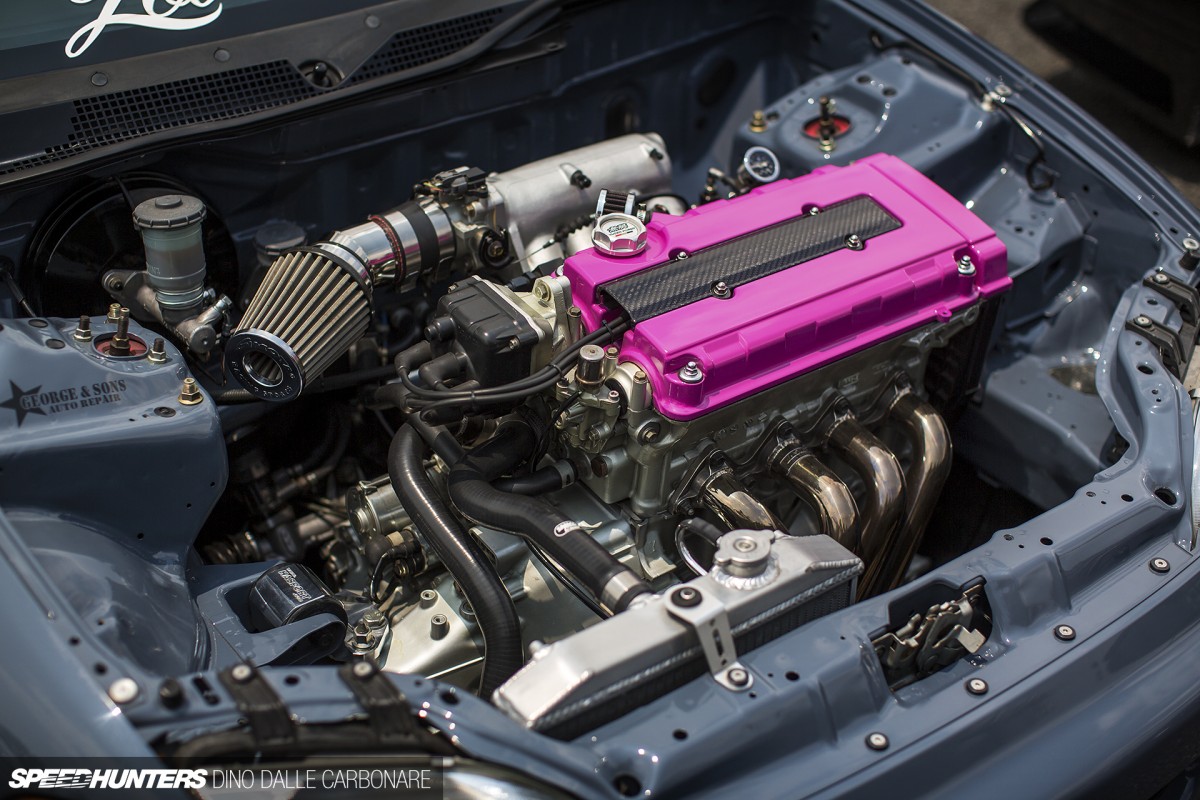 Ever since I've been covering the Japanese tuning world, the one thing that's always struck me is the sheer lack of presentation under the hood and within interiors. But it's come a long way since then, and this Civic serves as a perfect example. I mean, there's nothing wrong with a functional feel to things, but it doesn't hurt to clean up things along the way, right?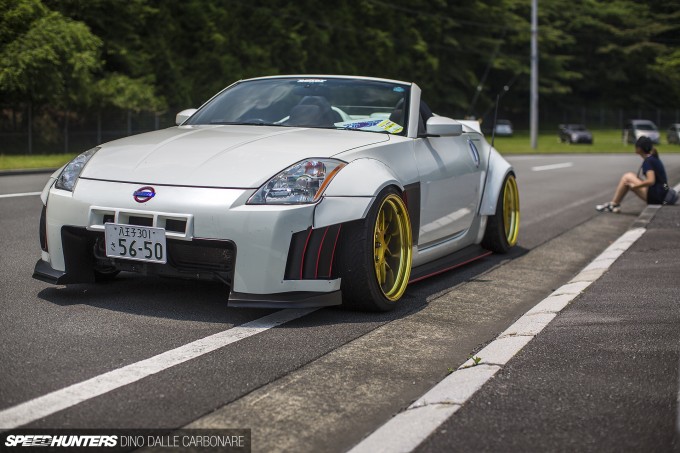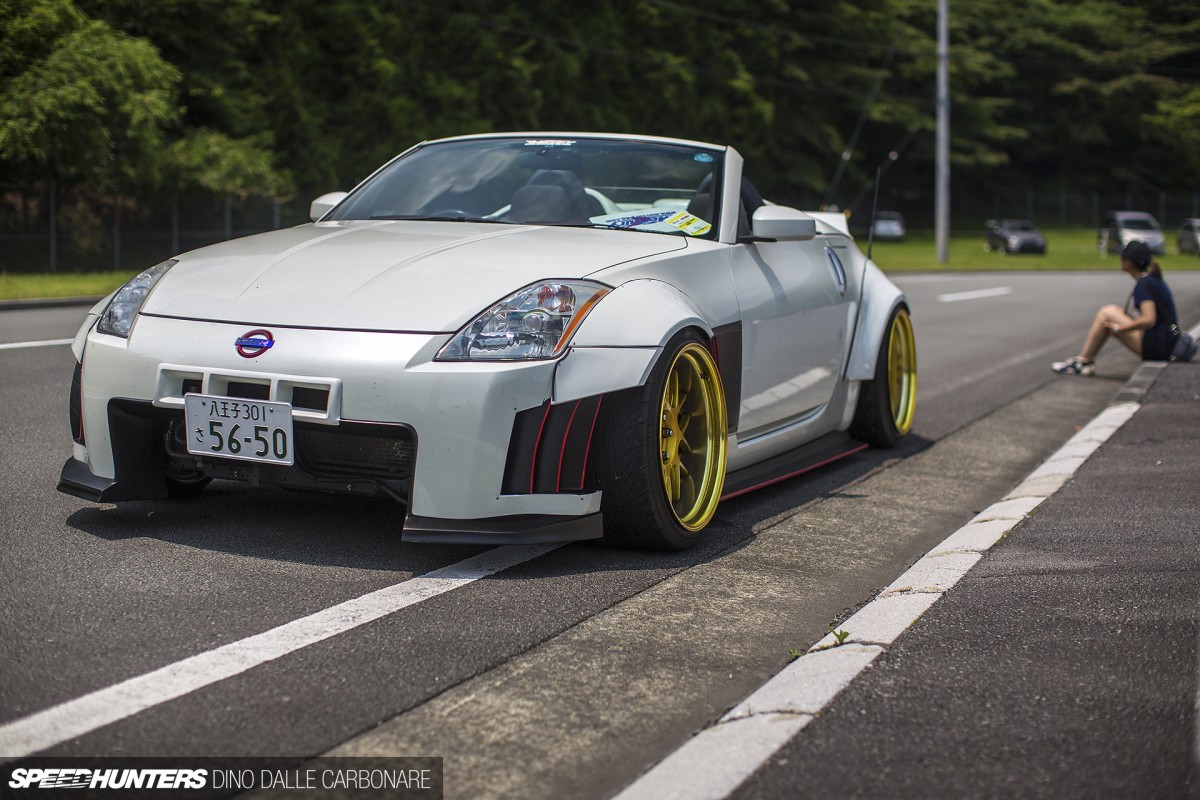 Ever since shooting the Mercury Z33 this past winter I've been wondering what their aero package would look like fitted to a street car. Well, this drop-top 350Z was the answer I was looking for! I dig it, as it looks a little different to what we're used to seeing these days.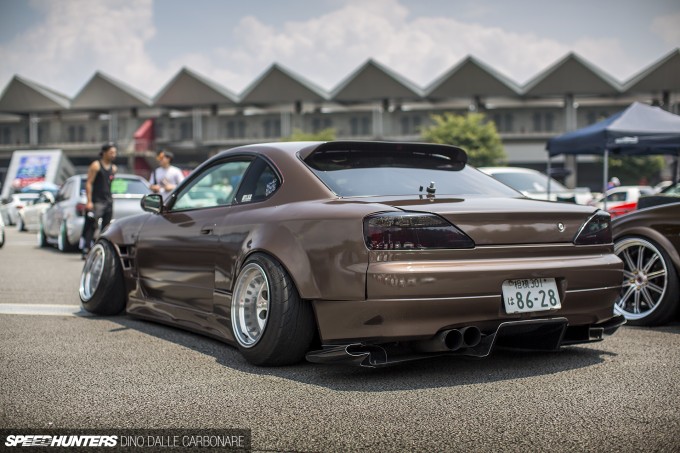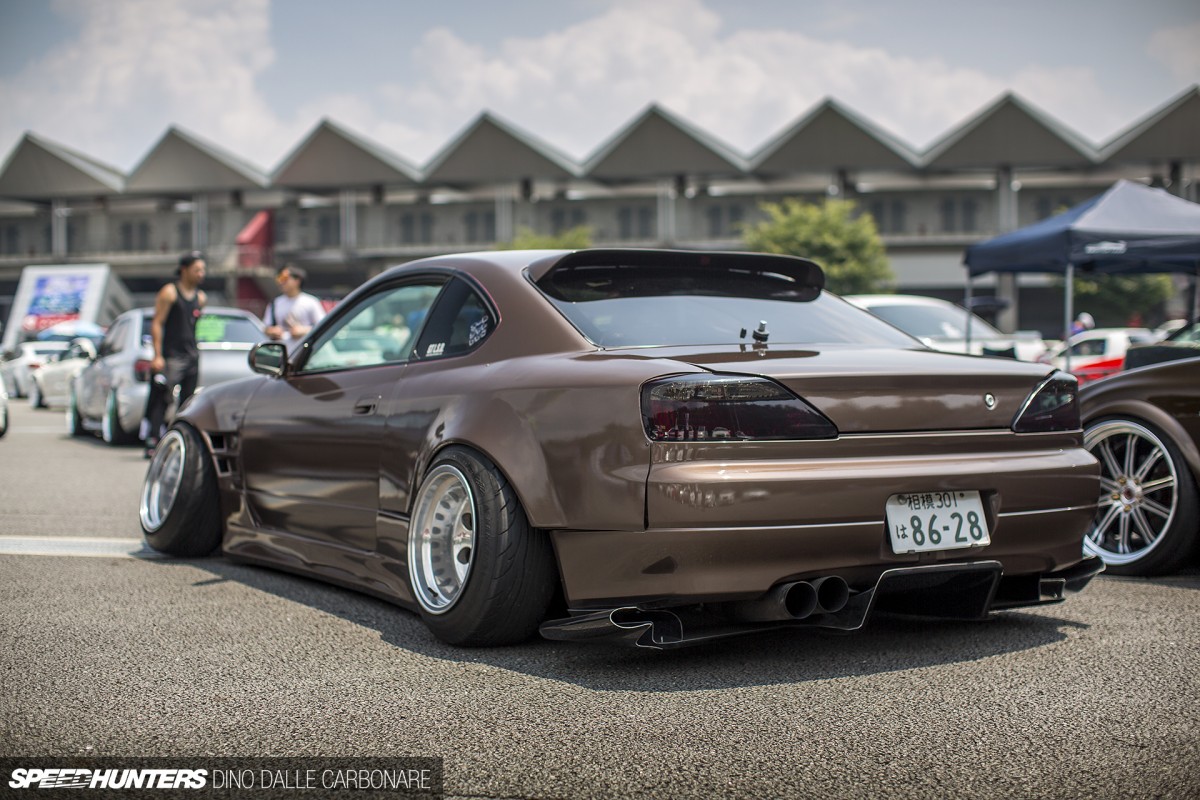 And if you like different, Offset Kings Japan always delivers. There are plenty of people out there attempting to set new standards, and if last year's norm was 12 degrees of negative camber, this year it had to be 15.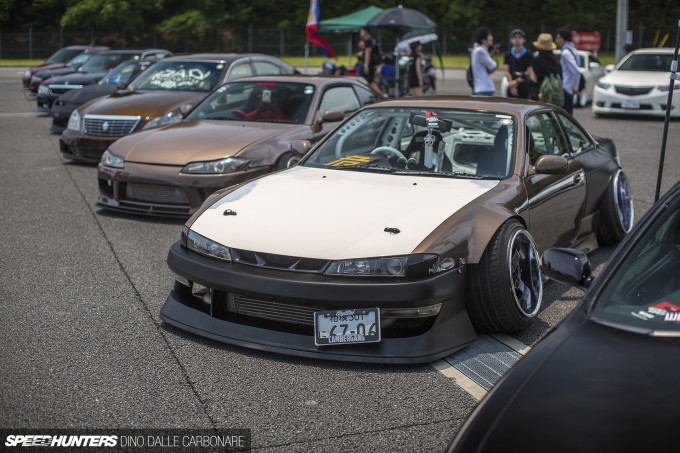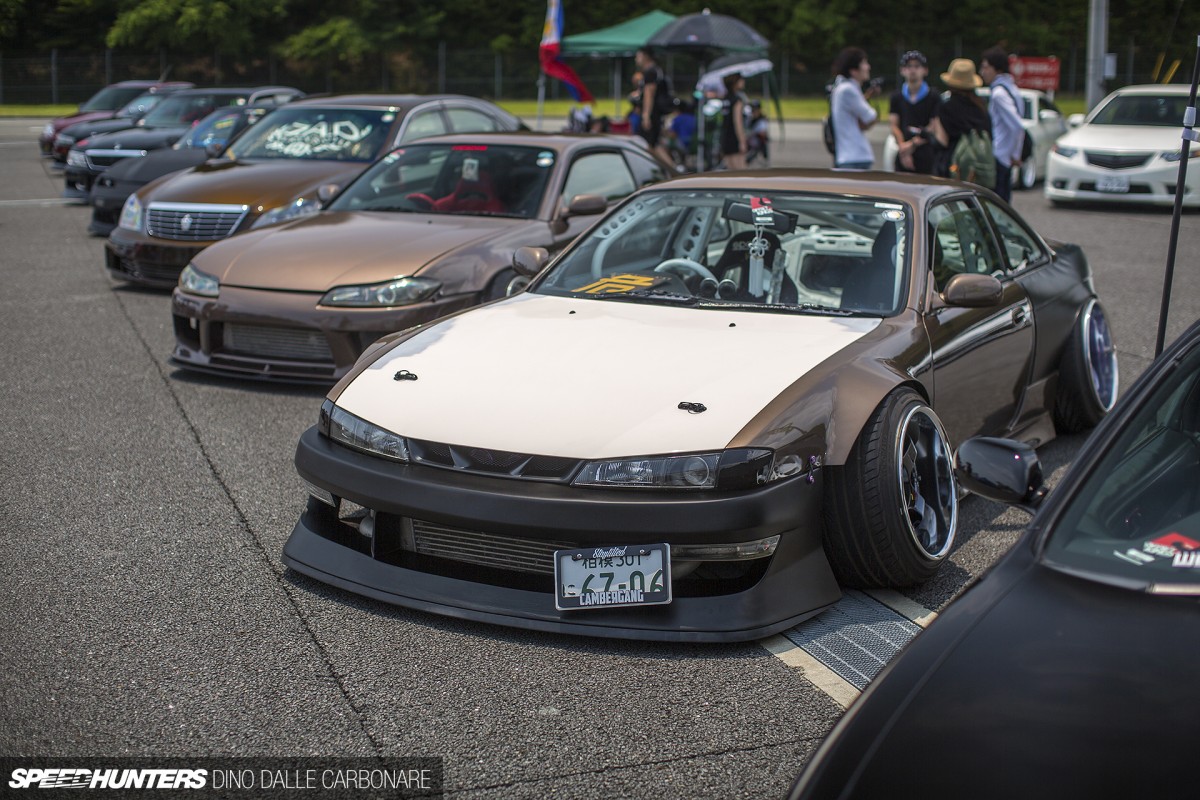 The owners of these two Silvias from the Kanto area obviously didn't like the fact that Kansai and Hiroshima cars always steal the limelight when it comes to extreme street style. If you're going to go wild, you might as well do it properly, right?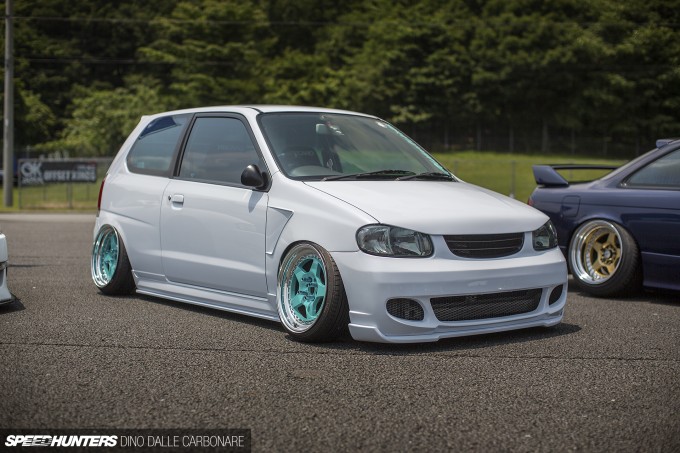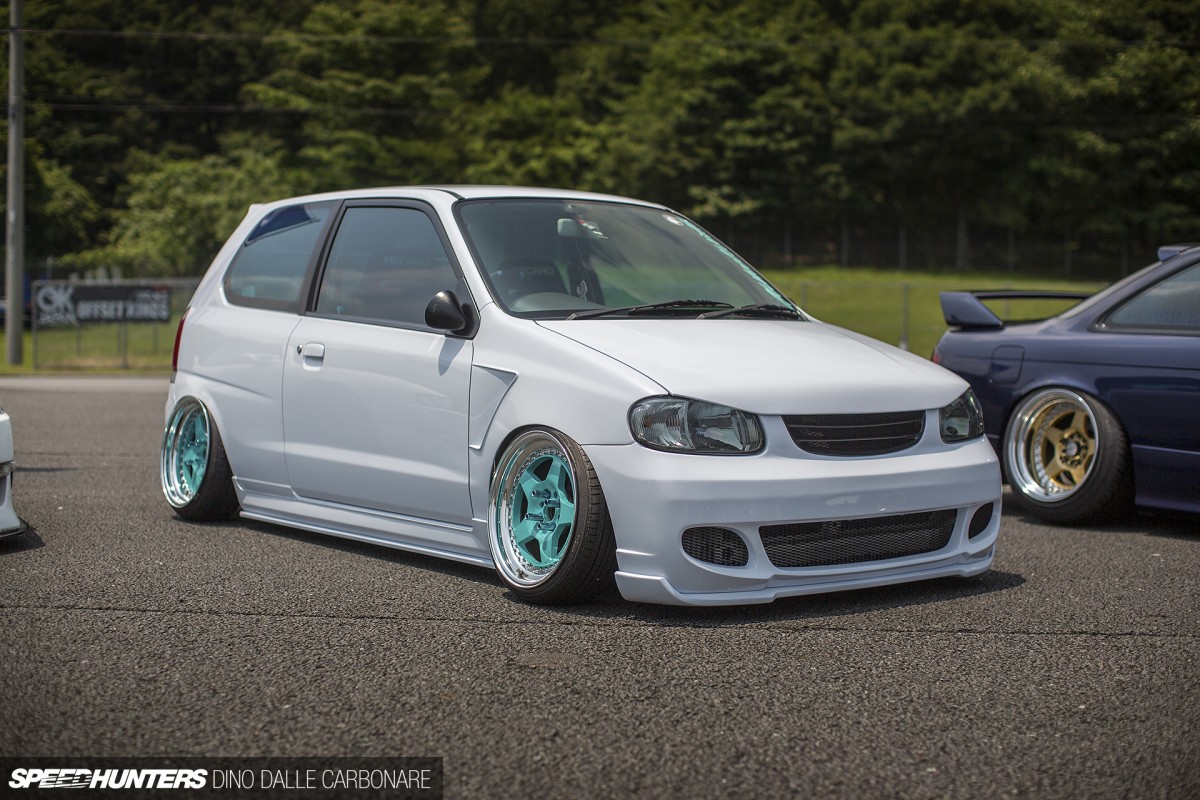 That goes for smaller cars too! There's plenty of custom work here.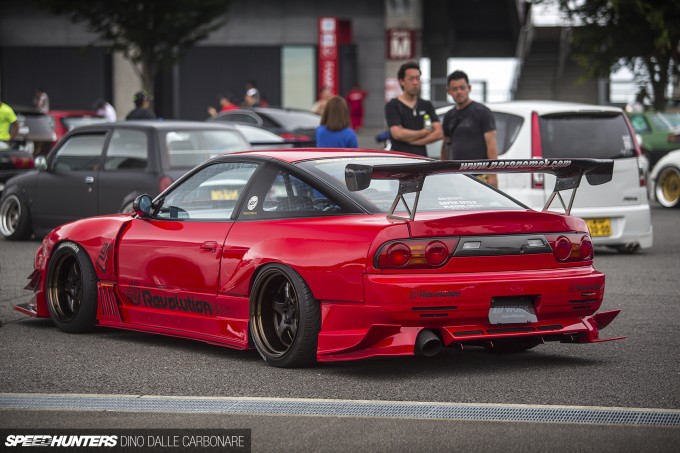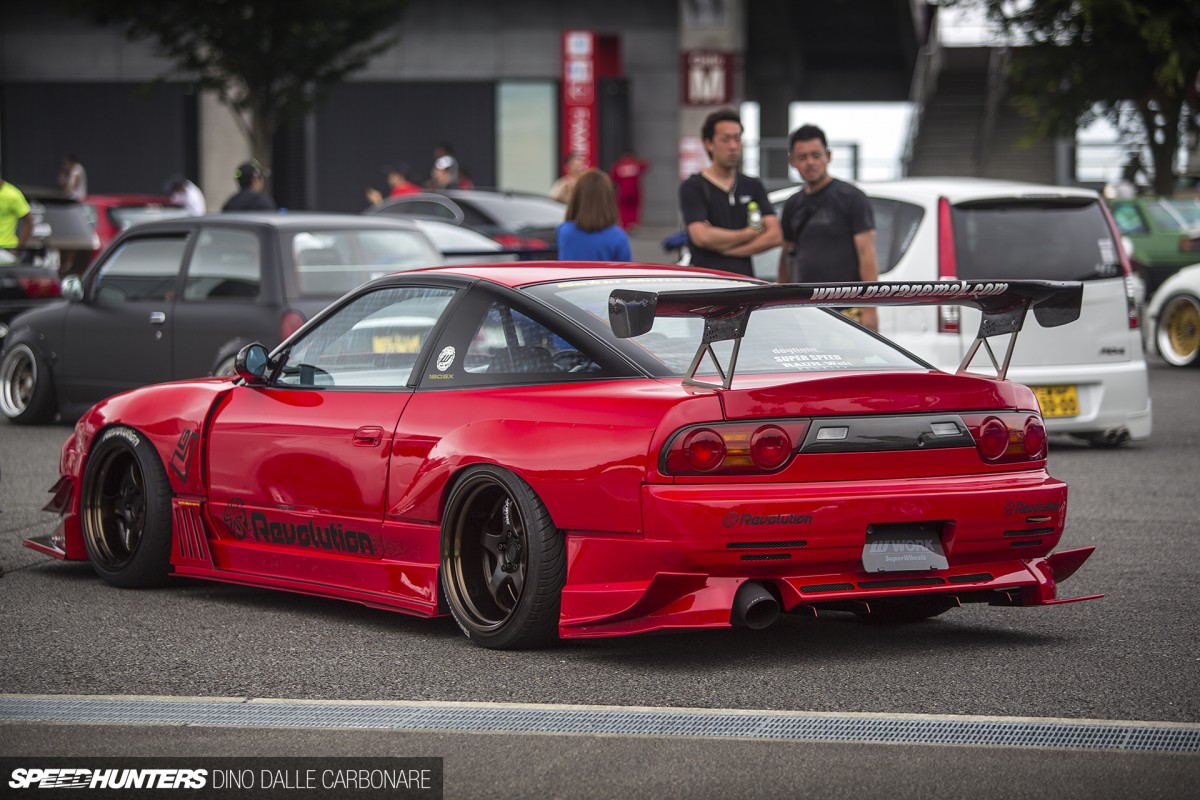 Revolution from Nagano always have impressive machines to show – be it their own demo cars or customer builds, like this 180SX. What I really like is how they manage to fit into this scene by taking the more functional approach. This is one car that was definitely all JDM!
Japan, Keeping It Fresh Since… Forever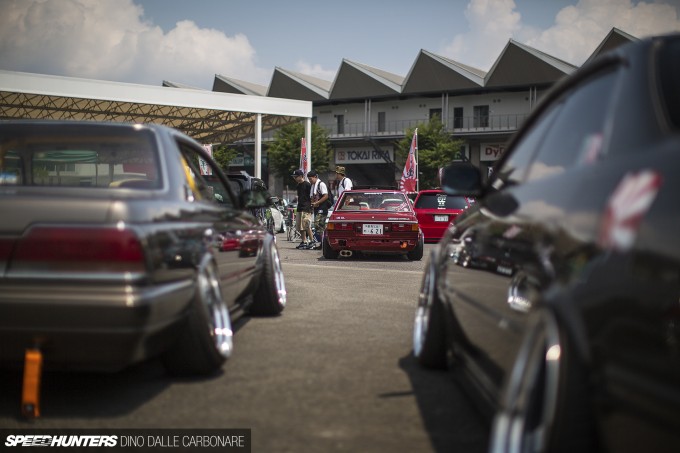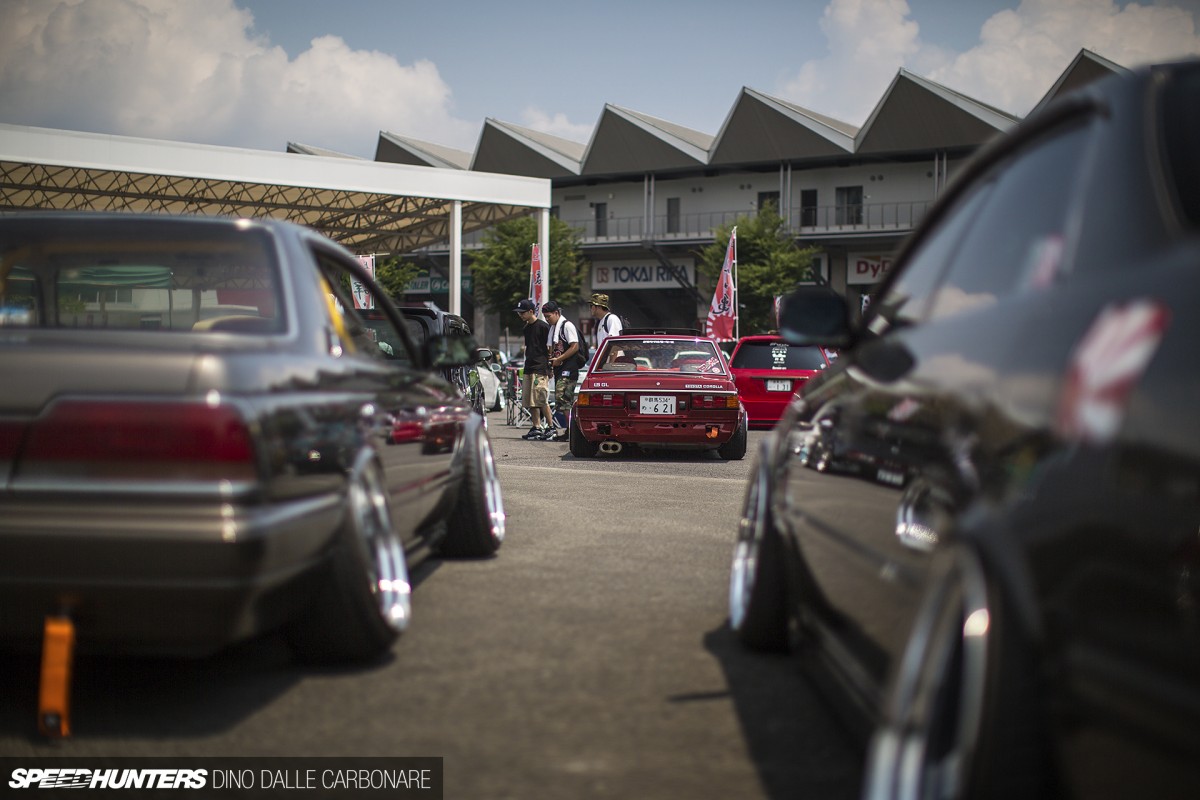 It's a similar approach taken by the guys at N-Style.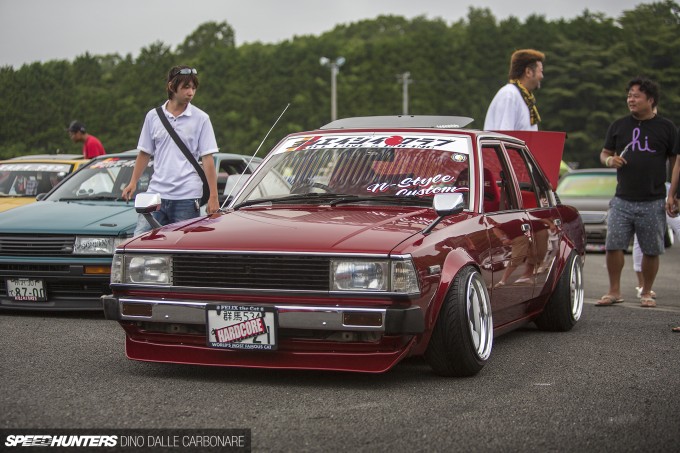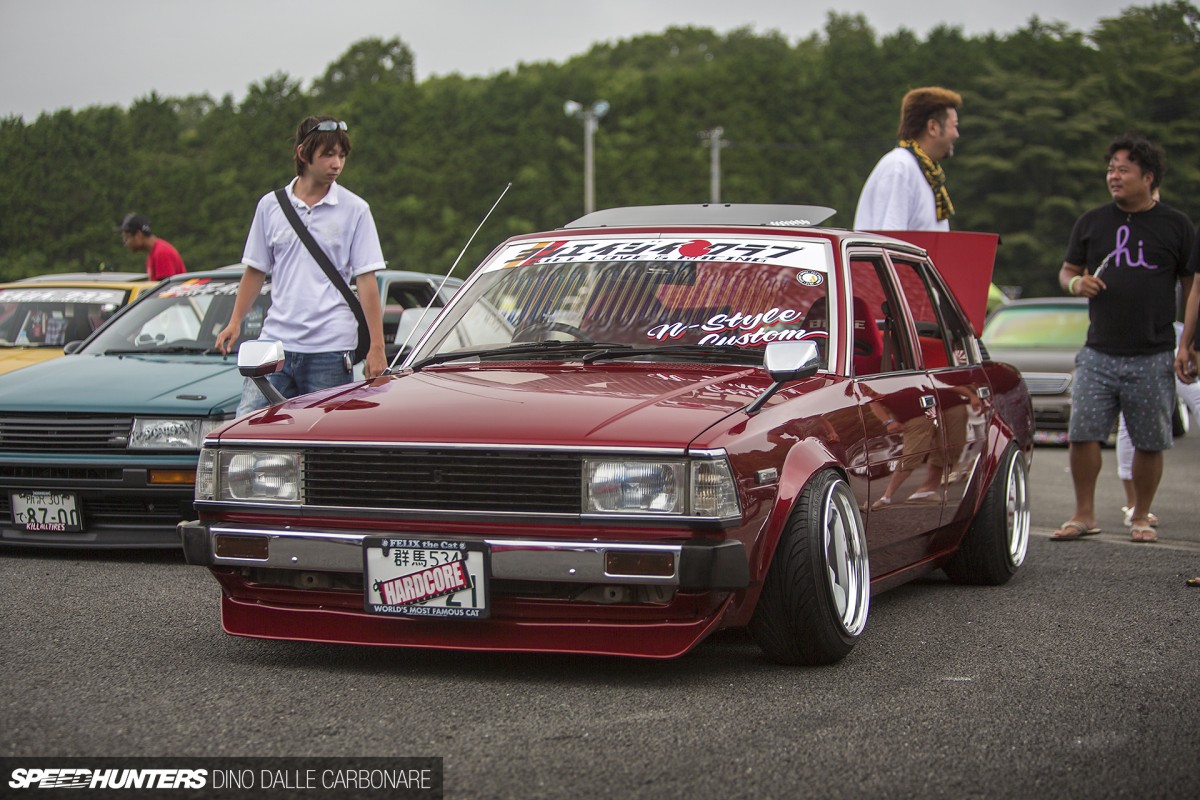 The N-Style crew represent Japanese car culture in such a natural way, that you could never manage to get close to their level of dedication even if you tried. These guys have a lot of cars between them, but they keep tuning them, perfecting them and doing new things with them – all the while driving the hell out of them on the track and street.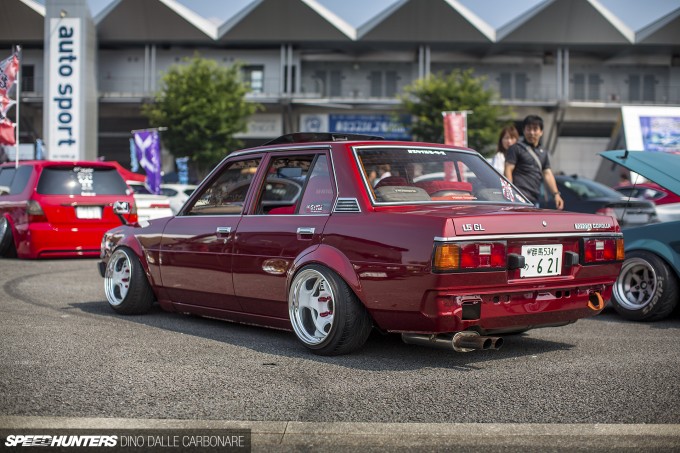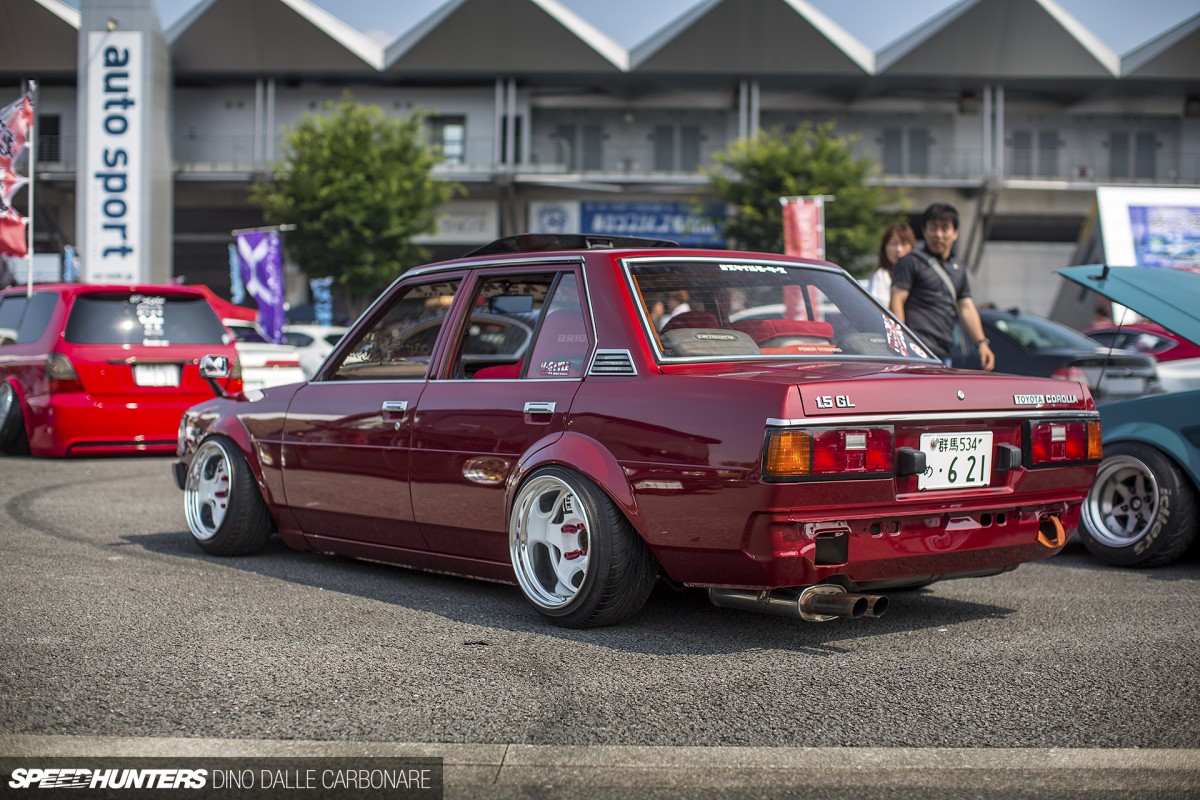 This KE70 that the boss-man has just put the finishing touches to is the latest creation to come out of the N-Style shop in Gunma. I'm told it will be thrashed to within an inch of its life at the Nikko soukoukai events planned for the end of summer. Yes, I'll be there!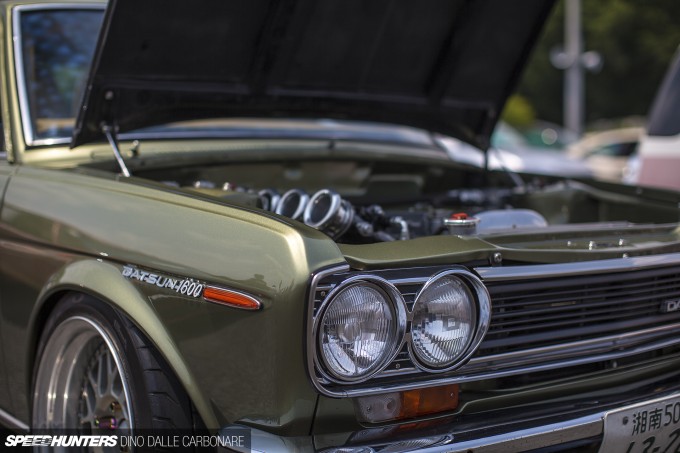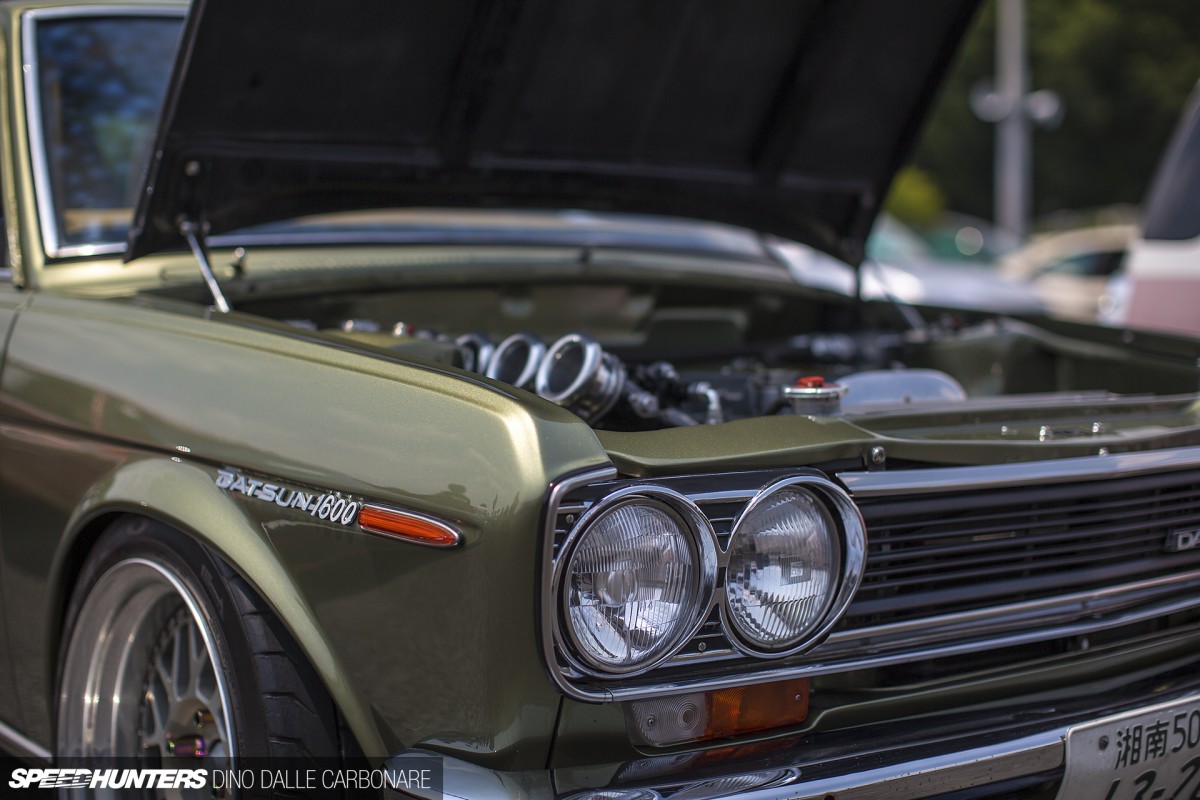 As you'll see in the spotlights I have coming up, I can't get enough of vintage Japanese rides at the moment. Incidentally, I couldn't keep myself from comparing all the 510 Sunnys that were at the show…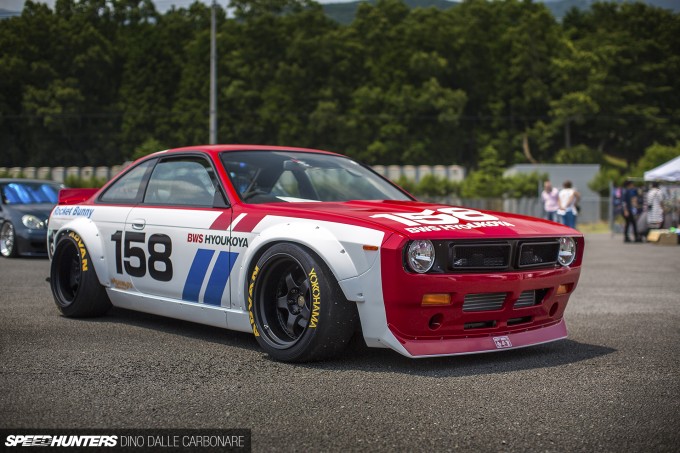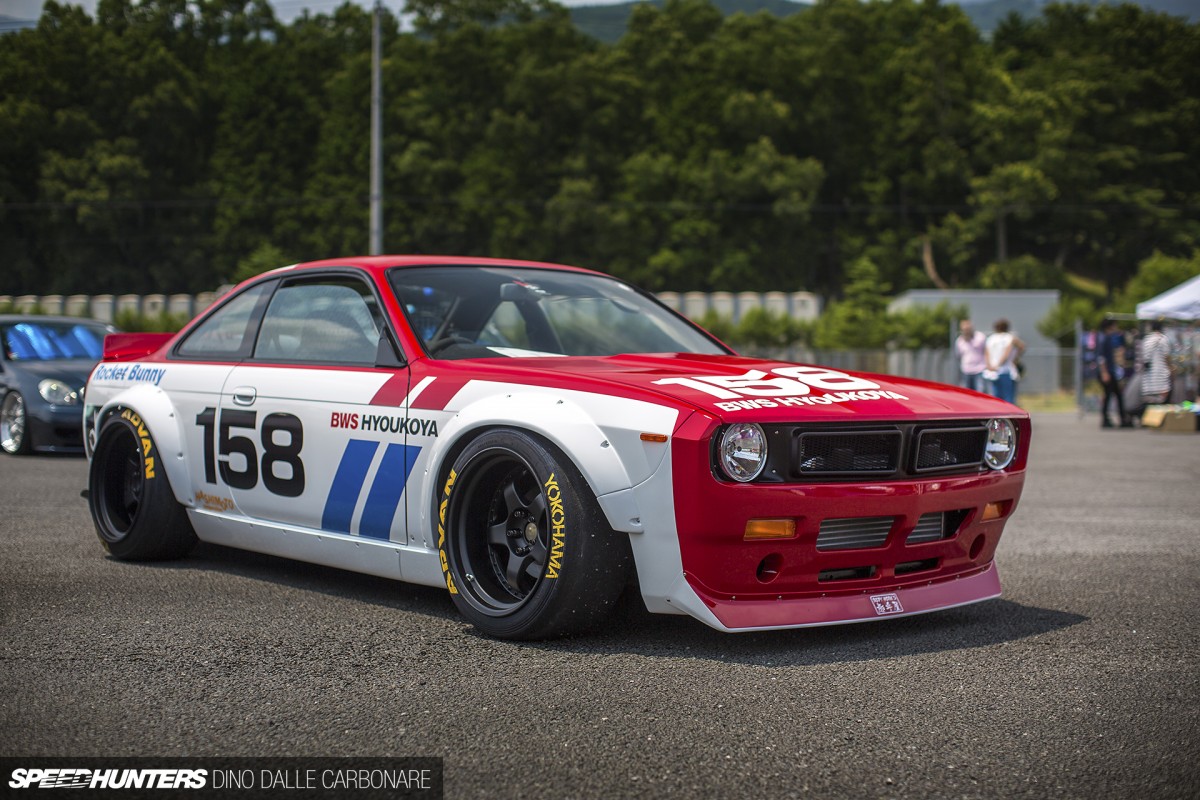 …With the Rocket Bunny Boss conversion for the S14. After the feedback my story received last week, it's not hard to see that this kit will be dividing opinions for a while yet. This particular BRE-inspired build was rocking the front lip spoiler that was missing from Miura's own car.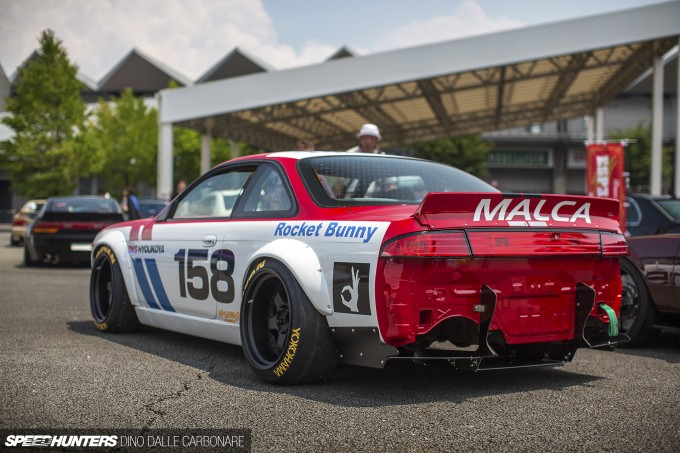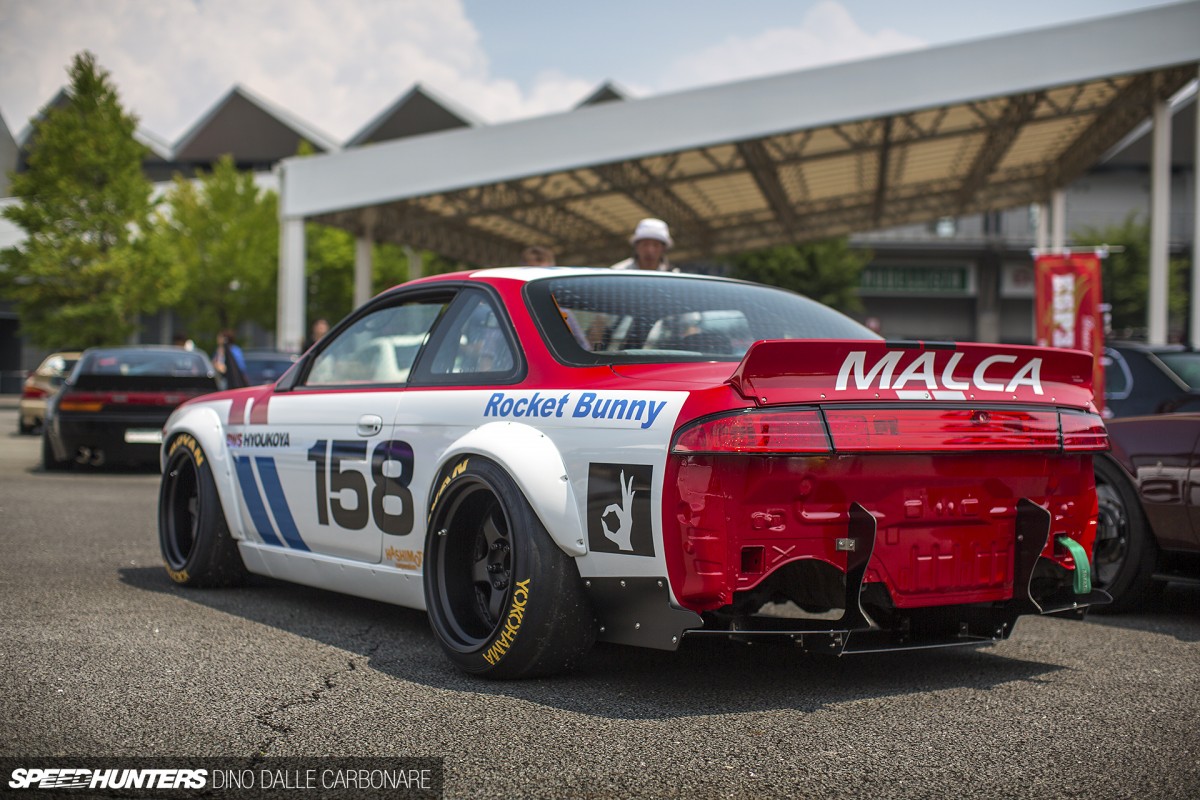 However, it was the rear where things really got different. The lack of rear bumper really changed the overall appearance of the car, as did the use of much larger, slick-shod wheels.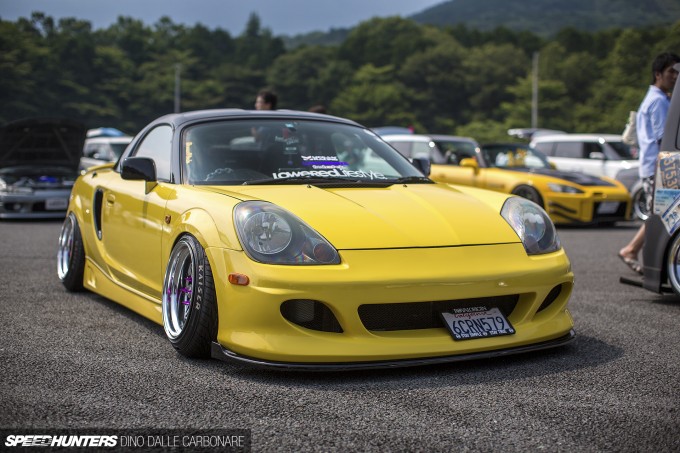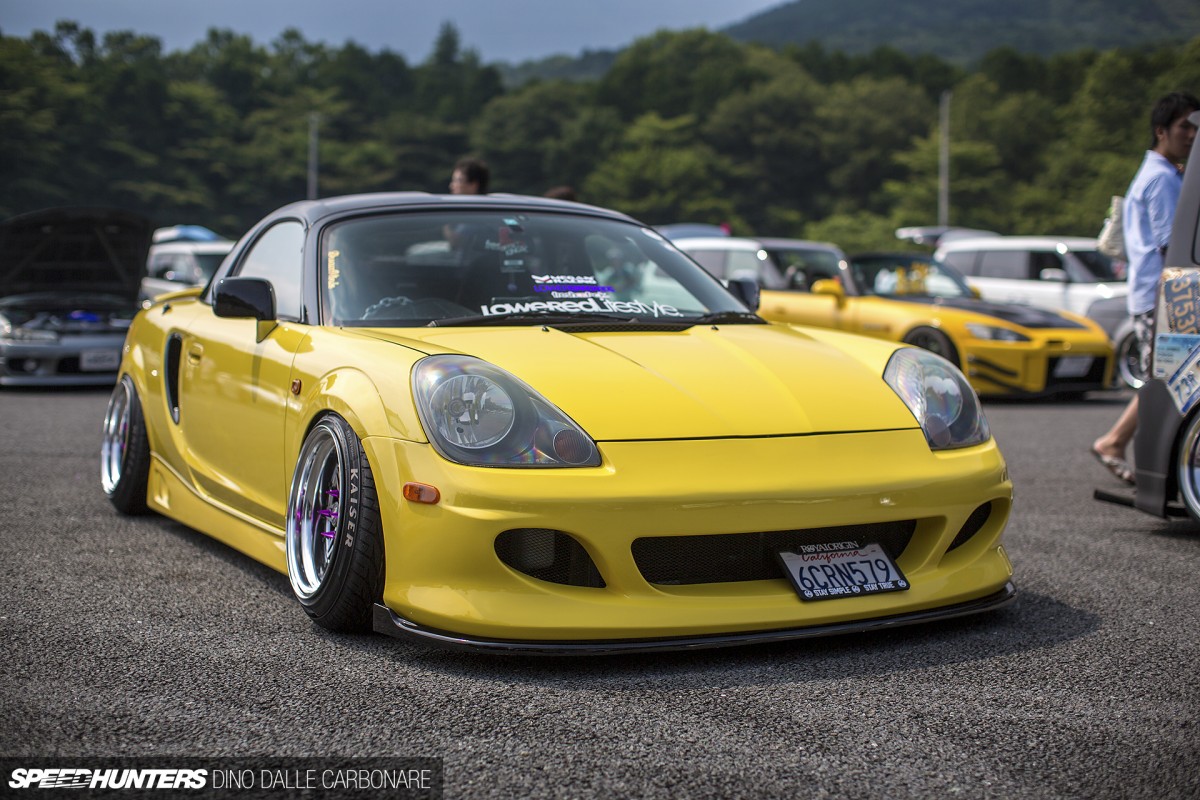 It's funny how it took me most of the day to actually spot this little Toyota MR-S right smack bang in the middle of the Offset Kings show. You constantly tell yourself to stick to one line of cars so that you systematically go through each one, but it never works. Your eyes wander and you just have to see one car, and then another one further up, and then another a little to one side! I'm glad I did eventually spot the Toyota, because it's the first MR-S I've ever seen slammed like this.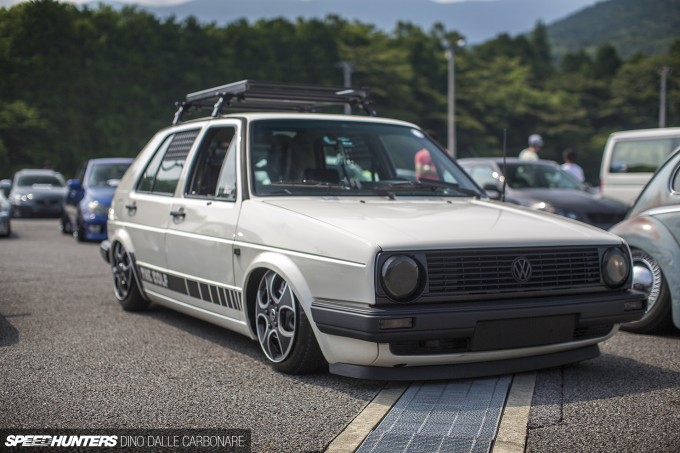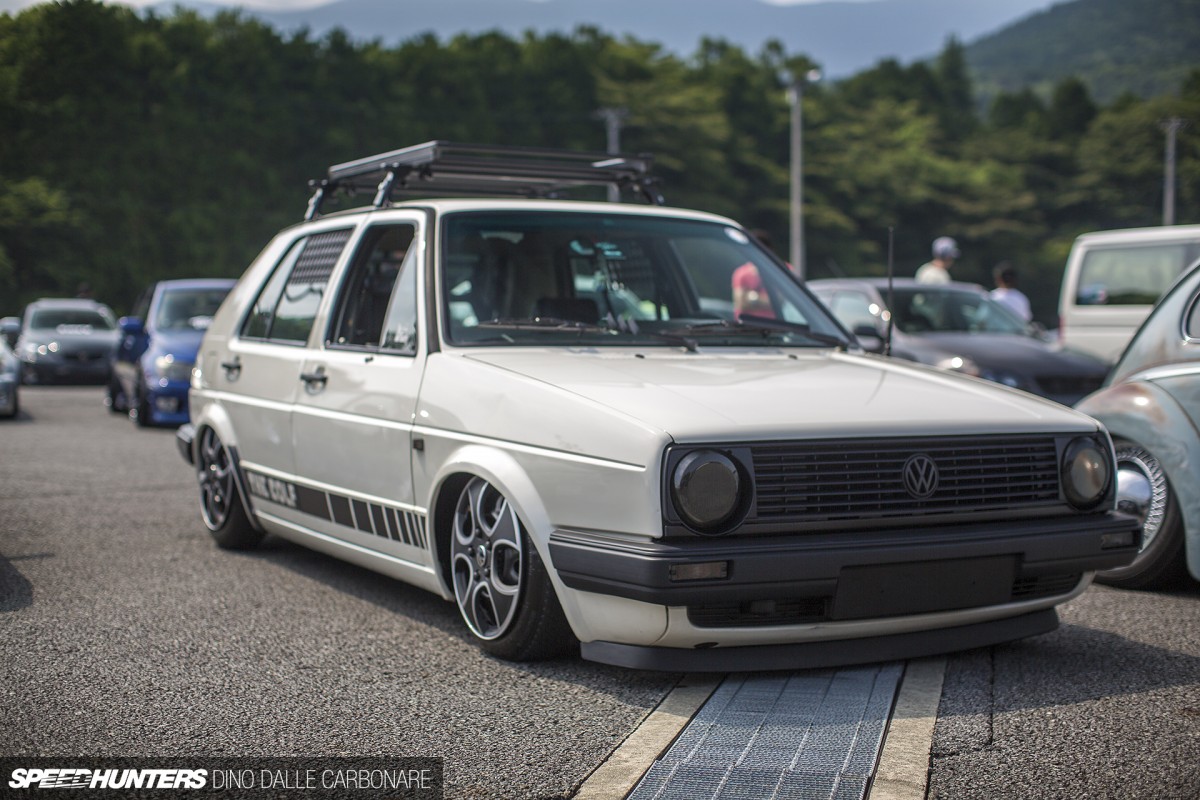 With the VW scene continuing to grow in Japan there was lots to see from the Euro camp, including like this Mk2 Golf that was trading aggressive offset in order to get 'the tuck' just right.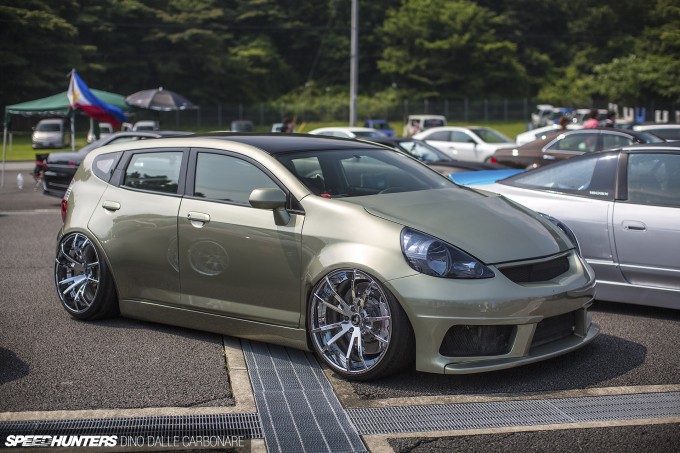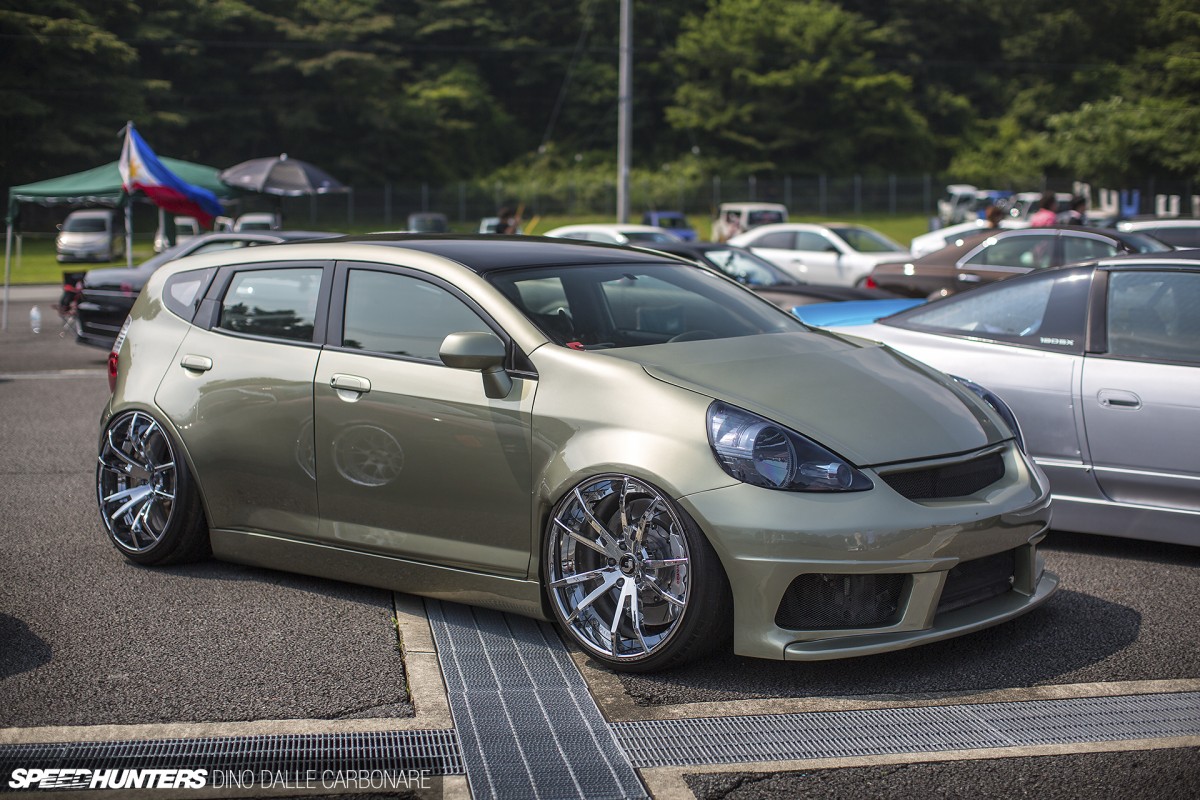 A roof-chopped Honda Fit with blistered front and rear fenders – it took me a little while to figure out exactly what I was looking at here. I'm not sure what sort of style this fits into, but it's definitely unique!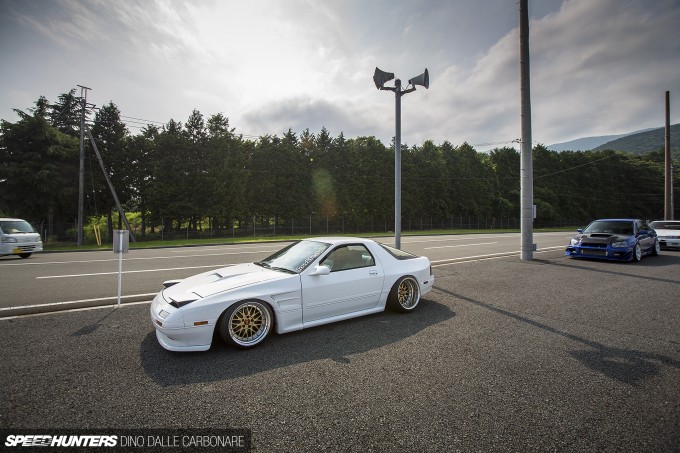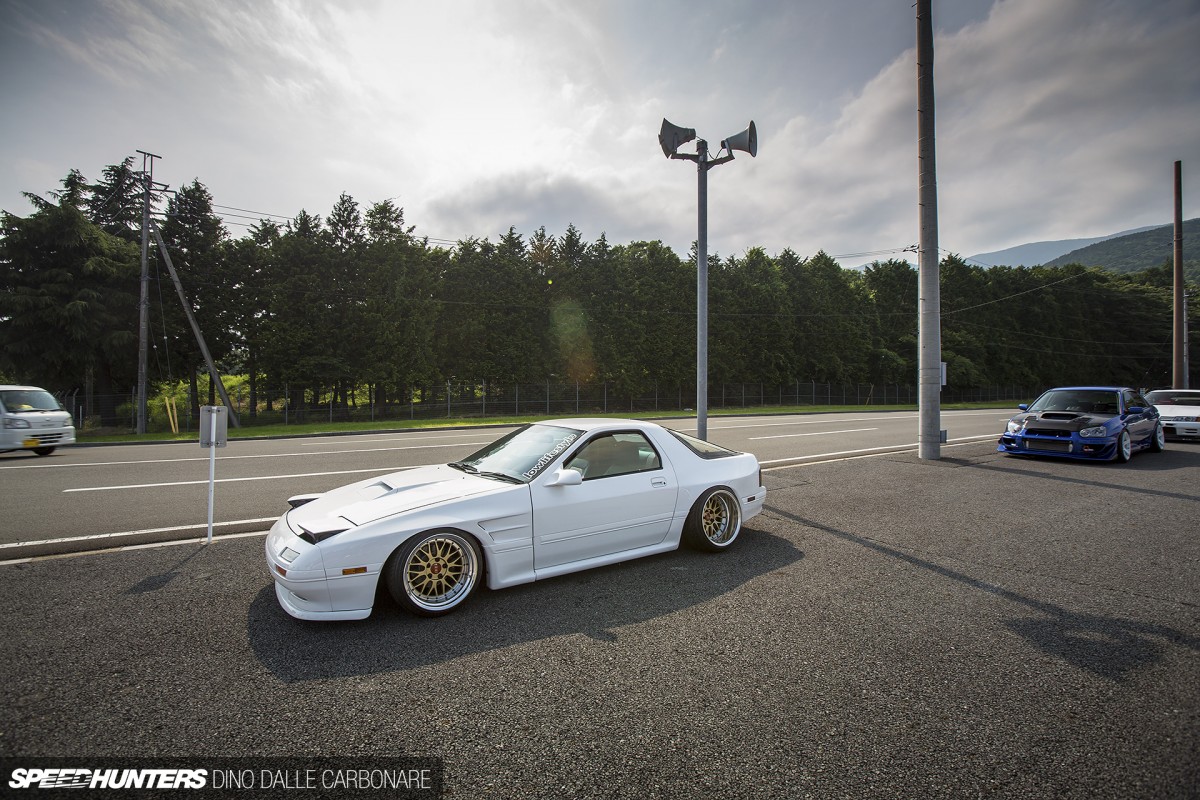 There was actually a little rotary get-together happening at the Fuji Short Course, so we were treated to the sound of buzzing Mazdas driving around all day. Thankfully, a bunch of FC3S RX-7s were entered in Offset Kings, which is just what I wanted to see after the 7's Day celebrations earlier in the week.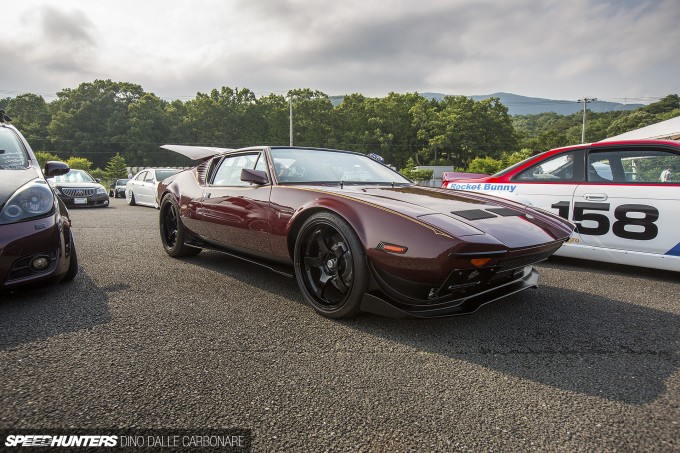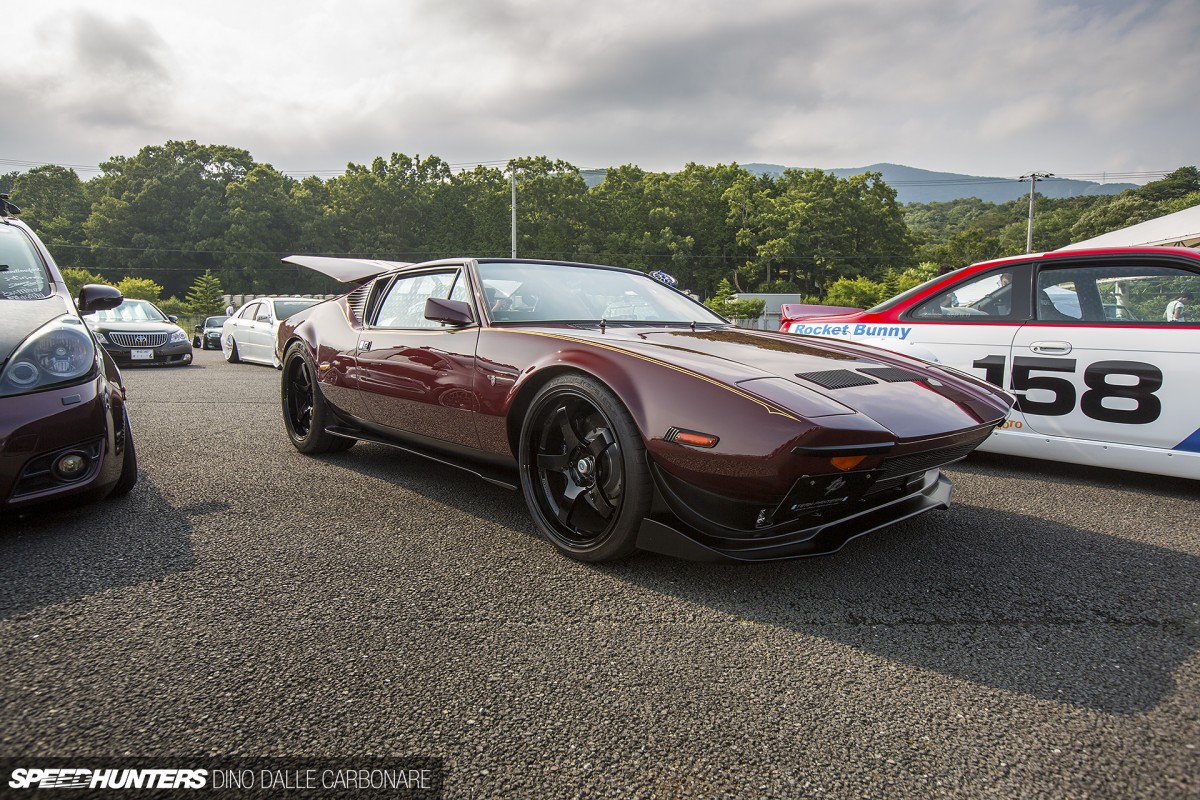 A DeTomaso Pantera is just about the last car I expected to see at this event, but as I always say – Japan is all about diversity. This isn't the first time I've seen this particular car – I remember it from a previous Mooneyes Hot Rod & Custom Show in Yokohama. I have to say, it looks far better under the sun than beneath artificial lighting!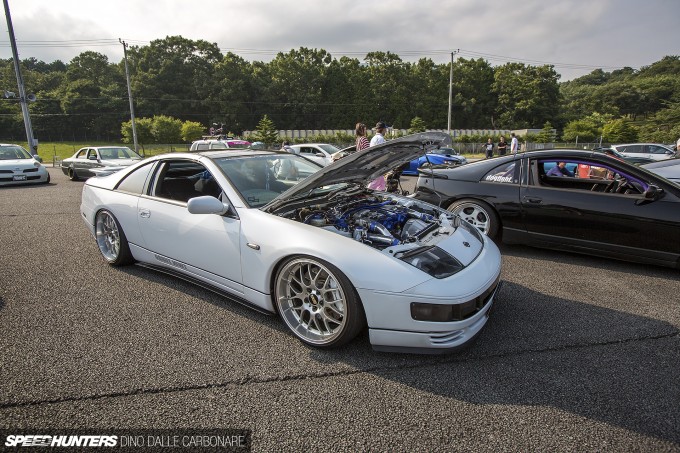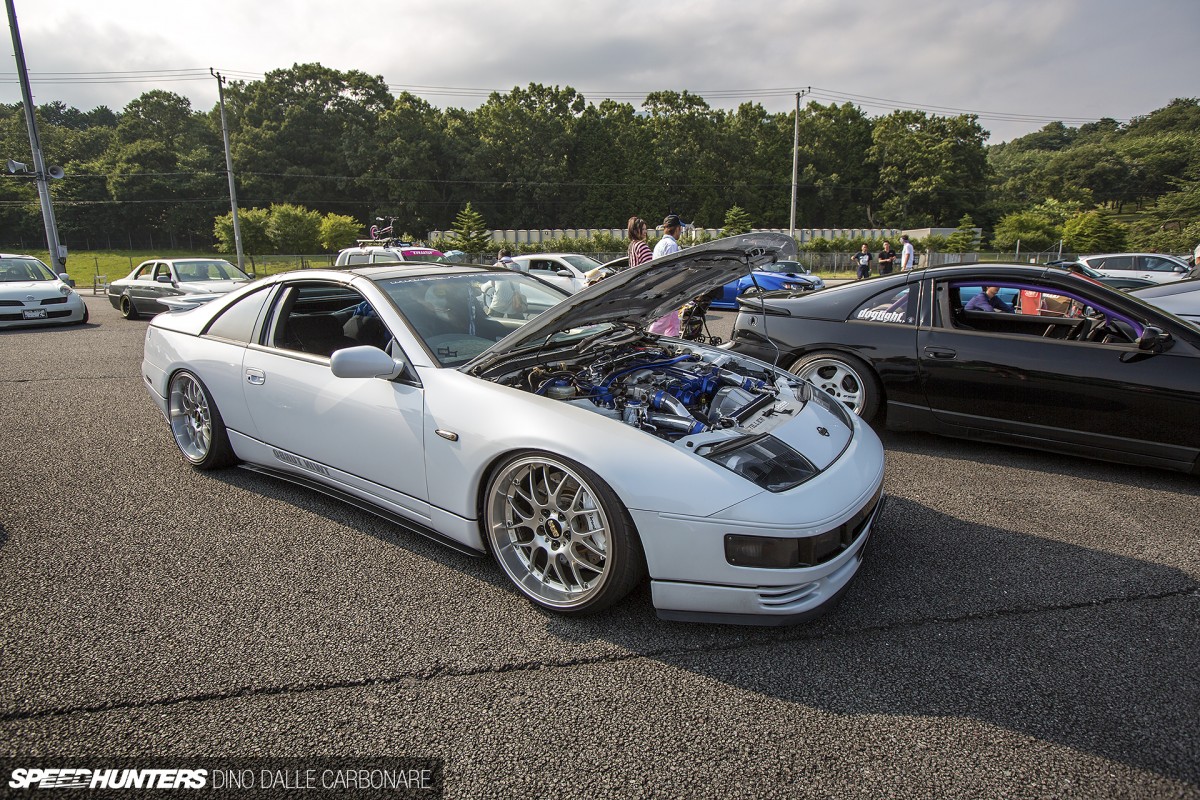 I'm glad more people are giving attention to the Z32. It remains one of my favorite cars from the early-'90s; still looks great and has a ton of potential when it comes to tuning.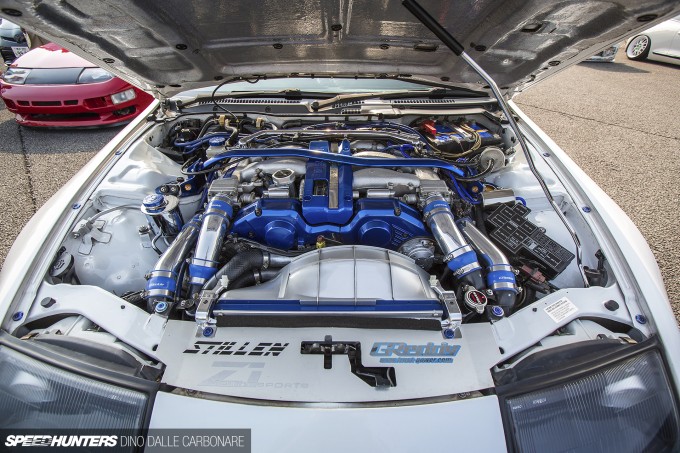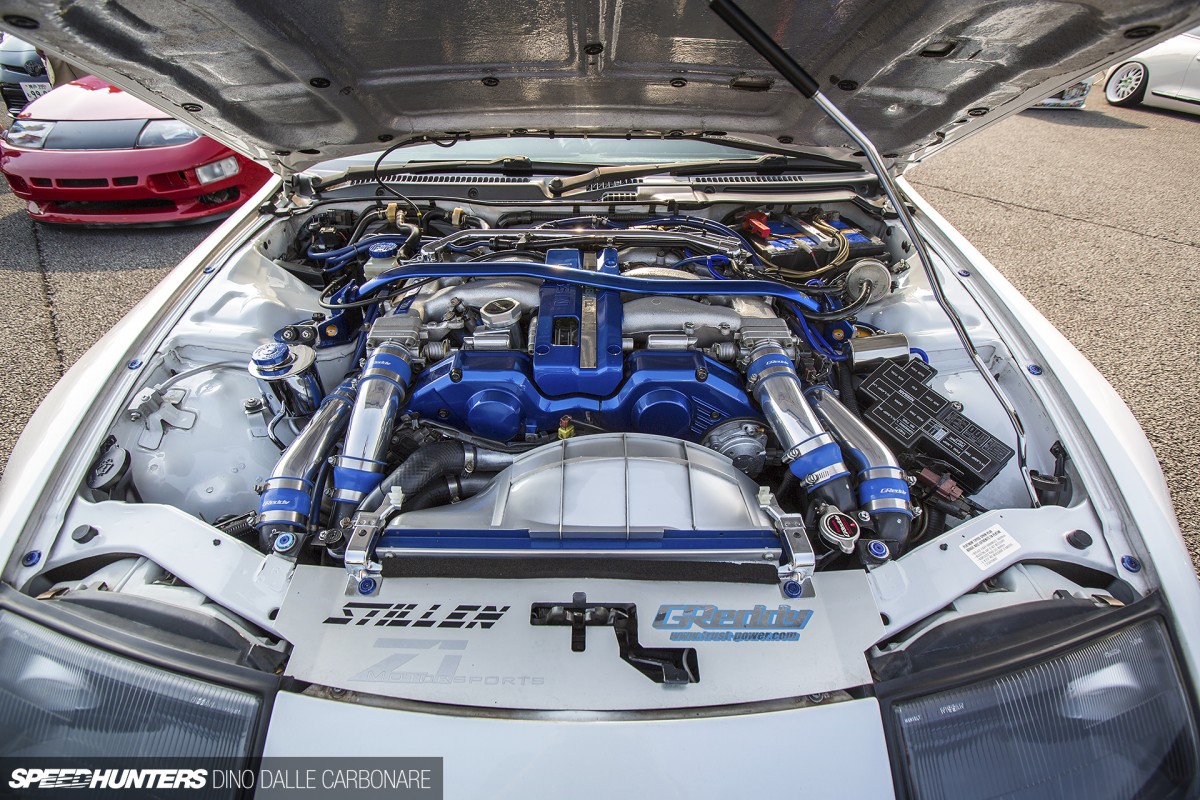 Whenever I see a tuned VG30 I get flashbacks of taking a ride in Pentroof's legendary orange demo car.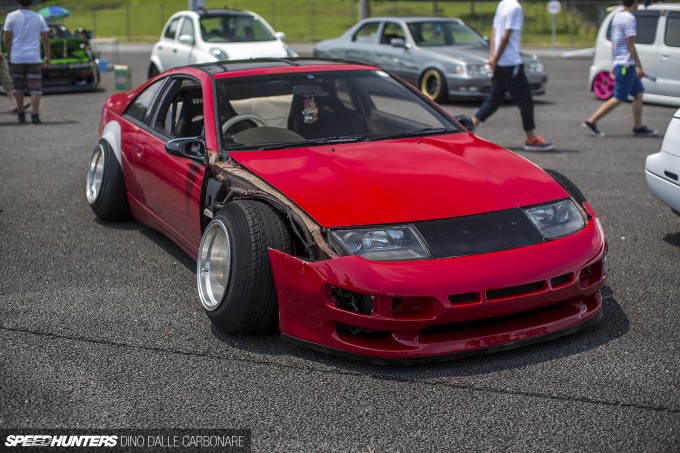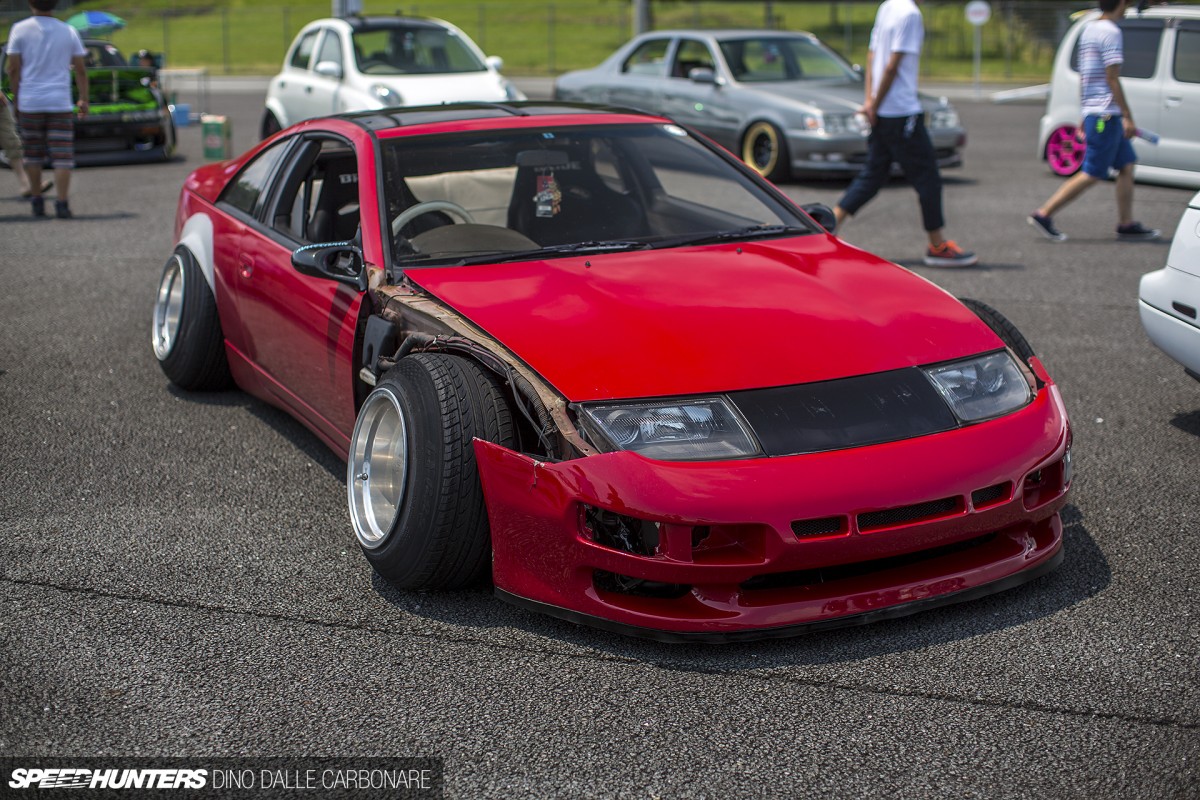 There were also a few other zee-san-ni's present, including this example which I guess is not exactly completed yet. Again, here we see someone trying to something that hasn't been done before.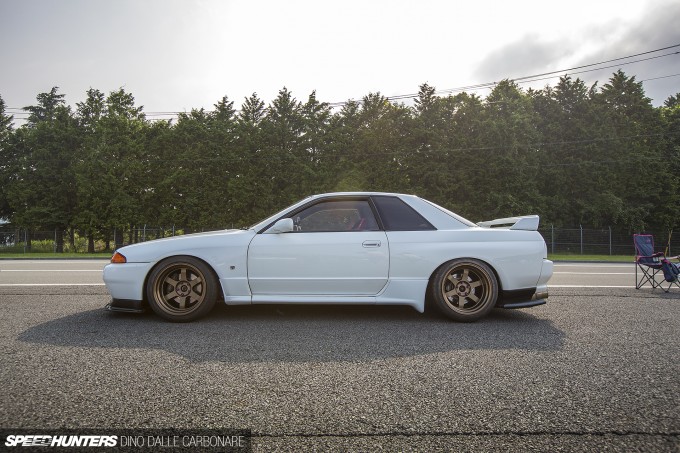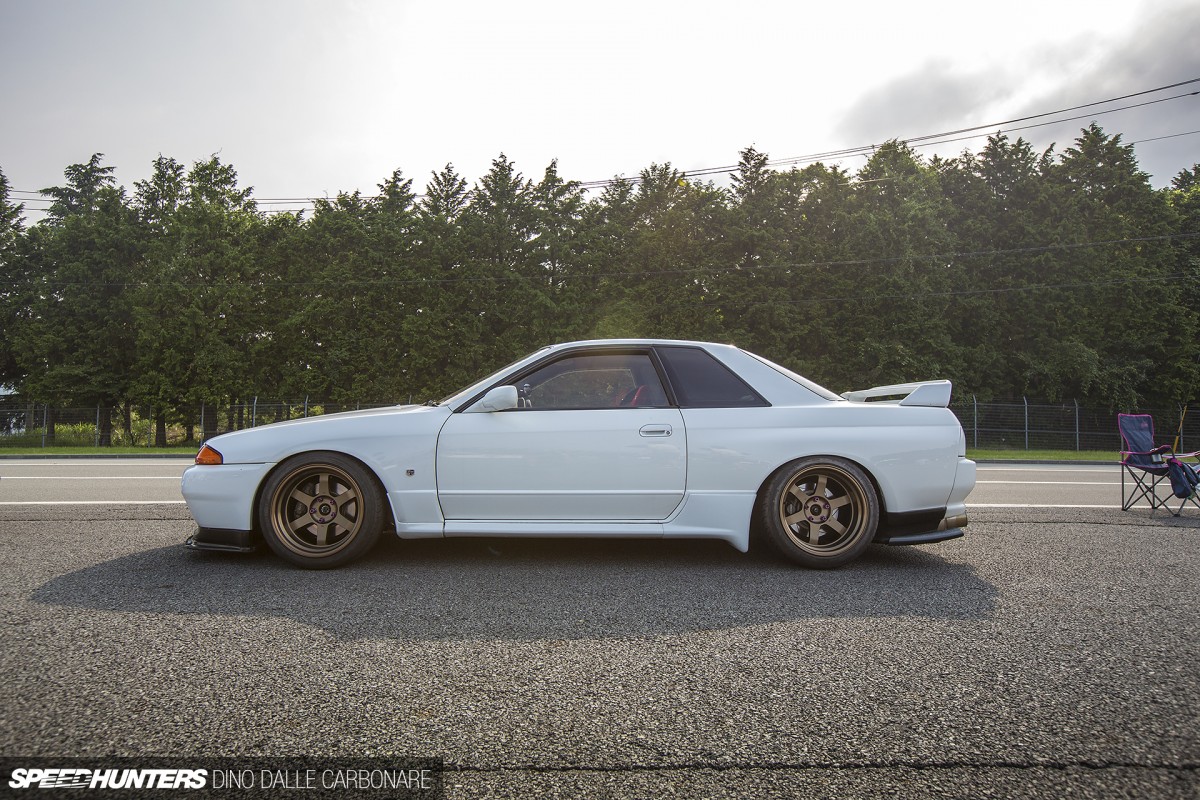 And speaking of which, I believe this was the first time I've seen a set of Volk Racing TE37Vs fitted to a BNR32. RAYS released the 17-inch version of these wheels earlier this year and it means they can be now fitted to cars like these. The combination of that unmistakable 6-spoke look with a meaty dish was nothing short of spectacular. Now RAYS, please do these in 18-inch!
Make sure you don't miss the spotlights I have coming from Offset Kings Japan. I had to be greedy and save the coolest cars for the more in-depth posts!
Dino Dalle Carbonare
Instagram: speedhunters_dino
dino@speedhunters.com