Fresh Ideas Stand Out
When the guys at Mercury decided that they wanted to promote their all-new GT3-inspired aero kit for the Nissan Z, they went about things in a slightly different way from the norm. Most would just grab an old Z33, fit the kit, maybe add some nice wheels into the mix and call it a day. But Mercury went a little further than that. Okay, actually a lot further.
In a time when aesthetic tuning has seemingly become the end-all of car scenes across the globe, a machine like this Z is so refreshing to see. Mercury is a company willing to get out there and do something wild to promote their parts, and at the same time have fun doing it.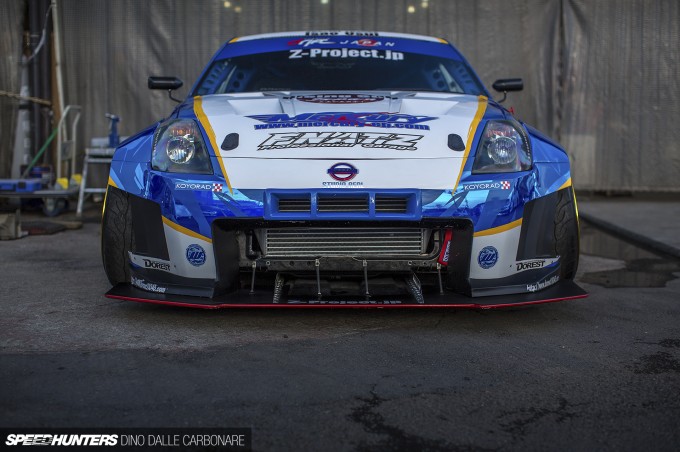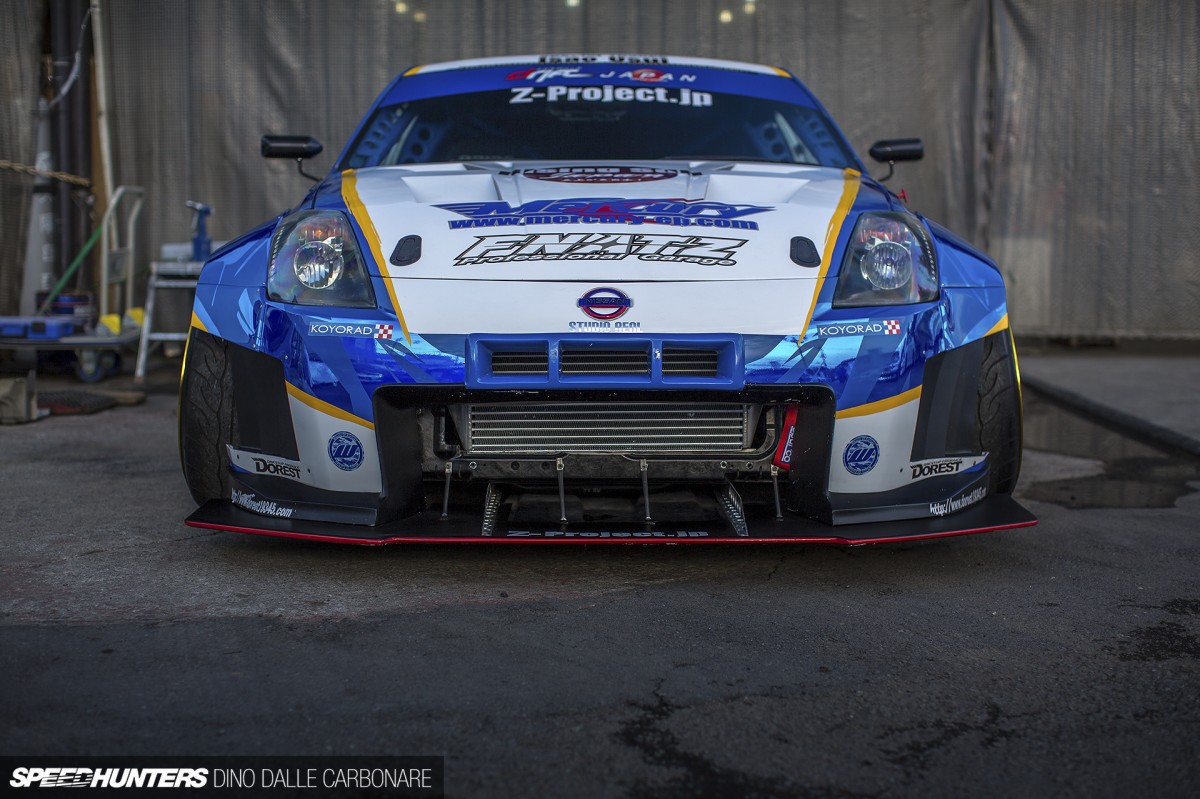 And that's exactly how the Mercury 350Z GT3 was born. It's not a demo car and it's not a show car – it's a fully fledged and functioning pro drift car built and already entered in the Formula D Japan championship. Now we're talking!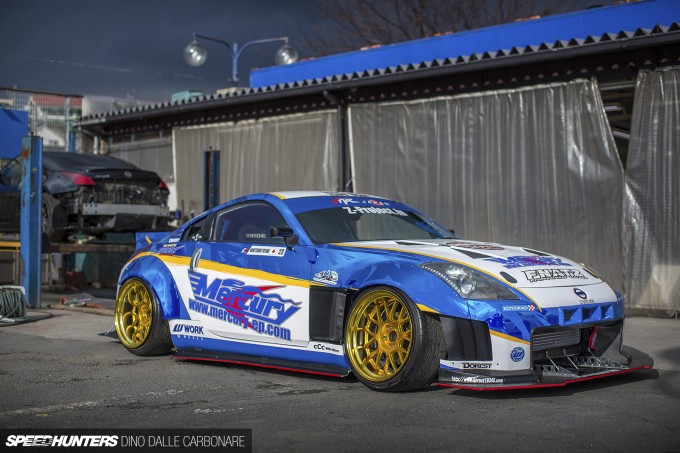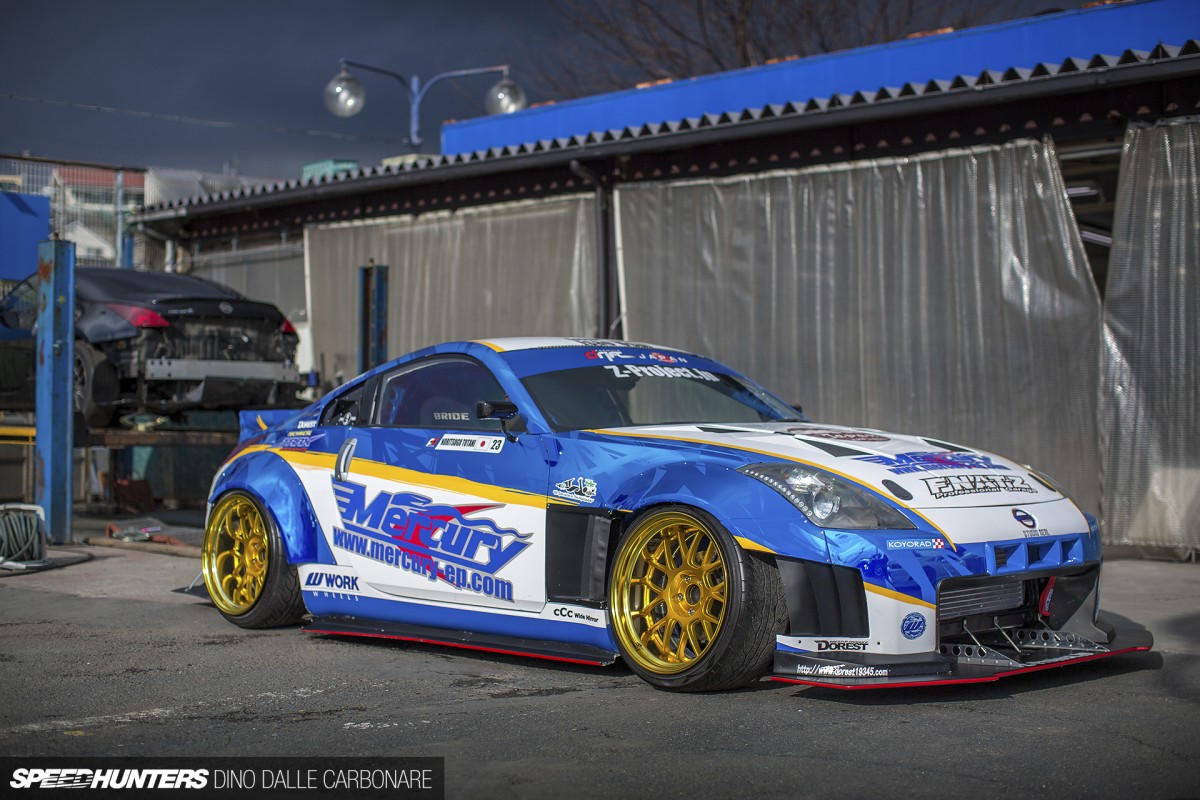 After seeing the car and its driver, Noritsugo Totani, in action at a recent drift event at Nikko circuit, it was pretty obvious that I had come face-to-face with one of the freshest and most exciting Japanese drift builds in recent years. And you know what's even cooler? The fact that a few more companies are giving the old Z33 a bit of attention. With the ridiculously low prices Fairlady Zs sell for these days, they make a really cost-effective platform for a cool build.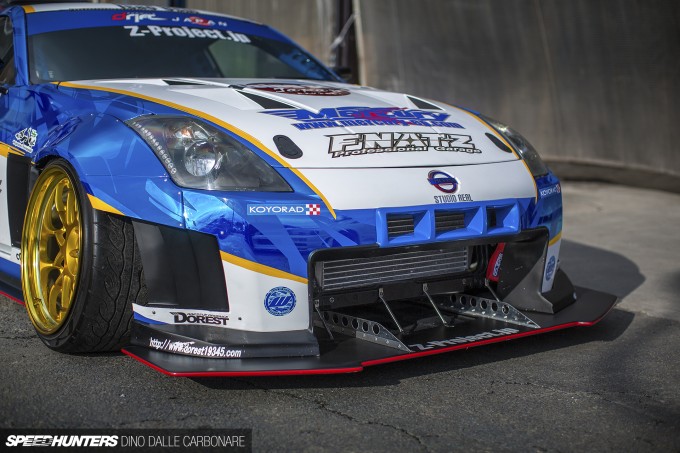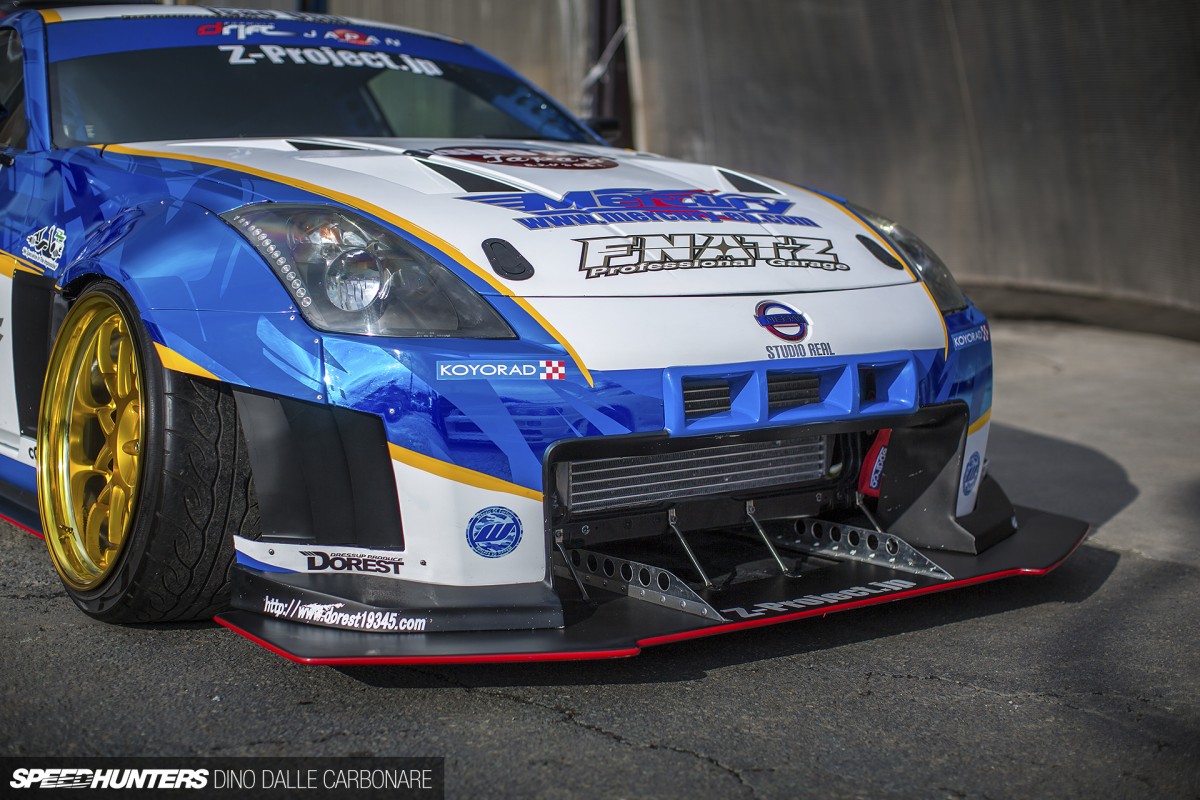 Even Miura-san at Rocket Bunny has just released the first CG renders of his interpretation of the Z33, but Mercury was is ahead of him on that one. They took a real functional approach, building an aero kit for those that want to not only make their ageing Fairlady more effective when it's slicing through the air at speed, but also give it a pretty legit racecar feel. I mean, just take a look at that front diffuser section! The bumper is also shaped around the assumption that the car is fitted with, or should have, a big intercooler sitting up front, and for that plenty of air can enter through those three square openings.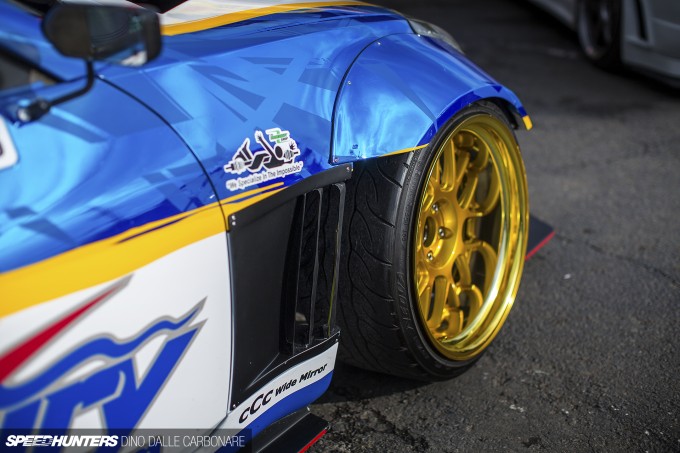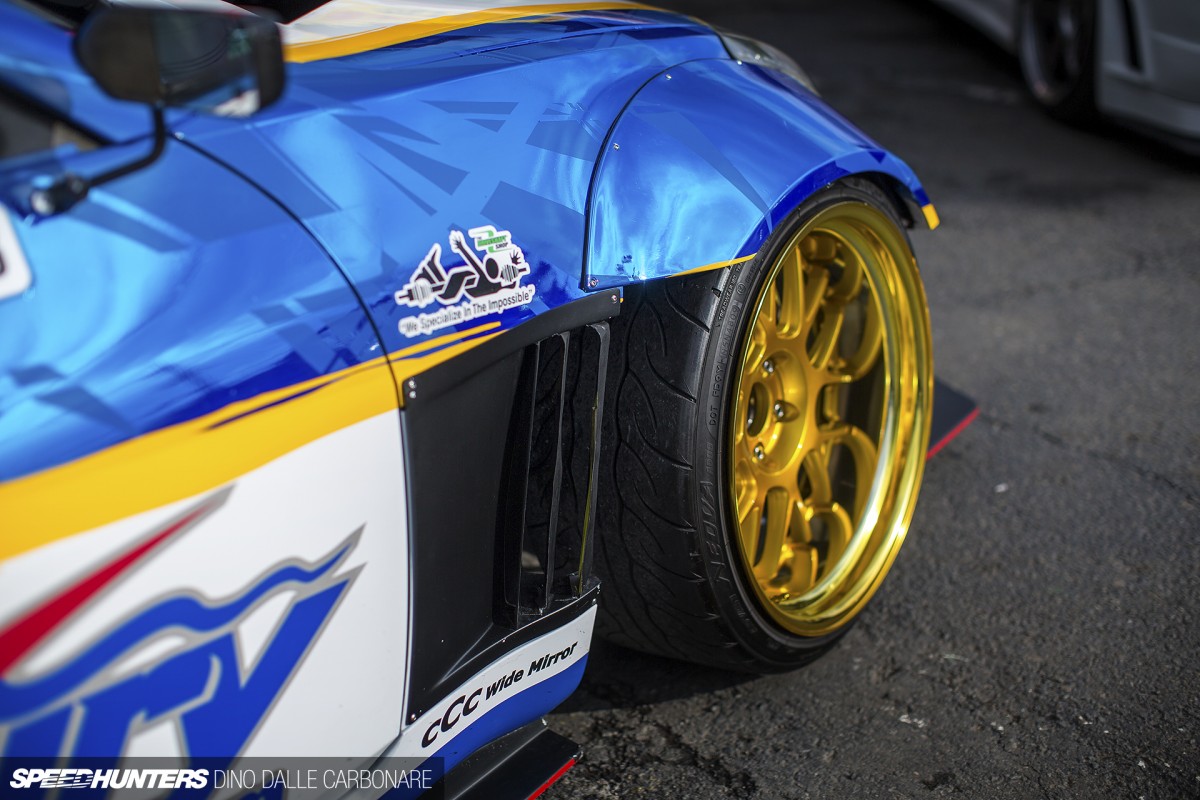 The louvers on the side of the bumper are mimicked by another set behind the bolted on over-fenders. Again, it's very GT-like, and of course what car these days could possibly not have massive fender flares so that the front and rear tracks can be greatly increased.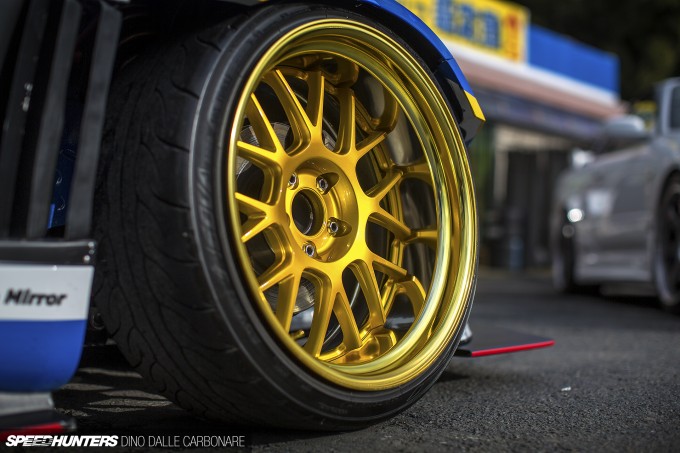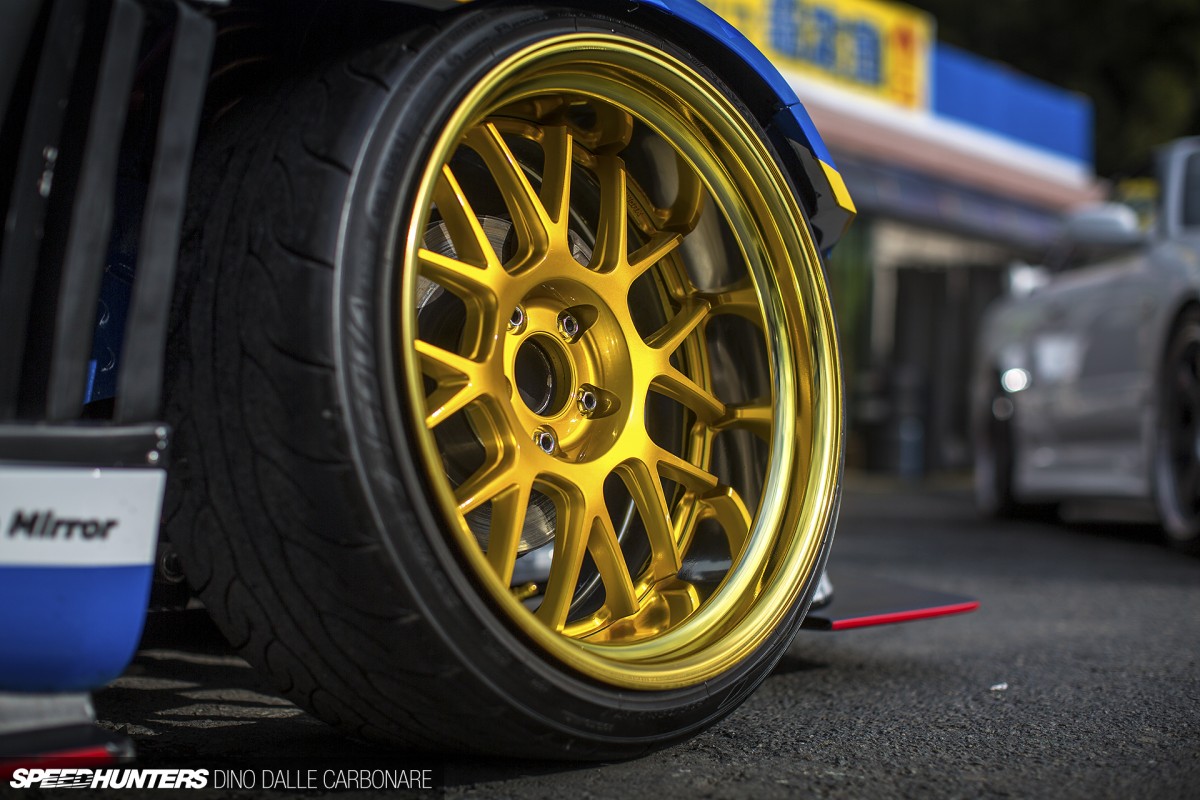 To do so Mercury called in the help of Work Wheels, who came up with a 18×10.5-inch Meister M1R rim sporting a pretty aggressive +15 offset – hence the rather substantial lip. As if that wasn't enough to guarantee a unique look and feel, Mercury had local paint shop Studio Real given them a chrome-like gold finish on the centre/face and a graduation effect on the lip section.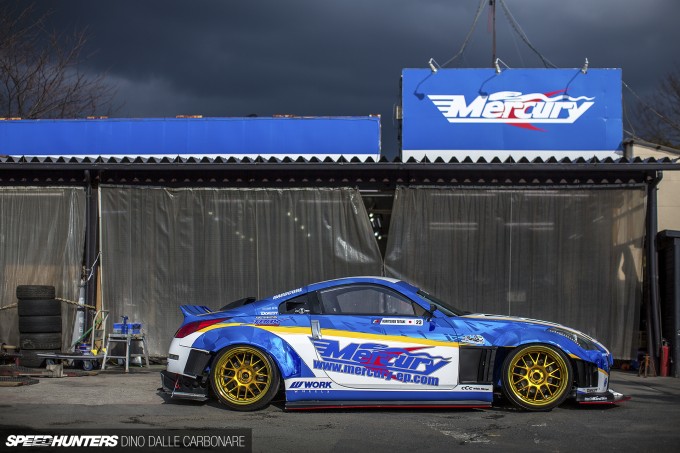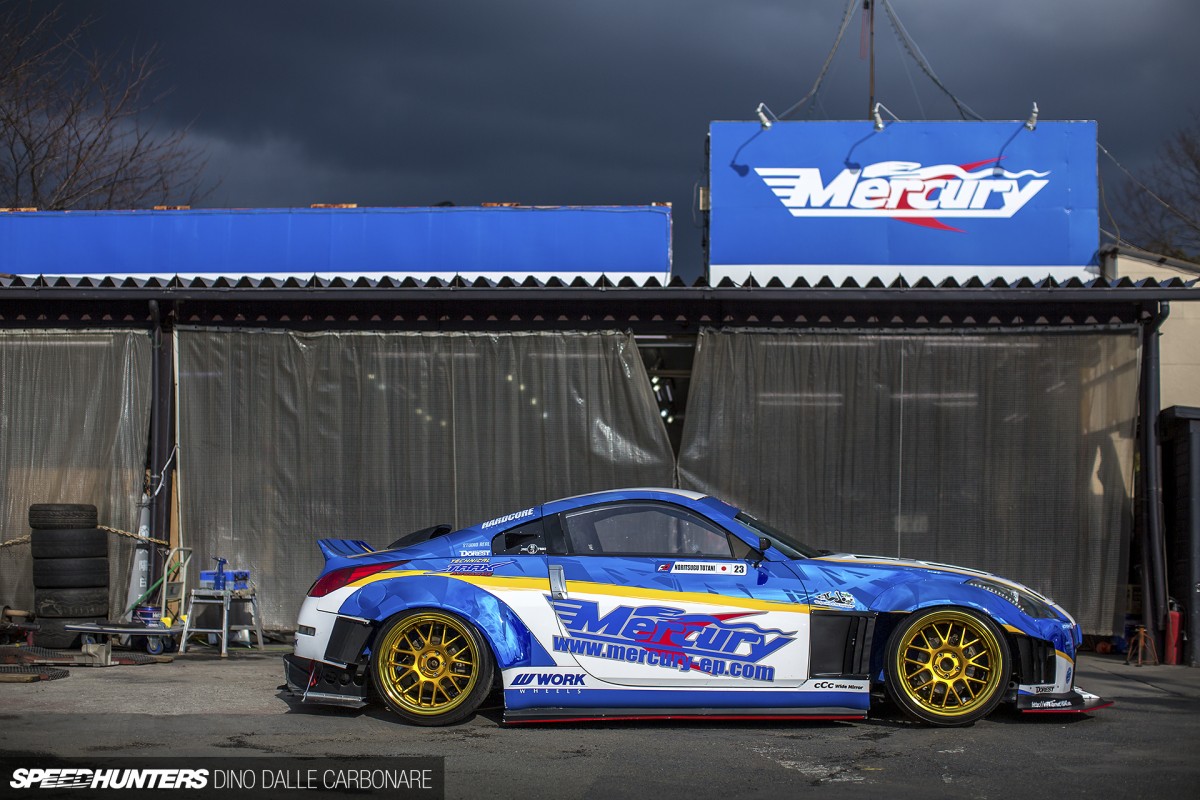 They certainly stand out!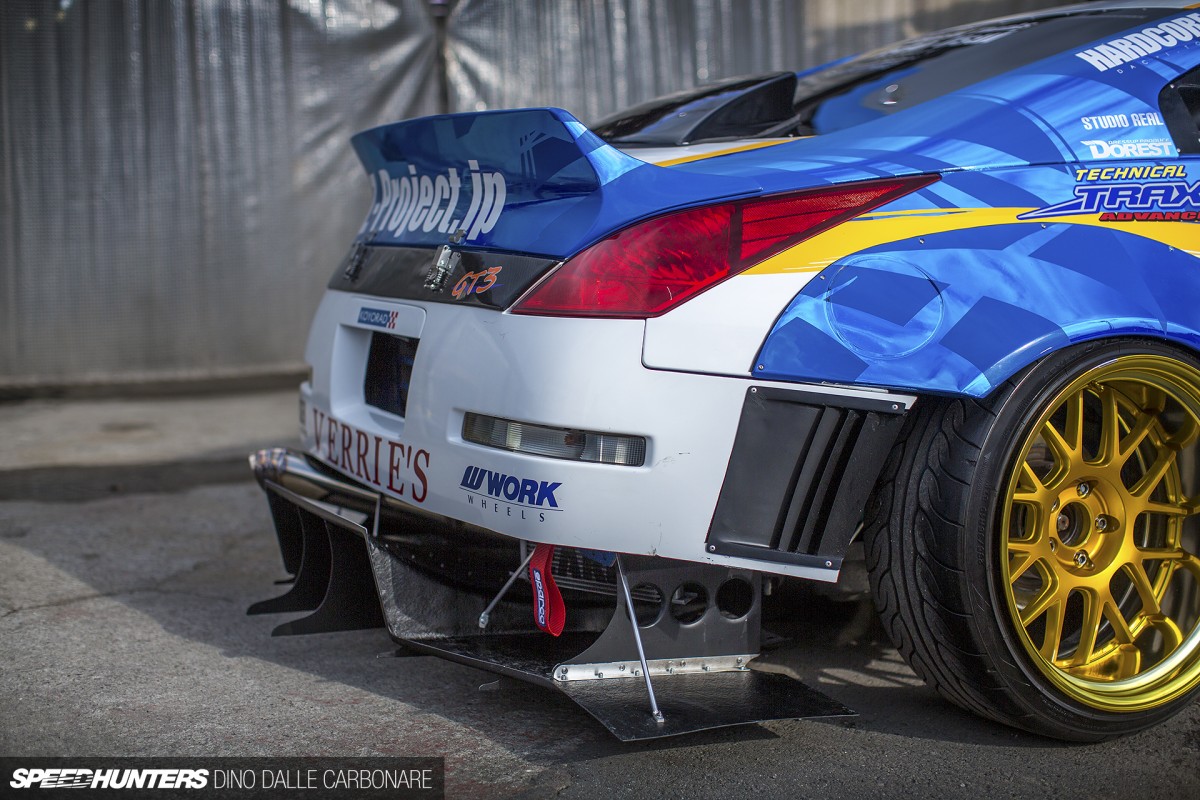 The aero treatment continues at the rear, again with wide fender flares bolted onto cut stock arches. The factory rear bumper has been cut up and the removed portion replaced by a moulded FRP diffuser in which the transmission oil cooler is housed.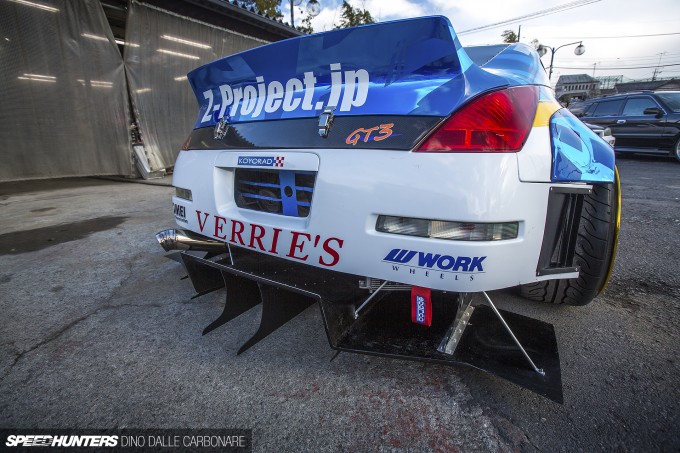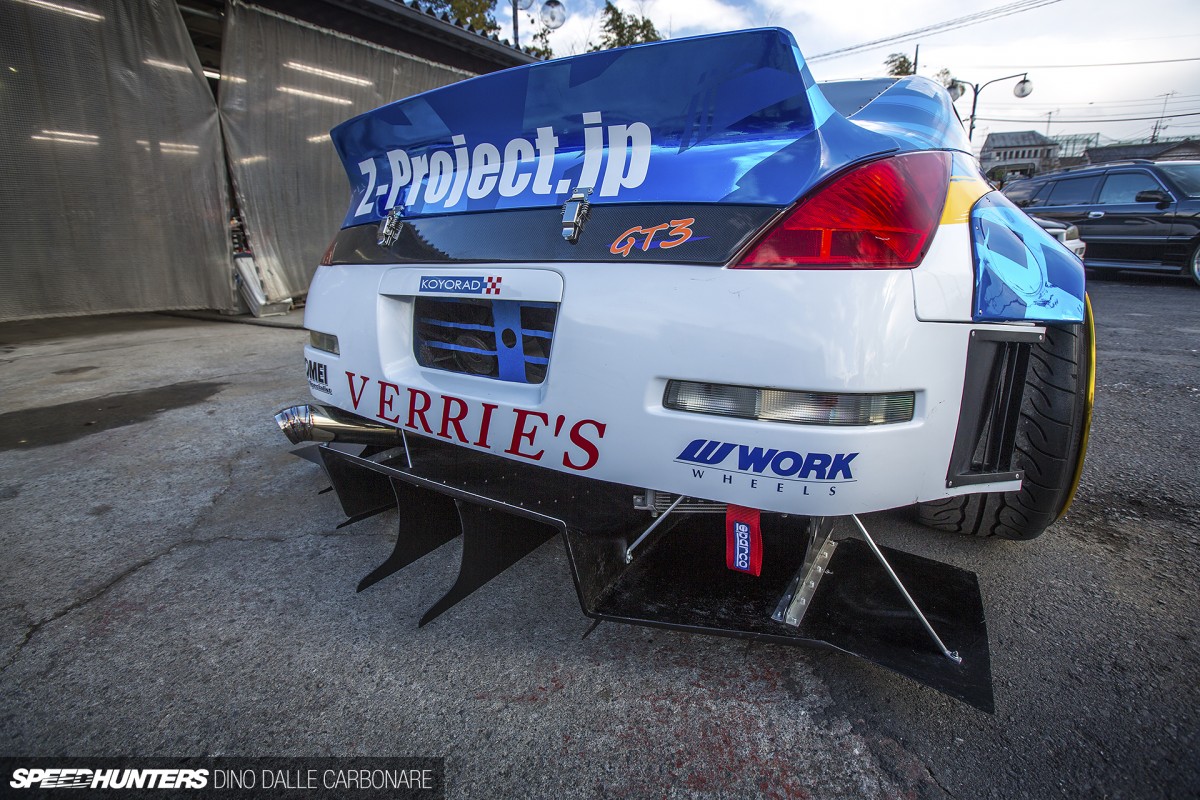 It really gives the Z33 a whole new feel when looked at from the back. Things are finished off with a large ducktail spoiler riveted onto the rear gate – a much better touch than the regular GT-inspired wings we have all seen before.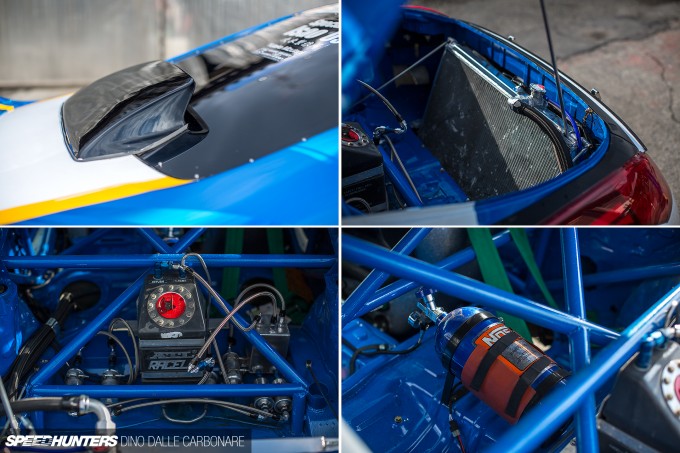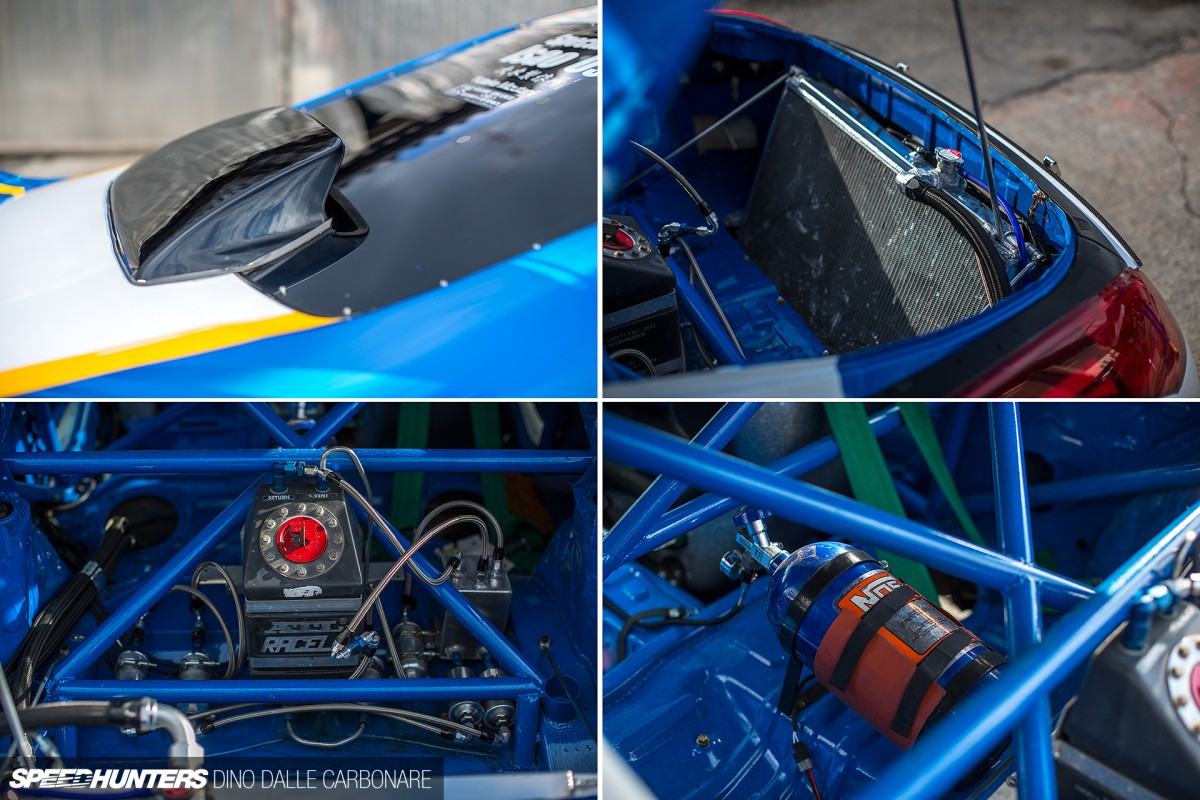 So with the exterior pretty much all wrapped up, it's onto the real interesting bits now. Lift up the rear gate and you are given a pretty good idea of just how much work and preparation went into this car. Within the crossing bars of the custom fabricated rollcage sits the 15-liter ATL safety fuel cell (good for about 2 laps as the guys at Mercury tell us) as well as a bottle of nitrous oxide – but more on that aspect in a moment. Like many pro drift cars, the cooling system has been relocated to the rear; a massive custom-made Koyo radiator mounted at an angle against the very back side of the trunk space and fed air via the black scoop mounted on the gate. A small electric pump has been added to help keep the fluid flowing between the engine and radiator.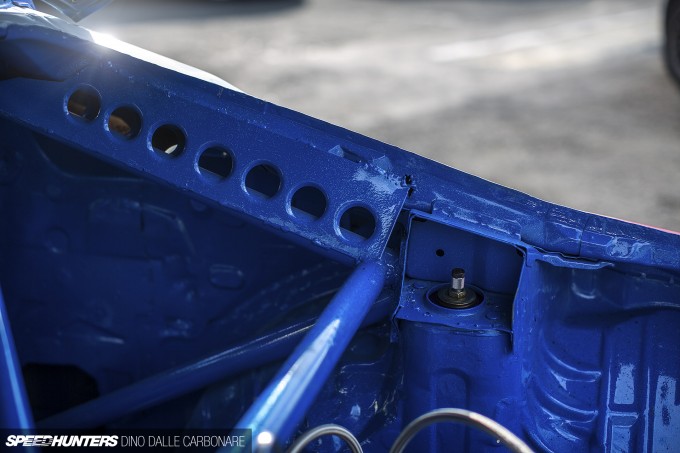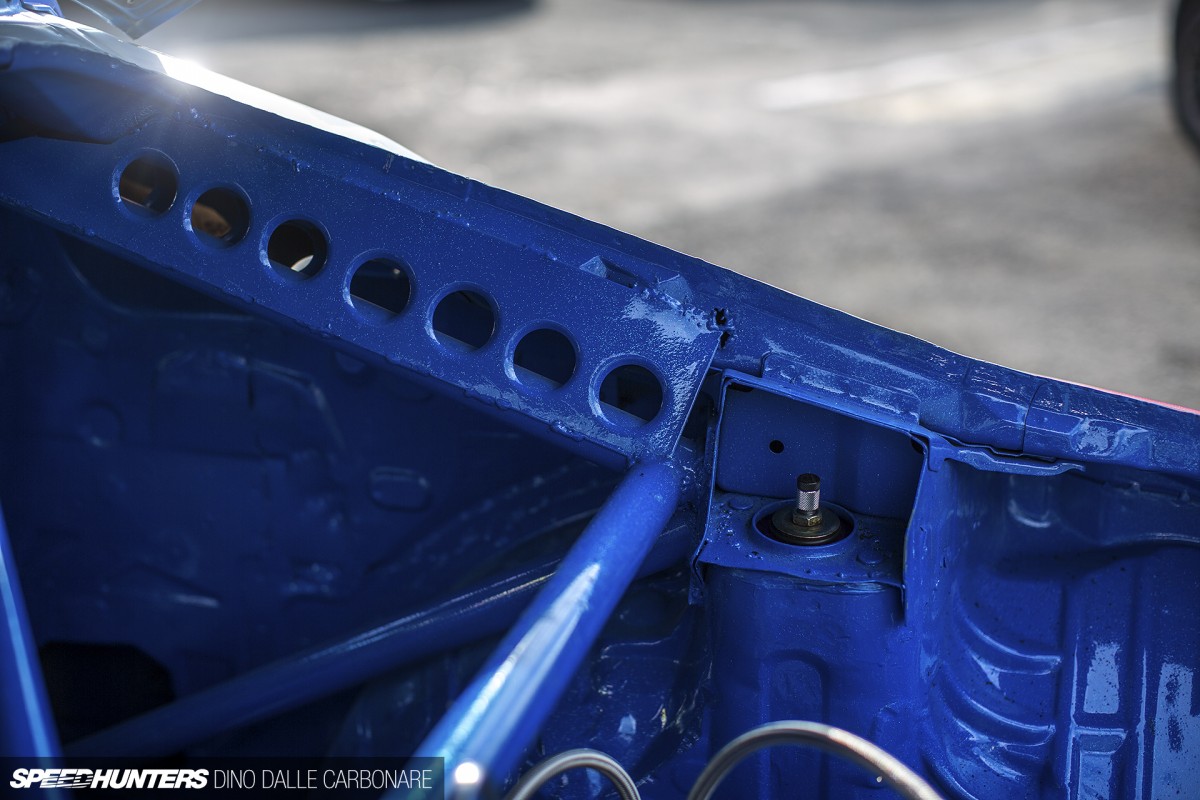 Most of you will probably know that the Z33's chassis has a big connecting tower bar section that links the two rear strut towers. Seeing that a multi-point welded and gusseted cage was added, this was cut out to free up more space, as well as allowing better access to the Trust adjustable coilovers.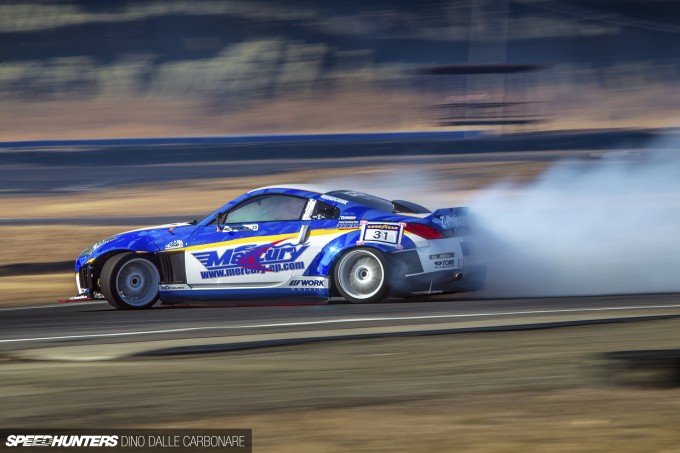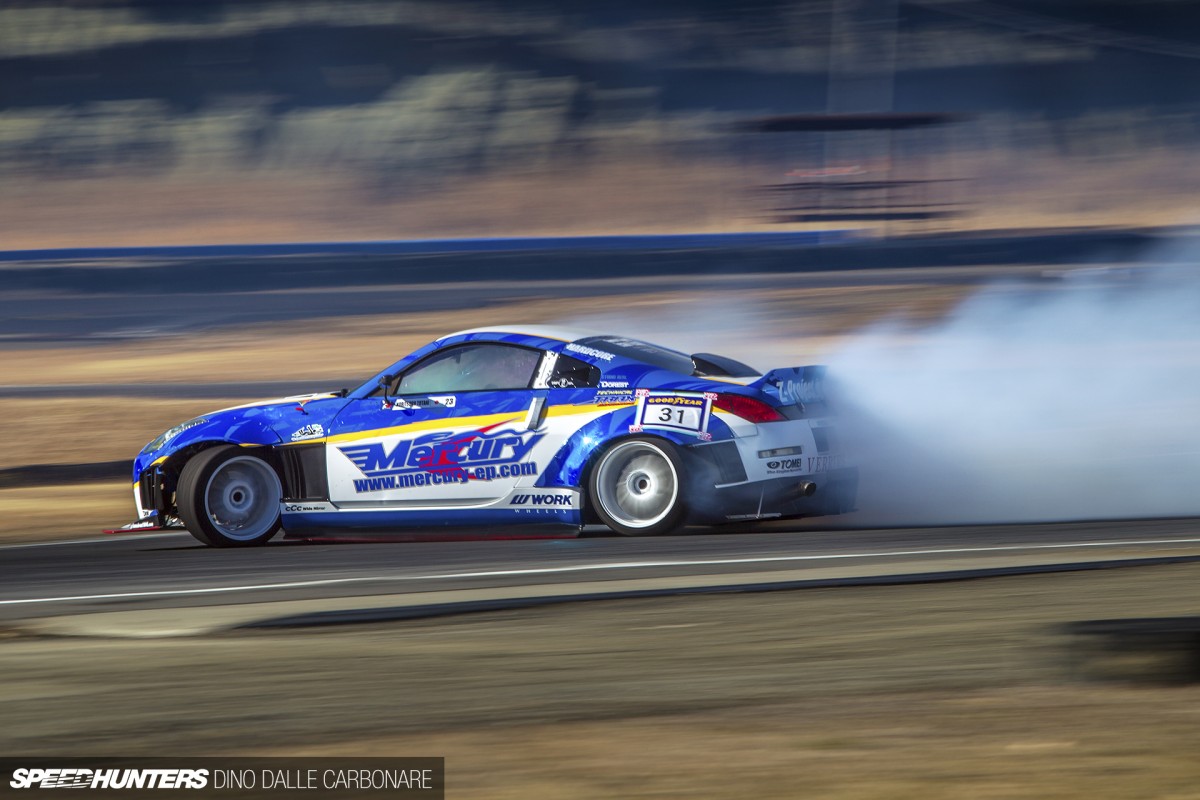 As I was drooling over every detail of the Mercury Z I had images of Totani driving the hell out of it at Nikko, accompanied by a strangely familiar six cylinder wail and lots of wastegate chatter…
Can't Beat A Tsu-Jeh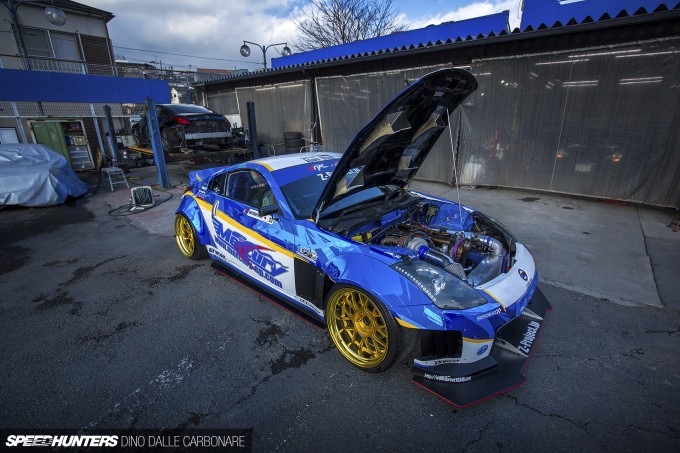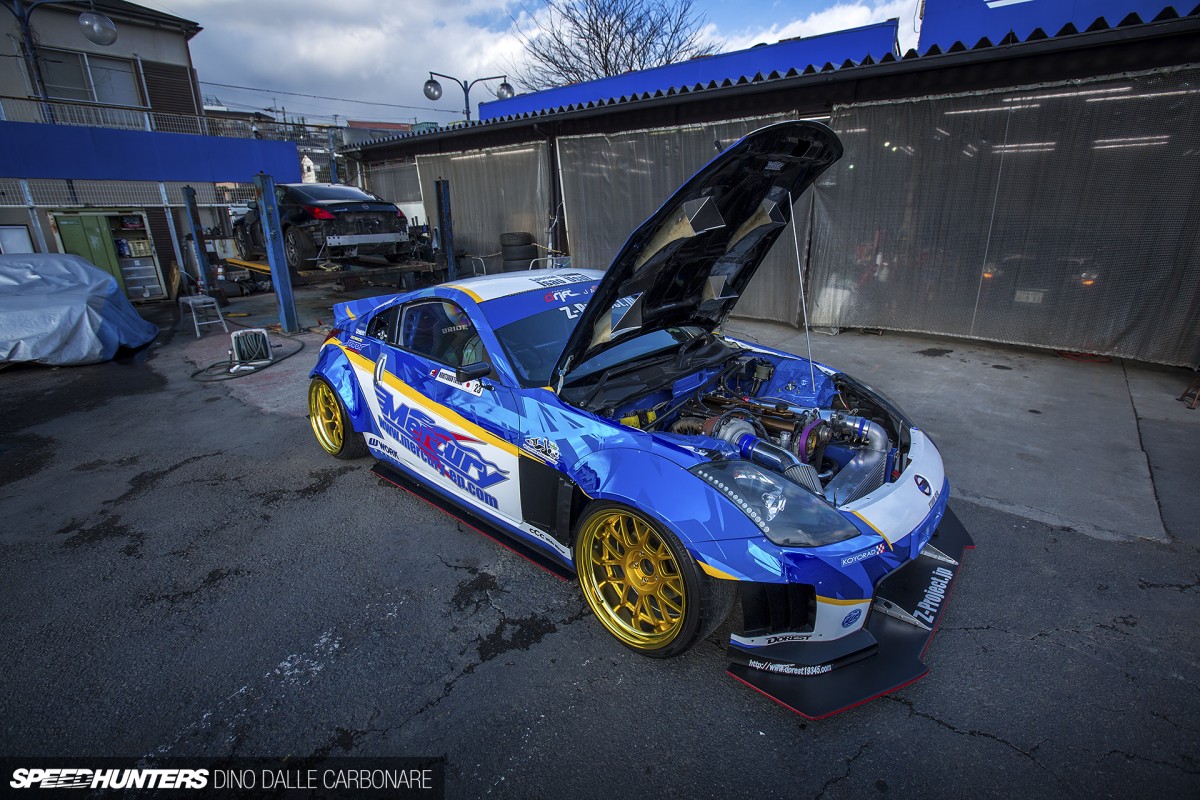 Mercury, who specialise in reselling all sorts of Nissan and Toyota sports coupes and saloons, knew that while the VQ35 that powered the Z33 from factory was a decent enough motor for an everyday type of car, it was going to be way too much work to get it performing and achieving the sort of power figures they had in mind.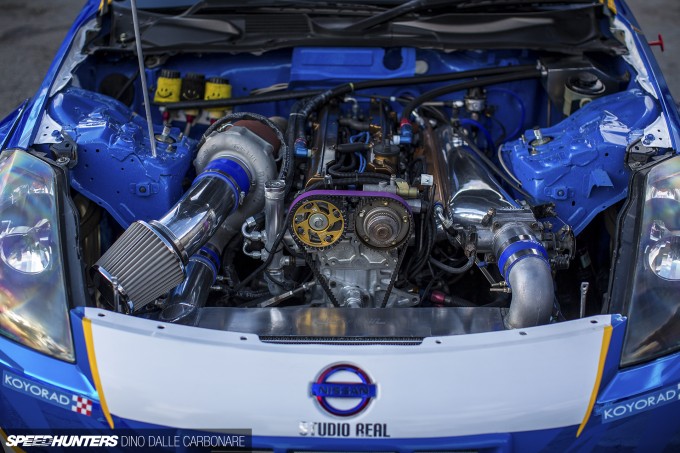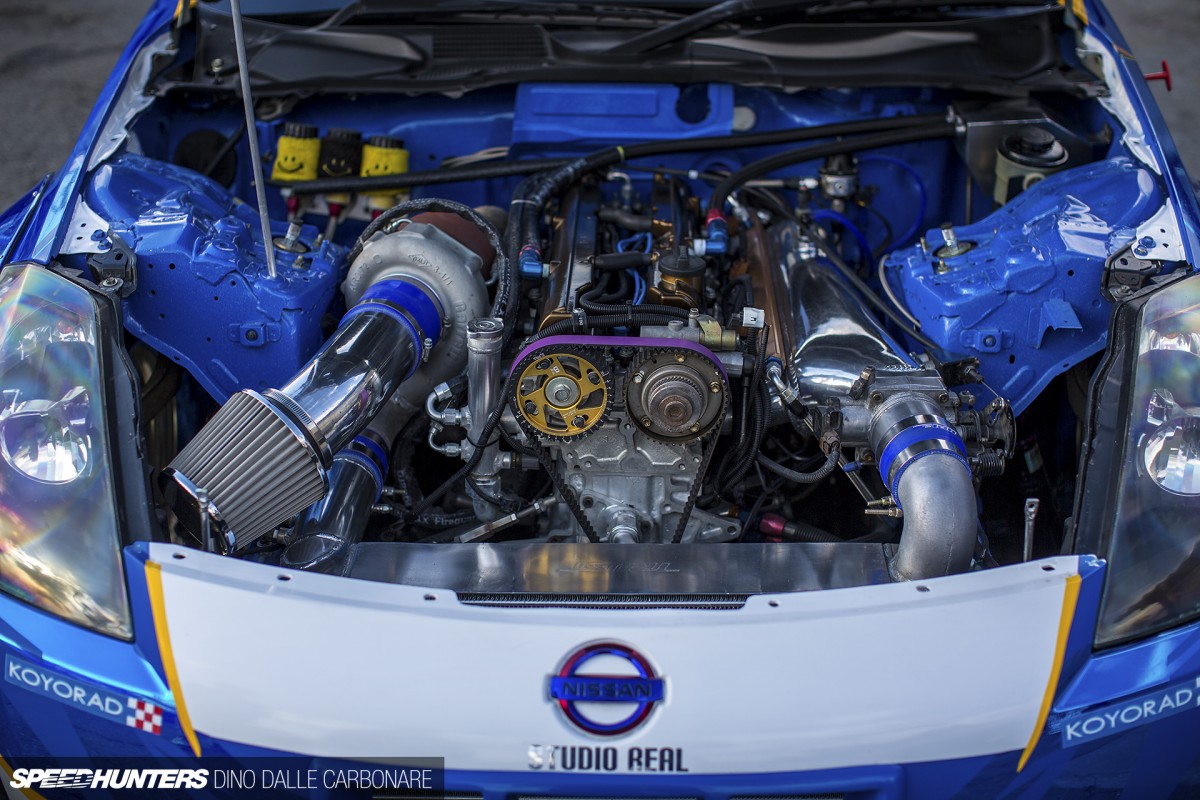 That's why they had the idea to swap a 2JZ into the expansive engine bay. And as you can probably see, this particular unit isn't exactly a stock-looking Toyota 3.0L straight six. Actually, the black Z33 you may have noticed sitting on the lift behind this car in some of the pictures will be receiving a more factory-like 2JZ very soon. That car is going to be transformed into the road-going equivalent of this Formula D drift car – a more sedate interpretation of the main demo car, but of course fitted with the same Mercury GT3 aero package.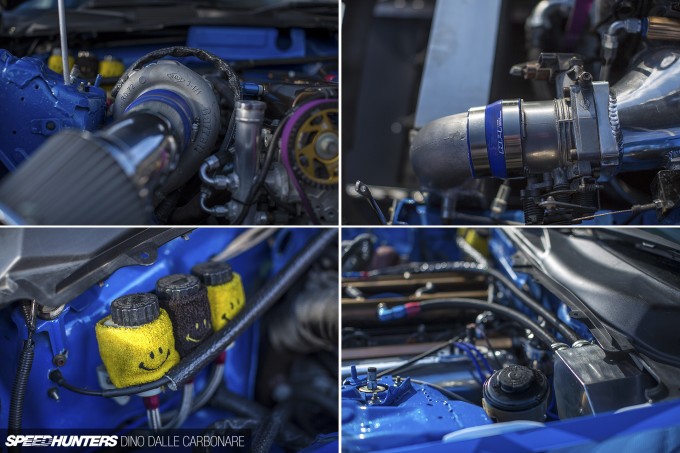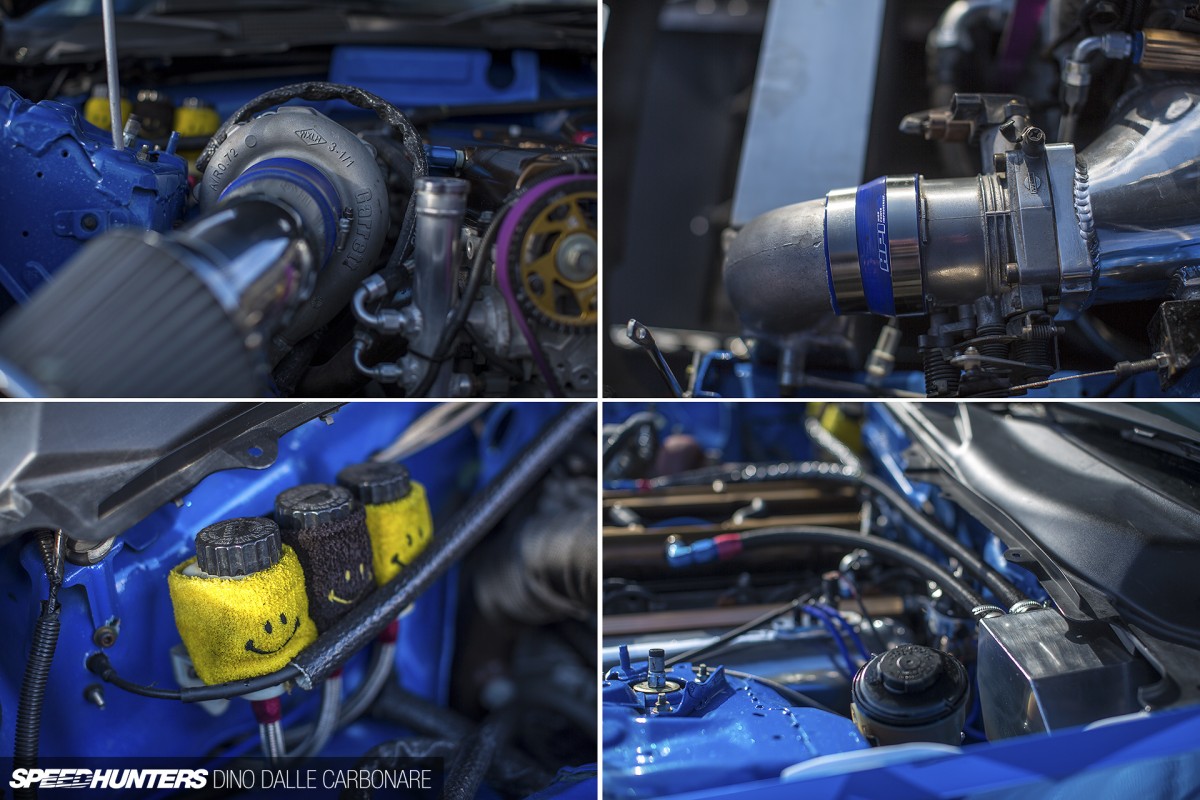 The engine in the drift car, however, has been completely rebuilt with a 3.4L Brian Crower stroker kit, which includes all the bits and pieces necessary to add close to another half a liter of capacity. That's then been joined with a set of hot cams and a Garrett GCX4088 turbocharger mounted onto a Trust exhaust manifold. A rather loud and intoxicating scream comes courtesy of a Turbosmart external wastegate, which along with the GReddy Profec B mounted in the cabin, pins boost at a nice and even 2.0bar (29.4psi). There's a big Trust intercooler and an Infiniti Q45 mechanical throttle body to control the charge entering the polished GReddy plenum.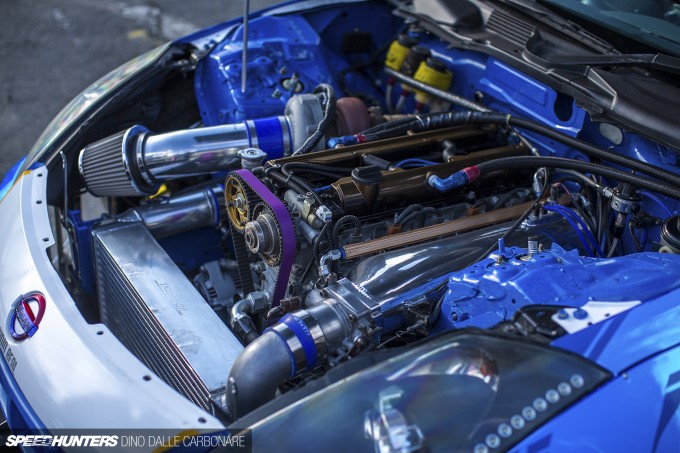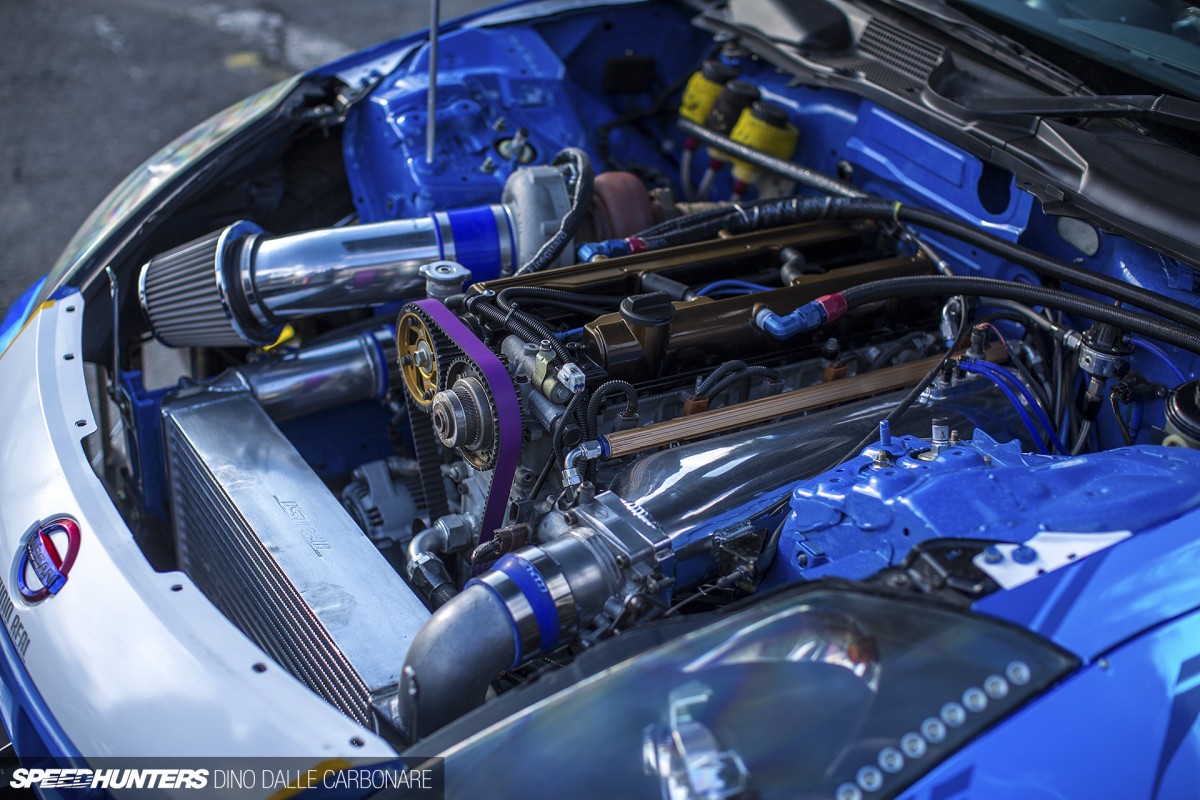 Seeing as the entire front section where the radiator would normally be fixed to has been removed, there was space to position the intercooler in a way that allows for extremely short piping, which in turn equates to better throttle response.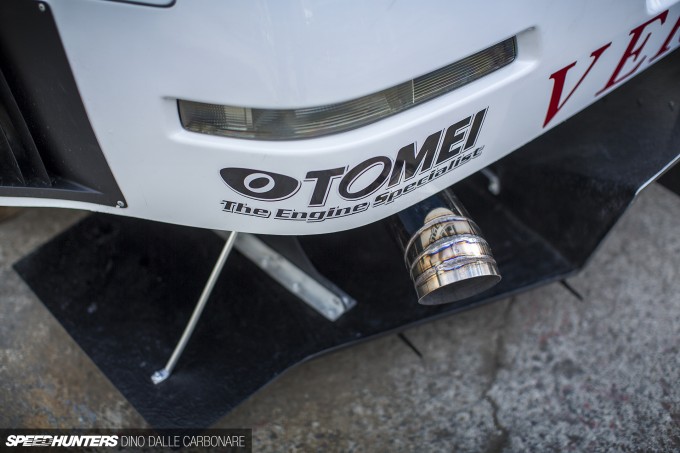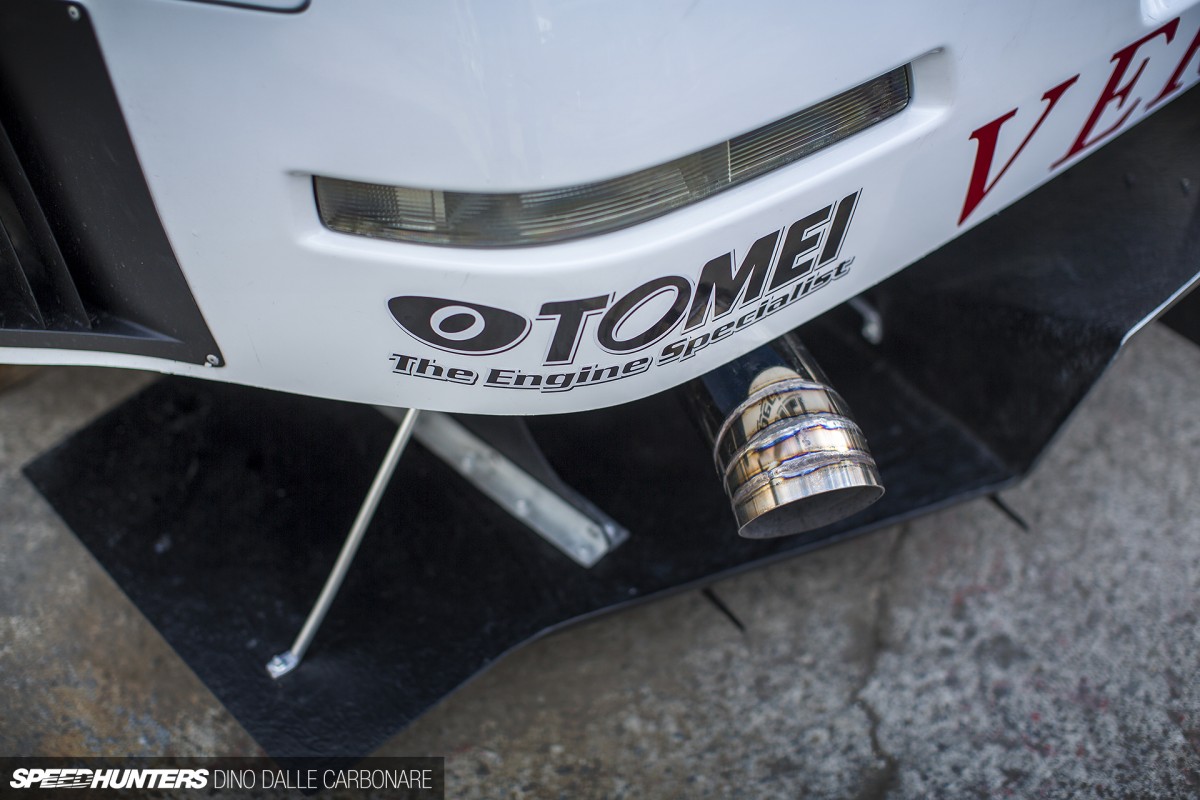 The Garrett turbo dumps the exhaust gasses it has efficiently used to create positive boost on the compressor side into a custom downpipe and then out through a one-off exhaust that Mercury fabricated.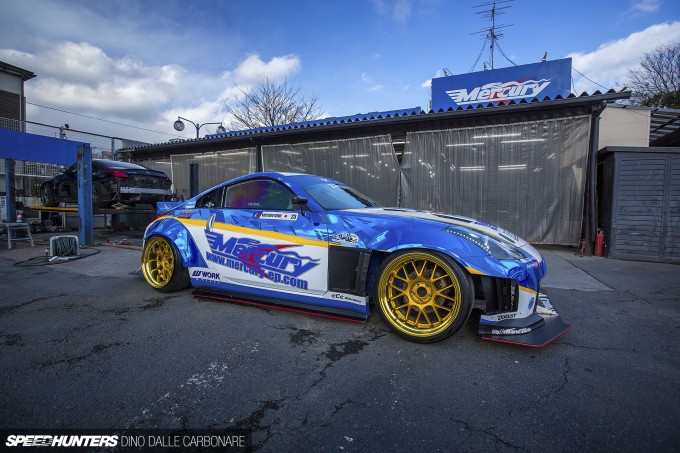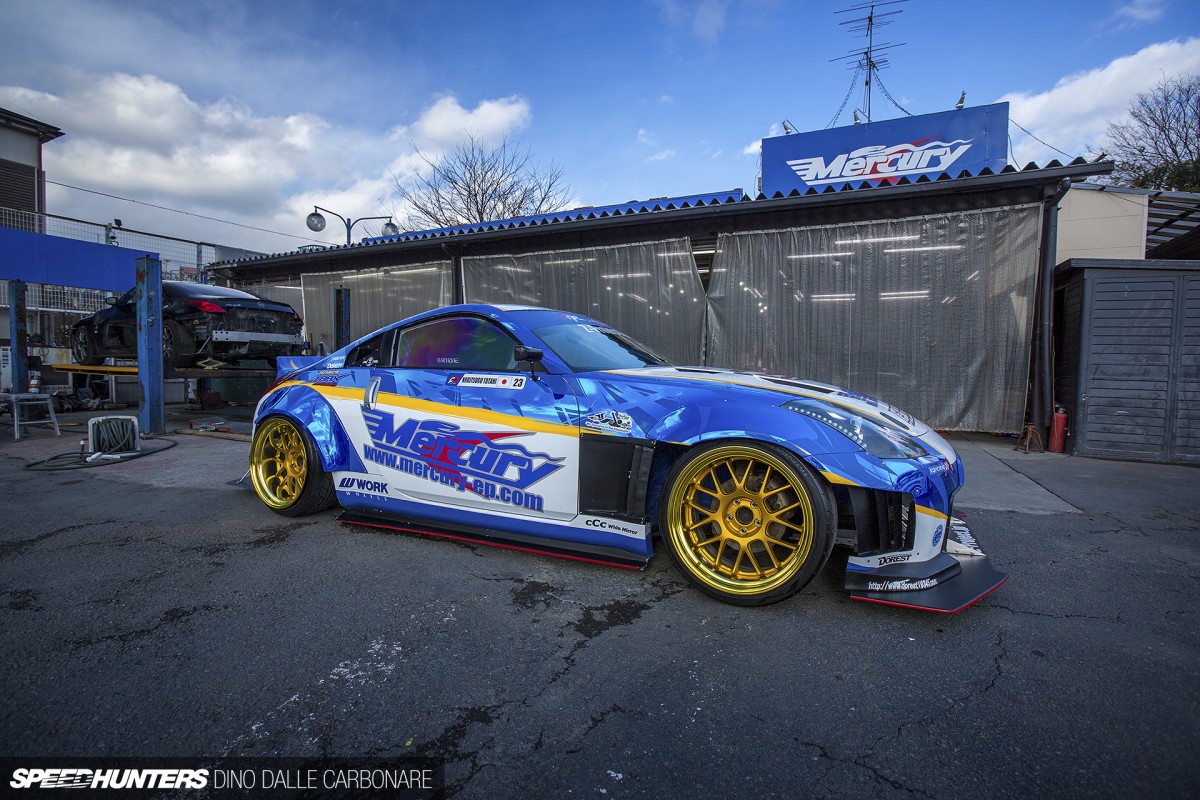 The driveline has been beefed up to cope with the 1000PS of power this car develops, but more so the 78kg/m of torque it's able to generate at just 4,800rpm. And the nitrous oxide system isn't really set up yet! A Holinger 6-speed sequential transmission mated to an OS Giken triple-plate clutch sends drive to the rear wheels via a Tomei Trax LSD.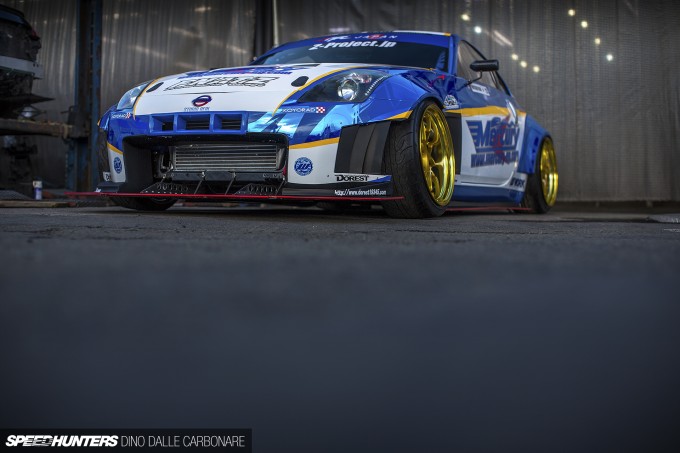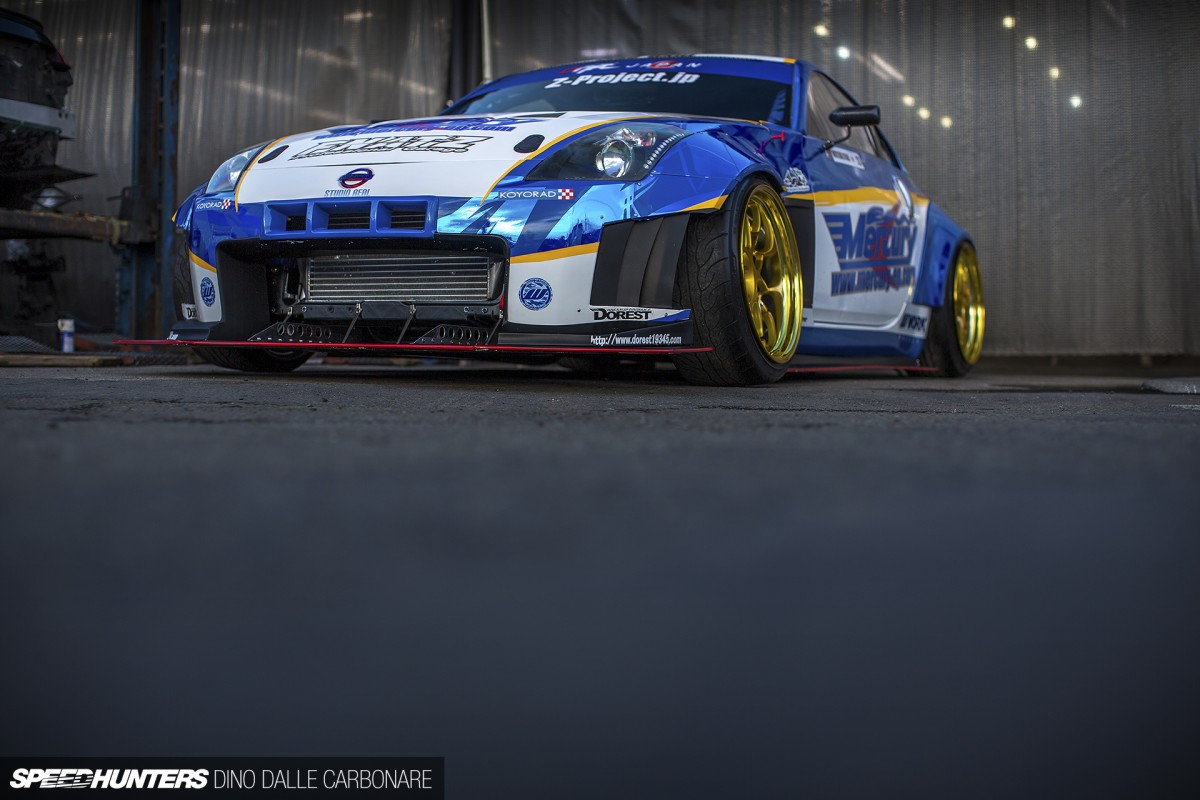 I cant wait to see what Mercury does with their street demo car they are building now. I think when this kit is painted in a single color and kept simple it will look absolutely sensational!
Cameras & Screens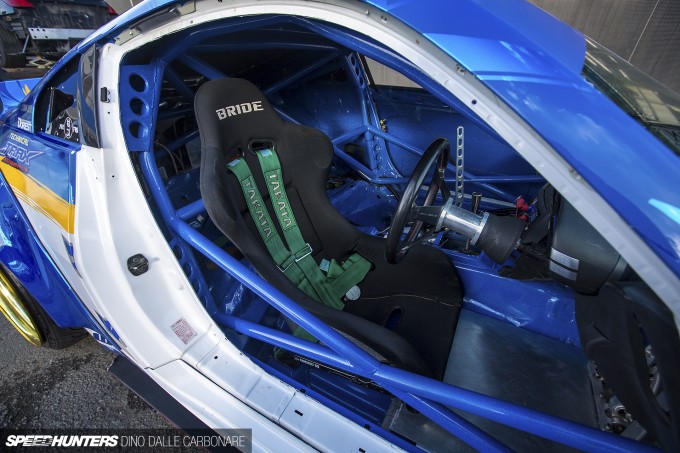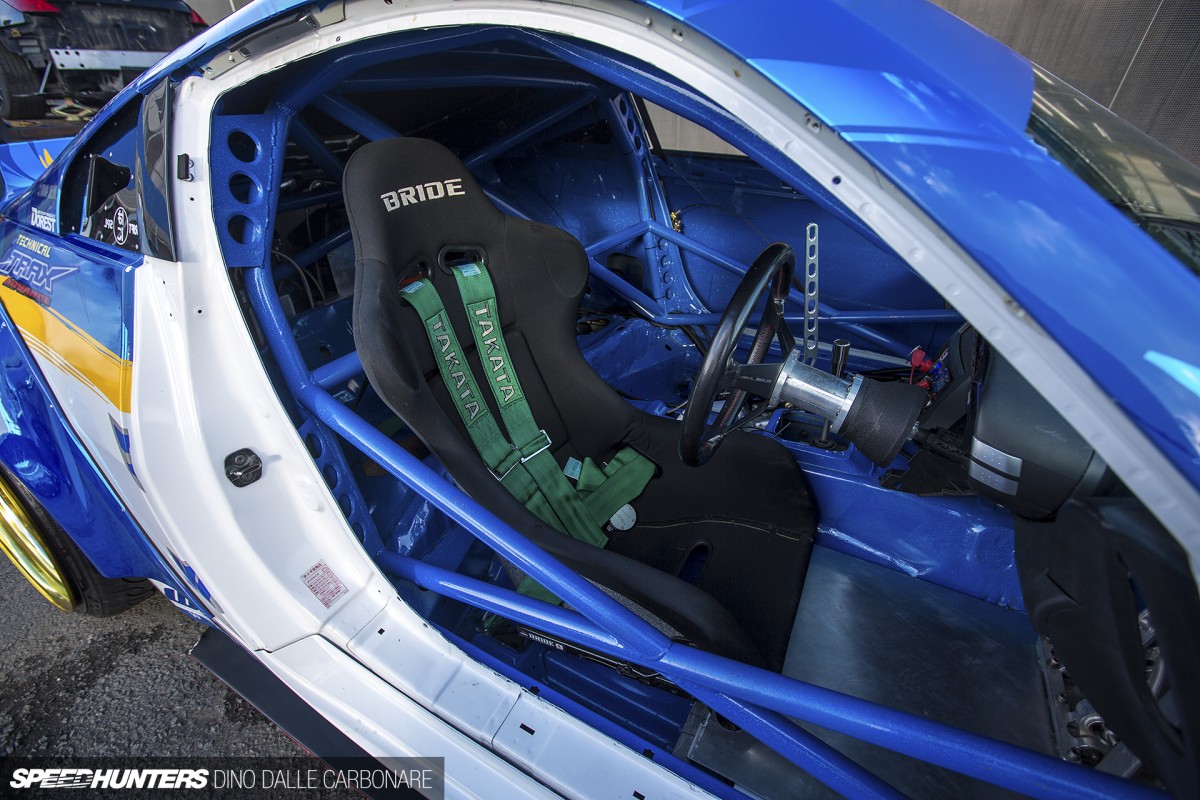 Swing open the wobbly lightweight FRP doors that probably weigh less than your right shoe and you gain full access to the metallic blue cabin. It's all business in here – one Bride bucket seat for Totani to sit in and an extended steering wheel boss that takes into account the new rearward driving position.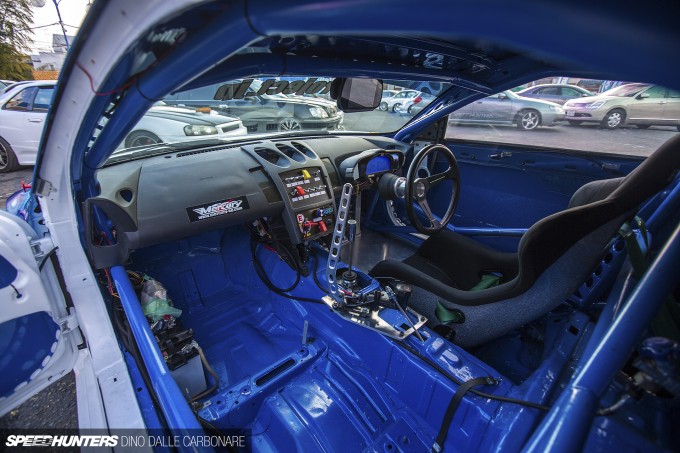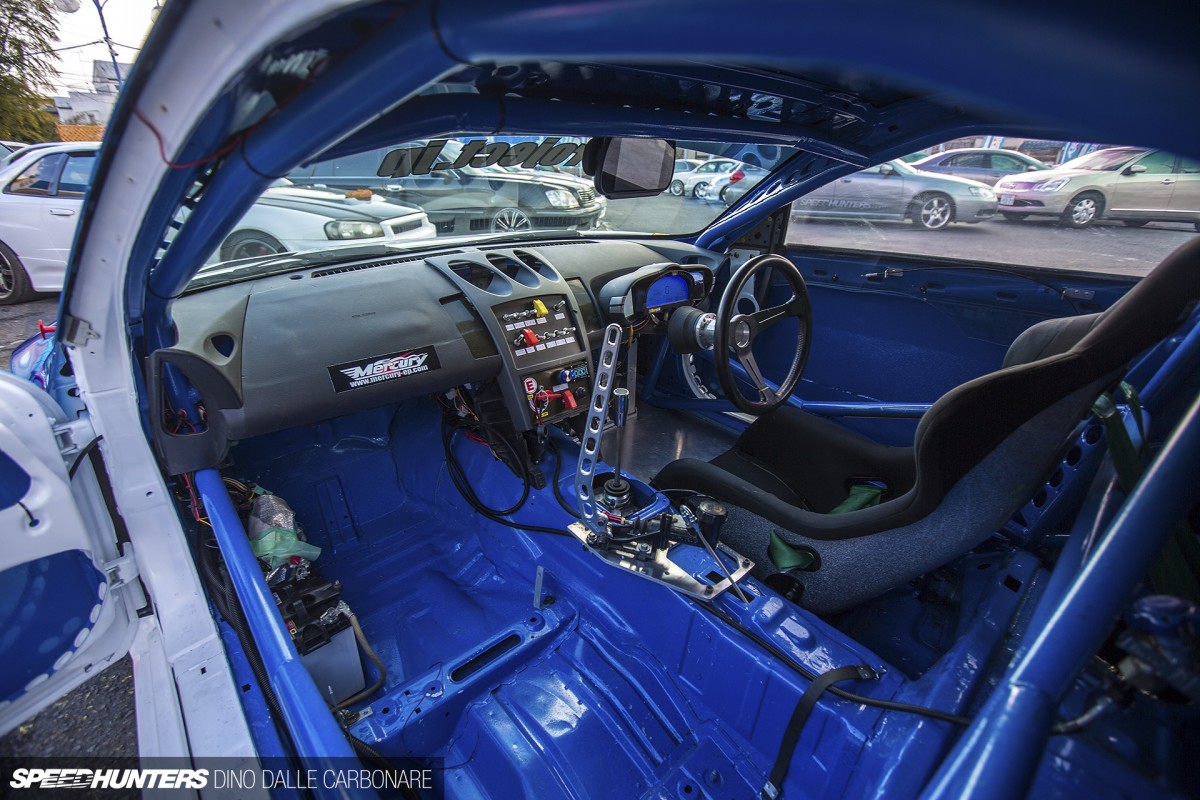 Once you jump over the cage's cross bars and into the supporting bucket you have a very functional cabin around yourself. There are a few switches and modules to control on the center console, and a big Wilwood hydraulic handbrake lever to actuate the secondary calipers that are mounted on each of the rear hubs.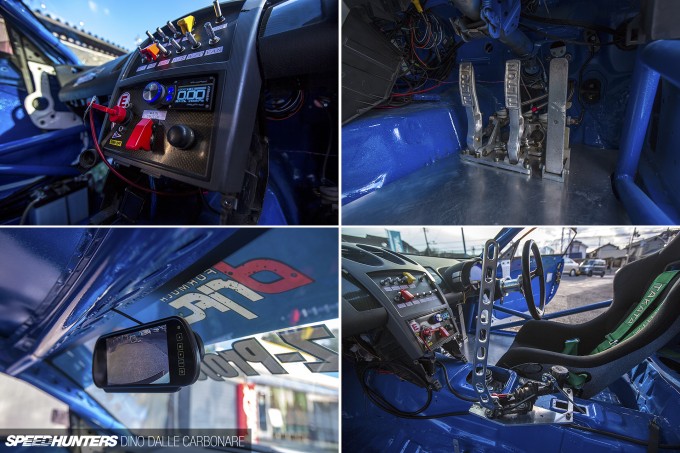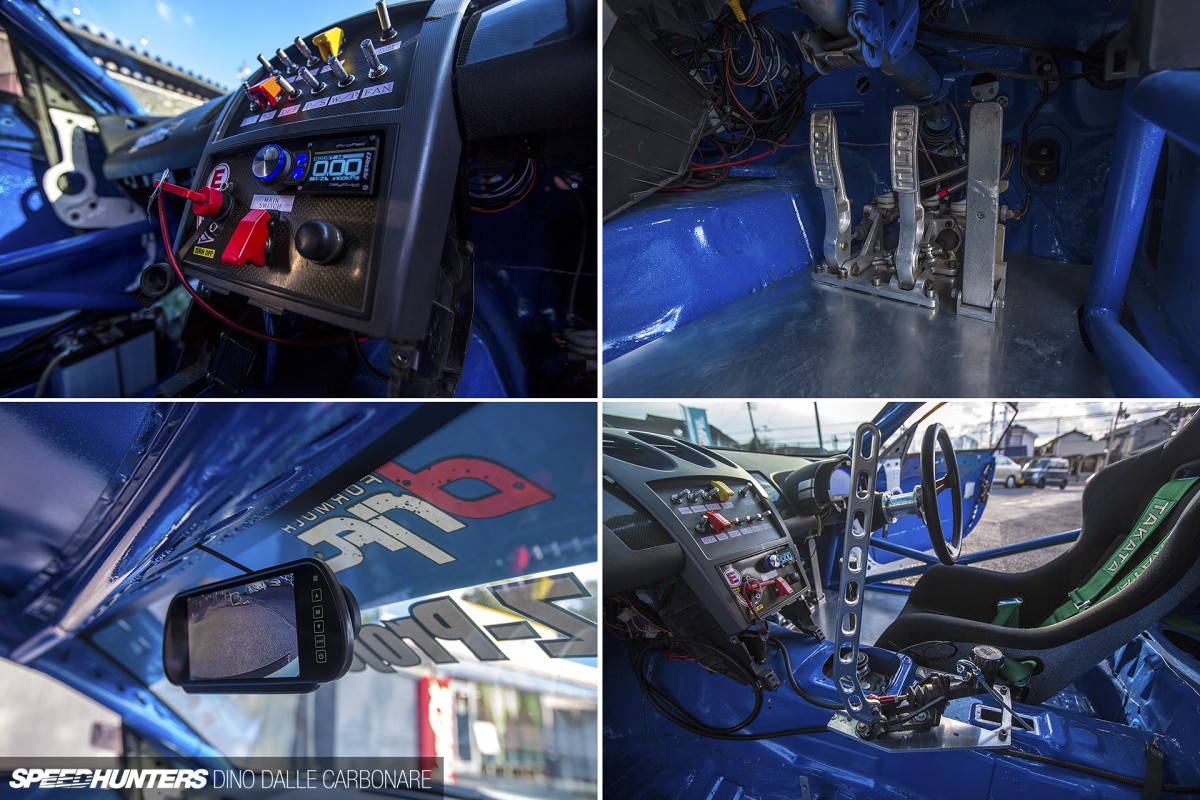 An adjustable Tilton pedal box is the last touch in allowing Totani to fine tune his driving position. Seeing that the FRP rear gate does not have transparent glass, the LCD screen is there to relay a view out of the back. But that isn't the only LCD screen…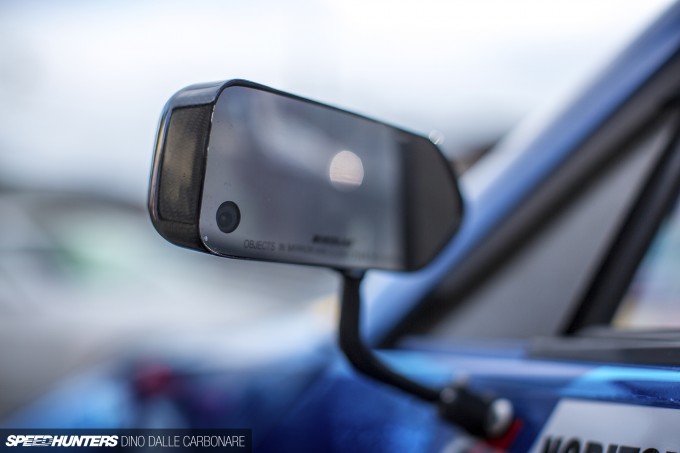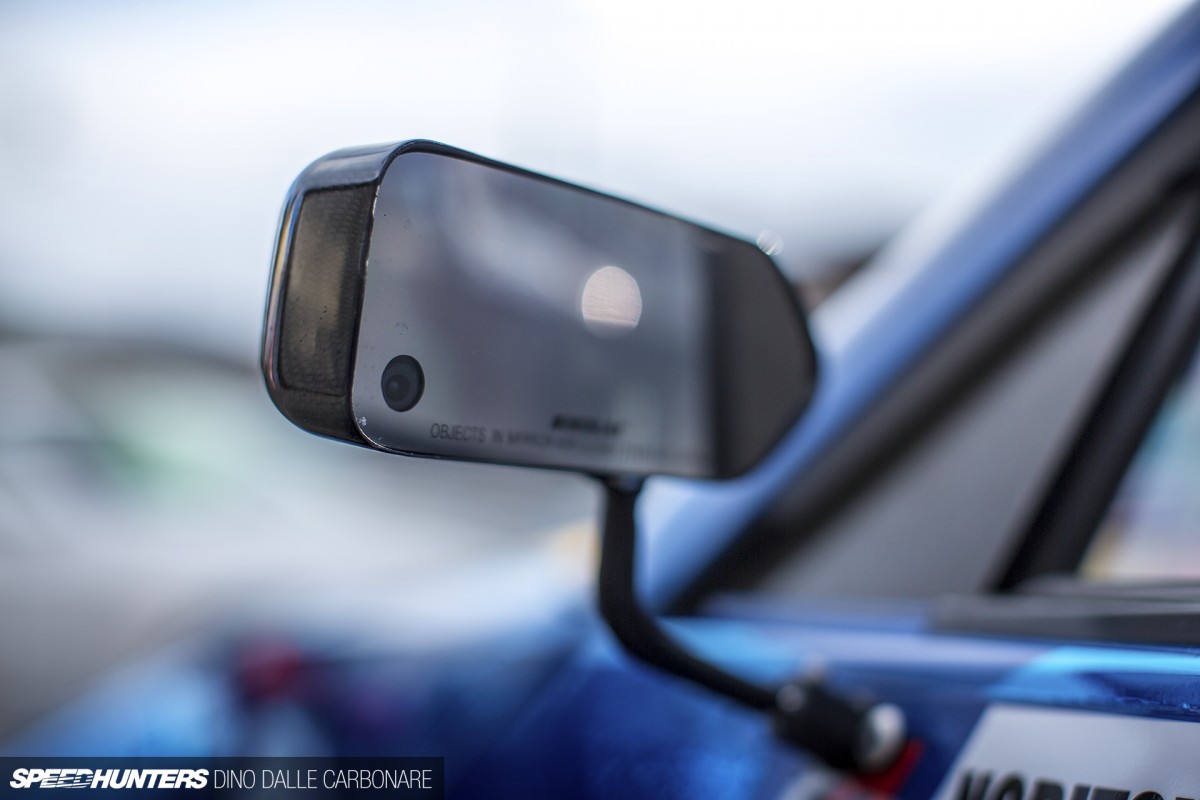 You see that little black hole on the corner of the exterior carbon mirror? That's actually a little camera, and there's one in the other mirror too.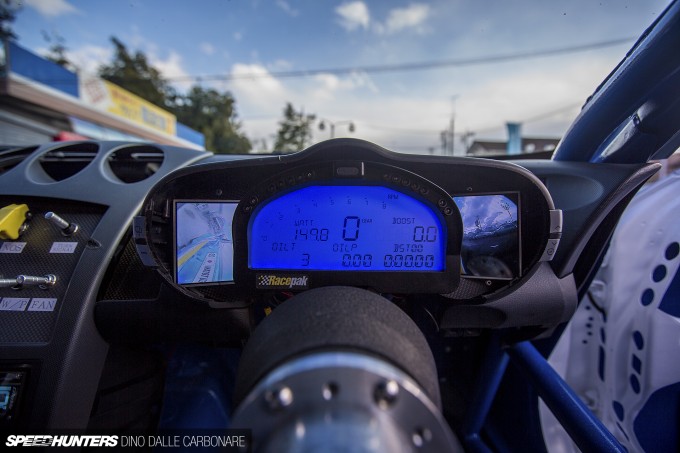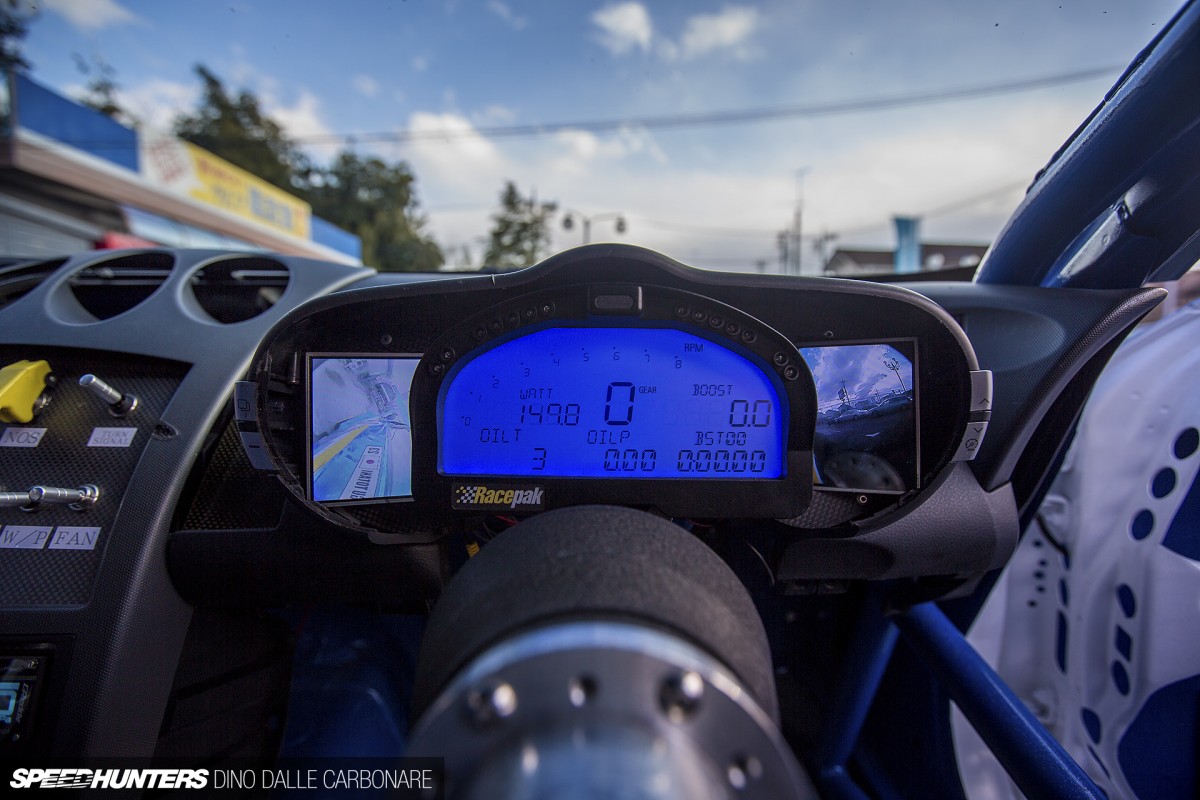 They both relay side views onto a pair of little LCD screens mounted on each side of the Racepak dash display. How cool is that?! It's just like a concept car, but in this case they really made it work. This is actually helpful for drifting, in the fact that it allows you to know how close the chasing car is without having to turn your head and look at the mirrors.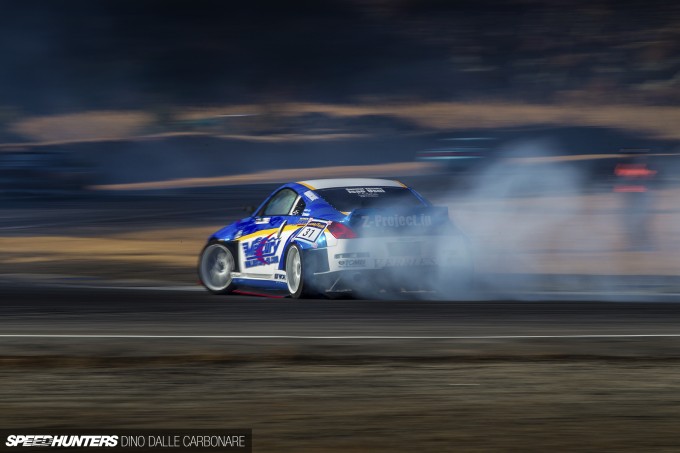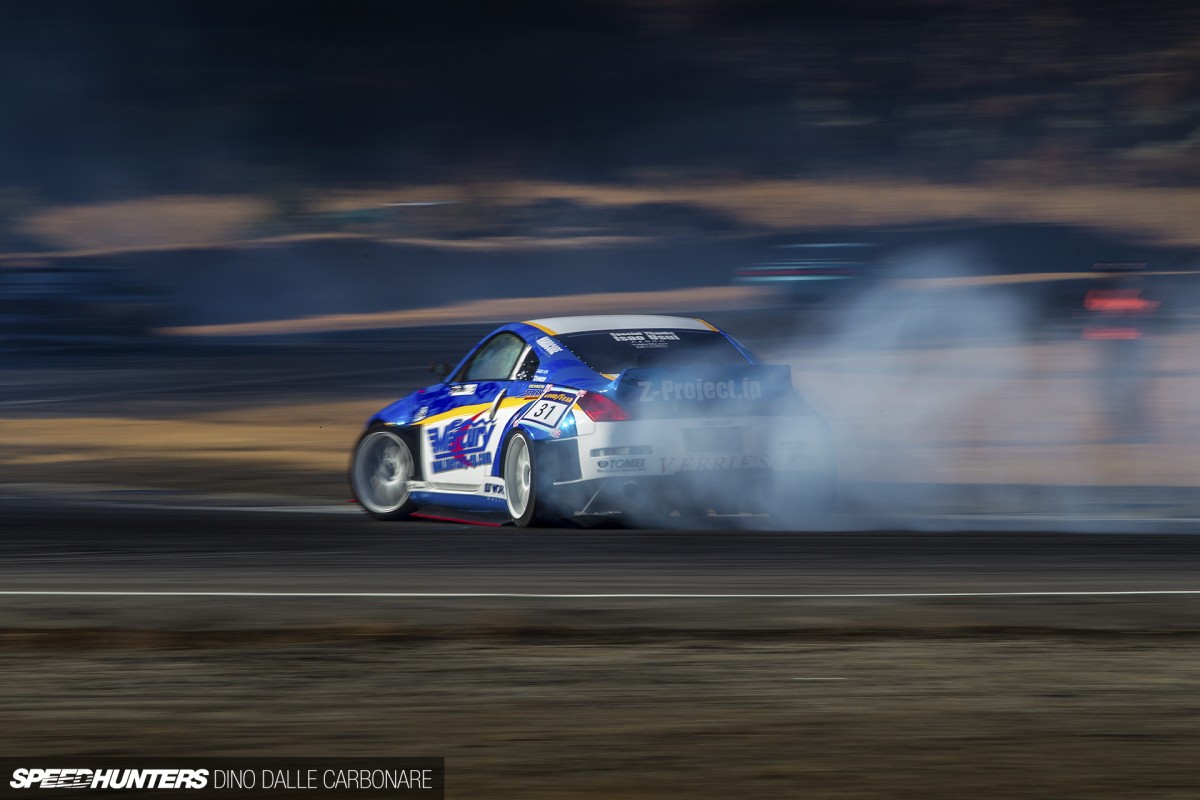 That allows Totani to do this sort of thing, while keeping all his focus on driving and what's happening ahead. It's a pretty smart idea, if you ask me.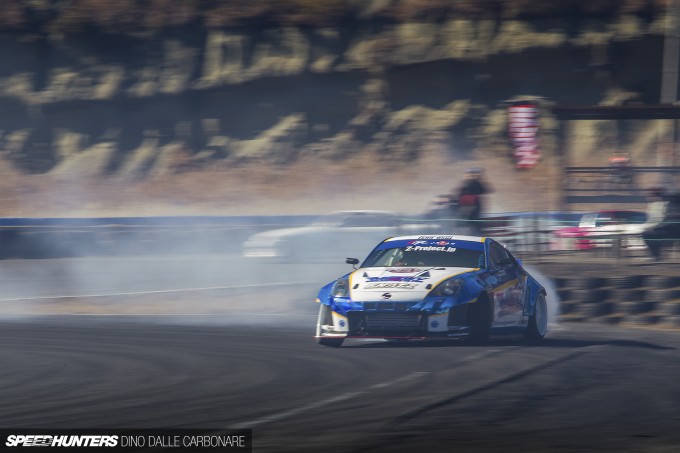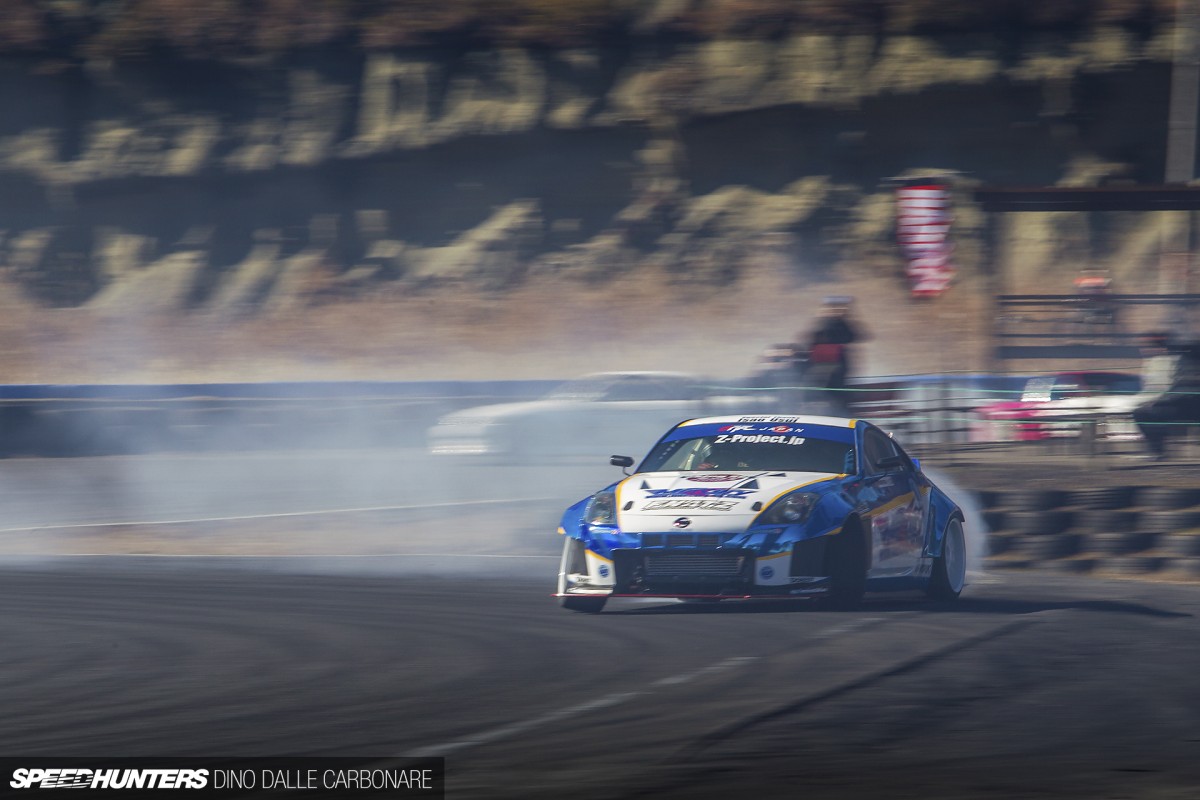 We'll be seeing this car hit every round of the Formula D Japan season this year, which will kick off at Tsukuba Circuit – in my opinion one of the best tracks to host a drift event at – in late April.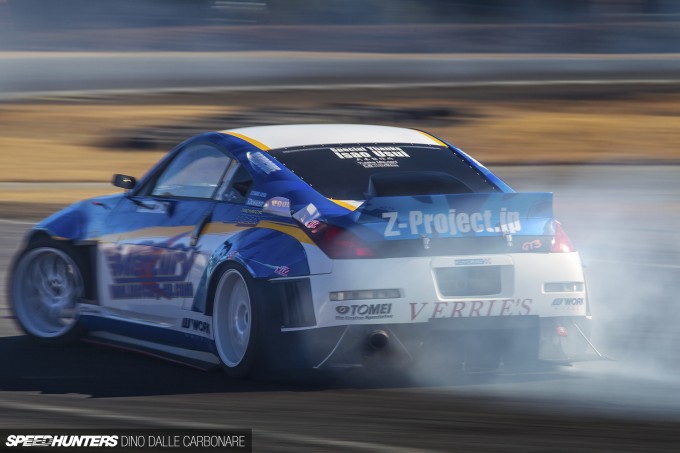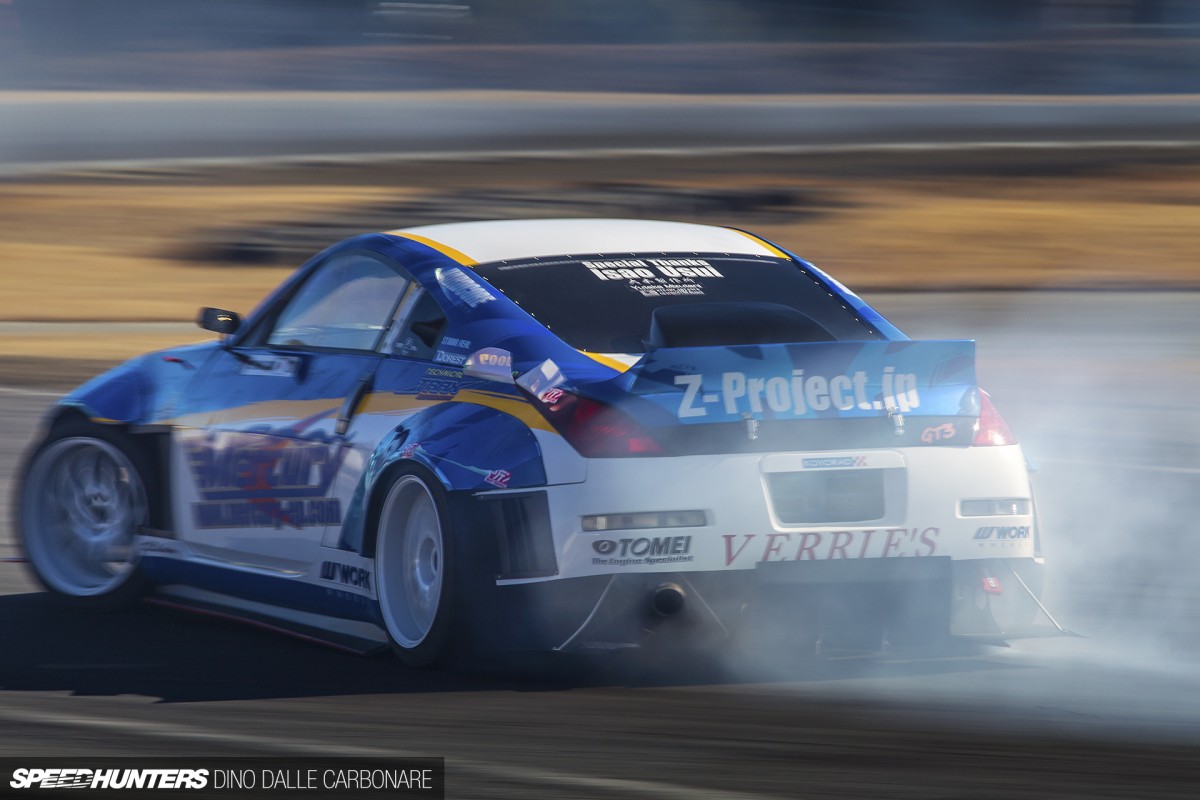 Until then, I really hope Mercury will complete their street demo car, as I'm really beginning to like these old Z33s. Especially ones powered by 2JZs!
Dino Dalle Carbonare
Instagram: speedhunters_dino
dino@speedhunters.com
Mercury Formula Drift Nissan Z33
Numbers
Max Power: 1000PS @ 7,800rpm, Max Torque: 78kg/m @ 4,500rpm, Max Boost: 2.0kg/cm2
Engine
Toyota 2JZ-GTE engine swap, Brian Crower 3.4L stroker kit, billet crankshaft, H-section connecting rods, forged pistons, Tomei cams 264-inch in/ex, Trsut exhaust manifold, Garrett GCX4088 turbocharger, Turbosmart external wastegate, custom turbo outlet, custom exhaust system, Trust intercooler, Infiniti Q45 throttle, Trust inlet plenum, Koyo radiator, custom blow-by collector tank, Koyo oil cooler, 1000cc/min injectors, Fnatz-tuned HKS F-CON V Pro engine management system
Driveline
Holinger 6-speed sequential transmission, OS Giken triple-plate clutch, custom prop shaft, Tomei Technical Trax LSD
Suspension/Brakes
Trust dampers modified by Manimal, Swift 16kg/mm front springs, Hyperco 12kg/mm rear springs, Drift Max knuckles, Ikeya Formula adjustable links, Megan Racing arms, rear twin brake caliper set up, Project µ brake pads
Wheels
Work Meister M1R 18×10.5-inch +15 (front/rear)
Exterior
Complete Mercury GT3 aero kit, special gold-to-silver chrome graduation paint
Interior
Fully spot-welded and reinforced shell, custom multi-point welded & gusseted rollcage, Bride bucket seat, Takata harness, Racepack LCD dash unit, custom LCD/camera side mirrors, LCD rear view mirror, Wilwood handbrake, Tilton adjustable pedal box, custom switch panel, GReddy Profec boost controller,