Reimagining A Race Car
In all my years spent shooting and writing about cars in Japan and throughout the world, I have come to appreciate that low doesn't necessarily mean lots of compromise. With the right attention to detail, careful planning and exacting execution, you can look good when parked up at a meet or show and still have the functionality and performance and drivability to use daily.
Case-in-point, the Voomeran Volkswagen Golf Mk2 from Euro Magic in Osaka.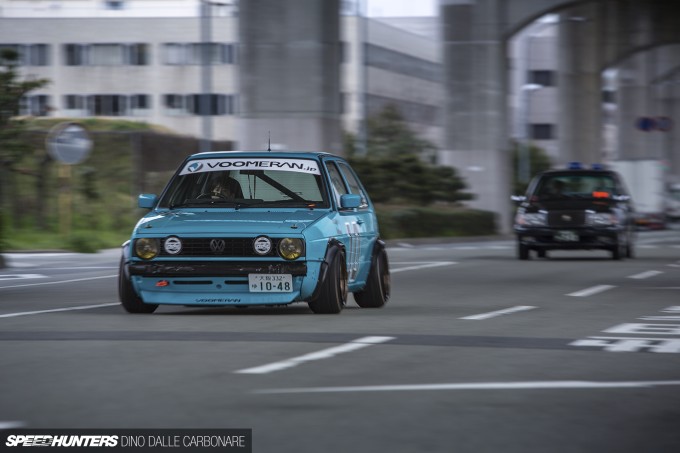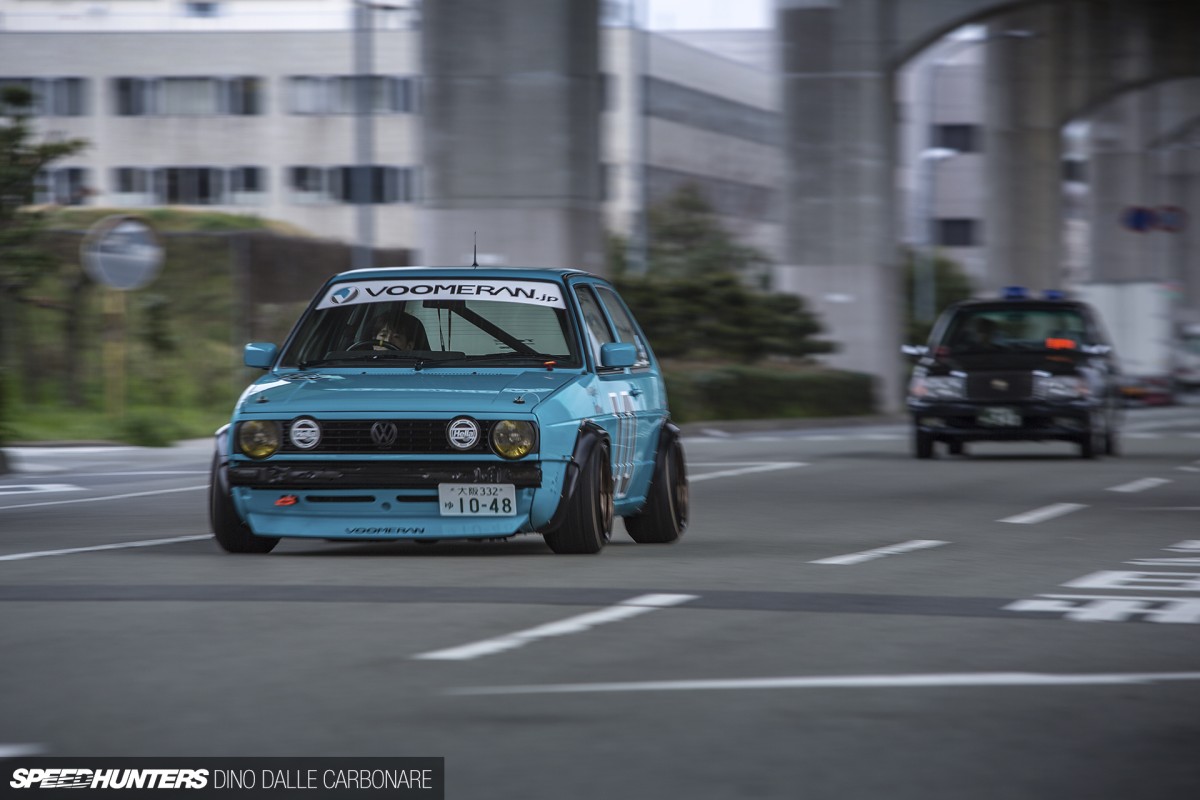 When envisioning their most extreme car yet, Euro Magic wanted little trade-off when it came to ride and comfort. After years in the VW tuning scene, they know a thing or two about making Vee-dubs sit nice and look good, but the base for this project was a little different to what they've started with in the past.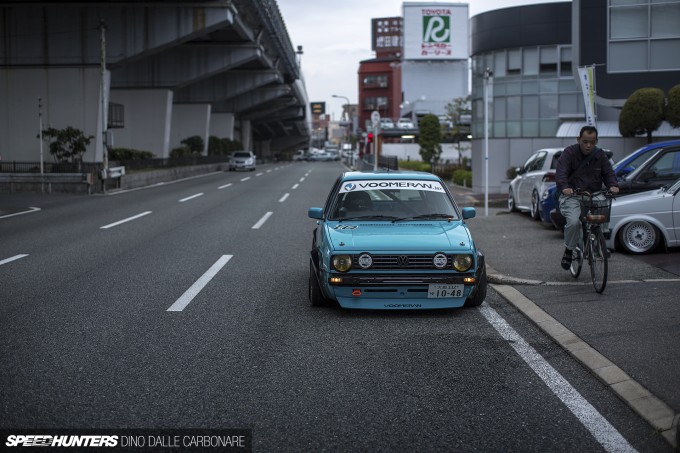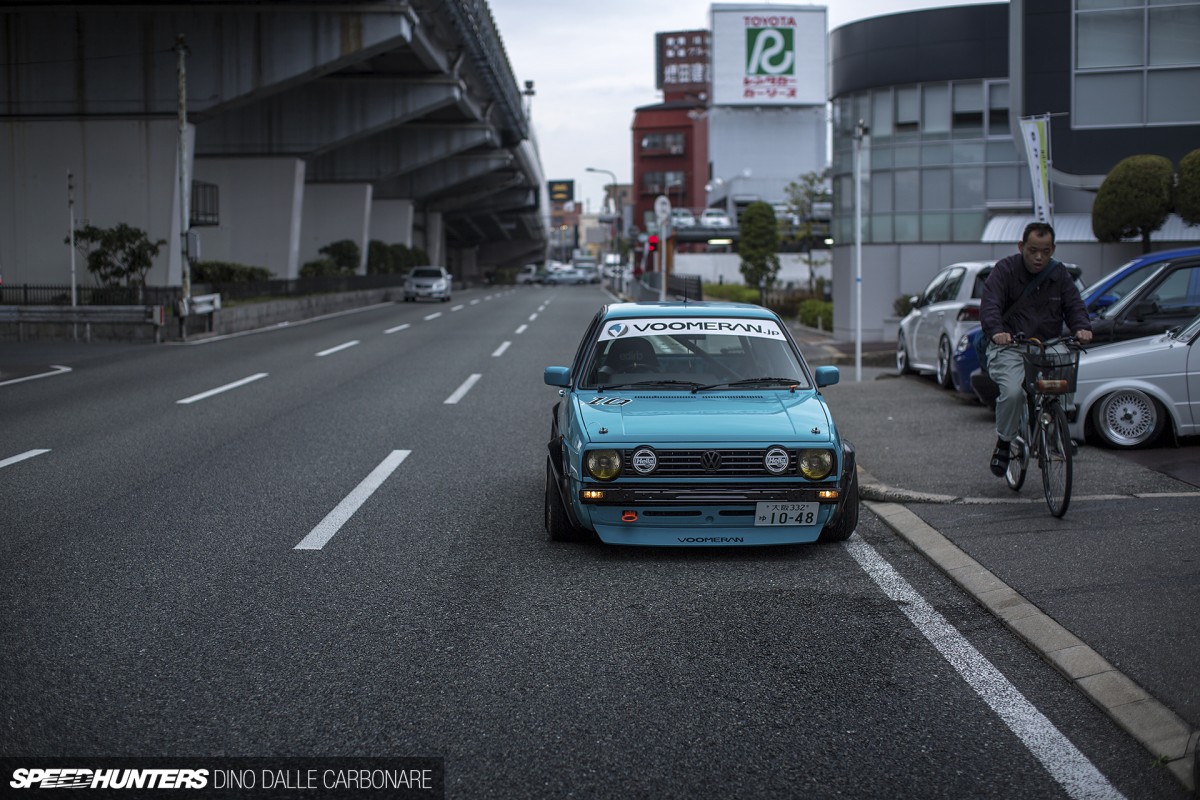 That's because, before this Mk2 was road registered it was originally a Cup car raced in Japan's one-make Golf series. Despite being much more raw than the late-model Volkswagens that Euro Magic has successfully built, it was the perfect platform to launch their new line-up of Voomeran-branded products.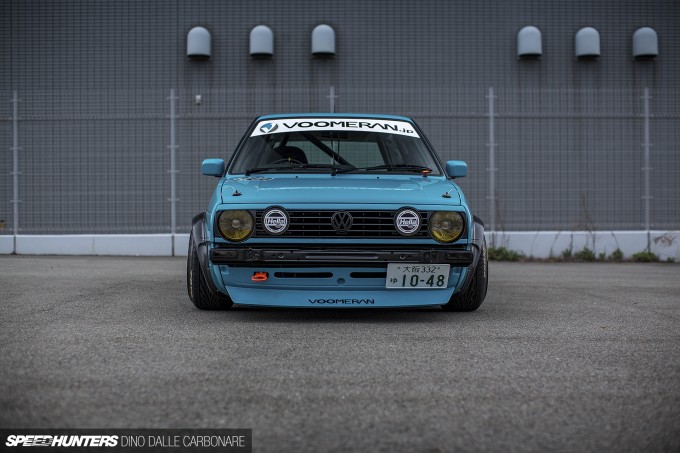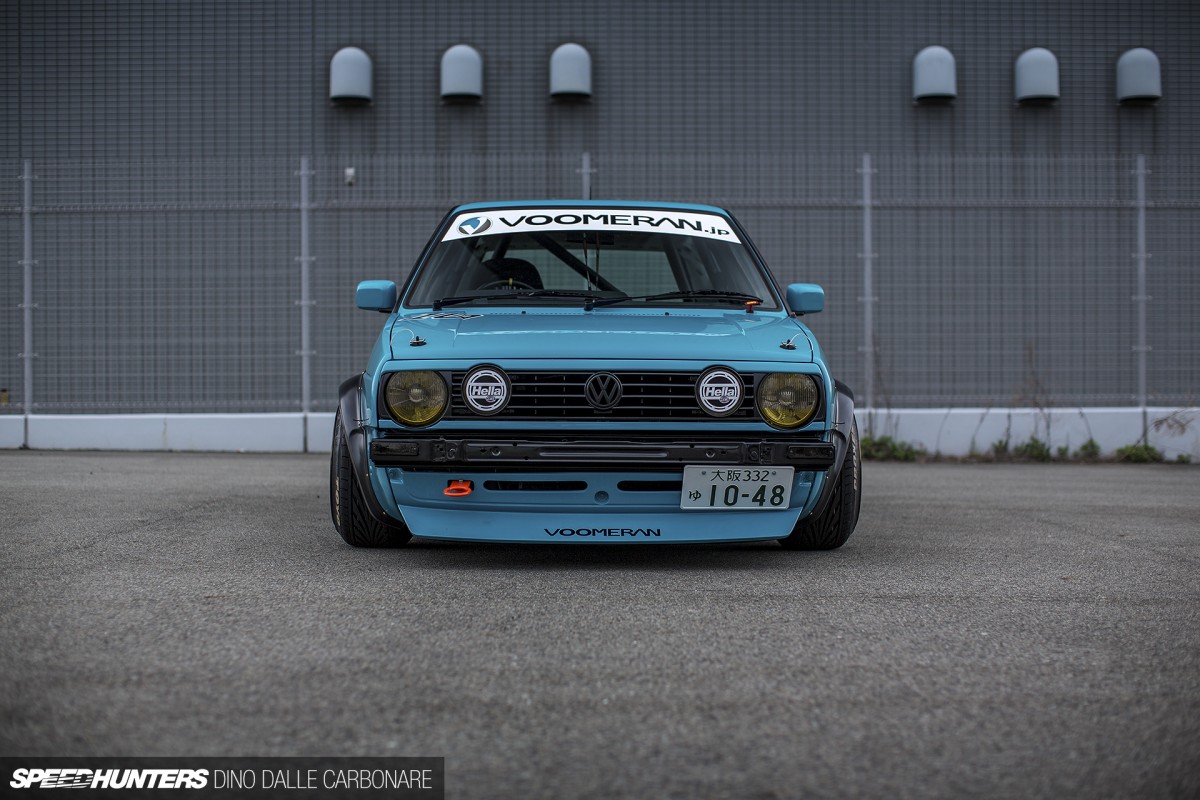 The plan was to further emphasise the Golf's roots – yet keep it as user-friendly as a race car for the street could possibly be. This meant tying it all in with a decent dose of stance without impacting on its ability to be fun and fast through the corners. To finish it off, the car needed those all-important JDM touches.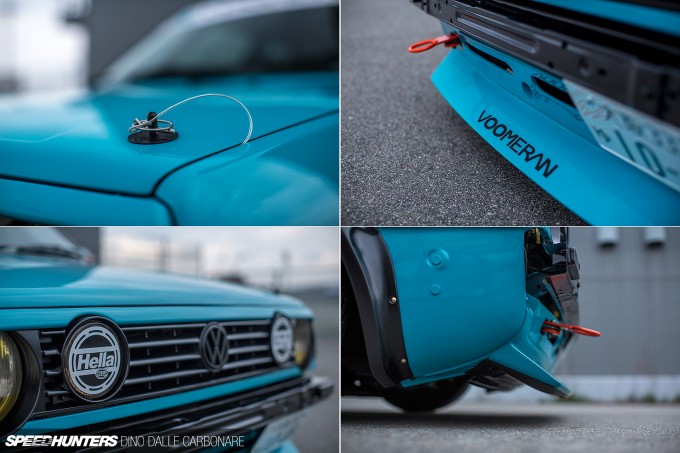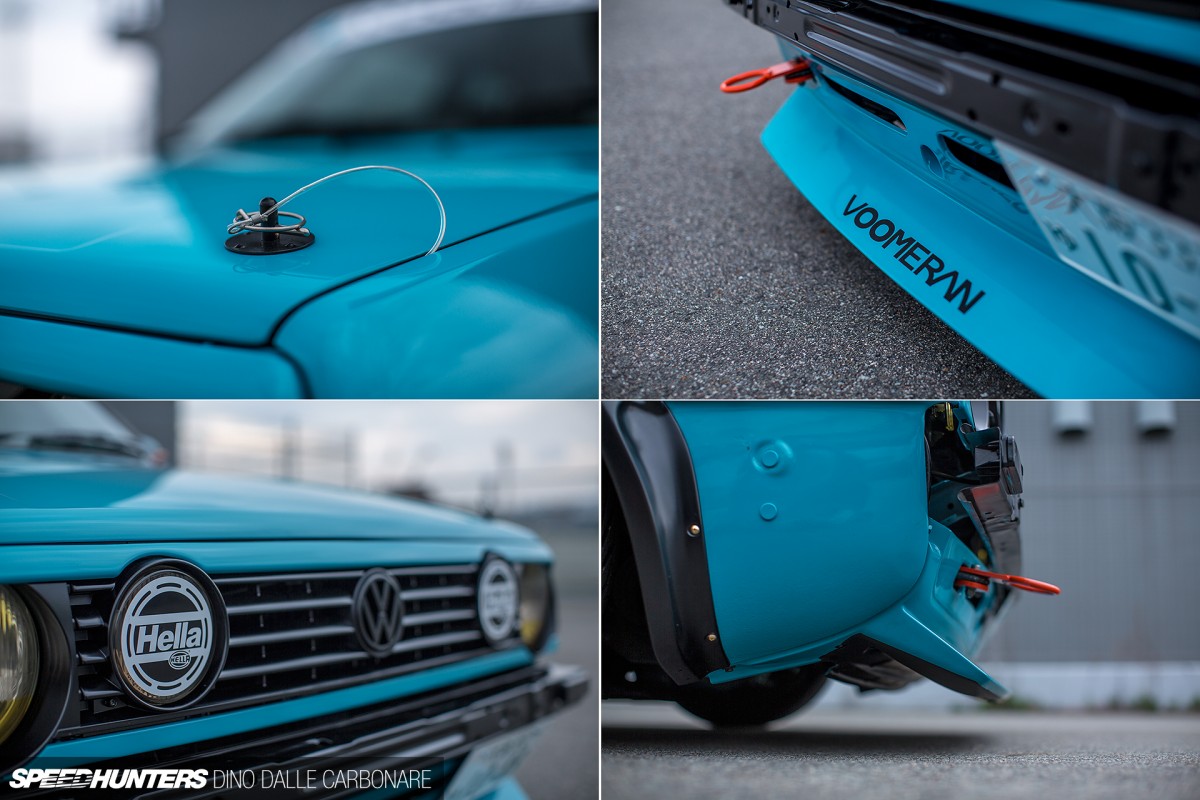 The first thing was to clean the car up and prep it for a few fresh coats of baby blue. Then the Voomeran additions followed, starting first with the kyusha-like bucktooth front lip spoiler to give the Mk2 a more ground-hugging appearance up front. Details like the grille were sprayed black, and yellow headlights and Hella fog lights added for further contrast.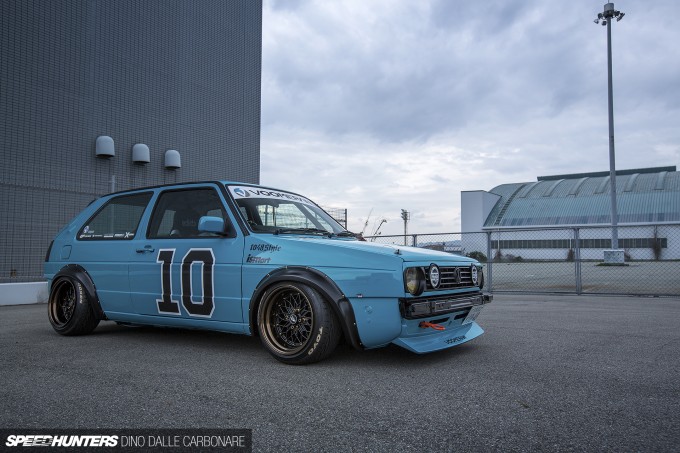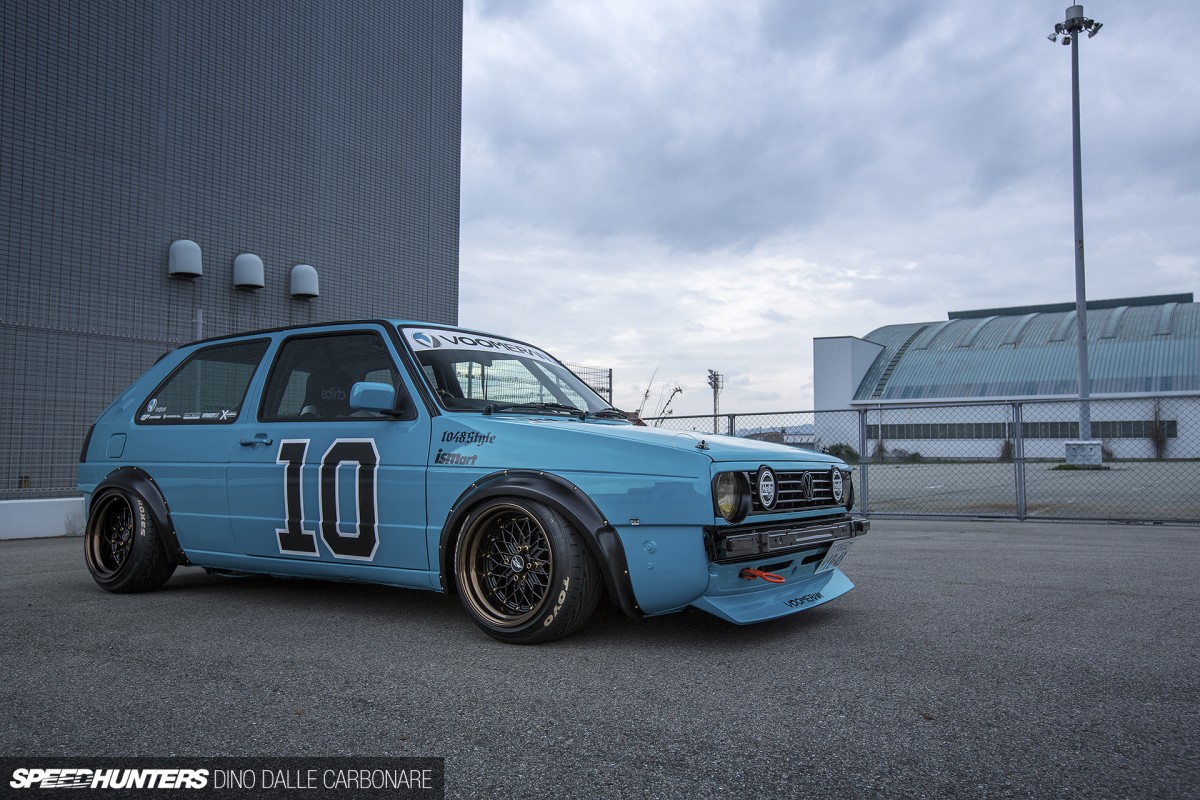 The look achieved by the removal of the front bumper works perfectly with the pièce de résistance in the Voomerna ensemble of parts: the overfenders. The JDM Works look is sweeping through car culture on global scale, and as Hideo Hirooka of Euro Magic explained to me, it was always part of the plan here.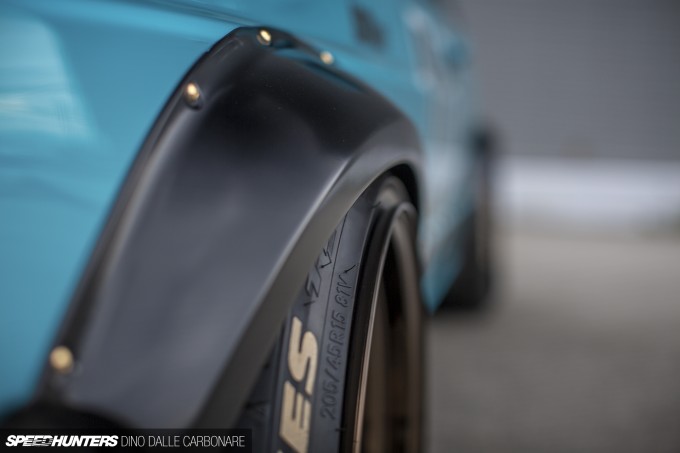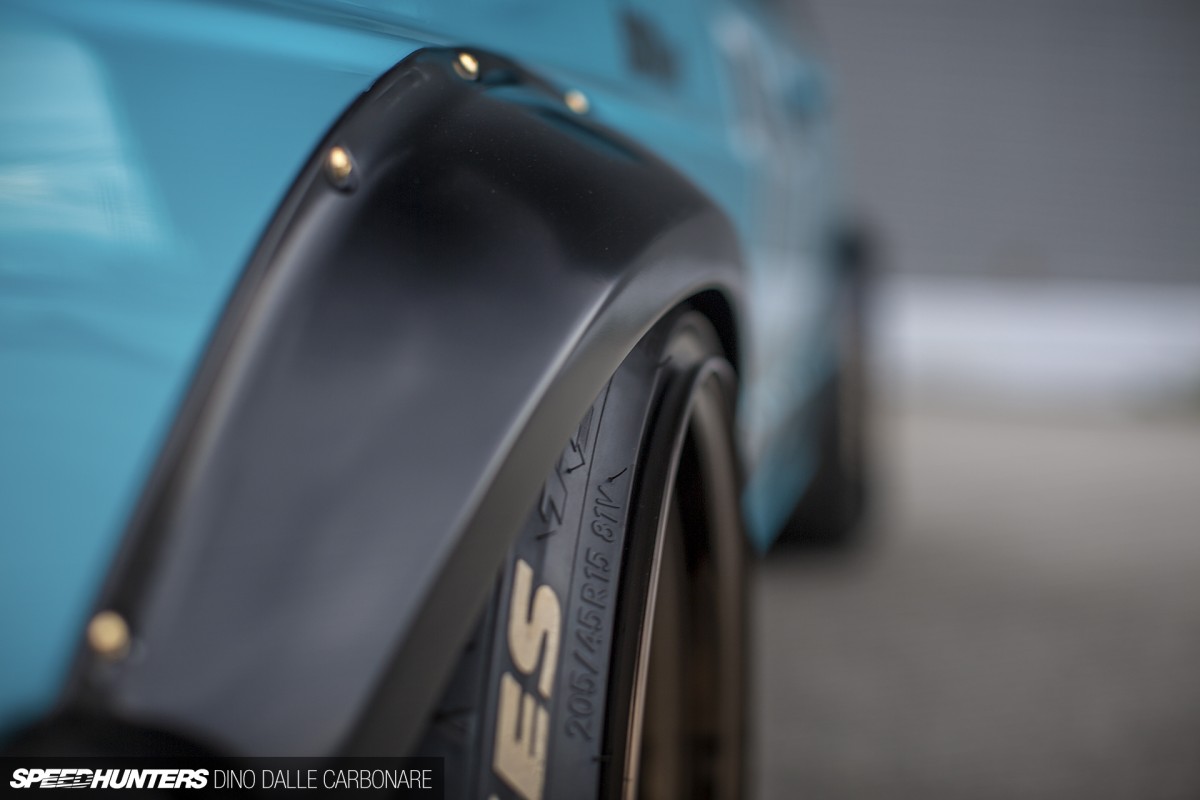 The one-piece front overfenders increase the Golf's width by 35mm on each side and sport a satin black finish for added impact.
Push Those Wheels Out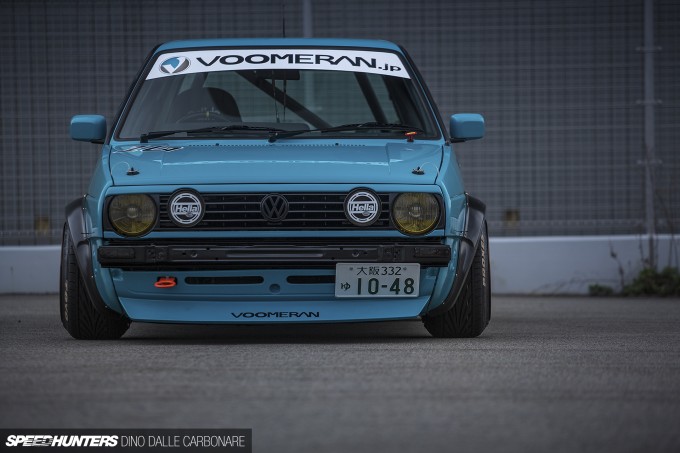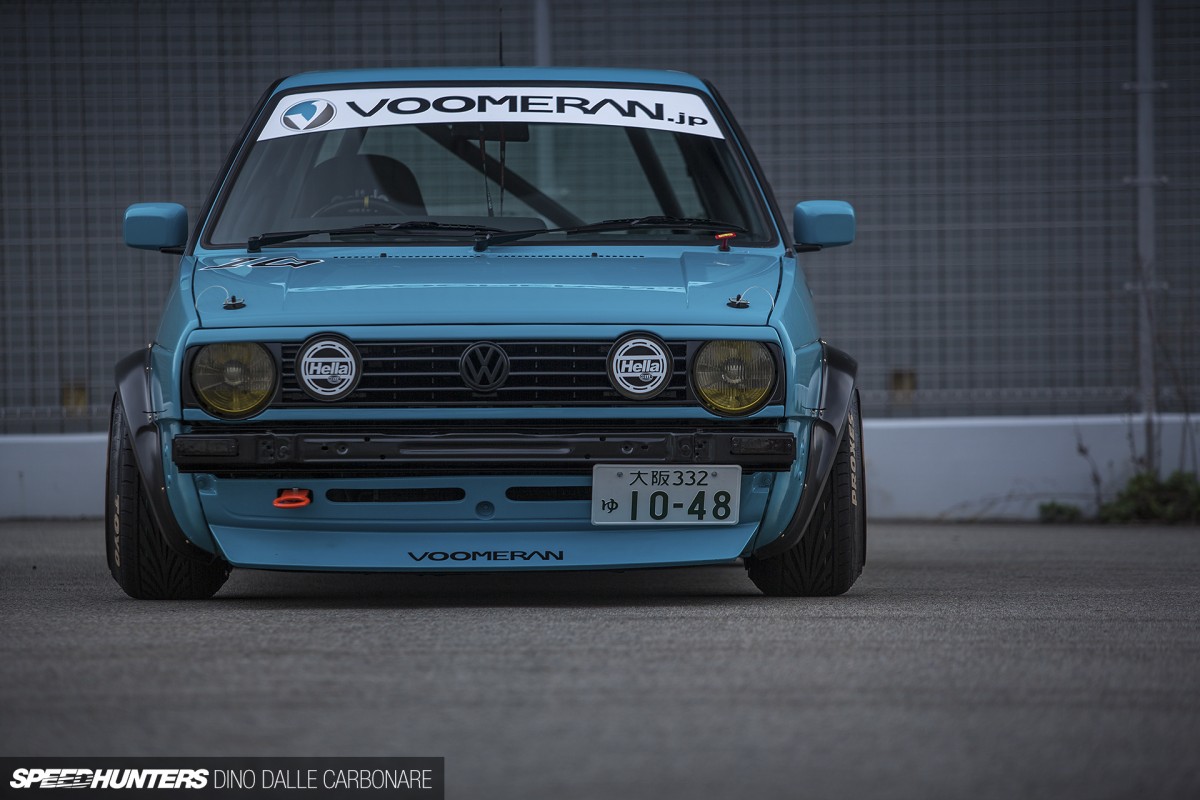 No matter which angle you view at the car from, the first thing you notice is how far the wheels sit out from the original bodywork.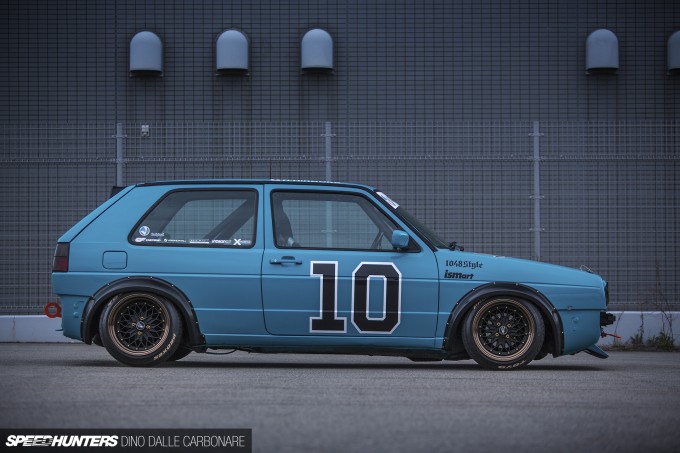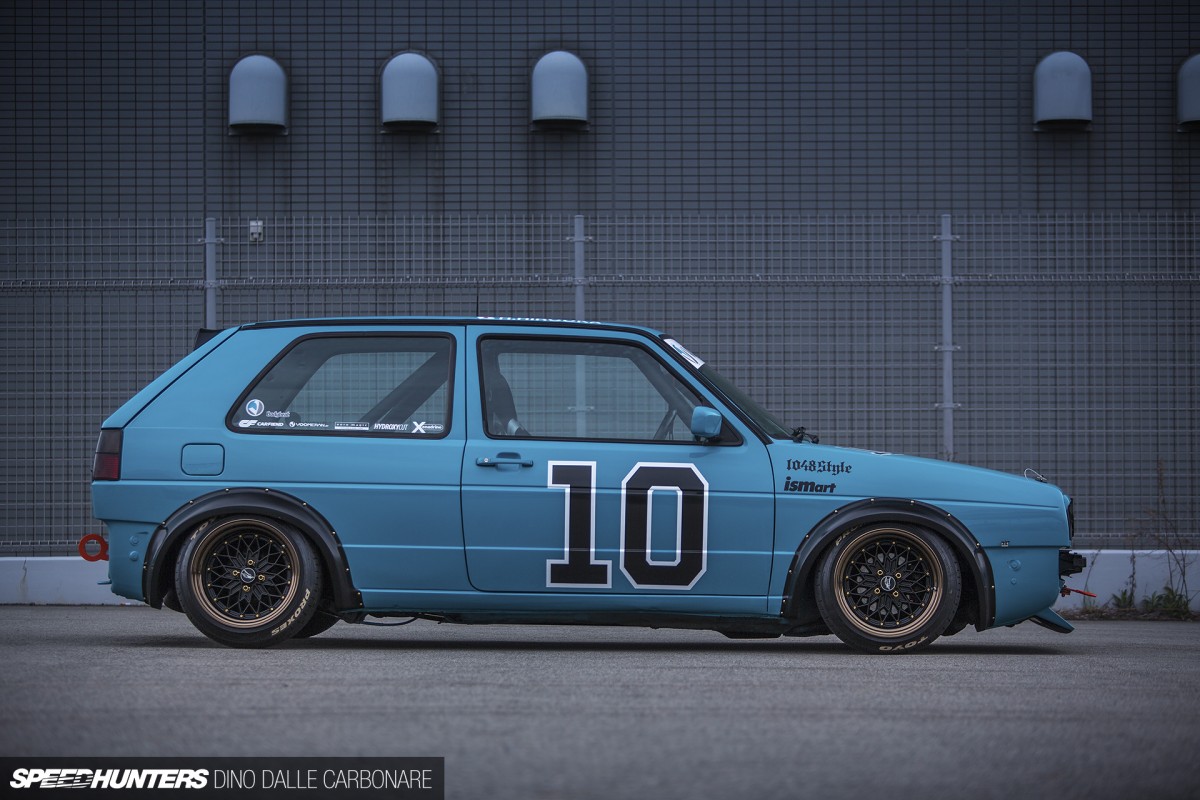 The Golf rides on a set of adjustable Euro Magic coilovers set as low as they go. Despite their firmness, however, they still offer a compliant ride for the street.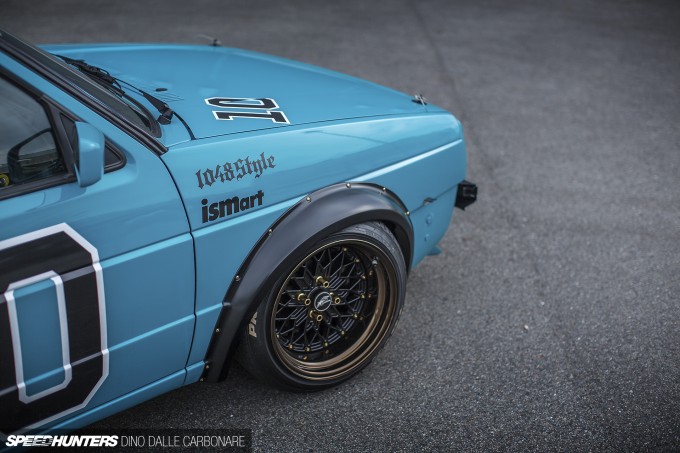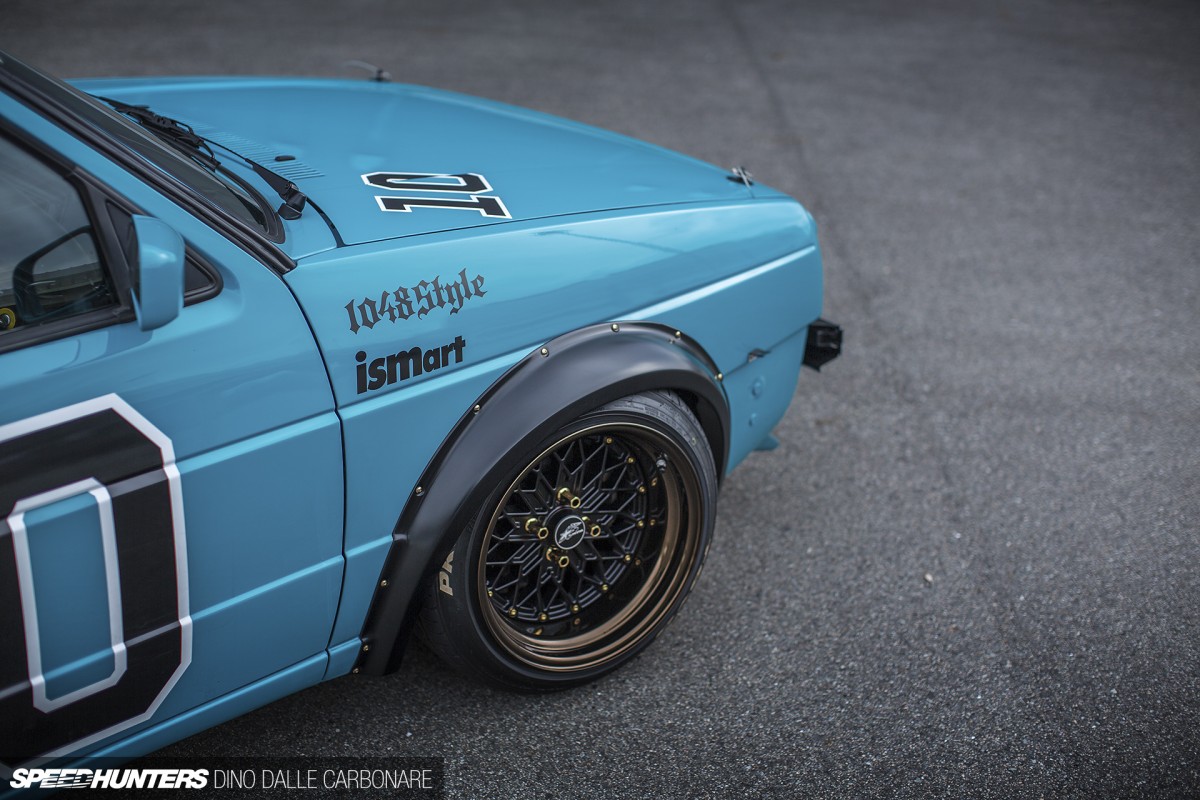 And then another JDM touch followed. It would have been far too predictable to fit the car with old reversed-rim mesh BBS or even Porsche wheels so popular in VW scenes in Europe. Hideo scourged wheel catalogues and came upon a recently-released wheel designed and manufactured in a collaboration between Tokyo-based Star Road and Work Wheels in Osaka. The 15-inch wheels, which were created for use on old Japanese classics like the Fairlady Z and Skyline that Star Road is famous for, were just what he was after.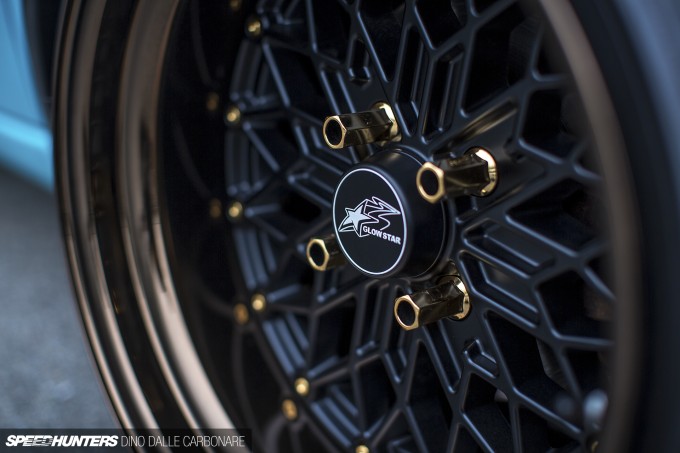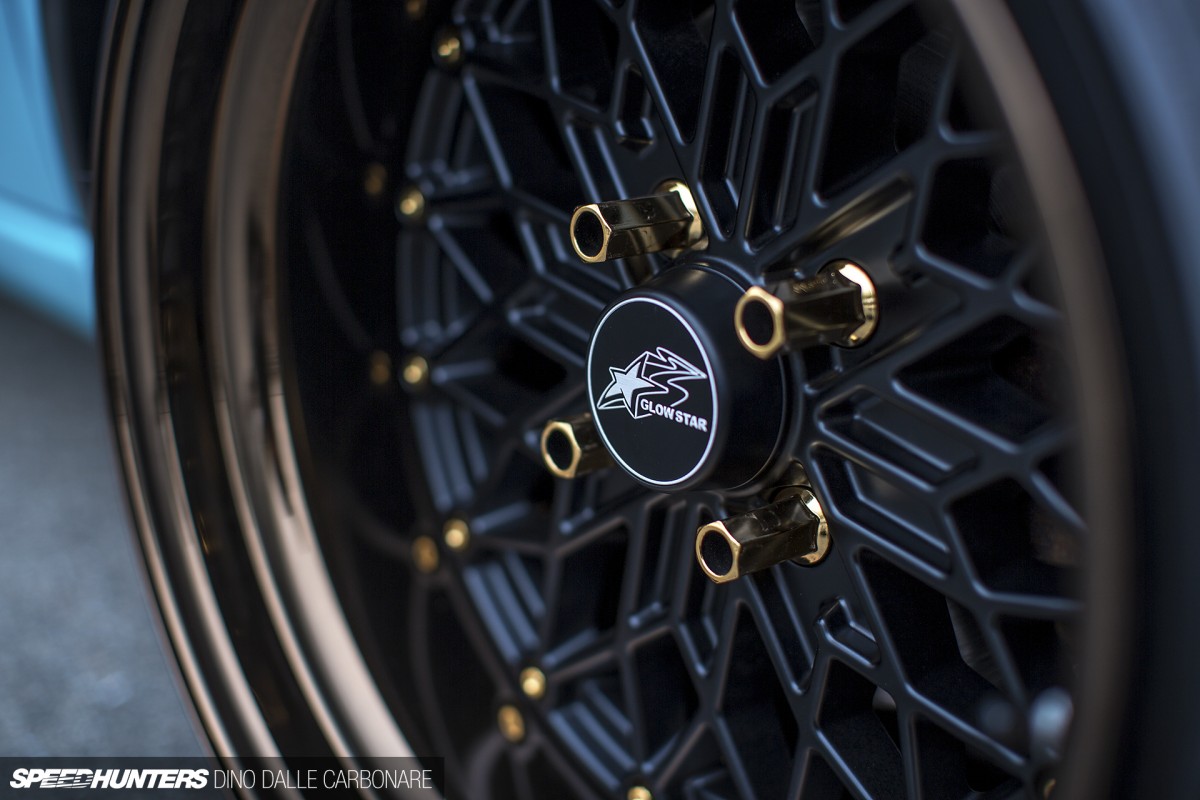 They have that cool old school look about them, yet are produced to the highest modern standards for two-piece cast wheels, and of course were an unusual choice for a Golf. The wheels measure 15×10-inch at all corners, but to get the look just right the fronts run a zero offset and backs a -3 so they sit better with the +40mm rear overfenders.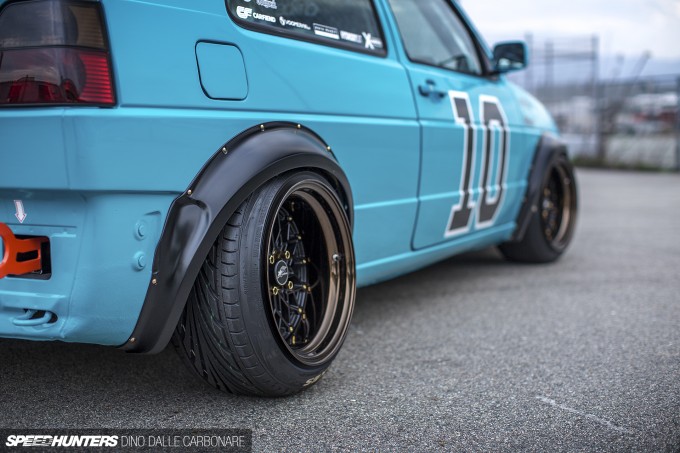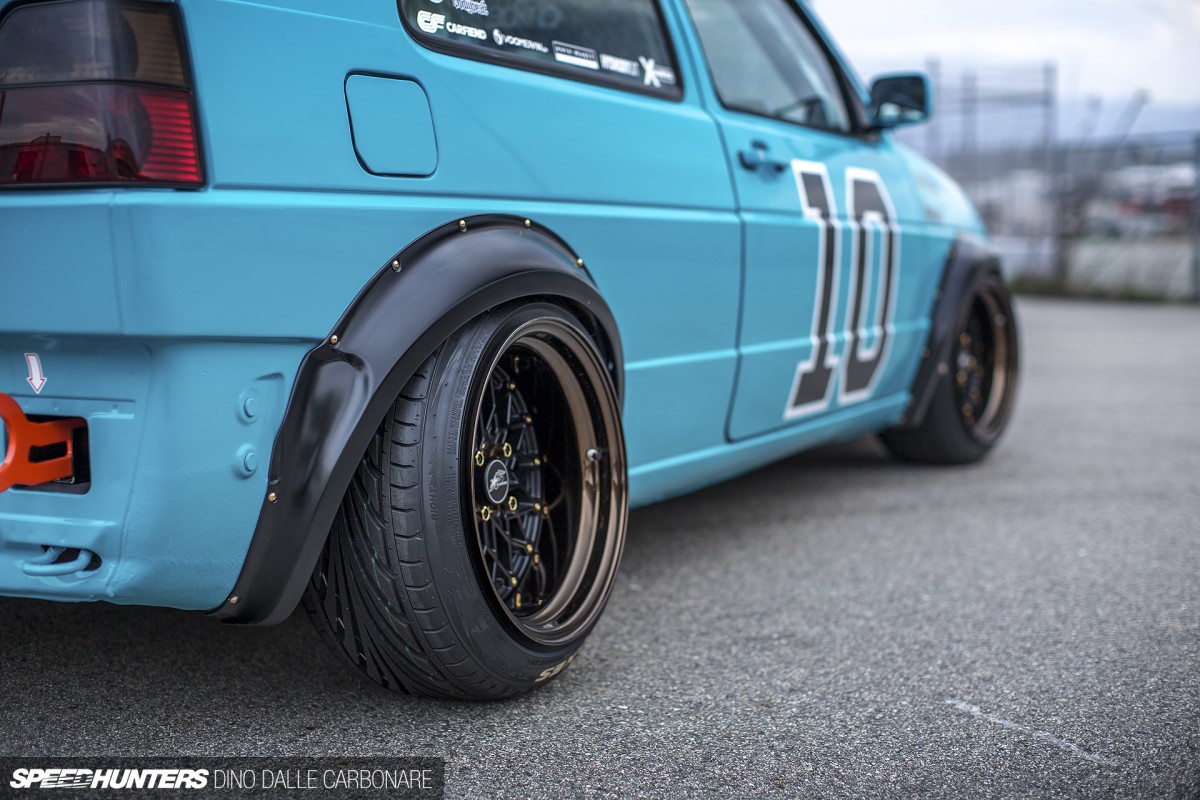 The result is as aggressive as I've ever personally seen on a Mk2, especially given the static suspension setup we have here. The stretch on the tyres is pretty wild – and it has to be because running anything over 205/45R15s would have generated way too much grip and killed that wonderful liveliness this generation of Golf is known for.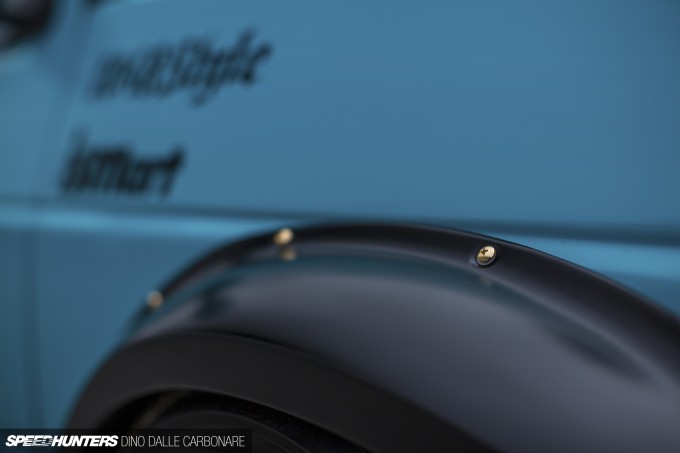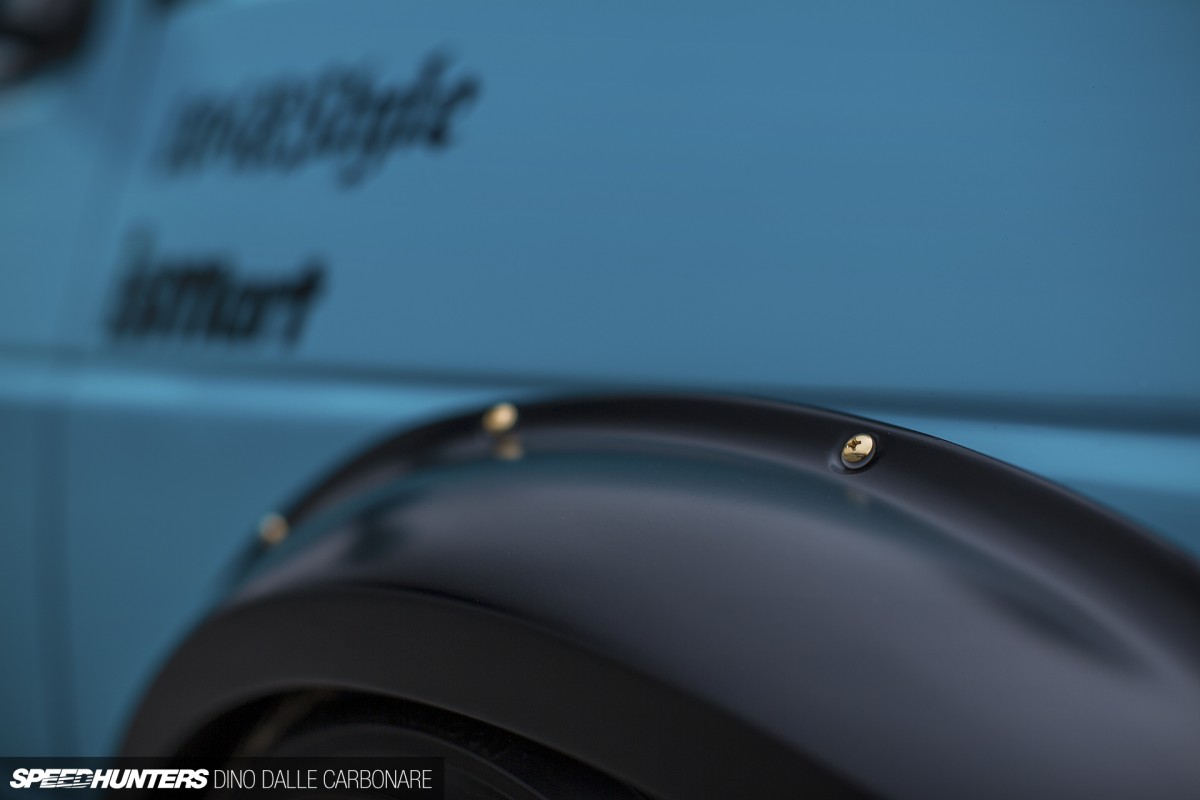 Hideo spent a long time getting the details just right. Take the screws that hold the flares onto the metal stock fenders underneath for instance – these were special order, copper-plated items that cost as much as a couple of those Glow Star rims! But it's the small things that always tend to make the biggest difference.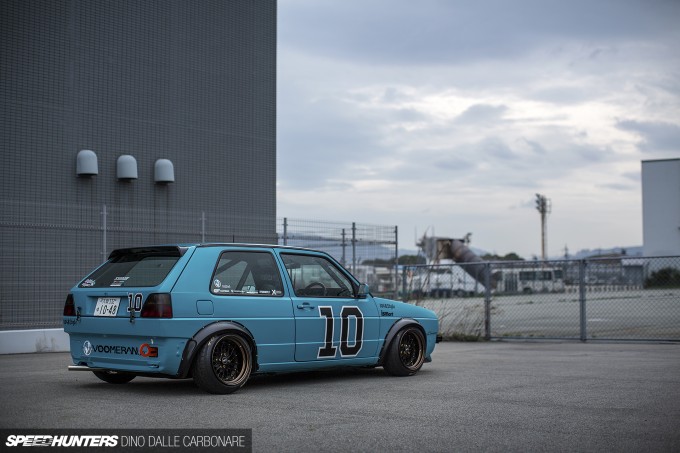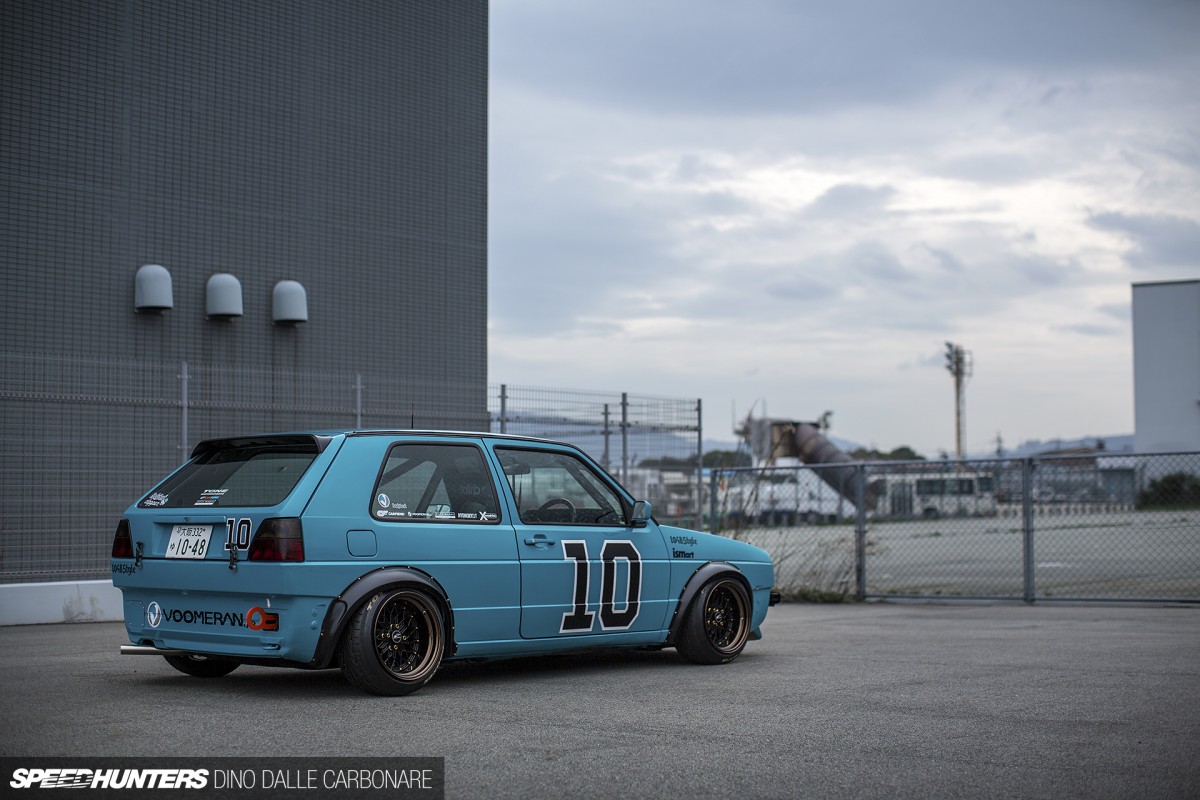 With its bumper-less look, the rear end has a raw appeal too. It's different and fresh – something that's pretty hard to achieve in a scene that is constantly evolving.
It's Not All About Power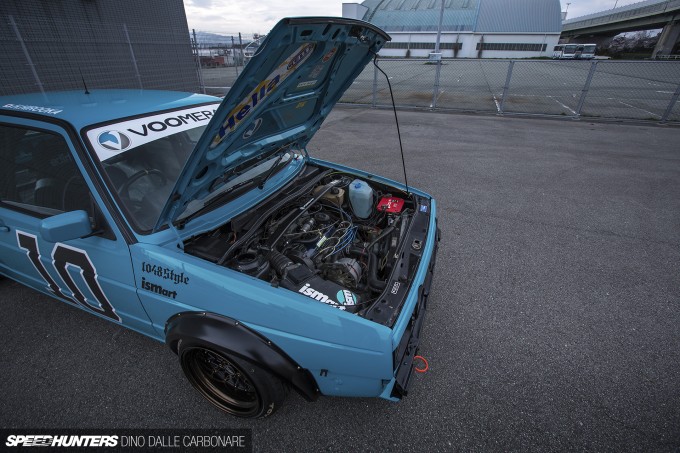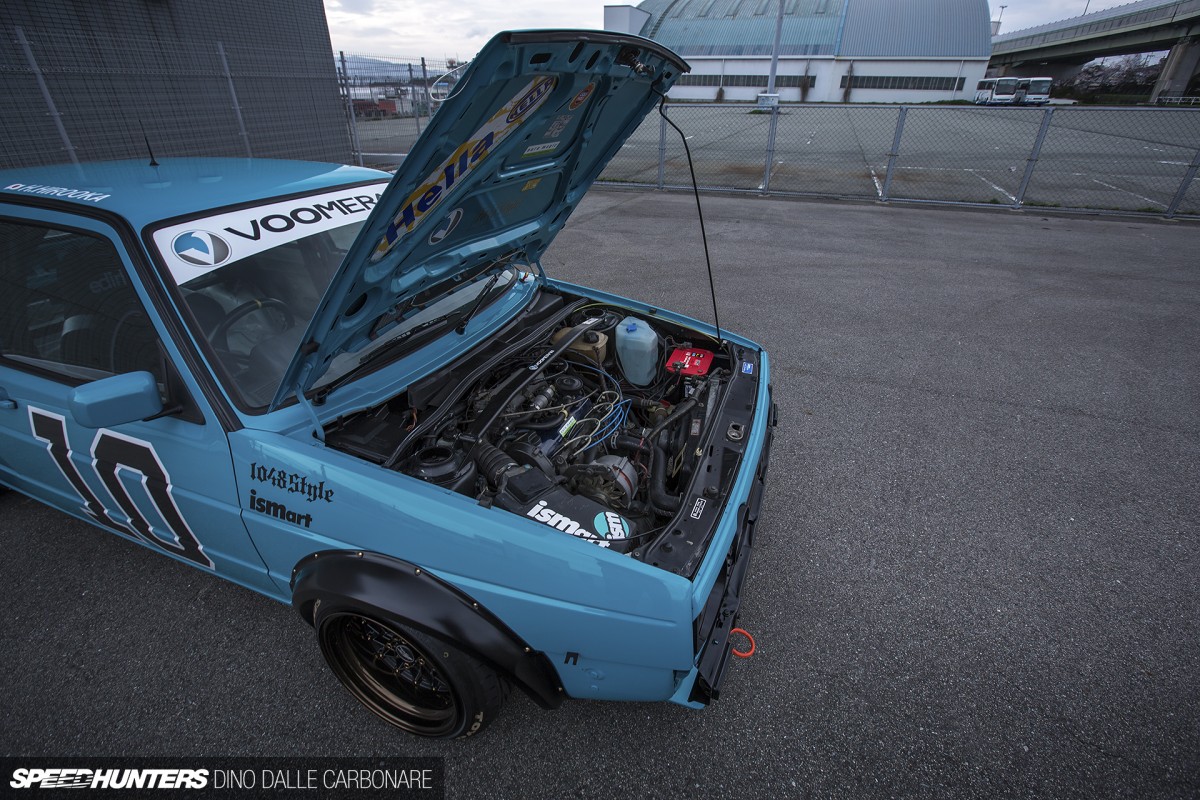 Lifting the stock bonnet reveals the 1.8L eight-valve four banger that powers the front wheels. To liven it up a little Hideo fitted a hotter cam while retaining the race ECU these Cup cars were fitted with.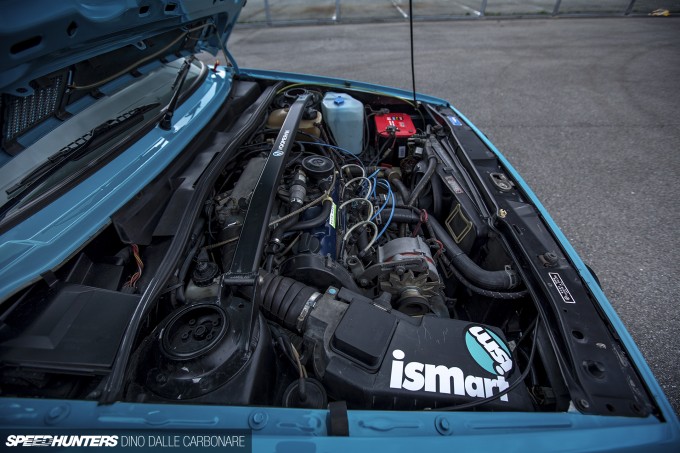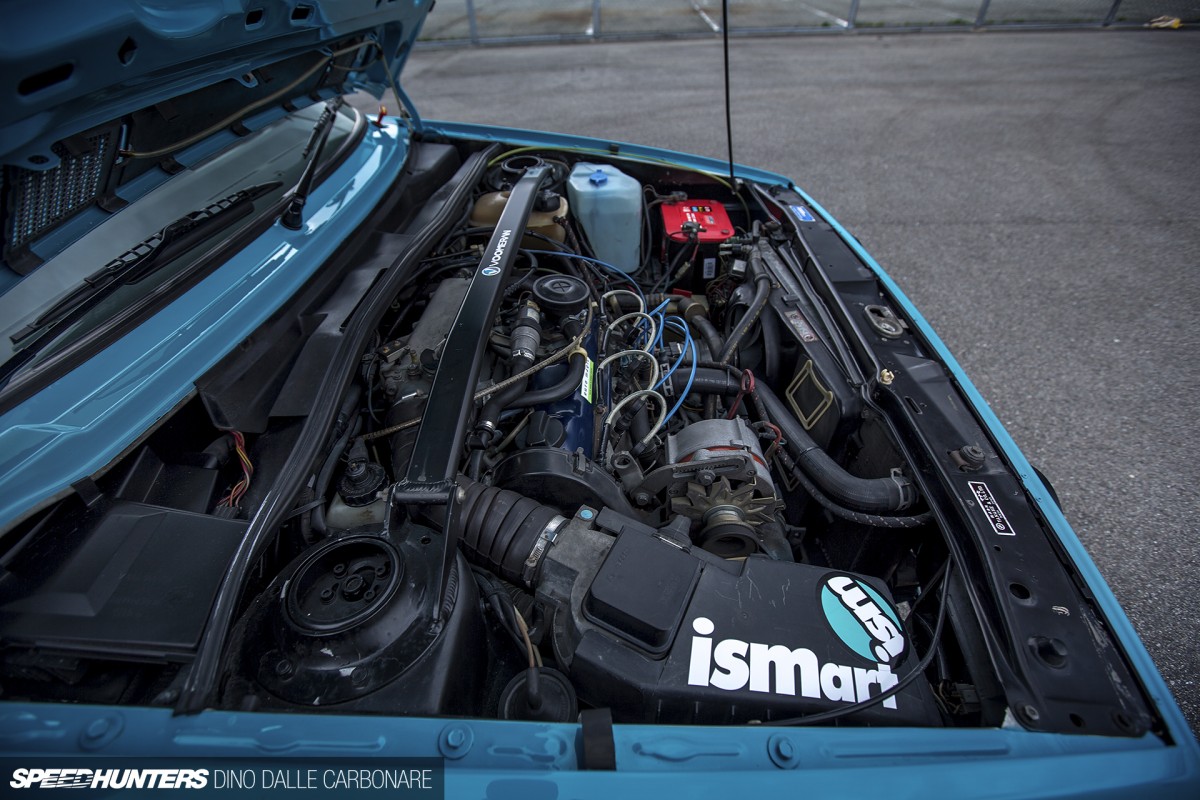 Performance ignition leads and a complete overhaul guarantee reliability and a touch more power than the 112hp it would have generated from stock. It might not sound much in this day and age, but let's not forget that the car weighs less than 900kg and its main purpose is to handle well and be a fun steer.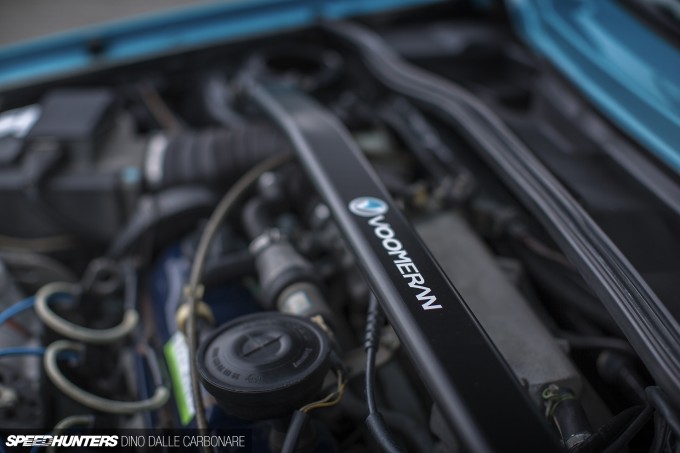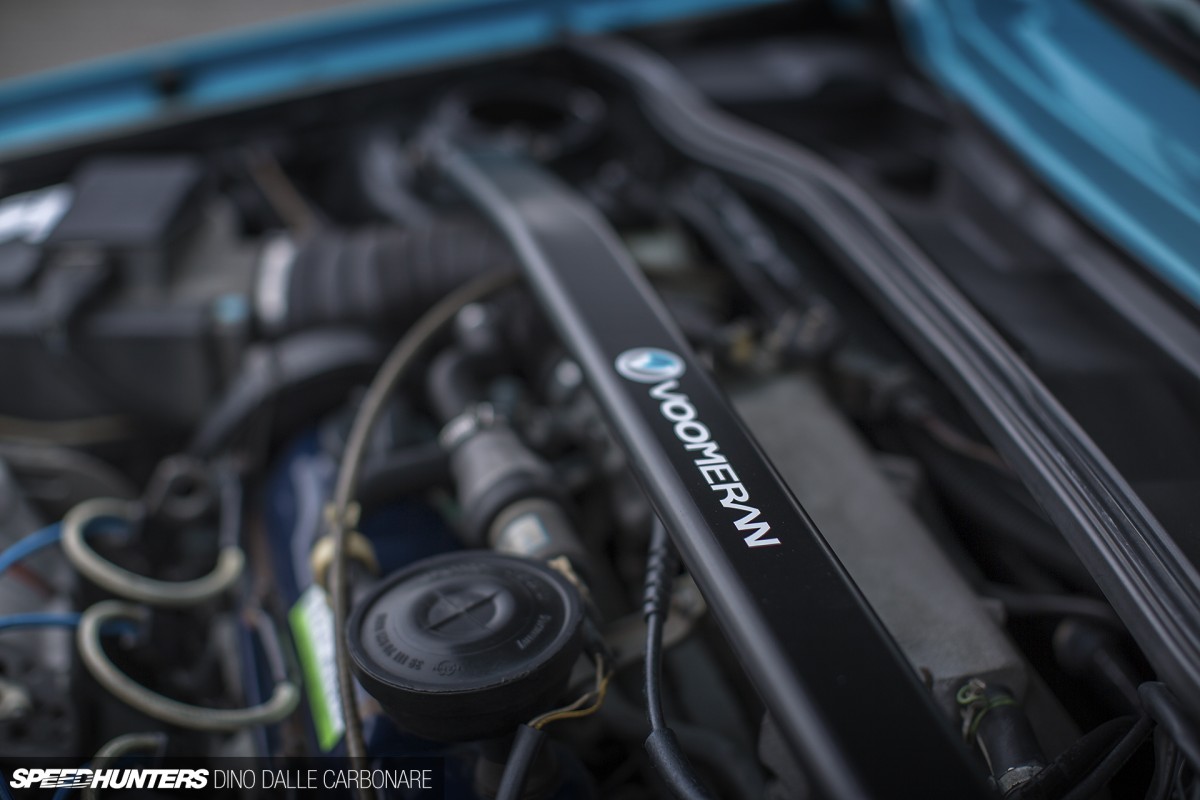 To keep the front end doing its best work possible Hideo added a Voomeran tower bar to the struts tops, before cracking the five-speed gearbox open to switch the final drive, and fit an LSD to allow him to get on the loud pedal earlier when exiting corners.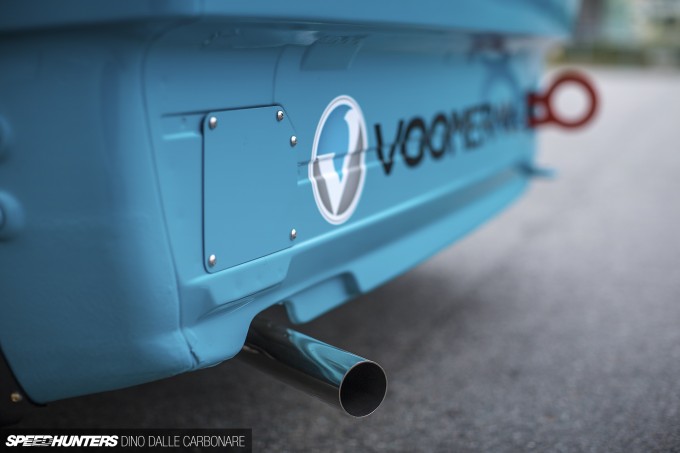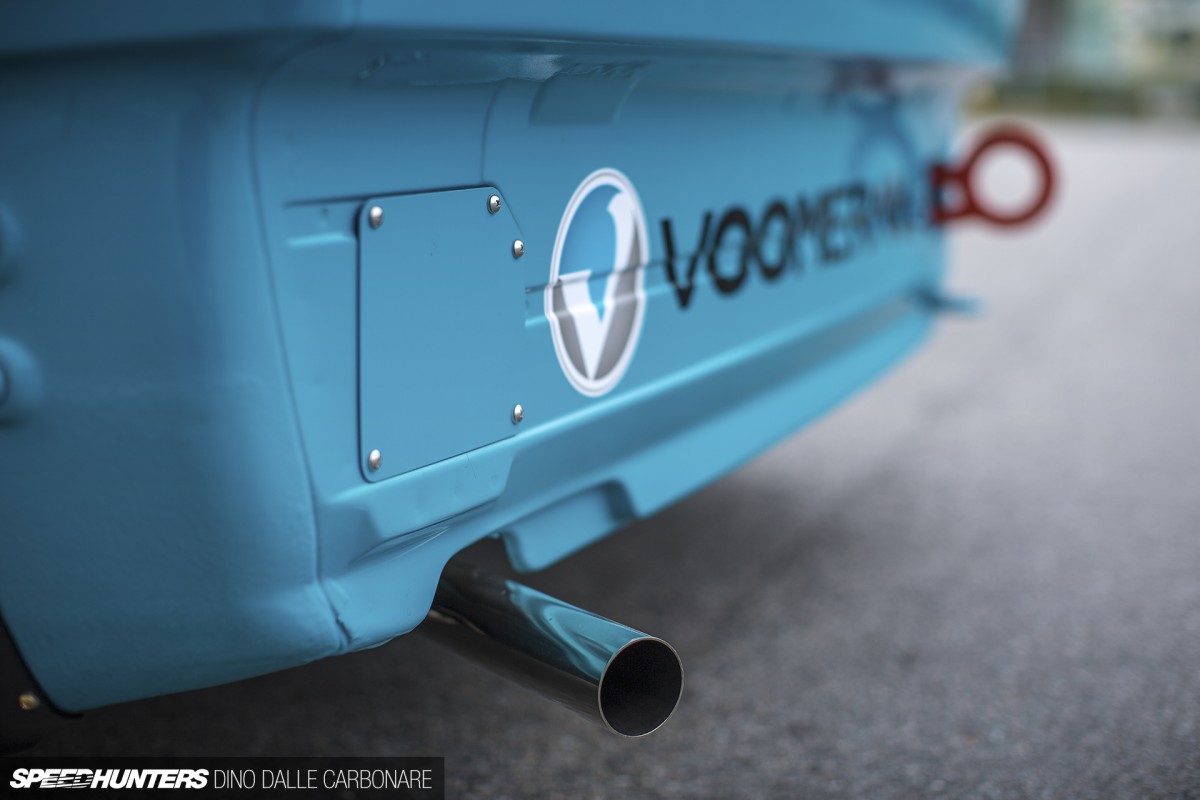 Granted there's no bumper, but sticking out a long way from the body work the Voomeran straight-through exhaust definitely has a touch of bosozoku about it. It sounds pretty buzzy, even at idle, not allowing you to forget that this is a race car after all.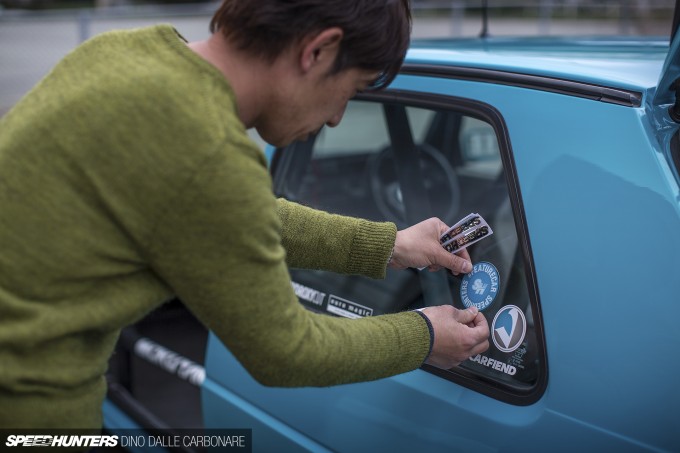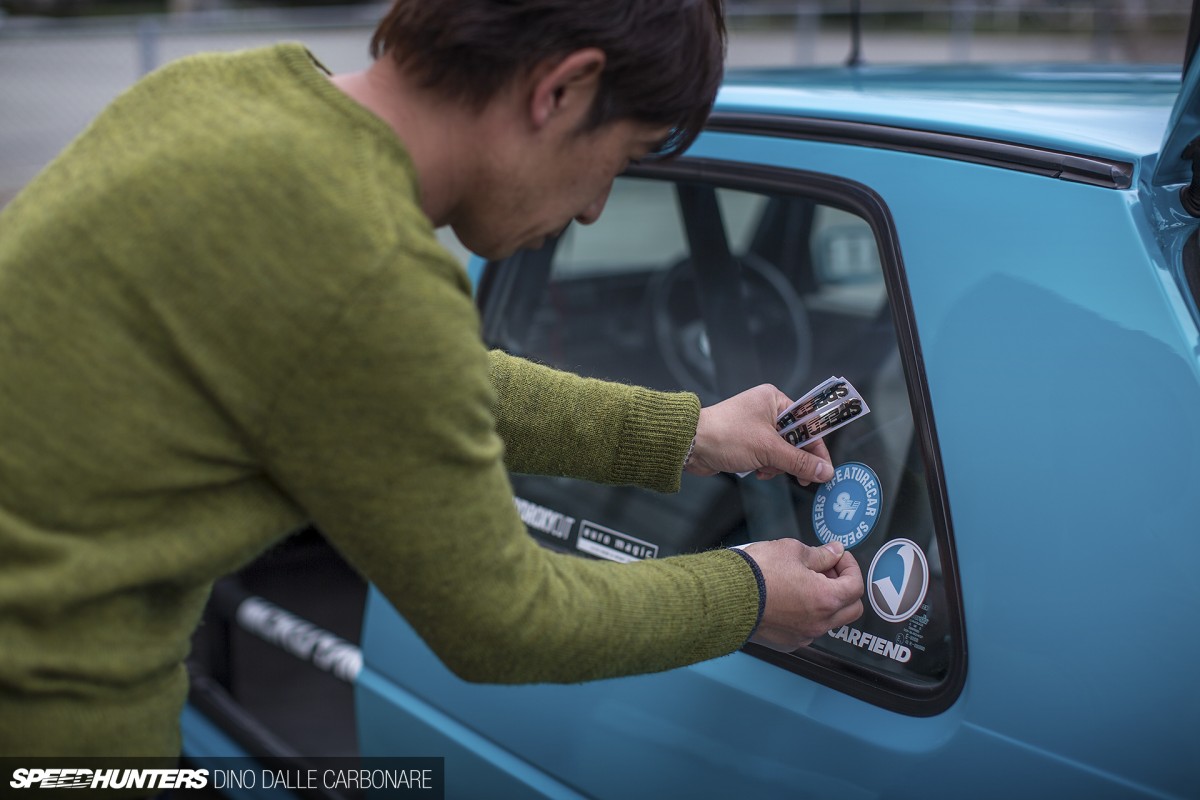 Upon seeing that the Speedhunters #FeatureCar decals are exactly the same hue of blue as his Golf, Hideo didn't waste a second applying one to the rear quarter glass.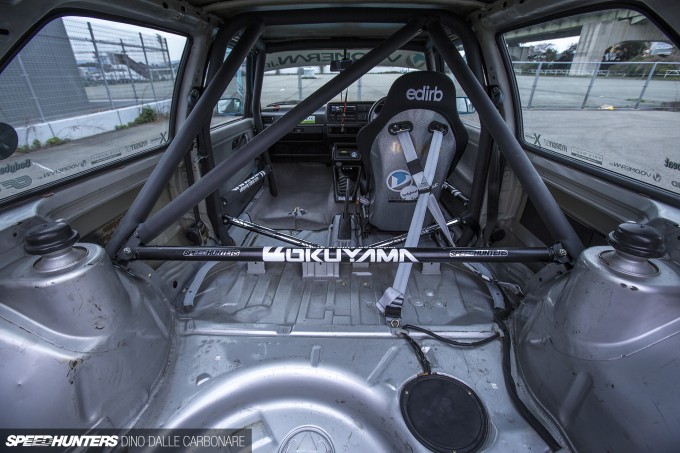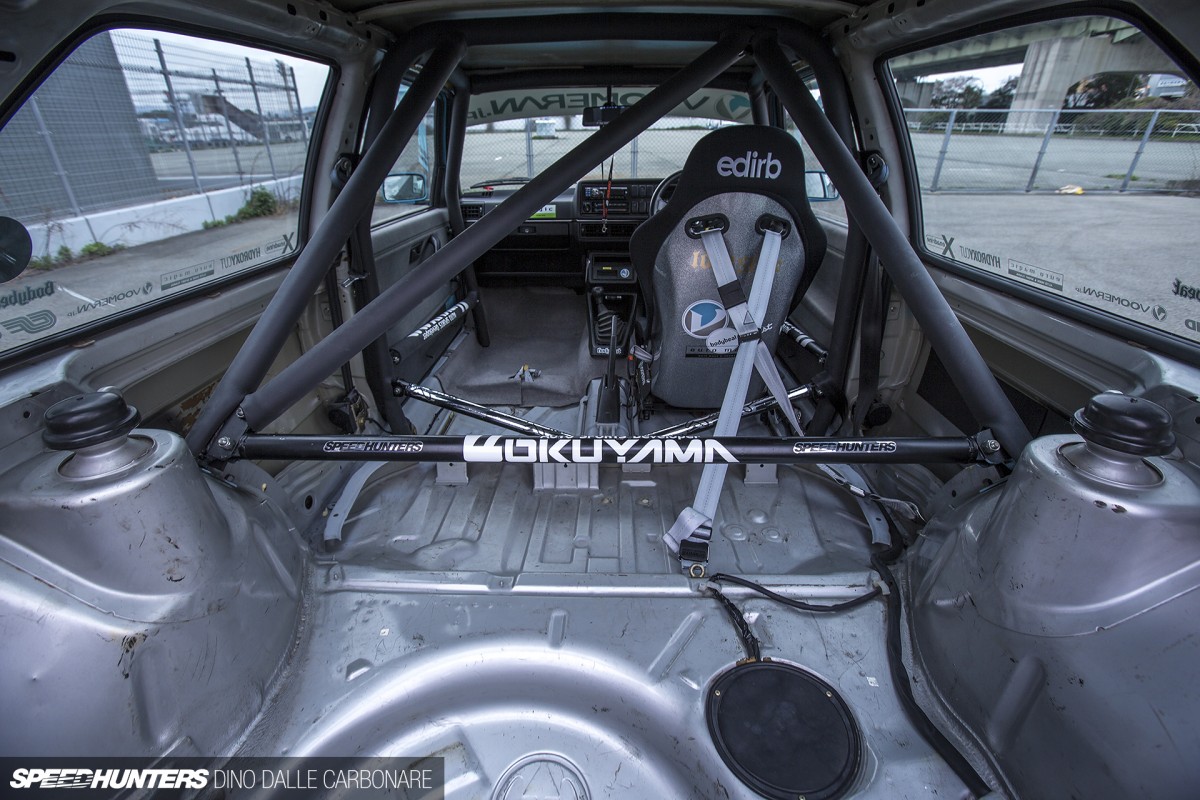 The interior is pretty much as you would expect a Cup car to be, and that's straight-out raw. There's no carpeting, trim, or additional seating – only a bolt-in Okuyama rollcage to keep the 30-year-old chassis from twisting too much.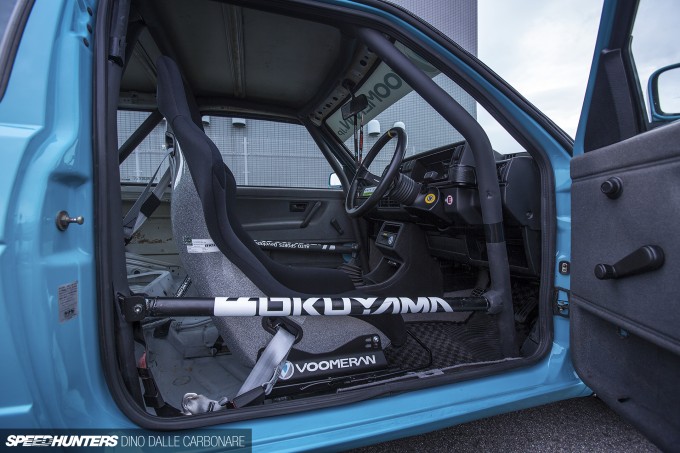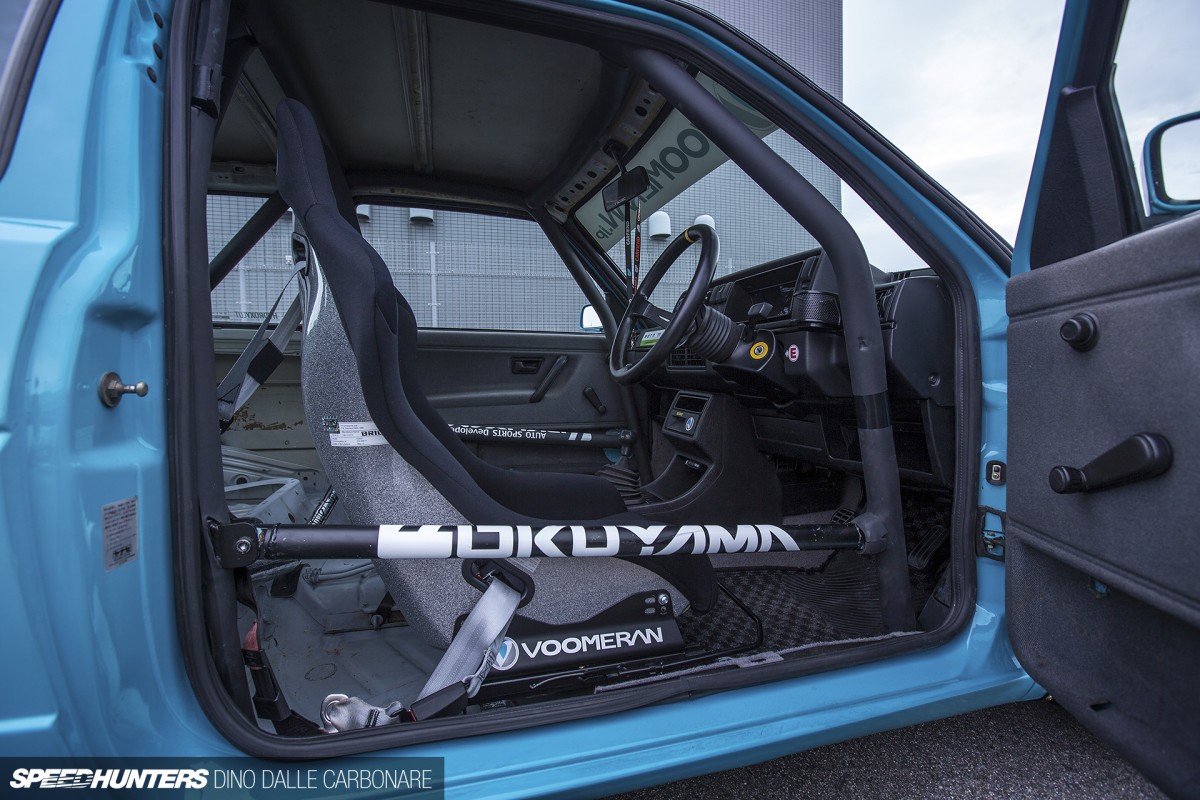 Everything is centred around the driver and the whole driving experience, which is as unspoiled as you can possibly get. So much so in fact, that it sort of makes a real enthusiast miss the old days where cars weighed nothing, engines didn't have too much power, and you really had to work hard to extract speed and performance on your favourite stretch of road.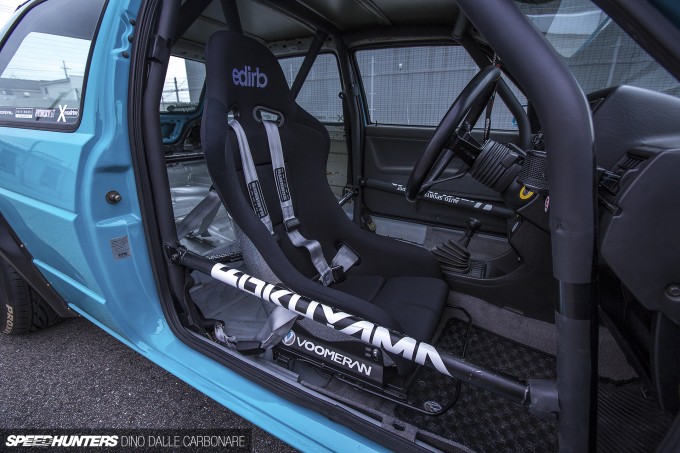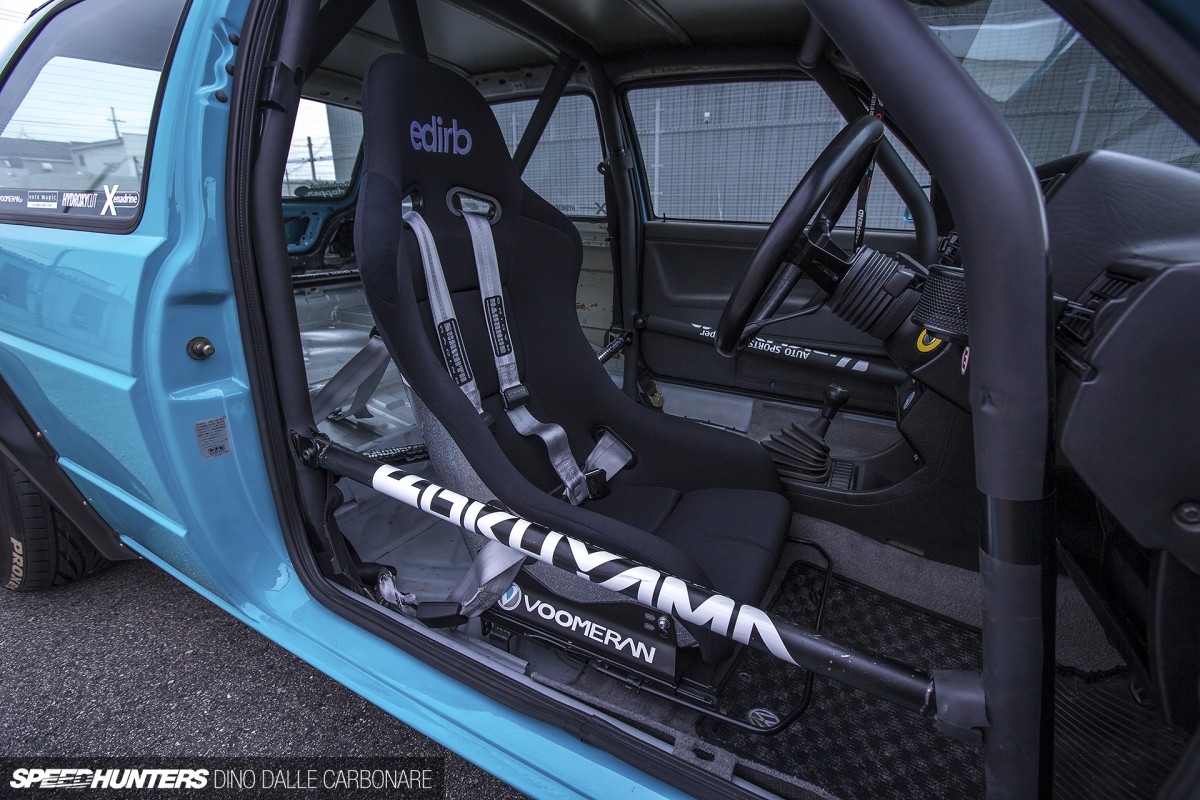 When he drives his Golf, Hideo gets to sit in a nice and supportive edirb seat, which despite sounding a bit European is actually more Japanese than you think. Here's a hint – read the name backwards!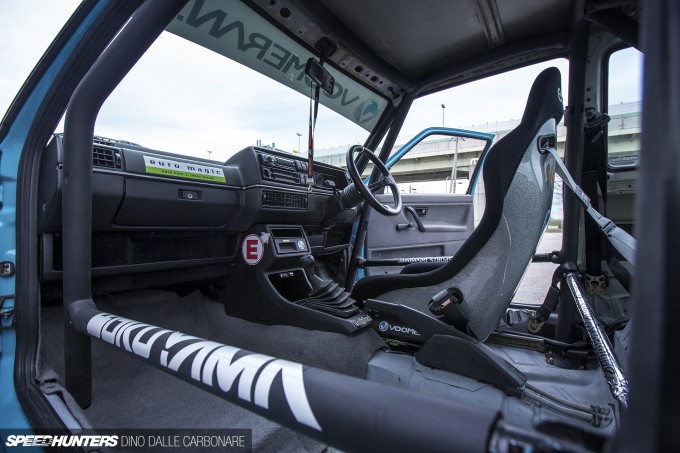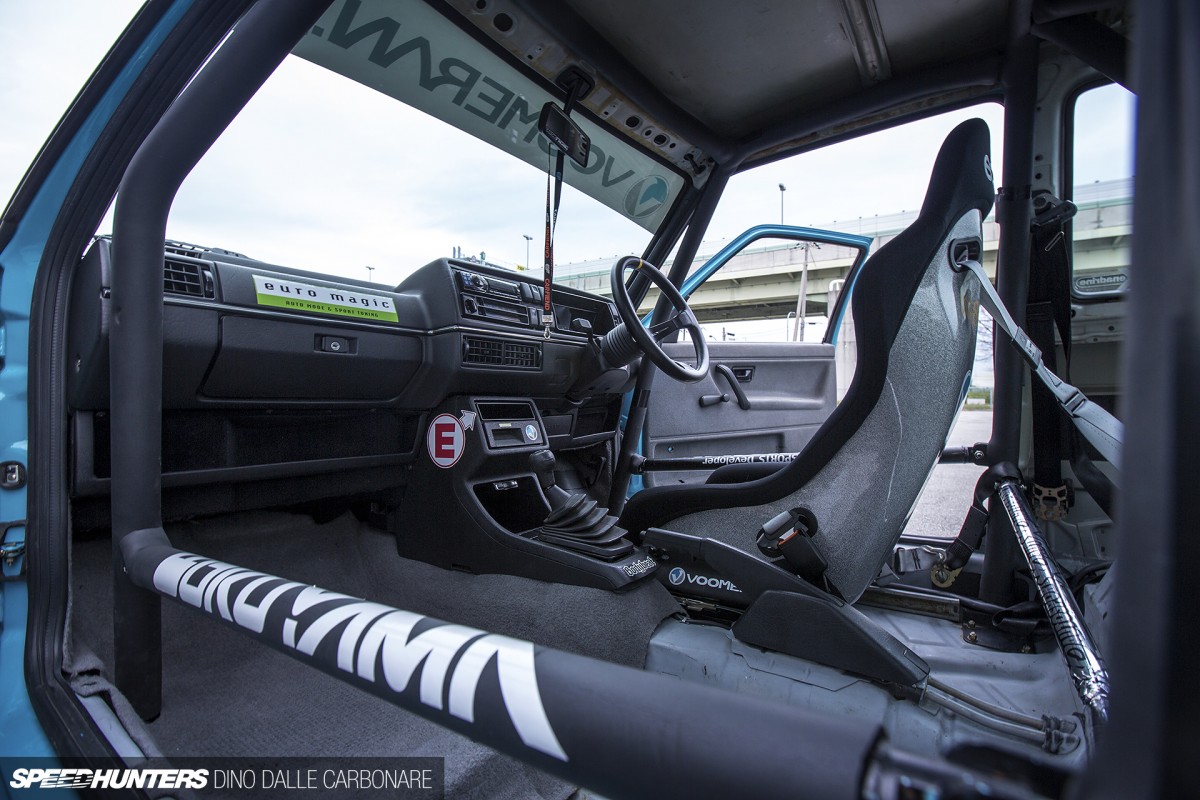 Aside from a modern CD headunit there is nothing to spoil the simplicity of the dashboard, everything being kept as it was during the car's racing years.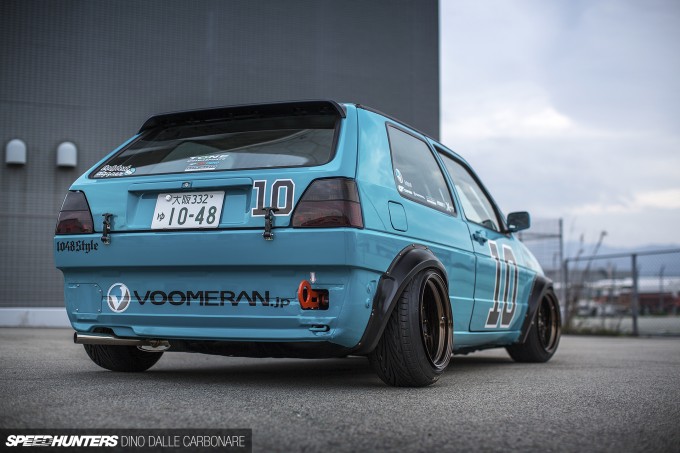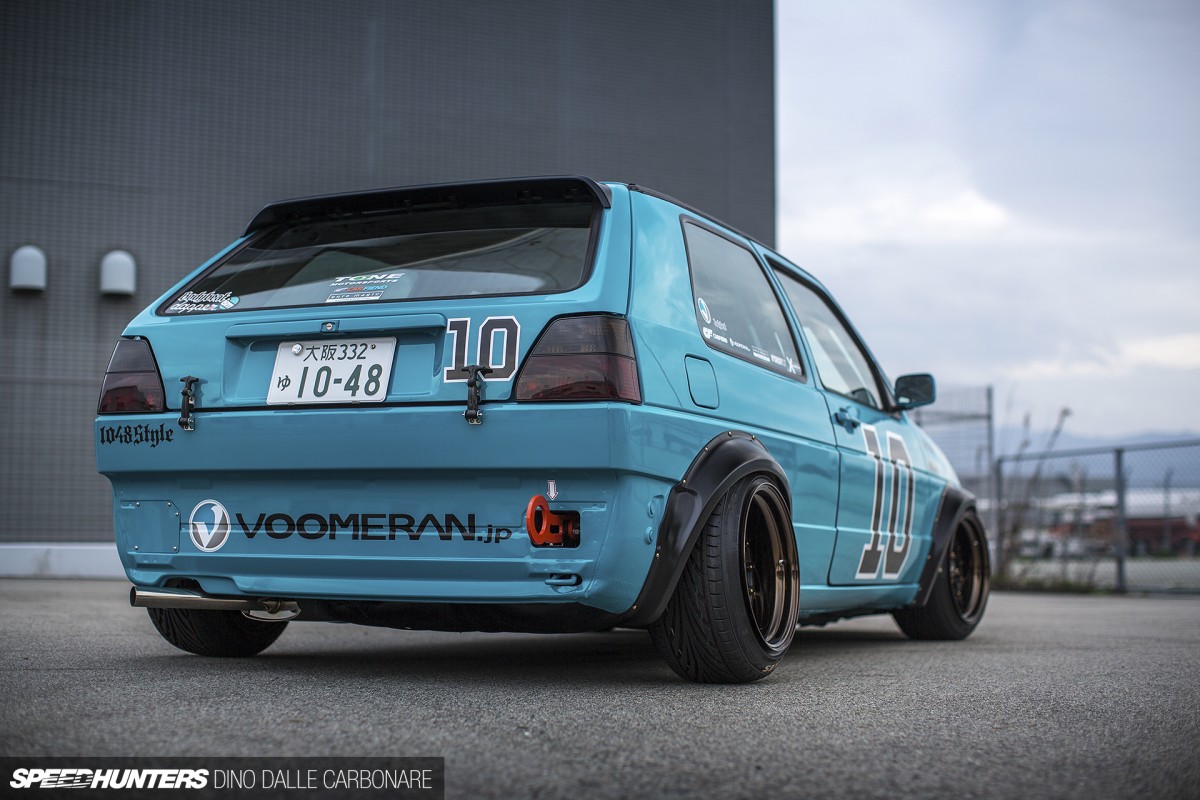 It doesn't really matter if you aren't into the VW scene or the whole stance movement, it's hard not to appreciate how Euro Magic have come up with a concept that succeeds on many levels.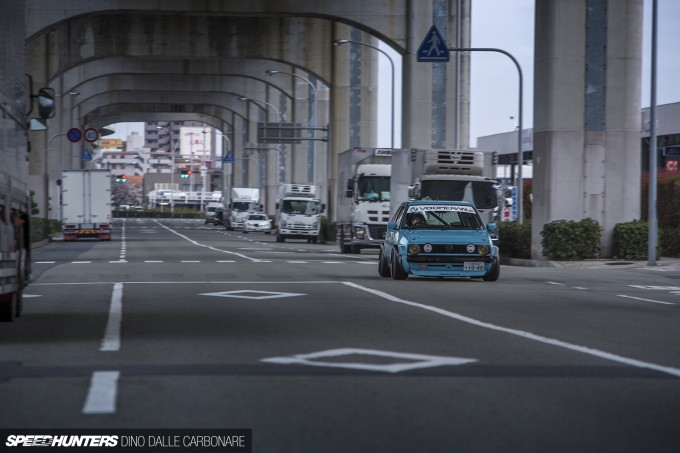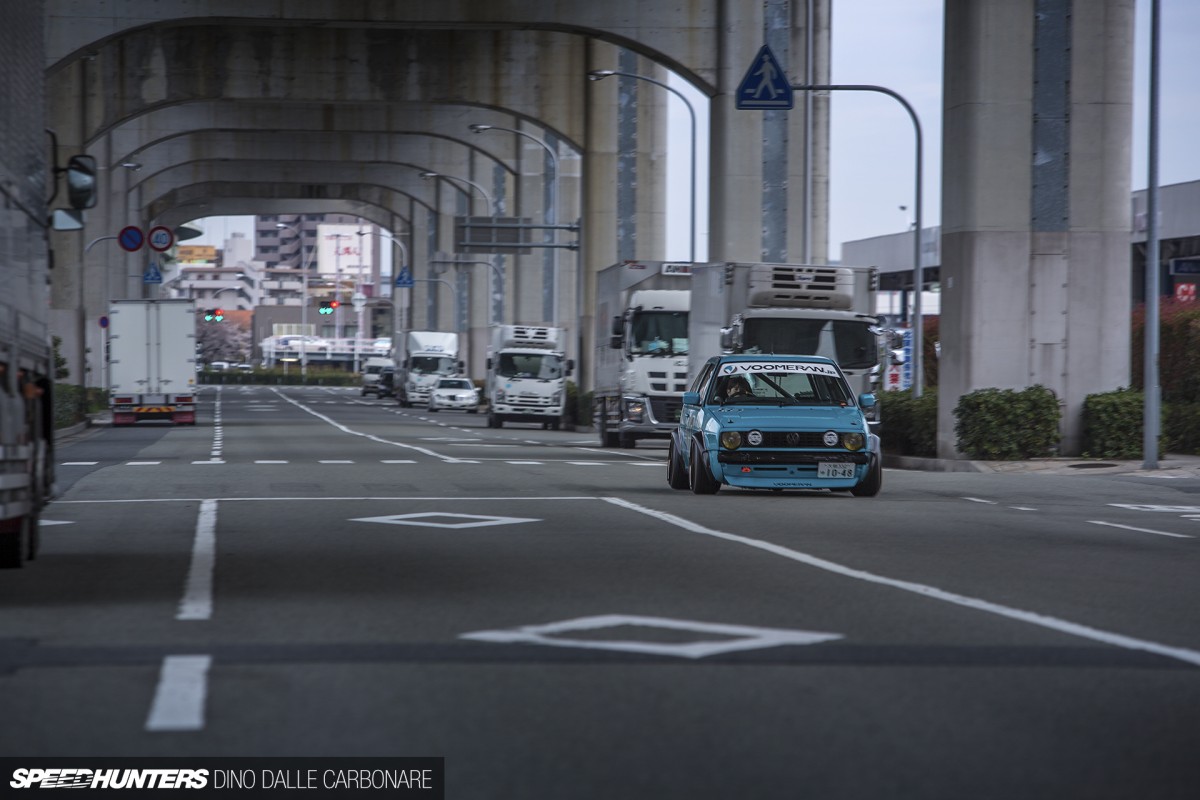 The car looks as aggressive as hell on the street and stood out like a sore thumb as we went for a quick drive right by Osaka's Itami Airport.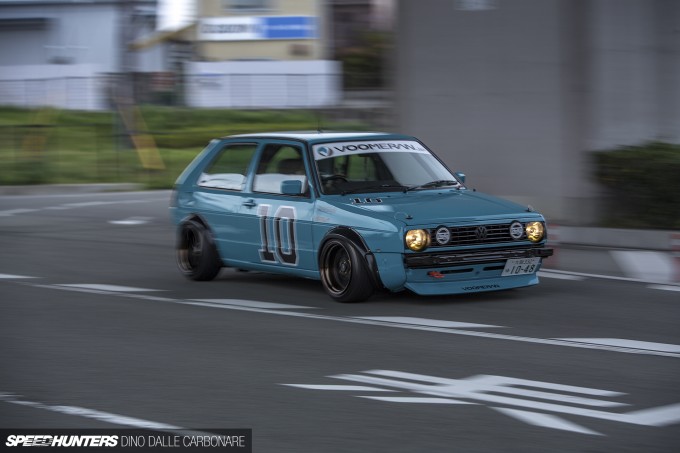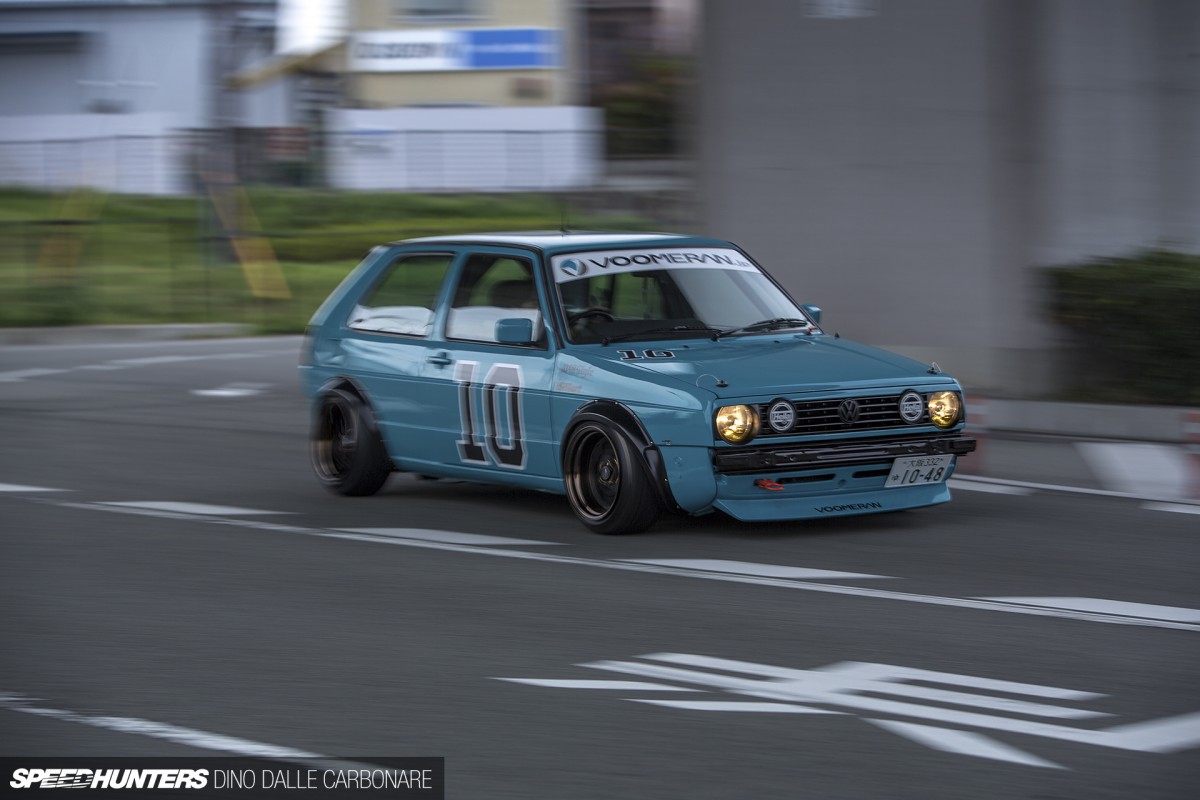 Despite the exterior being very looks-oriented, this Mk2 has lost none of its chuck-ability. In fact, it is much more throwable now given the increase in front and rear track, making it handle even better and allowing it to carry more speed through corners.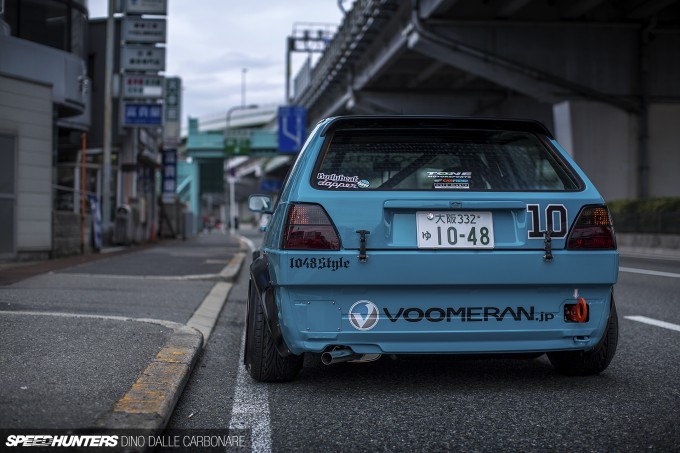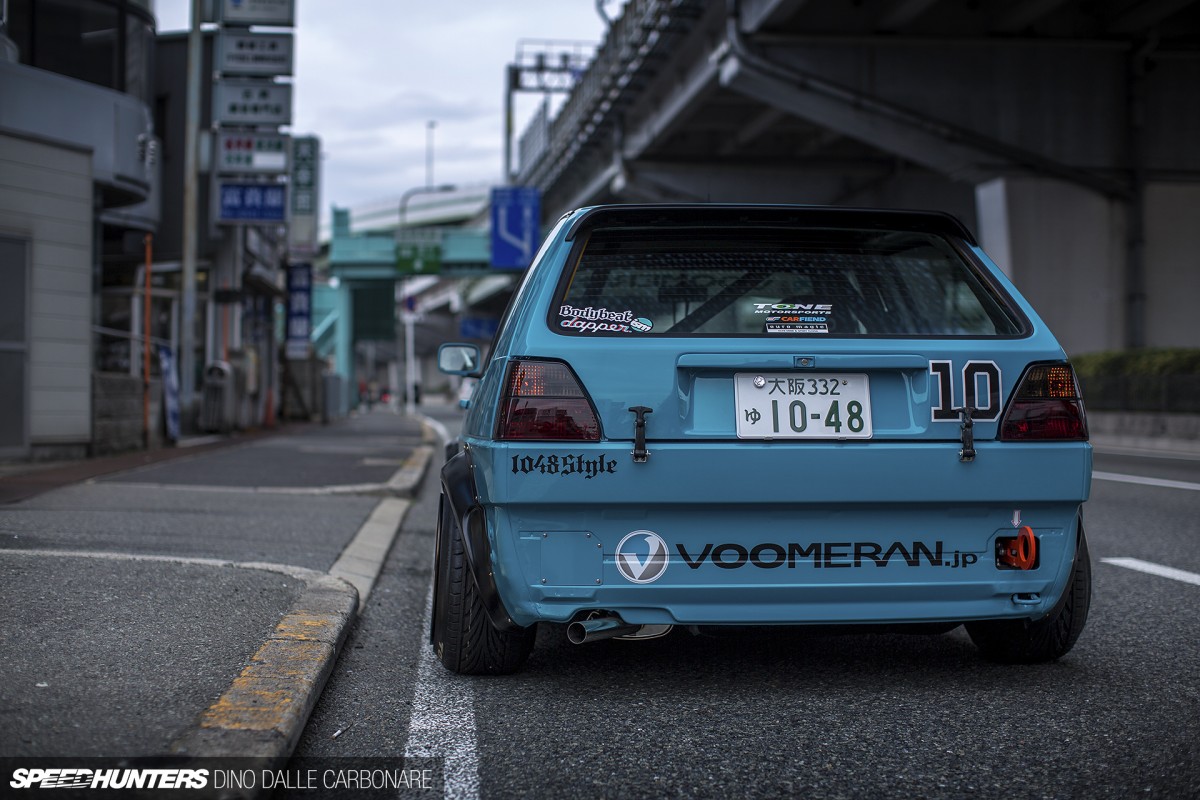 It doesn't matter what the make or model is, where it comes from or what sort of tuning style we might be taking about – the Japanese continue to impress for the way they can take a car, and with simple modifications make it look its best. There are of course varying levels here, but seeing that Euro Magic wanted their Voomeran Golf to make a statement and stand out, I'd have to say that they've well and truly accomplished that goal. I'd love to hear what you think.
Do you like JDM'd Euros?
Dino Dalle Carbonare
Instagram: speedhunters_dino
dino@speedhunters.com