No Small Feat
This weekend marks a pretty important milestone in drifting history. For the first time, Formula Drift is in Japan with an inaugural round at Fuji Speedway. You'll have to wait a few more days to see our coverage from the event, but from what we've seen so far, it's looking like a pretty big deal and a new chapter for the whole Formula D movement. Our very own Fredric Aasbø is back with Team RS-R and the wild NASCAR-V8-powered Toyota 86, while Mad Mike Whiddett – after ripping up the hill at Goodwood last weekend – is once again back behind the wheel of the Total Car Produce Magic-built, quad-rotor FD3S RX-7, JAPBUL. And in preparation for the event, drift shops all across Japan have, this last week, been putting the final touches to their cars and readying their drivers for action.
I've spent the past week down in Kyoto, hanging with Miura-san at his TRA Kyoto shop – doing my best to stay out of the way as he and his crew finished off the five cars they planned to bring up to Fuji for the weekend. Yes, five cars! Only one will actually compete in Formula Drift, while the others are being displayed at various sponsor booths in the Fuji paddock and the Offset Kings show.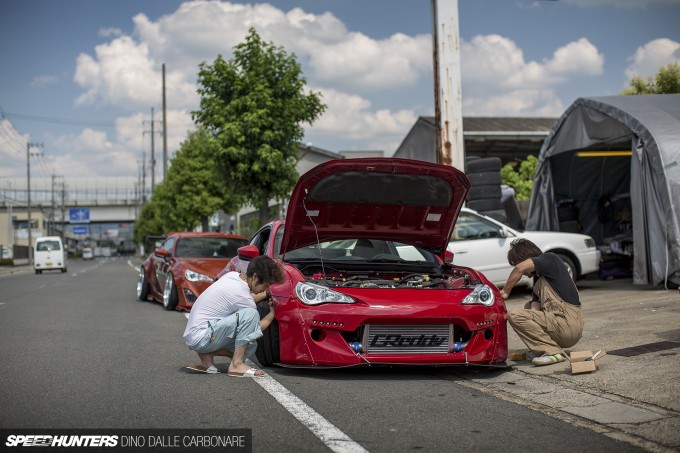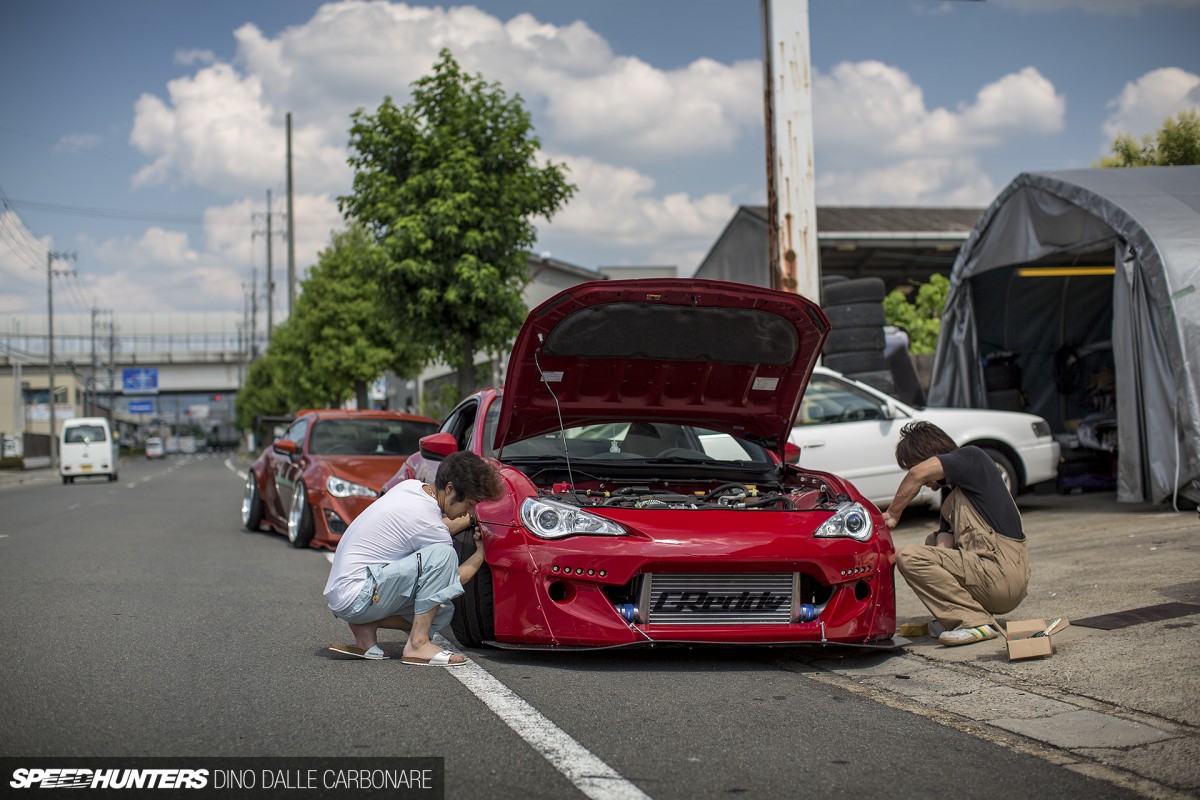 It all started back on Tuesday, with Miura's very own Scion FR-S the first car to be completed. After a couple of years of use, Miura was very happy to show me that it's now running a nice little power hike thanks to a GReddy turbo kit – something that front-mounted intercooler kind of gives away now. This week the car was also stripped of its V1 Rocket Bunny kit and upgraded to the V2 aero which features the completely redesigned front bumper we first saw last autumn.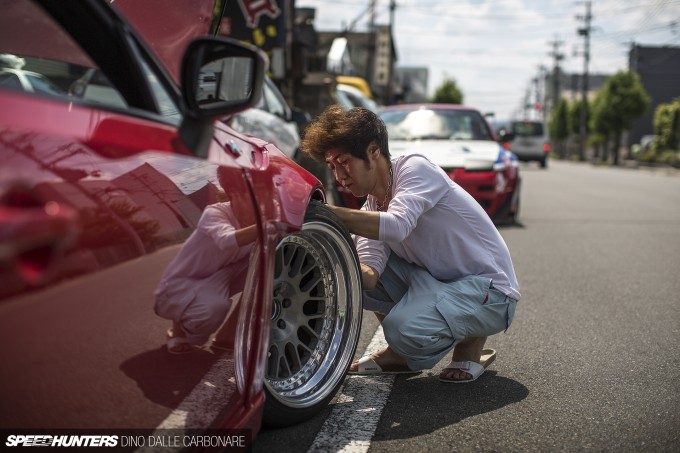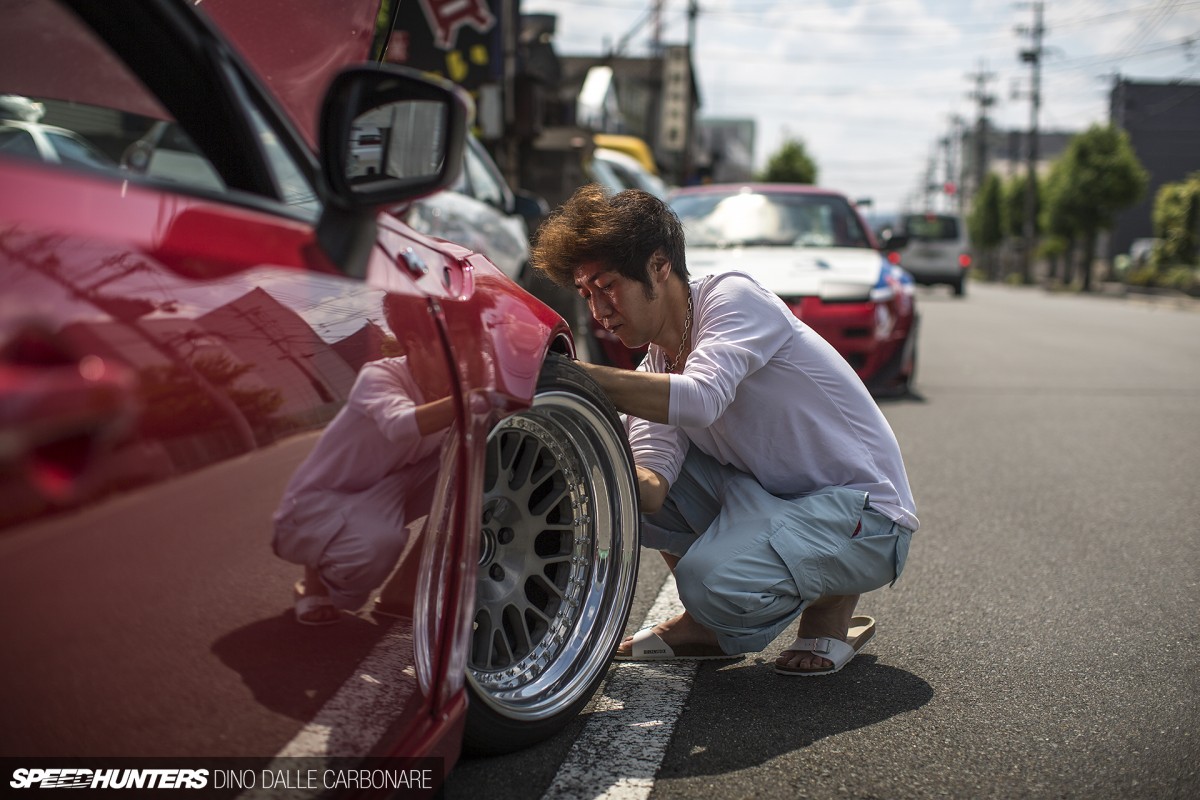 When I first arrived, Miura-san and Nakawatase-san were just finishing securing the bumper to the car, giving it a whole new fresh look.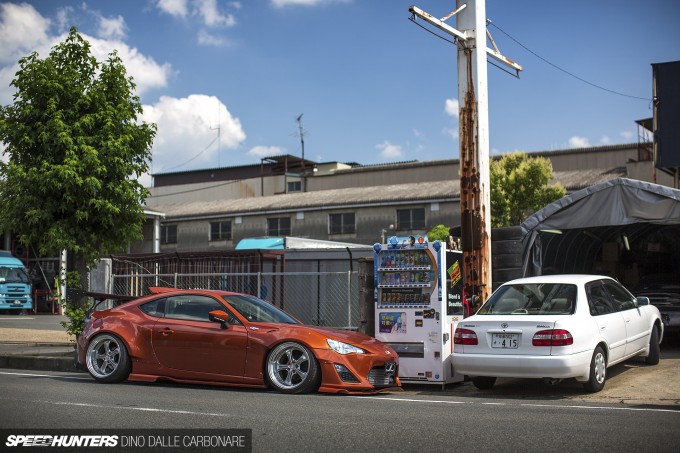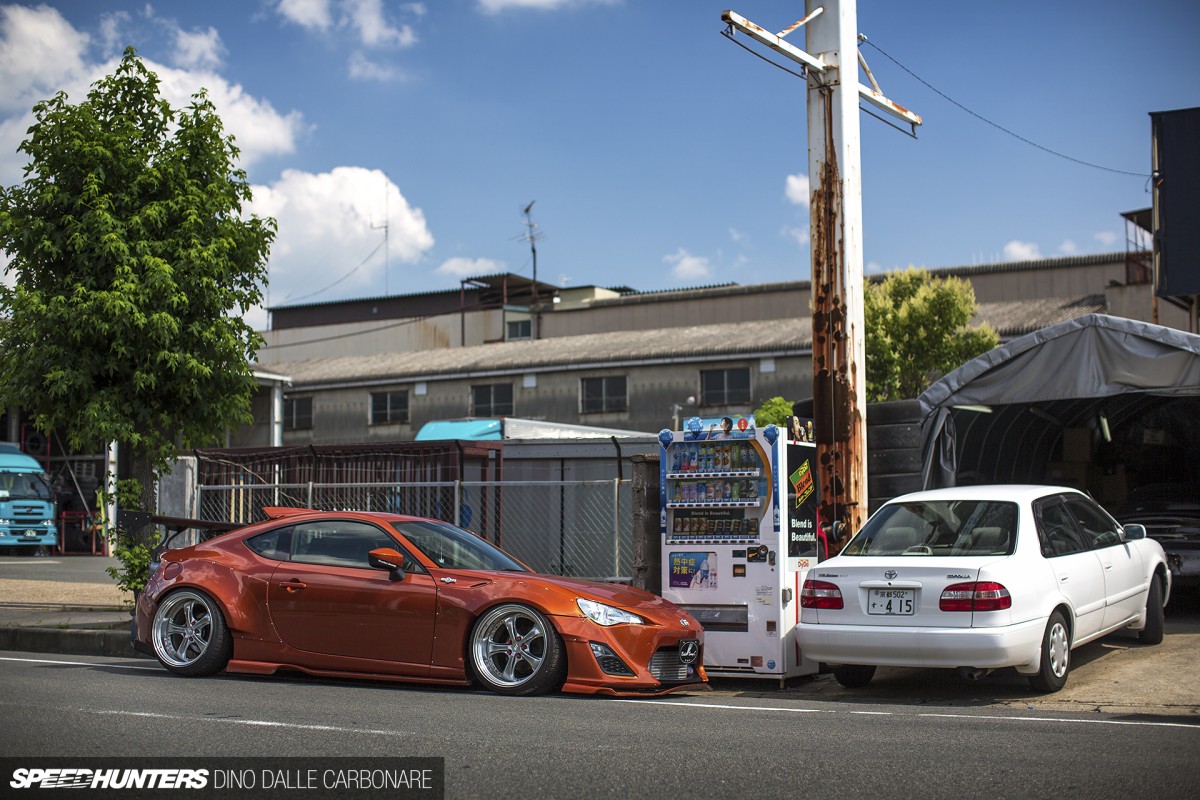 Nakawatase's own ZN6 runs the V1 kit and sits on Work VS-KF wheels. It's also sporting a nice little addition in the form of the same roof spoiler seen on Tororoki Jidousha's V8-swapped 86. Nakawatase-san is the owner of the Volklinger S14 which I featured last year, and has been working at TRA Kyoto for a while now.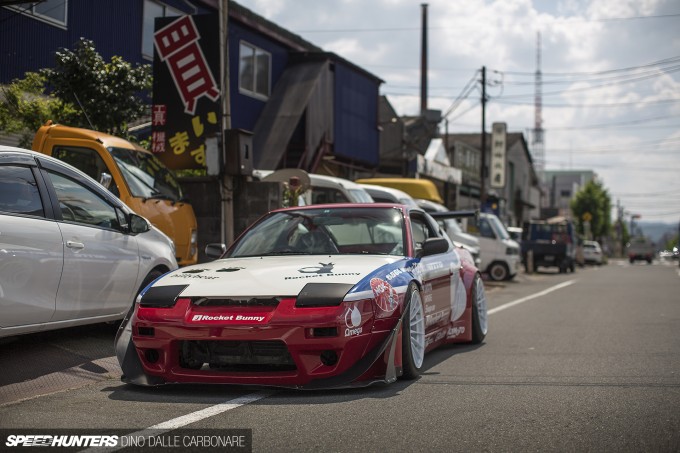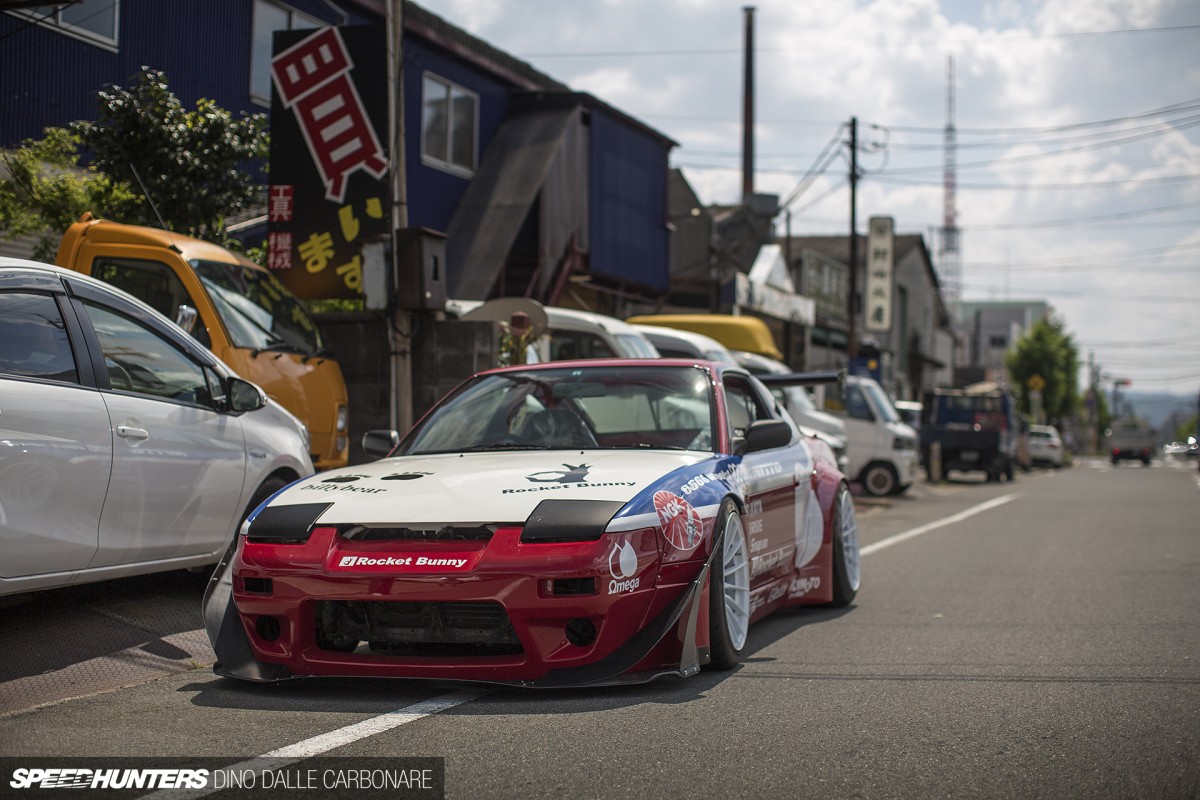 A few hours before I arrived the guys had just put the finishing touches to this all-new 180SX. It runs the new refreshed Rocket Bunny aero for the RPS13, as well as a pretty cool livery.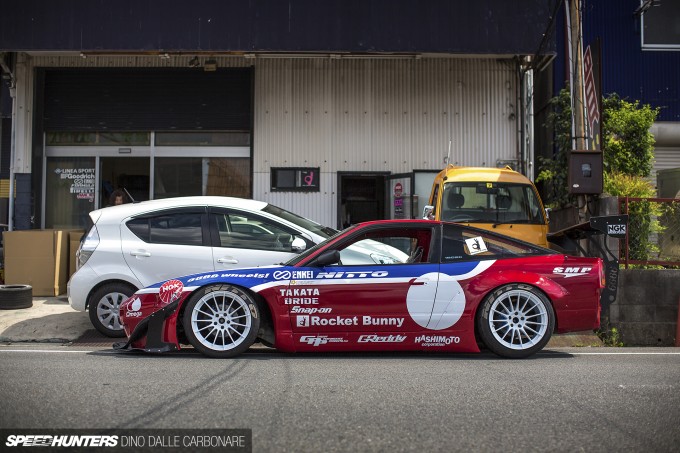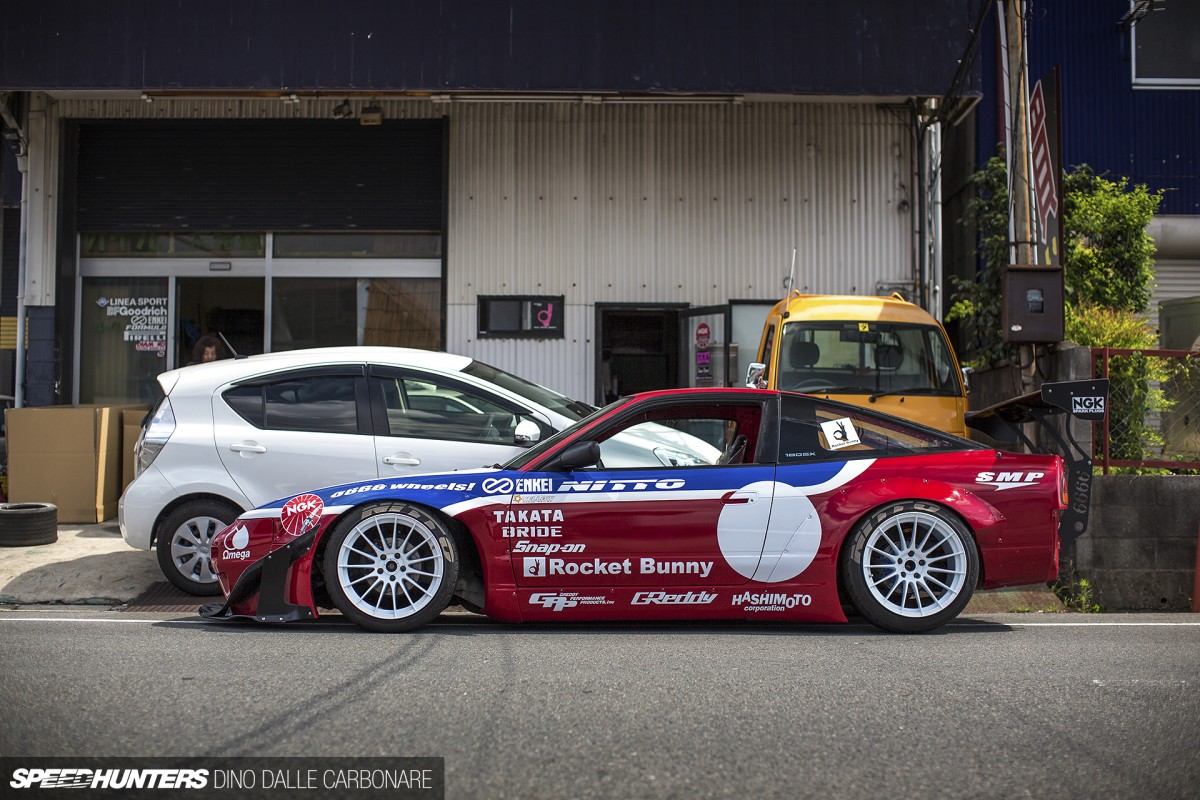 This car will be on display this weekend at Fuji Speedway in the Enkei booth, because, as you have probably already realised, it sits on a set of their RS05RRs, finished in white for this particular application.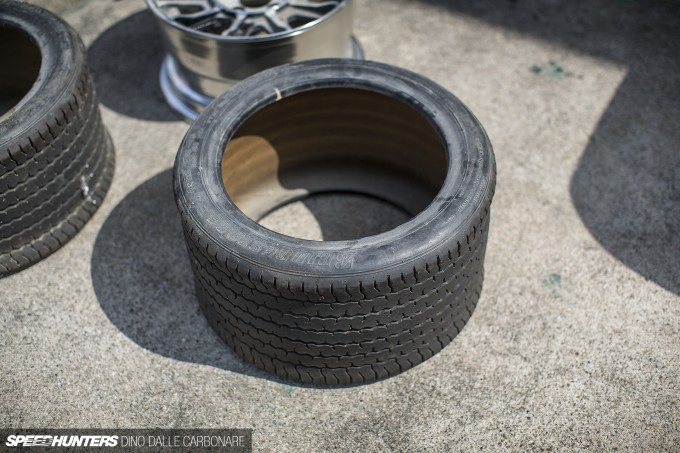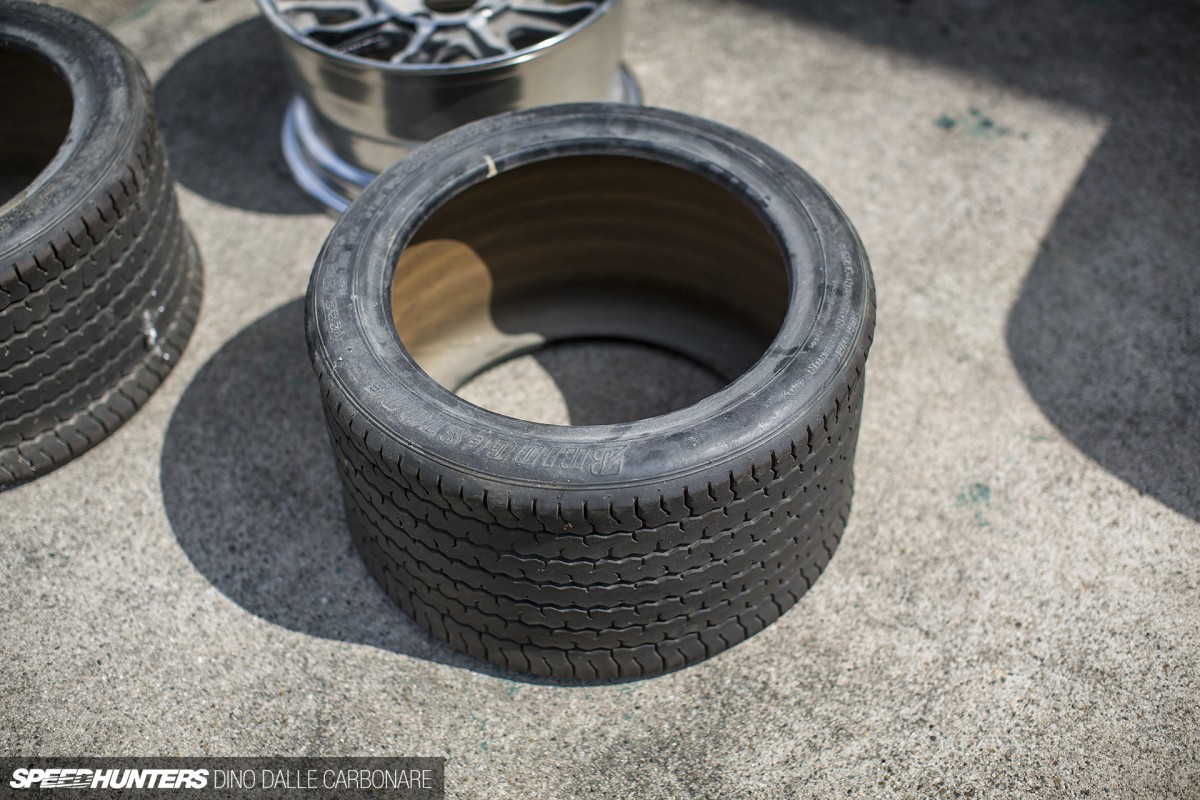 With so much stuff happening all the time and so many cool things to check out, much like Nakai's RWB shop, you could literally hang out at TRA Kyoto all day without even realising it. One thing I quickly spotted was a couple of sets of old racing tyres laying around. These old Bridgestone intermediates, sized 225-510-13, were left sitting out in the sun to soften up a bit in preparation of being test fitted on one of the old school 13-inch rims that Miura had prepared. The most interesting thing of all is that he had sourced them from Sweden of all places!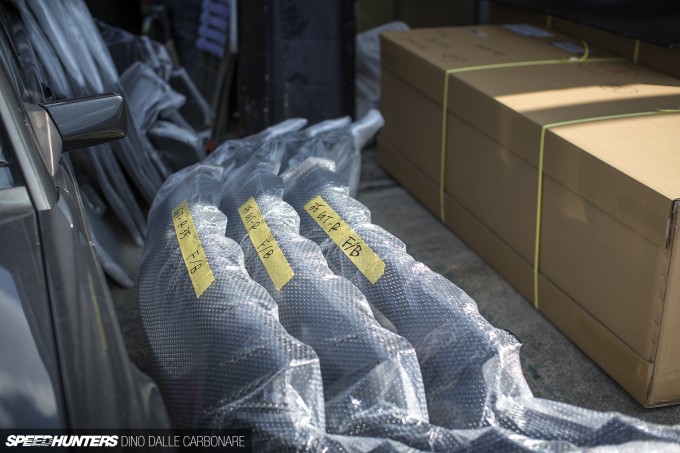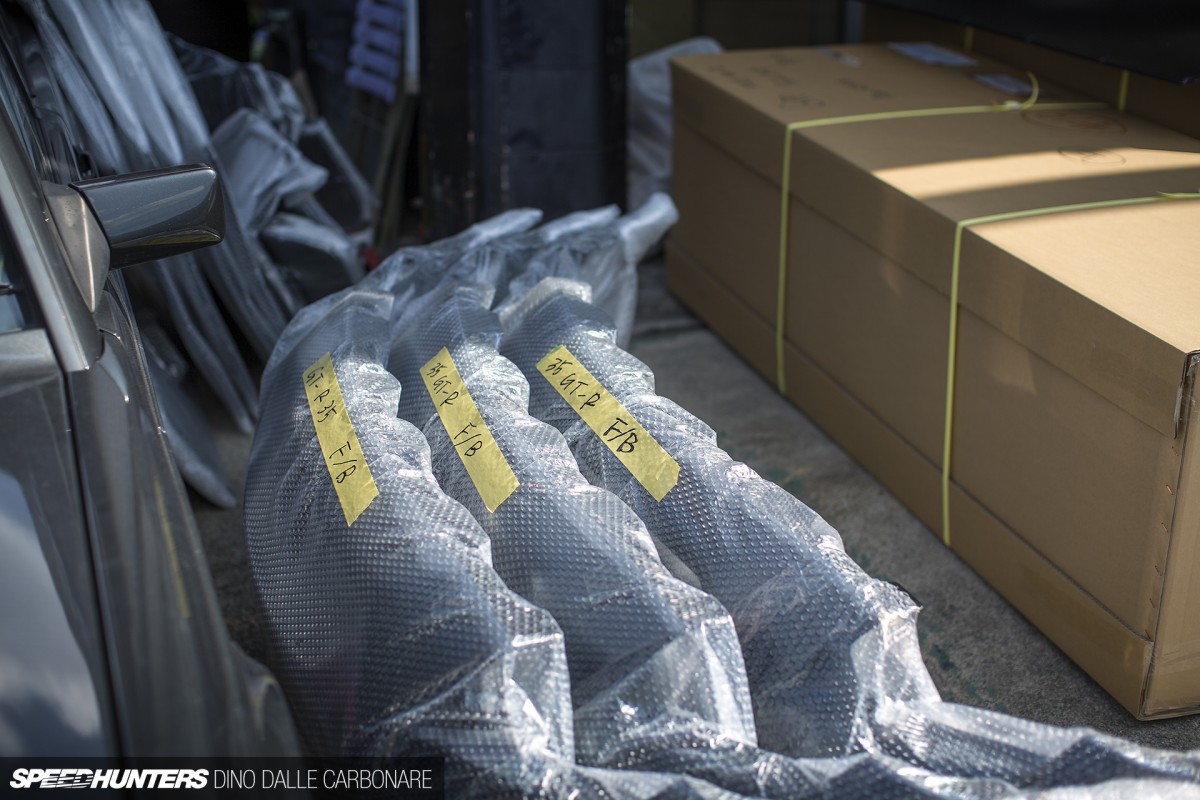 Despite the cars that needed to get prepped for Formula D and Offset Kings, there was still the usual business of packaging aero kits and boxing them ready for collection at the end of the day. Here are three R35 GT-R wide-body bumpers waiting to be dropped into a massive box. I also spotted a few Liberty Walk 458 kits getting bubble-wrapped.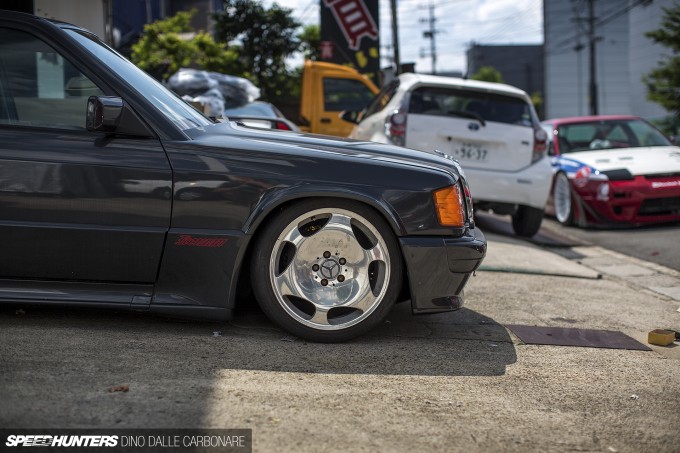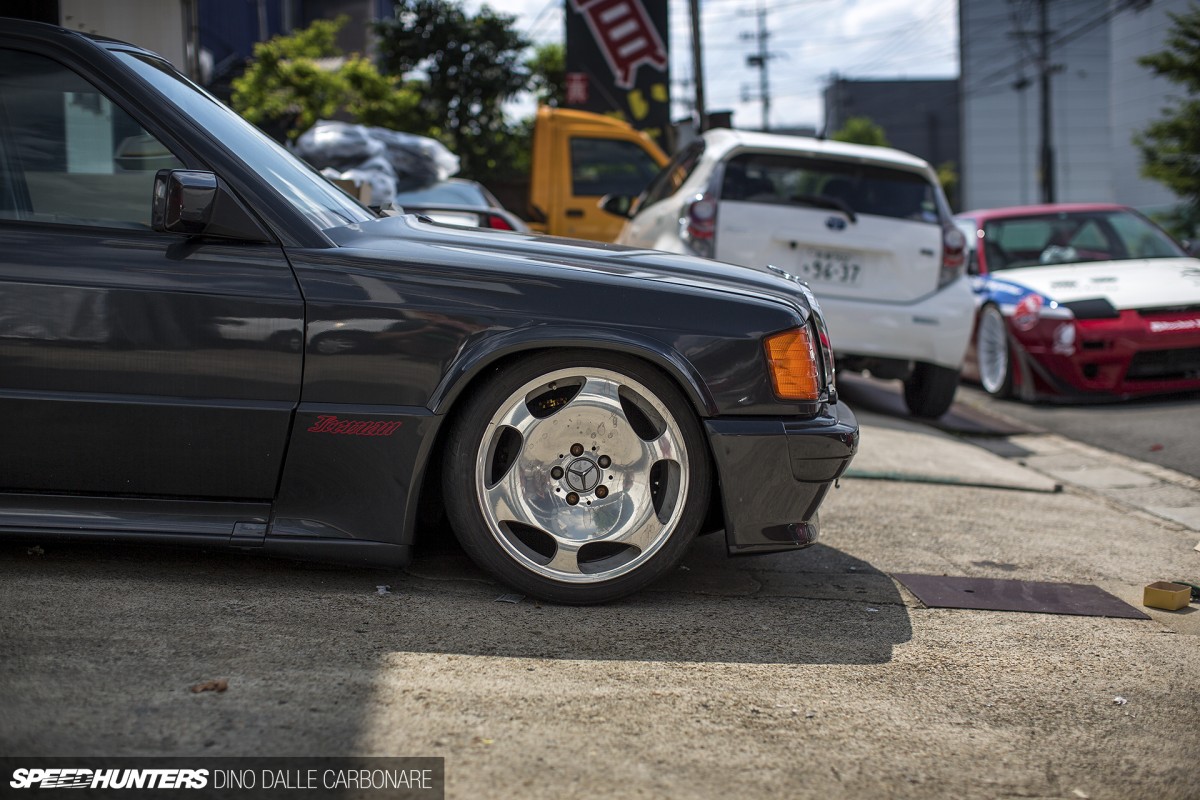 It was cool to see that after a little refresh at the Stance Japan shop down the road, Miura's Mercedes-Benz 190 was back. As long as I can remember, this thing has sat outside TRA Kyoto patiently awaiting Miura's attention. Even Miura isn't sure when he'll manage to get to it, but I'm sure when he does it will end up looking pretty damn hot. In the meanwhile he has a ton of other projects to get finished before this year's SEMA Show, and that's not even taking into account all of the client cars he has to prepare.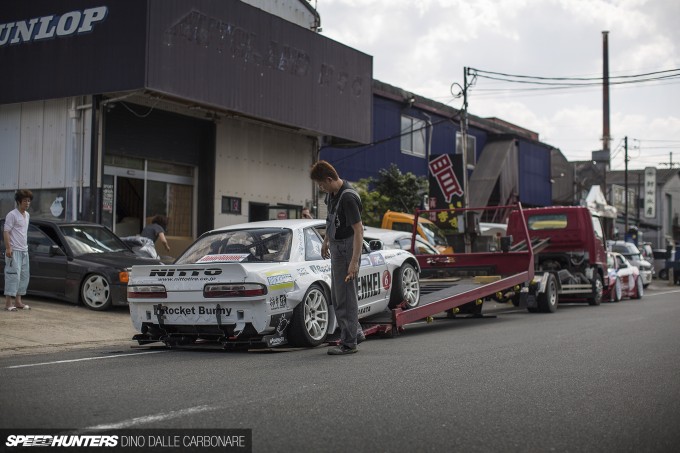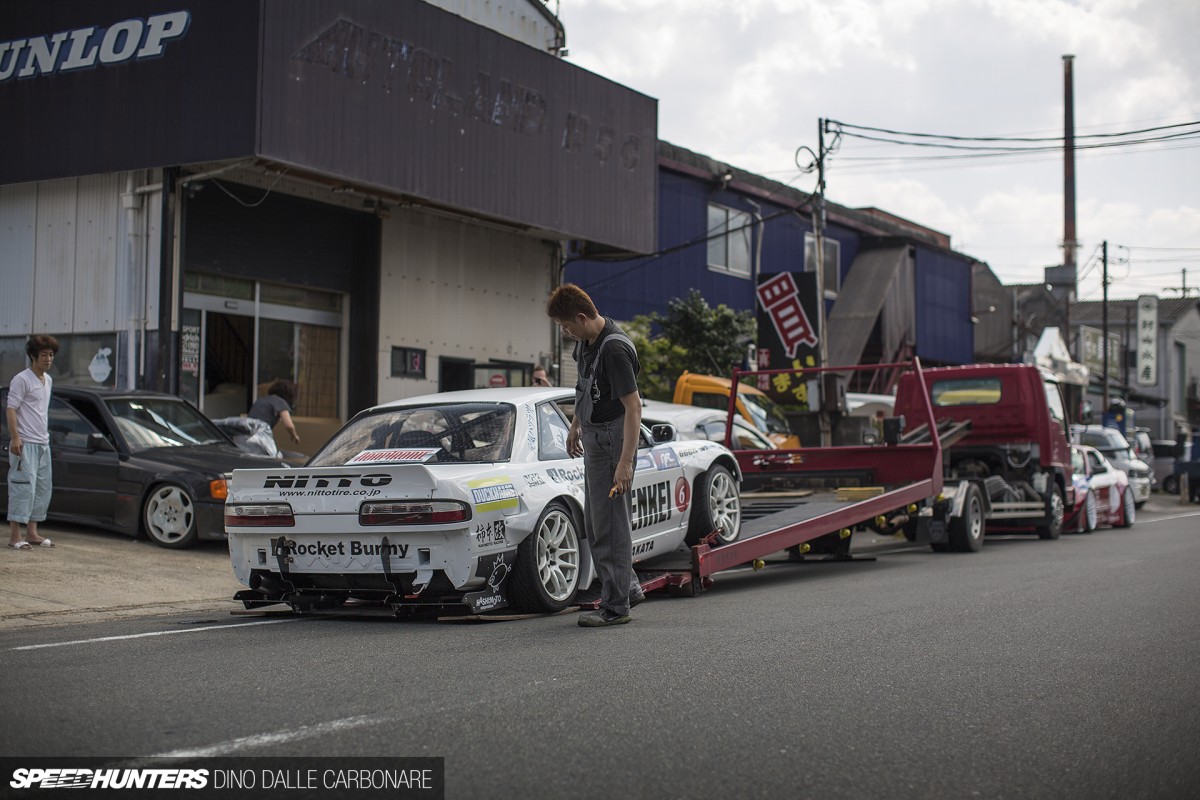 And speaking of Stance Japan, Takatori-san stopped by with a new S13 he has built, which, like the car I featured last month, is running a V8 swap. He had just finished fitting the full Rocket Bunny aero and stickering it up for the weekend.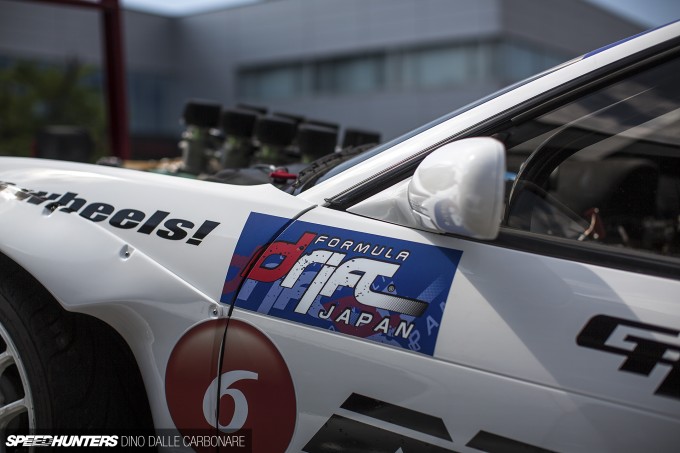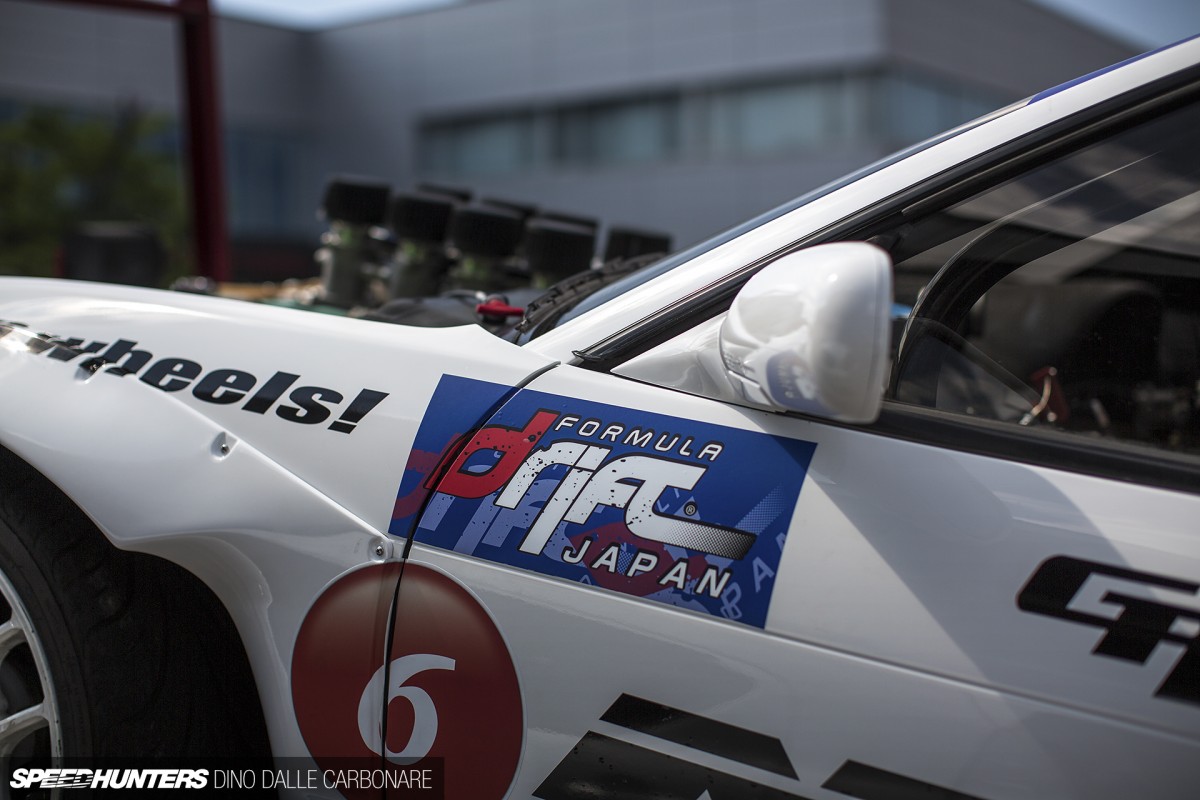 Takatori, who used to drive in FD back in the day, will be competing at Formula Drift Japan, and for his return thought he might as well build a completely new car.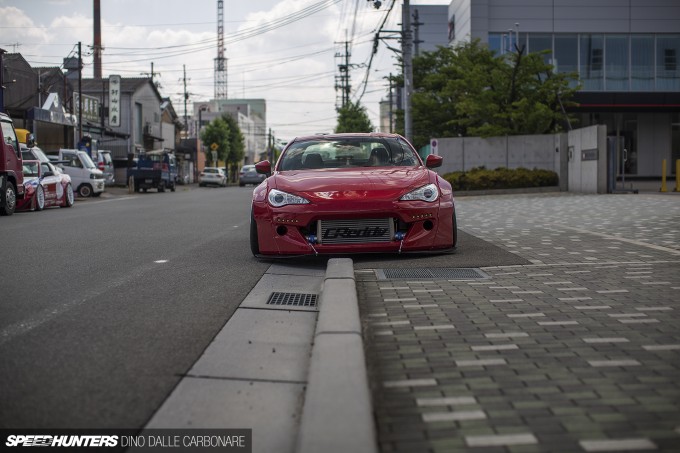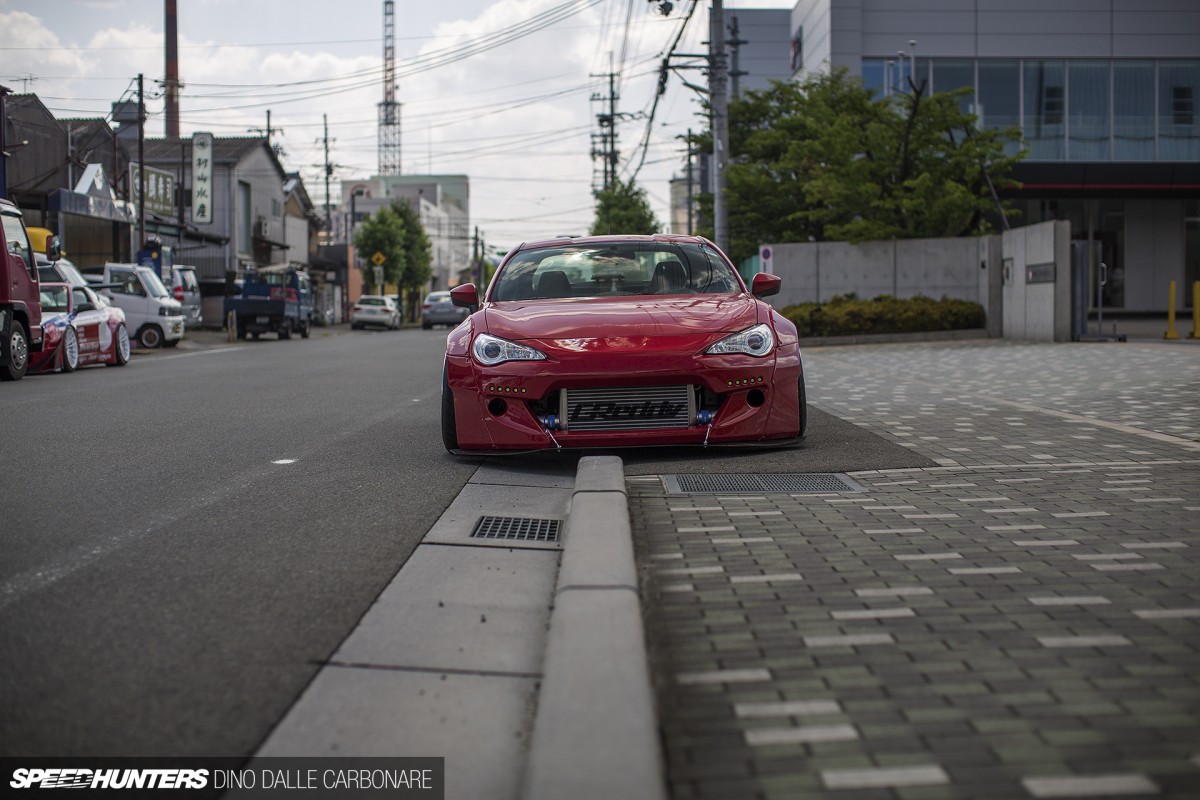 As the Silvia was being unloaded, Miura quickly moved the FR-S to the other side of the road. As we all know, space in Japan is a very scarce commodity!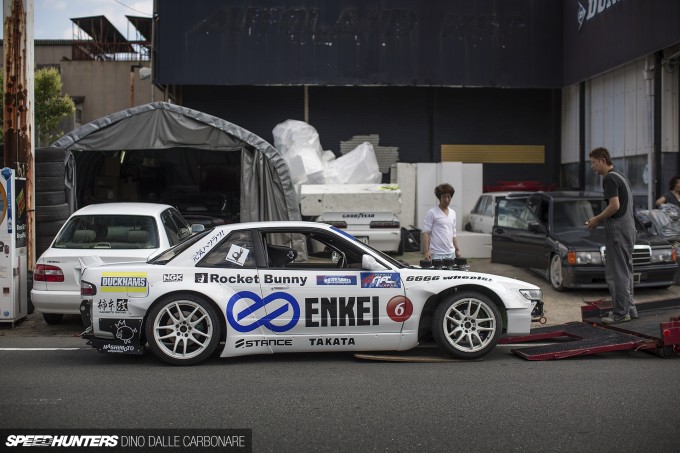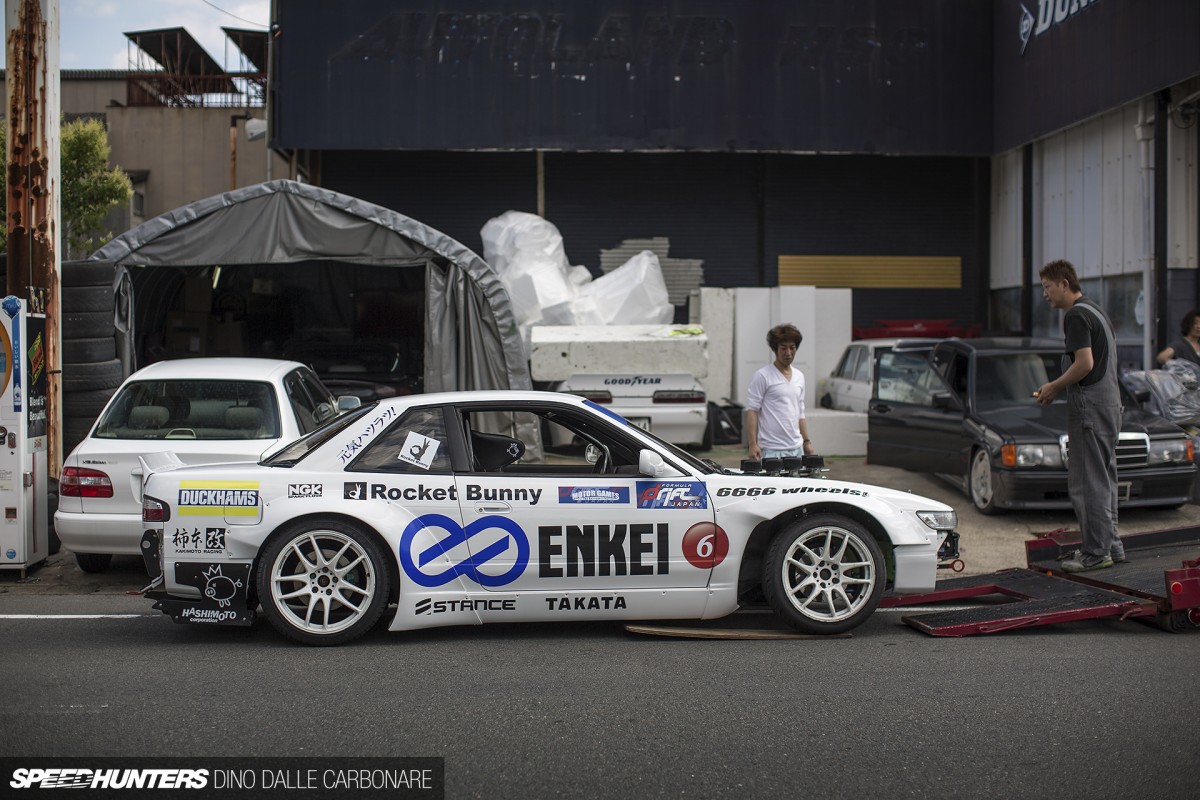 As far as Takatori's car was concerned, there were still a few things that needed to be finished off before its shakedown test the following day.
Pass The Angle Grinder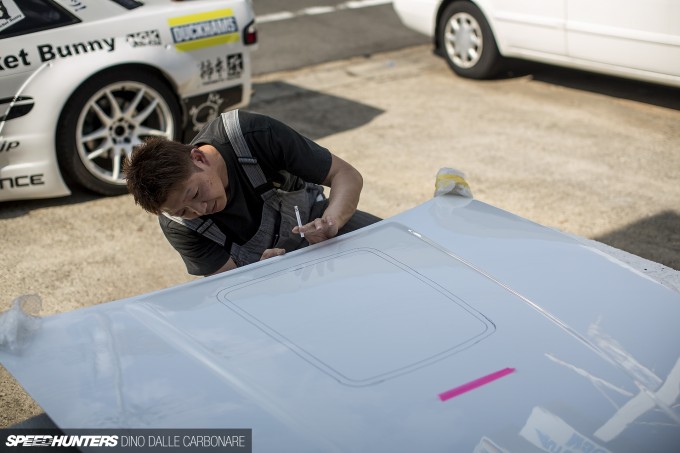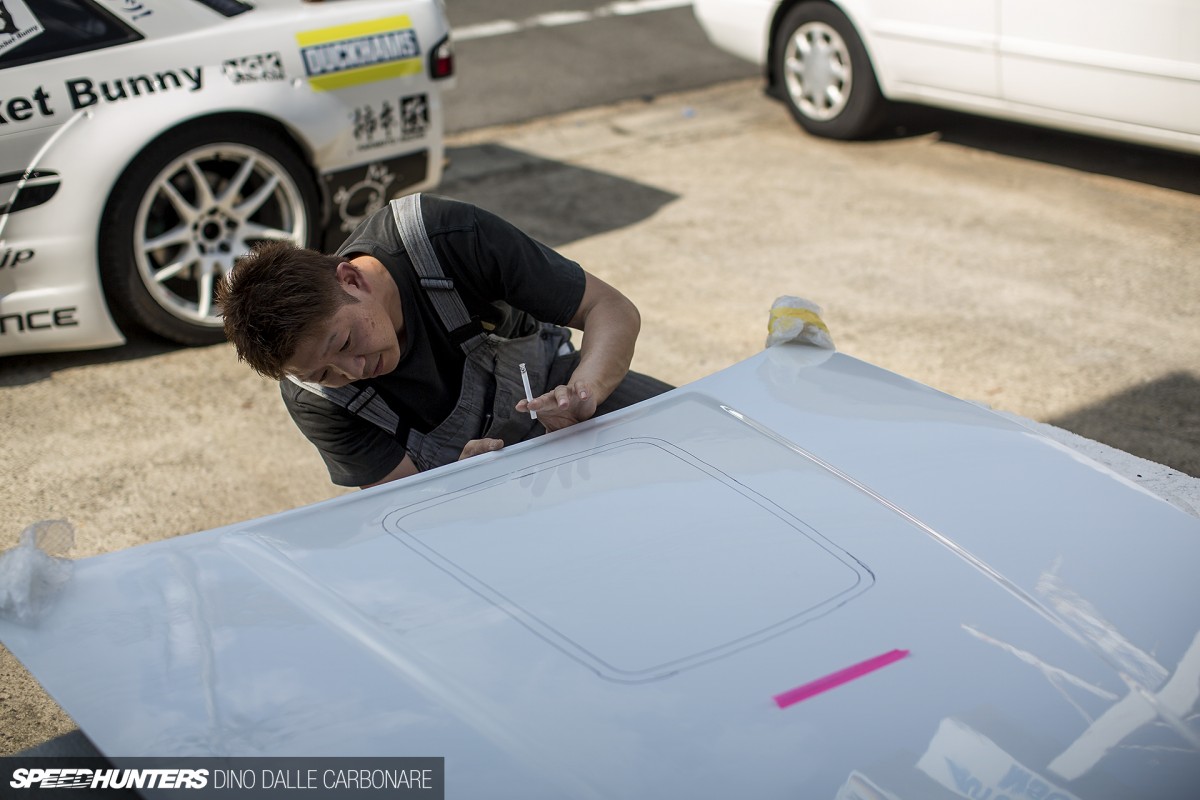 First up – as per Miura's CG renderings – the car was to get a new type of bonnet. Rather than use the scoop that Takatori's blue S13 runs, they decided to cut an opening so that the V8's velocity stacks would stick out in more dramatic fashion. First up it was a case of tracing the opening around the FRP vent trim that Miura had already prepared.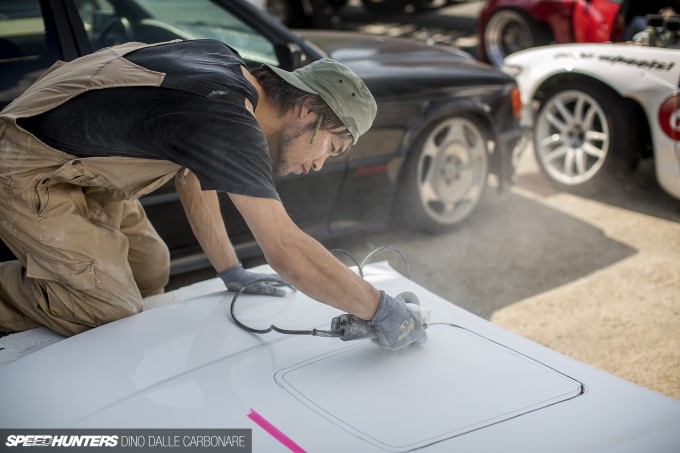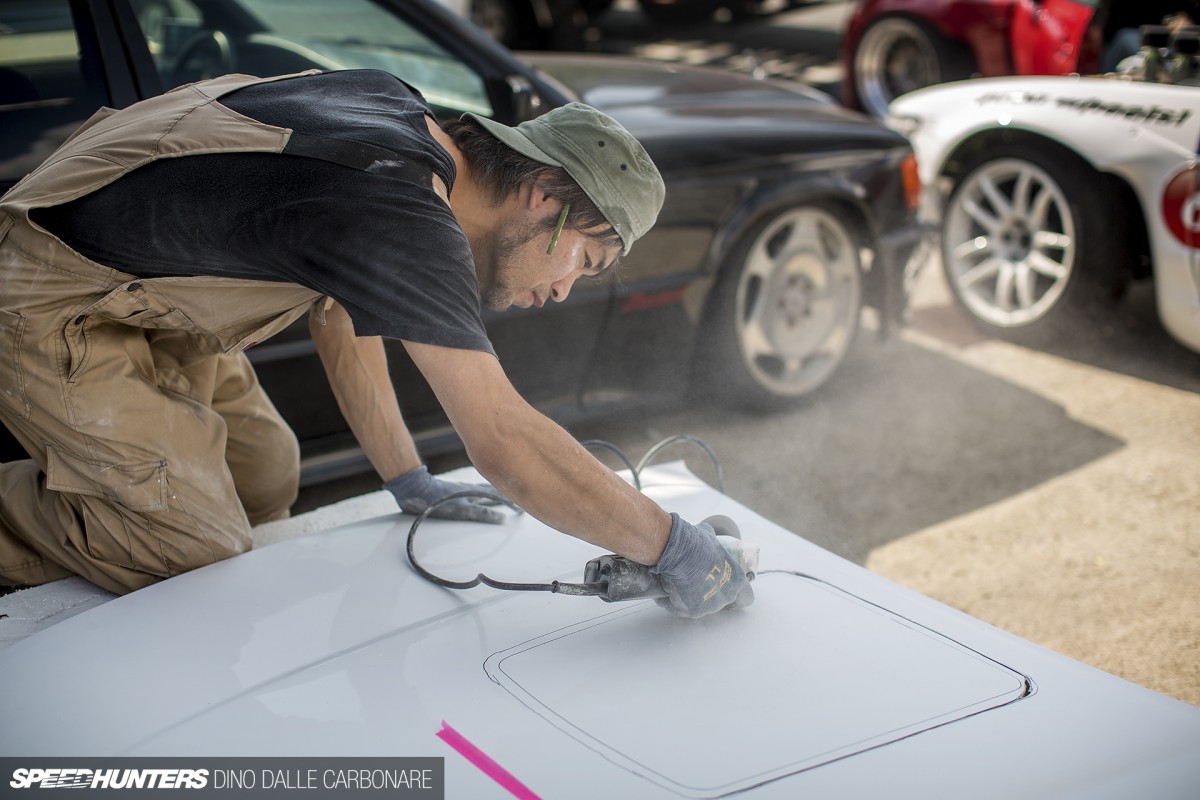 Then Nakawatase-san took over with the angle grinder. He's obviously done this before and neatly traced the outer line without fear of screwing up. This was the only FRP bonnet they had to play with, so making a mistake was not an option.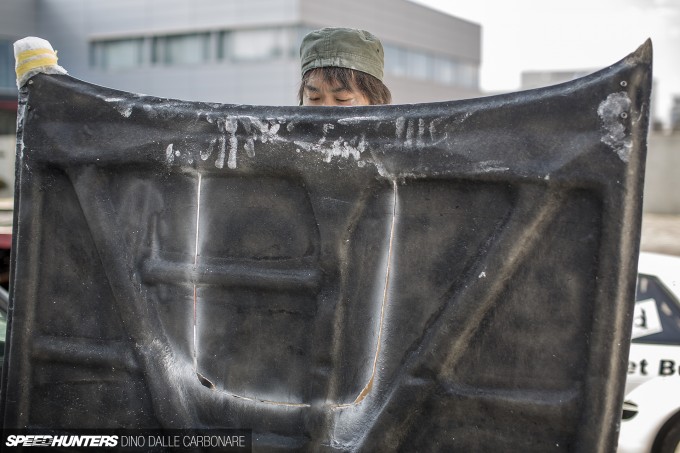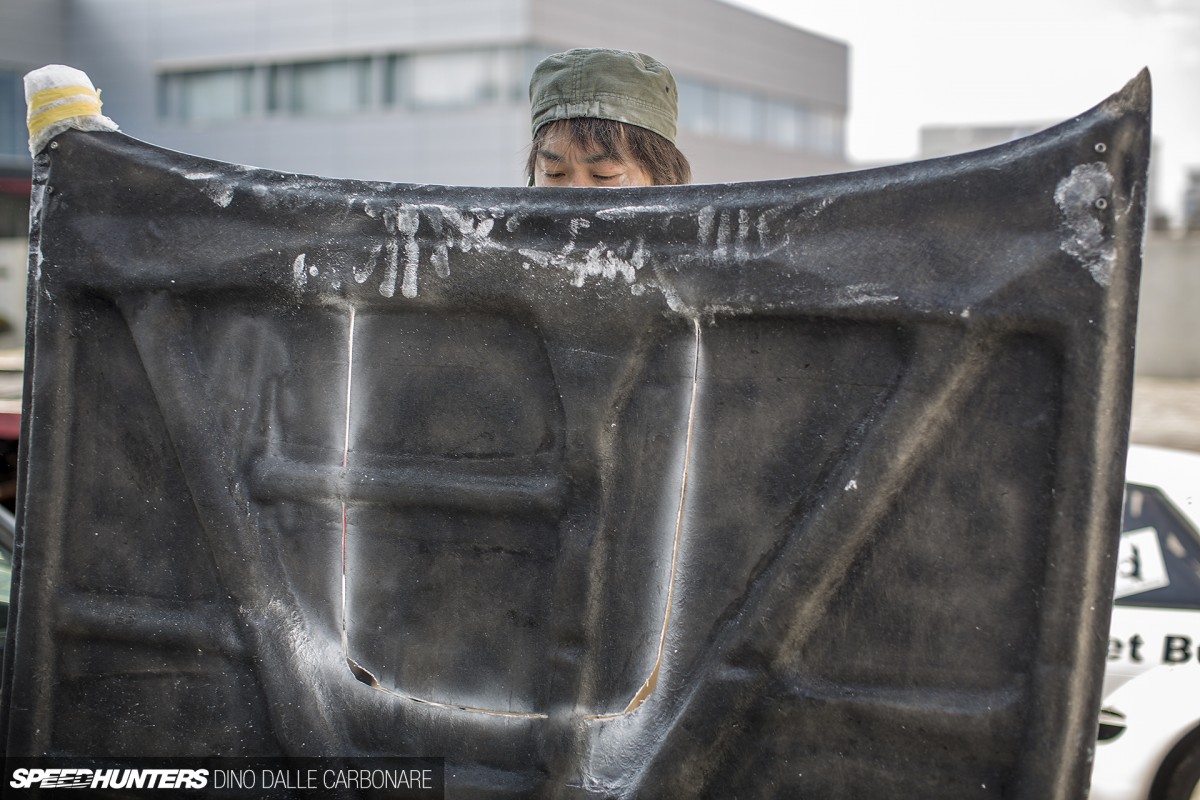 The hard bit was to make sure that the cut extended all the way through the bonnet's second underlying structure – something that took a bit of persuasion.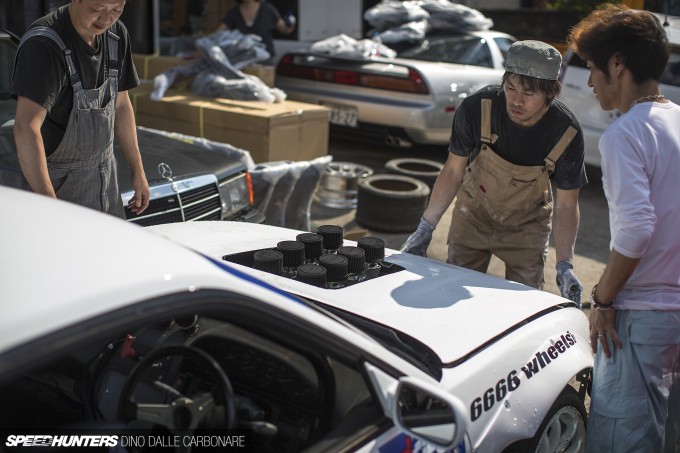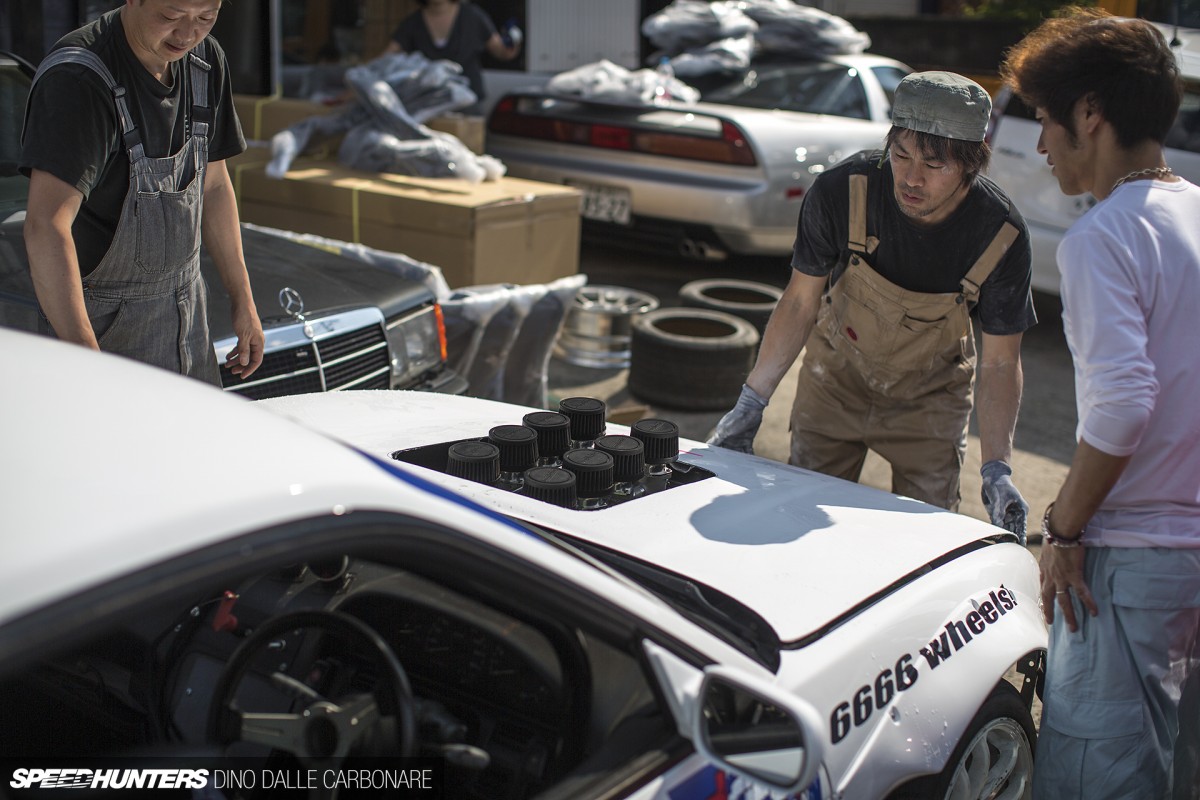 But they got there in the end. One quick test fit and all seemed spot on; the eight individual intakes making themselves seen through the opening.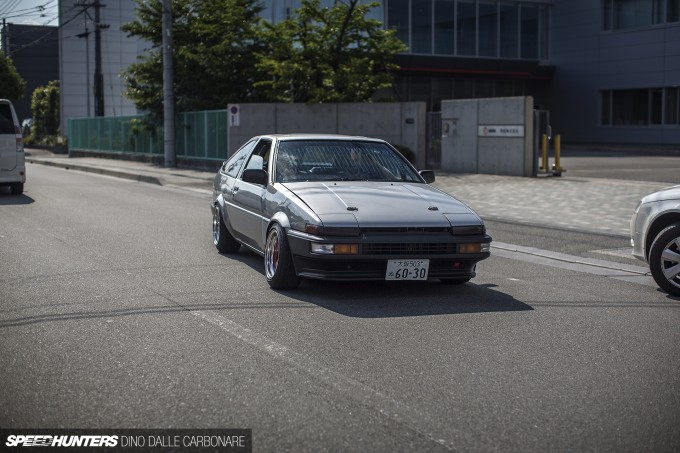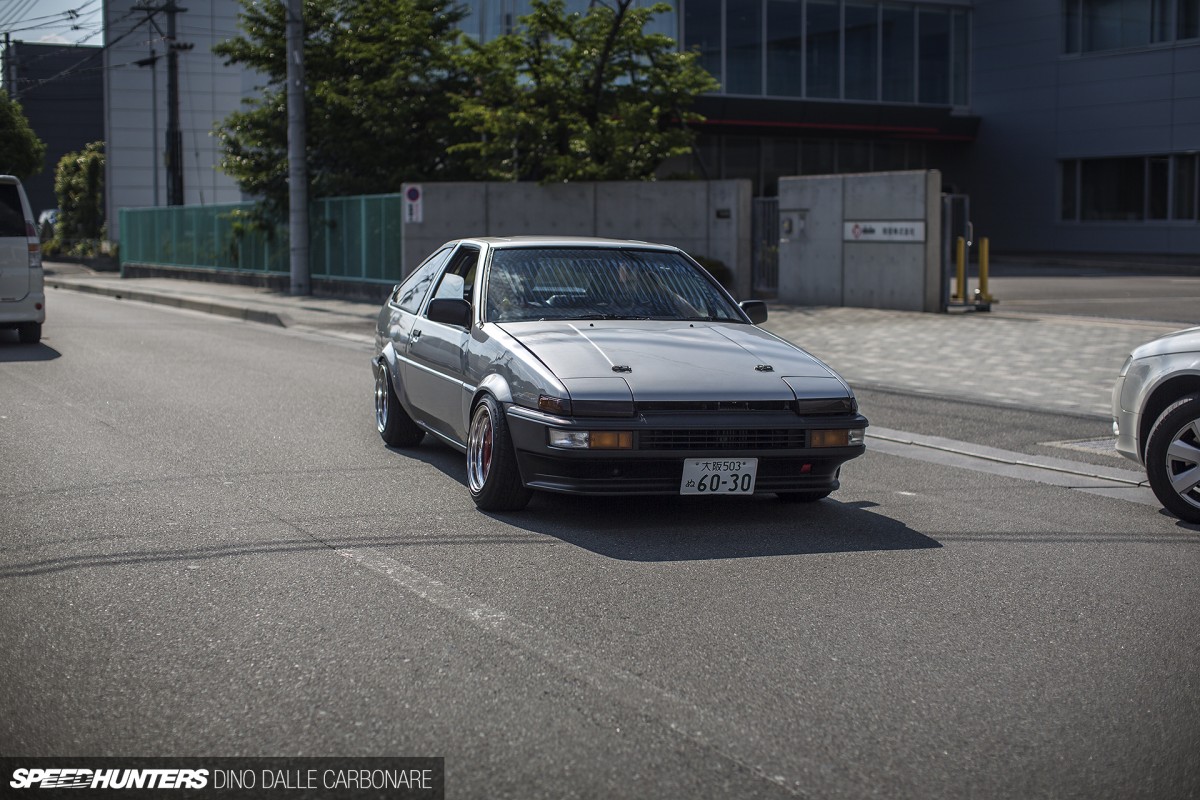 In the meantime JC Pepino of Work Wheels stopped by for a visit with his AE86. Miura's shop is like a cool hang out place for a lot of car guys in the area. It's something that happens at most tuning shops and it all adds to the cool atmosphere and vibe.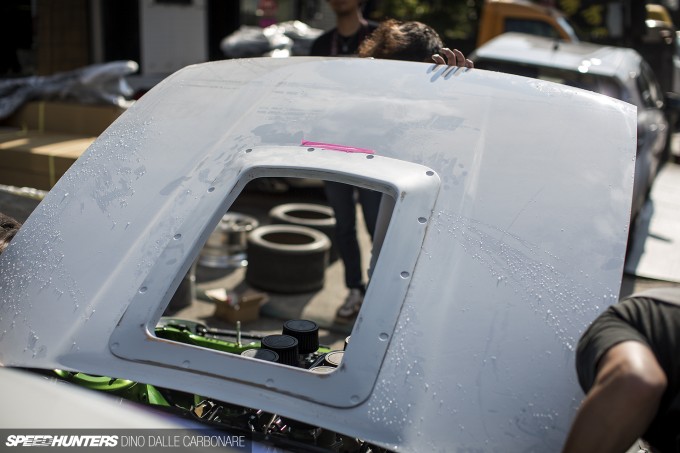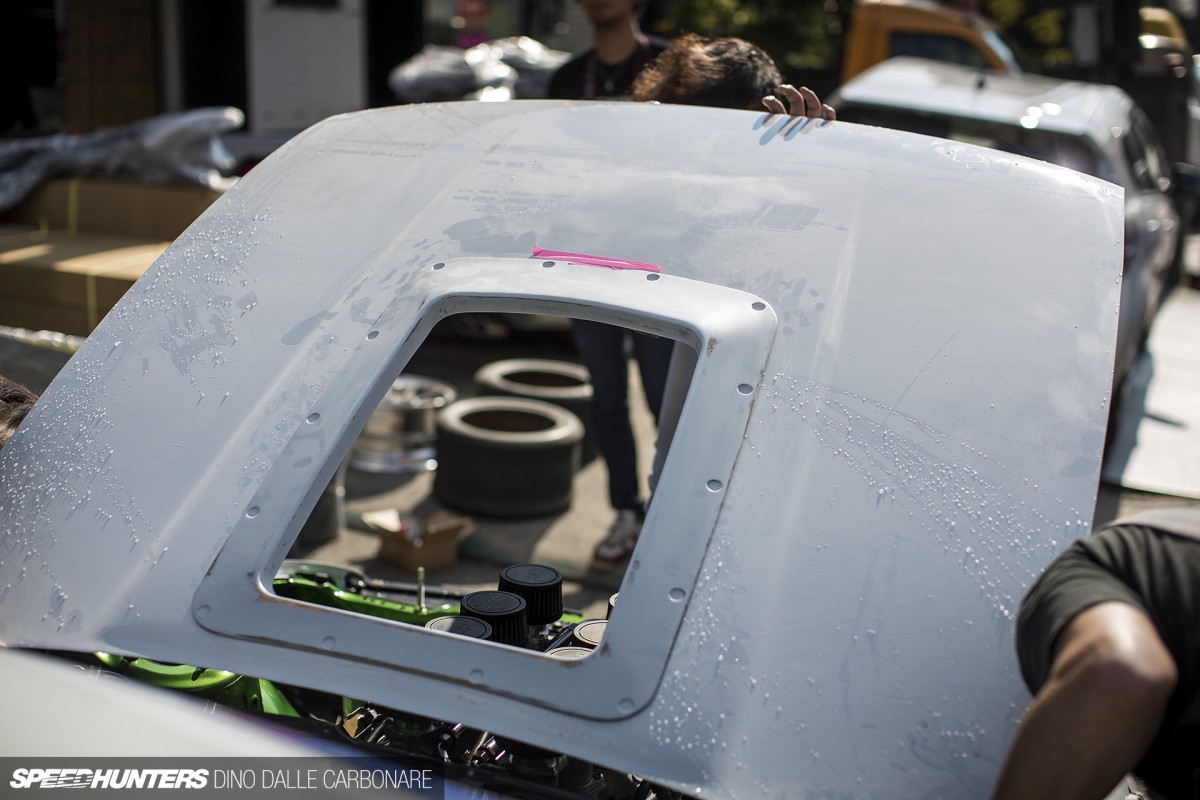 The second test fitting was done with the Rocket Bunny FRP trim taped down in place – a final layout before the holes were drilled.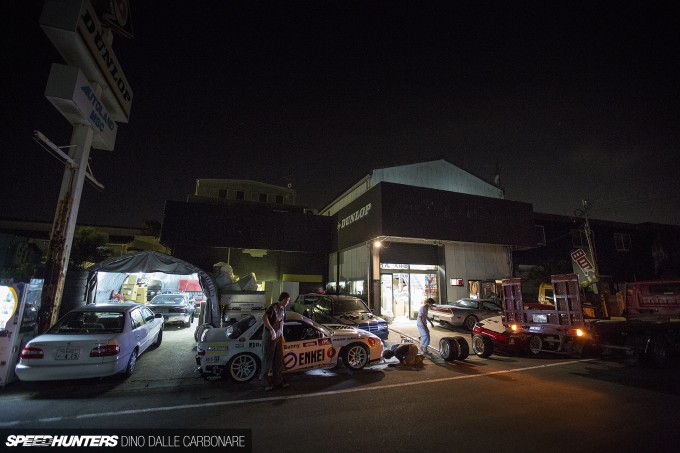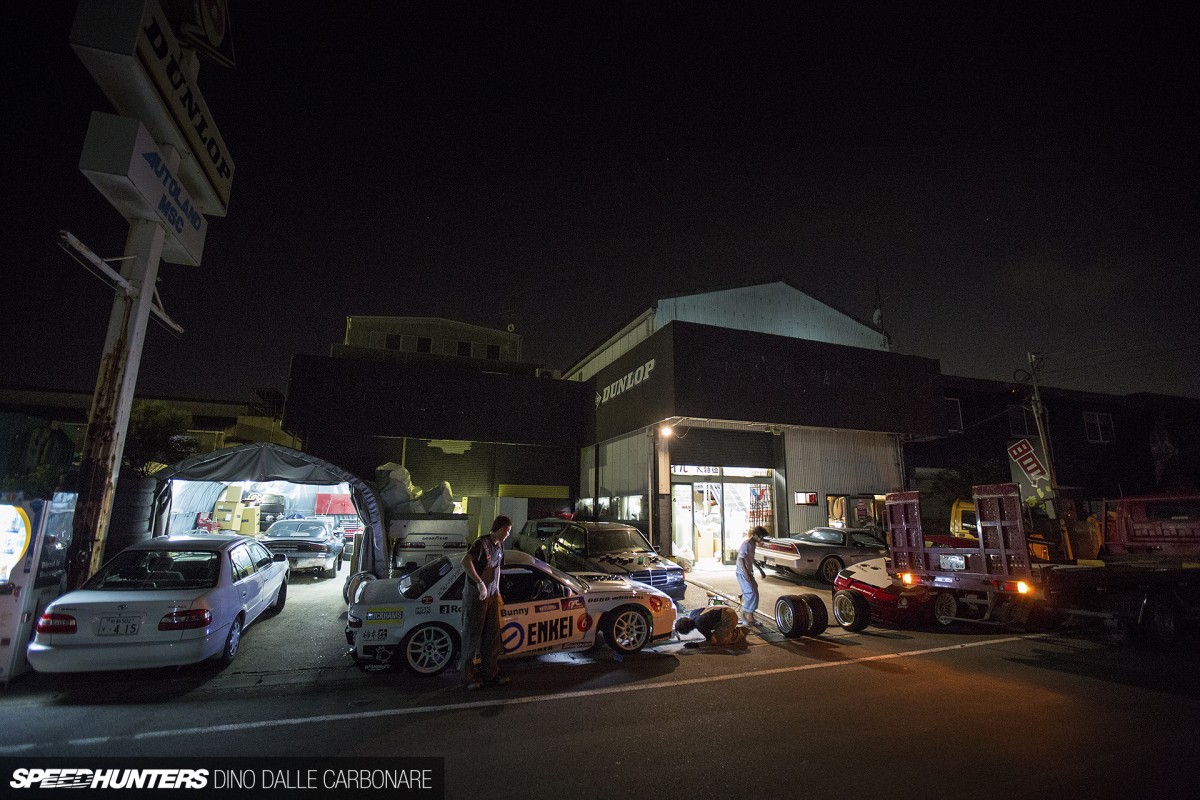 Not wanting to get in the way, I decided to leave and return later on in the evening. When I did, it came as no surprise to see everyone still hard at work.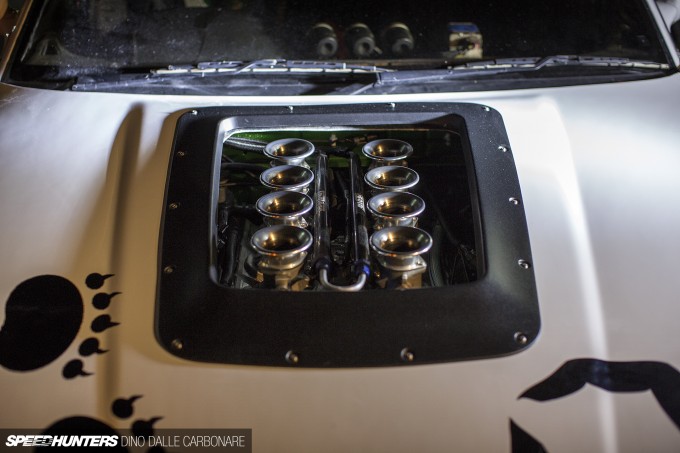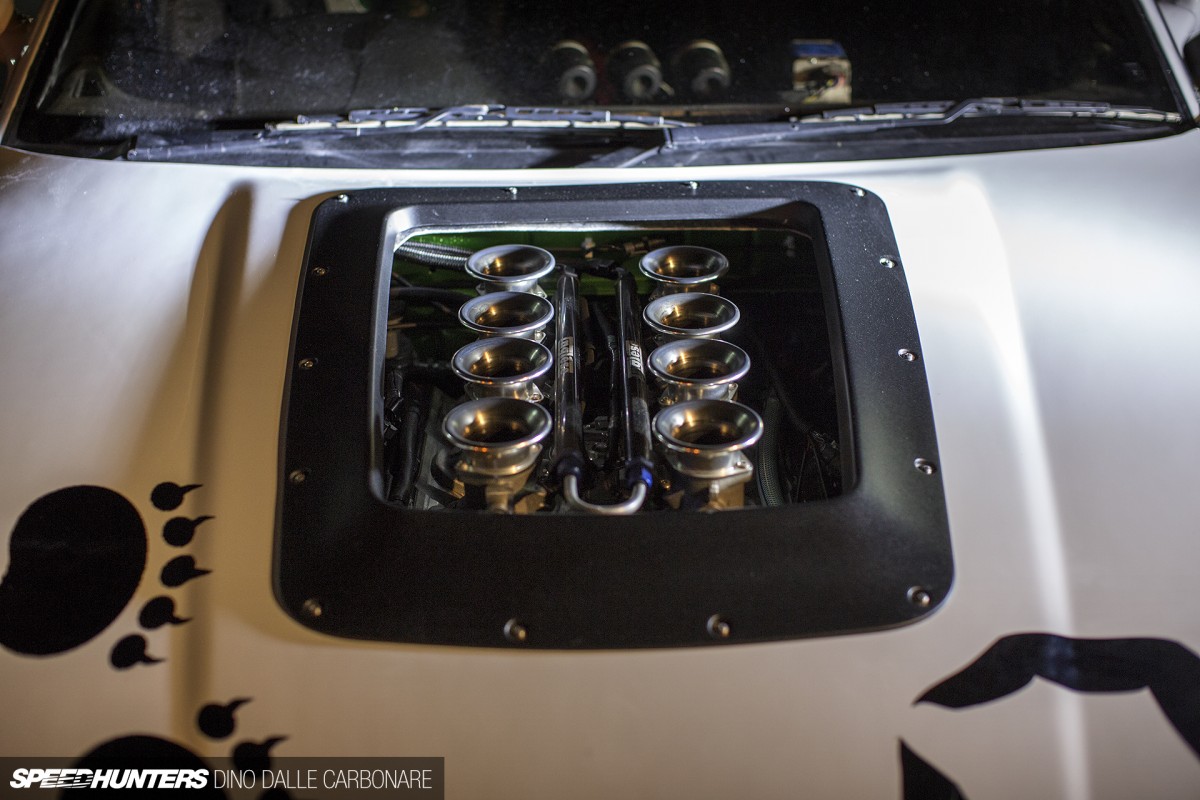 The S13's bonnet was all finished up; Rocket Bunny trim painted and screwed down in place and the air filter set up removed and replaced with some short velocity stacks.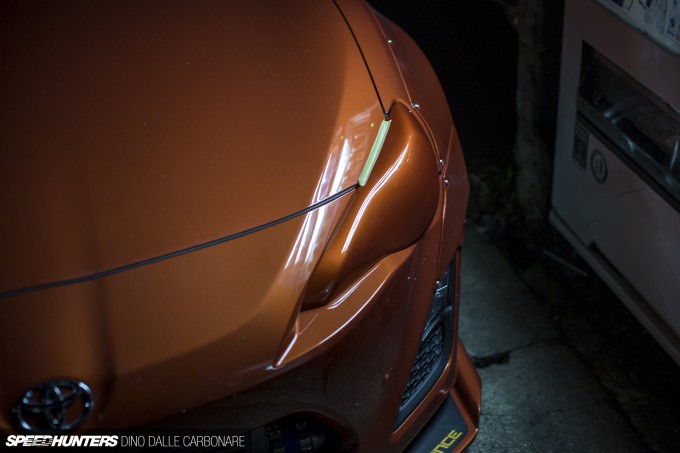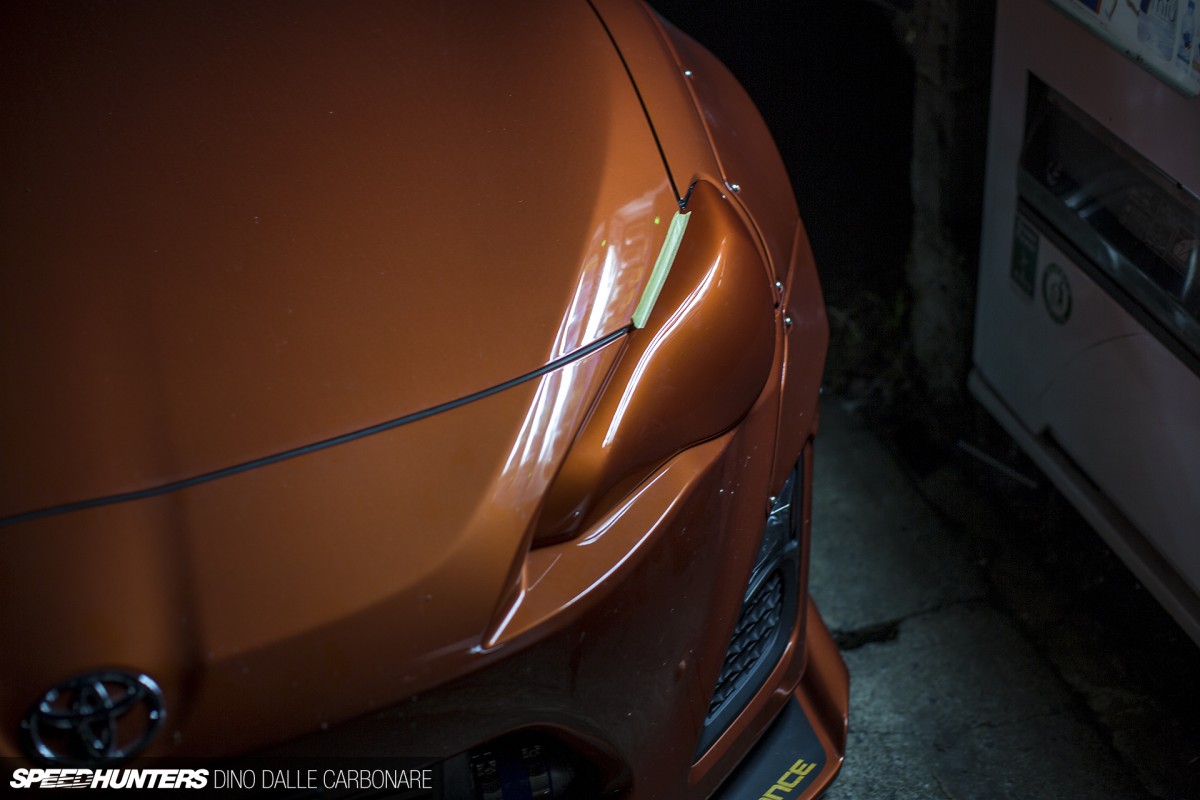 Even Nakawatase-san's 86 was running some interesting additions, which he made up himself. Those headlight covers are sort of reminiscent of his S14, no? I wonder if a windscreen cover will be coming next!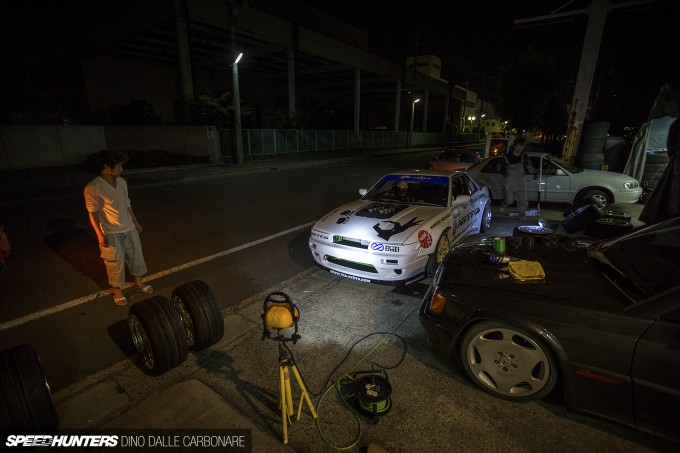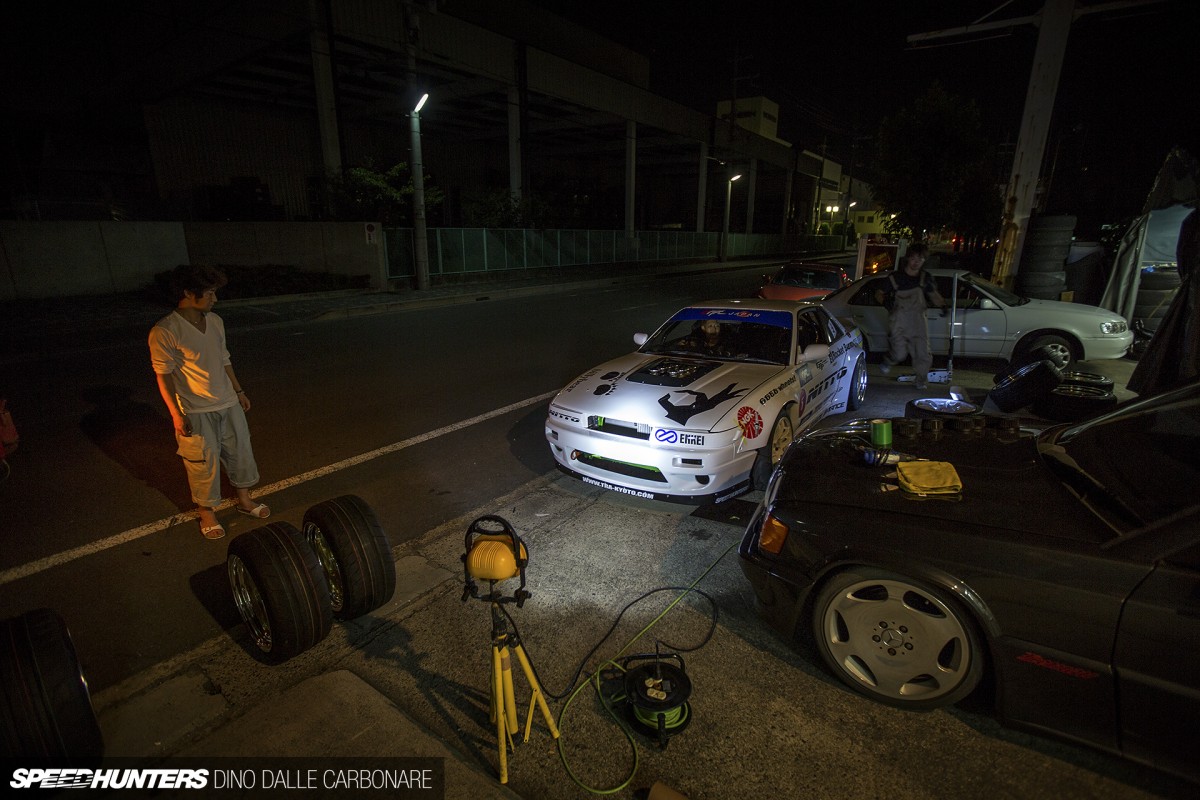 That evening the all new 6666 Wheels! (yes, their name includes an exclamation mark) from Enkei showed up. Tyres were immediately added and the test fitting began.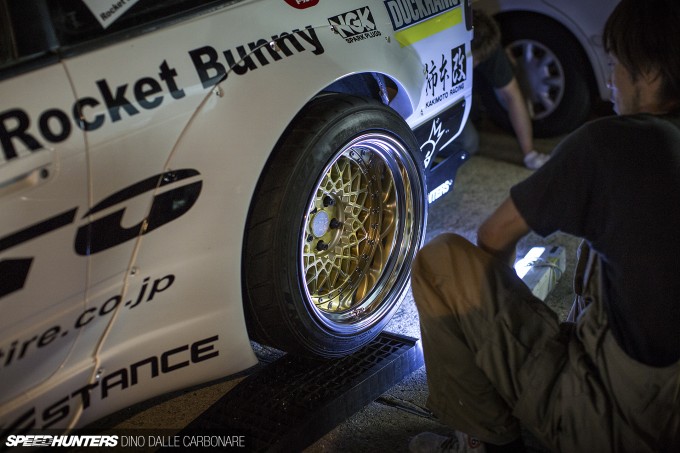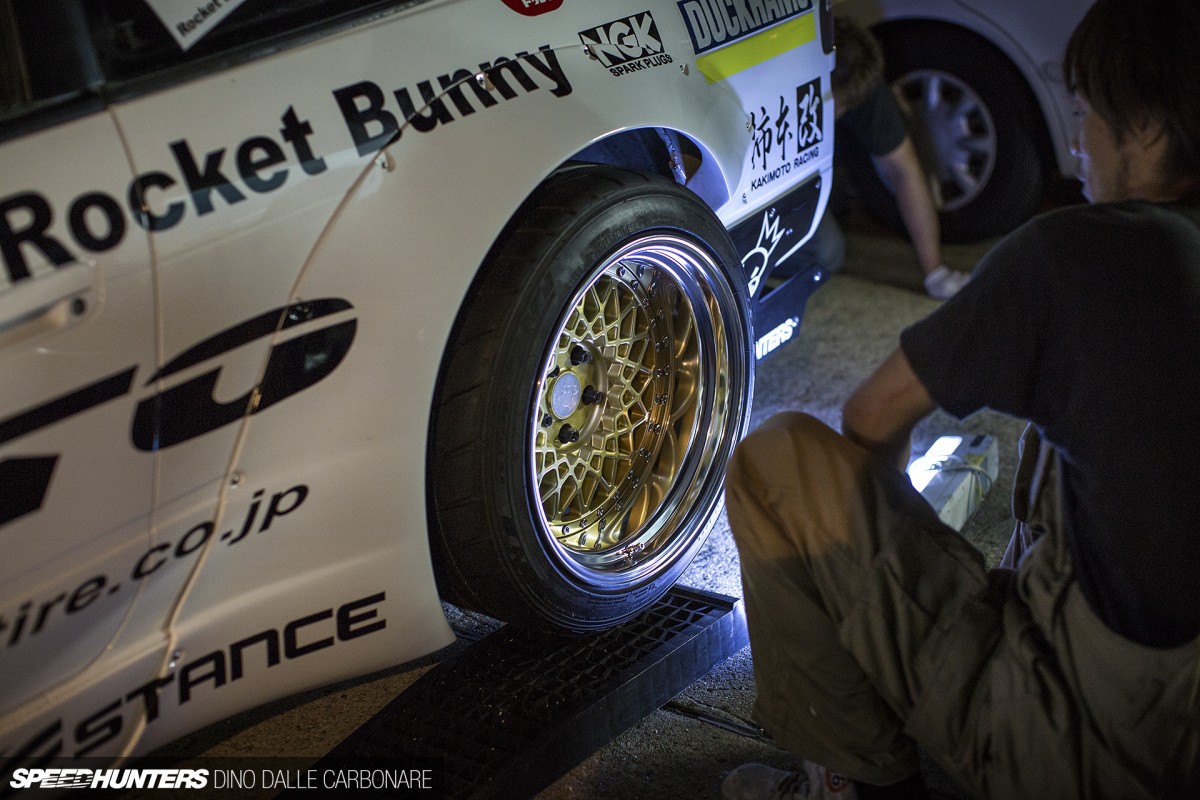 Seeing that the wheels sport a pretty aggressive offset, no spacers were needed to make them sit just right under the big rear Rocket Bunny over-fenders.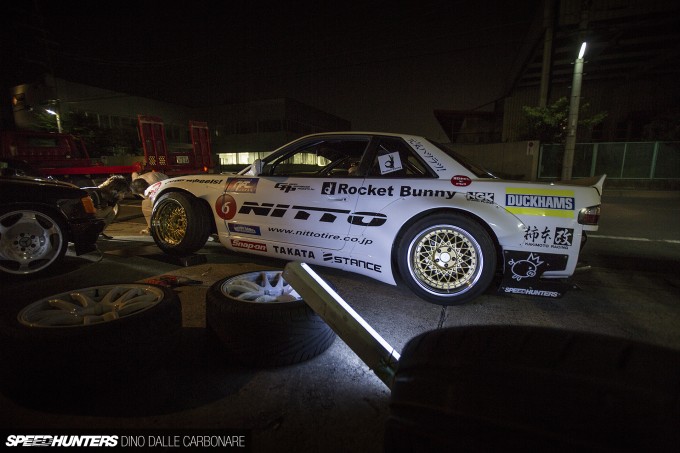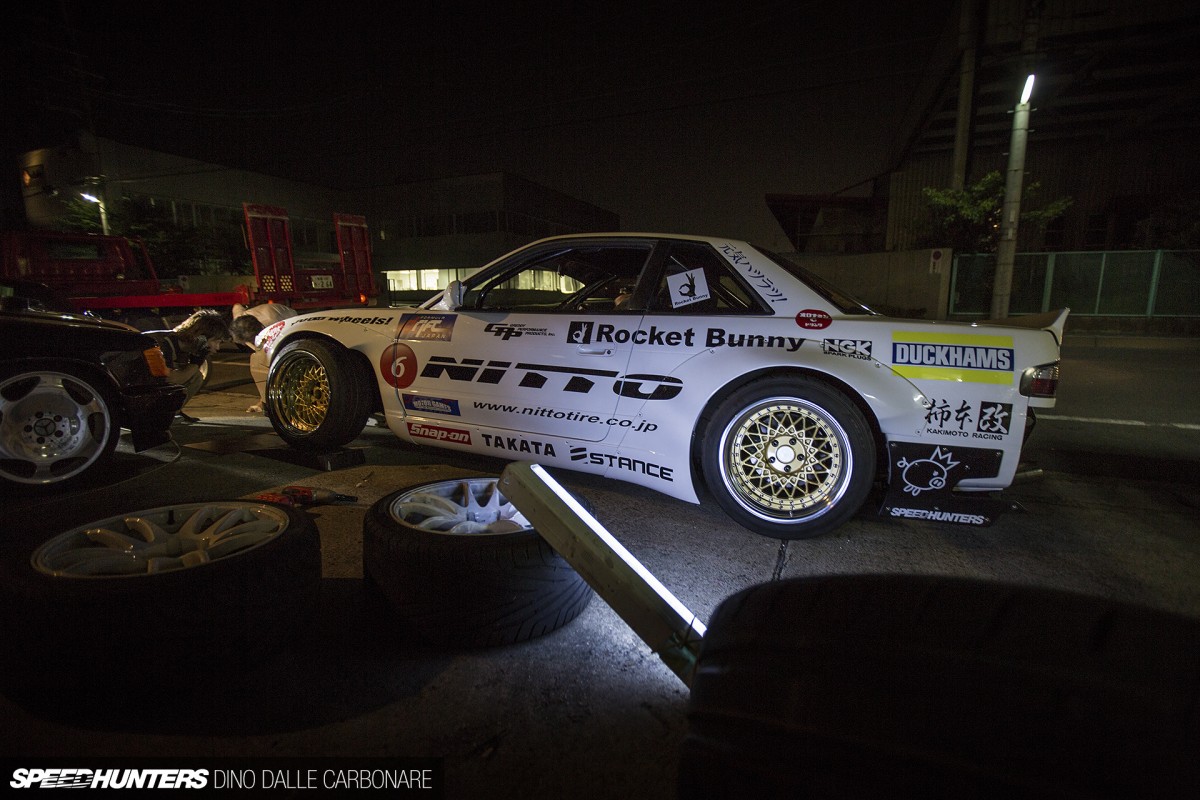 Small spacers, however, were added to the front to really exaggerate the fitment. The end result was nothing short of sensational!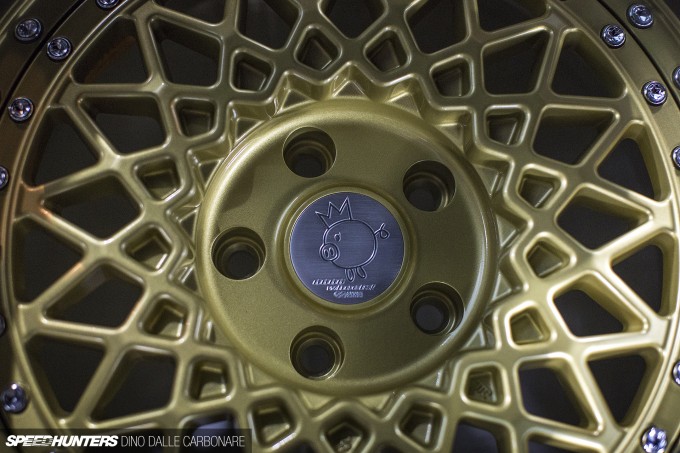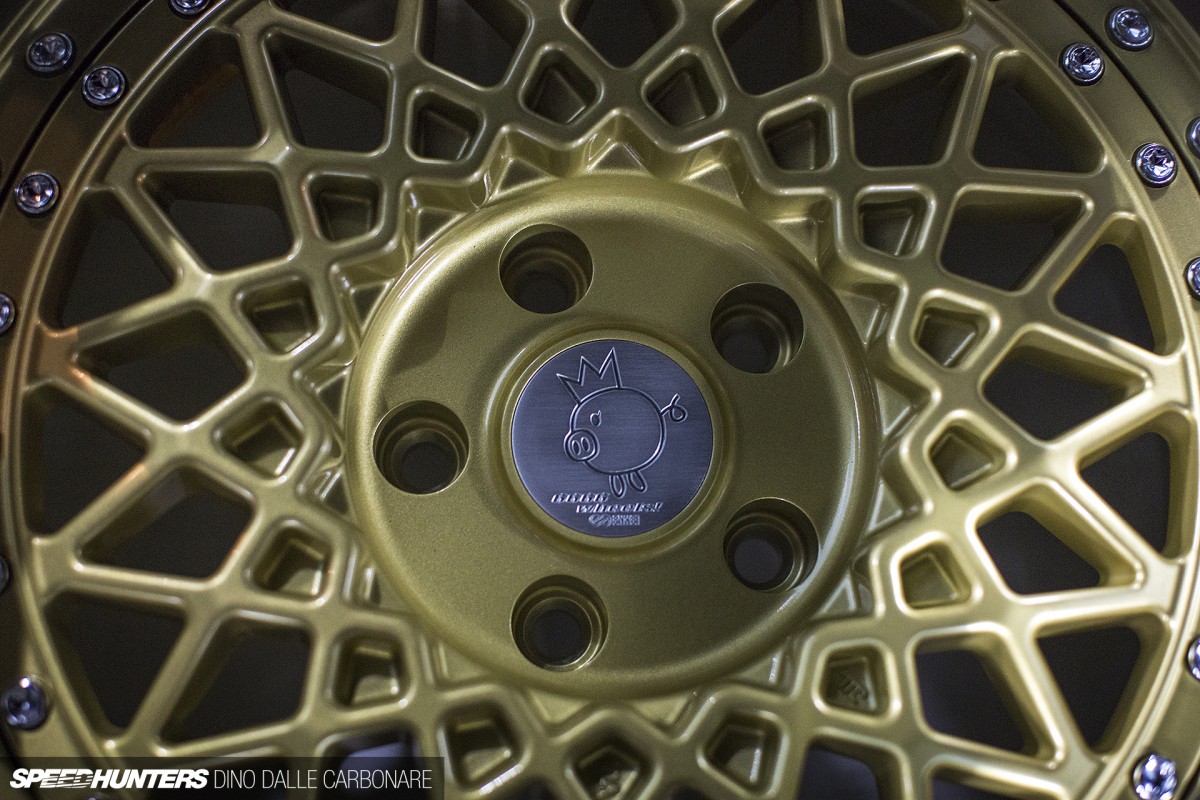 I really like the 'Four Six' pig logo on the center caps, and as for the wheel design itself – well, you can never go wrong with an old school mesh, two-piece-look design.
It's The RX-7's Turn Next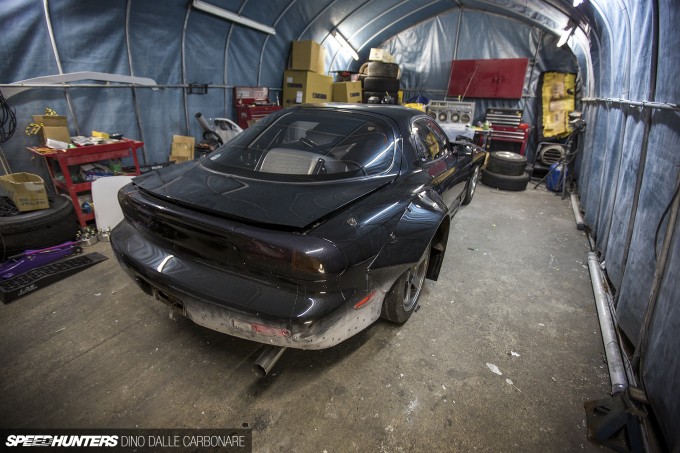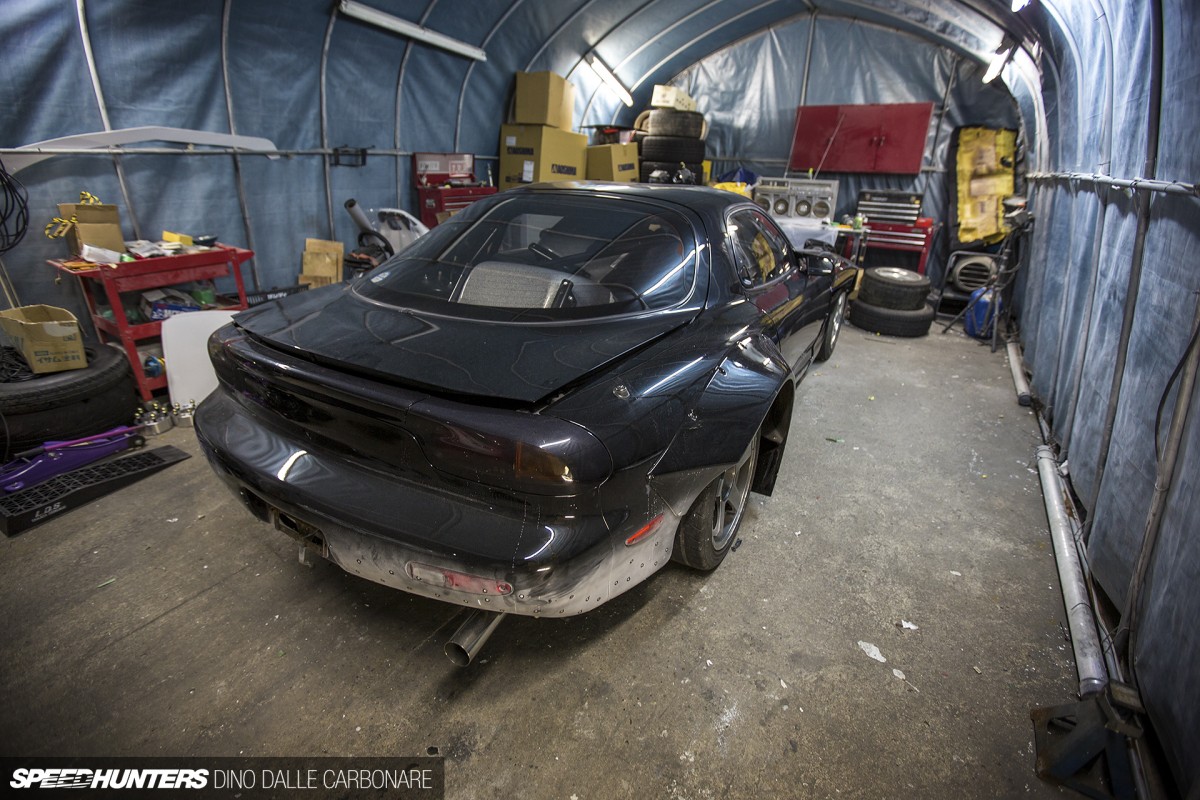 By around midnight the S13 was all finished up and ready to head over to Meihan Sportsland for a quick test in the morning. With four cars finished, it was over to the last one, which outside the shop in the tent had patiently been waiting its turn.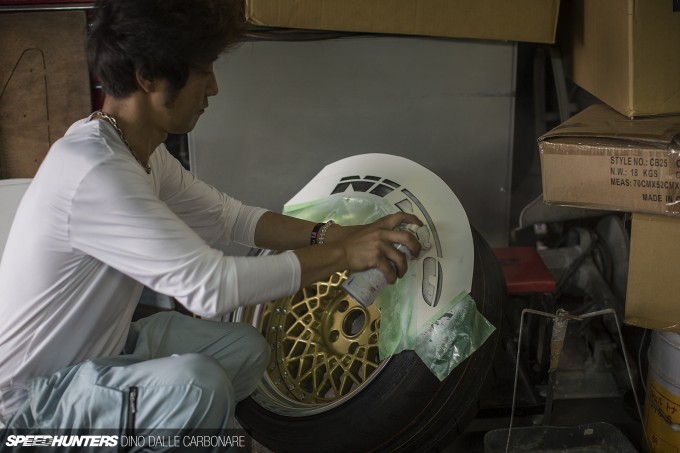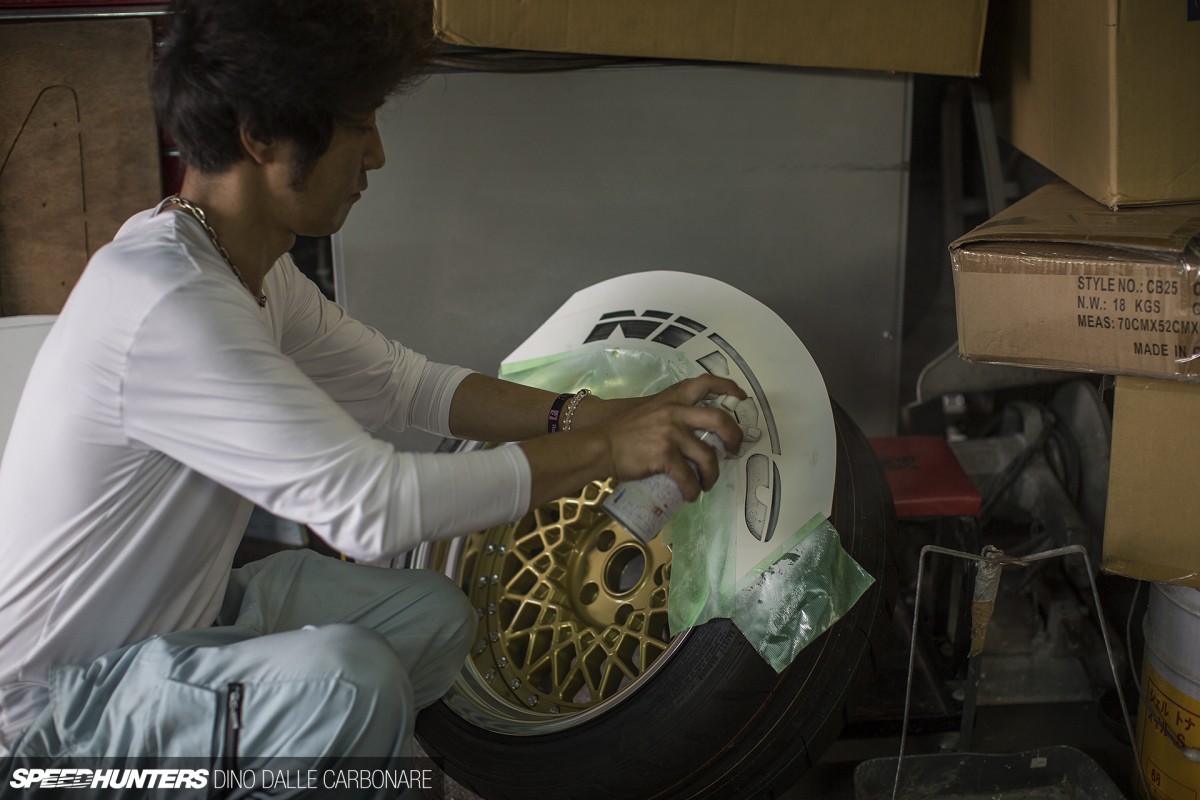 When I showed up the following day Miura had already prepared the 6666 wheels! for the FD3S RX-7; fitting the Nitto rubber and completing the look with some stenciled logos.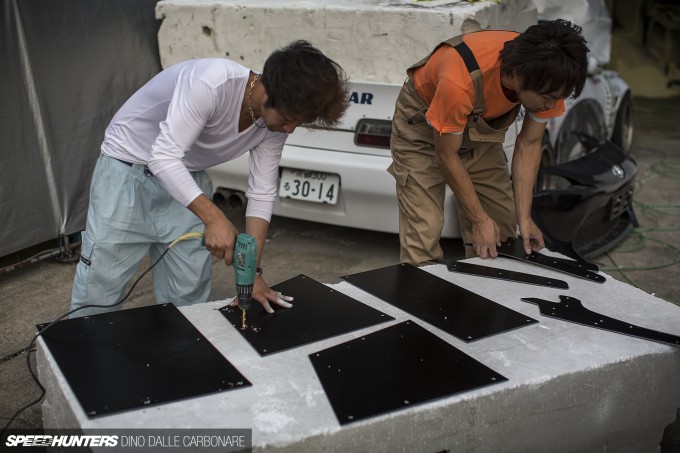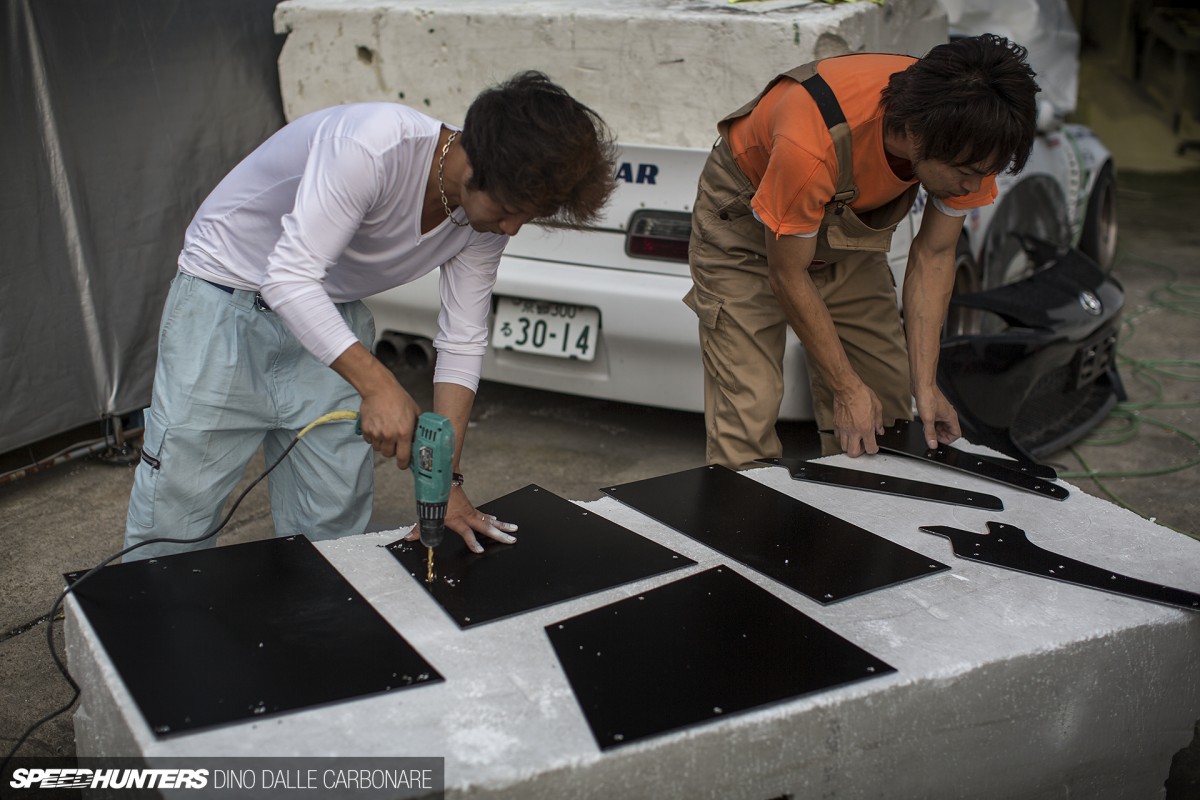 The majority of the aero kit had already been painted black and fitted a few days earlier, so the next step was to get the rear twin-plane diffuser built up. To do this Miura uses these aluminium sheets, with a fiber centre sandwiched in between.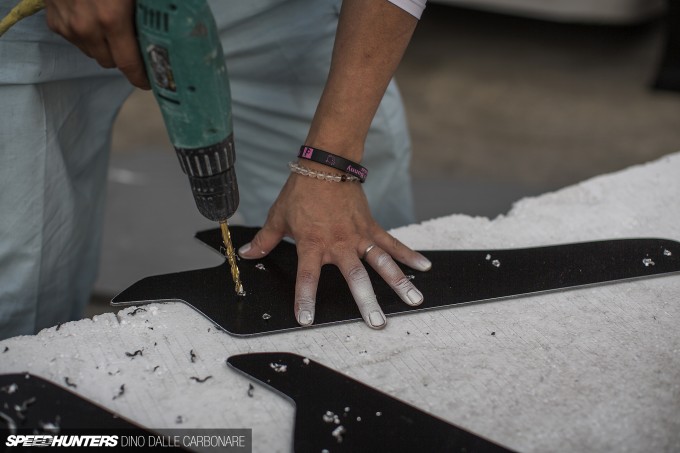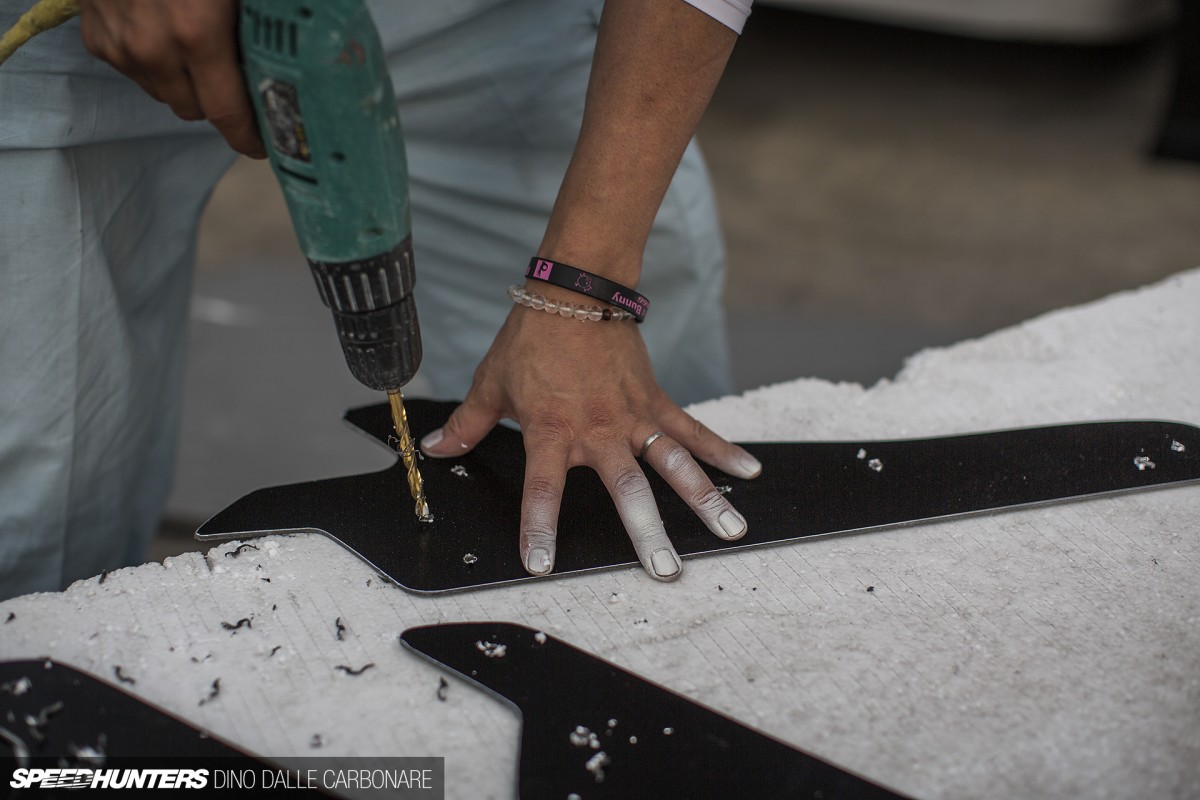 Following a 3D drawing that Miura had created beforehand and sent on his iPhone, they began piecing it all together and drilling the holes required for assembly.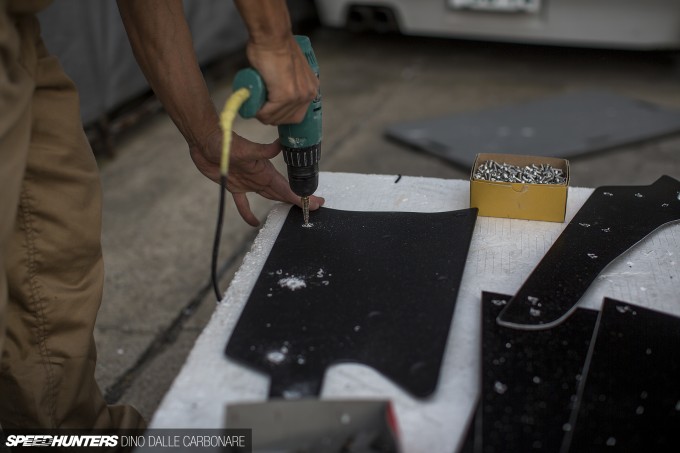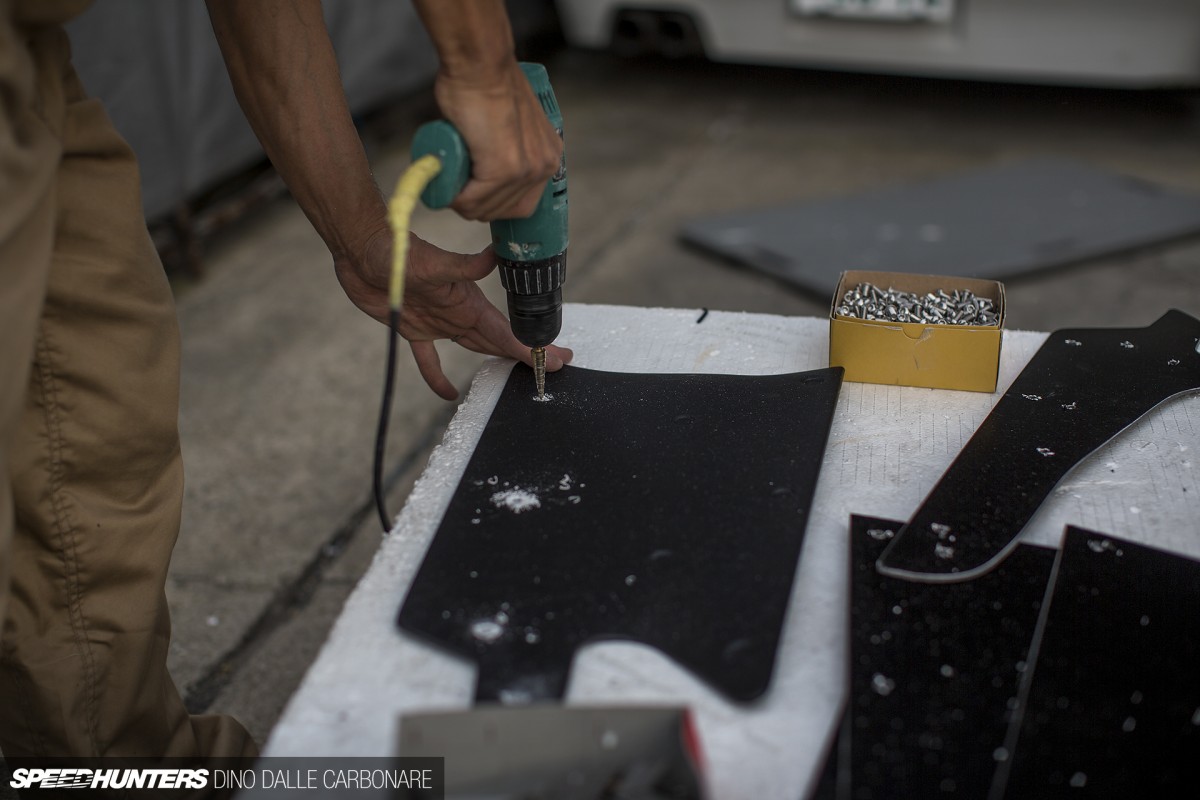 The diffuser is attached onto the rear bumper through a pair of FRP end plates, seen here being drilled with a stepped-cone drill bit.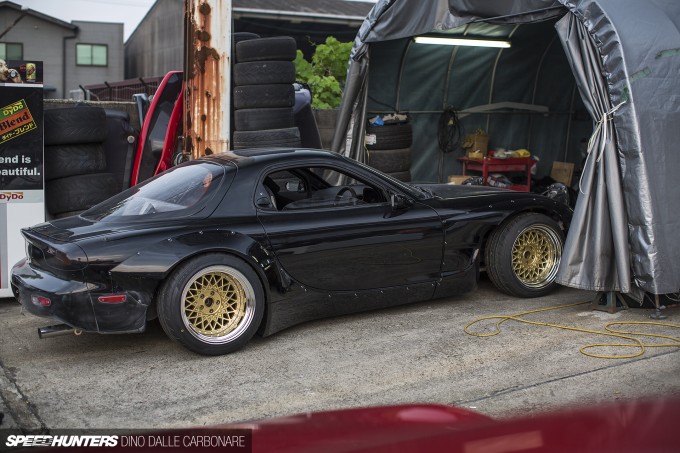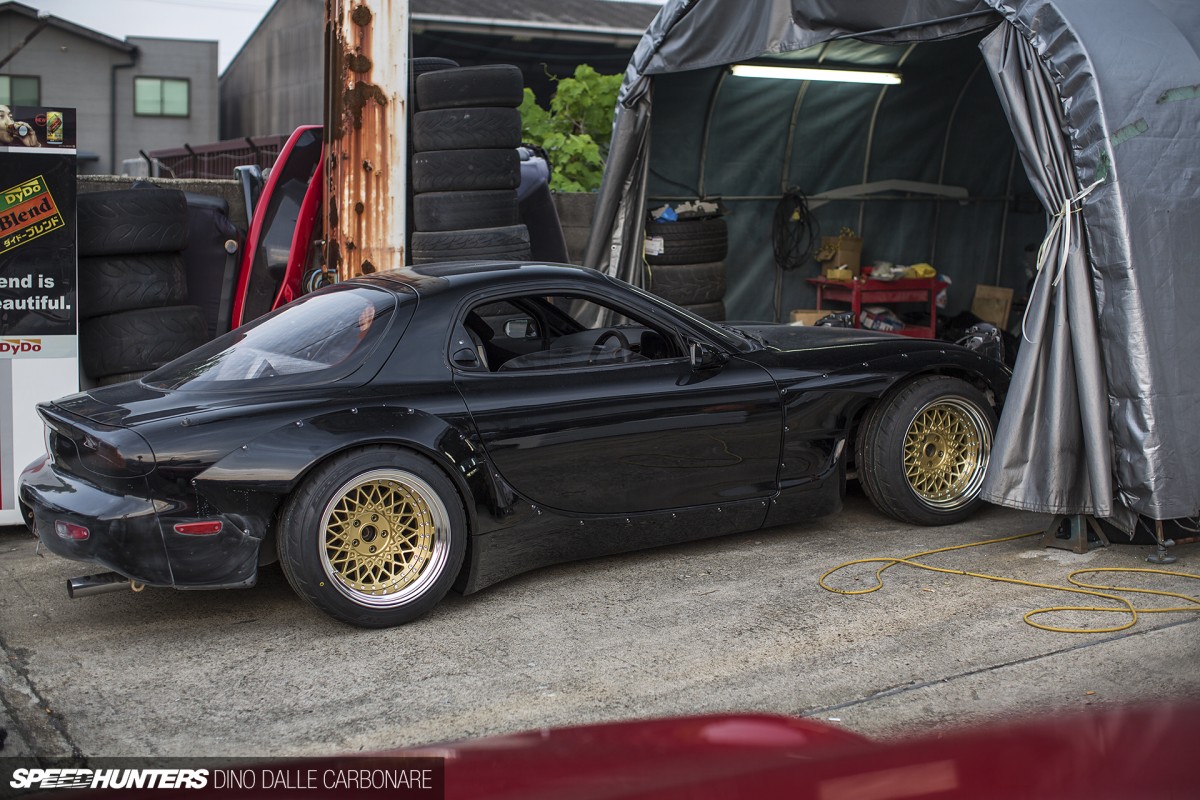 While Miura and Nakawatase were busy bolting it all together I couldn't keep my eyes off the FD. Man does this thing sit nicely! I love the choice of chunky 40-section rubber, which really adds to the old school feel.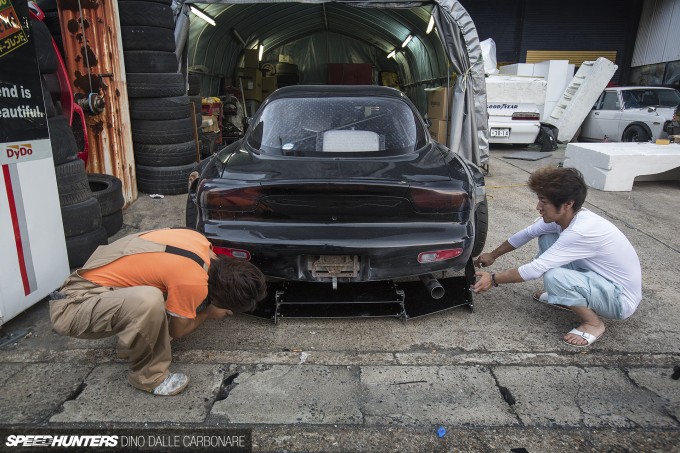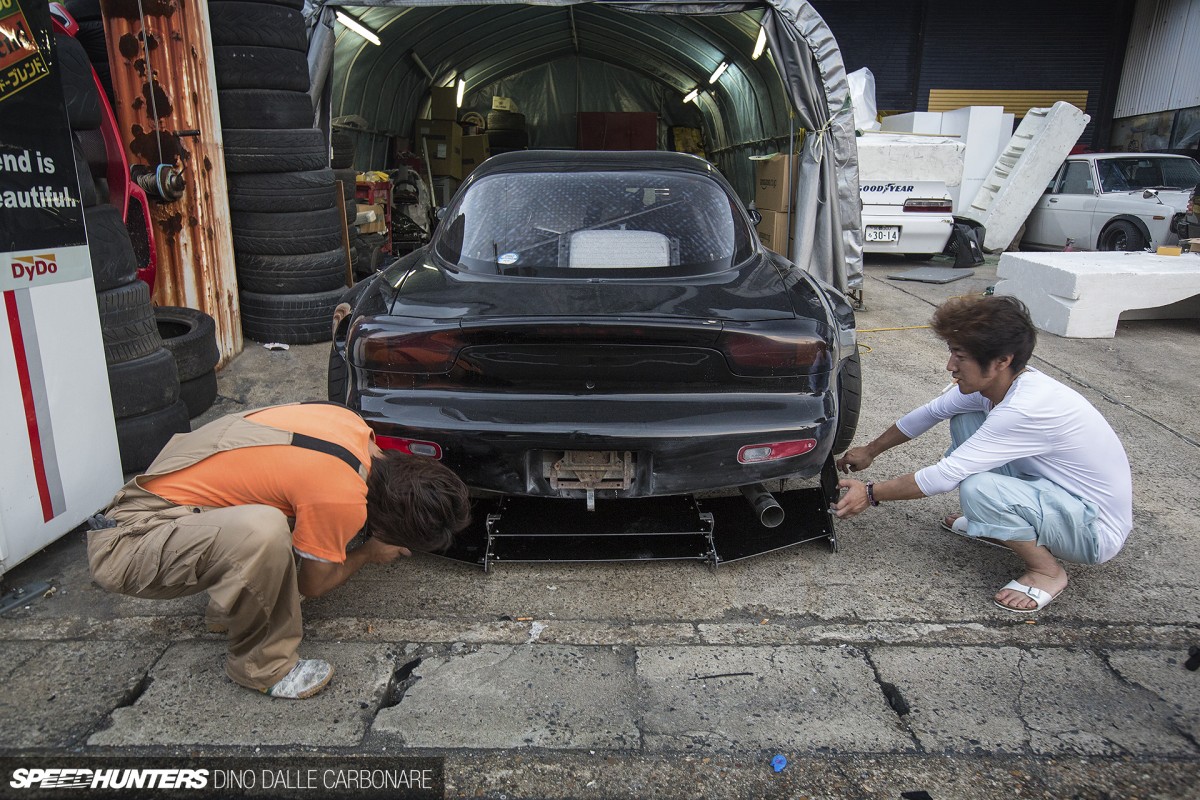 Test fitting followed to line up all the mounting brackets under the car.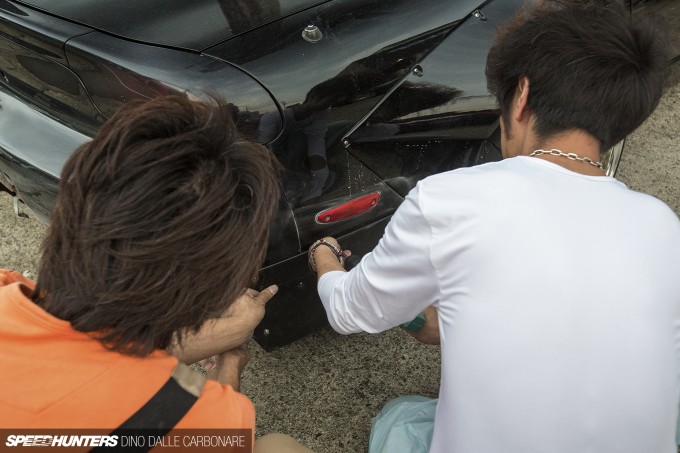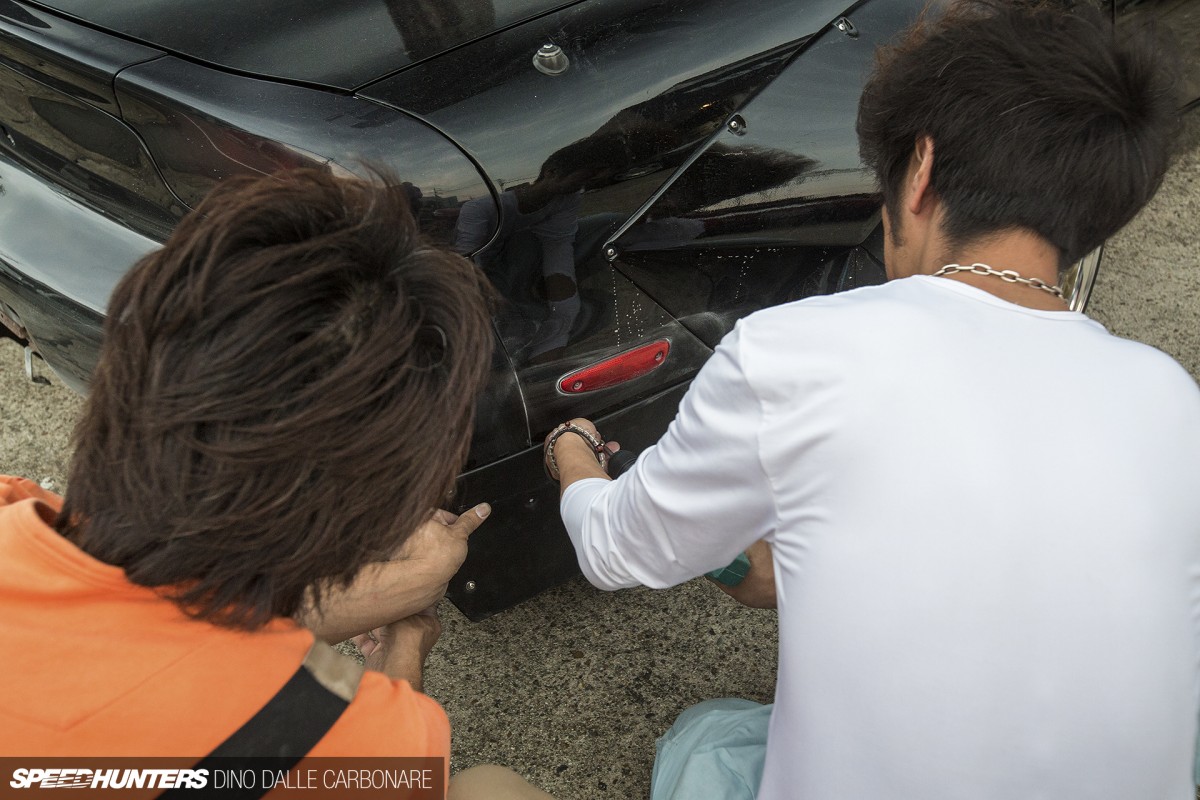 And then of course, more drilling – this time through the end plates and directly onto the bumper.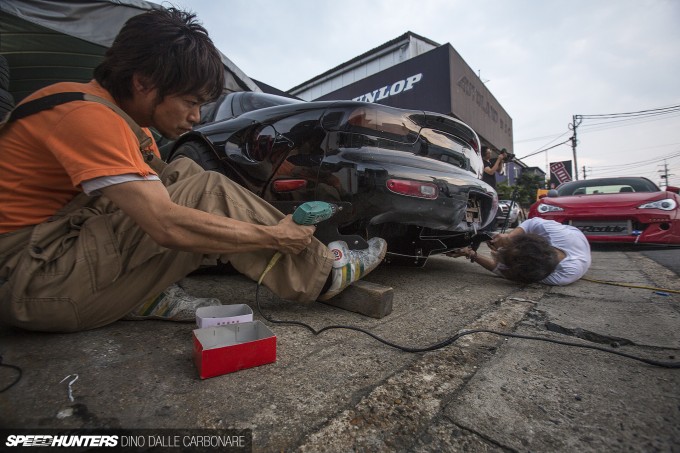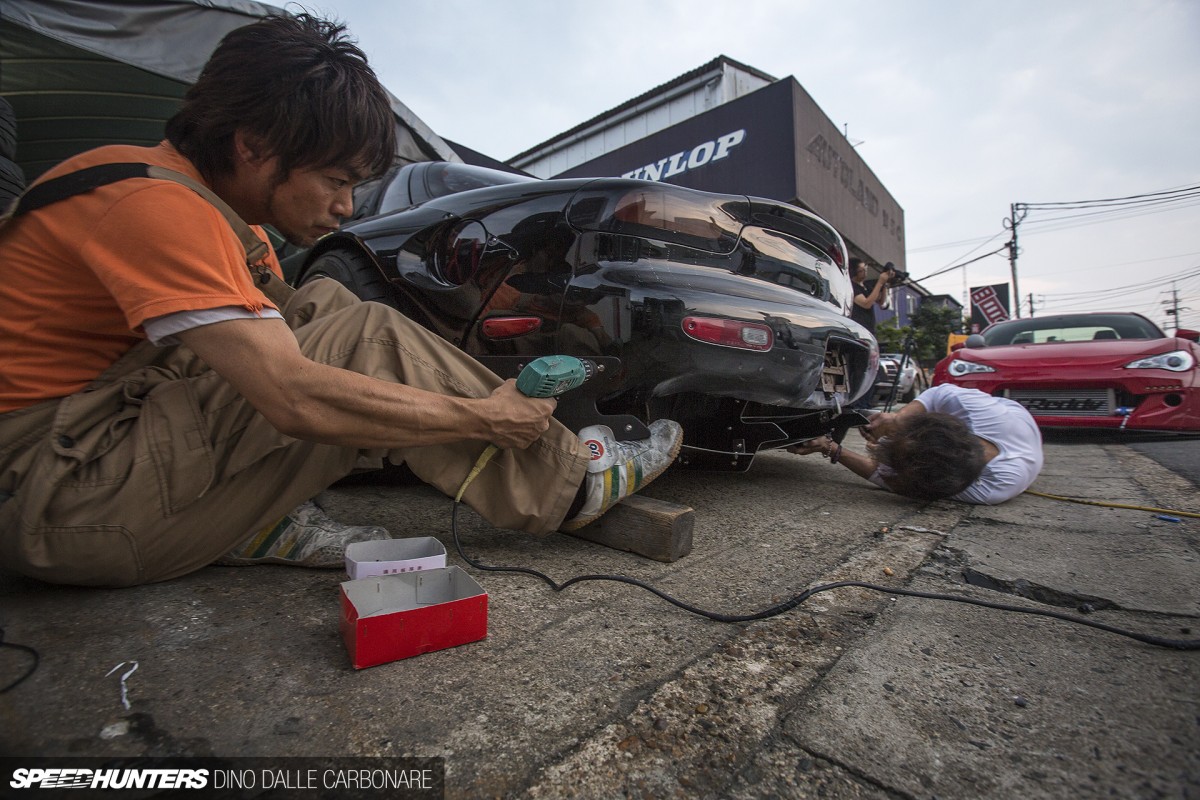 The diffuser, much like the rest of the aero, really gives the FD's rear the aggression it deserves. By now it was almost evening, and while I would have loved to stay, I assumed that it would probably be better if I just came over again the following day to see how the car was looking.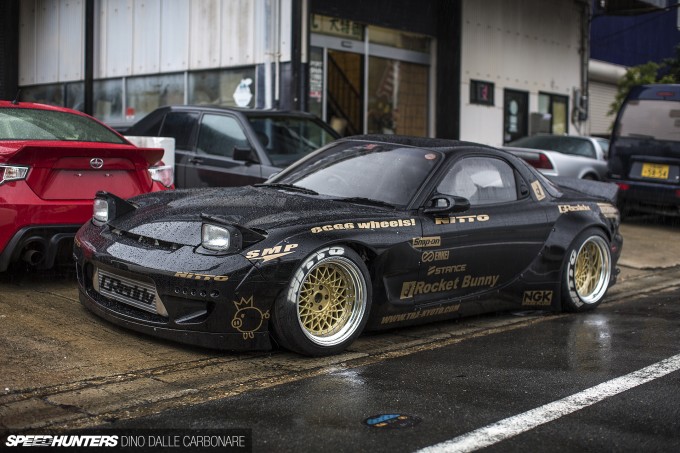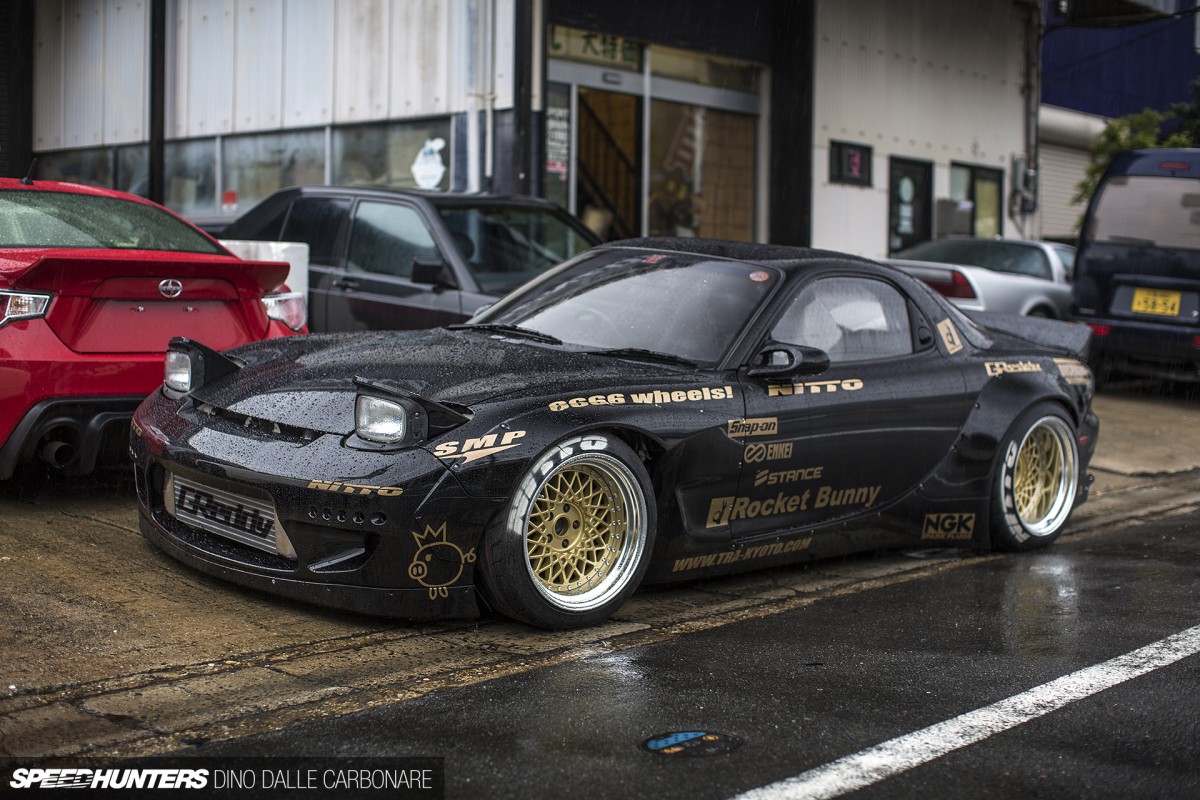 And the answer to that would be, well, simply amazing! What a transformation and the choice to go with gold vinyl for the stickers – further emphasising the centres of the gold 6666 wheels! – was absolutely spot on.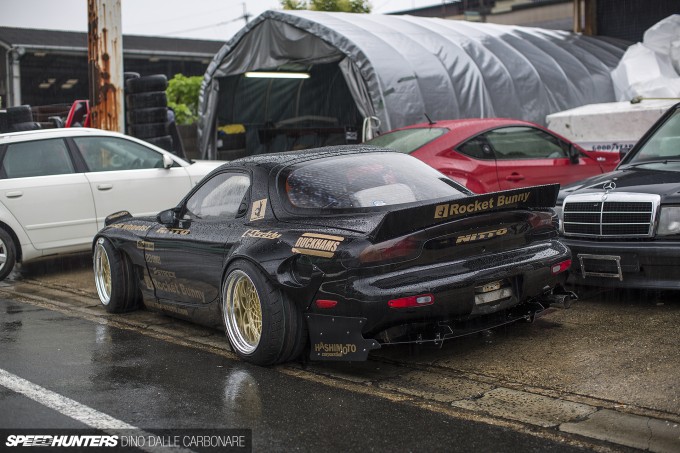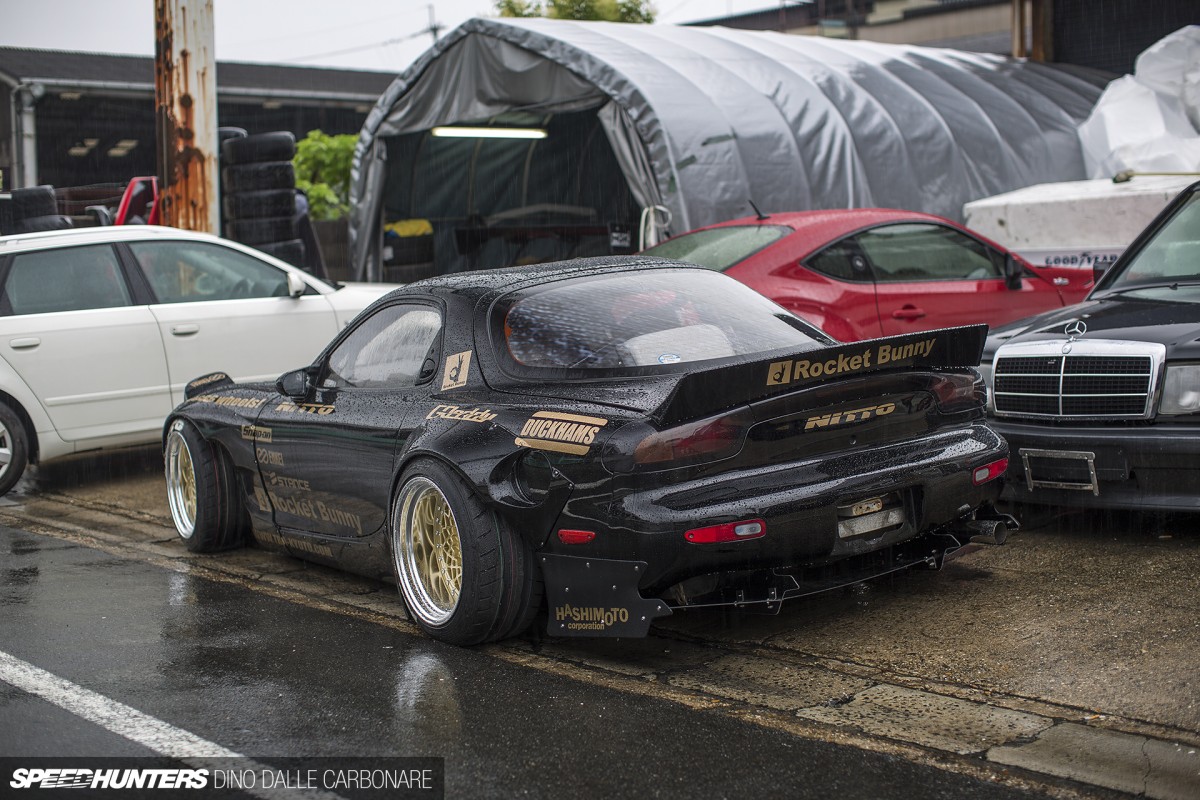 And the diffuser looked even better with the ducktail spoiler in place.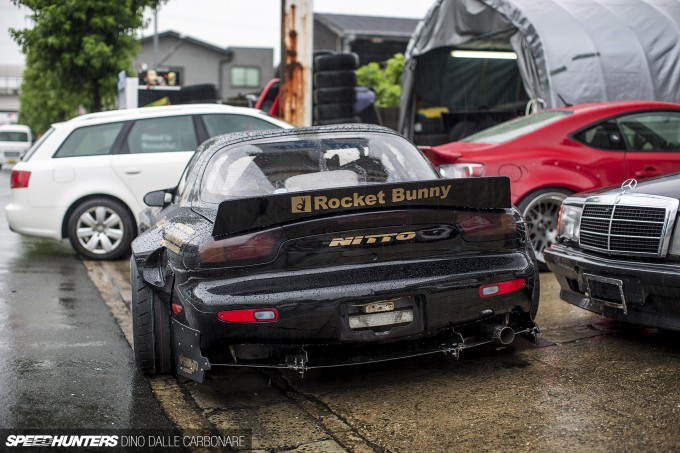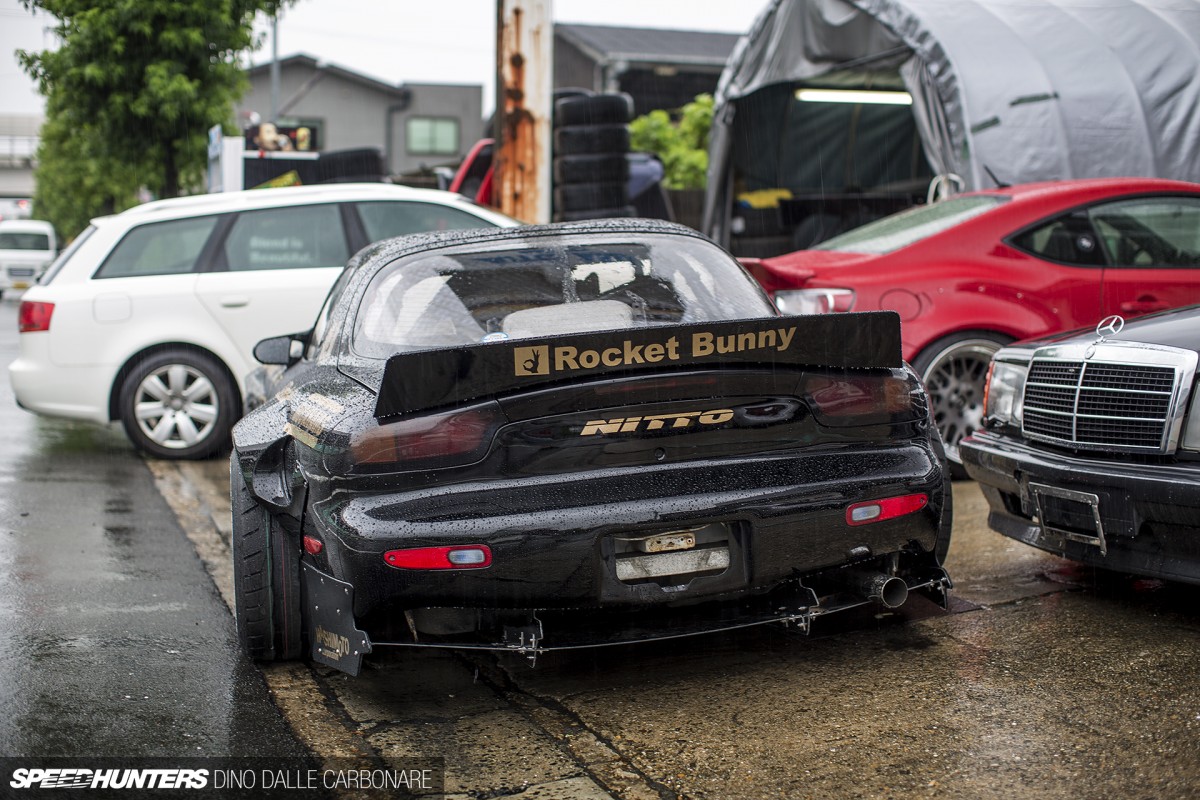 A truly menacing rear end! Shortly after these images were taken the four cars were put on the transporter and driven up to Fuji Speedway for the event, while the Stance Japan S13 headed up a day early to get some practice in before the competition. Hopefully all of this gives you a little glimpse into the dedication and sheer time it takes to get cars like this ready for big events and shows.
Dino Dalle Carbonare
Instagram: speedhunters_dino
dino@speedhunters.com