Setting the theme
When does style start to hinder functionality? Everyone probably has a different answer to this – we all have varying ways of looking at cars and of course that's a very good thing. Satomi-san, the builder… scratch that… the creator of the Volklinger S14 probably has a totally different outlook on stuff compared to me and you. However, like most things that are born out of passion, it has been a step by step process that has lead his Silvia to look like something out of a war movie.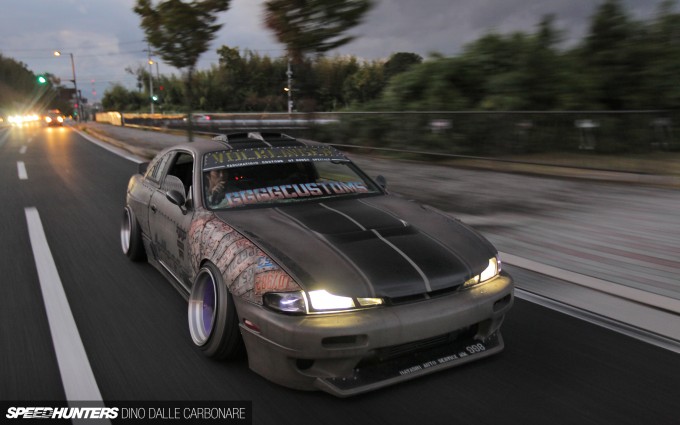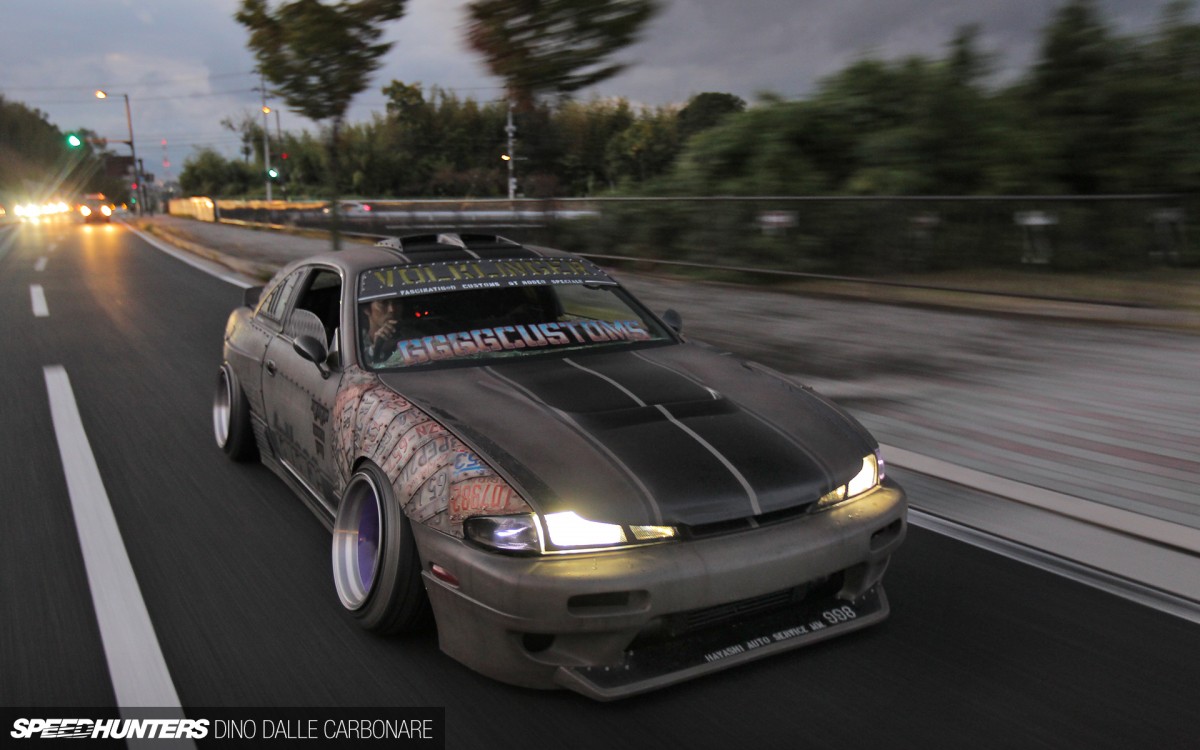 Satomi truly let his imagination run wild, bringing together a few of his hobbies: cars, drifting and plastic military models…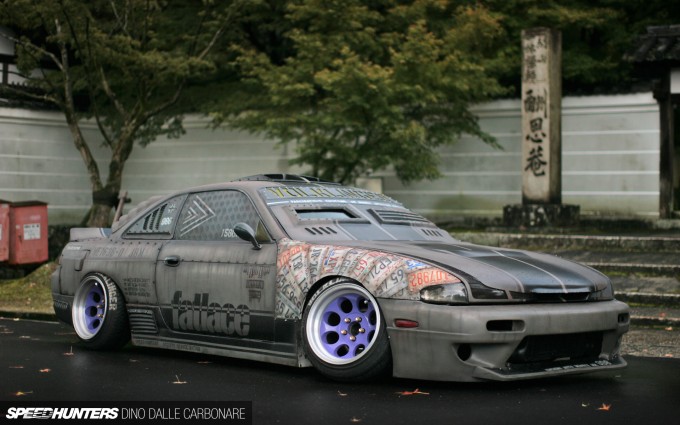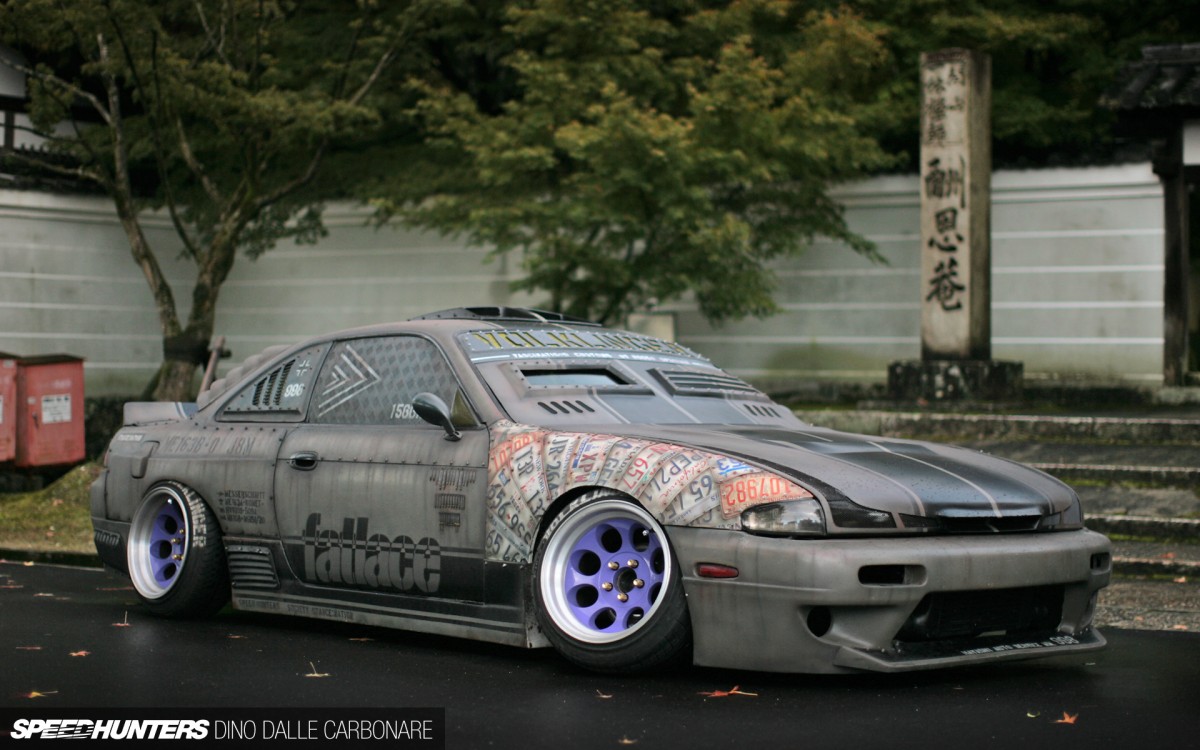 … and spicing it all up with tons of curious details. It almost looks like the car was put together in a post-apocalyptic world, where devastation led to people scavenging for whatever was left from a previous civilization. It could well be the perfect car for a remake of Mad Max – where the protagonist is into drifting!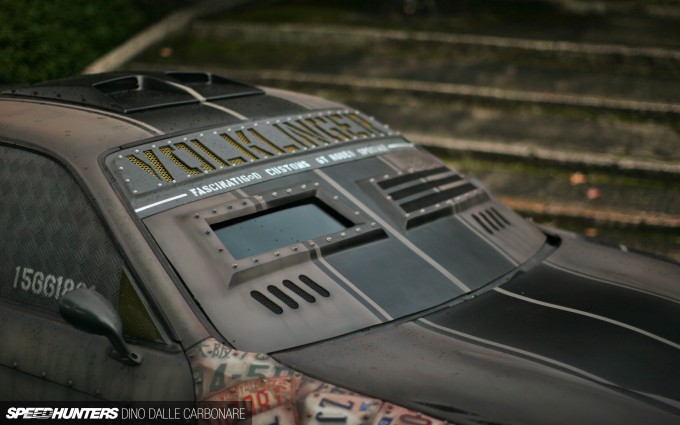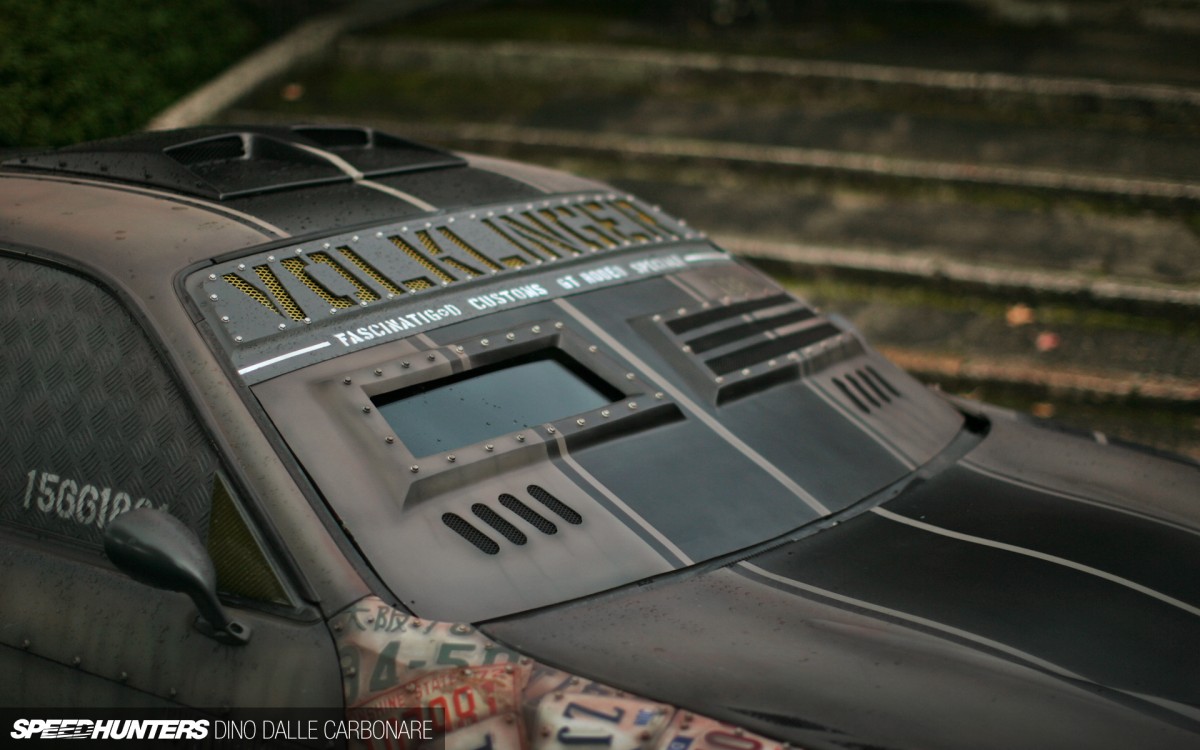 I can already hear the negativity: it's undrivable, it sits too low, it has stupid camber, it has metal in place of side glass, you can't see out of the windscreen cover. Strangely enough, there's a very good chance that Satomi didn't really build this car for outright practicality. While some may assume it's just a way to raise the middle finger to society or to make a point, the truth couldn't actually be more humble – he just wanted to do it for a bit of fun, for himself, to see just how far he could take the whole military theme.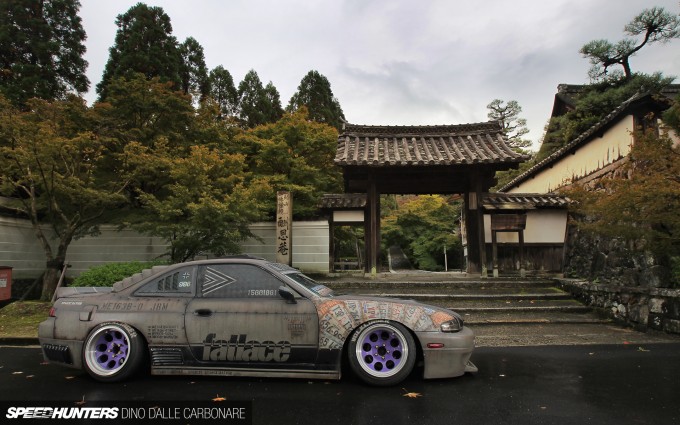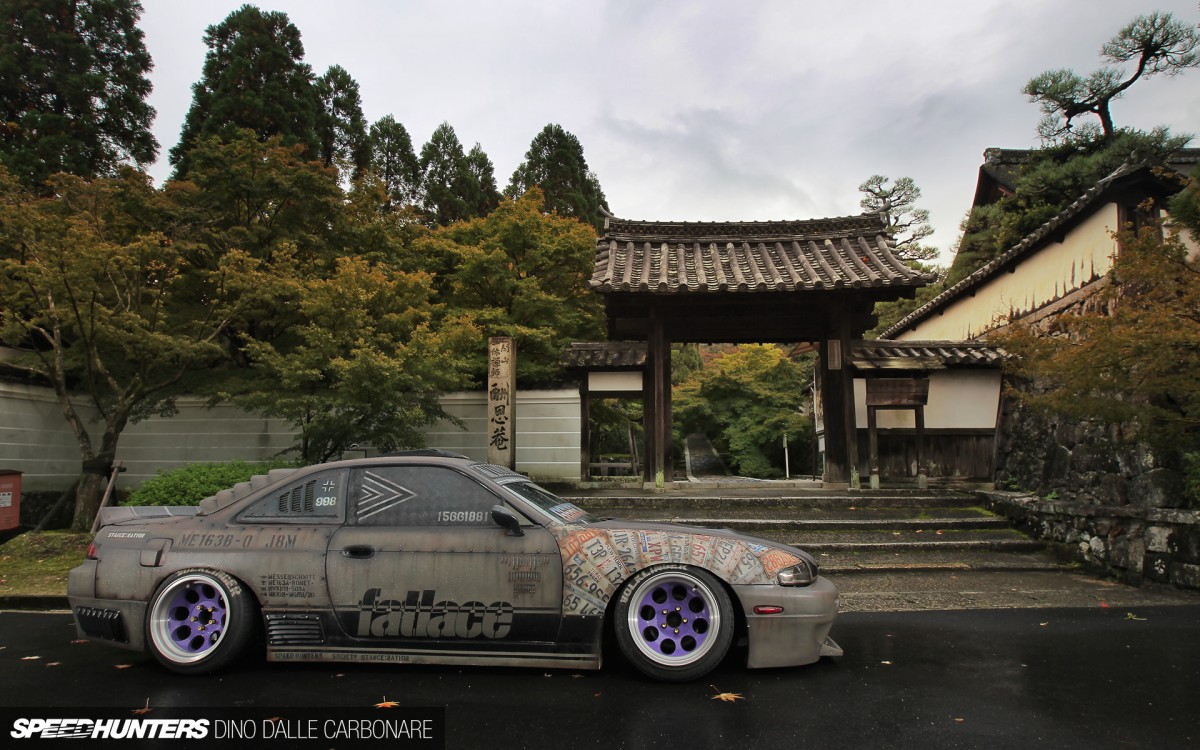 And while doing so he never sacrificed the car's true purpose, and that was to be his weekend drift car.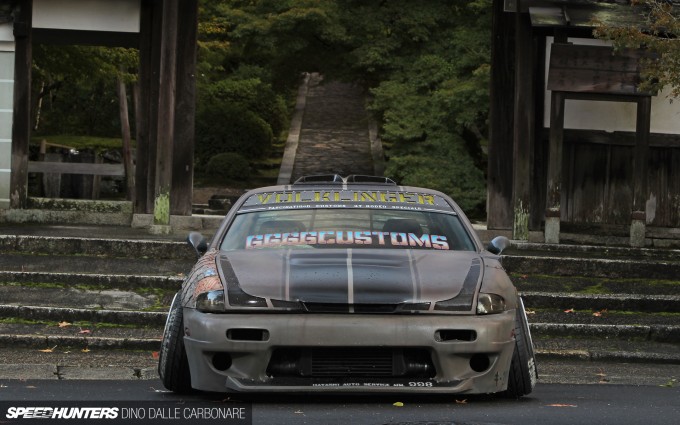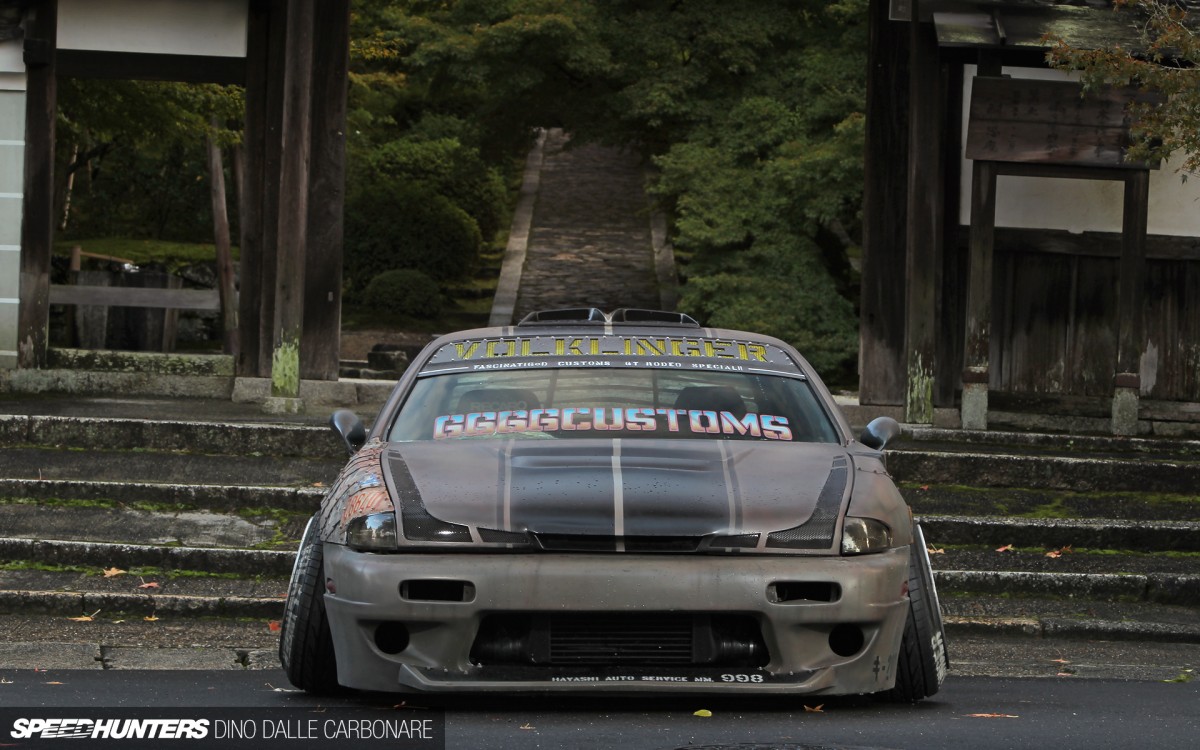 So with temporary plates in hand, Satomi was able to meet me right outside Ikkyu Temple…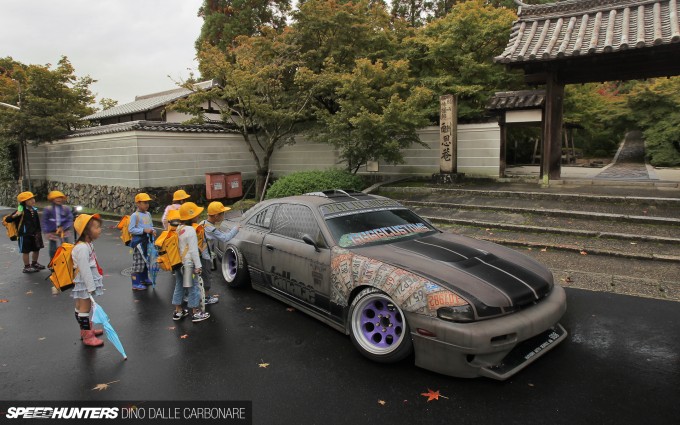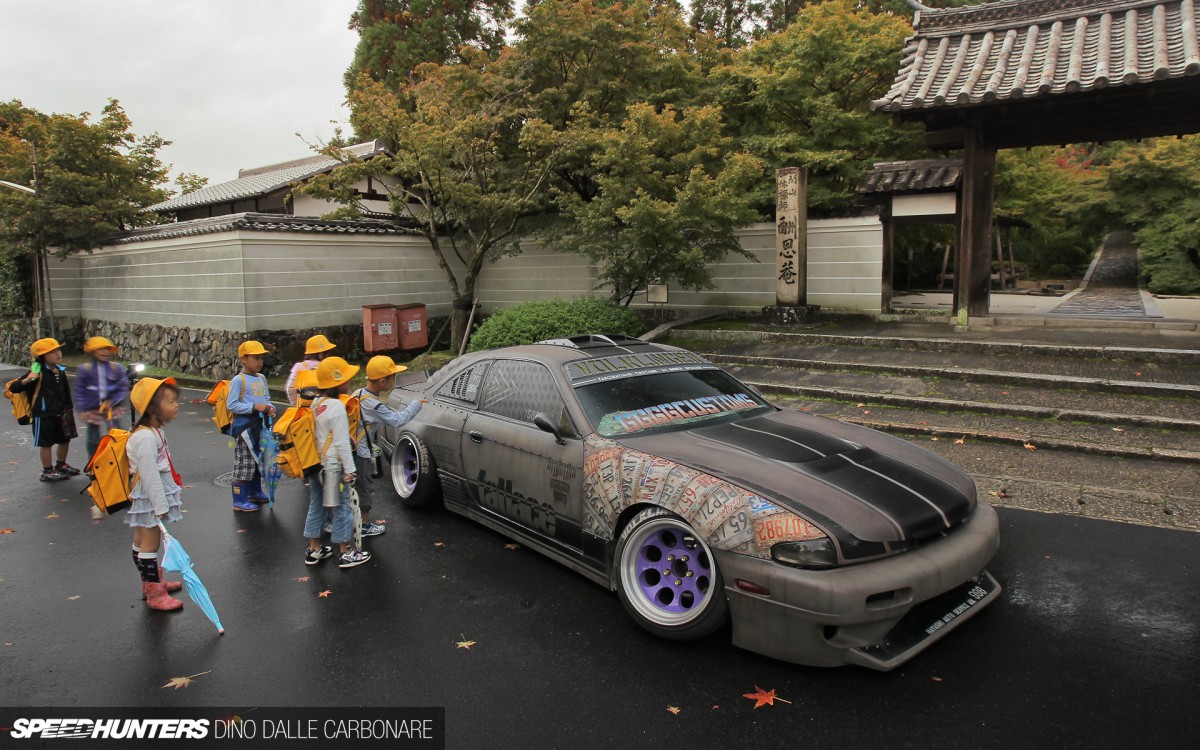 … in the outskirts of Kyoto, a rather fitting background given the sheer contrast of the subject at hand. A passing hoard of elementary school kids instantly swarmed around the S14 to get a closer look and ask what it was.
The details tell the story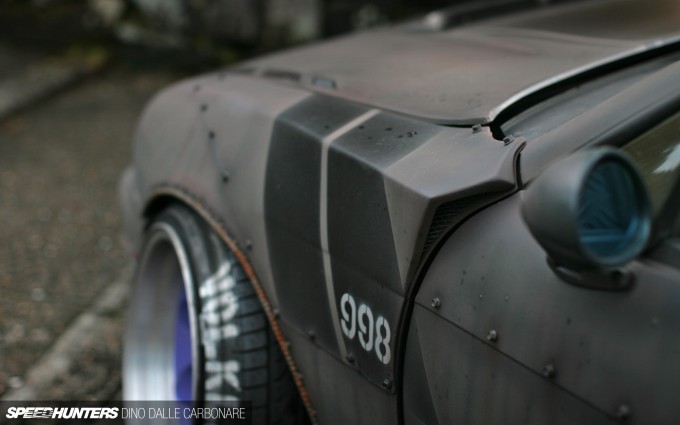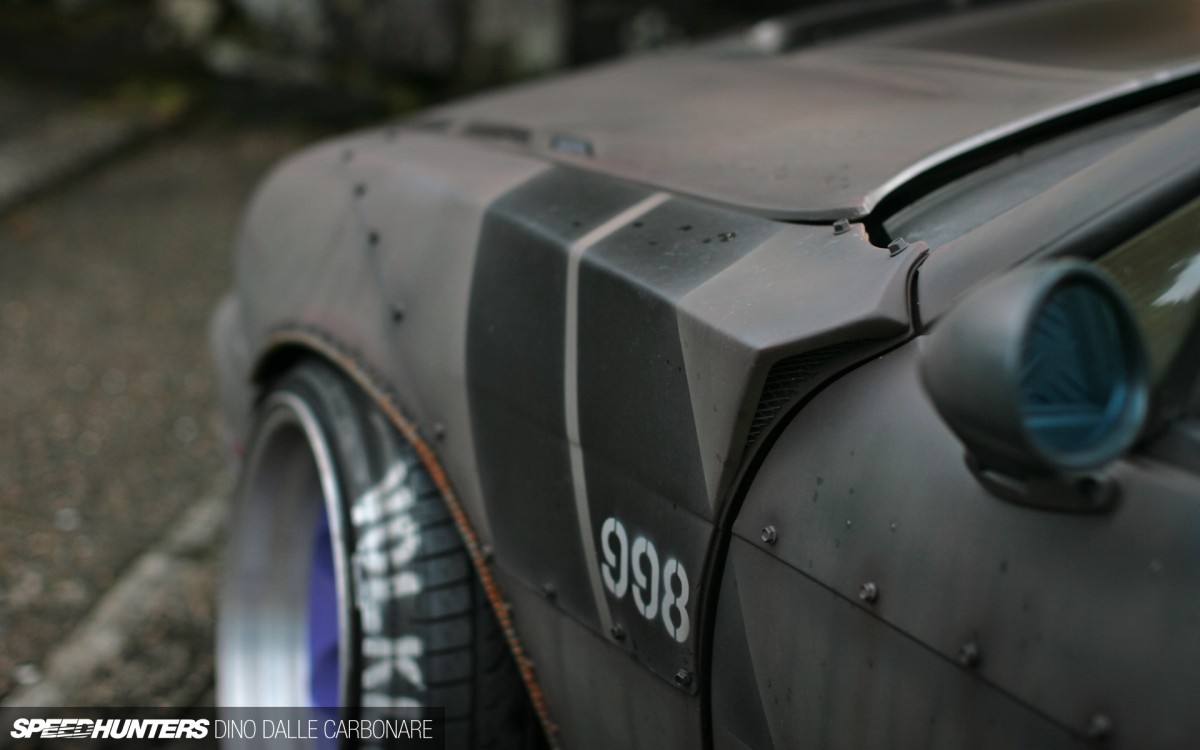 You may have spotted that the base aero kit that Satomi chose for the conversion is TRA Kyoto's 6666 Customs wide body kit, setting the feel for the rest of the mods that were planned.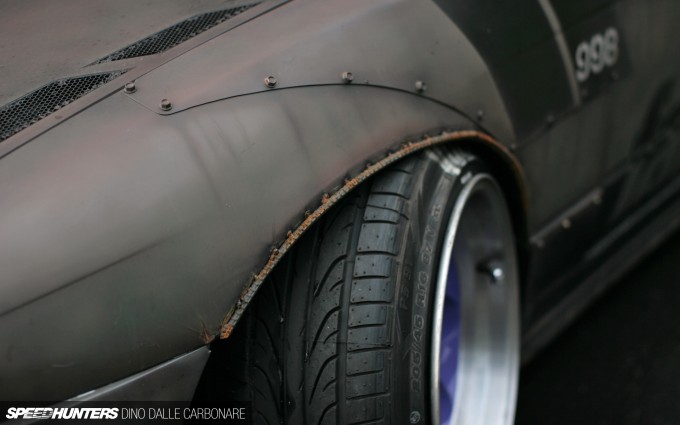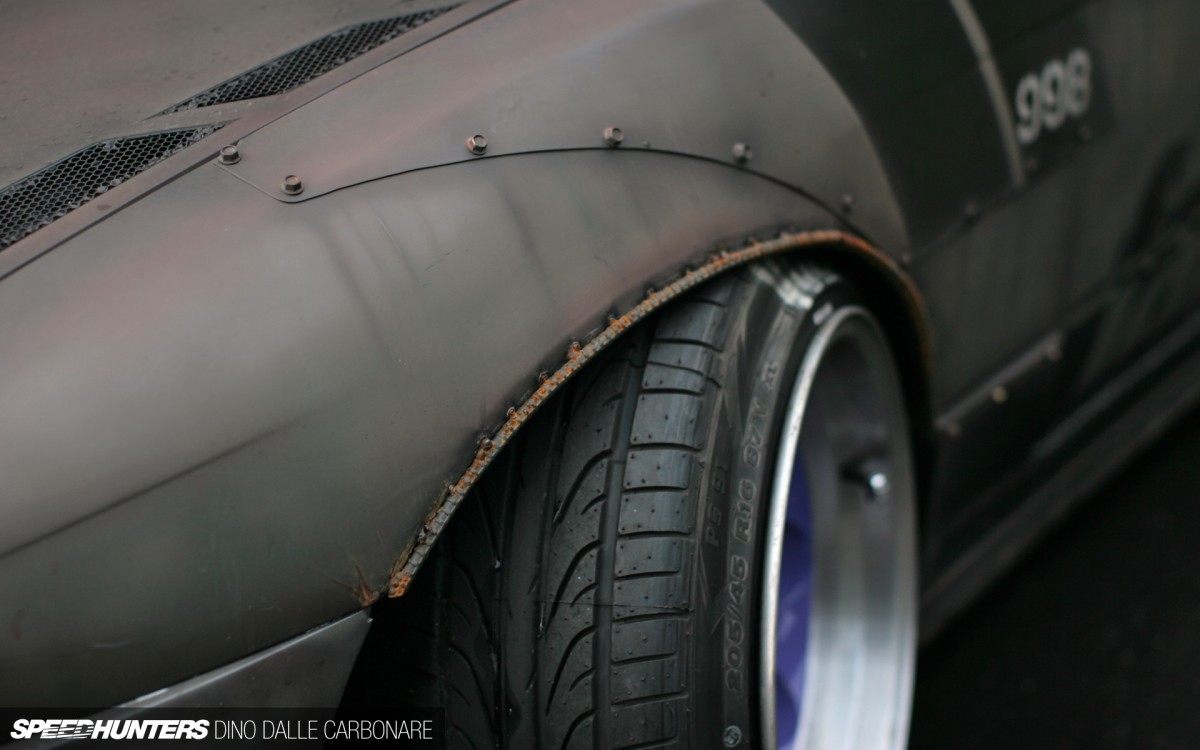 There's so much to see as you walk around the car. Like the iron bars that are used to armour cement – here cut, bent and tacked on to one of the front fenders. The other fender as you've already seen has been covered in American license plates, bent and welded in place as a sort of armour.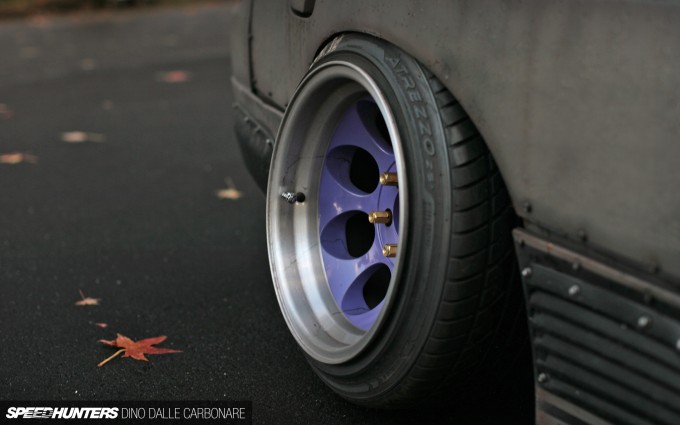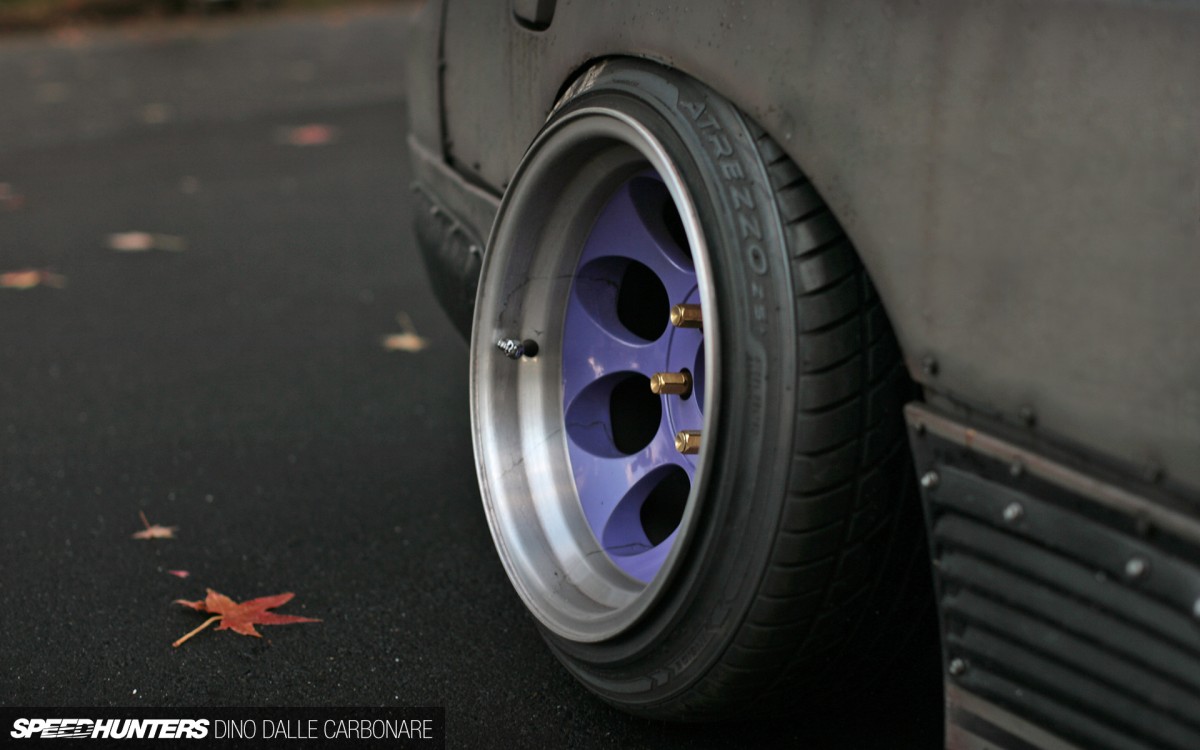 The car runs Trust adjustable coilovers that have allowed the car to sit as low as possible on the custom painted set of Mickey Thompson Classic II rims, fitted in the same 10Jx16″ size all round and running Pinso rubber, a Japanese drifter's top choice for remarkably affordable tires to smoke. Some trick suspension arms up front are there to give the wheels plenty of negative camber, the either you understand it or hate it onikyan – or demon camber.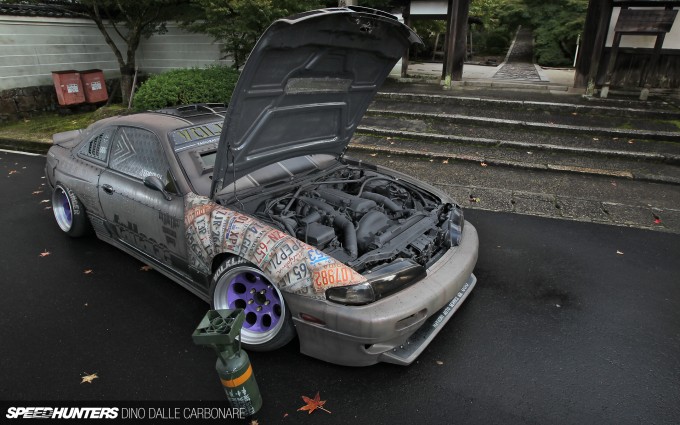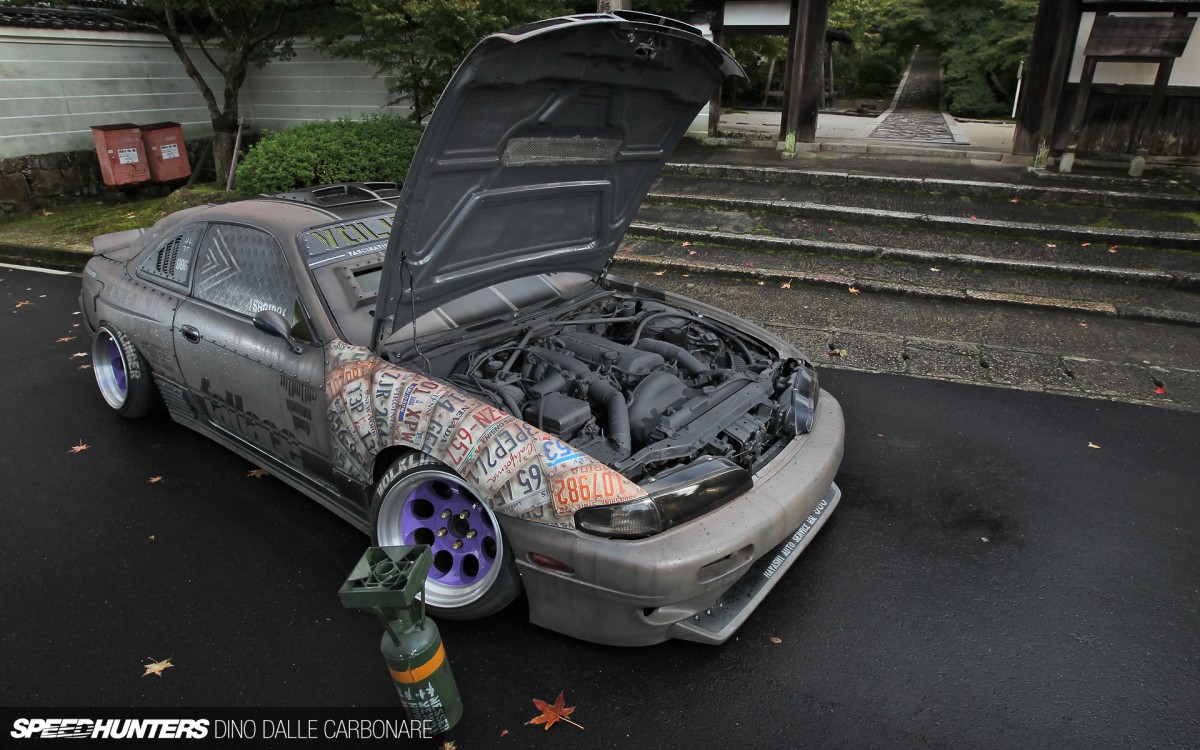 Satomi carries a few accessories in his trunk, props that he uses when displaying the car at track events or at shows, items that on top of the cut bomb shell…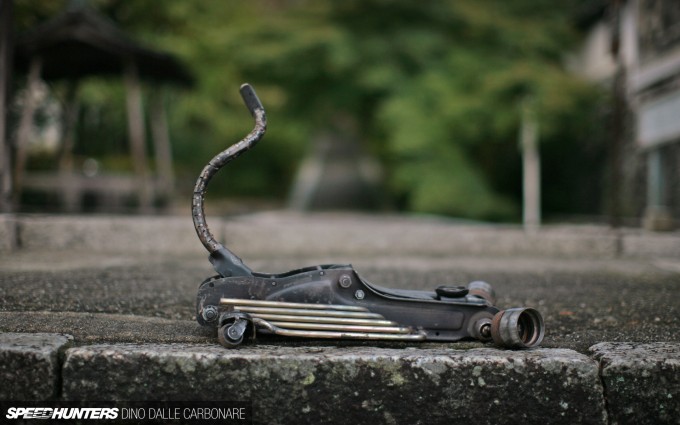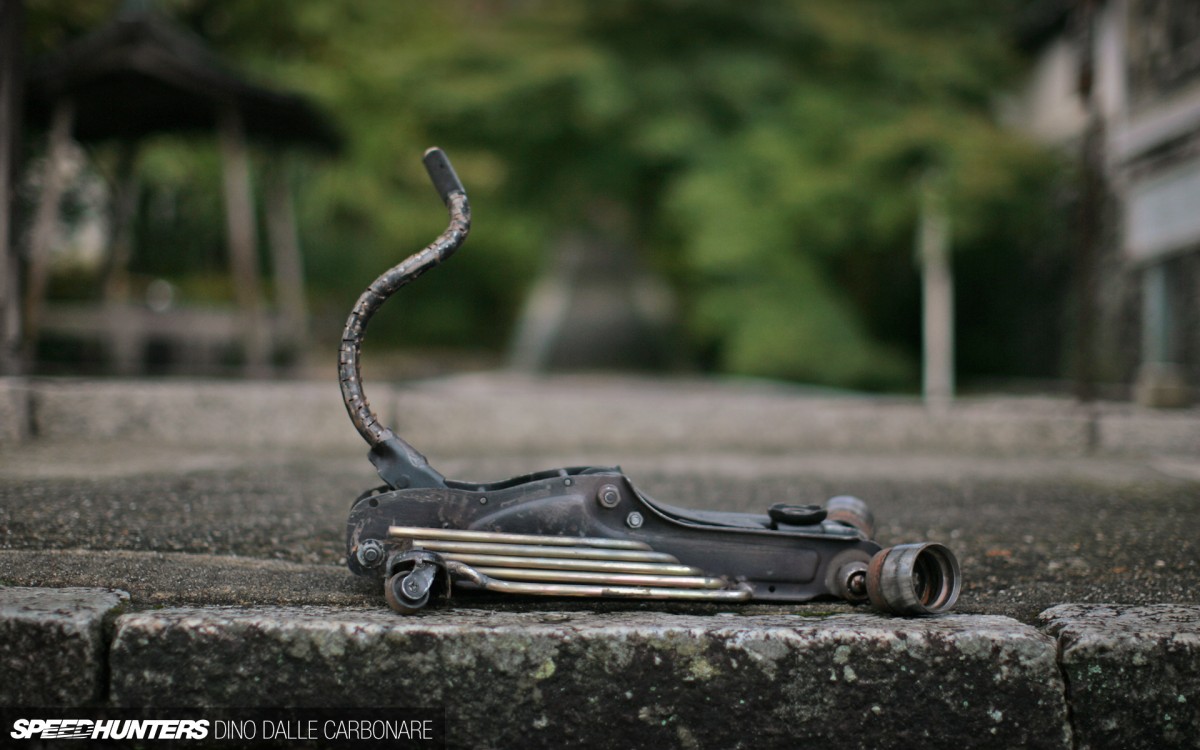 … include a slammed jack of his own design!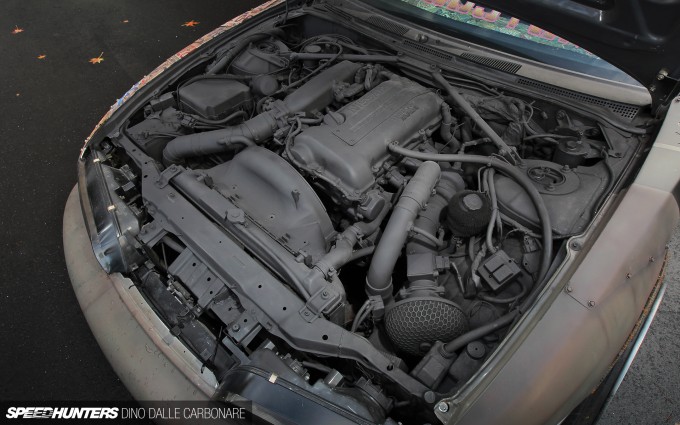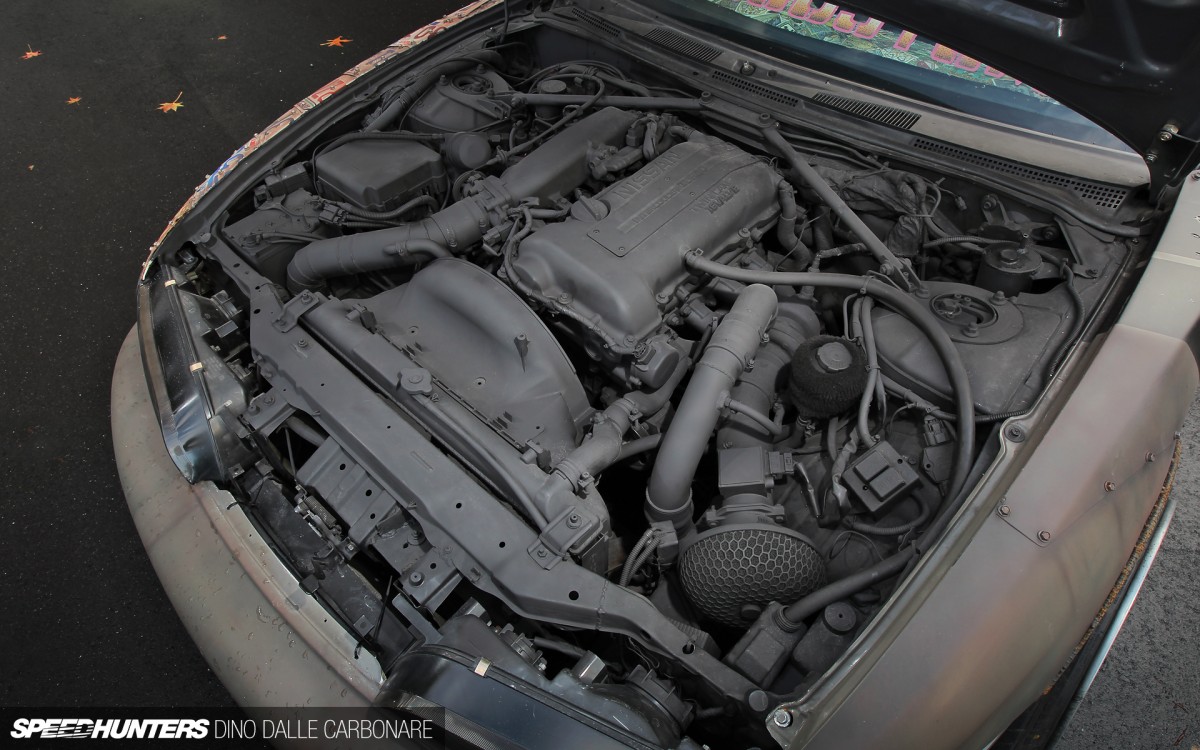 The engine room has been finished off in what can only be described as a Stealth Bomber look, each and every single component, pipe, hose, cable…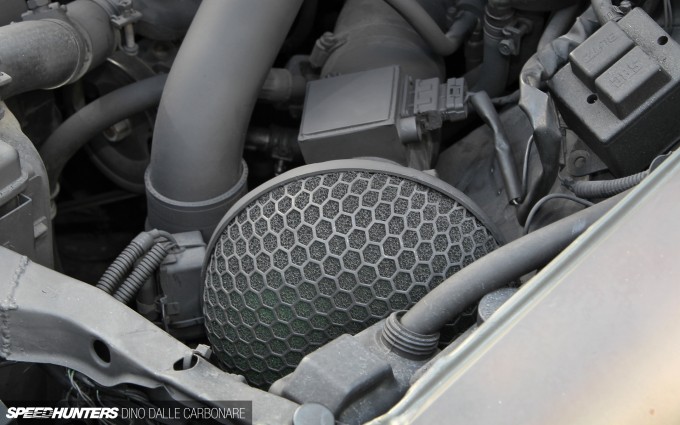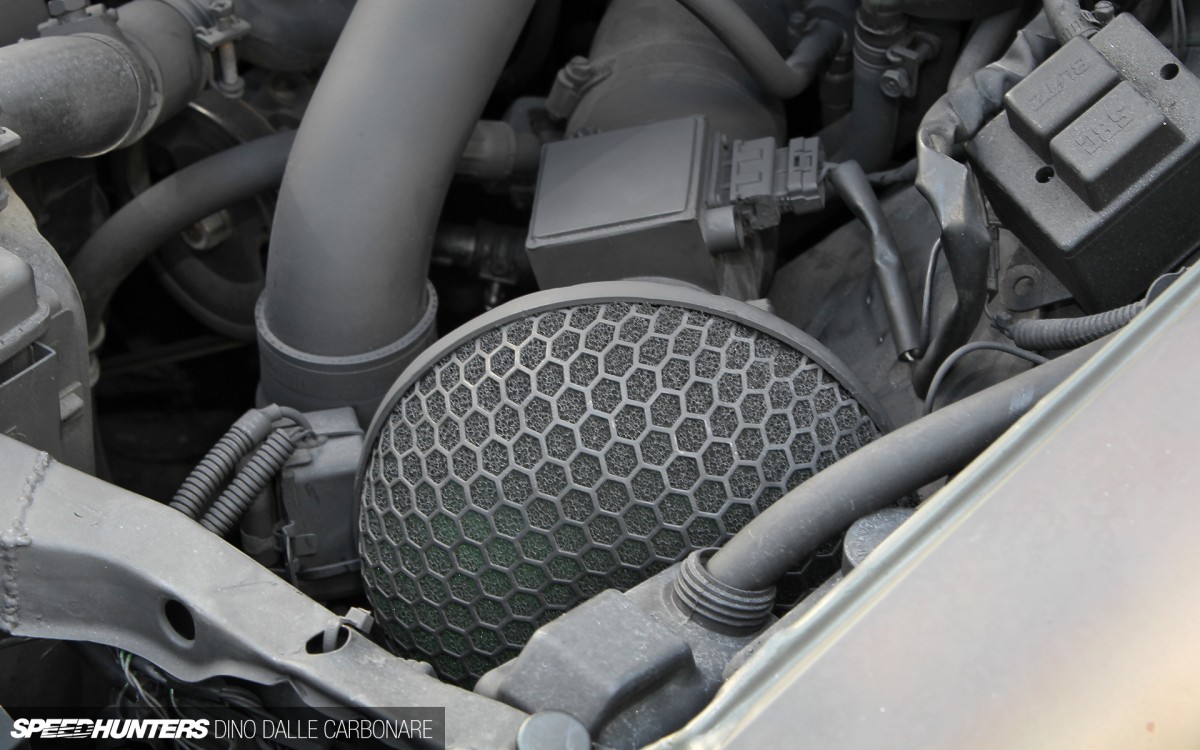 … and even filter sprayed in flat black. Underneath all that hides a slightly massaged engine, set up for a bit of extra power for those especially challenging and potentially fast tracks. The SR20 head cover has been removed and a set of Tomei 256-deg cams dropped in, a good match to the Trust TD06 turbo that is low-mounted on a GReddy exhaust manifold. Custom piping connects everything up and thanks to a well programmed Apex Power FC, Nissan's four-banger is able to churn out a healthy 400hp. So there goes the 'all show and no go' comments out the window.
Cans of flat black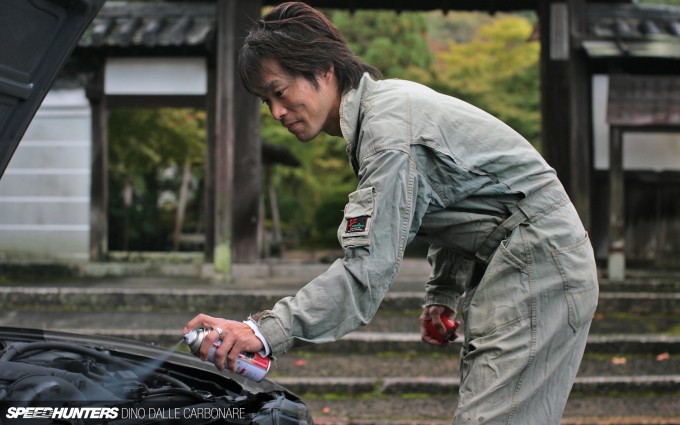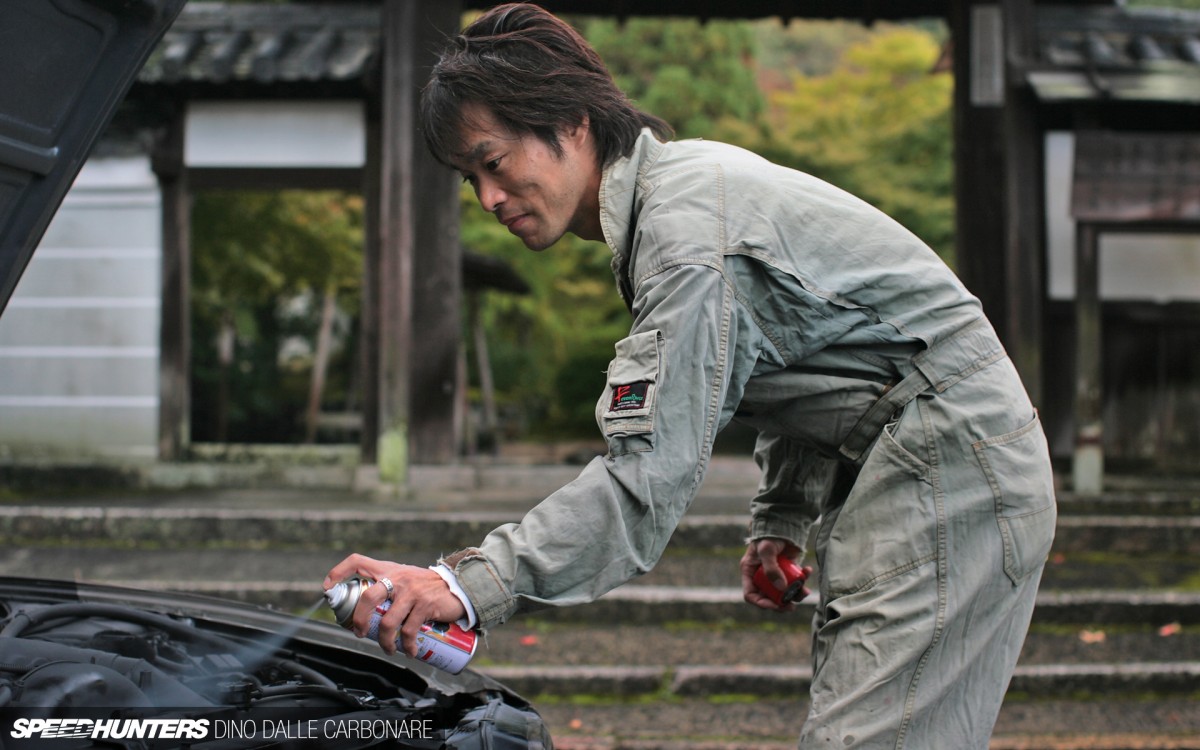 What really cracked me up is that Satomi carries a few cans of flat black in his trunk, just so that every once in a while he can freshen up areas of the engine bay that may have started to look a little dull. He just sprays it everywhere!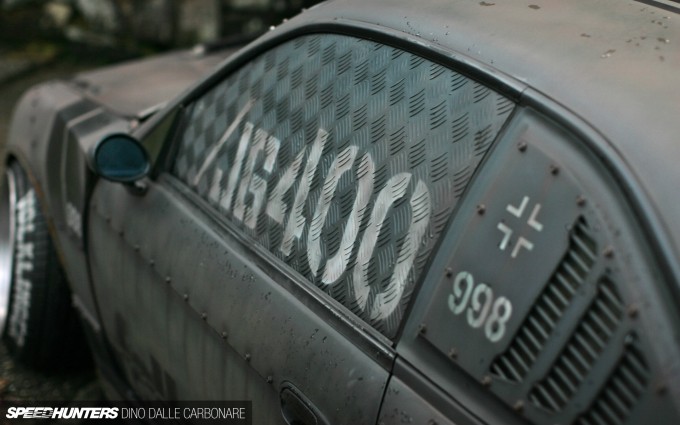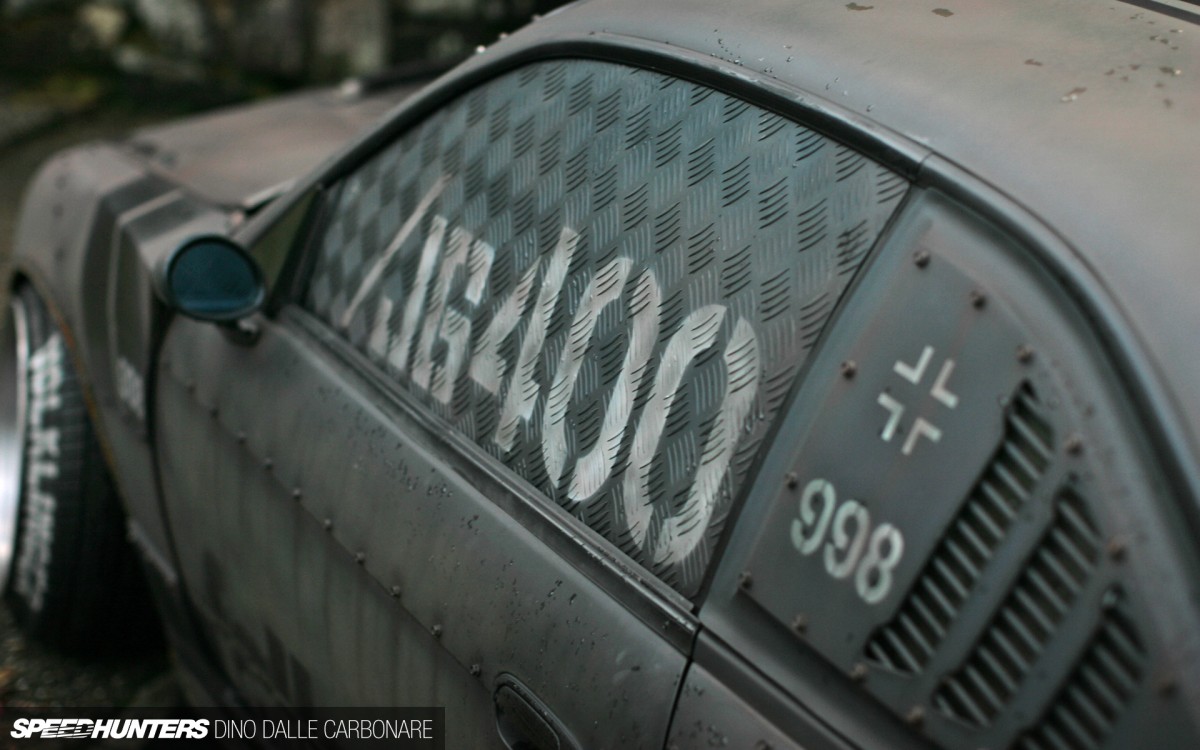 One of the main reasons the car is unable to be registered for street use is due to the simple fact that the side glass has been replaced with something not quite so transparent: metal sheets. The door's glass has been swapped out for appropriately curved and cut diamond-pattern sheets that go up and down just as smoothly, actuated by the electric motors.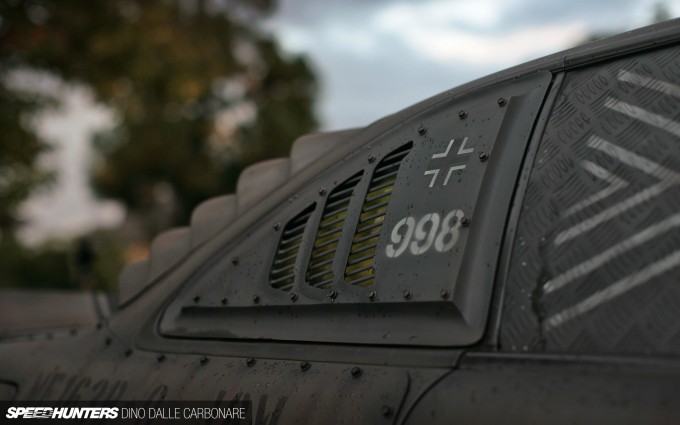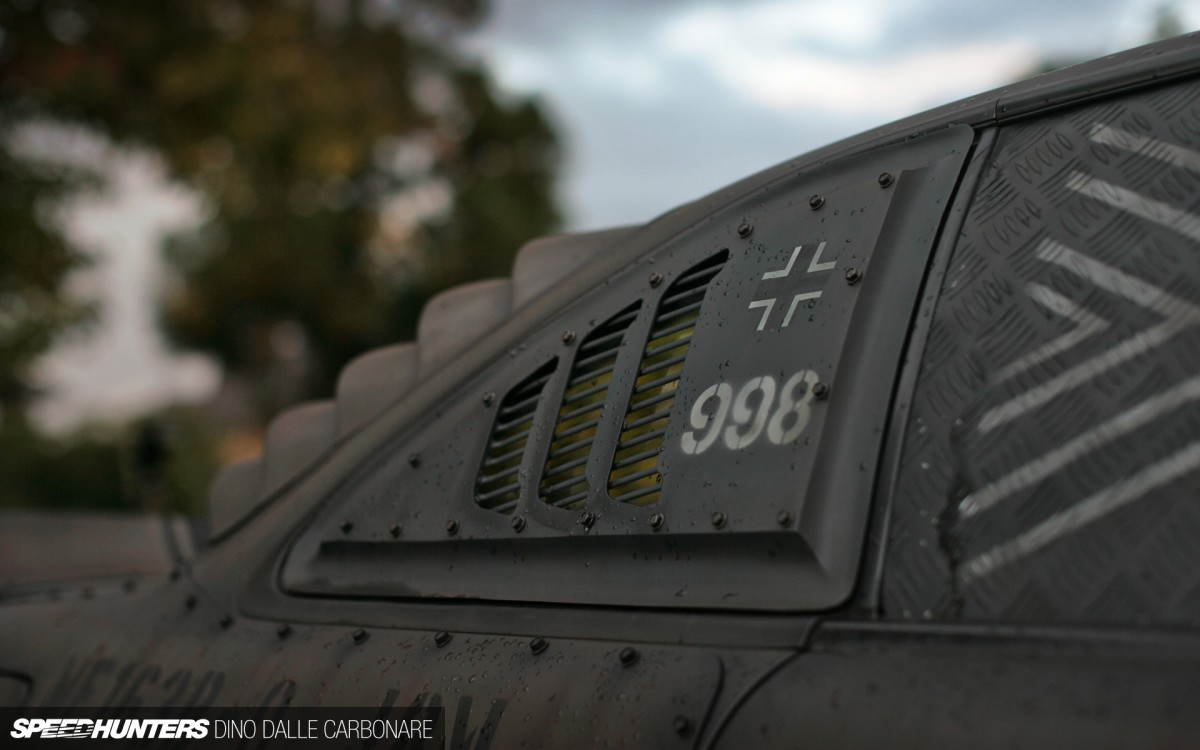 Covers on the side match the removable tank-like armour plate that Satomi made for the windscreen…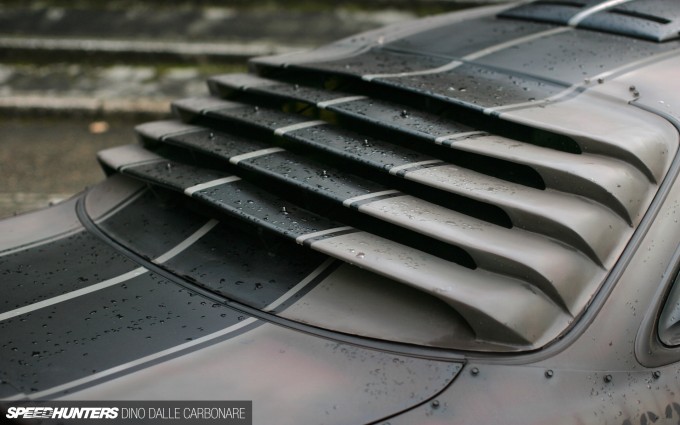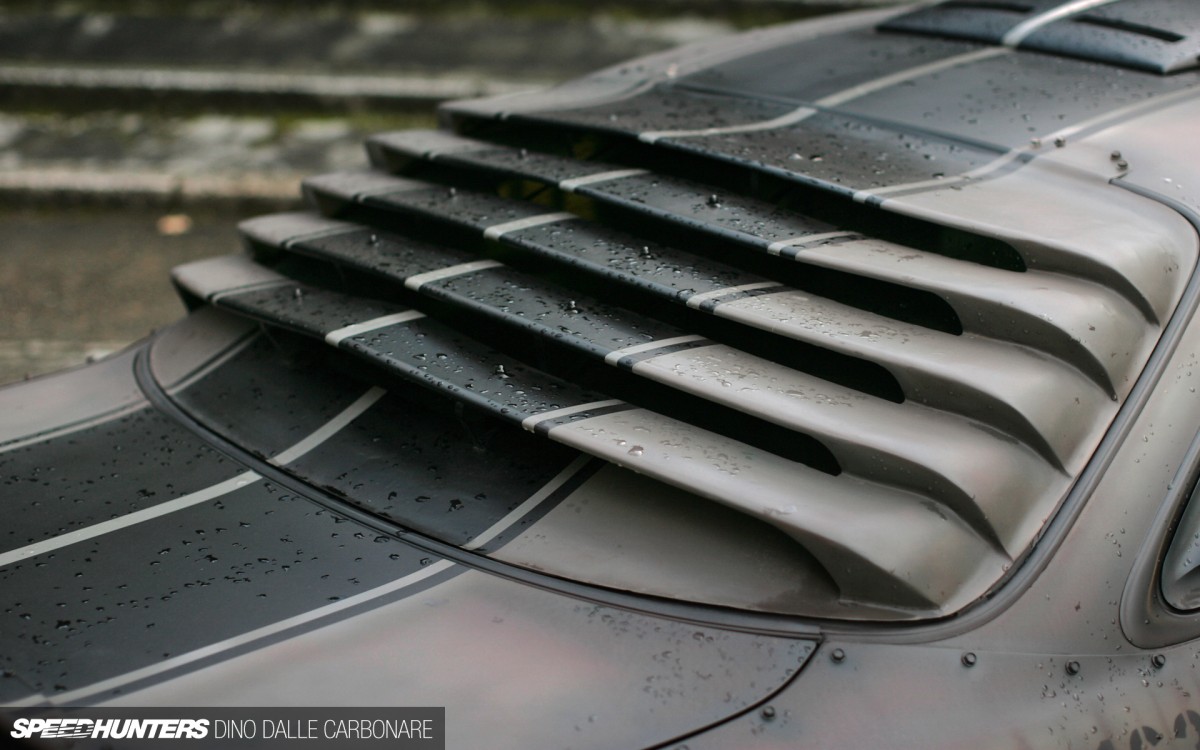 … with a louvered cover at the back.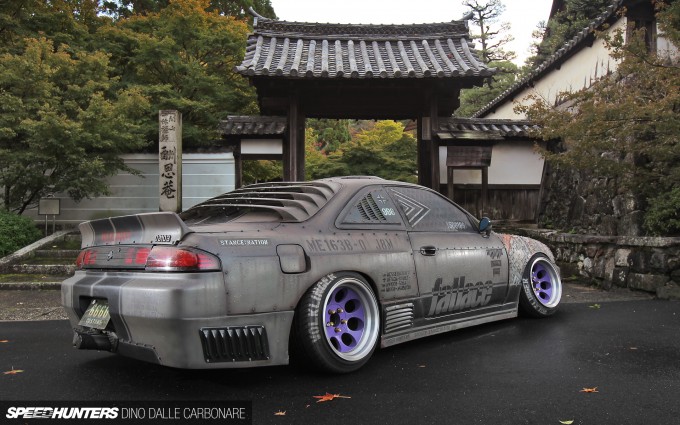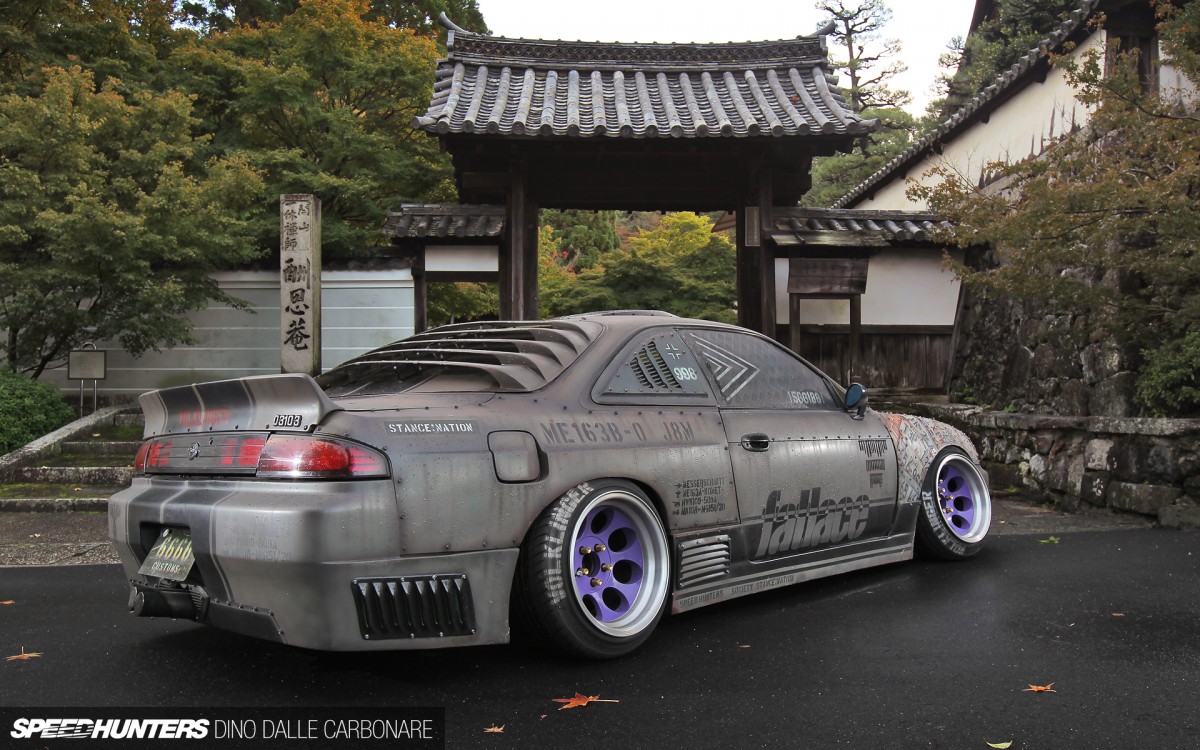 Satomi has done everything himself on the Volklinger S14, things that include the flat green paint and the extensive air brushing needed to give the exterior a look resembling a rusted out battle tank, with rust and dirt lines running down from the exposed rivets.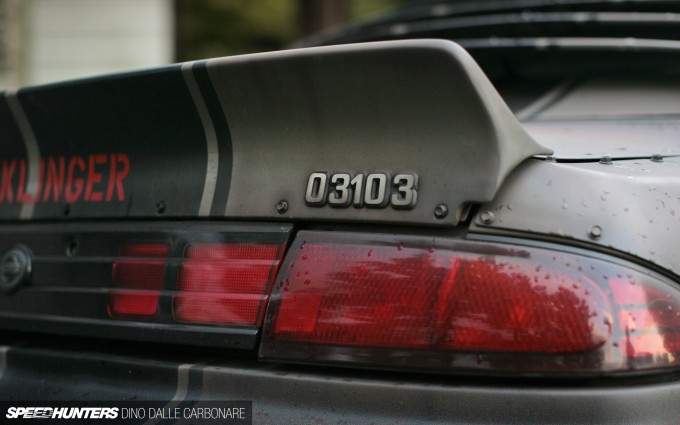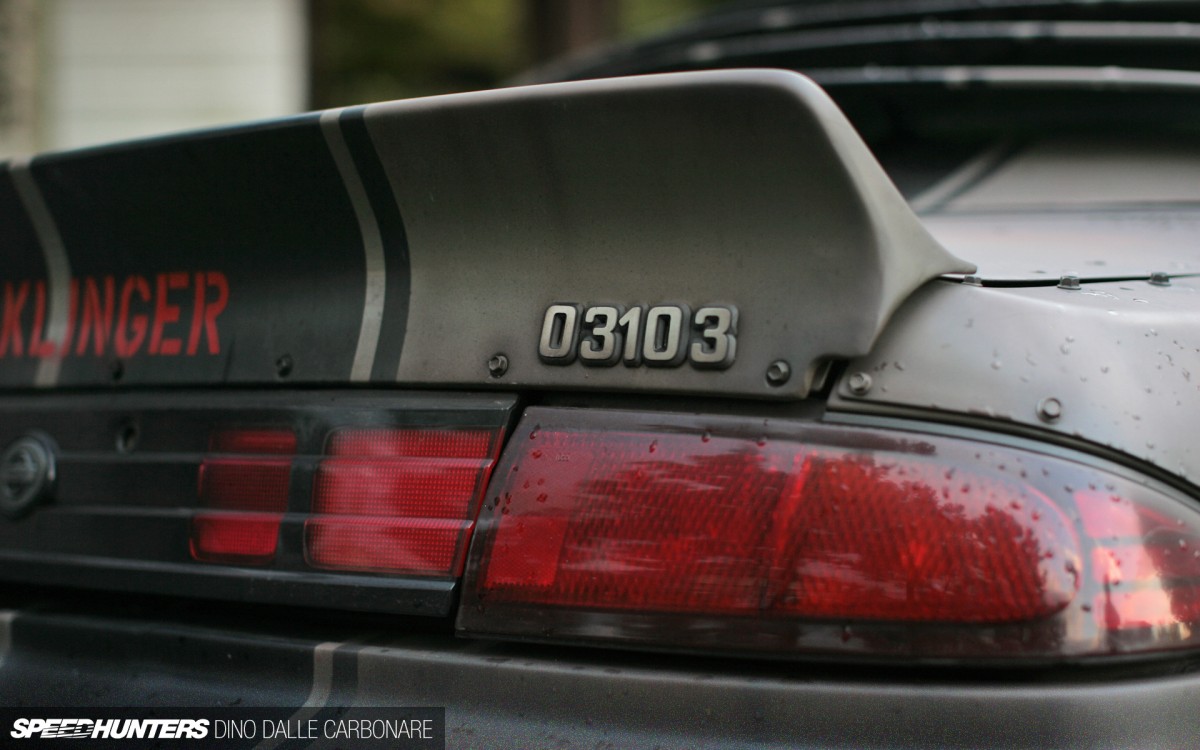 Ducktail? On an S-chassis? Yes please!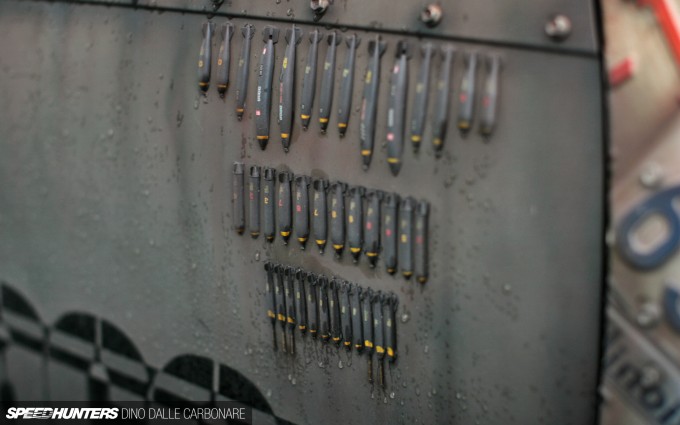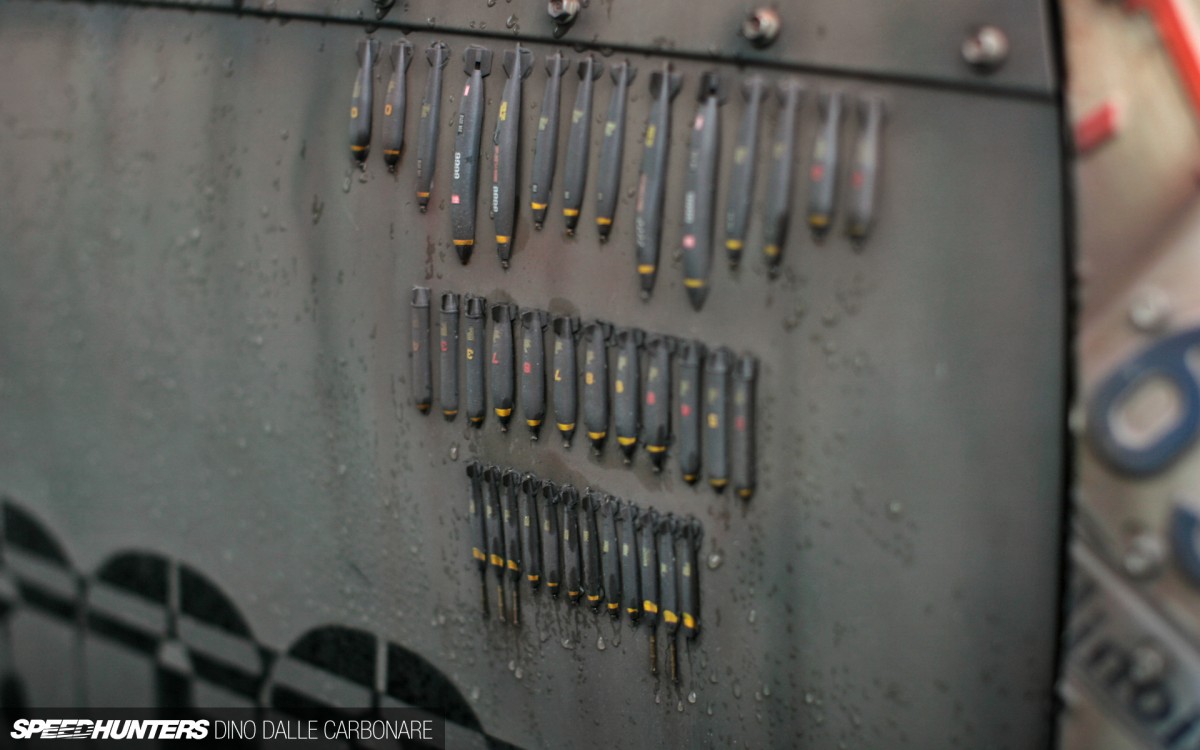 Another example of how extensive the detailing stretches is the assortment of model missiles and bombs, glued in place to the side of the car!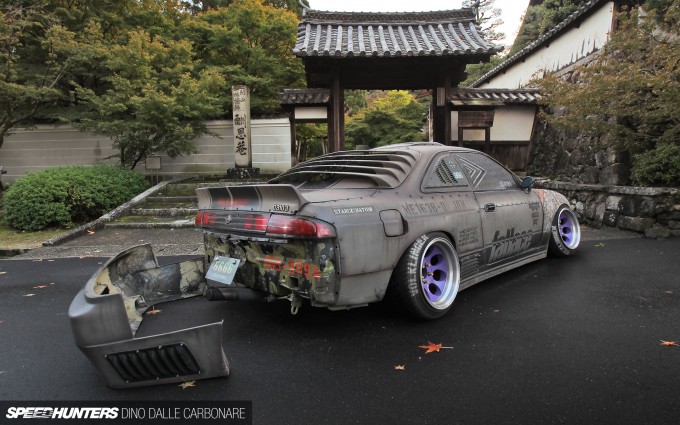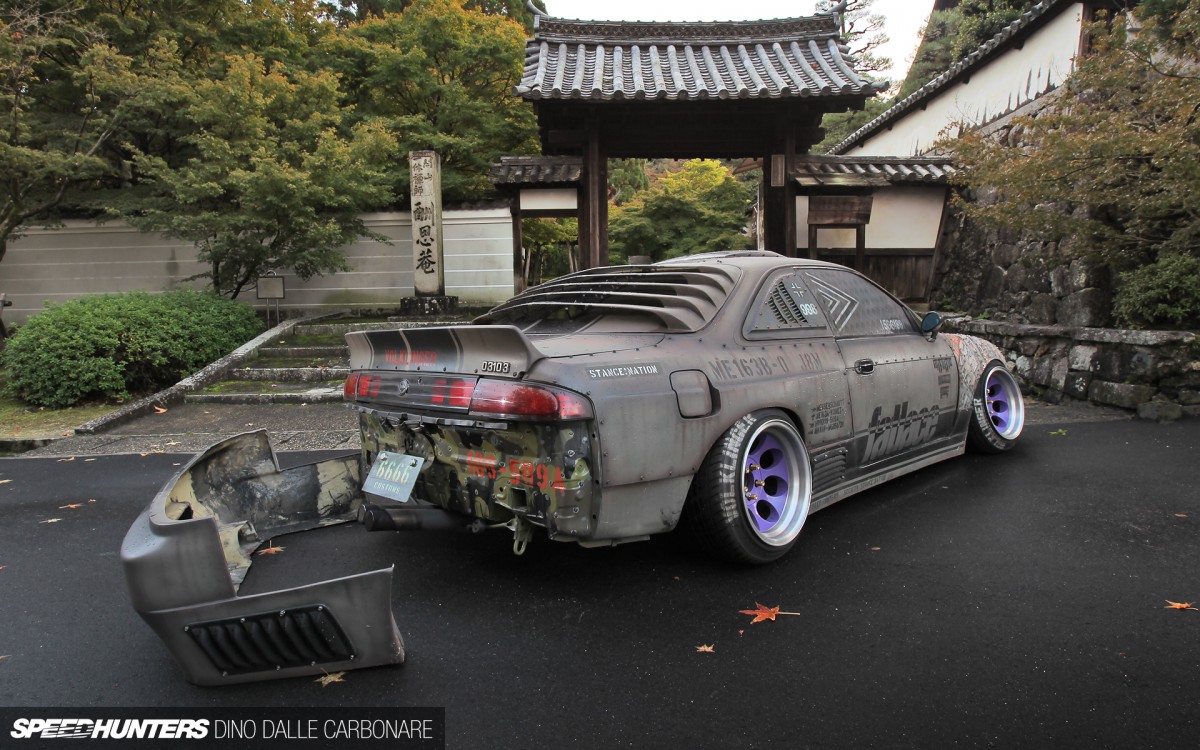 Remove the rear bumper and both the exposed chassis below and the inside of the bumper have been painted…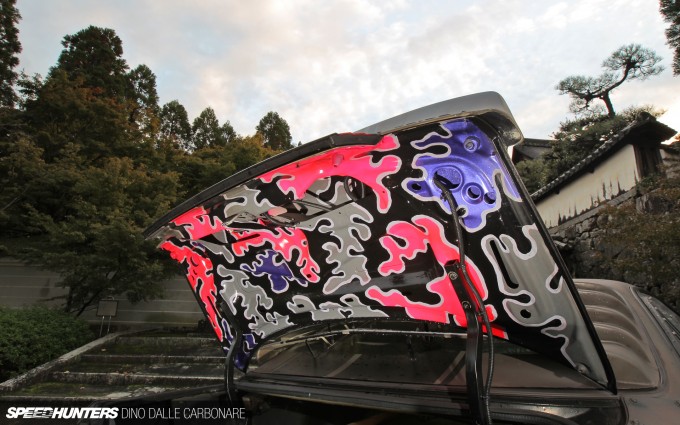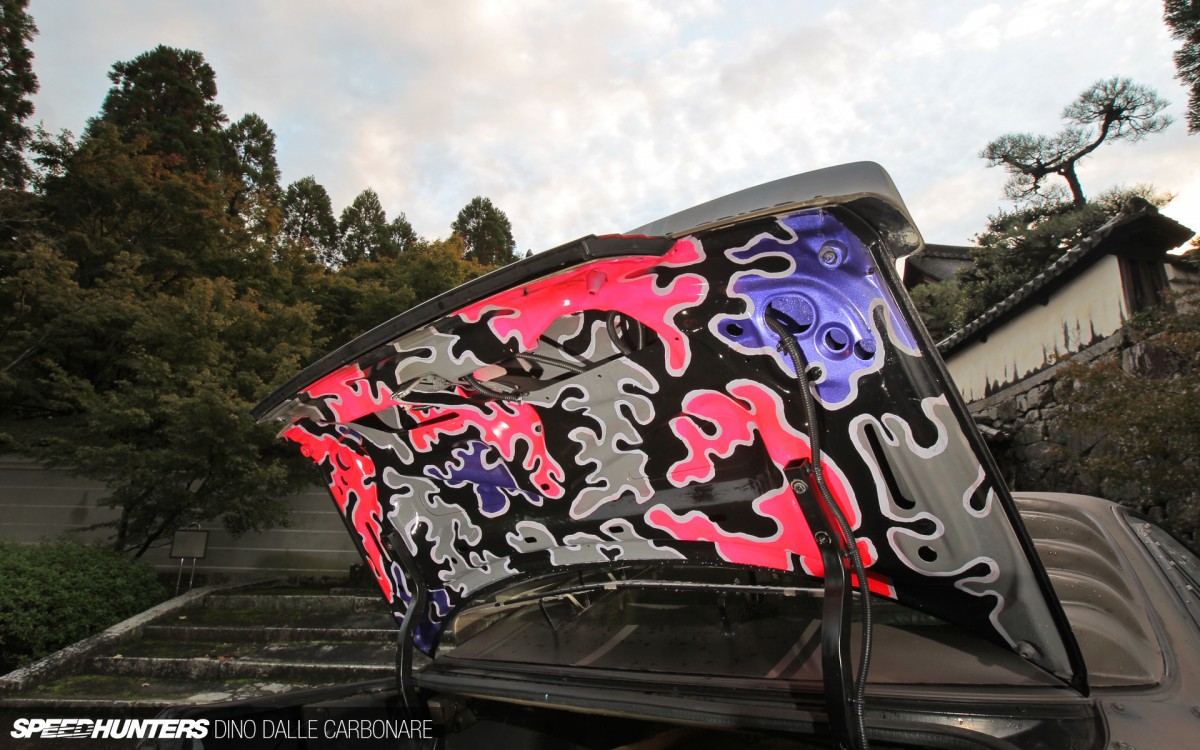 … much like the underside of the trunk lid, a slightly more eighties take on the whole camo thing.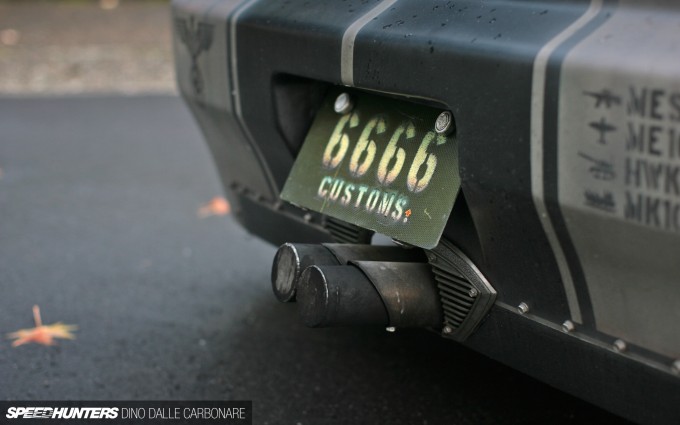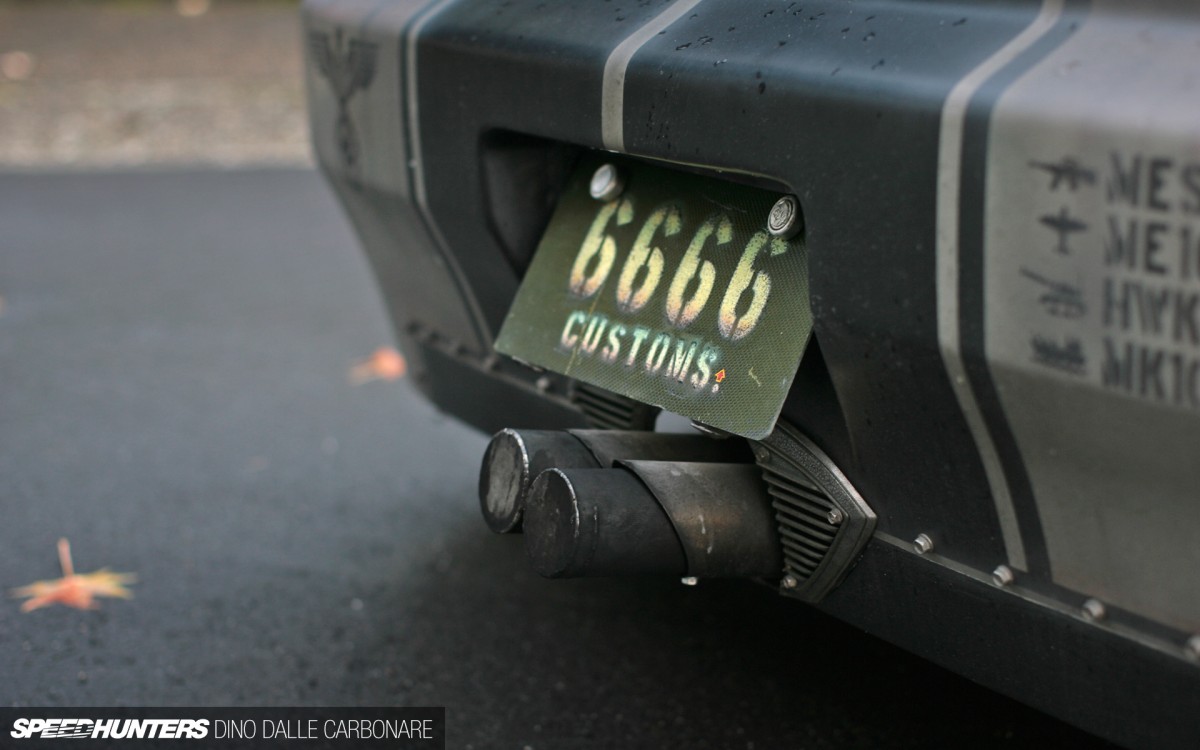 To finish it all off, a custom center exit exhaust system, capped off like some bike mufflers to make a raspier and ultimately louder sound.
Individualism rules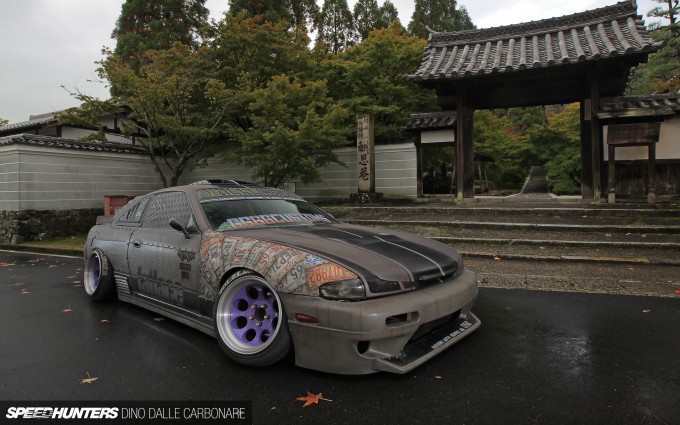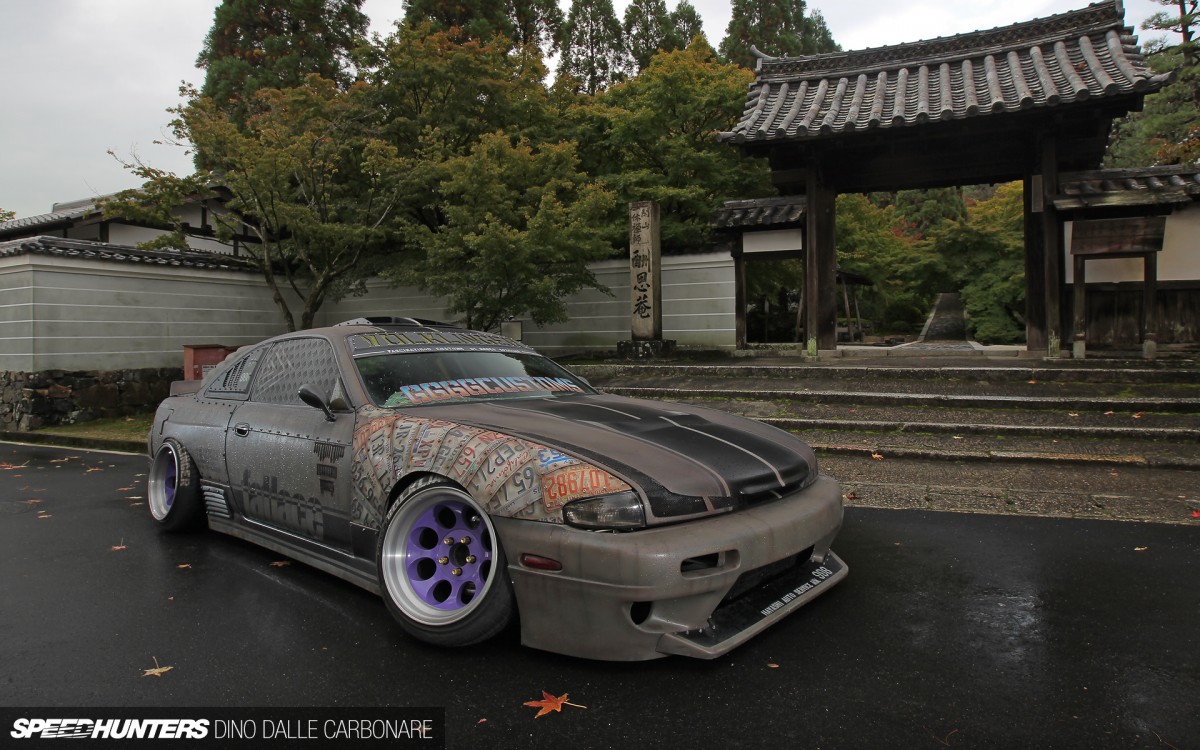 One of the latest modifications at the time of the shoot was the extended hood which wraps down over the headlights for quite the evil look when those main beams are flicked on.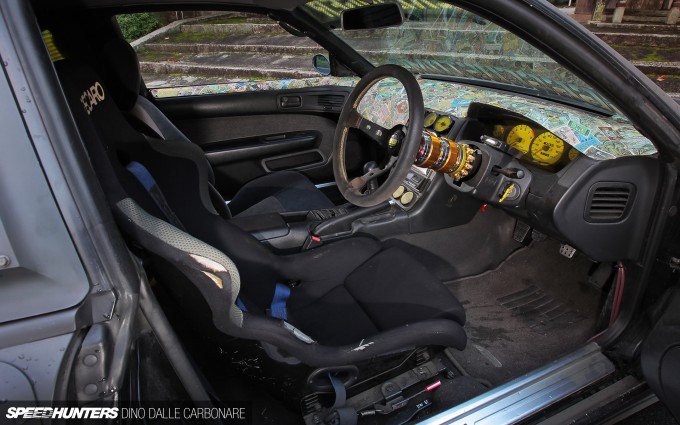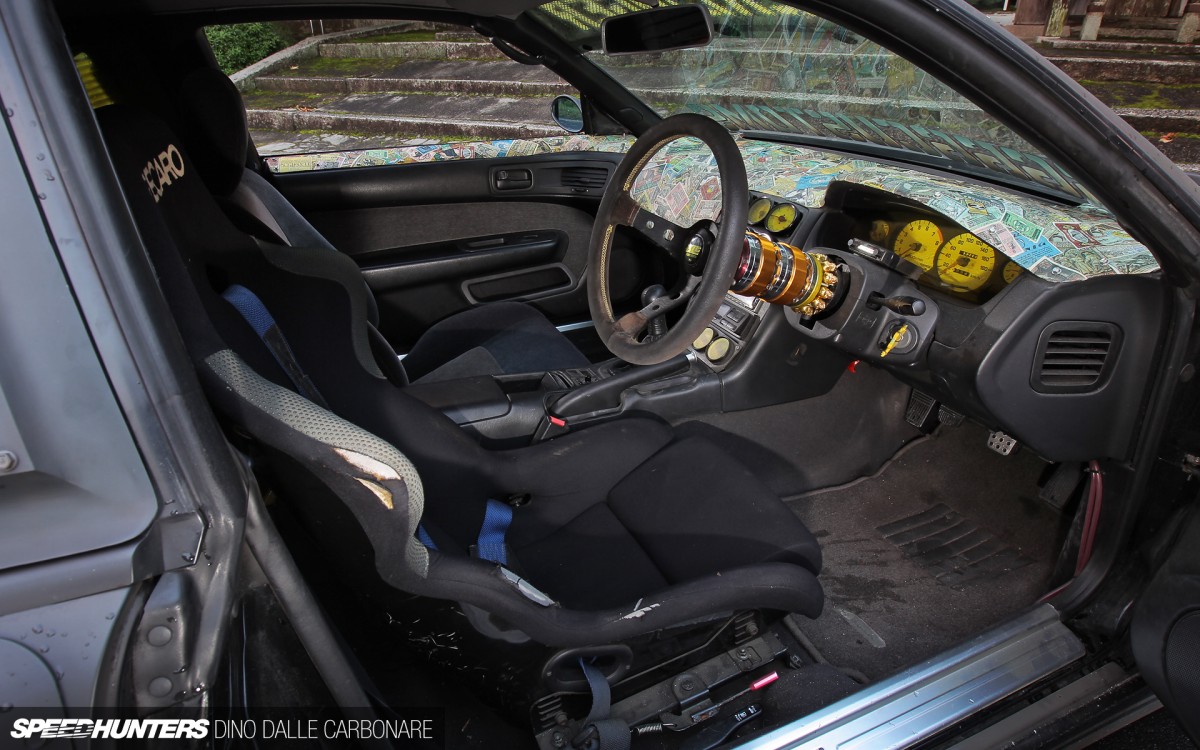 The cockpit, which may be the darkest interior of any car in history period when the side glass is up and the windscreen is covered, sports yet more unique decorations. Usual additions that you would expect to find in a drift car are there like the second or third hand Recaro bucket, equally well-used racing harness and of course a chunky and deeply cupped steering wheel…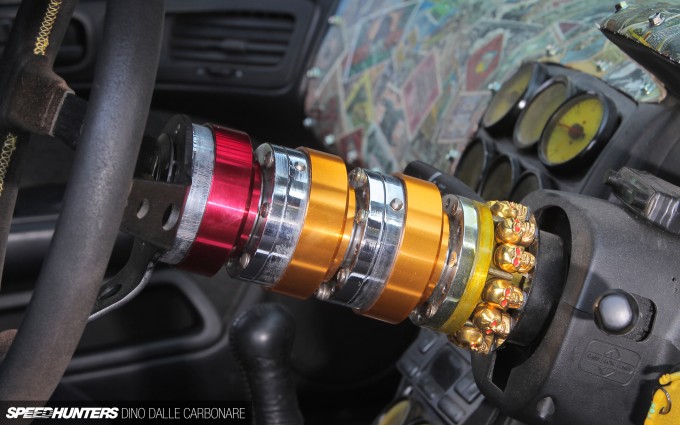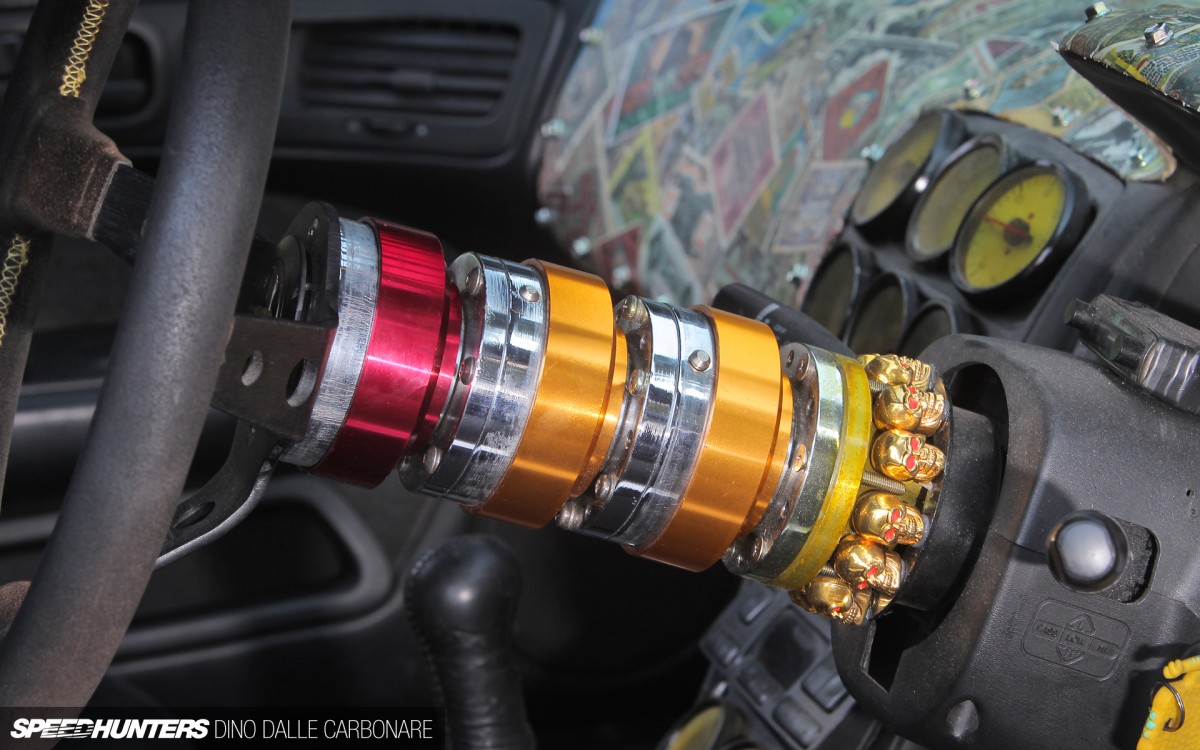 … mounted on… four bosses! We assume Satomi favours a more WRC-style seating/driving position then!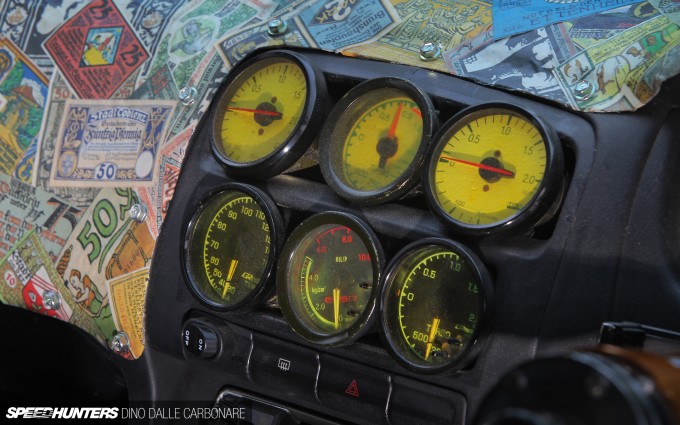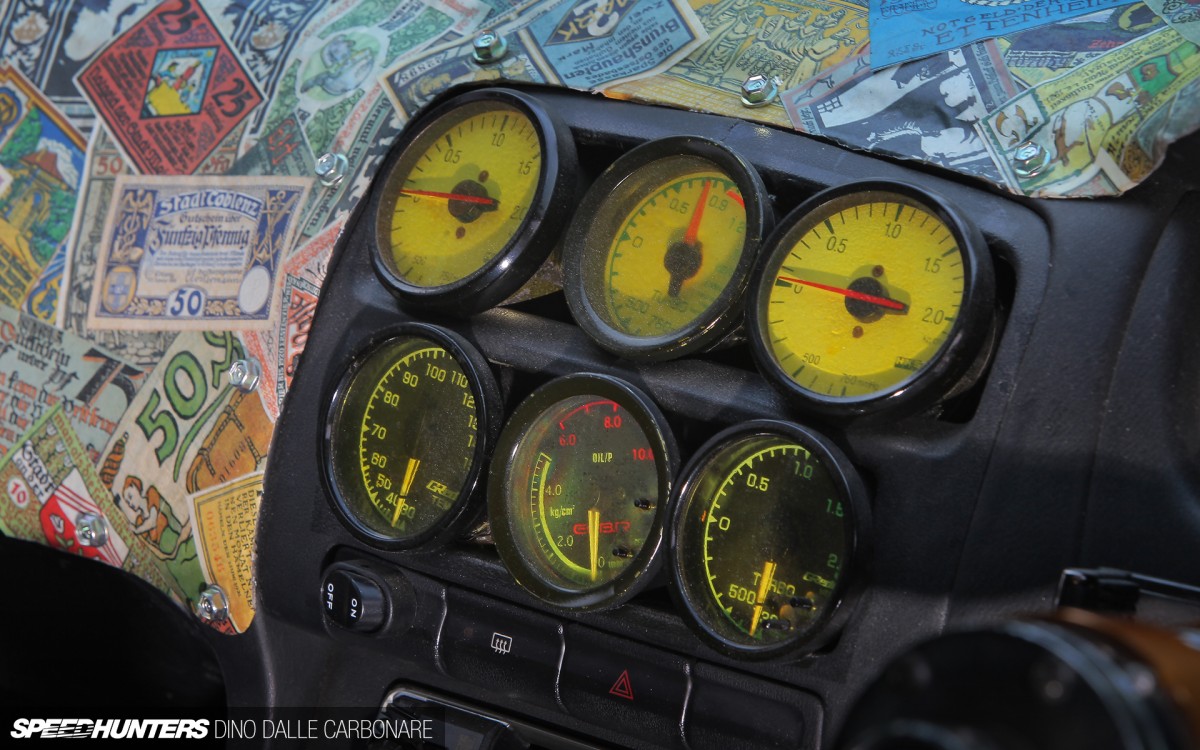 The nine yellow auxiliary gauges and main instrument cluster are there to make it all look like a tank's command post, a cool addition against the colorful dashboard. Those notes that you see are reproduction German wartime currency bills that Satomi managed to find on Yahoo Auctions.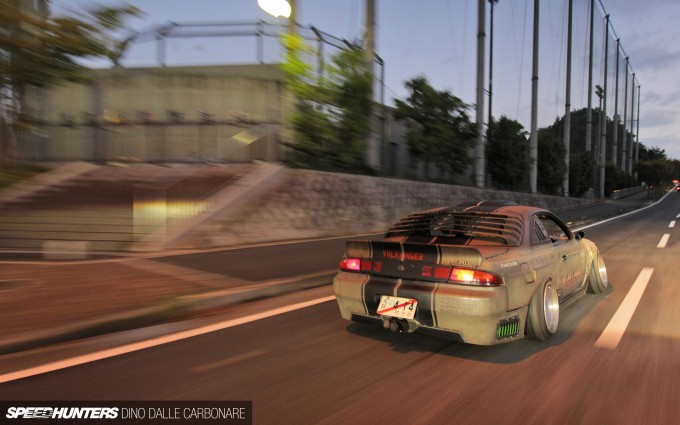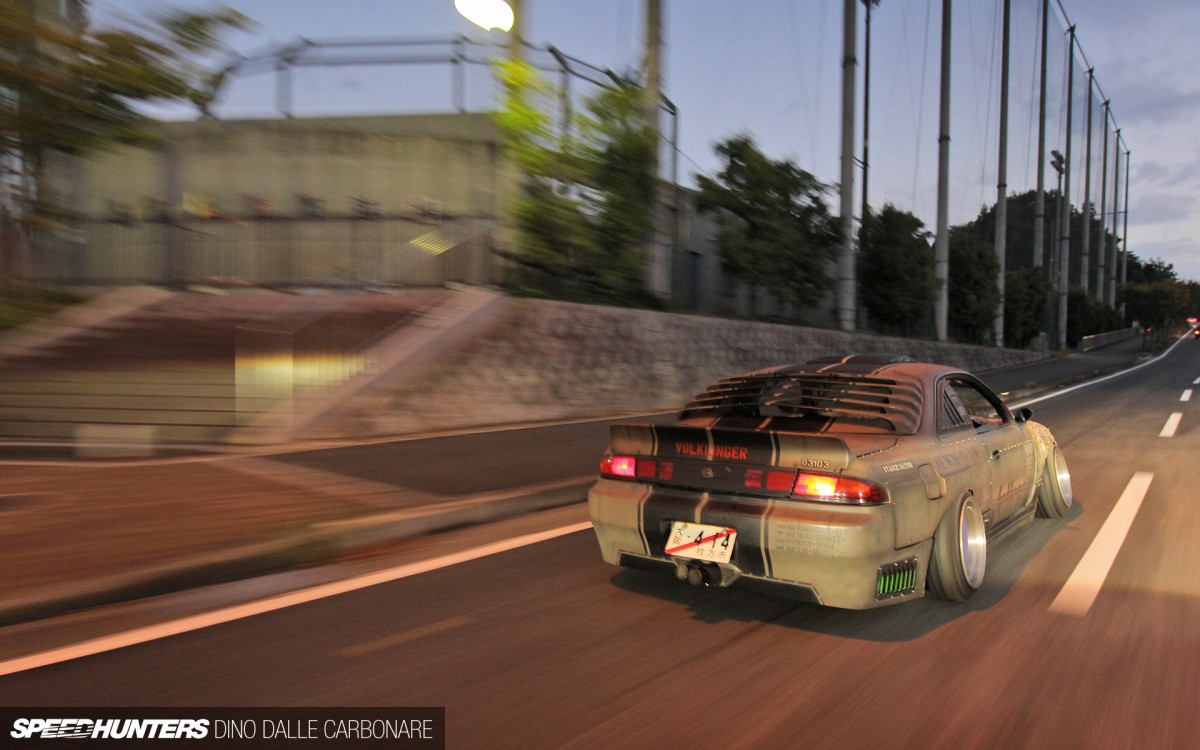 Satomi knows very well his car might be hard to digest to some, but at the same time he really doesn't care. He set out to achieve something different, letting his imagination take decisions and has managed to make his car look like some sort of full-sized scale war machine, one built for drift rather than killing people.