East Meets West
I'm not even going to begin to get into an argument about drifting, or more precisely – the differences between how the Japanese and Americans do it. We can leave that for the comments section below. However, there's no doubt in my mind that over the last decade Formula D has evolved both its own style of driving and cars. To me, this sort of variety is great. It keeps things fresh and moving forward, which is pretty much the opposite of what's happened to professional drifting in Japan over the last few years. Is this why the Japanese are looking to the West for inspiration then? Most definitely. And one of the latest tuners to embrace the American way is Michihiro Takatori at Stance Japan.
He's the man behind the Nissan Silvia that you see here – a car that has been driven by Horiguchi for little over a year in the D1 Street Legal championship. What makes this S13 special is that it's one of a few professional drift cars in Japan that has gone the V8-swap route. And seeing that Stance Japan is located within walking distance from the TRA-Kyoto workshop in Kyoto, on my last visit there I had Miura-san accompany me to check out the famed blue machine.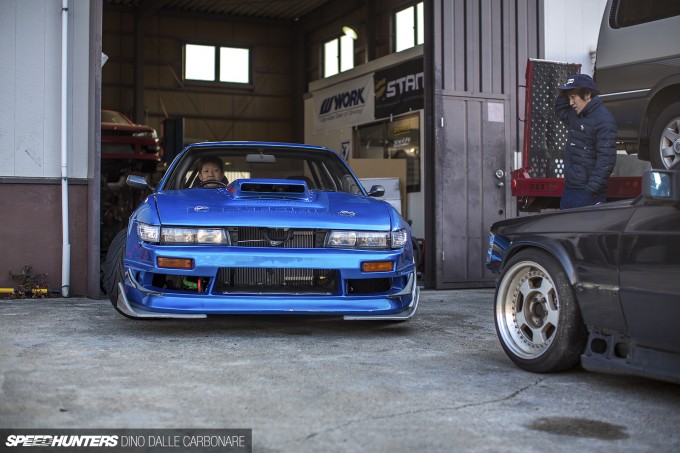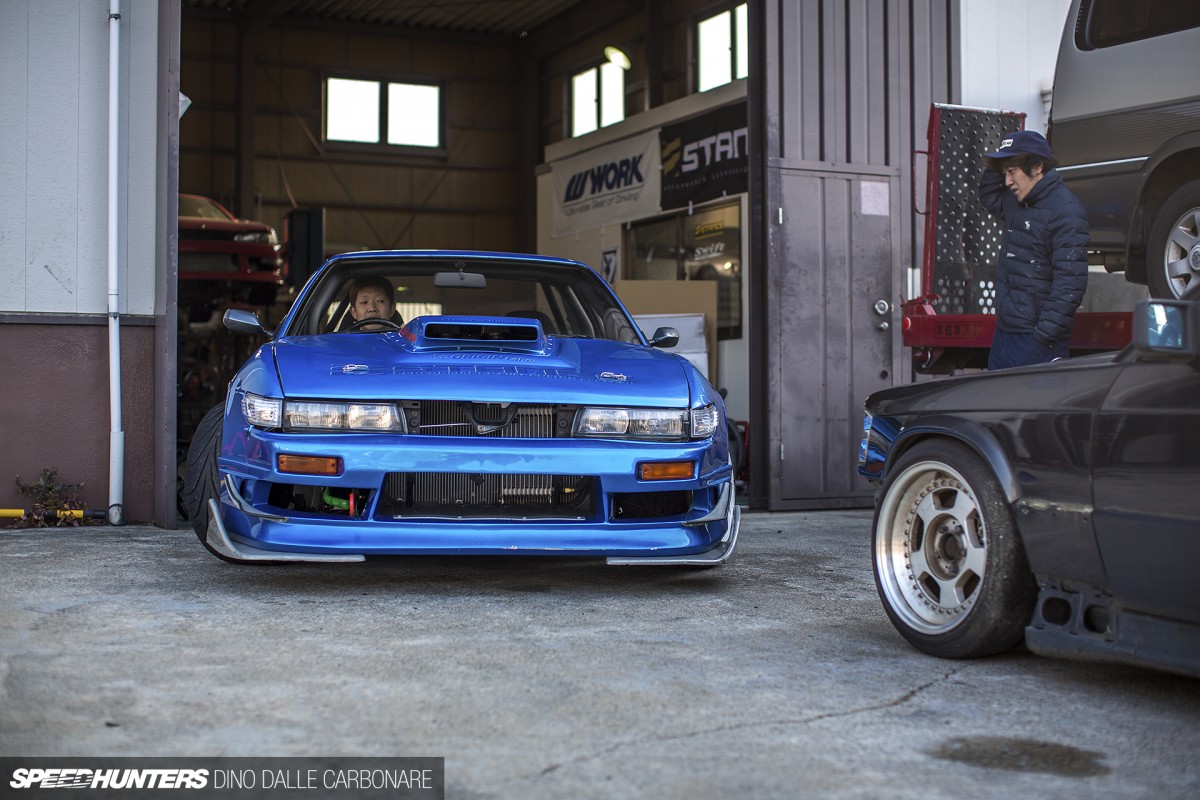 If Michihiro's name sounds familiar, it's probably because he used to be the driver of the Super Autobacs R34 in Formula D. The Silvia is something he'd been wanting to put together ever since his time competing against all those V8-powered cars in the US.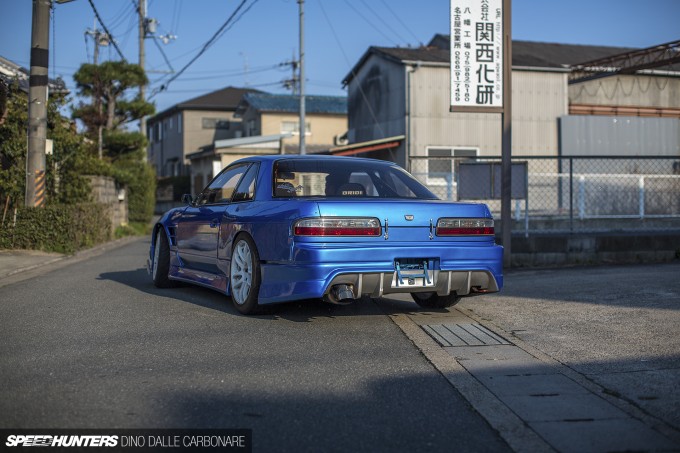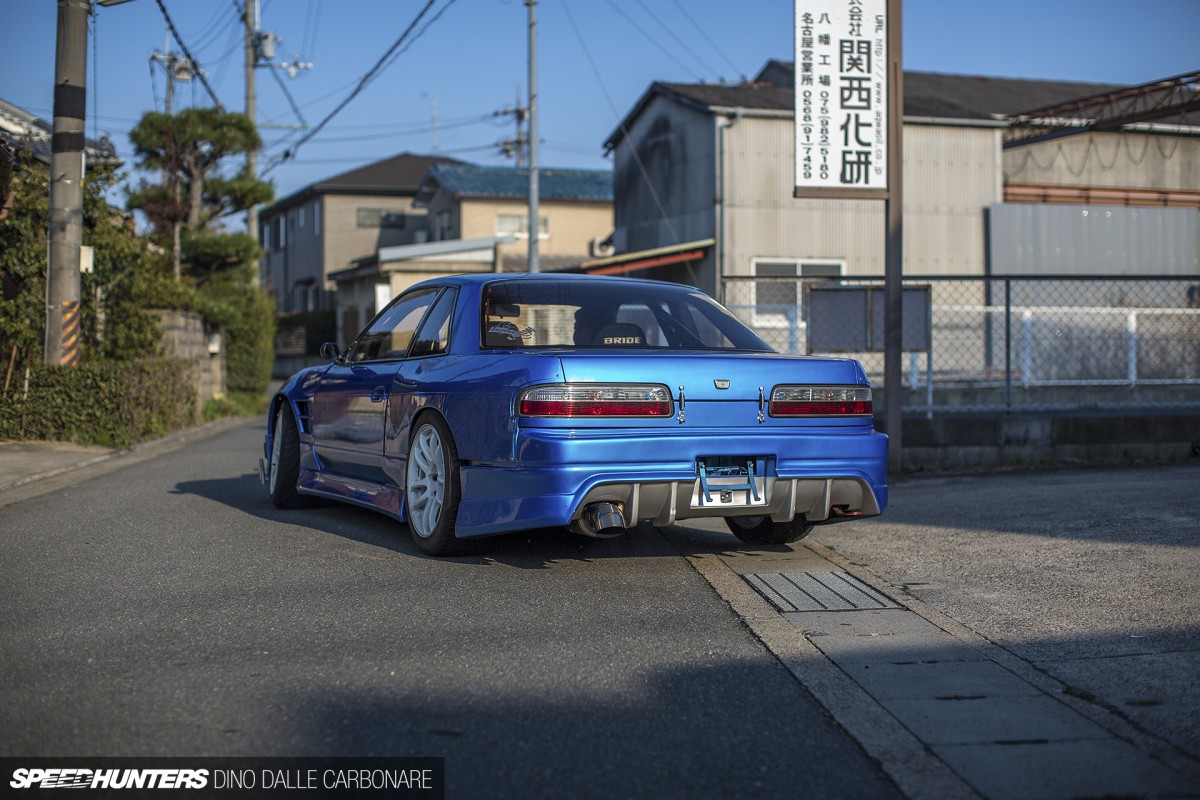 While V8-swapped S-chassis machines must be a dime a dozen over in the States, they're still rather foreign – and therefore generate a lot of interest – in Japan. I'm sure many of you are already rolling your eyes and asking yourselves what the big deal is. But if you think about it from a Japanese mindset, this is something quite new and attractive. The sound, the simplicity, and the uniqueness sure makes an argument for itself. And that, along with a few other things, is exactly what Michihiro wanted to accomplish here.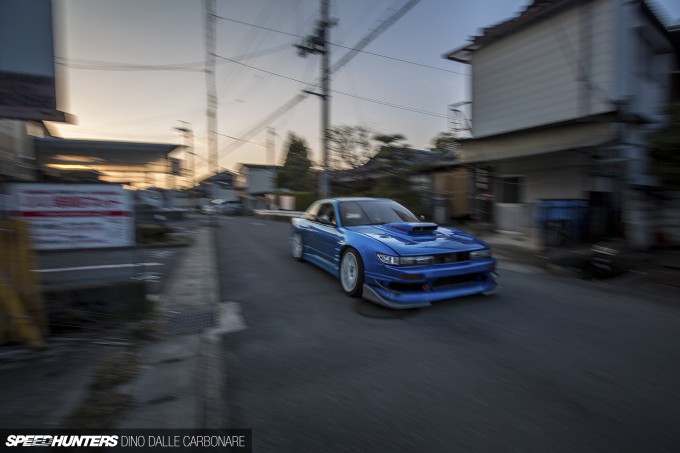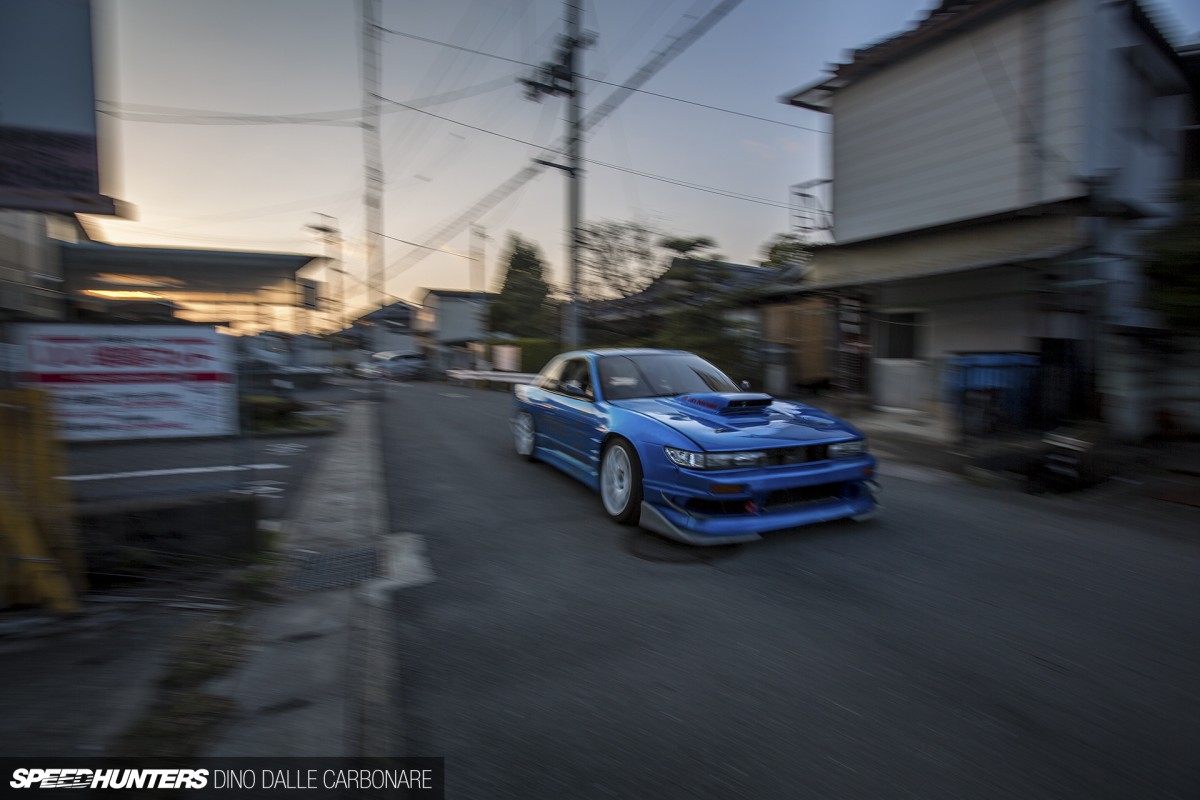 To me, what really makes this car special is that it's a great fusion of East and West; the looks alone instantly racking up plenty of points for authenticity.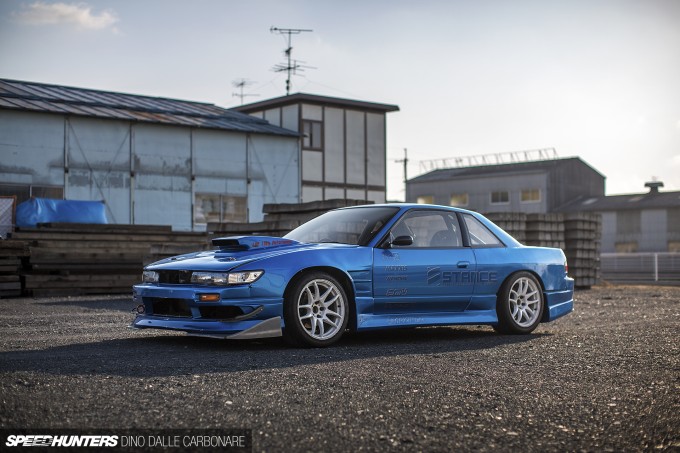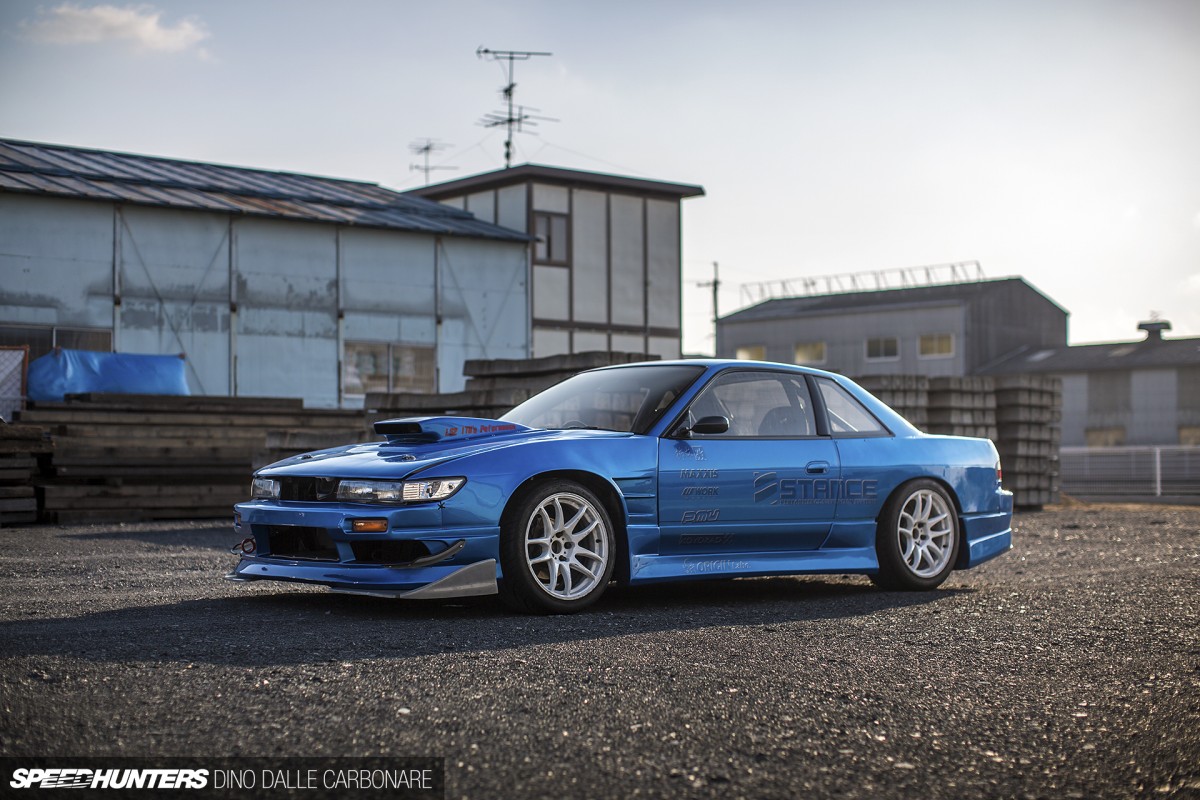 Stance Japan has partnered up with Origin to campaign the car in D1-SL, and every aero add-on can be credited to them.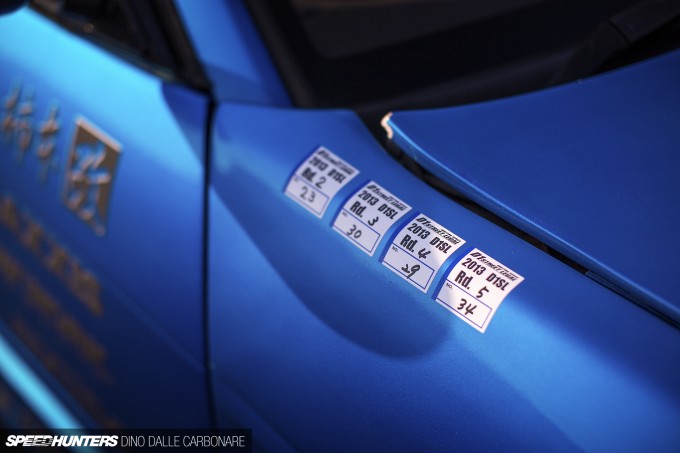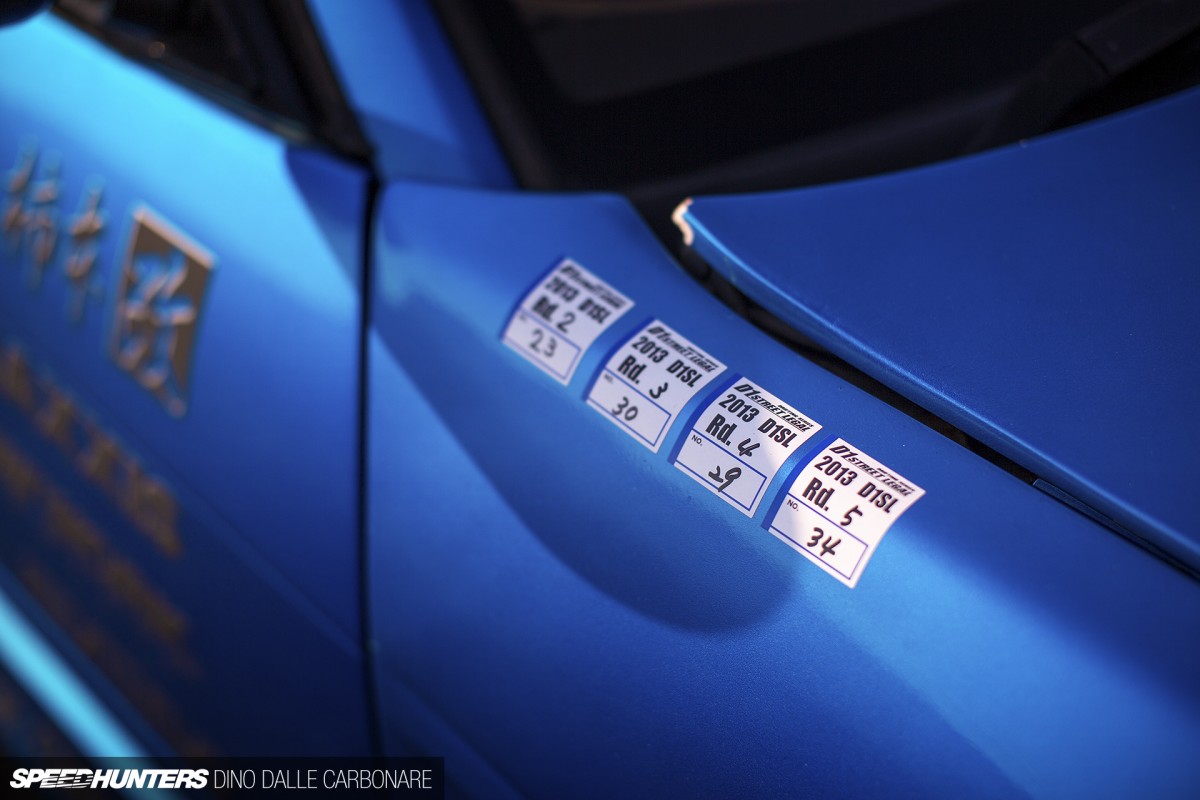 After an unexpected engine failure in 2012 the car competed in four rounds of last year's championship.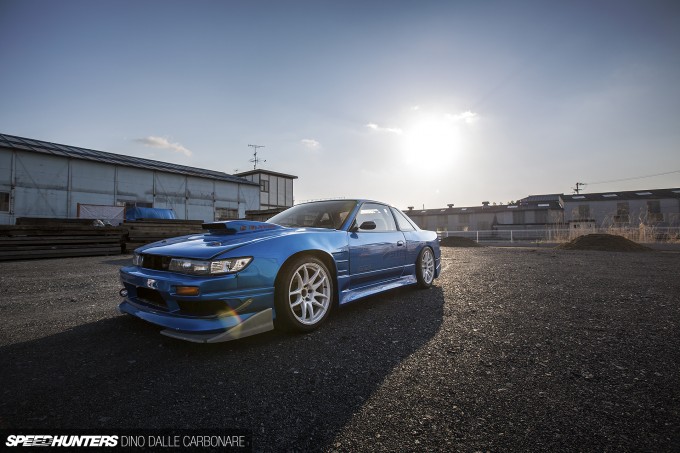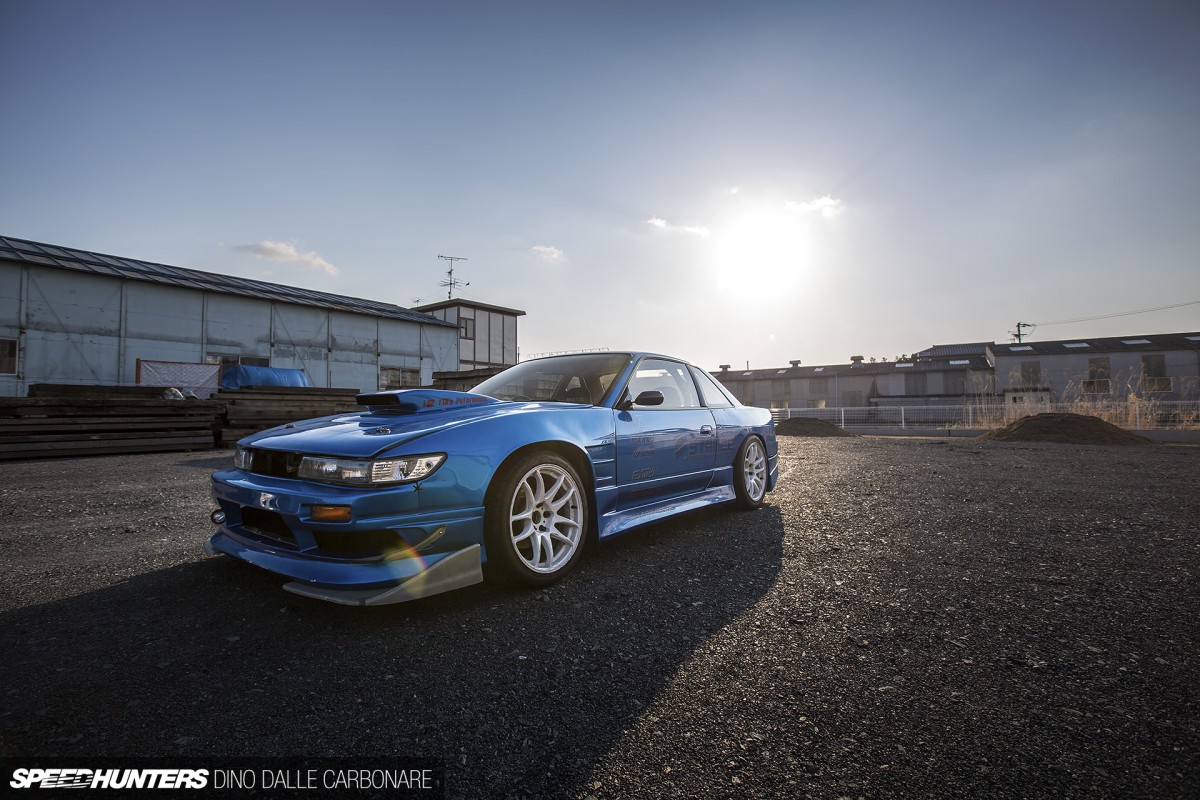 The Origin treatment begins with a Stream Line front bumper that really emphasises the S13's square lines, while allowing a good flow of air towards the coolers thanks to the main air-dam and side intakes.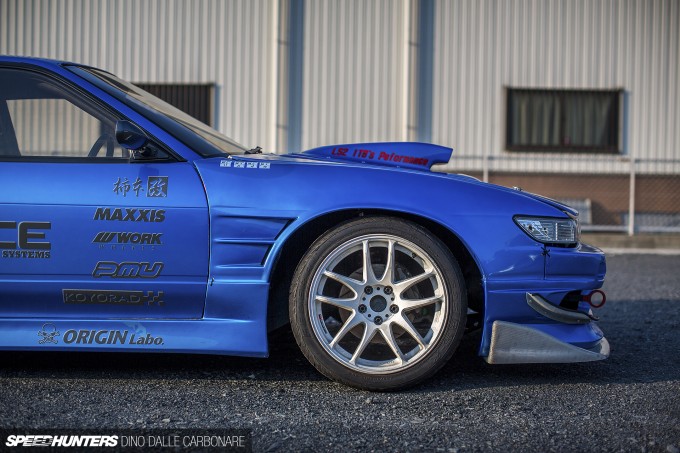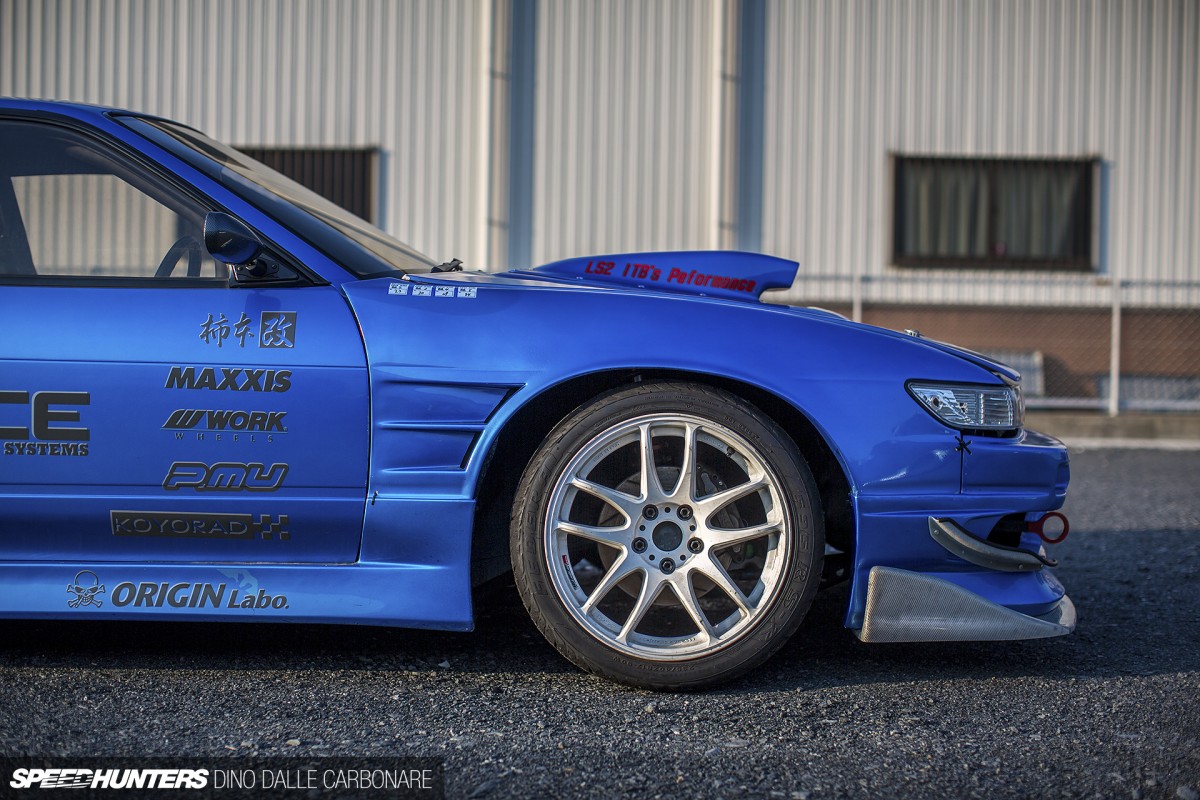 Slightly wider vented front fenders are there to give the 17×9-inch Work CR Kiwamis plenty of space to move – something that's required seeing that modified knuckles have been fitted for increased steering lock.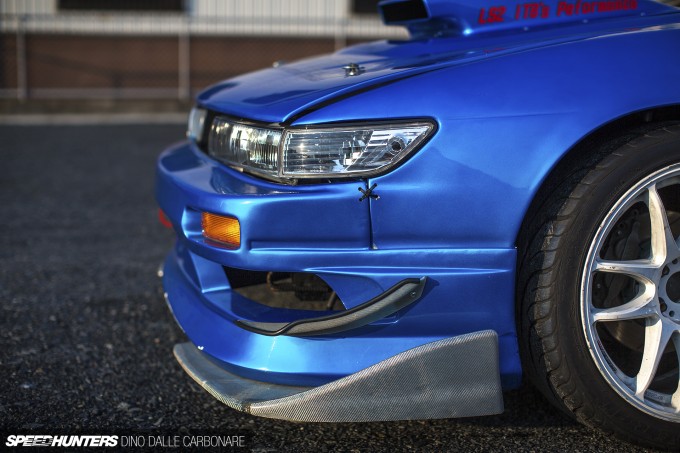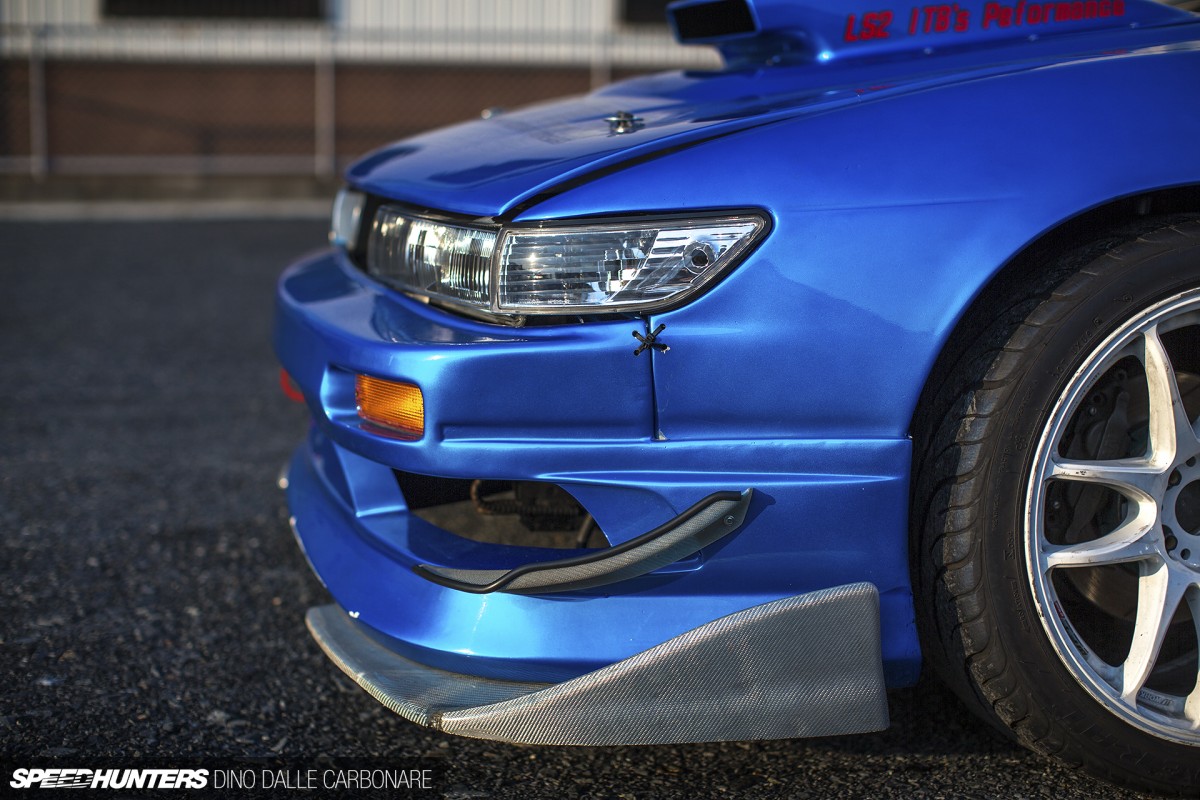 Silver carbon fiber canards offer looks and a little functionality, as do the under canards added at each corner. Since the bumper comes off often at pit stops and during maintenance at D1 events, the crossed ziptie is a grassroots touch that saves a lot of time.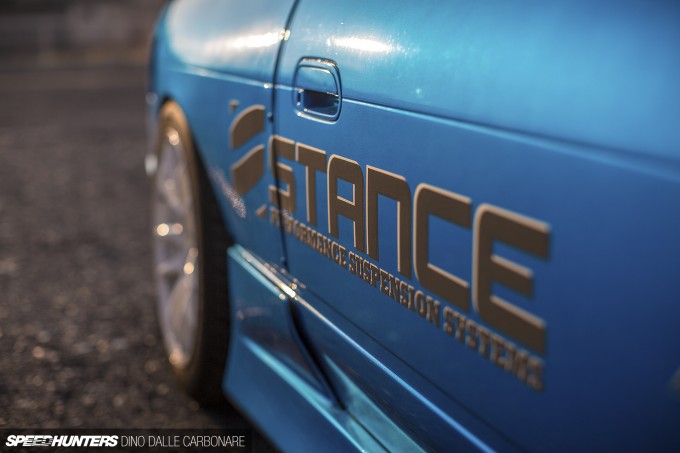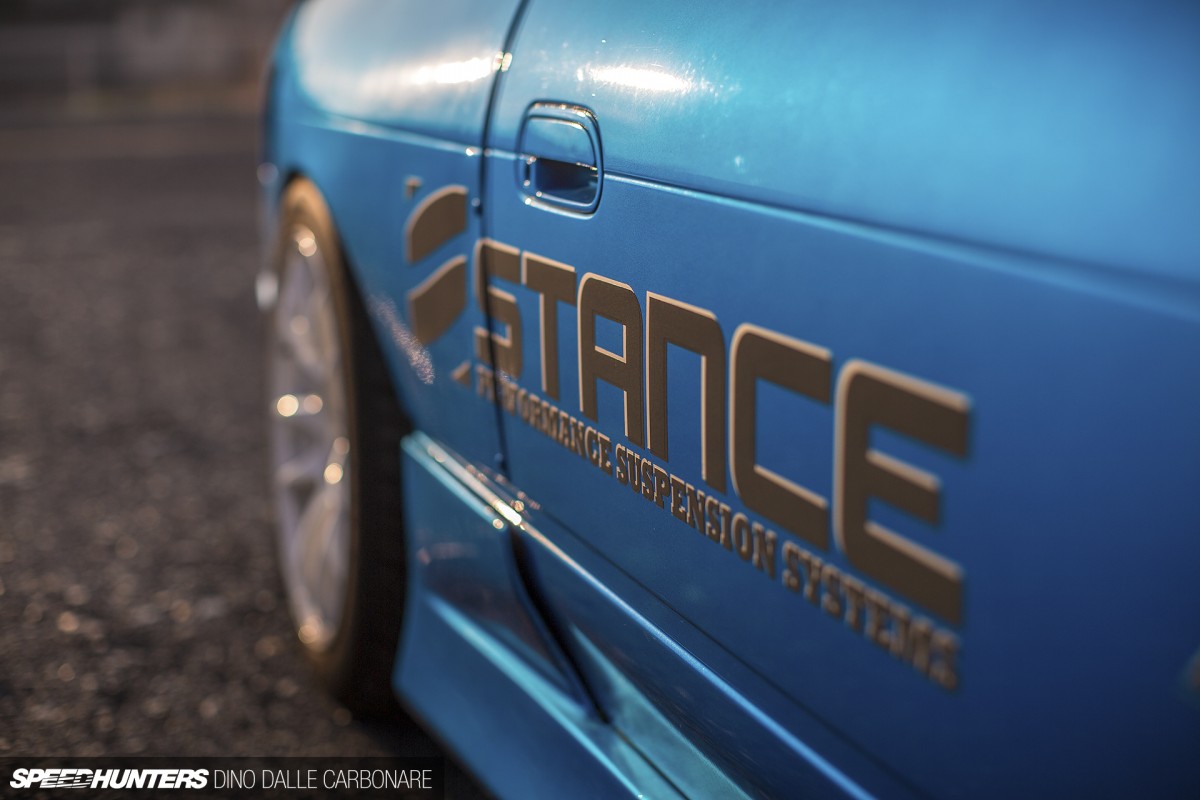 Taller and more aggressively styled side skirts help carry the Origin look across to the rear, while the Stance logo sits prominent on the door, publicising the shop's own adjustable suspension systems which are especially valved and engineered for drift setups.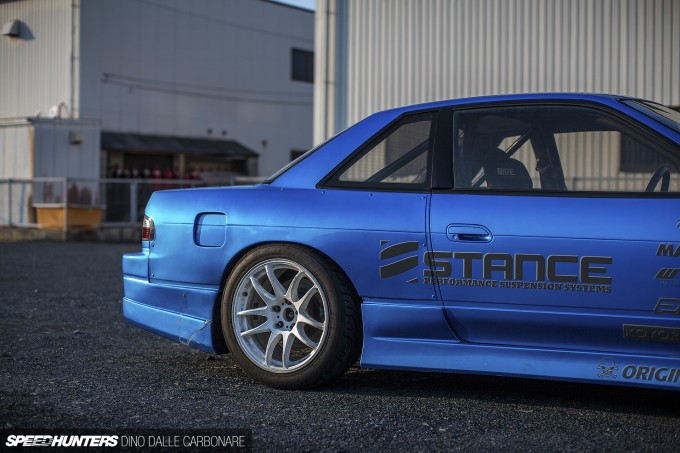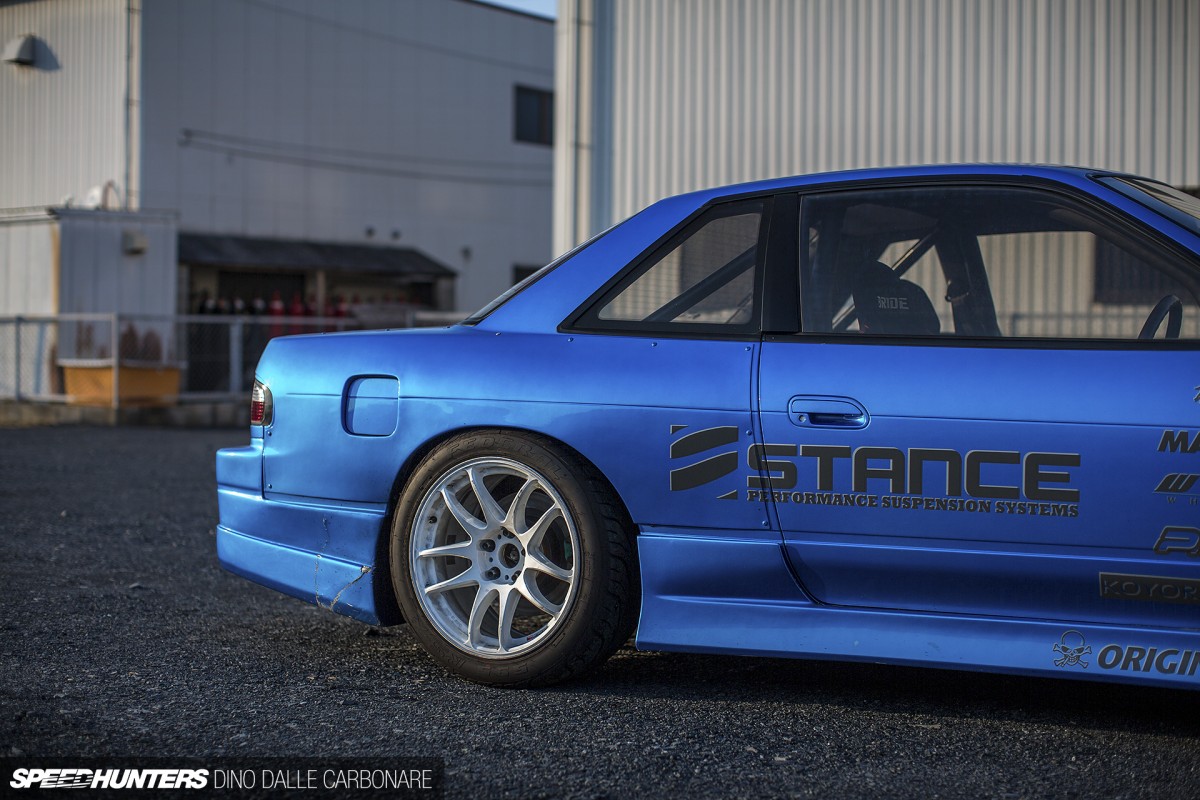 And that's precisely what the S13 rides on – Stance GR+ dampers dialled in to squat down at the rear when the V8's torque hits its peak to aid in mid-corner traction. With the stock S13 body being pretty narrow, Takatori-san decided to fit a set of Origin rear overfenders. They were a required addition that aside making the car look more stout and planted, allow the 18×9.5-inch Kiwamis at the rear to sit just right. Both the fronts and rears run Maxxis Z1 Drift rubber, 235/40R17 and 265/30R18 respectively.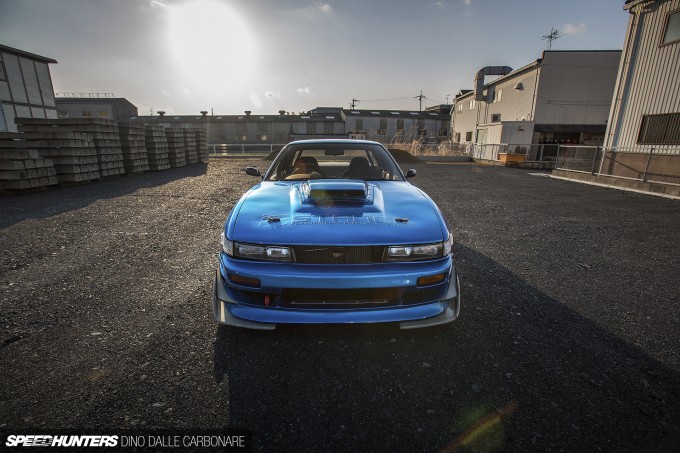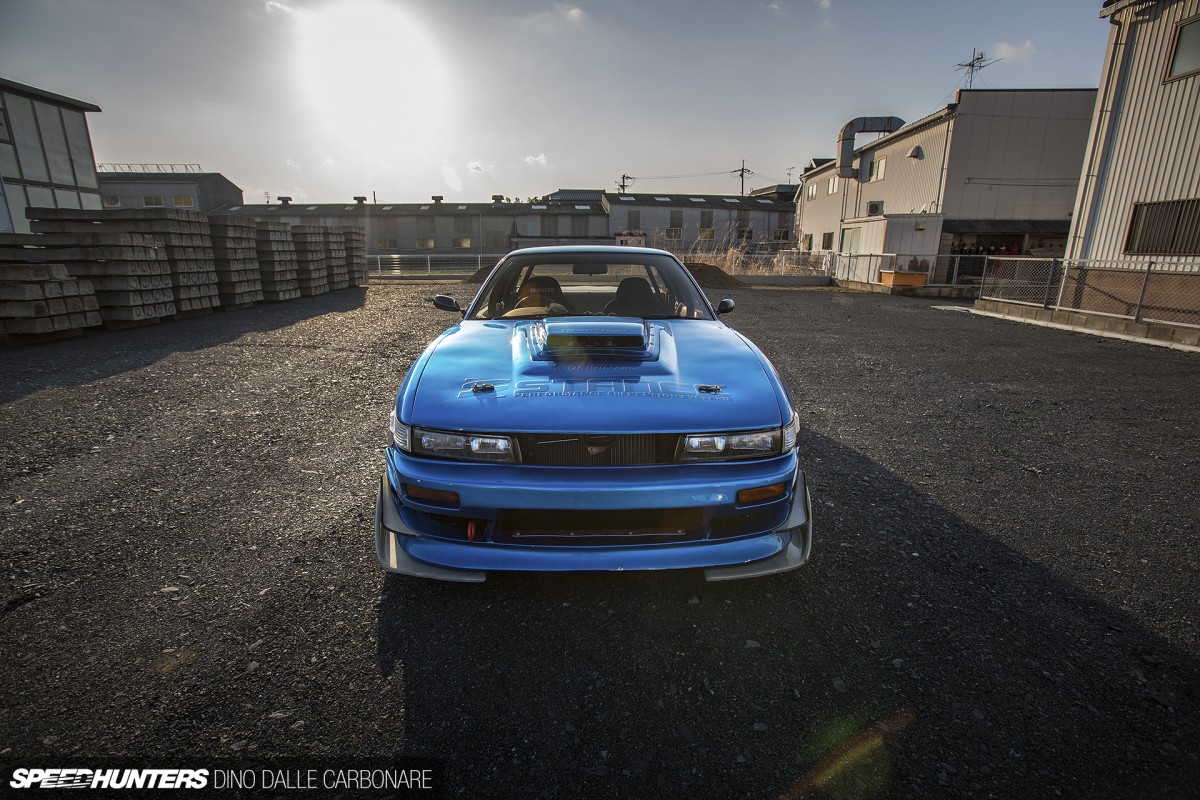 It all combines to give the S13 one hell of a presence. But as that massive scoop hints, the car's true party trick sits hidden beneath the modified Origin Type 1 bonnet…
Torque & Response Rules The Way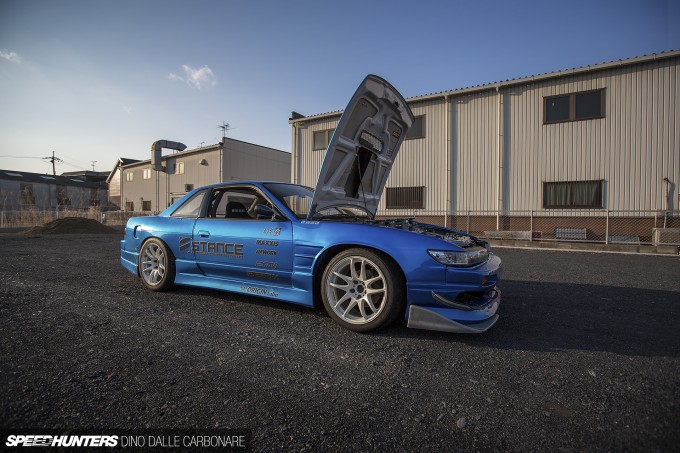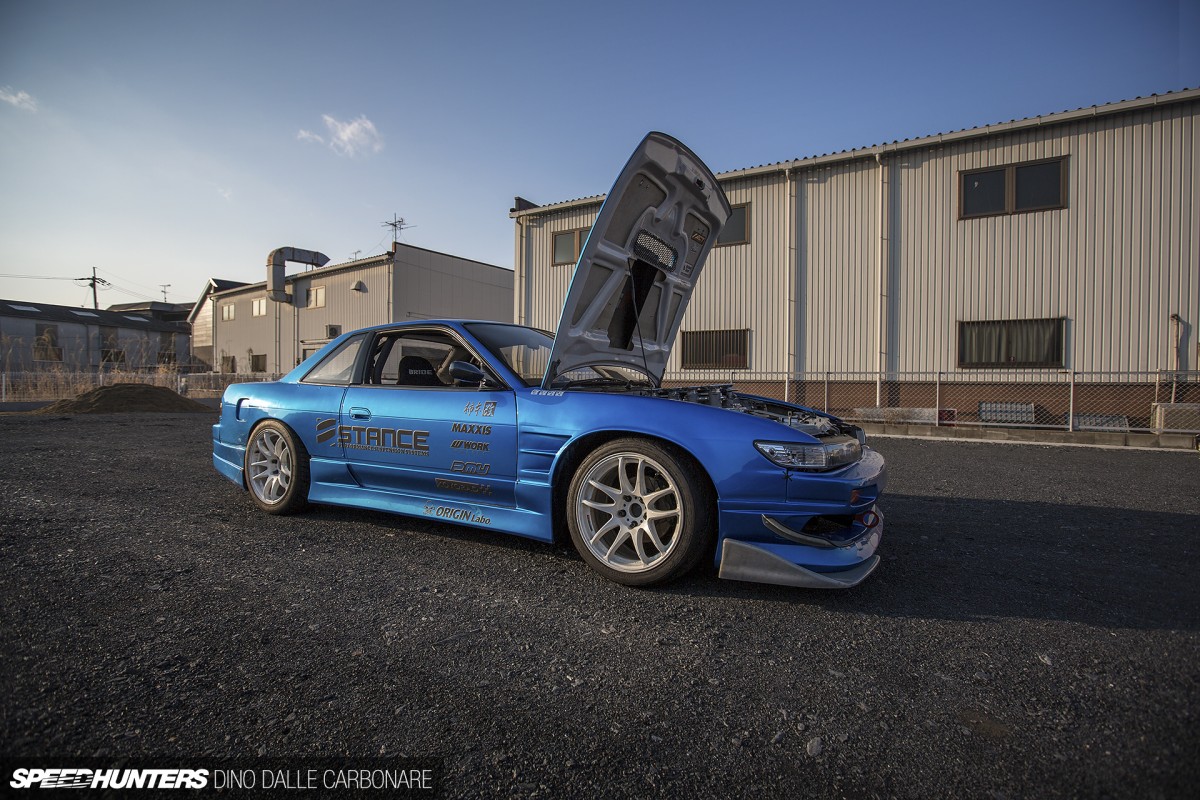 And it isn't until you lift it up that you realise that the opening in the bonnet is certainly not for show.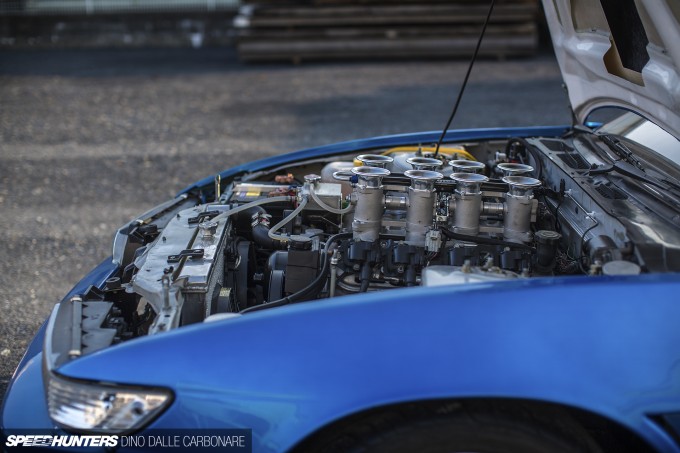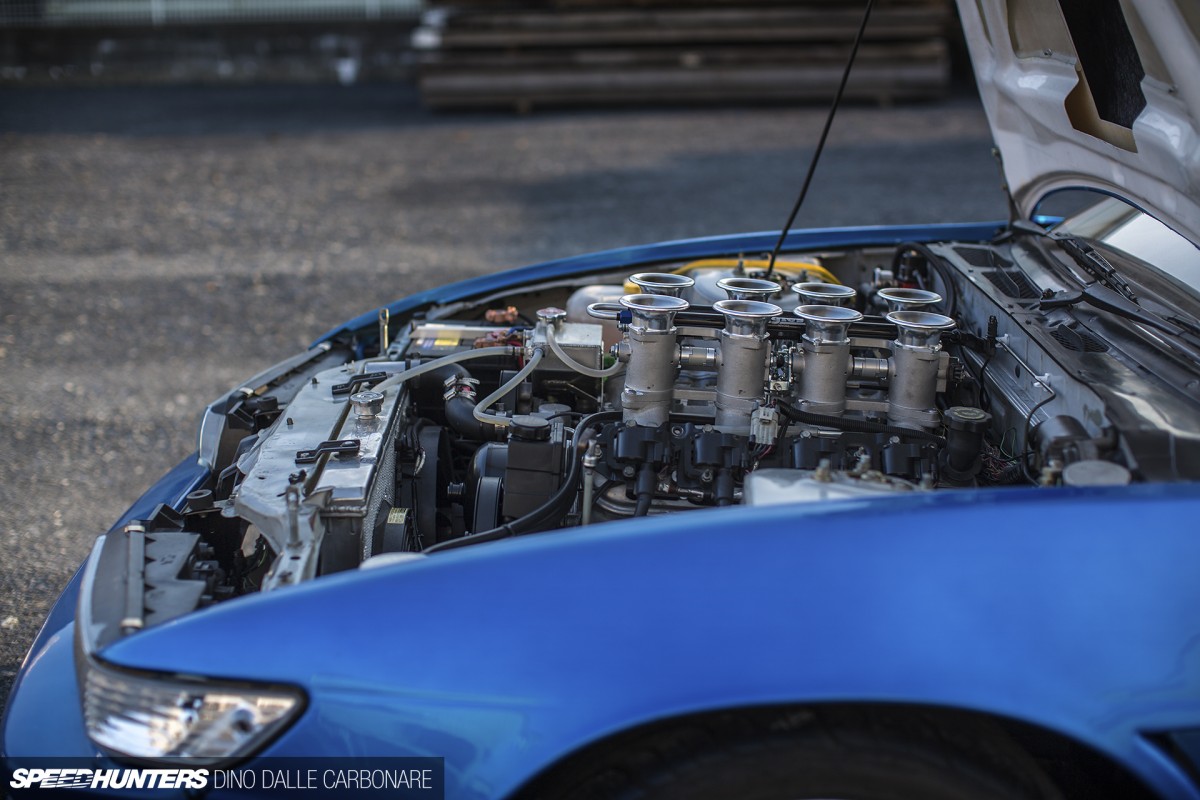 That's because the Corvette C6-sourced LS2 that Takatori has dropped into the bay has been topped off with an eight throttle body conversion kit from Inglese, complete with open velocity stacks.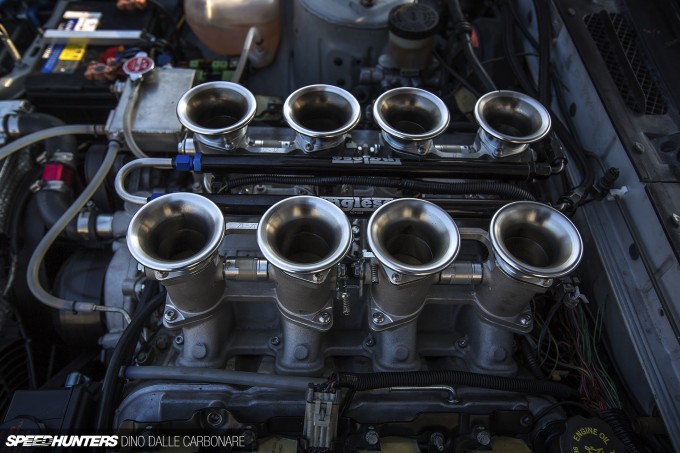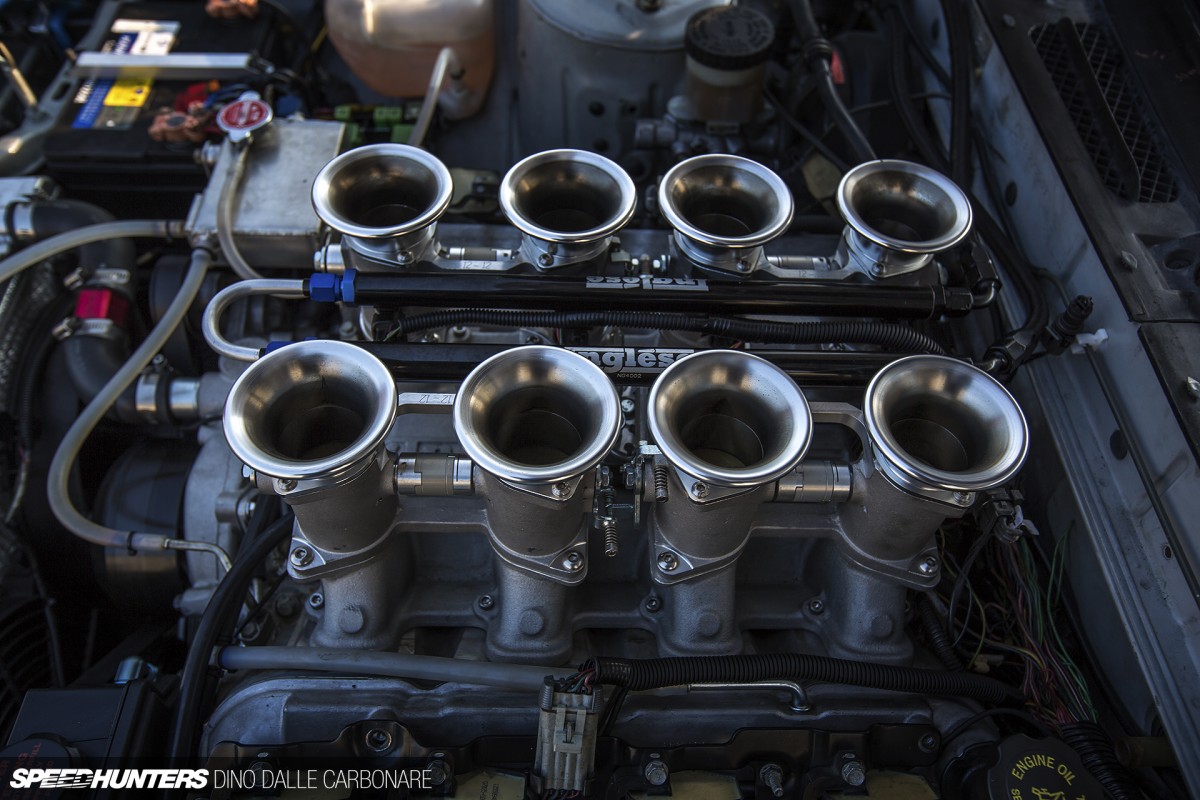 It certainly looks more presentable than a simple V8 swap where a single throttle is used and plumbed up to a cone filter pushed to one side of the engine bay. But with the need to provide the driver with as much instant throttle response as it's possible – not to mention extracting every last bit of performance from the current set up – the ITBs do the job rather well.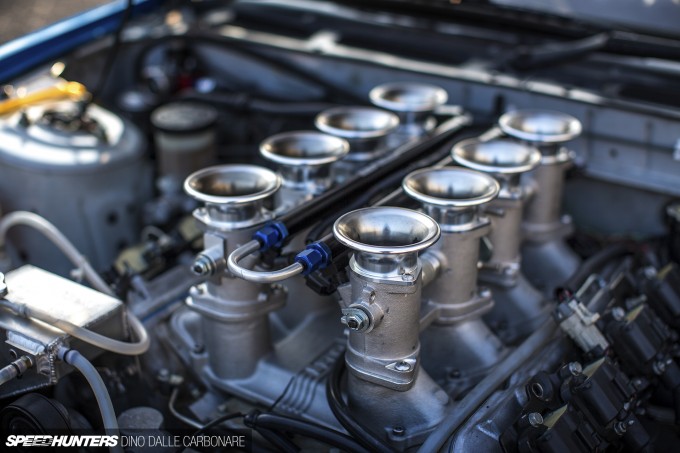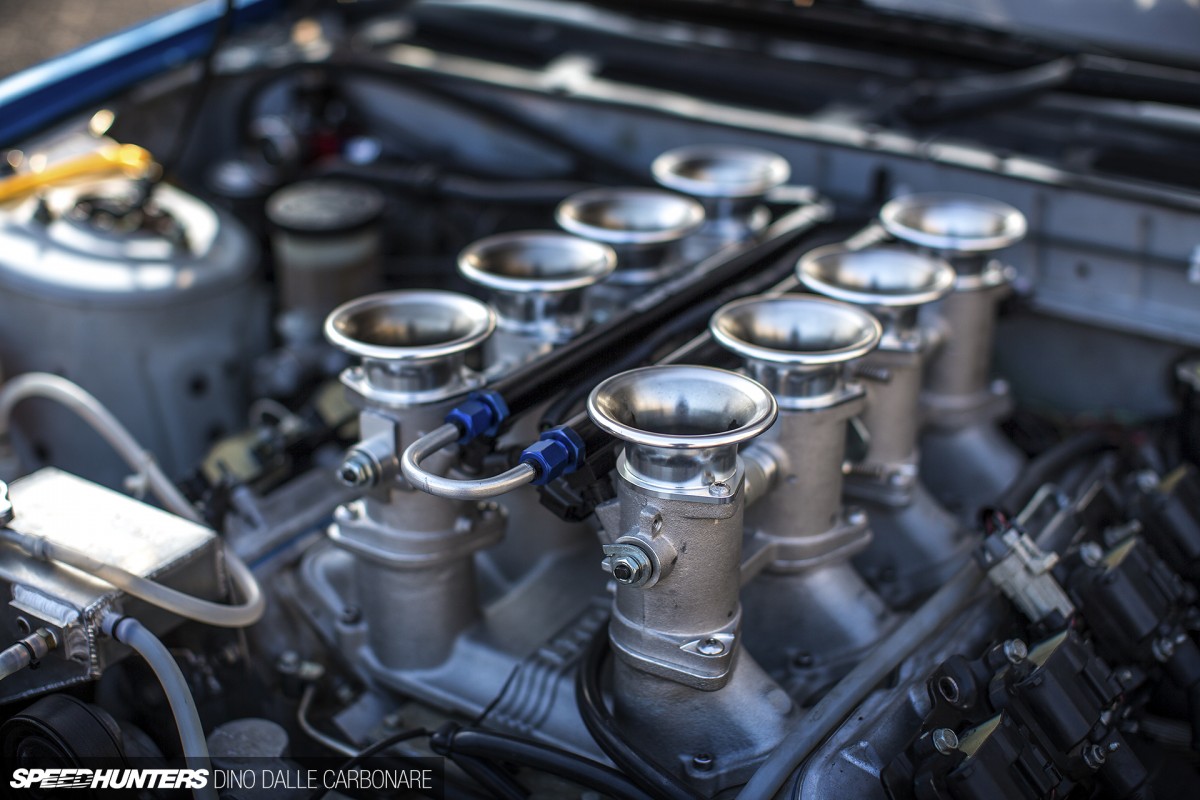 They're definitely not the only upgrade the LS2 has seen either. There's stronger conrod bolts to make sure the bottom end can take the abuse in competition, a high-lift camshaft, as well as chromoly pushrods, roller rocker arms and dual valve springs so that the valve gear can handle hard use.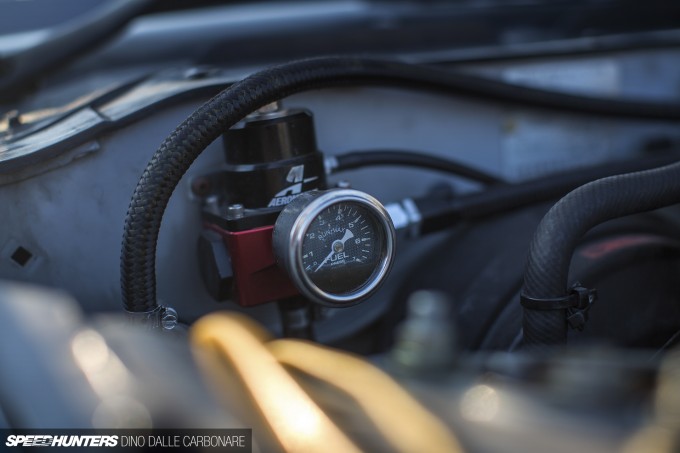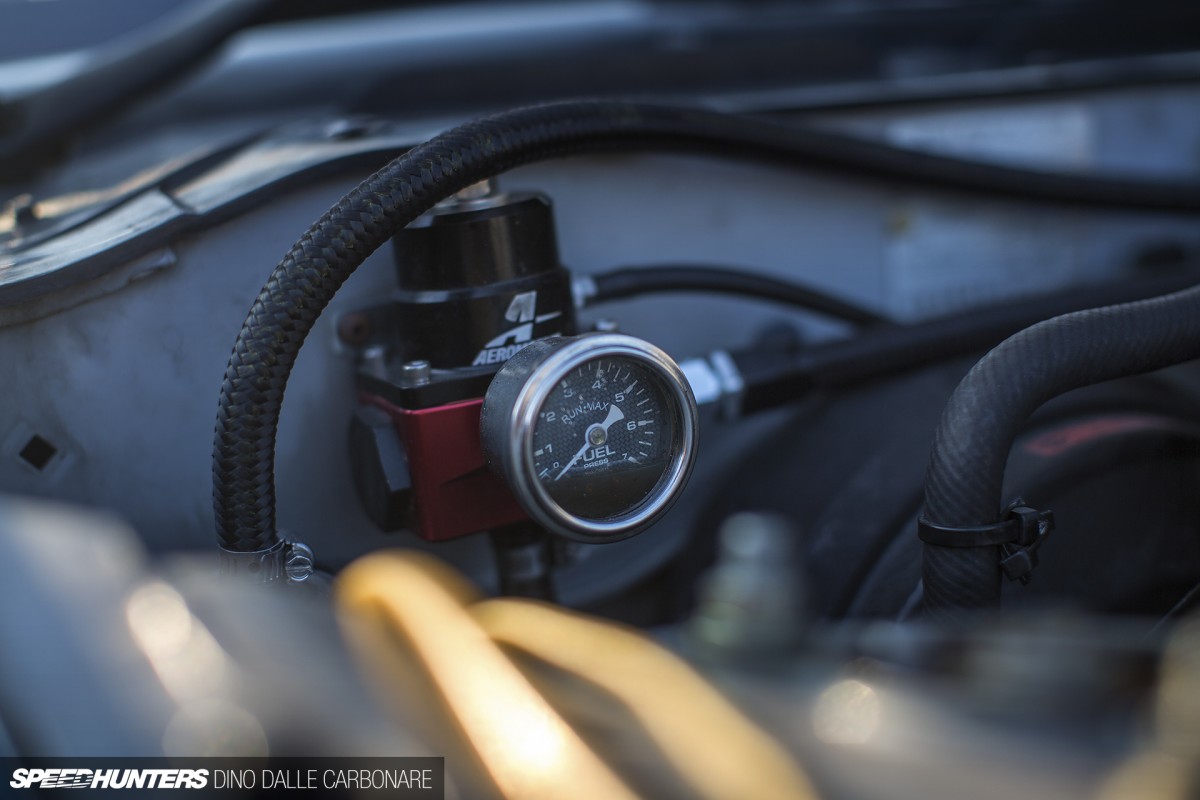 Injectors are kept topped up with a high pressure fuel pump and an Aeromotive adjustable regulator, all managed via the Adaptronic engine management system.
The LS2 is actually the second V8 engine to be used in the car. As you can see in the above video, the close-to-stock LS1 that was fitted for first D1-SL round that Horiguchi drove it in, ended up blowing itself up in spectacular fashion.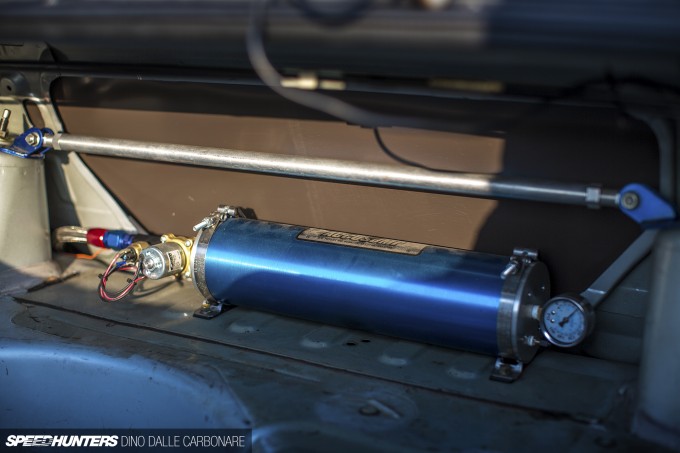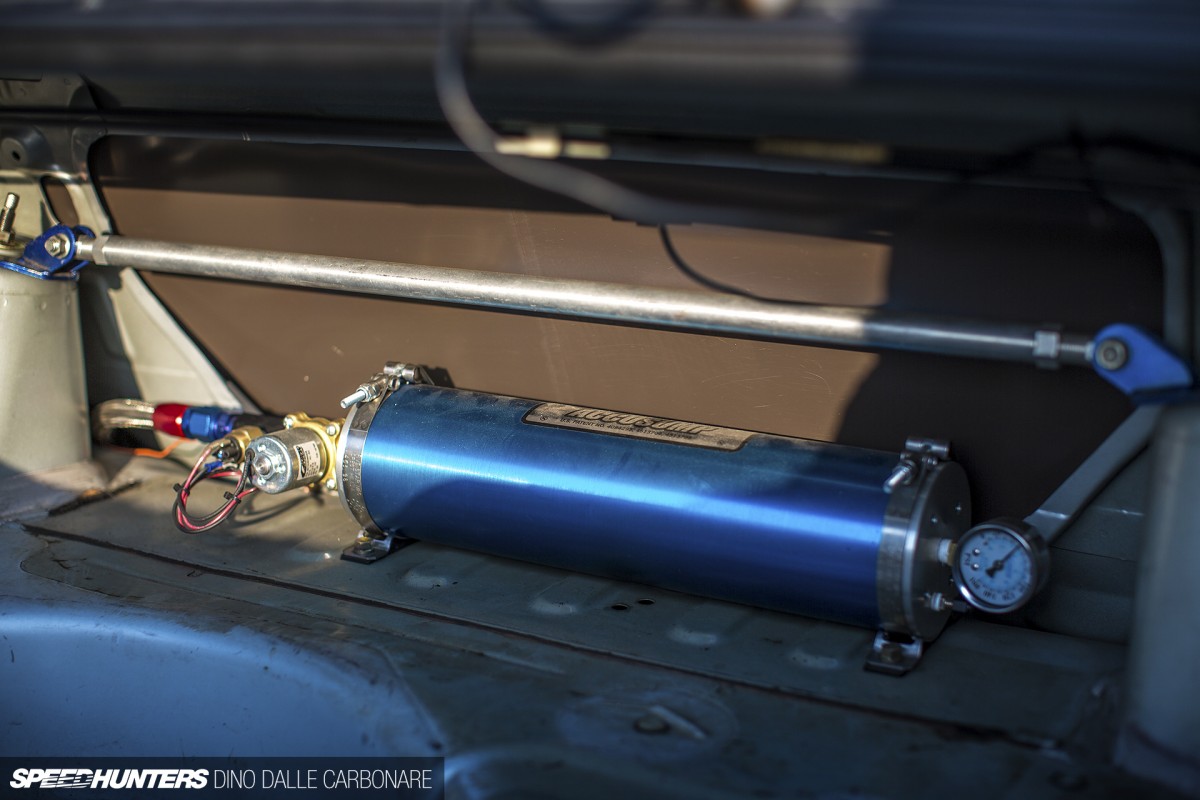 Now the LS2 runs an upgraded oil pump and extended sump to guarantee optimal lubrication at high speed and during high-G turns. On top of that, the Accusump that's fitted in the trunk keeps the oil system adequately pressurised for a little more piece of mind.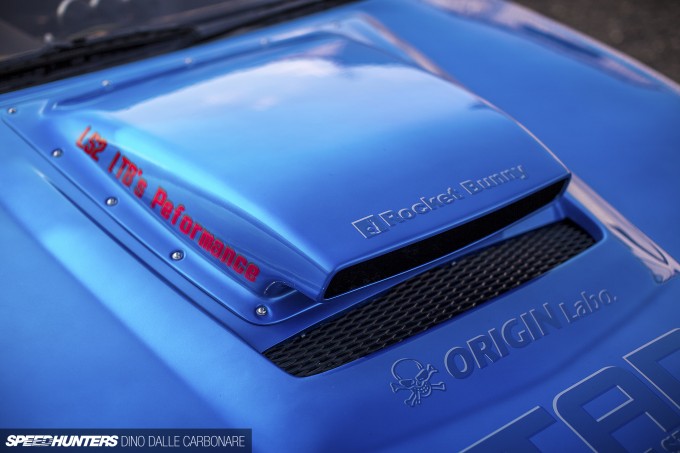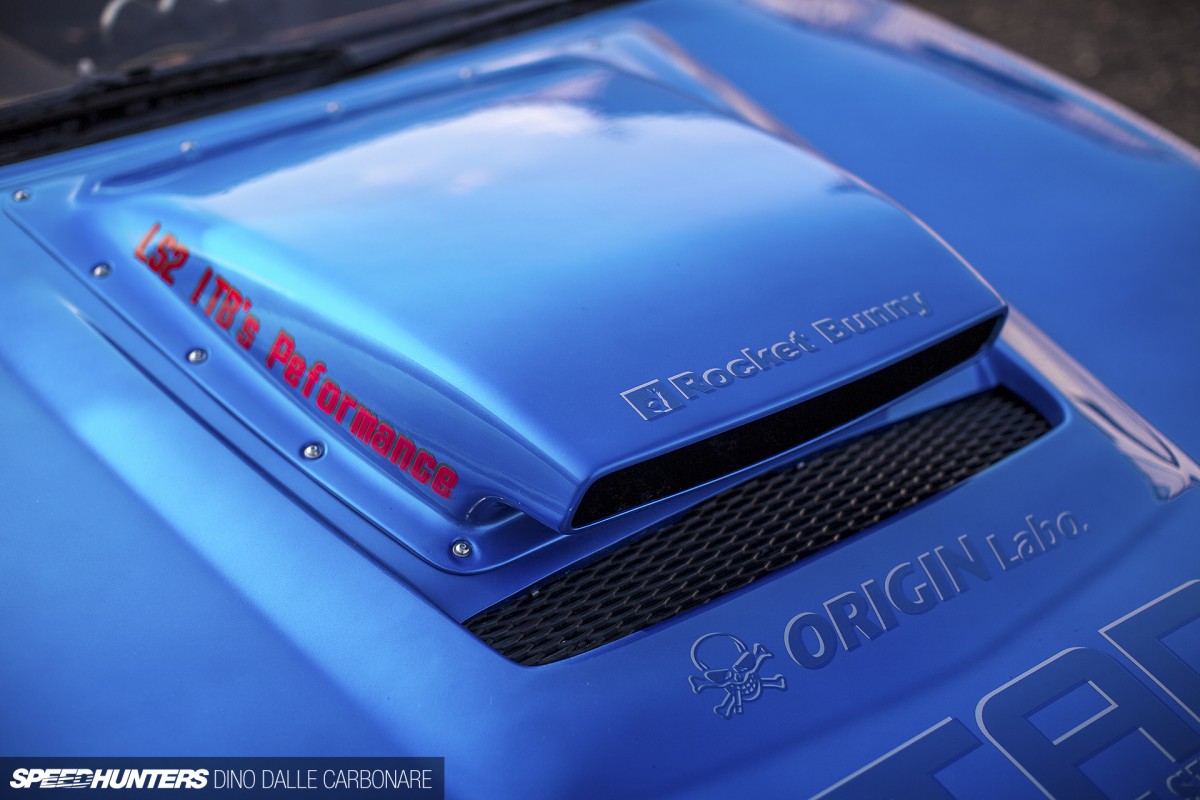 When Takatori realised that a bonnet scoop was needed for the new setup, he approached Miura-san, who consequently knocked-up this FRP item in a couple of days.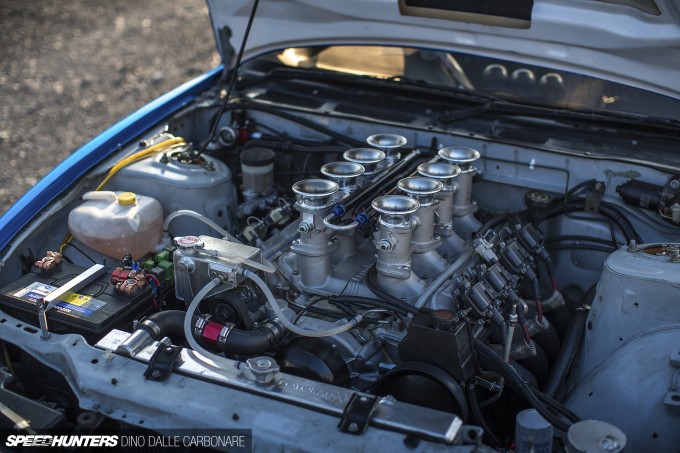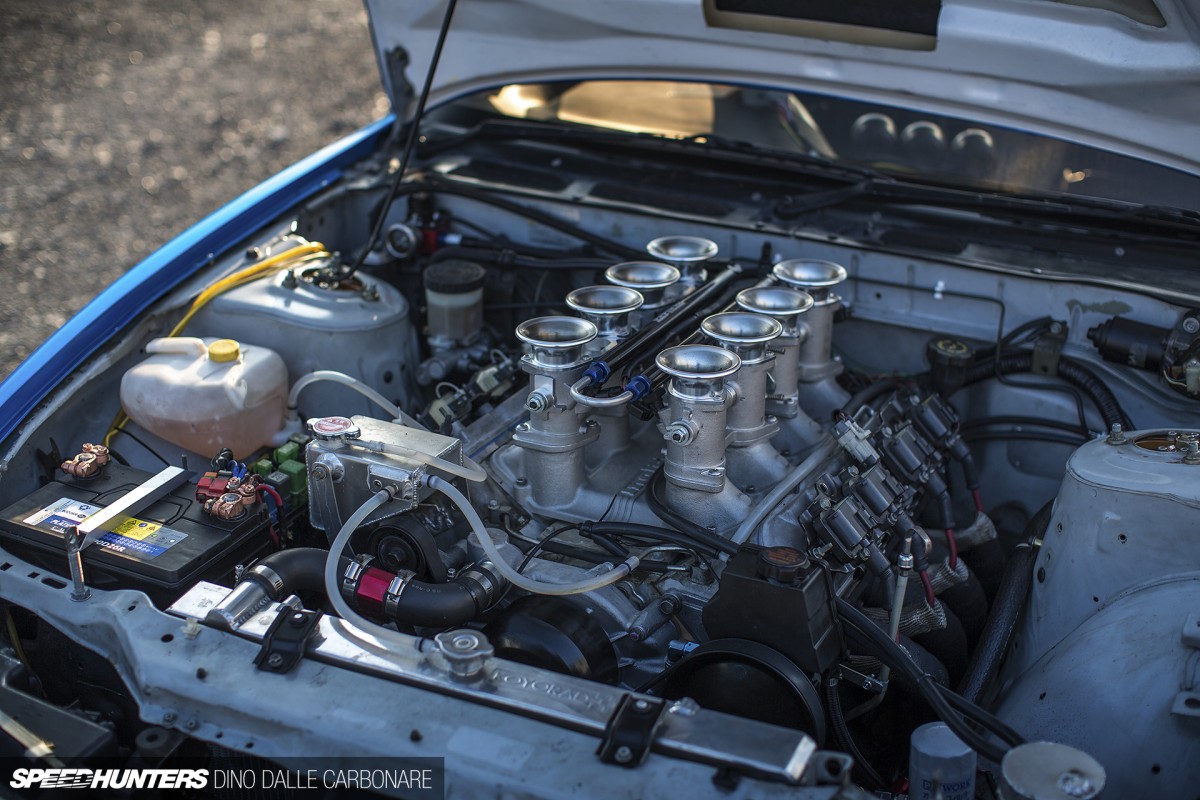 This is one S-chassis engine bay that may look pretty boring to you US folks out there, but here in Japan it's still something that's new and generating a lot of interest. In fact, after D1-GP driver Kumakubo tried out the Stance Japan S13 for an Option Video segment last year, he liked it so much that he concluded by stating, "I want one too." I guess that's why his D1 S15 has just been fitted with a highly-tuned V8 of its own…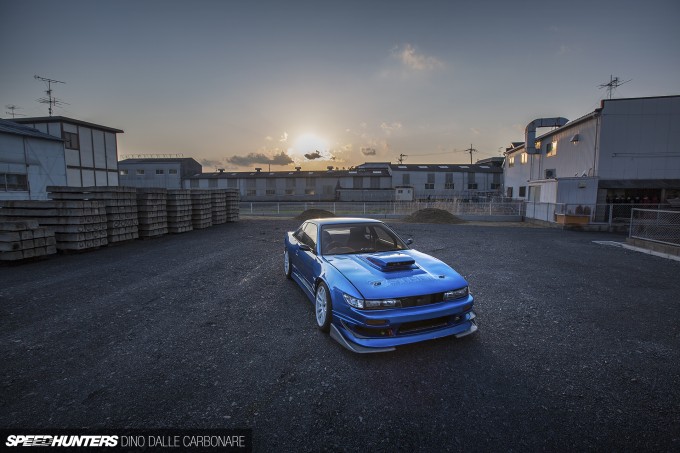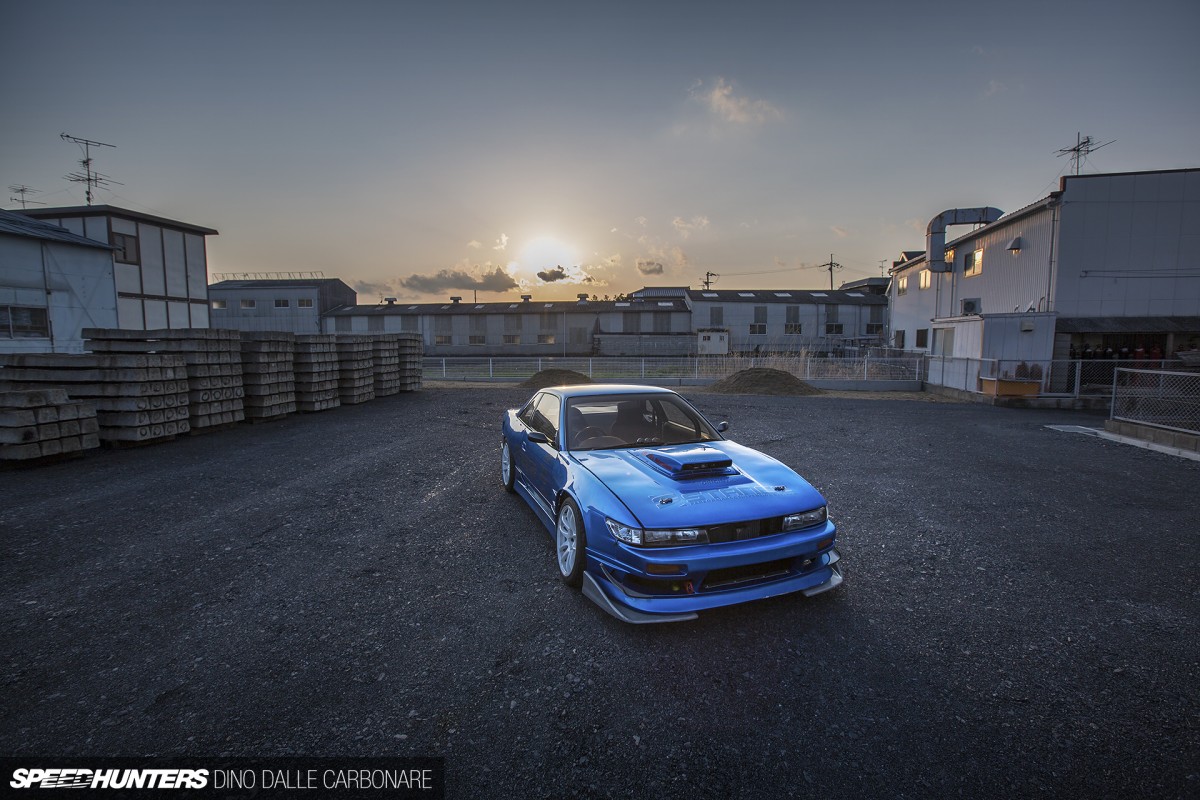 I just love how the whole character of the Silvia has been completely changed by that massive bonnet scoop. Those in the know will know what's up, others will just have to hear the engine being cranked into life to realise that this definitely isn't your average drift-spec jyu-san.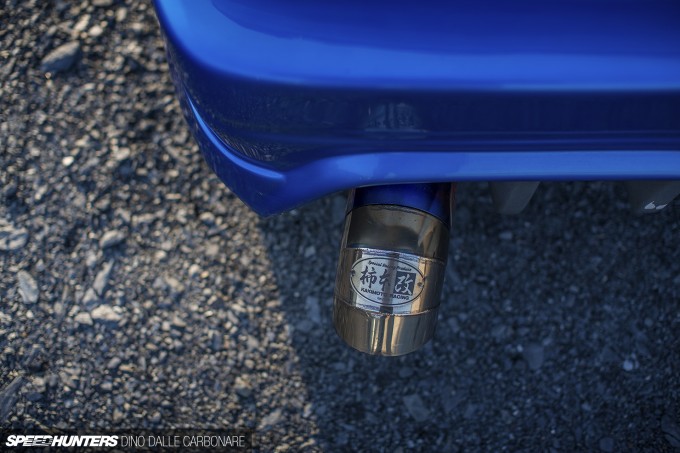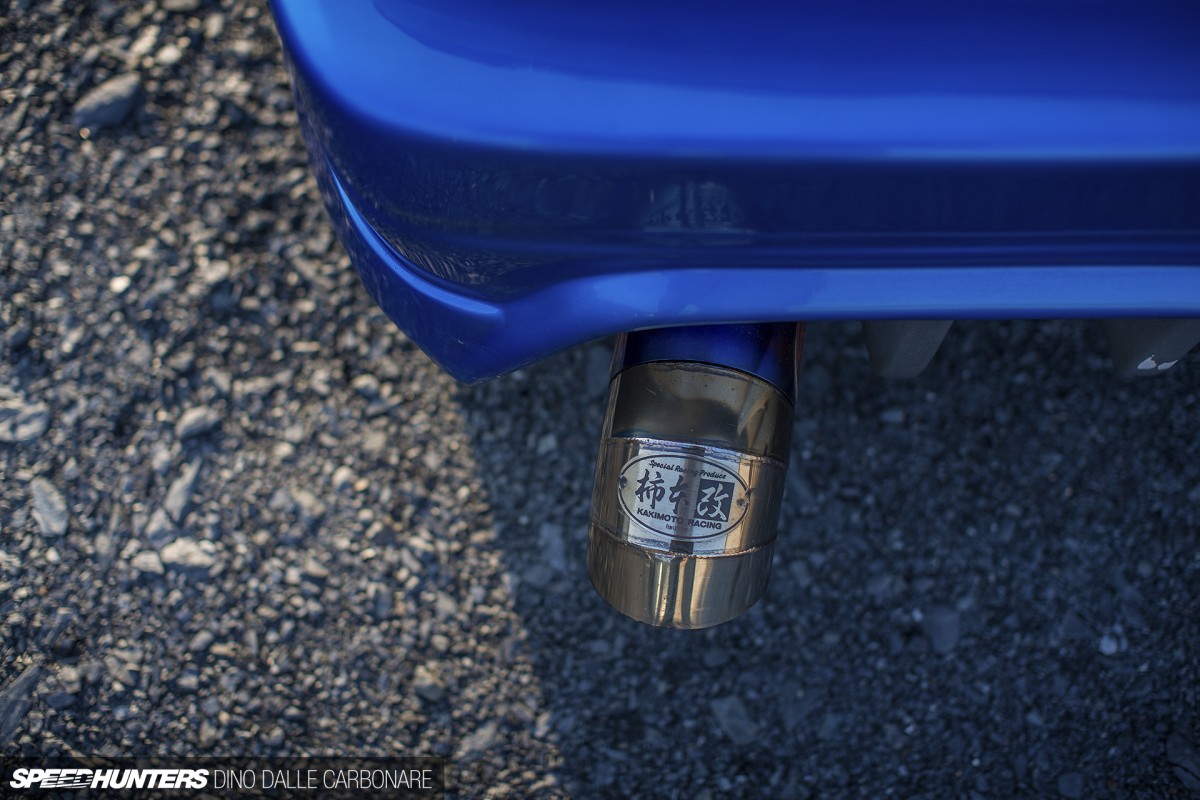 And to really emphasise that V8 rumble, Takatori had Kakimoto fabricate a custom exhaust system which included a pair of headers especially designed and constructed to clear the S13's steering column. That's one of the biggest hurdles in shoehorning the LS2 into the engine bay.
I thought I'd share a quick video of the car as it drove off down the street after I finished this shoot. No sideways action of course, but at least you get to hear that unusual sound coming out of the downward-turned exhaust tip.
Street Legal A Must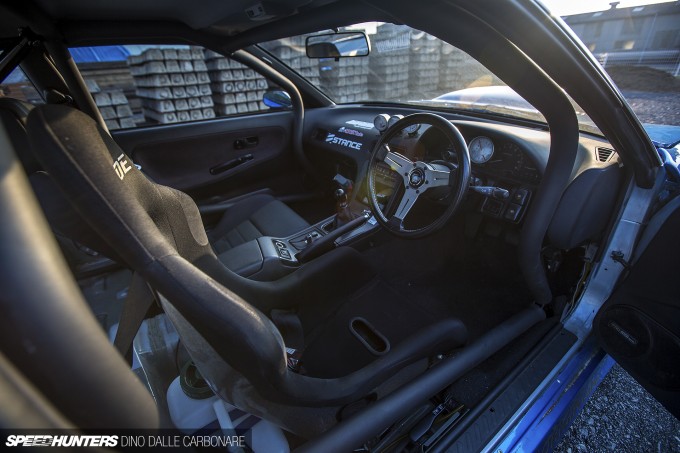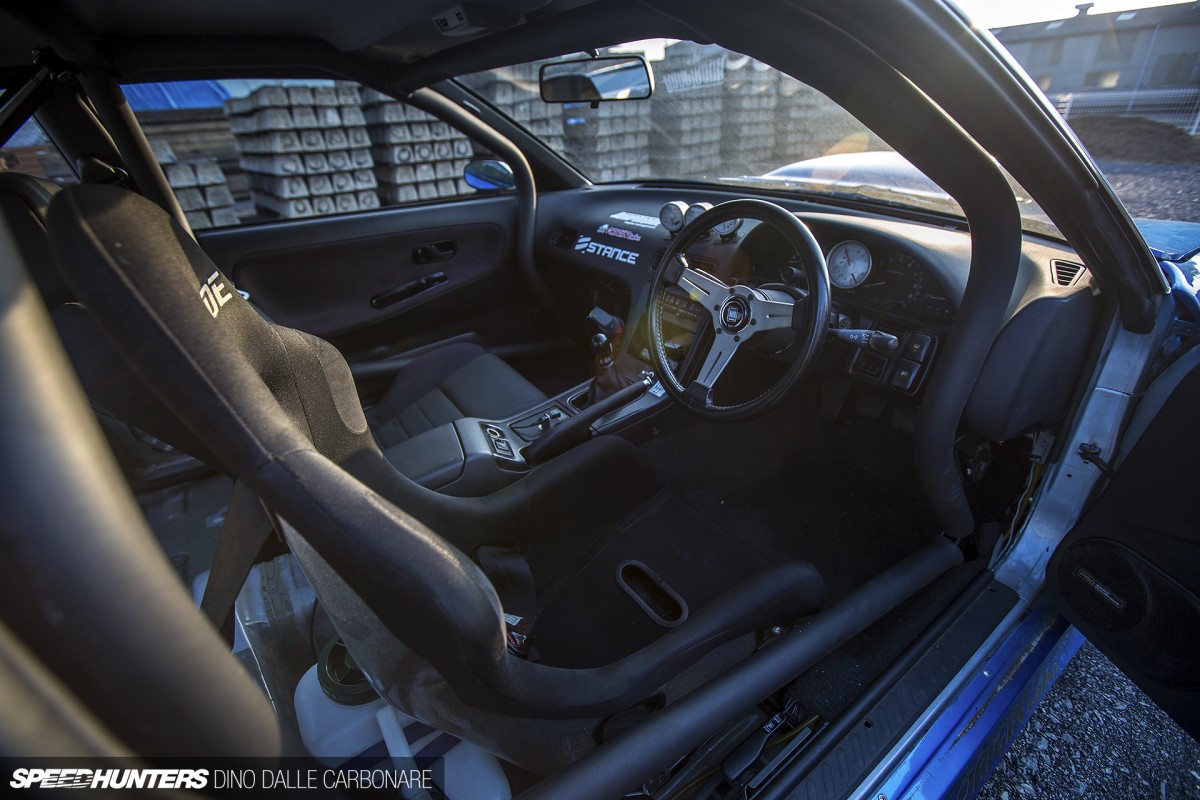 D1 Street Legal regulations require that cars be roadworthy, which on top of things like having to run a catalyst in the exhaust to satisfy emission controls, means they must maintain a close-to-full front interior. Horiguchi has a nice and supportive Bride seat to pilot the S13 from, flicking it sideways via the Nardi steering wheel and controlling the V8's torque through a T56 six-speed gearbox borrowed from a 2002 Camaro.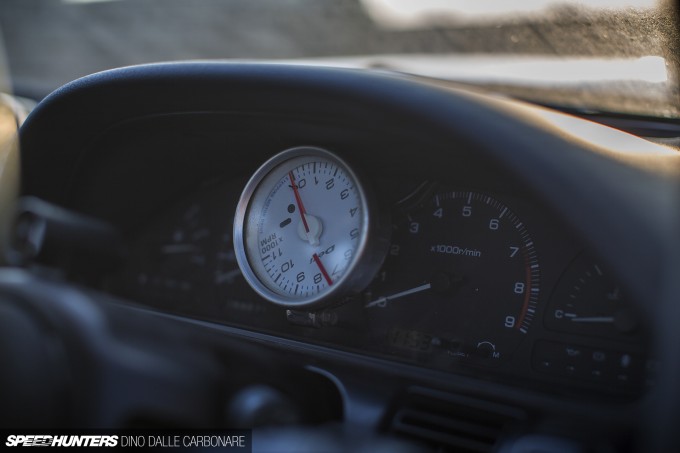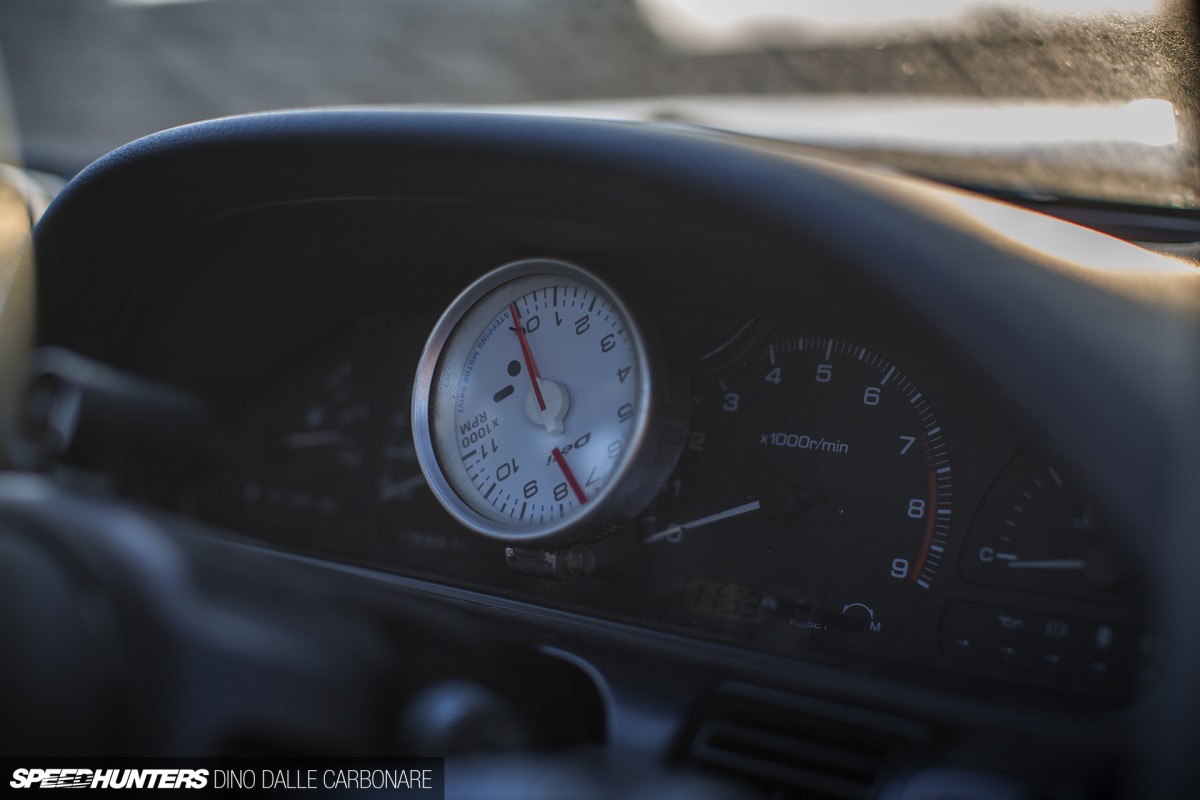 A big upturned Defi tachometer sits in front of the stock instrumentation, with its 7,500rpm redline highlighted.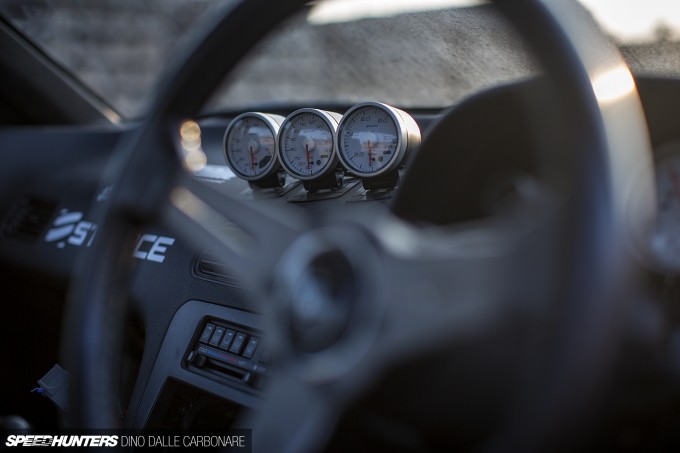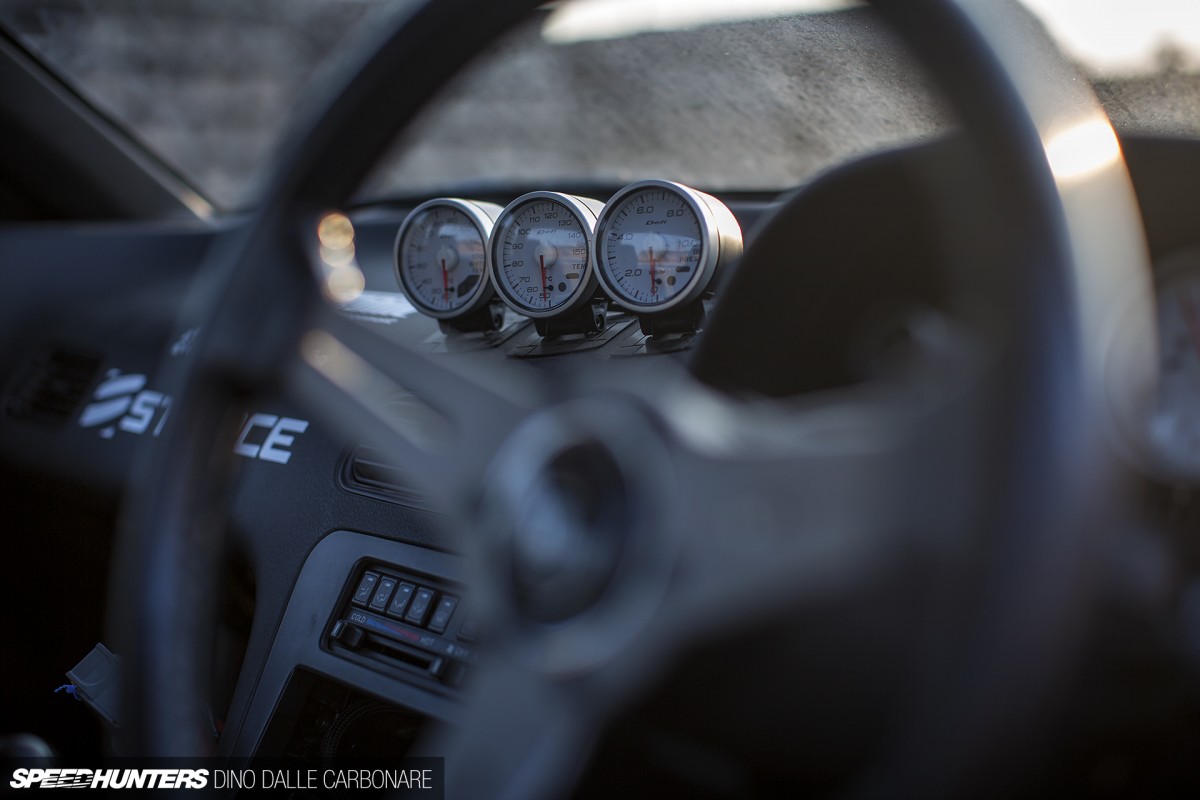 Three additional Defi gauges are set in the usual dash-top position, relaying vital temperature and pressure readings to the driver.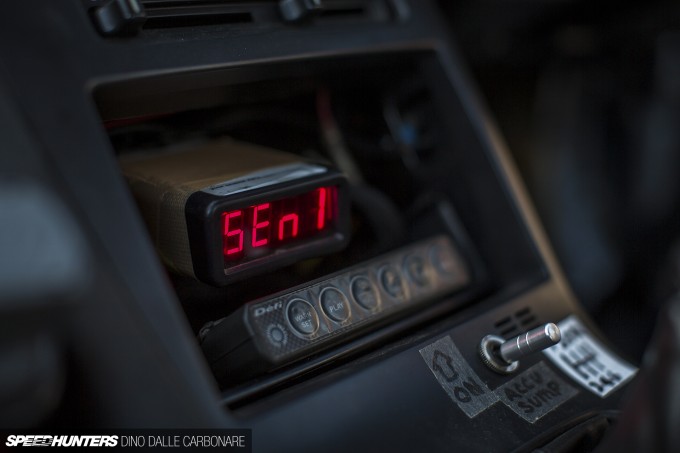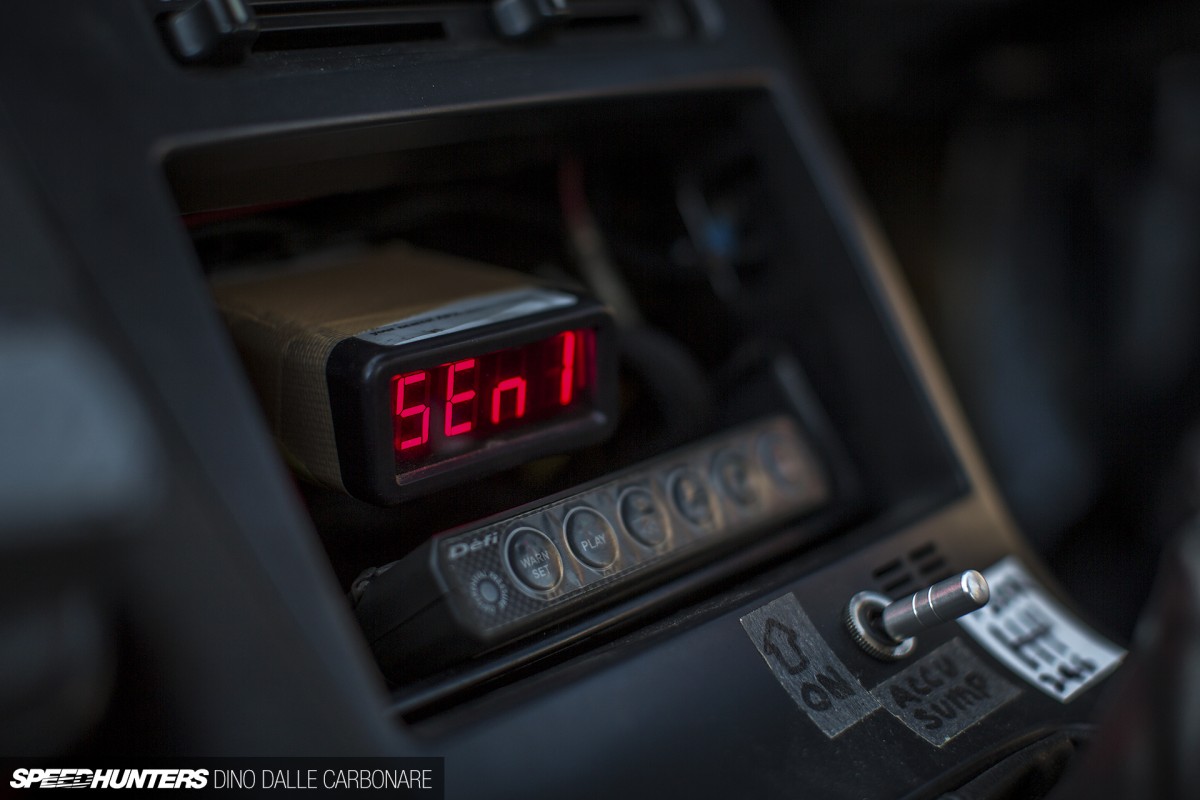 The 2DIN space in the center console has been utilised to house the AFX air/fuel ratio meter and the Defi control unit. Just below that is the switch for the Accusump, and if you are wondering why there's a white piece of paper with the gear pattern drawn onto it, that's a necessity to pass the shaken (or Japanese roadworthiness test) – something I once found out about the hard way when the test center failed my GT-R because I hadn't stuck the pattern decal next the Nismo shifter!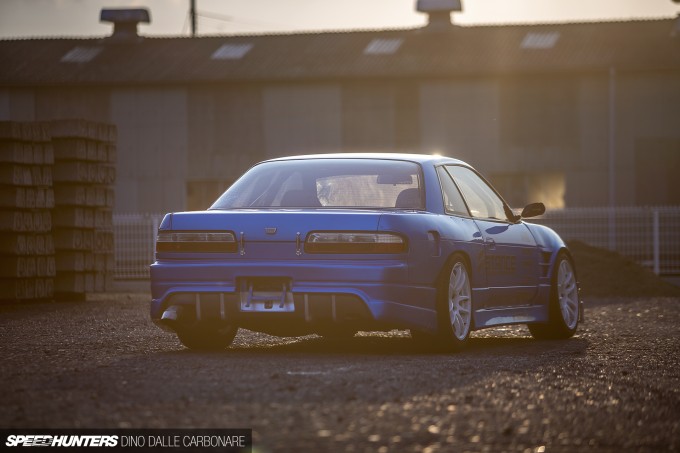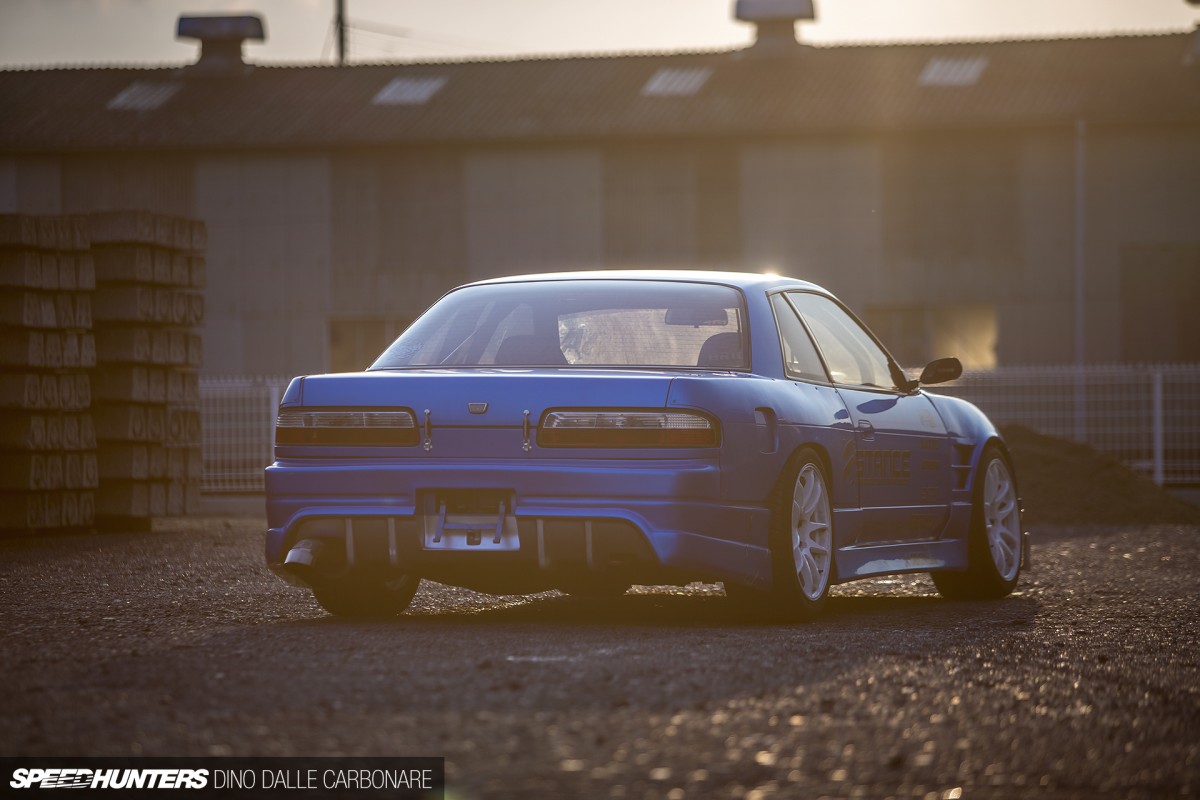 Is this a far too predictable swap to be running in an S13? Is aspiring to what the West is doing a bad thing for the Japanese, who are after all the pioneers of drifting? Takatori certainly doesn't think so. He built this car for reliability; for easy and accessible mid-range torque and that instant response that naturally aspirated and individually throttle-bodied high performance V8 engines are famous for. Make of it what you will; but at least in Japan this is one car that a lot of people are talking about. V-hachi all the way!
Dino Dalle Carbonare
Instagram: speedhunters_dino
dino@speedhunters.com