Into The Japanese Countryside We Go…
As car lovers, we're all united by our shared automotive passion. Yet naturally, each of us still have our own preferred car style, car make or particular automotive scene that we're more inclined to take an interest in. Perhaps you're really into Subarus or cars built purely for drifting, or maybe you've been crazy about hot rods for as long as you can remember. For me, it's definitely old Japanese cars of the low and wide variety.
My shakotan obsession has sparked several visits to Japan over the years, but it was on one particular trip last year that I happened to hear word of a big nostalgic car show taking place in Shiga Prefecture, roughy an hour west of Nagoya.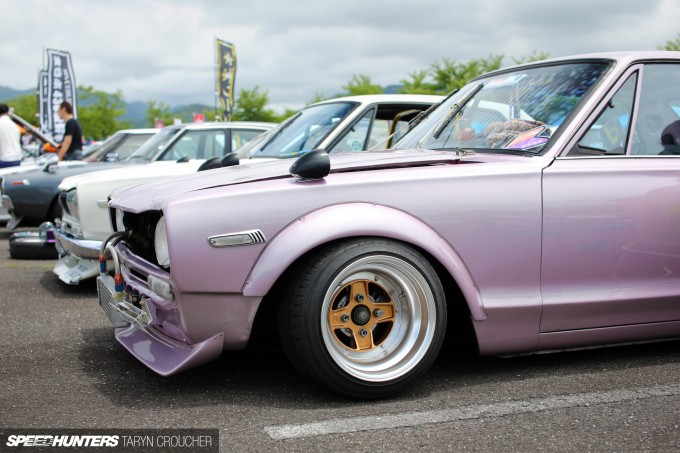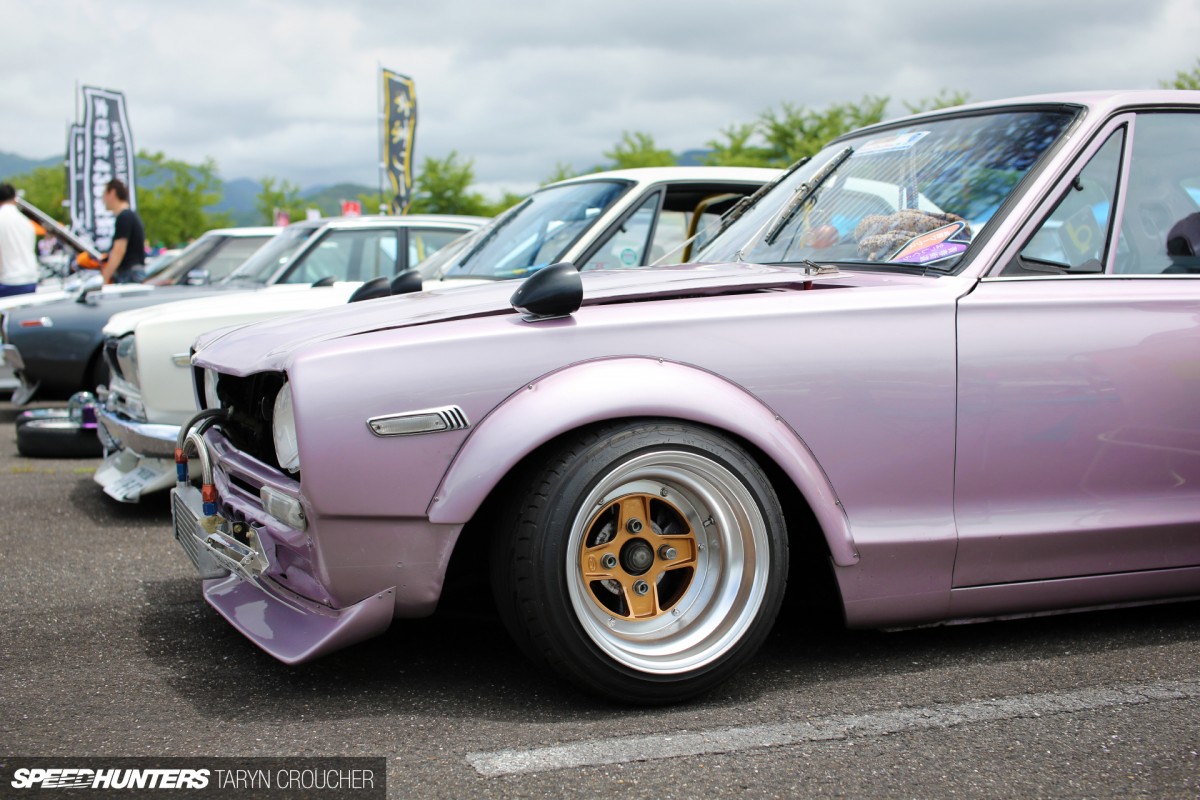 I wasn't sure what to expect, but after a five hour journey from Tokyo to a small country town, I was in total disbelief of how many incredible cars had shown up. Unfortunately, I wasn't able to bring in-depth coverage to Speedhunters last year, but I swore that in 2015 I'd return to Japan once again for this event. Things somehow fell into place, and the Sunday before last I found myself in a rental car driving through the Japanese countryside, on my way to the Blume no oka meeting.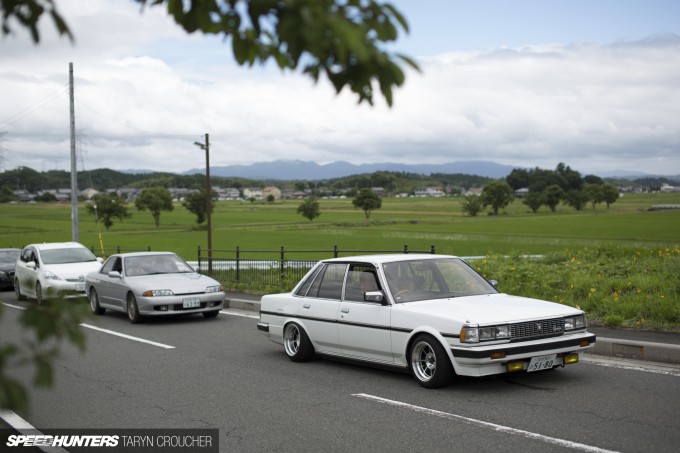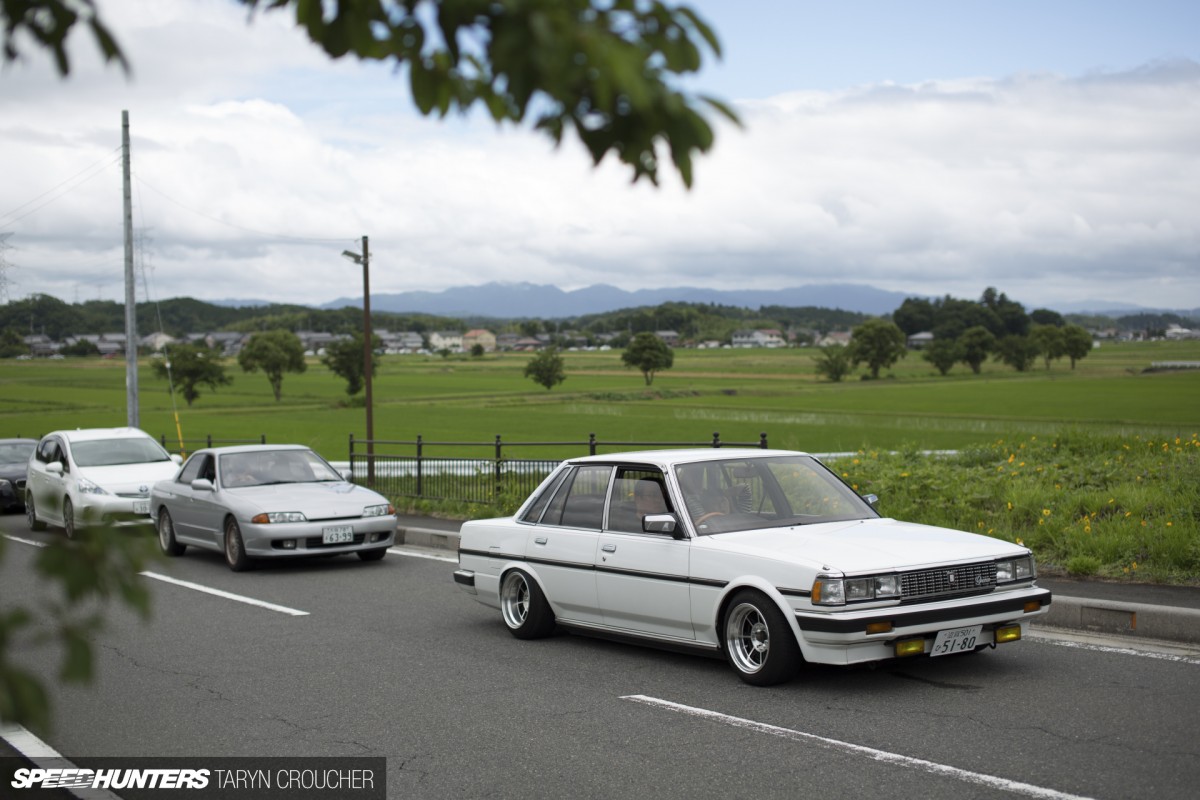 Held by car club Dual Factory, the event once again took place at the end of June and at the same location – a massive parking area for a German culture-themed agricultural park called Blumen Hugel, or Burume no oka in Japanese. By the time we arrived just after 10:00am, there was already a huge line of cars backed up waiting to get into the carpark.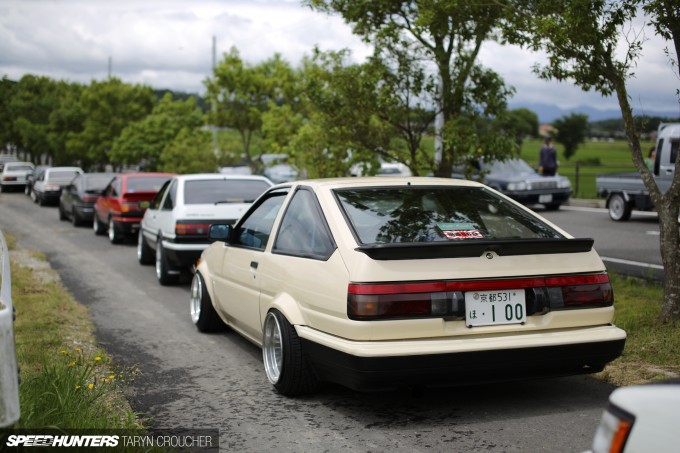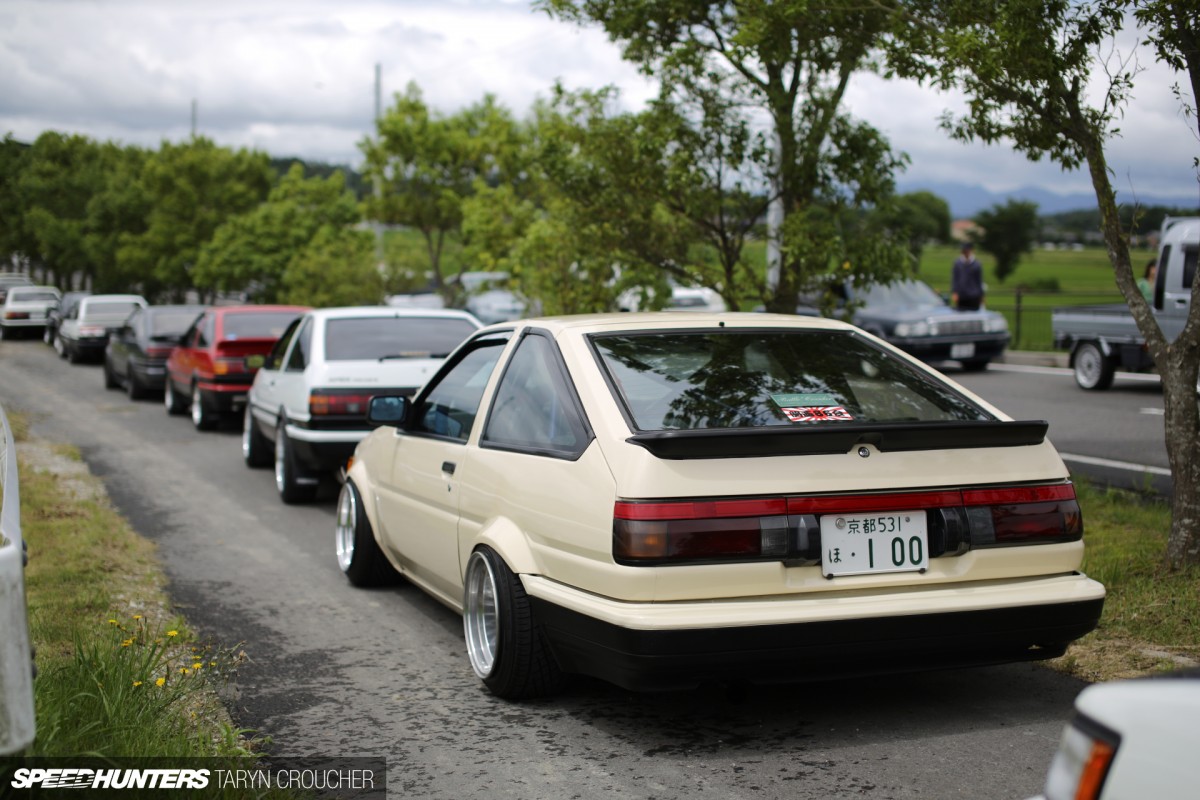 Eventually we realised that the line of traffic wasn't going anywhere, so we parked up on a side road next to this Hachiroku crew and walked the rest of the way to the event. Surely this was a good sign – did it mean that there would be just as many cars as last time? Or maybe more? The suspense was killing me…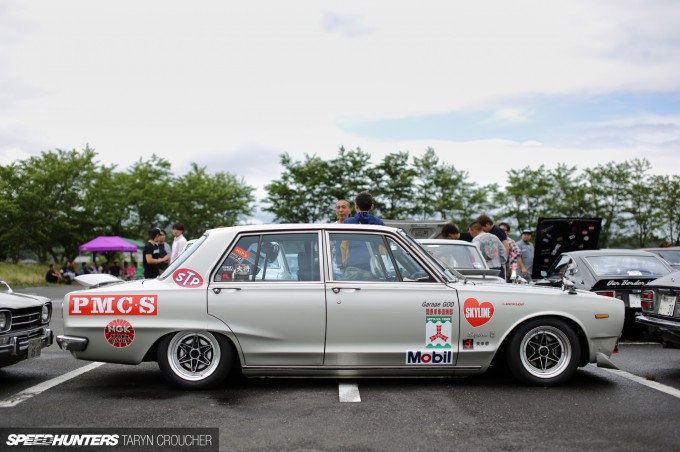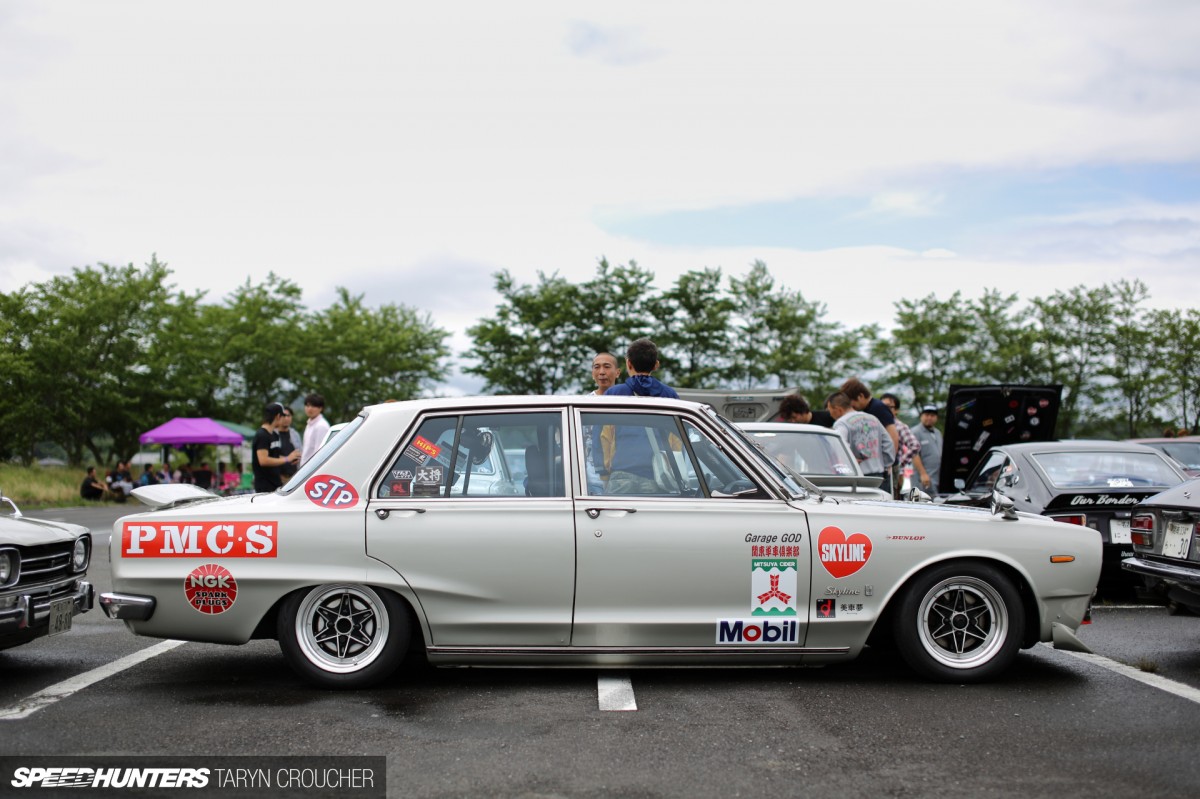 It just seemed crazy, after driving past rice paddy fields and green rolling hills for hours on end, that we were suddenly going to reach a random parking lot containing row after row of rare nostalgic cars modified in every way imaginable. Surely that would be too good to be true, and yet it wasn't.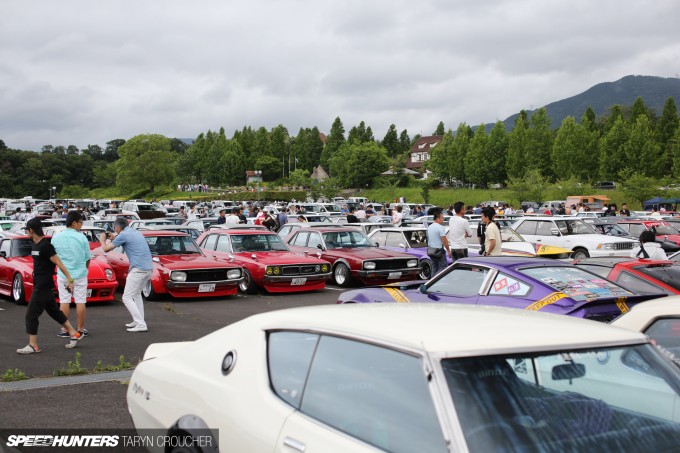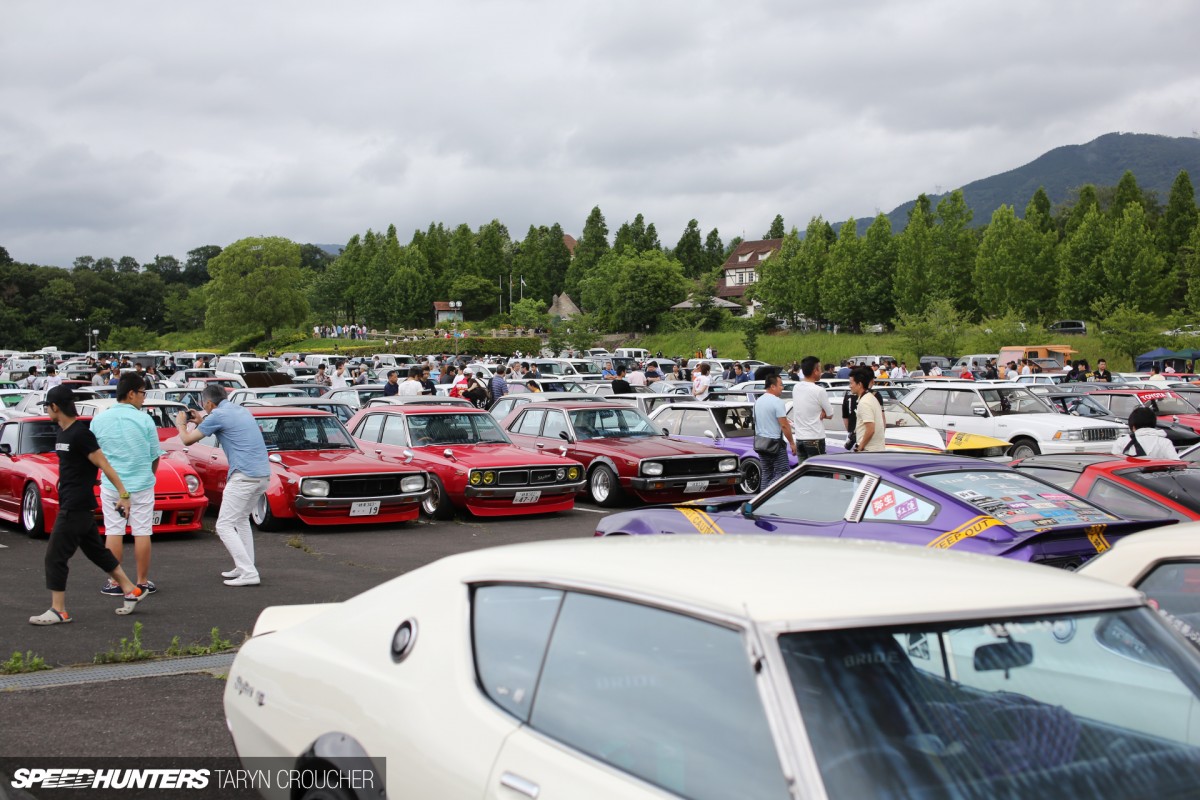 With most of the cars having arrived a couple of hours earlier, the event was already in full swing and the carpark was absolutely jam-packed full of all kinds of kyusha creations. For an old school Nissan lover like me, I was in my ultimate Speedhunting element!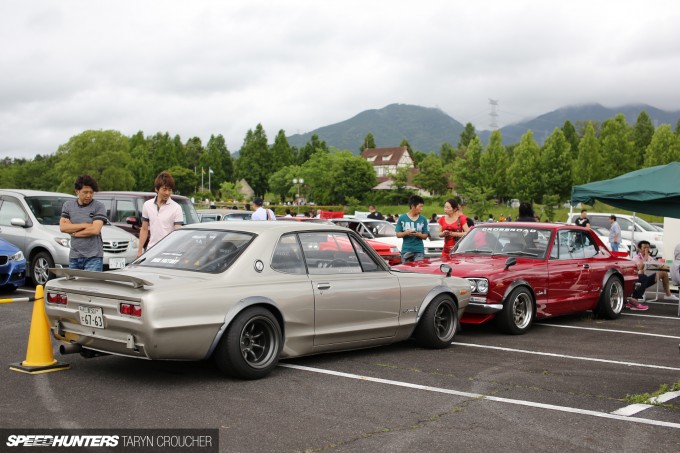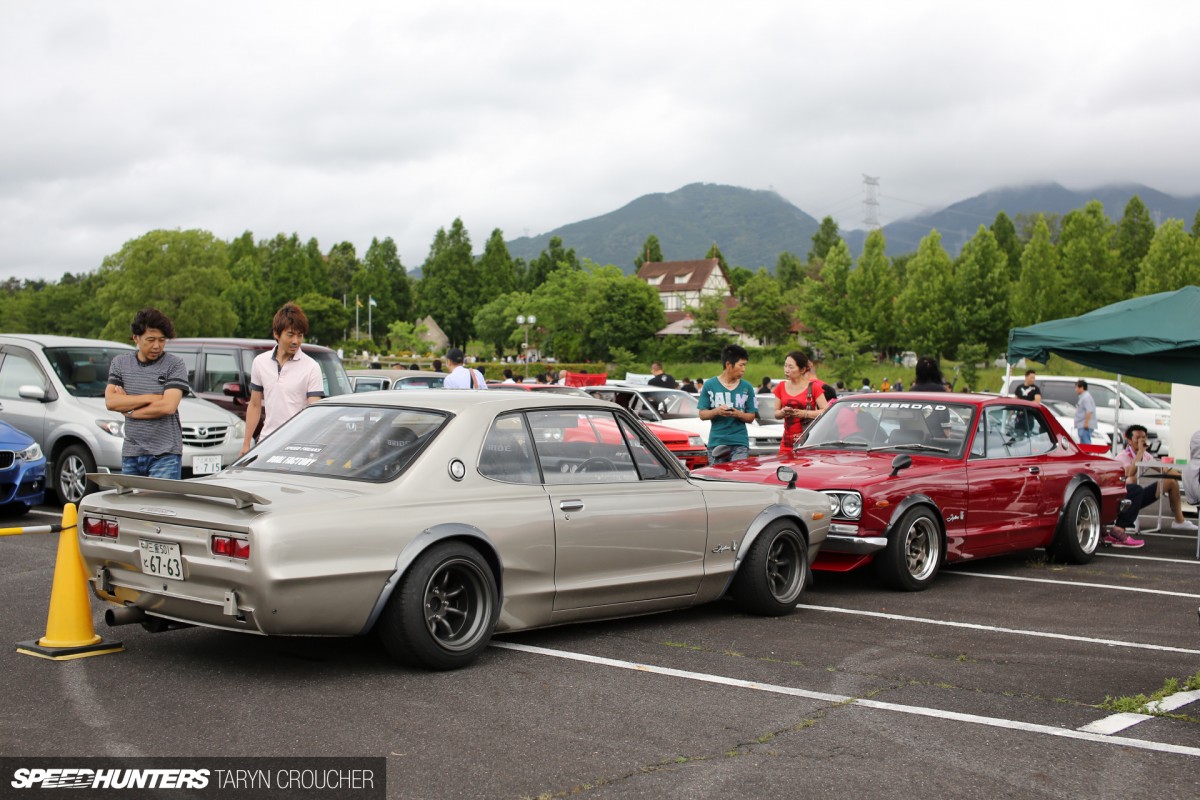 Usually I get excited seeing just one C10 Skyline Hakosuka in the wild, but at this event there had to be at least 50 of them – maybe more. I actually tried to take a photo of every single one to make a collage image to show just how many there were, but I lost count and gave up – I'm not even kidding.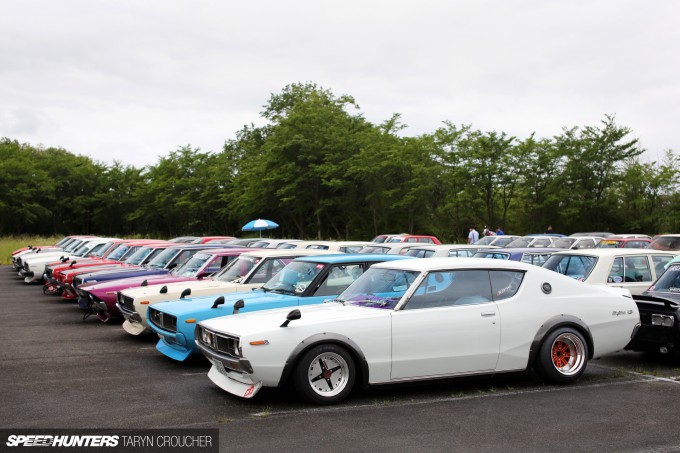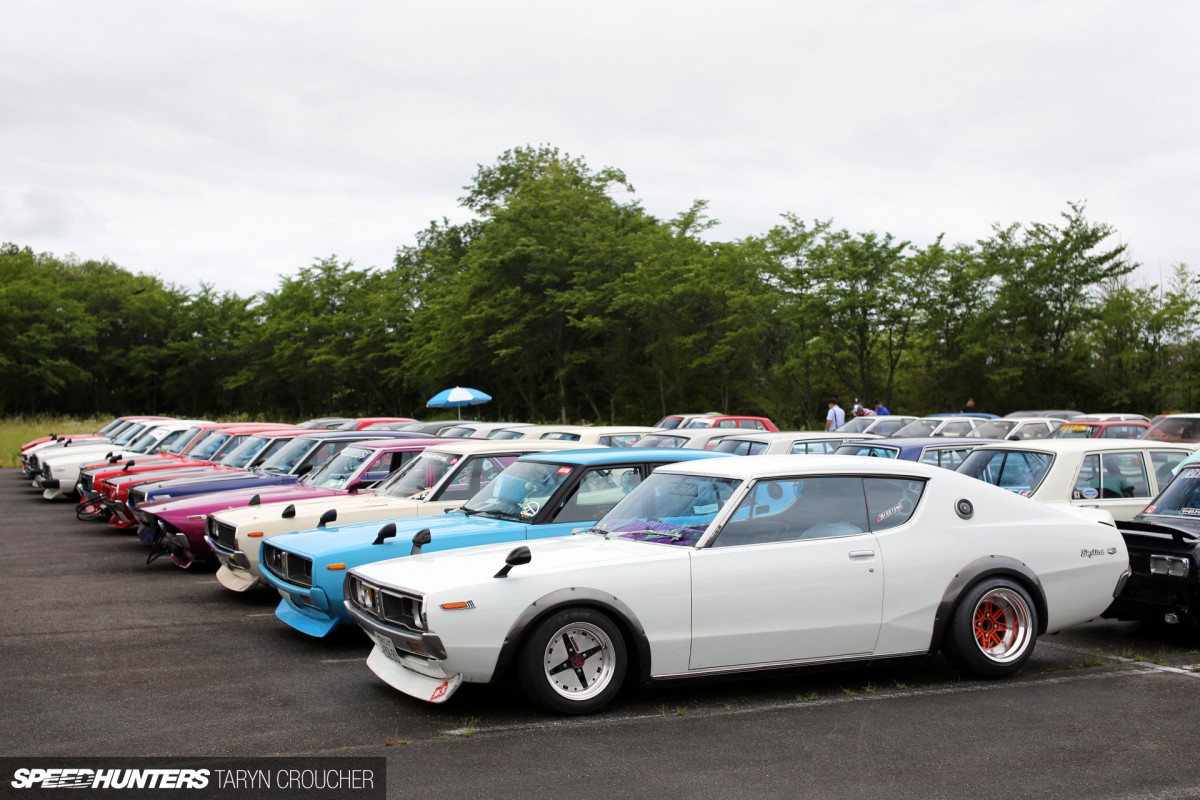 It's honestly difficult to convey the sheer size of just how big this meeting was. If I told you that you could've found almost any combination of old Skyline in any colour scheme with any wheel choice there, would you even believe me?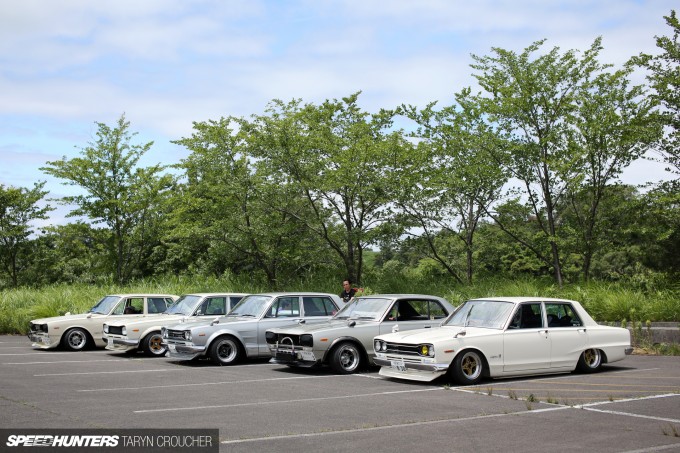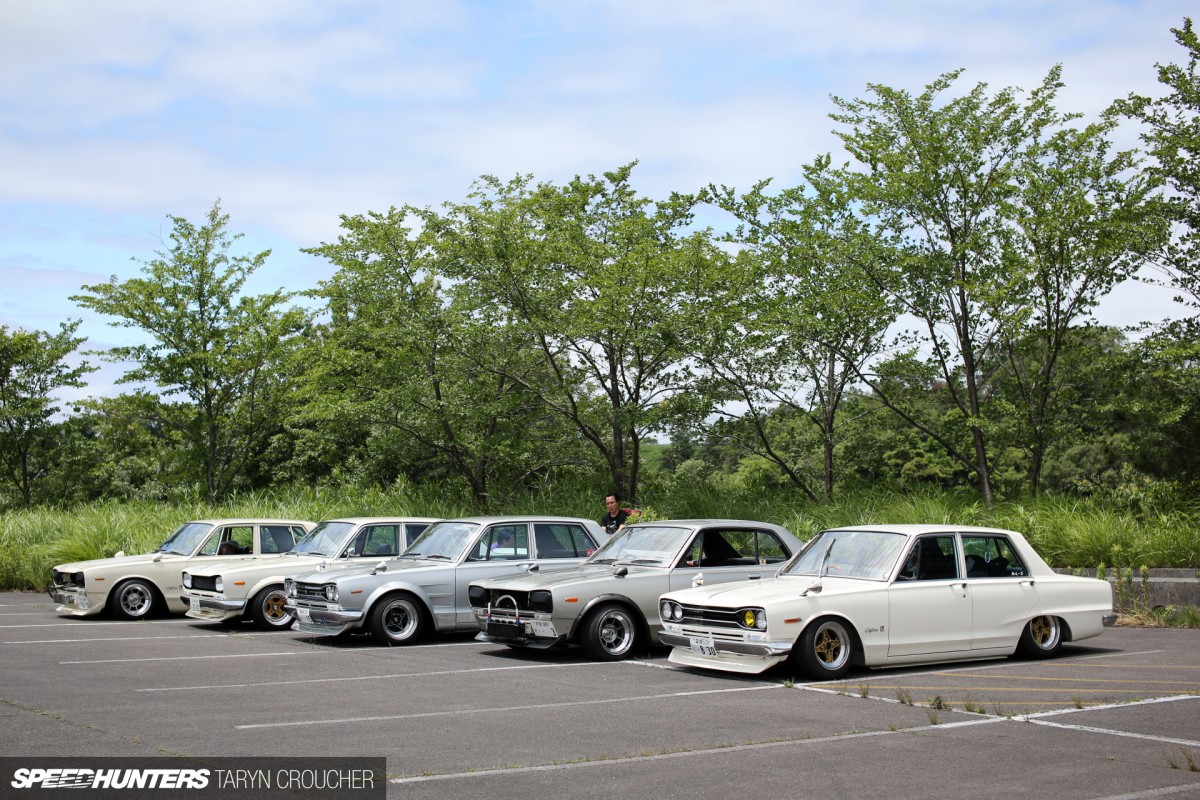 It was almost like ordering a pizza: would you like your Hakosuka with two doors, or four? Stock fenders or GT-R style? With an eggshell white or silver base? And would you like a headlight conversion with that?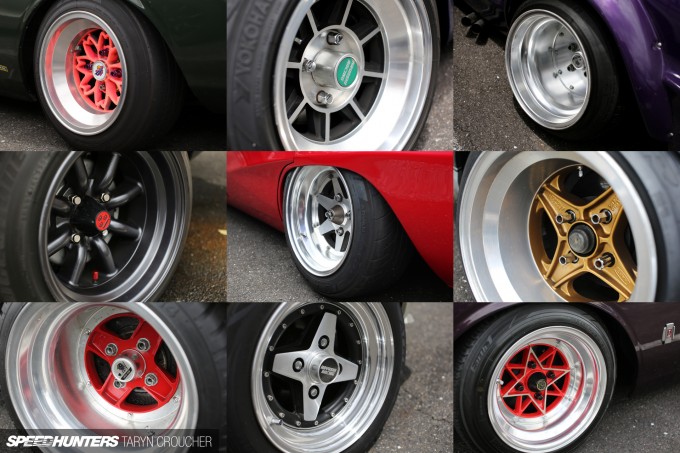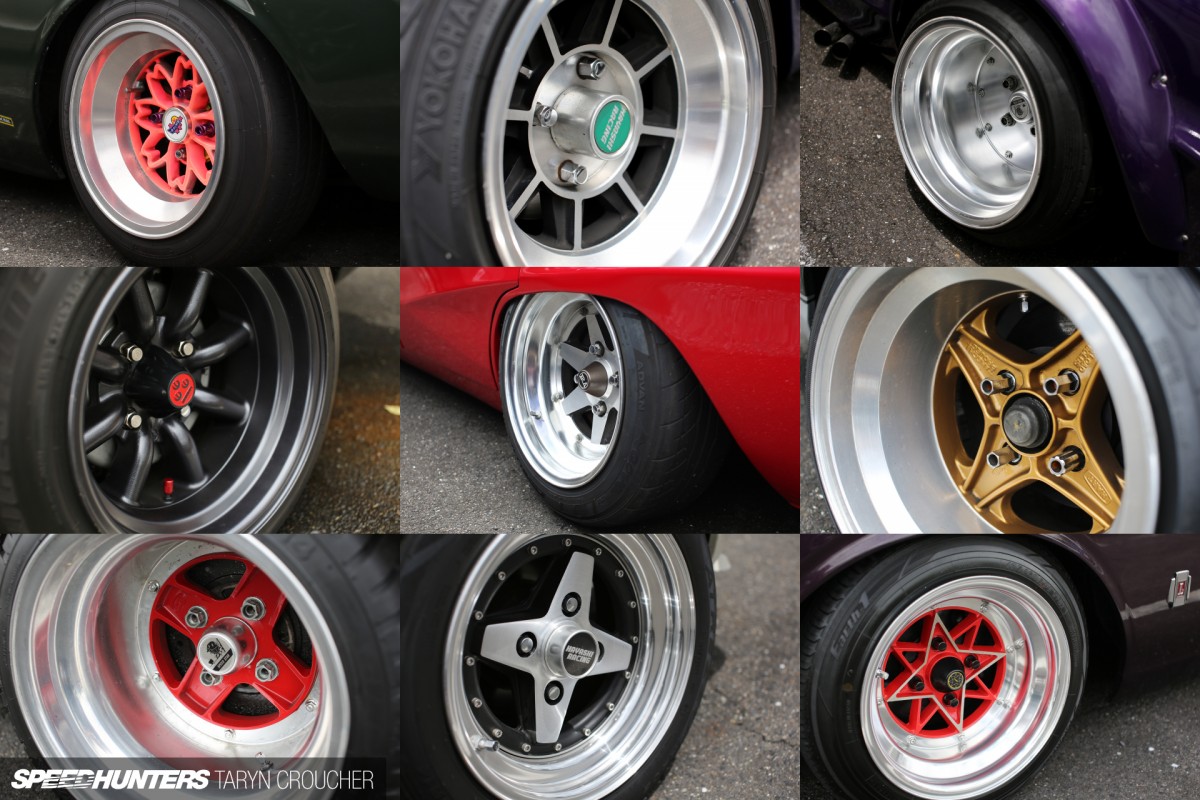 Then there were the wheels: vintage rolling stock by SSR, Techno Racing, Hayashi, Yokohama, AME, Work, Riverside – any old collectable Japanese wheels of your choosing.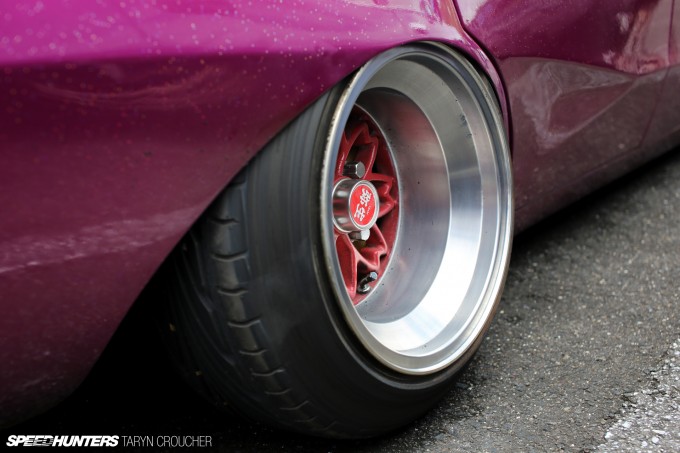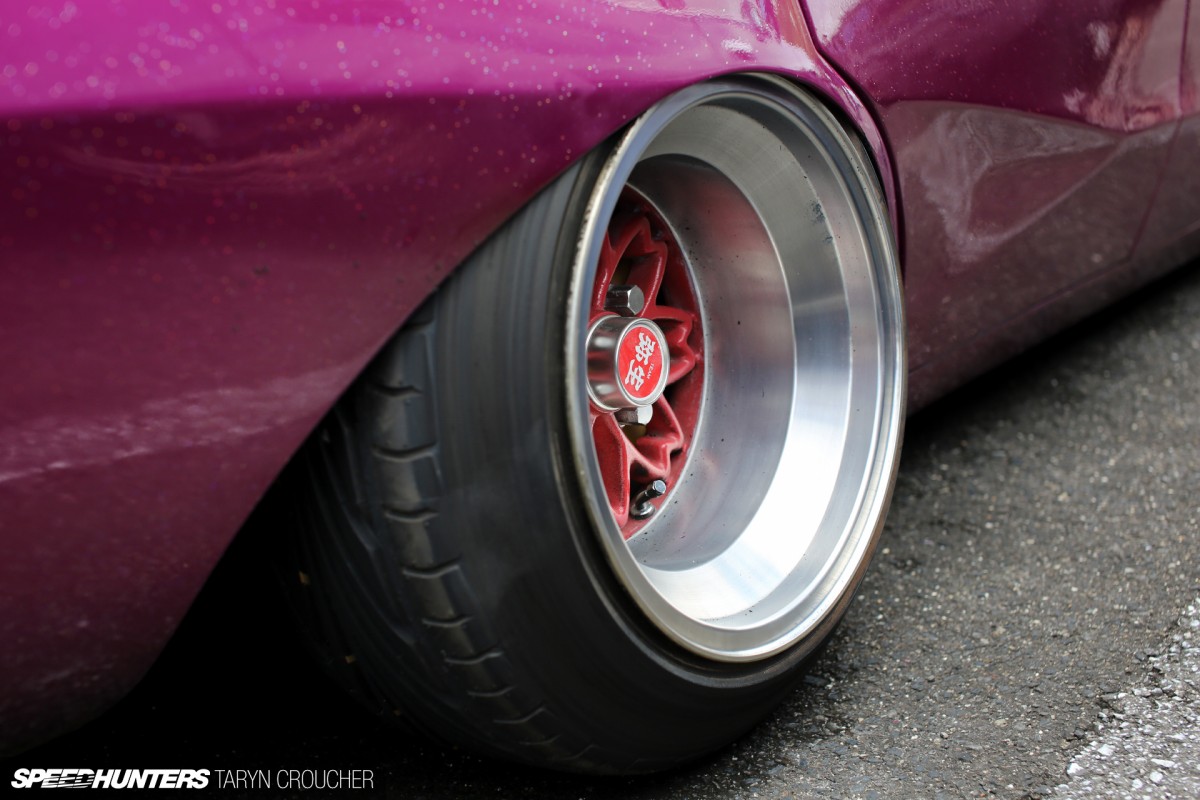 I could've laid down on the ground and stared into the centres of these ultra rare Hayashi Yayoi Sakura wheels all day. These particular examples were tucked tightly under the custom fenders of a hot magenta, glitter-coated Yonmeri Skyline C110. As tempting as it was, I still had a lot of cars to look at!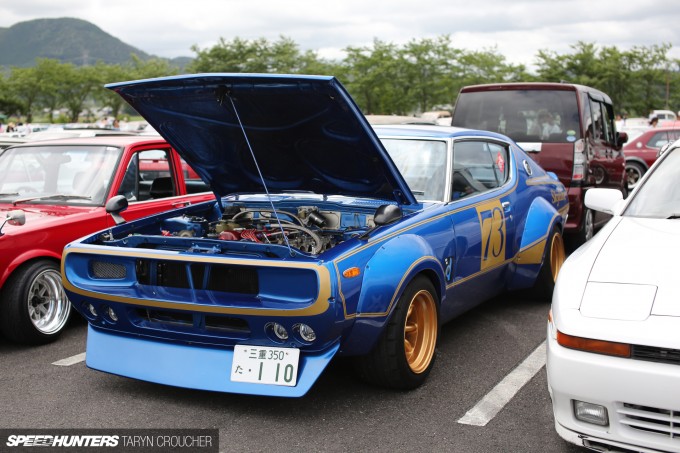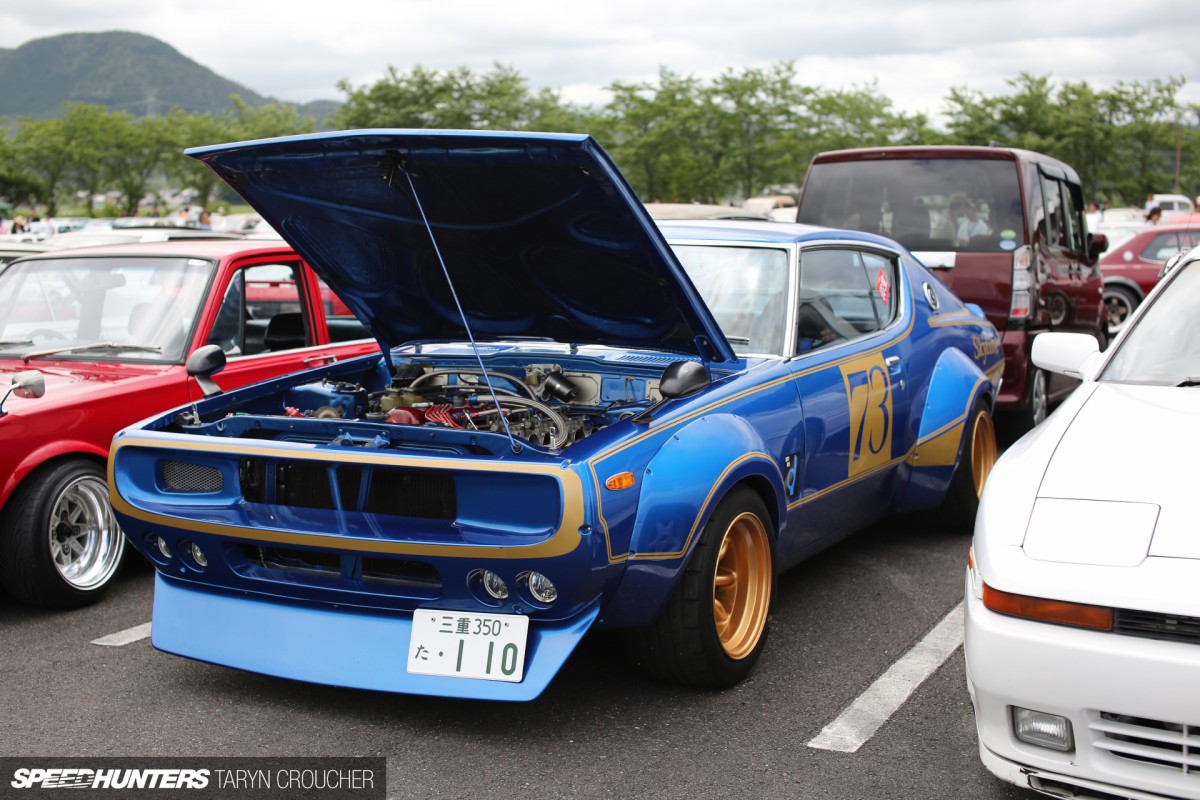 The level of body customisation that the owners of these cars go to is absolutely nuts, and they seem to have super-wide fender application down to an art. Sometimes they're bolted on in a rough, hurriedly manner (to make a statement on purpose, of course), but sometimes they're actually applied quite nicely, like on this beautiful Kenmeri Skyline C110.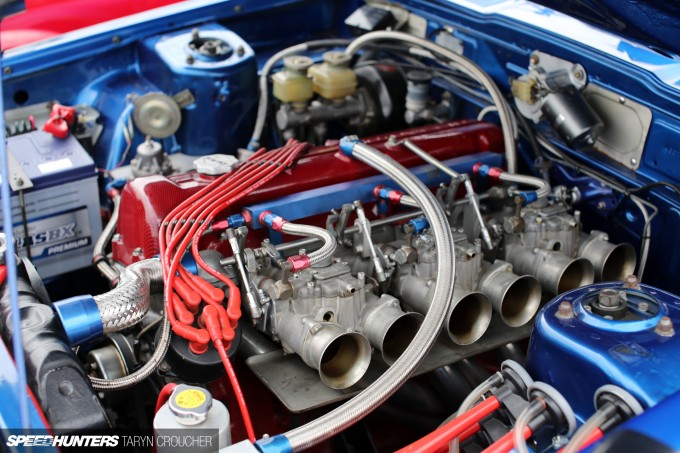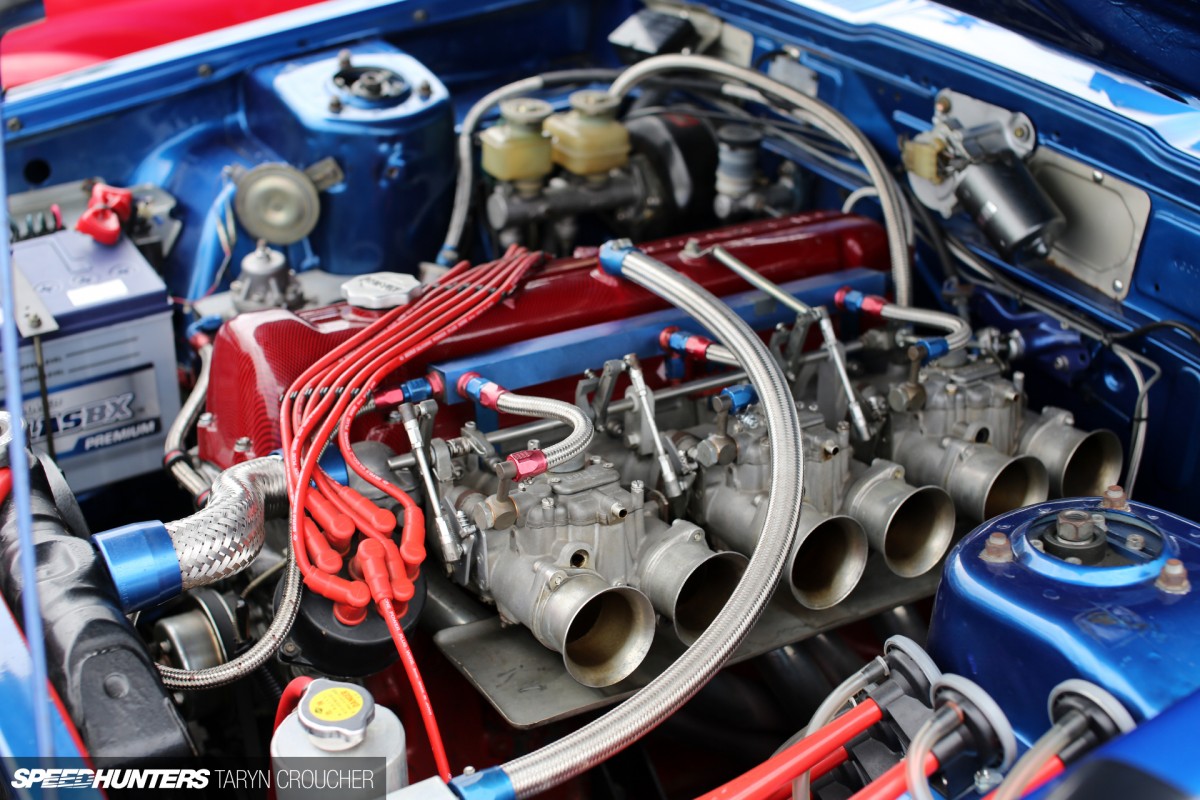 Generally when people go all-out like this, it's a good sign that there's something cool underneath the hood too. One thing I've observed – especially with modified C110 and C10 Skylines and Fairlady Z cars – is that most of them have been upgraded from their original L20 or L24 engine with the larger L28. Most, if not all of these engines are also bored and stroked to somewhere above 3,000cc. And of course, triple side drafts are a must-have.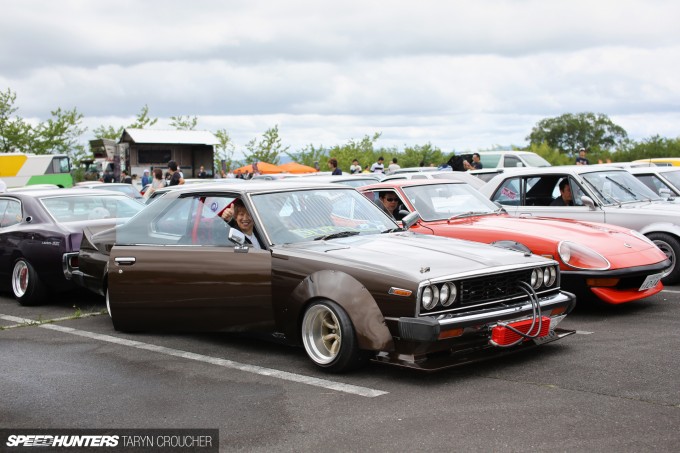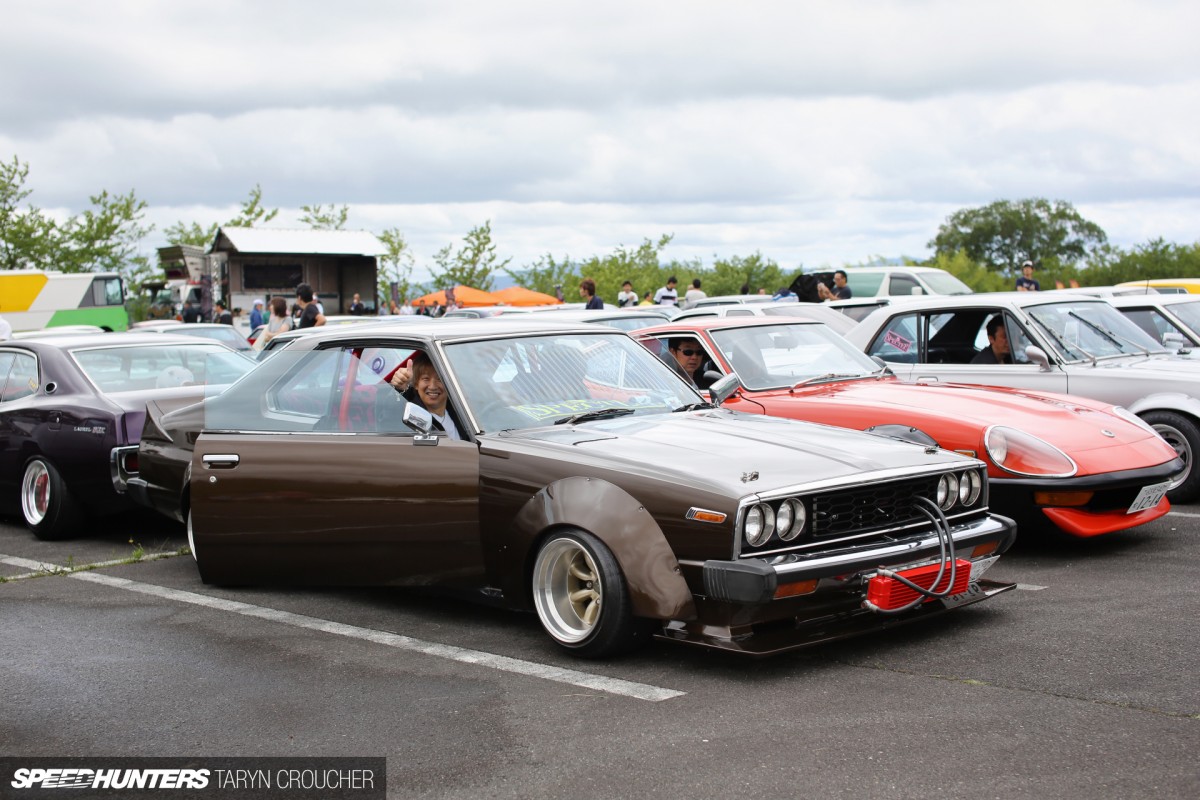 The styling of a lot of these cars is pretty outrageous, and I can totally see how it's not everyone's cup of tea. But not all of the cars were sporting such dramatic appearances…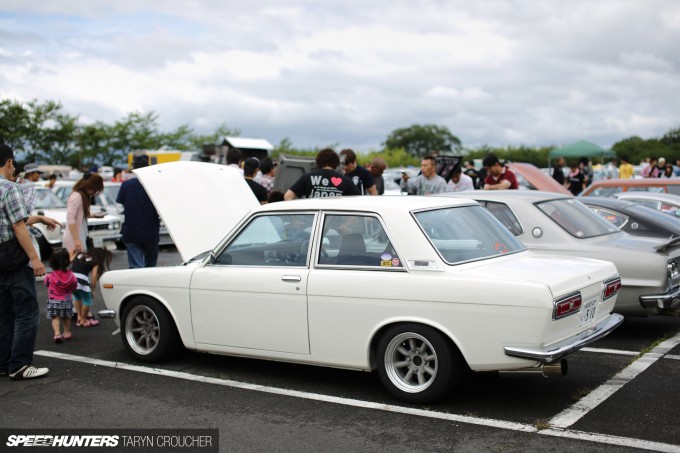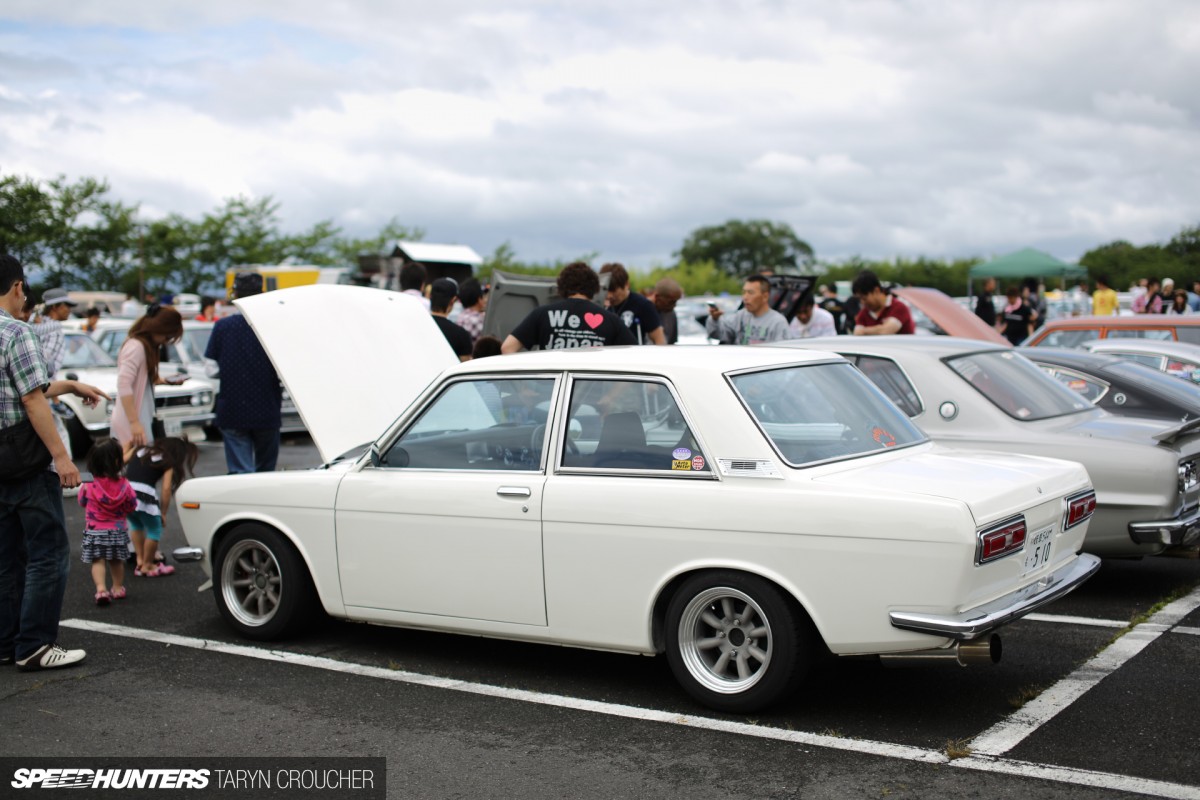 There were plenty of classic machines with more traditional looks, such as this clean Bluebird 510 coupe on RS Watanabe wheels.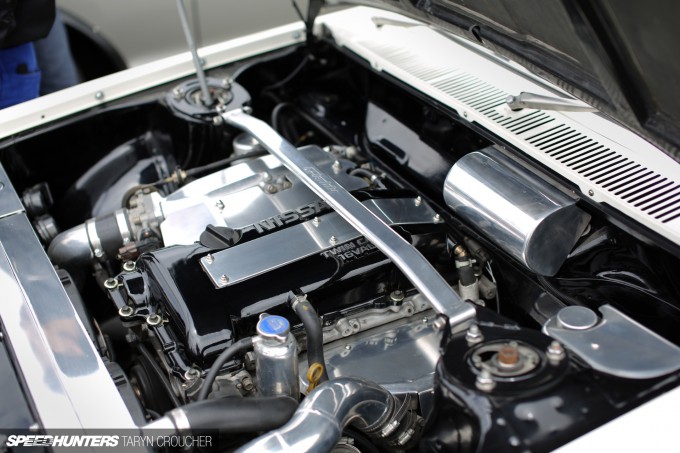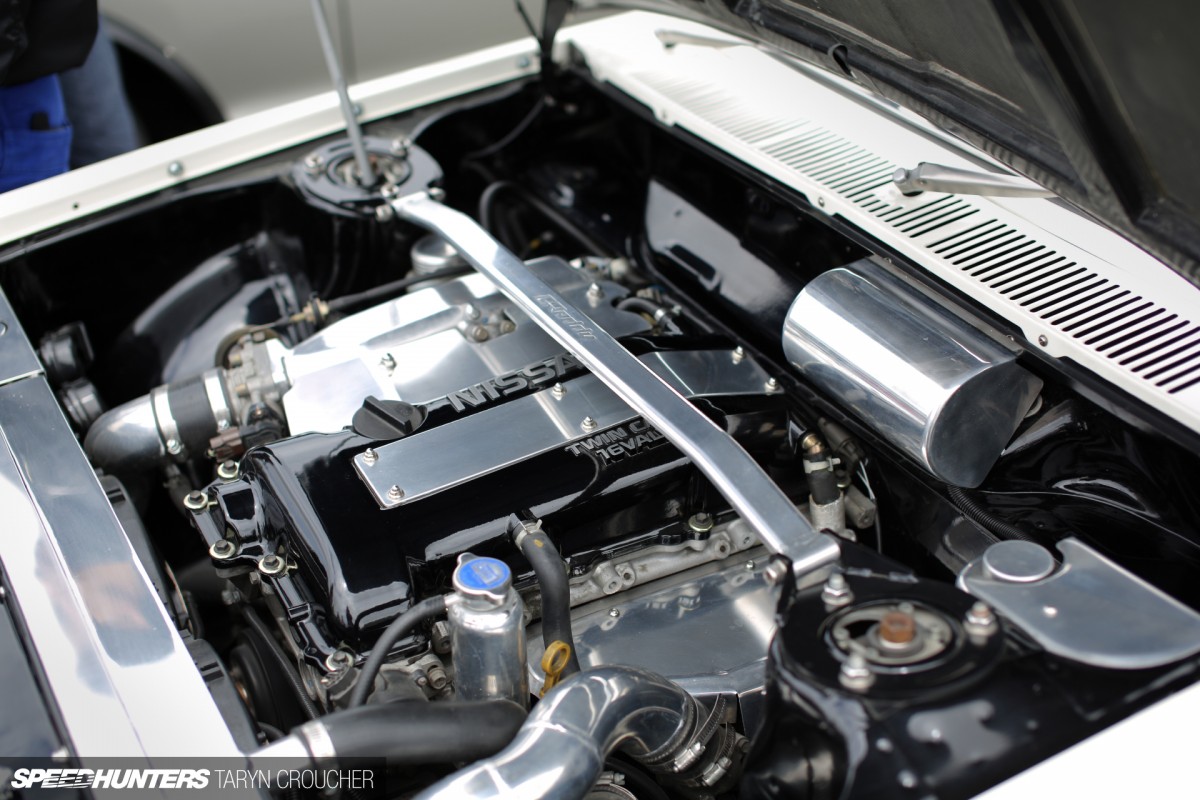 Oops, did I say traditional? I forgot about the SR20 swap!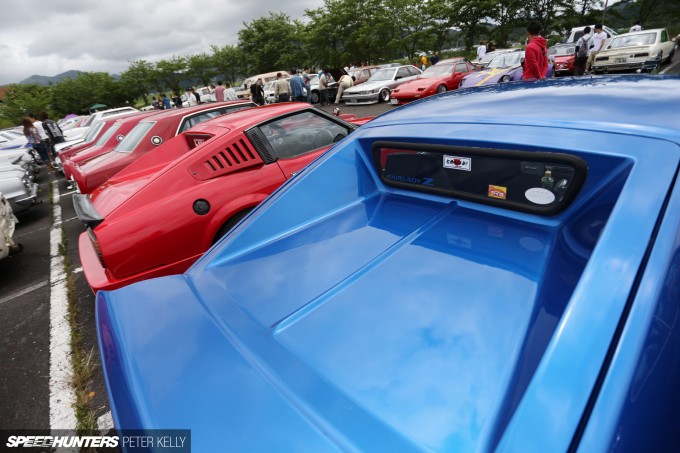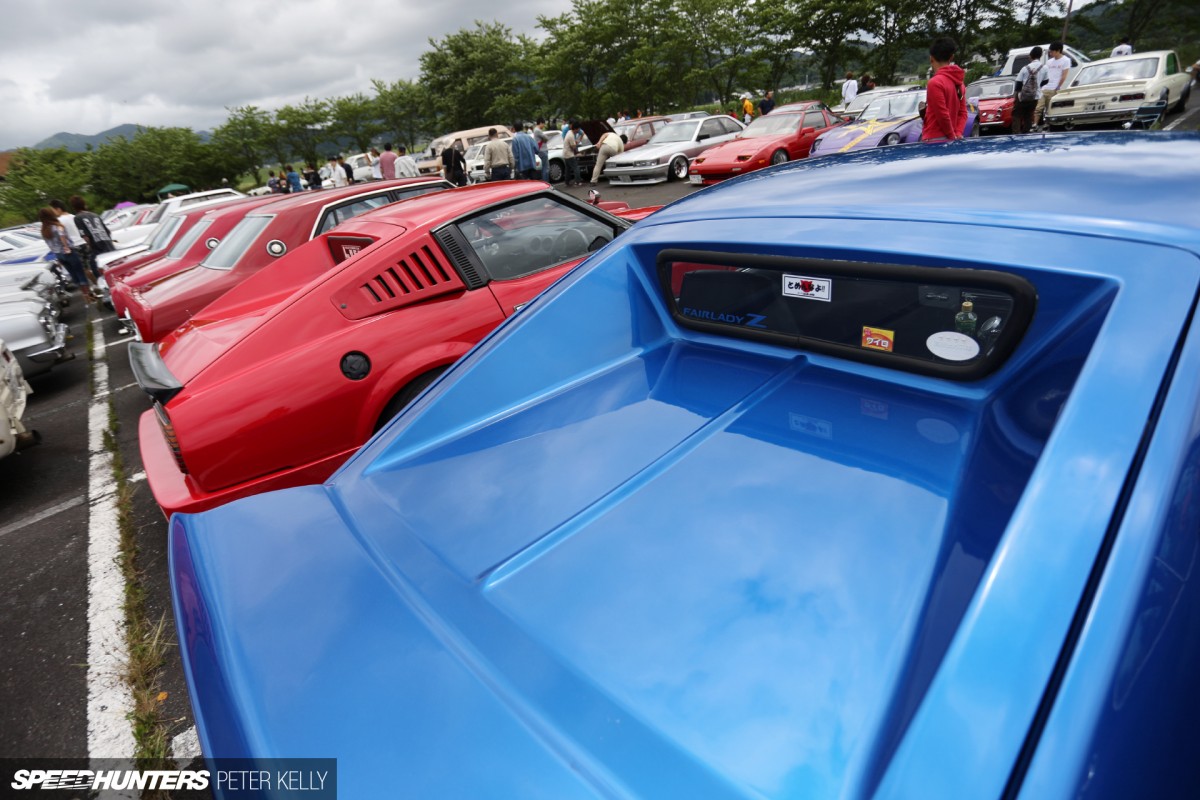 It's not all that often that I find myself poring over Nissan S130s, as I've just never found their sharper, more angular lines as attractive as the sleeker S30 shape. But the Japanese are onto something special when it comes to styling these cars, and there were plenty of extremely cool examples with Pantera-style hatch conversions, large boot spoilers and widened guards. Throw in some deep, wide wheels and a ground-scraping ride height and I'm sold!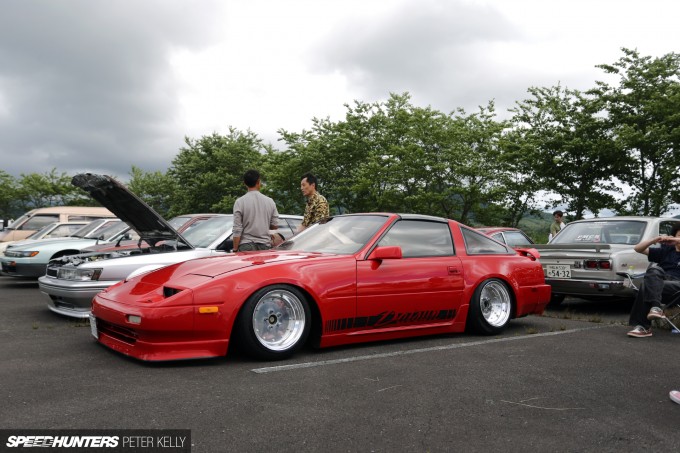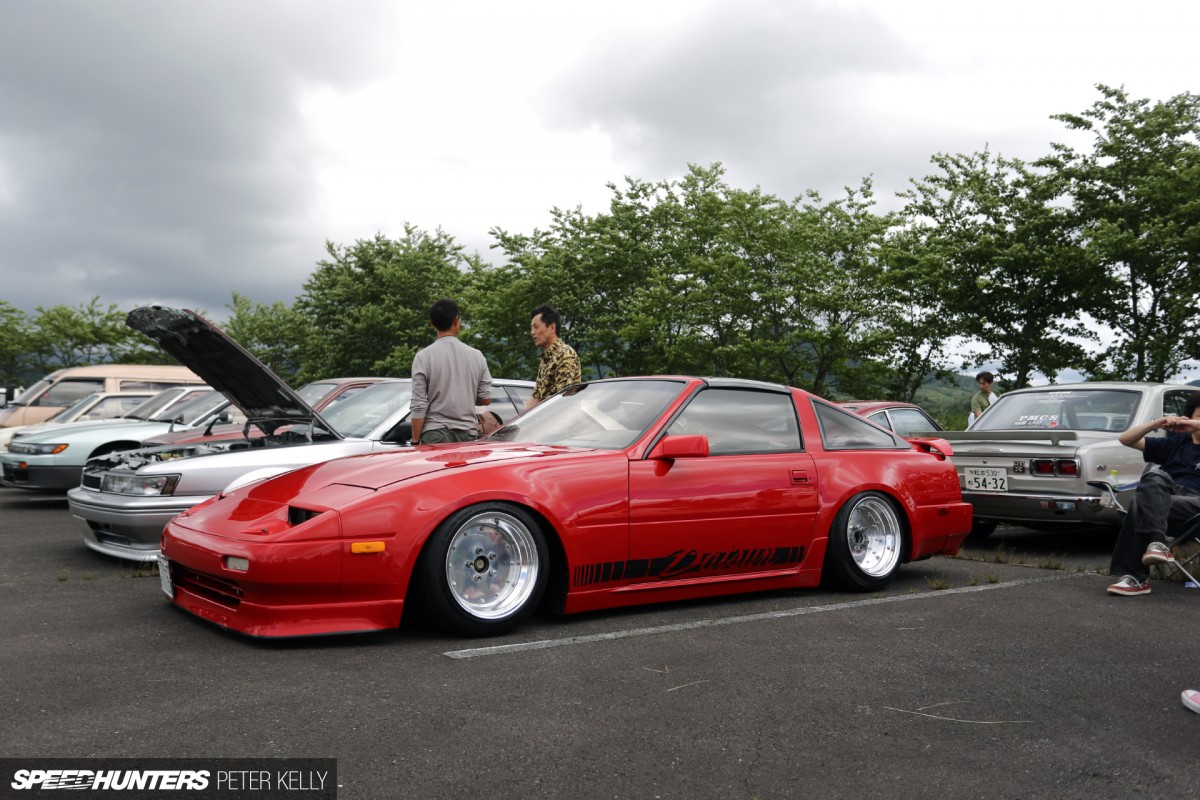 I'll also never be able to look at a Z31 the same way after setting eyes on this extremely cool first-gen 300ZX. It simply oozed style and presence, and that retro Datsun decal really completes the overall look nicely. It was such a weird feeling, lusting over cars that I've never really taken notice of before like this.
Stealing The Show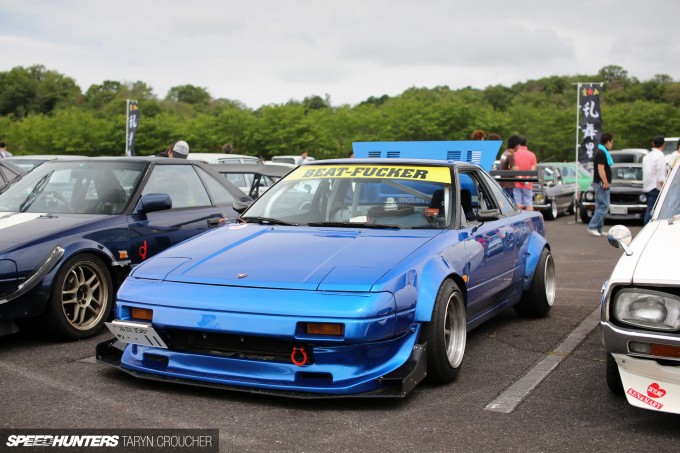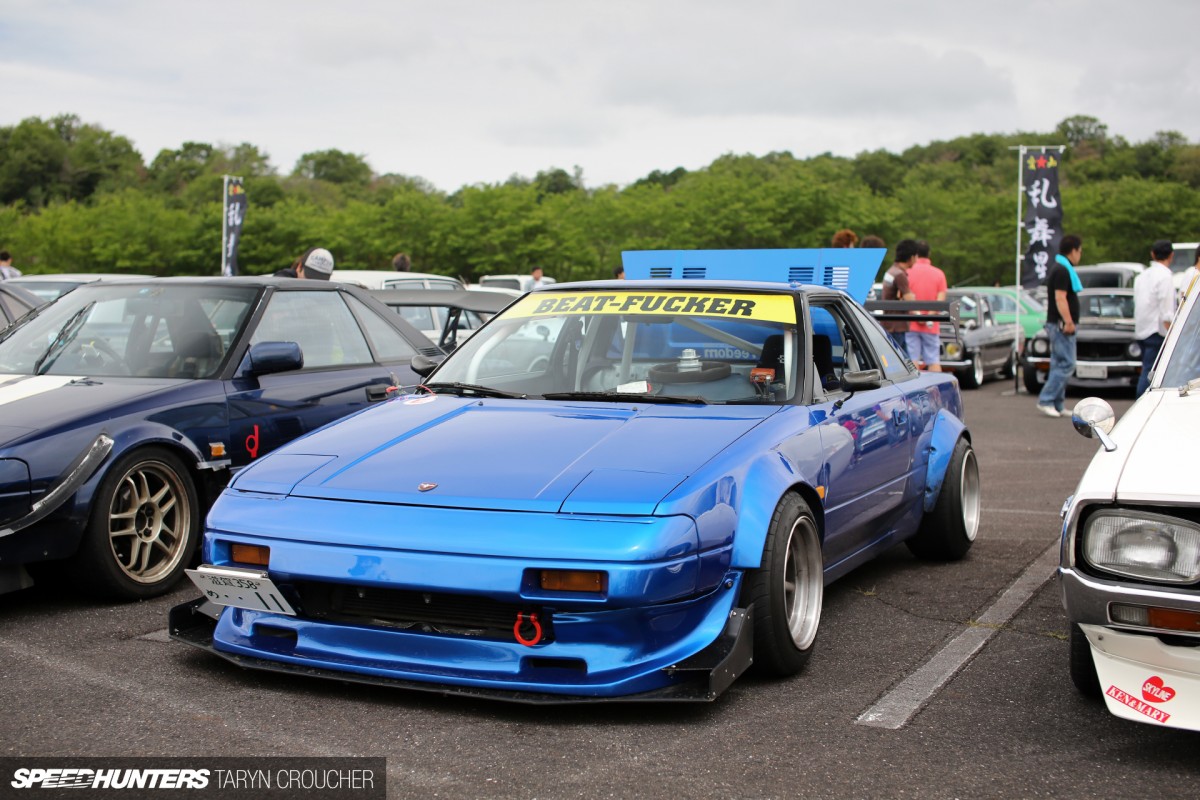 Speaking of cars that I've never taken much notice of before, this left-hand drive AW11 was making me experience feelings that I can't say a Toyota MR-2 has ever made me feel. Seeing as it had an aggressive front splitter and rear wing, with the interior stripped and fully caged, I couldn't help but take a peek around the back…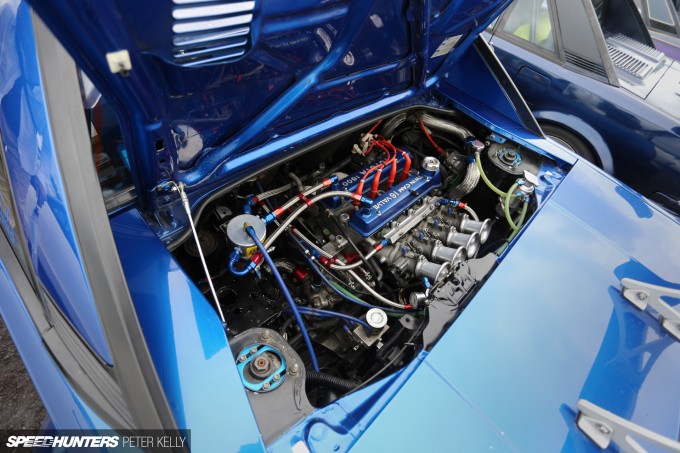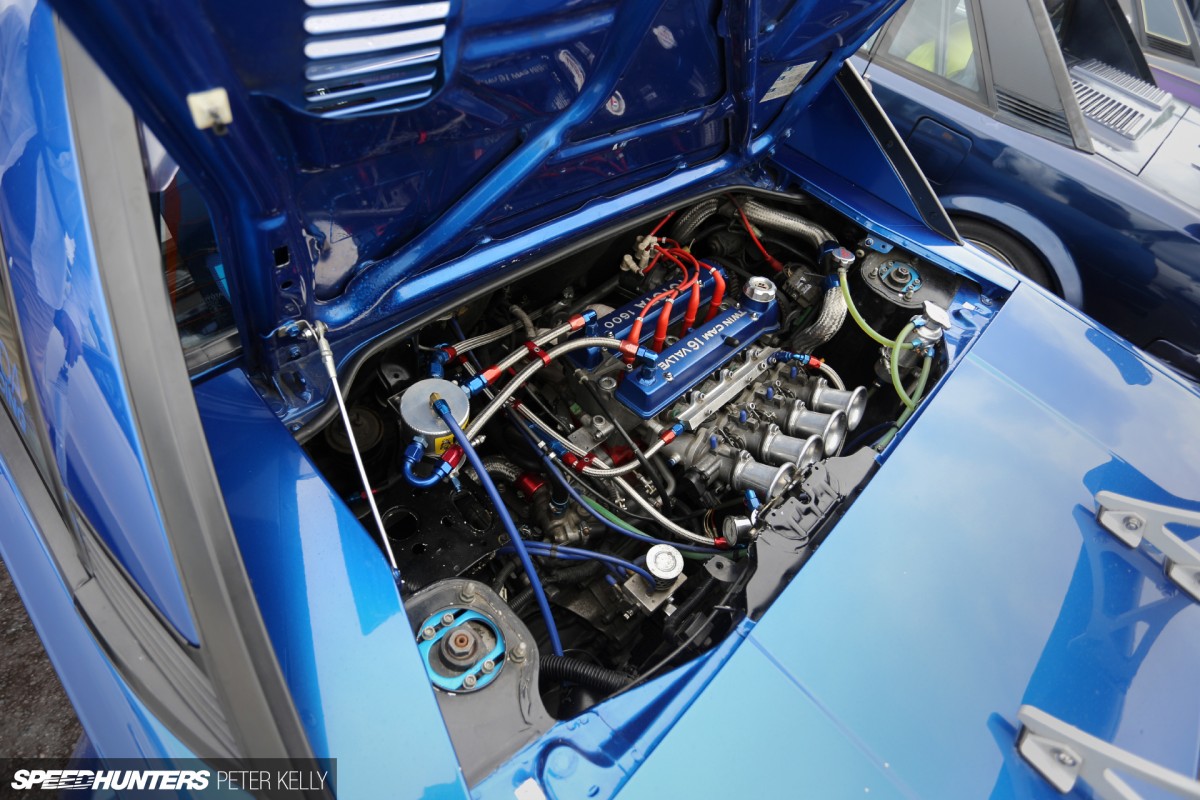 The open rear hatch revealed a rather angry-looking 4A-GE on ITBs. What a sweet machine!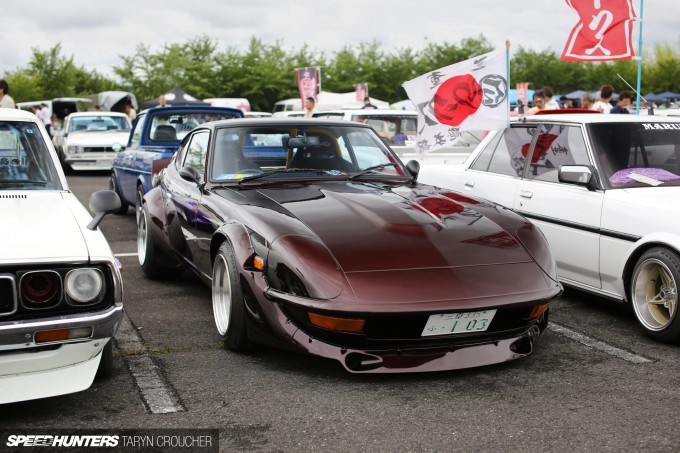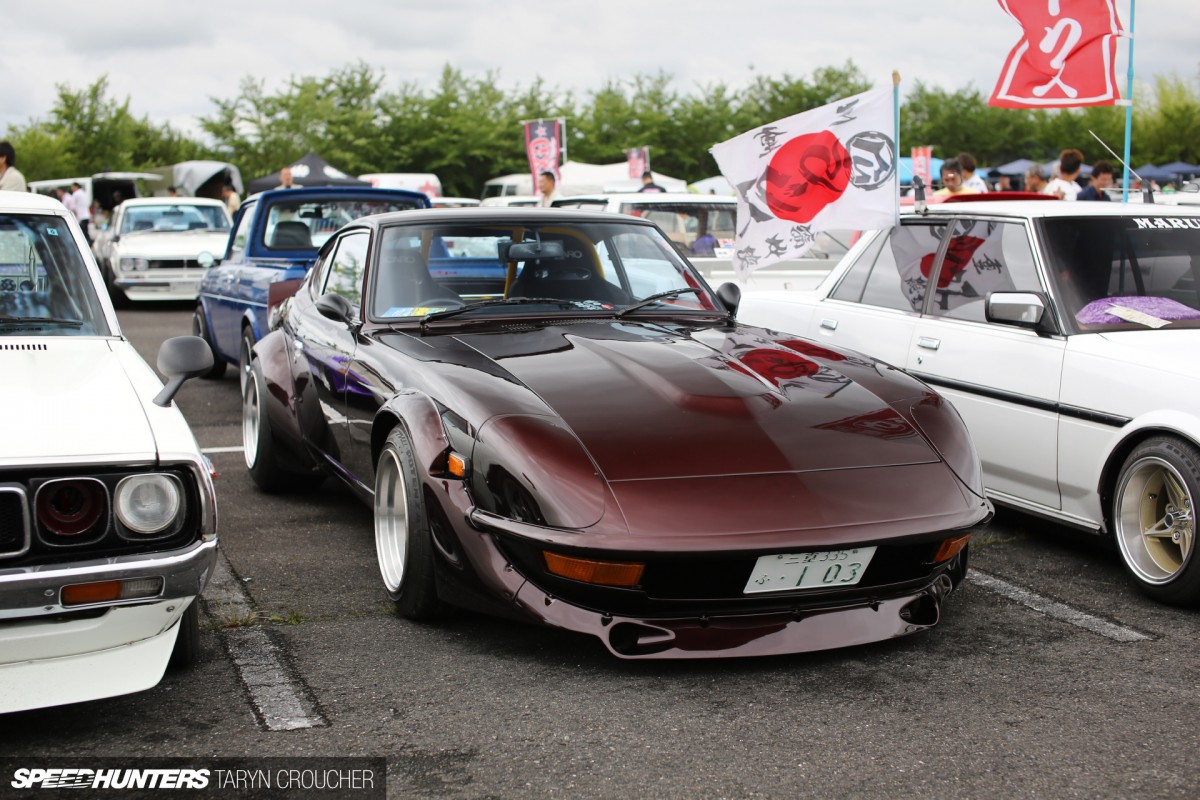 I could've literally written this whole coverage story just focusing on S30Zs, but instead I've picked my two favourites to concentrate on. You'll also have to forgive me, as I'm a bit biased toward G-nose Z-cars! The deep burgundy/bronze paint on this Z was what drew me in initially, but it was the finer details that made me stick around.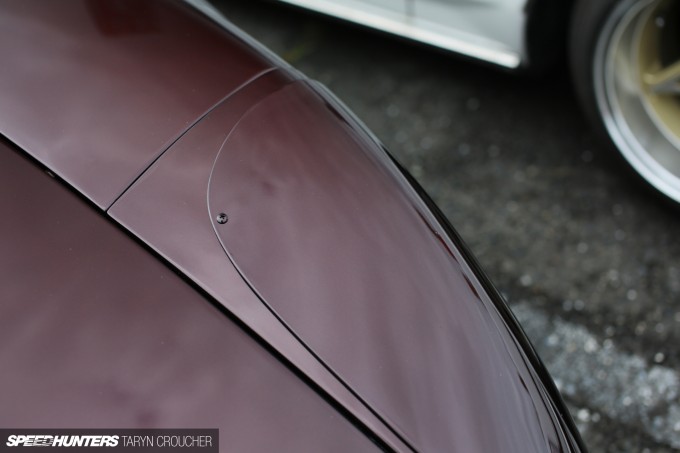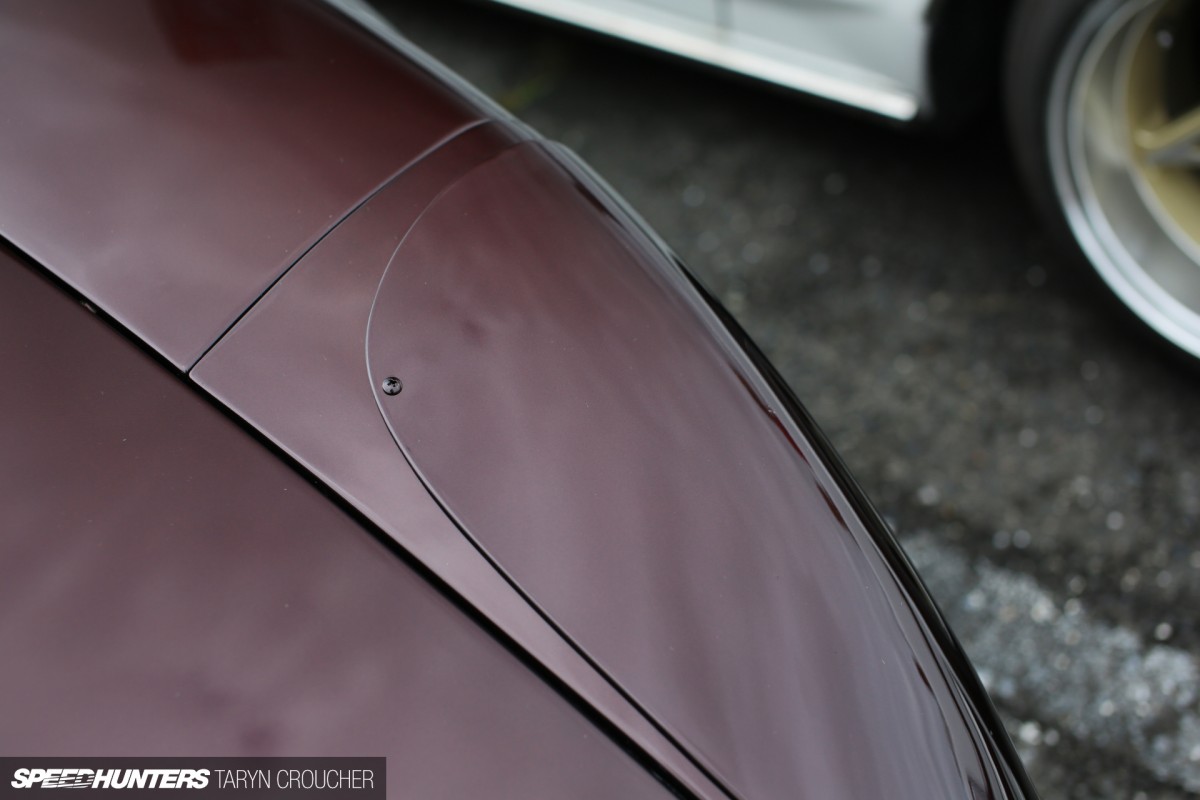 As well as the extreme Works-style over-fender treatment, it was also sporting these beautiful '70s racing-style metal light covers, an interesting alternative to the traditional clear plastic covers.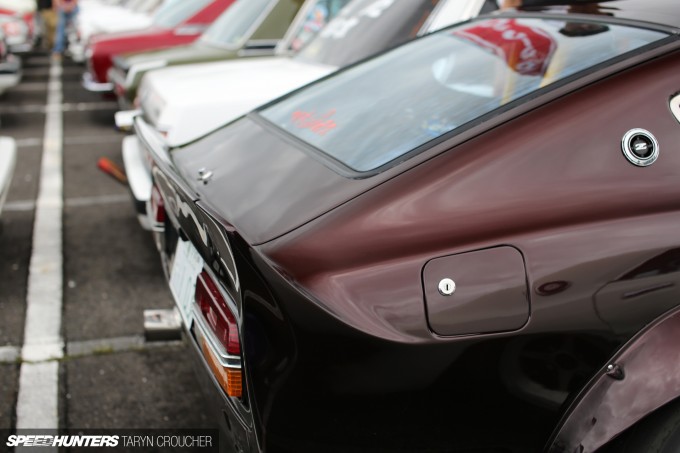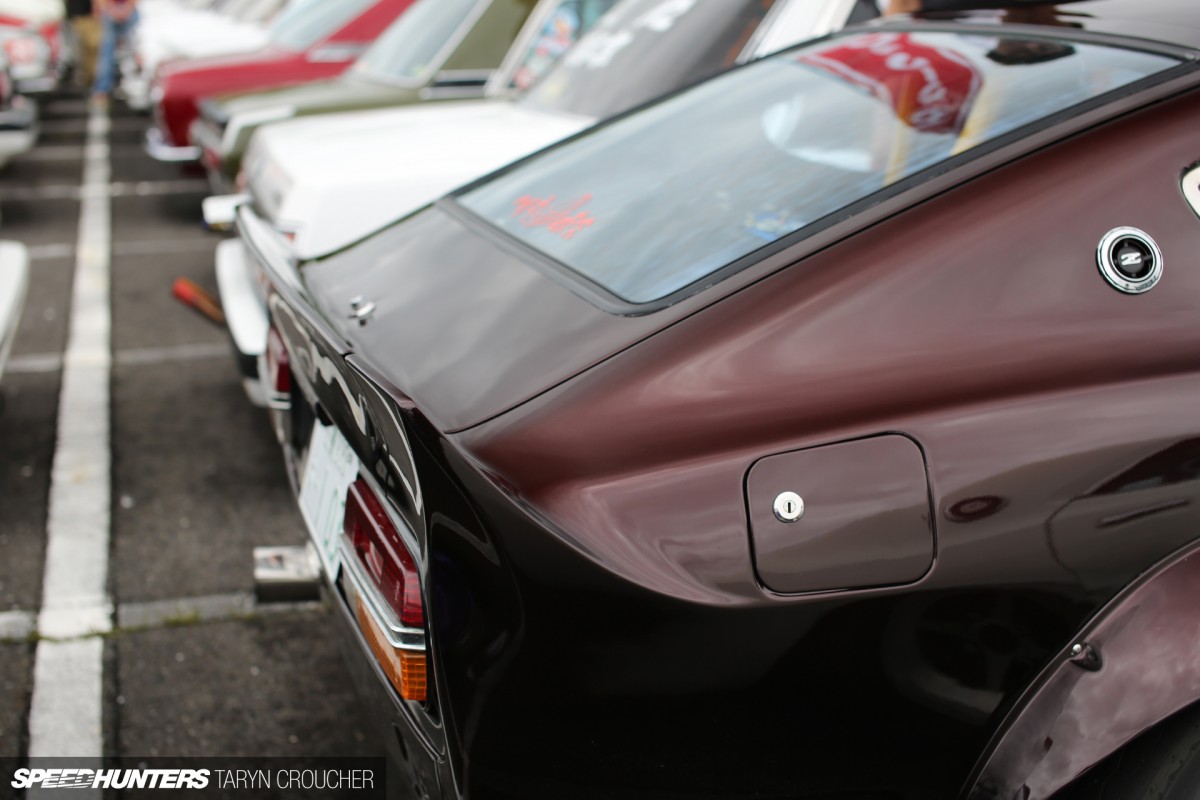 Around the back of the car I spotted an IMSA-style rear boot spoiler, but instead of going for the bolt-on look, the owner has opted for a more elegant approach with the spoiler smoothed into the bodywork. The result is quite stunning.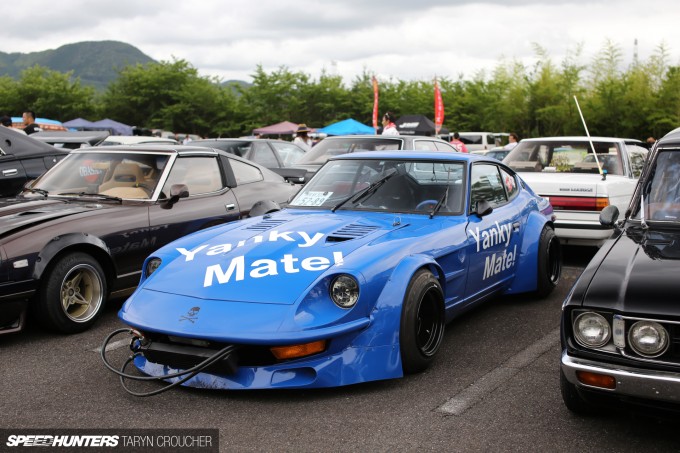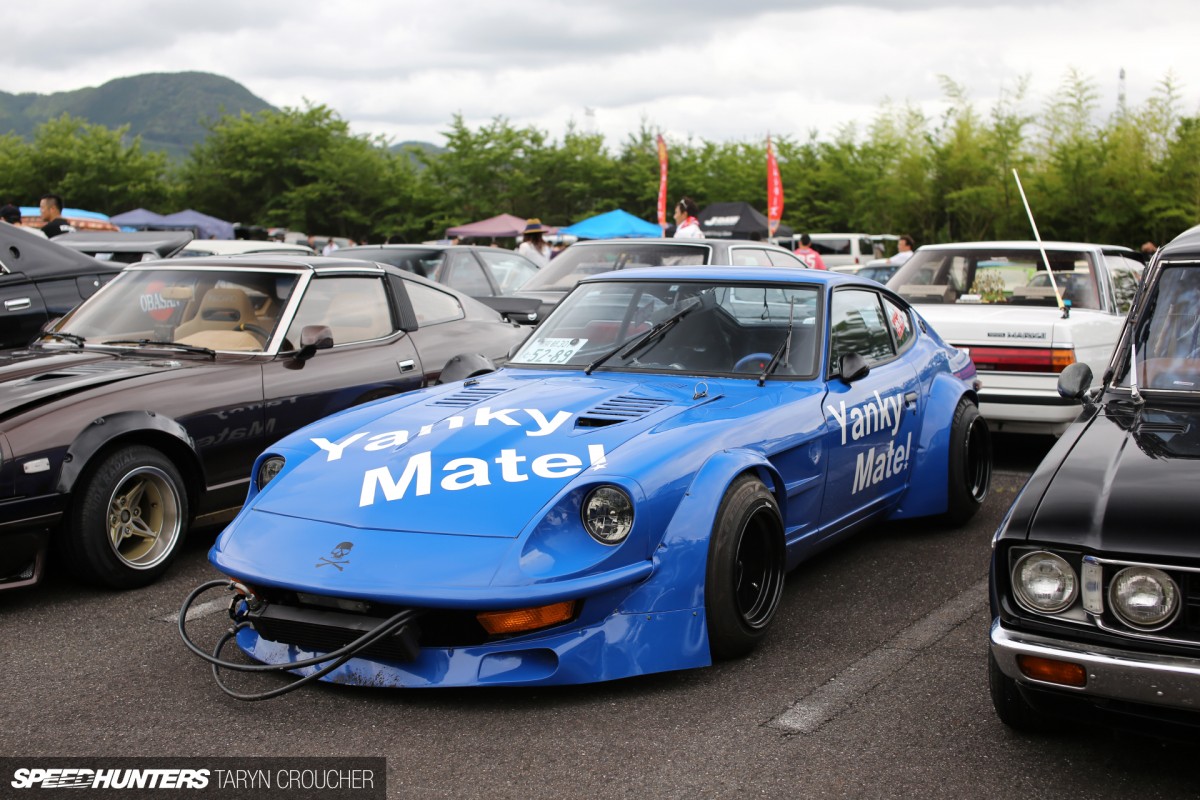 I couldn't resist shooting this Z styled around the 'Yanky Mate!' S30Z from the famous Shakotan Boogie manga series. I've seen pictures of real-life replicas of this car in yellow before, but never in blue, which is the colour the car originally was before it got painted in its more well-known bright yellow hue.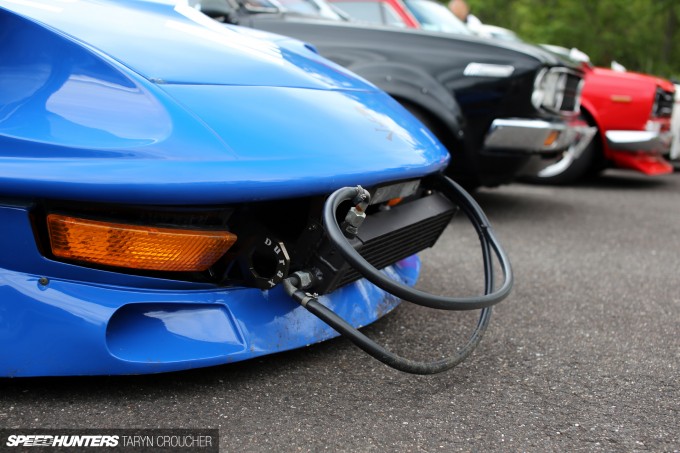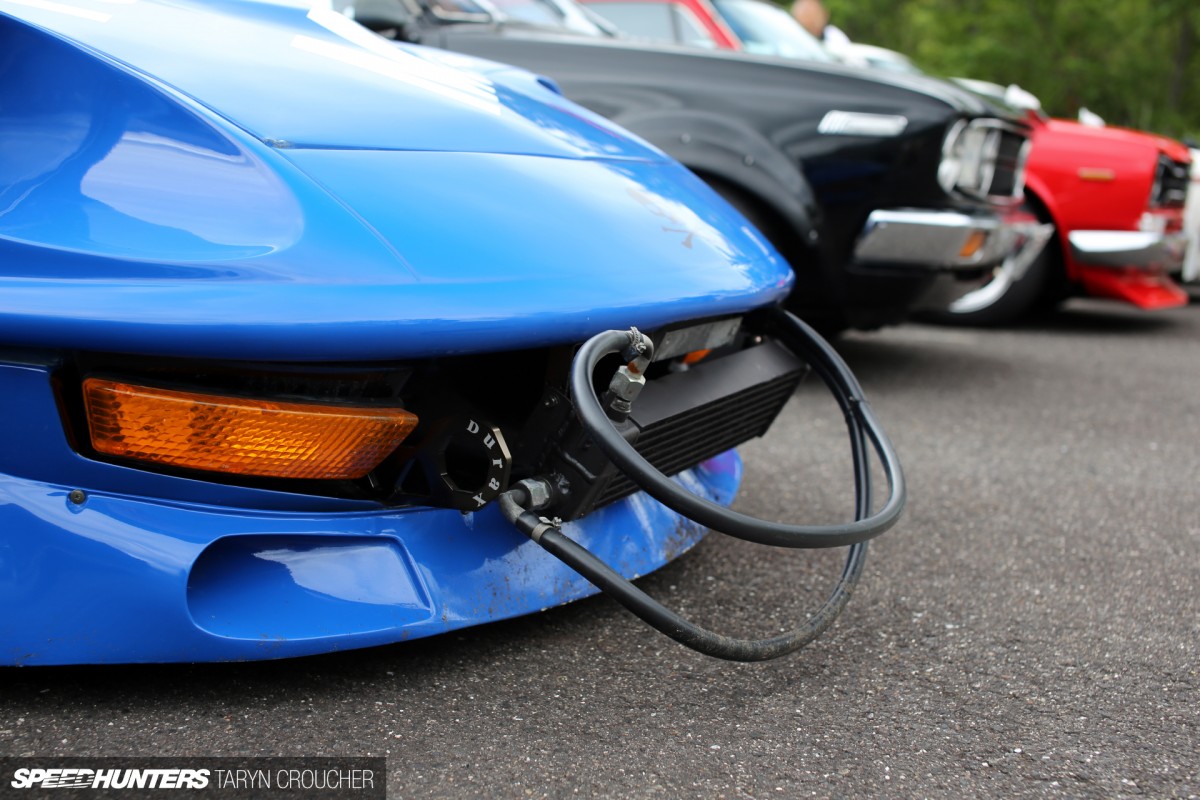 The lines running from the externally mounted oil cooler were showing clear signs of being dragged along the pavement, which seems crazy. But you know… whatever!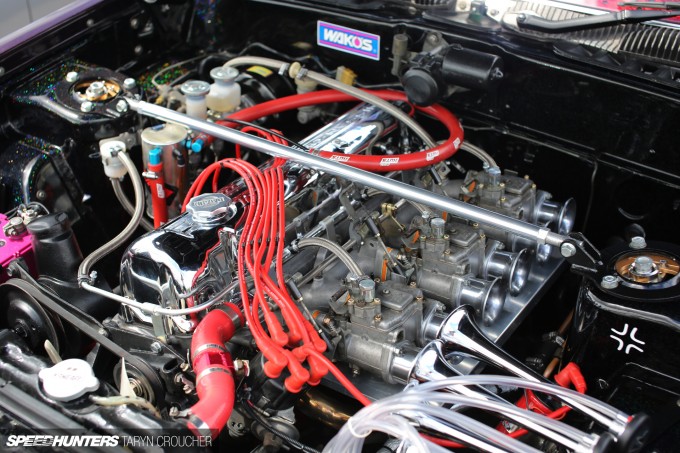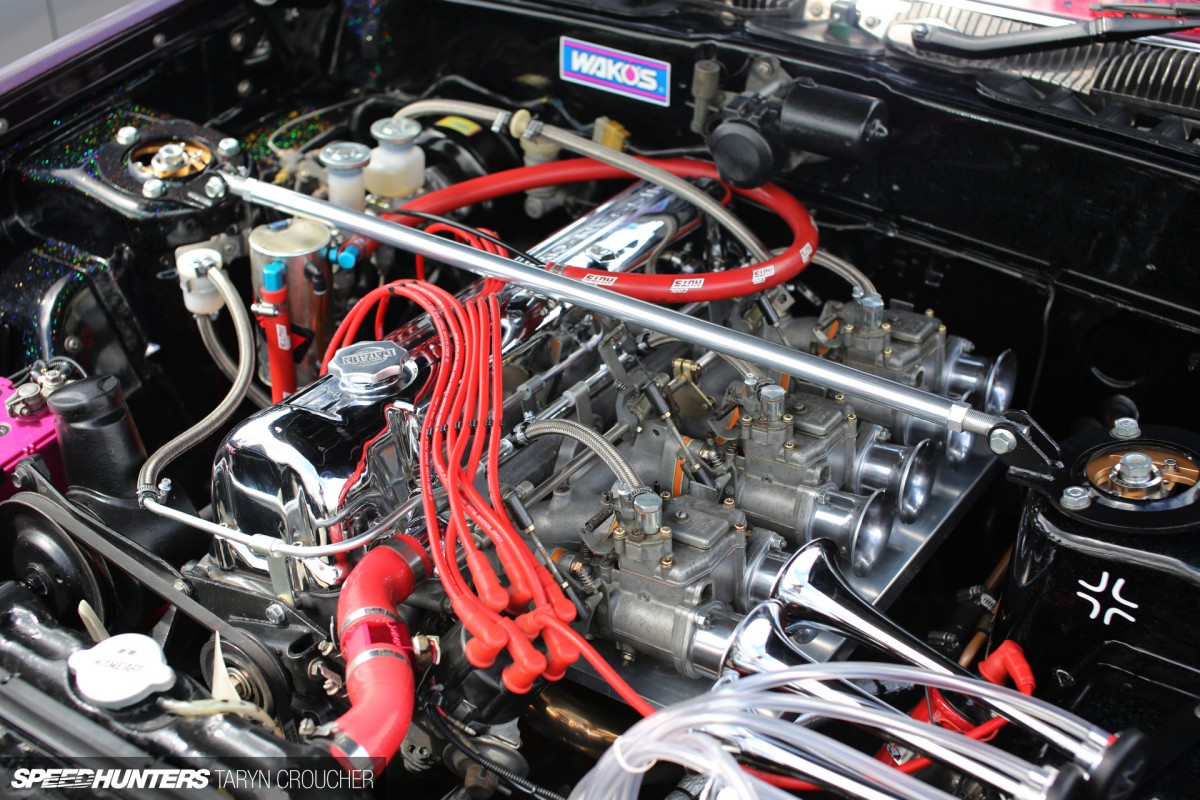 Next up, here's another beautiful L-series engine bay that caught my eye. But this wasn't in a Z-car or a Skyline…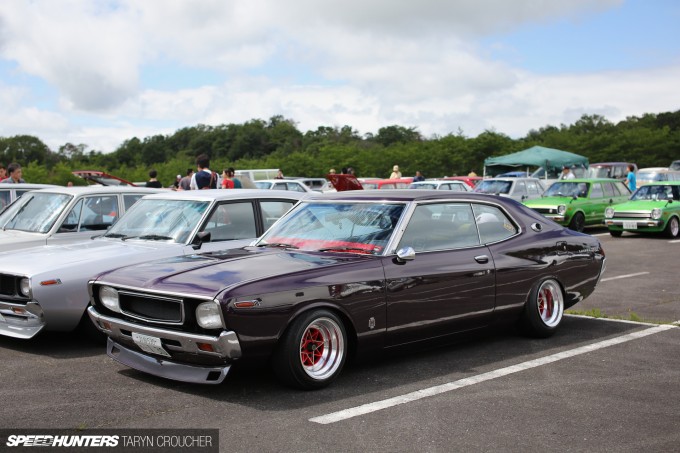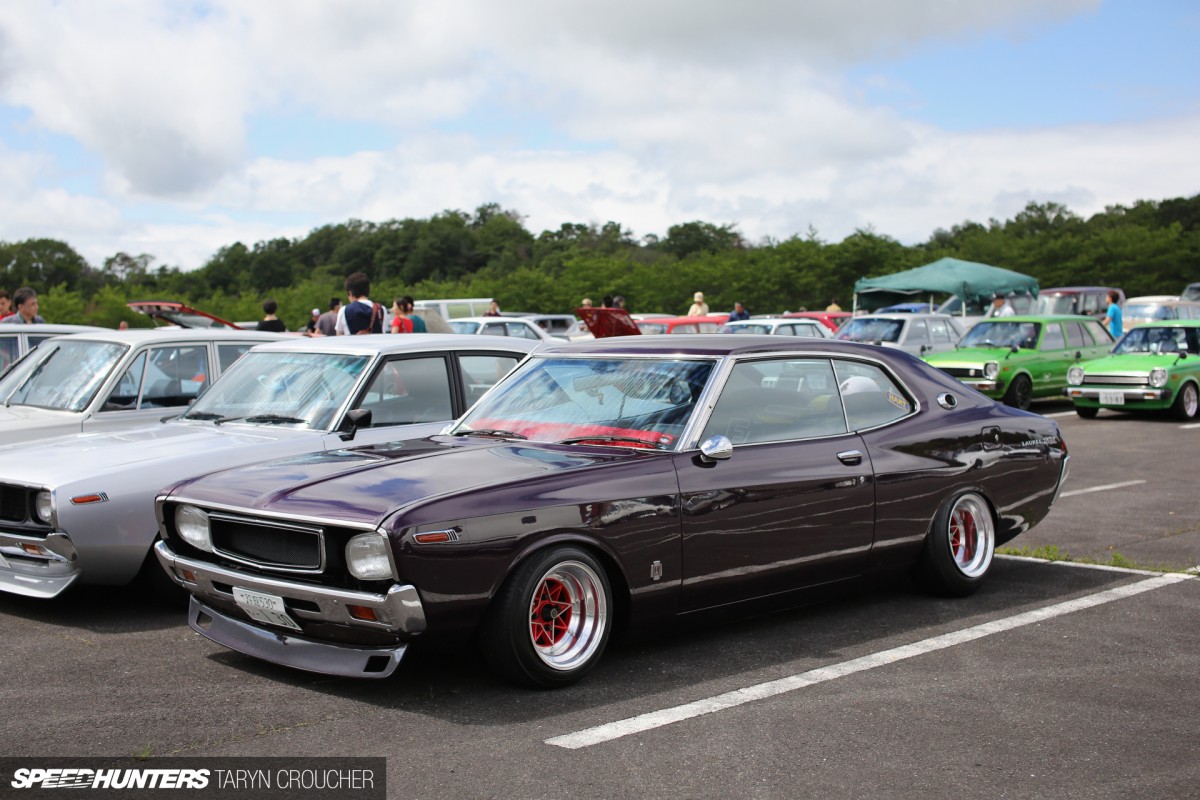 It belonged to this stunning Laurel C130. This car reminded me of a similar red example that Dino stumbled across not that long ago, though in this case the twin headlamps have been swapped out to make way for the ever-popular Gloria headlamp conversion. I love how the SSR Star Sharks match the red and chrome colour scheme in the engine bay – a theme which is also carried throughout the interior with a red velour-upholstered dash.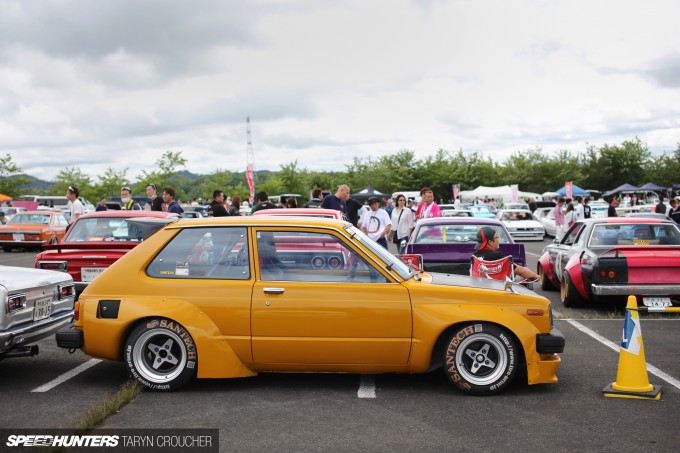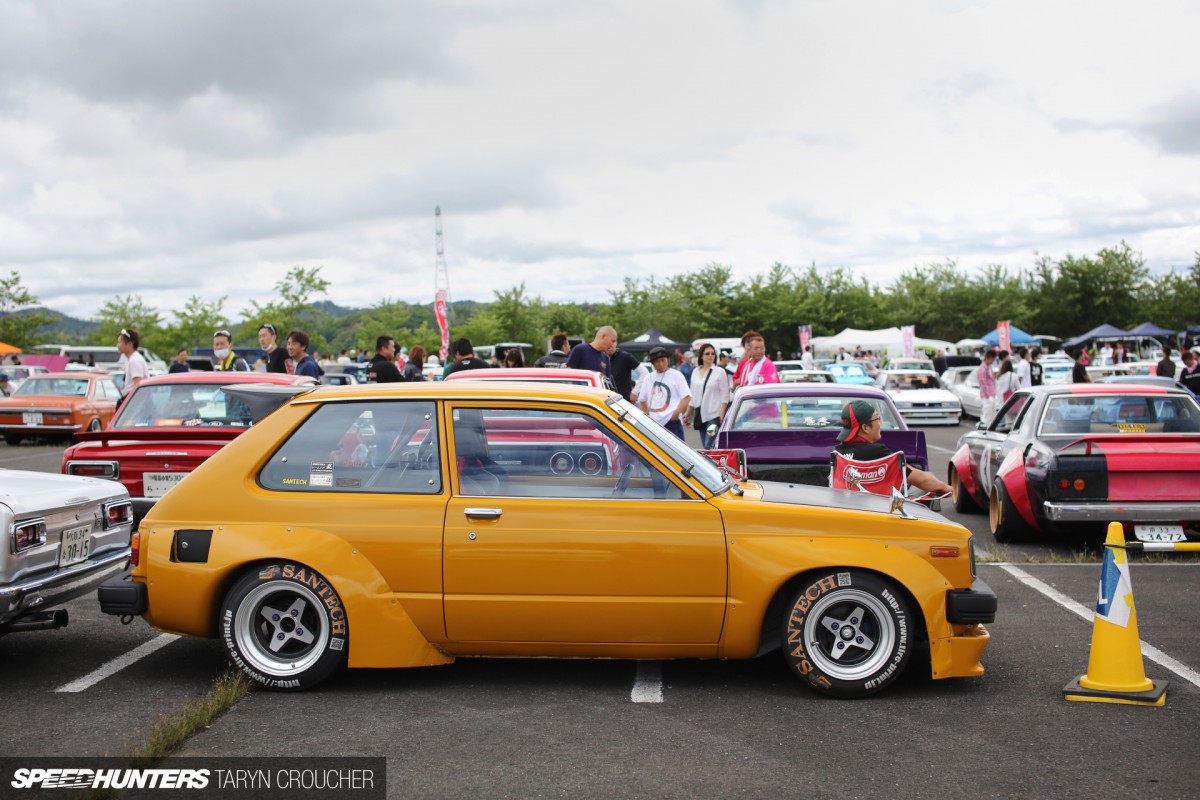 This race-inspired Toyota Starlet was another stand-out car for me; full cage, big N2 guards, chunky stencilled tyres wrapped around vintage Hayashi Racing Command 500 wheels. I didn't actually notice this at the time, but there's actually little pictures of the car printed on the tyres! Is that like the car equivalent of getting a tattoo of your own face? I'm not too sure, but I like it!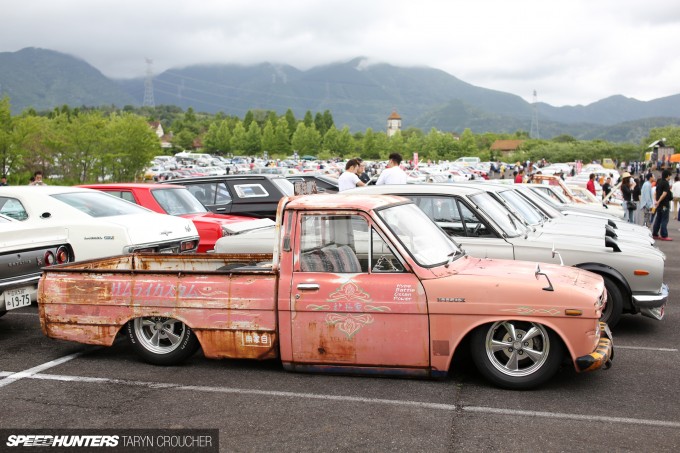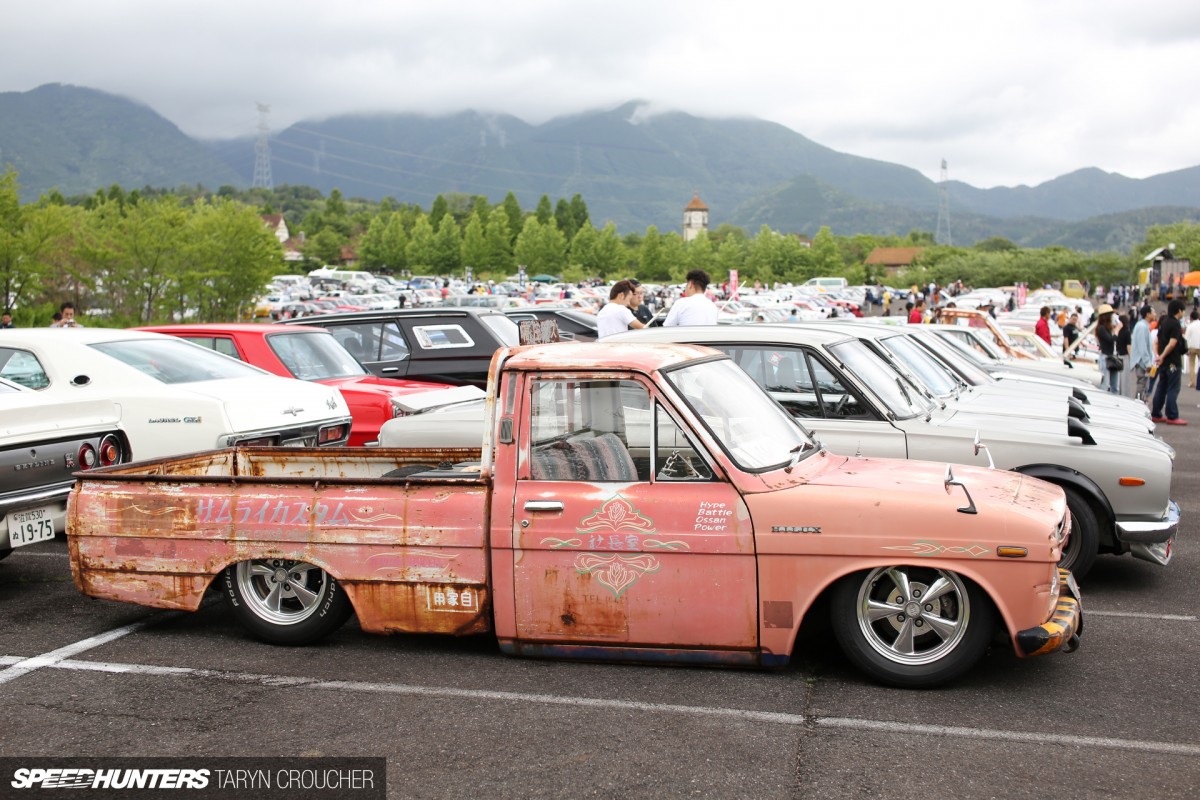 This old-school Hilux stood out like a sore thumb amongst the sea of classic Nissans surrounding it, and I almost had to stand in line to get a proper picture as it was constantly drawing crowds of curious onlookers throughout the day. Upon closer inspection, I was pleased to see that the faded red paint and rust were in fact original, and I love how they've been accentuated with some cool hot rod-style pin-striping…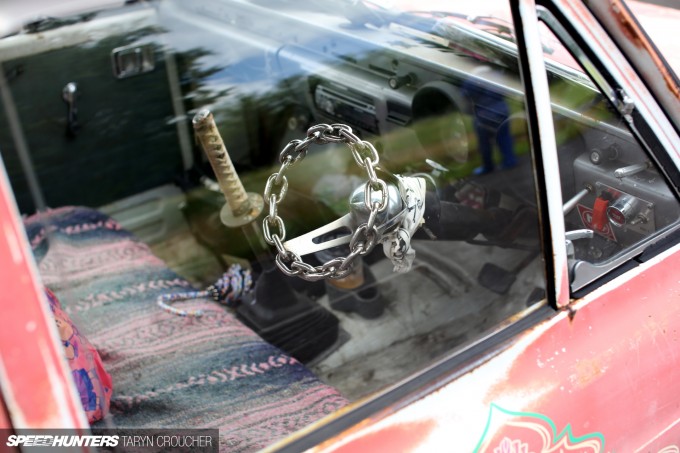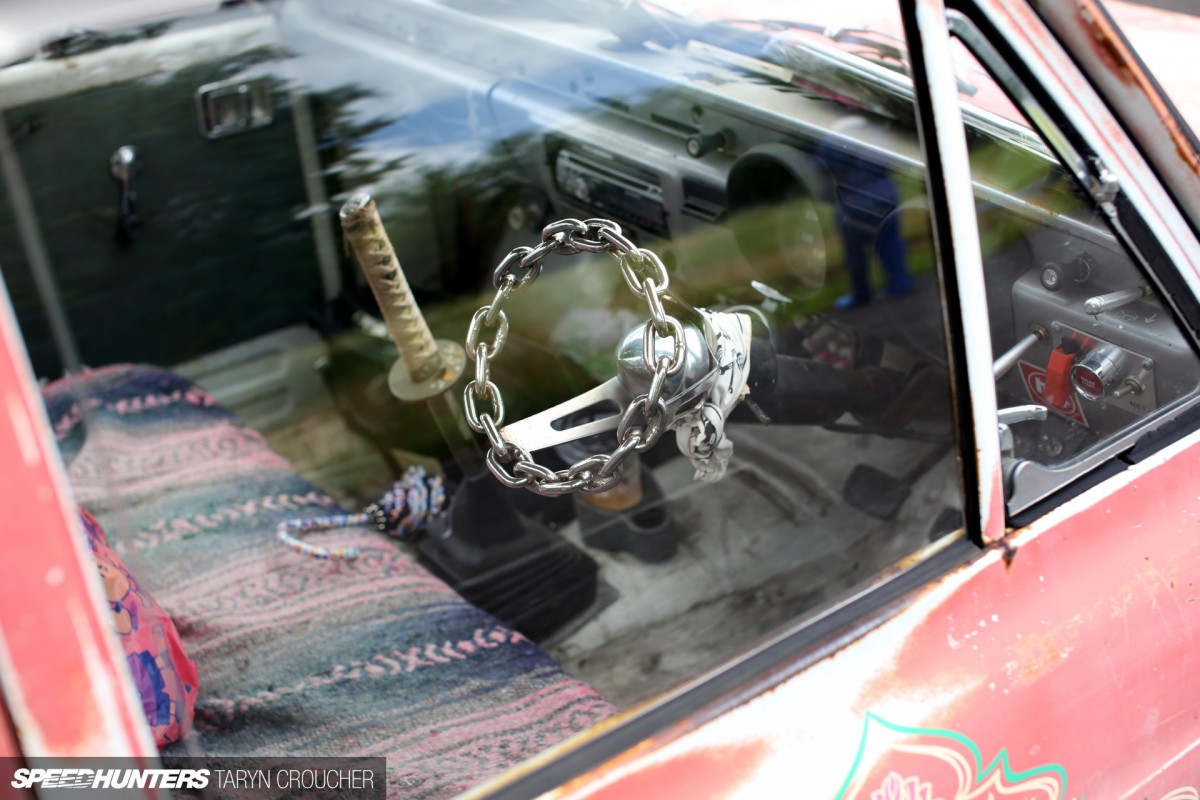 A theme which carried though into the interior as well. Note the Samurai sword gear shifter and push-start ignition!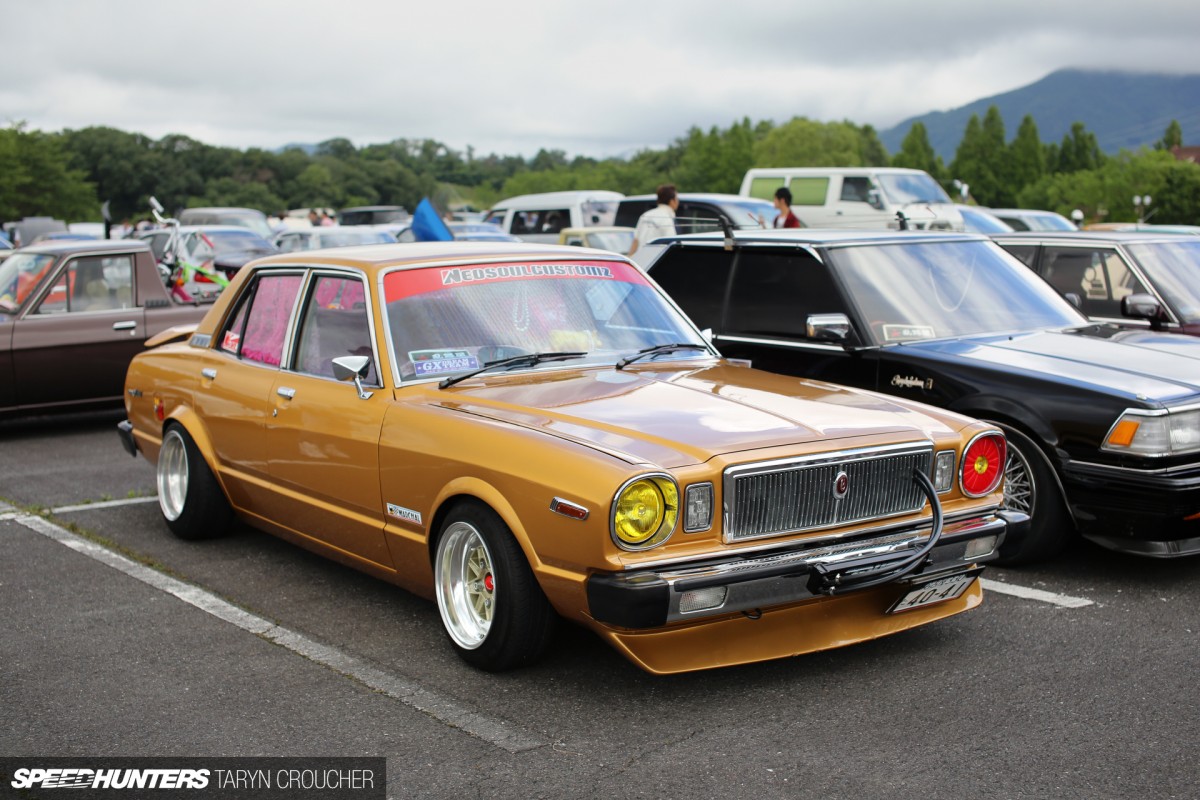 Walking around this event and absorbing all of these incredible cars was almost a bit overwhelming – there was just so much to take in.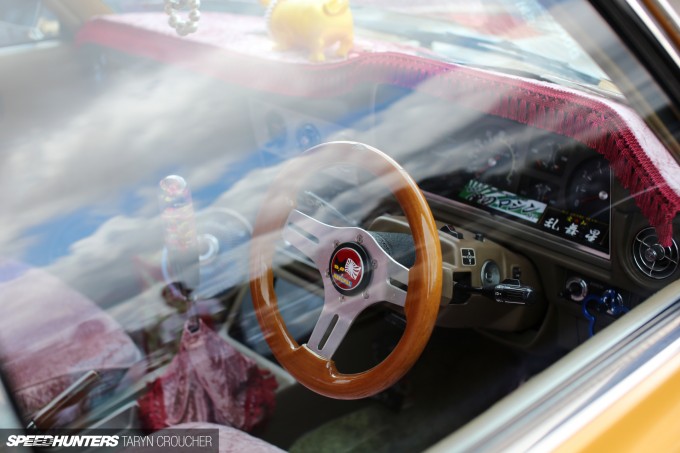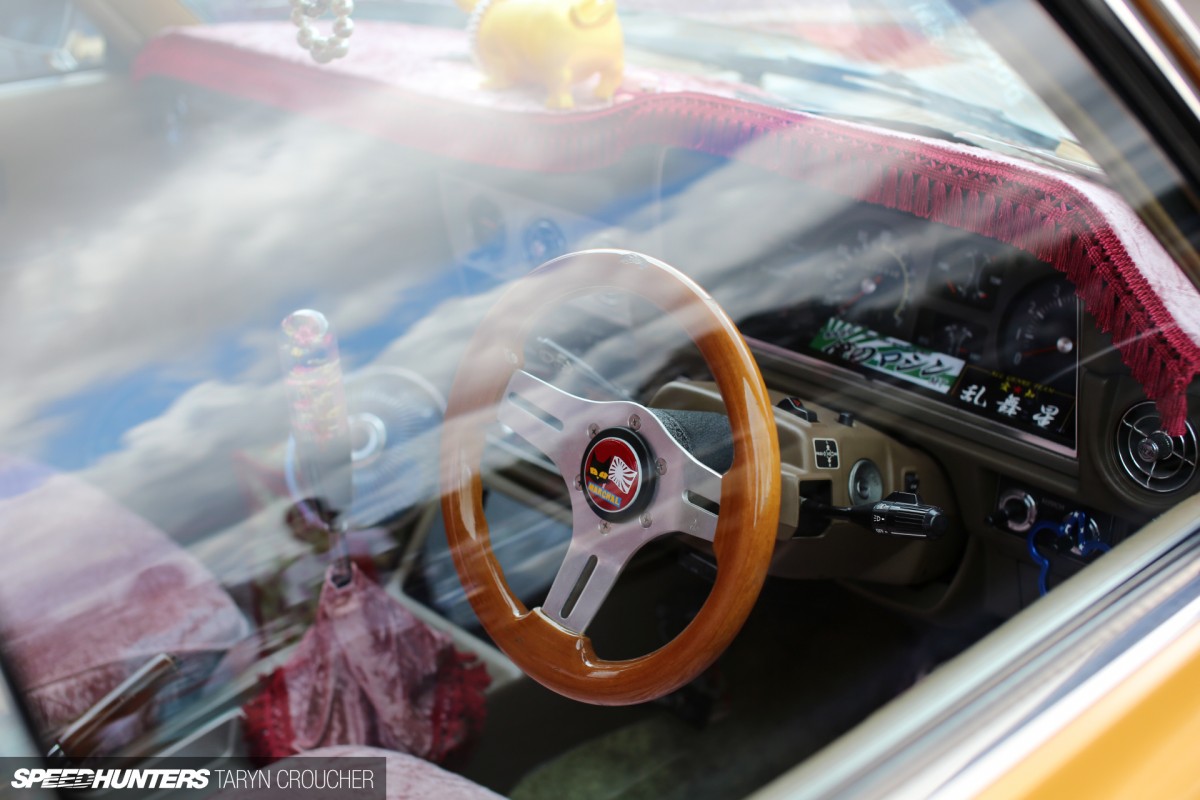 The amount of effort that people put into little details and customisation within this particular Japanese subculture is utterly fascinating to me. I understand that many people out there think that car modifications that aren't performance-orientated are pointless, but the people attending this event couldn't disagree more with that. Why have a crushed pink velvet interior with a plastic pig on the dash and an over-sized flowery gear knob? It's simple: because you can.
No Style, No Life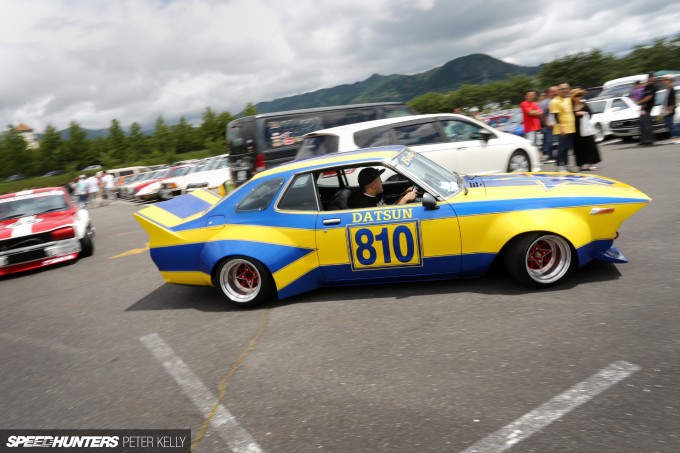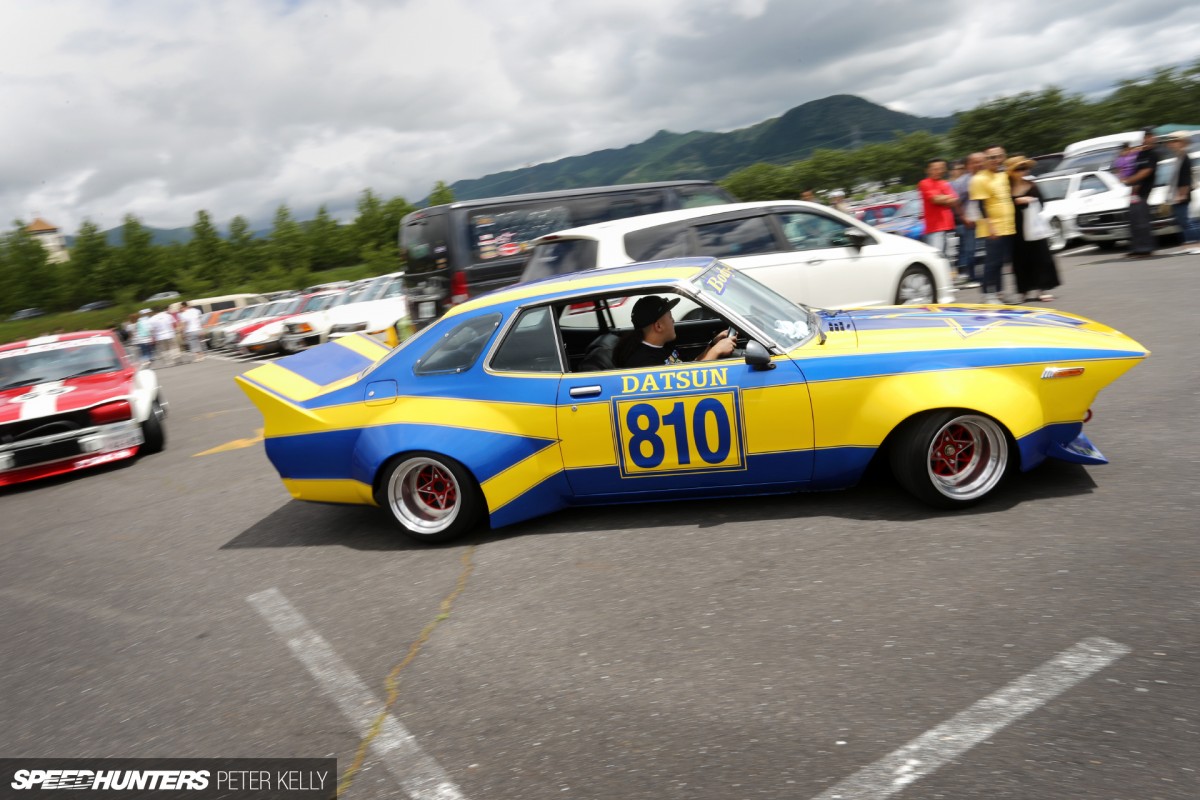 I can definitely see how a lot of people wouldn't be so fond of these extreme, sometimes downright bizarre styling choices. Don't get me wrong; when it comes to my own personal cars, I'm a big fan of functionality. But I have to say that after spending a whole day soaking up all of the weird and wacky trends that this scene is so well known for, I felt extremely conscious of my lack of personal style. Not in a 'oh man, I suck' kind of way, but in more of a 'okay, this is super inspiring' kind of way.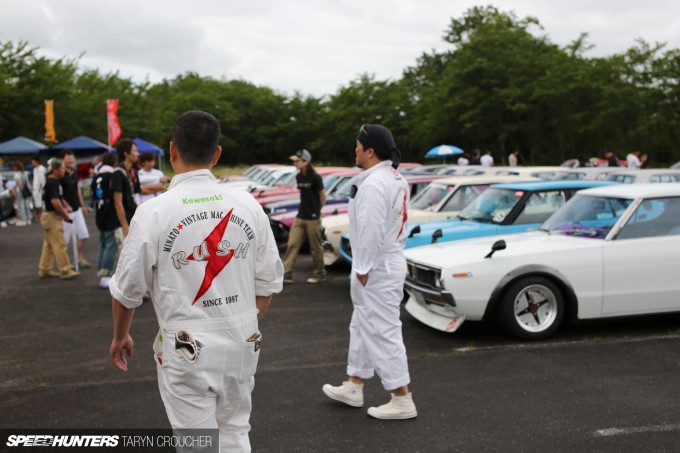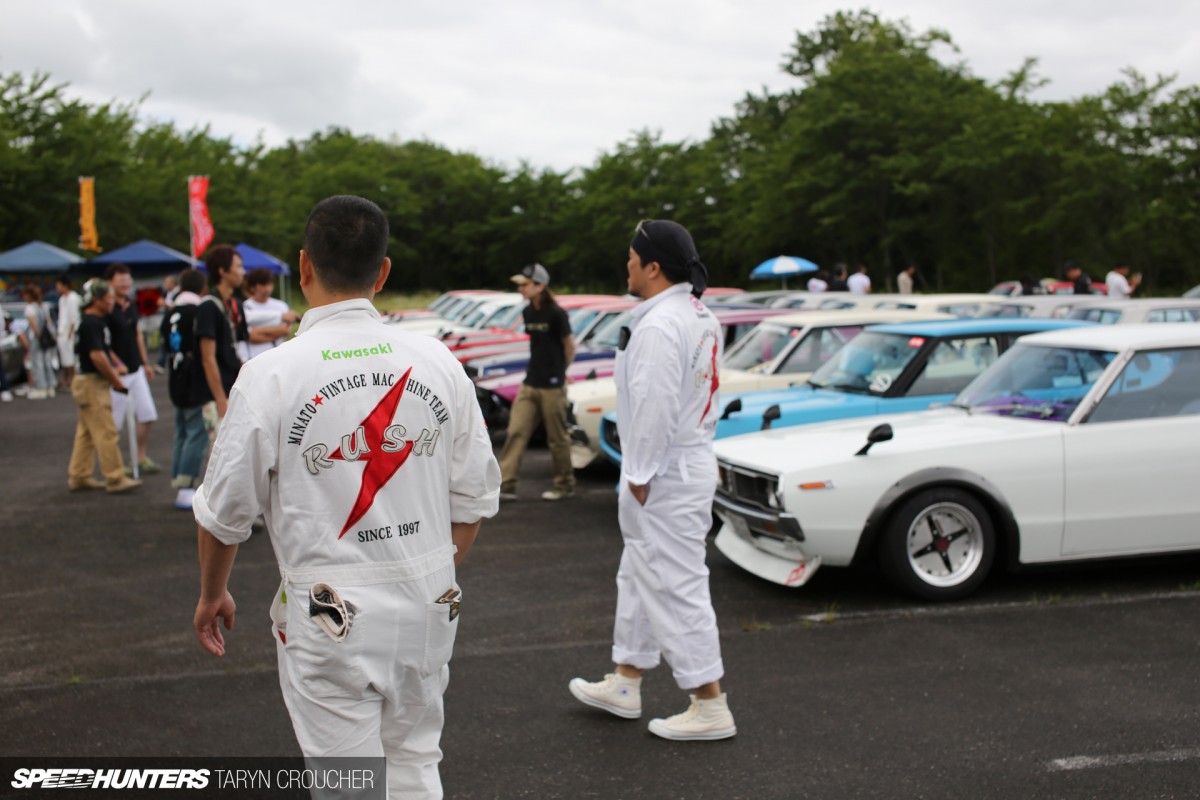 I totally get it, though. In a small country with over 127 million people; in a society that encourages people to play by the rules and 'stick to the norm', why on earth would you want to blend in when you can stand out?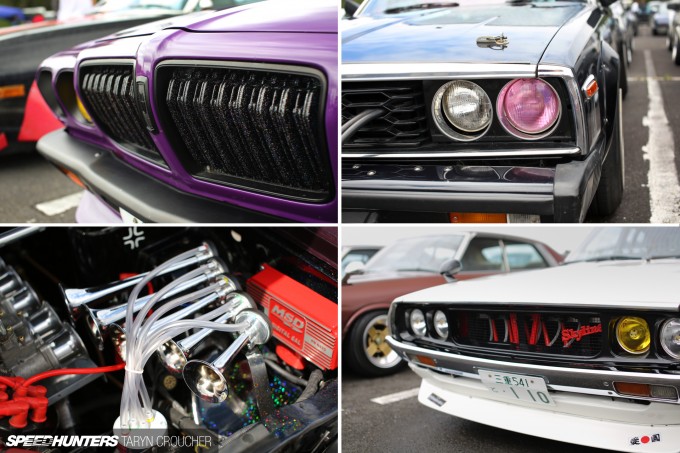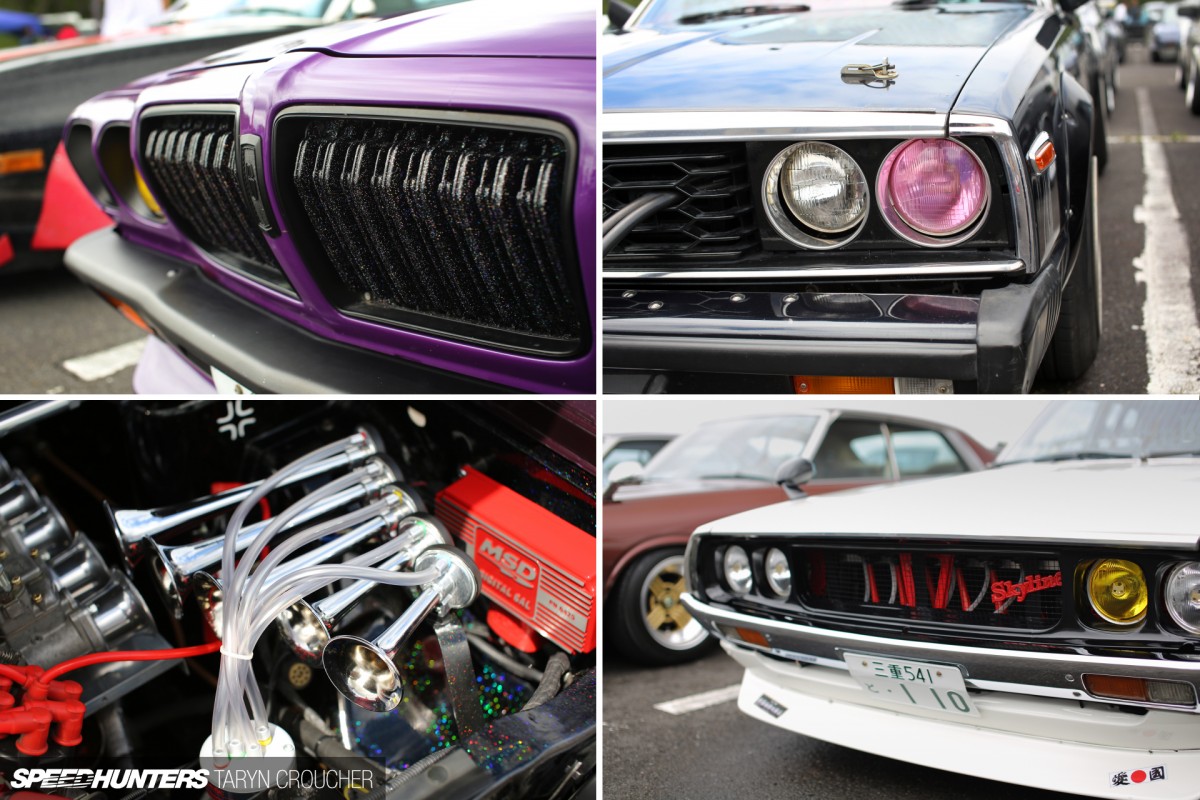 To some, a car is just something we use to get from A to B. But to others, it can be a blank canvas. Whether you want to add a sparkly grille, colourful headlights, air horns or a rainbow glitter-coated engine bay, that's up to you.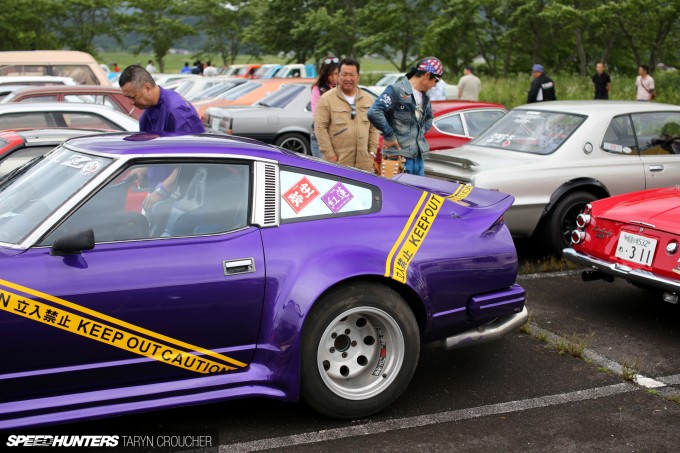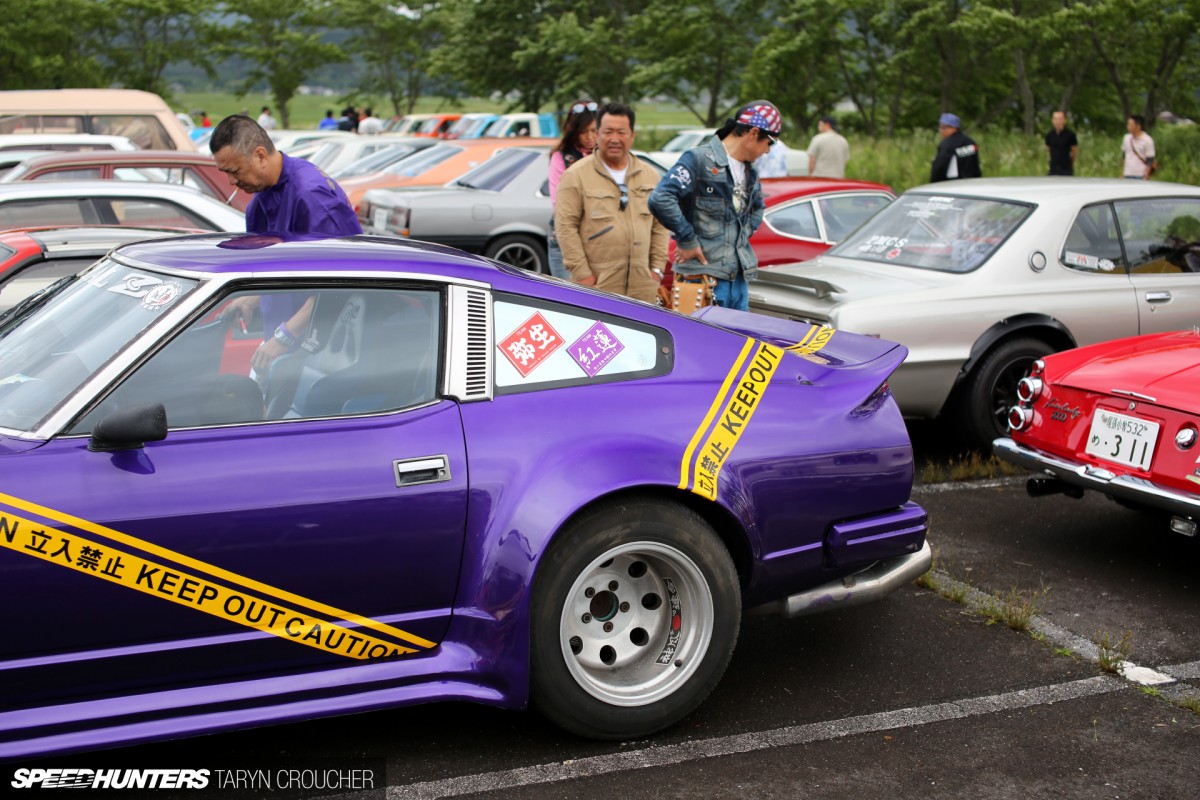 To this crowd, the way you present yourself, how you present your car and the manner in which you drive it are all of utmost importance. Whether that means shaving the model of your car into the side of your head…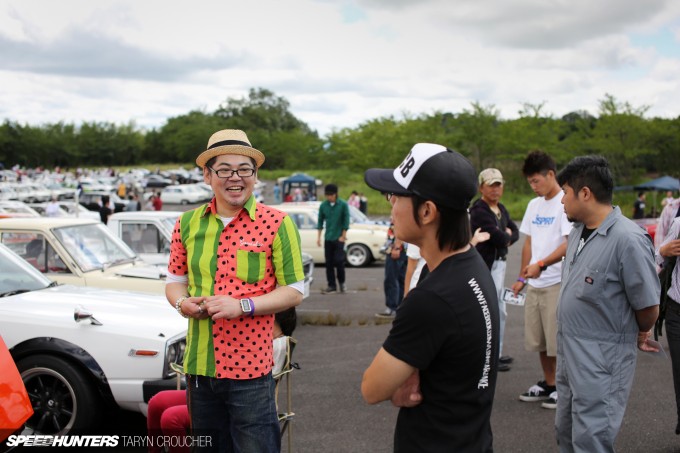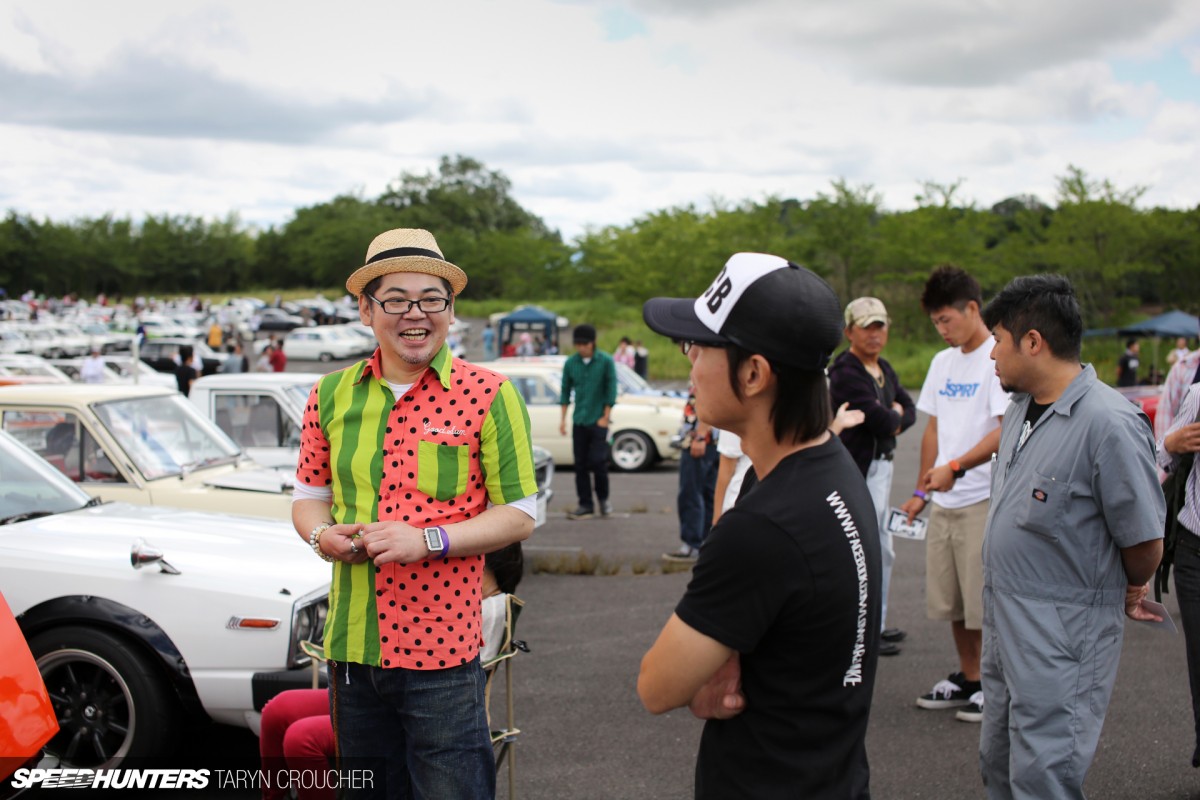 Or wearing a watermelon-themed shirt!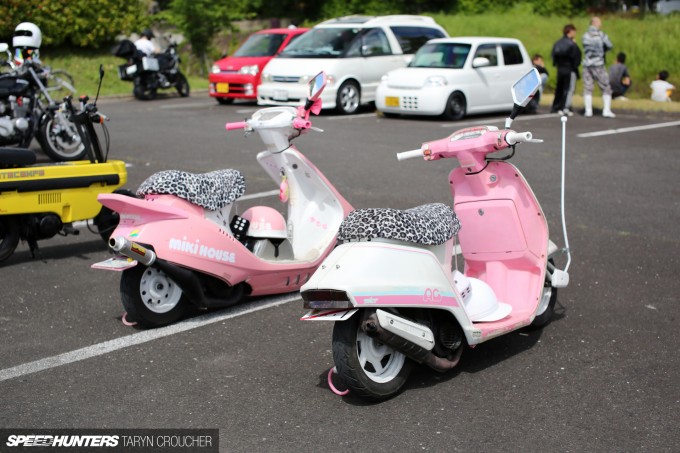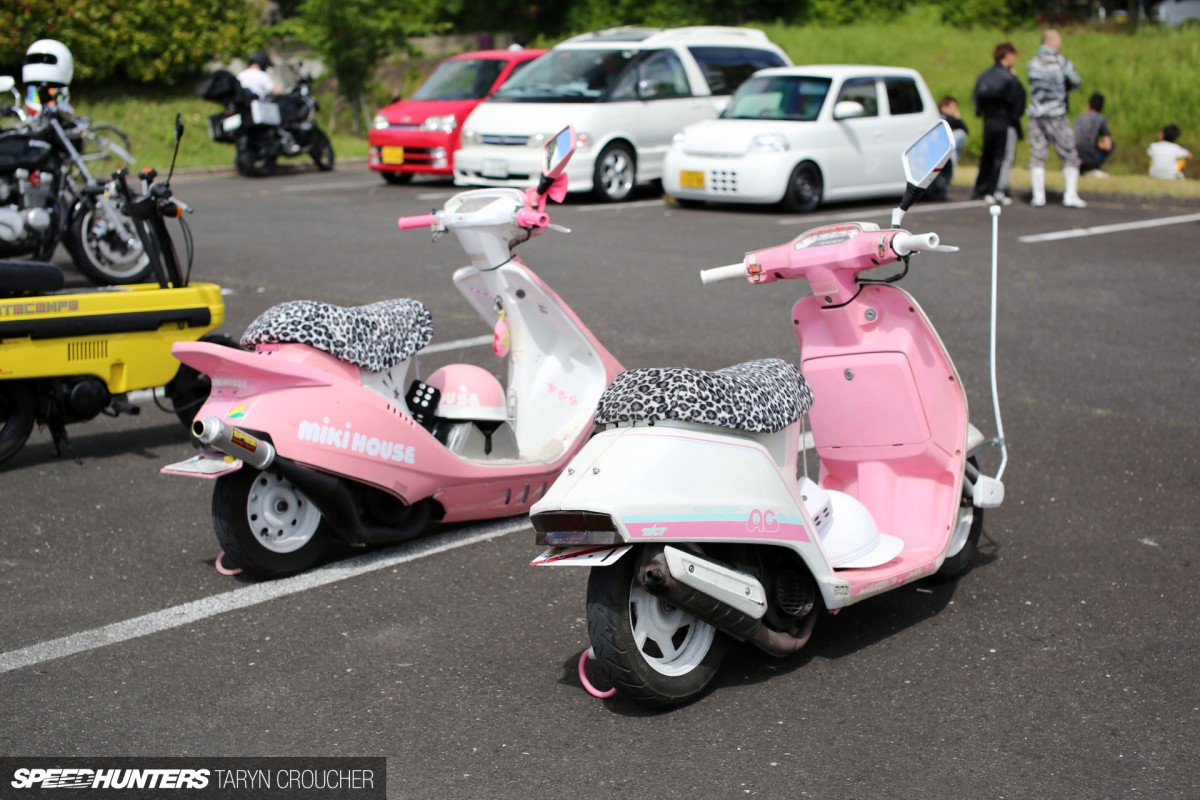 Perhaps it means having matching customised pink scooters with leopard print seat covers.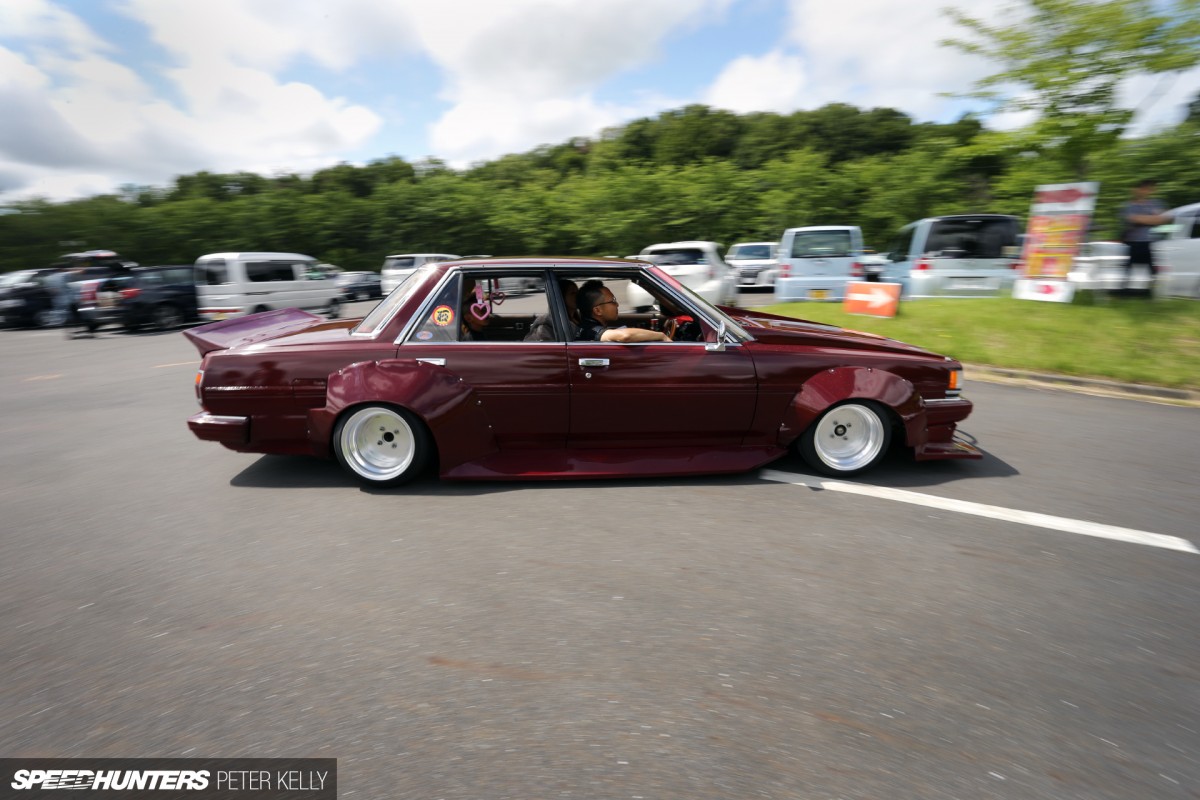 Or you know, bolting your ridiculously sized over-fenders directly onto your rear door handles.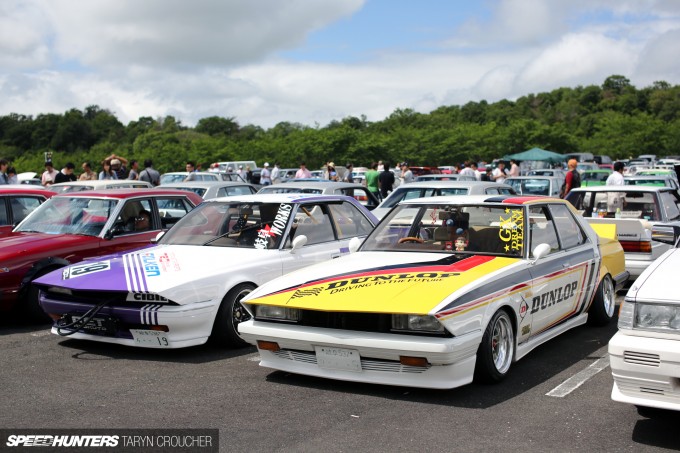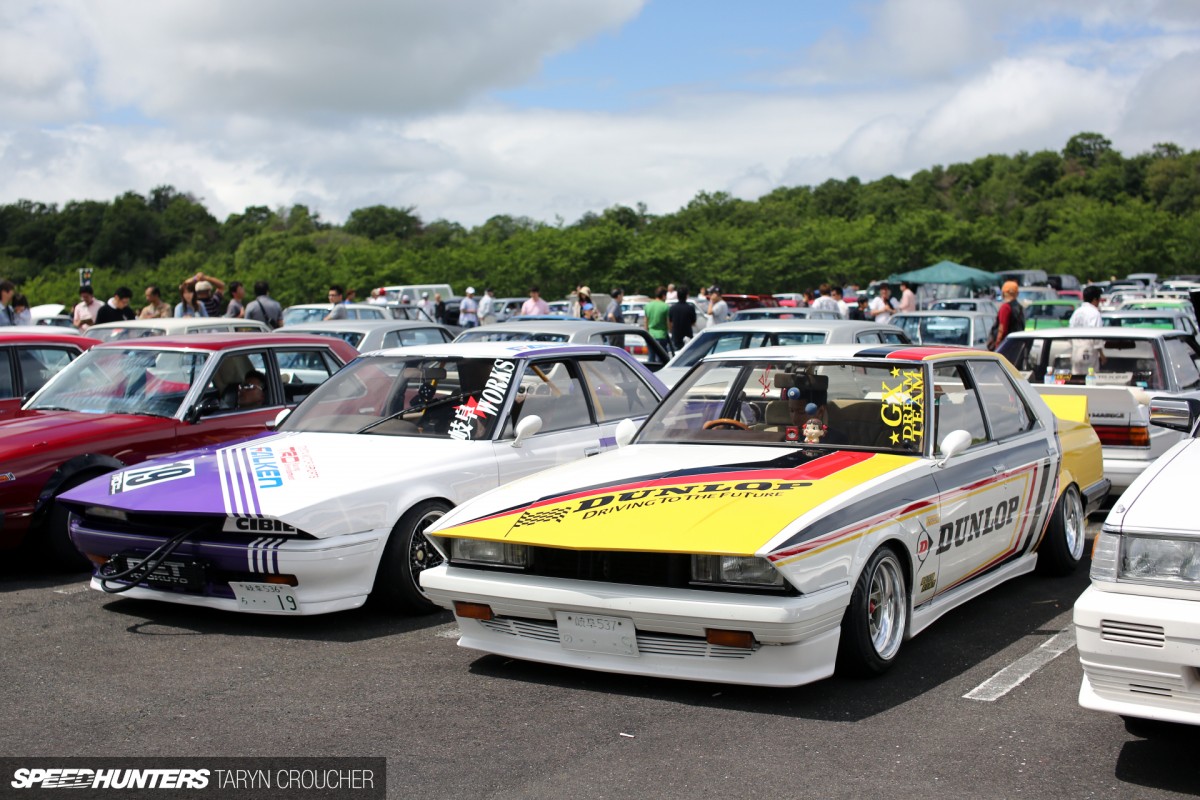 In this scene, personal style is everything, and it's not so much a hobby as it is a way of life. The 'ultimate car' doesn't always have to be built around optimum performance and precision handling. It just has to be something that represents you, your tastes and your beliefs.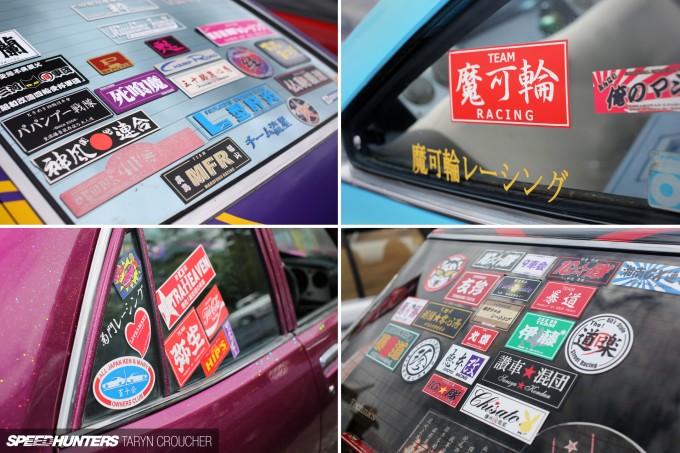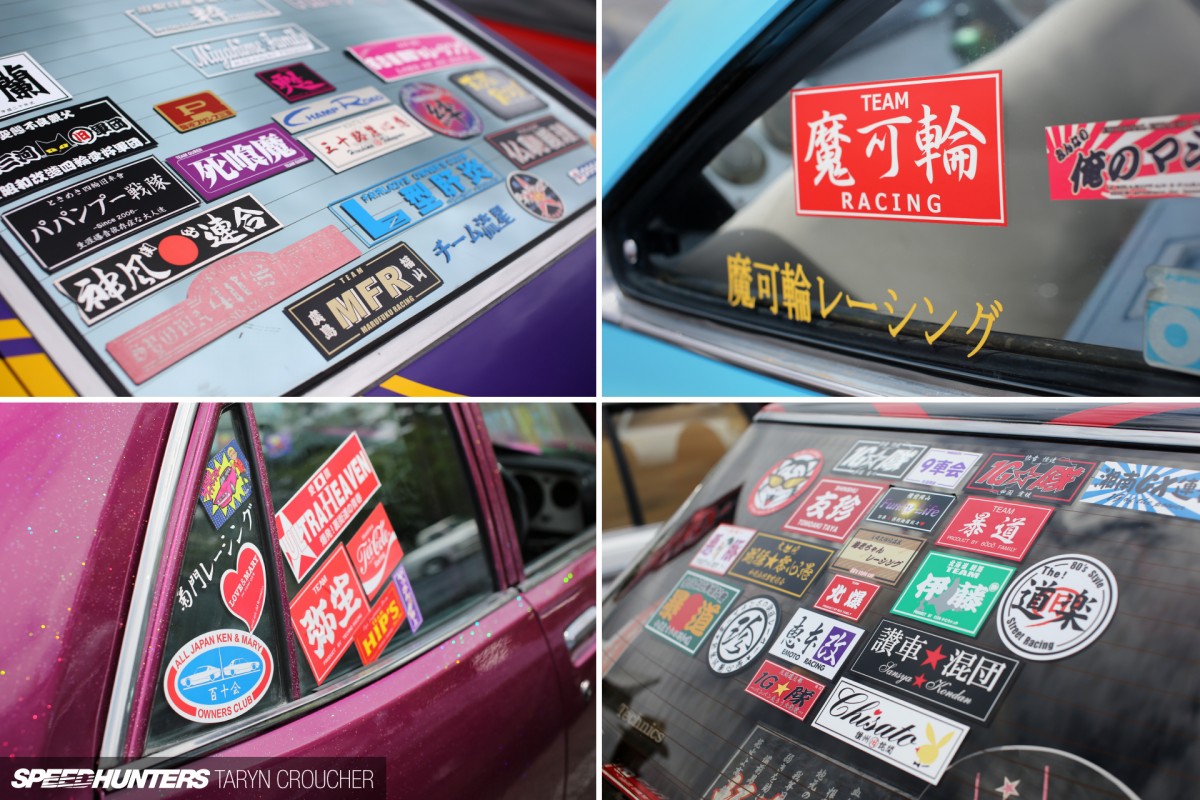 These people have chosen to fill their lives with colour, creativity and camaraderie, and it's all in the name of having fun with cars. That's something that I can get behind 100 per cent, and I think it's the reason why I've fallen so deeply in love with Japan's weird and wonderful car culture.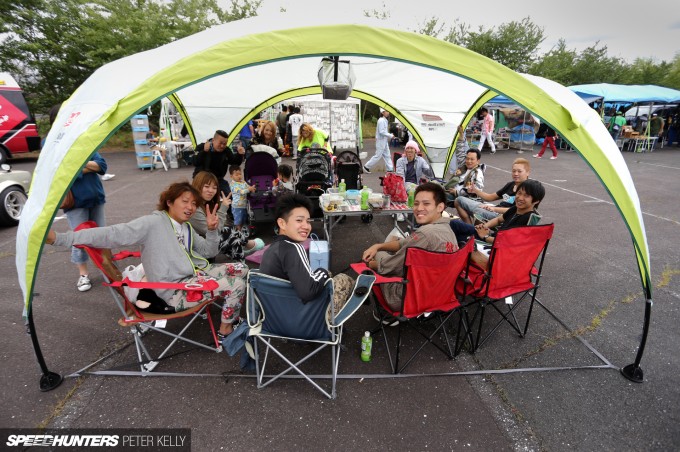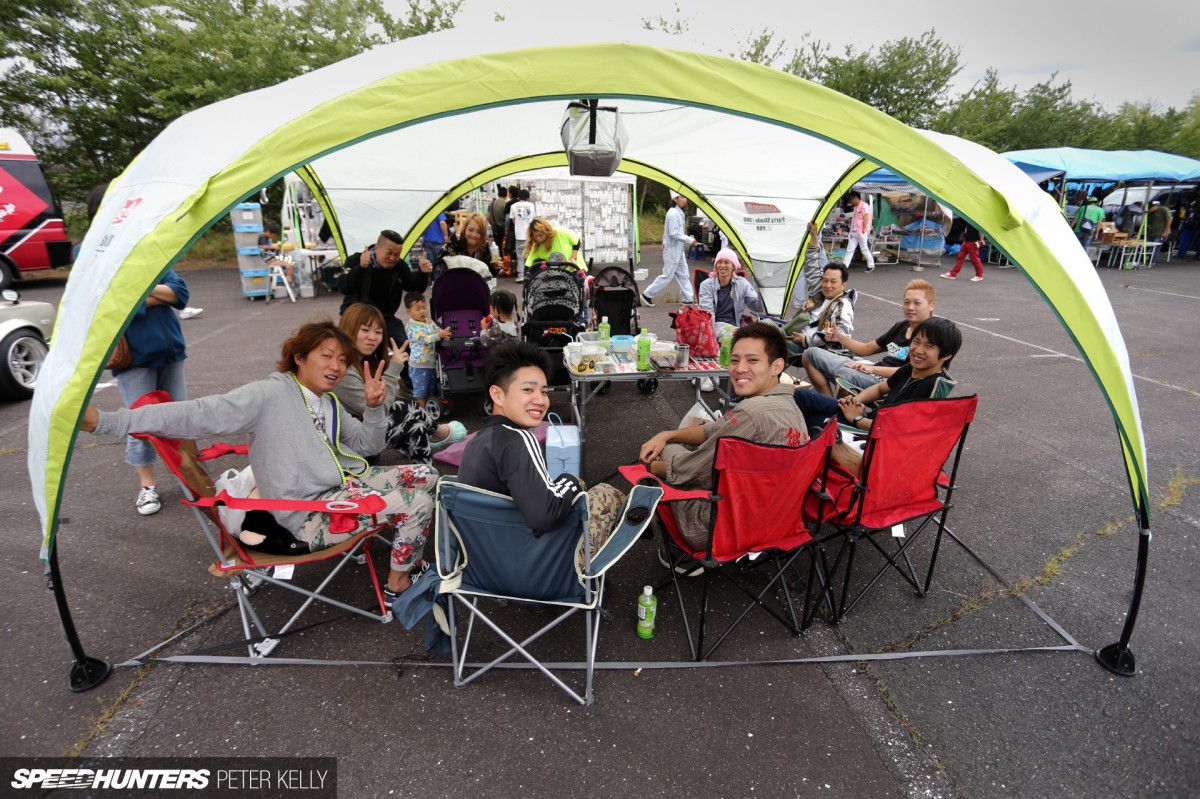 With that in mind, perhaps the people within this scene are some of the most passionate auto enthusiasts I've ever met. I don't think I've ever seen so many families and young children at a car event!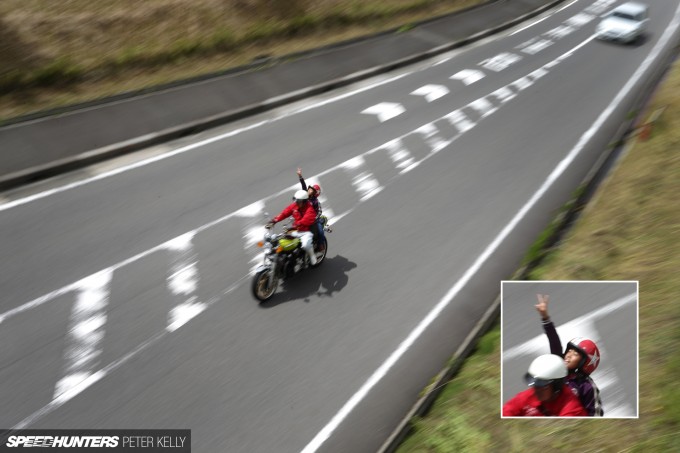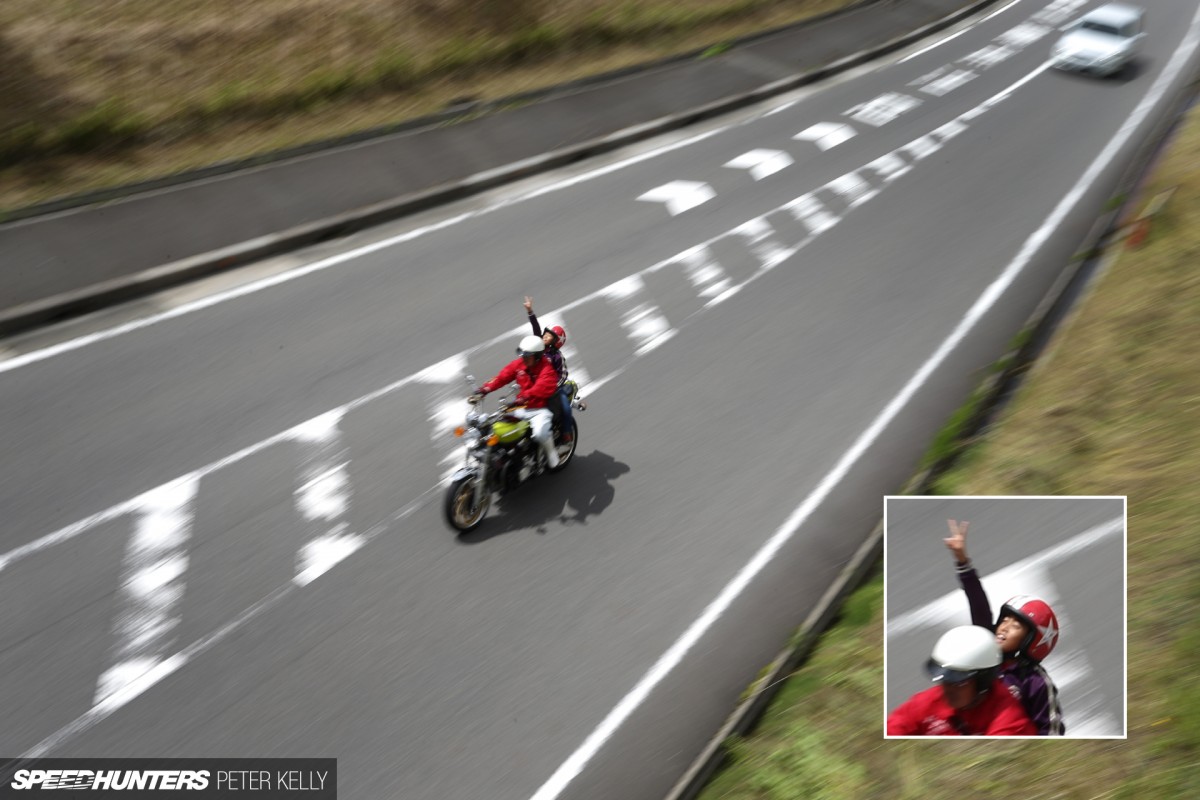 I'm not too sure what the future holds for the kyusha and kaido racer scene in Japan, but I hope these kids grow up with an appreciation for these crazy cars, so that this style can be passed down through future generations to come. Judging from the look of complete and utter joy on this cool little dude's face as he blisses out on the back of his dad's motorbike, I think it's quite likely.
Before you go, make sure to check out the ginormous bonus images gallery below!
Taryn Croucher
Instagram: taryncroucher
taryn@speedhunters.com
Additional Photos by Peter Kelly
Instagram: speedhunters_pedey
pedey@speedhunters.com
Cutting Room Floor