Performance leads the way
For me, Tokyo Auto Salon has always been about power and performance more so than actual style and form. Sure, seeing flashy show cars is always nice but I'm sure I'm not the only one here that puts actual functionality over looks when it comes to cars. That's why every year my first port of call are always those booths that show off cars with substance, and it only seems right that I should begin to tackle my coverage showing you what stood out the most in this respect.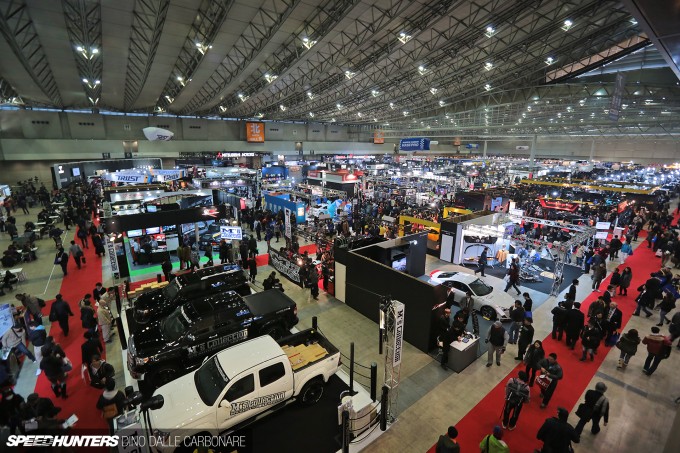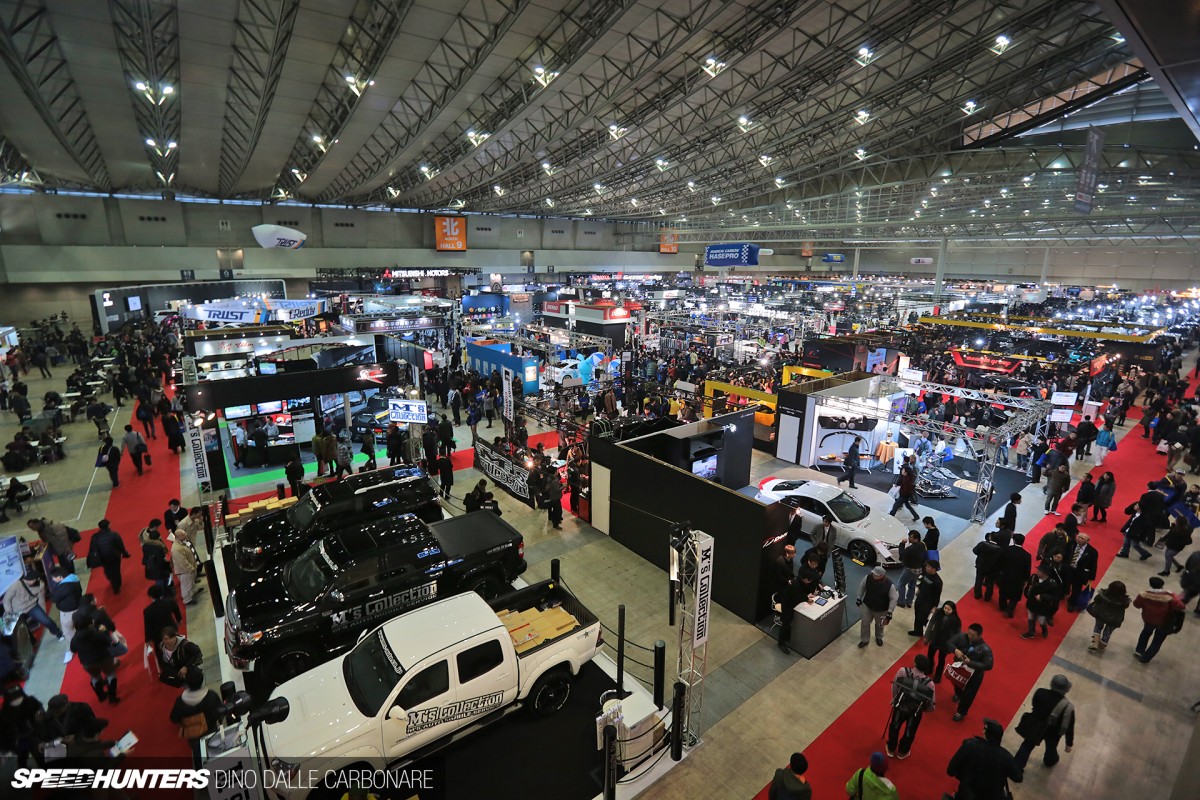 Starting last year, the TAS organizers boosted showroom space by opening up the North hall which is adjacent to the main exhibition space and accessible through the connecting footbridge in front of the central entrance. Much like in 2013, it was here where one would be able to find the best examples of good old tuning. I call it this because in the last decade or so we have seen quite a shift evident here in Japan, as style has begun to take precedence over those sort of cars that made the JDM scene notorious in the first place.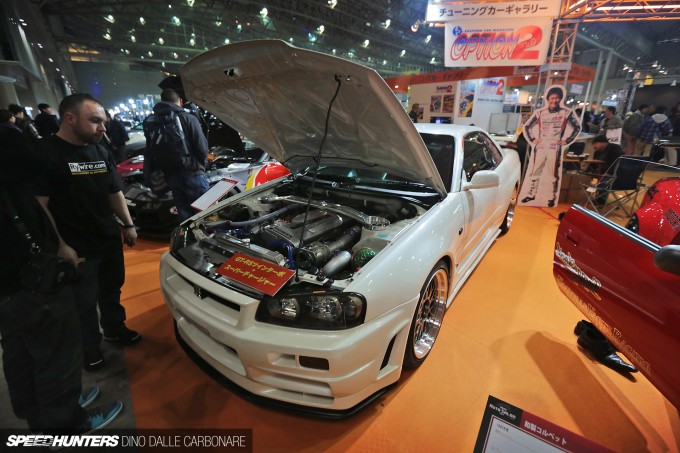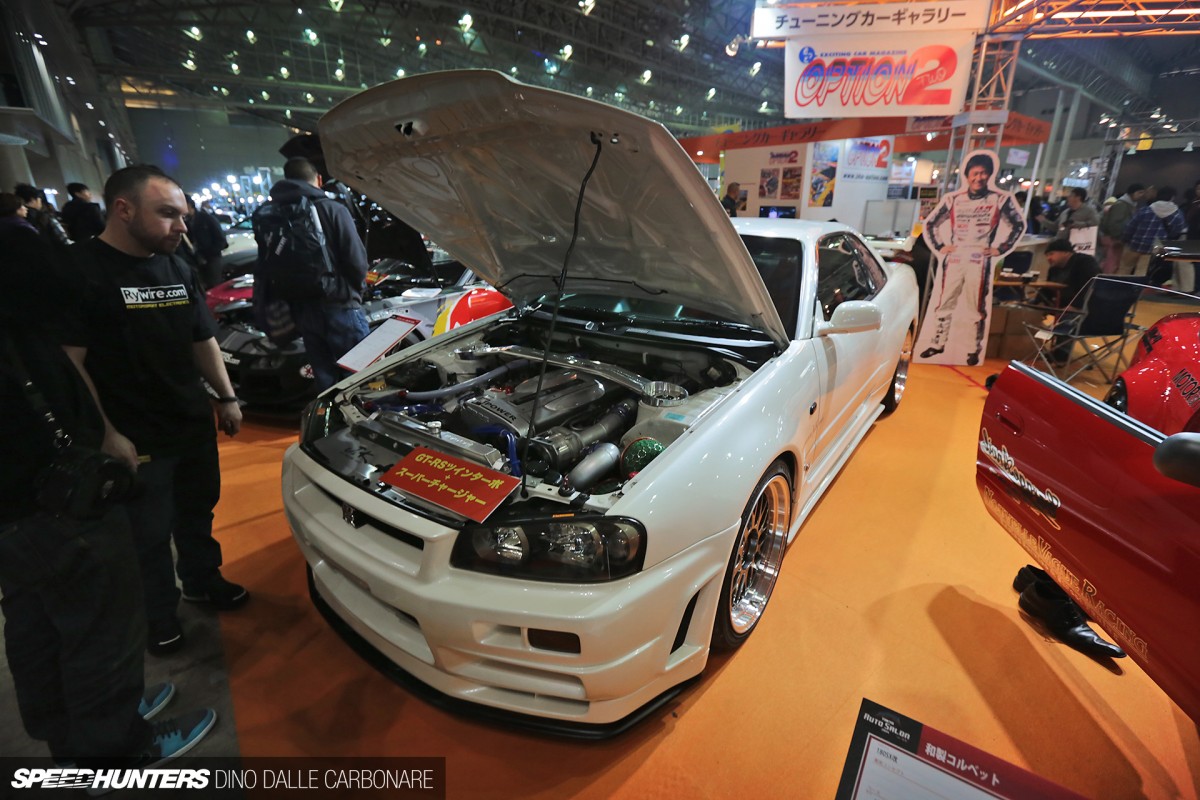 But if I had to comment on ongoing trends this year, I definitely have to say that there are many more tuning shops and parts makers going back to their roots and concentrating on extracting power rather than stance out of a car. With Trust's new D1 project which I spotlighted the other day, and the rumored all-new HKS time attack GT-R, there's definitely a positive vibe in the air for this year, and I believe we'll be seeing some pretty cool builds materialize over the course of the year. But enough with that – let's check out what I ran across after walking the 11 halls of TAS for three days straight. I'll start off with this R34 GT-R which was one of the many awesome cars on display at the Option booth, always easily recognizable thanks to the orange carpeting.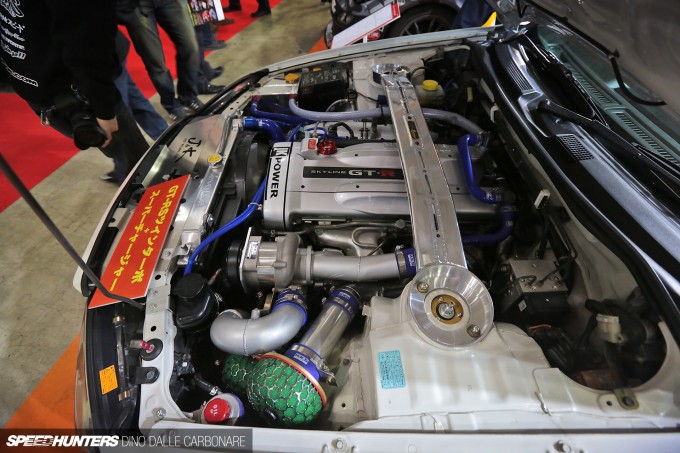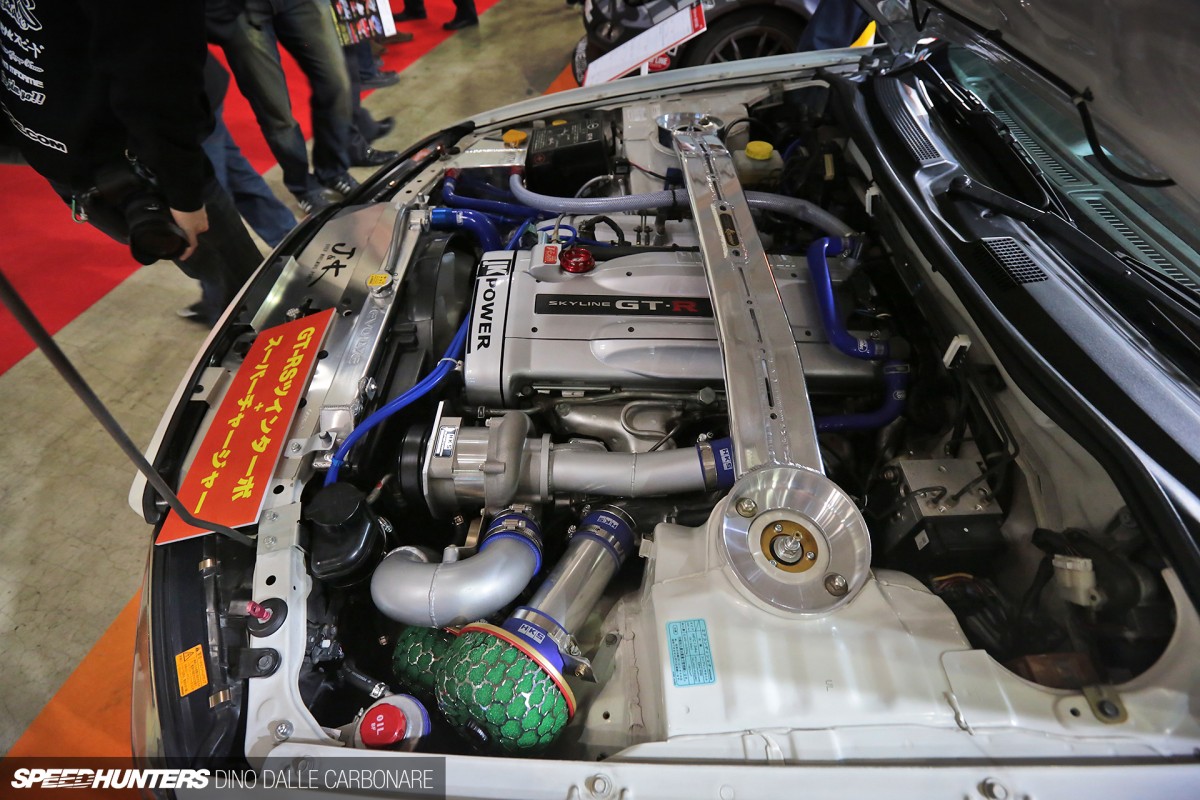 Under the hood it sports an unusual solution to force feeding: the HKS GT-RS turbos that it runs mated to an HKS GT supercharger to boost the low and mid-range to get a fuller power and torque curve. Twin-charging on RB26s is not new – it was done before back in the day, but I don't think anyone ever got it running right, nor was the complexity worth the actual result it yielded. The only way to see if this set-up works would be to have a go in the car!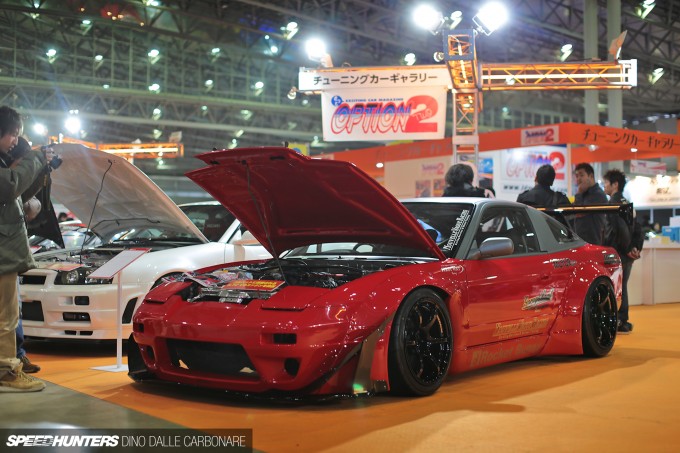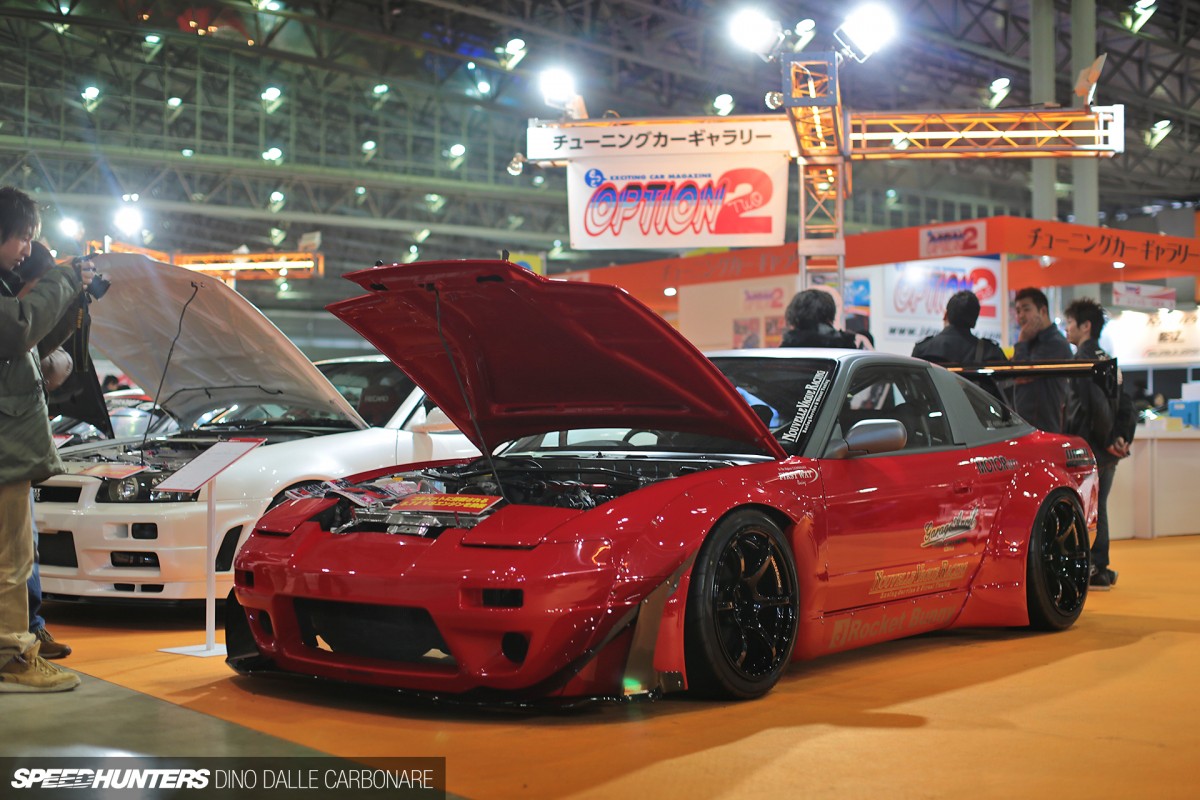 Next to it was this 180SX from Nouvelle Vague Racing, a car that was recently featured in an issue of Option magazine. It was one of many Rocket Bunny 6666 Customs-kitted cars you will see in the coverage that I have planned, so you will have to excuse me if you think it gets too much but believe me, Miura's touch is something everyone wants right now. Shiny red paint and contrasting Advan wheels aside, there was something else that was guaranteeing a constant crowd of onlookers in front of it over the weekend.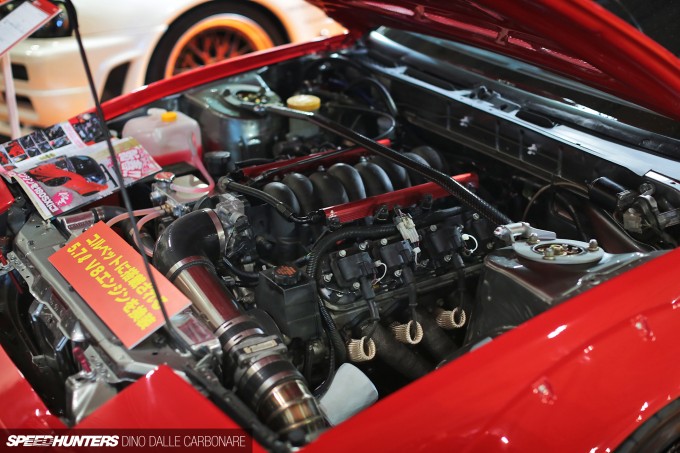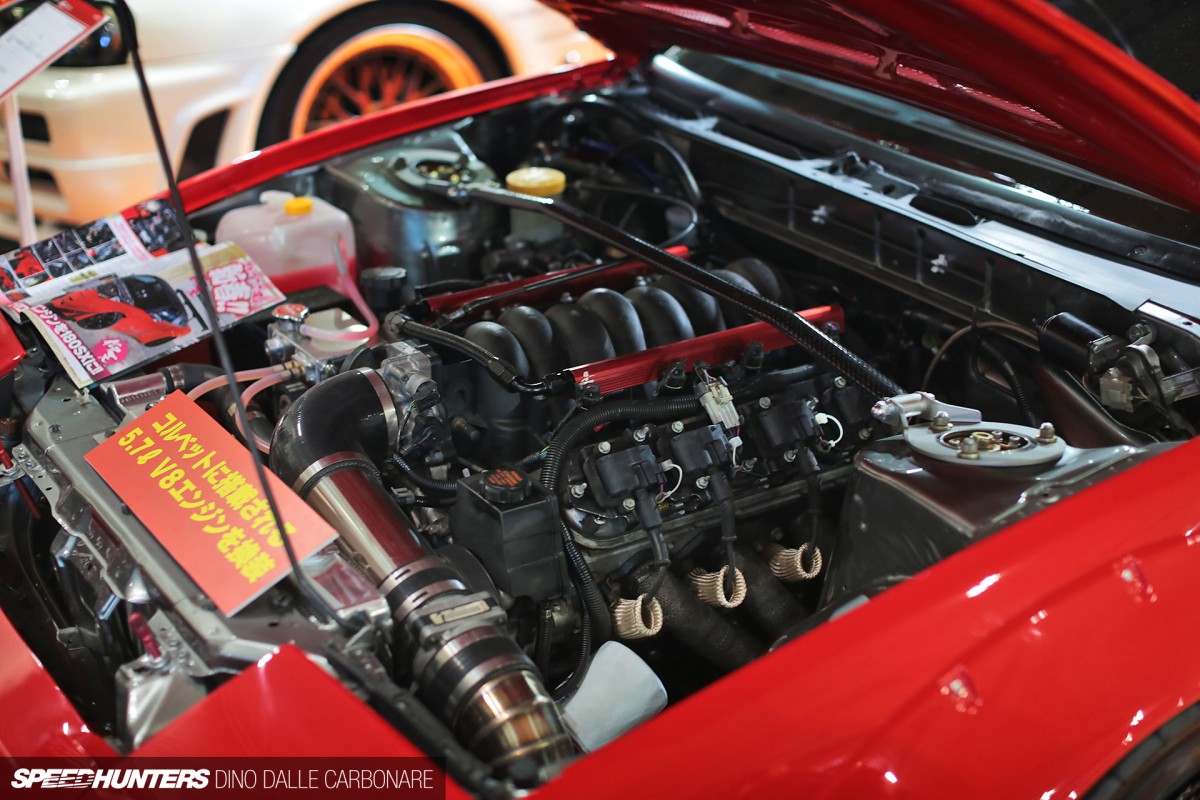 Now for you US folk, seeing an LS-swap in an S-chassis may be borderline boring, but in Japan it's still quite a new thing and very exciting to see, especially when executed so well. It certainly got my thumbs up!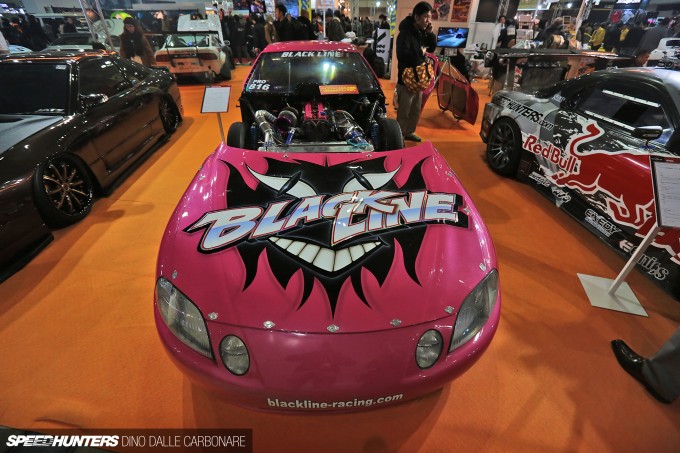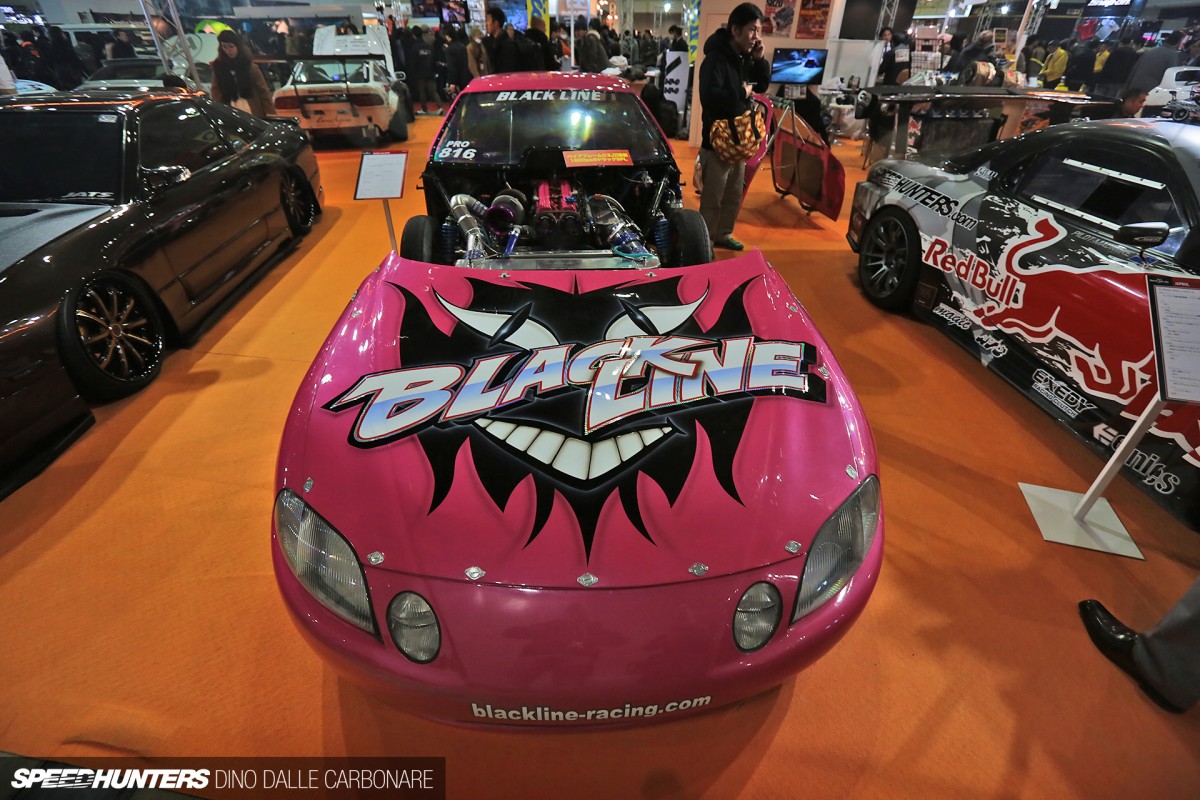 Upon seeing this Black Line Racing Soarer I decided to write a little note on my 2014 to-do list which I keep at arm's reach on my phone. 'Cover more drag' is what I wrote. It has to be done as there's a lot still happening if you search hard enough. The only thing that's kept me from getting out to more events is the sheer distance of tracks like Hi Land and Central where most of the drag meets are held.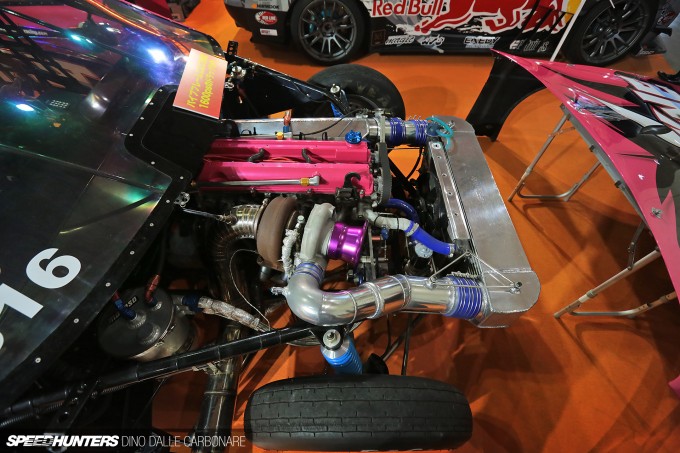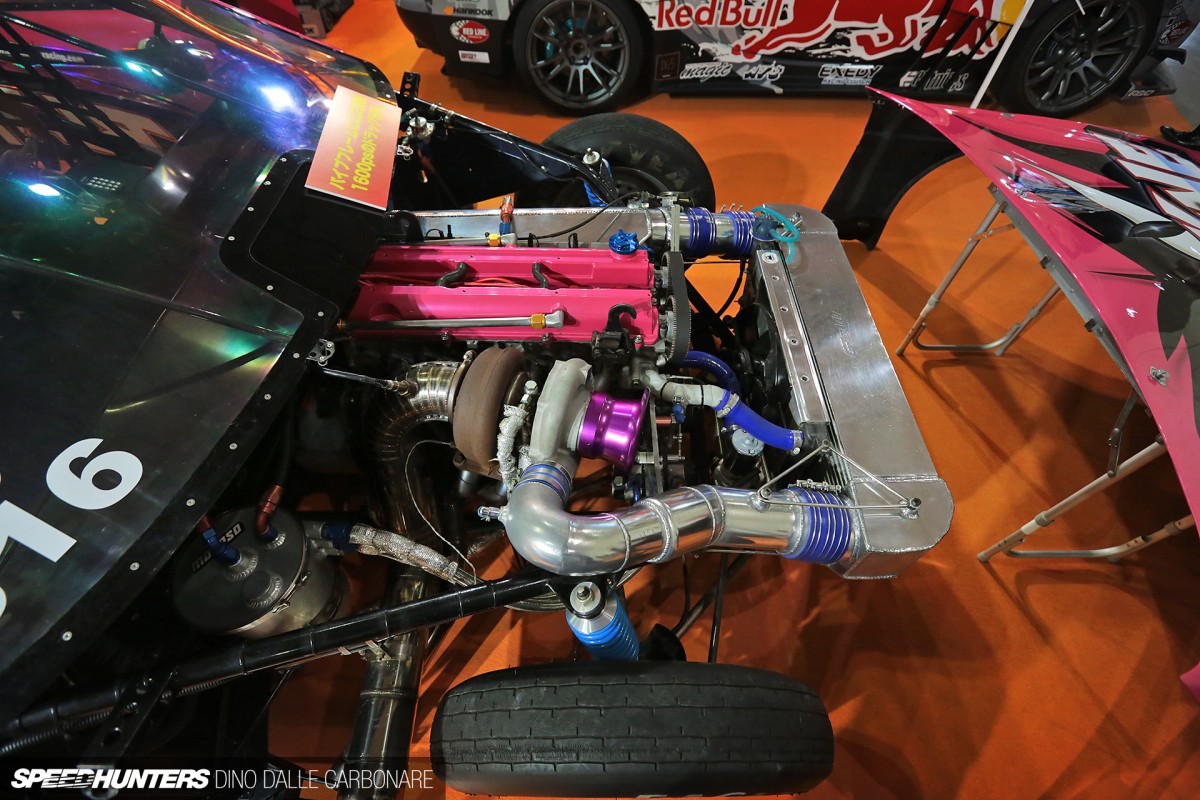 But back to the Soarer. This thing runs a full tube frame and as you can see, the 2JZ powering it means serious business. 1600hp serious! Torque peaks at 130kgf/m (939 lb/ft) and all of this is good for low 8-second passes, its record being 8.3 sec.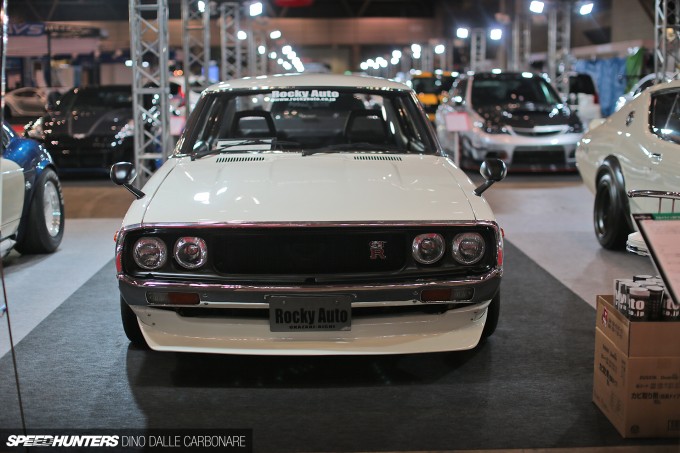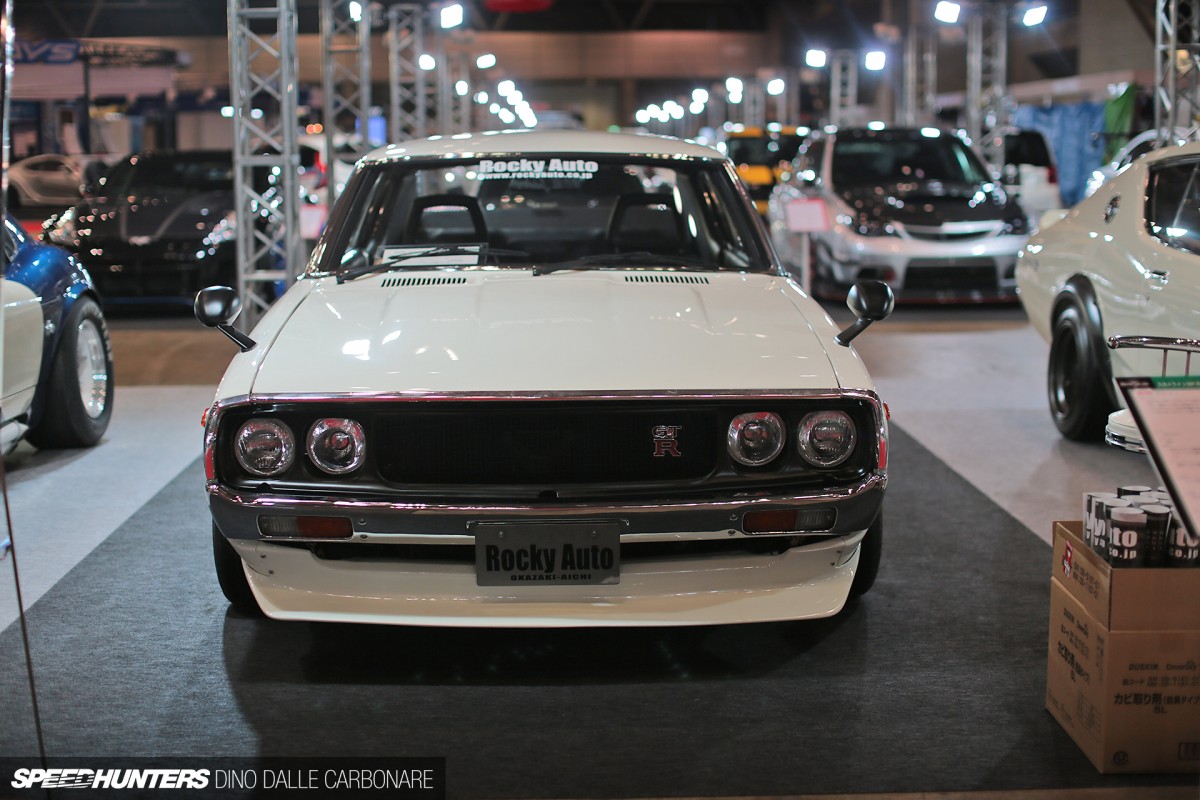 To kyusha or not to kyusha, that is the question. Older cars may not be for everyone and Watanabe-san at Rocky Auto understands that well which is why he's shaped his business around resto-mods, adding the reliability and creature comforts of contemporary cars into older classics. I'm sure a lot of people that didn't bother to take a look at the spec sheet on display in front of this KPGC110 Kenmeri GT-R may believe this is actually the real thing, but of course it isn't. This is the Skyline GT-S that Rocky have been working on that we first saw at Auto Legends: a custom Kenmeri replica body built onto an R32 chassis.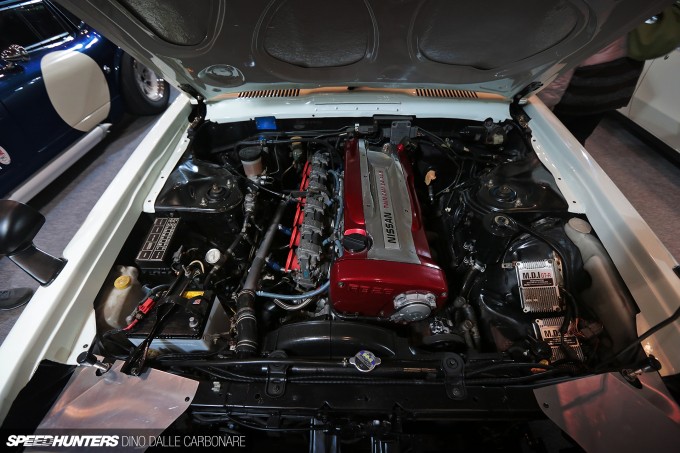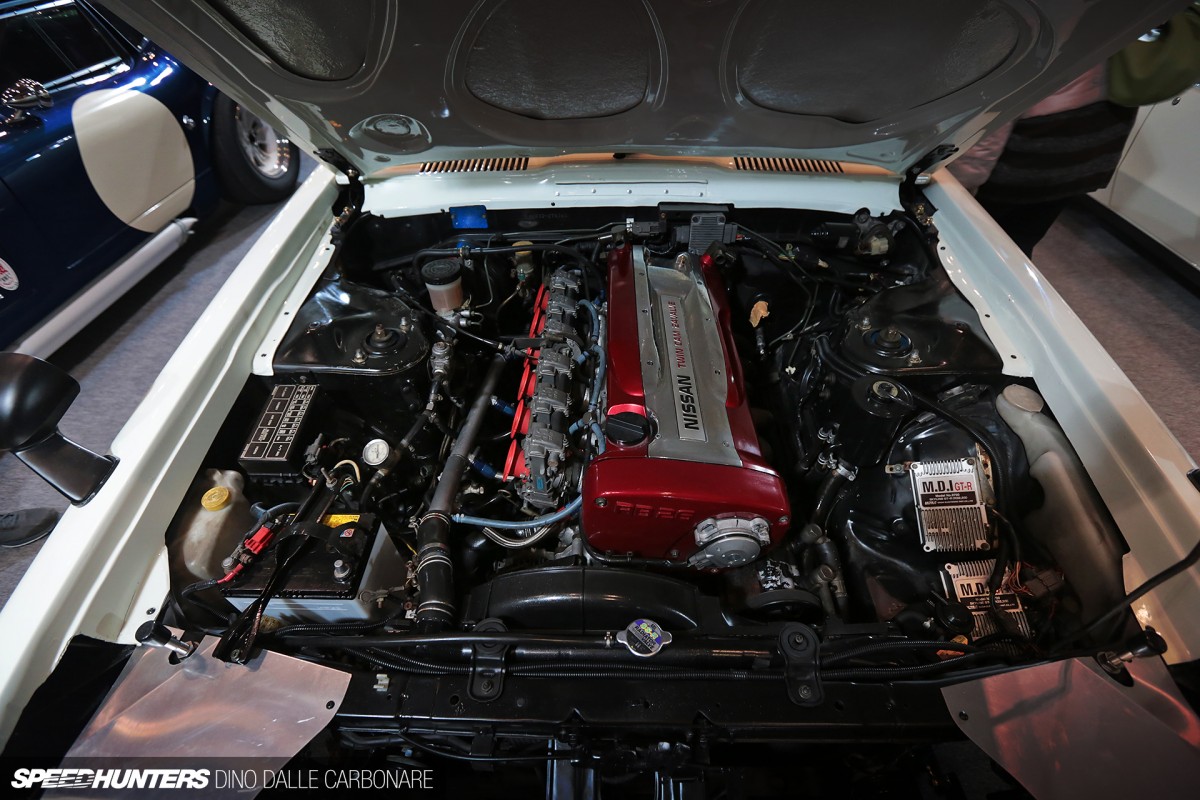 This particular car, the first one they have created, has a few options to make it a little more interesting if the old school seventies looks weren't enough. Yes that's an RB26 on FCR carbs, and according to Watanabe it sounds damn impressive. There are a few things that need to be finished up on the car, but once it's done, you can expect to see a little dream drive.
The 86 craze continues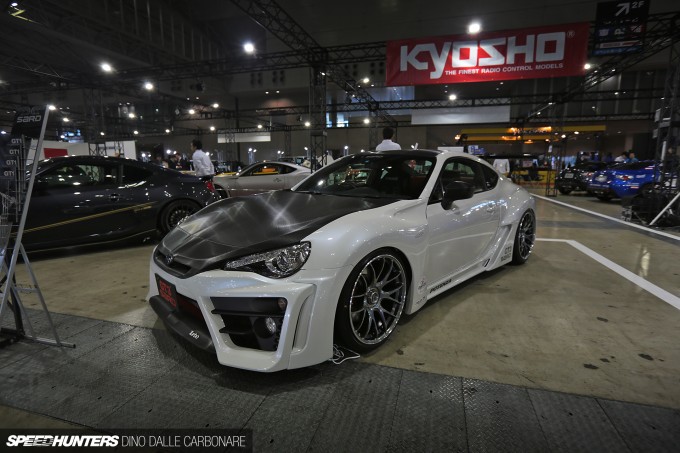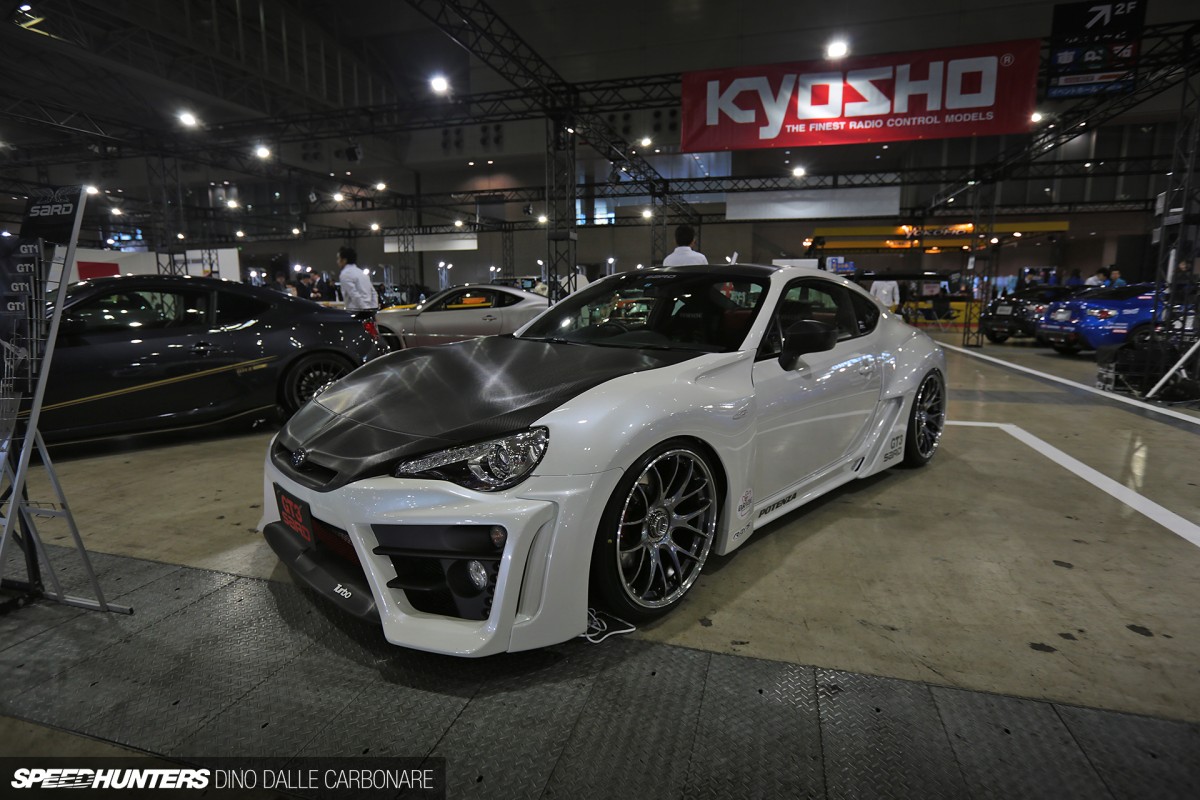 Ok I won't beat around the bush too much; as you can imagine the 86 and its various variants is still very much the car of the moment, and while there weren't quite 100+ cars like last year's 86 Mania, there were still a ton of them dotting the whole show – even outside the '86 Area' display that Toyota had set up. One of the first that I took a look at was Sard's GT3 prototype, a turbocharged version drawing inspiration from motorsport. It will be interesting to see what plans they have for this car.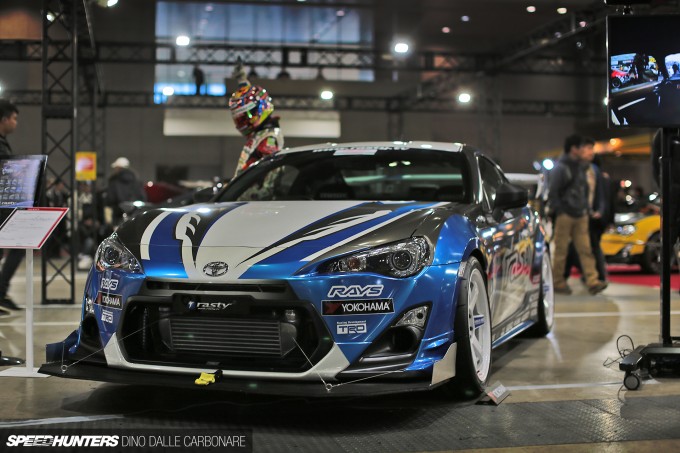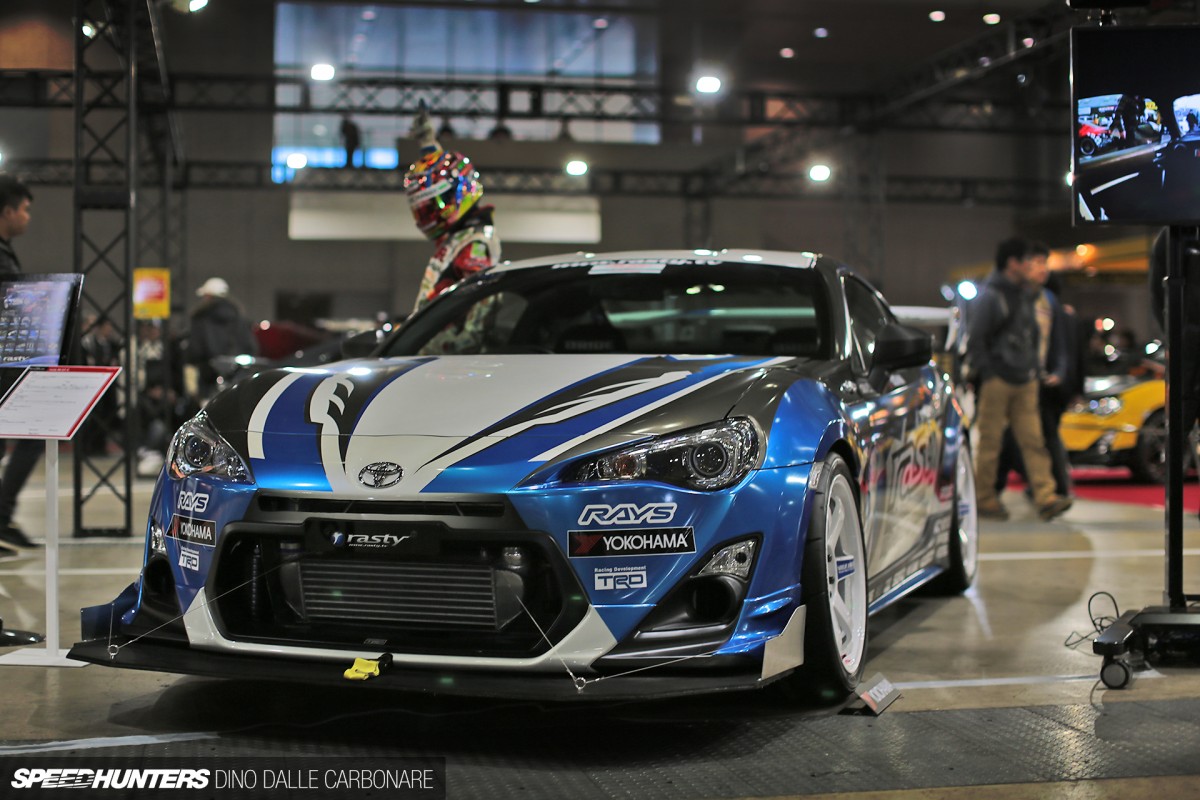 It would be cool if Sard pitched their car again the Rasty ZN6, which after the awesome drive by Orido in last year's Super Battle, remains the fastest hachiroku to have lapped Tsukuba.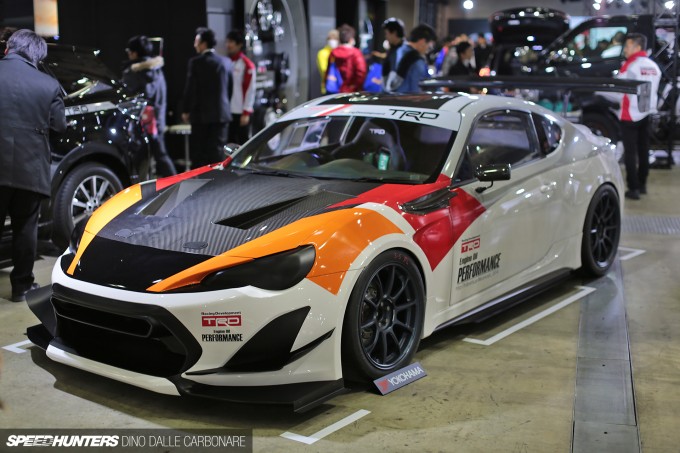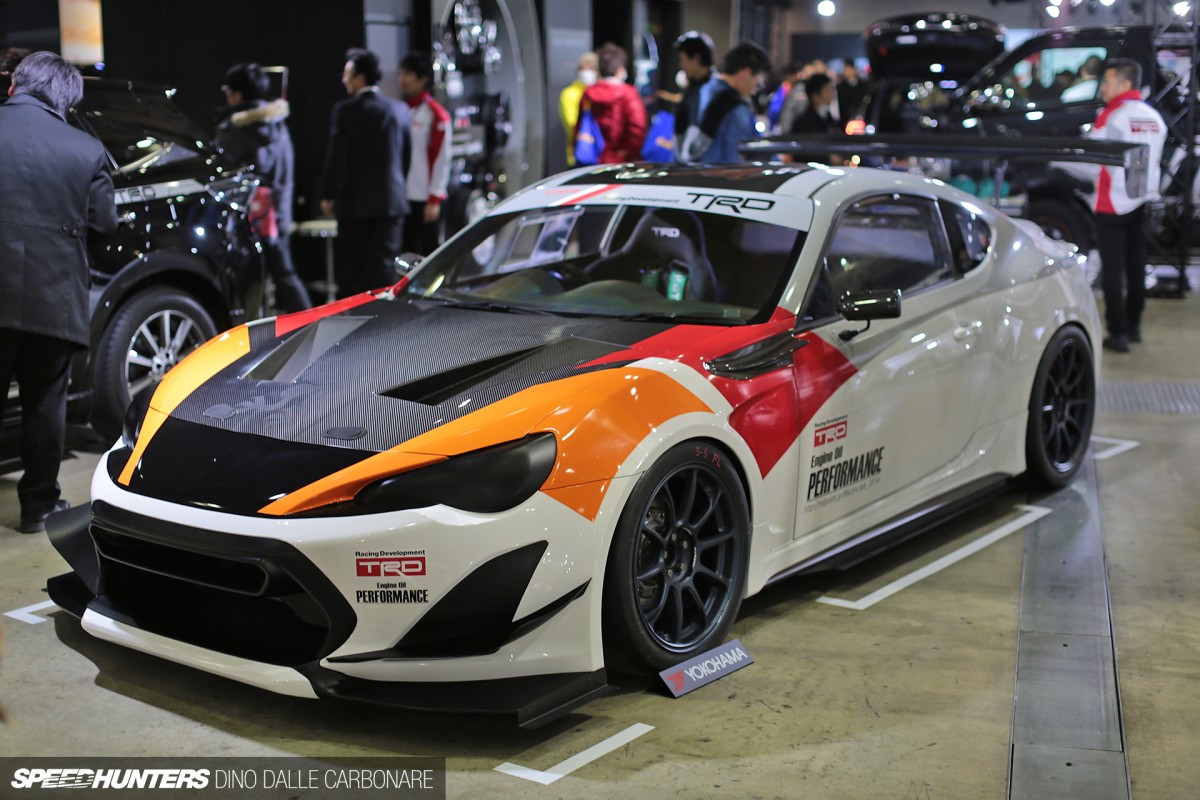 The TRD Griffon project continues, and for this year the car has just been fitted with a more aerodynamic, slightly elongated front bumper. The idea with this car is to stick with the base FA20 engine and apply all of TRD's motorsports knowledge to continue to advance the project and see what they can achieve. If you look closer, you will also notice the car runs a new carbon fiber vented hood and the headlights have been removed and replaced with blacked out dummies. This car is getting serious for 2014!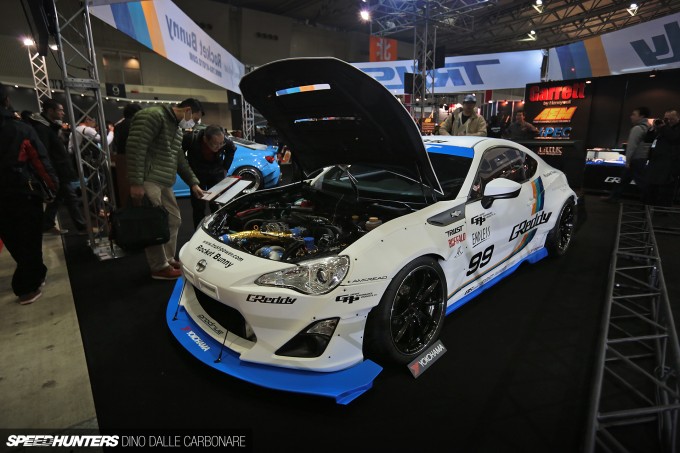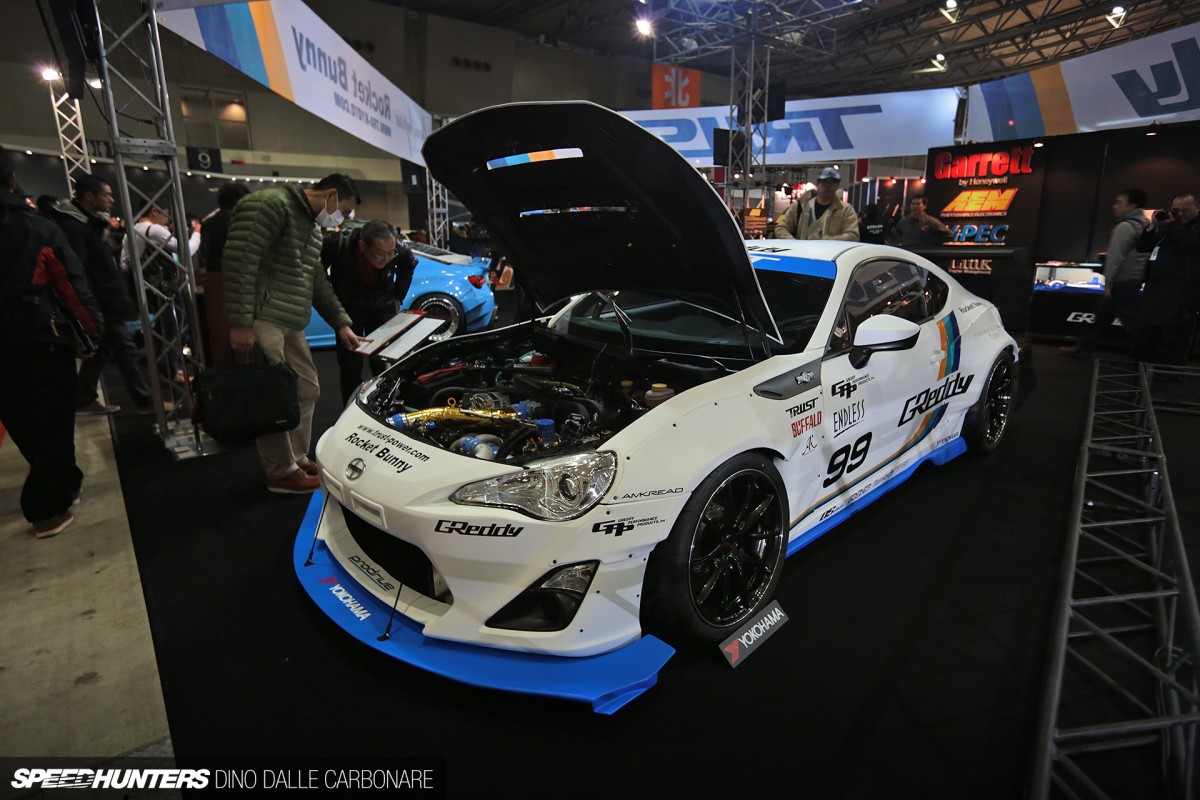 Trust too aren't forgetting their FR-S project. They were just a smidgeon behind the Rasty ZN6 at Tsukuba last month before their transmission failed, so you can expect some great times once they get it performing as they want.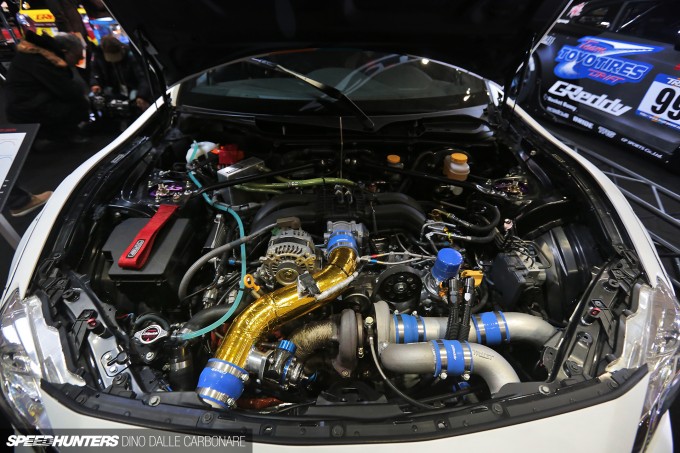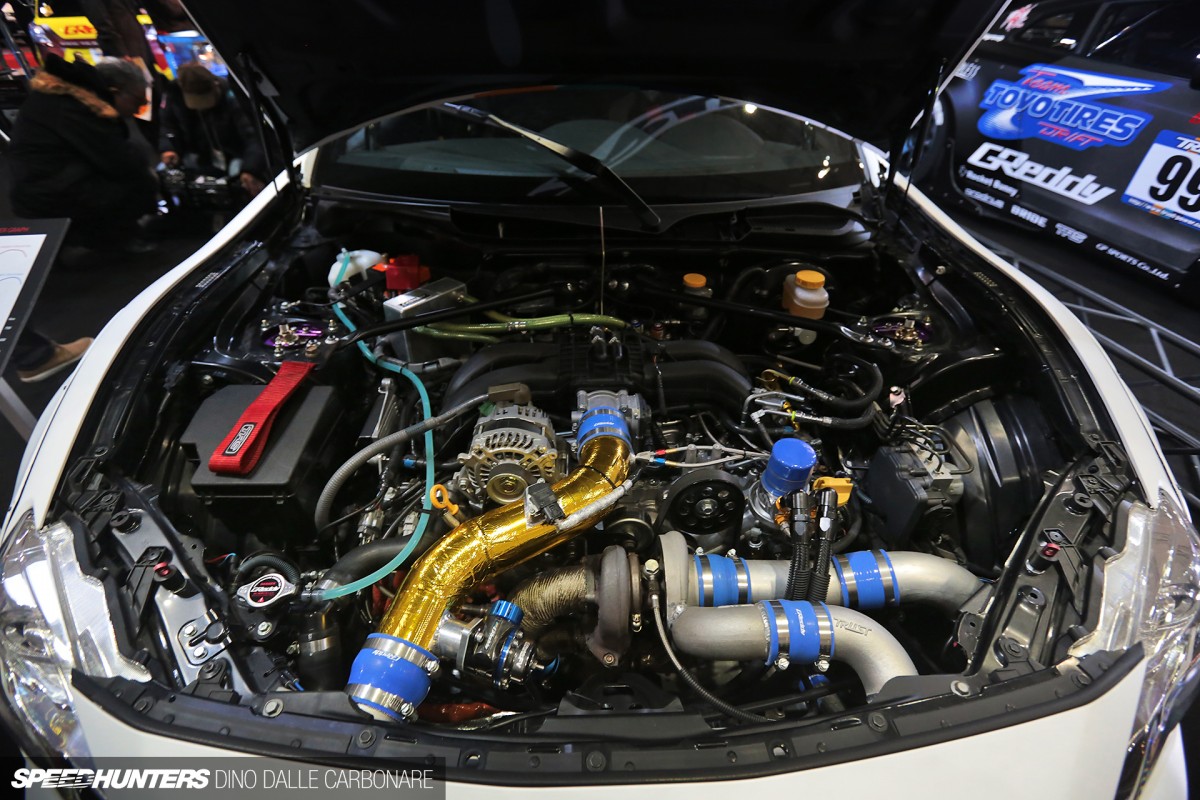 It's certainly all business under the hood with the GReddy turbo kit positioned in front of the engine, the most common position in most FA20 turbo applications. My favorite solution for the little Toyota however remains the AVO Turboworld 86 I featured back in 2012. I just love the stealthy approach!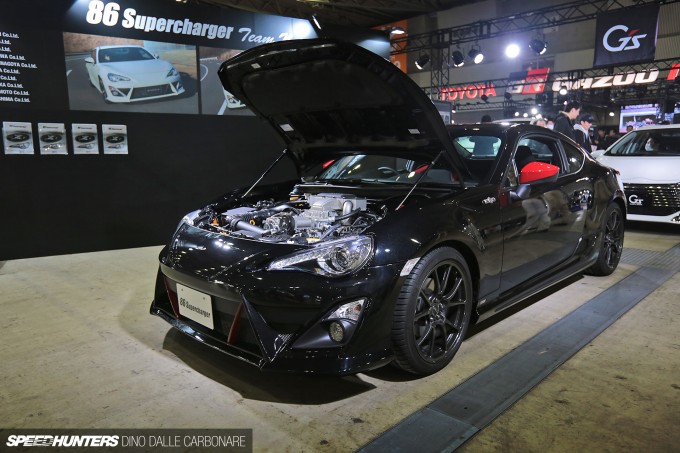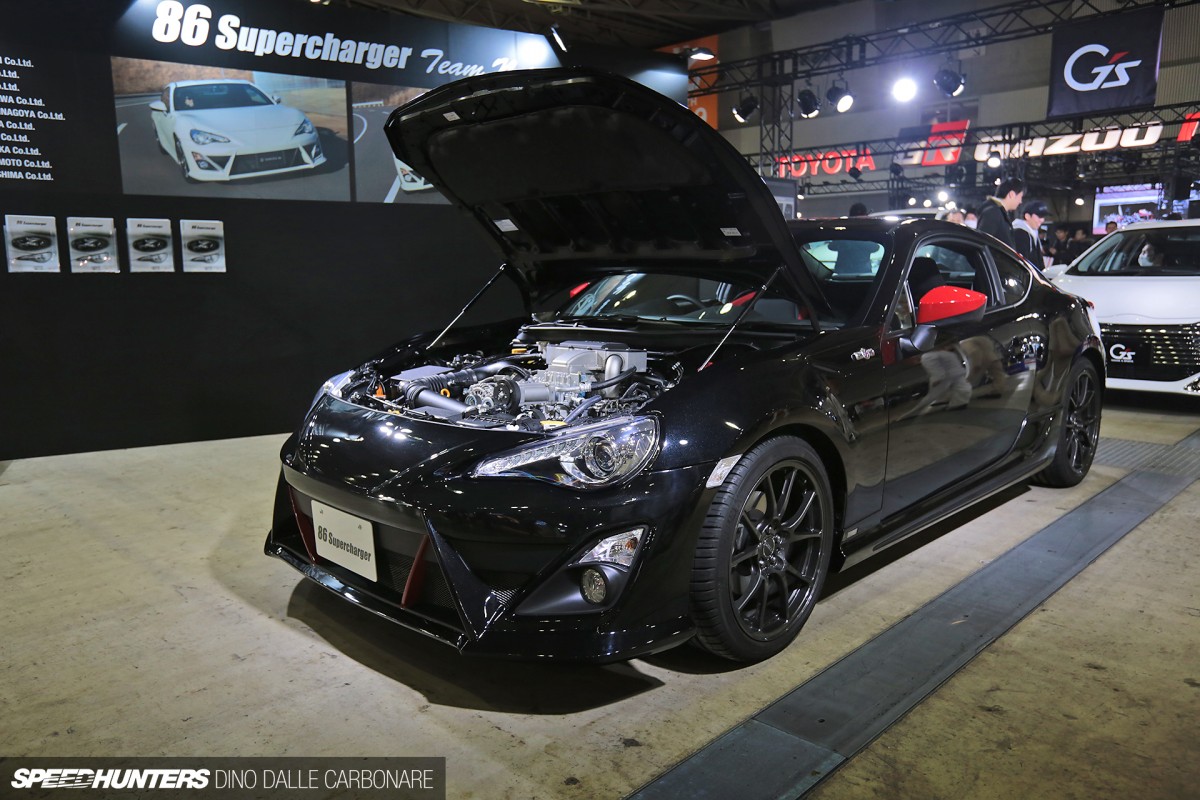 I thought the 150 cars that Netz – one of Toyota's many Japanese dealerships in Japan – will be building and selling is just another example of how well the big Japanese manufacturer is handling the continuous promotion and sales of its hot little sports car. These Japan-only cars will run a bespoke aero package and TWS forged wheels, along with a variety of TOM's accessories that can be added as options.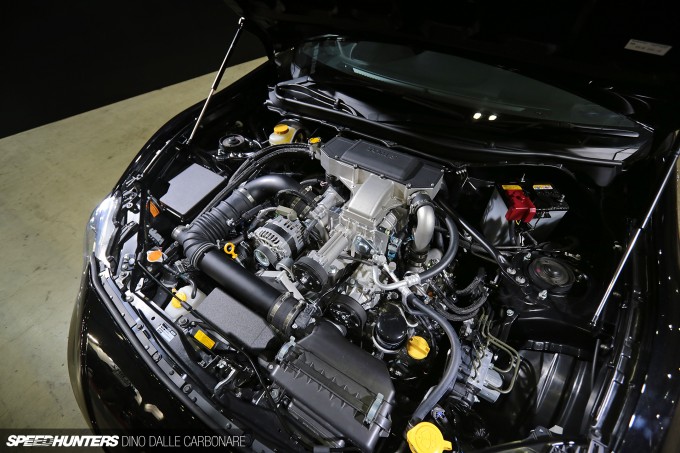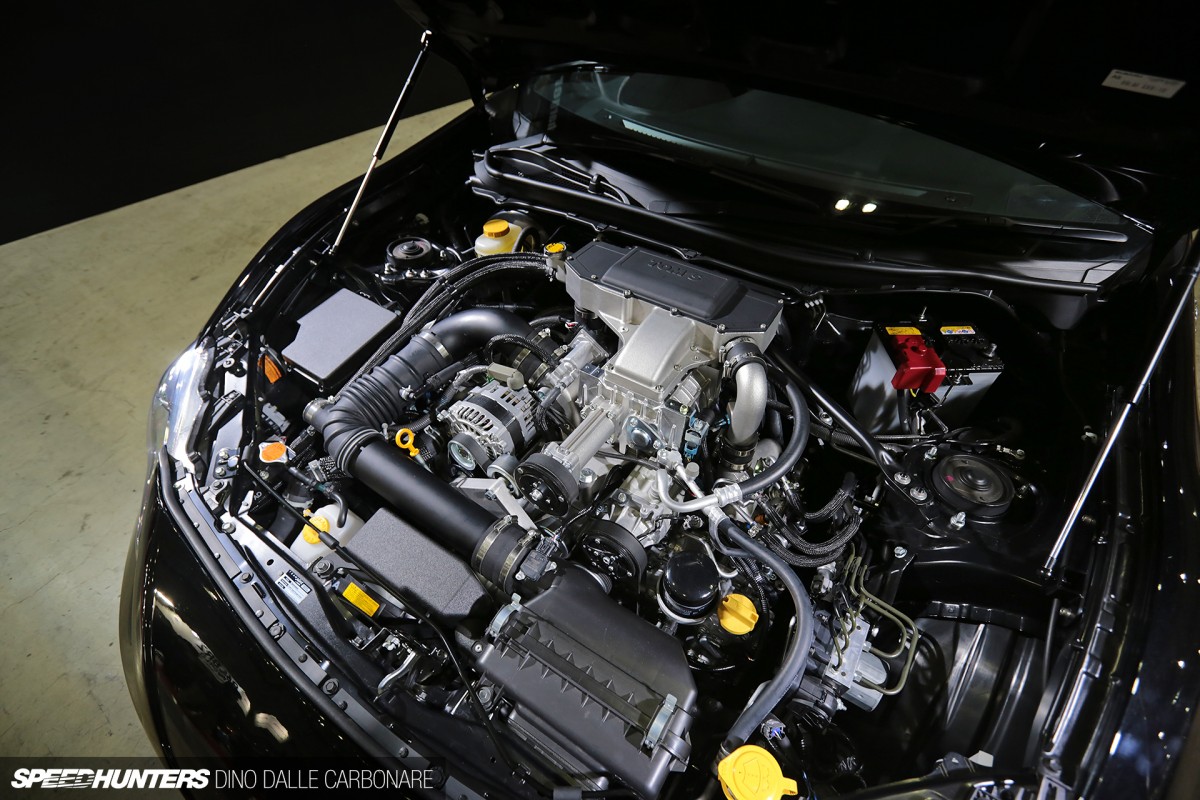 The sales point however is the TOM's supercharger kit the car comes with, boosting power to 232 PS  and 28.4 kgf/m (206lb/ft). It might not be a big hike, but it should definitely make for a more fun drive.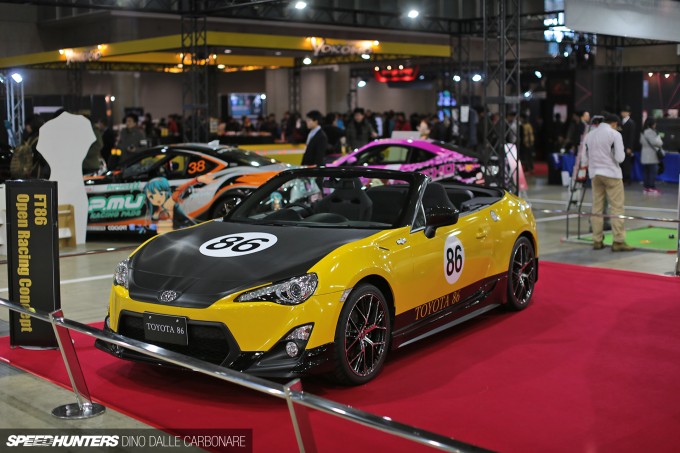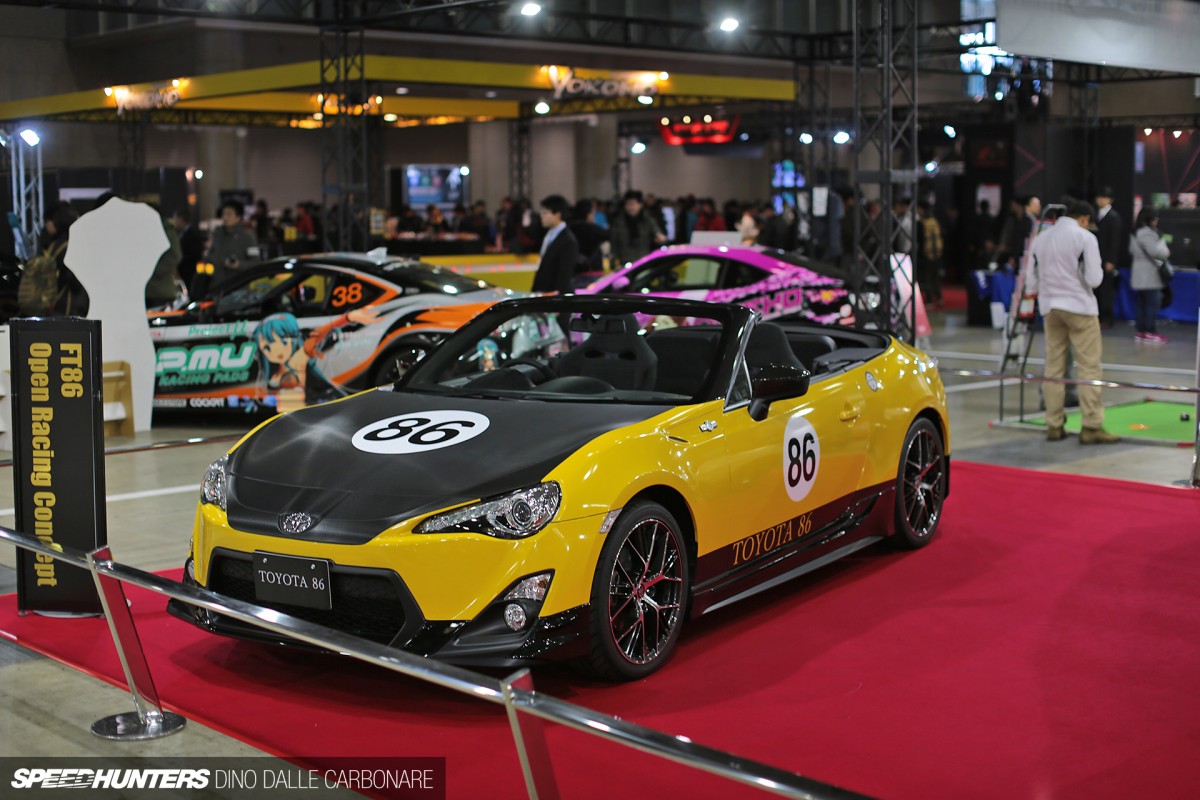 The 86 drop top might not even have been confirmed yet but Toyota had two cars at the show, one of which was this Racing Concept. I guess all they need to do next is sign it off!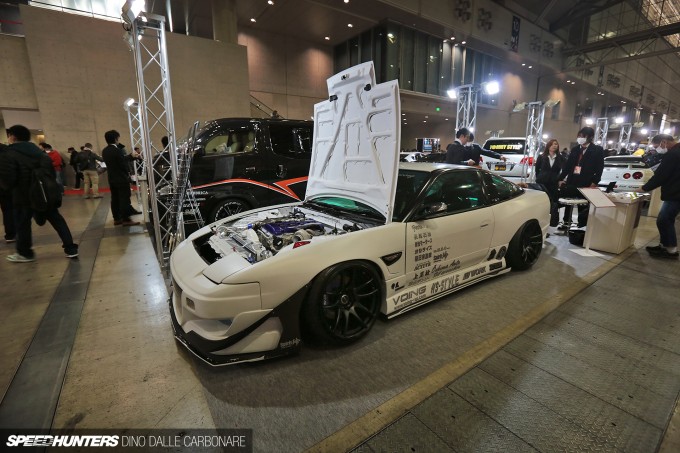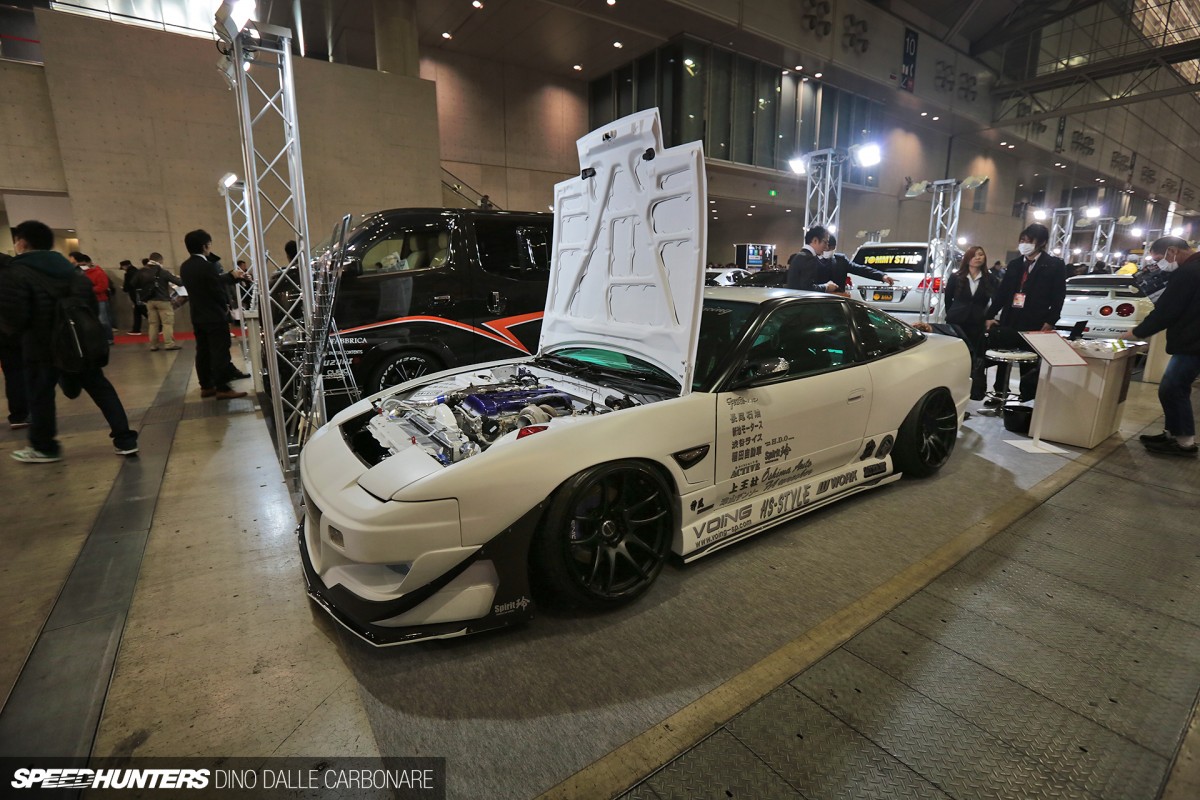 Don't you just love the multitude of styles drift cars can have? Take this 180SX for example: a widened look with matte white paint mated to black Work Kiwamis.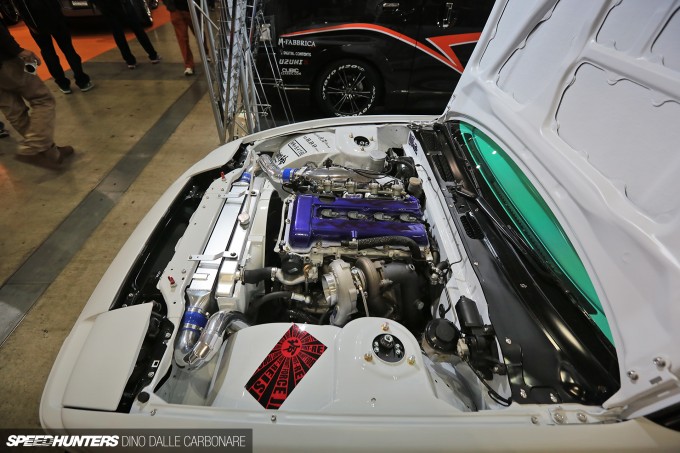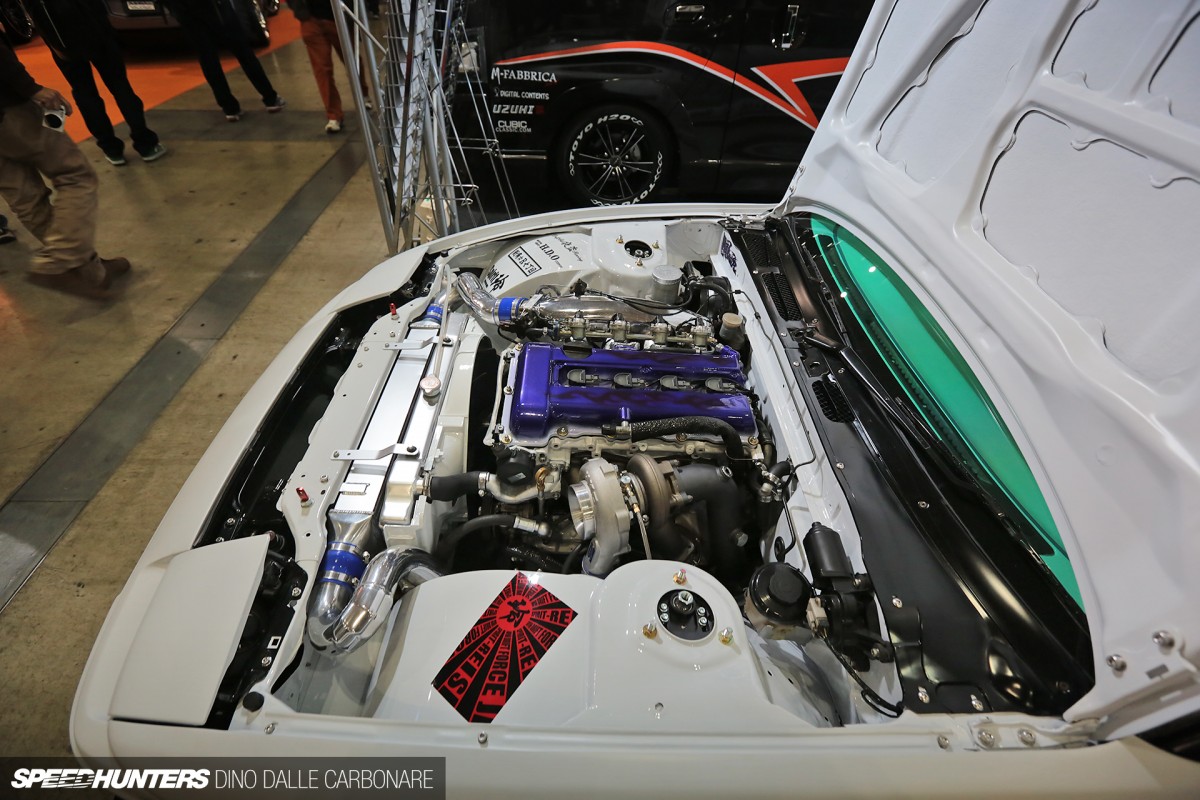 You can always expect looks to be matched by an awesome set-up under the hood. This is one of the cleanest RPS13 engine bays I've seen in a while.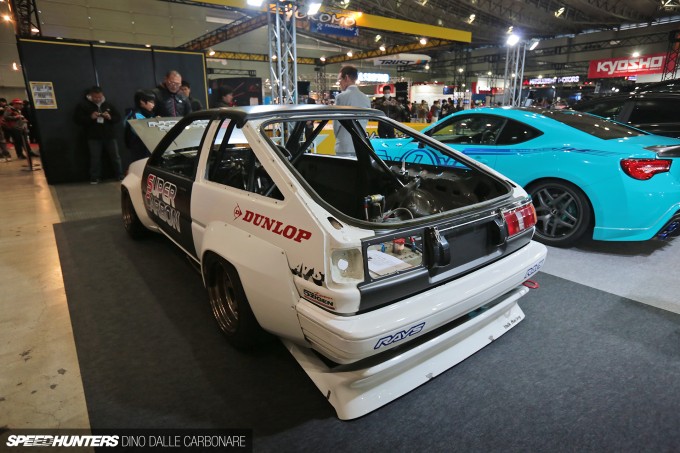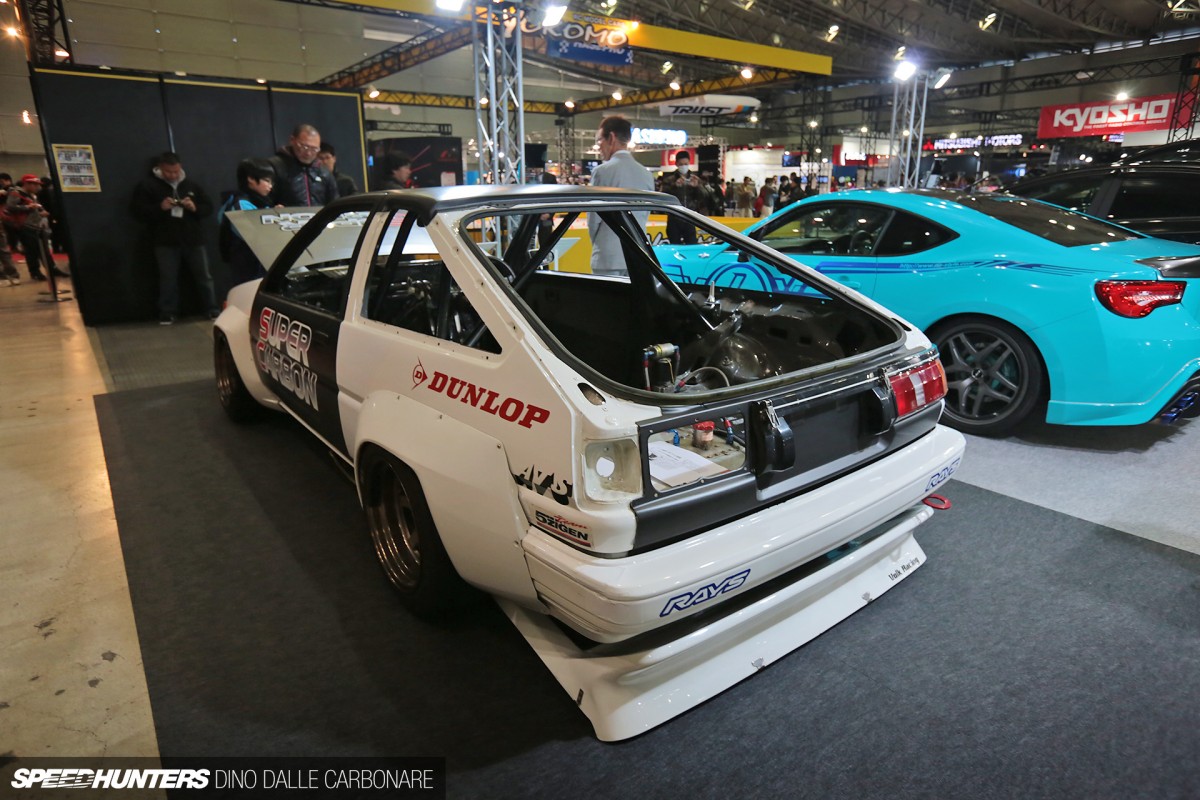 There was a definite lack of AE86s this year – old school cars in general really – but not to worry, because we all know that's where the Nagoya Exciting Car Showdown comes in! I did have a good look at this Super Carbon Levin however, as it was showing off some very well made dry carbon parts like the rear shut panel onto which the tail lights are mounted, as well as the roof, doors and hood. AE86 guys are really spoiled for choice when it comes to nice parts.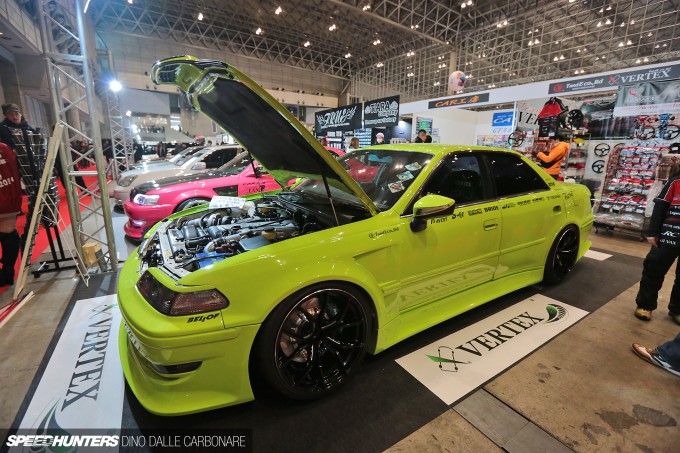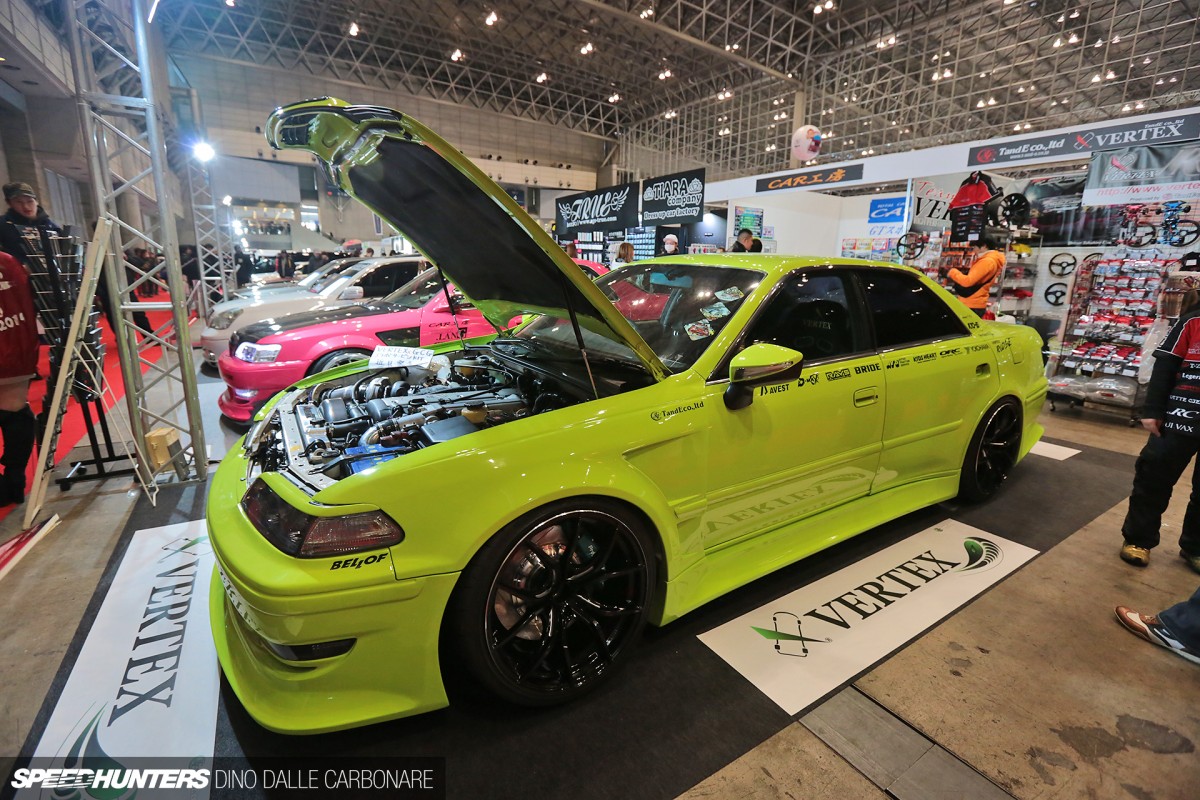 Ueno-san of T&E decided to take his wife's JZX100 and give it a breath of new life. The car is instantly recognizable as a Vertex creation, as is that lime green he chose for the exterior.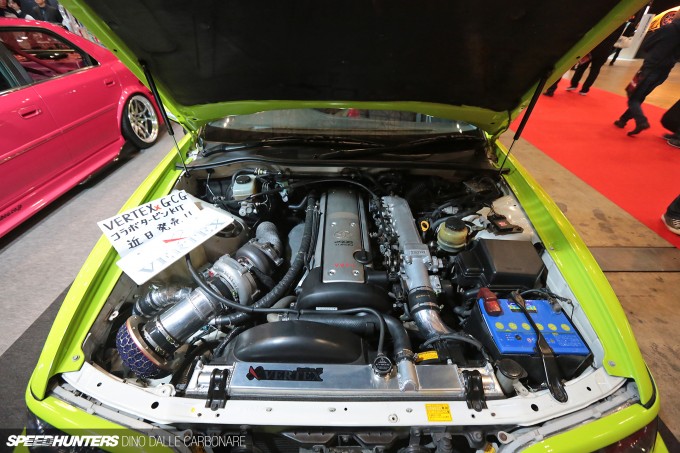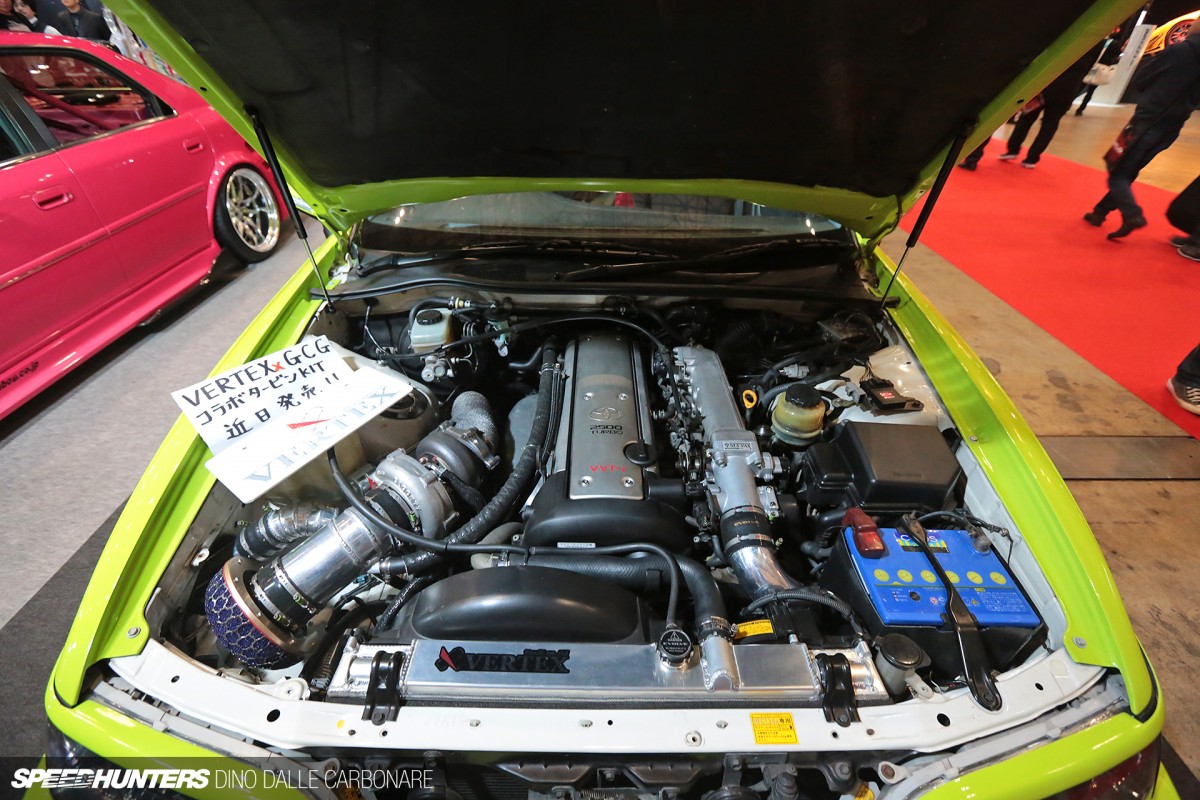 Lots of power for some tail-out fun is courtesy of the Vertex X GCG turbo kit – and yes, his wife does drift. They don't know how much power it makes just yet, as it's all been put together for the show, but they will have the car set up and running by the end of the month.
Race car inspiration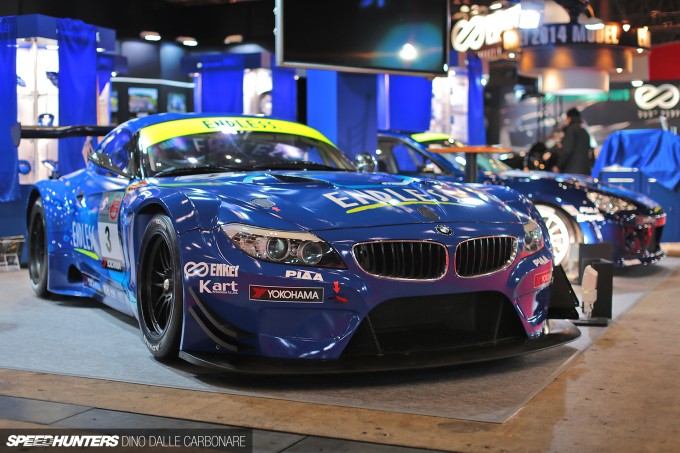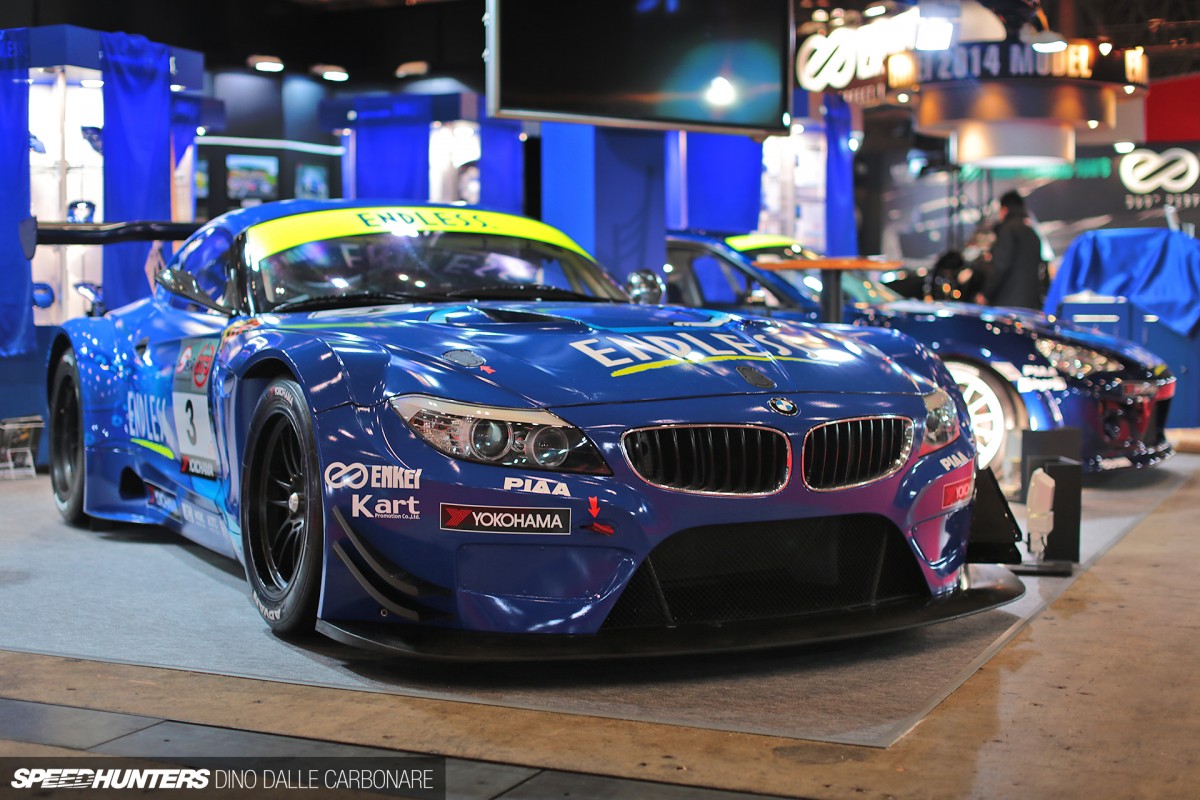 As I was on the hunt for functional cars rather than style-driven ones, it's no surprise that when I came across a race car, I made sure to capture it in all its glory. Much like the Endless Super Taikyu Z4 racer, these are the sort of cars that tuners and enthusiasts alike have been drawing inspiration from ever since we all started playing around with cars. They continue to be a source of inspiration and as you can imagine there were quite a few to drool over at TAS this year.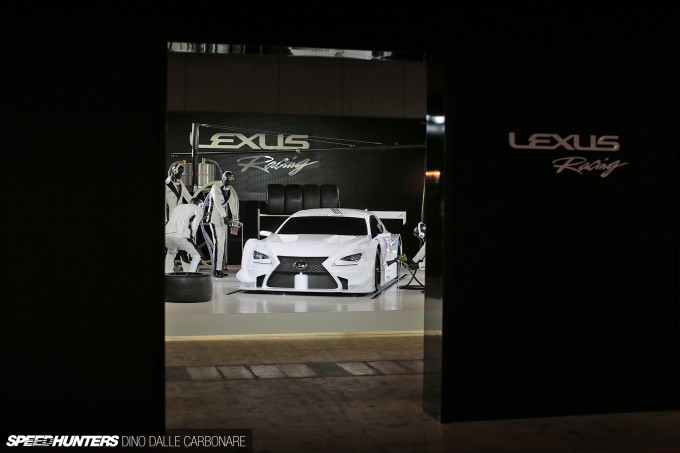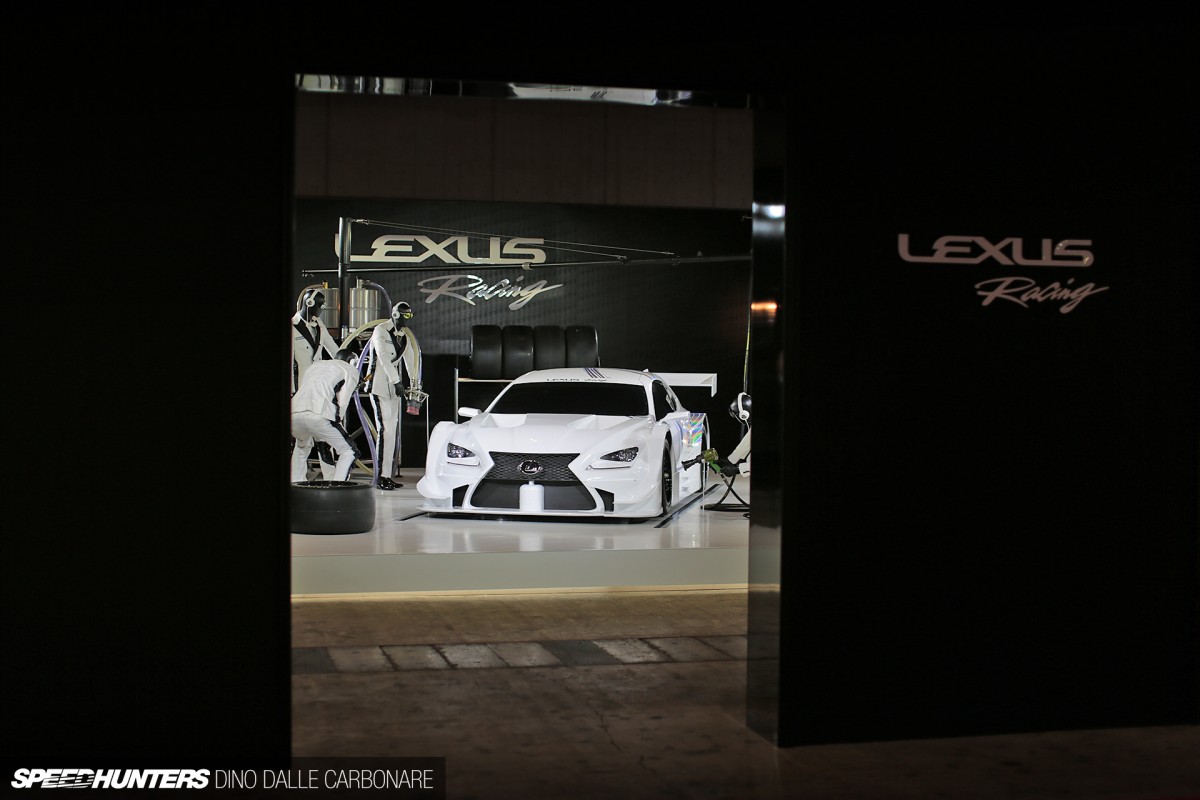 One of the most talked about was certainly the RC F mockup that Lexus Racing put together for the show. The car was contained in its own little cornered off room in one of the halls, accessible only via two openings on the sides.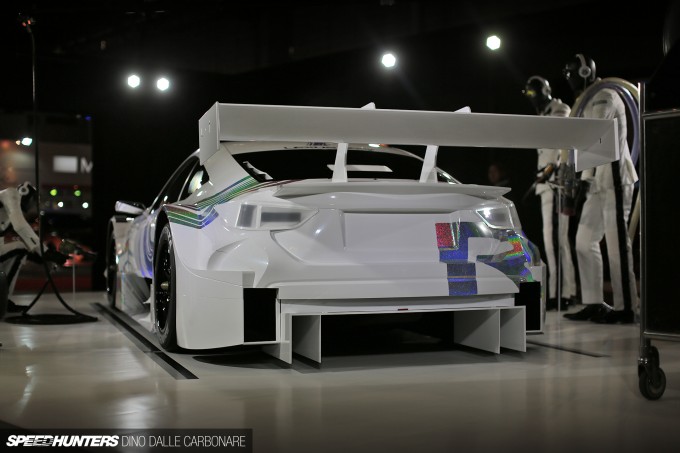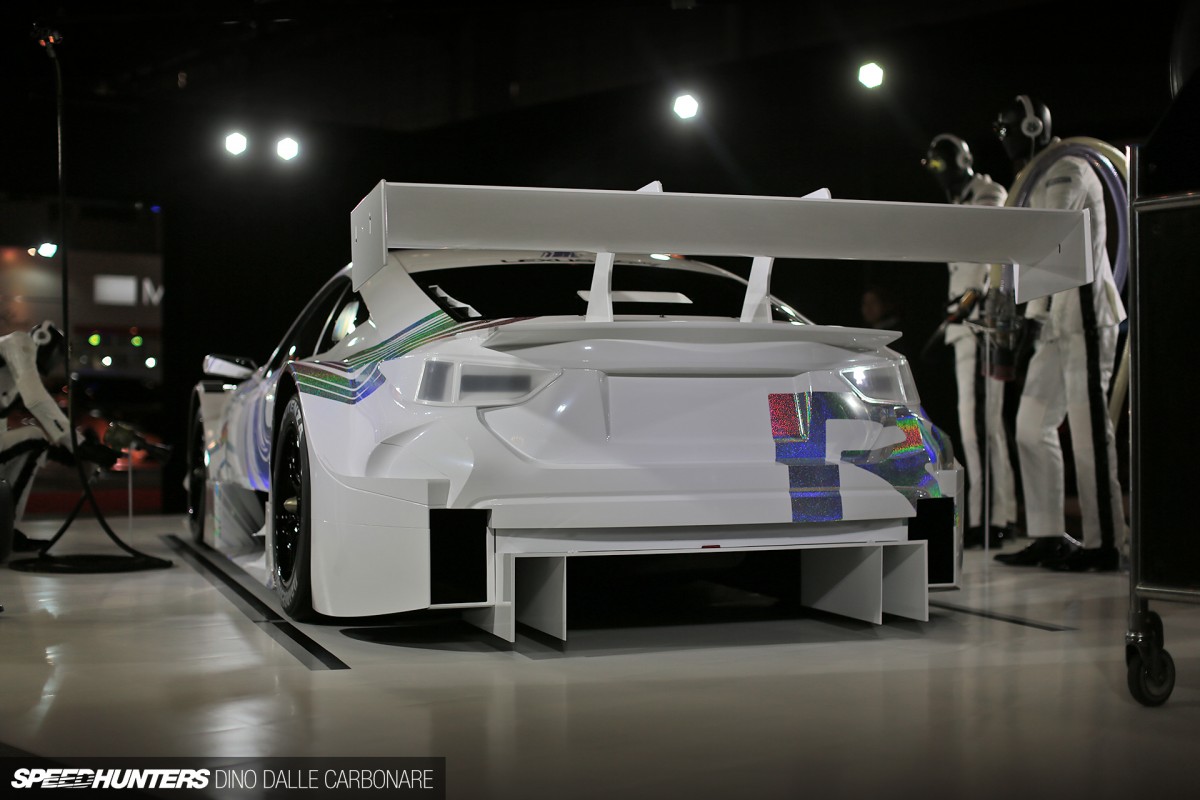 It was a minimalistic display, monochromatic aside from the rainbow flake in the chrome livery. It was meant to evoke emotion, seeing a race car in a sort of bare display. I really liked it and it made me think of how cool Super GT might end up being this year, despite the dramatic change of regulations.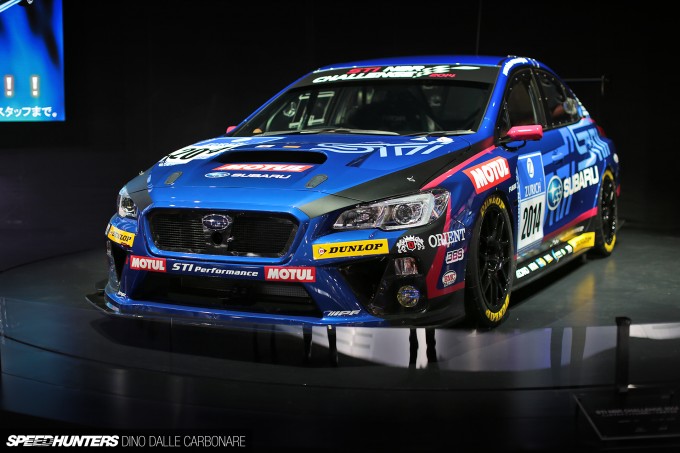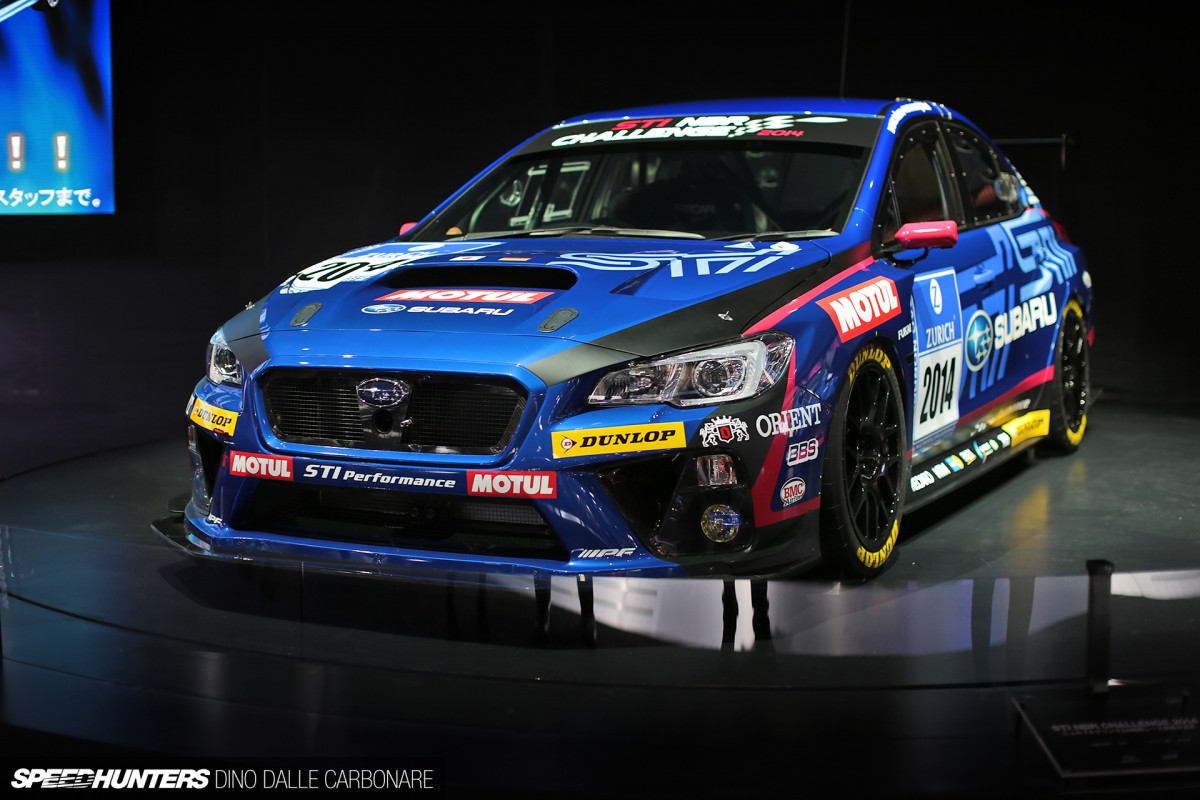 While the all-new Subaru Impreza WRX STI made its world debut at Detroit, STI showed off its Nurbugring 24h race car to its fans at TAS (check out Mike's post for some video action). I'm going to reserve my comments for the car until I get to drive it, but all I can say is that for a moment there, I thought I was on the Mitsubishi stand!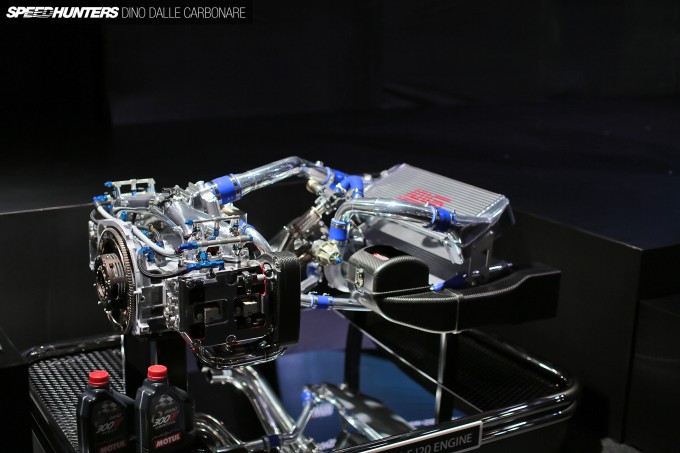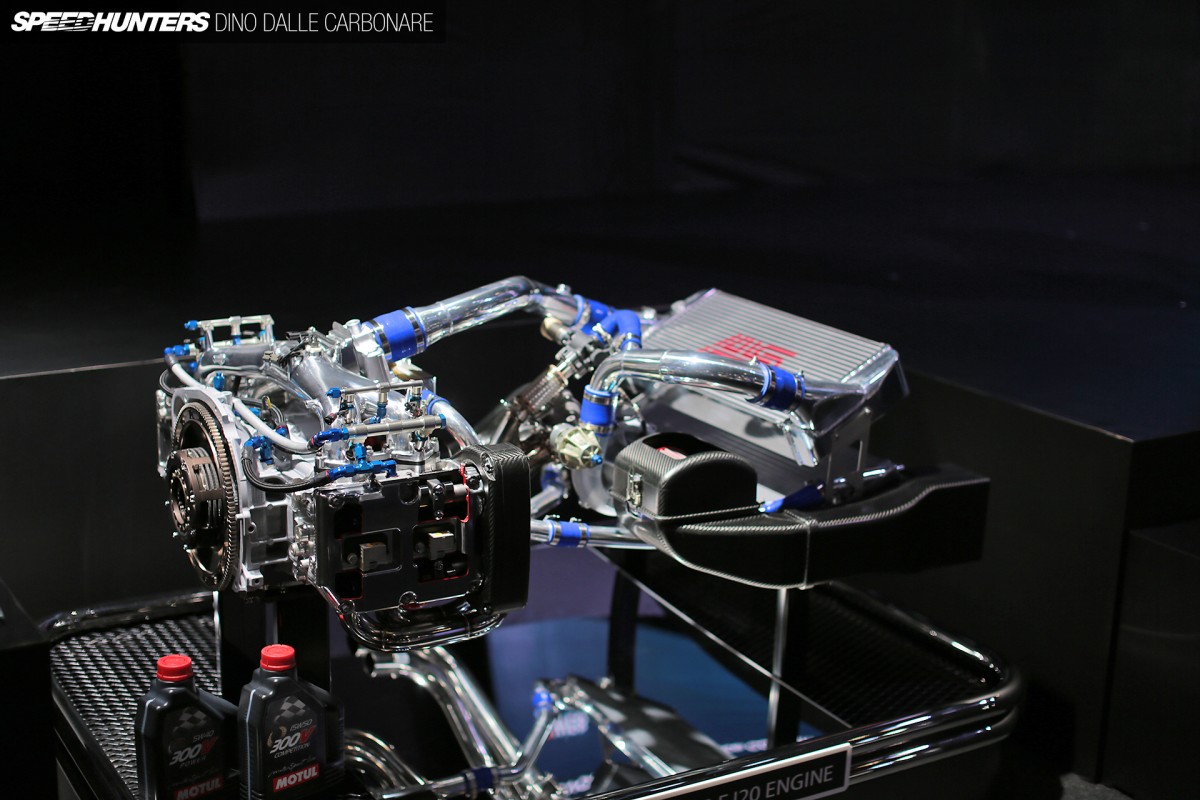 Next to the Impreza was the EJ20 that powers the STI BRZ in the GT300 class of Super GT. I always love to see engine displays like this, following where piping goes to and from and just soaking up the whole layout, figuring out how and why it all works within the dimensions of the car it's contained in.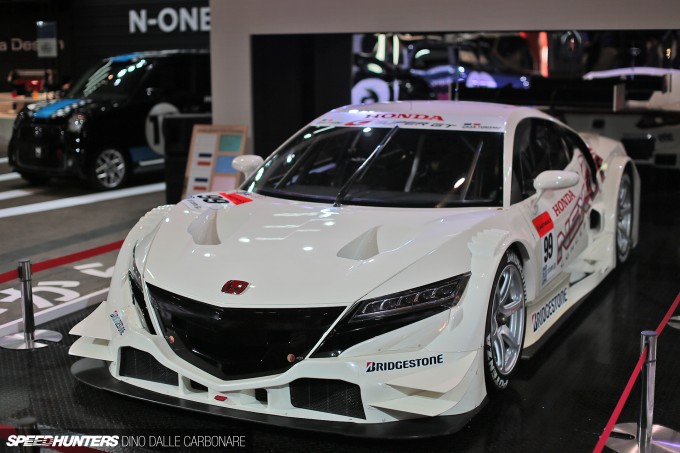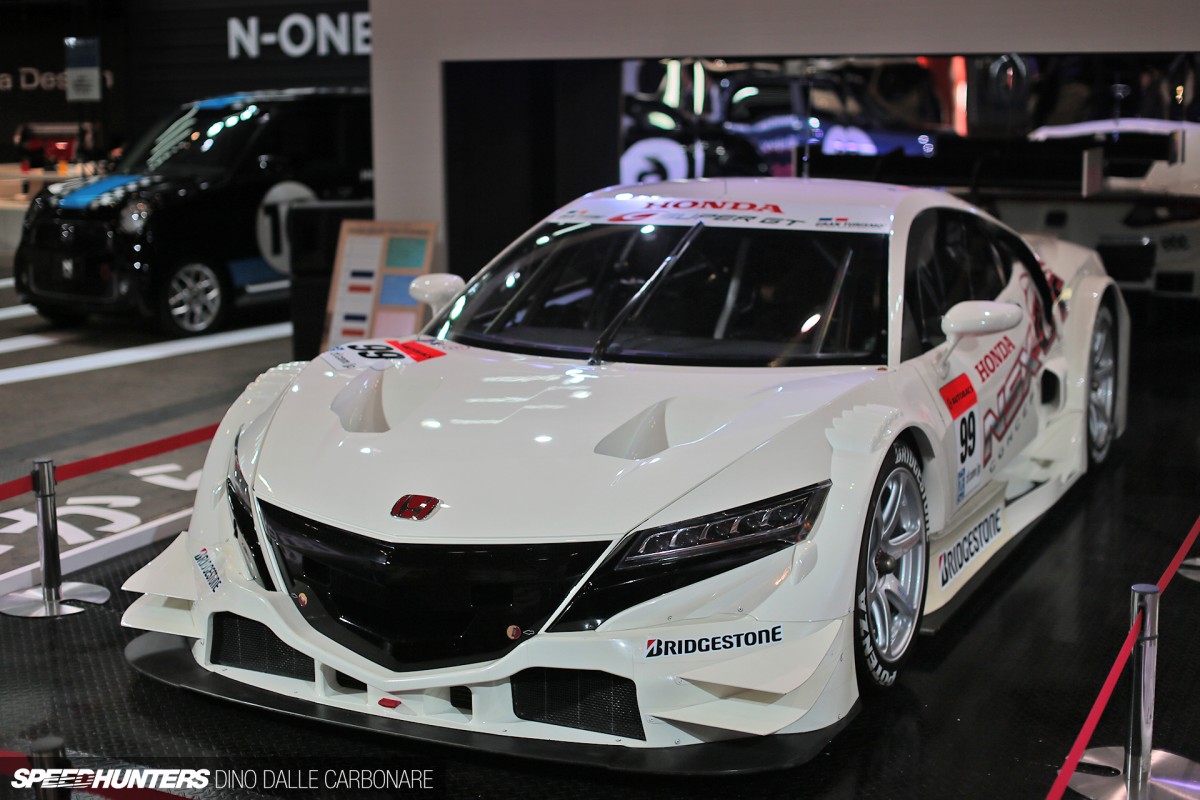 Ah yes, the GT500 Mugen NSX. Man, 2014 is going to be really good!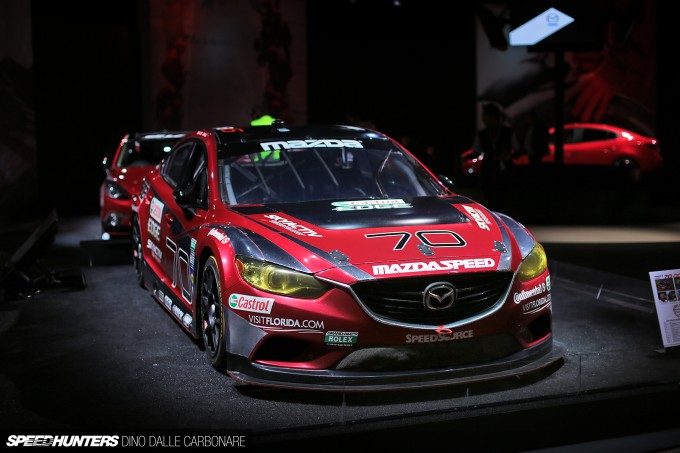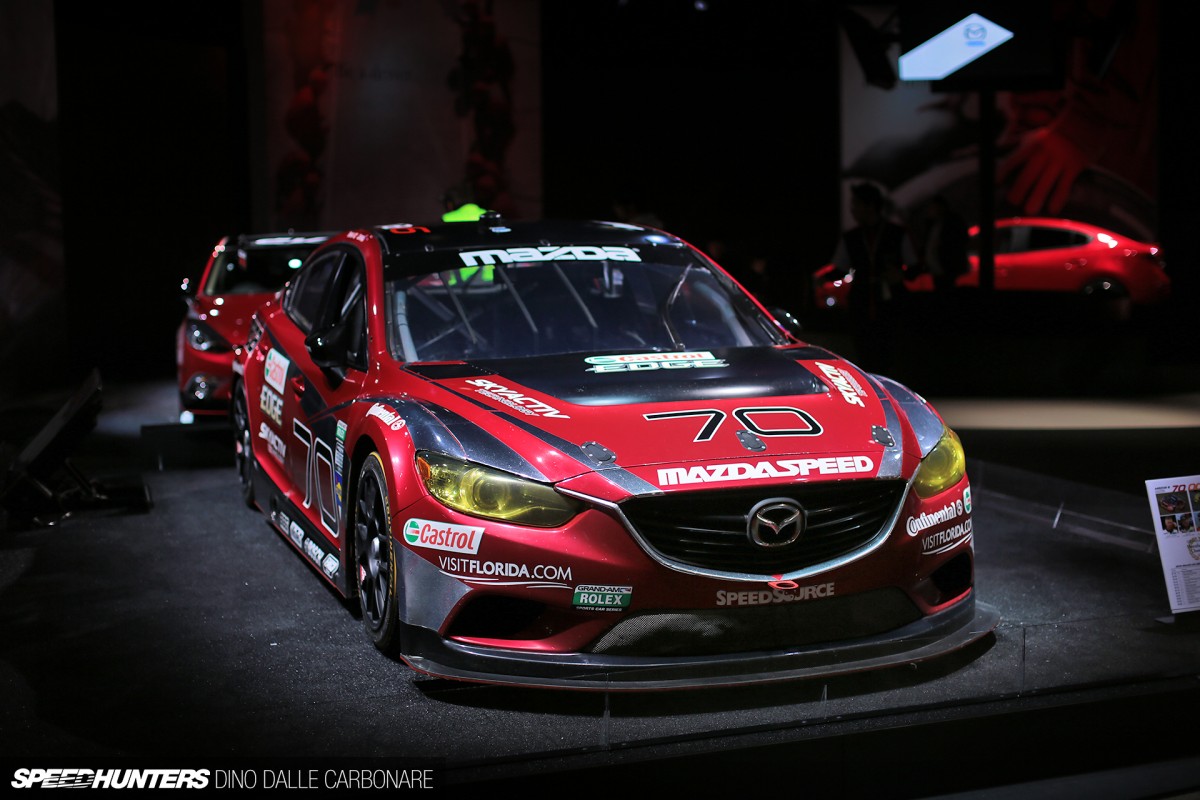 I felt much sadness for Mazda: I always do and have since they slowly faded out interest in the FD, then the RX8 and rotaries all together. Now it's all about diesels as this Grand-Am GX MazdaSpeed Mazda6 Skyactiv-D race car shows.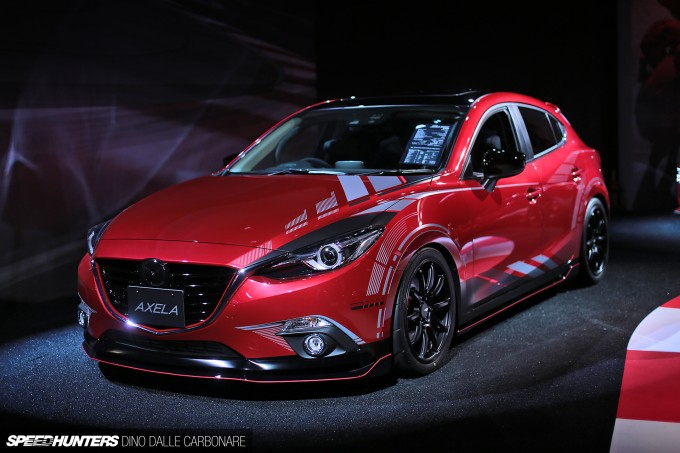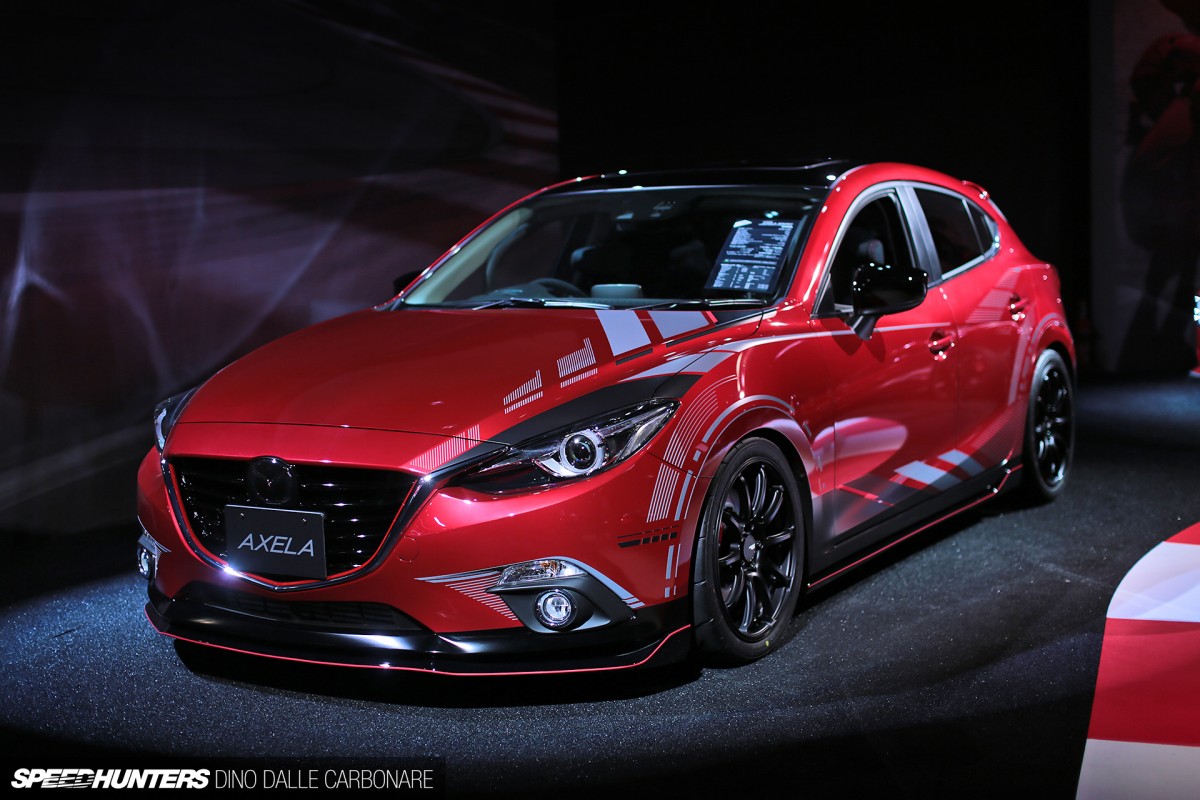 Behind it was the Axela, or Mazda3 in the rest of the world, given the MazdaSpeed touch with a series of simple aero mods, retuned suspension, better brakes and a track-oriented wheel and tire package.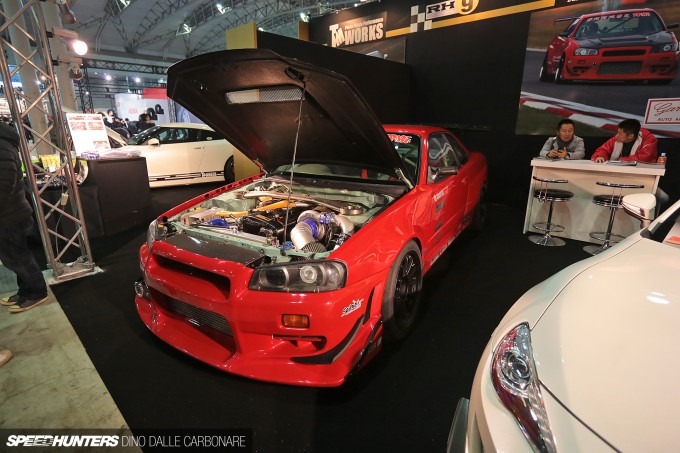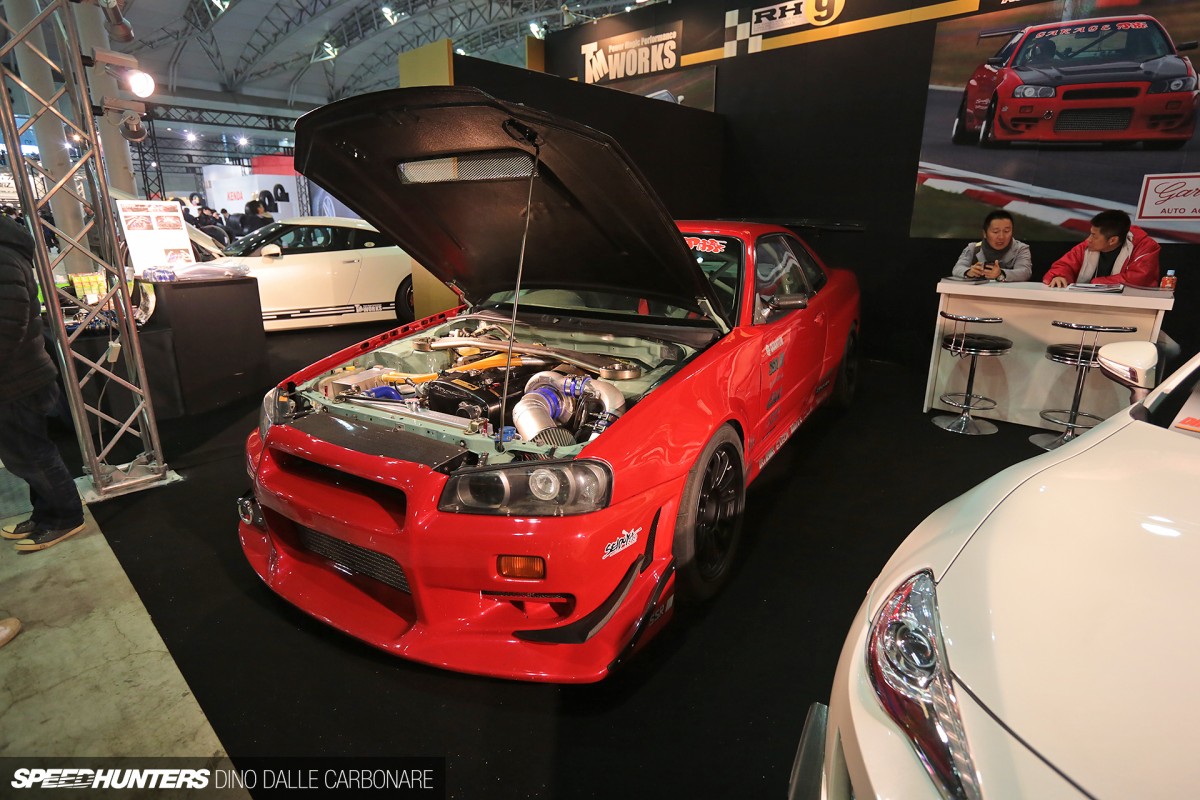 But let's get back to the North hall now and see what other tuners brought their cars to TAS this year. Part of the big RH9 display was Garage Ito from Osaka, a very small but massively respected outfit that caters to those that want the best of the best in custom built drag or time attack cars. If you click here you'll understand why that name rings a bell.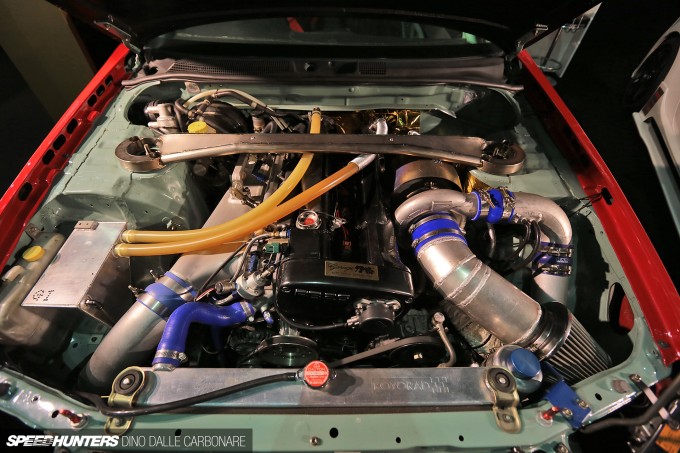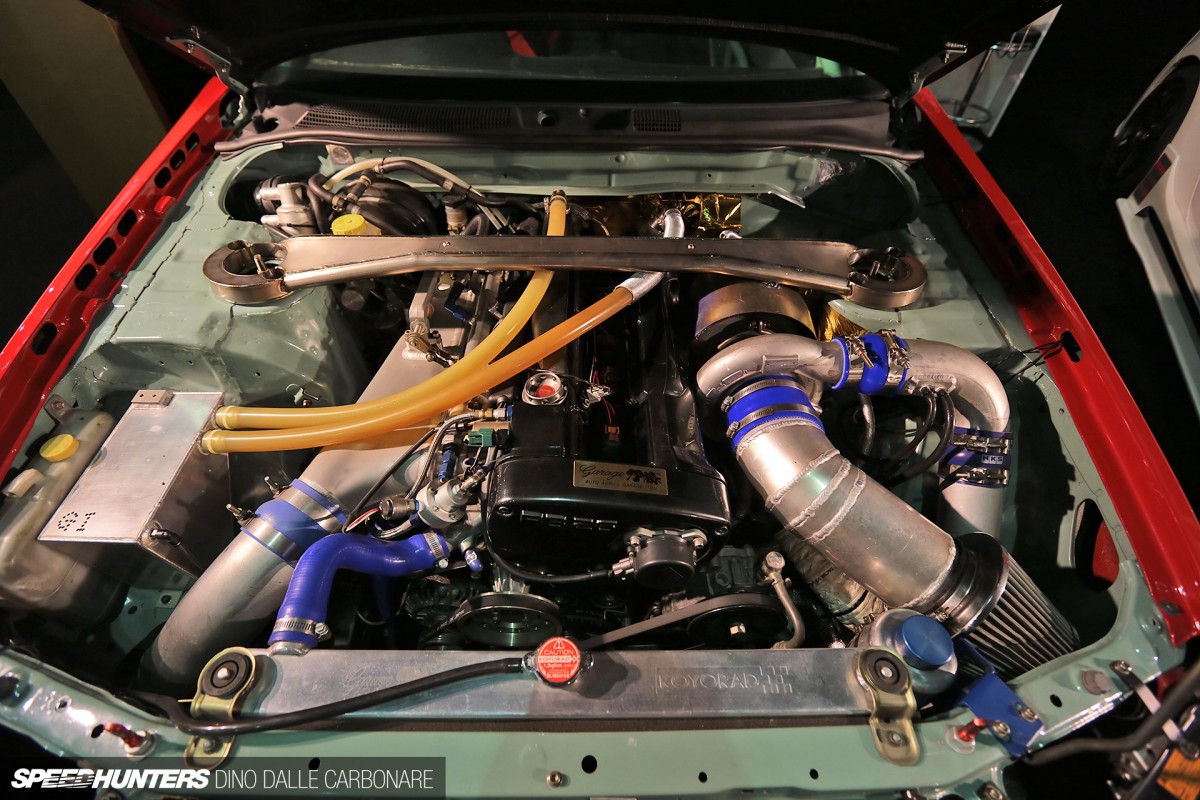 One of Ito-san's latest project is this red BNR34 circuit racer, built to participate in time attack events as well as the Meister Cup.
Evos and GT-Rs evolve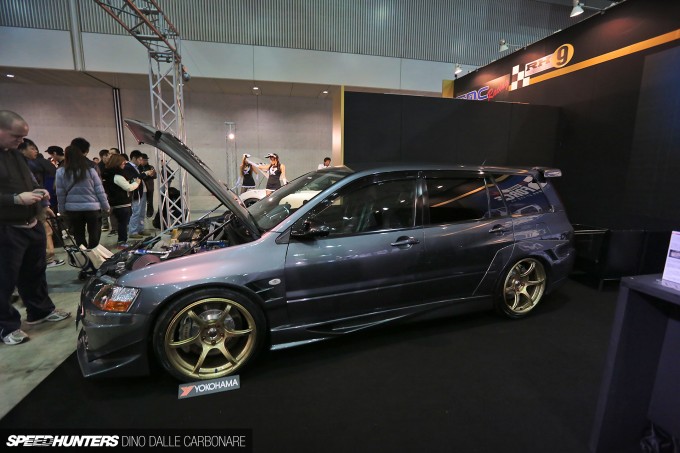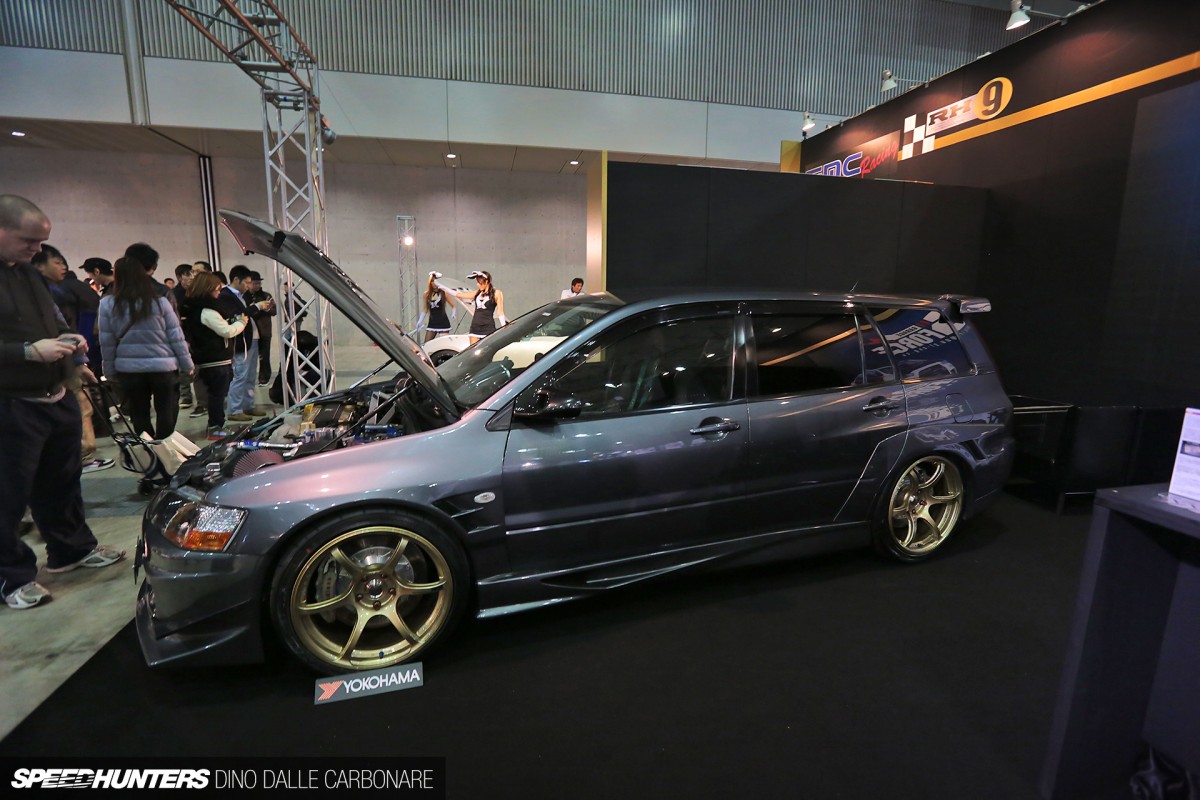 One of the most memorable displays at TAS this year for me was Garage G-Force. I think they just came up with such a cool selection of cars to show, starting off with this Lancer Evo wagon. We all know how great these cars are, not to mention their potential but this was just grin-worthy. Exterior wise we have a Voltex widebody kit and some gold Advan RG III wheels and as you can imagine from the stance it runs  aftermarket suspension: a custom Öhlins set-up mated to Endless brakes front and rear.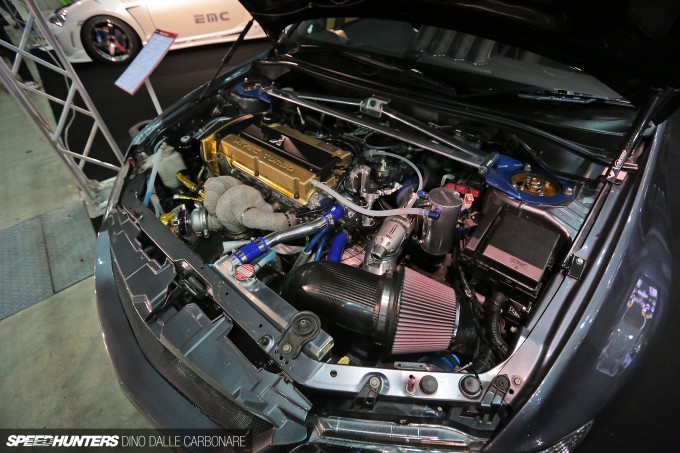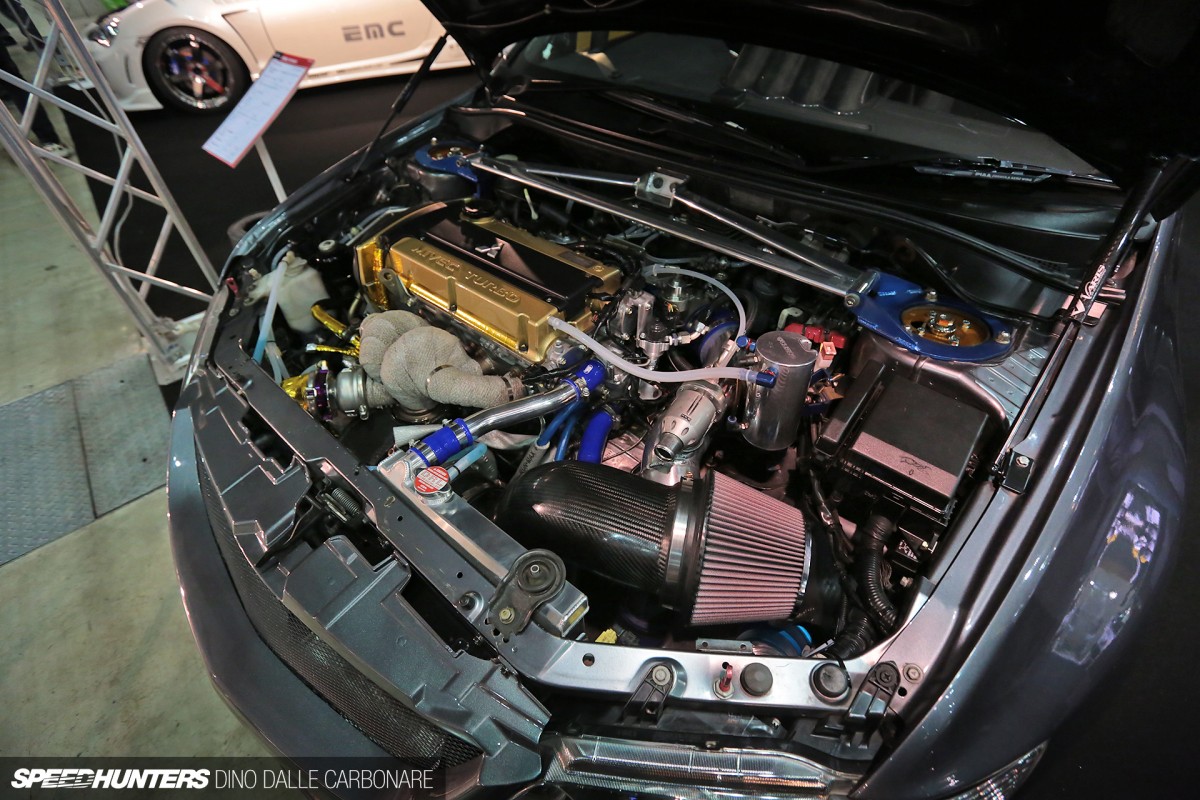 But nothing can quite prepare you for the level of tuning that has been done to the 4G63 powering it. The list of parts is a long one but it boils down to a JUN 2.2L stroker kit, Tomei 280-degree cams, and a monstrous GCG GT-X blower breathing though a custom made dry-carbon induction pipe. Gearbox internals have been upgraded with a PPG six-speed dog-engagement kit, something that was really needed as it has to handle 900hp and 74 kgf/m (535 lb/ft). Yes, 900!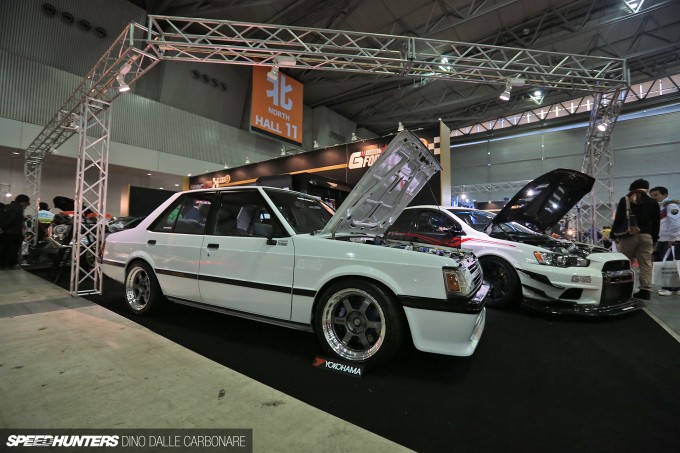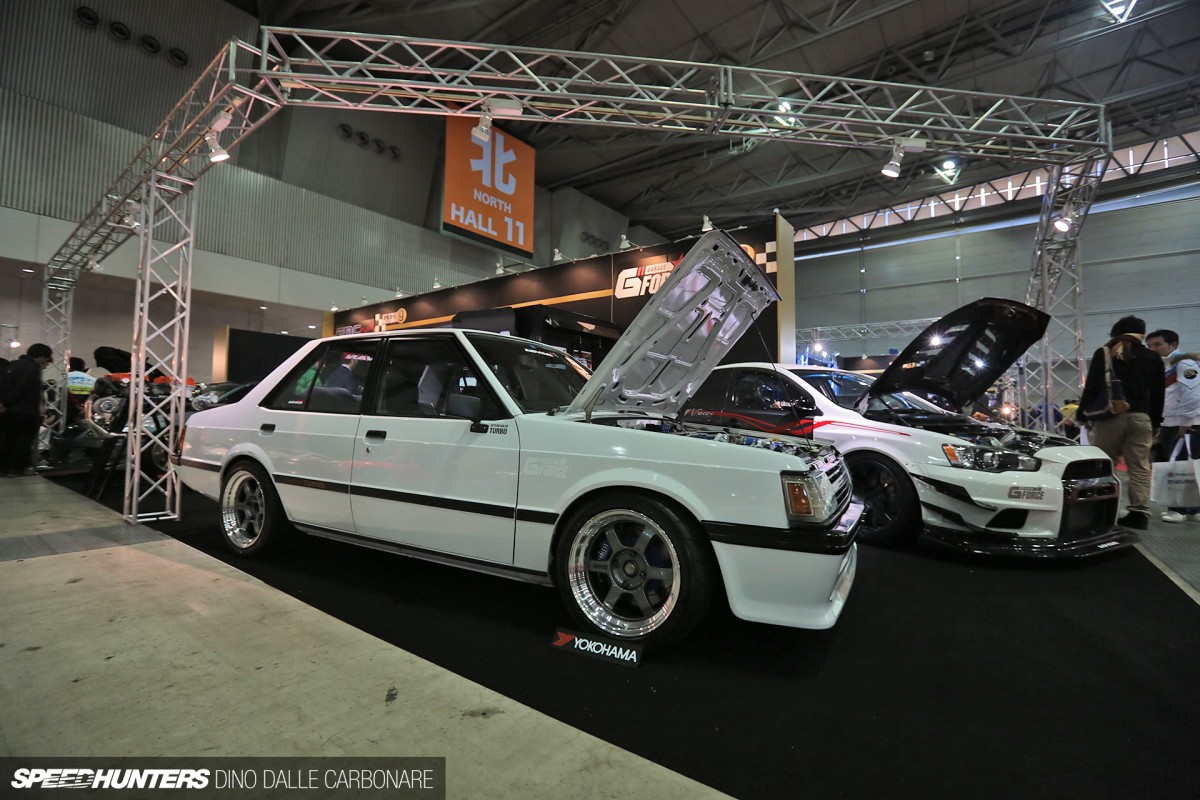 But it didn't end there. A lot of people couldn't keep their eyes off this old Lancer MR they also had, fitted with RAYS TE37Vs.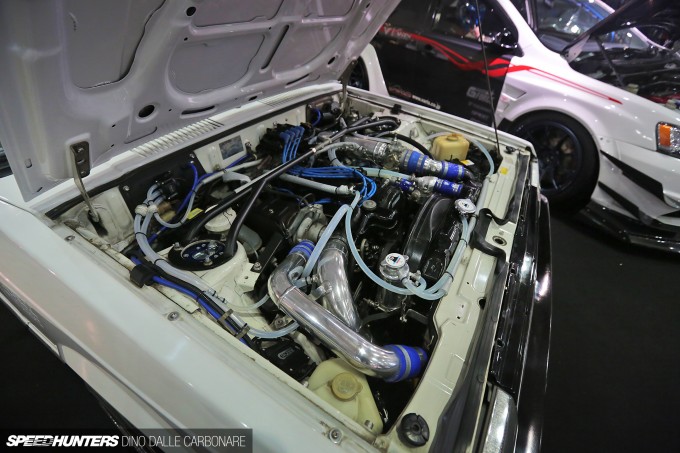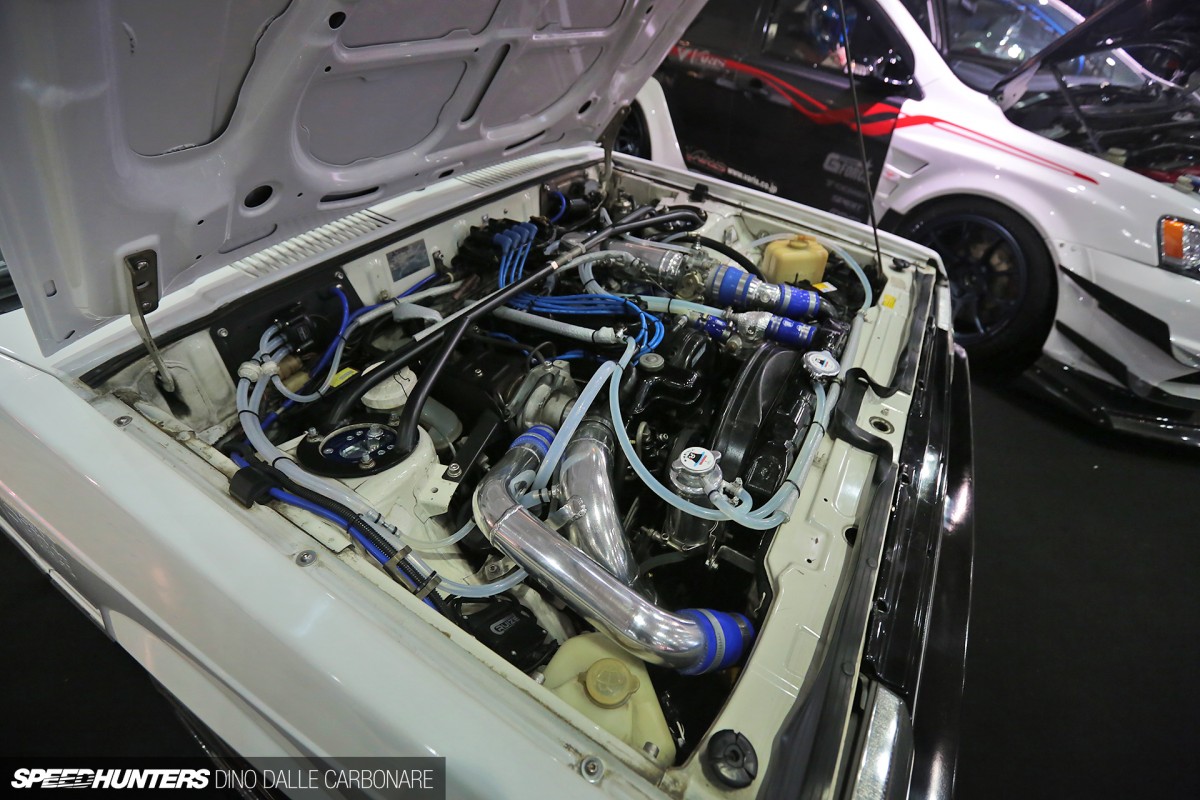 The G62 powering it has been rebuilt and tuned to develop 220 PS. And the Evo X next to it was also quite interesting…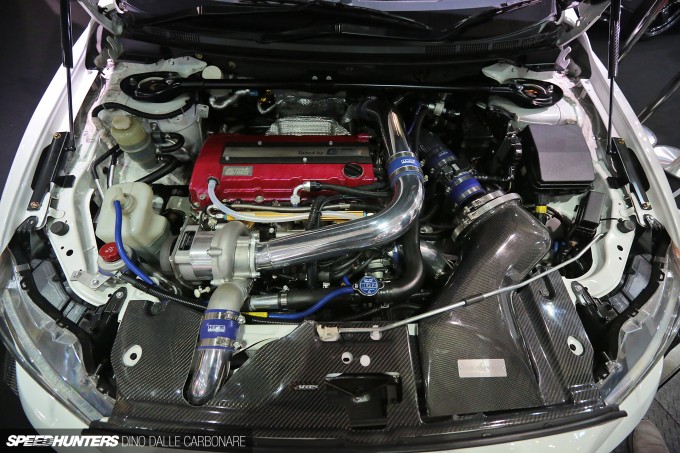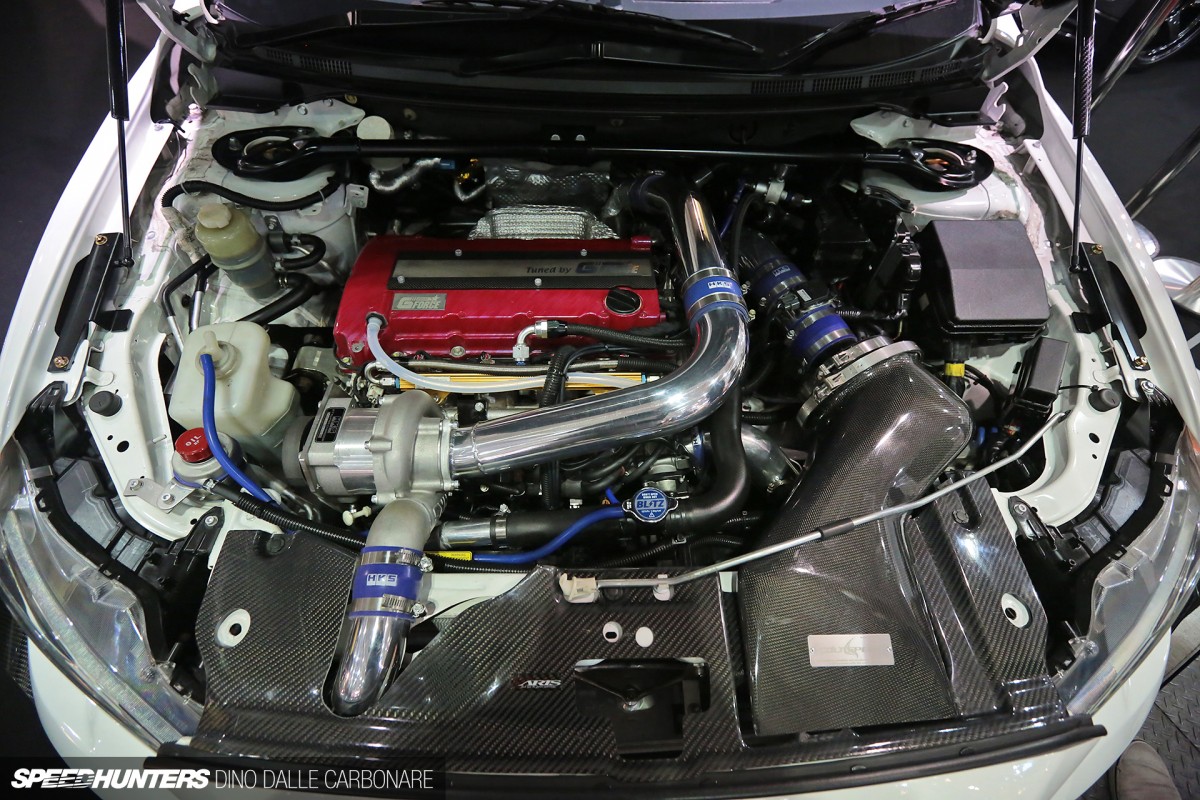 That's because on top of the HKS GT3240 turbo upgrade, it was also running an HKS GTS8550 supercharger – what may well be the world's first twin-charged 4B11. 750hp and 76 kgf/m (550 lb/ft) are the numbers it boasts, and that's simply impressive stuff.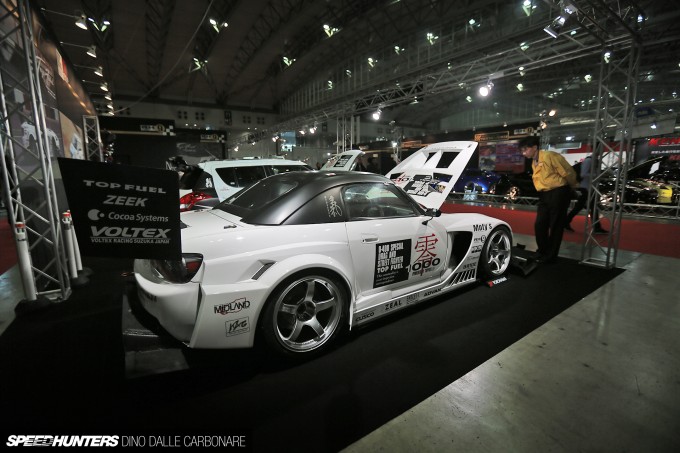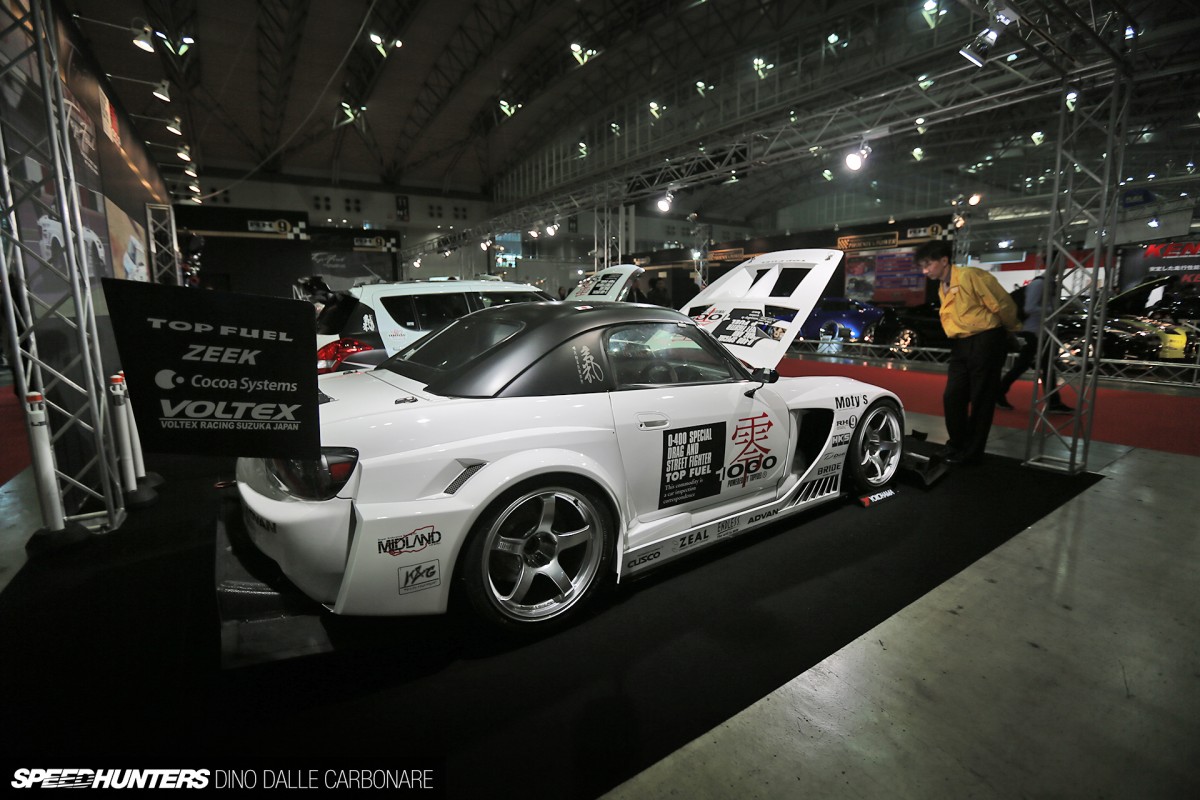 I may have seen it a million times, but the Top Fuel S2000 has that badass look about it that just makes you stare at it for ages.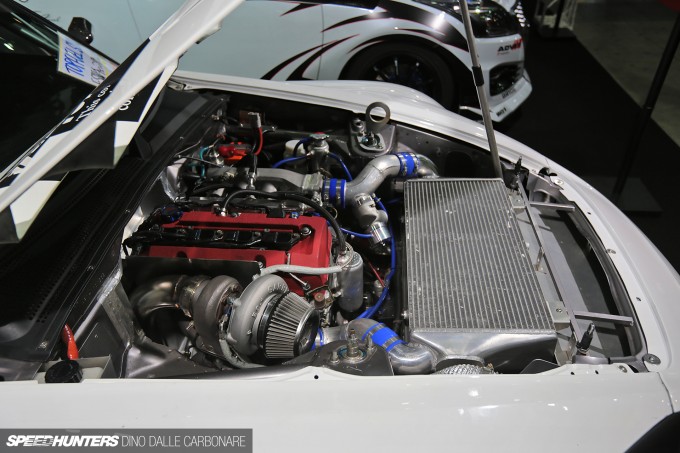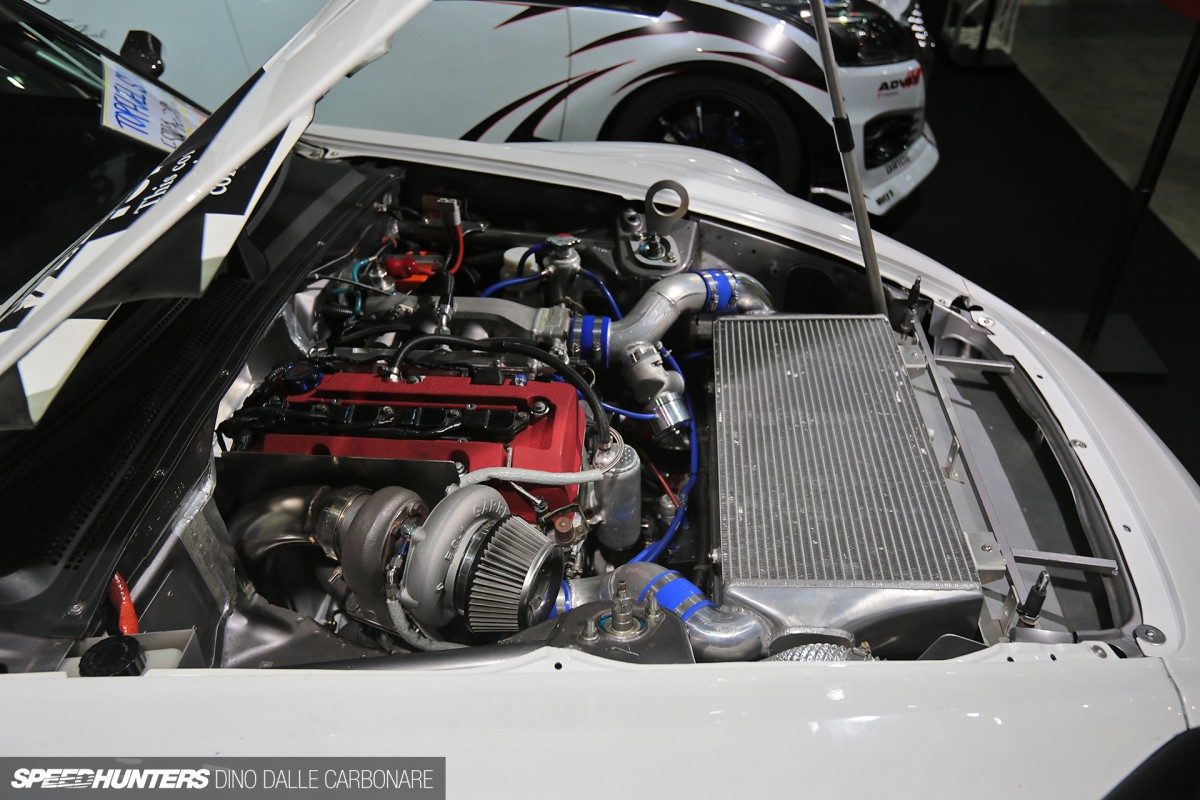 A peek at the turbocharged F20 is always a must too!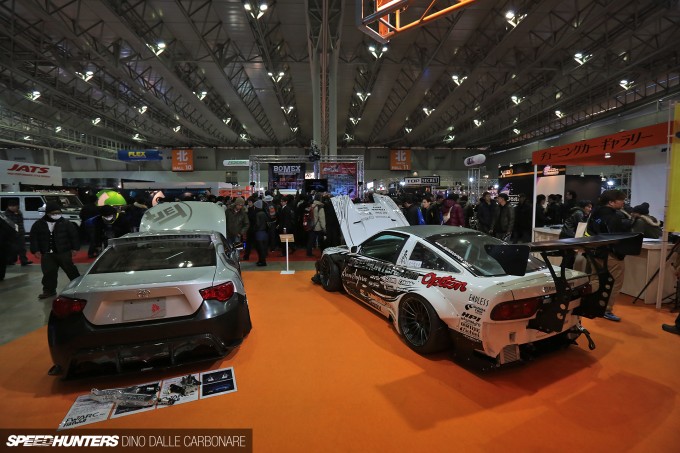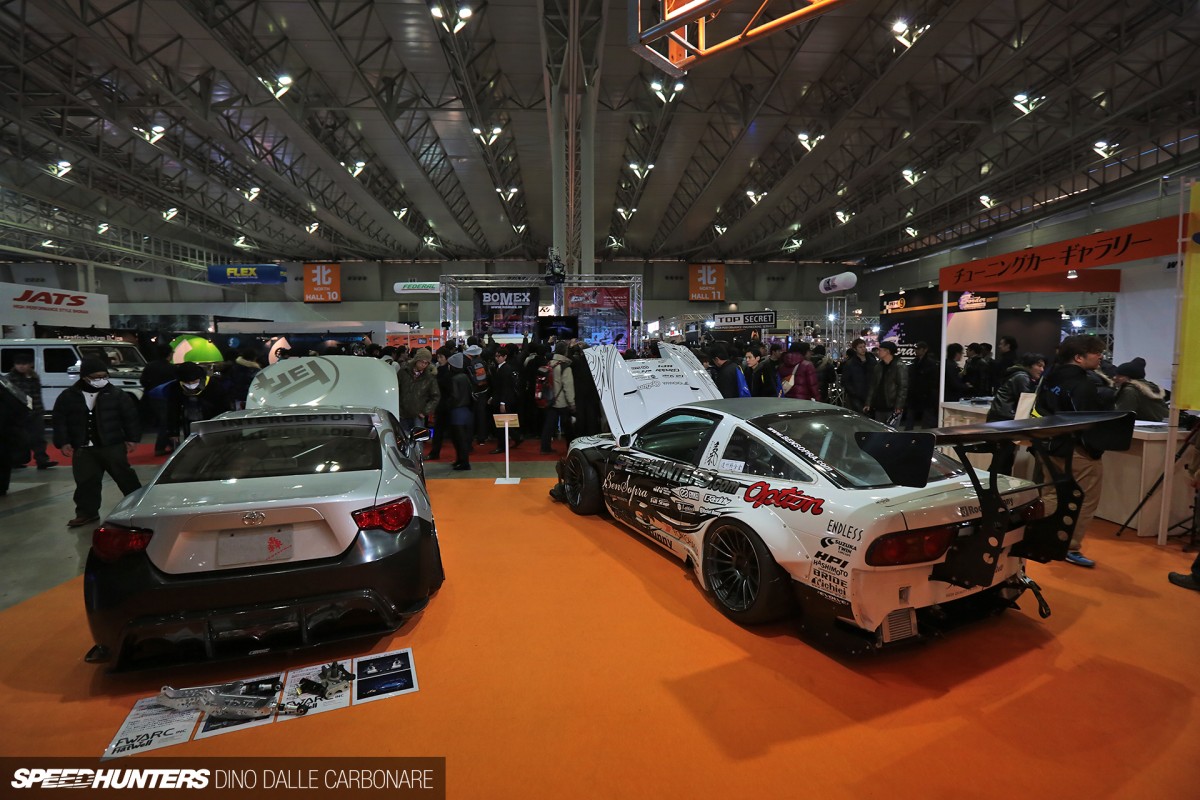 The Speedhunters car of 2013, the BenSopra 380SX, was on display at the Option booth, and while it did have its fair share of crowd around it most of the weekend, it was the Todoroki Jidousha 86 next to it I was more mesmerized with.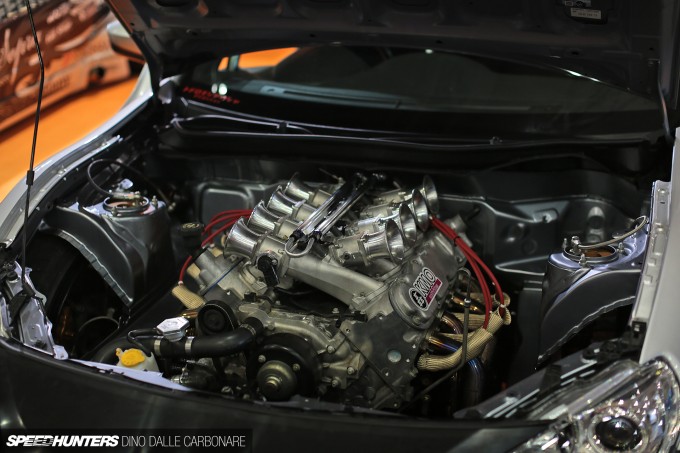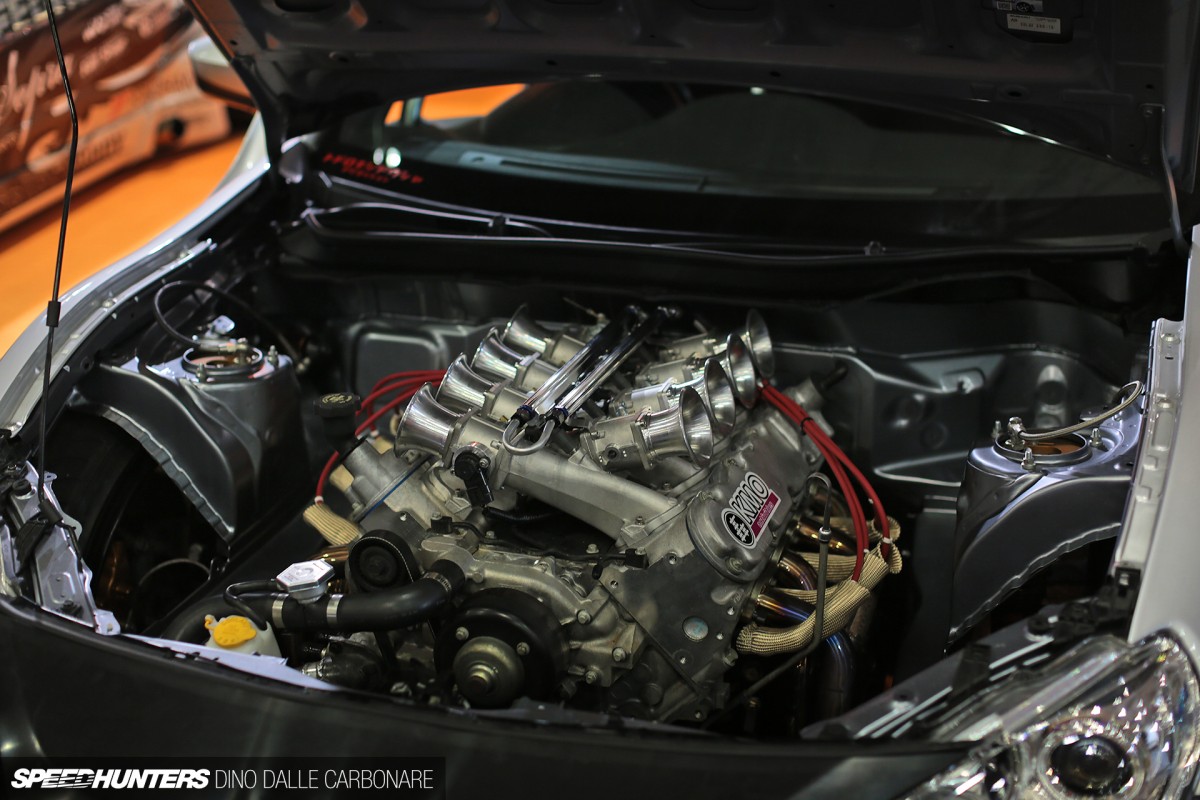 The 'big engine in small car' recipe is always a good one to go for, especially when the car is built for serious drift action. You've just got to love the inclined velocity stacks!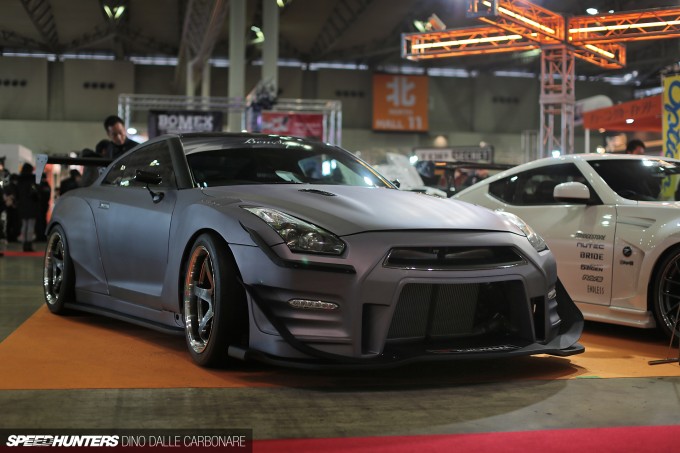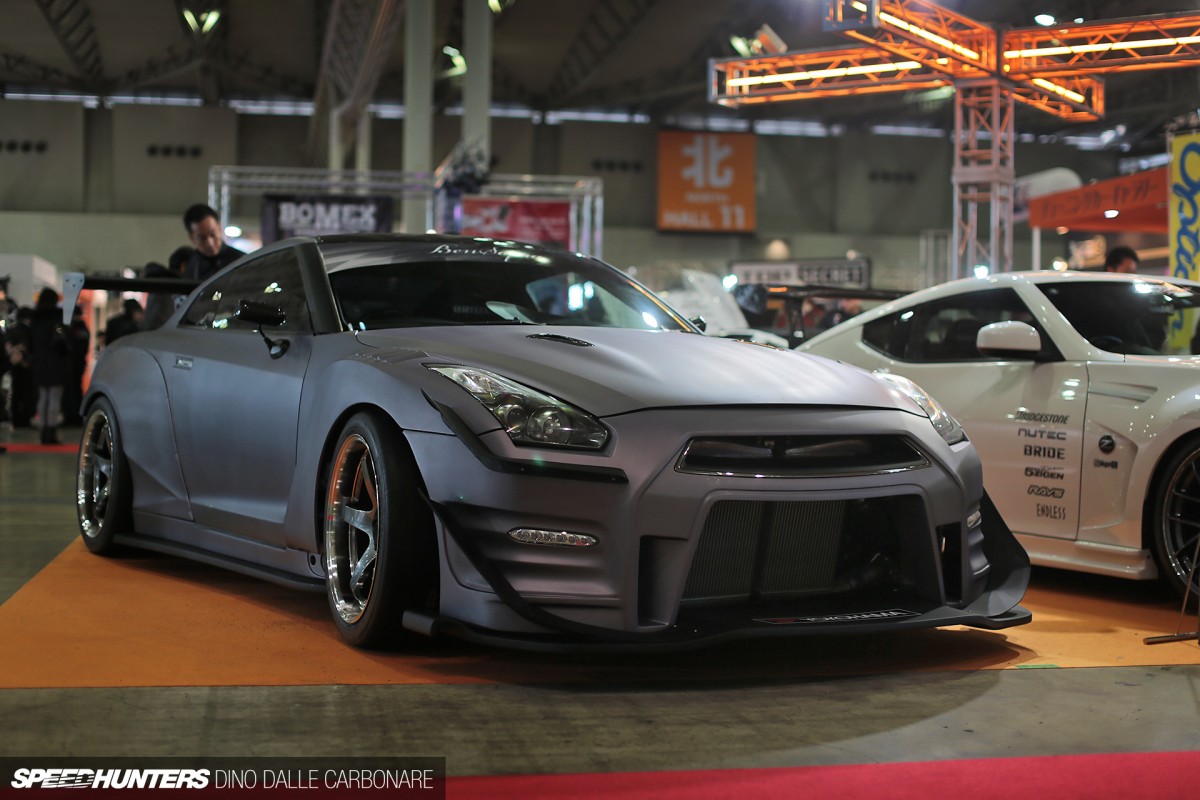 While on the subject of BenSopra, it seems they're taking the whole time attack thing a little more seriously and this is the GT-R that they will start experimenting with this year. Aside from the new front end, there are many changes planned, but we will have to wait a few months in order to find out more.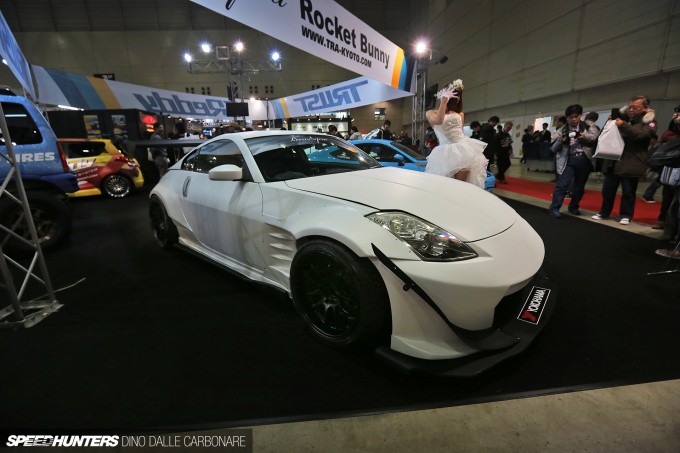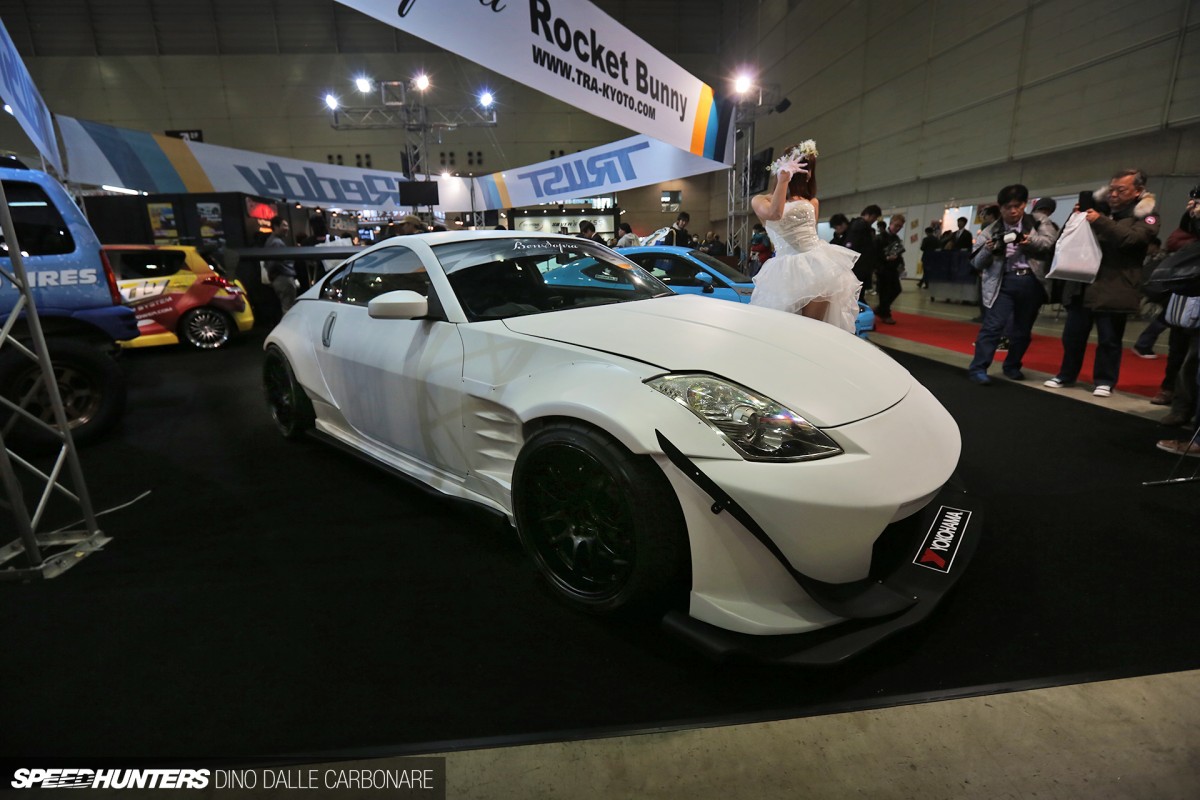 Ueta-san at BenSopra also came up with an all-new aero conversion for the Z33 350Z. The idea here is to allow those on a budget to get the BenSopra look, because at the end of the day, not everyone is prepared to transform their expensive R35 GT-R with their full aero kit. Z33 are very affordable so it was the perfect base car to choose.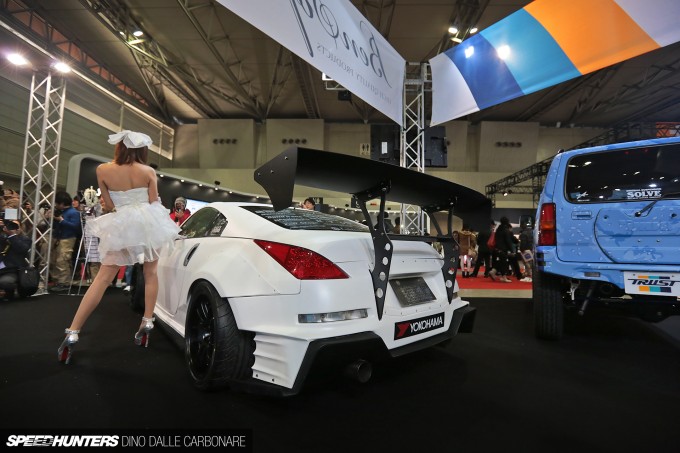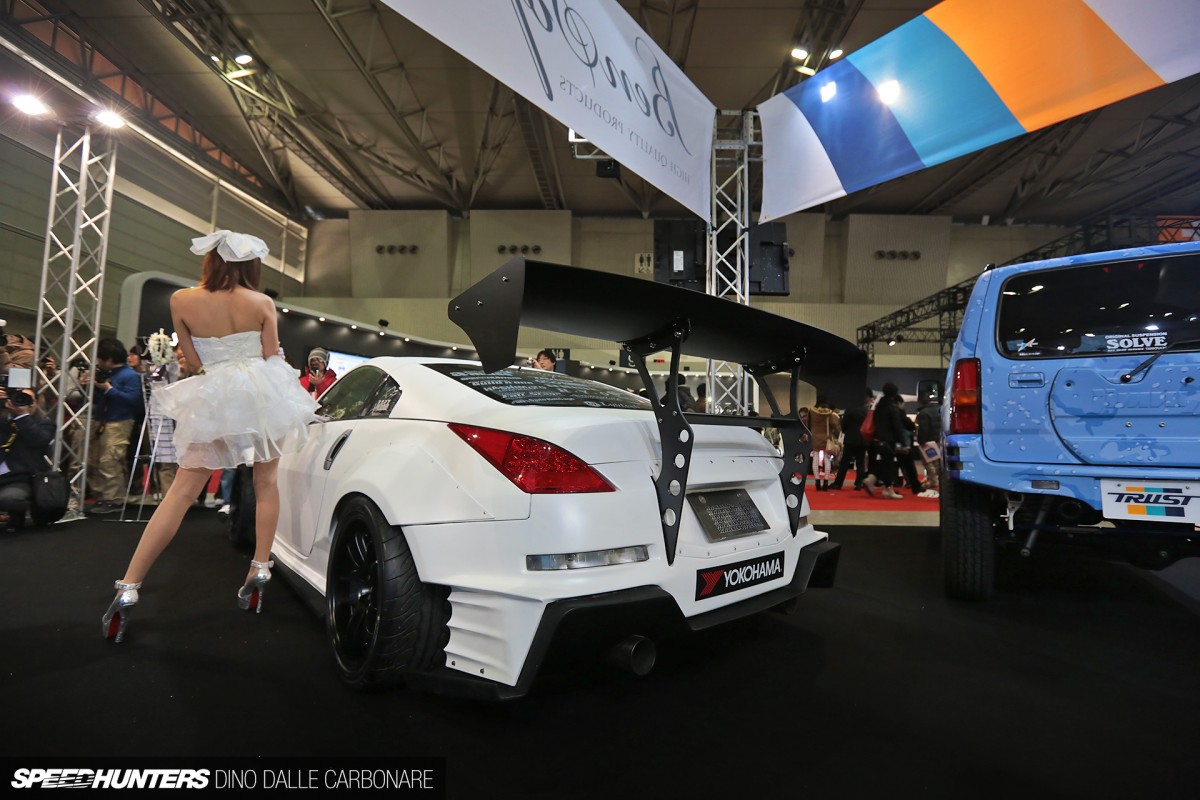 Their demo car was on display at the Trust booth but it's actually the other 350Z they built with RYO in Hiroshima that is of more significance. To find out why, you'll have to check out my spotlight-o-rama post.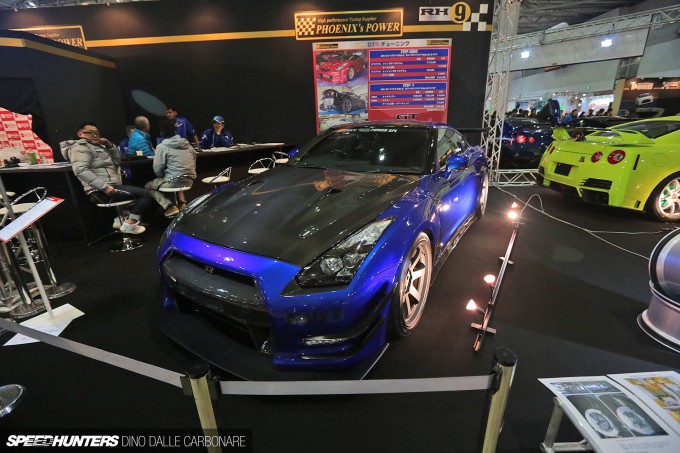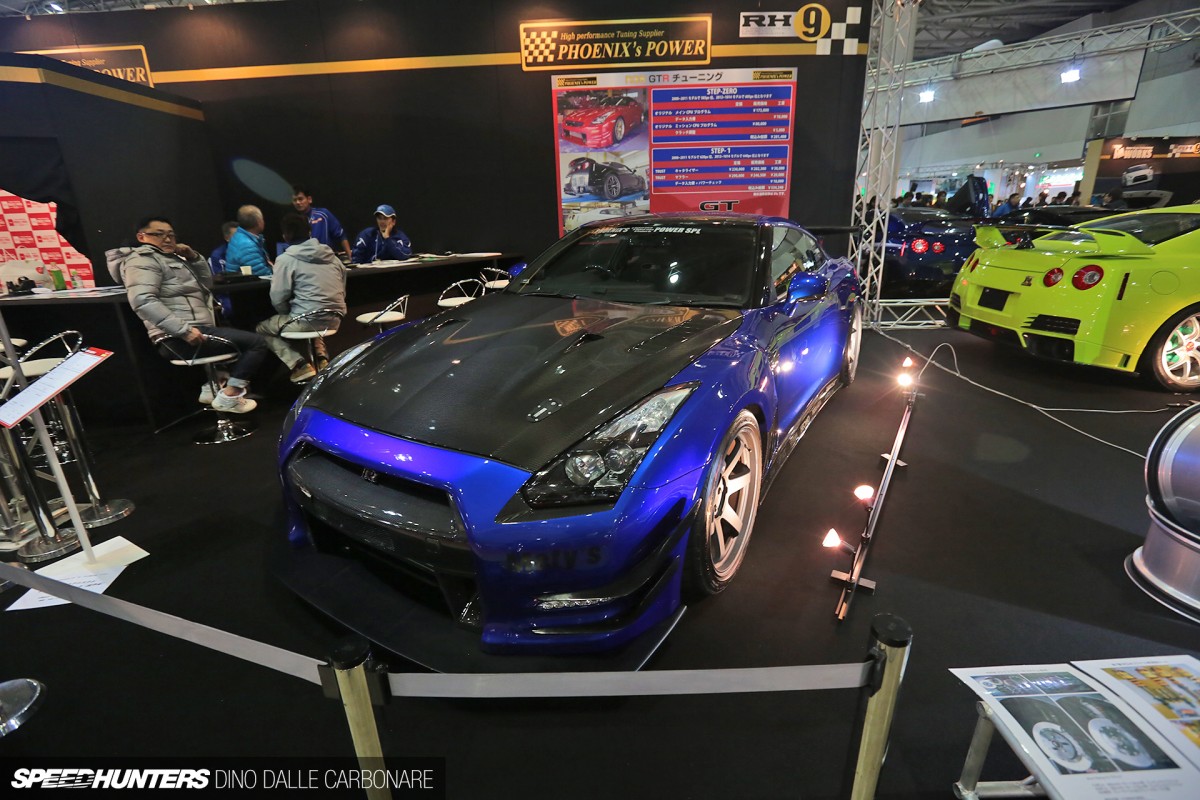 Phoenix's Power is a heavy hitter when it comes to R35 tuning, having built some of the fastest and most powerful cars in Japan. It seems 1000hp is nowthe usual power figure most of their GT-R-owning customers are shooting for these days, such is the potential of a well-tuned VR38.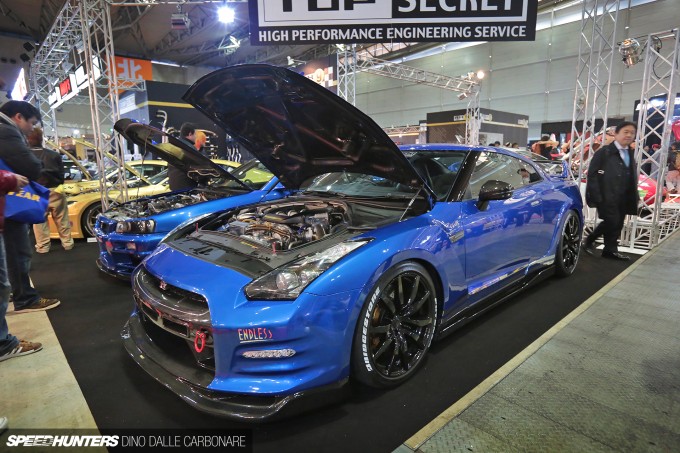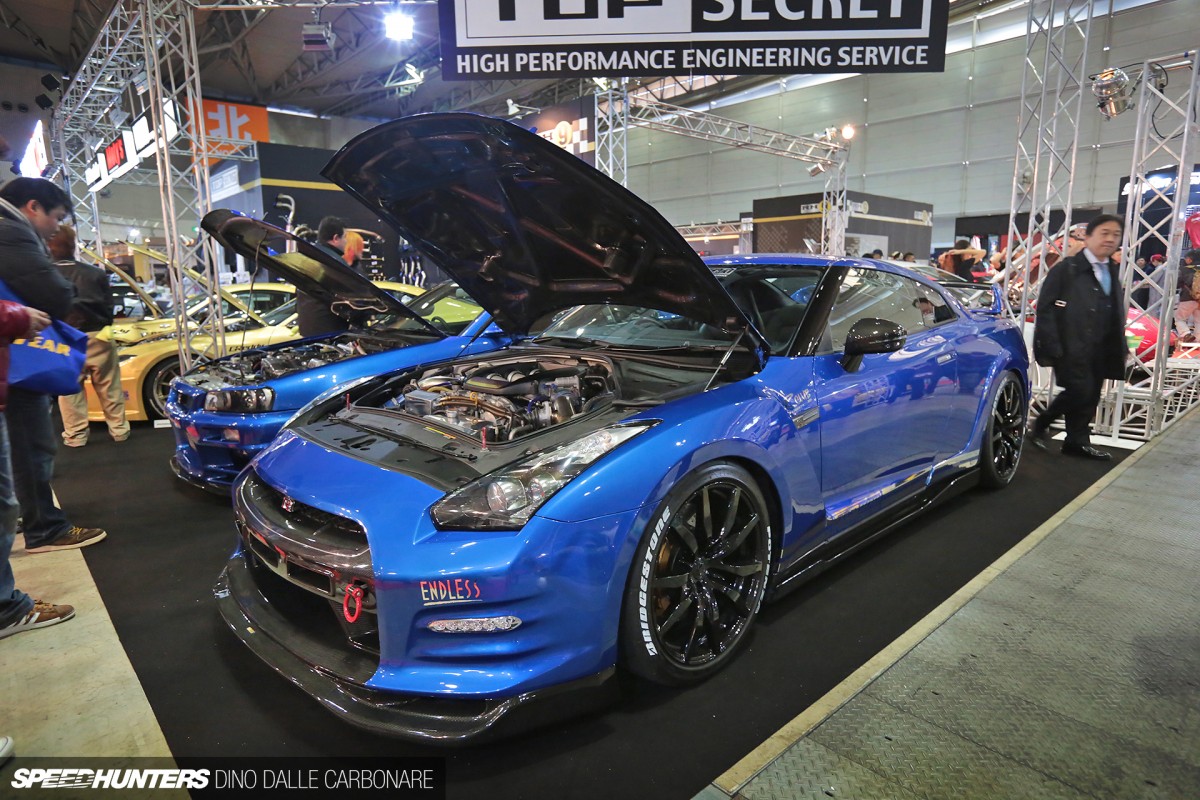 Behind them, Top Secret, had five san-gos on display which included this blue example owned by the editor of Option magazine.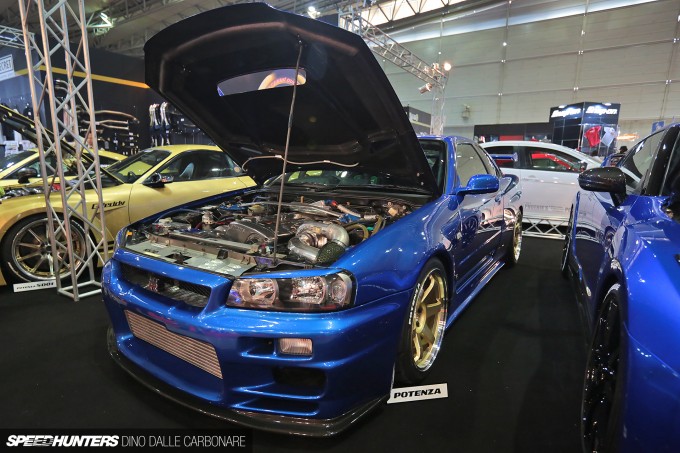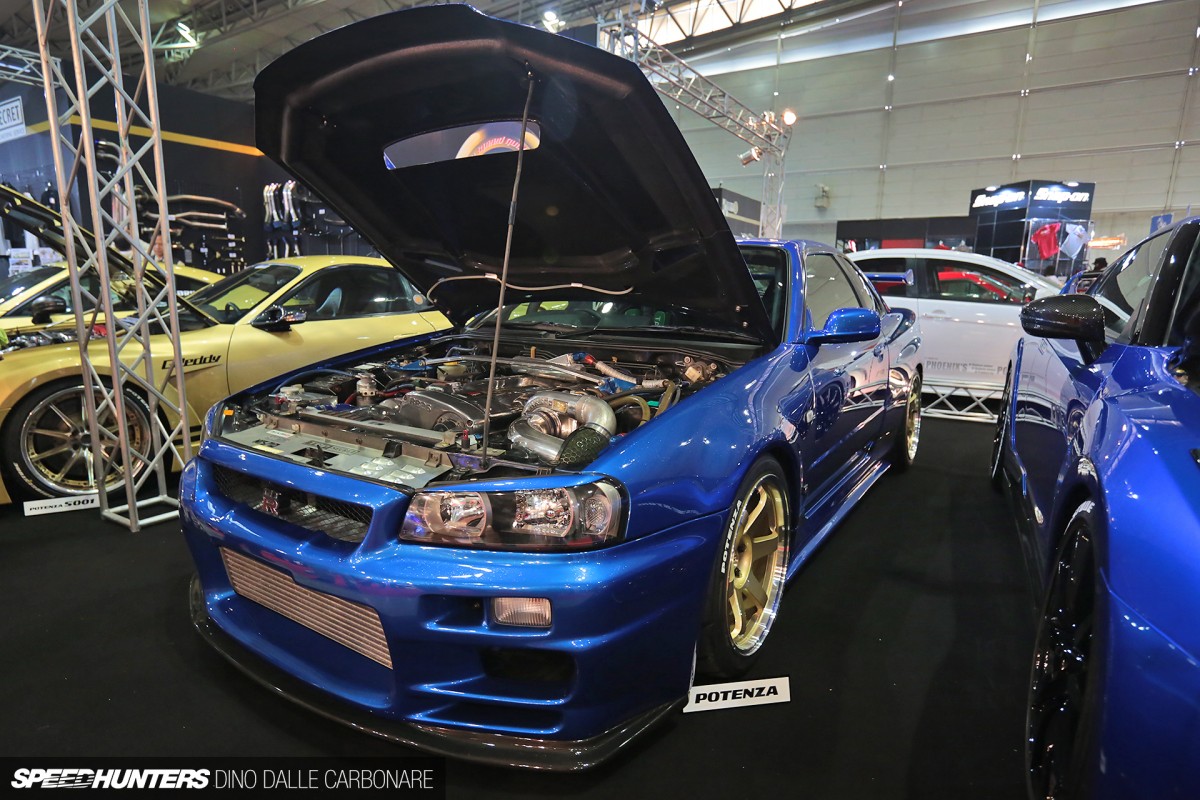 But there are different ways to get close to that magical 1000hp figure, and if you really have to do it, I'm still of the opinion that the older generation of GT-Rs continue to have their own unique appeal.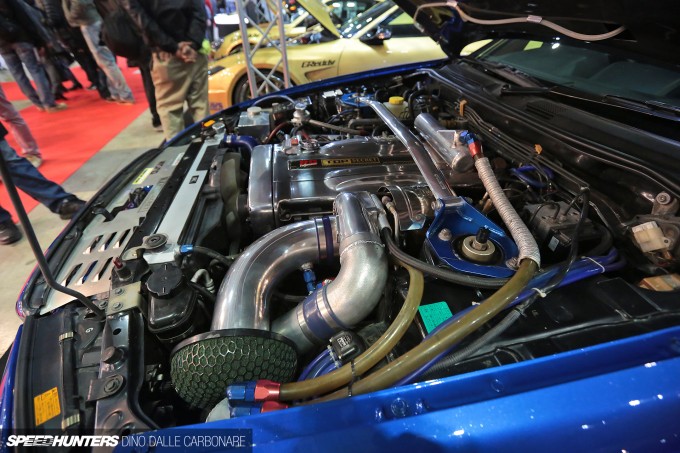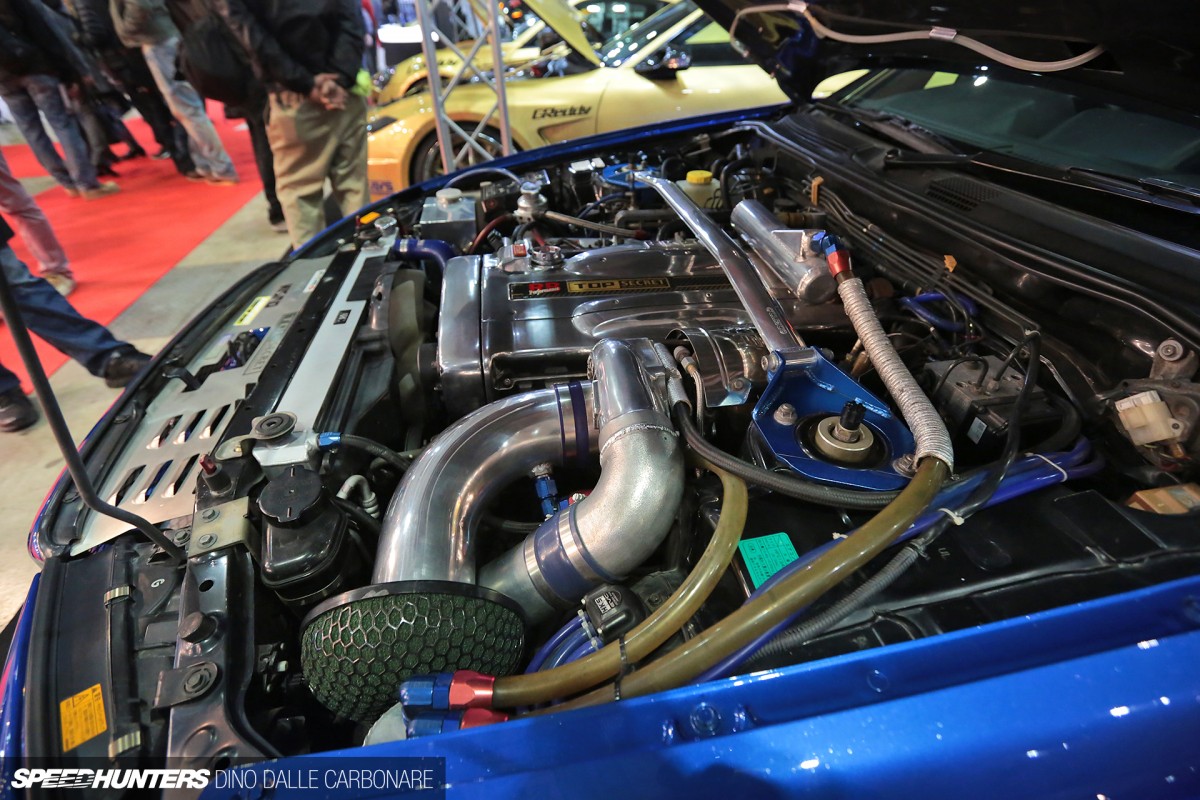 Plus when it comes to engine bays, I may be biased here, but I'll happily argue that a tuned RB26 makes the VR look like a hopped up washing machine. The motor above has had a long list of shiny HKS parts thrown at it and achieves the same sort of figures in a more eye-pleasing fashion.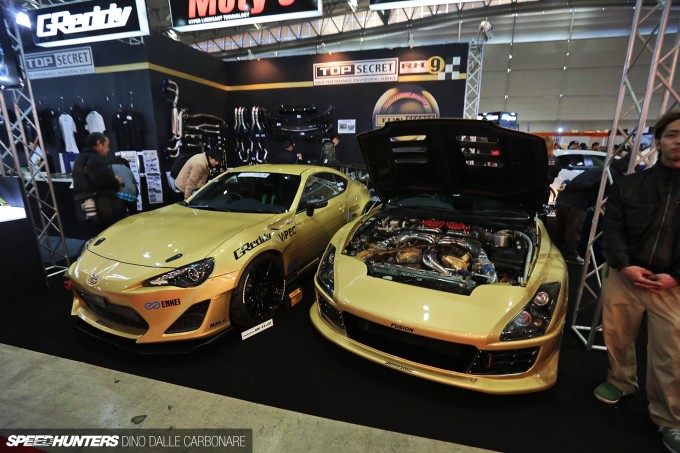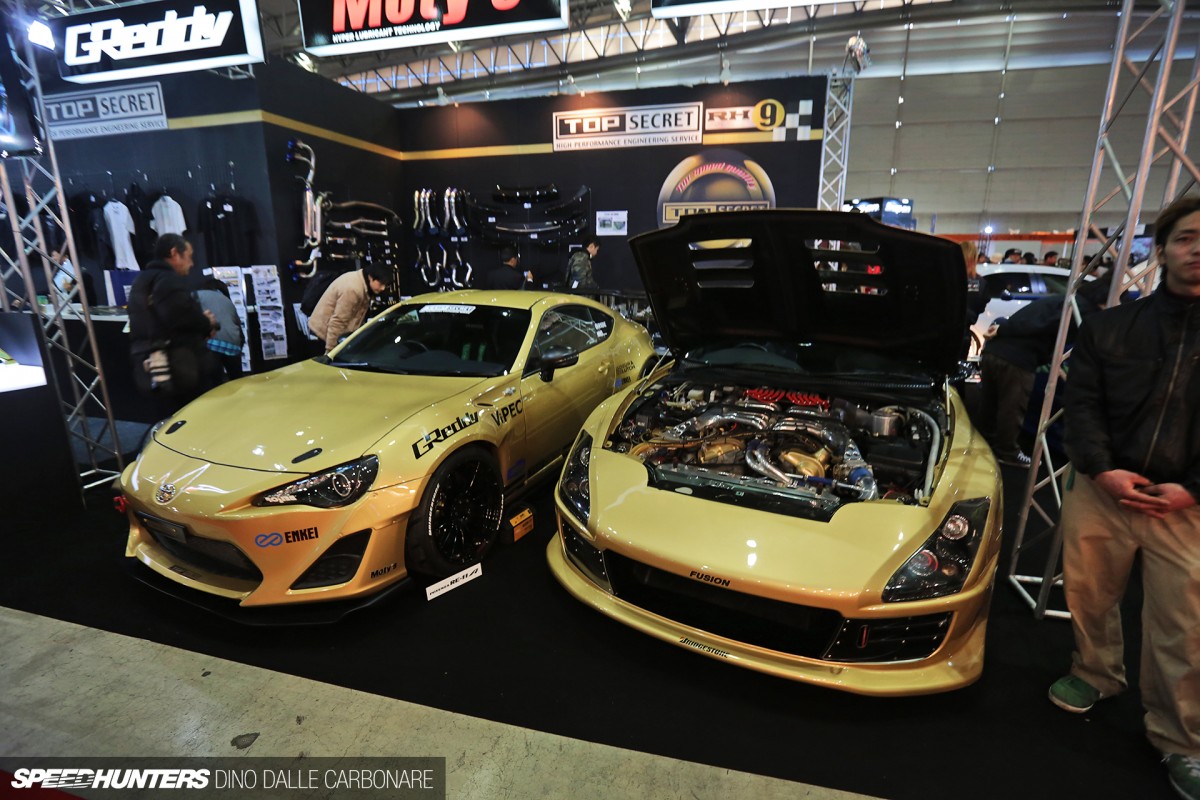 It was really cool to see the old Century V12-powered Supra too!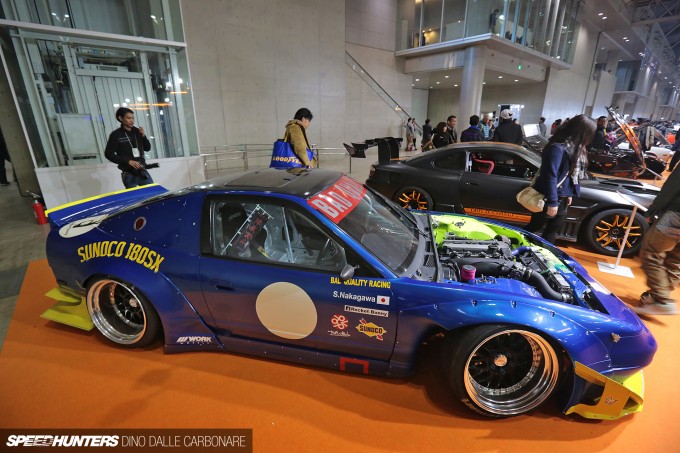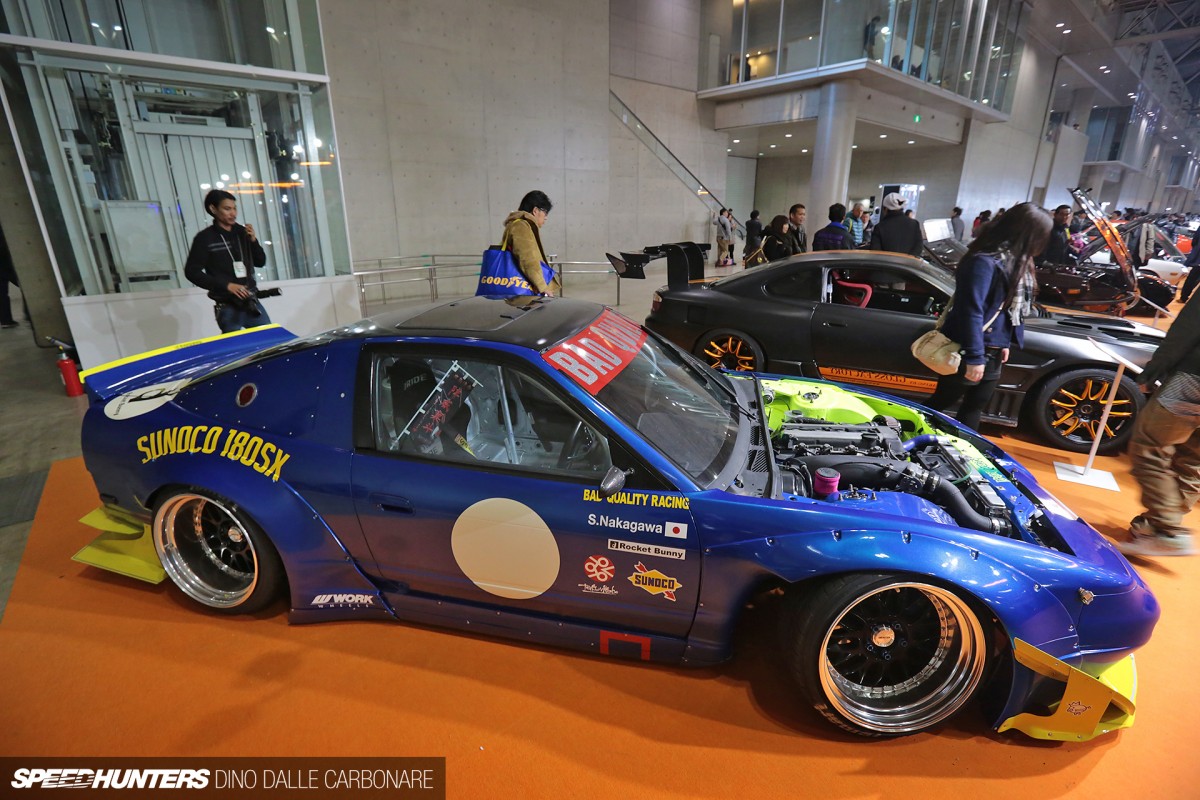 I recall that a lot of you guys loved this 180SX that we first saw at the Slammed Society show in Fuji last year. Well it was cool the car was at the show as it gave me the chance to have a good look at it.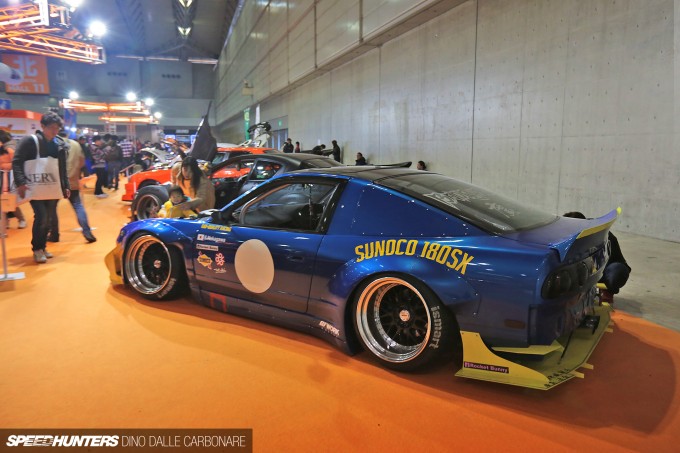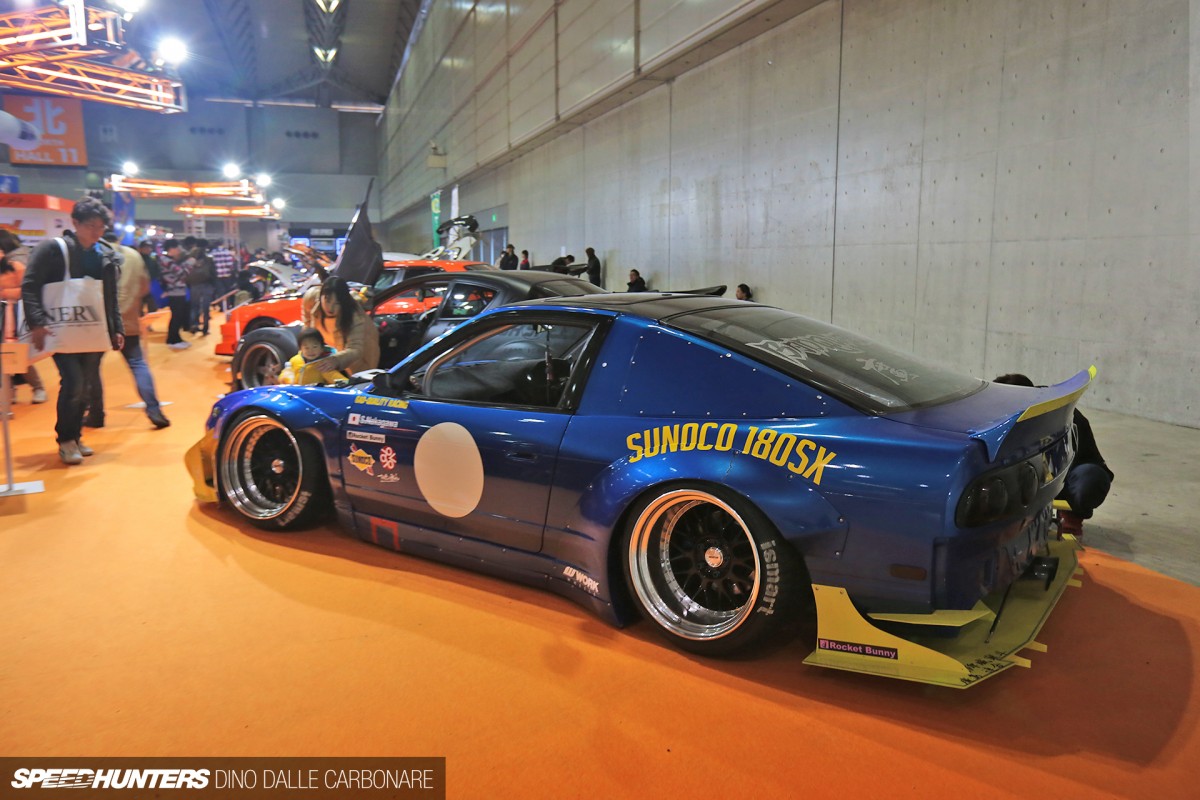 It's a good combination of function and form; a great way of mixing performance with a very unique style and if you're wondering how it manages to sit so low yet be drivable, that would be because the floor has been cut and lifted, much like in a VIP car.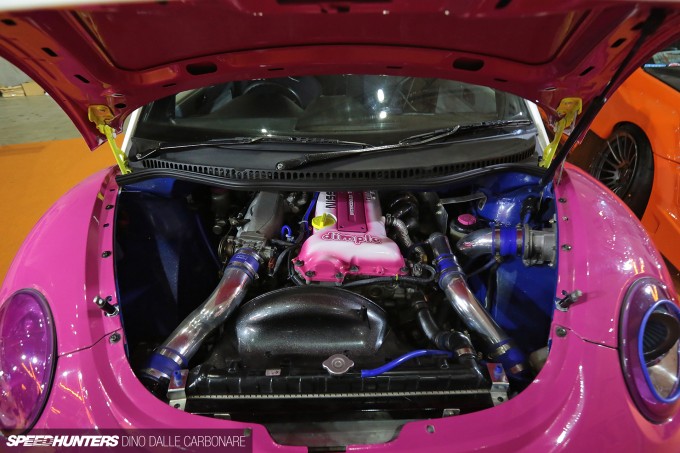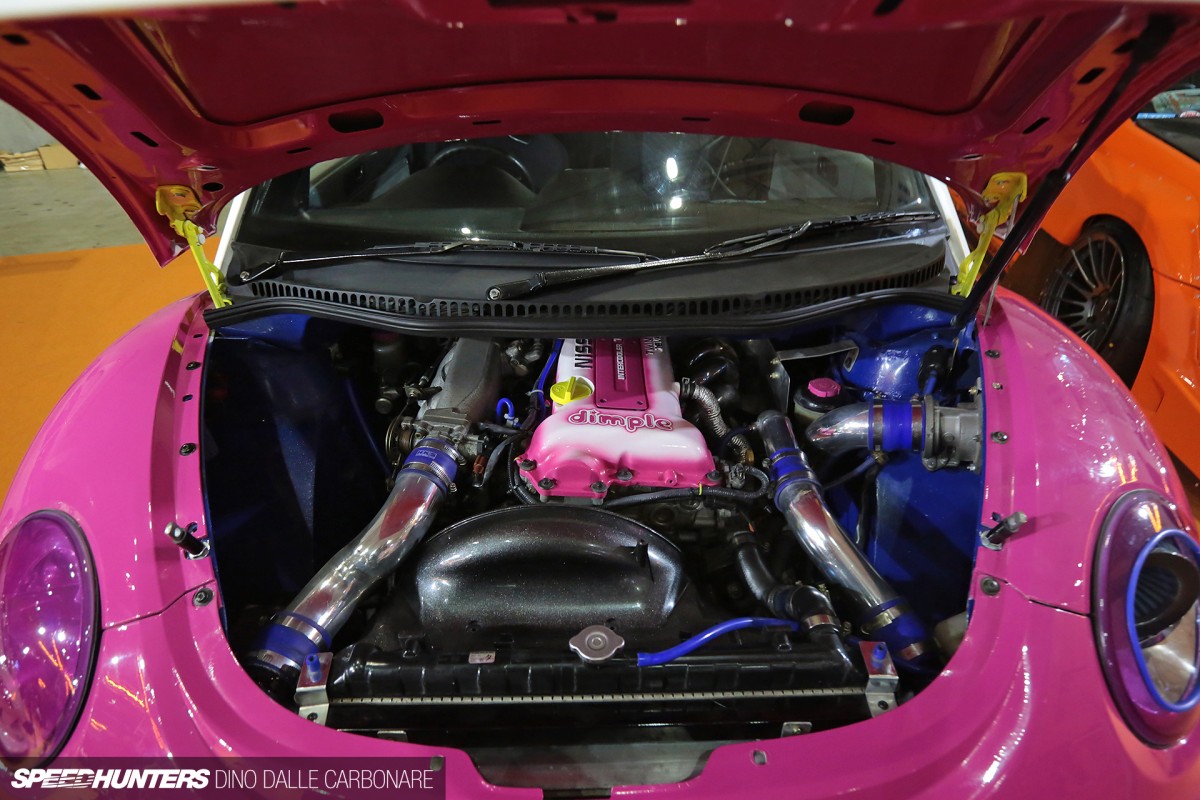 Is that an SR20?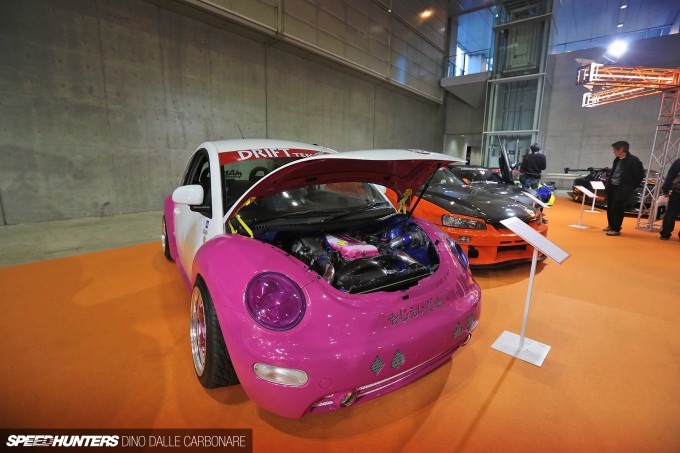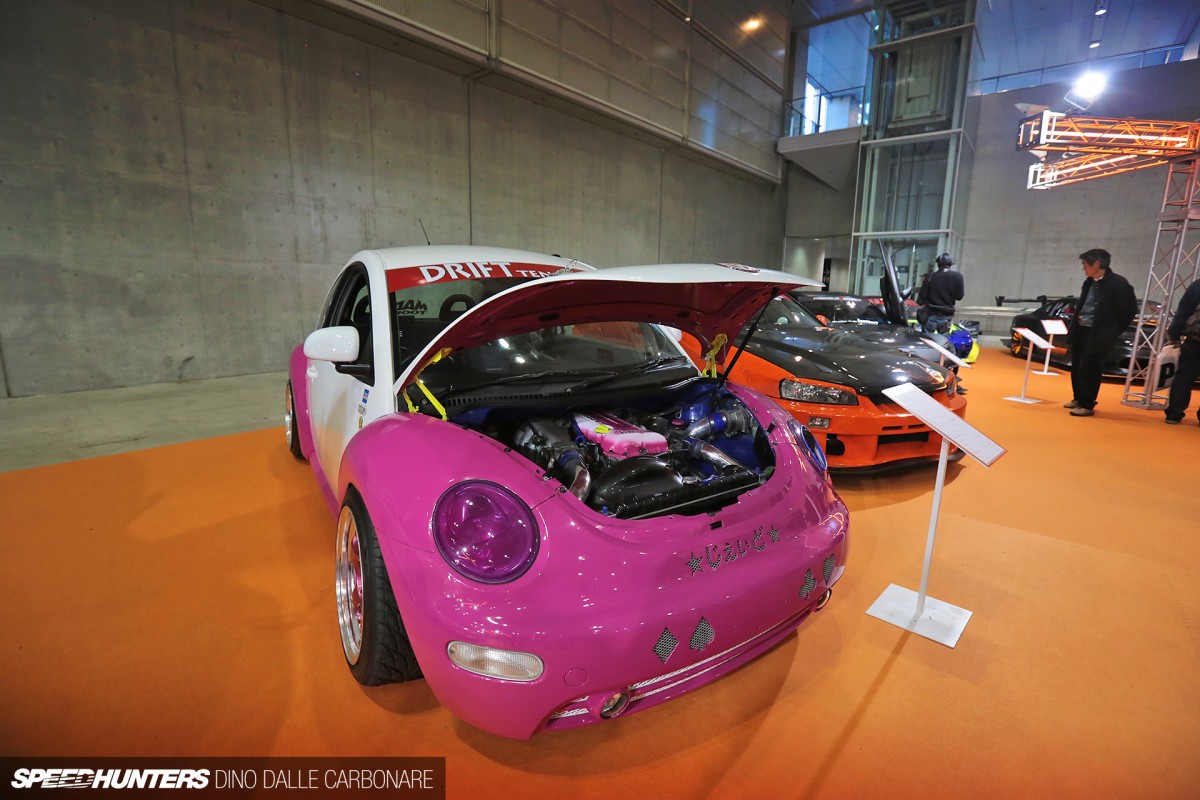 In a Beetle? Sure, why the hell not! This RWD Car Choice Jade Beetle at the Doriten display I think is the perfect way to end this first look at the 2014 Tokyo Auto Salon. I hope you're liking what you are seeing so far – trust me, there's quite a lot more to get through, so don't miss what I have coming!