91 cars. That's how many 86s/BRZs/F-RSs were on display at this year's Tokyo Auto Salon. Never in the history of this show has one car been quite so popular. However what really makes the hachiroku, and its other guises, stand out is that it seems to have been adopted by pretty much every single car scene in Japan. I did my best to hunt most of these 91 cars in order to bring you the best I came across so let's take an extra-long look at what can only be described as the Japanese "86 mania!"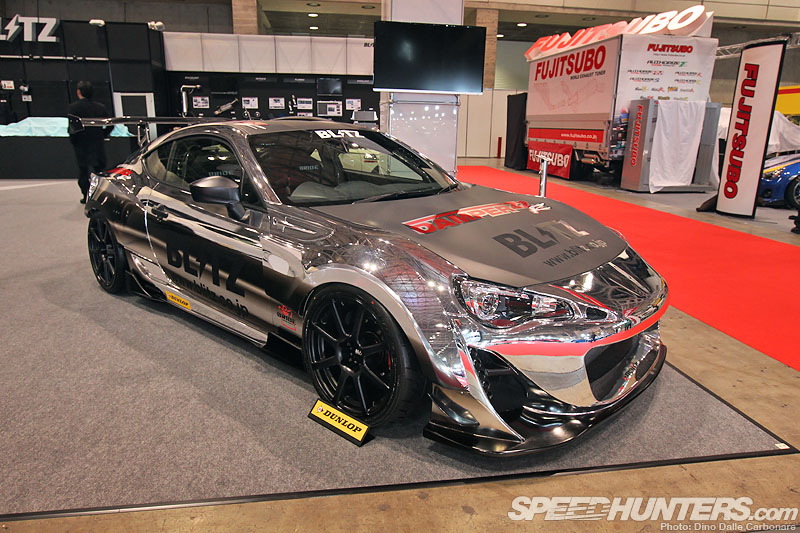 First up it's Blitz. Their time attack slash development BRZ that we saw in Tsukuba at last month's Super Battle has received a rather flashy chrome wrap to give a more adequate showy exterior…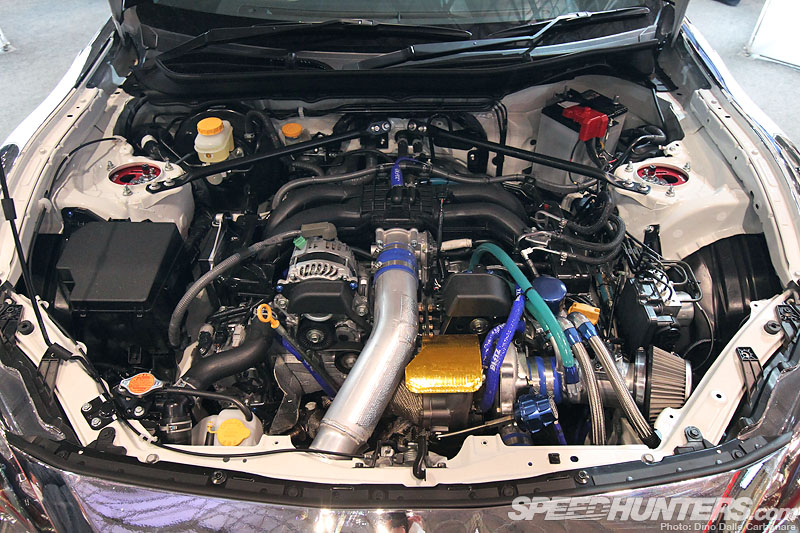 …but as you can imagine there is plenty of exciting stuff happening under the hood. This turbo kit will be hitting the shops in the next couple of months.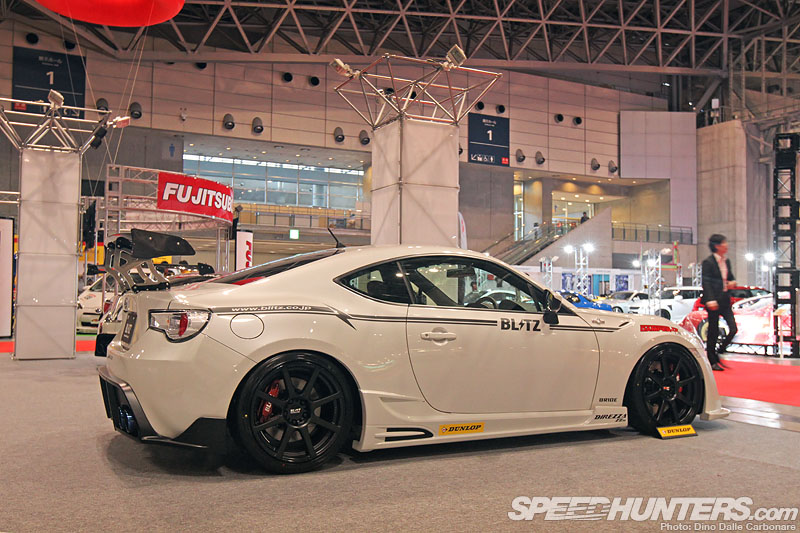 Blitz, like a lot of big tuning brands, had more than one of these cars at their booths, this 86 representing a more street oriented concept.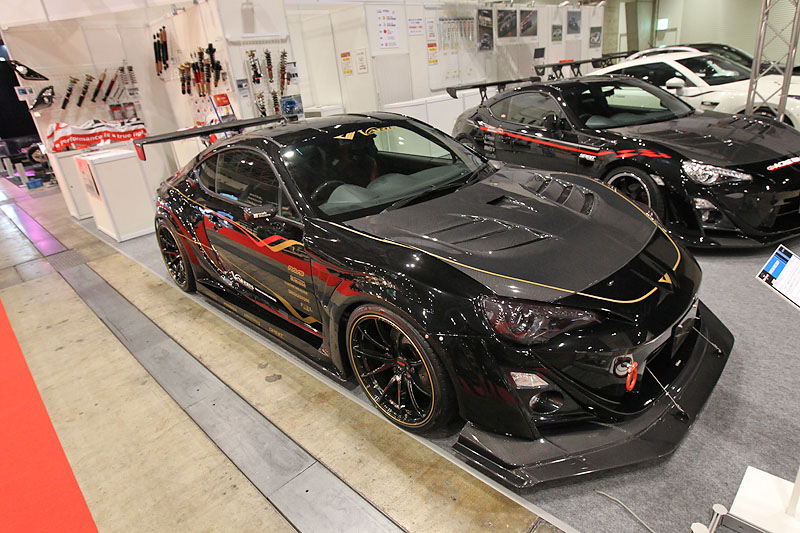 Varis never disappoints when it comes to devising exciting aero solutions for all sorts of cars. Alongside a simpler aero package they have come up with this full-on wide body conversion…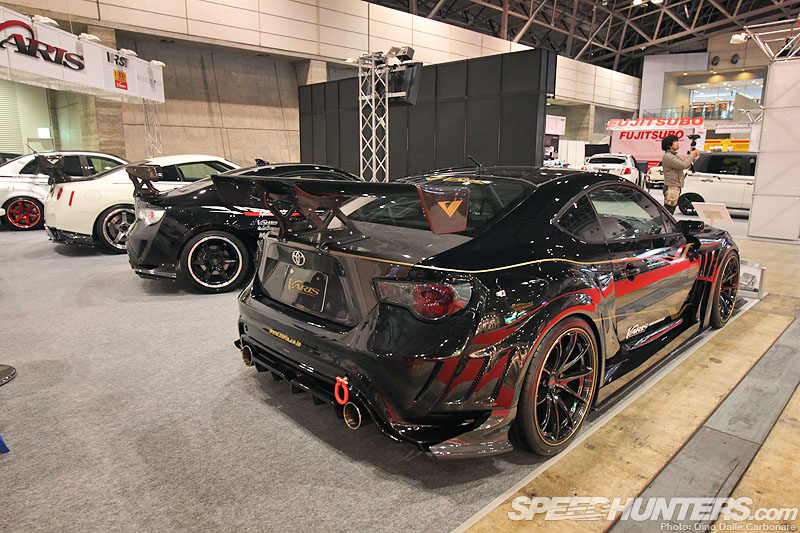 …featuring many vents, louvers and aerodynamic parts. The black and gold livery was simply awesome.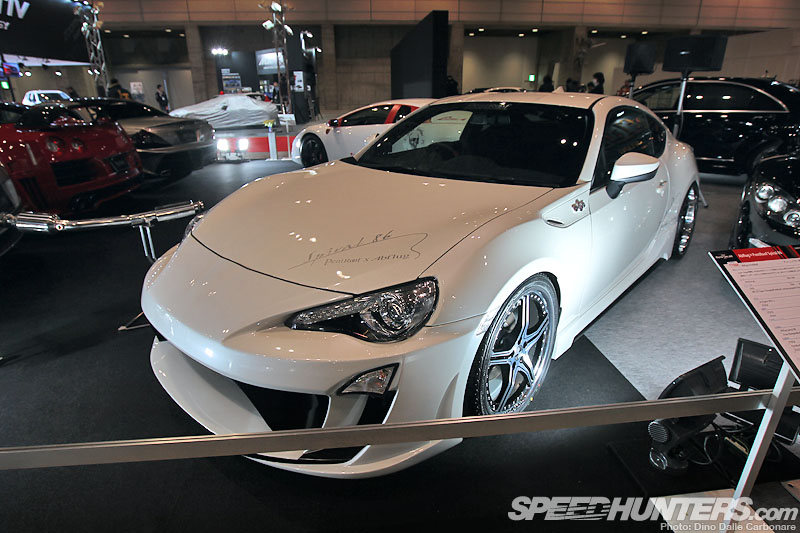 Abflug, which caters to those that require a more extreme and unique take on aero conversion, didn't fail to deliver with their Spiral kit comprising of front and rear bumper and side skirts.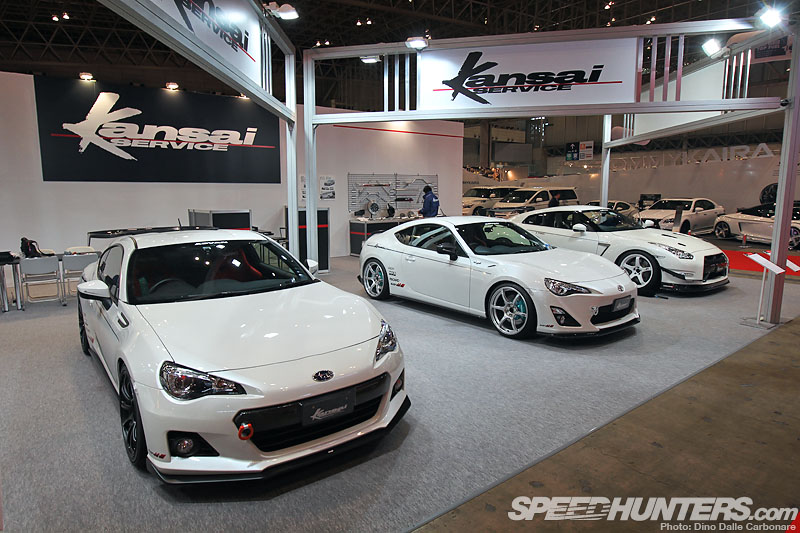 Mukai-san at HKS Kansai isn't one to get carried away with looks, it was all function over form for his BRZ and 86. I can't wait to see his demo cars in action at the HKS Premium Day in a few weeks.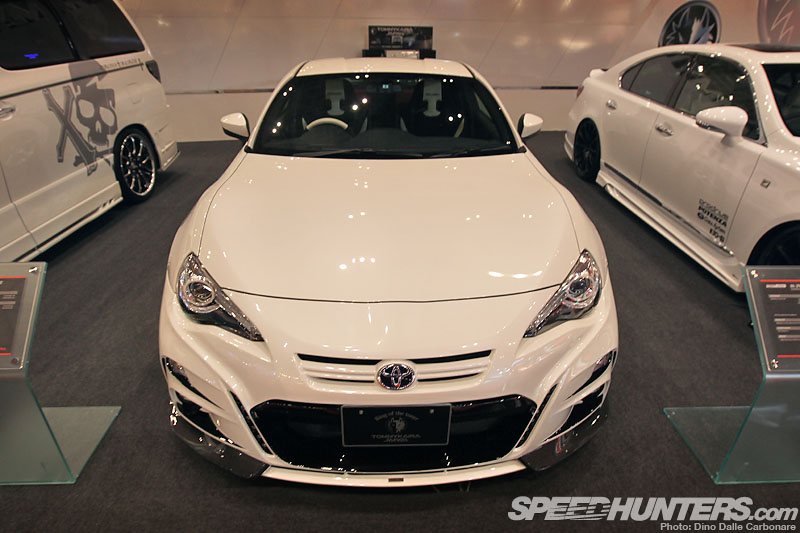 If dress up is your thing then the Tommy Kaira kit for the hachiroku might be just what you are looking for. Somehow it seemed to look…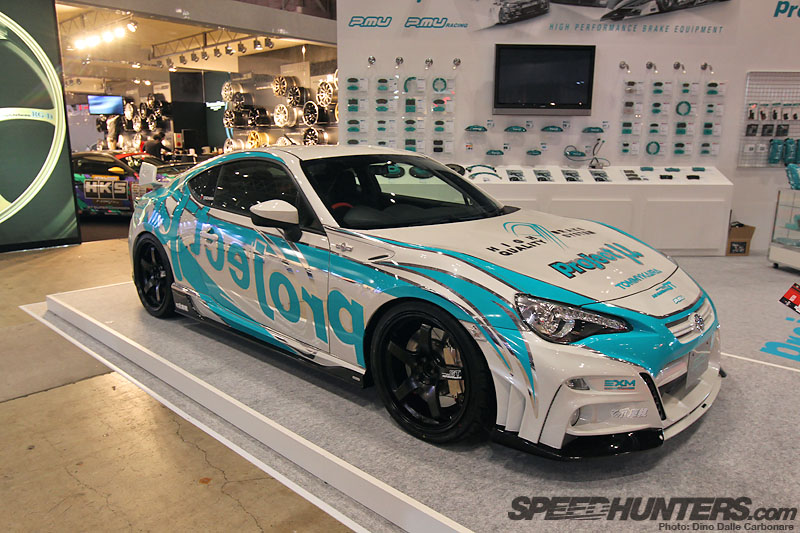 …better fitted to the Project µ demo car, probably due to the fact that the Advan TCs it was running gave it a more sporty twist.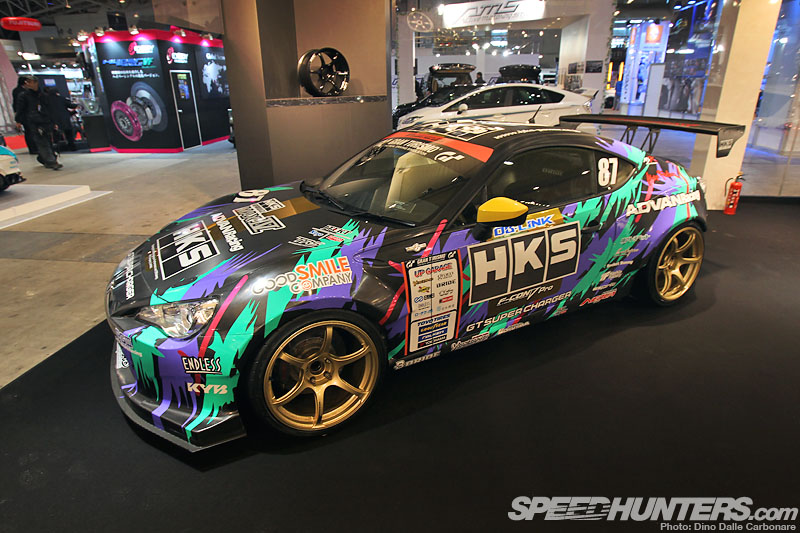 And speaking of Yokohama wheels I came across the HKS D1 86 there sitting on a set of new RGs. This is actually the spare car, as the main 500+ HP drift car was, on display elsewhere at the show.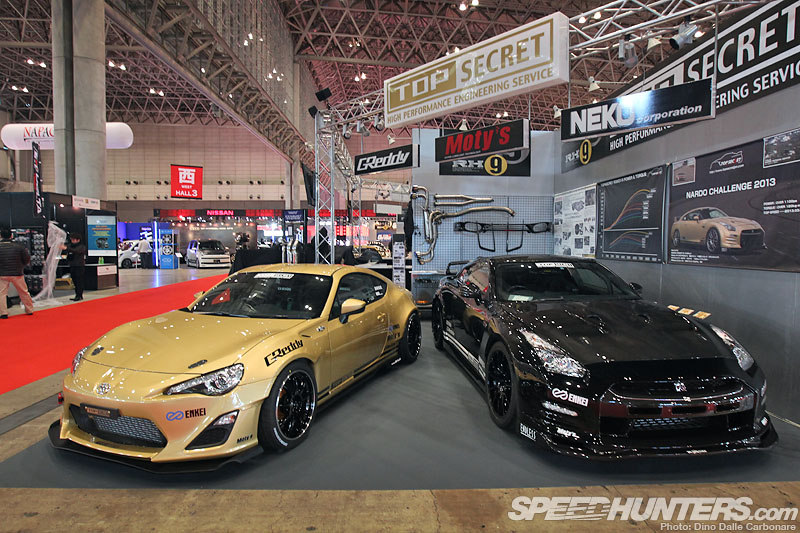 I've shown you Top Secret's all new gold 86 demo car…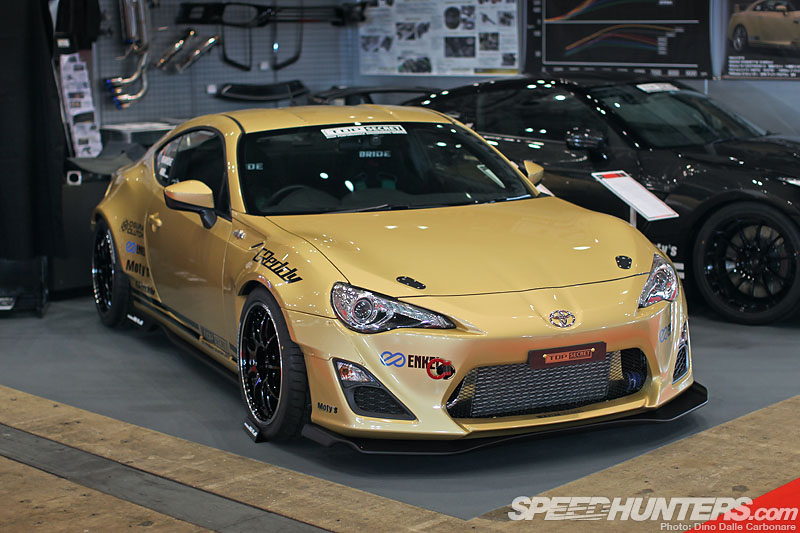 …a collaboration between the famed Chiba-shop and Trust who developed a TD06 based turbo upgrade for Smoky, giving the potential for 500 HP once the boost is turned right up.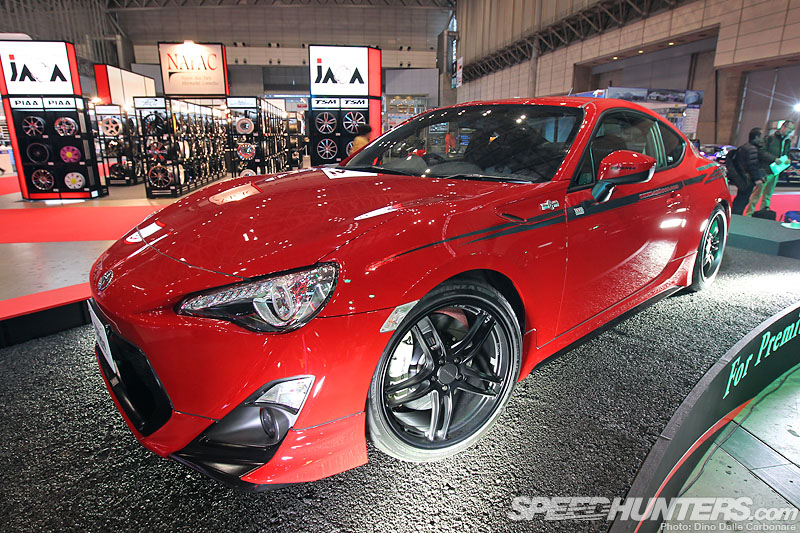 While checking out all sorts of tires at the Bridgestone display I spotted the Auto Produce Boss 86 fitted with a set of Prodrive GC-05K, made by the wheel section of Bridgestone.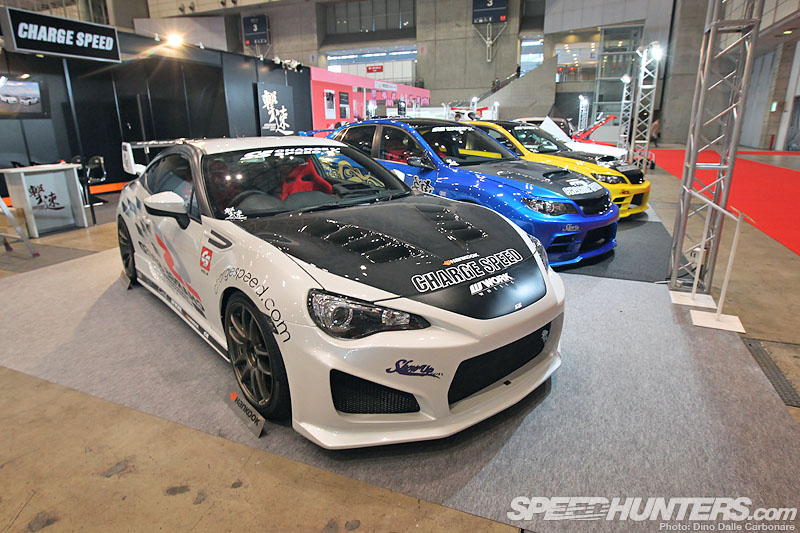 Charge Speed are always so quick to come up with aero kits for any new car that hits the market so it was cool seeing their interpretation of Japan's most popular tuner car!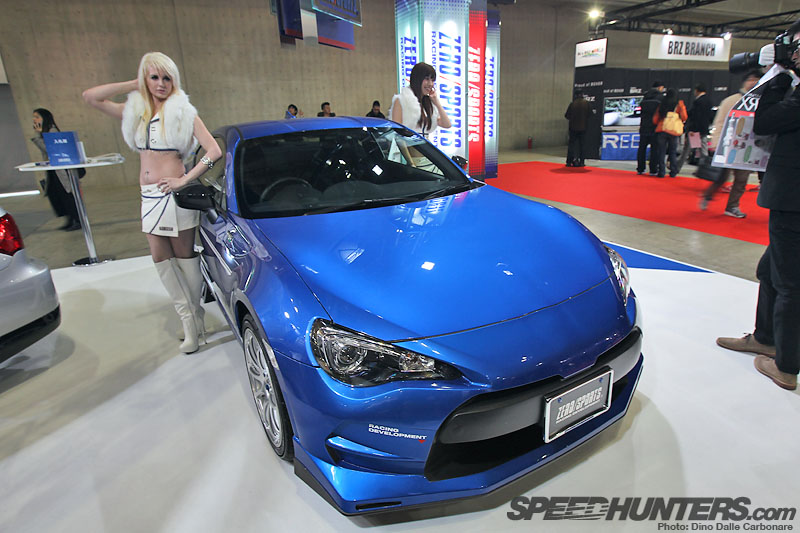 I was extremely happy to see Zero Sports make a return to the world of aftermarket tuning. After financial trouble, which saw the company close down for a period of time, it's great to see them back on their feet and present at TAS with a great booth and an awesome BRZ demo car.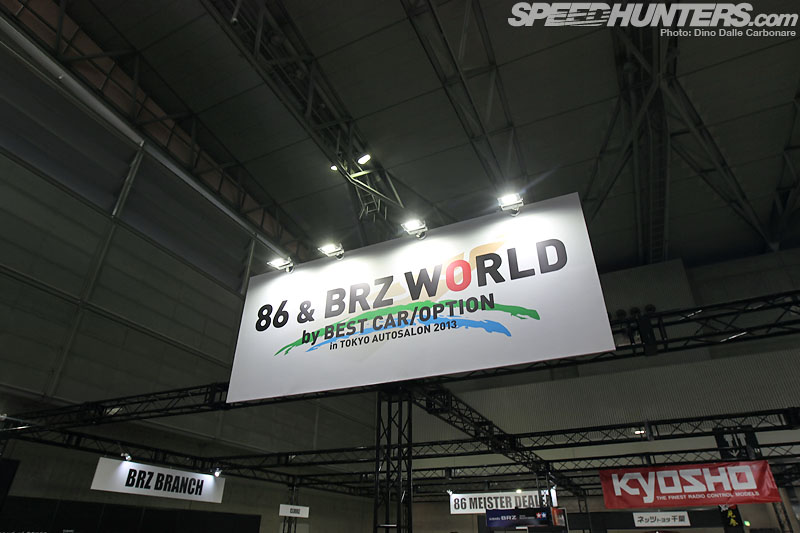 This year's Auto Salon was bigger than ever, with the show floor having been expanded over to the North hall of the Makuhari Messe, making it about 20% larger than it usually is. This is where the 86 & BRZ World display was set up…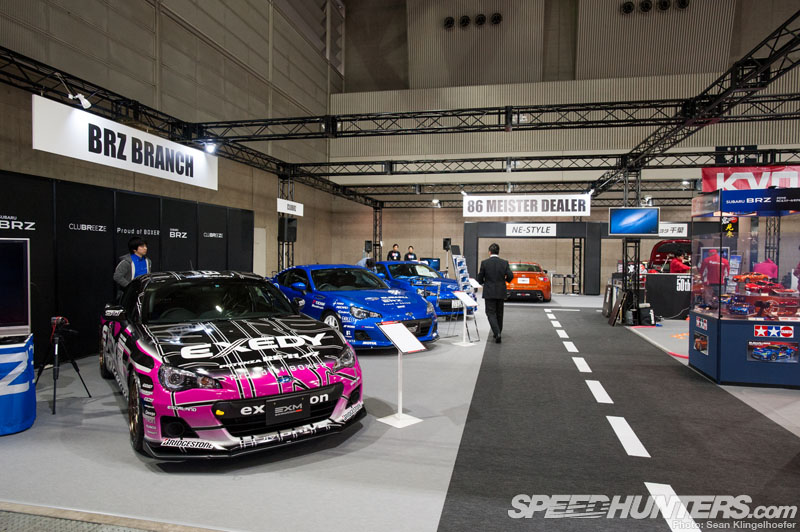 …a big area dedicated to Toyota's Godsend to the Japanese tuning industry. It was divided into a variety of zones starting off with the BRZ Branch.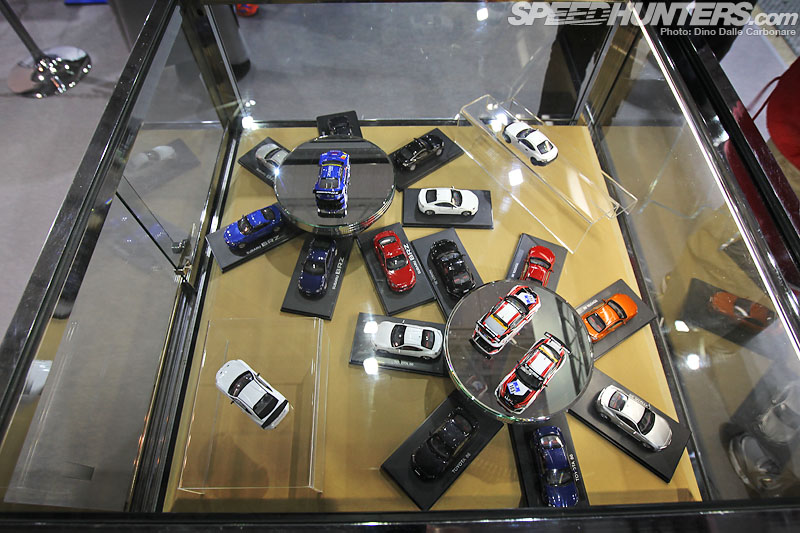 Inside, model car makers…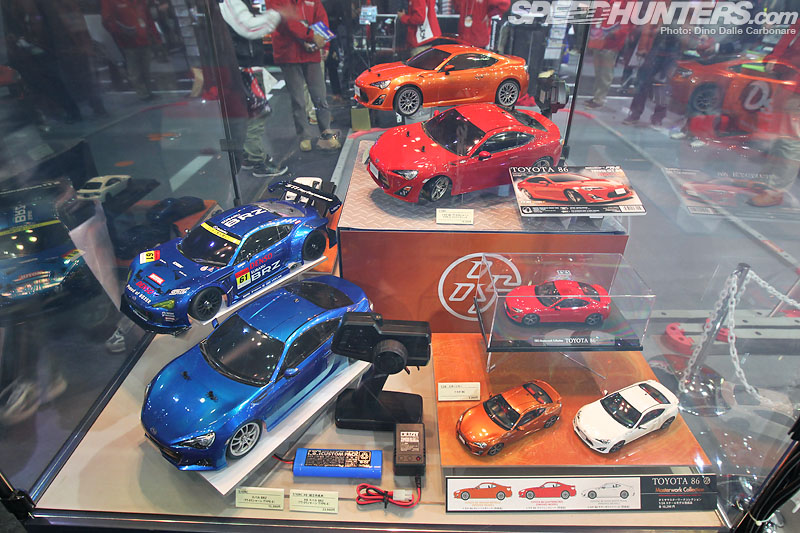 …like Tamiya…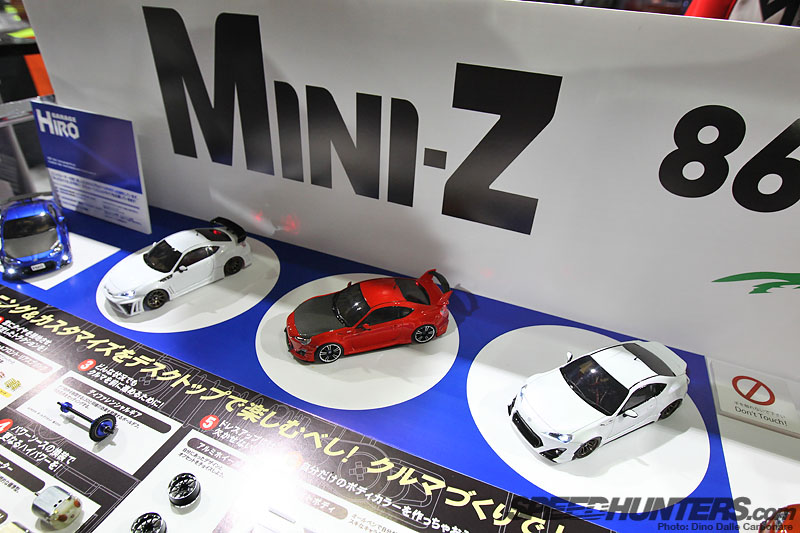 …and Kyosho were showing off their cool new products which ranged from slot car racers, diecasts and big scale remote control cars to these tunable Mini-Zs.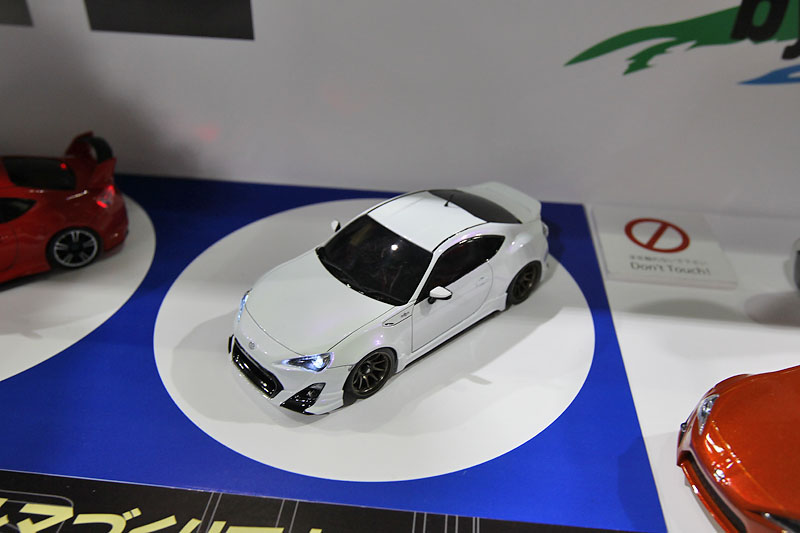 These little remote control cars from Kyosho are bought in stock configuration and can then be tuned up with a ton of upgrades…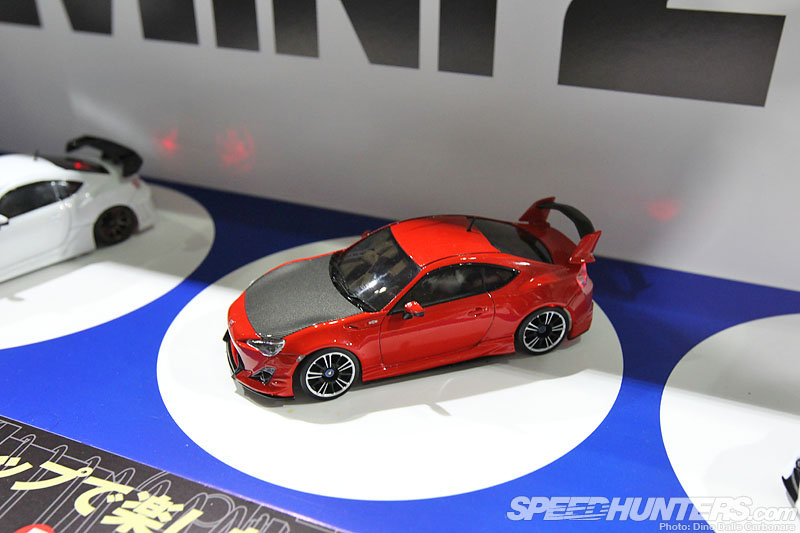 …from exterior conversion, wheels an aero add ons…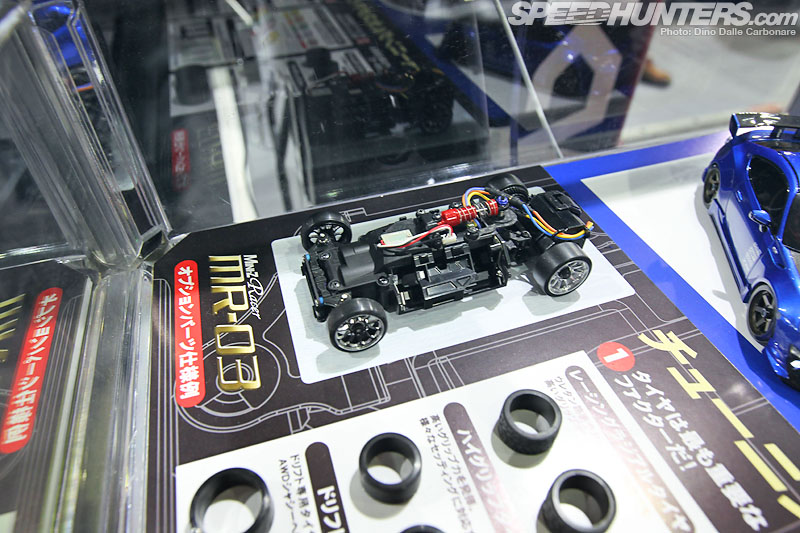 …to more powerful motors, harder suspension and a variety of tires for both grip and drift.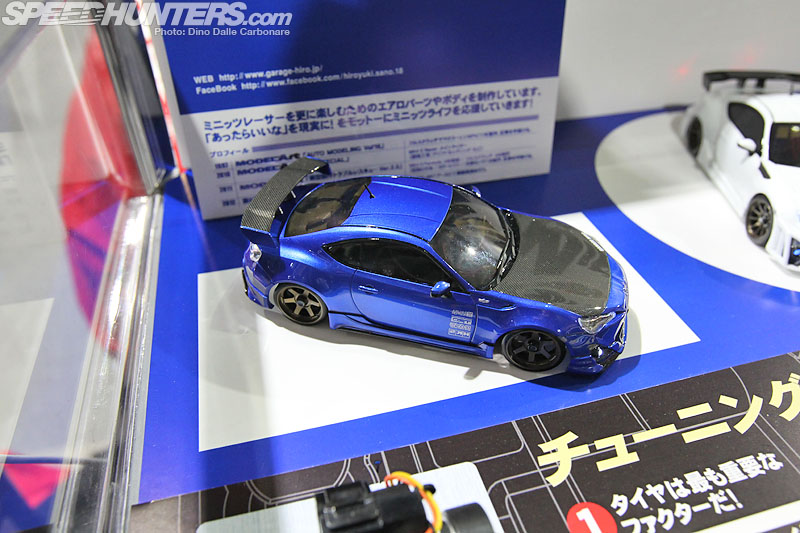 This is really cool as you can recreate your favorite demo car…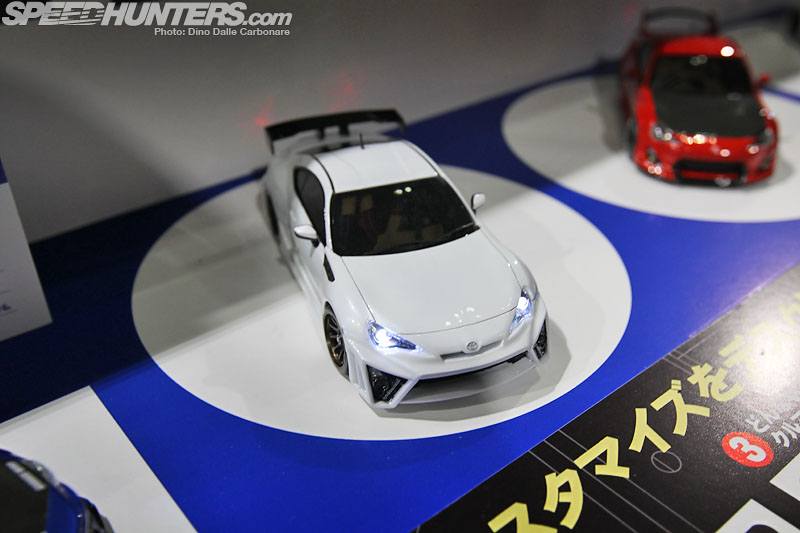 …like the Damd LFT86 that sports and LFA-type front bumper.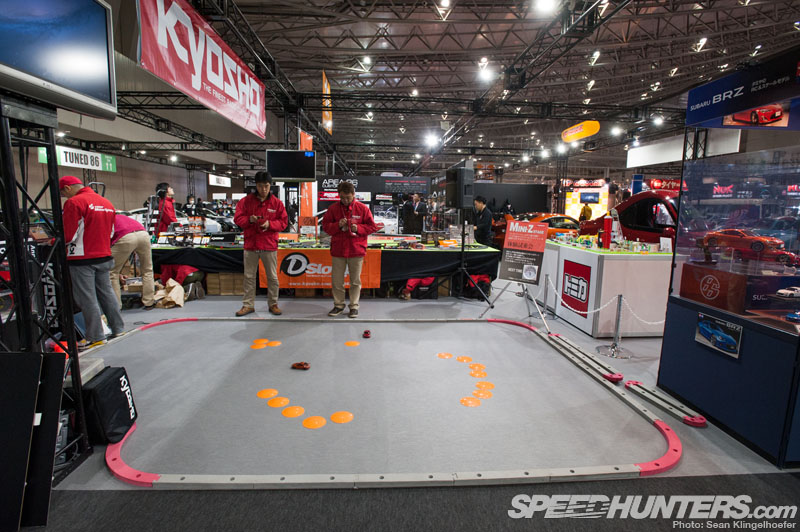 Best of all of course is that you can drift them around!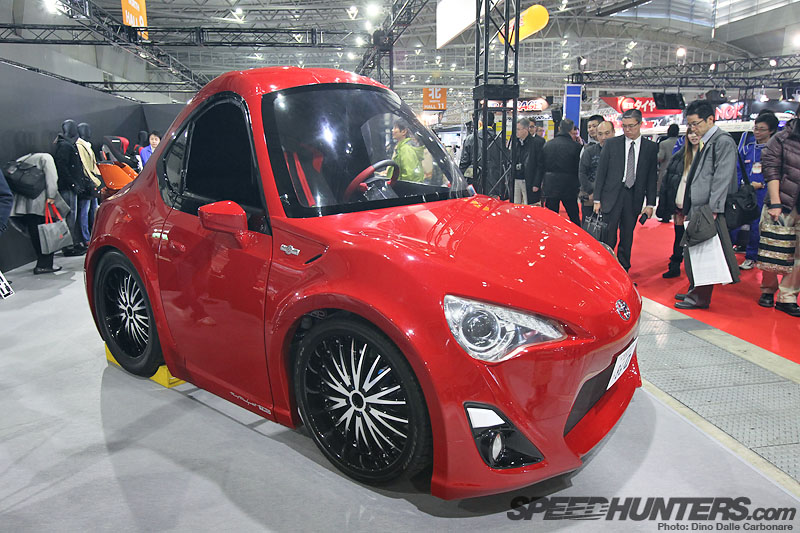 I wonder if this full scale caricature of the 86 can be driven around!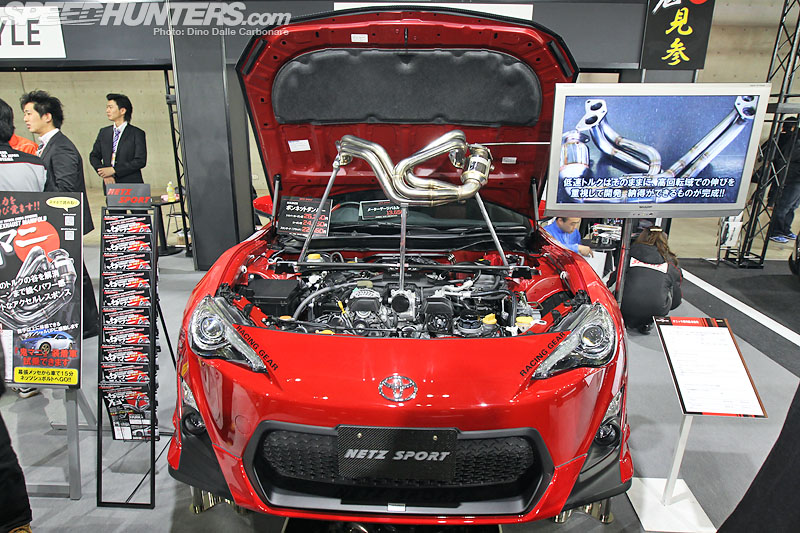 The 86 and BRZ have been a big hit with the more performance oriented shops like Netz Sport who have just released stainless steel headers for the FA20.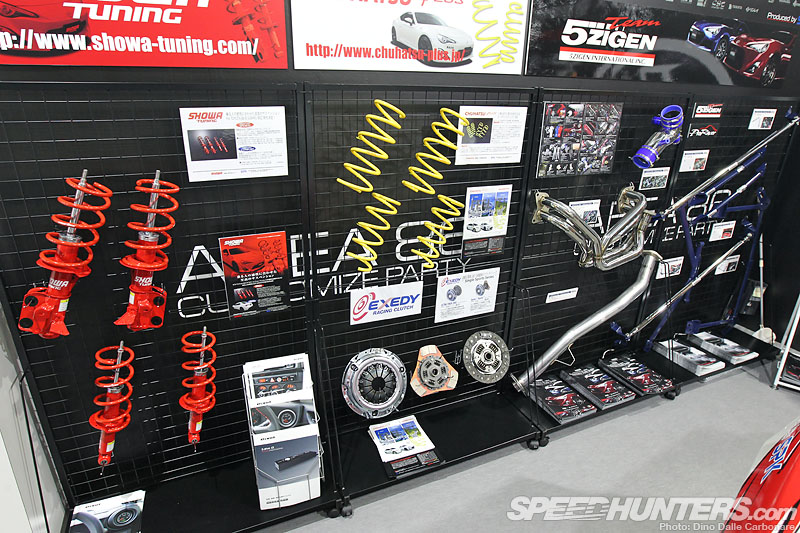 One area showed a selection of upgrades that are currently available, and with more coming every month 86/BRZ/FR-S owners out   really are spoiled for choice.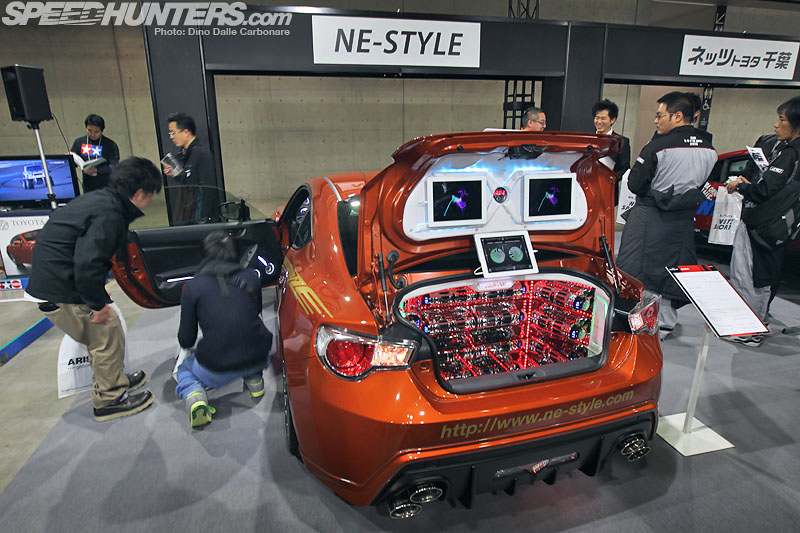 And if performance isn't your thing there are other ways in which the hachiroku can be approached as NE-Style showed us.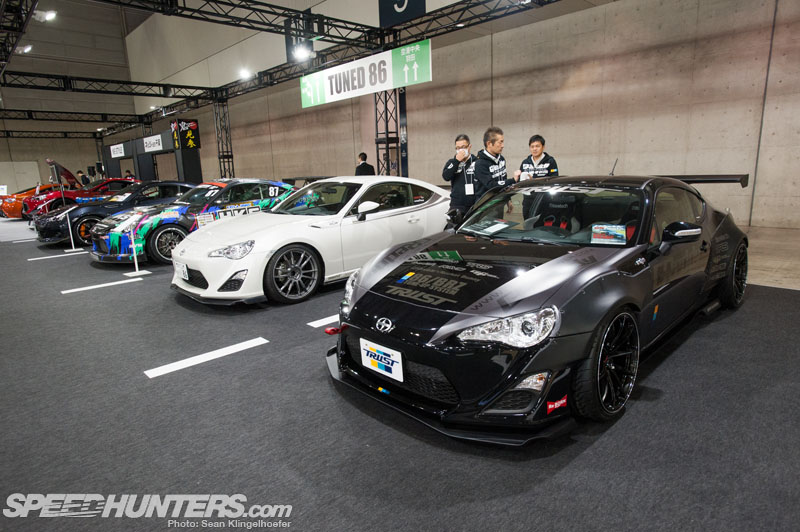 Walking further down the tuned section of 86 & BRZ World I came across the Trust FR-S demo car…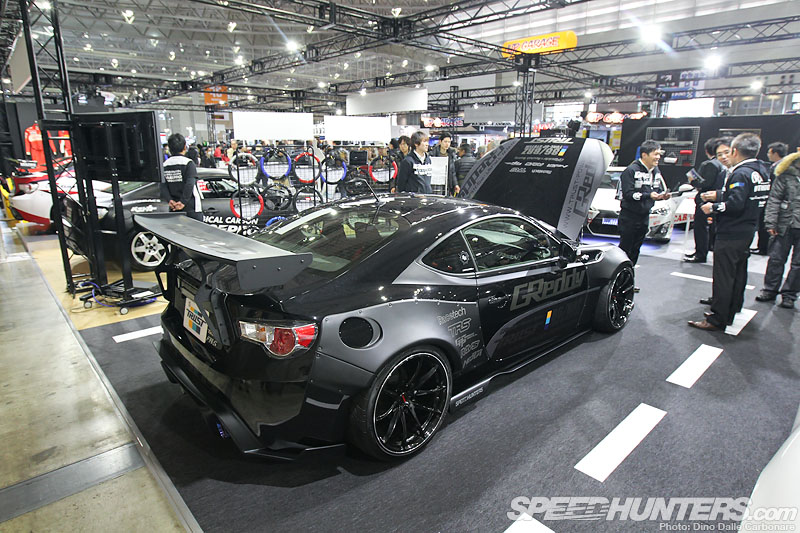 …which we have been seeing quite a lot of lately at events and time attack sessions like Super Battle. The guys at Trust have been working hard…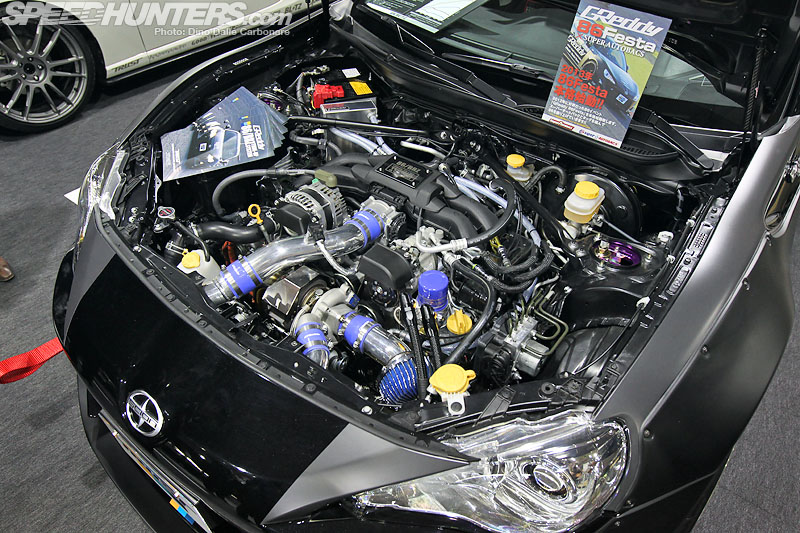 …at developing the bolt-on turbo kit that will be released sometime in April, making sure it will be an extremely easy to fit and reliable to use in all sorts of applications. Sean and I were at Trust a few days ago shooting this very car so you can expect the feature to drop pretty soon.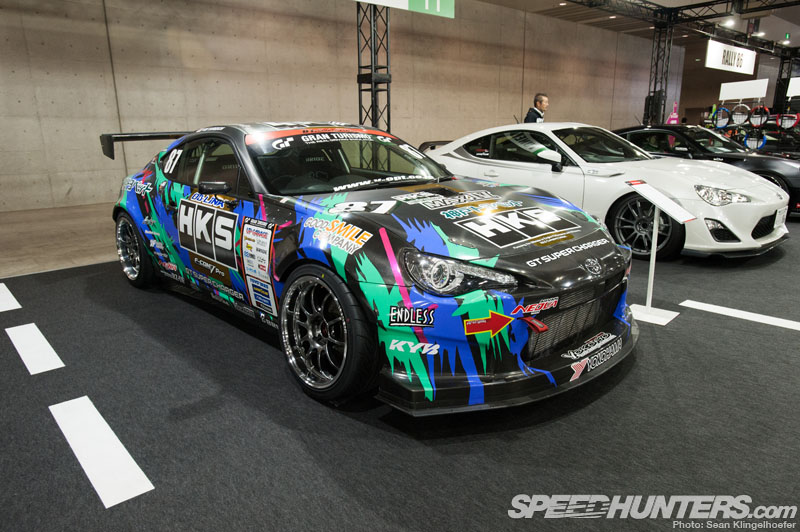 Another HKS D1 86! How many do they have!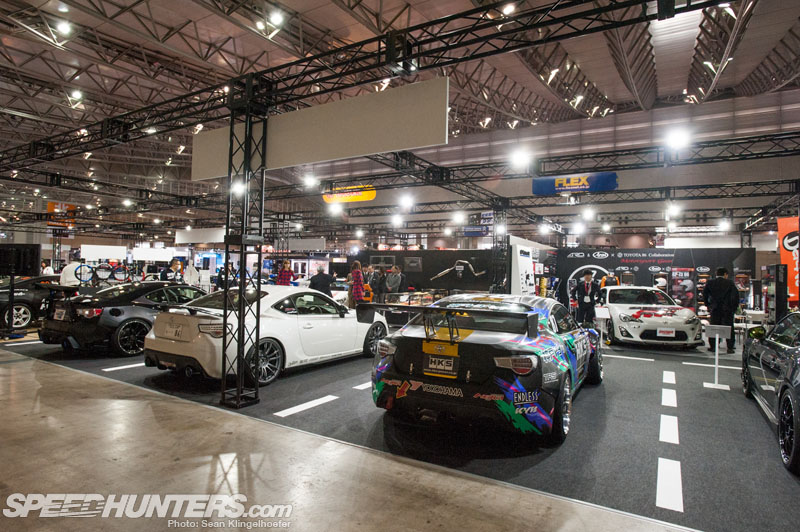 The 86/BRZ has been welcome with open arms into the tuning world…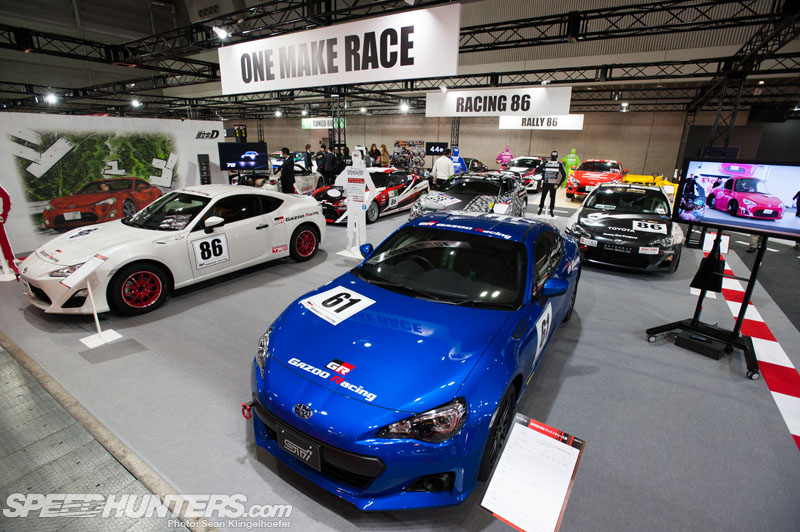 …but it's been received just as well in the more affordable side of motorsports too. From this year Japan will see the start of the 86 one make racing series as well as the BRZ one make cup, backed by TRD and STI respectively.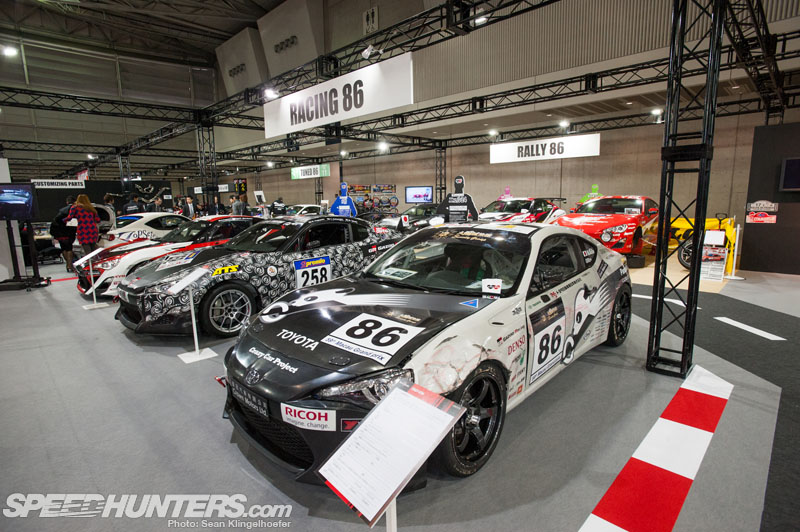 TRD has already taken the 86 to a variety of series of course, the Nurbugring 24h race being one of them.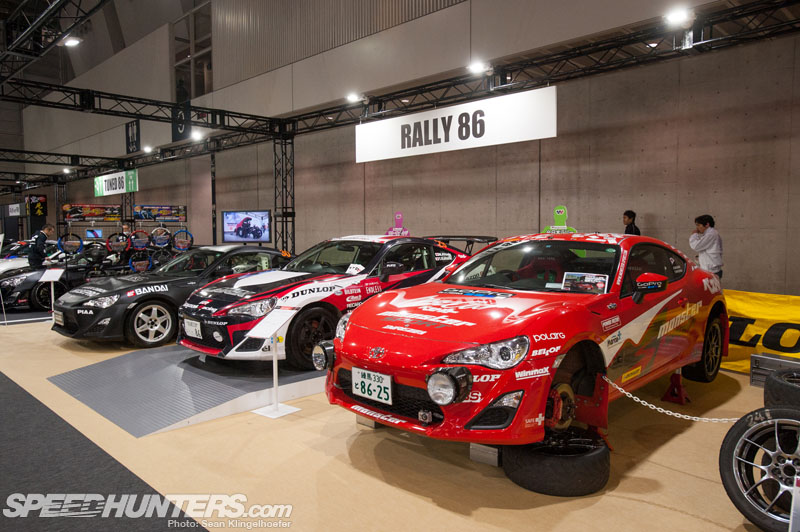 And let's not forget that some our there are already rallying it too!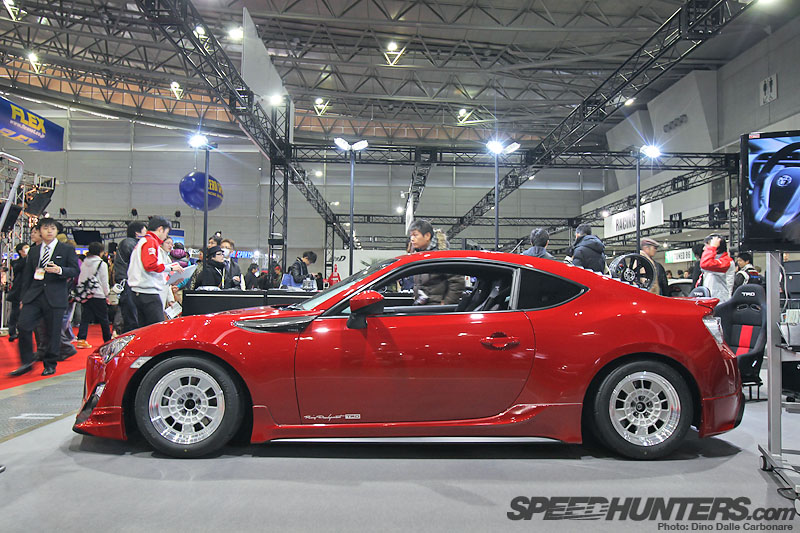 As Mike showed us yesterday TRD had been really thinking outside the box with the 86, even developing vintage-look 15-inch wheels for a true street-racer concept. More on this car soon!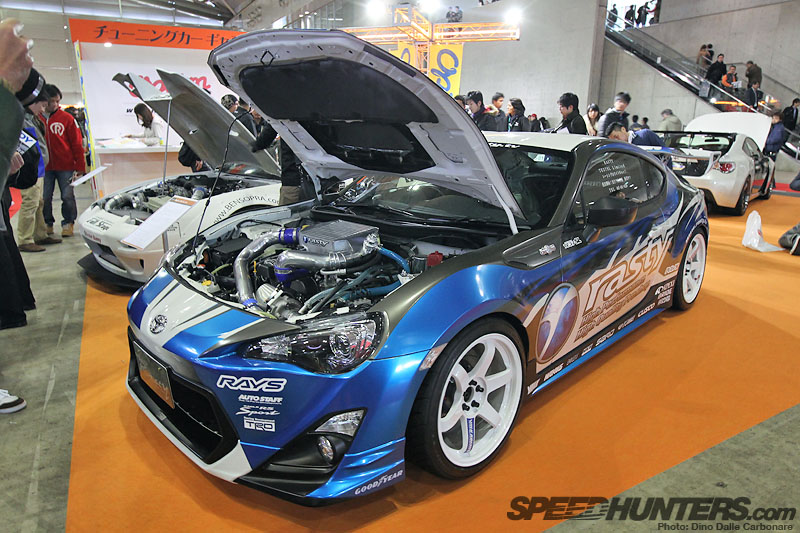 More 86s were on display atop the orange carpets of the Option Magazine area, where cars like the 450HP Rasty demo rubbed shoulders with the 1200 HP BenSopra 380SX.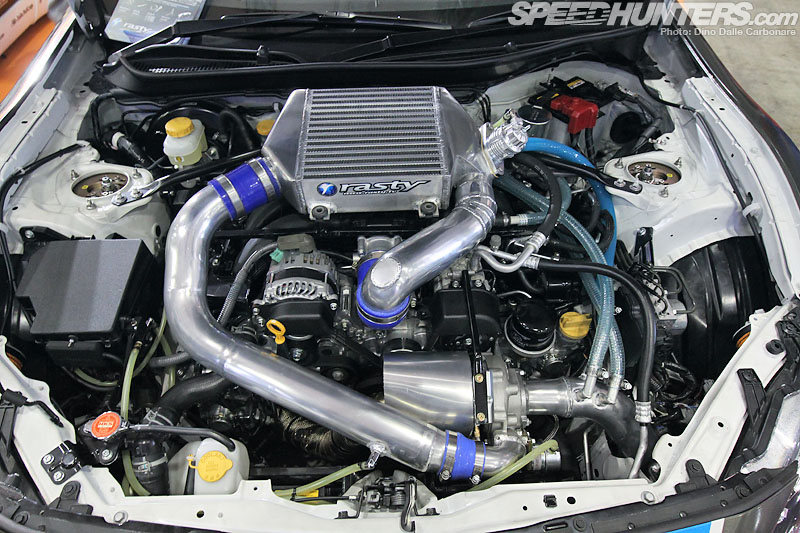 Under the hood is the first top-mounted intercooler set-up I have seen so far for these cars. The idea is to keep piping short…but what about heat soak?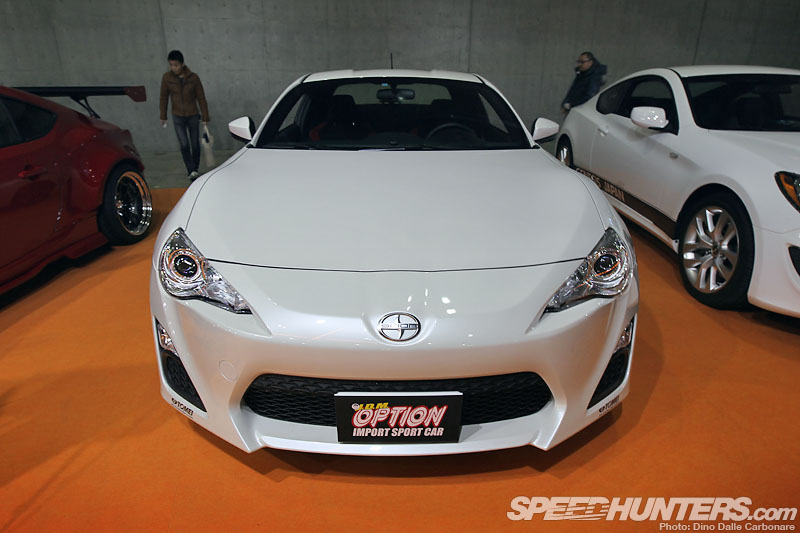 This may look like a bone stock Scion FR-S but this is Tomei Powered's new demo car, a test bed for Tomei's all new products for the FA20. One to keep an eye on for sure.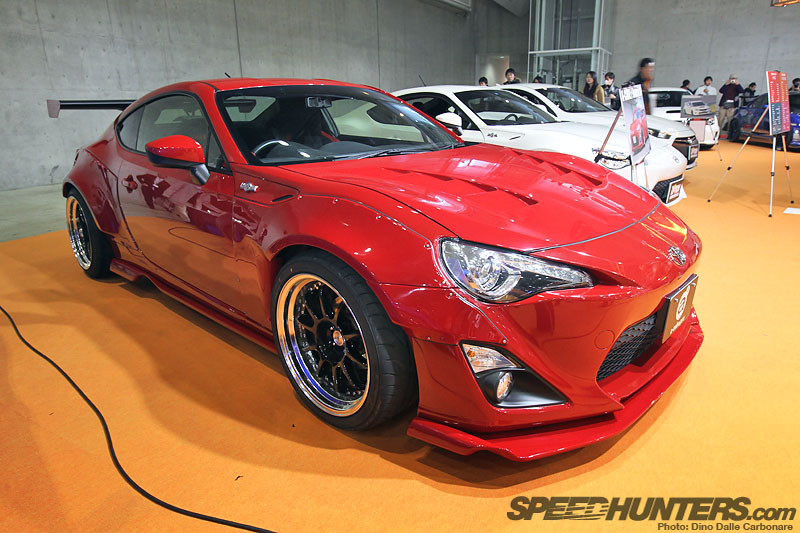 Just like at SEMA Miura's Rocket Bunny aero made onto a ton of cars at TAS and this car from A-cube.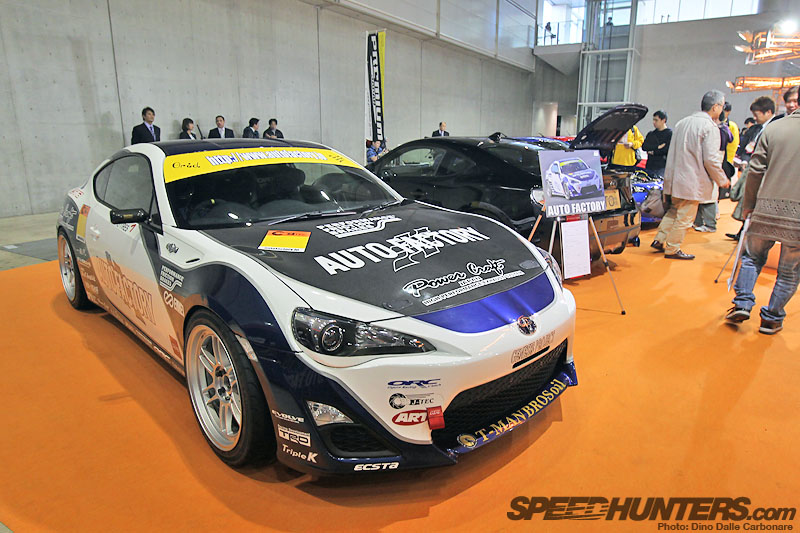 This Auto Factory built example went for a very evident track feel, with the obligatory Craft Square carbon mirrors and plenty of handling goodies.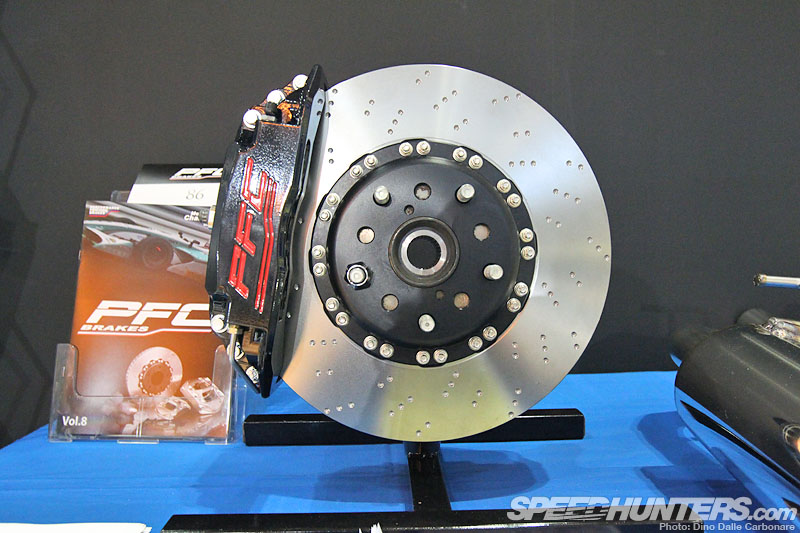 It was also fitted with a big PFC braking package.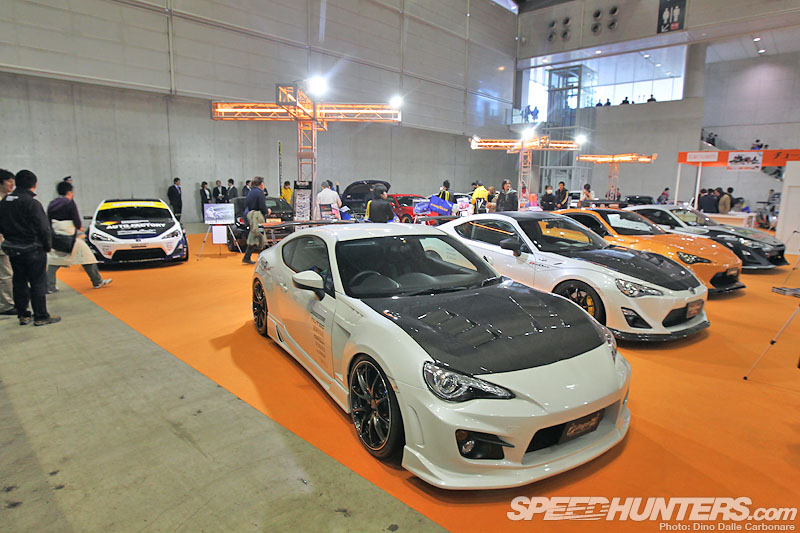 I though the Ings aero treatment was quite interesting, especially the vented fenders.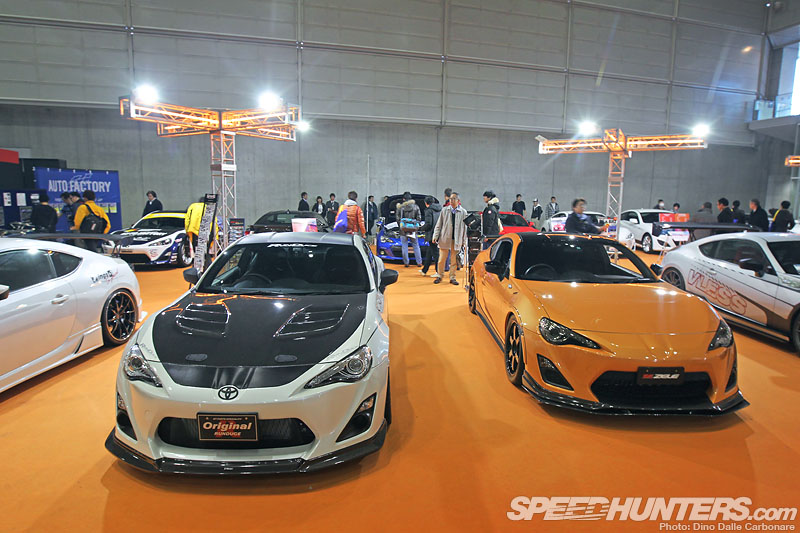 The Original Runduce 86 was right next to yet another name that has made a comeback, Zele.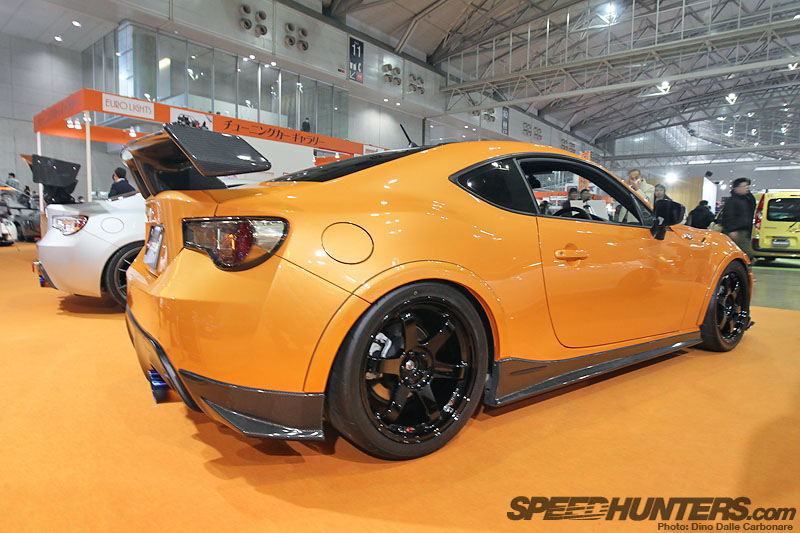 Once a popular GT-R reseller, the company is now back as a parts maker which will be catering to quite a wide variety of cars, starting off with the ZN6.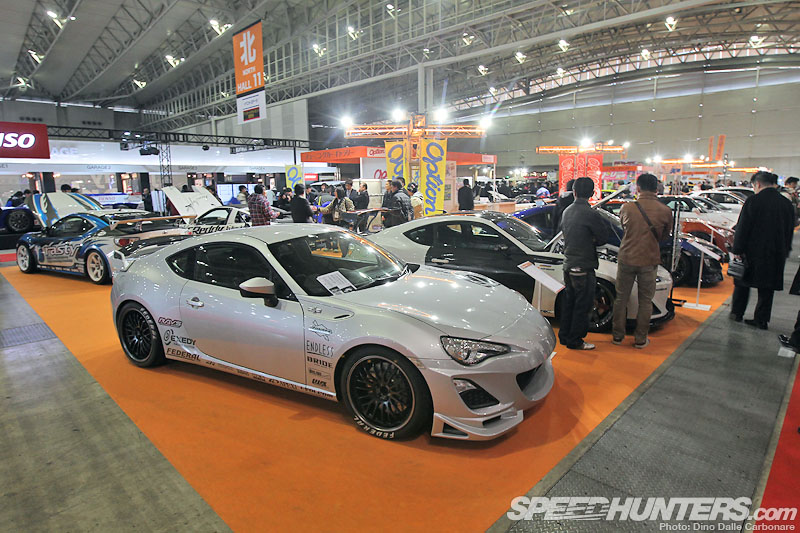 After seeing so many tuned 86s and BRZs I found it interesting that the one that appealed to me the most…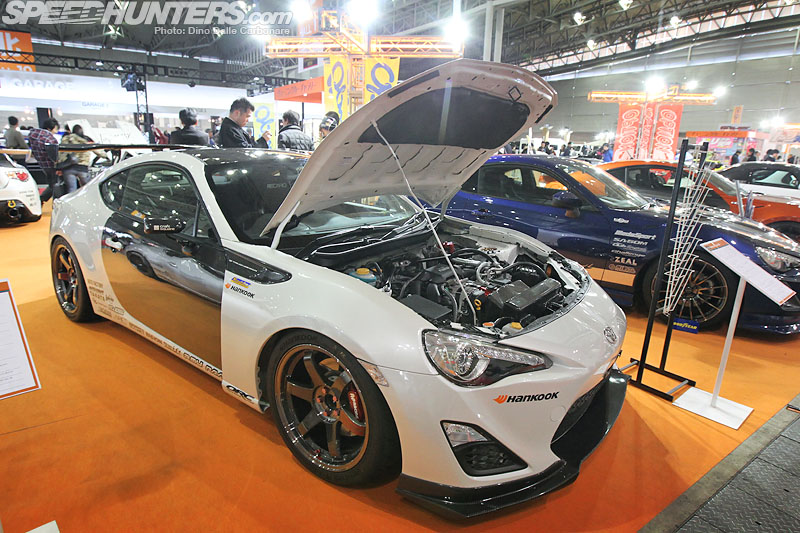 …has been built by a rotary shop. I am of course talking about the Revolution demo car which has been fitted with tons of carbon fiber and put on a serious diet (1,060 kg), which is why it was on of the fastest NA cars present at the Super Battle last month.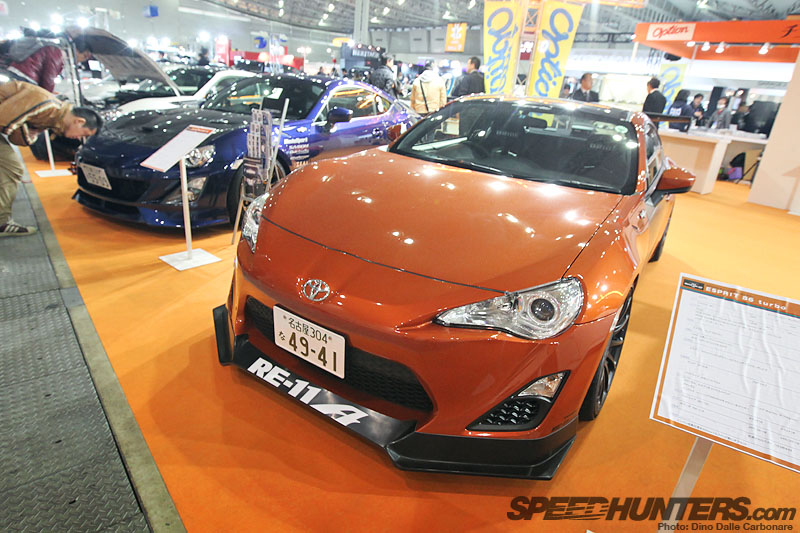 A bit further was the turbocharged Esprit 86, another car that was blasting around Tsukuba in December for the Rev Speed event.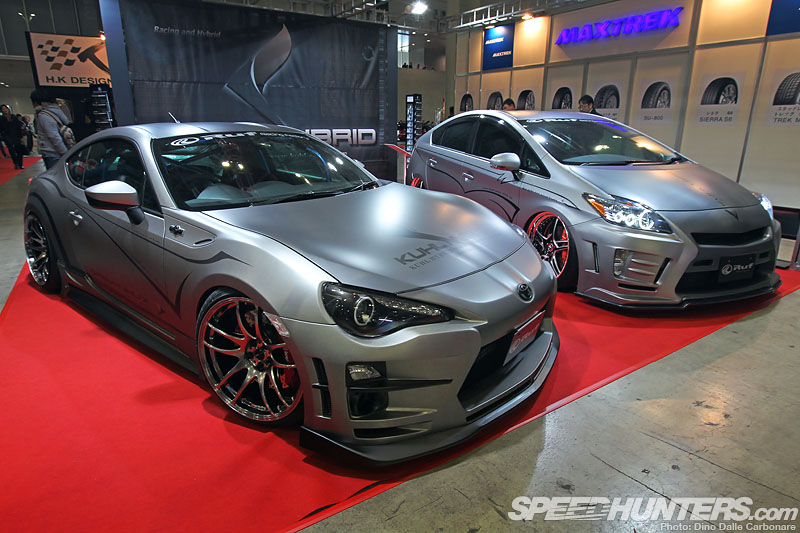 The 86 has been very well embraced by the more style-oriented camp too, both show, stance and VIP which is unlike anything the JDM world has ever seen. One that really stood out was this car built by Ruf but not so much because of its body…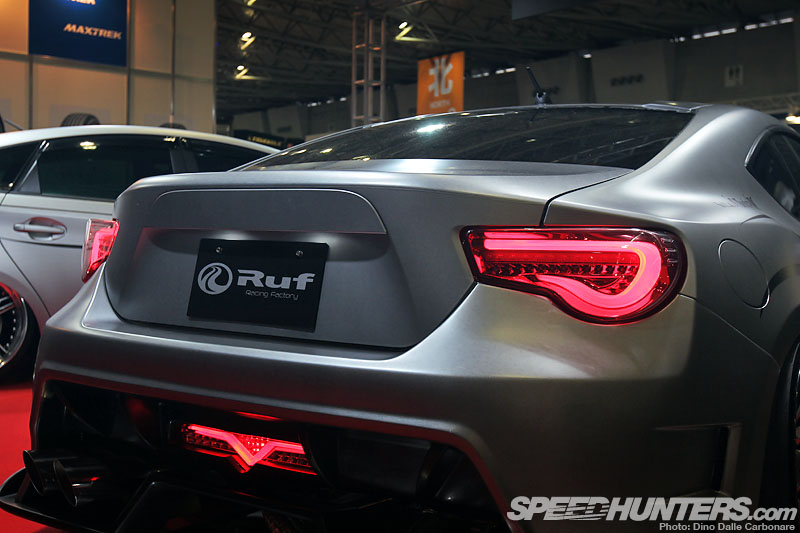 …but rather its rear taillights. Head and taillights were a very evident dress up  trend at TAS this year, as they continue to evolve with more and more factory looking solutions. These particular ones fitted to the Ruf car were very concept-car like.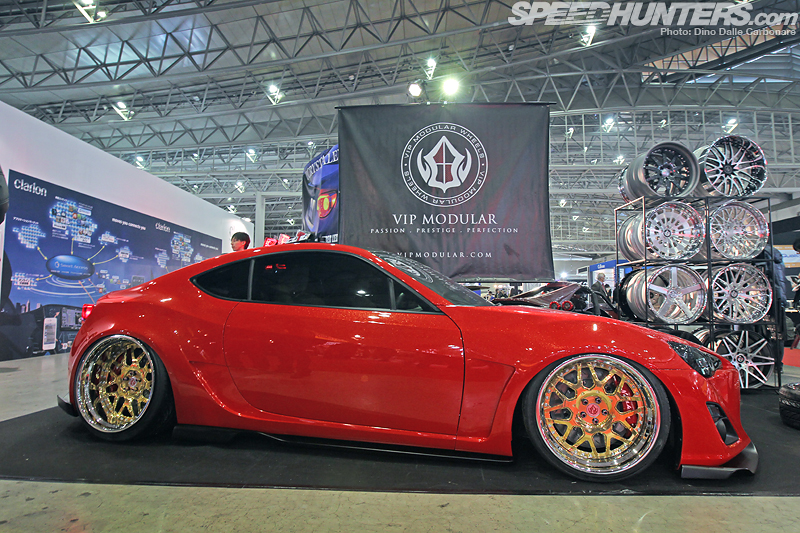 The owner of this car is the man behind the Panamera-look Fairlady Z which was even shown at SEMA a couple of years ago. This is his new ride which he has based around Miura's Rocket Bunny kit but has extensively modified and mated to his own design.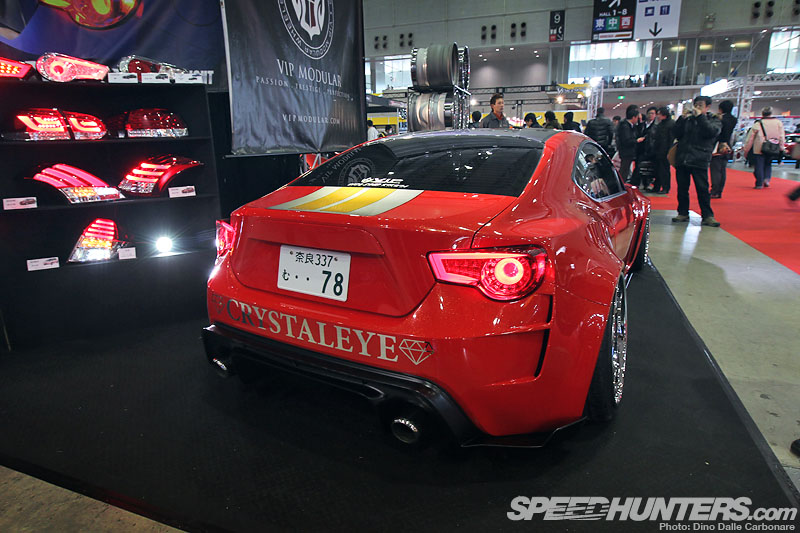 Aside the set of very large VIP Modular wheels this unique 86 was also fitted with a set of Crystaleye taillights, again going for a more high end look than the stock items.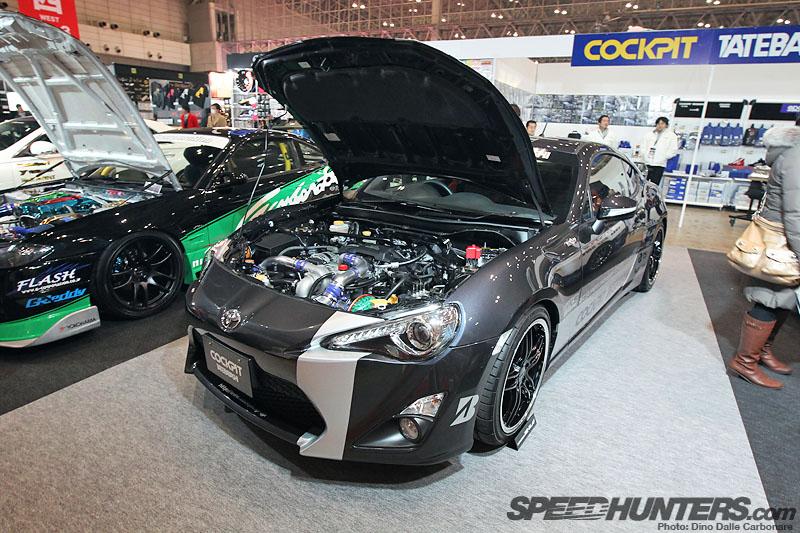 From show to go as I ran across yet another tuned hachi, this time coming from Cockpit Tatebayashi…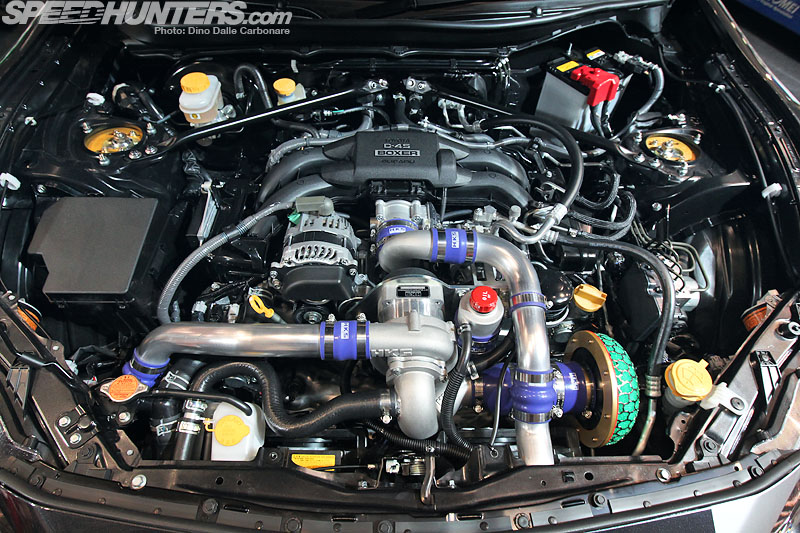 …and fitted with the HKS's supercharger kit.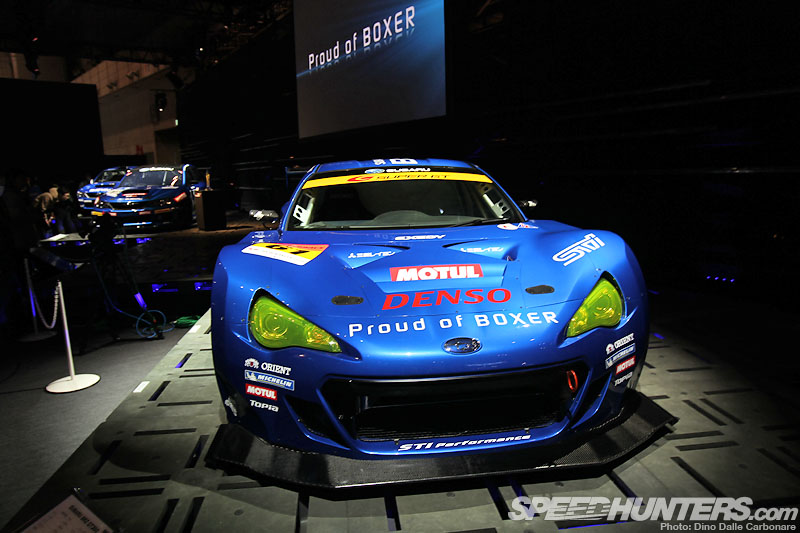 The GT300 BRZ I featured months back remains the best and coolest BRZ on the planet, you just can't compete with purposely built race cars no matter what you do!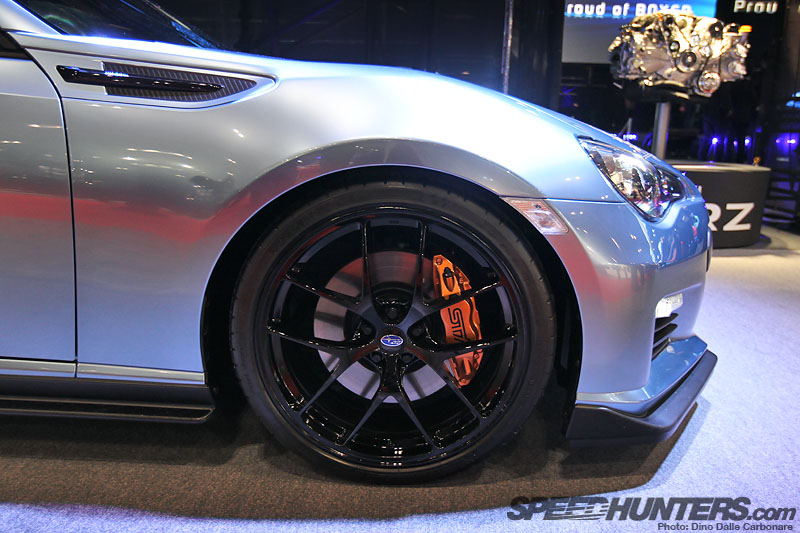 It was joined at the STI stand by an interesting new luxury-oriented concept which I will look at in a separate post…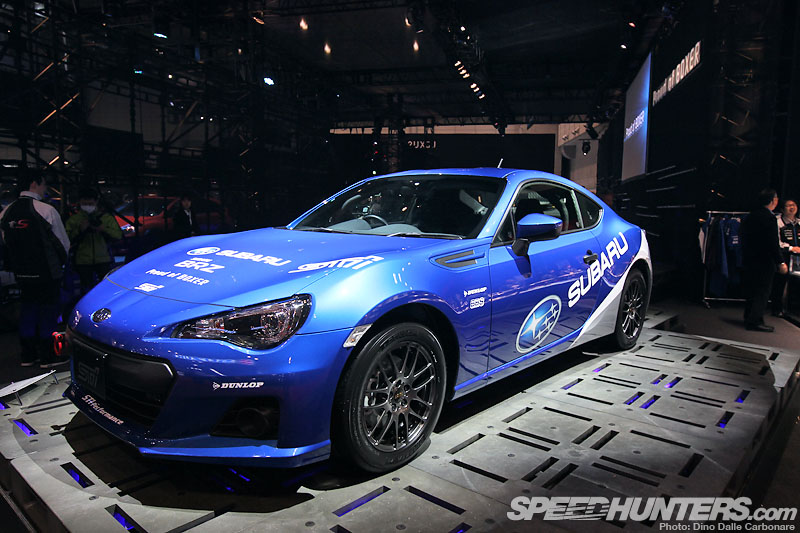 …along with the ready to race BRZ One Make Series racer.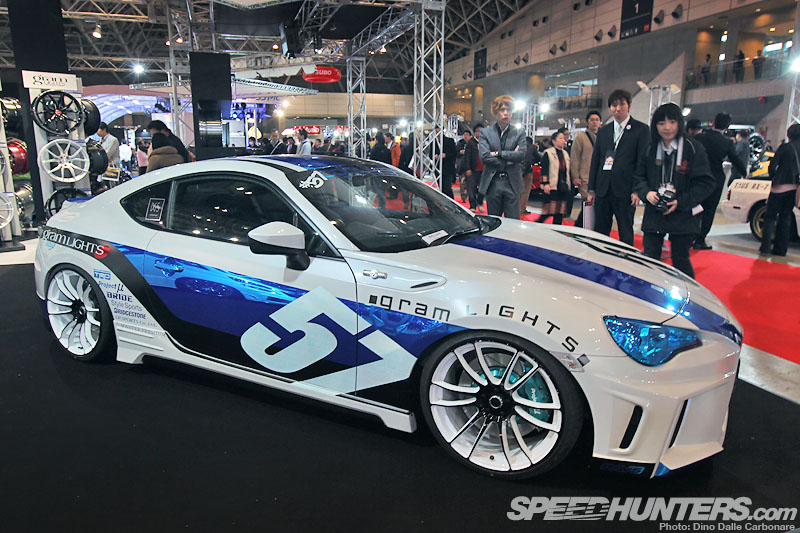 Rays Engineering continues to impress by managing to come up with cool new wheel designs as well as different versions of rims that have literally became an institution! I will take a more detailed look at some of these in the tuner post that I will putting together next but for now I just wanted to show you their 86 demonstrator sitting on a set of Gram Lights 57Extreme.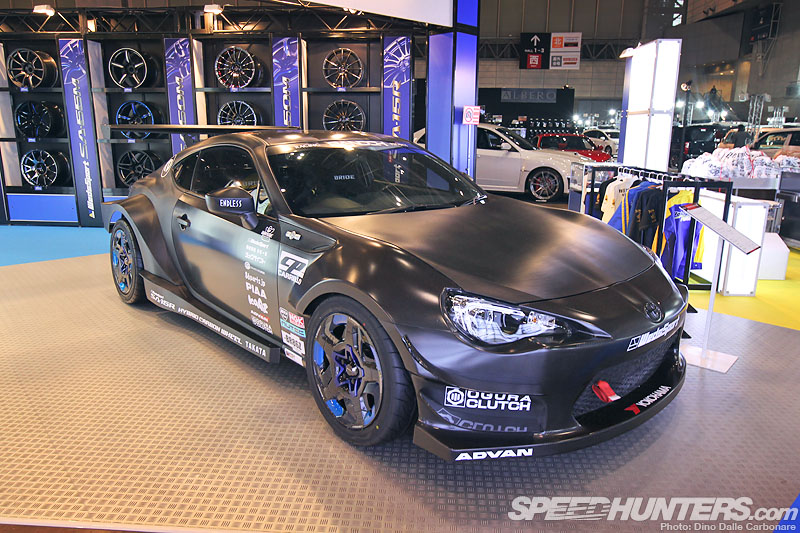 At the Weds booth I was very happy to see that Japan's fastest 86, the Racing Project Bandoh & Scorch Racing demo car…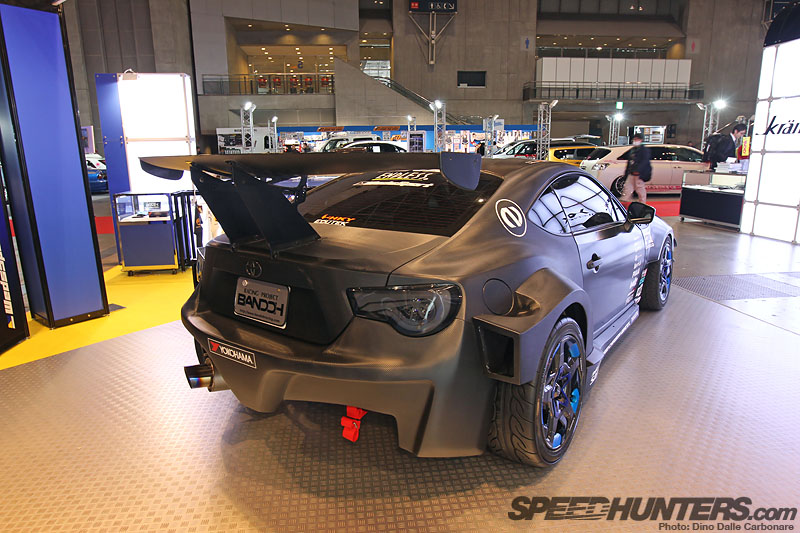 …seems to have been completed! Feature anyone?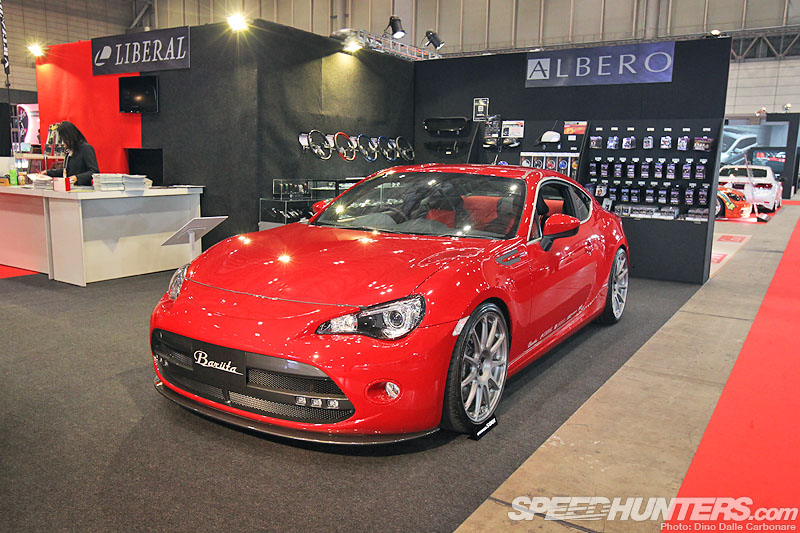 If the Liberal bumper for the BRZ looks familiar it's because it was fitted…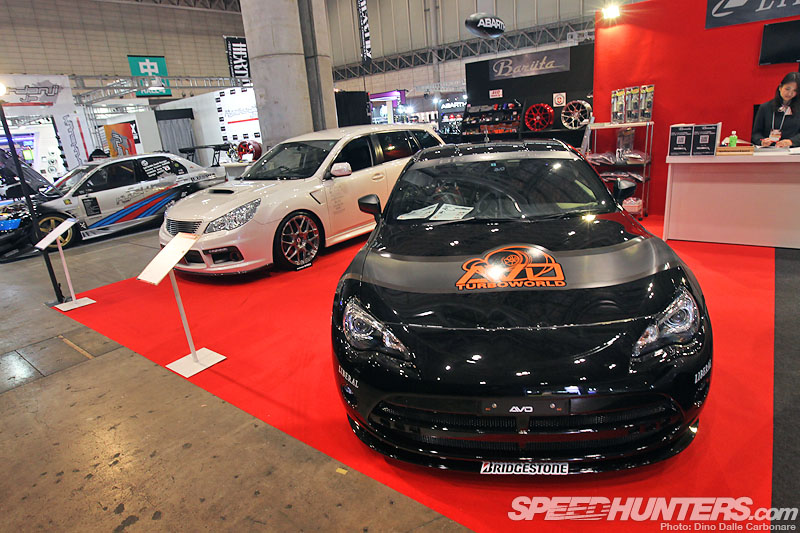 …to the AVO Turboword BRZ at the Super Battle. It's very different from anything we have seen so far and for that I quite like it!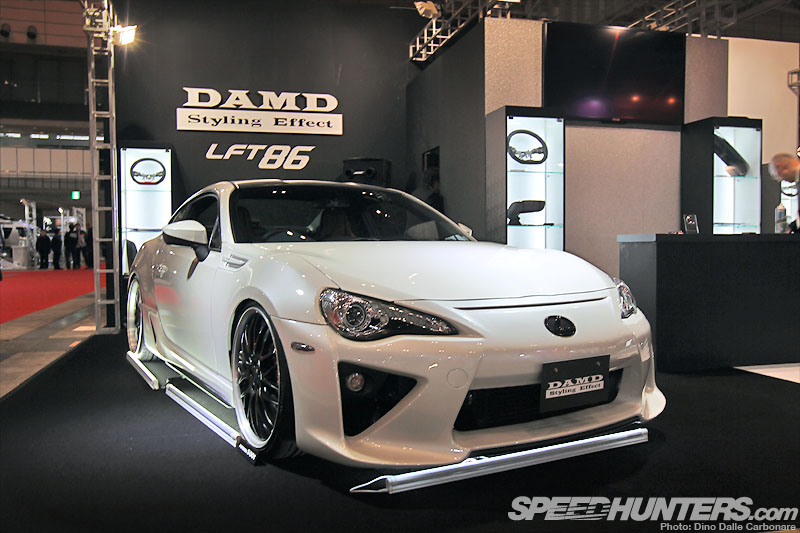 If you don't have the funds to get yourself an LFA to play with, this might be the next best thing. Damd have been working on this car for a while and I have to say the result is far better than I imagined as the Lexus feels seems to fit the 86 rather well!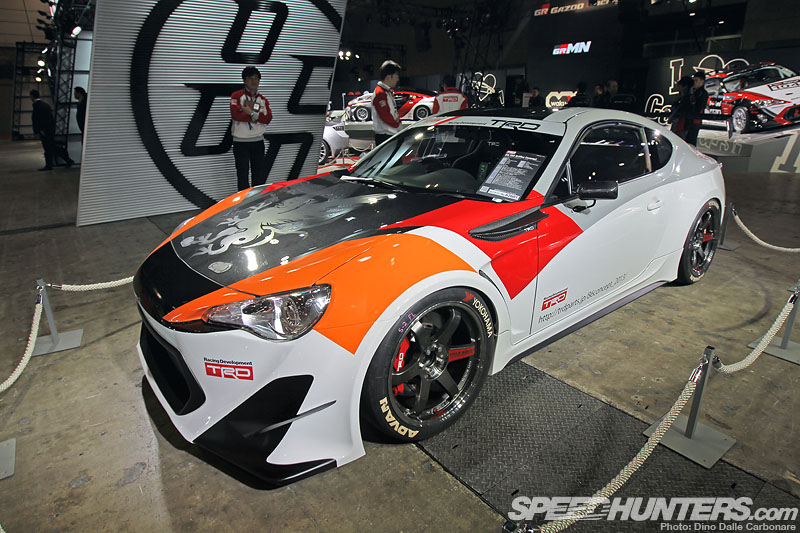 This extreme 86 track car is TRD's test mule for all the parts they will be developing this year. Contrary to what I thought when I heard it run at Tsukuba a few weeks ago, it is actually still NA.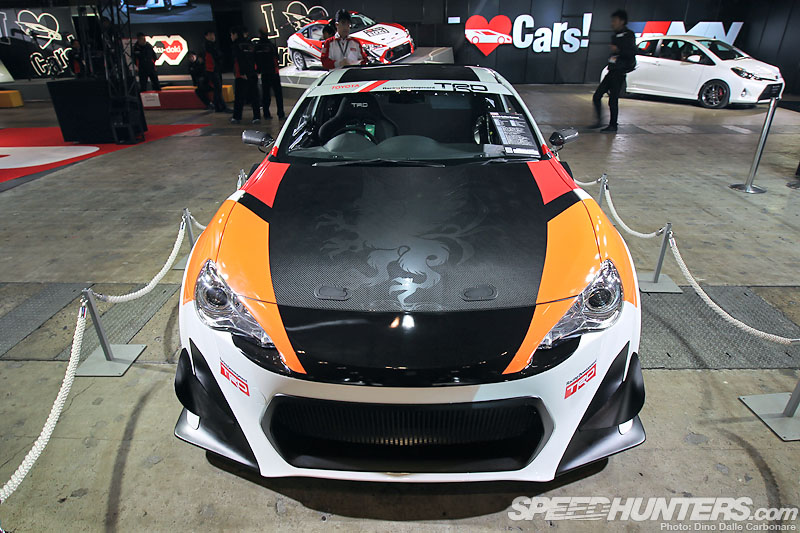 I really hope TRD will explore NA tuning on the FA20, it might not yield much power compared to a turbo but it will appeal to those that have no intention of heading the force induction route.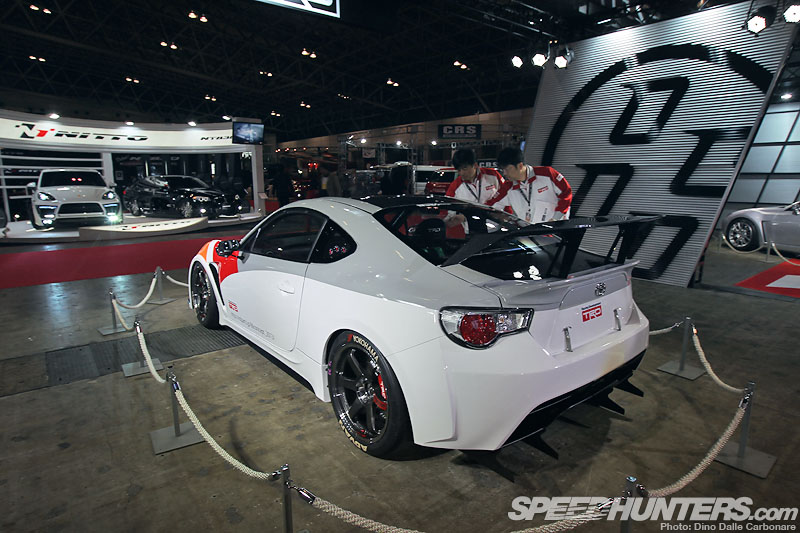 Pretty mean looking all the way round!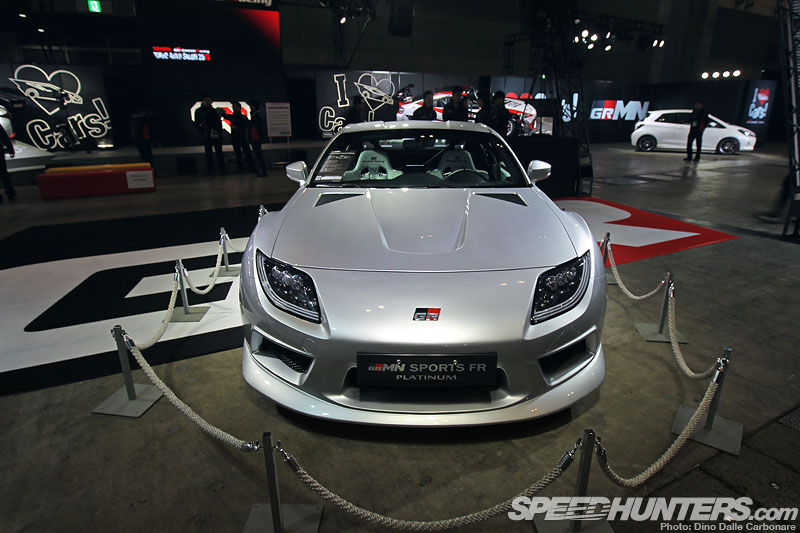 Gazoo built this GRMN Sports FR Platinum version…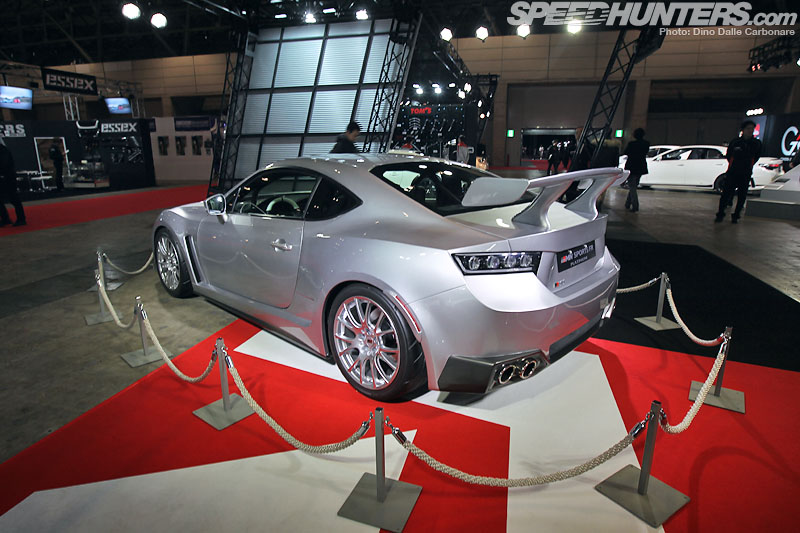 …it is only a show car for now but it shows just how much Toyota continues to do with the 86.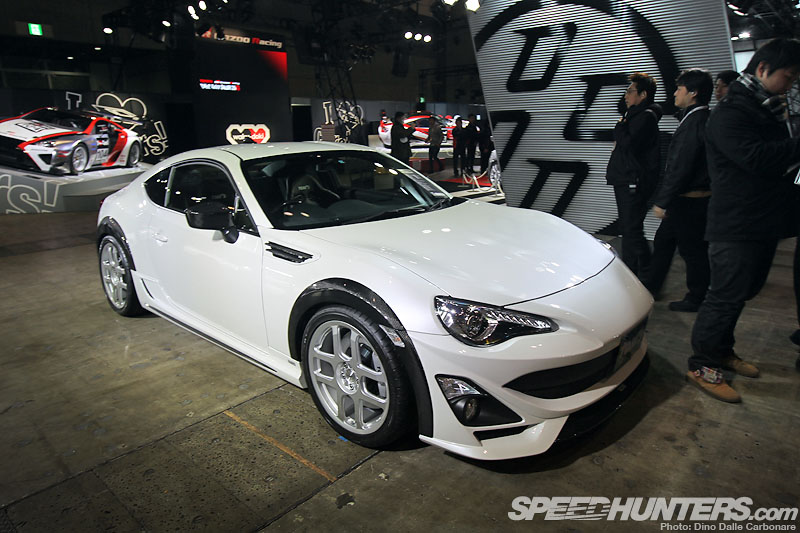 Tom's is at it too with this car! Check out the old-style AE86 wheels…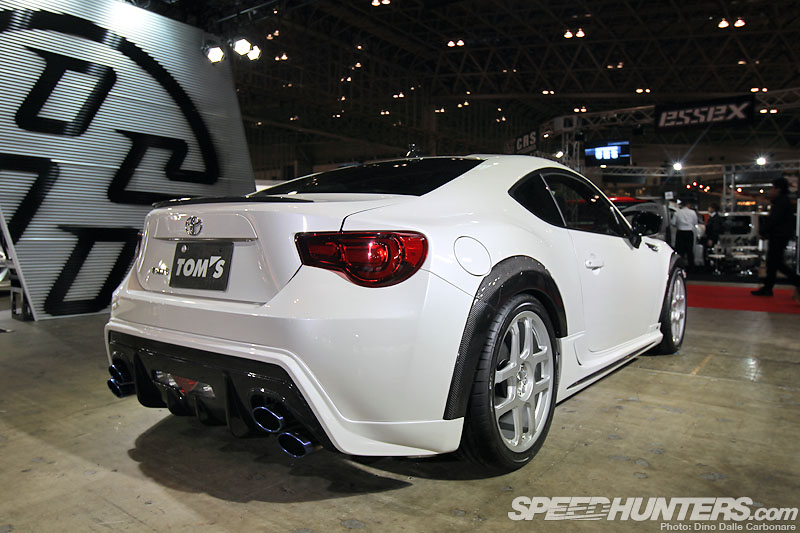 …and the ISF stacked tail pipes. Quite a mix of ideas here.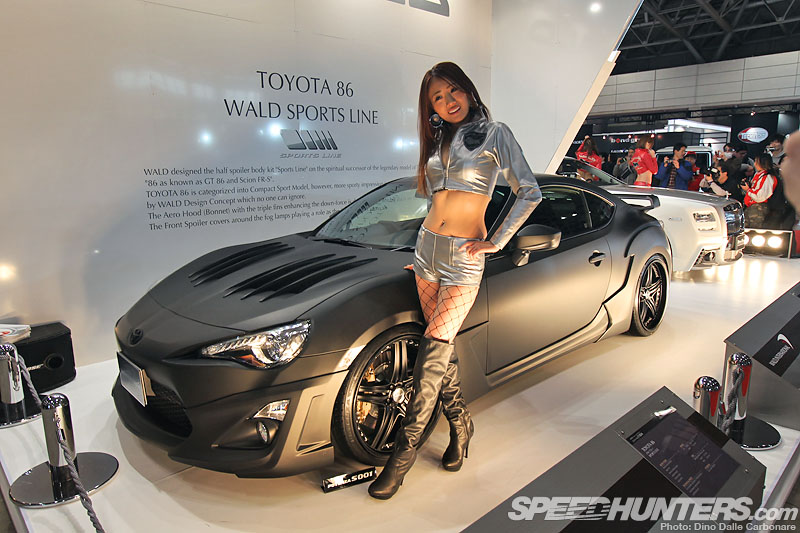 Luxury 86? Then this Wald creation is just what you are looking for.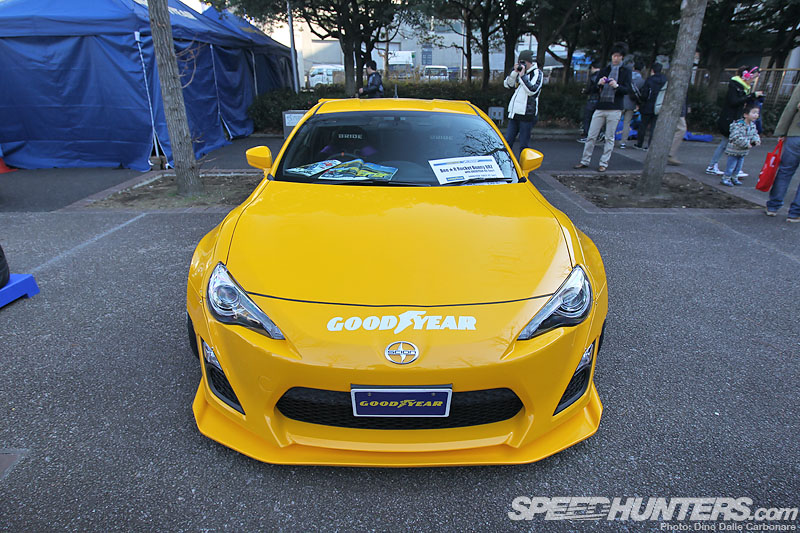 I have a feature coming of Imai-san's BRZ…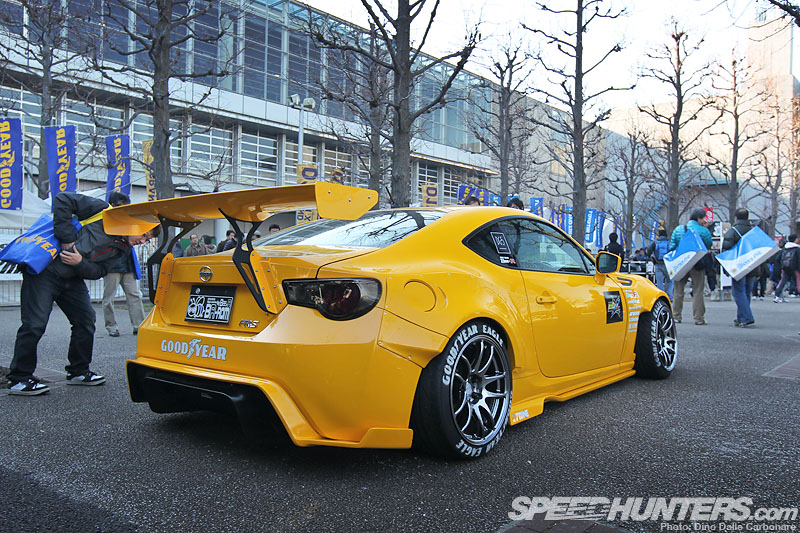 …except I shot the car when it was in its more "rough" drifter phases. The yellow is very nice, but it somehow looks almost too clean and perfect to drift!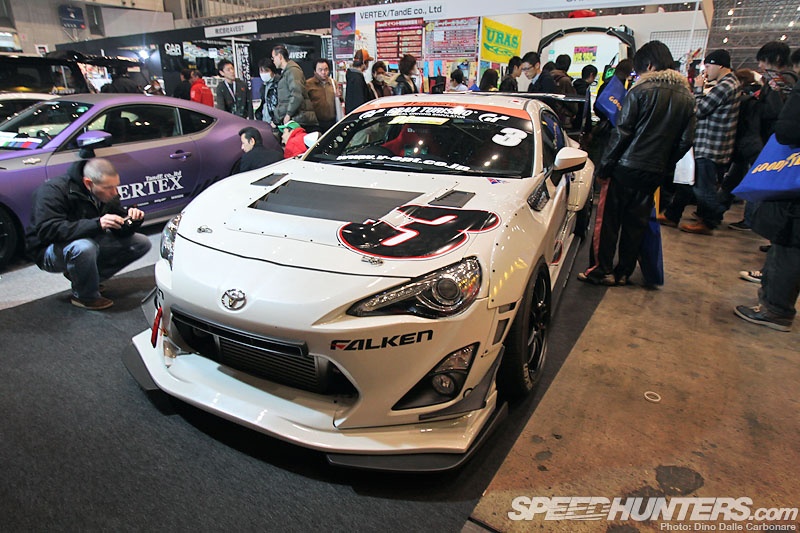 This is what Nomuken has done with the hachiroku. Uras is never scared of using too many rivets!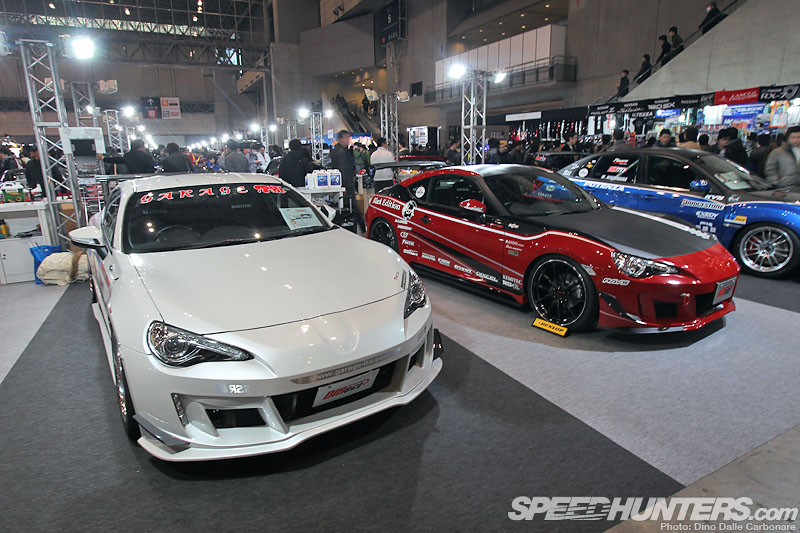 I'll finish up here with the Garage Ito demo car. I hope you enjoyed this long look at most of the 86s, BRZs and FR-Ss that were present at this year's Tokyo Auto Salon, a car that will go down in history as the most popular tuner car Japan has ever seen.
Much more to come from TAS so don't miss the coverage we have lined up.
Tokyo Auto Salon 2013 coverage on Speedhunters
-Dino Dalle Carbonare