Grip is back
In the past I was probably not touching on it too much, or avoiding it altogether – but the truth of the matter is top level time attack in Japan has been spiralling out of popularity for some years. Up until 2012, the Rev Speed Super Battle was suffering a noticeable lack of interest from tuners. This was caused by a bunch of things: the economy to start off with, the lack of decent new platforms to tune and of course the actual investment it would have taken to stay up to pace with the fastest cars out there. Every December I felt sad; sad seeing that the event I love the most in the JDM calendar had lost so much momentum. Big names pulled out long ago, justifying their absence by saying there is no longer any merit in participating in such an expensive discipline.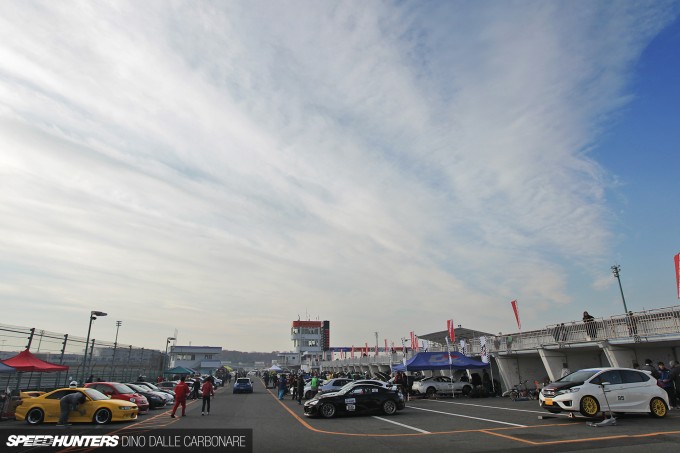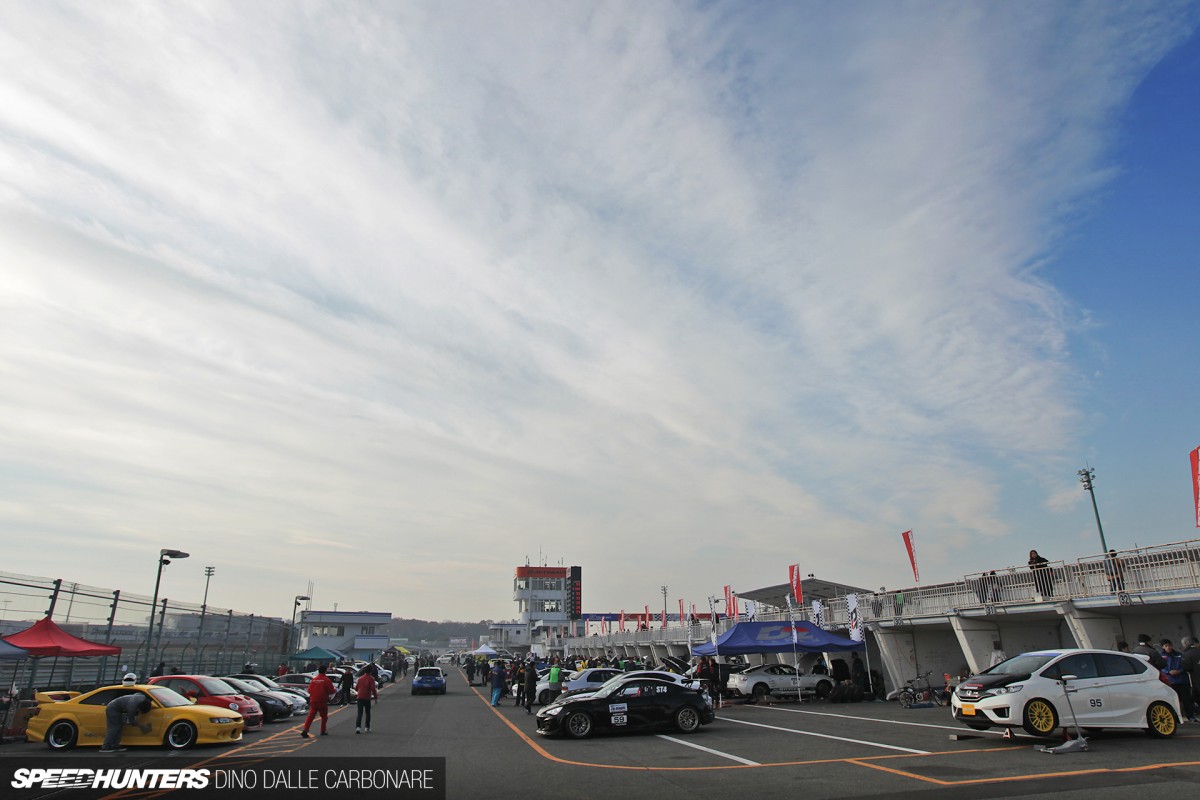 Too bad, yes, but as a complete surprise when I arrived at the Tsukuba paddock last Friday for this year's Super Battle…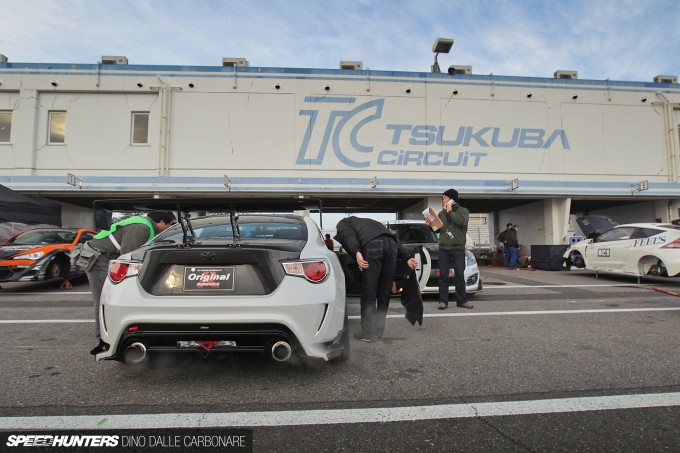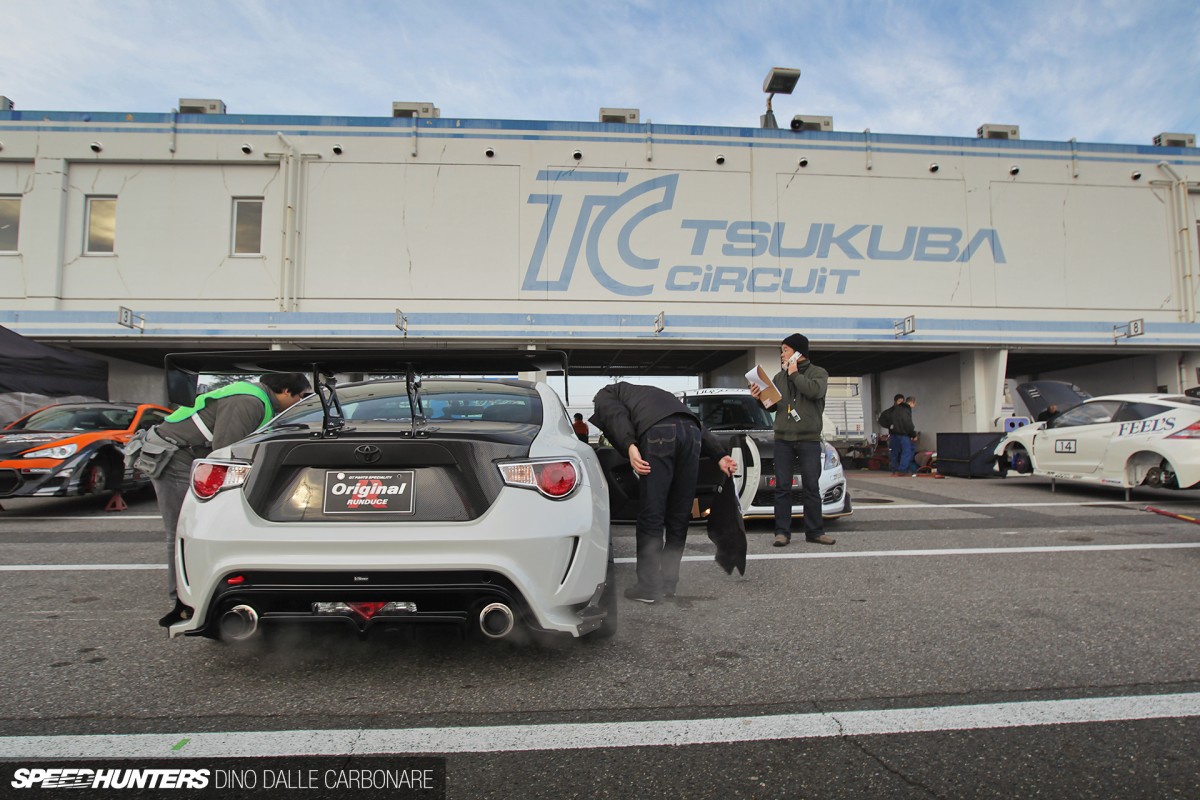 … things didn't seem quite right. There were way too many cars, so many in fact that I thought they had made the event a half day thing and the second group of cars from the afternoon soukoukai were already there waiting. But I was wrong, thankfully. Just under 100 cars showed up at this year's event…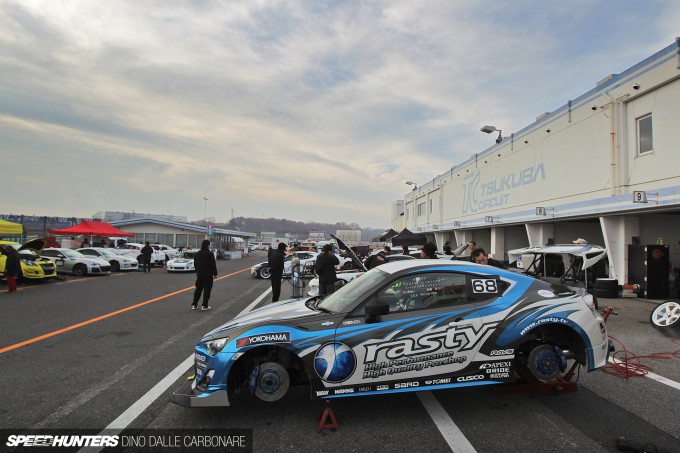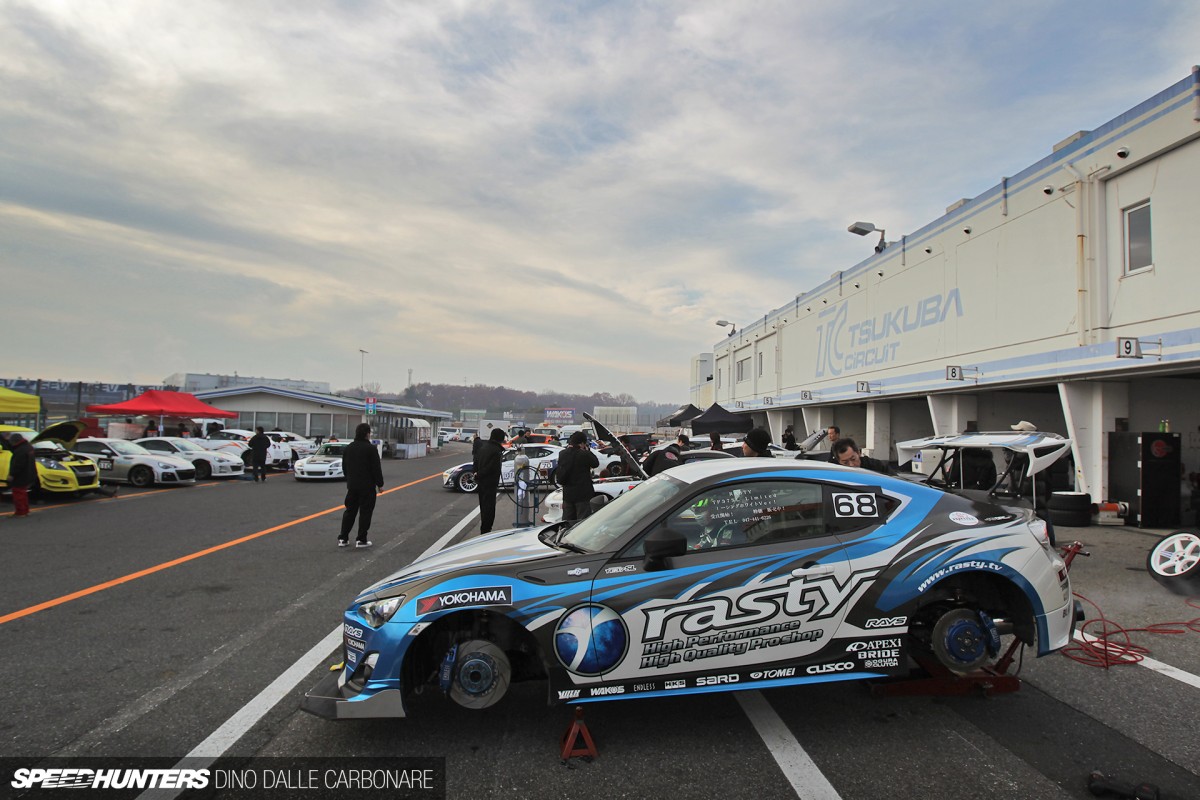 … a massive boost provided by a surprise influx of ZN6s in varying state of tune, from the most powerful and fastest ones out there like the Rasty demo car, which is now the fastest 86 in Tsukuba!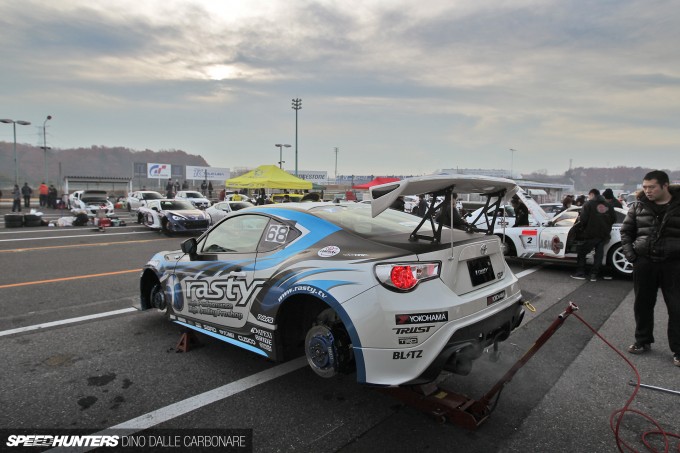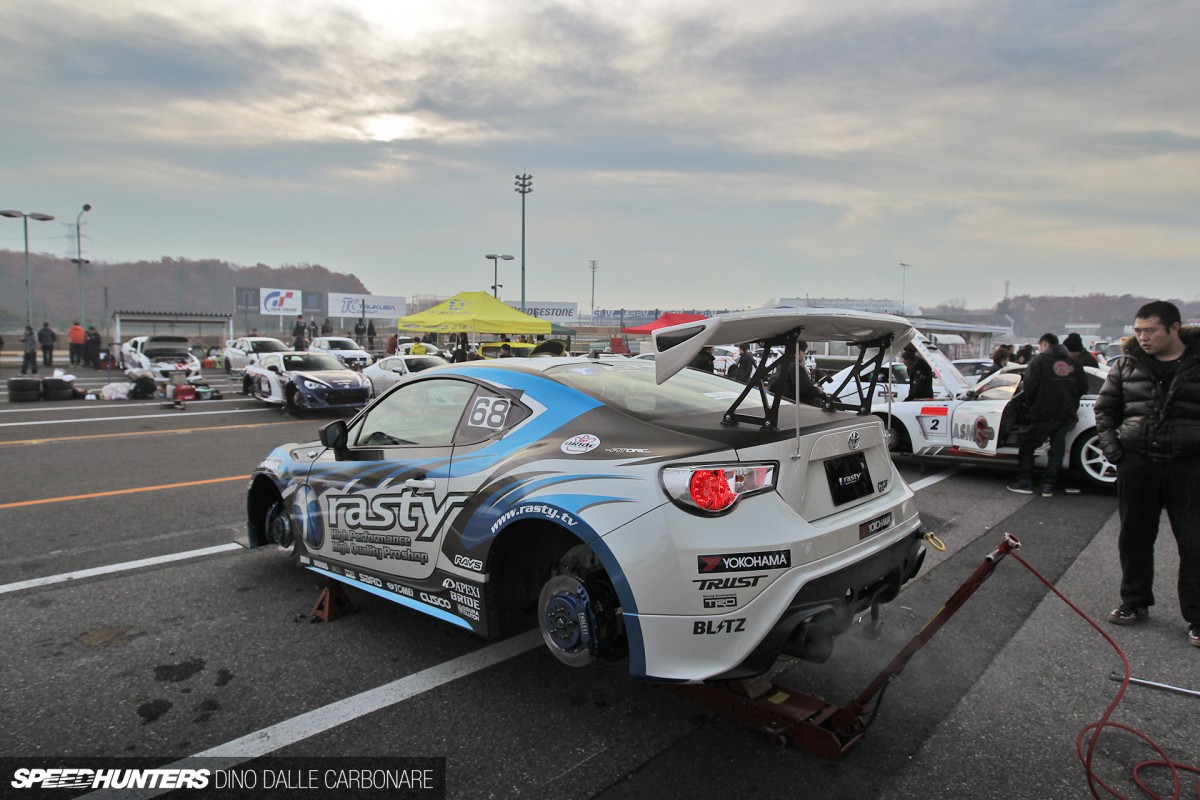 Manabu Orido, who was hired for the day to steer the 500+hp 86, recorded a 57.972 in his first and only outing, an efficient and to-the-point way to set a record! Thumbs up to Orido!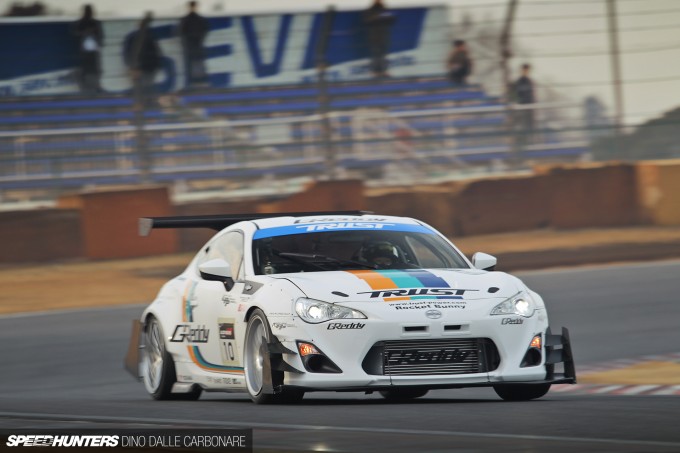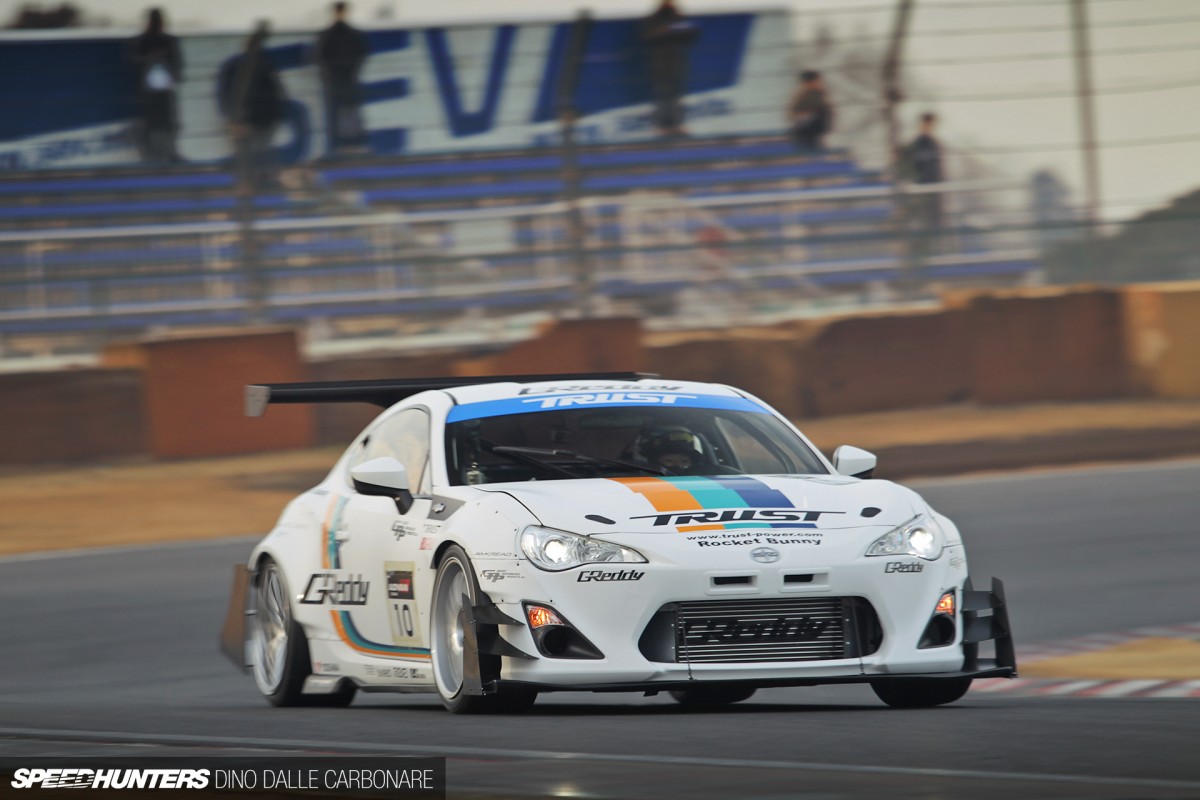 Trust have really stepped their game up for this year, having developed small aero additions to their FR-S demo car, stuff that included front carbon canards and a large rear diffuser all bolted onto the Rocket Bunny kit. Oh yes, and there was a rather large rear wing there too! Despite destroying the stock gearbox on the car's second lap attempt, Tarzan Yamada was able to set a best time of 58.740, making it the second fastest ZN6 on the day.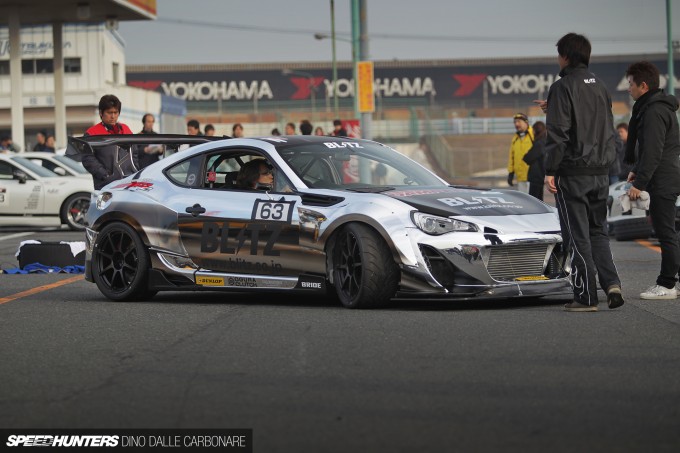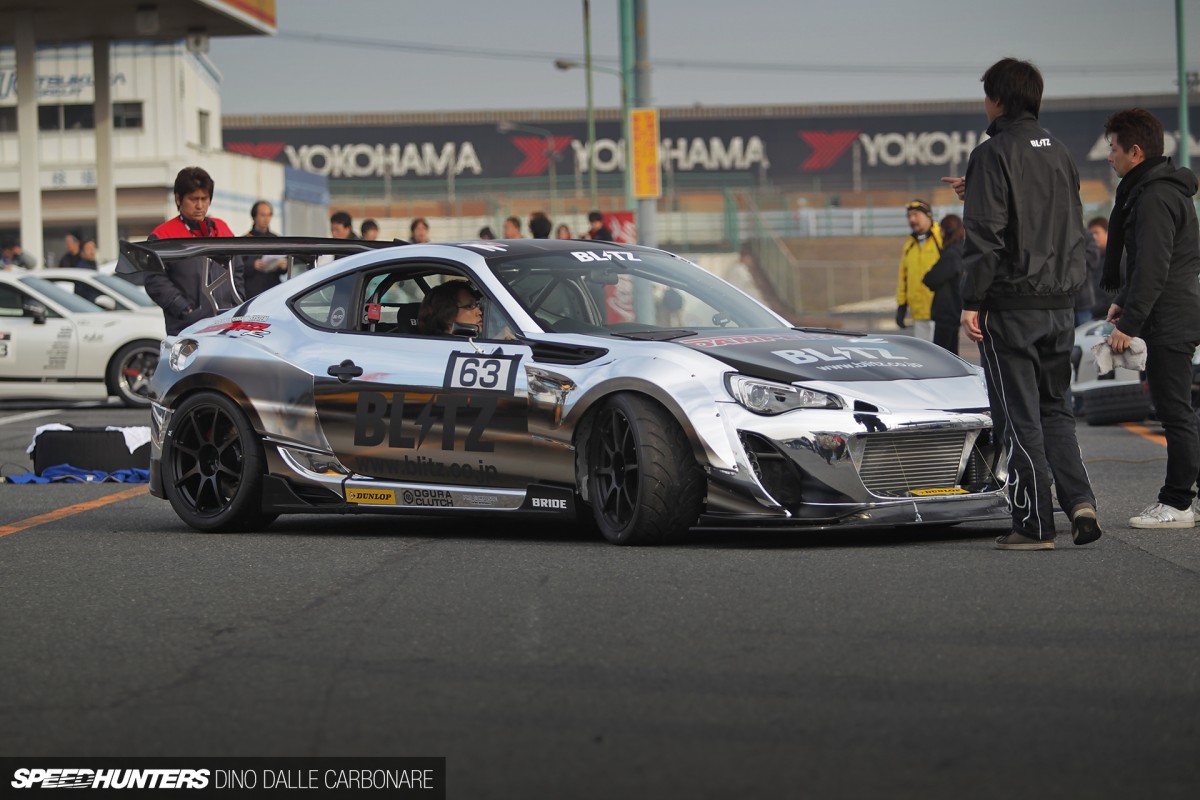 Right behind it in third spot was the chrome Blitz demo car with a 58.886, further proof of how damn well these new Toyotas respond to a bit of fettling in pretty much anything they're entered in…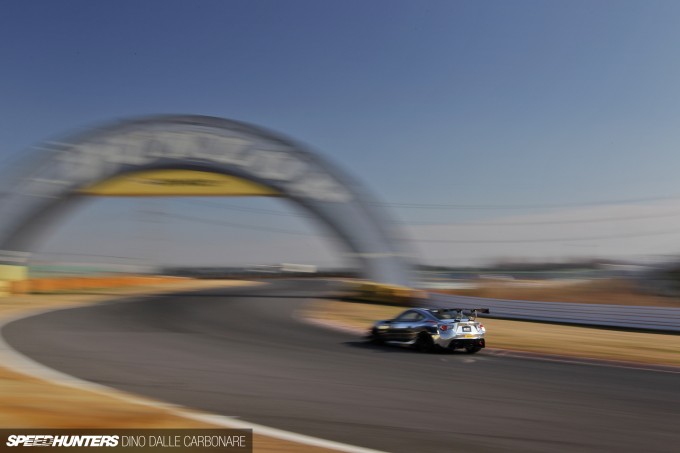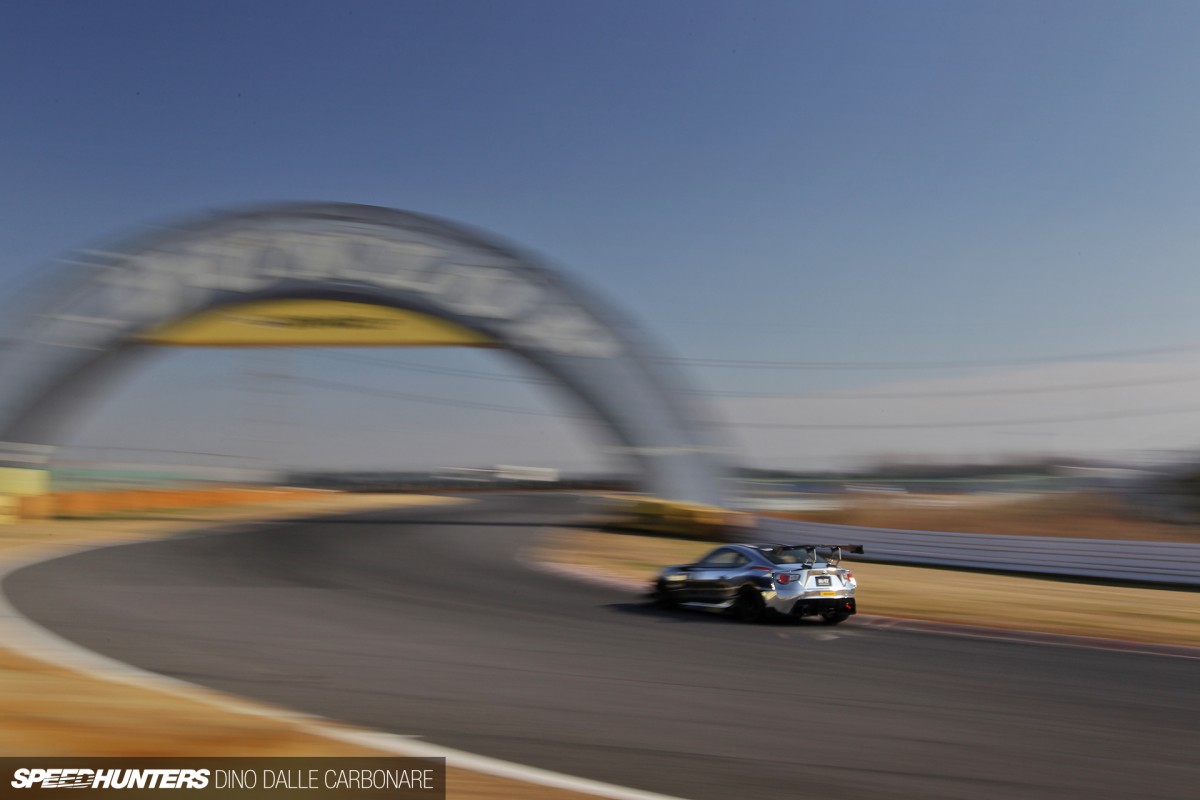 …be it drift or grip. Nissan, take note and get a move on with that IDx will you!!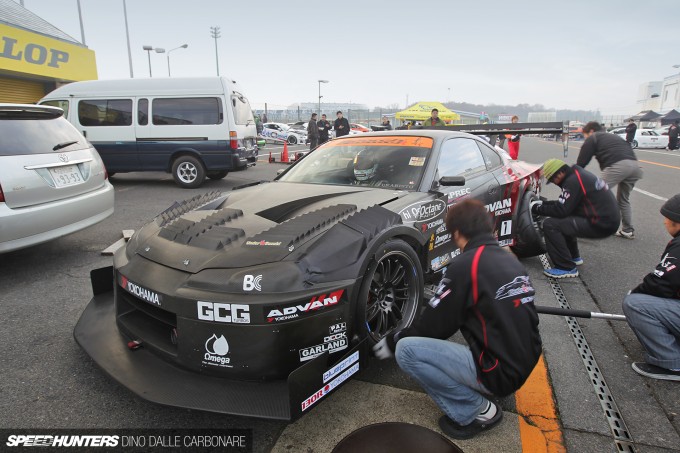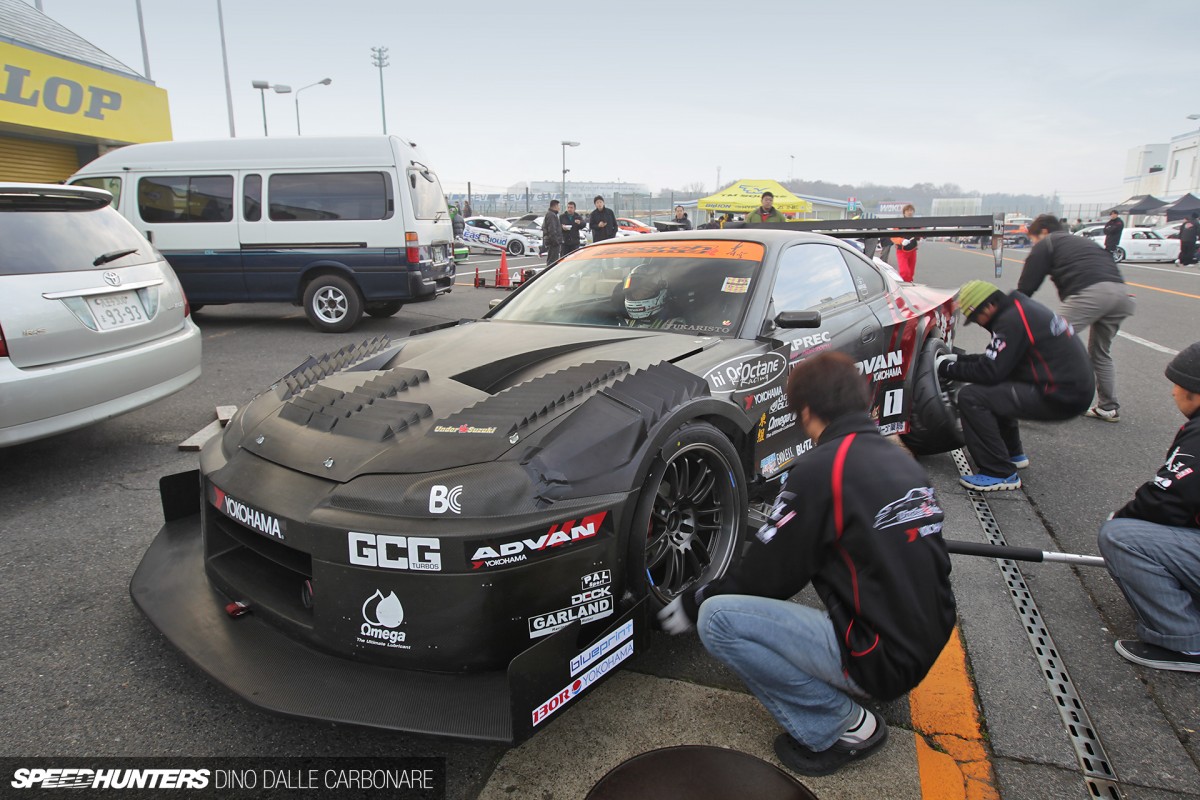 With the clouds keeping the track temperature pretty low during the whole first Open Class session, Under Suzuki was able to head out and instantly better his and Tsukuba's record time, posting a 52.626. After a cool down lap he came back in and his team scrambled to put a fresh set of A050s on for him to have another go.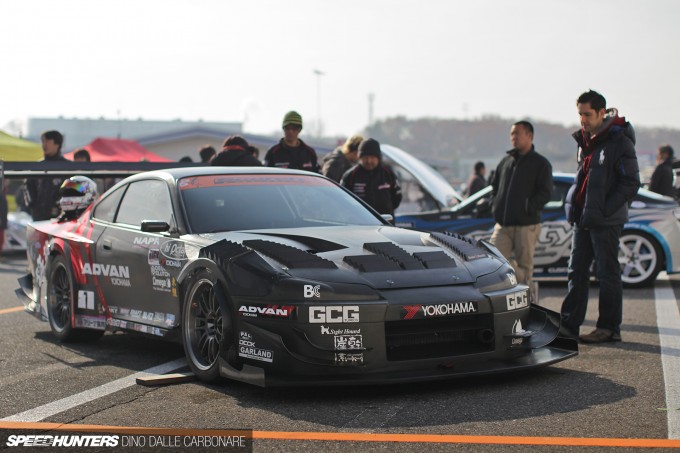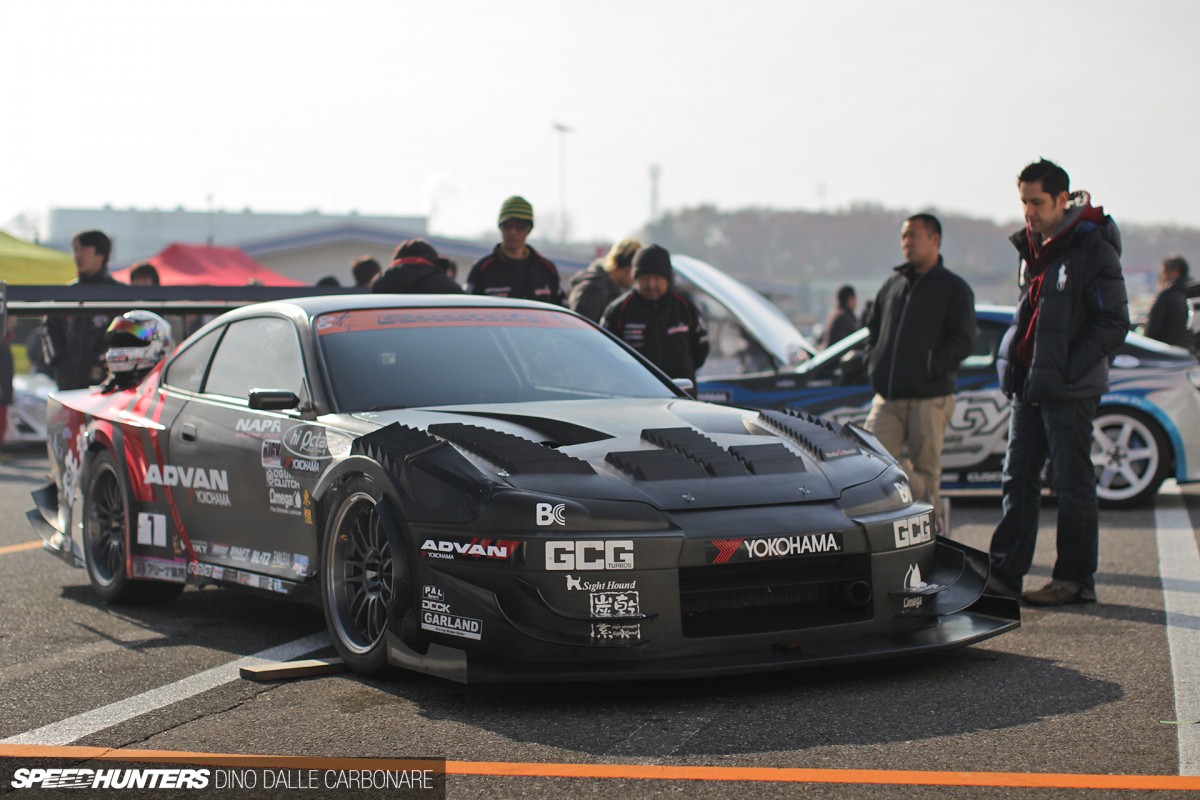 He wasn't able to better his new record time, and it was the same story for his other two sessions. With the sun upping temperatures the car was lapping two seconds slower, which is precisely why time attack in Japan is usually only run in the coldest months of the year. At Tsukuba, where tire temperatures rise quickly, it's important to have the coldest surface temp possible…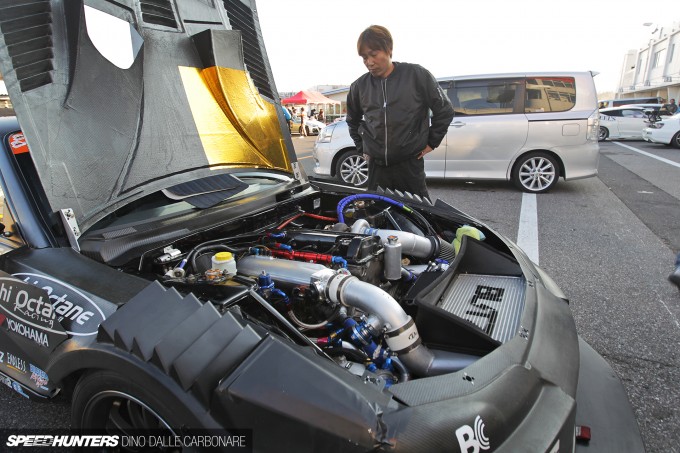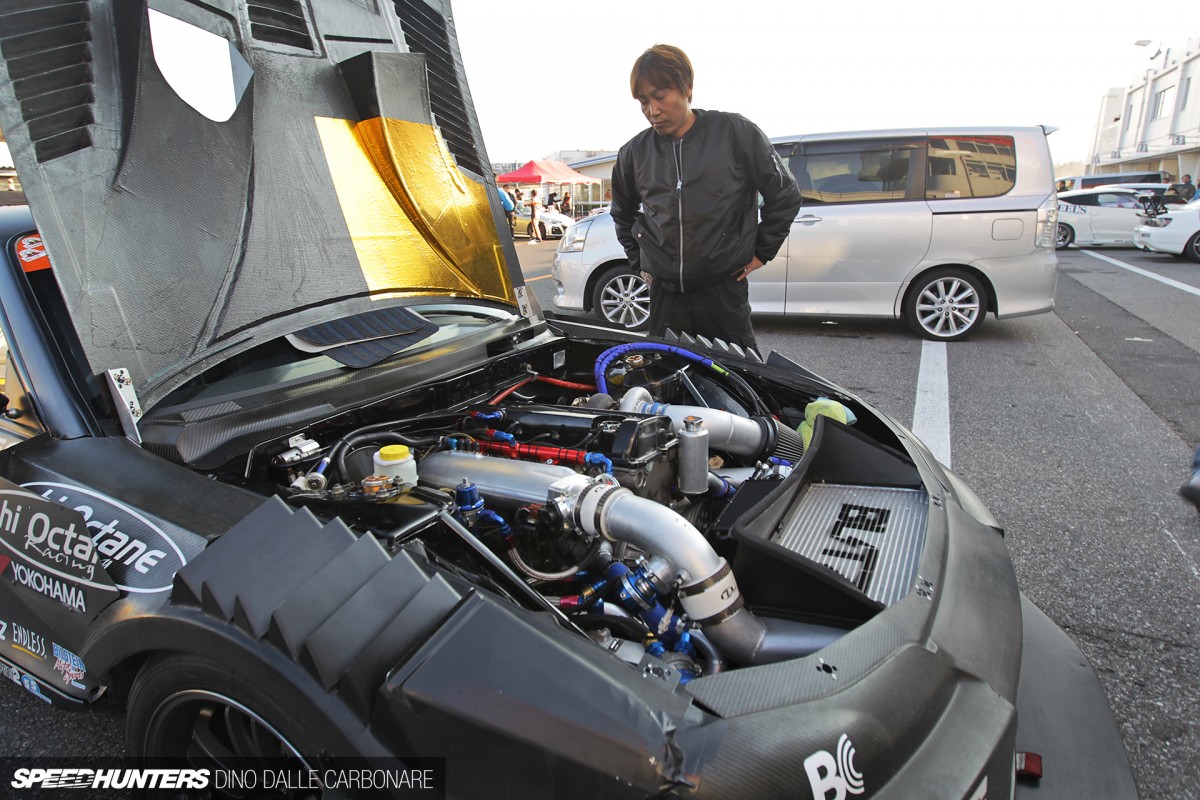 … and at the same time the colder and denser air helps give more power and keeps engine temperatures lower. Suzuki was back at Tsukuba a few days after the Super Battle event and again, early in the morning, was able to better his time and set another Tsukuba course record…
… this time a 52.565. Hit play on the video above and check out the commitment it takes to lap the tiny Tsukuba 2000 course at such pace!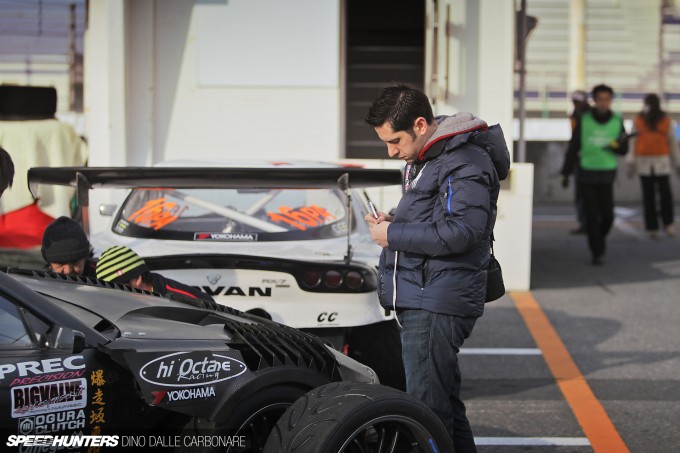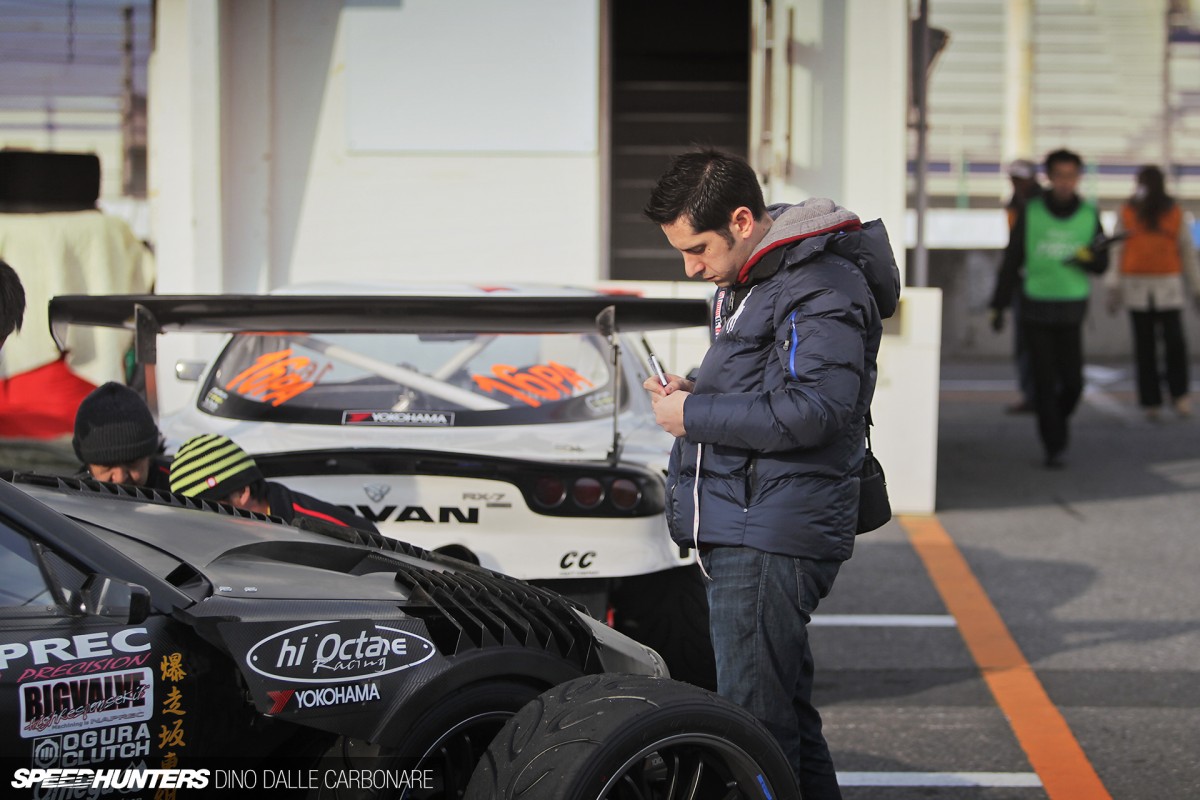 Suzuki wants to shave another 0.5 seconds off his time, but we know that even if he reaches this, he'll keep on going. He's already planning to bump power from 800hp to closer to that magical four figure number, plus when Andrew Brilliant is seen pacing around a car and taking measurements, you know some other cool aero additions might be on their way too! We'll meet up with Suzuki at a Battle Evome meeting next month and see what he'll be able to do.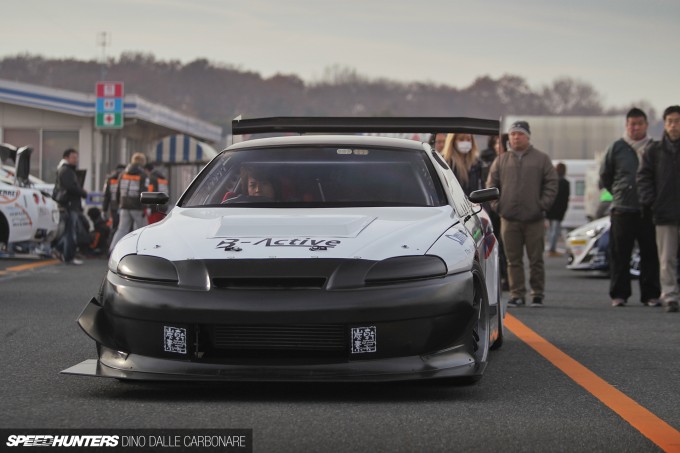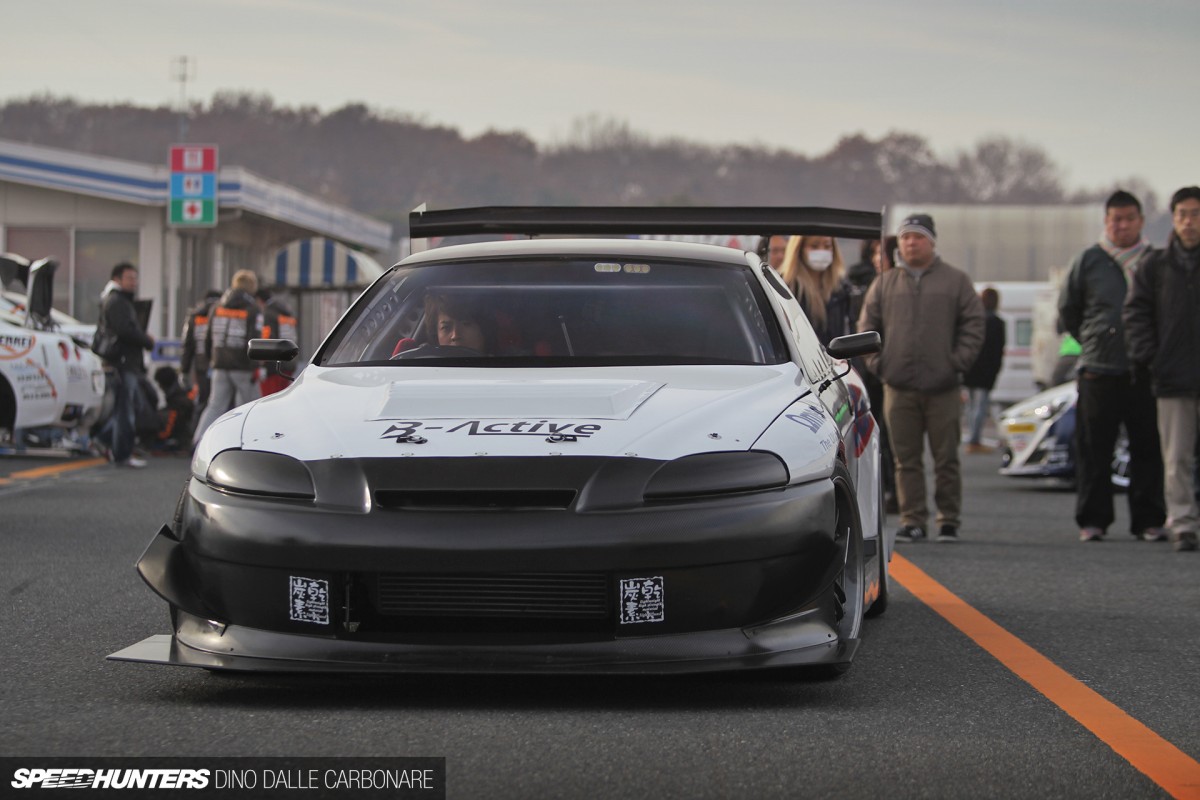 I've been following the development of the Auto Bahn JZZ30 Soarer for years now, and it's been really fun to see how these guys have slowly but surely managed to address the traction issues the big powerful Toyota has always had. The car is now running even more focused aero, a whole new front section helping to balance the downforce the massive rear wing is able to generate. It's easy to visibly notice how much earlier its owner and driver can now unleash the 800+hp 2J fury when exiting corners. 57.500 is a superb time and testament that all the work they have put into the car has paid off. Incidentally the Soarer was only 7km/h slower than Suzuki's S15 at the end of the back straight, with a top speed of 220 km/h (136.7 mph).
All-wheel drive wonders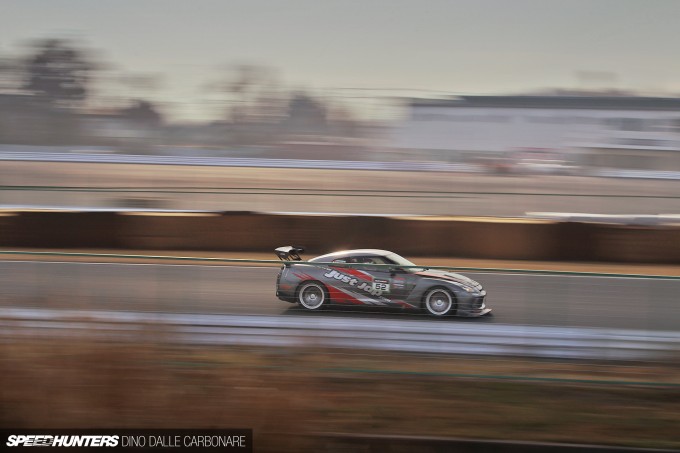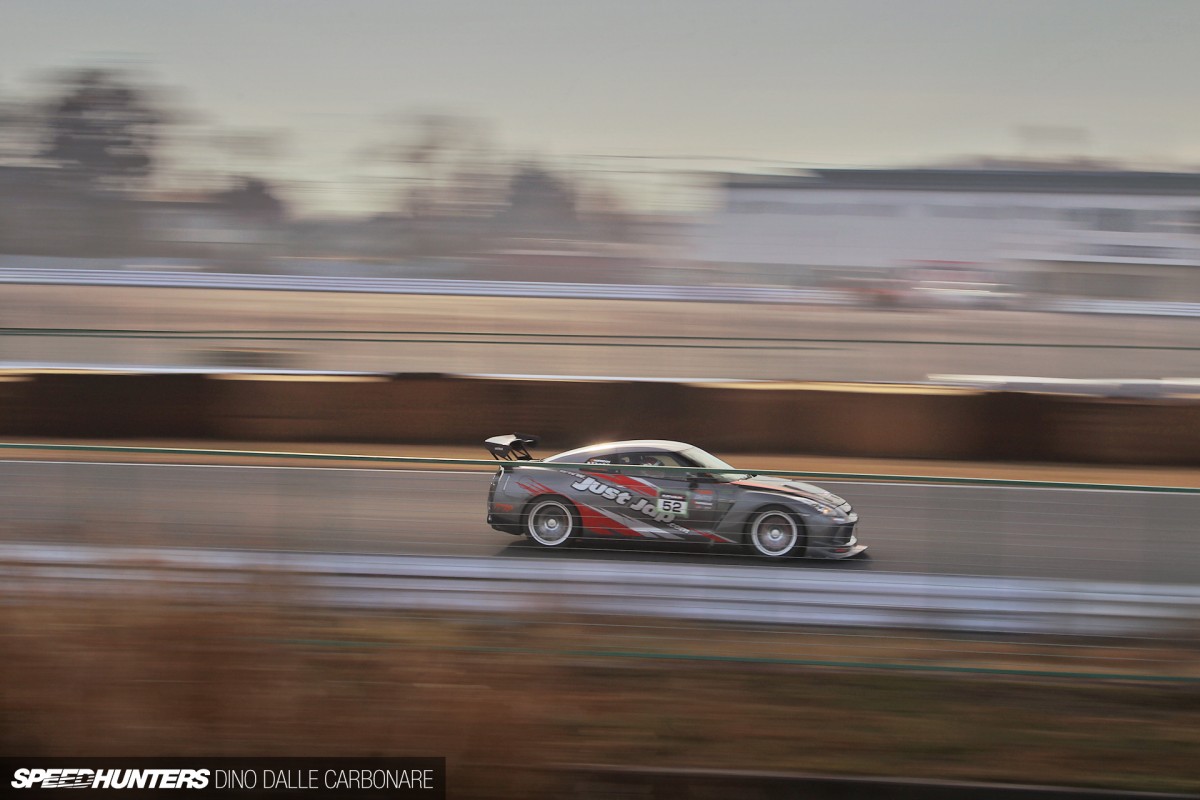 Another tuner that managed to go home happy was Tsukada-san at ATTKD. They set out to better last year's time in their demo car built in collaboration with Just Jap and that's precisely what they did.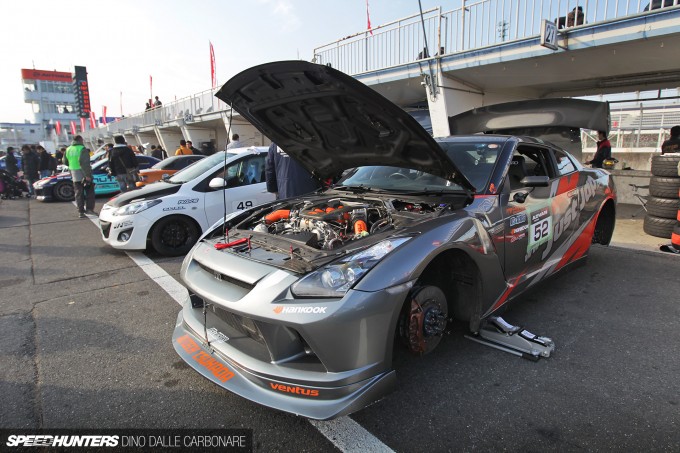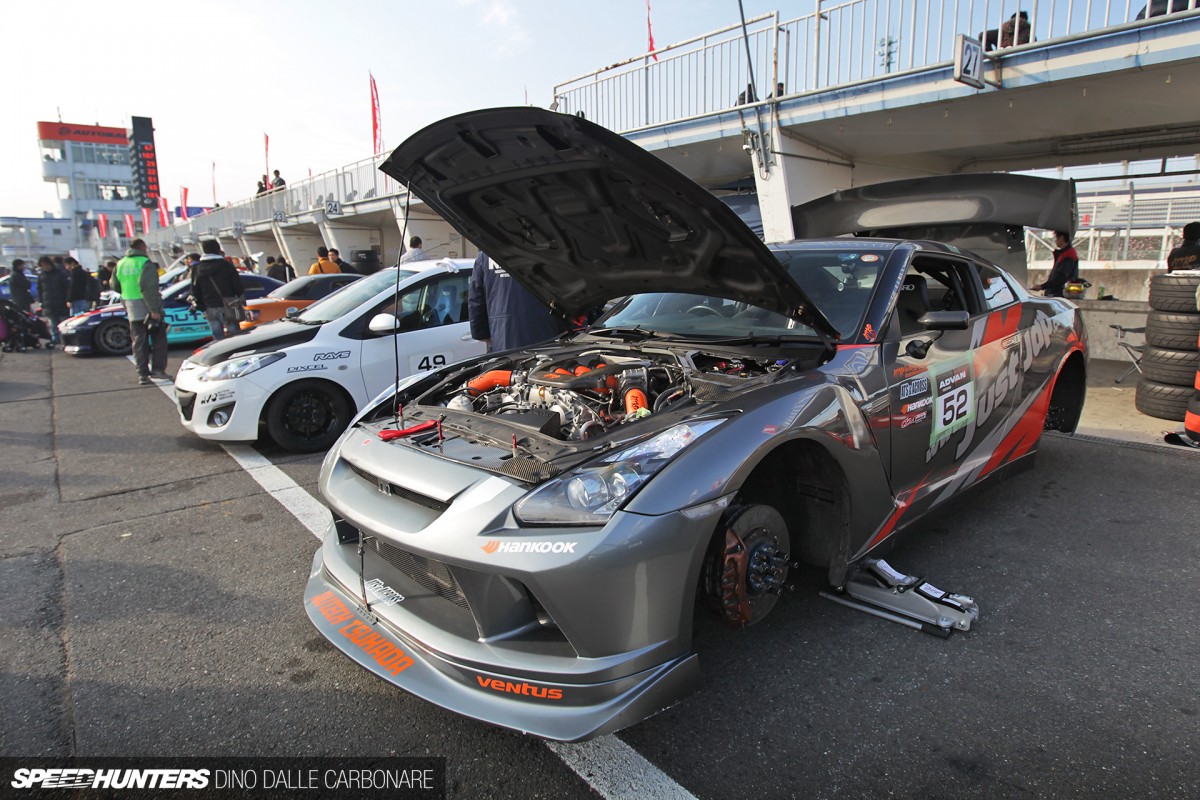 Mitsuhiro Kinoshita, Japan's tiniest driver, was able to extract a 58.082, a whisker away from a 57-second time. That made it the fastest car in the AWD Street class. I wonder what the car would be capable of with S-tires!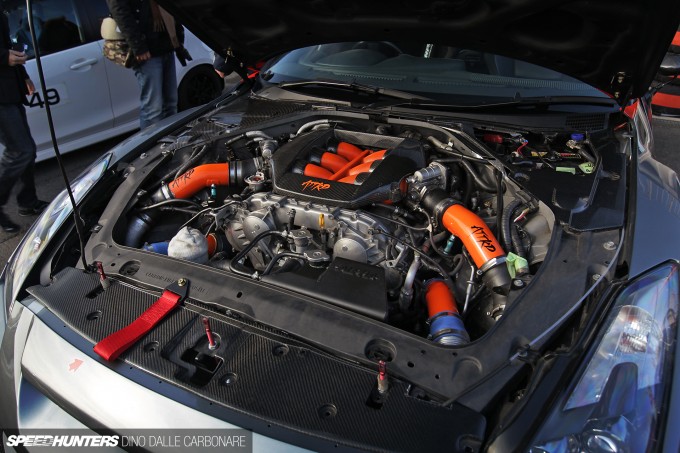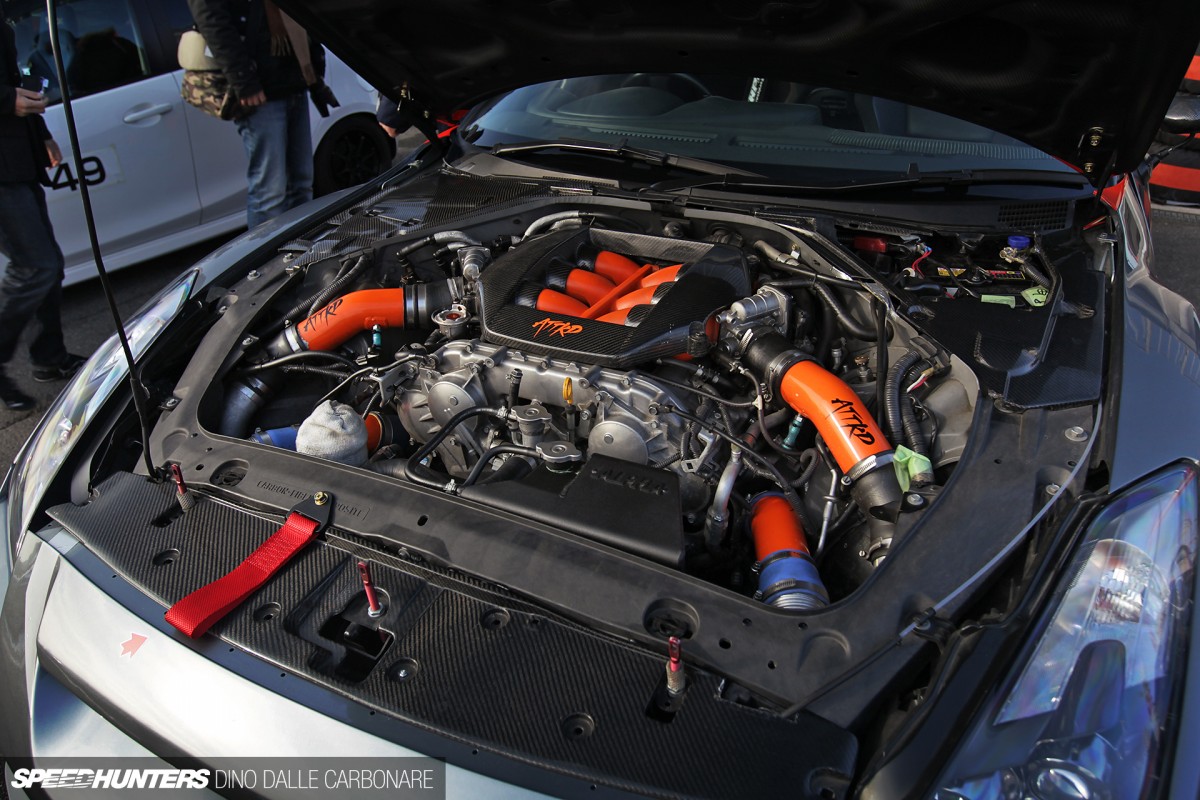 Problems with the front diff ended their day early but they will work on that mighty VR38 a little more and be back next year for more!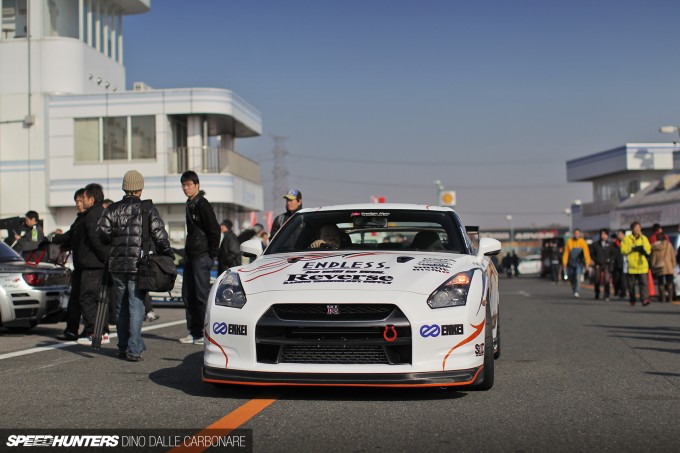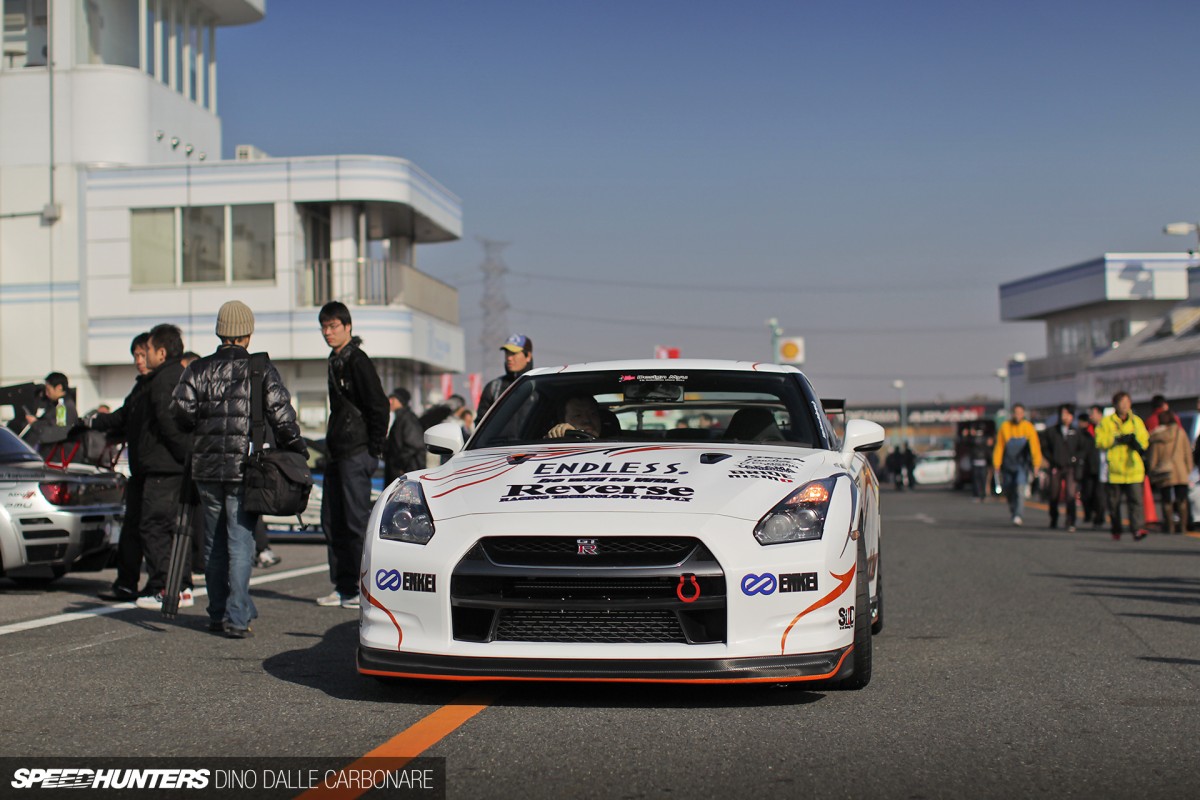 The only other R35 entered in the event was the new Reverse demo car…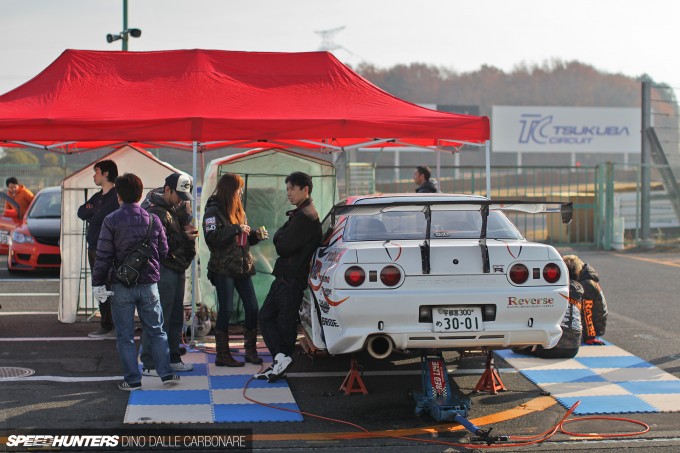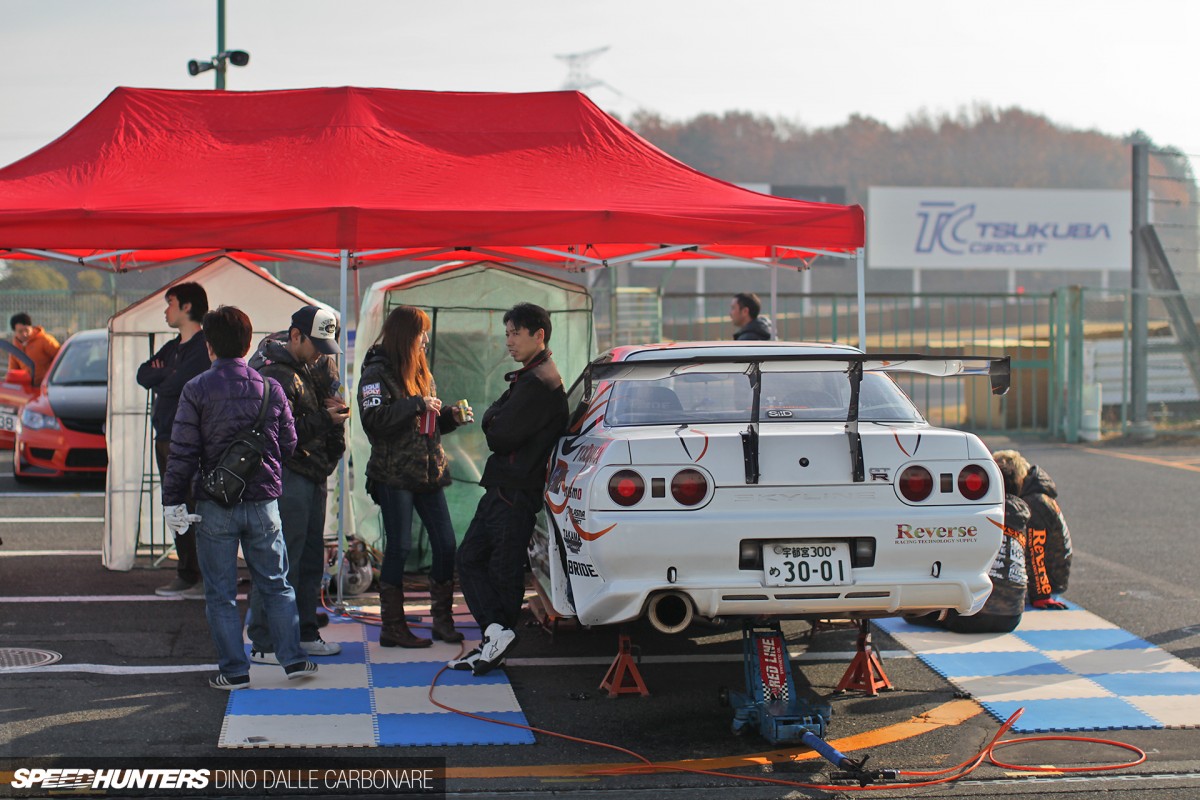 … which joined their BNR32 time attack machine. The R35 was entered in the Open AWD class and seeing it was just a baseline outing for the 'big R', it recorded a 1'01.735. Their R32, running street tires, posted a 59.271: a great time for what is essentially a moderately tuned street car in GT-R circles!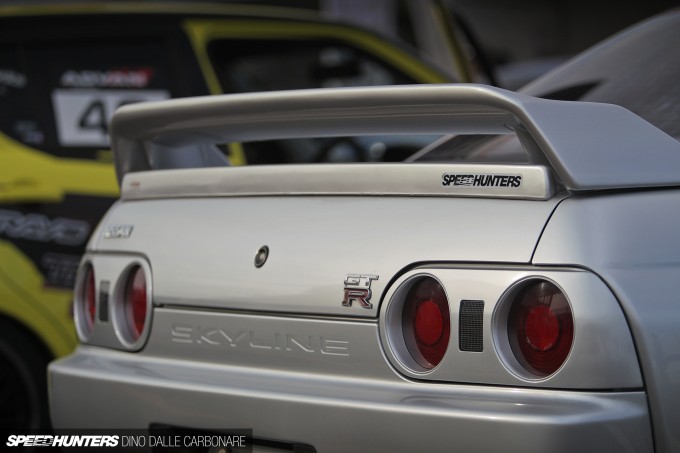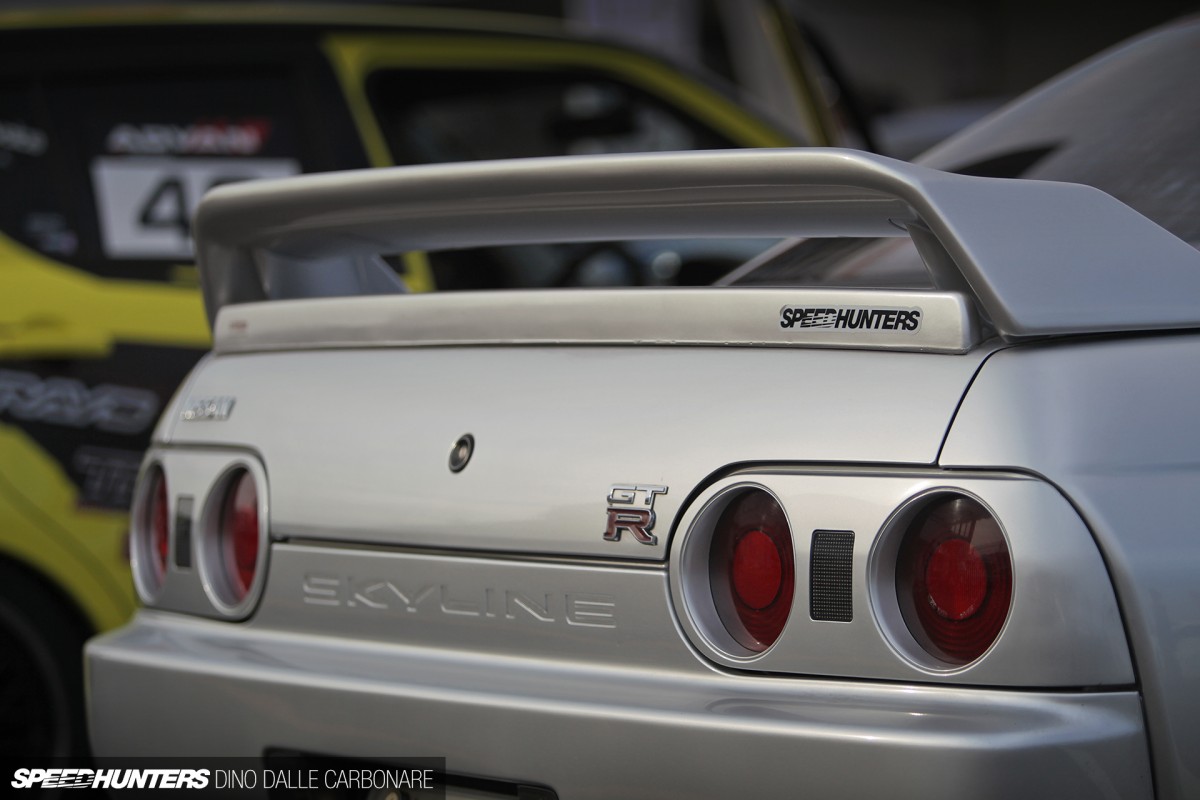 There was a time when GT-Rs were all you saw at events like these. But there was only one other Skyline present at the event last week…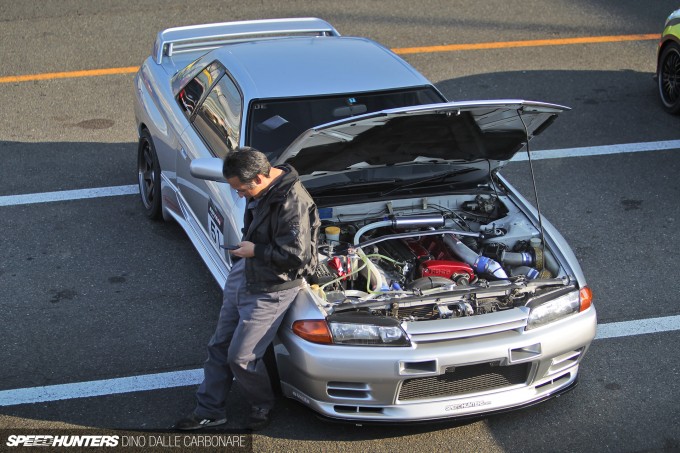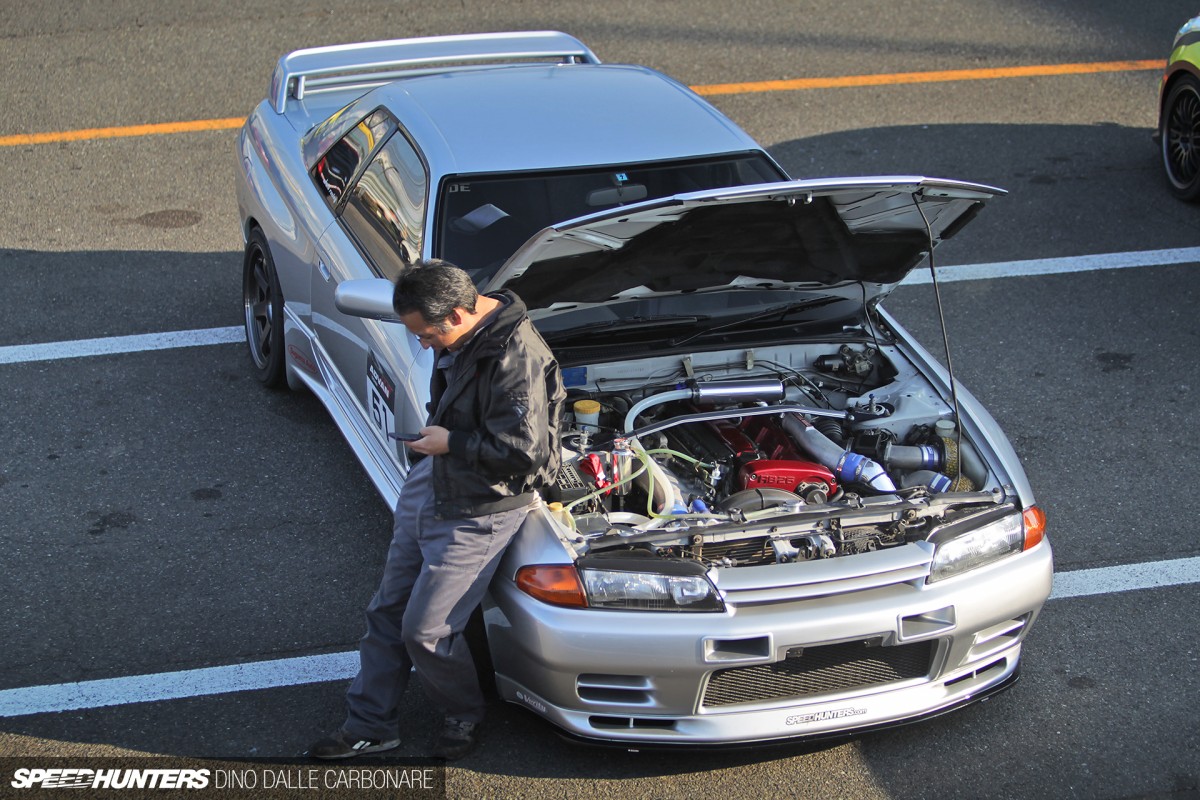 … the Admix BNR32, again another Street Class entry and one that posted a time of 1'03.125 in the hands of Tarzan Yamada. It seems many tuning shops out there are more concerned about creating the perfect street set-up with the older GT-Rs, than going full out and chasing lap records. It's cool as it focuses them to concentrate on refining engine characteristics, aiming for more accessible torque and response, rather than shooting for big power by bolting on massive single turbochargers. It's great to see that so many names like Admix and Reverse give so much importance to total balance.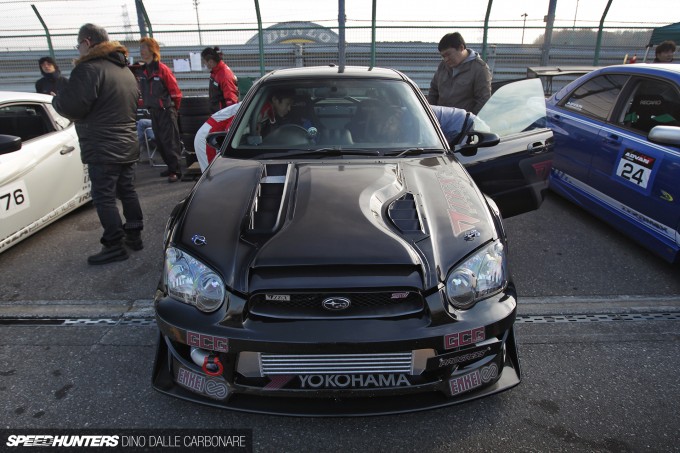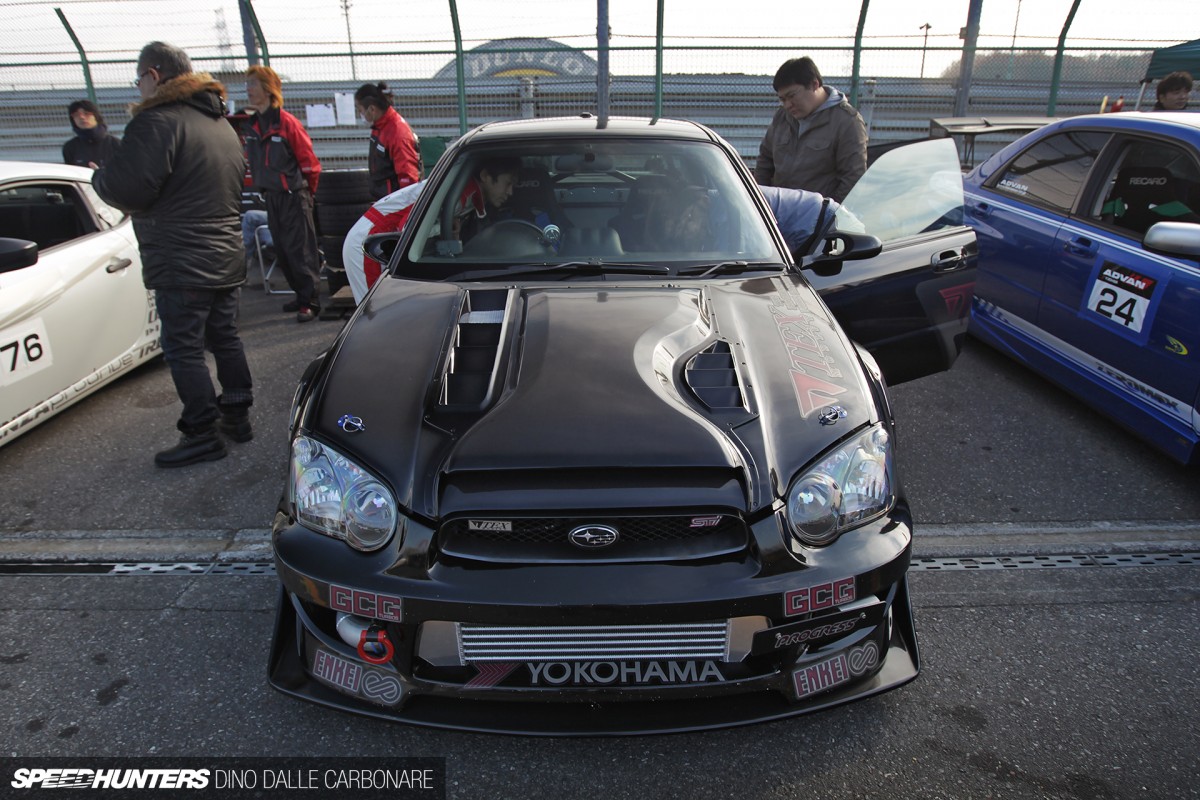 Staying with AWD cars, it's this Tex Modify GDB that I want to talk about next. With ex-Super Taikyu champion, Hirokazu Suzuki, at the wheel, this car managed a best of 1'02.456  despite some minor issues with the wastegate not allowing it to hold peak boost.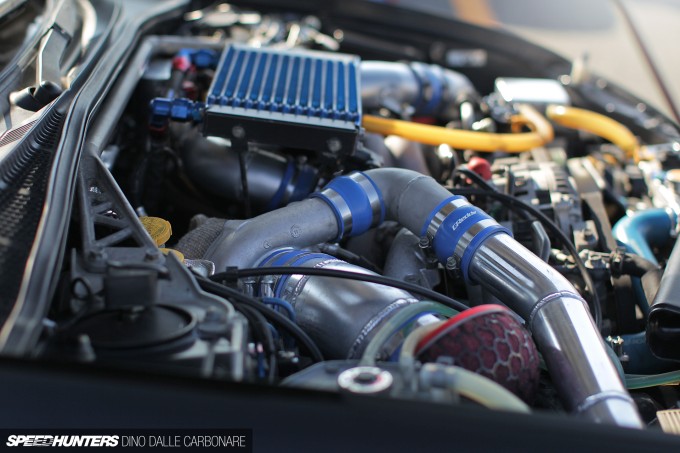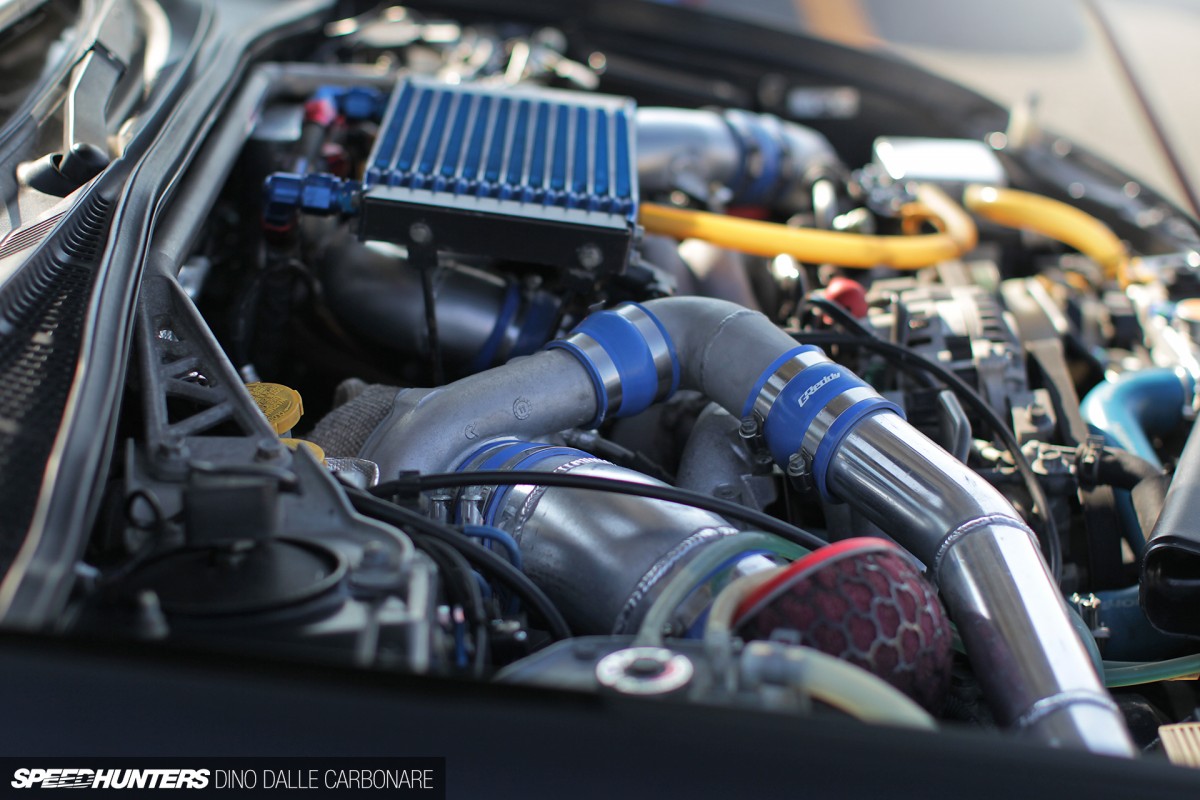 Tex Modify are the guys that built Tanaka's old D1 Team Orange GDB back in the day, so they know exactly what's needed to extract decent power from an EJ20.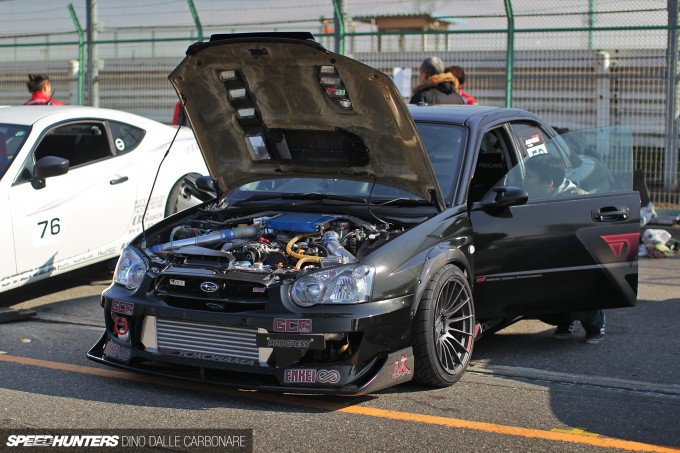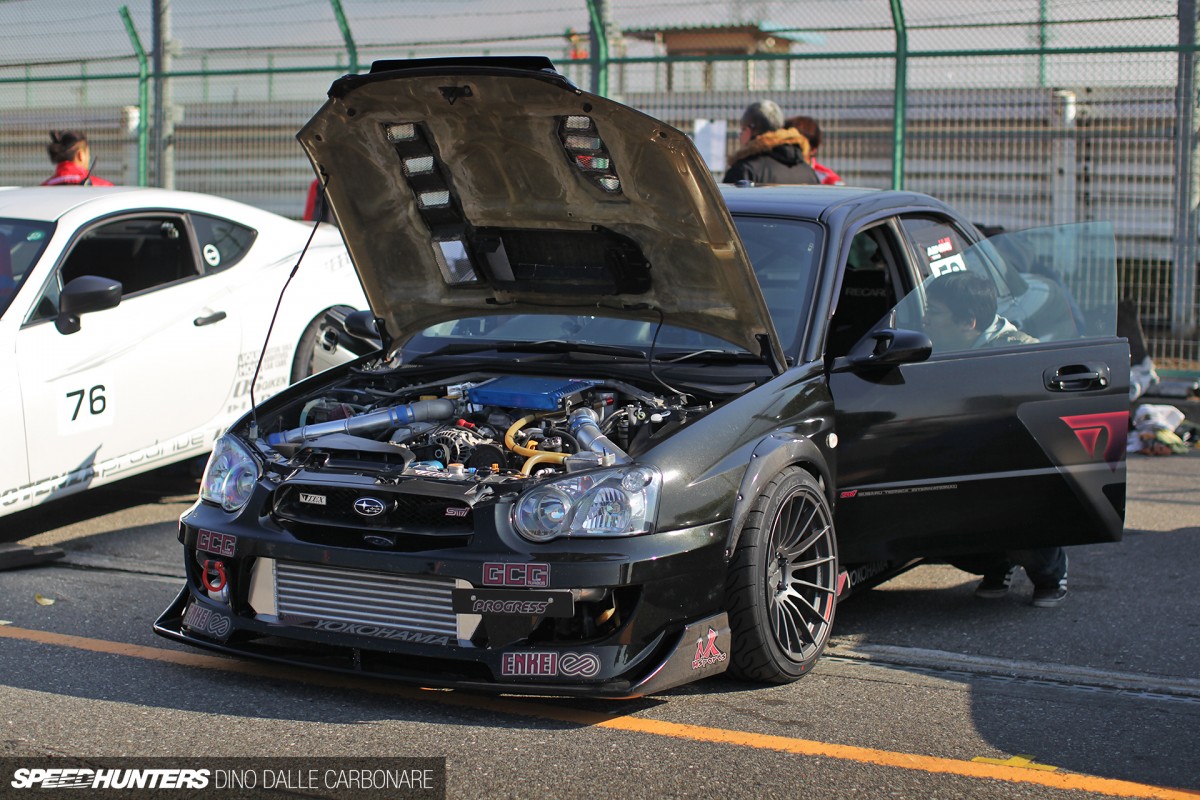 The carbon goodies which included some bolted on fender flares, were a great addition, much like the Enkei RS05RRs, which really finished the time attack look rather well.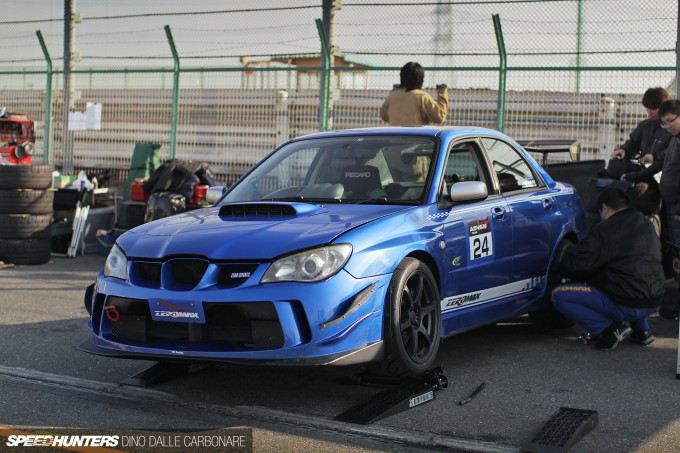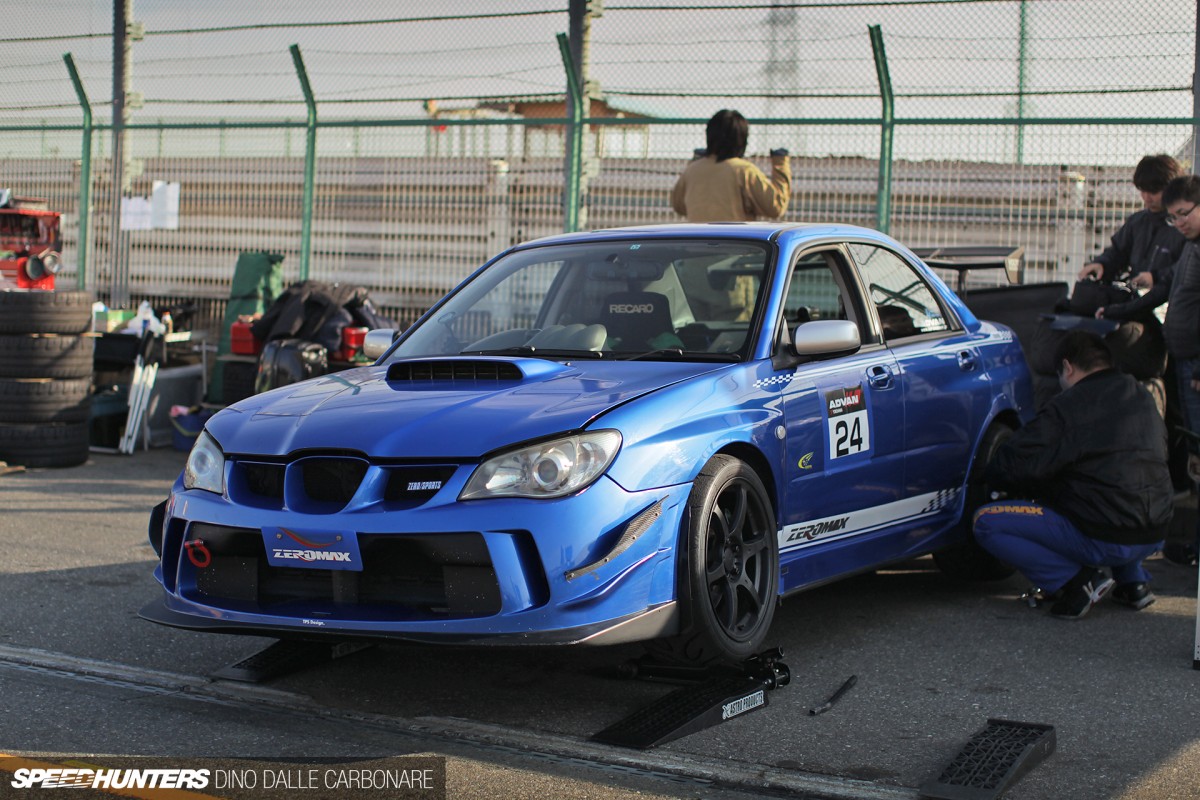 Do you guys remember Zero Sports? The Subaru tuner and parts maker, after some financial trouble, is back, operating under the Zeromax name and now back in the time attack game with this GDA Impreza running Zero Sports aero. The best time it got was a 1'01.854 which is blisteringly quick for a street car on street tires…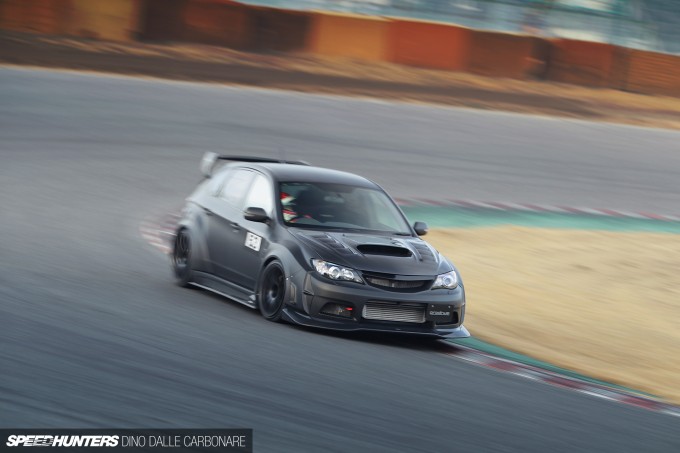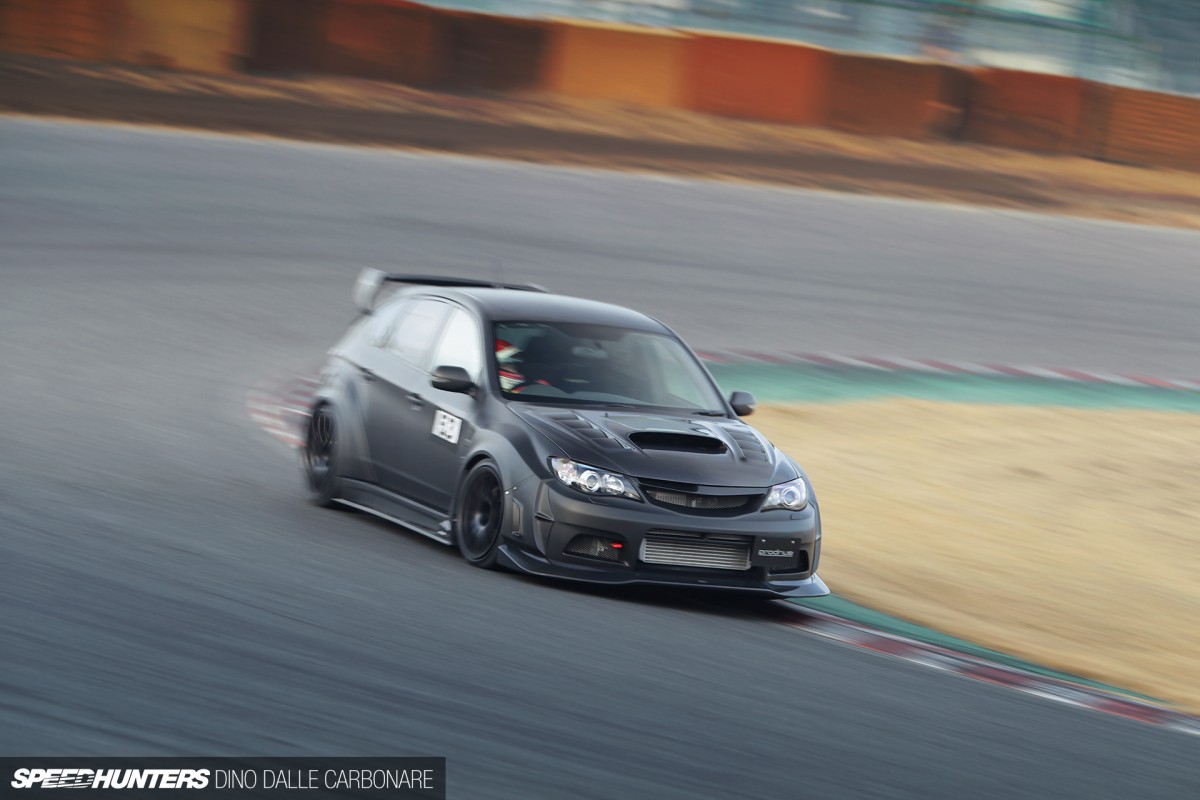 … and right on pace with the Auto Produce Boss GRB piloted by Kinoshita, which posted a 1'01.191. It's crazy to think that street spec cars are edging on the one minute flat at Tsukuba now, on street tires! Ten plus years ago, these were times far more aggressively tuned cars were achieving.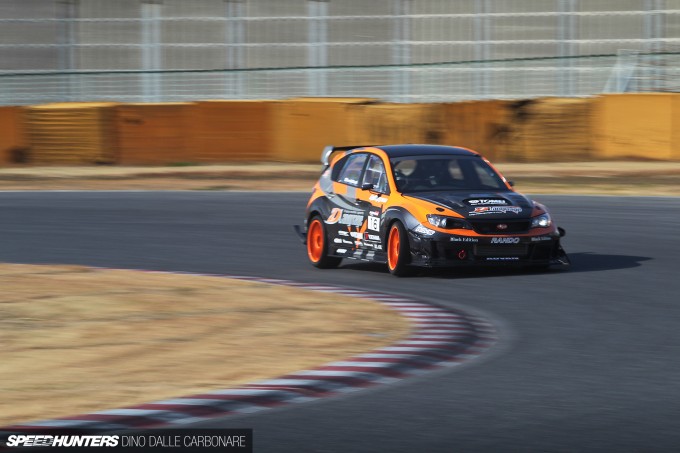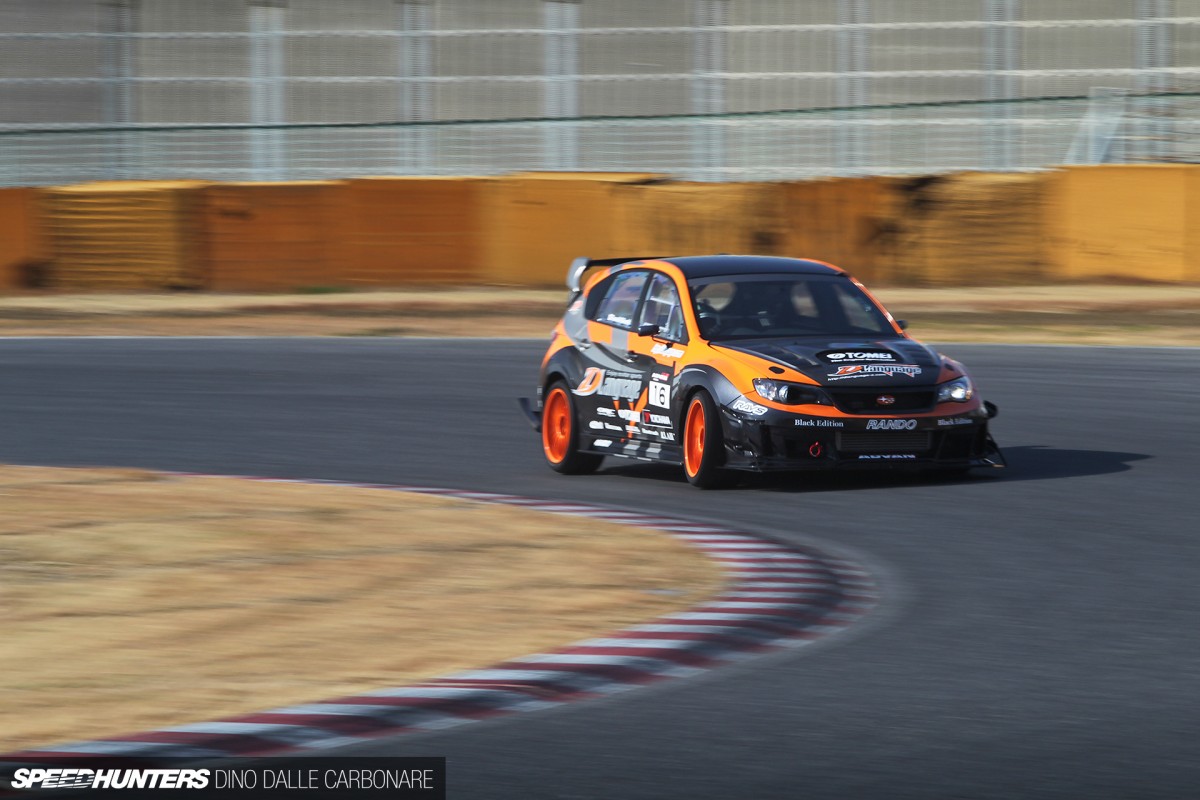 Throw some S-tires and a hell of a lot more power into the mix, not to mention a lighter curb weight and trick suspension and you have the D Language Impreza WRX STI, capable of achieving a 56.593!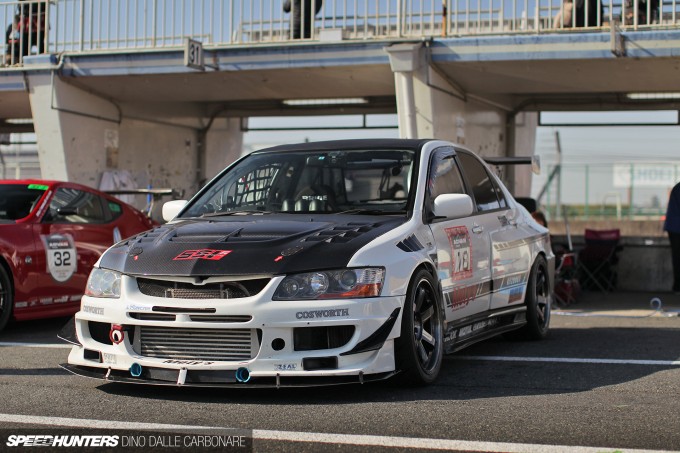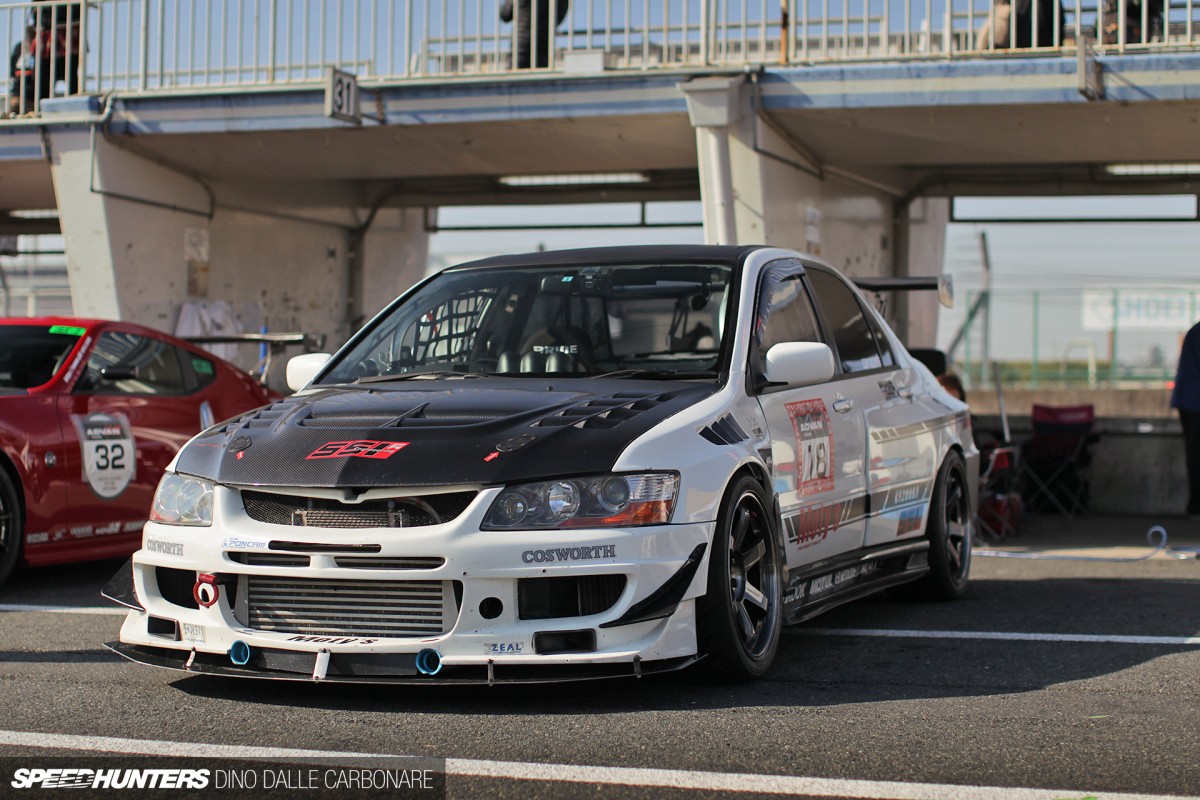 The SSI Engineering CT9A was at the Super Battle to break through that one minute wall. It got very close with a 1'00.136, but not quite close enough!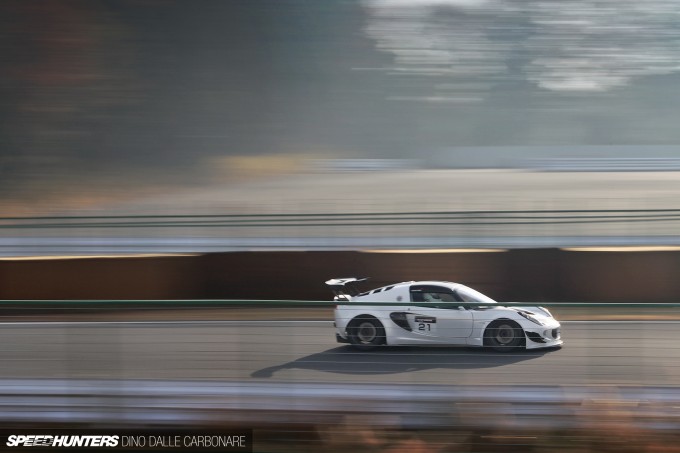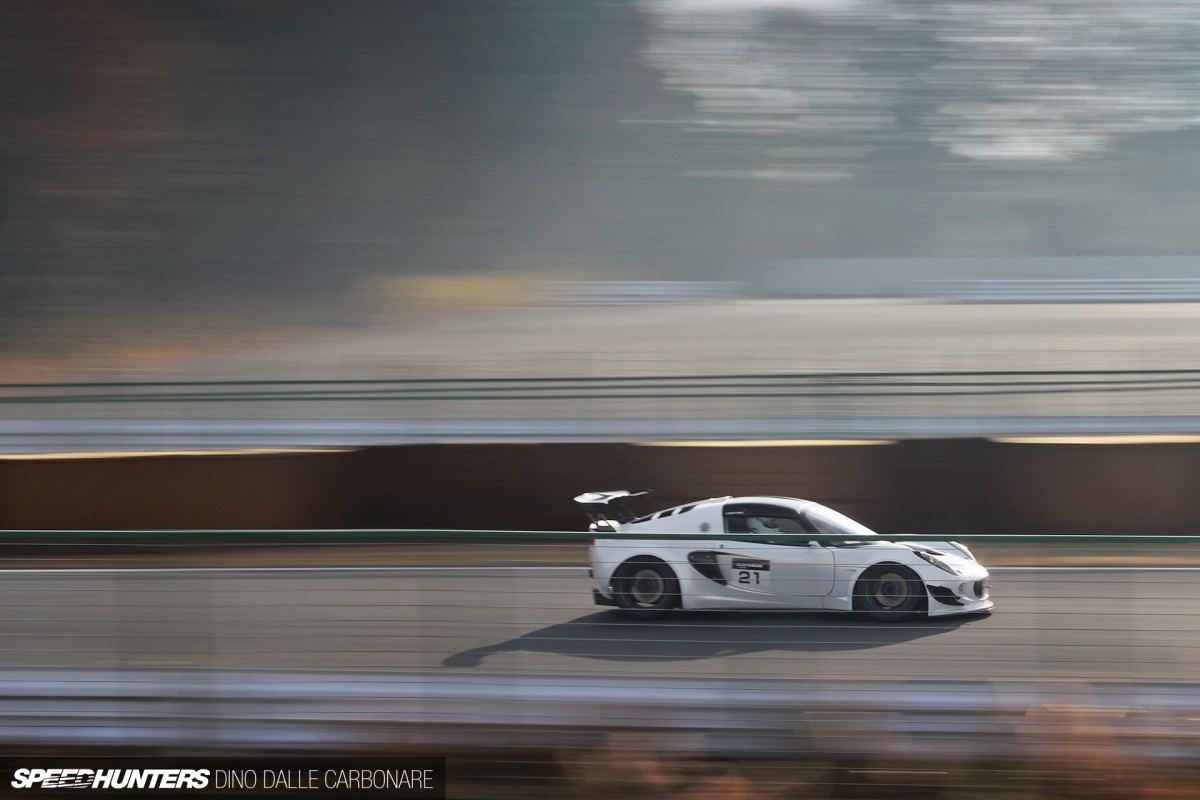 Ti Racing brought out one of their their fully fledged time attack Exiges, entered in the street S-tire class.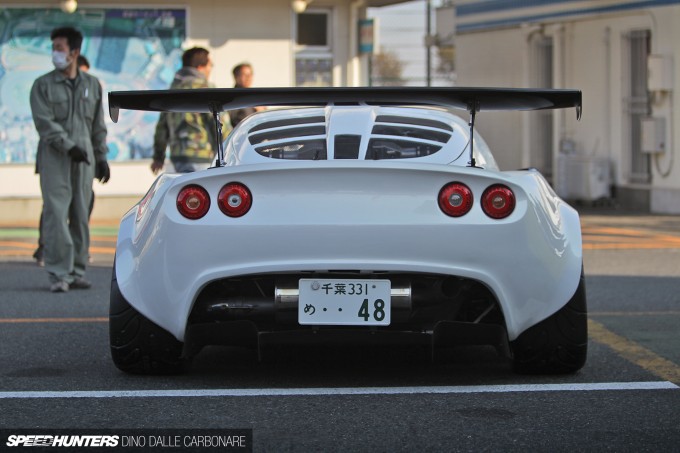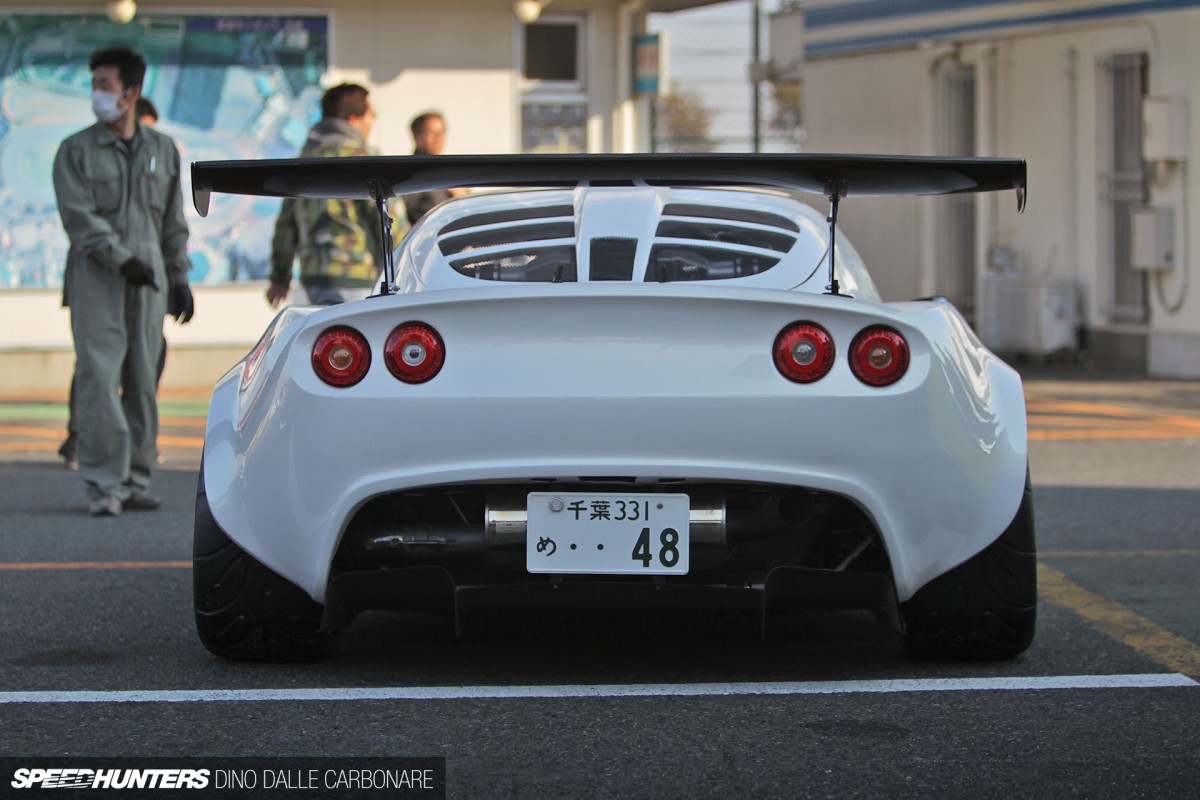 The best time on the day for it was a 57.087, which is – as ever with these guys' Lotus (or should I say Lotii) – damn impressive. Oh and yes, I know I need to visit Outer Plus/Ti Racing. I know there are a few of you out there that have been waiting long for a shop tour and feature on their cars. 2014 will be the year – I promise!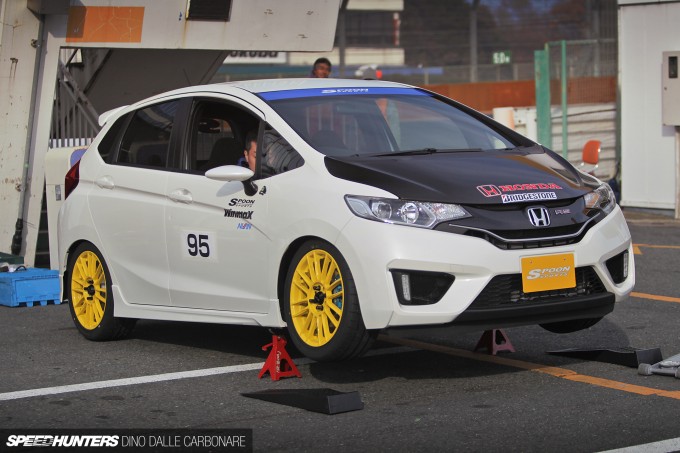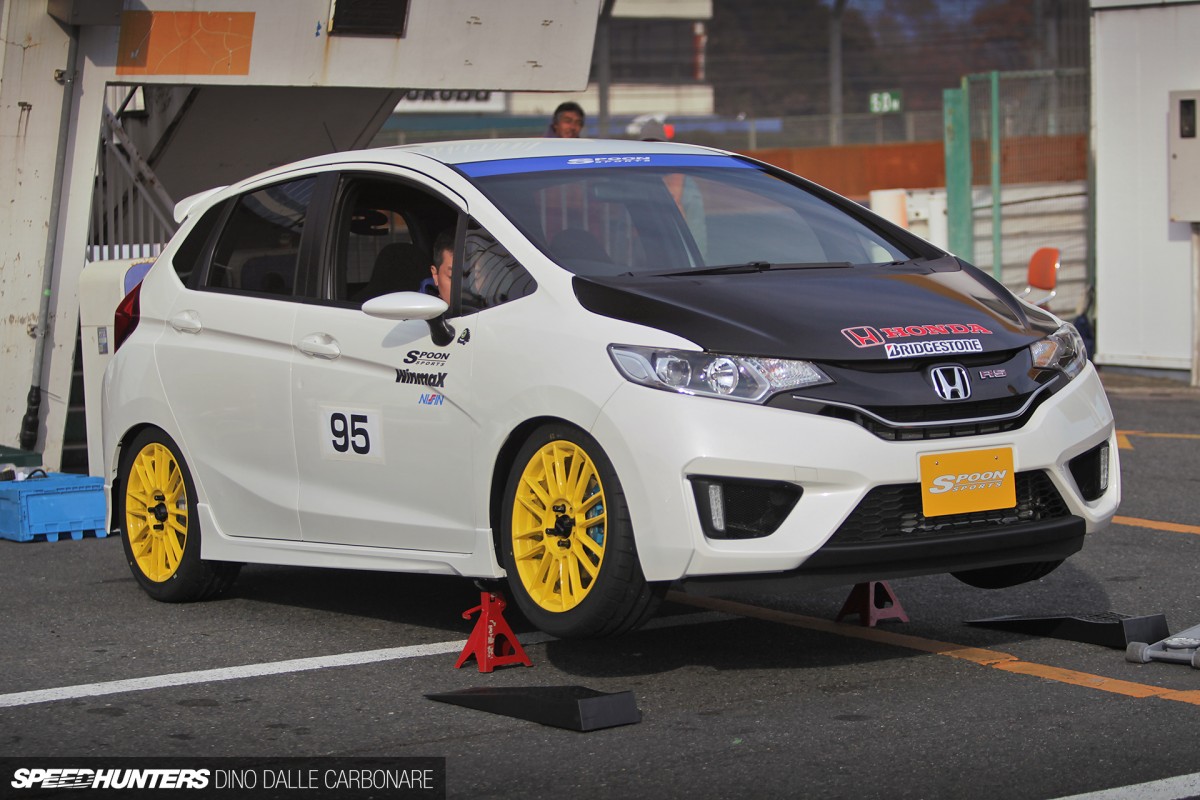 While most of the Spoon crew were at the 25h of Thunderhill this past weekend, the famed Honda tuner didn't skip out in bringing their new Fit RS development car to the event.
No pistons allowed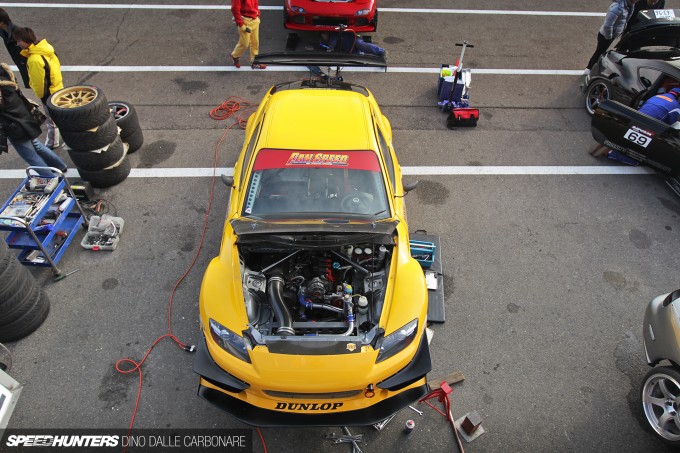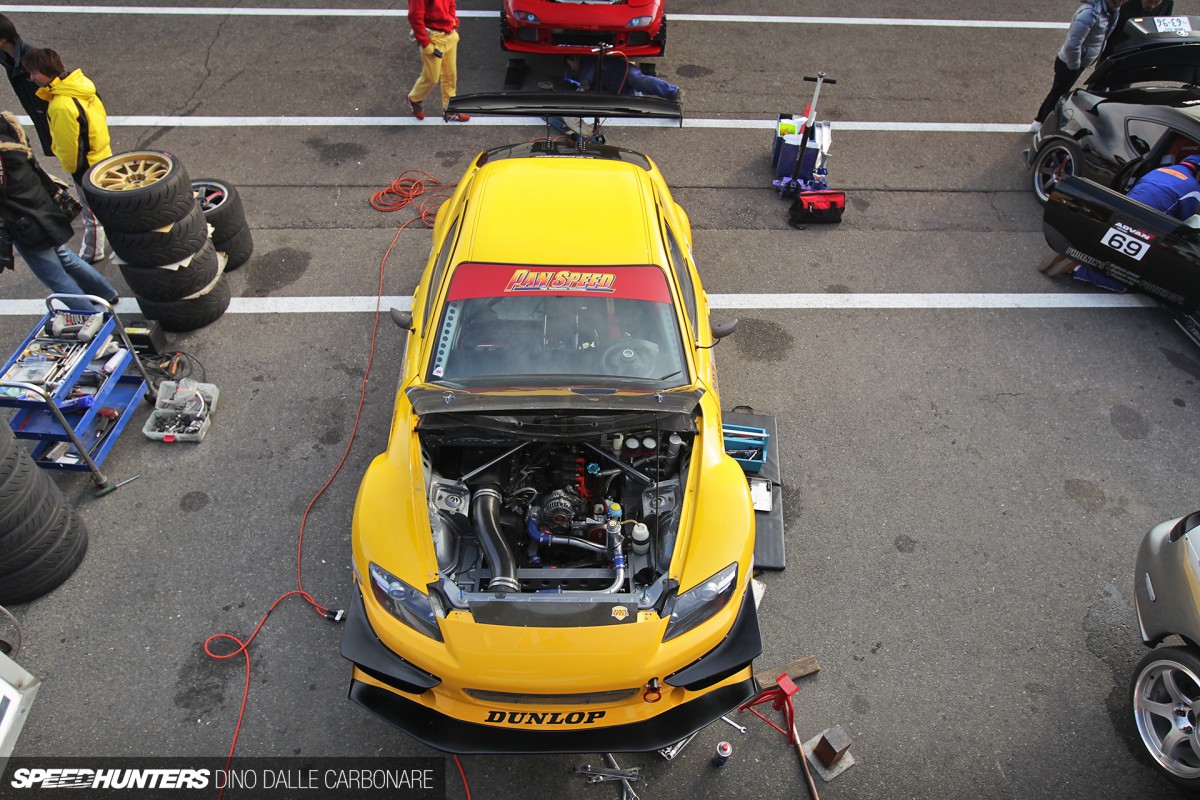 What better way to introduce the Rotary group than with the Pan Speed 3-rotor RX8. The Pan Speed crew have really been working flat out trying to make their SE3P even more competitive and to say they have achieved their goal would be an understatement.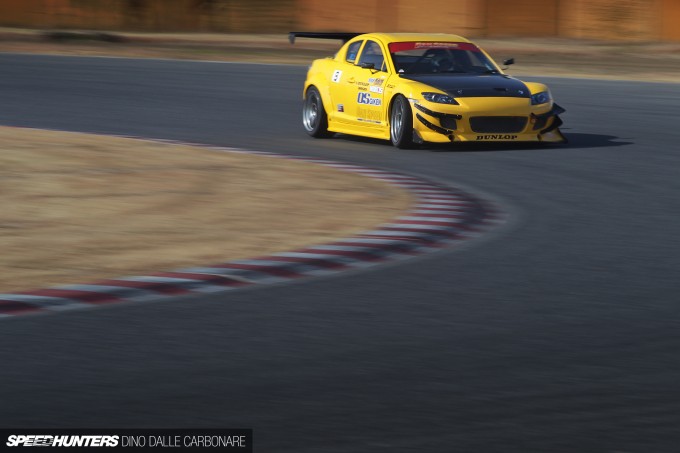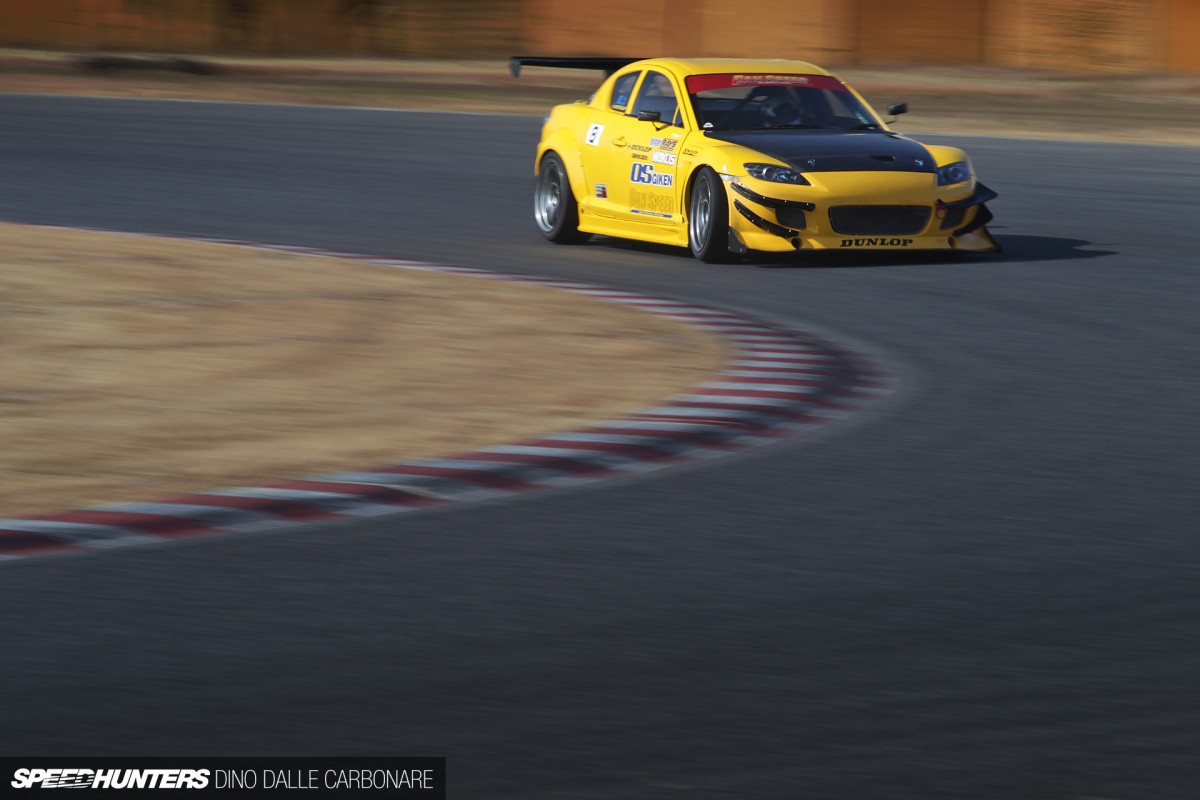 The custom built, naturally aspirated 3-rotor engine powering it is not only one of the sweetest sounding Wankel engines I've ever heard, but it's benefitting from a little bump in power now, which, combined with Kouta Sasaki's driving skill, allowed the team to set a 57.000 lap! Next outing and a 56-second lap is almost guaranteed!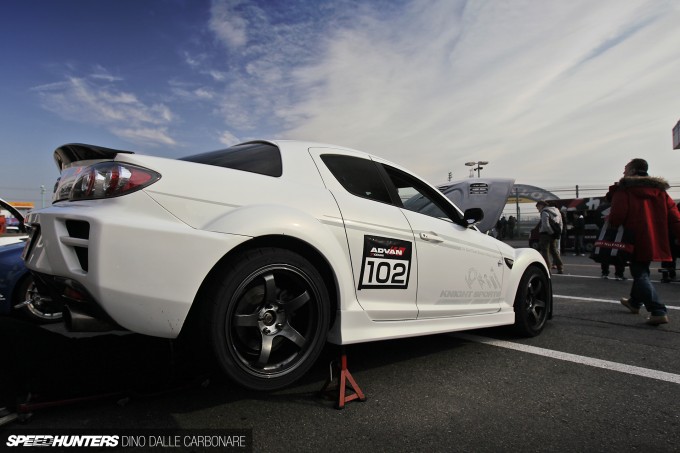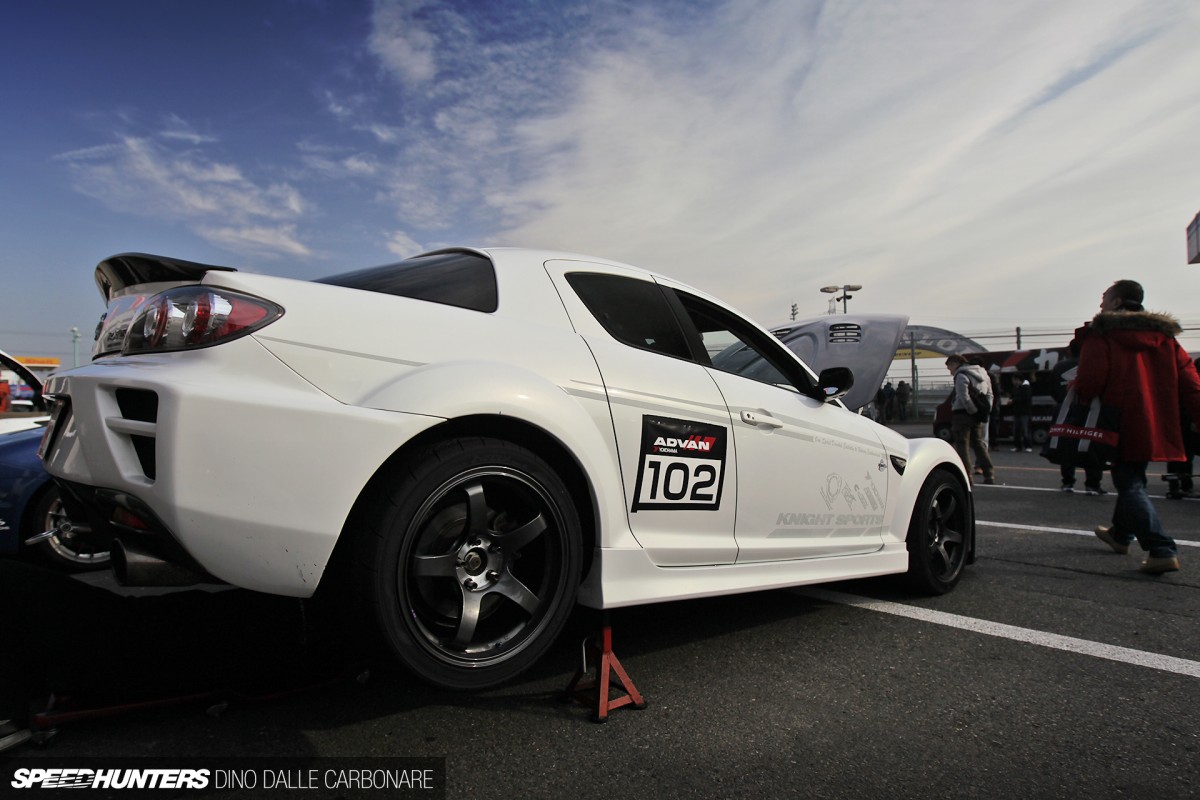 Another cool, but far more sedate RX8 was also present: that of Knight Sports. Despite Mazda no longer believing in the rotary as a viable engine choice for the future there's no denying these cars are among the most fun to drive, thanks to a balanced weight distribution, low center of gravity and spot-on handling. This car showed that with a few, but well-applied mods, the RX8 is able to lap Tsukuba in 1'05.701 which is a great time for a street car.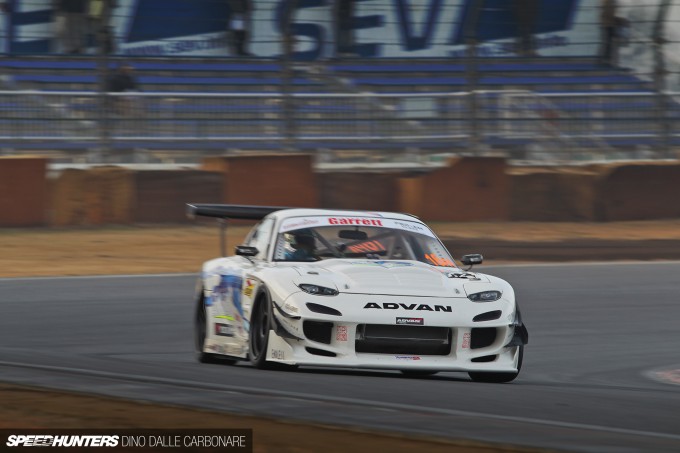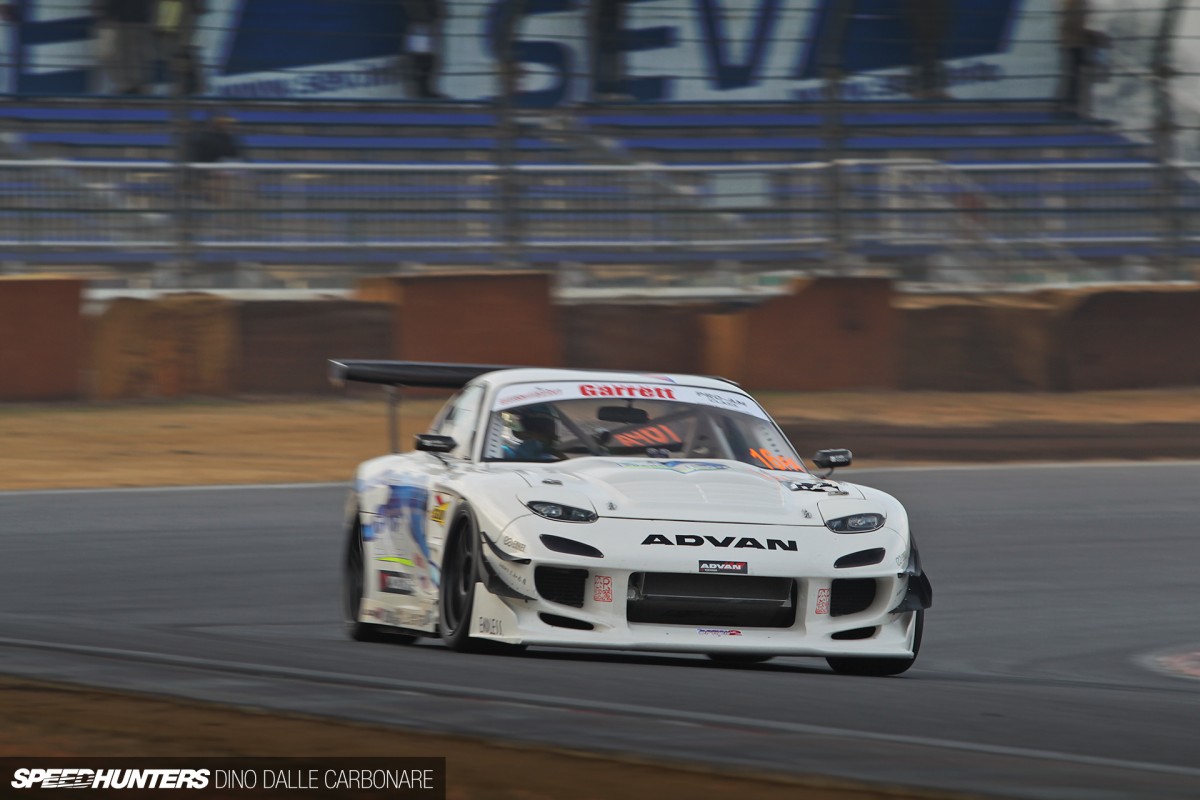 Just like Suzuki's Silvia, the privately owned Endless FD3S has recently returned back to Japan after competing in this year's WTAC in Australia.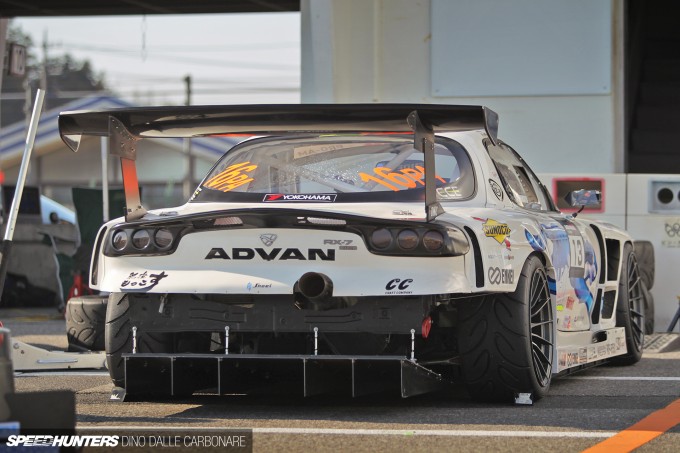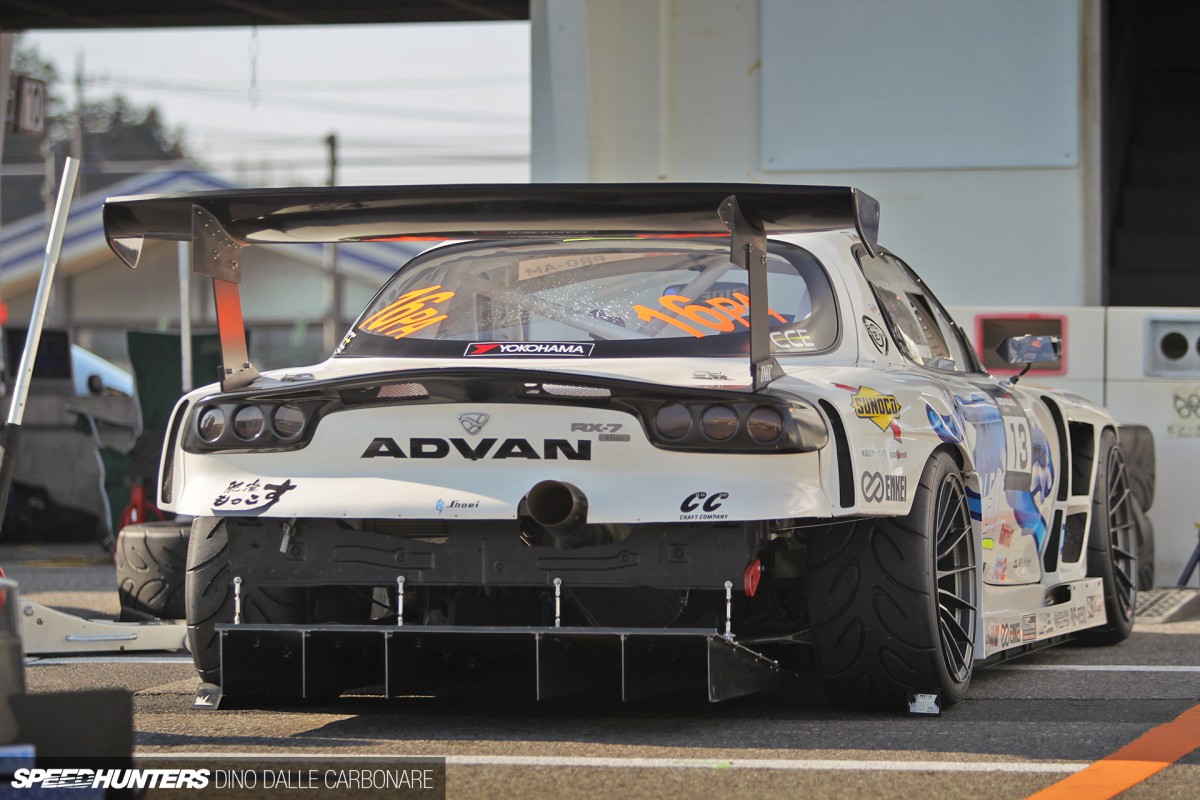 55.533 was its time and aside from the obvious high levels of power, it's also the self-developed aero package that has a lot to do with that great result.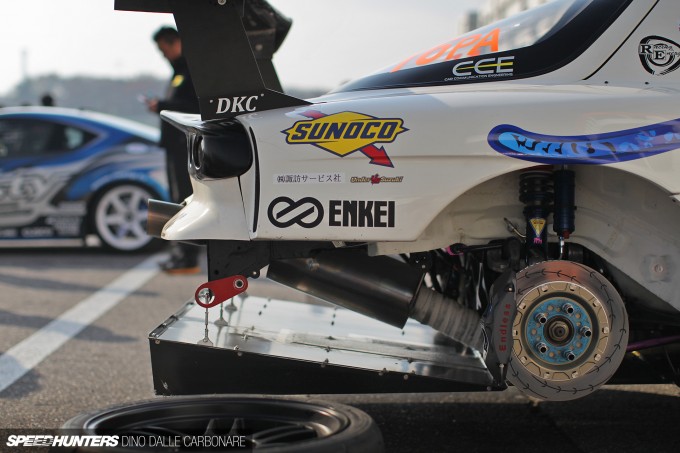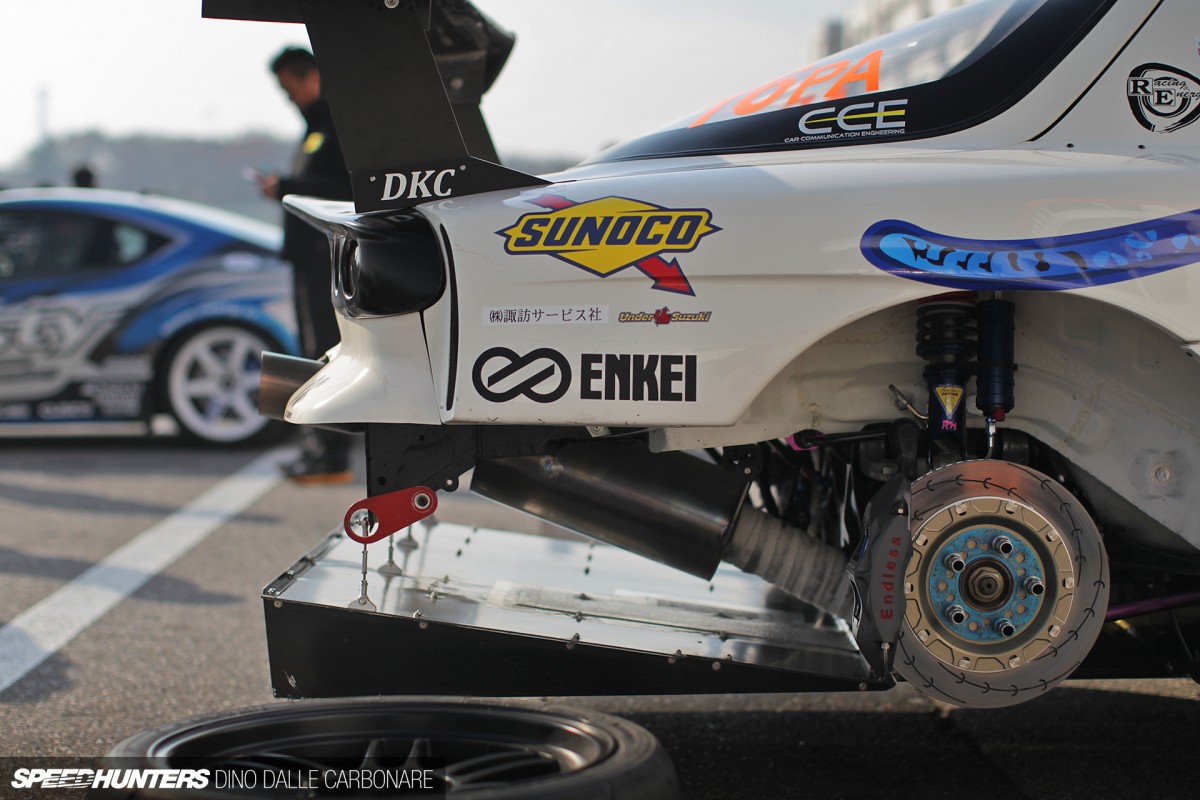 Take a look at that cut out rear section with suspended rear diffuser. Absolutely awesome stuff!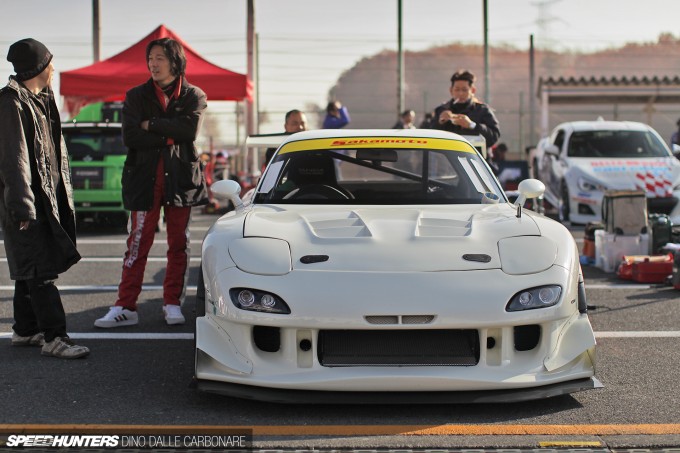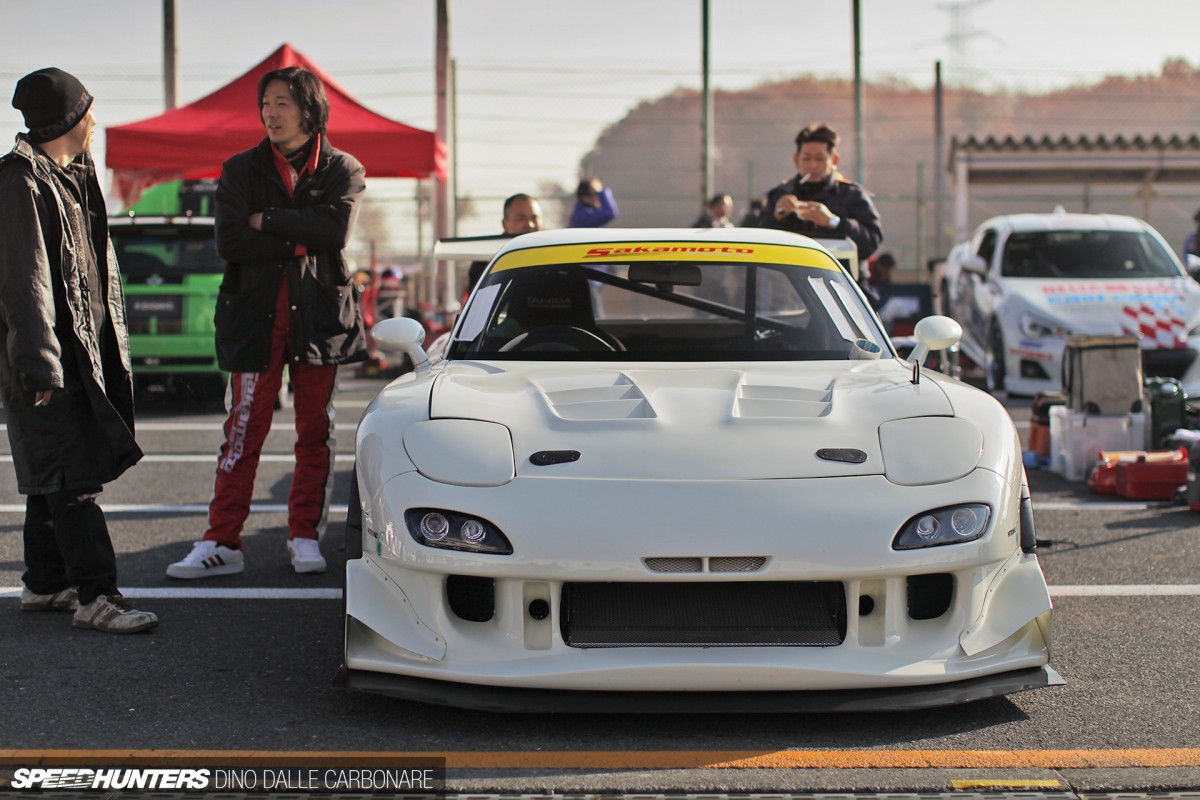 Another FD that caught my eye was the Sakamoto Engineering demo car.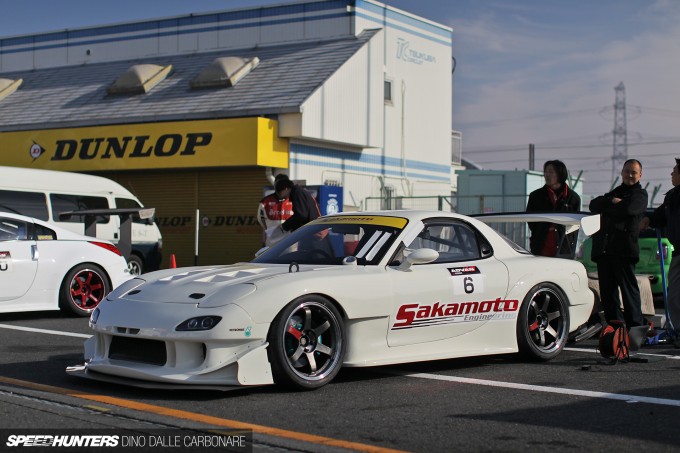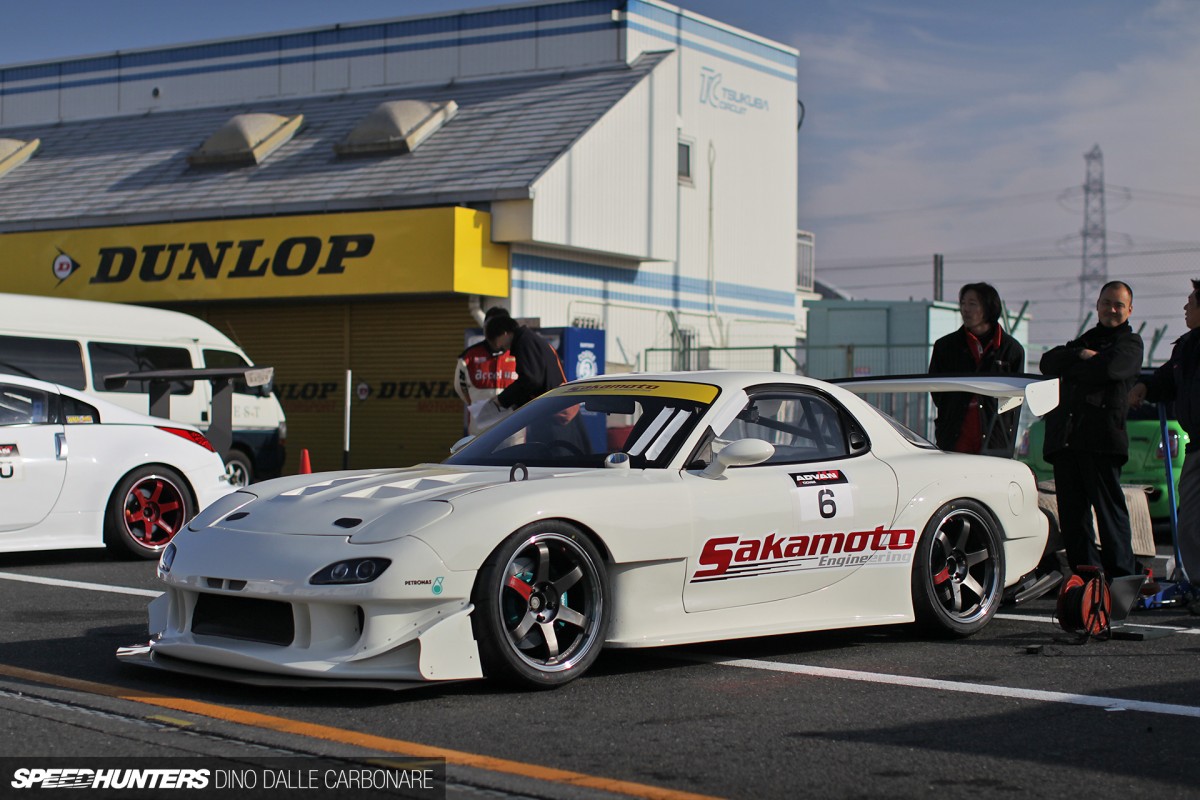 On its first outing it managed a 59.153 which is already a superb set of numbers, but its second attempt saw over a second being sliced off that initial time with a 58.099. No doubt a 57-second car if the driver manages to nail a close to perfect lap.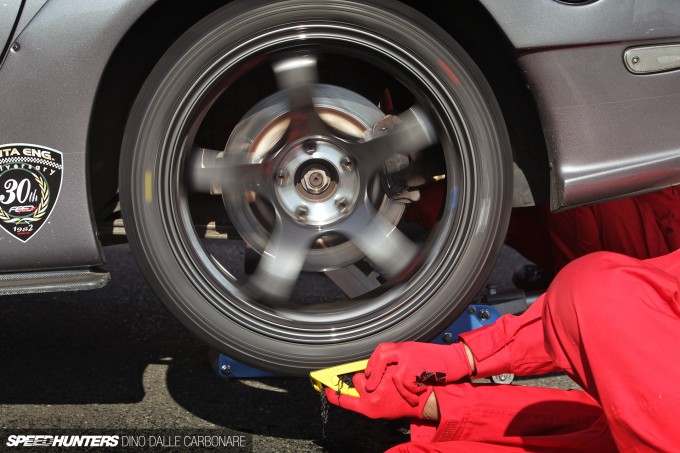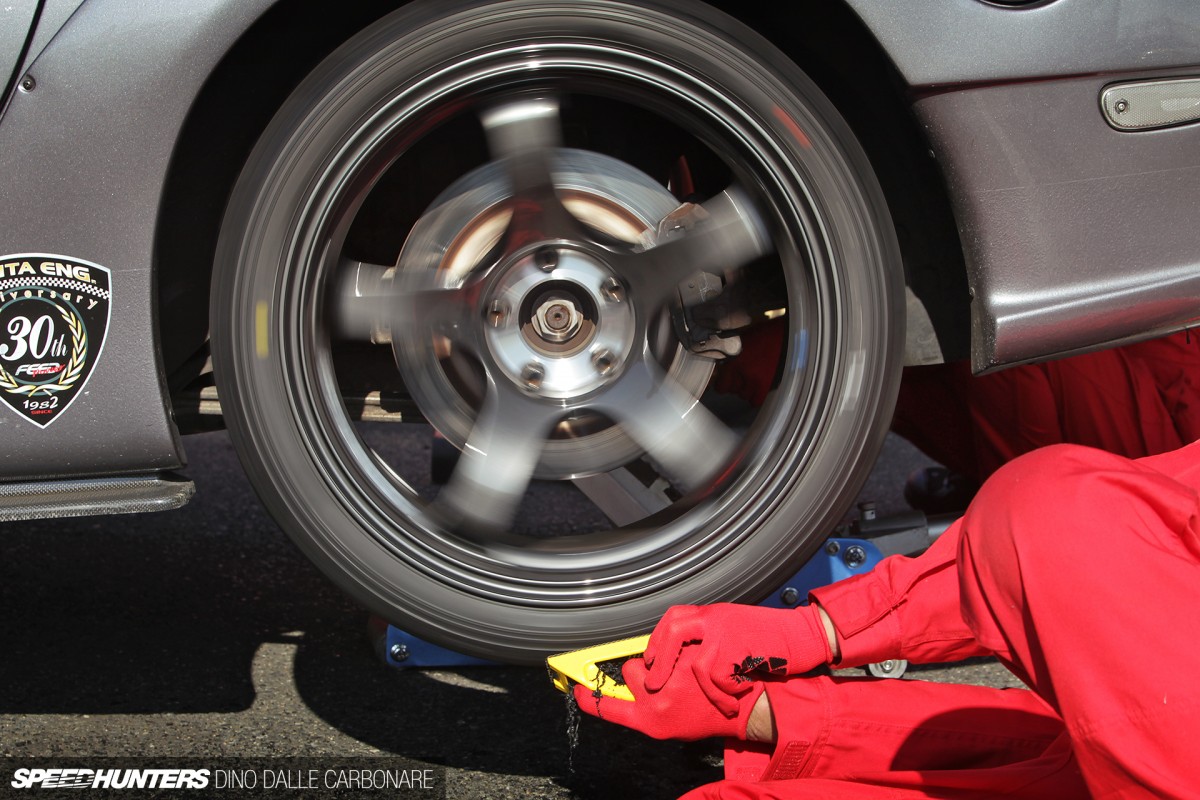 The Fujita Engineering FD on the other hand is bordering on being a 56-sec car, especially when Nobuteru Taniguchi is sitting in the driver's seat. On each of its three outings it recorded a 57-sec lap, the fastest a 57.159. Preparation is crucial and for Feed that included scrubbing away the top layer of rubber off the car's A050s to get at the good and sticky stuff underneath.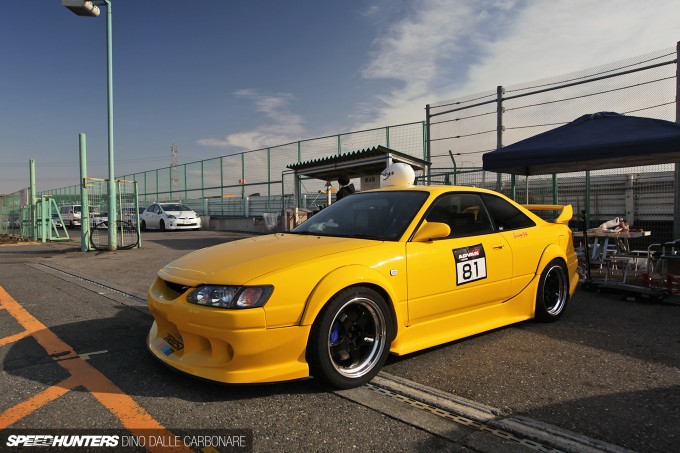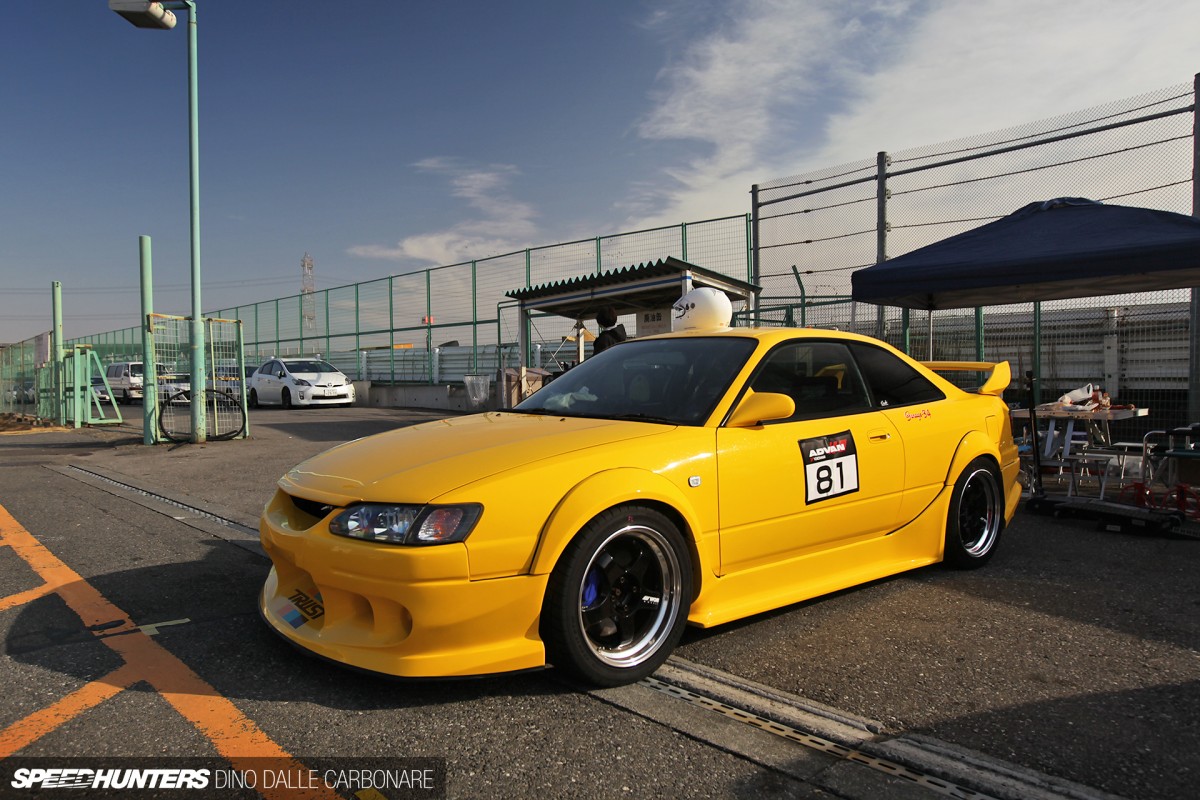 The Craft AE111 Levin might have been one of the slowest cars at the event managing a best of 1'13.512, but it was certainly one that attracted a lot of attention.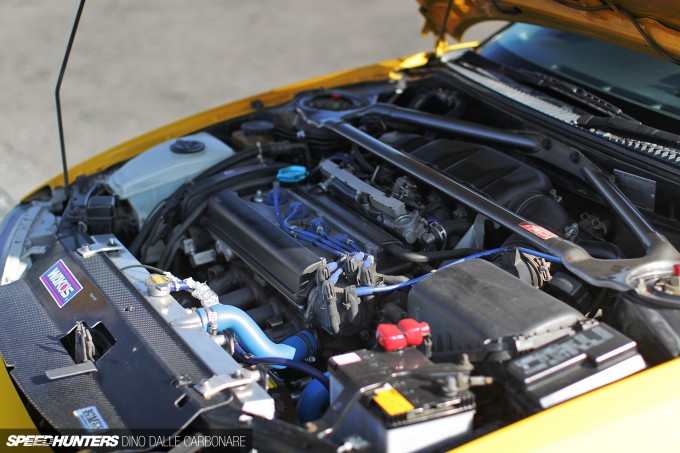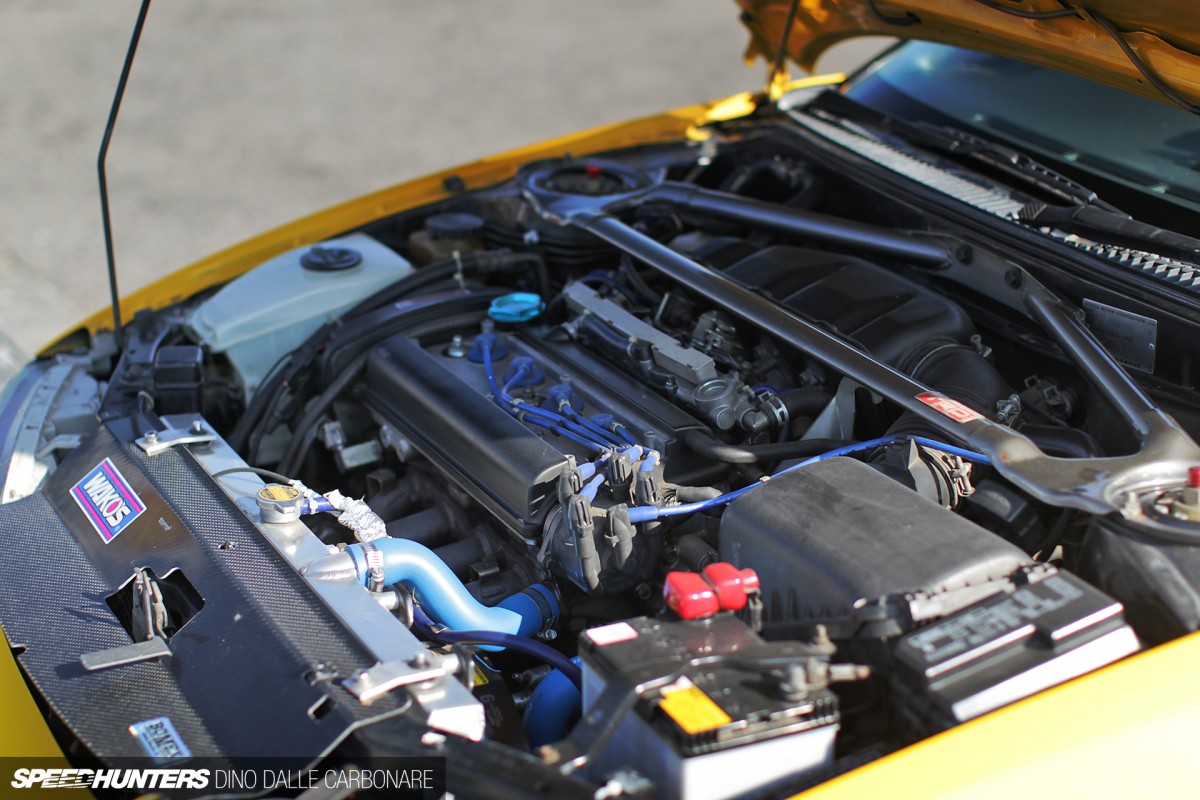 To any AE86 owners looking at this picture, settle down; this black-top 20-valve is staying right where it is for the foreseeable future!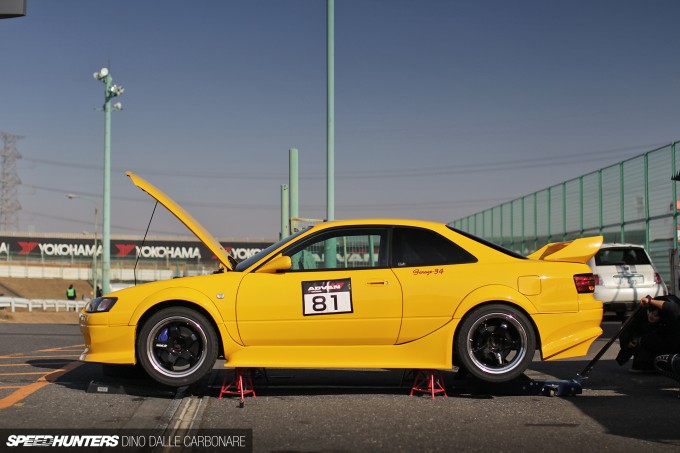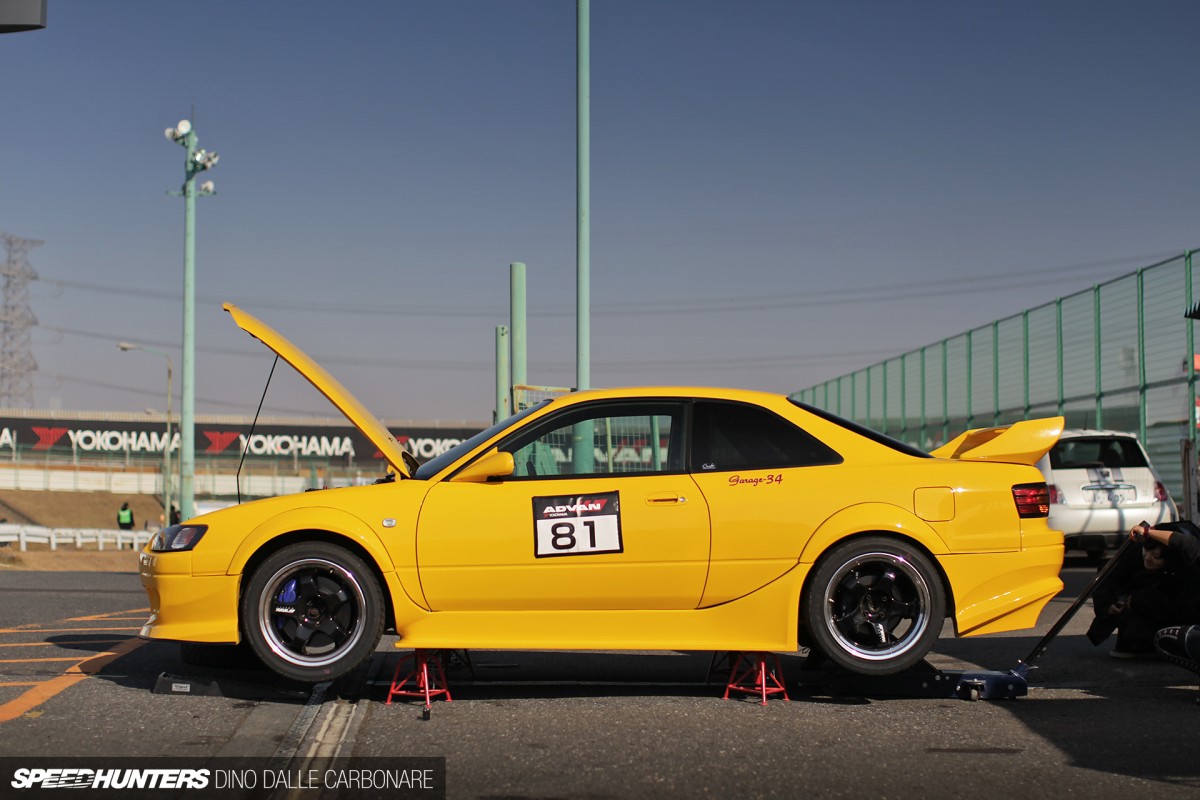 Long live the nineties!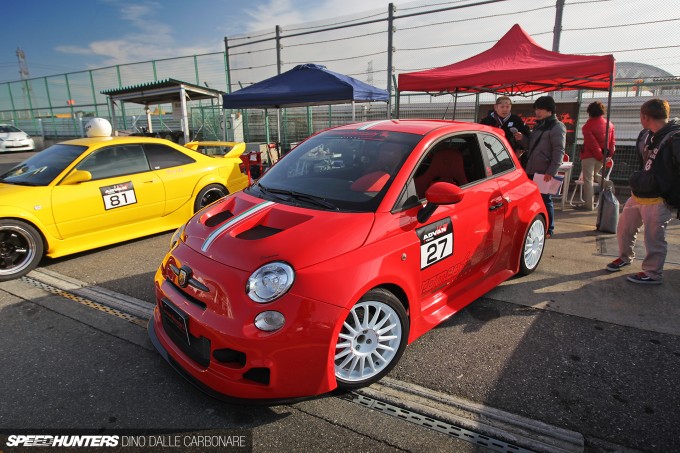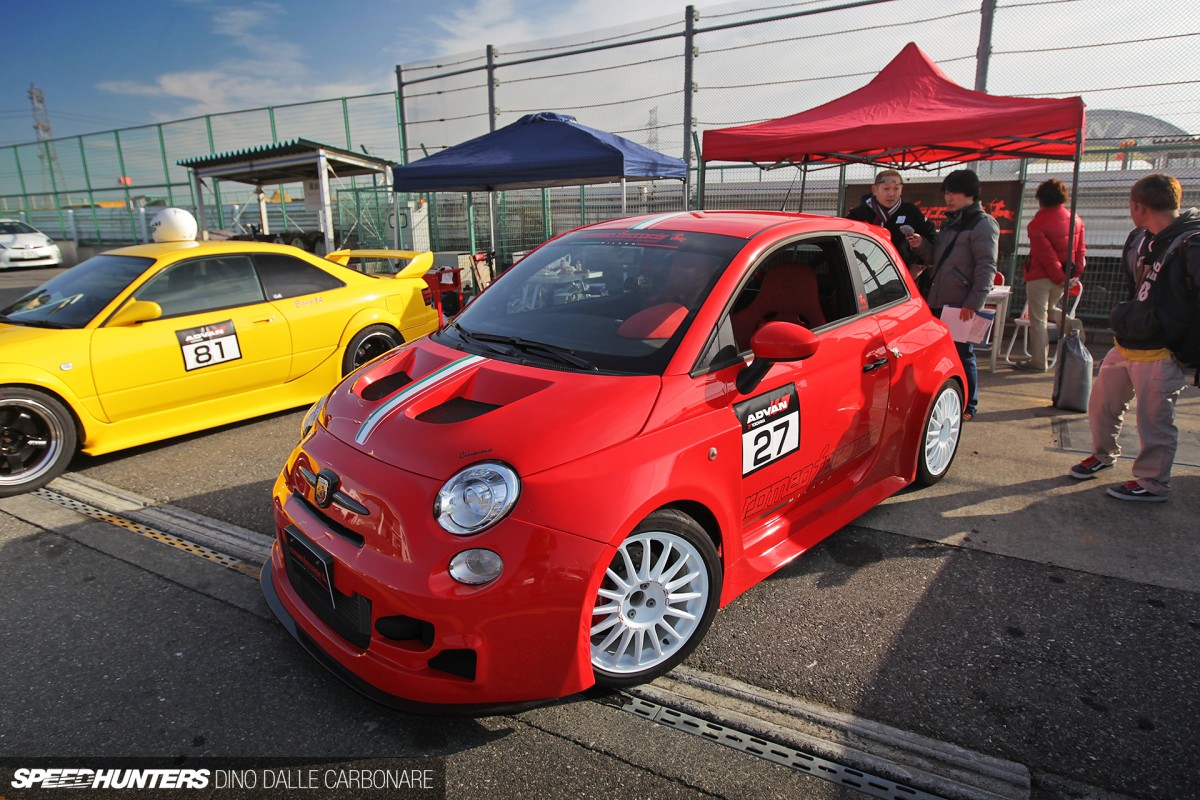 Next to the Levin was this wild Fiat 500 Abarth from N's Stage. The little retro Fiat was sporting a full Romeo Ferraris widebody kit as well as some choice mods to boost power out of its 1.4 L turbo engine. It manage to dip under the 1-minute 10-seconds with a 1'09.752 recorded during the last session of the day.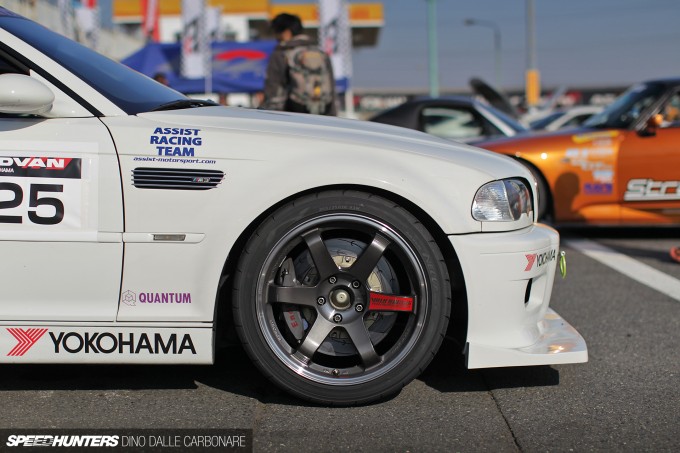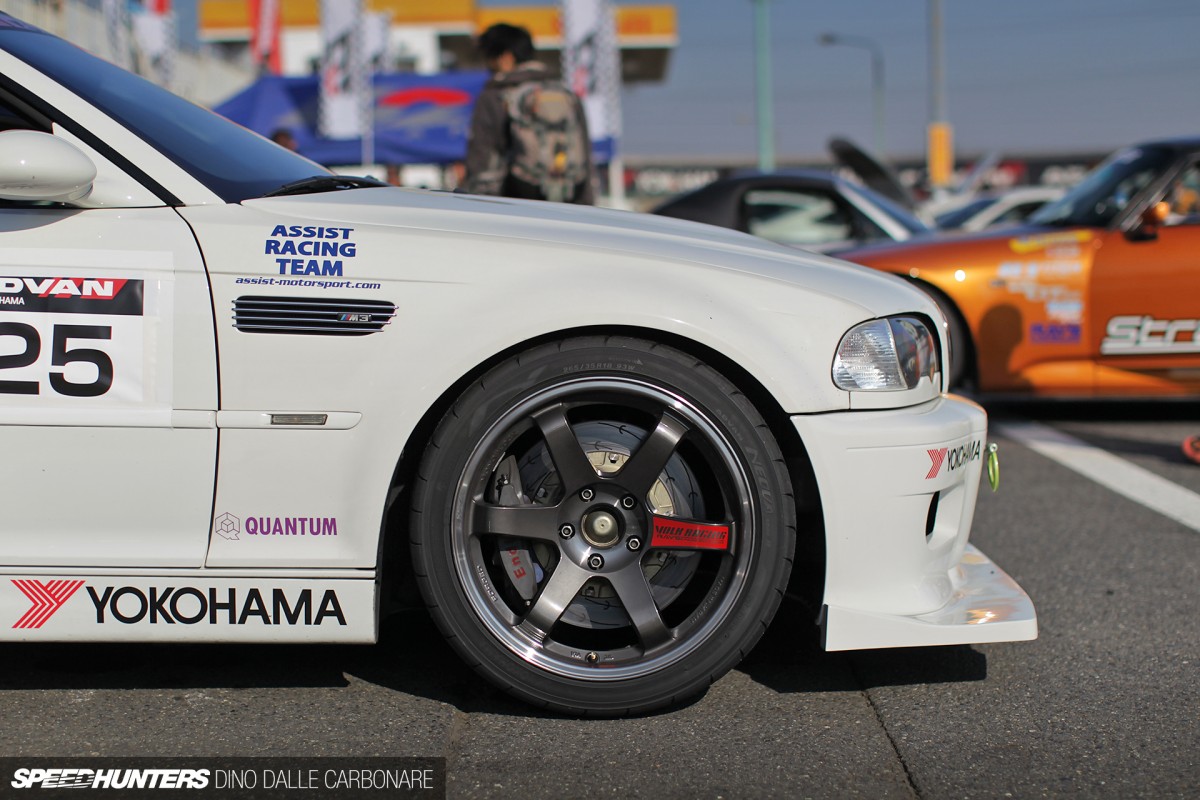 Assist Motorsport provided one of the coolest Euro entries on the paddock with their race-prepped but still street-specced E46 M3. 1'03.061 was the fastest it managed…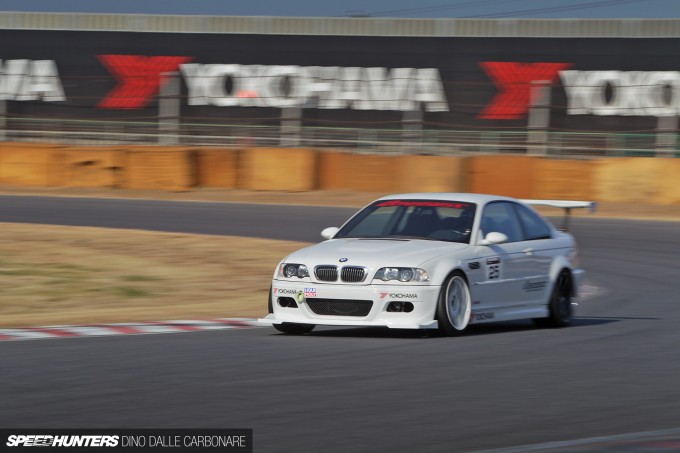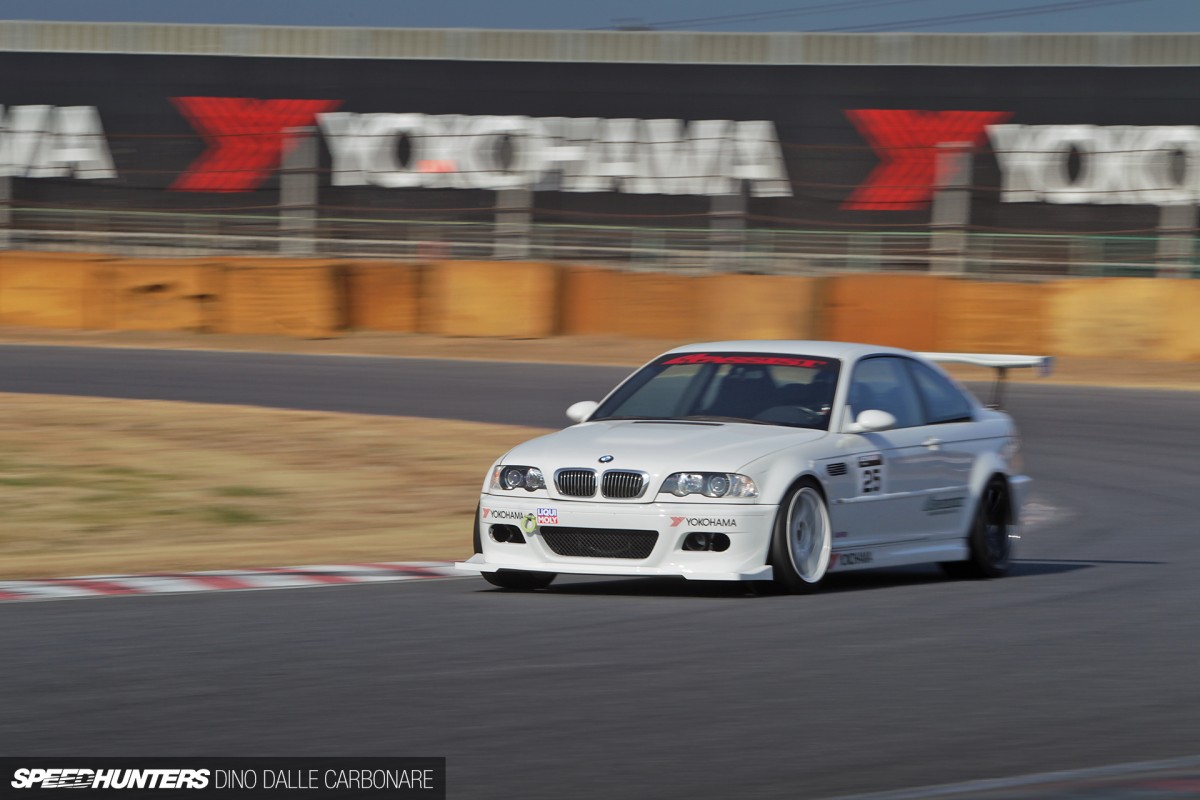 … and it looked and sounded phenomenal setting it. Why is it these JDM-tuned M3s always look so damn good!
VTEC just kicked in, yo!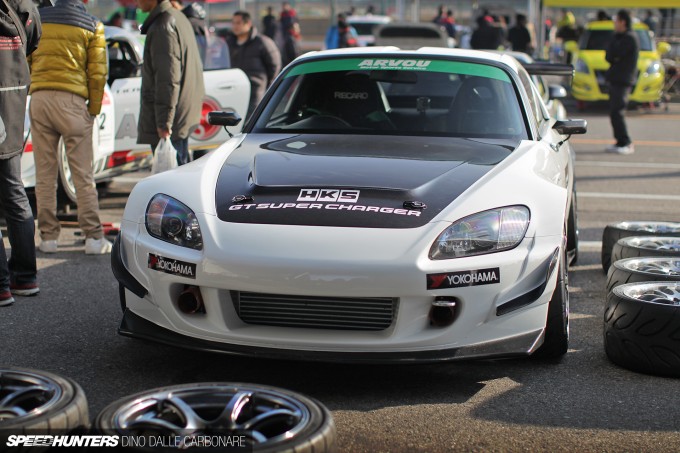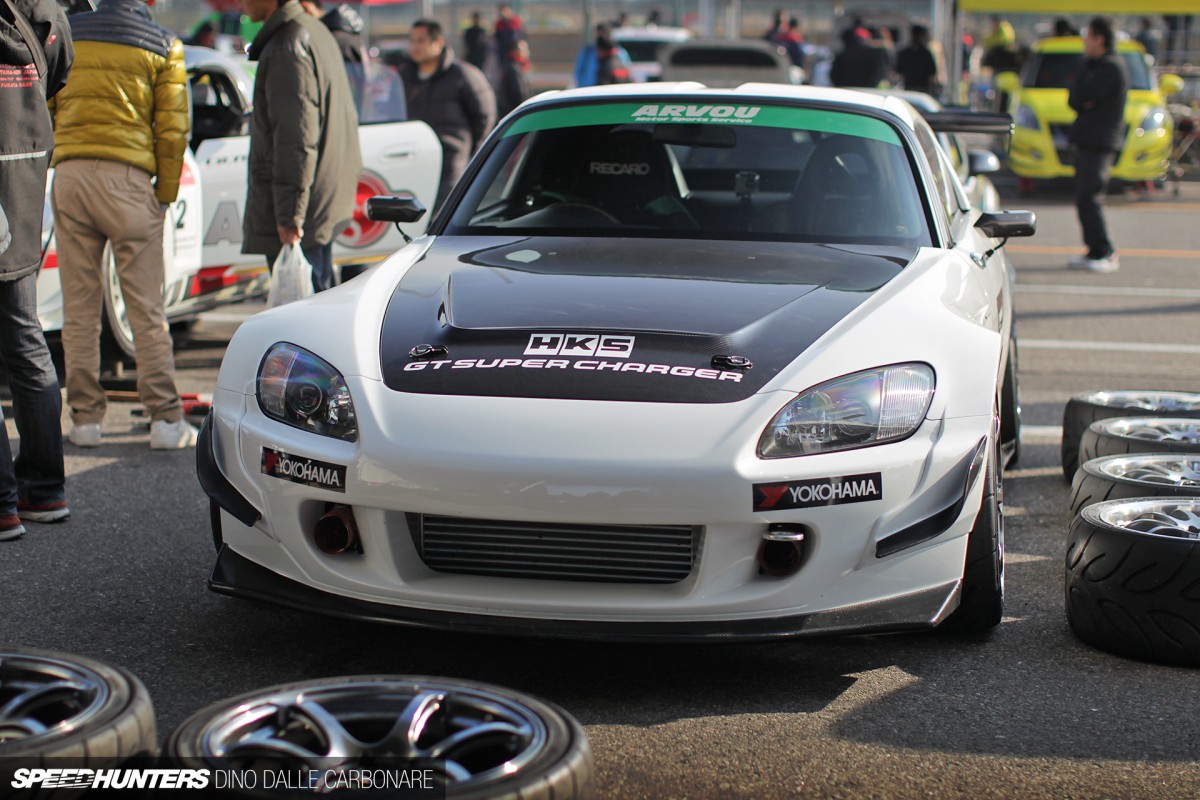 Don't worry I haven't forgotten you Honda folks! Along with Spoons Fit RS there were a few other cool Hondas battling for fast times, one of them being the Arvou S2000 running HKS's supercharger kit and developing 400hp. With Arvou president and race car driver Shibata-san driving, they managed a 57.241 on S-tires and as I type this, they have just set their fastest lap at Tsukuba with street radials, of a 59.862. All of this of course proves what a capable chassis the AP1 still is, something the eco-obsessed folks at Honda need to notice. Hint hint!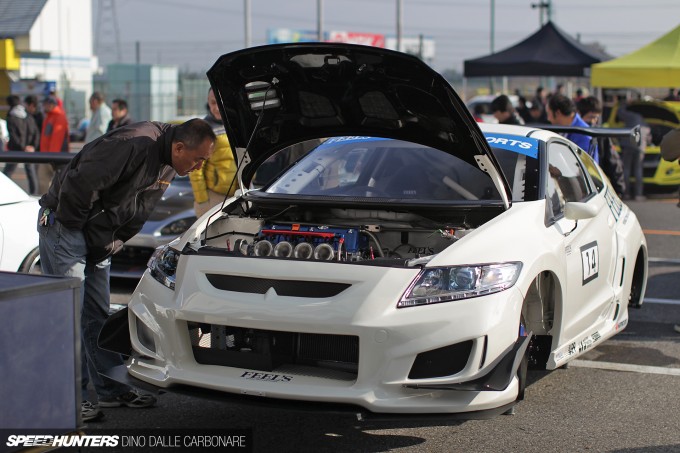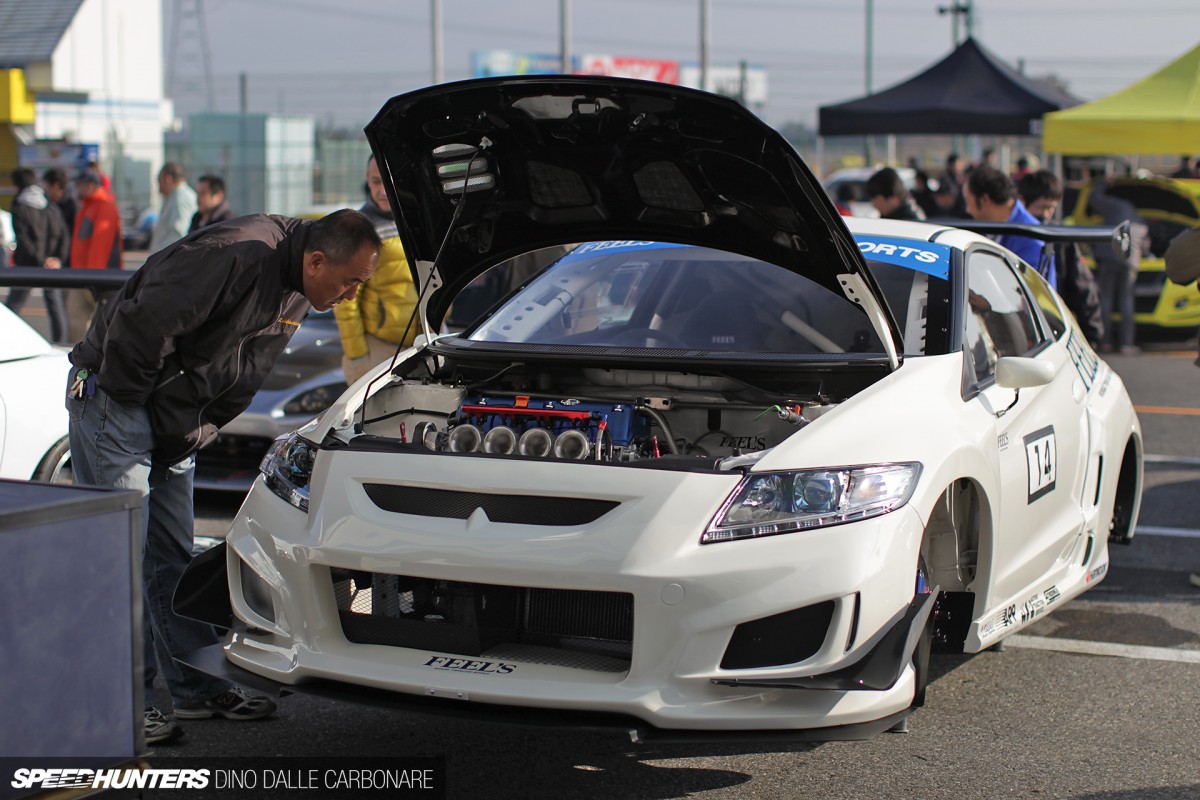 If a car really needs to be eco, well I'd rather it look something like the Honda Twin Cam Feel's ZF1. This is unlike any CRZ out there…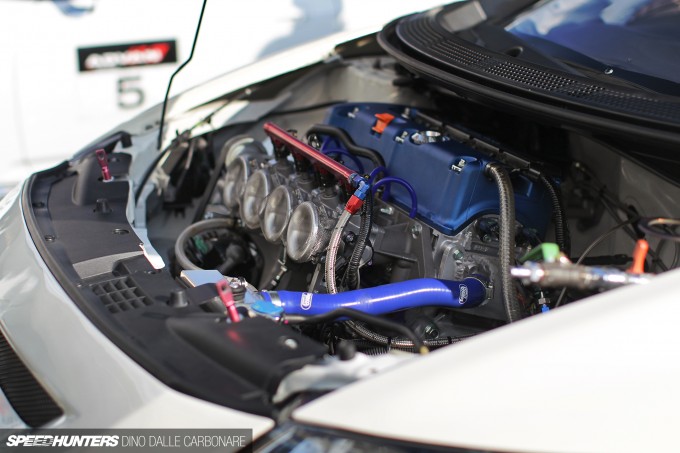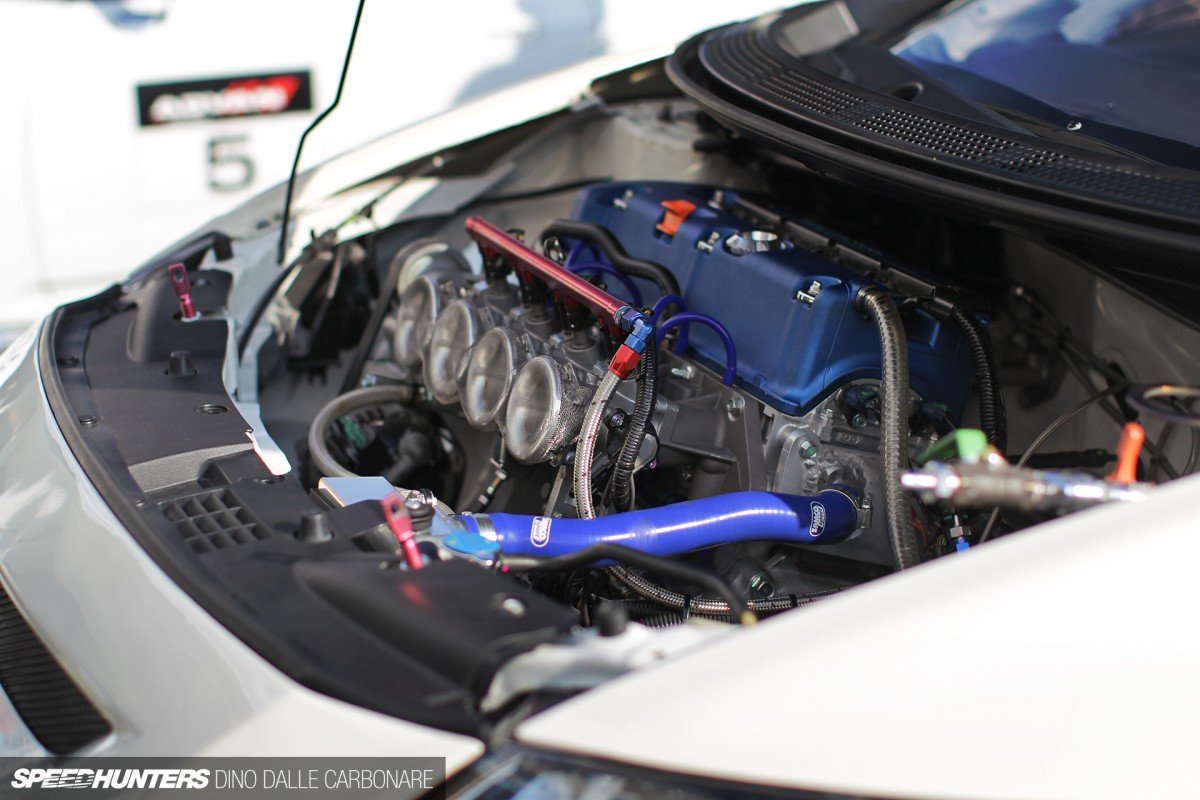 … as it packs a high-revving fully tuned K-series mated to a fully stripped and strengthened chassis.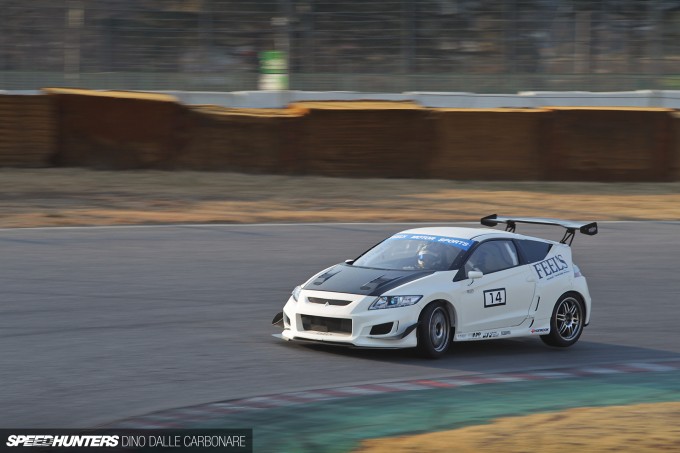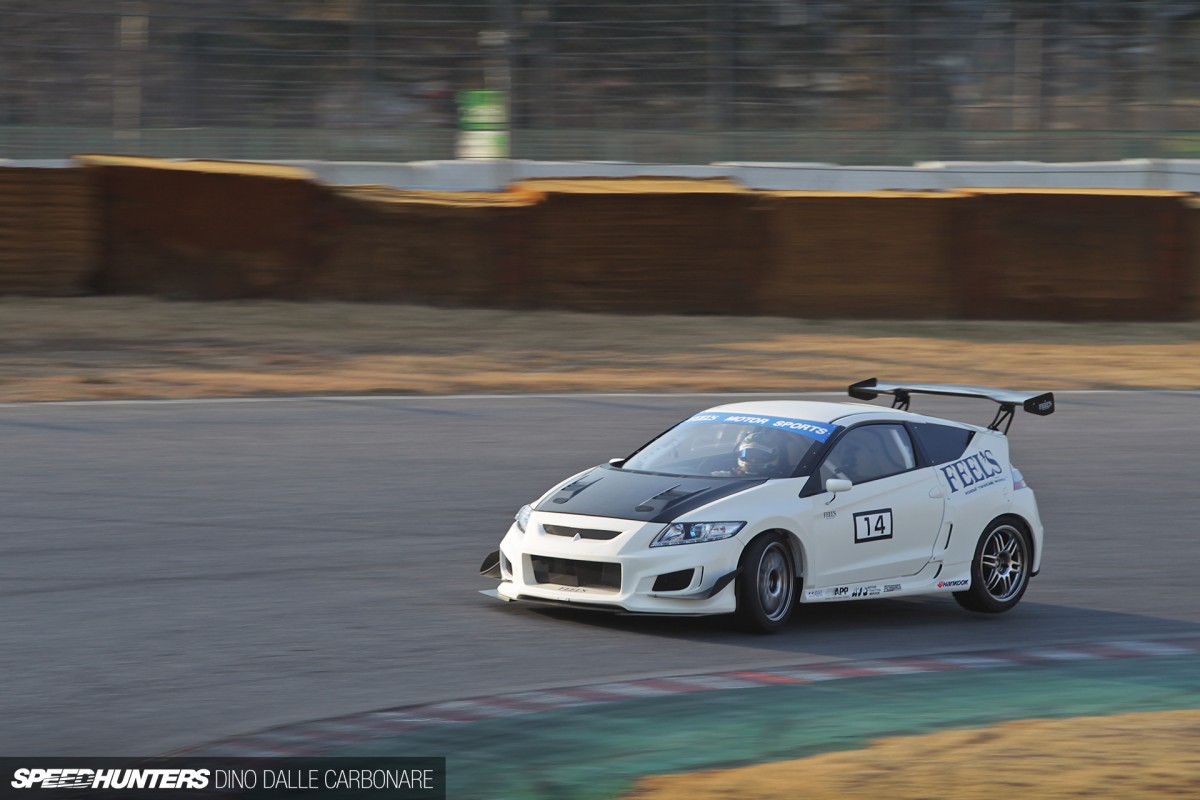 It looked impressive ploughing into Tsukuba's tight hairpin corner lifting its rear inside wheel. Best time on the day was a 1'01.109.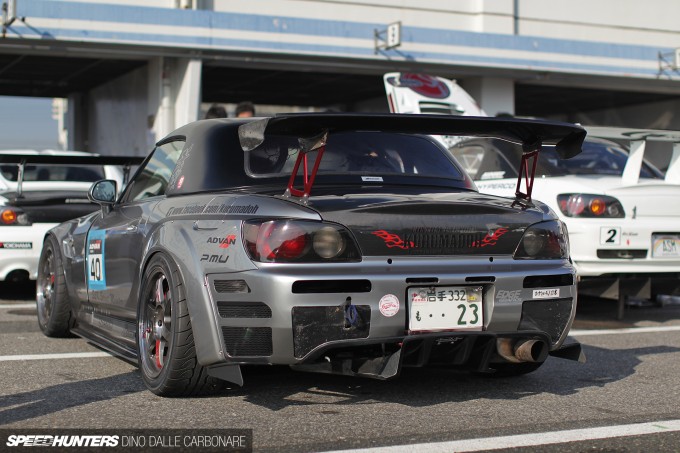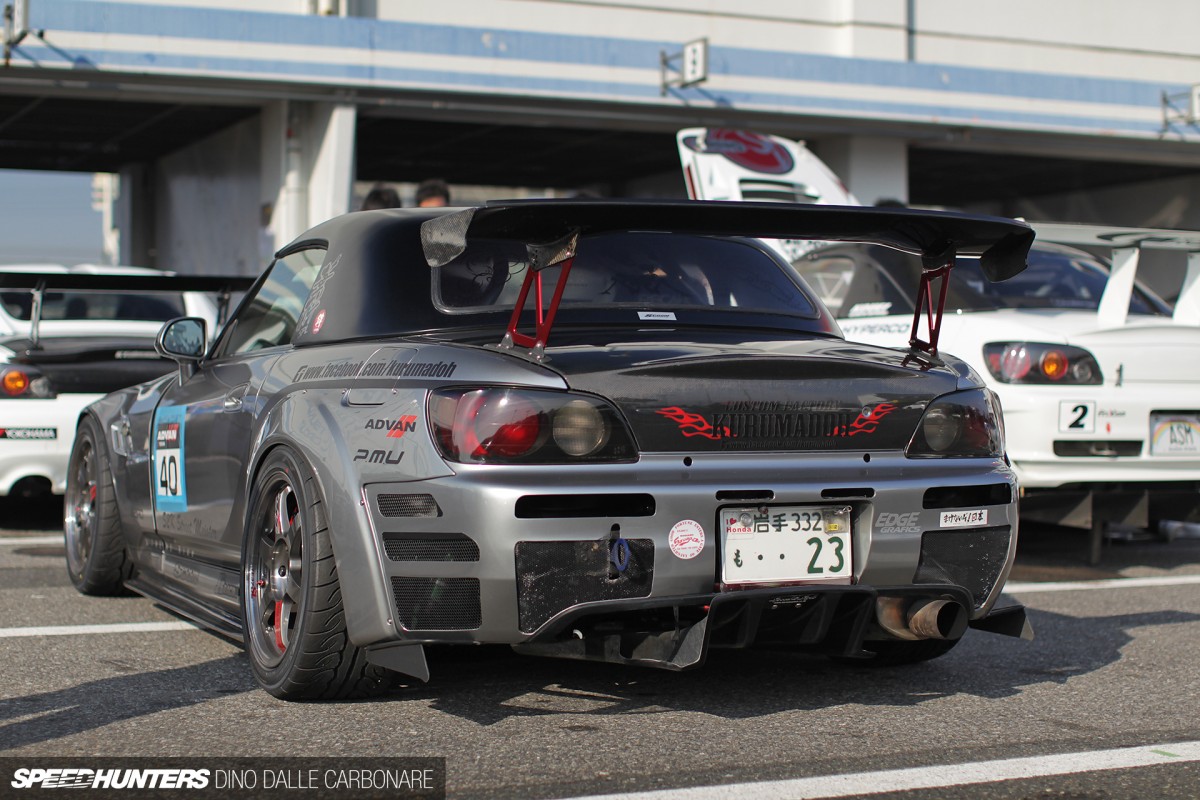 It was cool seeing how everyone is slowly but surely learning more and more tricks when it comes to aero. This is the Kurumadoh Custom Factory AP1, which as you can see is sporting a cut out rear bumper to help cut down on aerodynamic drag.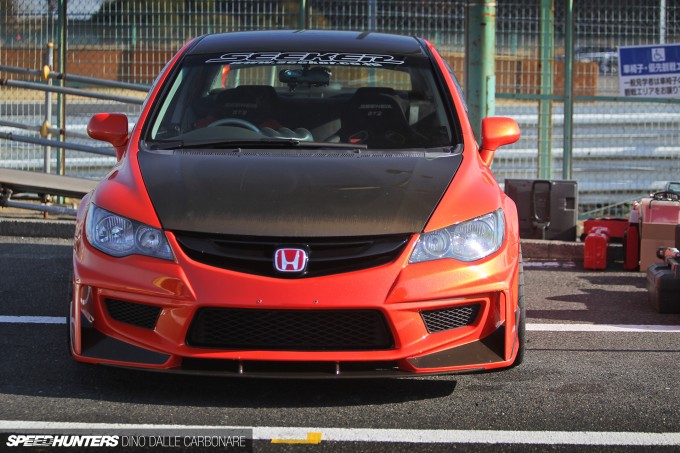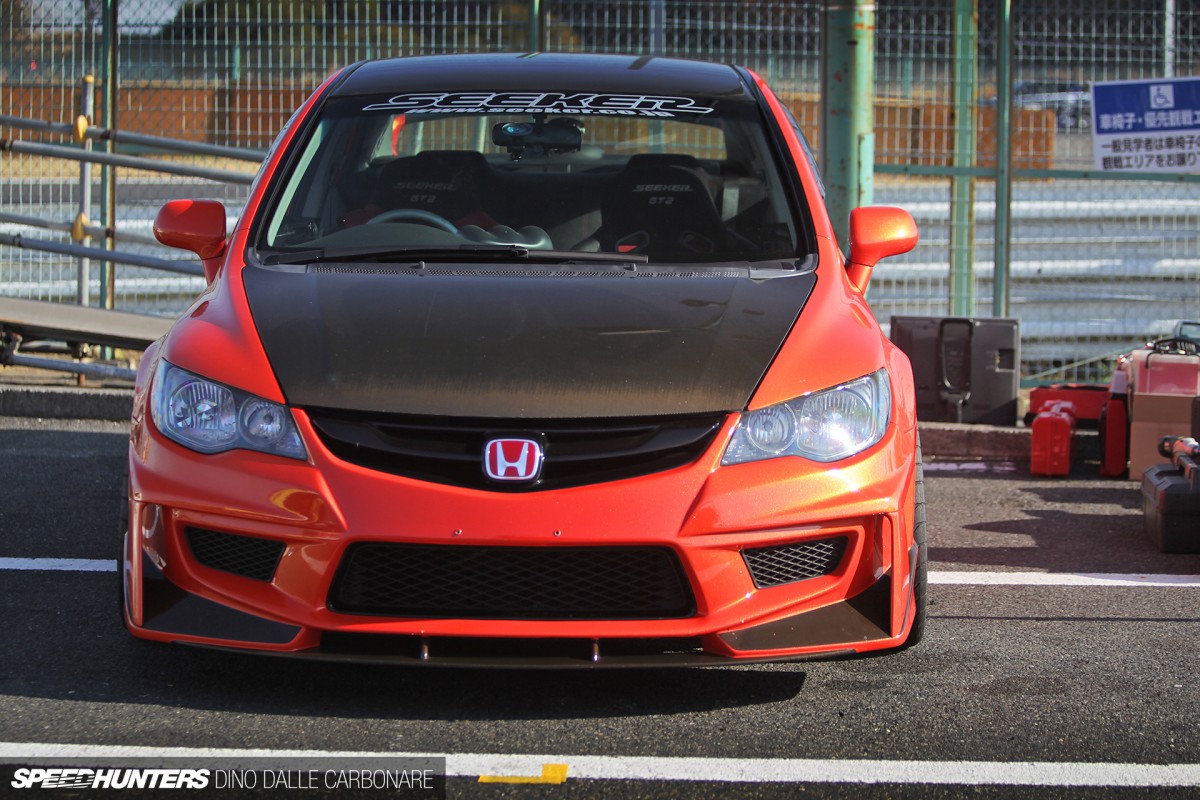 Seeker's unmistakable orange FD2 was on its usual fast pace, like a lot of other cars, posting its fastest time during the colder morning session. 1'03.038 was the best it managed, and as you can see it was running in the street tire category.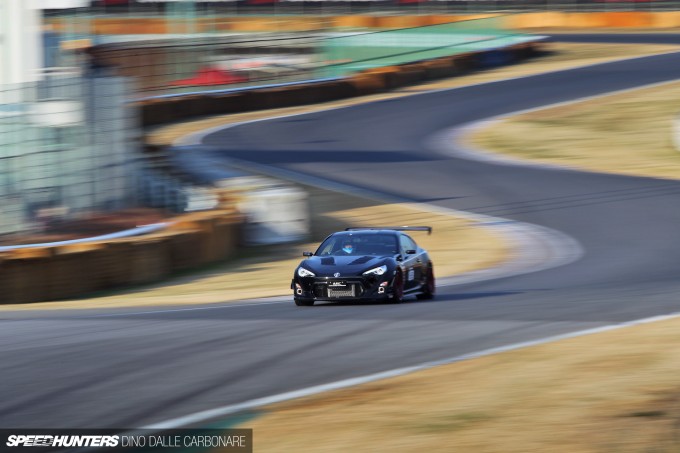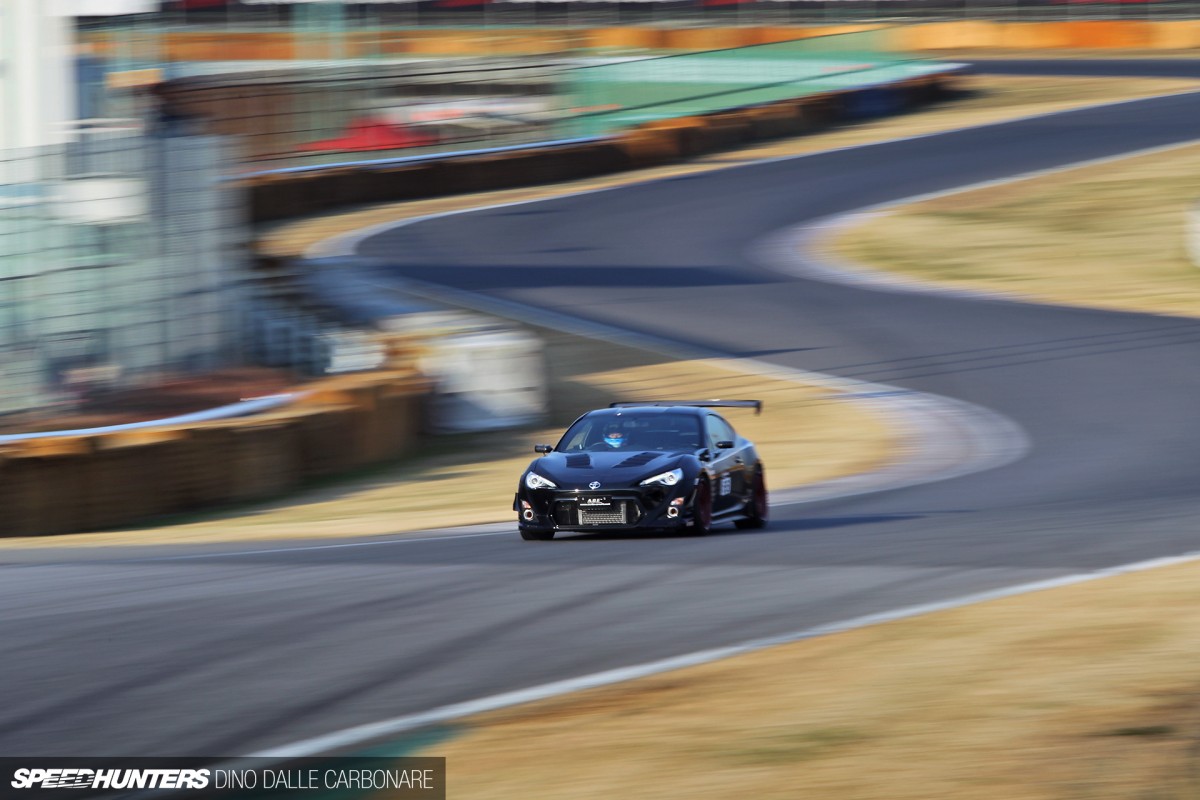 And so we get to the 86s, the car that has single-handedly blown a new breath of life into the Super Battle event. There were 20 cars in the 86 Open Class and that's not counting the more extreme cars like Rusty, Trust and Blitz that were in the more extreme mixed Open Class.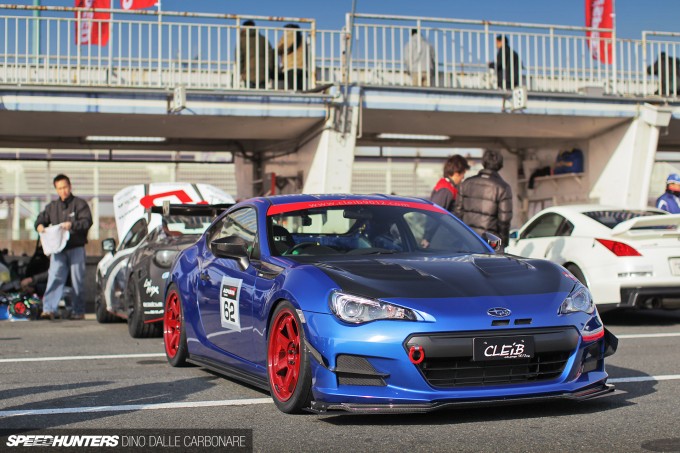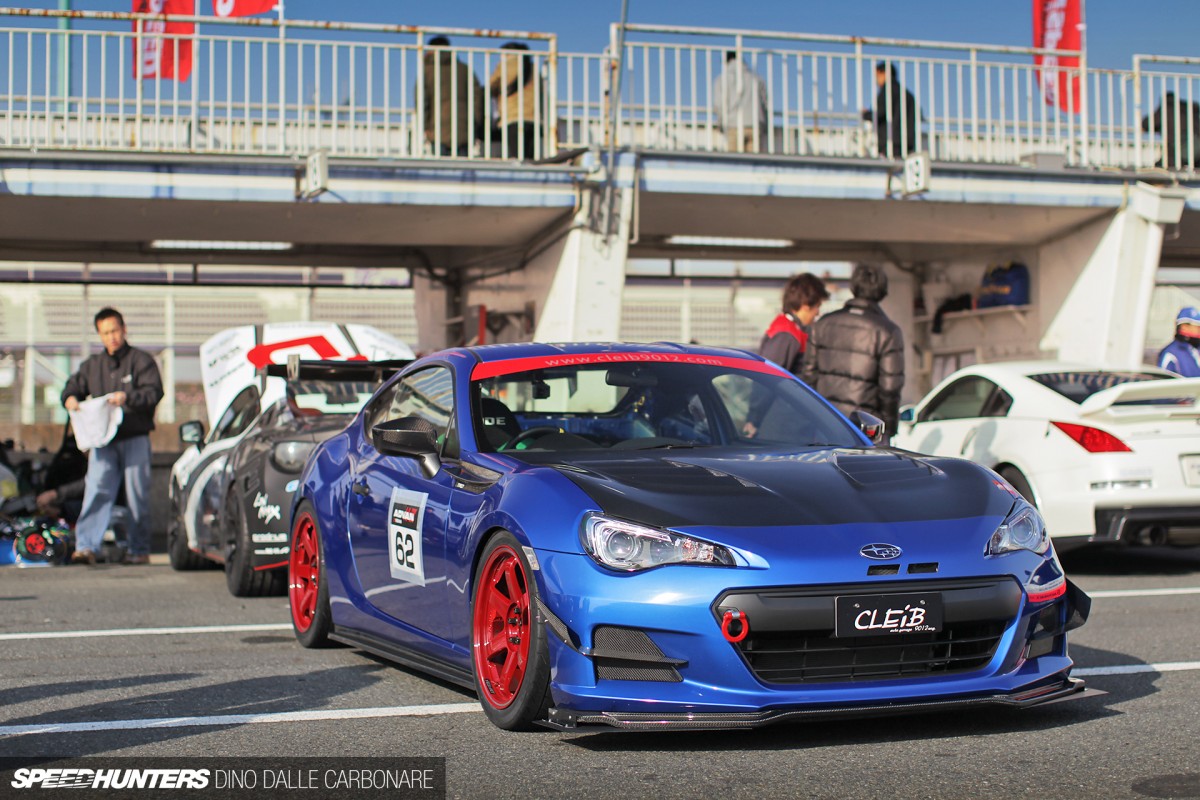 It was cool seeing the CLEiB ZC6 demo car in action. We first saw this car on display at the 86 Style event in Fuji this past summer and it has quickly become one of my favorite BRZs out there. The carbon aero additions are very cool and they obviously make a difference as the car – which is still sporting a pretty much stock motor – managed a 1'05.388 in the hands of Tarzan Yamada.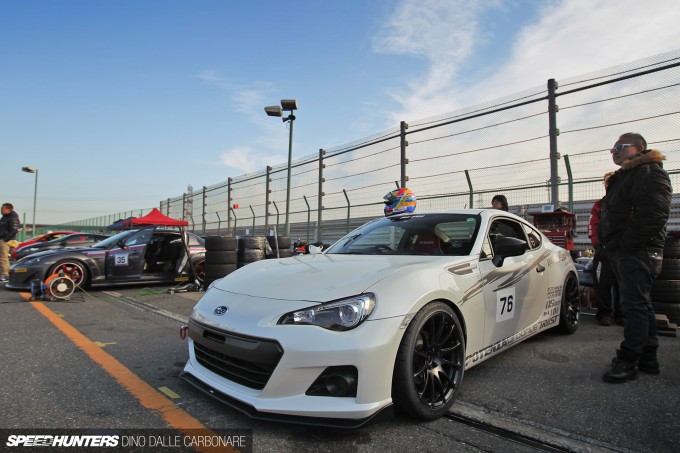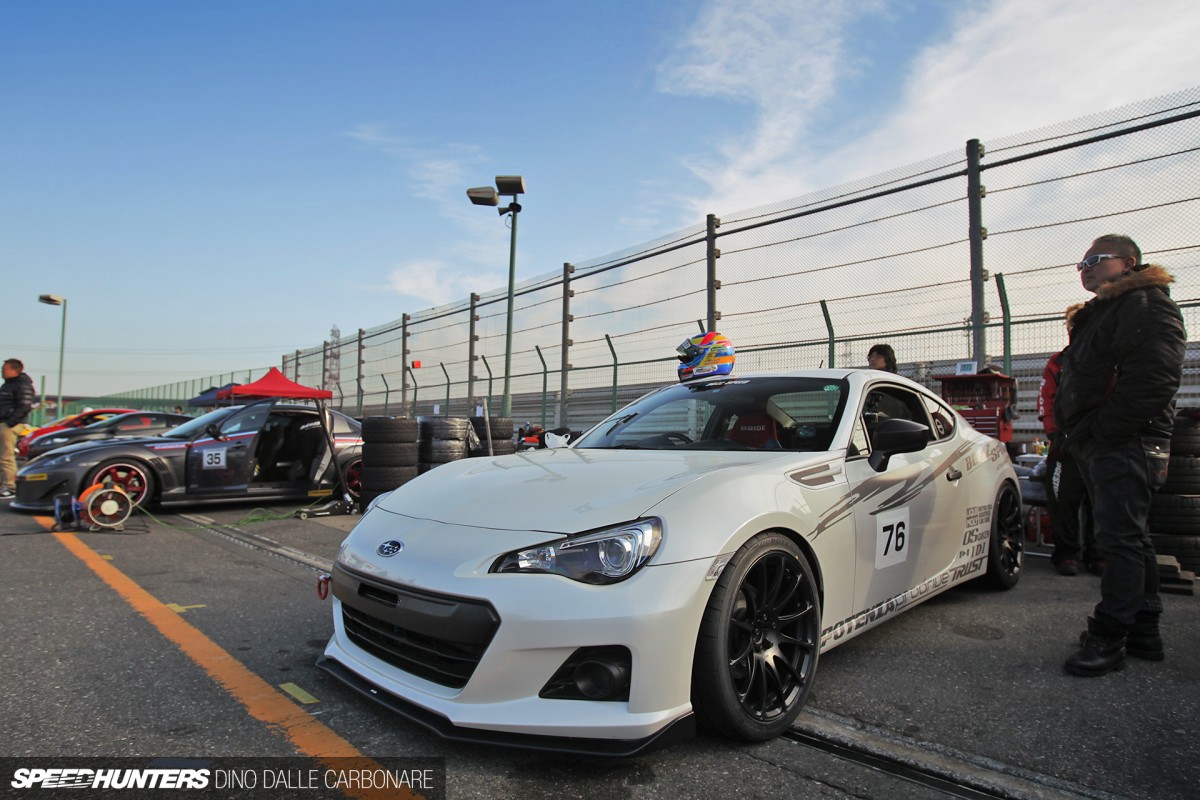 If canards and carbon bits are a bit too much for your then you will no doubt prefer the Bozz Speed BRZ which has taken the more simple approach, running only an STI front lip spoiler, Prodrive wheels and track-spec suspension. Like the CLEiB car, its engine is stock and set a baseline time of 1'07.154 – a time Bozz Speed will now focus on improving.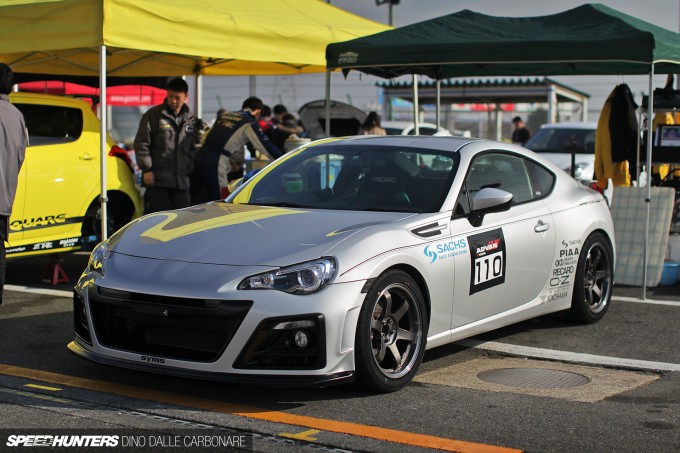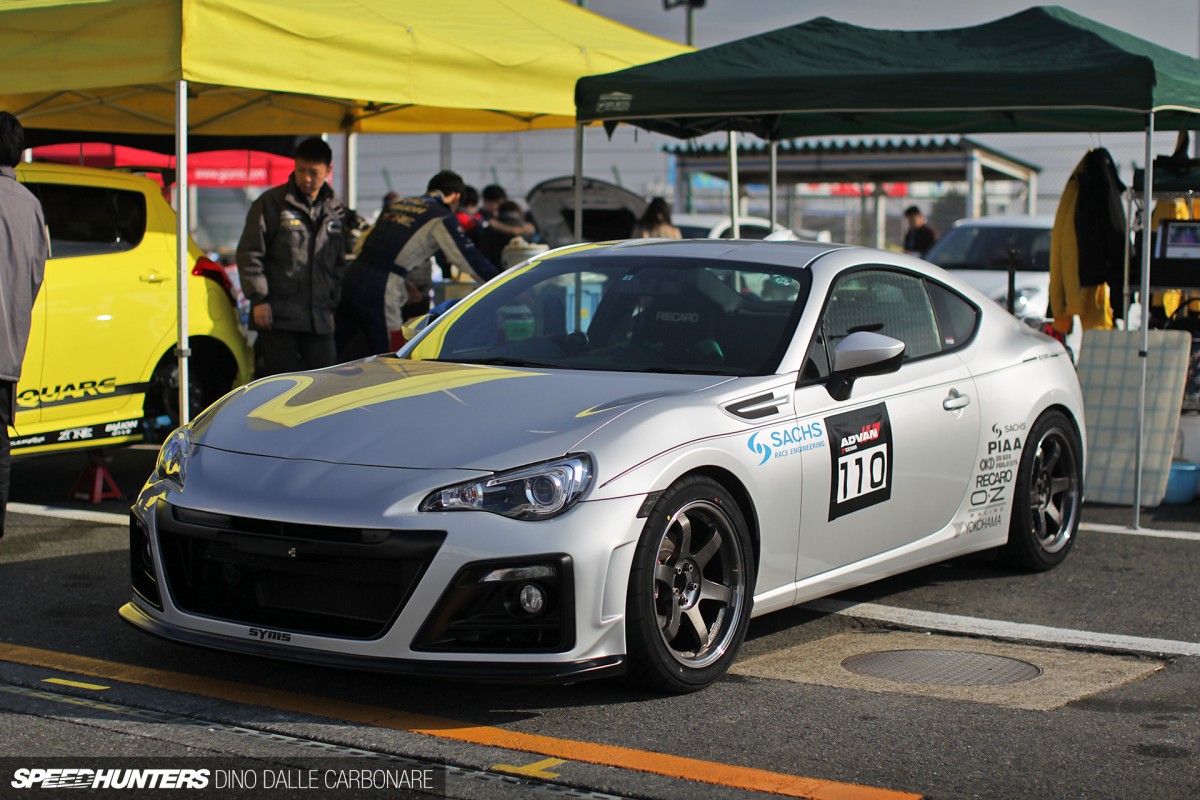 A lot of tuners were out there just to try out suspension set-ups like Syms, running a specific set of Sachs dampers especially for the ZN6/ZC6. With race dampers, a brake upgrade and Neova tires this BRZ lapped Tsukuba in 1'06.915 and it represents the usual package most hachiroku/BRZ owners will initially go for.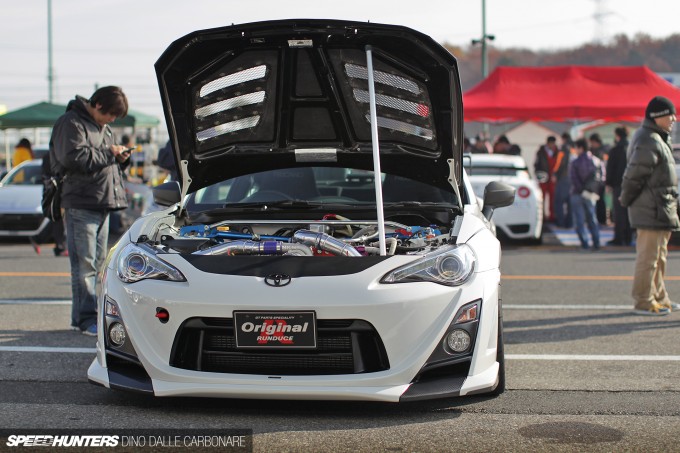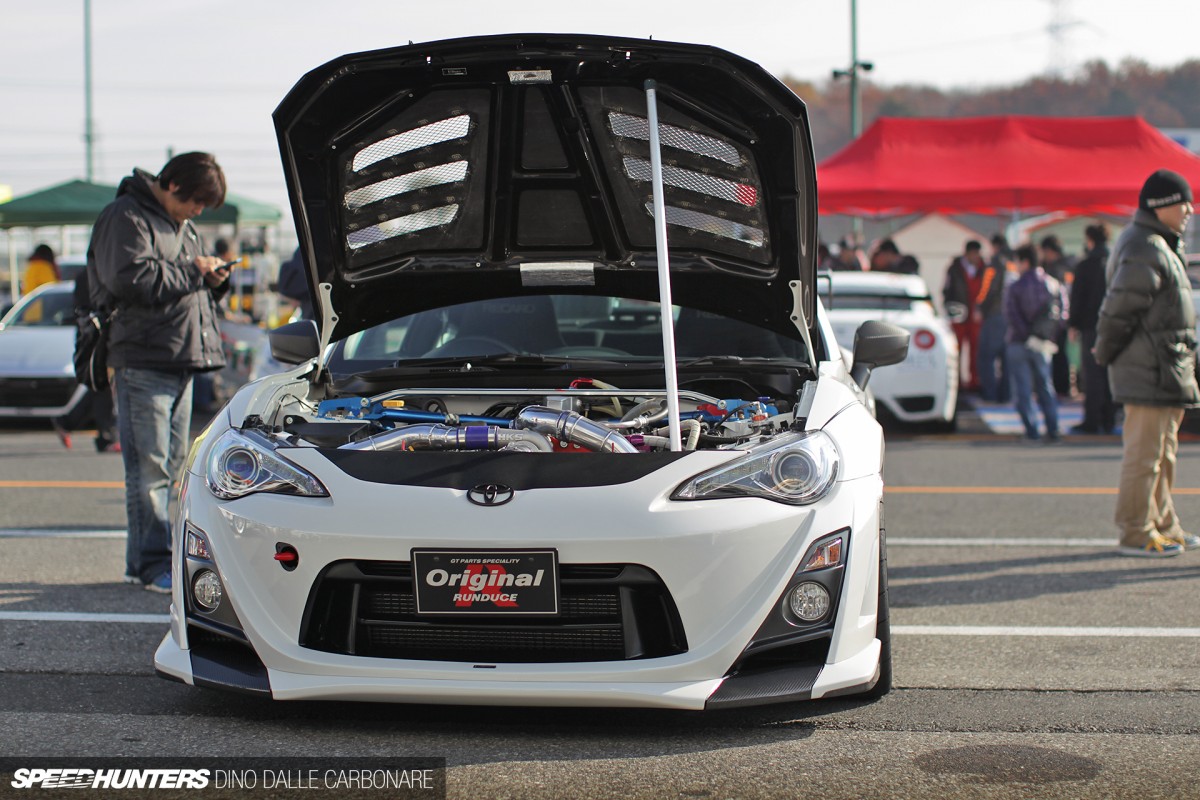 At the other side of the spectrum was the Original Runduce 86, representing the second step an owner would embark on after sorting out the handling and braking side of things.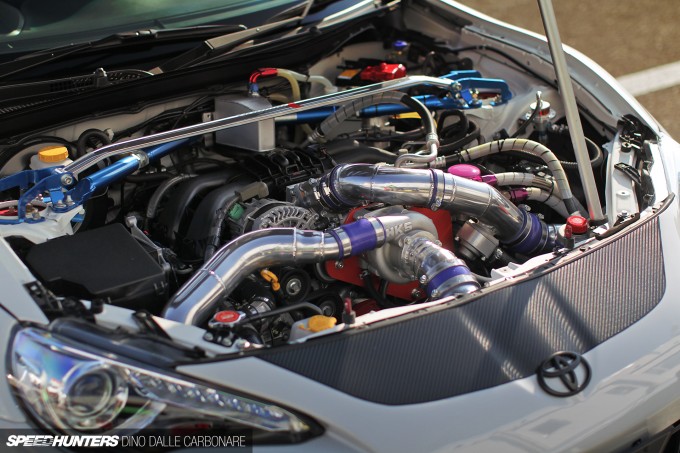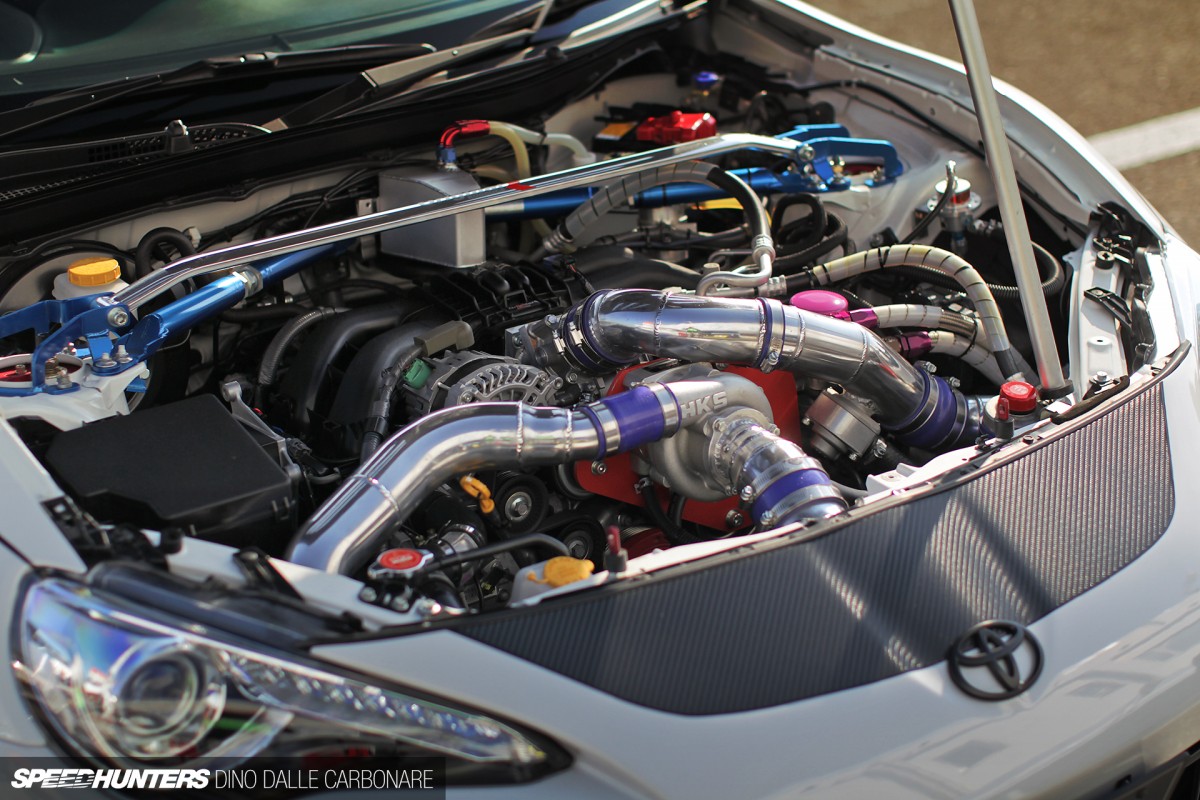 Under the hood the rebuilt FA20 engine, now running forged 86mm pistons and strengthened rods, is mated to a customized version of the HKS supercharger kit, which altogether boosts power to close to 400hp. All of this was good for a 1'01.677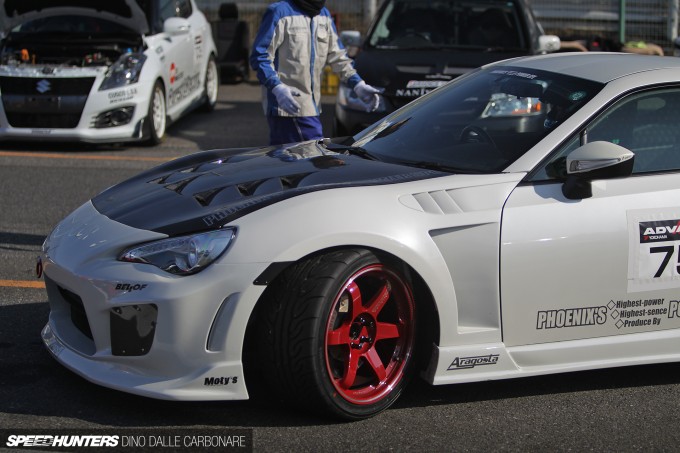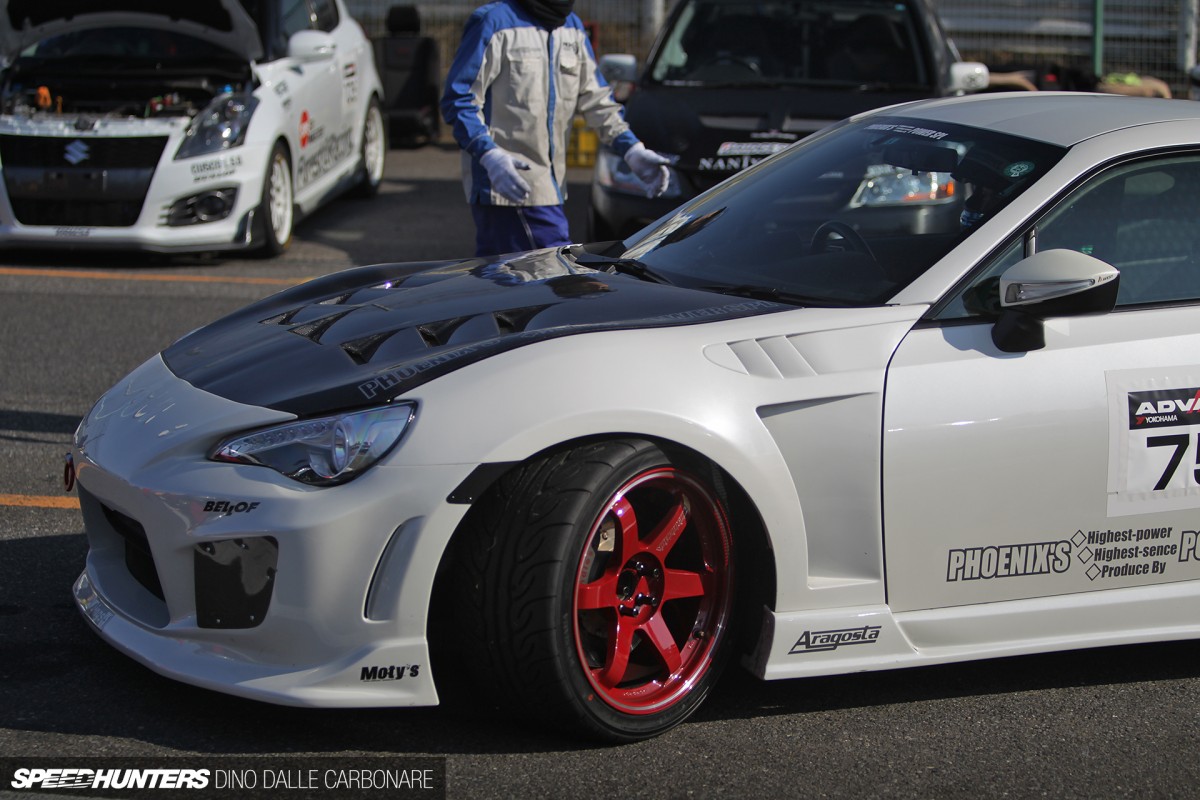 Phoenix's Power came up from Kyoto with their ZN6, yet another car that is slowly being built up. Its 1'03.611 lap proves the suspension and braking upgrades are doing their thing and judging from the sort of cars these guys are well known for building, more power will sooner or later be added.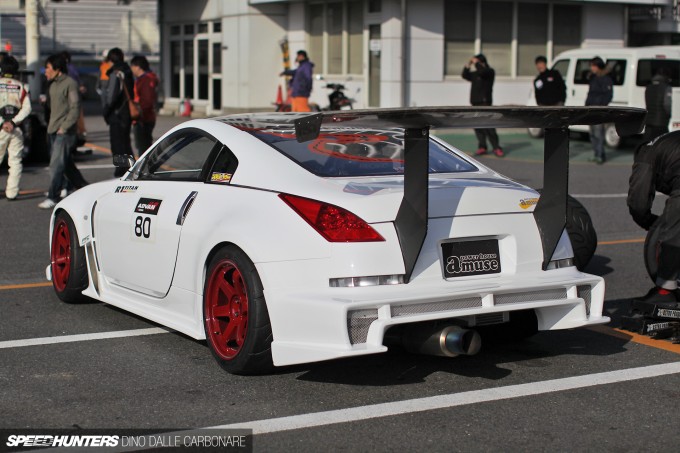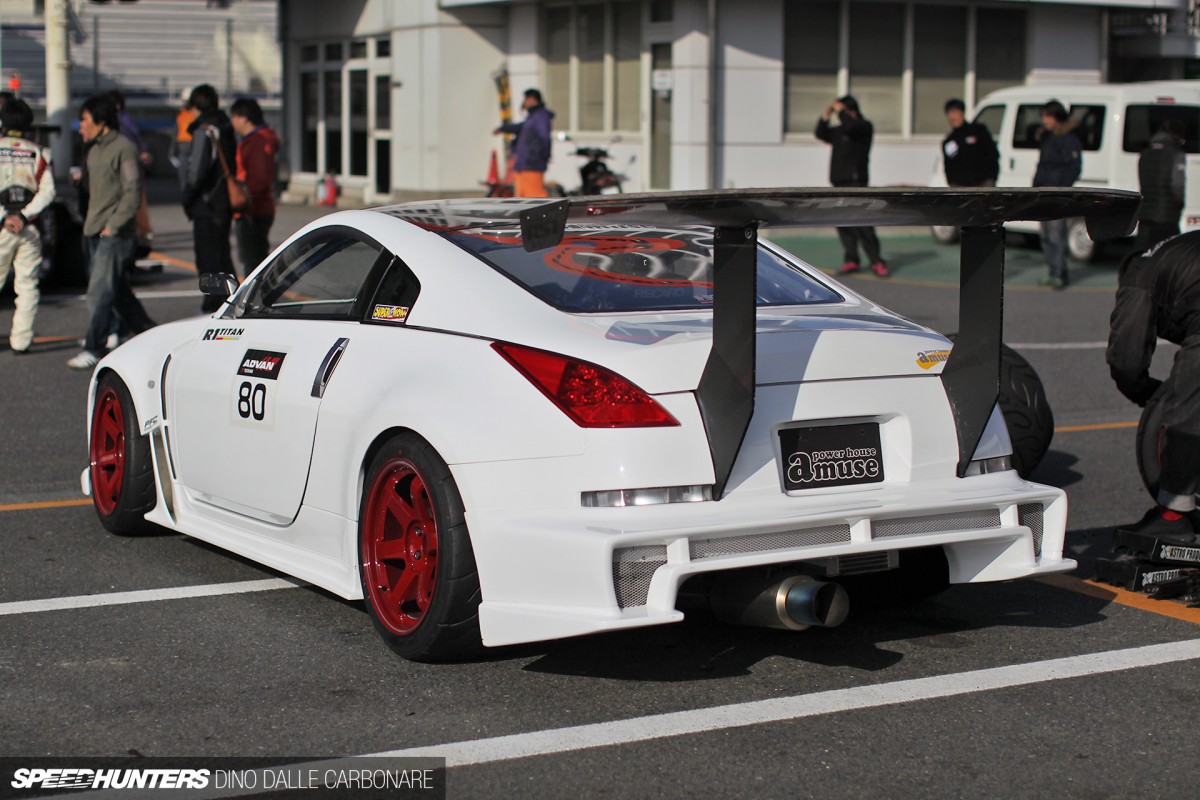 Here is another good example of how more and more time attackers in Japan are taking aero more seriously. This Amuse customer Z33 was entered in the open class and running on sticky S-tires broke the minute with a 59.533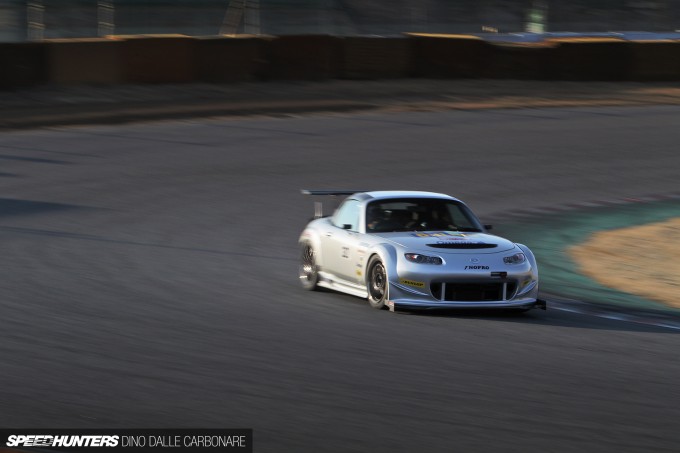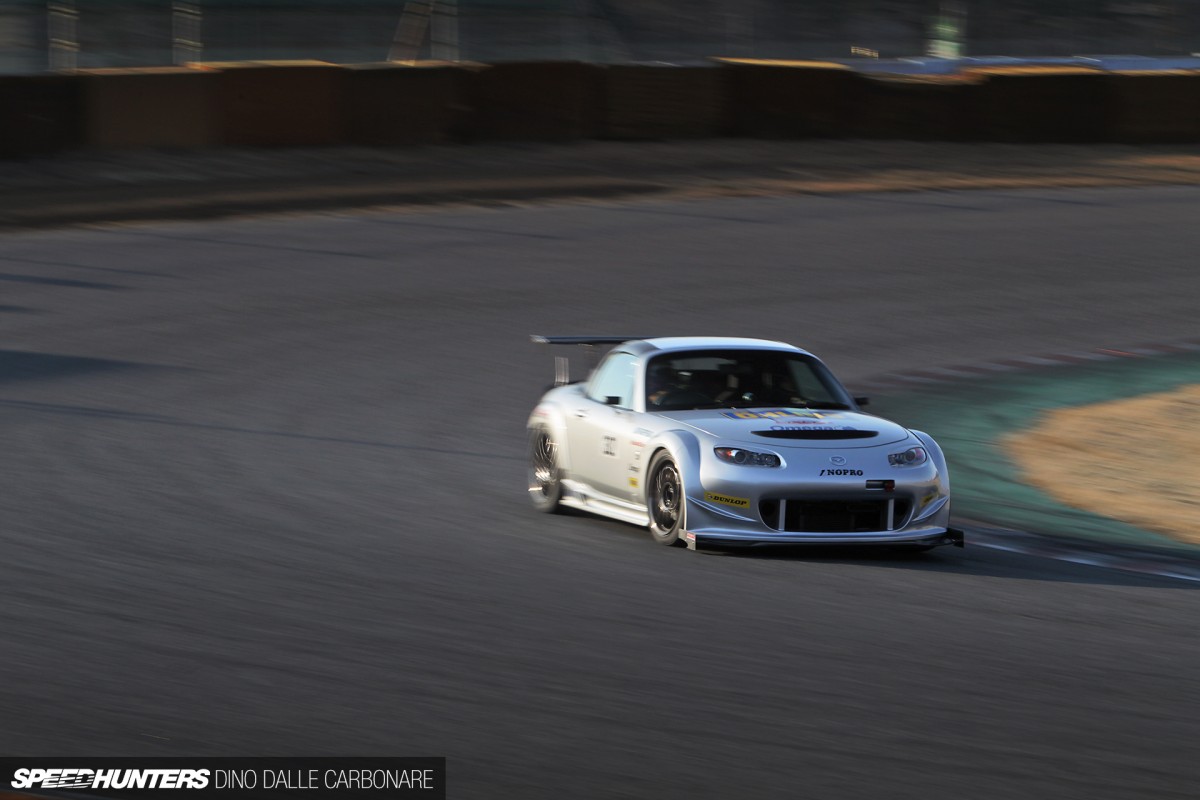 With the replacement for the Mazda Roadster just around the corner I thought I'd finish up the coverage to this year's Super Battle with a shot of the Nogami Project NC, a car that never misses a time attack event at Tsukuba! 1'04.766 was the fastest lap it got this year.
I hope all of this goodness gets you ready and salivating for the 2014 season of JDM time attack!!
Dino Dalle Carbonare
Instagram: speedhunters_dino
dino@speedhunters.com
Time Attack event coverage on Speedhunters
Time Attack car features on Speedhunters