Pop quiz: what do you get when you take one of the world's largest car company's racing R&D wing, give them unlimited resources and cut them loose to improve the hottest compact car in the world today? Answer: the TRD Griffon Concept. Don't let the wacky name fool you, this car is all business; and unlike most half-cocked concepts, you might actually want to drive it.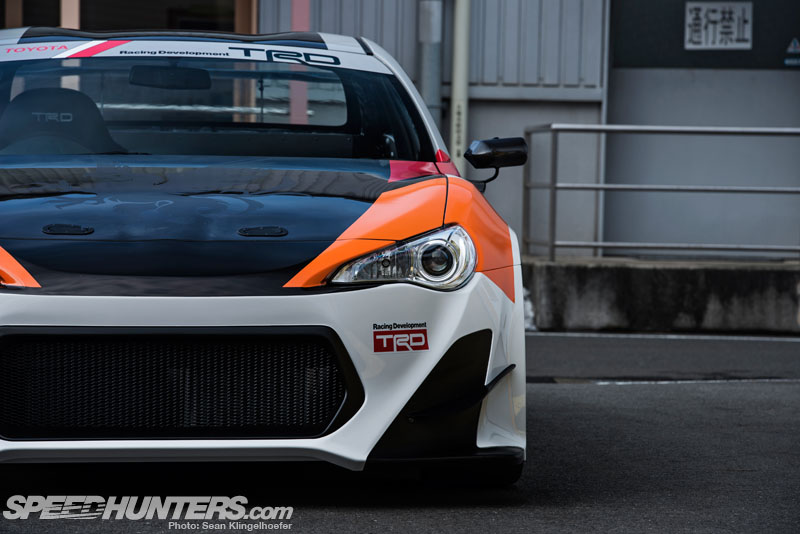 Fortunately, at least if you were a Toyota test driver, you could – because this car is more than just a show-piece but is actually an R&D test mule. In fact, the car has already logged many test miles at circuits like Tsukuba where Dino caught a rare first glimpse of the car back in December before its debut at Tokyo Auto Salon.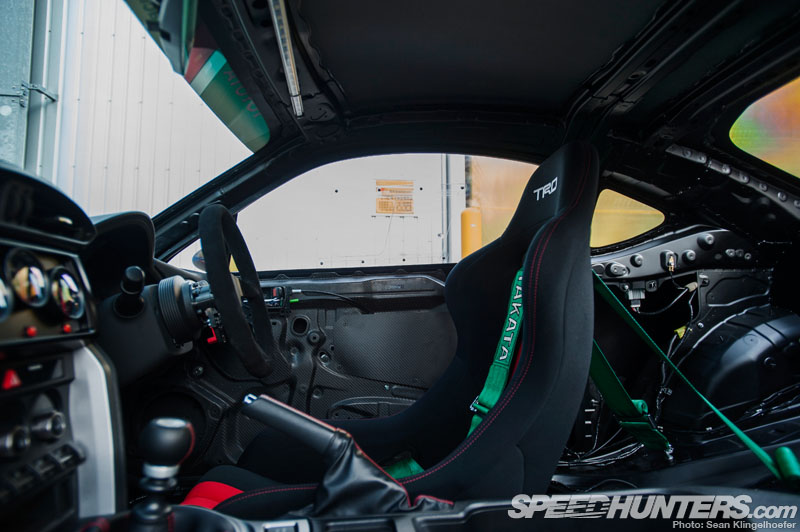 I would imagine then that most of you have probably already seen this car at some point, but I doubt many of you have had this in-depth of a look. On the exterior it's obvious that something fairly incredible has been done to the car, but it's only after you peek beneath the surface that the staggering transformation can really be appreciated.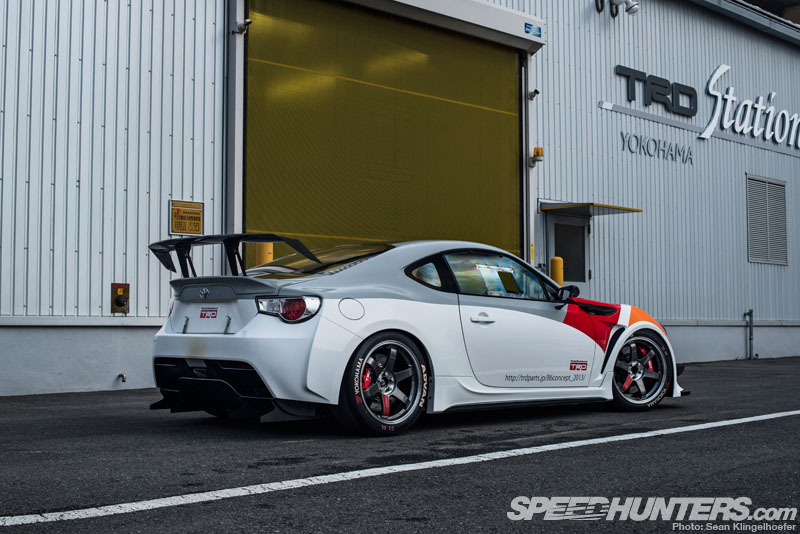 In fact, I'd argue that aside from the obvious bits like the canards, rear diffuser and pointy wing, the outside really doesn't give much away. The first time I saw the car at TAS I actually moved on rather quickly, it wasn't until I went in for a closer look the next day that it became obvious I would have to get better acquainted with the car once the show was over.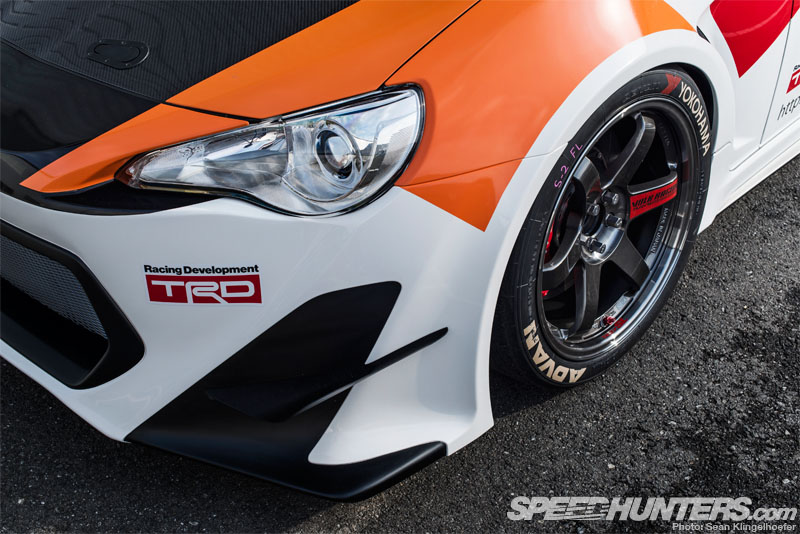 Of course a spotlight on the car was a mandatory part of our TAS coverage, but Dino and I knew that we needed to spend some more time with the car in order to do it justice. There's just so much awesome oozing out of every last millimeter that can't be properly appreciated in the context of a car show.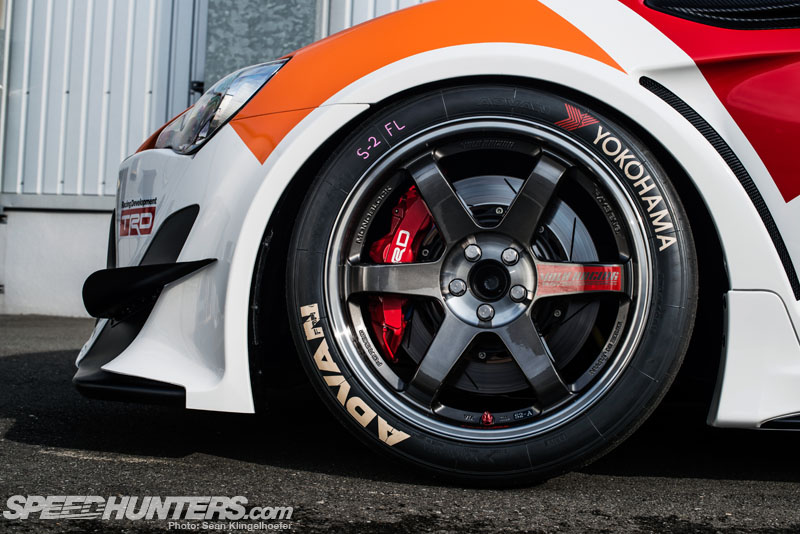 Case in point: just take a look at the wheel / tire / brake area… it's mind blowing. Items don't get much more top-shelf than TE37SLs and six-piston Brembo calipers with floating rotors. I don't think that there's a ZN6 owner anywhere in the world that wouldn't kill for that package! But this stuff is just the tip of the iceberg.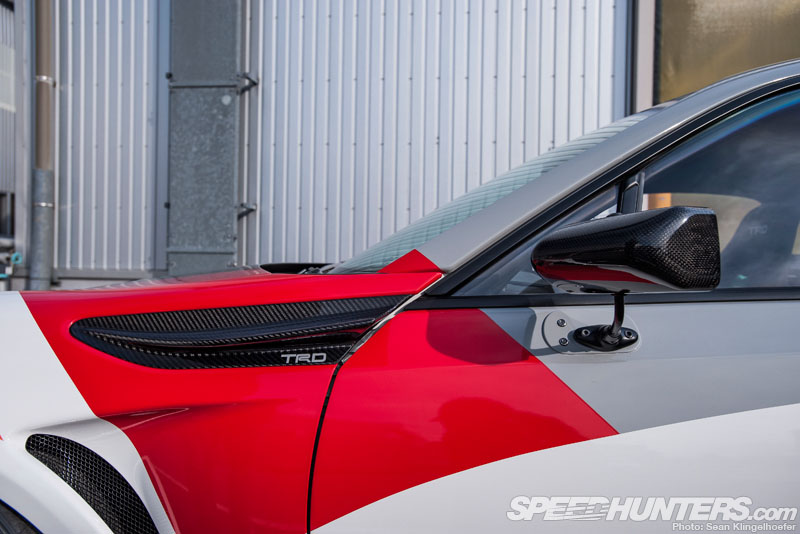 TRD has completely re-sculpted virtually the entire exterior of the car, adding width, ducts, channels and dive planes to various surfaces. While much of the car is still in a bespoke prototype phase, there are also items, like the TRD "Front Fender Aero Fins" that we also saw on TRD's other demo car a few weeks ago, that you can actually purchase.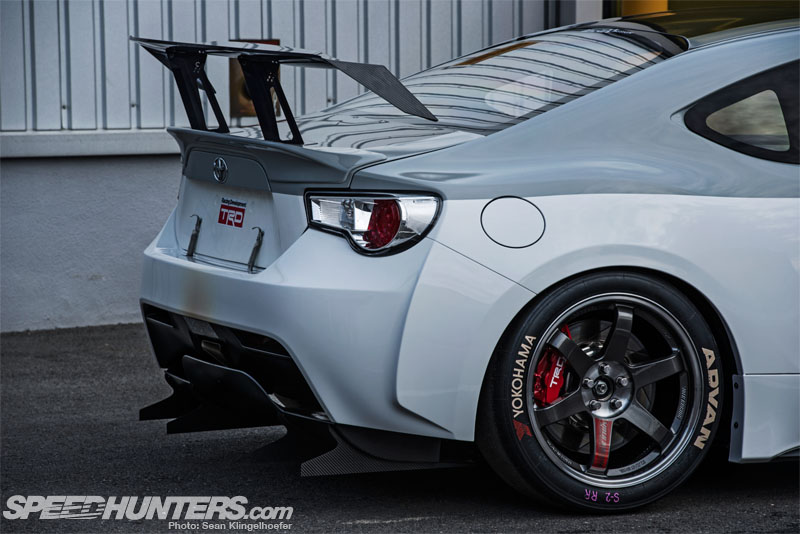 Around back it's more of the same, lots of aero bits and pieces that have been masterfully shaped out of dry carbon and fiberglass and painstakingly grafted to the body.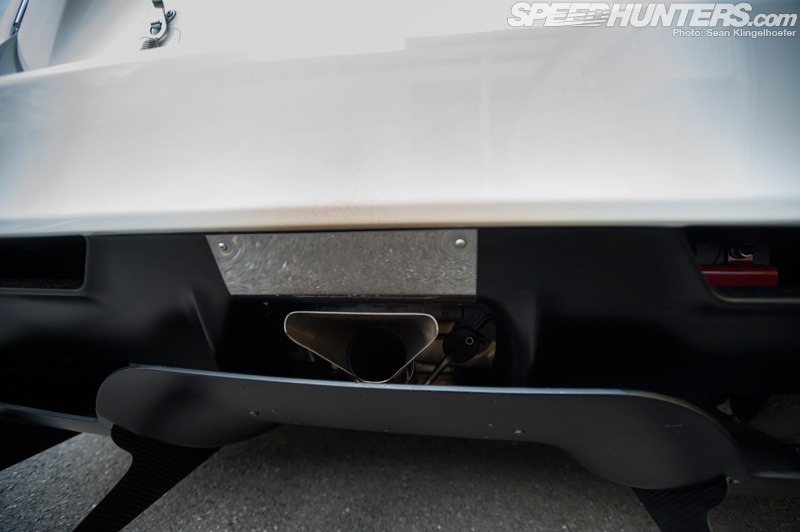 The centerpiece of the rear bumper, both literally and metaphorically, is the rear diffuser with a center-exit exhaust pipe which terminates in a glorious triangular shaped megaphone. It's the little details like the way the exhaust is finished or the corresponding heat-sheild where you start to catch little hints that TRD might be showing off a little…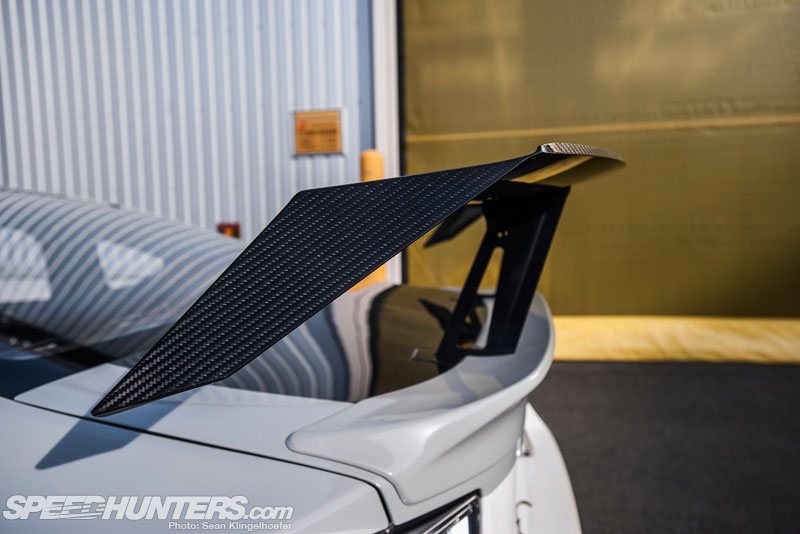 But that's nothing compared to the rear wing, which really starts to hint at just how serious of an exercise the Griffon is. I've seen a lot of wings in my day mounted to all sorts of cars ranging from rusted-out-ricebuckets to top-tier-motorsport and I've never seen something so technically sound and beautiful as this.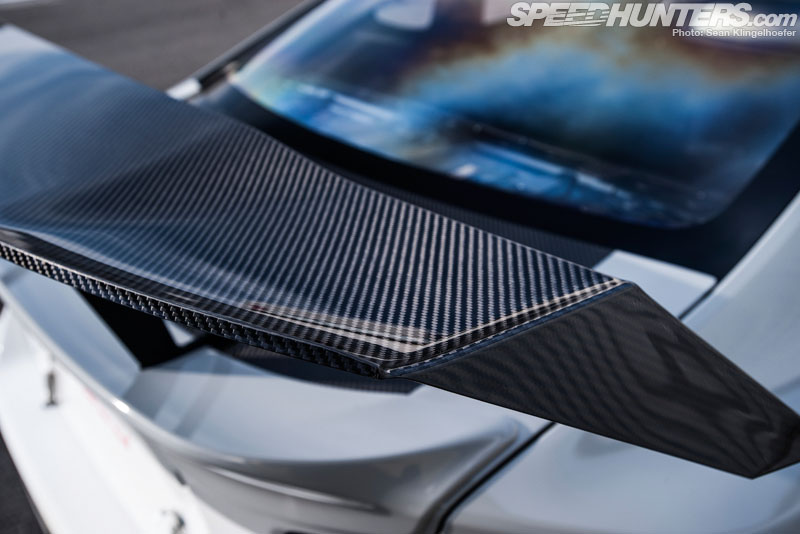 If you'll excuse me, I'm going to go off on a bit of a rant here, but I think you'll find it just. You see, I don't believe that the word perfection accurately describes the spoiler mounted on the Griffon. I could stare at this thing for hours, in fact I think over the course of the shoot I did… and I didn't manage to find a single strand of fiber out of place.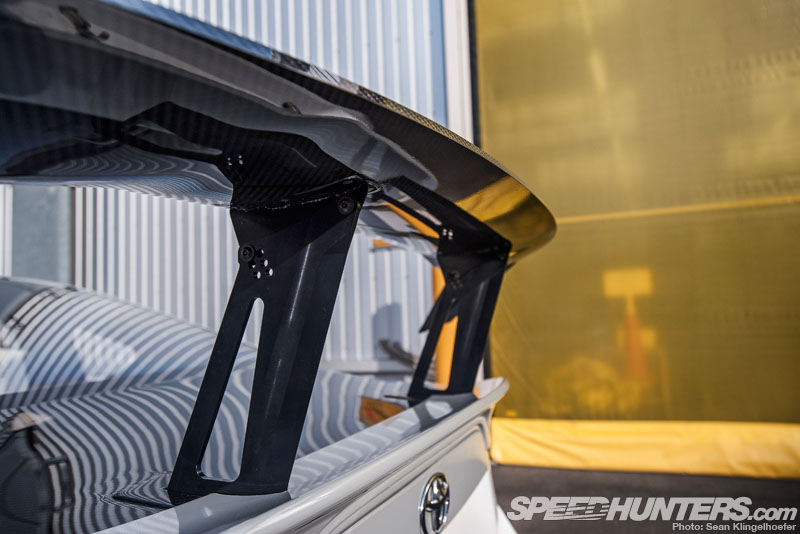 The uprights are proper motorsport-style mounts with multiple adjustment points to fine-tune the angle-of-attack. Notice the chamfered trailing edges of the wing to reduce drag, serious business indeed.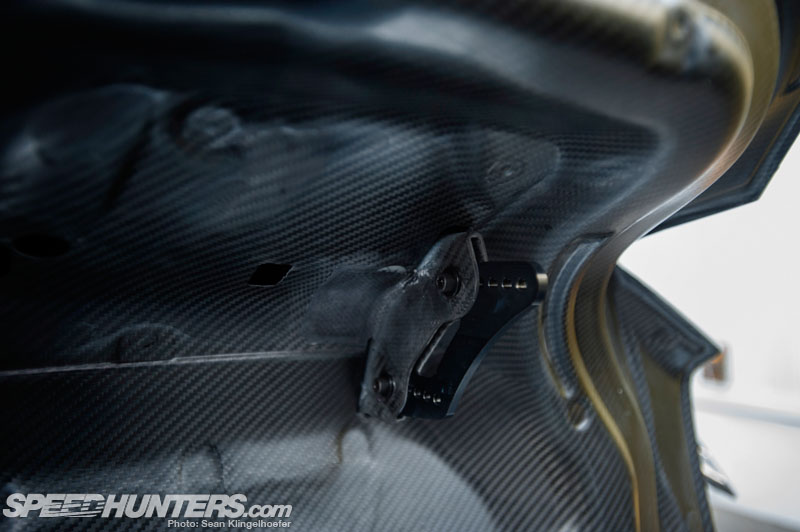 Of course the wing is also height-adjustable via the bottom of the uprights which can be dialed-in under the trunk lid. Is your brain hurting yet? My god the things I would do for something like this for my Civic…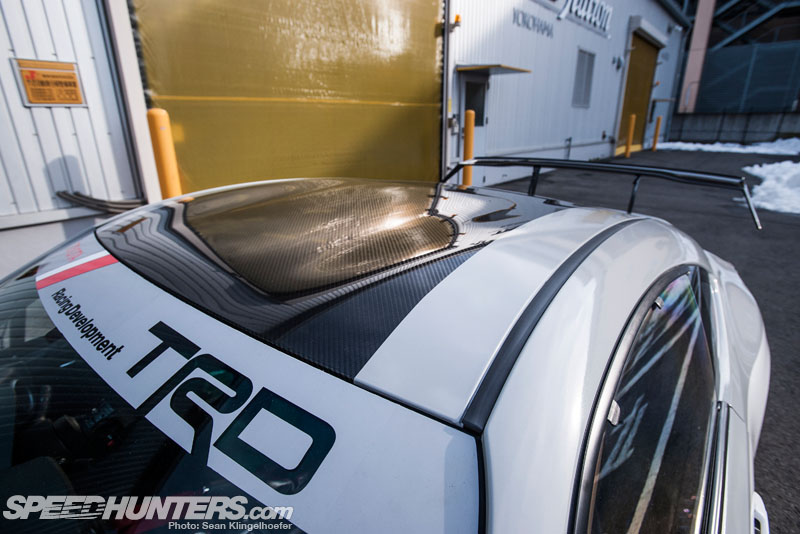 The use of carbon fiber isn't just limited to smaller bits and pieces, in fact it's almost grotesque how completely covered the Griffon is in the stuff. And we're not talking run-of-the-mill carbon fiber either, take everything you know about the stuff and throw it out the window. This is 100% Formula 1 level perfection weaves we're dealing with.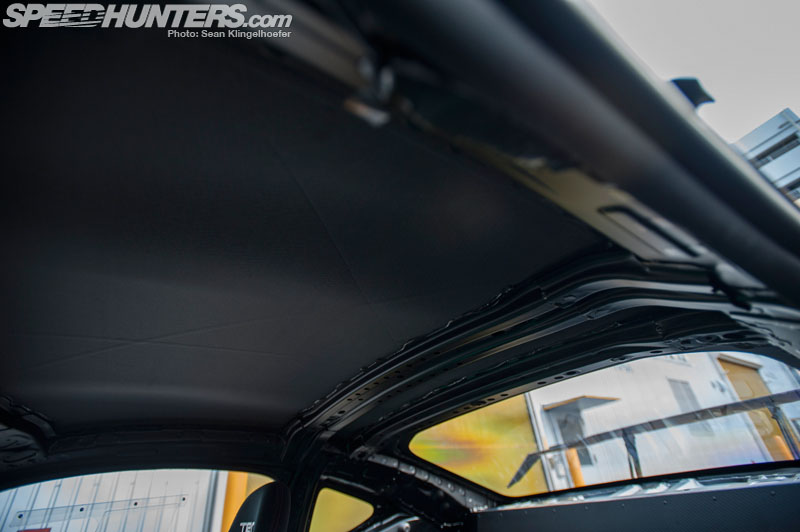 And since TRD is part of Toyota, they have access to all the original CAD information and parts molds, so you can bet your ass that everything on this car fits properly – not something you can be so sure of in the real aftermarket realm. To ensure that everything is structurally sound, all of the necessary carbon pieces have also been properly bonded to the chassis as well.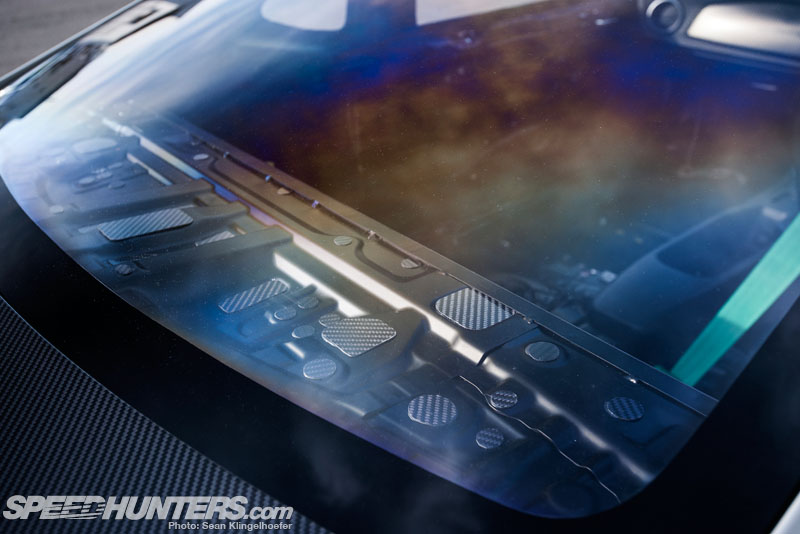 Even the most minuscule of holes have ben covered with sheets of carbon which have been precision measured and cut. Showing off again are we TRD? As you may have noticed, to accompany the extreme carbon diet, all of the glass with the exception of the windscreen has been replaced with OEM-quality-fitting sheets of Lexan.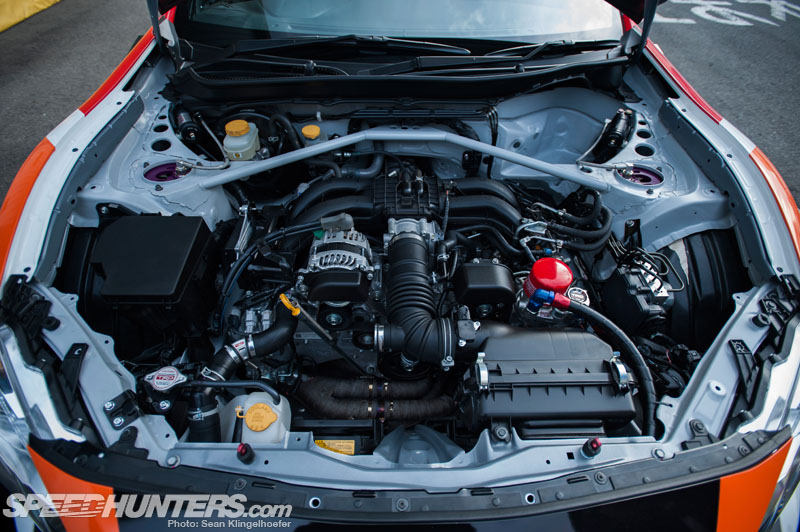 With the radical effort put into the body, it may come as some surprise that the engine compartment remains relatively untouched, at least for now. The main concept of the first phase of research seems to be seeing how much potential the car has without adding any power and simply "adding lightness."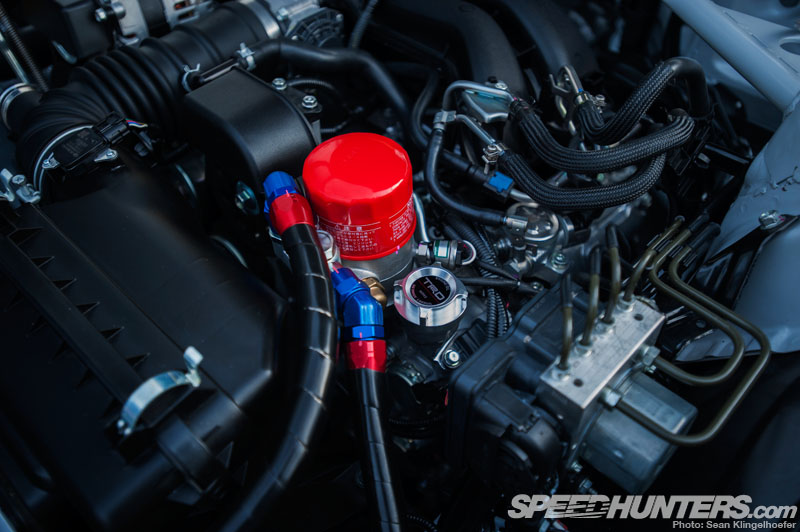 There are a few small trinkets to be found, like TRD oil and radiator caps as well as an oil cooler, but most is still standard.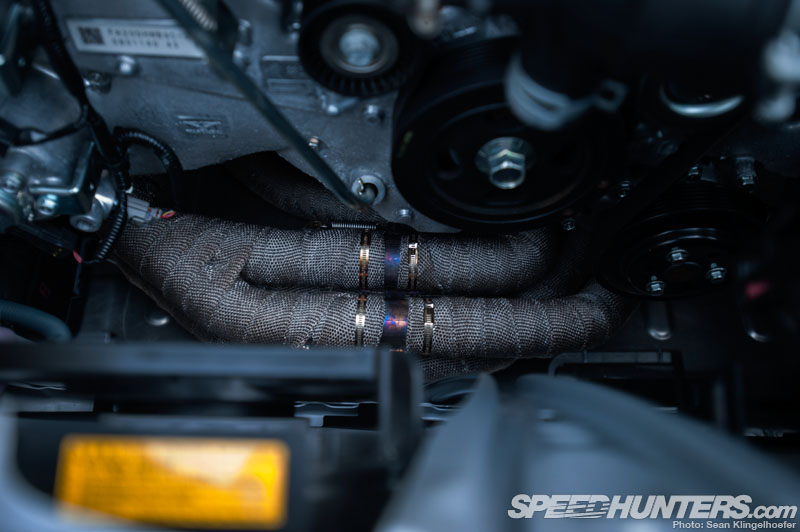 The only real power modification on the Griffon is the addition of a fully Titanium exhaust system consisting of a custom header and completely straight exhaust. It might not add gobs of power, but it certainly does provide a very exciting exhaust note!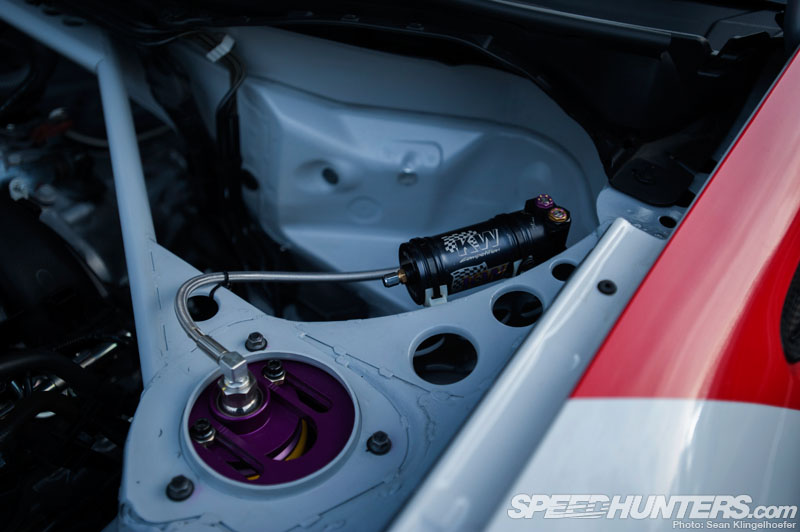 The suspension is relatively straight-forward as well, with a few TRD bits and pieces underneath while the majority of the work has been taken care of by a set of KW motorsport 3-way adjustable dampers, further continuing the trend of KWs on ZN6s I saw at SEMA.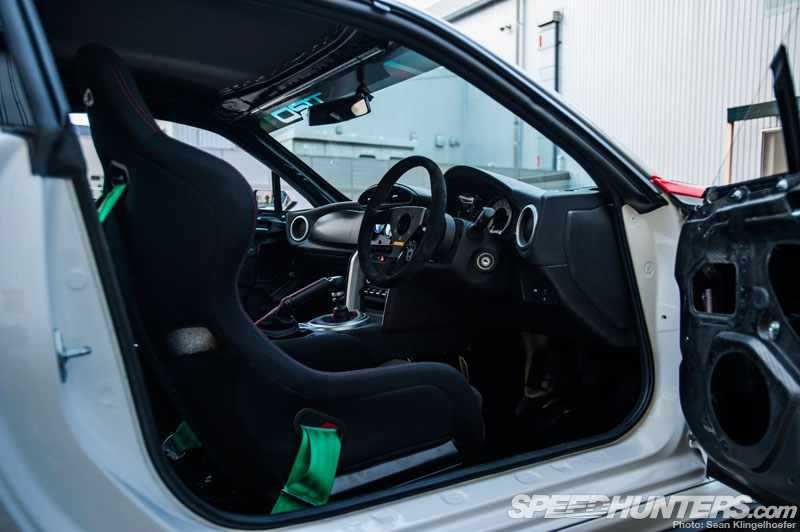 The cockpit follows suit in the exercise of weight extraction and comes off as a place from which a racing driver can conduct serious business. There isn't a whole lot left inside, but as you'd expect, what's there is pretty impressive.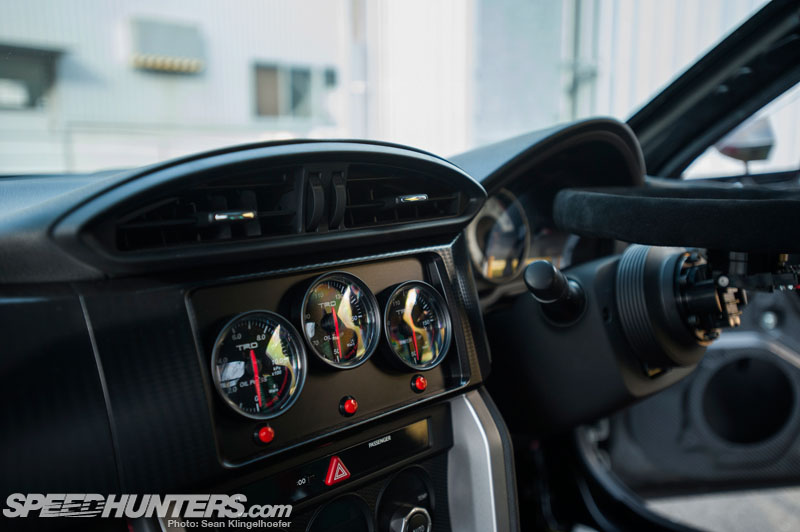 In addition to the standard dials, a set of TRD meters which are offered for sale as a kit – complete with the 2-din plate – have been installed to keep an eye on oil pressure and oil / water temps. It's a sophisticated and simple solution that's certainly a lot easier on the eyes than the standard radio configuration offered by Toyota / Scion.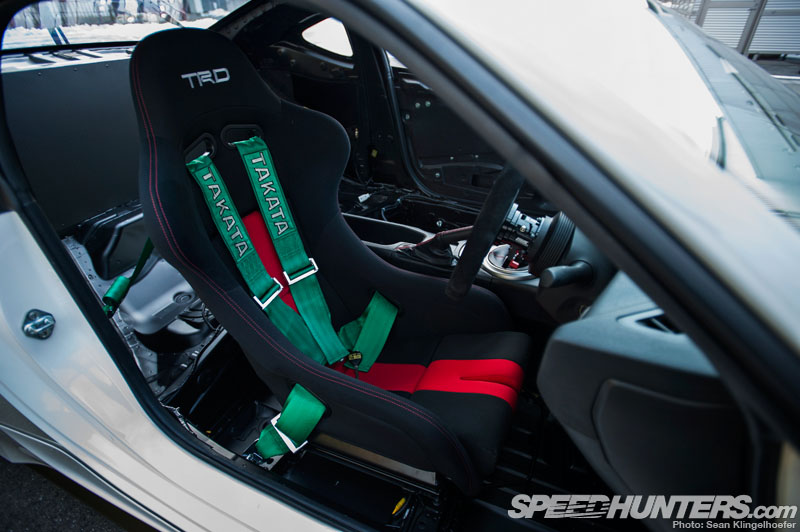 A lone TRD bucket is all that remains by way of seating. This particular model is one of two different seats manufactured by Bride for TRD, the other being a reclining and thus non-FIA approved version. Once paired to a Takata harness, this car is ready to lock in some hotlaps.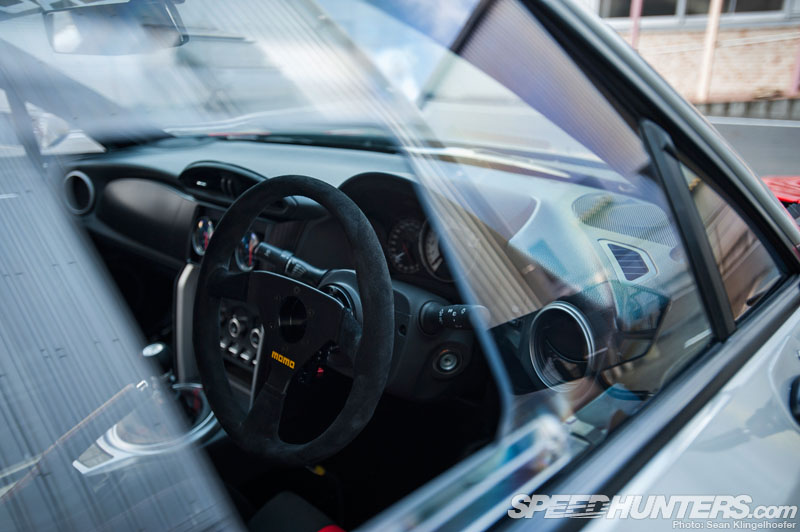 Although TRD is offering a very handsome leather-wrapped Momo steering wheel with an airbag, the Griffon isn't a true street car so the team decided to bolt a more appropriate suede Momo Monte Carlo on the car in its place. TRD also chose to utilize a Works Bell flip-up style steering boss to ease the transition to and from the driver's seat.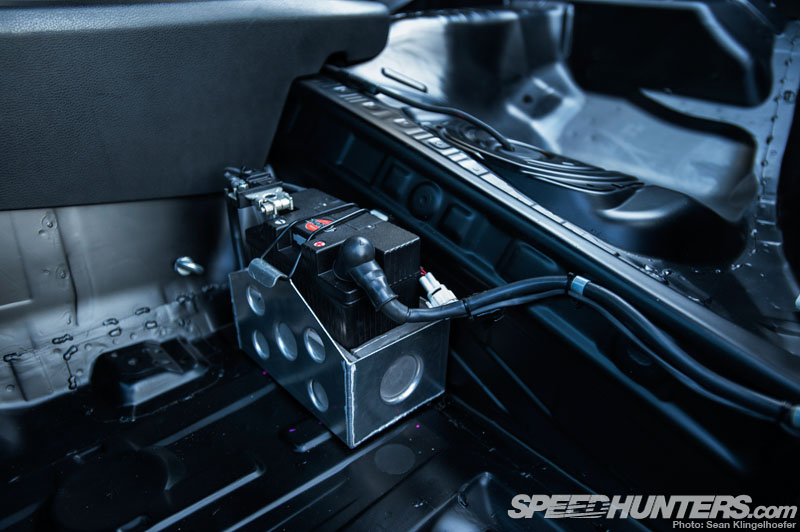 Aside from the seat and the dashboard, very little else now resides in the car, save for a miniature relocated battery. As you can see, the chassis has also been painstakingly spot-welded in its entirety.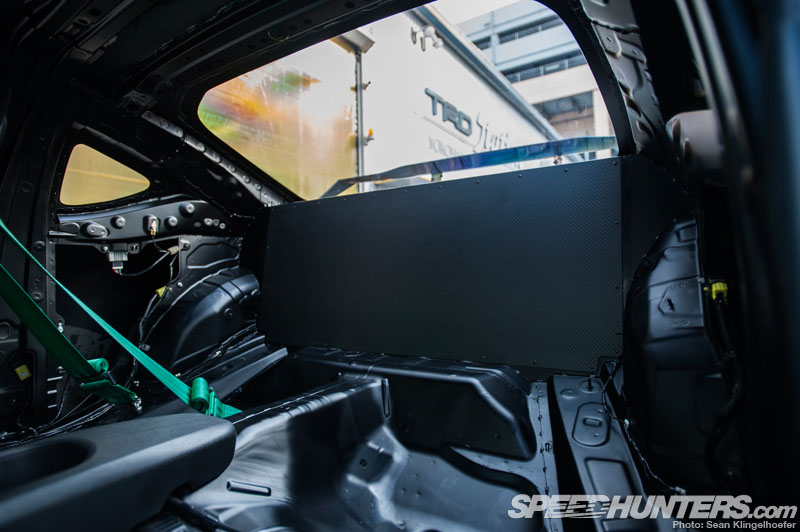 The rear seat area has been replaced with a flat sheet of dry carbon which has been riveted and bonded to the body to increase structural rigidity. Again just another small difference between a factory works effort and a conventional tuner car.
But if you're still not quite convinced, have a quick look at this video of the Griffon from TRD and you'll begin to further appreciate the effort that has been put into this car. Words cannot begin to describe the accuracy and fitment of each and every component on this car, it's been finished at a level I don't think any tuning shop would be capable of replicating.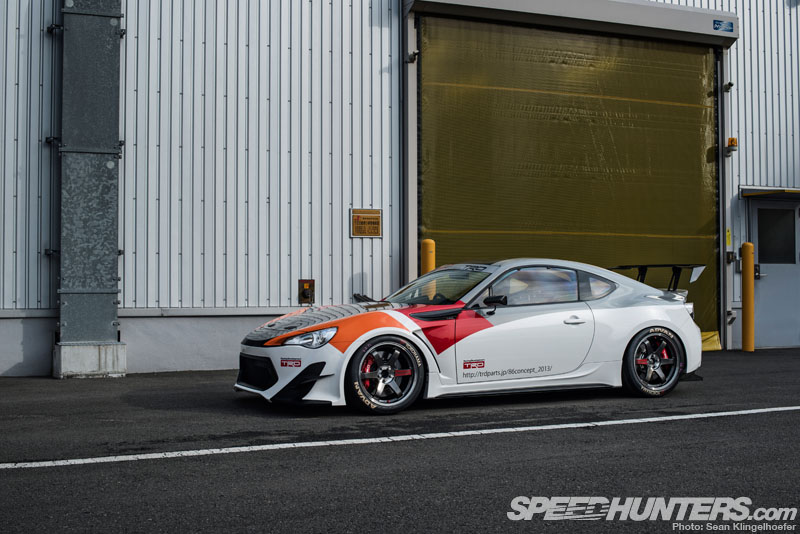 In a nutshell, the Griffon offers everything you want from a modified car (i.e. looks and performance) without any of the typical draw backs (i.e. improper fitment and poor durability). So then, is the Griffon Concept the ultimate tuned eight-six? I'll leave that for you to decide, but I certainly think so.
Toyota Racing Development "Griffon Concept" Toyota 86
ENGINE
2.0L naturally aspirated FA20 boxer engine; TRD Titanium header and straight exhaust
ENGINE MANAGEMENT / ELECTRONICS
Standard ECU; TRD sports meter
DRIVELINE
TRD 2-way LSD, clutch plate and 3-puck disc
SUSPENSION / CHASSIS
KW motorsport 3-way adjustable dampers; TRD member brace, reinforced suspension arms
BRAKES
TRD 6-pot (f) / 4-pot (r) monoblock calipers, 355mm (f) / 345mm (r) floating rotors, stainless brake lines, performance brake pads
WHEELS / TIRES
18×9.5″ +40 Volk TE37SL wheels; 250/640R18 Advan Racing slick tires; Rays racing lug nuts
CABIN
TRD fixed bucket seat; Momo Monte Carlo steering wheel; Works Bell Rapfix GTC steering hub; Takata 4-point harness; lightweight relocated battery
BODY
TRD Griffon concept aero package (consists of GFRP front / rear bumpers, front fenders, CFRP hood, roof, trunk lid, rear wing, rear diffuser doors), front fender aero fin, Performance Line side skirts, bonded carbon fiber rear seat reinforcement plate; Craft Square carbon side mirrors; spot-weld reinforced chassis
PERFORMANCE
-Sean