Now that I've had a full week to regroup from SEMA, I've been able to reflect  with a clear mind upon all the craziness I experienced in order to look for some patterns. I'm not going to try to argue for or against any of the trends I'm calling out, nor am I saying any of these are necessarily "new" but are simply things that seemed to be popular at the moment. Here's a look back at SEMA 2012…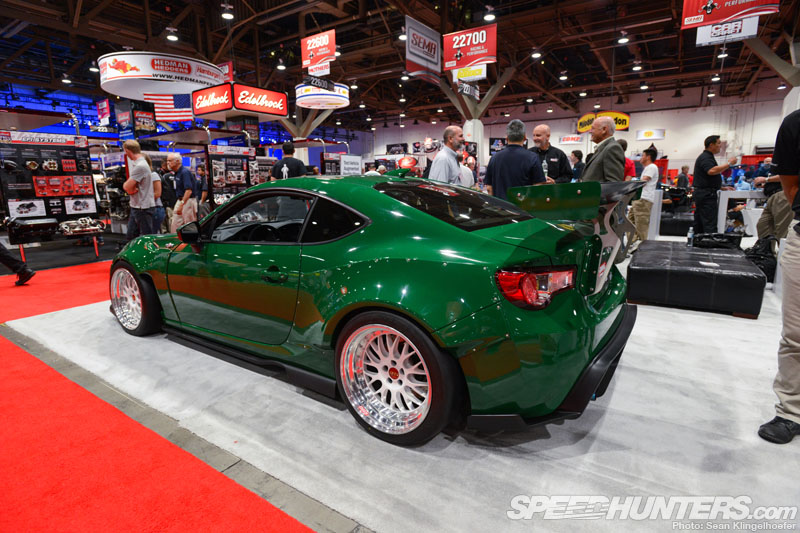 The first phenomenon I want to look at is the mounting placement of the rear wing on Japanese vehicles. While many people will agree with most of the TRA-Kyoto bodykit, one area that seems to get mixed reviews is the wing. It's notably funky with very intricate uprights which mount the back side of the deck lid.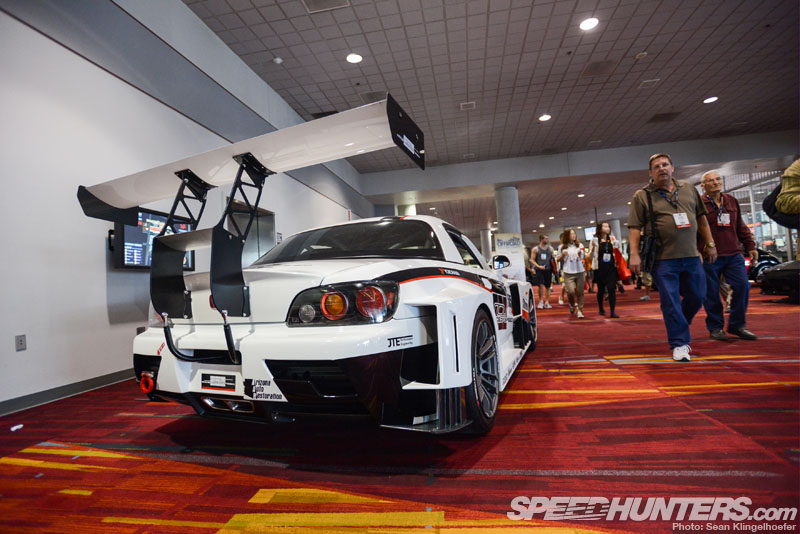 But I'm starting to see more and more of these rearward-mounted types of wings popping up, like this monstrous number on the back of the Science of Speed S2000.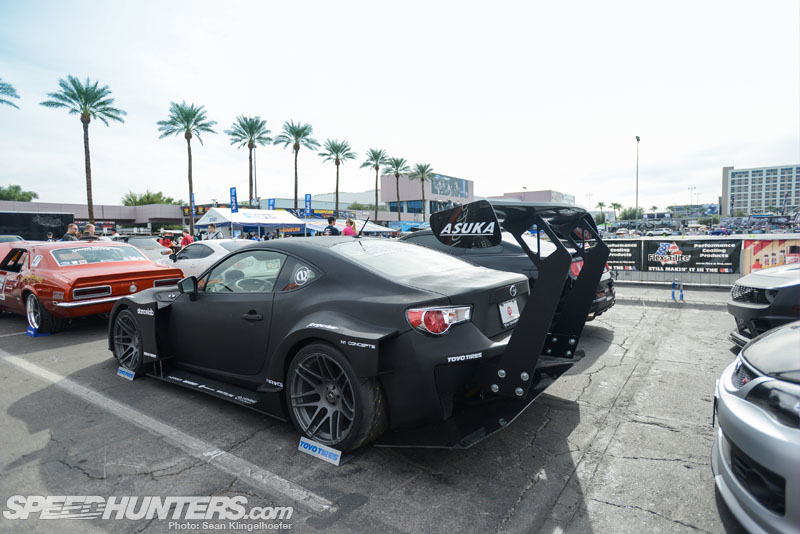 Some, like the N1 Concepts FR-S, have taken this idea to an entirely new extreme by having the wing uprights so far behind the car that they don't actually attach to the trunk at all!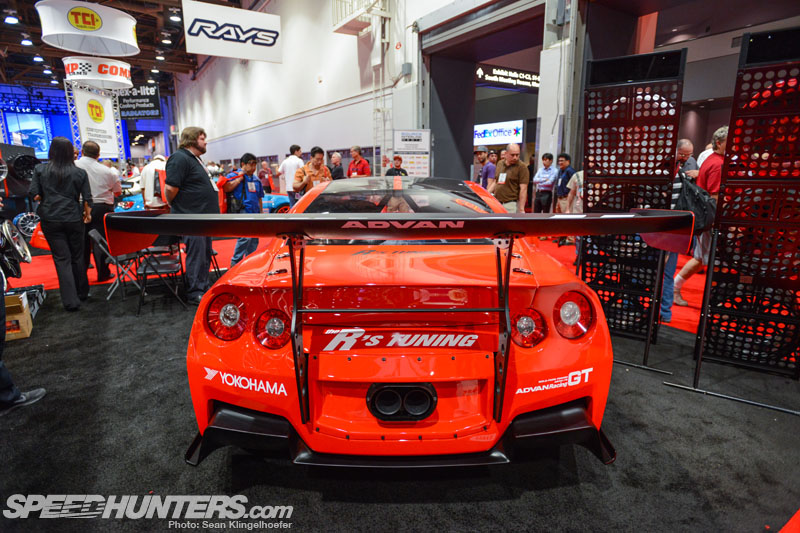 Of course the Ben Sopra GT-R kit, which was also designed by Mr. Rocket Bunny, definitely incorporates another behind-the-trunk upright. For aerodynamic benefit, positioning the wing as far rearward as possible makes sense, but I believe many of these modern approaches are done for sake of fashion rather than function.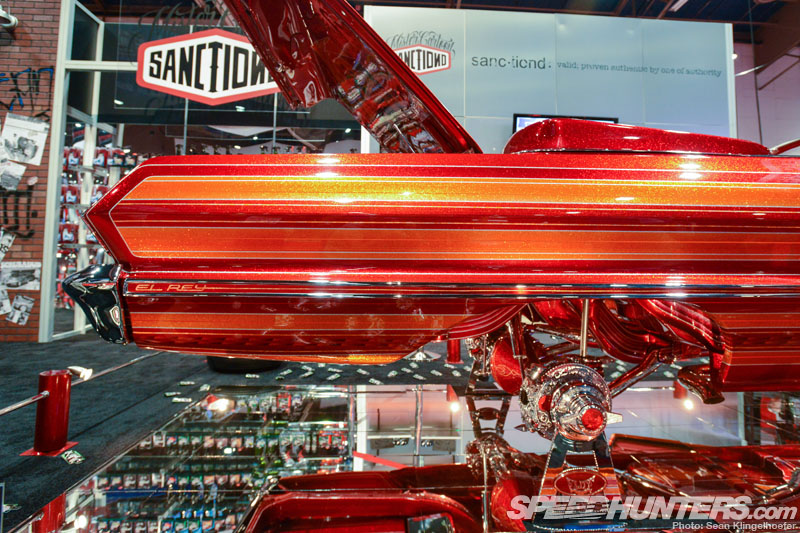 Moving on, I've seen just about everything you can imagine custom plated and engraved on low riders but one note-worthy item has always been the level of detail on brake rotors. However it doesn't seem to be just the lo-los that are getting in on the action these days.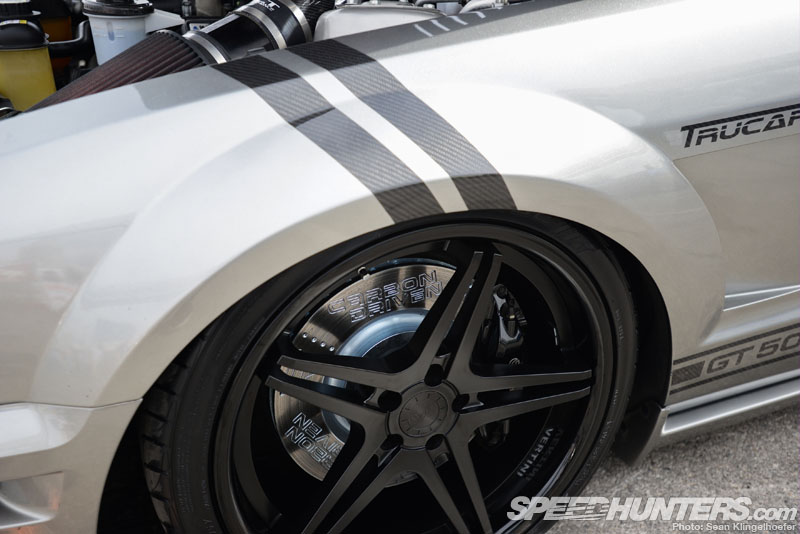 I'm not entirely sure where you go to get a custom engraved rotor made, but the guys at Carbon Driven seem to have figured it out. I'm not sure how I feel about this type of branding, but I imagine we are only at the tip of the iceberg.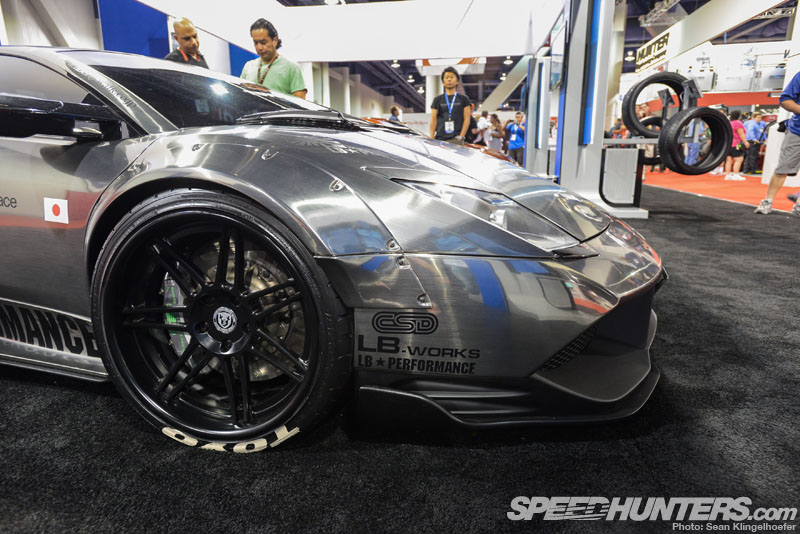 Even the crowd-favorite Liberty Walk Murcielago had some massive floating rotors by CSD that incorporated a built-in logo!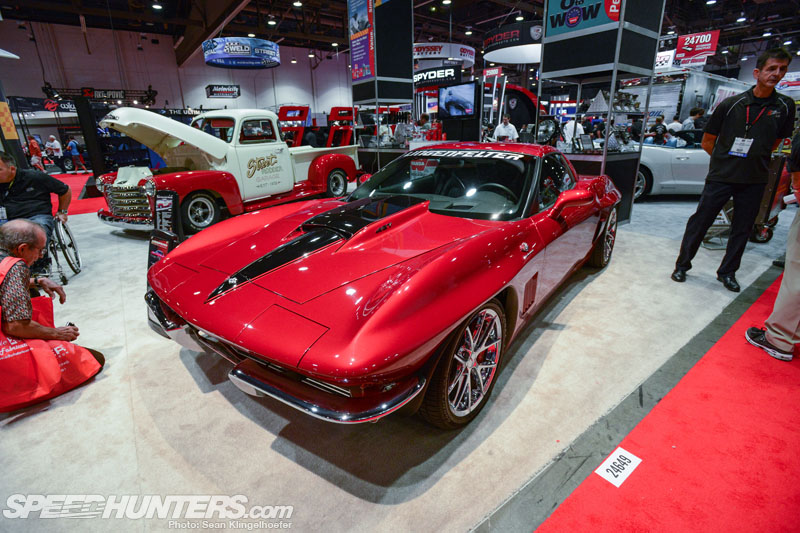 It seems that the art of mixing new and old is one that will never go away, seeing as how each year not only the car makers are coming up with ways to relive the past, but the aftermarket is having a go at it as well. Take for example this insane build by the legendary Corvette tuners at Lingenfelter!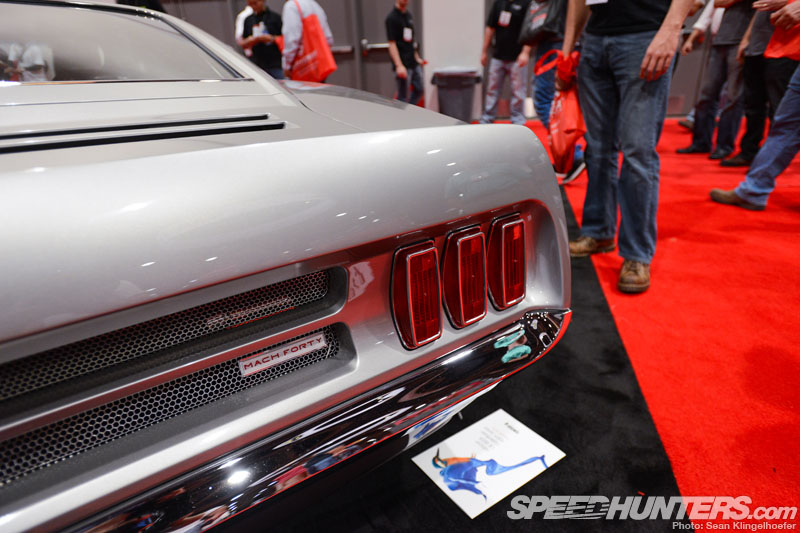 From the looks of our latest poll it would appear that I wasn't alone in being blown away by the Mach 40, a machine which turns Ford's latest super car into a retro Mustang-styled ride. I'd imagine we'll continue to see more of these types of builds in the future and I look forward to seeing what kind of wacky variations will be in store for us at Tokyo Auto Salon!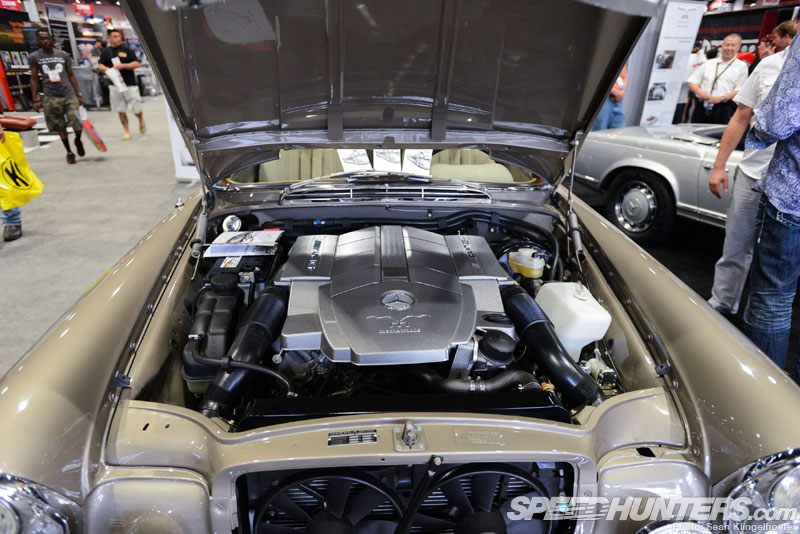 Needless to say, there are many ways to incorporate old looks with modern tech. For example, the people at Mechatronik have decided to take a slightly different route by installing current AMG powertrains into classic Mercedes-Benz bodies.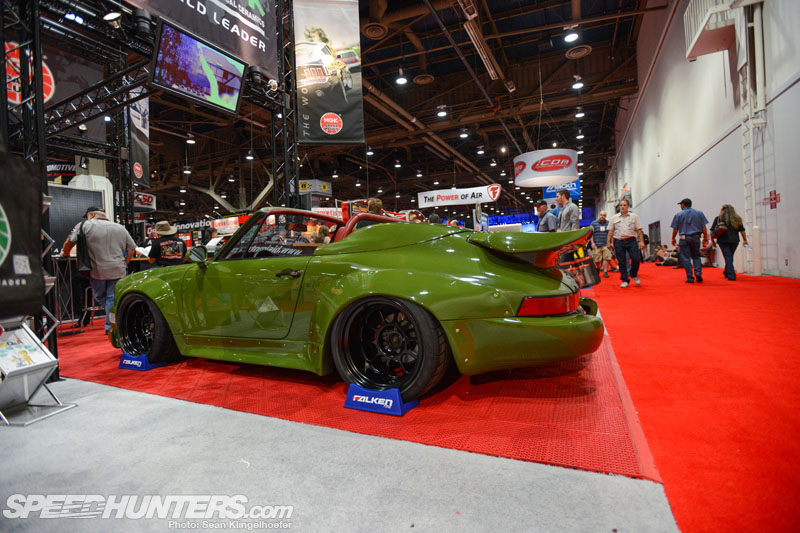 It's interesting to see a specific color trending, and if I had to pick one particular shade for 2012 it would have to be olive drab or "army" green. You can usually expect to find one or two cars finished in this color, but this year there were more than a few; including Bisimoto's newest 911 in the NGK booth.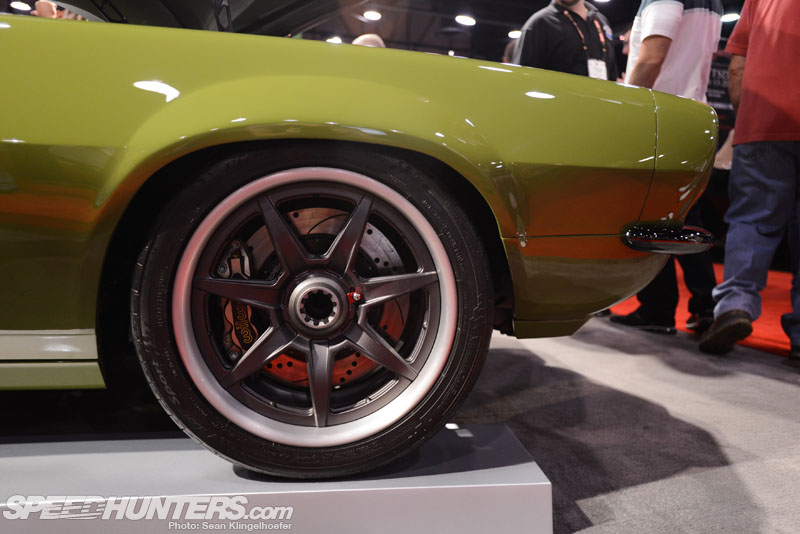 Another of my favorite OD cars was "the Grinch" by the very well-known Ring Brothers. I think this is one Camaro that needs further examination in the following months!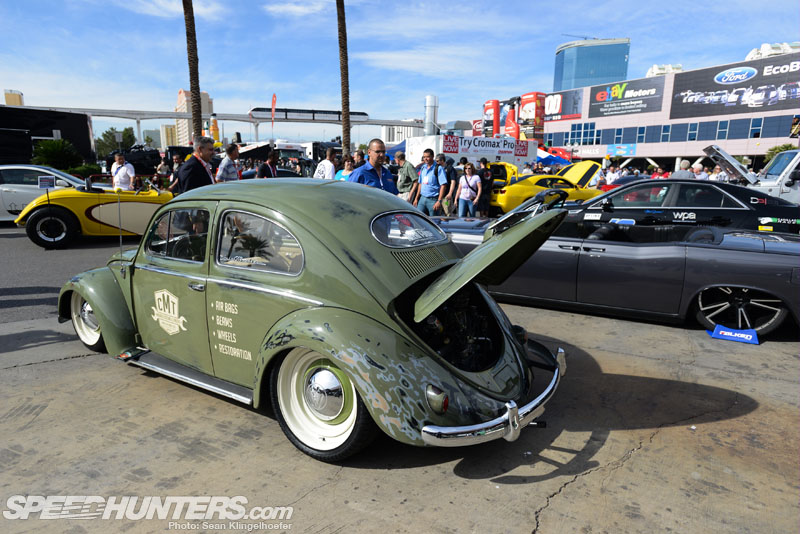 This unmistakable shade of green looks good on just about any body style and even plays well with others, such as grey, black and tan as seen on this Beetle.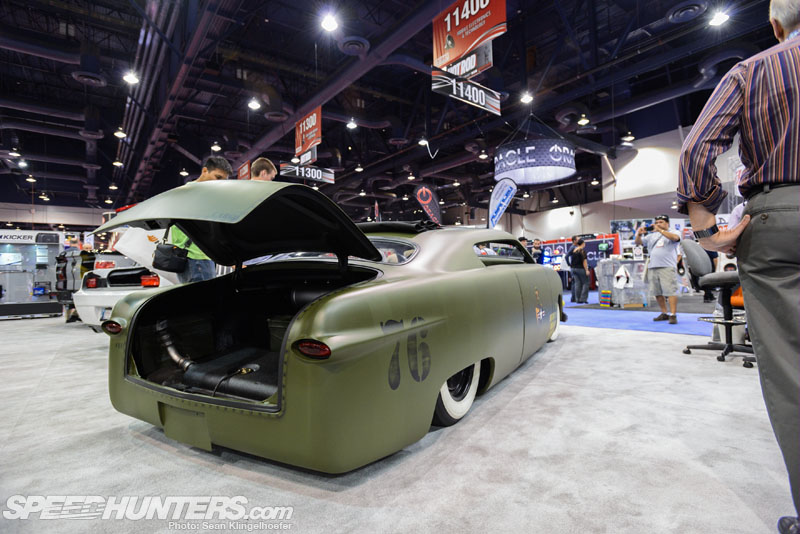 While some might try to hide the subliminal connection between this color and the military, others blatantly play on the theme. This particular custom screamed US military inside and out.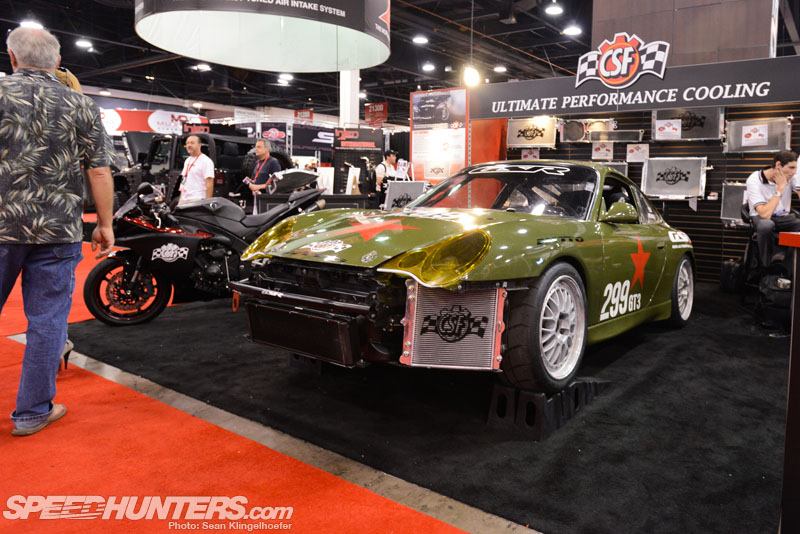 I'm not sure if this 996 from GSR Autosport is supposed to be a soviet-inspired livery or if the red star is simply a coincidence, but either way it's a menacing look for a hardcore 911.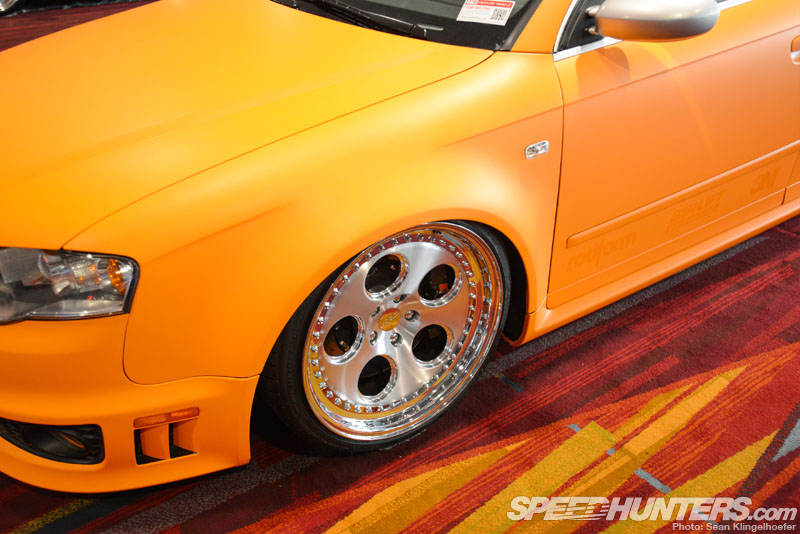 In terms of rolling stock there is a lot of exciting stuff going on these days, but I think the most clear pattern is happening in the Dub scene with the use of multi-piece-full-machined-faced wheels like these beauties from the custom wheel experts at Rotiform.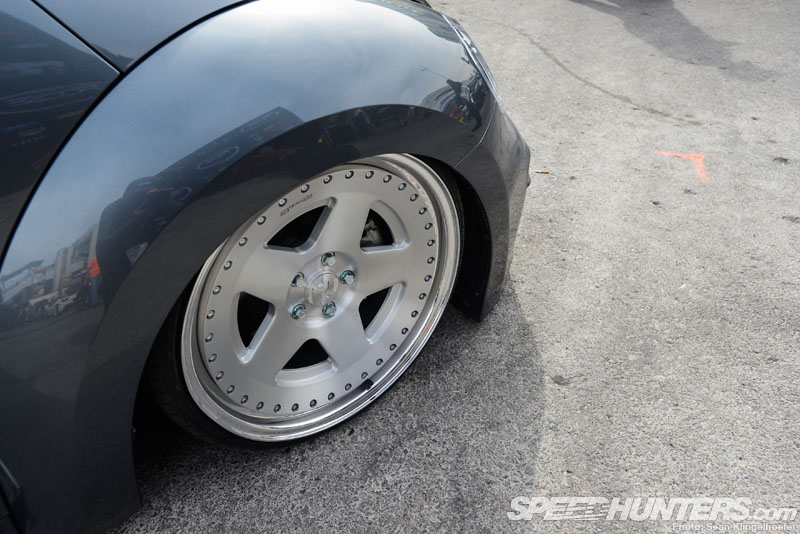 The other brand that really seems to be on the rise in this market is Fifteen52, who are also making some killer looking wheels. I Had never imagined a new Beetle looking quite as good as this one! I believe the visual impact can be largely credited to the wheels.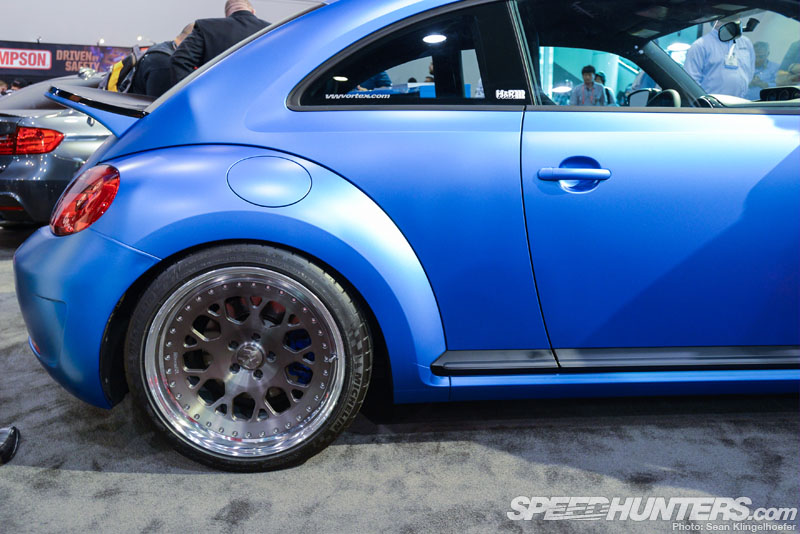 It seems that there is an ever-greater demand in the custom wheel market and the industry is no doubt responding. For the first time ever, it seems as though the buyer is dictating the design of wheels rather than the manufacturer. Exciting times indeed!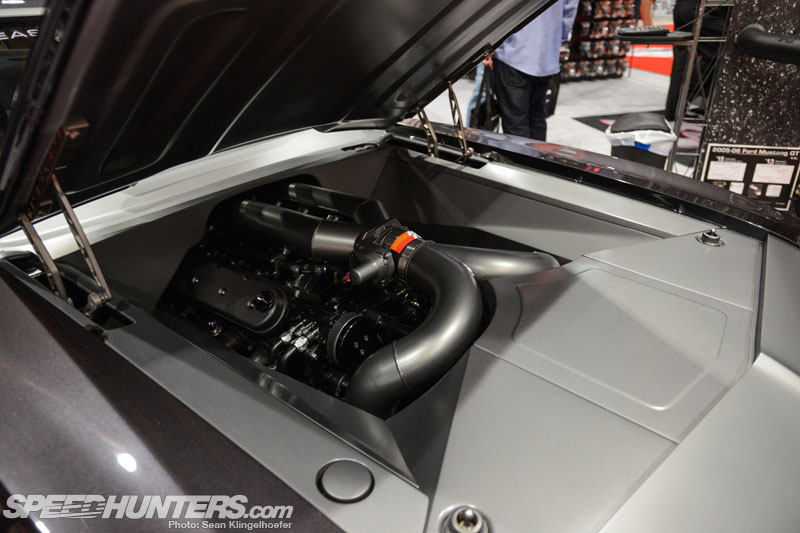 Since this was the first time I would attend SEMA to look at muscle cars, I was blown away by the attention that goes into the areas surrounding an engine. Rather than shaving and tucking, like you expect to see in Euro and JDM cars, the American tuners are building very detailed panels to hide the unwanted clutter.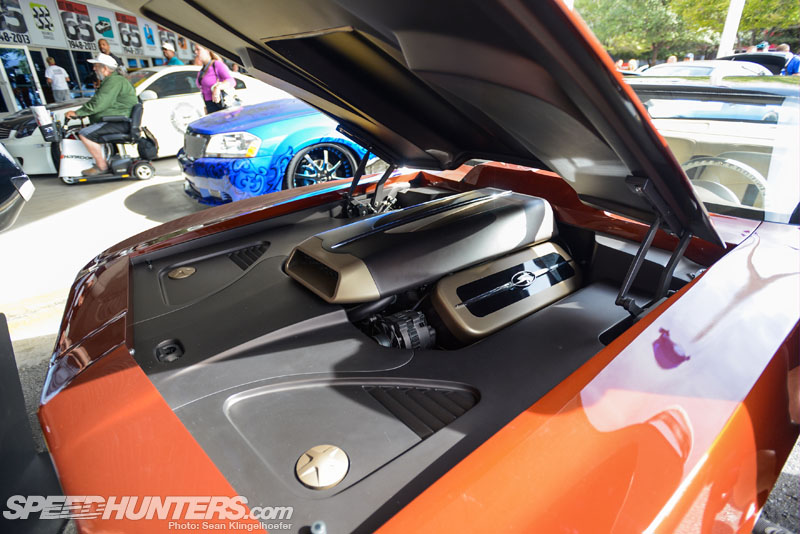 Designs I saw varied from a simple stamped steel panel to wild three-dimensional multi-layered covers. It's clear that there is a lot of thought that goes into the design of some of these!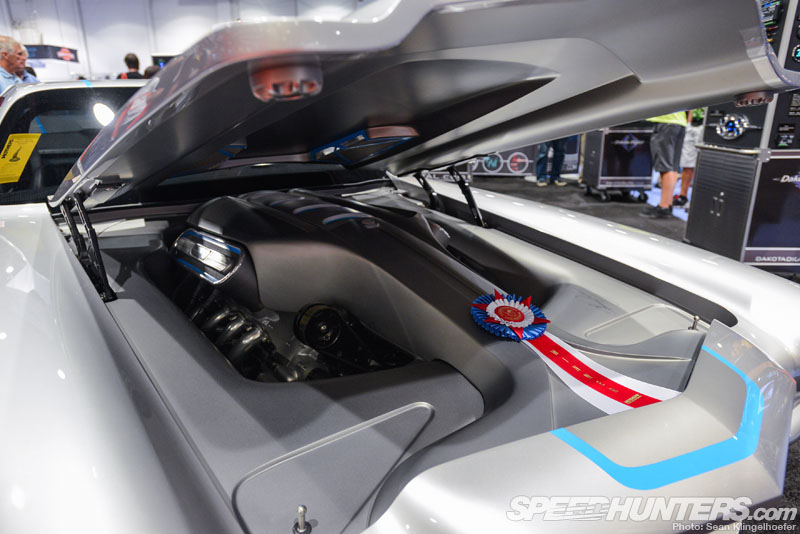 It's quite exciting to think about this sort of stuff making its way into other genres of tuning… I can see it now, the hottest new item for 2013 – Scion FR-S engine covers!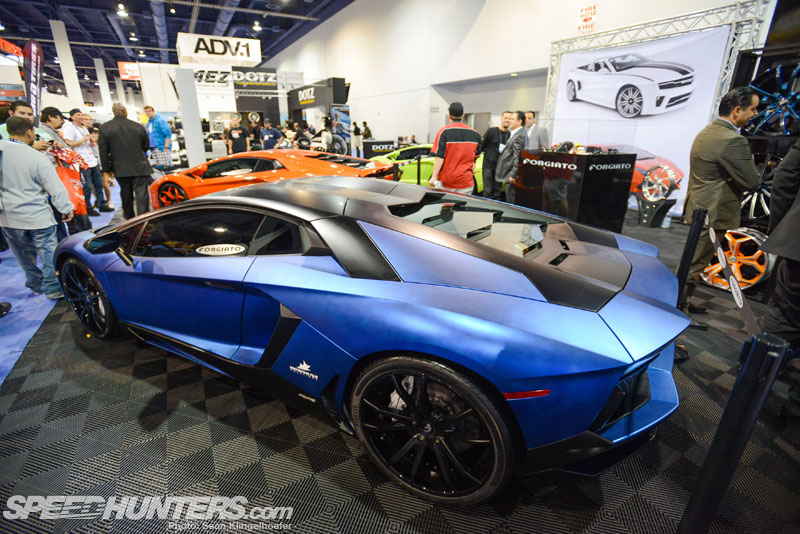 Moving back to the exterior, I've been seeing matte finishes continue to grow in popularity, but this year I've spotted another more specific trend – matte metallics. How do you make an Aventador even more attention grabbing? Add a matte blue metallic paint job of course!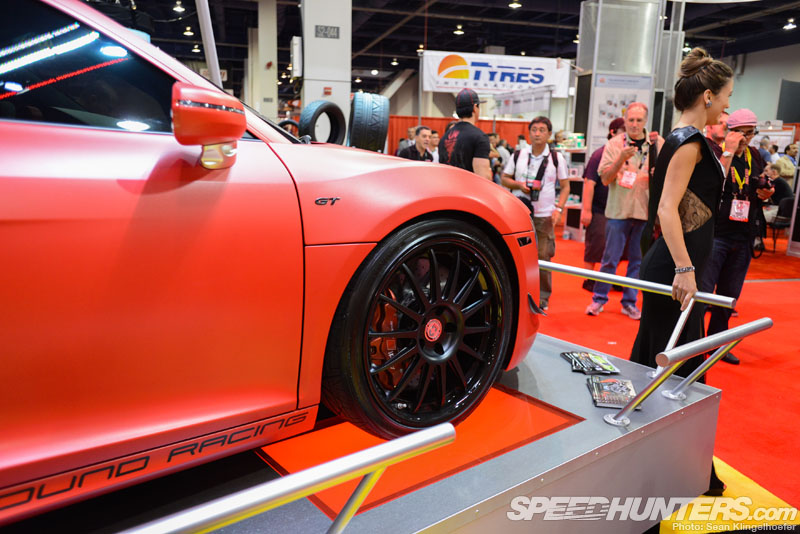 It's quite interesting to see how these types of wraps and paints react to light. They are very sensitive to light, yet they disperse any harsh glare due to the matte nature of the finish. As a photographer this is like a paint job from heaven!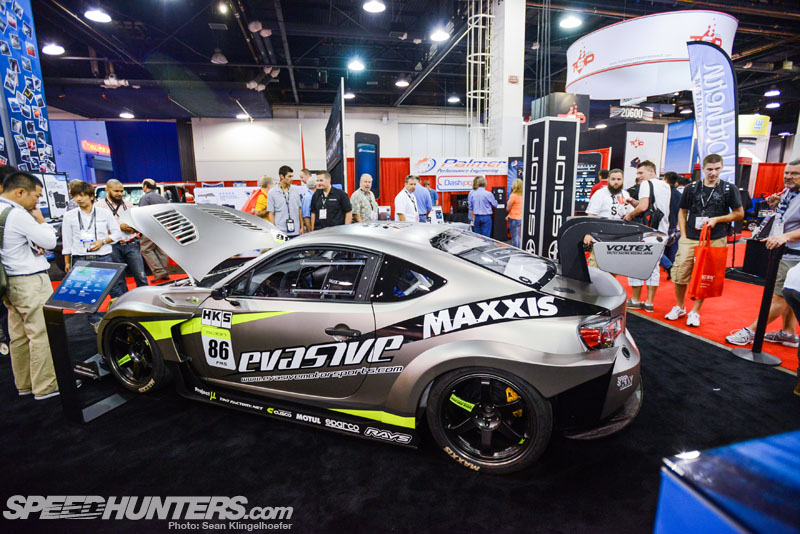 When I first shot the Evasive FR-S for a feature I brought a set of strobes with me to light it up, but when we arrived at the location I discovered that the paint was so sensitive that all it needed was a small reflector to create a really extreme look.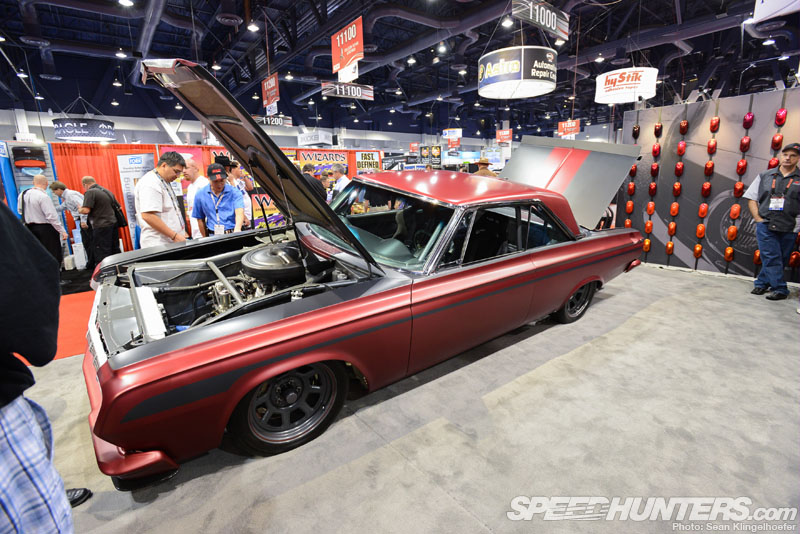 It seems there is no boundary for this look because any type of car – new or old, mundane or exotic – looks amazing in matte metallic.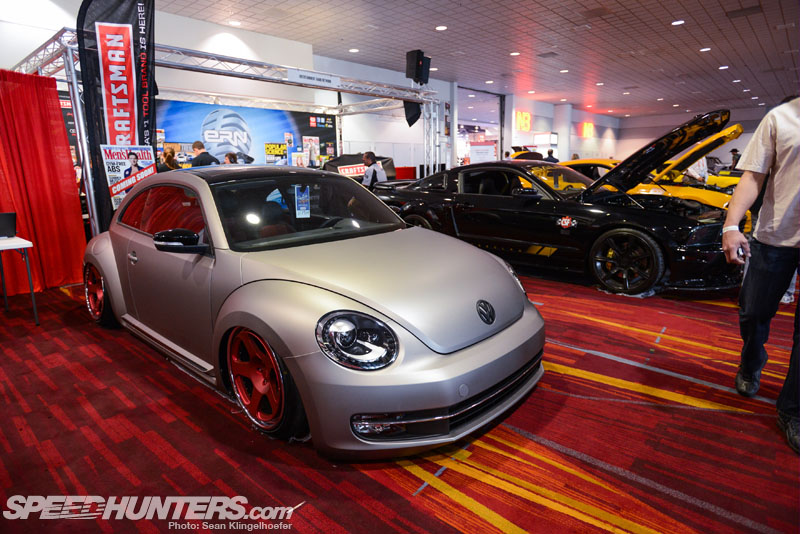 In fact, by the time I left the convention center  on Friday I had almost considered wrapping or painting one of my own cars in matte metallic finish… almost.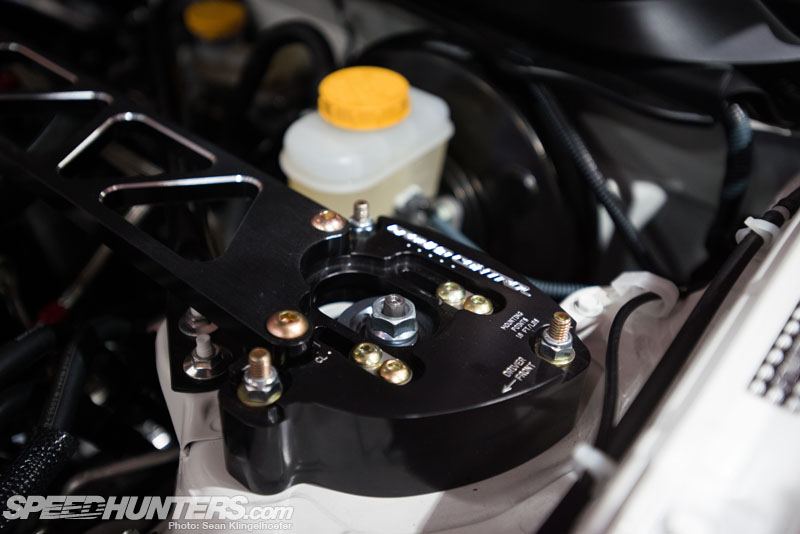 If I had to pick a single major trend of the 2012 SEMA show, it would have to be the ZN6 (as if you couldn't have already guessed that). While I know most of you are probably a bit sick of the FR-S / BRZ at the moment, I'd like to point out something I found interesting in terms of aftermarket support…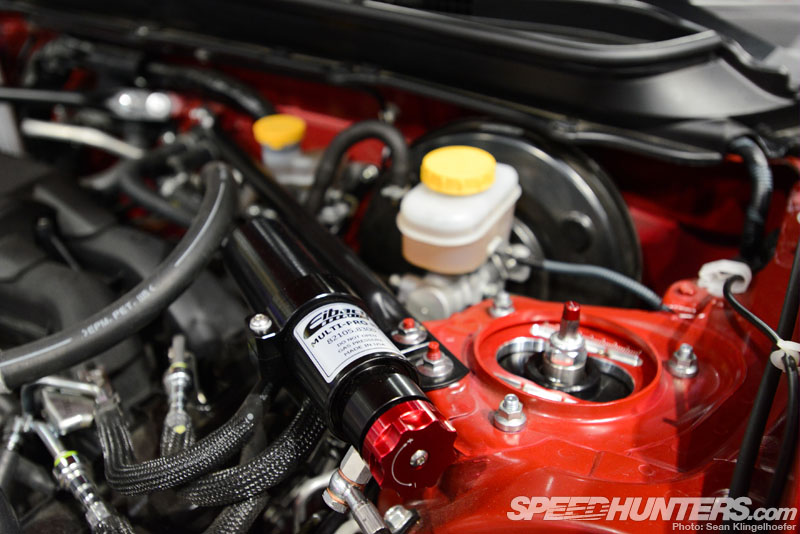 Although most people that have driven one of these cars will likely note a lack of power as being the biggest drawback to the car, I found most of the products geared towards the car are aimed at improving the ZN6's innate strong point – handling. Almost every major manufacturer had something on site to make the little hachiroku handle a little better, like these trick 2-wayulti-Pro dampers from Eibach.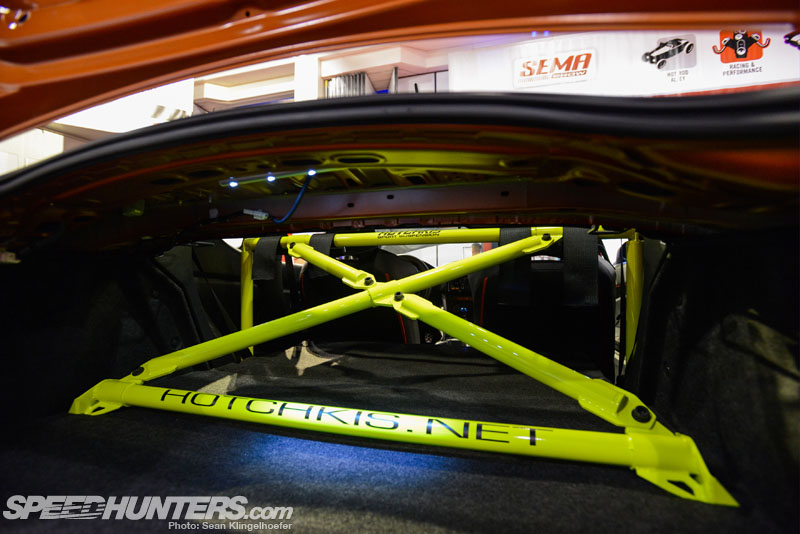 Hotchkis had a full line of parts for the ZN6, including a very radical tower bar setup which was finished off in a how-could-you-possibly-miss-me-highlighter-yellow. When a brand as big as Hotchkis is throwing down an entire catalog of parts on the car, you know there's a bright future for the FR-S!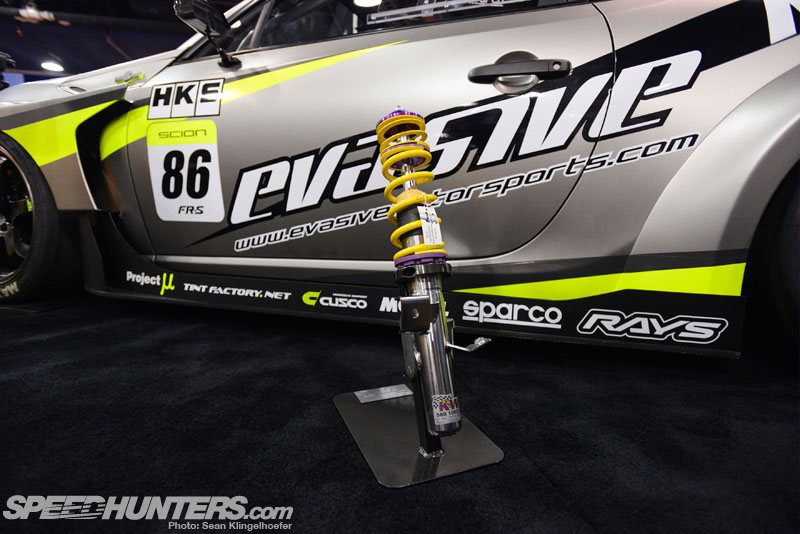 But if I had to pick a single piece for the ZN6 that had the most hype, it would have to be the KW Variant 3 coilover kit. I think virtually every FR-S I ran into at the show, aside from those on display in other suspension booths, was running a set of these dampers. If I've learned anything in the past about KW it's that they take their suspension building quite seriously, so I'd imagine there's a reason this kit is so popular. Hopefully I'll be able to drive one in the future to make my own impression!
Regrettably, that will do it for SEMA 2012. On behalf of the Speedhunters, we hope you've enjoyed our coverage and as always, look forward to your feedback and opinions!
More from SEMA 2012 on Speedhunters
-Sean
---
---
---