Forgive the obvious fact that the car you are actually looking at hasn't really got anything to do with the little 80's theme we have going on here at the moment, but if you look closely you might begin to understand why we have decided to run it today.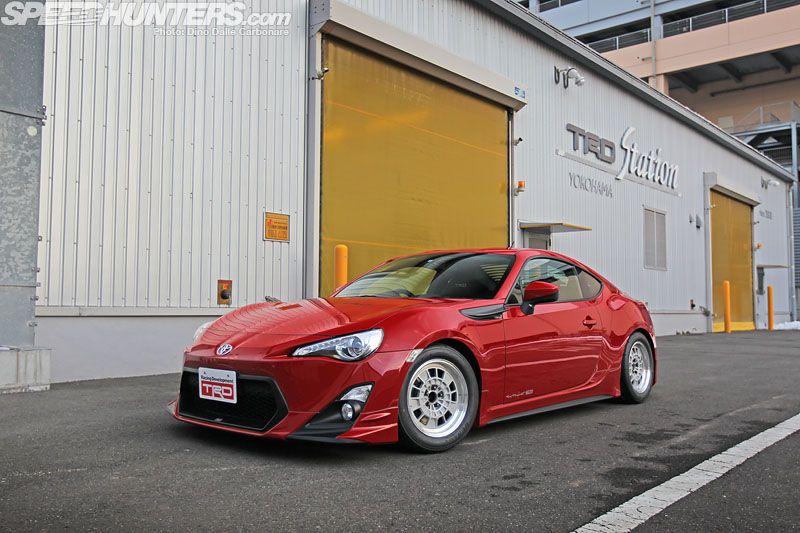 You see this particular hachiroku that TRD built for the Tokyo Auto Salon, aside from the car's obvious linage with the AE86 – which of course was born in the 80s – has a few interesting styling cues.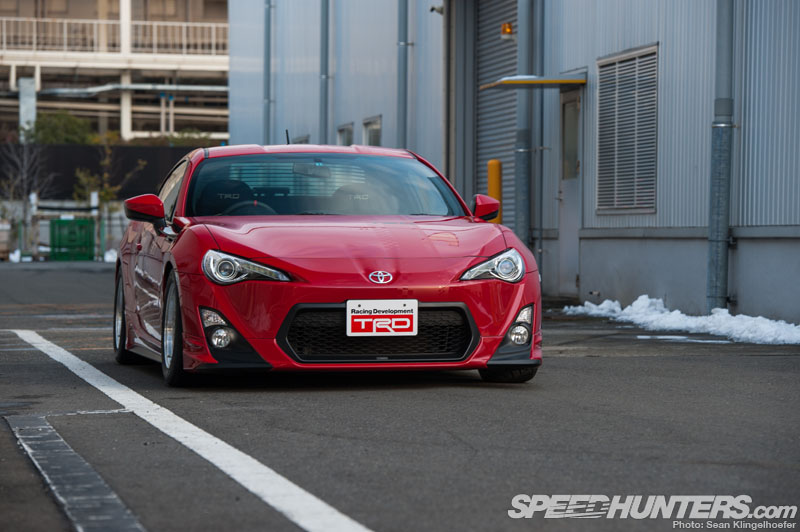 If its exterior looks familiar it's because it has been fitted with most of the TRD line up of parts for Toyota's little hot seller, the same parts that I showed you guys back in April last year when I first had the chance to get behind the wheel of their black demo car.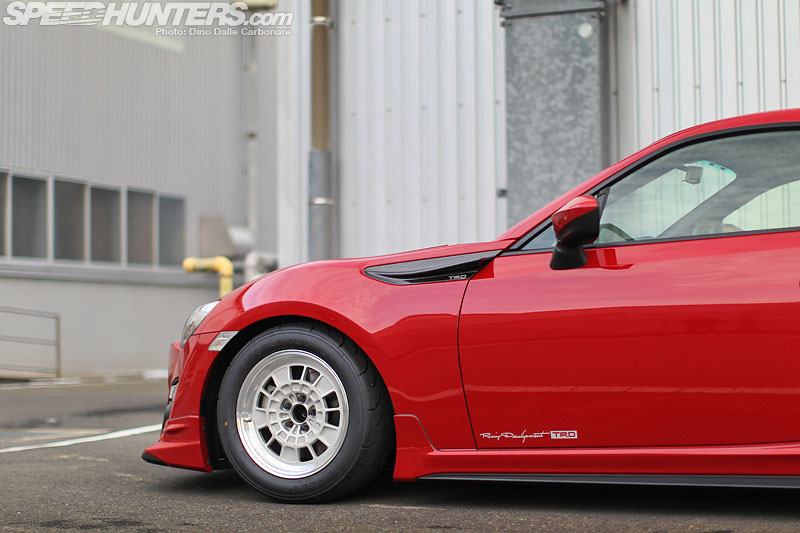 Except what they have done with this particular car is something quite interesting – they have taken a little slice of eighties flair and fused it successfully with the 86's modern lines.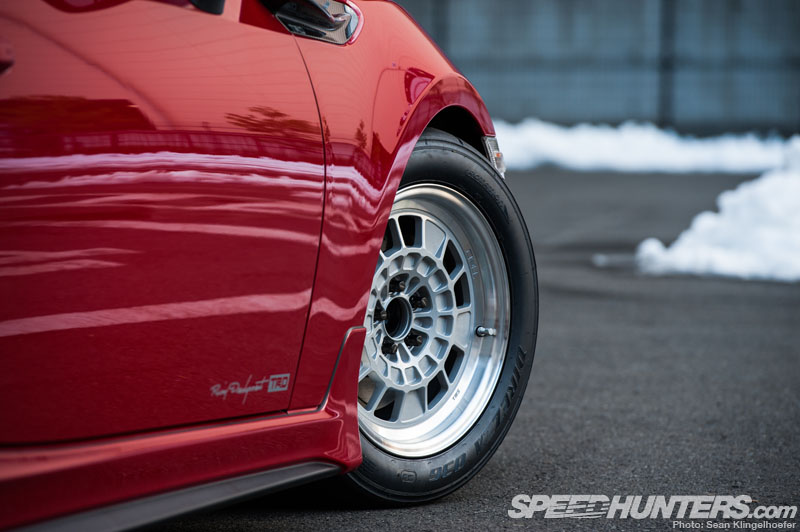 Like the saying goes "it's the wheels that make a car" and this is precisely what has happened here. TRD have come up with a vintage-inspired set of rims…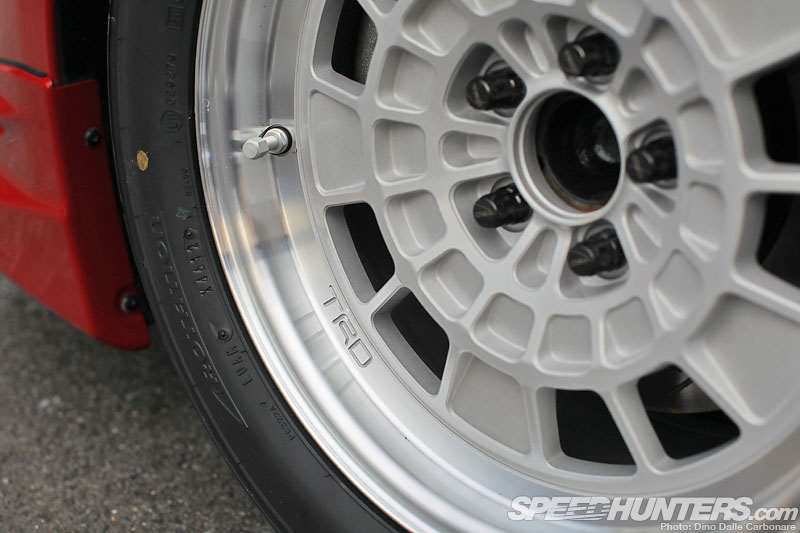 …a sort of throwback to the old TRD Tosco racing wheels that they used to offer back in the day.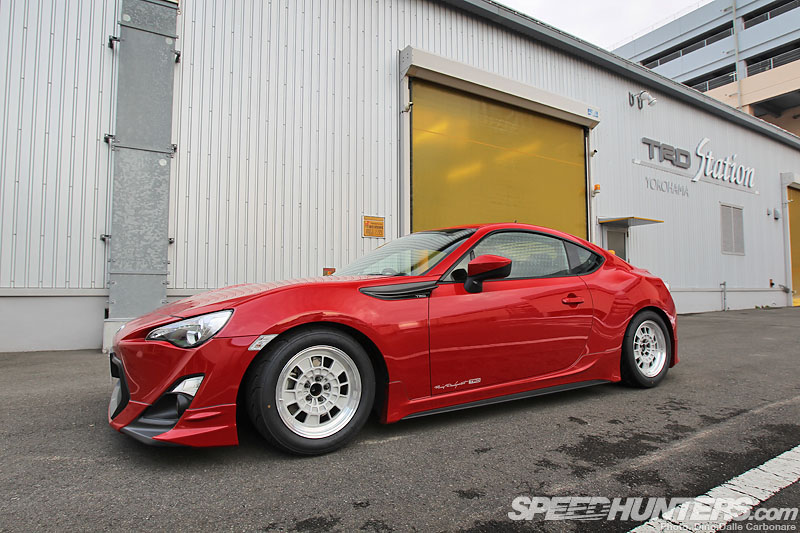 The 15-inch by 7.5J wheels might be dwarfed by the girth of the 86's wheel arches, but TRD have made sure to lower the ride height of the car substantially to sort of mask this obvious mismatch. Plainly put however, it actually does work pretty damn well. The new-gen Tosco, dare I even call them that, have been fitted with Dunlop Direzza 03G semi-slick tires, 215/50 all the way round, a sort of hint at what this concept has been aimed at. We can only but approve of those nice and chunky sidewalls!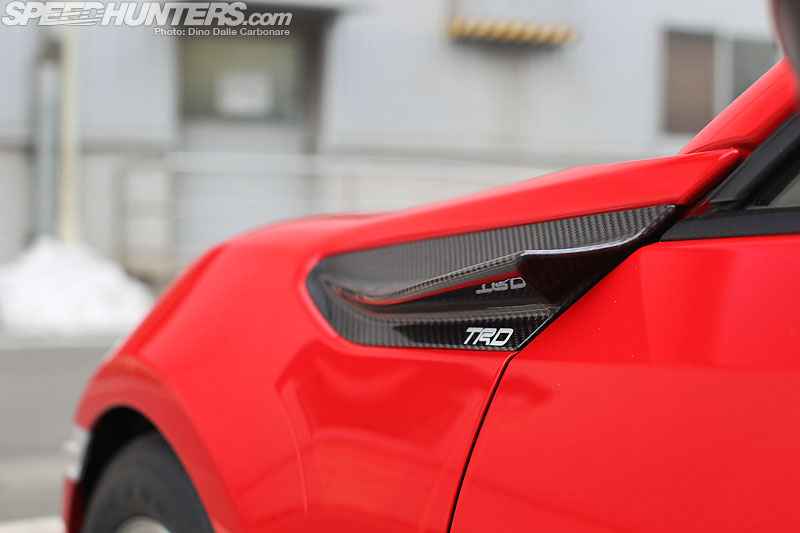 The fusion of new and old continues throughout the car, and one of the most noticeable things are these dry carbon fender canards -or "Front Fender Aero Fins" as TRD calls them – that replace the stock opposed-piston logo garnish.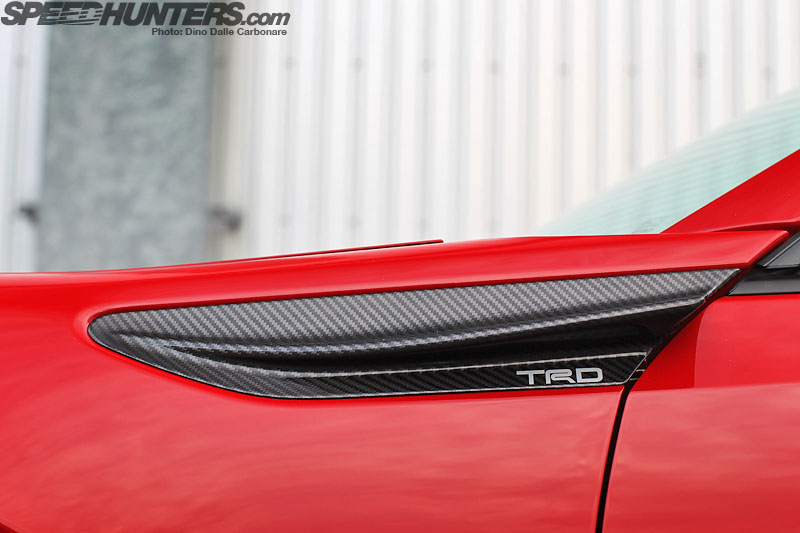 This is a beautifully made piece of carbon, properly developed by aerodynamicists to offer better high speed stability and a bit of downforce through faster corners. This piece will be available from the end of February in Japan and is extremely well priced at ¥48,000 ($527 at todays exchange rate)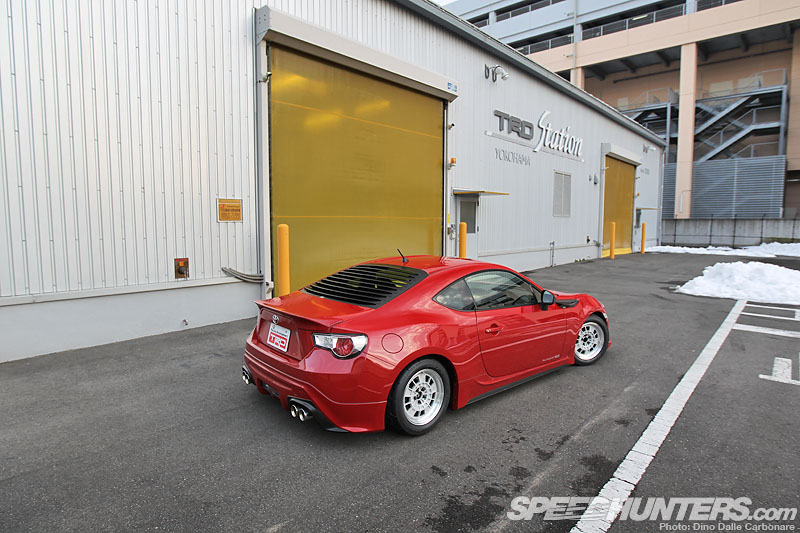 It's around the rear of the car that the TRD body kit has been joined by another interesting 80s-inspired addition…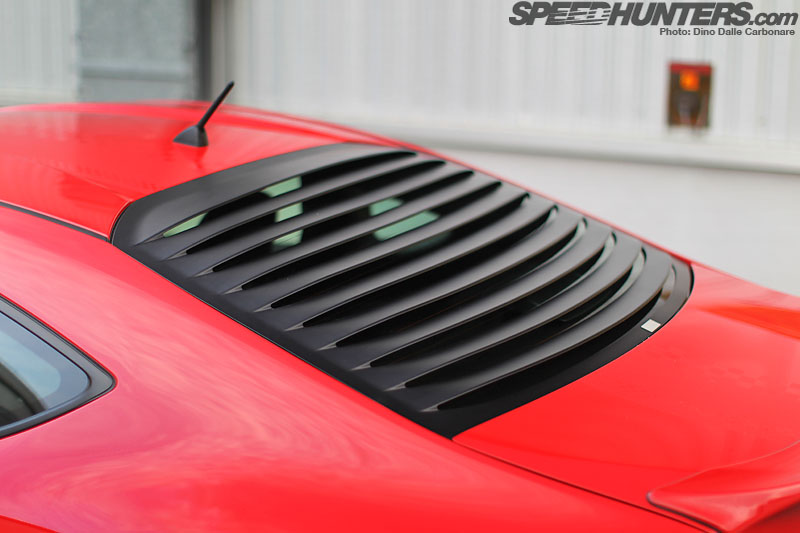 …something that was also a popular part on the AE86 – rear window louvers.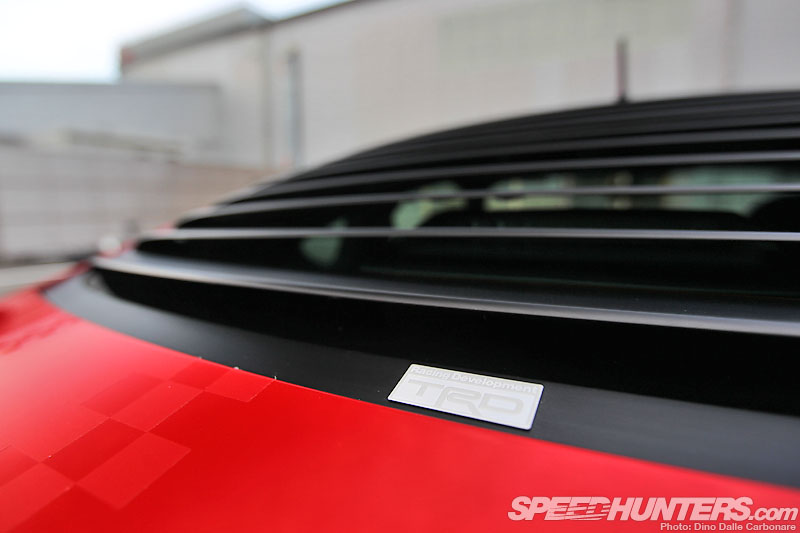 This remains a prototype, which still needs to be further tested and looked at before it makes a possible release. You either love it or hate it but there is no denying it's a very visual part of this particular concept.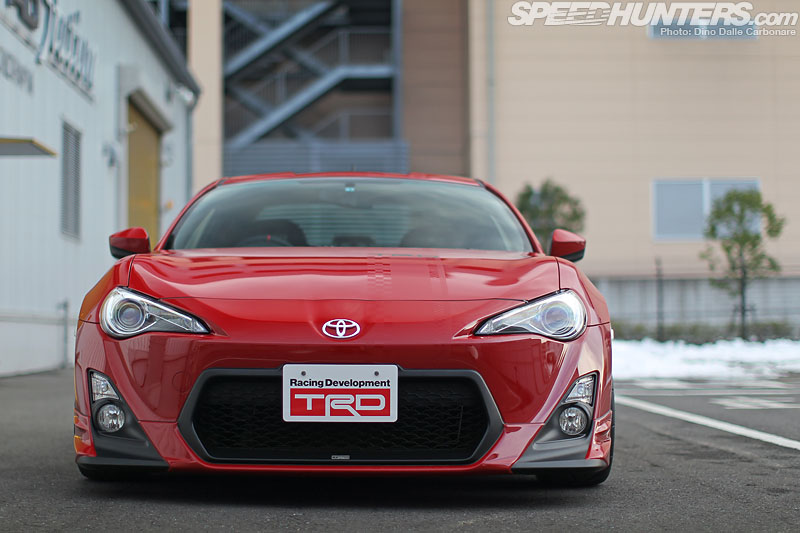 If you look closely enough you can actually see the louvers even when looking at the car head on.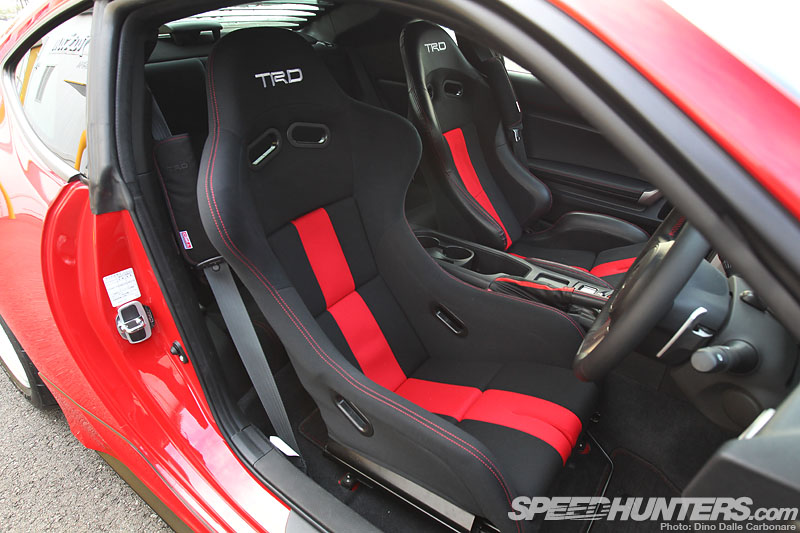 Swing the doors open and the vintage feel pretty much ends when you first spot the TRD seats, a full bucket for the driver's side (¥105,000/$1,155) and a more comfortable, yet still supportive reclinable item (¥168,000/$1,850) for the passenger.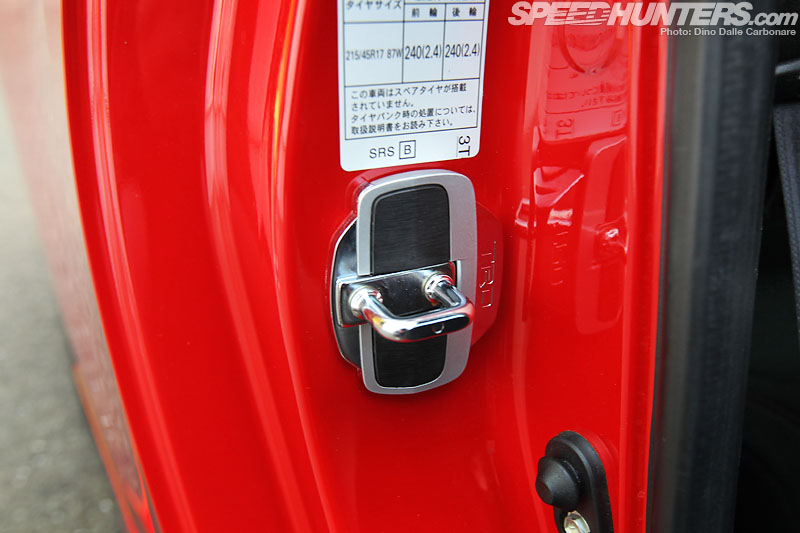 I'm a great fan of the TRD Door Stabilizers (¥14,700/$160), little plates that slide against the door's edge when you close them, effectively pushing the doors against their hinges to add more side rigidity to the chassis. TRD has tested them out on a variety of Toyotas and have released them for the models on which they actually worked on. Superb little idea that can really be felt through a slalom test.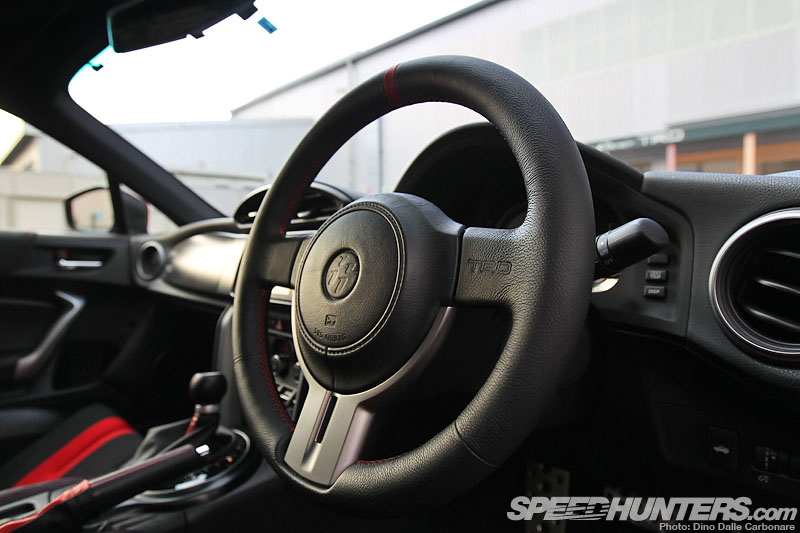 There were nice little touches dotted around the cabin starting off with this nice and chunky TRD embossed steering wheel made by Momo (¥43,000/$472). This is another great idea as only the outer part of the rim gets altered, the airbag-equipped center remaining unchanged to keep insurance companies happy and of course not getting rid of a very important active safety restraint.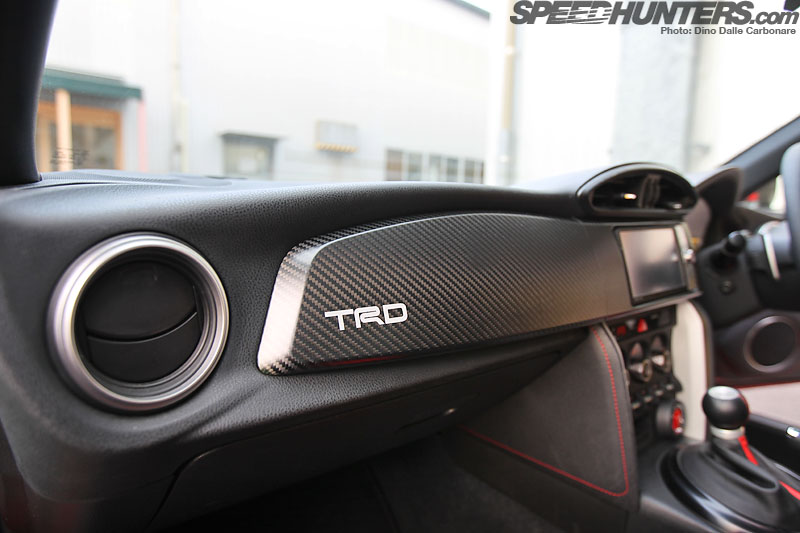 The TRD trim continues with dry carbon replacement parts for the center section of the dashboard…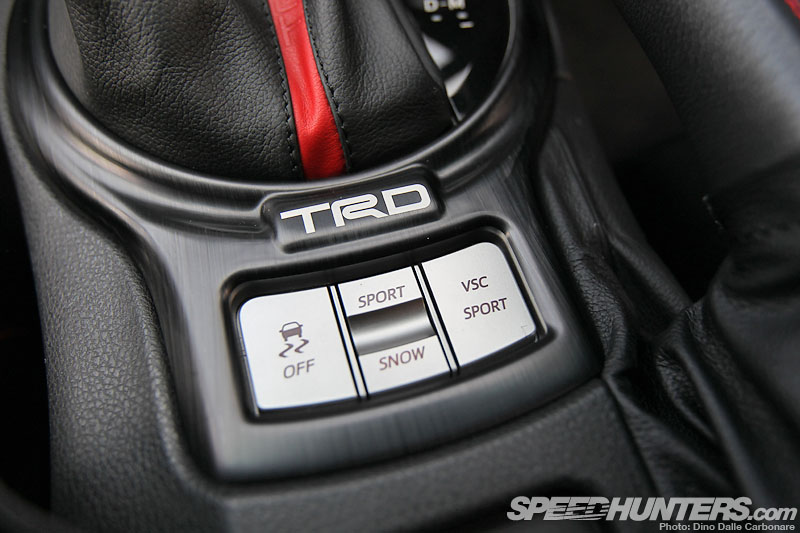 …a TRD shifter surround (not carbon) and leather boot…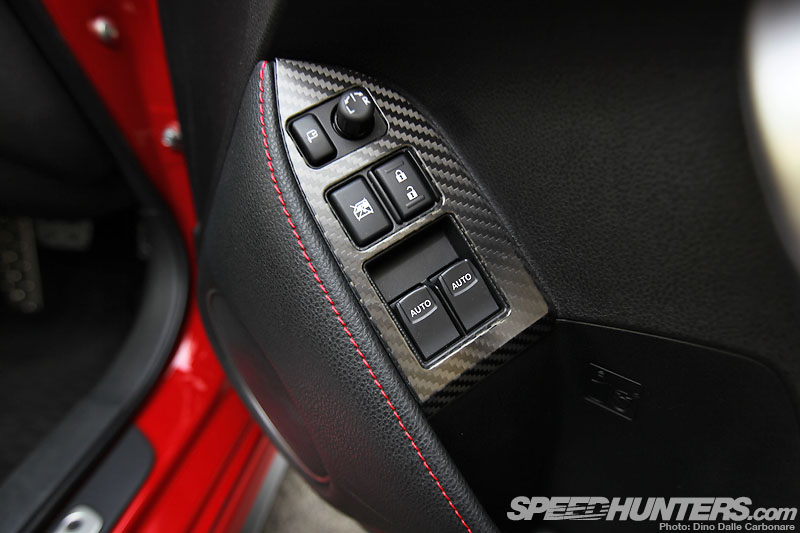 …as well as the door's switch panels. Best thing of all, much like the fender winglets, is that all this carbon isn't prohibitively expensive, you are only looking at ¥52,000 ($570 at today's exchange rate) for the 2-piece dash set and door trims.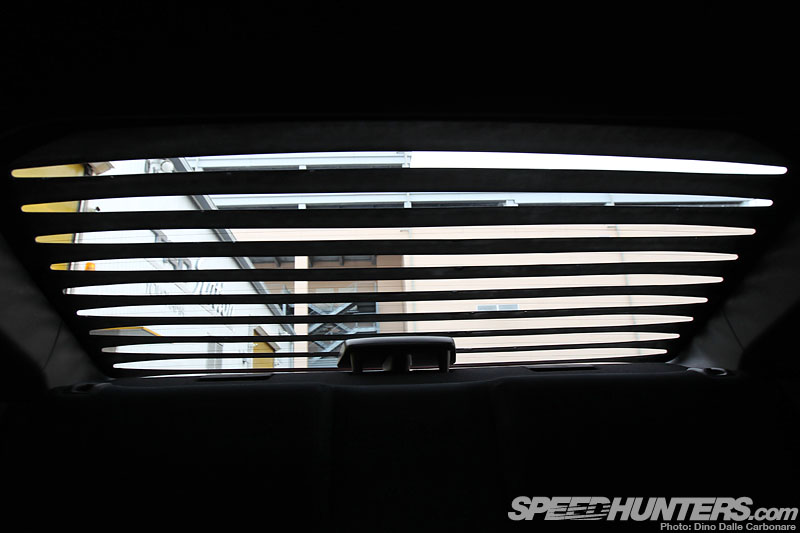 How about this for a view out back!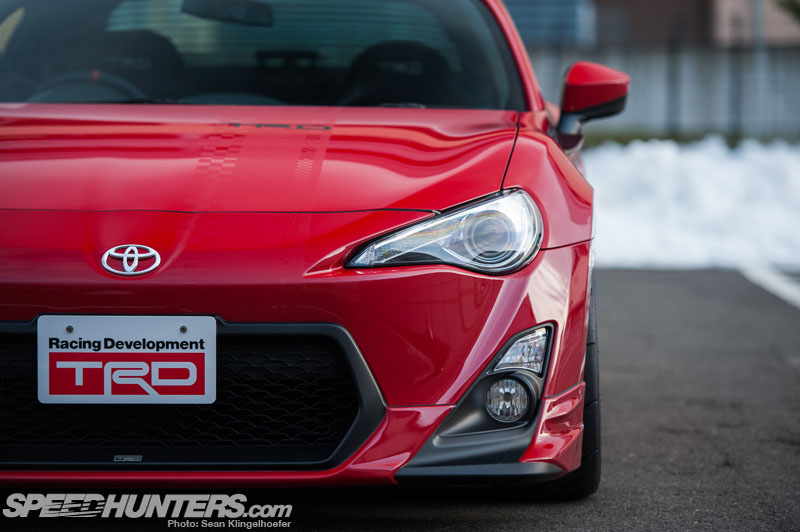 All the exterior and interior parts…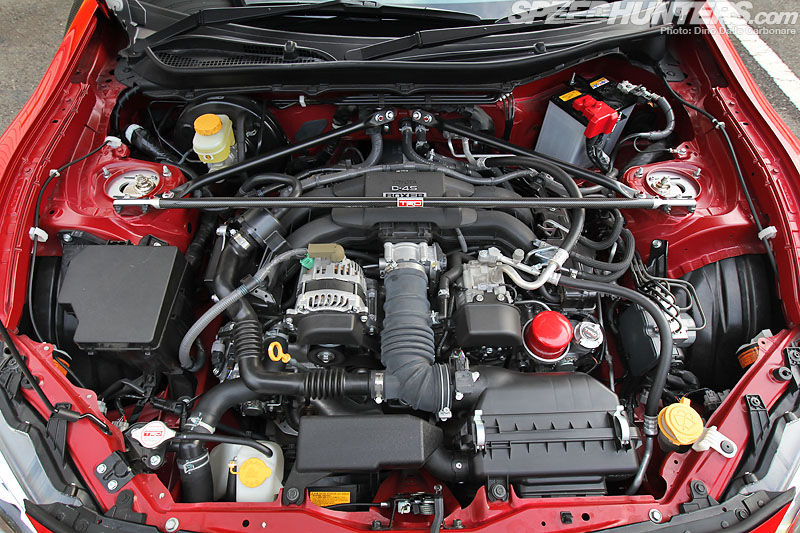 …are joined by some basic upgrades under the hood. Power remains stock but there is a slight response benefit…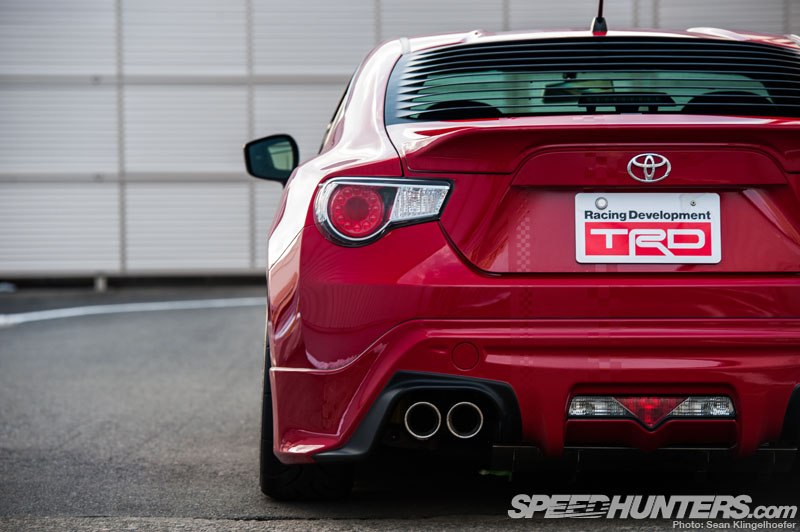 …coming via the TRD Version R exhaust system that adds a deeper more throatier burble to the F20's note.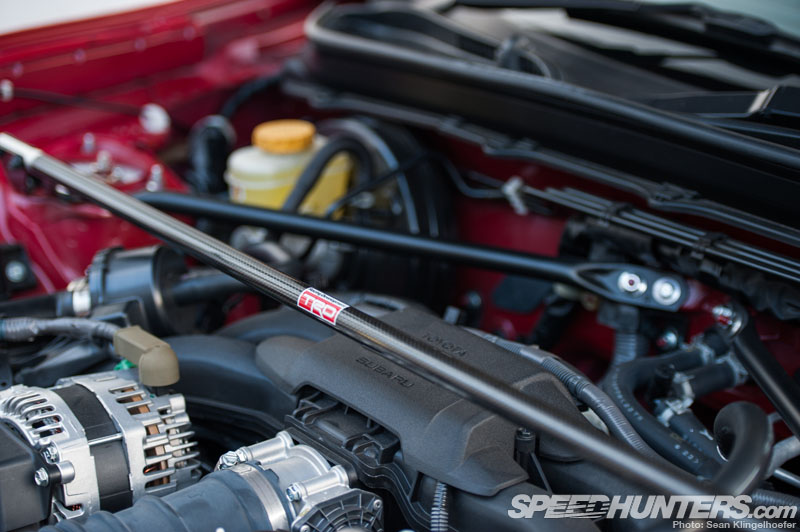 Body rigidity is boosted thanks to TRD's dry carbon strut tower base, made in the same place where the Lexus LFA's carbon parts were constructed. The main carbon tube is joined by billet aluminium ends…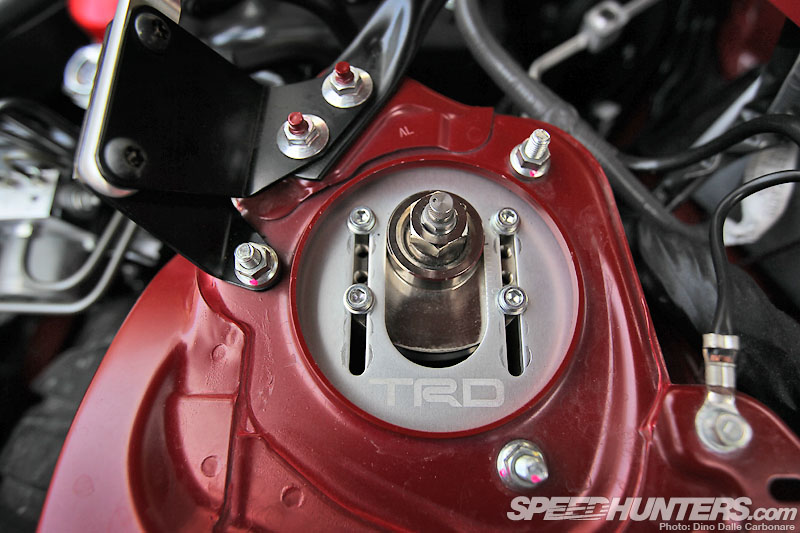 …that bolt up to raised brackets on the suspension turrets Here you can also notice another part that will be offered from next month, TRD pillow ball upper mount plates, which as you can see here have been set at their furthest negative camber position. These join TRD's new "Sportivo" suspension kit aimed at giving the car firmer and more performance oriented handling. Stiffer bushes will also be available from next month (as well as engine and transmission mounts) so you can really give a tighter edge to your 86. To finish things off the car was also fitted with TRD's Circuit Brake kit boasting slotted rotors and high-friction pads to make sure that middle pedal stays nice and firm even during track days.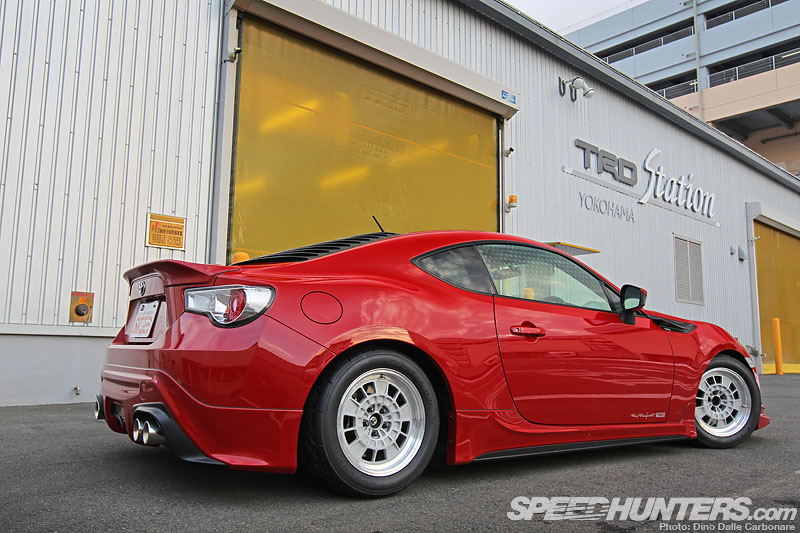 Next to the Griffon concept that Sean will be bringing you soon this car is very simple, yet was one of those rides that everyone at the Tokyo Auto Salon seemed to have noticed.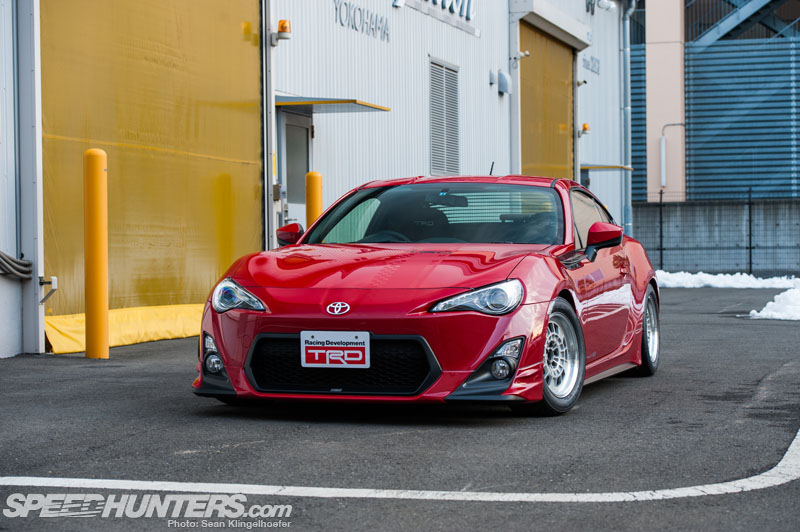 The 80's approach in the wheel department could actually become a little trend in 86-circles, who knows.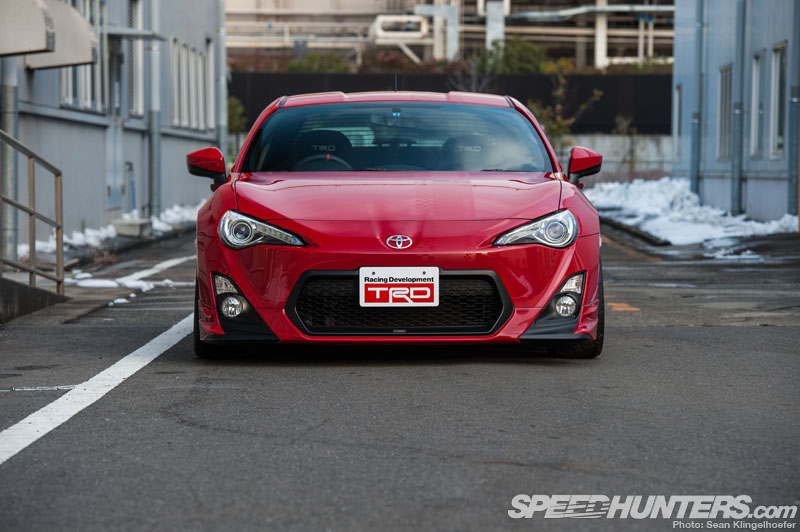 Now it's up to TRD to decide whether to launch the wheels or not and see how many owners will prefer to trade in the choppy ride modern day wheels shod in low-profile tires offer…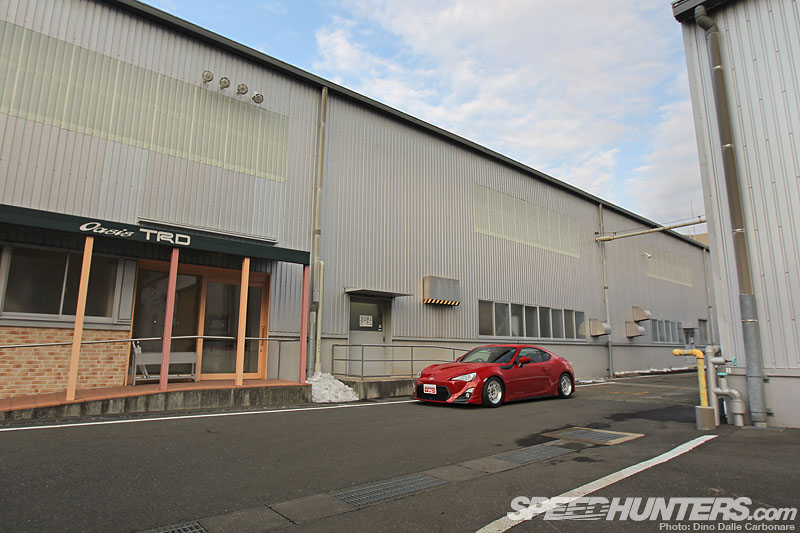 …for the old-school look and feel of taller sidewalls.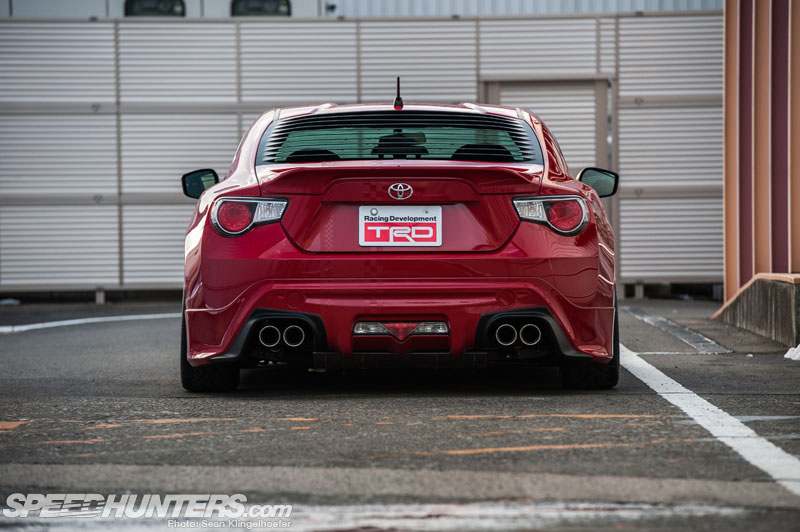 It may all just be a styling exercise, but I wonder if TRD may be on to something here. What do you guys think?
Specs:
Engine & Transmission: TRD oil filter, TRD Version R exhaust system, TRD Sports clutch kit
Suspension & Brakes: TRD Sportivo suspension kit, TRD Pillow Ball upper mount kit, TRD Circuit Brake Kit
Wheels & Tires: TRD prototype wheels 7.5Jx15″, Dunlop Direzza 03G 215/50R15
Exterior: TRD full aero package, TRD front fender aero fins, TRD prototype rear window louvers
Interior: TRD full bucket seat, TRD reclinable sports seats for passenger, TRD Carbon package, TRD shifter trim, TRD Momo 360 mm steering wheel
-Dino Dalle Carbonare
Pictures: Sean Klingelhoefer & Dino Dalle Carbonare
---
---
---